New Age Islam News Bureau
6 Apr 2018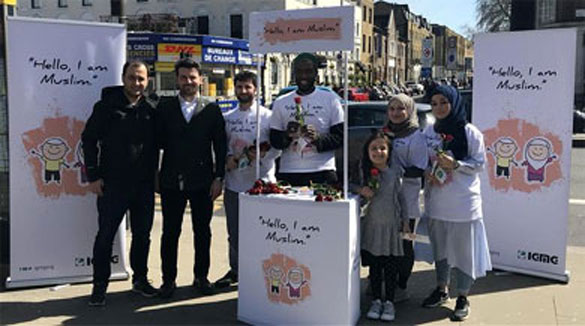 A group of young Muslims from Islami Community Milli Gorus (ICMG) give roses to people to promote peace and understanding during an event named "Hello I am Muslim" at King's Cross in London, United Kingdom on April 05, 2018. ( Ahmet Gürhan Kartal - Anadolu Agency )
-----
• Two Prominent Muslim Bodies, Jamiat-Ulama-i-Hind and Imam Council of India Come Out In Support Of Polygamy
• Spiritual Leaders of Six Major Religions Express Distress over Communal Tensions in Several States
• Khadim Rizvi says '#MeToo' after LHC Bars Govt from 'Harassing' Hafiz Saeed
• Young Muslims Promote Peace with Roses in UK
• RI Invites 50 Ulemas from Various Countries to Promote Tolerant Islam
• Tensions High Along Gaza-Israel Border As Palestinians Call For 'Friday of Fire'
India
• Two Prominent Muslim Bodies, Jamiat-Ulama-i-Hind and Imam Council of India Come Out In Support Of Polygamy
• Spiritual Leaders of Six Major Religions Express Distress over Communal Tensions in Several States
• Muslim Trader Helps Hindu Brothers Pick Up Biz Pieces
• Ayodhya Case: Full Faith in Judiciary, Say Muslim Clerics
• Indian envoy meets Pakistan NSA, raises issue of terror in Jammu and Kashmir
• Jammu and Kashmir wants to hike payouts to ex-terrorists to Rs 6 lakh
• J&K: One more abduction in Hajin, police blame Lashkar group
--------
Pakistan
• Khadim Rizvi says '#MeToo' after LHC Bars Govt from 'Harassing' Hafiz Saeed
• Soldier Killed, 2 Terrorists Neutralised In Balochistan
• JUI-S calls for enforcement of Islamic system
• Quetta Attack a Gory Reminder of Islamic State's Presence in Balochistan
• Pakistan succeeded in war against terror while the world failed: PM
• JUI-F protests against bombing of Dasht-e-Archi Madrasa
--------
Europe
• Young Muslims Promote Peace with Roses in UK
• Islam's Green Future: Inside Europe's First Eco-Mosque
• French authorities arrest 'Godfather of Belgian Jihad' for sending fighters to Syria
• Turkish parliament's human rights committee to probe Islamophobia in Europe
• Hungarian envoy praises Turkey on EU's security
--------
Southeast Asia
• RI Invites 50 Ulemas from Various Countries to Promote Tolerant Islam
• China Bans Online Bible Sales as It Tightens Religious Controls
• Reading of poem upsets hard-line Islamic groups
• Islamic party invites Hamas leader Ismail Haniya to Indonesia
• Perlis Raja Muda Bans Party Flags, Posters at Mosques, Religious Schools
• Indonesians Fight to Keep Mystical Religion of Java Alive
• Indonesian hard-line Islamic group calls for jihad and protests against ex-president's daughter
• Philippines' Duterte Cites 'Genocide' in Myanmar, Says Will Take Refugees
--------
Mideast
• Tensions High Along Gaza-Israel Border As Palestinians Call For 'Friday of Fire'
• Israel, Saudi Arabia Has Common Enemy, Areas of Cooperation: Bin Salman
• Rivals step up as doubts grow over ailing Abbas
• Campaign urges Israel soldiers to refuse to shoot unarmed Palestinians
• Little sympathy in Iran for YouTube shooter's frustration
• Researcher kills four staff at Turkish university
• Israel says open-fire rules for Gaza unchanged for new protests
• Yemen army retrieves strategic sites in Bayda, kills Houthi leader
--------
North America
• Last Suit Accusing N.Y.P.D. of Spying on Muslims Is Settled
• Pentagon Wades Deeper Into Detainee Operations in Syria
• U.S. Policy on Fighting Islamic State in Syria Unchanged: Pentagon
• Impact of Islamophobia on cultures and global politics
• Twitter suspends 1 million accounts for 'terrorism promotion'
• US approves $1.3 bn worth of artillery sale to Saudi Arabia
--------
South Asia
• PM Hasina for Real Teaching of Islam in Bangladesh
• Afghan Officials Say Pakistani Aircraft Bombarded Border District
• Myanmar minister hopes to visit Rohingya in refugee camps
• Bangladesh court extends bail for Zia until April 22
• Taliban vow 'serious revenge' over Afghan airstrike
• ISIS leader Abu Ali's four militants killed in Nangarhar operations
• Four IS militants killed in Afghan airstrike
--------
Arab World
• Syrian Gov't Flag Hoisted by People in Raqqa
• West Leading 'Campaign of Lies' On Chemicals In Syria: Damascus
• With ISIS striking back in Syria, a U.S. withdrawal would be a 'disaster,' Kurds warn
• Al-Nusra Front's Positions in Hama, Idlib Destroyed
• Evacuation of Syria's Douma suspended over disagreements
• Saudi crown prince to visit France in whirlwind global tour
• Jeish Al-Islam's Chemical Weapons Production Workshops Discovered in Eastern Ghouta
• Infighting among Terrorists Still Continue in Northern Syria
• Syrian Army Purges ISIL Terrorists from Deir Ezzur
• Syria gearing up for anti-Daesh battle south of capital: Report
--------
Africa
• French, Malian Troops Kill 30 Jihadists near Mali's Border With Niger
• Two peacekeepers dead, 10 wounded in Mali attack: UN
• Nigeria: Islamisation of Nigeria - I Don't Have Religious Agenda - Buhari
• Nigerian Army promotes 3,729 troops fighting Boko Haram
Compiled by New Age Islam News Bureau
URL: https://www.newageislam.com/islamic-world-news/two-prominent-muslim-bodies-jamiat/d/114844
--------
Two Prominent Muslim Bodies, Jamiat-Ulama-i-Hind and Imam Council of India Come Out In Support Of Polygamy
Harish V Nair
April 6, 2018
Ten days after the Supreme Court sought the stand of the Centre on banning polygamy and Nikah-Halala, two prominent Muslim organizations -- Jamiat-Ulama-I-Hind (JUIH) and Imam Council of India--have come out strongly in support of the controversial practices.
The two have argued that the Constitution does not touch upon the personal laws and therefore the SC cannot examine the question of constitutional validity of the practices.
They contend that even the apex court and various High Courts have on earlier occasions refused to interfere with practices sanctioned by personal law, an argument they advanced even in the triple talaq challenge matter too which the SC has already rejected.
The SC is seized of four petitions-filed by two victims Nafisa Begum and Sameena Begum and two advocates Ashwini Upadhyay ( also a Delhi BJP leader) and Mohsin Kathiri challenging the constitutional validity of the polygamy and nikah-halala.
According to Sharia or the Muslim personal law, men are allowed to practice polygamy that is, they can have more than one wife at the same time, up to a total of four.
'Nikah halala' is a process in which a Muslim woman has to marry another person and get divorced from him before being allowed to marry her divorcee husband again.
In an application filed in SC, JUIH has now sought the permission to be made a party to the hearing. Imam Council has not moved SC.
"A three judge bench of the apex court had in 1997 (Ahmedabad Women Action Group Vs Union of India) decided to not interfere with the practice of polygamy on the ground that such matters were policy decisions and did not warrant any interference by courts", JUIH said.
"In that case the SC had examined whether Muslim Personal Law which allows polygamy is void as offending Articles 14 (right to equality) and 15 ( discrimination on grounds of religion) of the constitution, whether the mere fact that a Muslim husband takes more than one wife is an act of cruelty. While considering the above issues the courts declined to entertain the above mentioned issues stating that these were matters wholly involving issues of state policies with which the court will not ordinarily have any concern. The court also held that these issues are matters which are to be dealt with by the legislature", it said.
"The Supreme Court has also held that Part three of the constitution does not touch upon personal laws of any religion. SC had also observed that HCs in applying the personal laws of the parties could not introduce its own concepts of modern times but should enforce the law as derived from recognized and authoritative sources. Therefore this court cannot examine the question of constitutional validity of the practices of nikah halala and polygamy in muslim personal law", the JUIH petition said.
Says Maqsood Ul Hasan Qasmi, President of Imam Council of India:- "Polygamy was brought in as a solution in olden days when large number of Muslim women was widowed after their husbands die in battle. It gave opportunity for a man to marry few of these widows, give them a new life and also to ensure that their children are not orphaned. This is a divine practice in which a court should not intervene"
"The courts need not interfere as there is already an in-built mechanism in Muslim religion where marriage is a contract. A woman can at the time of marriage enter into a contract or agreement with a man that he shall not re-marry when their wedlock is already in existence. Women always have this option. Once he signs this contract, he cannot marry another woman", says Qasmi. The challenge to polygamy comes when the bill to make triple talaq a crime with provision for 3 years' jail for husband is pending in parliament.
https://www.indiatoday.in/mail-today/story/2-prominent-muslim-bodies-come-out-in-support-of-polygamy-1205907-2018-04-06
--------
Spiritual Leaders of Six Major Religions Express Distress over Communal Tensions in Several States
Apr 5, 2018
MARGAO: Spiritual leaders of six major religions in the country on Thursday expressed their deep distress regarding the recent communal tensions in Bihar, West Bengal, Rajasthan and other states in the country. They further denounced in unequivocal terms the attacks this week on three Catholic churches in Rourkela, Odisha 'at a time when the peaceful Christian community was celebrating their feast of joy – Easter.'
They also condemned 'all violence, lynchings and killings and requested the authorities to take strong and speedy action against those involved in anti-social acts.' They vehemently denounced 'the mobs that go around taking law and order into their hands and appealed that the Constitutional norms and articles be respected and implemented in letter and spirit.' They strongly condemned 'those who are seeking to inject the poison of hatred into our society.' They appealed to 'all men and women of goodwill to stand up for social harmony.'
The religious heads representing the faiths of Hinduism, Islam, Christianity, Jainism, Sikhism and Buddhism such as Sushil Goswamy Maharaj, President of Bharatiya Sarva Dharama Sansad; Imam Umer Ahmed Ilyasi, Chief Imam of India and President of All India Imam Association and Imam Council of India; Most Rev Theodore Mascarenhas, Secretary General of the Catholic Bishops' Conference of India (CBCI); Vivek Muni, President of International Mahavir Jain Mission; Paramjeet Singh Chandok, Chairman of Bangla Sahib Gurudwara and Bhikku Sanghasena, Founder of the Mahabodhi International Meditation Centre, Ladakh publicly expressed their 'deep worry and concern at the way the forces of hate and division are striving to polarise the Indian polity.'
They reiterated that 'every Indian has his dignity and respect and the right to decide what one eats, to marry the person of one's choice, to choose the education one selects and the freedom to practice whatever faith one wishes to profess.' They further took strong exception to 'anyone taking control of these individual decisions be it on the part of the State or by so-called cultural organisations. No one is to be categorised as anti-national or non-patriotic based on his religion, region or belongingness to a community. Our county cannot progress simply with slogans and promises. A nation can progress only when it's people live with each other as brothers and sisters, where egoism gives place to selflessness, hate gives way to love, peace replaces violence.'
They made these remarks during the conference titled 'Collective Action for Dialogue and Social Harmony Youth of India: Looking Forward' jointly organised by the CBCI, Society of Pilar, Agnel Region and Bharatiya Sarva Dharama Sansad at the Ravindra Bhavan, Margao on Thursday noon on the occasion of the celebrations of the sixty years of the first institute of the Agnel region in Bandra-Mumbai and forty years of the educational complexes at Verna-Goa, Vashi-Mumbai and Delhi.
https://timesofindia.indiatimes.com/india/spiritual-leaders-express-distress-over-communal-tensions-in-several-states/articleshow/63633292.cms
--------
Khadim Rizvi says '#MeToo' after LHC bars govt from 'harassing' Hafiz Saeed
April 6, 2018
LAHORE – Tehrik Labbaik Ya Rasool Allah (TLY) Chief Khadim Hussain Rizvi has sent a petition to the Lahore High Court (LHC) on Thursday after the court ordered government authorities to not "harass" banned Jamaatud Dawa's (JuD) Chief Hafiz Saeed.
Justice Ameenud Din Khan, who heard the petition filed by A.K. Dogar on Saeed's behalf, also heard Rizvi's petition, which constituted of two words – or one hashtag.
"#MeToo" read the TLY chief's petition in its entirety.
Talking to The Dependent, Rizvi discussed his petition saying that the government was interfering in his party's welfare and entertainment projects because it had bowed down to pressure from human rights groups, laws of the country and the need of the hour.
Elaborating on the petition Rizvi argued that barring an organisation or party from indulging in comic relief work goes against the spirit of life.
"Even though, the Punjab government officials have been kind enough to admit that doing the same to me is proving to be difficult, I still wanted to tell the court that when it comes to harassment of radical elements of society and hatemongers: me too" he said, while talking to The Dependent.
"All radical Islamist and jihadist groups need to come together and express unity of our sisterhood to counter this state scourge."
https://www.pakistantoday.com.pk/2018/04/05/khadim-rizvi-says-metoo-after-lhc-bars-govt-from-harassing-hafiz-saeed/
--------
Young Muslims promote peace with roses in UK
05 April 2018
A Europe-wide event to break fears and prejudices against Muslims and to promote empathy was launched in London's central King's Cross Station on Thursday.
Young Muslims' stand in front of the station was visited by people who would like to get informed about the event.
"This week, the Islamic Community Milli Gorus (ICMG) organization will have thousands of young Muslims living in Europe, Australia and Canada, out on the streets delivering their 'Hello, I am a Muslim' message to introduce themselves," a press release said.
"Contacting people individually is the most natural and the best way of promoting understanding and empathy," the release issued by ICMG said.
"We have prepared the 'Hello, I am a Muslim' events to encourage mutual communication and co-operation between Muslims and non-Muslims," said Kemal Ergun, the group's president.
The event will see young Muslims promoting mutual understanding in public places in various countries including Germany, the Netherlands, France and Austria.
The event will also see the participation from more than 500 mosques across Europe, according to the ICMG statement.
http://www.worldbulletin.net/islamic-world/200732/young-muslims-promote-peace-with-roses-in-uk
--------
RI Invites 50 Ulemas from Various Countries to Promote Tolerant Islam
April 5, 2018
The government will bring 50 ulemas from various countries to attend a High Level Consultation of World Muslim Ulemas and Islamic Scholars in Bogor, West Java, which is scheduled to be held in May.
Presidential special envoy for inter-religion dialogue and partnership Din Syamsuddin said in the conference, Indonesia would promote an Islam that was moderate and tolerant to the world. He was speaking after he reported progress of the preparation of the meeting to President Joko "Jokowi" Widodo at the Presidential Office in Jakarta on Thursday.
President Jokowi is scheduled to open the conference at Bogor Palace on May 1. Vice President Jusuf Kalla will attend the closing ceremony scheduled for May 3.
"This activity is the implementation of one of my mandates as a presidential envoy," Din said as quoted by kompas.com.
The former chairman of Indonesia's second-largest Islamic organization, Muhammadiyah, said as an envoy, he was mandated to promote Al-Wasatiyyah (moderation) as the agenda of Muslims in Indonesia that was based on the principle of Islam as "rahmatan lil'alamin", or "blessing for the whole world and its content".
"This is Islam that takes a middle road with its characteristics: moderate, tolerant, open and many others," said Din.
He said some of the ulemas to be invited were not from Muslim-majority countries, such as Canada, China, Japan, South Korea and the United States. Around 50 ulemas representing various organizations in Indonesia will also be invited to attend the conference.
"We will invite them all regardless of which groups they come from and what sect their teachings belong to," said Din. (ebf)
http://www.thejakartapost.com/news/2018/04/05/ri-invites-50-ulemas-to-promote-tolerant-islam.html
--------
Tensions high along Gaza-Israel border as Palestinians call for 'Friday of Fire'
April 5, 2018
Jerusalem (CNN)Tensions on both sides of the Gaza-Israel border are high as Palestinians in Gaza call for a "Friday of Fire."
Israel will not change its rules of engagement ahead of the "March of Return" planned for Friday in Gaza.
Israeli Defense Minister Avigdor Liberman warned those who do not abide by the rules "will be shot," speaking on Israeli Army Radio late Wednesday.
Palestinians are bracing for potential violence; Israel also expects more violence on Friday.
"It is going to be another bloody weekend," Israel's former counterterrorism chief Brigadier General (Reserve) Nitzan Nuriel told reporters. "We have Hamas who are armed trying to push it a bit more than we can accept." He reiterated that the border is a red line. "Those who will be close to the fence, we will see them as a target," Nuriel said. "They should demonstrate without crossing those red lines. If they do, the price will be very high." Israel blames Hamas and Islamic Jihad for the violence, and warned it will strike deep inside Gaza if provoked.
Thousands of tires have been readied to set alight on the Gaza side of the border in order to create curtains of black smoke and obscure the sights of Israeli snipers.
Since Wednesday morning, bulldozers have been constructing dirt berms at a location near the border.
Gazans at the temporary northern Abu Safia tent camp built last weekend say it's to protect protesters.
"Friday of Fire," as it's been dubbed, will be the second in a sequence of marches planned to continue through mid-May.
The goal of the marches, Palestinians say, is to cross the border fence and return to their lands that became Israel seven decades ago.
Last Friday's march on the fence ended in violent confrontations, in what was the deadliest day in Gaza since the 2014 Gaza Israel war. Seventeen Palestinians were killed, and another two succumbed to their injuries a few days later. Israeli forces fired on marchers it said participated in violence.
Significantly smaller scale confrontations continued through the week, resulting in numerous incidents on land and extending to the sea. Israeli naval forces shot at a Palestinian fishing boat to force it into the "designated (6 mile) fishing zone," according to an Israeli Defense Forces (IDF) statement. Three fishermen were moderately injured, said the Palestinian Health Ministry in Gaza.
Other deadly incidents took place during the week, bringing the total death toll in one week to 20.
A Palestinian died following an overnight Israeli air strike Wednesday, the Palestinian Health Ministry in Gaza reported. The IDF said it targeted an "armed terrorist adjacent to the security fence" in northern Gaza.
Israel holds Hamas responsible for the events in Gaza, and says most of those killed are "known terror activists" from Hamas and Islamic Jihad.
Palestinians and human rights organizations accuse Israel of using excessive and illegal force on what they described as peaceful protesters.
Israeli human rights organization B'Tselem launched a campaign called "Sorry Commander, I cannot shoot" urging Israeli soldiers to refuse to shoot protesters. The organization says it is taking this step after "soldiers used live fire against unarmed demonstrators," which it says is illegal.
The Israeli defense minister called the organization a group of "fifth columnists."
The UN Special Coordinator for the Middle East Peace Process, Nickolay Mladenov, urged Israeli forces and Palestinians to exercise restraint, saying "demonstrations and protests must be allowed to proceed in a peaceful manner. Civilians, particularly children, must not be intentionally put in danger or targeted in any way."
Palestinian activists and the IDF continue to post social media videos to support their opposing claims about last week's violent events.
https://edition.cnn.com/2018/04/05/middleeast/gaza-israel-friday-of-fire/index.html
--------
India
Muslim Trader Helps Hindu Brothers Pick Up Biz Pieces
Mohammad Asif | TNN
Apr 3, 2018
ASANSOL: Even as political parties indulge in a war of words over the Ram Navami clashes in West Burdwan, a Muslim trader from Asansol's Qurashi Mohalla has donated Rs 10,000 each to 12 persons whose shops at the town's Chandmari Shibmandir area were ransacked in the violence to help them restart their businesses. "We have been doing business together for years in this area. I did my small bit to help out my fellow traders," Haji Nahnane Khan said.
The National Human Rights Commission (NHRC), meanwhile, has taken suo motu cognizance of the violence in the Raniganj-Asansol area and sought a report from the Bengal government within a month.
A Muslim trader from Asansol's Qurashi Mohalla threw a lifeline to12 shop owners at Chandmari Shibmandir area whose shops were ransacked during the Ram Navami violence on March 25. Haji Nahnane Khan on Monday gave each of the shop owners Rs 10,000 to help re-start their businesses without having to wait for government relief.
"We have been doing business together for years in this area. I did my bit to help out my fellow traders. I believe people in other areas will also extend a helping hand to their neighbours," Khan said on Monday.
Paan shop owner Uma Shankar Gupta, Manoj Yadav and Niranjan Shaw were all praise for Khan. "He had come to us as our shops stood vandalised. We didn't have the money to begin business again. Khan told us not to lose heart. He offered us money and asked whether we were ready to accept that. We agreed," said Shaw.
Later, Asansol mayor Jitendra Tewari announced Rs 2 lakh compensation for the dead and Rs10,000 for those whose properties had been damaged.
Taking the cue, citizens took out a peace rally in Asansol from Ramkrishna More to Hutton Road soon after the administration lifted Section 144 from the area.
While taking suo motu cognizance of the violence in the Raniganj-Asansol area, the National Human Rights Commission has issued notices to the chief secretary, home secretary, the and director general of police, West Bengal, calling for a detailed report on the matter in a month. The commission, in its notice, has underlined the allegations from people in the riot-hit areas that no police personnel came to their help although they had dialled100, the police helpline.
The commission has also asked its director general (investigation) to depute a team headed by an officer not below the rank of SSP to visit the disturbed areas of Asansol-Raniganj for spot investigations to assess the situation and submit areport within three weeks.
Joy Banerjee, a BJP leader from Birbhum, visited victims' families and called on the imam of the Noorani Masjid, who had appealed for peace after his son was killed in the violence. Banerjee later told reporters that he would propose the imam's name for the President's Award.
https://timesofindia.indiatimes.com/city/kolkata/in-asansol-show-of-amity-by-local-trader/articleshow/63588270.cms?from=mdr
--------
Ayodhya case: Full faith in judiciary, say Muslim clerics
April 5, 2018
Saharanpur (Uttar Pradesh) [India], Apr. 05 (ANI): Two days before the hearing in the ongoing Babri Masjid-Ram Janmabhoomi case is set to resume, two Muslim clerics here on Wednesday said that they have full faith in the judiciary and the Muslim bodies would respect the apex court's verdict.
Mufti Ufti Azhar Hussain Meiya (Nayab Shahar Qazi) and Hafiz Athar Usmani (General Secretary Majlis Ettihad-e-Mittal) of Darul Uloom Deoband, one of the largest Islamic seminaries in the country, also said they could furnish evidence to prove that the mosque had existed at the disputed site, but they would not do it as the matter was sub-judice.
"Like the Hindu organisations, we can furnish proof that there was a mosque at the disputed site, but such a step will be disrespectful towards the court, which is yet to decide on the matter," they said.
The clerics also said the central government should keep Hindu organisations under check and stop them from making any provocative statements, especially as the matter was sub judice and the communal harmony remained undisturbed.
Full report at:
http://www.india.com/news/agencies/ayodhya-case-full-faith-in-judiciary-say-muslim-clerics-2983677/
--------
Indian envoy meets Pakistan NSA, raises issue of terror in Jammu and Kashmir
Apr 6, 2018
ISLAMABAD/NEW DELHI: Indian high commissioner Ajay Bisaria on Wednesday met Pakistan's national security advisor Naseer Khan Janjua and raised India's concerns over crossborder terrorism in Jammu & Kashmir, besides discussing ways to improve strained bilateral ties.
Sources in New Delhi said the issue of cross-border terrorism in Jammu & Kashmir was raised by the high commissioner in the meeting. Bisaria is understood to have also mentioned about the three encounters in Shopian and Anantnag districts of Kashmir earlier this week in which 13 militants were killed. In a statement, the NSA Office in Islamabad said that Pakistan is committed to resolve all outstanding issues through comprehensive dialogues.
Full report at:
https://timesofindia.indiatimes.com/india/indian-envoy-meets-pakistan-nsa-raises-issue-of-terror-in-jammu-and-kashmir/articleshow/63634972.cms
--------
Jammu and Kashmir wants to hike payouts to ex-terrorists to Rs 6 lakh
Bharti Jain
Apr 6, 2018
NEW DELHI: The Centre will shortly examine the J&K government's revised militant surrender-and-rehabilitation policy that proposes to raise the financial incentive for the surrendering militant to Rs 6 lakh payable after a 10-year lock-in period, from the current Rs 1.5 lakh payable after three years.
Local BJP leaders in J&K had recently objected to the proposed policy, alleging that it stood to "incentivise militants' and had the potential to sap the morale of troops engaged in fighting terrorism in the Valley state.
Incidentally, it is at the request of the home ministry that the Mehbooba government has redrawn the surrender-cum-rehabilitation policy in force since 2004 to bring back local Kashmiris who joined militancy into the mainstream. The existing policy was seen as outdated, particularly as the surrender scheme for insurgents in the relatively peaceful north-east region now offers a Rs 4 lakh incentive, to be put in a fixed deposit for encashing at three years, and a Rs 6,000 stipend per month for up to three years after surrender.
The new policy with improved surrender benefits for militants in six north-eastern states — Assam, Manipur, Meghalaya, Nagaland, Tripura and Arunachal Pradesh — was announced in February but took effect from April 1, 2018.
A senior official in the central security establishment pointed out that higher financial benefit of Rs 6 lakh, along with Rs 4,000 interest payable per month to the surrendering J&K militant through the 10-year lock-in period, was in order considering the far higher levels of violence in the state vis a vis north-eastern region. "The involvement of a third country (Pakistan) in sponsoring the violence in J&K further justifies the higher benefits," said the officer.
Refuting the charge that the better surrender benefits, including an increased reward for each weapon turned in (for instance, giving up an AK-47 would fetch the militants Rs 50,000 instead of the existing Rs 15,000 reward), would bleed the exchequer, an officer argued that militants laying down arms would bring down potential killings, including that of security personnel that involve payment of handsome ex-gratia amounts.
"There are an estimated 150 local militants in the Valley. Obviously, not all will surrender. Only those willing to respond to appeals from their families to return, may step forward. Better terms of surrender will only facilitate this decision. Even if 10 militants were to surrender, it would mean lesser potential to create violence in J&K. While the extent of success of the new policy in terms of number of surrenders will only be known with time, having it in place will send out the message that the Centre and J&K government want to reach out to the 'misguided' youth," said an officer.
Full report at:
https://timesofindia.indiatimes.com/india/jammu-and-kashmir-wants-to-hike-payouts-to-ex-terrorists-to-rs-6-lakh/articleshow/63634887.cms
--------
J&K: One more abduction in Hajin, police blame Lashkar group
April 6, 2018
In the second case of abduction by militants in north Kashmir's Hajin town this week, a 24-year-old man was abducted on Wednesday night by militants who forcibly entered his home.
Jammu and Kashmir Police have blamed a group of Lashkar-e-Toiba militants, with local militant Mohammad Saleem Parray as mastermind, for the back-to-back abductions.
A police spokesperson said that on Wednesday night, the group of militants, Saleem among them, forcibly entered the house of Abdul Gaffar Bhat and took him and his 24-year-old son Manzoor with them. "On the way, Gaffar had a scuffle with the militants and he managed to escape after sustaining a firearm injury,'' the spokesperson said. Manzoor, police said, is a shepherd.
Full report at:
http://indianexpress.com/article/india/jk-one-more-abduction-in-hajin-police-blame-lashkar-group-5125456/
--------
Pakistan
Soldier killed, 2 terrorists neutralised in Balochistan
Apr 5, 2018
KARACHI: A soldier and two terrorists were killed in an encounter during a search operation carried out by the Frontier Corps in Pakistan's restive Balochistan province.
According to the Inter-Services Public Relations (ISPR), the military's media wing, the operation was carried out yesterday in Pinsin Kaur, Dasht, Turbat and Dera Bugti areas in the province.
It said a large cache of arms and ammunition was recovered from hideouts which were raided.
The operation was carried out two days after the Islamic State terror group claimed responsibility for an attack in Quetta city that killed four members of a Christian family.
Meanwhile, six suspected terrorists and a would-be suicide bomber were arrested during a operation in Lahore by the Counter-Terrorism Department (CTD) and the Intelligence Bureau.
The arrested terrorists were identified as Islam-ul-Haq, Jahangir Shah, Imran, Waqar and Aleem, whereas Luqman was the suspected bomber.
The CTD officials claimed that the terrorists were involved in attacks on Bedian and Ferozepur roads and were planning attacks on the Pakistan Super League matches from a seminary they had taken refuge in.
https://timesofindia.indiatimes.com/world/pakistan/soldier-killed-2-terrorists-neutralised-in-balochistan/articleshow/63627307.cms
--------
JUI-S calls for enforcement of Islamic system
Mushtaq Paracha
April 6, 2018
NOWSHERA: Jamiat Ulema-e-Islam-Sami (JUI-S) chief Maulana Samiul Haq said on Thursday that enforcement of the Islamic system was the solution to the problems confronting the country.
Speaking at the graduation ceremony of the students at the Darul Uloom Haqqania in Akpora Khattak here, the Maulana said the country came into being in the name of Islam.
Haqqania's deputy administrator Maulana Anwarul Haq, religious scholars, a large number of seminaries students and parents and relatives of graduates were present. More than 1,500 students who completed their studies received their certificates on the occasion.
Samiul Haq said the people would not accept liberalism and secularism in the country, come what may. He said that there was no room for militancy and extremism in Islam.
The JUI-S chief said had Islamic rule been enforced soon after the independence, the country would have not witnessed the bloodshed and extremism. He said the use of force was not a solution to any problem, adding unity among the people and all the state institutions was the need of the hour as the country cannot afford confrontation among different stakeholders.
The Maulana criticised the airstrike on a religious seminary in Kunduz in Afghanistan in which several innocent students and people were killed.
He said that the attack on religious scholars, seminary students and civilians was atrocity.
Seminaries, scholars and students are defenders of Islam and that is why US and its allies are targeting them, he added.
The Maulana said the slogans of revolution and bringing about a change were for political interest and meant to reach the corridors of power.
A resolution was passed on the occasion that demanded an end to the bloodshed of Muslims in occupied Kashmir and other Muslim countries.
Another resolution condemned the recent airstrike on a seminary in Afghanistan and called for bringing the perpetrators to justice.
Full report at:
https://www.thenews.com.pk/print/301225-jui-s-calls-for-enforcement-of-islamic-system
--------
Quetta Attack a Gory Reminder of Islamic State's Presence in Balochistan
By Kunwar Khuldune Shahid
April 05, 2018
On Easter Monday, four members of a Christian family were shot dead in Quetta, the capital of Pakistan's volatile Balochistan province. The attack was claimed by the Islamic State (ISIS) in a press statement issued by the jihadist group.
The very next day, a Pakistan Army spokesperson "categorically" denied the presence of ISIS in the country, choosing instead to extol his organization's performance by saying that "the security situation in the province [Balochistan] has improved owing to the collective efforts of civil and military leadership."
The day after a family had been massacred in a provincial capital, the media representative of the most powerful state institution preferred to play his own broken record. Amidst continued human rights abuses in that very province, orchestrated by that very institution, he chose to suggest that the perpetrators of the latest act of terror don't even exist.
Enjoying this article? Click here to subscribe for full access. Just $5 a month.
The insensitivity of state and its representatives toward the locals of Balochistan, religious minorities, or indeed human life, isn't anything new. What is more damning is the continued denial of the presence of the most high-profile terror group in the world, which has found an escape route into the Af-Pak region after being battered out of the Middle East.
This is especially perilous considering that Monday's attack is the second time in four months that the same terror outfit has targeted the same religious community, in the same city. Last December's bomb and gun attack jolted Quetta's Bethel Memorial Methodist Church a week before Christmas, killing eight people.
In November, a suicide bombing had targeted a paramilitary convoy, and another bomb killed two police personnel in two separate incidents. While neither of these attacks was claimed by ISIS, the month prior the group targeted a Sufi shrine in Jhal Magsi, 400 kilometers east of Quetta, killing 20.
This was the second time a shrine was targeted by ISIS last year. The Sehwan bombing in February 2017 killed 88 – the deadliest attack since 2014.
In Quetta alone, in little over three months this year, 11 terror attacks have taken place, four of which have been claimed by ISIS or have the group's suspected involvement. This includes the March 4 and April 1 killings of Hazara men from the Shia community, which has been regularly targeted by ISIS.
This is the ground reality in just the capital of the Balochistan province in the past three months, while the Army claims that the "security situation has improved."
Statistically, terror incidents are indeed on a decline in the rest of the country – which still puts Pakistan fifth on the Global Terrorism Index – but Balochistan remains volatile, amidst separatist militancy, the Army's operations, and the two-pronged jihadist struggle to take over the province, spearheaded by ISIS and the Pakistani Taliban.
This tug-of-war engulfing Balochistan is an ideal scenario for ISIS, whose Khorasan faction overlapping the Af-Pak region – including the province's border region – has now been functional for over three years.
The counterclaim against Islamic State's presence in Pakistan is founded upon one argument that claims that the group's core body is not in the region. According to this argument, the attacks claimed by the outfit are conducted by local militants who exaggerate their affiliation with the Islamic State, which duly fans these assertions in a bid to self-aggrandize its global reach.
Ironically, it is this very counterargument that makes ISIS an unprecedented jihadist threat. It provides the umbrella for small jihadist groups or individuals, who often may not be operationally accessible to the group's core, to launch attacks in its name, embracing the Islamic State's agenda of establishing a global caliphate.
This is how the Islamic State's spread in Pakistan has been aided by the "global wings" of local sectarian outfits like the Lashkar-e-Jhangvi, and the Taliban factions that have disintegrated from the Tehrik-e-Taliban Pakistan (TTP). Among these is the Jamaat-ul-Ahrar, which like many other Taliban subgroups has gravitated toward ISIS, seeking a global jihadist umbrella.
This is precisely why attacks attributable to the Islamic State of Khorasan doubled last year. Even though most of them were orchestrated on the other side of the Durand Line, a security report by the Pakistan Institute for Peace Studies (PIPS) says footprint of ISIS in Balochistan and northern Sindh is increasing, where it "killed 153 in 6 deadliest attacks" last year.
With ISIS attacks rising, especially in Balochistan, the Pakistani state and its security establishment would be best advised to launch a counterterror operation designed specially to counter the ISIS narrative, which remains the group's greatest arsenal in its successful wooing of religiously motivated militants.
Full report at:
https://thediplomat.com/2018/04/quetta-attack-a-gory-reminder-of-islamic-states-presence-in-balochistan/
--------
Pakistan succeeded in war against terror while the world failed: PM
APRIL 6, 2018
ISLAMABAD: Prime Minister Shahid Khaqan Abbasi Thursday said the Pakistan nation was united and committed against terrorism and extremism and had played its part in bringing peace to the country as well as the region.
Addressing the concluding session of a three-day conference on counter-terrorism, the prime minister urged the international community to play its due role in addressing the causes leading to extremism and terrorism. "We have fought a world war against terrorism and now it is for the world to do more," he said, adding that he was proud to note that Pakistan made success in an area where the rest of the world had failed.
The prime minister said no country in the world had committed over 200,000 troops to eradicate the threat of terrorism and conducted numerous military operations across the country to wipe out all sanctuaries of terrorists. "We do not accept the narrative that there are any sanctuaries in Pakistan that are [bringing] instability to Afghanistan. That is not the truth. In fact today, unfortunately, it is opposite: people instigating terrorism in Pakistan are based in Afghanistan," he said, adding that it was the reality that everyone needed to accept. Pakistan in a bid to protect itself was fencing its border with Afghanistan, he added.
The prime minister dismissed the narrative that Pakistan did not support peace in Afghanistan and said no other country is more interested in peace in Afghanistan than Pakistan. He said Pakistan was the first country that faced the impact of instability in neighbouring Afghanistan. "War is no solution to Afghanistan," he said, and reiterated Pakistan's support for dialogue to achieve peace which Pakistan was ready to facilitate.
He mentioned the recent bombing at a religious seminary in Kunduz in which tens of young children were killed and said "this is what breeds radicalism and extremism."
The prime minister called for addressing the causes that lead to acts of extremism and terrorism and said there could be no lasting peace unless such simmering issues were not resolved.
The prime minister said Pakistan had come a long way in its fight against extremism and terrorism and recalled that after the invasion of Afghanistan by the USSR in 1979, the country faced an influx of weapons and drugs besides bearing the fallout of the collapse of the Soviet Union.
He said the attack on the Army Public School in Peshawar proved to be a turning point for Pakistan when it made a firm resolve to rid the country of all sorts of extremism and terrorism. He said the nation stood united and radical measures were taken and operations conducted to clear the country of such elements.
Pakistan, he said, was today a much safer country, and mentioned Karachi which had dropped down from being the top 10 most dangerous cities in the world. "We countered and defeated terrorists and we are committed to continue to do so," he added.
The prime minister said the country was progressing economically and said the China-Pakistan Economic Corridor would open up the country to Europe and Central Asian Republics. He said the growth rate was expected to reach over 6% owing to several bold initiatives of the government. He said his government stood firm in putting the economy back on track as he believed that it was the biggest check on terrorism.
He said the Pakistani nation had always rejected radicalism and no such party had ever succeeded in the general elections nor they would in the next. Abbasi also mentioned the ban on the use of private ownership of automatic weapons and the public religious stance of castigating suicide bombing and that declaring jihad was only the right of the State and not any individual.
The prime minister urged the world to take note of the indigenous freedom movement in Kashmir and said the issue could only be resolved through implementation of the UN Security Council resolutions. He mentioned the state brutality and gross human rights violations by the Indian occupation forces that did not differentiate between women, children, elderly and the youth.
During the event organised by the National Counter-Terrorism Authority (NACTA), one-minute silence was observed to honour all those who lost lives in the war against terrorism.
Full report at:
https://dailytimes.com.pk/224358/pakistan-succeeded-in-war-against-terror-while-the-world-failed-pm/
--------
JUI-F protests against bombing of Dasht-e-Archi Madrasa
APRIL 6, 2018
KHYBER AGENCY: Jamiat Ulema-e Islam (F) on Thursday held a protest demonstration in Landi Kotal against the killing of seminary students during an airstrike in Dasht-e Archi of Kunduz province in Afghanistan.
Large number of party workers, tribal elites and city dwellers gathered at Bacha chowk.
Protesters carried banners and placards inscribed with slogans against killing of innocent students.
In their address to the enraged protesters Mufti Ijaz, Haji Said Anwar Mehsud, Muhammad Umar Banuri and others condemned the brutal act of the Afghan military allied with US forces.
The airstrike bombed convocation in the religious seminary that killed reportedly more than 50 civilians including children and left 150 injured.
"America portrays herself as a champion of peacemaker but in real she is the pioneer of terrorism in the world", they remarked.
The speakers criticised human rights organisations for their silent role towards the genocide of Muslims.
They urged the government to immediately halt NATO supply to Afghanistan and expel US envoy from the country.
Full report at:
https://dailytimes.com.pk/224297/jui-f-protests-against-bombing-of-dasht-e-archi-madrasa/
--------
Europe
Islam's green future: Inside Europe's first eco-mosque
05 April 2018
CAMBRIDGE: A building under construction in Cambridge seeks to marry both in what will be Europe's first eco-mosque.
The project is 10 years in the making and has tested the ingenuity of architects and engineers. But it is on track to open in early 2019 not only as a place of prayer but also a space for teaching and welcoming people of all faiths.
"It is a place for the whole community, not just Muslims," said Tim Winter, a lecturer in Islamic studies at Cambridge University.
Winter converted to Islam almost 40 years ago, taking the Arabic name Abdal Hakim Murad. He has studied in Egypt and Saudi Arabia and performed Hajj three times. His day job is lecturing in Islamic studies, but his other passion is the mosque.
A place for Cambridge Muslims to worship in is long overdue. According to the last census in 2011,
Cambridge is home to 8,000 Muslims, but that figure fails to take into account overseas students at the two universities (Cambridge and Anglia Ruskin) and 50 language colleges, or the growing number of "new Muslims."
At last count, there were 100,000 Muslim converts in Britain.
Cambridge has five mosques, but none is purpose-built and all are too small. For years, worshippers have made do with rented halls, often spilling out into the corridors or street. So, 10 years ago, Winter established the Cambridge Mosque Trust, a registered charity dedicated to raising funds to build a mosque that was fit for purpose.
It was also his idea to make the mosque as "green" as possible. Care for the environment is important in Islam, but the eco-mosque should also keep the bills down, too.
In 2008, the trust acquired a one-acre derelict site for £4 million in Mill Road, an area of Cambridge with a significant Muslim population. The city council unanimously granted planning permission and, in 2009, an international architectural competition was held to find the right design.
A jury with representatives of the trust, the Muslim community and an architecture lecturer chose a design by London architects Marks Barfield, the firm behind the London Eye.
Winter gave Arab News an exclusive tour of the project. Even in its half-finished state, the building looks breathtakingly lovely. Curved timber supports shaped like trees hold up a latticed ceiling. The walls will be clad in honey-toned gault bricks with red bricks in relief. Entrance to the mosque from the street will be through a garden and open portico with Turkish marble tiles featuring a geometric design.
As well as a prayer hall holding 1,000 worshippers, the complex will have a restaurant, teaching spaces, a room for weddings, an exhibition area for local artists (of any faith), and two four-bedroomed apartments for a resident imam and the center's director.
At the rear of the building will be a fully fitted mortuary for those taking their last journey, and another garden with a play area for children.
The mosque's green credentials are impressive. The timber supports are made of Scandinavian larch wood from a sustainable forest. The complex has underfloor heating and rainwater collection points on the roof. Water from the ablution areas will be recycled for use on the garden and for toilet-flushing.
The roof will be covered in sedum moss, which improves insulation and provides an environment for insects and birds to thrive. Heating and hot water will come from photovoltaic panels donated by a local businessman. A sophisticated heat pumping system will identify pockets of warmer air and constantly adjust the overall temperature.
"As technology improves over time, we should be able to reduce our energy costs even more," said Winter.
The complex also has eight boxes for swifts. These will provide a habitat for a species that is endangered in Britain and also evoke the sight of the birds that circle the Suleiman mosque in Turkey.
"It's called 'creation care' —
acknowledging and respecting the order in nature created by a higher being," said Winter.
Raising the £22 million cost of the project began with crowdfunding and has continued with private donations. Some have been sizeable — a million riyals from a Saudi princess, an even larger sum from an Emirati, and substantial sums from a Muslim group in Hong Kong — but most are small amounts from individuals.
"We carry out due diligence for anything over £10,000. We have to be sure where the money is coming from and there must be no strings attached. It would be hard to say no to requests or demands if there are strings," said Winter.
He hopes the mosque will host parties of schoolchildren and other visitors "coming to learn about a religion that is misrepresented and misunderstood."
The Cambridge community has been almost entirely supportive, he said. "The only opposition has been from the far right. There have been two marches organized by the English Defense League and the police operation was the biggest ever in South Cambridgeshire. The people in the march were not local, they were bussed in. The local people are all on our side and we had a spike in donations afterwards."
The prayer hall has two spaces for women: one an area with partial screening at different heights "for those who require it" and a gallery upstairs "for those who want a grand view of what's going on."
Cambridge has a long association with Islam, dating back to traders and scholars in the Middle Ages. After the Crusades, masons came from Syria and worked on English Gothic architecture.
More recently, Muslims began arriving in the 1950s and 1960s, mainly from Bangladesh and Pakistan. Today, there are also sizeable contingents of Turks, Kurds, Algerians and Kazakhs, as well as "new Muslims."
"At last count, there were 100,000 converts in Britain," said Winter.
Sunnis and Shiites will worship together at the new mosque "as they do in most places." The imam will be chosen carefully. "There is no place for sectarianism or radicalism here."
Winter, 57, is a founder of the Cambridge Muslim College, which trains British-born imams (and where he is known by his Arabic name Abdal Hakim Murad). A widely respected scholar, he is frequently included in the list of 500 most influential Muslims published by the Royal Islamic Strategic Studies Center. Shepherding the mosque project is clearly an act of faith, but it is also a labor of love.
"I want this to be a place that brings people together and benefits not only Muslims in Cambridge but anyone from anywhere who comes here," he said. "This is not a place to keep Muslims apart but a place for the whole community to enter."
As to what form the grand opening will take or who will officiate, Winter said there are no firm plans yet.
A member of the royal family, perhaps? "I really don't know — although we do have a Duke of Cambridge, don't we?"
http://www.arabnews.com/node/1279731/world
--------
French authorities arrest 'Godfather of Belgian Jihad' for sending fighters to Syria
05/04/2018
BEIRUT, LEBANON (8:50 P.M.) – The French authorities arrested an infamous cleric on March 27th for allegedly funneling jihadists into Syria, La Figaro reported on April 4th.
The cleric, Bassam Ayachi, a 72 year old French-Syrian citizen, was arrested on charges of aiding a terrorist group during his time in Syria.
Ayachi initially traveled to Syria alongside his son, 'Abdel-Rahman, in 2013; they would later join Liwaa Suqour Al-Sham (var. Hawks of the Levant Brigade) in Idlib.
'Abdel-Rahman was later killed while fighting with Liwaa Suqour Al-Sham against the Syrian Arab Army (SAA) in Idlib.
According to the UAE's The National publication, "he (Ayachi) has been named 'The Godfather of Belgian Jihad' for his time founding the Belgium Islamic Centre in the Brussels suburb of Molenbeek – a heartland of extremism in western Europe. It rose to international prominence after it emerged that several of the jihadists involved in the Paris attacks of 2015 had been radicalised there. He served as the centre's imam for two decades, during which time he is believed to have facilitated the travel of dozens of radicalised Belgian recruits to Syria and Afghanistan."
Full report at:
https://www.almasdarnews.com/article/french-authorities-arrest-godfather-of-belgian-jihad-for-sending-fighters-to-syria/
--------
Turkish parliament's human rights committee to probe Islamophobia in Europe
April 06, 2018
A group of Turkish lawmakers will travel to the heart of Europe to investigate rising Islamophobia on the continent.
Speaking to Anadolu Agency on Thursday, Ömer Serdar, the head of parliament's Human Rights Committee, said that they will hold meetings with state authorities during their visits to Germany, France and Belgium.
Serdar, a senior lawmaker from the ruling Justice and Development Party (AK Party), said that they will discuss the issue of marginalization.
"We will investigate whether authorities take measures against the hostility of Islamophobic discrimination in Muslims' daily lives," said Serdar.
Serdar said after their investigation they will prepare a report.
"After that, we plan to hold a symposium both nationally and internationally," he added.
Germany has witnessed growing Islamophobia and hatred of migrants in recent years triggered by a propaganda from far-right and populist parties, which have exploited fears over the refugee crisis and terrorism.
Some 950 Muslims and Muslim institutions were attacked in 2017, according to the official figures.
At least 33 Muslims were injured in these attacks, which included assaults on Muslim women wearing headscarves and attacks on mosques and other Muslim institutions.
Germany, a country of 81.8 million people, has the second-largest Muslim population in Western Europe after France.
Among the country's nearly 4.7 million Muslims, 3 million are of Turkish origin. Many of them are second or third-generation Turkish families who migrated to Germany in the 1960s and are well-integrated.
"We will try to define Islamophobic issues based on legislation" in the Western countries, said Adnan Boynukara, another top committee member.
He added that they would visit Berlin and Cologne on April 9.
Full report at:
https://www.dailysabah.com/islamophobia/2018/04/05/turkish-parliaments-human-rights-committee-to-probe-islamophobia-in-europe
--------
Hungarian envoy praises Turkey on EU's security
05 April 2018
Hungarian Ambassador to Turkey Gabor Kiss said on Thursday that his country supports Turkey's accession process to the European Union (EU) and commends Turkey's efforts for the EU's security.
Kiss met central Corum province's Mayor Zeki Gul and offered him to make any Hungarian city and Corum sister cities.
"We had friendly relations in history. Political relations between the two countries are also excellent nowadays," Kiss said during his visit.
He praised Turkey's active role in accepting millions of refugees and fighting terrorism.
"We appreciate Turkey for hosting nearly 3.5 million Syrian refugees. We support Turkey's EU accession process and we also praise Turkey's efforts for European Union's (EU) security," he said.
On the other hand, he underlined that, one of the first countries to condemn the 15 July coup attempt was Hungary.
He pointed out that he has been in Turkey for seven years and visited touristic places including Istanbul, Kayseri and Trabzon.
Full report at:
http://www.worldbulletin.net/europe/200737/spanish-judge-charges-ex-catalan-police-chief-with-sedition
--------
Southeast Asia
China Bans Online Bible Sales as It Tightens Religious Controls
By IAN JOHNSON
APRIL 5, 2018
BEIJING — The Chinese government has banned online retailers from selling the Bible, moving in the wake of new rules to control the country's burgeoning religious scene.
The measures to limit Bible sales were announced over the weekend and began taking effect this week. By Thursday, internet searches for the Bible came up empty on leading online Chinese retailers, such as JD.com, Taobao, and Amazon, although some retailers offered analyses of the Bible or illustrated storybooks.
The retailers did not respond to requests for comment, although Thursday is the start of a long holiday weekend in China.
The move aligns with a longstanding effort to limit the influence of Christianity in China. Among China's major religions — which include Buddhism, Taoism, Islam and folk beliefs — Christianity is the only one whose major holy text cannot be sold through normal commercial channels. The Bible is printed in China but legally available only at church bookstores.
The advent of online retailers created a loophole that made the Bible easily available. This was especially important in China given the growing dominance of online shopping.
The closing of that loophole follows new government religious regulations that have effectively tightened rules on Christianity and Islam, while promoting Buddhism, Taoism and folk religion as part of President Xi Jinping's efforts to promote traditional values.
The moves also come as China is engaged in negotiations with the Vatican to end the split between the underground and government-run Catholic church. This would end a nearly 70-year split between the Chinese government and the global church, which Beijing traces to the Vatican's historically strong anti-Communist stance.
Observers said the new measures could be a sign of a broader crackdown. At a news conference on Tuesday outlining Beijing's approach, a government spokesman said the Vatican would never be allowed control over the clergy in China. That came after a recent government reorganization in which a hard-line Communist Party department took over management of religious policy.
"It sounds like the opposition force within the Chinese authorities who oppose the Vatican-China relations have their voice," said Yang Fenggang, head of the Center on Religion and Chinese Society at Purdue University. "It clearly shows that they worry or are concerned about Catholics as well as Protestants."
Texts for other major religions are available online in China: The Taoist classic the Daodejing is for sale on JD, Taobao, and Amazon, and Buddhist sutras are available commercially.
The Quran was also sold online, perhaps reflecting Islam's status as a faith practiced by minorities who sometimes enjoy more privileges than the majority ethnic Chinese population. The Quran is also available commercially in bookstores and, unlike the Bible, has the Chinese equivalent of an ISBN, a numeric book identifier.
Both Christianity and Islam, however, have come under heavy government pressure.
From 2014 to 2016, more than 1,500 crosses were removed from churches in one Chinese province with close ties to Mr. Xi. At the same time, the government has stepped up measures against what it sees as excessive public displays of the Islamic faith, such as men wearing long beards or women wearing headscarves, as well as shops and restaurants that do not sell pork products, tobacco or alcohol.
At the same time, government policy has encouraged faiths that it sees as more indigenized, for example by subsidizing Taoist music or folk religious pilgrimages. Mr. Xi has also spoken favorably about Buddhism, calling it integral to Chinese people's cultural and spiritual life.
This overall approach to faith was reflected in a report issued Tuesday that shows the extent of the country's religious revival. The previous report, in 1997, showed that China had 100 million followers of all of its officially sanctioned religions. The new report doubles the number.
Although other surveys show higher overall numbers, the new report is significant because it represents official recognition of China's religious boom.
The report shows that most religions in China have been quickly increasing their reach. The number of Buddhist or Taoist believers was not counted because those faiths lack membership rolls, but their growth can be seen in the increasing number of temples — to 33,500 and 9,000 today from 13,000 and 1,500 in 1997.
Christianity presented a more bifurcated picture. Catholicism grew during the same period to six million worshipers from four million, while Protestantism increased to 38 million adherents, from 10 million. Most surveys and experts, however, believe that these figures represent only about half the total number of believers, because each has a strong underground church that roughly matches the number of believers in government-run churches.
In China, Islam is defined as being practiced by most members of 10 non-Chinese ethnic groups, especially the Hui and Uighurs. Their populations totaled 20 million in 2018 versus 18 million in 1997, according to the report.
Both Christianity and Islam were singled out for contributing to problems in China. According to the report, government-appointed Muslim figures condemned violence, especially in the heavily Muslim region of Xinjiang, which is the site of longstanding unrest against control by Beijing.
Christianity was linked to historic troubles, especially China's decline in the 19th century — the "century of humiliation" that Mr. Xi has vowed to reverse. The report says that Catholicism and Protestantism were "controlled and utilized by colonialists and imperialists."
The new report stated that Chinese publishers have printed 160 million copies of the Bible, exporting it to more than 100 countries. About half were published in Chinese, according to the report. Assuming none of those were exported, that would roughly mean one Bible for each of the faith's adherents.
https://www.nytimes.com/2018/04/05/world/asia/china-bans-bible-sales.html?mtrref=www.google.co.in&gwh=CFF24095F16FF58338F176FD3645AB04&gwt=pay
--------
Reading of poem upsets hard-line Islamic groups
5 APRIL 2018
JAKARTA: Hard-line Islamic groups yesterday filed a blasphemy complaint against a daughter of Indonesia's first president, accusing her of reciting a poem insulting Islam and prompting fresh concerns over intolerance in the world's most populous Muslim-majority country.
Sukmawati Sukarnoputri, a politician, is the third daughter of Indonesia's founding father Sukarno and the younger sister of Megawati Sukarnoputri, who leads President Joko Widodo's ruling party.
Indonesia is a secular country with significant Christian, Hindu, Buddhist and other religious minorities, but a rise of hard-line, politicised Islam and stricter interpretations of the religion have undermined its reputation for tolerance in recent years.
The Islamic Defenders Front (FPI) was among an alliance that reported Sukmawati, as she is usually known, to police over the poem. The same alliance last year accused Jakarta's former Christian governor of blasphemy and spearheaded mass rallies that led to his ousting and jailing, a ruling many believed politicised and unjust.
"It's clear there is an insult toward the teachings of Islam in the poem," said Eggi Sudjana, a lawyer and an adviser to the alliance.
"We hoped that Ahok's case would be the last one, but now there are others who dare to insult Islam again," he said, referring to the ex-Jakarta governor Basuki Tjahaja Purnama by his nickname.
Sukmawati apologised for reading the poem, which appeared to favour traditional culture and beliefs over conservative Islamic customs like the full veil, in public.
"The poem is a reflection of my concern about the sense of nationalism and to honour our motherland's rich cultural traditions and diversity. I apologise to Islamic people in Indonesia, especially to those who feel offended by the poem," said Sukmawati, whose family is highly influential.
FPI's Novel Bamukmin said the alliance appreciated the apology but would not withdraw its complaint. "There will be no mercy for those who blaspheme."
Rights activists feared the controversy was a sign that religious tolerance and freedom of expression are being eroded in the world's third-largest democracy.
"It's creating an atmosphere of fear," said Andreas Harsono of Human Rights Watch. "People never know when someone could report them to the police for blasphemy against Islam."
Suspects can be jailed for up to five years under the blasphemy laws, which have been criticised by rights groups as draconian and vulnerable to abuse.
Full report at:
https://www.iol.co.za/pretoria-news/reading-of-poem-upsets-hard-line-islamic-groups-14258887
--------
Islamic party invites Hamas leader Ismail Haniya to Indonesia
April 06, 2018
Jakarta (ANTARA News) - Muslim-based United Development Party (PPP) will invite Hamas leader Ismail Haniya to come to Indonesia to explain the current situation in Palestine.
"We have limited access to information about Palestine. It is hoped that the presence of the Hamas leader would help us understand the future better," PPP general chairman Romahurmuzy stated here, when receiving Hamas representative for Asia, Muslim Imran, on Wednesday.
In a press statement received here on Thursday, Imran, who is also the chief of Palestinian Cultural Organization Malaysia (PICOM) based in Kuala Lumpur, met Romahurmuzy to deliver a two-page long letter in Arabic language from Haniya.
He also conveyed Haniya`s best regards and requested PPP`s support for the recognition of Palestinian independence.
Imran noted that the diplomatic struggle of Islamic countries would be stronger with people-to-people and party-to-party support, adding that after receiving support from Malaysian political parties, it was now time for Hamas to seek support from PPP, which is the oldest Islamic party in the country.
"PPP welcomes the invitation for cooperation with Hamas, and in connection with that, we would invite Ustadz (teacher) Haniya to visit Indonesia. We believe his presence would strengthen the solidarity and serve as a diplomatic solution not only between state officials but also between political parties," Romahurmuzy remarked.
The PPP leader reaffirmed the party`s support to Palestinian independence. Through its representatives in the parliament and the government, he revealed that PPP would continue to assure that all diplomatic efforts would be taken to make Palestine`s independence recognized across the world.
He added that PPP would initiate a Palestinian cultural organization, similar to the PICOM in Indonesia, in cooperation with other political parties.
On the occasion, Romahurmuzy expressed deep concern and condemned the acts of violence committed by Israel in the past three days, which have left 17 people dead.
Full report at:
https://en.antaranews.com/news/115230/islamic-party-invites-hamas-leader-ismail-haniya-to-indonesia
--------
Perlis Raja Muda bans party flags, posters at mosques, religious schools
April 6, 2018
KANGAR, April 6 — The Raja Muda of Perlis Tuanku Syed Faizuddin Putra Jamalullail today urged workers of all political parties against hoisting or pasting of their party flags, posters and any form of party propaganda at the compound of mosques, surau, cemeteries and religious schools in the state.
He said in the run-up to the 14th general election, all quarters should show their political maturity and to not go overboard in their efforts to ensure victory for their respective parties.
This is in line with the seven decree by the Raja of Perlis Tuanku Syed Sirajuddin Jamalullail on the prohibition of using mosques in the state for politics, he said in a statement today.
Full report at:
http://www.themalaymailonline.com/malaysia/article/perlis-raja-muda-bans-party-flags-posters-at-mosques-religious-schools
--------
Indonesians Fight to Keep Mystical Religion of Java Alive
April 05, 2018
JAKARTA —
Indonesia took a much praised step toward religious tolerance last year by allowing its citizens to list native faiths beyond the six officially recognized religions on their identity cards.
In the early 1960s, Muslim conservatives persuaded the founding president Sukarno to counter mystical sects that they claimed "tarnished" Islam. Followers of the nation's roughly 245 indigenous faiths gradually left them, leaving only about 200,000 followers of native faiths today in a country of 260 million people.
52 years later, native faiths are poised to make a comeback. They include Javanese kejawen, which combines elements of Java's Hindu-Buddhist past, folk Islam, Sufi mysticism, and animism. An aim of kejawen practice is discovering batin, the hidden or inner self, through meditation and ritual. The stronghold of kejawen today is Yogyakarta, an ancient sultanate on the southern Javanese coast that has had fierce practitioners even through the decades of suppression.
"What you might call 'pure kejawen' has certainly decreased," said Suwardi Endraswara, a professor at the State University of Yogyakarta. "But kejawen rituals persist, especially in Yogyakarta…because kejawen is 'endemic' here: to the forest, the trees, the rivers."
The Circle
A major way that kejawen is preserved is through spiritual organizations like Sapta Darma and Subud, which was founded in 1920's Indonesia and now has branches in 83 countries.
Harry Jaran, an artist and hotel manager in Yogyakarta, belongs to one such group, called Pagubayan (or "Circle" of) Hangudi Bawana Tata Lahir Batin, short for a Javanese phrase that means "opening up the world to divine inspiration."
"As soon as the court decision came out last year, I changed my identity card from Muslim to kepercayaan," said Jaran, using the Indonesian word for "belief" that is sometimes used interchangeably with kejawen. Jaran showed VOA his prayer room, which he painted with a mural of Javanese South Sea goddess, and his meditation garden, with an enormous Buddha statue, at his hotel in northern Yogyakarta. They exemplify the collage aesthetic of kejawen practice.
The Circle meets late on Thursday nights and Friday mornings, "when the border between the spirit and human worlds is thin," as Jaran explained. They convened under a vast banyan tree in Yogyakarta's Bantul district just after midnight on a recent Friday. They lit incense, meditated, and took turns bathing in a nearby spring. Wartoyo Sugianto, an old painter and one of the group's senior members, communicated between the group and their "ancestor spirits" in a high register between a whisper and a laugh.
Lea Indriani, another member of the Circle, is a furniture designer who came to kejawen when she moved to Indonesia as an adult. She is half-Indonesian but grew up in continental Europe.
"Kejawen is not a religion," she said. "It is universal. Our ancestors would laugh if you ask which religions are correct." Until the ruling, she had long listed her religion as "Muslim" on her National ID card, under her father's counsel. "He was thinking of the 1965 killings [of up to 1 million suspected Communists and leftists] and the Christian-Muslim conflict in Maluku in the 1990's and said, 'If something happens you need an alibi,'" she said. "I resisted at first, but doctors wouldn't even treat me if the religion column on my card was blank." "It looks like things are looking up now for us to practice openly," she said.
Folk Islam
Most kejawen practitioners have been officially identifying as Muslims on their state ID cards, said Professor Suwardi, and in fact, many still do and see no conflict. But kejawen-tinged folk Islam is highly distinctive.
For instance, at the Mataram cemetery for medieval kings in Yogyakarta's old town, women cannot enter with a hijab, the Islamic headscarf, even though the late kings and the site itself is fully Muslim. In fact, the splendid, 500-year-old complex includes a large mosque. On Thursday evenings, Javanese Muslims come to the cemetery gates directly after their last prayer at the mosque to light incense and pray over fires, a distinctively [Hindu] Vedic practice.
"This is Javanese Islam," said Nugroho, one of the cemetery's hereditary caretakers. "We don't leave behind the cultures that came before."
First of many steps
Kejawen has been lucky: although it's an indigenous faith, it's the largest indigenous faith in Indonesia and it belongs to Java, the richest and most populous island, and the Javanese, the largest and most powerful ethnic group in Indonesia.
"There are enough superstitions about kejawen that, even in the Suharto era, people let it slide," said Suwardi.
Smaller native faiths have been hit much harder. Indigenous groups like the Rimba people of the Sumatra jungle are still converting from animism to Islam to get access to social services.
Full report at:
https://www.voanews.com/a/indonesians-fight-to-keep-mystical-religion-of-java-alive/4333638.html
--------
Indonesian hard-line Islamic group calls for jihad and protests against ex-president's daughter
April 06, 2018
One of Indonesia's most respected Islamic clerics has issued a call for calm as religious conservatives attack the daughter of the nation's first president, Sukarno.
One hard-line group has issued a "call for jihad" against Sukmawati Sukarnoputri for allegedly insulting Islam in a poem.
It is the same blasphemy offence that led to a two-year jail term for Jakarta's Christian governor "Ahok" Basuki.
The head of the Indonesian Ulema Council, Ma'ruf Amin, has called for compassion and compromise as Ms Sukmawati's critics attempt to escalate the issue into a major crisis.
"We need to solve our differences through dialogue, to find solution and agreement … we don't want conflict like in other countries," said Ma'ruf Amin, who held a joint press conference with Ms Sukmawati.
The hard-line Islamic Defenders Front (FPI), who issued the "call for jihad", has asked its supporters to protest against Ms Sukmawati after this week's Friday prayers.
The group complained to police about a poem written by the younger sister of former president Megawati Sukarnoputri.
The complaint focused on two lines of the poem, written in 2006.
"I don't know Islamic Sharia, what I know is that the essence of Mother Indonesia's konde (a traditional hairstyle) is very beautiful, more so than the veil on your face.
… I don't know Islamic Sharia, what I know is that Mother Indonesia's song is so pleasing, more so than your call to prayer."
Ms Sukmawati, like her father and sister, is Muslim.
Ms Sukmawati has apologised to "all the Muslims in Indonesia" for offending them but her apology has not satisfied groups like the FPI.
Behind the criticism of Ms Sukmawati is a complex web of revenge and political alliances ahead of general elections in 2019.
The FPI has loathed Ms Sukmawati since she made a complaint to police last year about FPI leader Habib Rizieq Shihab, saying the cleric had insulted Indonesia's founding principles.
Rizieq fled the country during a police investigation into the complaint, and remains in self-imposed exile in Saudi Arabia.
It is possible he will be prosecuted over the offence if he returns.
Ms Sukmawati and her sister Megawati are also political allies of Indonesia's president Joko Widodo.
Ms Megawati is chair of Jokowi's PDIP party. The president is up for re-election next year and his campaign would be damaged by protests or criminal charges against Ms Sukmawati.
One potential rival candidate against Jokowi, former military commander Gatot Nurmantyo, has joined in the controversy with a poem of his own.
"Beautiful and lovely Mother Indonesia is not her real face.
Full report at:
http://www.abc.net.au/news/2018-04-05/call-for-jihad-against-sukarno-daughter-over-poem/9624324
--------
Philippines' Duterte Cites 'Genocide' in Myanmar, Says Will Take Refugees
April 06, 2018
Manila. Philippine President Rodrigo Duterte said on Thursday (05/04) "genocide" was taking place in Myanmar and he was willing to accept Rohingya Muslim refugees fleeing from it, though Europe should help too.
The United Nations and rights groups say some 700,000 people, most of them Rohingya, have fled from Myanmar into Bangladesh since August last year when Rohingya militant attacks on the security forces sparked a military crackdown.
The United Nations and several Western countries have said the Myanmar action constitutes ethnic cleansing but Myanmar rejects that. It says its security forces have been conducting legitimate operations against "terrorists."
Duterte, in a wide-ranging speech to farmers and agriculture officials at the presidential palace, touched on various issues including his recent decision to withdraw from the International Criminal Court over its decision to open a preliminary investigation into his bloody war on drugs.
Drawing the ire of officials in Myanmar, Duterte then expressed sympathy for the Rohingya and offered to help.
"I really pity the people there," Duterte said. "I'm willing to accept refugees. Rohingyas, yes. I will help but we should split them with Europe."
He also mentioned the inability of the international community to resolve problems in Myanmar.
"They can't even solve the Rohingya. That's what genocide is, if I may say so," Duterte said.
Myanmar has rejected any suggestion genocide is taking place and its government spokesman, Zaw Htay, said Duterte's comments did not reflect the real situation.
"He doesn't know anything about Myanmar," Zaw Htay told Reuters. "The usual behavior of that person is to speak without restraint. That's why he said that."
Duterte's comments were broadcast live on television and later included in a transcript of his speech, issued by his office.
Such a denunciation by a Southeast Asian leader of a neighbor is rare.
Both the Philippines and Myanmar are members of the Association of South East Asian Nations which has long upheld a convention of withholding criticism of fellow members.
Full report at:
http://jakartaglobe.id/international/philippines-duterte-cites-genocide-myanmar-says-will-take-refugees/
--------
Mideast
Israel, Saudi Arabia Has Common Enemy, Areas of Cooperation: Bin Salman
Apr 5, 2018
In an apparent reference to Iran, Saudi Crown Prince Mohammed bin Salman says the regimes in Saudi Arabia and Israel have "a common enemy" and that they could immediately normalize their relations once the Palestine issue is resolved.
In an interview with the TIME magazine published on Thursday, the first in line to the Saudi throne spoke of the prospect of Riyadh-Tel Aviv relations, describing the regime's conflict with the Palestinians as the only obstacle to the normalization of ties with Israel.
"We have a common enemy, and it seems that we have a lot of potential areas to have economic cooperation," the crown prince said.
The remarks come days after bin Salman, in an interview with the Atlantic, attempted to put Israeli and Palestinian land claims on an equal footing in a dramatic shift in Riyadh's long-held position on Palestine, saying Israelis, like Palestinians, have the "right" to have "their own homeland."
That interview stirred so much controversy among the defenders of the Palestinian cause that apparently forced the prince's father, Saudi King Salman, to reaffirm support for the Palestinians and their "legitimate rights" to an independent state in a phone call with US President Donald Trump.
Bin Salman, Saudi Arabia's de facto leader, repeated the same stance in his remarks to TIME and said both Israelis and Palestinians "have the right to live and coexist."
Saudi Arabia has been the main sponsor of the Arab Peace Initiative, which envisions a so-called two-state solution to the Israeli-Palestinian conflict.
However, prior to bin Salman, no senior Saudi official had publicly accepted that Israel has a right to any land.
"We cannot have relations with Israel before solving the peace issue with the Palestinians," but "when it happens, of course next day we'll have good and normal relations with Israel and it will be in the best for everyone," he stated.
Saudi Arabia does not officially recognize Israel and has no formal ties with the regime. However, the two sides have been widely reported to have cooperated secretly for years.
The warming of Riyadh-Tel Aviv relations has gathered pace since June 2017, when bin Salman became the crown prince.
In recent months, the kingdom has been gradually softening its public posture toward Israel in what analysts describe as an attempt by Riyadh to prepare public opinion at home and elsewhere for potential normal relations with Israel.
Recent reports also suggest that Saudi Arabia has taken up an active role in US attempts to scramble a "peace" deal between the Israelis and Palestinians to get rid of the decades-long conflict, which Riyadh views as a stumbling block to overt relations with Tel Aviv.
Last November, Lebanon's al-Akhbar daily published a secret undated letter from Saudi Foreign Minister Adel al-Jubeir to bin Salman, in which he outlined a roadmap for normalizing ties with Israel with the ultimate goal of uniting against Iran, their common enemy.
Under that roadmap, Saudi Arabia and Israel would first try to resolve the Palestine issue, with Riyadh making huge pro-Israel concessions on the issues of Palestinian refugees and the occupied Jerusalem al-Quds, which the Palestinians want as the capital of their future state.
Afterwards, they would pursue their "common goals" regarding Iran.
Last November, Palestinian Authority President Mahmoud Abbas traveled to Riyadh for closed-door talks with bin Salman about Trump's Middle East plans, which are yet to be unveiled.
The New York Times cited Palestinian, Arab and European officials as saying a month later that bin Salman presented a plan "that would be more tilted toward the Israelis than any ever embraced by the American government, one that presumably no Palestinian leader could ever accept."
"The Palestinians would get a state of their own but only noncontiguous parts of the West Bank and only limited sovereignty over their own territory. The vast majority of Israeli settlements in the West Bank, which most of the world considers illegal, would remain. The Palestinians would not be given East Jerusalem (al-Quds) as their capital and there would be no right of return for Palestinian refugees and their descendants," the report said.
Abbas later denied that report. So did bin Salman in his comments to TIME.
Bin Salman's latest interview came towards the end of its three-week tour of the United States, where he met with leaders of a number of pro-Israeli lobbying groups, including the American Israel Public Affairs Committee (AIPAC).
The Israeli military's chief of staff, Gadi Eizenkot, recently said the regime was ready to share intelligence with Saudi Arabia on Iran.
Israeli Energy Minister Yuval Steinitz has indicated that Israel has had secret contacts with Saudi Arabia and other Arab countries over their mutual concerns about Iran.
http://www.presstv.com/Detail/2018/04/05/557547/Saudi-Israel-Bin-Salman
--------
Rivals step up as doubts grow over ailing Abbas
06 April 2018
AMMAN: After Mahmoud Abbas took over the Palestinian presidency on Jan. 15, 2005, journalists in Ramallah noticed something different. The new resident of the presidential compound, known as Al-Muqata, followed normal business hours. He would arrive in the morning, go home for lunch and leave at 5 p.m.
The business-like atmosphere indicated a new kind of leader. Gone was Yasser Arafat, the revolutionary who dressed in fatigues and often worked through the night before his death in 2004. Here was a suit-and-tie leader who wanted to show he was a civilian leader ready for negotiations, not a Che Guevara-style guerrilla.
But Abbas, who turned 83 recently, has little to show for his efforts, with peace talks moribund and US President Donald Trump's administration taking a hard line on issues such as Jerusalem, which Washington has recognized as the Israeli capital.
Abbas has been outraged by the change in American policy, railing against the decision to move the US embassy from Tel Aviv. But while his angry words have garnered sympathy from sections of the international community, he has failed to gather support for a new strategy that rejects Washington as the main broker in peace talks.
A series of health scares has further focused minds on who might succeed Abbas and the future priorities of the Fatah party that he leads.
Salam Fayyad, the former Palestinian prime minister, told Arab News that the need for political direction was more important than any change in personnel.
"We need to have a clear strategy that can help us deal with the huge challenges ahead," said Fayyad, now a visiting professor at the Woodrow Wilson School for public and international affairs at Princeton University.
"The number one priority must be to find ways to unify the splintering Palestinian population and leadership."
A recent opinion poll found that 68 percent of Palestinians want Abbas to resign, while just 33 percent said they were satisfied with his performance, according to the Palestinian Center for Policy and Survey Research.
Fatah candidates tipped to succeed Abbas include Jibril Rajoub, a former security chief, and Mahmoud Aloul, a veteran party leader, both members of the decision-making central committee. Analysts see these men as the main contenders.
Majed Farraj, Abbas' security chief, is another possibility. Marwan Barghouti, a former leader of the second intifada or uprising, is still popular among Palestinians, but is serving multiple life sentences in an Israeli prison.
Meanwhile, Mohammed Dahlan, who lives in exile in the UAE, has the support of Gulf countries, but is bitterly opposed by the local leadership in Ramallah.
Concern over Abbas's future has led to the Israeli authorities preparing for the possibility of a prolonged succession struggle that could threaten the relative calm in the West Bank, Israeli newspaper Haaretz reported.
Fatah is the dominant party in the Palestine Liberation Organization (PLO) and leads the Palestinian National Authority, controlling its budget and security forces. The party remains in bitter dispute with Hamas, which seized control of Gaza in 2007 after winning the last legislative elections for the PNA in 2006 when Abbas won the presidency.
The Palestine National Council (PNC), the main legislative body of the PLO, is set to elect a new executive committee at a meeting likely to take place in Ramallah on April 30. The PNC includes Palestinians from the diaspora, but does not include Hamas or Islamic Jihad.
Hani Almasri, general manager of Masarat, a Palestinian think tank in Ramallah, told Arab News he would like to see the PNC unify the Palestinians. "What we badly need at the PNC meeting is a meeting of minds so that we can all agree on the new direction of the Palestinian national movement."
Full report at:
http://www.arabnews.com/node/1279806/middle-east
--------
Campaign urges Israel soldiers to refuse to shoot unarmed Palestinians
06 April 2018
Jerusalem: A prominent campaign by an Israeli rights group on Thursday urged soldiers to refuse to shoot at unarmed Palestinians as tensions increased ahead of new protests along the Gaza border.
The campaign by the B'Tselem NGO, which included advertisements in Israeli newspapers, led Israel's public security minister to suggest the group should be investigated for calling for sedition.
The calls come after a mass protest along the Gaza border last Friday that led to clashes with Israeli forces, who killed 17 Palestinians. New mass protests are expected again on Friday.
B'Tselem's campaign included advertisements saying: "Sorry Commander, I cannot shoot."
"Soldier, rules of engagement that can cause the death of civilians who do not pose a danger to human lives are illegal," the NGO said.
Israel has pledged to stop attempts to damage the heavily fortified fence on the Gaza border and to prevent illegal infiltrations, including with live fire if necessary.
Defense Minister Avigdor Lieberman issued another warning this week, saying those who approach the fence will put "their life in danger."
Public Security Minister Gilad Erdan told Israel's army radio on Thursday that he had asked the attorney general to examine whether B'Tselem should be investigated for "calling for sedition."
"Concerning rules of engagement, soldiers treat any activity putting Israel's security in danger as terrorist acts," he said.
Israel's use of live fire last week has come under criticism from rights groups, while the European Union and UN chief Antonio Guterres have called for an independent investigation.
Israel has defended its soldiers' actions, saying they opened fire only when necessary against those throwing stones and firebombs or rolling tires at soldiers.
It said there were attempts to damage the fence and infiltrate Israel, while alleging there was also an attempted gun attack against soldiers along the border.
Full report at:
http://www.arabnews.com/node/1279781/middle-east
--------
Little sympathy in Iran for YouTube shooter's frustration
AP | Apr 5, 2018
TEHRAN: The Iranian-American woman who opened fire at YouTube's headquarters this week appears to have lashed out after she felt the company had censored her often bizarre videos-a motive that many found perplexing in Iran, where YouTube, Facebook and Twitter are blocked.
Nasim Aghdam, who posted videos under the online name Nasime Sabz, opened fire at YouTube on Tuesday, wounding three people before killing herself. Her father said she was angry at the video-sharing website because it had stopped paying for her videos, which promoted exercise, animal rights and a vegan diet.
People who post on YouTube can receive money from advertisements that accompany their videos, but the company "de-monetizes" some channels for reasons including inappropriate material or having fewer than 1,000 subscribers.
Whatever obstacles she faced were dwarfed by those in Iran, where the government blocks YouTube, Facebook and Twitter, and where online content critical of authorities or Islam can land people in jail.
Hossein Naderi, a 23-year-old art student in Tehran, questioned why Aghdam chose to "live in the US, though she didn't like it there," adding: "I wish I was there to use YouTube freely."
Aghdam also ran a Farsi-language channel on the messaging app Telegram, which had 6,000 followers, but she was virtually unknown in Iran, where some 40 million people are believed to use the service. In one post she says: "Internet crackdown and filtering is increasing in the West."
Hamideh Heidari, a 35-year-old teacher in Tehran, said Aghdam needed "psychiatric help."
Kimia Shobeiri, 18, suggested the shooting, like Aghdam's prolific posts, was a ploy to get attention.
"She was insane and just wanted to make herself famous," she said. "With this act she damaged the reputation of Iranians."
The Farsi-language content Aghdam posted on Telegram would have been unlikely to attract a large following in Iran. One video was a tutorial on buttocks massage, and another featured a song praising Bahaism, a religion that originated in Iran but is heavily suppressed by the Islamic Republic.
Ghasem Mahmoudi, a kitchen utensils trader in Tehran, blamed the shooting on social media itself, where "anybody, without a background check, has a channel or whatever where he can broadcast ideas with no controls."
Full report at:
https://timesofindia.indiatimes.com/world/middle-east/little-sympathy-in-iran-for-youtube-shooters-frustration/articleshow/63629643.cms
--------
Researcher kills four staff at Turkish university
April 06, 2018
ISTANBUL - A researcher killed four fellow staff members in a shooting Thursday at a university in the western Turkish city of Eskisehir, in one of the deadliest incidents of its kind seen in Turkey.
Deadly shootouts - often caused by arguments that degenerate into violence - are relatively common in Turkey. But a shooting on a campus is highly unusual.
Those killed were the deputy dean of the education faculty, faculty secretary and two lecturers at Osmangazi University, the university said in a statement.
The attacker, himself a researcher at the education faculty, was later detained after initially trying to flee the scene, the Dogan news agency said. Police were questioning him.
The university's rector Hasan Gonen confirmed to CNN-Turk television that four people had been killed.
He said the attacker - named by state media as Volkan B - initially went to the dean's office and shot at the others after finding it empty.
Gonen described the individual as a "problematic" person who had been verbally insulting the academic personnel. "We are launching an investigation into the researcher. He was a problematic person... I believe he targeted the personnel as a result of psychological problems," he said. He added the university did not know how the man had entered the university grounds with a gun but did not think the incident had any links to terror. Campuses in Turkey are ususally well guarded.
Eskisehir, a city of nearly one million, is on the railway line between Ankara and Istanbul and has rarely been the scene of any kind of violent attack.
"We are extremely sad. The chief prosecutor's office is tackling the incident," said Eskisehir governor Ozdemir Cakacak.
Some reports said the attacker had also upset staff members by alleging that they were members of the group of Fethullah Gulen blamed for the 2016 failed coup.
Dogan said that the attack sparked panic at the university, with both students and teachers in a state of shock.
Television pictures showed shocked staff and students gathering outside the university's main entrance. Many ambulances were sent to the area. Some pictures showed tearful staff speaking on mobile phones seeking to assure relatives that they were not harmed.
Full report at:
https://nation.com.pk/06-Apr-2018/researcher-kills-four-staff-at-turkish-university
--------
Israel says open-fire rules for Gaza unchanged for new protests
5 April 2018
Defence Minister Avigdor Lieberman said Thursday that open-fire rules for the Gaza border that saw Israeli forces kill 18 Palestinians last week during a mass protest will remain unchanged.
"If there are provocations, there will be a reaction of the harshest kind like last week," Lieberman said on the eve of fresh protests expected on the Israeli-Palestinian border.
"We do not intend to change the rules of engagement," the minister told public radio.
Last Friday, a protest by tens of thousands on the Gaza border led to clashes with Israeli forces.
In addition to the 18 Palestinians killed on Friday, two other Gazans have died since then.
Israel has faced calls for an independent investigation from the European Union and United Nations chief Antonio Guterres over Friday's violence.
Israel has rejected the calls, saying its soldiers opened fire when necessary to prevent attacks, attempts to damage the fence and infiltrations.
Full report at:
https://english.alarabiya.net/en/News/middle-east/2018/04/05/Israel-says-open-fire-rules-for-Gaza-unchanged-for-new-protests-.html
--------
Yemen army retrieves strategic sites in Bayda, kills Houthi leader
6 April 2018
The Yemeni army retrieved on Thursday new strategic locations in the Redman district north of Al-Bayda province.
According to a military source, the army forces were able to liberate a number of strategic locations in the area of Qanya north of the Al-Bayda, including Al-Faliq mountain, Ramdah plateau and Al Wae'el and Kharfan mountains overlooking the area of Qanya, as well as Al Yasbel area and a number of sites and hills.
He added that "the liberation of these sites coincided with intensive air raids by the coalition forces, targeting the locations and tracing the movements of the militias, resulting in significant human and material losses in their ranks, including the destruction of a weapons' depot in She'ab Al Ma'ez in Bani Wahab, Sawadiyah Directorate.
An air strike by coalition fighters targeted positions of the Houthi militia in Jabal Mas'udah, in Al-Bayda, resulting in the death of the Houthi leader Abu Al-Hassan Al-Saadawi and a number of militia members, according to field sources.
At the same time, the army artillery intensively bombarded the positions of the militias in Jabal Mas'udah and Jabal Al-Aar causing deaths and injuries within the militias and the destruction of their machinery.
Full report at:
https://english.alarabiya.net/en/News/gulf/2018/04/06/Strategic-sites-retrieved-in-Al-Bayda-death-of-Houthi-leader.html
--------
North America
Last Suit Accusing N.Y.P.D. of Spying on Muslims Is Settled
By COLIN MOYNIHAN
APRIL 5, 2018
The last of three major lawsuits over the surveillance of Muslims by the New York Police Department was settled on Thursday, ending years of litigation over a broad, decade-long spying program in which Intelligence Division detectives eavesdropped on conversations in cafes, asked people about their views on drone strikes and designated mosques as potential terrorist organizations.
As part of the settlement of Hassan v. City of New York, the police will use "reasonable and diligent efforts" to expunge certain information pertaining to Muslim communities in New Jersey that the Intelligence Division gathered. The Department will also give plaintiffs a chance to propose revisions to a policy guide on compliance with the Handschu Guidelines, which govern how the police may investigate political and religious activity.
Senior police officials will attend a public meeting with the plaintiffs, and the city will pay 10 businesses, mosques, student groups and individuals amounts ranging from $1,250 to $22,500 to satisfy their claims for damages. The settlement confirms that New York Police Department investigations involving political activity in New Jersey are subject to the Handschu Guidelines.
Neither the city nor the police admitted any misconduct or violation of the law.
"Today's settlement marks a monumental victory for American-Muslim communities far and wide who have demanded fair and equal treatment by law enforcement," said Farhana Khera, executive director of Muslim Advocates, which filed the suit and was later joined by the Center for Constitutional Rights and the law firm Gibbons P.C.
"The resolution of this case affirms and enhances the N.Y.P.D.'s commitment to conducting effective investigations to prevent crime and terrorism," said the police commissioner, James P. O'Neill. "This has occurred while also protecting the constitutional rights and freedoms that every N.Y.P.D. employee takes a sworn oath to uphold."
The Hassan case was filed in 2012 on behalf of individuals, businesses, student associations and mosques in New Jersey who said that New York detectives had violated the Constitution by conducting surveillance of at least 20 mosques, 14 restaurants, 11 retail stores, two grade schools and two Muslim student organizations and creating more than 20 maps of Newark noting the location of mosques and the ethnic composition of Muslim neighborhoods.
The police also took photographs and video at mosques, collecting license plates, the lawsuit said. The suit added that the program was "founded and operated upon a false and constitutionally impermissible premise: that Muslim religious identity is a legitimate criterion for selection of law enforcement surveillance targets, or that it is a legitimate proxy for criminality."
The covert program, carried out by the demographics unit during the Bloomberg administration, became a lightning rod for criticism. Initially, the Police Department would not confirm that the unit existed. A series of articles by The Associated Press first detailed the surveillance. As a mayoral candidate, Bill de Blasio criticized it, and in 2014 the then-police commissioner, William J. Bratton, disbanded the unit, which the department had acknowledged had not generated a terrorism investigation in six years of monitoring communities.
While New York City moved to settle two lawsuits making similar claims filed in Federal District Court in Manhattan and Brooklyn, it fought the suit in New Jersey. The Law Department argued that the New Jersey surveillance was constitutional and that the plaintiffs lacked standing because any harm they suffered came not from the police actions but from the disclosure of unredacted documents by The Associated Press.
In 2014, Judge William Martini, of Federal District Court in Newark, agreed, dismissing the case and saying that the plaintiffs had not "alleged facts" from which it could be plausibly inferred that they had been targeted solely because of their religion. He suggested instead that the surveillance was probably meant to locate budding terrorist conspiracies.
But the next year the Third Circuit Court of Appeals in Philadelphia restored the case, writing that it had "plausibly alleged that the city engaged in intentional discrimination," adding: "We have been down similar roads before. Jewish-Americans during the Red Scare, African-Americans during the civil rights movement and Japanese-Americans during World War II are examples that readily spring to mind."
Lawyers who brought the Hassan case said its settlement builds upon one last year that resolved the lawsuits filed in New York City. And Omar Farah, a senior staff attorney with the Center for Constitutional Rights, said the settlement would help repair relations between the Police Department and Muslims who had been subject to invasive surveillance.
"The document itself says explicitly that the NYPD has to change its training approach from avoiding litigation risk to positively emphasizing protecting the equal rights of all Americans," he said. "That's going to create lasting improvements to the way the NYPD interacts with this community."
https://www.nytimes.com/2018/04/05/nyregion/last-suit-accusing-nypd-of-spying-on-muslims-is-settled.html?mtrref=www.google.co.in&gwh=44F15A50CB07E3E216576AA6D472053A&gwt=pay
--------
Pentagon Wades Deeper Into Detainee Operations in Syria
By ERIC SCHMITT
APRIL 5, 2018
WASHINGTON — The United States military is spending about $1 million to help detain thousands of Islamic State fighters and their family members in makeshift camps run by Kurdish militias in northern Syria, pulling the Pentagon deeper into the war zone detention operations it has sought to avoid.
The dilemma is unfolding even as President Trump has pledged to withdraw the 2,000 remaining United States troops in Syria, many of whom are vetting the most dangerous detainees, and suspend more than $200 million in State Department recovery funds for the country.
Defense Department and Kurdish officials said several thousand detainees — including at least 400 fighters from more than three dozen countries and their families, as well as other Syrian militants — were being held in several camps. The American funding is paying to erect fencing, put bars on windows and otherwise secure schools and other buildings being used as temporary jails for fighters who were captured or surrendered after last year's collapse of Raqqa, the Islamic State's self-proclaimed capital.
Military officials insist American personnel are not strengthening the buildings or guarding the detainees themselves, just paying for it.
Critics fear the facilities could become breeding grounds for extremists and repeat a key security miscue of the Iraq war. But without the American assistance, the camps lack sufficient security to prevent jailbreaks of battle-hardened militants who could reinvigorate pockets of Islamic State fighters near Abu Kamal, a town in eastern Syria along the Iraqi border.
Syrian Kurdish officials said the camps were straining their capacity to oversee the dangerous fighters and rapidly depleting their budgets to pay for operations at the half-dozen sites in and around Raqqa. One senior American official said as many as 50 to 60 fighters were detained in a single room.
"The process has been tedious," Kino Gabriel, a spokesman for the Kurdish-led militia known as the Syrian Democratic Forces, said by WhatsApp from Qamishli, Syria. "The interrogation is taking time, and filtering the prisoners has not been an easy task. We need all kinds of support from the international coalition."
American diplomats and Pentagon officials are frantically trying to persuade countries to repatriate their citizen fighters who have been detained, but so far have had few takers.
"It is critical that countries take their citizens back and prosecute them in a timely manner commensurate with their crimes," Nathan A. Sales, the State Department's counterterrorism coordinator, said in an email. "We call on our partners to take responsibility for their citizens."
The Islamic State has lost nearly all the territory it seized in Iraq and Syria in 2014. But American intelligence and military officials warn that the extremist group has pivoted to a deadly insurgency in areas it formerly controlled, and still holds sway with a potent appeal on social media for adherents from Europe to the Philippines to carry out attacks wherever they are.
Two commandos — one American soldier, one British — were killed in a roadside bombing last week in Manbij, a contested city in northern Syria.
"Although ISIS has been decimated in Iraq and Syria, its ideology still resonates globally," David M. Cattler, the government's national intelligence manager for the Near East, said last month. "ISIS is evolving and adjusting."
Unlike suspected Islamic State militants seized in neighboring Iraq — mostly from the northern city of Mosul and surrounding areas — the detainees being held in the Kurdish region of Syria fall into a legal gray area and face an uncertain long-term fate.
Kurdish authorities are parceling out justice in ad hoc courts, but the region is still part of Syria, and Kurdish control is not internationally recognized.
In a hearing of the Senate Armed Services Committee last month, Senator Lindsey Graham, Republican of South Carolina, raised concerns about American culpability for the growing number of fighters in the custody of the Syrian Democratic Forces.
"Do you think we have a credible plan to detain these people?" Mr. Graham asked Gen. Joseph L. Votel, the head of the military's Central Command, which oversees operations in the Middle East.
"We actually do have a plan to detain them on the ground," General Votel said. He also noted the effort to repatriate the detainees.
"If they don't go back to their countries, do you think we have a plan — credible plan — to detain them inside of Syria long term?" Mr. Graham asked.
"We are working on improving the capacity of the Syrian Democratic Forces to do that right now," General Votel said. He offered no details, but a senior American military official said the Pentagon planned to spend about $1 million on the improvements. The funding, however, may now be in doubt, given Mr. Trump's vow last week to withdraw troops and aid from Syria.
Still, the Pentagon has openly acknowledged the security problem.
"These aren't necessarily the best detention facilities, in the sense of they are being held in Syria, and not in the most secure area," Kathryn Wheelbarger, principal deputy assistant secretary of defense for international security affairs, said in February. "There were certain days where we are seeing 40 to 50 a day were being captured, so a capacity problem is very real."
Teams of specialists from the International Committee of the Red Cross have visited the detention sites in Syria. A spokeswoman for the organization, Anna Nelson, declined to comment on the conditions in the camps, following organization policy.
Kurdish officials have said that conditions in the camps meet international standards, especially for women and children, and that Kurdish authorities were sorting out combatants from local civilians who were pressed by the Islamic State into administrative or medical jobs, and could be safely released.
United States Special Operations troops advising the Kurdish-led militia are cataloging fingerprints and other so-called biometrics of the more than 400 suspected foreign fighters in at least three camps near Raqqa. The American forces are also interrogating the detainees to learn more about foreign fighter networks and threats to their home countries.
"They're taking the time to go through the prisoners and know who they are," Mr. Cattler said during remarks at the Washington Institute for Near East Policy. "It's critically important."
Indeed, American officials were able to identify through biometric screening two British men infamous for their role in the Islamic State's imprisonment, torture and killing of Western hostages.
The men, Alexanda Kotey and El Shafee Elsheikh, were part of a group of four Islamic State militants known as the Beatles because of their British accents. They were the last two members of the group to remain at large.
American military officials and human rights advocates see parallels between the evolving detention situation in Syria and the Iraq war. Militants, including Abu Bakr al-Baghdadi, the current leader of the Islamic State, were held for years at Camp Bucca, a sprawling American detention center in southern Iraq where they became more radicalized.
One of the main reasons to strengthen the makeshift camps in Syria is to prevent any jailbreaks, like one in February in which a handful of Islamic State fighters escaped, military officials said.
A series of daring but little-noticed breakouts from Iraqi prisons several years ago freed hundreds of hardened militants who are now among the leaders and foot soldiers of the Islamic State and other radical Sunni groups operating in neighboring Syria and, increasingly, in Iraq itself.
That group even had a name for its prison strategy, Operation Breaking the Walls, which unfolded during a 12-month campaign from July 2012 until a major break at Abu Ghraib, the main Iraqi prison, on the western outskirts of Baghdad, in July 2013.
Eventually, some 40,000 fighters from more than 120 countries joined the battles in Syria and Iraq over the past four years, American and other Western officials said. While thousands died on the battlefield, officials said many thousands more probably slipped away to conflicts in Libya, Yemen or the Philippines, or went into hiding in countries like Turkey.
About 295 Americans are believed to have traveled to aid extremists in Iraq or Syria, or tried to, United States officials said.
Full report at:
https://www.nytimes.com/2018/04/05/world/middleeast/pentagon-detainees-syria-islamic-state.html?mtrref=www.google.co.in&gwh=201D949BD1D23B37203466CA96BEF343&gwt=pay
--------
U.S. Policy on Fighting Islamic State in Syria Unchanged: Pentagon
April 5, 2018,
BY IDREES ALI
WASHINGTON (Reuters) - U.S. military policy toward fighting Islamic State militants in Syria remains the same following discussions with President Donald Trump this week, and the military has not been given a timeline for withdrawing troops, the Pentagon said on Thursday.
Trump agreed in a National Security Council meeting this week to keep U.S. troops in Syria a little longer to defeat Islamic State but wants them out relatively soon, a senior administration official said on Wednesday.
Trump wants to ensure Islamic State militants are defeated but wants other countries in the region and the United Nations to step up and help provide stability in Syria, the official said.
Trump had signaled his desire to get U.S. forces out of Syria in a speech last week, and officials said he had privately been pressing for an early withdrawal in talks with his national security aides.
"We've always thought that as we reach finality against ISIS in Syria we're going to adjust the level of our presence there, so in that sense nothing actually has changed," Marine Lieutenant General Kenneth McKenzie, director of the Joint Staff, told a Pentagon briefing.
McKenzie said Trump has not given the U.S. military any timeline.
"... one of the things that we haven't been given is a timeline and that is actually very effective ... (The) president has actually been very good in not giving us a specific timeline," McKenzie said.
The United States is conducting air strikes in Syria and has deployed about 2,000 troops on the ground, including special operations forces whose advice has helped Kurdish militia and other U.S.-backed fighters capture territory from Islamic State, also known as ISIS.
The Pentagon and State Department have said a longer-term U.S. effort would be needed to ensure that Islamic State's defeat is a lasting one.
The militant group is widely expected to revert to guerrilla tactics once the last remnants of its once self-styled "caliphate" are captured by U.S.-backed forces.
Full report at:
https://www.usnews.com/news/world/articles/2018-04-05/us-policy-toward-fighting-islamic-state-in-syria-unchanged-general
--------
Impact of Islamophobia on cultures and global politics
April 06, 2018
Islamophobia is commonly defined as the intense or irrational hatred, hostility and fear of Islam. It perpetuates negative stereotypes resulting in bias, discrimination and the marginalization and exclusion of Muslims or Islamic activists from social, political and civic life. Moreover, it has manifested itself as a form of structural racism that is directed at a perceived or real Muslim threat through the maintenance and extension of existing disparities in economic, political, social and cultural relations. Islamophobia essentially dehumanizes Muslims and thus rationalizes the use of violence against them as a tool.
It reintroduces and reaffirms a global racial structure through which resource distribution disparities are maintained and extended.This phenomenon may have always existed in varying degrees in many societies, but it has in the last few decades become prevalent around the world, especially in the West after 9/11 and the so-called war on terror. In recent years, many of its aspects have become institutionalized through official policies and state structures. In addition, it has been featured in many political campaigns and parties, especially in the U.S. and Europe, causing not only distrust and alienation for significant segments within these societies, but also tension and polarization in many communities around the world. Unfortunately, Islamophobia has unleashed a lucrative industry led by dangerous interest groups with extremist political, social, and economic agendas. If unchecked, it threatens perpetual wars and destruction causing immeasurable pain and suffering.
The Center for Islam and Global Affairs (CIGA) at Istanbul Sabahattin Zaim University (IZU) will organize an international conference on April 6-8 under the theme: "Contextualizing Islamophobia: Its Impact on Culture and Global Politics." It's important to emphasize the academic nature of the conference as all speakers have been selected for their impeccable credentials on the subject. No governmental entity has been associated with the conference's organization nor funding any of its activities.
The conference will feature over 25 renowned scholars on the subject from Turkey and around the world including academics from the U.S., Europe, Asia, and the Middle East. The conference speakers include professor Salman Sayyid from the U.K., professor Mehmet Görmez, former president of Dianet, professor Farid Hafez from Austria, professor Johan Galtung from Norway, professor Hatem Bazian, Ramon Grosfoguel, Sahar Aziz, Todd Green, Nazia Kazi, and Amed Bedier from the U.S, professor Mohammad Marandi from Iran, professor Kaarina Aitamurto from Finland, professor Mohamed Nawab Osman from Singapore, professor Farhan Chak from Qatar, professor Mazin Qumsiyeh from Palestine, professor Maung Zarni from Myanmar, and professor Ravza Kavakci Kan, professor Burak Erdenir, professor Enes Bayraklı, professor Ali Hüseyinoğlu from Turkey, as well as many of our faculty members at IZU. In addition, several distinguished guests will join the conference as discussants and contributors including renowned professor emeritus Bruce Lawrence from Duke University and professor Ahmad Abdelrahman from Sudan and who is associated with many international universities.
The conference will discuss the impact of Islamophobia on culture, society, politics and international relations. It will explore its roots from epistemological and historical perspectives, outlining the political and cultural factors contributing to its rise, its intellectual framework, and the reasons for its pervasiveness. The cultural and social impact of Islamophobia will also be presented including its negative effects on its victims and practitioners. In other sessions, the social cost in terms of the erosion of civil and human rights will be discussed featuring several examples from different regions, as well as the likely long-term political and strategic dimensions around the world. How Islamophobia is used as a tool of foreign policy and empire will also be explored. Several presentations will engage with the notion that the religious affiliation of Islamophobia is not material to its manifestation by exploring the role of Muslim Islamophobes who are as dangerous and destructive as any other religious or ideological affiliation. Finally, a discussion featuring all the participants will be devoted to strategies and policies that need to be adopted and pursued to end or reduce the harmful and detrimental effects of Islamophobia.
Full report at:
https://www.dailysabah.com/op-ed/2018/04/06/impact-of-islamophobia-on-cultures-and-global-politics
--------
Twitter suspends 1 million accounts for 'terrorism promotion'
April 06, 2018
WASHINGTON - Twitter said Thursday it has suspended over one million accounts for "promotion of terrorism" since 2015, claiming its efforts have begun to make the platform "an undesirable place" to call for violence.
In its latest transparency report, Twitter said it suspended 274,460 accounts between July and December 2017 "for violations related to the promotion of terrorism."
The figure is down 8.4 percent from the previous reporting period and is the second consecutive decline, a Twitter statement said. "We continue to see the positive, significant impact of years of hard work making our site an undesirable place for those seeking to promote terrorism, resulting in this type of activity increasingly shifting away from Twitter," said the statement from the messaging platform's public policy team.
Twitter has faced pressure from governments around the world to crack down on jihadists and others calling for violent attacks, while at the same time maintaining an open platform for free speech.
In the latest six-month reporting period, Twitter said 93 percent of the suspended accounts were "flagged by internal, proprietary tools," and that 74 percent were cut off before their first tweet. It said government reports of violations related to the promotion of terrorism represent less than 0.2 percent of all suspensions in the period. Twitter also used the report to express concerns about what it called "legal threats to freedom of expression" online in countries around the world.
"With the passage of new legislation and ongoing regulatory discussions taking place around the world about the future of public discourse online, we are seeing a potential chilling effect with regards to freedom of expression," the report said.
Full report at:
https://nation.com.pk/06-Apr-2018/twitter-suspends-1-million-accounts-for-terrorism-promotion
--------
US approves $1.3 bn worth of artillery sale to Saudi Arabia
Apr 6, 2018
The US administration has given the green light to a $1.3 billion sale of artillery to Saudi Arabia, ignoring reports that its weapons have greatly contributed to a high rate of civilian deaths amid Riyadh's war on Yemen.
President Donald Trump's administration told the Congress of the planned sale late on Thursday, according to the State Department.
The package of arms planned to be sold to the Saudis include about 180 Paladin howitzer artillery-firing vehicles, systems that look like a combination of a tank and a cannon and are capable of firing 155mm shells.
The Congress has now 30 days to stop the new US arms sale to Saudi Arabia although it seems highly unlikely as the White House normally seeks the approval of key lawmakers before making such announcements.
This is a second major weapons deal between the US and Saudi Arabia during a trip by Saudi Crown Prince Mohammed bin Salman to the US. The young prince arrived in Washington two weeks ago and has already signed a deal that involved more than $1 billion in missiles.
Saudi Arabia was the first country Trump visited after taking office last year. It was announced during his visit to Riyadh that Washington could sell $110 billion in military equipment to Saudi Arabia in a period of 10 years. The State Department said at the time that the deal could grow to $350 billion over a decade.
The massive arms sales come despite repeated international calls on the US to stop supporting the Saudis with modern weaponry, which the kingdom has, according to many reports, used in its devastating war on Yemen.
Around 14,000 civilians, many of them civilians, have been killed in over three years of Saudi military adventure in Yemen.
Washington has denied it is directly supplying the Saudis with weapons in the war but numerous reports have suggested that US arms have played a part in massive civilian casualties.
This is while the US military admitted last month that the US Central Command does not track how Riyadh uses Washington-supplied planes and munitions.
A report by the Stockholm International Peace Research Institute (SIPRI) revealed last month the US has increased its arms sales by 25-percent over the past five years.
Full report at:
http://www.presstv.com/Detail/2018/04/06/557574/US-Saudi-Arabia-arms-sale
--------
South Asia
PM Hasina for real teaching of Islam in Bangladesh
April 05, 2018
The prime minister has inaugurated construction works on nine model mosques and Islamic cultural centres.
Describing Islam as a religion of peace, Prime Minister Sheikh Hasina on Thursday emphasized the need for real teaching of Islam in the country.
"We want Bangladesh to be built with a non-communal spirit. The people of all faiths will practise their own religious rituals properly. This is the principle of Islam," she said.
She made the remarks while inaugurating construction works on nine model mosques and Islamic cultural centres in different places of the country through a videoconference from her official residence, Ganabhaban, in Dhaka.
The nine mosques and centres are being constructed under a project titled "Establishment of a total of 560 Model Mosques and Islamic Cultural Centres in each District and Upazila."
Sheikh Hasina said her government has taken this initiative so that people can get the real teaching of Islam and exercise Islamic culture properly.
"We want the image of our holy religion to be upheld. Islam is a religion of peace. We want the peace to prevail," she said adding that the dignity of Islam is being defamed by killing innocent people and carrying out militant and terrorist acts in the name of the holy religion.
She reiterated that there will be no place for militancy, terrorism and drug on Bangladesh soil. "We want everyone here to live in peace and have socio-economic progress."
Recalling that Father of the Nation Bangabandhu Sheikh Mujibur Rahman established the Islamic Foundation in March, 1975, Hasina said it was his dream that the people from all religions would perform their own religious rituals freely in this country.
Later, the prime minister heard the speeches of imams (religious leaders) and public representatives of Tungipara upazila of Gopalganj, Chittagong, Mymensingh, Noakhali, Dakkhina Surma of Sylhet, Khulna, Rajapur of Jhalakati and Sherpur of Bogra through the videoconference from Ganabhaban.
She also talked to Opposition Leader Raushan Ershad through the videoconference while inaugurating the model mosque in Mymensingh.
Religious Affairs Minister Matior Rahman also spoke on the occasion, while Principal Secretary Md Nojibur Rahman conducted the videoconference.
Religious Affairs Secretary Md Anisur Rahman made a brief description of the project through a power-point presentation, informing that construction works of over 100 mosques will start by the end of 2018.
A video documentary on the project was screened. The district-level model mosques will be four-storey ones, while that of the upazila-level model the three-storey ones.
The model mosques to be constructed in coastal areas will be four-storey ones with the ground floor remaining vacant for use as shelter centres during any natural disaster.
A total of Tk8,722 crore will be spent on constructing the mosques and centres.
Road Transport and Bridges Minister Obaidul Quader and the prime minister's Political Affairs Adviser HT Imam were also present.
http://www.dhakatribune.com/bangladesh/nation/2018/04/05/pm-hasina-real-teaching-islam-bangladesh/
--------
Afghan Officials Say Pakistani Aircraft Bombarded Border District
April 05, 2018
Mohammad Ahmadi
WASHINGTON / ISLAMABAD —
Security officials in eastern Afghanistan said Pakistani army helicopters bombarded a border district Thursday, hours after firing off 600 rounds of artillery in the region over the past 24 hours.
No casualties were reported.
Afghanistan's Foreign Office in a statement condemned the alleged airstrike on Dangam district in Kunar province, calling it a violation of Afghanistan's sovereignty. The statement said the continuation of such actions would affect relations between the two countries.
Pakistan's Prime Minister Shahid Khaqan Abbasi is scheduled to travel to Afghanistan on an official visit Friday at the invitation of Afghan President Ashraf Ghani.
Pakistan's Foreign Office rejected allegations that it had violated Afghan airspace, calling the charges "baseless."
Abdul Ghani Mosamem, spokesperson for the governor of Afghanistan's Kunar province, told VOA that no casualties were reported because it's difficult to get any reports from the area. He said Pakistani airstrikes continued until late evening and targeted mostly agricultural terrain and mountainous areas bordering Pakistan.
Talking to VOA, a Pakistani lawmaker said he was not aware of any such incident.
Full report at:
https://www.voanews.com/a/afghan-officials-say-pakistani-aircraft-bombarded-border-district/4335033.html
--------
Myanmar minister hopes to visit Rohingya in refugee camps
April 5, 2018
BANGKOK — The Myanmar state minister overseeing the planned repatriation of hundreds of thousands of Rohingya Muslims from overcrowded refugee camps in Bangladesh said Thursday he hopes to talk to them when he visits this month.
Social Welfare Minister Win Myat Aye will be the first Myanmar Cabinet minister to visit the camps since the refugee flow began in August last year in response to a brutal counterinsurgency campaign.
Win Myat Aye told The Associated Press by phone that he will meet with officials working on repatriation during his April 11-12 visit.
"If the Bangladeshi government makes arrangements for us, we have requested to meet the refugees in the camps," he said. "My visit is to negotiate and to make the repatriation process smoother and quicker."
Win Myat Aye is seeking to convince the Rohingya that it is safe to return.
"It is our responsibility to accept them back," Win Myat Aye said. "Our main purpose is to tell the refugees that we are ready to accept them back and we want to explain to them about that."
Rights groups have raised concerns about the safety of returnees being sent back to Myanmar, where authorities have razed many Rohingya villages in the western state of Rakhine.
Myanmar's security forces have been accused of rape, killing, torture and the burning of the homes of Rohingya villagers after insurgents attacked about 30 police outposts on Aug. 25.
About 700,000 Rohingya Muslims flooded into neighboring Bangladesh to escape the violence.
After facing an international outcry and charges of ethnic cleansing, Myanmar announced that it was ready to accept their return, but repatriation has not yet begun.
Bangladesh's government has handed over a list of more than 8,000 Rohingya to Myanmar for verification of their identity so they could be repatriated. Myanmar's government information committee said in a statement last month that 193 Rohingya have been verified as of March 19.
Full report at:
https://www.washingtonpost.com/world/asia_pacific/myanmar-minister-hopes-to-visit-rohingya-in-refugee-camps/2018/04/05/575d67fc-38c4-11e8-af3c-2123715f78df_story.html?utm_term=.47e96adab9e8
--------
Bangladesh court extends bail for Zia until April 22
April 5, 2018
Dhaka, Apr 5 (PTI) A court in Bangladesh today extended the bail of imprisoned ex-prime minister and main opposition BNP chief Khaleda Zia until April 22 in a graft case, media reports said.
The 72-year-old three-time former prime minister was jailed for five years on February 8 in connection with the embezzlement of 21 million taka (about USD 250,000) in foreign donations meant for the Zia Orphanage Trust, named after her late husband Ziaur Rahman, a military ruler-turned-politician.
Judge Mohamad Akhtaruzzaman of the Special Judge Court-5 passed the order today after Zia's lawyers submitted a petition seeking the extension of the bail in connection with the Zia Charitable Trust corruption case, The Daily Star reported.
Zia, the Bangladesh Nationalist Party (BNP) chief, was not produced before the court as she was "physically sick", according to jail authorities.
The court also ordered authorities to produce her before it on April 22, the report said.
On March 28, the special court had fixed the date of April 5 for hearing arguments in the case.
The Zia Charitable Trust graft case, filed in 2011, accuses four persons including Zia of abusing power to raise funds for the trust from unknown sources.
The three others are: Harris Chowdhury, political secretary of then prime minister Zia between 2001 and 2006; Ziaul Islam Munna, Assistant Private Secretary (APS) to Harris; and Monirul Islam Khan, APS of former Dhaka city mayor Sadeque Hossain Khoka.
The corruption case is one of dozens pending against Zia, who has been a rival to Prime Minister Sheikh Hasina for decades.
The charges against Zia had led to her boycotting polls in 2014, which triggered widespread protests at the time.
Full report at:
http://www.india.com/news/agencies/bangladesh-court-extends-bail-for-zia-until-april-22-2983152/
--------
Taliban vow 'serious revenge' over Afghan airstrike
April 06, 2018
KUNDUZ - The Taliban have vowed to "take serious revenge" after an Afghan airstrike in an area controlled by the militant group killed or wounded dozens of people, many of them children.
The government and military have said the Afghan Air Force (AAF) hit a Taliban base in the northeastern province of Kunduz on Monday where senior commanders were meeting to plan attacks.
But Afghan security sources and witnesses have told AFP that AAF helicopters struck a madrassa in Dashte Archi district where a graduation ceremony for religious students was under way. At least 59 people were killed, including Taliban commanders, according to security sources. Health officials said at least 57 wounded were taken to hospital in the provincial capital Kunduz.
The Taliban issued a statement late Wednesday saying they "condemn in the strongest terms this major crime and vow to take serious revenge against the perpetrators".
An AFP photographer was among the first journalists to visit the scene of the airstrike on Wednesday after receiving permission from the Taliban. It is deep inside Taliban-controlled territory and normally inaccessible to the media.
The madrassa and mosque appeared to be undamaged. But in a field adjacent to the religious compound, where the graduation ceremony was purportedly held, AFP saw a hole in the ground that locals said was made by a rocket, though that could not be verified. AFP also saw large piles of hats, turbans and shoes that were said to belong to the victims of the airstrike. At least half a dozen freshly dug graves could be seen nearby.
Abdullah, 40, who lives near the compound housing the madrassa and mosque and was invited to attend as a member of the local community, told AFP that he saw the airstrike happen.
"We were about to finish the ceremony at 1:00 pm when (Afghan military) aircraft bombarded innocent children," he said Wednesday. "People were panicked. Children and elders were also wounded in the bombardment."
Government officials in both Kabul and Kunduz have given conflicting figures for the number of casualties, with some denying any civilians had been killed or that a madrassa had been hit. Afghan officials have been known to minimise civilian casualties. The Afghan military initially denied civilians were among the dead and wounded, but later blamed the Taliban for shooting them. It said 18 Taliban commanders were killed and 12 were wounded in the airstrike.
Full report at:
https://nation.com.pk/06-Apr-2018/taliban-vow-serious-revenge-over-afghan-airstrike
--------
ISIS leader Abu Ali's four militants killed in Nangarhar operations
Apr 05 2018
At least four militants affiliated with the Islamic State of Iraq and Syria (ISIS) terrorist group were killed during the operations in eastern Nangarhar province.
According to the local officials, the militants were killed during an airstrike conducted in support of the Afghan forces during the ground operations.
The provincial government media office in a statement said the operations were conducted in the vicinity of Haska Mina district.
The statement further added that four ISIS militants were killed after they came under airstrike in Payin area of the district at around 11 am local time on Tuesday.
According to the provincial government, the militants killed during the operation belonged to a ISIS group led by Abu Ali.
Several weapons and some ammunition belonging to the terror group were also destroyed during the airstrike, the provincial government added.
The anti-government armed militant and terrorist groups including ISIS group have not commented regarding the report so far.
This comes as counter-terrorism operations are underway against the Taliban, ISIS and other militants in some of the restive districts of Nangarhar.
Full report at:
https://www.khaama.com/isis-leader-abu-alis-four-militants-killed-in-nangarhar-operations-04807/
--------
Four IS militants killed in Afghan airstrike
April 5, 2018
Four Islamic State (IS) militants have been killed in an airstrike operation launched by Afghan forces in eastern Afghanistan's Nangarhar province, according to local officials on Thursday.
As per a statement from the provincial government's media office, the airstrike was conducted in Payin area near Haska Meyna district of Nangarhar province at around 11 am (local time) on Tuesday, Khaama Press reported.
During the operation, weapons, ammunition and vehicles belonging to the IS were destroyed as well, the statement added.
The IS and other terrorist organisations are yet to react to the latest development.
The latest airstrike comes as counter-terrorism ground operations are being conducted by Afghan and US forces in Afghanistan against the IS, Taliban and other militant groups in Nangarhar province.
Full report at:
http://www.business-standard.com/article/news-ani/four-is-militants-killed-in-afghan-airstrike-118040500995_1.html
--------
Arab World
Syrian Gov't Flag Hoisted by People in Raqqa
Apr 05, 2018
Field sources reported that a group of people in Raqqa named 'popular forces in the Eastern Region' hoisted the Syrian government's flag over one of the buildings of Raqqa city on Wednesday.
They also vowed to fight against the US forces and their affiliated militants in the region, according to the sources.
Tensions and clashes have increased between Raqqa residents and the American and US-backed Kurdish forces in recent days.
In a relevant development last week, a large number of people residing in Western Raqqa poured into the streets against the US-backed Syrian Democratic Forces (SDF), field sources said, adding that armed clashes erupted between the two sides.
The sources reported that residents of the village of al-Mansoureh and several other nearby regions in Western Raqqa engaged in heavy clashes with the SDF forces, adding that civilians set fire at a number of Kurdish forces' bases.
They also said that a number of SDF forces and civilians were wounded in the clashes.
Based on the report, the clashes happened after the Kurdish forces detained the leader of Bu Khamis tribe, Sheikh Bashir Hamdan al-Hashmar.
http://en.farsnews.com/newstext.aspx?nn=13970116000817
--------
West leading 'campaign of lies' on chemicals in Syria: Damascus
Apr 5, 2018
Damascus has denounced a recent statement by the US and its European allies, which blamed the Syrian government for an alleged chemical attack in the town of Khan Shaykhun last year, saying "the colonial western countries are leading a campaign of lies."
A source at the Syrian Ministry of Foreign Affairs and Expatriates said on Thursday that the US and its allies actually impeded an impartial and objective investigation into the allegations of a possible use of chemical weapons in the Arab country, SANA news agency reported.
"Such investigation unveils their lies, fabrications and involvement along with the terrorist groups in using this weapon to accuse the Syrian state, " the source added.
On April 4, 2017, a suspected sarin gas attack hit the town of Khan Shaykhun in Syria's Idlib Province, killing more than 80 people.
The Western countries rushed to blame the incident on Damascus, with the US launching a missile attack against Shayrat Airbase in Syria's Homs Province on April 7, 2017.
Washington claimed that the air field had been the origin of the chemical attack. Damascus, however, said the Khan Shaykhun incident was a fabrication to justify the subsequent US missile strike.
UK Foreign Secretary Boris Johnson, French Foreign Minister Jean-Yves Le Drian, German Foreign Minister Heiko Maas and US Acting Secretary John Sullivan issued a joint statement on Wednesday, marking the first anniversary of the Khan Shaykhun incident.
They claimed that the Syrian government forces had unleashed the gas attack "with tragic consequences for hundreds of men, women and children."
The Syrian Foreign Ministry source described the statement as "a continuation of the campaign of misleading and lies since the beginning of aggression" on the Middle Eastern state.
The US, Britain, France and Germany, the source said, are the main sponsors of the war on Syria through providing all types of political, military, financial and logistic support for anti-Damascus militants.
The source further referred to the confiscation of chemical substance at terrorists' hideouts in the Damascus suburb of Eastern Ghouta, saying the find "uncovered the goals of the hysteric campaign led by the hostile countries to protect the terrorist groups and conceal their full partnership with terrorism."
The Syrian nation and army are determined to completely eradicate terrorism and preserve the country's sovereignty, unity and territorial integrity, he pointed out.
Full report at:
http://www.presstv.com/Detail/2018/04/05/557520/Syria-Khan-Shaykhun-chemicals
--------
With ISIS striking back in Syria, a U.S. withdrawal would be a 'disaster,' Kurds warn
By Liz Sly and Zakaria Zakaria
April 5, 2018
BEIRUT — President Trump's hopes for a swift withdrawal of U.S. troops from Syria may prove premature, because the Islamic State is showing signs of renewed strength in its last strongholds in the east of the country, Syrian Kurdish officials said Thursday.
A complete defeat of the militants could yet be many years away, the officials said, expressing relief that Trump appears to have backtracked on comments made earlier this week that he wanted to pull U.S. troops out right away.
The Kurds said they have received assurances from the U.S. military that the estimated 2,000 or so U.S. troops in northern Syria won't leave imminently, and a White House statement on Wednesday indicated that they will remain until the Islamic State is defeated.
That could take time, the officials say, because the Islamic State has been putting up stiff resistance in the last two pockets of territory it controls along the Syria-Iraq border. No progress has been made in months, and the militants are starting to reclaim some of the territory they had lost.
Defeating the group, also known in Arabic as Daesh, "will take a long time, maybe years and years," said Saleh Muslim, the leader of the Democratic Union Party (PYD), a Kurdish political party in control of the northeastern area of Syria where the U.S. troops are deployed. "These are desert areas and Daesh can move between Iraq and Syria. They are not going to be finished so easily."
Offensive operations by the Kurdish-led Syrian Democratic Forces (SDF), the U.S. ally in ­Syria, were slowed by the Turkish invasion of the Kurdish enclave of Afrin in northern Syria in February, which prompted Kurdish and Arab fighters to leave the front line against the Islamic State to help defend the enclave. In recent days, Islamic State fighters have taken back an oil field and a village in the Deir al-Zour area, their first advances since they were routed from most of their major strongholds in Syria and Iraq last year.
"ISIS took advantage of the Afrin operation to catch its breath and organize its ranks and now has started to launch a counteroperation against our forces and civilians," said Nasser Haj Mansour, a former senior commander with Kurdish forces in Syria who is now an analyst at the Furat Studies Center. He said the Kurds are confident U.S. troops will stay to see the battle through.
"The American officials here say all of this is just a misunderstanding and that they have told the administration that you cannot just leave Syria now," he said. "Any American quick and sudden withdrawal of forces will generate a huge power vacuum in Syria."
"It would be a disaster, and even ordinary people in the street will consider it a betrayal," said Bedran Ciya Kurd, an official with the self-proclaimed administration running northeastern Syria, who estimates U.S. troops need to stay an additional three years in Syria to ensure the complete defeat of the Islamic State.
But the White House commitment to remain in Syria until the Islamic State is defeated may give the Kurds only a temporary reprieve. U.S. officials have said they believe it will take months, not years, to defeat the remnants of the Islamic State, and the military effort remains subject to Trump's whims.
An abrupt withdrawal would leave Syria's Kurds highly vulnerable not only to a revival of the Islamic State but also to the predations of their many foes, including Turkey to the north, and to the Syrian government alongside its Iranian and Russian allies to the west and south. Those nations have watched with alarm as the Kurds, aided by the U.S. military, assumed control of a vast area of northeastern Syria as they rolled back the Islamic State, expanding their autonomous Kurdish administration in the process.
A conflict threatening to erupt between Turkey and the Kurdish-led SDF in the town of Manbij is further distracting attention from the Islamic State fight. Even as Trump was promising an imminent withdrawal from Syria, U.S. troop reinforcements were being dispatched to the town, where the U.S.-backed SDF is facing down Turkish-backed Syrian rebels along a tense front line. Videos posted by local journalists have shown convoys of equipment arriving in the area and U.S. troops overseeing the establishment of at least two new bases.
As if to demonstrate their solidarity with the SDF, U.S. troops showed up in Manbij on Thursday during a demonstration organized to protest Turkey's incursion into northern Syria, according to photographs distributed by the SDF's press office. The troops mingled with the crowd and chatted with local security officials, but it was unclear whether they were aware they were attending a protest directed against America's NATO ally Turkey.
A U.S. military spokesman, Maj. Adrian Rankine-Galloway, declined to comment either on the troop reinforcements or the visit by U.S. troops to the center of Manbij. "Commanders are delegated the authority and the responsibility to position the number of people and resources needed to accomplish the mission and to protect themselves," he said in an emailed statement.
Muslim said that a withdrawal of U.S. troops within months would run counter to U.S. interests as well as Kurdish ones.
Full report at:
https://www.washingtonpost.com/world/syrian-kurds-warn-of-a-disaster-if-us-troops-leave/2018/04/05/0b5619e0-386e-11e8-af3c-2123715f78df_story.html?utm_term=.2b11249a7f24
--------
Al-Nusra Front's Positions in Hama, Idlib Destroyed
Apr 05, 2018
The Syrian army units engaged in heavy clashes with the al-Nusra terrorists in Eastern Idlib, bordering Northeastern Hama, on Thursday, killing a large number of them and smashing their military equipment.
Meantime, the army's artillery units targeted the terrorists' strongholds and moves in the village of Kafr Zita and al-Latamina in Northeastern Hama, destroying several bases and killing a number of militants.
The Syrian air force also launched airstrikes on the al-Nusra and other terrorist groups' moves and positions in Hama, specially regions near Zizon thermal power plant in Sahl al-Qab and the town of al-Zaqoum, inflicting heavy tolls and damage on the militants.
In a relevant development on Wednesday, the Russian and Syrian fighter jets carried out joint combat flights over terrorists' stronghold and movements in Hama and Idlib provinces, destroying several command posts of a non-Syrian terrorist group affiliated to the Al-Nusra Front.
The warplanes pounded terrorists' movements and positions in Kafr Zita and Morek regions in Northern Hama, destroying several militant strongholds and injuring a number of gunmen.
In the meantime, a field source reported that several command posts of al-Turkistani party affiliated to the Al-Nusra were damaged in the air attacks in Eastern Lattakia.
Meanwhile, the Syrian Air Force bombed heavily terrorists' movements in the villages of Eidoun, al-Damineh, Bariqath and al-Qarbatiyeh in Southern Hama, killing or wounding a large number of militants.
Full report at:
http://en.farsnews.com/newstext.aspx?nn=13970116000632
--------
Evacuation of Syria's Douma suspended over disagreements
6 April 2018
Evacuations from the rebel-held town of Douma near the Syrian capital were suspended on Thursday, days after hundreds of opposition fighters and their relatives left for areas of the country's north as part of a surrender deal following a massive government offensive.
State news agency SANA said the suspension was the result of disagreements within the Army of Islam rebel group, adding that buses that entered Douma for the evacuations on Thursday returned without passengers.
Douma is the last town held by rebels in the eastern Ghouta suburbs of Damascus. Other rebel groups agreed to relocate to the north after a Russia-backed government offensive in February and March that killed hundreds of people and caused catastrophic destruction.
The Army of Islam appears to have reached a deal with Russia to relocate to parts of northern Syria controlled by Turkey-allied opposition forces. On Wednesday, 650 fighters and civilians escorted by the Syrian Arab Red Crescent left Douma and headed north toward the town of Jarablus, according to SANA and opposition activists.
The Army of Islam has never publicly confirmed the agreement, and is said to be divided on whether to leave Douma, with hard-liners wanting to stay and fight.
The Britain-based Syrian Observatory for Human Rights said the suspension was triggered by measures taken by Turkish troops in areas where opposition fighters are arriving. It said there are about 14,000 Army of Islam fighters in Douma and the nearby eastern Qalamoun region.
On Thursday, a reporter for Syrian state TV speaking from an area on the edge of Douma said no Army of Islam fighters have left so far, adding that those who departed over the past three days belonged to other groups.
The Army of Islam, which has deep roots in the eastern suburbs of Damascus, has held firm in recent weeks as virtually all the other insurgents of eastern Ghouta have reached deals to relocate to the rebel-held north. The rebels say such agreements amount to forced displacement, but have reluctantly given in after years of siege and weeks of heavy bombardment.
Full report at:
https://english.alarabiya.net/en/News/middle-east/2018/04/06/Evacuation-of-Syria-s-Douma-suspended-over-disagreements.html
--------
Saudi crown prince to visit France in whirlwind global tour
April 6, 2018
Riyadh, Apr 6 (AFP) Saudi Arabia's crown prince travels Sunday to France on the next leg of his global tour, extending his diplomatic charm offensive as he seeks to project a new liberal image of his conservative kingdom.
Prince Mohammed bin Salman's two-day official visit, which starts Monday, comes after a weeks-long tour of the United States, Britain and Egypt, where the self-styled moderniser courted business leaders and signed a host of multimillion dollar deals.
French President Emmanuel Macron treads a delicate line as he hosts the king-in-waiting in a visit expected to focus on cultural ties and investments, as well as the long-running war in Yemen, dubbed the world's worst humanitarian crisis.
"This is not a traditional state visit," a source close to the crown prince's delegation told AFP.
"It is about forging a new partnership with France, not just shopping for deals." More than a dozen memorandums of understanding in tourism, energy and transportation are set to be signed between French and Saudi organisations, another source close to the delegation told AFP.
A Franco-Saudi cooperation deal to develop Al Ula, a Saudi city richly endowed with archeological remnants, is also expected to be a central highlight of the visit, he added.
Prince Mohammed's first visit to France as the heir to the Saudi throne comes after a tumultuous period at home that saw a major military shake-up and a royal purge as he consolidates power to a level unseen by previous rulers.
His global tour is meant to "garner recognition and acceptance as the de facto leader and next king of Saudi Arabia," Bernard Haykel, a professor at Princeton University, told AFP.
"This is a signal both to domestic as well as international observers that he is in charge and can leave the country for several weeks without any challenge to his authority," he added.
The 32-year-old prince, well-known as MBS, has used his global tour to project his dazzling reforms including the historic lifting of a ban on women driving, cinemas and mixed-gender concerts, following his public vow to return the kingdom to moderate Islam.
"There is little genuine affection for Saudi Arabia across the West," Kristin Diwan, of the Arab Gulf States Institute in Washington, told AFP.
"MBS's clear break with Saudi taboos on women and religious tolerance have been welcomed, but with a fair amount of enduring scepticism." Saudi officials project strong ties between Prince Mohammed and Macron, both young leaders undertaking the difficult task of reforming their countries, but the trip follows a period of underlying tensions.
Macron waded into a regional crisis last November when Lebanon's Prime Minister Saad Hariri tendered his resignation on live television from Riyadh, apparently under pressure from the crown prince.
Macron invited Hariri to Paris for talks and he has since rescinded his resignation.
"There were tensions when MBS reportedly attempted to challenge Macron in his role in the Hariri episode, but later MBS had to back down," said Abdullah Alaoudh, a Saudi scholar at Yale Law School.
"It's never easy for an authoritarian like him to accept that." In another embarrassment, a French arrest warrant was issued in December against the crown prince's sister for allegedly ordering her bodyguard to beat up a worker at her Paris apartment in 2016.
Macron also faces the challenge of bolstering ties with the world's top crude exporter while managing other regional relationships in the Middle East.
The crown prince has emphasised closer ties with US President Donald Trump just as Macron has sought to improve relations with Iran, Saudi Arabia's arch-nemesis.
Trump has threatened to abandon the 2015 nuclear cooperation deal with Iran unless improvements are proposed by May 12.
The challenge for Macron is to convince the crown prince that "it is better to have the 2015 nuclear agreement with Iran than no deal at all," Denis Bauchard, of the French Institute of International Relations, told AFP.
Macron also faces seething criticism from over the export of arms to Saudi Arabia, including Caesar artillery guns, sniper rifles and armoured vehicles despite the kingdom's role in the Yemen crisis.
Three out of four French people believe it is "unacceptable" to sell weapons to Saudi Arabia, according to a poll last month by independent research group YouGov.
And this week, 10 international rights groups implored Macron to pressure Prince Mohammed over the Saudi-led bombing campaign in Yemen.
But there are several areas of convergence, including anti-terrorism cooperation as France mourns the latest jihadist rampage in the towns of Carcassonne and Trebes last month where a 25-year-old Islamist killed four people.
The incident triggered a new debate in France over radical Salafist interpretations of Islam which originated in Saudi Arabia.
Full report at:
http://www.india.com/news/agencies/saudi-crown-prince-to-visit-france-in-whirlwind-global-tour-2984501/
--------
Jeish Al-Islam's Chemical Weapons Production Workshops Discovered in Eastern Ghouta
Apr 05, 2018
The Arabic service of Sputnik news agency quoted Colonel Fazl Maryam, an official at the Syrian army's department to prevent chemical attacks, as saying that one of the plants has been traced in the town of al-Shifouniyeh in Eastern Ghouta used by Jeish al-Islam to produce Nitro-glycol with a blast power several times more than TNT through a combination of glycol (that is used in vehicles' air conditioner), acetone and hydrogen peroxide.
He added that the army has also discovered a well-equipped chemical workshop, including a laboratory and a room to produce toxic chloride and explosive chemicals and capsules.
According to Maryam, the Syrian army has also found documents written in English which show the presence of foreign experts among the terrorists who helped them with the production of the chemical weapons.
Colonel Maryam also said that packages of raw materials needed to produce toxic chloride as well as toxic cyanogen acid have been discovered in Jeish al-Islam facilities in Eastern Ghouta, adding that the raw materials had been imported from Turkey.
The report came one day after Russian President Vladimir Putin said Moscow has information about terrorists' attempts to stage provocations with the use of chemical agents.
"Our common strategic goal is an ultimate defeat of terrorists, who continue attempts to destabilize the situation on the ground, try to derail efforts to advance a peace process," Putin told reporters after a summit meeting of Russia, Turkey and Iran - the guarantors of the Astana process on Wednesday.
Full report at:
http://en.farsnews.com/newstext.aspx?nn=13970116000839
--------
Infighting among Terrorists Still Continue in Northern Syria
Apr 05, 2018
Field sources reported on Thursday that Syria's Tahrir Front has launched heavy attacks on Tahrir al-Sham positions in the town of Kafr Naha in Western Aleppo, leading to heavy infighting between them.
They added that at least 2 armored vehicles of Syria's Tahrir Front were destroyed and a number of militants of both sides were killed.
Meantime, fierce infighting was reported between the two terrorist groups near the town of Dar al-Izza in Western Aleppo, inflicting casualties on both.
Tahrir al-Sham announced that it will continue the fight until Syria's Tahrir Front retreats from the regions earlier occupied by the former, as efforts are underway by influential militant figures to stop clashes between the two sides.
Local sources had also reported on Wednesday that Syria's Tahrir Front and Tahrir al-Sham Hay'at had again engaged in fierce clashes in Northern Syria, while later reports indicated large number of casualties on both warring sides.
The sources said that Tahrir al-Sham and Syria's Tahrir Front exchanged heavy fire near the small town of Khan al-Sabal in Southeastern Idlib that inflicted a large number of casualties on both sides.
Other sources in Western Aleppo reported that tough clashes are underway between the two rival terrorist groups in Jam'iyat al-Farsan region near the town of Kafr Naha and the village of Tal Adah in Western Aleppo.
Full report at:
http://en.farsnews.com/newstext.aspx?nn=13970116000734
--------
Syrian Army Purges ISIL Terrorists from Deir Ezzur
Apr 05, 2018
The Syrian army troops attacked the ISIL's last positions in Southeastern Deir Ezzur on Thursday, regaining control of several regions between the towns of Sabikhan and al-Salehiyeh.
They also destroyed several ISIL hideouts West of the Euphrates river, seizing a large number of weapons and ammunition and a big warehouse of the terrorists' bomb-laden cars in the region.
Meantime, a field source underlined the army's continued military operations on the Western bank of the Euphrates river, adding that the Syrian army soldiers intend to purge the entire region of terrorists.
The Syrian Army forces, backed up by the Russian and Syrian fighter jets, had also on Wednesday managed to drive the ISIL terrorists out of several hundred kilometers of land in Western Deir Ezzur.
The warplanes struck ISIL's positions and movements in a region between the small town of Humeimeh up to the border between Deir Ezzur and Homs, inflicting major losses on the militants.
Also, the Russian fighter jets bombed ISIL's movements and positions in a desert on the Western bank of the Euphrates River, destroying several hideouts and tunnels of the terrorists.
In the meantime, al-Massdar news reported that the army men have freed almost 600 sq-km of the vast desert in Western Deir Ezzur with the back-up of the Russian air force.
Full report at:
http://en.farsnews.com/newstext.aspx?nn=13970116000342
--------
Syria gearing up for anti-Daesh battle south of capital: Report
Apr 5, 2018
With the Damascus suburb of Eastern Ghouta almost freed, Syrian armed forces are now gearing up for a military operation to cleanse the capital city's southern areas of Daesh remnants, a monitor says.
The so-called Syrian Observatory for Human Rights reported on Thursday that Syrian army troops were being deployed to the south of Damascus in preparation for the offensive targeting Daesh terrorists.
The Takfiri terror group lost all the territories under its control in Syria late last year, but its remnants still maintain a presence in the southern districts of Damascus, including Yarmouk, which hosts a Palestinian refugee camp.
The terrorists also control sections of the neighboring districts of Hajar al-Aswad and Tadamun since 2015, a year after they showed face in Syria.
The Observatory, which relies on militant sources to compile its reports, said government soldiers, backed by allied Palestinian forces, have been gathering south of Damascus since Sunday.
Syria's al-Watan newspaper has also reported a potential military offensive in those areas without elaborating.
Plight of Yarmouk
Once home to over 112,000 Palestinians, Yarmouk and its refugee camp first fell to anti-Damascus militants in 2012, a year after the outbreak of a foreign-backed crisis in Syria.
The refugee camp in Yarmouk repeatedly changed hands among various militant groups until it was seized by Daesh in 2015.
In the absence of government control, Yarmouk has been rife with severe hunger, diseases and a high death rate.
Latest estimates also say the camp's population has decreased to between 7,000 to 8,000 as many of its residents have fled militant infighting and violence.
The Yarmouk district's liberation would give the Syrian government full control over the capital for the first time since 2012.
Over the past two weeks, militants of the former al-Qaeda affiliate, Hayat Tahrir al-Sham, have left Yarmuk under a deal with the government, but hundreds of Daesh terrorists remain holed up there, according to the Observatory.
Ghouta evacuations underway
The preparations for the offensive come as the Syrian army, backed by the Russian air forces, have almost entirely liberated Eastern Ghouta, which used to serve as a major militant stronghold and a launch pad for deadly raids on residents of Damascus.
Douma is the only part of Eastern Ghouta still held by foreign-backed militants.
State media earlier reported that the government has reached an evacuation agreement with Jaish al-Islam terrorists holed up in Douma.
Syria's official SANA news agency reported Thursday that militants and their families continue leaving Douma under the deal for the northern militant-held town of Jarabulus.
Full report at:
http://www.presstv.com/Detail/2018/04/05/557511/Syria-Yarmouk-Daesh-Operations
--------
Africa
French, Malian troops kill 30 jihadists near Mali's border with Niger
05-04-2018
Thirty jihadists were killed in a clash with French and Malian troops near Mali's border with Niger, the French military said on Thursday.
The fight, involving a group of about 60 jihadists, took place on Sunday in the Akabar area, spokesman Colonel Patrik Steiger said, adding that Malian forces sustained "losses" but there were no French casualties.
French commandos and Malian forces began a "reconnaissance and control operation" in the Akabar region on 28 March, working in liaison with the Nigerian army and a local self-defence group, Steiger said.
"On 1 April, they were confronted by an ATG [armed terrorist group] estimated to number 60 individuals, around 90 kilometres south of Menaka and three kilometres from the Nigerien border," he said.
The border zone is used as a haven by the jihadist group Islamic State in the Greater Sahara (ISGS), he said.
The French deployed two Gazelle combat helicopters and two Mirage 2000 warplanes in support of their troops, but these aircraft did not carry out any attacks, Steiger said.
France intervened militarily in Mali in 2013 to help government forces drive al-Qaeda-linked jihadists out of the north.
The initial mission was followed in 2014 by Operational Barkhane, which deployed 4,000 French troops alongside the UN's 12,000-strong MINUSMA peacekeeping operation in Mali.
The insurgency however has spread to central and southern Mali and spilled into Burkina Faso and Niger, prompting plans to create a joint anti-terror force among five Sahel countries, also including Chad and Mauritania.
http://en.rfi.fr/africa/20180405-french-malian-troops-kill-30-jihadists-near-Malis-border-Niger
--------
Two peacekeepers dead, 10 wounded in Mali attack: UN
April 6, 2018
Two UN peacekeepers were killed and 10 others wounded today during an attack on their camp in northeastern Mali, the UN's mission there said in a statement.
"At 6.45pm (1845 GMT) the peacekeepers came under mortar fire," the mission, known by its acronym MINUSMA, said in the statement.
"According to an initial assessment, two peacekeepers were killed and 10 were wounded," it added, saying the camp that was attacked was in Aguelhok.
Mali is one of the most dangerous UN missions, with more than 150 peacekeepers killed since 2013.
MINUSMA has a 12,500-strong force in the country, backed by a further 4,000 French troops who are on an anti-jihadist mission.
Attacks on the mission are commonplace. Last month four UN peacekeepers were killed when a mine exploded under their vehicle in central Mali.
Six Malian soldiers were killed a week earlier in another mine attack on their convoy.
Once a beacon of democracy and stability in Africa, Mali has been undermined by a coup, civil war and Islamist terrorism.
Extremists linked to Al-Qaeda took control of Mali's desert north in early 2012, but were largely driven out in a French-led military operation launched in January 2013.
Full report at:
http://www.business-standard.com/article/pti-stories/two-peacekeepers-dead-10-wounded-in-mali-attack-un-118040600213_1.html
--------
Nigeria: Islamisation of Nigeria - I Don't Have Religious Agenda - Buhari
5 APRIL 2018
By Johnbosco Agbakwuru
Abuja — President Muhammadu Buhari Thursday in Abuja said that his administration did not have any hidden religious agenda.
The President also called on religious leaders to work towards the broader goal of building a strong and unified nation, and avoid insinuations that could divide the populace, especially along religious lines.
Speaking while receiving a delegation of the Arewa Pastors Non-Denominational Initiative for Peace in Nigeria led by Bishop John Abu Richard, President Buhari said religious leaders have the responsibility of creating an enabling environment for peace and development to thrive.
The President in a statement by his Special Adviser on Media and Publicity, Malam Garba Shehu said, "Some voices, for political or ethnic reasons are making unguarded statements accusing the government and myself in particular of religious bias.
"Let me assure you, honourable clergymen that this is far from the truth. In my career as a soldier, administrator, and politician, I have never veered from my oath of office.
"When I had the honour to lead a Military Government there were more Christians than Muslims in the Federal Executive Council and the Supreme Military Council.
"This was not by design but I appointed people on their merit without the slightest bias. The present Federal Executive Council is also evenly balanced; again not by design but by respecting and rewarding individual qualities."
Full report at:
http://allafrica.com/stories/201804060045.html
--------
Nigerian Army promotes 3,729 troops fighting Boko Haram
April 5, 2018
By Seun Opejobi
The Chief of Army Staff (COAS) Lieutenant General Tukur Yusufu Buratai has approved special promotion for 3,729 troops fighting the Boko Haram sect.
They are contingent of the Operation LAFIYA DOLE, who participated in Operation DEEP PUNCH II in the Sambisa Forest.
The announcement was made on Thursday in a statement by Brig. Gen. Texas Chukwu, Director Army Public Relations.
"This is in recognition of their valour and uncommon commitment to duty during the operation", it read.
A breakdown of the beneficiaries include 223 Staff Sergeants promoted to the rank of Warrant Officers, 511 Sergeants promoted to the rank of Staff Sergeants while 994 Corporals were promoted to the rank of Sergeants.
Full report at:
http://dailypost.ng/2018/04/05/nigerian-army-promotes-3729-troops-fighting-boko-haram/
--------
URL: https://www.newageislam.com/islamic-world-news/two-prominent-muslim-bodies-jamiat/d/114844
New Age Islam, Islam Online, Islamic Website, African Muslim News, Arab World News, South Asia News, Indian Muslim News, World Muslim News, Women in Islam, Islamic Feminism, Arab Women, Women In Arab, Islamophobia in America, Muslim Women in West, Islam Women and Feminism