New Age Islam News Bureau
28 Dec 2018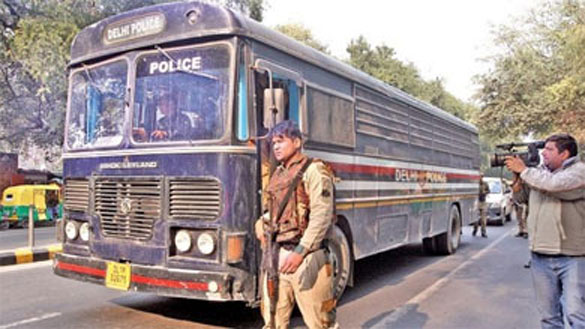 Police escort a bus carrying the 10 suspects of militant group Harkat ul Harb-e-Islam outside Patiala House Court in New Delhi on Thursday. (Photo: Qamar Sibtian)
------
• Two NCR Lynching Videos Used To Radicalise Mufti
• Muslim Bodies Divided Over Triple Talaq Bill in India
• Saudi Makkah World Scholars Call for Unity, Moderation in Islam
• Muslim Poet Fears for His People As China 'Sinicizes' Religion
• Gen Bajwa, NATO's Gen Miller Agree on Political Solution to Afghan Issue
• CPEC Has No Military Dimensions, Says Pakistan
India
• Two NCR Lynching Videos Used To Radicalise Mufti
• Muslim Bodies Divided Over Triple Talaq Bill in India
• It Is Wrong To Offer Namaz on Government Land: Deoband Mufti
• Salafi Sect Is Responsible For Promoting Terrorism in India: Maulana Badruddin Ajmal
• How 'Abu Huzaifa Al Bakistani' Is Radicalising Indian Youths Online
• Court sends IS suspects to 12-day police custody
• Reports of Indian envoys harassed: 'No move to scale down diplomatic ties with Pak'
• 'IS module' busted: Ten arrested for planning terror attacks remanded in 12-day NIA custody
--------
Arab World
• Saudi Makkah World Scholars Call for Unity, Moderation in Islam
• First Arab Muslim Astronaut to Lead Saudi Space Agency amid Leadership Reshuffle
• Shoura Council speaker lauds Saudi-Egyptian ties
• Iraqi Parliamentarians Ask for Immediate Approval of Bill to Expel US Forces
• Residents Asks Damascus to Send Military Forces to Manbij
• Infightings Reported Again among Terrorists in Idlib
• Following UAE, Bahrain set to reopen diplomatic mission in Syria
• Bahraini court hands down death sentence to activist, life terms to over dozen dissidents
• Civilian exodus from Daesh's last Syria bastion
--------
Southeast Asia
• Muslim Poet Fears for His People As China 'Sinicizes' Religion
• Deputy Agong rues Muslim rift, wants state Islamic councils politics-free
• Fewer Malaysians got hitched in 2017, most divorcees in 30s, new data shows
• No problem if Islamic teachers posted to Muslim-majority schools, says Sarawak party
--------
South Asia
• Gen Bajwa, NATO's Gen Miller Agree on Political Solution to Afghan Issue
• 'Fielding Ex-Jamaat People Is Stupid': Dr Kamal Hossain Tells Indian Newspaper
• UN calls for peaceful polls in Bangladesh
• Parties 'Rediscover' Religious Minorities Ahead Of Coming Elections
• ANDSF operations, U.S. airstrikes leave 15 militants dead in Ghazni
• Prominent Taliban leaders killed in U.S. drone strikes in West of Afghanistan
• ISIS-K spokesman killed in U.S. airstrike in East of Afghanistan
• Taliban urge US to exit Afghanistan or face Soviet-style defeat
--------
Pakistan
• CPEC Has No Military Dimensions, Says Pakistan
• Pakistan says Kartarpur corridor 'high point of diplomacy' for Imran Khan Government
• Ulema delegation visits North Waziristan
• Pakistan signs prisoner transfer agreement with UK
• Pakistan committed to peace efforts, COAS tells NATO commander
• Pakistan ex-president Zardari faces travel ban over graft
--------
Mideast
• Iran-Affiliated Militias Say Trump's Iraq Visit 'Will Not Go Unpunished'
• Houthi Militia Violates UN-Brokered Ceasefire in Hodeidah 29 Times In Last 24 Hours
• Palestinian PM Briefs Arab Youth Delegation on Life Under Occupation
• Arab Coalition: Houthi militias continue violating Hodeidah ceasefire
• UN ceasefire monitoring chief awaits response on Hodeidah withdrawal mechanism
• Palestinian govt. bans Israeli agricultural products in tit-for-tat move
• Israel's settlement expansion deepens apartheid: Palestinian Foreign Ministry
--------
Africa
• Sudanese Information Minister: 19 killed in one week of protests
• Egypt foreign minister, spy chief visit protest-hit Sudan
• Ten Burkina Faso police officers killed in ambush
• Armed Chadian group attacks forces loyal to Haftar in southern Libya
• Chadian group attacks forces loyal to Haftar in southern Libya
• Sudanese activists vow not to back down against Bashir
--------
North America
• Pentagon admits Iran's key role in restoring calm to Afghanistan
• Taliban to US: Leave Afghanistan or face Soviet-style defeat
• Boston Marathon bomber's lawyers want death sentence tossed
• US fingerprints all over in war-torn Yemen: NYT
--------
Europe
• Belgium ordered to repatriate children of ISIS fighters from Syria
• Trump meets US troops in Germany after Iraq visit
• EU, France condemn Israel settlement plan in West Bank
• Trio charged with planning terror attack in Sweden
Compiled by New Age Islam News Bureau
URL: https://www.newageislam.com/islamic-world-news/two-ncr-lynching-videos-used/d/117295
--------
Two NCR Lynching Videos Used To Radicalise Mufti
Chayyanika Nigam
December 28, 2018
Aggressive comments on two lynching videos of Mohammad Akhlaq in Dadri and Junaid Khan in Faridabad on social media have helped the Pakistan based terror handlers identify Mufti Mohammad Suhail alias Hazrath (29) as 'vulnerable'.
The videos were also used to radicalise him to form a home-grown ISIS-inspired module and plan terror strikes, highly placed sources in the National Investigation Agency told Mail Today.
On Wednesday, the NIA in a joint operation with the Delhi Police and the UP Police nabbed 10 suspects of an ISIS-inspired module Harkat ul Harb-e-Islam, who were in an advance stage of carrying out series of strikes and attack politicians.
Sources close to the joint operation told Mail Today, "Apart from radicalising the youths via videos of Babri Masjid demolition and Godhra riots, the videos were misused to highlight the alleged atrocities with the Muslim community. Suhail was radicalised using these two videos and he further radicalised others who have now been arrested."
On Thursday, a Delhi court sent all the 10 arrested suspects case to 12 days NIA custody. The agency has however demanded 15 days custody.
All the 10 suspects were produced before the court amidst tight security and with covered faces. Additional Sessions Judge Ajay Pandey ordered in-camera proceedings in the case.
Suhail and nine other suspects confessed that they were using YouTube to educate themselves in making bombs and rocket launcher. "So far, no photograph of any politicians was found who were on their radar. They confronted that senior RSS politicians were to be targeted," a source said.
https://www.indiatoday.in/mail-today/story/2-ncr-lynching-videos-used-to-radicalise-mufti-1418644-2018-12-28
--------
Muslim Bodies Divided Over Triple Talaq Bill in India
Dec 27, 2018
NEW DELHI: The passage of the triple talaq bill drew mixed reactions from Muslim bodies on Thursday, with some terming it "very dangerous", while others welcoming it.
S Q R Ilayas, member of working committee of the All India Muslim Personal Law Board (AIMPLB), said there was no need for this bill and it has been brought keeping in mind the upcoming Lok Sabha elections.
"It is a very dangerous bill that will make a civil issue a criminal offence.
Who will take care of the wives and children once the husband goes to jail?" he said.
He also said that instead of gender justice, the bill would prove to be a "punishment" for men and women from the community.
"Four crore women signed a petition saying they do not want the bill then who are these Muslim women who want it?" he questioned the government.
AIMPLB executive member Asma Zehra said the move to pass the triple talaq bill was "unconstitutional" and is an infringement of the constitutional rights of Muslim women.
"The law minister (Ravi Shankar Prasad in the debate) was not able to answer questions posed by the opposition. They are giving examples of domestic violence act but that is applicable for all religions. Why just target Muslims," she said.
She further said the move will "damage families" and claimed that it is the aim of the government.
Maulana Mahmood Daryabadi, General Secretary of the All India Ulema Council, said when the Supreme Court has declared triple talaq unconstitutional, why is it even being discussed here.
"The government should be focussing on fund for Muslim women and children who will be left without any source of income once their husband goes to jail," he said.
Zakia Soman, member of the Bhartiya Muslim Mahila Andolan, welcomed the bill and further demanded the Muslim Marriage Act on lines of the Hindu Marriage Act that would deal with other issues like polygamy and child guardianship.
The Lok Sabha on Thursday passed the bill which criminalises the practice of instant triple talaq, with the government rejecting the contention that it was aimed at targeting a particular community.
The opposition, which had been demanding that the bill be referred to a 'joint select committee', staged a walkout when its demand was rejected by the government.
Just before the bill was to be passed by a voice vote, the opposition sought a division and the bill was passed by 245 votes in favour and 11 against it.
Several amendments moved by opposition were negated by a division that was insisted by opposition members.
https://timesofindia.indiatimes.com/india/muslim-bodies-divided-over-triple-talaq-bill/articleshow/67275641.cms
--------
Saudi Makkah World Scholars Call for Unity, Moderation in Islam
December 27th, 2018
Scholars at an international summit on Islamic unity have been urged to "unify their ranks to strengthen the values of moderation."
Dr. Pir Muhammad Noor-ul-Haq Qadri, Pakistani minister for religious affairs, told the Muslim World League (MWL) conference in Makkah that "labeling and seclusion ... have weakened and debilitated the Islamic nation.
"Amid these times of hardship in the Muslim world, scholars and preachers must unify their ranks to help strengthen the values of moderation, and promote cohesion and fraternity between all Muslims," he said. Scholars at the two-day forum reiterated that Saudi Arabia is the "heart of Islam" in the modern era, and praised the Kingdom's leadership for its services to Muslims.
Bou Abdullah Gholamallah, president of the Islamic Council of the People's Democratic Republic of Algeria, said that the conference would help "disperse enmity and suspicion and instill trust and cooperation.
"Most Muslims dream of a united nation founded on the principles of understanding and solidarity in the political, social, cultural, and economic fields," he said.
https://www.albawaba.com/editorchoice/saudi-makkah-world-scholars-call-unity-moderation-islam-1231264
--------
Muslim poet fears for his people as China 'Sinicizes' religion
December 27, 2018
JINAN, China -- Cui Haoxin is too young to remember the days of his people's oppression under Mao Zedong.
The 39-year-old poet was born after the Cultural Revolution of 1966-76, when the Hui -- China's second-largest Muslim ethnic group -- were among the masses tormented by the Red Guard.
In the years since, the Hui (pronounced HWAY) generally have been supportive of the government and mostly spared the kind of persecution endured by China's largest Muslim group, the Uighur.
There are signs, though, that that is changing. Cui fears both that history may be repeating itself and for his own safety as he tries to hold the ruling Communist Party accountable.
In August, town officials in the Hui region of Ningxia issued a demolition order for the landmark Grand Mosque in Weizhou, though they later backed off in the face of protests.
More recently, authorities in nearby Gansu province ordered closed a school that taught Arabic, the language of the Qur'an and other Islamic religious texts. The school had employed and served mainly Hui since 1984. And a Communist Party official from Ningxia visited Xinjiang, centre of Uighur oppression, to "study and investigate how Xinjiang fights terrorism and legally manages religious affairs."
China under President Xi Jinping is clamping down on minorities, tightening control over a wide spectrum of religious and political activity. In some places, a campaign to "Sinicize" religion has prompted authorities to seize Bibles, remove the "halal" designation from food products, demolish churches and strip mosques of loudspeakers and Islamic crescents and domes.
Cui has spoken out against government intrusions. He is working on a novel with a nightmarish plot: believers are brutalized by demons in a Cultural Revolution in Hell. "The Muslims resisted and tried to protect the mosque," he said, describing the work. "They failed."
He worries that violence lies ahead.
"One has dignity. For a person, it is his or her bottom-line." he said. "If the persecution is too unbearable, if something happens, as I said, there could be a disaster."
------
Cui speaks eloquently about his people, who claim descent from Persian and Arab traders who came to China 1,300 years ago.
The 10 million Hui living across China generally speak Mandarin -- Cui is a former teacher of the standard Chinese dialect -- and follow many Chinese cultural practices. They enjoy relative freedom of worship compared to the Uighurs, some of whom call the Hui "tawuz," which means watermelon in the Uighur's Turkic language.
"Green or Islamic on the outside, and red or Communist on the inside," writes University of Toronto professor Isabelle Cote in a study on Uighur attacks on Hui in Xinjiang from 2009 to 2013. Farther back, Hui served Chinese emperors as shock troops repressing Uighur rebellions.
In Beijing, Arabic signs mark Hui bakeries, teahouses, halal restaurants and a thousand-year old mosque bustling with activity in the historically Islamic neighbourhood of Niujie.
Ma Changli, who has run a butcher shop in the enclave for the past five years, said police help provide security for Friday prayers at the mosque.
"Our country has always been pretty supportive to our worship," the 39-year-old butcher said, standing in front of an Islamic inscription and hanging lamb and beef racks.
While the Hui face prejudice from the Han Chinese majority, they are proud to be Chinese and have a "positive outlook for the future," said David Stroup, a University of Oklahoma professor who met Hui across China in 2016.
Many saw an opportunity in China's Belt and Road Initiative, a $1 trillion trade and infrastructure initiative that runs across several Muslim-majority nations in central Asia and Africa, he said. They aspired to become middlemen on a revived Silk Road linking China with Islamic nations.
"It was going to be an opportunity for the Hui to play an important role as ambassadors to the Islamic world," Stroup said.
It came as a shock, he said, when new regulations targeted the practices of Hui alongside those of other religious groups earlier this year. Stroup said the shift has dampened optimism in a community that saw language and religion as links to trading partners in the Muslim world.
------
Tension bubbled up in August in Weizhou, a dusty Muslim-majority town in China's northwestern "Qur'an Belt."
The town's pride and joy is a gleaming white mosque with four minarets and nine domes tipped with crescent moons that dwarfs a surrounding warren of brick and concrete homes.
Officials issued a demolition order for the Grand Mosque, alleging it had been "illegally expanded" and adding that 1.07 million yuan ($154,765) from foreign sources had been received by four local mosques -- financing that would be illegal under Chinese law.
Hundreds of Hui flocked to the mosque's courtyard for a rarity in China: a political protest. City authorities detained AP journalists and prevented them from conducting interviews at the mosque.
The protesters' success was even rarer. The mosque remained unscathed, if draped in a banner reading in Chinese: "Stick to directives of Sinicized religion."
Weeks later, a top Communist propaganda official in Ningxia blamed the incident on "an oversimplified administrative decision" by local authorities.
"It originally should not have happened," Bai Shangcheng, director-general of the regional Communist Party department that oversees religious groups, said at a news conference in Beijing.
Dissent simmered quietly in the Hui community after the mosque incident, according to Cui, who circumvented China's internet censorship to tweet about the protest and feed video to a Turkish television station.
In late November, the Communist Party-run Global Times reported that Ningxia had signed an anti-terrorism co-operation agreement with Xinjiang during a visit by Ningxia Communist Party head Zhang Yunsheng.
China has set up a vast security apparatus in Xinjiang with pervasive police checkpoints and surveillance cameras. By some estimates, more than 1 million Uighurs and Kazakhs have been detained in internment camps in a crackdown on extremism. Two former camp detainees have told the AP that some Hui have been swept up in the clampdown too.
The order to close the Arabic language school came early this month, the Global Times reported. An unnamed expert in Beijing told the newspaper that teaching Arabic sometimes arouses public concern if it crosses over into preaching religious content.
The article quoted China's education law: "The State separates education from religion."
------
Cui is one of the few Chinese citizens disturbed enough -- and brave enough -- to criticize the Communist Party openly. For that, he has experienced censorship, detention, and "home visits" by police.
He spoke to The Associated Press at his home in Jinan, a city in eastern China where his family traces its roots back five centuries. Skyscrapers dwarf old mosques and boisterous halal restaurants with gold domes, Arabic script and crescents.
He doesn't drink alcohol or eat pork, but neither does he pray five times a day. His bedside table is stacked with poetry and novels, not religious books. Hanging in the living room is a framed red embroidery by his mother of the Islamic profession of faith in yellow Arabic stitching.
It was underneath this tapestry that police entered his home earlier this year to demand he stop criticizing the government online. Cui posts attacks on Beijing's policies related to Muslims in China and abroad, such as the government's support of Myanmar despite widespread criticism of its treatment of the Rohingya, a Muslim minority.
A few months later, on Nov. 27, police brought him to the local Public Security Bureau for a few hours of questioning. A recent Human Rights Watch report said that China started in November "targeting Twitter users in China as part of a nationwide crackdown on social media." Cui refused to stop or delete his tweets.
Sixty years ago, Communist Party cadres descended on the historically Hui city of Linxia to excise "superstitions" in the city in a "struggle against the privileges of feudalism and religion," according to a 2016 book by Matthew Erie, an Oxford University professor of modern China studies.
Red Guards lit bonfires with wood from demolished mosques and tombs, Erie writes in "China and Islam: The Prophet, the Party, and Law." They forced Muslims to wear signs reading "enemies of the state."
Cui fears the current crackdown on religion will return China to those days of blood.
At a teahouse in Jinan, as steam from his jasmine tea mixes with the scent from a tray of sweets, he recites from his poem "Letter from Prison:"
"It seems like I can see the bulldozer running wild in the Thousand and One Nights.
The angel upon my shoulder urges me: 'Tell the truth under the grey sky.'"
https://www.ctvnews.ca/world/muslim-poet-fears-for-his-people-as-china-sinicizes-religion-1.4232996
--------
Gen Bajwa, NATO's Gen Miller agree on political solution to Afghan issue
December 28, 2018
RAWALPINDI: Chief of Army Staff (COAS) General Qamar Javed Bajwa on Thursday reiterated Pakistan's commitment to efforts for peace in Afghanistan.
The army chief said this during a meeting with Commander Resolute Support Mission in Afghanistan General Austin Scott Miller.
The two military leaders unanimously agreed on the importance of a political solution to the Afghan conflict – now in its 18th year.
Gen Miller agreed with Gen Bajwa that only an Afghan-owned and Afghan-led inclusive process can lead to peace in the war-torn country, said a statement by the Inter-Services Public Relations (ISPR).
The two also reaffirmed continuing counter-terror operations and efforts against terrorist elements and to ensure effective border management.
Gen Bajwa also stated that the country is committed to efforts for peace in Afghanistan as it is important for peace in Pakistan, added ISPR.
Miller assumed command of NATO forces in Afghanistan in September, arriving as Washington faces growing questions over its strategy to force the Taliban into talks to end the 17-year conflict.
The US is now a year into its strategy of stepping up pressure on the Taliban by increasing airstrikes and sending thousands of more troops to train and advise Afghan forces, but clear signs of success have so far proved elusive.
Washington has now accepted that a purely military victory is not possible and has focused on forcing the Taliban to the negotiating table.
https://www.pakistantoday.com.pk/2018/12/27/gen-bajwa-natos-gen-miller-agree-on-political-solution-to-afghan-issue/
--------
CPEC has no military dimensions, says Pakistan
December 28, 2018
ISLAMABAD: Pakistan on Thursday made it clear that the China-Pakistan Economic Corridor (CPEC) had no military dimensions.
Foreign Office spokesman Dr Mohammad Faisal, during his last weekly press briefing of the current calendar year, had been asked to comment on a report published in a section of US media alleging that the CPEC was not only about economy and trade but had military dimensions as well.
Mr Faisal said the CPEC was an economic project between Pakistan and China. "The CPEC has helped Pakistan improve its economy, particularly energy and infrastructure sectors have improved under it. The CPEC is a bilateral economic project, which is not against any country," he said.
Answering a question, he said the recent four-nation visit of the foreign minister was essentially part of the government policy to strengthen relations with all neighbours and regional countries and added that as part of the same effort the foreign minister would soon visit Qatar.
The spokesman said Pakistan's long-standing position to give peace and reconciliation a real chance in Afghanistan had become the basis of an international consensus.
"Recent developments in Afghanistan have all led to this widely acknowledged agreement. This new opening in Afghanistan and willingness of all countries who agree on Pakistan's important role as facilitator has provided us a significant opportunity to also strengthen our bilateral relations with all the neighbours, especially for promotion of trade, economic and people-to- people linkages," he said.
"The visit also provided an opportunity to listen to views of the leadership of these countries for promoting a joint regional approach towards Afghanistan and explore realistic possibilities of regional integration in economic terms," he said.
Responding to another question, he said 341 Pakistani prisoners — 154 of them civilians and 187 fishermen — were currently incarcerated in Indian jails. Of them 45 prisoners, 12 civilians and 33 fishermen, have completed their sentence.
"Our mission is in contact with India's external affairs ministry and related state governments for repatriation of Pakistani prisoners. The Pakistani high commission also engages with the Indian media to highlight the plight of Pakistani prisoners. A law firm has also been hired to assist in and facilitate the repatriation. Where required, NGOs working for prisoners and civil rights activists have also been engaged to facilitate repatriation of Pakistani prisoners."
The spokesman said there were some problems in getting consular access, adding "however, our mission perseveres and actively pursues issues of all such prisoners."
About reports of harassment by Indian authorities of Pakistani diplomats posted in New Delhi, and similar allegations from the other side, he said Pakistan stood for upholding the Vienna Convention on Diplomatic Relations and had always endeavoured to facilitate the working of the Indian high commission in Islamabad, within the diplomatic norms, international law and practice. "It remains our position that the smooth and unhindered functioning of diplomatic missions is essential," he remarked.
The Foreign Office spokesman urged the international community, especially human rights champions, to persuade India to immediately halt human rights violations and atrocities in held Kashmir. He said Indian occupation forces, during the so-called search and cordon operations, had recently martyred six Kashmiris — Soliha Mohammad Akhoon, Rasik Mir, Rouf Mir, Umer Ramzan Mir, Nadeem Sofi and Faisal Javid Khan — in Pulwama district of the occupied territory.
He refused to comment on appointment of two former Afghan intelligence chiefs known for their anti-Pakistan stance as interior and defence ministers by Afghan President Ashraf Ghani.
He also refused to comment on President Donald Trump's surprise trip to Iraq to visit US forces stationed there that was condemned both by Iraqi politicians and militia leaders, and cancellation of his meeting with the Iraqi prime minister due to disagreement over the venue, saying "we cannot comment on the relations between two sovereign nations".
Asked to confirm the reports that the second round of talks between United States and Taliban would take place in Saudi Arabia, he said "No. I have nothing more to say on this issue".
https://www.dawn.com/news/1454000/cpec-has-no-military-dimensions-says-pakistan
--------
India
It is wrong to offer namaz on government land: Deoband Mufti
by Rasia Hashmi
Dec 27, 2018
Saharanpur: Commenting upon the ban on namaz in the park by Noida authorities in UP, Mufti of Deoband said it is wrong to offer namaz on government land. Police in Sector 58 of Uttar Pradesh's Noida has also issued a notice to the companies in the industrial hub to ensure their employees do not use a park for any religious activity, including offering namaz on Fridays.
Mufti Ahmed of Deoband said if the offering of namaz in park creates controversy or the place is public or government then devotees should avoid using it for namaz. Devotees should offer namaz on government or public land only after getting permission.
Mufti reiterated that if offering namaz creates controversy then it is better to avoid offering namaz there. He said namaz is an obligation but forcefully offering namaz at some place is not right.
https://www.siasat.com/news/it-wrong-offer-namaz-government-land-deoband-mufti-1450292/
--------
Salafi Sect Is Responsible For Promoting Terrorism in India: Maulana Badruddin Ajmal
DECEMBER 27, 2018
New Delhi: AIUDF leader and Assam Jamiat Ulama chief Maulana Badruddin Ajmal while participating in the debate on the Muslim Women (Protection of Rights on Marriage) Bill 2018 (Triple Talaq) held Salafi sect responsible for promoting terrorism in India.
AIUDF leader while replying to BJP leader Meenakshi Lekhi said, "The books referred by you are not the right books. I will sit with you and refer the correct books. You have mentioned Salafi sect, this ideology has been held responsible for promoting terrorism. We don't follow this sect. I would like to ask the law minister whether the provision to send Muslims husbands to jail, will it increase the harmony in the family?"
BJP MP Meenakshi Lekhi during her speech questioned, "Would like to ask those opposing the Triple Talaq Bill here that in which Surah (Chapter) of the holy Quran is talaq-e-biddat mentioned? This is not 'he vs she', these are issues of human rights violation."
"Talaq Biddat is practiced among Hanafi sect followers which constitute 70% Indian Muslims whereas Salafi sect which is considered to be pure form of Islam completely rejects the Talaq Biddat", added Lekhi.
After over 4 hours of heated debate between the government and opposition leaders, the Muslim Women Bill (Triple Talaq) 2018 which criminalises instant Triple Talaq, was passed in the Lok Sabha. Several opposition parties including Congress, TMC, and TDP demanded the government to send the Bill to joint select Committee. The opposition leaders claim that the Bill in current form will violate Article 14 and 15.
While opposing the Bill the AIMIM chief Asaduddin Owaisi said: "All the Muslim women are against this bill. It is violative of Article 14, 15, 24 and 26. Supreme Court has decriminalised the relations between two men and two women but you are criminalising a divorce law. Why there is a provision of imprisonment of only one year under the Hindu Marriage law for Hindu husbands then why there is provision for imprisonment for three years under Triple Talaq law."
Full report at:
https://theshahab.com/2018/12/27/salafi-sect-is-responsible-for-promoting-terrorism-in-india-maulana-badruddin-ajmal/
--------
How 'Abu Huzaifa Al Bakistani' Is Radicalising Indian Youths Online
Dec 28, 2018, 0
NEW DELHI: The self-styled terror module busted by the national intelligence agency on Wednesday was being controlled by an online entity by the name of "Abu Huzaifa al Bakistani" who has been handling close to two dozen youths through various online platforms.
Sources said this entity is recruiting and radicalising youth across southeast Asia to join the "Islamic State". After initial contact on Facebook, the youths are brought on to closed groups on chat platforms like Threema and Telegram. Sources in an intelligence agency said that deep tracking of this handle has led them to believe that Huzaifa is a highly trained Pakistani national who has been radicalising Indian youths, possibly on behalf of Pakistan's spy agency, the ISI.
The "Abu Huzaifa" handle has cropped up in several investigations and operations conducted by various agencies, including the Telangana police's counter-intelligence unit which provided crucial inputs for Wednesday's operation, multiple sources confirmed.
"This handle became unusually active last year after the online ID in the name of 'Yusuf Al Hindi' suddenly went dormant. Indian Mujahideen rebel Shafi Armar, who later joined the Khorasan module of Islamic State, was operating that handle and recruiting Indian youth," an officer explained.
Armar, who belonged to Bhatkal in Karnataka, is believed to have been killed last year in Syria. He is estimated to have inspired around 1,000 youths, mostly from South Asia, to come to Syria and fight. His brother, Sultan Armar, was killed in a drone strike in 2016. Once Al Hindi's handle went down, there were stray attempts to radicalise youths using that ID. However, the real trouble began when Abu Huzaifa handles cropped up on various platforms and began to successfully brainwash youths.
The Indian intelligence agencies began to track Huzaifa handles — which was operating from behind several proxy servers —in October last year after inputs of it being a credible threat were confirmed. Sources in the agencies say that at least a dozen youths from north India are under the scanner as they are still in touch with this handle and have become part of groups through which jihadi propaganda is spread.
This handle has a very specific style of functioning. "After verifying a target's loyalty and his inclination towards jihad, the handle asks them to rope in like-minded youths. At the next stage, the handler introduces them to one or two members from another module and motivates them to carry out a strike. They also give a separate name to each module. ln this case, they had christened the Delhi-Amroha module as Harkat-ul-Harb-e-Islam," an officer explained.
The handler also remains on the lookout for youths with criminal backgrounds and gives them important posts in the module.
Full report at:
https://timesofindia.indiatimes.com/india/how-abu-huzaifa-is-radicalising-indian-youths-online/articleshow/67279653.cms
--------
Court sends IS suspects to 12-day police custody
Dec 27, 2018,
New Delhi: A Delhi court on Thursday sent 10 persons, arrested on the suspicion that they are part of a module of the Islamic State (IS), to police custody for 12 days, officials said.
Vacation Judge Ajay Pandey allowed their police custody till January 8.
The members of the IS module, "Harkat-ul-Harb-e-Islam", were presented in the court amid tight security. The National Investigation Agency (NIA) demanded their custody for 15 days. NIA had arrested them on Wednesday, including the group leader, as they were allegedly planning terror attacks targeting some political personalities and security establishments as well as crowded places in Delhi and the national capital region.
The Judge also allowed the family members of six of the accused to meet them in the court. However, one of the family members was denied the facility as he was not having his identity proof.
Earlier, NIA had carried out searches at 17 places — six in East Delhi's Jafarabad area, six in Uttar Pradesh's Amroha, two each in Lucknow and Hapur and one place in Meerut.
Six others, who are suspected to be members of the group, have been detained and they are being questioned.
The agency had registered a case on December 20 under several sections of the Indian Penal Code, the Explosive Substances Act and the Unlawful Activities (Prevention) Act.
A country-made rocket launcher, 12 pistols, 112 alarm clocks, 100 mobile phones, 135 SIM cards, many laptops and various electronic gadgets, besides 150 rounds of ammunition were also recovered during the searches.
The NIA also seized 25 kg of explosive material, such as potassium nitrate, ammonium nitrate, sulphur, sugar material paste, mobile phone circuits, batteries, 51 pipes, remote control car triggering switch, wireless digital doorbell for remote switch, steel containers, electric wires, knife, sword, IS-related literature and Rs 7.5 lakh in cash.
The agency arrested Mufti Mohammad Suhail, Saeed, 28, Raees Ahmed, Saqib Iftekar, 26 and Mohammad Irshad from Amroha.
Full report at:
https://www.siasat.com/news/court-sends-suspects-12-day-police-custody-1450459/
--------
Reports of Indian envoys harassed: 'No move to scale down diplomatic ties with Pak'
December 28, 2018
There is no immediate move to scale down diplomatic relations with Pakistan, sources said after reports that Indian diplomats were again harassed last week in Peshawar. The incident was reported when Indian officials were returning from Qissa Khwani Bazar and places nearby to Hotel Pearl Continental. Two persons, who are believed to be intelligence officials and were following on a motorbike, stopped the Indian officials.
The delegation was stopped and questioned for nearly 30 minutes. Indian consular officials in Pakistan have reported ill-treatment by the Pakistani government earlier too with many not being given gas connections, their electricity connection switched off randomly, and their access to the internet blocked. The Ministry of External Affairs has reportedly taken up the matter with their Pakistani counterpart. On Thursday, government sources said, "Harassment had reached unacceptable levels but scaling down diplomatic relationship is not the solution."
They also maintained that Kartarpur is a cultural intiative. "It does not mean we are opening a larger dialogue. Faith cannot be a political issue," an official said, adding that India took a significant initiative on Guru Nanak Jayanti.
On engagements with China, government sources said the "political relationship" has not just been restored but heightened. "In the recent past, there have been four meetings at highest level. Three state councillors have made visits while special representative talks and defence contacts have been resumed after suspension last year," government sources said.
After the Doklam standoff in 2017, this year has seen significance improvement in bilateral relations. However, New Delhi has still raised concern over the China-Pakistan Economic Corridor (CPEC), which is part of the Belt and Road Initiative (BRI). The deadlock over the CPEC and the Doklam standoff prompted Prime Minister Narendra Modi and President Xi Jinping to explore peaceful development of ties with an informal summit at Wuhan.
Full report at:
https://indianexpress.com/article/india/reports-of-indian-envoys-harassed-no-move-to-scale-down-diplomatic-ties-with-pak-5512699/
--------
'IS module' busted: Ten arrested for planning terror attacks remanded in 12-day NIA custody
December 28, 2018
A Delhi court Thursday granted the National Investigation Agency (NIA) 12 days' custody of 10 people accused of being members of an Islamic State-inspired group, which was allegedly "planning to target political leaders, members of security forces" and others.
The NIA arrested the accused — six from Delhi, and the remaining from Uttar Pradesh's Amroha and Hapur — on December 26 after carrying out searches in 17 locations, dubbing it as a crackdown on the ISIS-inspired module "Harkat-ul-Harb-e-Islam". "They (accused) were planning to carry out terrorist attacks targeting vital installations, sensitive locations, crowded places in and around Delhi," the NIA submitted to the court.
The NIA, which sought 15 days' custody, submitted that it has seized "sugar material paste, batteries, wireless digital doorbell for remote switch, (and) steel containers", apart from arms, ammunition and explosive material from the accused. The court granted 12 days' custody "in the interest of investigation".
The agency said the accused will be taken to different cities to "unearth the larger conspiracy", and sought custody. Defence counsels MS Khan and Mohammad Noorullah opposed the remand, stating that all conspiracies are "already published in various newspapers". "There is nothing left," they submitted.
According to the remand application, the accused were planning to execute "violent explosions" with the help of "explosive devices, Fidayeen terror attacks and mass terrors" in and around Delhi. "As per information, these individuals are also collecting materials and chemicals to assemble and synthesise explosive devices. Information confirms, that they are also planning to target political leaders, members of security forces and others," the remand application said.
Apart from explosive materials, arms and ammunition, the NIA said it had seized "mobile circuits, batteries, remote control car triggering switch, wireless digital doorbell for remote switch, steel containers, electric wires, sword, (and) ISIS related literature".
The proceedings were in-camera and after the hearing, MS Khan said: "I argued in the court that in the remand application, NIA mentioned that the accused were ISIS-inspired. So there has to (be) a foreign handler, there is no mention of it in the remand papers. Also, there is no specific allegation on the alleged modus operandi in the remand papers."
Full report at:
https://indianexpress.com/article/india/is-module-busted-ten-arrested-for-planning-terror-attacks-remanded-in-12-day-nia-custody-5512615/
--------
Arab World
First Arab Muslim astronaut to lead Saudi space agency amid leadership reshuffle
Saudi Arabia is to get its own space agency, as King Salman bin Abdulaziz Al Saud orders his 62-year-old son, Prince Sultan bin Salman, to lead the organisation.
Prince Salman was the first Arab and Muslim to travel into space in 1985, helping to deploy a satellite for the Arab Satellite Communications Organisation with NASA.
The announcement is part of the first major reshuffle of leadership positions after the controversy surrounding the killing of prominent Saudi journalist Jamal Khashoggi at the Saudi consulate in Istanbul in October.
Many — including the US Senate and CIA — point to Crown Prince Mohammed bin Salman as the person responsible for the assassination, though Riyadh has maintained that these accusations are unsubstantiated.
In the weeks since the killing, Germany has halted arms sales, while a coalition made up of France, Canada, Germany and the US have imposed targeted sanctions on the Saudi elite.
Saudi Arabia's embattled foreign minister, Adel al-Jubeir, who fronted global media after the scandal, has now been replaced by former finance minister Ibrahim al-Assaf.
Mr Assaf was detained briefly in the Crown Prince's anti-corruption crackdown last year but was released within weeks of his detention at Riyadh's Ritz-Carlton hotel last year.
He was cleared of wrongdoing and without making any payment to the state, as many others held in the crackdown had to do.
He is also a member of the board of national oil company Aramco.
Major reshuffles to security and intelligence
The kingdom will now have three government bodies aimed at improving its intelligence operations.
King Salman also appointed Prince Abdullah bin Bandar bin Abdulaziz to replace Prince Khaled bin Ayyaf as chief of the National Guard, and ordered a reshuffle of Saudi Arabia's Political and Security Council.
General Kalid bin Qirar al-Harbi was named general security chief, while Musaed al-Aiban was named national security adviser.
Turki al-Sheikh, head of Saudi Arabia's sports committee and a close adviser to Crown Prince Mohammed, was replaced and named as new chief of the Entertainment Commission.
Turki al-Shabana, an executive at broadcaster Rotana, was appointed minister of information.
Rotana is owned by billionaire investor Prince Alwaleed bin Talal, who was also detained at the Ritz last year and later released.
Space agency part of economic diversification
As the gulf state seeks to diversify its economy from oil exports, the Saudi leadership has sought to turn the state into a research and technology superpower.
In 2017, the Saudis pulled off a successful media stunt by giving citizenship to a robot called Sophia in a bid to showcase their investment in robotics.
The Crown Prince has invested over $US1 billion into space exploration, via Richard Branson's Virgin space companies: Virgin Galactic, The Spaceship Company and Virgin Orbit.
King Salman didn't give any specific details about how Prince Salman would steer the new space agency.
https://www.abc.net.au/news/2018-12-28/first-arab-muslim-astronaut-to-lead-saudi-space-agency/10670958
--------
Shoura Council speaker lauds Saudi-Egyptian ties
December 27, 2018
JEDDAH: Saudi Shoura Council Speaker Dr. Abdullah Al-Asheikh met with Egyptian Foreign Minister Sameh Shoukry during an official visit to Cairo this week.
During the meeting, Shoukry praised the depth and strength of Saudi-Egyptian bilateral relations and lauded the level of cooperation between the Shoura Council and the Egyptian Parliament. He also reiterated the role of parliamentary diplomacy in enhancing bilateral cooperation and stressed Egypt's full support for the Kingdom in its quest to maintain stability.
Dr. Al-Asheikh also reaffirmed the strength of bilateral relations and praised Egypt's efforts in dealing with various regional challenges and making improvements in the Egyptian economy.
http://www.arabnews.com/node/1426841/saudi-arabia
--------
Iraqi Parliamentarians Ask for Immediate Approval of Bill to Expel US Forces
Dec 27, 2018
Salam al-Shamri, a member of Sa'eroun faction at the Iraqi parliament, in a statement on Thursday deplored Trump's surprise visit as violation of Iraq's sovereignty, ignorance of international laws and continued threat against the neighboring states, calling on all political groups to immediately approve the bill to expel the US forces.
Also, Jamal al-Fakhir, another member of Sa'eroun faction, described Trump's visit as disrespect for the victims of the US-sponsored terrorism in Iraq and the region, saying that the visit has encouraged the Iraqi legislature to approve the bill for the immediate pullout of the US forces from Iraq.
Meantime, Sabah al-Sa'edi, the head of al-Islah faction at the Iraqi parliament, asked for an emergency meeting of the MPs to be attended also by the prime minister, commander of the Armed Forces, foreign minister and commander of the army's chief of staff to deal with the case.
He added that withdrawal of the US forces from Syria cannot be a justification for their deployment in Iraq and turning the country into a base for Washington in the region.
Islah is headed by Shiite leader Muqtada al-Sadr, who has long opposed the US presence in Iraq since Washington's invasion against the country in 2003.
Hundreds of thousands of Iraqis have died in the conflict, which many analysts call one of the major US foreign policy debacles in recent history and one of the most destructive invasions in modern history.
Iraqi political and popular forces' leaders have condemned Trump's unannounced trip to Iraq as a violation of their country's sovereignty.
In a surprise visit to US troops, Trump on Wednesday landed at an airbase West of the Iraqi capital, Baghdad, where he thanked the soldiers for their service.
The Bina bloc, led by Hadi al-Amiri, also objected to Trump's trip to Iraq.
"Trump's visit is a flagrant and clear violation of diplomatic norms and shows his disdain and hostility in his dealings with the Iraqi government," said a statement from Bina.
Trump did not meet any Iraqi officials during his three-hour-long stay. A scheduled meeting with Iraqi Prime Minister Adel Abdul Mahdi was scrapped and the two leaders talked instead by telephone.
Mahdi's office said in a statement that US authorities had informed Iraq's leadership of the president's visit in advance. The statement said the Iraqi prime minister and the US president held a telephone conversation due to a "disagreement over how to conduct the meeting".
Full report at:
http://en.farsnews.com/newstext.aspx?nn=13971006000559
--------
Residents Asks Damascus to Send Military Forces to Manbij
Dec 27, 2018
The Arabic-language al-Watan newspaper quoted Mojib al-Rahman al-Dandan, the representative of Manbij in the Syrian parliament, as saying on Thursday that as Damascus and the Syrian Democratic Forces (SDF) are holding talks on deployment of army forces in the town, the residents are also strongly pressuring the officials to this end.
He added that after US President Donald Trump's declaration of withdrawal of American forces from Syria, the US army retreated from Manbij to Tishrin dam, noting that Manbij residents want immediate deployment of the Syrian army in the town.
Al-Dandan, meantime, said that the SDF leaders are also involved in internal differences as some intend to leave Syria for France and call for the establishment of a no-fly zone and some others want talks with the Syrian government.
He underlined the possibility for the imminent deployment of the Syrian army forces in the region, and said given the strategic importance of Manbij which is the main route to the Forat (Euphrates) dam, the army will be able to liberate all areas in Eastern Syria after regaining the region.
Relevant reports said earlier today that the Syrian army was preparing to enter Manbij as Turkey threatened to occupy the strategic town.
The Arabic-language al-Watan newspaper reported on Thursday that tens of military vehicles, carrying the Syrian government flags, along with hundreds of forces, including special forces and presidential guards, have been stationed in the towns in Southern Manbij.
It added that the move is in line with army's preparation to enter Manbij and prevent the Turkish army and its affiliated militants from occupying the region.
Meantime, the Arabic-language Arabi 21 news website quoted a spokesman of Manbij military council as saying that deployment of the Syrian army forces in the town is supported by Russia and has been coordinated with the Manbij military council.
Full report at:
http://en.farsnews.com/newstext.aspx?nn=13971006000649
--------
Infightings Reported Again among Terrorists in Idlib
Dec 27, 2018
Field sources in Northern Syria reported on Thursday that tensions have heightened between the two terrorist groups in the town of Harem in Northern Idlib.
They added that the clashes erupted after Tahrir al-Sham detained a number of Horras al-Din militants, saying that the former terrorist group surrounded one of the strongholds of the French members of Horras al-Din.
The sources noted that clashes still continue in the region.
Also, in Southern Idlib, one of the commanders of Ansar al-Tawhid terrorists namely Mohammad Abu Ishaq was killed by the bullet fire of unknown assailants in the town of Ahsam.
According to the reports, fierce tensions are underway between Nour al-Din Zinki and Tahrir al-Sham terrorists in Western Aleppo.
The Tahrir al-Sham terrorist group has engaged in clashes with different rivals in Northern Syria.
In a relevant development earlier this month, Tahrir al-Sham had stormed Ahrar al-Sham positions, pushing them back from more regions in Northeastern Hama and Southwestern Idlib.
Full report at:
http://en.farsnews.com/newstext.aspx?nn=13971006000714
--------
Following UAE, Bahrain set to reopen diplomatic mission in Syria
Dec 27, 2018
Arab states are preparing to restore their presence in Syria after years of absence following the outbreak of a foreign-sponsored conflict more than seven years ago, with Bahrain being the next in the line of countries to reopen its embassy in Damascus.
Diplomatic sources, speaking on condition of anonymity, told the Arabic service of Russia's Sputnik news agency that Bahrain's mission in the Syrian capital would resume its activities next week.
Bahrain decided to shut down its embassy in Damascus and to withdraw all diplomats and staff on March 15, 2012.
On Thursday, the United Arab Emirates officially reopened its embassy in Damascus.
The Emirati Ministry of Foreign Affairs and International Cooperation said the reopening of its embassy "reaffirms the keenness of the United Arab Emirates to restore relations between the two friendly countries to their normal course."
The move "will strengthen and activate the Arab role in supporting the independence, sovereignty and territorial integrity of the Syrian Arab Republic and to prevent the dangers of regional interference in Syrian Arab affairs," the ministry pointed out.
UAE's charge d'affaires Abdul Hakim Naimi visited the embassy in the afternoon, and witnessed his country's flag being raised on the compound in central Damascus.
The development is another sign that the incumbent Damascus government is being admitted back into the Arab world.
On December 18, an Iraqi diplomatic source, requesting not to be named, said President Barham Salih was going to pay an official visit to Damascus.
The report came only two days after Sudanese President Omar al-Bashir became the first Arab League leader to visit Damascus.
Syria's official news agency SANA said Bashir was greeted by his Syrian counterpart Bashar al-Assad upon arrival at Damascus International Airport, before they both headed to the presidential palace.
The two leaders discussed bilateral ties and the "situations and crises faced by many Arab countries," the Syrian presidency said in a statement.
SANA quoted the Sudanese leader as saying during the meeting that he hoped Syria will recover its important role in the region as soon as possible.
He also affirmed Khartoum's readiness to provide all it can to support Syria's territorial integrity.
Full report at:
https://www.presstv.com/Detail/2018/12/27/584135/Following-UAE-Bahrain-is-set-to-reopen-diplomatic-mission-in-Syria
--------
Bahraini court hands down death sentence to activist, life terms to over dozen dissidents
Dec 27, 2018
An appellate court in Bahrain has sentenced an anti-regime activist to death and passed life imprisonment against more than a dozen other political dissidents as the ruling Al Khalifah regime presses ahead with its heavy-handed clampdown on pro-democracy protesters in the Persian Gulf kingdom.
The Supreme Court of Appeals on Wednesday upheld the death penalty for a Bahraini national and sentenced 13 other activists to life in prison, the Arabic-language Bahrain Mirror news website reported.
It added that the court had also given 15 years of imprisonment to eight other dissidents, five years to another two and three years to two others.
Furthermore, the court stripped 25 other activists of their Bahraini citizenship.
Manama has accused all the defendants of launching an alleged bomb attack in the area of Abu Saiba, which resulted in the death of a security officer and the injury of a number of others, the report further said, describing the whole case as politically-motivated.
The report also said that the rulings were based on the investigations conducted by security forces and confessions obtained under "torture."
Thousands of anti-regime protesters have held demonstrations in Bahrain on an almost daily basis ever since a popular uprising began in the country in mid-February 2011.
They are demanding that the Al Khalifah regime relinquish power and allow a just system representing all Bahrainis to be established.
Manama has gone to great lengths to clamp down on any sign of dissent. On March 14, 2011, troops from Saudi Arabia and the United Arab Emirates were deployed to assist Bahrain in its crackdown.
Scores of people have lost their lives and hundreds of others sustained injuries or got arrested as a result of the Al Khalifah regime's crackdown.
On March 5, 2017, Bahrain's parliament approved the trial of civilians at military tribunals in a measure blasted by human rights campaigners as being tantamount to imposition of an undeclared martial law countrywide.
Full report at:
https://www.presstv.com/Detail/2018/12/27/584118/Bahrain-court-death-life-terms-Al-Khalifah-protesters
--------
Civilian exodus from Daesh's last Syria bastion
December 27, 2018
BEIRUT: Thousands of civilians, mostly relatives of militant fighters, are fleeing the Daesh group's last stronghold in eastern Syria, a war monitor said on Thursday.
According to the Syrian Observatory for Human Rights, 11,500 people have fled the area since Kurdish-led forces broke Daesh defenses and took the militants' main hub of Hajjin two weeks ago.
"The past fortnight saw the biggest exodus" since the launch in September of a broad offensive against Daesh by the Syrian Democratic Forces (SDF), the monitoring group said.
The outfit is an alliance of the Kurdish militia which controls northeastern Syria and local Arab fighters that operates with backing from a US-led military coalition.
The militant group had already lost all of its major urban centers earlier in 2018 but was clinging to the remote area in the Euphrates River Valley.
The SDF launched an operation involving more than 15,000 fighters to smash the militants' last redoubt, known as the Hajjin pocket, on Sept. 10.
They took the town of Hajjin on Dec. 14, after months of an offensive slowed by Turkish threats against the Kurds further north as well as fierce counter-attacks by Daesh fighters with little to lose.
"Most of the displaced are IS relatives," said Rami Abdel Rahman, the head of the Britain-based Observatory.
He added however that fighters were attempting to blend in with the civilians to save their lives and that the SDF had managed to detain 700 so far.
He said that since the loss of Hajjin, the last town of note in the area, the militants have been unable to defend their positions and were quickly falling back.
Daesh still controls the villages of Al-Shaafa and Sousa as well as a handful of hamlets dotting the eastern bank of the Euphrates.
Abdel Rahman said he expected the last rump of what was once a sprawling "caliphate" straddling swathes of Iraq and Syria to collapse in the coming days.
Full report at:
http://www.arabnews.com/node/1426566/middle-east
--------
Southeast Asia
Deputy Agong rues Muslim rift, wants state Islamic councils politics-free
28 December 2018
GEORGE TOWN, Dec 28 — State Islamic Councils are meant to unite Muslims in the country and protect the sanctity of the religion, Sultan Nazrin Muizzuddin Shah said today.
However, the deputy Yang di-Pertuan Agong said Muslim Malaysians have become increasingly "fractured" and called for the Islamic religious institution to be free of partisan political influence so it can carry out its proper role.
"The Islamic Religious Councils are the main authority on Islamic religious affairs after the Yang di-Pertuan Agong and they must bring forward issues in a non-partisan manner to assist the Yang di-Pertuan Agong in his decisions in an objective manner," he said in a speech after presenting appointment letters to Penang Islamic religious council members and state Shariah Court judges at the Equatorial Hotel here.
He lamented the current situation where Muslims are at odds with each other due to conflicting principles.
"The close ties between Muslims are becoming more fractured," he said.
He told the religious councils to fulfil their responsibility to unite Muslims by keeping clear of politics.
"This is so that the councils' role can be seen as neutral and be accepted as without prejudice by the majority of Muslims."
Sultan Nazrin said state Islamic councils must function collectively as a centre of Islamic administration and thinking under the direct monitoring of the Yang di-Pertuan Agong.
"Therefore, the loyalty of council members who are elected is to the Yang di-Pertuan Agong and his approval must be obtained before any policy, order or activity on Islam is implemented," he said.
He also reminded the councils to cooperate with the democratically elected government of the day and ensure they do not go against the Federal Constitution when carrying out their work.
"Whatever the political scenario in the country, as long as the council's actions do not go against the Federal Constitution, the country must acknowledge the council as an important institution to ensure the sanctity of Islam and the survival of the ummah are protected," he said.
https://www.malaymail.com/s/1707017/deputy-agong-rues-muslim-rift-wants-state-islamic-councils-politics-free
--------
Fewer Malaysians got hitched in 2017, most divorcees in 30s, new data shows
28 December 2018
KUALA LUMPUR, Dec 28 — Fewer Malaysians married last year compared to 2016, but the good news is that fewer also got divorced, data from the Department of Statistics Malaysia (DOSM) released today showed.
The number of marriages in Malaysia fell from 200,274 in 2016 to 190,532 in 2017, with the crude marriage rate per 1,000 population also slipping from 6.3 (2016) to 5.9 (2017).
The drop in marriages was seen in both the Muslim and non-Muslim communities in Malaysia, but Muslims still have a higher crude marriage rate.
For Muslim-Malaysians, the number of marriages recorded shrunk by 6.1 per cent from 142,712 to 134,008, with the crude marriage rate dropped from 7.4 to 6.8 per 1,000 Muslim population.
In comparison, the crude marriage rate among non-Muslims decreased from 4.7 to 4.5.
The figures indicated that men in Malaysia tend to marry and divorce at an older age, while women tend to do so at a slightly younger age.
The median age where Malaysian men and women got married in 2017 was at 29 and 26 respectively.
Meanwhile, the median age for men getting divorced was 37, compared to 34 for women.
These figures match the 2017 situation in Malaysia, where those in the 25-29 age group recorded the highest number of marriages in comparison to other age groups, while those aged 30-34 made up the largest group of divorcees.
This was regardless of their gender.
The DOSM data also showed a higher general marriage rate among men, with 47.2 per 1,000 unmarried men aged above 18 becoming grooms, compared to women at 44 per 1,000 unmarried females aged 16 and above.
In contrast, the general divorce rate among women was higher than men at 7 per 1,000 married females aged 16 and above calling time on their marriages, compared to 6.5 per 1,000 married men aged 18 and above.
Overall, the number of divorces in Malaysia decreased from 51,642 to 49,965. But the crude divorce rate remained unchanged at 1.6 per 1,000 population.
The falling trend was consistent between Muslims and non-Muslims.
Full report at:
https://www.malaymail.com/s/1707026/fewer-malaysians-got-hitched-in-2017-most-divorcees-in-30s
--------
No problem if Islamic teachers posted to Muslim-majority schools, says Sarawak party
28 December 2018
KUCHING, Dec 28 ― Parti Bansa Dayak Sarawak Baru (PBDSB) president Cobbold John Lusoi today said his party has no problem with religious teachers from peninsular Malaysia, provided they are posted to schools in Sarawak's coastal areas or where the majority of the students are Muslims.
"But we will strongly oppose the posting of Muslim religious teachers to schools where most of or all the students are Christian Dayaks in the rural areas," he said.
He was responding to fears expressed by the Sarawak Evangelical Christian Association (SECA) over a statement made by Education Minister Maszlee Malik for religious teachers from Kelantan, Terengganu and Kedah to make Sarawak as their "medan dakwah" or arena to evangelise.
Lusoi said there is no justification for the Education Ministry to post religious teachers to schools dominated by Christian students other than to influence them to become Muslims.
He said there were attempts in the past to influence the students through subtle means to convert into Islam without the knowledge of their parents.
Lusoi said PBDSB opposes any move by the ministry to post religious teachers to primary schools in the remote parts of Sarawak which do not have a single Muslim student.
"These teachers may be assigned to teach other subjects, like moral education, but along the way, nothing will stop them from using subtle ways to influence the students to learn about Islam without the young minds knowing about it," he said.
Lusoi said with the "mandate" given by Maszlee to these teachers to consider Sarawak as their "medan dakwah", the possibility of these religious teachers using subtle ways to influence the Christian students to become Muslims is real.
He reminded that these teachers are from the PAS-controlled states of Kelantan and Terengganu.
"With that in mind, these teachers may well be PAS members and supporters. PAS, as we all know, is bent on spreading the Islamic faith in the country.
Full report at:
https://www.malaymail.com/s/1706973/no-problem-if-islamic-teachers-posted-to-muslim-majority-schools-sarawak-pa
--------
South Asia
'Fielding ex-Jamaat people is stupid': Dr Kamal Hossain tells Indian newspaper
2018-12-27
"I am sorry to say that fielding ex-Jamaat people is stupid," he told The Indian Express on Wednesday.
"I had given it in writing that there will be no support to Jamaat, no bringing in religion, fundamentalism, extremism etc," the newspaper quoted him as saying in a report published on Thursday.
"Had I known (that Jamaat leaders will be given BNP tickets), I would not have been part of it, but I will not stay a single day if these people have any role in the future government," Dr Kamal told The Indian Express.
Speaking about the process to form the alliance, Dr Kamal told the newspaper: "I was just practising law when BNP's secretary general Fakhrul Islam came to meet me a few months ago and asked me to lead the front. I was aware of what was happening throughout the country, so I agreed."
About Dr Kamal, the Indian newspaper wrote: "More than three decades after he played a key role in bringing Sheikh Hasina from her exile in India to mount a challenge against Zia-ur-[Rahman], this veteran of Bangladesh politics and once a close aide to her father stands as Prime Minister Hasina's principal challenger in the country which will hold elections on Sunday.
"Meet Kamal Hossain, former law and foreign minister in Sheikh Mujibur Rahman's Cabinet between 1971 and 1975, and, almost four-and-half decades later, now head of the Jatiyo Oikyo Front (National United Front) — the main opposition in Bangladesh's fiercely-contested election."
On the BNP's poor track record with India, he told The Indian Express: "BNP has told India that we have been wrong. When Khaleda Zia went to India, she told them. It was part of their rehabilitation process, she began to correct (the position)."
He also criticised the practice of dynasties ruling in Bangladesh and other South Asian nations.
Dr Kamal had the conversation with The Indian Express "just minutes after" after a police team met him to discuss his security.
The meeting followed Dr Kamal's harsh criticism of the law enforcers for "favouring ruling party candidates in the election".
The Oikya Front has alleged widespread attacks on and police harassment of its candidates and supporters before the election.
"I am no challenger. I am just an 80-year-old man… I am just working to restore the rule of law, democracy in the country," Dr Kamal is quoted by The Indian Express as saying.
"I am waiting for the election day. The election day is a liberation day. It will be second liberation day if it's free and fair election," he told the newspaper.
Earlier Dr Kamal had apologised following intense criticism for asking a Bangladeshi reporter to "shut up" after facing questions on the Jamaat on the Martyred Intellectuals Day. He later ducked questions on the same issue.
The court has cancelled the Jamaat's registration with the Election Commission, but around two dozen leaders of the party are contesting in the polls as candidates of the BNP's Jatiya Oikya Front alliance with the 'paddy sheaf' symbol.
Several quarters have criticised the BNP for giving the Jamaat, including family members of its leaders convicted of war crimes, the opportunity to contest in the election.
Even Mahbubur Rahman, a member of the BNP's policymaking body the National Standing Committee, has termed "unfortunate" his party's alliance with the Jamaat, which opposed Bangladesh's independence from Pakistan in the 1971 Liberation War.
Full report at:
https://bdnews24.com/politics/2018/12/27/fielding-ex-jamaat-people-is-stupid-dr-kamal-hossain-tells-indian-newspaper
--------
UN calls for peaceful polls in Bangladesh
December 28, 2018
DHAKA: Bangladesh's deadly election campaign entered a final full day on Thursday amid international concern over events, UN Secretary General appealed for calm.
Both sides launched new salvos in their war of words ahead of Sunday's polling.
Prime Minister Sheikh Hasina accused the opposition of organising bomb attacks while the Bangladesh Nationalist Party (BNP) said "the state" was aiding an assault on the opposition.
At least six people — four from the BNP and two from the Awami League — have been killed since the campaign started on Nov 8. The BNP and its ally Jamaat-e-Islami say more than 11,500 of their followers have been arrested and thousand of activists, including candidates, injured in attacks by ruling party followers.
UN Secretary General Antonio Guterres "calls on all stakeholders to ensure an environment free of violence, intimidation and coercion before, during and after the elections, so as to enable a peaceful, credible and inclusive poll", said a spokesman.
Bangladeshis "must feel safe and confident in exercising their right to vote. Civil society and electoral observers should be fully supported to play their role in the process", the UN leader added through his spokesman.
Sheikh Hasina, seeking a third straight term and a record fourth in all, has shrugged off opposition complaints of authoritarianism and said she needs more time to implement her ambitious economic plans.
Hasina focused a speech broadcast by video late Wednesday to supporters in Dha­ka on the impressive economic growth of the past decade.
Full report at:
https://www.dawn.com/news/1454040/un-calls-for-peaceful-polls-in-bangladesh
--------
Parties 'rediscover' religious minorities ahead of coming elections
by Sumon Corraya
12/27/2018
Dhaka (AsiaNews) – As Bangladesh's general elections approach (30 December), political parties have focused on defending the rights of religious minorities in the predominantly Muslim country.
In recent days the main political camps have released their election manifesto. Both plan to set up a cabinet-level ministry to protect the rights of minority religious groups.
For her part, incumbent Prime Minister Sheikh Hasina celebrated Christmas with 1,500 Christians. Her party, the AWAMI League, issued an 84-page platform. It includes the creation of a national minority commission and the adoption of a special law for their security. The League also wants to institutionalise democratic processes, strengthen the National Human Rights Commission and the Anti-Corruption Commission, as well as guarantee the right to study and work of ethnic minorities.
On this last point, the prime minister added that she is committed to the "needy among tribal people" and that her government "will preserve tribal cultures."
The main opposition party, the Bangladesh National Party, has taken a similar line in its nine-page manifesto. The latter includes a balance of power between the president and prime minister, the appointment of a deputy parliamentary speaker from the ranks of the opposition, the granting of work permits to foreign workers, and an end to money laundering through changes to the tax laws.
Hasina showed her support for minorities by hosting a group of Christians at her residence on Christmas Eve. On that occasion, the prime minister said that everyone is entitled to their beliefs in Bangladesh.
"An excellent environment now exists in Bangladesh to practise one's religion," she said. At the same time, "We can all honour the religion of others".
Full report at:
http://www.asianews.it/news-en/Parties-'rediscover'-religious-minorities-ahead-of-coming-elections-45829.html
--------
ANDSF operations, U.S. airstrikes leave 15 militants dead in Ghazni
27 Dec 2018
At least fifteen militants have been killed during the operations of the Afghan National Defense and Security Forces and U.S. airstrikes in southeastern Ghazni province.
The 203rd Thunder Corps of the Afghan Military in the South East said at least 7 militants were killed during a clash between the security forces and Taliban militants in Qarabagh district.
According to a statement released by 203rd Thunder Corps, the coalition forces also carried out an airstrike in Aab Band district of Ghazni, leaving at least 4 militants dead.
The statement further added that a vehicle of the militants was also destroyed during the same airstrike.
In the meantime, four militants were killed and a M-16 rifle was confiscated during other clashes which took place in center of Ghazni and in the vicinity of Qarabagh district, the 203rd Thunder Corps said.
Full report at:
https://www.khaama.com/andsf-operations-u-s-airstrikes-leave-15-militants-dead-in-ghazni-03010/
--------
Prominent Taliban leaders killed in U.S. drone strikes in West of Afghanistan
27 Dec 2018
Two prominent local leaders of the Taliban group have been killed during the airstrikes conducted by the U.S. forces in western Farah province of Afghanistan.
According to local security officials, the two prominent Taliban leaders killed in the airstrikes were the in charge of the operational activities of the group in this province.
In the meantime, the 207th Zafar Corps of the Afghan Military in the West in a statement said the Afghan force conducted operations with the coalition air support in Shindand district of Herat province.
The statement further added that the airstrikes were carried out against the hideouts of Mullah Akhtar and Mullah Ewaz in Zer Koh area of the district.
Without disclosing further information, the 207th Zafar Corps said at least 7 motorcycles and two vehicles of the militants have been destroyed in the airstrikes and the enemies were forced to retreat from the area after the losses.
Full report at:
https://www.khaama.com/prominent-taliban-leaders-killed-in-u-s-drone-strikes-in-west-of-afghanistan-03011/
--------
ISIS-K spokesman killed in U.S. airstrike in East of Afghanistan
27 Dec 2018
The spokesman of the Islamic State of Iraq and Syria Khurasan (ISIS-K) Sul Aziz Azam has been killed in an airstrike of the U.S. forces in eastern Nangarhar province of Afghanistan.
The 201st Silab Corps of the Afghan Military in the East said Azam was killed in an airstrike which was conducted two days ago in Nangarhar province.
According to a statement released by 201st Silab Corps, the airstrike was carried out in the vicinity of Pacher Agam district.
The statement further added that Azam was also involved in recruiting militants for the terrorist group and was involved in killings of innocent civilians.
The ISIS Khurasan militants have not commented regarding the killing of Azam so far.
Full report at:
https://www.khaama.com/isis-k-spokesman-killed-in-u-s-airstrike-in-east-of-afghanistan-03008/
--------
Taliban urge US to exit Afghanistan or face Soviet-style defeat
December 27, 2018
KABUL: The Taliban warned the United States Thursday it would face the same fate as the Soviet Union in the 1980s if it did not leave Afghanistan, as Washington considers slashing troop numbers.
In a taunting message sent on the 39th anniversary of the Soviet invasion of the war-torn country, the Taliban said US forces faced "humiliation" and could "learn a great deal" from the experience of their Cold War foe.
The Soviets pulled out of Afghanistan in 1989, ending a decade-long occupation and precipitating a bloody civil war and the emergence of the Taliban.
"Take heed from the Soviet defeat in Afghanistan and abandon thoughts of testing the mettle of the already proven Afghans," Taliban spokesman Zabiullah Mujahid said in a statement in English, Dari and Pashto.
Mujahid said any future relations between the Taliban and the United States should be based on "sound diplomatic and economic principles" rather than conflict.
The Taliban have not formally responded to the news that Trump had decided to withdraw roughly half of the 14,000 US troops in Afghanistan.
But a senior commander told AFP that the group was "more than happy." The Taliban have long insisted on the withdrawal of foreign troops as a condition for engaging in peace talks.
The White House has so far not confirmed the widely-publicized move that left foreign diplomats and Afghan officials in Kabul stunned and dismayed.
It came last week as US peace envoy Zalmay Khalilzad met with the Taliban in Abu Dhabi, part of efforts to bring the militants to the negotiating table with Kabul.
That was the latest in a series of meetings between US officials and representatives of the Talian that began in the summer.
Full report at:
http://www.arabnews.com/node/1426571/world
--------
Pakistan
Pakistan says Kartarpur corridor 'high point of diplomacy' for Imran Khan government
Dec 27, 2018
ISLAMABAD: Pakistan on Thursday described the Kartarpur corridor as the "high point of diplomacy" for the Imran Khan government while admitting that there was "no progress" on the contentious issues with India.
Foreign office spokesperson Mohammad Faisal also said that the Kashmir issue remained "on top of Pakistan's priority".
At the weekly media briefing here, Faisal said that the Kartarpur corridor was the "high point of diplomacy for Pakistan's new government, along with Afghan (peace) developments."
He said Prime Minister Khan in a letter to his Indian counterp art Narendra Modi in September gave a detailed roadmap to move forward but New Delhi failed to reciprocate.
Faisal said that despite India's refusal to start a dialogue, Pakistan went ahead with the groundbreaking task of opening the Kartarpur corridor.
Prime Minister Khan in November laid the foundation stone for the corridor linking Gurdwara Darbar Sahib in Pakistan's Kartarpur - the final resting place of Sikh faith's founder Guru Nanak Dev - to Dera Baba Nanak shrine in India's Gurdaspur district to facilitate visa-free movement of Indian Sikh pilgrims.
"It was very positively received all around the world, especially by the Sikh community. We are actively working to develop infrastructures at Kartarpur," Faisal said.
Faisal said, however, there was "no progress" on contentious issues with India and the Kartarpur corridor was the only positive development.
"We were not successful...we made an effort but they were not reciprocating. You can say it was not successful," the spokesman said.
Condemning the violence in Kashmir, he said Pakistan would "observe Kashmir solidary on February 5, 2019 in London where the foreign minister will be present."
Faisal said 341 Pakistani prisoners were in India, including 154 civil prisoners and 187 fishermen. He said 12 civil and 33 fishermen have completed their jail terms and Pakistan is working to bring them back.
To a question about India's role in the Afghan peace process, Faisal said, "India has no role in this".
Faisal said Pakistan wanted to develop peaceful ties with all neighbours and foreign minister Shah Mahmood Qureshi's fournation visit this week was to explore possibility of a win-win framework for regional connectivity, economic development with the objective economic growth and prosperity.
https://timesofindia.indiatimes.com/world/pakistan/pakistan-says-kartarpur-corridor-high-point-of-diplomacy-for-imran-khan-government/articleshow/67272688.cms
--------
Ulema delegation visits North Waziristan
December 28, 2018
MIRAMSHAH: A delegation of religious scholars and ulema visited Miramshah and Mir Ali areas in North Waziristan tribal district where they were briefed about return of peace and normalcy in the region.
The delegation also visited local garrison where they were briefed about the prevalent environment in North Waziristan, army's operation against militancy and endeavours for socioeconomic uplift of people of the area.
The delegation included Mufti Abdul Raheem, Allama Amin Shaheedi, Allama Arif Hussain Wahidi, Maulana Ahmed Ludhianvi, Mufti Mohammad Naeem, Mohammad Raghib Hussain Naeemi, Pir Mohammad Aminul Hasanat, Allama Iftikhar Hussain Naqvi, Maulana Zahid Mehmood Qasmi, Dr Qibla Ayaz, Maulana Fazalur Rehman Khalil and Mohammad Yaseen Zafar. Local ulema, including Maulana Abu Rizwan Mohammad Alam, Maulana Qari Mohammad Roman and Maulana Sabirullah, also joined the delegation.
Genral officer commanding 7 Division, Major General Mumtaz Hussain, while interacting with ulema highlighted the measures being taken for development and economic revival in North Waziristan. The delegation appreciated the efforts and resolve of security personnel against militancy.
Later, the delegation drove through Miramshah city, witnessed Sarbankai Model Village, Miramshah bus stand, reconstructed market, DHQ hospital, Army Public School and Stadium Complex.
Full report at:
https://www.dawn.com/news/1454065/ulema-delegation-visits-north-waziristan
--------
Pakistan signs prisoner transfer agreement with UK
December 28, 2018
ISLAMABAD: Pakistan and the United Kingdom (UK) have signed a prisoner transfer agreement to facilitate prisoners from both countries by allowing them to serve their sentences in their home countries.
Interior Secretary (r) Maj Azam Suleman Khan and British High Commissioner to Pakistan Thomas Drew signed the UK-Pakistan Prisoner Transfer Agreement in the federal capital.
According to the British High Commission, the agreement was approved during British Home Secretary Sajid Javid's visit to Pakistan in September, and it is a new version of a former treaty between the two countries. It added that the agreement takes care not to undermine the severity of the sentences of the prisoners.
The agreement is expected to allow the inmates space to reassimilate into their societies when released.
Addressing the signing ceremony, Drew said that he is "delighted to sign this updated prisoner transfer agreement, which will allow prisoners to serve their sentence closer to home".
Full report at:
https://www.pakistantoday.com.pk/2018/12/27/pak-uk-sign-prisoner-transfer-agreement/
--------
Pakistan committed to peace efforts, COAS tells NATO commander
DECEMBER 28, 2018
Chief of the Army Staff (COAS) General Qamar Javed Bajwa said on Thursday that Pakistan was committed to efforts for peace in Afghanistan.
He was talking to Commander Resolute Support Mission in Afghanistan General Austin Scott Mille, who called on him in Rawalpindi.
During the meeting, the two military men discussed matters of mutual interest pertaining to regional security and ongoing Afghan reconciliation process.
Both agreed that political resolution of Afghan situation was imperative, and underlined that only an Afghan-owned and Afghan-led inclusive process could lead to peace in the region.
They also reaffirmed the need for continuing harmonised efforts against terrorists and for effective border management.
Separately, Russian Ambassador to Pakistan, Alexey Yurevish Dedov also called on the COAS on Thursday. Both leaders discussed matters related to regional security and bilateral cooperation, according to the Inter-Services Public Relations (ISPR).
The visiting dignitary conferred Order of Friendship, Medal for Courage in Salvation and Medal for the Common Wealth in Rescue to 10 officers and two soldiers of Pakistan Army in recognition of their cooperation, commitment and audacity during a search and rescue operation at Latok-1 to rescue Russian mountaineer Alexander Gukov, the ISPR statement said.
The Russian mountaineer Alexander Gukov was rescued by Pakistan Army from 20,650 feet on Latok I peak in the Biafo glacier region in July 2018. The rescue mission, which spanned over six days, was carried out by the Army Aviation under the most hostile and challenging conditions.
Pak Army successfully rescues Russian climber from Karakoram peak in death-defying mission
Full report at:
https://dailytimes.com.pk/338119/pakistan-committed-to-peace-efforts-coas-tells-nato-commander/
--------
Pakistan ex-president Zardari faces travel ban over graft
December 27, 2018
ISLAMABAD: Pakistan announced Thursday it would ban former president Asif Ali Zardari from traveling abroad following allegations of money laundering, as the nation marked 11 years since his wife, prime minister Benazir Bhutto, was assassinated.
Information minister Fawad Chaudhry told reporters in Islamabad that Zardari and his sister Faryal Talpur were among 172 people involved in cases of money laundering and use of fake bank accounts.
"All the 172 names ... will be added to the ECL (Exit Control List)," he said.
Zardari, co-chairman of the opposition Pakistan People's Party and who was president from 2008 until 2013, has long been the subject of corruption allegations, and is widely known in Pakistan as "Mr Ten Percent."
The announcement coincided with the 11th death anniversary of his spouse and two-time former prime minister Benazir Bhutto, who was killed in a gun and suicide bomb attack during an election rally in the garrison town of Rawalpindi on December 27, 2007.
Earlier this week Chaudhry said a joint investigation team (JIT) had found evidence of how Zardari allegedly laundered money through fake bank accounts and companies.
"I hope Zardari will now take the JIT seriously," he said Thursday, adding that his government would not spare anyone involved in plundering national wealth.
Prime Minister Imran Khan, who came to power in July, has vowed to squash rampant corruption and recover billions siphoned from the country as his government scrambles to shore up Pakistan's deteriorating finances and fast-depleting foreign exchange reserves.
Zardari's travel ban comes days after former prime minister Nawaz Sharif was sentenced to seven years in prison for corruption on Monday, the latest in a long string of court cases against him.
Pakistan's Supreme Court disqualified Sharif from politics for life over graft allegations in 2017, ousting him from power. His Pakistan Muslim League-Nawaz was defeated by Khan in the July polls.
A Pakistani court established a commission in September to investigate the scourge of corruption, finding that at least $400 million had passed through "thousands of false accounts," using the names of impoverished people.
Full report at:
http://www.arabnews.com/node/1426626/world
--------
Mideast
Iran-affiliated militias say Trump's Iraq visit 'will not go unpunished'
27 December 2018
Militias affiliated with Iran in Iraq threatened to respond to American President Donald Trump's visit to Iraq on Wednesday.
Asa'ib Ahl al-Haq and Harakat al-Nujaba said Trump's visit to Al Asad Air Base in Anbar "will not go unpunished."
Harakat al-Nujaba said it will not allow turning Iraq into an American base that threatens neighboring countries and called on the Iraqi government to expel American troops from the country as their presence harms the country's sovereignty.
Sabah al-Saadi, head of the parliamentary reform and reconstruction bloc, called for holding an emergency parliamentary session to discuss the presence of American troops in the country.
An Iraqi official had revealed that the American army established two new military bases west of Iraq near the Syrian borders.
The move comes less than a week after President Trump decided to withdraw American troops from Syria.
According to media reports, Farhan al-Duleimi, a member of Anbar's provisional council, said that the first base was established north of Rumana sub-district in al-Qaim district in the vicinity of the Syrian border. This is located around 360 kilometers west of Ramadi, the capital of the Anbar governorate. As for the second base, it was established east of al-Rutbah, which is around 310 km west of Ramadi and near the Syrian border.
https://english.alarabiya.net/en/News/middle-east/2018/12/27/Iran-affiliated-militias-say-Trump-s-Iraq-visit-will-not-go-unpunished-.html
--------
Houthi militia violates UN-brokered ceasefire in Hodeidah 29 times in last 24 hours
December 27, 2018
JEDDAH: The Houthi militia have violated the UN-brokered ceasefire in the Yemeni port city of Hodeidah 29 times in the last 24 hours, the Arab coalition said.
The coalition also said that the Iranian-backed Houthis continue to violate the truce in Hodeidah, and that they have been bombing areas populated by civilians resulting in injuries.
The warring parties in Yemen's nearly four-year war reached a ceasefire deal at UN-sponsored peace talks in Sweden earlier this month. The truce began last week Tuesday but the Houthis continue to violate it.
The UN Security Council last week unanimously approved the deployment — for an initial 30 days — of an advance monitoring team led by retired Dutch General Patrick Cammaert. He is chair of a Redeployment Coordination Committee (RCC) that includes representatives from both sides of the conflict.
Cammaert's team, which the United Nations has said will not be uniformed or armed, will oversee the truce and troop withdrawal from Hodeidah city and three ports.
The United Nations will also provide support for the management of and inspections at the ports of Hodeidah, Salif and Ras Issa; and strengthen its presence in the region.
Hodeidah, the main port used to feed Yemen's 30 million people, has been the focus of fighting this year, raising fears abroad that a full-scale assault could cut off supplies to nearly 16 million people suffering from severe hunger.
Full report at:
http://www.arabnews.com/node/1426636/middle-east
--------
Palestinian PM briefs Arab youth delegation on life under occupation
December 27, 2018
AMMAN: The four-day "Towards Victory for Jerusalem" conference in Ramallah, featuring a delegation of youths from seven Islamic countries, concluded on Thursday.
The conference, co-sponsored by the Arab League, was held under the patronage of Jibril Rajoub, head of the Palestinian Football Association and Olympic Committee, and secretary-general of the Fatah Central Committee.
Participants — who came from Jordan, Oman, Bahrain, Libya, Kuwait, Qatar, and Mauritania — toured various areas of Palestine, and spent Dec. 25 in Bethlehem. Before the conference's final session, they were guests of Palestinian Prime Minister Rami Hamdallah in Ramallah.
A government press release said that Hamdallah "gave a review of the political situation and the suffering under occupation and he spoke about efforts toward national reconciliation as well as international efforts to create a mini state in Gaza."
Hamdallah called on Hamas "to respond positively to the reconciliation initiative of President Mahmoud Abbas so that Palestinians can face these efforts against the Palestinian cause in a united way," the statement said.
Speaking about Jerusalem in the opening session, Rajoub said that Palestinians and Arabs are united over Jerusalem.
"There is consensus about the Arab context of Jerusalem, which Palestinians — both Christians and Muslims — continue to defend," he said. He went on to praise "the heroes" who have defended the city over the years, and referred to Jerusalem as "a mosaic of Palestine where Muslims and Christians are living together and fighting for the city's independence."
The delegates also heard speeches from a number of leaders and experts from Jerusalem. Hanna Issa, secretary-general of the Islamic Christian Committee for Jerusalem and the Holy Sites, told Arab News that the delegates visited historic sites in Jerusalem and Nablus, Bethlehem and Hebron and witnessed firsthand the reality of life for Palestinians.
"I told the delegates that it is great to see active young people from Arab countries coming to visit their peers in Palestine and that (there should be) further visits that aim at strengthening relations with Jerusalem and Palestine."
Full report at:
http://www.arabnews.com/node/1426746/middle-east
--------
Arab Coalition: Houthi militias continue violating Hodeidah ceasefire
27 December 2018
The Arab Coalition said on Thursday that Houthi militias have violated the Hodeidah ceasefire 29 times in the past 24 hours.
The coalition said that Houthi violations included the use of mortars, RPGs, thermal missiles, improvised explosive devices and sniper shooting.
The violations targeted civilians and caused injuries.
https://english.alarabiya.net/en/News/gulf/2018/12/27/Arab-Coalition-Houthi-militias-continue-violating-Hodeidah-ceasefire.html
--------
UN ceasefire monitoring chief awaits response on Hodeidah withdrawal mechanism
27 December 2018
The joint committee tasked with monitoring the ceasefire in Yemen's Hodeidah will resume its meetings on Thursday. The meetings will be chaired by retired Dutch General Patrick Cammaert, head of the UN monitoring team, and attended by a legitimate government delegation and a Houthi delegation.
Cammaert is waiting for a response on his Wednesday proposal pertaining to the mechanism of withdrawal from Hodeidah's city and port.
Deputy Governor of Hodeidah Walid Al Qudaimi said Cammaert proposed the Houthis' withdrawal from the ports of Hodeidah, Salif and Ras Isa and from the city by no longer than next Tuesday, based on the Sweden agreement.
Qudaimi said Houthi representatives in the redeployment committee tried to provide a different interpretation of the Sweden agreement, which frankly stipulates the Houthis' withdrawal from the city of Hodeidah and its ports, adding that Cammaert is the one who implements the agreement and specifies the parties that must withdraw.
He added that Cammaert will on Thursday submit a "special mechanism to monitor the ceasefire" which has been in effect since December 18 amid continuous violations by the Houthis.
Sources said that Cammaert will later discuss the plan of military redeployment with each party and hand his notes to them. Meetings will resume until executive steps are taken.
Full report at:
https://english.alarabiya.net/en/News/gulf/2018/12/27/UN-ceasefire-monitoring-chief-awaits-responses-on-Hodeidah-withdrawal-mechanism.html
--------
Palestinian govt. bans Israeli agricultural products in tit-for-tat move
Dec 27, 2018
The Palestinian government says it has decided to put a ban on the entry of Israeli vegetables, fruits and poultry into the Palestinian markets in response to an Israeli ban on the import of corresponding Palestinian products.
The Palestinian cabinet, led by President Mahmoud Abbas, announced the decision following its weekly meeting in Ramallah City, in the central occupied West Bank, on Thursday.
"In accordance with the principle of protecting the local produce and the Palestinian farmer, in order to achieve the government's policy of supporting the steadfastness of the Palestinian farmers, and in light of the unilateral Israeli decision to prevent the entry of Palestinian vegetables and fruits into Israeli markets, the government decided to prevent the entry of all kinds of vegetables, fruits and poultry into the Palestinian markets," the statement said.
Last week, the Israeli regime banned Palestinian agricultural products after the Palestinian government decided earlier not to allow Israeli livestock into Palestinian markets in a bid to protect the domestic livestock farmers.
According to official data, Palestinian vegetable exports to the Israeli market in 2017 reached nearly 56 million US dollars, and fruit exports hit 5 million dollars.
This comes as Palestinians have been calling for a ban on Israeli goods, urging people worldwide to unite against Tel Aviv and put an immediate embargo on Israeli products.
Over a decade ago, a coalition of worldwide organizations established an international campaign, known as the BDS, which advocates boycott, divestment and sanctions against Israel.
The BDS aims to initiate "various forms of boycott against Israel until it meets its obligations under international law" and end its occupation of Palestinian territories.
About 600,000 Israelis live in over 230 illegal settlements built since the 1967 Israeli occupation of the Palestinian territories of the West Bank and East Jerusalem al-Quds.
Palestinians want the West Bank as part of a future independent Palestinian state with East Jerusalem al-Quds as its capital.
Full report at:
https://www.presstv.com/Detail/2018/12/27/584131/Palestine-Israel-ban-vegetables-livestock-West-Bank
--------
Israel's settlement expansion deepens apartheid: Palestinian Foreign Ministry
Dec 27, 2018
The Palestinian Foreign Ministry says the Israeli regime's continued land expropriation and settlement expansion policies in the occupied territories are threatening the entire culture of peace, deepening apartheid and destroying the so-called two-state solution.
The ministry, in a statement released on Thursday, called on the United Nations, the International Criminal Court and the so-called advocates of human rights and peace to defend their eroding credibility, stop double standards and take international legal measures to hold the Tel Aviv regime accountable for its crimes.
The statement added that Israel was pressing ahead with its expansionist settlement projects, and moving to create armed settler militias in order to carry out more attacks and crimes against Palestinian people as well as their homes and property.
It further noted that Israel's ruling right-wing Likud party was attempting to win the support of extremist and pro-settlement groups by pushing up several Judaization projects and offering packages of financial facilities to settler communities throughout the occupied West Bank, including Jerusalem al-Quds.
"The Tel Aviv regime is exploiting the absolute American bias and the international silence to implement its colonial plans aimed at Judaizing and annexing large parts of the occupied West Bank and administering Israeli law on them.
"This will lead to the creation of new realities that are impossible to overcome in any future negotiations," the statement pointed out.
Earlier on Thursday, the so-called Israeli Civil Administration approved plans for the construction of 1,451 new settlement units in the occupied West Bank, and advanced plans for the construction of 837 additional units.
Less than a month before US President Donald Trump took office, the United Nations Security Council adopted Resolution 2334, calling on Israel to "immediately and completely cease all settlement activities in the occupied Palestinian territories, including East Jerusalem" al-Quds.
About 600,000 Israelis live in over 230 illegal settlements built since the 1967 Israeli occupation of the Palestinian territories of the West Bank and East Jerusalem al-Quds.
Palestinians want the West Bank as part of a future independent Palestinian state with East Jerusalem al-Quds as its capital.
The last round of Israeli-Palestinian talks collapsed in 2014. Among the major sticking points in those negotiations was Israel's continued settlement expansion on Palestinian territories.
Trump backtracked on Washington's support for a "two-state solution" last year, saying he would support any solution favored by both sides.
Full report at:
https://www.presstv.com/Detail/2018/12/27/584121/Israels-settlement-expansion-threatens-culture-of-peace-deepens-apartheid
--------
Africa
Sudanese Information Minister: 19 killed in one week of protests
27 December 2018
Nineteen people have been killed so far in Sudan protests, in addition to the injury of 219 civilian and 187 army militants, Sudanese Information Minister announced on Thursday.
The minister of Information and spokesman for the government said that the Sudanese Public Prosecution opened an investigation to find out who is responsible for shooting the protesters.
Sudan is witnessing protests in several cities that began on December 19, after the government's decision to make the price of bread three times higher in a country suffering from economic stagnation, and ruled by President Omar al-Bashir since three decades.
https://english.alarabiya.net/en/News/middle-east/2018/12/27/Sudanese-Media-Minister-19-killed-in-one-week-of-protests-.html
--------
Egypt foreign minister, spy chief visit protest-hit Sudan
December 27, 2018
CAIRO: Egypt's foreign minister on Thursday voiced support for Sudan's embattled government, as Khartoum grapples with demonstrations against price hikes in which a disputed number of protesters have been killed.
Cairo's Foreign Minister Sameh Shoukry and intelligence chief General Abbas Kamel arrived in Sudan's capital on Thursday for talks with President Omar Al-Bashir and other officials at a time when angry crowds have held anti-government rallies in Khartoum and other cities.
"Egypt is confident that Sudan will overcome the present situation," Shoukry told reporters after he met Bashir at the presidential palace in Khartoum.
"Egypt is always ready to support Sudan and the ability of Sudanese people as per the government of Sudan's vision and policies," he said.
The "stability of Sudan means (the) stability of Egypt," Shoukry said in what were the first remarks by a top regional Arab official in support of Bashir's government since protests began on December 19.
The visit of the two Egyptian officials comes after the protests evolved into deadly clashes between riot police and protesters angered by a trebling of bread prices to three Sudanese pounds (about six US cents).
Sudanese authorities say eight demonstrators have been killed, but Amnesty International has put the death toll at 37, citing "credible reports".
Cairo and Khartoum have recently sought to iron out their differences in a bid to improve relations roiled by a longstanding border dispute and an impasse in talks over Ethiopia's Nile dam.
Full report at:
http://www.arabnews.com/node/1426421/middle-east
--------
Ten Burkina Faso police officers killed in ambush
December 28, 2018
Ouagadougou, Dec 28 (AFP) Ten police officers were killed and three wounded in an ambush in northwestern Burkina Faso on Thursday, the west African country's security ministry said.
"The toll is 10 officers who have lost their lives and three wounded," the ministry said in a statement, adding that a police convoy from the Toeni region and reinforcements from the Dedougou area had been ambushed.
The officers were attacked while heading to the village of Loroni, near the border with Mali, after a school there had been attacked and textbooks torched by armed assailants, a security source told AFP.
The wounded, including two in serious condition, were taken to a hospital in Dedougou, the source added.
Burkina Faso has been increasingly hit by deadly attacks over the last three years.
They began in the north of the country but have since spread to the east, near the border with Togo and Benin.
On Wednesday, a police officer died during an attack on his station in the northern town of Solan.
Most attacks are attributed to the jihadist group Ansarul Islam, which emerged near the Mali border in December 2016, and to the JNIM (the Group to Support Islam and Muslims), which has sworn allegiance to Al-Qaeda in the Islamic Maghreb.
Those groups are believed to be responsible for more than 255 deaths since 2015.
Full report at:
https://www.india.com/news/agencies/ten-burkina-faso-police-officers-killed-in-ambush-3499233/
--------
Armed Chadian group attacks forces loyal to Haftar in southern Libya
27 December 2018
A Chadian armed group attacked a military camp of forces loyal to General Khalifa Haftar in southern Libya on Thursday, killing one and injuring 13 others, a local official said.
After the toppling of dictator Muammar Gaddafi in the NATO-backed uprising in 2011, fighters from neighboring Chad and Sudan joined the ensuing turmoil. Competing Libyan armed factions frequently accuse each other of deploying mercenaries from sub-Saharan Africa.
The attack took place near Traghen, 902 kilometers (560 miles) south of Tripoli and about 400 kilometers north of the border with Chad.
A spokesman for the Traghen municipality said the man killed was a fighter loyal to the Haftar-allied, eastern government in Libya.
Since disputed elections and an escalation of fighting in 2014 there have been two governments in Libya, the UN-backed government of national accord (GNA) based in Tripoli and a rival government in the east.
The attack on the military camp on Traghen's outskirts was thwarted by mid-day, the spokesman Khalid Chataoui said, noting that hospitals in the city are underequipped to treat the injured.
There was no comment from Haftar's Libya National Army (LNA) on the attack.
Full report at:
https://english.alarabiya.net/en/News/north-africa/2018/12/27/Armed-Chadian-group-attacks-forces-loyal-to-Haftar-in-southern-Libya.html
--------
Chadian group attacks forces loyal to Haftar in southern Libya
December 27, 2018
BENGHAZI: A Chadian armed group attacked a military camp of forces loyal to Gen. Khalifa Haftar in southern Libya on Thursday, killing one and injuring 13 others, a local official said.
After the toppling of dictator Muammar Qaddafi in the NATO-backed uprising in 2011, fighters from neighboring Chad and Sudan joined the ensuing turmoil. Competing Libyan armed factions frequently accuse each other of deploying mercenaries from sub-Saharan Africa.
The attack took place near Traghen, 902 km south of Tripoli and about 400 km north of the border with Chad. A spokesman for the Traghen municipality said the man killed was a fighter loyal to the Haftar-allied, eastern government in Libya.
Since disputed elections and an escalation of fighting in 2014 there have been two governments in Libya, the UN-backed Government of National Accord (GNA) based in Tripoli and a rival government in the east.
The attack on the military camp on Traghen's outskirts was thwarted by mid-day, the spokesman, Khalid Chataoui, said, noting that hospitals in the city are underequipped to treat the injured.
There was no comment from Haftar's Libya National Army (LNA) on the attack.
The east-west division has split key institutions and produced a deadlock between the rump parliaments aligned with rival, shifting military factions.
On Tuesday, three suicide bombers attacked Libya's Foreign Ministry building in Tripoli.
Apart from the attackers, three people were killed and at least 21 injured in the attack, according to the Health Ministry.
Full report at:
http://www.arabnews.com/node/1426736/middle-east
--------
Sudanese activists vow not to back down against Bashir
December 27, 2018
Sudanese activists say they have waited decades for the nationwide protests that currently threaten the rule of President Omar Al Bashir and have no intention of stopping despite the violent response from security forces.
The catalyst for the unrest has been Sudan's shattered economy, but activists say they also harbour longstanding grievances for crimes committed against them, their families and communities.
Amal El Zein is a human-rights lawyer who has defended political detainees since the 1980s, making her family a target of the government. Her brother has been arrested for his political activism three times since Mr Al Bashir seized power in 1989, while her other brother was dismissed from the police force just days after graduating from police college.
Ms El Zein's husband is also a human rights lawyer and critic of the regime, putting him on the government's radar. After protests broke out in the Nile state of Atbara on December 19, he suspected that security agents would come looking for him. He packed some belongings and went into hiding that same evening without telling his wife where he was going.
"We weren't even in the protest, but security agents often summon well-known activists whenever there is unrest," said Ms El Zein, 51. "Security agents knocked on our door the night after he escaped. They left after I told them that I don't know where he is."
Now alone with her son, Ms El Zein has joined protests in Khartoum despite the risk of reprisal. Rights groups say security forces have killed at least 37 people during protests so far and arrested hundreds, some of whom were later released. The protests have erupted in a half dozen cities across the country and appear to building momentum, with another planned in the capital on Friday.
"These demonstrations are a response to the accumulation of years of repression and economic theft by Bashir's Islamist regime," Ms El Zein said.
Mahmoud Lain, an activist from the western state of Darfur, which was subjected to a state-sponsored genocide beginning in 2003, has also joined the protests and says the state crackdown is amplifying the unrest.
On December 25, he attended a march towards the presidential palace in the centre of Khartoum. The demonstrators wanted to deliver a petition demanding that Mr Al Bashir step down as president.
The Sudanese Professional Association organised the march, which was backed by two of Sudan's largest political parties, the Umma and Democratic Unionists. Yet the demonstration was quickly dispersed by tear gas and live ammunition. Security forces also reportedly beat protesters with batons.
"We just responded to the killing by throwing stones and chanting, 'Freedom, dignity and justice, the people want the downfall of the regime'," Mr Lain told The National.
A close friend was shot in the head and is still in hospital, he said.
The violence has not dissuaded protesters from mobilising. Asil, a women's rights activist who did not disclose her last name, said the government was cutting internet services, making it difficult for protesters to organise and to contact journalists and rights groups.
Despite the challenges, she says her family has been waiting for such mass demonstrations since 1989. She also has a personal score to settle: three years ago, she was detained and beaten by security forces for speaking out against female genital mutilation, a custom still widely practiced in Sudan.
"The government has arrested so many of us, including children," Ms Asil told The National. "But all my family and relatives are still protesting, and we will remain together until the government of Bashir falls."
That is the only fate that Obama Mousa envisions for Sudan. As a boy, many of his friends and family were killed and raped by the Janjaweed, a state-sponsored militia that spearheaded the genocide in Darfur. And with essentials such as meat, fava beans and fuel now unaffordable for most Sudanese, Mr Mousa hopes the president will step down soon.
He suspects Mr Al Bashir will not relinquish power until he secures a safe exit. Without one, he could be handed over to the International Criminal Court, which issued a warrant for his arrest in 2009 for crimes committed in Darfur. One option could be Qatar, whose emir reportedly phoned Mr Al Bashir on December 22 to offer his support.
Mr Mousa says his people will continue to protest peacefully.
Full report at:
https://www.thenational.ae/world/africa/sudanese-activists-vow-not-to-back-down-against-bashir-1.807025
--------
North America
Pentagon admits Iran's key role in restoring calm to Afghanistan
Dec 27, 2018
The Pentagon has acknowledged Iran's key role in restoring peace and stability to war-torn Afghanistan, backtracking on Washington's earlier claims that Tehran supports the local Taliban militant group.
"Iran seeks a stable Afghan government that is responsive to Iranian goals, the elimination of ISIS-K, the removal of the US/NATO presence, and the protection of Iranian concerns, such as water rights and border security," the US Department of Defense said in a report sent to Congress this week.
The Pentagon also admitted Iran's influence in Afghanistan, saying that Tehran pursues "a multitrack strategy" of engaging with the Afghan government and seeks to boost bilateral economic ties with Kabul.
"Iranian involvement is most prominent in western, central, and northern Afghanistan, where local Afghans share common history, culture, religion, and language with Iran," according to the report.
The report comes as Iran has announced it is engaged in negotiations with the Afghan Taliban to help settle the existing security challenges facing the neighboring country.
Tehran's announcement came after US President Donald Trump had ordered a withdrawal of nearly half of the American forces stationed in Afghanistan, more than 17 years after Washington and its allies invaded Afghanistan.
The invasion overthrew the Taliban regime. But US forces have remained bogged down there through the presidencies of George W. Bush, Barack Obama and now Trump.
Taliban militants have warned that they will be stepping up their attacks until the US forces fully withdraw from Afghanistan after more than a decade and half of occupation.
Meanwhile, the Daesh terror group has also taken advantage of the chaos to establish a foothold in Afghanistan, further complicating the Afghan government's efforts to uproot terrorism.
During a visit to Afghanistan on Wednesday, Ali Shamkhani, the Secretary of Iran's Supreme National Security Council (SNSC), said Tehran had been holding a series of talks with the Taliban group "with the knowledge of the Afghan government" and would continue to do so in the future.
Shamkhani made the comments during a meeting with Hamdullah Mohib, the Afghan president's national security adviser in the capital Kabul.
Accompanied by a number of high-ranking security, military and political officials, Shamkhani paid a one-day visit to Afghanistan, where he met with senior Afghan officials, including President Ashraf Ghani, Chief Executive Abdullah Abdullah and former president Hamid Karzai.
During his talks with Karzai, Shamkhani slammed Washington's double standards in its so-called fight on terror, describing the US presence in the region as a main cause of instability and insecurity.
Karzai, for his part, praised Iran's support for Afghanistan, saying the Afghan people and government are confident that the Islamic Republic would play effective role in promoting peace in Afghanistan.
In an address to the Geneva Conference on Afghanistan last month, Iranian Foreign Minister Mohammad Javad Zarif called on the international community to facilitate "inclusive" dialog between the Afghan Taliban and the government in a bid to restore peace to the conflict-plagued country.
https://www.presstv.com/Detail/2018/12/27/584088/Iran-Afghanistan-US-Pentagon-Taliban-Shamkhani
--------
Taliban to US: Leave Afghanistan or face Soviet-style defeat
Dec 28, 2018
The Taliban militant group has warned the United States it would face the same fate as the Soviet Union in the 1980s if it did not leave violence-wracked Afghanistan.
Taliban spokesman Zabiullah Mujahid said in a statement on Thursday that US forces face "humiliation" and could "learn a great deal" from the experience of their Cold War foe.
"Take heed from the Soviet defeat in Afghanistan and abandon thoughts of testing the mettle of the already proven Afghans," said the statement issued on the 39th anniversary of the Soviet invasion of the war-torn country.
The Soviets pulled out of Afghanistan in 1989, ending a decade-long occupation and precipitating a bloody civil war and the emergence of the Taliban and other militant groups.
Elsewhere in the statement, Taliban spokesman added that any future relations between the Taliban and the United States should be based on "sound diplomatic and economic principles" rather than conflict.
The Taliban have previously said the presence of foreign troops is the biggest obstacle to peace in Afghanistan.
President Donald Trump has reportedly ordered the withdrawal of some 7,000 troops from Afghanistan. The figure accounts for about half of the total number of American boots on the ground in the country.
The Taliban have not formally responded to the partial US troop withdrawal. But a senior commander recently told media outlets that the group was "more than happy".
The Kabul government has stepped up efforts to convince the Taliban to end the 17-year militancy amid Washington's failures on the battleground.
US State Department's special envoy Zalmay Khalilzad has said he held "productive" meetings in Abu Dhabi with Afghan and international partners "to promote intra-Afghan dialogue towards ending the conflict."
Khalilzad said the Taliban's demand remained an agreement over the withdrawal of foreign forces from Afghanistan. The US, meanwhile, has sought assurances from the militant group that its forces would not be attacked.
The meetings are the latest in a flurry of diplomatic efforts aimed at putting an end to the war in Afghanistan which began with the US invasion 17 years ago.
The United States invaded Afghanistan in October 2001 after the September 11 attacks and overthrew the Taliban regime. But US forces have remained bogged down there through the presidencies of George W. Bush, Barack Obama and now Trump.
Full report at:
https://www.presstv.com/Detail/2018/12/27/584117/Afghanistan-Taliban-Zabiullah-Mujahid-US-Russia-NATO
--------
Boston Marathon bomber's lawyers want death sentence tossed
December 27, 2018
BOSTON: Boston Marathon Bomber Dzhokhar Tsarnaev's convictions or death sentence should be tossed because it was impossible for him to get a fair trial in the same city where the shrapnel-packed, pressure cooker bombs exploded, his lawyers told a federal appeals court on Thursday.
In a 500-page brief filed in the 1st US District Court of Appeals, Tsarnaev's legal team outlined a host of other problems with his 2015 trial, during which the defense admitted from the outset that he and his older brother carried out the attack. His appellate lawyers are also pointing to issues with jurors, certain testimony from surviving victims and the defense's inability to tell jurors about links between Tsarnaev's brother and an unsolved triple killing in 2011.
His lawyers argue the trial court judge's "first fundamental error" was denying the defense's repeated requests to move the case out of a city that was "traumatized by the bombings, ordered to shelter in place during the manhunt, saturated by prejudicial publicity and united in the Boston Strong movement."
"This case should not have been tried in Boston," the attorneys wrote.
Tsarnaev was sentenced to death just over two years after he and his brother set off bombs near the Boston Marathon's finish line on April 15, 2013, killing three people and wounding more than 260. He was convicted of all 30 charges against him, including conspiracy and use of weapon of mass destruction.
Tsarnaev admitted at his sentencing that he committed the attack— saying "If there's any lingering doubt about that, let there be no more" — and apologized to victims and their loved ones. The defense had sought to portray Tsarnaev as an impressionable teenager who was lured by his brother into participating in the deadly plot.
Tsarnaev, now 25, is behind bars at the supermax prison in Florence, Colorado. His 26-year-old brother, Tamerlan Tsarnaev, died in a gunbattle with police a few days after the bombing.
His lawyers pushed several times to move the trial, arguing the intense media scrutiny and number of people touched by the bombings in Boston would taint the jury pool. But US District Judge George O'Toole refused, saying he believed a fair and impartial jury in the city could be found.
A three judge panel of the 1st Circuit agreed, noting that other high-profile terrorism cases such as the 1993 World Trade Center bombing took place in the cities where the attacks occurred.
Among the dozens of other issues Tsarnaev's lawyers are raising on appeal are two jurors they say should have been dismissed for lying to the court about their online comments and discussions about the case before the trial.
One juror said in Twitter posts that that she was "locked down" with her family and retweeted another post calling Tsarnaev a "piece of garbage," but told the court she had not commented on the case or been asked to shelter in place, the attorneys say. On the day of Tsarnaev's sentencing, the juror changed her Facebook profile picture to an image that said "BOSTON STRONG," the attorneys say.
Tsarnaev's lawyers are also challenging the judge's refusal to allow the defense to tell the jury about evidence tying Tamerlan to the killings of three people in the Boston suburb of Waltham in 2011. The defense sought to use the killings to underscore their argument that Tamerlan was the mastermind and coerced his brother into participating in the attacks.
Prosecutors have said Tamerlan's friend, Ibragim Todashev, implicated him in the killings of three men whose bodies were found sprinkled with marijuana, their throats cut. Todashev was shot to death by an FBI agent after authorities said he charged another investigator with a pole while being questioned about the Tsarnaevs.
"This evidence that Tamerlan was a cold-blooded killer who convinced a friend to join him in his crimes strongly supported the defense's central argument in mitigation: 26-year-old Tamerlan, a former New England Golden Gloves heavyweight boxing champion, was a violent man who planned and led the bombings, and Jahar, his 19-year-old younger brother, who had no history of violence, participated in it only under Tamerlan's influence," his lawyers wrote.
Full report at:
http://www.arabnews.com/node/1426866/world
--------
US fingerprints all over in war-torn Yemen: NYT
27.12.2018
By Dildar Baykan
NEW YORK
The U.S. had access to records of Saudi-led coalition's airstrikes in Yemen, and Saudis "often ignored" no-strike lists provided by Washington, The New York Times reported.
"A former senior State Department official said that the United States had access to records of every airstrike over Yemen since the early days of the war, including the warplane and munitions used," the NYT reported in an article, titled Arms Sales to Saudis Leave American Fingerprints on Yemen's Carnage, published on Tuesday.
It said "American fingerprints are all over the air war in Yemen," where the strikes killed over 4,600 civilians.
Yemen has been dogged by conflict since 2014, when Houthi rebels overran much of the country, including the capital Sana'a, forcing the government to take up temporary residence in the coastal city of Aden.
In 2015, Saudi Arabia and several of its Arab allies launched a massive air campaign in Yemen aimed at rolling back Houthi gains.
"At the same time, American efforts to advise the Saudis on how to protect civilians often came to naught. The Saudis whitewashed an American-sponsored initiative to investigate errant airstrikes and often ignored a voluminous no-strike list," it reported.
According to the article, Tom Malinowski, a former assistant sectary of state, said the Saudis were given "specific coordinates of targets" that should not be struck but they continued to strike those targets.
"That struck me as a willful disregard of advice they were getting," Malinowski was quoted as saying. "In the end, we concluded that they were just not willing to listen," he added.
However, the U.S. military continued its support for the airstrikes, the article read.
Highest casualties in November
Emphasizing that the U.S. support for the Yemen conflict came under scrutiny after Saudi journalist Jamal Khashoggi was killed in Saudi Consulate in Istanbul in early October, the article said the incident "ended American air-to-air refueling of coalition warplanes in November but has otherwise continued to support the war."
"This month, the Senate voted to end American military assistance to the war altogether, a sharp rebuke to the Trump administration, but the bill died when the House refused to consider it," the daily recalled.
It added that the death toll was rising and November was the most violent month in Yemen since January 2016, when the Armed Conflict Location and Event Data Project started to track casualties in the country.
"There were 3,058 war-related fatalities in November, including 80 civilians killed in airstrikes," it said.
The article also quoted Daniel L. Byman, a professor at Georgetown University, who said: "This war has been a strategic disaster for the Saudis."
Full report at:
https://www.aa.com.tr/en/americas/us-fingerprints-all-over-in-war-torn-yemen-nyt/1349782
--------
Europe
Belgium ordered to repatriate children of ISIS fighters from Syria
Claire Corkery
December 27, 2018
A judge in Belgium has ordered the government to repatriate six children of ISIS fighters and their mothers from Syria.
The children, all aged under six, are currently in a refugee camp under control of Kurdish forces in the northeast of the war-torn country.
Brussels has so far resisted calls to intervene but on Wednesday national news agency Belga reported that the Flemish-speaking Court of First Instance had ordered the government to take "all necessary and possible measures" to return them. It must do so within 40 days or face fines of 5,000 euros a day per child.
The children's mothers, Tatiana Wielandt, 26, and Bouchra Abouallal, 25, are both Belgian citizens and were married to ISIS militants fighting in Syria. After their husbands disappeared, they were locked up in the Al Hawl camp near the Iraqi border.
Wielandt and Abouallal were sentenced to five years in prison in absentia by a court in Antwerp earlier this year for participating in terrorist activities.
The two women have made it known that they want to return to Belgium to face their punishment rather than remaining in Syria.
Since the downfall of ISIS in most of Syria and Iraq, European nationals fighting with extremist forces are beginning to make their way home.
Governments are worried that the returning fighters will encourage further extremist attacks on European soil.
European nations have argued that they cannot intervene in an area where Kurdish rule is not internationally recognised.
However, the Kurds said they cannot take responsibility for 584 women and 1,250 children in their zone.
In Belgium, where more than 400 adults are thought to have left the country to join ISIS or Al Qaeda since 2013, the government is reluctant to take back children of fighters.
Human rights groups say there are around 160 Belgian minors trapped in Syria in need of assistance from the Belgian state.
https://www.thenational.ae/world/europe/belgium-ordered-to-repatriate-children-of-isis-fighters-from-syria-1.806997
--------
Trump meets US troops in Germany after Iraq visit
Dec 27, 2018
US President Donald Trump and his wife Melania have greeted American troops in Germany, his second visit to US troops overseas in the last day.
On his way back from meeting US troops at Al Asad Air Base in Iraq on Wednesday, Trump stopped at Ramstein Air Base in Germany for refueling and met with service members there.
Trump slowly made his way down a rope line at the US Air Force base in southwestern Germany, shaking hands, chatting and posing for photos.
The president's earlier visit to Iraq was his first to US forces overseas. Both visits were unannounced.
Iraqi lawmakers criticize Trump visit
Iraqi political and militia leaders condemned Trump's visit to the Al Asad Air Base as a violation of Baghdad's sovereignty.
Iraqi lawmakers said a meeting between Trump and Iraqi Prime Minister Adil Abdul-Mahdi was canceled due to a disagreement over venue. Trump had asked to meet at the military base, an offer which the Iraqi leader declined.
"The American leadership was defeated in Iraq and wants to return again under any pretext, and this is what we will never allow," said Falih Khazali, a politician allied with the Bina bloc in Iraq's Parliament.
Qais al-Khazali, the leader of the Asaib Ahl al-Haq fighters, said on Twitter, "Iraqis will respond with a parliamentary decision to oust your (US) military forces. And if they do not leave, we have the experience and the ability to remove them by other means that your forces are familiar with."
Full report at:
https://www.presstv.com/Detail/2018/12/27/584084/Trump-visits-US-troops-Germany
--------
EU, France condemn Israel settlement plan in West Bank
27.12.2018
The European Union (EU) condemned Israel's recent approval for the construction of homes to expand Jewish settlement in the West Bank on Thursday.
The Israeli authorities recently approved plans to build 2,191 Jewish-only housing units in the occupied West Bank.
EU emphasizes the Israeli decision undermines the viability of the two-state solution and the possibility of lasting peace in a written statement.
"The European Union's position on Israeli settlement construction and related activities is clear and remains unchanged: all settlement activity is illegal under international law" the statement reads.
Separately, France condemned the decision of Israeli administration to build about 300 additional houses to illegal Jewish settlements in the occupied West Bank.
French Foreign Ministry condemned the move saying: "The settlements' establishment do not correspond with UNSC resolution 2334. The settlements endanger the two-state solution, which is the only solution that would allow for peace between the Israelis and the Palestinians."
France also requested the Israeli administration to review the decision.
Israel's plan for the expansion of illegal Jewish settlements in the West Bank came prior to early elections in April 2019.
Plans for 82 new homes in the Ofra settlement near Ramallah -- where a shooting attack occurred earlier this month -- have also reportedly received the green light.
According to Palestinian figures, roughly 640,000 Jewish settlers now live on 196 settlements (built with the Israeli government's approval) and more than 200 settler outposts (built without its approval) across the occupied West Bank.
Full report at:
https://www.aa.com.tr/en/europe/eu-france-condemn-israel-settlement-plan-in-west-bank/1350365
--------
Trio charged with planning terror attack in Sweden
December 27, 2018
Sweden's prosecution authority said on Thursday it had charged three men with planning a terror attack in Sweden, warning the plot could have caused serious damage had it not been prevented.
The three are suspected of "obtaining and storing large amounts of chemicals and other equipment with the aim of killing and wounding other people," the prosecution authority said in a statement.
"If the terrorist crime had been carried out, it could have seriously hurt Sweden," it added.
The trio were also charged, along with three other people, with financing terrorism. Prosecutors accuse them of sending money abroad to fund ISIS's operations.
All six have denied the charges against them. The trial is expected to open on January 7.
The men, aged between 30 and 46, originally hail from Uzbekistan and Kyrgyzstan, according to Swedish paper of reference Dagens Nyheter.
Their residency status in Sweden could not immediately be verified.
Five of the six have been in custody since a police raid in Stromsund, 600 kilometres (375 miles) north of Stockholm, in late April.
The sixth man is not in custody.
During the April raid, neighbours told the Dagens Nyheter newspaper they saw police removing about 15 large plastic containers from a shed on an empty property.
Full report at:
https://www.thenational.ae/world/europe/trio-charged-with-planning-terror-attack-in-sweden-1.807019
--------
URL: https://www.newageislam.com/islamic-world-news/two-ncr-lynching-videos-used/d/117295
New Age Islam, Islam Online, Islamic Website, African Muslim News, Arab World News, South Asia News, Indian Muslim News, World Muslim News, Women in Islam, Islamic Feminism, Arab Women, Women In Arab, Islamophobia in America, Muslim Women in West, Islam Women and Feminism