New Age Islam News Bureau
7 Dec 2013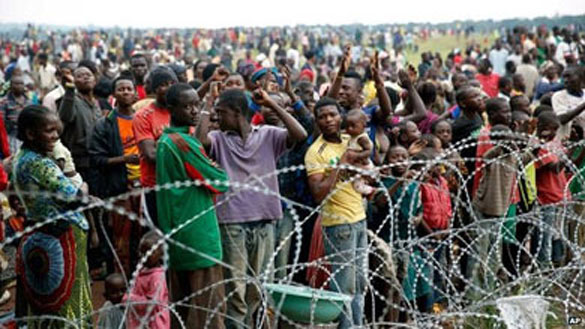 Crowds seeking refuge at Bangui airport cheered as French troops arrived
------------------
Africa
• Two Days of Violence on Sectarian Lines in Central African Republic Leaves 300 Dead
• Niger's president says Libya risks becoming like Somalia
• South African Muslims mourn Mandela
South Asia
• Child labourers and homeless Children used in political violence in Bangladesh
• Stop political violence, eminent citizens' of Bangladesh call for solution through dialogue
• With Yameen's visit, India's ties with Maldives set to shine again
• Uyghur Farmer Wages Uphill Battle Over Land Grab
Mideast
• 'Turkey trying to halt influx of radicals into Syria'
• Saudi militants behind attack on Defence Ministry: Yemen
• Turkish minister makes trade calls for Islamic countries, slams EU
• Tolerance can resolve Iran political prisoner issue: Rouhani
• Jailed Yemeni journalist receives Human Rights Defenders award
India
• Religion used in politics as easy route to power: Jamiat Ulema-i-Hind
• India lags behind Bangladesh and Pakistan on acid attack laws
• Open trade between India, Pak through land route need of the hour: Punjab Dy CM
• Meghalaya proposes 22 border 'haats' with Bangladesh
• Cautious Hina Khar chose to keep quiet, Visited Golden Temple
Pakistan
• Sharia court rules blasphemers can only be punished with death penalty
• Freed Taliban Prisoners in Pakistan and Afghanistan Return to Jihad
• Sharif unveils series of benefits for Gilgit-Baltistan people
• Gilgit-Baltistan council approves anti-terror bill
• Right to information: K-P becomes first province to enact updated RTI
Arab World
• '10,000 Mandelas in Egypt prisons': Brotherhood leader
• Beheadings and spies help Al-Qaeda gain ground in Syria
• 4 battalions from Qatar-backed Islamist brigade defect to wage 'armed jihadist struggle'
• Jordan elected to UN Security Council seat that Saudi Arabia rejected
• Egypt's General El-Sisi voted Person of the Year by 'Time' readers
• Syria conflict: Foreign jihadists 'use Turkey safe houses'
• Egypt stops Morsi prison visits over 'incitement' messages
Southeast Asia
• Jakarta Launches Emergency Hotline and Sexual Violence Report System
• Indonesian Leaders Pay Tribute to Nelson Mandela, 'Man of Honour and Principle'
• Shia accusations must be backed up by evidence, says Jamil Khir
Europe
• Muslim vigilantes jailed for 'Sharia law' attacks in London
• Numbers of child soldiers rise sharply in Central African Republic - UNICEF
• Jailed Kazakh Rights Activist to Receive Top Prize
• Kidnapped Egyptian cleric sentenced to six years on terror offences
North America
• Putrajaya should reconsider Allah ruling as it goes against the Quran, says US scholar
• UN, US call for investigations into Thai trafficking of Rohingya
• Chuck Hagel reassures Gulf nations Iran deal will not stop flow of US arms
Compiled by New Age Islam News Bureau
URL: https://newageislam.com/islamic-world-news/two-days-violence-sectarian-lines/d/34760
-------------
Africa
Two Days of Violence on Sectarian Lines in Central African Republic Leaves 300 Dead
7 December 2013
At least 300 people have been killed in two days of violence in the capital of the Central African Republic, says the Red Cross.
The organisation said its staff stopped collecting bodies in Bangui as night fell but would resume over the weekend, and expected the toll to rise.
Violence in the CAR has raised fears of mass killings along sectarian lines.
Hundreds of French troops are arriving in the city as part of a UN effort to restore law and order.
France was hoping to have around 1,000 troops - doubling its current force - in the CAR by Friday evening.
It followed a UN Security Council vote to allow French troops to join an African peacekeeping force in the CAR.
'Monster of a day'
Thursday's violence is thought to have begun when Christian militias, loyal to the CAR's ousted President Francois Bozize, launched multiple attacks from the north - sparking retaliatory attacks from mainly Muslim armed fighters loyal to the new leadership.
Residents spoke of gun battles in their neighbourhoods and hundreds fled to the airport seeking the protection of some of the French troops based there.
Dozens of bodies were reported to have been left lying in the roads, in areas too dangerous for people to collect them.
The Red Cross' president in the CAR, Pastor Antoine Mbao Bogo, said his staff had collected 281 bodies as of Friday night and expected the number to rise significantly when they resume their work.
"Tomorrow is going to be a monster of a day. We're going to work tomorrow and I think we're going to need a fourth day too," he told Reuters news agency.
French soldiers were out on patrol on Friday and warplanes flew over Bangui in an attempt to quell two days of violence.
Christian Mukosa of Amnesty International said the capital was "effectively in shutdown" with doctors unable to get to hospitals to treat the dying and injured because of the insecurity.
Michel Djotodia, who ousted Mr Bozize in March, installed himself as the first Muslim leader in the Christian-majority country.
The mainly Muslim Seleka rebel coalition which brought him to power has been accused of atrocities against Christians.
Christian communities have now set up "anti-balaka" self-defence forces, most of them loyal to Mr Bozize.
"Balaka" means machete in the local Sango and Mandja languages.
The Selekas have been officially disbanded and some of them integrated into the army, but correspondents say it is often not clear who is in charge, even in the capital.
http://www.bbc.co.uk/news/world-africa-25273681
---------
Niger's president says Libya risks becoming like Somalia
7 December 2013
PARIS, Dec 6 (Reuters) - Libya risks becoming a failed state like Somalia, Niger President Mahamadou Issoufou said on Friday, a day after gunmen shot dead an American teacher in the eastern city of Benghazi.
Niger, which adjoins Libya to the south and has fought Islamists at home, wants to reinforce military ties with Western partners and neighbouring states as al Qaeda-linked militants regroup in southern Libya after French-led forces ousted them from Mali this year.
"Our fear is that Libya falls into the hands of Salafist terrorists and that the state becomes like Somalia," Issoufou told reporters ahead of a Franco-African summit in Paris.
"Sadly, we're seeing that the terrorists are there and that armed Salafist militia are in Benghazi, with people being killed almost every day. We must stabilise Libya."
Gunmen shot dead an American teacher working in Benghazi on Thursday more than a year after Islamist militants stormed the U.S. consulate there, killing the U.S. ambassador and three others.
Libya's fragile government is struggling to contain former fighters and militants who, two years after the fall of Muammar Gaddafi, are challenging a fragile state that is trying to build a national army with Western aid.
Issoufou, whose country has seen a string of attacks this year, including on a French-run uranium mine, said there was no time to lose for countries in the Sahel desert region to pool their resources to create "mixed brigades" that could enter each other's countries to combat Islamist fighters.
Regional rivalries have aggravated the problem with a lack of cooperation between Saharan countries helping militants to melt away when they come under pressure and regroup in quieter parts of the vast desert.
"We talk a lot and act very little," Issoufou said. "We (Niger) are fighting to create an organisation that brings together Sahel countries so that solutions are in place to face our common (security) difficulties," he said.
"We have to bring together the means of different countries so that there are mixed brigades on frontiers such as on the Libyan border. I'm optimistic."
Niger has already reinforced its border patrols with an additional 3,000 troops and Issoufou said his priority was "to lock" Niger's borders to prevent Islamists and traffickers from crossing its territory.
http://www.trust.org/item/20131206144328-ok4zw/?source=hpeditorial
-------------
South African Muslims mourn Mandela
World Bulletin / News Desk
7 December 2013
The South African Muslim Network (SAMNET) says joins all South Africans in mourning over the death of Nelson Mandela, an icon in South Africa and across the globe in a press release on Friday.
On behalf of South African Muslims SAMNET extended condolences to Mandela's family, the African National Congress and South Africans at large.
Mandela, known by his clan name as Madiba by locals, left a legacy second to none in the annals of South African history and although his unshakeable passion to eradicate injustice brought him and his family much strife and suffering, he remained steadfast in championing in the cause of the poor, powerless and down-trodden, said SAMNET Chairperson Dr. Faisal Suliman in a statement.
"To him justice and equality were indivisible and had to be relentlessly pursued irrespective of race, colour or creed and without fear or favour. Remarkably, he never deviated from the consistent, principled response to injustice and inhumanity throughout his life even when it was politically "incorrect"" read the statement.
Dr. Faisal said the best tribute paid to Madiba would be to emulate many of the principles he stood for, to speak truth to power and to continue to build on his legacy of non- racism and equality for all.
http://www.worldbulletin.net/?aType=haber&ArticleID=124463
-------------
South Asia
Child labourers and homeless Children used in political violence in Bangladesh
7 December 2013
Street children in Chittagong are allegedly being used to carry out subversive activities during the recent political unrest. The Dhaka Tribune found child labourers and homeless children involved with subversive activities such as hurling crude bombs and torching and vandalising vehicles during the opposition's political programmes. Many were used as human shields in front of processions. Talking to the Dhaka Tribune, a six-year-old homeless boy Sumon (not the child's real name) at the capital's Colonelhat area, he said he was receiving Tk100 for hurling "red balls" each day. "I have hurled crude bombs five times in the last two blockades under orders from local opposition men," he said. Sumon said the men had instructed him to leave the crude bombs on the road if he failed to set them off on time. For Sumon, hurling bombs was easy money compared to collecting waste from the city streets. His two other friends Kadir and Sagor (not their real names) were also involved in this "trade," Sumon confided.
Another 10-year-old, Mishu (not his real name), a garage worker at the AK Khan Intersection area, said he had joined the BNP processions seven times during hartal and blockades in November in exchange for money. His employer had kept the garage closed during the shutdowns and blockades fearing vandalism. "I get Tk50 for joining a procession. But I got Tk100 once for being in the front lines of a procession," he said. Children victims of bomb attacks A number of school-going children have fallen victim to violence in the opposition movement. A seven-year-old, Minhaj Hossain Belal, lost his left eye when he was going to school after being hit by a splinter when blockade supporters hurled a crude bomb in the city's Akbar Shah on the morning of December 3. Sumaiya Akhter Sadia, 5, a playgroup student, received splinter injuries to her head at the same place on December 2. She was going to school with her mother on a rickshaw. The rickshaw puller was also injured. Ariful Islam, a 14-year-old madrasa student, was severely injured when he picked up a crude bomb near his home assuming it was a ball on November 30. Two homeless children Surma, 9, and Lal Mia, 8 were hurt by crude bombs at Beltola in the city on November 5 when they were scavenging for waste paper and scraps on the streets.
Sub-Inspector Monirul Islam of Akbar Shah police station said about 200 children in City Gate, Uttar Kattali and Colonelhat were involved in political violence. Azizur Rahman, the officer-in-charge of Pahartoli police station, said children were also being used as informers to alert Jamaat-Shibir activists of any police movement. "We have detained a number of kids from various spots. However, we released them later as they could not say anything about the party men who had hired them for conducting sabotage," he said. Sujayet Islam, the deputy commissioner (West) of CMP, said it was regrettable that children were being used in subversive activities. "This will lead the illiterate and poor children into becoming criminals in the long run," he said.
Syed Md Sajjad Kabir, a psychology teacher at Chittagong University, said the violence could severely damage the children's development. "The victims are becoming fearful about their surroundings, which will put a negative impact on their future life. The children engaged with subversive activities are being led into the dark world of crime through this process," he said. Banaz Kumar Mazumdar, additional commissioner (crime and operation) of CMP, suggested increasing social awareness to save children from being used in violence besides policing activities. The Dhaka Tribune reported earlier that children and women in Dhaka were also being used to carry and set off bombs and burn vehicles in exchange for money.
http://www.dhakatribune.com/crime/2013/dec/07/children-used-political-violence#sthash.KOGFZkub.dpuf
----------
Stop political violence, eminent citizens' of Bangladesh call for solution through dialogue
7 December 2013
Eminent citizens under a platform "Bangladesh Rukhe Darao" has called for immediate stop to political violence. "Violence is in no way a political programme, rather it is a terrorist act which must be stopped," said Professor Emeritus Anisuzzaman, president of the platform while speaking at a sit-in at the Central Shaheed Minar yesterday. Expressing concerns over the attack on minority community and the deterioration of law and order situation, Anisuzzaman said: "We believe that any crisis can be resolved through talks and the parliamentary election would be peacefully held with participation of all political parties". Ain o Salish Kendra Executive Director and Convener of the platform, Sultana Kamal said: "All forms of political violence have to be stopped, and the political parties have to reach consensus through dialogue." "People have not given mandate to any quarter to play foul with lives of the people and state properties," she said in her welcome speech at the sit-in programme, organised to protest the recent wave of political violence, which has taken heavy toll on human lives and properties. Scores of people were killed and vehicles were set ablaze during the road, railway and waterways blockades, enforced by BNP-led 18-party alliance, demanding restoration of caretaker government system for holding national elections. Citing the example of Nelson Mandela, who had never indulged in politics of violence and vengeance, she said each and every political party of the country should learn from South African former president Mandela, the anti-apartheid icon, who breathed his last Friday night. "There can be no compromise with the anti-liberation forces and in the question of secularism," Sultana Kamal said. Senior journalist Abed Khan said a vested quarter, especially those, who worked against the liberation war in 1971, was still working against the people and democracy. "We have to stand up against those evil forces, and Bangladesh Rukhe Darao has emerged with the spirit of liberation and communal harmony," he said. Meanwhile, litterateur Syed Shamsul Haque said what is happening, is not political movement, it is terrorism. "People have to come out and stand up against these terrorist activities," he said. Expressing solidarity with the platform, President of Bangladesh Federal Union of Journalists Monjurul Ahsan Bulbul said violence is now widely taking place in the name of politics. Sarwar Ali, one of the conveners of Bangladesh Rukhe Darao announced that they would organise a mass rally participated by artists, litterateurs and intellectuals on December 14, on the occasion of Martyred Intellectuals Day. "We will raise demand to ban politics of Jamaat-Shibir, we do not want this ban to be a strategy of election," he said. Professor of Economics at Dhaka University, MM Akash was also present at the sit-in, which was observed from 11am to 12pm at the Central Shaheed Minar on the campus. Before starting the programme, eminent citizens stood in solemn for one minute to mourn the death of Nelson Mandela.
http://www.dhakatribune.com/bangladesh/2013/dec/07/stop-political-violence-eminent-citizens-call-solution-through-dialogue#sthash.nWUaYfNT.dpuf'
-------------
With Yameen's visit, India's ties with Maldives set to shine again
SANDEEP DIKSHIT
7 December 2013
After almost two years of testy ties, India and Maldives will seek to repair their relationship in the run-up to the visit by the newly elected President, Abdulla Yameen, from December 23 to 25, according to sources in the government.
The process will begin next week during the visit of Maldives Defence Minister Col. (retd.) Mohamed Nazim when India will formally hand over an indigenously made helicopter for surveillance and domain awareness operations in northern Maldives.
India has already gifted Maldives an advanced light helicopter (ALH) for its southern most island Addu. This ALH will be for the northern most inhabited island.
In addition, his visit could also see the gifting of a landing craft to Maldives.
During Mr. Yameen's first overseas visit after taking over as President, both sides would be signing a package of measures to resume projects that seem to have gone on the backburner after Mohd Nasheed was ousted as President in February last year.
Full report at:
http://www.thehindu.com/news/national/with-yameens-visit-ties-with-maldives-set-to-shine-again/article5430899.ece
---------
Uyghur Farmer Wages Uphill Battle Over Land Grab
7 December 2013
An ethnic Uyghur farmer in northwestern China's Xinjiang region has been fighting a seven-year battle for justice over the seizure of his land that led to his home being flattened to make way for a building project while he was locked up in detention.
His case is one of many land grabs exacerbating tensions in Xinjiang, where ethnic minority Uyghurs accuse Han Chinese of displacing them from their traditional homeland and depriving them of economic opportunities under strict Beijing rule.
Semi Niyaz, 60, of Suntagh township in southwestern Xinjiang's Atush city, has repeatedly petitioned authorities in the regional capital Urumqi and in Beijing since his 26 mu (4 acres) of land in Shoruq village were taken over by a government-linked company in 2006.
The land was part of 500 mu (82 acres) that residents said Junkun Company had seized illegally with the collaboration of local authorities, prompting Niyaz and other farmers to protest the move.
Full report at:
http://www.rfa.org/english/news/uyghur/land-grab-12052013152227.html
-------------
Mideast
'Turkey trying to halt influx of radicals into Syria'
7 December 2013
Radical groups in Syria pose a threat to Turkey, which is doing its best to prevent crossing into Syria via Turkish territory, according to a senior Turkish diplomat.
"It's not correct to say that no members of these radical groups have crossed through Turkey. But 35 million tourists are coming to Turkey. It's not possible to monitor all of them. We do our best in order to prevent crossings when intelligence comes from other countries," Deputy Undersecretary of Foreign Affairs Ömer Önhon said on Dec. 6, delivering a briefing to members of the EU-Turkey Joint Parliamentary Committee.
Elaborating on the radical groups that have allegedly been using Turkish territory to enter Syria to fight against the regime, Önhon stressed that they also represented a "threat to Turkey."
Full report at:
http://www.hurriyetdailynews.com/turkey-trying-to-halt-influx-of-radicals-into-syria.aspx?pageID=238&nID=59169&NewsCatID=338
-------------
Saudi militants behind attack on Defence Ministry: Yemen
December 7, 2013
Al-Qaeda claimed responsibility for the attack, saying it was retaliation for U.S. drone strikes that have killed dozens of the terror network's leaders.
Saudi militants were behind the massive car bombing and assault on Yemen's military headquarters that killed more than 50 people, including an Indian nurse and other foreigners, investigators said in a preliminary report.
Al-Qaeda claimed responsibility for the attack, saying it was retaliation for U.S. drone strikes that have killed dozens of the terror network's leaders.
The attack — the deadliest in Sana'a since May 2012 — marked an escalation in the terror network's battle to undermine the U.S.-allied government and destabilise the impoverished Arab nation despite the drone strikes and a series of US-backed military offensive against it.
Military investigators described a two-stage operation, saying heavily armed militants wearing army uniforms first blew up a car packed with 500 kg of explosives near an entrance gate, then split into groups that swept through a military hospital and a laboratory, shooting at soldiers, doctors, nurses, doctors and patients.
Full report at:
http://www.thehindu.com/news/international/world/saudi-militants-behind-attack-on-defence-ministry-yemen/article5433367.ece
-----------
Turkish minister makes trade calls for Islamic countries, slams EU
7 December 2013
The Turkish Economy Minister Zafer Çağlayan called the Organization of Islamic Cooperation (OIC) to enhance trade and join forces during a meeting, while he criticized the European Union that "didn't accept Turkey as a member and required visa."
Çağlayan stated the commercial obstacles between Turkey and member countries should be removed. "I'd like to make a call to the 57 members of the OIC; let's raise our trade and join forces," Çağlayan said at the 4th International Young Businessmen Congress organized by the Independent Industrialists' and Businessmen's Association (MÜSİAD) on Dec. 6.
However, Çağlayan said while the EU continued its unethical visa policy and tortured the business world, nobody was capable to prevent Turkey from developing. The EU says Turkey is not a member and that is why they require visa from Turkey, he said. "If Turkey still can't become an EU member despite our efforts, this is the EU's shame, not ours. The EU, which commits this shame today, does not allow full-membership and leaves us with visa obstacle and should be aware of the new Turkey
Speaking at the same event, the EU Minister Egemen Bağış recalled that Turkey and the EU have recently taken steps to lift the visa requirements.
Full report at:
http://www.hurriyetdailynews.com/turkish-minister-makes-trade-calls-for-islamic-countries-slams-eu.aspx?pageID=238&nID=59161&NewsCatID=344
---------
Tolerance can resolve Iran political prisoner issue: Rouhani
December 7, 2013
TEHRAN: Iranian President Hassan Rouhani told university students Saturday that tolerance could resolve the issue of political prisoners, as some of them chanted for opposition leaders under house arrest to be freed.
"My government is committed to the promises it has made to the people, but we need to create internal consensus to achieve the objectives," Rouhani told students at Shahid Beheshti University in Tehran.
"We need tolerance and patience… We need to distance ourselves from an emotional atmosphere. Reason and moderation can resolve the issues," he added during the meeting, organised to mark Students' Day.
Full report at:
http://tribune.com.pk/story/642468/tolerance-can-resolve-iran-political-prisoner-issue-rouhani/
-------------
Jailed Yemeni journalist receives Human Rights Defenders award
7 December 2013
When Yemeni journalist Abdulelah Haider Shaye receives a coveted Human Rights Defenders award in Geneva , his role as a fearless chronicler of his country's US-led drone war will have come full circle.
Accused by Washington of terrorism, jailed in his homeland for subversion and under intense state scrutiny since being released from prison in July this year, Shaye remains a difficult man to cast for his accusers.
His work in Yemen placed him amid two protagonists, al-Qaida in the Arabian Peninsula (AQIP) and the US military, which for the past three years has intensified its use of unmanned drones to target those it claims are the group's cadres and leaders.
Full report at:
http://www.theguardian.com/world/2013/dec/06/yemen-journalist-shaye-human-rights-defenders-award-drones
-------------
India
Religion used in politics as easy route to power: Jamiat Ulema-i-Hind
7 December 2013
New Delhi: Religion is being used in politics as an easy route to power and political parties in India are not secular, a leader of a prominent Muslim organisation said.
"Instead of taking up real issues, political parties create an environment... Politics is being used in different ways by different people in politics," said Maulana Mahmood Madani, General Secretary of Jamiat Ulema-i-Hind.
He said no political party was secular but it was the country that forces them to adopt a secular stance, and those leaders who wanted to do politics on communal grounds have been sidelined by the masses.
"When a political leader wants to try his luck at the national level, he has to take a secular stance," Madani said in a discussion on "Vote Apna Mazhab Paraya" at "Agenda-Aaj Tak 2013".
Former Union minister, Arif Mohammed Khan while stressing on the need for change in the mentality which led to partition of India and Pakistan, said "we should stop thinking about a community as minority or majority on permanent basis."
Full report at:
http://zeenews.india.com/news/nation/religion-used-in-politics-as-easy-route-to-power-muslim-leader_894667.html
-------------
India lags behind Bangladesh and Pakistan on acid attack laws
ANITA JOSHUA
The Supreme Court directive earlier this week to all States and Union Territories to put in place draft rules to regulate the sale of acid by this fiscal-end has once again brought to light India's sluggishness in addressing acid crime.
In fact, India has long lagged behind first Bangladesh and then Pakistan in specifically criminalising acid attacks. It was only earlier this year that the Centre — on Supreme Court's prodding — amended the criminal law to punish perpetrators of acid attacks with 10-year imprisonment.
Full report at:
http://www.thehindu.com/news/national/india-lags-behind-bangladesh-and-pakistan-on-acid-attack-laws/article5430304.ece
--------
Open trade between India, Pak through land route need of the hour: Punjab Dy CM
Dec 06 2013,
Amritsar: Batting for strong India-Pak trade ties, Deputy Chief Minister Sukhbir Badal said on Friday that the ongoing 7thedition of Punjab International Trade Expo (PITEX-2013) would give a further push to the efforts being made in this regard from both sides.
Inaugurating the PITEX, Badal said that open trade between India and Pakistan through land route was the need of the hour and Punjab government was keen to open the international borders for trade and tourism. He said that the Punjab Government had allotted 10 acres land near Rajasansi International Airport exclusively for holding PITEX and other international trade expos.
Full report at:
http://www.indianexpress.com/news/open-trade-between-india-pak-through-land-route-need-of-the-hour-sukhbir/1204316/
--------
Meghalaya proposes 22 border 'haats' with Bangladesh
IANS | Dec 7, 2013
SHILLONG: Meghalaya is keen to set up 22 more border 'haats' (markets) along the India-Bangladesh border to create economic opportunities for the people living along it. The haats, once thriving centres of trade and commerce, were shut down after the creation of Bangladesh in 1971.
Chief minister Mukul Sangma said: "We have sought for the establishment of 22 new border haats along the international border.
"These haats would not only create economic opportunities, but would also cement bonds between the people living along the borders," he said.
Full report at:
http://timesofindia.indiatimes.com/india/Meghalaya-proposes-22-border-haats-with-Bangladesh/articleshow/27017798.cms
--------
Cautious Hina Khar chose to keep quiet, Visited Golden Temple
Yudhvir Rana,TNN | Dec 6, 2013
AMRITSAR: Known for her style statement, Pakistan's former trendy and young foreign minister Hina Rabbani Khar arrived Amritsar from Delhi on Friday. Accompanied by her husband Firoze Gulzar Khar, Hina was on way to Lahore after attending a private function in Delhi.
Khar who received admiration in India and criticism in Pakistan for giving bold statement that she ' disagreed with the views of Jamat-ud- Dawah (JuD) chief and 26/11 Mumbai terror attacks mastermind Hafiz Saeed chose not to speak with media at Sri Guru Ramdas Ji International airport where she arrived on Friday after noon.
Full report at:
http://timesofindia.indiatimes.com/india/Cautious-Hina-Khar-chose-to-keep-quite/articleshow/26974411.cms
--------
Pakistan
Sharia court rules blasphemers can only be punished with death penalty
7 December 2013
Islamabad (AsiaNews) - Life imprisonment is not enough for blasphemers; the only permissible punishment is the death penalty, this according to a recent ruling by Pakistan's Federal Sharia Court, which struck down Section 295 C of the Pakistan Penal Code, leaving the death penalty as the only possible form of punishment. Together with Sections 295 A and 295 B, Section 295 C constituted the so-called 'blasphemy law'.
After the court heard a contempt of court petition filed by lawyer Hashmat Habib, Justice Fida Hussain issued orders to remove the provision of life imprisonment from the blasphemy law, stating that only death is the punishment for blasphemy in accordance with a 1990 Hadood ordinance, which according to the lawyer who filed the appeal, has never been enforced so far.
Blasphemy charges in the Asian country, which has gone through a gradual process of Islamisation in recent years, tend to end in a court conviction or extrajudicial killings that mostly go unpunished.
Full report at:
http://www.asianews.it/news-en/Sharia-court-rules-blasphemers-can-only-be-punished-with-death-penalty-29742.html
-------------
Freed Taliban Prisoners in Pakistan and Afghanistan Return to Jihad
7 December 2013
Pakistan and Afghanistan have released waves of Taliban prisoners in a goodwill gesture—but instead of returning home as promised, the radicals are flocking to rejoin the fight against the West.
Abdullah never gives up. The senior Taliban commander, who goes by one name, lost a leg in the fighting in late 2001 just as Mullah Mohammad Omar's forces were collapsing. He was captured and sent to the U.S. lockup at Guantanamo Bay, Cuba. Released from the Cuban prison in late 2005, he was immediately rearrested when he arrived in Pakistan and spent the next five years in a Pakistani jail run by the powerful Inter-Services Intelligence (ISI) agency. After nearly a decade behind bars, he was released in 2010 and quickly became the insurgency's overall commander for the strategic region of southern Afghanistan. Pakistan's release of Abdullah and of some two dozen other important Taliban prisoners in late 2012 was meant as a goodwill gesture to Kabul. Afghan President Hamid Karzai's government has been lobbying Islamabad hard to get it to release top insurgent inmates like Abdullah as a means of luring the Taliban into peace talks. In theory, the freed prisoners were to rejoin their families, most of whom live in Pakistan, and to serve as harbingers of peace—not return to the 12-year-old jihad against the U.S. and Kabul.
Full report at:
http://www.thedailybeast.com/articles/2013/12/06/freed-taliban-prisoners-in-pakistan-and-afghanistan-return-to-jihad.html
----------
Sharif unveils series of benefits for Gilgit-Baltistan people
7 December 2013
GILGIT - Prime Minister Nawaz Sharif, while reiterating his government's commitment to development of Gilgit-Baltistan, on Friday unveiled a number of development projects for people of the country's northern territory.
In his address to PML-N workers here, Shairf said a number of education and health projects would be started in Gilgit-Baltistan to bring it at par with developed areas of the country.
The government, he said, would ensure provision of basic amenities of life to the people of Gilgit-Baltistan at their doorsteps.
Full report at:
http://www.nation.com.pk/national/07-Dec-2013/sharif-unveils-series-of-benefits-for-gb-people
-------------
Gilgit-Baltistan council approves anti-terror bill
2013-12-07
GILGIT, Dec 6: The Gilgit-Baltistan Council unanimously approved on Friday the Protection of Pakistan Bill in a session presided over by Prime Minister Nawaz Sharif in his capacity as chairman of the council.
The bill provides for speedy trial of criminals involved in acts of terrorism and other heinous crimes like kidnapping for ransom and sectarian killing.
The prime minister praised security agencies for arresting suspects in the Nanga Parbat case and directed the Gilgit-Baltistan government to set up a special court for their speedy trial.
He announced that a special police force would be established to provide security along Karakoram Highway and in the region.
Full report at:
http://www.dawn.com/news/1061067/gb-council-approves-anti-terror-bill
-------------
Right to information: K-P becomes first province to enact updated RTI
December 7, 2013
Sahibzada Muhammad Khalid was appointed as the Chief Information Commissioner by the government on Friday as the Khyber-Pakhtunkhwa (K-P) Governor signed the Right to Information (RTI) Act 2013, said a notification. The law will make K-P the first province to have implemented the RTI as a law.
Sahibzada Muhammad Khalid, a grade 22 official who resigned from the K-P Public Service Commission earlier this week, has been appointed for three years. This period starts from the date of his taking office as outlined by Section 24 of the RTI Act, read the official statement.
The search committee, which will decide two other 'commissioners' was also announced. K-P Chief Secretary Arbab Shahzad will serve as the chairman of the committee. Justice (retd) Abdul Aziz Kundi, University of Engineering and Technology Vice Chancellor Syed Imtaiz Hussain Gillani and Rahimullah Yousafzai were announced as members. K-P Secretary Information will serve as secretary to the committee.
Full report at:
http://tribune.com.pk/story/642174/right-to-information-k-p-becomes-first-province-to-enact-updated-rti/
-------------
Arab World
'10,000 Mandelas in Egypt prisons': Brotherhood leader
World Bulletin/News Desk
7 December 2013
Senior Muslim Brotherhood leader Mohamed al-Beltagi on Saturday mourned former South African president Nelson Mandela, who passed away two days ago.
"I offer my condolences to the people of South Africa over Mandela's death," al-Beltagi said at the start of a trial session on charges of "abducting and torturing" two policemen.
"There are 10,000 people like Mandela languishing in Egyptian prisons, but they will never accept to be ruled by tanks," he said, in reference to Muslim Brotherhood supporters.
"They are facing corrupt and disloyal judges," he said.
Egypt has seen a nationwide crackdown on the Muslim Brotherhood, the movement from which ousted President Mohamed Morsi hails, following his July 3 ouster.
Since then, hundreds of Brotherhood leaders and members were rounded up and accused of inciting violence and participating in attacks on police stations and Coptic houses of worship.
The Brotherhood, however, denies the accusations and accuses the military-backed authorities of making politically-motivated arrests.
Full report at:
http://www.worldbulletin.net/?aType=haber&ArticleID=124506
-------------
Beheadings and spies help Al-Qaeda gain ground in Syria
7 December 2013
Armed with machine guns, black-clad Al-Qaeda fighters drove their pick-ups calmly into the northern Syrian town and took over its imposing agriculture ministry building.
They beheaded a sniper from a rival rebel unit, displayed his head in the main square and put roadblocks on major routes.
Not a shot was fired in the takeover, in which informants, including a preacher from a local mosque, played key roles.
The scene in Termanin, recounted by an activist who witnessed it last week, is being repeated in towns along the border with Turkey and at road junctions further inside Syria that have fallen out of President Bashar al-Assad's control.
Whether through weakness or a desire to focus on Assad, rebel units are making way for the Islamic State in Iraq and the Levant (ISIL), an Al-Qaeda affiliate led by foreigners hardened by guerrilla warfare in Iraq, Chechnya and Libya.
Full report at:
http://english.ahram.org.eg/NewsContent/2/8/88432/World/Region/Beheadings-and-spies-help-AlQaeda-gain-ground-in-S.aspx
-------------
4 battalions from Qatar-backed Islamist brigade defect to wage 'armed jihadist struggle'
7 December 2013
Four battalions from the Ahfad al Rasoul Brigade, a large rebel group in Syria that is funded by the Qatari government, defected and vowed to continue to fight the "armed jihadist struggle." Meanwhile a senior leader of the Ahfad al Rasoul Brigade recently defected and joined the Islamic State of Iraq and the Sham, one of two official al Qaeda branches operating in Syria.
The four rebel battalions "issued a statement declaring their dissent from the Ahfad al Rasoul brigade in northern Syria and their complete political and military independence," the Syrian Observatory for Human Rights reported on Dec. 3. The battalions were identified as the "al-Ansar, al-Naser al-Qadem, al-Naser ,and al-Muntaser Billah."
Full report at:
http://www.longwarjournal.org/archives/2013/12/4_battalions_from_qa.php#ixzz2mptEqG72
-------------
Jordan elected to UN security council seat that Saudi Arabia rejected
7 December 2013
The UN general assembly has elected Jordan to the security council seat that Saudi Arabia rejected in an unprecedented act.
Jordan was elected to the two-year term on the council with 179 votes in the 193-member general assembly. Saudi Arabia got one vote. Jordan was selected by Arab countries and endorsed by Asian nations.
Saudi Arabia stunned the diplomatic world by rejecting the security council seat on 17 October, less than 24 hours after it was elected.
Full report at:
http://www.theguardian.com/world/2013/dec/06/jordan-un-security-council-saudi-arabia
-------------
Egypt's General El-Sisi voted Person of the Year by 'Time' readers
7 December 2013
General Abdel-Fattah El-Sisi, Egypt's armed forces chief and minister of defence, is the winner of TIME's 2013 Person of the Year poll, the magazine announced on Thursday.
According to the American magazine, El-Sisi won 26.2 percent of the total votes, beating Turkish Prime Minister Recep Tayyip Erdogan and American pop star Miley Cyrus, who were also popular with readers.
El-Sisi's popularity soared in Egypt after he appeared on national television on 3 July and announced the removal of president Mohamed Morsi, following days of protests against the elected president's rule.
Full report at:
http://english.ahram.org.eg/NewsContent/1/64/88415/Egypt/Politics-/Egypts-General-ElSisi-voted-Person-of-the-Year-by-.aspx
-------------
Syria conflict: Foreign jihadists 'use Turkey safe houses'
7 December 2013
Foreign jihadist fighters are using safe houses in southern Turkey to cross into Syria to fight against government forces, the BBC has learnt.
A man running one such house near the border town of Reyhanli said more than 150 people - including up to 20 Britons - had used it in the past three months.
The route through Turkey used by al-Qaeda-linked foreign jihadists is now becoming increasingly organised.
Opposition activists say jihadists are destroying the Syrian revolution.
'Not true Muslims'
The man in charge of the safe house near Reyhanli told the BBC's Richard Galpin that "more than 150 people stayed at the house" in the past 90 days.
Full report at:
http://www.bbc.co.uk/news/world-middle-east-25274886
-------------
Egypt stops Morsi prison visits over 'incitement' messages
7 December 2013
Egypt's interior ministry says it will no longer allow visits to Mohammed Morsi, who has been detained since being deposed as president in July.
Ministry spokesman Col Gamal Mokhtar said Mr Morsi had delivered messages "inciting violence" to a team of lawyers after a meeting in November.
On Thursday, one of Mr Morsi's sons revealed his most recent request to visit his father had been turned down.
Osama Morsi also said he had been moved from Alexandria's Burj al-Arab prison.
The ousted president is one of thousands of Muslim Brotherhood members to have been detained in a crackdown the interim authorities have portrayed as a struggle against terrorism.
Full report at:
http://www.bbc.co.uk/news/world-middle-east-25269307
----------
Southeast Asia
Jakarta Launches Emergency Hotline and Sexual Violence Report System
DECEMBER 7, 2013
Jakarta Deputy Governor Basuki Tjahaja Purnama on Friday said that Jakarta would launch a "119″ emergency hotline and a website for reporting sexual violence.
"119 is actually a number that belongs to the health ministry, to get ambulances or emergency treatment space at hospitals across Jakarta, but we want to use it for a more comprehensive service," he said. "Like 911 overseas… We want to build a system where ideally, if someone contacts 119, they would automatically be transferred to the relevant service to deal with the victim."
The sexual violence website, kekerasanseksual.komnasperempuan.or.id, was created by the National Commission on Violence Against Women (Komnas Perempuan) to make it easier for authorities to protect victims and bring perpetrators to justice, Basuki said.
Full report at:
http://www.thejakartaglobe.com/news/jakarta/jakarta-launches-emergency-hotline-and-sexual-violence-report-system/
----------
Indonesian Leaders Pay Tribute to Nelson Mandela, 'Man of Honor and Principle'
DECEMBER 7, 2013
Indonesia expressed its condolences at the passing of former South African president and anti-apartheid icon Nelson Mandela.
"On behalf of the nation, the people, the government and as an individual I express the deepest condolence for the passing of former South African president Nelson Mandela," President Susilo Bambang Yudhoyono said on Friday.
Yudhoyono praised Mandela as a great peacemaker and a true humanitarian, and made special mention of his role in ending apartheid in South Africa.
"We all adore him. For decades he was imprisoned but he led the country with his heart. There was never any retaliation for the torture he endured for decades," he said.
Full report at:
http://www.thejakartaglobe.com/news/indonesian-leaders-pay-tribute-to-nelson-mandela-man-of-honor-and-principle/
----------
Shia accusations must be backed up by evidence, says Jamil Khir
DECEMBER 07, 2013
There has to be strong evidence in order to accuse a person of practising Shia teachings, Minister in the Prime Minister's Department Datuk Seri Jamil Khir Baharom (pic) said today.
Jamil Khir, who is charge of the Department of Islamic Development Malaysia (Jakim), said Shia teachings did not involve a party, they were based on the person's individual beliefs.
He was commenting on the statement by Home Minister and Umno vice-president Datuk Seri Dr Ahmad Zahid Hamidi, accusing PAS of electing a Shia follower for its second top post.
Although he did not provide a name, it is common knowledge that Mohamad Sabu had retained the deputy president's position in last month's PAS Muktamar.
Full report at:
http://www.themalaysianinsider.com/malaysia/article/shia-accusations-must-be-backed-up-by-evidence-says-jamil-khir
----------
Europe
Muslim vigilantes jailed for 'sharia law' attacks in London
7 December 2013
Three members of a self-styled "Muslim Patrol" vigilante group have been jailed for harassing, intimidating and assaulting people on the streets of east London while claiming they were enforcing sharia law.
A judge at the Old Bailey had heard that Jordan Horner, 19, Ricardo MacFarlane, 26, and a 23-year-old man who cannot be named for legal reasons, had terrorised a couple for walking through Bethnal Green holding hands, told a woman in Stepney that she would be punished in "hellfire" because of the way she was dressed, and attacked a group of men who were drinking in Shoreditch.
Horner – who has previously said he wants to bring sharia law to Britain – was jailed for a total of 17 months after pleading guilty to two charges of assault and two charges of using threatening words and behaviour.
Full report at:
http://www.theguardian.com/uk-news/2013/dec/06/muslim-vigilantes-jailed-sharia-law-attacks-london
-------------
Numbers of child soldiers rise sharply in Central African Republic - UNICEF
7 December 2013
LONDON (Thomson Reuters Foundation) – The number of child soldiers in the Central African Republic (CAR) has surged since the outbreak of the conflict in 2012 to between 3,500 and 6,000, the United Nations' children's agency UNICEF said on Friday.
UNICEF warned that 2.3 million children have been affected by the ongoing violence and more than 600,000 people have been forced to flee their homes as the instability has spread across the country.
"There must be no further delay in taking effective action; there can be no excuse for failing the children and families of the Central African Republic," said Anthony Lake, UNICEF's executive director, in a statement.
Full report at:
http://www.trust.org/item/20131206172939-b658y/?source=hpeditorial
-------------
Jailed Kazakh Rights Activist To Receive Top Prize
7 December 2013
ASTANA -- A jailed Kazakh human rights defender, Vadim Kuramshin, will be formally awarded the prestigious 18th annual Ludovic-Trarieux International Human Rights Prize in Paris.
Kuramshin's mother, Olga Koltunova, is expected to receive the prize at a ceremony in the French capital on December 5.
A jury of 29 European lawyers awarded the prize to Kuramshin in June. The first Ludovic-Trarieux human rights prize was awarded to Nelson Mandela in 1985.
Full report at:
http://www.rferl.org/content/kazakhstan-kuramshin-french-prize/25190810.html
-------------
Kidnapped Egyptian cleric sentenced to six years on terror offences
7 December 2013
A radical Egyptian cleric who was kidnapped in Milan as part of the CIA's secret rendition programme has been sentenced to six years in prison in his absence by an Italian court.
Osama Moustafa Hassan Nasr, also known as Abu Omar, was sentenced on charges of international terrorism. He disappeared from outside his flat in Milan in 2003 but now lives freely in Egypt.
His relatively well-documented abduction became one of the more notorious acts of the CIA's rendition programme after the 23 US agents and officials who organised and carried out the kidnapping were also sentenced to jail in absentia by an Italian court last year.
Full report at:
http://www.theguardian.com/world/2013/dec/06/kidnapped-egyptian-cleric-abu-omar-jailed-italy
-------------
North America
Putrajaya should reconsider Allah ruling as it goes against the Quran, says US scholar
DECEMBER 07, 2013
A well-known New York-based Muslim scholar and community leader has urged Putrajaya to seriously look into the ruling prohibiting Christians from using the word Allah, saying that it is against the teachings of the Quran.
Imam Shamsi Ali told The Malaysian Insider that as a Muslim, he could not accept the Court of Appeal ruling as it "reduced the greatness of God".
"I cannot accept it because for me, it is a matter of faith.
"It (the ruling) is reducing the authority of God as the powerful, the creator, the God of All, to being the God of only 1.5 billion people in the world," said Shamsi, adding that the ruling was unfortunate as it had the tendency of limiting God to Muslims.
Full report at:
http://www.themalaysianinsider.com/malaysia/article/putrajaya-should-reconsider-allah-ruling-as-it-goes-against-the-quran-says
--------
UN, US call for investigations into Thai trafficking of Rohingya
7 December 2013
BANGKOK/WASHINGTON, Dec 6 (Reuters) - The United Nations and the United States called Friday for investigations into the findings of a Reuters report that Thai immigration officials moved Myanmar refugees into human trafficking rings.
The report, published on Thursday and based on a two-month investigation in three countries, revealed a clandestine policy to remove Rohingya refugees from Thailand's immigration detention centers and deliver them to human traffickers waiting at sea.
The Rohingya, stateless Muslims from Myanmar, are then transported across southern Thailand and held hostage in camps hidden near the border with Malaysia until relatives pay ransoms to release them, according to the Reuters report. Some are beaten and some are killed.
Full report at:
http://www.trust.org/item/20131206171811-botvt/?source=hpeditorial
-------------
Chuck Hagel reassures Gulf nations Iran deal will not stop flow of US arms
7 December 2013
The US defence secretary, Chuck Hagel, is opening the door for the US to sell missile defence and other weapons systems to a group of US-friendly Gulf nations. The move is intended to help counter Iran's ballistic missiles, even as global powers move towards a nuclear deal with Tehran.
In a speech to Gulf leaders on Saturday, Hagel makes it clear that the emerging agreement that would limit Iran's nuclear programme does not mean the security threat from Tehran is over.
Hagel's speech continues a theme he has repeated over the past two days in private meetings with Gulf leaders and in remarks to troops aboard the Navy's USS Ponce warship at the nearby US base. He is countering apprehension in the region that the Iran nuclear deal, coupled with US budget pressures and the drawdown in Afghanistan, could signal a decline in America's commitment to the region.
Full report at:
http://www.theguardian.com/world/2013/dec/07/chuck-hagel-gulf-iran-deal-weapons
-------------
URL: https://newageislam.com/islamic-world-news/two-days-violence-sectarian-lines/d/34760