New Age Islam News Bureau
11 Jan 2017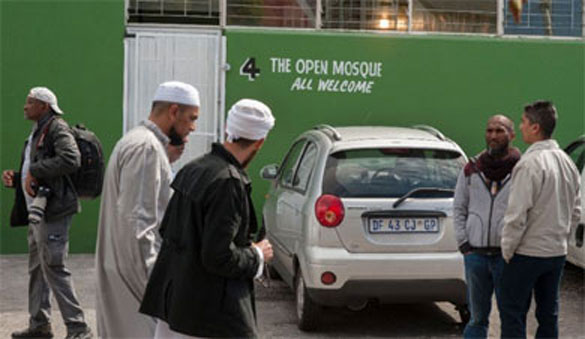 About 1.5 percent of South Africa's population is Muslim (AFP Photo/Rodger Bosch)
---------
• Two Cape Town Mosques Defaced In 'Islamophobic' Attacks
• Pakistan Bill To Stop Christians Being Forced To Convert To Islam Rejected
• Blasts In Afghanistan Kill 39, UAE's Envoy Wounded In Kandahar Attack
• Catholic-Muslim Dialogue Opens To Support American Muslims
• European Court Rules Against Muslim Couple In Swim Lessons Case
Africa
• Two Cape Town Mosques Defaced In 'Islamophobic' Attacks
• New Ghana President's Speech Copies US Inaugural Addresses
• Islamic Militants Kill 10 in Nigerian Christian Village
• South Sudan's army disputes rebels' victory claims
--------
Pakistan
• Pakistan bill to stop Christians being forced to convert to Islam rejected
• Pakistan Set To Become Fastest Growing Muslim Economy In 2017
• Pakistan, Neutrality, and Saudi Arabia's Islamic Military Alliance
• JUI threatens agitation if decisions 'imposed' on Fata people
• Balochistan govt vows to protect social, political rights of native Gwadar citizens
• Confusion prevails over Raheel Sharif's appointment
--------
South Asia
• Blasts In Afghanistan Kill 39, UAE's Envoy Wounded In Kandahar Attack
• Top militant leader Qari Saifullah Akhtar killed in Afghanistan
• Bangladesh PM: BNP, Jamaat Live In Bangladesh, But Their Mind Is In Pakistan
• Taliban reacts at Kandahar blasts targeting governor, UAE ambassador
• 3 Rohingyas admit they attacked Teknaf Ansar camp
• Myanmar sends envoy to Bangladesh as Rohingya crisis deepens
• Heavy explosion rocks Jalalabad city in East of Afghanistan
--------
North America
• Catholic-Muslim Dialogue Opens To Support American Muslims
• Sessions Voices Opposition To Muslim Immigration Ban
• In last speech as US President, Obama warns against racism, anti-immigrant, anti-Muslim sentiment under Trump
• Comedian Ali Hassan set to talk about Trump, Islam on 'Muslim, Interrupted' tour
• Muslim students can write their own sermons as Peel school board reverts to previous policy
--------
Europe
• European Court Rules Against Muslim Couple In Swim Lessons Case
• Syria Crisis Deepened By US-Led Coalition Intervention: Russia
• Anti-terror police probe Athens gun attack
• 2 years after Paris supermarket attack, darkness engulfs memorial candles
--------
Southeast Asia
• China's Xinjiang Tightening Border Amid Terrorist Threats
• MCA: We oppose Hadi's bill but we're not anti-Islam
• Megawati urges silent majority to defend pluralism
• Defense Ministry upholds training for Islam Defenders Front
--------
Arab World
• Militants in Four More Regions Give up Fight against Syrian Army
• ISIL Ringleader's Top Aide Killed in Iraqi Airstrike in Mosul
• Saudis unblocks military aid to Lebanon
• Syrian Kurdish groups say not invited to peace talks
• Homs: Syrian Army Wards off ISIL's Large-Scale Attack on T4 Airbase
• Syrian Army Discovers Another Arms Depot of Terrorists East of Aleppo City
• US-Led Coalition Conducts Suspicious Heliborne Operation in ISIL-Held Regions in Deir Ezzu
• Clashes Escalating among Terrorists in Idlib Province
• Egypt: Islamic State Claims Responsibility for Al-Arish Attacks
--------
Mideast
• No Better Bilateral Ties Until Turkish Forces' Withdrawal: Iraq
• Turkey's Pro-Kurdish Party Set To Boycott Vote On Presidential Powers
• Palestinians seek to mobilise Mideast against Trump embassy move
• Attack near police station in Turkey, assailant killed
• Saudi forces carry out operations against militias on Yemen border
• Iran urges compensation for US violation of JCPOA
• Turkish police kill suspected bomber in Gaziantep
--------
India
• Muslims Of India Overlook Potentials Of Law As A Career Choice, Says Jurist
• Mumbai triple blasts: Production warrant against Yasin Bhatkal
• Communal clash in Kashmir's Kathua dist, 5 cops among 9 injured
Compiled by New Age Islam News Bureau
URL: https://www.newageislam.com/islamic-world-news/two-cape-town-mosques-defaced-islamophobic-attacks/d/109684
--------
Two Cape Town Mosques Defaced In 'Islamophobic' Attacks
Jan 10, 2017
South African authorities have announced rare incidents of Islamophobic attacks on two mosques in the major city of Cape Town, where places of worship were defaced with blood sprayed on walls.
The announcement came in a statement on Tuesday by Western Cape provincial government, which censured the two attacks since Saturday on mosques in Kalk Bay and Simonstown as "despicable."
According to the official statement cited in an AFP report, "Both incidents made calculated use of Islamophobic methods, including blood and, in the Simonstown case, a pig's head."
It further said the two attacks may have been related, adding, "The similarity of the cases, and proximity of the mosques, raises concerns that the two incidents may be linked."
The report quoted Imam Achmat Sity of the 110-year-old Jamiah mosque in Kalk Bay as saying that the caretaker at the house of worship had discovered the act of vandalism early Monday morning.
"He opened the mosque for first prayers and found the walls sprayed with blood and also the pulpit. It was like from a syringe," Sity said, adding that inscription plaques had been ripped from the walls and were strewn on the floor.
"It was very disturbing," he added, but emphasized that nothing was stolen from the mosque.
In the Saturday attack against the Simonstown mosque, the report said, a bloody pig's snout was left on the entrance gate.
The developments came despite South Africa's history of relative religious tolerance. This is while Western Cape premier, Helen Zille, insisted that "acts of religious or racial prejudice have no place in our province and nation," as quoted in the report. Moreover, the provincial branch of the country's ruling party of African National Congress (ANC) also slammed the attacks as "disgusting" and urged South Africans "to stand united in protecting the culture of coexistence."
Muslims in South Africa constitute nearly 1.5 percent of the country's total population.
http://www.presstv.ir/Detail/2017/01/10/505672/South-Africa-Cape-Town-Islamophobic
--------
Pakistan bill to stop Christians being forced to convert to Islam rejected
Tue 10 Jan 2017
A bill which would have prevented Christians being forced to convert to Islam in a part of Pakistan has been rejected.
The governor of the southern province of Sindh, Saeeduzzaman Siddiqi, refused the bill on the advice of Chief Minister Syed Murad Ali Shah and the Muttahida Qaumi Movement party (MQM) because language in the legislation could be considered un-Islamic.
The bill would have required adults to take a 21-day period to consider their decision to change religions.
The bill received strong criticism after the Sindh assembly voted in favour of the legislation last November.
A controversial provision in the bill stated that nobody under 18 could convert to Islam, even out of free will.
Critics of the bill say this provision goes against Islam and the constitution.
The bill was designed after a number of NGOs highlighted that as many as 1,000 girls and women are forced into Muslim marriages and made to convert to Islam annually.
Nasir Saeed, director of Christian charity CLAAS-UK, said he had grave concerns over the u-turn on the legislation.
He said that CLAAS has been campaigning against forced conversion in Pakistan and was glad when the Sindh assembly unanimously adopted the bill.
He added: "Now, we are very concerned because I think even if the whole law is not scrapped, the age limit will be removed, and if the age limit is removed, then it will become ineffective and instead of stopping forced conversion it may increase as people will be free to commit this crime under the guise of the religion without a fear of prosecution."
http://www.premier.org.uk/News/World/Pakistan-bill-to-stop-Christians-being-forced-to-convert-to-Islam-rejected
--------
Blasts in Afghanistan kill 39, UAE's envoy wounded in Kandahar attack
Jan 11, 2017
At least nine people were killed in an explosion in the governor's compound in Afghanistan's southern Kandahar province on Tuesday during a visit by the UAE ambassador, local media reported.
The UAE's Foreign Ministry made the statement Tuesday night, describing the attack as "heinous." It identified the wounded ambassador as Juma Mohammed Abdullah al-Kaabi.
Afghanistan's Tolo News said the blast left nine people dead and 16 others wounded.
The statement did not say how many Emirati diplomats were wounded. It said they were there as part of a humanitarian mission.
Emirati combat troops deployed to Afghanistan after the 2001 US-led invasion that toppled the Taliban.
Taliban blasts near Afghan parliament kill 30
Earlier in the day, twin Taliban blasts struck near the Afghan parliament in Kabul, killing at least 30 people and wounding 80 in a rush-hour attack that shattered a relative lull in violence in the capital.
The bombings came just hours after a Taliban suicide bomber killed seven people in Lashkar Gah, the capital of the volatile southern province of Helmand, as the militants ramp up attacks.
The blasts in Kabul tore through employees exiting a parliament annexe, which houses the offices of lawmakers, leaving the area littered with bloodied bodies.
"A suicide bomber on foot caused the first explosion, leaving a number of innocent workers killed and wounded," Zabi, an injured parliament security guard, told AFP.
"The second one was a car bomb. The vehicle was parked on the other side of the road and flung me back when it detonated," he said.
The blasts left 30 people dead and 80 wounded, some of them in serious condition, health ministry spokesman Waheed Majroh told AFP, warning that the toll was expected to rise.
The dead included at least four policemen who were killed in the second explosion when they rushed to help the victims of the first blast, a security official told AFP.
The carnage underscores growing insecurity in Afghanistan, where around 10,000 US troops are helping struggling Afghan forces to combat a resilient Taliban insurgency as well as Al-Qaeda and Islamic State militants.
Taliban spokesman Zabihullah Mujahid said they were behind the Kabul explosions, adding the victims were mostly Afghan intelligence agents. The insurgents are known to exaggerate battlefield claims.
The parliament complex has been a prime target for insurgents. In June 2015 Taliban militants attacked the old parliament building, sending lawmakers running for cover in chaotic scenes relayed live on television.
That incident ended two hours later when all seven attackers, including a suicide car bomber, were gunned down by Afghan forces.
The Taliban are pressing ahead with nationwide attacks despite the onset of winter, when fighting usually ebbs, as international efforts to jumpstart peace talks falter.
Repeated bids to launch peace negotiations with the Taliban have failed and a fierce new fighting season is expected to kick off in the spring.
Afghanistan last week welcomed the Pentagon's decision to deploy some 300 US Marines to Helmand, where American forces engaged in heated combat until their mission ended in 2014.
The Marines will head to the poppy-growing province this spring to assist a Nato-led mission to train Afghan forces, in the latest sign that foreign forces are increasingly being drawn back into the worsening conflict.
The situation in Afghanistan will be an urgent matter for the new US president, even though America's longest war got scarcely a passing mention in the bitterly contested presidential election.
President-elect Donald Trump has given few details on his expected foreign policy, with even fewer specifics on how he will tackle the war in Afghanistan.
http://www.dawn.com/news/1307577/blasts-in-afghanistan-kill-39-uaes-envoy-wounded-in-kandahar-attack
--------
Catholic-Muslim Dialogue Opens To Support American Muslims
January 10, 2017
"The bishops' priority at the moment is to listen to (Muslims') concerns, their fears, their needs ... and so discern how we as Catholics can help them achieve their goals of full participation in their communities," said Anthony Cirelli, associate director of the Secretariat for Ecumenical and Interreligious Affairs at the U.S. Conference of Catholic Bishops.
WASHINGTON, D.C. - An emerging Catholic dialogue with Muslims aims to show public support for Islamic American communities.
The dialogue stems from concerns expressed by U.S. bishops in the wake of "a serious uptick in violence against American Muslims … to make sure that they are sensitive to what is going on in the (Muslim) communities," said Anthony Cirelli, associate director of the Secretariat for Ecumenical and Interreligious Affairs at the U.S. Conference of Catholic Bishops.
The dialogue, underway since last February, will build on three already existing regional Catholic-Muslim dialogues, also overseen by the secretariat. Those gatherings have involved Muslim and Christian scholars and religious leaders and have focused largely on academic discussions and comparisons of their respective religious texts, Cirelli said.
The regional dialogues - mid-Atlantic, Midwest and West Coast - have been effective in creating a better understanding among Muslim and Catholic leaders on a theological level, Cirelli explained.
The national dialogue also will help Muslim leaders to better advocate for current concerns, "especially with the incoming (U.S.) administration," said Cirelli, referring to calls by President-elect Donald J. Trump and others to monitor American Muslims and limit entry of Muslim visitors from abroad.
"While our meetings will still have as a central component the all-important theological conversation, right now there is an urgency to engage more in a kind of advocacy and policy in support of the Muslim community," Cirelli told Catholic News Service.
Cirelli cited statistics documenting a higher number of anti-Muslim activities nationwide as well as a recent study by The Bridge Initiative, a Georgetown University research project on Islamophobia, showing that Catholics who regularly obtained information from Catholic media were more likely to unfavorably view Muslims than those who did not.
"The bishops' priority at the moment is to listen to (Muslims') concerns, their fears, their needs … and so discern how we as Catholics can help them achieve their goals of full participation in their communities," Cirelli said.
He said Muslim counterparts to the dialogue were still being identified.
"At this point in our nation's history, we, the bishops, are mainly concerned with listening to and, when appropriate, coming to stand with our Muslim colleagues in their own difficult work of addressing the fears of ordinary Americans with respect to Muslims as well as their work in trying to change the negative narrative surrounding Muslims in our popular media," Cirelli said.
The creation of the dialogue was motivated by the call of "Nostra Aetate," the Second Vatican Council's declaration on the relations with non-Christian religions.
"As the national conversation around Islam grows increasingly fraught, coarse and driven by fear and often willful misinformation, the Catholic Church must help to model real dialogue and goodwill," Bishop Mitchell T. Rozanski of Springfield, Massachusetts, chairman of the bishops' Committee on Ecumenical and Interreligious Affairs, said at the time the dialogue started in February.
Cardinal Blase J. Cupich of Chicago was designated as the dialogue's Catholic chairman and assumed the position Jan. 1, Cirelli said.
He said that as part of the dialogue's launch last February, Bishop Robert W. McElroy of San Diego held a public discussion with Sayyid M. Syeed, national director of the Islamic Society of North America's Office for Interfaith and Community Alliances.
During the widely publicized event at the University of San Diego's Joan B. Kroc Institute for Peace and Justice, Bishop McElroy challenged U.S. Catholics to take an active role in combating "the scourge of anti-Islamic prejudice."
The next dialogue is set for March 7-9 in Chicago. On March 8, Bishop McElroy will discuss the common good tradition in the Catholic Church. An Islamic scholar, who has yet to be named, will address the Islamic understanding of hospitality in the Quran.
https://cruxnow.com/cns/2017/01/10/catholic-muslim-dialogue-opens-support-american-muslims/
--------
European Court Rules Against Muslim Couple In Swim Lessons Case
Jan 10, 2017
The European Court of Human Rights has rejected an appeal by a Muslim couple in Switzerland who have been fined for refusing to send their daughters to mixed swimming lessons in school.
The court ruled on Tuesday in favor of Swiss authorities, saying that while their refusal to exempt Muslim girls from the lessons interfered with their religious freedom, such interference is justified by the need to "protect" the children from social exclusion.
The court, based in the eastern French city of Strasbourg, did not, however, explain how the girls would suffer social exclusion by merely not attending swimming lessons amid numerous other school activities and learning experiences.
The court specifically insisted that the need to take part in swimming lessons at school especially applied to non-native pupils, ruling that school plays "a special role in the process of social integration, particularly where children of foreign origin were concerned."
Swimming lessons are "not just to learn to swim, but above all to take part in that activity with all the other pupils," it underlined without addressing the significance of engrained family values that are often faith-based and quite personal.
The case was brought by a Turkish-Swiss couple who argued that forcing their pre-pubescent daughters to take part in swimming classes with male students violated their faith.
All their appeals were rejected by Swiss courts, after which they took their case to Strasbourg. Tuesday's ruling, however, is not final. The couple has three months to appeal the decision.
The court justified the fine of 1,400 Swiss francs (nearly 1,300 euros) imposed on the couple in 2010 after a warning, saying that it was "proportionate to the aim pursued" of getting them to comply with regulations in the country.
The court favored Swiss authorities in arguing that they had tried to accommodate the beliefs of the Muslim family by allowing the girls to wear the full-body "burkini" swimsuit, something that many Muslims do not consider religiously legitimate in public.
http://www.presstv.ir/Detail/2017/01/10/505652/European-court-Muslim-couple-swim-lessons
--------
Africa
New Ghana president's speech copies US inaugural addresses
Jan 11, 2017
ACCRA: Ghana's new president is facing criticism after passages in his inauguration speech appeared to be lifted from speeches given by American leaders, an embarrassment for a country that long has been praised as one of Africa's strongest democracies.
President Nana Akufo-Addo took the oath of office Saturday after he won election on his third bid for the presidency.
One line in his speech is nearly identical to a phrase used by former President Bill Clinton in his 1993 inaugural address. Another phrase in Akufo-Addo's speech is almost the same as one in the inaugural speech given by former President George W. Bush in 2001.
The Ghanaian presidency refused to comment Tuesday on the similarities that went viral on social media after the inauguration.
Akufo-Addo's speech contained the following phrase: "Though our challenges are fearsome, so are our strengths. Ghanaians have ever been a restless, questing, hopeful people. And we must bring to our task today the vision and will of those who came before us."
In 1993, Clinton said: "Though our challenges are fearsome, so are our strengths. And Americans have ever been a restless, questing, hopeful people. We must bring to our task today the vision and will of those who came before us."
Akufo-Addo's speech also contained this phrase: "I ask you to be citizens: citizens, not spectators; citizens, not subjects; responsible citizens building your communities and our nation."
At his 2001 inauguration, Bush said: "I ask you to be citizens: Citizens, not spectators; citizens, not subjects; responsible citizens building communities of service and a nation of character."
The 72-year-old Akufo-Addo was declared winner of the Dec. 7 election after defeating incumbent John Dramani Mahama.
http://nation.com.pk/international/10-Jan-2017/new-ghana-president-s-speech-copies-us-inaugural-addresses
--------
Islamic Militants Kill 10 in Nigerian Christian Village
Jan 10, 2017
The radical Fulani Islamic herdsmen group reportedly raided the predominantly Christian village of Kwayine, Adamawa State, Nigeria, killing 10 people, destroying homes, and leaving victims wondering what they did to deserve the sudden attack.
Persecution watchdog group International Christian Concern said that the attack occurred on Saturday, with the Fulani radicals killing six police officers and four civilians. The terrorists had tried to attack the village on Dec. 31 as well, but were driven away that time.
"The Fulanis came into the village yesterday at about 2:00 p.m. They came upon us suddenly, chased us off, scattered us and burnt our houses. We fled. I barely escaped with my life. Only God knows where some of our people are now. We don't know what we did to them," one of the victims said.
The Fulani herdsmen, a nomadic group of predominantly Muslim men, increased their attacks on Christians and moderate Muslims throughout 2016, in conflicts based partly on farming land disputes, which have evolved into religious hatred, according to Bishop Joseph Bagobiri of the Diocese of Kafanchan.
"In addition to the social and economic issues that have fueled conflict since ancient times, such as the distribution of the land and shortage of grazing, the dimension of the problem has changed," Bagobiri told international Catholic charity Aid to the Church in Need.
"The Fulani are Muslim and the land they are attacking belongs mainly to ethnic groups that are Christian; now there is religious hatred driving the violence."
Close ad X
Bagobiri added that at least 53 villages have been burned down, 808 people have been murdered, and 1,422 houses and 16 churches have been destroyed since September due to the Fulani attacks.
According to ICC, the Nigerian government has refused to recognize the Fulani as a terrorist group but ICC Regional Manager Daniel Harris said it is time for changes to be made.
Full report at:
http://www.christianpost.com/news/islamic-militants-kill-10-in-nigerian-christian-village-172780/
--------
South Sudan's army disputes rebels' victory claims
10 January 2017
South Sudan's army on Tuesday denied rebel claims that opposition troops loyal to former Vice-President Riek Machar had seized six important towns in the country's north and southwest.
The military's acting spokesperson, Col. Santos Dominic, told Anadolu Agency there had been clashes in some parts of the country but denied the rebel claims.
"Rebels loyal to Riek Machar, who are anti-peace elements, attacked our positions in Sobat and Latjor states and we repulsed them ... They are not in control of Nasir, Mandeng in Upper Nile including Morobo in Equatoria nor any towns as they claimed," Col. Dominic said.
He said there had been fighting in and around these towns, but they were still controlled by the government.
South Sudanese armed opposition forces on Monday claimed to have taken six localities in southern and northern parts of the country following heavy fighting.
The rebels' deputy military spokesperson, Maj. Dickson Gatluak, claimed in a statement new victories in Upper Nile and the Equatoria region and said their forces controlled up to 90 percent of Nasir area in Latjor state.
Both sides in the four-year civil war have claimed military advances in recent days.
South Sudan slid into civil war in December 2013 after President Salva Kiir accused his long-time rival and sacked deputy Machar of plotting a coup.
Full report at:
http://www.worldbulletin.net/africa/182935/al-qaeda-ally-video-showing-swiss-missionary-alive
--------
Pakistan
Pakistan set to become fastest growing Muslim economy in 2017
January 10, 2017
KARACHI: Pakistan has been forecasted to become the fastest growing Muslim economy around the world in 2017, estimated financial indicators published by The Economist suggested Tuesday.
Pakistan's GDP growth - +5.3pct - is ahead of Israel's +4.0pct growth rate. With this, Pakistan also becomes the fifth fastest growing world economy, only behind four other countries, China, India, Vietnam and Philippines.
The live data, which is twice updated daily, is published on The Economist website in terms of economic and financial indicators.
The four other world economies ahead of Pakistan are: India (+7.5pct), Vietnam (+6.6pct), China (6.4pct), and Philippines (+6.4pct).
Pakistan also beats major Muslim economies in the list: Indonesia (+5.2pct), Malaysia (+4.6pct), Egypt (+4.0pct), and Turkey (+2.9pct).
https://www.geo.tv/latest/126846-Pakistan-forecasted-to-become-fastest-growing-Muslim-economy-5th-in-the-world
--------
Pakistan, Neutrality, and Saudi Arabia's Islamic Military Alliance
By Hamzah Rifaat Hussain
January 11, 2017
Since his retirement in November last year, General Raheel Sharif has left behind a respected and popular legacy in Pakistan. He can be credited for a remarkable decline in terrorist incidents domestically. That said, his appointment as chief of the Saudi Arabia-led Islamic Military Alliance has raised quite a few eyebrows.
The IMA is similar to the Rapid Deployment Joint Task Force initiated by the Carter Administration in the late-1970s to secure the stability of the oil-rich Gulf region. Raheel Sharif's appointment also becomes questionable given the sectarian nature of conflicts in the Middle East, especially given the fact that countries such as Iran and Syria are not part of the IMA,
According to the latest reports, Sharif had set three preconditions prior to taking up the command of the 39-nation military alliance. The first condition was the inclusion of Iran in the alliance to ensure that the IMA does not assume a sectarian character. The second was the condition that he will not work under anyone's command. Finally, the third was reportedly that he would act as an arbitrator to promote greater harmony in the Muslim world.
Enjoying this article? Click here to subscribe for full access. Just $5 a month.
While these reported conditions act as counters to the apprehensions that many observers have expressed regarding his appointment, the fact remains that the IMA is still an overtly Sunni alliance without Iranian participation. The alliance is also spearheaded by Saudi Arabia with its headquarters in Riyadh, and with the recent souring of relations between both Iran and Saudi Arabia, it would be difficult to imagine that the alliance will be anything more than a continuation of proxy warfare between both regional powers in the Middle East.
This appointment also contradicts Pakistan's national commitment towards neutrality with regard to the Yemen crisis after a parliamentary resolution was passed in April 2015. The Yemen intervention, also known as Operation Decisive Storm, was a Saudi Arabia-led crackdown against Houthi rebels and was more about a power struggle centering on reinstating Yemen's dictatorship of President Abdrabbuh Mansur Hadi rather than cracking down on terrorism. Hence, it would be fallacious to assume that the IMA will not assume a sectarian character.
The procedural aspects of the former Pakistani chief of army staff's appointment aside, the fact that the alliance seeks to carry out counterterrorism operations in Iraq, Syria, Libya, Egypt, and Afghanistan, particularly with Syria witnessing the consolidation of power of an Alawite government under President Bashar Al Assad recently, hints at how geopolitics in the region will play a significant role in shaping the IMA's role. The catastrophic effects of regimes being toppled throughout the Middle East had led to great instability in the form of rebel movements and insurgencies that ultimately have assumed a sectarian character.
Full report at:
http://thediplomat.com/2017/01/pakistan-neutrality-and-saudi-arabias-islamic-military-alliance/
--------
JUI threatens agitation if decisions 'imposed' on Fata people
Jan 11, 2017
KHAR: Jamiat Ulema-i-Islam-F leaders on Sunday rejected the federal government's plan to merge Fata with Khyber Pakhtunkhwa and threatened to launch a protest movement if any changes were 'imposed' on the tribal people.
They made the threat while addressing a public gathering here.
A number of students and teachers of both the religious seminaries and public educational institutions also showed up at the gathering, which was considered a public demonstration against the proposed reforms in the tribal areas.
Senior JUI-F leaders, including its Fata head Mufti Abdul Shakoor, Bajaur emir Maualna Abdur Rahseed, Haji Said Badshah, Mufti Mohammad Ijaz Shinwari, Qari Mustafa and Ahmed Zeb Khan Advocate addressed the gathering and expressed their grave concerns over the proposed reforms in the tribal areas.
They claimed that the Fata reforms committee had violated its mandate to only suggest recommendations for the political mainstreaming of Fata, saying what the committee proposed was not acceptable to the tribesmen.
The speakers said the JUI-F wanted that all the changes in Fata should be introduced in the line with the wishes of majority of residents. They asked the government to delay implementation of the reforms in Fata until all stakeholders, including tribal elders and political and religious parties were taken into confidence on the matter.
"We request the federal government, especially the prime minister, to stop implementation of the reforms until every stockholder is taken on board, otherwise the JUI-F would start an agitation campaign across Fata," threatened Abdul Shakoor.
However, the JUI leaders said the party would continue its struggle to replace the current colonial governance system with the Islamic laws instead of extending the country's regular laws to the tribal region.
Rejecting the plan to merge Fata with KP, the JUI leaders said amalgamation of tribal areas with the province would further increase the problems of the tribal people. They pointed out that the KP province was already facing crisis and cannot bear the burden of over 10 million tribal people.
Full report at:
http://www.dawn.com/news/1307355/jui-threatens-agitation-if-decisions-imposed-on-fata-people
--------
Balochistan govt vows to protect social, political rights of native Gwadar citizens
SYED ALI SHAH
Jan 11, 2017
Balochistan government on Tuesday formed a high-level committee to prepare recommendations in order to protect social, political and economic rights of indigenous people of Gwadar in the aftermath of implementation of multi-billion dollars China Pakistan Economic Corridor (CPEC) project.
The Balochistan chief minister would head the committee with all parliamentary leaders and leader of the opposition as its members.
"All political groups and stake-holders would be consulted in this regard," Balochistan government spokesman Anwar ul Haq Kakar told a press conference following the cabinet meeting on Tuesday evening.
The cabinet meeting thoroughly discussed issues relating to Balochistan especially the political and economic rights of people of Gwadar. Chief Minister Nawab Sanaullah Zehri chaired the cabinet meeting.
Full report at:
http://www.dawn.com/news/1307581/balochistan-govt-vows-to-protect-social-political-rights-of-native-gwadar-citizens
--------
Confusion prevails over Raheel Sharif's appointment
January 10, 2017
ISLAMABAD : Finance Minister Senator Ishaq Dar has said that any decision regarding appointment of General (retd) Raheel Sharif as head of Saudi-led Islamic military alliance would be taken in accordance with the Constitution and in the larger national interest.
In an interview, Dar disclosed that Saudi Arabia was keen to appoint Raheel Sharif as head of the Islamic military alliance even prior to his retirement.
"Both Prime Minister Nawaz Sharif and General Raheel Sharif had a consensus view that it will be a conflict of interests. It would have been inappropriate to head the 39-nation NATO-type Islamic alliance while still serving as head of Pakistan's armed forces," he said.
"Raheel Sharif sahab is on Umrah. If he is offered the post, I am sure he will seek approval from the government," added Dar.
"Knowing General Raheel, he will not do thing in the air. He will fulfill all legal requirements. But I'm not aware if he has been offered the post yet and if he has the offer and he had decided in principle to head the alliance, he will tell Saudis to wait for the approval," he said.
Full report at:
http://nation.com.pk/islamabad/10-Jan-2017/confusion-prevails-over-raheel-sharif-s-appointment
--------
South Asia
Top militant leader Qari Saifullah Akhtar killed in Afghanistan
Jan 11, 2017
ISLAMABAD: Qari Saifullah Akhtar, a former suspected Al Qaeda militant and founder of the banned Harkat-ul-Jihad-Al Islami group, has been gunned down in Afghanistan.
According to reports, Akhtar was killed during a clash with Afghan security forces in Birmil area of Paktika province bordering Pakistan. Sources said his family has been informed that he has been killed.
Hailing from Chishtian, Qari Akhtar was an active leader of militants based in Afghanistan and Pakistan. He has previously worked as advisor of slain Taliban leader Mullah Omar, and was believed to have close ties to former Al Qaeda chief Osama bin Laden. In 2008, Akhtar was arrested from Lahore in connection with the October 18 suicide bombing at Karachi's Karsaz area the previous year that narrowly missed former Prime Minister Benazir Bhutto but killed about 150 others.
In her book, which was published in February 2008, Bhutto had narrated in detail the suicide attacks targeting her welcome procession as well as the involvement of Qari Saifullah Akhtar in the assassination bid.
Among other high-profile attacks, Akhtar has also been linked to two assassination attempts against former President Gen (retd) Pervez Musharraf.
He was arrested and extradited from the United Arab Emirates on August 7, 2004 on charges of plotting the twin suicide attacks on General Musharraf in Rawalpindi in December 2003.
Earlier arrested for a failed coup plot in 1995, he was released after the dismissal of the second Bhutto government in 1996. Shortly afterwards, he was reported to have moved to Afghanistan where he was inducted into the cabinet of the Taliban ameer, Mullah Omar, as his adviser on political affairs.
Qari Saifullah was one of the few militant leaders from Pakistan who had escaped with Mullah Omar after the US-led Allied Forces invaded Afghanistan in October 2001.
http://nation.com.pk/international/10-Jan-2017/top-militant-leader-qari-saifullah-akhtar-killed-in-afghanistan
--------
Bangladesh PM: BNP, Jamaat Live In Bangladesh, But Their Mind Is In Pakistan
January 11, 2017
Awami League President and Prime Minister Sheikh Hasina launched a stinging critique of BNP, Jamaat and Khaleda Zia yesterday, claiming that they were only capable of torture, corruption, murder and looting.
In her speech, the prime minister also took the time to highlight the achievements and successes of the government across various projects and development programmes during her current eight year term.
Sheikh Hasina made the address at a rally organized in the capital's Suhrawardy Udyan, in observance of the historic Homecoming Day of Bangabandhu Sheikh Mujibur Rahman.
Referring to the violence during BNP-Jamaat movement, the prime minister said Khaleda Zia killed people in 2013, 2014, 2015.
The Awami League president said: "At that time 231 persons were killed by petrol bombs and thousands of people were injured. 3,036 people were injured in the Khaleda Zia's violent campaign. She destroyed 29 trains and killed 23 members of law enforcement agencies. Mosques were set on fire, hundreds of Qurans were burned. This was her movement."
"In spite of the fact that BNP-Jamaat lives in Bangladesh, their mind is in Pakistan," she added, emphasising that they undermined the history of the Liberation War and incited terrorism.
Furthermore, according to the prime minister, BNP had no real accomplishments other than torture, corruption, murder, disaster, looting, terrorism, and the creation of Bangla Bhai.
Regarding justice for the alleged crimes, the prime minister said: "They are inciting terrorists and militants. People of this soil will try them. They will be tried at the people's court."
Full report at:
http://www.dhakatribune.com/bangladesh/politics/2017/01/11/pm-bnp-jamaat-live-bangladesh-mind-pakistan/
--------
Taliban reacts at Kandahar blasts targeting governor, UAE ambassador
Jan 11 201
The Taliban group has reacted at the deadly explosions in Kandahar that left at least several people dead and around a dozen wounded including the UAE Ambassador and provincial governor.
The group's spokesman Qari Yousuf Ahmadi said they were not involved in the attack, blaming the officials for internal issues and dispute.
"Overnight #Kandahar incident is enemy internal dispute, not connected with Mujahidin; we did not have any op in Kandahar last night," Ahmadi said in a Twitter post.
At least 11 people were killed and 12 others were wounded after explosives planted inside the guesthouse of the governor went off on Tuesday evening.
A number of senior government officials were also among those killed or wounded.
Provincial police chief General Abdul Raziq confirmed that 11 people were killed and 12 others including governor Humayoun Azizi and UAE's ambassador.
Gen. Raziq further added that the health condition of the Ambassador and governor is satisfactory and are in stable condition.
Full report at:
http://www.khaama.com/taliban-reacts-at-kandahar-blasts-targeting-governor-uae-ambassador-02649
--------
3 Rohingyas admit they attacked Teknaf Ansar camp
January 11, 2017
On May 12, the attackers shot dead the outpost's in-charge Md Ali Hossain and looted two sub-machine guns, nine rifles and ammunition from the camp's armoury
RAB claims that the three alleged Rohingya terrorists arrested Monday have admitted their involvement in the attack on an Ansar camp in Teknaf on May 12 last year that killed the camp commander.
Fourteen terrorists took part in the attack directly while four others were kept outside the camp stationed at the Rohingya refugee camp in Nayapara area, says a statement by Rapid Action Battalion 7 in Cox's Bazar issued on Tuesday.
The three arrestees are Khairul Amin, 32, Master Abul Kalam Azad, 46, and Hassan Ahmed, 30.
Also Read- Ansar man killed in Teknaf refugee camp attack
Based on their statement, RAB conducted a drive at several hills of Naikkhyangchhari upazila and recovered a sub-machine gun, six magazines, one Chinese rifle and one M2 Chinese rifle.
It is believed that the same group was linked to the October 9 attack on Myanmar border outposts that killed nine police members.
On May 12, the attackers shot dead the outpost's in-charge Md Ali Hossain, 55, and looted two sub-machine guns, nine rifles and ammunition from the camp's armoury.
Also Read- PM: Govt sympathetic to Rohingyas, but hard against culprits
With the trio, law enforcers have so far arrested eight people in connection with the May 12 attack. The eight others are Mamun Mia alias Rafique Dakat, 30, Abdur Razzak, 25, Joynal alias Jane Alam, 50, Md Harun, 30, Abdus Salam, 29.
The arrestees have also confessed that a group of 20-25 people, mostly Rohingyas, were involved in robbery and abduction in Shyamlapur, Baharchhara, Ukhiya and Kutupalong areas for the last five-six years.
The revelations came at a time when thousands of Rohingyas have been fleeing military crackdown in Myanmar. Officials say around 65,000 Rohingyas have already taken shelter in Bangladesh since the crackdown.
Also Read- Report: Rohingya-led group rings alarm bell
The security operations began after the October 9 attack on three border outposts that killed nine members of the Myanmar police force. A Rohingya militant group, Harakah al-Yaqin or Faith Movement, has taken credit for the attack. They also looted 51 weapons of various types and 10,130 rounds of assorted ammunition, 47 bayonets and 164 magazines.
RAB says they will continue the drive for two more days
RAB says they will continue the drive for two more days Dhaka Tribune
The outfit is backed by al-Qaeda and funded by Rohingya clerics in Pakistan and Saudi Arabia. Its members are also linked to another newly-surfaced group Aqa Mul Mujahideen and RSO.
Many Rohingyas living in Bangladesh have joined the group that has called for jihad against the Myanmar government to avenge the persecution on Rohingya Muslims in Myanmar's Rakhine State.
Also Read- 'We will fight until the last drop of blood'
Apart from the October 9 attacks, 11 additional strikes were carried out by the Rohingya militants all over the infected areas killing seven members of the Tatmadaw and wounding three others. Two weapons were also snatched during this time, the Myanmar government says.
Full report at:
http://www.dhakatribune.com/bangladesh/crime/2017/01/11/3-rohingyas-admit-attacked-teknaf-ansar-camp/
--------
Myanmar sends envoy to Bangladesh as Rohingya crisis deepens
11 January 2017
A special envoy of Myanmar's leader Aung San Suu Kyi will begin top-level talks in Bangladesh on Wednesday, as the United Nations said the Rohingya crisis prompted 65,000 people to flee Myanmar for Bangladesh in the past three months.
Kyaw Tin, Myanmar's deputy minister of foreign affairs, will make a three-day visit to the Bangladeshi capital of Dhaka, in a rare diplomatic foray to tackle the biggest challenge facing Nobel Peace laureate Suu Kyi's nine-month old administration.
The stream of new refugees, and reports that Myanmar's navy has shot at Bangladeshi fishermen, have further tested historically strained ties between the neighbours, who each see the stateless Rohingya Muslims as the other side's problem.
The visit marks a shift away from Myanmar's reluctant approach to cooperation with its western neighbour, which analysts see as key to solving the growing crisis.
Rohingya insurgents attacked Myanmar border posts on 9 October, killing nine police. In response Myanmar sent the army into the Muslim-majority northern part of Rakhine State.
Residents and refugees have described summary executions, arbitrary arrests and rape in the operation. Suu Kyi's government has denied almost all abuse allegations.
During the visit, the neighbours will discuss bilateral relations, but the Myanmar side was unlikely to bring up the "complicated" issue of border security, said Aye Aye Soe, deputy director of the Ministry of Foreign Affairs.
"For the border situation, an operation is still in progress to create stability, so I don't think there will be a lot of results from this first-time meeting," she said.
Kyaw Tin will meet Prime Minister Sheikh Hasina on Wednesday, said a senior official at the Bangladesh Ministry of Foreign Affairs.
The official, who requested anonymity as he was not authorised to speak to the media, said Myanmar had initiated the visit "so that Bangladesh does not raise pressure on Myanmar on the Rohingya issue in international forums," such as an upcoming meeting of the Organisation of Islamic Co-operation.
Southeast Asia's Muslim-majority nations, Indonesia and Malaysia, have publicly pressured Myanmar over the crisis.
Full report at:
https://www.theguardian.com/world/2017/jan/11/myanmar-sends-envoy-to-bangladesh-as-rohingya-crisis-deepens
--------
Heavy explosion rocks Jalalabad city in East of Afghanistan
Jan 11 201
A heavy explosion rocked Jalalabad city, the provincial capital of eastern Nangarhar province few minutes earlier.
Preliminary reports indicate the blast was caused by an Improvised Explosive Device planted on a roadside to target a police vehicle.
No casualties have been reported with an official saying the IED was detonated near a hotel in the city.
No group has so far claimed responsibility behind the incident.
This comes as capital Kabul and southern Helmand and Kandahar provinces were hit by a string of deadly attacks on Tuesday, leaving scores of people dead or wounded.
Full report at:
http://www.khaama.com/heavy-explosion-rocks-jalalabad-city-in-east-of-afghanistan-02652
--------
North America
Sessions Voices Opposition to Muslim Immigration Ban
Jan. 10, 2017
Attorney general nominee Sen. Jeff Sessions on Tuesday said he does not support a ban on Muslim immigration to the U.S., a position that runs counter to a campaign call by President-elect Donald Trump, who has tapped the lawmaker from Alabama to hold the nation's top law enforcement post.
"I do not believe and do not support the idea that Muslims as a religious group should be denied admission to the United States," Sessions said during a confirmation hearing before the Senate Judiciary Committee.
[READ: Rights Groups Ramp Up Opposition to Jeff Sessions Ahead of Confirmation Fight]
During the presidential campaign, Trump called for the temporary barring of Muslims entering the U.S. following terror attacks in Paris and San Bernardino, California, later tweaking the proposal to bar immigration from areas tied to terrorism. In August, he called for "extreme vetting" of immigrants.
Sessions, meanwhile, was one of four Republicans to oppose an amendment in December 2015 reaffirming that the U.S. would not discriminate against immigrants on the basis of religion.
"In effect, it is a move toward the ratification of the idea that global migration is a 'human right,' and a civil right, and that these so-called 'immigrants' rights' must be supreme to the rights of sovereign nations to determine who can and cannot enter their borders," he said at the time, calling the measure "reckless" and warning that "many people are radicalized after they enter."
"How do we screen for that possibility, if we cannot even ask about an applicant's views on religion? Would we forbid questions about politics? Or theology?"
At Tuesday's hearing, Sessions insisted he opposed a specific prohibition on Muslim immigration to the U.S. But, he added, "many people have religious views that are inimical to the public safety of the United States."
Of the resolution from 2015, he said, "I did not want to have a resolution that suggested that could not be a factor in the vetting process."
Sessions on Tuesday also stood by his hard-line stance on immigration, one that's made him at times an outlier among even fellow Republicans.
He said he would have "no objection" to Trump's promised repeal of Deferred Action for Childhood Arrivals, the Obama administration program that offered deportation relief for migrants who entered the country illegally as minors. He also rejected the idea of granting amnesty to those immigrants and others who arrived illegally and have established ties in the U.S.
With amnesty, "you undermine respect for the law and you encourage more illegal immigration into America. I believe the American people spoke clearly in this election, I think they agree with my view," Sessions said.
He added: "Each one of them produces some kind of humanitarian concern, but it's particularly true for children, so we've been placed in a bad situation. ... We need to fix the immigration system. Fundamentally, it's not working right."
http://www.usnews.com/news/national-news/articles/2017-01-10/trump-nominee-jeff-sessions-voices-opposition-to-muslim-immigration-ban
--------
In last speech as US President, Obama warns against racism, anti-immigrant, anti-Muslim sentiment under Trump
Shailaja Neelakantan
Jan 11, 2017
NEW DELHI: To deafening chants of "four more years", US President Barack Obama, in his final address as President today, cautioned against everything that incoming President Donald Trump has publicly espoused, including anti-immigrant, anti-Muslim, anti-women, anti-gay, pro-Russian and pro-rich sentiments.
As he ascended the stage in Chicago, the crowds roared "four more years, four more years", even as Obama tried to quiet the very emotional gathering of people who had come to see off the man who finally avenged 9/11, made gay marriage legal and ensured healthcare for all Americans. But today, that man failed to quiet the crowd.
"You can tell I'm a lame duck, because no one is following my instructions," Obama joked, at the start of his address, and followed that up with a big "thank you" to all Americans who gave him a chance to serve as US President. Through most of his speech, Obama was calm and collected - he even joked about people who use social media - but towards the end, as he thanked his wife Michelle, his two daughters and vice president Joe Biden, he teared up.
In his almost-hour long speech, Obama never strayed from one message - that the US democracy is what it is because of its inclusiveness and its promise of equality of economic opportunity for all, regardless of race, religion, gender or sexual identity. The thrust of the speech couldn't have been clearer, as Americans head into four years of a Trump presidency. Of a Trump who has publicly vilified women, the weak, immigrants and the poor. Of a Trump who was democratically elected.
"In ten days, the world will witness a hallmark of our democracy," Obama said, and that statement's import wasn't lost on the crowd. The reference was obvious. America voted Trump to power, and American democracy must go on. But not without the strictest vigilance to ensure equal rights for all.
"Going forward, we must uphold laws against discrimination - in hiring, in housing, in education and the criminal justice system... we, as citizens, must remain vigilant against external aggression, we must guard against a weakening of the values that make us who we are. That's why I reject discrimination against Muslim Americans. That's why we cannot withdraw from global fights - to expand democracy, and human rights, women's rights, and LGBT rights - no matter how imperfect our efforts, no matter how expedient ignoring such values may seem," Obama said.
The US President stressed the importance of economic and social equality, not for a select few, but for all. Again here, the reference was to Trump who has talked about Mexican immigrants being "rapists", about building a wall "to keep out Mexicans" and even about banning Muslims from entering the US. That last election promise of Trump's has watered down some, since he was elected November 8.
That equality that the US constitution has granted has yet to be fully realized, Obama said.
"But we're not where we need to be. All of us have more work to do. After all, if every economic issue is framed as a struggle between a hardworking white middle class and undeserving minorities, then workers of all shades will be left fighting for scraps while the wealthy withdraw further into their private enclaves. If we decline to invest in the children of immigrants, just because they don't look like us, we diminish the prospects of our own children - because those brown kids will represent a larger share of America's workforce," Obama said.
Obama also talked about foreign policy and how foreign powers can also be a threat to US democracy.
Full report at:
http://timesofindia.indiatimes.com/world/us/in-last-speech-as-us-president-obama-warns-against-racism-anti-immigrant-anti-muslim-sentiment-under-trump/articleshow/56468326.cms
--------
Comedian Ali Hassan set to talk about Trump, Islam on 'Muslim, Interrupted' tour
Jan 10, 2017
TORONTO – Ali Hassan feels "a little lucky" that his cross-Canada tour gets underway just as Donald Trump takes office.
The Canadian comedian had the chance to test-drive his solo show "Muslim, Interrupted" during a month-long run at the Edinburgh Fringe Festival last year.
But Hassan said Trump's historic U.S. presidential win marks a "whole new ball game" with the addition of fresh material to his act, while also sharing personal experiences about his relationship with Islam.
"Especially in this time of Trump, it's important to show people something different than what they're seeing in the media: that not all Muslims are fire-breathing dragons or whatever people think they are," Hassan said ahead of his tour launch in Edmonton on Jan. 19.
"Within the first few months of doing comedy I realized: 'Oh, this is an opportunity to do some positive PR for Pakistanis.' Pakistan (was) much-maligned in the news, but if somebody sees me and goes, 'Oh, I saw a Pakistani the other day: pretty relaxed guy, funny, was able to make fun of himself.'
"I'm not winning a Nobel Peace Prize or anything, but I'm doing what I can as a person who's onstage, and I've always liked that role."
While Trump was campaigning to become the Republican presidential nominee, he called for a "total and complete shutdown" of Muslims entering the U.S. — a move that was decried by members of both major political parties.
"It was frightening to hear," recalled Hassan, who worked as an IT consultant in Chicago prior to the Sept. 11 attacks.
During the U.S. general election, Trump later focused on temporarily halting immigration from an unspecified list of countries with ties to terrorism, but did not disavow the Muslim ban, which is still prominently displayed on his campaign website.
"In the Trump era, I have to take a good close look at everything that I'm doing and make sure that at no point does it seem like I'm piling on or selling out my community that is being regarded as public enemy No. 1. That is a fine line that I have to walk," said Hassan during an interview at the Corner Comedy Club in downtown Toronto.
Hassan described "Muslim, Interrupted" as an exploration of the "ins and outs" and "stops and starts" with Islam. The father of four said the backdrop of the show centres around questions fielded from his kids that he was incapable of answering because he isn't connected to the religious element of the Islamic community.
Full report at:
http://www.680news.com/2017/01/10/comedian-ali-hassan-set-to-talk-about-trump-islam-on-muslim-interrupted-tour/
--------
Muslim students can write their own sermons as Peel school board reverts to previous policy
Jan 10, 2017
Muslim parents and members of the faith community celebrated the Peel Regional School Board's decision Tuesday to allow students to write their own sermons — a return to a previous policy and one recently recommended by board staff.
"The board has always been committed to an inclusive approach in all activities related to religious accommodation for students and staff of all faiths," director of education Tony Pontes said in a statement released Tuesday night.
The meeting marks the end of a controversy that began in September when the board advised students they could only use one of six pre-written sermons during Friday prayers, known as Jumu'ah in Islam. At least 10 local imams helped develop the sermons, the board said at the time.
'Creating a safe space'
But Muslim students and their parents protested the move, saying it limited the children's religious freedom — and also promoted a prejudiced view of Islam and its followers.
After listening to the feedback from the community last year, board staff recommended a return to the previous policy on Friday. That meant students would have the choice to deliver sermons crafted themselves or those approved by the local imams.
"This was about creating a safe space for students, for students to feel equal to the rest of their peers," high school student Zoya Alam said. "So, this is a positive step for the school board to be creating this safe space and inclusive community."
Full report at:
http://www.cbc.ca/news/canada/toronto/peel-board-muslim-prayer-policy-1.3930264
--------
Europe
Syria crisis deepened by US-led coalition intervention: Russia
Jan 10, 2017
Russian Defense Minister Sergei Shoigu has accused the US-led coalition of having made no positive contribution to the counter-terrorism fight in Syria, but rather worsened the conflict gripping the Arab country.
Speaking at a Defense Ministry meeting in Moscow on Tuesday, Shoigu stressed that Moscow had achieved its main objectives in Syria regarding the anti-terror battle.
He further noted that the US-led alliance's assistance for Russia's Syria campaign "did not rate at a zero, but a negative score, and to my great regret we did not see this support."
Shoigu's comments came two days after US Defense Secretary Ashton Carter claimed that the Russians had given "virtually zero" support to Washington in its alleged fight against Daesh militants in Syria and Iraq.
The coalition's non-cooperation "required the exertion of all our forces, all our capabilities, deploying quite a serious grouping including aircraft carriers and others," the Russian official added.
'US-led strikes kill civilians in Syria'
Separately on Tuesday, Russian Chief of General Staff Valery Gerasimov said the coalition airstrikes did not have "any significant results" in Syria and caused a "considerable number of deaths among civilians and government troops."
Russian Chief of General Staff Valery Gerasimov (Photo by AP)
Russia's involvement in Syria "changed the course of fighting terrorism in Syria," Gerasimov added.
On January 3, over 20 civilians lost their lives in a coalition air raid on the town of Sarmada in Syria's Idlib Province in violation of a nationwide ceasefire that took effect on December 30, 2016, he further pointed out.
The official went on to say that the 2016 September airstrikes by the US-led alliance killed 62 Syrian soldiers and injured 100 others near Dayr al-Zawr Airport.
Moscow launched its campaign against Daesh and other terror outfits in Syria at the Syrian government's request in September 2015. Its air raids have helped Syrian forces advance against foreign-backed militants wreaking havoc in the Middle Eastern state since 2011.
This is while the US-led coalition has also been conducting airstrikes against what are claimed to be Daesh terrorists inside Syria since September 2014 without any authorization from Damascus or a UN mandate.
http://www.presstv.ir/Detail/2017/01/10/505656/Russia-Syria-US-Sergei-Shoigu
--------
Anti-terror police probe Athens gun attack
10 January 2017
A Greek policeman was hurt in an early-morning gun attack on the Athens offices of a political party.
Greek police said that at least one assailant opened fire on a police bus guarding the PanHellenic Socialist Movement (PASOK) office in downtown Athens a little after 6 a.m. local time (0400GMT) on Tuesday.
A 34-year-old police officer was injured in the abdomen and the thigh. It remains unclear if the injuries were inflicted directly by the gunshots or by a ricochet.
The wounded officer is being treated at a military hospital in Athens.
In a statement, PASOK leader Fofi Gennimata described the incident as a "murderous terror attack".
"The situation is directed primarily against the safety of local residents," Gennimata wrote.
"The killers acted and left undisturbed, taking advantage of the inaccessible area of Exarcheia," she added.
Exarcheia -- the neighborhood where the PASOK office is located -- is known as the anarchist area of the Greek capital.
The attacker -- or attackers -- used a military-grade weapon, possibly an automatic firearm. According to police, three cartridges were collected and sent to a laboratory for further examination. An anti-terror unit is investigating the shooting.
The PASOK office has been regularly attacked, mostly by anarchists using Molotov cocktails and rocks. However, gun attacks are uncommon.
Full report at:
No organization has yet claimed responsibility for Tuesday's attack.
http://www.worldbulletin.net/europe/182932/anti-terror-police-probe-athens-gun-attack
--------
2 years after Paris supermarket attack, darkness engulfs memorial candles
Jan 11, 2017
PARIS — Could it happen again? Two years ago, four people were murdered in a terror-driven hostage standoff at a kosher supermarket in Paris. For the roughly 250 people who gathered in front of the Hyper Cacher supermarket Monday evening, the answer seemed to be a resounding "yes."
While many Parisians agree the French government has done a good job ramping up security amid the terror outbreak of the last few years, they do not rule out future instances of violence.
"Nobody is fully protected from another attack because the targets are no longer only members of the Jewish community," said Lassana Bathily, a young Malian Muslim employee of the supermarket who saved about a dozen people during the hours-long standoff in January 2015.
"The Islamic radicals have twisted Islam, my religion and that of my fathers, to justify killing whomever they want," he told The Times of Israel, speaking from the middle of the crowd. "So, yes, I am afraid sometimes, and we must all be careful."
Bathily succeeded in hiding the distraught customers in the storeroom downstairs when terrorist Amedy Coulibaly started shooting. Bathily then managed to escape the store and give police valuable information. Considered part of the "family" of store employees, he was named a hero after the survivors were rescued and the terrorist killed. Eventually he was given a French passport.
At Monday's memorial, despite his attempts to shrug off his heroics, people were lining up to have their photos taken with Bathily. Meanwhile, candles were lit for Philippe Braham, Yohan Cohen, Yoav Hattab and François-Michel Saada, the four victims.
High-ranking French government officials present at the memorial tent ceremony included Interior Minister Bruno Le Roux, as well as presidential candidates François Fillon and Manuel Valls. After the shooting two years ago, Valls made the now-famous statement, "Without its Jewish community, France would not be France."
Francis Kalifat, president of the CRIF Jewish umbrella group, described the changes in security that have been implemented since the attack.
Until the series of shootings on November 13, 2015, which left more than 100 people dead, most French were convinced that radical Islamic terrorists targeted only Jews and militant press groups such as Charlie Hebdo. As such, security measures were focused on Jewish schools, synagogues and community centers.
Full report at:
http://www.timesofisrael.com/2-years-after-paris-supermarket-attack-darkness-engulfs-memorial-candles/
--------
Southeast Asia
China's Xinjiang tightening border amid terrorist threats
Jan 11, 2017
China is tightening border controls in its northwestern Xinjiang region amid rising terrorism threats, the regional governor was quoted as saying on Tuesday.
State media reported Shohrat Zakir made the pledge in a speech at the region's main annual political meeting on Monday, saying increased measures taken in the last year would be further strengthened.
The crackdown seeks to prevent suspected insurgents both from leaving Xinjiang to fight abroad and from returning to the region after receiving military training overseas, the official China Daily newspaper said.
Xinjiang has long been home to a simmering insurgency against Beijing's rule waged by extremists among the native Turkic-speaking Uighur ethnic group, who are mainly Muslim and culturally distinct from most Chinese. Many Uighurs already face onerous restrictions on where they can work and travel to, including extreme difficulties in obtaining passports.
Xinjiang shares a border with Afghanistan, Pakistan and four nations in the often volatile Central Asian region, whose native populations share ethnic, linguistic and religious links with Uighurs. Uighur extremists have also been reported to have joined the fighting in Syria and were blamed for a deadly attack on a Buddhist temple in Thailand.
Xinjiang has been smothered in heavy security since deadly riots in 2009 that pitted Uighurs against ethnic Han Chinese migrants in the regional capital of Urumqi. Those measures were tightened further following a wave of attacks blamed on Uighur separatists striking in Xinjiang and other parts of China, including the capital Beijing.
While such incidents have largely been curtailed, three knife-wielding assailants last month attacked staff at a Communist Party office in southern Xinjiang's Hotan region and set off an explosive device, killing two and injuring three others. The attackers were then shot dead by police.
The incident was the first publicly reported fatal attack in months in Xinjiang, where information is strictly controlled and reporting access highly limited.
Prior to that, police in November 2015 killed 28 people who authorities said had killed 11 civilians and five police officers at a remote Xinjiang coal mine controlled by members of China's main Han ethnic group.
Additionally, a Chinese state media outlet reported that three alleged assailants wanted in relation with a 2015 terrorist incident in Hotan were killed in a police raid on Sunday. No details were given.
Beijing's critics say the violence in Xinjiang is prompted by government policies that have marginalised Uighurs in their native region, which has seen a massive influx of Han Chinese who dominate the local economy, security forces and civil service. Some Uighurs are also believed to have been radicalised by extremist ideologies that have spread from Central Asia to the Middle East.
http://nation.com.pk/international/10-Jan-2017/china-s-xinjiang-tightening-border-amid-terrorist-threats
--------
MCA: We oppose Hadi's bill but we're not anti-Islam
January 11, 2017
PETALING JAYA: Declaring itself a moderate party, MCA says its opposition to the proposed amendments of the Shariah Court (Criminal Jurisdiction) Act 1965 has everything to do with preserving the rule of law and nothing whatsoever to do with scoring political points with the electorate as alleged by certain quarters.
In a statement, the MCA's secretary-general Ong Ka Chuan said the federal constitution was paramount to the party, as it was the highest law in the land.
MCA, he explained, believed in the preservation of this system as the party owed it to not only the future generation, but also the past generation who fought so hard to acquire it.
"Perkasa should not see MCA's stance against the intended amendment of Act 355 as anti-Malay or Islam. Historical records will show that MCA has always been a moderate party in its stance and this has not changed since," he said in a statement, alluding to the Malay rights group.
Full report at:
http://www.freemalaysiatoday.com/category/nation/2017/01/11/mca-we-dont-oppose-hadis-bill-because-were-anti-islam/
--------
Megawati urges silent majority to defend pluralism
Jan 11, 2017
Former president Megawati Sukarnoputri came out strongly against anti-pluralist voices yesterday, saying they have no place in a democratic Indonesia.
The chairman of the ruling Indonesian Democratic Party - Struggle (PDI-P), who is the eldest daughter of the country's founding president Sukarno, called on the "silent majority to wake up and speak up" to defend Pancasila, the national doctrine which promotes diversity and democracy.
"Towards the end of (2016), we were reminded of the importance of Pancasila, the instrument which protects us from being dragged into a closed ideology that endangers our unity," she said in an impassioned speech at an event to mark the party's 44th anniversary.
"A closed ideology arises only from a certain group that forces it on society, pressuring people to do their bidding, with no dialogue, let alone democracy. For them, terror and propaganda are their way of seizing power."
She did not refer to any group by name. But observers see her comments as a veiled accusation against hardline Muslim organisations, whose inflammatory actions in recent months have threatened to tear apart the social fabric of Indonesia.
These include the National Fatwa Guardians of the Indonesian Ulema Council, and Islamic Defenders Front - the two main proponents of mass protests against Jakarta's Chinese-Christian governor Basuki Tjahaja Purnama, whom they have accused of insulting Islam. Basuki is running for another term in February's gubernatorial election under the PDI-P's ticket, after Ms Megawati agreed to endorse his bid for re-election last year. But he is on trial for blasphemy and may be jailed for up to five years, if found guilty.
The court hearing, and protests that saw hundreds of thousands take to the streets to rally against Basuki late last year, have turned the election into a test of racial and religious tolerance in the world's most populous Muslim country.
Last December's arrests of activists, including Ms Megawati's younger sister Rachmawati Sukarnoputri, over a conspiracy to use the protest as a cover to oust President Joko Widodo, have added to a sense of foreboding.
The Human Rights Commission yesterday said it recorded 97 violations of religious freedom last year, up from 74 cases reported in 2014 and 87 in 2015.
In a bid to fire up patriotic fervour, Mr Joko has been urging citizens to re-embrace Pancasila. His government also plans to set up a national body to promote diversity and multiculturalism.
Full report at:
http://www.straitstimes.com/asia/megawati-urges-silent-majority-to-defend-pluralism
--------
Defense Ministry upholds training for Islam Defenders Front
January 11, 2017
Contrary to the Indonesian Military (TNI), the Defense Ministry has defended Bela Negara (State Defense) training for members of the Islam Defenders Front (FPI).
Defense Minister Ryamizard Ryacudu said on Tuesday that the military style training was for all citizens regardless of their backgrounds, including FPI members, but should be done properly.
"As long as we teach [the participants] good things, why not? All people of the country must defend the state. And so must the FPI," Ryamizard said.
(Read also: State defense training for FPI not allowed: TNI)
TNI spokesperson Maj. Gen. Wuryanto previously said the military institution had banned FPI members from undertaking the training after photos of a session in Lebak, Banten, were uploaded to the FPI's Instagram account @dpp_fpi.
The TNI later removed Lebak military commander Lt. Col. Czi Ubaidillah from his post for holding the training. Wuryanto gave his assurances that regional commanders throughout the country were prohibited from providing training to the FPI although the military has yet to issue an official letter to confirm such instructions. The FPI has posted more photos of similar trainings held by the military for its members in Madura, East Java.
Full report at:
http://www.thejakartapost.com/news/2017/01/11/defense-ministry-upholds-training-for-islam-defenders-front.html
--------
Arab World
Militants in Four More Regions Give up Fight against Syrian Army
Jan 10, 2017
"Representatives of militants in four more regions have endorsed the peace agreement with Damascus in the last 24 hours," the Russian Center said.
"Now the total number of cities, towns, villages and regions that have thus far joined the peace process stands at 1,097."
Media sources said on Sunday that a peace agreement between the Syrian Army and Jeish al-Izzah militant group would be singed soon in Hama province.
The Arabic language al-Hadath news quoted field sources as saying that Jeish al-Izzah affiliated to the Free Syrian Army was planning to ink an agreement with the army in the town of Halfaya.
"Some of militants in Halfaya have been trying in recent days to pave the ground for the implementation of the ceasefire in the town to open the road connecting Halfaya to Mahradeh town," al-Hadath said.
The sources added that some of the army commanders in the region were in contact with the militants on the implementation of truce, but the paragraphs of the agreement were not announced.
Also, ten armed groups in the province of Hama signed application forms to join the cessation of hostilities in Syria on Saturday, according to the Russian reconciliation center.
http://en.farsnews.com/newstext.aspx?nn=13951021000432
--------
ISIL Ringleader's Top Aide Killed in Iraqi Airstrike in Mosul
Jan 10, 2017
The Iraqi army announced in a statement that five ISIL commanders, including Abdul Wahed Khazir Sayer al-Jow'an known as Abu Loi, a senior aide to al-Baghdadi were killed in the airstrike in Eslaah Arazi region.
Manager of the Traffic Department Ahmad Khazir Sayer, Manager of Agricultural Department of the towns of Tal Afar and al-Mahlabiyeh nom de guerre Abdul Karim Khazir Sayer al-Jow'an have also been among the hunted commanders, according to the Iraqi army.
A spokesman said on Monday that the Iraqi special forces made further advances against ISIL in Mosul Monday pushing militants out of another district a day after driving them back to the Eastern bank of the Tigris river.
The elite counter-terrorism forces took full control of the Baladiyat district and encircled neighboring Sukkar, said spokesman for the Iraqi counter-terrorism forces, Sabah al-Numan, the Daily Star reported.
The advance also consolidated Iraqi forces' control of several districts close to the ruins of the ancient Assyrian city of Nineveh, East of the river.
Iraq's Counter Terrorism forces reached the East bank of the Tigris Sunday, an advance which will eventually enable them to begin assaults on the city's West, all of which ISIL still holds.
Full report at:
http://en.farsnews.com/newstext.aspx?nn=13951021000415
--------
Saudis unblocks military aid to Lebanon
Jan 11, 2017
RIYADH - Saudi Arabia and Lebanon have agreed to hold talks on restoring a $3-billion military aid package that Riyadh froze last year, a Lebanese source told AFP on Tuesday.
"The blockage is lifted," said an official in the delegation of Lebanese President Michel Aoun, who held talks in the Saudi capital with King Salman.
"It's finished. There is truly a change. But when and how, we have to wait to see," the official said, adding "a new page" had been turned and the aid was "going to move." In February, the kingdom halted the military aid programme to protest what it said was "the stranglehold" which the Iran-backed Shiite militant group Hezbollah had on the Lebanese state. The programme, funded by Riyadh, would provide vehicles, helicopters, drones, cannons and other military equipment from France. It aims to ensure stability in Lebanon as it is weakened by internal divisions and threatened by jihadists and the conflict in neighbouring Syria.
Full report at:
http://nation.com.pk/international/11-Jan-2017/saudis-unblocks-military-aid-to-lebanon
--------
Syrian Kurdish groups say not invited to peace talks
Jan 11, 2017
PARIS - The Syrian Kurdish YPG militia and its political arm the PYD will not be invited to planned peace talks in Kazakhstan, a PYD official said on Tuesday, an outcome that would leave a key player in the conflict off the negotiating table. Syria's government and rebel forces started a ceasefire on Dec. 31 as a first step towards face-to face negotiations backed by Turkey and Russia, but the date and its participants remain unclear. The truce is also under growing strain as rebels have vowed to respond to government violations and President Bashar al-Assad said on Monday the army would retake an important rebel-held area near Damascus.
"We are not invited. That's for sure," Khaled Eissa, a PYD member told Reuters in France. "It seems there were some vetoes. Neither the PYD or our military formation will be present," he said.
Assad's ally Russia had previously sought the PYD's presence at other negotiations in Switzerland.
But Turkey, which opposes Assad, regards both the YPG and PYD as extensions of the Kurdistan Workers Party (PKK) separatists in its own territory and has said two groups should not be represented in Astana.
The Syrian Kurds aim to cement the autonomy of areas of northern Syria where Kurdish groups have already carved out self-governing regions since the start of the war in 2011, though Kurdish leaders say an independent state is not the goal.
"What we have been told is that there will only be a limited number of armed groups and not political groups," Eissa said, adding that for a comprehensive peace deal in Syria the Kurds would at one point have to be invited to the negotiating table.
Full report at:
http://nation.com.pk/international/11-Jan-2017/syrian-kurdish-groups-say-not-invited-to-peace-talks
--------
Homs: Syrian Army Wards off ISIL's Large-Scale Attack on T4 Airbase
Jan 10, 2017
The ISIL carried out a massive attack on army position at T4 airbase with hundreds of forces, but government troops and Russian choppers fended off their attack after killing and wounding tens of terrorists.
A field source said that the army units that repelled ISIL's attack carried out an immediate counter assault on ISIL's movements from the Southern side of T4, capturing several small hills.
Also, the Syrian air force targeted the movements and gatherings of Fatah al-Sham Front (previously known as the al-Nusra Front) at al-Quneitrat Ezzeddeen in Eastern Homs, leaving 24 terrorists dead.
In relevant developments in the province on Sunday, Syrian intelligence and army troops thwart terrorists' imminent attack in regions West of Tadmur (Palmyra) and al-Awamid heights in Homs province through a preemptive attack.
A field source told FNA on Sunday that tens of terrorists had plotted to occupy the Eastern parts of the 4th station in regions West of Tadmur and al-Awamid and al-Bareda heights near al-Quaryatayn city but their exact location was found and pounded by the army's missile and artillery fire.
Full report at:
http://en.farsnews.com/newstext.aspx?nn=13951021000288
--------
Syrian Army Discovers Another Arms Depot of Terrorists East of Aleppo City
Jan 10, 2017
The source said that terrorists had turned people's houses in Bostan al-Qasr (Bustan al-Kaser) into arms depots and after forcing them out.
The depot in Bostan al-Qasr was reportedly also used as a workshop for building weapons and munitions.
Russian sappers are also defusing bombs and mines planted by terrorists in Aleppo's neighborhoods.
Commander of Russia's International Mine Action Center Ivan Gromov disclosed in late December that a large volume of weapons, manufactured in the US, Germany and Bulgari, were discovered as Russian sappers were on a mine clearance mission in Eastern Aleppo.
"Ammunition and large-caliber arms together with rockets for Grad multiple launch systems have been found there. The shells have been produced in Germany, the United States and Bulgaria," Gromov said.
Full report at:
http://en.farsnews.com/newstext.aspx?nn=13951021000396
--------
US-Led Coalition Conducts Suspicious Heliborne Operation in ISIL-Held Regions in Deir Ezzu
Jan 10, 2017
The sources said that 6 helicopters were present in the operations, including two that carried a number of soldiers and Arabic translators in a region near al-Kebr station.
The source said the US troops left the helicopters and staged a raid on the terrorists at a water pump station, killing a number of them. "Then they took several ISIL terrorists captive, in an action that more seemed like a theatrical move".
"It looked like a drill and our suspicons grew when we came to realize that they only took captive those ISIL members who were foreigners," he added.
Other sources said that "the coalition forces that could speak Arabic with the accent of the Persian Gulf states took with them some of the non-Syrian members of the ISIL".
Also, Syrian Army troops warded off ISIL's attacks on seven key government portions in the city of Deir Ezzur and on another point South of the city on Friday, inflicting major losses on the terrorists.
Full report at:
http://en.farsnews.com/newstext.aspx?nn=13951021000322
--------
Clashes Escalating among Terrorists in Idlib Province
Jan 10, 2017
The sources said that the most bloody clashes are between Fatah al-Sham and Ahrar al-Sham, adding that Ahrar members accused Fatah al-Sham of assassinating their three commanders in the town of Talmans.
The sources added that widening gaps and harsh disputes between the commanders of Ahrar al-Sham and Fatah al-Sham in Idlib ushered in armed clashes between the two fronts.
"Ahrar al-Sham and Fatah al-Sham assassinate members and commanders of each other in covert operations and without accepting the responsibility, and in a number of more cases they open fire at each other in the public and without any excuse," they continued.
The clashes have inflicted tens of casualties on both Ahrar al-Sham and Fatah al-Sham.
Local sources said on Sunday that infighting among rival terrorists increased in Idlib province since the liberation of Aleppo city by the Syrian Army, adding a commander of Fatah al-Sham Front was also killed in a bomb attack as a result of widening gaps in terrorist front.
The sources said that after the army capture of Eastern Aleppo, infighting between Fatah al-Sham and other terrorist groups had been on the rise in the recent weeks.
Fatah al-Sham is about to establish an Islamic State in Idlib city, a move strongly rejected by other terrorist groups, pushing the city and its countryside into intensified scene of clashes and terror attacks.
Full report at:
http://en.farsnews.com/newstext.aspx?nn=13951021000509
--------
Egypt: Islamic State Claims Responsibility for Al-Arish Attacks
10 JANUARY 2017
Cairo — Islamic State (ISIS) agency A'amaq claims responsibility for the attacks in Arish on Monday, on its website.
The agency said: "25 policemen fell victims on Monday in an attack by Islamic State fighters on a checkpoint in Al-Masaeed town of Arish."
"This comes after detonating an explosives truck that parked near the checkpoint, and an attack by a number of fighters against those who fled the explosion, and destroyed two security patrols," the statement added.
On Monday, eight policemen and one civilian were killed in two separate attacks on security checkpoints in north Sinai on Monday, interior ministry said.
Previous attacks in the Sinai Peninsula were claimed by Islamic State (IS).
Full report at:
http://allafrica.com/stories/201701100843.html
--------
Mideast
No better bilateral ties until Turkish forces' withdrawal: Iraq
Jan 10, 2017
The Iraqi prime minister says there could be no improvement in Baghdad-Ankara relations as long as Turkish military forces are present in the Arab country.
Haider al-Abadi said on Tuesday that the ties with Turkey could "not move forward one step" until the withdrawal of Turkish troops, state television reported.
The presence of some 500 Turkish troops in the Bashiqa military camp on the outskirts of the Iraqi city of Mosul has been a source of tension between the two neighboring countries.
Ankara claimed that the December 2015 deployment was part of a mission to train and equip Iraqi Kurdish forces in the fight against Daesh terrorists. However, Baghdad denounced the move as a violation of its sovereignty.
Elsewhere in his remarks, Abadi noted that he had reminded the visiting Turkish Prime Minister Binali Yildirim of the withdrawal during a recent meeting.
Daesh and organized crimes threaten the Iraqi society, he warned, urging the Iraqis to cooperate with security forces on restoring security.
Daesh has suffered major blows in the battlefield in Mosul and resorted to destroying bridges, but such moves will not prevent the city's liberation, the Iraqi premier added.
Iraqi forces make more gains
In another development on Tuesday, the Nineveh Operations Command announced the recapture of Mosul's al-Zabat district.
Iraqi forces also managed to enter the Palestine neighborhood in southeastern Mosul, with the rapid response units saying they were able to push Daesh elements completely out of the area.
"We have now recaptured the entire area. We are at the banks of the Tigris River. Daesh militants have all fled, not a single one of them remains, most fled to the western side of (Mosul)," said Iraqi Sergeant Alaa Qasem.
Moreover, Lieutenant-Colonel Abdel Amir al-Mohammedawi, a spokesman for the rapid response units, said the advances have slowed down as terrorists are hiding among civilians.
Police and army units had fought their way into the districts of Palestine and Sumer, but militants were firing at civilians who were trying to flee, Mohammedawi noted.
Iraqi army troops run during a battle against Daesh militants, in the Wahdah district of eastern Mosul, Iraq, January 10, 2017. (Photo by Reuters)
Meanwhile, Iraq's Counter Terrorism Service (CTS) said they had taken full control of Baladiyat district and were poised to advance on two nearby areas.
"We are standing at the edge of the Baladiyat district. The area has been cleared completely, and we are about to advance towards the Sideeq and Sukkar districts. We are at the precipice of the (Mosul) University," said Lieutenant General AbdelWahad al-Saadi, a CTS commander.
Iraqi army troops and allied fighters have been conducting a major offensive since last October to liberate Mosul, which fell to Daesh in 2014.
Baghdad sit-in turns violent
Separately, police forces clashed with some protesters in the second day of a sit-in at Tahrir Square in central Baghdad. The demonstrators were protesting against the security condition in Baghdad.
Policemen used tear gas to disperse the demonstrators, injuring some of them.
The scuffles erupted after security forces called for an end to the sit-in.
http://www.presstv.ir/Detail/2017/01/10/505673/Iraq-Turkey-Mosul
--------
Turkey's pro-Kurdish party set to boycott vote on presidential powers
Jan 10, 2017
Turkey's pro-Kurdish party is set to boycott a parliamentary vote on planned changes to the constitution that would envisage expanded powers for President Recep Tayyip Erdogan.
Ayhan Bilgen, a lawmaker and spokesman for the Peoples' Democratic Party, also known as the HDP, said on social networking website Twitter late on Monday that lawmakers would boycott a controversial new draft constitution in protest against the arrest of its lawmakers.
"We will not use our vote for this illegitimate reform while our deputies are unjustly under arrest and prevented from carrying out their duties," Bilgen said.
Selahattin Demirtas, one of the HDP's co-leaders, earlier denounced the debates from behind bars. Demirtas said the arrest of 11 members of the party had stripped them of their chance to challenge the draft constitution and "makes the debate and the vote controversial from the very start."
Nearly a dozen HDP members of parliament are currently in jail for alleged links to the Kurdistan Workers' Party (PKK), which is listed as a "terrorist" organization
On December 30, 2016, the draft law, submitted by the ruling Justice and Development Party, also known as the AKP, passed the parliament's constitutional commission. Turkey's parliament on Monday began debating the new constitution.
Debate on the proposals is expected to last for two weeks and upon approval by the legislature, the reformed constitution will be put to a referendum before the spring.
Supporters of the draft say such a law would enable the head of state to restore stability to the country, which has been shaken by terrorist attacks and a botched military coup in July 2016.
Full report at:
http://www.presstv.ir/Detail/2017/01/10/505620/Turkey-Bilgen-HDP-Erdogan
--------
Palestinians seek to mobilise Mideast against Trump embassy move
Jan 11, 2017
RAMALLAH - Palestinian leaders on Tuesday called for prayers at mosques across the Middle East this week to protest plans by President-elect Donald Trump to move the US embassy in Israel to Jerusalem.
There have been warnings that moving the US embassy to the contested city and recognising Jerusalem as Israel's capital could inflame tensions in the Middle East and possibly sink what remains of peace efforts.
Mohammad Shtayyeh, a senior Palestinian official and Fatah central committee member who was speaking on behalf of the Palestinian leadership, said doing so would mean an "end to the two-state solution".
He said the Palestinian leadership had been informed by diplomatic contacts that Trump could call for the move in his inauguration speech on January 20.
Palestinian leaders are considering whether to withdraw their recognition of Israel if the move goes through, he said.
They have added the issue to the agenda of a meeting of foreign ministers from the Organisation of Islamic Cooperation on January 19 in Malaysia, he added.
Shtayyeh called for prayers at mosques throughout the Middle East on Friday as well as for churches to ring bells in protest on Sunday.
"I think and we all think that moving the embassy to Jerusalem is a dangerous step that will have dangerous consequences for the political track for our people and for our future aspirations and for the Muslim, Arab, Christian countries and people all over the world," said Shtayyeh. "We are not inciting violence. Ringing a church bell... is not a violent act. Calling for a prayer is not a violent act," he told journalists in the West Bank city of Ramallah.
Palestinian president Mahmud Abbas has written to Trump urging him not to move the embassy.
The Palestinians regard Israeli-annexed east Jerusalem as the capital of their future state, while Israel proclaims the entire city as its capital.
The city's status is one of the thorniest issues of the decades-long Israeli-Palestinian conflict.
Israel occupied the West Bank and east Jerusalem in 1967. It later annexed east Jerusalem in a move never recognised by the international community.
A UN Security Council resolution passed on December 23 called for a stop to Israeli settlement building in Palestinian territory.
In a rare move, the United States did not use its veto and abstained, enabling the adoption of the first UN resolution since 1979 to condemn Israel over its settlement policy.
Trump has signalled he will pursue far more favourable policy toward Israel and called for US President Barack Obama's administration to veto the resolution.
France is to hold an international conference on January 15 including some 70 nations aimed at helping restart long-stalled Israeli-Palestinian peace efforts.
Israel has rejected it and called for direct talks, while the Palestinians have welcomed the gathering.
The conference will take place without the Israelis and Palestinians, though Abbas is to meet French President Francois Hollande on January 16 to be briefed on the proceedings, according to Shtayyeh.
Shtayyeh said he hoped the conference would put a multilateral peace process in motion.
But he added "all indications are negative" when it comes to Trump, citing his rejection of the UN resolution and some of his appointments.
Full report at:
http://nation.com.pk/international/11-Jan-2017/palestinians-seek-to-mobilise-mideast-against-trump-embassy-move
--------
Attack near police station in Turkey, assailant killed
Jan 11, 2017
ANKARA: Private NTV television says an assailant has been killed during an attempted attack on a police station in the Turkish city of Gaziantep, near the border with Syria.
Two suspected accomplices are believed to have fled the scene, the station said, citing local journalists.
The attacker fired on police who returned fire, NTV said Tuesday. The report said the assailants may have been planning a suicide bombing.
The private Dogan news agency and other media say several ambulances were sent to the area.
Full report at:
http://nation.com.pk/international/10-Jan-2017/attack-near-police-station-in-turkey-assailant-killed
--------
Saudi forces carry out operations against militias on Yemen border
11 January 2017
Saudi-led coalition forces carried out an advanced operation on the Saudi-Yemen border early on Tuesday targeting strongholds of Houthi militias and forces loyal to ousted Yemeni president Ali Abdullah Saleh.
Also read: Last words of a dedicated Saudi sniper who died fighting Houthis
The operations were carried out in Najran, Jazan and Alab border crossing in Dhahran Al-Janoub in Asir, Al-Arabiya's correspondent reported. Meanwhile, sources said that Saudi forces destroyed military vehicles that were transferring militias and killed dozens, including snipers who happened to be Saleh loyalists.
Full report at:
https://english.alarabiya.net/en/News/middle-east/2017/01/11/Saudi-forces-carry-out-operations-against-militias-on-Yemen-border.html
--------
Iran urges compensation for US violation of JCPOA
Jan 10, 201
A senior Iranian nuclear negotiator says US Congress vote to extend the Iran Sanctions Act (ISA) for another 10 years was a violation of the 2015 landmark nuclear agreement, calling for measures to redress the breach.
Iranian Deputy Foreign Minister for Legal and International Affairs Abbas Araqchi made the remarks in an interview with IRIB in the Austrian capital of Vienna on Tuesday ahead of a meeting of a high-level commission monitoring the implementation of the nuclear deal, known as the Joint Comprehensive Plan of Action (JCPOA), between Iran and the P5+1 group of countries.
"The extension of the Iran Sanctions Act is a breach of the US obligations under the JCPOA and must be compensated in an effective way," he said.
He noted that the meeting was called at Iran's request in order to discuss Washington's violation of the JCPOA.
The monitoring body convened for a sixth meeting on Tuesday, with deputies and political directors from Iran and the P5+1 – the United States, France, Britain, Russia and China plus Germany -- as well as European Union Political Director Helga Schmid in attendance. The meeting was co-chaired by Schmid and Araqchi. The two had also met earlier in the day.
Iran and the five permanent members of the United Nations Security Council started implementing the JCPOA in January 2016.
Under the nuclear deal, Iran undertook to put limitations on its nuclear program in exchange for the removal of nuclear-related sanctions imposed against Tehran.
Araqchi noted that Iranian Foreign Minister Mohammad Javad Zarif had earlier written to the European Union foreign policy chief, Federica Mogherini, and complained about the US violation of the JCPOA, particularly the renewal of ISA.
In his official letter to the EU foreign policy chief, the Iranian foreign minister said Iran and the P5+1 group of countries needed to hold a joint commission meeting to address the renewal of ISA against Tehran.
Araqchi further noted that experts from both Iran and the P5+1 group of countries had held talks in Vienna on Monday and reached positive conclusions ahead of a meeting between the Iranian and US delegations.
On December 1, the US Senate voted to extend ISA for another 10 years after the GOP-controlled House of Representatives passed its bill on November 15. The sanctions law, which would authorize the US president to re-impose sanctions on Iran, was first adopted in 1996 to punish investments in the Islamic Republic over its nuclear program and its support for anti-Israeli resistance groups.
US President Barack Obama later declined to sign the bill renewing the existing sanctions against Iran, but allowed the legislation to become law.
Obama argues the act is largely symbolic since its measures are suspended as long as the nuclear deal remains in place.
Full report at:
http://www.presstv.ir/Detail/2017/01/10/505621/Iran-US-Vienna-P51-JCPOA-Abbas-Araqchi-ISA-sanctions
--------
Turkish police kill suspected bomber in Gaziantep
Jan 10, 2017
Turkish police have shot dead a would-be bomber who tried to make his way into the main police station in the southern city of Gaziantep near the Syrian border.
The Gaziantep governor's office said in a statement that there was "an armed attack" on the security checkpoint outside the police headquarters, but police responded immediately and fatally shot the suspect.
A police officer was lightly wounded in the shootout, the statement added.
Turkish broadcaster NTV said "terrorists attempted to enter the police building," prompting officers to open fire.
"One terrorist was neutralized and the other two are on the run," NTV further said quoting eyewitnesses.
Police officers surround the dead body of an assailant after he was killed during an attempted attack on a police station in Gaziantep, Turkey, January 10, 2017. (Photo by AP)
Meanwhile, Turkish Deputy Prime Minister Numan Kurtulmus confirmed that one assailant had been killed while a second was still at large.
Full report at:
http://www.presstv.ir/Detail/2017/01/10/505628/Turkey-Gaziantep-Numan-Kurtulmus
--------
India
Muslims of India overlook potentials of law as a career choice, says jurist
Jan 11, 2017
By M. Zakir Azmi Nadvi
RIYADH — Paying tribute to the sacrifices made by the founders of their alma mater, the alumni of Jamia Millia Islamia University (JMI) Riyadh Chapter recently celebrated the 96th foundation anniversary of the institution with traditional zeal and fervor. Current Vice Chancellor of JMI Professor Talat Ahmad was the chief guest whereas Professor Faizan Mustafa, a legal luminary and vice chancellor of NALSAR University of Law Hyderabad, was the guest of honor.
Addressing the huge gathering of fellow Jamiates, Professor Ahmad highlighted the significant contributions of JMI in promoting nationalism and its unforgettable role in nation building. "It is a matter of immense pride for Jamiates globally that the university is ranked as number one institution among the Indian universities in the field of research in nanotechnology. Excellence in research which JMI has achieved over a couple of years is well received in academic circles," he said.
While assuring his assistance to provide best facilities to NRI students, particularly fulfilling hostel requirements for girls, he emphasized the importance role which the privileged JMI alumni can play in eradicating the educational backwardness of underprivileged members of the Muslim community back home. "The main purpose of celebrating the Foundation Day is nothing but introspect ourselves whether we are doing what were are expected to do for the community. It is time that we should revive the spirit and enthusiasm which led the founders of the JMI to make great sacrifices."
Ahamd said he was happy that the university was fulfilling its mandate to make education accessible to children from marginalized and weaker sections of society. He cited the bridge course under which school and madrassa dropouts were being given intensive one year teaching and training at JMI under the aegis of "Nai Manzil Scheme".
In his keynote address Professor Faizan Mustafa underlined the legal aspects of the minority status of JMI and AMU, which he said is a correlated issue. "If AMU's minority character is revoked, then JMI will also lose its minority status," he added.
"It is an undeniable fact that a nation that faces multifarious challenges on legal fronts, it needs human resources highly skilled in legal expertise. But unfortunately, Indian Muslims overlook the discipline of law as a promising career path. Being a law graduate I am sure there are plenty of opportunities in this particular discipline. I urge NRI parents that along with other traditional known professional courses like engineering and medicine, they should also consider law as a career choice for their children," he said.
Earlier the program commenced with the recitation of a few verses of the Glorious Qur'an. Ahsan Nadvi conducted the program. Former presidents Murshid Kamal and Khurshid Anwer and senior Jamiate Aftab Nizami presented bouquets to the chief guest and the guest of honor. President Anisur Rahman presented a memento to Professor Talaat Ahamd while Vice President Laique Azmi presented a memento to Professor Faizan Mustafa.
In his welcome address, Anisur Rahman gave an overview of the association's performance last year. "The real message of the Foundation Day is that we should recall the objectives for which this august institution came to existence," he reminded fellow Jamiates.
http://saudigazette.com.sa/saudi-arabia/muslims-india-overlook-potentials-law-career-choice-says-jurist/
--------
Mumbai triple blasts: Production warrant against Yasin Bhatkal
January 10, 2017
A special MCOCA court here on Tuesday issued a production warrant against Indian Mujahideen (IM) co-founder Yasin Bhatkal and six others in connection with the 2011 Mumbai triple blasts case. "The court issued a production warrant against Yasin Bhatkal, who is presently lodged in Cherlapally central prison in Hyderabad," an ATS official said. The official added that the court also issued warrants against three other accused lodged in the same jail.
People React To BSF Jawan's Transfer After His FB Videos Create Sensation
"Apart from them, production warrants were also issued for an accused lodged in Tihar jail in New Delhi and two others in Parappana Agrahara central jail in Bangalore," the official added. Special MCOCA judge V V Patil directed that all the seven accused be brought before him on January 27. Explosions at Opera House, Zaveri Bazaar and Dadar West here on July 13, 2011, had claimed 26 lives and injured 130 others. According to police, the Indian Mujahideen had carried out these blasts and Yasin Bhatkal played an important role in procuring the explosives.
Full report at:
http://indianexpress.com/article/india/mumbai-triple-blasts-production-warrant-against-yasin-bhatkal-4468580/
--------
Communal clash in Kashmir's Kathua dist, 5 cops among 9 injured
January 10, 2017
Jammu: Nine persons, including five cops, were injured today in clashes between the people belonging to two communities in Kathua district, following which three persons have been arrested.
There were clashes between the people belonging to two communities over cow slaughter in Haria Chak border area of the district, police officials said.
Police had to resort to cane charing and teargas shelling to bring the situation under control, they said.
Additional police force has been deployed in the area to maintain calm, they added.
SSP Kathua Pawan Parihar told PTI that situation has been brought to normalcy and investigation into the incident initiated.
Meanwhile, sub-divisional magistrate Hiranagar Sohan Lal today imposed section 144 of CrPC in Hiranagar sub-division.
Full report at:
http://www.siasat.com/news/watch-communal-clash-kashmirs-kathua-dist-5-cops-among-9-injured-1106120/
--------
URL: https://www.newageislam.com/islamic-world-news/two-cape-town-mosques-defaced-islamophobic-attacks/d/109684
New Age Islam, Islam Online, Islamic Website, African Muslim News, Arab World News, South Asia News, Indian Muslim News, World Muslim News, Womens in Islam, Islamic Feminism, Arab Women, Womens In Arab, Islamphobia in America, Muslim Women in West, Islam Women and Feminism, Moderate Islam, Moderate Muslims, Progressive Islam, Progressive Muslims, Liberal Islam