New Age Islam News Bureau
21 Jan 2011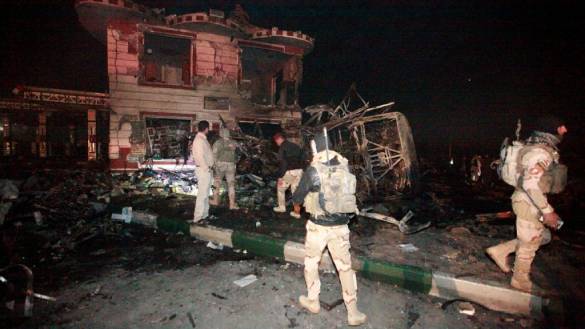 Shia pilgrims among 77 people killed in IS attack in Iraq - BBC News
-------------
• Muslim leaders back Lady Warsi's comments on Islamophobia
• US sanctions 'deadliest' Pakistani Taliban leader
• Islamic fundamentalists expanding their grip on Pakistani society: Report
• Clerics slam Vastanvi for Modi praise
• On night Joshi was killed, Sadhvi Pragya came, took his bag away
• Taseer's assassination: Abettors obtain pre-arrest bail
• Blast accused helped Swami soften stand
• EU parliament urges pardon, release of Asia Bibi
• Awlaki's latest fatwa calls for destruction of buildings
• Former Israeli Mayor Publishes New Book on 'Islamic Tsunami'
• Yemeni journalist jailed for Al-Qaeda links
• Ekta Yatra is a challenge to separatists, not govt: Advani
• Yemen to issue first Islamic sukuk
• UN refugee agency blamed for bribes
• Pakistan more violent than Afghanistan
• UK bans controversial American pastor's entry
• Car bomb kills 3 near Iraqi police headquarters
• Alabama Guv apologises after remarks generate fury
• Pak Hindus travel to India with ashes
• Court lets Aseemanand depose via videolink
• 9/11 kingpin Khalid killed Daniel Pearl
• Swiss banker sent to jail for Wiki leak
• Af-pak is the buzzword at literary fest
• Pak ex- foreign minister bats for army's support to peace
• My signature faked in plea to SC: wife of cop in Sohrabuddin case
• US prepares to lift ban on Gitmo cases
• Saddam wanted Soviets to head off US in 1991
• Pak Epicentre Of Terrorism: India
• Yemen Says 178 Security Force Members Killed In 2010
• Israel Probe On Flotilla Raid Due Sunday
• Palestinian Killed In West Bank Clash With Army
• Muslim Girl Out Of Game For Headscarf
• Malaysia Activists Arrested At Hindu Festival
• Canadian arrested on US terrorism complaint
• Fearing attacks, Delhi gallery removes Husain's work from IAS
• Sudanese Ansar leader Sadiq al-Mahdi rejects the violence of the "al-Qaeda
• Former "Afghan Arab" Ali al-Kurdi says jihad against south yemen's
• Islamist Militants of the TNSM Plan Return to Pakistan's Swat Valley
• Operation Neath: Is Somalia's al-Shabaab Movement Active in Australia?
• Radical British cleric calls Queen a 'disgusting woman'
• Pak terrorists planned to take Lankan cricket team hostage
• 5 dead in Bangladesh gunfight
• In Wakf vs Imams case, govt mulls salary scheme
• Six killed as gunmen attack oil company convoy in Kohat
• German extremist reported killed in Afghanistan
• Egypt Islamic authority halts dialogue with Vatican
Compiled by New Age Islam News Bureau
URL: https://www.newageislam.com/islamic-world-news/twin-blasts-target-shia-pilgrims-in-karbala,-kill-51-/d/3970
-----------
Twin blasts target Shia pilgrims in Karbala,kill 51
January 21, 2011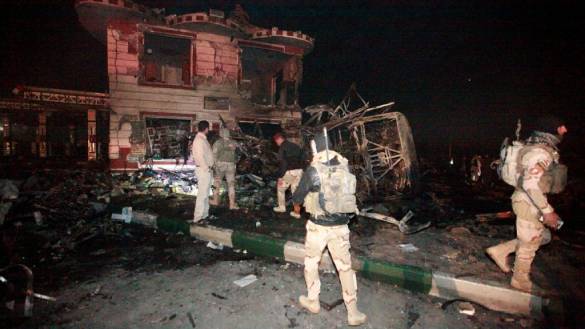 Shia pilgrims among 77 people killed in IS attack in Iraq - BBC News
-------------
Baghdad: A pair of bombs blasted through security checkpoints ringing the Iraqi holy city of Karbala on Thursday and killed at least 51 people, many of whom were Shiite pilgrims headed to observe yearly religious rituals.
Authorities estimated 175 people were injured in the blasts, one of which appeared to be by a car bomb. There was no immediate claim of responsibility for the attacks. But they bore the hallmark of al-Qaida and other Sunni-dominated extremist groups that frequently target Shiite pilgrimages in hopes of re-igniting sectarian violence that brought Iraq to the brink of civil war just a few years ago.
Ali Khamas, a pilgrim from Sadr City in Baghdad,said he saw a car speeding toward one of the checkpoints, its driver refusing to stop despite warnings screamed by Iraqi soldiers. Still, Khamas said, the pilgrims continued to head to Karbala,
He sped up and blew up his car near the checkpoint, said Khamas, a 42-year-old truck driver. After the explosion, people started to run in all directions, while wounded people on the ground were screaming for help.I saw several dead bodies on the ground.
Still, Khamas said, the pilgrims continued to head to Karbala It will not deter us from continuing our march to the holy shrine ... even if the explosions increase.
The religious rituals mark end of an annual 40-day mourning period observing the 7th century death of Imam Hussein, the grandson of the Prophet Muhammad.
Times of India
-----------
Muslim leaders back Lady Warsi's comments on Islamophobia
January 21, 2011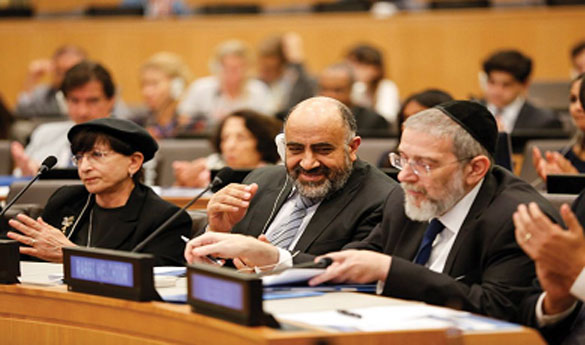 Muslim leaders back Lady Warsi's comments on Islamophobia |The Guardian
--------------
LONDON: The first Muslim woman to sit in the British cabinet will warn in a speech Thursday that discrimination against Muslims in Britain has become socially acceptable and must be fought.
Sayeeda Warsi, a member of the unelected House of Lords, blames the media for fuelling misunderstanding with labels such as "moderate" or "extremist", according to extracts published in the Daily Telegraph.
Warsi, co-chairman of Prime Minister David Cameron's Conservative party and a minister without portfolio, will warn that Islamophobia has "passed the dinner-table test" and is seen by many as uncontroversial.
She is due to set out her position in a speech to the University of Leicester on Thursday night.
Research published this month by the US-based Pew Forum on Religion and Public Life found the Muslim population of Britain was now 2.9 million, or 4.6 percent of the population, up from 1.6 million in 2001.
Warsi will say that prejudice has grown with the numbers, and blame "the patronising, superficial way faith is discussed in certain quarters, including the media".
The notion that all followers of Islam can be described either as "moderate" or "extremist" can fuel misunderstanding and intolerance, she will say.
"It's not a big leap of imagination to predict where the talk of 'moderate' Muslims leads; in the factory, where they've just hired a Muslim worker, the boss says to his employees: 'Not to worry, he's only fairly Muslim'," she says.
"In the school, the kids say: 'The family next door are Muslim but they're not too bad'.
"And in the road, as a woman walks past wearing a burka, the passers-by think: 'That woman's either oppressed or is making a political statement'."
Warsi will also address the issue of extremism, a key issue of concern for governments here since and the 2005 bombings in London by four British-born Muslims, which killed 52 people.
"Those who commit criminal acts of terrorism in our country need to be dealt with not just by the full force of the law," Warsi, who has worked as a lawyer, will say.
"They also should face social rejection and alienation across society and their acts must not be used as an opportunity to tar all Muslims."
http://timesofindia.indiatimes.com/world/uk/UK-minister-attacks-acceptable-
-----------
US sanctions 'deadliest' Pakistani Taliban leader
January 21, 2011
WASHINGTON: The US has imposed sanctions on "the deadliest" Tehrik-e Taliban Pakistan (TTP) leader Qari Hussain to stem the flow of finances to the terrorist group behind many lethal suicide bombings throughout Pakistan.
Hussain has been designated by the secretary of state Hillary Clinton under executive order 13224 "which targets terrorists and their supporters", the state department announced Thursday.
"This action will help stem the flow of finances to Hussain by blocking all property subject to US jurisdiction in which Hussain has an interest and prohibiting all transactions by US persons with Hussain," it said.
TTP has previously been designated under the same order and as a foreign terrorist organization.
"Qari Hussain is one of TTP's top lieutenants and also serves as the trainer and organizer of the group's suicide bombers," the state department said.
"Training camps organized by Hussain are notorious for recruiting and training men of all ages as suicide bombers, and Hussain has gained particular notoriety for his heavy recruitment of children.
"Widely considered to be the deadliest of all TTP's commanders, Hussain and the TTP have taken responsibility for many lethal suicide bombings throughout Pakistan," it said
Such attacks have included a November 2009 car bomb in Peshawar, Pakistan; two attacks on Pakistani government offices in Lahore; a September 2010 attack on a rally in Quetta that killed at least 54 people; a second September 2010 attack on a Shia procession in Lahore, which killed 33; and a September 2010 car bomb in Lakki Marwat, Pakistan, that killed at least 17 people, including four children.
Hussain, the department said, is also believed to have trained the Jordanian militant Humam Muhammad Abu Mulal al-Balawi - the double-agent whose suicide mission Dec 30, 2009, in Khost, Afghanistan, killed seven Americans.
"Today's designation of Qari Hussain is in response to the wanton acts of violence he has perpetrated against the people of Pakistan and United States," state department's coordinator for counterterrorism Daniel Benjamin said.
"Hussain's sponsored operations have had a destabilizing effect on the region and his use of children to carry out suicide bombings is abhorrent," he said.
"This case illustrates our continued resolve to undermine TTP senior leaders' planning and coordination capabilities."
http://timesofindia.indiatimes.com/world/pakistan/US-sanctions-deadliest-Pakistani-
-----------
Islamic fundamentalists expanding their grip on Pakistani society: Report
January 21, 2011
The assassination of liberal Pakistani politician Salmaan Taseer for his vocal opposition to the country's blasphemy law and the warm reception for his killer has exposed the rising influence of Islamic fundamentalism over Pakistani society, a mind-set that increasingly radicalises the nuclear-armed nation, breeds intolerance and further weakens Islamabad's feeble civilian government.
Hard-line clerics are now turning their anger toward another leading member of the ruling Pakistan People's Party, Sherry Rehman, who, like Taseer, called for changes aimed at reforming the blasphemy law after a Pakistani Christian woman accused of insulting the prophet Muhammad was given the death penalty.
Journalist Ali Kamran Chishti attended a January 7 gathering in Karachi, at which the Imam of the Sultan mosque, Munir Ahmed Shakir, labeled Rehman an infidel for proposing changes to the country's blasphemy law, which makes it a crime to defame the Prophet Muhammad or Islam, but is often used as a tool to repress minorities.
"This kind of rhetoric radicalises people," The Los Angeles Times quoted Chishti, as saying.
Imams such as Shakir, he added, "are slowly poisoning minds and making people intolerant. Praising people like Qadri is indirectly saying to society that anyone who takes this line [against the blasphemy law] should be shot dead. This is wrong."
"A mind-set has been created that has to be undone," said Ijaz Khan, who heads the International Relations department at the Peshawar University. "It poses a serious existential challenge to the so-called liberal community of this country.
"We still do not know how many more Qadris are out there, and what will happen next," he added.
Pakistan's religious extremists thrive on street power rather than on ballot-box appeal, said the report, adding that although the nation is governed by the largely secular Pakistan People's Party, in the thousands of mosques and madrasas across the nation, fundamentalists enjoy a captive audience, and hard-line clerics delivering fiery Friday sermons are seen as more credible than the country's government leaders.
"If there was economic development and more job opportunities on the horizon, they wouldn't be as apt to listen to these clerics," said Hasan Askari Rizvi, a Lahore-based security analyst. "At least not all the time."
The rise of the Islamists has its origins in the military rule of General Zia ul-Haq, who in the 1980s forced a more conservative brand of Islam on the country, which resulted in the start-up of legions of madrasas, many of which became incubators for extremism, the report added.
Even state education under Zia "socialized young minds into religious orthodoxy," Rizvi said, adding, "Now these people who studied in high schools and state universities from 1985 onward are the ones who support this kind of far-right religious orientation."
The outpouring of praise for Qadri also sends disturbing signals to Washington, said the report, adding that at a time when the Obama administration is hoping for a more reliable ally in the US-declared war on terrorism, the Taseer assassination and its aftermath suggest that extremism in Pakistan may be going mainstream.
http://www.sify.com/news/islamic-fundamentalists-expanding-their-grip-on-pakistani-
-----------
Clerics slam Vastanvi for Modi praise
Abantika Ghosh & Pervez Iqbal Siddiqui
January 21, 2011
New Delhi/Lucknow: Darul Uloom vice-chancellor Maulana Ghulam Mohammed Vastanvis endorsement of Gujarat CM Narendra Modi has provoked angry reactions among fellow clerics who dont share his views on the politician linked to attacks on Muslims during the 2002 riots.
Vastanvi,an MBA,said in an interview to TOI that Gujarati Muslims were not discriminated against and that all communities prosper in the state.He called 2002 Gujarat riots a blemish for India and asked the community to move on.
Modi was single-handedly responsible for the riots and the deplorable conditions of Muslims in the state, said Delhis Jama Masjid chief cleric Syed Ahmed Bukhari and asked Vastanvi to apologize to Muslims. Nobody who seeks justice can reconcile with this, he said.
Rajya Sabha MP and leader of Jamiat Ulama-i-Hind Maulana Mahmud Madani said: It is not right to say that there is no discrimination in Gujarat because there are still many Muslim villagers who cannot go to their villages,so many still waiting for compensation.What about the people who were killed and the women who were brutally murdered A clean chit to Narendra Modi is not acceptable.
Full report at: Times of India
-----------
On night Joshi was killed, Sadhvi Pragya came, took his bag away
MILIND GHATWAI
January 21, 2011
FAMILY SPEAKS Murdered RSS pracharak's niece says Sadhvi was regular visitor
M ALEGAON blast ac cused Pragya Singh Thakur visited former RSS pracharak Sunil Joshi's house the night after he was murdered and took away a briefcase without telling the family members that he had been killed, his family has said.
Joshi, the alleged mastermind of Malegaon and Mecca Masjid blasts, was shot dead on December 29, 2007. Swami Aseemanand, in his confession, said that Joshi was involved in the Samjhauta Express blast as well.
Pragya had told the police said that the motorcycle used for the Malegaon blast was the one she had sold to Joshi.
Joshi's niece Chanchal Joshi, 19, told The Indian Express that she was not sure what was in the briefcase but said she did not question Pragya who was a regular visitor. "I learnt that my uncle was dead only after Pragya Didi left hurriedly. A local RSS leader stayed in our house to ensure that the television set was switched off and the news of his death did not reach my grandmother," said Chanchal, the daughter of Sunil Joshi's brother Anil.
Full report at: Indian Express
-----------
Taseer's assassination: Abettors obtain pre-arrest bail
January 21, 2011
RAWALPINDI: Qari Muhammad Hanif Qureshi and Syed Imtiaz Hussain Kazmi, the two religious leaders believed to be abettors in the killing of former Punjab governor Salmaan Taseer, on Thursday obtained pre-arrest bail from an Anti-Terrorism Court in Rawalpindi.
ATC-I judge Malik Muhammad Akram Awan accepted the bail plea of the two clerics and granted them pre-arrest bail until January 25. The court directed both clerics to submit two surety bonds worth Rs 200,000 each. Malik Mumtaz Qadri, the killer of Salmaan Taseer, had told investigators that on December 31, he offered his Friday prayers at a mosque in Muslim Town in Rawalpindi, where Hanif Qadri and Imtiaz Shah made speeches criticising the attempts being made to amend the blasphemy law.
Full report at: http://www.dailytimes.com.pk/default.asp?page=2011\01\21\story_21-1-
-----------
Blast accused helped Swami soften stand
Mohammed Wajihuddin
Jan 21, 2011
MUMBAI: The credit for RSS activist Swami Aseemanand's change of heart, according to his confession, goes to 21-year-old Sheikh Mohammed Kaleem, an accused in the May 18, 2007, Hyderabad's Mecca Masjid blast. Kaleem, who is out on bail, addressed a rally against "sanghi (saffron)" terror at Azad Maidan on Thursday.
The swarthy, bespectacled boy, who was showered with praise and hailed as a model by members of over a dozen Muslim NGOs attending the rally, kept his speech short.
Speaking in typical Hyderabadi Urdu, he recalled many meetings with Aseemanand in Hyderaba's Chanchalguda jail. " One day the jail warden told Aseemanandji that I had already spent 18 months in jail for the Mecca Masjid blast. Aseemanandji, for whom I brought water and food, would ask me questions about Islam."
Full report at: http://timesofindia.indiatimes.com/city/mumbai/Blast-accused-helped-
-----------
EU parliament urges pardon, release of Asia Bibi
January 21, 2011
STRASBOURG: The European parliament on Thursday urged Pakistan President Asif Ali Zardari to pardon and release Asia Bibi, a Christian woman sentenced to death for blasphemy against Islam.
In a resolution adopted by the 736-seat assembly, the parliamentarians asked "the Pakistani authorities to free Asia Bibi immediately" and urged Zardari "to use his constitutional authority to pardon her."
The 45-year-old mother-of-five was sentenced to death in November after Muslim women labourers who worked with her in the fields complained she made derogatory remarks about the Prophet Mohammed.
The European parliamentarians also called on "the Pakistani government once again for a sweeping revision of blasphemy laws and their application."
Full report at: http://www.dawn.com/2011/01/20/eu-parliament-urges-pardon-release-of-
-----------
Awlaki's latest fatwa calls for destruction of buildings
January 21, 2011
New York : The latest edition of al Qaeda's English-language web magazine "Inspire" offers readers a new fatwa from American-born jihadi leader Anwar al-Awlaki on how to destroy buildings using gas lines, and a primer on the AK-47 rifle.
A young American citizen from North Carolina named Samir Khan apparently began editing and publishing the on-line magazine after relocating to Yemen.
Awlaki's message appears intended to assuage any concerns that American and European jihadis might have about resisting taxes and stealing from corporations, ABC News reports.
The 67-page magazine uses sophisticated graphics to detail a method for blowing up buildings with natural gas, and basic steps for using an AK-47 automatic rifle.
The magazine also includes an essay on dealing with American drone strikes in Afghanistan and Pakistan, noting that those watching bombs fall around them should close their eyes and pray.
"If you feel terrified, then think about paradise," it says.
The latest issue of Inspire also recycles past statements by Osama bin Laden and American al Qaeda spokesman Adam Gadahn.
http://www.indiatalkies.com/2011/01/awlakis-latest-fatwa-calls-destruction-buildings.html
-----------
Former Israeli Mayor Publishes New Book on 'Islamic Tsunami'
By Michael Ireland
January 21, 2011
The former Mayor of Shiloh, Israel, has written a new book about the biblical roots of the United States and the threat of Islamic ideology and terrorism.
David Rubin is not only Shiloh's former Mayor, but also an expert on terrorism in Israel — himself and his son having been victims of a horrific terrorist attack by Muslim extremists. (see: www.assistnews.net/Stories/2009/s09060050.htm )
David Rubin in Israel
Rubin is the founder of a ministry which focuses on the trauma of children who have been victims of terrorism. He also has a heart for the return of Jews to the land of Israel and for Israel's restoration.
The mission of the ministry Rubin started, called Shiloh Israel Children's Fund (www.ShilohIsraelChildren.org ) is to ease the trauma of terrorism in children and rebuild the Biblical heartland of Israel.
Full report at: http://continentalnews.net/christian-news/former-israeli-mayor-publishes-
-----------
Yemeni journalist jailed for Al-Qaeda links
January 21, 2011
SANA'A, Jan.20 — A journalist accused of being the "media man" for Al-Qaeda in Yemen was sentenced to five years in prison on Tuesday for allegedly collaborating with the global militant group and its leaders in Yemen.
Abdulelah Shayi', 34, who works for the state-run Saba news agency, was found guilty of "participating in an armed gang, having links with Al-Qaeda and for taking photographs of Yemen security bases and foreign embassies to be targeted by the terrorist organisation."
The verdict, delivered to a court specializing in terrorism cases in the capital Sana'a, also claimed that he helped to circulate Al-Qaeda communiqués and wrote for its online magazine, Sada al-Malahem (Echo of the Battles).
Speaking from behind a white steel mesh inside his cell, Shayi' told reporters he had simply been pursuing his career as a journalist and denied supporting Al-Qaeda in any way.
"This is fabrication by the authorities that is unfounded and untrue,» he said."I boycott the court from the first day" said Shayi'.
Full report at: http://www.yementimes.com/defaultdet.aspx?SUB_ID=35434
-----------
Ekta Yatra is a challenge to separatists, not govt: Advani
January 21, 2011
New Delhi : Questioning Jammu and Kashmir government's opposition to BJP's Ekta Yatra, senior party leader L K Advani today said the move was in no way challenging the state government but separatists.
"Jammu and Kashmir Chief Minister Omar Abdullah has said the move will precipitate things in the Valley. It is a provocative step. It is provocative not for India but its enemies...we are not challenging the government but the separatists," he said.
He was addressing the Ekta Yatra of BJP youth wing which reached here on way to Kashmir where party leaders plan to hoist national flag at historic Lal Chowk.
The state government has objected to the plans of hoisting the tricolour and asked BJP not to go ahead with it.
Full report at: http://www.indianexpress.com/news/ekta-yatra-is-a-challenge-to-
-----------
Yemen to issue first Islamic sukuk
Ali Saeed
January 21, 2011
The Central Bank of Yemen (CBY) plans to release its first Islamic sukuk within the first quarter of this year, Kamal Al-Rabee, director of the newly established Islamic Sukuk Unit at the CBY,
told the Yemen Times.
The sukuks of CBY will be Yemeni state bonds that respect Islamic law as they function without fixed interest rates. While investment in the sukuk will be open to banks, companies and individuals in Yemen and abroad, it will be of particular interest to Islamic banks.
As Al-Rabee explained, Islamic banks in Yemen currently have no possibility to invest in the state budget as this involves signing a contract with a specific interest rate. The Islamic sukuk of CBY will therefore be the first opportunity for Islamic banks to invest in Yemeni state bonds.
Full report at: http://www.yementimes.com/defaultdet.aspx?SUB_ID=35423
-----------
UN refugee agency blamed for bribes
January 21, 2011
SANA'A, - Refugees in Yemen are vulnerable to blackmail by a group of influential employees at the UNHCR, the United Nations Refugee Agency, a group of refugees and activists have claimed this week.
This allegation made its way to the Yemen Times office on Saturday, the same day that the UN High Commissioner for Refugees, Antonio Guterres, and the EU Commissioner for International Cooperation, Humanitarian Aid and Crisis Response, Kristalina Georgieva, held a press conference in Sana'a to outline their support for refugees in Yemen.
Hassan Al-Haydari, an Iraqi refugee who fled to Yemen in 2002, alleged that a UNHCR staff member in Sana'a, Naser Al-Jahmi, told him that he should pay USD4,000 for asylum documents that would allow him and his daughter to travel to Canada.
Al-Haydari said that he paid Al-Jahmi the money in May 2010 but he did not receive any documents in return. The Yemen Times repeatedly contacted Al-Jahmi to find out if this was true, but he did not answer his mobile phone. The UNHCR has meanwhile confirmed that Al-Jahmi no longer works with the agency.
Full report at: http://www.yementimes.com/defaultdet.aspx?SUB_ID=35414
-----------
Pakistan more violent than Afghanistan
Anita Joshua
January 21, 2011
ISLAMABAD: With over 10,000 killed in violent incidents across the country in 2010, Pakistan was the most volatile country in the region, pushing war-ravaged Afghanistan — which saw its most lethal year since the beginning of the Global War on Terror in 2001 — to second position in this regard.
As against 7,123 people killed in Afghanistan through the year, 10,003 were killed in Pakistan in incidents of violence and terrorism.
Still, this is an improvement over 2009 when 12,623 fatalities were reported in incidents of violence and terror, according to data collated by the Pakistan Institute for Peace Studies (PIPS) for its annual Pakistan Security Report.
The report shows that there was also a decline in casualties among "militants" despite a 165-per-cent increase in drone attacks that are supposed to specifically target terrorists based on intelligence.
Full report at: http://www.hindu.com/2011/01/21/stories/2011012166661900.htm
-----------
UK bans controversial American pastor's entry
January 21, 2011
Britain has banned the entry of Terry Jones, the American pastor who sparked an international controversy last year by threatening to burn the Quran.
Following a decision by Home Secretary Theresa May, the Home office said in a statement: "The Government opposes extremism in all its forms which is why we have excluded Pastor Terry Jones from the UK. Numerous comments made by Pastor Jones are evidence of his unacceptable behaviour. Coming to the UK is a privilege, not a right, and we are not willing to allow entry to those whose presence is not conducive to public good."
Jones wanted to come to the UK on an invitation by a small far-right group, England Is Ours. Earlier, another right group, the English Defence League had invited him to attend a February 5 rally in Luton, near London, against the presence of Islam in Britain, but later withdrew the invitation.
Full report at: http://www.dailypioneer.com/312176/UK-bans-controversial-American-
-----------
Car bomb kills 3 near Iraqi police headquarters
January 21, 2011
Baghdad: A suicide bomber rammed his explosives-packed car into the front gate of a police headquarters on Thursday, killing three people in the second strike on security targets in an eastern Iraqi city in as many days. Officials said that the dead included two policemen and a female bystander outside the Diyala police command in the provincial capital of Baqouba, 60 kilometers northeast of Baghdad. At least 28 people were wounded in the strike in addition to the three killed, said Muna al-Omairi, a lawmaker in Parliament who represents Diyala. Diyala health directorate spokesman Faris al-Azawi confirmed the casualties.
http://www.dailypioneer.com/312182/Briefly.html
-----------
Alabama Guv apologises after remarks generate fury
January 21, 2011
Washington: After his inauguration day remarks about only Christians being his brothers and sisters angered many in the US, Alabama's new Governor Robert Bentley apologised for causing the offence and said he would work for all people alike.
Bentley's controversial remarks he made early this week had angered non-Christians in the country, including the Hindus, Muslims and the Jews as also the atheists.
Addressing a predominantly African American church on Monday after his official inaugural address, Bentley said only those who accepted Jesus Christ as their savior are his "sisters or brothers".
http://www.dailypioneer.com/312182/Briefly.html
-----------
Pak Hindus travel to India with ashes
Shreya Roy Chowdhury
January 21, 2011
New Delhi: Visa problems stood in the way of salvation.Pakistani Hindu families cremated their dead but werent able to bring the ashes to immerse in the Ganga at Haridwar : they werent given visas.In the wee hours of Friday,128 urns arrived in Delhi on the Samjhauta Express.Shri Devouthan Seva Samiti,a Delhibased NGO that has been helping familieswithin India toimmerse the ashes of the dead at Haridwar for eight years,will then sendthebatchfrom Pakistan in early February.
Till now,the 128 containers rested on bookshelves at a Karachi library and were looked after by library guard Murad Baksh.The oldest has waited 35 years and the newest one is from 2002.The Hindu community in Karachi is very small.Their dead are cremated,but the families couldnt travel to Haridwar to immerse the ashes to complete the rituals as they weredenied visas.We got to know about this from a Hindi newspaper,saysVijay Sharma,general secretary of the Devouthan Seva Samiti.The article carried a photograph from which they got the name,Hindu Cremation Ground Association,Karachi.
Full report at: Times of India
-----------
Court lets Aseemanand depose via videolink
Rajinder Nagarkoti
January 21, 2011
Panchkula: A special court in Panchkula on Thursday allowed National Investigation Agency (NIA) to hold hearings in the case involving Swami Aseemanand,a key accused in Samjhauta Express blasts,through video conferencing.
Aseemanand is also allegedly involved in various other blasts in the country and is currently lodged in the Ambala jail.
The NIA on Wednesday moved an application seeking permission for video conferencing on the ground that it required heavy security arrangements to produce Swami Aseemanand before the Panchkula court on every hearing.
Times of India
-----------
9/11 kingpin Khalid killed Daniel Pearl
January 21, 2011
Islamabad: A new report on US journalist Daniel Pearls killing presents fresh evidence that 9/11 mastermind Khalid Sheik Mohammed executed the reporter in Pakistan nine years ago and four men imprisoned for the crime were convicted on basis of perjured testimony.
It was reported earlier that Mohammed,an al-Qaida operative,had confessed to beheading Pearl,a reporter for the Wall Street Journal who was kidnapped in Karachi in January 2002 while investigating connections between Pakistani extremists and Richard Reid,who tried to detonate a bomb hidden in his shoe on a transatlantic flight in 2001.The new report,The truth left behind: Inside the kidnapping and murder of Daniel Pearl,says American security and intelligence officials have used vascular technology,or vein matching,to show that the hand of an unseen man who killed Pearl on video is that of Mohammed.
-----------
Swiss banker sent to jail for Wiki leak
January 21, 2011
Zurich: Police will question former banker Rudolf Elmer over possible fresh breaches of Swiss bank law for giving data to WikiLeaks this week,a day after he was found guilty of violating bank secrecy.
Authorities have 48 hours from Elmers arrest to decide whether they have grounds to hold him in custody for longer,state prosecutor Peter Pellegrini said on Thursday Elmer was arrested yesterday and will be questioned by us today, Pellegrini said on Thursday.
Elmer helped bring WikiLeaks to prominence three years ago when he used it to publish secret client details.On Monday he handed over new data to the website,which has annoyed US authorities by releasing thousands of confidential state department cables.
Elmer was taken into custody by police on Wednesday evening,hours after he was convicted of breaching strict banking secrecy by passing on private client data and of threatening employees at his former firm Julius Baer.
Full report at: Times of India
-----------
AF-PAK IS THE BUZZWORD AT LITERARY FEST
January 21, 2011
THE JAIPUR Literature Festival may be the sub-continent's premier literary event, but contemporary issues have a significant place on its agenda. This year, Af-Pak is the buzzword of the festival, which has an entire session dedicated to this theatre of disaffection, and it features the Pakistani guerrilla warrior- turned-the most respected authority on the Taliban, Ahmad Rashid. He has the dubious distinction of seeing his words being lifted by former US president George W. Bush in his memoir, Decision Points. Talking to this correspondent before leaving Lahore for Jaipur, Rashid warned that India finds itself on the wrong side of the 'Great Game'. "India's behaviour in Afghanistan has been provocative. There is an intelligence war on between India and Pakistan, with both trying to exert maximum influence over Afghanistan. The two sides need to engage in a dialogue for greater transparency on Afghanistan," said the author of Taliban: Militant Islam, Oil and Fundamentalism in Central Asia, which has sold over 1.5 million copies. Rashid has been urging India and Pakistan to identify their 'intelligence assets' in Afghanistan to each other to make their presence in the war-ravaged country transparent and end the rivalry. IT'S A view echoed by The New Yorker's staff writer Jon Lee Anderson, who has reported from many different theatres of war, including Iraq and Afghanistan.
Full report at: Mail Today
-----------
Pak ex- foreign minister bats for army's support to peace
January 21, 2011
PAKISTAN'S former foreign minister Khurshid Mahmud Kasuri on Thursday said the Pakistan Army had supported the resumption of the peace process and backed a deal on Kashmir reached through back- channel talks during President Pervez Musharraf's term.
" Contrary to perceptions in some quarters, the army is not an obstacle to peace with India," Kasuri said while delivering a lecture ' Evolution of India- Pakistan relations in first decade of 21st century', organised by the Indian Council for World Affairs ( ICWA) in New Delhi.
He suggested a visit by Prime Minister Manmohan Singh could help reduce the trust deficit.
" The Pakistan Army supports the peace process between India and Pakistan and is in favour of continuing the back- channel talks," Kasuri said ahead of the Indo- Pak foreign secretary talks and a possible meeting between external affairs minister S. M. Krishna and his Pakistani counterpart in Thimphu next month.
Full report at: Mail Today
-----------
My signature faked in plea to SC: wife of cop in Sohrabuddin case
PARIMAL DABHI
January 21, 2011
IN October 2009, the Supreme Court had dismissed a review petition filed on behalf of Dr Narendra Amin, one of the Gujarat police officers arrested in the Sohrabuddin Sheikh fake encounter case. The petition was signed in the name of Amin's wife Jayshree.
Now, Jayshree Amin says she had never filed such a petition. She said on Thursday that she had, in fact, moved the Supreme Court after getting to know about it, alleging that someone had forged her signature and filed the petition after getting it attested by a notary public in New Delhi.
In her plea, she had called the "fraudulent review petition" a conspiracy to keep her husband behind bars, demanded that this petition and the orders on it be quashed, and sought initiation of criminal proceedings against those behind it.
Her petition is reportedly still pending before the Supreme Court.
Dr Amin, incidentally, had de clared an intention to turn approver in the case but backed off later, telling the CBI court here that he was being threatened with death, should he decide to go ahead. Jayshree's petition too had contended that the motive behind the review petition might have been to dissuade her husband from turning approver.
Full report at: Indian Express
-----------
US prepares to lift ban on Gitmo cases
January 21, 2011
THE Obama administration is preparing to increase the use of military commissions to prosecute Guantánamo detainees, an acknowledgment that e prison in Cuba remains open for business after Congress imposed steep new impediments to closing the facility.
Defence Secretary Robert M Gates is expected to soon lift an order blocking the initiation of new cases against detainees, which he imposed on the day of President Obama's inauguration. That would clear the way for tribunal officials, for the first time under the Obama administration, to initiate new charges against detainees.
Charges would probably then come within weeks against one or more detainees who have already been designated by the Justice Department for prosecution before a military commission, including Abd al-Rahim alNashiri, a Saudi accused of planning the 2000 bombing of the American destroyer Cole in Yemen; Ahmed al-Darbi, a Saudi accused of plotting, in an operation that never came to fruition, to attack oil tankers in the Straits of Hormuz; and Obaydullah, an Afghan accused of concealing bombs.
Full report at: Indian Express
-----------
Saddam wanted Soviets to head off US in 1991
MICHAEL R GORDON
January 21, 2011
ASTHEAmerican-ledgroundoffensivein the first war with Iraq got un derwayonFebruary24,1991, Saddam Hussein directed his frustration at an unlikely target:theSovietleaderMikhail S Gorbachev. Hussein had dispatched his foreign minister to Moscow in an 11thhour bid to head off a ground war. After prodding by Gorbachev, Hussein had offered to withdraw Iraqi troops from Kuwait in 21 days. But the US appeared to bemovingaheadwithitslandcampaign.
"The situation is now is getting worse," Hussein had written the previous night in an emotional letter to the Soviet leader.
"Our nation and army are confused. We are asking ourselves which one is more significant: the Soviet Union's proposal or the Americans' threats?" Hussein was less diplomatic, denouncing Gorbachev as a "scoundrel" wholackedthewillorinfluence to stay the first President George Bush's hand. "He tricked us," Hussein said. "I knew he wouldbetrayus!" The disclosures about Hussein's closeddoor deliberations that first day of thePersian Gulf land war are documented in an extraordinary Iraqi archive. NYT
Indian Express
-----------
Pak Epicentre Of Terrorism: India
January 21, 2011
Dubbing Pakistan as the "epicentre of terrorism," India today slammed it for its inaction against the Mumbai attacks perpetrators, saying it has not been able to punish any of those accused of masterminding the terror strikes.
"Pakistan should be sensitive to few of our concerns. One of our concerns is terrorism and how Pakistan deals with terror and terrorists," visiting external affairs minister S.M. Krishna told the Indian media here after an interaction with the Indian community.
His comments came in reaction to a question on recent remarks made by Pakistan foreign minister Shah Mahmood Quershi, who favoured a constructive and productive dialogue with India to resolve all outstanding issues, including the Kashmir problem.
On the 26/11 attacks on Mumbai by Pakistan-based terrorists, Mr Krishna said "they (Islamabad) have not been able to punish any of those accused of masterminding, conspiring for that attack. When I went to Islamabad (in July last year) I conveyed that to foreign minister Mr Quershi with passion.
Full report at: http://www.asianage.com/international/pak-epicentre-terrorism-india-231
-----------
Yemen Says 178 Security Force Members Killed In 2010
January 21, 2011
Battles against Al Qaeda jihadists and Southern separatists killed 178 members of Yemen's security forces in 2010, the interior ministry announced on Thursday.
A total of "1,030 members of the security forces were killed and wounded in 2010" while "defending security and stability and confronting terrorism, outlaws, and crime," a ministry statement said, giving a figure of 178 killed.
The statement referred to clashes with members of Al Qaeda in the Arabian Peninsula (AQAP), which is regrouping in the ancestral homeland of Osama bin Laden, and the separatist Southern movement, spearheading opposition to the government.
Sanaa is also battling a sporadic Shiite rebellion in the north of the poverty-stricken country, but the statement did not say how many security force members died in the fight.
http://www.asianage.com/international/yemen-says-178-security-force-members-killed-
-----------
Israel Probe On Flotilla Raid Due Sunday
January 21, 2011
An Israeli commission investigating last May's deadly raid on aid ships trying to break a blockade on the Gaza Strip will release its first report on Sunday, an official source said.
The Israeli naval raid killed nine Turkish citizens, prompting an international outcry and throwing relations between Israel and Ankara into a deep crisis.
Israel decided in July to launch its own inquiry into the incident, though it has publicly defended its actions, accusing activists on board the boats of carrying weapons and attacking its troops when they boarded.
"The commission will publicly deliver on Sunday the first part of the report, which will cover in particular the legality of the maritime blockade of Gaza as well as the action of the Israeli military and the flotilla's passengers," a spokesman for the commission, Ofer Lefter, told AFP.
Full report at: http://www.asianage.com/international/israel-probe-flotilla-raid-due-sunday-
-----------
Palestinian Killed In West Bank Clash With Army
January 21, 2011
A Palestinian was killed on Thursday in an exchange of fire with Israeli troops at an army post in the Northern West Bank, security sources on both sides said.
"A Palestinian opened fire on a guard post. The soldiers returned fire and he was killed," an Israeli military spokeswoman told AFP.
The shooting took place at a guard post near the settlement of Mevo Dotan, some 10 kilometres (six miles) Southwest of the Northern town of Jenin.
Palestinian security officials confirmed a man had been shot dead at the Dotan checkpoint near the settlement, saying the army had closed down the area.
The death comes after two separate incidents earlier this month in which Palestinians have been shot at an Israeli checkpoint.
On January 8, Israeli troops shot dead a Palestinian as he ran towards a checkpoint East of Nablus shouting Islamic slogans.
Palestinian security officials later said the man, 23-year-old Khaldun Samudi, was a member of the radical Islamic Jihad movement in Jenin.
On January 2, Israeli troops at the same checkpoint shot and killed a Palestinian after he entered the wrong lane holding a bottle that troops apparently mistook for a weapon.
http://www.asianage.com/international/palestinian-killed-west-bank-clash-army-217
-----------
Muslim Girl Out Of Game For Headscarf
January 21, 2011
London: A Muslim girl in the US was forced to sit out the first half of a basketball game after a referee decided that her headscarf posed a safety risk.
Maheen Haq, 12, of Hagerstown, Maryland, was allowed to play the second half wearing the hijab, which the referee had said could choke her, after a league administrator granted her a religious exemption.
Dr. Mohammad and Anina Haq, her parents, said their daughter was in tears after she was called out.
Daphnie V. Campbell, the league coordinator, who defended the referee's action, said the girl's parents would have to provide a letter stating that the headscarf is part of her religion and accept liability for any injuries.
Her coach Mark Kershner did not want to bench her at all, and said the headscarf was not a problem the first five games of the season.
"You could see that she was emotionally affected. Without embarrassing her, I could see it in her eyes," the Daily Mail quoted Kershner as saying.
A spokesman for the Council on American-Islamic Relations, Ibrahim Hooper, said there are hijabs with tear-away strips designed for sports that the girl could wear.
http://www.asianage.com/international/muslim-girl-out-game-headscarf-203
-----------
Malaysia Activists Arrested At Hindu Festival
January 21, 2011
Nine Malaysian activists were detained at a colourful Hindu festival Thursday as they protested over a textbook which they said was racially insensitive to the ethnic Indian minority.
The nine, mostly from a group called the Human Rights Party, had gathered at the Batu Caves temple on the outskirts of Kuala Lumpur as more than one million Hindu devotees converged there to mark the annual Thaipusam festival.
The group has urged the government to withdraw a Malay-language book, "Interlok", which contains a reference to the caste system that they said was offensive to the ethnic Indian community.
The book is to become compulsory reading for high school students.
"As we were handing out a statement to the crowd, the police moved in to arrest us even before we could hold our press conference," organiser S. Jayathas told AFP from the police custody.
Full report at: http://www.asianage.com/international/malaysia-activists-arrested-hindu-
-----------
Canadian arrested on US terrorism complaint
January 21, 2011
A man was arrested in Canada on US charges that he was a long-distance conspirator and booster for Tunisian jihadists in Iraq, urging them in a series of messages to kill "dog Americans" in suicide bombings.
Federal prosecutors in Brooklyn allege that though Faruq Khalil Muhammad 'Isa never left Canada, he was key part of a terror network involved in separate attacks in Iraq in 2009 that killed five American soldiers outside a US base and seven people at an Iraqi police complex.
Muhammad 'Isa, 38-year-old Canadian citizen and Iraqi national, was arrested in Edmonton, Alberta, on a US warrant after a joint investigation by the FBI's New York Joint Terrorism Task Force, Royal Canadian Mounted Police and Tunisian authorities. He never posed a danger to the public, there, however, Royal Canadian Mounted Police Sgt Patrick Webb said.
"This arrest was affected on Thursday without any difficulty whatsoever," Webb said. Prosecutors were seeking the defendant's extradition to Brooklyn to face federal charges of conspiring to kill Americans and providing material support to terrorists. Webb said an extradition hearing was pending in Edmonton, and the defendant could be quickly returned to the US if he waives extradition, but "if it's disputed through the courts it could be years."
http://www.dailypioneer.com/312188/Canadian-arrested-on-US-terrorism-complaint.html
-----------
Fearing attacks, Delhi gallery removes Husain's work from IAS
Jan 21, 2011
NEW DELHI: Works of art by Indian artist M F Husain, who has been living in exile for the past five years, have been taken off from the ongoing Indian Art Summit following threats from various groups.
Three large canvas paintings by 93-year-old Husain were removed from display from the Summit which began with an exclusive VIP preview here yesterday and will open for pubic viewing from today.
"We have received several threatening emails and phone calls from various groups from Mumbai and Pune. We have had a lot of protection from the police and have our own security but organisers feel that there could be a stampede and incidents of vandalism when the fair opens for the public and so decided to remove the works of Husain," Ashish Anand, director, Delhi Art Gallery, said.
Saffron groups have in the past protested against Husain's alleged blasphemy of Hindu deities
Full report at: http://timesofindia.indiatimes.com/india/Fearing-attacks-Delhi-gallery-
-----------
SUDANESE ANSAR LEADER SADIQ AL-MAHDI REJECTS THE VIOLENCE OF THE "AL-QAEDA MENTALITY"
January 21, 2011
Sudan's leading opposition figure, Umma Party leader Sadiq al-Mahdi, has been increasingly vocal in recent weeks as public dissatisfaction grows in North Sudan over the role of the ruling National Congress Party (NCP) and its leader, President Omar al-Bashir, in losing the oil-rich South Sudan in a referendum on secession.
In a recent interview with a pan-Arab daily, the former Prime Minister and hereditary leader of the Sufi "Ansar" (Helpers) of the western and central Sudan rejected the method of "direct individual violence" adopted by al-Qaeda. Sadiq gives three reasons used to justify extremist violence:
Full report at:
-----------
FORMER "AFGHAN ARAB" ALI AL-KURDI SAYS JIHAD AGAINST SOUTH YEMEN'S SEPARATISTS IS THE FIRST PRIORITY
January 21, 2011
A leading Yemeni jihadi and veteran of the post-Soviet struggle for power in Afghanistan has assumed the leadership of a possibly government-backed unity "committee" in the southern Yemeni port of Aden, where the Southern Mobility Movement (SMM) has been organizing a campaign to return the South to its former status as an independent state (Marib Press, January 3). In a recent interview, Ali al-Kurdi described the pro-unity plans of his new organization (al-Sharq al-Awsat, January 4).
According to al-Kurdi, an electrical engineer by trade, the Popular Committee for national unity that he chairs does not receive any state funds ("the committee does not have ten riyals"), but is supported by those who suffered from the economic consequences of socialist rule in southern Yemen's People's Democratic Republic of Yemen (PDRY – 1970-1990). Al-Kurdi says socialist rule introduced "freedom of debauchery, alcohol drinking and the like" as well as enabling political persecution on the slightest of pretexts.
Full report at:
-----------
Islamist Militants of the TNSM Plan Return to Pakistan's Swat Valley
Arif Jamal
January 21, 2011
Fear of a Taliban resurgence is rising among the people of the Swat valley, less than one year after the Pakistan army cleared the picturesque area (Dawn [Karachi] Feb 26, 2009). Many in Swat believe the Tehrik-e-Nafaz-e-Shariat-e-Mohammadi (TNSM - Movement for the Enforcement of Islamic Laws) may stage a comeback as soon as the snow melts this spring. Some believe the group will first strengthen its infrastructure and kill all potential resistance before making a move. However, most people think the militants are likely to retake the valley sooner or later if the army does not take action now.
The TNSM sent shockwaves throughout the world in 2009 when it took over the Swat valley and later occupied the adjoining town of Buner, creating fear of its continued march toward Islamabad. Instead of fighting and killing the militants, the Pakistani army chased them out of the valley in the winter of 2009-10, with few TNSM militants choosing to fight back. According to one resident of Mingora, a large number of the TNSM cadres have started coming back to their houses: "They are keeping a low profile at this time. We all know who is who in this town. They very often meet after sunset. It seems they are feeling the pulse of the situation before they strike." [1] Another resident of Swat confirmed that he had seen some TNSM members smuggling in arms at night:
Full report at:
-----------
Operation Neath: Is Somalia's al-Shabaab Movement Active in Australia?
Raffaello Pantucci
January 21, 2011
"Islam is the true religion. Thank you very much." So declared Wissam Mahmoud Fattal, a 34-year-old Lebanese Australian former kick-boxer after he was convicted of participating in a plot to attack the Holsworthy Army base just outside Sydney (The Age [Melbourne], December 23, 2010; Australian Associated Press, December 23, 2010). The statement stood in contrast to Fattal's earlier comments following his arrest when he shouted at the court, "Your army kills innocent people in Afghanistan and Iraq. You call us terrorists - that's not true" (Daily Telegraph, August 5, 2009).
Fattal's statement came at the conclusion of a lengthy trial that began after the August 2009 arrests and raids of 19 properties that concluded Operation Neath, one of Australia's most substantial terrorism investigations to date (see Terrorism Monitor, September 10, 2009). Convicted alongside Fattal were Saney Edow Aweys, 27, and Nayef el-Sayed, 26, Somali and Lebanese naturalized Australians, respectively. Cleared of charges related to the plot were Yacqub Khayre, 23, and Abdirahman Ahmed, 26, both Somali-Australians.
Full report at:
-----------
Radical British cleric calls Queen a 'disgusting woman'
Jan 21 2011
London : Radical cleric Shaykh Asrar Rashid has angered Britons by branding Queen Elizabeth II a 'disgusting woman' because she knighted Salman Rushdie.
He also slammed British Muslims who had joined the Army, and added that White people were the main cause of racism.
In 1989, Iran's leaders called for Rushdie's death after the publishing of his book The Satanic Verses, which they deemed "blasphemous", the Daily Express reports.
Rashid, who was arrested over a religious dispute during a pilgrimage to Mecca last summer, went on to accuse Muslims who joined the armed forces, or the police, of sacrificing their beliefs.
Speaking on BBC West Midlands' breakfast show, he said: "I don't think Muslims should join any institution like the police force. Institutions institutionalise us, we can never join without giving up our principles."
Full report at:
http://www.indianexpress.com/news/radical-british-cleric-calls-queen-a-disgusting-
-----------
Pak terrorists planned to take Lankan cricket team hostage
Jan 21 2011
Karachi : One of the main accused in the terror attack on the Sri Lankan cricket team in 2009 in Pakistan's Lahore has claimed that Lashkar-e-Jhangvi had plan to take the visiting players hostage and bargain for the release of some of its detained members.
Abdul Wahab alias Omar, who is under dentition, told Geo News that the operation against the Sri Lankan team was planned in Waziristan.
"The operation was planned in Waziristan and there were 12 of us designated for this mission. I belonged to the Lashkar-e-Jhangvi Amjad Farooqi group," the bearded Wahab dressed in a white shalwar kameez said.
He said the purpose of the attack at the Liberty roundabout was to take the Sri Lankan players hostage.
"We were supposed to take them hostage and then our superiors would have bargained their release in exchange for some of our companions in their custody," Wahab said.
He said the attackers arrived at Liberty roundabout just minutes before the arrival of the Sri Lankan team bus.
Full report at:
http://www.indianexpress.com/news/pak-terrorists-planned-to-take-lankan-cricket-team-
-----------
5 dead in Bangladesh gunfight
Jan 21 2011
Dhaka : Two television stations say that a fierce gunfight at a remote tribal village in southeastern Bangladesh has left at least five people dead.
ATN News and Bangla Vision reported that the firefight took place early Friday at Jurachhari in Rangamati district. Bangla Vision said the clash involved a rivalry between two tribal groups vying for control in the area.
Officials could not be reached immediately for comment.
Rangamati district is 135 miles (220 kilometers) southeast of the capital, Dhaka.
A nearly two-decade tribal insurgency in the area ended with a peace deal signed in 1997.
http://www.indianexpress.com/news/5-dead-in-bangladesh-gunfight/740483/
-----------
In Wakf vs Imams case, govt mulls salary scheme
January 21, 2011
New Delhi : The Government is working out a plan to implement the Supreme Court directive on payment of salaries to Imams, who are in-charge of religious activities in mosques.
CPI(M) politburo member Brinda Karat, who met Finance Minister Pranab Mukherjee yesterday, told reporters here today that she was informed that Minority Affairs Minister Salman Khursheed has been told to work out a scheme for payment of salaries to the Imams as per the directives of apex court.
"Wakf boards do not have any funds and the government will do whatever is required to implement the Supreme Court judgement on the issue," Mukherjee told Karat when she raised the matter with him.
Full report at:
http://www.indianexpress.com/news/in-wakf-vs-imams-case-govt-mulls-salary-
-----------
Six killed as gunmen attack oil company convoy in Kohat
January 21, 2011
PESHAWAR: Gunmen attacked employees of a Hungarian oil and gas company returning from work in northwest Pakistan on Thursday, killing two of them and abducting two others. Four soldiers guarding the convoy were also killed, a top official said.
All those killed and seized in the incident in Kohat region were Pakistani nationals, said the area's top administrator, Khalid Umerzai.
He said the victims were working for MOL Pakistan, a subsidiary of the MOL Group.
A receptionist at the company's headquarters in Islamabad said the offices were empty late Thursday. The company's website said it was developing oil and gas blocks in the Kohat area.
Kohat is a dangerous region close to the Afghan border where militants and criminal gangs are active.
Full report at:
http://www.dawn.com/2011/01/21/six-killed-two-abducted-in-pakistan-kidnap.html
-----------
German extremist reported killed in Afghanistan
January 21, 2011
BERLIN: A German al Qaeda member whose online threats of attacks in Germany prompted heightened terrorism warnings ahead of 2009 national elections was killed while leading an offense on the largest US base in Afghanistan, according to an extremist group.
The Islamic Movement of Uzbekistan said in an online post that Bekkay Harrach, known by the pseudonym Abu Talha al-Almani - "Abu Talha the German" - was killed leading an attack on the Bagram Air Field. It didn't specify when. Germany's Federal Criminal Police Office said on Thursday it is aware of the posting but hasn't yet confirmed the death. "It is being evaluated," said spokeswoman Anke Spriestersbach.
Harrach, a German of Moroccan background who once lived in Bonn, is the subject of an investigation by German federal prosecutors and is believed to have been hiding in the Tribal Areas of Pakistan along the Afghan border.
"He was the commander of a joint operation by al Qaeda, the IMU and the Tahreek-e-Taliban Pakistan, in which 20 brothers who were ready for martyrdom were going to destroy the stronghold of Bagram," the posting said, according to a translation by the SITE Intelligence Group, a US firm that monitors militant message traffic. "We had the honor many times to meet with him here in the mountains of Waziristan."
http://www.dailytimes.com.pk/default.asp?page=2011\01\21\story_21-1-2011_pg7_24
-----------
Egypt Islamic authority halts dialogue with Vatican
January 21, 2011
CAIRO: Egypt's highest Islamic authority, Al-Azhar, said on Thursday it was freezing all dialogue with the Roman Catholic Church over what it called Pope Benedict's repeated insults toward Islam.
Benedict this month condemned attacks on churches that killed dozens of people in Egypt, Iraq and Nigeria, saying they showed the need to adopt effective measures to protect religious minorities.
His remarks followed a New Year bombing outside a church in the Egyptian city of Alexandria that left 23 people dead and dozens injured and prompted demonstrations by both Christians and Muslims against sectarian violence.
The pope urged Christian communities to persevere in a non-violent manner in the face of what he described as "a strategy of violence that has Christians as a target."
Al-Azhar's "Islamic Research Council reviewed in an emergency meeting on Thursday the repeatedly insulting remarks issued by the Vatican Pope toward Islam and his statement that Muslims are discriminating against others who live with them in the Middle East," Cairo-based Al-Azhar said in a statement.
Full report at:
URL: https://www.newageislam.com/islamic-world-news/twin-blasts-target-shia-pilgrims-in-karbala,-kill-51-/d/3970