New Age Islam News Bureau
29 March 2015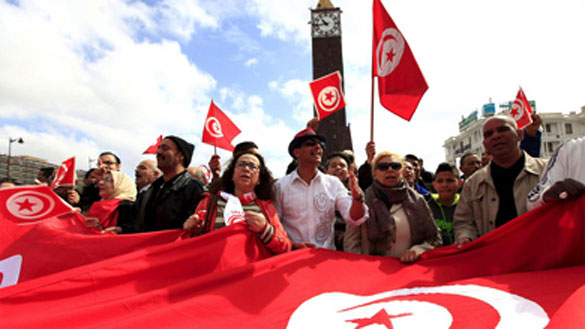 Tunisian protesters shout slogans as they wave banners and their national flag during a demonstration on Bourguiba Avenue, capital of Tunis, March 20, 2015, during Independence Day celebrations marking the 58th anniversary of independence in Tunis. (Reuters)
----------
Africa
• Twenty-Three 'Beheaded' In Nigeria on Election Eve
• Tunisian Forces Kill Nine Militants Before World Leaders Attend 'Bardo' March
• Tunisians march against extremism after attack
• Libya's Tripoli parliament says troops pull back from major oil ports
• Nicolas Anelka talks football, discrimination, and his Islamic faith
Mideast
• 50 Houthis Killed In Clashes with Shabwa Tribes
• Arab Coalition Air Strikes Kill 15 Yemeni Rebel Troops
• Israel Seeking to Demolish Ancient Palestinian Village
• Rebellion among Houthi militia ranks in Taez
• Iran nuclear talks go down to wire as Israel lashes out
• Turkey welcomes fall of key city in Syria's north
Arab World
• Iraqi Army Kills over 27 ISIL Terrorists in Tikrit
• Yemen Intervention to Go On Until Houthis 'Surrender': Arab League Chief
• Scores of Insurgents Killed by Syrian Army in Deir Ezzur Province
• Syria Terms Israeli Occupation of Muslims' Territories as Root Cause of Mideast Tensions
• Syrian regime troops regroup after losing Idlib
• Saudi FM responds to Putin's letter on Syrian crisis
• Saudi Blogger Tells of Flogging Ordeal
India
• Common Consensus Needed For Anti-Cow Slaughter Bill: Home Minister
• Sri Sri Ravi Shankar's 'Art of Living' Gets ISIS Threat Letters
• Swamy Sabotaged Islamic Banking
• 8 Militants Sneaked Into India, 4 of Them Killed: Intelligence Agencies
• Beware Of Draconian Counter-Terrorism Measures, Cautions NHRC Chief
• Strategic Chabahar Transit Deal Soon, Will Bolster Trade Ties with India: Afghan Ambassador
• 'Russia calls for continuation of dialogue between Pakistan, India'
Pakistan
• Army Chief Vows Terror-Free Pakistan for Next Generation
• Nawaz Has Ensured 'All Potentials of Pakistan Army' To Kingdom: Saudi Press Agency
• Five Banned Outfit Men Killed In Mastung, Baluchistan
• FC kills four BRA militants; council chairman abducted
• Conspiracy to Discredit Islam in Middle East Cause of Concern: Permanent Representative of Pakistan in UN
• Police use rickshaw to transport 'TTP militants' to court
• Pakistanis not getting correct information in Yemen: Dr Abdul
• 80,000 Pakistanis killed in US 'War on Terror': report
South Asia
• Separate Military Actions Leave Six Taliban Killed, 11 Injured In Maidan Wardak
• 'Take Immediate Action against Terrorism', Bangladesh Govt. Urged
• Civilians killed in military operation in Ghazni
• No love for ISIS (Daesh) in Afghanistan, says ex-president Hamid Karzai
North America
• European Anti-Islam Group's Canadian Protest Fizzles
• U.S. Drops 60,000 Propaganda Leaflets on ISIS Stronghold Raqqa
• US "deeply troubled" by Maldives' questionable commitment to democracy, human rights
• US says Pakistan making sincere effort for Afghan peace
Europe
• Hundreds Turn Out To Support Muslim Youth Festival in London
• UK Muslims to Get First National Radio Station
• Explainer: Why the western media refuses to call the Germanwings pilot a 'terrorist'
• ISIS followers send 'up to 100,000 tweets a day' warns EU police chief
• UN staff flee war-torn Yemen, Russia voices concern
• Yemen crisis won´t 'impact' Iran nuclear talks: Russian negotiator
• Soyuz spacecraft with Russian, US astronauts blasts off to ISS
Southeast Asia
• PAS Man Slams Emotional Comments on Hudud in Social Media
• Fix job quota for women in all fields, says PAC chairman
• New anti-terrorism bill will also see Penal Code amended, says home minister
Compiled by New Age Islam News Bureau
URL: https://newageislam.com/islamic-world-news/new-age-islam-news-bureau/twenty-three-'beheaded'-in-nigeria-on-election-eve/d/102164
---------
Africa
Twenty-three 'beheaded' in Nigeria on election eve
29 March, 2015
KANO, NIGERIA: Suspected Boko Haram gunmen beheaded 23 people and set fire to homes in Buratai, northeast Nigeria, on the eve of Saturday´s general elections, a federal lawmaker representing the area told AFP.
"There was an attack on Buratai late Friday by gunmen suspected to be insurgents....They beheaded 23 people and set homes on fire," said Mohammed Adamu, who represents the town some 200 kilometres (125 miles) from Borno´s capital Maiduguri.
"At least half the village has been burnt," he added.
A nurse at the nearest major hospital, in Biu, said the 32 injured who were receiving care also reported that many were decapitated during the attack.
Further details of the violence were not immediately available, but the attack is consistent with Boko Haram´s past strikes in the area in the south of the state, where defenceless civilians have been repeatedly targeted.
It was not clear if the raid late Friday was linked to Saturday´s polls, but Boko Haram leader Abubakar Shekau had vowed to disrupt the vote.
Elsewhere in Nigeria´s restive northeast, suspected Islamist militants killed at least seven people in separate attacks in the Gombe state.
Witnesses reported that the assailants in Gombe made clear their intention was to disrupt the polls.
http://www.thenews.com.pk/article-179629-Twenty-three-beheaded-in-Nigeria-on-election-eve
---------
Tunisian forces kill nine militants before world leaders attend 'Bardo' march
29 March, 2015
Tens of thousands of Tunisians marched through the capital in a show of solidarity against Islamist militants on March 29, hours after the government said its forces had killed nine members of a group suspected of carrying out this month's deadly Bardo Museum attack.
The March 18 attack in Tunis killed 21 foreign tourists and a policeman, shaking a country that has been praised as a peaceful democratic model since leading the first of the Arab Spring uprisings in 2011.
A red-and-white sea of Tunisian crescent and star flags filled a major boulevard in Tunis where several world leaders, including French President Francois Hollande, planned to rally under the slogan "Le Monde est Bardo" (The World is Bardo).
"We have shown we are a democratic people, Tunisians are moderate, and there is no room for terrorists here," said one of the demonstrators, Kamel Saad. "Today everyone is with us."
Thousands of police and soldiers were positioned around the capital.
One of the most secular countries in the Arab world, Tunisia has mostly avoided violence in the four years since the toppling of autocrat Zine El-Abidine Ben Ali. In contrast with Libya, Yemen and Syria which have plunged into war and chaos, it has adopted a new constitution and held free elections.
But the Bardo massacre was one of the worst attacks in its history. Japanese, Polish, Spanish and Colombian visitors were among those killed in the attack, which the government says was aimed at destroying Tunisia's vital tourism industry.
'Strong response'
"Tunisia wanted France with them, and France is on the side of Tunisia, the origin of the Arab Spring, and now a victim of a hateful act," Hollande said in France after voting in local elections before flying to Tunis.
Italy's Prime Minister Matteo Renzi was also due to take part in the demonstration, along with leaders from Palestine, Poland, Belgium, Libya and Algeria.
Tunisia's Prime Minister Habib Essid earlier told reporters a raid in the southern Gafsa region had killed nine militants from the local group Okba Ibn Nafaa, including Algerian Lokman Abu Sakhr, suspected of orchestrating the museum attack.
"We have killed most of the leaders of Okba Ibn Nafaa who were behind many recent attacks," Essid said. "This is a clear and strong response to terrorism after the Bardo attack."
The Islamic State of Iraq and the Levant (ISIL) claimed the attack, though the Tunisian government has pointed the finger at Okba Ibn Nafaa, which has a base in the Chaambi mountains bordering Algeria.
The group was previously more allied to al Qaeda but has made vague statements on its position toward the ISIL, the al Qaeda splinter group that now controls large parts of Iraq and Syria.
The Tunis attack underscored how Islamist militant loyalties are blurring as they seek a new North African front, especially in Libya, where political chaos and factional fighting has allowed Islamic State to gain an outpost.
The two Bardo gunmen were trained over the border in Libya at camps operated by Tunisian militants, officials say. Both were killed by the security forces.
http://www.hurriyetdailynews.com/tunisian-forces-kill-nine-militants-before-world-leaders-attend-bardo-march-.aspx?pageID=238&nID=80314&NewsCatID=357
---------
Tunisians march against extremism after attack
29 March 2015
Thousands of Tunisians set off on Sunday for a march "against terrorism" through the capital following the massacre of foreign tourists at the country's national museum.
Some 12,000 people were present for the start of the march, a police official said, with many waving Tunisian flags to chants of "Tunisia is free! Terrorism out!"
On March 18, two gunmen targeted the National Bardo Museum in an attack claimed by the Islamic State of Iraq and Syria (ISIS) militant group, dealing a severe blow to a country that was the cradle of the Arab Spring and is highly dependent on tourism.
The dead tourists were from Italy, Japan, France, Spain, Colombia, Australia, Britain, Belgium, Poland and Russia.
A Tunisian policeman was also gunned down. On Saturday the death toll rose to 22 after a Frenchwoman succumbed to injuries sustained in the attack.
The march is set to begin in Tunis at 1000 GMT, going from Bab Saadoun Square to the museum where a stone tablet will be dedicated to the memory of the victims.
The attack was "a big blow, but this blow did not kill us, it made us stronger", Tourism Minister Salma Elloumi Rekik said on television on Saturday.
President Beji Caid Essebsi will host the foreign dignitaries including his counterparts from France, Francois Hollande, and Poland, Bronislaw Komorowski, as well as the Palestinians' Mahmud Abbas.
Italian Prime Minister Matteo Renzi and Algeria's premier, Abdelmalek Sellal, as well as the foreign ministers of Spain, Jose Manuel Garcia-Margallo, and the Netherlands, Bert Koenders, are also expected.
Essebsi called earlier in the week for a huge turnout for the march to the museum, which is due to reopen to the public on Monday.
The Bardo's doors were open on Friday to schoolchildren and students only, and an AFP journalist said bullet holes could still be seen on some of the walls inside.
"I was a little (scared) but now that we are here I can see that things are safe," Lena Bottlender, a 17-year-old German student, told AFP.
Soumeya, a young Tunisian who visited on Friday, said she was "scared when she watched (the attacks on) the television".
"We are here to show people that there is nothing to be afraid of," she added.
Tunisia has seen an upsurge in Islamist extremism since overthrowing longtime strongman Zine El Abidine Ben Ali in 2011, but has taken pride in forming a democratic government since the Arab Spring - in marked contrast to countries such as Libya, Syria and Yemen.
http://english.alarabiya.net/en/News/middle-east/2015/03/29/Tunisians-march-against-extremism-after-museum-massacre.html
---------
Libya's Tripoli parliament says troops pull back from major oil ports
28 March 2015
A rival Libyan parliament based in the capital Tripoli has ordered the withdrawal of troops loyal to it from frontlines near Libya's biggest oil ports, a senior lawmaker said on Saturday.
The move raised hopes of a reopening of the ports of Es Sider and Ras Lanuf, which closed in December when fighting broke out between forces loyal respectively to Libya's competing governments and parliaments.
http://english.alarabiya.net/en/business/economy/2015/03/28/Libya-s-Tripoli-parliament-says-troops-pull-back-from-major-oil-ports.html
--------
Nicolas Anelka talks football, discrimination, and his Islamic faith
29 March 2015
It is exactly 18 years since Nicolas Anelka started a career which has seen him become one of the most successful footballers of all time.
Now, in an exclusive interview with Al Arabiya, the 36-year-old has spoken about his new footballing project in North Africa, his conversion to Islam, and how growing up with French Algerians in the Paris suburbs helped forge his personality.
Anelka's cumulative transfer fees are more than £112m – placing him among the most expensive players in history – and he has turned out for the biggest clubs in Europe, including Real Madrid, Juventus, Chelsea, Arsenal, and Liverpool.
But it was at the Aurassi Hotel in Algiers, the capital of Algeria, where he is currently acting as a consultant to homegrown football club NA Hussein Dey (NAHD) that Anelka spoke.
"I have an affinity with Algeria, because I grew up with plenty of Algerian friends in the suburbs of Paris," he said.
"We had lots in common, including Islam. In fact, people kept telling me that I had an Algerian character. I was very touched by that because they are a very proud people. I'm proud but not arrogant."
Full report at:
http://english.alarabiya.net/en/sports/2015/03/28/Nicolas-Anelka-talks-football-discrimination-and-his-Islamic-faith-.html
---------
Mideast
50 Houthis killed in clashes with Shabwa tribes
29 March 2015
At least 50 Houthi rebels have been killed in clashes with armed tribes in Yemen's Shabwa province, located to the east of the capital Sanaa.
The tribes had initially launched the attacks on Houthi militias and forces allied to former President Ali Abdullah Saleh.
The Houthis had joined forces with the loyalists of former President Saleh in their offensive to take control of Yemen.
Saudi Arabia is leading a 10-state coalition to combat the Houthi's advancement of Yemen in support of the country's legitimate President Abdrabbu Mansour Hadi and his government.
Following the clashes, Arab coalition warplanes hit Houthi positions in Shabwa.
http://english.alarabiya.net/en/News/middle-east/2015/03/29/50-Houthis-killed-in-clashes-with-Shabwa-tribes.html
---------
Arab coalition air strikes kill 15 Yemeni rebel troops
29 March 2015
Arab coalition air strikes hit the headquarters of the rebel republican guard in Yemen's capital, killing 15 soldiers, a military official told Agence France-Presse Sunday.
The overnight raid struck the al-Subaha base in western Sanaa, the official said.
A medic at a military hospital in the capital said it had received 12 bodies and 18 wounded soldiers after the raid.
Saudi Arabia is leading a 10-state coalition to combat the Houthi's advancement of Yemen in support of the country's legitimate President Abdrabbu Mansour Hadi and his government.
Air strikes have eliminated most of the ballistic missiles which Houthi fighters captured from Yemen's army, a Saudi military officer said on Saturday.
Saudi-led airstrikes struck military targets and weapons depots controlled by Houthi rebels in the Yemeni city of Saada on Sunday, where members of the militia released hundreds of convicted criminals and took control of the Kahlan military camp, Al Arabiya News Channel reported.
http://english.alarabiya.net/en/News/middle-east/2015/03/29/Arab-coalition-air-strikes-kill-15-Yemeni-rebel-troops.html
---------
Israel Seeking to Demolish Ancient Palestinian Village
29 March, 2015
Israel is seeking to demolish the ancient Palestinian village of Susya in the Southern part of the occupied West Bank under the pretext of doing "archaeological work" at the site.
The regime is trying to obtain permission from a high court to flatten the Palestinian village to prepare that ground for "more archaeological work at the site," the Islam Times reported on Sunday.
Tel Aviv plans to relocate the village residents to the nearby city of Yatta in al-Khalil (Hebron).
This comes as the locals had obtained a temporary injunction against the demolition in 2014.
The Tel Aviv regime calls the Palestinian houses "illegal outposts," with the Israeli military prohibiting residents from setting up homes in the area.
This is while there is an illegal Israeli settlement near Susya with the same name.
Attorney Kamar Mishraki-Asad, representing the Susya residents, said, "It's incredible, but with the settlements, it was already ruled that Susya land is privately owned and thousands of dunams of land in the area are privately owned by Palestinians."
Full report at:
http://english.farsnews.com/newstext.aspx?nn=13940109000609
---------
Rebellion among Houthi militia ranks in Taez
29 March 2015
Yemeni security forces in Taez, who had allied themselves with the Houthi militia and supporters of former President Ali Abdullah Saleh, rebelled against orders of marching to Aden, Al Arabiya News Channel reported Sunday citing local sources.
Members of Taez's military police refused to head to Aden, where the country's legitimate government has been holding court since the Houthi takeover of Sanaa earlier this year.
Separately, local sources said around 300 Houthi militants – supported by army forces and tanks – stormed the al-Jalila area in the al-Dalea governorate south of Yemen.
The Houthis were met by local armed groups in clashes that left a number of people wounded, Al Arabiya reported citing eyewitness accounts. The militia also managed to take control of military camps from local armed groups.
Sources said scores fled their homes in al-Dalea, as clashes continued in the al-Jalila area between locals and Houthis which left an unidentified number of casualties.
Al Arabiya reported that antiaircraft weapons were fired at Arab coalition warplanes as they flew over the al-Jalila.
Saudi Arabia is leading a 10-state coalition to combat the Houthi's advancement of Yemen in support of the country's legitimate President Abdrabbu Mansour Hadi and his government.
http://english.alarabiya.net/en/News/middle-east/2015/03/29/Rebellion-among-Houthi-militia-ranks-in-Taez.html
-------
Iran nuclear talks go down to wire as Israel lashes out
29 March, 2015
High-stakes negotiations to rein in Iran's suspect nuclear programme looked set to go down to the wire on March 29 with only three days left until a midnight deadline for the outlines of a deal.
In a sign that the complex talks were coming to a head, top US diplomat John Kerry cancelled plans to attend a high-profile event in his beloved Boston on March 30 to stay at the negotiating table.
"Given the ongoing nuclear negotiations, (Kerry) will not be able to share this special time ... in person," deputy State Department spokeswoman Marie Harf said of Monday's dedication of new institute in honour of late senator Ted Kennedy.
Israeli Prime Minister Benjamin Netanyahu, whose country is widely believed to have nuclear weapons itself, denounced as "dangerous" the accord that is on the table.
"The dangerous accord which is being negotiated in Lausanne confirms our concerns and even worse," Netanyahu said in remarks broadcast on public radio.
Kerry met again early March 29 with Iranian Foreign Minister Mohammad Javad Zarif, the latest in a flurry of closed-door discussions at a luxury hotel in the Swiss town of Lausanne.
Full report at:
http://www.hurriyetdailynews.com/iran-nuclear-talks-go-down-to-wire-as-israel-lashes-out.aspx?pageID=238&nID=80311&NewsCatID=359
---------
Turkey welcomes fall of key city in Syria's north
29 March, 2015
Turkish officials have expressed their satisfaction at the seizure of the northern Syrian city of Idlib by opposition forces, stressing that the Ankara-supported Free Syrian Army (FSA) was part of the winning side.
The coalition that seized Idlib city on March 28 was composed of the al-Nusra Front, the official Syrian affiliate of al-Qaeda, as well as several Islamist factions.
"The al-Nusra Front and its allies have captured all of Idlib," the Britain-based Syrian Observatory for Human Rights said, according to AFP. "There is still a group of soldiers fighting in the security quarter of the city, but they will not be able to reverse the situation," Observatory director Rami Abdel Rahman added.
Full report at:
http://www.hurriyetdailynews.com/turkey-welcomes-fall-of-key-city-in-syrias-north.aspx?pageID=238&nID=80306&NewsCatID=352
---------
Arab World
Iraqi Army Kills over 27 ISIL Terrorists in Tikrit
29 March, 2015
The Iraqi army, backed by popular fighters, continued to make more gains in its huge offensive against the ISIL terrorists in the strategic city of Tikrit, leaving more than 27 terrorists dead and injured, a military source said.
A senior army official, speaking on condition of anonymity, said that the army troops made major advances in their confrontation with the ISIL Takfiri group in the areas of Albu Tuma and Jazira in Tikrit city, and managed to kill at least 27 terrorists.
Iraqi military forces, backed by Shiite and Sunni volunteer fighters, have won control over 90 percent of Tikrit after inflicting hefty losses on the ISIL.
Some 30,000 Iraqi troops and thousands of allied Shiite and Sunni militias have been involved in a week-long operation to recapture Tikrit and other key towns and villages in the Northern part of Salahuddin province from the ISIL militants.
http://english.farsnews.com/newstext.aspx?nn=13940109000069
---------
Yemen intervention to go on until Houthis 'surrender': Arab League chief
29 March 2015
Arab League chief Nabil al-Arabi said on Sunday a Saudi-led offensive in Yemen will continue until the Houthi Shiite rebels "surrender" their weapons and withdraw from areas they seized.
The "operation will continue until the Houthi militia withdraws and surrenders its weapons," Arabi said at the start of the second day of a summit in the Egyptian resort town of Sharm el-Sheikh.
Yemen's President Abedrabbo Mansour Hadi had attended the first day of the summit, calling for the offensive to continue until the Iran-backed rebels surrender and hand over their leaders and weapons.
Meanwhile, Arab leaders have agreed to form a joint military force, Egyptian President Abdel Fattah al-Sisi announced Sunday on the second and final day of a summit.
"The Arab leaders had decided to agree on the principle of a joint Arab military force," Sisi said in a speech at the gathering in the Egyptian resort town of Sharm el-Sheikh.
Full report at:
http://english.alarabiya.net/en/News/middle-east/2015/03/29/Yemen-intervention-to-go-on-until-Houthis-surrender-.html
---------
Scores of Insurgents Killed by Syrian Army in Deir Ezzur Province
29 March, 2015
The Eastern Province of Deir Ezzur has been the scene of bloody clashes between the rebel groups and the Syrian soldiers, who have gained the upper hand against the foreign-backed enemies in recent months.
An informed military source in the province said that scores of militants were killed and wounded in the Syrian army's operations, and meantime, huge amounts of rebels' weapons and ammunition depots were targeted in al-Tharda Mountain in Deir Ezzur, which borders the Iraqi crisis-hit Anbar province.
Syria has been the scene of insurgency since 2011 when certain western powers and their regional allies voiced loudly that Syrian protests have no diplomatic solution and they started supplying the country's opposition groups with their arms and funds.
Since 2014, specially after victory of President Bashar al-Assad in the country's presidential election in summer, the army has gained upper hand in its anti-terrorism campaign, and has been partly successful in sealing borders with Turkey and Jordan.
http://english.farsnews.com/newstext.aspx?nn=13940109000371
---------
Syria Terms Israeli Occupation of Muslims' Territories as Root Cause of Mideast Tensions
29 March, 2015
Syrian Parliament Speaker Mohammad Jihad al-Laham said that the Israeli occupation and divisive plots are the main sources of violence, extremism, terrorism and civil wars in the Middle-Eastern region.
In a speech during a hearing session of the Human Rights Committee of the 132nd session of the Inter-Parliamentary Union (IPU) Assembly in Hanoi, in Vietnam, al-Laham called on the world parliaments to press Israel to end its occupation of Arab territories, including the Syrian Golan Heights, considering this occupation as the root cause of chaos, terrorism, and tensions in the region.
He further added that ending this occupation would contribute to the restoration of security and stability to the Middle East.
The Geneva-based Inter-Parliamentary Union, which is an important non-governmental parliamentary institution, was founded in 1889.
http://english.farsnews.com/newstext.aspx?nn=13940109000424
---------
Syrian regime troops regroup after losing Idlib
29 March 2015
Syrian troops were regrouping outside Idlib city on Sunday, a day after it became the second provincial capital to fall from regime control, a security source and media said.
"Forces are repositioning on the outskirts of Idlib in order to face the terrorist battalions... and be in the best position to repel their attack," a security source in Damascus told AFP.
The Al-Watan newspaper, which is close to the government, said that troops had carried out a "successful operation regrouping south of the city".
"Army reinforcements were sent to start a military operation to regain control of the areas that were vacated after the evacuation of the local population to safe areas," the daily added, citing a source on the ground.
Opposition forces including Al-Qaeda's Syrian affiliate Al-Nusra Front seized control of Idlib on Full report at:
http://english.alarabiya.net/en/News/middle-east/2015/03/29/Syrian-regime-troops-regroup-after-losing-Idlib.html
---------
Saudi Blogger Tells of Flogging Ordeal
29 March, 2015
Saudi blogger Raif Badawi, who has been sentenced to 1,000 lashes and 10 years in prison for insulting Wahhabism, said his ordeal was merely because of an expression of opinion.
"All this cruel suffering happened to me because I expressed my opinion," Badawi said in his first letter from prison since he was jailed in 2012, press tv reported.
The Saudi blogger received his first 50 lashes at a square outside al-Jafali Mosque in the Red Sea port city of Jeddah on January 9. Eight other rounds of the punishment have been suspended in straight weeks.
According to German weekly magazine Der Spiegel, Badawi said that he had "miraculously survived 50 lashes."
Full report at:
http://english.farsnews.com/newstext.aspx?nn=13940109000385
---------
Saudi FM responds to Putin's letter on Syrian crisis
29 March 2015
Saudi Foreign Minister Prince Saud al-Faisal said Sunday that Russia proposes a peaceful solution to the Syrian crisis while it continues to provide arms to the regime of President Bashar al-Assad.
The Saudi foreign minister said Assad has "lost his legitimacy" as Russia continues to supply his government with arms that are killing the Syrian people.
Al-Faisal noted that Arab states are looking forward to have better relations with Russia if it shows more "positivity."
His statements over the Syrian crisis responded to a message sent earlier by Russian President Vladimir Putin to participants at the Arab League summit, held at Egypt's Red Sea resort of Sharm El Sheikh.
In the message carried by the Russian Interfax news agency, Putin stated that he insists on settling the Syrian crisis peacefully and based on international law principles.
http://english.alarabiya.net/en/News/2015/03/29/Saudi-FM-responds-to-Putin-s-letter-over-Syrian-crisis-.html
----------
India
Common consensus needed for anti-cow slaughter bill: Home Minister
Bagish Jha,TNN | Mar 29, 2015
INDORE: Considering the requests of the saints at religious programme, Union Rajnath Singh supported the idea to ban cow slaughter nationally and assured to take efforts for creating common consensus on bringing anti-cow slaughter bill in Parliament.
Rajnath, who was in Indore on Sunday to participate in a religious programme of Jain community, clarified that bringing such law would not be easy as present NDA government is struggling to pass other important bill in absence of clear majority in Rajya Sabha.
"Such bill can be introduce only with common consensus and we will try for it," said Singh adding that previous NDA government led by former prime minister Atal Bihari Vajpayee had introduce a bill in Parliament to ban cow slaughter, but the bill was not cleared by the Parliament.
Full report at:
http://timesofindia.indiatimes.com/india/Common-consensus-needed-for-anti-cow-slaughter-bill-Rajnath-Singh/articleshow/46735870.cms
---------
Sri Sri Ravi Shankar's 'Art of Living' gets ISIS threat letters
29 March, 2015
KUALA LUMPUR: The Malaysian chapter of Sri Sri Ravi Shankar's Art of Living has received threatening letters from the Islamic State terror group, a close aide of the spiritual leader claimed on Saturday.
"Sri Sri Ravi Shankar is touring some countries in the far east and he landed in Malaysia yesterday and few days ago while he was in Cambodia, we received threat letters from ISIS, one was received by the hotel manager, one was received by the director of Art of Living and one by senior faculty and the content of the letter is very threatening saying if you go ahead with the programme there will be consequences," said Nakul, an aide of Ravi Shankar.
"The authorities have immediately notified the local authorities. We also contacted the Indian Embassy and we also conducted an investigation to find the source of the letter. We are going ahead," he said.
The Art of Living had a yoga programme in the morning which was attended by 10,000 people and there is a programme underway in Penang attended by 70,000 people which Sri Sri will be attending, he added.
http://timesofindia.indiatimes.com/india/Sri-Sri-Ravi-Shankars-Art-of-Living-gets-ISIS-threat-letters/articleshow/46727580.cms
---------
Swamy sabotaged Islamic banking
NAVTAN KUMAR New Delhi | 29th Mar 2015
Pressure from Bharatiya Janata Party leader Subramanian Swamy led to the suspension of the launch of Islamic banking in India. The launch of State Bank of India (SBI) Sharia Mutual Fund, designed to invest in Sharia (Islamic law) compliant companies, was "deferred" at the last moment in December 2014 as Swamy wrote to Prime Minister Narendra Modi about his grievances against the system and got it stalled.
Though SBI Mutual Fund termed the "deferment" as a commercial decision, Swamy admitted to The Sunday Guardian that he wrote a letter to the Prime Minister in December saying that introducing Islamic banking would be "politically and economically disastrous for our country". "Yes, I wrote a letter to him (Narendra Modi) and he acknowledged it. He acted immediately and asked the concerned officials to stop it. So it was deferred at the eleventh hour," Swamy said.
In his letter, Swamy spoke about the Kerala government's decision to introduce a Sharia compliant bank there, which was challenged by him in court. "...The Reserve Bank under the then Governor Dr Y.V. Reddy had filed an affidavit stating that under Indian secular laws and under the Reserve Bank Act, Sharia compliant is not permitted," reads the letter.
Full report at:
http://www.sunday-guardian.com/news/swamy-sabotaged-islamic-banking
---------
Beware of draconian counter-terrorism measures, cautions NHRC chief
A Subramani,TNN | Mar 29, 2015
MUMBAI: While terrorism needs to be condemned unequivocally, draconian counter-terrorist measures, including draconian laws, are matters of concern, said chairperson of the National Human Rights Commission (NHRC) and former chief justice of India Justice K G Balakrishnan on Sunday.
Addressing a gathering of judges, lawyers and law students attending a conference on international terrorism in Mumbai, Justice Balakrishnan said anti-terrorist laws had put a large number of people in jail without trial and conviction. "It is a matter of worry," he said.
Justice Surendra Kumar Sinha, Chief justice of Bangladesh, said his country always supported global war against terrorism, but its ability to combat terrorism was undermined by weak institutions, porous borders and limited law enforcement capacity.
"At present, the government is trying hard by keeping no stone unturned for reviving a sense of security among its people so that they can contribute to national economy and political progress," he said.
Full report at:
http://timesofindia.indiatimes.com/india/Beware-of-draconian-counter-terrorism-measures-cautions-NHRC-chief/articleshow/46735789.cms
---------
8 militants sneaked into India, 4 of them killed: Intelligence agencies
TNN | Mar 29, 2015
NEW DELHI: The Centre on Saturday warned that four terrorists may have sneaked into India to carry out terror attacks, including in the national capital.
According to a senior official, the group of terrorists may have sneaked in along with the four terrorists who carried out two separate attacks in Samba and Kathua last week. Security agencies were expected to step up security precautions in the wake of the alert.
According to government sources, there is credible information by now that at least eight terrorists may have infiltrated into Jammu & Kashmir via Samba last week. Two of those terrorists were killed by the army on March 21 after they attacked a camp in Meshwara area of Samba district. The other two were killed when they stormed Rajbagh police station in Kathua on March 20
Full report at:
http://timesofindia.indiatimes.com/india/8-militants-sneaked-into-India-4-of-them-killed-Intelligence-agencies/articleshow/46731911.cms
---------
Strategic Chabahar transit deal soon, will bolster trade ties with India: Afghan ambassador
Partha Maitra,TNN | Mar 29, 2015
BHOPAL: A trilateral transit deal between Afghanistan, India and Iran will be signed shortly with the strategic Chabahar port project in Iran nearing completion — a giant leap to bypass Pakistan and boost trade ties with landlocked Afghanistan. "The draft agreement is ready, the finer points are being hammered out and we are waiting for a date to sign the tri-nation accord in Tehran. This alternative route will directly connect India with Afghanistan without hindrance. Our trade volume will catapult from current $700mn to trillions of dollars," said Afghanistan ambassador to India, Shaida Mohammad Abdali in an exclusive interview to TOI.
Last year, India announced $100mn investment in Chabahar, which is just 72 km from Pakistan's Gwadar port and 1000 km closer than Karachi port, which handles Afghanistan's imports. The deal will effectively shut out India's dependence on Pakistan, which disallows overland transit trade to Afghanistan. Abdali, who was in Bhopal on a three-day visit, also announced visa-on-arrival for Indians who want to do business in Afghanistan.
Full report at:
http://timesofindia.indiatimes.com/india/Strategic-Chabahar-transit-deal-soon-will-bolster-trade-ties-with-India-Afghan-ambassador/articleshow/46732474.cms
---------
'Russia calls for continuation of dialogue between Pakistan, India'
29 March, 2015
ISLAMABAD – Welcoming resumption of dialogue between Pakistan and India, Russian ambassador to Islamabad Alexey Y. Dedov on Sunday called for continuation of efforts for resolution of outstanding issues between two nuclear-capable neighbours.
We also welcome this kind of developments after the visit of Indian secretary of foreign affairs Subrahmanyan Jaishankar to Islamabad early this month. This process needs continuation in the practical terms, he said in exclusive interview with APP here. He said that there was a will in the two countries to pursue dialogue as both Prime Minister Nawaz Sharif and Prime Minister Narendra Modi had demonstrated they wanted to improve their relations.
This is a very good trend, said the ambassador who took his assignment in Islamabad last year and currently visiting different Pakistani cities to explore avenues of economic cooperation between Islamabad and Moscow. Questioned on Afghanistan situation he supported Pakistan's stance by saying that his country wanted an Afghan-led and Afghan owned reconciliation process for ensuring peace and stability in war-battered country.
Full report at:
ttp://www.dailytimes.com.pk/national/29-Mar-2015/russia-calls-for-continuation-of-dialogue-between-pakistan-india
---------
Pakistan
Army chief vows terror-free Pakistan for next generation
29 March, 2015
LAHORE: Chief of Army Staff Gen Raheel Sharif has called for making collective efforts to give the next generation a terrorism-free and prosperous Pakistan and to provide them a conducive environment which could help them apply their knowledge and creativity to achieve optimum effects for national growth.
"Our young and upcoming generation is our future. And it can only be saved if we make joint efforts for giving them a terror-free and prosperous Pakistan," the COAS said while addressing the third convocation of CMH Lahore Medical College on Saturday.
"We are taking menace of terrorism head on and will go anywhere in the country to eliminate it completely," he pledged.
Full report at:
http://www.dawn.com/news/1172593/army-chief-vows-terror-free-pakistan-for-next-generation
---------
Nawaz has ensured 'all potentials of Pakistan Army' to Kingdom: Saudi press agency
29 March, 2015
Prime Minister Nawaz Sharif has ensured full support to Saudi Arabia, stressing that "all potentials of the Pakistan Army are offered to the Kingdom of Saudi Arabia", Saudi Press Agency reported on Saturday.
King Salman Abdul Aziz telephoned the prime minister on Saturday, and both leaders reviewed bilateral relations between the two countries, and developments on regional and international arenas, the press agency stated.
King Salman went on to thanks Prime Minister Nawaz for Pakistan's support.
Elaborating on the telephonic contact between King Salman and the prime minister, Foreign Office spokesperson Aizaz Chaudhry in a press briefing said PM Nawaz reiterated that Pakistan attached utmost importance to the sovereignty and territorial integrity of Saudi Arabia, as two of the most sacred monuments of Islam and the Muslim world were present in the Kingdom.
Full report at:
http://tribune.com.pk/story/860469/nawaz-has-ensured-all-potentials-of-pakistan-army-to-kingdom-saudi-press-agency/
---------
Five Banned Outfit Men Killed In Mastung, Baluchistan
29 March, 2015
MASTUNG: Five militants were killed in exchange of fire with Frontier Corps (FC) in district Mastung of Balochistan.
According to FC spokesman, the paramilitary force, on a tip-off, launched search operation in Kardgap area, where the militants opened fire. In retaliation, five militants were killed and six others injured.
The spokesman said the dead and injured belong to a banned outfit. The FC personnel also recovered four trucks and the drivers, abducted four days back, from the possession of the accused.
http://www.thenews.com.pk/article-179685-Five-banned-outfit-men-killed-in-Mastung
---------
FC kills four BRA militants; council chairman abducted
29 March, 2015
UETTA: The Frontier Corps (FC) has reportedly killed at least four suspected militants belonging to banned Baloch Republican Army (BRA) during a search operation in Kalat district of Balochistan, spokesperson for FC Balochistan said on Saturday.
According to an FC spokesperson, security forces acting on a tip-off launched a massive search operation in Mangocher area of Kalat. "The FC used helicopter and ground forces during the operation," the spokesperson said. There was an exchange of fire between militants and security forces, which lasted for hours.
The FC seized 500kg explosives, 150 rockets and 1,500 detonators, while automatic weapons were also recovered, he said.
Meanwhile, a group of armed men kidnapped the chairman of Kharan District Council near Patken area of Kharan district on Saturday.
According to a senior official of Balochistan Levies, newly elected Kharan District Council Chairman Sagheer Badini was going to a friend's house for offering fateha when a group of armed men intercepted his vehicle in Patken area and kidnapped him.
http://www.dailytimes.com.pk/national/29-Mar-2015/fc-kills-four-bra-militants-council-chairman-abducted
---------
Conspiracy to Discredit Islam in Middle East Cause of Concern: Permanent Representative of Pakistan in UN
29 March, 2015
NEW YORK: Permanent Representative of Pakistan to the United Nations Dr Maleeha Lodhi said on Saturday the conspiracy to discredit Islam in the Middle East was a cause of concern.
Dr Lodhi emphasised that the security and sovereignty of all countries should be respected. She added that Islam teaches love, brotherhood, tolerance and humanity.
According to Dr Lodhi, the Security Council can contribute to restoring peace and defeating extremist and violent groups by helping to evolve a global consensus on the principles and structure for the solution of the challenges confronted in Iraq, Syria, Yemen and Palestine.
"In this, the Council cannot but adhere to the principles of the UN Charter and its own unimplemented Resolutions."
Full report at:
http://www.thenews.com.pk/article-179563-Conspiracy-to-discredit-Islam-in-Middle-East-cause-of-concern:-Lodhi-
---------
Police use rickshaw to transport 'TTP militants' to court
29 March, 2015
KARACHI: In what appears to be a major security lapse, police on Saturday brought two suspected militants of the proscribed Tehreek-i-Taliban Pakistan and as many suspected killers of a policeman to an antiterrorism court in a rickshaw and a Suzuki Hi-roof to obtain their remand.
Despite the fact that some alleged militants had managed to escape when they were transported to courts from police stations in rickshaws, Investigation Officer Rana Abdul Jabbar along with two constables brought the two 'TTP militants' — Tayyab and Tassaduq — to the ATC-II in a rickshaw.
The IO claimed that he had no other option but to use a rickshaw since no police mobile van was available.
Full report at:
http://www.dawn.com/news/1172466/police-use-rickshaw-to-transport-ttp-militants-to-court
---------
Pakistanis not getting correct information in Yemen: Dr Abdul
29 March, 2015
ADEN: Dr Abdul Ghani, one of the stranded members of Pakistani community in Yemen, Saturday said the citizens were not getting correct information in connection with their evacuation in the war-torn Aden city.
Talking to Geo News, Dr Abdul Ghani demanded of the Pakistan government to immediately evacuate Pakistanis stranded in Aden and Southern Yemen.
We can't even trust the local neighbours here, all the markets of Aden are closed and the people have run out of food supplies and have nothing to eat", Dr Ghani informed Geo News.
http://www.thenews.com.pk/article-179623-Pakistanis-not-getting-correct-information-in-Yemen:-Dr-Abdul
---------
80,000 Pakistanis killed in US 'War on Terror': report
29 March, 2015
At least 80,000 Pakistanis have been killed in the US-led War on Terror, a study conducted by a group of international physicians' organisations revealed.
A report titled "Body Count: Casualty Figures after 10 Years of the 'War on Terror" was released by the Nobel Prize-winning International Physicians for the Prevention of Nuclear War, along with Physicians for Social Responsibility and Physicians for Global Survival.
Full report at:
http://tribune.com.pk/story/860790/80000-pakistanis-killed-in-us-war-on-terror-report/
------
South Asia
Separate military actions leave six Taliban killed, 11 injured in Maidan Wardak
29 March, 2015
Six Taliban have been killed and eleven others injured in separate military actions in Maidan Wardak province.
Security officials say one Taliban fighter was killed and another wounded after a short gun battle erupted between security forces and Taliban in close to Antan security post of Day Mirdad District around 07:00 AM This morning.
Also, five Taliban insurgents have been killed and eleven wounded during military operation in Alishah area of Chak District.
According to local officials Mullah Abdul Ghafar alias Malang a Taliban commander is among the ones killed in the operation.Wardak
Full report at:
http://www.khaama.com/separate-military-actions-leave-six-taliban-killed-11-injured-in-maidan-wardak-3073
---------
'Take Immediate Action against Terrorism', Bangladesh Govt. Urged
29 March, 2015
Professionals from different sectors urged the government to identify the sources of terrorism and militancy, considering the context of world militant activities including Middle East, and take immediate action at a convention yesterday.
The convention titled "Against Violence, Terrorism and Militancy and to Build a Secular, Democratic and Rich Bangladesh" was held at capital's Engineers Institution auditorium in the morning.
Speakers at the convention militant activities are taking place under the shadow of politics. They called upon the people to unite against these terrorist activities and work for building a secular, democratic and rich Bangladesh.
Full report at:
http://www.dhakatribune.com/bangladesh/2015/mar/29/take-immediate-action-against-terrorism#sthash.2UzbwM4g.dpuf
-------
Civilians killed in military operation in Ghazni
Mar 29 2015
Civilians have been killed in military operation, namely Operation Nusrat, in Ghazni province, local elders and provincial governor has told reporters.
Dozens of local elders from Andar and Deh Yak districts on Saturday went to the governor's office in Ghazni city and conveyed their concern to the provincial administration.
Abdul Jami Jami, deputy director of the provincial council of Ghazni and member of the delegation said that military shells have fallen on civilian homes causing heavy casualties.
He added that more than 40 civilians including women and children have been killed or injured in the military operation, ongoing from the past eight days.
Ali Ahmadi, deputy governor of Ghazni province did not confirm or reject the reports while talking to Khaama Press but Mohammad Musa Akbarzada, acting governor of Ghazni province has confirmed civilian casualties in Andar and Deh Yak districts during military operation.
Akbarzada said he did not have a solid number of the civilian casualties but he himself has visited the areas hit during the operation.
Delegation urged the immediate dismissal and referring him to judiciary the military commander who according to them is responsible.
http://www.khaama.com/civilians-killed-in-military-operation-in-ghazni-3078
---------
No love for ISIS (Daesh) in Afghanistan, says ex-president Hamid Karzai
29 March, 2015
The former Afghan President Hamid Karzai has said there is no love for the Islamic State of Iraq and Syria (ISIS) terrorist group in Afghanistan.
Calling the presence of the terrorist group in Afghanistan as a slogan, Karzai insisted that the group lacks the necessary support in the country.
"There's a lot of media hype in Afghanistan, but there is no physical evidence of them per se," Karzai told CNBC in an interview.
Karzai further added "You'll see that one day a white flag of the Taliban is turned into the black flag of ISIS. The individuals may remain the same, but the change of name is something that can occur easily."
Full report at:
http://www.khaama.com/no-love-for-isis-daesh-in-afghanistan-says-ex-president-hamid-karzai-9959
---------
North America
European anti-Islam group's Canadian protest fizzles
29 March 2015
A planned protest by the new Canadian branch of anti-Islam group PEGIDA failed to materialize here Saturday as around 500 opponents gathered to rally against the demonstration.
A large police cordon surrounded the anti-PEGIDA protesters in Montreal's Little Maghreb neighborhood, which is home to a large North African Muslim community.
Germany-based PEGIDA, or Patriotic Europeans Against the Islamization of the West, had called for a protest in the area.
However, less than a dozen PEGIDA protesters gathered at a car park near the neighborhood before the group's planned demonstration was cancelled.
Anti-PEGIDA protesters instead took center stage, brandishing banners with slogans that included "Solidarity against Islamophobia" and "Smash PEGIDA! Against the Nazis."
Cheers later broke out as police told those gathered that PEGIDA had scrapped its planned protest.
Full report at:
http://english.alarabiya.net/en/News/world/2015/03/29/European-anti-Islam-group-s-Canadian-protest-fizzles-.html
---------
U.S. drops 60,000 propaganda leaflets on ISIS stronghold Raqqa
29 March 2015
The United States has dropped tens of thousands of graphic leaflets southwest of the Syrian city of Raqqa recently aimed at discouraging recruitment for the Islamic State of Iraq and Syria (ISIS).
The grisly, cartoon-style leaflets show recruits lining up to be shoved into a meatgrinder and is part of what the Pentagon formally calls "Military Information Support Operations," or MISO, meant to influence thinking on the battlefield.
The Pentagon said a U.S. Air Force F-15 warplane dropped about 60,000 of the leaflets on March 16.
"The message of this leaflet is that if you allow yourself to be recruited by Daesh (ISIS), you will find yourself in a meat grinder," said Pentagon spokesman Colonel Steve Warren. "It's not beneficial to your health."
The U.S. military has long employed such campaigns in wartime but Warren said this was first of its kind in Syria he was aware of since the United States began bombings in the country last September.
http://english.alarabiya.net/en/perspective/features/2015/03/29/U-S-drops-60-000-propaganda-leaflets-on-ISIS-stronghold-Raqqa.html
--------
US "deeply troubled" by Maldives' questionable commitment to democracy, human rights
29 March, 2015
The United States has called into question the Maldives' commitment to democracy and human rights following the imprisonment of former Defence Minister Mohamed Nazim and the arrest of three journalists from opposition protests last week.
"The United States is deeply troubled by recent developments in Maldives that call into question that nation's commitment to democracy and individual human rights," the US Department of State's Office of the Spokesperson in Washington DC said on Friday.
Nazim's "trial was particularly concerning, as it was marred by the same apparent lack of appropriate criminal procedures as the recent trial of former President Mohamed Nasheed," said the office.
The Criminal Court on Thursday found Nazim guilty of smuggling weapons, and sentenced him to 11 years in jail. On March 13, the court convicted Nasheed of terrorism over the military detention of Criminal Court Chief Judge Abdulla Mohamed in January 2012, and sentenced to him to 13 years in jail.
Full report at:
http://minivannews.com/politics/us-deeply-troubled-by-maldives-questionable-commitment-to-democracy-human-rights-95065#sthash.nWUcQtIO.dpuf
---------
US says Pakistan making sincere effort for Afghan peace
29 March, 2015
WASHINGTON: Pakistan is making a 'sincere effort' towards Afghan peace and it wants to make the best use of the 'new environment' by aiding a negotiated political settlement to the conflict in the neighbouring country, US Special Representative Dan Feldman said.
"I do think that there is a sincere effort being made by Pakistan at this point to take advantage of this new environment and a recognition that long-term stability on their border is in their interest and that they have a role to play in trying to ensure that there is a peaceful resolution to this process," Feldman, who is special US envoy for Afghanistan and Pakistan, said.
Feldman, who has years of experience on implementing US policy toward the region, was briefing reporters along with Larry Sampler, USAID Assistant to the Administrator for the Office of Pakistan and Afghanistan, on the new Afghan leaders' visit to Washington this week.
During their visit to Washington, Afghan President Ashraf Ghani and Chief Executive Officer Abdullah Abdullah discussed the future of his country with President Barack Obama and Secretary of State John Kerry and Defence secretary Ashton Carter in view of the multiple transitions leading to 2016-end withdrawal of American forces. One of the sessions at Camp David talks led by Secretary Kerry and the Afghan leaders focused on regional cooperation and reconciliation.
Full report at:
http://www.dailytimes.com.pk/national/29-Mar-2015/us-says-pakistan-making-sincere-effort-for-afghan-peace
---------
Europe
Hundreds Turn Out To Support Muslim Youth Festival in London
29 March, 2015
Hundreds of young British Muslims have attended a festival in London on how to divert people away from extremism.
Muslim Youth Focus Group organised the event to voice concerns about issues such as radicalisation.
The event was held as it emerged four teenage girls who were barred from travelling abroad were from the same school attended by three girls already thought to have fled to Syria.
All seven attend Bethnal Green Academy in Tower Hamlets.
The name of the school was revealed after reporters argued it was in the public interest.
The event was aimed at young British Muslims to help create a platform for them to discuss issues such as Islamophobia, Islamic State and the war in Syria.
'Muslim role models'
Full report at:
http://www.bbc.com/news/uk-england-london-32099166
---------
UK Muslims to get first national radio station
29 March, 2015
The United Kingdom is all set to get its first national Muslim-orientated radio station.
UK media regulator Ofcom confirmed it has awarded Sound Digital, a consortium of Arqiva, Bauer and UTV Media, the licence to broadcast 14 stations nationally from mid-2016.
The station known as British Muslim Radio is one of two Asians channels that were a part of the winning consortium.
Launched by the owners of Asian Sound Radio in Manchester, the station will provide "Asian music and speech, with elements of Islamic content".
It will broadcast programming in English, Urdu, Punjabi, Gujarati and Bengali.
http://tribune.com.pk/story/860774/uk-muslims-to-get-first-national-radio-station/
---------
Explainer: Why the western media refuses to call the Germanwings pilot a 'terrorist'
29 March, 2015
Twenty-eight-year-old German Andreas Lubitz was the co-pilot of Germanwings Flight 9525, flying on March 24 from Barcelona's El Prat Airport to Dusseldorf Airport, when it crashed approximately 100 kilometres northwest of Nice in the French Alps.
A French prosecutor later said that information from the black box indicated that Lubitz locked out the other pilot, Patrick Sondenheimer, and then deliberately crashed the plane, killing all 144 passengers and 6 crew members on board.
Since then, the Western media has been trying to dig into Lubitz' past and his beliefs in an attempt to find the motive for his actions, which come at an age when deliberately crashing a plane would usually be equated with a terrorist act by the international community, especially Europe and North America.
Full report at:
http://tribune.com.pk/story/860437/explainer-why-the-western-media-refuses-to-call-the-germanwings-pilot-a-terrorist/
---------
ISIS followers send 'up to 100,000 tweets a day' warns EU police chief
29 March 2015
Islamic State of Iraq and Syria (ISIS) supporters are sending up to 100,000 messages a day on social networking site Twitter to plan attacks, the European Union's law enforcement agency chief has warned.
Europol director Rob Wainwright warned that ISIS - which most recently claimed responsibility for the deadly attacks on a Tunisia museum - is believed to have up to 50,000 different Twitter accounts tweeting up to 100,000 messages a day, the former intelligence officer told a BBC radio station.
"As the communications of terrorist networks and criminal groups have moved increasingly [online], it's opened up a whole new wave of problems for us," said Wainwright, in an interview broadcast on Sunday.
Full report at:
http://english.alarabiya.net/en/media/digital/2015/03/29/ISIS-followers-send-up-to-100-000-tweets-a-day-warns-EU-police-chief-.html
---------
Soyuz spacecraft with Russian, US astronauts blasts off to ISS
29 March, 2015
BAIKONUR: A Russian Soyuz spacecraft carrying three crew, including a US astronaut and a Russian cosmonaut who will be the first to spend an entire year on the International Space Station, blasted off on schedule on Friday, Russian mission control said.
The Soyuz-TMA16M spacecraft took off from Russia's Baikonur cosmodrome in Kazakhstan and is headed for the International Space Station. "The flight is normal", mission control said seconds after the launch. "A successful launch of the Soyuz-FG rocket was carried out at 22:42 pm Moscow time (1942 GMT) to take the Soyuz TMA-16M manned spacecraft into orbit", Russia's space agency said in a statement on its website. The spacecraft is due to dock with the ISS at 04:36 am Moscow time on Saturday (0136 GMT).
Full report at:
http://www.dawn.com/news/1172420/soyuz-spacecraft-with-russian-us-astronauts-blasts-off-to-iss
---------
Yemen crisis won´t 'impact' Iran nuclear talks: Russian negotiator
29 March, 2015
MOSCOW: Russia´s chief negotiator in the Iranian nuclear talks on Saturday said Moscow hoped that the conflict in Yemen -- where a Saudi-led offensive is under way against Iranian-allied rebels -- would not negatively affect the ongoing six-party talks with Tehran in Switzerland.
"Unfortunately, we are seeing that the tragedy that is happening in this country (Yemen) is having an impact on the atmosphere of the negotiations," Russian deputy foreign minister Sergei Ryabkov was quoted as saying by RIA Novosti news agency.
"We hope that the situation in Yemen will not bring about a change in the position of certain participants."
http://www.thenews.com.pk/article-179635-Yemen-crisis-won%C2%B4t-impact-Iran-nuclear-talks:-Russian-negotiator
-------
Southeast Asia
PAS man slams emotional comments on Hudud in social media
29 March, 2015
PAS national unity committee chairman Datuk Dr Mujahid Yusof Rawa has expressed concern over reactions and comments on the recently amended Kelantan Shariah Criminal Code II Enactment 1993, especially those on social media sites.
He said ethics were not observed by most social media users when posting comments on the issue.
"They are not even experts and the way they write is riddled of emotions," he said, citing the recent threats posted online against BFM business radio station journalist Aisyah Tajuddin as an example.
Following the passing of the bill by Kelantan legislative assembly to amend the enactment more than a week ago, the station uploaded the BFM Projek Dialog "BFMKupas" video clip, raising questions about hudud and comparing it with bread and butter issues.
Full report at:
http://www.themalaysianinsider.com/malaysia/article/pas-man-slams-emotional-comments-on-social-media-not-helping-hudud-explanat#sthash.JoXa9wfu.dpuf
---------
Fix job quota for women in all fields, says PAC chairman
29 March, 2015
Industry players should fix job quotas for women in their respective organisations to ensure they continue to be active and to spur national development.
Pulai MP and Public Accounts Committee chairman, Datuk Nur Jazlan Mohamed, said fixing quotas in numerous jobs in the private or public sectors, would also dispel perceptions of prejudice against women.
"It is a good way to ensure the continuous contribution of women in national development.
"Furthermore, currently, most students at higher institutions of learning are women," he said at the International Woman's Day celebration organised by the Johor Women's League in Johor Baru today.
The Women, Family and Community Development Ministry, prior to this, targeted 30% of women's participation at the decision-making level in all fields by 2016.
http://www.themalaysianinsider.com/malaysia/article/fix-job-quota-for-women-in-all-fields-says-pac-chairman-bernama#sthash.vFHRjkNO.dpuf
---------
New anti-terrorism bill will also see Penal Code amended, says home minister
29 March, 2015
The Prevention of Terrorism Act (Pota) which will be tabled in the Dewan Rakyat in a week's time will also see amendments to other laws, including the Penal Code, Home Minister Datuk Seri Ahmad Zahidi said today
He also said a new law to address foreign militants entering Malaysia would be tabled.
"Besides the Pota as a new law, there will be another bill on a law against foreign fighters or foreign militants to address militants who enter Malaysia, and the preventive measures that can be taken against this," Zahid said.
He said Pota, like the Prevention of Crime Act (Poca), will not be used to stifle freedom the way the now-repealed Internal Security Act (ISA) was accused of.
"There are some who argue against detention without trial. We are looking at the Poca template and using it in Pota so that no one will be persecuted as if they were detained under the ISA," Zahid said.
Full report at:
http://www.themalaysianinsider.com/malaysia/article/new-anti-terrorism-bill-will-also-see-penal-code-amended-says-home-minister#sthash.eFIsxpPL.dpuf
---------
URL: https://newageislam.com/islamic-world-news/new-age-islam-news-bureau/twenty-three-'beheaded'-in-nigeria-on-election-eve/d/102164