New Age Islam News Bureau
05 January 2021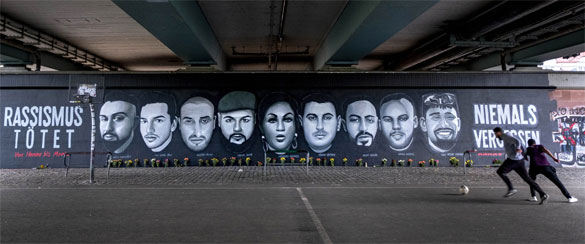 A boy and a man play football near graffiti depicting the nine victims of the Hanau shooting, under a bridge in Frankfurt am Main, Germany, June 20, 2020. (AP Photo)
----
• Commission Holds Cleric, Maulvi Sharif, Responsible For Attack on Hindu Shrine, Submitted Its Report in the Supreme Court
• Alarm over Enforcement of Sharia in Southern Thailand
• Iran Parliament Discusses Bill To 'Eliminate Israel By March 2041'
• Islamic Extremists Attack 2 Villages In Niger, Kill Over 100
• US Accuses Iran of 'Nuclear Extortion' After Enrichment Statement
• Youth Bodies Urge Asaduddin Owaisi to Launch Party In Kerala, Muslim League Cautious
• Iraq: Shia Scholars Battle Terror And Disease
• Bangladesh Okays Oxford University-Astrazeneca Vaccine For Emergency Use
Europe
• Turkish-Muslim Community Concerned About Rise in Islamophobic Hate Crimes and Turkophobia in Germany
• Turkey rescues nearly 80 irregular migrants in Aegean
• EU calls on Iran to refrain from undermining nuclear deal
• EU sending $4.3 million in aid to migrants in Bosnia
• France to reconsider military strength in Sahel region
--------
Pakistan
• Commission Holds Cleric, Maulvi Sharif, Responsible For Attack on Hindu Shrine, Submitted Its Report in the Supreme Court
• Mourners Continued Their Sit-In with the Coffins over the Brutal Killing of 11 Shia Coal Miners in Mach
• Pakistan Moves To Block Trailer Of Movie By A UK-Based Production Deemed Harmful To Muslim Unity
• Pakistani political leaders slam Imran Khan Government over killing of coal miners in Balochistan
• Minister asks opposition parties for proof of their foreign funding
• Firm hired to probe Sharifs ended up seeking their help
• PDM has died its own death, says Imran
• LeT leader Lakhvi Arrested from Lahore on Terrorism Financing Charge: CTD
• 'Missing' suspected militant found dead on city's outskirts
--------
Southeast Asia
• Alarm over Enforcement of Sharia in Southern Thailand
• Indonesia to free Abu Bakar Bashir, cleric linked to Bali bombings
• Annuar Musa defends 'No DAP, No Anwar' stance
• I don't know how I got 'baptised', witness tells Suhakam inquiry
--------
Mideast
• Iran Parliament Discusses Bill To 'Eliminate Israel By March 2041'
• Iran Confirms It Has Started Producing 20 Percent Enriched Uranium
• FM Spokesman: Iran Never to Negotiate on Defence Capability
• Japan expresses concern over Iran's uranium enrichment
• Turkish police detain 17 people after student-led protest in Istanbul
• Iranian army set to hold 'large-scale' drone drill
• Iran must be prevented from acquiring nuclear weapons: EU Spokesperson
• Israel will not allow Iran to manufacture nuclear weapons: PM Netanyahu
--------
Africa
• Islamic Extremists Attack 2 Villages In Niger, Kill Over 100
• Ethiopia vows to restore ancient iconic mosque
• Niger: 3-day national mourning for terror victims
• Cameroon: 4 civilians dead in Boko Haram attacks
--------
North America
• US Accuses Iran of 'Nuclear Extortion' After Enrichment Statement
• On Verge Of Resuming Talks, US Blames Taliban For Spate Of Afghan Killings
• Biden adviser insists any talks with Iran should include missiles
• Pompeo Weighs Plan to Place Cuba on U.S. Terrorism Sponsor List
--------
India
• Youth Bodies Urge Asaduddin Owaisi to Launch Party In Kerala, Muslim League Cautious
• Former Judges and Bureaucrats Back UP 'Love Jihad' Law, Criticised The Bureaucrats, Who Had Demanded Its Withdrawal
• Govt Body Drops 'Halal' From Meat Manual After Allegations By Some Hindu Groups That It Gives An Unfair Business Advantage To Muslim Exporters
• India starts UN Security Council term vowing to speak against terror
• India strongly condemns terrorist attacks in southwestern Niger
• Uttar Pradesh: 5 booked for torching house of Muslim man who embraced Hinduism last year
• Woman Tells Delhi HC She Left Home With Muslim Man to Be Able To Study; Agrees To Return
--------
Arab World
• Iraq: Shia Scholars Battle Terror And Disease
• Focused on ending Qatar row, Gulf leaders head to Saudi Arabia summit
• Egypt says it will open its airspace with Qatar pending fulfillment of demands
• Mostly government soldiers among 15 killed in Syria road attack
• GCC Secretary-General says Saudi-Qatari borders reopening reflects 'deep-rooted' ties
• UAE rejects 'wholly false' reports of foiling Iranian attack against Israeli visitors
• Saudi, Qatar to reopen land, maritime borders after three years of feud
• Syria foreign ministry condemns recent terror attacks on civilians in Hama, Dayr al-Zawr
--------
South Asia
• Bangladesh Okays Oxford University-Astrazeneca Vaccine For Emergency Use
• 44 Taliban Killed, 17 IEDs Defused in MoD Missions throughout Afghanistan
• Taliban Battered in Kandahar, 31 killed
• HCNR: Afghan Republic Negotiating Team Has Nation's Full Support
• Khalilzad arrives in Doha, encourages parties for an immediate ceasefire
• No Compromise on 'Security and Defense Forces' in Peace
• Afghan officials leave for Doha to resume talks with Taliban
Compiled by New Age Islam News Bureau
URL: https://www.newageislam.com/islamic-world-news/turkish-muslim-community-concerned-rise/d/123987
--------
Turkish-Muslim Community Concerned About Rise in Islamophobic Hate Crimes and Turkophobia in Germany
Mesut Zeyrek
04.01.2021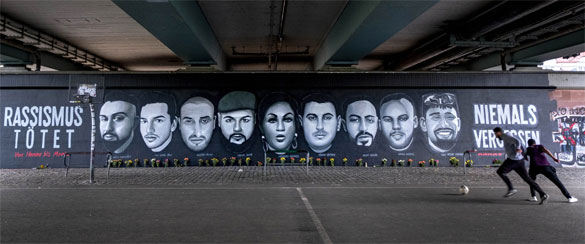 A boy and a man play football near graffiti depicting the nine victims of the Hanau shooting, under a bridge in Frankfurt am Main, Germany, June 20, 2020. (AP Photo)
----
COLOGNE
Germany's Turkish-Muslim community is alarmed by the increase in Islamophobic hate crimes, senior figures told Anadolu Agency Monday.
Kemal Ergun, president of the Turkish-Muslim association IGMG, said more and more mosques have become the targets of threats, vandalism or arson in recent months.
"At least 122 mosques were targeted in such attacks last year," he said, adding that dozens of mosques received multiple bomb threats by neo-Nazis or other extremist groups, sparking worry among the members of the community.
"We call on the police authorities to conduct more effective investigations and arrest the perpetrators of these attacks," he said.
Ergun, who leads one of the largest Turkish-Muslim organizations in the country, said Muslims were experiencing more hostility and discrimination in their daily lives due to the rise of anti-Muslim prejudice.
He said Muslim women in particular who wear headscarves have frequently been verbally harassed on the streets, and that incidents of physical assault have reportedly also been on the rise.
According to official figures, police recorded 632 Islamophobic crimes in Germany from January to November 2020.
These included insults, threatening letters, and disruption of religious practice, physical assaults and damage to property.
The real figures are believed to be higher, as many victims do not file criminal complaints with the police, largely due to their distrust of law enforcement.
Durmus Yildirim, chairman of ATIB, one of the largest Turkish-Muslim cultural organizations in Germany, criticized right-wing populist politicians for inciting hatred and discrimination against immigrants and Muslims.
"We want an end to this racist and populist rhetoric, efforts should be made for peaceful coexistence," he told Anadolu Agency, calling for a stronger stance against anti-Muslim and anti-Turkish hatred.
Yildirim said the country's 3-million-strong Turkish community would not give in to threats by far-right groups and parties.
"We are part of Europe, we're living together here. Our third, fourth generations were born and raised in Germany, it has also become our homeland," he said.
A country of over 80 million people, Germany has the second-largest Muslim population in Western Europe after France. Among the country's nearly 4.7 million Muslims, 3 million are of Turkish origin.
The country has witnessed growing racism and Islamophobia in recent years, fueled by the propaganda of neo-Nazi groups and the far-right opposition AfD party, which has attempted to stoke fear of Muslims and immigrants to win more votes.
https://www.aa.com.tr/en/europe/muslims-concerned-about-rise-of-islamophobia-in-germany/2098097
--------
Commission Holds Cleric, Maulvi Sharif, Responsible For Attack on Hindu Shrine, Submitted Its Report in the Supreme Court
January 05, 2021
Around 1,500 people descended on the temple after staging a protest against renovations at an adjoining building owned by Hindu community. PHOTO: EXPRESS
------
A One-Man Commission on Minority Rights on Monday submitted its report in the Supreme Court on the burning of a Hindu shrine/temple in the Khyber-Pakhtunkhwa's Karak district and held a local cleric responsible for inciting people to violence.
Last week, a mob, reportedly instigated by a local cleric, vandalised a small Hindu temple and the adjacent shrine of saint Shri Paramhans Ji Maharaj in the Terri area of Karak. The temple, though no longer functional, was considered a revered pilgrimage site by the Hindu community.
The community leaders maintained that the residents in the Terri area were not happy with the ongoing renovation and extension of the temple which is why they vandalised it before setting it on fire.
On Thursday, police arrested Maulvi Sharif along with dozens of his supporters nominated in the FIR registered on the complaint of Rehmatullah, the SHO Terri police station. The arrests were made in Urmar village of Karak.
Chief Justice Gulzar Ahmed took notice of the incident and fixed the matter for hearing on January 5, 2021.
According to a report submitted by the one-man commission in the apex court, commission's head Shoaib Suddle, minority leader Ramesh Kumar and K-P chief secretary visited the site of the incident. K-P advocate general, IG and home secretary also accompanied them.
The commission in its recommendations called for a comprehensive probe into the incident and collecting all testimonies and evidences related to the happening.
The commission maintained that main suspect of the incident Maulvi Sharif incited the people to violence.
It also suggested carrying out investigation on the performance of police under the supervision of K-P IG and observed that elements involved in such incidents should be given exemplary punishment.
The commission in its meeting with K-P chief minister Mahmood Khan was assured of the early restoration of the temple.
https://tribune.com.pk/story/2278729/commission-holds-cleric-responsible-for-attack-on-hindu-shrine
--------
Alarm over Enforcement of Sharia In Southern Thailand
January 05, 2021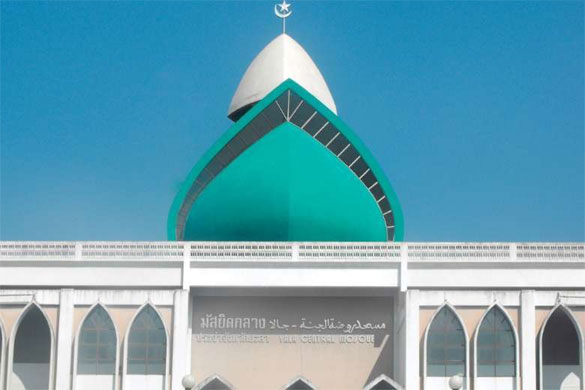 Yala Central Mosque in southern Thailand. (Photo: Tourism Authority of Thailand)
-----
Islamists in the southern Thai province of Yala have reportedly joined forces with local police to enforce strict Sharia rules in what rights activists see as a worrying development.
The prime targets of Islamists include young unmarried couples who show any forms of affection in public, such as holding hands, and violators of the Muslim moral code of Sharia face the prospect of religiously prescribed punishments.
Those found guilty in the predominantly Muslim province could also face criminal prosecution on grounds that they have violated laws against obscenities committed in public.
Unmarried men and women could potentially be detained simply for speaking to each other in private without anyone else present.
"We are not preventing people from communicating or talking. But if they are talking, then there should be a third party," Sutimat Mahamad, the imam of the Yaha Central Mosque, told Thai news media.
"If there is a third party, we will not get involved at all. But if they are talking one on one, the police will arrest them."
One couple were detained for talking in public and taken to the mosque where they were scolded for their allegedly "immoral" conduct.
"They were talking on a balcony, just whispering between the two of them. We told them not to do it again," Sutimat said.
Such draconian enforcement of Sharia law is virtually unheard of in Thailand where most Muslims, who number around 3 million in a predominantly Buddhist nation of 70 million, practice socially moderate streams of their religion.
However, in the three Muslim-majority southernmost provinces, which include Yala, there has been a resurgence of a more conservative form of Islam in recent years.
The three provinces, which border Malaysia, have also seen a long-running and often violent Islamist separatist campaign, which has taken several thousand lives in tit-for-tat attacks between insurgents and government forces.
There are growing fears that a hardening of religious attitudes against normative social practices between the sexes in Thailand's Muslim-majority southernmost provinces could lead to routine rights violations, which could especially affect young women.
"I think life is becoming harder for women in my hometown, especially if they want to do what their heart desires," a 27-year-old woman from the Muslim-majority province of Narathiwat who works in Bangkok, told UCA News.
"I'm proud to be a Muslim, but I don't want to live there [Narathiwat]," she added. "I would have to get married and probably I would have to stay home. I wouldn't be able to work."
However, religious authorities in Yala say that by enforcing Sharia they are seeking to help young men and women by keeping them away from harm such as wanton drug use and violent conduct.
"Our objective is to teach youths to act within religious traditions and rules, far away from drugs, and decrease their risk from being led by those with bad intentions," said Anucha Waedayi, a member of the Yala Central Mosque's committee.
Some Muslim rights advocates warn, however, that rigid conservative practices, including forced marriages, can be harmful to women, often for life.
"Forced marriage to restore the honor of the family or community, or to deal with the sexual needs of the youths, is a worrisome situation since it puts the woman or child in a lifetime of pain," said Angkhana Neelapaijit, a prominent rights activist who is a Muslim from southern Thailand.
https://www.ucanews.com/news/alarm-over-enforcement-of-sharia-in-southern-thailand/90865
--------
Iran parliament discusses bill to 'eliminate Israel by March 2041'
Rawad Taha
Jan 5, 2021
Members of Iran's parliament presented a bill that would oblige successive Iranian governments to eliminate Israel within 20 years and to work toward removing American forces from the region, Iranian news agency ISNA reported.
ISNA revealed that the bill includes 16 articles under the name "Iran reciprocates" and was presented as a measure to respond to the assassination of Iran's Quds Force commander Qassem Soleimani last year.
This week marks the one-year anniversary of the assassination of Iran's top general alongside a senior Iraqi militia leader in a US drone strike in Iraq. Following the attack, Iran's relations with the US and its allies in the region have been heightened.
According to ISNA, the bill specified the conditions for negotiating with Washington and the criteria for supporting Tehran's allies.
The bill would require the Iranian government to take necessary measures that would lead to the "elimination of Israel by March 2041" and break the Israeli blockade on the Hamas-controlled Gaza Strip by sending essential commodities for free or paid for.
ISNA added that the bill also supports funding and organizing marches on Israel's borders in South Lebanon and the Golan Heights under the slogans of "Liberation of the Golan" and "the right of return of Palestinian refugees."
The draft includes obligating future Iranian governments to send humanitarian aid once every three months, such as medicine, food, and fuel, to the Iranian-backed Houthi militia to "break the siege on them in Yemen."
Under the article "Expelling America from the Region," the bill stipulates that the government and the Iranian armed forces would make the necessary arrangements to remove the military forces of the US Army Central Command from the region.
It also includes Tehran's willingness to conclude defense cooperation agreements, for no less than five years, with any country in the region that decides to remove American forces from it.
The draft bill also considers that the countries that embrace American forces are partners in any US military or security action against Iranian interests in Iran and the region, and that they bear all the responsibilities arising from that.
The bill adds that Tehran has the right to respond in any way against the country from which a US aggression was launched from.
The draft excludes countries in which the American forces are stationed "as illegal," in reference to Iraq and Syria.
It also stresses the obligation of armed forces in the Iranian army and the Iranian Revolutionary Guards to responds to any US military action against Iran, on the same level or greater.
The bill prohibits governments from conducting any negotiations with any country regarding Iranian military capabilities, Iran's role in the region, and issues related to Iran's proxies.
The draft prohibits any negotiations with the US of America on non-nuclear issues. It prohibits any negotiations with the US, whether bilateral or multilateral with other countries' participation before the American administration condemns the assassination of Qassem Soleimani.
The bill calls on governments to facilitate trade with Russia, China, Syria, Iraq, and Venezuela.
https://english.alarabiya.net/en/News/middle-east/2021/01/04/Iran-parliament-discusses-bill-to-eliminate-Israel-by-March-2041-
--------
Islamic extremists attack 2 villages in Niger, kill over 100
January 04, 2021
Islamic extremists on motorbikes swept through two villages in Niger near its border with Mali, killing at least 100 people, Niger's Prime Minister Brigi Rafini said on Sunday.
More than 100 people in the two villages of Tchombangou and Zaroumdareye died due to the attack. The villages were attacked on Saturday after local residents killed two fighters. The attackers split into groups of two to carry out simultaneous attacks. Around 70 people were killed in the village of Tchombangou and 30 were dead in Zaroumdareye. The attacks took place on the same day when Niger's electoral commission announced that presidential elections would be heading to a second round. Around 7.4 million registered voters cast their votes to elect a successor to President Mahamadou Issoufou, who served two terms.
This marks the first democratic transition of power since the nation gained independence from France in 1960.
Islamic extremist groups including the Nigeria-based Boko Haram, fighters linked to Islamic State and Al-Qaeda have carried out attacks in Niger. Jihadists have been posing a growing threat in Niger. The troubled region of Sahel is home to extremist groups that have pledged allegiance to IS and Al Qaeda. Hundreds of people have died in the last year in attacks by the groups that seek more control of land. PM Rafini, who visited the two villages, said, "We came to provide moral support and present the condolences of the president of the republic, the government and the entire Niger nation."
https://www.theweek.in/news/world/2021/01/04/islamic-extremists-attack-2-villages-in-niger-kill-over-1-00.html
--------
US accuses Iran of 'nuclear extortion' after enrichment statement
05 January 2021
The US criticized Iran's statement that it had begun the process of enriching uranium to 20 percent, well above the limit set in the 2015 nuclear deal that Washington abandoned, as a form of "nuclear extortion."
"Iran enriching uranium to 20 percent at Fordow is a clear attempt to increase its campaign of nuclear extortion, an attempt that will continue to fail," said a State Department spokesperson on condition of anonymity. They were responding to a query about Iran's statement that it had resumed 20 percent uranium enrichment at an underground nuclear facility.
https://english.alarabiya.net/en/News/middle-east/2021/01/05/US-accuses-Iran-of-nuclear-extortion-after-enrichment-statement
--------
Youth Bodies Urge Asaduddin Owaisi to Launch Party In Kerala, Muslim League Cautious
Ramesh Babu and Srinivasa Rao Apparasu
Jan 04, 2021
The Muslim League is wary and on its toes with several youth bodies urging Asaduddin Owaisi to launch his party in Kerala, which has 26 per cent Muslim population. The AIMIM has recently tasted success in the Bihar assembly elections, winning five seats. The party is also involved in intense negotiations with Dravida Munnetra Kazhagam (DMK) for the upcoming assembly elections in Tamil Nadu.
Though League leaders say Owaisi's brand of politics won't sell in Kerala, they are cautious about his possible entry at a time when another minority, Christians, appeared to have moved to the ruling Left Democratic Front (LDF) camp against the Muslim consolidation. The recent local body election hints towards it.
League leaders said the ruling CPI(M) played a "dirty communal card" to shore up the support of Christians, who constitute 18 per cent of the population, and a section of the majority community to tilt the balance in its favour. An article written by a League leader in party mouthpiece 'Chandrika' lauding the takeover of Hagia Sophia, a 1500-old Orthodox Christian cathedral in Turkey, and 'love jihad' bogey were used extensively to influence them, they said.
In Kerala, the League has been enjoying the support of the community for more than four decades and political observers often attribute its presence to peaceful communal co-existence in the state. But there is a strong feeling in the community recently that League MPs had shown little regard in reflecting Muslim sentiment in Parliament during discussion on vital issues like Ram temple, Citizenship (Amendment) Act(CAA), triple talaq, among others.
Many organisations which nurse extreme views have started a campaign against the League citing these issues. Cut-outs of Owaisi had appeared at many places in north Kerala after Parliament debates on temple and CAA. But League leaders dubbed it "a futile whisper campaign" and felt fascination for Owaisi was only an emotional reaction from a miniscule section of youth.
"The Muslim League has a strong presence in Kerala for many decades and nobody can weaken its base. Earlier also many outfits with extreme views tried to hijack our plank but failed. Owaisi's brand of politics is not suitable for Kerala," said League senior leader PK Kunhalikutty MP, who is planning to return to state politics after a brief sojourn in Delhi. The party had announced its decision to field the Malappuram MP in assembly elections due in four months.
He said the situation of the community in north and south India was totally different. "In Kerala there is no ghettoisation and people from community enjoy an equal footing and status in all spheres. Their rights and privileges are protected strongly. People are educated and informed which acts as a bulwark against hatred or extremist views here," he said.
Since coalition politics was experimented in Kerala by the late Congress leader K Karunakaran in the late 1970s, the League has been in the Congress camp. Unlike its northern counterpart, in Kerala the League is known for its moderate face. Its late leader E Ahamed was twice the minister of state for external affairs in former prime minister Manmohan Singh's cabinet. Many young leaders now want the League to take a strong position in the light of campaign carried out by Sangh Parivar and Communists and ensure a pan-India presence. Though the party has units in many states, it is mainly confined to Kerala and other southern states, they feel.
"Owaisi can't make any impact in other southern states like Kerala and Tamil Nadu where the community is more focused and socially developed. In the last two-three decades, the community gave much importance to education so unlike north India, its members can't be swayed easily on emotional issues," said Ashraf Kadakkal, an Islamic historian and author.
However, even as IUML was apprehensive of MIM's possible foray, the Asaduddin Owaisi-led party said it had no plans to enter the southern state. While Hyderabad MP Asaduddin Owaisi could not be reached, a party leader who did not want to be identified said the MIM had no plans to contest elections in Kerala.
"Right from the beginning, Owaisi saab has been making it clear that the party won't foray into at least three states - Kerala, Assam and Kashmir. We have been standing by it. Our party doesn't have any base in Kerala and so there's no chance of us contesting the elections," the MIM leader said.
https://www.hindustantimes.com/india-news/youth-urge-asaduddin-owaisi-to-launch-party-in-kerala-muslim-league-cautious/story-uCK18m0hInAfgDY3NzfbvM.html
--------
Iraq: Shia scholars battle terror and disease
04 January 2021
Robert Carter
Faced with the new deadly virus threat, Iraq's vulnerable citizens have found themselves in a new war for survival. Only this time against an invisible enemy. But many in Iraq are not turning to the state for help. Rather, seeking aid and guidance from the religious authorities, including the Attaba administrations of the Holy Shia Shrines and Iraq's Grand Ayatollah's, particularly, Ayatollah Seyyed Ali al-Sistani.
Since the arrival of COVID-19, Iraq's clerical elite have mobilised at breakneck speeds, setting up new hospitals and COVID treatment centres across the country.
Karbala's Zain El Abidine Hospital is a newly built state of the art medical facility which caters for much of the local community's needs. Much of its funding for these anti-COVID facilities has come from the Attaba organisation, which manages the Imam Hussain Grand Masjid. But their support doesn't end here. The Shrine factions have been investing heavily in the education sector, to train a new generation of professionals in the field of medicine.
Iraq's political class have become largely synonymous with corruption and are slow in implementing reforms. But where the state has failed Iraqis, the Islamic establishment have rushed to the rescue. Proving that it is Islam, not Western-styled democracy, which is saving lives here.
https://www.presstv.com/Detail/2021/01/04/642282/Iraq--Shia-scholars-battle-terror-and-disease
--------
Bangladesh Okays Oxford University-Astrazeneca Vaccine For Emergency Use
January 05, 2021
Mohammad Al-Masum Molla and Wasim Bin Habib
Bangladesh yesterday approved the Oxford University-AstraZeneca coronavirus vaccine for emergency use, paving the way for importing the vaccine from Serum Institute of India.
Bangladesh's drug administration gave Beximco Pharmaceuticals Ltd, the local partner of Serum, the no objection certificate (NOC) required to import the shots branded Covishield.
The government is likely to make half the payment today in advance for the three crore doses of the much-sought-after vaccine.
According to the contract between the government, Serum and its local partner Beximco Pharmaceuticals Ltd, the first shipment should arrive in the country a month after the approval and the payment. Each dose of the vaccine is to cost $5 for the government.
"The vaccine can be administered for emergency use. Hopefully, we will make the advance payment tomorrow [today]," Health Secretary Abdul Mannan told The Daily Star last night.
Ayub Hossain, spokesperson for the Directorate General of Drug Administration (DGDA), told The Daily Star that the DGDA gave the NOC to import the vaccine and approved its emergency use because registering it would be a time-consuming process.
However, Beximco Pharmaceuticals Managing Director Nazmul Hassan Papon last night said he has yet to formally receive the NOC.
The developments come after India on Sunday banned export of the vaccine for two months to make sure emergency local demands are met.
As many people here expressed concerns that the shots might not arrive on time, the Bangladesh government yesterday said the ban would not affect the import of Covishield.
"The deal was done on the basis of discussions at the highest level, between Bangladesh Prime Minister Sheikh Hasina and Indian Premier Narendra Modi. So, no ban will be applicable for us. There is no reason for us to worry," said Foreign Minister AK Abdul Momen referring to a correspondence with the Indian Ministry of External Affairs.
"The vaccine will arrive on time. It will come towards the end of this month … India and Bangladesh will get the Serum vaccines at the same time," he told reporters at a briefing at the Foreign Service Academy.
The Serum Institute on Sunday said it intends to concentrate on meeting India's own immediate demand for two months before exporting it to other countries.
Health Minister Zahid Maleque and Secretary Abdul Mannan of the health ministry yesterday told reporters that the ban would not affect Bangladesh's contract.
Bangladesh is supposed to get 50 lakh doses of Covishield every month for the first six months as per the agreement.
In the evening, Papon said, "Since we have signed an agreement, it is my firm belief that it will not be a problem. We have talked to Serum today [yesterday], but we did not get any indication that there would be any delay [in getting the vaccine]."
"It's an international agreement," Papon told reporters at a hurriedly-called briefing.
But how quickly the vaccine could be availed depends on the government, he added.
The sooner the government meets the conditions of making payment in advance and getting the vaccine approved by the DGDA, the earlier the vaccine will arrive, he said.
A top Indian foreign ministry official yesterday told The Daily Star, "We will prioritise our neighbours, particularly Bangladesh, in sharing our vaccines. It will take a few weeks to roll out, perhaps by the end of [the] month."
During a virtual summit between Hasina and Modi on December 17, the latter promised to promptly and effectively deliver to Bangladesh the Covid-19 vaccine.
Stating that Bangladesh is a significant pillar in India's "Neighbourhood First" policy, Modi said pharmaceutical companies on both sides made plans for supplying the vaccine. Modi also spoke of exploring the potentials of cooperation in vaccine production.
THE CONFUSION TRIGGER
The confusion arose after Serum CEO Adar Poonawalla said in an interview with the Associated Press on Sunday that, "The vaccine has been granted emergency authorisation by the Indian regulator on Sunday, but on the condition that Serum Institute doesn't export the shots to ensure that vulnerable populations in India are protected.
"We can only give the vaccines to the government of India at the moment," he said, adding that the decision was also made to prevent hoarding.
Poonawalla further said the "company also has been barred from selling the vaccine in the private market".
Besides, Serum was planning to give 200 to 300 million doses to COVAX by December 2021, said the AP report.
The report also observed that the ban on export "means that poorer nations will probably have to wait a few months before receiving their first shots".
As the news spread, Bangladesh Health Minister Zahid Maleque told reporters at his office yesterday afternoon that he heard about the Indian embargo.
"We're communicating through the foreign ministry. We have also talked to the Indian high commissioner to Bangladesh. We hope the contract with SII will not be hampered and we will get vaccines as per the contract.
"Yesterday [Sunday] we were sure that we would get the vaccine. Today, we heard the Indian government has imposed a ban on vaccine export."
He added that the ministry was in touch with the Indian authorities and has got assurances that the country would get the vaccine doses as per the agreement.
Health Secretary Mannan at the same briefing said there was nothing to worry about and that "the vaccines will reach in time".
He claimed that the agreement was a government-to-government (G2G) deal and that the ban India imposed was on commercial export.
But Beximco's Papon said, "The agreement that we signed is not a G2G deal for sure. But we don't know whether the government has any G2G deal … ."
Prof Sayedur Rahman, chairman of pharmacology at the Bangabandhu Sheikh Mujib Medical University (BSMMU), said, "The government should strengthen the diplomatic efforts to get the vaccine on time.
"India now has four million vaccine doses and an additional 10 million will be produced by this month. So, India can give Bangladesh 50 lakh doses per month. For that, diplomatic efforts should be strengthened."
Eminent virologist Nazrul Islam said, "These are not onions… we could purchase them from other countries. It is a vaccine. It is not available everywhere. Depending on only one source for the vaccine was a wrong decision. It is suicidal."
He said if Bangladesh had allowed the vaccine trials of Sinovac, it would have had a chance to get that vaccine.
In August 2020, Bangladesh approved Chinese company Sinovac Biotech's human trials in the country, but it did not happen because in mid-October, the government refused to co-fund the domestic trials.
Asked if Bangladesh will look for alternative sources for the vaccine, the foreign minister said, "We are considering various options."
https://www.thedailystar.net/frontpage/news/oxford-university-astrazeneca-vaccine-bangladesh-okays-it-emergency-use-2022405
--------
Europe
Turkey rescues nearly 80 irregular migrants in Aegean
Sabri Kesen, Ali Balli, Mehmet Yavas
05.01.2021
Turkey rescued nearly 80 asylum seekers, including a group pushed back by the Greek Coast Guard into Turkish territorial waters in the Aegean Sea, a security source said Monday.
Nineteen asylum seekers were stranded on a dinghy due to an engine breakdown and were rescued off the coast of Marmaris district in Turkey's southwestern Mugla province, said the source, who asked not to be named due to restrictions on speaking to the media.
Another group of 34 asylum seekers were rescued by the Turkish Coast Guard, who were conducting a routine patrol off the coast of Bodrum district in Mugla province.
Separately, another Turkish Coast Guard team was dispatched off the coast of Ayvacik in northwestern Canakkale province to rescue 26 asylum seekers.
The asylum seekers were trying to reach Greece's Lesbos (Midilli) Island on a dinghy and a life boat.
Security sources said the asylum seekers were pushed back to Turkish territorial waters by the Greek Coast Guard.
After routine checks, all of the asylum seekers were taken to the provincial migration authority.
Turkey has been a key transit point for asylum seekers aiming to cross into Europe to start new lives, especially those fleeing war and persecution.
Earlier this year, the country opened its gates to irregular migrants seeking to reach Europe, accusing the EU of failing to keep its promises under a 2016 migrant deal.
Turkey has repeatedly condemned Greece's illegal practice of pushing back asylum seekers, saying it violates humanitarian values and international law by endangering the lives of vulnerable migrants, including women and children.
https://www.aa.com.tr/en/europe/turkey-rescues-nearly-80-irregular-migrants-in-aegean/2098370
--------
EU calls on Iran to refrain from undermining nuclear deal
Busra Nur Bilgic Cakmak
04.01.2021
The EU on Monday called on Iran to avoid any steps that could undermine "the preservation of the nuclear deal."

In a news briefing, EU spokesman Peter Stano said "the deal will be kept alive as long as all the participants deliver on their obligations," adding all participants of the deal wants to keep it alive.

Late last week, Iran confirmed a plan to increase uranium enrichment up to 20% as it moves to implement a recently introduced law as a counter-measure against US sanctions.

"If this announcement is going to be implemented, the announcement by the Iranian authorities, it would constitute a considerable departure from Iran's nuclear commitments under the JCPOA with serious non-nuclear, non-proliferation implications," said Stano.

Stano said the International Atomic Energy Agency (IAEA) has not confirmed whether Iran implemented the announcement, adding IAEA will brief member states later on Monday.

"We will see what the IAEA will say, and as I said the IAEA is recognized independent monitoring and verification authority for Iran's nuclear program. And on its assessment, we are basing our decisions and our actions," he added.


Under the 2015 nuclear deal, Tehran was allowed to enrich uranium up to 3.67%. The threshold was, however, breached by Iran in response to the US withdrawal from the deal, raising the level to 4.5.

Despite US President Donald Trump's decision in 2018 to withdraw from the JCPAO, EU members Germany and France have repeatedly underlined their commitment to the deal and urged Tehran to return to full compliance with the agreement.
https://www.aa.com.tr/en/europe/eu-calls-on-iran-to-refrain-from-undermining-nuclear-deal/2097961
--------
EU sending $4.3 million in aid to migrants in Bosnia
Agnes Szucs
04.01.2021
BRUSSELS
The European Union is providing €3.5 million ($4.3 million) in humanitarian aid to vulnerable refugees and migrants in Bosnia Herzegovina, the European Commission announced on Monday.
The emergency assistance aims at improving the living conditions of asylum-seekers in the country.
The aid will cover warm clothing, blankets, food, and medical support.
According to EU estimates, as many as 1,700 migrants are currently staying without proper shelter amid harsh winter conditions in the canton of Una Sana. Around 900 of them got stranded in a closed reception center in Lipa, now in ruins after being destroyed by fire two weeks ago.
"Hundreds of people, including children, are sleeping outside in freezing temperatures in Bosnia and Herzegovina," Janez Lenarcic, EU commissioner for crisis management, said in a statement.
"This humanitarian disaster could be avoided if the authorities created sufficient winterized shelter capacity in the country," he added.
EU foreign policy chief Josep Borrell also called the humanitarian situation in Una Sana "unacceptable" and urged Bosnian authorities "not to leave people out in the cold, without access to sanitary facilities in the midst of a global pandemic."
Since 2018, the EU has sent a total of €13.8 million humanitarian aid for Bosnia Herzegovina to host asylum-seekers.
The majority of the migrants in Bosnia Herzegovina would prefer to seek international protection in the European Union but are unable to enter the bloc's territory.
The European Commission announced in September a reform plan on the bloc's migration and asylum policy. The proposal focuses on returns, pre-entry checks, and partnerships with third countries to prevent migration flows.
https://www.aa.com.tr/en/europe/eu-sending-43-million-in-aid-to-migrants-in-bosnia/2097943
--------
France to reconsider military strength in Sahel region
Shweta Desai
04.01.2021
France will reconsider its military strategy in the Sahel region and very likely reduce military deployment as part of Operation Barkhane after significant military successes in 2020, the defense minister said.
"We will most likely have to adjust this device: a reinforcement by definition is temporary," Florence Parly told daily Le Parisien in an interview published on Monday, responding to a question of additional reinforcement of 600 soldiers which brought the strength of Barkhane forces to 5,100 troops last year.
A decision on this will be taken at the next joint summit of France and the G5 Sahel countries in February in N'djamena, the capital of Chad, by President Emmanuel Macron and the head of the armies, she said.
Parly added that the Barkhane forces achieved major military success last year after it neutralized several senior members of al-Qaeda, Daesh/ISIS and affiliated terror groups in the Grand Sahara in an area bordering Mali, Burkina Faso, and Niger by attacking and disrupting their supply chains.
But in the wake of two recent attacks which left five French soldiers dead, she conceded the security conditions remain difficult due to the "pernicious methods of guerrilla warfare" adopted by terrorist groups.
"At this very moment, we are working on the evolutions of the Barkhane force in the coming months."
She ruled out any negotiations with terror groups "which murder indiscriminately and have blood on their hands", but added willingness to talk to those who have "laid down their arms and who are not motivated by a radical and criminal ideology", under the 2015 framework of Algiers agreement for peace and reconciliation which is yet to be implemented.
Parly also brushed aside criticisms from the opposition on the usefulness of operation Barkhane launched nine years ago and France lacking support in the fight against terrorism.
In the coming months, she said, the Takuba force, a special joint force of European and American troops, will be fully operational in the region to fight alongside the Malian armed forces, in particular in Menaka, an active sector for Al-Qaeda and its affiliated groups, where the recent attacks took place.
Since the launch of Operation Barkhane in 2013, 49 French soldiers have died.
Last week, five French soldiers were killed and others injured in two separate incidents after their armored vehicle hit an improvised explosive device in Mali, according to the French minister of armed forces.
More than 5,000 French soldiers are deployed under Operation Barkhane which is led by France alongside the G5 Sahel countries (Burkina Faso, Mali, Mauritania, Niger and Chad) to fight against terrorist groups in the region, particularly al-Qaeda in the Islamic Maghreb and Daesh/ISIS in the Greater Sahara.
https://www.aa.com.tr/en/africa/france-to-reconsider-military-strength-in-sahel-region/2097816
--------
Pakistan
Mourners Continued Their Sit-In with The Coffins Over The Brutal Killing Of 11 Shia Coal Miners In Mach
Saleem Shahid
05 Jan 2021
QUETTA: While refusing to bury their loved ones, thousands of protesters continued their sit-in on the second consecutive day on Monday in the western bypass area along with the coffins against the government over the brutal killing of 11 coal miners in Mach, demanding the arrest of the attackers.
Interior Minister Sheikh Rashid Ahmed, who arrived in Quetta on Prime Minister Imran Khan's instructions, held negotiations with the grieving community. He told them that the government was ready to accept all their demands except the one seeking the resignation of the provincial government and urged them to call off their protest so that the bodies could be laid to rest.
The Hazara community, however, did not accede to his call. Despite extremely harsh weather as the mercury dropped to minus 8 degrees Celsius in Quetta, the mourners, including women and children, refused to leave the western bypass area close to Hazara town and call off the protest, demanding ouster of the government and a judicial probe into the tragedy.
"No male member is alive in our family who could bury my elder brother and four other relatives," said Masooma Yaqoob Ali, a student of third year who lost five members of her family in the tragedy.
Among her five siblings, she said, her brother was the only son of her parents and the sole breadwinner of the family.
Sheikh Rashid assured the protesting community that the elements involved in the gruesome act would be brought to justice.
Talking to reporters after holding negotiations with the representatives of the Majlis Wahdat-i-Muslimeen (MWM), the minister announced that Rs2.5 million would be paid to each victim family as compensation.
Sheikh Rashid condemned the incident and said: "I feel very sorry over the happening of Mach carnage."
He said that the demands of the Hazara community would be conveyed to the prime minister. He asked the MWM leaders to form a five or seven members committee for a meeting with the prime minister in Islamabad.
According to official sources, the bodies of two coal miners were sent to Afghanistan.
"The family members have taken away the two bodies for their burial in their native town in Afghanistan," said an MWM leader.
While the Hazara Jirga and leaders of Hazara Democratic Party (HDP) had decided the burial of the victims would take place on Monday, the leaders of MWM and heirs of the deceased disallowed the burial.
The representatives of MWM, HDP and Balochistan Shia Conference were present along with members of the Hazara community at the site of protest.
Balochistan MWM president Syed Agha Raza, who was leading the protesters, announced the bodies would not be buried until demands of the community were met. "We have staged a sit-in for the protection of the Hazara people who have been facing such killings since long and have become fed up with the situation," Agha Raza said.
He said the Balochistan government should resign as it had repeatedly failed to protect the people of Hazara community. "We will continue the sit-in till the resignation of the provincial government," he said, adding that a judicial commission comprising retired and sitting judges of the apex court should be appointed for conducting a judicial inquiry into the incident.
He said the sit-in would continue till the visit of Prime Minister Imran Khan for negotiation so that practical steps be taken for the arrest of the killers.
Provincial ministers Mir Zahoor Ahmed Buledi and Noor Mohammad Dummar and Deputy Commissioner Aurangzeb Badini also held talks with the MWM leaders. However, the negotiation remained unsuccessful as the protesting leaders refused to call off their sit-in until the visit of PM Khan for talks.
Meanwhile, counter-terrorism department of police (CTD) launched investigation into the incident after registering a case against unknown militants on Monday for the killing of the 11 coal miners. Official sources said the case was registered at the Nasirabad police station on a complaint of Mach Police SHO Pir Bakhsh Bugti under Sections 302 and 324 Pakistan Penal Code and relevant sections of Anti-Terrorism Act.
Ali Jan Mangi in Dera Murad Jamali also contributed to this report
https://www.dawn.com/news/1599762/mourners-refuse-to-bury-mach-massacre-victims
--------
Pakistan Moves To Block Trailer Of Movie By A UK-Based Production Deemed Harmful To Muslim Unity
04 January 2021
Pakistan says it has approached various social media platforms to block the trailers of a divisive movie that was recently produced by a UK-based production house and is deemed harmful to Muslim unity.
The Pakistan Telecommunication Authority (PTA) said in a recent statement that it had directed various social media platforms, including YouTube, Facebook, Instagram, and Twitter, to have all the content related to the movie blocked due to the film's sacrilegious content.
The feature film revolves around the story of an Iraqi child in the midst of a war-ravaged Arab country who learns the importance and power of patience.
The film centers on the crimes committed by the Daesh Takfiri terrorist group in Iraq, Syria and elsewhere.
A number of renowned Shia Muslim figures have questioned the intention behind making the film, which was released on December 29 in London.
Senior Iranian clerics and sources of emulation Ayatollah Nasser Makarem Shirazi, Ayatollah Hossein Nuri Hamedani and Ayatollah Lotfollah Safi Golpayegani have already banned watching the film, believing that it will cause discord among Muslims, particularly between Shia and Sunni Muslims.
"… all Muslims must know that the messages intended to be conveyed by this film are neither the messages of Islam nor those of the Shia school of thought," Ayatollah Shirazi said at the time when reports emerged about the production of the film.
Some senior Iranian officials have recently censured the motive behind the production of the feature film depicting the life of the infallible daughter of the holy prophet of Islam, Hazrat Fatima Zahra (AS), describing it as an attempt to sow the seeds of discord among Muslims.
"The secret of promoting #PureIslam is unity and rapprochement of religions. Western, Hebrew, Arabic oriented policies are pursued under the strategy of divisiveness, once with the establishment of ISIS, and other day with the production of "The Lady of Heaven," Secretary of Iran's Supreme National Security Council (SNSC) Ali Shamkhani wrote on his twitter page on December 27.
Last week, a group of Lebanese Shia scholars in a statement questioned the claim of the producers of the film that it is about the life of the beloved daughter of the honorable prophet of Islam, saying its main objective is fanning the flames of discord among Muslims.
Referring to the writer's background and his ties with British spy services, the statement said the upcoming screening of the movie is taking place in a sensitive time when the Zionist-US enemy is seeking to spread disunity among Islamic schools of thought.
It expressed hope that scholars of all Islamic denominations would remain vigilant in the face of such moves and make efforts to promote kindness, understanding and proximity among all Muslims.
Sheikh Yasser al-Habib, a controversial Shia scholar who currently resides in the UK, has written the screenplay. He also heads an organization that stormed the Iranian Embassy in the UK a few years ago.
Before seeking refuge in the UK, al-Habib was arrested in the early 2000s in Kuwait for inciting Sunni-Shia division. After being pardoned by the Emir of Kuwait in 2004, al-Habib fled Kuwait, eventually landing in the UK.
His statements over the years have been used to cause disunity between Muslims and hatred of Shia Muslims.
In September 2010, Leader of the Islamic Revolution Ayatollah Seyyed Ali Khamenei helped calm tensions between Shia and Sunni Muslims by issuing a fatwa banning the making of any remarks insulting to any of the figures and symbols celebrated by Sunni brethren.
During a meeting with Shia and Sunni figures in 2018, Ayatollah Khamenei lauded the strong unity among Iran's Shia and Sunni Muslims despite all enemy attempts to sow discord among them. The Leader called for vigilance among Muslims against divisive enemy schemes.
https://www.presstv.com/Detail/2021/01/04/642249/Iran-Pakistan-UK-Youtube-Facebook-Twitter-Lady-of-Heaven-SheikhYassir-al-Habib
--------
Pakistani political leaders slam Imran Khan government over killing of coal miners in Balochistan
Jan 4, 2021
PESHAWAR: After 11 coal miners were killed in the Mach area of Balochistan by unidentified gunmen on Sunday, leaders of various political parties in Pakistan condemned the incident and asked the Prime Minister Imran Khan-led government to take effective steps to provide security to coal mine workers.
Awami National Party (ANP) president Asfandyar Wali Khan and Qaumi Watan Party (QWP) chairman Aftab Ahmad Khan Sherpao slammed the Imran Khan-led Pakistan Tehreek-e-Insaf (PTI) as saying that the incident was intolerable and demanded the government to provide compensation to the families of the victims, reported Dawn.
Dawn quoted ANP president as saying that the terrorists have no religion as they are enemies of humanity and deserved to be eradicated once and for all and said, "Had the government implemented the national action plan, such acts of terrorism would have been controlled."
The ANP chief said his party had warned the government about regrouping of terrorists in the country as the incidents of terrorism were taking place frequently in different areas but the rulers were least bothered to take steps for maintenance of peace.
Meanwhile, QWP chief Aftab Ahmad Khan Sherpao said the government focused its attention on victimisation of opposition leaders and was least bothered to fulfill its responsibilities, and added that the PTI government failed to keep its promises, reported Dawn.
He further said the massive public gatherings of the opposition's 11-party alliance - Pakistan Democratic Movement (PDM) - had baffled the rulers due to which they were sparing no time to create problems for the alliance of opposition parties, as it was government's prime duty to protect lives, honour and properties of the citizens.
The QWP chief also targeted the government's failure to serve people as price hikes and joblessness was rampant while the rulers were unable to devise an effective plan to overcome inflation. He asked the government to take pragmatic steps to protect people and control inflation and unemployment.
On Sunday, 11 coal miners, all members of the minority Hazara Shia community, were kidnapped and reportedly killed in Mach town in Pakistan's Balochistan province.
The men were abducted at gunpoint and then taken to a secluded area in the nearby hills where they were attacked, according to various accounts. It is believed they were kidnapped from their hostel located near a mine where they worked.
A video has gone viral of the incident, in which shows many miners, with their hands tied up, lying in a pool of blood. According to the report, they were either shot or had their throats slit after they were taken to the nearby hills.
https://timesofindia.indiatimes.com/world/pakistan/pakistani-political-leaders-slam-imran-khan-government-over-killing-of-coal-miners-in-balochistan/articleshow/80095597.cms
--------
Minister asks opposition parties for proof of their foreign funding
05 Jan 2021
ISLAMABAD: Minister for Information and Broadcasting Shibli Faraz has said that opposition parties instead of holding a sit-in in front of the Election Commission of Pakistan should better submit documentary proof of their foreign funding in order to avoid cancellation of their registration.
Talking to reporters on Monday, he said the Pakistan Muslim-League-Nawaz (PML-N), Pakistan Peoples Party (PPP) and Jamiat Ulema-i-Islam-Fazl (JUI-F) did not heed to repeated directives of the ECP scrutiny committee to submit documentary proof in the foreign funding cases filed by the Pakistan Tehreek-i-Insaf, which might result in forfeiture of the funds received from abroad, besides cancellation of their election symbols.
Flanked by Parliamentary Secretary for Railways Farrukh Habib, the minister told the media that the leadership of the three parties should reply to the questions asked by the ECP regarding their foreign funds, instead of hurling threats of sit-ins.
Mr Shibli said governments in the 1980s had totally destroyed the country's moral facade, consequently the people (at the helm of affairs) no more differentiated bet­ween the modes of earnings — right or wrong and they did not consider corruption as a crime.
He said the PML-N and PPP governments with JUI-F chief Maulana Fazlur Rehman hands in glove had changed politics into a business and in blatant disregard for moral values their office-bearers right from prime minister to ministers became involved in corrupt practices.
The minister said the political parties needed funds for carrying out routine activities. Prior to the entry of PTI into politics, all the political parties, including the PPP and the PML-N, used to get donations from various criminals and mafias, and paid them back in kind of favours and protecting their interests after assuming power. Later, their leaders also used various accounts for laundering and whitening their black money, he added.
https://www.dawn.com/news/1599770
--------
Firm hired to probe Sharifs ended up seeking their help
Atika Rehman
05 Jan 2021
LONDON: In an ironic twist of fate, the asset-recovery company that was engaged by Gen Musharraf some 20 years ago to investigate the offshore property of Nawaz Sharif ended up asking the Sharif family for assistance in its desperate bid to secure the outstanding funds owed to the firm by the National Accountability Bureau (NAB).
The firm had earlier also laid claim to four flats at Avenfield House to enforce the payment of the outstanding $22 million owed to the firm by NAB. However, last month the claim was ordered as discharged by the court.
According to correspondence, seen by Dawn, between the lawyers representing Broadsheet and the Sharifs in early November 2020, the Sharif family declined to help the company in its pursuit of recovering the outstanding dues owed by NAB.
In an email to the Sharifs' legal team on Nov 6, the law firm representing Broadsheet LLC wrote: "Our client is undertaking an enforcement action against the IRP [Islamic Republic of Pakistan] at this time. We continue to explore whether there are further assets held by the IRP in this jurisdiction. We anticipated that your client may be aware of which bank, for example, the IRP uses in the UK for its commercial banking arrangements — is your client willing to assist our client?"
The law firm representing the Sharifs responded, saying it is not willing to assist Broadsheet with its enquiries.
Broadsheet LLC was registered in the Isle of Man on June 20, 2000 and helped the Musharraf government and the newly-established NAB track down foreign assets purchased through alleged ill-gotten wealth.
Owned by Iranian-born former Oxford University academic Kaveh Moussavi, Broadsheet is now under the supervision of a court-appointed liquidator who initially funded the arbitration and previously served a year-long prison sentence in England for contempt of court in unrelated proceedings.
Broadsheet maintains that it was created to be a company specialising in the recovery of assets and funds, and was therefore engaged to trace, locate and transfer such items back to the State.
A lawyer associated with the company earlier told Dawn that the Sharifs were the "top target" of the Broadsheet investigation. Its contract was terminated in 2003 by NAB.
Saga of multi-million dollar recovery
In December 2018, former English court of appeal judge Sir Anthony Evans QC, as sole arbitrator, issued an order for payment of $22m to Broadsheet by the government of Pakistan.
In July 2019, the government appealed the arbitration, but was unsuccessful in its bid. The arbitrator found that Pakistan and NAB had wrongfully repudiated an asset recovery agreement with Broadsheet and ruled that the company is entitled to damages.
Since then, the asset recovery firm has attempted to secure the payment for its services by targeting several entities in the UK with purported links to the Pakistan government.
The Sharifs, too, became embroiled in the NAB and Broadsheet saga, when in an attempt to retrieve payment for its services, Broadsheet LLC filed a claim with a London High Court to gain possession of Avenfield House on the basis that the NAB court had said the government should confiscate Mr Sharif's UK properties.
This claim was dropped after Broadsheet secured the payment of some $28 million from the accounts of the Pakistan High Commission in London, through a court-mandated third party debt order last month.
In an order for the case IRP versus NAB dated Dec 2, 2020, the court said that Master Davison's interim charging order regarding Broadsheet's Avenfield claim be discharged and the hearing of the firm's application be vacated.
The order also noted that while Master Davison considered Broadsheet's application in intent of asset regarding the Sharifs' property, Broadsheet has now secured the judgement debt by way of an interim third party debt order and has requested permission to discharge the interim charges order and vacate the hearing which was listed for Dec 17, 2020.
In the same period that it laid a claim to four Avenfield House flats, Broadsheet LLC also wrote to the Pakistan government and threatened to "seize the assets of the Pakistani cricket team" to recover the outstanding funds owed by NAB.
In a July 2020 letter, Broadsheet claimed that the Pakistan team is "an asset of the defendant [Pakistan government] and that monies due to the team and assets of the team are assets of the defendant to the litigation".
The Pakistan Cricket Board (PCB) at the time responded by saying that it is an autonomous body and has "no nexus whatsoever with the arbitration and/or recovery proceedings between Broadsheet LLC and the Islamic Republic of Pakistan & National Accountability Bureau of Pakistan".
In a statement at the time, the PCB maintained: "The PCB operates and functions independently from the Government, generates its own revenues and receives no grants, funds or monies from either the Federal or Provincial Governments, or the Public Exchequer."
Although the PCB downplayed the company's claims, Broadsheet's letter to the body was widely reported by the international media and was even covered by popular cricket news website ESPNcricinfo.com. The media reports came at a time when the Pakistan team was set to play three Tests and three T20s against England starting Aug 5, 2020 and the final T20 on Sept 1.
Last week, it emerged that Broadsheet LLC was successful in recovering the sum of $28.7m from the accounts of the Pakistan High Commission in London after a court enforced third party debt order resulted in the debiting of the amount from the PHC's bank account in the UK.
In a statement issued on Monday, NAB summarised the events of the Broadsheet case and maintained that the matter to defend the arbitration and subsequent developments were shared and supported by the office of the attorney general for Pakistan and the Ministry of Law and Justice.
"The present management of NAB has neither taken part in the execution of the agreement with M/s Broadsheet LLC nor in initiation of the arbitration proceedings," the statement added.
https://www.dawn.com/news/1599759/firm-hired-to-probe-sharifs-ended-up-seeking-their-help
--------
PDM has died its own death, says Imran
Syed Irfan Raza
05 Jan 2021
ISLAMABAD: A day after the Bahawalpur rally of the opposition's Pakistan Democratic Movement (PDM), Prime Minister Imran Khan's team of spokespersons adopted an aggressive stance on Monday, following the premier's line that the movement was all but over.
Before heading to various TV channels to participate in talk shows, the spokespersons attended a brainstorming session at PM House which was presided over by Prime Minister Khan.
During the session, Mr Khan said that the PDM was no more a threat to the government.
Talking to Dawn, a participant of the meeting, who did not want to be named, quoted the prime minister as saying: "The PDM has almost lost and died its own death, so it is no more a threat to the government."
He directed his spokespersons to give a "tough time" to the opposition in the media, which could be seen when the spokespersons took on the opposition leaders on front foot.
The prime minister reiterated that the opposition had come on the streets to seek National Reconciliation Ordinance (NRO)-like concessions for its leaders, who had plundered national wealth and were now facing corruption references.
"PDM's entire movement is aimed at getting an NRO, but I will not give them any relief," he said.
The team of spokespersons consists of those Pakistan Tehreek-i-Insaf (PTI) leaders who are often seen on TV screens, promoting the government's point of view and the prime minister's narrative on different issues.
They include Information Minister Shibli Faraz, Minister for Science and Technology Fawad Chaudhry, Minister for Planning and Development Asad Umar, Education Minister Shafqat Mehmood, Minister for Industries Hammad Azhar, Special Assistant to Prime Minister on Youth Affairs Usman Dar, Senator Faisal Javed, Minister for Communication Murad Saeed, Nadeem Afzal Gondal, Special Assistant to the Prime Minister on Information Rauf Hassan, Special Assistant Shahbaz Gill, Walid Iqbal, Kanwal Shauzab, Maleeka Bukhari, Minister of State for Climate Change Zartaj Gul, Minister of State for Parliamentary Affairs Ali Mohammad Khan and Sadaqat Abbasi.
The prime minister's narrative-building mechanism begins with the meeting of spokespersons on a regular basis during which Mr Khan gives them a guideline on how to counter the opposition on media.
According to a senior party leader, the prime minister personally gives various spokespersons feedback on their performance through WhatsApp.
During one such meeting on Monday – a day after the PDM public rally in Bahawalpur – the prime minister said that cracks had appeared in the opposition's movement as some major parties had decided not to tender resignations and were adamant on contesting the forthcoming Senate elections.
Another participant of the meeting said the prime minister directed his team to vigorously present the government's achievements in media so that people would know what the government had done during its over two-and-a-half years term, especially on the economic side.
The prime minister said in the new year, the government would focus on improving delivery of basic rights and facilities to the people.
One of the spokespersons, Kanwal Shouzab, said in a TV programme that the PM's team consisted of "diehard" spokespersons.
"We are diehard spokespersons and not like the spokespersons of the opposition who have been slaves for generations," she said.
Responding to a remark of another guest in the show, she said the PM's spokespersons were usually seen on TV screens to present "the factual" position which was twisted by the opposition's representatives.
"We do not want to humiliate the opposition but present the factual picture to the people," she added.
Ms Shouzab said the PDM was serving the purpose of Indian media by criticising state institutions, especially the army.
Another participant said these meetings provided an opportunity to the spokespersons to get their policy line right from the top as well as avail the chance to ask questions, give suggestions and acquire a better understanding of the 'hows' and 'whys'.
The prime minister also discussed the forthcoming Senate polls and hoped that the ruling PTI would get a majority in the Upper House.
He said the government was waiting for the verdict of the Supreme Court on holding of Senate elections through show of hands and not secret balloting.
"Once the Supreme Court gives us its guidelines, we will act accordingly and if required, make the necessary legislation," PM Khan added.
https://www.dawn.com/news/1599763/pdm-has-died-its-own-death-says-imran
--------
LeT leader Lakhvi Arrested from Lahore on Terrorism Financing Charge: CTD
Imran Gabol
02 Jan 2021
The Punjab Counter Terrorism Department (CTD) on Saturday arrested Zakiur Rehman Lakhvi, leader of proscribed organisation Lashkar-e-Taiba (LeT), in an intelligence-based operation from Lahore, a spokesperson for the CTD said in a statement.
Lakhvi was running a medical dispensary to collect and disburse funds for financing terrorism, it added.
"He & others also collected funds from this dispensary and used these funds for further terrorism financing. He also used these funds for personal expenses," the statement read.
A case of terrorism financing was registered against Lakhvi by the Punjab CTD at its Lahore station, it said, adding that his trial would be held before an anti-terrorism court in Lahore.
As leader of the banned militant group, Lakhvi is blamed by the United States and India for the 2008 Mumbai attacks.
A UN Security Council sanctions committee says Lakhvi is LeT's chief of operations and accuses him of being involved in militant activity in a number of other regions and countries, including Chechnya, Bosnia, Iraq and Afghanistan.
Indian authorities said the lone surviving gunman in the 2008 Mumbai siege, in which 166 people were killed, had told interrogators before his execution that the assailants were in touch with Lakhvi.
India has long called on Pakistan to bring Lakhvi to trial, but Islamabad says Delhi has not provided concrete evidence to try the LeT leader. He was first arrested in 2008 but was later released on bail.
Imran Gill, Lakhvi's lawyer, confirmed the arrest and told Reuters his case would be heard next week. He did not respond to further questions.
Another man that India says was the mastermind of the Mumbai siege, Hafiz Saeed, was arrested after being convicted by an anti-terrorism court on two charges of terrorism financing last year. Saeed denies involvement in the Mumbai attacks.
https://www.dawn.com/news/1599281/let-leader-lakhvi-arrested-from-lahore-on-terrorism-financing-charge-ctd
--------
'Missing' suspected militant found dead on city's outskirts
05 Jan 2021
KARACHI: A suspected militant who had been missing since last one year was found dead in the outskirts of the metropolis on Monday, according to police.
Gulshan-i-Maymar police said that the body of the man later on identified as Luqman Khan, 32, was recovered from bushes near Sawan Mor off the Northern Bypass on Monday morning. The corpse was shifted to Abbasi Shaheed Hospital to fulfil legal formalities.
Malir SSP Irfan Bahadur said that apparently, there were no bullet or injury marks on his body. Therefore, the doctors reserved his cause of death for histopathological and chemical examiner's report.
Police sources said that the deceased had been missing since 2019 from Pirabad area of Orangi Town. The family had lodged his missing/kidnapping report at Pirabad police station in the same year.
The police sources said that the deceased originally belonged to Swat area of Khyber Pakhtunkhwa. They revealed that the missing man had reportedly links with militants in Swat.
Suspect shot dead, policeman hurt in encounter
A suspected robber was shot dead while a policeman was injured during exchange of fire in the SITE area on Monday, according to police.
According to SITE SHO Ayaz Khan, the police encounter took place at terminus of 1-D bus near Habib Chowrangi. "After exchange of fire, one policeman, Jehangir Khan, 25, [was] shot and injured."
In retaliatory firing by the police, one suspect was also injured and arrested.
The officer claimed that the wounded suspect died while being taken to Abbasi Shaheed Hospital. His identity could not be ascertained immediately. The injured constable was referred to Dr Ruth Pfau Civil Hospital for treatment.
Rangers detain Lyari gang-war suspect over extortion
Pakistan Rangers Sindh on Monday claimed to have arrested a suspect linked with Lyari gang-war elements over charges of extortion.
The paramilitary force and the police jointly conducted an intelligence-based action in Old Sabzi Mandi area and arrested the suspect, Mohammed Waseem alias Waseem Bhaya.
"The held suspect belonged to Ustad Ahmed Ali Magsi-led Lyari gang-war group," said the spokesperson.
The held suspect under directions of Magsi had entered an office of a builder in Bahadurabad on Dec 7, 2020 and demanded Rs5 million as bhatta (extortion). He was armed with pistol and hand grenade and he could be seen in the CCTV footage obtained from the area.
During initial interrogation, the suspect revealed that the Magsi-led gang was also involved in a recent gunfire attack on a biryani shop in PIB Colony, which was linked to extortion.
The suspect has also been involved in street crimes and robberies in different parts of the city and efforts were under way to arrest remaining members of the gang.
Subsequently, the held suspect was handed over to the police along with arms and ammunition for further legal action.
https://www.dawn.com/news/1599787/missing-suspected-militant-found-dead-on-citys-outskirts
--------
Southeast Asia
Indonesia to free Abu Bakar Bashir, cleric linked to Bali bombings
04 Jan 2021
JARKATA: A radical Indonesian cleric linked to the deadly Bali bombings will be released from prison this week, authorities said Monday (Jan 4), after an earlier bid to free him early was axed following a public uproar.
Abu Bakar Bashir, 82, once synonymous with militant Islam in the world's biggest Muslim majority nation, will be freed Friday after completing a 15-year prison term for helping fund paramilitary training in conservative Aceh province.
He was sentenced in 2011, but the firebrand preacher's time was cut due to regular sentence reductions handed to most prisoners in Indonesia.
"He will be released on January 8, 2021, as his prison term expired and ended," Rika Aprianti, spokesman for Indonesia's corrections agency, said in a statement.
Bashir's lawyers had appealed for early release citing his old age and risk of contracting COVID-19 in the Southeast Asian nation's notoriously overcrowded prison system.
Bashir, a key figure in militant group Jemaah Islamiyah (JI), was previously jailed over the Bali bombings, but that conviction was quashed on appeal.
He has repeatedly denied involvement in the 2002 bombings that killed more than 200 people - most foreign tourists - in Indonesia's worst terror attack.
Two years ago, plans to grant the ageing Bashir early release on humanitarian grounds sparked a backlash at home and in Australia.
Dozens of Australians were killed in the Bali attacks, and the early release plan was shelved.
Bashir has since been regularly taken to hospital over his deteriorating health.
The 2002 bombings prompted Jakarta to beef up counter-terror cooperation with the US and Australia.
Al-Qaeda-linked JI was founded by a handful of exiled Indonesian militants in Malaysia in the 1980s and grew to include cells across Southeast Asia.
As well as the 2002 Bali bombings, the radical group was blamed for a 2003 car bomb at the JW Marriott hotel in Jakarta and a suicide car bomb the following year outside the Australian embassy.
This week Indonesian police said they had discovered videos showing members of JI training at what they described as terrorist training camps.
The dramatic footage, including kidnapping and weapons simulations, was found on the laptop of a recently arrested terror suspect, they said.
https://www.channelnewsasia.com/news/asia/indonesia-to-free-abu-bakar-bashir-cleric-linked-bali-bombings-13891406
--------
Annuar Musa defends 'No DAP, No Anwar' stance
04 Jan 2021
KUALA LUMPUR, Jan 4 — Barisan Nasional secretary-general Tan Sri Annuar Musa said he will continue to defend the Umno Supreme Council's decision to reject any form of political cooperation with DAP and PKR president Datuk Seri Anwar Ibrahim.
He said he wants Umno to remain a party that champions Malay and Muslim party solidarity.
Annuar also said he was willing to be sacked (from the party) if there are those who are unhappy with his stance.
"I will defend the Supreme Council's 'No DAP, No Anwar' (stand). If they want to sack me, then, by all means, go ahead if they want to back those who support (cooperation with) DAP and Anwar, then please proceed as well," he said in a Facebook posting yesterday.
Recently, the Umno Pasir Puteh division called for Annuar to be sacked from the party after claiming that he was not respecting the party president besides having also pre-empted party decisions.
The motion was proposed by Umno Pasir Puteh youth chief Muhammad Saifullah Ali at the division's delegates meeting on Saturday.
Annuar, who is also Federal Territories Minister, said throughout his 40-year involvement in Umno, including attending the annual divisional meetings, the party would always have Malay and Islam matters as well as the people's concerns as part of discussions.
"But we have not heard these issues (being raised) this year. What we hear are calls to reject Malay solidarity and verbal attacks among one another. DAP can afford to smile now," he said.
Annuar also claimed that Umno's divisional and parliamentary strongholds in Kelantan were gradually falling into rival parties' hands, and hoped this would not also be the case at national level. — Bernama
https://www.malaymail.com/news/malaysia/2021/01/04/annuar-musa-defends-no-dap-no-anwar-stance/1937189
--------
I don't know how I got 'baptised', witness tells Suhakam inquiry
Minderjeet Kaur
January 5, 2021
KUALA LUMPUR: A witness at a Human Rights Commission (Suhakam) inquiry today said he first met the missing Pastor Joshua Hilmy in 2015 to seek "spiritual cure" and to stop "evil spirits" from disturbing him.
Iqbal Mirza Mohd Jalaludin said he was recommended by a friend to seek Joshua's help but may have "accidentally" been baptised by him.
"I didn't know what my problem was. My doctor told me I had high blood pressure and cholesterol problem but did not prescribe any medicine.
"I was confused, so I tried seeking medical treatment and spiritual assistance," he said.
Suhakam is holding the inquiry into the disappearance of Joshua, a Malay who had converted to Christianity, and his wife Ruth Sitepu. Both have been missing since November 2016.
Iqbal said he had to endure "bad dreams" with "black evil spirits" disturbing him since his marriage in 2001, and had visited 10 ustaz (religious teachers) before meeting Joshua on Jan 1, 2015. He said the ustaz had failed to cure him.
"The disturbance was terrible, I couldn't sleep at night. I met with so many people but still couldn't get cured," he said.
In 2014, he said, he felt unbearable pain in his right chest and "could see the evil spirits in my dreams".
Iqbal, who lives in Damansara Damai, said he met Joshua at his home in Petaling Jaya on Jan 1, 2015, with his wife.
"I met Joshua to get cured, to stop the body ache. I had no other intentions," he said.
He said Joshua may have used the words "baptise" and "Jesus" in his treatment.
He said he was given a bath to cleanse himself, and that it felt strange that a Malay (Joshua) was a Christian, but he did not inquire further as he just wanted to be cured and not converted to Christianity.
He said he met Joshua two more times to be "cured" but the chest pain continued.
Iqbal, who stressed that he is still a Muslim, was shown two baptism certificates bearing his and his wife's name, but he denied that he converted.
"I have never seen these documents," he said.
Witness met Pastor Raymond Koh twice
Iqbal also revealed that he met the missing Pastor Raymond Koh twice, in 2014 and in 2015. Koh went missing in February 2017.
"I met Raymond first in 2014, only then (did) I meet Joshua in 2015 ," he said.
Asked how he knew Koh, he said he was introduced through Harapan Community, an organisation that helped people with diseases.
He said his wife had found out about the community over the Internet as she was also seeking a cure for her cancer-stricken father.
"We met Raymond and told him our problems, too," he said, adding that Koh had recited a prayer for their well-being but did not suggest anything further.
He said Koh only referred to himself as uncle and he had no knowledge of the baptism certificates signed by Koh.
Iqbal also said there were still no signs of a "spiritual" cure, but he had recently been taking medication for high blood pressure and cholesterol and started to sleep and felt well.
The inquiry continues.
https://www.freemalaysiatoday.com/category/nation/2021/01/05/i-dont-know-how-i-got-baptised-witness-tells-suhakam-inquiry/
--------
Mideast
Iran confirms it has started producing 20 percent enriched uranium
05 January 2021
Iran has started producing 20 percent enriched uranium, the country's nuclear organization said, confirming an announcement by the UN atomic watchdog that it was now exceeding the threshold set by a 2015 nuclear deal.
"At around 7 pm (1530 GMT Monday) we reached 20 percent" enrichment, spokesman Behrouz Kamalavandi told state television in an interview aired on Tuesday.
China's Foreign Ministry urged calm and restraint on Tuesday after Iran said it had resumed 20 percent uranium enrichment, breaching a 2015 nuclear pact with major powers, including China.
Chinese Foreign Ministry spokeswoman, Hua Chunying, speaking to reporters, said all parties should avoid taking steps that could exacerbate tensions.
Japan's top government spokesman on Tuesday said the country was deeply concerned about Iran's latest announcement of a resumption of 20 percent uranium enrichment.
"The government has strong concerns about this move, which is a breach of a nuclear agreement," Chief Cabinet Secretary Katsunobu Kato told reporters.
The US also criticized Iran's statement that it had begun the process of enriching uranium to 20 percent, well above the limit set in the 2015 nuclear deal that Washington abandoned, as a form of "nuclear extortion."
https://english.alarabiya.net/en/News/middle-east/2021/01/05/Iran-confirms-it-started-producing-20-percent-uranium-enrichment-
--------
FM Spokesman: Iran Never to Negotiate on Defence Capability
2021-January-4
"As for Iran's defense capability, there has never been, there is no and there won't be any negotiation," Khatibzadeh said, adding that the American officials know it well that the issue of the defense capability is out of question and has nothing to do with the Joint Comprehensive Plan of Action.
He made it clear that according to the content of the JCPOA and the UN Security Council Resolution 2231, the issue of Iran's missiles is a finished issue.
The diplomat added that all resolutions were annulled on January 16, including resolution 1929, noting that a few restrictions that linger will be annulled in January 2023.
Referring to the incoming US National Security Advisor Jake Sullivan's remarks, Khatibzadeh reiterated that no talks will take place on JCPOA and his words have domestic consumption.
Incoming US National Security Adviser Jake Sullivan told CNN on Sunday that the assassination of Iranian commander Qassem Soleimani did not make America safer or protect US interests.
Sullivan also addressed the possibility that a new nuclear deal with Iran will tackle the issue of its ballistic missile capabilities, something of particular concern to Israel.
"Our view is that Iran's ballistic missile program has to be on the table," he said.
In relevant remarks last month, Iranian Envoy and Permanent Representative to the UN Majid Takht Ravanchi rejected any request for renegotiation over the Joint Comprehensive Plan of Action (JCPOA), stressing that Iran will never accept renewed talks over the nuclear deal as it is against the UN Security Council Resolution 2231.
"The JCPOA is an agreement coming out of hard-won negotiations involving difficult gives and takes, and any proposal for its revision, renegotiation or extension will be against resolution 2231 and absolutely not acceptable to Iran," Takht Ravanchi made the remarks during a meeting of the UNSC on "Non-Proliferation: implementation of Security Council resolution 2231 (2015)."
He made it clear that the European members to the JCPOA and the European Union have practically joined the US and failed to live up to their commitments explicated in the agreement.
The envoy went on to say that the US and certain Western governments have instigated war, insecurity and instability in the volatile West Asian region through their interference and bullying policies.
Outgoing US President Donald Trump, a stern critic of the historic deal, unilaterally pulled Washington out of the JCPOA in May 2018, and unleashed the "toughest ever" sanctions against the Islamic Republic in defiance of global criticism in an attempt to strangle the Iranian oil trade, but to no avail since its "so-called maximum pressure policy" has failed to push Tehran to the negotiating table.
In response to the US' unilateral move, Tehran has so far rowed back on its nuclear commitments four times in compliance with Articles 26 and 36 of the JCPOA, but stressed that its retaliatory measures will be reversible as soon as Europe finds practical ways to shield the mutual trade from the US sanctions.
Tehran has particularly been disappointed with failure of the three European signatories to the JCPOA -- Britain, France and Germany -- to protect its business interests under the deal after the United States' withdrawal.
On January 5, Iran took a final step in reducing its commitments, and said it would no longer observe any operational limitations on its nuclear industry, whether concerning the capacity and level of uranium enrichment, the volume of stockpiled uranium or research and development.
Meantime, US President-elect Joe Biden has recently said in a CNN article that he wants a renegotiation of the contents of the deal before he agrees to rejoin the agreement.
"I will offer Tehran a credible path back to diplomacy. If Iran returns to strict compliance with the nuclear deal, the United States would rejoin the agreement as a starting point for follow-on negotiations. With our allies, we will work to strengthen and extend the nuclear deal's provisions, while also addressing other issues of concern," he wrote, mentioning that he wants changes to the contents of the nuclear deal and guarantees from Tehran that it would be open for compromise to strike multiple deals over its missile and regional powers as well as a number of other issues that have been the bones of contention between the two sides in the last four decades.
In response, Zarif had stressed that the US has violated the nuclear deal and is in no position to ask for any conditions for its return to the JCPOA, adding that it's Tehran that has its own terms to allow the US back into the internationally endorsed agreement.
The foreign minister has reiterated time and again that Tehran would not change even a single word of the agreement, and cautioned the US that it needs to pay reparations for the damage it has inflicted on Iran through its retreat from the nuclear agreement and give enough insurances that it would not go for initiating the trigger mechanism again before it could get back to the deal.
https://www.farsnews.ir/en/news/13991015000393/FM-Spkesman-Iran-Never-Negiae-n-Defense-Capabiliy
--------
Japan expresses concern over Iran's uranium enrichment
05 January 2021
Japan's top government spokesman on Tuesday said the country was deeply concerned about Iran's latest announcement of a resumption of 20 percent uranium enrichment.
"The government has strong concerns about this move, which is a breach of a nuclear agreement," Chief Cabinet Secretary Katsunobu Kato told reporters.
Iran has resumed 20 percent uranium enrichment at an underground nuclear facility, the government said on Monday, breaching a 2015 nuclear pact with major powers and possibly complicating efforts by US President-elect Joe Biden to rejoin the deal.
The enrichment decision, Iran's latest contravention of the accord, coincides with increasing tensions between Iran and the United States in the last days of President Donald Trump's administration.
Tehran started violating the accord in 2019 in a step-by-step response to Trump's withdrawal from it in 2018 and the reimposition of US sanctions lifted under the deal.
The agreement's main aim was to extend the time Iran would need to produce enough fissile material for a nuclear bomb, if it chose to, to at least a year from roughly two to three months. It also lifted international sanctions against Tehran.
"A few minutes ago, the process of producing 20 percent enriched uranium has started in Fordow enrichment complex," government spokesman Ali Rabiei told Iranian state media.
The UN nuclear watchdog confirmed that Iran had started the process of enriching uranium to 20 percent purity at its Fordow site.
"Iran today began feeding uranium already enriched up to 4.1 percent U-235 into six centrifuge cascades at the Fordow Fuel Enrichment Plant for further enrichment up to 20 percent," the IAEA said in a statement on a report that was sent to member states.
https://english.alarabiya.net/en/News/middle-east/2021/01/05/Japan-expresses-concern-over-Iran-s-uranium-enrichment-
--------
Turkish police detain 17 people after student-led protest in Istanbul
05 January 2021
Turkish police on Tuesday detained 17 people after hundreds attended a student-led protest against President Recep Tayyip Erdogan's appointment of a rector to a top university in Istanbul.
Officers conducted dawn raids in 13 districts in the city, Istanbul police said in a statement, while operations were continuing to catch 11 other suspects.
At least 1,000 people demonstrated outside Bogazici University's campus on Monday in response to a January 1 presidential decree in which Erdogan appointed Melih Bulu as the public institution's rector.
Bulu ran as a candidate in the 2015 election for Erdogan's ruling party.
Critics claim the appointment was another example of political interference in Turkey's education sector by Erdogan, who assumed the power to appoint rectors after surviving a failed coup in 2016.
Before July 2016, university rectors were appointed through elections.
This is the second time Erdogan has appointed a trustee after his decision in November 2016 also attracted angry reactions and created tensions.
The police accuse the 28 suspects of violating a law on demonstrations and marches, and "resisting an officer on duty".
An official at the Istanbul police headquarters said those detained were not students but members of "extremely marginal leftist" groups who supported the protests.
The university was known as Robert College when it was established in 1863.
It was handed to Turkey in 1971 and was renamed after the campus location by the Bosphorus river -- "Bogazici" in Turkish.
Despite the detentions, there are plans for more protests on Wednesday.
https://english.alarabiya.net/en/News/middle-east/2021/01/05/Turkish-police-detain-17-people-after-student-led-protest-in-Istanbul
--------
Iranian army set to hold 'large-scale' drone drill
04 January 2021
Iran's army is set to hold a "joint and large-scale" drone drill with its different divisions primarily in central Iran on Tuesday, the state news agency IRNA reported.
The two-day drill will involve "hundreds of operational drones of the army's ground, air and navy forces in the general area of Semnan (province) and different parts" of the country, IRNA said on Monday.
The Iran-manufactured drones will undertake "combat, surveillance, reconnaissance, and electronic warfare" in short and long distances flights, the agency added.
IRNA said the army will also showcase its "achievements" regarding drone manufacture in an exhibition with the presence of high-ranking military commanders.
The announcement comes at a time of heightened tensions with the US, and a day after Iran marked the first anniversary of the assassination of Islamic Revolutionary Guards Corps (IRGC) commander Qassem Soleimani.
He was killed in a US drone strike in Iraq in January last year.
It also follows the US decision on Sunday to reverse a plan to bring the aircraft carrier USS Nimitz home from the sensitive Gulf waters.
The Pentagon said the Nimitz would stay in the region due to alleged "recent threats" by the Islamic Republic.
https://english.alarabiya.net/en/News/middle-east/2021/01/04/Iranian-army-set-to-hold-large-scale-drone-drill-
--------
Iran must be prevented from acquiring nuclear weapons: EU Spokesperson
04 January 2021
Iran must be prevented from acquiring nuclear weapons, said Lead Spokesperson for the External Affairs of the European Union Peter Stano in an interview on Monday with Al Arabiya.
"Iran's decision to increase uranium enrichment has dire consequences. Iran must honor its nuclear pledges," Stano added.
Iran said it had started enriching uranium to 20 percent purity at its Fordow facility, going well beyond the 2015 nuclear deal threshold. The move is the latest of several recent breaches of the agreement that started violating in 2019 in retaliation for Washington's withdrawal from the agreement and the reimposition of US sanctions.
Stano added that the European Union would look at the International Atomic Energy Agency (IAEA) report to make sure what Iran is doing exactly.
"The European Union hopes that Biden will return America to the nuclear deal, the European Union urges Iran to fulfill its nuclear obligations," Stano added.
Iran said it had resumed 20 percent uranium enrichment at its underground Fordow nuclear facility, a government spokesman told the semi-official Mehr news agency on Monday, a level of purity that is not allowed under Tehran's 2015 nuclear pact with six major powers.
The move is the latest of several recent Iranian breaches of the deal, which it started violating in 2019 in retaliation for Washington's withdrawal from the agreement and the reimposition of U.S. sanctions against Tehran.
"A few minutes ago, the process of producing 20 percent enriched uranium has started in Fordow enrichment complex," Ali Rabeie told Mehr. On Jan 1, the International Atomic Energy Agency said Tehran had told the watchdog it planned to resume enrichment up to 20 percent at Fordow site, which is buried inside a mountain.
https://english.alarabiya.net/en/News/middle-east/2021/01/04/Iran-must-be-prevented-from-acquiring-nuclear-weapons-EU-Spokesperson
--------
Israel will not allow Iran to manufacture nuclear weapons: PM Netanyahu
04 January 2021
Israeli Prime Minister Benjamin Netanyahu said Monday that arch foe Iran's renewal of uranium enrichment proves that it is seeking to build nuclear arms despite its denials.
State media in the Islamic republic said Monday it had started the process of enriching uranium to 20 percent purity at its Fordow facility, going well beyond the threshold set by the 2015 nuclear deal.
Netanyahu said in a statement that the move "cannot be explained in any way except as the continued realization of its intention to develop a military nuclear program".
"Israel will not allow Iran to manufacture nuclear weapons," he added.
Israel, widely believed to be the only nuclear-armed country in the Middle East, has long asserted that Tehran is trying to acquire its own nuclear arsenal and that it seeks the destruction of the Jewish state.
Netanyahu argued long and fiercely against the 2015 deal between Iran and world powers for the lifting of international sanctions in return for it freezing what it says is a peaceful nuclear program.
But in 2018, US President Donald Trump pulled the US out of the agreement and reimposed sanctions, prompting Iran to roll back its own commitments.
https://english.alarabiya.net/en/News/middle-east/2021/01/04/Israel-will-not-allow-Iran-to-manufacture-nuclear-weapons-PM-Netanyahu
--------
Africa
Ethiopia vows to restore ancient iconic mosque
Addis Getachew Tadesse
05.01.2021
ADDIS ABABA, Ethiopia
The Ethiopian government vowed Monday to restore the partially damaged Al Nejashi Mosque in the country's northern Tigray region.
The iconic mosque, located in the Kilte Awulaelo woreda, or district, houses the tombs of the companions of the Muslim Prophet Muhammad who came to Ethiopia fleeing persecution at the hands of the idolaters in Saudi Arabia during the 7th century.
Considered by many as the second most sacred place of Islamic worship and dubbed by Ethiopian Muslims as "the second Mecca," Al Nejashi Mosque was struck by heavy weapons at multiple points including its minarets during a military operation launched in November last year by the Ethiopian government against the outlawed Tigray People's Liberation Front (TPLF).
A technical team of the government will travel to the site to see the extent of damage the mosque sustained and then restoration work will follow, the deputy director of the Ethiopian Authority for Research and Conservation of Cultural Heritage told state-owned Ethiopian Broadcasting Corporation (EBC)
EBC showed a trench used by TPLF forces near the site of the mosque, while the mosque's imams said it was sacrilegious on the part of the TPLF to have dug trenches there.
They said they had expressed opposition, but the TPLF forces would not listen. Emanuel Church nearby was also damaged in the military confrontation.
On Nov. 4 last year, Ethiopia launched what it described as a law enforcement operation against the TPLF, whose forces stormed the Northern Command of the Ethiopian Defense Forces, looted military hardware and killed soldiers in the early hours of Nov. 3.
On Nov. 28, Ethiopian Prime Minister Abiy Ahmed declared the military operation over after the fall of the regional capital, Mekele, to the Ethiopian army.
Tigray is now being governed by an interim administration.
TPLF forces fired rockets targeting many economic and public institutions and infrastructure facilities, including the airports of the lakeside city of Bahir Dar and the historic town of Gonder.
https://www.aa.com.tr/en/africa/ethiopia-vows-to-restore-ancient-iconic-mosque/2098367
--------
Niger: 3-day national mourning for terror victims
Kané Illa
05.01.2021
The Nigerien government has declared a three-day national mourning starting Tuesday to pay tribute to the victims of attacks on two villages near the Malian border over the weekend.
"A three-day national mourning has been decreed from Tuesday, January 05, 2021," government spokesperson Abdourahamane Zakaria said in a statement late Monday.
"The flags will be half-masted throughout the territory," he added.
Terrorists attacked Tchombangou and Zaroumdareye villages near the Malian border in southwestern Niger on Saturday, Interior Minister Alkache Alhada said.
The official delegation visiting the scene confirmed that 100 people, 70 in Tchombangou and 30 in Zaroumadareye, lost their lives in the attacks. Hundreds of survivors fled the scene on foot.
Local sources said 25 wounded were evacuated to Niamey and Ouallam for treatment.
UN Secretary-General Antonio Guterres strongly condemned Saturday's attack by unidentified gunmen.
Last month, at least 28 people were killed and hundreds more wounded in an attack, later claimed by the Boko Haram terrorist group, in Niger's southeastern Diffa region, according to the UN.
The Tillaberi region, where the recently attacked villages are located, has been frequently targeted by terrorist groups based in Mali since 2017, with a state of emergency declared in the area.
Niger, Burkina Faso, and Mali in the Sahel are at the epicenter of one of the world's fastest-growing displacement and protection crises.
The region is already hosting 851,000 refugees and nearly 2 million displaced people, according to the UN Refugee Agency.
https://www.aa.com.tr/en/africa/niger-3-day-national-mourning-for-terror-victims/2098612
--------
Cameroon: 4 civilians dead in Boko Haram attacks
Rodrigue Forku and Peter Kum
04.01.2021
Four civilians were killed in two attacks by the Boko Haram terror group in northern Cameroon, officials said on Monday.
The attacks took place in the Far North region after an operation by the Multinational Joint Task Force (MNJTF), a regional security force working against Boko Haram.
"Three members of a vigilance committee were killed in the Mayo Moskota area early in the morning," Midjiyawa Bakari, governor of the Far North region, told Anadolu Agency.
"They were shot dead by Boko Haram terrorists at a security post at around 4 a.m. [0300 GMT]."
Another civilian was killed by a Boko Haram group in the Kolofata area, the governor added.
Brig. Gen. Bouba Dobekreo, a MNJTF commander, said the Cameroonian military carried out a sweep around Kolofata on Sunday evening.
"Three Boko Haram fighters were killed and two others captured in the operation," he told Anadolu Agency.
Boko Haram launched a bloody insurgency in 2009 in northeastern Nigeria but later spread its atrocities to neighboring Niger, Chad and Cameroon, prompting a military response.
More than 30,000 people have been killed and nearly 3 million displaced in a decade of Boko Haram's terrorist activities in Nigeria, according to the UN Office for the Coordination of Humanitarian Affairs.
Violence committed by Boko Haram has affected some 26 million people in the Lake Chad region and displaced 2.6 million others, according to the UN Refugee Agency.
https://www.aa.com.tr/en/africa/cameroon-4-civilians-dead-in-boko-haram-attacks/2098128
--------
North America
On verge of resuming talks, US blames Taliban for spate of Afghan killings
04 January 2021
The US military on Monday blamed the Taliban for a spate of assassinations of prominent Afghans, the first time Washington has directly accused the insurgent group of the killings.
The charge comes as the Afghan government and Taliban are due Tuesday to resume peace talks in Qatar, as both sides seek an end to the long-running conflict.
Taliban talks
"The Taliban's campaign of unclaimed attacks and targeted killings of government officials, civil society leaders & journalists must... cease for peace to succeed," Colonel Sonny Leggett, spokesman for US forces in Afghanistan, said on Twitter.
The deputy governor of Kabul province, five journalists, and a prominent election activist have been among those assassinated since November.
Afghan officials blame the Taliban for the killings, but the hardline group has denied the charge, while the rival ISIS group says its fighters were responsible for some of them.
Leggett's statement comes as the Taliban accused US forces of carrying out air strikes against insurgents in Kandahar, Nangarhar and Helmand provinces in recent days.
The Taliban said the strikes violated an agreement signed in February that paved the way for the withdrawal of all foreign forces by May 2021.
Leggett said the US would continue to defend Afghan forces against Taliban attacks.
Violence has surged across Afghanistan, with the Taliban and government forces fighting daily across swathes of rural areas.
The Taliban carried out more than 18,000 attacks in 2020, Afghanistan's spy chief Ahmad Zia Siraj told lawmakers on Monday.
Nishank Motwani of the Afghanistan Research and Evaluation Unit said the insurgents would not claim responsibility for the killings while peace talks were ongoing, but nevertheless wanted to demonstrate to its cadre "that the Taliban are who they are and have not changed."
https://english.alarabiya.net/en/News/world/2021/01/04/On-verge-of-resuming-talks-US-blames-Taliban-for-spate-of-Afghan-killings-
--------
Biden adviser insists any talks with Iran should include missiles
04 January 2021
Jake Sullivan, US President-elect Joe Biden's incoming national security adviser, says Iran's ballistic missile program should be included in any possible negotiations with the country - an issue categorically rejected by Tehran.
"President Biden has said that if Iran comes back into compliance with its terms under the nuclear deal … so that its program is back in a box then we would come back in, but that would become the basis for this follow-on negotiation," Sullivan told CNN.
He noted that talks around the Islamic Republic's ballistic missile program would be part of the negotiations after Washington's return into the nuclear agreement, which outgoing President Donald Trump quit in 2018.
"Our view is that ballistic missiles, and Iran's ballistic missiles has to be on the table as part of that follow-on negotiation."
Sullivan also claimed that the talks can "go beyond just the permanent five members of the Security council" and that "involve regional players as well. And that in that broader negotiation, we can ultimately secure limits on Iran's ballistic missile technology."
His remarks come while Iranian President Hassan Rouhani stressed last week that the issue of Tehran's ballistic missile program is "non-negotiable", noting that Biden is "well aware of it".
Iran's Foreign Minister Mohammad Javad Zarif has also ruled out involving regional states in the nuclear negotiations after his Saudi counterpart made the suggestion last month.
In his remarks, Sullivan said the US assassination of Iran's top anti-terror commander General Qasem Soleimani has not contributed to US interests in the Middle East.
General Soleimani, the commander of Iran's Quds Force, was assassinated along with Abu Mahdi al-Muhandis, the second-in-command of Iraq's Popular Mobilization Units (PMU), and a group of their companions in a drone attack near Baghdad International Airport on January 3, 2020.
Iran retaliated five days after the attack by firing dozens of missiles at two US bases in Iraq, declaring that it was part of its pledged "tough revenge" and that the full revenge would be the ultimate expulsion of all American forces from the region.
Trump, a hawkish critic of the groundbreaking 2015 nuclear deal between Iran and the five permanent members of the UN Security Council – the US, France, Britain, China and Russia – plus Germany, unilaterally withdrew Washington from the agreement in May 2018.
Washington then reinstated the sanctions that the JCPOA had lifted, and also pressured others into committing to the bans and stopping their trade with Tehran.
https://www.presstv.com/Detail/2021/01/04/642236/Biden-adviser-Iran-missile-talks
--------
Pompeo Weighs Plan to Place Cuba on U.S. Terrorism Sponsor List
By Michael Crowley, Charlie Savage and Eric Schmitt
Dec. 29, 2020
State Department officials have drawn up a proposal to designate Cuba as a state sponsor of terrorism, a final-hour foreign policy move that would complicate plans by the incoming Biden administration to relax increased American pressure on Havana.
With three weeks left until Inauguration Day, Secretary of State Mike Pompeo must decide whether to sign off on the plan, according to two U.S. officials, a move that would also serve as a thank-you to Cuban-Americans and other anti-communist Latinos in Florida who strongly supported President Trump and his fellow Republicans in the November election.
It is unclear whether Mr. Pompeo has decided to move ahead with the designation. But Democrats and foreign policy experts believe that Mr. Trump and his senior officials are eager to find ways of constraining President-elect Joseph R. Biden Jr.'s initial months in office and to make it more difficult for Mr. Biden to reverse Trump-era policies abroad. In recent weeks, Trump officials have also sought to increase American pressure and sanctions on China and Iran.
A finding that a country has "repeatedly provided support for acts of international terrorism," in the State Department's official description of a state sponsor of terrorism, automatically triggers U.S. sanctions against its government. If added to the list, Cuba would join just three other nations: Iran, North Korea and Syria.
The Biden administration could move quickly to take Cuba back off the list. But doing so would require more than the stroke of a presidential pen. The State Department would have to conduct a formal review, a process that might take several months.
A State Department spokeswoman said the agency does not discuss "deliberations or potential deliberations" regarding terrorism designations. The White House did not provide a comment.
Democrats on Tuesday assailed the Cuba proposal, criticizing what they called an 11th-hour foreign policy change that unfairly limits the incoming Biden team.
"It's another stunt by this president with less than 23 days to go," Representative Gregory W. Meeks, a New York Democrat who is the new chairman of the House Foreign Affairs Committee, said in a telephone interview.
"He's trying to put handcuffs on the incoming administration," Mr. Meeks added.
The State Department removed Cuba from its list of terrorism sponsors in 2015, after President Barack Obama announced the normalization of relations between Washington and Havana for the first time since the country's 1959 communist revolution, which he called a relic of the Cold War. In return for pledges of political and social reform, Mr. Obama dropped economic sanctions, relaxed restrictions on travel and trade, and reopened an embassy in Havana for the first time in decades. In 2016, he became the first American president to visit the island since Calvin Coolidge.
The Reagan administration first added Cuba to the terrorism list in 1982 for supporting leftist insurgents in Latin America. During the Obama era, the State Department cited it as a "safe haven" for Basque separatists and Colombian rebels. But Obama administration officials eventually concluded no terrorist threat was posed by the aging Basques, nor from Colombian rebels who joined peace talks in Havana that led to a 2016 peace deal with Colombia's government.
They were also willing to accept that the Cuban government has harbored some fugitives wanted in the United States, including Joanne D. Chesimard, 73, a former member of the Black Liberation Army. Ms. Chesimard, who now goes by the name Assata Shakur, remains on the F.B.I.'s list of most wanted terrorists for killing a New Jersey state trooper in 1973.
In a potential preview of a re-listing, the State Department notified Congress in May that Cuba was among five countries it said were "not cooperating fully" with American counterterrorism efforts — the first time since 2015 that Cuba had not been certified as doing so.
The notification cited Cuba's refusal of a request by Colombia, an American ally, to extradite 10 leaders of the country's National Liberation Army living in Havana after the group claimed responsibility for a bombing of a Bogotá police academy in January 2019 that killed 22 people.
But Democrats said the idea that Cuba presented a terrorist threat to the outside world was a political fiction.
"This is complete nonsense. Cuba is not a state sponsor of terrorism," said Ben Rhodes, who as a deputy national security adviser to Mr. Obama played a central role in brokering the administration's deal with Havana.
Mr. Trump denounced the agreement as "terrible and misguided" and has rolled back many of its provisions. During visits to southern Florida, he boasted that he was standing up to communism in Latin America and warned that Mr. Biden would not, a message that proved popular to Cuban-Americans and other voters hostile to Havana.
As a candidate, Mr. Biden pledged to again change American policy, saying he would "promptly reverse the failed Trump policies that have inflicted harm on the Cuban people and done nothing to advance democracy and human rights."
Cuba's repressive government has largely disappointed hopes that it might liberalize after the death of its revolutionary leader, Fidel Castro, in November 2016. Havana continues to arrest and detain dissidents and cracked down on a recent hunger strike by artists and other activists in the capital, evidence to many Republicans that its government does not deserve cordial relations from Washington.
Trump administration officials have also been harshly critical of the Cuban government's support for Venezuela's socialist leader, Nicolás Maduro, whom Mr. Trump tried for years in vain to dislodge from power.
In an opinion essay published this month in The Miami Herald, Senator Marco Rubio, Republican of Florida and an influential voice on Cuba policy, urged Mr. Biden to "stand with the dissidents" there and urged him not to "return to a one-sided Cuba policy — and throw a lifeline to Raúl Castro's dictatorial regime."
U.S. officials said the plan to restore Cuba to the terrorism sponsor list was developed, in a break from standard process, by the State Department's Bureau of Western Hemisphere Affairs and not its Counterterrorism Bureau, which would typically play a central role in such a decision.
Mr. Rhodes called that evidence of a politically motivated process. "This is a sign that they know they can't get Cuba on the list on the merits," he said.
Critics say the Trump administration has begun politicizing such designations, which are meant to be a matter of national security. This month, the United States removed Sudan from its list of terrorist sponsors days before the African nation joined the list of Arab nations that have established diplomatic relations with Israel, a top priority for Mr. Trump.
The Trump administration has recently cracked down on Cuban companies run by or affiliated with the Cuban military. Last week, the Treasury Department blacklisted three such businesses.
A recent report commissioned by the State Department found that U.S. embassy personnel in Havana were sickened in 2016 by what was most likely a microwave weapon of unknown origins. Cuba's government has denied any knowledge of such attacks.
https://www.nytimes.com/2020/12/29/us/politics/pompeo-cuba-terrorism-sponsor-list.html?utm_source=iterable&utm_medium=email&utm_campaign=1871241_
--------
India
Former Judges And Bureaucrats Back UP 'Love Jihad' Law, Criticised The Bureaucrats, Who Had Demanded Its Withdrawal
Jan 5, 2021
LUCKNOW: As many as 224 retired bureaucrats and judicial officers, including former chief justices of high courts, chief secretaries and DGPs, have sent a letter to chief minister Yogi Adityanath in support of the new law against religious conversions in the state. They have also criticised a group of 104 retired bureaucrats, who had earlier written to Yogi demanding withdrawal of the new law.
The letter, signed by retired IAS officer Yogendra Narain, who has served as UP chief secretary and secretary general of Rajya Sabha, describes the new law as 'much needed' and that it is being misrepresented as anti-Muslim.
Narain told TOI that he and other like-minded persons were forced to write this letter to defend the law and the "duly elected chief minister" of UP since the law itself was legally perfect and those critical of it could have chosen a better way to question its implementation.
'UP law safeguards the dignity of women'
"There have been several cases of forced conversions where women have been harassed or even murdered. The law covers all religions so why should there be any opposition to it. It is only regulating the process of conversion," he said.
Coming days after 104 former IAS officers wrote an open letter addressed to the UP CM, demanding a rollback of the ordinance, the signatories of this letter dissociated themselves with the previous group.
"It's a matter of concern that one group of retired civil servants, visibly biased with an anti-establishment attitude despite overtly posing as 'non-political', repeatedly avail of every opportunity to put the Indian democracy, its institutions, and persons legitimately holding high offices in poor light before the whole world by making illconsidered public statements, or writing misconceived communications to various authorities," it said.
Signed by 14 former judges, 108 retired bureaucrats, 92 retired officers of the armed forces and 10 intellectuals, the Monday letter says that the Uttar Pradesh Prohibition of Unlawful Conversion of Religion Ordinance-2020 is applicable to all religions and "rightly provides that the marriages done for sole purpose of unlawful conversion can be declared void".
"The law safeguards the dignity of women involved in marriages leading to conversions, and further makes a special provision in favour of minors, women or anyone belonging to Scheduled Castes/Scheduled Tribes. In a hasty generalization based on a solitary incident of alleged lapse in Moradabad while implementing the ordinance…the law itself has been dubbed as illegal and, in particular, anti-Muslim," adding that it is a "shocking obsession of this biased group to stoke communal fire by instigating the religious minorities", it says.
The signatories to the letter have said that they have faith in the UP government to take action against officials guilty of mala fide intent in implementation of the law. Quoting instances where Hindu women were allegedly murdered in the course of inter-faith marriages, the letter says that for a group of former public servants to generalise on the basis of one incident and lose sight of cases where women genuinely harassed or even killed is "strange".
It adds: "New laws reflect the evolving needs of a dynamic society. A highly distorted reference of 'Ganga-Jamuni culture' has been given in wrongly criticising the UP law (in the previous letter). The 'Ganga-Jamuni culture' concept stands for harmonious inter-faith evolution and coexistence of art, culture, languages etc; but certainly not unlawful conversions with criminal intent, leading to murders, mutilation, torture and betrayal of women in particular".
Narain told TOI that the law had been formed on the recommendation of the State Law Commission and while it was in itself not unconstitutional, the implementation could have been a problem if vigilantes took matters in their own hands. However, he added, any law is open to misuse but then why blame the law. "Lots of states have laws on conversion so I did not understand why they had to specifically target UP," Narain said.
https://timesofindia.indiatimes.com/city/lucknow/224-ex-officers-judges-back-anti-conversion-law/articleshow/80105433.cms
--------
Govt Body Drops 'Halal' From Meat Manual After Allegations By Some Hindu Groups That It Gives An Unfair Business Advantage To Muslim Exporters
Smriti Kak Ramachandran
Jan 05, 2021
A government body on Monday removed the word "halal" from a red meat manual that it issues to lay down the contours of meat export -- a move that came in the backdrop of allegations by some Hindu groups that the use of the term gives an unfair business advantage to Muslim exporters.
"Halal" is a term used for consumables permitted under Islam. Meat that is slaughtered in a certain way is also labelled as "halal-certified". Several Islamic countries import only "halal-certified" meat.
A section of the older manual by the Agricultural and Processed Food Products Export Development Authority (APEDA) -- it functions under the commerce ministry -- read: "…The animals are slaughtered strictly according to 'Halal' method to meet the requirement of Islamic countries". In the revised version, that section reads: "The animals are slaughtered to the requirement of importing country/importer."
Exporters pointed out that certification of meat was done in view of the requirements of the exporting country, as mentioned in the revised manual as well, and that the removal of the term "halal" had little or no implications on the ground, but admitted that it carried symbolic significance.
A debate has been raging with a section of Hindu groups complaining that use of the word in the manual implied that APEDA was making it mandatory for exporters to buy and acquire only "halal-certified" meat . They argue that apart from Islamic countries in West Asia, India also exports meat to countries such as China and Sri Lanka, where "halal" certification is not needed. The Vishwa Hindu Parishad (VHP) is among those vocal on the issue.
The manual is a compendium of information on issues such as quality and food safety standards to be followed, freezing, packaging and labelling requirements, edible offal and other by-products of meat. It also contains elaborate information on various government regulations for export of meat.
Another reference in the previous manual to animals slaughtered by "halal" method in the presence of representatives of recognised Islamic bodies for certification to meet the requirement of Muslim countries has also been replaced with: "The animals are slaughtered to the requirement of importing country/importer."
APEDA officials did not respond to calls till the filing of this report. But on December 27, it clarified in a tweet that, as claimed by some Hindu groups, the government did not impose any condition that only "halal" meat was to be exported. "...It [halal meat] is requirement of majority of importing countries/Importers. Halal Certification agencies are accredited directly by respective importing countries. No Govt agency has any role in this," it said.
A group called Halal Niyantran Manch (Halal Regulation Forum) took credit after the APEDA move. It had been petitioning the government to do away with the word from the manual.
"The Congress government had forced APEDA to come out with an order that all manufacturers or exporters of meat will have to compulsorily register with APEDA, and buy and acquire only halal-certified meat," HNM spokesperson Harinder S Sikka said.
"As a result, Hindus, Sikhs, SC and STs (Scheduled Castes and Scheduled Tribes) all went out of business, which is roughly 40 million-plus people. The government's reasoning then was that meat is primarily exported to the Middle East, where the requirement is halal meat. However, this is not the truth. The biggest market for Indian meat is China, which not does not require or give a halal certification. There are many countries such as Sri Lanka that have banned halal certification," he added.
BJP national spokesperson RP Singh welcomed APEDA's move.
A meat exporter in Delhi, who spoke on the condition of anonymity, however, stressed that the government had no role in the certification of meat for exports. "Certification is done as per the requirements of the importing country. The removal of the term from the manual is of no significance on the ground," he said.
https://www.hindustantimes.com/india-news/govt-body-drops-halal-from-meat-manual/story-wqfcilHrF6OsBs7aoJBLZN.html
--------
India starts UN Security Council term vowing to speak against terror
Yashwant Raj , edited by Vinod Janardhanan
Jan 04, 2021
India began its eighth term as a non-permanent member of the UN Security Council on Monday with the stated objective of raising its voice against terrorism, speaking for the developing world and bringing "human-centric inclusive solutions" to matters of global peace and security.
India joined the Security Council technically on January 1, which was a public holiday. The term got underway on Monday with a flag installation ceremony, accompanied by the four other countries joining as non-permanent members: Norway, Ireland, Kenya and Mexico.
"We will use our tenure to bring human-centric and inclusive solutions to matters of international peace and security. India will be a voice for the developing world," said TS Tirumurti, the Indian permanent representative to the UN, after brief ceremony.
"We will not shy away from raising our voice against the common enemies of humanity like terrorism," he added.
The permanent representative also reiterated India's "very strong commitment to reformed multilateralism", which in the context of the United Nations chiefly includes an expanded Security Council — with a permanent membership for itself — to make the body more representative of the current world.
"India comes into the Security Council as the largest democracy representing 1/6th of humanity and with a strong commitment to reformed multilateralism, rule of law, a fair and equitable international system and to peace, security and development," Tirumurti said. "From Kashmir to Kanyakumari, we stand united as one, bound by our ethos of democracy, pluralism and commitment to fundamental rights."
India will also use the term to focus on peacekeeping, peace building, maritime security, women and youth, especially in conflict situations, and technology with a human face, will receive our attention while on the Council, he added.
India, Norway, Kenya, Ireland and Mexico will join Vietnam, Niger, Estonia, Tunisia and Saint Vincent and the Grenadines, as the five non-permanent members already there, and the five permanent members — the United States, the United Kingdom, France, Russia and China.
India won the eighth term in an election last June securing 184 of the 192 votes cast. It was last on the council in a two-year term ending 2012. Its previous terms were 1950-1951, 1967-1968, 1972-1973, 1977-1978, 1984-1985 and 1991-1992.
https://www.hindustantimes.com/india-news/india-starts-un-security-council-term-vowing-to-speak-against-terror/story-p4mBE9oPo8cIWVO0ceFeyL.html
--------
India strongly condemns terrorist attacks in southwestern Niger
by Kanishka Sarkar
Jan 04, 2021
India on Monday strongly condemned the terrorist attacks in southwestern Niger that left over 70 civilians dead and many injured.
The ministry of external affairs (MEA) said India has always opposed and rejected terrorism in all its forms and manifestations and urged concerted global action against the menace, including cross-border terrorism.
Over 70 people were killed and many injured in terror attacks on two villages in southwestern Niger on Saturday. In a statement, the MEA said India stands in solidarity with the government and people of Niger in the fight against terrorism.
"India strongly condemns the terrorist attacks in southwestern Niger on January 2, where more than 70 civilians have been killed and many injured. We extend our deepest condolences to the families of the victims and to the people and government of Niger," it said.
"India stands in solidarity with the Government and people of Niger in the fight against terrorism. India has always opposed and rejected terrorism in all its forms and manifestations and has urged concerted action by the international community against terrorism, including cross-border terrorism," it said.
https://www.hindustantimes.com/india-news/india-strongly-condemns-terrorist-attacks-in-southwestern-niger/story-UeS52ocPnxV4n2reKkAL6O.html
--------
Uttar Pradesh: 5 booked for torching house of Muslim man who embraced Hinduism last year
Jan 4, 2021
LUCKNOW: The Rae Bareli police booked five persons for allegedly torching the house of a Muslim man who had embraced Hinduism in September last year.
Police said the family ran to safety though the front portion of the house was destroyed in fire. Police and Provincial Armed Constabulary (PAC) have been deployed in the area.
Mohammed Anwar of Atanganjratso village in the Salon area of Rae Bareli had converted to Hinduism last year and changed his name to Dev Prakash. He also renamed his children as Devnath (5), Deendayal (4) and Durga (3).
Police said Prakash had married four times but used to live alone with his children as his first wife had died and subsequent marriages did not work.
Lodging an FIR, Dev Prakash alleged that former village pradhan Mohammed Tahir and his associates were upset with him ever since he embraced Hinduism.
"On Saturday afternoon, I was sleeping with my children when a fire broke out in my house. Residents of the area raised an alarm and asked us to vacate the house," Dev Prakash said.
"I rushed out with my children and spotted Tahir and his brother Rehan setting my house on fire. I informed the police and fire-tenders about the incident," he said.
SP, Rae Bareli, Shlok Kumar said an FIR under charges of mischief by fire or explosive substance and rioting had been lodged against Tahir, Rehan and three others.
"Preliminary probe suggests that Prakash and Tahir also had a dispute over a piece of land. We are probing the case from all angles. Tahir and his brother have been detained and are being questioned," he said.
Sources in the police department said members of right wing outfits also reached the village to meet Dev Prakash.
https://timesofindia.indiatimes.com/city/lucknow/uttar-pradesh-5-booked-for-torching-house-of-muslim-man-who-embraced-hinduism-last-year/articleshow/80101665.cms
--------
Woman tells Delhi HC she left home with Muslim man to be able to study; agrees to return
Jan 4, 2021
NEW DELHI: A woman told the Delhi high court on Monday that she had left home with a Muslim man as she was unable to study at her house due to unconducive environment, but was now ready to be with her parents.
The high court, which orally observed that the couple was not married though a 'nikahnama' had been prepared, was assured by the woman's parents that they would respect her desire to study further and also create a conducive situation at home.
Besides, they assured the court that they would not scold or taunt their daughter for whatever has happened, nor force her to marry any other person against her wishes.
Initially, when a bench of justices Vipin Sanghi and Rajnish Bhatnagar interacted with the woman in the virtual proceedings, she said she was not willing to go back to her family and will speak to them later.
To this, the bench said, "If she doesn't want to go, we cannot force her to go."
Turning down the parents' request to ask their daughter to continue living in the provided accommodation, the bench said, "How can we confine her to Nari Niketan if she wants to leave today. She is an adult, we can't force her to stay there?"
However, after interacting with her weeping parents during the hearing, she agreed to return home and the court allowed her father to pick her up during the day from Nari Niketan in the national capital where she has been residing since December 26 after being traced from West Bengal.
"In any event, after interacting with her parents on the video link... (the woman) has stated that she is ready and willing to return to her parental home with her parents," the bench said.
It added that she be provided with the mobile phone number of the beat constable of the area so that she can contact him or her, if she needs to, for any purpose and one lady constable shall visit her to check her well-being on every alternate day for the first two weeks.
The court disposed of a habeas corpus petition filed by the woman's father seeking production of his daughter who was missing since November 7, 2020. The family had claimed that she was forcibly taken away by a 'Bangladeshi' man.
During the hearing, the woman's mother said, "He brainwashed her and took her away. He is a Bangladeshi and not from India. Come back, he will sell you off."
The court, in its order, noted that the woman, who has completed her B Tech from Guru Gobind Singh Indraprastha University this year and wanted to prepare for competitive examinations, left her house as there was constant bickering in the family.
"She has also stated that she went with... (the man) to an advocate who was paid Rs 10,000 and he prepared a nikahnama after calling a qazi. She has not stated that she was converted to Islam. It would remain to be seen whether mere preparation of a nikahnama, in these circumstances, would tantamount to a Muslim marriage," the court said.
The court had in the last hearing directed the grant of police protection to the woman's family members.
On Monday, it said the SHO concerned will access the threat perception in relation to the woman's father and family members and take steps in regard to providing them security or withdrawal thereof as he considers fit.
https://timesofindia.indiatimes.com/city/delhi/woman-tells-delhi-hc-she-left-home-with-muslim-man-to-be-able-to-study-agrees-to-return/articleshow/80100460.cms
--------
Arab World
Focused on ending Qatar row, Gulf leaders head to Saudi Arabia summit
Naveed Siddiqui
05 Jan 2021
Gulf Arab leaders gather in Saudi Arabia on Tuesday for a summit that is expected to see a formal agreement towards ending a long-running dispute with Qatar that shattered Gulf unity at a time of heightened regional tensions with Iran.
Riyadh, the United Arab Emirates, Bahrain and non-Gulf Egypt severed diplomatic, trade and travel ties with Qatar in mid-2017 over allegations Doha supports terrorism. Qatar denies that and says the boycott aims to curb its sovereignty.
Qatar's Emir Sheikh Tamim bin Hamad al-Thani is headed to al-Ula, where the summit is being held, state media reported, after an announcement that Saudi Arabia would reopen its airspace and sea and land border to Qatar under a deal that a senior US official said would be signed on Tuesday.
Bahrain will be represented by its crown prince instead of the king at the annual summit and the UAE delegation is headed by the federation's vice president, who is also the ruler of Dubai.
While Saudi Arabia made clear it intended to lift the embargo, the other three countries did not immediately comment in on the issue, but the US official said "it's our expectation" they would also join.
Under the emerging deal, Qatar will suspend lawsuits related to the boycott, the official said.
All of the countries are US allies. Qatar hosts the region's largest US military base, Bahrain is home to the US Navy's Fifth Fleet, and Saudi Arabia and the UAE host US troops.
The development is the latest in a series of Middle East deals sought by Washington — the others involving Israel and Arab states — aimed at building a united front against Iran.
White House senior adviser Jared Kushner, assigned to work on the dispute by US President Donald Trump, is due to attend the ceremony in the historical city of al-Ula along with Middle East envoy Avi Berkowitz and Brian Hook, a special State Department adviser.
'Pakistan welcomes positive developments in the Gulf'
Meanwhile, the Foreign Office (FO) on Tuesday issued a statement welcoming the decision by Saudi Arabia and Qatar to reopen land, air and sea borders between the two countries.
"We also appreciate other steps being taken by the countries of the Gulf Cooperation Council (GCC), which will contribute to the resolution of outstanding issues between the countries of the organisation persisting for almost four years.
"Pakistan lauds the positive role played by the Emir of Kuwait towards the resolution of the differences between the countries of the council. His persistent and sincere efforts, and cooperation of the GCC countries, led to this important and amicable outcome," a statement by the FO spokesman said.
"We hope that the GCC Summit, being held today in Riyadh, will further build on these encouraging developments and lead to enhanced confidence and cooperation among the countries of the organisation."
Pakistan continues to accord high importance to its relationship with the council, as well as its bilateral relations with all GCC countries, the FO spokesman said.
https://www.dawn.com/news/1599844/focused-on-ending-qatar-row-gulf-leaders-head-to-saudi-arabia-summit
--------
Egypt says it will open its airspace with Qatar pending fulfillment of demands
Tamara Abueish
05 January 2021
Egypt will open its airspace with Qatar, Al Arabiya sources report, adding that implementation will be contingent on the fulfillment of Egyptian requirements.
Egypt's foreign minister Sameh Shoukry will take part in the 41st GCC Summit, Reuters reported citing an official source.
No further details about list of demands have been provided yet.
This comes a day after Kuwait's foreign minister had announced that Saudi Arabia would be reopening its borders with Qatar starting from Jan. 4, three years after diplomatic and trade ties were severed.
Qatar's Emir Sheikh Tamim bin Hamad al-Thani is heading to Saudi Arabia's AlUla for the 41st Gulf Cooperation Council (GCC) Summit, Qatari News Agency reported on Tuesday morning.
The summit is expected to see the signing of a deal between the GCC member states that would end the ongoing political rift.
Saudi Arabia, the UAE, Bahrain, and Egypt cut diplomatic and trade links with Doha in 2017.
https://english.alarabiya.net/en/News/gulf/2021/01/05/Egypt-says-it-will-open-its-airspace-with-Qatar-pending-fulfillment-of-demands
--------
Mostly government soldiers among 15 killed in Syria road attack
04 January 2021
Gunmen killed at least 15 people in Syria, mostly government soldiers traveling on a bus in the second such road ambush in recent days, a war monitor said on Monday.
For all the latest headlines follow our Google News channel online or via the app
The ambush late on Sunday resulted in the deaths of eight soldiers, four allied fighters and three civilians, the Britain-based Syrian Observatory for Human Rights said, updating an earlier toll.
There was no immediate claim of responsibility, but the monitor said the ISIS group was to blame.
Another 15 people were wounded, with cars and fuel tankers also attacked, in the Wadi al-Azib area of Hama province.
Syria's official news agency SANA said the "terrorist attack" killed nine people, all civilians.
Last week, the ISIS group said it ambushed a bus on December 30 in Syria's eastern Deir Ezzor province, killing at least 37 soldiers.
The extremist group overran large parts of Syria and Iraq and proclaimed a cross-border "caliphate" there in 2014, before multiple offensives in the two countries led to its territorial defeat.
The group was overcome in Syria in March 2019, but sleeper cells continue to launch attacks.
More than 387,000 people have been killed and millions forced from their homes since Syria's civil war broke out in 2011.
https://english.alarabiya.net/en/News/middle-east/2021/01/04/Mostly-government-soldiers-among-15-killed-in-Syria-road-attack
--------
GCC Secretary-General says Saudi-Qatari borders reopening reflects 'deep-rooted' ties
05 January 2021
The reopening of air, sea, and land borders between Saudi Arabia and Qatar reflect the "deep-rooted" ties between the Gulf Cooperation Council (GCC) member states, the council's Secretary-General Nayef Falah al-Hajraf said on Monday.
Kuwait's foreign minister had on Monday night announced that the Kingdom would be reopening its borders with Qatar starting from Jan. 4, three years after diplomatic and trade ties were severed.
"This decision on the eve of the 41st GCC summit is a reflection of sincere efforts being made to ensure the success of tomorrow's summit across all areas despite the exceptional circumstances created by the pandemic," al-Hajraf said.
"Today's announcement once again proves that the GCC embodies a deep-rooted partnership that consistently overcomes challenges while advancing the interests of the GCC people thanks to the leadership and wisdom of its leaders."
The GCC Summit will be held in the Maraya Concert Hall in Saudi Arabia's ancient AlUla city on Tuesday.
The summit is expected to see a signing ceremony of a deal ending the rift between Qatar and several other members of the GCC and Egypt.
https://english.alarabiya.net/en/News/gulf/2021/01/05/GCC-dispute-GCC-Secretary-General-says-Saudi-Qatari-borders-reopening-reflects-deep-rooted-ties
--------
UAE rejects 'wholly false' reports of foiling Iranian attack against Israeli visitors
05 January 2021
The United Arab Emirates (UAE) has vigorously rejected Israeli media reports that its security services arrested a number of Iranians purportedly conspiring to carry out an attack against Israeli tourists visiting the Persian Gulf country.
"The Government of the United Arab Emirates has denied media reports circulating today regarding the foiling of an alleged attack in Dubai," it said in a statement on Monday.
The Emirati government described the rumors as "wholly false" and urged accuracy in reporting.
It also called upon the public and media outlets "to refer to official sources for information and to avoid circulating unverified reports."
On Sunday night, Israel's Hebrew-language broadcaster Channel 12 alleged that Emirati intelligence authorities had arrested a number of Iranians in Dubai and Abu Dhabi over the previous few days on suspicion that they planned to carry out an attack against Israelis.
Thousands of Israelis have traveled to the UAE after Israel's cabinet ratified a mutual visa exemption agreement with the Arab country on November 22 last year. The UAE had earlier that month given its final okay to the agreement, which was signed after the two sides normalized ties.
The latest reports appear to be yet another attempt by Israeli news outlets to set off a media frenzy following Iran's pledge to exact revenge for the assassination of one of its most senior nuclear scientists by suspected Tel Aviv-tied terrorists late last year.
Mohsen Fakhrizadeh, the head of the Iranian Defense Ministry's Organization of Defensive Innovation and Research, was targeted in a multi-pronged terrorist near Tehran on November 27.
Iran says it has substantive evidence that the Tel Aviv regime has been behind the terror attack and vowed to take revenge, but it has repeatedly clarified that, unlike Israel and the US, assassinations and targeted killings have no place on its political agenda.
The Israeli report also comes at a time of heightened tensions between the US and Iran as the latter marked the first anniversary of the assassination of its top anti-terror commander Lieutenant General Qassem Soleimani by the American military in Iraq in January, 2020.
Washington has once again stepped up its campaign of military threats against Iran through deployments of warships and bombers to the Middle East under the pretext that the Islamic Republic may be seeking revenge.
https://www.presstv.com/Detail/2021/01/05/642304/UAE-denies-wholly-false-Israeli-rumors-of-foiling-Iranian-attack-in-Dubai
--------
Saudi, Qatar to reopen land, maritime borders after three years of feud
05 January 2021
Riyadh has reached an agreement with Doha to end a three-year feud by reopening the Saudi airspace and land and sea borders to Qatar as of Monday, Kuwait's foreign minister said in televised comments.
"An agreement has been reached to open airspace and land and sea borders between Saudi Arabia and Qatar as of this evening," Kuwaiti Foreign Minister Ahmad Nasser al-Sabah said on Kuwait TV ahead of a Persian Gulf Arab summit in Saudi Arabia on Tuesday.
Kuwait's foreign minister said a declaration would be signed at the summit, which was postponed from its usual December date as Riyadh pushed for an agreement toward ending the rift.
The emir of Qatar plans to attend the Tuesday summit in Saudi Arabia at the head of a high-ranking delegation, according to Al Jazeera.
The deal between Riyadh and Doha may put an end to the row in which Saudi Arabia, the United Arab Emirates, Bahrain and Egypt severed diplomatic, trade and travel ties with Qatar in mid-2017.
The four boycotting countries had accused Qatar of supporting terrorism. Doha denies the charges and says the embargo aims to curtail its sovereignty.
Doha had been set 13 demands, ranging from closing Al Jazeera television and shuttering a Turkish base to cutting links to the Muslim Brotherhood and downgrading ties with Iran.
Qatar rebuffed the demands as "unreasonable."
The blockade led Qatar to forge closer ties with Iran and Turkey in order to broaden its trade options or reroute its flights.
However, Saudi Arabia and Qatar are now reportedly close to reaching a preliminary deal in a bid to resolve the dispute that has dragged on for three and a half years.
In late December, the foreign ministers of Persian Gulf Arab countries held an online meeting ahead of a summit of [Persian] Gulf Cooperation Council (GCC) to discuss settlement of the diplomatic row with Doha.
The meeting was attended by the foreign ministers of Saudi Arabia, the UAE, Kuwait, Oman and Bahrain as well as Qatari Minister of State for Foreign Affairs Sultan bin Saad Al Muraikhi.
Yemen's Ansarullah hails Riyadh-Doha deal
Mohammed Ali al-Houthi, the chairman of the Supreme Revolutionary Committee of Yemen, hailed the deal between Qatar and Saudi Arabia to reopen their borders, expressing hope that the move would be a beginning to the end of all conflicts.
"We congratulate Qatar on the end of the [Saudi] blockade and the resumption of its ties with Saudi Arabia," he said in a tweet on Monday evening.
"We hope the resumption of Qatar-Saudi relations would serve as a beginning point for the end of conflicts and cessation of Yemeni invasion," he added.
Saudi Arabia and a number of its allies launched a devastating war against Yemen on March 26, 2015 to restore power to the impoverished country's former Riyadh-backed officials, who had fled the country amid a power struggle at home.
Saudi Arabia launched the war on March 26, 2015 to restore power to Yemen's former Riyadh-backed officials, who had fled the country amid a power struggle at home.
https://www.presstv.com/Detail/2021/01/05/642290/Saudi-qatar-dispute-reopen-borders
--------
Syria foreign ministry condemns recent terror attacks on civilians in Hama, Dayr al-Zawr
04 January 2021
Syria has strongly condemned the terrorist attacks in its central province of Hama and eastern province of Dayr al-Zawr that led to the killing of a number of people and wounding of dozens more.
On Sunday evening, terrorists launch an attack against a bus in Kabajib area in Dayr al-Zawr and another attack against fuel tankers as well as civilian vehicles in al-Salamiyah district in Hama.
The attacks, which were later claimed by the Daesh Takfiri terrorist group, killed an unspecified number of civilians and soldiers and wounded dozens of others.
"The Syrian Arab Republic condemns in the strongest terms the cowardly terrorist attacks that targeted a bus in Kabajib area on the road between Palmyra and Dayr al-Zawr, as well as fuel tankers and civilian cars on the Athria-Salamiyah road, which claimed the lives of a number of civilian and government soldiers, and wounded many others," said a statement by the Syrian foreign ministry on Monday.
Daesh, which once controlled large parts of Syria, was finally defeated and lost all of its urban strongholds in the Arab country. However, its remnants every so often carry out sporadic attacks against both civilians and Syrian troops.
The statement, carried by Syria's official SANA news agency, added that the "heinous attacks" coincided with the frequent Israeli attacks on the Syrian land, which confirmed once again the existence of a connection between the terrorist groups and the Tel Aviv regime.
It also stressed that a connection is also evident between the terror groups and their sponsors in the West, particularly the United States.
The ministry also blamed Turkey, which has launched cross-border invasions against the Arab country, occupied parts of northern Syria, and supports anti-Damascus militant groups.
The Syrian foreign ministry said that all these foreign-backed terror groups and their Western sponsors aim to prolong the crisis in Syria, impede the return of security and stability and increase the suffering of the Syrians through terrorism and unilateral, illegal and coercive measures.
It also praised the bravery of army troops and their allied fighters in fighting against terrorists and their supporters, stressing that the Syrian people and the army are stronger and more determined than ever to repel the war on Syria.
https://www.presstv.com/Detail/2021/01/04/642274/Syria-Daesh-attacks-Hama-Dayr-al-Zawr-US-Israel
--------
South Asia
44 Taliban Killed, 17 IEDs Defused in MoD Missions Throughout Afghanistan
By Mohammad Haroon Alim
03 Jan 2021
At least 28 Taliban were killed and seven others were wounded in Zherai and Arghandab districts of Kandahar province, the Ministry of Defense stated on Sunday.
According to MoD, Taliban militants were planning to attack ANDSF positions when they were targeted by the Afghan National Army.
"They were planning to attack ANDSF positions when they were targeted by ANA", MoD tweeted on Sunday.
In another Incident, 8 Taliban were killed in the Terin-Kot district of Uruzgan province on Saturday, MoD tweeted.
MoD indicated, that these militants were planning to target Afghan National Defense and Security Forces outposts before they came under ANA's attack.
In addition, a Taliban tunnel was wrecked during the operation and some amount of their weapons were destroyed, MoD added, "25 IEDs and some of their weapons were destroyed during reciprocal operation".
Meanwhile, the Ministry of Defense in a statement said that During ANA's reciprocal attack in the Bati-Kot district of Nangarhar 8 Taliban were killed and six others were wounded.
The Taliban fighters were preparing to conduct their offensives on ANDSF positions in the region before they were targeted.
Ministry of Defense said in a statement that "8 Taliban were killed and 6 others were wounded in Bati-Kot district of Nangarhar province, yesterday. They were attacking ANDSF positions when they were targeted by ANA".
This comes as Afghan security members defused 17 IEDs along the Helmand-Herat Highway, the Ministry of Defense tweeted.
MoD blamed the Taliban for planting the mines and added that IEDs were discovered and "safely defused" before it could result in tens of civilian casualties.
Taliban have not yet commented over the MoD operations.
https://www.khaama.com/44-taliban-killed-17-ieds-defused-in-mod-missions-throughout-afghanistan-2233544/
--------
Taliban Battered in Kandahar, 31 killed
By Mohammad Haroon Alim
05 Jan 2021
The Ministry of Defense has announced Tuesday, that 31 Taliban insurgents have been killed in Kandahar as a result of reciprocal attacks by the Afghan defense and security forces.
The ministry said in a statement that the Taliban had planned to attack National Defense and Security Forces checkpoints in Zherai and Arghandab of Kandahar province on Monday.
According to the national defense and security forces, the militants were targeted in regards to the active context of defense.
At least 31 Taliban were killed and 18 others were wounded during the clashes, some of the group's weapons and ammunition were also destroyed.
The Taliban have not yet commented.
In a separate operation, MoD tweeted, that ANDSF wrecked Two of the Taliban tunnels, excavated to attack and seek refugee during the battle.
Afghan National Army discovered and demolished these tunnels in the Mizan district of Zabul province on Monday.
During the operation, a Taliban militant was also killed and another was injured during the encounter.
This comes as the engineering teams of ANP conducted a point-to-point search operation in Kabul, Maidan Wardak, and Nangarhar.
The Police engineering team managed to discover & defuse seven IEDs in Kabul, Maidan Wardak & Nangarhar provinces.
Many innocent civilian lives were saved, as ANP defused the planted bombs.
https://www.khaama.com/taliban-battered-in-kandahar-31-killed-334422/
--------
HCNR: Afghan Republic Negotiating Team Has Nation's Full Support
By Mohammad Haroon Alim
05 Jan 2021
The chairman of the High Council for National Reconciliation reiterated his and the nation's full support to the Afghan republic negotiating team.
Dr. Abdullah in a series of tweets on Monday said, "This evening the Leadership Committee of the HCNR in a joint meeting with the Islamic Republic's Negotiation Team discussed the latest developments in the peace process, & provided a clear guideline for the team for the next round of the peace talks."
Head of HCNR thanked the international community for supporting the peace process, he added "We are looking for a successful second round".
"I thank the international community for its continued support for the peace process, and the State of Qatar for hosting the second round of the peace talks. We are committed to achieving a lasting peace, and ask the Taliban to do so. We are looking for a successful second round," Abdullah tweeted.
https://www.khaama.com/hcnr-afghan-republic-negotiating-team-has-nations-full-support-555445/
--------
Khalilzad arrives in Doha, encourages parties for an immediate ceasefire
05 Jan 2021
Ambassador Zalmay Khalilzad, the US special envoy to the Afghanistan peace process arrived in Doha on Monday evening, a day before the 2nd round of the intra-Afghan peace negotiations kick off.
Zalmay Khalilzad has said that he expects a tangible progress in the next round of talks to bring peace in Afghanistan.
In a series of tweets he posted after he arrived in Doha, he has emphasized and encouraged both parties to reach an agreement on a political settlement and an immediate ceasefire or significant reduction in violence as the next round of talks resume the next day as per the announced schedule.
The current levels of violence, including targeted killings, is unacceptable, he said.
"Those perpetrating the violence seek to undermine the peace process and the country's future. They do not reflect the will of the Afghan people, who yearn for peace", Zalmay Khalilzad tweeted.
The Afghanistan State Ministry for Peace has announced that the Afghan delegation will leave for Doha on Tuesday morning.
The 2nd round of talks will include discussions on the agenda points of both parties which include the future government model and ceasefire as top priorities to both sides.
This comes as a global and regional consensus regarding the Afghanistan peace process has taken shape to help Afghanistan in ending a prolonged war of nearly 50 years.
https://www.khaama.com/khalilzad-arrives-in-doha-encourages-parties-for-an-immediate-ceasefire-979976/
--------
No Compromise on 'Security and Defense Forces' in Peace
By Mohammad Haroon Alim
04 Jan 2021
Afghan President Mohammad Ashraf Ghani said on Monday at an event, that he will not compromise on Afghan National Defense and Security forces as long as he is alive.
During his speech to the high ranking officials in Kabul, he reiterated that "There won't be any compromise on Security and Defense Forces of Afghanistan as long as I and the nation are alive. You [Afghan security members] are the pride of the Afghan people."
He said indicated that the world is safe because Afghan defense forces are on the frontline fighting terrorism in the country, he added that the Afghan security forces have given the ultimate sacrifice in the last six years.
As he presented awards to a number of Afghan security members, he bestowed Ghazir Wazir Mohammad Akbar Khan medal on Afghanistan's Chief of Army Staff, General Yasin Zia.
This comes as US Special Envoy to Afghan Reconciliation, Zalmay Khalilzad in a series of tweets said that "I return to Doha and the region with expectations that the parties will make tangible progress in the next round of Afghanistan Peace Negotiations".
He added, that both negotiating "sides must demonstrate they are acting in the best interest of the Afghan people by making real compromises and negotiating an agreement on a political settlement as soon as possible and an immediate significant reduction in violence/ceasefire".
Khalilzad said that current levels of violence, targeted killings will undermine the peace process.
"The current levels of violence, including targeted killings, is unacceptable. Those perpetuating the violence seek to undermine the peace process and the country's future. They do not reflect the will of the Afghan people, who yearn for peace".
Khalilzad's tweets came just hours after, Ariana News reported that Khalilzad met with Pakistan's Chief of Army Staff General Qamar Javed Bajwa in Islamabad on Monday to discuss issues around regional security.
https://www.khaama.com/no-compromise-on-security-and-defense-forces-in-peace-334422/
--------
Afghan officials leave for Doha to resume talks with Taliban
05 January 2021
Afghan government officials and Taliban representatives are set to resume a second round of talks in the Qatari capital, Doha.
The team of Afghan government negotiators left Kabul for Doha on Tuesday to resume talks with the Taliban over an initial agreement the two sides reached in December last year.
Head of the Afghan reconciliation council Abdullah Abdullah said the leadership committee of the council met with Afghan negotiators on Monday evening to provide "the team [with] clear guidelines for the next round of talks."
He said that the negotiating team had the full support of the nation and the mandate to discuss the peace agenda with the Taliban.
"We are committed to achieving a lasting peace, and we ask the Taliban to do their part. We are looking for a successful second round," Abdullah added.
US special envoy Zalmay Khalilzad will also meet the negotiators of the two sides, according to the US State Department.
The Afghan government and the Taliban held the first round of the intra-Afghan negotiations in Doha on September 12 last year. The two sides took a break after striking the preliminary deal.
It marked the first time the two warring sides reached a written agreement since the US invasion of Afghanistan in 2001.
The US reached a deal of its own with the Taliban in February last year on the withdrawal of the remaining 12,000 US troops from Afghanistan in exchange for the Taliban's halting of their attacks on international forces. However, clashes and bombings continue to claim lives in the war-torn country.
Meanwhile, Afghan President Ashraf Ghani and some other senior officials have called for the talks to be moved home, with the president underlining the need for the Afghan people to see how the talks proceed.
But the Taliban, which has in the past refused to hold talks in Afghanistan, has not responded to Ghani's call.
https://www.presstv.com/Detail/2021/01/05/642308/Afghan-officials-leave-for-Doha-to-resume-talks-with-Taliban
--------
URL: https://www.newageislam.com/islamic-world-news/turkish-muslim-community-concerned-rise/d/123987
New Age Islam, Islam Online, Islamic Website, African Muslim News, Arab World News, South Asia News, Indian Muslim News, World Muslim News, Women in Islam, Islamic Feminism, Arab Women, Women In Arab, Islamophobia in America, Muslim Women in West, Islam Women and Feminism