New Age Islam News Bureau
25 Oct 2018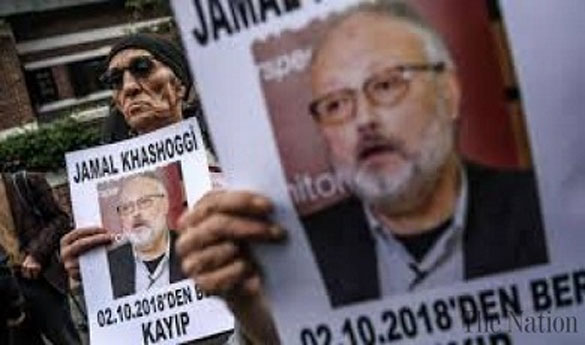 Photo: Turkish intelligence has shared "all the evidence" over the murder of Saudi journalist Jamal Khashoggi with the CIA chief during a visit, pro-government media reported on Wednesday.
----------
• Saudi Crown Prince: No rift with Turkey in the presence of King Salman, Erdogan
• 'Ongoing genocide' against Myanmar's Rohingya Muslims: UN
• Kashmiriyat: Why the indigenous secular tradition is the best bet against Islamist militancy
Mideast
• Turkish intelligence shares "all the evidence" with CIA chief over Khashoggi murder
• Iran: Khashoggi murder would have been impossible without US support
• Ayatollah Khamenei calls for opinions to promote Islamic-Iranian model of progress
• IRGC Commander Warns of Foreign-Backed Terrorists' Attempts to Darken Iran-Pakistan Ties
• Israel's Netanyahu vows to maintain military force in West Bank
• Turkey: Joint patrols with the US in Syria's Manbij to start soon
• Israeli troops kill young Palestinian stone-thrower in West Bank clash
• Yemen's newly appointed PM tours storm damaged al-Mahra
• Houthis step up security fearing coup ministers will flee Sanaa
• Israel bent on killing chances of Mideast peace: Palestine
• Israeli fighter jets bomb areas across Gaza Strip
• Saudi airstrike on Hudaydah kills 20 Yemeni civilians
--------
Arab World
• Saudi Crown Prince: No rift with Turkey in the presence of King Salman, Erdogan
• US-Backed Militia Release over A Hundred ISIL Terrorists in Northeastern Syria
• Peace forum to set up 'alliance of virtues' on Islam
• Syrian Army Repels ISIL's Heavy Offensives in Homs, Deir Ezzur Provinces
• Terrorists Intensify Attacks on Syrian Army Positions in Demilitarized Zone in North
• Tens of Civilians Leave Idlib for Syrian Army Positions via Humanitarian Corridor
• Bahrain arrests two nationals for taking money from Qatar to influence elections
--------
South Asia
• 'Ongoing genocide' against Myanmar's Rohingya Muslims: UN
• Afghanistan probes claims 14 civilians killed in raid on IS
• UN investigator: Genocide still taking place in Myanmar
• Rohingya crisis: Australia imposes sanctions on top Myanmar military generals
• Rohingya refugees in Malaysia fear persecution if repatriated
• Gen. Raziq's assassination plan hatched in Pakistan: Ghani
• Mullah Sherin hatched assassination of Gen. Raziq, claims ex-NDS Chief
• Senior Afghan Taliban leader Mullah Baradar is free, says Taliban
--------
India
• Kashmiriyat: Why the indigenous secular tradition is the best bet against Islamist militancy
• Muslim litigant Iqbal Ansari in Ayodhya title suit threatened
• Jammu and Kashmir: MPhil student among two militants killed
• NIA files chargesheet against Pakistan terrorist who infiltrated from J&K LoC
--------
Pakistan
• Pakistani head teacher suspended for attacking Christian student
• 30,000 children in capital out of school, minister informed
• 4 children injured in Quetta school firing
• Pakistan to unite Muslim world: Imran
• Terrorist involved in D.I. Khan jailbreak killed
• Pakistan releases Taliban leaders to help facilitate Afghan reconciliation process
• US warns Pakistan against 'harbouring' terrorists
• Fazl calls Nawaz, urges him to personally attend APC
• Govt asked to disclose conditions linked to Saudi bailout package
• No strings attached to Saudi bailout: Qureshi
--------
Southeast Asia
• Malaysia PM Mahathir pledges to help end violence in Thai south
• China's reeducation camps for Muslims are begining to look like concentration camps
• Report: Sarawak has most requests for child marriages, Muslim and non-Muslim
• Preserving Muslim tribe customs in the Philippines through the Council of Elders
• Abstinence and guilt trips: Jakim's rehab tools against LGBT in e-book
• Indonesian Muslims find comfort in nuns' home for elderly
• Malaysia ex-PM, ex-treasury, spy chiefs charged with graft
--------
Africa
• South Africa mosque attack suspects linked to Daesh
• Jordanian security officials: Ex-counterterrorism chief's assassinator arrested
• Islamic Movement in Nigeria holds rally for Zakzaki release
• State cites ISIS in Durban trial – but experts urge extreme care
• Egypt, Sudan urge diplomatic solution to Khashoggi case
• North Eastern counties grapple with al Shabaab attacks
--------
North America
• Explosives sent to Obama and Clinton houses 'act of terror'
• Quebec wants to expand religious symbol ban, blocking Muslim garments in civil service
• Regina Muslims look forward to new mosque on site of Pump Roadhouse
• Zarif: US sanctions on Iran aim to deflect attention from Khashoggi's murder, Saudi crimes in Yemen
--------
Europe
• British counter-terror chief warns against far-right threat
• France seeks to bring home children of ISIS members
• Ahmad Angawi and Idris Khan help reframe the British Museum's Islamic art collection
• UK's May says Saudi account of Khashoggi death lacks credibility
• France will take no 'hasty decision' on relations with Saudi Arabia
• Saudi suspects in Khashoggi death to be barred from entering UK: PM May
• UK Islamophobe slammed after dining in Parliament
• Major British firm complicit in Israeli war crimes
• Russia-Turkey deal on Syria's Idlib 'was Iran's idea'
• France to back intl. sanctions against those behind Khashoggi's murder: Macron
• EU's arms trade with Saudi Arabia comes under scrutiny
Compiled by New Age Islam News Bureau
URL: https://www.newageislam.com/islamic-world-news/turkish-intelligence-shares-all-evidence/d/116713
--------
Turkish intelligence shares "all the evidence" with CIA chief over Khashoggi murder
October 25, 2018
Turkish intelligence has shared "all the evidence" over the murder of Saudi journalist Jamal Khashoggi with the CIA chief during a visit, pro-government media reported on Wednesday.
CIA Director Gina Haspel visited the Turkish capital Ankara on Tuesday for talks with officials about the killing of Washington Post contributor Khashoggi inside Saudi Arabia's Istanbul consulate.
Video images and audio tapes, as well as evidence gathered from the consulate and the consul's residence, were shared with Haspel during the briefing at the Turkish Intelligence Organisation (MIT), Sabah newspaper reported.
Turkish President Recep Tayyip Erdogan has stopped short of pointing the blame at the Saudi leadership for the death of the Saudi insider-turned-critic.
But he said in a keynote speech on Tuesday that the murder was meticulously planned, demanding that all those involved brought to justice.
Khashoggi, 59, vanished on October 2 after entering the Saudi mission to obtain documents for his wedding.
'Savage murder'
Speaking at a ceremony in Ankara, Erdogan on Wednesday vowed that Turkey would not allow the culprits to get away with their "savage murder".
"We are determined not to allow any cover-up of this murder and for all those responsible from those who gave the command to those who executed it — not to escape justice," he said.
"We are not implicating anyone," he added, saying that Ankara would be transparent as it gathers more evidence that shed light on the "dark sides" of the murder.
"It is not over yet," he said. "We are unravelling, dismantling (the case) and the world is closely following."
The whereabouts of Khashoggi's corpse still remain unknown.
Erdogan said on Tuesday that a 15-person team came from Riyadh to kill Khashoggi, including by carrying out reconnaissance outside Istanbul and deactivating security cameras at the consulate.
Turkish police searched the kingdom's Istanbul consulate, and the consul general's residence as well as hunting for evidence in an Istanbul forest.
On Tuesday, the police searched an abandoned car belonging to the Saudi consulate in an underground car park in the Sultangazi district of Istanbul.
The Saudi leadership has denied involvement in the murder and instead blamed the chain of command.
Crown Prince Mohammed bin Salman "strongly said that he had nothing to do with this, this was at a lower level," US President Donald Trump said on Tuesday, adding he had spoken on Monday to the prince and his father King Salman.
Turkish pro-government media has claimed that Ankara has audio tapes of the killing.
Last week, the Turkish government denied giving "any kind of audio tape" from the investigation to any US official.
https://nation.com.pk/25-Oct-2018/turkey-shares-evidence-with-cia-chief-over-khashoggi-murder
--------
Saudi Crown Prince: No rift with Turkey in the presence of King Salman, Erdogan
24 October 2018
Saudi Arabia's Crown Prince Mohammed bin Salman said there would be no rift with Turkey in the presence of King Salman, his crown prince and President Recep Tayyip Erdogan.
He added that cooperation between Saudi Arabia and Turkey is ongoing, and that there are many of those attempting to exploit the situation.
"This rift will not occur between Turkey and Saudi Arabia as long as there are King Salman, Crown Prince Mohammed bin Salman and Turkish President Recep Tayyip Erdogan," he told the audience at the Future Investment Initiative in Riyadh.
The Saudi Crown Prince was talking about the incident involving the late Jamal Khashoggi, describing the incident as painful for all Saudis, the world described the killing as a "heinous crime".
The Saudi Crown Prince shared a special plenary session with Lebanese Prime Minister Saad al-Hariri and Bahrain Crown Prince Salman bin Hamad at the Future Investment Initiative conference that was also attended by Sheikh Mohammed bin Rashid, Vice President and Prime Minister of the UAE and Ruler of Dubai.
https://english.alarabiya.net/en/News/gulf/2018/10/24/Saudi-Crown-Prince-No-rift-with-Turkey-in-the-presence-of-King-Salman-Erdogan.html
--------
'Ongoing genocide' against Myanmar's Rohingya Muslims: UN
October 25, 2018
A genocide against Myanmar's Rohingya Muslims is still continuing, UN investigators said Wednesday as they presented a report to the Security Council, calling for the issue to be referred to an international tribunal.
Marzuki Darusman, chairman of the UN Fact-Finding Mission on Myanmar, said that beyond mass killings, the conflict included the ostracization of the population, prevention of births, and widespread displacement in camps.
"It is an ongoing genocide," he told a press conference.
"We consider the genocide intent can be reasonably inferred," he said as he presented the team's report to a United Nations Security Council meeting.
The 444-page report, first made public last month, called on the council to refer the issue to the International Criminal Court in The Hague, or to create an ad hoc tribunal, as was done with the former Yugoslavia.
The explosive report said that Myanmar's top generals, including Commander-in-Chief Min Aung Hlaing, must be investigated and prosecuted for genocide in Rakhine state.
Myanmar has rejected accusations that its military committed atrocities in the crackdown last year that forced 720,000 Rohingya to flee over the border to Bangladesh.
- 'Grossly disproportionate' -
The conflict has also seen about 390 villages destroyed and 10,000 Rohingya killed, Darusman said.
"The conditions are not in place for a safe, dignified and sustainable return of the Rohingyas in Bangladesh" to Myanmar, he warned, adding any attempt would just risk more deaths.
At the end of an October 10-20 visit to the country, the UN's Special Envoy to Myanmar, Christine Schraner Burgener, said that accountability and "inclusive dialogue" were the two important pillars for national reconciliation.
"Credible fact-finding is the first step towards accountability," she said.
The Myanmar government rejected the UN mission's findings, questioning its independence and pointing out that it had itself established an independent investigative commission made up of Asian diplomats.
Darusman said however that Myanmar's internal inquiries have "proven to be ineffective failures" so far.
The Security Council meeting was called by Western powers but opposed by China and Russia, allies who have friendly ties with Myanmar's military and have regularly shielded the nation from criticism.
Myanmar maintains that the violence in Rakhine was triggered by Rohingya extremists who attacked border posts in August 2017.
The military has denied almost all accusations of genocide levelled against it, insisting that "clearance operations" were necessary to fight Rohingya militants.
But the UN fact-finding mission said there were reasonable grounds to believe that the atrocities were committed with the intention of destroying the Rohingya.
It found that the military's tactics had been "consistently and grossly disproportionate to actual security threats", and that estimates that some 10,000 people were killed in the crackdown was likely a conservative figure.
Myanmar's de facto leader Suu Kyi -- once lionised by the international community as a democracy icon -- has seen a sharp fall from grace following her refusal to speak out against the military.
The UN mission has pointed out that her government's attempts to whitewash facts had worsened the situation for the embattled Rohingya.
http://www.thejakartapost.com/news/2018/10/25/ongoing-genocide-against-myanmars-rohingya-muslims-un.html
--------
Kashmiriyat: Why the indigenous secular tradition is the best bet against Islamist militancy
Akrita Reyar
Oct 24, 2018
The tragedy with Kashmir is that conflict has become central to its existence. Not just the several thousand lives lost - and there is dispute over the exact number on this as well – but the macrocosm that contains every aspect of its society and culture, leave alone politics. The tussle for rights, the convoluted chronicle of a controversial accession, the trickery of the colonial British masters and impinging stake by neighbouring Pakistan; all make for a scalding cauldron.
The pain of the constant deconstruct, the blood-bathed stories of ordinary families, student stone-pelters on the streets, the economics of keeping militancy alive and the under-reported strain on our military. That is Kashmir for you today.
It is easy enough to go back in history and point to Pandit Nehru's Himalayan mistake of stopping the troops before recovering the Pakistani occupied territory or the monumental mistake made in the 1980s of rigged elections; the antecedent doesn't really matter today except for providing the context to a possible solution. Decades of psychological damage need to be mended; healing memories of its own composite past could provide a ray of hope.
But like in all themes concerning Kashmir, the great misfortune is that even the concept of Kashmiriyat has been put on trial. Isn't the term too new, perhaps coined in the 1970s, one is asked. But the more pertinent argument about the syncretic culture that the term represents is lost. Whether or not the term Kashmiriyat is a modern denomination is again irrelevant, what we must clasp with all our might is the import is holds.
For that can truly be the only edifice to lasting peace in the Valley. Political will and an agenda for economic revival can be blueprinted in New Delhi but the will for armistice must blossom in the hearts of Kashmiri people only.
When we speak of Kashmiri people, the modern narrative is mistakenly read as that of Islamist militancy. That is the genesis of the misprint. The battle being fought in the five disturbed districts of the Kashmir Valley is not a Hindu-versus-Muslim issue. Such a story is scripted only in Islamabad which is imposing a Wahabi colour and a Sunni outlook on a populace that has historically been extremely plural and prided its synthesis. To understand Kashmiriyat, we must study the manuscript of the land for thousands of years which is an amalgam of the rich traditions of the Hindus, Sikhs, Buddhists and Muslims who lived peacefully together for centuries there.
Earliest legends of Kashmir, some going back to Nilamata Purana indicate that the Valley was a lake called 'Satisara' i.e. the lake of Parvati, the consort of Lord Shiva – years before it became habitable. It is for this reason that the followers of Shakti spoke about 'Haer Parbat', which is used to describe the Sharika Hill deduced from Parvati again. Sharika is Haer in Kashmiri.
The region since ancient times became the seat of 'Shakt and Tantric' forms of worship for the entire sub-continent and some of the most credible understanding of Sri Yantra and Shri Chakra can be credited to the region.
The cult of Tantra Shaivism was established and espoused mainly by one of Kashmir's tallest spiritualists Abhinavagupta. Many others like Vasugupta, Somananda, Bhatta Kallata and Utpal Dev also propounded non-dualism through Kashmiri Shaiv philosophy.
MK Kaw in his book 'Kashmir and its People' also talks about two other important epic contributions - Yoga Vasishtha and Bharata Muni's Natyashastra. And one the finest examples of Kashmiri architecture was the Martanda temple built by King Lalitaditya.
As per Kaw's research, in the first century, Kushan emperor Kanishka chose Kashmir as the venue of the first Buddhist Council comprising over 500 monks and scholars. Undocumented portions of Buddha's discourses and theoretical portions of the canon were codified following the summit.
Several famous Kashmiri Buddhist logicians like Dinnaga, Dharmakirti, Vinitadeva and Dharmottara made a mark and they spread Buddhism across Central Asia. It is noteworthy that the southern Silk Route passed through Kun Lun and Karakoram mountains in Gilgit and Indus connecting China, Central Asia and West Asia.
Kashmir also had a flourishing tradition in painting during the period and some of best sites to see Kashmiri painting style are the five temples comprising Dhama Mandala at Alchi in Ladakh. The discovery of Gilgit manuscript paintings show how the Gandharan and Gupta Indian conventions are mixed with local Kashmiri art.
Islam entered Kashmir and became dominant in the 14th century, but soon the conventional religion blended with the existing mores and gave birth to Sufism. The most outstanding name that comes to fore is that of Lalded, who is claimed by both Hindus (who also call her Lalleswari) and Muslims. She was an ascetic in the 14th century and spread the lessons of love, tolerance and harmony. Her sayings are quoted by both Muslims and Hindus as part of popular ethnic culture.
Other Hindus who belonged to the tradition were Nunda Rishi, Roop Bhawani and Krishna Kar. And they are revered as much as Sufi saints like Shams Faqir, whose poetry is full of mysticism and spiritualism. Among popular names are Swachhi Kral, Nyama Saab, Shah Gafur and Asad Paray. The composite beliefs come across as deeply in poems of another Sufi Ahmed Batawari. He freely used instances from Hindu mythology to put across universal messages. An example is his saying: "Saalkas blakas Shiva Naranas tsonven ikavata…..A seeker, a child, Shiva, Narayana – all these four are remembered through the vital breath."
By the end of the era of rule of Afghans, the Sikh empire under Maharaja Ranjit Singh was established. It was then that many Sikhs made Kashmir their residence and continued to run successful businesses there till recently.
Even post-Independence, till the 1980s, Kashmiris continued to coexist peacefully. Former RAW chief AS Dulat who followed Kashmir closely describes how young girls and boys from Hindu and Muslim communities mingled freely, had get-togethers till wee hours in the morning and enjoyed tonga rides near the Dal lake. For Kashmiri Pandits, Shivratri remains the most important festival. Muslims friends and neighbours would help with chores and celebrate Shivratri with Hindus; the people of both communities would visit shrines together and have a common culture of a fairly empowered place for women in society.
Muslim and Hindu women enjoyed reasonable freedom despite a patriarchal society; both men and women indulged in water sports during Shravani Utsav and peasant women accompanied men into field for ceremonial ploughing.
Even today Kashmiri Pandits, who have been forced to migrate to other parts of the country, remain more closely bound to Muslims in Kashmir through common language, food habits, clothing, artisanship and convictions.
Unfortunately, the mass exodus of Pandits has meant that the new generation of Kashmiri Muslims has been deprived of co-existing with people of different religion though following their own culture.
This denial and consequent depletion of what has come to be called Kashmiriyat may actually pose a bigger risk to normalcy than any other. And it for this reason that the formula espoused by Atal Bihari Vajpayee in Parliament in 2003 of 'Insaniyat, Jamhuriyat, Kashmiriyat', (humanity, peace, and composite culture of Kashmir) may be the only prospect to resurrect peace in a land that has seen more than a fair share of bloodshed and turmoil.
https://www.timesnownews.com/india/article/kashmiriyat-why-the-indigenous-secular-tradition-is-the-best-bet-against-islamist-militancy-jammu-and-kashmir-kashmiri-pandits-muslims-art-culture/303986
--------
Mideast
Iran: Khashoggi murder would have been impossible without US support
Oct 24, 2018
Iran's President Hassan Rouhani has condemned the murder of dissident Saudi journalist Jamal Khashoggi, saying perpetrating such a "heinous" crime would have been impossible without the support of the United States, a close Riyadh ally.
"No one would imagine that in today's world and in this century, we would witness such an organized murder, with an apparatus organizing such a heinous killing," Rouhani told a cabinet meeting, referring to the findings in the case of Khashoggi, who entered the Saudi consulate on October 2, but never emerged.
A Turkish investigation has found that Khashoggi was murdered inside the diplomatic mission.
In a belated acknowledgement, which followed repeated denials, the Saudi regime finally admitted that Khashoggi, a supporter-turned-critic of Crown Prince Mohammed bin Salman, had been killed. Members of bin Salman's inner circle have been blamed for the Washington Post columnist's death.
Ankara is now working to find out the details of the death, including who ordered the murder and how exactly it was perpetrated.
Rouhani further said, "I do not think that a country would dare commit such a crime without the support of the US," which currently stands accused of seeking to cover up Khashoggi's murder and protect its allies in Riyadh.
The Iranian president described the case as a "big test" for the entire Western states, the so-called advocates of human rights.
"Undoubtedly, the positions which the US, Europe and other world countries adopt on the issue will reveal the degree of their sensitivity to [protecting] human rights and to preserving human dignity," he noted.
The Iranian president further note that Khashoggi's murder had been inspired by the same ideology that created the Takfiri terror outfits, such as Daesh in the region.
"Committing such a crime shows how a wrong ideology could lead to deviation and this is the same ideology that has created terrorist groups such as Daesh in the region," he said.
He also called on the Turkish government to conduct "precise and impartial" investigations to shed light on all dimensions of the "unprecedented" crime.
Rouhani further denounced the US backing for the Saudi-led military campaign on Yemen and the world's silence on the brutal war.
President Tayyip Erdogan said on Wednesday that Turkey will not allow those responsible for the killing of to avoid justice, from those who ordered it to the ones who carried it out.
https://www.presstv.com/Detail/2018/10/24/577942/Iran-Hassan-Rouhani-Jamal-kHashoggi
--------
Ayatollah Khamenei calls for opinions to promote Islamic-Iranian model of progress
Oct 24, 2018
Leader of the Islamic Revolution Ayatollah Seyyed Ali Khamenei has called on Iranian organizations, scientific centers and elites to study in depth and exchange views on different aspects of an Islamic-Iranian model of progress to help upgrade and complement it.
In an order issued earlier this month, the Leader called for different opinions on the document, which outlines the basics of progress and a prospective future for Iran over the next five decades as well as effective measures to achieve it.
Ayatollah Khamenei also called on the Expediency Council to study the document, offer proposals and review the general policies of the Islamic establishment to verify their compliance with the document.
The Leader also called on parliament, the government, the Supreme National Security Council, universities and schools of religious sciences to review the document and propose required strategies for promoting it.
Ayatollah Khamenei said the Islamic-Iranian model would deal with the four realms of intellect, science, lifestyle and spirituality and should serve as an upper hand document for any future visions or planning.
The Leader had earlier called for applying all existing capacities in the country in developing the model, saying the Islamic-Iranian model of progress should set the objectives while its strategies should be subject to modifications in the course of time, pointing to an element of flexibility within the texture of the prospective model of progress.
Full report at:
https://www.presstv.com/Detail/2018/10/24/577969/Iran-Leader-Islamic-Revolution-Ayatollah-Khamenei
--------
IRGC Commander Warns of Foreign-Backed Terrorists' Attempts to Darken Iran-Pakistan Ties
Oct 24, 2018
"The terrorists are agents of the foreign spying agencies and enemies of the Iranian nation and their goal is distorting relations between Pakistan and Iran," General Pakpour said after his one-day visit to Pakistan to pursue the fate of the 12 Iranian border guards abducted by terrorists in Southeastern Iran earlier this month.
He added that it seems there are third parties which are after darkening the two countries' ties, stressing the need for Tehran and Islamabad to keep more vigilant.
General Pakpour said that the Pakistani officials have promised him to use all their capacities to free the abducted border guards.
"We are making all our efforts so that the Pakistani brothers prevent the terrorists' infiltration, make their borders insecure for the terrorists and establish security at their borders," he added.
The IRGC Ground Force in a statement on October 16 blasted foreign enemies for the abduction of the Iranian Basijis (volunteer forces) and border guards by a terrorist group in Mirjaveh border in Southeastern Sistan-Balouchestan province on October 15.
"Last night (on night of October 15) a number of Basij forces and guards of the border regiment who were stationed in the zero border point in Mirjaveh were kidnapped by counterrevolutionary groups," the public relations of the IRGC Ground Force's Qods Headquarters said in its statement.
The IRGC pointed to the fortified positions of Iranian border regiment, and said, "Members of a terrorist group that is supported by foreign intelligence services after deceiving some traitors managed to abduct Iran's border guards along the common border with Pakistan."
It noted that the operations against the terrorists and the outlaws as well as the needed measures to set free the abducted Basijis and border guards tops agenda of the security forces stationed along the border regions, and said, "We expect the Pakistani government to seriously deal with the outlaws and terrorists who are stationed along the borders and are supported by some reactionary countries of the region while expediting releasing the abducted Basijis and handing them over to border guards."
According to reports, the incident happened in Lulakdan village, near the border of Pakistan, at around 4 a.m. local time.
The Iranian forces were participating in a plan to boost the security of Mirjaveh border unit.
Jeish al-Adl terrorist group, whose base is in Pakistan, has claimed responsibility for abduction of the Iranian border guards.
The Iranian interior ministry announced on Monday that the country's abducted border guards were sound and healthy.
"The abducted border guards are healthy and are now in the hands of the terrorist group," the director-general of the interior ministry for border affairs Heidari said.
Full report at:
http://en.farsnews.com/newstext.aspx?nn=13970802000752
--------
Israel's Netanyahu vows to maintain military force in West Bank
24 October 2018
Israeli Prime Minister Benjamin Netanyahu vowed on Wednesday to maintain a permanent Israeli military force in the West Bank, saying that if it weren't for Israeli troops stationed there, Palestinian Authority President Mahmoud Abbas would be "overrun in two minutes" by Hamas militants.
Netanyahu told a conference of a major Jewish organisation that Israel did not have the liberty to repeat its mistake in the Gaza Strip, where Hamas forces violently seized control from Abbas forces after Israel withdrew.
Asked about his vision for the West Bank, he said he preferred to avoid labels such as "Palestinian state." But he did make clear his view that Abbas, known by his nickname Abu Mazen, and his Palestinian Authority owe their very existence to Israel's protection.
"They should have all the powers to govern themselves but none of the powers to threaten us," Netanyahu said in conversation before the General Assembly of the Jewish Federation of North America.
"West of the Jordan (River), Israel, and Israel alone, will be responsible for security." "Guess who benefits from that? It's the PA. They'd be overrun in two minutes. A couple of years ago we uncovered a plot of Hamas to overthrow Abu Mazen. Overthrow? Kill him. Not kill him politically. Kill him. So, if we weren't there, they'd not be there, which is exactly what happened when we left Gaza."
Full report at:
https://english.alarabiya.net/en/News/middle-east/2018/10/25/Adel-Abdel-Mahdi-sworn-in-as-Iraqi-prime-minister.html
--------
Turkey: Joint patrols with the US in Syria's Manbij to start soon
24 October 2018
Turkey and the United States will begin joint patrols in the northern Syrian Manbij area soon after training is completed within the next couple of days, Turkish defense minister Hulusi Akar told state-owned Anadolu news agency on Wednesday.
As agreed by the NATO allies in June, Turkish and US forces have been carrying out patrols in Manbij independent of each other, but have been training in preparation to carry out joint patrols.
https://english.alarabiya.net/en/News/middle-east/2018/10/24/Turkish-defense-minister-Turkey-US-joint-patrols-in-Syria-s-Manbij-to-start-soon-.html
--------
Israeli troops kill young Palestinian stone-thrower in West Bank clash
24 October 2018
The Palestinian health ministry says Israeli troops have shot and killed a Palestinian youth who threw stones at the soldiers during West Bank clashes.
The ministry says 21-year-old Mohammed Bsharat was shot in the chest early on Wednesday, during confrontations with Israeli soldiers in the village of Tamoun in northern West Bank. It says five other rioters were wounded by live fire.
The Israeli military says some 50 Palestinians instigated a riot during a routine Israeli activity to locate illegal weapons, hurling rocks and fireworks at Israeli troops.
The troops responded with riot dispersal means and live fire. The military says its searches resulted in confiscating two improvised weapons.
Full report at:
https://english.alarabiya.net/en/News/middle-east/2018/10/24/Palestinians-Israeli-troops-kill-youth-in-West-Bank-clash.html
--------
Yemen's newly appointed PM tours storm damaged al-Mahra
24 October 2018
The newly appointed Yemeni Prime Minister Maeen Abdulmalik Saeed toured the storm-damaged al-Mahra governorate on Wednesday assessing the damage caused by storm "Laban."
The tour is Abdulmalik Saeed's first official mission as new premier replacing Ahmed bin Dagher.
He is expected to stay in al-Mahra for a few days in order to meet with the residents, check the conditions of governmental institutions and have a clear picture of the damage.
The Yemeni Prime Minister is seeking to address the situation urgently, in addition to providing relief assistance and to discuss possible solutions with the Yemeni authorities to deal with the aftermath of the storm, while it is expected that Abdulmalik Saeed will leave for Aden after the end of his inspection visit, in order to begin work on the implementation of the plans assigned by President Abd Rabo Mansour Hadi, which - according to the statements - to lift the Yemeni economy, improve the living conditions of citizens, as well as stop the deterioration of the local currency.
Full report at:
https://english.alarabiya.net/en/News/gulf/2018/10/24/Yemen-s-newly-appointed-PM-tours-storm-damaged-al-Mahra.html
--------
Houthis step up security fearing coup ministers will flee Sanaa
24 October 2018
The Houthi coup militias tightened their security and monitoring measures against officials and ministers in the coup government in Sanaa, fearing they might break away and flee to areas under the control of the Yemeni legitimate government.
The pro-Iranian militias staged a wide campaign of arrests involving officers of the former Republican Guard.
According to security sources, a number of its senior political officials, among them Yahya al-Raii, the speaker of the lower house of parliament, who has been assigned a security team and a driver of the Houthis, are under house arrest.
The Houthi militias' measures are nothing new, as ministers in their coup government suffer from marginalization, mistreatment and strict control, after the Minister of Tourism Nasser Baqzquz submitted his resignation and his request to allow him to leave Sana'a as a result of threats from the Director of the Office of the President of the so-called Supreme Political Council of the coup militias.
Full report at:
https://english.alarabiya.net/en/News/gulf/2018/10/24/Houthis-step-up-security-fearing-coup-ministers-will-flee-Sanaa-.html
--------
Israel bent on killing chances of Mideast peace: Palestine
Oct 25, 2018
The Palestinian Authority (PA) has lashed out at Israel over its opposition to the Palestinian statehood, saying the regime is resolved to kill the chances of peace in the region.
PA spokesman Nabil Abu Rudeineh made the remarks on Wednesday in response to Israeli Prime Minister Benjamin Netanyahu's call for a Palestinian "state-minus, autonomy-plus" in the West Bank, with Tel Aviv preserving its security control over the territory west of the Jordan River.
In a statement carried by WAFA news agency, Abu Rudeineh reiterated the Palestinians' right to a sovereign state at the pre-1967 lines.
"There will be no peace or security without the establishment of an independent Palestinian state with East Jerusalem [al-Quds] as its capital on the 1967 borders," he said.
The Palestinian official also censured Israel of "looking for excuses to evade the obligations of the peace process and the international resolutions," warning that such a practice would lead to "more violence, tension, destruction and instability."
He further stressed that Netanyahu's recent comments prove that Israel is determined to destroy chances of peace.
Palestinians are seeking to create an independent state in the territories of the West Bank, the Gaza Strip and East Jerusalem al-Quds, with the latter as its capital.
In November 2012, the United Nations General Assembly voted to upgrade Palestine's status from "non-member observer entity" to "non-member observer state" despite strong opposition from Israel.
In September 2015, the Palestinian national flag was hoisted for the first time at the UN headquarters in New York.
However, Palestinian efforts for statehood have been hampered due to Israel's illegal settlement construction activities in the occupied lands and Washington's anti-Palestinian measures.
Among the measures was US President Donald Trump's recognition of Jerusalem al-Quds as the "capital" of Israel and relocation of the American embassy from Tel Aviv to the occupied city.
Full report at:
https://www.presstv.com/Detail/2018/10/25/578021/Palestine-Israel-Nabil-Abu-Rudeineh
--------
Israeli fighter jets bomb areas across Gaza Strip
Oct 25, 2018
Israeli warplanes have carried out new airstrikes against the besieged Gaza Strip, bombarding the west and south of the enclave.
Israeli media said the fighter jets hit eight targets belonging to the Hamas resistance movement near the towns of Khan Younis and Rafah, besides other targets, early on Thursday morning. There were no immediate reports of casualties.
The Israeli military claimed the strikes were carried out in response to a rocket fire from the besieged sliver. It said the projectile landed in an open field after the regime's Iron Dome missile system failed to intercept it.
Earlier on Wednesday, Israel's air force also struck an area in Gaza it claimed was used to launch "incendiary balloons" into the occupied territories.
Tel Aviv bombards Gaza from time to time, claiming the assaults are in response to rocket attacks of the resistance groups.
The Gaza Strip has been witnessing tensions since March 30, which marked the start of the "Great March of Return" protests demanding the right to return for the Palestinians driven out of their homeland.
Those tensions saw a sharp rise on May 14, marking the 70th anniversary of the Nakba Day (the Day of Catastrophe), which this year coincided with the US embassy relocation from Tel Aviv to occupied Jerusalem al-Quds.
More than 200 Palestinians have so far been killed and over 20,000 others wounded in the renewed Gaza clashes, according to the latest figures released by the Gaza Health Ministry.
Full report at:
https://www.presstv.com/Detail/2018/10/25/578013/Palestine-Gaza-Strip-Hamas-Israel-airstrike-bombard-rocket-attacks
--------
Saudi airstrike on Hudaydah kills 20 Yemeni civilians
Oct 24, 2018
A Saudi airstrike has claimed the lives of at least 20 Yemeni civilians and 10 others sustained injuries in province of Hudaydah as the regime in Riyadh continues its atrocious campaign against its crisis-hit southern neighbor.
According to Yemen's al-Masirah television network, the casualties were caused after Saudi warplanes targeted a group of farmers in a vegetables market in Masoudi area of Bayt al-Faqih district of the western province on Wednesday.
The latest aerial assault came after Saudi fighter jets struck a car as it was travelling along a road in Bani Hassan area of the Abs district in Hajjah province on Sunday afternoon, leaving four people dead and another injured.
On October 13, the Saudi planes targeted two buses that were carrying civilians fleeing the port city of Hudaydah, killing at least 17 civilians and wounding 20 others.
Hudaydah has become a flashpoint of the war being waged by Riyadh and its allies against the Arab world's poorest nation.
The offensive has raised the prospect that the nation could be tipped over the edge of famine as the port city in the Mediterranean takes in the bulk of Yemen's vital imports.
United Nations Under-Secretary-General for Humanitarian Affairs and Emergency Relief Coordinator, Mark Lowcock has recently said the war on Yemen has left as many as 8.4 million people in the Arab world's already poorest nation in need of urgent food aid.
Saudi Arabia and a number of its regional allies launched a devastating military campaign against Yemen in March 2015, with the aim of bringing the government of Abd Rabbuh Mansur Hadi back to power and crushing the country's popular Houthi Ansarullah movement.
The Legal Center for Rights and Developments in Yemen, in a statement released on October 15, announced that the ongoing Saudi-led military campaign against the impoverished and conflict-plagued Arab country has resulted in the death of 15,185 civilians, including 3,527 children and 2,277 women.
A total of 23,822 civilians, among them 3,526 children and 2,587 women, have also sustained injuries, and are currently suffering from the lack of medicine, medical supplies and poor treatment due to the crippling Saudi siege.
The center further noted that the Saudi military aggression has also caused the death of nearly 2,200 Yemenis from cholera.
Full report at:
https://www.presstv.com/Detail/2018/10/24/577993/Saudi-Arabia-Yemen-Hudaydah-Bayt-alFaqih-UN
--------
Arab World
US-Backed Militia Release over A Hundred ISIL Terrorists in Northeastern Syria
Oct 24, 2018
The sources said that the SDF released a sum of 102 ISIL terrorists, including 10 Iraqi terrorists, from a jail in Hasaka.
They added that the ISIL terrorists were freed after they ended their 2-year-period of conviction.
A militant-affiliated news website reported on Tuesday that the SDF entered talks with ISIL in Eastern Deir Ezzur to release its captives in return for allowing aid cargoes to the terrorist group.
Orient news website reported that talks between ISIL and SDF were underway in Deir Ezzur, adding that the talks were over releasing SDF's captives by the ISIL in return for food convoys to ISIL-held regions by the SDF.
If agreed, the US-backed militia should also establish a safe corridor in Eastern Deir Ezzur for the ISIL, according to the report.
http://en.farsnews.com/newstext.aspx?nn=13970802000712
--------
Peace forum to set up 'alliance of virtues' on Islam
October 24, 2018
Abu Dhabi: The 5th edition of the Forum for Promoting Peace in Muslim Societies, to be held in Abu Dhabi on December 5, will establish that Islam is a religion of peace and justice, said Dr Mohammad Mattar Al Kaabi, secretary general of the forum, an Abu Dhabi-based international organisation.
The forum will bring together more than 800 of the world's most influential Islamic scholars and thinkers from 120 countries, including ministers of religious affairs, muftis, representatives of the Muslim communities and delegates from the United Nations and rights organisations across the world.
scholars and intellectuals will discuss the methodology of setting up an alliance of virtues to achieve a worldwide discourse of mutual friendship and cooperation based upon common values and virtues, Dr Al Kaabi said.
"The idea came following the resounding success of the peace caravan, where an intimate and diverse group of US Muslim, Christian and Jewish clerics convened in Abu Dhabi last year to understand and appreciate theological differences while focusing on the synergism of religious commonalities essential to building healthy ad peaceful communities," Dr Al Kaabi said.
"These endeavours culminated in an international conference in Washington D.C. in February this year under the theme 'An Alliance of Virtues for the Common Good'. The event drew participation from hundreds of Christian pastors, Jewish rabbis and Muslim imams, alongside academics and researchers concerned with the culture of peace, as well as representatives of major international organisations and the US civil society. This landmark event was the first time the Abrahamic family of religions convened in all its diversity, to agree on new foundations for a religious dialogue, one that transcends disputation and proselytisation to achieve a discourse of mutual acquaintance and cooperation based upon common values."
The forum will discuss the nature of the alliance of virtues, its core objectives, the responsibilities of its stakeholders, strategies, and challenges that confront it.
Full report at:
https://gulfnews.com/news/uae/society/peace-forum-to-set-up-alliance-of-virtues-on-islam-1.2293437
--------
Syrian Army Repels ISIL's Heavy Offensives in Homs, Deir Ezzur Provinces
Oct 24, 2018
The army men engaged in fierce clashes with a group of ISIL terrorists South-East of the town of al-Sukhnah, North-East of Palmyra (Tadmur) city in Eastern Homs and managed to ward off their attack, inflicting major losses on them.
In the meantime, the fighter jets pounded ISIL's movements near Aweiraz Dam and T2 Oil Pumping Station and near a border region between Deir Ezzur and Homs's Eastern desert, inflicting heavy casualties on the terrorists.
Other units of the army engaged in a tough battle with ISIL near the town of Mou Hassan on the Western Banks of the Euphrates River and repelled their attack.
On Monday, the Syrian Air Force carried out a fresh round of combat flights over ISIL's positions and movements in Eastern Homs on Monday, inflicting major losses on the terrorists.
The fighter jets pounded ISIL's movements near Aweiraz Dam and also in a region between Deir Ezzur and Homs border in the Eastern desert of Palmyra in Eastern Homs, killing and wounding a large number of terrorists and destroying their military hardware.
Full report at:
http://en.farsnews.com/newstext.aspx?nn=13970802000848
--------
Terrorists Intensify Attacks on Syrian Army Positions in Demilitarized Zone in North
Oct 24, 2018
The Arabic-language website of Sputnik reported that terrorists of Horas al-Deen, deployed near Turkish monitoring posts in al-Sarman region in Eastern Idlib, targeted the army's positions in the town of Ajaz.
In the meantime, the army's artillery and missile units pounded terrorists' positons of Horas al-Deen in al-Sarman.
Meanwhile, Syria's al-Watan daily reported that the army has targeted terrorists' positions in Hama, Aleppo and Lattakia provinces after the terrorists opened fire at the government forces.
Terrorists have been launching an increasing number of attacks on the army from the demilitarized zone in recent days.
The Syrian Observatory for Human Rights (SOHR) reported on Sunday that Turkey failed to convince terrorist groups to withdraw from the demilitarized zone mentioned in the Sochi Agreements that covers parts of Lattakia, Idlib, Hama and Aleppo provinces a week after the agreement's deadline of October 15.
In the meantime, al-Watan pointed to the failure of Turkey in expelling terrorists from the demilitarized zone, and said that the Syrian Army's artillery units pounded the movements of Tahrir al-Sham Hay'at terrorists that tried to prevail over the army's positions in al-Latamina region in Northeastern Hama and in the village of al-Zarzour in Southeastern Idlib.
A number of Tahrir al-Sham terrorists were killed or wounded in the army's artillery attack.
Full report at:
http://en.farsnews.com/newstext.aspx?nn=13970802000598
--------
Tens of Civilians Leave Idlib for Syrian Army Positions via Humanitarian Corridor
Oct 24, 2018
The Arabic-language website of Sputnik reported that the Syrian official in cooperation with the Russian Reconciliation Center for Syria have reopened Abu al-Dhohour humanitarian corridor for those civilians that intended to leave terrorist-held regions in Idlib.
It further said that a sum of 300 civilians, mostly women and children, have been evacuated to the army-controlled regions via Abu al-Dhohour.
The report went on to say that the terrorists were preventing civilians from leaving Idlib.
It said that the Syrian and Russian forces will possibly open new corridors in Qala al-Madhiq and Morek in Northern Hama.
The Syrian Observatory for Human Rights (SOHR) reported on Sunday that Turkey failed to convince terrorist groups to withdraw from the demilitarized zone mentioned in the Sochi Agreements that covers parts of Lattakia, Idlib, Hama and Aleppo provinces a week after the agreement's deadline of October 15.
In the meantime, al-Watan pointed to the failure of Turkey in expelling terrorists from the demilitarized zone, and said that the Syrian Army's artillery units pounded the movements of Tahrir al-Sham Hay'at terrorists that tried to prevail over the army's positions in al-Latamina region in Northeastern Hama and in the village of al-Zarzour in Southeastern Idlib.
A number of Tahrir al-Sham terrorists were killed or wounded in the army's artillery attack.
Full report at:
http://en.farsnews.com/newstext.aspx?nn=13970802000658
--------
Bahrain arrests two nationals for taking money from Qatar to influence elections
24 October 2018
Bahrain has arrested two nationals who raised and received money from a former Qatari minister in their bid to influence the upcoming parliamentary elections.
The news was confirmed by Advocate General Dr. Ahmed Al Hammadi who said the Public Prosecution has now launched an investigation into a notification by the Criminal Investigation Directorate (CID) regarding the two Bahraini nationals.
"It has been found out that the two nationals received money from former Qatari minister Abdullah bin Khalid Al Thani through their bank accounts or by occasionally going to Qatar to receive the money in cash. Investigations showed that one of the two nationals received from the Qatari former minister sums of money to run for the parliamentary elections set to be held this year and to support his electoral campaign. Intensive investigation into the suspects' relation with the Qatari official, the purpose of receiving money from him and the motive behind funding the electoral campaign of one of the suspects revealed that the aim was to undermine the national interests by interfering in the internal affairs of the kingdom and influencing the work of the legislative institutions to serve the Qatari antagonistic goals," a statement on Bahrain News Agency read.
A judicial permission was issued to control and record telephone calls between the suspects which confirmed the investigations, the statement added.
The two suspects were arrested at Bahrain International Airport upon their return from Qatar with more than BD 12,000 and 500 Qatari Riyals in their possession without claiming them at the Customs Department.
Full report at:
https://english.alarabiya.net/en/News/gulf/2018/10/24/Bahrain-arrests-two-nationals-taking-money-from-Qatar-to-influence-elections.html
--------
South Asia
Afghanistan probes claims 14 civilians killed in raid on IS
October 25, 2018
JALALABAD - Afghan officials launched an investigation Wednesday into claims at least 14 civilians were killed in a military ground operation targeting the Islamic State group in their stronghold in eastern Afghanistan.
Following Tuesday night's raid by Afghan special forces in Rodat district of Nangarhar province, scores of protesters temporarily blocked a major highway linking Afghanistan and Pakistan to demand action against those responsible for the attack.
Sultan Mohammad, who was among the protesters, told AFP 14 people were killed in the operation and four others were wounded.
Local elder Najibullah Amarkhil put the death toll slightly higher at 16, including women and children.
"Government forces raided several houses - they killed 14 people, including a six-month-old baby," Amarkhil told AFP, adding two more died from their wounds in hospital. "We demand the government punish those responsible."
Afghan broadcaster Tolo News said the death toll was "at least 17".
Images posted on Tolo's Twitter account purportedly showed dozens of men crowded around the bodies of victims under a tent next to the highway connecting the Nangarhar provincial capital of Jalalabad with Torkham, one of the major border crossings into Pakistan.
Provincial governor spokesman Attaullah Khogyani confirmed there had been casualties in the operation and said an official probe was under way.
"A delegation has been sent to the area to investigate the incident and report back to us," Khogyani told AFP.
Ordinary Afghans have borne the brunt of the 17-year war, which is on track to be deadlier than Syria in 2018.
Civilians continue to face "extreme levels of harm", a recent UN report said, with 8,050 people killed or wounded in the January to September period.
Violence has intensified in the past year as US and Afghan forces step up ground and air offensives against Taliban and IS insurgents.
IS, a smaller but potent rival of the Taliban, emerged in the region in 2014 and quickly established a heavy presence in Afghanistan's east before expanding north.
https://nation.com.pk/25-Oct-2018/afghanistan-probes-claims-14-civilians-killed-in-raid-on-is
--------
UN investigator: Genocide still taking place in Myanmar
October 24, 2018
UNITED NATIONS (AP) — Genocide is still taking place against Rohingya Muslims remaining in Myanmar and the government is increasingly demonstrating it has no interest in establishing a fully functioning democracy, U.N. investigators said Wednesday.
Marzuki Darusman, chair of the U.N. fact-finding mission on Myanmar, said thousands of Rohingya are still fleeing to Bangladesh, and the estimated 250,000 to 400,000 who have stayed following last year's brutal military campaign in the Buddhist-majority country "continue to suffer the most severe" restrictions and repression.
"It is an ongoing genocide that is taking place at the moment," he told a news conference Wednesday.
Darusman said the requirements for genocide, except perhaps for killings, "continue to hold" for Rohingya still in Myanmar's northern Rakhine state. These include causing serious bodily harm, inflicting conditions designed to destroy the Rohingya, and imposing measures to prevent births, he said.
Myanmar's U.N. ambassador, Hau Do Suan, called the fact-finding mission "flawed, biased and politically motivated" and said the government "categorically rejects" its inference of "genocidal intent."
Yanghee Lee, the U.N. special investigator on human rights in Myanmar, said she and many others in the international community hoped the situation under Myanmar leader Aung San Suu Kyi "would be vastly different from the past — but it is really not that much different from the past."
Lee added later that she thinks Suu Kyi, the Nobel Peace Prize laureate and former political prisoner who now leads Myanmar's civilian government, "is in total denial" about accusations that the military in Buddhist-majority Myanmar raped, murdered and tortured Rohingya and burned their villages, sending over 700,000 fleeing to Bangladesh since August 2017.
"The government is increasingly demonstrating that it has no interest and capacity in establishing a fully functioning democracy where all its people equally enjoy all their rights and freedoms," Lee said. "It is not upholding justice and rule of law" that Suu Kyi "repeatedly says is the standard to which all in Myanmar are held."
If this were the case, she said, fair laws would be applied impartially to all people, impunity would not rein, "and the law would not be wielded as a weapon of oppression."
Suu Kyi's government has rejected independent international investigations into the alleged abuses of Rohingya and has commissioned its own probe. The government has also rejected the report by the fact-finding mission, which said some top military leaders should be prosecuted for war crimes, crimes against humanity and genocide against the Rohingya.
"The Myanmar government's hardened positions are by far the greatest obstacle," Darusman told reporters.
"Its continued denials, its attempts to shield itself under the cover of national sovereignty and its dismissal of 444 pages of details about the facts and circumstances of recent human rights violations that point to the most serious crimes under international law" strengthens the need for international action because "accountability cannot be expected from the national processes," he said.
Darusman and Lee spoke ahead of a Security Council meeting that began with a vote on whether Darusman should be allowed to brief members.
He was given a green light with the minimum nine "yes" votes from the U.S., Britain, France, Netherlands, Sweden, Ivory Coast, Kuwait, Peru and Poland. China, which is Myanmar's neighbor and ally, Russia and Bolivia voted "no" and Equatorial Guinea, Ethiopia and Kazakhstan abstained.
Russian Ambassador Vassily Nebenzia accused supporters of the briefing of "torpedoing consensus" in the council and forcing council members "to engage in loud-speaker diplomacy."
He said the fact-finding mission didn't go to Rakhine state, called its report "too biased," and said the international community should help Myanmar and Bangladesh resolve the Rohingya refugee problem.
Chinese Ambassador Ma Zhaoxu later echoed Nebenzia, calling the report's conclusions "lopsided" and "not credible" and saying the international community should work on returning the refugees.
Lee stressed that their "repatriation is not possible now."
"I will not encourage any repatriation," the U.N. envoy said. "Conducive conditions means they should not go back to … the oppressive laws, the discrimination. The minimum they need is freedom of movement, access to basic health services."
Lee said "there's been a lot of progress in terms of economic development and infrastructure, but in the area of 'democratic space' and people's right to claim back their land … there is no progress."
"Right now, it's like an apartheid situation where Rohingyas still living in Myanmar … have no freedom of movement," Lee said. "The camps, the shelters, the model villages that are being built, it's more of a cementing of total segregation or separation from the Rakhine ethnic community."
At the council meeting, Darusman said the fact-finding mission concluded that last year's events were "a human rights catastrophe that was foreseeable and planned," and it conservatively estimates there were "10,000 Rohingya deaths."
"Remaining Rohingya in Rakhine state are at grave risk," he said, and returning Rohingya from Bangladesh would be "tantamount to condemning them to life as sub-humans and further mass killing."
Darusman said the Security Council should the situation in Myanmar to the International Criminal Court or another international tribunal and also impose an arms embargo on Myanmar, a ban on transactions with all military-related enterprises and sanctions against those alleged to be most responsible for atrocities against the Rohingya.
"There can be no 'moving on' from this crisis without addressing its root causes — all of which continue to exist today, primarily the presence of an unaccountable military that acts with complete impunity," he said.
The Netherlands' deputy U.N. ambassador, Lise Gregoire Van Haaren, said her government will push quickly for a Security Council resolution that would refer Myanmar to the ICC.
But council action appeared highly unlikely because of its deep divisions and almost certain opposition from China and Russia, both veto-wielding council members.
"I'm very aware that there might be pushback, but having pushback is never a reason not to try," Van Haaren said. "So we are going to have a really ambitious aim for the negotiations" on a possible resolution "and let's see where we get."
Full report at:
https://www.seattletimes.com/nation-world/un-investigator-genocide-still-taking-place-in-myanmar/
--------
Rohingya crisis: Australia imposes sanctions on top Myanmar military generals
October 25, 2018
Australia has imposed sanctions and travel bans on five Myanmar military generals accused of leading last year's violent crackdown on the country's Rohingya.
Foreign Minister Marise Payne made the announcement in a statement today after indicating last month that Australia was likely to take action.
It comes after the United Nations fact-finding mission to Myanmar released a report accusing the military of a systematic campaign targeting civilians that included mass rapes and enforced disappearances.
The report recommended that top military brass be investigated and prosecuted for crimes against humanity and genocide.
Australia has been much slower to impose sanctions than the European Union, UK and the US in the wake of last year's Rohingya crisis that saw 700,000 members of the Muslim minority flee to Bangladesh.
Two of the men targeted by Australia's sanctions are no longer members of Myanmar's military.
Maung Maung Soe was fired from his post as commander of the Bureau of Special Operations in June after the European Union imposed sanctions on him while Aung Kyaw Zaw, the head of the Western Command, was allowed to resign in May.
The three others — Aung Aung, Than Oo and Khin Maung Soe — remain with Tatmadaw, as Myanmar's military is known.
While Commander-in-Chief Min Aung Hlaing was not sanctioned by Australia in this announcement, Facebook took down his verified page in August after the release of the UN report.
Diana Sayed, Amnesty International Australia crisis campaigner, welcomed Ms Payne's announcement but called on the Government to withdraw financial support for the Tatmadaw and consider expanding sanctions to several other individuals who have been implicated.
Australia allocated nearly $400,000 for training Myanmar's military in the last budget, which Ms Sayed said put us "out of step with the rest of the world".
Ms Payne said Australia would "continue to support the humanitarian needs of those affected" and work with Myanmar to "encourage efforts towards a long-term and durable solution to the crisis".
Full report at:
https://www.abc.net.au/news/2018-10-23/australia-sanctions-myanmar-military-generals-over-rohingya/10419574
--------
Rohingya refugees in Malaysia fear persecution if repatriated
October 24, 2018
KUALA LUMPUR: Rohingyas in Malaysia fear that their lives are in danger if they are repatriated from the country by next year.
Malaysian Foreign Minister Saifuddin Abdullah told the press on Monday that his ministry is working closely with foreign ministers from other ASEAN countries to discuss in detail the best way possible for sending back 1 million Rohingya refugees to Myanmar.
The ASEAN Foreign Ministers' Special Taskforce is led by Singapore's Foreign Minister Vivian Balakrishnan.
The taskforce will head to Myanmar at the end of this month to kick-start the process of helping the Rohingya community to return to their homeland.
"We do not know how fast this process can be implemented, but it should be initiated, for as long as it does not start the problem involving the Rohingya refugees will persist," said Saifuddin.
"It is important for us to help these people return to their home country, as otherwise it would be condoning the 'ethnic cleansing' which is currently happening," he added.
However, Rohingya refugees who spoke to Arab News anonymously fear that their lives will be at stake if the Malaysian Government decided to send them back to Myanmar.
Rahman (not his real name) told Arab News that he is bemused with the statement by the Malaysian foreign minister as Malaysia has been very supportive of the Rohingya and has criticized in many international conferences the atrocities by the Myanmar military toward them.
"I am confused because Malaysia has played a significant role in helping the Rohingya. They have set up hospitals at the Bangladesh refugee camp, providing aid and food," said Rahman.
"Suddenly the minister said that next year Rohingya will be repatriated. I don't know how it is possible they are going to do this."
The Malaysian Government has yet to reveal how it will send back Rohingya refugees without putting their lives at risk.
Malaysia is not a signatory country to the 1951 UN Refugee Convention and thus does not recognize refugees. However, during the recent Malaysian speech at the UN General Assembly, the Southeast Asian nation vowed to ratify all the remaining UN conventions.
There are more than 160,000 refugees in Malaysia, in which 77,130 Rohingya are registered under the UNHCR Persons of Concern in Malaysia. However, with a large amount of undocumented refugees, the number may be estimated at more than 100,000 persons.
Malaysia is a primary destination for Rohingya because it is a Muslim country with a long-standing Rohingya community. Many who arrived here would usually would bring their families.
The majority of the Rohingya refugees live in the capital city of Kuala Lumpur, resorting to hard labor in the manufacturing and services industries as illegal workers, as refugees are not permitted to work. As a result, they live in deplorable conditions without proper health care, education or basic needs.
"There is no safe place in Myanmar now," Rahman told Arab News. Recent reports by the UN fact-finding mission affirmed the crimes against humanity amounting to genocide that Myanmar has committed against the Rohingya community. The silence of Aung San Suu Kyi, Myanmar's state counsellor, on the issue has further dented the country's reputation on human rights protection.
Full report at:
http://www.arabnews.com/node/1393351/world
--------
Gen. Raziq's assassination plan hatched in Pakistan: Ghani
Oct 23 2018
President Mohammad Ashraf Ghani said the assassination plan of the former Police Chief of Kandahar Gen. Abdul Raziq was hatched in Pakistan.
Speaking during a gathering with the tribal elders of Kandahar, President Ghani demanded the extradition of the perpetrators involved in the assassination of Gen. Raziq from Pakistan.
President Ghani arrived in Kandahar province earlier today accompanying a delegation of high level government officials to offer condolences to the people of the province regarding the deadly incident that left Gen. Raziq and Kandahar intelligence chief dead.
The Office of the President, ARG Palace, in a statement said President Ghani hailed the bravery and campaign of Gen. Abdul Raziq for the defense of the country and ain the fight against international terrorism.
He said if the enemies think that the assassination of Gen. Raziq would lead to security gap in Kandahar then they should rethink as Kandahar has been home to heroes.
President Ghani also conferred the title of hero of independence to Gen. Raziq and changed the name of Kandahar Police training academy to his name, ARG Palace said, adding that President Ghani also instructed the Kandahar and Kabul Municipalities to name certain roads after Gen. Raziq's name.
Gen. Abdul Raziq lost his life in an attack by a gunman in Kandahar governor's compound last Thursday.
The provincial intelligence chief of the province Gen. Abdul Momin was also killed in the attack while the provincial governor Zalmay Weesa sustained injuries.
Full report at:
https://www.khaama.com/gen-raziqs-assassination-plan-hatched-in-pakistan-ghani-06217/
--------
Mullah Sherin hatched assassination of Gen. Raziq, claims ex-NDS Chief
Oct 23 2018
The former Afghan Intelligence, National Directorate of Security (NDS) Chief Rahmatullah Nabil claims that a key member of Taliban's Quetta Council Mullah Sherin had hatched and executed the assassination plan of Kandahar Police Chief Gen. Abdul Raziq.
In a statement posted online, Nabil said the attacker was trained in Al Hamza training center where suicide bombers are being trained under the supervision of Taj Mir who is also famous as Mawlavi Zabiullah.
Nabil further added that Taj Mir has close links with the Haqqani terrorist network and the military intelligence of Pakistan.
However, he said Mullah Sherin hatched the assassination plan in close coordination with ISI and cooperation of one of the security guards of Kandahar governor who had helped in the appointment of the attacker as the security guard of the governor.
According to Nabil, the governor's guard who helped in the execution of the plan has managed to flee the Kandahar city.
Nabil also added that Mullah Sherin has close links with the Haqqani network's Sirajuddin Haqqani, currently operates as Taliban's intelligence chief and is based in Quetta city.
The provincial intelligence chief of the province Gen. Abdul Momin was also killed in the attack while the provincial governor Zalmay Weesa sustained injuries.
Full report at:
https://www.khaama.com/mullah-sherin-hatched-assassination-of-gen-raziq-claims-ex-nds-chief-06214/
--------
Senior Afghan Taliban leader Mullah Baradar is free, says Taliban
October 24, 2018
ISLAMABAD: The Afghan Taliban confirmed on Wednesday that Pakistan had released their senior leader, Mullah Abdul Ghani Baradar, who was captured in a joint operation by American and Pakistani intelligence officials in the port city of Karachi in 2010.
Taliban officials told Arab News that Baradar, the former Taliban deputy chief, had "rejoined his family" after he was freed in Islamabad. Another Taliban leader, Abdul Samad, was also released along with Baradar, they said.
Pakistan Foreign Ministry spokesman Mohammad Faisal did not reply to a query posted on his WhatsApp about the release of the Taliban leader.
The Taliban officials did not comment on why Pakistan had freed the Taliban leaders now.
However, some Taliban sources told Arab News that the release of the Taliban was one of the issues discussed in two meetings between the American officials and the Taliban representatives in Qatar.
"The Islamic Emirate has always called for the release of prisoners, removal of the names of our leaders from the UN Security Council's sanctions list and the opening of the office in Qatar before the beginning of the official negotiations with the United States," a Taliban official said. He didn't want to be identified by name as he was not allowed to speak on the record.
The release of Baradar, who still enjoys widespread respect among the Taliban leaders because of his association with the mujahideen commander Mullah Omar, will be a morale boost for the Afghan insurgents at a time when they have stepped up attacks and opened direct talks with the US.
Taliban officials who have worked with Baradar say Mullah Omar had once told the Taliban leaders that Baradar would replace him after his death. Omar had appointed him as deputy chief.
Pakistan freed about 40 Afghan Taliban leaders in 2013 and early 2014 on the request by then Afghan President Hamid Karzai to encourage them join the peace process. However, none of the freed Taliban had joined the reconciliation with the Afghan government.
Mullah Baradar was not released that time, apparently on the plea that he was detained jointly by the Americans and Pakistanis and the US consent was also required.
Full report at:
http://www.arabnews.com/node/1393361/world
--------
India
Muslim litigant Iqbal Ansari in Ayodhya title suit threatened
Oct 25, 2018
FAIZABAD: Iqbal Ansari, a litigant from the Muslim side in Ramjanmabhoomi-Babri Masjid title suit pending before the Supreme Court, has claimed to have received a letter in which the writer has threatened him of dire consequences if he does not pull out of the case.
Ansari is the son of one of the first litigants in the title suit.
Ansari said the letter has warned him to "leave the case, or else he would be thrown out of India".
The four-page letter was delivered through registered post on Wednesday and the sender has identified himself as one Surya Prakash Singh, a resident of Dadra village in Musafirkhana tehsil of Amethi district.
Ansari told TOI that he had got such threats in the past also and the government must increase his security, otherwise it would be held responsible if something untoward happened to him.
Faizabad SSP Joginder Kumar said he was unaware of any such letter, but station house officer of Ramjanmabhoomi police station PK Singh confirmed that Ansari had received such a letter and the matter was being investigated.
https://timesofindia.indiatimes.com/city/lucknow/muslim-litigant-iqbal-ansari-in-ayodhya-title-suit-threatened/articleshow/66356032.cms
--------
Jammu and Kashmir: MPhil student among two militants killed
by Bashaarat Masood
October 25, 2018
Days after a PhD scholar from Aligarh Muslim University was killed in an encounter in Jammu and Kashmir, an MPhil scholar was among two militants killed in a gunfight Wednesday morning on the outskirts of Srinagar.
Sabzar Ahmad Sofi (31) is the second scholar killed in the Valley this month after Manan Wani, who quit a PhD programme from AMU, was killed on October 11 at Handwara in north Kashmir.
The killing of Sofi and another militant, Asif Ahmad, both from south Kashmir's Anantnag district, triggered clashes between protesters and police in Srinagar and south Kashmir.
After information about the presence of two militants on the outskirts of Srinagar Tuesday night, a joint team of the J&K Police, Army and paramilitary forces cordoned off the Suthoo Kothair village. As the joint team zeroed in on the target house, a militant hiding in an abandoned house opened fire triggering a gunfight.
"During the search operation, terrorists fired upon the search party, which was retaliated leading to an encounter," a police statement said. "In the ensuing encounter, two terrorists were killed".
A resident of Naina village in south Kashmir's Sangam, Sabzar had qualified NET and JRF and was preparing for the UPSC examinations before joining militant ranks in July 2016 after the killing of Hizbul Mujahideen commander Burhan Wani. He completed his Masters in Botany from Barkatullah University, source said.
The second slain militant Asif Ahmad, who had joined militant ranks recently, hails from Sirhama village of south Kashmir.
Scores of people, mostly youngsters, attended the funeral of Sabzar and Asif at their native villages. At Sangam, thousands offered were present for Sabzar's funeral and at least six militants appeared at his funeral to offer a gun salute, sources said. The militants included Zeenat-ul-Islam, one of the most wanted commanders of the Hizbul Mujahideen in south Kashmir.
Full report at:
https://indianexpress.com/article/india/jammu-and-kashmir-mphil-student-among-two-militants-killed-5417189/
--------
NIA files chargesheet against Pakistan terrorist who infiltrated from J&K LoC
Oct 24, 2018
NEW DELHI: The NIA on Wednesday said it has filed a chargesheet against a Pakistan-based Lashkar-e-Taiba terrorist who was nabbed by security forces earlier this year, a fortnight after his group infiltrated into India from across the Line of Control in Jammu and Kashmir.
The National Investigation Agency (NIA) has charged Zabiullah alias Hamza (20) under sections of the Unlawful Activities Prevention Act (UAPA), Arms Act and few others.
The agency said Zabiullah hailed from Multan in Pakistan and his group was intercepted by security forces on the intervening night of March 20-12 in the forests of Chak Fatah Khan in Jammu and Kashmir's Kupwara district.
While five terrorists of this LeT terrorists' group were killed in the encounter, Zabiullah managed to escape.
He was injured during the encounter, but managed to escape and was apprehended a fortnight later from the same district, it said.
Three army personnel and two policemen were killed, while four other troops were injured during this encounter.
During investigation, the NIA said it was found that in the first week of March this year, a group of six LeT terrorists infiltrated into India through the LoC along Kupwara.
"This group of terrorists was heading towards Lolab area of Kupwara for establishing their bases for carrying out subversive activities in furtherance of waging war against India.
"While this terrorist group was passing through the forests of Chak Fatah Khan, Halmatpora in Kupwara they were intercepted by security forces and a gun battle took place," the agency said.
The NIA, in the charge sheet, said the Pakistani terrorist infiltrated into India from across the border in J-K."?Investigation carried out by the NIA has proved that Zabiullah is a Pakistani national and belonged to the LeT. Evidence collected from the scene of crime clearly linked the AK 47 recovered from Zabiullah's possession with the empty cartridges recovered from the site of encounter.
Full report at:
https://timesofindia.indiatimes.com/india/nia-files-chargesheet-against-pakistan-terrorist-who-infiltrated-from-jk-loc/articleshow/66352542.cms
--------
Pakistan
Pakistani head teacher suspended for attacking Christian student
October 24, 2018
Pakistani authorities have suspended the head teacher of a government school for assaulting a Christian student and abusing his mother.
Nusrat Shaheen was suspended on Oct. 22 after a complaint of discrimination against 12-year-old Sharjeel Masih by his parents.
Sharjeel, a fourth grader, was beaten and suspended for a week from the Government Boys Primary School of District Attock, Punjab province. The district education officer has launched an inquiry into the incident.
"I was just trying to turn off a running tap when the teacher grabbed me, called me churha (low caste) and asked why I had touched the tap and made it filthy. 'This tap is not from the country of your mother,' she said before abusing me. I had to sit outside the school for five hours," said Sharjeel, whose father works in a military hospital as a sanitary worker.
His mother Farzana Ejaz recounted the humiliation of the incident to ucanews.com.
"I accompanied him to school the next day to apologize for any mistake committed by my son. She [Nusrat Shaheen] asked me to grab her feet for the mistake of my son and threatened that her brother, a police officer, would sell my younger daughter to a brothel," said the mother of three.
"Sharjeel was punched in the belly and back. Ever since her appointment three years ago, the headmistress has picked on him. We are now being threatened and approached by the family of the principal as well as local politicians."
In a notice dated Oct. 22, the education officer cited several charges against Shaheen including "misconduct [physical/corporal punishment], using abusive language and discrimination against a minority as well as misbehaving with the mother of the student." Corporal punishment is strictly prohibited in schools in Punjab province.
Federal Minister for Human Rights Shireen Mazari tweeted that the case involved "horrific discrimination" against a child, adding that "even one such case is one too many."
Kashif Nawab, administrator of Minorities Rights Watch, praised the timely action against the head teacher.
"The state has to strengthen its policies against increasing intolerance and lack of acceptance in society. This is the result of both discriminatory laws and a biased education system. Effective teacher training can help in bringing change," he said.
"The affected family are poor and in dire need of government support from powerful people who are trying to force a compromise."
Last year, Christian girl Muqadas Sukhraj was shifted to evening classes at a school in Attock after she opted to study ethics instead of Islamic studies. According to her family, a Muslim teacher punished her for not learning Islam and ordered Muslim students to avoid eating with her.
Although non-Muslim students can opt for ethics instead of Islamic studies in pre-high school examinations, Catholic institutes prefer to teach Islam to allow students to attain better scores and have competent teachers.
In August 2017, ninth grader Sheron Masih was killed by Muslim classmates in a state-run school in Burewala in Punjab province for allegedly drinking water from a glass meant for Muslims.
Christian researchers say school textbooks in the Muslim-majority country promote hatred of other religions and nationalities. A delegation of the National Commission for Justice and Peace, the Catholic Church's human rights body in Pakistan, shared similar concerns with minister Mazari in Islamabad on Oct. 10.
https://www.ucanews.com/news/pakistani-headteacher-suspended-for-attacking-christian-student/83705
--------
30,000 children in capital out of school, minister informed
October 25, 2018
ISLAMABAD: The education minister was on Wednesday told there are 30,000 out-of-school children in the capital.
Minister for Education and Professional Training Shafqat Mahmood gave the Federal Directorate of Education (FDE) directions to take measures to bring these children into schools.
The minister was visiting the FDE, which looks after the 423 educational institutions of the capital, for the first time to get a briefing about Islamabad's education sector.
The FDE was earlier under the control of the Ministry of Capital Administration and Development Division which the PTI government abolished. FDE has now been placed under the education ministry.
The minister was briefed about the functioning and challenges of the directorate by directors as the FDE does not have a permanent, or temporary, director general (DG) and has been headless since Oct 10 when temporary DG Hasnat Qureshi relinquished his charge.
Mr Qureshi was the chairman of the Private Educational Institutions Regulatory Authority (Peira) and looked after FDE affairs as an acting DG for over a year and a half.
The minister said the government had a vision for bringing 25 million out of school children into schools and that the 30,000 children in Islamabad should be enrolled in schools on a priority basis.
Sources quoted the minister as saying that the federal capital should be a model for the provinces.
The minister said adult education will also be focused on and that double shifts should be started in areas which are short on schools.
He said the education ministry will help FDE become paperless and start an online filing system.
The minister was also briefed on the Prime Minister's Education Reform Programme which was started by former prime minister Nawaz Sharif.
The minister said the buses procured under the programme should be distributed fairly and that those schools which are facing a shortage of buses should be given preference.
The sources said that the minister will be given another briefing on the reform program by the officers who have been dealing with the project.
"The minister also assured us that a DG will soon be appointed," an FDE official who participated in the meeting said.
Mr Mehmood also visited Peira, an organisation which deals with private sector education in the capital city.
Peira Member Imtiaz Qureshi briefed the minister about the functioning and issues being faced by the authority.
He was told about litigations between Peira and elite schools which had challenged its rules which bars them from charging fees above the set limits.
The minister was told that there are some 700 unregistered schools in the capital and that of the total 1,242 schools of which the authority has data, 525 have valid registration.
According to sources, Peira Chairman Hasnat Qureshi was told hours before he was to brief the minister that he had been repatriated to his parent department many days ago by the ministry and that he should therefore not give the briefing.
They said Mr Qureshi had concerns regarding the procedure adopted by the ministry for repatriating him which is why he was reluctant to relinquish charge.
Full report at:
https://www.dawn.com/news/1441115/30000-children-in-capital-out-of-school-minister-informed
--------
4 children injured in Quetta school firing
Syed Ali Shah
October 24, 2018
Four school children were injured on Wednesday in Killi Shabo area of Quetta when unidentified motorcyclists opened fire at the gate of an educational institute, DawnNewsTV reported citing police sources.
The incident happened with unidentified gunmen on motorcycles opened fire on the gate of Danish Kadah School — a private establishment located in the city suburbs.
Four children received bullets on their legs as a result of firing. They were rushed to the Civil Hospital, and are now in stable condition.
Balochistan Home Minister Mir Saleem Ahmed Khosa condemned the firing incident, adding: "The elements involved in this incident will be apprehended soon.
Full report at:
https://www.dawn.com/news/1441044/4-children-injured-in-quetta-school-firing
--------
Pakistan to unite Muslim world: Imran
Abrar Saeed
October 25, 2018
ISLAMABAD - Prime Minister Imran Khan has said that assistance from Saudi Arabia will help ease the financial pressure on Pakistan and also bring government in a position not to burden people with more tough economic measures.
Addressing the nation yesterday, he shared the good news with his people saying, "We have got an amazing package from Saudi Arabia... which has taken off the burden."
Khan criticised their political opponents who he said had mired the country into the financial mess, and made it loud and clear that whatever the opposition parties do they would not get any NRO from the PTI government.
The premier also said Pakistan was trying to broker peace deal to end the war in Yemen as the country wanted to work for unity of Muslim world.
"One more thing I want to share with you is that we are acting as mediator in the ongoing crisis in Yemen. We are playing a positive role... so as to unite the Muslim world."
He said they wanted to help resolve the issues between the Muslim countries through negotiation and mediation. He said that he would share progress on this front with nation from time to time.
In his brief address to the nation which followed his successful visit to Saudi Arabia, Prime Minister Imran Khan said Pakistan has successfully obtained a financial package from Saudi Arabia to reduce the immediate burden of loan instalments accumulated by previous governments.
"My country fellows, today I am here with good news for all of you. We were facing really hard times. We were highly pressurised into paying heavy debts. But thanks to Saudi Arab's extension of assistance, we are out of the pressure," he said.
Khan said, "Had we gone to the IMF immediately, it would have hurt the nation as fulfilling its tough conditions requires passing on the burden on the masses who are already hard pressed."
He added, "If we had gone to IMF directly, we'd have to borrow more money and that would have meant tougher conditions which would further burden salaried class and poor segments of society. But now we are in a better position."
The prime minister asked the people not to worry as they would steer the country out of the economic crisis as he hinted at securing similar economic assistance from two more friendly countries for which negotiations were in progress. He said, "I will get back to you with more good news soon."
Khan however admitted that next few months would be tough but he asked the people not to worry as they would be redirecting the economy to bring it on track and things would change for better.
Boosting the morale of the nation the premier said that together they would bring country out of the prevailing crisis and transform Pakistan into a country which instead of taking loans would come in a position to lend money to other countries.
No NRO
Criticising the opposition parties which are ganging up against his government, Imran Khan said the government was actually clearing the economic mess created by his predecessors in power and people of Pakistan were in difficulty due to the wrong economic policies of the past governments.
The PM made it loud and clear that these people would not get any NRO from him and his government would show zero tolerance to corruption and plundering of national wealth.
He said these elements were raising hue and cry as they were afraid of accountability. He said he would not be cowed down by these elements and would facilitate them if they wanted to stage sit-in against his government.
The prime minister said that the uproar of opposition was only to divert public attention from their corruption and corrupt practices which they committed during their tenures in government.
"They just want National Reconciliation Ordinance (NRO) from us," he said. "I want to give them a message loud and clear: "You can come out on the streets. We will give you containers and give you food, but no one will get an NRO."
He added that "no corrupt man will go scot free" and warned that "they will all land in jail". The premier said the country has no future until and unless corruption is rooted out.
Imran Khan said the unearthing of accounts with huge sums in the names of poor people gives the sense of foul play by some people.
He said government is making efforts to stop the illegal outflow of money. He said an investment friendly environment is being created with one-window operation for investors. The government is also bringing a mechanism to facilitate foreign remittances, he added.
The PM said he himself is overseeing the mega project of five million houses. He said a special package will be announced in the coming days for the socio-economic uplift of people from lower income groups.
He asked the nation to be patient in this difficult exercise as the future holds a prosperous and developed Pakistan. He said Pakistan is endowed with immense resources and potential and it will make progress at a rapid pace once corruption is curtailed.
Imran Khan also gave details of how the country's loan swelled from Rs30 billion in 1971 to Rs6,000 billion in 2008 and then to Rs30,000 billion thereafter.
He also referred to the blatant mal-governance which led to surge in the circular debt from Rs480 billion in 2013, which was cleared by the then PML-N government, again to Rs1,200 billion.
The prime minister further cited that Rs57 billion worth Punjab government cheques were bounced while the PML-N provincial government had also left behind a loan of Rs40 billion.
Full report at:
https://nation.com.pk/25-Oct-2018/pakistan-to-unite-muslim-world-imran
--------
Terrorist involved in D.I. Khan jailbreak killed
October 25, 2018
DERA ISMAIL KHAN: The most wanted terrorist involved in the Dera Ismail Khan jailbreak was shot dead in a joint operation of CTD and police in Bagowi North on the outskirts of Dera Ismail Khan on Wednesday.
Muhammad Abid was wanted to the district police in the central jailbreak and an attack on the police van at the Mission Mor near Babu filling station.
The CTD and police personnel during the joint operation shot dead Abid while his accomplices fled.
Two hand grenades, a pistol and ammunition were seized.
The police took the action on a tip-off that five armed men had gathered in the area and they were planning some terrorist activity.
The suspects opened fire on seeing the raiding personnel, triggering an exchange of fire which continued for 30 minutes and resulted in the death of Abid.
Full report at:
https://www.dawn.com/news/1441172/terrorist-involved-in-di-khan-jailbreak-killed
--------
Pakistan releases Taliban leaders to help facilitate Afghan reconciliation process
BY MIAN ABRAR
October 25, 2018
ISLAMABAD: Pakistan has finally released Taliban co-founder Mullah Abdul Ghani Baradar alias Mullah Baradar and two other Taliban leaders to help facilitate the Afghan peace process being supported by the United States (US) and other friendly countries.
Mullah Mohammad Rasul and Mullah Abdul Samad Sani are the other two key Taliban figures who have been released by Pakistan.
Baradar was the deputy of Mullah Mohammed Omar, the founding leader of Taliban, whose death was confirmed in October 2016. He was apprehended by Pakistani forces from Karachi back in the year 2010.
Mullah Mohammad Rasul is the leader of the High Council of Afghanistan Islamic Emirate, a Taliban group in Afghanistan and was a Taliban-appointed governor of the Nimroz province. Rasul, who refused to pledge allegiance to Taliban's new leader, Mullah Haibatullah Akhundzada, was detained by Pakistani security personnel in 2016.
Mullah Abdul Samad Sani, on the other hand, was arrested in a Pakistani security agency raid on a madrassa in Quetta in 2016.
The release, which has also been confirmed by a Taliban spokesperson, comes after back-to-back meetings of US Principal Deputy Assistant Secretary of State for South and Central Asian Affairs Ambassador Alice Wells and US Special Envoy for Afghanistan Reconciliation Process Zalmay Khalilzad with the emissaries of Afghan Taliban.
Sources told Pakistan Today that Mullah Baradar and two other Taliban commanders had been released two days back on a "special request" made by the US and Qatari leadership to facilitate the Afghan peace process.
It merits a mention here that a high-level Qatari delegation, led by Deputy Prime Minister and Minister of Foreign Affairs Mohammed Bin Abdul Rahman Al Thani, had visited Islamabad and met the Pakistani leadership.
Mullah Baradar is one of the four men who founded Taliban in Afghanistan back in the year 1994. Baradar held several senior positions in the Taliban government before its fall in 2001.
Full report at:
https://www.pakistantoday.com.pk/2018/10/24/pakistan-releases-taliban-leaders-to-help-facilitate-afghan-reconciliation-process/
--------
US warns Pakistan against 'harbouring' terrorists
OCTOBER 25, 2018
The United States has made it clear to Pakistan that its South Asia policy has not changed, Secretary of State Mike Pompeo said.
Pompeo made the comment as he welcomed long-delayed legislative elections in Afghanistan, saying the United States was 'encouraged' by voter turnout, despite reports of widespread problems including poll centres that failed to open or lacked voter rolls.
"Our expectation is that Pakistan will not provide safe harbour to terrorists on their western border," Pompeo told reporters when asked about Islamabad's role. "We couldn´t have made that message any more clear," he said, adding, "Pakistan will be held to account if they don't achieve that, if they're not sincere in that effort. "Noting that he met with Pakistani lead ers a few weeks ago, Pompeo, while referring to all stakeholders, said, "Everyone wants reconciliation in Afghanistan and to achieve that, you can't have a safe harbour for Taliban, for Haqqani and for others inside of Pakistan." "Hope Pakistan achieves [the] goal we have set for them," he stated.
President Donald Trump's administration last month cut $300 million in military aid to Pakistan, which says it has paid a heavy price internally for fighting militants and that it can help bring the Taliban to the table.
Full report at:
https://dailytimes.com.pk/314274/us-warns-pakistan-against-harbouring-terrorists/
--------
Fazl calls Nawaz, urges him to personally attend APC
BY MIAN ABRAR
October 25, 2018
ISLAMABAD: Jamiat Ulema-e-Islam-Fazl (JUI-F) chief Maulana Fazlur Rehman on Wednesday conveyed Pakistan Peoples Party (PPP) Co-chairman Asif Ali Zardari's message to former prime minister and Pakistan Muslim League-Nawaz (PML-N) supremo Nawaz Sharif and urged him to personally attend the All Parties Conference (APC) to be convened by JUI-F on October 31.
"During the phone call, Nawaz informed Fazl that he was still mourning the death of his late wife, Kulsoom Nawaz, and was not participating in any political activities. He also said that he had directed the party to send a high-level delegation to attend the APC," sources informed Pakistan Today.
They added that Fazl urged Nawaz to attend the moot himself because if he did not, the PPP also planned to downgrade its participation. "Maulana [Fazl] told him [Nawaz] that if he did not attend the conference, both Asif Ali Zardari and PPP chief Bilawal Bhutto Zardari would also skip it."
Nawaz also said that he was in Lahore and might not be available on October 31, to which Fazl offered to reschedule the conference, sources added.
"Zardari desperately needs the opposition's support to save himself and his sister from the ongoing money laundering probes. Nawaz understands Zardari's situation but when the former was facing court cases and wanted the PPP's support… he did not get any," sources said.
"He [Nawaz] knows that Zardari cannot be trusted. Zardari has ditched the Sharifs in the past and might do so again. Moreover, Mian Sahab does not want to strain his relations with the judiciary and other state institutions as his cases and those of Shehbaz Sharif are still pending."
Full report at:
https://www.pakistantoday.com.pk/2018/10/24/fazl-calls-nawaz-urges-him-to-personally-attend-apc/
--------
Govt asked to disclose conditions linked to Saudi bailout package
Amir Wasim
October 25, 2018
ISLAMABAD: Expressing disappointment over Prime Minister Imran Khan's address to the nation, the Pakistan Muslim League-Nawaz (PML-N) and the Pakistan Peoples Party (PPP) on Wednesday asked the government to brief the nation about the terms and conditions on which Saudi Arabia had agreed to provide a bailout package to the country.
The leaders of the two opposition parties lashed out at Mr Khan for what they called his threatening tone for the opposition and called upon the government to take parliament into confidence regarding the proposed bailout package being offered by Saudi Arabia.
Talking to Dawn, PML-N spokesperson Marriyum Aurangzeb criticised the prime minister for not elaborating the terms on which Saudi Arabia had agreed to allow Pakistan to play the role of a mediator in its conflict with Yemen. She said this was a very serious and sensitive matter, but Mr Khan provided no details.
"What is the strategic value of the (bailout) package? What economic benefits and relief will the people of Pakistan get from this (Saudi) loan?" she asked.
The PML-N spokesperson, who had served as the information minister in the previous government, said that instead of showing embarrassment over his failure to deliver, Mr Khan was still asking the people to wait for "good news". She asked the prime minister to apologise to the nation for making false promises with them during the past five years.
Ms Aurangzeb also criticised the prime minister over his announcement that no relaxation or deal would be offered to any politician, saying that Mr Khan should tell the nation as to who had been asking for a deal. Instead, she said, despite facing frivolous charges, the PML-N leaders were appearing before the Supreme Court, high courts and accountability courts.
She alleged that Mr Khan had been threatening the opposition as he wanted to protect the "group of thieves" around him.
Responding to Mr Khan's assertion that the previous government had put the country in a debt trap by obtaining huge loans, she said the PML-N government had fully utilised the loans on the betterment of the people by launching a number of development projects in the energy and transport sectors.
She said being in the government Mr Khan now possessed all the records of the loans and their utility and he could carry out audit of the projects launched by the previous government. She said the PML-N government did obtain loans but it effectively managed the economy and kept inflation at the historic low.
In a statement, PPP senator Raza Rabbani asked the government to take parliament into confidence regarding the proposed bailout package and the construction of oil refinery in or near Gwadar "in total disregard to Article 172 of the Constitution".
"It is demanded that the government should lay the terms and conditions of the recently-concluded financial arrangements between the governments of Pakistan and Saudi Arabia before the parliament as these agreements will have strategic repercussions for Pakistan and the region," he said, adding that if there was anything sensitive, then the government could convene in camera sessions of either both the houses separately or a joint session.
Mr Rabbani regretted that during the short tenure of the present government, the parliament was "deliberately being reduced to a barn house where un-parliamentary language and insults are exchanged while the government continues to take important and strategic decisions without a debate or parliament being informed".
The parliament, he said, had not been taken into confidence on the visit of the US secretary of state and the subsequent meeting of Foreign Minister Shah Mehmood Qureshi with him, nor had parliament been taken into confidence on the conditions agreed to with the Financial Action Task Force.
Meanwhile, PPP senator Mustafa Nawaz Khokhar, who is also the spokesman for PPP chairman Bilawal Bhutto Zardari, in his reaction over Mr Khan's address said the person who was claiming that he would neither beg nor ask for loan from anyone was now not only roaming around the world with the begging bowl in his hand but also going from one country to the other and one institution to the other asking for loan and no one was ready to believe him.
He said Imran Khan should come to parliament and tell whether he had sold national asset of Reko Diq mines to get this loan or what else he had promised to the lender.
"Imran Khan has also claimed that Pakistan will play a role of mediator in Yemen conflict but has he read the resolution passed on the issue by the parliament?" he asked.
Senator Khokhar demanded of Imran Khan to clarify the mediation role he has claimed to play.
Full report at:
https://www.dawn.com/news/1441179/govt-asked-to-disclose-conditions-linked-to-saudi-bailout-package
--------
No strings attached to Saudi bailout: Qureshi
Mateen Haider
OCTOBER 25, 2018
ISLAMABAD: Pakistan Wednesday brushed aside reports that after receiving $6 billion Saudi assistance, Islamabad will be required to change its stance on the Yemen conflict.
"There are no strings attached to Saudi assistance … Pakistan's principled position on Yemen conflict will not change," Foreign Minister Shah Mehmood Qureshi told journalists at a background briefing here at the Ministry of Foreign Affairs.
"Attempts were made by past governments of PML-N and PPP to get financial assistance from Saudi Arabia, however they could not succeed. It's only the present government which has secured a substantial assistance from Saudi Arabia, which will help us balance the current fiscal deficit," he said.
The minister said Pak-Saudi relations remained tense in the past but have been revived since the new government took charge. To a question, he said Iran has no objection to Pakistan's growing relations with Saudi Arabia, adding that Pakistan will continue to play its role for peace and stability in the region.
Qureshi said Pakistan had confirmed its presence at Riyadh summit much before the murder of journalist Jamal Khashoggi, adding that Pakistan strongly condemned the killing. He skipped a question about reported release of Afghan leader Mullah Barader but supported the resumption of dialogue with Taliban for greater peace and stability in the war-torn country. He claimed that his visit to the US was successful wherein he adequately conveyed Pakistan's viewpoint on the issues of mutual concern.
To a question, the minister said the government was going to review the appointments of ambassadors to various countries by the previous regime, but an immediate termination of their contracts was not being considered. He said directions have been issued to all the ambassadors abroad to improve their performance and enhance connectivity with the Pakistani diaspora.
Separately, while addressing a ceremony to mark the 73rd United Nations Day here at the Ministry of Foreign Affairs, Qureshi said Pakistan was implementing the UN Charter to achieve the goals of peace, security and development. He said the day was important to reaffirm commitment to the UN Charter and values.
Full report at:
https://dailytimes.com.pk/314277/no-strings-attached-to-saudi-bailout-qureshi/
--------
Southeast Asia
Malaysia PM Mahathir pledges to help end violence in Thai south
24 Oct 2018
BANGKOK: Malaysian Prime Minister Mahathir Mohamad promised on Wednesday (Oct 24) to help in "whatever way possible" to end the violence in Thailand's insurgency-plagued south.
Thailand's mainly Muslim southern region bordering Malaysia has been in the grips of a low-level but bloody insurgency for more than a decade, as insurgents battle the Buddhist-majority state for greater autonomy.
Almost 7,000 people - mostly civilians - have been killed since 2004, although the death toll in 2017 was the lowest in 13 years amid a tighter security operation.
"We pledge to help in whatever way possible to end this violence in the south," Mahathir said at a media conference after meeting Thai Prime Minister Prayuth Chan-ocha on his first visit to Thailand since his stunning win in May's general elections.
"It is not just the case of talking or drawing up treaties, it is really a cooperation between two friendly neighbours and we want to continue that friendship," Mahathir said.
He added that Malaysia is grateful for the help given by Thailand when it was faced with terrorism, and wants to return that favour.
"When Malaysia was facing the problem of terrorism before, Thailand helped in many ways to put an end to that kind of activity, and we are very grateful to the Thai government and the Thai people," said Mahathir.
Muslim-majority Malaysia has long acted as a facilitator for brokering peace talks between the Thai government and Mara Patani, an umbrella group that claims to be the political wing of a shadowy network of rebel fighters clashing with state forces.
But the talks have stalled in the past year, and both countries recently appointed new representatives to lead the delicate negotiation process.
Malaysia's new representative, former Inspector-General of Police Abdul Rahim Noor, was also present during the joint media conference.
Resolving the years-long conflict would be in the best interests for both countries, as well as for the region, Prayut told reporters.
"The dialogue will resume immediately and Malaysia is the facilitator," Prayut said.
"We both agree that this is Thailand's domestic problem. Malaysia is willing to help so that the problems will be solved faster," said Prayut.
Neither party gave further details or a timeline for the process.
OBSERVERS SCEPTICAL OF PEACE PROCESS
Observers of the deep south conflict, however, remain sceptical of moves to jumpstart fractious talks months before expected elections in February.
"Mara Patani said they are not going to come to the table until there is a democratically elected government in Thailand," Don Pathan, a Thailand-based independent analyst, told AFP.
"Most importantly, the BRN, the group that controls virtually all the combatants on the ground, are not part of the dialogue."
The BRN, or Barisan Revolusi Nasional, is believed to oversee most fighters but has long refused to talk barring international mediation - which the Thai government has consistently rejected.
Rights groups have accused both insurgents and security forces of widespread human rights abuses in the region.
How far talks go depends not on Malaysia, but on the Thai military which has "dragged its feet" on the process, said Paul Chambers, an expert on the conflict at Naresuan University.
"The fact that the talks have fallen off could mean that the junta has seen them more as a public relations stunt than as a sincere endeavour."
Earlier on Wednesday, the prime ministers of Malaysia and Thailand held a bilateral meeting where they discussed various issues of common interest, which includes increasing trade.
"Bilateral trade which has shown an increase of 17.9 per cent in 2018 can be further increased when problems related to bureaucracy at the border crossings are solved," said Mahathir.
He will meet with members of the Malaysian diaspora on Thursday, followed by a public lecture at Bangkok's Chulalongkorn University on the two countries' relationship..
https://www.channelnewsasia.com/news/asia/malaysia-mahathir-pledges-to-help-end-south-thailand-violence-10860772
--------
China's reeducation camps for Muslims are begining to look like concentration camps
Oct 24, 2018
The Chinese government recently admitted that it's forcing religious minorities into "reeducation camps" as part of its crackdown on extremism — but new details show that these centers have a lot more in common with concentration camps.
Thousands of guards carrying spiked clubs, tear gas, and stun guns surveil the government's "students," who are held in buildings ringed with razor wire and infrared cameras, according to a report published Wednesday by the French news service Agence France-Presse.
AFP journalists who reviewed more than 1,500 publicly available government documents also describe disturbing purchases made by government agencies that oversee the so-called education centers: 2,768 police batons, 550 electric cattle prods, 1,367 pairs of handcuffs, and 2,792 cans of pepper spray.
These descriptions are a far cry from Chinese government propaganda that claims these centers in Xinjiang, the autonomous region in northwestern China where most Uighur Muslims live, provide "free" education and job training to counter the spread of terrorism and religious extremism.
In one of the government documents, officials argued that to build new, better Chinese citizens, the reeducation centers must first "break their lineage, break their roots, break their connections, and break their origins."
The new report supports what human rights groups and journalists have been saying for a while now: China's authoritarian government has grown increasingly brutal, and its detention and torture of Uighur Muslims amounts to crimes against humanity under international law.
China recently legalized the "reeducation centers"
Earlier this month, the BBC reported that Chinese authorities in Xinjiang had revised a law designed to promote the use of detention centers "to carry out the educational transformation of those affected by extremism."
As Vox's Jen Kirby notes, China has previously tried to deny or downplay the existence of these centers. But human rights groups, witness testimony, and media reports have shown Uighurs and other Muslim minorities in the region being detained and tortured in mass numbers, and forced to undergo psychological indoctrination — like studying communist propaganda and giving thanks to Chinese President Xi Jinping.
A United Nations human rights panel estimates that Chinese authorities have imprisoned as many as 1 million Uighurs. But a Hong-Kong based human rights group puts the number even higher: between 2 million and 3 million.
Members of Congress have been pressuring the Trump administration to take action. The bipartisan Congressional Executive Committee on China, led by Sen. Marco Rubio (R-FL), released a report earlier this month outlining China's serious human rights abuses and its campaign of "state-sponsored repression."
Here's one of the most chilling paragraphs in the committee's report:
Of particular concern is the mass, arbitrary, internment of as many as 1 million or more Uyghurs and other Muslim ethnic minorities in ''political reeducation'' camps in western China. Reports indicate that this may be the largest incarceration of an ethnic minority population since World War II, and that it may constitute crimes against humanity.
Rubio and Rep. Chris Smith (R-NJ), who oversee the committee, proposed a bill earlier this month called the Xinjiang Uyghur Human Rights Act of 2018. The proposed legislation would give the US State Department resources to work with the UN to develop a response, leading to potential targeted sanctions on Chinese officials and broader economic sanctions against China.
"These are detention camps, these are reeducation camps, where people are killed, where they are tortured and they are brutalized in so many, many ways," Smith said during a press conference announcing the committee's findings earlier this month.
A State Department official told reporters back in April that the administration was considering sanctions against China in response to the camps, but six months has passed and the administration has done nothing.
President Donald Trump hasn't even publicly acknowledged the fact that the camps exist.
Meanwhile, Chinese authorities are rounding up entire villages in Xinjiang, according to interviews conducted this summer by Chinese Human Rights Defenders, a coalition of Chinese and international human rights groups. Here is just one alarming quote from a Chinese business executive, who is not an ethnic Uighur but who has lived in the region for decades:
"Entire villages in Southern Xinjiang have been emptied of young and middle-aged people — all rounded up into re-education classes," he said. "Only the elderly and the very docile are left in the villages."
Full report at:
https://www.vox.com/2018/10/24/18018282/china-reeducation-camps-uighur-muslims
--------
Report: Sarawak has most requests for child marriages, Muslim and non-Muslim
25 October 2018
By Sharina Ahmad
KUALA LUMPUR, Oct 25 — Malaysia's largest state records the highest number of child marriage applications that cuts across all races and religions, The Star reported today.
The newspaper reported Sarawak recorded 2,064 Muslim child marriage applications over 10 years, from 2005 to 2015, based on data from the state Shariah Judiciary Department. It also cited data from think tank Penang Institute showing non-Muslim child marriage applications to be the highest nationwide over a period of 15 years from 2000 to 2014, at 1,750.
One of the reasons for the high number of applications was to avoid the stigma of having children born out of wedlock, the paper reported Sarawak Women for Women Soc­i­e­­ty president Margaret Bedus as saying.
"If so, this requires effective and age-appropriate reproductive health education for our youths starting from an early age.
"There is still reluctance for schools and parents to address this. This needs to change," she was quoted as saying.
Bedus said it would be helpful if the state data also showed the breakdown in applications between rural and urban areas.
"In rural areas, the tradition of early marriages — especially if the girl has dropped out of school or is unable to find employment — is still apparent as girls tend to see this as the next step in life to take," she was quoted saying.
Bedus recommended that schooling be made compulsory until Form Five, with adequate financial provision, to encourage girls to have "wider aspirations".
She said financial assistance is necessary to subsidise the cost of travelling to boarding schools in rural Sarawak as well as providing basic school materials for students.
She also said the data should include the age gap between the would-be child brides and grooms.
"Early marriage is a problem whatever the age gap, but marriage to an older man is even more worrying.
"Parental awareness and empowerment can be done as we should move away from the myth that child marriages get families out of poverty," she said.
Full report at:
https://www.malaymail.com/s/1686422/report-sarawak-has-most-requests-for-child-marriages-muslim-and-non-muslim
--------
Preserving Muslim tribe customs in the Philippines through the Council of Elders
24 October 2018
Strong Western media influence and rapid urbanization in Southern Philippines, from where Islam spread across the country, could adversely affect the preservation of some traditional Muslim customs particularly among the youth.
Yet there are at least five indigenous Muslim people still existing in the Southern Philippines, particularly in the Zamboanga region. These are Sama Bangigi, Badjao, Sama, Yakan and Kalibugan.
These tribes have been in existence for more than 600 years and continue to practice the traditional tribal customs. However, with industrialization reaching the countryside, and pressures of modern living, some traditional Muslim practices are no longer observed.
Islam was introduced to the Philippines in 1380 through Arabian trader Sheik Makdum Karim in the village called Tubig Indangan, in the municipality of Simunul in Tawi-Tawi province. The first mosque built in the same village in the same year remain a sacred site for the followers of the faith.
While some of the indigenous Muslim people underwent and completed formal education and are now working as professionals and entrepreneurs, some Muslim natives in impoverished villages prefer to be unschooled and end up as beggars in the streets.
These mendicants continue to be a social problem of the government where young indigenous people beg around the busy streets. Poverty is the reason why Muslim children refuse to go to schools while for some prefer to help their fathers catch fish in the ocean for a living.
Preserving culture
A member of the Indigenous People Council of Elders, Amilpasa Bandaying, told Al Arabiya that the council was formed to support the government uplift the quality of life of Indigenous people in the region and for preserving the Muslim and tribal cultures of these people through the traditional songs, sports and dance.
A former regional director of the Office on Muslim Affairs, Bandaying, also worked as Executive Assistant for Muslim Affairs at the City Mayor's Office. He was an adviser to the Mayor's Office on Islamic customs and religious practices.
The Philippine's population has reached 105 million and there are about 6 million Muslims in the country. Among them, around five million reside in the Southern Philippines popularly known as Mindanao.
To preserve their customs, the Philippine government supported the creation of Indigenous People Council of Elders in the City of Zamboanga. This was done to try and protect the sanctity of customary laws and traditions as stipulated in the national law called the Indigenous Peoples Rights Act.
Aside from the five Muslim tribes in the Zamboanga region, this law also covers a sixth non-Muslim Indigenous People, called the Subanen. Some members of the Subanen community prefer to stay in the hinterland to work as farmers while some of the five Muslim tribes prefer to be fishermen and fish traders as their source of living.
Indigenous Peoples Day
In Zamboanga city, Mayor Isabelle Climaco-Salazar issued a law declaring August 9 of every year as the Indigenous Peoples Day. This is the occasion for public agencies and non-government organizations to participate in IP-related activities such as classroom events as a token of appreciation for the IP community.
The United Nations General Assembly on December 23, 1994, passed Resolution 49/214 welcoming the recommendation of the working group on indigenous people for the prevention of discrimination and protection of minorities.
While modernization and industrialization is inevitable, Bandaying says they are finding ways to preserve old customs even in the absence of financial support. They continue to seek the help of the national government to support and fund their activities but more often the government has little funds to sustain the IP council of elders' programs and projects.
The traditional customs of IP remain to be a significant part not only of Philippine history but also to the history of Southeast Asian countries.
Full report at:
https://english.alarabiya.net/en/features/2018/10/24/Preserving-Muslim-tribe-customs-in-the-Philippines-through-the-Council-of-Elders.html
--------
Abstinence and guilt trips: Jakim's rehab tools against LGBT in e-book
25 October 2018
KUALA LUMPUR, Oct 25 — Minister in charge of Islamic affairs Datuk Seri Mujahid Yusof Rawa caused a stir on Tuesday after he told the Dewan Rakyat that the Islamic Development Department Malaysia (Jakim) published an e-book aimed at aiding homosexual Muslims to "return to the right path".
The book titled Penghijrahan Diri Menuju Jalan Yang Benar — Strategi Untuk Mengatasi Masalah Homoseks (Malay for Self-Migration Towards the Right Path — A Strategy to Overcome the Problem of Homosexuality) is available online for free, and according to Mujahid, part and parcel of the government's attempts to "rehabilitate" the lesbian, gay, bisexual and transgender (LGBT) community.
Here are some things Malay Mail discovered about how Malaysia's federal Islamic authority views sexual minorities, from the 146-paged e-book.
Advice from a 'former gay' Muslim
The first thing one realises after downloading the e-book is that it is neither a new application nor publication. The book was published way back in 2011 during the Barisan Nasional administration, while the app hosting it has been around since 2016.
Strangely enough, the e-book was presented as if it was written by an anonymous self-proclaimed ex-gay Muslim, which was then endorsed by Jakim.
The app itself has questionable privacy settings, such as needing access to your location in order to "optimise" its services.
Other features include audio downloads of religious sermons, contact details, feedback column as well as a breakdown of all nine chapters -- with titles such as "Start of the Journey", "Realisation", "Understanding the Challenges and Tests", and "Controlling Your Lust".
The e-book starts off with the unnamed author offering some introductory words of wisdom like "as you continue in your efforts to leave homosexual relationships, eventually it will leave you."
Essentially, the e-book offers no such cure for being gay. Instead, it presents merely all-too familiar themes that religious authorities use in their daily engagement to with sexual minorities: abstinence, faith, prayer, and guilt.
The author blames human lust for homosexual acts, and claimed that he has learned to control his urges one day at a time.
The e-book also attempts to instill a degree of guilt in its would-be readers, by asking questions like "what will you achieve with homosexuality?" and how being gay will affect personal relationships with loved ones as well as a person's reputation.
"Are days of pleasure on this Earth more important than temporary sexual release?
"You can only treat this disease by treating the root cause; fixing your personal life and controlling your urges," read a particularly disparaging excerpt from one of the chapters.
It goes on to offer ways in which to "treat" the so-called "disease" via a three-pronged process: adhering to a strict regimen of keeping busy and fasting, spending more time with devout Muslims instead of gays, and spending much of the day (and night) thinking about the consequences of being gay.
"What tortures await you in the grave? Are you ready to die? Can you meet your Creator with the burden of the sins you have accumulated?" the author asked.
Interestingly enough, the e-book suggests that same-sex attraction does not necessarily mean sexual attraction, and that some men admire other men for their qualities but instead confuse that feelings as sexual attraction.
Getting a grip on masturbation
According to the e-book, masturbation is an "addiction faced by majority of the male populace of a certain age group", before absurdly naming the sexual act as one of the reasons why for men "turn gay".
"The danger of masturbating is that it can be done anywhere, therefore there is a risk for you to do it frequently," another chapter on masturbation read.
The author claims that men who excessively masturbate will end up becoming bored of visualising naked women and will eventually turn to images and videos of men, and that unchecked lust will end in unnatural "wild sex".
"Do not allow your sexual organs to be a tool to release forbidden sexual urges which will lead to self-destruction. It should only be used when you are married to find happiness and to love your wife and to procreate," said the book.
It also urges male readers to avoid touching their genitals "without valid reason", and that touching it should be confined for cleaning the organ, and not to arouse oneself towards erection.
The book warns that so-called ex-gays are in danger of walking away from the straight and narrow path if they ever reminisce on their past sins and "feel happy" about them, or if they even discuss them with those who had similarly committed them.
"In the end, abstinence is better than treatment," according to another excerpt from the e-book.
Jakim adamant on 'fixing' LGBT
In 2017, Malay Mail had reported another similar attempt by Jakim suggesting that sexual orientation can be changed with extensive training, in a video explaining how Muslims can approach the LGBT issue.
In the video, Jakim had likened sexual orientation with horse-riding, claiming that when someone realises that he has "different" orientation from others and wishes to change that orientation, he should receive extensive training and guidance.
Jakim said to change one's sexual orientation, one must intend to do so for God's sake instead of being forced and repent one's homosexuality, in addition to leaving activities that would lead to same-sex relations.
It also urged a repentant homosexual to fulfill his sexual desires through marriage, or subdue such desires by among others resorting to fasting.
Conversion therapy, which consists of psychological treatment or spiritual counseling to change a person's sexual orientation from homosexual or bisexual to heterosexual, is widely seen by medical and scientific community as potentially harmful and a form of pseudoscience.
The practice is opposed and has been legally challenged, or even banned, in countries such as Australia, Brazil, Chile, China, Ecuador, Israel, Lebanon, Malta, South Africa, Switzerland, the United Kingdom and the United States.
Full report at:
https://www.malaymail.com/s/1686311/abstinence-and-guilt-trips-jakims-rehab-tools-against-lgbt-in-e-book
--------
Indonesian Muslims find comfort in nuns' home for elderly
October 25, 2018
It was painful for Sardianto Muhammad, 69, when he realized that the children he had raised no longer wanted him to live with them.
He said they began to distance themselves after he was diagnosed with lung disease several years ago, to the point where he no longer felt like their father but more like hired help.
"They told me I should find a Muslim-run home for the elderly but I said no. I asked them to bring me here," he said.
Now he lives in a caring facility managed by Catholic nuns in Surakarta, Central Java, called Panti Wredha Dharma Bhakti Kasih Surakarta.
"When my wife was sick, she was treated in a Catholic hospital in Central Java before she died. The service they provided was very good," he said.
Nur Iskandar, one of Muhammad's relatives, said in the beginning the elderly man was upset at being shunned by his children. But later he realized he had made the right decision.
"Even as a Muslim family, we believe this is the best place for our brother because of the caring service and humane treatment they provide," Iskander said.
"There are many homes for the elderly in this town but we trust this one the most. Many of our relatives are treated by the nuns here," he added.
Sister Regina Soeyan Resiana of the Society of Rosa Mystica (SRM) manages the facility, which was launched in 2001 and caters to Catholics, Muslims, Protestants, Hindus, Buddhists and Confucians.
In the early days they used an unoccupied building owned by the Kanisius Foundation, a Catholic institution founded by the Jesuits, but demand soon forced them to expand.
"It was just unbelievable. Even when the building was under construction, many people wanted to stay. After it was renovated, they just kept on coming," the sister said.
The initial plan was to dedicate the center for women. But since 2004 it was also opened for men because the nuns found themselves unable to reject those in need.
A home for the lost
There are now 59 elderly people living at the center, mostly over the age of 65. Sister Regina provides daily care but is assisted by staff and volunteers.
The nun said many of her residents have been abandoned by their families.
"It's sad that after they drop them here, the relatives just leave and we never hear from them again. There is often no communication at all with the family," she said.
"But we don't chase after them. We concentrate on our service and our responsibility to take care of those who have been abandoned."
Others have no surviving relatives and made their way to the home from the streets.
"We offer our service to anyone regardless of their ethnicity, religion or race. Everyone is a child of God who deserves our loving care," she said.
They hold prayers for Catholics every Wednesday to honor God's Divine Mercy. Muslims and people of other religions are also given separate praying rooms so that they can practice their respective faiths.
As the number of tenants keeps growing, Sister Regina hopes the government will start paying more attention to the center's needs.
"We don't expect much from the local government because they run many homes like ours for the elderly," she said.
SRM is a secular-run order for Catholic women whose members have made vows of poverty, obedience, chastity and dedication to God, the church and other people. It focuses mostly on charity, catechism, education, legal aid and evangelism but also offers care for prison inmates.
The organization was launched in 1982 by Jesuit Father Henricus Constant van Deinse in Semarang, Central Java.
Full report at:
https://www.ucanews.com/news/indonesian-muslims-find-comfort-in-nuns-home-for-elderly/83692
--------
Malaysia ex-PM, ex-treasury, spy chiefs charged with graft
October 25, 2018
KUALA LUMPUR, Malaysia: Former Malaysian Prime Minister Najib Razak and his ex-treasury chief were jointly charged Thursday with criminal breach of trust involving 6.64 billion ringgit ($1.6 billion), while his ex-spy agency head was charged with misappropriating $12.1 million.
The six new charges against Najib come on top of 32 earlier counts of corruption, breach of trust and money laundering that he face linked to the multibillion-dollar looting of the 1MDB state investment fund.
Malaysia's new government has stepped up prosecution of Najib and other former officials over the 1MDB scandal and other alleged graft cases since its stunning electoral victory in May that led to the country's first change of power since independence from Britain in 1957.
Both Najib and former treasury secretary-general Mohamad Irwan Serigar Abdullah pleaded not guilty to misappropriating government funds between December 2016 and December 2017. The charge sheets said part of the money involved a subsidy for the poor and an airport management budget but gave no further details.
Najib's lawyer, Shafee Abdullah, slammed the charges as "foolish," saying the fund was merely being diverted for more urgent needs which were to meet payment datelines mainly for 1MDB as well as for a Chinese-backed rail link and two gas pipeline projects.
Shafee said the two men had made "executive decisions" to reallocate the funds to avoid debt defaults that could cause dire financial consequences.
"It's just a question of making priority, which one you pay first...this (has been) done many, many, many times. It is being done even today," he told reporters, adding that he believed the charges were "very political" in nature.
The new government has said it would cancel the Chinese-backed projects and is probing why Najib's administration paid an unusually large sum of money to Chinese contractors despite little work done.
Separately, Hasanah Abdul Hami, the former chief of the foreign intelligence agency that is now defunct, pleaded not guilty to misappropriating $12.1 million weeks before the May 9 general election that ousted Najib's coalition.
Hasanah's lawyer, Shaharuddin Ali, told reporters that her case is not related to the 1MDB scandal. He said the utilization of the money for intelligence purposes was a state secret and mustn't be made public in an open court.
All three have been released on bail. Each of the charges against them carries a jail term of up to 20 years and a fine.
Prime Minister Mahathir Mohamad, who is in Bangkok for a state visit, warned that "many more" former officials could be hauled to court but reiterated that all prosecution is done in accordance with the law.
"What we are seeing today, of course, are charges being made against several people, but there are many more. We can't bring everyone to court in one go. We have to take (them) one by one, and the more serious one is the former prime minister," Mahathir was quoted as saying at a forum in Bangkok by The Star online.
The 1MDB fund, set up by Najib, is being investigated in the US and several other countries. US investigators say Najib's associates stole and laundered $4.5 billion from the fund from 2009 to 2014, some of which landed in Najib's bank account.
Full report at:
http://www.arabnews.com/node/1393606/world
--------
Africa
South Africa mosque attack suspects linked to Daesh
24.10.2018
By Hassan Isilow
JOHANNESBURG
Eleven men accused of attacking a Shia mosque and placing explosives in multiple shopping malls in South Africa were inspired by the teachings of Daesh, a court heard Tuesday.
State prosecutors told a family court in Verulam, in the outskirts of Durban city, that they had found eight Daesh flags and newsletters in their residence during a police raid, local media reported.
An affidavit read out in court by the Directorate for Priority Crime Investigation (DPCI), which investigates organized crime, alleged that the men had been found with a manual on how to make bombs and carry out assassinations.
The men arrested two weeks ago are accused of stabbing three people at a mosque in KwaZulu-Natal province in May, killing one of them.
They are also accused of placing explosives in June and August at major stores in shopping malls with the aim of extorting money from the owners.
South African Muslims, who account for roughly 3 percent of the country's total population of 55 million, are largely moderate Muslims who condemn extremism.
But in the past four years, there have been several unconfirmed reports that Muslim youths in the country were reportedly joining Daesh.
In late 2014, the former Iraqi ambassador to Pretoria, Husham al-Alawi, told Anadolu Agency that South Africans were joining the terrorist group.
"Over the past few months, we have received information that South African citizens have been killed in Syria," the Iraqi diplomat told Anadolu Agency in an interview at the time.
When contacted, at the time, Muslim governing bodies in the country said they were not aware of the claims.
Several mosques in the country have been warning youth not to join Daesh or any terrorist group.
https://www.aa.com.tr/en/africa/south-africa-mosque-attack-suspects-linked-to-daesh/1292035
--------
Jordanian security officials: Ex-counterterrorism chief's assassinator arrested
24 October 2018
Jordanian authorities have announced arresting the assassinator of former counterterrorism chief General Habis al-Hanini.
The spokesperson of the Jordanian public security directorate said that Hanini was shot just outside his house in the governorate of Madba on Tuesday evening by an anonymous person.
He added that the assassinator had fled the scene successfully, which drove the security and intelligence forces to form an investigative team to follow up on the case.
"The investigation team, within hours of the incident, was able to determine the identity of the suspect through gathering information, chasing it, and listening to eye witnesses, after which he was arrested," he said.
Full report at:
https://english.alarabiya.net/en/News/middle-east/2018/10/24/Jordanian-security-officials-Al-Hanini-s-assassinator-arrested.html
--------
Islamic Movement in Nigeria holds rally for Zakzaki release
Oct 24, 2018
Members of the Islamic Movement in Nigeria (IMN) have staged yet another peaceful protest to renew their call for the immediate release of prominent Muslim cleric, Sheikh Ibrahim Zakzaky.
Press TV correspondent Danjuma Abdullahi has more in this report from Abuja.
https://www.presstv.com/Detail/2018/10/24/578005/Islamic-Movement-Nigeria-Ibrahim-Zakzaky
--------
State cites ISIS in Durban trial – but experts urge extreme care
By Rebecca Davis
24 October 2018
The spectre of ISIS landed squarely on South African shores this week, when state prosecutors told a Durban court that the 11 men accused of involvement in the Verulam mosque attack and attempted bombings around Durban were linked to the Islamic State (ISIS). This claim comes as no surprise to those who have been warning that ISIS has known sympathisers in South Africa. But experts warn that if the state's case is not watertight, the results could be disastrous.
The state gave a taste of its case against 11 suspects accused of terrorism this week in a bail hearing at the Verulam Family Court, and it carried one bombshell acronym at its centre: ISIS.
Affidavits filed by the Hawks team investigating the May 2018 attack on a Shi'a mosque in Verulam and a series of attempted bombings around Durban in July claimed that the 11 men in the dock had links to ISIS.
In court papers, the Hawks say that raids on the homes of the suspects unearthed copies of the ISIS "magazine" Rumiyah – carrying information on how to wage jihad – together with eight ISIS flags. The ISIS propaganda was found at a property belonging to businessman Farhad Hoomer, who is accused number one in the case.
Police allege that Hoomer was the ringleader of the gang and that his home was used as a "training facility" for ISIS-inspired acts of violence. It was also from Hoomer's property that a kidnapped Tanzanian man was rescued after several weeks' imprisonment.
According to the Hawks, CCTV footage places a number of the men at the scenes of the Woolworths stores around Durban where incendiary devices were planted in July. Some of the suspects were allegedly also identified by eye-witnesses leaving the Shi'a mosque in Verulam where the fatal attack was carried out in May.
The 11 men face a long list of charges, but the aspect of the case which is now certain to garner the most attention is the allegation that the suspects appear to have links to ISIS.
The court revelation follows months of official denials from authorities that there could be an extremist element underpinning the crimes, together with virtual consensus from experts that significant ISIS "signatures" were missing. Most notably, the fact that ISIS had not publicly claimed responsibility for the attacks was seen as a strong suggestion that the organisation could not be behind them in a formal capacity.
Yet others disagreed. The national leader of South Africa's Shi'a community, Moulana Aftab Haider, was adamant in his conviction immediately after the mosque attack that ISIS had played some role.
"This is a terrorist crime. It is an attack on the sanctity of a place of worship and' furthermore' it is the indiscriminate killing of innocent people purely based upon their religious beliefs. This has all the hallmarks of the ISIS style of operation in Iraq and Syria'" Haider was quoted as saying.
UCT's Professor Abdulkader Tayob, meanwhile, told Daily Maverick in May that it was not unprecedented for such attacks to be launched by groups like ISIS in order to foment anti-Muslim sentiment in societies and create a fertile ground from that for the recruitment of extremists.
"The slitting of the throat [in the Verulam mosque attack] is something we have seen elsewhere by ISIS," Tayob said.
Yet the evidence presented to the Verulam Family Court thus far – in the form of ISIS flags and propaganda – seems a relatively insubstantial basis on which to make the case that the suspects were operating as an active ISIS cell in South Africa.
When Daily Maverick put this to the Institute for Security Studies' William Els on Wednesday, however, Els expressed his conviction that further damning evidence is to follow.
"It is still early days and what we have learned from the case so far will, I believe, only be the ears of the hippo," Els said.
"They will not make all their evidence known during the bail applications and will just share enough to secure that the guys are denied bail."
He added that prosecutors had probably focused on items like ISIS flags and handbooks at this stage to "catch the eye" of the court.
"The team that is investigating this case is very experienced and were also investigating the Boeremag case that was one of the most successful prosecutions of terror related incidents in our history. They will not go to court with a case of this nature that they cannot win. There is just too much at stake."
But fellow terrorism expert Jasmine Opperman, of the Terrorism Research & Analysis Consortium (TRAC), takes a dimmer view.
"A concerning factor is that the Hawks and police are now stating that South Africa has crossed a threshold prone to violent attacks by organised international terror groups," Opperman says.
"Question is: Where is the evidence? The Thulsie case has already seen a state stumbling along in putting evidence on the table."
Opperman stresses that the presence of Islamic State sympathisers in South Africa is by now beyond dispute.
But she suggests that the evidence thus far produced by the state in the Verulam Family Court "at best shows low-level influence [of ISIS] via propaganda messages, and [suspects] cannot be assumed as committed Islamic State loyalists".
Opperman says that the suspects may fall into a new category of ISIS sympathiser she terms "Wannabes".
She explains that Wannabes are "frustrated fighters" driven by a mixture of personal problems, criminality and grievances, lured by a "quick solution to redemption".
Such individuals now need only a computer in order to be radicalised, "in which fake news is CNN and BBC, and Telegram chat rooms are the battleground for facts and encouragement".
Opperman describes herself as "really worried" about the handling of the Durban case.
"[Authorities] are creating fear and stigmatisation playing right into the hands of international terror groups," she warns.
As news of the ISIS development in the case hit social media this week, it was inevitably accompanied by expressions of Islamophobia.
The Muslim Judicial Council told Daily Maverick that it would not comment on the case until it was concluded.
Full report at:
https://www.dailymaverick.co.za/article/2018-10-24-state-cites-isis-in-durban-trial-but-experts-urge-extreme-care/
--------
Egypt, Sudan urge diplomatic solution to Khashoggi case
24.10.2018
By Mohammed Amin
KHARTOUM
Sudan and Egypt have both called for a "diplomatic and legal solution" to the ongoing row over the Oct. 2 murder in Istanbul of Saudi journalist Jamal Khashoggi.
Following a Wednesday meeting between the two countries' foreign ministers, Sudanese Ambassador to Egypt Abdul Mahmoud Abdul Halim told reporters in Khartoum that both sides were concerned that the Khashoggi case could give rise to "conspiracies" against certain Arab and Muslim countries.
"We are calling on all parties to deal with the issue wisely, so as not to give any opportunities to those who seek to conspire against Arab and Muslim nations," Abdul Halim said.
Full report at:
https://www.aa.com.tr/en/africa/egypt-sudan-urge-diplomatic-solution-to-khashoggi-case/1292250
--------
North Eastern counties grapple with al Shabaab attacks
October 25, 2018
Leaders of Kenya's northeastern counties have vowed to fight against al Shabaab, the Somalia-based militant group that has terrorised the region for the past seven years.
One troubling question hung over the meeting: How can that be done effectively?
The five counties represented at the two-day meeting — Mandera, Garissa, Isiolo, Wajir and Marsabit — all have seen their share of deadly al Shabaab attacks.
The worst one took place in April 2015, when militant gunmen stormed Garissa University College and killed 148 people, most of them students.
More recently, al Shabaab claimed responsibility for attacks that killed eight security officers in Wajir County in June and two teachers in Mandera County this month.
Ali Korane, the governor of Garissa County, said northeast Kenya is hugely suffering as a result of such terror attacks.
"Today our schools are not functional, our roads are impassable, doctors have abandoned hospitals, and carrying out development projects is impossible, and all these are the results of the regional insecurity posed by the terrorists," Korane said.
"We have to pull out all the stops to prevent" further attacks.
One call for withdrawal
The meeting in Mandera city was the first to bring together politicians, elders, villagers and officials from Kenyan security agencies to discuss insecurity and al-Shabaab attacks in northeastern Kenya.
Mandera County Deputy Gov. Mohamed Arai, whose county borders Somalia, called for the withdrawal of Kenya Defence Forces (KDF) soldiers from neighbouring Somalia.
Al-Shabaab began its attacks in Kenya after the KDF entered Somalia in 2011 to help protect the perennially shaky Somali government.
"Everyone knows where we were security-wise before Kenyan troops crossed the border into Somalia in 2011 and where we are now," Arai said.
"If we are people of Mandera, we have no interest in KDF presence in Somalia. They should withdraw, come along our border and protect us."
Other participants focused on taking community action to prevent further attacks.
One idea was to require residents to compensate the families of non-local victims of al-Shabaab.
The militants tend to attack schools, the army and police, whose employees are often not from northeastern Kenya.
If locals knew they'd have to pay the families of terrorism victims, they might be more willing to cooperate with police, according to proponents of this idea.
Greater cooperation with police is essential, said Mandera East MP Omar Maalim Mohamed.
"People are not providing information and the much-needed goodwill. Let us do all we can to face the threat that does not only affect the region but also the future of our families," Mohamed said.
Full report at:
https://citizentv.co.ke/news/north-eastern-counties-grapple-with-al-shabaab-attacks-216160/
--------
North America
Explosives sent to Obama and Clinton houses 'act of terror'
October 24, 2018
Police intercepted pipe bomb packages sent to former president Barack Obama, Hillary Clinton, CNN and several high-profile Democratic politicians in what New York officials on Wednesday said was an act of terrorism.
No one was injured and it was not immediately clear if the devices were rigged to detonate or simply send a message.
With the country already deeply polarised, details of the six packages triggered fears of a politically motivated bombing campaign ahead of next month's midterm elections.
They all arrived in padded manila envelopes, at least one bearing the return address of a former Democratic office holder, according to police officers.
Donald Trump, who has frequently been blamed for stoking anger at his opponents and the media, condemned the attempted attacks.
"In these times, we have to unify, we have to come together, and send one very clear, strong, unmistakable message that acts or threats of political violence of any kind have no place in the United States of America," he said at the White House.
Bill de Blasio, the mayor of New York City, where one of the packages arrived at the CNN offices, said: "This clearly is an act of terror attempting to undermine our free press and leaders of this country through acts of violence."
All the targets have been singled out by Mr Trump and his supporters.
The first package was discovered on Monday at the home of George Soros, the billionaire financier and philanthropist.
The package addressed to Mrs Clinton in Westchester County, a suburban area of New York state, was spotted late on Tuesday by a Secret Service employee charged with checking her mail.
The device sent to Mr Obama was intercepted on Wednesday morning.
"The packages were immediately identified during routine mail screening procedures as potential explosive devices and were appropriately handled as such, said the Secret Service in a statement.
"The protectees did not receive the packages nor were they at risk of receiving them."
Details emerged rapidly on Wednesday morning as a fourth suspicious package was identified at CNN's offices in New York, prompting the building to be evacuated and the channel to switch hurriedly to a commercial break. The parcel was found in the news organisation's mail room.
Eric Holder, who was US attorney general under Obama, and Democratic Representative Maxine Waters – described as "low IQ" by Mr Trump - were also among those targeted.
The devices were sent at a particularly febrile moment in America's political cycle.
President Donald Trump has frequently been accused of stoking tensions - and his supporters of promoting hate speech - since he entered the political fray in 2015. He has used bombastic language in attacking media organisations that he accused of spreading "fake news" and led supporters in chants of "CNN sucks".
The country is preparing for midterm elections in two weeks time, a vote widely seen as a referendum on his record in power.
Police said no one had yet claimed responsibility.
Clint Van Zandt, a former FBI officer who led the analytical team credited with identifying the "Unabomber", told MSNBC that the bombs were an extreme symptom of a national malaise.
"By the selection of targets they are telling you the political leaning of the individual who might have done this," he said.
"MSNBC has discussed this for months, how polarised we have become. And how as individuals... we have lost the ability to discuss... are you with me or against me? And for some people if you are against me that gives me the right to take up arms or in this case bombs against you."
Mr Soros's wealth and activism have long made him the target of anti-Semitic conspiracy theories. During the past week he has been cited in right-wing claims that powerful liberals were funding a caravan of some 7000 people walking across Mexico on its way to America's southern border.
His home is in a suburb north of New York City, not far from the Clinton's upstate residence.
Law enforcement officers said that device was made from a six-inch length of pipe, filled with explosive powder, and hand-delivered to his home.
It was spotted by a caretaker on Monday afternoon and investigators are examining CCTV to see if they can spot who delivered it.
The FBI photographed the device and then detonated it near Mr Soros' home.
Mrs Clinton was on the campaign trail in Florida on Tuesday and Wednesday. However, Bill Clinton was at the family's Chappaqua home at the time the package was intercepted, according to a person familiar with his schedule. The device was found at a screening facility away from the residence and never reached the Clintons' home, the source told the Associated Press.
Earlier this month, federal authorities said they had intercepted packages containing the deadly poison ricin addressed to President Trump and the Pentagon.
https://www.thenational.ae/world/the-americas/explosives-sent-to-obama-and-clinton-houses-act-of-terror-1.783919
--------
Quebec wants to expand religious symbol ban, blocking Muslim garments in civil service
Oct 24, 2018
Quebec's new government is planning to block Muslim women who work in the civil service from wearing the chador, a shawl-like piece of clothing that covers the head and body, and the niqab, which also covers the face.
Coalition Avenir Québec Premier François Legault has already made clear his intention to prohibit those who hold positions of authority including teachers from wearing religious symbols, such as the hijab, a Muslim headscarf.
The ban on the chador and niqab, however, would extend to all employees in the public sector. A representative from the CAQ couldn't say how many people such a ban would affect.
Immigration Minister Simon Jolin-Barrette, the government's point person when it comes to ensuring the secularism of the state, said Wednesday the government plans to "move quickly" to introduce a law.
"It was always our position to prohibit the chador in the public service," said Jolin-Barrette, in response to questions following a report in the Journal de Montréal about the government's stance.
There is no mention of banning the garments in the CAQ's online platform, but the party has played up its commitment to such a policy in the past.
In 2016, the CAQ said on Twitter that it would "defend Quebec values" by banning the chador, unlike its rivals, the Liberals and the Parti Québécois.
Jolin-Barrette said it was too early to provide details on exactly how and when the law would be implemented.
Later on Wednesday, Legault said a law prohibiting religious symbols isn't "a priority" for the CAQ, which created some confusion about the issue.
"One important value is equality between men and women, so we want to protect that. Now, is this a priority? No," he said.
'Surreal' debate
Montreal lawyer Shahad Salman, who wears a hijab, said she is discouraged the new government — and the media — continues to focus on identity issues "rather than talking about real issues."
"It's so surreal that we're talking about this again, honestly," she said. Salman said such debates are counterproductive if politicians want minorities to become more integrated into Quebec society.
As it stands, when it comes to minorities in Quebec's civil service, the percentage doesn't reflect the overall population.
Visible minorities made up 9.4 per cent of the province's public workforce in 2017, although they constitute 13 per cent of the overall population, according to a study by the Institut de recherche et d'informations socio-économiques,
The CAQ's planned ban on religious symbols has been criticized by civil rights advocates who contend the policy will further marginalize vulnerable minorities.
Charles Taylor, author of a landmark 2008 report on the accommodation of religious minorities in the province, called the proposal "either very ignorant or very intellectually dishonest."
In a recent interview, he pointed out that his report explicitly recommended against including teachers in a ban on the wearing of religious garb.
"We meant it to apply only to people with functions that we called 'coercive authority' — police and judges. Functions that can put you in jail," Taylor said.
Lacking 'coherent plan,' Liberals say
The CAQ won a decisive majority in the Quebec election earlier this month, beating out Philippe Couillard's Liberals.
Pierre Arcand, the interim leader for the Liberals, said the CAQ doesn't appear to have a "coherent plan" when it comes to religious symbols.
Full report at:
https://www.cbc.ca/news/canada/montreal/quebec-chador-religious-symbols-1.4876212
--------
Zarif: US sanctions on Iran aim to deflect attention from Khashoggi's murder, Saudi crimes in Yemen
Oct 24, 2018
Iranian Foreign Minister Mohammad Javad Zarif says the US's fresh sanctions against Iran aim to deflect global attention from the murder of Saudi dissident journalist Jamal Khashoggi and Riyadh's crimes in Yemen.
In a post on his official Twitter account on Wednesday, Zarif hit out at the US for imposing sanctions on Iran over allegedly supporting the Taliban, an anti-Iran militant group with which Washington is seeking negotiations.
The US Treasury Department on Tuesday imposed sanctions against eight individuals, including two allegedly linked to the Quds Force of Iran's Islamic Revolution Guards Corps (IRGC) and accused Iran of providing material and financial support to the militants and supporting terrorism.
Zarif said the US sanctions meant to protect Saudi Arabia and divert attention from Khashoggi's murder and Yemen's war.
"To deflect from headlines on Saudi brutality in Istanbul and across Yemen, US Treasury—while in Saudi Arabia, no less—sanctions Iran for 'supporting' anti-Iran Taliban. Conveniently omitting that US is negotiating with the very same Taliban now& its clients have long backed it," said the tweet.
The world has reacted angrily to the murder of Khashoggi -- a Saudi writer, US resident, and Washington Post columnist -- amid weeks of repeated denials from Saudi authorities that the kingdom had nothing to do with his disappearance.
Khashoggi, living in exile in the US, entered the Saudi consulate in Istanbul on October 2 to obtain documentation certifying he had divorced his ex-wife, but he did not leave the building.
Saudi officials originally insisted that Khashoggi had left the diplomatic mission after his paperwork was finished, but they finally admitted several days later that he had in fact been killed inside the building during "an altercation."
Several countries, including European ones, Turkey and the US, a major ally of Riyadh, have called for clarifications on the journalist's murder.
Amid mounting global pressure on the kingdom, Saudi Arabia's Crown Prince Mohammed bin Salman on Wednesday broke his silence and said the case of the slain Saudi journalist was "painful" and justice will prevail.
The controversy over Khashoggi's death comes as Riyadh continues to pound its impoverished southern neighbor Yemen.
Saudi Arabia and a number of its regional allies launched a devastating military campaign against Yemen in March 2015, with the aim of bringing the government of former president Abd Rabbuh Mansur Hadi back to power and crushing the country's popular Houthi Ansarullah movement. The war has left more than 15,000 killed and thousands injured.
Iran denies accusations of aiding Taliban in Afghanistan
The allegations of Iran's support for the Taliban come as Tehran has on numerous occasions denied training or backing the militant group.
Full report at:
https://www.presstv.com/Detail/2018/10/24/577988/Jamal-Khashoggi-Saudi-Iran-US-sanctions
--------
Europe
British counter-terror chief warns against far-right threat
October 24, 2018
Britain's most senior counter-terrorism police officer has warned that far-right and Islamist radicals are driving a rising spiral of extremist violence in Britain.
"The two ideologies [far right and Islamist extremism] are both fuelling each other," Neil Basu, of London's Metropolitan police told UK lawmakers.
Attacks such as the 2017 Westminster Bridge attack by a group of extremists using a van and knives and the mowing down of a Muslim worshipper in north London had given violent extremists greater belief that their plans could work and spawned other attacks. "The success of one attack bred others," he said.
He added that recent years had seen "a significant rise in religious hate crime – there is a tolerance issue".
Mr Basu noted the threat had risen in recent years, citing British police's disruption of some 13 terror plots in the four years prior to the Westminster attack, compared to 13 in the eight months following it.
The counter-terror officer noted the banning of two far right groups - Scottish Dawn and NS131 - said something "very dangerous about the state of society."
Such groups presented a particular "threat to individual politicians", highlighting the murder of British MP Jo Cox in 2016.
He also spoke up in defence of Prevent, the UK's controversial counter-extremism strategy, labelling it comprehensive. "We need moderate, influential, community voices to stand up and back prevent," Mr Basu told the parliamentary Home Affairs select committee. "We need to stop leaving this vacuum for people to attack it."
Mr Basu's comments come just days after two of the country's most visible extremist figures - from opposing sides of the spectrum - took centre stage in the British debate over extremism.
Far right figurehead and founder of the English Defence League Tommy Robinson remained on bail as his case of alleged contempt of court was referred to the UK's Attorney General yesterday, and Islamist Anjem Choudary was released from prison last week.
Mr Robinson was arrested after he broadcast footage of four defendants during a number of sensitive rape-trials outside a court.
Mr Robinson claims his arrest and subsequent charge is an attempt to restrict his freedom of speech, and amounted to a cover up of the racial aspects of the trial he was filming at.
Controversy was further fuelled after Tuesday's hearing and referral by Mr Robinson attending lunch at the British parliament by invitation of UKIP leader Gerrard Batten.
On the Islamist side of spectrum, radical preacher Anjem Choudary was released from prison last Friday after serving five-and-a-half years of a sentence for encouraging support for ISIS.
Asked about Mr Choudary, Mr Basu urged the British authorities to maintain pressure on his activities, calling Al Muhajiorun, the organisation he formerly led "broken".
"All the great work that went into breaking that organisation is maintained," said Mr Basu.
https://www.thenational.ae/world/europe/british-counter-terror-chief-warns-against-far-right-threat-1.784010
--------
France seeks to bring home children of ISIS members
October 25, 2018
France is seeking to repatriate some of the 150 children of French extremists identified as being in Syria, as Western nations grapple with how to handle citizens who left to join them.
A French official, speaking on condition of anonymity, said Paris would repatriate the children "as much as is possible, on the condition that the mother agrees".
"We're starting to look at how this might work," the source added.
French authorities only have a precise location for some of the children, making these the only viable cases for potential repatriation, the source said, declining to give figures.
The cases of the 150 youngsters, some of whom are being held in camps in Kurdish-held northern Syria after ISIS was driven from the area, were flagged up by authorities there or by their families in France.
Most are under six years old and were born in Syria.
The mothers of any repatriated children would be left in Syria, the source said.
Like other Western nations reluctant to bring extremists back onto their soil, France has so far ruled out repatriating men who left to fight alongside ISIS, or women who left to marry them.
"Those who committed crimes in Iraq and Syria must be brought to justice in Iraq and Syria," the foreign ministry said.
"Minors are the exception, and their situation will be examined on a case by case basis. We have a duty to protect children's interests."
Yet bringing the children to France will be highly complicated, not least because Kurdish-held Syria is not a recognised state, and Paris has cut off diplomatic ties with Damascus.
The decision to leave French adults in the war zone has infuriated lawyers representing their families at home in France, who say their clients are being held in illegal detention in unsanitary conditions.
"This is scandalous and hypocritical on the part of the French government," said Bruno Vinay, lawyer for the best-known French woman in Kurdish custody, Emilie Konig.
"France is leaving these women alone faced with the inhumane choice of separating from their children," Mr Vinay said.
"Given that this is all they have left, it is possible that only a minority will accept to separate from them."
In neighbouring Iraq, only three French families have been flagged to authorities.
One of the mothers, Melina Boughedir, has agreed for her three children to be taken to France after Iraqi authorities sentenced her to life in jail for being an ISIS member.
Of some 680 French extremists who travelled to Iraq or Syria to fight, more than 300 are believed dead while a small number of others have travelled to other countries, including Afghanistan and in North Africa.
Kurdish forces say they have more than 900 foreign ISIS fighters in custody coming from 44 countries, prompting a legal and ethical headache for the governments of their home nations.
Full report at:
https://www.thenational.ae/world/europe/france-seeks-to-bring-home-children-of-isis-members-1.784115
--------
Ahmad Angawi and Idris Khan help reframe the British Museum's Islamic art collection
October 24, 2018
LONDON: When the management of the British Museum decided to shift its collection of Islamic art into a new gallery, they selected two artists — Ahmad Angawi from Saudi Arabia and Idris Khan from the UK — to create site-specific works. The pair were selected for their ability to assimilate their heritage in a contemporary way — a blend that is ideal for the new gallery space, which reframes the museum's Islamic art collection, presenting a fusion of cultures in the Islamic world through ancient, medieval and modern times.
Both have used the physical space of the new Albukhary Foundation Gallery, which opened October 18, to display their work in a dynamic way. Angawi has created five Mangour screens to cover windows in the gallery, while 21 of Khan's paintings cover one of the walls.
"The screens complete the atmosphere of the gallery, bringing the spirit of the Hijaz, the heartland of Islam, to the gallery," said Venetia Porter, assistant keeper, Department of the Middle East at the British Museum.
Angawi's five screens are made from walnut wood, using traditional Hijazi craft with modern manufacturing techniques. Samples for the windows were created by craftsmen in Jeddah and finished by craftsmen in London.
Two of the five screens are placed on facing windows. "It feels like they almost have a dialogue with one another, so the idea of the heart and mind in dialogue came to my mind immediately," Angawi explained. "When you do traditional craft you connect your body, mind and soul into an object. I wanted (to convey) the way that when you look at those screens, you also look with your mind and you see the techniques with your heart and you see the passion and connection they represent.
"I really wanted to work with craftsmen here in London," he continued. "I don't like the idea of cutting something from my culture and pasting it in in London. I wanted to make an integration of cultures between London and Makkah."
For Porter, this integration of tradition and modernity was crucial.
"Right from the beginning, we were very clear about wanting to bring the contemporary into it," she said. "I feel really strongly that when you look at this region … you need to be looking at it as a continuum. When you look at it all as material culture, it's actually very easy to incorporate contemporary in with the 'old'. We've done it throughout the gallery."
She was first able to articulate this philosophy during the museum's "Hajj: Journey to the Heart of Islam" exhibition in 2012, which drew an unprecedented number of Muslim visitors to the museum.
That exhibition ended with Khan's "You and Only You," in which the artist used words to represent the footsteps of a pilgrim, in an attempt to capture the energy of a mass of people circling the Kaaba.
Porter — and her patrons group, who support acquisitions of material at the museum — were keen to involve Khan in the new site-specific gallery work.
"We talked about a number of artists and the one we decided upon immediately was Idris, because of that past relationship, because the work that he does is so interesting, and because of the way that he thinks about his Muslim heritage," Porter said.
The resulting commission is Khan's "21 Stones," — a collection of 21 stamp paintings.
"I turn poems, or passages of writing, into rubber stamps and they become wood blocks basically. Then I paint with them with oil, usually on either an aluminum surface or a paper surface," Khan explained.
He began his stamp paintings in 2010, a turning point in his work. He had trained as a photographer, but felt that his photographs always looked like paintings.
"2010 it was quite a tricky year for my wife and myself," he said. "My mother died — and she was young, 59 — and my wife lost the baby very late in pregnancy and it was really sort of a tough year in terms of grief.
"It was at that point that I (decided) to create drawings with words and stamping. In the studio, I'd get a piece of paper set up and I'd come in, write these sentences, make them into rubber stamps and then start stamping the paper. It was ridding myself of the grief that I was going through at the time in a very cathartic way," he continued.
"When I started (this process), the words were important. But then they became less important — an abstraction of those words. As they become artworks, they lose that content and become something else, something you can't quite… It's intangible."
With "21 Stones," Khan tried to convey the moment of release for a Hajj pilgrim performing the stoning of the Jamarat at Mina (when pilgrims throw 21 stones at the wall).
"The idea itself is a very beautiful thing," he said. "One takes a stone, stands in front of a wall representing the devil and wishes away any bad feelings or thoughts or future or past — whatever the pilgrim wants to think about — and that emotional release of a stone hitting the wall and becoming words was such a beautiful thing in my mind. So I wanted to try and see if I could make an artwork that had that kind of impact."
Full report at:
http://www.arabnews.com/node/1392981/art-culture
--------
UK's May says Saudi account of Khashoggi death lacks credibility
October 25, 2018
British Prime Minister Theresa May told Saudi Arabia's King Salman on Wednesday that his country's explanation for the death of journalist Jamal Khashoggi in Turkey lacked credibility, her office said.
"The Prime Minister said the current explanation lacks credibility so there remains an urgent need to establish exactly what happened," a Downing Street spokesperson said in a readout of a call between May and King Salman.
"She strongly urged Saudi Arabia to cooperate with the Turkish investigation and to be transparent about the results. It is important that the full facts are established."
https://nation.com.pk/25-Oct-2018/uks-may-says-saudi-account-of-khashoggi-death-lacks-credibility
--------
France will take no 'hasty decision' on relations with Saudi Arabia
24 October 2018
France will not take any "hasty decision" on the future of its strategic relationship with Saudi Arabia until the facts around the death of journalist Jamal Khashoggi are clear, a source in President Emmanuel Macron's Elysee office said on Wednesday.
"If decisions are to be taken in the future, they will be taken but based on facts that have been clarified and responsibilities that have been clearly established," the source said.
https://english.alarabiya.net/en/News/middle-east/2018/10/24/France-will-take-no-hasty-decision-on-relations-with-Saudi-Arabia.html
--------
Saudi suspects in Khashoggi death to be barred from entering UK: PM May
Oct 24, 2018
UK Prime Minister Theresa May has announced the Saudi Arabian men suspected of murdering Saudi dissident journalist Jamal Khashoggi will not be allowed to enter Britain.
"The Home Secretary is taking action against all suspects to prevent them entering the UK. If these individuals currently have visas, those visas will be revoked today," May said while addressing lawmakers at a Parliament session on Wednesday.
May also revealed that she was due to speak to King Salman of Saudi Arabia later in the day to discuss the killing of Khashoggi in the Saudi consulate in Istanbul on October 2.
"The foreign secretary and the foreign ministers and our ambassador have been making our position very clear to the Saudi Arabians," she said.
Several officials in the team allegedly sent from Riyadh to assassinate Khashoggi are close aides to Crown Prince Mohammad bin Salman.
May also directly dismissed Saudi claims that Khashoggi died after getting involved in a brawl during a failed attempt to kidnap him back to the kingdom.
"The claim that has been made that Khashoggi died in a fight does not amount to a credible explanation, so there does remain an urgent need to establish exactly what has happened," May told Parliament at Prime Minister's Questions.
British media have begun reporting that Maher Abdulaziz Mutreb, the man named by Turkish media as the leader of the assassination operation against Khashoggi, used to work at the Saudi embassy in London.
End support for brutal regime
In response to her comments on Saudi and Khashoggi, the leader of the Scottish National Party, Ian Blackford, challenged the prime minister on her government's relationship to the "brutal regime" of Saudi Arabia.
He demanded that the Government ban all arms sales to the kingdom, which he stressed was "responsible for multiple human rights violations."
"Critics face death by crucifixion, teenagers tortured, women imprisoned for campaigning for their human rights, the brutal bombardment of Yemen, pushing that country to the brink of famine, and now the state-sponsored murder of Jamal Khashoggi," said Blackford.
"What more evidence of criminality does the Prime Minister need before she fully commits to ending the sale of arms to the brutal regime of Saudi Arabia?" he asked.
May stressed that the UK was concerned about the humanitarian situation in Yemen and Khashoggi's murder but emphasized that the Government continues to support the Saudi-led war on Yemen.
"I might remind the right honorable gentleman that yes, we do support the Saudi-led coalition's military intervention in Yemen that was recognized," she said.
Full report at:
https://www.presstv.com/Detail/2018/10/24/577989/UK-Saudi-Arabia-Khashoggi-suspects-visa-ban
--------
UK Islamophobe slammed after dining in Parliament
Oct 24, 2018
The UK Parliament speaker has condemned a move by a member of the House of Lords for inviting a far right Islamophobe figure in Britain for a sumptuous meal in the chamber.
The House of Commons Speaker, John Bercow, said Wednesday hat although inviting people to the House of Lords was outside of his remit, but insisted that Stephen Yaxley-Lennon, known as Tommy Robinson, was a "a loathsome, obnoxious, repellent individual" who should have never been invited to the upper chamber.
Robinson, convicted several times for offences including assault, mortgage fraud and travelling on a fake passport, has been known for his fierce campaign against Muslims and immigrants in the UK.
The founder of the far-right group English Defence League is currently being tried for two contempt of the court charges which could see him in prison for around two years.
Robinson was invited by Lord Pearson, a peer of the United Kingdom Independence Party (UKIP), to a lunch in the upper house of the British Parliament on Tuesday, hours after a court referred the legal case against extremist figure to the attorney general. During Wednesday's Parliament session, Bercow endorsed the view by Stewart Malcolm McDonald, a Scottish National Party lawmaker, who called Robinson a "violent racist thug and fraudster".
"I share his assessment of the individual concerned – a loathsome, obnoxious, repellent individual, and I make no bones about my view being the same as his on that front," said Bercow, urging McDonald to write to the Lord Speaker, Lord Fowler, for advice. Many believe Robinson's activity has helped encourage indiscriminate attacks on Muslims and caused a surge in hate crimes in the UK over the past years.
Full report at:
https://www.presstv.com/Detail/2018/10/24/577985/UK-Islamophobe-leader-parliament-presence
--------
Major British firm complicit in Israeli war crimes
Oct 24, 2018
Human rights groups have demanded the British authorities to open up an investigation into the use of UK firm J.C. Bamford Excavators Limited's (JCB) equipment in Israel's crimes against Palestinians.
This month, the Palestinian village of Khan al-Ahmar in the occupied West Bank is due to be demolished by Israeli forces, in an action classed as a war crime under the statute of the International Criminal Court.
Human rights groups have condemned JCB for its role in the destruction of Palestinian villages including Khan al-Ahmar, which is set to be razed in the coming days.
London-based Lawyers for Palestinian Human Rights immediately wrote to UK Foreign Office minister Alistair Burt urging the government to intervene and charging that JCB's involvement in the pending demolition of Khan al-Ahmar "may amount to aiding and abetting a war crime."
Labour Party lawmaker Paula Sherriff raised the issue in Parliament, and Burt assured her that an investigation into the use of JCB machinery in the demolition of Khan al-Ahmar would be carried out.
Six years ago, the British campaign group War on Want published a report detailing Israel's use of JCB machines to destroy Palestinian homes, mosques and olive trees and to build settlements in the West Bank, all of which are illegal under international law.
Since then, the use of JCB machines has been documented repeatedly during Israel's violations of Palestinian rights.
Last July, BBC correspondent Tom Bateman tweeted a photo of Israeli forces using a JCB excavator to clear the way for the forcible evacuation of Khan al-Ahmar.
Many European governments have a history of prioritizing trade with Israel over respect for international law and often fail to impose any form of sanctioning on Israel or on the companies that assist in apparent violations of Palestinians rights.
In August, Lawyers for Palestinian Human Rights also wrote to JCB asserting that "involvement in the demolition process of Khan al-Ahmar may amount to aiding and abetting the war crime of forcible transfer."
JCB has not responded to an invitation from the Business and Human Rights Resource Centre, a corporate accountability watchdog, to answer the allegations in the letter.
The British-based company is famed for its yellow bulldozers. It dominates the Israeli market with a 65 percent market share of all excavators and a 90 percent market share of commonly used loading vehicles.
In the past, its vehicles have been used by the Israeli regime to build illegal Israeli settlements and by Israeli forces to destroy Palestinian homes, mosques and agricultural areas.
"The UN Human Rights Council has repeatedly stated that companies must terminate all business involvement in Israel's illegal settlement activity", says Ryvka Barnard, a senior campaigner on militarism and security at War on Want.
Companies such as JCB are "directly supporting the destruction of Palestinian homes and schools" and are "profiting from illegal activity – and in this case, war crimes."
In response, Palestine solidarity activists have initiated a campaign in the UK to hold JCB accountable.
Full report at:
https://www.presstv.com/Detail/2018/10/24/577974/UK-company-JCB-Israel-crimes-Palestine
--------
Russia-Turkey deal on Syria's Idlib 'was Iran's idea'
Oct 25, 2018
A deal reached between Russia and Turkey last month to attempt to peacefully resolve the issue of Syria's Idlib Province, the last major stronghold of anti-government militants in the Arab country, was based in its entirety on an Iranian proposal, says Iran's chief negotiator on Syria.
Hossein Jaberi Ansari, Iran's point man on the Middle East and North Africa, told Press TV's website in an exclusive interview on October 10, that the deal, reached in Sochi in mid-September, was based on Iran's idea to have Russia and Turkey — which support opposing sides in the Syrian conflict — meet each other halfway.
Conflict erupted in Syria back in 2011, when a small group of opposition forces took up arms against Damascus. Soon, however, a mix of international terrorists and paid mercenaries mingled with and then largely sidestepped the armed Syrian opposition groups, effectively turning the Arab country into a battlefield for foreign governments opposed to Syrian President Bashar al-Assad.
But the Syrian military, with advisory military help from Iran and Russia — and a Russian aerial bombardment campaign — has retaken control of much of the country, and the conflict is generally believed to be winding down.
Idlib remains the last major piece of Syrian land still not in control of the Syrian government.
Over the past couple of years, armed groups that have been defeated in battles with the Syrian military have been bused into Idlib under agreements with Damascus. While those groups have mostly had to leave their heavy weaponry behind under those deals, they have been allowed to take their small arms with them.
In parts of his remarks published previously, Jaberi Ansari said that Moscow and Ankara did not see eye to eye on how to resolve Idlib. He said Russia was more inclined to resolve the matter more quickly while Turkey sought to indefinitely delay any resolution of the issue.
'Neither abrupt war, nor abrupt peace'
He said Iran had its own ideas — and offered a third path.
Iran came up with a proposal to resolve the matter in a phased and incremental manner, "neither through abrupt [...] war, nor through abrupt peace," Jaberi Ansari said.
That proposal faced "initial resistance" from Russia and Turkey but was later taken up by the two countries.
At the end of a summit in Sochi on September 17, Russian President Vladimir Putin and Turkish President Recep Tayyip Erdogan agreed on, among other things, establishing a demilitarized zone in Idlib that would cover an expanse of 15-20 kilometers of land. Militants would have to entirely clear that area by October 15.
Presidents Putin and Erdogan had earlier, in a trilateral summit in Tehran, differed on how to resolve Idlib.
'Both the concept and the design'
Jaberi Ansari said the Sochi "framework and all of its major concepts were Iran's ideas."
He explained that both the Sochi deal's "concept" — i.e. resolving matters in a phased and composite manner — and the specific articles envisaged in it were based on Iranian ideas.
If the specific articles of the deal are carried out according to plan, progress will have occurred "without firing a single bullet," he said.
"The art of designing military and political plans is to make such things happen without extensive cost," Jaberi Ansari said.
"Despite the initial resistance by our two other partners [in the Astana peace process for Syria], ultimately, that same framework and that same proposal was adopted as the basis of the Sochi deal," he said.
In his official capacity as senior assistant to the Iranian foreign minister on special political affairs, Jaberi Ansari has been working with Russia and Turkey in a peace process for Syria known as the Astana process.
The player behind the scenes
Asked about why Iran did not participate in the Sochi meeting, Jaberi Ansari said Iran was "both present and absent."
He said the fact that the deal was entirely based on Iran's idea is proof of that statement.
And he said Iran does not insist on being present in photo ops and signing ceremonies.
"Rather than seeking to show off itself, Iran has been and is after finding solutions," Jaberi Ansari said.
Full report at:
https://www.presstv.com/Detail/2018/10/25/578020/Iran-Syria-Idlib-Sochi-deal-Russia-Turkey-Iran-idea-Hossein-Jaberi-Ansari-exclusive-interview
--------
France to back intl. sanctions against those behind Khashoggi's murder: Macron
Oct 24, 2018
French President Emmanuel Macron says Paris is prepared to back imposing international sanctions on those involved in the death of Saudi dissident journalist Jamal Khashoggi, who is said to have been murdered on Saudi Crown Prince Mohammed bin Salman's orders.
Macron made the comments in a phone conversation with Saudi King Salman on Wednesday, according to a statement by the Elysee Palace.
The French president informed the Saudi king of his "profound indignation" at the crime, and said France, in coordination with its partners, could take action against those responsible for the murder, the statement added.
He told the king that France's main priority was "defending freedom of expression, freedom of the press and of the public." He also urged the king to fully disclose the circumstances around Khashoggi's death, the Elysee Palace said.
This was Macron's first public comments since the dissident journalist's apparent assassination sparked global condemnation.
Earlier in the day, French government spokesman Benjamin Griveaux said Paris "would draw the necessary conclusions and impose appropriate sanctions" once the French intelligence services conclude "Saudi Arabia's responsibility has been proved".
Any steps would not just involve sanctions on arms sales, he said without giving more details.
Following Khashoggi's disappearance on October 2, Paris tried to show a relatively guarded reaction in a bid to protect its commercial ties with the kingdom, particularly its energy investments and a huge arms deal, which has been urged to be terminated by German leaders and rights groups like Amnesty International.
Macron on Tuesday refused to take questions about halting arms sales to Saudi Arabia despite Germany's calls on its European partners to follow its example and stop arms exports to the kingdom.
Journalists asked the French president whether Paris would follow Berlin halting weapons sales to Riyadh after it admitted to the death of Khashoggi in its consulate.
"This has nothing to do with what we're talking about. Nothing. So I won't answer that question. I'm sorry but as long as I'll be in office this is how it will be, whether people like it or not," he told reporters during a visit to a naval defense show, visibly irritated.
A senior French diplomat was quoted by Reuters as saying on Wednesday that the French president "was treading a thin line in pursuing his long-stated policy of avoiding taking sides" between Saudi Arabia and Iran.
"We have an important partnership, but while we never considered Saudi to be the cradle of human rights, this is serious. It can't be ignored. There will be consequences, but we need to be prudent," the diplomat said.
After over two weeks of near silence, Saudi Arabia on Saturday admitted that the journalist was killed in its consulate in Istanbul, saying it was an unauthorized operation -- a claim other countries, even the Western allies of Riyadh, have rejected.
US President Donald Trump said Wednesday the crown prince may be behind Khashoggi's death. German Chancellor Angela Merkel condemned the murder as a "monstrosity" and vowed to halt German arms exports.
UK Prime Minister Theresa May also announced the Saudi Arabian men suspected of murdering Saudi dissident journalist Jamal Khashoggi will not be allowed to enter Britain.
Full report at:
https://www.presstv.com/Detail/2018/10/24/578003/France-Macron-Khashoggi-sanctions-Saudi-arabia
--------
EU's arms trade with Saudi Arabia comes under scrutiny
24.10.2018
BRUSSELS
The EU countries' demand for the suspension of arms deals with Saudi Arabia has increased, following the killing of journalist Jamal Khashoggi.
Jamal Khashoggi, a Saudi national and columnist for the Washington Post, was last seen entering the Saudi Consulate in Istanbul on Oct. 2.
After weeks of denying involvement in his disappearance, Saudi Arabia on Saturday announced that he died in a fight inside the consulate.
World leaders have called on the Saudi government to provide more concrete answers on his killing amid a global outcry.
EU High Representative Federica Mogherini said: "European Union, like its partners, insists on the need for continued thorough, credible and transparent investigation, shedding proper clarity on the circumstances of the killing and ensuring full accountability of all those responsible for it."
On Sunday, German Chancellor Angela Merkel announced Germany would stop arms exports to Saudi Arabia amid doubts over Riyadh's explanation on the killing of Khashoggi.
Merkel demanded urgent clarification on Khashoggi's killing, saying: "As far as arms exports are concerned, those can't take place in the current conditions."
Following Merkel's remarks, the country's Foreign Minister Heiko Mass said they are not going to take a positive step towards the exports unless the details about the journalist's death are revealed.
German Vice Chancellor and Finance Minister Olaf Scholz and Economy and Energy Minister Peter Altmaier also backed the government decision to halt the arms exports.
Stopping arms export to Riyadh was also on the agenda of France. But the President Emmanuel Macron defended that Saudi Arabia was an important customer in arms sale.
Strong call from British opposition
In the U.K., -- the country that topped the list of the EU countries in terms of exporting arms to Saudi Arabia -- the opposition called on the government to suspend arms sales to the kingdom.
Labour Party leader Jeremy Corbyn said he was pleased because the prime minister had condemned the "horrific murder" of Khashoggi, urging a suspension of arms sales to the kingdom.
Labour Party's shadow Foreign Secretary Emily Thornberry called the killing a "disgraceful murder" and said the Saudi crown prince Mohammed bin Salman "takes his allies for fools," mentioning some of the alleged crimes attributed to him.
"The government must wake up to the reality of who the crown prince really is," Thornberry said, criticizing Prime Minister Theresa May for "rolling out the red carpet" for the prince.
Calling on the U.K. government to use the Magnitsky powers for anyone involved in the murder, including those who ordered it, she asked for financial penalties on those responsible and the suspension of U.K.'s sales of arms to Saudi Arabia.
Scottish National Party leader in Westminster Ian Blackford also called on May to take action against Saudi Arabia.
"Stop arms sales to Saudi Arabia and do it today," he said.
Spain's far-left Unidos Podemos party also called on the country and EU members to stop arms sales.
Belgium should take Germany as an example and stop the selling of weapons to Saudi Arabia, Belgian Deputy Prime Minister Alexander De Croo said.
"The arm export decision was taken by the regional parliaments, therefore, they don't have authority other than to advise. We shouldn't hide behind the EU. We should take Germany as an example and stop the arms sales to Saudi Arabia," De Croo said.
Arms trade with Riyadh
Saudi Arabia is the U.S.'s main weapon buyer. According to Stockholm International Peace Research Institute (SIPRI), the data shows Riyadh made up 18 percent of total U.S. arms sales during 2013-2017 period.
Meanwhile, the European countries also exported arms to the country in the same period.
According to 2013-2017 figures of SIPRI, U.K., as an EU member, makes 48.8 percent of its total arms exports to Saudi Arabia.
Full report at:
https://www.aa.com.tr/en/economy/eu-s-arms-trade-with-saudi-arabia-comes-under-scrutiny/1291960
--------
URL: https://www.newageislam.com/islamic-world-news/turkish-intelligence-shares-all-evidence/d/116713
New Age Islam, Islam Online, Islamic Website, African Muslim News, Arab World News, South Asia News, Indian Muslim News, World Muslim News, Women in Islam, Islamic Feminism, Arab Women, Women In Arab, Islamophobia in America, Muslim Women in West, Islam Women and Feminism