New Age Islam News Bureau
2 Jan 2015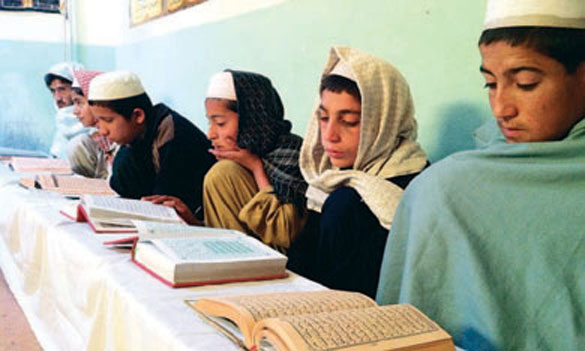 Madrasahs fill the void left by a dysfunctional, rundown school system — Dawn/File
--------------
Mideast
• Turkish Cleric Says Muslims Players' Celebrations of Goals is a 'Sin'
• Netanyahu: PA Is an Entity Allied With Terror Group, Not a State
• Turkey digs trenches at border against ISIL
• Iran Warns Bahrain of Repercussions of Opposition Leader's Detention
• Palestine seeks ICC probe into 'Israeli war crimes'
Arab World
• Iraq: At Least 100 ISIL Fighters Killed
• Gunmen Kill 3 Sunni Clerics in Iraqi City of Basra
• Air strikes target top ISIS meeting in Mosul
• Australian's family hope Egypt will deport him
• Egypt's 'terrorist' puppet gets its own show
• Danger in Syria, Iraq threatens RI's backyard
• Noted Convert from Islam in Egypt Wins Partial Appeal but Remains in Jail
• Syria opposition group: Assad must go for any peace plan to work
Pakistan
• Madrasas Offer Support in Action against Institutions behind Peshawar Carnage
• Don't Lose Consensus against Terror to Smaller Issues: Army
• Martyrs for Peace: 'Reopening Schools a Strong Message to Militants'
• Pakistan Needs Laws against Misogyny, Not Blasphemy
• Civil society awaits arrest of Lal Masjid cleric
• Jirga settles 35-year hostility over 'honour'
• Punjab is the training centre for terrorists: ANP
• LHC halts execution of death row convict
• Nawaz asks president to reject appeals of 5 death row convicts
• Pakistan questions progress in Samjhota Express attack probe
• Grenade attack leaves one woman dead, two injured in Lyari
South Asia
• Taliban Delegation Hold Talks With Chinese Officials on Afghanistan
• Contempt Of Court Proceedings Sought Against Jamaat-e-Islami, Bangladesh
• Afghanistan faces economic time bomb as NATO war ends
• Suicide bomber shot dead by security forces in Khost province
• Maldives Police urge citizens to be wary of rising cyber-crime and fraud
India
• Government blocks websites carrying anti-India content from Islamic State
• Pak Tries to Push Terrorists into J&K: Home Minister
• 4 feared killed as explosives-laden Pakistan vessel sinks off Gujarat
• 'Terror accused', Dr Salman Farsi, is doctor on New Year's Eve emergency call
• Muslim quota row: MIM to launch stir on January 6
Europe
• New Study of UN Resolution 242 Could Alter Views of Israeli-Arab Conflict
• Tensions simmer in Sweden with third mosque arson attack in past eight days
• One in 8 Germans would join anti-Muslim marches: poll
• EU never threatens Pakistan with sanctions over hangings
• Cologne Cathedral to turn out the lights in protest at anti-Muslim march
• Glasgow Muslims start 2015 with post-Hogmanay community clean-up to show 'true nature of Islam'
Africa
• At least 7 killed in al Shabaab attack at Somali military base
• Kenyan Court Suspends Parts of Two-Week-Old Anti-Terrorism Law
• Islamic Council, Group Fault Nigeria's Role in UN Resolution on Palestine
• Nigeria: Suicide Bomber Blows Himself Up At ECWA Church Gate
• Official: Fire extinguished in Libya's al-Sidr port
• Boko Haram's Bloodiest Year: Over 9,000 Killed, 1.5 Million Displaced, 800 Schools Destroyed
• Political ambition should not be blood thirsty, says Jonathan
Southeast Asia
• Cops Detain Militant Bride, Would-Be Suicide Bomber Bound For Syria
• G25 growing with more influential Malays, says group coordinator
North America
• Iran's Greatest Fear: "American Islam"
Compiled by New Age Islam News Bureau
URL: https://www.newageislam.com/islamic-world-news/new-age-islam-news-bureau/turkish-cleric-says-muslims-players'-celebrations-of-goals-is-a-'sin'/d/100813
---------
Mideast
Turkish Cleric Says Muslims Players' Celebrations of Goals is a 'Sin'
January 02 2015
Rabat – Many Muslim football players across the European continent kneel down to prostrate before God in celebration for scoring a goal.
This time, a similar celebration by Beikta's Senegalese footballer Demba Ba has stirred a religious debate in Turkey.
According to media reports, a popular cleric said that Ba's goal celebration is a sin, adding that the act of prostrating before God cannot be performed in a random direction instead of toward the Kaaba.
"Our Qibla is the Masjid al-Haram until doomsday," Ahmet Mahmut Ünlü, known as "Cüppeli" (Robed) Ahmet Hoca among his followers, was quoted as saying.
In an interview with CNNTurk, the controversial scholar said that 'such random prostrations are "unappreciated and sinful", adding that they are 'wrong and something dangerous."
"We would appreciate any Islamic signs by artists, sports people or celebrities. This would bring Islam forward. Kids would wonder what this person is doing. But Qibla is obligatory in glorifying prostration," he said.
The Senegalese international scored 16 goals in 20 official games for the Turkish side of Be?ikta?.
Not all clerics see the celebration as sinful; others are more open and appreciative.
"It is not a sin but permissible to do it wherever you would like to," said Professor Hayri K?rba?o?lu of Ankara University's Faculty of Theology.
"Sometimes it is not enough to be grateful with words only, and people want to express it with all their organs," he added.
http://www.moroccoworldnews.com/2014/12/148492/turkish-cleric-says-muslims-players-celebrations-of-goals-is-a-sin/
---------
Netanyahu: PA Is an Entity Allied With Terror Group, Not a State
Jan 01 2015
The Palestinian Authority is not a country, but rather a group allied with a terrorist organization, and for that reason its appeal to the International Criminal Court should be rejected out of hand, Prime Minister Benjamin Netanyahu said on Thursday.
Netanyahu's comment came at the end of an inter-ministerial meeting he convened in Tel Aviv to discuss ways to combat the Palestinian Authority's signing of the Rome Statute and its intention of bringing Israelis to the court on war crimes charges.
"We expect the International Criminal Court to completely reject the hypocritical act by the Palestinian Authority, because the Palestinian Authority is not a state. It is an entity in an alliance with a terrorist organization, Hamas, that commits war crimes," he said.
Israel, Netanyahu said, is by contrast a "law abiding state with a moral army that upholds international law."
Israel, he promised, would defend the IDF's soldiers, "just as they defend us."
The participants at the meeting discussed ways to respond to the Palestinian move, though no operative decisions were announced.
Among the proposals was for Israel to back civil suits by victims of terrorism around the world against the PA – and demand monetary damages – for supporting terrorism.
Such suits have successfully been brought against Iran and Syria.
The PA, however, was undeterred by Israeli threats to respond and US disapproval of its moves, and on Thursday delivered applications to join 20 international organizations and treaties to UN official James Rawley.
Chief PLO Negotiator Saeb Erekat, who delivered the applications to Rawley during a meeting in Ramallah, said, "Today we are honoured to hand the deputy special coordinator for the Middle East peace process Palestinian papers to join a set of international conventions and treaties, including the Rome Statute of the International Criminal Court."
Erekat dismissed Israeli criticism of the decision to join the ICC. "Israel regarded it as an act of aggression against it, but we are exercising a civilized right based on international law and legitimacy," he said.
Erekat said that the first case the Palestinians would take to the ICC was Israeli settlements, which he dubbed a "war crime." If Israel was afraid of the ICC, "it should stop perpetrating crimes," he said. "Our message to the world is that we will defend our people everywhere against the crimes committed against them, including assassinations, demolitions, settlements and the aggression on the Gaza Strip. Those who commit crimes will have to bear the consequences."
He criticized the US for continuing to deal with Israel as a "country above law."
Erekat called on Washington to reconsider its positions and demonstrate more responsibility.
"We demand that the US support international legitimacy by ending occupation and assassinations." He also called for ending Israeli "terrorism" as a way of defeating terrorism in the region.
If the Palestinians do take Israel to the court, they stand to face blowback not only from Israel, but from the US – which condemned the application – as well.
Sen. Chuck Schumer (D-New York) warned the PA that the "recent appropriations bill signed into law will restrict US funding if the PA attempts to initiate an investigation through the ICC." The US provides more than $400 million in annual aid to the PA.
Annual appropriations legislation for the funds given the PA includes a clause saying that no economic support will be allowed if the PA initiates "an International Criminal Court judicially authorized investigation, or actively support[s] such an investigation, that subjects Israeli nationals to an investigation for alleged crimes against Palestinians." The US secretary of state, could, however, waive this clause if he shows that doing so would further Middle East peace.
While Defence Minister Moshe Ya'alon and Intelligence Minister Yuval Steinitz were at the meeting convened by Netanyahu to talk about the matter, Foreign Minister Avigdor Liberman was not, reflecting the tension between Netanyahu and Liberman leading up to the election.
In recent weeks, Liberman has been harshly critical of the prime minister, especially of his performance during Operation Protective Edge last summer.
Foreign Ministry officials close to Liberman said that Netanyahu's failure to invite Liberman to the meeting shows that the prime minister is not truly interested in providing a solution to the problem, and only wants to hear from yes-men who will agree with his positions.
It is a shame, the officials said, that "political interests" will harm critical diplomatic work.
The Foreign Ministry's director- general, Nissim Ben-Sheetrit, did attend the meeting.
A source in the Prime Minister's Office dismissed the criticism coming from Liberman associates, saying that Netanyahu was gathering recommendations for action, and that once decisions were made; they would be taken for approval to the security cabinet, where Liberman is a member.
http://www.jpost.com/Arab-Israeli-Conflict/Netanyahu-Palestinian-Authority-is-an-entity-allied-with-terror-group-not-a-state-386433
---------
Turkey digs trenches at border against ISIL
Jan 01 2015
Turkish security authorities have begun to dig trenches at the country's border with Syria as Islamic State of Iraq and the Levant (ISIL) militants fleeing airstrikes took shelter in an energy facility on the Syrian side of the border.
The ISIL militants escaping airstrikes from Syrian regime forces, as well as the United States-led
coalition in Aleppo, ran toward Syria's border with Turkey, seeing the region as relatively safer in which to deploy.
The militants that ran from the ramped-up attacks in the Bab town of Aleppo have taken sanctuary in a natural gas facility, near the border with the southern Turkish province of Kilis. Using the facility as a military base, the militants have begun to build trenches in the surrounding area against potential attacks, forcing the Turkish army to ramp up security measures in Kilis.
In addition to increasing security measures, teams from a Gaziantep command post of the Turkish army went to Kilis and dug several trenches three meters wide and two to two-and-a-half-meters deep to protect the border.
http://www.hurriyetdailynews.com/turkey-digs-trenches-at-border-against-isil.aspx?pageID=238&nID=76395&NewsCatID=341
---------
Iran Warns Bahrain of Repercussions of Opposition Leader's Detention
Jan 01 2015
Iranian Deputy Foreign Minister Hossein Amir Abdollahian voiced concern over the spread of security conditions in Bahrain, and said the detention of Bahrain's main opposition leader Sheikh Ali Salman by the Al-Khalifa forces will surely deteriorate the country's political stand-off.
Salman's arrest (on Sunday) suggests "(the Bahraini regime's) support for extremists' activities in the country", Amir Abdollahian said upon arrival in Tehran from his trip to the United Arab Emirates.
He said that the wrong policy of crackdown and violence adopted by the Bahraini regime will prompt the country's opposition to distance themselves from democratic methods, which, as the diplomat stressed, will "not be in the interest of Bahrain and the region".
The Iranian official said Salman's arrest will have repercussions for the Manama regime.
"Bahrain will not be able to put up with the consequences of this move (the arrest of Salman)," AmirAbdollahian said.
In reaction to Salman's detention, Iranian Foreign Minister Mohammad Javad Zarif had also on Wednesday called for his immediate freedom.
"Coercive confrontation with (Bahraini) people's respected leaders who have never ceased their peaceful manners in pursuing people's demands despite the political and security conditions in recent years will further complicate the situation and also increase dangers and threats," Zarif said in reaction to the Bahraini regime's apprehension of Sheikh Salman.
The Iranian foreign minister called for the immediate release of the leader of Bahrain's Al-Wefaq National Islamic Society.
"The reaction shown by the international bodies and (world) religious authorities (to this issue) displays that he (Sheikh Salman) is highly-respected and his moderate behavior and Al-Wefaq Society have popular and international acceptability," Zarif said.
Also yesterday, Iranian Foreign Ministry Spokeswoman Marziyeh Afkham voiced concern about Sheikh Salman's detention and condition.
Speaking to reporters in a weekly press conference, Afkham expressed deep concern about the conditions of Sheikh Ali Salman, and said, "The Bahraini government's security approach to the settlement of internal issues is wrong and the government should give up this approach to avoid further complicating the situation, and show respect legal and judicial frameworks."
Stressing that Al-Wefaq National Islamic Society with the leadership of Salman is a legal society, she expressed the hope that the Bahraini government would adopt a realistic approach and move to meet people's demands.
Afkham was also asked by reporters about the British plan to deploy troops in a naval base in Bahrain, and said Iran has always stressed the necessity for the establishment of security in the region through cooperation among the regional states and anything outside this frame could leave negative impacts.
Sheikh Salman, who was arrested on Sunday, was remanded in custody on Tuesday for a week pending further questioning.
On Tuesday, the UN High Commissioner for Human Rights (OHCHR) called on Bahrain to release Sheikh Salman.
OHCHR Spokesperson Liz Throssell called for the immediate release of Sheikh Salman "as well as all other persons convicted or detained for merely exercising their fundamental rights to freedom of expression and assembly".
Sheikh Salman is charged with "promoting regime change by force, threats, and illegal means and of insulting the Interior Ministry publicly", said Bahraini Prosecutor Nayef Mahmud.
The European Union also warned on Monday that the arrest of the al-Wefaq National Islamic Society's leader by the Bahraini regime "carries the risk of jeopardizing an already difficult political and security situation."
Both the UN and the EU have urged that the only way out of Bahrain's current crisis is dialogue and national reconciliation.
Bahrain has been witnessing almost daily protests against the Al Khalifa dynasty since early 2011, when an uprising began in the kingdom. Since then, thousands of protesters have held numerous rallies in the streets of Bahrain, calling on the Al Khalifa royal family to relinquish power.
http://english.farsnews.com/newstext.aspx?nn=13931011000674
---------
Palestine seeks ICC probe into 'Israeli war crimes'
2 January 2015
The Palestinian Authority has asked the International Criminal Court (ICC) to investigate crimes committed in the Palestinian territories since June 13, 2014, ICC sources have said.
The investigation if launched could focus on the atrocities committed during the 50-day war on Gaza which began on July 8, 2014. More than 2,000 Palestinians, including hundreds of civilians, and 66 Israeli soldiers and five civilians were killed during the war.
The Palestinians also seek an investigation into the continuous building of Israeli settlements, considered as illegal under international law.
The probe could begin as soon as Palestine becomes a full member in the ICC and a signatory of the Rome Statute, the procedure of which has begun with the submission this week of letters of accession to the court.
The Palestinians' U.N. rank was upgraded from observer entity to observer state in 2012, opening the possibility for them to join the ICC and a host of other international organizations.
Israeli Prime Minister Benjamin Netanyahu on Thursday urged the ICC to reject the Palestinians' request because they did not rank as a state.
"We expect the ICC to reject the hypocritical request by the Palestinian Authority, which is not a state but an entity linked to a terrorist organization," he said in a statement, referring to the Islamist movement Hamas.
The statement followed talks which Netanyahu chaired at the defense ministry to discuss a response to the move which could pave the way for the Palestinians to sue Israeli officials over alleged war crimes.
[With AFP]
http://english.alarabiya.net/en/News/middle-east/2015/01/02/Palestine-seeks-ICC-probe-into-Israeli-war-crimes-.html
----------
Arab World
Iraq: At Least 100 ISIL Fighters Killed
Jan 01 2015
At least 100 ISIL fighters were killed in the Southern part of Baghdad, Iraq's defense ministry said.
Air-assisted riot police and volunteers carried out the operation, according to a written statement from Iraq's defense ministry, World Bulletin reported.
An ammunition-depot and 250 explosives were seized during the raid in Al-Meamil district and police also destroyed 15 ISIL vehicles, the statement added.
The ISIL Takfiri terrorists currently control shrinking swathes of Syria and Iraq. They have threatened all communities, including Shiites, Sunnis, Kurds, Christians, Ezadi Kurds and others, as they continue their atrocities in Iraq.
Senior Iraqi officials have blamed Saudi Arabia, Qatar, and some Persian Gulf Arab states for the growing terrorism in their country.
The ISIL has links with Saudi intelligence and is believed to be indirectly supported by the Israeli regime.
http://english.farsnews.com/newstext.aspx?nn=13931011000586
---------
Gunmen kill 3 Sunni clerics in Iraqi city of Basra
2 January 2015
Gunmen killed three Sunni clerics near the mostly Shiite city of Basra in southern Iraq, a government spokesman said Friday, an apparent sectarian attack that drew immediate calls for calm.
Interior Ministry spokesman Saad Maan told The Associated Press that the assailants ambushed a car Thursday night carrying the clerics in the mostly Sunni district of Bab al-Zubeir near Basra, shooting dead the three and seriously wounding two other clerics traveling with them.
The ministry, he said, was investigating the killings. He gave no other details.
There was no claim of responsibility for the ambush and no reports of retaliatory attacks by Sunnis.
Iraq's sectarian violence peaked in 2006-07, when thousands of Shiites and Sunnis perished in attacks. The violence later eased but has partially resumed after Sunni militants of the Islamic State of Iraq and Syria (ISIS) group swept across much of northern and western Iraq last year.
Full report at:
http://english.alarabiya.net/en/News/middle-east/2015/01/02/Gunmen-kill-3-Sunni-clerics-in-Iraqi-city-of-Basra.html
---------
Air strikes target top ISIS meeting in Mosul
2 January 2015
Air strikes launched by the U.S.-led coalition has targeted a high-level meeting of Islamic State of Iraq and Syria (ISIS) south of the Iraqi province of Mosul Thursday night, killing 15 members of the group including senior leaders, a security source told Al Arabiya News Channel.
Meanwhile, a key ISIS leader, identified as Mohanned Salih al-Suwaidi was reportedly killed in confrontations with the Iraqi army east of Fallujah in the western province of Anbar, Al Arabiya News Channel's correspondentin Baghdad reported.
Military security sources said the Iraqi army's eighth brigade has halted a big ISIS attack west of Fallujah.
Full report at:
http://english.alarabiya.net/en/News/middle-east/2015/01/01/U-S-partners-launch-29-airstrikes-against-ISIS-in-Syria-Iraq.html
----------
Australian's family hope Egypt will deport him
Jan 2, 2015
Brothers of an Australian Al-Jazeera English journalist held in Egypt for more than a year say their lawyers are focusing on deportation at President Abdel-Fattah el-Sissi's command as their best option.
An Egyptian appeals court on Thursday ordered the retrial of three Al-Jazeera English journalists including Peter Greste held on terror-related charges, a ruling their lawyers hoped was a step toward resolving a case that brought a storm of international criticism on Egypt's government.
Mr. Greste's brothers Michael and Andrew held a press conference in their hometown of Brisbane on Friday and said the family's hopes were pinned on a presidential decree made in November that created a deportation option for bringing the 49-year-old home.
Michael Greste says the case for deportation was made stronger by Thursday's ruling.
http://www.thehindu.com/news/international/world/australians-family-hope-egypt-will-deport-him/article6747846.ece
-----------
Egypt's 'terrorist' puppet gets its own show
2 January 2015
Egypt's Abla Fahita, the comic puppet that was charged in 2014 with conspiring to commit acts of terrorism, will now have her own show, she said in a video uploaded to YouTube on Thursday.
The puppet telephoned an Egyptian television show via Skype in which she announced she will be taking over the same studio satirist Bassem Youssef gave his widely acclaimed show, El Bernameg.
"I thought, 'instead of a stranger taking the place, turning it into a kofta place or something, better for me to take it than someone we don't know,'" she said.
Fahita did not specify when her show would go on air. It is expected that it will be carried by Egypt's CBC television channel.
Full report at:
http://english.alarabiya.net/en/variety/2015/01/02/Egypt-s-terrorist-puppet-gets-its-own-show.html
---------
Danger in Syria, Iraq threatens RI's backyard
January 02 2015
The Islamic State (IS) movement, a radical group that has seized large swathes of territory in eastern Syria and across northern and western Iraq, dominated the world's headlines during the year 2014.
IS emerged onto the global stage on June 10 when its fighters seized Mosul, the second-largest city in Iraq, after moving from their base in Syria.
Subsequently, on June 29, the group's leader Abu Bakr al-Baghdadi declared a caliphate, a pan-Islamic state last seen in Ottoman times. During a sermon at the Al-Nur mosque in Mosul, Baghdadi, who proclaimed himself caliph, called on all Muslims to obey him.
IS has become notorious for atrocities including mass killings, crucifixions and abductions of members of religious and ethnic minorities, as well as the beheadings of soldiers and journalists. These actions have sparked fear and outrage across the world and prompted US military intervention.
Full report at:
http://www.thejakartapost.com/news/2015/01/02/danger-syria-iraq-threatens-ri-s-backyard.html#sthash.N7TXI6Z3.dpuf
---------
Noted Convert from Islam in Egypt Wins Partial Appeal but Remains in Jail
January 02 2015
A noted convert in Egypt who was sentenced to five years in prison for documenting attacks on Christians has won a partial victory on appeal, but he remains in jail because of prior blasphemy charges.
An appeals judge on Sunday (Dec. 28) found Bishoy Armia Boulous, 31, previously known as Mohammed Hegazy, not guilty on a charge of spreading information meant to "cause harm or damage to the public interest" and not guilty on the closely related charge of spreading false news "bound to weaken" Egypt's "prestige" or harm the "country's national interests."
Boulous, however, was found guilty of an unidentified charge, likely that of inciting sectarian strife, and sentenced to one year in prison. The appeals judge did not identify the specific article of Egypt's Criminal Code that Boulous was found guilty of violating, but according to the law he will do so in the official sentencing documents set to be issued in two weeks.
Because Boulous spent more that a year in prison waiting for his trial to take place and his appeal to be heard, he should have been released at the conclusion of Sunday's hearing, but instead he was held without an opportunity to post bail because of blasphemy charges filed against him five years ago by two Islamist lawyers.
Full report at:
http://www.christiandaily.com/article/noted.convert.from.islam.in.egypt.wins.partial.appeal.but.remains.in.jail/49633.htm
------------
Syria opposition group: Assad must go for any peace plan to work
Jan 01 2015
A new Syrian opposition group linked to a prominent cleric said on Thursday President Bashar Assad would have to step down as part of any political solution to the civil war, setting out its position ahead of possible peace talks in Moscow this month.
Assad's ally Russia is seeking to gather Syrian government and opposition figures at the end of January to discuss ways to end the nearly four-year conflict which has killed around 200,000 people according to the United Nations.
Moaz al-Khatib, a former opposition chief and former imam of the Umayyad Mosque in Damascus, posted a statement on his Facebook page on Thursday which said there would not be a solution "without the departure of the head of the regime".
Assad has dismissed calls to step down by Khatib and other figures in the past. Opposition groups and their Western and Arab allies say the Syrian president has lost legitimacy and must go.
Full report at:
http://www.jpost.com/Breaking-News/Syria-opposition-group-Assad-must-go-for-any-peace-plan-to-work-386413
---------
Pakistan
Madrasas Offer Support in Action against Institutions behind Peshawar Carnage
Jan 02 2015
KARACHI: Defending the role of Madrasahs and resenting the prime minister's mention of religious schools in the context of terrorism, Quari Muhammad Hanif Jalandhari demanded on Thursday that the government expose elements and organisations behind the Peshawar school carnage, saying that it was the worst incident of its kind in the world.
He, however, alleged that under the cover of the tragedy a propaganda campaign sponsored by the west had been unleashed against the Madrasahs and Islam.
Qari Muhammad Hanif Jalandhari is the general secretary of the Ittehad-i-Tanzeemat-i-Madaris-i-Deenia — an umbrella organisation of five main bodies representing seminaries from as many different schools of thought.
Those bodies are Wifaq-ul-Madaris Al-Arabia of the Deobandi school of thought, Tanzeem-ul-Madaris Pakistan of the Barelvi school of thought, Rabta-ul-Madaris of seminaries running under the Jamaat-i-Islami, Wifaq-ul-Madaris Al-Shia of the Shia school of thought and Wifaq-ul-Madaris Al Salfia representing the Ahl-i-Hadees school of thought.
Qari Jalandhari deplored Prime Minister Nawaz Sharif's remarks in his address to the nation and said that instead of paying attention to the basic causes of the tragedy, the prime minister mentioned madrasas although there was no link between terrorism and seminaries "which are purely devoted to imparting Islamic teachings".
Full report at:
http://www.dawn.com/news/1154511/madressahs-offer-support-in-action-against-institutions-behind-peshawar-carnage
---------
Don't lose consensus against terror to smaller issues: army
Jan 01 2015
ISLAMABAD: Chief of Army Staff (COAS) General Raheel Sharif on Thursday stressed unity among all the state institutions for "an effective and prompt implementation of a comprehensive National Action Plan", while the corps commanders hoped that the much-needed and "precious wider political consensus achieved against terrorism is not lost to smaller issues".
This year's maiden and otherwise 178th Corps Commanders Conference with General Raheel in chair reviewed the security measures in the specific context of Pakistan Army's counterterrorism drive in the Federally Administered Tribal Areas (FATA) and its intelligence-based targeted operations underway across the country in coordination with the army's intelligence arm, paramilitary forces and the local law enforcement agencies. According to security officials, the upcoming formation of the special trial courts or military courts in the FATA was figured high in the commanders' meet-up.
Full report at:
http://www.dailytimes.com.pk/national/02-Jan-2015/don-t-lose-consensus-against-terror-to-smaller-issues-army
---------
Martyrs for peace: 'Reopening schools a strong message to militants'
Jan 01 2015
PESHAWAR: Jamaat-e-Islami (JI) Ameer Sirajul Haq urged the government to re-open schools in the province.
Speaking at the 'Martyrs for peace' conference arranged by his party at Nishtar Hall to pay tribute to victims of the ruthless attack on Army Public School (APS), Siraj raised the spectre of the US bombings in Hiroshima and Nagasaki in 1945 to encourage the government to open schools across Khyber-Pakhtunkhwa.
"When bombs were dropped over Hiroshima and Nagasaki, the government only closed schools for a month," said the JI chief. "If I was the prime minister, I would have immediately opened APS and gone to teach the students myself."
According to Siraj, this would have sent a powerful message to the militants and provided the nation with a beacon of hope during its darkest hours.
The JI chief declared Peshawar as the "city of the brave" and urged the government to confer the Nishan-e-Haider on teachers and children who lost their lives in the APS massacre. Moreover, he insisted security measures should be beefed up in the city.
"The city has been under attack since the 1980s and needs to be protected," Siraj added.
Jamiat Ulema-e-Islam-Sami chief Maulana Samiul Haq, CM Pervez Khattak, ANP general secretary Mian Iftikhar Hussain and leaders from various political parties also spoke at the conference.
Full report at:
http://tribune.com.pk/story/815805/martyrs-for-peace-reopening-schools-a-strong-message-to-militants/
--------
Pakistan needs laws against misogyny, not blasphemy
January 02 2015
The national narrative regarding blasphemy in Pakistan is that the offense is unpardonable: Once you utter words that disrespect the Prophet Muhammad, his companions or the Quran, only death or life imprisonment awaits you.
But earlier this month, Junaid Jamshed, an influential Islamic preacher, sought an alternative outcome. Accused of blasphemy by members of a different Islamic sect for remarks he made in a video posted on Facebook, Jamshed released a subsequent apology video, in which he pleaded ignorance and asked for forgiveness.
Jamshed's case has attracted international attention and opened debate about whether blasphemy is pardonable. The week after the events, Dawn, Pakistan's leading English newspaper, published a blog post outlining how Advocate Ismaeel Qureshi, the creator of Pakistan's blasphemy law, has acknowledged the possibility that the regulation rests on an error in theological interpretation. Religious clerics and talk-show hosts on television devoted much airtime to discuss the blasphemy law and Jamshed's apology video.
Full report at:
http://america.aljazeera.com/opinions/2015/1/pakistan-blasphemymisogyny0.html
---------
Civil society awaits arrest of Lal Masjid cleric
Jan 02 2015
ISLAMABAD: The civil society activists, who held a number of protests against Maulana Abdul Aziz of Lal Masjid and even got an FIR registered against him, have decided to give a break to their campaign and concentrate on the social media.
Jibran Nasir, one of the organisers of the protests, has moved to Karachi. However, the activists claimed that they would restart their campaign if the cleric was not arrested on January 3.
Shan Taseer, a civil society activist, told Dawn that till January 3 they would be running the campaign on the social media.
"A number of people have shared their video statements on the social media, demanding the arrest of Maulana Aziz. I believe that the government would listen to the demands otherwise we will restart our campaign against the cleric from January 3," he said.
Full report at:
http://www.dawn.com/news/1154518/civil-society-awaits-arrest-of-lal-masjid-cleric
---------
Jirga settles 35-year hostility over 'honour'
Jan 02 2015
SUKKUR: A jirga (tribal court) settled a 35-year-old dispute between two groups of the Mugheri community living in the Chijro Mugheri area of Jacobabad district. It imposed a Rs2.1 million fine on each group for indulging in violent acts against each other during their hostility, which had begun with the 'honour killing' of a woman.
Representatives of the Nawaz Mugheri and Azad Mugheri groups pleaded their respective cases in the jirga, presided over by chieftain of the community Sardar Zada Sher Dil Khan Mugheri, and attended by several hundred members of the community. The Sardar was assisted by five elders of the community who acted as his advisers during the proceedings.
The jirga was informed that Dr Mohammed Nawaz had shot dead his sister 35 years ago and made attempts to kill Azad Mugheri in Raees Mohammed Ali Mugheri village after accusing them of having an extramarital affair.
During the first abortive attempt on the life of Azad Mugheri, two persons accompanying him, Ali Gohar and Laung Mugheri, were wounded. In another attack, Zahid Mugheri lost his life.In a retaliatory attack carried out by Azad Mugheri, a brother of Dr Nawaz, Mohammed Bukhsh, sustained fatal wounds.
Full report at:
http://www.dawn.com/news/1154493/jirga-settles-35-year-hostility-over-honour
---------
Punjab is the training centre for terrorists: ANP
Jan 02 2015
PESHAWAR: Awami National Party central general secretary Mian Iftikhar Hussain on Thursday declared Punjab a training centre for terrorists and their masterminds and demanded that the government begin a decisive action against terrorist outfits in the province.
He was speaking at the 'Shuhada Amn Qaumi Conference' here at Nishtar Hall on Thursday.
The Jamaat-i-Islam had organised the event to pay homage to 150 people, mostly children, massacred by the Taliban at the Army Public School and College Peshawar on Dec 16.
Chief Minister Pervez Khattak, JUI-S chief Samiul Haq and leaders of various political parties were in attendance.
Mian Iftikhar told participants that terrorism could not be eliminated from the country until an operation began against terrorist organisations in Punjab.
Mian Iftikhar demands 'decisive action' against terrorist outfits in the province
He said there should be no distinction between good Taliban and bad Taliban and that state institutions should take an across-the-board action against terrorists.
The ANP leader said the government should expose handlers and hosts of the terrorists behind the Army Public School massacre.
Full report at:
http://www.dawn.com/news/1154610/punjab-is-the-training-centre-for-terrorists-anp
---------
LHC halts execution of death row convict
Jan 02 2015
LAHORE: The Lahore High Court (LHC) on Friday halted the execution of a death row convict named Faiz Ahmad.
A two-member member bench of the LHC headed by Justice Abdus Sami Khan and including Justice Sardar Tariq Masood stopped the execution in response to a petition filed by Ahmad's counsel Abdul Khaliq.
Khaliq had submitted an application in the LHC, saying his client's appeal against the death sentence was pending in the Supreme Court since 2009 and therefore his death warrant must be set aside by the court.
Earlier on Dec 24, an anti-terrorism court (ATC) had issued Ahmad's death warrant on an application filed by a superintendent of Faisalabad jail. The date for Ahmad's hanging was set for January 14.
Full report at:
http://www.dawn.com/news/1154647/lhc-halts-execution-of-death-row-convict
---------
Nawaz asks president to reject appeals of 5 death row convicts
Jan 02 2015
ISLAMABAD: Prime Minister Nawaz Sharif on Friday wrote a letter to President Mamnoon Hussain, urging him to reject the mercy petitions of five condemned prisoners who were convicted for their involvement in terrorism cases.
The convicts include:
Muhammad Ikramul Haq alias Lahori alias Farooq Haider (son of Bashir Ahmed)
Ahmed Ali alias Asif alias Shish Naag (son of Ghulam Abbas)
Mohammad Tayyab alias Sajjad (son of Nabi Ahmed)
Ghulam Shabbir alias Doctor alias Nasir alias Zeeshan alias Sohail (son of Bashir Ahmed)
Zulfiqar Ali (son of Abdul Hameed)
The five prisoners hailing from Karachi and convicted for target killings had been arrested in different instances.
Full report at:
http://www.dawn.com/news/1154652/nawaz-asks-president-to-reject-appeals-of-5-death-row-convicts
---------
Pakistan questions progress in Samjhota Express attack probe
Jan 01 2015
ISLAMABAD: The New Year's beginning was marked with mounting Pak-India hostility after Islamabad on Thursday rejected New Delhi's concerns over the grant of bail to alleged mastermind behind Mumbai attacks and expressed its dismay over not sharing on part of India the findings of Samjhota Express terrorist attack.
"The investigations and the confession of the mastermind of the attack, Swami Aseemanad, pointed to the involvement of the Indian military officers and some organisations linked to major political parties. Yet, Aseemanad was granted bail on August 28, 2014," Foreign Office spokesperson Tasnim Aslam responded to a query in the weekly media briefing.
She was asked to comment on the summoning of Islamabad's envoy to New Delhi Abdul Basit by the Indian External Affairs Ministry regarding the suspension of the arrest warrant of Zakiur Rehman Lakhvi, the alleged mastermind behind Mumbai attacks, by a Pakistani court.
"The case is sub judice. It is unfortunate that an unnecessary hype was created on grant of bail to Lakhvi. These are legal matters and media trials serve no purpose. We should wait for the outcome of the case," the FO spokesperson said.
Full report at:
http://www.dailytimes.com.pk/national/02-Jan-2015/pakistan-questions-progress-in-samjhota-express-attack-probe
---------
Grenade attack leaves one woman dead, two injured in Lyari
January 2, 2015
KARACHI: A grenade attack in Karachi's Lyari area, leaving one dead and two injured, Express News reported Friday.
The grenade was hurled at Kamila stop in Lyari by unidentified men and resulted in the death of one woman and injuries to two others, including a young girl.
Lyari has been subject to several similar attacks over the past year with the most recent one taking place on December 15, in which unidentified armed men hurled a cracker bomb near Mujahid Park.
http://tribune.com.pk/story/816094/grenade-attack-leaves-one-woman-dead-two-injured-in-lyari/
---------
South Asia
Taliban delegation hold talks with Chinese officials on Afghanistan
Jan 02 2015
According to reports, a delegation of of Taliban officials have recently visited China to meet with the Chinese officials and discuss issues related to Afghanistan.
Sources privy of the development have told the Afghan Islamic Press that the delegation was led by Qari Din Mohammad who is a member of the Taliban political office in Doha.
No further details were given regarding the outcome of the visit, however a Taliban official has said that the purpose of the visit was share the Islamic Emirate's stance with China.
The delegation reportedly visited China late in November last year when Beijing had put forward a proposal for a "peace and reconciliation forum" in a bid to help revive peace talks between the Afghan government and Taliban militants group.
The peace plan proposed by China would gather representatives from Afghanistan, Pakistan, China and the Taliban command.
Full report at:
http://www.khaama.com/taliban-delegation-hold-talks-with-chinese-officials-on-afghanistan-8905
---------
Contempt Of Court Proceedings Sought Against Jamaat-e-Islami, Bangladesh
Jan 01 2015
The prosecution yesterday filed a petition with the International Crimes Tribunal-1, seeking the initiation of contempt of court proceedings against the Jamaat-e-Islami for calling 'hartal' programme over the verdict of war crimes convict ATM Azharul Islam.
They also sought such proceedings against Azhar's defence counsel Tajul Islam, the Jamaat's acting Ameer Maqbul Ahmed, acting Nayeb-e-Ameer Mohibur Rahman, acting secretary general Shafiqur Rahman and its student wing Chhatra Shibir President Abdul Jabbar and General Secretary Md Atikur Rahman.
A prosecution team, led by advocate Rana Dasgupta, submitted the petition to the office of the tribunal registrar at about 3.30pm yesterday after they brought the matter to the knowledge of the first tribunal on Wednesday, when the court asked them to make the plea in writing.
Prosecution lawyers Sultan Mahmud Simon, Tureen Afroz, Rezia Sultana and Tapos Kanti Baul were present as members of the team during the submission of the petition.
http://www.dhakatribune.com/politics/2015/jan/02/contempt-court-proceedings-sought-against-jamaat#sthash.YhAANNPL.dpuf
---------
Afghanistan faces economic timebomb as Nato war ends
Jan 02 2015
KABUL: The Taliban insurgency may still be raging but the poor state of the economy could pose a bigger threat to Afghanistan's long-term viability, and huge mineral reserves are unlikely to offer a quick fix.
In Kabul's Sarayee Shahzada market, money-changers wave thick bundles of Afghanis, dollars, rupees and dirhams, but the customers are not packing the alleyways like they used to and business is well down on two years ago.
After a decade of near double-digit growth, the Afghan economy has stalled in the last two years, hit by a disputed presidential election and the end of North Atlantic Treaty Organisation's (Nato) combat mission, which formally closed on Sunday.
Now the tricky political and security transitions are joined by an equally tough economic hurdle. The fact is not lost on the money-changers who deal in "hawala" transactions, an informal system of transferring funds internationally seen as a barometer of economic confidence.
Full report at:
http://www.dawn.com/news/1154650/afghanistan-faces-economic-timebomb-as-nato-war-ends
---------
Suicide bomber shot dead by security forces in Khost province
Jan 01 2015
A suicide bomber was shot dead by Afghan national security forces in eastern Khost province of Afghanistan.
The provincial government media office said the suicdie bombe was killed in Tani district, before he manage to reach his target.
A statement by the provincial government media office said the suicide bomber was riding a motorcycle and was shot dead after he was identified by the security forces.
The anti-government armed militant groups have not commented regarding the report so far.
Khost is among the relatively volatile provinces in eastern Afghanistan where anti-government armed militants are actively operating in a number of its remote districts and often cary out insurgency activities.
This comes as another suicide bomber who wanted to target the special command of the Afghan Intelligence – National Directorate of Security (NDS) operatives in Orgun district of Paktika province, was shot dead before he reach to his target on Wednesday.
http://www.khaama.com/suicide-bomber-shot-dead-by-security-forces-in-khost-province-8903
---------
Maldives Police urge citizens to be wary of rising cyber-crime and fraud
Jan 02 2015
The Maldives Police Services (MPS) has urged all citizens to be wary of cyber-crimes and the increasing prevalence of money-grabbing scams.
Speaking at a press conference today, MPS Drug Enforcement Department head Superintendent Ahmed Shifan said that cyber-crime has become an "emerging and trending" issue, with a separate police unit tasked with dealing with the problem.
Local media reported yesterday (December 30) that the Minister of Islamic Affairs Dr Mohamed Shaheem was claiming his official twitter account had been hacked and that all tweets posted after 11pm on December 29 were not posted by him.
Shaheem's account showed one post after 11pm which reiterated his previously expressed discontent towards the Tourist Arrival Countdown Show which, at the time, was to feature Jamaican dancehall artist Sean Paul.
Full report at:
http://minivannews.com/crime-2/police-urge-citizens-to-be-wary-of-rising-cyber-crime-and-fraud-91907
----------
India
Government blocks websites carrying anti-India content from Islamic State
Jan 2, 2015
New Delhi: Government has blocked 32 websites citing national security concerns, as they were allegedly carrying anti-India material from terror groups such as ISIS (Islamic State of Iraq and Syria). "We have blocked some websites, as there were serious national security concerns," a government official.
The websites that have faced the crackdown include popular video sharing platforms like DailyMotion and Vimeo, while some of them have been allowed to function after removing the objectionable content. The website were purportedly containing material about Areeb Majid, an alleged Islamic State member who was arrested by NIA, and three others hailing from North Karnataka's Bhatkal area.
Sources said the websites were being used to induce Indian youth to join ISIS and for spreading news about purported death of certain persons while fighting Allied Forces in countries like Afghanistan and Iraq.
Another senior official said the crackdown followed an order from Mumbai Court, which was approached by Maharashtra Anti Terrorism Squad (ATS) with a plea to block some websites carrying anti-India content. During its probe into certain terror cases, the ATS had received information that some websites were carrying anti-national content, the official added.
Meanwhile, BJP's IT Cell National Head Arvind Gupta also said the websites have been blocked on the advice of ATS as they were carrying material from the ISIS. "The websites that have been blocked were based on an advisory by Anti Terrorism Squad, and were carrying anti-India content from ISIS," Gupta said in a tweet.
He further said, "The sites that have removed objectionable content and/or cooperated with the ongoing investigations are being unblocked." A list of 32 websites, purported to be a Department of Telecom (DoT) circular, also went viral on the micro-blogging site Twitter on Wednesday.
While there was no official word from the ministry, sources within the department confirmed existence of such a circular.
http://ibnlive.in.com/news/government-blocks-websites-carrying-antiindia-content-from-islamic-state/520736-3.html
---------
Pak tries to push terrorists into J&K: Home Minister
Jan 2, 2015
India on Friday accused Pakistan of trying to push terrorists into Jammu and Kashmir and giving cover to such attempts by continuous firing along the border.
"No doubt about that," Home Minister Rajnath Singh told reporters in New Delhi when asked whether the repeated ceasefire violations by Pakistani troops were to cover infiltration attempts by militants.
The Home Minister said Pakistan has been firing towards Indian side along the International Border in Jammu region and the BSF was giving a befitting reply.
"BSF jawans are giving a befitting reply," he said.
When asked about Islamabad's protest against heavy firing by India, Mr. Singh said it was Pakistan which started the firing and "we are just responding to it".
Pakistan Rangers on Thursday targeted 13 border outposts in Samba sector in Jammu and Kashmir, a day after four Pakistani rangers were killed in a sharp counter-attack following the death of an Indian jawan in cross-border firing.
The Home Minister had said Pakistan should desist from such violations. "Pakistan should not do this," Mr. Singh had said.
Defence Minister Manohar Parrikar had said Islamabad does not seem to learn any lesson.
http://www.thehindu.com/news/national/pak-tries-to-push-terrorists-into-jk-says-home-minister-rajnath-singh/article6748403.ece
--------
4 feared killed as explosives-laden Pakistan vessel sinks off Gujarat
Jan 2, 2015
Four crew members of an explosive-laden boat were feared dead in an explosion triggered by the fire set off by them after the Indian Coast Guard intercepted the vessel near the India-Pakistan maritime boundary late December 31, 2014.
The Coast Guard ships and aircraft spotted a suspicious fishing boat 365 km off Porbandar in the Arabian Sea, following intelligence inputs that one such boat from Keti Bandar near Karachi was planning some illicit transaction.
The Coast Guard ship tracked down the boat and after an hour-long hot pursuit, intercepted it. "Four persons were seen on the boat who disregarded all warnings by the Coast Guard ship... the crew hid themselves in below deck compartment and set the boat on fire, which resulted in an explosion and major fire on the boat," said a Coast Guard release.
An intelligence-based midnight operation was conducted on the intervening night of December 31, 2014 and Friday by the Indian Coast Guard ships and aircraft to intercept a suspect fishing boat in Arabian Sea near Indo-Pak maritime boundary, approximately 365 km from Porbander, the release said.
Full report at:
http://www.thehindu.com/news/national/explosivesladen-pakistan-vessel-sinks-off-gujarat/article6748641.ece?homepage=true
---------
'Terror accused', Dr Salman Farsi, is doctor on New Year's Eve emergency call
Jan 2, 2015
In an ambulance at 4:44 pm on Wednesday, Dr Salman Farsi, an emergency doctor, was busy attending to two men suffering from multiple blast injuries. Struggling to track their blood pressure, he spent close to half-an-hour inside a fast-paced vehicle trying to stop their bleeding, even as the ambulance made its way to Civil Hospital in Malegaon.
The two men, a shepherd and a farmer, had touched a plastic bag hanging on a low branch in Rajwade, a quiet village in Malegaon. The bag exploded — it was later found to be a gelatin-based indigenous bomb. Hours later, police investigations indicated that the gelatin bomb is used by the nomadic Pardhi tribe to hunt wild boars.
It would have been a routine medical procedural narrative. Except, Farsi is a terror accused and till three years ago was serving jail time, booked for the serial blasts that took place near the Hamidiya Mosque and in the Mushawarat Chowk, Malegaon, on September 8, 2006, killing 31 people. The ATS claimed Farsi abetted in the crime and conspiracy behind the blasts.
One of the nine Muslim men arrested in the case, Farsi spent five years in Maharashtra's jails, till a probe by the NIA later attributed the blasts to a Hindu extremist organisation. With two agencies having submitted different charges and different sets of accused, the court is yet to pass an order on the discharge application of Farsi and the eight others. With the trial pending this order, Farsi is currently out on bail and continues to keep his dates with the courts.
Full report at:
http://indianexpress.com/article/india/india-others/terror-accused-is-doctor-on-new-years-eve-emergency-call/99/#sthash.usYErVgz.dpuf
---------
Muslim quota row: MIM to launch stir on January 6
Jan 2, 2015
Majlis-e-Ittehadul Muslimeen (MIM) will launch an agitation against Maharashtra government's decision to scrap job reservations for Muslims.
The party will hold a rally in Beed on January 6, to be addressed by party President Asaduddin Owaisi. MIM MLA from Aurangabad, Imtiaz Jaleel and Byculla MLA Waris Pahan will also be addressing the gathering which will be attended by party workers from across the state.
The party has asked all MIM units to submit a memorandum to respective district collectors or tehsildars on January 6 to register their protest against the state government's indifferent attitude towards reservation for Muslims, Jaleel said.
"The state government has brought a bill in the Nagpur state legislative assembly session in December that will enable 16 per cent reservations for Marathas while refusing to bring an ordinance for continuing reservations for Muslims," he said.
The matter related to reservations for Muslims and Marathas is scheduled to be heard in the Bombay High Court, after the Supreme Court refused to entertain the petition of the state government.
http://indianexpress.com/article/india/india-others/muslim-quota-row-mim-to-launch-stir-on-january-6/
--------
Europe
New study of UN Resolution 242 could alter views of Israeli-Arab conflict
Jan 01 2015
As the UN Security Council and International Criminal Court return to focusing on Israel, an about-to-be-published study reveals new sides to Council Resolution 242, recognized as the key resolution relating to the Israeli-Arab conflict, that could alter perceptions of issues in dispute, especially regarding borders.
According to an article by Prof. Eugene Kontorovich of Northwestern University, to be published soon in the Chicago Journal of International Law, a new side has emerged in the unending debate over the meaning of UNSC Resolution 242, which establishes principles for setting Israeli borders and withdrawal from territories conquered in 1967.
Kontorovich's study compares Resolution 242 to all 18 other Security Council resolutions dealing with territorial withdrawals and finds that the resolution was unique in its ambiguity as to how much territory Israel needs to withdraw from, with other resolutions being explicit about a full withdrawal.
In the article, Kontorovich writes that there has always been a debate as to whether the phrase in UN Resolution 242 "withdrawal from territories" obligates Israel to withdraw from the entire West Bank and Golan Heights, or merely some portion of them as agreed upon in negotiations.
Full report at:
http://www.jpost.com/Arab-Israeli-Conflict/New-study-of-UN-Resolution-242-could-alter-views-of-Israeli-Arab-conflict-386436
---------
Tensions simmer in Sweden with third mosque arson attack in past eight days
Jan 01 2015
In a country caught up in a fierce debate on immigration, a third suspected arson attack on a mosque in a week took place in the Swedish city of Uppsala on Thursday.
"People saw a man throwing something burning at the building," police in Uppsala said, adding that the mosque did not catch fire, AFP reported. The suspect had left behind "a text on the door expressing contempt for religion," the police said.
A police spokesman told Swedish news agency TT that the burning object was a Molotov cocktail and that no one was in the building at the time, AFP reported.
Sweden's Islamic Association posted a photograph online of the main door of the mosque, which was emblazoned with the slogan "Go home Muslim shit," according to the report.
The attack in Uppsala comes just three days after a fire ripped through a Swedish mosque in the southern town of Eslov.
Full report at:
http://www.jpost.com/International/Tensions-simmer-in-Sweden-with-third-mosque-arson-attack-in-past-eight-days-386463
---------
One in 8 Germans would join anti-Muslim marches: poll
2 January 2015
One German in eight would join an anti-Muslim march if a rapidly-growing protest movement organized one in their home towns, according to an opinion poll published.
The survey highlighted growing support in Germany, as in other European Union countries including Britain and Sweden, for parties and movements tapping into voter fears that mainstream politicians are too soft on immigration.
Some members of Chancellor Angela Merkel's conservative bloc worry that they risk losing support to the euro-sceptic Alternative for Germany (AfD) party, which has shifted its focus to immigration, and many of whose members back the PEGIDA protest movement -- Patriotic Europeans Against the Islamisation of the West.
Full report at:
http://english.alarabiya.net/en/News/world/2015/01/01/Merkel-warns-against-condemns-anti-Islam-movements-in-Germany.html
----------
EU never threatens Pakistan with sanctions over hangings
Jan 01 2015
BRUSSELS – European Union (EU) spokesman said that they never stopped Pakistan on implementation on death sentences in Pakistan.
Capital punishment is legal in Pakistan and is ranked fifth after the People's Republic of China, Iran, Saudi Arabia and the United States. The European Union continues to do business with Iran, Saudi Arabia, China and USA. How is it possible that the EU would only discriminate and force Pakistan who is fighting a bloody war since 2001?
It seems for that very reason Prime Minister Nawaz sharif's government did not extend the moratorium but quietly put 'a ban on executions' of over 8000 criminals waiting to be hanged. The EU and USA has no problem with the Islamic Sharia Laws as they have benefited from them when US citizen Raymond Davis was released from all murder charges of two Pakistani citizens after paying the 'blood money' to the families of the victims.
The presidential moratorium imposed by Asif Zardari expired on June 30, 2013 and the government announced that it had no plan to extend it. The government stated there would be no general amnesty for the convicts waiting for execution.
http://www.dailytimes.com.pk/national/02-Jan-2015/eu-never-threatens-pakistan-with-sanctions-over-hangings
-----------
Cologne Cathedral to turn out the lights in protest at anti-Muslim march
Jan 2, 2015
(Reuters) - One of Germany's most famous landmarks, Cologne Cathedral, will be plunged into darkness on Monday evening in protest at a march by a growing grass-roots anti-Muslim movement through the western German city, cathedral authorities said.
The rise of the group, Patriotic Europeans Against the Islamisation of the West (PEGIDA), has shaken Germany's political establishment, prompting Chancellor Angela Merkel to say in her New Year address that its leaders were racists full of hatred and citizens should beware being used.
PEGIDA's last weekly rally in the eastern city of Dresden attracted some 17,000 people, and the movement plans further marches in other cities, including through the center of Cologne on Monday night with a rally by the cathedral.
"PEGIDA is made up of an astonishingly broad mix of people, ranging from those in the middle of society to racists and the extreme right-wing," Cathedral Dean Norbert Feldhoff told Reuters.
"By switching off the floodlighting we want to make those on the march stop and think. It is a challenge: consider who you are marching alongside."
Dresden's famous Semperoper opera house also extinguished its lights in protest during the last PEGIDA march in the city.
An opinion poll on Thursday found one German in eight would join an anti-Muslim march if PEGIDA organized one in their home town. Many people are concerned about the numbers of asylum seekers entering Germany, which surged to about 200,000 in 2014, four times the number in 2012. Net immigration has also hit a two-decade high.
Anti-immigration parties, capitalizing on voters' disenchantment with economic austerity, have surged in popularity in a number of European countries, including France, Britain, Sweden and the Netherlands.
http://www.reuters.com/article/2015/01/02/us-germany-immigration-idUSKBN0KB0KU20150102
-----------
Glasgow Muslims start 2015 with post-Hogmanay community clean-up to show 'true nature of Islam'
Jan 2, 2015
A GROUP of Glasgow Muslims started off the new year with a community clean-up.
Members of the Ahmadiyya Muslim Youth took to the streets of the west end this morning to pick up litter from Hogmanay revelry.
The group, whose motto is "love for all, hatred for none", say they undertook the clean-up on Argyle Street and Dumbarton Road as a way of showing Islam's true nature as a religion of peace.
Ahmed Owusu-Konadu, the organisation's Scottish youth leader, said the group believed passionately in service to the community.
He added: "It was a good way to kick 2015 off, despite the rain and cold.
"Our passion to serve the people of Glasgow as Muslim Youth kept us going. In Islam, cleanliness is held in a very high esteem because the Prophet Muhammad, (peace be upon him), is reported to have said that 'cleanliness is part of our faith'.
"So going out into the very cold weather to clean the streets of Glasgow is also regarded as part of our faith, and simply doing it to serve the community we are part of only to win the pleasure of the Almighty God.
"This would at least show Glaswegians the true image of Islam, which is more of love and service to all the creation of God as opposed to the so-called self-acclaimed ISIS who are not true Muslims and rather do things which are mostly against the beautiful teachings of Islam"
Like the Glasgow Now Facebook page by clicking here
Click here to read more Glasgow Now stories.
We've also rounded up some of our favourite stories from 2014 into one easy-to-navigate article .
And when you've read that, why not try our quick quiz on the year's local news, or check out our favourite photos from 2014 ?
http://www.dailyrecord.co.uk/news/local-news/glasgow-muslims-start-2015-post-hogmanay-4902950
---------
Africa
At least 7 killed in al Shabaab attack at Somali military base
Reuters | Jan 2, 2015
MOGADISHU: Somalia's al Shabaab militants attacked a military base in the outskirts of the town of Baidoa on Friday morning, killing at least 7 Somali soldiers, a Somali military official said.
The attack came two days after the United States said it had killed the chief of al Shabaab's intelligence and security wing, Tahliil Abdishakur.
"Al Shabaab attacked our base unexpectedly early in the morning today. We lost seven soldiers," Captain Ahmed Idow, a Somali military officer, told Reuters by telephone from Baidoa.
Idow said Somali soldiers killed three al Shabaab insurgents during the attack.
A spokesman for the al Qaeda-linked al Shabaab said the group had briefly seized the base and killed more than 10 soldiers. Al Shabaab often cites a higher death toll than the number given by officials.
"We fiercely attacked the military base near Baidoa," Sheikh Abdiasis Abu Musab, al Shabaab's military operation spokesman, told Reuters.
Al Shabaab is seeking to topple the Western-backed Mogadishu government and impose its own strict version of Islamic law in the country.
http://timesofindia.indiatimes.com/world/rest-of-world/At-least-7-killed-in-al-Shabaab-attack-at-Somali-military-base/articleshow/45729454.cms
------------
Kenyan court suspends parts of two-week-old anti-terrorism law
Jan 01 2015
NAIROBI - Kenya's High Court on Friday suspended parts of sweeping anti-terrorism measures signed into law two weeks ago by President Uhuru Kenyatta, saying objections raised by the opposition over the laws' constitutionality should be settled by the judiciary.
Kenyatta signed the new security law on Dec. 19, saying it did not go against the bill of rights or any provision of the constitution, but opposition groups have said the measures, which will allow suspects to be held without charge for 360 days, up from 90 days, threaten liberties and free speech.
"I grant conservatory orders suspending the following clauses ... pending the hearing and determination of these petitions," High Court Judge George Odunga said in issuing his ruling. He named eight clauses which he suspended, including keeping suspects in custody for up to 360 days.
http://www.jpost.com/Breaking-News/Kenyan-court-suspends-parts-of-two-week-old-anti-terrorism-law-386481
---------
Islamic council, group fault Nigeria's role in UN resolution on Palestine
January 02 2015
THE Nigerian Supreme Council for Islamic Affairs (NSCIA) and the Muslim Rights Concern (MURIC), Thursday slammed the Federal Government for abstaining from voting at the recent Security Council primarily convened over the status to be accorded Palestine in the comity of nations.
The criticism of Nigeria's role by NSCIA and MURIC came after Israeli Prime Minister, Benjamin Netanyahu, praised President Goodluck Jonathan Wednesday, after Nigeria pulled a last-minute surprise that helped thwart a resolution calling for an end to Israeli occupation of Palestinian territory by 2017.
The NSCIA through its Secretary, Professor Ishiaq Oloyede said the action of the Federal Government betrayed the age long tradition of Nigeria on sensitive foreign issues and therefore should be sharply condemned by all lovers of freedom.
Oloyede, at a press briefing in Ilorin the Kwara State capital said, the positions of both the United States and Britain at the meeting should ordinarily not had influenced Nigeria's position citing its precedence on foreign affairs.
Full report at:
http://www.ngrguardiannews.com/news/national-news/192405-islamic-council-group-fault-nigeria-s-role-in-un-resolution-on-palestine
---------
Nigeria: Suicide Bomber Blows Himself Up At ECWA Church Gate
January 02 2015
Gombe — A suspected suicide bomber was reported killed while 10 others were injured early yesterday at Mallam Inna, near the Gombe State University when he attempted to enter a church.
Our correspondent gathered that the bomber reached the Evangelical Church of West Africa (ECWA) gate but was blocked for search and the bomb went off, killing him and inflicting injuries on people who barricaded the gate.
Aminu Muhammad, whose house is close to the scene, told journalists that after the blast, he saw scattered human parts and blood with the mangled motorcycle used by the bomber.
Sources at the Gombe Specialist Hospital said 10 people were brought from the scene of the blast and were receiving treatment.
Gombe police command spokesman DSP Fwaje Atajiri confirmed the report.
http://allafrica.com/stories/201501020644.html
---------
Official: Fire extinguished in Libya's al-Sidr port
2 January 2015
A fire that has raged in the al-Sidra oil port in eastern Libya for one week has been put out, an official said, according to the Al Arabiya News Channel.
Al-Sider and its adjacent Ras Lanuf terminal have been closed since a group allied to a rival government in Tripoli moved three weeks ago to try and take them, part of a struggle between former rebels who helped topple Muammar Gaddafi in 2011 but are now fighting for power and a share of oil reserves.
A week ago, a rocket hit al-Sider's storages, destroying up to 1.8 million barrels of crude and at least two tanks, a top official said, according to Reuters news agency.
The battle for control of the oil ports is part of a wider struggle in the North African country which has had two governments since a group called Libya Dawn seized the capital in August by expelling a rival faction, installing its own prime minister and forcing the recognized premier, Abdullah al-Thinni, to operate out of the east with the elected House of Representatives.
Full report at:
http://english.alarabiya.net/en/News/middle-east/2015/01/02/Official-Fire-extinguished-in-Libya-s-al-Sidr-port.html
---------
Boko Haram's Bloodiest Year Yet: Over 9,000 Killed, 1.5 Million Displaced, 800 Schools Destroyed
January 02 2015
The Nigerian Security Network, an organization monitoring the casualties surrounding the Boko Haram insurgency, estimates that 2014 was the deadliest year so far in the terrorist group's five year insurgency in Northeast Nigeria.
According to World Bulletin, the monitoring group estimates that over 9,000 people have been killed as a result of Boko Haram violence in 2014, while over 1.5 million people have been displaced from their homes due to the conflict.
Additionally, the group estimates that 940 people were killed by insurgent attacks in just the month of November alone, while May saw the highest death toll of any month when over 4,000 deaths were tallied due to the violent insurgency.
Another estimation done by the Council for Foreign Relations found a similar number when it reported that over 10,340 deaths occurred from November 2013 to November 2014 due to Boko Haram violence. Boko Haram's death toll in that time matches that of a United Nations' estimation of the Islamic State terrorist group's death toll in Iraq of 10,733 in the same time span.
Full report at:
http://www.christianpost.com/news/boko-harams-bloodiest-year-yet-over-9000-killed-1-5-million-displaced-800-schools-destroyed-in-2014-131864/
---------
Political ambition should not be blood thirsty, says Jonathan
January 02 2015
PRESIDENT Goodluck Jonathan has identified lack of vision as one of the main reasons government policies have often failed and pledged a return to the good old days when things were done with clear-cut vision even as he noted that ambition should not be blood thirsty.
The President, who made the remark during his first church service for the year 2015 at the Dunamis International Church (DIC) Area 1 Garki Abuja Thursday also, stressed the need for Nigerians to join hands with the government in realising the vision of moving the country forward.
Jonathan who also sought strong spiritual intervention for the country as the countdown to the 2015 polls begins, also restated his belief that his ambition and that of anybody was not worth the blood of the smallest Nigerian. He appealed to religious leaders to intensify their spiritual support through prayers.
Full report at:
http://www.ngrguardiannews.com/news/national-news/192408-political-ambition-should-not-be-blood-thirsty-says-jonathan
---------
Southeast Asia
Cops Detain Militant Bride, Would-Be Suicide Bomber Bound For Syria
Jan 01 2015
A 27-year-old woman was detained by police at the Kuala Lumpur International Airport a day before Christmas while trying to board a flight to join her Islamic State militant "husband" in Syria.
Inspector-General of Police Tan Sri Khalid Abu Bakar said the woman, a former private university student from Negri Sembilan, is believed to have been influenced by Islamic State propaganda after watching YouTube clips on the terrorist group and then through interactions with its members on Facebook.
At one stage in November 2014, Khalid said, she met a Moroccan man who was fighting with the terrorism group.
In middle of December, through Skype, the man persuaded her to join him in Syria," said Khalid.
She was among two who were detained by police over the past one week.
The other detainee was a 22-year-old male student of a higher learning institution in Perlis. The Terengganu man was detailed at KLIA on December 28.
He, too, was influenced to join the Islamic State after watching its propaganda videos on YouTube, as well as interacting with other fighters through social media.
Khalid said that initial investigation revealed that the man was planning to be a suicide bomber in Syria.
http://www.themalaysianinsider.com/malaysia/article/cops-detain-militant-bride-would-be-suicide-bomber-bound-for-syria
---------
G25 growing with more influential Malays, says group coordinator
Jan 01 2015
Eleven more Malays, many of whom are former but influential members of the government service, have joined the group of 25 prominent Malays who signed an open letter appealing for rational discourse on Islam, the group's spokesperson, former diplomat Datuk Noor Farida Ariffin (pic), said today.
In a brief statement to the media, Farida, the former Malaysian ambassador to the Netherlands, wrote: "Dear friends, it is with pleasure we announce the names of the new members of the G25."
They are Tan Sri Alwi Jantan, former director-general, Public Services Department; Tan Sri Rafiah Salim, former vice-chancellor, Universiti Malaya (UM) and former assistant secretary-general, United Nations; Datuk Seri Nazir Ariff, businessman; and Datuk Abu Huraira Yazid, former chairman of Social Security Organisation (Socso).
Joining them are Datuk Ahmad Mokhtar Selat, former deputy secretary-general of Asean; Datuk Anwaruddin Osman, former managing director and CEO of Petronas Dagangan Berhad; Datuk Baharuddin Musa, former deputy secretary-general of the Defence Ministry and first director-general of the Tourist Development Corporation.
Full report at:
http://www.themalaysianinsider.com/malaysia/article/g25-growing-with-more-influential-malays-says-group-coordinator#sthash.WVDdwm0O.dpuf
---------
North America
Iran's Greatest Fear: "American Islam"
Jan 01 2015
The Islamic State rages next door and the U.S. Congress is threatening new sanctions, but Iranian officials remain preoccupied by a different challenge, one that has haunted them for decades: "American Islam."
"American Islam" isn't the Islam practiced by Muslims across the United States. Rather, it is what the Islamic Republic perceives to be a depoliticized perversion of the true faith, devoid of the revolutionary sentiment that guides the Islamic Republic. As Supreme Leader Ayatollah Seyyed Ali Khamenei lamented in 2010, "American Islam means ceremonial Islam, an Islam that is indifferent in the face of oppression."
Over the three decades since the Islamic Revolution, Iranian officials have applied the term to Muslim nations deemed pliant before the will of superpowers like the United States. To combat this alleged deviation, the regime has revived a term favored by fundamentalists across the Muslim world: "the pure Islam of Mohammad."
A newly published book, The Struggle of Two Islams, brings this political and religious dichotomy to the fore. The book is derived from Volume 21 of Sahifeh-ye Imam, a collection of sayings from the founding father of the Islamic Republic, Ayatollah Ruhollah Khomeini. The Struggle of Two Islams aims to vindicate the regime's worldview, thus reaffirming its place as a champion of "pure Islam."
Full report at:
http://nationalinterest.org/feature/irans-greatest-fear-american-islam-11951
----------
URL: https://www.newageislam.com/islamic-world-news/new-age-islam-news-bureau/turkish-cleric-says-muslims-players'-celebrations-of-goals-is-a-'sin'/d/100813