New Age Islam News Bureau
23 December 2022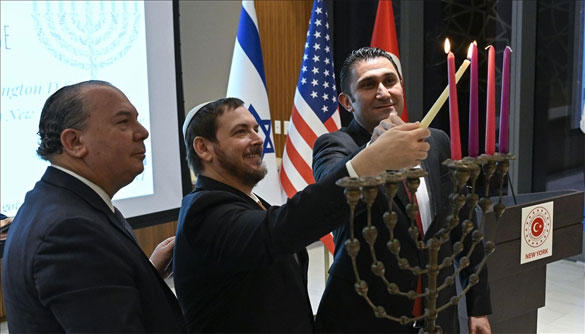 19th-century menorah lit in Turkish House on fourth night of Hanukkah: Photo/ aa.com
-------
• Muslim Countries Blast Taliban for University Ban for Afghan Women
• Iran's Clerical Leaders to Grapple with Deepening Dissent In 2023
• "Mere Allah Burai Se Bachana Mujhko" Prayer Gets UP Principal Suspended
• Govt to Protect Minorities Rights of All Religions In Line With Quaid's Teachings: PM
North America
• Top US military general warns Turkey against Syria incursion
• US accuses Russia of using weapons from North Korea, Iran in Ukraine in violation of UN resolutions
• Blinken congratulates Netanyahu, hopes to work on shared 'values'
• Bilawal ends US visit with call to help flood victims
--------
South Asia
• ECW Calls on Afghan Authorities to Allow Girls to Return to Education
• Nationwide Reactions to the Suspension of University Education for Afghan Girls
• Afghan YouTuber Ajmal Haqiqi & his Colleagues Gets Released
--------
Mideast
• Iran says arrested Mossad spies planning 'terrorist' attacks
• Taliban's Ban on Women at University against Islam: Türkiye FM Çavuşoğlu
• Gaza Christians say travel curbs separate families at Christmas
• Chile planning to open embassy in Palestinian territories
• Netanyahu Regime under US Pressure to Contain Far-Right Tactics in West Bank
• Turkiye: Sweden still has requirements to meet to join NATO
• Israeli forces kill Palestinian young man in Kfar Qassem
--------
India
• Claim of Puja at Gyanvapi Mosque Site Till 1993 Fictitious, Being Made To Bypass the Places of Worship Act, 1991, HC Told
• Gujarat: Sadhu, Pundrik Maharaj, Booked For Offensive Remarks against Islam
• Concerned About Taliban Banning Women from Universities: India
• Demolition Of Part Of Dargah Takes Political Colour In Karnataka
• Drone shot down by BSF along India-Pakistan border in Punjab
• IUML rejects reports of proximity to Left Front in Kerala
--------
Pakistan
• In Visit to CMH, PM Vows To Extirpate Terror, Break Terrorists Nexus
• One policeman martyred in suicide blast in Islamabad's I-10: police
• Kabul renews pledge to curb cross-border terrorism: FO
• Three remanded in FIA custody over Bajwa data leak
• Bajaur peace body to march against terror incidents
• Christians playing commendable role in Pakistan's development, says Punjab governor
• Pakistan reiterates engagement with Afghanistan for regional peace
------
Arab World
• Muslim World League Urges Afghan Government to Lift University Ban For Women
• Foreign Ministers of UAE, Pakistan discuss developments in Afghanistan
• Lebanon PM says sweeping reforms still needed despite return to growth
• Saudi Arabia keen to accelerate joint activities with Türkiye
• 3 Iraqi soldiers killed in attack in Kirkuk, northern Iraq
• Two Iraqi soldiers killed in ambush blamed on extremists
• Arab citizen ambushes officers, shot dead: Israeli police
• Saudi crown prince launches National Intellectual Property Strategy
• Syria: UNSC must stop recurrent Israeli attacks, remove blockade
--------
Europe
• Muslim Man Cremated As German Hospital Mixes Up Dead Bodies
• Sweden Vows To 'Do Everything' To Implement NATO Deal with Türkiye
• Spaniards' Interest in Türkiye Rises Sharply Due To Turkish TV Series, Health Tourism
• Refugees stage hunger strike in Austrian province of Styria
• Trauma of 'Bloody Christmas' still fresh in minds of Turkish Cypriots
• France's Emmnuel Macron urges Lebanon to 'get rid' of leaders blocking reforms
--------
Southeast Asia
• Kuala Lumpur Islamic Religious Council Donates RM210, 000 to Malaysia Aids Foundation for Treatment for Asnaf HIV Patients
• PM Anwar: No more middlemen at Ramadan bazaars, allocation of business lots
• Vice President opens 2nd ASEAN Islamic Conference in Bali
• Islamic affairs minister meets Indonesian VP
--------
Africa
• Nigeria to Benefit from $10.54bn Islamic Bank Fund for Agriculture
• Somalia military liberates strategic town from al-Shabaab terror group: Official
• Türkiye donates agricultural equipment for farmers in South Sudan
Compiled by New Age Islam News Bureau
URL: https://newageislam.com/islamic-world-news/turkish-american-jews-hanukkah/d/128698
--------
Turkish-American Jews Celebrate Hanukkah at Turkish House In New York For First Time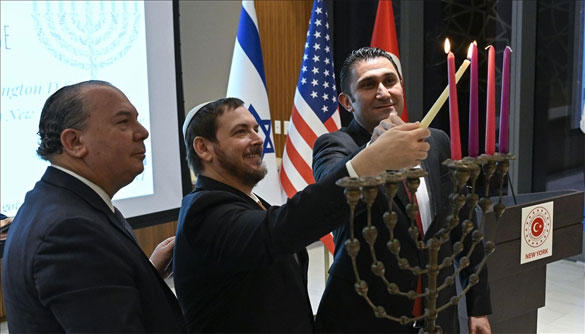 19th-century menorah lit in Turkish House on fourth night of Hanukkah: Photo/ aa.com
-------
Betül Yürük
22.12.2022
NEW YORK
Turkish Jews in the US, also known as Sephardic Jews, gathered at Turkish House in New York for the first time to celebrate Hanukkah, the Festival of Light.
At a ceremony to celebrate Hanukkah hosted by the Turkish Embassy in Washington, D.C. and the Turkish Consulate in New York, members of the Jewish community lit a 19th-century menorah.
The 150-year old menorah, which now belongs to Jewish collector Thomas Gelb, was recovered from a synagogue in Prague burnt down by the Nazis during World War II.
Speaking at the ceremony, Turkish Ambassador to the US Hasan Murat Mercan said that Turkish House is home to all Turkish Jews, their friends and relatives.
''The Jewish community is an inseparable part of our land, our community, whether they live in Türkiye or New York,'' he said. ''Türkiye has been home to different religions, different cultures, and all of them helped with the cornerstone of our collective history...Our diversity reflects our strength.''
Turkish Consul General in New York Reyhan Ozgur said that today's gathering is another testament to the growing friendship between the Turkish and Jewish peoples.
''The doors of Turkish House are always wide open to our Jewish friends,'' he said. Today's Hanukkah celebration is historic in the sense that for the first time, menorah candles will be lit in Turkish House.''
He said that Sephardic Jews have become an integral part of Turkish society, enriching its culture and economy.
Asaf Zamir, Consul General of Israel in New York, thanked Türkiye for celebrating Hanukkah at Turkish House and for its friendship.
''The fact that you decided to have this event this evening is extremely important to us.'' he said.
The Chief Rabbi of Türkiye, Isak Haleva, also attended the ceremony from Istanbul via video conference to wish Jews in the US a happy Hanukkah.
Source: Anadolu Agency
Please click the following URL to read the text of the original story:
https://www.aa.com.tr/en/americas/turkish-american-jews-celebrate-hanukkah-at-turkish-house-in-new-york-for-first-time/2769789
--------
Muslim Countries Blast Taliban for University Ban for Afghan Women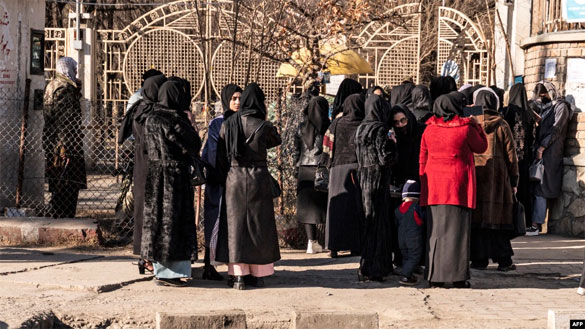 Afghan female university students, stopped by Taliban security personnel, stand next to a university in Kabul, Dec. 21, 2022.
----
Akmal Dawi
December 22, 2022
From Saudi Arabia to Turkey, Muslim countries have unanimously condemned the Afghan Taliban's ban on higher education for women.
The Taliban announced Tuesday that they had banned women from attending public and private universities. The Islamist leadership closed secondary schools to girls more than a year ago.
Taliban officials have said their policies are based on Islamic jurisprudence, a claim many majority Muslim countries and Islamic scholars reject.
"The Ministry of Foreign Affairs expresses the Kingdom of Saudi Arabia's astonishment and regret at the decision of the Afghan caretaker government to deny Afghan girls the right to university education, and calls on it to reverse this decision," read a statement issued Tuesday.
The United Arab Emirates said the ban on university attendance by women and "earlier bans on girls from accessing secondary education violate fundamental human rights, contravene the teachings of Islam and must be swiftly reversed."
Turkey, Pakistan, Indonesia, Qatar and many other governments across the Muslim world have made similar statements decrying the Taliban's ban on women's work and education.
On Wednesday, the Organization for Islamic Cooperation said, "The OIC, though still committed to its engagement policy with the de facto administration, cannot but denounce the decision, calling on Kabul authorities to reverse it for the sake of maintaining consistency between their promises and actual decisions."
No country or Islamic organization has backed the Taliban's policy on women's education and work thus far.
On Thursday, U.S Secretary of State Antony Blinken praised what he called a global chorus, including from Islamic countries, in condemnation of the Taliban's ban.
"There are going to be costs if this is not reversed," Blinken told reporters in Washington on Thursday but gave no details.
The ban, if not reversed, will damage Taliban's prospects of improved relations with the international community, Blinken said.
In a joint statement released Thursday, foreign ministers of Australia, Canada, France, Germany, Italy, Japan, the Netherlands, Norway, Spain, Switzerland, the United Kingdom and the U.S. decried the Taliban ban.
"We urge the Taliban to immediately abandon the new oppressive measures with respect to university education for women and girls and to, without delay, reverse the existing decision to prohibit girls' access to secondary school," the statement said.
Afghans inside and outside Afghanistan have also widely condemned the Taliban policy.
Some male university lecturers have resigned to protest the policy, while female students have protested outside university campuses in different parts of Afghanistan.
Ashraf Ghani, the former Afghan president who escaped the country as the Taliban seized power in August 2021, has called the denial of higher education for women "a vivid sign of gender apartheid in the 21st century."
Taliban reasons
In an interview with the Taliban-run state broadcaster of Afghanistan, the Islamist regime's minister for higher education, Neda Mohammad Nadeem, gave four reasons for the ban on higher education for women.
Dormitories where female students stayed without qualified male chaperones, mixed-gender classes, women's studies of subjects like engineering and agriculture, and overall poor compliance with female face and body covering rules "forced the leadership to close the universities until further instruction," Nadeem said.
Nadeem did not say when, if ever, the ban would be lifted.
"Allah will bring such a day when all schools and universities will be opened for all. Do not despair. The country's education system will be organized, independent, advanced and free of all kinds of corruption," a Taliban official tweeted in the Pashto language on Thursday.
Taliban leaders have justified their gender segregating governance as being in line with Islamic laws and teachings. However, Afghanistan is the only Muslim country in the world where women are not allowed to go to secondary schools and universities.
Human rights groups say the Taliban's policies are aimed at erasing women from public and political spheres in Afghanistan.
Despite being in control of all of Afghanistan for over a year, the Taliban's de facto government has failed to gain recognition from any other country and most Taliban leaders are under terrorism-related international sanctions.
Source: VOA News
Please click the following URL to read the text of the original story:
https://www.voanews.com/a/muslim-countries-blast-taliban-for-university-ban-for-afghan-women/6887860.html
--------
Iran's Clerical Leaders to Grapple with Deepening Dissent In 2023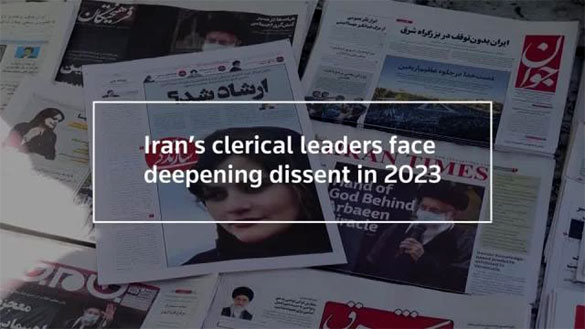 Photo: Reuters
-----
22 December, 2022
Nationwide protests sparked by the death in custody of Iranian Kurdish woman Mahsa Amini have ushered Iran into a new era of deepening crisis between the clerical leadership and society at large.
Amini's family said she was beaten after being arrested by the morality police on September 13 for violating the Islamic Republic's imposed dress code. Amini died three days later. Authorities have blamed the 22-year-old's death on preexisting medical problems.
Her death unleashed years of pent up grievances in Iranian society, over issues ranging from tightening social and political controls to economic misery and discrimination against ethnic minorities.
Facing their worst legitimacy crisis since the 1979 Islamic Revolution, Iran's religious leaders have tried to portray the unrest as breakaway uprisings by ethnic minorities threatening national unity rather than its clerical rule.
Those efforts by authorities have been undermined by solidarity between Iran's different ethnic groups during the protests, according to activists and rights groups, with protesters chanting slogans in support of minorities.
Protesters from all walks of life have taken to the streets, calling for the downfall of the Islamic Republic. Women have torn off and burned the compulsory headscarves in fury.
Iran's rulers have accused a coalition of "anarchists, terrorists and foreign foes" of orchestrating the protests in which the activist HRANA news agency said 506 protesters had been killed as of December 21, including 69 minors.
HRANA said 66 members of the security forces had also been killed. Two protesters have been executed, drawing strong Western condemnation, and thousands have been arrested.
Why it matters
The turmoil, with women and youth in the forefront, poses a grave threat to the priority that has defined Supreme Leader Ayatollah Ali Khamenei's rule since 1989 - the survival of the Islamic Republic and its religious establishment, at any cost.
However, the persistent unrest does not mean the four-decade-old Islamic Republic will disappear any time soon given the power wielded by its security apparatus. The protest movement is leaderless, a challenge to forcing a new political order.
But the unrest has shown the establishment's vulnerability to popular anger, raising concerns among top leaders that a misstep could mean more trouble ahead, even if current protests subside.
There is no guarantee greater force will end the unrest, as so far the violent crackdown has only stoked more protests.
The clampdown on the protests and Iran's suspected transfer of drones and missiles to Russia to help Moscow in its war in Ukraine have made Western leaders reluctant to push for the revival of a 2015 nuclear pact that would provide Tehran billions of dollars worth of extra resources.
Alarmed by popular discontent, the clerical leaders fear economic misery could alienate core supporters among middle and lower-income Iranians should the nuclear deal remain on ice.
What does it mean for 2023?
The Islamic Republic will be engulfed by what analysts call a "revolutionary process" that will likely fuel more protests into 2023, with neither side backing down.
With Khamenei, 83, believing compromise on the republic's ideological pillars such as hijab would bring its collapse, the establishment will double down on repression, resulting in more anger among the 85 million population, 70 percent of whom are under 30.
The question of who will eventually succeed him as supreme leader, a role with vast power, may intensify jockeying among the elite, potentially widening rifts in the establishment.
Four years of sanctions have not stopped Iran's expansion of its nuclear program or curtailed its support for proxies abroad. But its domestic crisis will likely give Western powers more scope to increase pressure on Tehran.
Explore the Reuters round-up of news stories that dominated the year, and the outlook for 2023.
Source: Al Arabiya
Please click the following URL to read the text of the original story:
https://english.alarabiya.net/News/middle-east/2022/12/22/Iran-s-clerical-leaders-to-grapple-with-deepening-dissent-in-2023
--------
"Mere Allah Burai Se Bachana Mujhko" Prayer Gets UP Principal Suspended
A video had gone viral of the students singing along to the prayer (Screengrab from video)
------
December 23, 2022
Lucknow: The principal of a government-run school in Uttar Pradesh's Bareilly district has been suspended by the state's education department after right-wing groups reportedly complained to the police about a prayer song sung by the children. The police have filed a case. No one has been arrested yet.
The suspension came after a video clip of the children singing a popular Urdu language prayer "Lab Pe Aati Hai Dua Banke Tamanna Meri" in the morning assembly was widely circulated.
The clip shows the part where the children are heard singing the lines "Mere Allah Burai Se Bachaana Mujhko".
The police said they filed the case because the prayer is not part of the daily prayer schedule of government schools and has to do "with a religion".
"The prayer was not part of the approved list and pertained to a community," said a senior police officer of the area.
The education department said the principal has been suspended on basis of initial information and they will conduct an inquiry into the matter.
The song in question was penned in 1902 by Urdu poet Mohammad Iqbal, who also wrote the famous lines "Sare Jahan Se Achcha Hindustan Hamara".
In 2019, a headmaster in the state's Pilibhit district was also suspended after the students were heard singing the song. Following a complaint by the local unit of the Vishwa Hindu Parishad, the authorities had taken action.
At the time, reports said the Pilibhit District Magistrate had claimed the headmaster was suspended because he was not making the students sing the national anthem.
Last month, right-wing activists in Karnataka's Udupi held protests against the authorities of a private school after the students staged a performance of "Azan", the Muslim call to prayer at a sports event. The Mother Teresa Memorial School at Shankaranarayana town had to apologise after the activists confronted the school authorities.
Source: ND TV
Please click the following URL to read the text of the original story:
https://www.ndtv.com/india-news/mere-allah-burai-se-bachana-mujhko-prayer-gets-up-principal-suspended-3631020
--------
Govt to Protect Minorities Rights of All Religions In Line With Quaid's Teachings: PM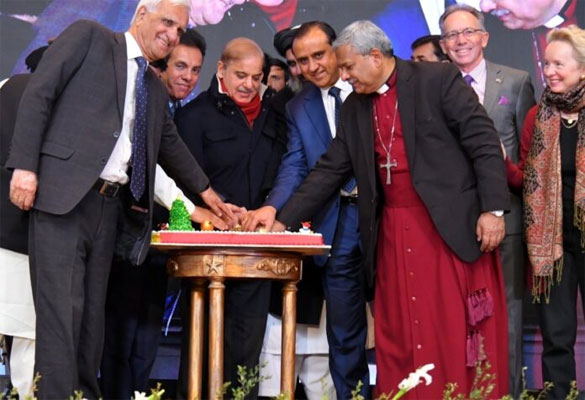 Photo: Pakistan Today
----
December 23, 2022
ISLAMABAD: Prime Minister Shehbaz Sharif Thursday assured that the government would protect the rights of people from all religious minorities, including Christians, Sikhs, Hindus and Parsis, and ensure a secure environment for them.
Speaking at a ceremony organized here to celebrate Christmas, he said, "We want that Pakistan should move forward according to the thinking and teachings of the Quaid-e-Azam and Allama Muhammad Iqbal, who called for peace and brotherhood among all religions."
He reminded that Quaid-e-Azam Muhammad Ali Jinnah, in his speech on August 11, 1947, gave a clear message about the equality of rights of minorities.
Under the Constitution of Pakistan, people of all religions in the country had equal constitutional and political rights, and they were allowed to take part in all fields of life, he added.
Unfortunately, PM Shehbaz said due to extremism and terrorism in the last decades, a number of incidents happened which was unfortunate and weakened the protections given to the minorities who felt threatened and vulnerable.
However, the Pakistani state succeeded in eradicating terrorism and extremism, he said while referring to the latest incident in Bannu where terrorists made people hostage but later they were killed by armed forces. The personnel of armed forces embraced martyrdom during the incident, he noted.
While felicitating the Christian community on Christmas, he said, "We all share the happiness of the Christian community on this auspicious occasion."
He lauded the Christian community for its sacrifices and services for the nation right from the start of the movement for the independence of Pakistan.
People from all walks of life including teachers, students, religious scholars, doctors, engineers and labour contributed to the country's freedom, he observed.
"We value from the core of our heart your services for Pakistan. Your services for the progress and development of Pakistan will be remembered in golden words. Justice Cornelius, Group Captain Cecil Chaudhry, and Sister Ruth Pfau who was German and served the Pakistani nation for 55 years, were examples of service to Pakistan."
He said the Christian community contributed immensely in the fields of education and defence. "I myself got education in a missionary school Sacred Heart".
He said Hazrat Isa gave a message of peace, brotherhood and love to the humanity. The Holy Quran mentioned Hazrat Isa and Hazrat Maryam on numerous occasions, he said, adding all religions promoted peace and brotherhood in the world.
"People from all religions across the world whether Christians, Hindus, Sikhs, Parsis or Muslims wanted to live in peace and harmony. Nobody should oppress and do injustice to others or violate rights of others and change religion of each other by force. Islam nor any other religion allow this."
Islam ordered that rights of people of all religions should be protected, he stressed.
He assured that as per demand of the religious minorities a national minority commission would be formed after legislation in the Parliament.
While speaking on the occasion, Minister for Religious Affairs Mufti Abdul Shakoor said Islam taught that followers of all religions should be treated equally. He felicitated the Christian community on the occasion of Christmas.
The prime minister along with bishops and leaders of the Christian community and other minorities also cut a Christmas cake at the event.
Source: Pakistan Today
Please click the following URL to read the text of the original story:
https://www.pakistantoday.com.pk/2022/12/23/govt-to-protect-minorities-rights-in-line-with-quaids-teachings-pm/
--------
North America
Top US military general warns Turkey against Syria incursion
22 December ,2022
The top US military general for the Middle East warned Thursday that Turkey's potential land operation into Syria could further destabilize the entire region.
"I'm very, very concerned about that because that can destabilize the region and call our SDF partners off of the [ISIS] prisons; they have about 28 prisons across northern Syria," CENTCOM head Gen. Erik Kurilla said.
Turkey has been furious with Washington in recent years as the US partners with the Syrian Democratic Forces to fight ISIS inside of Syria and Iraq.
Turkish forces have also recently bombed Kurdish targets in Syria and Iraq, attributing these attacks to a necessary response to the November bomb attack in Istanbul. Turkey blamed a Kurdish militia for carrying out the attack, which the Kurds vehemently denied.
But the Pentagon has said that uncoordinated military actions threaten Iraq's sovereignty and have repeatedly warned Ankara against carrying out a land operation against the Kurds in Syria.
"It could cause them to pull off of those [prisons] and put those at risk," Kurilla told reporters in a phone briefing on Thursday. He pointed to the January breakout of almost 4,000 ISIS detainees.
A Turkish invasion could also put the security at risk of Al-Hol camp, Kurilla said. The camp is filled with ISIS sympathizers and families. Estimates place the number of residents inside the camp at around 55,000, with approximately 90 percent being women and children.
Source: Al Arabiya
Please click the following URL to read the full text of the original story:
https://english.alarabiya.net/News/middle-east/2022/12/22/Top-US-military-general-warns-Turkey-against-Syria-incursion
--------
US accuses Russia of using weapons from North Korea, Iran in Ukraine in violation of UN resolutions
Betul Yuruk
22.12.2022
UNITED NATIONS
The US accused Russia on Thursday of using weapons in Ukraine procured from North Korea and Iran – violations of UN Security Council resolutions.
"The United States can confirm that the DPRK has completed an initial arms delivery to the Russian private military company known as Wagner, which paid for the equipment and currently has thousands of troops deployed to Ukraine," said American envoy to the UN, Linda Thomas-Greenfield.
"Last month the DPRK delivered infantry rockets and missiles into Russia for use by Wagner."
She said it is "despicable" that Russia, a permanent member of the Security Council, is using weapons from North Korea and Iran.
"Wagner's purchase of weapons from the DPRK to wreak destruction in Ukraine also contributes to instability on the Korean peninsula by giving the DPRK funds it can use to further develop its prohibited weapons of mass destruction and ballistic missile programs," she said.
Thomas-Greenfield said the US intends to raise North Korea's and Russia's violations in future meetings with the Council.
She renewed her call for the UN to send a team to Ukraine to investigate Russia's use of Iranian drones against Ukraine's infrastructure.
Russia denies it used Iranian drones in Ukraine and opposes any UN investigation.
Source: Anadolu Agency
Please click the following URL to read the full text of the original story:
https://www.aa.com.tr/en/americas/us-accuses-russia-of-using-weapons-from-north-korea-iran-in-ukraine-in-violation-of-un-resolutions-/2770674
--------
Blinken congratulates Netanyahu, hopes to work on shared 'values'
22 December ,2022
Secretary of State Antony Blinken on Thursday congratulated Israel's Benjamin Netanyahu on forming a government, which includes far-right figures, and called for commitment to "values" including on Palestinian rights.
"I want to say congratulations to Prime Minister Netanyahu on announcing the formation of a new government," Blinken told a news conference.
Asked if President Joe Biden's administration would deal with extremists in the government, Blinken repeated that Washington would "engage with and judge our partners in Israel on the basis of the policies they pursue, not the personalities that happen to form a government."
"We look forward to working with Israel to advance both the interests and the values that have long been at the heart of our relationship and also to promoting a broader approach to try to bring equal measures of security, opportunity, prosperity and dignity to Israelis and Palestinians alike," Blinken said.
Blinken said that the United States has a history of "very candid conversations" with Israel on disagreements due to the "rock-solid partnership" and US commitment to the Jewish state's security.
Netanyahu, who had testy relations with previous Democratic president Barack Obama, announced the formation of a government to bring him back to power just before a Wednesday deadline following Israel's fifth election in less than four years.
Source: Al Arabiya
Please click the following URL to read the full text of the original story:
https://english.alarabiya.net/News/middle-east/2022/12/22/Blinken-congratulates-Netanyahu-hopes-to-work-on-shared-values-
--------
Bilawal ends US visit with call to help flood victims
Anwar Iqbal
December 23, 2022
WASHINGTON: Foreign Minister Bilawal Bhutto-Zardari concluded his week-long visit to the United States on Thursday with an appeal to the international community to help Pakistan recover from the devastation of floods.
His talks with senior US officials and lawmakers — including Secretary of State Antony Blinken — also focused on Pakistan's rehabilitation and reconstruction efforts.
"The deputy secretary and the foreign minister discussed Pakistan's continuing efforts to recover from devastating floods and noted the upcoming Jan 9 International Conference on Climate Resilient Pakistan in Geneva," said a statement issued on Wednesday afternoon after his meeting with the US Deputy Secretary of State Wendy R. Sherman.
A day ago, Mr Bhutto-Zardari had a telephone conversation with Secretary Blinken which also focused on the floods and the UN-sponsored conference in Geneva. They did not have a face-to-face meeting.
The statement issued after his meeting with Ms Sherman said that they "committed to strengthen counterterrorism cooperation between the two nations."
They also spoke about economic, energy, and environmental cooperation.
The deputy secretary and the foreign minister also discussed "the Taliban's deplorable decision to further restrict women's and girls' access to education as well as efforts to hold the Taliban to its commitments regarding the rights of women and girls in Afghanistan," the statement added.
On Wednesday evening, the foreign minister had his first, and only meeting with the Pakistani media on the trip to Washington, in which he too spoke about the need to stay focused on rehabilitation and reconstruction works, particularly in Sindh and Balochistan.
"No, I am not on a SOS plan," said Mr Bhutto Zardari when asked if he had come to Washington with an SOS message to save the Pakistani economy from a possible collapse.
"We talked about not just the floods but also the economic situation," he said, adding the floods had caused "a historical humanitarian crisis" in Pakistan as it inundated more than one-third of the country.
"It is the right of the victims that we talk about them first, but there was no SOS call," he said.
The foreign minister said he reiterated this message in his meetings with US officials, lawmakers, and think-tank scholars.
The Jan 9 meeting in Geneva, he said, will be the first of many as Pakistan will soon do roadshows to highlight the issue.
"We also need support from international financial organisations, like the World Bank," he said.
The foreign minister pointed out the Ukraine war had gravely impacted the international economy and Pakistan was facing the consequences too. "That's why it needed help from the international community," he added.
When asked to explain his earlier statement saying the TTP was an "absolute red line" for Pakistan and it would not allow anyone to conduct cross-border attacks into Pakistan, he said Pakistan will not declare war on Afghanistan.
"But Afghanistan's Taliban rulers must stop these cross-border attacks."
Mr Bhutto-Zardari said holding direct talks with the TTP would not help because they did not listen to logic and soft persuasions would not compel them to end violence.
"They will not become peaceful, chant Pakistan Zindabad and lay down weapons" like this.
"Only a hammer and anvil approach, with Kabul's support, would work," he said. But he did emphasise the need to engage the Afghan Taliban.
"They are our neighbours. We need to talk to them and stay engaged," he said.
Commenting on the political situation, Mr Bhutto-Zardari said former prime minister Imran Khan was seeking early elections "because he still has his men in certain institutions."
The foreign minister said Mr Khan wanted to use his assets in those institutions to rig the elections "but we will not allow this. Elections will be held on time."
Source: Dawn
Please click the following URL to read the full text of the original story:
https://www.dawn.com/news/1727788/bilawal-ends-us-visit-with-call-to-help-flood-victims
--------
South Asia
ECW Calls on Afghan Authorities to Allow Girls to Return to Education
By Nizamuddin Rezahi
December 23, 2022
Education Cannot Wait calls on Afghanistan's interim authorities to allow all girls to return to education.
ECW in a statement asked the Taliban authorities in Kabul to revoke their decision to suspend the university education of Afghan women. Education Cannot Wait (ECW) is the United Nations global, the billion-dollar fund for education in emergencies and protracted crises.
Following the complete ban of university education for Afghan girls announced by the acting minister of higher education of Afghanistan's interim regime, condemnations continue coming from governments and international organizations one after another.
"Education Cannot Wait stands in solidarity with every girl and woman in Afghanistan. Each one has an inherent human right to education. We also stand in solidarity with every Afghan father, brother, husband and son, suffering the pain of seeing their daughter, sister, wife and mother brutally denied their right to an education," the statement reads.
The statement further added, "education and knowledge are cornerstones of the teachings of Islam, cornerstones of an enlightened society, and cornerstones of peace, economic prosperity, and progress everywhere. Girls and women who are guaranteed their human rights – especially their right to seek knowledge – are the backbone of a greater society arising out of war and poverty."
The overwhelming criticism towards the Taliban's extremely harsh restrictions on girls' university educations comes as girls' secondary schools have been closed for the past year. Meanwhile, Afghan women are barred from working at government organizations or attending public places.
Source: Khaama Press
Please click the following URL to read the full text of the original story:
https://www.khaama.com/ecw-calls-on-afghan-authorities-to-allow-girls-to-return-to-education/
--------
Nationwide Reactions to the Suspension of University Education for Afghan Girls
By Nizamuddin Rezahi
December 23, 2022
Dozens of female students, social activists and teachers protested on Thursday in reaction to the ban on university education of girls in different Kabul, Takhar and Nangarhar provinces of Afghanistan.
The suspension of university education for girls was put in place the day right before the final exams, banning female students from attending both private and public universities effective from December 21.
The suspension of universities for Afghan girls received criticism and caused demonstrations in different parts of the country. Some social activists and students came on the streets of Kabul calling for "women's access to education and work". The protests will continue until their demands are fulfilled. One protestor said. They also chanted "education for all, or education no one".
Furthermore, a number of male university lecturers at Kabul University and other academic institutions resigned in protest against the ban on women's education, saying there is no reason for them to educate boys while girls are being deprived of their very natural and fundamental human rights.
"From the perspective of Islam, men and women have the right to study, learn and educate. It means they have the right to study and educate," said Ahmad Rahman Alizada, a religious cleric.
Following the suspension of university education for girls, the act drew mass criticism from foreign governments and the international community including the United States of America, the United Nations, and the United Kingdom. Different organizations called on the Taliban's de facto regime to revoke their decision and immediately allow women to access education and work.
Source: Khaama Press
Please click the following URL to read the full text of the original story:
https://www.khaama.com/nationwide-reactions-to-the-suspension-of-university-education-for-afghan-girls/
--------
Afghan YouTuber Ajmal Haqiqi & his Colleagues Gets Released
By Nizamuddin Rezahi
December 22, 2022
Afghan YouTuber Ajmal Haqiqi and his three colleagues arbitrarily arrested on charges of "insulting Islamic sacred values" were released on Wednesday.
In a video circulating on social media, Haqiqi confirmed his release and that of his three colleagues namely, Omid Aman, Ghulam Sakhi, and Obidullah Majeedi. He says they spent nearly six months in prison.
Haqiqi and his colleagues' release comes right after the release of two American nationals on Tuesday. Two American nationals along with their Afghan colleague Faizullah Faizbaksh were arrested while they were filming the scene of a U.S. drone strike that killed Al-Qaeda leader Ayman al-Zawahiri earlier in August in Kabul.
The U.S. Department of States Spokesperson Ned Price described it as a "good gesture" from the Taliban authorities, however, their Afghan colleague, Faizullah Faizbaksh has not been released and no one knows about his whereabouts.
Amnesty International, Committee to Protect Journalists and other journalism advocacy organizations have repeatedly called on Afghanistan's de facto regime to immediately release journalists who have been arbitrarily arrested.
Source: Khaama Press
Please click the following URL to read the full text of the original story:
https://www.khaama.com/afghan-youtuber-ajmal-haqiqi-his-colleagues-gets-released/
--------
Mideast
Iran says arrested Mossad spies planning 'terrorist' attacks
22 December ,2022
Iran's intelligence ministry said on Thursday it had arrested a number of Mossad spies who were planning "terrorist" attacks in the country, state media reported.
"Four operational teams of the Mossad were identified and all their members were arrested," the ministry said in a statement carried by state media.
The ministry accused Israel of planning to carry out "terrorist" attacks in Iran by "taking advantage of the riots" in the country, but "all the terrorists were arrested before they could take any action."
The statement did not specify the nationalities of those arrested or give any further details.
The announcement comes amid anti-regime protests – described by authorities as "riots" – which have swept across Iran since September 16 when 22-year-old Iranian Kurdish woman Mahsa Amini died after her arrest by the morality police in Tehran.
Since Amini's death, demonstrators have been calling for the downfall of the regime in a movement that has become one of the boldest challenges to the Islamic Republic since its establishment in 1979.
Iran has blamed the unrest on foreign powers, namely the US and Israel.
Source: Al Arabiya
Please click the following URL to read the full text of the original story:
https://english.alarabiya.net/News/middle-east/2022/12/22/Iran-says-arrested-Mossad-spies-planning-terrorist-attacks
--------
Taliban's Ban on Women at University against Islam: Türkiye FM Çavuşoğlu
DEC 22, 2022
"The Taliban's decision to ban women from universities in Afghanistan has no basis in Islam," said Foreign Minister Mevlüt Çavuşoğlu on Thursday. "Their decision is a source of serious concern," Çavuşoğlu added during a joint news conference with his Yemeni counterpart in the capital Ankara, adding that Türkiye rejects this decision.
"This ban is neither Islamic nor humanistic. Islam encourages education," he asserted.
Çavuşoğlu reiterated that Türkiye has, since the beginning, defended engaging with the Taliban without officially recognizing the group for the sake of stability while supporting education in Afghanistan. "We asked them to be inclusive. On the other side, we conveyed to them (Taliban) our thoughts on women's rights and girls' education."
Saying that there are around 1 million women eligible for university education, Çavuşoğlu continued: "What kind of harm could women's education have for humanity or for Afghanistan? What kind of benefit does such a decision carry?"
A day earlier, the Turkish foreign ministry also emphasized that education is a fundamental human right that all should benefit from without discrimination on the basis of equality, and no one should be deprived of it.
In a written statement, the ministry called on Afghan authorities to review the decision and take necessary steps about it.
"The Taliban administration made a decision banning female students from entering universities in Afghanistan. This is a decision that goes against the spirit of Islam," echoed Presidential Spokesperson Ibrahim Kalın on Wednesday.
The Taliban regime's closure of universities for women also sparked shock and anger in Afghanistan, where many were trying to process how their lives had been upended.
Source: Daily Sabah
Please click the following URL to read the full text of the original story:
https://www.dailysabah.com/politics/diplomacy/talibans-ban-on-women-at-university-against-islam-fm-cavusoglu
--------
Gaza Christians say travel curbs separate families at Christmas
22 December ,2022
As pilgrims from around the world flock to Bethlehem, Jerusalem, and Nazareth for Christmas, members of Gaza's Christian community wait to hear whether Israel will grant them a travel permit.
This year, Israeli authorities have approved travel for nearly 600 Palestinian Christians in Gaza, according to COGAT, a unit in Israel's defense ministry that coordinates civilian issues with Palestinians.
But Palestinians say Israel's permit allocations deny many families a rare opportunity to leave the strip and travel together because permits are not always granted to all family members.
"It is a tragedy when the mother or the father gets a permit and not the children or the opposite. That means there is no travel and there is no celebration," Suhail Tarazi, director of Gaza's Young Men's Christian Association (YMCA).
"Such suffering happens to many families and it is repeated every year," Tarazi told Reuters during a tree-lighting celebration in Gaza City on Dec 10.
COGAT said the accusations were an "absolute lie" and that it had denied about 200 applications from Christians this year on security grounds.
Gaza's 2.3 million population comprises an estimated 1,000 Christians, most of whom are Greek Orthodox who celebrate Christmas in January.
Gaza is run by the Hamas group. Citing security concerns, Israel restricts the movement of people and goods and maintains a naval blockade of the densely-populated coastal strip, where unemployment and poverty are high. Egypt also maintains some restrictions along its frontier with the territory.
"I got a permit, but neither my wife nor my son did, therefore, I won't be able to travel and enjoy Christmas in Bethlehem, the birthplace of Jesus," Majed Tarazi said. He is not related to Suhail, the YMCA director.
For journalist Samer Hanna, the situation is reversed. He has been denied permits for the last 15 years on security grounds, while his wife and two children can travel.
"They get upset when they go and I am not with them, and if they stay here because of me, they still wish they could go to the West Bank or Jerusalem," Hanna said.
Even though Bethlehem is only a 90-minute drive away, the travel ban has prevented him from reconnecting with extended family and friends in the West Bank.
Source: Al Arabiya
Please click the following URL to read the full text of the original story:
https://english.alarabiya.net/News/middle-east/2022/12/22/Gaza-Christians-say-travel-curbs-separate-families-at-Christmas
--------
Chile planning to open embassy in Palestinian territories
22 December ,2022
President Gabriel Boric of Chile, whose country has the largest Palestinian population outside of the Middle East, said Wednesday that he planned to open an embassy "in Palestine."
The announcement by the leftist president, who began his four-year term in March 2022, came at a Christmas ceremony for Chile's Palestinian community, estimated to be more than 300,000 strong.
"One of the decisions we have taken as a government, I think we have not yet made it public... is that we will raise the level of our official representation in Palestine," Boric said. "We will open an embassy under our government."
Chile in 1998 opened a representative office to the Palestinian Authority in Ramallah, and in 2011 recognized Palestine as a state and supported its entrance to UNESCO.
Palestinians began immigrating to Chile in large numbers during the 20th century, when the area was still part of the Ottoman Empire.
Source: Al Arabiya
Please click the following URL to read the full text of the original story:
https://english.alarabiya.net/News/middle-east/2022/12/22/Chile-planning-to-open-embassy-in-Palestinian-territories
--------
Netanyahu regime under US pressure to contain far-right tactics in West Bank
MOHAMMED NAJIB
December 22, 2022
RAMALLAH: Washington has informed Tel Aviv that it will not grant entry visas to the US for Israeli security personnel or settlers who engage in violence in the West Bank, according to Israeli sources.
The US also indicated it may reduce its military aid to Israel, or may not grant annual guarantees for $33 billion in assistance for the next 10 years, if used against Palestinians in the West Bank.
This development coincided with incoming Israeli Prime Minister Benjamin Netanyahu announcing success in forming a new government.
Washington has sent warning messages to Netanyahu through its ambassador to Israel, Tom Nides, in the wake of the success of right-wing Israeli parties in elections in early November.
The US identified red lines that President Joe Biden will not allow to be crossed, including Israel taking unilateral steps to undermine the two-state solution, and changing the status quo of Al-Aqsa Mosque in Jerusalem.
Israeli political analyst Yoni Ben Menachem told Arab News that the Netanyahu government is obliged to abide by the US requests because it needs weapons from Washington for military operations in Iran.
Netanyahu "will not enter into a confrontation with Biden because he needs to obtain this American weapon, and he informed both (coalition partners Itamar) Ben-Gvir and (Bezalel) Smotrich of this," Ben Menachem told Arab News.
The analyst indicated that Biden does not want a confrontation with Netanyahu as it would strengthen extremists in the incoming government, undermine the Palestinian Authority and the two-state solution
Palestinian political analyst Ghassan Al-Khatib told Arab News that the composition of the new Israeli government constituted a challenge and embarrassment to the Biden administration.
He said the president would pressure Netanyahu to curb those far-right elements in his coalition, which, Al-Khatib said, would also be in the interests of the new prime minister, so as to lessen their influence over him.
Netanyahu has for some time pursued a strategy of exaggerating the Iranian threat to the region in order to entice more Arab countries to normalize relations with Israel and to obtain advanced American weapons, as well as using that threat domestically to imply an existential threat against Israel.
But he is struggling to promote the idea whilst simultaneously claiming the Palestinian Authority poses an equally existential threat.
The PA, meanwhile, may benefit from US pressure on Israel and the presence of extreme right-wing elements in government to revitalize its own efforts to improve relations with international organizations and European countries.
In another development, Palestinians sources say the Jewish shrine of Joseph's Tomb, located in the center of Nablus beside the Balata refugee camp, has become a hotbed of tension and violence.
The frequent storming of the site by dozens of religious settlers, protected by the Israel Defense Force, often leads to stone-thowing or armed confrontations between Palestinians, settlers and the IDF.
The number of Palestinians killed at the site since the beginning of the year is estimated at 20, the latest of whom was soccer player Ahmed Daraghmeh, who died on Wednesday night in an incident that saw 22 others injured when Palestinian militants exchanged fire with Israeli troops escorting Jewish worshippers to the tomb in the Palestinian city.
Palestinian sources say incursions increased after Netanyahu and his allies performed well in the polls in November, and that settlers stoke tensions by posting photos and videos upon their arrival at the shrine on social media.
A high-ranking Palestinian security officer in Nablus, who preferred not to be named, told Arab News that the IDF and settlers' repeated incursions into the area often occurred without prior official coordination with the Palestinian security services, instead making announcements in advance through Israeli social media and official settler webpages.
Loud music, dancing, screaming and partying are common when they arrive, said the Palestinian officer, adding that settlers often set up tables laden with food at the shrine. "This is a provocative act, not a prayer," he added.
The official said that before, visits were limited to once a month during daylight hours, when Palestinians in the area tended to be at work or school, but that they now take place more often and usually at night, with increasingly provocative, far-right overtones.
The visits cause an increase in the security burden and widespread embarrassment for the Palestinian security services, as every visit to the shrine ends with violence and, increasingly, the killing and wounding of Palestinians.
"Palestinian citizens are wondering where the Palestinian security is to protect us from the oppression of the army and the storming settlers. But, according to the agreements with the Israeli side, we cannot engage in armed clashes with the Israeli army, which harms the image and prestige of the Palestinian security forces in the eyes of its people," the source told Arab News.
He described the shrine as having become one of the most bloody and tense points between the Palestinians, the IDF and the Israeli settlers in the West Bank, second only to Al-Aqsa Mosque.
Palestinian police guard the tomb around the clock, but withdraw when the IDF and settlers arrive to visit the site.
Source: Arab News
Please click the following URL to read the full text of the original story:
https://www.arabnews.com/node/2220486/middle-east
--------
Turkiye: Sweden still has requirements to meet to join NATO
December 22, 2022
ANKARA: Turkiye appreciates Sweden's steps so far to to get approval to join NATO but is not even "halfway" through fulfilling a list of commitments it made to secure Ankara's support, the Turkish foreign minister said Thursday.
Foreign Minister Mevlut Cavusoglu said a Swedish court's decision not to extradite a man wanted by Turkiye for alleged links to a 2016 failed coup had "poisoned" a positive atmosphere in negotiations on Sweden's membership in the military alliance.
Sweden and Finland dropped their longstanding policies of military nonalignment this year and decided to apply to join NATO following Russia's invasion of Ukraine. The move requires the unanimous approval of the alliance's current 30 members.
Turkiye has held up the process while pressing the two Nordic countries to crack down on groups it considers to be terrorist organizations and to extradite people suspected of terror-related crimes.
The parliaments of 28 NATO countries have already ratified Sweden and Finland's membership. Turkiye and Hungary are the only members that haven't yet given their approval.
Speaking at a joint news conference with Swedish Foreign Minister Tobias Billström, Cavusoglu said the Turkish government still was waiting for a "concrete development" on extraditions and asset freezes.
"There is a document, it needs to be implemented. We're not even at the halfway point yet. We're at the beginning," he said, referring to a memorandum which Turkiye, Sweden and Finland signed in June.
Under the memorandum, the two countries agreed to address Turkiye's security concerns, including requests for the deportation and extradition of Kurdish militants and people linked to a network run by US-based Muslim cleric Fethullah Gulen. The Turkish government accuses Gulen of masterminding the 2016 coup attempt, which he denies.
Billström's visit came days after Sweden's top court refused to extradite journalist Bulent Kenes, whom Turkiye accuses of being among the coup plotters. Kenes, who received asylum in Sweden, was the editor of the English-language Today's Zaman newspaper, which was owned by the Gulen network and the government closed down as part of its crackdown on the group.
"The negotiations (between Turkiye and Sweden) were continuing in a constructive way," Cavusoglu said. "But this last (incident), the rejection of Kenes' extradition, unfortunately, seriously poisoned this atmosphere."
Billström reiterated that Sweden was determined to fulfill its commitments and said Stockholm was in the process of strengthening its anti-terrorism legislation.
A constitutional amendment will enter into force on Jan. 1 that restricts the freedom of association of groups that engage in or support terrorism and targets the outlawed Kurdistan Workers' Party, or PKK, he said.
The Swedish government also plans to introduce legislation that further impedes people taking part in the activities of terrorist groups, Billström said.
Source: Arab News
Please click the following URL to read the full text of the original story:
https://www.arabnews.com/node/2220501/middle-east
--------
Israeli forces kill Palestinian young man in Kfar Qassem
23 December 2022
Israeli occupation forces have killed a Palestinian young man from the city of Kafr Qassem as unchecked crimes against Palestinians rage on in the deadliest year in the occupied territories since 2005.
23-year old Mahmoud Naim Badir was killed as the Israeli forces claimed he was carrying out an alleged shooting and ramming attack, injuring two occupation forces.
The Israeli forces said the suspect phoned in a false report of a violent incident in Kafr Qassem – northeast of the city of Tel Aviv in the occupied territories - to draw first responders and then opened fire when they arrived.
It was not immediately clear what the allegations against the suspect were based upon.
However, the family of the slain Palestinian man said "the Israeli forces killed our son Naim Badir in cold blood, and the Israeli story on our son carrying out an attack on Israeli forces is a false claim."
Naim's family went on to say that "the police, after killing our son, stormed the house and destroyed it completely in front of children, who screamed, cried, and were terrified by the Israeli violent behavior."
Earlier in November, Israeli forces shot dead a young Palestinian man in Ariel settlement in the West Bank city of Salfit, after he allegedly killed three settlers in a stabbing and car ramming attack.
Israeli occupation forces and settlers have been escalating their attacks against Palestinian civilians in the West Bank and other occupied areas, in an attempt to forcibly expel Palestinians from their lands and make way for expanding illegal Israeli settlements.
Since the start of 2022, Israeli troops have killed more than 220 Palestinians, including more than 50 children, in the occupied West Bank and East al-Quds as well as in the besieged Gaza Strip.
Source: Press TV
Please click the following URL to read the full text of the original story:
https://www.presstv.ir/Detail/2022/12/23/694994/Israeli-forces-kill-Palestinian-young-man-in-Kfar-Qassem-
--------
India
Claim of Puja at Gyanvapi Mosque Site Till 1993 Fictitious, Being Made To Bypass the Places of Worship Act, 1991, HC Told
December 23, 2022
Lawyers representing the Anjuman Intezamia Masjid Committee (AIMC) on Thursday told the Allahabad High Court that the claims made by the lawyers representing the Hindu side that puja was performed at the Gyanvapi mosque complex till 1993 were "fictitious".
Senior Advocate Syed Farman Ahmad Naqvi, who represented the AIMC in the High Court, said that the claims were being made to bypass the Places of Worship Act, 1991.
The Act prohibits conversion of any place of worship and provides for the maintenance of the religious character of any place of worship as it existed on August 15, 1947.
Naqvi told the court that the Hindu side made a "fictitious claim" that puja was performed at the mosque complex till 1993 and that it was stopped by an "oral order". The court was hearing a civil revision filed by the AIMC, challenging the maintainability of the suit filed by five Hindu women who are seeking the right to "worship deities in the Gyanvapi mosque complex". A local court in Varanasi on September 12 rejected the AIMC's application challenging the maintainability of the suit.
"The first thing we told the court was that the suit filed by the Hindu side is not maintainable because there is no cause of action. The cause of action is of 1993 – when the Hindu side says that puja was stopped at the site by the then government. And as per provisions of the Limitation Act, the limitation for seeking a decree of declaration is three years. And that has passed as it ended in 1996. They didn't seek any relief and didn't file a suit within that period," Naqvi said.
"I also told the court that the claim of the Hindu side that puja was stopped by the state government through an oral order in 1993 is a fictitious claim to bypass the Places of Worship Act. The state government never passes any oral orders. It should be in writing. It is unheard of a government order given orally. Also, the state government is not coming ahead with anything to substantiate the claim before the High Court or other courts. It is an artificial date given by the Hindu side to bypass the Places of Worship Act which says that the nature of a religious place shall remain the same as it was in 1947," Naqvi added.
Advocate Hari Shankar Jain, who is representing the five women in the High Court, said, "I told the court that the religious character of the place is Hindu and not of the Muslims, and the puja was being performed at the site for ages. The temple was destroyed and a structure was built. If someone destroys a temple and builds a mosque, it can't be considered a mosque as per Islamic laws. The property doesn't have a Waqf deed."
Asked about the Muslim side's contention regarding the state government giving an order to allegedly stop puja at the site, Jain said, "That is a presumption. It will become clear when the government files a reply in the court."
Source: Indian Express
Please click the following URL to read the full text of the original story:
https://indianexpress.com/article/cities/lucknow/gyanvapi-case-women-petitioners-claim-of-puja-being-performed-at-mosque-site-till-1993-fictitious-masjid-committee-to-hc-8339487/
--------
Gujarat: Sadhu, Pundrik Maharaj, Booked For Offensive Remarks against Islam
22nd December 2022
Ahmedabad: South Gujarat's Navsari town police have booked a 'sadhu' and local news channel journalist for "deliberately" hurting religious sentiments.
Complainant Sajid Alam Alad has alleged that Sadhu's statement can create enmity among communities. "A video clip is in circulation on the social media, in which sadhu Pundrik Maharaj is making derogatory remarks against Islam and Muslims… in his statement, he attempted to diminish prophet Mohammad and create enmity between two communities. Sadhu's statement has hurt Muslims in the Navsari town," Alad stated in his complaint.
The complainant said that the sadhu in an interview to a local news channel has made this (controversial) statement, which is uploaded on social media.
Source: Siasat Daily
Please click the following URL to read the full text of the original story:
https://www.siasat.com/gujarat-sadhu-booked-for-ofensive-remarks-against-islam-2485936/
--------
Concerned about Taliban banning women from universities: India
Dec 23, 2022
NEW DELHI: India expressed concern over the Taliban ban on university education for women in Afghanistan saying it has consistently supported the cause of female education in the country. The government also reiterated the importance of the establishment of an inclusive and representative government that respects the rights of all.
"We have noted with concern the reports in this regard. India has consistently supported the cause of female education in Afghanistan. We have emphasised the importance of the establishment of an inclusive and representative government that respects the rights of all Afghans and ensures the equal rights of women and girls to participate in all aspects of Afghan society, including access to higher education," said the ministry of external affairs spokesperson.
"I would also recall UN Security Council Resolution 2593, which reaffirms the importance of upholding human rights including those of women and also calls for full, equal and meaningful participation of women," he added.
Several countries, including the US, Australia, Canada, France, Germany, Japan and the United Kingdom, have strongly condemned the Taliban's decisions to ban women from universities.
Source: Times Of India
Please click the following URL to read the full text of the original story:
https://timesofindia.indiatimes.com/india/concerned-about-taliban-banning-women-from-universities-india/articleshow/96439633.cms
--------
Demolition of part of dargah takes political colour in Karnataka
21st December 2022
Dharwad: The demolition of a part of a dargah at Bhairidevarakoppa in Dharwad city of Karnataka following court orders has taken a political turn.
Crying foul, Opposition Congress has alleged that the action is being taken keeping upcoming assembly polls in mind.
The demolition task was taken up in the wee hours of Wednesday with heavy police security cover considering the sensitivity of the issue.
M.M. Hindasageri, former minister and senior Congress leader stated that ruling BJP has hurt religious feelings of people and damaged the historical heritage of the dargah.
"The government is claiming that the dargah is cleared as it hinders BRTS (Bus Rapid Transport System) project. But, in spite of the BRTS project being completed, there is a conspiracy to vacate the dargah intentionally. This is condemnable," he said.
Hindasageri further stated that twin cities Hubballi and Dharwad are known for harmony. "Ruling BJP is carrying out politics of hate on this sacred land. The decision to vacate dargah to get mileage is not tenable. BJP should stop hurting religious feelings of one community," he added.
Muslim leader Altaf Hallur maintained that vacating of dargah at Bhairidevarakoppa is undertaken to divide Hindus and Muslims. It is a part of hidden agenda by BJP to get to power by hook or crook.
"The BRTS corridor has 36 meter width from Dharwad to Hubballi. But, only near the dargah, it has been marked for 44 metres. There is conspiracy to save the showroom owned by BJP MLA Arvind Bellad," he alleged.
Prasad Abbaiah, MLA for Hubballi-Dharwad East station maintained that the BJP government is hurting the sentiments of people. The Muslims have attached their religious feelings here. By vacating dargah, BJP is pursuing divide and rule policy.
"The dargah could have been saved. But, BJP is intentionally getting it removed," he added.
BRTS had acquired the land, where dargah is situated, for the project. The management of dargah had obtained a stay order in 2016.
Source: Siasat Daily
Please click the following URL to read the full text of the original story:
https://www.siasat.com/demolition-of-part-of-dargah-takes-political-colour-in-karnataka-2485224/
--------
Drone shot down by BSF along India-Pakistan border in Punjab
Dec 22, 2022
NEW DELHI/AMRITSAR: A drone that entered into India from Pakistan has been shot down near the international border in Punjab by the Border Security Force (BSF), an officer said Thursday.
The unmanned aerial vehicle was downed by firing at 8 pm on Wednesday near the Harbhajan border post in the Ferozepur sector of Tarn Taran district.
BSF troops fired "heavily" taking aim of the drone. It was was recovered lying in a farmland on Thursday morning when a search of the area was conducted, a BSF spokesperson said.
Source: Times Of India
Please click the following URL to read the full text of the original story:
https://timesofindia.indiatimes.com/india/drone-shot-down-by-bsf-along-india-pakistan-border-in-punjab/articleshow/96414490.cms
--------
IUML rejects reports of proximity to Left Front in Kerala
Dec 23, 2022
The Indian Union Muslim League (IUML) on Thursday rejected speculations that it is coming closer to the left camp and said it will remain an integral part of the Congress-led United Democratic Front (UDF).
Talking to newsmen in Malappuram, senior leader P K Kunhalikutty said the League has no history to hopping from one front to another and termed discussions in this regard baseless.
"We are not a political party that moves from one front to another overnight, like one changes shirt. People who know the history of League will not believe in such speculations or theories," he said adding the party will remain an integral part of the UDF.
Of late many CPI(M) leaders were too soft towards the League and the party state secretary M V Govindan even said League was not a communal outfit and praised its role. Earlier the party always considered it a communal outfit. Chief Minister Pinarayi Vijayan also welcomed the League's position on a number of issues including the one against Governor Arif Mohammad Khan. The League openly supported the move to remove the Governor from the chancellor post. Later the ruling CPI(M) extended olive branch to the party several times.
"Leaders usually make different statements on different occasions and you cannot interpret them as political positioning or standing. We see left leaders' statements like this," said Kunhalikutty. He said party leader Abdul Wahab's speech in Rajya Sabha praising the central ministers was a closed issue since he explained his position to the party state president.
Source: Hindustan Times
Please click the following URL to read the full text of the original story:
https://www.hindustantimes.com/india-news/iuml-rejects-reports-of-proximity-to-left-front-in-kerala-101671736602089.html
--------
Pakistan
In visit to CMH, PM vows to extirpate terror, break terrorists nexus
December 22, 2022
RAWALPINDI: Prime Minister (PM) Shehbaz Sharif on Thursday visited Combined Military Hospital (CMH) where he met officers and soldiers injured in an operation against in the Counter-Terrorism Department (CTD) complex in Bannu.
According to Inter-Services Public Relations (ISPR), the prime minister visited Combined Military Hospital (CMH) in Rawalpindi where he enquired after the health of injured soldiers. On the occasion, the prime minister paid tribute to the courage and valour of troops who cleared CTD complex in Bannu, seized by militants.
Speaking on the occasion, PM Shehbaz reiterated the resolve to extirpate terrorism and break the nexus between terrorists, their supporters and sympathizers till achieving peace and stability.
The Prime Minister said writ of the state will be established at every cost and no one will be allowed to disrupt the hard earned gains of war on terror achieved through unparalleled sacrifices of the nation and the valiant armed Forces.
Paying tribute to the troops, PM Shehbaz added that the martyrs and their families have rendered supreme sacrifices for ensuring safety and security of people of the country.
Defence Minister meets injured officers, soldiers
Meanwhile, Minister for Defence Khawaja Asif on Thursday met injured officers and soldiers at CMH who got injured during Counter Terrorism Department (CTD) complex Bannu Operation.
According to the Inter Services Public Relations (ISPR) news release, the Defence Minister paid tribute to courage and valour of troops who cleared CTD complex Bannu.
A day earlier, Chief of Army Staff (COAS) General Asim Munir visited Combined Military Hospital (CMH) in Rawalpindi and met officers and soldiers who got injured during Bannu operation.
According to the Inter-Services Public Relations (ISPR), COAS Asim Munir remained with them for some time and inquired about their well-being.
Source: Pakistan Today
Please click the following URL to read the full text of the original story:
https://www.pakistantoday.com.pk/2022/12/22/in-visit-to-cmh-pm-vows-to-extirpate-terror-break-terrorists-nexus/
--------
One policeman martyred in suicide blast in Islamabad's I-10: police
December 23, 2022
A policeman was martyred and at least six people — including four police officers and two civilians — were injured in a suicide blast in Islamabad's I-10/4 sector on Friday, police officials said.
Television footage showed the fiery wreckage of a vehicle with a large number of police personnel at the scene.
According to Deputy Inspector General of Police Sohail Zafar Chattha, the police spotted a "suspicious vehicle" with a man and a woman aboard at 10:15am in the area.
"When the police stopped the vehicle, the couple came out of the car. The long-haired man, while being checked by the officers, went inside the vehicle on some pretext and then detonated himself," he said in a media briefing at the crime scene alongside Islamabad Deputy Commissioner Irfan Nawaz Memon.
Chattha said a police officer of the Eagle Squad was martyred in the blast while four others officers were injured. He lauded the police for "saving Islamabad from a major foul play".
Separately, in an interview with Geo News, Interior Minister Rana Sanaullah confirmed that "two terrorists were killed in the blast".
"The vehicle used in the blast was registered in Chakwal. It entered Islamabad from Rawalpindi," he said, adding that the police saved the capital from a huge tragedy today.
Meanwhile, the joint executive director of the Pakistan Institute of Medical Sciences (Pims), Dr Iqbal Durrani, told Dawn.com that two bodies and five injured policemen had been brought to the hospital.
Earlier in a tweet, the Islamabad police identified the slain officer as Head Constable Adeel Hussain. It said that terrorists had been targeting police for some time to demoralise law enforcement personnel.
In another tweet, the police said that diversions had been placed for both sides of traffic at Service Road East of Sector I-10/4. It advised citizens to use Service Road West of Sector I-10/4 as an alternate and stay away from the blast site.
Red alert issued
Immediately after the blast was reported, the Islamabad inspector-general issued orders for a "security red alert" across the city.
In a tweet, the police said that strict action will be taken against vehicles with "non-specimen" number plates, adding that no one will be allowed to carry arms.
It also advised residents to carry documents of identification while travelling.
A day ago, Islamabad police issued a statement, saying its Eagle Squad had checked 2,024 suspicious persons, motorcycles, and vehicles as part of a security measure, especially in the aftermath of a new wave of terrorism in Khyber Pakhtunkhwa and Balochistan.
Condemnations
Foreign Minister Bilawal Bhutto Zardari condemned the blast and expressed grief over the martyrdom of the policeman.
In a statement issued after the blast, he paid tribute to the "brave men of Islamabad police".
Information Minister Marriyum Aurangzeb said that Islamabad was secured from a "big disaster" today. " Adeel Hussain and the injured comrades who sacrifice their lives in the line of duty are heroes of the nation."
She tweeted that Pakistan's salvation and prosperity lay only in freedom from terrorism.
PTI leader Asad Umar said the presence of a "suicide bomber" in Islamabad signified that the country was moving towards destruction at a rapid pace.
"Terrorism is already spreading rapidly in Khyber Pakhtunkhwa and the economy and public order have been destroyed — in which direction are they leading the country in their greed for power?" he tweeted.
Condemning the blast, Awami National Party leader Asfandyar Ali Khan said the seriousness of the situation could be gauged from the fact that "terrorists have reached Islamabad".
In a tweet, the ANP leader said rulers and law enforcers must take stock of the situation and adopt measures accordingly.
"Terrorists had been organising here [in Islamabad] for the last 3 years, and now even the capital is not safe," he claimed, adding that the situation could get worse if the counter-terrorism measures planned after the APS attack were not implemented.
Source: Dawn
Please click the following URL to read the full text of the original story:
https://www.dawn.com/news/1727851/one-policeman-martyred-in-suicide-blast-in-islamabads-i-10-police
--------
Kabul renews pledge to curb cross-border terrorism: FO
Baqir Sajjad Syed
December 23, 2022
ISLAMABAD: The Foreign Office on Thursday said Afghanistan's de facto government has renewed its commitment to rein in cross-border terrorism and hoped that the Taliban administration would live up to its pledge.
"We have received some assurances and have held some important consultations with the Afghan authorities. We hope that the Afghan interim government will fulfil the commitments that it has made to Pakistan in terms of security," FO spokesperson Mumtaz Zahra Baloch said at the weekly media briefing.
The remarks, made in response to media questions, come against the backdrop of spate of recent terrorism incidents in the country, believed to have been planned and directed by the outlawed Tehreek-i-Taliban Pakistan (TTP) leaders based in Afghanistan, including the incident at the Counter-Terrorism Department's interrogation facility in Bannu.
"We have certain mechani­sms with Afghanistan in which we engage to discuss these iss­ues. We will continue to engage with them to ensure that the Afg­han authorities fulfil the commitments that they have made to Pakistan that Afghan territory will not be used to des­t­a­bilise or to threaten Pakistan's security," she said.
Bannu stand-off underscored Pakistan's resurgent terrorism problem. The TTP, which has ideological linkages with the Afghan Taliban, has executed around 115 attacks so far this year, most of which happened after August this year when the group's peace talks with the Pakistan government began to falter. The ceasefire was formally ended last month by the TTP.
The group that has been involved in terrorism for 15 years and executed some of the deadliest attacks in the country's history, including the one on Army Public School, Peshawar, in December 2014 had been weakened by successive counter-terrorism operations and many of its fighters and commanders fled to neighbouring Afghanistan.
Islamabad had been pressing successive governments in Kabul to take action against the TTP and other militants based in Afghanistan. While the previous governments turned a deaf ear to Pakistani pleadings, the Afghan Taliban persuaded Islamabad to hold peace talks with the militants.
The peace talks that began last year broke down twice and nothing substantive was achieved by Pakistan, but it helped the TTP secure release of some of its detained leaders, while allowing a large number of its Afghanistan-based fighters to relocate here.
TTP chief Noor Wali Mehsud's message in the middle of hostage crisis in Bannu this week left little doubt that the group's leaders were directing terrorist attacks from their hideouts in Afghanistan.
"I congratulate you for carrying out this sacred act. I instruct you not to surrender to these infidels and apostates under any circumstances," Mehsud said while addressing the hostage takers in Bannu in an audio message, according to VoA.
The FO spokesperson pointed to engagement with other count­r­ies as well on the issue of terrorism threat emanating from Afghanistan as she said: "We are engaged with international partners, including our neighbour Afghanistan, to ensure that terrorist groups do not threaten Pakistan's security."
Ms Baloch did not specify any particular international partner with which Pakistan is engaging on this particular terrorist threat.
Commander of US Central Command (Centcom) Gen Michael Kurilla, who visited Pakistan last week for meetings with the Pakistani military leadership, it should be recalled, toured Khyber Pakhtunkhwa, besides his meetings in Islamabad, to discuss the security situation along the border with Afghanistan.
Pakistan's other major concern is the recent border incidents involving Taliban forces.
Ms Baloch, meanwhile, emphasised that despite these irritants Islamabad will remain engaged with the Taliban administration, which is still not internationally recognised.
Source: Dawn
Please click the following URL to read the full text of the original story:
https://www.dawn.com/news/1727803/kabul-renews-pledge-to-curb-cross-border-terrorism-fo
--------
Three remanded in FIA custody over Bajwa data leak
Malik Asad
December 23, 2022
ISLAMABAD: An Islamabad court remanded three suspects in custody of the Federal Investigation Agency (FIA) on Thursday in connection with the income tax data leak of former army chief retired Gen Qamar Javed Bajwa.
The federal government had ordered an investigation on Nov 21 into the leak of legally protected tax information of Gen Bajwa's family.
When the FIA produced the three suspects — Shahzad Niaz, Arshad Ali Qureshi and Mohammad Adeel Ashraf — before Judicial Magistrate Omer Shabbir, the prosecution stated that during the course of investigation, it was learnt that Qureshi had discarded his mobile phone on Nov 23, days after the leak of tax data of government functionaries on FactFocus, a website.
Shahzad Niaz and Ashraf also deleted tax data, which "they had accessed illegally".
Their mobile phones were sent for forensic analysis to enable the investigators to extract data obtained by the suspects, according to the prosecution.
During further investigation, it was 'established' that Niaz had been "illegally facilitating Qureshi" since 2018 by providing him taxpayers' records on payment of cash.
According to the FIA, the amount to Qureshi was being sent by Sajid Aziz.
The FIA requested the court to grant physical remand of the suspects for five days so that details about Sajid Aziz could be collected and records from bank and Easypaisa retrieved.
Source: Dawn
Please click the following URL to read the full text of the original story:
https://www.dawn.com/news/1727783/three-remanded-in-fia-custody-over-bajwa-data-leak
--------
Bajaur peace body to march against terror incidents
December 23, 2022
BAJAUR: Bajaur Peace Action Committee decided here on Thursday to hold a march on January 5 against the incidents of terrorism in the region.
The decision to arrange "Qaumi Aman March" was made in a meeting of the committee held in Nawagai town with its chairman Maulana Abdur Rasheed in the chair. The participants of the meeting said that they would not allow more bloodshed in Bajaur.
The meeting of Bajaur Peace Action Committee, a body of local politicians, religious scholars and traders, was addressed by ANP leaders Sheikh Janzada, Gul Afzal Khan and Nisar Baz Khan; PPP's Haji Sher Bahadur; PML-N's Gul Kareem Khan; All Bajaur Political Alliance president Qazi Abdul Manan; Malik Shaheen Khan; Malik Attaullah Khan; Malik Mohammed Yar Khan; Malik Sultanzeb; Malik Hifzur Rahman; JUI-F's Haji Said Ahmad Jan; Maulana Khanzeb; and All Bajaur Traders Association president Mohammad Hameed.
They showed concerns over the prevailing law and order situation in the district. They said that incidents of violence were on the rise in the district.
The speakers said that residents of Bajaur were peace-loving people and wanted protection of their lives and properties. They said that the residents of Bajaur played vital role in the war against terrorism. They demanded of the district administration and police to take effective steps to improve law and order.
Source: Dawn
Please click the following URL to read the full text of the original story:
https://www.dawn.com/news/1727739/bajaur-peace-body-to-march-against-terror-incidents
--------
Christians playing commendable role in Pakistan's development, says Punjab governor
December 22, 2022
LAHORE: Punjab Governor Baleeghur Rehman has praised the contributions of Pakistani Christians in the progress and development of the country, especially in the fields of education, health and defence.
Addressing the annual Christmas dinner of IBADAT Trust and tree lighting ceremony at St Thomas Center on Wednesday night, Governor Rehman said IBADAT Trust was playing a commendable role in addressing illiteracy in Pakistan.
"IBADAT has imparted education to over 0.5 million people since its inception in 1980, making them responsible citizens," the governor said, as he appreciated the efforts of the organisation's leadership for promotion of education in Pakistan.
Rehman also lauded the community's services in various sectors, particularly education, health and defence, saying Pakistani Christians have always worked for the betterment of society and overall progress of the country.
"I especially want to express my gratitude to the Christian community and church organisations for helping the government in aiding the flood affectees in their time of need," he said.
Addressing the occasion, Church of Pakistan Moderator Bishop Dr Azad Marshall thanked the Punjab governor for acknowledging the community's contributions in the country's development.
"On behalf of the Christian community I want to assure the Pakistani State of our commitment and dedication to the progress of Pakistan and for its defence".
"Christians are patriotic Pakistanis and continue to serve the nation with dedication, commitment and compassion in all spheres of life. Though our community continues to face socio-economic challenges, yet we are hopeful that the state institutions will work to address our concerns," he said.
Bishop Azad said the Christian community, including churches and faith-based organisations, were continuing their work of providing relief to the flood survivors.
"We have not forgotten our brothers and sisters in their time of need. On the occasion of Christmas, I would like to appeal my community members to keep the flood affectees in their prayers and support them in standing back on their feet," he said.
Bishop Azad, who is also the chairman of the IBADAT Trust, congratulated Executive Director Obaid Nasir and his team for their work and expressed the hope that the organisation would achieve more success in the new year.
Source: Pakistan Today
Please click the following URL to read the full text of the original story:
https://www.pakistantoday.com.pk/2022/12/22/christians-playing-commendable-role-in-pakistans-development-says-punjab-governor/
--------
Pakistan reiterates engagement with Afghanistan for regional peace
December 22, 2022
ISLAMABAD: Pakistan believes in peaceful neighborhood and reiterates that it will continue engagement with Afghanistan on different issues for regional peace and stability.
This was stated by Foreign Office Spokesperson, Mumtaz Zahra Baloch during her weekly press briefing here in Islamabad on Thursday. She said Pakistan and Afghanistan have the mechanisms of talks to resolve issues which yield positive results. She said Pakistan is committed to countering terrorism and we will definitely defeat the terrorists again.
Replying to a question, the Spokesperson said all required step will be taken to protect sovereignty and citizens of the country.
She said war and instability in Afghanistan caused huge loss to both Pakistan and Afghanistan. The Spokesperson urged the Afghan interim authorities to revisit their decision of banning girls from education as they have full right to participate in all aspects of life.
Talking about the Foreign Minister Bilawal Bhutto Zardari's visit to United States, Mumtaz Zahra Baloch said it will definitely yield positive outcomes for Pakistan. She said the visit was an important step towards further strengthening Pakistan's broad based bilateral ties with the United States.
About the grave human rights violations committed by the Indian occupation forces in Indian Illegally Occupied Jammu and Kashmir, she urged New Delhi to stop massive human rights violations immediately.
Source: Pakistan Today
Please click the following URL to read the full text of the original story:
https://www.pakistantoday.com.pk/2022/12/22/pakistan-reiterates-engagement-with-afghanistan-for-regional-peace/
--------
Arab World
Muslim World League urges Afghan government to lift university ban for women
December 23, 2022
RIYADH: The Muslim World League has denounced the decision of the Afghan government to deny Afghan women and girls the right to a university education.
Mohammed bin Abdul Karim Al-Issa, the organization's secretary-general, said in a statement that the move contradicted the guidance of Islam and the consensus of Islamic scholars, and violated international and human values.
Al-Issa, who is also president of the Organization of Muslim Scholars, said the decision deprived women and girls of their legitimate right to education, and the Afghan people in general of the contribution women make to the nation's prosperity and development.
Source: Arab News
Please click the following URL to read the full text of the original story:
https://www.arabnews.com/node/2220551/saudi-arabia
--------
Foreign Ministers of UAE, Pakistan discuss developments in Afghanistan
December 22, 2022
UAEPAKISTANAFGHANISTAN
ABU DHABI: His Highness Sheikh Abdullah bin Zayed Al Nahyan, Minister of Foreign Affairs and International Cooperation, today made a phone call to Bilawal Bhutto Zardari, Minister of Foreign Affairs of the Islamic Republic of Pakistan, during which they discussed concerning developments in Afghanistan and the Taliban's decision to ban the study of girls and women in Afghanistan's universities.
The two top diplomats emphasised that Islam as a religion devoted significant attention to women, granted them a privileged position, and safeguarded their rights. They affirmed the need to guarantee women's rights, as well as the importance of full and equal participation of women and girls in all aspects of life.
Source: Zawya
Please click the following URL to read the full text of the original story:
https://www.zawya.com/en/world/indian-sub-continent/foreign-ministers-of-uae-pakistan-discuss-developments-in-afghanistan-fej80a3p
--------
Lebanon PM says sweeping reforms still needed despite return to growth
22 December ,2022
Lebanon's caretaker Prime Minister Najib Mikati said Thursday that sweeping reforms remain vital to rescue the stricken economy, despite a return to modest growth this year.
Mikati said the economy had grown by nearly two percent in 2022 after two straight years of severe recession that saw Gross Domestic Product fall by 25.9 percent in 2020 and by 10.5 percent in 2021, according to World Bank figures.
He said increased revenues from tourism and a rise in remittances from Lebanese living abroad were factors behind the modest growth.
He said the country was now "at a crossroads -- it will either mark the start of the economic revival we have been hoping for, or a dark decline."
Mikati has led a caretaker government since a May general election failed to deliver a majority to either of Lebanon's rival power blocs.
The political deadlock has deepened since end of October, when former president Michel Aoun's mandate ended without agreement on a successor.
As caretaker leader, Mikati has limited powers and cannot deliver the sweeping reforms demanded by international lenders in exchange for releasing billions of dollars in bailout loans.
Source: Al Arabiya
Please click the following URL to read the full text of the original story:
https://english.alarabiya.net/News/middle-east/2022/12/22/Lebanon-PM-says-sweeping-reforms-still-needed-despite-return-to-growth
--------
Saudi Arabia keen to accelerate joint activities with Türkiye
Elif Ferhan Yesilyurt
22.12.2022
Saudi Arabia is disposed to improve and accelerate its joint activities with Türkiye in the post-pandemic period, the country's investment minister said on Thursday.
Speaking at the Turkish-Saudi Business and Investment Forum in Istanbul, Khalid bin Abdulaziz Al-Falih said it has been three years since he last visited Türkiye and he was impressed by the developments he witnessed during his current visit to Istanbul.
The new Istanbul Airport, he said, made the megacity a global center and became important in terms of tourism and the business world.
"We know that investors from Saudi Arabia and the Gulf countries enjoy coming to and spending time in Istanbul," Al-Falih said.
Türkiye and Saudi Arabia represent the two largest economies in the region and are working to develop the growing bilateral investment relations, he stressed.
Al-Falih also expressed great pleasure about the investments and contributions made by Turkish companies in Saudi Arabia.
He said the Turkish-Saudi Business and Investment Forum, which kicked off in Istanbul on Wednesday and will last for two days, will be important in setting a road map for the future.
Source: Anadolu Agency
Please click the following URL to read the full text of the original story:
https://www.aa.com.tr/en/middle-east/saudi-arabia-keen-to-accelerate-joint-activities-with-turkiye/2770479
--------
3 Iraqi soldiers killed in attack in Kirkuk, northern Iraq
Iyad al-Nabusi
22.12.2022
BAGHDAD, Iraq
Three Iraqi soldiers were killed on Wednesday in an attack in Kirkuk, northern Iraq, according to local media.
A security source told the local Baghdad Today news agency that an explosive device hit an Iraqi army patrol in the Al-Zab area in the al-Hawija district of the Kirkuk province.
The source added that the explosion left three soldiers killed and two injured.
Iraqi authorities have yet to comment on the incident, as no group has yet claimed responsibility.
On Sunday, another bloody attack in Kirkuk believed to have been carried out by the terrorist group Daesh/ISIS killed 12 Iraqi federal police personnel.
Daesh/ISIS overran Iraq's Mosul, Salahuddin and Anbar provinces in 2014, as well as parts of Diyala and Kirkuk, before these regions were gradually freed from the terror group.
Source: Anadolu Agency
Please click the following URL to read the full text of the original story:
https://www.aa.com.tr/en/middle-east/3-iraqi-soldiers-killed-in-attack-in-kirkuk-northern-iraq/2769925
--------
Two Iraqi soldiers killed in ambush blamed on extremists
22 December ,2022
Suspected extremists in northern Iraq detonated bombs targeting military vehicles, killing two soldiers and wounding three, security sources said Thursday.
There was no immediate claim for the attack which took place late Wednesday near Dibs outside the northern city of Kirkuk, but army officers blamed the killing on fighters of the ISIS group.
Two army vehicles were hit by twin roadside blasts set off by "IS elements," before gunmen opened fire on those in the wreckage with automatic weapons, an officer said speaking on condition of anonymity.
Two soldiers were killed and three wounded, he said, a toll confirmed by a police source.
The attack took place in a zone falling between areas controlled by the federal government and the autonomous Kurdish region of northern Iraq.
In the face of repeated attacks by ISIS, the two forces have said they will boost cooperation to avoid creating a security vacuum.
On Sunday, ISIS extremists said they had carried out an attack near Kirkuk killing nine police officers, again by setting off a roadside bomb then machine-gunning survivors.
ISIS seized large swathes of Iraq and neighboring Syria in 2014, which they ruled with brutality before their defeat by Iraqi forces backed by a US-led coalition in late 2017.
ISIS lost its last Syrian bastion, near the Iraqi border, in 2019.
ISIS cells, however, remain active in several areas of Iraq.
The UN estimates the organization maintains between 6,000 and 10,000 fighters inside Iraq and Syria, exploiting the porous border between the two countries and concentrating mainly in rural areas.
The US-led coalition ended its combat role in Iraq in December last year, but some 2,500 US soldiers remain in the country to assist in the fight against the terrorists.
Prime Minister Mohammed Shia al-Sudani, during a meeting Wednesday with security officials, told officers to "change the military tactics" used in areas where ISIS fighters remain, and "to adopt unconventional methods of fighting" to combat them.
Source: Al Arabiya
Please click the following URL to read the full text of the original story:
https://english.alarabiya.net/News/middle-east/2022/12/22/Two-Iraqi-soldiers-killed-in-ambush-blamed-on-extremists-
--------
Arab citizen ambushes officers, shot dead: Israeli police
23 December ,2022
A member of Israel's Arab minority lured police into an ambush and was shot dead by police officers on Friday, the force said, describing the incident as terrorism.
Police said the suspect phoned in a false report of a violent incident in the Arab-Israeli town of Kafr Qassem - about 19 km (12 miles) northeast of Tel Aviv - to draw first responders and then opened fire when they arrived.
CCTV footage released by Israeli police showed officers approaching the door of a home and an individual stepping out and opening fire. The suspect then entered his car and attempted to ram into the officers, according to police.
Source: Al Arabiya
Please click the following URL to read the full text of the original story:
https://english.alarabiya.net/News/middle-east/2022/12/23/Arab-citizen-ambushes-officers-shot-dead-Israeli-police
--------
Saudi crown prince launches National Intellectual Property Strategy
December 22, 2022
RIYADH: Saudi Arabia's Crown Prince Mohammed bin Salman has announced the launch of the National Intellectual Property Strategy to support the Kingdom's economy based on innovation and creativity.
By establishing an intellectual property value chain that supports economic growth, the Kingdom is set to become a pioneer in the field in line with the Saudi Vision 2030, Saudi Press Agency reported.
"We have minds and energies that are passionate about innovation and creativity, and by enabling them, the Kingdom will be a fertile environment for the knowledge economy through an integrated intellectual property system that supports the development of innovative technologies and industries and contributes to the growth of enterprises," SPA said, citing the Crown Prince.
The National Intellectual Property Strategy is based on four basic pillars: Generation, management, commercial investment, and protection of intellectual property.
The generation of intellectual property came as one of the pillars of the strategy due to its high importance and its contribution to enhancing the Kingdom's ability to generate intellectual property assets of economic and social value.
The management pillar aims to elevate the value of intellectual property by establishing a rapid, high-quality system for its registration to ensure effective management of human creativity.
The commercial investment will contribute to the growth and attraction of investments in the Kingdom. This comes in light of the Kingdom's investments in future cities and projects based on innovation and creativity, such as The Line and NEOM, and its distinguished geographical location and strong digital infrastructure.
Meanwhile, the protection of intellectual property pillar aims to activate the market economy through the protection of intellectual property. It works on respecting intellectual property rights and enhancing the value of their protection for creative rights.
In an attempt to achieve these pillars, work will be done to boost cooperation and integration between national entities as a key partner to back the objectives of the new strategy.
Source: Arab News
Please click the following URL to read the full text of the original story:
https://www.arabnews.com/node/2220341/business-economy
--------
Syria: UNSC must stop recurrent Israeli attacks, remove blockade
22 December 2022
Syria's Permanent Representative to the United Nations Bassam Sabbagh has called on the United Nations Security Council (UNSC) to strongly condemn Israel's acts of aggression against the Arab country and put an immediate end to the regime's recurrent attacks.
Sabbagh made the remarks during a UN Security Council session on the political and humanitarian affairs in Syria on Wednesday, stressing that solving the current crisis in Syria requires the immediate lifting of unilateral coercive measures imposed by the United States, putting an end to the illegal presence of foreign troops as well as halting acts of terrorism.
"Solving the crisis in Syria requires a move by UN Security Council to stop Israeli recurrent attacks, remove the illegitimate blockade and support the early recovery projects," he said.
The Syrian envoy further noted that "insistence on continuing the aid mechanism through borders that is encircled with a lot of breaches and faults," reflects extreme selectivity and discrimination against the Syrians who deserve those aids.
He went on to say that the US and EU countries' claims of seeking to extend the so-called "cross-border aid delivery mechanism" to improve the humanitarian situation in Syria contradicts their unprecedented embargoes.
Sabbagh further stated that the looting of the nation's oil and wheat by US occupation forces to their bases in Iraq has escalated the suffering of the Syrian people, adding, "We are surprised with the unaccepted ignorance of some sides of these acts."
The European Union and the US along with their Middle Eastern allies are viewed as the main sponsors of militant groups and notorious terrorist outfits operating since early 2011 to overthrow the government in Damascus.
Apart from fueling militancy in Syria, the EU and the US have imposed a host of unilateral economic sanctions on the Arab nation over the past decade in what appears to be an attempt to deprive the Damascus government of its financial resources and hamper its fight against the terror groups they have been supporting.
Russia: Syrians must be assisted without politicization
Meanwhile, Russia's Permanent Representative to the United Nations Vassily Nebenzia voiced concern over the humanitarian situation in Syria, urging the international community to help the Syrian people without any discrimination or politicization.
Nebenzia made the remarks during a session of the UN Security Council on Wednesday, stressing that the current humanitarian situation in Syria does not provide an appropriate context for discussions about extending the "cross-border aid delivery mechanism."
"It is difficult to get rid of the feeling that the efforts that are being made to justify the lack of an alternative to the mechanism for transporting aid across the borders are more than what is being done to organize supplies across the line of contact", Russia's state news agency, TASS, quoted him as saying.
The Russian diplomat further said the biased stance of Western states on this issue has not changed during the last half year.
Nebenzia said the situation regarding cross-border aid transfer has not become transparent despite three rounds of informal consultations.
He also emphasized that the arguments in favor of extending the cross-border aid transfer mechanism are not convincing due to the fact that the lack of an alternative to it is fabricated, pointing out that this situation results from Western countries' inaction.
Over the past years, the US has been maintaining an illegal military presence on Syrian soil, collaborating with anti-Damascus militants and stealing the country's crude oil resources.
Source: Press TV
Please click the following URL to read the full text of the original story:
https://www.presstv.ir/Detail/2022/12/22/694945/Syria-UNSC-condemn-Israel-attacks-Bassam-Sabbagh-Syrian-crisis
--------
Europe
Muslim man cremated as German hospital mixes up dead bodies
22.12.2022
BERLIN
A Muslim man's body has been cremated in Germany after a hospital in Hannover has mixed up two dead bodies.
Abdulkadir Sargin, a Turkish citizen, died at the emergency service of the Hannover Medical School Hospital last week, officials have said.
During the funeral preparations on Tuesday, Sargin's family members shocked and confused when they saw that the person in the coffin was a complete stranger.
Upon their call to the hospital, they were informed that the staff had mistakenly handed over his body to another family and that he was cremated.
Cremation is not permitted in the Islamic tradition and it is as a desecration of the deceased.
Source: Anadolu Agency
Please click the following URL to read the full text of the original story:
https://www.aa.com.tr/en/europe/muslim-man-cremated-as-german-hospital-mixes-up-dead-bodies/2770648
--------
Sweden vows to 'do everything' to implement NATO deal with Türkiye
Diyar Guldogan and Behlul Cetinkaya
23.12.2022
Stockholm is committed to fulfilling all the obligations under a NATO deal to address Türkiye's security concerns, the Swedish foreign minister told Anadolu Agency.
"We will do everything that we have said that we will do within this memorandum to the last letter as long as it is within the framework of the constitution of Sweden and the legislation and principles of the rule of law," Tobias Billstrom said in an exclusive interview.
Billstrom's remarks came after he met with his Turkish counterpart Mevlut Cavusoglu in the capital Ankara to discuss bilateral relations and Sweden's NATO membership process.
Sweden and Finland formally applied to join NATO in May, abandoning decades of military non-alignment, a decision spurred by Russia's war against Ukraine which started on Feb. 24.
But Türkiye – a NATO member for more than 70 years – voiced objections, accusing the two countries of tolerating and even supporting terrorist groups, including the PKK and the Fetullah Terrorist Organization (FETO).
This June, Türkiye and the two Nordic countries signed a memorandum at a NATO summit to address Ankara's legitimate security concerns, paving the way for their eventual membership in the alliance.


Billstrom said that Sweden has extradited three people, including a PKK terror group member, to Türkiye.
Sweden will have a new amendment to the constitution as of the new year, making it possible to pass stricter anti-terrorism laws, he also said.
"Step-by-step we are fulfilling our commitments within the memorandum and I'm sure you appreciate amending the constitution is a big thing. It's a big thing for any country but we are doing this because we have committed ourselves to improving our ability to combat terrorism and we're doing it hand-in-hand with Türkiye which was also at the press conference acknowledged by Foreign Minister Cavusoglu," he said.
Stockholm understands Türkiye's concerns
Sweden is now much more enlightened about the problems that Türkiye is facing when it comes to terrorism, Billstrom said, adding the memorandum has had a "sobering effect."
"... Türkiye, the country for decades has been the subject of terrorism, recently in November suffered another terrorist attack on its territory. I mean that took place in one of the most crowded streets in Istanbul. We can understand this and we can understand the worries this created in Turkish society," he added.
He stressed that PKK activities should be prohibited not just because of the memorandum but also because Sweden is an EU member, which designated the PKK as a terrorist organization.
In its more than 35-year terror campaign against Türkiye, the PKK – listed as a terrorist organization by Türkiye, the US, and the EU – has been responsible for the deaths of over 40,000 people, including women, children, and infants.
"Everything laid down in the memorandum, we will fulfill. And when that is done, it paves the way for an improved relationship between Türkiye and Sweden, not only for NATO accession. That is one thing and that is important.
"We will also be able to do a lot of things together and we want to do that this is my promise also to the Turkish people as we sit here today just a few days before we come to the 1st of January to change our constitution. We do this in good faith and we do it because we know that this is important also for you, not just for us," Billstrom said.
Turning to Russia, the minister said without Sweden and Finland, it will be "very difficult" for NATO to uphold its security ambitions on its northern flank.
Source: Anadolu Agency
Please click the following URL to read the full text of the original story:
https://www.aa.com.tr/en/europe/sweden-vows-to-do-everything-to-implement-nato-deal-with-turkiye/2770838
--------
Spaniards' interest in Türkiye rises sharply due to Turkish TV series, health tourism
Şenhan Bolelli
23.12.2022
MADRID
Spaniards' interest in Türkiye increased nearly fourfold compared with last year due to the popularity of Turkish TV series and health tourism.
The growing interest in Spain in Turkish TV series particularly during the COVID-19 pandemic has reflected positively on Türkiye's tourism sector.
"Turkish TV series and health tourism have had a positive impact on both Turkish Airlines and tourism in Türkiye," Numan Cizmecioglu, Turkish Airlines' General Manager in Madrid, told Anadolu Agency.
Cizmecioglu said Turkish TV series have been gaining popularity in Spain day by day and are now the most-watched shows on Spanish television.
"We have witnessed the extent of the interest in Turkish TV series in our sector. While Spanish people are getting information about Türkiye or buying (airline) tickets, we are asked questions such as 'Where are these TV series shot?' and 'Can we visit there?'," he said.
"We also heard that some tourism agencies take Spanish tourists to places where TV series are shot in Türkiye."
Touching on another factor that increased Türkiye's popularity among Spaniards, health tourism, Cizmecioglu said: "In the first place, the Turkish market for hair transplantation became very popular among Spanish people. In the meantime, they realized how high the quality of the health service is in Türkiye and how affordable the prices are that are offered to them."
He further said that Spanish people now visit Türkiye for aesthetic, dental and eye surgery as well.
"We think that this market will develop further," he added.
Spaniards who visit Türkiye for health purposes also find the opportunity to take a short vacation, he noted.
According to data from Türkiye's Tourism Office in Madrid, the number of Spaniards who visited Türkiye was around 75,000 last year, but the figure reached 255,000 in the past 10 months of this year and is expected to touch 300,000.
Weekly flights from Spain to Türkiye to increase
Turkish Airlines reached its pre-pandemic passenger volume in 2022 and even surpassed it in some locations, Cizmecioglu said, adding the number of passengers increased by 123% compared to last year.
"The increase in passengers, revenue and frequency in 2022 in comparison with the previous year made us very happy in the Spanish market in every sense," he said.
He noted that the number of weekly flights of Turkish Airlines from Spain to Türkiye, which is currently 70, is expected to be increased to 82 for the coming summer season.
The number of weekly flights in Madrid and Barcelona, the most important destinations in Spain, will be increased from 21 to 25, he noted.
The Turkish flag carrier will celebrate its 30th year in Barcelona next year and its 40th year in Madrid, said Cizmecioglu.
"We trust ourselves and the market. With the new capacity, we will both strengthen our position in Spain and continue to provide better service to more passengers," he added.
While Spaniards' primary destinations in Türkiye are Istanbul and Cappadocia, Cizmecioglu said that "on the other hand, the Black Sea, Aegean regions and Antalya are also destinations that have begun attracting attention."
"Recently, Gobeklitepe has also attracted attention due to its historical importance. We have also witnessed that family groups do yacht tourism in Türkiye. This is a new trend for us."
Cizmecioglu said the Turkish flag carrier's food service is highly appreciated by Spaniards.
Source: Anadolu Agency
Please click the following URL to read the full text of the original story:
https://www.aa.com.tr/en/europe/spaniards-interest-in-turkiye-rises-sharply-due-to-turkish-tv-series-health-tourism/2770800
--------
Refugees stage hunger strike in Austrian province of Styria
22.12.2022
GENEVA
Refugees at a camp in the Austrian province of Styria have staged a hunger strike to protest having to wait for weeks in tents for permanent housing, according to Austrian public broadcaster ORF.
About 30 of the 70 refugees currently housed in large tents in the municipality of Spielfeld are involved in the hunger strike since late Wednesday.
The refugees fear they will be stuck in tents during the Christmas holiday as well.
The refugees are mostly from war and crisis zones in Syria and Iraq.
"I come from Syria, from the war, and I've already been stuck here in the tent for 15 days. I just want to know what will happen next and ask to be allowed into permanent accommodation before Christmas," one refugee told ORF.
Petra Leschanz of the refugee NGO, Border Crossing Spielfeld, told the broadcaster: "The people are psychologically worn down. They want nothing more than to be transferred to permanent quarters."
It is not clear how long the hunger strike will last, ORF reported.
Source: Anadolu Agency
Please click the following URL to read the full text of the original story:
https://www.aa.com.tr/en/europe/refugees-stage-hunger-strike-in-austrian-province-of-styria/2770515
--------
Trauma of 'Bloody Christmas' still fresh in minds of Turkish Cypriots
Burak Bir
22.12.2022
LONDON
Although nearly 60 years have passed, the trauma of the 1963 "Bloody Christmas" massacre, also called Black Christmas by Greek Cypriots, is still fresh in the minds of Turkish Cypriots.
Starting on Dec. 21, following the Greek Cypriot coup of the Cyprus government, some 1% of the Turkish Cypriot population was killed and 25% displaced by Greek Cypriot nationalist terrorist group EOKA in less than two weeks.
The horrors of the deadly, systematic attacks on Turkish Cypriots by members of the Greek Cypriot terrorist group EOKA live on in people's memories 59 years after they led to the deaths of hundreds and displaced thousands from their ancestral homes.
It is remembered as the infamous "Bloody Christmas" massacre, also called Black Christmas, in which they killed more than 370 Turkish Cypriots and displaced 25,000-30,000 others during the 1963 Christmas season.
Turkish Cypriots deserve their own sovereign state
Speaking to Anadolu Agency on the occasion of the 59th anniversary of the deadly massacre, Kenan Yaman, chair of the British Turkish Cypriot Association (BTCA), said that for far too long, the Turkish Cypriots have not been given a voice to explain to the world what they have suffered since then.
He said that although Greek Cypriots and their supporters would like the world to believe that the Cyprus problem started around July 1974, in reality it started over 10 years earlier.
"This is an absolute total lie. If that is the case, then what was United Nations peacekeeping force doing in Cyprus in March 1964?" he asked.
"So there is proof that the Cyprus problem started in 1963, when the Greeks overthrew the partnership state formed between the Greeks and the Turkish Cypriots of the island and tried to declare 'enosis' (union of the island with Greece) even back then, and this was unsuccessful."
Recalling how the Greek Cypriots again tried enosis in 1974 and were unsuccessful, Yaman stressed that Turkish Cypriots are a part of the island and part of the history of Cyprus.
"The Turkish Cypriots must have a voice ... The Greek Cypriots have tried to shut us out. They have shut us out for far too long. The Turkish Cypriots deserve their own sovereign state."
The only solution that they see today, he said, is a "two-state solution for Cyprus."
Turkish Cypriots suffered quite a lot
Ersu Ekrem, who arrived in the UK from Cyprus in 1970, told Anadolu Agency that they remember those who were killed during Black Christmas and continue to work to get everybody to remember them as well.
"The trauma that was caused in 1963 by the Greeks attacking us has remained in our memories for a long time," underlined Ekrem, adding that many people were taken from their homes or on the road during that terrible time.
Saying that there were around 100,000 Turkish Cypriots living on the island, he added that he knew people who lost their relatives during those events and knows the pain those people have gone through.
"As we were young boys growing up together ... So the memory is fresh in their minds. And they obviously suffered quite a lot. And we Turkish Cypriots in general suffered quite a lot," said Ekrem, who is a former chair of the British Turkish Cypriot Association.
On the dimensions of the massacre, he pointed out that although the casualties – 133 deaths in a 10-day period – may look relatively small, "it's about 0.05% of the Turkish Cypriot population of the time, which equates to around 90,000 English persons being killed in a 10-day period, and over 13,000 of them being taken from hospitals when they were inpatients."
Even taking inpatients from hospitals is "a great sadness" as "it's a war crime," said Ekrem.
He added that no one was found guilty or prosecuted for the massacre, and there was not even an inquiry by the Greek Cypriot police, which took over the whole government of the Cyprus, usurping Turkish Cypriots' power.
"We find that after 60 years, although we're not at fault, we haven't done anything to actually deserve this," underlined Ekrem, adding that Turkish Cypriots still face embargoes, which is "very unjust."
The events leading up to the Bloody Christmas started in 1955 with the foundation of EOKA, led by Georgios Grivas, a veteran soldier as well as a staunch opponent of Turks.
Active in Cyprus, then ruled by the UK, EOKA targeted not only British soldiers and civil servants but also Turkish and Greek Cypriots who opposed its extremist ideology and its goal of union with Greece.
Decades-long dispute
Cyprus has been mired in a decades-long dispute between Greek Cypriots and Turkish Cypriots despite a series of diplomatic efforts by the UN to achieve a comprehensive settlement.
Ethnic attacks starting in the early 1960s forced Turkish Cypriots to withdraw into enclaves for their safety.
In 1974, a Greek Cypriot coup aiming at Greece's annexation of the island led to Türkiye's military intervention as a guarantor power to protect Turkish Cypriots from persecution and violence. As a result, the Turkish Republic of Northern Cyprus was founded in 1983.
It has seen an on-and-off peace process in recent years, including a failed 2017 initiative in Switzerland under the auspices of guarantor countries Türkiye, Greece, and the UK.
Source: Anadolu Agency
Please click the following URL to read the full text of the original story:
https://www.aa.com.tr/en/europe/trauma-of-bloody-christmas-still-fresh-in-minds-of-turkish-cypriots/2770002
--------
France's Emmnuel Macron urges Lebanon to 'get rid' of leaders blocking reforms
December 23, 2022
BEIRUT: French President Emmanuel Macron called on Lebanon Friday to "get rid" of politicians who have for months blocked sweeping reforms vital to bailing out its stricken economy.
"The problem with Lebanon is that we must solve people's problems and get rid of those who cannot do it," Macron said, referring to the country's entrenched political class.
Source: Arab News
Please click the following URL to read the full text of the original story:
https://www.arabnews.com/node/2220731/middle-east
--------
Southeast Asia
Kuala Lumpur Islamic Religious Council Donates RM210, 000 to Malaysia Aids Foundation for Treatment for Asnaf HIV Patients
By Jared Wee
23 Dec 2022
KUALA LUMPUR, Dec 23 — Some 42 per cent of Malaysian HIV patients are not receiving Antiretroviral therapy (ARV), according to the Health Ministry.
"This situation is of grave concern as it hampers the progress that we have made towards achieving our goal of ending AIDS goal by 2030," said Malaysian AIDS Foundation (MAF) chairman Prof Datuk Dr Adeeba Kamarulzaman in a statement.
According to her, ARV medication is able to reduce the spread of the virus in the body to an undetectable level if taken consistently as prescribed.
The Ministry provides free treatment for the first-line of treatment for HIV patients but those in need of stronger medication have to pay on their own due to high costs and unavailability.
Dr Adeeba said the price for second-line ARV treatment medications can cost an average of RM700 per month, a steep cut from the income of patients living within the B40 income group.
She added that religious stigma and discrimination remains a 'regrettable' barrier that prevents HIV patients in the Malay Muslim community from getting treatment.
Meanwhile, Federal Territories Islamic Religious Council (MAIWP) member Dr Yusri Mohammad presented zakat (tithe) collection worth RM210, 000 to MAF for 25 Asnaf (eligible tithe recipients) HIV patients in KL at ceremony on Wednesday at the MAF headquarters in Sentul.
This serves as a continuation of support between MAIWP and MAF since 2020 towards the Medicine Assistance Scheme.
"The HIV epidemic is, by and large, concentrated in Malay Muslim populations," Dr Yusri said in a statement.
"As such, it is our duty to continue supporting MAF in efforts to promote the health and well-being of our community through HIV treatment."
Dr Yusri wants the contributions by MAIWP to give recipients a chance to rebuild their lives and livelihoods to overcome poverty.
Source: Malay Mail
Please click the following URL to read the full text of the original story:
https://www.malaymail.com/news/life/2022/12/23/kl-islamic-religious-council-donates-rm210000-to-malaysia-aids-foundation-for-treatment-for-asnaf-hiv-patients/46730
--------
PM Anwar: No more middlemen at Ramadan bazaars, allocation of business lots
By Yiswaree Palansamy
22 Dec 2022
KUALA LUMPUR, Dec 22 — Prime Minister Datuk Seri Anwar Ibrahim today called for an end to middlemen who monopolise business spaces and control lots at Ramadan bazaars.
In his speech at the National Level Traders and Small Traders Convention 2022 in Putrajaya, Anwar said this must end nationwide to allow traders to make a living, especially when many struggle to even secure basic funding to start a business.
"How many traders have difficulties securing basic funds to start a business? How many then encounter difficulties finding a spot to run their business from? How many local councils nationwide force traders and business owners to use agents? The licence is given to others and later transferred to the traders.
"And I believe the same goes for Ramadan bazaars too. Sometimes Ramadan bazaars are monopolised by certain groups. So those who want to do business, who get up in the morning, cook during the fasting month, who break fast in situations that are very difficult, are forced to pay not just the rental, but also the agents who secure them," he said referring to the business lots.
"I want to stress not just for Kuala Lumpur or Selangor, but nationwide, stop this practice and ensure that the benefit reaches the bottom, and this is not at all hard. For traders and small traders, not hard at all. If this can be done, a huge part or part of the problem can be sorted," he added.
Anwar said that during his meeting with Kuala Lumpur City Council (DBKL) officers this morning, he was also informed of issues plaguing the Taman Keramat market, which was attributed to problems with the assigned developer, among other factors.
Source: Malay Mail
Please click the following URL to read the full text of the original story:
https://www.malaymail.com/news/malaysia/2022/12/22/pm-anwar-no-more-middlemen-at-ramadan-bazaars-allocation-of-business-lots/46681
--------
Vice President opens 2nd ASEAN Islamic Conference in Bali
Jakarta (ANTARA) - Indonesian Vice President Ma'ruf Amin opened the 2nd ASEAN Islamic Conference at the Hilton Hotel, Nusa Dua, Bali, on Thursday.
In his remarks, the vice president invited all Muslims in Indonesia and the ASEAN to optimize the momentum of the conference as well as possible.
"I hope this conference would further strengthen the position of Muslims in the global arena," Amin noted in Bali.
The vice president expressed optimism that the conference would further grow prospects, strengthen cooperation between nations, and intensify cooperation between ASEAN countries and Saudi Arabia in various aspects, especially in the field of research education, to accelerate a competitive superior generation with noble character.
"Hopefully, the conference would bestow blessings and benefits on the Islamic community in Indonesia and ASEAN. We must help Muslims in ASEAN and in the world to reach 'khairu ummah' as the Muslims had in early days under the leadership of Rasulullah SAW," Amin remarked.
Meanwhile, Deputy Minister of Religious Affairs, Zainut Tauhid Sa'adi, was grateful for the 2nd ASEAN Islamic Conference in Bali. He said that Bali was selected as the location for the conference since the region has fundamental reasons, apart from being a beautiful location.
"Bali is a meeting point for the international community from all over the world with an open and friendly character. This diversity is followed by people, who live side by side in harmony," he stated.
Sa'adi noted the theme of the conference, "khairu ummah," meant the best people. He stated that individuals successfully practicing religious moderation will become the best people since they are able to be moderate with their views.
He believes that "khairu ummah" will be realized, through efforts, such as by respecting and loving each other.
"'Khairu ummah' are those who have the greatest affection for fellow human beings," he stated.
Indonesia is hosting the 2nd ASEAN Islamic Conference that is a collaboration between the Indonesian Ministry of Religious Affairs and the Ministry of Islamic Affairs, Da'wah, and Counseling of Saudi Arabia.
The conference is scheduled to take place on December 22-23, 2022, in Bali and will be attended by around 140 participants from Indonesia, Malaysia, Brunei Darussalam, Singapore, Thailand, the Philippines, Laos, Myanmar, Vietnam, Timor Leste, and Saudi Arabia.
Other attendees comprise scholars, academics, and leaders of Islamic community organizations from Indonesia, Malaysia, Brunei Darussalam, and the Kingdom of Saudi Arabia.
Source: Antara News
Please click the following URL to read the full text of the original story:
https://en.antaranews.com/news/266910/vice-president-opens-2nd-asean-islamic-conference-in-bali
--------
Islamic affairs minister meets Indonesian VP
December 23, 2022
RIYADH: Indonesian Vice President Marouf Amin on Thursday received Saudi Minister of Islamic Affairs Sheikh Abdullatif Al-Asheikh on the sidelines of the second Association of Southeast Asian Nations' international conference in Bali.
The ASEAN meeting was attended by 130 leading figures, including government ministers, muftis, presidents of Islamic universities, centers, and associations, and religious and cultural leaders from member countries.
In a speech, Amin said the conference provided a partnership and cooperation platform between Indonesia and Asian countries, including Saudi Arabia, in areas including education, and research.
And he pointed out that religious leaders had an important role to play in helping tackle some of the challenges facing the world.
Source: Arab News
Please click the following URL to read the full text of the original story:
https://www.arabnews.com/node/2220541/saudi-arabia
--------
Africa
Nigeria to Benefit From $10.54bn Islamic Bank Fund for Agriculture
22 DECEMBER 2022
By Adegwu John
Nigeria will directly benefit from the 2022 Food Security Response Program financing package of $10.54 billion recently approved by the board of executive directors of Islamic Development Bank (IsDB) to develop agricultural sector among member states.
This was made known yesterday in Abuja by Ougfaly Badji, the agriculture and food security lead expert from IsDB headquarters, Jeddah at a regional training workshop on strategic planning and policy development in food security, organised by the Islamic Organisation for Food Security ( IOFS).
According to Badji, the funding will assist member countries in addressing the immediate impact of the current food and climate crisis and underlying structural challenges to food and nutrition insecurity in the medium to long term.
He said the bank will avail more funding to build the resilience of local production systems and promote climate-smart agriculture, development of commodity value chains that will promote sustainable and profitable smallholder production systems and building of national strategic buffer stocks and reserves for de-risking and reducing price volatility.
To address food security matters which are not properly reflected in policy frameworks of governments, director-general of IOFS, Yerlan Baidauket at the workshop noted that the organisation placed special attention on enhancing the institutional capacity of governments at national levels, along with exchanging knowledge and practices.
He said, "Today's important event bring together more than 70 government officials from 13 member states and organised under the IOFS "Year of Africa" with the key objective to build the capacity of government officials on basics and practices on strategy development, legislation improvement, creation of government inter-sectoral mechanisms on food security.
It is to note that upon successful implementation of "Year of Africa", the IOFS will strengthen the support to programming activities in Africa under the "Africa Food Security Initiative (AFSI)".
Source: All Africa
Please click the following URL to read the full text of the original story:
https://allafrica.com/stories/202212230009.html
--------
Somalia military liberates strategic town from al-Shabaab terror group: Official
Mohammed Dhaysane
23.12.2022
MOGADISHU, Somalia
The Somali military on Thursday liberated the strategic town of Runirgod in the middle Shabelle region from the al-Qaeda-affiliated al-Shabaab terrorist group, the Defense Ministry said.
In a news conference in the capital Mogadishu, Somalia's Defense Ministry spokesman Abdullahi Ali Anod said the government forces backed by locals were engaged in fierce fighting with terrorists to liberate the Runirgod.
He said that at least 150 terrorists, including five foreign fighters, were killed in the clashes, while 15 more were captured.
The town was the last al-Shabaab stronghold in the region that is located some 240 kilometers (149 miles) north of the capital Mogadishu.
Earlier this month, the army had also liberated the strategic town of Adanyabal.
The government forces backed by local clan militias have recently liberated large swathes of territories mainly in the state of Hirshabele.
Somalia has been plagued by insecurity for years, with al-Shabaab being one of the main threats.
Since at least 2007, al-Shabaab has waged a deadly campaign against the Somali government and international forces, claiming thousands of lives.
The UN has also warned of growing instability in the country, with its periodic reports on Somalia this year detailing attacks by al-Shabaab and pro-Daesh/ISIS groups.
Source: Anadolu Agency
Please click the following URL to read the full text of the original story:
https://www.aa.com.tr/en/africa/somalia-military-liberates-strategic-town-from-al-shabaab-terror-group-official/2770804
--------
Türkiye donates agricultural equipment for farmers in South Sudan
Benjamin Takpiny
22.12.2022
JUBA, South Sudan
Türkiye continues extending humanitarian support to people in South Sudan, the world's newest country that remains plagued by instability and security challenges.
The latest show of support was in the form of a trove of agricultural tools donated by the Turkish Embassy, specifically for farmers in Jamjang, an area in northern South Sudan home to a large refugee population.
Turkish Ambassador Erdem Mutaf said the initiative was sparked by a visit to Jamjang, where Turkish officials witnessed firsthand farmers' "dire need for equipment."
The embassy, supported by the Turkish Disaster and Emergency Management Authority (AFAD), procured a range of essential equipment that was handed over at a ceremony in the capital Juba on Wednesday.
Dut Akol Kuol, a senior official at South Sudan's Commission for Refugee Affairs, said the Turkish initiative "will change the lives of refugees."
"This gives them a critical source of livelihood," he said.
"The Turkish government has done a lot for South Sudan, and especially the ambassador who is making continuous efforts to help South Sudanese communities and refugees," he added.
Source: Anadolu Agency
Please click the following URL to read the full text of the original story:
https://www.aa.com.tr/en/africa/turkiye-donates-agricultural-equipment-for-farmers-in-south-sudan/2770072
--------
URL: https://newageislam.com/islamic-world-news/turkish-american-jews-hanukkah/d/128698
New Age Islam, Islam Online, Islamic Website, African Muslim News, Arab World News, South Asia News, Indian Muslim News, World Muslim News, Women in Islam, Islamic Feminism, Arab Women, Women In Arab, Islamophobia in America, Muslim Women in West, Islam Women and Feminism