New Age Islam News Bureau
1 Oct 2014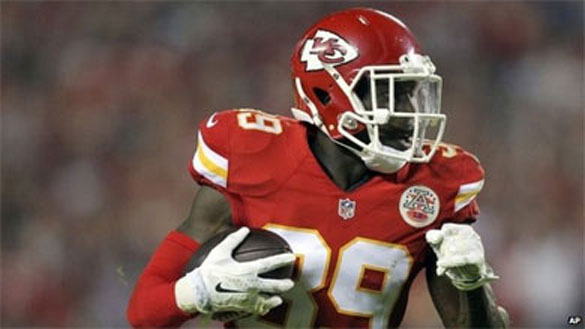 Abdullah, a devout Muslim, skipped the entire 2012 NFL season to go on a Hajj pilgrimage to Mecca
---------
Mideast
• Turkey's Top Cleric Slams Saudi Arabia over Mecca Skyscrapers
• Yemen Pupils Find Classes Turned Into Weapons Dump
• Palestinian official likens Netanyahu to IS leader
• Hostage tale suggests ISIS wary of upsetting Turkey
• Israel Prize laureate Zach backs Abbas's claims of 'Gaza genocide'
• Muslim NFL player penalized for praying after touchdown
• Turkey plans safe haven in areas controlled by Free Syrian Army and Islamic Front
Arab World
• Wave of Attacks in Shi'ite Parts of Baghdad Kill 35
• Blasts in Syria's Homs kill 18, most children
• Islamic State militants behead 9 Kurdish fighters
• Al-Sudais: Don't Tarnish Haj with Sectarianism
• Priceless Iraqi artefacts are sold to fund terror
• No food, arms for Iraqi soldiers fighting jihadis
• Islamic State uses grain to tighten grip in Iraq
• Jihadists free 70 kidnapped children in Syria: Monitor
• More than 8,000 Iraqi pilgrims smuggled out of IS-controlled areas
• Azhar: the evolution of a beacon of moderate Islam
• Iraqi Arabs who escaped ISIS complain under Kurds
• Iraqi scholar: Jews persuaded Bush to invade Iraq in 2003 because of Torah prophecy
• El-Sisi calls on youth to participate in Egypt parliamentary vote
Pakistan
• In Al Qaeda Attack Lines Blur between Pakistan's Military, Militants
• Six killed, 12 injured in Quetta blasts, firing
• Dialogue with militants underway: Balochistan CM
• Ahle Sunnat Wal Jamaat continues sit-in amidst traffic chaos
• Karachi: Sunni Tehreek worker gunned down
• PTI's aim is not to derail democracy: Qureshi
• Pak army chief says Afghan-US deal 'good move for durable peace'
• Javed Hashmi announces resignation from PTI
South Asia
• Watchdog Says No to Reduce Girls' Marriage Age in Bangladesh
• Twin suicide attacks on army buses in Kabul kill 7
• Taliban executes 3 more over armed robbery charges in Paktia
• 'Citizenship if Rohingya identify as Bengali'
Europe
• ISIS Could Become World's First Terrorist State, Warns UK
• Dutch Teen Claiming To Be Part of ISIS Threatens To Behead Jews
• Pope calls Mideast envoys to Vatican as Islamic State advances
• Europe Tries to Stop Flow of Citizens Joining Jihad
• In Depth: UK anti-Semitism continues unabated after Gaza war
• Theresa Warns ISIS Thugs Could 'Acquire Nuclear Weapons,' Attack West
• Britain releases images of strikes against ISIS
North America
• American football player Husain Abdullah gets penalty for praying
• Obama hails signing of BSA with Afghanistan as 'historic'
• US disagrees with Netanyahu on Iran, ISIS and Hamas
• Islamic State fight seen costing US $2.4bn or more annually
• US slaps sanctions on two Pakistan terror groups for helping LeT
• No intention to interfere in Pakistani politics: US diplomat
India
• Saudi Minister of Haj Calls For Further Cementing Saudi-India Relations
• 'Love Jihad' a Social Problem, Not RSS Coinage: NCW Chief
• Muslim Personal Law Is Barbaric: PCI Chief Justice Katju
• Over 1.36 Lakh Indian pilgrims reach Saudi Arabia for Haj
Southeast Asia
• Islamic banking hopes for account development incentives from Budget 2015
• Filipino of Saudi origin embraces Islam
• Google finally brings 'Street View' to Malaysia
Africa
• Libyan Islamists reject U.N.-led peace talks
• Protesters in eastern Libya close second oilfield, seize company plane
• Tanzania: New Constitution Moves Tanzania Closer to Gender Parity
• Nigeria: Three Boko Haram Members Get 75-Years Jail Term
Compiled by New Age Islam News Bureau
URL: https://www.newageislam.com/islamic-world-news/new-age-islam-news-bureau/turkey's-top-cleric-slams-saudi-arabia-over-mecca-skyscrapers/d/99348
----------
Mideast
Turkey's Top Cleric Slams Saudi Arabia over Mecca Skyscrapers
01 Oct, 2014
The head of Turkey's top religious authority has slammed Saudi Arabia over construction projects in Mecca, arguing that the holiest shrine of Muslims had been "overshadowed" by skyscrapers in a way that violates cultural norms and "destroys history."
"I told the Saudi minister of the Hajj that it is considered wrong in our culture to look down on the Kaa'ba. 'Then how did you look over it while travelling with an aircraft [over Mecca],' the Saudi minister asked me. Well, this is another point of view," Professor Dr. Mehmet Görmez, the head of Turkey's Directorate of Religious Affairs (Diyanet), told a group of journalists in Mecca on Sept. 29.
As millions of Muslims perform the Hajj, the annual Islamic pilgrimage to Mecca, the ongoing construction boom in oil-rich Saudi Arabia is again being questioned, particularly due to the transformation it has triggered around the Kaa'ba, a structure believed to have originally been built by Abraham, a prophet according to Judaism, Christianity and Islam. The cuboid building is at the center of Islam's most sacred mosque, the al-Masjid al-Haram, which is now surrounded by several high rises, including the 260-meter-high ZamZam Tower.
According to Görmez, the Saudi minister, who he did not directly name, defended the high rises during a conversation when he visited Mecca with former Diyanet head Dr. Ali Bardakoğlu recently. "[The Saudis] had reserved a room for us on the 20th floor. I opened the window and my knees shook. So I went downstairs and tried to find myself a room there instead," Görmez said.
"History is being destroyed on the Holy Land each day. I wish we were not experiencing a problem of de-historification in these lands. I wish we were able to protect history," he said, suggesting that "the meanings behind symbols" in the Hajj were being eroded by mega projects.
Turkey's top cleric also criticized those who pray only for themselves during the Hajj pilgrimage, complaining about a lack of will for the "collective good" among Muslims. "A misunderstood religion destroys all the potential of the human, while a rightfully understood religion is as natural as water and air," he said.
Görmez touched on the question of Islamic extremism and the emergence of groups such as the Islamic State of Iraq and the Levant (ISIL), Boko Haram and al-Shabaab, repeating his recent criticism of ISIL.
"Unfortunately, the religion that once brought security to the world is now considered a security threat … Muslims stress external factors [for problems], but refrain from admitting internal reasons," he said.
After admitting the importance of external factors such as colonialism and recent military invasions led by Western countries in the Islamic world, Görmez said Muslims must also solve internal problems such as education and prison systems that facilitate radicalization.
"As long as the relationship between life and religion is not constituted correctly, the division among Muslims will continue," the Diyanet head said.
http://www.hurriyetdailynews.com/turkeys-top-cleric-slams-saudi-arabia-over-mecca-skyscrapers.aspx?pageID=238&nID=72377&NewsCatID=393
----------
Yemen pupils find classes turned into weapons dump
01 Oct, 2014
SANAA — Back to school for young Yemenis in Sanaa was a stark reminder of why many missed classes in the first place — rebels were using it as an arms dump.
Houthi rebels had swept into the north of the city from their northern mountain stronghold.
After days of brief but bloody fighting, mainly in the north of the city where the Shamlan school is located, the Houthi rebels occupied it after overrunning Sanaa on September 21.
Children who turned up on Monday after the school was supposed to have reopened found the gates firmly shut and ended up having classes in the street outside.
Appropriately, when it was time for drawing, many sketched pictures of tanks and machineguns.
"We have a war at school," explained one pupil about the picture he had made.
Rebels remained tight-lipped when some parents of the hundreds of students at Shamlan school asked when they would vacate the building.
Houthi rebels have lined up armored vehicles in the playground and filled the classrooms with ammunition.
The rebels, who captured key state installations and military bases and now hold sway over most of Sanaa, seized large amounts of weapons during their offensive.
Headmistress Fawzia Al-Ashem appeared torn between a ministerial decision to reopen the school on Monday and the insurgents' refusal to move out.
"It was decided to reopen the school without thinking what's inside it," she told AFP. Schools in the area had closed temporarily because of heavy fighting.
And although rebels continue to rule the roost in Sanaa's streets, the education ministry went ahead and told schools to reopen on Monday. "The Houthis are justifying their occupation of the place by saying that they have the right to stay," one parent said.
"They claim they're trying to find somewhere else to stock their weapons, but I don't believe them," he added, asking not to be identified for security reasons.
The UN Children's Fund (UNICEF) said twice during the fighting that it was concerned about schooling in the capital, urging all parties to respect the right to an education and to vacate occupied schools.
Hours after taking over the capital eight days ago, the Houthis signed an agreement to end the fighting, mediated by UN envoy Jamal Benomar.
And after initially hesitating, on Saturday the rebels signed the accord's security protocol, stipulating the withdrawal of their forces from Sanaa once a new prime minister is named.
http://www.saudigazette.com.sa/index.cfm?method=home.regcon&contentid=20141001219900
--------
Palestinian official likens Netanyahu to IS leader
01 Oct, 2014
A senior Palestinian official on Tuesday likened Benjamin Netanyahu to the leader of the Islamic State group, after the Israeli prime minister compared Hamas to the jihadist organisation.
"Netanyahu is trying to disseminate fear of the Islamic State led by Abu Bakr al-Baghdadi, but Netanyahu forgets that he himself leads the Jewish state," said Saeb Erakat, the Palestinians' chief negotiator in peace talks with Israel.
"He wants us to call Israel the Jewish state and supports terrorist settlers who kill, destroy and burn mosques and churches... like Baghdadi's men kill and terrorise," Erakat told AFP.
Addressing the UN General Assembly on Monday, Netanyahu compared Israel's battle against Hamas to that of the US-led one against the brutal IS jihadists in Iraq and Syria.
With his speech at the United Nations, "Netanyahu finally closed the door on progress towards a two-state solution within the 1967 borders and rejected any serious political solution" in the peace talks, said Erakat.
Those talks between Israel and the Palestinians collapsed spectacularly in April amid bitter recriminations on both sides.
They are supposed to meet again next month in Cairo for negotiations on a long-term truce after the 50-day Gaza war that killed more than 2,100 Palestinians, mostly civilians, and 73 people on the Israeli side, mainly soldiers.
http://english.ahram.org.eg/NewsContent/2/8/112087/World/Region/Palestinian-official-likens-Netanyahu-to-IS-leader.aspx
----------
Hostage tale suggests ISIS wary of upsetting Turkey
01 Oct, 2014
Turkish truck driver Ozgur Simsek was sleeping off a 1,000-kilometer (620-mile) fuel run to the Qayara power station in Iraq, he said, when he heard banging on his vehicle's door.
"ISIS took over last night," the power plant's foreman shouted, referring to the Islamic State group. "Empty your trucks and run!"
Simsek rushed to unload his tanker's fuel, he said, but it was too late. A battered pickup bearing the black-and-white logo of the Islamic State group rolled across the tarmac. Qayara's security guards, who only moments before had been joking around with the truckers, turned on the men, donning black masks and brandishing weapons - taking all 32 Turkish men hostage.
For many foreigners, being caught by the group's fanatical fighters has meant months of uncertainty, torture and, in some cases, a gruesome death. For Simsek and his colleagues, captivity would last just over three weeks. Their trucks were confiscated, but no one was harmed and no ransom was paid, according to a narrative of the June 10 attack and its aftermath pieced together by The Associated Press from interviews with drivers and a company executive.
The episode paints a picture of a militant group unusually careful not to anger Turkey's government, and may offer insights into the mysterious release of 49 hostages from Turkey's consulate in Mosul, Iraq, just over a week ago.
"The Islamic State treated these hostages in the way they did because they don't want to provoke Ankara," said George Readings, of London-based risk consultancy Stirling Assynt. "If Turkey decided to crack down on the Islamic State's support, recruitment, fundraising and oil-selling networks that run through Turkey, that would have a major impact on Islamic State's ability to take and hold territory in Syria and Iraq."
Turkey has been a reluctant member of the coalition fighting the Islamic State group. Until the latest hostage release, Turkish leaders had said they would not consider joining the coalition. In recent days, under intense pressure from NATO allies, Turkish President Recep Tayyip Erdogan has said he is mulling unspecified military cooperation.
Turkish officials reject the suggestion that they've tiptoed around the terror group, and appear to have recently made strides in intercepting foreign fighters and cracking down on oil smuggling. When asked whether Turkey is ambivalent toward the Islamic State militants, an adviser to the Turkish prime minister told AP: "Absolutely no."
"We as a country have been the subject of terrorist activities for the past 30 years," Cemalettin Hasimi said. "We know what it means."
Whatever the Turkish position, the Islamic State group's actions seem to reflect a certain pragmatism regarding Turkey.
For one thing, it's not clear whether the Turkish truckers were meant to have been captured. Vehbi Demir, one of the few truckers who spoke Arabic, said the atmosphere at a safe house where the Islamic State militants took some of them that morning was one of confusion and panic. He said he overheard a conversation between the kidnappers' leader, an Iraqi going by the name of Abu Abdullah, and his superiors. Demir said Abu Abdullah's voice went flat after informing them that he had kidnapped a bunch of Turks.
"It seems they weren't happy about it," Demir said.
For a while, two groups of truckers were kept separately - some at the safe house, the others at the power plant - but four days after the kidnapping the truckers and their vehicles were driven, under guard, to a U.S.-built airfield between Mosul and Qayara.
There, they were parked in a semi-enclosed engineering bay surrounded by four-meter-high concrete walls. The place was hot, dusty and crawling with scorpions, but despite the uncomfortable conditions the Turks said they were treated well.
The guard was relaxed. Drivers kept the keys to their trucks and could occasionally retreat to their air-conditioned cabs to watch satellite television and even use the batteries to recharge smartphones, which a few had kept hidden from their captors.
Food deliveries were irregular but included bread, cucumbers, watermelon and meat, which the truckers cooked with camping cylinders and bits of wood. Sometimes their Islamic State guards brought so much to eat that the truckers had to watch their leftover chicken and tomatoes wilt in the 50-degree-Celsius (120 F) heat.
Although the militants forbade the truckers to play "sinful" music from their cabs, the captives were largely left to their own devices. They were even allowed to smoke - an unusual concession for the Islamic State group, which has outlawed smoking and publicly flogs violators.
Video shot from inside their makeshift prison shows a group of truckers watching television together on a carpets and mattresses laid out on the floor. They all smile for the camera.
Turkish driver Serdar Bayrak described his ordeal to the AP in his top-floor apartment in Cizre, an arid and unsettled transit town in Turkey across from the Syrian border. After a terrifying capture in which friendly guards "turned into monsters in five minutes," he said, it took less than a week for him to feel like "we were guests there."
The truckers believed that their Islamic State captors "would take care of Turkey's citizens in the best way possible and would not harm them in any way," he said. "They wanted their relationship to last with Turkey."
It isn't clear why the Islamic State group kept its Turkish captives for so long or why it released them when it did. Half-hearted ransom negotiations had gone nowhere, according to Mehmet Kizil, the CEO of Kizil Lojistik, which owned many of the captured tankers.
Kizil said Abu Abdullah initially phoned demanding a $5 million ransom - which Kizil agreed to - and then a $10 million ransom - which Kizil also said he would pay - before refusing to take his calls. The truckers described the negotiations as a farce, saying Abu Abdullah rarely even bothered to keep his phone on.
"It was a tactic to gain time," Bayrak said.
The truckers were released on July 4 after a night at an Islamic State base near the airport. Bayrak described the experience as frightening, saying he witnessed children as young as 8 or 9 holding weapons and encountered four suicide bombers with explosive vests getting ready to leave to target Iraqi forces.
That morning, a man the truckers knew as Sheikh Musa bid the 32 captives farewell, apologizing for having kept them hostage and insisting that no ransom had been paid.
Video covertly shot by one of the truckers shows his worn but happy-looking comrades being carried in pickup trucks under a giant Islamic State flag later that day. The men were eventually dropped at the side of the road and had to walk the rest of the way in the desert to Makhmour, near the Kurdish capital of Irbil. From there, a Turkish plane flew them home.
The truckers' low-key homecoming was in contrast to the rapturous welcome afforded to the 49 Turkish consulate workers. In both cases, however, the reason behind the release seems linked to maintaining the status quo with Turkey.
"Turks are our brothers," Simsek recalled one militant telling him just before he was released.
Readings said the release of both sets of hostages "reflects the fact that it's not in Islamic State's interests right now to enter into confrontation with Turkey."
Simsek said that while he is pleased that the consular workers were released, he remains angry at the theft of the trucks, which had left him and others saddled with tens of thousands of dollars of debt.
"We know that their loss will be compensated," Simsek said of the consular staff. "The only ones who will end up losing out are us."
http://english.alarabiya.net/en/perspective/features/2014/09/30/Hostage-tale-suggests-ISIS-wary-of-upsetting-Turkey.html
----------
Israel Prize laureate Zach backs Abbas's claims of 'Gaza genocide'
Oct 01 2014
Nathan Zach, the famed poet and Israel Prize laureate, was quoted in Hebrew-language media outlets on Tuesday as saying that he supported Palestinian Authority President Mahmoud Abbas's characterization of Israel's actions in the Gaza Strip this past summer as "genocide."
In an interview with Army Radio, Zach said it was Prime Minister Binyamin Netanyahu's speech that was "slanderous" while Abbas "spoke the truth."
"If I were to speak to Netanyahu, I'd quote him a passage from the Book of Isaiah, [chapter 49, verse 17]: 'Your children hasten back, and those who laid you waste depart from you'," Zach said.
Full report at:
http://www.jpost.com/Israel-News/Israel-Prize-laureate-Zach-backs-Abbas-claims-of-Gaza-genocide-376658
----------
Muslim NFL player penalized for praying after touchdown
Oct 01 2014
Social media was abuzz after a Muslim player for an American professional football team was penalized for praying in a celebratory manner following a touchdown that he scored for his team.
Husain Abdullah, a defensive back for the National Football League's Kansas City Chiefs, intercepted a pass thrown by New England's Tom Brady and returned it to the end zone for a touchdown during his team's victory on Monday night in Kansas City.
After scoring the touchdown, Abdullah then kneeled to the ground briefly and touched his head to the turf, mimicking the prayer motion that Muslims perform when worshiping.
The referees officiating the game penalized Abdullah for unsportsmanlike conduct, resulting in a 15-yard penalty for his team.
http://www.jpost.com/Breaking-News/Muslim-NFL-player-penalized-for-praying-after-touchdown-376649
----------
Turkey plans safe haven in areas controlled by Free Syrian Army and Islamic Front
01 Oct, 2014
Turkey is drawing up plans for a safe haven on the border in Syria that will secure regions controlled by the Free Syrian Army and the Islamic Front, possibly manned only by Turkish troops, according to security sources.
Ankara would prefer any safe haven to be established by U.S.–led coalition forces, but the Turkish Armed Forces is preparing to establish a safe haven even unaccompanied by foreign troops, sources said.
The safe haven will not include any region in northern Syria that is under the control of the Democratic Union Party (PYD) or the Islamic State of Iraq and Levant (ISIL), so the Turkish forces will not come into contact with those groups, they added.
Full report at:
http://www.hurriyetdailynews.com/turkey-plans-safe-haven-in-areas-controlled-by-free-syrian-army-and-islamic-front.aspx?pageID=238&nID=72397&NewsCatID=338
----------
Arab World
Wave of attacks in Shi'ite parts of Baghdad kill 35
01 Oct, 2014
At least 35 people were killed in a wave of car bomb and mortar attacks in mainly Shi'ite Muslim districts of Baghdad on Tuesday, Iraqi police and medical sources said.
It was one of the most violent days the capital has witnessed since U.S.-led forces began bombing Islamic State insurgents in Iraq last month.
There was no immediate claim of responsibility for the attacks but Islamic State, ultra-radical Sunni Muslim militants who seized swathes of northern Iraq in June, claimed several suicide bombings in the capital earlier this year.
Two car bombs exploded in busy streets in the al-Horreyya district, killing 20 people and wounding 35, according to the police and medical sources. There was also a mortar attack in the Sab al-Bour neighbourhood of northern Baghdad that killed five people and wounded 15.
Later on Tuesday, at least seven people were killed and 18 wounded when a car bomb exploded in the mainly Shi'ite Zaa'faraniya district of southeast Baghdad, police said.
Three mortars also landed in the Shi'ite al-Shula district in the capital's northwest, killing three people and wounding 12, police said.
Full report at:
http://english.ahram.org.eg/NewsContent/2/8/112123/World/Region/Wave-of-attacks-in-Shiite-parts-of-Baghdad-kill-.aspx
----------
Blasts in Syria's Homs kill 18, most children
1 October 2014
Twin car bomb explosions in the central Syrian city of Homs on Wednesday killed at least 18 people, mostly children, and wounded 40 others, state news agency SANA reported.
The Syrian Observatory for Human Rights, a Britain-based monitoring group, reported the same toll in the double bombing in the Akrameh neighborhood of Homs.
The group said the toll could rise as body parts were still being collected from the scene and several of the wounded were in serious condition.
"Two terrorist explosions near the Akrameh al-Makhzumi school and the Zaim hospital caused deaths and injuries," Syrian state television reported.
The neighborhood is home to a majority of Alawites, members of the same offshoot of Shiite Islam to which President Bashar al-Assad belongs.
Full report at:
http://english.alarabiya.net/en/News/middle-east/2014/10/01/Blasts-in-Syria-s-Homs-kill-18-most-children-.html
----------
Islamic State militants behead 9 Kurdish fighters
Oct 1, 2014
Activists on Wednesday said Islamic State militants have beheaded nine Kurdish fighters, including three women, captured in clashes near the Syria-Turkey border.
The Britain-based Syrian Observatory for Human Rights said that the nine Kurds were captured during fighting over the northern Syrian town of Kobani, also known as Ayn Arab.
There have been fierce clashes around Kobani since mid-September, when the Islamic State group launched an assault to seize the area.
The Observatory also said that dozens of militants and Kurdish fighters were killed in clashes overnight.
Images posted on social media networks showed women's heads placed on a cement block, said to be in the northern Syrian city of Jarablous, held by militants.
http://www.thehindu.com/news/international/world/islamic-state-militants-behead-9-kurdish-fighters/article6465258.ece
------------
Al-Sudais: Don't tarnish Haj with sectarianism
01 Oct, 2014
President of the Presidency for the Affairs of the Grand Mosque, Sheikh Abdulrahman Al-Sudais, has warned that pilgrims risk deviating from Islamic injunctions if they use the Haj for political and sectarian gatherings.
There is no room for arguments and disputes during the pilgrimage, he reportedly said recently. Muslims should use the time at the holy sites to contemplate how to unify and solve problems in the Islamic world, which is currently weak and fragmented, he said.
He said the presidency would deploy 15,000 employees in day and night shifts to help pilgrims perform their rituals.
Full report at:
http://www.arabnews.com/featured/news/638246
----------
Priceless Iraqi artefacts are sold to fund terror
Reuters | Oct 1, 2014
PARIS: Ancient Iraqi artefacts are appearing on the black market as ISIS militants use intermediaries to sell priceless treasures to finance their activities after sweeping through the north of the country, officials said.
The militants gained some experience of dealing in antiquities after taking control of large parts of Syria, but when they captured the northern Iraqi city of Mosul and the Nineveh province in June, they gained access to almost 2,000 of Iraq's 12,000 registered archaeological sites. Speaking at a conference at the UN cultural agency Unesco in Paris to warn of the risk to Iraq's heritage, Qais Hussein Rasheed, head of the Baghdad Museum, said organized groups were working in coordination with ISIS.
Full report at:
http://timesofindia.indiatimes.com/world/europe/Priceless-Iraqi-artefacts-are-sold-to-fund-terror/articleshow/43947826.cms
------------
No food, arms for Iraqi soldiers fighting jihadis
The Independent | Oct 1, 2014
US air strikes are failing to drive back ISIS in Iraq where its forces are still within an hour's drive of Baghdad.
Three and a half months since the Iraqi army was routed in northern Iraq by an inferior force of ISIS fighters, it is still seeing bases overrun because it fails to supply them with ammunition, food and water. The selection of a new PM, Haider al-Abadi, to replace Nouri al-Maliki last month was supposed to introduce a more conciliatory government that would appeal to Iraq's Sunni minority from which ISIS draws its support.
Abadi promised to end the random bombardment of Sunni civilians, but Fallujah has been shelled for six out of seven days, with 28 killed and 117 injured. Despite the military crisis, the government has still not been able to get its choice for the two top security jobs, the defence minis ter and interior minister, through parliament.
Full report at:
http://timesofindia.indiatimes.com/world/middle-east/No-food-arms-for-Iraqi-soldiers-fighting-jihadis/articleshow/43947016.cms
------------
Islamic State uses grain to tighten grip in Iraq
Reuters | Oct 1, 2014
SHEKHAN: For Salah Paulis, it came down to a choice between his faith and his crop.A wheat farmer from outside Mosul, Paulis and his family fled the militant group Islamic State early last month. The group overran the family farm as part of its offensive that captured vast swathes of territory in northern Iraq. Two weeks later, Paulis, who is a Christian, received a phone call from a man who said he was an Islamic State fighter.
"We are in your warehouse. Why are you not here working and taking care of your business?" the man asked in formal Arabic. "Come back and we will guarantee your safety. But you must convert and pay $500."
When Paulis refused, the man spelled out the penalty. "We are taking your wheat," he said. "Just to let you know we are not stealing it because we gave you a choice."
Other fleeing farmers recount similar stories, and point to a little-discussed element of the threat Islamic State poses to Iraq and the region.
Full report at:
http://timesofindia.indiatimes.com/world/middle-east/Islamic-State-uses-grain-to-tighten-grip-in-Iraq/articleshow/43950506.cms
------------
Jihadists free 70 kidnapped children in Syria: Monitor
01 Oct, 2014
The Islamic State jihadist group on Tuesday freed more than 70 Kurdish school children its fighters kidnapped in northern Syria in May, the Syrian Observatory for Human Rights said.
The Britain-based group said parents had reported the release of the children, who are believed to be aged between 13 and 15.
The group of 70 were among 153 school children, most of them boys, abducted by IS jihadists on May 29 in the northern province of Aleppo.
They were intercepted and taken hostage en route to their hometown of Ain al-Arab after sitting school exams in Aleppo city.
They were kidnapped around the area of Minbej, which has been targeted in recent days in air strikes by a US-led coalition fighting jihadists.
Full report at:
http://english.ahram.org.eg/NewsContent/2/8/112095/World/Region/Jihadists-free--kidnapped-children-in-Syria-Monito.aspx
----------
More than 8,000 Iraqi pilgrims smuggled out of IS-controlled areas
01 Oct, 2014
MAKKAH — Around 8,345 Iraqis who live in areas controlled by Islamic State were smuggled out in order to leave for the Kingdom to perform Haj, said the head of Iraqi Haj delegation and the country's undersecretary of Haj, Makkah daily reported.
The trip was risky and pilgrims had to put their lives on line for the sake of performing the pilgrimage, Kamal Issawi said.
"Some of them marched through the Euphrates River in pitch-black darkness and had to walk over wood bridges to get to the other end while some were taken to remote areas then whisked away by military airplanes to Baghdad airport," Issawi said.
It was an arduous task to get the Sunni pilgrims unscathed out of the areas that have been witnessing fierce clashes, he said.
Full report at:
http://www.saudigazette.com.sa/index.cfm?method=home.regcon&contentid=20141001219954
----------
Azhar: the evolution of a beacon of moderate Islam
01 Oct, 2014
Nestled in Cairo's medieval quarter, the centuries' old al-Azhar mosque is set to be renovated following pledges this month by Saudi Arabia and the United Arab Emirates to fund the restoration works.
The mosque is often described as a "beacon of moderate Islam" and Azhar University is sometimes referred to as the center of Islamic teaching and one of the oldest higher-education institutions in the world.
The beginning of the institution that today combines the mosque and the university is starkly different from its modern-day form.
In 988 AD, the first call to prayer echoed from the new Al-Azhar mosque, believed to have been called after the Prophet Mohamed's daughter Fatima al-Zahraa (Fatima the luminous), according to the website Muslim Heritage.
Full report at:
http://english.alarabiya.net/en/perspective/features/2014/09/30/Azhar-The-evolution-of-a-beacon-of-moderate-Islam.html
----------
Iraqi Arabs who escaped ISIS complain under Kurds
01 Oct, 2014
When Sunni militants captured Mosul, Iraq's second largest city, in June, Abu Sara and his family feared their town of Taza, located some 50 kilometers southeast of the city, would inevitably be next. Government soldiers had dropped their weapons and abandoned their posts - forcing residents to fend for themselves.
It wasn't before long before the gas was cut, then the water, ahead of the imminent onslaught. The family was left with little choice but to flee to the closest city that could offer them safe haven - Kurdish-dominated Kirkuk.
But life has been filled with hardship for Abu Sara and the tens of thousands of Iraqi Arabs who escaped one opponent only to face another. Displaced Arabs who fled to oil-rich Kirkuk say tensions with the local Kurdish population have surged amid fears that Arabs are linked to the Islamic State militant group that has seized a third of the country. Local and displaced Arabs complain of discrimination and attack from Kurdish fighters known as peshmerga, accusing them of trying to assert a Kurdish majority through intimidation.
Full report at:
http://english.alarabiya.net/en/perspective/features/2014/09/30/Iraqi-Arabs-claim-persecution-by-Kurds.html
----------
Iraqi scholar: Jews persuaded Bush to invade Iraq in 2003 because of Torah prophecy
Oct 01 2014
A new book by an Iraqi scholar argues that the Jews persuaded US President George W. Bush to invade Iraq in 2003, as part of a global Jewish conspiracy rooted in the Torah and ancient history, according to a report in Palestinian media outlet Al Watan Voice.
The book, by Dr. Mohammad Hussein Al-Falahi, was published by Dar Djlah in Oman, Al Watan Voice writes.
Interest in the Iraqi people occupies a large proportion of Jewish thought, Al-Falahi argues, with "about 350-400 pages" of the Torah devoted to the Babylonian exile.
According to the report, Al Falahi argues that many of those in Bush's inner circle, including Paul Wolfowitz, Donald Rumsfeld, and Dick Cheney, were Jews who forced the former US President to invade Iraq because this was a "central and strategic goal of world Jewry". Other figures in the "global Jewish order", such as former British Prime Minister Tony Blair, were also instrumental in persuading Bush to invade Iraq, Al Falahi says.
Full report at:
http://www.jpost.com/Middle-East/Iraqi-scholar-Jews-persuaded-Bush-to-invade-Iraq-in-2003-because-of-Torah-prophecy-376670
----------
El-Sisi calls on youth to participate in Egypt parliamentary vote
01 Oct, 2014
President Abdel-Fattah El-Sisi has called on young people to actively participate in the upcoming parliamentary elections.
Speaking at a military academy on Wednesday, El-Sisi warned that Egyptians should vote for "national and rational forces" in the polls, "so as not to have problems."
"I call on political parties to include young people and to push them to work and participate...this is what we need."
Parliamentary elections are expected by the end of the year, and until then legislative powers remain in the hands of the president.
In his 29-minute televised speech, El-Sisi spoke about his recent visit to the United States for the Climate Summit, where he met a variety of global leaders, politicians and journalists.
He said the world had "listened attentively" to what the Egyptian delegation had to say about the country's challenges, its political roadmap and its role in the region.
Full report at:
http://english.ahram.org.eg/NewsContent/1/64/112149/Egypt/Politics-/ElSisi-calls-on-youth-to-participate-in-Egypt-parl.aspx
----------
Pakistan
In al Qaeda attack lines blur between Pakistan's military, militants
Reuters
Oct 01 2014
Months after Owais Jakhrani was sacked from the Pakistan navy for radical Islamist views, he led an audacious mission to take over a warship and turn its guns on a US naval vessel in the open seas.
The early September dawn raid at a naval base in the southern city of Karachi was thwarted, but not before Jakhrani, two officers and an unidentified fourth assailant snuck past a patrol boat in a dinghy and engaged in an intense fire fight on or around the warship, PNS Zulfiqar.
Four people were killed in the attempt to hijack the Zulfiqar, including Jakhrani and two accomplices, who were serving sub-lieutenants, according to police reports seen by Reuters.
Officials are divided about how much support the young man in his mid-20s had from inside the navy. They stress that Jakhrani and his accomplices were a long way from achieving their aim when they were killed.
Full report at:
http://www.themalaysianinsider.com/world/article/in-al-qaeda-attack-lines-blur-between-pakistans-military-militants#sthash.cCIdt0bv.dpuf
----------
Six killed, 12 injured in Quetta blasts, firing
October 01, 2014
QUETTA: At least six people were killed and 12 injured in firing and blasts here on Wednesday.
Unknown men hurled a hand grenade and opened fire at a barber shop located on Zarghoon Road. 13 people were injured in the attack and later three succumbed to their injuries while receiving treatment at a local hospital.
Two hours later a photographer's shop was attacked on Sariab Road. One person was killed and another injured after a hand grenade was hurled and firing was opened at the shop.
A father and son were killed in a firing incident on Joint Road while one person was killed in another incident on Kasi Road.
http://www.thenews.com.pk/article-161360-Six-killed,-12-injured-in-Quetta-blasts,-firing--
----------
Dialogue with militants underway: Balochistan CM
Oct 01 2014
QUETTA - Balochistan Chief Minister Dr Abdul Malik Baloch, while responding to resolution moved in the Balochistan Assembly seeking return of Khan of Kalat, said that he was engaged in dialogues with Khan of Kalat, Baloch militants and religious extremists for the cause of peace in the province.
Deputy Speaker Abdul Quddoos Bezinjo presided over the assembly session held here on Tuesday.
Jamait Ulema-e-Islam-Fazl MPA Sardar Abdul Rehman Khetran tabled a resolution which reads that this house recommended the provincial government to form a jirga comprising assembly members to hold dialogues with Khan of Kalat Agha Suleman Daud in London for his respectfully return back to the country so that he could play his due role for the restoration of peace in Balochistan.
Responding to the resolution, CM Dr Malik said that when he along with Senator Mir Hasil Bezinjo called on Prime Minister Mian Muhammad Nawaz Sharif and apprised him about the issues confronted by Balochistan province including dumping of decomposed bodies and missing persons issue, the premier said that he was fully aware of these issues and wanted the resolution to them.
Full report at:
http://nation.com.pk/national/01-Oct-2014/dialogue-with-militants-underway-malik
----------
Ahle Sunnat Wal Jamaatcontinues sit-in amidst traffic chaos
October 01, 2014
Karachi- Workers of Ahle Sunnat Wal Jamaat (ASWJ) continued their protest sit-in in Karachi for the second day today against 'extra-judicial killing' and 'illegal arrest' of their colleagues, causing severe traffic mess in metropolis areas.
The protest is being staged at Guru Mandir traffic intersection where key link roads remained closed today. Due to the protest, that was joined by a large number of ASWJ workers and a few dozen today, road leading to Nishter Road, Shari-e-Pakistan, Lasbela Chowk, M.A Jinnah Road were blocked. On Tuesday, the traffic chaos also stretched to other parts including Sadar, Shahrah-e-Faisal and I.I Chundrigarh roads where hundreds of vehicles were struck in traffic jams for hours.
http://nation.com.pk/national/01-Oct-2014/karachi-aswj-continues-sit-in-amid-traffic-chaos
----------
Karachi: Sunni Tehreek worker gunned down
October 01, 2014
Karachi- A worker of Sunni Tehreek has been shot dead in New Karachi.
The spokesman of Sunni Tehreek confirmed that the deceased, Muhammed Hussain Qadri, was their activist.
http://nation.com.pk/karachi/01-Oct-2014/karachi-sunni-tehreek-worker-gunned-down
----------
PTI's aim is not to derail democracy: Qureshi
Oct 01 2014
LAHORE: Pakistan Tehreek-e-Insaf (PTI) Vice Chairman, Shah Mehmood Qureshi said on Wednesday that his party believes in the supremacy of the Constitution and did not aim to derail democracy.
Speaking to reporters here, Quereshi said the PTI had already advised Prime Minister Nawaz Sharif to resign and nominate someone from the PML-N for prime minister during the election rigging probe.
Qureshi added that the PPP had supported the PTI stance that the elections were rigged by Returning Officers (ROs). The PTI Vice Chairman said his party was advocating for transparent elections and did not aim to topple the government.
He added that everyone desired to spend Eid with their families but if their aim was not fulfilled Imran Khan and PTI workers would remain at D-Chowk.
http://www.thenews.com.pk/article-161353-PTIs-aim-is-not-to-derail-democracy:-Qureshi-
--------
Pak army chief says Afghan-US deal 'good move for durable peace'
Oct 01 2014
Pakistan's Chef of Army Staff Gen. Raheel Sharif has said that the conclusion of Bilateral Security Agreement (BSA) between Kabul and Washington was 'a good move for durable peace in Afghanistan'.
According to Pakistani media agencies, Gen. Raheel Sharif met with the military commanders on Wednesday to review the signing of Bilateral Security Agreement (BSA) between new elected Afghan government administration and the United States.
Afghan national security adviser Mohammad Hanif Atmar signed the long-awaited security agreement with the US ambassador James B. Cunningham.
Full report at:
http://www.khaama.com/pakistan-army-chief-says-afghan-us-deal-good-move-for-durable-peace-8756
----------
Javed Hashmi announces resignation from PTI
Oct 01 2014
MULTAN: Suspended by his party following allegations against Imran Khan, the estranged elected president of Pakistan Tehreek-i-Insaf (PTI) Javed Hashmi announced on Wednesday his resignation from the party presidency and its membership.
Hashmi said that he could no longer continue his membership with a party 'conspiring' to dismantle democracy in Pakistan.
"There are a few hypocrites with Imran," Hashmi said adding, "I have told him the party's bad time has begun."
Earlier, PTI had suspended the membership of Hashmi and had summoned him to the party secretariat to explain his case on September 29.
PTI Chairman Imran Khan also announced that he had parted ways with Hashmi for opposing the march on the Prime Minister`s House.
During his speech on the floor of Parliament on September 2, Hashmi had clarified that despite his differences with the party's high command, he was still PTI's democratically elected president.
Full report at:
http://www.dawn.com/news/1135523/javed-hashmi-announces-resignation-from-pti
----------
South Asia
Watchdog Says No to Reduce Girls' Marriage Age in Bangladesh
Oct 01 2014
Opposing the cabinet's decision to reduce the minimum age for marriage to 16 years for girls from the existing 18 years, a parliamentary watchdog yesterday observed that the minimum age should be hiked to 20 years.
Discussing the issue of child marriage at a meeting in the parliament building, most of the members of the 10-strong Parliamentary Standing Committee on Women and Children Affairs criticised the government's decision, but refrained from making any recommendations.
The standing committee members also decided to meet Prime Minister Sheikh Hasina to discuss the issue.
State Minister for Women and Children Affairs Meher Afroz Chumki did not attend the meeting, which saw committee members Md Mozammel Hossain, Nasrin Jahan Ratna, Monowara Begum and Reefat Amin in attendance.
Reefat Amin first raised the objection when Rebecca Momin, the committee chair, talked in favour of lowering the age limit while discussing the growth of girls and their addiction to social media.
Full report at:
http://www.dhakatribune.com/law-rights/2014/oct/01/watchdog-says-no-reducing-girls%E2%80%99-marriage-age#sthash.PZ8Z22Dj.dpuf
-------
Twin suicide attacks on army buses in Kabul kill 7
Oct 01 2014
KABUL: Two Taliban suicide bombers hit army buses in Kabul Wednesday, killing at least seven people in a coordinated attack, officials said, a day after the new Afghan government signed a deal for US troops to stay in the country.
The Taliban, who strongly opposed the agreement with the US, claimed responsibility for the early-morning twin blasts that targeted vehicles taking military employees to work in the capital.
"There have been two suicide attacks targeting buses carrying Afghan national army personnel," Farid Afzali, chief of the city´s police investigation department, told.
"Six military personnel and one civilian were killed in one attack, and 15 were injured. Four military personnel were injured in the other attack."
Ministry of Defence spokesman General Zahir Azimi confirmed the death toll and injured.
There were conflicting reports on whether the attackers were on foot or driving cars laden with explosives.
Full report at:
http://www.thenews.com.pk/article-161329-Twin-suicide-attacks-on-army-buses-in-Kabul-kill-7
----------
Taliban executes 3 more over armed robbery charges in Paktia
Oct 01 2014
Taliban militants executed at least six people over armed robbery and kidnap charges within a week in eastern Paktia province of Afghanistan.
Local security officials in Paktia said at least three people were executed over armed robbery in Gardez city on Monday afternoon.
The officials further added that the three individuals were executed in Nastikot area.
The Taliban militants group on Saturday publicly executed three people over robbery and kidnapping charges in Zurmat district on Friday.
Taliban group spokesman, Zabiullah Mujahid accused all six individuals for being involved in armed robbery, kidnappings and murder of people.
Mujahid said individuals were found guilty during a public court hearing and were then executed.
In the meantime, security officials in Paktia are saying that the charges by Taliban group against the individuals could not be confirmed.
http://www.khaama.com/taliban-executes-3-more-over-armed-robbery-charges-in-paktia-6777
----------
'Citizenship if Rohingya identify as Bengali'
Oct 1, 2014
Myanmar has confirmed to the United Nations that it is finalising a plan that will offer minority Rohingya Muslims citizenship if they change their ethnicity to suggest Bangladeshi origin, a move rights groups say could force thousands into detention camps.
Most of Myanmar's 1.1 million Rohingya are stateless and live in apartheid-like conditions in Rakhine State on the western coast of the predominantly Buddhist country. Almost 140,000 Rohingya remain displaced after deadly clashes with ethnic Rakhine Buddhists in 2012.
"An action plan is being finalised and will soon be launched," Foreign Minister Wunna Maung Lwin said in an address to the U.N. General Assembly on Monday, requesting the United Nations to "provide much-needed development assistance there".
The Rakhine State Action Plan outlines projects including rehabilitation and promoting reconciliation, according to a draft obtained by Reuters.
Full report at:
http://www.thehindu.com/news/international/citizenship-if-rohingya-identify-as-bengali/article6462706.ece
------------
Europe
ISIS could become world's first terrorist state, warns UK
Kounteya Sinha,TNN | Oct 1, 2014
LONDON: Britain's home minister Theresa May said that ISIS could become the world's first truly terrorist state and bomb the UK with nuclear and chemical weapons. Delivering her speech at the Conservative Party conference, May set out new measures to clamp down on extremist groups, saying, "If ISIS succeeds in firmly consolidating their grip on the land they occupy in Syria and Iraq, we will see the world's first truly terrorist state established within a few hours flying time of our country."
She added, "With the capability of a state behind them, the terrorists will acquire chemical, biological or even nuclear weapons to attack us.We must not flinch. We must not shy away from our respon sibility. We must not drift towards danger and insecurity .While we still have the chance, we must act to destroy them."
She also promised a ban on so-called hate preachers and other extremists being interviewed on television or speaking at public meetings as well as an extension of ministers' authority to outlaw groups suspected of encouraging terrorism or violence if the Conservatives were re-elected.
Full report at:
http://timesofindia.indiatimes.com/world/uk/ISIS-could-become-worlds-first-terrorist-state-warns-UK/articleshow/43946422.cms
----------
Dutch Teen Claiming To Be Part of ISIS Threatens To Behead Jews
Oct 01 2014
THE HAGUE, Netherlands — A Dutch high school student was suspended after posting a video in which he said he belonged to ISIS and wanted to decapitate Jews.
The De Spindel high school in Hengelo, a city in eastern Netherlands, suspended the 14-year-old in recent days, according to a report Saturday by the De Telegraaf daily. The student, who according to the newspaper is a Muslim boy of Balkan descent, was identified in the media only as Ilhan M.
"Hi, I am from ISIS and I would like to cut off the heads of Jews," he is seen as saying, followed by profanities about Jewish women.
It is not yet clear whether the teen was suspended because of the video or a recent inquiry by police initiated earlier this month after faculty reported that he may have possessed a weapon. Police found the boy owned a prop gun.
Full report at:
http://www.jpost.com/Diaspora/Dutch-teen-claiming-to-be-part-of-ISIS-threatens-to-behead-Jews-376740
-------
Pope calls Mideast envoys to Vatican as Islamic State advances
Oct 01 2014
Pope Francis, who has expressed alarm over the rise of Islamic State militants and the plight of Christians in the Middle East, has summoned his envoys in the region to a rare meeting to discuss a response to the crisis, the Vatican said on Tuesday.
The Oct. 2-4 gathering will include Vatican ambassadors to Jordan, Iraq, Iran, Lebanon, Syria, Turkey, Israel and the Palestinians as well as representatives to the United Nations and the European Union.
They will hold talks with more than a dozen top Vatican officials, including Secretary of State Cardinal Pietro Parolin, who addressed the United Nations on the Middle East crisis on Monday.
Earlier this month during a visit to predominantly Muslim Albania, Francis issued a strong criticism of Islamist militants, saying no religious group which used violence and oppression could claim to be "the armor of God."
Full report at:
http://www.jpost.com/Middle-East/Pope-Mideast-envoys-to-discuss-Islamic-State-in-Rome-376671
----------
Europe Tries to Stop Flow of Citizens Joining Jihad
Oct 01 2014
BIRMINGHAM, England — European countries pressed ahead on Tuesday with efforts to deter the growing numbers of their citizens seeking to join radical Islamic movements in Iraq and Syria, as some experts warned that the United States-led military campaign against the Islamic State increased the risk that the groups would turn their attention to attacking Western targets.
France's interior minister, Bernard Cazeneuve, promoting legislation to address the problem, said on Tuesday that the number of French citizens who had traveled to fight in the region, or planned to travel there, had grown 74 percent this year, to about 1,000. About 350 French citizens are currently on the ground there, he estimated, including 60 women.
His British counterpart, Home Secretary Theresa May, told her party conference here on Tuesday that she wanted new powers to prevent those suspected of Islamic radicalism from using social media, while pressing for legislation, already announced, to give the police the power to seize passports at the border from Britons suspected of traveling to join Islamic radicals. She said that a future Conservative government would ban extremist groups and further restrict the movement and access to the Internet of those suspected of having radical intentions or of proselytizing extremist views.
Full report at:
http://www.nytimes.com/2014/10/01/world/europe/isis-europe-muslim-radicalization.html?_r=0
----------
In Depth: UK anti-Semitism continues unabated after Gaza war
Oct 01 2014
LONDON – The Israeli war against Hamas in Gaza may have finished over a month ago, but its effects are still reverberating abroad, not least of all in the UK.
While the range and level of anti-Semitic and anti-Israel activity in Britain has not matched that seen in parts of Europe such as France, the UK Jewish community still felt its effects as never before, as illustrated by near-record levels of incidents reported by the Community Security Trust (CST), the organization responsible for the Jewish Community's safety.
The CST's monthly anti-Semitism figures told it all. In July, the CST recorded more than 302 incidents, while the provisional figure for August is already more than 150. The statistics are incomplete as the CST anticipates receiving more detailed information about incidents from regional police authorities and other sources.
Full report at:
http://www.jpost.com/Diaspora/In-Depth-UK-anti-Semitism-continues-unabated-after-Gaza-war-376672
----------
Theresa Warns ISIS Thugs Could 'Acquire Nuclear Weapons,' Attack West
Oct 01 2014
The Conservative Party leader made a stirring speech in Birmingham, asserting extreme measures for homeland security and blasting Islamic State terrorists. She said if the jihadists are successful in establishing an extremist state, they will 'acquire chemical, biological or even nuclear weapons to attack us.'
Stop ISIS now, or face the doomsday scenario of Muslim militants attacking Britain with "chemical, biological or even nuclear weapons."
That was the startling warning Tuesday from a top British politician, who said they "must not flinch" in the face of an Islamic State threat that she painted in apocalyptic terms.
"If (ISIS) succeeds in firmly consolidating their grip on the land they occupy in Syria and Iraq, we will see the world's first truly terrorist state established within a few hours flying time of our country," Home Secretary Theresa May declared.
Full report at:
http://www.nydailynews.com/news/world/british-home-secretary-theresa-warns-isis-thugs-acquire-nuclear-weapons-attack-west-article-1.1957975
----------
North America
American football player Husain Abdullah gets penalty for praying
Oct 1, 2014
KANSAS CITY: Kansas City Chiefs player Husain Abdullah was slapped with a 15-yard penalty in NFL contest after punctuating a fourth quarter touchdown by dropping to his knees in prayer, the US media reported.
Abdullah, a devout Muslim, slid to his knees after intercepting a Tom Brady pass for a touchdown early in the fourth quarter of the Chiefs 41-14 win over the New England Patriots. He then leaned forward and pressed his forehead against the end zone grass.
It is technically a violation of the National Football League's "excessive celebration" rules after scores to do what Abdullah did. Whether the penalty was for sliding or the bowing in prayer is unclear.
"If I get a pick I am going to prostrate before God in the end zone," Abdullah told Kansas City Star newspaper.
"For me, I just got a little too excited. I think it was for the slide."
Social media was quick to criticize the officials, including Abdullah's agent CJ LaBoy who indicated that his client was practising the "sajda", a religious prayer.
Full report at:
http://timesofindia.indiatimes.com/world/mad-mad-world/American-football-player-Husain-Abdullah-gets-penalty-for-praying/articleshow/43915405.cms
------------
Obama hails signing of BSA with Afghanistan as 'historic'
Oct 1, 2014
Terming the signing of a much-delayed bilateral security agreement between Afghanistan and the US as 'historic', President Barack Obama Tuesday said it would help target the remnants of al-Qaeda in the war-torn country.
"Today we mark an historic day in the US-Afghan partnership that will help advance our shared interests and the long-term security of Afghanistan," Obama said in a statement.
"This agreement represents an invitation from the Afghan government to strengthen the relationship we have built over the past 13 years and provides our military service members the necessary legal framework to carry out two critical missions after 2014: targeting the remnants of al-Qaeda and training, advising, and assisting Afghan National Security Forces," he said.
Full report at:
http://indianexpress.com/article/world/americas/obama-hails-signing-of-bsa-with-afghanistan-as-historic/#sthash.tPIA251a.dpuf
------------
US disagrees with Netanyahu on Iran, ISIS and Hamas
Oct 01 2014
The US State Department said in a press conference that it disagrees with Prime Minister Binyamin Netanyahu's assertion during his UN speech on Monday that "ISIS and Hamas are branches of the same poisonous tree."
"Obviously, we've designated both as terrorist organizations, but ISIL poses a different threat to Western interests and to the United States," said State Department spokeswoman Jen Psaki. "And that's just a fact."
Later on in the speech, Netanyahu said that Iran is still a great threat to Israel's existence. He also warned that Iran is not actually willing to give up nuclear weapons but rather just wants to get rid of the sanctions against them.
In response, Psaki said that the US would like Iran to reintegrate into the international community by showing that their nuclear program is peaceful.
Full report at:
http://www.jpost.com/Breaking-News/US-disagrees-with-Netanyahu-on-Iran-ISIS-and-Hamas-376647
----------
Islamic State fight seen costing US $2.4bn or more annually
Oct 01 2014
US military efforts against Islamic State have cost nearly $1bn so far and are likely to run between $2.4bn and $3.8bn per year if air and ground operations continue at the current pace, according to a think tank analysis.
But a ramp-up, including more airstrikes and a significant boost in ground forces, could send costs soaring to between $13bn and $22bn annually, said the analysis released on Monday by the nonpartisan Center for Strategic and Budgetary Assessments.
"Future costs depend, to a great extent, on how long operations continue, the steady-state level of air operations, and whether additional ground forces are deployed beyond what is already planned," said the report by Todd Harrison and other analysts.
Defense Secretary Chuck Hagel told reporters last week that the Pentagon has spent roughly $7m to $10m per day on operations against Islamic State since June 16, when it first deployed troops to assess the Iraqi military and advise its leaders.
Full report at:
http://www.dhakatribune.com/world/2014/oct/01/islamic-state-fight-seen-costing-us-24bn-or-more-annually#sthash.HHy4gqBL.dpuf
----------
US slaps sanctions on two Pakistan terror groups for helping LeT
IANS | Oct 1, 2014
WASHINGTON: The US has targeted two Pakistan-based terrorist organisations and frozen the assets of their leaders for providing financial support to Lashkar-e-Taiba (LeT) held responsible for the November 2008 Mumbai terror attacks.
The action by the US treasury against the leader of Harakat ul-Mujahidin (HuM) and the LeT financial support networks came as India and US committed to make joint and concerted efforts to dismantle terrorist safe havens.
A joint statement issued on Tuesday after the first bilateral summit between Prime Minister Narendra Modi and President Barack Obama specifically named four Pakistan-based groups Lashkar-e-Taiba, Jaish-e-Mohammad, the D-Company, and the Haqqanis besides al-Qaida.
"Both LeT and HuM are violent terrorist organisations that train militants and support the activities of many of the best known and brutal extremist groups, including Al Qaeda," said under secretary for terrorism and financial intelligence David S Cohen.
Full report at:
http://timesofindia.indiatimes.com/india/US-slaps-sanctions-on-two-Pakistan-terror-groups-for-helping-LeT/articleshow/43949299.cms
----------
No intention to interfere in Pakistani politics: US diplomat
Oct 01 2014
KARACHI- United States Consul General in Karachi has said the US not intends to interfere in the internal politics of Pakistan.
According to sources, US Consul General Brian Heath after opening trading at Karachi Stock Exchang (KSE) during a visit of the stock market was talking to journalists.
Brian Heath said that he had no advice for the participants of the sit-ins in Islamabad, however, he called them to show a sense of wisdom and discernment.
He said foreign investors intend to invest in a peaceful country adding that Pakistan should create an investment friendly environment. The US diplomat said that the efforts were being made to strengthen the economic ties between Pakistan and United States.
The US is cooperating with Pakistan in education, infrastructure, and transfer of technology and in various other sectors, the US diplomat said. He said the US is especially focusing over Pakistan for promotion of regional trade. He said the promotion of Pak-US economic relations will help to end unemployment in the country.
http://nation.com.pk/national/01-Oct-2014/no-intention-to-interfere-in-pakistani-politics-us-diplomat
--------
India
Saudi Minister of Haj Calls For Further Cementing Saudi-India Relations
01 Oct, 2014
JEDDAH – Minister of Haj Bandar Hajjar underscored the need to further strengthen the excellent bilateral relations between the Kingdom and India. The minister made the remarks while receiving the Indian Haj goodwill delegation, headed by Arif Baig, at his office in Jeddah on Tuesday. Hajjar has accepted an invitation extended by the delegation to visit India.
Baig said the new government in India is looking forward to further boost bilateral ties with Saudi Arabia and other Gulf states. He congratulated the Saudi authorities for providing the best ever services and facilities to the pilgrims, especially the ongoing largest ever expansion of the Two Holy Mosques.
During the talks that lasted more than half an hour, the delegation demanded an increase in quota of Indian pilgrims. The reception was also attended by Abdul Rashid Ansari, the lone member of the delegation, Indian Ambassador Hamid Ali Rao, Consul General B.S. Mubarak, Deputy Consul General and Haj Consul Sheikh Md. Noor Rahman and Mohammed Raghib Qureshi, consul education and head of chancery.
Full report at:
http://www.saudigazette.com.sa/index.cfm?method=home.regcon&contentid=20141001219896
----------
'Love Jihad' A Social Problem, Not RSS Coinage: NCW Chief
SMRITI KAK RAMACHANDRAN
The word jihad has been "corrupted by terrorists" and the term "love jihad" has been "incorrectly interpreted" to allude to inter-religious marriages, Lalitha Kumaramangalam, Chairperson of the National Commission for Women (NCW), said here on Tuesday.
In an interview to The Hindu, Ms. Kumaramangalam said: "I don't approve of this term [love jihad], which was not coined by the BJP and the RSS but used to interpret an occurrence. In the increasing urban milieu, a lot of inter-religious marriages are happening. Society is protesting against what is new, what it is not comfortable with. There is a social outrage against what is against the norm."
Referring to "love jihad" as a social problem, she said: "The word jihad itself does not mean what it is being used for." She traced a connection between the issue and social practices that had emerged as a consequence of the skewed sex ratio in the country.
Full report at:
http://www.thehindu.com/news/national/love-jihad-a-social-problem-not-rss-coinage-ncw-chief/article6462560.ece
---------
Muslim Personal Law Is Barbaric: PCI Chief Justice Katju
TNN | Oct 1, 2014
NEW DELHI: Press Council of India chief Markandey Katju on Tuesday described the Muslim personal law as barbaric and backward supporting the imposition of the uniform civil code. He contended that every modern country has a uniform civil code but no one speaks out in India due to the "Muslim vote bank", citing the reversal of apex court judgment in Shah Bano case.
Speaking on the lack of equal access to justice for women at the Indian Women's Press Corps Katju said, "The Muslim personal law is barbaric, backward and unjust...it is a feudal law. All countries in the world have one law...why shouldn't we? I support the uniform civil code."
The uniform civil code has been a core issue for the BJP. In fact law minister Ravi Shankar Prasad in a recent Parliament response said that the government would consult all stakeholders before taking any steps in the direction.
http://timesofindia.indiatimes.com/india/Muslim-personal-law-is-barbaric-Justice-Markandey-Katju/articleshow/43945087.cms
----------
Over 1.36 lakh Indian pilgrims reach Saudi Arabia for Haj
PTI | Sep 30, 2014
JEDDAH: All the 1,36,020 Indian pilgrims who will perform Haj this year have reached Saudi Arabia, officials said.
All the 1,36,020 Indian Haj pilgrims have reached Saudi Arabia with the last flight carrying 394 pilgrims from Mumbai arriving yesterday," Indian consul general BS Mubarak told PTI.
Yesterday was the last day of flight operations, he said. Two senior BJP leaders representing India at this year's Haj also arrived yesterday.
Arif Beg, a former federal minister who hails from Bhopal, is heading the delegation and is accompanied by Abdul Rasheed Ansari, National President of party's minority wing, of Delhi.
Ambassador of India Hamid Ali Rao received the Haj Goodwill Delegation headed by Baig.
The first batch of Indians arrived in Saudi Arabia on August 27 when 235 pilgrims landed in Madinah while the final batch reached the country yesterday, with a total of 365 flights carrying the pilgrims for Haj this year.
Full report at:
http://timesofindia.indiatimes.com/india/Over-1-36-lakh-Indian-pilgrims-reach-Saudi-Arabia-for-Haj/articleshow/43888422.cms?
----------
Southeast Asia
Islamic banking hopes for account development incentives from Budget 2015
OCTOBER 1, 2014
KUALA LUMPUR, Oct 1 — The local Islamic banking industry is hoping that the government under the upcoming Budget 2015 will provide incentives to facilitate the development of the investment account (IA), for example, capital allowance for investment in IT infrastructure.
Bank Islam Bhd Managing Director Datuk Seri Zukri Samat said the industry would benefit from such incentives, as in the case of Islamic banks, it has a lot to do with the Islamic Financial Services Act (IFSA) 2013, and especially with the impending implementation of a deposits transition plan by June 30, 2015.
Under the plan, investment and deposits accounts must be clearly differentiated.
The IA is an account under which money is paid and accepted for the sole purpose of investment and therefore, is not capital guaranteed as opposed to a deposit account.
Zukri also suggested that the government educate the people on Islamic finance as well as prosper the IFSA 2013, which is aimed at providing greater regulatory clarity, promoting financial stability and a more robust Shariah framework.
Full report at:
http://www.themalaymailonline.com/money/article/islamic-banking-hopes-for-investment-account-development-incentives-from-bu#sthash.0aRWECGu.dpuf
----------
Filipino of Saudi origin embraces Islam
01 Oct, 2014
A Filipino worker in Riyadh who was born to a Saudi father recently embraced Islam at the Dawa Center in Batha.
Fahd Khaled Hadi, who was raised Christian and has lived with his mother in the Philippines for the past 29 years, is now on the search for his biological dad.
The Filipino arrived in the Kingdom for work.
"He visited our office, expressing his desire to become a Muslim. We taught him the basics of Islam and he converted two days ago," an official at the center said.
Hadi's father, who belonged to the Kingdom's southern region, parted ways with his Filipino wife after one-and-a-half years of married life. The Filipino then left the Kingdom with her son. His mother embraced Islam three years ago.
Full report at:
http://www.arabnews.com/saudi-arabia/news/638206
------
Google finally brings 'Street View' to Malaysia
Oct 01 2014
KUALA LUMPUR, Sept 30 ― From today, users of Google Maps can explore many of Malaysia's famous landscapes, cities and neighbourhoods through panoramic street-level photographs.
Approximately 90 per cent of the Malaysian peninsula's scenery is now accessible online via Google Street View, a comprehensive street-level imagery of buildings, highways and roads, the company said today.
"It is a way to go to that place before you go there in person.
"Malaysia is a diverse and constantly growing country, and by providing users and businesses with more useful map information, street view can also help create lasting economic impact," Google Malaysia managing director Sajith Sivanandan said at a media briefing.
The imageries were captured over a year using cameras installed on cars. For off-road sites, a wearable backpack-mounted camera system was used.
Full report at:
http://www.themalaymailonline.com/malaysia/article/google-finally-brings-street-view-to-malaysia#sthash.K6gKVmYb.dpuf
----------
Africa
Libyan Islamists reject U.N.-led peace talks
30 September 2014
Libya's Islamist militias on Tuesday vowed to continue military operations against the army of renegade general Khalifa Haftar and rejected U.N.-led talks peace with rivals.
In a statement posted by the so-called "Dawn of Libya," the militias which control the capital Tripoli and the country's senior religious institution, said: "No one, whoever it is, can stop Libyan Dawn's military offensives."
The militias accused their rivals of not being "serious" about a peace deal. "If peace advocates were serious, they would have called for dialogue when the criminal Khalifa Haftar, and whoever swore allegiance to him, began bombarding Benghazi in mid-May," the statement said.
They said the only way to stop fighting is to disarm their rivals and prosecute their leaders.
After taking over the capital this year, the Islamist militias revived the once-ruling, Islamist-led parliament, despite the elected and internationally-recognized Libyan parliament's outcry.
Full report at:
http://english.alarabiya.net/en/News/africa/2014/09/30/Libyan-Islamists-reject-U-N-led-peace-talks-.html
----------
Protesters in eastern Libya close second oilfield, seize company plane
01 Oct, 2014
Protesters blocking Libya's Abu Attifel oilfield closed another field, blocked a road and seized a company plane, a security official and activist said on Tuesday.
The oilfield, a joint venture between Italy's ENI and Libya's state oil company, has been closed for a year by local people who demand jobs, part of a wave of strikes at oil facilities that began in July 2013.
Protests at other oil ports and fields have ended, but the shutdown continues at Abu Attifelt in Jalu, in Libya's volatile east, where the field lies. In addition to Abue Attifelt, which used to pump 60,000 barrels a day, the protesters have now also closed the nearby Jalo 59 field, operated by al-Waha Oil Co.
Full report at:
http://english.alarabiya.net/en/business/energy/2014/09/30/Protesters-in-eastern-Libya-close-second-oilfield-seize-company-plane.html
----------
Tanzania: New Constitution Moves Tanzania Closer to Gender Parity
01 Oct, 2014
ON Monday, this week, the Draft Committee of the Constituent Assembly (CA) completed its work and officially presented the corrected version of the new Constitution for endorsement through voting.
The draft contains different contentious issues such as rights of farmers, fishermen, artisans, livestock keepers and small-scale miners.
It also contains sections on the formation of both central and local governments, basic education required for persons interested in seeking parliamentary seats and the need to establish an organ that shall be responsible for fighting corruption.
The great revolution that the Draft Committee has included in the proposed Constitution is the right for women to own land, as well as giving women the 50/50 representation at all decision-making bodies.
Full report at:
http://allafrica.com/stories/201410010443.html
----------
Nigeria: Three Boko Haram Members Get 75-Years Jail Term
01 Oct, 2014
The Federal High Court in Lagos yesterday sentenced three Boko Haram members to 75 years jail term with hard labour.
The convicts were sentenced to 25 years each in a judgement delivered by Justice Ibrahim Buba in camera.
Justice Buba had earlier granted an application that the trial should be conducted in secret following an application to that effect and because of the need to protect the witnesses in the case.
Initially, 17 suspects were charged to court but they were later reduced to four following the withdrawal of the case against some of the suspects, leaving only four.
The 17 suspects initially charged were arraigned before Justice Buba on 18 counts bordering on conspiracy to commit terrorism, illegal possession of firearms, and being members of a proscribed organisation.
Full report at:
http://allafrica.com/stories/201410011065.html
----------
URL: https://www.newageislam.com/islamic-world-news/new-age-islam-news-bureau/turkey's-top-cleric-slams-saudi-arabia-over-mecca-skyscrapers/d/99348