New Age Islam News Bureau
01 September 2020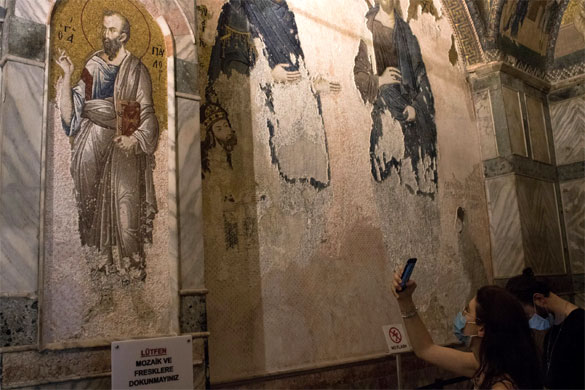 Visitors are seen at the Chora mosque in Istanbul, Turkey, that was recently converted from a museum back into a mosque. (Nicholas Frakes)
------
•Indo-Islamic Cultural Foundation Opens Bank Accounts for Donations for Constructing A Masjid, Hospital, Community Kitchen and Library
• Delhi Riots 2020: How A Muslim Youth Helped Disabled Hindu Couple Get Life Back On Track
• How Growth in Family Business of CPEC Chairman Asim Bajwa Mirrors His Rise in Pak Army
• US Lawmakers Demand Probe into Reports Muslim Detainees Forced to Eat Pork
• Terror Risks Remains 'Extremely High' In France: Minister
• UAE-Israel Deal Will Not Come at Expense of Palestinian Cause: Abu Dhabi Crown Prince
• Interfaith Council Urges PM To Act Over PAS MP's Bible Remarks
• US, UK, Norway Welcome Sudan Peace Agreement in Joint Statement
• Bangladesh's Rohingya Refugees Lobby ICC To Sit in Asia During War Crimes Investigation
Mideast
• Turkey's Economy Plunges as Tourists Stay Away After Hagia Sophia, Chora Conversions
• Israeli Plane Landing in UAE Violates Arab Consensus Barring Normalization With Israel: Palestinian PM
• Zionists should seek shelter, if mediation for lifting Gaza blockade fails: Top Hamas official
• Iran's Judiciary Chief Raps US, Europe for Sheltering Terrorists
• Israeli airstrikes kill 11 in Syria, including Iran-backed militants
• Israeli strikes on military targets south of Damascus kill five fighters: Report
--------
India
• Indo-Islamic Cultural Foundation, Opens Bank Accounts for Donations for Constructing A Masjid, Hospital, Community Kitchen and Library
• Delhi Riots 2020: How A Muslim Youth Helped Disabled Hindu Couple Get Life Back On Track
• LeT module busted in J&K's Reasi district, 3 arrested
• 32 Babri case accused submit reply in court
--------
Pakistan
• How Growth in Family Business of CPEC Chairman Asim Bajwa Mirrors His Rise in Pak Army
• HRCP, PBC And Journalists Slam Threats Hurled at Journalist Ahmad Noorani
• Pakistanis rally against citizens' abduction by secret service
• Plea seeking referendum on presidential form of govt reaches SC
• People want Nawaz to assume power in Pakistan, says Maryam
• Islamabad, Kabul vow to address challenges plaguing ties
• JUI-F member expelled from PA over threatening remarks
• Three Pakistani soldiers killed, four wounded in militant attack in northwest
--------
North America
• US Lawmakers Demand Probe into Reports Muslim Detainees Forced to Eat Pork
• US vetoes UN resolution on foreign militants, including detainees in Syria, Iraq
• US-Israeli team led by Trump's son-in-law arrives in Abu Dhabi​​​​​​​
--------
Europe
• Terror Risks Remains 'Extremely High' In France: Minister
• Global Muslim Scholars Condemn Desecration of Holy Quran
• EU calls for dialogue with Turkey, end to tensions in Eastern Mediterranean
• UK: Counter-terrorism team detain 2 at Stansted Airport
--------
Arab world
• UAE-Israel Deal Will Not Come at Expense of Palestinian Cause: Abu Dhabi Crown Prince
• US-Israeli Delegation Lands in Abu Dhabi On Historic Flight
• Diplomat Mustapha Adib designated as Lebanon's new Prime Minister
• Saudi King Sacks Top Military Officials in New 'Graft' Cases Amid Royal Power Struggle
• Blasts hit Dubai, Abu Dhabi ahead of first flight from Israel
• Beirut explosion could cost more than $8 bln, says World Bank
• Lebanon turns 100 as nation branded by upheaval, crises
--------
Southeast Asia
• Interfaith Council Urges PM To Act Over PAS MP's Bible Remarks
• Indonesian Militants at Large in Yemen, Southern Philippines
• Peaceful coexistence conducive to state's development, says Sarawak chief minister
• Philippines to begin reconstruction work of mosques in war-torn Marawi
--------
Africa
• US, UK, Norway Welcome Sudan Peace Agreement in Joint Statement
• Sudanese rebels agree to key peace deal with transitional government
• Leading Rwandan dissident arrested over terror links
--------
South Asia
• Bangladesh's Rohingya Refugees Lobby ICC To Sit in Asia During War Crimes Investigation
• Myanmar: Deep Reforms Must End Vicious Violence Against Rohingya Minority
• New State Peace Minister appointed for Afghanistan, political gridlock unleashes
• Former Senator Hasan Hotak Shot Dead in Kabul
• Afghanistan ready for Taliban negotiations: High Council for National Reconciliation
• Taliban attacks on US military bases in Afghanistan raise questions
• Taliban Self-Proclaimed District Governor Killed in Badakhshan
Compiled by New Age Islam News Bureau
URL: https://www.newageislam.com/islamic-world-news/turkeys-economy-plunges-tourists-stay/d/122768
--------
Turkey's Economy Plunges As Tourists Stay Away After Hagia Sophia, Chora Conversions
Nicholas Frakes
31 August 2020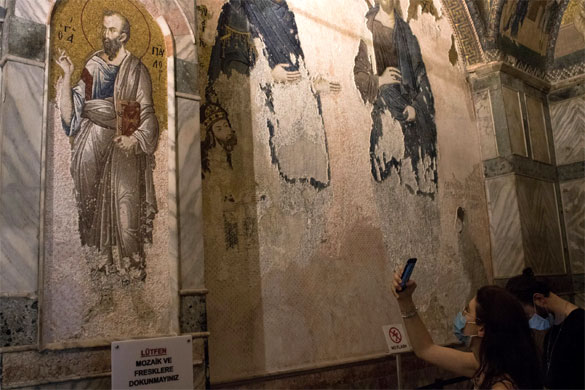 Visitors are seen at the Chora mosque in Istanbul, Turkey, that was recently converted from a museum back into a mosque. (Nicholas Frakes)
------
As Turkey experiences an economic decline, the conversion of the Hagia Sophia and Chora museums into mosques dealt a blow to Turkey's tourism industry which has already been dealt a blow from the global coronavirus pandemic. In the second quarter of 2020, Turkey's economy shrank 9.9 percent from the previous quarter.
Revenue from the mosques was set to be around $35 million this year. But because of the pandemic and the conversions of the mosques, that revenue will not materialize.
In July 2020, Turkey's President Recep Tayyip Erdogan, in a controversial decision that was condemned by the international community, converted the Hagia Sophia back into a mosque. Built as a Christian church under the Byzantine Empire and converted to a mosque during the Ottoman Empire and then museum after the founding of the Turkish Republic, the decision sparked outrage by critics who said Erdogan was pandering to his conservative, religious base to bolster domestic support.
At the start of August, Erdogan announced that another historic site was also going to be converted into a mosque. This time it was the Chora museum.
This museum, like the Hagia Sophia, was built as a church and became a mosque under the Ottomans, only to become a museum following the founding of the Republic.
Every year, millions of people used to visit the two museums, bringing in tens of millions of tourism dollars for the Turkish economy. Now, however, tourists are still free to enter outside prayer times, but they do not pay entrance fees for the highly trafficked sites.
The loss of funds could pose a threat to the Turkish economy that depends on tourism for around 30 percent of its annual income. However, even without Erdogan's controversial decision, this year has seen drastically lower numbers due to the COVID-19 pandemic.
"Almost $35 million was expected [this year from the mosques]," Turkish economist Mustafa Sonmez told Al Arabiya English, "but unfortunately this is almost zero [because of the pandemic]." In 2019, total revenue from tourism hit a high $34.5 billion, Turkish state media TRT World reported.
Turkey's lack of tourism and economic woes have already started to have an effect on the country's tourism industry with some businesses forced to lay off employees and others having to close their doors. As of now, the government has provided very limited economic relief for the businesses in the tourism industry.
"Many hotels and many other touristic places, their capacity has decreased and their employment has decreased," Sonmez explained. "They are bad conditions and many have closed their shops and don't work anymore. Nobody knows what will happen because the pandemic situation is not getting better and is actually worsening."
Businesses were hoping that tourism would see a surge this autumn, when people are more likely to visit cultural sites rather than going to the beach or sea due to the drop in temperature, but some fear that with the Hagia Sophia and Chora becoming mosques, tourists may forgo planned visits.
"Turkish tourism had already suffered a blow with the pandemic when the European Union did not include Turkey as a 'safe' country," Nazlan Ertan, a Turkish journalist, told Al Arabiya English. "Still the Turkish tourism operators were hoping to make a late recovery, meaning, in late autumn and when you speak of late autumn, of course, you are speaking about cultural tourism."
According to Ertan, these decisions by Erdogan send a message that he and Turkey prioritize Islam and Muslims over other all other things, especially for those who are looking to visit from the West.
"It clinches Erdogan's image in the eyes of the Western tourists as a conservative who has Islam foremost in his mind," Ertan said.
This also comes at a time where Erdogan's regional rival, Egypt's Abdel Fattah al-Sisi, has been promoting his country's diverse religious roots in an effort to boost tourism.
"This is when Sisi is sort of capitalizing on the Christian and Jewish heritage of Egypt," Ertan stated. "So if you are going to come to the Middle East and on one hand you have one country which is opening its non-Muslim heritage and another that it is opening it for worship and removing their statuses as museums, which one are you going to visit?"
Egypt and Turkey have been trying to market itself as attractive destinations for tourists, and earlier this year, the Turkish government announced its plan to get more people to visit the country by 2023, the year marking 100 years since the founding of modern-day Turkey.
Ertan said Turkey is aiming to attract 75 million tourists annually by 2023.
A major selling point for this vision is Turkey's multicultural heritage rather than focusing on any specific religion or ethnic group.
However, with the value of the Turkish lira falling and inflation and unemployment rising, Erdogan is losing popularity. And to appeal to more voters, he decided to convert the museums into mosques in an effort to gain the support of the more conservative and religious groups in the country.
Read more: Turkish magazine calls for founding Islamic caliphate after Hagia Sophia conversion
"A gesture to Muslims is [a] much more immediate [political gain] and preferable and the [gains from the] touristic side of Hagia Sophia can be negligible," Sonmez argued. "That's why he didn't take it into consideration."
While nearly 3.5 million people visit the Hagia Sophia and Chora annually, Sonmez said that it is currently impossible to predict the potential economic fallout that Erdogan's decision might have as tourism has practically ground to a halt as a result of the coronavirus pandemic.
A tourism agency based in Turkey also told Al Arabiya English that it was "much too early to tell" what the potential impact might be on their business.
However, Ertan believes that the message that Erdogan's decisions send to Turkish society and the world is much larger than any potential economic ramifications that might occur.
"I am not sure that the impact would be simply limited to how much money you are going to make from the Hagia Sophia and Chora museums in terms of entry fees," she argued. "It is the overall message that you carry."
https://english.alarabiya.net/en/features/2020/08/31/Turkey-s-economy-plunges-as-tourists-stay-away-after-Hagia-Sophia-Chora-conversions.html
--------
Indo-Islamic Cultural Foundation Opens Bank Accounts for Donations for Constructing A Masjid, Hospital, Community Kitchen and Library
Aug 31, 2020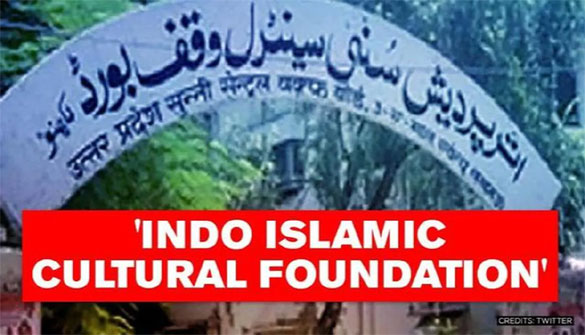 Ayodhya: The mosque trust constituted by Sunni Waqf Board, on Sunday released bank details for donations from a large cross-section of people, including non-Muslims for constructing a masjid, hospital, community kitchen and library on 5acre land in Dhannipur village in lieu of Babri mosque.
The trust, Indo Islamic Cultural Foundation, opened two current accounts in two leading private sector banks at branches in Hewett Road and Vibhuti Khand, Gomtinagar.
Talking to TOI, Trust secretary, Athar Hussain, said, "We will accept donations from all communities to make the Dhannipur complex a unique example of communal harmony and a centre of healing, teaching and preaching."
"We decided to create a website and portal of the Trust with a gateway to receive donations as we are receiving numerous calls from those willing to donate," he said.
Funds for the Dhannipur complex will be raised from donations from all communities, he said. "We expect financial aid from government too. In fact, a member of Parliament from Assam, Abdul Khalique, has offered to donate and we are receiving messages from Muslims and Hindus, who are eager to provide funds for mosque and other facilities," he said.
The Indo-Islamic Cultural Foundation was formed with nine members and six more would be made trust members soon.
https://timesofindia.indiatimes.com/city/lucknow/dhannipur-mosque-trust-opens-2-bank-a/cs-for-donations/articleshow/77841697.cms
--------
Delhi Riots 2020: How A Muslim Youth Helped Disabled Hindu Couple Get Life Back On Track
Jeevan Prakash Sharma
31 August 2020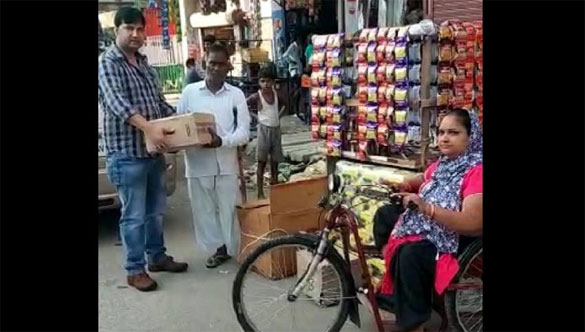 Much-needed gesture of communal harmony in North-East Delhi / Photo: Hussain Helping Chand after Delhi Riots
-----
It is a much-needed gesture of communal harmony in North-East Delhi that had witnessed a devastating riot just six months ago between two religious communities leaving over 50 dead, hundreds injured and large-scale destruction of properties and livelihoods.
Last week a Muslim youth, Syed Mashkur Hussain, who was out for a walk, stopped at a kiosk in the riot-hit Chand Bagh area to buy a packet of biscuit. He was little surprised to see that the kiosk was almost empty with a very few items up for sale. However, its owners, - a wheel-chair-bound woman and a man with a crutch, put up a brave face.
Hussain engaged in a conversation with the couple and realised that their kiosk was looted and burnt to ashes by the rioters. As they were struggling to make both ends meet, Covid-19 worsened the situation. They survived the lockdown with the help of relatives and neighbours.
Though soon after the riots, the Chief Minister of Delhi had announced, among many other rehabilitation measures, an immediate relief of Rs 25,000 to those who lost their properties, Chand claimed that he filled the form for compensation but never received any communication from the government.
His biggest challenge was to restart his business. An NGO helped him get a new kiosk but he had nothing to put up for sale except a few packets of biscuits and pouches of chips and snacks.
"When I told Hussain about my plight, he immediately asked me to make a list of items that I used to sell in my shop. He arranged everything within a couple of days," Suresh Chand, 58, said. Chand further said that Hussain might have spent about 8 to 10 thousand to buy all the products but "his gesture was priceless for me."
He added, "He wanted to buy a bigger kiosk for me but I told him to let me earn money and do it on my own."
Chand lost his left leg in childhood while playing near a wheat mill machine when it entangled in its belt conveyor. He walks with the help of a crutch. His wife, paralysed due to polio, is constantly on a wheelchair. The couple had two adolescent kids who are studying.
Chand recollected that in the afternoon of February 23, the communal tension started with stone pelting from all directions. His shop was close to Tahir Hussain's house and as there was chaos all around, he immediately shut it down. "I pushed my wife's wheel chair in a nearby street that led to my house about half a km away from my shop," Chand said.
The family remained indoors for three days as violence engulfed the whole area. Some people lost their lives and many houses and shops were completely gutted in fire. Ankita Sharma, the IB officer, was one of the victims from the area who was allegedly murdered by Tahir Hussain and his associates.
Chand returned on February 27 when the situation calmed down and was shocked to see that along with many other shops, his kiosk was also completely burnt. He recollected, "In the next few days, government representatives came to assess the loss of lives and properties. They asked me to fill the form and promised compensation for my losses but I am still waiting for that."
https://www.outlookindia.com/website/story/india-news-delhi-riots-2020-a-muslim-youth-helped-disabled-hindu-couple/359587
--------
How Growth In Family Business Of CPEC Chairman Asim Bajwa Mirrors His Rise In Pak Army
Sep 1, 2020
NEW DELHI: A major corruption scandal involving Lt General Asim Saleem Bajwa (retd) is gathering steam in Pakistan. Bajwa is a retired general who is now serving as the chairman of China-Pakistan Economic Corridor (CPEC) and a special assistant to Prime Minister Imran Khan.
According to a report published on 'Fact Focus', Asim Bajwa's brothers, wife and two sons "own a business empire which set up 99 companies in four countries, including a pizza franchise with 133 restaurants worth an estimated $39.9 million."
The report said that out of the 99 companies, 66 are main companies, 33 companies are branch companies of some of the main companies while five companies are dead.
"The Bajwa family's companies spent an estimated $52.2 million to develop their businesses and $14.5 million to purchase properties in the United States, while Asim Bajwa and his department were encouraging Pakistanis to invest within their relatively undeveloped country," said the report.
"The businesses of the Bajwa family through different companies were named as Bajco Group. Asim Bajwa's sons joined the Bajco Group companies in 2015 and also started establishing new companies independent of the Bajco Group in Pakistan and in the United States after he became director general of ISPR and commander of the Southern Command," the report said.
In his declaration of assets and liabilities signed in June as an SAPM, Asim Bajwa declared an investment of $18,468 in his wife's name. However, according to the 'Fact Focus' report, Asim's wife Farrukh Zeba's estimated current net worth of businesses and properties that are jointly owned by her stands at $52.7 million.
"Zeba was a shareholder in all the foreign businesses from the very beginning. At present, she is associated with or is a shareholder in 85 companies including 82 foreign companies (71 in US, seven in UAE and four in Canada)," the report alleged.
The report claimed that growth of the Bajwa family's business empire in the United States and in Pakistan directly matches the rise in power of retired general Asim Saleem Bajwa, who is now the chairman of CPEC.
The report also traced the rise of Asim Bajwa's brother who started as a delivery driver for the pizza restaurant franchise but now runs his own food chain with 133 restaurants.
Asim Bajwa rubbished the report, calling it a "malicious propaganda" against him and his family. However, he did not provide any rebuttal to the story.
"A malicious propaganda story published on an unknown site, against me and my family, (just uploaded on social media) is strongly rebutted," he wrote on Twitter.
Another story on the same web portal claimed that the Bajwa family purchased 13 commercial and five residential properties in the United States over a period of last ten years.
"The estimated value of commercial and residential properties owned by the Bajwa family in the United States is $14.5385 million. The worth of commercial properties owned by the businesses stands at $12.8 million," it added.
According to the report, three sons of Asim Bajwa — Muhammad, Eusha, and Azib — have direct and absolute ownership of companies in the sectors of mining, construction, marketing, real estate, beverages, fashion and cosmetic manufacturing and investments in Pakistan and three companies in the US which include two companies in the real estate sector.
"All these companies were set up after 2015 when Asim was either director general Inter-Services Public Relations or was the commander of the Southern Command," the report said.
Following the publishing of the report, the Securities and Exchange Commission of Pakistan, the organization which regulates companies in the country, started deleting data of companies owned by the sons of Asim Bajwa from its official website after 'Fact Focus' started the investigation.
https://timesofindia.indiatimes.com/world/pakistan/how-growth-in-family-business-of-cpec-chairman-asim-bajwa-mirrors-his-rise-in-pak-army/articleshow/77864802.cms
--------
US lawmakers demand probe into reports Muslim detainees forced to eat pork
By Sheren Khalel
31 August 2020
Dozens of US House representatives are demanding an investigation into reports that an Immigration and Customs Enforcement (ICE) facility in Miami has been "regularly" serving pork and expired halal meals to Muslim detainees.
In response to a complaint filed earlier this month by two rights groups, Representatives Ilhan Omar and Rashida Tlaib - the first Muslim women elected to Congress - sent a letter on Monday to the office for civil rights and civil liberties at the Department of Homeland Security (DHS), calling for the investigation.
Signed by at least 27 other representatives, the letter demanded that DHS, which oversees ICE, look into a complaint filed on 19 August which claimed that the ICE-run Krome Service Processing Center in Miami, Florida, had been giving Muslims the choice between pre-plated pork meals and spoiled religious accommodations since the onset of the coronavirus pandemic.
At the time, ICE refuted the complaint, telling Middle East Eye that "any claim that ICE denies reasonable and equitable opportunity for persons to observe their religious dietary practices is false".
But according to Monday's letter, lawmakers were not convinced.
"While ICE has publicly denied the allegations, every aspect of the allegations has documented precedent," the letter reads.
"Given the history of religious freedom violations across ICE detention facilities, including violations affecting Muslim, Catholic, Jewish, and Hindu detainees, we find the allegations of targeted violations of Muslim civil rights to be credible."
The lawmakers pointed out that in February 2019, a DHS Office of the Inspector General's report found "unsanitary and unsafe conditions" at New Jersey's Essex County correctional facility, the largest of such detention centres in the region.
The 2019 report said inspectors had found that "food handling, in general, was so substandard that ICE and facility leadership had the kitchen manager replaced during [the] inspection".
At the time, inspectors also documented liquid dripping from ceilings into housing units, including onto detainee beds, as well as unsanitary and mouldy shower stalls.
"Given a history of dangerously poor food quality in ICE detention facilities… we find the allegation that the 'reasonable accommodation' provided to detainees at Krome may have included spoiled religiously compliant food alternatives to be credible," the lawmakers said in Monday's letter.
"As you are no doubt aware, forcing Muslim detainees to choose between eating pork and eating spoiled halal food would be a clear violation of ICE's 2011 Performance-Based National Detention Standards. They would also be clear violations of the civil rights and civil liberties of Muslim detainees," the lawmakers continued.
In a post to Twitter on Monday, Representative Omar slammed the Trump administration for its ongoing anti-immigrant and anti-Muslim policies.
"It is unconscionable Muslim ICE detainees were reportedly forced to choose between eating pork or rotten halal food," Omar tweeted. "This is the latest betrayal of religious liberty by Trump and a reminder of the inhumanity of ICE detention".
Spoilt food
The original complaint regarding spoiled or religiously uncompliant meals at ICE's Miami facility was sent to DHS earlier this month by Muslim Advocates, Americans for Immigrant Justice, and the law firm King & Spalding LLP.
The groups said that the Krome facility's halal meals had been "persistently served spoiled and expired", leaving Muslim detainees to "choose between eating pork or eating spoiled food".
"There is no reason, even in a pandemic, that Muslim detainees cannot receive unexpired, unspoiled halal meals, or, at the very least, pre-plated meals that do not require them to consume pork," the complaint said.
According to the groups, detainees had gotten sick from the expired food, reporting stomach pain, vomiting, and diarrhea.
Detainees reportedly asked the facility's chaplain for assistance in the matter, but said the chaplain responded "callously", telling them "it is what it is".
Lawmakers on Monday noted that Krome "is not likely to be the only facility where these alleged violations are occurring" and requested that the investigation be expanded to include probes into other facilities with significant numbers of detainees that require religious accommodations.
"We also ask that you do everything in your office's power to ensure that all Muslim detainees and other detainees requiring religious dietary accommodations are given immediate access to those accommodations, and that ICE officers and employees who have violated detainees' rights are held accountable," the letter reads.
"The fundamental values of religious freedom and equality before the law are essential to the fabric of our democracy. We demand accountability for this treatment, and we look forward to working with your office to achieve it."
Lawmakers also asked to receive a list of facilities that have detainees who have requested religious accommodations, including the numbers of detainees requiring such accommodations and details regarding which religion such detainees follow.
The results of any investigation on the matter should be made public, the lawmakers said.
In addition to complaints filed against ICE facilities, at least 64 of the 163 religious freedom cases filed in federal court by Muslims held under the purview of the state and federal bureaus of prisons between October 2017 and January 2019 were complaints made about dietary needs.
It is unclear how many Muslims are currently being held in ICE detention, but there are currently more than 80,000 Muslims in US prisons.
Black Americans make up an overwhelmingly disproportionate share of the US prison population, as well as the Muslim inmate population.
In April, a report released by the American Civil Liberties Union, Human Rights Watch, and the National Immigrant Justice Center found that under President Trump, "the detention machine has exploded, resulting in billions of dollars in revenue for private operators" like the Krome facility.
Since 2017, 40 new detention facilities have opened, most of which are run by private operators, according to the report. The groups also found that at least 39 adults have died in ICE custody or immediately after being released since 2017.
Up from just over $6bn during the Obama administration, ICE currently receives $8.1bn in annual funding from Congress, with the White House hoping to secure $9.9bn in 2021, were Trump to be re-elected.
https://www.middleeasteye.net/news/ilhan-omar-rashida-tlaib-muslim-detainees-served-pork-expired-food
--------
Terror risks remains 'extremely high' in France: minister
August 31, 2020
PARIS: The risk of terror attacks in France remains extremely high, the interior minister said on Monday, adding that over 8,000 people were on a national warning list of Islamist radicalization.
The comments by Interior Minister Gerald Darmanin came two days before 14 people are due to go on trial over alleged involvement in attacks in January 2015 including on the Charlie Hebdo weekly that heralded a wave of militant strikes in France.
The threat "remains extremely high in the country," Darmanin said in a speech during a visit to France's internal security service the DGSI.
He said 8,132 individuals had been registered on France's database of suspected Islamist radicals considered to be a potential security threat.
Fourteen alleged accomplices in the January 7-9, 2015 jihadist attacks on the Charlie Hebdo satirical weekly, a French policewoman and a Jewish supermarket go on trial in Paris on Wednesday.
All of the perpetrators were killed in the aftermath of the assaults but lawyers for the victims and prosecutors insist the trial will be a hugely important if potentially traumatic moment.
Speaking on France Info radio Monday, national anti-terror prosecutor Jean-Francois Ricard dismissed the idea that it was just "little helpers" going on trial.
"It is about individuals who are involved in the logistics, the preparation of the events, who provided means of financing, operational material, weapons, a residence.
"All this is essential to the terrorist action," he said.
The January 2015 attacks heralded a wave of Islamist violence that left 258 people dead and raised unsettling questions about modern France's ability to preserve security and harmony for a multicultural society.
https://www.arabnews.com/node/1727466/world
--------
UAE-Israel deal will not come at expense of Palestinian cause: Abu Dhabi Crown Prince
31 August 2020
The recent agreement between the UAE and Israel will not come at the expense of the Palestinian cause, Abu Dhabi Crown Prince Sheikh Mohammed bin Zayed Al Nahyan said Monday.
The Crown Prince said the UAE was the Palestinians' "second nation," adding that the UAE was committed to the creation of a Palestinian state with East Jerusalem as its capital.
For all the latest headlines, follow our Google News channel online or via the app.
"Peace is a strategic choice, but not at the expense of the Palestinian cause," he was quoted as saying by Al Arabiya.
The UAE and Israel agreed to normalize ties last month, with the UAE opening up diplomatic and commercial relations with Israel in exchange for the Israeli government halting its annexation of Palestinian land.
A joint statement released Monday between the UAE and Israel, and the US, which mediated the agreement, called the new deal "a courageous step towards a more stable, integrated and prosperous Middle East."
https://english.alarabiya.net/en/2020/09/01/UAE-Israel-deal-will-not-come-at-expense-of-Palestinian-cause-Abu-Dhabi-Crown-Prince.html
--------
Interfaith council urges PM to act over PAS MP's Bible remarks
September 1, 2020
PETALING JAYA: An interfaith council has called on Prime Minister Muhyiddin Yassin to take a stand against the use of religion to divide the nation, following a PAS MP's recent controversial remarks on the Bible.
The Malaysian Consultative Council of Buddhism, Christianity, Hinduism, Sikhism and Taoism (MCCBCHST) said Pasir Puteh MP Nik Muhammad Zawawi Salleh's comments crossed the line of bigotry as he had stereotyped the religion.
It said religious tensions would continue to escalate if his comments were condoned by the Perikatan Nasional (PN) government, adding that the matter had to be nipped in the bud.
"MCCBCHST calls upon the prime minister to provide moral leadership by making a statement to forbid politicians who seek to use religion to divide the nation.
"The speaker of the Dewan Rakyat also carries the responsibility on behalf of all Malaysians to disallow politicians who touch on matters of religion other than their own in debates.
"If nothing is done, the current government will bear full responsibility for destroying the religious harmony which has served to keep our country in peace and prosperity all these years," it said in a statement today.
The interfaith council said Zawawi's comments were a dangerous precedent and unacceptable, and that it would not allow irresponsible politicians to build animosity by disparaging other religions.
The statement was jointly signed by the council's president Archbishop Julian Leow Beng Kim, Malaysian Gurdwaras Council's Sardar Jagir Singh, Malaysia Hindu Sangam's RS Mohan Shan, Federation of Taoist Associations Malaysia's Dao Zhang Tan Hoe Chieow and Malaysia Buddhist Association's Venerable Sing Kan.
Zawawi had alleged in the Dewan Rakyat last week that biblical injunctions about drinking alcohol had been "distorted or altered", and that the Bible had formerly outlawed the consumption of alcohol.
His remarks have brought protests from politicians in Sabah and Sarawak, and a Sarawak archbishop who called for a retraction and an apology. A sedition report was also filed against Zawawi in Kuching.
https://www.freemalaysiatoday.com/category/nation/2020/09/01/interfaith-council-urges-pm-to-act-over-pas-mps-bible-remarks/
--------
US, UK, Norway welcome Sudan peace agreement in joint statement
31 August 2020
The United States, Britain and Norway applauded the peace agreement announced Monday between Sudan's transitional government and rebels of the Sudan Revolutionary Front.
The three countries, known as the Sudan Troika, called the agreement the "first step" to restore stability and hope for the Sudanese people who have suffered for years amid violent conflict.
For all the latest headlines follow our Google News channel online or via the app
"The peace agreement lays a foundation for sustainable peace and stability in Darfur and other conflict-affected areas that is critical for Sudan's democratic transition," the Troika said in a statement.
They said both sides had made important concessions and urged the implementation of the deal "in good faith", pointing to the need for more peace talks with other rebel groups.
They said the risks to sustainable peace remain high given ongoing violence in Darfur, Port Sudan and South Kordofan and Blue Nile states.
"The Troika urges the Sudan People's Liberation Movement-North-Abdelaziz al-Hilu and the Sudan Liberation Movement-Abdulwahid Al Nur to build on this achievement and to engage in serious negotiations with the government," they said.
"The Troika urges Sudan's diverse communities to overcome old enmities and to unite to support this singular opportunity for lasting peace."
The deal agreed on Monday is seen as a crucial step towards ending 17 years of conflict in which hundreds of thousands of people were killed.
Fighting in Darfur alone left around 300,000 people dead after rebels took up arms there in 2003, according to the United Nations, with former government leaders accused of carrying out genocide and of crimes against humanity.
https://english.alarabiya.net/en/News/middle-east/2020/08/31/US-UK-Norway-welcome-Sudan-peace-agreement-in-joint-statement.html
--------
Bangladesh's Rohingya refugees lobby ICC to sit in Asia during war crimes investigation
Sep 1, 2020
Two Australian lawyers acting on behalf of hundreds of Rohingya refugees are pushing to have the International Criminal Court (ICC) sit in Asia for the first time.
The ICC is investigating allegations of genocide and crimes against humanity allegedly committed by Myanmar Government and military officials in 2017.
Hundreds of thousands of Rohingya — a stateless, mostly Muslim minority group — fled to neighbouring Bangladesh during the unrest.
Myanmar's Government, led by Nobel Peace Prize winner Aung San Suu Kyi, has faced accusations of failing to stop a systematic campaign of violence by security forces to wipe out the Rohingya minority, which Myanmar denies.
Lawyers acting on behalf of Rohingya refugees have now lodged a pre-trial motion asking the court to investigate the possibility of holding a trial outside of Europe.
What are they asking for?
Counsel at the ICC Kate Gibson is representing groups of Rohingya living in the Cox's Bazar refugee camp in Bangladesh.
Ms Gibson said they were hoping the court would hold some or part of the hearings in Asia, possibly in Bangkok in Thailand, or even Bangladesh.
"We're just asking the court to be aware of this massive gap that is existing between the Rohingya population in the camp who are cut off in every sense that you could imagine from The Hague to be aware that they feel like this," she said.
"And we think one of the most effective ways of doing that would be to look into whether the ICC can move its seat to somewhere closer to the victim communities."
What are the issues with the ICC's current location?
Postdoctoral research fellow at Sydney Law School Rosemary Grey said witnesses and victims faced a number of issues, including financial difficulty, lack of documentation and poor internet connections.
Emma Palmer, a lecturer at Griffith University Law School, said The Hague's distance from victims had an effect on the way it ran its trials.
"[Prosecutors] need to rely much more on intermediaries, on civil society groups to help them in the actual jurisdiction that they're trying to investigate," Dr Palmer said.
What do claimants say?
Muhammed Nowkhim is one of the Rohingya refugees hoping to testify before the court.
He left his village — along with 20,000 other people — after he woke to the sound to gunfire and rockets in August 2017.
Mr Nowkhim said his family members were shot at, and his home was burned to the ground during the violence.
"Most of the people [in the village] were injured, some of the people were shot, some people were bleeding."
The 24-year-old said having the court sit in Asia, rather than The Hague, would be meaningful to other people who wanted to testify.
"If the court is set up in Asia then every victim who [suffered], they can openly say their opinion in front of the judges," Mr Nowkhim said.
Ms Gibson said there were logistical benefits to the move.
"The court will be closer to the evidence, the sites, the witnesses themselves, and you won't have to put this burden on the victim communities to travel to this foreign location," she said.
Is it likely?
"The International Criminal Court can theoretically hold proceedings anywhere," Dr Grey said.
While the ICC has never sat outside of its headquarters in The Hague since it began in 2002, Dr Grey said she thought the move was "realistic".
Victims in countries such as Kenya and the Democratic Republic of Congo have made similar requests in the past, but they had been rejected on security, financial and technical grounds.
"The ICC has to have its proceedings somewhere safe for the judges, for the lawyers, safe for the victims or witnesses," Dr Grey said.
"[But] there are plenty of locations in Asia that are quite stable.
What other courts could inform the ICC's move?
Legal experts pointed to the UN-backed Extraordinary Chambers in the Courts of Cambodia as a possible model.
The tribunal investigated war crimes committed by the Khmer Rouge in the 1970s, and was established in the capital Phnom Penh in 2006.
"The public gallery was full of Cambodian people, full of local people who have bused in from the provinces, people from Phnom Penh people in school uniform or they university students, local journalists," Dr Grey said.
Dr Palmer said the ICC has had little engagement with South East Asia in the past.
"Even opening the discussion [of having the court in Asia] could be important if it opens some doors to the court to actually learn a bit more about the region," Dr Palmer said.
The ICC has been contacted for comment.
https://www.abc.net.au/news/2020-09-01/bangladesh-rohingya-international-criminal-court-asia-refugees/12571818
--------
Mideast
Israeli plane landing in UAE violates Arab consensus barring normalization with Israel: Palestinian PM
31 August 2020
Palestinian Prime Minister Mohammad Shtayyeh has condemned as "very painful" the landing of an Israeli plane on Emirati territory, stressing the highly provocative move violates the Arab consensus on refusing to normalize relations with the occupying regime.
The Palestinian premier made the remarks in the beginning of the weekly Palestinian cabinet meeting in Ramallah on Monday, shortly after Israel's El Al Flight 971, carrying high-level Israeli and American delegations, landed on Abu Dhabi International Airport.
"It is very painful to see today the landing of an Israeli plane in the United Arab Emirates in a clear violation of the Arab stance on the Arab-Israeli conflict," Palestine's official Wafa news agency quoted Shtayyeh as saying.
The Israeli passenger plane, which made the first direct non-cargo flight between Israel and the United Arab Emirates, touched down in Abu Dhabi after flying through Saudi Arabian airspace.
"We would have very much liked to see a UAE flight land in al-Quds after it is liberated. But we live in a difficult Arab era," the Palestinian prime minister further said.
The Saudi move to allow the Israeli plane to enter the Arab kingdom's airspace apparently signals the possibility that Riyadh could regularly allow such flights, shortening the route length and making them viable commercially.
The move is also perceived as a sign of Riyadh's support for the Israeli-UAE normalization deal, despite the fact that Saudi Arabia has been sponsoring the so-called Arab Peace Initiative that bars the Arab and Muslim countries from normalizing ties with Israel before a Palestinian state is established.
Abu Dhabi and Tel Aviv announced on August 13 that they had reached an agreement that would lead to a full normalization of diplomatic relations between the two sides.
The highly controversial deal, which has since been widely condemned across the occupied Palestinian territories and the Muslim world, was brokered by US President Donald Trump, who has attempted to paint it as a big breakthrough.
The UAE-Israel deal marks the third such normalization agreement the occupying regime has struck with an Arab country after Egypt (1979) and Jordan (1994). The UAE, the first country in the Persian Gulf region to reach such a deal with Tel Aviv, was already believed to have clandestine relations with Israel.
According to the accord, Israeli and UAE delegations are to hold meetings and sign bilateral agreements covering sectors, including investment, tourism and direct flights and the opening of reciprocal embassies.
On Saturday, Abu Dhabi announced it was scrapping its economic boycott against Israel, allowing trade and financial accords between the two sides.
Meanwhile, Israeli Prime Minister Benjamin Netanyahu on Sunday hosted a high-ranking US delegation, led by White House senior advisor Jared Kushner, and held a joint press conference with him and US National Security Adviser Robert O'Brien.
Netanyahu said that Tel Aviv was engaged in "many more unpublicized meetings with Arab and Muslim leaders to normalize relations with Israel."
He also noted that the recent Israel-UAE agreement would "pave the way" for other countries to normalize their relations with Tel Aviv.
The US delegation, along with a high-ranking Israeli delegation, headed to the UAE on Monday morning to meet with Emirati officials.
Elsewhere in his Monday remarks, the Palestinian prime minister thanked the Arab countries that have stood firm against normalization with the occupying regime and stuck to the so-called Arab Peace Initiative.
UAE allows Israel to penetrate Arab region: Islamic Jihad
On Sunday, the Palestinian Islamic Jihad Movement said the UAE, through its much-condemned agreement with Israel, allowed the occupying regime to penetrate the Arab region and a Muslim nation, holding Abu Dhabi fully responsible for such a move.
Israel is "the US' spearhead and its massive colonial project that targets the Arab and Muslim regions," said senior Islamic Jihad official Khader Habib during a press conference, the Palestinian Information Center reported.
He also warned against the "Zio-American ambitions" in the region and said Washington was seeking to push other Arab states to normalize their ties with Israel and clinch security agreements that would pose a threat to the Arab and Muslim regions.
"We are confident that no good will come from America or Israel," he said, commenting on Kushner's current regional visit to Israel and the UAE, which is believed to push for Arab-Israeli rapprochement.
https://www.presstv.com/Detail/2020/08/31/633009/Palestine-Israel-UAE-plane-Shtayyeh-normalization-Islamic-Jihad-
--------
Zionists should seek shelter, if mediation for lifting Gaza blockade fails : Top Hamas official
31 August 2020
A high-ranking official with the Palestinian Islamic Resistance movement, Hamas, has warned against the failure of mediation efforts aimed at ending the Israeli siege on the Gaza Strip, emphasizing that if such efforts fail, Israel's authorities and settlers will have to look for shelter.
"The failure of mediators' efforts to lift the blockade on the Gaza Strip means that the Zionist enemy and Zionist settlers will have to experience a life under siege in their shelters," Arabic-language Quds Press news agency quoted Hamas spokesman Mushir al-Masry as saying in a televised interview on Sunday evening.
He added, "Palestinian factions do not accept that the residents of the Gaza Strip be subjected to gradual death as a result of the continued [Israeli] siege and aggression."
"We have nothing to lose, and the enemy's effort to exploit the humanitarian situation [in Gaza] and the coronavirus pandemic to advance its own policies and extend the blockade imposed on our Palestinian nation will not succeed," Masry highlighted.
The top Hamas official further noted, "The occupying regime refrains from responding to the legitimate demands of the Palestinian people to lift the siege. However, our nation and the resistance front have decided to continue their endeavor to have the siege of Gaza lifted."
"We will go to great lengths [in the effort to end the blockade of Gaza] and all options are on the table. The Zionist regime will be responsible for all the dangerous consequences of this issue," Masry said.
On Sunday, Ismail Haniyeh, head of the political bureau of Hamas, stated that his resistance movement will continue to make efforts to end all forms of siege on the Gaza Strip.
Haniyeh said in a statement that "Hamas and the people in Gaza are determined to confront the unjust blockade until it is removed completely."
"The Hamas leadership is keenly following the current situation in the Gaza Strip as well as the contacts and efforts being made by many parties to end the siege on the strip," the Hamas leader stated.
Haniyeh also expressed confidence in the mediation efforts being made by Egypt and Qatar to end the Israeli blockade on Gaza.
The Gaza Strip has been under Israeli land, air and sea blockade since June 2007, after Hamas, which has vowed to resist Israeli occupation, rose to power in the enclave.
Since imposing the siege, Israel has also waged three wholesale wars against Gaza, killing thousands of Palestinians in each.
The crippling blockade has caused a sharp decline in the standard of living as well as unprecedented levels of unemployment and unrelenting poverty in the strip.
https://www.presstv.com/Detail/2020/08/31/633003/Failure-of-efforts-to-lift-Gaza-blockade-means-Zionists-have-to-seek-shelter-Top-Hamas-official
--------
Iran's Judiciary Chief Raps US, Europe for Sheltering Terrorists
Aug 31, 2020
Rayeesi made the remarks on Monday, addressing judiciary officials in Tehran.
"The US has sheltered the murderers of 17,000 Iranian officials and people, while it itself is a terrorist government which has clearly declared that it has assassinated (former) Commander of the Islamic Revolution Guards Corps (IRGC) Quds Force Lieutenant General Qassem Soleimani while he was the official guest of the Iraqi government," he said.
Rayeesi reiterated the need for a continued legal pursuit into the case of General Soleimani's assassination by the judiciary and the foreign ministry, saying that his blood will cause expulsion of the US from the region by increasing the regional nations' awareness.
Earlier today, Chairwoman of the Iranian parliament's Human Rights Commission Zohreh Elahian in a letter to Head of the European Parliament's Subcommittee on Human Rights (DROI) Maria Arena called for the access of the Iranian victims of terrorism to the terrorists residing in the European states for a fair trial.
"Over 17,000 oppressed Iranian citizens have been victimized by the terrorist acts and clear and systematic violation of the basic human rights, including the right of living, the right of security and the right of health, by terrorist groups, specially members of Mojahedin-e Khalq Organization," Elahian wrote in her letter on Monday.
She expressed regret that most terrorists who have been sheltered by the European states are still plotting against the Iranian nation.
"We expect that the European parliament pursues the issue and the European governments act based on good will and the principle of commitment to the international undertakings, support the victims of terror and their family members, provide the victims with access to justice and put the terrorists who live in these countries on trial to end the process of no punishment for the terrorists and take an effective step in the fight against terrorism," Elahian concluded.
The MKO is listed as a terrorist organization by much of the international community. Its members fled Iran in 1986 for Iraq, where they received support from then dictator Saddam Hussein.
The notorious outfit has carried out numerous attacks against Iranian civilians and government officials for several decades.
In 2012, the US State Department removed the MKO from its list of designated terrorist organizations under intense lobbying by groups associated to Saudi Arabia and other regimes adversarial to Iran.
A few years ago, MKO members were relocated from their Camp Ashraf in Iraq's Diyala Province to Camp Hurriyet (Camp Liberty), a former US military base in Baghdad, and were later sent to Albania.
Those members, who have managed to escape, have revealed MKO's scandalous means of access to money, almost exclusively coming from Saudi Arabia.
The MKO terrorist group specified the targets as martyred Lieutenant General Qassem Soleimani, who commanded the Quds Force of the Islamic Revolution Guards Corps (IRGC), and Iranian Judiciary Chief Seyed Ebrahim Rayeesi.
The terrorist organization said it would "welcome" their assassination, adding that it desired for the ranking officials to "join" Asadollah Lajevardi, Tehran's former chief prosecutor, and Ali Sayyad-Shirazi, a former commander of the Iranian Army's Ground Forces during Iraq's 1980-88 war against Iran.
Earlier in June 2019, a leaked audio of a phone conversation between two members of MKO, revealed Saudi Arabia has colluded with the MKO elements to frame Iran for the recent tanker attacks in the Persian Gulf.
In the audio, Shahram Fakhteh, an official member and the person in charge of MKO's cyber operations, is heard talking with a US-based MKO sympathizer named Daei-ul-Eslam in Persian, IFP news reported.
In this conversation, the two elements discuss the MKO's efforts to introduce Iran as the culprit behind the tanker attacks in the Persian Gulf, and how the Saudis contacted them to pursue the issue.
"In the past week we did our best to blame the [Iranian] regime for the (oil tanker) blasts. Saudis have called Sister Maryam (Rajavi)'s office to follow up on the results, [to get] a conclusion of what has been done, and the possible consequences," Fakhteh is heard saying.
"I guess this can have different consequences. It can send the case to the UN Security Council or even result in military intervention. It can have any consequence," Daei-ul-Eslam says.
Attacks on two commercial oil tankers in the Gulf of Oman on June 13, and an earlier attack on four oil tankers off the UAE's Fujairah port on May 12, 2019, have escalated tensions in the Middle East and raised the prospect of a military confrontation between Iran and the United States.
The US, Saudi Arabia, and the UAE have rushed to blame Iran for the incidents, with the US military releasing a grainy video it claimed shows Iranian forces in a patrol boat removing an unexploded mine from the side of a Japanese-owned tanker which caught fire earlier this month.
It later released some images of the purported Iranian operation after the video was seriously challenged by experts and Washington's own allies.
The MKO which is said to be a cult which turns humans into obedient robots, turned against Iran after the 1979 Revolution and has carried out several terrorist attacks killing senior officials in Iran; yet the West which says cultism is wrong and claims to be against terrorism, supports this terrorist group officially.
After the Islamic Revolution in 1979, the MKO began its enmity against Iran by killings over 17,000 Iranians and terrorist activities. Several members of the terrorist group and its leaders are living in France now, freely conducting activities.
The MKO terrorist group has martyred 17,161 Iranian citizens, including late president Mohammad Ali Rajayee, former prime minister Mohammad Javad Bahonar, late Head of Supreme Judicial Council Ayatollah Mohammad Beheshti, late Deputy Chief of the Iranian Armed Forces General Staff Ali Sayyad Shirazi, and 27 legislators, as well as four nuclear scientists.
https://en.farsnews.ir/newstext.aspx?nn=13990610000899
--------
Israeli airstrikes kill 11 in Syria, including Iran-backed militants
01 September 2020
Israeli strikes on Syria killed one civilian, three government troops and seven allied foreign fighters, a war monitor said on Tuesday in a new toll.
The Syrian Observatory for Human Rights, which had previously put the toll from Monday's strikes at five, said Iran-backed paramilitary fighters were among those killed in the attack on positions south of Damascus.
https://english.alarabiya.net/en/News/middle-east/2020/09/01/Israeli-airstrikes-kill-11-in-Syria-including-Iran-backed-militants.html
--------
Israeli strikes on military targets south of Damascus kill five fighters: Report
01 September 2020
Israeli strikes on military targets south of the Syrian capital Damascus on Monday killed two soldiers and three allied fighters, a war monitor said.
State news agency SANA said "the Zionist enemy carried out a strike... on some of our military positions south of Damascus and our air defenses confronted them" late on Monday.
For all the latest headlines follow our Google News channel online or via the app
"The Israeli attack led to two martyrs being killed and seven soldiers being wounded," the source said, adding the fire had came from the direction of the Israeli-occupied Golan Heights.
The Syrian Observatory for Human Rights, a Britain-based war monitor, said another three non-Syrian fighters were also killed.
It said the missiles targeted positions of pro-government Lebanese Shiite group Hezbollah and allied Syrian fighters southwest of Damascus and in the southern province of Daraa.
Israel has carried out hundreds of raids in Syria since the civil war broke out in 2011, against Tehran-aligned Hezbollah and Iranian forces supporting Syrian President Bashar al-Assad, as well as government forces.
The Israeli army rarely acknowledges the strikes, but said that on August 3 it had used fighter jets, attack helicopters and other warplanes to hit Syrian military targets in southern Syria.
Hezbollah's leader Hassan Nasrallah on Sunday warned the group would kill an Israeli soldier for each of its fighters slain by the Jewish state, after one of its combatants was killed in an Israeli strike in Syria on July 20.
Nasrallah on Sunday said a "decisive decision" had been taken but that Hezbollah was "not in a hurry."
His statement came after a series of incidents on the Lebanese-Israeli frontier.
Israel said on Wednesday it had launched air strikes against Hezbollah observation posts in Lebanon after shots were fired from across the border.
Hezbollah also announced the previous weekend it had brought down an Israeli drone flying over the border.
Hezbollah has fought several wars against Israel, though a ceasefire has largely held since 2006 and a UN peacekeeping force patrols along the Lebanese-Israeli frontier.
Syria's war has killed more than 380,000 people and displaced millions from their homes since it started with the repression of anti-government protests.
https://english.alarabiya.net/en/News/middle-east/2020/09/01/Israeli-strikes-on-military-targets-south-of-Damascus-kill-five-fighters-Report.html
--------
India
LeT module busted in J&K's Reasi district, 3 arrested
Aug 31, 2020
JAMMU: A joint team of J&K Police and Army busted a Lashkar-e-Taiba (LeT) terror module and arrested three affiliates in Mahore area of J&K's Reasi district on Monday.
Reasi SSP Rashmi Wazir said the module was tasked with reviving the organisation in Mahore. "The arrested trio, Ghulam Hussain, Abdul Aziz and Ashfaq Ahmed was in contact with Pakistani handler Mohammad Qasim of Mahore — who exfiltrated to Pakistan-occupied Kashmir in 2002 — via different means, and some benami transactions in different accounts of the accused were detected," she said.
Some families of slain terrorists who received financial aid from ISI were also identified, the SSP said, adding that the involvement of more suspects was found in this module and further probe is in progress.
The investigation in the case started after a tip-off about LeT's plan to revive its unit in Mahore to wage a war against India and disturb its sovereignty and integrity. With the help of technical data analysis from the Army and interrogation of suspects by the joint team, it emerged that Qasim was working for LeT in Pakistan and was the mastermind of the plan, the SSP claimed.
The aim was to prepare youth to help terrorists in infiltration, recruit new members from Mahore and adjoining areas, provide logistical support and set up a LeT base besides facilitating cross-border movement of terrorists.
https://timesofindia.indiatimes.com/india/let-module-busted-in-jks-reasi-district-3-arrested/articleshow/77858679.cms
--------
32 Babri case accused submit reply in court
Aug 31, 2020
Babri Masjid demolition case on Monday before a special Central Bureau of Investigation (CBI) in Lucknow.
Judge Surendra Kumar Yadav had set an August 31 deadline for all the accused to submit their written arguments in the case related to the December 1992 razing of the 16th century mosque.
"All 32 accused submitted their replies today. With this, the 'legal fight' in the case comes to an end. Only the last arguments will take place on Tuesday," said lawyer KK Mishra, who is representing 25 out of 32 accused, including senior Bharatiya Janata Party (BJP) leaders LK Advani, Murli Manohar Joshi and Kalyan Singh.
"Tuesday's arguments will be just a formality. Counsel of all accused will argue to assert only those points which they have submitted in writing in court today," said Mishra.
The Supreme Court's original deadline for the delivery of judgment in the case was to expire on August 31. Earlier this month, it extended the deadline for the special CBI court till September 30.
https://www.hindustantimes.com/india-news/32-babri-case-accused-submit-reply-in-court/story-tfAY8iV0ERR9C2fuucCn5M.html
--------
Pakistan
HRCP, PBC And Journalists Slam Threats Hurled At Journalist Ahmad Noorani
01 Sep 2020
ISLAMABAD: The Pakistan Bar Council (PBC), Human Rights Commission of Pakistan (HRCP) and Pakistan Federal Union of Journalists (PFUJ) in a joint statement "strongly condemned" death threats hurled at senior journalist Ahmad Noorani for writing an investigative piece about the business fortunes of close relatives of a retired army officer and prime minister's aide.
The statement, issued by PBC vice chairman Abid Saqi, HRCP chairperson Dr Mehdi Hasan and secretary general Harris Khalique, PFUJ president Shahzada Zulfikar and secretary general Nasir Zaidi, "denounced this well-orchestrated campaign" against the journalist, declaring him anti-state and agent of the enemy.
The statement maintains that if anyone has any complaint against Mr Noorani's story, they should approach courts. "The bar, press, and civil society leaderships urge the government to provide protection to Mr Noorani and investigate elements behind these threats to the journalist."
They reminded the government that Mr Noorani had been brutally attacked a few years ago and the culprits got off scot-free.
Shibli says Asim Bajwa will soon speak about assets
Expressing full support for Mr Noorani, the statement calls upon all human rights organisations and civil society to take note of the situation where voices of dissent are being curbed through brute force and even abduction of journalists.
"Freedom of expression is under more threat under this government than it was during the martial law regimes. We stand for freedom of expression and speech, and would resist any attempt to impose any curbs on them," the statement concluded.
Assets of PM's aide, family
In a separate statement, Pakistan Peoples Party (PPP) secretary general and former senator Farhatullah Babar on Monday demanded a thorough probe into the investigative news report published on a website about alleged offshore properties and businesses of Special Assistant to the Prime Minister (SAPM) on Infor­mation retired Lt Gen Asim Saleem Bajwa and his close family members.
Mr Babar said there was a need to carry out investigations to ascertain how the alleged businesses of Mr Bajwa's family members multiplied in other countries in proportion to his rise along the official ladder in Pakistan. "The official documents quoted in the report apparently lend credence to it," he said, adding that this had raised serious questions about the fidelity of solemn declarations made by the SAPM last month.
NAB's silence
The PPP leader said that the National Accountability Bureau (NAB), the anti-graft watchdog that always claimed to have looked at the nature of cases and not the faces of individuals, was totally silent in this matter. "Too much is at stake to turn a blind eye," he added.
"Restoring credibility demands that the report is appropriately responded to in a transparent, effective and convincing manner," he said, adding that "silence or closing eyes is no an option".
He said: "Discrimination, selective application of the law, some more equal than others has weakened the fabric of state and society which must come to an end."
Following the report's publication, retired Lt Gen Asim Saleem Bajwa, who is also chairman of the China-Pakistan Economic Corridor (CPEC) Authority, denied the allegations on Twitter. He said: "A malicious propaganda story published on an unknown site, against me and my family, is strongly rebutted."
Talking to reporters in his hometown Multan last week, Foreign Minister Shah Mehmood Qureshi had claimed that the authenticity of the news report on the alleged offshore properties and businesses of Asim Saleem Bajwa and his family would be clear soon.
"It is now a common practice that the news is run without confirmation. A news should be made public once it is confirmed. The truth in this case will come to the fore soon," the minister had stated.
Speaking at a protest demonstration organised by the Defence of Human Rights and civil society organisations outside the National Press Club on Monday evening to observe the International Day of the Disappeared, PPP leader Farhatullah Babar said enforced disappearance was a crime against humanity under the international law and warned that one day the world might wake up and take notice of the impunity with which people continue to disappear in the country without a trace.
Meanwhile, federal Minister for Information and Broadcasting Shibli Faraz through a tweet stated that Mr Bajwa would talk about the news report regarding his assets in the next few days.
https://www.dawn.com/news/1577328/lawyers-rights-groups-slam-threats-hurled-at-journalist
--------
Pakistanis rally against citizens' abduction by secret service
01 September 2020
These are victim families of an unending saga of enforced disappearances in Pakistan. On the eve of the International Day of the Disappeared, the victim families together with human rights activists staged a protest rally in Islamabad against Pakistani secret services.
The country's intelligence agencies have been at the heart of allegations to have illegally detained a large number of citizens in Guantanamo-bay like prison-centers particularly in the northwestern Pakistan. Many among the victims were handed over to the American under the pretext of so-called war against terror.
https://www.presstv.com/Detail/2020/09/01/633046/Pakistanis-rally-against-citizens--abduction-by-secret-service
--------
Plea seeking referendum on presidential form of govt reaches SC
Nasir Iqbal
01 Sep 2020
ISLAMABAD: A civil engineer has moved a petition in the Supreme Court seeking an immediate referendum on a question whether the people of Pakistan want a presidential form of government against what he described as a duplicitious parliamentary system.
Through the petition, Dr Sadiq Ali, who has done PhD in turbine design from Ulster University, UK, pleaded the top court that the case whenever be taken up be telecast live on national TV channels and electronic media for the benefit of public at large. This, the petitioner, said would help avoid misunderstanding or distortion of facts in the translation by the media.
A similar petition was earlier filed by Hum Awam Pakistan Party chairman Tahir Aziz Khan by invoking Article 184(3) of the Constitution that deals with the Supreme Court's authority to enforce fundamental rights of the people.
The new petition also seeks direction from the top court for Prime Minister Imran Khan and other relevant parties to hold referendum under Article 48(6) of the Constitution on the issue whether the people of Pakistan, for their welfare and wellbeing, want the presidential form of government or not.
Almost similar arguments have been adopted by Dr Sadiq Ali in the his petition to highlight the failure of the parliamentary form of government in the country and how it was imperative to cut costs and unify command of public governance.
The petitioner has cited high population, high public debt, failure of successive governments to plan meaningful jobs to the burgeoning youth comparing the average Human Development Index (HDI) of Pakistan with other countries of the region: India, Bangladesh, Sri Lanka, Nepal and Bhutan.
"The governments have also failed to create a unified industrial policy or industrial base in addition to failure to address the chronic negative balance of trade thus pushing Pakistan and its people to clutches of foreign-based warlocks and syndicates," the petition claimed.
The governments have also failed to stop the brain drain or to attract foreign investment which could actually enhance GDP and create jobs.
The petition regretted that members of parliament were in the habit of changing loyalties and cut deals under the table to blackmail the governments only to promote their own personal interests.
"Thus a healthy opposition and a strong government are not there to take care of the welfare and wellbeing of the people."
The petition also highlighted little legislation work done in assemblies claiming that meetings of legislatures often failed due to lack of quorum and the monitoring role of the opposition was often compromised.
https://www.dawn.com/news/1577316/plea-seeking-referendum-on-presidential-form-of-govt-reaches-sc
--------
People want Nawaz to assume power in Pakistan, says Maryam
Sep 1, 2020
LAHORE: Pakistan Muslim League-Nawaz (PML-N) Vice President Maryam Nawaz on Monday claimed that the people of Pakistan want Nawaz Sharif in power once again.
Maryam took to Twitter to share the pictures of the reception she received in her travel from Lahore to Islamabad on the motorway.
She said that she met the people who had come from Karachi and other areas of the country when she resided in Bhera area of Punjab during the journey.
Maryam said that when she stopped at Bhera for the Lunch, the people surrounded her and asked about her father.
Whether to use the religion card or to use the traitor card, the work of the PML-N will speak, she added. The people are demanding salvation from the mess of the Pakistan Tehreek-e-Insaf (PTI) government.
She claimed that the public's love for Nawaz has increased and the masses want the return of Nawaz so that he can assume the power and bring back Pakistan on the track.
The PML-N VP said that the opponents of Nawaz can do propaganda or hurl accusations on him, but no one can erase his work.
https://www.pakistantoday.com.pk/2020/08/31/people-want-nawaz-to-assume-power-in-pakistan-says-maryam/
--------
Islamabad, Kabul vow to address challenges plaguing ties
Baqir Sajjad Syed
01 Sep 2020
ISLAMABAD: As bilateral meetings between Pakistan and Afghanistan under the Afghanistan-Pakistan Action Plan for Peace and Solidarity (APAPPS) resumed on Monday, both sides vowed to make the best of this engagement framework for addressing the challenges that keep plaguing their ties.
"The two sides reiterated their commitment to optimally utilise APAPPS to deliberate on all key issues, effectively address common challenges, and pursue new opportunities," a statement issued by the Foreign Office said after the APAPPS second review meeting in Kabul earlier in the day.
Foreign Secretary Sohail Mahmood led the Pakistani delegation comprising senior officers at the talks. The Afghan side was led by Deputy Foreign Minister Mirwais Nab.
Both sides, moreover, agreed to increase the frequency of the meetings under APAPPS — the ties framework established in 2018 for providing a comprehensive and structured mechanism for institutional engagement between the two countries. The framework comprises five working groups dealing with politico-diplomatic exchanges, military-to-military ties, intelligence sharing, economic cooperation and refugee issues.
Afghanistan-Pakistan Action Plan for Peace and Solidarity second review meeting held
The previous review session was held in June 2019. No subsequent meetings under APAPPS could be held first because of Afghan presidential elections and later due to the controversies surrounding the polls results and more recently because of the Covid-19 pandemic.
Foreign Minister Shah Mehmood Qureshi had in his first telephone conversation with acting Afghan Foreign Minister Haneef Atmar, soon after his nomination in April, called for revitalising the dysfunctional APAPPS.
"During the meeting, the entire spectrum of bilateral relations was reviewed," the FO said.
Speaking at a press conference in Kabul after the meeting, Mr Mirwais, according to Afghan media, said: "We agreed to expand relations of the two countries not only at the bilateral level but with trilateral and multilateral mechanisms."
He said the Afghan delegation took up matters relating to border fencing by Pakistan, border incidents, problems faced by Afghan refugees in Pakistan, trade and transit issues, and the peace process in the wide-ranging talks.
In-depth discussions on these issues were held in the meetings of the respective working groups.
In the politico-diplomatic working group, the discussion was focused on strengthening bilateral relations through regular high-level exchanges, increased institutional engagement, utilisation of the existing mechanisms, including APTECA and Joint Economic Cooperation, enhanced economic partnership and intensified people-to-people exchanges, the FO said.
At the working group on economy, Pakistan reaffirmed its commitment to expanding bilateral trade through facilitation and liberalisation measures and expressed its readiness to commence negotiations on a new Afghanistan-Pakistan Transit Trade Agreement.
Under the military-to-military and intelligence cooperation working groups, the importance of regular exchanges and closer collaboration was emphasised.
The refugee working group, the FO said, discussed all aspects pertaining to the Afghan refugees in Pakistan.
"The Pakistan side reiterated that the peace and reconciliation process offered a unique opportunity to address the return of Afghan refugees to their homeland with dignity and honour. A time-bound, well-resourced roadmap was important in this regard," the statement said.
Secretary Mahmood, speaking at the meetings, said Pakistan supported peace talks and was awaiting the start of the intra-Afghan dialogue. He cautioned the Afghan side about the challenges in the peace process and said that "perseverance and unflinching commitment" was needed for a successful outcome.
Mr Mahmood said bilateral mechanisms and regular exchanges between the two countries could help the two sides better understand each other's perspectives.
The foreign secretary and his delegation started the day-long Kabul trip with a meeting with acting Foreign Minister Hanif Atmar.
Mr Atmar noted the improvement in military and security cooperation between the two countries.
https://www.dawn.com/news/1577322/islamabad-kabul-vow-to-address-challenges-plaguing-ties
--------
JUI-F member expelled from PA over threatening remarks
Zulfiqar Ali
01 Sep 2020
PESHAWAR: Jamiat Ulema-i-Islam-Fazl member from South Waziristan tribal district Hafiz Isamuddin was expelled from the sitting of the Khyber Pakhtunkhwa Assembly on Monday on the order of Speaker Mushtaq Ahmad Ghani for threatening on last Tuesday to bomb the assembly's building.
"In exercise of powers conferred upon me under sub-rule (2) of Rule 227 of the Provincial Assembly of Khyber Pakhtunkhwa Procedure and Conduct of Business Rules, 1988, I do hereby order to withdraw Mr Isamuddin, MPA forthwith from the House on account of his misconduct — threatened the MPAs, this August House and precinct of the assembly," read the speaker's order after the assembly passed a resolution against the lawmaker.
The order further read, "The words he (Isamuddin) uttered on a point of order were disgusting, threatening and breach of privilege of all members of the assembly, this August House and so forth the people of the province."
The speaker directed the security staff to expel Hafiz Isamuddin from the house for a single day.
The chair later adjourned the sitting for 15 minutes.
The MPA from PK-113 while speaking on a point of order on Aug 25 had criticised the role of the security forces for not clearing landmines from an area in his constituency and warned that he would bomb the assembly by putting explosives in his waistcoat if his grievances were not addressed.
Opposition except ANP protests 'one-sided' ruling of speaker against Hafiz Isamuddin
The lawmaker had complained that the security forces were not clearing landmines from Badder area of South Waziristan and that several people, including women and children, had lost life in landmine explosions.
The chair's ruling sparked commotion with the opposition members except Awami National Party's protesting against what they described one-sided ruling.
ANP parliamentary leader Sardar Hussain Babak not only slammed the JUI-F MPA for his remarks but also supported the resolution moved by the government.
The ANP's support for the resolution created division among the joint opposition. He said his party had never supported terrorism and extremism in any form.
Surprisingly Speaker Mushtaq Ghani had directed on Tuesday last to expunge remarks of MPA Hafiz Isamuddin from records.
The issue resurfaced on the floor of the house when labour minister Shaukat Ali Yousafzai on a point of order said an elected member had threatened to carry out suicide attack inside the assembly.
He said political parties should not allot ticket to the people, who threatened to blow up the assembly, and that such behaviour was unacceptable.
The minister asked the chair to direct the security staff to subject all lawmakers to body search on entrance.
Muttahidda Majlis-i-Amal member Maulana Lutfur Rehman said his party didn't endorse the remarks of Hafiz Isamuddin.
He said he apologised on behalf of the lawmaker, who might have become emotional due to situation in his area.
The lawmaker said Hafiz Isamuddin would also tender an apology for remarks.
He said Hafiz Isam's father, Maulana Merajuddin, who was elected an MNA from South Waziristan region, was gunned down in May 2010 over his stand against militancy.
Mr Rehman said the JUI-F leaders and workers had lost life to militancy.
Special assistant to the chief minister Kamran Bangash said the lawmaker should control his emotions in future.
He said such irresponsible statements supported the narrative of militants.
Later, the adviser to the chief minister on science and technology asked the speaker to allow him to move a resolution against that MPA.
The resolution moved without relaxing the relevant rule of business was passed by the house with a majority vote.
The PTI and ANP supported the resolution, which demanded of the JUI-F to act against its such elements and of the speaker to expel the MPA from the session for a day.
Pakistan Peoples Party MPAs condemned the JUI-F MPA over his statement but said the chair gave the ruling against him in haste.
They said the speaker should have given the floor of the house to the MPA to clarify position.
MPA Mir Kalam Khan from North Waziristan, who survived an assassination attempt near Mirali area on Sunday, came down heavily on the government and security forces.
In a hard-hitting speech, he said spike in targeted killings and acts of terrorism in tribal districts was a failure of security forces and intelligence agencies.
The lawmaker said 200 people, including elders and government officials, had become a victim of targeted killing in North Waziristan since Feb 2018, but security forces and intelligence agencies didn't apprehend a single culprit.
He said target killers easily escaped after attacks in the area despite the deployment of 35,000 army troops and paramilitary forces and presence of a corps of intelligence operatives.
Mr Mir Kalam said the frequent targeted killings questioned the performance of intelligence agencies.
"I request the state institutions to understand the situation and address grievances of the people of Waziristan," said Mr Kalam, who has affiliation with Pakhtun Tahafuz Movement.
Referring to the speaker's ruling against MPA Hafiz Isam, he said the lawmaker was expelled from the house for issuing only a statement, while the PTI had attacked Parliament House and PTV headquarters in Sept 2014 but got off scot-free.
He wondered if anybody expelled PTI parliamentarians for those attacks.
The house completed a debate on power crisis in the province.
In his concluding speech, minister Shaukat Yousafzai said electricity-related issued would be resolved and the government would make no compromise on the rights of the province. He said the Pesco should address its shortcomings.
https://www.dawn.com/news/1577265/jui-f-member-expelled-from-pa-over-threatening-remarks
--------
Three Pakistani soldiers killed, four wounded in militant attack in northwest
31 August 2020
Suspected militants attacked Pakistani troops amid a search operation in a former Taliban and al-Qaida stronghold in the northwest near the Afghan border, triggering a shootout that killed three soldiers, the army said Sunday.
It said four soldiers also were wounded in the attack in South Waziristan, a district in the Khyber Pakhtunkhwa province. The army provided no further details, but South Waziristan had served as a militant base until recent years when Pakistan said its operations there had cleared the area of the Taliban.
No group claimed responsibility, although Pakistani Taliban have been blamed for such previous violence in the region, where militants have a presence.
For all the latest headlines follow our Google News channel online or via the app
According to a recently released UN report, more than 6,000 Pakistani insurgents are hiding in Afghanistan, most belonging to the outlawed Pakistani Taliban group, which often attacks Pakistani military and civilian targets.
https://english.alarabiya.net/en/News/world/2020/08/31/Three-Pakistani-soldiers-killed-four-wounded-in-militant-attack-in-northwest.html
--------
North America
US vetoes UN resolution on foreign militants, including detainees in Syria, Iraq
31 August 2020
The United States Monday vetoed a UN resolution on the fate of foreign militants which failed to include a call for their repatriation, diplomats said.
Drafted by Indonesia -- a non-permanent member of the Security Council -- the text drew support from 14 members, with the United States the only one to vote against.
For all the latest headlines, follow our Google News channel online or via the app.
It stopped short of calling for fighters to be repatriated to their countries of origin -- as sought by the United States but opposed by European nations.
Instead, the text encouraged UN member states to work to reinsert ex-fighters -- thousands of whom are detained in Syria and Iraq -- into society, once they have served any possible jail time, and to provide particular support for their families.
US Ambassador to the UN Kelly Craft criticized Indonesia's resolution "supposedly designed to reinforce international action on counterterrorism" as "worse than no resolution at all."
She added: "Terrorist fighters and their families are easily ignored if they are someone else's problem. But I tell you now, and I say this with absolute conviction – failing to address head on the importance of repatriation will inevitably perpetuate the problem of terrorism."
https://english.alarabiya.net/en/News/world/2020/09/01/US-vetoes-UN-resolution-on-foreign-militants-including-detainees-in-Syria-Iraq.html
--------
US-Israeli team led by Trump's son-in-law arrives in Abu Dhabi
31 August 2020
US President Donald Trump's Zionist son-in-law Jared Kushner has arrived in the United Arab Emirates capital as part of his efforts in "normalizing relations" between Abu Dhabi and the Israeli regime.
Kushner, who is leading the US-Israeli delegation including Trump's national security adviser Robert O'Brien and other US government and Israeli officials, disembarked on Monday from the El Al airliner on the first-ever official Israeli flight from Tel Aviv to the UAE that landed at the VIP terminal in the Emirates capital where US flags flew alongside the Israeli banner.
The US -Israeli delegation is scheduled to hold talks to give a final touch on a pact establishing open relations between Israel and the UAE.
Upon arrival in Abu Dhabi, Kushner said that the United States was looking to advancing Tel Aviv's relations with Arab and Muslim capitals while maintaining what he described as Israel's qualitative military edge over the regional states.
Kushner also insisted that Palestinians should come to the negotiating table.
Israel and the UAE agreed to normalize ties earlier this month in an agreement apparently brokered by Trump, drawing strong criticism from Muslim countries and Palestinians, who called the move treason.
Before boarding the first official Israeli flight from Tel Aviv to the UAE, Kushner claimed, "This is a very hopeful time ... While this is a historic flight, we hope that it will start an even more historic journey in the Middle East and beyond."
Kushner praised the Saudis as being "very gracious" for allowing an Israeli airplane in the Muslim nation's airspace, insisting that the Israeli jetliner's flight over Saudi Arabia was "a manifestation of what is possible in the Middle East."
According to the accord, Israeli and UAE delegations are to hold meetings and sign bilateral agreements covering sectors including investment, tourism and direct flights and the opening of reciprocal embassies.
According to political commentator Kevin Barrett, Kushner, who is Trump's son-in-law and a key architect of the president's Middle East policies, is pursuing the interests of the powerful Kosher Nostra, an ethnically Jewish Zionist-loyal organized crime syndicate that murdered the Kennedys and orchestrated the September 11 neoconservative Zionist coup d'etat in America.
According to Barrett, Kushner, who is acting on behalf of this criminal gang, is in the region forcing the Arab and Muslim countries to surrender to genocide, while calling it "normalization."
https://www.presstv.com/Detail/2020/08/31/633016/US-Kushner-UAE-Israel-Saudi-Flight
--------
Europe
Global Muslim Scholars Condemn Desecration Of Holy Quran
Mustafa M. M. Haboush and Ali Semerci
31.08.2020
A top global Muslim group on Monday condemned recent desecrations of the holy Quran in Scandinavia.
Desecration of the holy Quran is an "incitement to terrorism and belittling of sacred values," said Ali al-Qaradaghi, secretary general of the International Union for Muslim Scholars (IUMS), on Facebook.
At an anti-Islam protest Saturday in the capital Oslo by the far-right Stop the Islamization of Norway (SION) group, a protester tore out pages of the Quran and spat on them.
Last Friday, in Malmo, Sweden, a copy of the Quran was also burned by supporters of Rasmus Paludan, leader of the Danish far-right Stram Kurs (Tight Direction) party.
Al-Qaradaghi also urged Muslims to strictly follow the teachings of Islam and not respond to extremism with extremism.
Urging authorities to take the necessary actions, Al-Qaradaghi said the incident does not harm the holy Quran but the perpetrator.
The first response to the incident has to be the establishment of an Islamic consensus on following the Quran, he added.
https://www.aa.com.tr/en/europe/muslim-scholars-condemn-desecration-of-holy-quran/1959066
--------
EU calls for dialogue with Turkey, end to tensions in Eastern Mediterranean
31 August 2020
The European Union has called for dialogue with Turkey, demanding that Ankara refrain from unilateral steps that stoke tensions in eastern Mediterranean.
"It is essential to go into the dialogue, into a serious, honest dialogue tackling all the open issues because only in the dialogue and in negotiations, you can pursue the escalation and the path towards stability and lasting solutions, which are so necessary in our relations both as a neighbor of Turkey and as a partner of Turkey. And that concerns the individual (European Union) member states and the EU as a whole," Peter Stano, the spokesman for EU foreign policy chief Josep Borrell, said on Monday.
He added, "The (EU Foreign) Ministers were very clear and determined to show EU solidarity with its two affected member states - namely Cyprus and Greece - and they were very clear in their call on Turkish authorities to end any unilateral activities, which are escalating tensions in the Mediterranean and the ministers and the EU are very clear in preferring dialogue."
https://www.presstv.com/Detail/2020/08/31/633014/EU-calls-for-dialogue-with-Turkey,-end-to-tensions-in-east-Mediterranean
--------
UK: Counter-terrorism team detain 2 at Stansted Airport
Ahmet Gürhan Kartal
31.08.2020
LONDON
British counter-terrorism officers have detained two men arriving in London's Stansted Airport Sunday evening, authorities confirmed.
A 34-year-old man from Kuwait and a 48-year-old man from Italy have been escorted off a Ryanair plane, which was intercepted by two RAF Typhoon fighter jets after reports of a security threat on board.
The men had arrived on a flight from Vienna and were detained under Schedule 7 of the Terrorism Act, according to a police statement.
Some passenger tweeted after they were permitted to leave the plane following the two men's detention by armed police.
They said police found suspicious material in the plane's toilet.
A Ryanair spokesman said the crew were "alerted of a potential security threat on board."
"In line with procedures, the captain informed UK authorities and continued to London Stansted, where the aircraft landed normally and taxied to a remote stand where passengers disembarked safely," he said.
https://www.aa.com.tr/en/europe/uk-counter-terrorism-team-detain-2-at-stansted-airport/1958441
--------
Arab world
US-Israeli delegation lands in Abu Dhabi on historic flight
01 Sep 2020
ABU DHABI: A US-Israeli delegation, led by White House adviser Jared Kushner, arrived here on Monday on the historic first commercial flight from Tel Aviv to mark the normalisation of ties between the Jewish state and the UAE.
In another breakthrough, Saudi Arabia allowed the flight to cross its airspace, halving what would otherwise have been a long trip around the Arabian peninsula.
"This is the first time this has ever happened. I would like to thank the Kingdom of Saudi Arabia for making that possible," Kushner, US President Donald Trump's son-in-law, said on arrival in Abu Dhabi.
The word "peace" was written in Arabic, English and Hebrew on the cockpit of the El Al flight that landed in the Emirates capital, where US flags flew alongside the Star of David banner.
In another rare development, Saudi Arabia allows its airspace for Israeli flight
The landmark direct flight by Israel's national carrier, numbered LY971 in a nod to the UAE's international dialling code, is due to return on Tuesday with the number 972, matching Israel's dialling code.
"While this is a historic flight, we hope that it will start an even more historic journey in the Middle East and beyond," Kushner, a key architect of Trump's Middle East policy, said before boarding.
"The future does not have to be predetermined by the past. This is a very hopeful time." Kushner urged the Palestinians, who have condemned the UAE deal as a betrayal of their cause, to come to the negotiating table.
"When they are ready, the whole region is very excited to help lift them up and move them forward. But they can't be stuck in the past, they have to come to the table," he said.
The accord was announced by Trump on August 13, making the UAE the first Gulf country and only the third Arab nation to establish relations with Israel.
Unlike Egypt, which made peace with its former battlefield enemy in 1979, and Jordan, which followed in 1994, the UAE has never fought a war with Israel.
Saudi Arabia next?
Gulf Arab nations have had increasingly publicly ties with Israel in recent years, boosted by their shared rivalry with Iran and the advantages of linking their powerful economies.
Saudi Arabia, in keeping with decades of policy by most Arab nations, says it will not normalise ties until Israel has signed a peace deal establishing an independent Palestinian state.
But the overflight was a concrete sign of Saudi cooperation with Israel after years of behind-the-scenes overtures.
The plane however skirted the Gulf states of Qatar and Bahrain, who have declined so far to follow the UAE's move.
"Peace is not an empty word used to normalise crimes and oppression," Saeb Erekat, secretary general of the Palestine Liberation Organisation, said on Monday.
"Peace is the outcome of justice. Peace is not made by denying Palestine's right to exist."
Sparks fly
The talks in Abu Dhabi aim to boost cooperation between the two regional economic powerhouses in areas including aviation, tourism, trade, health, energy and security.
The visit is also expected to include a meeting between Kushner and Israeli and Emirati national security advisers Meir Ben-Shabbat and Sheikh Tahnoun bin Zayed.
Ben-Shabbat, who was also on the flight to the UAE, said the delegation's goal was to make a plan to push ahead relations in a broad range of areas.
"We came here to transform a vision into a reality. There are no limits to cooperation... in education, innovation, health, aviation, agriculture, energy and many other fields," he said in Abu Dhabi.
Since the agreement between the UAE and Israel was unveiled, there have been phone calls between their ministers, and on Saturday the Emirates in a new milestone repealed a 1972 law boycotting Israel.
Israeli Prime Minister Benjamin Netanyahu, speaking alongside Kushner in Jerusalem on Sunday, praised "the swift pace of normalisation" between his country and the UAE.
"You will see how the sparks fly on this. It's already happening," he said, predicting that "today's breakthroughs will become tomorrow's norms. It will pave the way for other countries to normalise their ties with Israel."
"There are many more unpublicised meetings with Arab and Muslim leaders to normalise relations with the State of Israel," Netanyahu said, without naming any countries.
As part of the normalisation agreement, Israel agreed to suspend its planned annexations in the occupied West Bank, although Netanyahu quickly insisted the plans remained on the table in the long run.
The Israeli leader has also denied reports that the accord hinges on the sale of US F-35 stealth fighter jets to the UAE.
https://www.dawn.com/news/1577315/us-israeli-delegation-lands-in-abu-dhabi-on-historic-flight
--------
Diplomat Mustapha Adib designated as Lebanon's new Prime Minister
31 August 2020
Lebanon's Ambassador to Germany Mustapha Adib was named as prime minister on Monday by President Michel Aoun, three weeks after Lebanon's previous Prime Minister Hassan Diab announced his resignation in the wake of the deadly Beirut Port explosion.
While nominations to high-ranking positions in the Lebanese political system are often deadlocked for months or even years, the country's major political blocs consolidated around Adib with uncharacteristic speed.
The next order of business will be to select a Cabinet, a usually months-long process of horse trading between the different parties.
The pressure was on to make a nomination before the arrival of French President Emmanuel Macron in the country Tuesday. France has been heavily involved in the response to the Aug. 4 port explosion, with Macron organizing an international donor conference that raised some 250 million euros in pledged aid.
Adib has served as Lebanon's ambassador to Germany since 2013. He also serves as an adviser to former Prime Minister Najib Mikati, who joined with fellow former prime ministers Saad Hariri, Foaud Siniora and Tamam Salam in nominating Adib to head the new government.
Many had anticipated that Hariri, who resigned last October after the outbreak of massive anti-government protests, would be brought back to the top government position after Diab's resignation, but he has so far resisted.
By convention, Lebanon's prime minister is always a Sunni Muslim, the speaker of parliament a Shia Muslim, and the president a Maronite Christian.
Hariri's Future Movement party and allied parties did not take part in Diab's government, which was seen as a "one color" government controlled by the Shia Hezbollah party and its allies, including President Michel Aoun's Free Patriotic Movement. As a result, the Diab government had been viewed with suspicion by the West and Gulf states, from which Lebanon now needs funding, particularly after the port explosion.
A newly released damage assessment by the World Bank of the Beirut Port explosion estimates $3.8-4.6 billion in damages and $2.9-3.5 billion in economic losses from the explosion, with $1.8-2.2 billion in recovery and reconstruction funding needed for the next year.
Agreement on Adib
Future and Hezbollah both agreed on the nomination of Adib, along with a number of other major blocs, including the Progressive Socialist Party of Druze leader Walid Jumblatt, signaling a return to the concept of a "unity government."
Speaking after a meeting with Aoun Monday morning, Hariri said that Lebanon's priority should be rebuilding after the port disaster and reaching an agreement with the International Monetary Fund so that "the international community will return its support to Lebanon to control the economic collapse…and return to growth." Lebanon was seeking $10 billion from the fund to help the country get out of a major economic crisis even before the port explosion.
"All parliamentary blocs know that to reach this goal, there must be a government formed of people known for their competence, integrity and competence, and it must be formed quickly," he said.
Nasser Yassin, director of research and interim director at the American University of Beirut's Issam Fares Institute for Public Policy and International Affairs, said it appeared that the French had played a large role in pushing Adib's selection.
"Lebanese politicians always want to have a sponsor or a guardian to give them how to do it," he said. "The French I guess were working a lot in the backstage to get the name of this person."
Yassin said it appeared that Adib's main selling points for the Lebanese political parties – apart from being acceptable to France and the West – were that he "he's not someone provocative – he won't rock the boat in terms of any new direction."
But at the same time, he said it's unclear from Adib's track record if he will be up to the task of leading the country out of its multiple crises.
"The designated prime minister now, he has no solid experience, I think – we don't know him we don't know anything about him," he said.
There were some dissenting voices to Adib's nomination, including from Saad Hariri's brother, Bahaa, who has taken a harder line on Hezbollah than Saad. Bahaa wrote, "Mustapha Adib is another proxy for Lebanon's old system – it is not acceptable for warlords and militias to run our country. We need total change to make a new Lebanon."
Likewise, the Lebanese Forces party – a Christian party that is a rival to the Free Patriotic Movement and which also remained outside the Diab government – declined to endorse Adib, instead naming judge Nawaf Salam as its pick.
The next order of business will be to select a Cabinet, which typically takes months.
While the current circumstances might suggest that the selection process should be quicker than usual, Yassin said that unless the French are heavily involved in that process as well, "knowing Lebanese politicians, I think they will take their time and they will go back to their old tricks of trying to get the most out of the new cabinet."
https://english.alarabiya.net/en/News/middle-east/2020/08/31/Mustapha-Adib-is-Lebanon-s-new-Prime-Minister-Reuters-vote-count.html
--------
Saudi king sacks top military officials in new 'graft' cases amid royal power struggle
01 September 2020
The Saudi king has sacked several military officials, including two senior royals, over what is claimed to be graft charges, sparking speculation of a stepped-up push to consolidate Crown Prince Mohammed bin Salman's hold on power.
In a royal decree on Tuesday, King Salman bin Abdulaziz Al Saud removed Prince Fahad bin Turki of his role as commander of joint forces in the Saudi-led coalition waging war against Yemen.
His son, Abdulaziz bin Fahad, was also relieved of his post as deputy governor of al-Jouf region.
According to the decree, the officials, along with four others, face an investigation into "suspicious financial dealings" at the defense ministry.
The decree said the crown prince — who also serves as the defense minister — designated Lieutenant Gen. Mutlaq bin Salem bin Mutlaq al-Azima to replace Prince Fahd.
The decree was based on bin Salman's missive to the so-called Anti-Corruption Committee.
Prince Fahd was commander of the Royal Saudi Ground Forces, paratrooper units and special forces before becoming commander of joint forces in the Saudi-led coalition, according to Saudi daily Arab News.
Since rising to power on the back of a palace coup in 2017, bin Salman, who is considered Saudi Arabia's de-facto ruler, has spearheaded a campaign against alleged corruption in the government.
The campaign, however, is widely believed to be aimed at getting rid of the obstacles to the prince's hold on power.
In the most high-profile purge later that year, scores of royals, ministers and businessmen were detained at Riyadh's Ritz-Carlton hotel under tight security.
The majority of those high-profile figures later agreed to monetary settlements in exchange for their freedom and paid colossal sums of money.
Earlier this year, three senior royals, including the king's younger brother Prince Ahmed bin Abdulaziz and bin Salman's predecessors, Mohammed bin Nayef, were arrested.
The controversial crown prince has been embroiled in a number of scandals, including the assassination in 2018 of dissident journalist Jamal Khashoggi at the Saudi consulate in Istanbul.
More recently, bin Salman has been sued by former intelligence agent, Sa'ad al-Jabri, at a US court for a murder plot against the exiled figure.
The heir to the throne has also been under fire over the bloody war he has been leading against Yemen and the harsh treatment of activists at home.
https://www.presstv.com/Detail/2020/09/01/633049/Saudi-Arabia-King-Salman-royals-corruption
--------
Blasts hit Dubai, Abu Dhabi ahead of first flight from Israel
31 August 2020
Three people have been killed and several people injured in two separate explosions in the United Arab Emirates' capital Abu Dhabi and its tourism hub Dubai, police and local media say.
The incidents came as the first direct flight between Israel and the United Arab Emirates entered the Saudi airspace before landing in Abu Dhabi, which was hit by a rare blast shortly before the arrival of US and Israeli officials.
The Saudi move signals the possibility Riyadh could regularly allow these flights, shortening the route length and making them viable commercially. It is also seen as a sign of Riyadh's support for the Israeli-UAE normalization deal.
The El Al plane is carrying US and Israeli officials, who are set to meet with Emirati officials on Monday to further advance the accord.
Israel and the UAE on August 13 reached a deal that will lead to a full normalization of diplomatic relations between the two sides, in an agreement apparently brokered by US President Donald Trump.
According to the accord, Israeli and UAE delegations are to hold meetings and sign bilateral agreements covering sectors including investment, tourism and direct flights and the opening of reciprocal embassies.
The US delegation, which is heading to Abu Dhabi, is led by Trump's senior adviser and son-in-law, Jared Kushner, and includes national security adviser Robert O'Brien.
The delegation is on a trip to the region to push for Arab-Israeli rapprochement.
Hanan Ashrawi, a member of the executive committee of Palestine Liberation Organization, said Kushner and his team were "scrambling to convince as many Arab and Muslim leaders as possible" to give Trump a boost before his re-election bid in November.
"They will be a prop at the backdrop of a meaningless spectacle for a ridiculous agreement that will not bring peace to the region," she added.
The normalization deal sparked anger in the Middle East and elsewhere, with Palestinian leaders describing it as a "stab in the back" by an Arab country.
Shortly before the arrival of the US and Israeli officials, a blast hit American fast-food restaurants KFC and Hardees on Abu Dhabi's Rashid bin Saeed Street, also known as the airport road where the American-Israeli delegation is expected to land later on Monday.
Police said the blast caused several minor and moderate injuries. According to the National newspaper, other retail outlets were also damaged in the explosion.
A separate explosion rocked the UAE's tourism hub, Dubai, killing one person and leaving several others injured.
Local media reported that a gas cylinder went off in a Dubai restaurant early on Monday and killed one person.
The explosion caused a fire that damaged the ground floor of the building, the newspaper quoted a Dubai Civil Defense spokesperson as saying. The blaze was extinguished in 33 minutes.
https://www.presstv.com/Detail/2020/08/31/632999/Saudi-airspace-direct-Israel-UAE-flight-
--------
Beirut explosion could cost more than $8 bln, says World Bank
31 August 2020
The devastating Beirut blast caused up to $8.1 billion in damage and economic loss, and Lebanon needs hundreds of millions of dollars in aid to recover, the World Bank said Monday.
The double explosion on August 4 shattered a vast section of the city's port and surrounding areas, killing scores of people and plunging the country into further economic turmoil.
The cost of material damage from the blasts ranges from $3.8 billion to $4.6 billion, while economic damage amounts to $2.9 billion to $3.5 billion according to a bank estimate.
For all the latest headlines, follow our Google News channel online or via the app.
Lebanon now needs from $605 million to $760 million in urgent financial aid to bounce back from the disaster, the World Bank said in a "Rapid Damage and Needs Assessment" carried out with the United Nations and European Union.
The economic sectors most affected were housing, transport and cultural heritage, including religious and archeological sites, national monuments, theatres, archives and libraries, the study found.
According to the World Bank, beyond the immediate need for hundreds of millions of dollars in aid, Lebanon will have to come up with an additional $1.18 billion to $1.46 billion in 2021.
Priorities for government spending would be transport, cultural needs and housing, the assessment said.
On a macro-economic level, the bank noted that the impact of the blast will be felt through "losses in economic activity caused by the destruction of physical capital" followed by "trade disruptions resulting in higher transaction costs of external trade, and the loss of fiscal revenues."
It forecast that Lebanon's gross domestic product would decline by an additional 0.4 percentage point this year and by an additional 0.6 percentage point in 2021.
The country was already facing a grave economic crisis that has been aggravated the coronavirus pandemic, and the World Bank had estimated earlier that its economy would contract by 10.9 percent this year.
In addition to causing a deeper recession, the blasts would increase poverty, which the bank said already affected 45 percent of the population.
Given Lebanon's dire financial straits and lack of foreign exchange reserves, Beirut will rely on international aid and private investment to recover, the assessment said.
To obtain sufficient funds, officials will have to enact a credible program of reforms to guard against corruption, and focus on "breaking the hold of elite capture, which has monopolized both private and public resources."
https://english.alarabiya.net/en/business/economy/2020/08/31/Beirut-explosion-could-cost-more-than-8-bln-says-World-Bank-.html
--------
Lebanon turns 100 as nation branded by upheaval, crises
31 August 2020
It was a century ago on September 1, 1920, that a French general, Henri Gouraud, stood on the porch of a Beirut palace surrounded by local politicians and religious leaders and declared the State of Greater Lebanon — the precursor of the modern state of Lebanon.
For all the latest headlines follow our Google News channel online or via the app.
The current French president, Emmanuel Macron, is visiting Lebanon to mark the occasion, 100 years later. But the mood could not be more somber.
Lebanon has been hit by a series of catastrophes, including a financial crash. On August 4, a massive explosion at Beirut's port killed at least 190 people and injured thousands — the culmination of decades of accumulated crises, endemic corruption and mismanagement by an entrenched ruling class.
Facing potential bankruptcy and total collapse, many Lebanese are marking the centennial with a feeling that their experiment as a nation has failed and questioning their willingness to stay in the crisis-riddled country.
"I am 53 years old and I don't feel I had one stable year in this country," said prominent Lebanese writer Alexandre Najjar.
Like others from his generation, Najjar lived through the 1975-1990 civil war, when Beirut's name became synonymous with hostages, car bombings and chaos.
He was a teenager when Israel invaded Beirut in the summer of 1982, imposing a suffocating siege of the capital for three months, and a young man when Christian militias turned their guns on each other in 1989. When former Prime Minister Rafik Hariri was assassinated in a massive Beirut truck bombing in 2005, Najjar was in his late 30s.
The following year, Israel and Hezbollah engaged in a month-long war. In between, countless other conflicts, bouts of sectarian fighting and other disasters plagued one generation after another, leading to waves of Lebanese emigration.
But the August 4 explosion, says Najjar, was the "peak of a failed state" — proof that authorities cannot even provide basic public safety.
It wasn't supposed to be that way.
Following the fall of the Ottoman Empire after World War I, Lebanon fell under the French mandate, starting in 1920. France governed for 23 years until the country gained independence as the Lebanese Republic.
Home to 18 different religious sects, it was hailed as a model of pluralism and coexistence. The nation settled on an unwritten sectarian arrangement, initially seen as the guarantee of stability but which many Lebanese now consider a curse: the president would always be Christian, the prime minister Sunni Muslim and the parliament speaker Shia Muslim, with other posts similarly divvied up.
In the 1950s, under pro-Western President Camille Chamoun, the economy flourished thanks to booming tourism and cash from oil-rich Arab nations. But his presidency ended with the outbreak of Lebanon's first civil war in 1958, which lasted for several months and saw US troops land to help Chamoun.
Lebanon saw its heyday in the 1960s and early 1970s, but then fell into disaster in 1975, with the start of the 15-year civil war that killed nearly 150,000 people, eventually pitting Lebanon's sects against each other. Syrian troops moved in, and Israel invaded twice — once in 1978, then again in 1982, in an assault that forced late Palestinian leader Yasser Arafat and his fighters to leave Lebanon.
US interests were repeatedly attacked, most notably two bombings of the American Embassy and the 1983 Marine barracks bombing in Beirut that killed 241 US service members, the deadliest attack on the Marines since the battle of Iwo Jima in 1945. On the same day, 58 French paratroopers were killed by a second attacker who struck their installation in Beirut.
Israel's 1982 invasion and the attacks on the Americans marked the rise of what later became the militant group Hezbollah.
After the civil war ended in 1990, the Iranian-backed Shia militia was the only one allowed to keep its weapons because it was fighting Israeli occupation forces in southern Lebanon. When Israel withdrew from the south in 2000, Hezbollah kept its powerful fighting force, depicting itself as Lebanon's defender. It fought Israeli forces to a draw in 2006, and tensions remain high along the border.
Today, Hezbollah and its allies, led by President Michel Aoun, dominate Lebanese politics and control a majority in parliament.
But the Lebanese are deeply divided over Hezbollah. While many in the Shia community are fiercely loyal to the group, and many non-Shias sympathize with its anti-Israel stance, others increasingly see it as imposing Iran's will on the country.
Many civil war-era warlords today head political factions, holding onto posts for themselves or their families and controlling powerful local business interests. The factions pass out positions in government ministries and public institutions to followers or carve out business sectors for them, ensuring their backing.
Corruption has soared over the past two decades, and the sectarian-based patronage system has left Lebanon with crumbling infrastructure, a bloated public sector and one of the world's highest debt ratios, at 170 percent of GDP — topped by a ruling class that amassed fortunes.
Last October, nationwide protests erupted over the worsening economy, and the financial juggling act that had been the basis of Lebanon's prosperity since 1990 collapsed into the most severe economic crisis of the country's modern history, made worse by the coronavirus pandemic.
"Lebanon is in its worst period over the past 100 years," said legislator Marwan Hamadeh. "We are in the worst stage, economically, politically and even when it comes to national unity."
"We are currently occupied by Iran and its missiles," added Hamadeh, who was seriously wounded in an assassination attempt in 2004 that he blames on Hezbollah.
Historian Johnny Mezher says that to solve its problems, Lebanon could start by adopting a law that boosts national identity rather than loyalty to one's sect and helps ensure qualifications determine who gets state posts, rather than sectarian connections.
"Religious figures should be prevented from meddling in politics," he said.
Even after seven decades of Lebanese independence, France still wields strong influence on the tiny Mediterranean nation.
Two days after the port blast — with Lebanese leaders totally absent — Macron visited Beirut and toured one of the most heavily damaged neighborhoods to a hero's welcome, with some chanting "Vive La France."
More than 60,000 signed a petition to place Lebanon under French mandate for 10 years, an idea Macron firmly dismissed. "It's up to you to write your history," he told the crowds.
On his return trip, Macron will plant a tree in Beirut on Tuesday to mark the centenary and meet with Lebanese officials to push them toward forming a government and enacting reforms.
"There is no doubt we were expecting the 100th anniversary to be different. We did not expect this year to be catastrophic to this level," said Najjar, who is a lawyer, poet and author of about 30 books in French, including one that tells the story of Beirut during the 20th Century.
"There is still hope," he said. "We have hit rock bottom and things cannot get worse."
https://english.alarabiya.net/en/features/2020/08/31/Lebanon-turns-100-as-nation-branded-by-upheaval-crises.html
--------
Southeast Asia
Indonesian Militants at Large in Yemen, Southern Philippines
2020-08-31
Indonesia's counterterrorism chief said Monday that the appearance of an Indonesian identity card in a video purportedly showing a Houthi raid on an Islamic militants' stronghold in Yemen indicated that Indonesian fighters may have relocated to Yemen from Syria.
Footage showing the ID card and Indonesian banknotes went viral on social media after being posted on Twitter on Saturday by Faran Jeffery, deputy director of the U.K.-based counter-terrorism think-tank Islamic Theology of Counter Terrorism.
"The video on the discovery of the rupiah notes and the Indonesian ID card shows that Indonesian FTFs [foreign terrorist fighters] move between war zones," National Counterterrorism Agency (BNPT) chief Boy Rafli Amar said in a written statement on Monday.
The ID card in the name of Syamsul Hadi Anwar of Mojokerto, Central Java was found at an al-Qaeda or Islamic State stronghold in Yemen's al-Bayda province, according to Jeffery, who shared videos via his Twitter account @Natsecjeff.
The footage came from an "official Houthi media" account on Telegram and was likely shot in recent weeks, Jeffery told BenarNews in a message.
Houthi rebels are Shia Muslim insurgents backed by Iran who have been waging war against the government in Yemen, which has the support of Saudi Arabia. The conflict has raged since 2015, creating chaos and an acute humanitarian crisis.
The United States has also conducted air strikes in Yemen targeting Al-Qaeda in the Arabian Peninsula (AQAP) and militants affiliated with the self-proclaimed Islamic State (IS), according to the Council on Foreign Relations, a U.S. think-tank.
According to Boy, the video might have been of a Houthi attack on al-Qaeda and IS in mid-August in the Bayda area.
Footage of fighters going through belongings in the captured camp shows Indonesian rupiah notes in denominations of 10,000, 5,000 and 2,000, as well as the ID card.
"The emergence of ISIS in the region cannot be separated from the protracted civil war in Yemen. The defeat of ISIS in Syria and Iraq has caused a number of fighters to relocate," he said, using another acronym for the so-called Islamic State group.
Boy also said that lax border security had allowed militants to travel from Syria to Yemen.
The BNPT did not immediately respond when asked what further actions it was taking to trace, verify or repatriate Indonesian fighters in Yemen.
Syamsul Hadi, alias Abu Hatim Al Sundawy Al Indonesy, was a follower of "an important figure in Syria" known as Ibn Mas'ud, according to Boy.
But officials in Mojokerto regency in Central Java said that Syamsul Hadi Anwar's ID card appeared to be fake, as the address listed on the ID card was a long-vacant house, and the name and number were not in the regency's population database.
The head of the regency's Civil Registry Department, Bambang Wahyuadi, told Detik.com that the ID card was an old version without an electronic chip.
Between 400 and 600 Indonesians foreign terrorism fighters and their dependents are still overseas, according Indonesian authorities, who base that number on data from foreign intelligence agencies and the International Committee of the Red Cross (ICRC).
Most of them are believed to be languishing in three camps in Syria, guarded by different authorities.
In February, the Indonesian government in February 2020 announced that it would not repatriate its citizens who had joined IS overseas.
On the run in Mindanao
Meanwhile, the Indonesian Ministry of Foreign Affairs said Monday it had been informed that two Indonesians were wanted by security forces in the southern Philippines for alleged involvement in suicide bombings on the southern island of Jolo, including one that killed 15 people and injured dozens of others last week.
On Saturday, Philippine security forces launched a major operation to hunt down Indonesians Andi Baso and Reski Fantasya (alias Cici) and said they could have fled from Jolo to Zamboanga City after suicide attacks by two women belonging to pro-IS group Abu Sayyaf last week.
They allegedly fled with Mundi Sawadjaan, the nephew of Abu Sayyaf commander Hatib Hajan Sawadjaan, who heads the IS branch in the Philippines.
"The Indonesian Embassy in Manila has been informed of the above developments," Foreign Ministry spokesman Teuku Faizasyah told BenarNews on Monday.
By Monday, however, the commander of the Philippine military's Western Mindanao Command based in Zamboanga, Maj. Gen. Corleto Vinluan Jr., said the younger Sawadjaan and the two Indonesians were still on Jolo Island, which is part of Sulu province – long a hotbed of Muslim militancy.
The south has long, unguarded and often porous borders, which have allowed militants to move from one site to another undetected.
In Jakarta, National Police spokesman Awi Setiyono said Andi was a fugitive in Indonesia for his alleged involvement in a bomb attack at the Oikumene Church in Samarinda, East Kalimantan province in 2016.
"We are still hunting and coordinating with the Philippine police, exchanging information about the fugitive," Awi told BenarNews.
Andi was part of the IS-affiliated Jamaah Ansharut Daulah (JAD) militant network in Makassar, South Sulawesi, Awi said.
Meanwhile Reski (Cici) is the daughter of Rullie Rian Zeke and Ulfah Handayani Saleh, who allegedly carried out suicide bombings at the Our Lady of Mount Carmel Cathedral in Jolo on Jan. 27, 2019.
Reski and her parents left Indonesia to join IS in the Middle East, but were caught by Turkish authorities in January 2017 and deported to Indonesia six months later.
"After returning to Indonesia, some of them illegally entered the southern Philippines and carried out acts of terror such as the suicide bombing at the Jolo Cathedral," Awi told BenarNews, referring to Rullie and Ulfah.
'He kept moving'
Sidney Jones, director of the Jakarta-based Institute for Policy Analysis of Conflict (IPAC), said Andi fled to Sabah, Malaysia, via Nunukan, North Kalimantan, after the bomb attack in Samarinda.
"He got a job in Sabah as a worker in an oil palm plantation, but an illegal one," Jones told BenarNews on Monday.
While in Sabah, Andi established a new militant cell and succeeded in radicalizing several other migrant workers. He also met Rullie and his family. Andi helped Rullie travel to Mindanao in May 2018, and later escorted Rullie's wife and daughter to the Philippines in October.
According to a wanted notice released by Philippines security forces at the weekend, Andi and Reski are married and are "bomb experts."
Andi stayed in Mindanao starting in January 2019, and became active with IS-linked groups there, according to IPAC research.
"Andi does not have a permanent group in the Philippines. He kept moving, having joined Daulah Islamiyah Baqiyah and then the Sawadjaan group," Jones said.
https://www.benarnews.org/english/news/indonesian/Indonesians-Islamic-militants-08312020183502.html
--------
Peaceful coexistence conducive to state's development, says Sarawak chief minister
01 Sep 2020
KUCHING, Sept 1 ― The multiracial and multi-religious people of Sarawak must live in peaceful coexistence in order to provide an atmosphere conducive to development, said Chief Minister Datuk Patinggi Abang Johari Tun Openg.
He said his administration was guided by the spirit of the 'Medinah Charter' used during the time of Prophet Muhammad which recognised the rights of non-Muslims that had allowed the mixed community to thrive during that time.
Speaking during a ceremony for the presentation of certificates of appointment to community leaders in Sri Aman division yesterday, the chief minister said one's religion was one's personal affair with God and no one could usurp the power of God to determine who "should go to heaven, or to hell".
"My religion is my religion and your religion is your religion," he told those present at the ceremony.
He said Sarawak had set up the Unit for Other Religions (Unifor) to assist religions other than Islam as Sarawak's resources belonged to the people of all faiths.
"Unifor is a unique feature of Sarawak's social and religious understanding not found anywhere else, that others wanted to adopt," he added.
On the role and functions of local community leaders, Abang Johari said they were important arms of the government's administration to oversee and manage community affairs and issues on behalf of the government.
He pointed out that the system of community leaders had a long history and existed through the time of the White Rajah and the colonial administration.
The Rajah and the British even appointed native officers to manage native affairs and left the system intact, he said.
Present with Abang Johari at the ceremony were Deputy Chief Minister Datuk Amar Douglas Uggah, Utilities Minister Dato Sri Stephen Rundi, Tourism, Arts and Culture Minister Datuk Abdul Karim Rahman Hamzah and State Secretary Datuk Amar Jaul Samion. ― Borneo Post
https://www.malaymail.com/news/malaysia/2020/09/01/peaceful-coexistence-conducive-to-states-development-says-sarawak-chief-min/1898948
--------
Philippines to begin reconstruction work of mosques in war-torn Marawi
ELLIE ABEN
September 01, 2020
MANILA: The Philippine government is set to start the reconstruction in September of three mosques in Marawi City. The mosques were among other places of worship destroyed in 2017 when Daesh-inspired militants laid siege to the country's only Islamic city.
"[Repair works] will start before the end of September. It will take four months to complete Masjid Darussalam, five months for Masjid Disomangcop and six months for the White Mosque," Eduardo Del Rosario, Department of Human Settlements and Urban Development (DHSUD) secretary, said in a message to Arab News.
Del Rosario, who is also head of the task force overseeing the rehabilitation and rebuilding of Marawi, said that the construction work on the three masjids — the White Mosque, Masjid Darussalam, and Masjid Disomangcop, which are all inside Marawi City's most affected area (MAA) or ground zero — would take at least four to six months to complete.
The allotted budget for Masjid Darussalam is P4.39 million ($90,000); P12.25 million for Masjid Disomangcop; and P15.5 million for the White Mosque.
Del Rosario said the difference in cost and duration of repair is primarily due to the "size of the mosque and the complexity of the repairs to be undertaken."
The White Mosque, located beside the future Grand Padian Market and Fish Port of Marawi, is frequented by Muslims who travel from the municipalities around Lanao Lake and visit Marawi City for trade and other purposes.
Masjid Disomangcop and Masjid Darussalam are located in the area where returning residents are currently rebuilding their homes.
A memorandum of agreement (MOA) to pave the way for the reconstruction of the three mosques through incentivized use of housing developers' escrow funds was held at the DHSUD on Friday.
In a statement following the signing of the MOA, Del Rosario said that it is the first time that the department is releasing escrow funds amounting to P32.14 million.
"This is a milestone in the history of the Department and Task Force Bangon Marawi (TFBM). For the first time, we will use the escrow donation component for the building of the first three mosques inside the MAA," he said, adding that President Rodrigo Duterte had stressed in a meeting in March that the reconstruction of mosques destroyed during the five-month Marawi siege be prioritized.
City Mayor Majul Gandamra, TFBM Field Office Manager Assistant Secretary Felix Castro Jr. and administrators of the three mosques took part in the MOA signing event from Marawi via a Zoom meeting.
Present at the DHSUD central office were officials from the Ayala-led BellaVita Land Corp. and Property Company of Friends Inc., or Pro-Friends, the contributors of the escrow funds that will be used for the project.
Gandamra and the administrators of the three mosques expressed gratitude to President Duterte and Del Rosario for their commitment to rebuild Marawi City.
Del Rosario, for his part, reiterated that the government, through the TFBM, is keen on rebuilding 31 masjids in Marawi, including the Dansalan Bato Ali Mosque and the Grand Mosque, with the help of donations from private organizations.
The mosques were destroyed during intense combat operations by the military to dislodge members of the Maute group who staged the siege.
According to Del Rosario, the TFBM considers the repair of these mosques as crucial to the "social healing of the Maranaos affected by the conflict."
"These mosques are important monuments of Muslim history and Islamic tradition in the Philippines. The generosity and goodwill of our partner-developers will go a long way in boosting the morale and contributing to the overall well-being of the people of Marawi, which were destroyed along with these physical structures that represent and embody their faith," Del Rosario said.
He added that they are now waiting for the finalization of the program design and terms of reference for the rehabilitation of the Dansalan Bato Ali Mosque and the Grand Mosque.
The Grand Mosque is the largest mosque in Marawi and Northern Mindanao and an icon of the Islamic faith in Marawi.
The Bato Mosque is the oldest in Marawi, built on a strategic location inside the MAA, with an elevated view of Lanao lake.
It was where the militants kept hostages during the siege. After being heavily damaged during the battle, the mosque had to be demolished. The TFBM said a new mosque will be built on the same site at an estimated cost of P105 million.
https://www.arabnews.com/node/1727691/world
--------
Africa
Sudanese rebels agree to key peace deal with transitional government
31 August 2020
Sudan's transitional government and main rebel alliance have reached a landmark peace agreement aimed at ending a 17-year-old conflict in the Northeast African state.
The SUNA news agency said on Sunday that the Sudan Revolutionary Front (SRF), an alliance of rebel groups from the western Darfur region and the southern states of South Kordofan and Blue Nile, had inked a peace deal with the government.
A formal signing ceremony is scheduled for Monday in Juba, the capital of South Sudan, which helped broker the agreement, with Sudanese Prime Minister Abdalla Hamdok and a number of his cabinet members in attendance.
The peace deal covers key issues including security, land ownership, power sharing, and the return of refugees to their homes. The dismantling of rebel forces and their integration into the country's army is also included in the agreement.
Hamdok said Sunday that due to the complexity of the issues, closing the final deal had taken more time than he had expected following an initial agreement reached during talks between the two sides in Juba last September.
"At the Juba declaration in September [2019], everyone expected peace to be signed within two or three months, but ...we realized that the questions were of one great complexity," Hamdok noted. 'However, we were able to accomplish this great work, and this is the start of peace-building."
Two other key rebel groups have, however, refused to take part in the deal — a faction of the Sudan Liberation Movement, led by Abdelwahid Nour, and a wing of the Sudan People's Liberation Movement-North (SPLM-N), headed by Abdelaziz al-Hilu.
The transitional government took power in Sudan in August 2019 following the ouster of longtime leader Omar al-Bashir earlier in the year. The ruling council has since been seeking to make peace with the rebel groups, a key condition for the country's removal from the United States' so-called terror sponsor list.
The rebel groups — mainly from Sudan's non-Arab minority — have been fighting Khartoum against what they see as economic and political injustice.
In Darfur, about 300,000 people have lost their lives since the armed rebellion broke out there in 2003, according to the United Nations.
The conflict in South Kordofan and Blue Nile erupted in 2011 over unresolved issues from Sudan's 1983-2005 civil war.
https://www.presstv.com/Detail/2020/08/31/632975/Sudan-rebels-peace-deal-Juba
--------
Leading Rwandan dissident arrested over terror links
James Tasamba
31.08.2020
The Rwanda Investigation Bureau (RIB) on Monday said it has in its custody leading Rwandan dissident Paul Rusesabagina, who is accused of terror activities.
Rusesabagina allegedly heads the Rwandan Movement for Democratic Change (MRCD), which Rwanda accuses to be a terrorist organization.
In a statement, RIB said Rusesabagina, who lived in exile, was arrested through international cooperation.
He is suspected to be the founder, leader, sponsor and member of extremist terror outfits, including MRCD and PDR-Ihumure, operating out of various places in the region and abroad, it said.
He had been the subject of an international arrest warrant, wanted on charges of serious crime, including terrorism, arson, kidnap and murder, perpetrated against unarmed, innocent Rwandan civilians on Rwandan territory, including in Nyaruguru district in June 2018 and in Nyungwe, Nyamagabe district in December 2018, according to the bureau.
It added that the case is being processed in accordance with Rwandan criminal procedure.
Rusesabagina, 66, was in 2011 awarded a human rights prize by the Lantos Foundation for Human Rights and Justice, an honor criticized by Rwanda genocide survivors group.
He inspired the Hollywood film Hotel Rwanda, in which as a hotelier, he is depicted as having sheltered people during the 1994 genocide against Tutsi ethnic group.
The 2004 film told the story of how Rusesabagina used his influence as a manager to bribe, and convince military officials to secure a safe escape for about 1,200 people who sought refuge at the Mille Collines hotel in the capital Kigali.
https://www.aa.com.tr/en/africa/leading-rwandan-dissident-arrested-over-terror-links/1958624
--------
South Asia
Myanmar: Deep reforms must end vicious violence against Rohingya minority
31st Aug 2020
By Merve Aydogan
(AA): The International Crisis Group (ICG) has called for dialogue and deep reform to address issues of citizenship, improve the administrative structure, and rein in the increasing violence in Myanmar.
Ethnicity and conflict are inextricably linked in Myanmar, creating a vicious cycle of violence that continues to escalate, the Brussels-based organization said in a report published on Friday.
"The state's inability to address ethnic minority grievances or provide adequate security to communities has created a literal arms race among minority groups," said the report released on the third anniversary of the 2017 crackdown that marked the start of the genocide of Rohingya Muslims by the Myanmar army.
It said Myanmar must initiate reforms in "citizenship, the country's administrative structure and the peace process with the aim of making ethnicity less central to the political and legal domains."
The group urged Myanmar authorities and leaders to immediately pursue more manageable changes "such as the language and narratives they use when discussing ethnicity and conflict."
The report underlined that Myanmar, since its independence in 1948, has struggled to forge a national identity reflecting its ethnic diversity.
The country's leaders have perpetuated dangerous notions of ethnic identity that divide rather than unify its national races, read the report titled Identity Crisis: Ethnicity and Conflict in Myanmar.
"Ethnic minority grievances toward the state have perpetuated some of the world's longest-running armed conflicts," said the report.
Minorities' grievances and the way forward
Highlighting that the country's Burman elite continue to control most levers of power, the ICG report said Myanmar's leaders have done little to address "minority grievances or build a more inclusive national identity."
It said the government's failure to protect minority communities has led "tens of thousands of people to take up arms – both for and against the state, and both allied with or acting against armed groups representing rival ethnicities."
"Ethno-nationalism is at the core of all these groups, a characteristic that often sets them against their neighbors," the report added.
On the ongoing violence against minority groups in the state of Rakhine by the Myanmar military, the report said "the vicious fighting … since 2018 underlines the dangers of ethnicity's growing social and political salience."
"Non-Rakhine minorities in Rakhine State have found themselves caught between two warring groups, neither of which they can rely on for protection," it said.
"The insecurity that such conflicts generate only encourages the creation of ever more armed groups, a phenomenon that has recurred over and over in Myanmar's modern history."
Acknowledging that "charting a more tolerant and inclusive future for the country will not be easy," the ICG said one of the first steps was that "communities must be free to celebrate their ethnic heritage, culture and identity."
However, it said that citizenship and protection should not be based on membership in particular ethnic categories.
"[…] Ethnicity should be delinked from the territory, and politics and the peace process must become venues for resolving grievances and charting a more peaceful future, rather than cementing arbitrary ethnic categories and encouraging zero-sum competition between different groups," the report said.
Myanmar's most targeted community is the Rohingya, who have been described by the UN as the world's most persecuted people.
According to Amnesty International, more than 750,000 Rohingya refugees, mostly women, and children, fled Myanmar and crossed into Bangladesh after Myanmar forces launched a crackdown on the minority Muslim community in August 2017, pushing the number of persecuted people in Bangladesh above 1.2 million.
Since Aug. 25, 2017, nearly 24,000 Rohingya Muslims have been killed by Myanmar's state forces, according to a report by the Ontario International Development Agency (OIDA).
More than 34,000 Rohingya were also thrown into fires, while over 114,000 others were beaten, said the OIDA report, titled Forced Migration of Rohingya: The Untold Experience.
As many as 18,000 Rohingya women and girls were raped by Myanmar's army and police and over 115,000 Rohingya homes were burned down, while 113,000 others were vandalized, it added.
http://muslimnews.co.uk/news/south-east-asia/myanmar-deep-reforms-must-end-vicious-violence-against-rohingya-minority/
--------
New State Peace Minister appointed for Afghanistan, political gridlock unleashes
31 Aug 2020
KABUL, Afghanistan – The Afghan political gridlock unleashed as both President Mohammad Ashraf Ghani and Dr. Abdullah Abdullah, Chairman of the High Council for National Reconciliation agreed on a single candidate for the Ministry of Peace.
Seddiq Seddiqi, a spokesperson to Presidential Palace announced the names of the 9 cabinet members and the new State Minister for Peace on Monday.
Sadat Mansoor Naderi, the former Minister of Urban Development and Housing has been appointed as the State Minister for Peace in a compromise by Ghani and Abdullah.
Salam Rahimi, a close ally to Afghan President Mohammad Ashraf Ghani was the former State Minister of Peace, he has recently been appointed as President's Special Envoy to peace Affairs as well as a deputy to the High Council of the National Reconciliation chaired by Abdullah Abdullah.
Sadat has graduated with a First Class BA Honors Degree in International Business and Economics from the UK.
This comes as the intra-Afghan dialogue is more likely to kick-off next week in Doha with the presence of Abdullah Abdullah, the chairman of the High Council for National Reconciliation.
Both the Afghan side and the Taliban negotiating teams will discuss over a potential peace deal which shall pave the way to ending a prolonged war and violence years in Afghanistan.
Afghans are hopeful and at the same time concerned about the future. They have a fear of losing those values they have achieved in the past 2 decades.
Taliban will more likely emphasize an interim-government, an Islamic structure for the new government and modification of the constitution.
The negotiators from the Afghan government will demand a ceasefire, defend the Republic of Afghanistan as the future governance structure, welcoming the Taliban for a power-sharing deal in the new government.
https://www.khaama.com/new-peace-minister-appointed-for-afghanistan-political-gridlock-unleashes/
--------
Former Senator Hasan Hotak Shot Dead in Kabul
By Mohammad Arif Sheva
Sep 1, 2020
KABUL, Afghanistan – A former senator from Southern Zabul province Mohammad Hasan Hotak was shot dead in Kabul, local authorities confirmed earlier this day.
According to officials, the former lawmaker was killed, as a number of unidentified armed men opened fire in Qala-e-Wazir area of Afghan capital Sunday evening.
Security officials did not provide further details, but said an investigation is underway to bring the perpetrator to justice.
No group or individual has immediately claimed responsibility for the attack.
Meanwhile, Afghan President Ashraf Ghani condemned the attack, calling security officials for a prompt investigation on the case, the Presidential Palace said on a statement.
Sanator Hotak was one of the influenced personalities of Zabul province, who – aside for representing his people – devoted himself to their comfort and peace, according to the statement.
https://www.khaama.com/former-senator-hasan-hotak-shot-dead-in-kabul-235346/
--------
Afghanistan ready for Taliban negotiations: High Council for National Reconciliation
31 August 2020
Afghanistan's chief of the High Council for National Reconciliation, Abdullah Abdullah, told Al Arabiya on Sunday that the Afghan delegation is ready for next week's negotiations with Taliban that marks another attempt to reach a long-term ceasefire after the country's 18 years of war.
Obstacles that stood before the peace talks, including the issue of prisoners, were discussed by A Loya Jirga, the Afghan assembly of tribal leaders, at a meeting earlier this week, according to Abdullah.
"It was like a guidance to our negotiating team to preserve the values which the people of Afghanistan have made sacrifices for," Abdullah said.
The possibility of peace has emerged in Afghanistan after the US and the Taliban signed a peace deal in February, creating a path for the US to gradually pull out of its longest war – but experts expected the move to complicate talks between warring sides in Afghanistan.
The Afghan government said it stood ready to negotiate and conclude a ceasefire with the Taliban, and it affirmed its support for the phased withdrawal of US and coalition forces subject to the Taliban's fulfillment of its commitments.
Abdullah also talked about the Pakistani role in the reconciliation process, saying that the Pakistani leadership said that it will be supportive of the peace process, but added that "the background [of the official stance] is different."
The war, which has killed tens of thousands of people, began when the United States launched attacks on Afghanistan just weeks after the September 11, 2001, attacks on New York and Washington by the Afghanistan-based al-Qaeda militant group.
https://english.alarabiya.net/en/News/world/2020/08/31/Afghanistan-ready-for-Taliban-negotiations-High-Council-for-National-Reconciliation.html
--------
Taliban attacks on US military bases in Afghanistan raise questions
31 Aug 2020
Taliban militants have recently launched rocket attacks on the two US military bases in southern Afghanistan which is an act in contrast to the US-Taliban deal signed in late February, the New York Times reported.
The Taliban will investigate the rockets shelling on Camp Bastion and Camp Dwyer in Helmand province as they were ordered not to attack the American forces, Zabihullah Mujahid, a spokesperson to the Taliban military section has said.
According to NYT dozens of rockets were launched on Camp Bastion in late July and several rockets fall on Camp Dwyer, 50 miles South of Camp Bastion.
The question is why neither the U.S forces nor the local authorities reported these incidents to the media, but it is being leaked when Afghans and Taliban at the eve of starting the intra-Afghan dialogues in Doha.
Camp Bastion was once the logistics hub for US and NATO troops in Helmand.
This comes as the Taliban and the United States signed a peace pact in February 2020 under which the Taliban made a commitment not to fight the foreign troops in Afghanistan and the US agreed to withdraw from Afghanistan in 14 months.
https://www.khaama.com/taliban-attacks-on-a-us-military-base-in-afghanistan-raises-questions-8797976/
--------
Taliban Self-Proclaimed District Governor Killed in Badakhshan
By Mohammad Arif Sheva
31 Aug 2020
BADAKHSHAN, Afghanistan – A Taliban self-proclaimed district governor to Mymi district of Badakhshan province in northeast Afghanistan killed in a battle with Afghan security forces, local authorities confirmed.
Sanaullah Rohani, spokesman to the local police, told Khaama Press the incident occurred in Wodab area of Mymi district on Monday morning, adding Taliban self-proclaimed district governor Ziaulhaq killed during the clashes.
At least two further Taliban killed in the battle, he added.
According to Rohani, initially the Taliban insurgents launched shootouts, who were then driven away after Afghan security forces responded.
Taliban did not immediately comment on the claim.
https://www.khaama.com/taliban-self-proclaimed-district-governor-killed-in-badakhshan-545345/
--------
URL: https://www.newageislam.com/islamic-world-news/turkeys-economy-plunges-tourists-stay/d/122768
New Age Islam, Islam Online, Islamic Website, African Muslim News, Arab World News, South Asia News, Indian Muslim News, World Muslim News, Women in Islam, Islamic Feminism, Arab Women, Women In Arab, Islamophobia in America, Muslim Women in West, Islam Women and Feminism