New Age Islam News Bureau
13 Feb 2015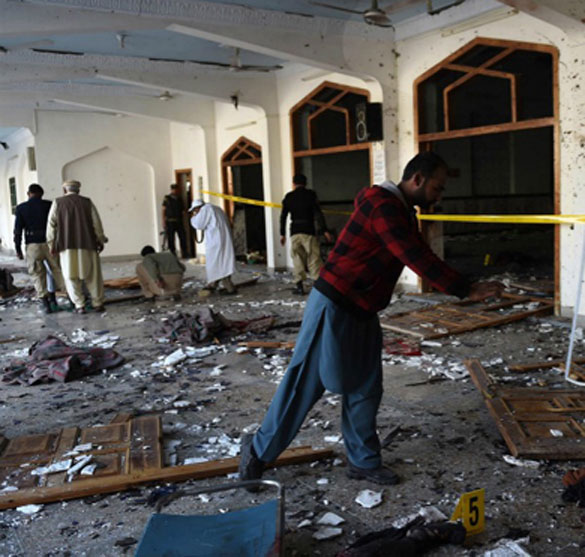 Pakistani security personnel inspect a Shiite Muslim mosque after an attack by Taliban militants, AFP
-------------
Mideast
• Turkey Warns Channel Over 'God Instead Of Allah' Dubbing
• Erdoğan Chides Obama for Silence on Chapel Hill Muslim Murders
• Suicide Car Bomb Hits Rebel-Held Police HQ in Central Yemen
• Israel Electoral Commission Bans Arab MP's Re-Election Bid
• Iran in Favour of Enhanced Ties with S. Arabia, Turkey
• Yemen on brink of civil war: UN envoy
Pakistan
• At Least 19 Killed In Attack on Shiite Mosque in Pakistan
• India's Permanent UNSC Seat Unacceptable, Nawaz Sharif Tells Barack Obama
• LHC Upholds Death Penalty in ISI Office Attack
• 17-judge bench to decide fate of 18th, 21st amendments
• War against terrorism will be won: Zaeem
• India funding terrorists in FATA, Balochistan: army
• 638 terrorists killed during last four years, NA told
• Jamaat-e-Islami chief slams Obama for his silence over Chapel Hill murders
• Most Peshawar school attackers killed or arrested: Pakistan
• Two murderers hanged in Mirpur, AJK
North America
• Thousands of ISIL Terrorists May Return to US without Visas
• N. Carolina Muslims Call for Calm after Students' Murder
• US: 20,000 Foreigners Fight against Iraqi, Syrian Governments
• Obama calls Sharif, discusses India trip
• Blindfolded Muslim in Canada asks people to 'show trust with a hug'
• Embassy closure hurts counterterrorism in Yemen: U.S. officials
India
• Badiuzzaman Nursi behind the Islamic Renaissance in Turkey: Scholars
• Sorry Tale of Muslims: Study Finds 40% Are Illiterate in the World
• Expanding Footprint of Pak-Based Terror Groups a Challenge: Modi
• Gujarat riots activist Teesta faces arrest, SC to hear her case today
• Activists support Teesta Setalvad, Javed Anand
• Your comments against me are scaring Muslims: Azam to Governor
Arab World
• ISIS Fighters Seize Western Iraqi Town
• 'ISIS Fighter' Defects After Killing Of Westerners
• Paris supermarket attacker's widow with us: ISIS
• IS says it's holding 'Israeli spy' in Syria
• Syrian rebel leader vows guerrilla war in south against Hezbollah, govt
• Islamic State publishes report about Coptic Egyptian workers kidnapped in Libya
• Assessing Egypt's campaign against Sinai militants
Africa
• Boko Haram Attacks Chadian Village Overnight, Killing Several People
• Prosecutions of suspected jihadists double in Morocco
South Asia
• Imams forced to dance in the street in religiously repressed Xianjang
• Myanmar Clashes with Rebels 'Kill 47 Soldiers'
• PM Sheikh Hasina: People Won't Be Defeated By Monsters
• UN sends official to broker peace deal to end Bangla unrest
• Iranian soldiers attack Afghan workers on joint border in Farah: Farah PHQ
• PG asks Home Minister to block pornographic websites
• Jamaat leader held, explosives recovered
Europe
• Muslim Party to Take Part in French Regional Election
• Norway: Al-Qaida, Islamic State Rivalry Can Mean More Attacks
• End use of child soldiers in conflicts: UN
• French embassy launches "Hello Tomorrow Challenge in Pakistan"
• French TV, radio stations rapped for Charlie Hebdo attacks coverage
• With less than 1%, British army to recruit more Muslims
• Yemen 'collapsing before our eyes': Ban tells Security Council
Southeast Asia
• Malaysian Dy PM Directs Mara to Lift MRSM Ban on Non-Muslim Religious Activities
• Police Make Arrests in Bogor Mosque Attack
• Australians Could Boycott Indonesia over Executions: Foreign Minister
Compiled by New Age Islam News Bureau
URL: https://newageislam.com/islamic-world-news/new-age-islam-news-bureau/turkey-warns-channel-over--god-instead-of-allah--dubbing/d/101506
----------
Mideast
Turkey Warns Channel Over 'God Instead Of Allah' Dubbing
February 13, 2015
Turkey's television watchdog has warned a national private channel over the dubbing of a French show where the word for "God" was dubbed with a traditional Turkic word rather than the Islamic "Allah", media said Thursday.
Turkey's Radio and Television Supreme Council (RTUK) issued a formal warning to TV 2 over the dubbing of the French-produced comedy sketch show "Vous Les Femmes", which in Turkish is broadcast as "Ah Biz Kadinlar" and in English-speaking countries as "Women!"
It said that the dubbing could have an "unfavourable impact on the perception of Allah by children" adding it had "insulted the national and sentimental values of Turks".
During a dialogue in the series the French "Dieu" (God) was dubbed into Turkish as "Tanri" rather than the Islamic, Arabic-origin, "Allah".
Tanri comes from an old Turkic word for god or the sky, whose origins date to well before the adoption of Islam by Turkic peoples.
Although it can be used to denote a monotheistic God such as in Islam it also has pre-Islamic and even pagan connotations.
The French show had already aroused the ire of RTUK which had fined it over a segment where the characters discussed the merits of strawberry-flavoured condoms.
The RTUK has been accused in recent months of imposing moral censorship in a number of stern rulings.
The RTUK in November rebuked one of the country's most popular soap operas -- "Kara Para Ask" (Black Money Love) -- for a passionate kissing scene deemed excessively erotic.
http://english.ahram.org.eg/NewsContent/2/8/122865/World/Region/Turkey-warns-channel-over-God-instead-of-Allah-dub.aspx
------
Erdoğan Chides Obama for Silence on Chapel Hill Muslim Murders
February 13, 2015
Turkish President Tayyip Erdoğan on Feb. 12 criticized U.S. President Barack Obama for his silence following the killings of three young Muslims in North Carolina this week; in the latest sign relations between the two leaders have become strained.
Speaking alongside Mexican President Enrique Pena Nieto during a state visit to Latin America's No. 2 economy, Erdoğan said the silence of Obama, Vice President Joe Biden and Secretary of State John Kerry was "telling" and they should take a position following such acts.
"If you stay silent when faced with an incident like this, and don't make a statement, the world will stay silent towards you," Erdoğan said, condemning those responsible for the crime.
The three Muslims were shot dead on Tuesday near the University of North Carolina campus in an incident police said was possibly a hate crime. The White House said on Wednesday it would await the results of the police investigation before commenting.
Newlywed Deah Barakat, 23, a University of North Carolina dental student, his wife Yusor Abu-Salha, 21, and her sister, Razan Abu-Salha, 19, a student at North Carolina State University, were gunned down on Tuesday in a condominium about two miles (three km) from the UNC campus in Chapel Hill.
Police charged the couple's neighbour, Craig Stephen Hicks, 46, with murder. Investigators say initial findings indicate a dispute over parking prompted the shooting but they are looking into whether Hicks was
http://www.hurriyetdailynews.com/turkish-president-erdogan-chides-obama-for-silence-on-chapel-hill-muslim-murders.aspx?pageID=238&nID=78298&NewsCatID=510
-----------
Suicide car bomb hits rebel-held police HQ in central Yemen
February 13, 2015
Yemeni security officials say a suicide car bomber has struck a police headquarters' recently captured by Shiite rebels who have seized power in the country. There was no immediate word on casualties.
The officials say the bomber detonated his explosives in front of the security headquarters in the central city of Bayda early Friday. The officials spoke on condition of anonymity because they are not authorized to speak to reporters.
Shiite rebels known as Houthis recently captured Bayda province after overrunning the capital, Sanaa, last September. They placed embattled President Abed Rabbo Mansour Hadi under house arrest last month along with all Cabinet members, leading to their mass resignations, and disbanded parliament.
The power grab has benefited Yemen's al-Qaida branch, which has stepped up attacks in south and central Yemen.
http://indianexpress.com/article/world/middle-east-africa/suicide-car-bomb-hits-rebel-held-police-hq-in-central-yemen/
--------
Israel electoral commission bans Arab MP's reelection bid
February 13, 2015
Arab MP Haneen Zuabi, a regular critic of Israel's right-wing government, was banned Thursday from standing in next month's general election.
The elections committee gave no reason for the disqualification, reported on its website, but Zuabi's lawyer Hassan Jabareen said it was because she was deemed "hostile to the Jewish state."
The committee also banned extreme right winger Baruch Marzel, a follower of radical rabbi Meir Kahane, assassinated in 1990.
A member of the leftwing Arab-Israeli Balad party, the 45-year-old Zuabi was also banned ahead of the 2013 election in a move overturned by the Supreme Court.
The country's top tribunal must also rule in this case.
Zuabi rejects the concept of Israel as a Jewish state and of it living alongside an independent Palestinian state. Instead, she supports the idea of a single state in which Jews and Arabs have equal rights.
Israel has 1.3 million Arab citizens, or 20 percent of the population.
Zuabi's opponents also claim she backed enemies of the state by participating in a 2010 bid to break Israel's maritime blockade of the Gaza Strip. An Israeli commando raid on the Mavi Marmara flotilla killed nine Turkish activists.
The latest action against her was brought by members of the governing right-wing Likud party and the ultra-nationalist Yisrael Beitenu party on the grounds that she supports the "armed struggle against Israel."
Zuabi's opponents point out that she was suspended from parliament in July after declaring that the Palestinians who murdered three Israeli teenagers -- an act that set off a series of events leading to Israeli assault on the Gaza Strip -- were not terrorists.
Last month, Israel's four Arab political parties decided to fight the March 17 election as a single block. Zuabi is seventh on that united list, which opinion polls have suggested could win between 10 and 13 seats in the 120-member Knesset.
http://english.ahram.org.eg/NewsContent/2/8/122913/World/Region/Israel-electoral-commission-bans-Arab-MPs-reelecti.aspx
-----------
Iran in Favor of Enhanced Ties with S. Arabia, Turkey
February 13, 2015
Tehran is willing to improve relations with Saudi Arabia and Turkey, Iranian Ambassador to Beirut Mohammad Fathali said.
"We seek to establish the best brotherly relations with Saudi Arabia, based on the principle of mutual respect," Fathali was quoted by the Lebanese Daily Star as saying in an interview with a radio station on Wednesday.
"We see positive indications on the horizon for Iranian-Saudi relations," he added.
Iranian Foreign Minister Mohammad Javad Zarif's participation in the last month's funeral services for Saudi King Abdullah was just one gesture of goodwill, the diplomat explained.
The Iranian ambassador described relations with his Saudi counterpart as "very good".
"Saudi Arabia and Iran have common enemies like the ISIL and Israel," Fathali said. "The Saudi elites have reached this conviction."
Fathali said Iran's relations with Turkey have also improved.
"Turkish-Iranian relations are very good and (the value of) economic trade has reached $20 billion," he added.
"There will be an official visit for Turkish President Recep Tayyip Erdogan (soon)," Fathali said.
In relevant remarks in January, Iranian Deputy Foreign Minister for Arab and African Affairs Hossein Amir Abdollahian underlined that Saudi Arabia should adopt positive measures to better its relations with Tehran.
"We are optimistic about the future of the relations between Tehran and Riyadh and we hope to witness positive steps by the al-Saud in this regard," Amir Abdollahian said in an interview with the parliament's news website.
He referred to the empowerment of the new king in Saudi Arabia as well as the Iranian top diplomat's short trip to Riyadh to participate in the funeral ceremony of the late Saudi king, and said, "Iranian Foreign Minister Mohammad Javad Zarif's visit to Saudi Arabia at this juncture heralded a turning point in the relations between the two countries."
http://english.farsnews.com/newstext.aspx?nn=13931123000612
-----------
Yemen on brink of civil war: UN envoy
February 13, 2015
CAIRO: The United Nations' special envoy to Yemen, Jamal Benomar, has warned that the country is on the brink of civil war and accused all sides of contributing to the political and economic turmoil.
Yemen is slipping further into chaos as the Houthis, an Iranian-backed Shiite militia from the north, consolidate their grip on power after seizing the capital in September and sidelining the central government.
The fighters have been advancing into southern territories, confronting Sunni tribesmen, other groups and the local branch of Al-Qaeda.
"We believe the situation is very dangerous. Yemen is on the brink of civil war," Benomar said in an interview with television channels al Arabiya and Al-Hadath late on Wednesday.
Benomar said Yemen's economy was facing imminent collapse and called for more dialogue to reach a peaceful settlement.
"They are all party to what has happened so far, they have all made mistakes and follies and sometimes groups resorted to violence to realize political aims," the envoy said.
The Houthis said Thursday a decision by Western powers to close their embassies was "unjustified," as Al-Qaeda fighters overran an army camp and seized heavy weaponry.
The US, Britain and France have rushed to close their embassies over security fears, with US staff destroying top-secret documents and sensitive equipment before pulling out.
But Hussein Al-Ezzi, described as the militia's foreign relations chief, said the closures were designed to "pressure" the Yemeni people.
http://www.arabnews.com/middle-east/news/703586
-----------
Pakistan
At least 19 killed in attack on Shiite mosque in Pakistan
13 February 2015
At least 19 people were killed on Friday in the Pakistani city of Peshawar in a series of explosions targeting a Shi'ite mosque, in the latest sectarian attack to hit the South Asian nation.
Radical Sunni Islamist groups often target mosques frequented by minority Shiites, whom they see as infidels.
Police said a group of armed men broke into the mosque, where people were attending Friday prayers, and opened fire, following which three explosions were heard inside the building.
"Police have been called and an operation has started against the terrorists," said Mian Saeed, police chief of the northwestern city.
The Pakistani Taliban, who are fighting against the state to set up a hardline Sunni theocracy in Pakistan, claimed responsibility.
Peshawar's Hayatabad Medical Complex said at least 19 people had been killed.
A witness, Shahid Hussain, told Reuters the worshippers had just finished prayers when five or six men wearing military uniforms broke into the mosque and started shooting.
"We had no idea what was going on. One of the attackers then blew himself up and then there was huge smoke and dust all around," he said.
The attack came as Pakistan tries to adopt new measures to tackle Islamist militants following a massacre of 134 children on Dec. 16 at an army-run school in Peshawar.
The government has pledged to crack down on all militant groups, and has reintroduced the death penalty, set up military courts to speed convictions and widened its military campaign in northwestern areas on the Afghan border where militants find refuge.
Yet Pakistan's religious minorities, among them Ahmadis, Christians and Hindus, say the government is doing little to alleviate their daily struggle against humiliation, discrimination and violence.
Last month, dozens of people were killed in a similar attack on a Shi'ite mosque in the southern town of Shikarpur.
http://english.alarabiya.net/en/News/2015/02/13/Ten-killed-as-militants-storm-Pakistan-Shiite-mosque-.html
-----------
India's permanent UNSC seat unacceptable, Nawaz Sharif tells Barack Obama
PTI | Feb 13, 2015
ISLAMABAD: India's permanent membership in the reformed UN Security Council is unacceptable to Pakistan as it has not complied with UN resolutions on Kashmir, Prime Minister Nawaz Sharif has told US President Barack Obama.
The US president called Sharif on Thursday night and both leaders discussed issues of mutual interest and those related to regional stability and peace for over half-an-hour, officials here said.
During their conversation, Sharif expressed reservations about US support for India's bid to secure a permanent UN Security Council seat.
Sharif told Obama that India cannot become a UNSC permanent member due to its non-compliance of all the resolutions passed by the UN on Kashmir and has "not fulfilled the commitment to give the right of self-determination to people of Kashmir," officials said.
"India does not deserve to be a permanent member of the UN," Sharif was quoted as saying.
During his unprecedented second India visit last month, President Obama had reaffirmed his support for a reformed UN Security Council with India as a permanent member.
In his telephonic conversation with Obama, Sharif also said that Pakistan wanted to become a member of the Nuclear Suppliers Group.
Full report at:
http://timesofindia.indiatimes.com/india/Indias-permanent-UNSC-seat-unacceptable-Nawaz-Sharif-tells-Barack-Obama/articleshow/46230588.cms
-----------
LHC upholds death penalty in ISI office attack
13 February 2015
MULTAN: A two-member bench of the Lahore High Court on Thursday upheld the capital punishment awarded to four men for attacking the Inter-Services Intelligence's (ISI) Multan office.
Justice Qazi Muhammad Amin and Justice Chaudhry Mushtaq of the Lahore High Court (Multan bench) have upheld the last month's orders of the Anti-Terrorism Court which handed down death sentence to Abdul Raheem, Hafiz Suleman, Sajjad and Muhammad Afzal on 11 counts each, and 25-year imprisonment to their fifth accomplice Ijaz.
Fifteen people were killed and more than 50 others were injured in the gun-and-bomb attack on the ISI office in Cantonment in 2009 and an FIR of the incident was lodged with the Cantonment police.
http://www.dawn.com/news/1163299/lhc-upholds-death-penalty-in-isi-office-attack
-----------
17-judge bench to decide fate of 18th, 21st amendments
13 February 2015
ISLAMABAD: A debate on whether the 1973 constitution has a basic structure that cannot be modified – even by parliament – resurfaced on Thursday as the Supreme Court decided that a full court with all 17 judges will hear not only challenges to the 21st Amendment, but will also club pending challenges to the 18th Amendment along with the current matter.
Both challenges revolve around the theory of a basic constitutional structure. In the case of the 18th Amendment, introduced by the PPP government, the petitions challenged the new procedure laid down for the appointment of superior court judges; whereas in the case of the 21st Amendment, it is the military courts set up to try 'jet-black' terrorists that are being challenged.
Past judgments indicate that the independence of the judiciary constitutes one of the basic and salient features of the Constitution, which even parliament cannot undo.
However, senior constitutional lawyer Aitzaz Ahsan, when asked to comment, told Dawn he believed that future generations were cleverer and more progressive and could not be bound on the pretext that the Constitution has an inviolable basic structure. He maintained that the Constitution was a living and evolving document.
Full report at:
http://www.dawn.com/news/1163262/17-judge-bench-to-decide-fate-of-18th-21st-amendments
-----------
War against terrorism will be won: Zaeem
13 February 2015
LAHORE - Punjab government spokesman MPA Zaeem Hussain Qadri here on Friday said that the government was determine to purge Pakistan from terrorism.
Talking to APP outside the Punjab Assembly, he said that Pakistan was confronting with worst type of terrorism and the situation demands complete national unity among all political parties and institutions. He said that war against terrorism would be won at any cost and military courts had been set up to hang those killing innocent people. He hailed Pakistan Army for unearthing culprits responsible for Peshawar Army Public School tragedy. He said that the Pakistan Muslim League-N government believes serving masses and it was pursuing a people welfare-oriented agenda.
http://www.dailytimes.com.pk/national/13-Feb-2015/war-against-terrorism-will-be-won-zaeem
-----------
India funding terrorists in FATA, Balochistan: army
13 February 2015
RAWALPINDI: Inter-Services Public Relations (ISPR) Director General Major-General Asim Bajwa Thursday said that India was funding terrorists in Federally Administered Tribal Areas (FATA) and Balochistan.
He said it was not possible for a local terrorist organisation, Tehreek-e-Taliban Pakistan (TTP), to operate without external support and funding.
"The issue has been taken up by officials at the diplomatic level. We need to tell the world about this involvement," the ISPR spokesman told journalists at a press conference at the General Headquarters.
He said India was resorting to unprovoked shelling at the Line of Control at a time when Pakistan's armed forces were engaged in war against terrorists. "Indian violations at LoC are by design," he said, and added that protests have been lodged at foreign office and military levels. He hoped that India will understand that it is playing a dangerous game in the region.
Major-General Bajwa said that the gang of hardcore terrorists involved in Army Public School Peshawar attack had been identified and busted. He said nine out of 27 terrorists involved in the attack had been killed while 12 have been arrested - six each from Pakistan and Afghanistan.
Full report at:
http://www.dailytimes.com.pk/national/13-Feb-2015/india-funding-terrorists-in-fata-balochistan-army
-----------
638 terrorists killed during last four years, NA told
13 February 2015
ISLAMABAD: The National Assembly was informed on Thursday that at least 638 terrorists were killed across country during 2010-2014, with 46 terrorists killed in Punjab, 226 in Sindh, 304 in Khyber Pakhtunkhwa, 55 in Balochistan, four in Azad Kashmir and three in Islamabad. Interior ministry, in a written reply in the National Assembly, said that number of terrorists killed in FATA during the operation could not be known. Ministry of Interior Parliamentary Secretary Maryam Aurangzeb informed the House that maximum number of terrorists were killed in KP. She said extra measures were taken to facilitate the provincial government of KP to combat the terrorists. Intelligence sharing was enhanced with the KP government under the national action plan, she added. To another question, Finance Minister Ishaq Dar said that $106.845 million foreign aid was received for temporarily displaced persons (TDPs) in the form of cash and kind. The donor countries or agencies are: China $9.5 million, USAID $64.825 million, Denmark $1.6 million, DFID-UK $7.5 million, Japan $13.48 million, Canada $9.74 million and South Korea $0.2 million. The UAE distributed 50,000 food baskets among the TDPs. All these funds were distributed through UN agencies, he said.
http://www.dailytimes.com.pk/national/13-Feb-2015/638-terrorists-killed-during-last-four-years-na-told
-----------
Jamaat-e-Islami chief slams Obama for his silence over Chapel Hill murders
February 13, 2015
PESHAWAR: As the world mourns the murder of three Muslims in North Carolina, Jamaat-e-Islami leader Sirajul Haq slammed US President Barack Obama for not condemning the Chapel Hill shooting up till now.
"Why is the American press so quiet against this act of terror? Why are there no protests? Is it because the victims wore scarves?" Haq questioned while addressing a press after submitting his Senate nomination papers.
"The US need to fulfill its duty towards the three youth who became a target of terror," he added.
Commenting on the Baldia factory fire, the Jamaat-e-Islami leader said that the nation is looking towards Islamabad for answers and for those accountable for the deaths to be brought to justice.
Full report at:
http://tribune.com.pk/story/837743/ji-chief-slams-obama-for-his-silence-over-chapel-hill-murders/
--------
Most Peshawar school attackers killed or arrested: Pakistan
February 13, 2015
Most of the terrorists, who were involved in the brutal attack on an army school in the Pakistani city of Peshawar in December last year have either been killed or arrested, the Pakistani army said on Thursday.
In one of the worst acts of human savagery ever perpetrated, the Pakistani Taliban slaughtered 150 people, 140 of them being children, in a brazen attack on the Army Public School in Peshawar December 16, in retaliation to the army operation against the extremists in North Waziristan.
Military spokesman Asim Bajwa said during a news conference that 27 terrorists were involved in the planning and execution of the attack, and nine of those have been killed in operations, according to a Xinhua report.
Full report at:
http://www.thehindu.com/news/international/south-asia/most-peshawar-school-attackers-killed-or-arrested-pakistan/article6889983.ece
-----------
Two murderers hanged in Mirpur, AJK
13 February 2015
MUZAFFARABAD: Two death row prisoners have been executed in the Central Jail Mirpur, Azad Jammu and Kashmir.
Security in and around the prison was beefed where a large number of relatives of the condemned prisoners had turned up.
The bodies of the convicts were handed over to their respective families after the execution.
Muhammad Riaz, son of Zafar Ali, and Mohammad Fayaz, son of Muhammad Sharif were sentenced to death for killing the son of Fazal Rabbani, the Advocate General of Azad Kashmir, in 2004 during a robbery at his home in Mirpur.
Both the convicts were residents of a village near Sara-i-Alamgir, in Gujrat district and had been apprehended a few days after the crime was committed.
The two were initially sentenced to ten years imprisonment and a fine was imposed, but the victims family pursued the matter in the AJK Shariat Court which enhanced the punishment to death penalty in November 2005.
Full report at:
http://www.dawn.com/news/1163319/two-murderers-hanged-in-mirpur-ajk
-----------
North America
Thousands of ISIL Terrorists May Return to US without Visas
February 13, 2015
Some 5,000 members of the Islamic State of Iraq and the Levant (ISIL) and Al-Qaeda terrorist groups are westerners who can travel to the United States without a visa, Chairman of the Committee on Homeland Security Representative Michael McCaul said during a hearing on preventing terror travel and homegrown terrorism.
"Up to 5,000 of these fighters are westerners, many of whom are able to travel into the United States without obtaining a visa," McCaul said on Wednesday. "More than 150 American citizens have attempted to or succeeded in getting to the battlefield and we know some have already returned to our shores," RIA Novosti reported.
McCaul expressed his concern about the US ability to combat violent Takfiri extremism not just abroad but "also here at home".
The Republican representative from Texas also warned that the calls being made by ISIL and Al-Qaeda terrorist groups for westerners to join in waging "individual jihad in their homes countries" was working.
Full report at:
http://english.farsnews.com/newstext.aspx?nn=13931123000158
-----------
N. Carolina Muslims call for calm after students' murder
February 13, 2015
CHAPEL HILL, North Carolina: Muslim leaders called for calm after three students were killed by a gunman with anti-religious views as this North Carolina university town prepared Thursday to bury the victims.
Deah Shaddy Barakat, 23, his wife Yusor Mohammad, 21, and her 19-year-old sister Razan Mohammad Abu-Salha were shot to death Tuesday by a neighbor in what police said was being investigated as a parking dispute.
The alleged shooter, Craig Stephen Hicks, 46, was believed to be strongly opposed to religion, as his Facebook page showed dozens of anti-religious posts, including proclamations denouncing Christianity, Mormonism and Islam.
Thousands gathered late Wednesday at a tearful candlelight vigil, with many expressing fear the students were killed because of their religion.
"This is definitely a hate crime, it's all over his Facebook that he's atheist and hates Christians and hates Muslims," said Sarah Alhorani, a former student at University of North Carolina where Barakat was a second year dentistry student.
"To be honest, it makes me more scared because I have two babies, so I don't even want to imagine," she said.
Full report at:
http://www.arabnews.com/featured/news/703231
-----------
US: 20,000 Foreigners Fight against Iraqi, Syrian Governments
February 13, 2015
Some 20,000 foreign fighters – including at least 3,400 westerners – have joined the ISIL's cause and are now fighting on the frontline in Iraq and Syria, according to estimates in a number of testimonies by American intelligence officials.
At least 3,400 ISIL fighters coming from the western world, as many as 150 Americans may have reached the battlefield, officials told the House Homeland Security Committee in testimonies prepared for delivery on Wednesday, AP reported.
The chief of the National Counterterrorism Center, Nick Rasmussen, said the number of foreign fighters joining the terrorists in Syria and Iraq is growing at an unprecedented rate in comparison to foreign militants who went to Afghanistan, Pakistan, Iraq, Yemen, or Somalia in the past 20 years. The overall estimate of 20,000 foreigners in the ISIL group has been revised from 19,000, according to Rasmussen's prepared testimony.
http://english.farsnews.com/newstext.aspx?nn=13931122000990
---------
Obama calls Sharif, discusses India trip
February 13, 2015
United States President Barack Obama on Friday called Pakistan Prime Minister Nawaz Sharif and discussed bilateral and regional issues, including his recent trip to India, the White House said.
"The President discussed his recent visit to India, and noted the United States supports all efforts by both nations to improve ties," the White House said in a statement.
Mr Obama also welcomed improvement in Afghanistan-Pakistan ties and noted appreciation for Pakistan's efforts to combat terrorism.
Both leaders expressed the intent to meet at a mutually convenient time, the statement said.
"The two leaders agreed to continue to work together to strengthen US-Pakistan relations and advance our shared interest of a stable, secure and prosperous Pakistan and the region," the White House said.
http://www.thehindu.com/news/obama-calls-sharif-discusses-india-trip/article6889941.ece
-----------
Blindfolded Muslim in Canada asks people to 'show trust with a hug'
February 13, 2015
TORONTO: Faith in humanity was temporarily restored when a blindfolded man stood in the middle of Toronto's Dundas Square next to two placards stating "I am a Muslim. I am labelled as a terrorist. I trust you – do you trust me? Give me a hug." The Telegraph reported.
Created by Time Vision and dubbed 'Blind Trust Project', the experiment aimed to address the rise of Islamaphobia in North America and Europe.
"The project aims to show our community how Muslims are made to feel in their own country," according to the project's Assma Galuta.
When put to the test, the results were heartwarming, to say the least.
Throughout the three minutes, over 20 people had stopped to hug Mustafa Mawla in the busy area, while one man even got out of his car on a red light to add to the hugs.
http://tribune.com.pk/story/837736/blindfolded-muslim-in-canada-asks-people-to-show-trust-with-a-hug/
-----------
Embassy closure hurts counterterrorism in Yemen: U.S. officials
13 February 2015
The closure of the U.S. Embassy in Yemen has further degraded America's ability to conduct counterterrorism operations in the country, which is teetering on the brink of civil war, U.S. officials said on Thursday.
The officials acknowledged last month that such operations, including the use of armed drones against al-Qaeda targets, were under strain because U.S. agencies were having difficulty acquiring the on-the-ground intelligence needed to run them.
The officials acknowledged the evacuation of the embassy further hampered counterterrorism operations.
The officials said, however, that some counterterrorism personnel remained in Yemen and were still able to carry out operations, despite chaos in the country following the takeover of the capital Sanaa by Houthi militants.
The United States has for years mounted a campaign against Yemen-based Al-Qaeda in the Arabian Peninsula (AQAP), one of al-Qaeda's most deadly and innovative affiliates.
U.S. government sources said two drone strikes had been carried out against suspected AQAP targets since the Houthis ousted the president and took over government buildings last month, including offices housing security and spy agencies.
Officials would not discuss specifics of the continuing U.S. presence in Yemen. The United States has had advisers at a Yemeni air base in the south, and has flown drone strikes into Yemen from a base across the eastern border in Saudi Arabia.
http://english.alarabiya.net/en/News/middle-east/2015/02/13/Embassy-closure-hurts-counterterrorism-in-Yemen-U-S-officials.html
-----------
India
Badiuzzaman Nursi behind the Islamic Renaissance in Turkey: Scholars
New Age Islam Edit Desk, 13 February 2015
Istanbul Foundation for Science and Culture, Turkey in collaboration with the Arabic Department of Madrasah Aliah Kolkata held a two day seminar on Badiuzzaman Nursi in which Nursi's contribution to the revival of Islam in Turkey and the promotion of Islamic thought in the world was acknowledged. Islamic scholars from Jordan and Turkey along with Indian scholars associated with different universities of India participated in the conference and delivered their lectures on the services of Nursi to the cause of Islam. Mr Ihsan Qasim Islahi, a representative of the Istanbul Foundation said that at a time when Mustafa Kamal Ataturk was trying to root out Islam from the land of Turkey, Badiuzzaman Nursi nurtured Islamic values among the Muslim youth of the country through his translations and exegesis of the holy Quran. He brought the Muslim youth back to Islam by writing articles, booklets and letters on Islam. Nursi's struggle has played an important role in the Islamic renaissance in Turkey, he said. Mr Ihsan Qasim Islahi has translated Nursi's 'Risala Nur' into Arabic. Mr Islahi said that when he visited Turkey, he observed that though the Turkish youth were unaware of Arabic language, their heart and mind were deeply influenced by the Quranic thought. When he asked them why despite their ignorance of the Arabic language, they were so impressed and influenced by the Quranic thought and teachings, they said that it was thanks to Nursi's Risalah Nur. Therefore, Mr Islahi got access of Risala Nur. He said that Risala Nur is an exegesis of the Quran written by Nursi. Its style has made it readable to the youth. Mr Islahi said that Mustafa Kamal Ataturk did all he could to root out Islam from Turkey but it can be seen that Islam is being revived and going through a renaissance in the country. Professor Mamun Jarrar from Jordan University said that Arabic was the language of Islam and the Quran but said that Nursi influenced those unaware of Arabic through his writings and his exegesis. His command on the Qur'anic sciences and his fighting spirit impressed the Turkish youth, he said. Mr Mamun also stressed the need to translate Nursi's Risala Nur in various languages of the world. He expressed satisfaction over the fact that Risala Nur had already been translated into Urdu and Arabic among other languages.
Director of Istanbul Foundation, Prof. Faras Kaya shed a brief light on the life of Nursi and added that he completed the exegesis of the Quran in sixteen thousand pages. He said that it was the fourth seminar on Nursi in India, the earlier ones having been held in Hyderabad, Jamia Millia Islamia and Aligarh Muslim University.
----------
Sorry tale of Muslims: Study finds 40% are illiterate in the world
13 February 2015
Hyderabad, February 13: Muslims are significantly less educated than the rest of the world. Illiteracy is stunningly unbridled in the Muslim world.
According to a report prepared by Member states of the Organization of Islamic Cooperation (OIC) and obtained by the International Islamic News Agency (IINA) indicates that approximately 40 % of the Muslim world's population mostly female cannot read or write, which means that there are hundreds of millions of illiterates in the OIC countries.
According to Islamic Educational, Scientific and Cultural Organization (ISESCO), the illiteracy rates in the Muslim world ranges between 65 percent among females and 40 percent among males, with rural areas lagging behind urban areas by over 10 %.
According to the second OIC 10-year plan (2015-2025), the adult literacy rate is an indication of the good organization educational system, since it evaluates the quality of education, particularly the ability to read and write.
The report noted that in spite of the efforts deployed at both the government and civil society levels, a small number of OIC countries were able to either annihilate illiteracy or lessen it to lower rates.
Full report at:
http://www.siasat.com/english/news/sorry-tale-muslims-study-finds-40-are-illiterate-world
-----------
Expanding footprint of Pak-based terror groups a challenge: Modi
TNN | Feb 13, 2015
NEW DELHI: Prime Minister Narendra Modi on Thursday described the expanding footprint of terror groups in neighbouring Pakistan and their link with terror activities as a "major security challenge".
The PM was speaking on the concluding day of the governors conference. He also spoke on various issues including ceasefire violations along the Line of Control (LoC), violence perpetrated by Maoists and recent initiatives taken on the economic front.
While talking about the security scenario, especially in states sharing international borders, Modi said, "The expanding footprint of extremist and terrorist organizations in Pakistan, and their link with terror activities in India, is a major security challenge."
He said ceasefire violations along the LoC were continuing but added that the government adopted a multi-pronged approach to counter infiltration from across the border.
He asked states facing the problem of left-wing extremism to adopt a coordinated approach to tackle the problem.
Stressing on the need to end infrastructure deficit in the north-east, the PM said the region had immense potential and efforts would be made to augment capacity and develop the region.
Full report at:
http://timesofindia.indiatimes.com/india/Expanding-footprint-of-Pak-based-terror-groups-a-challenge-Modi/articleshow/46224615.cms
-----------
Gujarat riots activist Teesta faces arrest, SC to hear her case today
TNN | Feb 13, 2015
NEW DELHI/MUMBAI: Known Narendra Modi-baiter and social activist Teesta Setalvad and her husband Javed Anand on Thursday moved the Supreme Court and gained a day's reprieve from arrest by Gujarat police in a case of alleged misappropriation of funds meant for rehabilitation of 2002 post-Godhra riot victims.
The relief came hours after the Gujarat High Court rejected the couple's anticipatory bail plea, prompting them to rush to the SC.
Senior advocate Kapil Sibal made a dramatic mention of the couple's anticipatory bail plea before a bench headed by Chief Justice H L Dattu and sought an urgent hearing. The bench immediately restrained the state police from arresting them till Friday, when their appeal against the HC decision would be heard.
Sibal said it was an extraordinary situation and the court needed to intervene urgently as the "mighty" state police was hell bent to arrest Teesta. The bench, also comprising Justices A K Sikri and Arun Mishra, agreed to hear the case on Friday and restrained police from arresting her till then.
Full report at:
http://timesofindia.indiatimes.com/india/Gujarat-riots-activist-Teesta-faces-arrest-SC-to-hear-her-case-today/articleshow/46225460.cms
-----------
Activists support Teesta Setalvad, Javed Anand
February 13, 2015
As the threat of arrest looms large over the activist couple Teesta Setalvad and Javed Anand, who were in the forefront of fight for justice to the Gujarat riot victims, activists have extended support to both saying they have no doubt whatsoever regarding their "honesty and integrity" in the dealings of financial transactions of trust Citizens for Justice and Peace (CJP).
Activists and fellow trustees of CJP including I.M. Kadri, Nandan Maluste, Cyrus Guzder, Alyque Padamsee, Anil Dharker, Shakuntala Kulkarni, Rahul Bose, Cedric Prakash on Friday issued a statement saying they stand by the couple during these difficult time.
"As trustees of Citizens for Justice and Peace (CJP), we have full faith in our fellow trustee, Javed Anand, and secretary, Teesta Setalvad, and we stand by them during these difficult times. We have no doubt whatsoever regarding their honesty and integrity in the dealings of CJP. We are convinced that there is no factual basis to sustain the charge of embezzlement, and this has been asserted by the independent auditors of CJP," said the statement.
The Supreme Court on Thursday had stayed the arrest of both Ms. Setalvad and Mr. Anand for a day, hours after Gujarat High Court rejected their anticipatory bail plea in an alleged cheating case.
http://www.thehindu.com/news/national/activists-support-teesta-setalvad-javed-anand/article6890653.ece
-----------
Your comments against me are scaring Muslims: Azam to Governor
February 13, 2015
State minister Azam Khan, in a letter to Governor Ram Naik on Thursday, said the minority community — mainly Muslims — were scared of his comments and apprehended severe losses at the hands of those who hate them.
Khan, in his four-page letter to Naik, said: "Due to your comments and adverse statements against me, minority community, mainly Muslims, are feeling afraid. They believe that huge damage can be inflicted on me and the whole community due to your annoyance and they will come on the target (sic) of those who often claim to deport them to Pakistan and use word like 'puppy' for them."
He added that he was getting information about Naik's annoyance against him through the media. "During a meeting of Raza Library in Raj Bhawan on January 27, you made sarcastic comments on me and those who are responsible for our poverty were invited by sending special invitation. During the meeting, such statements were made by Governor, which are beyond facts."
Full report at:
http://indianexpress.com/article/india/india-others/your-comments-against-me-are-scaring-muslims-azam-to-governor/99/
-------
Arab World
ISIS fighters seize western Iraqi town
13 February 2015
Islamic State of Iraq and Syria (ISIS) insurgents took control on Thursday of most of the western Iraqi town of al-Baghdadi, threatening an air base where U.S. Marines are training Iraqi troops, officials said.
Al-Baghdadi, about 85 km (50 miles) northwest of Ramadi in Anbar province, had been besieged for months by the radical Sunni Islamist militants who captured vast swathes of northern and western Iraq last year.
"Ninety percent of al-Baghdadi district has fallen under the control of the insurgents," district manager Naji Arak told Reuters by phone.
Militants attacked al-Baghdadi from two directions earlier in the day and then advanced on the town, intelligence sources and officials in the Jazeera and Badiya operations commands said.
The officials said another group of insurgents then attacked the heavily-guarded Ain al-Asad air base five km southwest of the town, but were unable to break into it.
About 320 U.S. Marines are training members of the Iraqi 7th Division at the base, which has been struck by mortar fire on at least one previous occasion since December.
Pentagon spokeswoman Navy Commander Elissa Smith confirmed the fighting in al-Baghdadi. She said there had been no direct attack on the air base, adding: "There were reports of ineffective indirect fire in the vicinity of the base."
Full report at:
http://english.alarabiya.net/en/News/middle-east/2015/02/13/ISIS-fighters-seize-western-Iraqi-town-.html
-----------
'ISIS fighter' defects after killing of Westerners
13 February 2015
An alleged former fighter belonging to the Islamic State of Iraq and Syria said that he defected from the militant group after witnessing the executions of Western journalists.
The self-claimed ex-ISIS militant identified himself as Abu Ibrahim and is believed to be an Australian national. He told CBS News in an interview that he joined ISIS because he wanted to live in a region governed by Islamic law after he converted to Islam.
But after witnessing the executions of Western aid workers and journalists, he felt the urge to return home and abandon the group.
"Some of the policies such as the beheadings of non-combatants, therefore innocent, some of those things I didn't agree with," Ibrahim said.
"My main reason for leaving was that I felt that I wasn't doing what I had initially come for and that's to help in a humanitarian sense the people of Syria," he added.
"It had become something else. So, therefore, no longer justified me being away from my family."
Full report at:
http://english.alarabiya.net/en/perspective/features/2015/02/13/-ISIS-fighter-defects-after-killing-of-Westerners.html
-----------
Paris supermarket attacker's widow with us: ISIS
13 February 2015
The Islamic State (IS) jihadi group has claimed in its magazine that the widow of Paris supermarket gunman Amedy Coulibaly has linked up with it and is on IS soil, according to a CNN report published on Thursday.
According to the report, the second issue of the IS's French language magazine Dar al Islam, which began circulating on pro-IS Twitter accounts on Wednesday, contains a purported two-page interview with Hayat Boumeddiene, who was believed to have disappeared into Syria before the January 9 Paris attack.
The magazine claimed that Boumeddiene safely reached the Islamic State, but offered no pictures or any other proof to corroborate the claim.
French terrorism expert Jean-Charles Brisard told CNN that the magazine appeared to be an official IS publication and it was a sign that Boumeddiene had reached the Islamic State.
In the article, Boumeddiene was asked how Coulibaly felt about IS's announcement that it had established a caliphate, or an Islamic state, in territories across Syria and Iraq. He wanted to go to Syria or Iraq to fight, Boumeddiene reportedly answered.
The 26-year-old Boumeddiene claimed in the purported interview that she encountered no difficulties in reaching IS territory and she felt good to be on IS soil. She did not provide any details on her role in the Paris attacks.
Full report at:
http://www.siasat.com/english/news/paris-supermarket-attackers-widow-us-isis
-----------
IS says it's holding 'Israeli spy' in Syria
13 February 2015
Islamic State said it was holding an Israeli Arab who had posed as a foreign fighter in order to spy for Mossad, an account denied by Israel and by the man's family, who said he had been kidnapped.
In an interview published by Islamic State's online English-language magazine Dabiq, Muhammad Musallam, 19, said he had joined the insurgent group in Syria so as to report to the Israelis on its weapons caches, bases and Palestinian recruits.
After his conduct aroused the suspicion of Islamic State commanders, Musallam was quoted as saying, he broke cover by phoning his father in East Jerusalem, leading to his capture.
"I say to all those who want to spy on the Islamic State, don't think that you're so smart and that you can deceive the Islamic State. You won't succeed at all," he said, according to Dabiq.
"Stay away from this path. Stay away from helping the Jews and the murtaddin (apostates). Follow the right path."
Full report at:
http://www.dhakatribune.com/world/2015/feb/13/says-its-holding-israeli-spy-syria#sthash.kbFvQnoi.dpuf
-----------
Syrian rebel leader vows guerrilla war in south against Hezbollah, govt
February 13, 2015
A Syrian rebel commander in the south vowed to wage guerrilla war against the Lebanese group Hezbollah and Syrian government forces which have launched a major offensive against insurgents in the sensitive border region near Israel and Jordan.
The offensive that got under way this week is focused in an area south of Damascus that is the last notable foothold of the mainstream armed opposition to President Bashar al-Assad, who has consolidated control over much of western Syria.
The Syrian Observatory for Human Rights, which tracks the war, says the push is being spearheaded by Hezbollah, and that government forces and allied militia have made significant progress.
The Syrian army said on Wednesday that territory including four hills and three towns had been secured from insurgents it identified as members of the al Qaeda-linked Nusra Front.
The mainstream rebels known collectively as the Southern Front are dismissive of Nusra's role in the area. The battle -- the most serious effort to date by the state to take back the south -- was mostly brought to a halt on Thursday by snow.
Full report at:
http://english.ahram.org.eg/NewsContent/2/8/122918/World/Region/Syrian-rebel-leader-vows-guerrilla-war-in-south-ag.aspx
-----------
Islamic State publishes report about Coptic Egyptian workers kidnapped in Libya
February 13, 2015
The Islamic State group published a report apparently showing photos of 21 Coptic Egyptians recently kidnapped by militants in Libya, claiming they captured the migrant workers to "avenge the kidnapping of Muslim women by the Egyptian Coptic Church."
The Islamic State published the report in the current issue of its online English publication Dabiq, calling the captives "Coptic crusaders".
The 21 Egyptian Coptic workers, mostly from impoverished villages in Upper Egypt, were kidnapped between late December and early January in the Libyan city of Sirte.
Sirte, 500 kilometres east of Tripoli, is in the hands of Islamist militias, including Ansar al-Sharia, which the UN Security Council in December added to its terror list for links to Al-Qaeda and for running Islamic State training camps.
Islamic State militants based in Libya claimed responsibility for the kidnap of workers in Sirte last January.
The undated photos showed captive workers wearing orange jumpsuits usually donned by Islamic State prisoners before they are executed by the jihadists.
Full report at:
http://english.ahram.org.eg/NewsContent/1/64/122903/Egypt/Politics-/Islamic-State-publishes-report-about-Coptic-Egypti.aspx
-----------
Assessing Egypt's campaign against Sinai militants
13 February 2015
The latest attacks on military targets in the Sinai were seen as the most shocking, not only because of the number of casualties, the penetration of highly-secured areas, or the advanced tactics used by the assailants, but also because the attacks followed a series of reportedly successful campaigns against militant strongholds in the peninsula.
The last factor in particular was a source of concern among analysts, who underlined the necessity of contemplating whether the state is making any actual progress in eliminating terrorism.
The first official reaction to the Jan. 29 bombings said they were driven by the "successful strikes carried out by the army and the police against militants and their strongholds in North Sinai, and the Muslim Brotherhood's failure to wreak havoc on the fourth anniversary" of the Jan. 25 revolution that toppled President Hosni Mubarak.
General Alaa Ezz el-Din, director the Armed Forces Center for Strategic Studies, said the attacks are a sign that militants are "becoming increasingly desperate" following successful strikes against them.
Full report at:
http://english.alarabiya.net/en/perspective/analysis/2015/02/11/Assessing-Egypt-s-campaign-against-Sinai-militants.html
-----------
Africa
Boko Haram attacks Chadian village overnight, killing several people
February 13, 2015
Boko Haram fighters attacked a Chadian village overnight, killing several people in the first known lethal attack by the Islamist group in the country, local sources and a security source said.
"They came on board three canoes and succeeded in killing about ten people before being pushed back by the army," said a resident of the village of Ngouboua on the shores of Lake Chad.
The security source said that about 30 militants attacked the village at around 0300, setting houses ablaze.
http://english.ahram.org.eg/NewsContent/2/9/122932/World/International/Boko-Haram-attacks-Chadian-village-overnight.aspx
--------
Prosecutions of suspected jihadists double in Morocco
13 February 2015
Morocco prosecuted twice as many suspected jihadists in 2014 than in the previous year, the state prosecutor said Thursday, linking the rise to the conflicts in Syria and Iraq.
"The number of terrorism-related cases last year stood at 147, compared to 64 in 2013," El Hassan Eddaki was quoted as saying by the MAP news agency.
He said the increase of about 130 percent was due to "tensions linked to the situations in the Sahel countries, Syria and Iraq."
Eddaki said 323 suspects were sent to trial last year, against 138 in 2013.
Authorities say about 1,500 Moroccans have travelled to Syria or Iraq to fight for the Islamic State group, which has declared a "caliphate" straddling the two countries in areas it controls.
Last year Morocco said it had dismantled dozens of "terrorist cells".
In September, Rabat introduced new legislation to try to stem the flow of volunteers, imposing prison terms of between five and 15 years for those convicted of joining "terrorist groups".
http://english.alarabiya.net/en/News/middle-east/2015/02/13/Prosecutions-of-suspected-jihadists-double-in-Morocco.html
-----------
South Asia
Imams forced to dance in the street in religiously repressed Xianjang
China forces imams to dance in street
World Bulletin / News Desk
13 Feb, 2015
In China, imams are being forced to dans, at the same time being made to make an oath to keep children away from religion - public servants are forced to brandish the slogan that "our income comes from the CKP not from Allah".
The imams of the mosques in the Xinjiang (East Turkestan) have been forerced to gather in a square dancing en masse. State Chinese news have said that in the name of "civilization" the imams have been forced to dance in the town square. At the same time they were forced to chant out slogans such as 'peace of the country gives peace to the soul". Many of the imams were forcibly given Chinese flags - the same demonstration also included university students.
During the speeches, young people were told to stay away from mosques, and that the prayer was harmful to ones health and instead were encouraged to dance. Female teachers were instructed to teach children to stay away from religious education and made to swear an oath that they will keep children away from religion.
http://www.worldbulletin.net/headlines/154674/china-forces-imams-to-dance-in-street
-----------
Myanmar clashes with rebels 'kill 47 soldiers'
13 February 2015
Nearly 50 soldiers have been killed in a week of fighting between government troops and Kokang ethnic rebels in Myanmar, state media report.
The Global New Light of Myanmar newspaper said air strikes had been used in the response to the flare-up in Shan state, near the Chinese border.
The BBC's Myanmar correspondent, Jonah Fisher, says it is the heaviest fighting in at least two years.
It comes as the government tries to sign a peace deal with rebel groups.
There are reports that thousands of people have been leaving the area to escape the fighting.
China said on Tuesday that some people had crossed over into its southern Yunnan province, and that they were being looked after.
The Kokang are a Han Chinese ethnic group, and their armed wing a remnant of the Burmese Communist Party which fragmented in 1989.
For years they have run a largely autonomous strip of land on Myanmar's north-eastern border with China.
This dramatic upsurge in fighting appears to have been triggered by the return of one of their leaders - Phone Kya Shin - from five years of exile in China.
In 2009, Phone Kya Shin was forced to flee by Burmese troops - but he has now returned promising to restore the rights of the Kokang people.
Full report at:
But they ended with no deal reached beyond a commitment to negotiate further.
http://www.bbc.com/news/world-asia-31450420
-----------
PM Sheikh Hasina: People won't be defeated by monsters
13 February 2015
Hinting at the BNP-led alliance, the prime minister yesterday said the government will not spare the monsters who have been burning people for
no reason.
The BNP-Jamaat alliance had been creating anarchy at a time when the country was moving forward, Prime Minister Sheikh Hasina said, adding that the people will not lose out to these fiends.
She made the remarks while addressing the 35th national parade of the Ansar and VDP forces at the Ansar-VDP Academy at Shafipur in Gazipur's Kaliakair upazila.
Terming the activities of the 20-party alliance acts of terror and crime, Hasina said the monsters would be defeated to restore peace in the country.
The lives of the hard-working people falling victims to the recent violence had no worth to BNP Chairperson Khaleda Zia, she further claimed.
The prime minister also pointed out that the BNP-Jamaat alliance had called its blockade programme during a religious event like the Biswa Ijtema, even though it frequently advocated in favour of religion.
Full report at:
http://www.dhakatribune.com/politics/2015/feb/13/pm-people-won%E2%80%99t-be-defeated-monsters#sthash.6YLKyeW7.dpuf
-----------
UN sends official to broker peace deal to end Bangla unrest
February 13, 2015
UN chief Ban-Ki-moon has assigned a senior official to Bangladesh to broker a peace initiative in the ongoing political unrest that has claimed over 100 lives in the country.
"The secretary general is personally committed to the stability and positive development of Bangladesh," local media Friday quoted a UN spokesman as saying.
The UN secretary general's spokesman Stephane Dujarric said Ban tasked UN's assistant secretary general Oscar Fernández-Taranco to liaise with the government and "he's doing just that".
"Bangladesh, as you know, is a critical partner of the United Nations in many areas. We are very much concerned about the violence and loss of life (there)," Dujarric was quoted as saying by the local media.
Full report at:
http://indianexpress.com/article/world/asia/un-sends-official-to-broker-peace-deal-to-end-bangla-unrest/
-----------
Iranian soldiers attack Afghan workers on joint border in Farah: Farah PHQ
13 February 2015
Iranian soldiers have attacked Afghan workers along the border in Farha Province.
Dil Jan Khakrizi, acting police chief of Farah province confirming the incident said that one dead body was found while the rest of them have been moved by the Iranian soldiers.
He said further investigation is ongoing in this regard.
This is not the 1st time a violent act is taking place by Iran towards Afghans.
Iran has executed dozens of Afghans or put them in jail on different accusations during the recent years.
In 2013 about 80 Afghans were hanged by Iran on drug trafficking and other accusations.
Dozens of other Afghans have been killed unanimously in Iran.
On one occasion, In December last year three dead bodies arrived from Iran to the Ghoryan District of western Herat who were unanimously killed in the Asfaha city of Iran.
They were a women and two minor girls unanimously killed in their home.
Also in 2014, reports indicated that Iran has sent Afghans to Syria to support Basharulasad's forces in their fight against Syrian rebels.
According to reports Iran facilitated free education and housing to the family members of those Afghans who accepted the offer to go to Syria to fight.
A monthly $500 salary was also reported being paid to Afghans going to Syria.
http://www.khaama.com/45832-29056
-----------
PG asks Home Minister to block pornographic websites
13 February 2015
Prosecutor General (PG) Muhthaz Muhsin has asked the Minister of Home Affairs Umar Naseer to block websites displaying pornographic content.
Speaking to Minivan News, PG Office Spokesman Adam Arif stated that the PG had written to the home minister yesterday (February 11), noting that pornographic material encourages criminal activity and that possessing and producing pornography is prohibited in Maldivian law.
He also explained that the letter referred to the legal and constitutional duties of the state to prevent criminal activity and to uphold the tenants of Islam along with maintenance of the social fabric.
"The letter also requests the home minister to take action and inform the PG's Office in a timely manner," Arif said.
http://minivannews.com/news-in-brief/pg-asks-home-minister-to-block-pornographic-websites-92744
-----------
Jamaat leader held, explosives recovered
13 February 2015
The police have recovered a good amount of explosives from Ashulia on Thursday, acting on the information of a detained Jamaat leader.
Assistant Superintendent of Police (Savar Circle) Rasel Sheikh said: "A team of Detective Branch (DB) of Police arrested Bashir Ahmed, Ashulia districut unit Jamaat secretary, from Khondoker Market around 11am."
"Later, acting on his information, the law enforcers recovered six petrol bombs, 12 hand bombs, and about 3kg of gun powder from a personal wardrobe at his office."
The arrestee is the principal of a local school and a former president of Dhaka district unit Chhatra Shibir, said police.
A case has been filed under the Explosives Act in this connection.
http://www.dhakatribune.com/politics/2015/feb/12/jamaat-leader-held-explosives-recovered#sthash.uN3QDeas.dpuf
--------
Europe
Muslim party to take part in French regional election
13 February 2015
A Muslim party that aims to promote Islamic finance and overturn France's ban on wearing the veil in schools will take part in regional elections next month.
Led by Najib Azergui, the Democratic Union of French Muslims (UDMF) also aims to promote the use of Arabic in schools and "fight against dangerous stigmatisation that equates Islam with terrorism."
The party, which has 900 members and 8,000 supporters, is to put up two candidates in the March election in the Paris suburb of Bobigny, where a large proportion of the population is from an immigrant background.
It will also put up candidates in seven other regional elections next month.
"In the dramatic context like the one we are living through today, we need to make our voices heard louder," said Khalid Majid, 36, one of the candidates in Bobigny.
France has struggled to integrate its Muslim community, Europe's largest estimated at between 3.5 and five million, although figures are difficult to come by as secular France does not collate religious data.
Full report at:
http://english.alarabiya.net/en/News/world/2015/02/12/Muslim-party-to-take-part-in-French-regional-election-.html
-----------
Norway: Al-Qaida, Islamic State rivalry can mean more attacks
February 13, 2015
Norway's foreign intelligence agency says the rivalry between al-Qaida and Islamic State group extremists has increased and could lead to more terror attacks in the West.
Agency head Lt. Gen. Kjell Grandhagen says the groups are trying "to secure recruits, financial support and ideological leadership" among jihadis in a struggle for supremacy.
Since the 2001 attacks in the United States, al-Qaida has developed a number of affiliates, including IS, which originally was an al-Qaida offshoot in Iraq. Grandhagen said Thursday that Libya has become a haven for jihadi groups in Northern Africa, and noted that groups in several Arab countries recently have pledged allegiance to the Islamic State group.
He said European nations participating in the US-led coalition against Islamic State group faced increased threats, including from jihadis returning home.
http://indianexpress.com/article/world/world-others/norway-al-qaida-islamic-state-rivalry-can-mean-more-attacks/
-----------
End use of child soldiers in conflicts: UN
February 13, 2015
The United Nations Children's Fund (UNICEF) called for urgent action to end grave violations of the rights of children, including their recruitment and use by armed groups.
In a statement to mark the International Day Against the Use of Child Soldiers, the UNICEF said children were becoming increasingly vulnerable to recruitment and use by armed groups as conflicts around the world became more brutal, intense and widespread, Xinhua reported.
"While governments of the world have made progress to recognise that children have no place in their armies, the recruitment of child soldiers is still a huge problem, especially with armed groups," said Leila Zerrougui, the Special Representative of the Secretary General for Children and Armed Conflict.
Full report at:
http://www.thehindu.com/news/international/end-use-of-child-soldiers-in-conflicts-un/article6889954.ece
-----------
French embassy launches "Hello Tomorrow Challenge in Pakistan"
13 February 2015
ISLAMABAD - The France Embassy in Pakistan on Thursday hosted the launching of the "Hello Tomorrow Challenge in Pakistan", a global start-up competition covering all major fields of technology.
This international start-up competition aims to promote projects based on scientific and technological innovations with high potential, said a press release issued by French Embassy here. The competition is open to young researchers and entrepreneurs. It reflects the mobilisation in France in support of creativity and entrepreneurship.
This is the second edition of the competition, which will grant more than 170,000 Euro to the best innovating start-up projects developed in one of the six following fields, energy and environment, food and agriculture, transport and mobility, materials and manufacturing, health care and information technologies.
Full report at:
http://www.dailytimes.com.pk/national/12-Feb-2015/french-embassy-launches-hello-tomorrow-challenge-in-pakistan
-----------
French TV, radio stations rapped for Charlie Hebdo attacks coverage
13 February 2015
France's major TV and radio networks were formally rapped by the French broadcast regulator Thursday for serious "breaches" in the way they covered last month's Charlie Hebdo attack and subsequent bloody events.
The warnings were issued for: showing two of the Islamist gunmen walking up to cold-bloodedly shoot dead a policeman; identifying the two gunmen before despite official requests not to do so; reporting that people were hiding in a Jewish supermarket taken over by a third gunmen; and providing live video feeds of the deadly police assault on the supermarket.
Full report at:
http://english.ahram.org.eg/NewsContent/2/9/122919/World/International/French-TV,-radio-stations-rapped-for-Charlie-Hebdo.aspx
---------
With less than 1%, British army to recruit more Muslims
13 February 2015
London, February 13: The British army is looking at ways to enroll more Muslims as the most up-to-date data reveal that they make up less than 1% of the total.
According to General Sir Nicholas Carter, Chief of the General Staff, ethic minority representation in the military is "nowhere near where it needs to be" and more must be done to recruit.
"Our recruitment from the black, Asian and minority ethnic communities has been improving over the years, but it is nowhere near where it needs to be. We have to do more," My highest priority is ensuring we continue to have the best possible talent throughout our Army," he said.
Full report at:
http://www.siasat.com/english/news/less-1-british-army-recruit-more-muslims
-----------
Yemen 'collapsing before our eyes': Ban tells Security Council
February 13, 2015
Secretary General Ban Ki-moon appealed to the UN Security Council Thursday for action to halt Yemen's slide toward anarchy, warning it was "collapsing before our eyes."
The UN chief was reporting to the 15-member council following his visit to Saudi Arabia and the United Arab Emirates for talks that he said focussed on "preventing civil war in Yemen."
"Let me be clear: Yemen is collapsing before our eyes. We cannot stand by and watch," Ban told the council.
He called for President Abedrabbo Mansour Hadi and his prime minister to be "granted freedom of movement" following the power grab by the Shiite militia known as the Huthis which has left them under de facto house arrest.
Full report at:
http://english.ahram.org.eg/NewsContent/2/8/122911/World/Region/Yemen-collapsing-before-our-eyes-Ban-tells-Securit.aspx
-----------
Southeast Asia
Malaysian Dy PM Directs Mara to Lift MRSM Ban on Non-Muslim Religious Activities
13 February 2015
Deputy Prime Minister Tan Sri Muhyiddin Yassin has directed Mara to revoke with immediate effect all regulations banning non-Muslim religious activities within the campuses of all its junior science colleges (MRSM) in Sarawak.
Muhyiddin made the decision after meeting with state Barisan Nasional leaders in Kuching yesterday.
Parti Rakyat Sarawak (PRS) president Tan Sri Dr James Masing, who disclosed the decision, said he was pleased that Muhyiddin understood the sensitivity of the issue in Sarawak.
He said the officers under the DPM and in the Education Ministry should have the same sensitivity on such issues.
The ban was not only opposed by Chief Minister Tan Sri Adenan Satem but Dayak leaders across the political spectrum.
Adenan summoned Minister of Rural and Regional Development Datuk Seri Mohd Shafie Apdal, whose ministry has the purview on Mara, to Kuching over the weekend to discuss the issue.
While Shafie denied there were religious curbs in Sarawak MRSMs, he told a press conference after meeting Adenan that if there were such regulations, "it is not right" and Mara would withdraw them.
Full report at:
http://www.themalaysianinsider.com/malaysia/article/muhyiddin-directs-mara-to-lift-mrsm-ban-on-non-muslim-religious-activities#sthash.T4RIAjUt.dpuf
---------
Police Make Arrests in Bogor Mosque Attack
13 February 2015
Bogor, West Java. Nearly 40 people claiming to be representatives of a Shiite group have been arrested in relation to an attack on Az-Zikra mosque in Sentul, Bogor, on Wednesday.
Police questioned 38 people on Thursday night in relation to the assault, which occurred about 11 p.m. and resulted in a security guard being beaten.
The minor sectarian incident, meanwhile, threatened to gather fresh intensity after the mosque's cleric threatened "jihad" on the group on Thursday evening.
Adj. Sr. Comr. Sony Mulvianto Utomo, chief of Bogor police, said 34 people have been named suspects in the attack and will be charged for assault under article 335 of the Criminal Code Law.
"They could face up to seven years imprisonment," Sony said.
The group stormed the mosque in an attempt to confirm if there was a banner mocking Shiite Muslims. Security guard Faisal Karim, 43, was beaten in the confrontation.
"We aren't focused yet on where the mob came from, just on the crimes they committed," Sony said.
Full report at:
http://thejakartaglobe.beritasatu.com/news/police-make-arrests-bogor-mosque-attack/
-----------
Australians Could Boycott Indonesia over Executions: Foreign Minister
13 February 2015
Sydney. Australian travellers could boycott Indonesia if Jakarta executes two drug smugglers on death row, Foreign Minister Julie Bishop said on Friday as she refused to rule out withdrawing diplomats.
Bishop, who pleaded for the lives of Andrew Chan and Myuran Sukumaran in parliament on Thursday, said the situation was tense as Indonesian authorities made plans to transfer the pair from prison to the site of their execution.
"It's a very tense situation," Bishop told Fairfax radio.
Vigils have been held around Australia, which does not support the death penalty, to plead for mercy and Bishop said if they faced the firing squad it could influence whether Australians took holidays in Indonesia.
She warned Jakarta against underestimating the strength of feeling within the Australian public for the pair.
"I've been overwhelmed with emails and text messages, I know that people have been staging vigils and rallies," she said.
Full report at:
http://thejakartaglobe.beritasatu.com/news/australians-boycott-indonesia-executions-foreign-minister/
-----------
URL: https://newageislam.com/islamic-world-news/new-age-islam-news-bureau/turkey-warns-channel-over--god-instead-of-allah--dubbing/d/101506