New Age Islam News Bureau
24 Jul 2015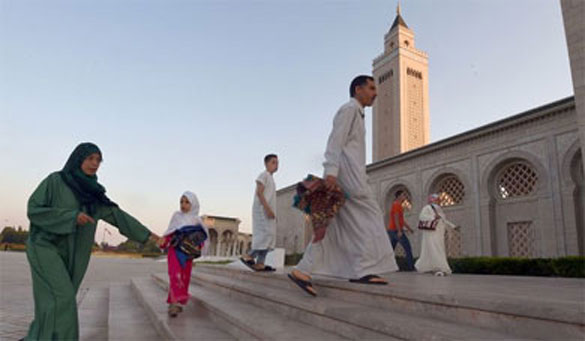 Tunisians arrived at the El-Abidine Mosque for the Eid al-Fitr prayer last week. Some fear restrictions, enforced after the massacre of 38 tourists, signal a return to authoritarian rule. Credit Fethi Belaid/Agence France-Presse — Getty Images
-------
Africa
• Tunisia's Secular Government Cracks Down on Mosques in Aftermath of Massacre
• Bombs kill 29 as Nigerian leader says US hampering fight
• Nigeria governors: Boko Haram still hold territories in troubled northeast
• Somalia captures strategic city held by al-Shabab
• Kenya demands CNN apology over 'hotbed of terror' slur
-------
North America
• Al Qaeda's Chief of Bombing Attacks Died in U.S. Strike, Pentagon Says
• U.S. Jets to Use Turkish Bases in War on ISIS
• Americans denounce Iran nuclear deal
------
South Asia
• UN envoy: Militants from regional countries fighting in Afghanistan
• Afghan forces repel second attack by Taliban in Badakhshan
• Next round of Afghan-Taliban talks set for end July: officials
--------
Arab World
• Airstrikes by Turkey Hit 3 ISIS Targets in Syria
• Iraq deploys U.S.-trained troops for the first time
• Rebels, Qaeda launch assault on Syria`s Daraa
• Bomb kills 4 Egyptian soldiers near Rafah
• Saudi position on Hamas 'unchanged'
• Hadi forces clear Aden of Houthis
• Frontlines of Yemen's war shift in favour of Riyadh
• Syria's opposition groups agree on 'roadmap'
• Iran deal won't affect backing for Damascus: Syria FM
• Al-Maliki slammed for spitting venom
-------
Mideast
• Turkey bombs Four Islamic State targets in Syria
• One killed, over 250 detained as Turkish police raid suspected ISIL, PKK militants
• Intel warns India's Turkish envoy of ISIS threat
• KPK grills PKS politician in PTUN judge bribery case
• Hundreds pray for rain in Bogor
---------
Pakistan
• Military aid: US to make $337 million payment to Pakistan under CSF
• Pakistan calls for comprehensive strategy against Islamic State
• Pakistani intelligence sought huge data collection tools: Report
• Rangers raid Clifton restaurant owned by MQM MNA
• Defence cooperation: Pakistan to buy eight submarines from China
• After Ramazan break: Pakistan set to resume executions
--------
Southeast Asia
• MUI urges Muslims to remain peaceful after Tolikara incident
• Govt starts to repatriate Bangladeshi refugees
• Indonesia welcomes results of Iran nuclear deal
-------
India
• Minority groups take up Rohingya Muslims' cause, seek Centre's help
• Terrorists attack mobile showrooms in Srinagar with grenades
• Tharoor 'demand' for UK reparations makes waves
-------
Australia
• New terror threat system for Australia
------
Compiled by New Age Islam News Bureau
URL: https://www.newageislam.com/islamic-world-news/new-age-islam-news-bureau/tunisia's-secular-government-cracks-down-on-mosques-in-aftermath-of-massacre/d/104017
--------
Africa
Tunisia's Secular Government Cracks Down on Mosques in Aftermath of Massacre
By CARLOTTA GALL
TUNIS, JULY 23, 2015 — Among a flurry of security measures the Tunisian government began after a gunman massacred 38 tourists last month in Sousse was a crackdown on dozens of mosques, creating concerns that the secular government may be falling back toward the authoritarian ways of the former dictatorship.
In the middle of Ramadan early this month, the government closed 80 mosques and barred two preachers. But neither the men nor most of the mosques had any known connection with Seifeddine Rezgui, the gunman who carried out the June 26 massacre, officials acknowledged.
It was another sign that the divisions between secularists and Islamists that threatened to tear the country apart in the years after the 2011 Arab Spring uprising are still playing out.
In a recent interview with the daily newspaper La Presse, Habib Essid, who heads a government led by the secularist party Nidaa Tounes, described the battle to control Tunisia's 5,000 mosques as a "long-term fight."
Notably, the main Islamic political party, Ennahda, which holds a token cabinet post in the coalition government, has supported the government's stance against terrorism and even its regulation of mosques. Its leaders have condemned the terrorist attacks and told followers that supporting the government, and the country, is more important right now than party support.
"We are all in agreement that no one is allowed to preach violence," said Zied Ladhari, 39, the Ennahda cabinet member and the minister for vocational training and employment. The closed mosques are ones that were built without permits in a somewhat "anarchical way," he added. "No one is closing regular mosques."
But other officials say some regular mosques have been closed, and deep ideological differences exist among the main parties over how to combat extremism. The secularists leading the government, many of whom have connections to the old dictatorship, lean toward tight control of mosques and preachers. The government has replaced many Ennahda appointees in the Ministry of Religious Affairs.
Those in the mainstream Tunisian religious community warn that government controls enforced by the police send religious followers underground and stifle efforts by moderates to counter the ideology of religious extremists.
Religion was strictly controlled under the dictatorship of Zine el-Abidine Ben Ali. Thousands of Islamists were imprisoned, and the outward display of religion, such as head scarves and beards, was banned in government offices, under a policy of forced secularization.
Ennahda members, and some independent scholars, say that the repression actually encouraged extremism and that removing mainstream Islamists and reducing opportunities for religious education left a void the extremists were able to fill. Thousands who fled the repression under Mr. Ben Ali in 1991 ended up in Afghanistan and were recruited by extremist groups.
Another wave fled to Libya when the government outlawed as a terrorist organization the Islamic movement Ansar al-Shariah in 2013, said Habib Ellouze, a former Ennahda legislator who runs a religious organization, the Preaching and Reform Association. "It is very well known now that a lot went to Libya," he said. "Thousands escaped."
In Libya, Tunisians can find work but many have joined extremist groups, compounding the security problem at home. The men behind the country's two recent attacks on foreign tourists received weapons training in Libya, the government has said.
In the freewheeling period after the overthrow of Mr. Ben Ali in 2011, communities forced out many of the clerics who were seen as loyal to him. But there was a shortage of imams, and Salafist clergymen, some of whom were extremists and even loyalists to Al Qaeda, joined the rush to take over mosques.
Amor Mighri, a quiet-spoken imam and former political prisoner, led the monitoring commission for the Ministry of Religious Affairs and began a campaign to weed out the extremists. He toured the country, listening to complaints from the public, interviewing imams and evaluating their sermons.
During a visit to the holy city Kairouan in the summer of 2013, he noted the implicit jihadist references in a sermon by Seifeddine Rais, a young and charismatic spokesman of Ansar al-Shariah who drew a large crowd of youthful followers to a neighborhood mosque. Mr. Mighri said he invited the professed imam to his office and discovered that he had not even completed high school.
"His qualifications were weak," Mr. Mighri said, adding that the spokesman was a hard-liner who demanded that all Muslims fight all nonbelievers. "He only knows the Quran for the things that go with his vision. He is very selective."
Many of the Salafists were aggressive and resisted efforts by the authorities to remove them. Some of them were armed. The ministry could not reason with them and had to ask the police to intervene, Mr. Mighri said. Relations between Ennahda and the police were tense at the time and cooperation was poor, but the Ansar al-Shariah spokesman was eventually arrested amid some violence in March 2014.
Under the next government, cooperation with the police improved, and by the end of 2014 the government had removed all those considered extremists, Mr. Mighri said.
Sheikh Taieb Gozzi, 73, imam of the Great Mosque of Oqba Ibn Nafa in Kairouan, Tunisia's most venerated place of worship, said Ansar al-Shariah had come close to occupying the central mosque in 2013. The Salafists, in the meantime, took over three mosques in the city, and the police managed to push them out only six months ago.
"Over the past year, the state backed the mosques, and things got relatively better," Sheikh Gozzi said. "If we are in this situation, it is because the state is still not strong."
But the problem of the radicalization of young Tunisians remains.
"There are no extremists who are imams," Mr. Mighri said, "but it does not mean we have eliminated the extremist mentality." He and others in the ministry are worried that the government is addressing the threat improperly.
The newly appointed minister for religious affairs, Othmane Battikh, is an old-school cleric who served as chief mufti under the dictatorship. He has disbanded Mr. Mighri's monitoring commission, replaced several senior Ennahda appointees to the ministry, and handed the oversight of mosques largely to the police.
"There is a decrease in extremist discourse," he said in an interview. "The preachers realized the need to back down."
But ministry workers have protested his methods.
"We appreciate the police and the important role they play in fighting terrorism, but we want them to stay out of religious affairs," Abdessalem Atwi, the secretary general of the Union of Preachers, said during a recent protest outside the ministry. "If you bring back the Interior Ministry, it is the police that will evaluate the sermons."
Mr. Mighri warned that the ministry must tackle extremism with vigorous debate and not just with the police.
"The current dialogue is very general; it does not go deep enough," he said. "You have to use solid debate, deep dialogue, in mosques, on the radio, everywhere, so we use our solid arguments so that people can hear and people can be convinced. The minister is not using strong arguments."
Farah Samti contributed reporting.
http://www.nytimes.com/2015/07/24/world/africa/rift-widens-in-tunisia-as-government-cracks-down-on-mosques.html
--------
Bombs kill 29 as Nigerian leader says US hampering fight
Lagos, Jul 23, 2015 (AP)
Bomb blasts at two bustling bus stations killed 29 people and wounded 105, officials said today after Nigeria's new president warned that the US refusal to sell his country strategic weapons is "aiding and abetting" Boko Haram.
Nigeria's National Emergency Management Agency called today for urgent blood donations to treat 105 wounded people, according to spokesman Sani Datti who said at least 29 bodies have been recovered.
Yesterday night's bombings in north-eastern Gombe town are the latest in a series by Islamic extremists that has spilled across Nigeria's borders.
In neighbouring Cameroon yesterday, two suicide bombers killed at least 18 people at a marketplace near the border, officials said.
Nigeria's President Muhammadu Buhari returned home Thursday to the capital, Abuja, from a four-day visit to the United States where he was warmly received by President Barack Obama, but failed to get all he wanted.
"Buhari returns to Abuja, with no weapons sale from USA," said a headline in The News.
Buhari told policy makers at the US Institute for Peace on Wednesday that Nigeria's armed forces are "largely impotent" because they do not possess the appropriate weapons to fight Boko Haram.
He urged the US president, Congress and government to find ways around the Leahy Law that prohibits sales of certain weapons to countries whose military are accused of gross human rights violations.
Amnesty International charges Nigeria's military is responsible for the deaths of 8,000 detainees -- twice as many as Boko Haram's victims in the first four years of its 6-year-old insurgency.
"The application of the Leahy law ... has aided and abetted the Boko Haram terrorist group in the prosecution of its extremist ideology and hate, the indiscriminate killings and maiming of civilians, in raping of women and girls, and in their other heinous crimes," Buhari said.
http://www.deccanherald.com/content/491016/bombs-kill-29-nigerian-leader.html
--------
Nigeria governors: Boko Haram still holds territories in troubled northeast
AFP, Abuja Friday, 24 July 2015
Boko Haram are still holding on to some territories in Nigeria's troubled northeast, state governors from the region said on Thursday, after the military claimed a series of major victories against the group.
Borno and Yobe governors told a monthly national economic council meeting in Abuja that the rebel group – whose insurgency has claimed more than 15,000 lives since 2009 – still controlled five municipalities within their states.
"On Boko Haram issues, governors of Yobe and Borno raised the alarm of five local government areas of the two states still being in possession of the insurgents," an official document made available to reporters after the meeting said.
Borno, Yobe and Adamawa states in the northeast have suffered the brunt of the Boko Haram insurgency.
A regional military coalition of Nigeria, Niger, Chad and Cameroon has claimed a series of major victories against Boko Haram since launching sweeping offensives against the attackers in February.
But the group, who recently pledged allegiance to the Islamic State of Iraq and Syria (ISIS), have been pushing back.
The Borno and Yobe governors called for an "increase in military deployment and provision of sophisticated military equipment in those areas", the three-page document said.
It is widely believed that many of the more than 200 school girls kidnapped from their school in Chibok, Borno state, by Boko Haram kidnappers in April last year are being held in the sprawling forest.
Gunmen killed eight people in a raid on a village in Borno state on Wednesday, in the latest violence blamed on the Islamists, a local resident and a vigilante said.
The attack was unleashed the same day as twin suicide bombings in Cameroon and a series of blasts at two bus stations in Nigeria that left at least 50 dead.
https://english.alarabiya.net/en/News/africa/2015/07/24/Nigeria-governors-say-Boko-Haram-still-hold-swaths-in-troubled-northeast.html
---------
Somalia captures strategic city held by al-Shabab
By Feisal Omar and Abdi Sheikh | Reuters,
Mogadishu, 24 July 2015, Somalia troops have captured a southern town from al-Shabab insurgents, the president said on Thursday, in the latest blow to the rebel group which has been forced out of swathes of territory over the past two years.
The extremists described the withdrawal from Baardheere, which lies about 300 km east of the capital Mogadishu, as a tactical retreat.
Because of its hills in the outskirts, Baardheere has been the main stronghold of al-Shabab in the region since 2009 and has been a target for drone strikes on al-Shabab leaders.
Somali troops and African Union Mission in Somalia (AMISOM) peacekeepers have been fighting al-Shabab to wrest control from areas it holds in central and southern Somalia over the past weeks.
Al-Qaeda-linked al-Shabab, which wants to topple a Western-backed government and impose its own strict interpretation of Islam on Somalia, has been driven out of major strongholds by the African and Somali forces but continues to launch bomb and gun attacks against officials and politicians.
"Our Somali National Army, supported by our partners in arms, yesterday secured one of the few remaining hideouts of al-Shabab, the great city of Baardheere," President Hassan Sheikh Mohamud said in a statement.
"Let there be no doubt anymore, the fight to secure our country may be hard, but my commitment and those of our partners, and the resilience of this nation has never been stronger."
Al-Shabab said the group's fighters withdrew as a tactical measure and would return.
"We had been in Baardheere district for years but we have abandoned for tactics. The district is now in AMISOM hands," Sheikh Abdiasis Abu Musab, al-Shabaab's military operation spokesman, told Reuters.
"However, rest assured, they will never rest and one day Baardheere will return to our hands. We are not far - we are just on the edges of the town."
https://english.alarabiya.net/en/News/africa/2015/07/24/Somalia-captures-strategic-city-held-by-al-Shabab.html
-------
Kenya demands CNN apology over 'hotbed of terror' slur
AGENCIES
Friday 24 July 2015
NAIROBI: Kenya's interior minister has called on US news channel CNN to apologize for calling East Africa a "hotbed of terror" ahead of President Barack Obama's visit on Friday.
It would make an apology "if it was civilized enough," Joseph Nkaissery said at a news conference, according to the BBC. The hashtag #SomeoneTellCNN is trending worldwide as Kenyans condemned CNN, which has not yet commented.
Its report focused on the threat posed by Al-Qaeda linked Al-Shabab group. Obama was "not just heading to his father's homeland, but to a region that's a hotbed of terror," said the CNN report.
With its headquarters in neighbouring Somalia, Al-Shabab has carried out a spate of attacks in Kenya.
Nkaissery said Kenya was at risk of attack like any other country, but this did not turn it into a "hotbed of terror." "I urge Kenyans to treat the @CNN report with the contempt it deserves," he said, according to a tweet by Kenya's privately owned Daily Nation newspaper.
CNN quoted security analyst Seth Jones analyst as saying that Al-Shabab could carry out an attack during Obama's visit.
"Security for the president is likely to be very significant and that means what Al-Shabab is likely to do, based on what it has done very recently, is go for a soft target," he said.
On Twitter, Kenyans criticized the report.
http://www.arabnews.com/world/news/780681
-----
North America
Al Qaeda's Chief of Bombing Attacks Died in U.S. Strike, Pentagon Says
By Helene Cooper July 24, 2015
ERBIL, Iraq — The Qaeda operative in charge of suicide bombings and operations involving explosives was killed in an American airstrike in Afghanistan this month, the Pentagon said on Friday.
The operative, Abu Khalil al-Sudani, had been directly involved in plots against the United States as well as against American, Afghan and Pakistani forces, Defense Department officials said. They described Mr. Sudani as a close associate of Ayman al-Zawahri, the Qaeda leader. A Defense Department news release referred to him as "a senior Shura member," referring to a decision-making council.
Mr. Sudani was killed on July 11 in an airstrike in the Bermal district of Paktika Province in Afghanistan, according to the Pentagon.
Defense Secretary Ashton B. Carter, who arrived Friday morning in Erbil, the capital of Iraqi Kurdistan, for talks with Kurdish leaders, said in a statement that the death of Mr. Sudani showed that the United States would "continue to take the fight to Al Qaeda."
"We will continue to counter violent extremism in the region and around the world, including efforts to deliver a lasting defeat to ISIL," Mr. Carter added, in a reference to the Islamic State, the Sunni militant group that holds territory in Iraq and Syria.
http://www.nytimes.com/2015/07/25/world/asia/abu-khalil-al-sudani-al-qaeda-chief-of-bombing-attacks-died-in-us-strike-pentagon-says.html
-----
U.S. Jets to Use Turkish Bases in War on ISIS
By CEYLAN YEGINSU and HELENE COOPER, JULY 23, 2015
ISTANBUL — Turkey plunged into the fight against the Islamic State on Thursday, rushing forces into the first direct combat with its militants on the Syrian border and granting permission for American warplanes to use two Turkish air bases for bombarding the group in Syria.
The developments ended a longstanding reluctance by Turkey, a NATO member and an ally of the United States, to play a more aggressive part in halting the Islamic State's expanding reach in the Middle East. American officials said it carried the potential to strike Islamic State targets with far greater effect because of Turkey's proximity, which will allow more numerous and frequent bombings and surveillance missions.
Turkey, a vital conduit for the Islamic State's power base in Syria, had come under increased criticism for its inability — or unwillingness — to halt the flow of foreign fighters and supplies across its 500-mile border.
But now that extremism has increasingly menaced Turkey, where 1.5 million Syrian war refugees have also been straining the country. A series of Islamic State attacks on Turks, including a devastating suicide bombing a few days ago that officials have linked to the extremist group, may also have helped accelerate the shift in Turkey's position.
Turkish internal security officials had signalled their growing concern about the Islamic State, also known as ISIS or ISIL, with a series of large-scale raids in the past few weeks, detaining hundreds of suspected ISIS members and sympathizers. Taking the fight to the Islamic State in Syria, however, represents a huge leap.
"The terrorist organization represents a national security threat to Turkey, and we are working closely with our allies, including the United States, to combat terrorism," said a senior official in the prime minister's office. The official, speaking on the condition of anonymity because of government protocol restrictions, also emphasized that Turkey had not changed its position regarding Mr. Assad in Syria.
In what Turkish officials described as the first direct cross-border confrontation with the Islamic State, Turkish jets scrambled as tanks and artillery of its Fifth Armored Brigade shelled militants across the border. And early Friday, Turkish fighter jets hit four Islamic State targets within Syria, across the border from Kilis Province, without crossing into Syria, a Turkish security official said, according to Reuters.
Obama administration officials, who have been negotiating with Turkey for months, said Thursday that they had reached an agreement for manned and unmanned American warplanes to carry out aerial attacks on Islamic State positions from air bases at Incirlik and Diyarbakir. The agreement was described by one senior administration official as a "game changer."
The agreement was sealed on Wednesday with a phone call between President Recep Tayyip Erdogan of Turkey and President Obama, another administration official said.
Turkey had allowed unarmed surveillance flights from Incirlik but had thus far balked at anything more muscular.
Officials at the State Department and the Pentagon said they were hesitant to talk about the pact until the Turkish government acknowledged it publicly. Turkish officials declined to comment on the pact Thursday night.
The United States and Turkey "have decided to further deepen our cooperation in the fight against ISIL," the State Department's spokesman, John Kirby, said in a statement. He said that "due to operational security I don't have further details to share at this time."
The clash between Turkey's armed forces and the Islamic State came after gunmen identified by the Turkish military as Islamic State fighters fired on a Turkish border outpost in the Kilis region, killing one Turkish soldier and wounding five.
The Turkish military said in a statement that its border shelling was a response, and that at least one militant was killed. Turkish news media said a number of Islamic State vehicles were obliterated in the shelling.
The clash came three days after a suicide bomber with suspected ties to the Islamic State struck a cultural centre in the Turkish border town of Suruc, killing 32 people.
Obama administration officials said the United States had agreed to work with European allies, including Germany, France and Britain, to do more to control their end of the flow of foreign fighters crossing Turkey to reach Syria. Acknowledging that commitment to Turkey, Mr. Kirby said the United States recognized that "the foreign fighter problem is not Turkey's alone."
It was unclear what other concessions might have been made by the United States to conclude the deal, but a NATO official said on Thursday that "the Turks always drive a hard bargain."
The breakthrough came after recent talks between Gen. John R. Allen, a retired Marine who is Mr. Obama's special envoy for the fight against the Islamic State, and Turkish counterparts. General Allen's trip was preceded by a telephone call from Vice President Joseph R. Biden Jr. to Mr. Erdogan, administration officials said.
A senior Defense Department official said recent Islamic State attacks on Turkish targets had played an important role in Turkey's decision to join the fight against the militant group directly. "Attacks in Turkey are part of the catalyst for them to think about how they get in the game," the official said, speaking on the condition of anonymity.
For the Pentagon, the Turkish decision is huge because the two air bases are much closer to the Syrian border than Iraq, Kuwait, Jordan and the Persian Gulf, where strikes had been launched.
The agreement will significantly increase the amount of time that American spy planes can hover over Syria. In addition, it will accelerate the response time for manned flights acting on intelligence information.
But even as they were lauding the agreement, American military officials were cautious because they felt that they had been burned by Turkey before.
In 2003, Defense Department officials believed that they had an agreement with the Turks to send the Army's Fourth Infantry Division into northern Iraq from Turkey as part of the invasion of Iraq that toppled Saddam Hussein. But the Turkish Parliament refused to grant permission and the division's equipment remained offshore on ships.
While the United States shares Turkey's antipathy for Mr. Assad, the Turks had previously insisted on a no-fly zone in northern Syria, near the border with Turkey, in exchange for allowing the United States to use their bases.
A no-fly zone would create a safe area to arm and train moderate rebels fighting Mr. Assad and allow an opposition government to take root. The United States has largely opposed this because it would broaden Mr. Obama's stated objective of focusing only on the destruction of the Islamic State; however, some within the government, especially at the State Department, believe the idea should be given serious consideration.
Asked on Thursday at the Aspen Security Forum in Colorado whether a no-fly zone was part of the deal with Turkey, General Allen said: "No. It was not part of the discussion." He referred all other questions about the agreement to officials in Washington.
Other administration officials said the growing Islamic State threat to Turkey as well as Mr. Assad's shrinking control over territory in Syria had prompted the Turks to drop the condition — at least for now.
"The agreement seems a watershed moment in terms of airstrikes," said Andrew J. Tabler, an expert on Arab politics at the Washington Institute for Near East Policy.
But for the Turkish government, Mr. Tabler said: "ISIS is just one manifestation of state collapse in Syria. Solving it is getting Assad out of Damascus."
Ceylan Yeginsu reported from Istanbul, and Helene Cooper from Amman, Jordan. Eric Schmitt contributed reporting from Aspen, Colo., and Rick Gladstone from New York.
http://www.nytimes.com/2015/07/24/world/europe/turkey-isis-us-airstrikes-syria.html
-----
Americans denounce Iran nuclear deal
AGENCE FRANCE PRESSE
Friday 24 July 2015
NEW YORK: Protesters poured into New York's Times Square to denounce the Iran nuclear deal as a threat to Israel and global security, demanding that Congress reject the agreement.
Speakers, including Republican politicians, called on Congress to throw it out, whipping up the crowd that included supporters of right-wing groups.
"We're here as Americans to speak with one voice to say stop Iran now, reject this deal," said George Pataki, the former three-term Republican governor of New York.
"This is an awful deal, this must be rejected. Congress must do its job and stand up for the American people, stand up for our safety and say no to this Iranian deal," he said.
Jeffrey Wiesenfeld, co-organizer of the Stop Iran Rally, claimed that 10,000 people had turned out. Protesters held up US flags and placards denouncing the deal.
A spokesperson for the organizers said protesters had "packed the entire block" on both sides of Seventh Avenue. Recent polls have suggested that of the 79 percent of Americans who heard about the deal, 48 percent disapprove.
Organizers played a montage of news reports about bombings around the world carried out by extremist groups linked to Iran. "Iran has been killing Americans for 36 years," it said.
Scholar and Democrat Alan Dershowitz, a Harvard law professor, appealed to fellow liberals to side with Republican opposition.
"It is a bad deal for Democrats. It is a bad deal for liberals. I am here opposing this deal as a liberal Democrat," he said.
He called the deal bad for America, bad for world peace and bad for the security of the Middle East.
http://www.arabnews.com/featured/news/780826
-------
South Asia
UN envoy: Militants from regional countries fighting in Afghanistan
By KHAAMA PRESS - Jul 24 2015
Taliban governor killed in Peshawar The UN special envoy for Afghanistan Nicholas Haysom called on the neighboring countries of Afghanistan to assist the Afghan government in fight against terrorism while noting that citizens of Afghanistan's neighbouring countries are involved in the ongoing war in the country.
During a meeting with the local officials in northern Faryab province, Haysom said the neighbouring countries of Afghanistan have the responsibility to support the Afghan government.
He said majority of the militants from the regional countries are fighting in Afghanistan and the regional countries must assist Afghanistan since the ongoing war is a regional issue.
Haysom also added that he held talks with local officials in northern Faryab province regarding the growing security issues in this province.
This comes as the security situation in Faryab province has been continuously deteriorating during the recent months.
At least 19 people were killed and several others were injured in the latest incident in Almar district after a suicide bomber detonated his explosives in a busy market.
The United Nations Assistance Mission in Afghanistan (UNAMA) condemned the deadly attack and called it an appalling disregard for human.
"This horrific attack against civilians in a market demonstrates an appalling disregard for human life," said Nicholas Haysom, the Secretary-General's Special Representative for Afghanistan. "UNAMA has repeatedly called for an immediate ban on weapons which kill indiscriminately and that are used in civilian-populated areas."
http://www.khaama.com/un-envoy-militants-from-regional-countries-fighting-in-afghanistan-1314
-------
Afghan forces repel second attack by Taliban in Badakhshan
By MIRWAIS ADEEL - Fri Jul 24 2015
The local security officials said Friday that the Taliban militants launched their second attack on Afghan forces security check posts late on Thursday afternoon.
The officials further added gun battle between the Afghan forces and the Taliban militants continued until late on Thursday night.
Deputy provincial governor Gul Mohammad Bidar said Thursday that the Taliban militants launched their first attack early on Thursday morning which was repelled by the Afghan forces, leaving four militants dead and three others wounded.
He said the clashes continued until 3:30 pm local time and launched the second attack from Zebak district.
Badakhshan is among the relatively volatile provinces in northeastern Afghanistan where the anti-government armed militant groups are actively operating and frequently carry out insurgency activities.
This comes s hundreds of militants armed with heavy and light weapons launched a coordinated attack on security check posts in Yamgan district last month, forcing the Afghan troops to tactically step back in a bid to prevent the civilian casualties.
http://www.khaama.com/afghan-forces-repel-second-attack-by-taliban-in-badakhshan-1315
-------
Next round of Afghan-Taliban talks set for end July: officials
By AFP: July 24, 2015
KABUL: The next round of peace talks between the Afghan government and Taliban insurgents is scheduled for the end of July, officials said Friday, with the venue for the meeting still unconfirmed.
"The second round of talks… is set for July 30 or 31," said Mohammad Ismail Qasimyar, a member of the Afghan High Peace Council (HPC), the government's top peace negotiating body.
He said China would "most probably" be hosting the meeting, but another HPC official said that had not been confirmed.
"The talks… are set for July 30 but discussions and consultation are ongoing between Afghanistan, Pakistan, the United States and China on where to host the meeting," said HPC deputy chairman Abdul Hakim Mujahid.
"Which country will be hosting the meeting has not been confirmed yet," Mujahid told AFP.
Afghan officials sat down with Taliban cadres for the first round this month in Murree, Pakistan — their first face-to-face talks aimed at ending the bloody insurgency.
They agreed to meet again in the coming weeks, drawing praise from Islamabad, Beijing, Washington and the United Nations.
The next round of negotiations was widely expected to be conducted after Eidul Fitr.
But despite the willingness to engage in peace talks there has been no letup in militant attacks on foreign and government targets, leaving Afghan forces stretched on multiple fronts and inflicting a heavy blow on civilians.
A suicide bomber on Wednesday killed 15 people including women and children in a crowded market in the northern province of Faryab, as insurgents intensify their annual summer offensive launched in late April.
And earlier this month 33 people were killed in a suicide attack at a military base in the eastern province of Khost and a few days later 25 civilians were wounded in a bombing inside a mosque in northern Baghlan province.
http://tribune.com.pk/story/925746/next-round-of-afghan-taliban-talks-set-for-end-july-officials/
----
Arab World
Airstrikes by Turkey Hit 3 ISIS Targets in Syria
By CEYLAN YEGINSU
ISTANBUL — JULY 24, 2015, Turkish fighter jets struck three Islamic State targets inside Syria on Friday in a pre-emptive measure based on intelligence about a planned attack on Turkey, a senior government official said.
The airstrikes came a day after Turkey engaged in its first direct combat with the Islamic State, also known as ISIS or ISIL, on the Syrian border and gave permission for American warplanes to use two air bases in the fight against the group in Syria.
As well as the airstrikes, Turkey carried out simultaneous raids across 13 provinces on Friday, resulting in the arrests of 297 people, including 37 foreigners, suspected of having ties to terrorist organizations.
During the raids, a member of the outlawed Revolutionary People's Liberation Party-Front, known by its Turkish initials DHKP-C, was killed after the police tried to enter a house in the Bagcilar district of Istanbul. The member's identity has not yet been released.
Ebu Hanzala, a Salafist cleric who is considered to be one of the spiritual leaders of the Islamic State in Turkey, was among those arrested in the raids.
Mr. Hanzala, who in the past was suspected of having ties to Al Qaeda, has been arrested several times in counterterrorism operations, but the authorities have never had enough evidence to prosecute him.
Three F-16 jets launched guided bombs against two command centers and a meeting point for Islamic State fighters across the border from Kilis, in southern Turkey, without entering Syrian airspace, according to the prime minister's office.
"We received intelligence about stockpiles of weapons and a gathering of Islamic State militants very close to our border," the senior government official said, speaking on the condition of anonymity in line with protocol. "The operation was carried out, not as an offense, but as a defense."
It was the first time that Turkish warplanes have bombed Islamic State targets inside Syria. Hours earlier, the combat on the Syrian border with Islamic State militants left one Turkish military officer dead.
"We cannot stand by as Kurdish, leftist and Islamic State militants target Turkey," Prime Minister Ahmet Davutoglu said in Ankara on Friday.
After facing months of pressure from its Western allies to pursue a more active role against the Islamic State, Turkey on Thursday made a major tactical shift by granting permission for American warplanes to use two Turkish air bases. The move was described as a "game changer" by United States officials.
The moves came at a time of heightened violence and tension along the 500-mile border between Turkey and Syria. On Monday, a suicide bomber suspected of having ties to the Islamic State struck a cultural centre in the Turkish border town of Suruc, killing 32 people and wounding 100 others.
Turkish fighter jets retreated from the border early Friday, according to the Turkish authorities, who said that more airstrikes would be possible once the level of risk had been assessed.
http://www.nytimes.com/2015/07/25/world/europe/turkey-isis-syria-airstrikes.html
-----
Iraq deploys U.S.-trained troops for the first time
By Phil Stewart | Reuters, Baghdad
Friday, 24 July 2015
Iraq has for the first time deployed soldiers trained by the U.S.-led coalition in their campaign to retake the city of Ramadi from Islamic State of Iraq and Syria (ISIS) militants, the U.S. military said on Thursday.
The disclosure came during an unannounced visit by U.S. Defense Secretary Ash Carter to Baghdad, where he met Iraqi Prime Minister Haider al-Abadi and underscored the need for capable Iraqi ground forces to battle back ISIS.
"We're making some progress. We need to make more," Carter told U.S. troops gathered at Baghdad airport.
U.S. Defense Secretary Ash Carter is greeted by Iraqi Major General Falah al Mohamedawi (L) at a training exercise at the Iraqi Counter Terrorism Service Academy on the Baghdad Airport Complex in Baghdad. (Reuters)
ISIS seized Anbar's capital Ramadi two months ago, extending its control over the Euphrates valley west of Baghdad and dealing a major setback to Abadi and the U.S.-backed army he entrusted with its defense.
The fall of Ramadi was the Iraqi army's worst defeat since ISIS militants swept through north Iraq last summer and raised questions about the ability of the Shiite-led government in Baghdad to overcome the sectarian divide that has helped fuel ISIS' expansion in the Sunni heartland of Anbar.
Pentagon spokesman Colonel Steve Warren told reporters travelling with Carter that the roughly 3,000 coalition-trained soldiers joined the Ramadi operation in recent days.
Some 500 Sunni tribesmen were also participating, Warren said. He declined to say how many Iraqi forces in total were involved in the Ramadi campaign, citing operational security.
U.S. President Barack Obama responded to the fall of Ramadi last month by ordering 450 more U.S. troops to set up at Taqaddum base, which is closer to the fighting in Anbar province and only about 15 miles (25 km) from Ramadi.
One of the goals of the new U.S. deployment to Taqaddum was to encourage Sunni tribes to join the battle against ISIS, complementing efforts at the Ain al-Asad air base, also in Anbar.
Carter sought to underscore that objective in Baghdad, holding talks with Sunni leaders including the governor of Anbar province.
Encircling Ramadi
The Iraqi forces, backed by U.S.-led coalition air strikes, were in the process of encircling Ramadi to choke off ISIS supplies and trap their fighters ahead of a push to seize the city, Warren said.
Citing Iraqi battlefield reporting, Warren said Iraqi forces had advanced to the area around the University of Anbar in Ramadi, saying they were moving "methodically, deliberately and slowly."
The United States estimates there are about 1,000 to 2,000 Islamic State fighters in Ramadi, Warren said.
Shiite militia commanders, who have led much of the fight back in Iraq against Islamic State over the last 12 months, have said their initial focus is not on Ramadi but the nearby city of Fallujah, under insurgent control for more than a year and a half.
Warren said the government in Baghdad had indicated the militia would not be involved in Ramadi.
"The government of Iraq has indicated that they have no intention of using the Shiite militia forces as part of the liberation of Ramadi," Warren said.
Abadi, at the end of a 45-minute meeting with Carter, sought to underscore the role of his forces battling Islamic State.
"It is Iraq forces that are fighting on the ground and that are liberating remaining territory," he said.
https://english.alarabiya.net/en/News/middle-east/2015/07/24/Iraq-deploys-U-S-trained-troops-for-first-time.html
-------
Rebels, Qaeda launch assault on Syria`s Daraa
July 24, 2015
Beirut: Rebels including Al-Qaeda`s Syrian affiliate on Thursday launched a fresh offensive on the major southern city of Daraa, saying their aim was to "purify" the area.
Operation "Storm of Truth" was announced on Twitter by the Southern Front, an alliance of rebel groups, "to purify the province of Daraa from the filth of the gangs of (President Bashar al-) Assad."
"The violent attack began this morning on regime-held parts of Daraa city, with both sides exchanging shellfire," Syrian Observatory for Human Rights director Rami Abdel Rahman told AFP.
"The groups are attacking government positions in northern parts of the city, but they haven`t seized buildings yet."
Al-Qaeda affiliate Al-Nusra Front and other Islamist militias are taking part in the fighting in Daraa, dubbed the "cradle of the revolution" against Assad which began in 2011 that triggered Syria`s civil war.
An important rebel military commander has also died in the assault, the Observatory said.
Abou Hadi Abboud, who headed the Fallujah al-Houran opposition group, part of the Southern Front military coalition, was killed Thursday when a shell hit his car in Daraa province.
"He is the most important rebel commander to be killed since the beginning of the Daraa offensive in June," Abdel Rahman said.
Regime aircraft have conducted at least 21 air raids and dropped 32 barrel bombs on rebel positions.
Late Thursday, a barrel bomb attack on the West Ghariya area of Daraa province killed 13 civilians, including two children.
"The two children were just reduced to body parts. From the waist down, there`s nothing," Abdel Rahman said.
Another three children and a woman were killed in a rocket attack on a rebel-held neighbourhood in Daraa city.
Opposition groups already control parts of the city and about 70 percent of the province of the same name, which borders Jordan.
Thursday`s offensive appears to be a continuation of an assault in June, launched by the same groups but dubbed "Southern Storm." That round of fighting left at least 60 rebels, 18 loyalists and 11 civilians dead.
Syria`s regime has already lost two provincial capitals -- Idlib in the northwest, which is held by a rebel alliance including Al-Nusra, and Raqa in the Euphrates valley, which is held by the Islamic State group.
Separately Thursday, intense clashes between troops and IS fighters in the northern Aleppo province left at least 12 government forces and one jihadist dead.
The government fighters were able to retake a strategic hilltop northeast of Aleppo city, the Observatory said.
At least 230,000 people have been killed since the Syrian conflict began. AFP
http://zeenews.india.com/news/world/rebels-qaeda-launch-assault-on-syrias-daraa_1635258.html
------
Bomb kills 4 Egyptian soldiers near Rafah
REUTERS
CAIRO, 24 July 2015: An Egyptian army officer and three soldiers were killed on Thursday when a bomb planted by suspected militants exploded near Rafah, a town on the border with the Gaza Strip, the army said in a statement.
Egypt is battling an increasingly brazen insurgency in the Sinai Peninsula that has killed hundreds of police officers and soldiers.
President Abdel Fattah El-Sissi has said militancy poses an existential threat to Egypt, the most populous Arab country.
No group immediately claimed responsibility for Thursday's blast, but Daesh's Egyptian affiliate, Sinai Province, has launched similar attacks in the past.
Sinai Province recently claimed a bombing that heavily damaged the Italian Consulate in Cairo and earlier this month attacked several military checkpoints in North Sinai, in what was the fiercest fighting in the region in years.
http://www.arabnews.com/middle-east/news/780676
-------
Saudi position on Hamas 'unchanged'
ABDULHADI HABTOR
24 July 2015
JEDDAH: Saudi Arabia's position on Hamas hasn't changed and there was no official meeting with Hamas members who came and performed Umrah just like other Muslims.
Foreign Minister Adel Al-Jubeir said a Hamas group comprising Khaled Meshaal and his colleagues paid a visit to Makkah for Umrah. "This is the right of every Muslim and nobody can deny that right," he said.
Al-Jubeir described as inaccurate and exaggerated media reports that the visit was political in nature.
He said while the delegation was in Makkah they offered the Eid prayer and extended Eid greetings.
He said this while addressing a press conference along with his Egyptian counterpart Sameh Shoukry on Thursday.
Al-Jubeir said that Egypt's participation in regaining the legitimacy in Yemen was crucial.
Al-Jubeir said Riyadh was aware of Egyptian efforts with regard to Yemen.
About Iran's deal, Al-Jubeir said the Kingdom wants guarantees to curtail Iran's ability to obtain an atomic weapon, and that there is an effective mechanism that includes inspecting all sites and military sites, and the possibility of reinstating sanctions if Iran violates the agreement.
Responding to a question about the return of the Saudi ambassador to Aden, Al-Jubeir said it all depends on the security conditions in Yemen, adding that hopefully this would happen soon.
http://www.arabnews.com/featured/news/780821
------
Hadi forces clear Aden of Houthis
ARAB NEWS
JEDDAH/ADEN, Friday 24 July 2015: Deputy Crown Prince Mohammed bin Salman ordered the delivery of cargo planes carrying humanitarian goods to the liberated city of Aden, Al Arabiya News Channel reported on Thursday. The move follows following directions from Custodian of the Two Holy Mosques King Salman.
The delivery planes, tasked with delivering aid to the newly reopened Aden airport, belong to the Royal Saudi Air Force.
Yemeni troops and local militias, backed by the Saudi-led coalition, seized full control of Aden after repelling Iran-backed Shiite rebels from their last holdout in this southern strategic port city and were pushing on Thursday to solidify their gains, military officials said.
Anti-rebel forces erected new checkpoints around Aden and searched for remaining rebels. Gunmen roamed the streets amid pockmarked and half destroyed buildings. Residents cautiously ventured out of their homes.
"The city is unrecognizable," said Hameed Al-Qureishi, a resident.
Meanwhile, airstrikes by the coalition continued north of Aden, in Dar Saad.
There was also intense fighting around the rebel-controlled military base of Al-Anad in the province of Lahj, north of Aden, leaving at least 50 killed on both sides, according to medical officials.
Meanwhile, deposed President Ali Abdullah Saleh's representatives have reportedly held rare meetings with diplomats from the US, UAE and Britain, a member of his party said on Thursday.
http://www.arabnews.com/featured/news/780811
------
Frontlines of Yemen's war shift in favour of Riyadh
July 24, 2015
Dubai/Aden: The tide of Yemen`s messy war has unexpectedly turned, handing a morale boost and possibly decisive military momentum to Gulf Arab-backed forces bent on ending the ascendancy of the Houthis, a powerful militia they see as a puppet of Iran.
The loss of the strategic southern port of Aden in the space of just a few days is a spectacular reversal for the Houthis, a once obscure rural group that won national importance last year before gaining the upper hand in a four-month-old civil war.
At stake in what happens next is the stability of a country that is a cockpit of rivalry between regional powers Saudi Arabia and Iran, sits on leading international shipping routes and provides a haven for al Qaeda`s boldest international wing.
Abdulkhaleq Abdulla, a political scientist in the United Arab Emirates (UAE), said Gulf Arab states saw Yemen as a proving ground for their resolve to confront Tehran, and last week`s capture of Aden proved they could hold their own.
"If America and Iran are now on good terms ... this is a show of things to come - We are ready to defend our own turf," he said, referring to an Iranian nuclear accord that could open the way to a rapprochement between Washington and Tehran.
"In this zero-sum game, the balance of power in the region has swung to the Gulf states` advantage, after this net loss for Iran in Yemen."
The capture of Aden by thousands of anti-Houthi forces was made possible in part by a military effort prepared for many weeks by wealthy Gulf Arab states which trained and supplied Yemeni recruits especially for the task.
The Gulf Arabs, including Saudi Arabia and the United Arab Emirates (UAE), have deployed some of their own Special Forces, as well as backing up the effort with hundreds of air strikes.
Alliance with Saleh
But the advance may also have benefited from efforts to weaken a key pillar of Houthi power, namely an alliance with former president Ali Abdullah Saleh, who has the loyalty of army units that are probably the country`s toughest military force.
The tie-up is rooted in tactics rather than ideological sympathy -- Saleh and the Houthis were once sworn enemies but made common cause last year against shared enemies.
The move, typical of Yemen`s constantly shifting political landscape, gave the Houthis a decisive edge on the battlefield.
Diplomats and Yemeni politicians say representatives of Saleh, whose army loyalists laid siege to Aden alongside the Houthis back in March and April, are negotiating with diplomats from the UAE.
If successful, the gambit may deliver a critical impetus to US-allied Gulf States, who intervened militarily in March to restore to power President Abd-Rabbu Mansour Hadi, a Saudi and U.S. ally, and beat back Iran`s influence in the region.
"Gulf countries have been working on the military training and arms supplies that drove the events in Aden, but it`s simultaneously working through the backdoor to split Saleh from the Houthis," Farea al-Muslimi, a Yemeni researcher with the Carnegie Middle East Center said.
Adel Shuja, a leader of the party Saleh leads, told Reuters that negotiations between the ex-president`s representatives and the United States, Britain and the UAE "to find a peaceful solution to the crisis...have made significant progress so far".
A Western diplomat contacted by Reuters played down the significance of the contacts, saying that they came as part of regular discussions with Yemeni officials. Saleh`s party denied any meetings in an official statement, and a party official tweeted that Saleh was opposed to quitting the country.
A politician from Yemen`s government said the talks focussed on the departure from Yemen of Saleh, an arch survivor who balanced nimbly between rival armed and tribal groups during his three decades in office.
Politics turned upside down
Despite being forced to step down in 2012 under a Gulf-brokered transition plan following mass protests against his decades of rule, Saleh has remained a powerful political player operating behind the scenes, enjoying immunity under the deal.
Saleh`s fortunes are now again in question. A diplomat said Saleh was "gambling, as ever, but now less for power than for survival".
Saleh backed the Houthis when they seized the capital Sana'a in September and pressed south towards Aden alongside Saleh forces, triggering the Arab intervention on March 26.
"They`re speaking to him to extract him from the country, because they realise that while he cannot again rule the country, he can still destroy it," a Yemeni politician told Reuters.
Aden is likely to be a base for any expansion of the Gulf Arab-backed ground campaign, and commanders see their training of Yemeni forces as essential to its success.
"The most important was the reorganisation of the Army from anew on a modern and patriotic footing, and the training by the (Gulf) coalition of its ranks in fighting and their equipping with many modern armoured vehicles, artillery and machine guns," the official told Reuters.
Morale, at least for the moment, is high.
"The situation has been completely turned upside down after the battle for Aden, and it will across the whole South very soon," a senior commander in the anti-Houthi forces said.
Another offensive, he added, was planned for the coming days somewhere in Yemen`s north, where battles are also raging between Gulf-backed fighters and the Houthis.
But the momentum may slow if the fight approaches the Houthi-controlled capital of Sanaa, as Yemen`s centre and north are a bulwark of support for the group and full of its heavily-armed backers.
The Gulf-backed forces have ended a tight Houthi blockade of Aden that cut off badly-needed supplies of food and fuel.
Four cabinet ministers arrived on Thursday "as part of the initiative to revitalise the state and repair infrastructure and renew institutions wrecked by the attacks on the city," the Yemeni politician said.
But the Arab coalition and especially the UAE, which local fighters say has taken a lead role in the Aden offensive, have made sacrifices to cement the advance.
At least two Emirati soldiers have fallen, while advising the local militias in Aden, and the rare spectacle of a flag-draped coffin disembarking from a military plane in the oil-rich country underscored its commitment - now bearing fruit - to reverse the campaign`s flagging fortunes. Reuters
http://zeenews.india.com/news/world/frontlines-of-yemens-war-shift-in-favour-of-riyadh_1635280.html
-------
Syria's opposition groups agree on 'roadmap'
Associated Press
Beirut, Friday, 24 July 2015, Syria's two main political opposition groups agreed on Thursday on a unified "roadmap" for a political solution to the country's long-running civil war, representatives of the groups said.
In Brussels, where the Syrian opposition groups have been meeting, representatives of the Syrian National Coalition (SNC) and the National Coordination Body for the Forces of Democratic Change (NCB) said they would announce details of their agreement at a press conference the following day.
The two parties have been trying for years to reach a common understanding on how to end the war in Syria. Their agreement came as the U.N. envoy, Staffan de Mistura, was in Damascus to press efforts to find a political solution to the country's war.
But violence continued on the ground and suspected Islamic State of Iraq and Syria (ISIS) militants fired at a Turkish military outpost from inside Syrian territory on Thursday, killing a Turkish soldier and wounding two others. Turkish troops retaliated and at least one ISIS militant was killed, according to Turkish official Suleyman Tapsiz, the governor for the Kilis province.
The attack follows a suicide bombing in a Turkish town near the Syrian border on Monday which killed 32 people. Authorities have blamed the attack on militants linked to ISIS.
Meanwhile in Brussels, where the Syrian opposition groups have been meeting, representatives of the Syrian National Coalition (SNC) and the National Coordination Body for the Forces of Democratic Change (NCB) said they would announce details of their agreement at a press conference the following day.
Their disagreements have contributed to the notorious divisions within the Syrian opposition.
"Today we are breaking the parable of lack of unity within the opposition," Khalaf Dawohd, a member of the NCB's executive committee, told The Associated Press from Brussels.
Hadi Bahra, a senior member of the SNC, said the agreement bolsters the unity and position of the opposition.
"It is a message to the international community to exert pressure and discuss seriously how to bring this (Syrian) regime to the table for a political transition," he said.
Both groups are accused of being out of touch with the realities in Syria and have almost no following among the myriad of rebel groups fighting on the ground. But a unified political front could strengthen the opposition's hand at any future peace talks with Assad's government.
Staffan de Mistura, who arrived Thursday in the Syrian capital, has been meeting with Syrian politicians and regional stakeholders, trying to come up with a way to end the conflict in Syria, which has killed around 220,000 people since March 2011.
His office says he is working to finalize his proposals to the UN chief, Ban Ki-moon, on a way forward to support Syrian parties in their search for a political solution.
De Mistura held talks with Syria's foreign minister, Walid al-Moallem, who said his country supports a regional effort to eliminate "terrorism."
Al-Moallem said Syria considers eradicating terrorism a "fundamental priority." The Syrian government considers all armed groups fighting to topple Assad as terrorist groups.
https://english.alarabiya.net/en/News/middle-east/2015/07/24/Syria-s-2-main-opposition-groups-agree-on-roadmap-.html
-------
Iran deal won't affect backing for Damascus: Syria FM
AFP
Damascus 24 July 2015, An international agreement on Iran's nuclear program will not alter Tehran's staunch support for the Syrian government and may even strengthen Damascus, Syria's foreign minister said Friday.
Speaking at a conference in Damascus on "confronting terrorism", Walid Muallem said those who hoped to persuade Iran to abandon Syria's government would be disappointed.
"There is a lot of talk about the Iranian nuclear agreement and its impact on the Syrian crisis," he said.
"There are those, led by the United States, who think that this agreement will enable the West to influence Iran's positions on the Syrian crisis," Muallem added, dismissing that as "delusional".
"Iran's attitudes on the crisis in Syria have not changed," the minister said.
Tehran "provided all kinds of support to the Syrian people in their struggle against terrorism before the nuclear deal, and during it, and will continue to do so after it."
In fact, he said, the agreement could end up strengthening Syria.
"Iran has entered the world stage through the widest doors, and the more powerful our ally is, the more powerful we are."
The nuclear deal between Iran and six powers led by the United States has led to speculation that broader cooperation on regional issues might now be possible.
But Iran's supreme leader Ayatollah Ali Khamenei has already insisted Tehran will continue to oppose "arrogant" U.S. policies.
"US policies in the region differ from Iran's by 180 degrees," he said last week.
Tehran is a longstanding ally of President Bashar al-Assad's embattled government in Damascus and has remained a strong supporter throughout the uprising against him.
It has supplied money, weapons and military advisers to Assad's government.
Also Friday, Muallem thanked another key government ally, Russian President Vladimir Putin, for suggesting the creation of a new regional and international alliance to fight "terrorism."
Damascus considers all those seeking Assad's ouster "terrorists" and is not part of the U.S.-led coalition fighting the Islamic State of Iraq and Syria (ISIS) group with air strikes in Syria.
Muallem said it would take "a miracle" to create a new regional anti-terrorism alliance in the short-term.
"But in the medium-term, the security imperatives imposed by the reality of the spread of terrorism..., and it rebounding against its supporters, will require neighbouring countries to work with Syria to create such an alliance."
Syria accuses several of its neighbours, including Turkey and Jordan, of sponsoring "terrorism" in the country.
It dismisses the efforts of the U.S.-led coalition, accusing its members of fomenting extremism in Syria.
Muallem made no comments about overnight air strikes carried out by Turkey on ISIS positions in northern Syria for the first time.
https://english.alarabiya.net/en/News/2015/07/24/Iran-deal-won-t-affect-backing-for-Damascus-Syria-minister.html
--------
Al-Maliki slammed for spitting venom
ARAB NEWS
JEDDAH: Friday 24 July 2015, Nuri Al-Maliki, Iraq's vice president, has been roundly condemned for calling Saudi Arabia a "sponsor and supporter of terrorism."
"Al-Maliki's comments are irresponsible, especially since they come from a senior official of the Iraqi government," said the Organization of Islamic Conference in a statement.
"His remarks contravene the OIC charter which calls for strengthening relations among OIC member states on the basis of justice, mutual respect, good neighborliness and noninterference in the domestic affairs of other member states."
The OIC said that Al-Maliki's claims, made on an Iraqi TV station, were absurd given the effective and significant role played by Saudi Arabia in combating terror and extremism at the national, regional and international levels as well as in the context of the OIC's ongoing efforts.
The OIC stated that Al-Maliki's statements were unjustifiable and ran against the spirit and principle of cooperation and solidarity among OIC member states.
"The statement feeds into a sectarian agenda at a time when concerted efforts must be made by all OIC member states to confront common challenges and to combat terrorism, extremist ideologies and sectarian divisions," said the OIC.
GCC Secretary-General Abdullatif Al-Zayani described Al-Maliki's remarks as "irresponsible, false and heinous ... they do not help to strengthen Gulf-Iraqi relations."
Al-Zayani said the provocative statements fit into Al-Maliki's pattern of sabotaging Iraq's relations with its Arab brethren and cutting it off from its natural Arab surroundings with a view to serving foreign interests.
Al-Zayani stressed the sincere efforts of Saudi Arabia and other GCC states in the fight against terrorism, noting that these include their effective participation in the international coalition against Daesh, helping strengthen Iraqi defense capabilities to preserve the country's unity, security and stability, and protecting its Arab people.
He emphasized the keenness of GCC countries to strengthen their relations with "brotherly Iraq after years of tension resulting from sectarian policies adopted and followed by Al-Maliki."
Acting Speaker of Kuwaiti Parliament Mubarak bin Banih Al-Khiring also rejected Al-Maliki's provocative statements, which "do not help the stability or build relationships between sisterly countries.
He chastised the Iraqi politician for leveling baseless allegations against a big and leading country like Saudi Arabia which is recognized by all Muslims for its support and care for the Islamic moderate thought and its enormous services to the two holy mosques and their visitors.
Meanwhile, the Iraqi leadership distanced itself from Al-Maliki's comments.
Khaled Shuwani, spokesman for the Iraqi Presidency, told Asharq Al-Awsat, said Al-Maliki's comments were "his own and do not represent the opinions and official position of the Iraqi presidency."
"President Fuad Masoum has made efforts and will continue to make efforts to establish and develop the best kind of relations with Saudi Arabia. He has previously taken this approach and will continue to do so, in full knowledge that this approach has produced positive results until now," Shuwani said.
For its part, the Iraqi government, led by Maliki's successor Prime Minister Haider Al-Abadi, also distanced itself from Al-Maliki's comments.
Abadi's media spokesman Saad Al-Hadithi said: "The Iraqi government's position has not changed with respect to is relations with other countries around the world, especially ... Arab and Muslim (countries), among them Saudi Arabia." He said the current government had, since it was formed last year, adopted new policies "aiming to open up to other countries and based on joint interests and countering regional dangers and challenges."
Iraq's government has been attempting since last year to "turn a new page" with respect to relations with a number of countries in the region in order to solve "longstanding issues," he said.
These efforts are based on "mutual respect and the non-interference in the affairs of either party."
Al-Hadithi also pointed to recent visits made to the Kingdom by President Masoum and other Iraqi officials as well as efforts to reopen the Saudi Embassy in Baghdad for the first time in 25 years.
Saudi Arabia suspended its diplomatic mission and shut its embassy in Baghdad after Iraq, then led by Saddam Hussein, invaded Kuwait in 1990.
The Kingdom appointed a non-resident ambassador to Baghdad in 2012, but relations between the two countries remained strained throughout Al-Maliki's premiership, which lasted from 2006–2014.
Gulf states accused Al-Maliki and his Shi'ite-dominated governments of stoking sectarianism in Iraq by enacting policies which marginalized Sunnis in the country.
http://www.arabnews.com/featured/news/780806
-----
Mideast
Turkey bombs Four Islamic State targets in Syria
July 24, 2015
Turkish planes have for the first time carried out air strikes against Islamic State (IS) group targets in Syria.
Police also launched raids against IS and Kurdish militants across the country, arresting 251 people, the Prime Minister's office said.
On Thursday, Turkish forces exchanged fire with IS fighters near the Syrian border. One Turkish soldier was killed.
Turkey will now let the US launch air strikes against IS from the Incirlik air base, US officials have said.
The raids in Istanbul, where 140 properties were searched, involved 5,000 officers.
Members of the youth wing of the outlawed Kurdistan Workers' Party (PKK) and of a far-left group, the Marxist Revolutionary People's Liberation Party Front (DHKP-C), were also arrested.
The state-run Anadolu news agency said there were also arrests in the cities of Ankara and Izmir and in Sanliurfa province, near the Syrian border.
The arrests come after the PKK's military wing said it killed two Turkish police officers on Wednesday. The group claims the men collaborated with IS in the bombing of a Kurdish activists' group on Monday that killed 32 people.
Turkish plain clothes police officers escort a suspected member of the Islamic State (IS) group at a hospital for a medical check-up on July 24, 2015 in Istanbul.
Raids on IS suspects were held in cities across Turkey early on Friday morning
Border town attacked
Separately, Turkey said that F-16 jets had hit three IS targets in Syria.
It is the first time Turkey has confirmed air strikes against targets in Syria since IS began its advance through Iraq and Syria in 2013.
Turkish state TV said that the jets had not violated Syrian air space as they attacked the border town of Havar, next to the Turkish town of Kilis.
Map of Turkey and Syria
The US is expected to step up bombing raids against IS after reaching an agreement with Turkey to use the Incirlik airbase.
The agreement was finalised in a phone call between President Barack Obama and his Turkish counterpart Recep Tayyip Erdogan on Wednesday. It was confirmed by US officials speaking on condition of anonymity.
line
The Turkish army holds positions near the Syrian border
Turkey has seen a surge in IS-linked violence close to the Syrian border this week
Analysis - Jim Muir, BBC News, Istanbul
Having tried somehow to keep the conflict in Syria at arm's length despite its support for Syrian Islamist opposition groups, the proximity of the conflict and the influx of nearly two million refugees, Turkey seem now to be being drawn slowly and reluctantly into more active engagement.
Despite its status as a Nato ally, Ankara had refrained from allowing US and other coalition jets to use the big airbase at Incirlik in southern Turkey for air strikes against IS in Syria and Iraq.
Now, after months of prickly negotiations and mounting western pressure, it has relented.
But it's not just a border issue. IS militants have penetrated deep into Turkish society.
Full Report at:
http://www.bbc.com/news/world-europe-33646314
-------
One killed, over 250 detained as Turkish police raid suspected ISIL, PKK militants
ISTANBUL / ANKARA, ,July 24 2015, Thousands of police officers have launched raids to arrest suspected members of the Islamic State of Iraq and the Levant (ISIL) and the outlawed Kurdistan Workers' Party (PKK) following a wave of deadly violence in Turkey, killing one suspect and detaining more than 250 others.
Backed up by helicopters, police raided addresses in 13 Turkish provinces in search of members of ISIL, the PKK and other militant groups at dawn on July 24, the state-run Anadolu Agency said. It added that a female member of the outlawed Revolutionary People's Liberation Party-Front (DHKP-C) was killed in a clash with police as they tried to enter a house in the Bagcilar district of Istanbul to make arrests.
In the western provinces of Izmir and Bursa, a total of 16 suspected militants of the PKK were arrested in the initial operation, according to private Dogan News Agency.
The agency also said that some 5,000 police officers joined the raids in 140 addresses in Istanbul, detaining at least 90 people in the city, including 30 foreigners.
In the southern province of Antalya, at least two people, including a teenager, were detained on suspicion of being members of the PKK.
'Without distinction'
At least 251 people were detained in the operation, Turkish Prime Minister's office said in a statement, adding that it was determined to fight against ISIL and other militant groups.
It also recalled the July 20 killing of 32 people in an ISIL suicide bombing in Suruç of the Sanliurfa province on the Syrian border, argued that the killings have been "exploited by the PKK and its affiliated elements, and marginal leftist terrorist organizations."
"Like it has been the case in the past, today, the state of the Republic of Turkey is determined in its multidimensional fight against the ISIL terrorist organization, the PKK terrorist organization and other international terrorist organizations. All kinds of measures are being taken for our nation's serenity and security," it said.
Vowing to fight all terrorist groups "without distinction," the statement said simultaneous operations were linked to "illegal demonstrations held upon instructions of organizations" and "armed attacks against security forces, which led to martyrdom of five security officers."
Attacks targeting security forces
Two police were shot dead in southeast Turkey close to the Syrian border on July 22, in an attack claimed by the PKK's military wing to avenge the Suruç bombing.
On July 23, another policeman was killed in the south-eastern province of Diyarbakir.
Meanwhile, the PKK's youth wing Patriotic Revolutionary Youth Movement (YDG-H) claimed it shot dead an alleged former ISIL fighter in Istanbul late July 21.
The July 24 police raids targeted the YDG-H too, according to Dogan News Agency.
http://www.hurriyetdailynews.com/one-killed-over-250-detained-as-turkish-police-raid-suspected-isil-pkk-militants.aspx?pageID=238&nID=85854&NewsCatID=509
--------
Intel warns India's Turkish envoy of ISIS threat
TNN | Jul 24, 2015
NEW DELHI: Even as Islamic State's (ISIS) activities in Turkey are increasing, there is a serious threat from the self-proclaimed caliphate to Turkish ambassador in India - Burak Akcapar, intelligence agencies have warned. The alert comes at a time when a major attack took place in Turkey's town of Suruc earlier this week in which more than 32 men were reportedly killed.
Top sources have told TOI that security around the Turkish embassy, his residence in Lutyen's Delhi and the routes he travels has been increased, along with other Turkish diplomats. Turkish embassy officials have also been informed about the threat to the ambassador, whose security is handled by Turkish embassy security officials only, said sources.
The alert by central intelligence agencies is being taken seriously as Turkey is a strategic partner in India's fight against the ISIS, which has captured significant parts of Iraq and Syria using violent means.
Apart from the diplomats, intelligence agencies have also sounded the alarm about possible attacks by self-motivated members of ISIS on Turkish nationals and buildings in India.
India and Turkey have joined hands on several counts to fight with ISIS, which is considered a common threat by the leadership of both the countries.
Sources claimed that five top officials of intelligence agencies including IB, R&AW and others had visited Turkey in May this year and met Turkey's defence minister, internal security agency officials and government representatives in Istanbul where measures to jointly control the activities of ISIS were discussed.
Both the countries have reportedly partnered in monitoring activities of the ISIS on the web.
The MEA on Thursday condemned the Suruc attack. "We offer our deepest condolences to the bereaved families and wish a speedy recovery to those wounded in these barbaric attacks. India strongly opposes terrorism in all its forms and stands in solidarity with the government and people of Turkey. The attack in Suruc is yet another reminder of the necessity of concerted action on the part of the international community to fight the scourge of terrorism," said a MEA statement.
http://timesofindia.indiatimes.com/india/Intel-warns-Turkish-envoy-of-ISIS-threat/articleshow/48196199.cms
-----
KPK grills PKS politician in PTUN judge bribery case
Fri, July 24 2015
The Corruption Eradication Commission (KPK) on Thursday interrogated Prosperous Justice Party (PKS) politician Mustafa to confirm the role of North Sumatra Governor Gatot Pujo Nugroho, another senior member of the party, in a scheme to bribe three Medan State Administrative Court (PTUN Medan) judges.
After his questioning, Mustafa, who is reportedly a close confidant of Gatot, allegedly the source of the bribes, confirmed that he had been asked by Gatot to assist prominent lawyer Otto Cornelis Kaligis in return for the latter's legal counsel in a case involving the North Sumatra administration at the court.
The KPK suspects that the money found during a sting operation at the court was a payment made by Kaligis' aide Yagari "Gerry" Bhastara Guntur to PTUN Medan head Tripeni Irianto Putro and two other judges, Amir Fauzi and Dermawan Ginting, in return for a favorable ruling for the administration.
"When [Kaligis and his team of lawyers] were in Medan, I handled things for the team, including OC Kaligis. I was asked [by Gatot] to accompany them as the administration's guests in Medan," Mustafa told reporters at KPK headquarters on Thursday.
The KPK has arrested Kaligis, Gerry, Tripeni, Amir, Dermawan and court clerk Syamsir Yusfan in the case, while Gatot and his wife Evy Susanti have been slapped with a travel ban, raising speculation that they are next in line for detention.
Despite having assisted Kaligis and his team in Medan, Mustafa maintained his innocence in the case, denying any knowledge of bribery and adding that he had agreed to Gatot's request because of their relationship as fellow cadres of the PKS.
"I know nothing about the case. Like other friends of Gatot, I don't know anything about matters relating to the administration. It's purely a friendship," Mustafa said.
Gatot's lawyer Razman Arif Nasution, meanwhile, said that Evy would answer the KPK summons on Monday to be questioned as a witness in the case.
"We came here to inform the KPK that Evy would come for questioning on Monday, July 27," Razman told reporters at the KPK headquarters on Thursday.
Kaligis' lawyer Afrian Bondjol said that his client would file a pretrial plea to challenge the KPK's handling of the case.
"Kaligis wants to challenge the KPK through the plea. We consider that the KPK committed irregularities in its handling of the case, including the summons mechanism, arrest mechanism, detention mechanism and its decision to name my client a suspect," Afrian said.
He added that Kaligis' legal team would also file a report to the National Police's Criminal Investigation Directorate (Bareskrim) because it considered that the arrest had violated Kaligis' human rights.
Separately, acting KPK chairman Taufiqurrahman Ruki said that he respected Kaligis' move to challenge the KPK through a pretrial petition, adding that the antigraft body had more than enough evidence to back up its claim in a pretrial hearing.
"We will always be ready to face anything related to the case [...] We are ready to prove our case [against Kaligis] during his upcoming trial," Ruki said.
http://www.thejakartapost.com/news/2015/07/24/kpk-grills-pks-politician-ptun-judge-bribery-case.html#sthash.8UFrpmsC.dpuf
------
Hundreds pray for rain in Bogor
Jakarta | Fri, July 24 2015
Under the scorching sun, hundreds of Muslims took part in an Istisqa or mass prayer asking for rain in Bogor, West Java, on Friday, as this year's dry season has already resulted in severe drought in several areas.
The prayer ceremony was led by the head of the Bogor branch of the Indonesian Ulema Council (MUI) Adam Ibrahim, and was also attended by Bogor Mayor Bima Arya Sugiarto and Deputy Mayor Urmar Hariman.
The Bogor city administration organized the event aafter almost a month of zero rainfall.
Adam said that the prolonged dry season had caused problems for Bogor residents, including difficulties in accessing clean water. At least two communities can no longer access clean water due to the prolonged dry season.
"Let's pray together, asking for God to give us rain," Adam said as quoted by Antara news agency
http://www.thejakartapost.com/news/2015/07/24/hundreds-pray-rain-bogor.html#sthash.HYNSr0mw.dpuf
-----
Pakistan
Military aid: US to make $337 million payment to Pakistan under CSF
By Shahbaz Rana
ISLAMABAD: July 24, 2015, Even as civilian aid to Pakistan continues to dry up, military assistance from the United States has been increasing in recent months after the military launched Operation Zarb-e-Azb. Washington is expected to make a $337 million payment to Islamabad under the Coalition Support Fund in the next few days.
The Obama Administration has notified the United States Congress of its intention to release the CSF tranche and, after a mandatory 15-day notice period ends this weekend, the money will be released to Pakistan, said a Finance Ministry official familiar with the matter.
Pakistan was originally expecting that Washington would release the amount before June 30 and had adjusted the federal budget to reflect the expected Rs204 billion or $2 billion for fiscal year 2015. The initially budgeted CSF receipts were Rs140 billion ($1.4 billion). The government had hoped that the higher CSF disbursements would help it attain the budget deficit target of 4.9% of the total size of the economy, which it promised the International Monetary Fund it would aim to achieve.
Although the delay in the release of the $337 million dashed the government's hopes for a narrow budget deficit, fiscal 2015's total disbursements were still higher relative to recent years. CSF disbursements still amounted to roughly $1.7 billion in fiscal 2015, said the Finance Ministry official, far higher than the $675 million released by Washington in fiscal 2014.
A key reason for increase in disbursements is Operation Zarb-e-Azb, as the military offensive against the Taliban in North Waziristan and other tribal areas is treated as part of larger global campaign against terrorism.
The CSF constitutes compensation by the United States for defence and logistics spending undertaken by Pakistan as part of the US war against terrorism. Pakistan has received close to $13 billion in CSF reimbursements since 2001. For the current fiscal year, Pakistan has budgeted $1.5 billion or Rs154 billion on account of CSF disbursements.
The CSF transfers were originally supposed to dry up with the withdrawal of US forces from Afghanistan. After the 2011 NATO attack on Pakistani defence outposts in Salala, which resulted in the deaths of 24 Pakistani soldiers, both the sides rewrote the rules of engagements.
The US had agreed to keep reimbursing the cost of fighting the war under a certain formula as long as Pakistan continues its support for the US-led war in Afghanistan.
Besides the CSF reimbursements, the US also provides assistance to replace obsolete military equipment under another counter terrorism capability fund, which is administered by Pentagon.
Yet even as military assistance is picking up, civilian assistance that is channelled through the government is coming to zero. According to the Finance Ministry's budgetary books presented to the National Assembly last month, the country received only Rs5.2 billion or $50 million in direct civilian assistance in fiscal 2015 under the Kerry Lugar Act. The US had promised to give $7.5 billion in aid to Pakistan under the Kerry Lugar Act from 2010 to 2015 at $1.5 billion per annum.
However, the actual disbursements were far less than the promised under the Act. For the new fiscal year, the government expects nothing under the Kerry Lugar Act. The US is disbursing nearly all of its civilian assistance through international aid organisations but the government cannot track this spending, said an Economic Affairs Division official.
http://tribune.com.pk/story/925477/military-aid-us-to-disburse-337-million-through-csf-next-week/
--------
Pakistan calls for comprehensive strategy against Islamic State
By Web Desk: July 24, 2015
Pakistan on Friday called upon the UN Security Council for a comprehensive strategy to defeat the Islamic State (IS) as it poses a growing threat.
"A comprehensive strategy is needed — military, political, economic and social — to defeat the Islamic State's movement, motivated by an ideology of hate and gruesome violence," Pakistan's Ambassador to UN Maleeha Lodhi said.
Participating in a 15-member Security Council debate on the Middle East, Lodhi pointed out that the IS which controls large parts of Iraq and Syria posed a growing threat to security across the Middle East, North Africa and beyond.
"IS poses a spreading threat to security across the Middle East, North Africa and beyond. A military-only approach is neither sufficient nor permanent in its impact."
Read: Emerging threat: US seeks Pakistan's help to counter IS
Further, Lodhi urged the UN Security Council to adopt a resolution outlining timelines and parameters for establishing an independent state of Palestine.
The Pakistani envoy said that Pakistan believes that the path to sustainable peace in the Middle East lies only in the two-state solution and an end to Israeli occupation of all Arab lands.
Blaming Israel for perpetuation of the crises, she said, "The inflexible and indefensible posture taken by the hard-line Israeli government has frozen any prospect for the resumption of the peace process and a political resolution".
Ambassador Lodhi referred to the report of the independent commission of inquiry established by the Human Rights Council on the Gaza conflict, which she termed as an an eye opener. "It establishes that "security concerns" cannot relieve Israel of its obligations under international law," she added.
The envoy also welcomed the Iran nuclear deal and added that if it was fully and sincerely implemented it could contribute to nuclear non-proliferation as well as regional stability, cooperation and economic growth.
"The landmark agreement reached with Iran, which if fully and sincerely implemented, could not only contribute to nuclear non-proliferation but also regional stability, cooperation and economic growth," she said.
The ambassador added that"It could open the way for closer consultations and even agreement on how to address pressing regional challenges."
On Thursday, deputy chief of a US Senate panel called for continued cooperation between Islamabad and Washington to neutralise any threat that the IS poses to the region.
Dianne Feinstein, vice chairperson of the US Senate Select Committee on Intelligence, made the comment during her meeting with Prime Minister's Special Assistant on Foreign Affairs Tariq Fatemi at Capitol Hill, Washington on Thursday, said a statement issued by the Foreign Office. Feinstein stressed the need for close cooperation between Islamabad and Washington to combat the rise of IS militancy.
http://tribune.com.pk/story/925742/pakistan-calls-for-comprehensive-strategy-against-islamic-state/
-------
Pakistani intelligence sought huge data collection tools: Report
July 23, 2015
Islamabad: Pakistani intelligence sought to tap worldwide Internet traffic via underwater cables that would have given the country a digital espionage capacity to rival the US, according to a report by Privacy International.
The report says the country`s Inter Services Intelligence (ISI) agency hired intermediary companies to acquire domestic spying toolkits from Western and Chinese firms for domestic surveillance.
It also claims the ISI sought access to tap data from three of the four "landing sites" that pass through the country`s port city of Karachi, effectively giving it access to Internet traffic worldwide.
Pakistan was in talks with a European company in 2013 to acquire the technology but it is not clear whether the deal went through -- a fact the rights organisation said was troubling.
"These cables are going to route data through various countries and regions," Matthew Rice, an advocacy officer for Privacy International, told AFP.
"Some will go from Europe to Africa and all the way to Southeast Asia. From my reading that`s an explicit attempt to look at what`s going on."
Traffic from North America and regional rival India would also be routed via the cables, he said.
The report, based on what it called previously unpublished confidential documents, said the data collection sought in the ISI`s proposal "would rival some of the world`s most powerful surveillance programmes" including those of the United States and Britain.
A spokesman for Pakistan`s military said he was not able to comment on the issue at the present time.
Last month Pakistani rights campaigners and opposition lawmakers urged Islamabad to protect the privacy of its citizens after leaked top-secret documents appeared to show British intelligence had gained access to almost all the country`s Internet users.
Pakistan is also in the process of debating its own cyber-crime bill, which rights campaigners say threatens to curtail freedom of expression and privacy in its current form.
Rights groups also expressed concern over a provision that allows the government to share intelligence with foreign spy agencies, such as the American National Security Agency, and the mandating of service providers to retain telephone and email records for up to a year. AFP
http://zeenews.india.com/news/south-asia/pakistani-intelligence-sought-huge-data-collection-tools-report_1635062.html
-------
Rangers raid Clifton restaurant owned by MQM MNA
By Faraz Khan / Rabia Ali
July 23, 2015
KARACHI: Rangers on Thursday evening raided the restaurant 'Biryani of the Seas' in Clifton, Karachi and detained at least two people, including the restaurant's manager.
The restaurant is owned by Muttahida Qaumi Movement (MQM) MNA Ali Raza Abidi.
Rangers reportedly detained two men, including a manager of the restaurant while also sealing the establishment.
Abidi said that one of the detained men was his cousin, Hasan Raza. He added that the Rangers also confiscated a computer and some files.
Moments after the raid, MQM's senator Nasreen Jalil and Fouzia Hameed visited the restaurant, Express News reported.
MQM's Rabita committee has condemned the raid, calling it an act of vengeance by the Rangers since Abidi had actively spoken against the raids and arrests of party workers. They added that Abidi had also gone to Darakshan police station to register a case against Imran Khan for speaking against generals.
The MQM said that Thursday's raid proves that those who speak against the state will meet a similar fate.
Earlier on July 17, Rangers had conducted a targeted raid on MQM headquarters Nine-Zero in Azizabad, arresting Rabita Committee in charge Kaiful Warah and committee member Qamar Mansoor.
Read: ATC hands over MQM's Qamar Mansoor to Rangers on 90-day remand
The two MQM leaders were reportedly taken into custody for arranging and facilitating hate speeches that were "against peace in Karachi."
Rangers sealed all roads leading to Nine-Zero before raiding party offices and Khursheed Begum Memorial Hall. They detained and questioned several MQM officials before taking Mansoor and Warah into custody.
Later on, Kaiful Warah was released but Qamar Mansoor was remanded into Rangers custody.
http://tribune.com.pk/story/925440/rangers-raid-clifton-restaurant-owned-by-mqm-mna/
--------
Defence cooperation: Pakistan to buy eight submarines from China
By Shahbaz Rana
ISLAMABAD: July 24, 2015, Pakistan and China on Thursday agreed to a multi-billion dollar deal that would see Beijing provide eight submarines to the Pakistan Navy, in an agreement that analysts are calling the largest-ever defence deal China has agreed to with any country.
Despite the magnitude of the deal, government officials did not provide any details, even declining to confirm the size of the transaction. However, the composition of the Chinese delegation with which the agreement was reached suggests that the arrangements have been struck for purchase of eight submarines.
"Pakistan and China have reached an understanding on matters of defence cooperation relating to Pakistan Navy," announced the finance ministry after a meeting with Chinese authorities. "Financial arrangements to this effect were also concluded."
According to a briefing that the defence ministry gave to parliament in April this year, Pakistan was negotiating a deal for acquisition of submarines from China. In the same month, the UK-based Financial Times, citing a retired senior official, claimed in a report that the contract could be worth $4 billion to $5 billion, the largest defence deal ever by China.
Sources in the finance ministry said that Pakistan would make down payments to China in four instalments and the delivery of the submarines will be made in the coming years.
The financial arrangements were agreed during a meeting between Finance Minister Ishaq Dar and Xu Ziqin, President of the Chinese state-owned China Shipbuilding & Offshore International Company Limited (CSOC).
Finance Secretary Waqar Masood and Economic Affairs Secretary Saleem Sethi assisted Dar. Chinese Ambassador Sun Weidong also participated in the negotiations.
CSOC is the trade arm of China Shipbuilding Industry Corporation (CSIC) and its main business is the manufacture, repair, lease, and sales of military ships and submarines.
Sources in the finance ministry said that the agreement is still subject to final review form higher authorities in Beijing, following which a formal agreement will be signed. The press release issued by the ministry after the event was vague. According to the release, Dar said that the visit by the CSOC delegation to Pakistan would enhance and further strengthen their bilateral economic and defence cooperation.
Read: Pakistan's underwater force stronger than India: Report
The release quoted Xu thanking Dar for his contribution in concluding the arrangements, saying it was reflective of the deep rooted China-Pakistan friendship.
Last month, both the countries had also signed an agreement for construction of six patrol vessels for the Pakistan Maritime Security Agency (PMSA). The agreement had been signed by China Ship Trading Company (CSTC) and the Pakistani defence production ministry. According to the agreement, four ships will be constructed in China while the remaining two will be built at Karachi's Shipyard under a transfer of technology agreement.
http://tribune.com.pk/story/925514/defence-cooperation-pakistan-to-buy-eight-submarines-from-china/
-------
After Ramazan break: Pakistan set to resume executions
By Rana Tanveer
LAHORE: July 24, 2015, Pakistan is set to resume the execution of death row prisoners a little over a month after it suspended the practice out of respect for the fasting month of Ramazan.
A district and sessions judge in Lahore issued the first execution orders for two convicts, who are scheduled to be hanged at Kot Lakhpat Jail on July 28 and 29, respectively.
Khyzer Hayat, who was arrested in 2001 and subsequently charged for killing a fellow police officer, is to be hanged on July 28. Another man, Saeed Muhammad, who was hauled by the police in 2003 over murder charges, is to be hanged on July 29.
The executions had been briefly suspended after Prime Minister Nawaz Sharif instructed authorities to respect "the sanctity of the holy month", by observing a moratorium on capital punishment.
Over 180 people have been hanged since the ban on death penalty was lifted following the deadly attack by the Taliban on a military school in Peshawar last year, prompting criticism from human rights groups.
Since the resumption of capital punishment in the country, Punjab has taken the lead in the number of executions which stand at 153, followed by Sindh with15, and Khyber-Pakhtunkhwa and Balochistan at 5 apiece. In addition, there were two executions in Mirpur Central Jail Azad Jammu and Kashmir (AJK).
According to details, more than 8,000 convicts, including juveniles, are currently on death row, waiting for their black warrants to be issued. Many of them have been in jail for the past two decades.
As many as 5,472 death row prisoners, including 47 women, are incarcerating in detention facilities across Punjab. Of these, 44 have exhausted all avenues of appeals. Their fate lies in the hands of jail authorities who will decide when to obtain black warrants for them from the respective trial courts.
Clemency appeals of 392 convicts are pending with the president while one appeal is pending before the General Headquarters (GHQ). Similarly, 875 appeals are pending before the Supreme Court of Pakistan and 4,162 appeals are pending before the Lahore High Court.
Commenting on the executions, activist and lawyer, Nadeem Anthony said that the implementation of the death penalty violates fundamental rights.
Criticising the trial process, he said that the criminal justice system is marred by several anomalies, including police torture and poor legal representation for victims.
http://tribune.com.pk/story/925485/after-ramazan-break-pakistan-set-to-resume-executions/
-------
Southeast Asia
MUI urges Muslims to remain peaceful after Tolikara incident
JakartaJuly 22 2015
The Indonesian Council of Ulemas (MUI) and several other Islamic organizations urged Muslims to restrain themselves and not be easily influenced by provocations related to riots in Tolikara, Papua, that have resulted in a mushola (prayer room) and numerous kiosks being burned to the ground.
"The main thing is that all parties should work together to create peace and security in Papua and Indonesia," MUI's deputy chairman Ma'ruf Amin said during a press conference on Wednesday, adding that MUI hoped that Muslims upheld solidarity to guard the Unitary State of the Republic of Indonesia (NKRI).
While deploring the Tolikara incident that has claimed one life and injured 11 others, Ma'ruf urged Muslims to be alert to the possibility of certain parties with the intention to create chaos, kompas.com reported.
The Tolikara incident during the Idul Fitri Islamic holiday on July 17, which according to the Evangelical Church in Indonesia (GIDI), was triggered by the shooting of GIDI members who were on their way to warn Muslims not to pray in an open field or use a loudspeaker as had been requested by the GIDI two weeks before via the local authorities.
The church's letter requested Muslims to perform the Idul Fitri prayers inside buildings and without loudspeakers, as the holiday coincided with the GIDI's international youth seminar and revival service (KKR) on July 15-20. The Tolikara police had agreed and promised to follow up the request , according to the church president Dorman Wandikmbo.
The shooting killed 15-year-old Endi Wanimbo and injured 11 others, according to a GIDI press release on July 18.
Some locals reacted by burning kiosks and a mushola in the middle of the premises, GIDI said.
The news about the burning of the mushola continued to circulate in social media and triggered anger among some Muslim communities throughout the country.
On Monday, two churches in Yogyakarta and Purworejo in Central Java were subject to unsuccessful arson attacks
http://www.thejakartapost.com/news/2015/07/22/mui-urges-muslims-remain-peaceful-after-tolikara-incident.html#sthash.R8Gm9mAn.dpuf
------
Govt starts to repatriate Bangladeshi refugees
The Jakarta Post, Jakarta July 24 2015
The government has started to repatriate Bangladeshi migrants residing in Aceh to their home country.
The Foreign Ministry has recorded as many as 122 migrants are in the process of being sent home.
"As many as 97 refugees have returned home at four different times since June to July 13, while another 25 will depart on July 25 from Medan [North Sumatra]," said Andy Rachmianto, the ministry's international security and disarmament director.
The ministry has coordinated with the Bangladeshi government for the repatriation and received support from the International Organization for Migration (IOM) and UN High Commissioner for Refugees (UNHCR) to fund the return.
"The US and Australia have helped in funding the trip through the IOM," he added.
Andy said that the government aimed to send back all 1,800 people originating from Bangladesh and Myanmar who have become stranded in Aceh, within one year.
"Foreign Minister Retno, [Marsudi] during a meeting with foreign ministers from Malaysia and Thailand agreed in Kuala Lumpur [Malaysia] to return all the 1,800 refugees within a year although we all know the challenges, especially in the case of Myanmar's [Rohingya asylum seekers]," he said.
After the meeting in Kuala Lumpur, Retno headed straight to Myanmar to discuss the problem.
So far, there is no statement from Myanmar [about accepting the return of Rohingya Muslims]," Andy remarked.
Nevertheless, Myanmar has supported efforts to provide shelters for the refugees in Aceh.
"We welcome them to help in building public and social facilities [for the comfort of people staying in Aceh]. We already built a school there too," Andy said.
About 1,800 refugees landed on Aceh's coast in May. Around 1,000 of them originated from Myanmar and the rest from Bangladesh.
Aside from those seeking asylum in Indonesia, Rohingya people are also stranded in Malaysia and Thailand.
Labelled by the UN as one of the worlds's most persecuted minorities, the Rohingya have for decades suffered from state-sanctioned discrimination in Buddhist-majority Myanmar, where they have limited access to education or adequate health care.
In the last three years, attacks by Buddhist mobs have left 280 people dead and forced 140,000 others from their homes. They now live under harsh conditions in crowded camps just outside the capital of western Myanmar's Rakhine state, Sittwe.
Thousands of Rohingya have fled deadly communal unrest in Rakhine since 2012.
Myanmar views its population of roughly 800,000 Rohingya as illegal Bangladeshi immigrants and denies them citizenship.
According to the ministry, Indonesia has accommodated around 13,000 refugees and asylum seekers from around 40 countries, with the majority from Afghanistan, Myanmar, Iran, Pakistan and Sri Lanka.
"They are now accommodated in 13 immigration detention centers as well as community centres across the archipelago, waiting for settlement," Andy said.
In May, 65 asylum seekers from Bangladesh, Myanmar and Sri Lanka arrived on Rote Island after being intercepted by the Australian navy en route to New Zealand.
Claims were made to local police on the island that the captain and five crew were each paid US$5,000 to return.
The Australian government has so far not formally clarified the payment matter with Indonesia.
"It doesn't matter that we didn't get clarification about the [alleged] illicit payments from Australia.
The Rote Police have investigated the case. They have successfully settled seven cases of people smuggling [recently] and the convicts have been sentenced to five to 10 years in prison," ministry spokesman Arrmanatha Nasir told reporters. (rbk)
http://www.thejakartapost.com/news/2015/07/24/govt-starts-repatriate-bangladeshi-refugees.html#sthash.Oa1lKcBI.dpuf
-----
Indonesia welcomes results of Iran nuclear deal
The Jakarta Post, Jakarta |Thu, July 23 2015
Indonesia has welcomed the successful results of the Joint Comprehensive Plan of Action (JCPOA) agreement on the Iranian nuclear program after talks held in Vienna on July 14.
The agreement, which was discussed by Iran along with the US, the UK, France, Russia, China and Germany, allowed Iran to continue developing its nuclear program as long as it is for peaceful civilian purposes in return for a lift of economic sanctions on the country.
ndonesia's Foreign Ministry says that it hopes the agreement will create a conducive situation toward finding peaceful alternative methods to face conflict and crises in the Middle East.
It also shows the effectiveness of a diplomatic solution based on dialogue toward handling major issues such as nuclear power, a stance that Indonesia has always upheld, says the Ministry.
"Indonesia hopes that all the parties involved will continue the constructive approach toward the implementation of this agreement," the Ministry explained in a statement obtained by The Jakarta Post on Wednesday.
Talks on the Iran nuclear program had been ongoing since 2003, with frequent stalemates over the years. The agreement also affirmed the right of every country to harness nuclear power for peaceful purposes - See more at:
http://www.thejakartapost.com/news/2015/07/23/national-scene-ri-welcomes-results-iran-nuclear-deal.html#sthash.VsKehLL4.dpuf
--------
India
Minority groups take up Rohingya Muslims' cause, seek Centre's help
by Arshad Ali, July 24, 2015
Several minority groups and human rights bodies have come out in support of Rohingya Muslims who have found settlement in India after fleeing persecution in Myanmar. These organisations, some of which have written to the Centre seeking protection and Indian citizenship for Rohingyas, have decided to hit the streets.
"Other Asian countries should also join the protest. They (Rohingyas) should be given shelter in India and the Centre must speak to the government in Myanmar and ask it to stop their persecution," Qari Fazl ur Rahman, president of All India Milli Council, said.
Identified by the United Nations as "one of the world's most persecuted minorities", Rohingya Muslims of Myanmar have been denied citizenship in their country despite having lived there for generations and chased off their land in repeated outbreaks of communal violence.
While several thousands have fled to Indonesia, Malaysia and Thailand, close to 10,565 Rohingya Muslims have entered India and are living in 11 states (maximum 6,684 are living in Jammu and Kashmir), according to the figures released by the Bureau of Immigration.
In Bengal, hundreds of Rohingyas (official figure is 309) have crossed over from Bangladesh through illegal routes, and are living under fake identities. "We recently submitted a memorandum to the consulate general of Myanmar but nothing happened. Joint rallies will soon be held across the state on the behalf of Rohingyas. The state government should give them shelter," said Md Qamaruzzaman, general secretary, All Bengal Minorities Youth Federation.
Students Islamic Organisation of India (SIO), too, would join the movement soon. "We will hit the streets demanding Indian citizenship for the Rohingyas," said Sheikh Mohabbat, the organisation's general secretary. He added that the state government should be sympathetic towards the Rohingyas just as it has been towards the refugees from Assam. "We had recently staged a demonstration outside the High Commission Office of Myanmar in Kolkata. The Centre should take up the cause of Rohingyas and put pressure on the Myanmar government to stop this genocide," he said.
Members of Bandi Mukti Committee said they have already written to Delhi and would now write to the National Human Rights Commission. "We would also meet the Rohingyas who have been put behind the bars (because of lack of identity-related documents)," a member said.
"Many got arrested while entering India through the Bangladesh border. To avail refugee status (which will enable them to stay legally and protect them from getting arrested), they need to get in touch with United Nations High Commissioner for Refugees but they are unable to do so," said a senior member of Commonwealth Human Rights Initiative, an international NGO working for the cause of Rohingyas.
http://indianexpress.com/article/cities/kolkata/minority-groups-take-up-rohingya-muslims-cause-seek-centres-help/#sthash.IiVgbupM.dpuf
------
Terrorists attack mobile showrooms in Srinagar with grenades
TNN | Jul 24, 2015, 12.11 PM IST
NEW DELHI: Terrorists targeted telecommunication services in Jammu & Kashmir again on Friday.
The unidentified assailants attacked two mobile phone sales and service centres and lobbed grenades to force their closure, police said.
"Two unidentified assailants entered an Aircel office in Karan Nagar business centre and asked the staff to close their business and leave the office," a senior police officer told IANS in Srinagar.
"They hurled a grenade inside that damaged furniture and fixture," police said.
After that, the assailants entered a Vodafone office and asked the staff to vacate.
They lobbed another grenade inside the Vodafone office and escaped, police said, adding that searches have been started to nab the assailants.
Unidentified gunmen have been threatening mobile phone service providers in north Kashmir.
Friday's attack is the first such incident in Srinagar.
However, no casualties or injuries have been reported.
Security forces have cordoned off the area and launched a probe.
Security forces at a mobile showroom that was targeted by terrorists. (Photo: ANI/Twitter)
The militants have targeted mobile transmission towers in the state in a big way.
According to a report in June, as many as 1,371 mobile transmission towers have been affected by the recent militant attacks in the valley.
http://timesofindia.indiatimes.com/india/Terrorists-attack-mobile-showrooms-in-Srinagar-with-grenades/articleshow/48199320.cms?
-------
Tharoor 'demand' for UK reparations makes waves
AGENCIES
Friday 24 July 2015
The comments of opposition lawmaker Shashi Tharoor have struck a chord in India. The 15-minute video of the speech has got over a million hits on YouTube in a week and has become the top trending topic on social media in India.
"It shows the depth of an Indian's feelings," Modi said on Thursday, referring to the speech.
In a debate organized by the Oxford Union, Tharoor highlighted the economic toll that British colonial rule had extracted from India, leaving it as a laggard. He said Britain governed the country for its own benefit and its rise for 200 years was financed by plundering India."As far as I am concerned, the ability to acknowledge a wrong that has been done, to simply say sorry, will go a far, far, far longer way than some percentage of GDP in the form of aid," he had said.
"What is required, it seems to me, is accepting the principle that reparations are owed."
Modi, however, did not say whether he backed the Indian lawmaker's demand for an apology.
The British High Commission in New Delhi also declined to comment.
The Indian prime minister is due to visit Britain later this year. The dates of the trip have yet to be finalized.
Many in India want Britain to make amends for the wrongs committed during its colonial rule.
http://www.arabnews.com/world/news/780801
------
Australia
New terror threat system for Australia
By AFP
Sydney: 23 July 2015, Australia on Thursday announced a clearer terror alert system as the country faces what Prime Minister Tony Abbott called the worst extremist threat in its history, with the government outlining a long-term strategy to tackle the scourge.
The new system will be introduced later this year, subject to community consultation, with the new threat levels to be: certain, expected, probable, possible and not expected, which Abbott said would be much easier for the public to understand.
"At the moment, the terrorist alert levels are extreme, high, medium and low and there's a bit of interpretation involved in them," he said after a summit in Sydney with the country's eight state and territory leaders.
"Any changes to the threat level under the new system will be accompanied by a statement providing more information on what the new threat level means, where the threat is coming from, what the potential targets are and the means by which an attack may be perpetrated."
The government has been increasingly concerned about the flow of fighters to Iraq and Syria to join groups such as Islamic State in Iraq and Syria (ISIS), with some 120 Australians already in the region and 160 actively supporting extremist organisations through financing and recruitment.
Australia's terror alert level was lifted to high in September last year with two attacks since then -- the stabbing of two policemen in Melbourne and a deadly cafe siege in Sydney -- with six other attacks foiled, according to the government.
"Australians currently face the most significant threat from terrorism in our nation's history," said Abbott. "The threat of terrorism is real and continues to grow and evolve."
As part of its effort to tackle extremism, the government released a new long-term strategy that focuses on providing information to the community on terrorist threats and what the governments was doing to counter them.
It focuses on five core elements, including challenging violent extremist ideologies, stopping people becoming terrorists by working with community members to identify those most at risk, and the early disruption of terrorist activity.
The strategy also highlights fine-tuning responses and recovery arrangements in the event of an attack while maintaining strong ties with the U.S.-led coalition battling groups like Islamic State.
"The resilience and cohesion of our community is our best defence against violent extremism," said Abbott. "It is our greatest asset in preventing, responding to and recovering from a major terrorist attack."
https://english.alarabiya.net/en/News/world/2015/07/23/New-terror-threat-system-for-Australia.html
------
URL: https://www.newageislam.com/islamic-world-news/new-age-islam-news-bureau/tunisia's-secular-government-cracks-down-on-mosques-in-aftermath-of-massacre/d/104017