New Age Islam News Bureau
4 Oct 2013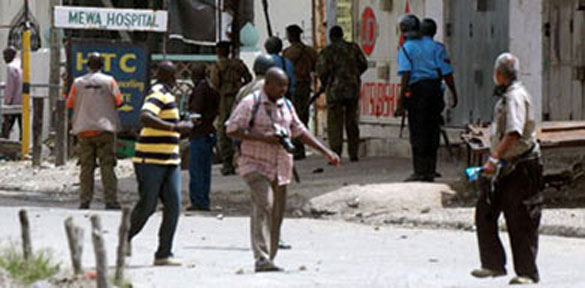 Photo: Kenya rioters torch church after Muslim cleric killed, (AFP Photo/STR)
-----------
Pakistan
• Trafficking Organs of Dead Christians -- Pakistan Must Conduct a High Powered Probe
• Taliban commanders refuse to meet Mullah Baradar in Peshawar
• Foreign elements may be behind attacks: Adviser on Foreign Affairs
• Journalist kidnapped in Waziristan
• Blast in Peshawar kills policeman, another two injured
• Police claim more than 110 suspects arrested from parts of Karachi
• Jamaat calls own APC in wake of PTI indecision
• Internet activists condemn proposed ban of messaging apps
• Pakistan not in arms race with any country: Nawaz
Europe
• Muslim Schoolboys Banned from Class for Not Shaving off Beards, in Lancashire
• EDL-Supporting Teenager 'Want To Take Muslims Down'
• E-ISLAM to be launched in Kazakhstan by year end
• Gelatin in vaccine alarms Muslims in Scotland
• Islamic Preacher Abu Usamah At-Thahabi 'To Speak At Faith Conference'
• World-famous British comedian Mr. Bean converted to Islam
• Russian Muslim Organizations Split over Local Court's Banning of Quran Translation
• Islam to be recognized officially in Lower Saxony
• Groundbreaking ceremony of a mosque in Belgium
India
• Many Muslims Arrested, Not Many Convicted: Govt Data
• BJP's Hindu-Muslim politics hurting national security: Rahul Gandhi
• INDIA: Remembering Ayodhya that was not the fountainhead of sectarian strife
• Army foils infiltration bid in J&K's Keran sector, 2 terrorists killed
• President talks tough, says state-sponsored terrorism cannot be accepted
• Kerala: Three get double life imprisonment for recruiting youngsters for terror camps
• Samba terrorists had planned to storm Army Public School, take children hostage
Arab World
• Syria's Assad says too early to say if he'll run for president again
• Egypt to take over banned Muslim Brotherhood assets
• Suicide bomber kills three Iraqi soldiers
• Iraq officials say bombing at soccer field kills 5
• Attack on army convoy kills two soldiers in Egypt
• HRW: Thousands who protested peacefully languish in Syrian jails
• Saudi 'naked' dancers jailed for 10 years
• Diverse facets of Mahatma Gandhi in Cairo's Maulana Azad Centre
South Asia
• Mirror's Taliban scoop is a remarkable glimpse into the mind of the enemy
• 100 Uyghurs Rounded Up in Police Hunt in Yunnan
• Mentor of 9/11 kingpin joins president race in Afghanistan
• Waheed and Nasheed hold first meeting since power transfer
• Pass blasphemy law: Shafi
• Pro-BNP lawyers trying to save BDR rebels: PM
• Latest Myanmar Violence Blamed on Religious and Ethnic Extremists
Southeast Asia
• Rape Case Highlights Growing Child Abuse Epidemic in Indonesia
• Ignoring popular will, Barisan returns to old ground with preventive laws
Africa
• Controversial preacher, Sheikh Ibrahim Ismail shot dead in Kenya
• Tunisian Nizar Trabelsi extradited to US on terror charges
• 'Armed bandits' kill Niger soldier, wound three others in Nigeria: Official
Mideast
• Chinese missiles to be NATO operable: Turkey
• Ruling AKP to name headscarved candidate in upcoming local elections: PM Erdoğan
• Israel calls on Council of Europe to rescind anti-circumcision resolution
• Israel to run for UN Security Council seat for 2019-20
• Iran, Only Country Where Islamic Sharia Is Fully Implemented
North America
• Won't oppose release of ill Guantanamo prisoner, US says
• US administration urges Congress against new Iran sanctions
• CAIR-NJ Asks Century Savings Bank to Review Hijab Ban
• Slight Decline in Islamophobia in America: CAIR Report
• Mohammad Ali honours humanitarian award winners
Compiled by New Age Islam News Bureau
URL: https://newageislam.com/islamic-world-news/trafficking-organs-dead-christians-pakistan/d/13835
----------
Pakistan
Trafficking Organs of Dead Christians -- Pakistan Must Conduct a High Powered Probe
October 04, 2013
A Vatican news agency, Agenzia Fides, reported a horrific crime taking place in Pakistan where, not only hundreds of Christians were killed in a church bombing in Peshawar city, KPK, but now it is reported that the dead were stripped off their organs by paramedics which were then sold the illegal organ trade black market.
According to Wikipedia Agenzia Fides is the news agency of the Vatican. It is based in the Palazzo de Propaganda Fide in Vatican City. It is part of the Congregation for the Evangelization of Peoples. It was formed on June 5, 1927 as the first missionary news agency of the Roman Catholic Church and was approved by Pope Pius XI. The current director is Prof. Luca de Mata.
It is also reported in some sections of the media that persons from law enforcement agencies were involved. The human organs are sold at high prices and when events involve non-Muslims everything and anything is allowed and the crime is justified by fundamental ideologies.
Although the news published in Agenzia Fides has not been confirmed by independent sources the very substance of the report is too horrifying to be ignored. However, regardless of the lack of confirmation the government of Pakistan must immediately probe the allegations and stop the criminal acts of any persons involved in the trafficking of human organs. While the incident mentioned in Agenzia Fides may not be proven as yet, the sale of human organs in Pakistan is nothing new. In fact, the news in the Vatican based website is more alarming as Pakistan has a very bad international reputation with regards to the state sponsored persecution of religious minority communities. Please see: ASIA/PAKISTAN - After the bombs, atrocities against Christians, organ trafficking concerning victims of Peshawar?
Agenzia Fides reported in the September 28 dispatch that, ".....after the bombs in the Church of All Saints in Peshawar, the situation remains tense in the Pakistani society: not only tragedy but also horror. The Christians said they were "horrified" by the rumors that link the bombs in Peshawar to the vast problem of organ trafficking: this is what some members of NGOs in civil society in Pakistan told Fides. Some of the "jackals", presumably local paramedics, seem to have taken advantage of the high number of deaths and injuries in order to steal the bodies of victims and exploit them for the illegal organ trade".
"If this were true, it would mean that there are criminals who are taking advantage of the suffering of Christian victims in a truly blasphemous and sacrilegious manner", notes Fr. Mario Rodrigues, a priest of Karachi. "We call for a serious investigation on behalf of the police", he concludes.
Pakistan enacted a law to regulate organ transplants in 2010, to shake off its reputation as a "destination leader" for transplant tourism and to stop the illegal trafficking of human organs. After the approval of the law, the illicit traffic slowed down, but in 2011 many cases of illegal transplants emerged again. Last July, given the data of a "thriving business", the Supreme Court issued directives asking the provincial government to take action and enforce the law.
According to police investigations, 42 medical facilities engaged in illegal organ transplants have been identified in Punjab. (PA) (Agenzia Fides 27/09/2013)
The Asian Human Rights Commission (AHRC) urges the Supreme Court to take Sou Moto action and order the government to instigate an immediate probe into the allegations of human organ trafficking in order to prove to the international community that it takes accusations of the state sponsored persecution of non-Muslims seriously.
http://www.humanrights.asia/news/ahrc-news/AHRC-STM-176-2013
----------
Taliban commanders refuse to meet Mullah Baradar in Peshawar
REUTERS
2013-10-04
ISLAMABAD: Afghan Taliban commanders refused to meet their Mullah Baradar in the Pakistani city of Peshawar on Thursday because he was accompanied by Pakistani security agents, dealing a blow to attempts to resume Afghan peace talks, security and militant sources said.
Afghanistan and the United States believe Mullah Abdul Ghani Baradar, who has been held in Pakistan since 2010, holds the key to stopping the war in Afghanistan because he is influential enough to persuade his former comrades there to stop fighting.
Pakistan announced his release on Sept 20 but Baradar, the former Afghan Taliban second-in-command, is still in custody and watched closely by his Pakistani handlers, an arrangement which could undermine his role as a peacemaker.
Confirming these suspicions, an Afghan Taliban commander said Taliban figures refused to come to Peshawar to meet him because he was accompanied by Pakistani security officials.
"Following his release, he spent some time in Karachi and now arrived in Peshawar to hold meetings with senior members of the movement," the source told Reuters.
"Unfortunately, no one among senior Taliban leaders agreed to see him in Peshawar because security personnel are around him."
It was unclear who Baradar wanted to meet and how long he would stay in Peshawar, a volatile city hit by frequent attacks by the Pakistani Taliban, a militant group operating independently from their Afghan namesakes.
Two Pakistani security officials confirmed Baradar was in Peshawar for preliminary discussions about the peace process.
Officially talks have yet to start and there is still hope that formal discussions on the future of Afghanistan will resume once Baradar has left Pakistan.
But many are sceptical, with the Taliban themselves suspicious of a man seen as close to Pakistani authorities.
"He isn't a free man and that's why people are afraid of meeting him," said the Taliban official.
Baradar was once a close friend of the reclusive, one-eyed Taliban leader, Mullah Mohammad Omar, who gave him his nom de guerre, "Baradar" or "brother". He still enjoys much respect among Taliban fighters.
Baradar also belongs to the same tribe as Afghan President Hamid Karzai and has once reached out to the Kabul government with a peace proposal.
Some are sceptical about his role as a peacemaker, with critics saying his years in detention have eroded his sway over the insurgency. There are also doubts whether real decision-makers such as Mullah Omar would agree to talk to him.
Many also believe war-hardened insurgents are likely to be suspicious of a man seen as close to Pakistani authorities.
Afghanistan, which suspects its neighbour of trying to influence its internal affairs, wants Baradar to be handed over and believes he cannot be considered released as long as he is on Pakistani soil.
http://www.dawn.com/news/1047206/taliban-commanders-refuse-to-meet-mullah-baradar-in-peshawar
----------
Foreign elements may be behind attacks: Adviser on Foreign Affairs
2013-10-04
ISLAMABAD: The government will continue to pursue dialogue with the Taliban and believes that the deadly attacks which followed the talks offer were sponsored by hostile external elements who wanted to sabotage the initiative.
"Despite the setbacks, dialogue will be pursued," Adviser on Foreign Affairs and National Security Sartaj Aziz told reporters here on Thursday after meeting British Senior Minister of State at Foreign and Commonwealth Office Baroness Sayeeda Warsi.
He said "hostile elements from across the border may be providing support to some groups" to prevent the talks from taking off.
Mr Aziz said the government had "indirect evidence" of external support for the terrorist groups carrying out the attacks.
An all-party conference on Sept 9 had endorsed government plans for holding dialogue with militant groups for ending violence in the country that has claimed over 40,000 lives.
Barely a week after the talks offer had been made, militants attacked a military convoy, killing General Officer Commanding Gen Sanaullah Khan and two other army personnel in Swat. This was followed by three other major attacks in Peshawar in which close to 150 people were killed.
The attacks were initially claimed by the banned Tehreek-i-Taliban Pakistan (TTP) affiliates and its Swat chapter even released a video of the attack on Gen Sanaullah's convoy. However, the militant group later renounced the claims of responsibility for the attacks amid growing criticism of the dialogue offer.
Defending the offer, Mr Aziz suggested that militancy was "a protest" by those opposed to the country's involvement in America's 'war on terror'.
Terrorism in Pakistan, he said, was a result of "global fault lines".
"The people funded and trained by the US to fight Soviet Union" had come back to unleash violence here, he said.
The TTP, which had initially asked for release of all of its detained fighters and return of the army from the tribal areas, has now linked the proposed dialogue to an end to US drone strikes.
Mr Aziz, responding to the demand, said the government's strategy was to increase pressure on the US at international forums and through diplomatic channels to persuade it to stop the drone attacks.
He also cautioned the detractors against prejudging the process.
"The process has just begun. One should not prejudge its outcome."
Ms Warsi, who was here for discussions on increasing Pakistan-UK trade, stayed short of endorsing the dialogue initiative.
But while replying to a question she said: "Any dialogue that leads to peaceful existence for Pakistanis is welcome."
She said extremists were the "biggest enemies of Islam and Pakistan" as they "were taking away hope" from Pakistanis and Muslims.
According to AFP, Mr Aziz said: "Despite these incidents the dialogue option should be pursued because the Taliban are many groups and many of them have said they do want to pursue dialogue.
"There are some elements who want to disrupt the dialogue but the whole purpose of the dialogue is to put an end to such incidents."
http://www.dawn.com/news/1047297/foreign-elements-may-be-behind-attacks-aziz
----------
Journalist kidnapped in Waziristan
AFP
2013-10-04
MIRAMSHAH: Gunmen have kidnapped a journalist from one of Pakistan's tribal areas on the Afghan border, where Taliban militants are active, relatives said Friday.
Lal Wazir, 38, who works for a local newspaper in the South Waziristan town of Azam Warsak was taken from a shop by six masked gunmen on Thursday, his uncle Ibrahim Wazir told AFP.
"Nobody has claimed responsibility or contacted the family," Wazir said, adding that his nephew had just returned from a trip to Islamabad.
Local tribal government officials confirmed the kidnapping.
Lal Wazir also works for an Islamabad-based think tank specialising in tribal affairs, the Fata Reasearch Centre.
Officials from the centre said they would not comment as the official authorised to speak to the press had gone out of the country.
The tribal areas are a haven for militants and according to the press campaign group Reporters Without Borders, Pakistan was the third deadliest country for journalists last year, behind Syria and Somalia.
http://www.dawn.com/news/1047406/journalist-kidnapped-in-waziristan/print
----------
Blast in Peshawar kills policeman, another two injured
2013-10-04
PESHAWAR: A road-side planted bomb targetted a police van in Peshawar's Pishtakhara locality on Friday killing a policeman and injuring another two, DawnNews reported.
The police mobile van was partially destroyed in the explosion.
Police and rescue teams reached the blast site while security forces cordoned off the area as a search operation went underway.
The attack comes a day after the Khyber Pakhtunkhwa government promised not to interfere in the police's operation against terrorists in the province.
"We've given police a freehand to target terrorists in the province and will ensure that there is no political interference in it for the best possible results," Sheraz Paracha, spokesman for the provincial chief minister, told reporters at Peshawar Press Club.
Peshawar, the capital of Khyber Pakhtunkhwa, lies on the edge of Pakistan's tribal areas, labelled by Washington as the main sanctuary for Al Qaeda and Taliban militants in the country.
Full report at:
http://www.dawn.com/news/1047401/blast-in-peshawar-kills-policeman-another-two-injured/print
----------
Police claim more than 110 suspects arrested from parts of Karachi
2013-10-04
KARACHI: East and West Zone Police on Friday claimed arresting more than 110 suspects during targeted operations in the city, DawnNews reported.
According to the police, the arrested also included 70 wanted criminals.
Police forces also arrested a suspect Asif during a targeted operation in New Karachi, who it said was involved in targeted killings. According to police sources, the suspect had connections with a political party.
Full report at:
http://www.dawn.com/news/1047403/police-claim-more-than-110-suspects-arrested-from-parts-of-karachi
---------
Jamaat calls own APC in wake of PTI indecision
October 4, 2013
PESHAWAR: In a move that supersedes the authority of the Khyber-Pakhtunkhwa (K-P) government, Jamaat-e-Islami (JI) has announced its plans to convene on Friday an all-parties conference (APC) on the issue of law and order in the province. Pakistan Tehreek-e-Insaf (PTI), which leads the coalition government in the province, had earlier announced its own plans to convene the meeting before making a u-turn.
Full report at:
http://tribune.com.pk/story/613361/stab-in-the-back-jamaat-calls-own-apc-in-wake-of-pti-indecision/
----------
Internet activists condemn proposed ban of messaging apps
October 4, 2013
KARACHI: Internet freedom groups and activists have expressed anger and disbelief at the Sindh government's proposal to ban messaging apps including Skype, Viber and WhatsApp for three months as a security measure.
In a press statement, Bolo Bhi an internet freedom group condemned the proposal, stating that "this is a violation of fundamental rights of citizens and an acceptance from the government that they have failed to uphold law and order by resorting to ad hoc measuring and disrupting communications. Access should not be a victim to national security."
The government should focus on eliminating terrorism in the province and improving the law and order situation instead of taking away freedom from citizens, Bolo Bhi said.
The President of the Pakistan Software Houses Association for IT & ITES as well as the president of Bolo Bhi Jehan Ara expressed her frustration on Twitter:
Ban background
Full report at:
http://tribune.com.pk/story/613446/internet-activists-condemn-proposed-ban-of-messaging-apps/
----------
Pakistan not in arms race with any country: Nawaz
October 4, 2013
ISLAMABAD: Pakistan is not in an arms race with any country and follows the policy of minimal defence ability, said Prime Minister Nawaz Sharif on Friday.
Nawaz made this statement during his visit to the National Command Centre (NCC), where the centre's director general briefed him about special security measures taken to strengthen country's defence system.
Full report at:
http://tribune.com.pk/story/613483/pakistan-not-in-arms-race-with-any-country-nawaz/
----------
Europe
Muslim Schoolboys Banned from Class for Not Shaving off Beards, in Lancashire
Oct 04 2013
Two Muslim schoolboys have been barred from classes and placed in isolation for not shaving off their beards, it has emerged. Both 14-year-olds were placed in "isolation" from the start of the new term at Mount Carmel Roman Catholic High School in Accrington, Lancashire.
The school's head teacher said the matter was not one of religion but about dress code. Xavier Bowers told the Lancashire Evening Telegraph: "We have not taken this decision lightly. I have spent quite a lot of time researching the issue and speaking to Muslim elders.
"There is nothing specifically written in the Quran about wearing a beard. It is a choice those boys are making. However inclusive we are, we have standards to maintain."
But a relative of one of the youngsters labelled the decision as "pure discrimination". The family member, who did not wish to be named, told the newspaper: "Because these boys cannot shave their beards for religious reasons, they are being put in isolation for six-and-a-half hours every day.
Full report at:
http://www.huffingtonpost.co.uk/2013/10/03/muslim-schoolboys-banned-class-not-shaving-beards_n_4037413.html?ir=UK&ref=topbar
----------
EDL-Supporting Teenager 'Want To Take Muslims Down'
Oct 04 2013
Seventeen-year old said he would 'take some Muslims down' on Facebook
A schoolboy plotting to carry out a 'new Columbine' school massacre asked his teacher which gun he would prefer to be shot with, a court heard yesterday.
The 16-year-old neo-Nazi fanatic is said to have made the chilling threat as he plotted to bomb two schools, a university, mosque, cinema and council buildings in his hometown of Loughborough.
The boy questioned his teachers about guns and researched firearms on the internet while at school, the Old Bailey heard.
Now 17, he was arrested in February for carrying a machete. When officers searched his home they discovered an arsenal including home-made bombs, as well as knives and guns.
Yesterday, pupils and teachers from his secondary school told how the pupil, who cannot be named because of his age, was openly discussing mass killings.
Full report at:
http://www.dailymail.co.uk/news/article-2442682/Loughborough-schoolboy-accused-plotting-Columbine-style-massacre-supported-EDL.html#ixzz2gkDx4hQy
----------
E-ISLAM to be launched in Kazakhstan by year end
04.10.2013
E-ISLAM web portal will be launched in Kazakhstan this year, Tengrinews reports according to Marat Azilkhanov, Vice-Chairman of the Kazakhstan Religious Agency.
"The creation and operation of the e-ISLAM website the Agency's priority project. 27 million tenge ($175 thousand) has been budgeted for the project. The project is at the completion stage. We are going to present and launch the website by the end of the year and put it into full use next year," Azilkhanov said during the meeting on approval of the Agency's three-year budget in the Majilis (Lower Chamber of the Parliament).
According to the Religious Agency representative, the informative and educational website will be dedicated to the teaching and explaining of the traditional Islam principles and warning people against radical trends.
"There will be a blog for raisins awareness about things like jihad, radical trends, Wahhabism and salafism," he said.
http://en.tengrinews.kz/religion/e-ISLAM-to-be-launched-in-Kazakhstan-by-year-end-23072/
---------
Gelatin in vaccine alarms Muslims in Scotland
World Bulletin / News Desk
Oct 04 2013
The Fluenz vaccine is currently being offered to 100,000 schoolchildren in Scotland, but Muslim parents are concerned that the vaccine contains ingredients from pork gelatin, which is forbidden in Islam.
Although in 2001 the World Health Organization claimed that using pork ingredients in medicines was permissible according to Muslim scholars, many students and parents are rejecting the vaccine. As a result the National Health Service of Glasgow and Clyde has suspended the vaccine.
Full report at:
http://www.worldbulletin.net/?aType=haber&ArticleID=119777
----------
Islamic Preacher Abu Usamah At-Thahabi 'To Speak At Faith Conference'
Oct 04 2013
A campaign group has furiously responded to reports an Islamic preacher who demanded gays "be thrown off a mountain" is due to speak at a faith conference in north London this weekend.
Hope Not Hate has said one of the speakers attending the "Beloved to Allah" event at Edmonton Islamic Centre on Sunday is Abu Usamah at-Thahabi.
He has been caught referring to gay people as "perverted, dirty, filthy dogs who should be murdered."
Full report at:
http://www.huffingtonpost.co.uk/2013/10/03/islamic-anti-gay-preacher-campaign_n_4035036.html?utm_hp_ref=uk
----------
World-famous British comedian Mr. Bean converted to Islam
Oct 04 2013
HAS Mr Bean become a Muslim?
This was the poser in Kosmo! and Berita Harian following reports in social media that actor Rowan Atkinson, who plays the title character of the popular comedy programme, had embraced Islam.
His purported conversion on Oct 1 first surfaced in the Arabic-language site sadapladi.com and was repeated by Isreali weblog israellycool.
It has since emerged in portals and websites all over the Arab world as well as in South-East Asia, including Indonesia and Malaysia.
Islampos.com said the 58-year-old actor only held up his right forefinger when asked about the matter, which Muslim-based portals interpreted as his acceptance of the syahadah, an Islamic creed which declares belief in the oneness of Allah and acceptance of Muhammad as his prophet.
Full report at:
http://www.thestar.com.my/News/Nation/2013/10/04/Poser-over-Mr-Beans-conversion-Rumour-has-gone-viral-in-Arab-world-and-SE-Asia.aspx
----------
Russian Muslim Organizations Split over Local Court's Banning of Quran Translation
By: Mairbek Vatchagaev
Oct 04 2013
Something completely unexpected recently took place in Russia: a provincial court in Novorossiysk designated a Russian translation of the Quran as extremist material (http://echo.msk.ru/blog/echomsk/1161702-echo/). The court's decision stipulated that all copies of the publication should be confiscated and eliminated. The court based its decision on the fact that the Quran "negatively evaluates a person or a group of people according to their belonging to a certain religion (in particular, to non-Muslims)." The court said the holy book also "contains statements that point to advantages of one person or group of people over other people, based on their relationship with religion—in particular, Muslims over non-Muslims," and so on.
Full report at:
http://www.jamestown.org/regions/thecaucasus/single/?tx_ttnews%5Btt_news%5D=41444&tx_ttnews%5BbackPid%5D=54&cHash=8bae6e294f2b32797f5c52b4204a16fb#.Uk6HwNK-rXA
----------
Islam to be recognized officially in Lower Saxony
World Bulletin/News Desk
Oct 04 2013
As a preliminary contract has been signed for Islam to be recognized as an official religion in Lower Saxony after Bremen and Hamburg provinces in Germany, Lower Saxony Prime Minister Stephen Weil convened the representatives of Islamic institutions at the provincial guest-house to initiate the talks to accept Islam as an official religion.
Full report at:
http://www.worldbulletin.net/?aType=haber&ArticleID=119514
----------
Groundbreaking ceremony of a mosque in Belgium
Oct 04 2013
Turkish Minister of EU Affairs and the Chief Negotiator Egemen Bagis attended Thursday the groundbreaking ceremony of a mosque in Anvers province of Belgium.
Turkish minister pointed to the Islamophobia in Europe and demanded more efforts to extend tolerance across the world.
"We are the descendants of ancestors who lived in tolerance," he stressed adding that he expected respect to Islam from everyone.
Named 'Mehmet Akif', the mosque, with its capacity of 1,800 people, will include conference halls as well as study rooms and a dining hall.
http://www.worldbulletin.net/?aType=haber&ArticleID=119757
----------
India
Many Muslims Arrested, Not Many Convicted: Govt Data
Oct 04 2013
Mumbai: In what highlights delay in justice and lack of evidence, there were 21.04 per cent Muslim under trials and 17.75 per cent convicts in the country in 2012.
National Crime Records Bureau data reveal disparity between the rates of detention and conviction of Muslims in 22 states. It was most in Jammu and Kashmir, Uttar Pradesh, Maharashtra, Goa, Assam and Meghalaya. In the remaining 16 of the 22, the difference was medium to low.
The opposite was true of all other communities.
In J&K, there were 1,255 Muslim under trials (61.55 per cent of the prison population) in 2012. But there were only 155 (39.84 per cent) Muslim convicts. At 14,707, Muslims accounted for 27.32 per cent of under trials in UP, which has the most prisoners in the country. The number of Muslim convicts was, however, only 5,365 (20.43 per cent).
Maharashtra showed a similar trend. Its 5,999 Muslim prisoners made 36.52 per cent of the under trial population and only 28.68 per cent of the convict population.
The Rajinder Sachar Committee report of 2006 had, in fact, pointed out that the representation of Muslims in jails was significantly higher than their share in population.
It was most disproportionate in Gujarat, Maharashtra and Kerala, the report first published in The Indian Express on October 29, 2006, said.
Full report at:
http://www.indianexpress.com/news/many-muslims-arrested-not-many-convicted-govt-data/1178073/
----------
BJP's Hindu-Muslim politics hurting national security: Rahul Gandhi
Oct 04 2013
Ahmedabad: Congress vice-president Rahul Gandhi on Thursday attacked the BJP for what he said was politics that banked on the Hindu-Muslim divide. He said that the main opposition party was trying to create a rift in the country through such politics, and only Pakistan would benefit from this.
Rahul, who began a two-day visit to the state, also said he felt the Muslim in India was not radicalised and wanted to be a part of the country. He said he got letters from Muslims saying, "Main is Desh ka Nagrik nahin hoon kya?" (Am I not a citizen of this country?).
While a large majority of Muslims shared this sentiment, Rahul said "the politics of the BJP is giving a hand, a handle to our enemies".
Full report at:
http://www.indianexpress.com/news/rahul-in-gujarat-bjp-s-hindumuslim-politics-hurting-national-security-helping-pakistan/1178191/
----------
INDIA: Remembering Ayodhya that was not the fountainhead of sectarian strife in the subcontinent
September 4, 2013
Ayodhya was in news, for all the wrong reasons, again. Vishva Hindu Parishad, that venomous organization with equal hatred for the minorities and the nation, had tried to infiltrate into Ayodhya yet again. They were stopped by the state government. It was a game well played. A communal organization has attempted to gain some of the lost grounds by undertaking a Parikrama that is not allowed in these inauspicious times of Chaumasa (the rainy season, to sit down and reflect) as per the Hindu calendar. In stopping the yatra, the state government, on its part, had pulled out the cosmetic move well that it badly needed to hide its rabidly communal character evident by its handling of riots against the minorities. They had played it at the cost of Ayodhya and all that it had stood for centuries.
Full report at:
http://www.humanrights.asia/news/ahrc-news/AHRC-ART-104-2013
----------
Army foils infiltration bid in J&K's Keran sector, 2 terrorists killed
TNN | Oct 4, 2013
SRINAGAR: Two militants were killed by the Indian Army in Kupwara district of Kashmir on Friday morning, where the Army foiled an infiltration bid.
Two intruding militants were killed in the Keran sector at the Line of Control (LoC), when alert troops of the Army spotted a group of infiltrating guerrillas and challenged them, a defence spokesman said.
Full report at:
http://timesofindia.indiatimes.com/india/Two-militants-killed-in-Kashmir/articleshow/23501852.cms
----------
President talks tough, says state-sponsored terrorism cannot be accepted
PTI | Oct 4, 2013
BRUSSELS: India wants peace with Pakistan but there can be no compromise with its own territorial integrity, President Pranab Mukherjee has said while asserting that state-sponsored terrorism from across the border cannot be accepted.
He also dismissed Pakistan's contention that "non-state actors" were behind the terror acts in India, saying they are not coming from heaven, but from territory under the control of the neighbouring country.
Full report at:
http://timesofindia.indiatimes.com/india/President-Pranab-Mukherjee-talks-tough-says-state-sponsored-terrorism-cannot-be-accepted/articleshow/23512762.cms
--------
Kerala: Three get double life imprisonment for recruiting youngsters for terror camps
Oct 04 2013
Kochi : Three accused in a case relating to recruitment of Keralite youths for terror camps in Kashmir were on Friday sentenced to double life imprisonment by a special NIA court here for waging war against India in 2006.
The remaining 10 accused were sentenced to life and a fine of Rs 50,000 each. This is the second verdict in a terror case probed by National Investigation Agency in Kerala.
Accused Abdul Jabbar, who managed to escape in an encounter with Indian army and was later arrested from Ernakulam district, Sarfuraz Nawaz, who had raised funds for terrorist act by sending money from abroad and Sabir P Buhari, who had received funds of terrorism, have been sentenced to consecutive life imprisonment for offences under sections of 121 (waging, or attempting to wage war and 121A (conspiracy to commit offences)of IPC and sect 16 and sect 18 of Unlawful Activities Prevention Act (UAPA).
Full report at:
http://www.indianexpress.com/news/kerala-three-get-double-life-imprisonment-for-recruiting-youngsters-for-terror-camps/1178414/
--------
Samba terrorists had planned to storm Army Public School, take children hostage
Oct 04 2013
Chandigarh : The three terrorists behind the twin attacks in Jammu on September 26 also had plans to storm the Army Public School on the Jammu-Pathankot National Highway and, possibly, take schoolchildren hostage.
Police sources said that the terrorists asked Aarif, the driver of the truck they seized at the Hiranagar police station — where they killed four police personnel — to drive them, at gunpoint, to Army Public School in Kathua.
Full report at:
http://www.indianexpress.com/news/samba-terrorists-had-planned-to-storm-army-public-school-take-children-hostage/1178179/?india_top
--------
Arab World
Syria's Assad says too early to say if he'll run for president again
4 October 2013
Syrian President Bashar al-Assad said it is still too early for him to decide on whether he will run for the country's upcoming presidential elections next year.
Speaking during an interview with Turkish media, Assad said: "the picture will be clearer" in the next four to five months because Syria is going though "rapid" changes on the ground.
Assad told Halk TV that if he feels Syrians do not want him, he "will not run."
The Syrian opposition wants him to step down and hand over power to a transitional government, with full powers until new elections are held.
Full report at:
http://english.alarabiya.net/en/News/middle-east/2013/10/04/Syria-s-Assad-says-it-s-early-to-say-if-he-ll-run-again-.html
----------
Egypt to take over banned Muslim Brotherhood assets
October 04, 2013
Egypt's government is moving to seize the assets of the Muslim Brotherhood after the group's activities were banned amid a crackdown by authorities.
It says it will also ban or take over the extensive social services the group provides - including hospitals, schools and charities.
The ban came in a recent court ruling but has only now been confirmed following a hiatus for appeals.
"By the law, by the last sentence, they are now banned," an official said.
Hani Mahanna, spokesman for the minister of social solidarity - the ministry responsible for administering the ban - said the cabinet had formed a committee to investigate the Brotherhood's sources of funds and take over its assets.
Full report at:
http://www.bbc.co.uk/news/world-middle-east-24391796
----------
Suicide bomber kills three Iraqi soldiers
October 04, 2013
A suicide bomber detonated an explosives-rigged vehicle at an Iraqi army checkpoint west of Baghdad on Friday, killing three soldiers, an officer and a doctor said.
The bomber attacked the checkpoint at the entrance to the town of Heet in Anbar province at about 7:30 am (0430 GMT), also wounding five soldiers.
Militants frequently carry out attacks against security forces members and other government employees.
Full report at:
http://english.ahram.org.eg/NewsContent/2/8/83161/World/Region/Suicide-bomber-kills-three-Iraqi-soldiers.aspx
--------
Iraq officials say bombing at soccer field kills 5
The Associated Press, Baghdad
October 04, 2013
Iraqi officials say a bomb has exploded near a soccer field while teenagers were playing south of Baghdad, killing at least five people.
Police say the blast struck Thursday evening in the town of Madain, about 25 kilometers southeast of the Iraqi capital. They say at least 13 people were wounded in the attack.
Hospital officials confirmed the casualty figures. The officials spoke on condition of anonymity because they weren't authorized the release the information to journalists.
Violence has surged in Iraq, with the country weathering its deadliest bout of violence since it was pulling back from the brink of civil war in 2008. Soccer fields and other areas that are hard to protect have been increasingly targeted in recent months.
http://english.alarabiya.net/en/News/middle-east/2013/10/03/Iraq-officials-say-bombing-at-soccer-field-kills-5.html
----------
Attack on army convoy kills two soldiers in Egypt
2013-10-04
CAIRO: An Egyptian security official says gunmen have attacked an army convoy east of Cairo, killing two soldiers.
The official says attackers opened fire at the convoy of mostly military trucks towing tanks and other armored vehicles on Friday morning on the road between the Suez Canal city of Ismailia and Cairo.
Full report at:
http://www.dawn.com/news/1047417/attack-on-army-convoy-kills-two-soldiers-in-egypt
----------
HRW: Thousands who protested peacefully languish in Syrian jails
By REUTERS
October 04, 2013
AMMAN - Tens of thousands of people who peacefully demonstrated against President Bashar Assad are languishing in Syrian jails and are subjected to an apparent policy of torture, according to New York-based Human Rights Watch.
Citing testimony from former prisoners, HRW said in a report that detainees have been raped and abused, including with electric shocks to the genitals, and beaten with batons, cables, metal rods, and wires.
The report said rebel forces now fighting to overthrow Assad have also committed abuses by detaining journalists, humanitarian workers and civilian activists, and that they had executed some prisoners.
Full report at:
http://www.jpost.com/Middle-East/HRW-Thousands-who-protested-peacefully-languish-in-Syrian-jails-327864
----------
Saudi 'naked' dancers jailed for 10 years
AFP
2013-10-03
RIYADH: A Saudi court has sentenced four men to up to 10 years in prison and 2,000 lashes for dancing "naked" in public, media reported on Thursday.
In a video posted on YouTube, several men appear dancing atop a vehicle in the ultra-conservative province of Qassim. None seemed naked.
The court in Buraydah, Qassim's provincial capital, sentenced one defendant to 10 years in prison and 2,000 lashes, and another to seven years in prison and 1,200 lashes, Al-Sharq newspaper reported in what media have dubbed the "naked dancing" case.
Their two companions were jailed for three years and sentenced to 500 lashes each, it said.
The four were charged with "dancing on a vehicle in public and posting a video online, encouraging vice, defying norms of the society and violating public morals," according to Al-Sharq.
Full report at:
http://www.dawn.com/news/1047205/saudi-naked-dancers-jailed-for-10-years
----------
Diverse facets of Mahatma Gandhi in Cairo's Maulana Azad Centre
October 04, 2013
Born on 2 October 1869, Mohandas Karamchand Gandhi, commonly known as Mahatma Gandhi, was one of the world's most renowned teachers, whose social, political and spiritual philosophy inspired people across the globe. Heavily influenced by Gandhi's work, civil rights activist Martin Luther King Jr. argued that his preaching represents "the only morally and practically sound method open to oppressed people in their struggle for freedom."
Committed to non-violence (ahimsa) and promoting a simple life, Gandhi became a symbol of peace and truth not only in his native India but also internationally.
"Nonviolence is the first article of my faith. It is also the last article of my creed," were Gandhi's opening words of a speech he gave during his trial on 1922, when he was sued for sedition by a British Raj.
Full report at:
http://english.ahram.org.eg/NewsContent/5/25/83157/Arts--Culture/Visual-Art/Diverse-facets-of-Mahatma-Gandhi-in-Cairos-Maulana.aspx
----------
South Asia
Mirror's Taliban scoop is a remarkable glimpse into the mind of the enemy
October 04, 2013
I have nothing but admiration for the courage of the Mirror's Chris Hughes and Andrew Stenning.
They went to meet Qari Nasrullah only too aware of the brutal beheading of American journalist Daniel Pearl in Pakistan in 2002 at the hands of Nasrullah's brother in jihad, the 9/11 planner Khalid Shaykh Muhammad.
Their huge risk was rewarded with a remarkable and significant interview.
As a former military intelligence officer I know the enormous value of every glimpse into the mind of the enemy.
Full report at:
http://www.mirror.co.uk/news/world-news/qari-nasrullah-taliban-interview-remarkable-2336834#ixzz2gkZo8rcz
----------
100 Uyghurs Rounded Up in Police Hunt in Yunnan
4 October 2013
Authorities have rounded up some 100 ethnic minority Uyghurs in China's southwestern province of Yunnan in recent weeks amid a hunt for suspects fleeing to the Lao border following a deadly clash, according to local sources and police.
The arrests came after authorities in the restive northwestern Xinjiang region—home to most of China's 10 million mostly Muslim, Turkic-speaking Uyghurs—dispatched police hundreds of miles south to Yunnan to pursue seven wanted men from Xinjiang's violence-hit Hanerik township.
Full report at:
http://www.rfa.org/english/news/uyghur/yunnan-10032013183810.html
--------
Mentor of 9/11 kingpin joins president race in Afghanistan
Agencies | Oct 4, 2013
KABUL: A former Islamist warlord who is said to be responsible for bringing al-Qaida to Afghanistan and who trained the mastermind behind the 9/11 attacks, announced he was running for president on Thursday, a move likely to be greeted with apprehension by the international community.
A conservative Islamic scholar, Abdul Rasul Sayyaf ran paramilitary training camps in Afghanistan and Pakistan in the 1980s and 1990s, and it was there he meet al-Qaida leader Osama bin Laden . In 1996, Sayyaf helped Laden return to Afghanistan after he was ejected from Sudan . Laden stayed in the country under the protection of the Taliban until the Americanled invasion of late 2001.
Full report at:
http://timesofindia.indiatimes.com/world/south-asia/Mentor-of-9/11-kingpin-joins-president-race-in-Afghanistan/articleshow/23490660.cms
----------
Waheed and Nasheed hold first meeting since power transfer
By Daniel Bosley | October 3rd, 2013
Former President Mohamed Nasheed met with his successor Dr Mohamed Waheed Hassan yesterday evening for the first time since the former's controversial resignation in February last year.
Meeting at the president's official residence – Muleeage – at 9pm, the encounter lasted around fifteen minutes before Nasheed left without speaking to the press.
A subsequent Maldivian Democratic Party (MDP) statement said that the discussion had included Nasheed's concern at the delayed run-off election following the Supreme Court rulings ordering the cessation of preparations – by force if necessary.
The court is reported to be working around the clock to reach a conclusion in the Jumhooree Party's (JP) case, which has requested an annulment due to what it allegs were systemic failings during the first poll.
Full report at:
http://minivannews.com/politics/waheed-and-nasheed-hold-first-meeting-since-power-transfer-67631
----------
Pass blasphemy law: Shafi
Oct 04 2013
Ahmed Shafi also demanded fulfilling their "pro-Islamic" 13-point demands
Radical Islamist group Hefazat-e-Islam on Thursday said the government still had time to amend the constitution to enact an anti-blasphemy law to hand down death penalty for atheists.
Ameer of the organisation Shah Ahmed Shafi also demanded fulfilling their "pro-Islamic" 13-point demands, including the restoration of "Absolute Trust and Faith in Almighty Allah" in the constitution "to ease the grievances of touhidi janata [religious Muslims]."
He made the remarks after holding a meeting with a Hefazat delegation from Chhagalnaiya of Feni, according to a media statement signed by Shafi's Press Secretary Maulana Munir Ahmed.
Shafi also claimed that they were not against women, but wanted "to preserve their dignity and rights."
Full report at:
http://www.dhakatribune.com/bangladesh/2013/oct/04/pass-blasphemy-law-shafi
----------
Pro-BNP lawyers trying to save BDR rebels: PM
Oct 04 2013
Prime Minister Sheikh Hasina yesterday alleged that the pro-BNP and Jamaat lawyers are trying to save the rebels of the 2009 BDR (now Border Guard Bangladesh) mutiny.
"You [people] inquire of the lawyers of the mutineers. All are people from the Jamaat and BNP. They try to save the killers and hinder the trial process," she told a meeting with the grassroots leaders of Awami League at Gono Bhaban.
Seventy-four people, including 57 army officials, were killed in the February 25-26 mutiny. Hasina claimed that 33 of the slain army officers were from pro-AL families.
The government has completed the trial of 1,800 mutineers, while the trial of 850 more was nearing the end for their alleged involvement in killings, looting, vandalism and arson, noted the premier, also the AL chief.
Full report at:
http://www.thedailystar.net/beta2/news/pro-bnp-lawyers-trying-to-save-bdr-rebels-pm/
----------
Latest Myanmar Violence Blamed on Religious and Ethnic Extremists
October 04, 2013
Thandwe, Myanmar. The Buddhist mob mutilated and burned Khin Naing so severely his son couldn't recognise the body, one of series of attacks that suggest a resurgence of a monk-led movement in Myanmar accused of stoking violence against Muslims.
Flies were buzzing around the bloodied patch of earth outside a ransacked mosque in Tha Phyu Chai village where police removed Khin Naing's body after he was hacked to death by ethnic Rakhine Buddhists.
"He couldn't run fast enough from the Rakhine people," said his son, Tun Tun Naing, 17, who emerged from hiding to identify his father's corpse from what remained of his charred clothing.
Full report at:
http://www.thejakartaglobe.com/international/latest-myanmar-violence-blamed-on-religious-and-ethnic-extremists/
----------
Southeast Asia
Rape Case Highlights Growing Child Abuse Epidemic in Indonesia
October 04, 2013
Amid a concerning trend of sexual violence across the archipelago, police in Samarinda, East Kalimantan, on Thursday confirmed the arrest of two men for the rape of a 14-year-old girl.
The perpetrators, the victim's 40-year-old stepfather and her boyfriend, are currently being held at Samarinda police office were they are undergoing investigation.
"We are also questioning the victim," Detective unit chief at Samarinda police, Comr. Feby DP. Hutagalung told the Jakarta Globe on Thursday.
The victim's relative, Lasmiani, said the 14-year-old girl was reported missing by her mother to the local police office on Monday after she did not return home, having left the house last Saturday.
Full report at:
http://www.thejakartaglobe.com/news/rape-case-highlights-growing-child-abuse-epidemic-in-indonesia/
---------
Ignoring popular will, Barisan returns to old ground with preventive laws
October 04, 2013
What is it about the Malaysian government that makes it so dependent on detention without trial? Prime Minister Datuk Seri Najib Razak, eager to boost his credentials as a reformist, made a promise on the eve of Malaysia Day in 2011 to get rid of preventive laws, which are basically an oxymoron: how can a law that cannot be challenged in court be called a law?
Then, for a brief moment in Malaysia's history, the thing the sceptics never thought could happen, indeed happened.
Full report at:
http://www.themalaysianinsider.com/malaysia/article/ignoring-popular-will-barisan-returns-to-old-ground-with-preventive-laws
----------
Africa
Controversial preacher, Sheikh Ibrahim Ismail shot dead in Kenya
October 04, 2013
Gunmen in Kenya have killed four people, including a Muslim cleric linked to a radical mosque in the port city of Mombasa in a drive-by shooting, police said.
The attack took place late on Thursday.
Sheikh Ibrahim Ismail preached at Mombasa's Masjid Musa mosque, which attracts some radical followers. He was viewed as the successor to Aboud Rogo Mohammed, a controversial preacher accused of links to Somalia's Shabab fighters, who was himself assassinated in a drive-by shooting in August 2012.
Full report at:
http://www.aljazeera.com/news/africa/2013/10/controversial-preacher-shot-dead-kenya-201310452621979473.html
----------
Tunisian Nizar Trabelsi extradited to US on terror charges
October 04, 2013
A Tunisian man jailed in Belgium in 2003 for planning to attack a Nato air base has been extradited to the US to face further charges.
Nizar Trabelsi faces several charges linked to the same plot including conspiring to kill Americans abroad, a US indictment shows.
Trabelsi, who used to play professional football in Germany, pleaded not guilty at a court in Washington DC.
The indictment says Trabelsi met al-Qaeda leader Osama Bin Laden in 2001.
Trabelsi, now 43, was arrested in Belgium two days after the 11 September 2001 attacks on the US.
Full report at:
http://www.bbc.co.uk/news/world-us-canada-24393770
----------
'Armed bandits' kill Niger soldier, wound three others in Nigeria: Official
AFP | Oct 4, 2013
NIAMEY, Niger: "Armed bandits" have killed a Niger soldier and seriously wounded three others in Nigeria's volatile north-east, a high-ranking Niger security official told AFP Thursday, in new violence to hit an area considered as the homebase of Islamist sect Boko Haram.
"A soldier from Niger was killed yesterday (Wednesday) around 7pm (1800 GMT) and three others were wounded in an attack by eight armed bandits on Nigerian territory," the official said on condition of anonymity.
Full report at:
http://timesofindia.indiatimes.com/world/rest-of-world/Armed-bandits-kill-Niger-soldier-wound-three-others-in-Nigeria-Official/articleshow/23484834.cms
---------
Mideast
Chinese missiles to be NATO operable: Turkey
October 04, 2013
A controversial air and missile defense system Turkey intends to buy from a Chinese manufacturer will be automatically integrated with NATO assets stationed in Turkey, the country's top defense procurement official has revealed in an effort to allay concerns about the recent purchase.
Murad Bayar, head of the Undersecretariat for Defense Procurement, told the Hürriyet Daily News that full integration with NATO assets was an explicit condition in the contract for the planned air defense system.
"As part of this program, a Turkish defense company will be tasked with integrating the air defense system into a network operated by the Turkish Air Force. That integration will mean integration with NATO assets, too, since the Turkish system is fully integrated with the NATO system," Bayar said.
Full report at:
http://www.hurriyetdailynews.com/chinese-missiles-to-be-nato-operable-turkey.aspx?pageID=238&nID=55574&NewsCatID=483
----------
Ruling AKP to name headscarved candidate in upcoming local elections: PM Erdoğan
October 04, 2013
The ruling Justice and Development Party (AKP) will likely name a headscarved female candidate in the March 2014 local elections, Prime Minister Recep Tayyip Erdoğan said after announcing a democratization package earlier this week that lifted a headscarf ban for women in public office.
"Yes, we will have a candidate wearing a headscarf. I cannot say how many and where, but a headscarved woman will [run for the AKP]," Erdoğan said during a live interview on private broadcaster A Haber late on Oct. 3.
Full report at:
http://www.hurriyetdailynews.com/ruling-akp-to-name-headscarved-candidate-in-upcoming-local-elections-pm-erdogan.aspx?pageID=238&nID=55666&NewsCatID=338
----------
Israel calls on Council of Europe to rescind anti-circumcision resolution
October 04, 2013
Israel on Friday called on the Parliamentary Assembly of the Council of Europe to annul a resolution it passed on Tuesday against circumcision, calling it a "moral stain" on the Council.
"Circumcision of male children is an ancient religious tradition of two important religions, Judaism and Islam, and it is also common among some Christian circles," the Foreign Ministry staid in a statement. "Any comparison of this tradition to the reprehensible and barbaric practice of female genital mutilation is either appalling ignorance, at best, or defamation and anti-religious hatred, at worst."
Full report at:
http://www.jpost.com/International/Israel-calls-on-European-council-to-rescind-anti-circumcision-resolution-327871
----------
Israel to run for UN security council seat for 2019-20
Reuters | Oct 4, 2013
NEW YORK: Israel said on Thursday it plans to run for a rotating seat on the UN security council for the time ever for 2019-2020, although UN diplomats said it will not be easy for the Jewish state to win.
"We're going all out to win," Israel's UN ambassador Ron Prosor told Reuters. "It's about time."
Winning a Security Council seat requires a two-thirds majority in the 193-nation General Assembly. Candidates are proposed by the five regional groups but election to the council is done by the full assembly.
Prosor said Israel will be vying against Germany and Belgium for two seats allotted to the "Western European and Others Group." Technically Israel should be a member of the Asia-Pacific Group along with the other states in the Middle East. But predominantly Muslim states blocked its admission to that group.
Full report at:
http://timesofindia.indiatimes.com/world/middle-east/Israel-to-run-for-UN-security-council-seat-for-2019-20/articleshow/23493229.cms
----------
Iran, Only Country Where Islamic Sharia Is Fully Implemented
Oct 04 2013
(Ahlul Bayt News Agency) - Speaking in a meeting with Iran's cultural attaché in Albania, Salim Moucha said he respects representatives of all Muslim countries but likes Iranians even more because the Islamic Republic fo Iran is the only country where Islamic Sharia is officially implemented, the public relations office of the Islamic Culture and Relatiosn Organization said.
Full report at:
http://abna.ir/data.asp?lang=3&id=468946
--------
North America
Won't oppose release of ill Guantanamo prisoner, US says
AP | Oct 4, 2013,
MIAMI: The US government has dropped its opposition to releasing a Guantanamo Bay prisoner with severe mental and physical illnesses, apparently conceding the argument that he is far too sick to keep locked up at the US base in Cuba.
In court papers filed late Wednesday, lawyers for the justice department said the government would not object to a judge issuing a release order for Ibrahim Idris. The native of Sudan has been held for more than 11 years as an enemy combatant despite being diagnosed as mentally ill soon after his arrival at Guantanamo.
The court filing was couched in careful language that avoided saying why the government would no longer resist legal efforts to release Idris. It also stressed that the US was not acknowledging it lacks the authority or evidence to hold him.
Full report at:
http://timesofindia.indiatimes.com/world/us/Wont-oppose-release-of-ill-Guantanamo-prisoner-US-says/articleshow/23485222.cms
----------
US administration urges Congress against new Iran sanctions
AFP | Oct 4, 2013
WASHINGTON: President Barack Obama's administration urged lawmakers on Thursday not to impose new sanctions on Iran as it seeks to respond to overtures from new leader Hassan Rouhani.
"We have been clear that only concrete and verifiable steps can offer a path to sanctions relief," Wendy Sherman, undersecretary of state for political affairs, told lawmakers.
"Let me assure you that we will continue to vigorously enforce the sanctions that are in place as we explore a negotiated resolution, and will be especially focused on sanctions evasion and efforts by the Iranians to relieve the pressure."
Full report at:
http://timesofindia.indiatimes.com/world/us/US-administration-urges-Congress-against-new-Iran-sanctions/articleshow/23478717.cms
----------
CAIR-NJ Asks Century Savings Bank to Review Hijab Ban
Oct 04 2013
SOUTH PLAINFIELD, N.J., Oct. 3, 2013 /PRNewswire-USNewswire/ -- The New Jersey chapter for the Council on American-Islamic Relations (CAIR-NJ) today called on Century Savings Bank to review its "inappropriate and discriminatory" policy that would treat customers wearing religious head coverings differently than other patrons.
Century Savings Bank has implemented a policy that requires all customers to remove "hats, hoods, headgear, and sunglasses" for security purposes.
A bank poster has an image of a woman wearing hijab, along with images of a woman in sunglasses, a man in a hard-hat, and a man in a cap.
Full report at:
http://www.reuters.com/article/2013/10/03/cair-nj-bank-hijab-idUSnPNDC91951+1e0+PRN20131003
----------
Slight Decline in Islamophobia in America: CAIR Report
4 October 2013
In a recent report analyzing Islamophobia in America, the Council on American Islamic Relations said there has been a decline in Islamophobia in America since 2010, which is a "cause for optimism."
The report released on Thursday examines the state of Islamophobia and its impact in the U.S. between 2011 and 2012. The report identifies influential organizations and individuals that have promoted anti-Islam prejudice in America calling out popular media networks and lawmakers.
Full report at:
http://www.illumemagazine.com/zine/articleDetail.php?Slight-Decline-in-Islamophobia-in-America-CAIR-Report-14454
----------
Mohammad Ali honours humanitarian award winners
4 October 2013
The Associated Press, Louisville
Mohammad Ali was back home Thursday night to honor an ex-president, Grammy winners and young adults for their roles in fighting for humanitarian causes.
The former heavyweight boxing champion was surrounded by family and friends for the awards presentation that turned into a main event in Louisville. Recipients of the inaugural Mohammad Ali Humanitarian Awards included former President Jimmy Carter and singers Christina Aguilera and Michael Bolton.
Full report at:
http://english.alarabiya.net/en/life-style/entertainment/2013/10/04/Muhammad-Ali-honors-humanitarian-award-winners.html
----------
URL: https://newageislam.com/islamic-world-news/trafficking-organs-dead-christians-pakistan/d/13835