New Age Islam News Bureau
17 Feb 2018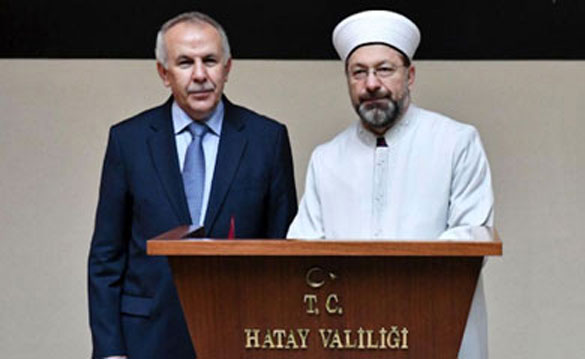 The head of Directorate of Religious Affairs, Diyanet, Professor of Islamic Studies Ali Erbas (right) with the Ankara-appointed governor of the Hatay Province, Feb. 16, 2018. (Photo: Diyanet)
----
• Top Turkish Mufti Issued A Sermon On The Necessity And In Praise Of Jihad To Over 90 Thousand Mosques
• Hassan Rouhani Visits Hyderabad Mosque, Calls For Unity among Muslims
• Pakistan Plans to Reform Nation's Religious Seminaries
• China's Hui Muslims Fearful of Religious Education Ban
• 'Harassed, Detained, Prosecuted': Western Anti-Daesh Fighters Feel Betrayed
Mideast
• Top Turkish Mufti Issued A Sermon On The Necessity And In Praise Of Jihad To Over 90 Thousand Mosques
• Takfiri Groups Creation of West to Divide Muslims: Rouhani in India
• Turkey, US to 'work together' in Syria after crisis
• British PM May: Ready for further action against Iran
• Arab Coalition forces destroy weapons depot for Houthis in Hajjah
• Iran, Iraq, Syria will not let US sway in Kurdish areas: Velayati
• Israeli forces injure 40 Palestinians on massacre anniversary
• Turkey sentences six journalists to life in jail over links to coup
---------
India
• Hassan Rouhani Visits Hyderabad Mosque, Calls For Unity among Muslims
• Pak Accuses India of Not Reciprocating To Its Commitment to Peace
• Army denies Pakistan claim of killing 5 Indian soldiers
• AIMPLB spokesman Maulana Khalilur Rahman Sajjad Nomani clarifies remarks on RSS
---------
Pakistan
• Pakistan Plans to Reform Nation's Religious Seminaries
• US Underlines Pakistan's 'Deficiencies' In Countering Terrorism
• Survey about JuD activities to be conducted
• PTI MNAs object to misrepresentation of Pashtuns in anti-terror drill
• Former ISI Official Says US Imposed War on Terror on Pakistan
• Iranian leadership for unbreakable ties with Pakistan
• Senate wants to know why Pakistan is sending troops to Saudi Arabia
• USA should accept Taliban's talks offer: JI chief
---------
Southeast Asia
• China's Hui Muslims Fearful of Religious Education Ban
• Report: Foreign Terrorists Acquiring Malaysian IDs For As Little As RM350
• Zaid: Time for a different Islamic government to rule Kelantan
• Muhammadiyah supports progressive Islam: Chairman
• Report: Indonesia mulls ban on maids to Malaysia after latest death
---------
Arab World
• 'Harassed, Detained, Prosecuted': Western Anti-Daesh Fighters Feel Betrayed
• Battle to Free Mosul of IS 'Intellectual Terrorism'
• Pakistan army contingent to join training, advisory mission in Saudi Arabia
• Mass grave of 34 Daesh victims discovered in northern Syria
• King Salman expresses support for El-Sisi's fight against terror
• Qatari emir: Saudi-led blockade 'futile', unity needed in Middle East
• Syrian Army Uncovers Large Network of ISIL's Tunnels in Deir Ezzur
• Syrian Army Refuses YPG Proposal to Enter Afrin
• Syria's downing of Israeli warplane 'very big' achievement, Hezbollah chief says
• Syrian Army to Deploy in Kurdish-Held Afrin
---------
Africa
• NDLEA Seizes N20m Worth of Tramadol Belonging to Boko Haram Terrorists
• 15 Feared Dead As Boko Haram Bombs Borno Market
• Al-Shabaab Commander Surrenders to Somali Authorities
• Tunisia probes Qatar involvement in dubious funding in North Africa
• Turkey opposes foreign intervention in Libya
• 3 teachers killed in extremist attack in northeastern Kenya
---------
South Asia
• Drone Strike Target ISIS Hideout in East of Afghanistan
• Local Taliban leader among 6 killed in US airstrike in Uruzgan
• Bangladesh hands over list of Rohingya repatriation to Myanmar
• Court received 1.17 million war crimes claims from Afghans
---------
North America
• Canada Sanctions Target Myanmar General
• New York bomber Ahmad Khan Rahimi sentenced to life in prison
---------
Europe
• France Insists French Jihadists Should Face Justice Wherever They Are
• French forces kill, capture Jihadist leaders in Mali
• Turkish community in Germany to sue far-right lawmaker over abusive remarks
Compiled by New Age Islam News Bureau
URL: https://www.newageislam.com/islamic-world-news/top-turkish-mufti-issued-sermon/d/114319
---------
Top Turkish Mufti Issued A Sermon On The Necessity And In Praise Of Jihad To Over 90 Thousand Mosques
Feb 17, 2018
ERBIL, Kurdistan Region (Kurdistan 24) - Turkey's top official Islamic body on Friday issued a sermon on the necessity and in praise of Jihad or holy war to over 90 thousand mosques it operates across the country as a Turkish military campaign against US-backed Syrian Kurdish forces continued in its fourth week.
The head of Directorate of Religious Affairs, Diyanet, Professor of Islamic Studies Ali Erbas visited the southern Hatay province, a highly militarized region from where the army stages its attempted invasion of the besieged enclave of Afrin in Syrian Kurdistan.
Acting as the county's grand mufti, he read out the jihad sermon at Hatay's Habib the Carpenter Mosque, symbolic for being the oldest within modern Turkey's borders, originally an ancient Roman temple converted to a mosque after the conquest of Antioch by the early Muslim armies in the seventh century.
"We, as a nation, today are in the midst of an existential struggle. Our Little Mehmet is demonstrating to the whole world how we can sacrifice our very own existence for our faith, flag, and homeland," Erbas said, a part of whose sermon was available on the website of the Diyanet.
Little Mehmet is an affectionate term for Turkish conscripts, some of whom currently engaged along with Free Syrian Army (FSA) factions in the offensive on Afrin.
"The highest level of Jihad is the armed struggle," the head of Diyanet proclaimed, describing it as a means of spreading Islam and destroying oppression from the face of the earth.
Erbas sat down with the Ankara-appointed governor and met with military officials.
The sermon did not mention Afrin but gave the Turkish military operations the army is conducting as a form of jihad.
Although Turkey is a constitutionally secular state, the taxpayer-funded Diyanet serves only the country's Sunni Muslim-majority population, despite objections from religious minorities and the irreligious.
A Kurdistan 24 correspondent in Afrin said Turkish airstrikes, shelling, and attacks by Ankara's Islamist proxies have killed up to 180 civilians, wounded 350 and displaced over 60,000 people.
The Turkish army has put the number of its soldiers killed at 31, with 143 others wounded.
"A believer succeeding in the jihad against his unrefined ego could be victorious in the face of enemies of Islam," the sermon also televised by the state TV's channel for Diyanet said.
"Jihad was not taking up arms and killing the innocent just for the sake of it," another part of the sermon argued, saying suicide attacks, violence and other atrocities committed in the name of Islam were 'falsely attributed' to Muslims.
"What networks of murder do have nothing to do Islam's understanding of jihad," dismissing interpretations by nonstate Islamist actors such as the Islamic State (IS) group, al-Qaeda, Boko Haram or Taliban without naming them.
President Recep Tayyip Erdogan himself has long claimed that those groups "had nothing to do with Islam," and expressed strong discontent with calling the Islamic State group the way it brands itself.
Foreign Minister Mevlut Cavusoglu last month presented Erdogan as an antidote to the ideology of the IS, explaining that the Islamic Ummah (a religious concept supranational community) was heeding what the Turkish President had to say.
The government is increasingly employing a religious rhetoric with the portrayal of the war on Afrin as an Islamic as well as national one with some of its media presenting the US-armed People's Protection Units (YPG) fighting off the Turkish army as a horde of disbelievers.
Foreign Minister last week described the nature of the partnership between Washington and YPG that formed during the fight on the IS, as one of "Marxist, communist atheists."
It was the Parliament's Speaker, a self-declared anti-secularist figure with a 2016 promise that secularism would be abolished from the Constitution, Ismail Kahraman who first used the term "Jihad" for the war on Afrin.
Clerics at mosques meanwhile continue to be under an order by Diyanet to read aloud the 48th chapter of the Quran, Surah al-Fath (the chapter of Conquest) every night until Ankara's "Operation Olive Branch" is completed.
http://www.kurdistan24.net/en/news/01274f26-9a5a-4479-8989-0967194d82ad
---------
Hassan Rouhani Visits Hyderabad Mosque, Calls For Unity Among Muslims
February 16, 2018
HYDERABAD: With a call for unity among Muslims across the world and the announcement of his readiness to simplify visa procedure for Indians, Iranian President Hassan Rouhani on Friday wound up the first leg of his India visit.
In a rare gesture, Iranian President Hassan Rouhani, who is a senior Shia cleric too, visited the historic Mecca Masjid, a Sunni mosque, to offer Friday prayers and called for unity among Muslims across the world.
Addressing the congregation after the prayers, he said unity among Shias, Sunnis and other Islamic denominations was only solution to the problems faced by the Muslim world.
Hassan Rouhani urged Muslims to treat all human beings with love and affection in the true spirit of Islam.
On the second day of his three-day visit to India, he joined common worshippers in offering prayers at the 17th century mosque, noting that Friday prayers symbolise the unity among Muslims as they come together to pray.
"If Islam is presented before the world in true sense, then the whole world will love this religion," he said.
He underlined the need for tolerance and for recognising all Islamic denominations and respecting them. "They all can be compared to streams which come from a single spring and all these streams eventually into one ocean," he said.
Alleging that enemies of Islam were creating rift among Muslims, he said the message of Iran was peace and unity.
His visit to the mosque and call for unity is significant as Tehran is locked in a bitter proxy conflict with Saudi Arabia and its allies in Iraq, Syria and Yemen.
The Iranian leader said the massacres in schools and university campuses in the US show that materialistic civilization is no guarantee for human welfare and development.
He condemned the travel ban imposed by the US on some Islamic countries by branding Muslims as terrorists. He said Islam is based on kindness and affection.
He quoted the Quran to say that the light of Allah can never be extinguished. "Despite all hostilities towards Islam the future belongs to Islam and future belongs to Asia," he added.
President Rouhani announced that Tehran is ready to simplify visa procedures and hoped India will reciprocate to facilitate easy movement of people between the two countries.
Stating that India and Iran share many commonalities, he called for further strengthening bilateral ties.
He said Iran with its rich resources of oil and gas was ready to help India to meet its requirements.
He announced that Iran was ready to allow India access to the Chabahar Port to facilitate transit to Afghanistan, Central Asia and Europe.
President Rouhani said Iran and India can cooperate in areas like industry, agriculture and advanced technology and take steps to contribute to the interests of both the countries and the region.
Earlier, the Iranian delegation led by the President visited Qutub Shahi tombs in Hyderabad. They went around the Qutub Shahi tombs complex, housing mausoleums of rulers of the Qutub Shahi Dynasty (1518-1687) who had Iranian lineage.
The Iran President had addressed Muslim leaders and religious scholars after landing in Hyderabad on Thursday on a three-day visit to India at the invitation of Prime Minister Narendra Modi.
He addressed a meeting of Iranians settled in Hyderabad on Friday evening before leaving for New Delhi.
Andhra Pradesh and Telangana Governor ESL Narasimhan, Telangana Deputy Chief Minister Mohammad Mahmood Ali and senior officials saw him off at Begumpet Airport in the city.
In Delhi, Hassan Rouhani will hold bilateral talks with PM Modi on Saturday. He will also call on President Ram Nath Kovind.
https://www.ndtv.com/india-news/hassan-rouhani-visits-hyderabad-mosque-mecca-masjid-calls-for-unity-among-muslims-1813694
---------
Pakistan Plans to Reform Nation's Religious Seminaries
February 16, 2018
In an effort to control militancy and the alleged abuse of madrasas (religious seminaries) by some militant groups operating in the country, Pakistan's government recently announced plans to bring all madrasas under the formal education structure of the country.
Ahsan Iqbal, Pakistan's interior minister, reportedly told a seminar last month the government already has allocated funds for initiating the reforms in the country's education sector, and they include modernizing the educational curriculum and bringing traditional seminaries into the formal government structure.
The new measures are part of efforts to prevent the abuse of religious schools in the hands of militant groups.
Of the four provinces of the country, Khyber Pakhtunkhwa seems to suffer more than the others from the problem of Madrasas being abused by militant groups, according to officials.
A 2015 report by the Khyber Pakhtunkhwa provincial government called 145 religious schools in the province "highly sensitive" and noted that 26 percent of Madrasas in the province remained unregistered and off the official books.
Officials charge the problem still exists, and the government plans to address it.
"Unfortunately, some Madrasas in the terror-wrecked KP [Khyber Pakhtunkhwa] had been involved in promoting extreme ideologies in the past decades and some even have worked as facilitators and sympathizers for terror groups," Sardar Yousaf, Pakistan's federal minster for religious affairs, told VOA.
"By mainstreaming the Madrasas, the government will ensure that no one is allowed to promote extremist ideologies, terrorism, hatred or sectarianism. We cannot allow it at any cost," Yousaf added.
Yousaf said the planned reforms would be implemented across the country in all Madrasas, but the government has not yet set any deadline for provinces to meet.
"All provinces are required to implement the madrassa reforms. Sindh, Baluchistan and Punjab are also working on plans to implement these reforms in their provinces at their own pace," he said.
National Action Plan
Pakistan's interior ministry last year directed all provinces to devise strategies and mechanisms to place madrasas under the national educational system in an effort to comply with the National Action Plan (NAP), a 20-point national strategy adopted in 2015 to counter terrorism in the country.
Yousaf said the registration of Madrasas and efforts to bring them into the mainstream educational system are all part of the NAP.
"The initiative shows our effort and commitment to implement the National Action Plan that clearly states religious schools should be regulated and monitored by the government," Yousaf said.
Some analysts applaud the government's recent efforts, but point to past failed attempts.
Rahimullah Yousafzai, a Peshawar-based journalist, pointed toward the failed madrassa reform project initiated by former President Pervez Musharraf in 2002.
"There had been attempts to bring reforms to the madrassa system in the past as well, but there was no success. Remember what happened to the madrassa reforms program initiated by Musharraf?" Yousafzai asked.
Yousafzai said change has to be participatory in nature and must involve religious scholars in order for it to succeed.
"In order to achieve long-lasting results and to bring revolution in the madrassa education system, the government will have to get full consent of the religious scholars belonging to different sects of Islam," Yousafzai said.
Yousaf asserted that problem has been ironed out this time around and the planned reforms have the blessing of religious leaders across the country.
"We've got phenomenal response from the religious clerics and scholars representing different Madrasas across the country. They're willing to introduce the reforms in their religious seminaries," Yousaf said.
According to Pakistan's Board of Madrasas, there are about 2.5 million students enrolled in more than 3,500 registered Madrasas across the country.
Additionally, there are thousands of unregistered Madrasas for which the government has no exact count.
Resistance to science
Madrasas, for the most part, follow a curriculum that's heavily dependent on Islamic theology and the Arabic language. There seems to be resistance from religious clerics to the introduction of scientific subjects. Some experts are hopeful the government will modernize the system and allow millions of children access to science and other necessary subjects.
"These are much-needed and long-awaited reforms. It is time to introduce modern academic tools to the enormous and unregulated madrassa network, which houses millions of children across the country," Yousafzai said.
Some Madrasas in Pakistan have been accused of links with terror groups and promoting hatred and intolerance.
For instance, Khyber Pakhtunkhwa-based Darul Uloom Haqqania, a madrassa with thousands of students, is believed to have sympathy for the Afghan Taliban fighting the U.S. and Afghan forces in Afghanistan. The Islamic seminary is often called the "University of Jihad" by critics inside and outside Pakistan.
"There is evidence that many Islamic seminaries in Khyber Pakhtunkhwa openly participated in militancy in the past and some even worked as promoters and recruiters for terror groups, such as Taliban fighting in Afghanistan," Hasan Askari Rizvi, a regional analyst from Lahore, told VOA.
Rizvi said the number of Madrasas in Pakistan grew over the years partly because of a lack of formal education in poor neighborhoods and the government's negligence.
"The government is responsible for the deteriorating social, educational and financial setup of the religious seminaries. It was because of government's negligence that some Madrasas promoted extreme and ultraorthodox ideologies and continued to impose a hard-core interpretation of Islam," Rizvi said
Rizvi noted that religious schools in Pakistan are a good alternative for people because they promise food, shelter and education, and attract a large number of students, mostly from the impoverished classes of society.
https://www.voanews.com/a/pakistan-plans-to-reform-nation-religious-seminaries/4258297.html
---------
China's Hui Muslims fearful of religious education ban
February 17, 2018
For some in China's ethnic Hui Muslim minority here, a recent ban on young people engaging in religious education in mosques is an unwelcome interference in how they lead their lives.
Their big fear is the Chinese government may be bringing in measures in this northwestern province of Gansu that are similar to some of those used in the crackdown on Uighur Muslims in the giant Xinjiang region further to the west.
Well-integrated into society and accustomed to decades of smooth relations with the government, many Hui have watched with detachment as authorities have subjected Xinjiang to near-martial law, with armed police checkpoints, reeducation centers, and mass DNA collection.
But in January, education officials from the local government in Guanghe county, which is a heavily-Muslim area, banned children from attending religious education during the Lunar New Year break. That lasts for several weeks around the week-long public holiday period that started on Thursday.
It is unclear if the ban, similar to those used by the authorities in the Uighur communities, will continue after the holiday, but it appears to conform to new national regulations that took effect on Feb. 1 aiming to increase oversight over religion.
Residents in the city of Linxia, the capital of Gansu's so-called "autonomous" prefecture for the Hui people, about 50 kilometers to the west of Guanghe, told Reuters that similar restrictions were in place there.
"We feel it is ridiculous and were astonished," said Li Haiyang, a Hui imam from the eastern province of Henan who in a widely circulated online article denounced the policy as violating China's constitution.
Such bans had been conveyed verbally in recent years, Li told Reuters, but implementation was uneven and often ignored. The more forceful rollout this year shows authorities are serious about enforcement, he said.
The Linxia prefecture government, which oversees Linxia city and Guanghe, did not provide details of the policy, but said China's constitution required separation of religion and education .
"Religious affairs management ... adheres to the direction of the Sinofication of religion, and firmly resists and guards against the spread and infiltration of extremist religious ideology," the Linxia government's publicity department said in a fax in response to questions from Reuters. "Maintaining legal management is the greatest concept in the protection of religion," it said in a statement that stressed stability.
Repeated phone calls to the Guanghe education bureau's propaganda department went unanswered.
China's State Administration for Religious Affairs did not respond to a request for comment, but the State Council Information Office said China amply guarantees citizens' right to religious freedom under law, including children.
"While safeguarding all ethnic group's religious freedom and other lawful interests according to law, China will also resolutely prevent and severely crackdown on the use of religion to carry out illegal activities," it said.
"WE AREN'T EXTREMISTS"
The pressure on the Hui from the authorities is far from as intense as the Uighurs face in Xinjiang, where a massive security clampdown followed deadly bouts of ethnic violence the government blamed on extremists.
But state media has also reported on the removal of loudspeakers used to broadcast calls to prayer from mosques in Hui regions, ostensibly to prevent noise pollution.
In April, the government-run Islamic Association of China said new mosques should reject the "Arabisation" of architecture, with its "excessive size and extravagance", in favor of traditional Chinese designs.
In Guanghe and Linxia, antipathy towards the education rules was widespread.
"You can't oppose it. You can only obey," 46-year-old Ma Shaqing, who describes himself as a "patriotic Muslim", said in his antique shop near the towering Halal China Mosque in Guanghe.
Another man leaving afternoon prayers at Linxia's New China Mosque said local officials were misapplying Chinese President Xi Jinping's policies.
"Families are afraid to teach their children to have faith for fear it will bring them trouble," he said. "How can cultural traditions be passed down like this?"
China's image with the wider Muslim community around the world is important to Beijing as it pushes President Xi's "Belt and Road" initiative to invest billions of dollars building infrastructure linking Asia, Europe and Africa. China has sought to make the more secular Hui , among China's roughly 20 million Muslims , a face of the project, highlighting it at a China-Arab states expo in the heavily-Hui Ningxia region in September.
A man his late 20s, surnamed Zhou, who had been studying for more than 10 years to be an imam in Linxia, said a "very tense political situation" had taken hold in Linxia, and he only agreed to speak to Reuters far away from the gates of his mosque.
Zhou said government concerns of extremism spreading among Hui were misplaced.
"The possibility of this happening is almost none, because none of us believe this way. We aren't extremists," he said.
https://nation.com.pk/17-Feb-2018/china-s-hui-muslims-fearful-of-religious-education-ban
---------
'Harassed, Detained, Prosecuted': Western Anti-Daesh Fighters Feel Betrayed
17 February 2018
LONDON: To some, they are freedom fighters, willing to risk their lives in defence of a persecuted people, but others take a dimmer view of the Western volunteers battling Daesh alongside Kurdish forces in Syria.
On Wednesday, James Matthews, a former British soldier who fought with the Kurdish People's Protection Units (YPG) against Daesh in Syria, was charged with terror-related offenses, making him the first Briton to be prosecuted for helping a group backed by the UK government overseas.
Matthews pleaded not guilty to a charge of attending a place or places where training was provided "for purposes connected with the commission or preparation of acts of terrorism." Another former volunteer, student Joshua Walker, was acquitted in October 2017 of terror charges for possessing a copy of the "The Anarchist Cookbook."
The charges raise questions about the challenges facing Western volunteers returning from foreign combat zones, as well as the difficulties — amid the legal wasteland of Syria's bloodied battlefields — of sorting the heroes from the villains as Daesh's self-declared caliphate crumbles and the combatants disperse.
For the many foreign fighters attending the funeral in southwest England earlier this month of 24-year-old Briton Jac Holmes, who died in Raqqa while fighting as a sniper with the YPG, the prosecutions are a bitter betrayal.
"How can countries like Britain and Canada persecute guys who went and fought against Islamic State (Daesh), which is a known terrorist group — how can they be harassed, detained, questioned and possibly prosecuted, in these countries?" asked Jeff Kup, an American YPG fighter.
Kurdish analyst Wladimir van Wilgenburg described the decision to prosecute foreign fighters for battling Daesh with the Syrian Democratic Forces and YPG, groups backed by the US-led coalition, as "strange."
"How you can prosecute someone for terrorism offenses if they fight against terrorism?"
Kup, who joined the fight against Daesh after seeing "what they were doing to women, children, the elderly, people who really couldn't defend themselves," described the treatment being handed out to fellow volunteers as "nerve-racking."
Hundreds of foreign fighters from the US, Canada, UK and other European countries have traveled to Syria to fight with the YPG and its women's fighting unit, the YPJ, whose role in defeating Daesh on the battlefield and liberating Yazidi women held captive by the terror group has been widely documented by international media outlets.
"The Kurds are seen as the 'good guys' among the many actors fighting in Syria," said Robert Lowe, deputy director of the Middle East Center at the London School of Economic and Political Sciences.
"The appeal lies in a combination of the radical leftist ideology, sympathy for an oppressed ethnic minority, and hostility toward Daesh."
Many Western volunteers who travel to join the YPG have huge social media followings and hero status among supporters back home. One Norwegian volunteer, who gives his name as Mike Peshmerganor, has more than 74,000 followers on his Facebook page and 171,000 followers on Twitter.
Describing the appeal for foreign fighters in taking up arms for a campaign they often have no personal affiliation with, he said: "If you have skills (military or medical) that can be used, know you won't break your country's laws by joining the YPG/YPJ, and are aware you might not come home in one piece or at all, and are still willing to take that risk, then go for it. It's a just cause."
But while public perception of the YPG and its foreign volunteers may be largely positive, in legal terms, their status is uncertain.
"A case often made is that although the cause they fight for, defeating Daesh, making sure the caliphate crumbles, fighting in the name of freedom, preventing terrorists from conducting attacks against the West … is quite noble, the nature of their participation is problematic," said Nick Heras, a fellow at the Center for a New American Security, based in Washington.
"(Their participation) is not through the formal state militaries of their home countries, so is, in fact, illegal."
Kurdish fighters are a key part of the US-backed Syrian Democratic Forces, but the US downplays links with the YPG because of the Kurdish group's ties with the Kurdistan Workers' Party (PKK), a separatist movement labelled a terrorist organization by Turkey, the US and several other countries.
"The PKK is a proscribed terrorist organization in many European countries, so they've made a choice there," said Rafaello Pantucci, director of international security studies at the the Institute for Defense and Security Studies in London.
The YPG denies links with the PKK, although some YPG leaders have historical connections with the party.
"There is sometimes a reason to worry about some of these people and their motivations, but I certainly think they are a different level of concern than a person who went off to fight with Daesh," Pantucci said.
According to Heras, "a very strong counter-narrative" is emerging in the "Jekyll and Hyde" situation surrounding foreign fighters.
"One of the dominant narratives on any given day could be that these are Westerners who are putting aside materialism and fighting for a cause that serves all humanity, and then, on another given day, you might have a narrative that says these people are actually breaking the law of their own countries and actively supporting a movement that is trying to undermine and destroy a NATO ally."
Last month, the Turkish military launched an offensive to drive the YPG out of Afrin, a Kurdish-majority enclave in northern Syria. Western powers have urged restraint after violent clashes left thousands of civilians homeless.
The crisis has escalated tensions between the US and Turkey, casting doubt over the nature of US support for the YPG as it seeks to mend relations with an important Middle East ally.
"How these foreign fighters who join the YPG will be remembered will depend to a great degree on what the future of Turkey's relationship is with these Western nations," Heras said.
"If Turkey continues to have an antagonistic relationship with the West, I do think there will be a degree of sympathy." However, a renewal of the friendship could trigger "a significant amount of legal ramifications," and leave Western governments "much more disposed to take Turkey's point of view," he said.
Ora Szekely, associate professor of political science at Clark University, Massachusetts, said that US support for the Kurds is mostly about pragmatism. "Of all of the parties in the Syrian conflict, the Kurdish forces have been by far the most effective against ISIS (Daesh), which, given American objectives in Syria, makes them the most practical choice as a local military ally."
She pointed to sympathy for the ideals behind the Rojava revolution in northern Syria, where Kurds are establishing a multi-ethnic secular democracy that champions women's rights.
"The ideological blueprint for governance in Rojava … is based on principles that are shared by many leftists in the US and Europe, for whom supporting the Kurds is, therefore, about supporting a larger cause."
Szekely said: "Most international fighters who have traveled to Syria to join the YPG and YPJ are motivated by ambition for their political project." Western volunteers have been traveling to the Middle East to support the Kurdish cause since the 1980s, but in the past five years there has been a surge in the numbers of foreign recruits. A few have gained near-celebrity status, helping to publicize their cause and highlight the suffering of Kurdish people.
Canadian YPJ fighter Hanna Bohman, who recently made a documentary film about the YPJ with actress Olivia Wilde, told Arab News in an earlier interview: "They love the Western volunteers because it improves morale, it shows that people are listening. People do care about what you're doing."
Spaniard Artiaga Arges, who was in the same sniper unit as fallen fighter Jac Holmes, said: "The role of Western volunteers in military terms is small, but it's very important in terms of solidarity and justice."
Arges said: "They stepped up against Daesh when the rest of the world was just looking at the TV."
http://www.arabnews.com/node/1248176/middle-east
---------
Mideast
Takfiri Groups Creation of West to Divide Muslims: Rouhani in India
February 16, 2018
Iran's President Hassan Rouhani says the West has created Takfiri outfits that have nothing to do with the holy faith of Islam in a bid to sow discord among Muslims, reported in Press TV.
Rouhnai made the remarks in a meeting with a group of elites, religious clerics and leaders of the Muslim community in the Indian city of Hyderabad on Thursday.
"The Western world has made Muslim countries preoccupied with themselves through creating discord among them," he said.
"The existing differences are while Shias and Sunnis lived brotherly together for centuries, where in Iraq and Syria all religions had peaceful coexistence," Rouhani added.
The president called India a "living museum of peaceful coexistence of different religions, faiths and beliefs."
The West, he said, has created split among Muslims and established groups in the name of Islam and Jihad that have nothing to do with Islam and are known as Takfiri outfits.
Rouhani said the Islamic Republic, from its very inception, has been calling for unity and independence and a "Look East" policy and standing with the regional nations to eradicate war and violence.
The president also said problems in Muslim countries cannot be solved through the barrel of guns and military means, adding there is need for logic, reasoning and dialogue to sort them out.
"We do not want to have any gap with any Muslim country or regional states and friendly nations," Rouhani pointed out.
Rouhani has traveled to India at the head of a high-ranking politico-economic delegation.
Tehran and New Delhi are expected to sign almost 15 agreements on trade and economic cooperation during Rouhani 's three-day visit to India.
Rouhani will meet Indian Prime Minister Narendra Modi on Saturday when both are expected to sign an agreement allowing India to run operations in the first phase of the Chabahar port project.
https://nation.com.pk/16-Feb-2018/takfiri-groups-creation-of-west-to-divide-muslims-rouhani?show=previewutm_medium=PoliticsNewz?version=amp
---------
Turkey, US to 'work together' in Syria after crisis
February 17, 2018
ANKARA - Turkey and United States on Friday agreed to work together in Syria after weeks of tensions over Ankara's latest cross-border operation that raised fears of a military confrontation between the two NATO allies.
US Secretary of State Rex Tillerson and his Turkish counterpart Mevlut Cavusoglu said after talks in Ankara that the two sides would set up working groups to solve key issues that have bedevilled relations.
They gave few details on how this could be achieved, but indicated that solving a dispute over the control of the flashpoint town of Manbij was a priority.
"We are not going to act alone any longer, not US doing one thing, Turkey doing another," Tillerson said after the talks. "We will work together... we have good mechanisms on how we can achieve this," he added.
Cavusoglu said Turkey and the US agreed on the need to normalise relations. He said ties were at a "critical phase" and vowed to create "mechanisms" to discuss issues that were causing problems.
A prime task of Tillerson was to allay Turkish anger over US policy in Syria , a dispute which has ignited the biggest crisis in bilateral ties since the 2003 Iraq war. Washington has warned that Turkey 's operation against the People's Protection Units (YPG) Kurdish militia in the Afrin region of Syria risked distracting from the fight against jihadists.
Tillerson called on Ankara to "show restraint in its operation" while insisting that Turkey and the United States "share the same objectives in Syria ".
Tillerson the day earlier held over three hours of talks with President Recep Tayyip Erdogan, with presidential sources saying the Turkish leader "openly" laid out Turkey 's expectations and priorities.
In a hugely unusual break from protocol, the only other official present at Tillerson's meeting with Erdogan at the presidential palace was Cavusoglu who also acted as translator, US sources said.
Turkey 's operation against the YPG, which Ankara blacklists as a terror group, has pitted Turkish troops against a militia which is closely allied with the US in the battle against Islamic State (IS) group jihadists.
For Ankara, the YPG is a branch of the outlawed Kurdistan Workers' Party (PKK), which is blacklisted as a terror outfit by the US and the EU.
Erdogan this month raised the stakes by warning US troops to leave Manbij, a YPG-held town east of Afrin, inflaming fears of a clash between the allies. The United States has a military presence in Manbij.
Tillerson said that Turkey and the US had to solve the tensions surrounding Manbij as a "priority" and the issue would be a focus of the working groups.
The talks will look at the YPG moving out of Manbij further east, beyond the Euphrates River, so that the Turks could then go into Manbij alongside the Americans, said a person with knowledge of the discussions, who asked not to be named. The town was held by IS before they were pushed out by Kurdish militia and Tillerson said it was vital it did not fall into jihadist hands again. Cavusoglu said the YPG must leave Manbij. "We must be sure that YPG has gone east of the Euphrates," the Turkish minister said.
The squabble over Syria is, however, just one of a litany of issues burdening Turkey-US relations.
Ties were damaged after the failed coup of 2016 with Turkey stung by a perceived lack of US solidarity and angered by Washington's refusal to extradite Fethullah Gulen, a Pennsylvania-based cleric accused of ordering the putsch.
Tillerson also urged the release of Turks and Americans who have been caught up in the post-coup crackdown. Last week, NASA scientist Serkan Golge, a dual national, was jailed for seven-and-a-half years for being a member of Gulen's movement.
US pastor Andrew Brunson, who ran a church in Izmir, has been held on similar charges since October 2016. Tillerson said the US believed he was "unjustly" detained.
Meanwhile, at least two Turkish staffers of American missions in Turkey have been detained by authorities in the post-coup crackdown.
Full report at:
https://nation.com.pk/17-Feb-2018/turkey-us-to-work-together-in-syria-after-crisis
---------
British PM May: Ready for further action against Iran
16 February 2018
British Prime Minister Theresa May said on Friday that Britain shares the concerns of the United States regarding Iran's activities in the Middle East and is ready to take further action against Tehran.
During a visit to Berlin, May said that she and German Chancellor Angela Merkel had affirmed their commitment to the Iranian nuclear deal and agreed on the need to implement it fully.
"We agreed that while we continue to work on maintaining the agreement, we also share the United States' concerns about Iran's destabilizing actions in the Middle East, and we are ready to take further appropriate measures to address those problems," May told reporters.
Full report at:
https://english.alarabiya.net/en/News/middle-east/2018/02/16/British-PM-May-Ready-for-further-action-against-Iran.html
---------
Arab Coalition forces destroy weapons depot for Houthis in Hajjah
16 February 2018
The Arab coalition forces launched air strikes in Yemen, on Friday, targeting a site and weapons depot belonging to the Houthi militia north-west of the province of Hajjah.
Al Arabiya correspondent reported that the fighters targeted a security checkpoint and a weapons storehouse in the Directorate of Hiran.
According to a military source, the jets targeted the Houthi locations, after monitoring their movements from the joint operations room.
The Yemeni army revealed on Thursday that 40 Houthi leaders were killed in the province of Hajjah in northwest Yemen last January during clashes and raids by the Arab coalition forces.
The Yemeni army website announced the killing of a senior field leader in the lines of the Houthi militia, named Abdul Qader Hadi Heba,along with a number of militants at Midi front in the western province of Hajjah, northern Yemen.
The site added that the Houthi leader Heba was killed on Tuesday in clashes with the National Army and joint Arab coalition forces.
Yemen's national army has succeeded during the past two days in causing major damages in the ranks of the Houthi militias after targeting their weaponry with artillery and shelling a number of positions.
Full report at:
https://english.alarabiya.net/en/News/gulf/2018/02/16/Arab-Coalition-forces-destroy-weapons-depot-for-Houthis-in-Hajjah.html
---------
Iran, Iraq, Syria will not let US sway in Kurdish areas: Velayati
Feb 17, 2018
A senior Iranian official has said that constant cooperation among Iran, Iraq and Syria will not allow the US to wield influence in Kurdish regions.
According to the Iraqi local TV network al-Beladi, Ali Akbar Velayati, a senior advisor to Leader of the Islamic Revolution Ayatollah Seyyed Ali Khamenei, made the remarks at a meeting with Iraqi Foreign Minister Ibrahim al-Jaafari in Baghdad on Friday.
Velayati described the US as the major problem in the Middle East, noting that the Islamic Republic keeps a close watch on all the political, military and security measures of the US in the region.
The Iranian official pointed to US Secretary of State Rex Tillerson's ongoing visit to the Middle East, saying the regional tour takes place in the wake of Washington's failures in different military and political spheres against Islamic countries.
Tillerson started his tour of Egypt, Jordan, Turkey, Lebanon and Kuwait on Sunday, but a key US ally, Israel, is conspicuously absent from his itinerary.
The most contentious part of Tillerson's trip was in Turkey, where anti-American sentiment is rising, with some officials in Ankara calling the United States an enemy of Turkey.
Turkey has long criticized Washington's support for militants from the Kurdish People's Protection Units (YPG) in northern Syria near the Turkish border, as it views the group as a terrorist organization and an extension of the outlawed Kurdistan Workers Party (PKK) that has been fighting for an autonomous region inside Turkey since 1984.
The US is leading a coalition which has been conducting airstrikes against what are said to be Daesh targets inside Syria since September 2014 without any authorization from the Damascus government or a UN mandate. The military alliance has repeatedly been accused of targeting and killing civilians. It has also been largely incapable of fulfilling its declared aim of destroying Daesh.
US officials claim that the YPG is the most effective fighting force against the Daesh terrorist group in northern Syria, and have substantially increased their weaponry and technology support for the terrorist group.
The Syrian government has given a degree of authority to the Kurdish regions to run their own affairs in the face of foreign-backed militancy. The US, however, has used the vacuum to establish a foothold in those regions with the help of militants.
Full report at:
http://www.presstv.com/Detail/2018/02/17/552605/Iran-us-kurds-Iraq-Syria
---------
Israeli forces injure 40 Palestinians on massacre anniversary
Feb 17, 2018
At least 40 Palestinians have been injured in clashes with Israeli forces across the Israeli-occupied West Bank and the besieged Gaza Strip on the anniversary of a massacre of Palestinian worshipers by an American-Israeli extremist.
On Friday, Israeli forces fired tear gas canisters at Palestinians in Ramallah in the West Bank, as well as the cities of al-Khalil (Hebron) and Nablus, respectively in the south and north of the Palestinian territory, Xinhua reported.
The Palestinian Red Crescent Society said in an e-mailed press statement that 17 Palestinians were injured during those clashes.
Friday marked the anniversary of the day in 1994 when Baruch Goldstein, a member of Kach, a former radical Israeli movement, killed 29 Palestinians and wounded 125 others who were praying in al-Khalil.
In Gaza, protesters amassed on the territory's border, shouting slogans and waving Palestinian flags.
Ashraf al-Qedra, the spokesman of Gaza Health Ministry, told reporters that 23 Palestinians were shot and wounded during border clashes with Israeli forces.
One of the injured was in critical condition as he had been shot in the head, while most of the others were shot in the upper parts of their bodies, he added. "This shows that the Israeli soldiers aim at killing the Palestinian protestors," said al-Qedra. Tel Aviv has kept Gaza under siege since 2007.
Full report at:
http://www.presstv.com/Detail/2018/02/17/552631/Palestinian-Israel-massacre-West-Bank-Gaza
---------
Turkey sentences six journalists to life in jail over links to coup
Feb 17, 2018
A Turkish court has sentenced six journalists to life in prison over accusation of involvement in the country's 2016 failed coup.
On Friday, the court handed the life sentences to the six defendants for "seeking to overthrow the constitutional order by force," the state-run Anadolu news agency reported.
All six, three of whom have already been imprisoned for nearly 17 months, have denied the charges.
Prominent Turkish journalists Nazli Ilicak, Mehmet Altan and his brother Ahmet are among the defendants.
Turkey's highest court, the Constitutional Court, had previously ordered the release of Mehmet Altan, saying the detention violates his rights, but the penal court dismissed the request.
The Altan brothers were accused of giving coded messages on a television talk show a day before the coup.
"Whatever the developments were that lead to military coups in Turkey, by making the same decisions, [President Recep Tayyip] Erdogan is paving the same path," Ahmet Altan had said at the TV show.
On the same program, Mehmet Altan pointed to "another structure" within the government that was monitoring the political developments in the country to "take its hand out of the bag."
Prosecutors say the comments were coded messages to followers of US-based opposition cleric Fethullah Gulen, whom Ankara accuses of masterminding the putsch.
"This sets a devastating precedent for scores of other journalists charged with similarly groundless charges," said Sarah Clarke of writers organization PEN International.
The lawyer for the Altan brothers, Ergin Cinmen, told Reuters that they would appeal against the verdict, saying, "This is a trial that wiped out freedom of thought."
"This verdict will be definitely reversed. Turkey cannot go on with this verdict," he added.
'Unprecedented assault on freedom of expression'
The verdict drew fierce criticism from international organizations and rights groups, including the UN, which urged Turkey to reverse the ruling.
"These harsh sentences are an unacceptable and unprecedented assault on freedom of expression and on the media in Turkey," the UN human rights office said in a statement.
During the botched putsch in July 2016, a faction of the Turkish military declared that it had seized control of the country and the government of Erdogan was no more in charge. The attempt was, however, suppressed a few hours later.
Turkey, which remains in a state of emergency since the coup, has been engaged in suppressing the media and opposition groups suspected to have played a role in the failed coup.
Tens of thousands of people have been arrested in Turkey on suspicion of having links to Gulen and the failed coup. Nearly 150,000 others, including military staff, civil servants and journalists, have been sacked or suspended from work over the same accusations.
Full report at:
http://www.presstv.com/Detail/2018/02/17/552610/Turkey-journalist-jail
---------
India
Pak accuses India of not reciprocating to its commitment to peace
Feb 16, 2018
LONDON: Pakistan's interior minister has accused India of not reciprocating Islamabad's commitment to peace with "unilateral actions" and warned New Delhi against "bullying" his country.
Ahsan Iqbal said Pakistan is trying to overcome the trust deficit that exists in the region but India has disappointed Islamabad with unilateral moves like boycotting the SAARC summit which was to be hosted by Islamabad in 2016.
"The present government in India has a certain thinking, where it thinks it can bully Pakistan. That will not work. We must show maturity because the future of more than a billion people who live in South Asia is at stake,†Iqbal said, delivering a lecture at the International Institute for Strategic Studies (IISS) in London on Tuesday.
"India's gesture of not coming to the SAARC summit was uncalled for; very undiplomatic and very inappropriate for the cause of peace. Such unilateral actions only add to more mistrust. We should try to engage each other at different fora,†he said.
In November, India decided not to attend the SAARC Summit in Islamabad after Pakistan-based Jaish-e-Muhammad terrorists attacked a military camp in Uri in Jammu and Kashmir, killing 18 soldiers.
Iqbal, also the deputy secretary-general of the Pakistan Muslim League (PML) claimed that India's lack of engagement and reciprocity had cost former prime minister Nawaz Sharif dearly.
"Sharif paid a lot of cost for his policy on India. He was categorised as 'Modi ka yaar' (Modiâ€[TM]s friend) by Opposition forces for showing a lot of restraint and his commitment to peace with India. India has disappointed us; it has not reciprocated,†he said.
Flagging the terrorist attacks in Mumbai in 2008 as a "setback" to efforts against terrorism, the minister said the attack should have strengthened cooperation between India and Pakistan but instead it became a "trophy" for disruptive elements because it resulted in the peace process being abandoned.
"Peace can only be achieved on a reciprocal basis. One side alone cannot achieve peace. The solution to all regional problems lies in greater collaboration and cooperation within the region," he said.
Responding to a question on how the Pakistan government plans to tackle the Kashmir issue, Iqbal â€" who is also a minister for planning, development and reform in Pakistan â€" said any solution to the Kashmir issue must be acceptable to all the parties, including the people of Jammu and Kashmir, because continued violence would be a "recipe for instability".
"As far as Kashmir is concerned, it is also a matter of concern for the international community. If conflicts involving Muslim populations will not be given the same consideration as conflicts where non-Muslim populations are involved, then the extremist groups will always have a narrative to sell," he added.
The minister, who was in London following a visit to the US, also warned the Trump administration against bullying tactics and demanded greater understanding from the West.
"We Pakistanis have a particular ethos...We do not react to force and duress...we cannot let Pakistan become a war zone while meeting demands of the US," he said. The minister accused Western agencies of bringing slain Al Qaeda chief Osama bin Laden and his "Middle Eastern jihadis†to Pakistan.
Full report at:
https://timesofindia.indiatimes.com/india/pak-accuses-india-of-not-reciprocating-to-its-commitment-to-peace/articleshow/62947997.cms
---------
Army denies Pakistan claim of killing 5 Indian soldiers
Omer Farooq Khan
Feb 17, 2018
ISLAMABAD/NEW DELHI: Army officials in New Delhi on Friday rejected Pakistan's claim as "totally false" that it had killed five Indian soldiers by destroying their post in the Tatta Pani sector along the Line of Control in Poonch district late Thursday evening.
Pakistan army spokesperson Major General Asif Ghafoor had claimed that many Indian soldiers were also injured in the attack. "The Pakistani troops targeted the same check post from where the school van was attacked in Tatta Pani," Ghafoor said in a tweet. "Indian terrorism against innocent citizens shall be responded befittingly," he tweeted, adding, "Indian unethical and unprofessional approach across the LoC continues terrorising civilians."
Rubbishing Ghafoor's claim, a senior officer of the Indian Army said: "Unlike Pakistan Army, we do not, and cannot, hide our casualties."
Ghafoor had said that "such attacks" from India were a violation of the Geneva Convention and a clear violation of the 2003 ceasefire agreement between the two nuclear-armed neighbours.
He tweeted a purported video of the alleged bombing of the Indian post besides another video of a schoolgirl, an eyewitness, describing the attack on the school van. "I was in the van when bullets struck the vehicle, killing driver Sarfaraz Ahmed, but all the students escaped unhurt," she says in the video.
Full report at:
https://timesofindia.indiatimes.com/india/army-denies-pakistan-claim-of-killing-5-indian-soldiers/articleshow/62952953.cms
---------
AIMPLB spokesman Maulana Khalilur Rahman Sajjad Nomani clarifies remarks on RSS
13th February 2018
HYDERABAD: AIMPLB spokesman Maulana Khalilur Rahman Sajjad Nomani on Monday clarified his remarks on visits to RSS camps, saying they were taken out of context to label him a friend and agent of RSS.
The top cleric and executive member of All India Muslim Personal Law Board (AIMPLB) issued a video statement to counter the allegations made by Maulana Salman Hussaini Nadvi after the latter was removed from the board over his Ayodhya proposal.
Breaking his silence, Maulana Nomani gave a detailed background of his remarks that he visited RSS camps and personally knows some RSS leaders. He revealed that during riots over Babri Masjid-Ram Janmbhoomi issue in 1990 when Lucknow was under curfew, he had risked his life to reach a hospital to donate blood to an injured Hindu girl. The father of that girl thanked him for saving the life of his only child. He was 'pracharak' of RSS and an incharge of 6 to 7 RSS 'shakhas'.
The cleric said at the invitation of the 'pracharak', he visited RSS camps and discussed with their cadre issues like how the country can be taken on the path of development and how peace and brotherhood could be ensured.
Playing a clip of his speech made in Aurangabad, Maulana Nomani said he cited the example of RSS to advise Muslims to inculcate their good qualities like simplicity and avoid ostentatious marriages and wasteful expenditure.
He argued that there was nothing new in it as many religious scholars and leaders exhort Muslims to ponder over the reasons for the development of western societies and adopt their good qualities in public life like discipline and honesty.
Maulana Nomani said his Rohingya remarks were also in the same context. He wanted Muslims to avoid ostentation in marriages by learning lessons from countries where the community is being massacred and to use their resources for constructive work.
The board member said it was known to everyone that organizations like Bajrang Dal distributed weapons among their cadre in various parts of the country to prepare for Myanmar-like massacres.
"This has been widely reported in media. Everyone knows some organizations are giving terrorism training to their cadre. My remarks were not to provoke Muslims but to wake them from slumber," he said.
He said he had always strived for unity between Muslims and the other oppressed sections of the society by clearing their misunderstandings. "This is not liked by Sangh Parivar and the forces who want to spread Brahminwad and Manuwad. But I had never imagined that one day these forces will succeed in using one of our friends and my childhood friend," he said while referring to Maulana Salman Nadvi.
Full report at:
http://www.newindianexpress.com/nation/2018/feb/13/aimplb-spokesman-maulana-khalilur-rahman-sajjad-nomani-clarifies-remarks-on-rss-1772408.html
---------
Pakistan
US underlines Pakistan's 'deficiencies' in countering terrorism
February 17, 2018
Anwar Iqbal
WASHINGTON: Not just the United States but others in the international community also have concerns about "Pakistan's deficiencies" in implementing anti-money laundering and counterterrorism laws, says the US State Department.
At a Thursday afternoon news briefing, the department's spokesperson Heather Nauert hinted that a resolution to place Pakistan on a global terror-financing watchlist had been submitted to the Financial Action Task Force (FATF). Britain, France and Germany have also endorsed this resolution, which was moved by the United States.
The remarks precede a crucial FATF meeting in Paris next week to consider new proposals for countering terrorism and money laundering.
The FATF is an international policy-making and standard-setting body dedicated to combating money laundering and terrorist financing. It maintains grey and black lists for identifying countries with weak counterterrorism mechanisms.
The watchdog does not have the powers to impose sanctions but its listing can affect international transactions as it also exposes the country dealing with a state on the watch list to greater scrutiny.
Asked if the US had moved such a resolution in the FATF, Ms Nauert said she could not confirm or deny it as FATF deliberations were "private". But she confirmed that the international community had such concerns about Pakistan.
"Basically, the international community has this sort of longstanding concern when it comes to the government of Pakistan, about what we consider to be deficiencies in the implementation of anti-money laundering, counterterrorism, and other types of issues similar to that," she said.
Asked if the US was satisfied with a new law that Pakistan made last week to enhance its counterterrorism capabilities, Ms Nauert said she did not have enough information about the law to comment.
The US media reported on Thursday that the Trump administration had given Pakistan a new list of a dozen top militants to detain but the document did not give their locations. "This may prevent Pakistan from taking the required action," said a diplomatic source.
The reports also claimed that Washington has turned down Islamabad's request for a meeting with CIA chief Mike Pompeo later this month. Pakistan had requested the meeting to discuss intelligence sharing, the reports added.
A State Department spokesperson told Dawn that Washington is also seeking more information from Pakistan about the steps it has taken to blacklist certain terrorist groups.
"The United States welcomes the steps taken to blacklist Falah-i-Insaniat Foundation (FiF) and Jamaatud Dawa (JuD) in line with UN Security Council sanctions," said the spokesperson when asked if Washington would consider withdrawing its move to place Pakistan on the FATF watch list.
"We look forward to additional information on how these steps are being implemented and what concrete steps are being taken to counter the groups, which is crucial," the spokesperson added.
The official also underlined the need for more specific actions from Pakistan to eliminate those terrorist groups that were using Pakistani soil to launch attacks into neighbouring countries.
"We expect to see decisive and sustainable action from Pakistan to end the ability of terrorists to operate on and conduct attacks from Pakistani soil," the official said.
"We stand ready to work together with Pakistan to combat terrorist groups without distinction. We will continue these conversations with the Pakistani government in private," he added.
In a separate statement to other journalists, another State Department official said that Washington had consistently expressed its long-standing concern about ongoing deficiencies in Pakistan's implementation of its anti-money laundering/counter-terrorism finance regime.
"In addition to broader systemic concerns, this also includes Pakistan's non-compliance with its commitments under UN Security Council Resolution 1267," the official said.
The resolution asks member countries to freeze the assets of, prevent the entry into or transit through their territories of UN-designated terrorist groups. It also requires UN-member states to prevent the direct or indirect supply, sale and transfer of arms and military equipment to any individual or entity associated with Al Qaeda, Osama bin Laden and/or the Taliban.
https://www.dawn.com/news/1389956/us-underlines-pakistans-deficiencies-in-countering-terrorism
---------
Survey about JuD activities to be conducted
Aamir Yasin
February 17, 2018
RAWALPINDI: The Punjab government has directed the Rawalpindi's district administration to conduct a survey for taking under its control more seminaries and health units run by the banned Jamaatud Dawa (JuD) and to seek information from cantonment administrations about the activities of the group in their areas.
Also, the Islamabad administration has presented a report to the federal government about JuD's health and education units which it has taken under its control.
Taking action against JuD, the Islamabad Capital Territory's (ICT) administration has taken under its control three JuD-run dispensaries in a rural area and confiscated more than three ambulances.
Islamabad Deputy Commissioner retired Captain Mushtaq Ahmed told Dawn that the ICT administration had taken over three health facilities and seven ambulances in Shareefabad, Ghouri Town and Quba Mosque I-8/ Markaz in the federal capital.
"The ICT health department looks after the dispensaries while the ambulances have been handed over to Red Crescent," he said.
In response to a question about the JuD central markaz in Islamabad's I-8, the deputy commissioner said there was no seminary there. He said the government had directed them to take over seminaries, schools and dispensaries, and not mosques.
However, he said JuD had been stopped from conducting any activity at the I-8 mosque. He said three cases had been registered at Shahzad town, Karal and Golra police stations against advertisement for the collection of charity last week.
He said the ICT conducted a survey in Islamabad and found that no seminary or school was run by JuD. The report in this regard had been sent to the federal government, he added.
On the directives of the Punjab government, the Rawalpindi district administration has taken control of the JuD seminary Hudaibia Madressah on Chakra Road and asked the Auqaf department to administer it. It has also taken over four dispensaries of Falah-i-Insaniyat Foundation — a charity organisation of JuD.
There were many mosques in the city which were run by JuD, but the main focus of the government was to take under its control seminaries and dispensaries, said Auqaf regional administrator Zahid Iqbal while talking to Dawn.
"At present, we control a seminary in Rawalpindi, not mosques as mostly activities are held in seminaries, schools and health units," he added.
Mosque Al-Quds on Kashmir Road in Saddar is the JuD's main district markaz.
Last year, a private group received permission from the Rawalpindi Cantonment Board for the construction of a commercial-cum-education building on a plot. But after receiving information that JuD was behind the project and it wanted to construct a mosque and seminary on the plot, the cantonment board had stopped the work.
An official of the cantonment board told Dawn that the civic body stopped the work on the site soon after it came to know that the school and seminary would be established in the building.
Full report at:
https://www.dawn.com/news/1389975/survey-about-jud-activities-to-be-conducted
---------
PTI MNAs object to misrepresentation of Pashtuns in anti-terror drill
Shahid Kamal
February 17, 2018
ISLAMABAD: Lawmakers belonging to the Pakistan Tehreek-i-Insaf (PTI) on Friday voiced their displeasure over the portrayal of Pashtuns as terrorists in a recent mock counterterrorism drill in Multan, saying that it had hurt the sentiments of the community.
A calling-attention notice on the misrepresentation of Pashtuns was moved in the National Assembly by PTI MNAs Shehryar Afridi, Asad Umar and Muhammad Amir Dogar.
Last month, four police officers from the Counter-Terrorism Department (CTD) acted as terrorists in a mock exercise at a railway station in Multan. One of them acted as a sub-inspector of Pashtun origin from Tank in his local attire. The officer has been working in the CTD for 32 years.
Responding to the criticism, Minister of State for Interior Talal Chaudhry said that the mock operation was a routine exercise to prepare the personnel of security agencies to deal with terror events, given the security risks in the country.
"The four personnel were asked to wear normal clothes to make the exercise look as natural as possible. Critics must understand that the intention was not to present Pashtuns or anyone else as terrorists," he said.
In mock exercises, he added, the personnel who acted as terrorists were sometimes also asked to wear a veil or dress in uniforms of security forces. "This did not mean that women who wore veils were terrorists. This was a needless calling attention," said Mr Chaudhry.
To prove his argument, he showed pictures of officials dressed as terrorists to the legislators, saying that actors wore different attires to depict various scenarios. "Individuals participating in combing operations come from various backgrounds. During verification in Punjab, 99 per cent of the Punjabis are scrutinised. This does not mean that a particular community is being targeted," he said
However, the PTI MNAs remained unconvinced and insisted that the Pashtun community had been harassed by security agencies for a long time. "Such discrimination is creating resentment in the community," said Mr Dogar.
He gave the example of his own constituency where security personnel first screened Pashtuns for operations.
Talal Chaudhry maintained that the Pashtun sub-inspector was a respected staff member of the CTD, who had rendered his services in several operations.
PTI's Munaza Hassan argued that it would have been better if Mr Chaudhry had issued an apology for the misrepresentation of Pashtuns which had offended the community.
Full report at:
https://www.dawn.com/news/1389973/pti-mnas-object-to-misrepresentation-of-pashtuns-in-anti-terror-drill
---------
Former ISI official says US imposed war on terror on Pakistan
February 17, 2018
PESHAWAR: Former Inter-Services Intelligence (ISI) official Major (R) Muhammad Aamir has said the first Afghan war was Pakistan's own war but the US-led war on terror was imposed on Pakistan.
Speaking at a seminar at the Area Study Centre, University of Peshawar, on Friday, he said that during the Afghan jihad not a single US soldier had stepped on the Pakistan soil.A number of academics attended the seminar. The Area Study Centre director Dr Safaraz Khan was the host.
"The US did not make any demand of 'do more' from Pakistan and Pakistan was not portrayed as the sponsor of terrorism," Major (r) Aamir pointed out. He said that Pakistan didn't suffer civil or military losses during that war. Besides, he said the USSR-India nexus was broken.
He said the ongoing war against terror was imposed on Pakistan when General Pervez Musharraf decided to collaborate with the US after a phone call from Washington. "Thousands of US soldiers landed on Pakistani shores in Balochistan. Despite our services, we are being subjected to the 'do more' demands," he added.
Full report at:
https://www.thenews.com.pk/print/282122-former-isi-official-says-us-imposed-war-on-terror-on-pakistan
---------
Iranian leadership for unbreakable ties with Pakistan
February 17, 2018
Mashhad - Iranian Supreme Leader Ali Hosseini Khamenei and President Hassan Rouhani regard Pak-Iran ties as the top priority and have directed the foreign ministry to work on achieving the goal, a senior Iranian official said.
Dr Mohammed Ajam, minister counsellor of the Iranian foreign ministry, told The Nation that Tehran was making all efforts to remove misunderstandings between the two Muslim-majority nations.
"We believe Pakistan is under the US pressure not to come too close to Iran. Pakistan should not link Pak-Iran ties to Pak-US relations. Pakistan is a sovereign country and can have equally good ties with several countries," he maintained. He said: "Iran and Pakistan share interests. If and when our leadership is invited to visit Pakistan , we will not delay it (the visit). The rehbar (the Supreme Leader) and the president think Iran-Pakistan ties should be the top priority. We always work to retain friendship with Pakistan . This is in accordance with the directions of the top leadership ."
On Friday, President Rouhani, who is on a visit to India, urged all Muslims to set aside internal disputes. "Iran wants unity, independence and support for the East. The enemies of Islam want to represent Islam as a religion of violence. Islam is not a religion of violence. Islam is a religion of moderation, Islam is a religion of kindness," he said.
Pakistan has lifted sanctions against Iran after the country's nuclear deal with world powers. In 2016, Pakistan was active to ease Iran-Saudi Arabia tensions after the latter executed 47 people on terrorism charges including Nimr al-Nimr, a Shia religious leader, and Fares Al-Shuwail Al-Zahrani, a convicted Al-Qaeda leader.
Nimr's execution had spurred Iranian demonstrators into ransacking the Saudi embassy in Tehran, prompting several Saudi allies to break off diplomatic ties with Iran.
Pakistan and Iran are hoping to complete the Iran-Pakistan gas pipeline project soon to resolve Pakistan's energy crisis. The IP pipeline project - also called Peace Pipeline – is aimed at constructing a pipeline from Iran's South Pars fields in the Persian Gulf to Pakistan 's major cities of Karachi and Multan.
The pipeline can carry 110 million cubic meters of gas a day. Iran will initially transfer 30 million cubic meters of gas per day to Pakistan , but will eventually increase the gas transfer to 60 million cubic meters per day.
Pakistan and Iran are economic partners. This cooperation lasted throughout the cold war, with Iran supporting Pakistan in its conflicts with arch-rival, India. In return, Pakistan supported Iran militarily during the Iran-Iraq War in the 1980s.
Recent difficulties have included disputes over trade and political position. While Pakistan 's foreign policy maintains balanced relations with Saudi Arabia, the United States, and the European Union, Iran tends to warn against it and raised concerns about Pakistan's alleged backing of the Taliban during the fourth phase of civil war in Afghanistan in the last years of the 20th century. Iran was concerned after former army chief Raheel Sharif's appointment as the head of the Saudi Arabia-led military alliance but Islamabad assured Tehran that the coalition was not anti-Iran.
Iran has been a respected, popular, and favoured nation among Pakistanis, with 76 percent of Pakistanis viewing their western neighbour positively, making Pakistan the most pro-Iran nation in the world.
Dr Mohammed Ajam said that Iran and Pakistan had hosted millions of Afghan refugees and must try to resolve the Afghanistan issue together.
"There are around three million Afghans living in Iran. More than half of them are illegal. We have been deporting thousands of Afghans annually who enter illegally and start working here," he said.
Full report at:
https://nation.com.pk/17-Feb-2018/iranian-leadership-for-unbreakable-ties-with-pakistan
---------
Senate wants to know why Pakistan is sending troops to Saudi Arabia
Feb 17, 2018
ISLAMABAD: Senate Chairman Raza Rabbani on Friday summoned Defence Minister Khurram Dastgir to appear before the Upper House of Parliament on Monday with regards to the army's announcement of sending troops to Saudi Arabia.
The decision was taken after Senator Farhatullah Babar raised objections over the army's deployment to the Kingdom of Saudi Arabia (KSA), terming the development as "tantamount to bypassing the parliament".
Drawing the attention of the House to the matter, Senator Babar called the deployment to Saudi Arabia an issue of public importance. He said he had also given an adjournment notice to discuss the issue.
This comes after Pakistan Army announced on Thursday that it was deploying troops in Saudi Arabia under an existing bilateral security pact. The army made it clear that its contingent will take part in training and advice mission in Saudi Arabia.
"In continuation of ongoing Pak-KSA bilateral security cooperation, a Pakistan Army contingent is being sent to KSA on training and advice mission," the Inter-Services Public Relations had announced after a meeting between Chief of Army Staff Gen Qamar Bajwa and Saudi Ambassador Nawaf Saeed Al-Maliki at the General Headquarters.
Referring to the ISPR announcement, he said that the development came after a meeting between the COAS and Saudi ambassador which was preceded by a recent three-day visit — the second in two months — "quietly" undertaken to Saudi Arabia. He maintained that the number of troops being sent is unknown but the disclosure that it will be less than a division "indicated that almost a full-fledged army division is being sent to the Kingdom".
Going after the Foreign Office, the senator termed its condemnations against Houthi missile attacks as "nuanced statements", alleging that the FO has been paving the way and providing false justifications for the development.
"The deliberately nuanced FO statements condemning the Houthi missile attacks as a threat to the Kingdom and Holy Mosques also seem aimed at justifying sending of Pakistani troops to Saudi Arabia for active engagement in the conflict."
"Has anyone given a serious thought to its grave consequences?" he asked.
Referred to the parliament's unanimous "resolution seeking strict neutrality" in connection with the conflict, he asked who was making "unilateral" decisions, which bypass the parliament.
Senate Chairman Raza Rabbani then summoned Defence Minister Khurrum Dastagir. The minister is expected to appear before the Senate on Monday to deliver a policy statement on the recent development.
Saudi Arabia has been demanding deployment of Pakistani troops since the start of the Yemen conflict in 2015, but Pakistan has been struggling to evade the demand despite a unanimously adopted parliamentary resolution affirming the country's "neutrality" in the conflict.
Last year, Pakistan sent its retired army chief Gen Raheel Sharif to lead a Saudi coalition. Therefore, it was always speculated that the deployment would take place even though it could not happen as quickly as the Saudis wanted.
The ISPR insists that the new deployment and nearly 1,000 Pakistani troops already stationed there would not be "employed outside KSA".
There was no word on the size of the deployment.
PARLIAMENTARIANS CONCERNED:
Parliamentarians from Pakistan People Party (PPP) and Pakistan Tehreek-e-Insaf (PTI) on Friday expressed concern over sending more troops to Saudi Arabia and asked to inform the House about the matter.
Speaking at a point of order, Shireen Mazari said a resolution was approved by the Lower House of the Parliament over the issue of Yemen unanimously. She said that it seemed efforts were being made to condone this resolution. She said that ex-Army Chief was made the head of Islamic Alliance but the House was not taken into confidence. She said that news was circulating that Pakistan has sent more troops to Saudi Arabia.
Shireen Mazari said that no clarification was being issued in this regard. She asked that what role Pakistani troops would play there. She further asked that under what accord Pakistani forces were being sent and what would be their duties? She added there was a need to inform the House about the prevailing conditions. She said unanimous resolution on Yemen issue was not being implemented.
Full report at:
https://www.pakistantoday.com.pk/2018/02/17/senate-wants-to-know-why-pakistan-is-sending-troops-to-saudi-arabia-2/
---------
USA should accept Taliban's talks offer: JI chief
Feb 17, 2018
Siraj says US decision to attack Afghanistan with NATO force was a blunder
JI leader says clash of the institutions could endanger democratic system in the country
Jamaat-e-Islami Ameer Senator Siraj-ul-Haq has said that the Taliban's demand in an open letter to the US Congress and the US people for the withdrawal of US troops from Afghanistan and resolving issue through dialogue was right step and Washington should accept the offer.
He was addressing the participants of the JI central workshop at Mansoora on Friday. Siraj said that in human history, the decisions of the wars were made at the dialogue table. He said that the US had been fighting against the mountains of Afghanistan for the last seventeen years but to no avail. In fact, he said the US decision to attack Afghanistan with NATO force was a blunder. This was an attack on the sovereignty and independence of a Muslim country and the Afghans fought for their freedom with great valour and courage.
He said that hundreds of thousands of Afghans had been martyred in the war but the Afghans had not accepted defeat. He said that even if the US continued this war for hundred years, it would not be able to defeat the Afghans.
The JI chief strongly condemned the inclusion of Pakistan in the US watch list for supporting terrorism under Indian pressure. He said that India had been carrying on worst form of terrorism in Held Kashmir for the last seventy years but Pakistan had failed to highlight this fact at the world level. On the other hand, he said the Pak Army had done commendable job in fighting terrorism which had been acknowledged by the world.
The JI chief further said that the clash of the institutions could endanger the democratic system in the country. He said if the state institutions were not allowed to function independently and if they took to confrontation with one another instead of cooperation, the whole system could collapse.
Calling upon the institutions to remain within their limits and work hand-in-hand with one another, the JI chief said that the present state of confrontation was a serious threat to the democracy.
He also warned if horse trading in the Senate elections was not stopped, the Upper House would turn into a Sunday Bazaar and those returning to the Senate would be least interested in legislation or other national issues but would all the time be busy in money making and building their personal assets.
Full report at:
https://www.pakistantoday.com.pk/2018/02/16/usa-should-accept-talibans-talks-offer-ji-chief/
---------
Southeast Asia
Report: Foreign terrorists acquiring Malaysian IDs for as little as RM350
February 17, 2018
KUALA LUMPUR, Feb 17 ― Foreign terrorists are among those who are acquiring Malaysian identification documents for just RM350, which in turn is enabling them to find jobs in the country, according to a report.
New Straits Times said that some of these individuals, who are from the Philippines, have gone on to secure jobs as security guards in the country.
It said that counterterrorism operatives had arrested at least two individuals from the Phillippines who had assumed fake identities and even gained employment as a result. They bought their IDs, a fake MyKad, for RM1,000 and RM350 respectively.
"The availability of fake Malaysian identification documents is worrying, especially when we don't know who bought them and where they are," the report quoted an enforcement agency official as saying.
Southeast Asia regional director for International Association for Counterterrorism and Security Professionals, Andrin Raj, said that Malaysia has become a centre for fake documentation in Southeast Asia.
"Terrorist groups, such as al-Qaeda and Jemaah Islamiah, in the past had established Malaysia as the 'centre' for securing fake documentation in Southeast Asia," he reportedly said.
http://www.themalaymailonline.com/malaysia/article/report-foreign-terrorists-acquiring-malaysian-ids-for-as-little-as-rm350#4SqvPSoBURBHIGHA.97
---------
Zaid: Time for a different Islamic government to rule Kelantan
February 16, 2018
KUALA LUMPUR: Former minister Zaid Ibrahim has called on the people of Kelantan to free themselves of PAS, just like the French and Russians threw out the aristocrats ruling them, in 1789 and 1917 respectively.
The DAP member said in a blog post today that he expected Kelantan voters to change the state leadership in the coming general election, but in a quieter fashion.
"I am not sure if it's Umno or Amanah that will win their hearts, but PAS is a dead man walking as far as I can see. And that's how it should be."
He added: "Throwing out PAS does not mean the people are against an Islamic government; they just need a different one."
He said after 25 years of Islamic rule, the people of Kelantan had tasted what it meant to be governed by the "ulama group".
Employing sarcasm, Zaid said, state capital Kota Bharu was today sin free, and there were no thefts and illicit sexual activities.
"Traders are all honest with each other and with their consumers as there is no price fixing and no shortchanging in quality and price. Young schoolchildren do not engage in illicit sex, take drugs or drink ketum on a regular basis. The men no longer cross the Golok river for fun and games like they used to in my younger days, and they are all happy living a clean life in the Islamic city.
"All leaders in Kelantan are honest and take no bribes or 'commissions'. Their dealings, including the sale of land and timber concessions, are transparent."
Saying the locals had seen what it was like to live under an Islamic government, Zaid added it was time for them to have a different government, "because the Islamic one they now have – although almost perfect – has not been able to give them jobs. It has also not been able to provide them with housing, not even the homes that were promised after the last big flood in 2014. The state government has not even been able to ensure a supply of clean water."
What the people of Kelantan need, said the former de facto law minister, was a government that would bring in investors, leading to more work opportunities.
Full report at:
http://www.freemalaysiatoday.com/category/nation/2018/02/16/zaid-time-for-a-different-islamic-government-to-rule-kelantan/
---------
Muhammadiyah Supports Progressive Islam: Chairman
February 16, 2018
Muhammadiyah chairman Haedar Nashir has said his organization would continue to uphold the idea of Islam berkemajuan, or progressive Islam, in Indonesia amid concerns of rising religious extremism in the country.
Haedar made the pledge in a public lecture he delivered at Monash University in Melbourne, Australia, on Friday, according to a statement released by Muhammadiyah. The Muslim scholar had been invited to the Australian university to explain the ideas and values of Islam embraced by the country's largest modern Islamic movement.
"The view of progressive Islam introduced by the founders of Muhammadiyah has given birth to a progressive ideology that is widely known as reformist and modern Islam," Haedar said in his lecture, as quoted in the statement.
Muhammadiyah, established in Yogyakarta in 1912, is one of the oldest Islamic organizations in the country. While some of its predecessors, such as Syarikat Dagang Islam and Jam'iyatul Khair (both established in 1905), have descended into obscurity, Muhammadiyah currently operates 9200 schools, 170 universities and 500 hospitals and nursing homes.
"Muhammadiyah is committed to spreading the ideas and mission of progressive Islam, as it was the spirit of its birth in 1912," Haedar said.
The Muslim scholar told his Australian audience that the organization believed Islam was opposed to war, violence and terrorism and should be a blessing to mankind.
Full report at:
http://www.thejakartapost.com/news/2018/02/16/muhammadiyah-supports-progressive-islam-chairman.html
---------
Report: Indonesia mulls ban on maids to Malaysia after latest death
February 17, 2018
KUALA LUMPUR, Feb 17 ― Indonesia may soon reintroduce a moratorium on allowing its citizens to work in Malaysia as domestic workers, after the death of 21-year old Adelina Lisao last week.
The Jakarta Post reported that the source country was looking into revisiting a moratorium on sending its domestic workers, with the death sparking a debate on the rights and protection of foreign workers and said Malaysia was a country "whose porous borders are part of a region-wide human trafficking route."
Indonesia ambassador to Malaysia Rusdi Kirana said the move has the blessing of Indonesian president Joko "Jokowi" Widodo, who raised it to his malaysian counterpart Datuk Seri Najib Razak when the two met in Kuching last year.
Rusdi, who is also the owner of Indonesia's largest low-cost carrier Lion Air Group, has said he had talked to the President about a possible moratorium last year
"The president also wanted a moratorium, because he had also conveyed this to the Malaysian Prime Minister in the [November] meeting," he said.
Rusdi had proposed suspending sending domestic workers to malaysia and working on restructuring the employment administration process to mending diplomatic ties which had been strained by several cases involving migrant workers.
"A moratorium is important so we can restructure our TKI [migrant workers] employment system to prevent cases such as Adelina's from happening again," Rusdi said, referring to migrant workers in the informal sector.
He said violations against Indonesian domestic helpers had caused tension between the two countries. "In order to promote cooperation, what happened to Adelina should not happen again," Rusdi said.
Full report at:
http://www.themalaymailonline.com/malaysia/article/report-indonesia-mulls-ban-on-maids-to-malaysia-after-latest-death#dApKfKsc5LM2EV7O.97
---------
Arab World
Battle to free Mosul of IS 'intellectual terrorism'
February 17, 2018
Mohammad Salim
In a classroom of the University of Mosul, in the Islamic State group's former Iraqi capital, around 50 volunteers have undergone a week's training on how to combat the jihadists' ideology.
The ulema, or Islamic scholars, aim to set up "brigades" tasked with ridding Mosul residents of extremist ideas following the city's recapture last July which ended three years of IS rule.
"Mosul must be liberated from the thinking of Daesh after having been liberated militarily," said Mussaab Mahmud, who just completed the course, using an Arabic acronym for IS.
"We were deceived by Daesh ideas and now we are trying to free ourselves from its ideology," said the 30-year-old day labourer.
The first group of volunteers came from all sectors of Mosul society, including mechanics, teachers and a sheikh.
The men aged from 25 to 45 signed up on Facebook for the course run by the Ulema Forum of Mosul, Iraq's second largest city which was left shattered by the months-long battle to expel IS.
The classes are being conducted by five teachers who are experts in Islamic jurisprudence from Mosul and Tikrit, a city to the south that was also previously under brutal IS rule.
"The lessons are concentrated on human rights, human development, peaceful coexistence and communal peace," the forum's president Sheikh Saleh al-Obeidi told AFP.
He said participants were tutored on "faith, Islamic jurisprudence and the Hadith (record of the sayings of the Prophet Mohammad) to allow them to counter the ideas of Daesh and its intellectual terrorism".
- Priority on 'brainwashed' children -
IS imposed its own rigid interpretation of Islamic law on all aspects of everyday life, branding opponents "apostates" who should be killed.
Most members of religious and ethnic minorities who had lived in peace for centuries alongside Mosul's majority Sunni Muslims fled to escape the radicals with their beatings and public executions.
Sheikh Obeidi said the brigades will go out and "combat the extremist ideas on social media and by calling on residents in their homes".
His forum was established in 2014 in the autonomous region of Iraqi Kurdistan, to the north of Mosul, by ulema who had fled the city.
They broadcast on private television channels but residents risked the wrath of IS if they were caught tuning in to the forum's programmes.
Sheikh Obeidi said that the classes would expand to cover "all social groups and both sexes", although it was still looking for permanent premises in the war-battered city.
Priority will be the children indoctrinated in IS-run schools where they were taught the jihadist version of Islam and given weapons training.
"As a teacher myself, what I've learnt here will allow me as far as possible to erase the radical Daesh ideas instilled in pupils, because they were the worst affected and influenced," said Ibrahim Mohammad Hamid, 27.
"I will go to the parents because the home and the family play a major role in spreading the idea of tolerance and coexistence," he said.
Mohammad Abaiji, a 24-year-old imam, or prayer leader, said he would run seminars in the mosque for children "to spread enlightened ideas, because Islam is a religion of tolerance".
In a classroom of the University of Mosul, in the Islamic State group's former Iraqi capital, around 50 volunteers have undergone a week's training on how to combat the jihadists' ideology.
The ulema, or Islamic scholars, aim to set up "brigades" tasked with ridding Mosul residents of extremist ideas following the city's recapture last July which ended three years of IS rule.
"Mosul must be liberated from the thinking of Daesh after having been liberated militarily," said Mussaab Mahmud, who just completed the course, using an Arabic acronym for IS.
"We were deceived by Daesh ideas and now we are trying to free ourselves from its ideology," said the 30-year-old day labourer.
The first group of volunteers came from all sectors of Mosul society, including mechanics, teachers and a sheikh.
The men aged from 25 to 45 signed up on Facebook for the course run by the Ulema Forum of Mosul, Iraq's second largest city which was left shattered by the months-long battle to expel IS.
The classes are being conducted by five teachers who are experts in Islamic jurisprudence from Mosul and Tikrit, a city to the south that was also previously under brutal IS rule.
"The lessons are concentrated on human rights, human development, peaceful coexistence and communal peace," the forum's president Sheikh Saleh al-Obeidi told AFP.
He said participants were tutored on "faith, Islamic jurisprudence and the Hadith (record of the sayings of the Prophet Mohammad) to allow them to counter the ideas of Daesh and its intellectual terrorism".
- Priority on 'brainwashed' children -
IS imposed its own rigid interpretation of Islamic law on all aspects of everyday life, branding opponents "apostates" who should be killed.
Most members of religious and ethnic minorities who had lived in peace for centuries alongside Mosul's majority Sunni Muslims fled to escape the radicals with their beatings and public executions.
Sheikh Obeidi said the brigades will go out and "combat the extremist ideas on social media and by calling on residents in their homes".
His forum was established in 2014 in the autonomous region of Iraqi Kurdistan, to the north of Mosul, by ulema who had fled the city.
They broadcast on private television channels but residents risked the wrath of IS if they were caught tuning in to the forum's programmes.
Sheikh Obeidi said that the classes would expand to cover "all social groups and both sexes", although it was still looking for permanent premises in the war-battered city.
Priority will be the children indoctrinated in IS-run schools where they were taught the jihadist version of Islam and given weapons training.
"As a teacher myself, what I've learnt here will allow me as far as possible to erase the radical Daesh ideas instilled in pupils, because they were the worst affected and influenced," said Ibrahim Mohammad Hamid, 27.
"I will go to the parents because the home and the family play a major role in spreading the idea of tolerance and coexistence," he said.
Mohammad Abaiji, a 24-year-old imam, or prayer leader, said he would run seminars in the mosque for children "to spread enlightened ideas, because Islam is a religion of tolerance".
http://www.thejakartapost.com/news/2018/02/17/battle-to-free-mosul-of-is-intellectual-terrorism.html
---------
Pakistan army contingent to join training, advisory mission in Saudi Arabia
16 February 2018
The Pakistani Inter-Services Public Relations agency said on Thursday that a contingent of troops will be stationed in Saudi Arabia on a "training and advisory mission."
The announced was made following a meeting between the Saudi Ambassador, Nawaf Saeed al-Maliki, and Pakistan's Army Chief General, Qamar Javed Bajwa.
The troops will be joining nearly 1,180 others already stationed in the kingdom, the Dawn newspaper. The formerly deployed troops were also serving in training and advisory reports, said the ISPR report.
Full report at:
https://english.alarabiya.net/en/News/gulf/2018/02/16/Pakistan-army-contingent-in-Saudi-Arabia-on-training-advisory-mission.html
---------
Mass grave of 34 Daesh victims discovered in northern Syria
Feb 16, 2018
Syrian government forces have discovered a mass grave containing the bodies of nearly three dozen people executed by members of the Daesh Takfiri terrorist group near the country's northern city of Raqqah.
A Syrian field commander, speaking on condition of anonymity, told Syria's official news agency SANA on Friday that Syrian troopers made the discovery in the al-Ramthan area of the province, located about 455 kilometers (283 miles) northeast of the capital Damascus, and the grave has the corpses of 34 civilians and military personnel in it.
An unnamed civilian defense official said the bodies have been transferred to the military hospital in the northwestern city of Aleppo to be identified through DNA tests, and later returned to their families.
Syrian Forensic Medicine General Director Zaher Hajo told Arabic-language and pro-government al-Watan daily in early January that Daesh Takfiris had executed 10,000 people and buried their bodies in mass graves across Raqqah.
He stressed that his colleagues had confirmed the presence of 4,000 bodies in one single grave.
Hajo went on to say that Syrian Health Minister Nizar Yazigi has ordered the formation of a committee in order to collect the remains of the victims and transfer them to the military hospital in Aleppo.
He stated that identification of the victims, using their teeth and bones, will start next week, stressing that he will chair the committee.
Hajo said the mass graves have been found in areas now controlled by the so-called Syrian Democratic Forces (SDF) – a US-backed group of Kurdish and Arab forces.
The SDF said on October 20, 2017 that it had "liberated" Raqqah after driving out Daesh terrorists from the city, which served as Daesh's de facto capital in the war-ravaged Arab country.
The US-backed forces later said the political future of the city and the province of the same name would be determined "within the framework of a decentralized, federal, democratic Syria."
SDF spokesman Talal Silo said that the group would hand over the control of Raqqah to what he called "the Raqqah Civil Council."
Syrian Minister of National Reconciliation Affairs Ali Haidar reacted by saying that Raqqah's future could only be discussed "as part of the final political structure of the Syrian state."
The so-called Syrian Observatory for Human Rights (SOHR) has, meanwhile, said that the SDF's purported operations in Raqqah have killed civilians and damaged infrastructure in the city.
Full report at:
http://www.presstv.com/Detail/2018/02/16/552563/Mass-grave-of-34-Daesh-victims-discovered-in-northern-Syria
---------
King Salman expresses support for El-Sisi's fight against terror
16 February 2018
RIYADH: Saudi Arabia's King Salman has expressed his support for Egypt's President Abdel Fattah El-Sisi in the battle against terror during a phone call on Friday.
King Salman affirmed Saudi Arabia's keenness for the security and stability of Egypt and its support of the diligent efforts to combat terrorism, Saudi Press Agency reported.
During the call, the two leaders discussed ways of enhancing relations between the Kingdom of Saudi Arabia and Egypt in all fields and reviewed regional developments of mutual interest.
http://www.arabnews.com/node/1247826/saudi-arabia
---------
Qatari emir: Saudi-led blockade 'futile', unity needed in Middle East
Feb 17, 2018
Qatari Emir Sheikh Tamim bin Hamad Al Thani says his peninsular Persian Gulf country has "preserved its sovereignty" months after a "futile" diplomatic blockade was imposed against Doha by a Saudi-led group of Arab states.
"It has been a futile crisis manufactured by our neighbors, some of whom are major regional players once believed to be stabilizing factors on the world stage," the Qatari emir said during his speech at the 54th Munich Security Conference in Munich, Germany, on Friday.
Tensions have escalated in the Persian Gulf region after Saudi Arabia, Bahrain, Egypt, and the United Arab Emirates (UAE) severed their diplomatic relations with Qatar on June 5 last year, accusing it of sponsoring "terrorism" and destabilizing the region.
The quartet has also imposed sanctions against Doha, including restrictions on Qatari aircraft using the airspace of the four countries. To further pressure Qatar, Saudi Arabia has totally closed its land border with its tiny neighbor, through which much of Qatar's food supply crossed. Doha, however, rejects the claims, saying its sovereignty has been attacked.
"By diffusing the impact of the illegal and aggressive measures imposed on our people, Qatar preserved its sovereignty. This failed blockade shows how small states can use diplomacy and strategic economic planning to weather the storms of aggression from larger, ambitious neighbors," Al Thani further said.
However, the Qatari emir called for unity and more cooperation between Arab states, particularly those in the Middle East, saying they should promote a flow of humanitarian aid in the region and access to religious sites for all faiths, prevent "desecration" of historic and religious sites, and adopt a European Union-style security pact.
"The Middle East is at the brink… it is time to bring it back. All of us here, especially those who enjoy more power and wealth, have a responsibility to solve the conflict. The Middle East will need help, from the larger international community, to succeed in such a mission," Al Thani added.
Later in June last year, the four Arab countries urged Qatar to abide by a 13-point list of demands if it wanted the crippling blockade lifted. The demands included shutting down the Doha-based Al Jazeera broadcaster, scaling back cooperation with Iran, closing the Turkish military base in Qatar, and paying an unspecified sum in reparations.
Qatar, however, firmly refused to comply, calling the wide-ranging demands "unrealistic, unreasonable and unacceptable." In return, the four feuding countries vowed to impose further sanctions.
Tensions further escalated between Qatar and the UAE over alleged military overflights recently.
Full report at:
http://www.presstv.com/Detail/2018/02/17/552606/Qatar-blockade-Saudi-Arabia-UAE-Al-Thani
---------
Syrian Army Uncovers Large Network of ISIL's Tunnels in Deir Ezzur
Feb 16, 2018
According to the military source, the Syrian army was conducting a search-and-destroy mission in the Eastern Deir Ezzur, when they uncovered this web of tunnels near the town of Al-Mayadeen and Sabikhan region.
The source added that one of the tunnels was at least 500 meters long and contained a large cache of weapons, including assault rifles, ammunition, RPGs, and ATGMs.
This network of tunnels was believed to be used by the ISIL to carry out attacks against the Syrian Army in Eastern Deir Ezzur.
The army sources said on Tuesday that they were carrying out cleansing operation in the villages of al-Sayal and Hasarat East of the town of Albu Kamal in Southeastern Deir Ezzur when they discovered several warehouses containing a large number of Israel-made missiles, rockets, mortars, shells, landmines and hand-made bombs.
Full report at:
http://en.farsnews.com/newstext.aspx?nn=13961127000439
---------
Syrian Army Refuses YPG Proposal to Enter Afrin
Feb 16, 2018
The AMN quoted sources in Aleppo province as saying that the Syrian Army rejected the YPG offer because the latter refused to hand over their weapons to Damascus.
The Syrian Army has repeatedly requested that the YPG turn in all of their weapons before their forces would enter the Afrin region and fend off the Turkish-led incursion.
However, the Syrian Army maintains that they will continue to allow the Kurdish forces to resupply the area from within their own territory in Aleppo.
Earlier today, the Arabic-language al-Mayadeen TV quoted well-informed sources as saying that the Syrian government and the People's Protection Units (YPG) agreed on the deployment of the Syrian Army troops in Afrin region which has come under attack by the Turkish army troops and their allied militants in recent weeks.
Official Damascus has not yet made any comment on the revelations.
A senior Kurdish official said in late January that the Syrian army forces' deployment in Afrin was welcomed as war was ravaging between the Kurds and the Turkish army.
The Arabic-language al-Mayadeen news channel quoted the source as saying at the time that the Kurds welcomed the Syrian army's presence in Afrin after the Syrian government proposed some solutions and made an agreement with them.
He said that the Kurds were prepared to defend themselves, adding, "We are not enemies of the Syrian government but we want to be a part of the political process in the country; we will also deliver our weapons to the Syrian army once we reach a political solution."
Full report at:
http://en.farsnews.com/newstext.aspx?nn=13961127000428
---------
Syria's downing of Israeli warplane 'very big' achievement, Hezbollah chief says
Feb 16, 2018
The secretary general of the Lebanese Hezbollah resistance movement has praised the recent downing of an Israeli F-16 fighter jet by the Syrian air defense systems as a "very big military achievement."
"Syrian movement has decided to repel Israel's aerial assaults. The decision to shoot down the plane was taken by the Syrian leadership and President Bashar al-Assad. Those who executed the order were the officers and soldiers from the Syrian Arab Army," Sayyed Hassan Nasrallah addressing his supporters via a televised speech from the capital Beirut on Friday evening.
Nasrallah further noted that Israel launched the row with Lebanon over Block 9 on the account that the offshore oil and gas field, which lies in Mediterranean waters, is a boon to the Zionist regime.
"Our dispute with Israel over energy reserves could not be simply explained as an economic issue. Israel is making use of the energy issue in order to receive the US green light to annex occupied Golan Heights since there are reports about huge quantities of oil there," he pointed out.
The Hezbollah secretary general went on to say that numerous reports have confirmed "significant" quantities of oil and gas inside Syria, and that is one of the main reasons behind foreign-backed militancy and the presence of US military forces in the war-ravaged Arab country.
"The US military has occupied the eastern side of the Euphrates River since Syria's most important oil and gas fields are located there," Nasrallah highlighted.
The Hezbollah chief said US President Donald Trump is a businessman-turned-political leader and views Iraq as a "big barrel of oil."
"Offshore oil and gas reserves in the Mediterranean Sea belong to Lebanon, and they are the most important source of income for the country," Nasrallah said.
Nasrallah added that the Lebanese government needed to take a "firm and strong" position on disputes with Israel, emphasizing that his resistance movement was ready to act if necessary.
He said Lebanese officials must demand concessions from the US on the border dispute in return for "convincing Hezbollah to hold back from attacking Israel."
"Resistance is Lebanon's sole trump card in the oil and gas battle with Israel," Nasrallah commented.
The Hezbollah chief then warned Lebanese politicians against US administration's mediating role in the dispute with Israel over offshore gas drilling rights, stressing that Washington is not an honest broker.
"Americans did not come to Lebanon to resolve the issue. They were here to defend Israel's rights and issue threats to Lebanese politicians," Nasrallah pointed out.
Elsewhere in his remarks, Nasrallah described assassination operation against Mohammed Hamdan, a member of the Palestinian Islamic resistance movement, Hamas, in the southern Lebanese city of Sidon as a violation of Lebanon's sovereignty, warning that intelligence reports have pointed to Tel Aviv regime's efforts to target more individuals in Lebanon.
Commenting on the 39th anniversary of the victory of the Islamic Revolution in Iran, Nasrallah said Tehran has never interfered in the domestic affairs of Lebanon.
"Iran is a country that no other country can meddle in its positions and strategies. The Islamic Republic has stood by all Arab nations, and defended their rights," he said.
Nasrallah also pointed to the anti-regime campaign in Bahrain, saying people have continued their protests in the tiny Persian Gulf kingdom despite seven years of heavy-handed crackdown.
"Bahrain is the only country in the world whose government strips citizens of their nationality," the Hezbollah secretary general said.
Nasrallah also lauded Lebanon's new election law, calling on members of the Future Movement to stay calm.
He roundly dismissed allegations that Hezbollah is seeking to gain the majority of seats in the Lebanese parliament as "nothing but mere lies."
Full report at:
http://www.presstv.com/Detail/2018/02/16/552585/Syrias-downing-of-Israeli-warplane-very-big-achievement-Hezbollah-chief-says
---------
Syrian Army to Deploy in Kurdish-Held Afrin
Feb 16, 2018
The al-Mayadeen tv quoted well-informed sources as saying that the Syrian government and the People's Protection Units (YPG) agreed on the deployment of the Syrian Army troops in Afrin region which has come under attack by the Turkish army troops and their allied militants in recent weeks.
It added that the newly-concluded agreement is aimed at confronting the Turkish's operation in Afrin.
A senior Kurdish official said in late January that the Syrian army forces' deployment in Afrin was welcomed as war was ravaging between the Kurds and the Turkish army.
The Arabic-language al-Mayadeen news channel quoted the source as saying at the time that the Kurds welcomed the Syrian army's presence in Afrin after the Syrian government proposed some solutions and made an agreement with them.
He said that the Kurds were prepared to defend themselves, adding, "We are not enemies of the Syrian government but we want to be a part of the political process in the country; we will also deliver our weapons to the Syrian army once we reach a political solution."
Full report at:
http://en.farsnews.com/newstext.aspx?nn=13961127000240
---------
Africa
NDLEA seizes N20m worth of Tramadol belonging to Boko Haram terrorists
February 16, 2018
By Chijioke Jannah
Operatives of the National Drug Law Enforcement Agency (NDLEA) in Adamawa State have intercepted about 1,316 tonnes of tramadol believed to be a supply for the Boko Haram terrorists.
NDLEA Commander in the state, Mr Yakubu Kibo, revealed this to reporters on Friday in Yola, the state capital in North-east Nigeria.
He said "the seized items have been despatched from the southern part of the country undetected and brought to an electronic shop in Mubi, a commercial town in Adamawa once captured by the terrorists."
According to him, the NDLEA operatives cordoned off the shop following a tip-off.
He added that "after a thorough search, NDLEA operatives discovered 183 cartons of noodles which contained 1,316 tonnes of tramadol (225 mg tablets), with a street value of about N20million."
Mr Kibo described the development as unfortunate, considering what the drugs would be used for.
He also called on residents across the state to support the agency in curbing the menace of drug abuses in the society.
"The Command is using this opportunity to urge members of the public to be watchful and live up to their civic responsibility by giving information that will help checkmate new trends of concealments employed by these merchants of death," the commander said.
In another development, NDLEA operatives embarked on a raid operation in Yola and its environs while a total of 46 suspects were arrested.
Items recovered from them include cannabis sativa, cough syrup with codeine, tramadol tablets, pentazocine injection, diazepam tablets, and formalin solution among other drugs.
Kibo, who also paraded the suspects before journalists, vowed that the NDLEA would continue to ensure that illicit drugs become unattractive to dealers in the state.
He also appreciated the state governor, Mohammed Jibrilla, for supporting the agency in a bid to build a drug abuse-free Adamawa.
http://dailypost.ng/2018/02/16/ndlea-seizes-n20m-worth-tramadol-belonging-boko-haram-terrorists/
---------
15 feared dead as Boko Haram bombs Borno market
February 17, 2018
By Fikayo Olowolagba
At least 15 persons were reportedly killed, while 18 sustained injuries in a fresh bomb blast in Konduga, Borno State, on Friday.
It was gathered that the bomb blast was launched by three suicide bombers at a market in Konduga.
Bulama Kaka, a resident who witnessed the incident, told TheCable that it occurred around 7pm.
Kaka said the first bomb was some meters away from where he was while the two other bombs were inside the market.
"We all ran for safety after the first thunderous blast occurred. Many people I know were killed in the attack.
"Some traders were affected," he said.
An official of the State Emergency Management Agency confirmed the incident, saying victims with minor injuries were receiving treatment at a hospital in Konduga.
"Those who lost their lives and people in critical condition have been moved to the University of Maiduguri Teaching Hospital and Maiduguri general hospital," he said.
Full report at:
http://dailypost.ng/2018/02/17/15-feared-dead-boko-haram-bombs-borno-market/
---------
Al-Shabaab commander surrenders to Somali authorities
2018-02-16
MOGADISHU, Feb. 16 (Xinhua) -- A senior Al-Shabaab commander surrendered to Somali authorities in southern Somalia on Friday, government officials said.
A local administrator in Gedo region, Isaaq Hussein Mursal told journalists that the militant commander Abdinor Moallim Hassan handed himself over to government officials in the Bardhere town in Gedo region.
"Abdinor presented himself to our officers in Bardhere town. He was carrying an AK-47 gun and six pistols," said Mursal.
Mursal said the government was open to receive defectors from the militant group Al-Shabaab as part of the amnesty program announced last year.
Hassan's surrender adds to several middle level and high profile defections by Al-Shabaab elements as Somali and African Union forces intensify their offensives against the militants.
This past week has seen several military operations in southern Somalia particularly Lower Shabelle region which remains one of the strongholds of the group.
Full report at:
http://www.xinhuanet.com/english/2018-02/16/c_136980146.htm
---------
Tunisia probes Qatar involvement in dubious funding in North Africa
16 February 2018
An investigation has been opened in the Tunisian Parliament by deputies to uncover and prosecute the parties and entities involved in the case of the "suspicious" financial transfers carried out by an officer in Qatar's armed forces for purposes related to the financing of terrorism and fueling chaos and instability in Tunisia and the region.
The new documents revealed by the deputy from the Al Hurra parliamentary bloc, the representative of the movement Machrou Tunis, Sahbi Ben Faraj, revealed the involvement of some military officials and civilians who benefited from Qatari funds for unknown purposes, especially after suspicious money transfers were made by a "retired general in the Qatari armed forces to some Tunisian banks".
It was revealed that the account included funds derived from an account under the name of the Qatari Armed Forces, which is part of the bank account of the Embassy of the State of Qatar in Tunisia.
In this context, Faraj said in a statement to Al Arabiya.net that his bloc in the parliament intends to "follow up the file to reveal the circumstances and details of this serious case and the whereabouts of those involved in it, by questioning the Minister of Defense to know the results of the investigation opened by the military judiciary about the involvement of military personnel."
He added that communications will be established with the central bank to learn about the transactions of the Qatari Brigadier General, the identity of the associations or organizations that benefited from this account, the parties behind them and the objectives behind this funding, to uncover the truth away from any attempt of blackout.
Two days ago, Faraj revealed that his parliamentary bloc received last Tuesday after a great urgency, a correspondence from the Central Bank, in response to the question of MP Marwan Al falafel, on the subject of Qatari remittances.
Suspicious funds amount to $2 bln
The suspicious funds and cash withdrawn from the account amount to 4 billion and a half of Tunisian Dinars, the equivalent of about $2 billion.
The Commission examined semi-high officials, including military personnel, who benefited from these funds.
The then Prime Minister Mehdi Jumaa was informed on November 17, 2014, and the Ministry of Defense questioned the suspected Qatari general on December 4, 2014, before referring the case to the military court.
According to the same document, with the permission of the investigating judge in the judicial court of finance on 24/07/2015, then Prime Minister Al-Habib al-Said, on April 4, 2015, filed a lawsuit which led to the freezing of all the accounts of the Qatari general, subject to suspicion (the amount of frozen funds is estimated at 3 million dinars).
Four years after the start of the investigation into this file, and the failure by the authorities to pinpoint and announce the parties involved - whether the Ministry of Defense or the Central Bank and the Ministry of Justice – parliament member Marwan al-Falafel revealed in a statement to al Arabiya, that Al Hurra parliamentary bloc, will "set up a committee for investigation and follow-up in the framework of its oversight and parliamentary responsibilities."
The official spokesman for the two financial and counter-terrorism tribunals, Sufian al-Sulaiti, said last June that the preliminary investigation on the issue of remittances from Qatar to Tunisia indicated that "it concerns the financing of a refugee camp in southern Tunisia," hosting Libyan refugees during the Libyan revolution, noting that "the Public Prosecution has been investigating this issue since 2014, after receiving a notice from the Central Bank Governor that a Qatari national received transfer of approximately 8 million dinars ($ 3.2 million) from Tunisian banks.
On the Qatari citizen's activity, al-Sulaiti said, according to preliminary research, that "he came to Tunisia in 2011 after the outbreak of the crisis of the displaced Libyans, to carry out the task of funding the camp under the supervision and funding of the Ministry of Defense of Qatar. His task was to implement the refugee camp in the state of Tataouine. As such, he opened an account under his name, and the Ministry of Defense officially transferred a sum of money to that account in Tataouine through the Tunisian banking system."
One Qatari, four Tunisians
Al-Sulaiti explained that after the end of the investigation, the Public Prosecution began to question in July 2015 five persons - a Qatari and four Tunisians - on various charges, including "money laundering and the provision of support and funding to persons, organizations and activities related to terrorist crimes."
The investigating judge also froze the funds of the Qatari citizen in all the Tunisian banks and suspended all his bank accounts.
Nidaa Tounes MP Monji al-Harbawi revealed previously that the suspected Qatari officer is 52-year-old 'Ali Salem al-Jarboui'.
He is a Qatari Brigadier-General and a military attaché in North Africa with the Qatari intelligence who supervises its missions in Mauritania, Morocco, Algeria, Tunisia and Libya. He has no diplomatic qualifications and has been directly involved with the commander of the Qatari armed forces, Hamad bin Ali al-Attiyah. He was then commissioned to oversee the Libyan refugee camp in southern Tunisia.
Full report at:
https://english.alarabiya.net/en/News/middle-east/2018/02/16/EXCLUSIVE-Tunisia-probes-Qatar-involvement-in-dubious-funding-in-North-Africa.html
---------
Turkey opposes foreign intervention in Libya
16 February 2018
Turkey's special envoy to Libya said Friday that a national consensus government should be established in Libya as soon as possible, without any foreign intervention.
Emrullah Isler said: "If the [political] actors inside want a solution, the solution is easy."
"...Actors inside need to completely get out of foreign pressures and guidance of foreign countries and they need to act independently," he added.
His remarks came at the seventh anniversary of the toppling of the country's leader Muammar Gaddafi which ended his 42-year rule.
Speaking about his 2014 meeting with Aguila Saleh Issa, president of the Libyan House of Representatives in Tobruk, Isler said that Turkey maintains the same stance, which supports 'dialogue' and a 'common understanding' between the sides.
"We told them, as Turkey, we are against foreign interventions in Libya and we treat equally all the sides in Libya," he said.
"We also told them if they like, we could mediate but they rejected the offer."
He said Egypt and the UAE substantially intervene in Libya.
With regards to kidnapped Turkish engineers in the country, he said: "We are exerting efforts to finalize it [the situation] as soon as possible. We were informed that their health conditions are good."
Libyan Prime Minister Fayez al-Sarraj will pay a visit to Turkey on Feb. 24 to attend a conference on economic relations between the two countries, he added.
Full report at:
http://www.worldbulletin.net/africa/198901/four-questions-about-the-ethiopian-pms-resignation
---------
3 teachers killed in extremist attack in northeastern Kenya
February 16, 2018
NAIROBI, Kenya (AP) — Kenyan authorities said suspected al-Shabab extremists killed three teachers in an overnight attack Friday in the northeastern county of Wajir, while police said they foiled another attack in the east, killing a suspect and recovering a huge cache of weapons.
Gunmen attacked Qarsa primary school and targeted non-Muslim teachers, North Eastern regional coordinator Mohamud Saleh said. A responding rescue team ran over an improvised explosive device but no one was injured, he said.
Education along Kenya's border with Somalia has been greatly hindered after many non-Muslim teachers refused to work in the region following the extremist group's targeting of non-Muslims starting in 2014 that left dozens dead.
The Somalia-based Al-Shabab has vowed retribution after Kenya sent troops in 2011 to fight the extremists in the Horn of Africa nation.
In the foiled attack in Merti in Isiolo county, police killed a suspected al-Shabab extremist and recovered a cache of weapons in his vehicle on Thursday, a police official said. At least 1,000 bullets, 36 grenades, 18 bombs and five rifles were recovered and two other suspects believed to be al-Shabab members were in custody, the official said.
Police have yet to determine the target for the attack, said the official, who spoke on condition of anonymity because they were not authorized to give details of an ongoing investigation.
Also on Friday, the wife of a slain Muslim cleric was sentenced to 10 years in prison for the attack by three women on a police station in the coastal city of Mombasa in 2016.
Haniya Saggar was found guilty of facilitating the women, who police said petrol-bombed the station and stabbed an officer before being shot dead.
Full report at:
https://wtop.com/africa/2018/02/3-teachers-killed-in-extremist-attack-in-northeastern-kenya/
---------
South Asia
Drone strike target ISIS hideout in East of Afghanistan
Feb 17, 2018
A drone strike targeted a hideout of the ISIS terrorist group in eastern Nangarhar province of Afghanistan, the defense authorities in the East said.
The airstrike was carried out on Thursday by the US forces using unmanned aerial vehicles targeting the hideout of the terror group in the restive Achin district.
The 201st Silab Corps of the Afghan Military in the East said the hideout of the terror group was elimianted and a terrorist was killed in the raid.
According to the Silab Corps, the airstrike was carried out in the vicinity of Mamand area of Achin district.
The anti-government armed militant groups including the ISIS terrorists have not commented regarding the report so far.
Nangarhar is among the relatively calm provinces in the East but the terrorist and anti-government armed militant groups have started their operations in some of its remote districts during the recent years.
This comes as at least two ISIS militants were killed in a similar airstrike in Achin district last Friday.
Earlier, at least eleven insurgents belonging to the terror group were killed during an operation of the Afghan forces in this province last month.
https://www.khaama.com/drone-strike-target-isis-hideout-in-east-of-afghanistan-04503
---------
Local Taliban leader among 6 killed in US airstrike in Uruzgan
Feb 16 2018
A local leader of the Taliban group was killed in an airstrike conducted by the US forces in southen Uruzgan province of Afghanistan.
According to the local security officials, the airstrike was carried out late on Wednesday in the outskirts of Tarinkot city, the provincial capital of Uruzgan.
A local police official confirmed that six Taliban insurgents including one of their local leaders Mullah Ghazi were killed and four others were wounded.
The source further added that a hideout of the Taliban group was eliminated in the airstrike in Garam Aab area.
Several weapons, ammunition, and explosives belonging to the Taliban group were destroyed in the airstrike, the police official added.
The anti-government armed militant groups including the Taliban insurgents have not commented regarding the report so far.
This comes as at least five Taliban insurgents were killed and four others were wounded in a similar airstrike conducted in this province last week.
The security chief of Uruzgan Abdul Qawi Omari confirmed that the US forces based in Afghanistan carried out a series of airstrikes amid ongoing operations in outskirts of Uruzgan.
Full report at:
https://www.khaama.com/local-taliban-leader-among-6-killed-in-us-airstrike-in-uruzgan-04499
---------
Bangladesh hands over list of Rohingya repatriation to Myanmar
Feb 16, 2018
Bangladesh has formally handed over to Myanmar's Home Minister Lieutenant General Kyaw Swe a list of more than 8,000 Rohingya Muslim refugees as Dhaka moves to launch their repatriation under an agreement signed between the two countries last year.
The delivery of the list occurred after officials of the two countries held a meeting in the Bangladeshi capital on Friday.
"We've today handed over a list of 8,032 people from 1,673 families to them. The (Myanmar) delegation received it very cordially and told us they would start processing their repatriation," said Bangladesh's Home Minister Asaduzzaman Khan.
Bangladesh and Myanmar signed an agreement late last year to repatriate about 700,000 Rohingya Muslim refugees who have crossed the border since August to escape a brutal military crackdown.
The repatriation was set to start last month, but was delayed by a lack of preparation, as well as protests staged by Rohingya refugees against the plan to send them back to Myanmar, calling for guarantees of safety before their return.
Khan said more than one million refugees now live in overcrowded and squalid camps in southeastern Bangladesh, adding his country hoped all of them would go back to Myanmar.
"We discussed how would they repatriate these people. The Myanmar delegation was very cordial about it and said they will take them back gradually," he said.
Khan said, "No specific date came for repatriation", and expressed hope it would start soon.
The news comes while Rohingya refugees are still crossing the border into Bangladesh from Myanmar, fleeing rights abuses by Buddhist mobs and the military in their home state Rakhine.
Home minister Khan acknowledged the ongoing exodus, saying "The (Myanmar) delegation has admitted it and told us they will try their best to stop it as soon as possible."
Myanmar's government troops have been committing killings, making arbitrary arrests, and carrying out arson attacks in Muslim villages in Rakhine State since late 2016.
The UN says nearly 655,000 Rohingya Muslims have fled the Myanmar to Bangladesh since violence intensified last August.
The Rohingya have lived in Myanmar for generations but are denied citizenship and are branded illegal immigrants from Bangladesh, which likewise denies them citizenship.
The UN has described the 1.1-million-strong Muslim community as the most persecuted minority in the world.
Khan also called on Myanmar's authorities to ensure the refugees' return was "sustainable".
Referring to some 6,000 Rohingya refugees living in no man's land on the Bangladesh-Myanmar border since September, Khan said the two sides discussed the issue, adding "They said they have started processing repatriation of those refugees living on the (border's) zero line," Khan said.
He said Myanmar had "requested" a joint meeting on their repatriation on February 20.
Full report at:
http://www.presstv.com/Detail/2018/02/16/552594/Bangladesh-Myanmar-Rohingya-repatriation
---------
Court received 1.17 million war crimes claims from Afghans
February 16, 2018
Since the International Criminal Court began collecting material three months ago for a possible war crimes case involving Afghanistan, it has gotten a staggering 1.17 million statements from Afghans who say they were victims.
The statements include accounts of alleged atrocities not only by groups like the Taliban and the Islamic State, but also involving Afghan Security Forces and government-affiliated warlords, the U.S.-led coalition, and foreign and domestic spy agencies, said Abdul Wadood Pedram of the Human Rights and Eradication of Violence Organization.
Based in part on the many statements, ICC judges in The Hague would then have to decide whether to seek a war crimes investigation. It's uncertain when that decision will be made.
The statements were collected between Nov. 20, 2017, and Jan. 31, 2018, by organizations based in Europe and Afghanistan and sent to the ICC, Pedram said. Because one statement might include multiple victims and one organization might represent thousands of victim statements, the number of Afghans seeking justice from the ICC could be several million .
"It is shocking there are so many," Pedram said, noting that in some instances, whole villages were represented. "It shows how the justice system in Afghanistan is not bringing justice for the victims and their families."
The ICC did not give details about the victims or those providing the information.
"I have the names of the organizations, but because of the security issues, we don't want to name them because they will be targeted," said Pedram, whose group is based in Kabul.
Many of the representations include statements involving multiple victims, which could be the result of suicide bombings, targeted killings or airstrikes, he said.
Among those alleging war crimes is a man who asked The Associated Press to be identified only by his first name, Shoaib, because he fears for his safety.
Shoaib said his father, Naimatullah, was on a bus in Dawalat Yar district in Afghanistan's central Ghor Province in 2014 when a band of gunmen stopped it and two other buses, forced the passengers off and told them to hand over their identity cards. The 14 Shiites among them were separated from the rest and killed, one by one, he said.
The slayings outraged the country. A Taliban commander was soon arrested and brought before the media, but no news about a trial or punishment was ever reported, said Shoaib, who is in his 20s.
Displaying a photo of the man he believes killed his father, Shoaib said he doesn't go to the authorities for information about the incident because the commander had connections with the police and the local government administration.
Shoaib is still afraid.
"Please don't say where I live, or show my face," he implored a reporter. "What if they find me? There is no protection in Afghanistan," he said.
"Everybody knows that they have connection in the government," he added. "I think in Afghanistan, if you have money, then you can give it to anyone, anywhere, to do anything."
Several powerful warlords, many of whom came to power after the collapse of the Taliban in 2001 following the U.S.-led intervention, are among those alleged to have carried out war crimes , said Pedram, who also is cautious about releasing any names.
After receiving death threats last year, Pedram fled Kabul briefly and now keeps a lower profile, no longer speaking to local media.
"The warlords are all here. You have to be very careful," he said. "In the morning, I kiss my little son goodbye, I kiss my wife goodbye because I don't know what will happen to me and when, or if I will see them again."
Established in 2002, the ICC is the world's first permanent court set up to prosecute war crimes , crimes against humanity and genocide. The ICC can only investigate any crimes in Afghanistan after May 2003, when the country ratified the Rome Statute, the treaty that established the court .
Former President Bill Clinton signed the treaty, but President George W. Bush renounced the signature, citing fears that Americans would be unfairly prosecuted for political reasons.
In November, when ICC prosecutor Fatou Bensouda sought judicial authorization to begin the investigation, she said the court had been looking into possible war crimes in Afghanistan since 2006.
Bensouda said in November that "there is a reasonable basis to believe" that crimes against humanity and war crimes were committed by the Taliban as well as the Haqqani network. She also said there was evidence that the Afghan National Security Forces, Afghan National Police and its spy agency, known as the NDS, committed war crimes .
Bensouda also said evidence existed of war crimes committed "by members of the United States armed forces on the territory of Afghanistan, and by members of the U.S. Central Intelligence Agency (CIA) in secret detention facilities in Afghanistan," as well as in countries that had signed on to the Rome Statute. The secret detention facilities were operated mostly between 2003 and 2004, she said.
It was the first time that Bensouda has targeted Americans for alleged war crimes . Bensouda said an investigation under the auspices of the international tribunal could break through what she called "near total impunity" in Afghanistan.
The prosecutor's formal application to the court set up a possible showdown with Washington. While the U.S. is not a member state of the ICC, its citizens can be charged with crimes committed in countries that are members.
At the time of Bensouda's announcement, a Pentagon spokesman said the U.S. Defense Department does not accept that such an investigation of U.S. personnel is warranted. The U.S. State Department has said it opposes the court's involvement in Afghanistan.
Another Afghan who went to the ICC is Hussain Razaee, whose fiancee, Najiba, was among 30 people killed in July when a Taliban suicide attacker rammed a car bomb into a bus carrying employees from the Ministry of Mines.
For months, Razaee said he contemplated suicide. He had spent two years convincing Najiba's parents to allow them to marry, and they had finally agreed. Unlike most Afghan couples, theirs was not to be an arranged marriage.
"I lost the person I loved," he said.
Razaee said he went to the ICC because he wants those responsible to be punished, even if a peace deal with the Taliban is reached.
"I am pursuing this because I want the ICC to record these cases so that if there is a peace agreement, the Taliban leaders will be required to identify the people behind the killings," Razaee said.
Full report at:
https://nation.com.pk/16-Feb-2018/court-received-1-17-million-war-crimes-claims-from-afghans
---------
North America
Canada sanctions target Myanmar general
February 17, 2018
OTTAWA - Canada announced targeted sanctions on Friday against a Myanmar general who led an army crackdown that forced almost 700,000 Muslim Rohingya refugees to flee to Bangladesh. The action follows United States sanctions levelled against Major-General Maung Maung Soe in December.
In a statement, Ottawa said the general played a "significant role... in human rights violations against the Rohingya in Myanmar and in the violence and persecution that has forced more than 688,000 Rohingya to flee their country."
"Canada will not stand by silently as crimes against humanity are committed against the Rohingya," said Foreign Affairs Minister Chrystia Freeland.
"Those responsible for these atrocities must be held to account," she added.
The sanctions include a freeze on assets the senior military official may have in Canada as well as a ban on dealings with him.
Since the crackdown in the Buddhist majority country six months ago the Rohingya refugees have been sheltering in makeshift camps in Bangladesh.
Myanmar regards the Rohingya as immigrants from Bangladesh and denies them citizenship, even though they have been there for generations.
The United Nations has accused Myanmar of carrying out an ethnic cleansing campaign by forcing the Rohingya into exile. Myanmar's army has said it did not target civilians and has only admitted to killing "terrorists".
https://nation.com.pk/17-Feb-2018/canada-sanctions-target-myanmar-general
---------
New York bomber Ahmad Khan Rahimi sentenced to life in prison
14th February 2018
NEW YORK: A US restaurant worker inspired by Osama bin Laden was sentenced to life in prison Tuesday for wounding 31 people in a 2016 New York bombing, branded "extremely dangerous" by a federal judge.
Afghan-born Ahmad Khan Rahimi, 30, told the court that he became radicalized after being "harassed" by the FBI and "singled out" for his religion, but showed no remorse for inflicting the bloody injuries.
Prosecutors told his two-week trial last year it was a "miracle" that nobody was killed in the September 17, 2016 attack.
A second bomb forced the cancellation of a US Marine Corps run in the New Jersey town of Seaside Park. He was convicted on all eight counts.
Police also defused another device in Chelsea and found additional pipe bombs in Rahimi's hometown of Elizabeth, New Jersey, where he worked in his family's fried chicken restaurant.
Rahimi was critically wounded in a shootout with police on September 19 before being captured, and was found with a handwritten journal lauding Osama bin Laden and US-born Al-Qaeda recruiter Anwar al-Awlaki.
He moved to the United States in 1995 with his family and became a naturalized citizen in 2011.
Addressing the court at length, Rahimi said he understood why there were frustrations between Muslim countries and Americans.
"I have been here for more than 20 years, I had American friends and Muslim friends," he said. Things started to change, he said, after he started acting and dressing like a devout Muslim.
"I was harassed by the FBI," he said, referring to going on holiday to the Dominican Republic. He claimed he was "singled out just because of my attire" after returning from a trip to Pakistan.
"I was never discriminated for my religion until I started following it," he said.
Rahimi's father contacted the FBI in the months leading up to the attack, warning them about his son's militant sympathies.
"I did not hear an ounce of justification," US District Judge Richard Berman.
"There is no comparison between the grievances that you may feel and the actions you took... The conclusion is inescapable that you remain extremely dangerous," the judge added.
"Innocent people on a Saturday night, it is inexplicable that anybody would do that deliberately. But you did. It was you."
Since Rahimi's arrest, two other lone-wolf attackers have carried out bombings in New York. A Bangladeshi driver detonated a bomb in a subway passageway, wounding himself and three other people in December.
On October 31, an Uzbek immigrant, also reportedly inspired by the Islamic State extremist group, killed eight people on a bike path by ramming his truck into cyclists.
Full report at:
http://www.newindianexpress.com/world/2018/feb/14/new-york-bomber-ahmad-khan-rahimi-sentenced-to-life-in-prison-1773121.html
---------
Europe
France Insists French Jihadists Should Face Justice Wherever They Are
February 16, 2018
French officials remain adamant they won't accept the repatriation of French jihadists after their capture on the battlefields of Syria and Iraq for prosecution in France.
After almost a week of intense discussions between Western governments on the fate of foreign fighters detained in the Levant, U.S. appeals for their countries of origin to accept responsibility for them are still being rejected by the French and British governments.
"We are no nearer an overall agreement on this," a senior French diplomat told VOA.
He says Paris fears repatriated foreign fighters will try to use the courts for propaganda purposes by mocking French justice and questioning its impartiality and that once in jail they will seek to radicalize prisoners. The legal issues also are complex for prosecuting French jihadists for terrorism committed overseas, say French officials.
"Prosecutions are going to be difficult because the collection of evidence may well be impossible to secure on the battlefields," said the French diplomat, who has been involved in high-level discussions on the issue with American and European counterparts
French citizens are estimated to be among the biggest contingent of overseas fighters who joined the Islamic State terror group and other jihadist factions in the Levant. More than 300 French jihadists are thought to have died fighting in Syria or Iraq, leaving an estimated 500 to 600 unaccounted for or detained mainly in Syria by the Kurds.
Midweek U.S. Secretary of Defense Jim Mattis addressed the question of what to do with "hundreds" of foreign jihadists currently in detention in northern Syria. Most were detained following the fall of Raqqa, the de facto capital of Islamic State, to U.S. backed Kurdish-led Syrian Democratic Forces.
The U.S. fears there's always the risk jihadists detained by the SDF could escape amid fighting in Syria.
"The bottom line is, we don't want [the jihadists] to go back on the streets of Ankara, Tunis, Paris or Brussels," said Mattis following the meeting with 13 of his international counterparts in Rome. "It is an international problem, it needs to be addressed by all engaged."
What to do with foreign fighters quickly became the focus of the midweek Rome summit, sparked partly by the news of the capture by the Syrian Kurds of two Britons, Alexanda Amon Kotey and El Shafee el-Sheikh — alleged members of a jihadist gang nicknamed "The Beatles" who tortured and beheaded 21 foreign hostages. Among the hostages were American and British journalists and aid workers, and the first of their victims was American journalist James Foley.
Both France, and Britain, have remained unmoved by Mattis' appeal for the countries of origin to accept responsibility for captured jihadists. French officials say recent terrorism trials in France and Belgium highlight the dangers, with jihadists using court proceedings as best they can for propaganda purposes.
They don't want to add to the dozens of prosecutions of jihadists already underway by supplementing them with trials of the foreign fighters, who, they say, can be dealt with in situ by those detaining them, even in Kurdish-controlled northern Syria, which has
The French officials point to the ongoing trial in Belgium of Salah Abdeslam, who is accused of carrying out terrorist attacks in Paris in 2015 and Brussels in 2016, as an example of how jihadists are seeking to feed the suspicion among some French Muslims that the judiciary system is rigged against them.
On the the first day of his trial, Abdeslam mocked the court, staging an act of political defiance. He said he would defend himself by remaining silent. "What I observe is that Muslims are judged, treated in the worst of ways," he said. "They are judged mercilessly. There is no presumption of innocence, there is nothing, we're immediately guilty, voilà. My silence does not mean that I am guilty."
Last month, the country's justice minister, Nicole Belloubet, told media outlets that Paris "will intervene" if French nationals are sentenced to death in Iraq or Syria for belonging to Islamic State or other jihadist groups. She said France would "negotiate with the state in question … on a case-by-case basis."
Her remarks came after an Iraqi court sentenced a German woman to death after finding her guilty of being an IS member. But Belloubet has stressed that France has no legal problem with captured French jihadists facing justice in courts in the self-declared Kurdish autonomous region of northern Syria, known as Rojava. She said last month in a radio interview that she didn't see a problem as long as the French nationals accused of terrorism were guaranteed access to a lawyer and consular services.
Syrian Kurds greeted her remarks as giving Rojava de facto diplomatic recognition.
British officials also have been unmoved by appeals to repatriate and prosecute British jihadists captured in Syria. Britain's Defense Minister Gavin Williamson has said the two remaining members of "The Beatles" should never again set foot in Britain.
https://www.voanews.com/a/france-insists-french-jihadists-should-face-justice-/4257463.html
---------
French forces kill, capture Jihadist leaders in Mali
February 17, 2018
PARIS, Feb 16 (KUNA) -- French military forces have carried out a daring raid in Mali in which they eliminated or detained 23 Islamist terrorists, and killed or captured important leaders of two regional "Jihadist" groups, a top army officer said on Friday.
The French army Chief-of-Staff General Francois Lecointre said that the raid took place in the north-east of Mali and the attack successfully targeted the Ansar Al-Din and Al Mourabitoune terrorist groups.
The operation was carried out overnight on February 13-14, the General said in the statement.
"Twenty-three terrorists, including the chiefs of Ansar Al-Din as well as of Al-Mourabitoune, known for their abuses against the Malian population, were killed or captured in this operation," Lecointre indicated.
He also noted that the operation included air strikes followed by helicopter attacks and intervention by ground troops, adding that this was "a significant blow to armed terrorist groups." France has deployed around 4,000 troops in the Sahel region in an operation dubbed "Barkhane," which covers Chad, Mali, Mauritania, Niger and Burkina Faso.
The French military are also training and equipping troops from these five nations to constitute the "G5" regional intervention force to counter terrorist threats.
Full report at:
https://www.kuna.net.kw/ArticleDetails.aspx?id=2692091&Language=en
---------
Turkish community in Germany to sue far-right lawmaker over abusive remarks
Feb 16, 2018
The three-million-strong Turkish community living in Germany is to evoke hate speech laws to sue a far-right lawmaker who earlier used abusive language to describe the Turkish Germans.
An organization representing the Turks called the Turkish Community in Germany announced on Thursday that it would be taking legal action against Andre Poggenburg, a senior member of the far-right Alternative for Germany (AfD) party.
Poggenburg had on Wednesday called the Turks in Germany "camel drivers" who should return to their "mud huts and multiple wives."
Gokay Sofuoglu, the chairman of the Turkish Community in Germany, said the organization would sue Poggenburg over the remarks.
"It's high time Germans realize the danger coming from the far-right," Sofuoglu told AP.
Poggenburg attacked the Turkish group for its earlier criticism of reported German plans for a new "homeland" ministry as part of a coalition deal between Chancellor Angela Merkel's conservatives and the Social Democrats (SPD).
"These camel drivers should go back to where they belong, far beyond the Bosphorus, to their mud huts and multiple wives," Poggenburg said. He said Germany did not need advice on culture and history from Turks, who he said bore responsibility "for their own genocide," a reference to the mass killings of Armenians by Ottoman Turks in the World War I-era.
The far-right AfD, known for its extremist viewpoints on matters of policy, captured nearly 13 percent of the votes and almost 100 seats in parliament in general elections in Germany in September last year.
The latest controversy involving AfD came as Turkish Prime Minister Binali Yildirim was due to meet Merkel in Berlin on Thursday in an attempt to improve weakened relations.
German president against hate speech
German President Frank-Walter Steinmeier has said he condemns extremist politicians who make "ruthlessness and hatred...their strategy."
"What I see are politicians who make a strategy out of excessive language, and their recklessness and hatred," Steinmeier said in a speech on Thursday. "I only hope that citizens of this country do not allow themselves to be carried along."
Full report at:
http://www.presstv.com/Detail/2018/02/16/552525/Turkish-community-Germany-farright-AfD-camel-drivers
---------
URL: https://www.newageislam.com/islamic-world-news/top-turkish-mufti-issued-sermon/d/114319
New Age Islam, Islam Online, Islamic Website, African Muslim News, Arab World News, South Asia News, Indian Muslim News, World Muslim News, Women in Islam, Islamic Feminism, Arab Women, Women In Arab, Islamophobia in America, Muslim Women in West, Islam Women and Feminism