New Age Islam News Bureau
7 Jun 2013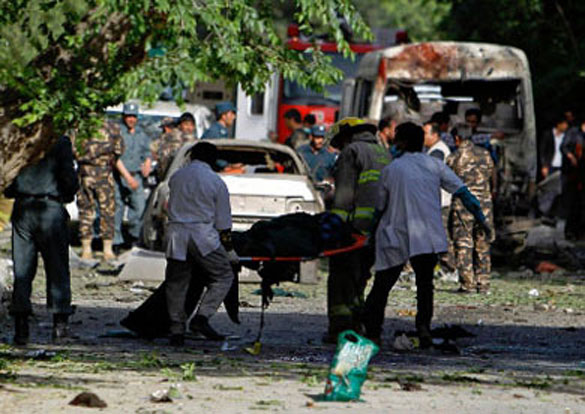 7 Georgian troops killed in Afghanistan suicide blast, Photo: EPA
-------------
Europe
• Tony Blair Embroiled in Twitter Spat on criticising Islam
• Anti-EDL bomb plot 'a reaction to ethnic insults'
• Some 200 Russian Islamists with Qaeda in Syria, says official
• France, US at odds over Syria's chemical weapons, says diplomat
• Saddam security man jailed for UK rape
• Turkey must not use violence against protesters, Merkel says
India
• Missing Pak girl's photo used to advertise flagship schemes in Rajasthan
• Indian arrested in Saudi Arabia for attempting sorcery on boss
• Ishrat encounter: CBI to quiz Sreekumar to nail IB officer
• Malegaon explosions probe caught in a maze
• Pak troops violate ceasefire, 1 Indian soldier killed
• T C A Raghavan is new envoy to Pakistan
Mideast
• Israeli serial sex abuser adopts Indian girl: report
• Alcohol, Islam and Turkey's Founding Fathers
• Israel gay club shooting: Four suspects held
• Turkey PM urges end to protests, tells supporters to 'go home'
• Turkish democracy needs compromise and tolerance, say members of European Parliament
• Israel leads global drone exports as demand rises
• Thousands celebrate Gay Pride in Tel Aviv
• Israel to re-engage with UN-human rights body
Arab World
• Suicide bomber hits Iranian pilgrims in Iraq, nine dead
• Rebel Campaign sues Egypt Islamist leaders for 'inciting arsonists'
• Salafist, Brotherhood differences 'undeniable': Egypt's El-Borhami
• Al Azhar aims to recover Quran manuscript
• Top Saudi cleric endorses Egyptian Qaradawi's anti-Hezbollah stance
• Muslim envoy asks Pope Francis to take 'step forward'
• Rebels attack air base in northern Syria
• Syrian troops capture central villages
• Mubarak-era corruption 'greater than we imagined,' Egypt's Morsi tells Al-Ahram
• Lebanese army slams 'plot' to embroil country in Syria war
Pakistan
• MQM warns of a 1971-like scenario
• 4 people killed on MQM mourning day
• Bomb kills two police in Peshawar
• Pak slams Shinde, says no ISI hand in Sikh militancy revival
• Talks with Taliban: JUI-F asks govt to create conducive environment
• Pakistan's return to the Kingdom – of split loyalties and controversies
• Pakistan families of victims demand halt to US drone strikes
• Anti polio programme: Bill Gates reaches out to Imran Khan for support
• Fear and loathing: Bhakkar cannibals re-arrested after protests
• MQM alleges PPP of patronising terrorism in Karachi
• MFN couldn't come into effect because of LoC tensions: Khar
South Asia
• Afghanistan suicide blast kills 7 Georgian troops
• President Waheed requests reshuffle of educational institutions
• DQP MP submits bill proposing hanging as preferred method of execution
• UK urged to press for protection of minorities in Bangladesh
• Turkey seeks free trade with Bangladesh
• Brotherly ties: Karzai invites Nawaz to Kabul
Africa
• Anti-gay law may criminalise parental show of affection, warns Nigeria H R chief
• Tunisian soldiers killed in blast near Algerian border
• Somali militants execute 2 for espionage: witness
• Nigeria unveils new visa policy to attract investors, tourists
North America
• U.S. quietly allows military aid to Egypt despite rights concerns
• Al Qaeda weapons expert: U.S. ambassador to Libya killed by lethal injection
• Obama embracing some Bush-era anti-terror policies
• US senator McCain says Syria is fuelling sectarian conflict in region
• US names 'senior al Qaeda bomb maker' for sanctions
• The Not-So-Veiled Threat to Non-Muslims in Tennessee
Southeast Asia
• Bali residents told to remain vigilant on terrorism
• 2,280 child workers in W. Java sent back to schools
Compiled by New Age Islam News Bureau
URL: https://newageislam.com/islamic-world-news/new-age-islam-news-bureau/tony-blair-embroiled-in-twitter-spat-on-criticising-islam/d/11951
--------------
Europe
Tony Blair Embroiled In Twitter Spat on criticising Islam
06/06/2013
Tony Blair took to Twitter in an ugly war of words with Tommy Robinson after the English Defence League leader tweeted approvingly about a piece written by the former which criticised Islam.
Robinson, whose real name is Stephen Yaxley-Lennon, said that Blair's Mail on Sunday piece, which said there was a "problem within Islam", was correct and "confirms everything we say."
Blair's office told HuffPost UK that the former PM was made aware of the tweet, and personally approved the response on Twitter.
"Tony Blair is in China, but was made aware of the EDL tweet and totally disagrees with what they have said," a spokesman said.
"As we have said, they obviously haven't read the article properly - there is nothing in common with what they have to say."
He also commented on the condemned the attack at the Al-Rahma Islamic Centre in Muswell Hill, which was razed to the ground on Wednesday. He told the Huffington Post UK:
"An attack like this has no place in a modern, diverse and open minded society like ours. It is an absolute right for anyone to worship in peace - and actions like this deserve utter condemnation from us all."
Tory MP Gavin Barwell, who represents a highly diverse community in Croydon North, was one of those who responded on Twitter to the spat, telling The Huffington Post UK that he thought several lines from Blair's piece were seriously misjudged.
"Let's be blunt, that phrase sounds like something the EDL would say," Barwell told HuffPostUK
"The phrase 'There is a problem within Islam' that Tommy Robinson picked up on is implying that the problem is one of Islam, even though not all Muslims are doing it. And I don't agree with that.
"I made that point in my tweet to him. It's not surprising they picked up on that phrase. I suspect if he [Blair] and I sat and chatted, we wouldn't actually disagree massively, but the use of that phrase was a serious misjudgement."
Barwell said he thought words needed to be chosen more carefully to avoid alienating regular Muslims. "When we were confronting terrorism in North Ireland, you could have said 'there is a problem with Irish Nationalism'.
"But it would have been unfair to Irish nationalists who did not believe in violence. And it would have been a tactically silly thing to do."
But Barwell said he did not blame Blair for engaging with Robinson. "I can understand from his perspective that once the EDL had claimed that Blair endorsed their views that he felt the need to rebut that, if I was in his position, I would have done the same. That's an attempt to undo the damage his article had done."
The tweet from the former Labour PM also caused a storm of responses from Robinson himself, who accused Blair of war crimes and fuelling divides within communities because of his foreign policy in Iraq and Afghanistan.
http://www.huffingtonpost.co.uk/2013/06/06/tony-blairs-edl-tommy-robinson_n_3396733.html?utm_hp_ref=uk
--------------
Anti-EDL bomb plot 'a reaction to ethnic insults'
7 Jun 2013
Six men who planned a terror attack on an English Defence League rally were members of an ethnic minority reacting to intimidation and insults, a court has heard.
Omar Khan, Jewel Uddin, Mohammed Hasseen, Mohammed Saud, Zohaib Ahmed and Anzal Hussain, all from Birmingham, pleaded guilty to terror offences in April and are awaiting sentencing.
The lawyer for Omar Khan said his client had not intended to kill.
And he said the plot was "amateurish".
Five of the men took a homemade bomb, knives and a sawn-off shotgun to an EDL rally in Dewsbury, West Yorkshire, last June but arrived after it ended.
Joel Bennathan told the court most Muslims had "the good sense to ignore the EDL" who were "intimidating, insulting and provocative" to them.
He said: "The exception is a group of young men who are bored... not overly intellectual, and overreact in a way that is criminal. Very happily nothing actually came to pass that day."
"To call this plot amateurish is flattery. It was incompetent."
The men have already been warned to expect "significant" time in jail.
http://www.bbc.co.uk/news/uk-22814936
--------------
Some 200 Russian Islamists with Qaeda in Syria, says official
6 June 2013
Some 200 Russian Islamists who back North Caucasus insurgents are fighting in Syria for Al-Qaeda, the head of the Russian security service (FSB) said Thursday, Russian news agencies reported.
"The fact that around 200 fighters from Russia are fighting on the side of the Caucasus Emirate under the flag of Al-Qaeda and other related structures provokes concern in Russia," the head of the FSB Alexander Bortnikov said at an international security forum in the central Russian city of Kazan.
http://english.alarabiya.net/en/News/world/2013/06/06/Some-200-Russian-Islamists-with-Qaeda-in-Syria-says-official.html
--------------
France, US at odds over Syria's chemical weapons, says diplomat
6 June 2013
France and the United States are headed towards a rift over Syria's chemical weapons, a French diplomat told Al Arabiya on Thursday.
Paris said on Tuesday it had conclusive evidence of the use of sarin gas several times in Damascus, through tests conducted on samples obtained from Syria.
The White House said it needed more evidence, and US Secretary of State John Kerry asked France's Foreign Minister Laurent Fabius to share its evidence.
The use of chemical weapons by the Syrian regime has been described as a "red line" by US President Barack Obama.
"It's true that we don't have the same means of verification that the United States has, and it's true what they say about 'technical difficulty' in the verification of the various stages of the transfer of samples," the diplomat said.
"But we're sure" about "the use of sarin gas in southern Homs and Jobar on April 29," he added.
Verification was more complicated in Jobar because "the examined blood samples weren't in perfect condition," the diplomat said.
"With consideration to America's obligation and priority to make the Geneva 2 conference a success, our duty in parallel is to announce the truth about the use of chemical weapons," he said.
State Department spokeswoman Jen Psaki told reporters that the US did not intend to "evaluate or litigate in public" whatever information it has received from Paris.
"We are still looking into finalizing the facts, looking into confirming the facts," she said, denying that the close inspection of the French information was pouring doubt on its credibility.
"We're doing our own due diligence on this," Psaki stressed.
The Obama administration "intends to avoid any military escalation, afraid of not being able to stop it once it starts," Obama added.
"I'm afraid to say that Washington is largely isolated," he said.
http://english.alarabiya.net/en/News/world/2013/06/06/France-U-S-at-odds-over-Syria-s-chemical-weapons-says-diplomat.html
--------------
Saddam security man jailed for UK rape
7 Jun 2013
Two men have been jailed for raping a 14-year-old boy in the toilets of a central Manchester department store.
Abdelkader El-Janabi, 55, and Alex Wilson-Fletcher, 42, attacked the boy last June after approaching him in the Arndale Centre on a busy Saturday.
The men marched him to Debenhams, where the "sustained attack" took place. They were each jailed for 15 years.
Manchester Crown Court heard El-Janabi was a former intelligence officer in Saddam Hussein's Iraqi regime.
The court heard the boy was told: "Come with us. Do what we say. If you try to run we'll get you."
'Panic attacks'
El-Janabi, of Artillery Court, Ardwick, knew the Debenhams toilets well and had been caught loitering there in the past by shop staff who had ejected him, the jury was told.
The court heard El-Janabi was the one who physically raped the teenager, but Wilson-Fletcher, of Oldham Street, Manchester, was convicted on the basis he took part in a joint-enterprise.
Judge Michael Leeming QC told Wilson-Fletcher he was "at least a lookout" and had encouraged the other defendant.
The boy was terrified the pair would follow him once he broke free from them and he walked six and a half miles to a friend's house.
El-Janabi and Wilson-Fletcher, a law firm worker, were tracked down after CCTV images were circulated around the UK by police.
Judge Leeming QC, sentencing, told them: "In all probability, what you did to him in his formative years will stay with him.
"Neither of you thought of that at the time. You were more concerned with your own sexual gratification."
He said the boy, who is now 15, suffers from depression and panic attacks and has difficulty sleeping.
'Shock and disgust'
Neither of the defendants has any previous convictions and the judge described them as "mature, intelligent men".
He said El-Janabi had been an intelligence officer in Saddam's regime but was now a British citizen.
The pair were convicted by a jury of two counts of rape and two counts of sexual assault, following a nine-day trial in April.
The court heard both men continue to claim they are innocent. Judge Leeming said El-Janabi had not shown "any remorse, empathy or insight".
Speaking after the sentencing, Supt Stuart Ellison, from Greater Manchester Police, said the crime had "quite rightly shocked the community".
He said: "Everyone felt a sense of shock and disgust when we publicised this case and we still share those feelings.
"However, it is important that people understand that this was an isolated incident and we continue to reassure the city centre community that there was no wider threat to the young people who visit or work in Manchester city centre."
http://www.bbc.co.uk/news/uk-england-manchester-22795154
----------
Turkey must not use violence against protesters, Merkel says
7 June 2013
German Chancellor Angela Merkel on Friday urged the Turkish government to renounce violence against protesters, after deadly unrest in the country.
Turkish Prime Minister Recep Tayyip Erdogan "already told his people that he understands that there are certain problems in the country," she told reporters after talks with Tunisian leader Ali Larayedh.
Full report at:
http://english.alarabiya.net/en/News/world/2013/06/07/Turkey-must-not-use-violence-against-protesters-Merkel-says.html
-----------
India
Missing Pak girl's photo used to advertise flagship schemes in Rajasthan
Jun 07 2013
Jaipur : In an embarrassing admission of negligence, the state government on Thursday ordered a probe into the use of a missing Pakistani girl's photograph to advertise for nearly two years its flagship schemes to protect the girl child.
The Directorate of Information and Public Relations has also drafted out a notification asking all government departments to strictly use photos taken by their own photographers or by the directorate and refrain from picking pictures from the Internet without verifying its authenticity.
Full report at:
http://www.indianexpress.com/story-print/1126165/
-------------
Indian arrested in Saudi Arabia for attempting sorcery on boss
Jun 07 2013
Dubai : A 33-year-old Indian worker in Saudi Arabia was arrested for allegedly attempting to cast a 'magic spell' on his employer.
The man has admitted to committing the crime and said he wanted to cast a magic spell on his employer in order to get rich quickly, police said.
The man, who was not identified, received an envelope from India containing "suspicious material" with which he allegedly wanted to cast a magic spell on his employer, but the envelope was seized before he could collect it, they said.
Full report at:
http://www.indianexpress.com/news/indian-arrested-in-saudi-arabia-for-attempting-sorcery-on-boss/1126292/
-------------
Ishrat encounter: CBI to quiz Sreekumar to nail IB officer
Ujjwala Nayudu
i Jun 07 2013
Ahmedabad : The CBI has decided to call former Gujarat DGP R B Sreekumar to gather more information on the intelligence input that led to the encounter killing of Ishrat Jahan and three others in June 2004.
Sreekumar headed the state police's intelligence wing from April 9, 2002, to September 18, 2002 and CBI believes he knows about intelligence inputs exchanged between IB and Gujarat Police.
Full report at:
http://www.indianexpress.com/news/ishrat-encounter-cbi-to-quiz-sreekumar-to-nail-ib-officer/1126178/
-------------
Malegaon explosions probe caught in a maze
Rajesh Ahuja
June 06, 2013
During the initial probe into the 2006 Malegaon blasts, city police investigated similar explosions in Aurangabad, Nanded and Parbhani where Hindu extremists were emerging as prime suspects but the inquiry yielded no results.
On September 8, 2006, four bomb blasts took place outside a mosque in Malegaon, killing 31 people.
Full report at:
http://www.hindustantimes.com/India-news/newdelhi/Malegaon-explosions-probe-caught-in-a-maze/Article1-1072110.aspx
-------------
Pak troops violate ceasefire, 1 Indian soldier killed
June 07, 2013
Pakistan troops on Friday violated ceasefire again and opened fire in Mandi area of Poonch sector in Jammu and Kashmir in which one Indian soldier was killed, according to TV reports.
More details awaited.
http://www.hindustantimes.com/IndiaSectionPage/jammusec/Pak-troops-violate-ceasefire-1-Indian-soldier-killed/Article1-1072463.aspx
--------------
T C A Raghavan is new envoy to Pakistan
Shubhajit Roy
Jun 07 2013
New Delhi : India Thursday announced that T C A Raghavan will succeed Sharat Sabharwal as high commissioner to Pakistan later this month.
Raghavan, now India's high commissioner to Singapore, is an old Pakistan hand. He was Shivshankar Menon's deputy when he was the envoy in Islamabad between 2003 and 2006. And when Menon was made foreign secretary in 2006, he called Raghavan to join him as joint secretary for Pakistan, Afghanistan and Iran, a coveted job for mid-level career diplomats in South Block. In this post, he played a key role in crafting New Delhi's immediate diplomatic response to the 2008 Mumbai attacks, including mobilisation of international opinion.
More recently, he helped facilitate treatment for the December 16 gangrape victim in Singapore.
Raghavan, a 1982 batch IFS officer, has also served Indian missions in Britain, Bhutan and Kuwait.
He will take up his new assignment by June end, when Sabharwal's term expires. Sabharwal, who has spent more than four years in Islamabad, superannuated last year but was asked to continue till the Pakistan elections were over. Raghavan's term will begin almost with that of the new Pakistan government, led by Nawaz Sharif.
http://www.indianexpress.com/news/raghavan-is-new-envoy-to-pakistan/1126167/
-------------
Mideast
Israeli serial sex abuser adopts Indian girl: report
June 07, 2013
An Israeli man convicted of sex offences against young children has gained custody of a four-year-old Indian girl through an agreement with a surrogate mother in India, according to a media report.
The man legally adopted the child through an agreement with the surrogate Indian mother and under current legislation the Israeli authorities do not have the power to remove the girl away from him, the Jewish Chronicle reported.
According to an independent probe conducted by the Israel National Council for the Child (NCC), an NGO for children's rights, the man served a year and a half in jail for sexually abusing young children while they were under his supervision, some repeatedly, and is recognised as a paedophile by the authorities, the report said.
The NCC, which had been tipped off about the man's past anonymously via email, informed the police, local social workers and the girl's school which was apparently unaware of the father's prior convictions.
Full report at:
http://www.hindustantimes.com/world-news/restofasia/Israeli-serial-sex-abuser-adopts-Indian-girl-report/Article1-1072231.aspx
--------------
Alcohol, Islam and Turkey's Founding Fathers
By HARVEY MORRIS
2013/06/06
LONDON — Abdullah Gul, Turkey's president, was reported to be wavering over implementation of a controversial law restricting alcohol use, a measure seen by some as the kind of assault on personal freedom that has spurred a week of anti-government protests.
Turkey's Hurriyet news site reported that he had told a delegation of trades' people, who expressed concerns about the commercial impact of the law that he would examine whether the restrictions contradicted the country's Constitution.
The Turkish Parliament passed legislation on May 24 to ban advertising of alcohol and outlaw sales of alcoholic drinks between 10 p.m. and 6 a.m., except in tourist zones. Alcohol sales near mosques and schools were also prohibited.
Full report at:
http://rendezvous.blogs.nytimes.com/2013/06/06/alcohol-islam-and-turkeys-founding-fathers/?partner=rss&emc=rss&pagewanted=print
-----------
Israel gay club shooting: Four suspects held
7 Jun 2013
Three people have appeared in court in the Israeli city of Tel Aviv suspected of involvement in a deadly shooting at a gay youth centre there in 2009.
They were the first arrests over the attack, which killed a 26-year-old counsellor and a 17-year-old girl.
The shooting sent shockwaves through Israel's gay community, which feared it had been targeted in a hate crime.
The details are subject to a media gagging order, but reports suggest the motive was one of revenge.
Full report at:
http://www.bbc.co.uk/news/world-middle-east-22810558
--------------
Turkey PM urges end to protests, tells supporters to 'go home'
AFP | Jun 7, 2013
ISTANBUL: Turkish Prime Minister Recep Tayyip Erdogan called for an immediate end to mass protests against his rule but urged supporters to "go home" after they staged a major show of strength welcoming him home from an overseas trip.
Waving Turkish flags and chanting "We will die for you, Erdogan" and "Let's go crush them all", supporters of the premier's Justice and Development Party (AKP) staged their first rally after keeping largely silent during seven days of violent anti-government demonstrations across the country.
Full report at:
http://timesofindia.indiatimes.com/world/europe/Turkey-PM-urges-end-to-protests-tells-supporters-to-go-home/articleshow/20472568.cms
--------------
Turkish democracy needs compromise and tolerance, say members of European Parliament
June/07/2013
Members of European Parliament said the ongoing unrest in Turkey reveals "the absence of a culture of compromise and the failure to tolerate dissent" during a discussion on June 6.
"The current unrest in Turkey highlights the absence of a culture of compromise and the failure to tolerate dissent in Turkish democracy," foreign affairs members of the European Parliament said. They also criticized the lateness of EU foreign policy chief Catherine Ashton's reaction to the crackdown on the anti-government protests as well as the lack of reaction so far by Prime Minister Recep Tayyip Erdogan, according to a statement released by the European Parliament's website.
Full report at:
http://www.hurriyetdailynews.com/turkish-democracy-needs-compromise-and-tolerance-say-members-of-european-parliament.aspx?pageID=238&nID=48390&NewsCatID=351
--------------
Israel leads global drone exports as demand rises
BEN-GURION AIRPORT, The Associated Press
7 Jun 2013
Israel's long record of using drones in its region ofconflict has turned it into a dominant force in the industry, as the worldwide demand for the morally criticized systems has been soaring
In an expansive hangar in central Israel, workers toil on one of the world's most contentious aircraft, fitting dozens of drones with advanced sensors, cameras and lasers before they are shipped to militaries worldwide to perform highly sensitive tasks.
Full report at:
http://www.hurriyetdailynews.com/israel-leads-global-drone-exports-as-demand-rises.aspx?pageID=238&nID=48331&NewsCatID=345
--------------
Thousands celebrate Gay Pride in Tel Aviv
AFP | Jun 7, 2013
TEL AVIV: Thousands of people gathered in Tel Aviv in Israel on Friday for the annual Gay Pride parade, which attracts visitors from all over the world, this year including France's first gay married couple.
Gay, lesbian and transgender activists and sympathisers, draped in rainbow flags, awaited the departure of a procession of floats through the Mediterranean coastal city blasting out electronic music.
Full report at:
http://timesofindia.indiatimes.com/world/middle-east/Thousands-celebrate-Gay-Pride-in-Tel-Aviv/articleshow/20476031.cms
--------------
Israel to re-engage with UN-human rights body
7 June 2013
Israel has vowed to re-engage with the UN Human Rights Council, six months after it became the first country to boycott a review of its rights record, an official said Friday.
"The president (of the Human Rights Council) received a letter from Israel this week to express the desire to re-engage discussion to come back to the Human Rights Council," the UN body's spokesman Rolando Gomez told reporters.
Israel's review was now likely to be scheduled for October 29, he added.
The letter from Israel's ambassador to the UN in Geneva, Eviator Manor, was later released to the media by the council.
Full report at:
http://english.alarabiya.net/en/News/2013/06/07/Israel-to-re-engage-with-un-human-rights-body-.html
----------
Arab World
Suicide bomber hits Iranian pilgrims in Iraq, nine dead
7 Jun 2013
BAGHDAD (Reuters) - A suicide bomber rammed his car into a bus carrying Iranian Shi'ite pilgrims in Iraq on Friday, killing at least nine people in an attack likely carried out by Sunni insurgents trying to ignite sectarian conflict.
Al Qaeda's local wing and other Sunni insurgents have unleashed a wave of attacks since the start of the year in an attempt to provoke the kind of Shi'ite against Sunni bloodshed that killed thousands in 2006-2007.
Full report at:
http://news.yahoo.com/suicide-bomber-hits-iranian-pilgrims-iraq-9-dead-115226291.html?pt=Array
--------------
Rebel Campaign sues Egypt Islamist leaders for 'inciting arsonists'
7 Jun 2013
The Rebel Campaign quickly files a complaint against several Egyptian Islamist leaders, including President Mohamed Morsi on Friday, accusing them of inciting the torching of their headquarters earlier the same day.
The campaign's headquarter in Cairo's downtown were set on fire in the early hours of Friday by unknown assailants who threw Molotov cocktails at the office.
Organisers said the group has received threats of physical harm from Islamist presidential supporters in recent days.
Full report at:
http://english.ahram.org.eg/NewsContent/1/64/73403/Egypt/Politics-/Rebel-Campaign-sues-Egypt-Islamist-leaders-for-inc.aspx
--------------
Salafist, Brotherhood differences 'undeniable': Egypt's El-Borhami
6 Jun 2013
Ongoing differences between Egyptian Salafist parties and the Muslim Brotherhood "cannot be denied," Yasser El-Borhami, deputy head of the ultra-conservative Salafist Call, said on Thursday.
Speaking to the press during a visit to Gaza, El-Borhami added that, despite these differences, Salafist groups would "not allow the state to collapse," Egyptian state news agency MENA reported.
Full report at:
http://english.ahram.org.eg/NewsContent/1/64/73359/Egypt/Politics-/Salafist,-Brotherhood-differences-undeniable-Egypt.aspx
--------------
Al Azhar aims to recover Quran manuscript
June 6, 2013
Cairo: Egypt's Al Azhar institute said on Thursday that legal measures were underway to recover a Quranic manuscript taken from Cairo in the 18th century during Napoleon's invasion.
French auction house Osenat withdrew the manuscript after the Egyptian embassy in Paris lobbied against its sale.
Full report at:
http://gulfnews.com/news/region/egypt/al-azhar-aims-to-recover-quran-manuscript-1.1193794
--------------
Top Saudi cleric endorses Egyptian Qaradawi's anti-Hezbollah stance
6 June 2013
Saudi Grand Mufti praises Sunni cleric al-Qaradawi for his condemnation of Shi'ite Hezbollah's intervention in Syria and his call for Jihad against Al-Assad regime
Reuters, 6 Jun 2013
Saudi Arabia's highest religious figure praised a leading Sunni Muslim scholar on Thursday for his condemnation of Hezbollah following its intervention in Syria.
Grand Mufti Sheikh Abdulaziz bin Abdullah al-Sheikh's words add to the growing criticism of Hezbollah by Sunni authorities, underlining the sectarian aspect of Syria's civil war where mostly Sunni rebels are fighting President Bashar al-Assad, a member of the Alawite sect, an offshoot of Shi'ite Islam.
Full report at:
http://english.ahram.org.eg/NewsContent/2/8/73386/World/Region/Top-Saudi-cleric-endorses-Egyptian-Qaradawis-antiH.aspx
--------------
Muslim envoy asks Pope Francis to take 'step forward'
June 07, 2013
An envoy from Sunni Islam's highest seat of learning, Al-Azhar in Cairo, raised the prospect of restoring ties with the Vatican on Friday but called on Pope Francis to take "a step forward" by declaring that Islam is a peaceful religion. "The problems that we had were not with the Vatican but with the former pope. Now the doors of Al-Azhar are open," Mahmoud Abdel Gawad, diplomatic envoy to the grand imam of Al-Azhar, Ahmed al-Tayyeb, told Italian daily Il Messaggero in Cairo.
Full report at:
http://www.hindustantimes.com/world-news/europe/Muslim-envoy-asks-Pope-Francis-to-take-step-forward/Article1-1072395.aspx
--------------
Rebels attack air base in northern Syria
7 Jun 2013
Human rights activists on Friday said rebels have attacked an air base in northern Syria but failed to capture it.
The Britain-based Syrian Observatory for Human Rights said the fighting concentrated near the command centre in Mannagh air base, under rebel siege for months. It said rebels fired tank shells at the building.
Full report at:
http://www.thehindu.com/news/international/world/rebels-attack-air-base-in-northern-syria/article4791380.ece
--------------
Syrian troops capture central villages
By BASSEM MROUE / Associated Press / June 7, 2013
BEIRUT (AP) — Syrian troops, backed by Hezbollah fighters, pressed on with their offensive Friday in the country's opposition heartland, taking two small villages near a strategic town that was captured by the government this week.
Following Wednesday's capture of Qusair, President Bashar Assad's forces appear to have turned their sights to driving rebels from the country's densely populated heartland, including the cities of Homs and Aleppo.
Full report at:
http://www.boston.com/news/world/middle-east/2013/06/07/syrian-troops-capture-central-villages/kWNyjdD5YnhFzGissBr8xI/story.html
--------------
Mubarak-era corruption 'greater than we imagined,' Egypt's Morsi tells Al-Ahram
7 Jun 2013
In an interview published late Thursday in Egyptian state daily Al-Ahram, President Mohamed Morsi responded to questions on various issues of importance as he approaches the end of his first year in office.
The president said that some of his goals had been achieved while others had not, due to the magnitude of the challenge, saying that the sheer size of Mubarak-era corruption had been "greater than we had imagined."
He said that the greatest achievements in his first year as president had been "taking steps in the right direction and seeing Egyptians feel as if they could do anything."
Full report at:
http://english.ahram.org.eg/NewsContent/1/64/73389/Egypt/Politics-/Mubarakera-corruption-greater-than-we-imagined,-Eg.aspx
---------
Lebanese army slams 'plot' to embroil country in Syria war
7 June 2013
The Lebanese army warned on Friday that a plot was afoot to embroil the country in the 26-month conflict in neighboring Syria, as deadly clashes between Damascus supporters and opponents inside Lebanon multiply.
"The army command... calls on citizens to be wary of plots aimed at taking Lebanon backwards and dragging it into an absurd war," a statement said, adding that it would give an "armed response to any armed action."
Full report at:
http://english.alarabiya.net/en/News/middle-east/2013/06/07/Lebanon-army-slams-plot-to-embroil-country-in-Syria-war.html
-----------
Pakistan
MQM warns of a 1971-like scenario
June 7, 2013
KARACHI: Deteriorating law and order situation in Karachi can lead to 1971-like events, the Muttahida Qaumi Movement (MQM) warned on Thursday.
At his first press conference since taking over as one of Rabita Committee's deputy conveners, Dr Khalid Maqbool Siddiqui said as sons of the soil they do not want separation from the country. However, in the wake of party workers being targeted, a 1971-like situation could be created.
"We would not be able to control the situation then," he said, asking the people of the city to take steps for their security as they have no other choice.
The deputy convener's comments came when the party had declared a day of mourning across Sindh, in protest of the kidnapping and murder of three of their workers in Malir a day earlier. MQM had asked transporters to observe a complete wheel jam strike and traders to shut their businesses.
Full report at:
http://tribune.com.pk/story/560104/mqm-warns-of-a-1971-like-scenario/
--------------
4 people killed on MQM mourning day
7 Jun 2013
KARACHI: Four people were gunned down in separate incidents of violence while two dead bodies were also recovered from the city on Thursday, as the metropolis observed mourning of those killed on Wednesday.
A man was shot dead and two others wounded near Tower area within the premises of Mithadar police station. Witnesses told that unknown armed men, openly displaying weapons, brought the victim near Edhi Centre and shot him in front of scores of people.
Armed riders then resorted to indiscriminate firing which injured two men, ambulance driver Imran and rickshaw driver Mehmood. The body and injured were shifted to Civil Hospital Karachi (CHK), where injured were admitted for treatment while unknown man's body was shifted to morgue after autopsy.
Full report at:
http://www.dailytimes.com.pk/default.asp?page=2013\06\07\story_7-6-2013_pg7_20
--------------
Bomb kills two police in Peshawar
7 Jun 2013
PESHAWAR: A roadside bomb attack targeting police in Peshawar on Thursday killed two officers and wounded three others, police said. The improvised explosive device (IED) exploded when the officers were on a routine patrol in the Daudzai suburb of Peshawar, killing two of them on spot, senior police official Shafiullah Khan told AFP. "It was an IED blast, two policemen have been killed and three injured. Condition of one of them is critical," Khan told AFP. Peshawar police chief Liaqat Ali Khan confirmed the attack and casualties. There was no immediate claim of responsibility, but Pakistani Taliban have frequently targeted police and security forces with bomb and gun attacks as part of a five-year insurgency mostly concentrated in the northwest.
http://www.dailytimes.com.pk/default.asp?page=2013\06\07\story_7-6-2013_pg7_10
--------------
Pak slams Shinde, says no ISI hand in Sikh militancy revival
TNN | Jun 7, 2013
NEW DELHI: A day after Union home minister Sushilkumar Shinde's outburst against Pakistan for what he described as ISI's attempts to revive Sikh militancy, Pakistan described his comments as allegations which were baseless and unwarranted.
"Pakistan has consistently endeavoured to improve relations with India," said the Pakistan High Commission in a statement.
Full report at:
http://timesofindia.indiatimes.com/india/Pak-slams-Shinde-says-no-ISI-hand-in-Sikh-militancy-revival/articleshow/20469013.cms
---------
Talks with Taliban: JUI-F asks govt to create conducive environment
Amir Wasim
7 Jun 2013
ISLAMABAD: The Jamiat Ulema-i-Islam-Fazl (JUI-F) which has already decided not to play any mediatory role in peace talks with Taliban warned the PML-N government on Thursday of a "complex situation" after withdrawal by the militant organisation of its offer for talks. It urged the government to create "conducive environment for reconciliation".
"Let us try to create a conducive environment for talks and reconciliation, otherwise we will end up fighting insurgency for years and the chance for national building will be lost for decades," a JUI-F spokesman Jan Achakzai quoted Maulana Fazlur Rehman as saying.
Full report at:
http://dawn.com/2013/06/07/talks-with-taliban-jui-f-asks-govt-to-create-conducive-environment/
--------------
Pakistan's return to the Kingdom – of split loyalties and controversies
SHAAN AGHA
7 Jun 2013
When wealthy aristocrats and merchants of London formed the East India Company, their initial aim was the same as almost any other commercial venture; profit maximisation. Cotton, silk, salt and opium had brought the English to the sub-continent, seeking its untapped wealth.
The greed of fortune hunters would soon have them build their private armies, wanting to control the country with more than just economic muscle. The land once ruled by the Mughal's, gradually unfolded into becoming a dominion of the British Raj.
Full report at:
http://beta.dawn.com/news/1016483/pakistans-return-to-the-kingdom-of-split-loyalties-and-controversies
--------------
Pakistan families of victims demand halt to US drone strikes
7 Jun 2013
ISLAMABAD: The families of Pakistani victims of US drone strikes Thursday wrote to new Prime Minister Nawaz Sharif urging him to stop the campaign – by shooting the unmanned aircraft down if necessary.
The high court in the northwestern city of Peshawar on May 9 declared the CIA drone strikes targeting suspected Taliban and al Qaeda militants to be a "war crime" and ordered Islamabad to take steps to halt them.
Victims' families and their lawyer Mirza Shahzad Akbar have written to Sharif urging him to heed the court's ruling, which calls on the government to take the matter up at the UN Security Council.
Full report at:
http://beta.dawn.com/news/1016484/pakistan-families-of-victims-demand-halt-to-us-drone-strikes
--------------
Anti polio programme: Bill gates reaches out to Imran Khan for support
June 7, 2013
ISLAMABAD: Famous American business magnate Bill Gates has sought Imran Khan's cooperation to eradicate polio in Khyber-Pakhtunkhwa, as the province apparently failed to provide security to polio workers.
Gates sent a personal letter through his emissary to chairman Pakistan Tehreek-e-Insaf (PT) Imran Khan asking for his party's cooperation in furthering the anti polio vaccination programme in Khyber Pakhtunkhwa, said an official statement.
Full report at:
http://tribune.com.pk/story/560178/anti-polio-programme-bill-gates-reaches-out-to-imran-khan-for-support/
--------------
Fear and loathing: Bhakkar cannibals re-arrested after protests
June 7, 2013
BHAKKAR: The two cannibal brothers whose horrific exploits sent a wave of fear and loathing through the residents of Darya Khan, a town in district Bhakkar, have been re-arrested soon after they were released from jail.
Arif and Farman were first arrested in April 2011 after they were found to have disinterred corpses in the local graveyard for the purpose of eating them.
It was reported that the brothers had dug up and devoured parts from close to 150 bodies before they were finally caught.
Full report at:
http://tribune.com.pk/story/560069/fear-and-loathing-bhakkar-cannibals-re-arrested-after-protests/
--------------
MQM alleges PPP of patronising terrorism in Karachi
7 Jun 2013
KARACHI: Deputy Convener Muttahida Qaumi Movement (MQM) Khalid Maqbool Siddiqui officially called of the strike on Thursday evening, saying it was unfortunate that Sindh government is making no marked efforts to counter terrorism. Speaking at a press conference, Siddiqui said that party workers were bearing the brunt of increasing terrorism in the city. "Eight of our workers are missing and we have no idea where they are," he said. He implored the government and the Chief Justice to take notice of missing party workers. He claimed that Lyari is no longer in control of Pakistan People's Party (PPP), but has become the hub of criminals. He asked the Sindh government to stop supporting Peoples' Aman Committee (PAC) which he claimed was responsible for the killing of MQM party workers. Full report at:
http://www.dailytimes.com.pk/default.asp?page=2013\06\07\story_7-6-2013_pg7_11
--------------
MFN couldn't come into effect because of LoC tensions: Khar
Harinder Baweja, Hindustan Times
June 07, 2013
The Pakistan Cabinet had signed off on granting India the contentious Most Favoured Nation (MFN) status in January this year but it was not operationalised because of the beheading of Indian army soldiers on the line of control. This important disclosure was made by former foreign minister Hina Rabbani Khar in an exclusive interview with HT.
"If the LoC tensions hadn't happened, the MFN was through. President Zardari had pushed for it and it had the approval of the Cabinet. The LoC reaction shocked all of us,'' Khar told HT.
Full report at:
http://www.hindustantimes.com/world-news/pakistan/MFN-couldn-t-come-into-effect-because-of-LoC-tensions-Khar/Article1-1072114.aspx
-------------
South Asia
Afghanistan suicide blast kills 7 Georgian troops
6 June 2013
Seven Georgian troops were killed and nine were wounded in a suicide attack in Afghanistan when insurgents attacked their base, the pro-Western Caucasus country's army chief said Thursday.
"Seven military servicemen were killed" when a "suicide terrorist" blew up a truck loaded with explosives outside a Georgian military base in Afghanistan's Helmand province, General Irakli Dzneladze, chief of the Georgian army joint staff, told a news conference.
The incident brings to 30 the death toll of Georgian soldiers serving in the International Security Assistance Force in Afghanistan (ISAF).
On May 13, three Georgian soldiers were killed in a similar suicide attack on their base in southern Afghanistan.
Full report at:
http://english.alarabiya.net/en/News/asia/2013/06/06/Afghanistan-suicide-blast-kills-7-Georgian-troops.html
--------------
President Waheed requests reshuffle of educational institutions
By Minivan News | June 6th, 2013
President Mohamed Waheed has requested parliament approve structural changes that would reshuffle educational institutions, reports local media.
The government proposal would move the National Institute of Education (NIE) under the Ministry of Education as well as transfer the Education and Vocational Training Center for Children (ETCC) to the Ministry of Gender, Family and Human Rights.
Waheed's cabinet established the NIE on December 24, 2012, however it did not begin to function until May 20, according to local media.
The Education Development Centre and the Centre for Continuing Education, previously under the Education Ministry, were abolished and their mandates transferred to the NIE in 2012.
http://minivannews.com/category/news-in-brief
--------------
DQP MP submits bill proposing hanging as preferred method of execution
By Ahmed Nazeer | June 6th, 2013
Dhivehi Quamee Party (DQP) MP Riyaz Rasheed has submitted a bill to parliament proposing executions be carried out by hanging people sentenced to death in court.
Riyaz told newspaper 'Haveeru' that he submitted the bill because the government's version of the bill, drafted in December 2012, had yet to be submitted to parliament.
According to Riyaz's bill, the trials of people accused of offences punishable by death under the penal code are to be conducted with a defence lawyer, even should the defendant refused.
Full report at:
http://minivannews.com/politics/dqp-mp-riyaz-submits-bill-proposing-hanging-as-preferred-method-of-execution-59132
--------------
UK urged to press for protection of minorities in Bangladesh
7 Jun 2013
Representatives of the UK chapters of Bangladesh Hindu, Buddhist and Christian Unity Council Europe, and Jagannath Hall Alumni Association urged the UK to pressurise the Bangladesh government into protecting the lives and properties of minority communities.
During a June 4 meeting with Kerry McCarthy MP, shadow minister for Foreign and Commonwealth Affairs, they expressed concern over the violence unleashed on minority communities after the International Crimes Tribunal February 28 verdict.
Full report at:
http://www.thedailystar.net/beta2/news/uk-urged-to-press-for-protection-of-minorities-in-bangladesh/
--------------
Turkey seeks free trade with Bangladesh
7 Jun 2013
Turkey is eager to strike a free trade agreement with Bangladesh to boost bilateral trade between the two countries, said Turkish Ambassador to Bangladesh Hüseyin Müftüoglu when he visited Foreign Minister Dipu Moni at the ministry yesterday.
The outgoing ambassador acknowledged the difficulties of Bangladeshi apparel exporters to Turkey due to imposition of additional duties by the Turkish government in 2011.
However, he said he is optimistic about signing either a free trade or preferential trading agreement between Bangladesh and Turkey as soon as possible.
Full report at:
http://www.thedailystar.net/beta2/news/turkey-seeks-free-trade-with-bangladesh/
--------------
Brotherly ties: Karzai invites Nawaz to Kabul
June 7, 2013
ISLAMABAD: Afghan President Hamid Karzai was the first head of state to officially invite newly-elected Prime Minister Nawaz Sharif to visit Afghanistan.
Karzai on Thursday telephoned Nawaz and felicitated him on his assumption of the office of the Prime Minister of Pakistan.
Karzai also extended him an invitation to visit Kabul. This is the first ever invite for Nawaz Sharif from any head of the state for a trip abroad after assuming office as the premier.
The prime minister accepted the invitation, thanked the Afghan president for the invite and said that he was looking forward to visit Afghanistan.
Full report at:
http://tribune.com.pk/story/560084/brotherly-ties-karzai-invites-nawaz-to-kabul/
--------------
Africa
Anti-gay law may criminalise parental show of affection, warns Nigeria H R chief
June 6, 2013
Chidi Odinkalu said this in an address to Nigerian lawmakers.
Nigeria's newly approved anti-gay bill may end up criminalizing family display of affection, as its wording has the potential of indicting and punishing relatives demonstrating love publicly, head of Nigeria's human rights body said Thursday, calling for a review of the bill.
The Chairman of the Human Rights Commission, Chidi Odinkalu, urged federal lawmakers to consider prompt evaluation and amendment of the bill that has been widely received and celebrated by Nigerians, but condemned by international rights groups.
Full report at:
http://premiumtimesng.com/news/137910-anti-gay-law-may-criminalise-family-parental-show-of-affection-nigeria-human-rights-chief-warns.html
--------------
Tunisian soldiers killed in blast near Algerian border
7 Jun 2013
Two Tunisian soldiers have been killed and at least another two wounded in a roadside explosion near the border with Algeria, the army has said.
The incident is the latest in a series of attacks on soldiers pursuing militant Islamists along the border.
"Two soldiers were killed... in the hunt for terrorists," army spokesman Mokhtar Ben Nasr said.
North African states have been battling to contain militants since secular regimes were ousted in recent years.
Full report at:
http://www.bbc.co.uk/news/world-africa-22795938
--------------
Somali militants execute 2 for espionage: witness
June 7, 2013
MOGADISHU, Somalia (AP) — A resident of a Somali town says that al-Qaida-linked militants have killed two men by firing squad for allegedly spying for the Somali government and the African Union military force.
The resident, who gave his name only as Mohammed, said dozens of residents watched as masked militants from al-Shabab killed the two men late Thursday in the town of Bararwe, in southern Somalia.
Full report at:
http://www.nytimes.com/aponline/2013/06/07/world/africa/ap-af-somalia-
----------
Nigeria unveils new visa policy to attract investors, tourists
By PTI | 7 Jun, 2013
NEW DELHI: Nigeria has unveiled its new visa policy mainly to attract global investors and tourists, a government official from the African nation today said.
"The Nigerian Government has recently approved a new visa policy, which is intended to ease the entry into the country of strategic visitors, especially investors and tourists, who have much to contribute to the national economy," Babatunde Lawal, Director, Macroeconomics Department, National Planning Commission of Nigeria said at a FICCI event today.
He said that FDI into Nigeria has been concentrated in the extractive industries but the 'Nigeria Vision 20:2020' seeks to diversify the economy, and in so doing aims to attract more FDI into the non-oil sector of the economy.
Full report at:
http://economictimes.indiatimes.com/news/nri/visa-and-immigration/nigeria-unveils-new-visa-policy-to-attract-investors-tourists/articleshow/20478163.cms?prtpage=1
----------
North America
U.S. quietly allows military aid to Egypt despite rights concerns
7 Jun 2013
Secretary of State John Kerry quietly acted last month to give Egypt $1.3 billion in U.S. military aid, deciding that this was in the national interest despite Egypt's failure to meet democracy standards.
Kerry made the decision well before an Egyptian court this week convicted 43 democracy workers, including 16 Americans, in what the United States regards as a politically motivated case against pro-democracy non-governmental organizations.
Rights groups believe Egyptian President Mohamed Morsi is retreating from democratic freedoms, notably in a new civil society law and in proposals for judicial reform that critics see as a way to purge judges perceived as hostile to the government.
Full report at:
Source: Al Ahram
----------
Al Qaeda weapons expert: U.S. ambassador to Libya killed by lethal injection
By Bill Gertz
7 Jun 2013
An al Qaeda terrorist stated in a recent online posting that U.S. Ambassador to Libya J. Christopher Stevens was killed by lethal injection after plans to kidnap him during the Sept. 11 attacks in Benghazi went bad.
The veracity of the claim by Abdallah Dhu-al-Bajadin, who was identified by U.S. officials as a weapons expert for al Qaeda, could not be determined. However, U.S. officials have not dismissed the terrorist's assertion.
Full report at:
http://www.washingtontimes.com/news/2013/jun/4/al-qaeda-weapons-expert-us-ambassador-libya-killed/?utm_source=RSS_Feed&utm_medium=RSS#ixzz2VW3mvfv4
--------------
Obama embracing some Bush-era anti-terror policies
7 June 2013
Barack Obama, five years into his presidency, presides over a national security apparatus that in many ways still resembles the one left behind by President George W. Bush. Drones are killing terrorism suspects, the US military prison at Guantanamo Bay, Cuba, holds "enemy combatants" and the government secretly collects telephone records of millions of Americans.
Full report at:
http://english.alarabiya.net/en/News/world/2013/06/07/Obama-embracing-some-Bush-era-anti-terror-policies-.html
--------------
US senator McCain says Syria is fueling sectarian conflict in region
7 June 2013
Syrian President Bashar al-Assad will make no effort to end the country's civil war as long as he is winning on the battle field, said US senator John Mcain in a speech on Thursday.
Anyone who thinks otherwise is "delusional," he added, in the foreign policy speech at the Brookings Institution in Washington.
"The longer we wait to take action, the more action we will have to take," the Arizona Republican said, while noting that there are no easy options to ending Syria's civil war, which has killed 80,000 according to UN figures.
Full report at:
http://english.alarabiya.net/en/News/world/2013/06/07/US-senator-McCain-says-Syria-is-fueling-sectarian-conflict-in-region.html
--------------
US names 'senior al Qaeda bomb maker' for sanctions
7 Jun 2013
WASHINGTON: The US Treasury identified a Libyan electronics and explosives specialist on Wednesday as a top bomb maker for al Qaeda in Pakistan and singled him out for anti-terror sanctions.
The Treasury said Abd al-Hamid al-Masli, also known as Hamza al-Darnawi, runs an al Qaeda workshop in Pakistan that provides improvised explosive devices and components for al Qaeda to be used in Afghanistan.
Full report at:
http://beta.dawn.com/news/1016493/us-names-senior-al-qaeda-bombmaker-for-sanctions
--------------
The Not-So-Veiled Threat to Non-Muslims in Tennessee
By Janet Levy
June 7, 2013
The attempted snow job by the American Muslim Advisory Council(AMAC) of Tennessee which sponsored the joint Department of Justice/FBI event, "Public Disclosure in a Diverse Society," Tuesday night in Manchester, Tennessee, did not work with the 2,000 attendees. Claims that American Muslims are loyal citizens, partners in counterterrorism investigations, part of radicalization prevention efforts, and an integral part of American society for centuries fell flat, especially coming from the host organization that was formed only two years ago in response to anti-shariah legislation in the Volunteer State.
Full report at:
http://www.americanthinker.com/2013/06/the_not-so-veiled_threat_to_non-muslims_in_tennessee.html
----------
Southeast Asia
Bali residents told to remain vigilant on terrorism
BY NI KOMANG ERVIANI
2013-06-07
Bali Governor Made Mangku Pastika warned local residents that the island was still high on the target list of terrorist networks and told them to remain vigilant.
He also stressed that prevention measures were critical to the eradication of global and local threats of terrorism.
"If a terrorist attack takes place then it will have a huge impact on the community. The community will be wounded and feel the need to take revenge. It will also create prolonged trauma," Pastika said during a meeting on Wednesday with members of the local chapter of the Coordination Forum for the Prevention of Terrorism (FKPT).
Full report at:
http://www.thejakartapost.com/bali-daily/2013-06-07/bali-residents-told-remain-vigilant-terrorism.html
--------------
2,280 child workers in W.Java sent back to schools
June 05 2013
As many as 2,280 child workers from 15 regencies/municipalities in West Java have been removed from their work places and sent back to schools through the Family Empowerment Program (PPA-PKH).
"There should be no more business activity that involves child workers. Once more, we call on and will monitor business players to not use child workers anymore," said Manpower and Transmigration Minister Muhaimin Iskandar on Wednesday as quoted by Antara news agency.
Full report at:
http://www.thejakartapost.com/news/2013/06/05/2280-child-workers-wjava-sent-back-schools.html
--------------
URL: https://newageislam.com/islamic-world-news/new-age-islam-news-bureau/tony-blair-embroiled-in-twitter-spat-on-criticising-islam/d/11951