New Age Islam News Bureau
4 May 2018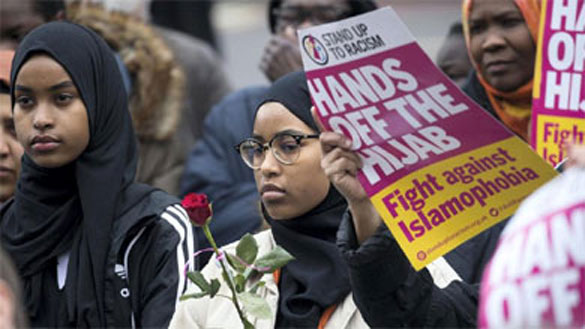 Protesters take part in the Stop Racism demonstration in North London on 'Punish a Muslim Day'. Stephen Lock / The National
------
• Tomb to Temple in Two Months: In South Delhi, a Monument Changes Colours
• Five UK Mosques Sent 'Punish A Muslim Day'-Style Letters
• Nigeria's Treatment of Shia Minority Recalls That of Boko Haram
• Archbishop Leads 'Symphony' Of Religions in Karachi
• Indonesia: Surveys Show Students Exposed to Radical Islam Ideology
• Afghanistan Presents a Perfect Location for ISIS to Regroup and Continue Its Bloodshed
India
• Tomb to Temple in Two Months: In South Delhi, a Monument Changes Colours
• AMU Unrest: Right-wing Outfit Plans to Bring in 1,000 Students to Take down Jinnah Portrait Today
• NIA Questions Key Islamic State Operative in Philippines over Radicalising Several Indians Online
• Seventh Indian state enacts anti-conversion law
• Five militants escape from security forces cordon in J-K's Shopian
--------
Europe
• Five UK Mosques Sent 'Punish A Muslim Day'-Style Letters
• Islamophobia Is an Issue in the British Press
• Russian fighter jet crashes off Syria, both pilots killed
--------
Africa
• Nigeria's Treatment of Shia Minority Recalls That of Boko Haram
• Teachers Flee, Schools Close in Kenya with Al-Shabab Attacks
• Gunmen abduct German Red Cross nurse in Somalia
• 3 miners killed in suspected Al Shabaab attack
--------
Pakistan
• Archbishop Leads 'Symphony' Of Religions in Karachi
• Pak Committed To Further Strengthen Ties with Saudi Arabia: PM
• No visible development seen in Army-PTM talks: report
• MML president urges politicians to respect court decisions
• Senator wants government to explain payments made to ISI for 'special assignment'
• IHC accepts Hafiz Saeed's plea for hearing
--------
Southeast Asia
• Indonesia: Surveys Show Students Exposed to Radical Islam Ideology
• A Chinese Buddhist Representing an Islamic Party Is an Advantage, Says PAS Candidate
• Once a Malaysian reformer, Najib faces test of legitimacy
• In Indonesia, Interfaith Marriage is Legal - But With Many Obstacles
• Amnesty International blasts hate speech conviction of spiritual book author
--------
South Asia
• Afghanistan Presents a Perfect Location for ISIS to Regroup and Continue Its Bloodshed
• Taliban Leaders and Militants Suffer Heavy Casualties in Badakhshan
• Bangladesh to take OIC foreign ministers to Rohingya camps Friday
• NDS forces thwart deadly attacks in Kabul city
• Organization of Islamic Cooperation foreign ministers to meet in Bangladesh
--------
North America
• US Muslim Art, Cultural Projects Receive $2.3M in Grants
• OIC: Intolerance against Muslims on the Decline but General Situation Worrisome
• After missing deadline, Pentagon delivers new policy on Guantanamo transfers
• US implementation of 'Libya model' in North Korea to fail: Analyst
--------
Arab World
• Iraq Speaker Seeks Pardon for Saddam's Defence Minister
• Civilians' Uprising Suppressed by US-Backed Kurds in Raqqa
• Syria: Gov't Troops Drive Wedge between ISIL Strongholds in Southern Damascus
• Notorious Terrorist Commander of Eastern Ghouta Assassinated in Afrin
• Evacuation of 5,000 Terrorists Starts in Southern Damascus
• Terrorists Attack Syrian Army Positions in Homs under New Coalition
• Damascus: Over 1,100 Militants Receive Amnesty, 2,350 Popular Forces Join Syrian Army
• Syrian rebels start pull-out from south Damascus
• UAE forces land in Socotra amid rift with Saudi-led forces
--------
Mideast
• Palestinian Leader Abbas Re-Elected As Chairman of PLO Executive Committee
• Palestinian Authority Cuts Salaries of Gaza-Based Civil Servants By 20 Percent
• Hezbollah chief's censored speech reaffirms group as Tehran's arm in Lebanon
• US commandos help Saudis against Yemen rebels
• Yemeni army spots 100 Iranian experts providing support for Houthis in Saada
• Israel deports leading US rights lawyers for 'ties with pro-Palestine campaign'
Compiled by New Age Islam News Bureau
URL: https://www.newageislam.com/islamic-world-news/tomb-temple-two-months-south/d/115145
--------
Tomb to temple in two months: In south Delhi, a monument changes colours
by Somya Lakhani
May 4, 2018
From being the tomb of an unidentified person dating back to the Tughlaq dynasty to becoming Shiv Bhola temple two months ago, Gumti — a small, domed tomb in Safdarjung Enclave's Humayunpur village — is facing an identity crisis. The state-notified monument built on a mound, amid buildings and a park, was painted white and saffron in March, and idols placed inside it.
It is learnt that the work has been done in complete violation of the Citizen Charter of the Department of Archaeology, which states that one "cannot paint, draw or whitewash any wall in and around the monument" and "cannot hamper or spoil the originality of the monument".
While the Delhi government's Department of Archaeology could not be reached for a comment, a source called it a "major faux pas". Deputy Chief Minister Manish Sisodia said, "I have no information about this, I will ask the department concerned to conduct an inquiry and send me the report."
The Delhi Chapter of Indian National Trust for Art and Cultural Heritage (INTACH) was supposed to take up restoration work of the 15th-century monument, in collaboration with the Archaeology department, last year. Ajay Kumar, projects director, INTACH-Delhi, "This was a locked monument and we were unable to start work there due to resistance from residents… we went with police but it didn't work out. Now it's become a temple and we've lost the monument."
Meanwhile, two saffron-coloured benches placed in the complex bear the name of BJP councillor from Safdarjung Enclave, Radhika Abrol Phogat.
However, Phogat told The Indian Express, "The structure was turned into a temple without my knowledge, consent or support. It was done with the connivance of the previous BJP councillor. I objected too, but it's a sensitive issue. With whatever that is going on in the country, one can't touch a temple. The benches with my name were initially in the park."
Swapna Liddle, convener, INTACH Delhi chapter, said, "Turning a monument into a religious structure is a land grab issue… the easiest thing to do is to turn it into a mandir or a mazar. We are not gatekeepers of the monument, we restore them. The protection has to be done by the state and then it should be handed over to us."
According to a 2010 notification by the state's Urban Development department, Gumti was notified as one of the 767 heritage sites, and received a grade-I listing. In 2014, the Archaeology department notified it again as a heritage site.
Little is known about who was buried here or who built Gumti. But the architecture – pointed tip of the dome and absence of mihrab (a semi-circular niche in the wall) — points at either late-Tughlaq or early-Lodi period.
Kanika (19), a resident, said, "It was always a monument… in a bad state. I grew up thinking it was a tomb but then a few months ago, it became a temple."
http://indianexpress.com/article/cities/delhi/tomb-to-temple-in-two-months-in-south-delhi-a-monument-changes-colours-5162601/
--------
Five UK mosques sent 'Punish a Muslim Day'-style letters
May 3, 2018
Five British mosques have been targeted with hate mail linked to the UK 'Punish a Muslim' campaign in April which spread fear across the UK.
The new set of letters have "strong evidential links" to the Punish a Muslim Day campaign including the style of the letter, symbolism, postmark and references to far-right individuals. Tell Mama, a group that monitors Muslim hate crime, said they were sent to mosques in London, Kent, Colchester and Essex.
Tell Mama spokesman Fiyaz Mughal called the threats more "aggressive" than in the past but he wouldn't elaborate on the nature of the threats or the names of the mosques targeted.
The group reported the threats to counter-terrorism police in West Yorkshire. The squad also investigated the previous Muslim hate mail campaign in April, which urged people across the UK to carry out attacks on Muslims including murder, and burning or bombing mosques.
Mr Mughal said that the letters were posted from Sheffield, which was where at least some of the "Punish a Muslim Day" letters were posted. There is no specific date or day for the mosques to be targeted with violence, he told The National.
Scotland Yard referred inquiries to West Yorkshire police, who didn't immediately respond to a request for comment. In the past, counter-terrorism police have said they send threat letters for analysis to investigate their origin.
Mr Mughal said the group was offering safety advice and leaflets to UK mosques in addition to visiting those concerned about the threats.
"The letters are far more aggressive in their posture and, to date, Tell Mama are aware of five letters, though further reports are coming in from parts of the country," the group said in a statement.
Iman Atta, director of Tell Mama, said it was essential for mosques to report hate mail and threatening letters or other materials.
"Tell Mama is aware of a campaign that is in play and where material is being sent to mosques," she said.
"We want to re-assure mosques that the risk is very low and that a calm and a focused approached to tackling this hate is needed. We are working closely with police forces on this."
At least 20 anonymous hate letters encouraging Britons to "Punish a Muslim" on April 3 were sent, triggering fear across UK cities and a major police counter-terrorism investigation. Five British MPs with South Asian backgrounds also received Islamophobic hate mail, along with packages containing a harmless sticky liquid.
In the event, April 3 passed without any specific violence targeting Muslims.
https://www.thenational.ae/world/europe/five-uk-mosques-sent-punish-a-muslim-day-style-letters-1.727168
--------
Nigeria's Treatment of Shia Minority Recalls That of Boko Haram
May 3, 2018
Largely overlooked by the Western media, there is an escalating conflict between Nigeria's Shia minority, some of whom are organized into the Islamic Movement of Nigeria (IMN), and Nigeria's secular government. The current focus is eight charges of murder brought by Kaduna state against IMN leader Ibrahim el-Zakzaky, whom the government has detained for two years without charge. Complicating the issue is the Iranian government, which has periodically protested el-Zakzaky's confinement. Beginning in April, there have been daily protests in Abuja and cities in the north against el-Zakzaky's continued detention. According to the Nigerian media, some of these demonstrations have turned violent and the capital has occasionally been "shut down." The demonstrations may have provoked the Kaduna state authorities to formally charge el-Zakzaky with murder; if convicted, he could face the death penalty. Federal, not state, authorities, are holding El-Zakzaky in custody, and federal spokesmen have said that he cannot be released until the Kaduna state judicial process is completed.
The murder charges stem from an incident in Zaria in December 2015. Federal and military spokesmen say that a Shiite mob led by el-Zakzaky attempted to assassinate Nigeria's chief of army staff Tukur Buratai when they blocked his convoy. Buratai was not killed, but the formal charges against el-Zakzaky accuse him and his followers of killing at least one soldier by name. In the aftermath, the army attacked IMN facilities, killing hundreds of people, including members of el-Zakzaky's family. El-Zakzaky and his wife were seriously wounded in the attack and subsequently arrested. IMN vociferously denies that there was any assassination attempt, and charges the army with attempting to disrupt a Shia religious event. The Zaria episode is in some ways similar to the 2009 clash between the army and followers of Mohammed Yusuf in Maiduguri, which led to Yusuf's death and to the emergence of Boko Haram in its present form. But unlike Mohammed Yusuf, el-Zakzaky has not been murdered by the police. Indeed, the Abuja government claims that he and his wife have received excellent medical attention. Further, Mohammed Yusuf advocated violence against the secular state, while el-Zakzaky has not.
Advocacy of violence aside, there are striking ideological similarities between IMN and Boko Haram, at least for outside observers. Both see the secular state as evil, both want an Islamic state based on Islamic law, and both want the end to Western influence, including in education. Both also seek the end of northern Nigeria's traditional political and religious elite. For IMN, the model appears to be the aspirations of the post-revolutionary Iranian Islamic state. Boko Haram's vision appears more nebulous and less developed, but both try to function as a state-within-state.
Despite their similarities, the two groups are anathema to each other. IMN is opposed to Boko Haram's use of violence and el-Zakzaky has claimed, implausibly, that it is a creation of the "oil-hungry west." Boko Haram is hostile to any Muslim group that does not share its theology or submit to its authority. As with other Sunni radical movements in the Middle East, Boko Haram is especially hostile to Shias. In the majority-Sunni north of Nigeria, the group likely has more support than do Shias, and the traditional Islamic establishment, which is Sunni, is viscerally hostile to Shias. It is therefore highly unlikely that its members have ever provided any support for the Shia and IMN. The extent of Iranian financial and other support for the Nigerian Shia in general and IMN in particular, however, is unknown.
Nobody really knows the size of the Shiite population in Nigeria. International Crisis Group cites an estimate that it makes up between 2 and 3 percent of Nigeria's population, which would amount to roughly four million Nigerian Shiites. El-Zakzaky has claimed to have followers ranging from a few hundred thousand to three million; it is worth noting that it is by no means true that all Shias are associated with IMN. Whatever IMN's numbers, it has demonstrated the ability to shut down Abuja, if only for a few days at a time. Were el-Zakzaky to be tried, convicted, and executed—the worst-case scenario—Abuja could very well face the "black swan" of an insurrection.
https://www.cfr.org/blog/nigerias-treatment-shia-minority-recalls-boko-haram
--------
Archbishop leads 'symphony' of religions in Karachi
May 3, 2018
Archbishop Joseph Coutts (2nd from left) is shown at a rally celebrating the birthday of the Prophet Mohammad along with Sikh and Hindu leaders in December 2017. It was organized by the Interfaith Commission for Peace and Harmony. (Photo by Ayyaz Gulzar/ucanews.com)Archbishop Joseph Coutts sees himself as a conductor — not of musicians but of religious leaders from various faiths.Based in Karachi, Pakistan's most populous city, the archbishop has made interreligious dialogue a priority ever since he headed the Archdiocese of Karachi in 2012.He recently formed the first-ever diocesan commission to promote interfaith harmony and said he often attends programs, seminars and conferences to encourage people from different religions to live together peacefully."Christians who live here should promote a culture of harmony," said the 72-year-old archbishop."We all are musical notes. Each note has a specific identity but when played together they spread a message of peace, joy, love and harmony," he said.He said the beauty of Karachi as a cosmopolitan city is the ease with which it accommodates people of various religions and from different provinces, tribes and castes.Over the last four years Muslim leaders have made regular visits to St. Patrick's Cathedral to meet with the archbishop on religious holidays like Christmas and Easter.
He served as the Bishop of Hyderabad from 1990 till 1998, after which he was transferred to Faisalabad Diocese until Pope Benedict XVI appointed him as the Archbishop of Karachi in 2012."In this diocese the Church has for over six decades brought good news in the fields of education and medicine, and in the case of natural disasters, reached out to those have been affected, injured or become sick," he said."It's time to promote harmony. That is our new motto. We have to learn it and teach it. Now we are tasked with restoring harmony to this seaport city by welcoming people from different customs and traditions."In December 2017 he joined a rally to celebrate the Birthday of the Prophet Mohammad organized by the Interfaith Commission for Peace and Harmony (ICPH). Attendees included Sikh and Hindu leaders.One month earlier on Nov. 17 the Baha'i community was overjoyed to see the archbishop lead an event feting what would have been the 200th birthday of Hazrat Baha'u'llah, the founder of the Baha'i faith, who was born in Persia in 1817.
"The community was not expecting this," said Farhad Mashriqui, a representative of the Baha'i community."It is an honor for us that the church leadership has invited people of various religions to share their love on this joyous occasion as we celebrate the bicentennial our spiritual leader."The same day, a group of Christian leaders joined the Sikh community in celebrating the 549th birthday of Guru Nanak, the founder of Sikhism, at a holy temple in Karachi.The group included representatives of the National Commission of Justice and Peace (NCJP), Jesus Youth Pakistan, Caritas Pakistan Karachi, and the National Commission of Interfaith Harmony.Sardar Heera Singh said he appreciated the presence of the non-Sikh attendees as he presented gifts to them on behalf of the other members of his faith.Kashif Anthony, a coordinator at the NCJP and a member of diocesan interfaith harmony commission, led the group."This is a positive gesture to show unity with our brothers and sisters of other faiths. No doubt their festivals are always filled with joy but our presence brings them even more happiness," he said.
https://international.la-croix.com/news/archbishop-leads-symphony-of-religions-in-karachi/7502?utm_source=UCAN&utm_campaign=From-our-partners&utm_medium=Referral
--------
Indonesia: Surveys Show Students Exposed to Radical Islam Ideology
2018-05-03
About 39 percent of Indonesian university students have been exposed to radical Islamic ideology, Suhardi Alius, the head of Indonesia's National Counterterrorism Agency (BNPT), told BenarNews.
The counter-terror chief confirmed a figure given April 28 by Budi Gunawan, the head of Indonesia's National Intelligence Agency (BIN), during a lecture to a college seminar in Semarang, Central Java.
"That's an estimate, we're talking about a survey. That's what it indicated," Suhardi said in Padang, West Sumatra, on Wednesday. "The important thing … is that we recognize and prevent it."
"Not just students, but their teachers also must be monitored," he said. "These days I'm always visiting campuses."
Wawan Purwanto, a BIN spokesman, said the figure came from BIN internal research conducted at state and private universities in 15 provinces in 2017.
"Three universities attracted BIN's notice because of the high levels of dissemination of and support for radicalism and extremism," Wawan said.
He declined to name the universities but said their rectors had been notified so they could address the situation.
"Ignorning it could have a negative impact, as when a person who is a sympathizer later becomes a supporter of terrorist acts," he told BenarNews.
On tens of thousands of questionnaires distributed at universities, he said, many respondents indicated they would support making Indonesia an Islamic state, and expressed support for the so-called Islamic State of Iraq and Syria, he said.
"They were asked to mark 'agree,' 'don't agree' and 'don't know.' The graphic showed that 24 percent of college students and 23.3 percent of high school students agree with the concept of violent jihad," Wawan said.
Efforts to counter radicalism
Yenny Wahid, director of the Wahid Foundation, a non-governmental organization that promotes interreligious and cross cultural understanding, agreed that radicalism has been present on campuses for decades while efforts to counter it are relatively new.
"We see that there are efforts by the government to ward off radicalism, especially on campuses, but it needs to be continually increased," she said. "Radicalization movements continue systematically, building narratives and offering dreams that in fact are far from reality."
Wahid Foundation researcher Alamsyah M. Djafar cited research carried out in 2017 where 7.7 percent of 1,500 adults surveyed said they were prepared to carry out radical actions if they had the opportunity.
"The government should be concerned about this figure. It needs to be tackled with a variety of approaches," he said.
Radicalism targets campuses because young people are easily influenced and do not have a deep understanding of religion, he said.
The figures cited by BIN and BNPT are consistent with findings of the Jakarta-based Alvara Research Center and Mata Air Foundation in October 2017. The groups polled 1,800 students from 25 leading universities in Indonesia and 2,400 students from high schools across Java and other islands.
"We asked about the state ideology with a statement saying, 'The Islamic state is worth fighting for to implement more consistent Islamic teachings' and 23.5 percent of college students agree, and 16.3 percent of high school students agree," Alvara CEO Hasanuddin Ali told reporters in Jakarta
The survey revealed that 17.8 percent of university students and 18.3 percent of high school students preferred the concept of a caliphate ruled by a Muslim spiritual leader over Indonesia's current republic.
Commitment
At a Bali meeting in September 2017, about 3,000 university leaders from across Indonesia declared their common commitment to root out intolerance and radicalism on campus.
Several Indonesian institutions have been working together to tackle the problem, according to Wawan, the BIN spokesman. He cited the Education Ministry, the Religious Affairs Ministry, the Indonesian Ulema Council and university rectors.
"It's done openly through seminars, hoaxes on social media are corrected, cyber patrols so students don't ingest raw information they encounter that could point them in the diection of radicalism and extremism," he said.
The Ministry of Religious Affairs also is involved in efforts to prevent radicalism on campuses.
"We have a center of research on moderate religious education from pesantren (Islamic schools) all the way through to university levels," said Kamaruddin Amin, the ministry's director-general for Islamic education.
His department oversees the activities of extracuriccular religious groups run by students, through school officials. And if teachers are ignoring moderate curriculums and teaching radicalism "they can be reported, and we will train them," he said.
A University of Indonesia spokeswoman, Rifelly Dewi Astuti, said the institution promotes the concept of Indonesian nationhood and pluralism, forbids intolerance and radicalism on campus, and has prevention mechanisms in place.
"They include counseling, monitoring of students' academic records and periodic guidance every semester by academic counsellors in each department," she said.
https://www.benarnews.org/english/news/indonesian/radicalism-survey-05032018162921.html
--------
Afghanistan presents a perfect location for ISIS to regroup and continue its bloodshed
May 3, 2018
The latest wave of terror attacks carried out in Afghanistan by ISIS demonstrates that, for all the recent setbacks it has suffered, the organisation has lost none of its ability to wreak carnage around the world.
ISIS was quick to claim responsibility for the twin bombings in Kabul earlier this week which killed 25 people, including nine reporters, saying that they were directed at Afghanistan's intelligence headquarters.
The atrocity is significant for two reasons. Firstly, in recent months, the majority of terror attacks carried out against the Afghan government have been the work of the Taliban, a rival Islamist terror organisation that is seeking to reassert its influence in the country following the removal of the bulk of Nato forces that have been trying to destroy the organisation since the September 11 attacks.
The other is that the attacks illustrate just how much of a threat ISIS remains, despite the humiliating defeat it has suffered in Iraq and Syria, where its so-called caliphate has been reduced to rubble.
Following the group's defeat at the hands of the US-led coalition at the end of last year, there has been a great deal of discussion about whether ISIS could survive, or whether it would simply disband and disappear.
Its defeat in Iraq and Syria has certainly had a negative impact on the morale of ISIS recruits. Having seen thousands of their co-fighters perish under the coalition's merciless military assault, many of the survivors have simply decided that jihad is not for them, and returned to their home countries.
At its height, the so-called caliphate was said to comprise an estimated 25,000 foreign fighters originating from more than 100 countries. According to a recent study by the Soufan Centre, an independently-funded NGO that analyses emerging global security threats, at least 5,600 of them have returned home, including 20-30 per cent of fighters who came from Europe. Thousands more have been detained by local opposition groups and government forces working with the coalition.
Analysts believe that there remains a core of adherents to the ISIS creed who have simply melted away with the intention of regrouping, and launching a fresh wave of terror attacks in the future.
Thousands of ISIS-affiliated fighters remain in Iraq and Syria, hiding in isolated desert or mountain retreats, from where they continue to mount terror attacks against security forces and civilians. And coalition commanders believe that ISIS will continue to remain a threat in these countries so long as key figures in ISIS' leadership remain at large, including Abu Bakr Al Baghdadi, the movement's charismatic leader who established the so-called caliphate in the first place.
Moreover, officials from as far afield as Tunisia and Somalia have recently reported evidence of renewed ISIS activity in their territories. In Tunis, officials say they have uncovered evidence that ISIS is trying to rebuild its network in North Africa and the Maghreb. A similar picture has emerged in Somalia, where the UN Monitoring Group on Eritrea and Somalia recently reported that ISIS had "grown significantly" from a few dozen fanatics in 2016 to 200 fighters today.
And Afghanistan, where the country's security forces are struggling to cope with the continued threat posed by the Taliban, presents a perfect location for ISIS remnants to regroup and mount fresh terror attacks.
A report issued this week by the Special Inspector General for Afghanistan Reconstruction (Sigar) made for depressing reading, reporting that the Afghan security forces had registered a significant decline in their numbers, while the Taliban and other militants groups had increased their control or influence to around 14.5 per cent of Afghanistan's 407 districts – the highest level since the group started recording such data in late 2015.
The lawlessness affecting large chunks of Afghanistan therefore provides fertile territory for ISIS, which has seen its numbers rise significantly in recent months, with coalition officials estimating its strength in Afghanistan at between 3,000 and 5,000 fighters.
Like the Taliban, ISIS is committed to driving the remnants of the 15,000-strong Nato mission out of the country and establishing a harsh form of Islamic rule throughout the country.
ISIS' arrival in Afghanistan has not gone unchallenged by the Taliban, which resents the introduction of a rival Islamist group that has large numbers of foreign fighters, unlike the Taliban, which is mainly drawn from the indigenous Pashtun community. This has resulted in a number of clashes between the two groups, particularly in Nangarhar province.
The emergence of a rival Islamist terror group to the Taliban is certainly bad news for attempts by Afghan President Ashraf Ghani to revive peace talks with the Taliban leadership. ISIS is opposed to any form of deal and has managed to attract a number of Taliban fighters to its ranks who take the same view.
The increasingly complex and fraught situation that is developing on the ground in Afghanistan is certainly something that the West and its regional allies cannot ignore.
One of the reasons that groups like ISIS came into existence in the first place is the Obama administration's decision to turn its back on its long-standing commitments to safeguarding the security and well-being of the Middle East.
The result was widespread political instability, particularly in countries like Iraq, where Barack Obama's abandonment in 2011 was a significant factor in ISIS' creation.
ISIS may have been roundly defeated in Iraq and Syria at the hands of the US-led coalition, but that does not mean the war is over. This time around, the West and its allies must make sure not to repeat the mistakes of the past, and maintain their vigilance to make sure ISIS is never again in a position to re-establish its so-called caliphate.
https://www.thenational.ae/opinion/comment/afghanistan-presents-a-perfect-location-for-isis-to-regroup-and-continue-its-bloodshed-1.727156
--------
India
AMU Unrest: Right-wing Outfit Plans to Bring in 1,000 Students to Take Down Jinnah Portrait Today
May 4, 2018
Aligarh: As the 48-hour deadline to take down Muhammad Ali Jinnah's portrait approaches, a right-wing outfit is gearing up to bring in nearly 1,000 students to remove the picture of "the man who divided India" despite heavy deployment of police and RAF personnel at the university.
"Who is he (Jinnah)? He was the proponent of the two nation theory. He was the one who divided India. It has to be made clear that those who want the portrait of Jinnah, will have to go to Pakistan. We won't allow him to be revered in India," Amit Goswami, a right-wing student leader told News18.
Hours after Goswami live streamed his plan to bring down Jinnah's portrait, he was summoned by Aligarh SSP on Thursday. However, right-wing outfit Hinduvadi Chhatra Sangh is now planning to mobilise nearly 1,000 students to further press for their demand. "People have tried to reason with us that the Jinnah's portrait has been up since 1938 after he became the lifetime member of the AMU Students Union. But he propounded two nation theory. We had no clue that his portrait is still on the walls of AMU. Nobody was aware that AMU was secretly guarding this portrait. It was only after MP Satish Gautam's letter to the VC Tariq Mansoor that this matter came to light," Goswami said.
Violence broke out at the university on Wednesday after some protesters belonging to Hindu Yuva Vahini and other right-wing outfits tried to barge into the varsity premises demanding removal of a portrait of Muhammad Ali Jinnah displayed on the campus.
Wednesday's violence prompted a massive security deployment in the area on Thursday as policemen in large numbers and a RAF contingent were deployed near the Baab-e-Syed gate to maintain law and order.
While the rest of the injured students were discharged after first aid, three of those with serious injuries were admitted at the Jawaharlal Nehru Medical College hospital.
Supporting Hinduvadi Sangh's stand on the issue, Akhil Bharatiya Vidyarthi Parishad's regional convenor Nikhil Maheshwari said, "Why don't AMU authorities get Mahatma Gandhi's pictures adorned on the walls of educational institutions in Pakistan? But, at least in India, Jinnah's portrait has to go down."
On the other hand, Aligarh Muslim University Teachers Association held a general body meeting and decided to hold Black Day on Thursday against the "malicious campaign of Hindu leaders".
The teachers and students will be protesting and taking out a march from AMU's Bab-e-Syed Gate to the Collectorate.
While administration of the university is silent on the issue, the teachers body demanded a time bound high-level judicial inquiry. Miffed by the "malicious campaign of right wing outfits", AMU Teachers Association secretary Najmul Islam said, "The day the right wing leaders barged inside the campus, the former Vice President was to be honoured with lifetime membership of the Students Union. The matter was of great importance to the university, but there were attacks on the students."
Islam further said, "The former VPs guards were threatened. The police administration could not control the perpetrators as there was lapse in security. It just emboldened the right wingers in pursuing their nefarious activities."
The university students and teachers demand punishment of policemen who did not perform their duty of controlling the violence that lead to attack on some students.
The teachers have formed a Joint Action Committee and appealed to students to maintain calm in this time. "We will take the matter to the logical end. Keep calm," appealed the resolution of the teachers body.
https://www.news18.com/news/india/amu-unrest-right-wing-outfit-plans-to-bring-in-1000-students-to-take-down-jinnah-portrait-today-1737939.html
--------
NIA questions key Islamic State operative in Philippines over radicalising several Indians online
May 03, 2018
New Delhi: The National Investigation Agency (NIA) on Thursday said its two-member team last week questioned female Islamic State recruiter Karen Aisha Hamidon in Manila for her involvement in radicalising several Indian men online.
The NIA team questioned Karen Aisha Al Muslimah alias Karen Aisha Hamidon during its visit to Manila between 24 April and 28 April.
Representational image. ReutersRepresentational image. Reuters
"The questioning of Karen has resulted in confirmation of several facts and also provided significant leads about her associates in India, who were active online, to propagate the ideology of the Islamic State and also about a few Indians residing abroad who have helped her financially," an NIA statement said.
It said the leads obtained are being investigated and that the execution of the Letters Rogatory (LR) by the Philippines authority is expected soon.
An NIA official said the execution of the LR would provide substantial evidence to strengthen the cases against chargesheeted accused in the Islamic State-related cases filed in 2015 and 2016 in which three persons—Mohd Naser, Mohd Sirajuddin and Adnan Hasan—were in contact with Karen on messaging applications Facebook, WhatsApp and Telegram.
Naser, a resident of Tamil Nadu, along with Sirajuddin and Hasan, both from Karnataka, were chargesheeted and are now facing trial in their respective cases, the NIA said.
In its investigation, the NIA found that Karen was also in online contact with many other Indians through different Facebook pages, WhatsApp groups and Telegram channels for motivating, radicalising and instigating her online associates from different countries including India to fight on behalf of terror group Islamic State.
NIA officials, privy to the case, said Karen was also in telephonic contacts with many other Indian nationals.
To ascertain Karen's role in the crime, requests under LR, issued by the special NIA courts in Delhi and Jaipur, were forwarded through proper channels to the competent judicial authority in the Philippines in 2017 seeking legal assistance in the investigation.
Full report at:
https://www.firstpost.com/india/nia-questions-key-islamic-state-operative-in-philippines-over-radicalising-several-indian-online-4455733.html
--------
Seventh Indian state enacts anti-conversion law
May 3, 2018
Christian leaders have reacted cautiously to the northern Indian state of Uttarakhand passing a law criminalizing religious conversions.
The state's government — led by the pro-Hindu Bharatiya Janata Party — passed the Uttarakhand Freedom of Religion Bill on March 20. State governor Krishna Kant Paul signed it on April 18.
Darshan Singh Rawat, a senior state official, told ucanews.com May 2 the bill is now in the process of being published in a gazette which will permit it to be enforced.
The new law stipulates a two-year jail term for a forced religious conversion of a minor, a woman or a person belonging to the socially disadvantaged Dalit people or indigenous groups.
As per similar laws in other states, it requires a person officiating an act of conversion to inform state officials a month ahead of the ceremony. It also criminalizes an act of conversion using fraud, force or allurement with jail terms and fines.
Uttarakhand has become the seventh state to have such a law. The other states are Odisha, Madhya Pradesh, Chhattisgarh, Gujarat, Himachal Pradesh and Jharkhand.
The new law additionally states that any marriage formalized for the sole purpose of conversion by the man of one religion with the woman of another religion may be declared null and void by the family court.
Bishop Ignatius D'Souza of Bareilly, which covers part of Uttarakhand, told ucanews.com that church officials are aware of the new law but believed it wouldn't adversely affect their mission work.
"We have been doing charitable work and preaching ministry among the people for decades and we have never had any serious problems," Bishop D'Souza told ucanews.com.
"The new law is against using force or allurement for conversions, but no such conversion exists in the Catholic Church.
"We are only interested in enlightening people to the teachings of Jesus Christ so that they can lead a better life and we are not interested in religious conversion."
But Bishop Francis Kalist of Meerut, which also covers part of Uttarakhand, said he was unable to predict the impact of the law. "We do not yet know how it will be implemented," he said.
Christian leaders say anti-conversion laws began to appear two decades after India's independence and they were aimed at checking the conversion of Hindus to Christianity or Islam. Hindu activists said such conversions result in social divisions.
Despite the laws, no Christian has so far been convicted of conversion but in the last decade several cases have been filed. Many of these cases arose in northern Indian villages where Hindu groups interpreted Christian mission work in education and health care as fraudulent or being carried out with the ultimate goal of conversion.
Bishop Kalist said Christians in Uttarakhand have "not experienced any serious hostilities from any group so far."
Full report at:
https://www.ucanews.com/news/seventh-indian-state-enacts-anti-conversion-law/82213
--------
Five militants escape from security forces cordon in J-K's Shopian
04th May 2018
SRINAGAR: At least five militants including a top Hizbul Mujahideen commander escaped from security forces overnight cordon and search operation in Turkwangam village of south Kashmir's Shopian district during which a boy was killed and about two dozen others injured in clashes with security forces.
The police, CRPF and army men had launched combing operation in Turkwangam village in Shopian yesterday afternoon after receiving information about the presence of some militants there.
Sources said militants were hiding in a house and fired volume of fire from automatic weapons towards the security forces when they tried to move closer to encircle it.
The fire was returned by the security men and during the exchange of fire, militants managed to escape from the area, they said.
According to sources, security personnel continued to fire on the house and its adjoining house even after there was no firing from the militant side.
Two houses were damaged in the firing.
The security personnel continued the search operation in the area throughout the night and lifted the operation in the morning after finding no militants in the damaged houses or in the area.
Sources said five militants including a top Hizbul Mujahideen commander Zeenat-ul-Islam were hiding in the houses in the area when security forces laid siege around the area.
Zeenat, who hails from Sugan village of Shopian, has been active since 2015.
He has managed to give slip to security forces many a times during search operations and had escaped from security forces cordon on April 1 in village Dragad of Shopian, where seven militants were killed in the gunfight with security forces.
Zeenat is one of the most wanted militants and figured in the most wanted list of militants released by army last year.
After the news had spread that militants including Zeenat were trapped in the area, the local youth took to roads and attempted to march towards the encounter site to pave militants to escape. When intercepted, the youth pelted stones on the security personnel, who retaliated by firing tear gas shells, pellets and bullets to disperse them.
A 14-year-old boy Umar Kumar, a class 9th student, of Pinjoora, Shopian was killed after being hit by bullets while about two dozen others sustained injuries.
Thousands of people attended the funeral prayers of Umar at his native village today amidst chanting of pro-freedom and anti-India slogans.
Full report at:
http://www.newindianexpress.com/nation/2018/may/04/five-militants-escape-from-security-forces-cordon-in-j-ks-shopian-1809897.html
--------
Europe
Islamophobia Is An Issue In The British Press
May 3, 2018
Last week, the Britain's home affairs select committee's inquiry into hate crime turned to Islamophobia and the press. Many greeted with surprise the idea expressed by one witness: That anti-Muslim sentiment wasn't much of an issue in the mainstream media.
That was the day before the Times issued a correction for the third in a series of front-page stories focused on a fostering case in Tower Hamlets, east London, last year. The first was headlined 'Christian child forced into Muslim foster care'. The coverage had been called "disgracefully dishonest" by Sir Martin Narey, head of the government inquiry into foster care provision; attacked by the biggest non-government providers of foster care; and widely derided as bigoted against Muslims.
At least the new editor-in-chief of the Daily Express recognised that many of the stories published in the paper prior to his arrival had contributed to an "Islamophobic sentiment" in the media, and that the Express's front pages had sometimes been "downright offensive". This attitude is to be welcomed. And the evidence to support his argument that a broader anti-Muslim attitude does exist is overwhelming. In the past year-and-a-half, more than 40 stories on issues related to Islam and Muslims have been corrected in mainstream national newspapers following complaints I made. If inaccuracies of a similar type on the same subject every one or two weeks do not demonstrate that there is a serious issue here, it is unclear what would.
Why does this happen though? Let us not kid ourselves. Stories that play on the public's fears and feed their prejudices are popular, especially at a time when more than half of British people see Islam as a threat to western liberal democracy. These sentiments might well be shared by journalists at the newspapers concerned.
Of course, it is almost impossible to know for sure the motivations behind the coverage. Yet, it is hard to explain away front-page news stories such as the Sun's 'One in five Brit Muslims' sympathy for jihadis' (ruled "significantly misleading" by the press regulator Ipso); the Times' 'Muslims 'silent on terror' (a view not shared by senior counter-terrorism and police officers); or the Daily Mail's 'MPs' anger as Christian girl forced into Muslim foster care', a story accompanied on Mail Online by a doctored photo.
How are we supposed to understand the fake "Islamic plot" to take over schools in Birmingham in many papers; and the Telegraph and the Sun falsely suggesting that two Muslims were responsible for a "Trojan horse" plot in Oldham?
In opinion pieces, the problems are even more apparent. The Sun's Trevor Kavanagh ended one column with the ominous question: 'What will we do about the Muslim problem then?'
These examples are the tip of the iceberg. Their frequency alone gives an indication of the scale of the problem.
This is not a question of freedom of speech. It is about the choices of editors to tolerate, if not encourage, bigotry in British newspapers. The National Union of Journalists understands the issue and demanded an inquiry into press Islamophobia by Independent Press Standards Organisation (Ipso) eight months ago. Done thoroughly, this could have an impact similar to the Macpherson report, which had labelled the police "institutionally racist" and encouraged a sea change in attitudes.
https://gulfnews.com/opinion/thinkers/islamophobia-is-an-issue-in-the-british-press-1.2215927
--------
Russian fighter jet crashes off Syria, both pilots killed
May 04, 2018
MOSCOW:- A Russian fighter jet crashed after taking off from an airbase in Syria on Thursday, killing both pilots, Moscow's defence ministry said in a statement carried by news agencies. "As it was climbing after taking off from the Hmeimim airbase, the Russian fighter Su-30SM crashed into the Mediterranean Sea. Two pilots, who fought until the last minute to save the plane, died, according to reports from the scene," the statement said. The ministry said the plane had not come under fire, adding that "according to preliminary information, the reason for the crash could have been a bird falling into the engine".–AFP
The accident brings Russia's official military losses in Syria to 86.
https://nation.com.pk/04-May-2018/russian-fighter-jet-crashes-off-syria-both-pilots-killed
--------
Africa
Teachers flee, schools close in Kenya with al-Shabab attacks
2018-05-03
Deadly attacks by the al-Shabaab extremist group targeting non-Muslim teachers in Kenya have caused hundreds of schools near the Somali border to shut down as teachers flee for their lives.
Analysts say it is leaving local youth susceptible for recruitment to the al-Qaeda-linked group. Dozens of teachers have been sleeping in a union boardroom for weeks as they protest the lack of security and face tear gas from police.
At least 224 primary schools and 42 secondary schools in Wajir County can no longer function after non-local teachers fled. The exodus was caused by the February 16 al-Shabaab attack on a primary school in which two non-Muslim teachers were killed.
Kenya's Teachers Service Commission transferred 329 teachers elsewhere for their safety. Many others left on their own.
https://www.news24.com/Africa/News/teachers-flee-schools-close-in-kenya-with-al-shabab-attacks-20180503
--------
Gunmen abduct German Red Cross nurse in Somalia
May 3, 2018
Unidentified gunmen have stormed a Red Cross headquarters compound in the Somali capital of Mogadishu and abducted a female staffer, officials say.
The International Committee of the Red Cross (ICRC) said the abduction took place around 8 p.m. local time (1700 GMT) on Wednesday, adding that the female staffer was a nurse of German nationality.
The name of the nurse has not been specified in reports.
"We are deeply concerned about the safety of our colleague," said Daniel O'Malley, the ICRC's deputy head of delegation for Somalia.
"She is a nurse who was working every day to save lives and improve the health of some of Somalia's most vulnerable people," he said.
The Swiss-based agency said the assailants snatched the female staffer from inside their compound in Mogadishu as she was having dinner and took her out through a back door, avoiding security guards stationed at the main entrance.
The Red Cross said it was "in contact with various authorities to try and secure her release."
Police has started a search.
"We got the report minutes after she was abducted and now we are searching the whole area. We hope we shall find her," Major Mohamed Hussein, a police officer, told Reuters.
The abduction is the latest in a series of targeted attacks on aid workers in the chaotic Horn of Africa nation.
There was no immediate claim of responsibility for the abduction; however, such incidents are mostly blamed on the Takfiri al-Shabab militant group, which aims to topple Somalia's Western-backed federal government.
Full report at:
http://www.presstv.com/Detail/2018/05/03/560494/Somalia-Red-Cross-German-nurse-Mogadishu
--------
3 miners killed in suspected Al Shabaab attack
May 4, 2018
Three miners have been killed by suspected Al Shabaab militants at a quarry in Mandera South.
According to residents who spoke to Citizen Digital, two others were also injured in the attack.
The incident occured at Shimbir Fatuma, which is about 65 kilometres from the Kenya-Somalia border.
There are claims that the quarry workers had earlier defied government orders to vacate the area following increased cases of Al Shabaab attacks.
In May last year, two miners were killed by the militia in a similar incident after they apparently sneaked back to the quarry in Mandera Sub-county following a security operation.
Full report at:
https://citizentv.co.ke/news/three-miners-killed-in-suspected-al-shabaab-attack-199081/
--------
Pakistan
Pak committed to further strengthen ties with Saudi Arabia: PM
3 May 2018
Prime Minister Shahid Khaqan Abbasi says Pakistan is committed to further strengthen close bilateral relations with Saudi Arabia.
During a meeting with a senior Saudi delegation headed by the Minister of State and member of the Council of Ministers, Musaid Al Aiban, he praised the Pakistani-Saudi relations and the close brotherly ties of the two countries.
The Prime Minister observed that Pakistan and Saudi Arabia enjoy close fraternal ties, which will grow in days to come to the benefit of both the countries.
The Pakistani Prime Minister also conveyed his greetings to King Salman bin Abdulaziz, Crown Prince Mohammed bin Salman and the Saudi people.
From his part, the Saudi Minister conveyed the greetings of Saudi King Salman bin Abdulaziz Al Saud to the Prime Minister. He also expressed his country's desire to promote economic and trade ties with Pakistan.
The delegation included Saudi Minister of Energy, Industry and Mineral Resources Khaled Al-Falih and General Talal Al-Otaibi, Advisor to the Saudi Minister of Defense. The meeting was also attended by Nawaf bin Saeed Al-Malki, Ambassador of the Custodian of the Two Holy Mosques in Pakistan.
https://english.alarabiya.net/en/News/world/2018/05/03/Pak-committed-to-further-strengthen-ties-with-Saudi-Arabia-PM.html
--------
No visible development seen in Army-PTM talks: report
May 4, 2018
ISLAMABAD: No development has been seen in the talks between the Pashtun Tahaffuz Movement (PTM) and the army, reported a local media outlet.
The two sides began the talks on PTM's request when the party staged a sit-in near the National Press Club in Islamabad for 'Justice for Naqeeb Mehsud' campaign that called for arrest and trial of police officer Rao Anwar, who was accused of killing Naqeeb in a fake encounter and was then on the run.
The protest over Naqeeb's killing was what led the Mehsud Tahaffuz Movement to transform into PTM.
A message was conveyed from those camped outside the press club that Manzoor Pashteen and his colleagues were their real representatives and that the sit-in would be ended following the meeting.
Full report at:
https://www.pakistantoday.com.pk/2018/05/04/army-ptm-talks-stall-after-promising-start-report/
--------
MML president urges politicians to respect court decisions
May 4, 2018
LAHORE: Milli Muslim League (MML) President Saifullah Khalid on Thursday urged all politicians to respect the decisions made by the courts.
While addressing an event regarding World Press Freedom Day, the MML chief said, "If the rulers will not accept the court verdicts, there would be a very bad impact on the nation and the dignity of our courts around the world will also be fierce. It is the need of the hour to accept court verdicts and respect institutions."
Moreover, he termed journalism as the fourth pillar of the state and said that freedom of expression is the constitutional right of everyone. "In the present era, the significance and utility of journalism cannot be denied. External forces are trying to get benefits of political and sectarian differences in the homeland," he argued.
Saifullah Khalid said, "Public problems are highlighted by positive and constructive journalism. Just like all other professions, journalism cannot be separated from the religion. Islam is a complete code of life which gives complete guidance on every issue of life."
Calling journalism a sacred and a great profession, he said that the nation could be served the best through media. "Journalism plays an important role in building the minds of a nation. It is a worship rather than a trade," he added.
Full report at:
https://www.pakistantoday.com.pk/2018/05/03/mml-president-urges-politicians-to-respect-court-decisions/
--------
Senator wants government to explain payments made to ISI for 'special assignment'
Nadir Guramani
May 03, 2018
Senator Raza Rabbani on Thursday demanded that the government explain in Senate in an in camera briefing why an unexplained, but significant sum of money was sanctioned for Inter Services Intelligence, as revealed in the federal budget for fiscal 2018-19. The ISI chief, according to the Miftah Ismail-announced budget, was reportedly given access to Rs4.5 billion for a "special assignment", which Rabbani wants more details about.
"The DG ISI was given funds for a special assignment," Rabbani said during the Senate session on budget today. "When quizzed over this during a press conference, [the government] said such details cannot be disclosed in public.
"We are not asking about other expenses but what do they mean by a 'special assignment'? This needs to be explained," he said.
"The parliament should be taken in confidence over this payment," he added.
Rabbani also took note of the marked increase in defence expenditure for the upcoming year, saying: "This government has blown the federation to smithereens. The defence budget was increased by 20 per cent on the federal government's recommendations.
Read: Ministry justifies defence budget hike
"This budget of Rs1.1 trillion does not even reflect pension payments," he observed.
Rabbani, in his speech, also questioned if increasing the defence and federal expenditures have had any affect on the National Finance Commission (NFC) award.
"Is it due to these increased expenditures that the NFC award is not being implemented?" he asked, before adding: "For a fourth budget to come without an NFC award is unfortunate."
The former Senate chairman further complained that "there was neither a need for this budget nor a three-to-four-month budget, as the caretaker setup would have had the authority to take finance-related decisions."
Meanwhile, media persons present at the upper house to cover the session staged a boycott in protest over the police's violence against journalists earlier in the day.
Full report at:
https://www.dawn.com/news/1405394/rabbani-wants-government-to-explain-payments-made-to-isi-for-special-assignment
--------
IHC accepts Hafiz Saeed's plea for hearing
May 04, 2018
ISLAMABAD - The Islamabad High Court Thursday accepted an application of Chief of Jamat-ud-Dawa Hafiz Muhammad Saeed for early hearing in a matter of challenging a presidential ordinance through which ban was imposed on the JuD.
A single bench of IHC comprising Justice Aamer Farooq conducted hearing of the petition and fixed May 20 as date of hearing in the petition moved by Hafiz Saeed through Raja Rizwan Abbasi Advocate challenging the ordinance through which ban was imposed on JuD as United Nations has put the organisation on its watch-list.
In his petition, Hafiz Saeed nominated secretaries of law, cabinet and establishment division as respondents.
It was February 12 when President Mamnoon Hussain through an amendment made into the Anti Terrorism Act (ATA) 1997 had promulgated an ordinance with regard to proscription of terrorist individuals and organisations to include entities listed by the United Nations Security Council (UNSC).
Through the ordinance, the JuD and its humanitarian wing Falah-e-Insaniyat Foundation (FIF) were banned across Pakistan and assets of the two said organisations were frozen.
In the said ordinance, its sections 11-B and 11-EE of ATA were amended that are related to proscription of the organisations and listing of individuals. In the amended law organisations and individuals listed under the UNSC Act, 1948, will be included in the first and fourth schedule on organisations and individual basis respectively.
Hafiz Saeed in his petition argued before the court that JuD has no links with Lashkar-e-Tayyeba since it cut all ties with LeT in 2002. It said India had kept maligning the JuD and it was due to Indian pressure that the petitioner Hafiz Saeed was kept under detention in 2009 and 2017.
Pakistan put the JuD on the watch list after the UNSC passed a resolution against the organisation. Hafiz Saeed maintained in the petition that this is against the sovereignty of Pakistan.
He adopted that the sovereignty of Pakistan has been compromised and adding new sections to the ATA is contrary to the fundamental rights of the citizens of Pakistan and liable to be struck down.
Full report at:
https://nation.com.pk/04-May-2018/ihc-accepts-hafiz-saeed-s-plea-for-hearing
--------
Southeast Asia
A Chinese Buddhist representing an Islamic party is an advantage, says PAS candidate
03 MAY, 2018
SHAH ALAM — Mr Kong Tuck Wah stands out in a crowd, not only because of his beefy size, but because he is one of just a handful of Chinese candidates standing under the banner of the opposition Parti Islam Se-Malaysia (PAS) - and the only one in Selangor - for the May 9 general election.
The tanned 62-year-old is the Islamist party's candidate for the state seat in Rawang, a suburb about 23km north-west of the Malaysian capital, Kuala Lumpur.
PAS' choice of Mr Kong to contest Rawang is a practical one: The voting population there is majority - 47.1 per cent - Chinese, while Malays make up 26.9 per cent, Indians 25 per cent, and other races form the remaining 1 per cent.
The seat is the subject of a four-cornered fight, and of the other three candidates, two are also Chinese: Mr Chua Wei Kiat from Parti Keadilaan Rakyat (PKR) and the ruling Barisan Nasional (BN) coalition's Mr Chan Wun Hoong. The only Malay candidate is an independent, Mr Azman Mohd Noor.
Mr Kong, a father of three, hopes to break PKR's 10-year stranglehold on the seat, and to do that, he is touting himself as a bridge between the Islamist party and non-Muslims, and wants to reassure voters that the image many have of PAS as a fundamentalist Islamic party is inaccurate.
To prepare himself for this task, he took a course on Islam last year to better understand the religion, so that he can explain its principles to non-Muslims.
Nonetheless, the sight of a Chinese person extolling PAS' virtues is something that takes some getting used to.
A question asked most often of Mr Kong is whether he is Muslim himself.
"I say that I am a Buddhist and can eat bak kut teh if they want," he told TODAY in an interview at Selangor PAS headquarters in Shah Alam.
The bridge-building effort is not one way.
Mr Kong also advises PAS leaders on how to connect better with non-Muslims, and one oft-heard exhortation is that they ditch the "Taliban look" - Islamic robes and white skullcaps - when visiting the Chinese community to reduce apprehension.
Mr Kong, a self-made man who began as a junior worker in the construction industry before working his way up to owning his own business, has long felt that the opposition plays an important role of acting as a check against abuses by the ruling party.
Since PAS has been a mainstay in his constituency of Gombak, the fit for him has been natural.
His interest in actively helping PAS began days before the watershed 2008 general election, which saw the opposition denying the ruling Barisan Nasional (BN) coalition its parliamentary super-majority for the first time since the 1969 general election.
He was driving home one night when he saw PAS volunteers putting up flags and banners in his housing estate, and decided to help them.
After interacting at length with volunteers and party members, he concluded that PAS was misunderstood.
Its leaders and members, he says, have remained humble and unassuming despite their growing popularity, and this has allowed them to keep in touch with ordinary voters and understand their concerns, unlike other parties which have grown too big and distracted by success.
He adds that PAS is committed to clean governance and eradicating corruption, noting that none of its elected representatives have been investigated by Malaysia's anti-graft agency in recent years for corruption.
That stands in stark contrast with the record of other parties.
In March, Minister in the Prime Minister's Department Paul Low told Parliament that 71 members of political parties belonging to the BN and Pakatan Harapan (PH) coalitions have been investigated for graft between 2013 and 2017.
PAS' deployment of non-Muslim candidates has ticked up over time.
It first fielded a non-Muslim candidate in Johor in 2008 under its Supporters Club (DHPP) - a non-Muslim wing in the party that currently has about 58,000 members.
That increased to three (two Indians and one Chinese) in the 2013 polls.
The party's Selangor branch also nominated 13 non-Muslims to serve as councillors, community leaders and village chiefs in the state after the polls.
This time, nine non-Muslims from DHPP are contesting under PAS' banner, including two in Selangor.
Mr Kong's non-Muslim counterpart in the state is Mr M. Rajan, who will contest the Sentosa state seat.
Selangor PAS election director Roslan Shahir Mohd Shahir said the party selected Mr Kong as a candidate because he has shown himself to be sincere in helping the people.
He was the party's councillor in the Sepang district and has done "a good job" in the past few years, Mr Roslan said.
"He is a grassroots man and gets on well with the people. As the non-Muslim face of the party, he can engage non-Muslims to get them to understand our objectives and struggles," Mr Roslan told TODAY.
Mr Kong acknowledges that that might take some doing, because of PAS' reputation: The party is battling the impression that it is pushing for Malaysia to be governed by the Islamic penal code, or hudud, which prescibes punishments such as the cutting off the hands of convicted thieves, or having adulterers stoned to death.
It has been pushing hard for hudud to be implemented in the one state it governs, Kelantan, and many non-Muslims view its actions there as a prelude to what will come if it wins wider power.
PAS' dogged pursuit of hudud in Kelantan led to a confrontation with the Democratic Action Party (DAP) and PKR, the other parties in the opposition Pakatan Rakyat (PR) coalition, in 2015.
The split led to the dissolution of PR and the formation of the new PH coalition. PH comprises DAP, PKR, PAS splinter Parti Amanah Malaysia (Amanah) and Parti Pribumi Bersatu Malaysia (PPBM).
Non-Muslims view PAS as anathema as a result, and there are even Muslims who view the party with suspicion.
Mr Kong insists such fears are unfounded.
"Hudud is only applicable to Muslims, so why should we (non-Muslims) be afraid of it? Non-Muslims who are caught committing a crime will go to a civil court, while Muslims will be dealt with in a Syariah court," he said.
"There are also different degrees of penalties under hudud, depending on the severity of the crime. It doesn't mean that if you steal an eraser, you will get your hands chopped off."
PAS' troubles do not end there.
The party is also dogged by suspicion that it is ready to drop its opposition roots and join forces with the United Malays National Organisation (Umno), the ruling coalition's Malay-Muslim component party, which is a lightning rod for criticism from Malaysians who are vehemently against the political status quo.
Again, Mr Kong pooh-poohs this suggestion. He insists that PAS and Umno have only one thing in common - improving the lot of Malay-Muslims.
"If we were truly allies, we would not have contested in areas where Umno or BN in contesting," he said.
He admits that he faces an uphill task in wresting the seat from PKR, but relishes the challenge.
His status as a Chinese representing an Islamic party is an advantage, he insists.
"Rawang voters, especially the Chinese, should be proud of this and should vote for me," he said.
"The party and I are proof that we are not as conservative or hardline as some think we are."
https://www.todayonline.com/malaysian-ge-2018/chinese-representing-islamic-party-advantage-says-pas-candidate-malaysian-ge
--------
Once a Malaysian reformer, Najib faces test of legitimacy
May 4, 2018
KUALA LUMPUR--In 2013 elections, Malaysian Prime Minister Najib Razak's face and reformist message were front and center. Five years later, with another election looming, Najib's visibility has plunged.
Instead of Najib's image, a party in his ruling National Front coalition erected giant billboards of Chinese President Xi Jinping, highlighting China's multi-billion-dollar investments in Malaysia as a reason to vote for the coalition in the May 9 election. If Najib is seen at all in election posters, his face is much smaller than before and he appears alongside local party chiefs.
Najib, analysts say, has become a handicap for the National Front because of financial scandals including the alleged ransacking of state investment fund 1MDB and economic policies blamed for a rising cost of living that has hit the poor rural Malay majority hardest.
Najib, an avid social media user, appealed to Malaysians in a video released this week to "vote based on facts, not with emotions or sentiment."
An electoral system tilted toward the coalition that has been in power since 1957 likely will ensure it keeps a majority in Parliament. Najib, however, could find it harder to hold back challenges to his leadership of the United Malays National Organization party if support for the coalition falls again as it did in the previous two elections.
"Rather than serving as a strength for the ruling coalition, he is a liability with record levels of antipathy against him and his wife," said Bridget Welsh, a Southeast Asia expert at John Cabot University in Rome.
"If Najib really wanted his coalition to win positively, he would have stepped down. As such, the election appears to be about his survival, not the interests of his party or the country," she said.
British-educated Najib, 64, was born into Malaysia's political elite. His father was the country's second prime minister and his uncle was the third.
He was thrust into politics in 1976 after his father died, becoming Malaysia's youngest lawmaker at age 22, and the youngest ever deputy minister two years later. He became prime minister in 2009, replacing Abdullah Ahmad Badawi who was blamed for the National Front's reduced majority in an election the previous year.
Both finance minister and prime minister, Najib guided Muslim-majority Malaysia through the global financial crisis of 2009, abolished draconian colonial-era security laws and reached out to ethnic minorities with a "1Malaysia" campaign. Former President Barack Obama praised him as a "reformer with much to do."
Despite this, the National Front suffered a further loss of support in 2013, losing the popular vote to the opposition for the first time though still winning 133 of 222 parliamentary seats.
Najib blamed Malaysia's ethnic Chinese minority for abandoning his coalition and backtracked on reforms.
He imposed new repressive security measures and increasingly pandered to Islamists and ethnic chauvinism to shore up his Malay support base. Opposition leader and former deputy prime minister Anwar Ibrahim was convicted of sodomy for a second time in 2015 and imprisoned in a case he said was fabricated by the government to crush the opposition.
Najib's leadership came under further pressure after leaked documents in 2015 showed that $700 million (76 billion yen) linked to the 1MDB state fund went into his private bank account. The fund is being investigated by the United States and several other countries for alleged cross-border embezzlement and money laundering.
The U.S. Justice Department alleges $4.5 billion was stolen from 1MDB by associates of Najib and is working to recover $1.7 billion it said was used to buy assets in the United States. Court filings say this included $27.3 million to buy a 22-carat pink diamond necklace for Najib's wife, Rosmah Mansor.
Najib denies any wrongdoing. He fired critics in his government including the attorney general and a deputy prime minister, muzzled the media and gutted a parliamentary investigative committee. The new attorney general cleared Najib in 2016, saying the money was a political donation from the Saudi royal family and that most of it was returned.
Najib's reputation, however, was battered. Another scandal at plantation agency FELDA and an unpopular goods and services tax he introduced in 2015 have also increased rumblings among rural Malays against Najib's leadership.
The unexpected political resurrection of Najib's former mentor Mahathir Mohamad, who led Malaysia for 22 years until his retirement in 2003, added to his woes. Mahathir, 92, helped unite a fractured opposition and still commands support among rural Malays, who dominate more than half of the 222 seats at stake.
Despite a massive anti-government rally in Malaysia's biggest city, Kuala Lumpur, in 2015, rural Malays are more concerned with bread-and-butter issues and can be mollified by promises of government handouts.
A robust economy, which expanded at a three-year high of 5.9 percent last year, also augurs well for Najib, who has secured billions of dollars in Chinese investment.
Full report at:
http://www.asahi.com/ajw/articles/AJ201805040023.html
--------
In Indonesia, Interfaith Marriage is Legal - But With Many Obstacles
May 03, 2018
JAKARTA —
In Indonesia, interfaith marriage is legal but culturally discouraged and some religious figures have made it their mission to help couples of different religious backgrounds get married despite societal obstacles.
Indonesia's 1974 Marriage Law says a marriage is valid "if conducted according to laws of religion and belief of both sides." The words "both sides" have become a thorn in the side of thousands of interfaith couples contending with the requirements of clergy, relatives, and bureaucrats who stand in the way of their unions.
It is common for one partner in these couples to simply convert to make everything easier. But what if neither wants to switch faiths?
Some have solved this problem by getting married in Singapore or Australia, where different religious backgrounds are a non-issue.
But for those who wish to make their union legal at home, there is help.
Among those coming to the rescue such couples is Mohammad Monib, director of the Indonesian Conference on Religion and Peace, a religious freedom advocacy group in Jakarta, who says he has helped more than 300 interfaith couples marry in the last decade. He does this by making them aware of their rights and guiding them through the rules and paperwork.
"Marriage between people of different faiths is a classic problem in Islam, ever since the 7th century," said Monib. He wears glasses and a knit peci cap, commonly among Indonesian Muslim men, emblazoned with the words "GUS DUR," referring to Indonesia's late President Abdurrahman Wahid, a man regarded by many as a champion of tolerance and moderate Islam. "What I try to explain first to couples that come to me for help is the Muslim perspective on interfaith marriage," he said. "There is nothing in the Quran that prohibits this."
A human rights issue
The Islamic holy book, he said, allows marriage between Muslims and "people of the Book," or those of other Abrahamic faiths like Judaism and Christianity. Monib interprets this in the Indonesian context to mean "all religions protected by Pancasila," Indonesia's political philosophy, which sanctions six acceptable religions: Islam, Protestantism, Catholicism, Buddhism, Hinduism, and Confucianism.
But some disagree.
For many Indonesians, "interfaith marriage is seen as something impossible," he said. Groups like the Indonesian Ulama Council of clerics have declared haram, or forbidden, and radical groups like the Islamic Defenders' Front have used vigilante tactics to scare off interfaith couples, said Monib.
Indonesia's Constitution and Human Rights Commission both protect people's right to marry whoever they choose, but mixed-faith couples often come across civil servants who block them from registering their marriage.
Monib, a Muslim, is married to a Muslim woman and thus never personally experienced these problems, but he feels compelled to defend those who do. "If you speak about human rights, marriage is the basic one," said Monib, who contends that resolving the issue of marriage ultimately addresses other moral concerns. "Sex is also a basic human need," he adds. "Extramarital sex is banned in all religions, so if we help people get married first, it is actually very positive."
He works to spread that message and raise awareness on Facebook, where he has more than 25,000 followers. Young people, he said, seem much more open to the idea now than in 2004 when he first started working on the issue.
Facilitating unions
Monib has helped lovers end decades of heartbreak. In 2007, he helped a Muslim-Protestant couple who had been dating for 20 years, since middle school, finally get married.
Another couple he helped was Renaldi and Cindhe Bosito, a pair of divorcés who met in high school and started dating again after their first marriages ended around the same time.
"We didn't necessarily want to get married but we did know we wanted to have children together," said Renaldi. "If you're not married in Indonesia, your child can't have his father listed on his birth certificate." He grew up Muslim and his partner is Catholic. Monib helped them talk to a priest, and later to the local village leader of their neighborhood in Jakarta.
"It was so much easier than we thought," said Renaldi. "We just needed to submit our divorce papers and proof of citizenship that we were really Indonesian, and we only paid one million rupiah [about $72]."
But they still decided to skip a ceremony in Jakarta and have a quiet Islamic contract marriage, or nikah siri, in 2010 in Bali.
"What makes interfaith marriage difficult is the area in which you live, like if your village leader is a devout Muslim," he explained. "In [Hindu-majority] Bali, they are much more relaxed about both marriage and divorce."
Monib echoed this, saying that even on Java island, there were some towns that had a more relaxed attitude than Jakarta towards interfaith marriage, like Solo and Sragen.
Full report at:
https://www.voanews.com/a/in-indonesia-interfaith-marriage-is-legal---but-with-many-obstacles-/4373874.html
--------
Amnesty International blasts hate speech conviction of spiritual book author
May 3, 2018
Human rights group Amnesty International Indonesia has criticized the hate speech conviction of a spiritual book author who offended some Muslims after writing a Facebook post saying that those who have not seen God are "fake" Muslims.
The Pandeglang District Court on Monday sentenced Alnoldy Bahari, the author of spiritual book Kitab Sihir: Rahasia Kuno (The Book of Magic: An Ancient Secret), to five years in prison and ordered him to pay a Rp 100 million (US$7,155) fine after being found guilty of spreading hate speech, as stipulated under Article 28 of the 2008 Electronic Information and Transactions (ITE) Law.
Alnoldy, known by his pen name Ki Ngawur Permana, sparked controversy in November last year when he claimed to have seen God and questioned the faith of those who declared syahada (the Islamic creed declaring belief in the oneness of God) but have not had the same experience.
On his Facebook page he wrote: "I testify that there is no god but God, but if you have not seen God, then you are a fake witness. I am a Muslim and I testify that there is no god but God. I have seen God. Have you?"
According to the Southeast Asia Freedom of Expression Network (SAFEnet), Alnoldy, who had the chance to study at the Jakarta Institute of Arts, changed his Facebook privacy settings from private to public to help sell his book.
Amnesty International's researcher on Indonesia Papang Hidayat said the conviction was flawed and violated the defendants' rights.
"People like Alnoldy have become what we call prisoners of conscience," Papang told The Jakarta Post on Thursday.
Papang also said Amnesty International had talked to Alnoldy's wife to discuss the possible legal action it will take after the conviction. "We will also put pressure on the authorities to release Alnoldy as he is a victim of human rights violations."
Alnoldy is the latest victim of the infamous ITE law, which rights activists say is draconian and a threat to freedom of speech.
Full report at:
http://www.thejakartapost.com/news/2018/05/03/amnesty-international-blasts-hate-speech-conviction-of-spiritual-book-author.html
--------
South Asia
Taliban leaders and militants suffer heavy casualties in Badakhshan
May 03 2018
Several Taliban local leaders and militants were killed during separate operatiosn and clashes in northeastern Badakhshan province of Afghanistan.
The 209th Shaheen Corps of the Afghan Military in the North said at least 14 militants were killed and 25 others sustained injuries during the operations in Mangal village in Tashkan district.
The source further added that 15 militants were killed and 7 others were wounded during a separate operation in Kohistan district.
According to the Shaheen Corps, key Taliban group leaders identified as Abdul Bari, Mawlavi Ataullah, and Mawlavi Hedayatullah were among those killed.
In the meantime, at least four militants were killed and two others including a commander of the group identified as Mullah Salam were wounded during a clash in Shuhada district, the Shaheen Corps added.
No further details have been regarding the possible casualties of the Afghan security and armed forces during the operations.
The anti-government armed militant groups including Taliban militants have not commented regarding the report so far.
https://www.khaama.com/taliban-leaders-and-militants-suffer-heavy-casualties-in-badakhshan-05061/
--------
Bangladesh to take OIC foreign ministers to Rohingya camps Friday
2018-05-03
The foreign ministers are visiting Dhaka to attend the 45th council of the OIC foreign ministers to be held on May 5-6.
This year, it is themed—Islamic Values for Sustainable Peace, Solidarity and Development, Foreign Minister AH Mahmood Ali said at a media briefing in Dhaka on Thursday.
Over 550 delegates comprising representatives from the 57 member states, observers, OIC-related organisations and different international bodies will attend the meeting. Of them, 40 are ministers and junior ministers.
The Rohingya crisis will get a special focus during the meeting to be held at Bangabandhu International Convention Centre. There will be a separate session on the Rohingya crisis as well.
Ali said the Canadian foreign minister would also join the meeting at a special invitation from Dhaka.
Issues related to Palestine, challenges such as conflicts, division, tension and instability in the Muslim world will be discussed at the Dhaka meeting.
Besides, the problems of terrorism and violent extremism, sectarian tendencies, hatred, prejudice and Islamophobia, massive humanitarian crises with forced displacements from and to the Muslim countries which are severely affecting rights and dignity of the Muslim minorities such as the Rakhine Muslims of Myanmar, will also be discussed.
Persistent poverty, the socio-economic backwardness of Muslim societies and protection of their rights and fundamental freedom will also get priority, according to the foreign ministry.
Full report at:
https://bdnews24.com/bangladesh/2018/05/03/bangladesh-to-take-oic-foreign-ministers-to-rohingya-camps-friday
--------
NDS forces thwart deadly attacks in Kabul city
May 03 2018
The operatives of the Afghan Intelligence, National Directorate of Security (NDS), have foiled deadly attacks plotted by the anti-government armed militants to target Kabul city.
According to a statement by NDS, a group of at least seven militants were arrested in connection to the attack plots.
The statement further added that the militants were tasked to target the Ghazi Amanullah Khan hosptial as well as another health facility belonging to a security institution.
The NDS also added that the detained individuals have confessed that they were trained in Ashab-ul-Jinnah, Hashemiya, Ashab-ul-Safa, Mansoori Lashkar, and Omari Lashkar religious seminaries.
They have also added that the seminaries or religious Madrasas are located in Chaman area of Pakistan.
According to the detained individuals, the Madrasas are run by a key Taliban commander Mawlavi Ahmad Kandahari and that they were sent from the same area for the attacks in Kabul city.
The anti-government armed militant groups including Taliban insurgents have not commented regarding the report so far.
Full report at:
https://www.khaama.com/nds-forces-thwart-deadly-attacks-in-kabul-city-05062/
--------
Organization of Islamic Cooperation foreign ministers to meet in Bangladesh
May 04, 2018
The Council of Foreign Ministers (CMF) of the Organization of Islamic Cooperation (OIC) will begin its 45th session in Dhaka on Saturday under the theme "Islamic Values for Sustainable Peace, Solidarity and Development."
The ministers will focus on the issue of the Muslim minority of Rohingya. Bangladesh constitutes the ideal country through which the message of the Islamic world can be conveyed to the international community.
The CMF event's closing session will be preceded by a sideline event/brainstorming session under the title "The Humanitarian Challenges in the OIC Member States with a Special Focus on the Humanitarian Situation on the Rohingyas" on Sunday.
Full report at:
http://www.arabnews.com/node/1296246/world
--------
North America
US Muslim Art, Cultural Projects Receive $2.3M in Grants
May 3, 2018
DEARBORN, Mich. — A foundation has awarded $2.3 million to projects including documentaries on Muslim veterans, Arabic theater productions and a look at Michigan's "Halal Metropolis."
The New York-based Doris Duke Foundation for Islamic Art on Thursday announced that 15 groups were selected from about 200 applicants across the United States for its Building Bridges Program . They received grants ranging from $50,000 to $300,000 for projects that aim to boost relationships among Muslims and their non-Muslim neighbors.
Recipients include Kartemquin Films for making short-format documentaries about post-9/11 U.S. Muslim veterans and the Cleveland Public Theatre, which is creating a permanent ensemble dedicated to Arabic-language productions.
Another goes to University of Michigan-Dearborn's Center for Arab American Studies to expand "Halal Metropolis." It's a three-year project exploring how Muslim culture has enriched southeastern Michigan.
https://www.washingtonpost.com/national/higher-education/us-muslim-art-cultural-projects-receive-23m-in-grants/2018/05/03/e5d800e2-4ef8-11e8-85c1-9326c4511033_story.html?utm_term=.3f2f0d0d5dfb
--------
OIC: Intolerance against Muslims on the decline but general situation worrisome
May 03, 2018
Collective and international efforts to fight Islamophobia are expected to reduce its negative impacts on social life based on tolerance and peaceful coexistence
The 11th Islamophobia Observatory Report 2017-18 of the Organization of Islamic Cooperation (OIC) describes a decreasing trend of Islamophobia.
The trend was measured in terms of number of incidents, and in comparison it was seen that the number was much lower to those at the last trimester of 2016, or at the first trimester of 2017.
According to the news outlet Daily Sabah, the report, which covers the period from July 2017 to April 2018, will be presented at the 45th Council of Foreign Ministers Conference on May 5-6 in Dhaka.
The report highlights the declining trends of "Islamophobia, intolerance, and discrimination against Muslims" in the US and Europe. The categories, which always topped the Hotspot List, now indicate noteworthy improvement despite the remaining "worrisome" overall situation.
According to Daily Sabah, the positive trends were assessed and essentially driven by considering four factors, namely: the failure of racist policies in the United States and the breaks within Trump's far-right inner circle; the consensus and unilateral settlement of the "immigrant issue" in Europe; the defeat of far-right political parties at European elections, and the growing trend of inter-faith dialogue in Europe and the US.
However, the report reveals "manifestations of Islamophobia around the world," and describes a general trend of fear against Islam and its "attire," which is not necessarily regional or geographical in terms of character, with particular focus on "Islamophobic gestures and policies against veils, the hijab and burqa."
The report also highlights some "positive developments" based on "actions, attitudes, sentiments, initiatives as well as other steps and positions" taken by governments or by non-Muslim individuals against Islamophobes.
The report delineates a set of recommendations – steps and actions – for the OIC and relevant stakeholders including member states.
The report concludes that despite its declining pattern, "the overall situation of Islamophobia remains alarming." Consequently, it requires "serious actions at international and national levels."
Full report at:
https://www.dhakatribune.com/world/2018/05/03/oic-intolerance-muslims-decline-general-situation-worrisome/
--------
After missing deadline, Pentagon delivers new policy on Guantanamo transfers
3 May 2018
Secretary of Defense James Mattis has submitted an updated policy to the White House regarding who can be sent to Guantanamo Bay for detention.
According to Department of Defense spokesperson Commander Sarah Higgins, the policy gives warfighters guidance on nominating detainees for transfer, if they present "continuing, significant threats" to United States Security.
The last known transfer to the Guantanamo Bay detention center was Muhammed Rahim al Afghani, an Afghan and alleged Al Qaeda captive, on March 14, 2008. The response has been released two days after the deadline for the Secretary's proposal, set by an executive order signed by US President Donald Trump in January.
The order seeks to keep the Guantanamo Bay detention camp open indefinitely. Secretary of Defense James Mattis has 90 days to come up with proposals or reviews regarding the detention center's future.
At a press conference at the Pentagon on Monday, media opened the floor with questions about the future of Guantanamo, which Secretary Mattis seemed unconcerned with.
"Right now I'm not working that issue," the Secretary said when asked about the status of the Guantanamo order, "I'm not sure why." Pentagon has provided no further detail on the specifics of the policy provided to the White House.
Excutive order
Trump's executive order is yet another attempt to keep a campaign promise that's shown little progress since he's taken office. At a campaign rally in February of 2016, Trump had promised supporters to keep Guantanamo open, highlighting the fact that his predecessor, Barack Obama, had signed a futile executive order to do just the opposite.
"We are keeping it open," Trump said at the 2016 Nevada rally, "and by the way, we're going to load it up with some bad dudes." The Bush-era legislation that has allowed the multi-pronged War on Terror to continue as what some call "the Endless War" was passed by Congress on 14 September, 2001.
The very short resolution, cited as the Authorization for Use of Military Force, gives the US an extremely broad authority to use military force against "those responsible for the attacks on September 11, 2001 and any associate forces."The legislation has given the US the authority to attack and capture several so-called "offshoots" of al-Qaeda, and remain in the region long after Osama Bin Laden's death.
The Trump administration has used this ambiguity to repeatedly promise to "bomb the sh*t" out of ISIS, claiming that they will fill the Guantanamo detention center with new terrorists. The facility currently only houses 41 detainees, including the five accused of planning September 11.
Full report at:
https://english.alarabiya.net/en/perspective/features/2018/05/03/After-missing-deadline-Pentagon-gives-White-House-new-policy-on-transfers-to-Guantanamo-.html
--------
US implementation of 'Libya model' in North Korea to fail: Analyst
May 3, 2018
The so-called "Libya model" for North Korea which the United States plans to use against Pyongyang is destined to fail, according to an independent analyst in London.
US President Donald Trump's new national security adviser, John Bolton, said recently that he proposed the "Libya model" to denuclearize North Korea.
Adam Garrie, a political writer and activist, told Press TV on Wednesday that Washington would surely like North Korea to voluntarily disarm -- as was the case in Libya before the West launched its devastating war on the North African country which led to the ouster of long-time ruler Muammar Gaddafi.
"I have no doubt that Washington would like to do to North Korea what it did to Libya, in so far as get it to voluntarily disarm, then of course, there will be a betrayal, and there will be a war," according to Garrie.
The "Libya model", however, Garrie argued, will not be able to achieve the same results in North Korea as it did in North Africa for two reasons.
"The first and most obvious is that North Korea borders two economic …[and] nuclear superpowers," China and Russia, which are allied with Pyongyang's government.
Garrie said that Moscow and Beijing will surely exert pressure on Washington during any future peace talks to have the two Koreas denuclearize simultaneously.
"In order for the denuclearization to proceed, there needs to be guarantees from the US side to demilitarize its facilities in South Korea."
Garrie said that Trump would accept this condition because it was cost-effective.
"Trump, surprisingly, may actually want to do [disarmament] , because, one, they are very expensive … two, it's more cost-effective for the US."
Another reason why the case of North Korea is different from Libya, according to Garrie, is related to the reunification of North and South
Garrie argued that the expeditious reunification of the two Koreas will eliminate the contentious and dividing issues between Seoul and Pyongyang -- taking the pretext of missile attacks and nuclear war away from the US and its allies in the region.
A unified Korea will create an obstacle for any invasion and war by the West on the country.
Full report at:
http://www.presstv.com/Detail/2018/05/03/560526/US-North-Korea-Libya-Bolton-Garrie
--------
Arab World
Iraq Speaker Seeks Pardon for Saddam's Defence Minister
4 May 2018
The speaker of Iraq's parliament on Thursday called on authorities to pardon the former defense minister of dictator Saddam Hussein on health grounds.
General Sultan Hashim Ahmad, 74, was sentenced to death in 2007 but the presidential council has refused to ratify his sentence.
In a letter dated Thursday and seen by AFP, Salim al-Juburi appealed to Iraqi President Fuad Masum, Prime Minister Haider al-Abadi and the country's highest judicial authorities for an "exceptional pardon" for Ahmad in the run-up to the month of Ramadan.
The parliamentary speaker explained during a news conference that he had previously received "numerous requests from dignitaries in Mosul", the general's home city in northern Iraq.
Ahmad's lawyer Badia Aref recently told AFP that the health of his client, detained in the southern city of Nasiriyah, was "deteriorating".
The lawyer's additional requests for the release from prison of 14 members of the former dictator's regime, which ended more than 15 years ago, have had no impact.
Ahmad played an important role in his country's eight-year war with Iran in the 1980s and in the repression of the Kurds in Iraq.
https://english.alarabiya.net/en/News/middle-east/2018/05/04/Iraq-speaker-seeks-pardon-for-Saddam-s-defense-minister.html
--------
Civilians' Uprising Suppressed by US-Backed Kurds in Raqqa
May 03, 2018
Local sources in Raqqa reported on Thursday that tens of civilians residing in Central Raqqa were attacked by the Kurdish forces after staging protest rallies against the US military presence in the region.
They underlined heightened tensions between Raqqa residents and the Kurdish forces, noting that 7 civilians were arrested during the rallies.
Meantime, reports said that a number of Kurdish officials and commanders were killed amid intensified popular uprising in Raqqa.
Also reports from Hasaka province said that one of the Kurdish forces was killed by unknown assailants in the village of Tal Jamal near Qamishli.
In a relevant development earlier this week, a commander of the US-backed Kurdish forces in Raqqa was assassinated as tensions have increased between the Syrian Democratic Forces (SDF) and civilians in the region.
The Arabic-language al-Manar news channel reported on Monday that one of the SDF commanders was killed by unknown assailants near the village of al-Jarniyeh in Northwestern Raqqa.
Meantime, the Kurdish forces attacked the village of Na'em al-Jallad East of the town of Tal Homs in Northeastern Raqqa to detain one of their defected militants, indiscriminately firing bullets to create horror among people.
Full report at:
http://en.farsnews.com/newstext.aspx?nn=13970213000484
--------
Syria: Gov't Troops Drive Wedge between ISIL Strongholds in Southern Damascus
May 03, 2018
The army forces continued clashes with the ISIL militants in Southern Hajar al-Aswad, retaking control of the region's cemetery and advancing towards the region's stadium.
They also could advance from their positions in Monif al-Ma'adi Grand Mosque in Eastern Hajar al-Aswad towards Mesqal Hassan Barkah region.
Meantime, other army units advanced in Western Hajar al-Aswad, winning back control of Bilal Habashi Grand Mosque.
The army troops could isolate the terrorists in Yarmouk camp and Hajar al-Aswad after advancing in two fronts and meeting each other in Hajar al-Aswad's square in the North.
Tens of militants started leaving the Yarmouk Refugee Camp for Idlib province on Tuesday after they reached an evacuation agreement with the Syrian Army.
Five buses carrying 200 militants and their family members left Yarmouk Camp for Idlib via a checkpoint near al-Batikhah square in the first phase of the evacuation plan in the region.
Also, 40 people who had been kidnapped by the militants in the town of Ashtabraq in Idlib and three ambulances carrying a number of residents of the besieged towns of Fua'a and Kafraya were transferred to al-Eis passageway in Southern Aleppo.
A sum of 1,500 residents of Fua'a and Kafraya will leave the towns for government-controlled regions in the first phase of the agreement, and 3,000 more will leave the two towns in the second phase.
Full report at:
http://en.farsnews.com/newstext.aspx?nn=13970213000654
--------
Notorious Terrorist Commander of Eastern Ghouta Assassinated in Afrin
May 03, 2018
Sources affiliated to the terrorists in Afrin reported on Thursday that a commander of Faylaq al-Rahman 'Free Police' in Eastern Ghouta named Abu Khalid al-Zaqloul was killed in a bomb explosion in al-Basouteh region of the town of Afrin.
They referred to the recent talks between Faylaq al-Rahman and the Turkish army to deliver security control of Afrin to the terrorist group, saying that al-Zaqloul was one of the participants in the negotiations.
Meantime, local sources reported that members of Sultan Mohammad al-Fatah and al-Montasar Bellah terrorist groups affiliated to the Turkish army engaged in heavy clashes in Afrin after disputes over how to distribute the properties looted from people in the region, adding that a number of both sides' militants were killed and wounded in the clashes.
The London-based pro-opposition Syrian Observatory for Human Rights (SOHR) confirmed on Monday that the Turkish army started settling senior commanders of Faylaq al-Rahman in Afrin in Northwestern Aleppo after the terrorist group left Eastern Ghouta for Northern Syria a couple of days ago.
The SOHR reported that Faylaq al-Rahman Commander Abdul Naser Shamir and several more senior commanders of the terrorist group that had left Eastern Ghouta after sustaining heavy defeats in the fight with the Syrian Army have been relocated in Bolboleh region in the Northern countryside of the town of Afrin near border with Turkey.
The Turkish troops' move in replacing local population with the militant commanders has enraged the local residents.
In the meantime, over 150 families of Eastern Ghouta terrorists recently were settled in residential units in the town of Afrin after the Turkish troops prevented the local population from returning to their houses.
Full report at:
http://en.farsnews.com/newstext.aspx?nn=13970213000629
--------
Evacuation of 5,000 Terrorists Starts in Southern Damascus
May 03, 2018
Field sources reported that 200 terrorists and family members residing in the towns of Yalda, Babila and Beit Saham have so far left Beit Saham corridor for Northern Syria on 5 buses.
The Syrian army has so far sent 60 buses to Beit Saham corridor to transfer 5,000 militants and their family members to Northern Syria.
The Syrian army will tighten noose on the ISIL terrorists in Southern Damascus after full evacuation of the terrorists from the three towns and the army forces' deployment in them.
Earlier today, the Syrian army troops tightened noose on the ISIL terrorists by advancing in Southern Damascus, opening new operational fronts and dispatching reinforcements and military equipment to the region.
The army has now deployed forces in al-Raijeh square (North) to Abu Foad neighborhood (South) in Northwestern Yarmouk refugee camp which was earlier one of the al-Nusra Front (also known as Fatah al-Sham Front or the Levant Liberation Board) strongholds and has sent fresh units and equipment to the region with the aim of opening new operational fronts.
Reports also said that the army has engaged in fierce clashes with the terrorists after attacking the militants' positions in Loubiyeh street, regaining control of several points.
Meantime, a field commander confirmed clashes in Loubiyeh street, stressing that the army wants to isolate the terrorists in al-Shohada street, extending from Loubiyeh street to the town of Yarmouk in the North.
Also, field sources reported that the army has dispatched fresh forces and new military equipment to Da'aboul street East of al-Tazamon neighborhood as clashes are underway in the South of al-Tazamon.
They added that the clashes have inflicted heavy casualties on the terrorists.
Full report at:
http://en.farsnews.com/newstext.aspx?nn=13970213000593
--------
Terrorists Attack Syrian Army Positions in Homs Under New Coalition
May 03, 2018
Sources affiliated to the terrorists reported on Thursday that the militant groups which are opposed to the peace agreement with the government in Northern Homs and Southern Hama formed a new coalition named Jeish al-Sahabah to confront the Syrian army.
Meantime, field sources reported that the terrorists in Northern Homs have targeted Wadi al-Zahab district, the town of Marimayn and the villages of Jabourin and Akrad al-Daseniyeh in Northwestern Homs, adding that the militants in Ein Hossein in Northern Homs targeted the villages of Ein al-Dananir and al-Qassebiyeh.
Also, reports said that fierce clashes are underway between the Syrian army and terrorists near al-Jabourin and al-Houleh regions.
Informed sources also reported that the terrorists in the village of al-Farhaniyeh who have rejected the peace agreement intend to attack the towns hosting their comrades who have accepted the peace plan.
Relevant reports on Wednesday said that the terrorists in Northern Homs and Southern Hama had reached a peace agreement with the Syrian army to leave the region after negotiations.
Syria's SANA news agency reported that the army has reached an agreement with the militants in Northern Homs and Southern Hama so that the terrorists who oppose the peace agreement, evacuate the region completely.
Based on the agreement, the terrorists who have opposed peace will surrender all military weapons and equipment to the Syrian army and will leave for Jerabulus and Idlib along with their family members within 3 days; other terrorists will receive amnesty from the government.
The Syrian army and governmental organizations and institutes will enter the region after the terrorists leave Northern Homs.
A day-long ceasefire was declared in Northern Homs on Tuesday after militants' request for talks pursuing their heavy defeats in clashes with the Syrian Army.
Full report at:
http://en.farsnews.com/newstext.aspx?nn=13970213000515
--------
Damascus: Over 1,100 Militants Receive Amnesty, 2,350 Popular Forces Join Syrian Army
May 03, 2018
Colonel Nazal Ismail Mohsen, a senior army official in al-Zabadani, said on Thursday that 1,134 militants have surrendered their light weapons to the Syrian government and received amnesty, adding that 2,354 people of the region have also joined the Syrian army.
He also stated that over 2,000 families have returned to their homes in al-Zabadani, predicting that 2,000 other families will return to the region this summer.
The Syrian army and popular forces seized the city of Zabadani on September 1, 2015.
The Lebanese Hezbollah resistance forces later completed the task with their mop-up operations in the city.
"The resistance forces have purged terrorists from Zabadani in a two-day operation," an informed source told FNA on September 9, 2015.
Full report at:
http://en.farsnews.com/newstext.aspx?nn=13970213000391
--------
Syrian rebels start pull-out from south Damascus
3 May 2018
Syrian rebels began pulling out of an enclave they have surrendered in south Damascus on Thursday, but a few fighters in another besieged area near Homs shelled government areas after their groups agreed to quit.
The enclaves in south Damascus and near Homs are the only two besieged areas still held by rebels, though they still control large tracts of northwest and southwest Syria, lying along its international borders, which are not surrounded by the army.
Syrian President Bashar al-Assad has focused on dislodging rebels from their remaining besieged pockets since driving them from eastern Ghouta last month after a fierce offensive.
Syrian state television showed footage of buses arriving at Beit Sahm, driving through narrow streets surrounded by soldiers and with concrete buildings above showing scars of war.
Fighters and families
It later reported that the first batch of buses had departed, carrying fighters and their families from the area. Some 5,000 fighters and their family members are expected to leave Beit Sahm, Babila and Yalda neighborhoods for the opposition areas in northern Syria, it reported, following an earlier group, which left the enclave on Monday.
ISIS fighters holding another part of the same enclave are still fighting after weeks of intense bombardment in the area of al-Hajar al-Aswad and Yarmouk Palestinian refugee camp.
On Wednesday, insurgents in the biggest of the remaining besieged areas, located between the cities of Hama and Homs around the towns of Rastan, Talbiseh and Houla, also agreed to surrender.
Full report at:
https://english.alarabiya.net/en/News/middle-east/2018/05/03/Syrian-rebels-start-pull-out-from-south-Damascus.html
--------
UAE forces land in Socotra amid rift with Saudi-led forces
May 4, 2018
Residents and authorities on Yemen's Socotra island say the UAE is boosting its military presence in the world heritage site as divisions widen among a Saudi-led war "coalition".
Security officials in southern Yemen said UAE forces had landed in Socotra along with tanks, armored transports and heavy equipment earlier this week, in what is being billed as a new-colonial takeover.
The deployment comes amid widening divisions between forces loyal to the UAE and those supporting the former Yemeni president Abd Rabbuh Mansour Hadi.
Both camps are based in southern Yemen and mostly in Aden as the capital Sana'a still remains under the control of the Houthi Ansarullah movement.
Hadi loyalists have accused the UAE of abandoning an initial cause of fighting the Houthis, saying Emirati forces are instead providing support to those seeking a separation of southern Yemen territories from the north of the country.
The occupation of Socotra also comes against the backdrop of previous reports showing the UAE was seeking to illegally exploit the natural resources of the island and turn the place into a permanent military outpost-cum-holiday resort.
Socotra, located near Somalia in the Gulf of Aden, is protected by the United Nations cultural agency UNESCO, meaning that even the Yemeni government is unable to interfere in the natural habitats and places of natural beauty.
Reports have suggested that the UAE has been actively cementing its presence in Socotra since the very beginning of the Saudi-led war on Yemen in March 2015. A Persian Gulf country rich in oil, the UAE has initiated similar extraterritorial projects in other areas including in Eritrea, Djibouti, Somaliland and the Yemeni islet of Perim.
To win public support among Socotra's population of 60,000 people, UAE authorities have arranged free tours for residents to Abu Dhabi, while offering free healthcare and special work permits.
Critics say UAE's tourism ambitions in Socotra are simply superficial and the country is seeking a permanent military presence there while trying to steal UNESCO-protected species of plants and animals from the island.
Residents of Socotra have angrily reacted to the mid-week deployment of around 100 troops to the island. Videos posted on the social media showed that people had taken to the streets to protest the increasing presence of the UAE forces. Crowds were also angry about reports that Emirati forces had expelled Hadi's forces assigned to protect the main airport in the island.
The UAE was the first country to accept Saudi Arabia's offer to join the war against Yemen three years ago. Dozens of Emirati soldiers have been killed in the military operation. The tiny Persian Gulf country has also suffered considerable losses to its military equipment.
Full report at:
http://www.presstv.com/Detail/2018/05/04/560566/UAE-Yemen-Socotra-occupation
--------
Mideast
Palestinian leader Abbas re-elected as chairman of PLO executive committee
4 May 2018
Palestinian leader Mahmoud Abbas was re-elected as chairman of the Palestine Liberation Organization's (PLO) Executive Committee on Friday, as the veteran leader sought to renew his legitimacy while installing loyalists who he hopes will eventually continue his legacy.
The expected reappointment came at the end of a four-day meeting by the Palestinian National Council (PNC) in Ramallah in the occupied West Bank. The PNC chose a new Executive Committee, the most senior body of the PLO.
"Members of the PLO Executive Committee consulted among themselves and decided to elect brother Abu Mazen (Abbas) as the chairman of the Executive Committee," said Azzam Al-Ahmad, a staunch ally of Abbas who was among nine new people elected to the 15-member committee.
The PNC was convened by Abbas in part to forge a strategy in response to US President Donald Trump's decisions to recognize Jerusalem as Israel's capital, and to move the US embassy to the city. The first PNC meeting in 22 years was overshadowed by criticism of Abbas's opening speech on Monday, which drew accusations of anti-Semitism.
Chosen by consultation
The new Executive Committee was not elected but were chosen by consultation with the PLO factions who took part. Abbas, 82, is thought to have achieved most of his goals at the meeting, including the removal from the committee of some of his rivals, including Yasser Abed Rabbo and former Palestinian Authority prime minister and negotiator Ahmed Qurei.
Abbas left the door open for other factions who boycotted the session, such as the Popular Front for the Liberation of Palestine, to win one of three seats that have yet to be filled. He also said that a rival Islamist group such as Hamas was welcome to come on board "if it accepted the national unity and if it accepted the PLO."
Hamas and Islamic Jihad boycotted the meeting, along with some PLO factions. Some did not want to attend an event held in the Israeli-occupied West Bank, and others wanted the meeting postponed to allow for greater consultation and more time for reconciliation between the two main rival factions, Hamas and Fatah.
The leader of Abbas's most powerful rival, Hamas, dismissed the four-day session as a "clapping party" for Abbas.
https://english.alarabiya.net/en/News/middle-east/2018/05/04/Palestinian-leader-Abbas-re-elected-as-chairman-of-PLO-executive-committee.html
--------
Palestinian Authority cuts salaries of Gaza-based civil servants by 20 percent
May 3, 2018
The Palestinian Authority (PA), led by President Mahmoud Abbas, has reduced salaries for its staff in the besieged Gaza Strip by 20 percent, enraging civil servants in the impoverished sliver as the holy month of Ramadan nears.
The PA implemented the controversial measure on Thursday and also failed to make up for skipping the previous month's pay, angering some 38,000 civil servants in Gaza as they were shocked when they learned of the fresh reduction upon arriving at their banks on payday.
Most of the staff had hoped that they would receive paychecks for two months, but instead they just received a reduced monthly income for a single month, without any explanation.
"If they've failed to resolve this issue through dialogue, it can't be resolved by (using) the poor employee," said Eyad Kalloub, a 40-year-old civil servant, as he queued at his bank.
This is while the PA staff in the Israeli-occupied West Bank received their salaries in full.
Back in April last year, Abbas cut his Gaza-based staff's salaries by 30 percent. He also reduced the number of his staff in the blockaded enclave, run by the Palestinian Hamas resistance movement, from 60,000 in 2017, by ordering early retirement for almost a third of the civil servants.
Fatah, chaired by Abbas, and Hamas are at loggerheads over a number of issues, which ultimately led to a split in the PA in 2007. A year earlier, Hamas had won parliamentary elections and since June 2007 it has been ruling over the Gaza Strip.
After months of efforts, however, a reconciliation deal was signed between the two sides in the Egyptian capital Cairo in October last year in an attempt to end a decade-long split that has crippled Palestinian statehood aspirations.
Under the reconciliation agreement, the Fatah-led Palestinian Authority was to take full control of the Gaza Strip by December 1 last year, and Hamas was to join the PA to form a unity government.
Fatah, in return, pledged to lift an array of punitive sanctions that it imposed on Hamas earlier last year.
The PA has been accused of exerting indirect pressure on Hamas to relinquish control of the enclave by cutting the salaries, which would shrink tax revenue in Gaza, and by reducing electricity payments to the enclave.
The Gaza Strip has been under an Israeli siege since June 2007. The blockade has caused a decline in living standards as well as unprecedented unemployment and poverty there.
Full report at:
http://www.presstv.com/Detail/2018/05/03/560531/Palestine-salary-Gaza-PA-Abbas-Fatah-Hamas
--------
Hezbollah chief's censored speech reaffirms group as Tehran's arm in Lebanon
May 3, 2018
In March, an Iran state-affiliated media outlet inappropriately published a speech by Lebanese Hezbollah chief Hassan Nasrallah. The speech was a private – candid – address to an Iranian audience in Beirut in the same month. After backlash in Arab media against the speech, including Nasrallah's declaration of loyalty to Supreme Leader Ali Khamenei above all, the Iranian outlets retracted the article. Hezbollah then denied that Nasrallah had delivered the speech.
The retraction and denial, however, strongly suggest a cover-up attempt. The speech was meant for internal distribution, thus making it a valuable document. It was likely addressed to Islamic Revolutionary Guard Corps (IRGC) personnel.
The speech highlighted that Hezbollah's founding 1985 manifesto and Nasrallah's previous declarations of loyalty to the Supreme Leader continue to be salient.
Nasrallah touted that the organization was born after the success of Ayatollah Ruhollah Khomeini's Islamic revolution in Iran in 1979. That highlights that the network that later became Hezbollah in 1985 was active and had a defined ideology prior to the Israeli invasion of Lebanon in 1982. During the war, the network grew and was able to frame itself as a protector of the besieged Shiite community.
Throughout the speech, Nasrallah emphasized his belief in the velayat-e faqih, or guardianship of the jurisprudence, the founding politico-religious ideology of the Islamic Republic. An iteration of Plato's philosopher king, it calls for a theocratic government and an Islamic state with the material and spiritual power of the state vested in the hands of a cleric, or the vali-ye faqih, who would act as the deputy of God on earth. Hezbollah has consistently maintained that it does not seek to impose Islamic law through force, but rather through co-opting the population, which contrasts with the Iranian experience since 1979.
The Lebanese cleric's speech further highlights that the conventional wisdom of describing Hezbollah as a "proxy" of the Islamic Republic is insufficient to describe the relationship – Hezbollah is an arm of the Iranian government and the Lebanese branch of the Guard Corps.
The Hezbollah chief claimed that Shiism would have been destroyed without the Islamic Republic, citing sectarian Sunni jihadists and "Wahabbis." Both Shiite and Sunni jihadists benefit from a cycle of sectarian violence that each side has stoked.
Nasrallah discussed how the Islamic Republic creates the groundwork for the arrival of the 12th Shiite Imam Mahdi, or the Messiah. The IRGC and Hezbollah believe in a strain of messianism that believes human action can facilitate the Mahdi's arrival. Western analysis tends to overlook or over exaggerate the role of messianism. It is a potent vision that sanctifies the activities of the IRGC and Hezbollah and comforts them during difficult situations. The Mahdi's arrival during a time of great upheaval and suffering in the world defines Shiite apocalyptic literature.
Text
Nasrallah, who speaks Persian, started the speech by describing the historically impoverished status of Lebanese Shiites. "Everything changed after [the 1979] revolution. We got to know the Imam [Ruhollah Khomeini] after the martyrdom of Seyyed Mustafa," the eldest son of Khomeini who died during police custody in Najaf, Iraq, in 1977. Many attributed that to the Shah's intelligence service.
The Lebanese cleric described how Khomeini was "much assisted" by Imam Mohammad Baqir al Sadr, a prominent Shiite-Iraqi cleric and founder of the Dawa Party whom Saddam Hussein's security service tortured to death in 1980. The young Nasrallah attended a seminary in Beqaa valley, eastern Lebanon, that followed Sadr's teaching. That is where Nasrallah became familiar with Khomeini's teachings.
"His Excellency the Imam [Khomeini] was like the sun. No one can say that I introduced the sun; the people inadvertently were attracted to the sun, even the ulama [clergy] who did not accept us in their hearts approved of the Imam."
"We were born with Iran's Islamic revolution and acquired our existence and life with the Islamic revolution. The most important example of the velayat-e faqih experience was achieved outside the country [of Iran] in Lebanon."
The Hezbollah chief claimed that "acting upon the belief of the velayat-e faqih" for Hezbollah's success more than "the Islamic Republic's weapons, money and aid." "Our belief is velayat-e faqih is different than that of many Iranians who accept the velayat; our belief is stronger."
Nasrallah laid out "several levels for belief in the velayat-e faqih:"
"We believe that obeying the valiy-e faqih is like obeying the infallible [the 12 Shiite Imams]."
"We believe that if the valiy-e faqih has said that 'this is my opinion (he did not order) we must obey. (In Iran they say that he did not order and only advised)." [That is a slight against former president Mahmoud Ahmadinejad, who ran for last year's presidential election despite Khamenei's "recommendation" not to do so.]
"We believe in him [Khamenei] higher than the [Lebanese] constitution (some say that he says it is better to act within the framework of the constitution in so and so way). We consider this view taklif, legal obligation, and necessary."
"When we in Lebanon discuss in the Hezbollah council, if we believe that his excellency would be said if we do a certain thin, we do not act upon it [and] if we think he'd be happy, we act upon it."
"We consider him [Khamenei] [to be the representative] of the Infallible Imam. Velayat-e Faqih is not an administration and legal matter. Velayat-e faqih is kindness, victory and companionship. The principle of velayat-e faqih is love. Otherwise, we are administrative employees."
"Today, Hezbollah is a global power," Nasrallah continued, again crediting that success to "obedience to the velayat-e faqih."
He also discussed that various institutions in the Islamic Republic, despite competing with each other, "assisted Hezbollah in unison and did not compete [when it came to] us."
"All parties in Iran assisted Hezbollah, and each more than the predecessor. I thanked all institutions in the presence of his excellency and thanked his guidance. He became very happy and put his hand to the air and said 'thank God someone has come and has thanked us.'"
"We tell all foreigners that we receive money, weapons and equipment from Iran but that no one issues order to us, and this doesn't exist anywhere. The Islamic Republic of Iran consults us on regional issues, while it is a government, but other governments with parties look down and with a mercenary outlook, while in return we love the velayat-e faqih and the Islamic Republic of Iran."
"We plainly say that the Islamic Republic is…the country of the Imam of Time [Mahdi], and we are ready to sacrifice for the holy system that we are the soldiers of his Excellency and the soldier of the Islamic Republic of Iran."
"In propaganda, they say that Hezbollah is the long arm of the Islamic Republic of Iran in the region, and it has never looked at us as mercenary."
"If we had made oversights in the matter of takfiri movement and Daesh, we would have witnessed the destruction of Shiism in Lebanon, Syria and Iraq."
"We have a CD…in which he [Syrian Army of Islam leader Zahran Alloush] says that he is seeking to re-establish the government of Bani Marwan and Bani Umayyad in Syria. He said that a mistake was committed in Karbala and they released the family of Imam Hussein (peace be upon him). 'We will kill them all, then we will go to Najaf and kill Shiites and level the shrine of Imam Hussein' (peace be upon him)."
"We do not fight to preserve Bashar Assad, but rather to protect the principle of Shiism. Many of Najaf's ulama did not believe in fighting DAESH until DAESH approached Karbala. They later found out that we defeated a great conspiracy."
"Without Iran and Hezbollah, Syria would have fallen. The Russians came four years later; their role was destiny-making."
"No one thought that Iran's children would be martyred in Aleppo, Homs, Nubul and Zahra, etc…The Shia is at the height of its power in the region. We can say that Shias did not have power during the time of amir al-mo'menin (peace be upon him)," or Ali, the Prophet Muhammad's cousin and one of the early Caliphs in the 7th century AD whom Shias believe should have led the Muslim community instead of Abu Bakr.
"The Islamic revolution creates the groundwork for the arrival of his Excellency Mahdi (may God hasten his reappearance) that has not had precedence in history. We must await the arrival of the Imam of Time (may God hasten his reappearance) at every moment."
"I want to say that the arrival of the Imam of Time is at the hand of the Iranians. Due to the affinity I have to you, if the Islamic Republic of Iran were not there and the events of DAESH occurred, Shiism in Lebanon, Syria and Najaf would be destroyed. These would have [another] Karbala," alluding to the massacre of third Shiite Imam Hossein, Ali's grandson, and 72 companions at the hands of Caliph Muawiyah.
"These (Sunni Wahabbis); it has come in the fatwa of ibn Baz, the Mufti of Saudi Arabia, that the graves of the Imams and the great ones of Shiism must be demolished and their bones extracted, which is what they did in Syria with the grave of Hujr ibn Adi." The latter was a commander in Ali's army whose grave was demolished in the vicinity of the Damascene suburb of Ghouta by Jabhat al Nusrah in 2013.
"Even if Hezbollah were strong and Iran were not there, Shiism would be destroyed."
"Know the value that coming to Iran three weeks after the '88 sedition [2009 post-election protests], I went to see the gentlemen of this side (sedition) and those who took no sides and I told them that all the enemies were happy and Shiites sad."
Full report at:
https://www.longwarjournal.org/archives/2018/05/hezbollah-chiefs-censored-speech-reaffirms-group-as-iran-proxy.php
--------
US commandos help Saudis against Yemen rebels
May 04, 2018
WASHINGTON : A team of elite US Green Beret commandos deployed to the Saudi border of Yemen last year to help find and destroy Huthi rebel missile caches, the New York Times reported Thursday.
Since Yemen's brutal conflict erupted three years ago, Huthi rebels have fired multiple ballistic missiles toward Riyadh and other Saudi cities. According to the Times, which cited US officials and European diplomats, the Army special operations soldiers arrived in December to help Saudi counterparts locate launch sites and destroy the Huthis' missile supplies.
The unannounced move shows a deepening US involvement in Yemen's war that has seen the country spiral toward famine and claimed almost 10,000 lives.
Citing operational security, the Pentagon said it could not comment on the makeup of forward-deployed forces.
The Pentagon's "limited non-combat support, such as intelligence sharing, focuses on assisting our partners in securing their borders from cross-border attacks from the Huthis," military spokesman Major Adrian Rankine-Galloway said.
The Times said there was no indication the commandos had crossed into Yemen. Saudi Arabia has since March 2015 led a US-backed coalition of Arab states fighting to roll back the Huthis in Yemen and restore its neighbor's internationally recognized government to power. Officials told the Times the US troops are training Saudi forces to secure the border.
The Saudi troops are also working closely with US intelligence experts in the southern Saudi city of Najran, the Times said.
The Huthis, who hail from northern Yemen, control Sanaa and much of the country's north - which borders Saudi Arabia - and the key Hodeida port on the Red Sea coast. US lawmakers have sounded growing alarm about America's support for the Saudis in Yemen, while President Donald Trump has bolstered ties with Riyadh and fostered a close relationship with Saudi Arabia's Crown Prince Mohammed bin Salman.
Qatar accuses Saudi over arrest of citizen
DOHA (AFP): Qatar accused Saudi Arabia on Thursday of a "flagrant violation" of the law after the kingdom's authorities arrested a Qatari returning from Yemen, the latest Gulf crisis flashpoint. Doha called for the immediate release of Mohsen Saleh Saadoun al-Qurabi, adding that the Saudis were responsible for his safety and security in a statement released by the ministry of foreign affairs.
"The arrest and detention of the Qatari citizen, Al-Qurabi by the Saudi authorities as he was returning from Yemen on April 21, where he visited his family and without committing any wrongdoing and without any charge, is a flagrant violation of national laws," read the statement.
It said that the 63-year-old suffered from "chronic health problems that require continuous health care". Saudi officials contacted by AFP declined to comment. Saudi-owned Al-Arabiya TV reported that Yemeni government forces had arrested Al-Qurabi as he attempted to cross the border from Yemen into Oman. The channel described the Qatari as an intelligence officer and said he was arrested "on suspicion of supporting the Huthis", Iran-backed rebels who control the Yemeni capital.
The arrest is the latest incident in an 11-month Gulf political crisis which has seen a group of Saudi-led countries break all ties with Qatar, accusing Doha of supporting terrorism and seeking closer ties with Iran.
Qatar claims the Saudi-led countries are seeking regime change in Doha.
Saudi Arabia leads a coalition in Yemen against the Huthis in a devastating conflict which has claimed almost 10,000 lives and triggered what the United Nations has called the world's worst humanitarian crisis.
Full report at:
https://nation.com.pk/04-May-2018/us-commandos-help-saudis-against-yemen-rebels
--------
Yemeni army spots 100 Iranian experts providing support for Houthis in Saada
3 May 2018
Over the past few days, the Yemeni army has monitored more than 100 Iranian experts in Saada, providing logistical and technical support to the Houthi militias, and an arsenal of medium and heavy weapons, such as ballistic missiles deployed in the city of Saada and inside its caves.
According to military sources, the militias have recently begun sending large numbers of experts to Saada, the birthplace of the leader of the coup d'état, Abdelmalek Houthi.
The city is also the main station for storing the weapons seized from the army depots during the coup in order to stop the advance of the national army towards the city, which is now surrounded from five main directions.
The information was gathered through intelligence operations and the statements made by more than 10 Houthi militia leaders who were captured by the army. The information is significant and accurate about the presence of these experts in the city and the missions they carry out by laying mines, providing training in heavy equipment and firing missiles indiscriminately and intensively.
Asharq al-Awsat newspaper reported that Brigadier Abdo Majali said that 10 of the prominent field commanders of the militias fell into the hands of the army, dealing a severe blow to the Houthis, in addition to those who were killed by the strikes of the coalition forces to support the legitimacy.
He added that the army monitored the presence of about 100 Iranian experts providing various forms of support for the Houthis in Saada, such as manufacturing and firing missiles.
Full report at:
https://english.alarabiya.net/en/News/gulf/2018/05/03/Yemeni-army-spots-100-Iranian-experts-providing-support-for-Houthis-in-Saada.html
--------
Israel deports leading US rights lawyers for 'ties with pro-Palestine campaign'
May 3, 2018
Israeli officials have briefly detained two prominent American human rights lawyers upon arrival at an airport in Tel Aviv before deporting them back to the United States for what they called their role in an international boycott campaign against the regime's occupation.
The Israeli Haaretz daily reported Thursday that Katherine Franke and Vincent Warren had been grilled by Israeli officials at the Ben Gurion airport, remained in custody for 14 hours, and were accused of having links to the pro-Palestine Boycott, Divestment, Sanctions (BDS) before being flown back to New York on Sunday.
Franke was accused of being affiliated with the BDS movement, while Warren appears to have been deported simply by association.
Citing an unnamed Israeli official, the report said Franke, a Columbia University law professor, was accused of lying about her "prominent role" with Jewish Voice for Peace (JVP), which advocates the BDS movement.
The JVP is one of 20 groups on an Israeli BDS blacklist.
Officials, however, provided no clear explanation for why Warren, executive director of the Center for Constitutional Rights, a progressive nonprofit legal advocacy organization based in New York City, was also denied entry into the Israeli-occupied territories.
The pair, who denied the charges, were supposed to lead a delegation of 15 fellow human rights activists touring Israel and the West Bank to investigate the situation of human rights there.
The team members sought to meet Israeli and Palestinian lawyers and activists working on issues of institutionalized racism, immigration rights and the treatment of asylum seekers.
Warren took to Twitter to react to their mistreatment in Israel, posting a photo of the pair taken under a 'Welcome' sign.
"Don't let the 'Welcome' sign fool you, it doesn't apply to #humanrights," Warren tweeted.
The BDS movement is a Palestinian-led international campaign launched more than a decade ago with the aim of ending Israel's occupation of Palestinian territories.
It pursues equal rights for Palestinians by exerting pressure on the Israeli regime via economic and cultural boycotts.
In January, Israel published a list of 20 international groups whose members will be denied entry into the occupied territories over their support for the BDS movement. A number of those organisations are based in European countries, the United States, Chile and South Africa.
Full report at:
http://www.presstv.com/Detail/2018/05/03/560527/Israel-BDS-Human-Rights
--------
URL: https://www.newageislam.com/islamic-world-news/tomb-temple-two-months-south/d/115145
New Age Islam, Islam Online, Islamic Website, African Muslim News, Arab World News, South Asia News, Indian Muslim News, World Muslim News, Women in Islam, Islamic Feminism, Arab Women, Women In Arab, Islamophobia in America, Muslim Women in West, Islam Women and Feminism