New Age Islam News Bureau
03 January 2021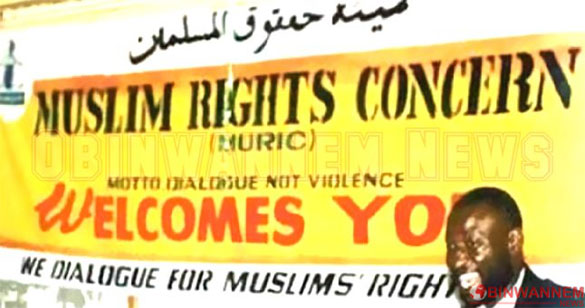 • To End Religious Violence, Muslim Rights Concern Makes Six Demands From Buhari Govt - to Allow Soldiers Keep Beards, Wear Hijab
• Iran Executes Three Sunni Citizens For Alleged Armed Action Against Regime: Rights Group
• UAE's Bosnian-Canadian 'Imam Medic' Urges Public To Shun Anti-Vaccine Sentiment
• Islamist Militants Executed Five Christians In Nigeria Over Christmas
• Rs24m Okayed For Buying Raj Kapoor, Dilip Kumar's Ancestral Homes By Khyber Pakhtunkhwa Government
• Polygamy Syndicate Allegations To Be Probed Immediately, Says Malaysian Islamic Affairs Minister
• Uttar Pradesh: 'Love Jihad' Case Against 3 Muslim Men Dropped Within 24 Hours After 'Charges Turn Out To Be False'
• Republicans in US Senate Overrides Trump Veto for The First Time
Africa
• Muslim Rights Concern Makes 6 Demands From Buhari Govt to Allow Soldiers Keep Beards, Wear Hijab
• Suspected Islamists Attacked Two Villages In Niger, Killing Around 79 People
• Bandits Kill Kaduna Imam, community leader for condemning kidnapping, rustling
• FG has failed to address Muslims grievances, says MURIC
• Bandits Kill Chief Imam, Two Others In Fresh Kaduna Attacks
• Congo army says its forces recapture eastern village from Islamist group
• Military airstrikes destroy new Boko Haram settlement, kill scores in Borno
-----
Mideast
• Iran Executes Three Sunni Citizens For Alleged Armed Action Against Regime: Rights Group
• Israel Bans Thousands Of Palestinians From Praying At Al-Aqsa Mosque
• Assyrians' MP: Martyr Soleimani Defended Muslims, Non-Muslims Equally against ISIL
• Yemeni Media Official: Martyr Soleimani's Blood Awakens Millions of People in Islamic World
• Sunni Clerics: Martyr Soleimani Thorn in Enemies' Side, Exterminator of ISIL
-----
Arab world
• UAE's Bosnian-Canadian 'Imam Medic' Urges Public To Shun Anti-Vaccine Sentiment
• Registration Opens For Filmmaker Program In Kingdom Of Saudi Arabia Via The British Film Industry
• Flights to Saudi Arabia resume as kingdom ends temporary travel ban
• Relief work helps displaced Yemenis with education
• Saudi Arabia records lowest COVID-19 cases in nine months
---------
Europe
• Islamist Militants Executed Five Christians In Nigeria Over Christmas
• 'Global Britain' Is Willing To Trade Away Everything. Including Scruples
• Austria calls for European register of Muslim imams
• Russian, Syrian, Iranian scholars laud Gen. Soleimani
• Pope Calls For Ending War On Yemen
------
Pakistan
• Rs24m Okayed For Buying Raj Kapoor, Dilip Kumar's Ancestral Homes By Khyber Pakhtunkhwa Government
• Qari remanded in FIA custody in child pornography case in Karachi
• PM's aide reluctant to give date of vaccine's arrival
• Mansehra police raid house of JUI-F leader over treason case
• LHC stays Ravi project till EIA report approval
-------
Southeast Asia
• Polygamy Syndicate Allegations To Be Probed Immediately, Says Malaysian Islamic Affairs Minister
• Indonesia Potentially Set To Take On China And Claim Leadership Of 'Moderate' Islam – Analysis
• Dr Mahathir: Time to end abuse of the law
• Malaysians ring in first day of 2021 with record high in MCO violations
------
India
• Uttar Pradesh: 'Love Jihad' Case Against 3 Muslim Men Dropped Within 24 Hours After 'Charges Turn Out To Be False'
• AIMIM chief Asaduddin Owaisi meets Bengal's young Muslim leader Pirzada Abbas Siddiqui
• 'Love Jihad': Police File Chargesheet Against 22-Year-Old Under Anti-Conversion Law In Uttar Pradesh
-----
North America
• Republicans in US Senate Overrides Trump Veto for The First Time
• More Republican Lawmakers Enlist In Donald Trump's Effort To Undo Joe Biden's Election Win
• Trump may launch 'reckless' attack on Iran, experts fear
• US judge rejects lawsuit against Pence over electoral count
------
South Asia
• Afghanistan Presidential Palace: Constitution Allows the President to 'Dismiss High-Rank Officials'
• AAF Air Raid Targets Taliban Shadow Governor in Helmand
• US Secretary of State Backs Troops Withdrawal, Hails Peace Negotiations
• MoIC Calls for Protection of Afghan Journalists
• Rape Case Investigation: Delays put justice at risk
----
New Zealand
• Families Of Mosque Attack Victims Meet Cricket Stars
Compiled by New Age Islam News Bureau
URL: https://www.newageislam.com/islamic-world-news/to-end-religious-violence-muslim/d/123961
------
To End Religious Violence, Muslim Rights Concern Makes Six Demands From Buhari Govt - to Allow Soldiers Keep Beards, Wear Hijab
By John Owen Nwachukwu
January 2, 2021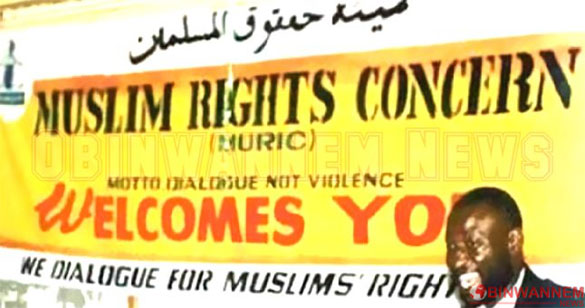 The Muslim Rights Concern (MURIC) has demanded that all the grievances of Muslims in the country be addressed by the Federal Government.
According to MURIC, addressing those grievances would bring to an end religious violence, which it said was caused by the denial of their Islamic fundamental human rights in the country.
The group also reiterated the six reliefs being sought by Nigerian Muslims, in a New Year message signed by its director, Ishaq Akintola and made available to DAILY POST on Saturday.
MURIC wants the Federal government to "recognise the Hijrah holiday; recognise Islamic marriages; Friday holiday question; acceptance of caps, turban, hijab and beards for identity cards, driving licences and international travelling passports; acceptance of beards and hijab in uniformed organisations like the army, police, NYSC, etc and, finally, establishment of Shariah courts in all states where there is significant number of Muslims" in the country.
MURIC said that Nigerian Muslims want the government to address those six grievances, which, according to Akintola, they had listed during the year 2020 but the government failed to attend to any of the requests.
The Prof Akintola-led group said it believed that the war against Boko Haram had not been won because the President Muhammadu Buhari led had not adopted the carrot and stick technique.
MURIC said that government's dependency on the use of force was not yielding the desired results, adding that as soldiers battle insurgents on the field, there must also be a genuine dialogue with Muslim leaders and groups in the country.
"Deradicalisation will remain a farce until all Allah-given fundamental human rights are willingly rendered to Nigerian Muslims," he said.
MURIC said that there was the possibility that those who engage in terrorism and other forms of criminalities may repent if they see government introducing reforms which conform with the yearnings of Muslims in the country.
"But a situation whereby Muslims continue to suffer excruciating pain everyday without any hope in sight is the major cause of the protracted insurgency in the North East.
"The perception of insurgents seeking the forceful establishment of an Islamic caliphate is that Nigeria is being run along Christian line and all Islamic landmarks have been eliminated. FG owes it a duty to correct this erroneous and dangerous perception," the group said.
The Islamic organization wondered why the Federal Government should declare national holiday on the 1st of January, but has ignored the demand of Nigerian Muslims for the recognition of the first day of the Hijrah calendar.
"FG is thereby giving us the impression that Nigeria only recognises Christianity at the national level but Islam is non grata. This is gross injustice and it is a major grievance nursed by conscious Muslims against the Nigerian state," MURIC said, calling on the Buhari government to withdraw recognition for January 1 and allow States to make the decision.
MURIC said that this is what should obtain in a true federation, calling on the government to consider restructuring the country.
"It is our contention that no true deradicalisation of extremist religious groups can take place without addressing the grievances of Nigerian Muslims," he said.
https://dailypost.ng/2021/01/02/2021-allow-soldiers-keep-beards-wear-hijab-islamic-group-makes-6-demands-from-buhari-govt/
-----------
Iran Executes Three Sunni Citizens For Alleged Armed Action Against Regime: Rights Group
Yaghoub Fazeli
03 January 2021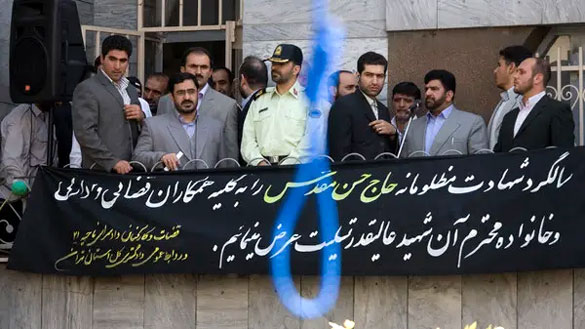 Tehran Prosecutor General Saeed Mortazavi (2nd L) attends the execution by hanging of Majid Kavousifar and Hossein Kavousifar in Tehran August 2, 2007. (File photo: Reuters)
-----
Iran executed on Saturday three Sunni Muslim citizens for alleged armed action against the regime and membership in opposition groups labelled as "terrorist" organizations by the regime, a rights group reported.
Hamid Rastbala, Kabir Saadat-Jahani and Mohammadali Arayesh were executed in a prison in the northwestern city of Mashhad, the Human Rights Activists News Agency (HRANA), a news site run by a collective of Iranian human rights advocates, reported.
They were arrested in 2015 and sentenced to death in 2019 after being charged with armed action against the regime and membership in opposition groups that Tehran considers to be "terrorist," HRANA said.
The three executed prisoners were not given notice ahead of their execution, and their families were not allowed a final visit, HRANA said.
Rastbala, Saadat-Jahani and Arayesh were not allowed to choose their lawyers while on trial and were subjected to torture in prison, HRANA reported, citing an informed source.
Sunni Muslims are a minority in predominantly Shia Iran. Sunni activists complain of discrimination and accuse the regime of deliberately neglecting the country's Sunni-populated regions, namely the provinces of Sistan-Baluchestan and Kurdistan.
https://english.alarabiya.net/en/News/middle-east/2021/01/03/Iran-executes-three-Sunni-citizens-for-alleged-action-against-regime-Rights-group-
----------
UAE's Bosnian-Canadian 'Imam Medic' Urges Public To Shun Anti-Vaccine Sentiment
Shireena Al Nowais
January 3, 2021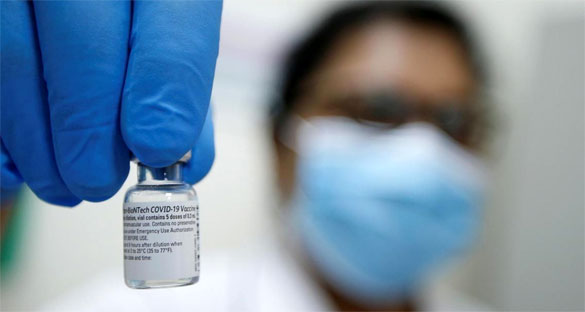 A frontline medic who doubles as an imam has urged the public to shun baseless anti-vaccine sentiment.
Almir Smajlovic encouraged people to take the jab as it becomes available after witnessing the trauma of patients in intensive care.
The 42-year-old is a specialist in respiratory care, training and overseeing medical staff in the use of ventilators for severely ill patients and witnessing first-hand the toll the virus has taken.
The Bosnian-Canadian has sought to tackle some of the myths and rumours that swirl around social media that governments now worry will put people off taking the shots.
"The conspiracy theories are unfortunately spreading. If you look around you will find many of the people who do not believe in vaccines
"But the conspiracy theories are unfortunately spreading. If you look around you will find many of the people who do not believe in vaccines."
In the United States, it appears to have the strongest hold, with public demonstrations against both vaccines, the wearing of masks and other restrictions.
In France last month, a survey by respected pollsters Ifop found 59 per cent of people asked did not intend to take a vaccine, up from 46 per cent in October. Results for a separate Ipsos poll were better in the UK and Germany, where 79 per cent and 69 per cent said they had faith in a coronavirus vaccine.
"Unfortunately, there are still people out there who believe that this virus is a hoax and that's why we need to work on the grass roots level and talk about the importance of the vaccine," said Mr Smajlovic, who works at Dubai Health Authority's ventilator centre and oversees the use of the life-saving machines at government-run hospitals.
He also took the decision to shave his beard – it is encouraged in Islam that men maintain one – to protect his patients by ensuring his face mask fit better.
Mr Smajlovic said he had seen the pain the virus caused patients and their families and hoped widespread vaccinations would put an end to it.
He took the first of two shots of the Pfizer-BioNTech jab last week, one of two inoculations available in the emirate and which is 95 per cent effective against the virus.
The other available across the country was developed by Chinese drugs maker Sinopharm, which was trialled in Abu Dhabi on 31,000 volunteers. It was found to be 79 per cent effective and has been rolled out for thousands of people.
"I tried to reassure my friends and family back home in Bosnia and sent out messages in English and in my language on the importance of the vaccine," the father of six, who moved to the UAE in 2014, said.
Herd immunity occurs when a sufficient percentage of a population has become immune to an infection, whether through vaccination or previous infections.
"I've noticed that everybody gets their news from social media and [anti-vaccine sentiments] is being spread by people who don't follow the government guidelines or the scientific community - people who don't know," he said.
Frontline colleague Yasser Ajina, 52, a senior respiratory therapist at the DHA-run Rashid Hospital, said any side effects caused by the vaccine would be nothing compared to potential effects of Covid-19.
"Some people don't believe in the vaccine and that is up to them - but they should know that they are putting themselves at a high risk," he said.
"If any of the alleged theories or symptoms come true they are all minor compared to the implications of Covid. Some patients don't come out of it and have died in front of our eyes."
https://www.thenationalnews.com/uae/health/uae-s-imam-medic-urges-public-to-shun-anti-vaccine-sentiment-1.1139197
----------
Islamist Militants Executed Five Christians In Nigeria Over Christmas
Staff writer
02 January 2021
Islamist militants executed five Christians in Nigeria over the Christmas period, Release International reports.
Terrorist group Islamic State West Africa Province (ISWAP), a faction of Boko Haram, has claimed responsibility for the killings.
They released a video saying the deaths were a "warning to Christians in all parts of the world and those in Nigeria".
The five executed Christians are understood to have been among 11 people kidnapped on Christmas Day from Garkida town, Adamawa State, in north-east Nigeria.
Their deaths were filmed, with footage showing them kneeling with their hands tied behind them before they were shot dead.
The victims were all men and were asked to state their names before they were killed.
The men gave their names as Uka Joseph, Sunday, Wilson, Joshua Maidugu and Garba Yusuf, but also said as their last words "I am a Christian", Morning Star News reports.
The killings echo a similar execution of 11 Christian aid workers in Nigeria on Christmas Day 2019.
In this year's attack on Garkida town, the militants also set fire to churches, homes and a hospital, and looted shops and houses.
"This latest deplorable murder of Christians – just for being Christians – strengthens Release International's growing concern for Nigeria," said Release International CEO Paul Robinson.
"Boko Haram and ISWAP have both pledged to kill Christians. And heavily armed Fulani militants are driving Christian villagers from the north, in what appears to be an undeclared jihad. Release International's partners warn of a genocide in the making."
Release partner Hassan John criticised the Nigerian government for failing to stem the violence against Christians.
"The government, by design or omission, is turning a blind eye to the carnage," he said.
https://www.christiantoday.com/article/five.christians.executed.by.islamists.over.christmas/136170.htm
-------------
Rs24m Okayed For Buying Raj Kapoor, Dilip Kumar's Ancestral Homes By Khyber Pakhtunkhwa Government
Bureau Report
03 Jan 2021
PESHAWAR: The Khyber Pakhtunkhwa government has approved Rs24 million funds for the purchase of the decaying ancestral homes of Bollywood legends Raj Kapoor and Dilip Kumar in the walled city of Peshawar.
The provincial directorate of archeology and museums had decided in Sept last year to transfer the ownership of two houses to itself through a colonial era legislation, which allows the government to acquire lands for 'public use'.
A senior official told Dawn that Chief Minister Mahmood Khan had approved a summary moved by the culture, tourism and archeology department seeking a special grant of Rs24 million for the acquisition of both properties.
The summary said the ancestral homes of Raj Kapoor and Dilip Kumar were located in the old Peshawar city and the department had been considering proposals for their restoration for 'adaptive use and public display due to their archeological, aesthetic and historical value along with the reason of their link with the international celebrities.
It said recently, the directorate of archeology was tasked with ascertaining the financial implications of the acquisition of land of those houses along with the cost of superstructure.
"Deputy Commissioner Peshawar has already imposed Section 4 for acquisition of both houses. Now, the directorate has intimated that for acquisition of these two ancient houses, the total cost is Rs24 million," it said.
The summary said of the cost, Rs15 million was for the acquisition of Raj Kapoor's over six marlas house in Dhaki Dalgaran area of the famed Qissa Khwani Bazaar, and Rs8 million for Dilip Kumar's four marlas residence in Mohallah Khudadad neighbourhood of the same street.
It said Rs24 million was worth spending due to the importance and value of the two houses both at national and international levels.
"The step (or plan) of restoration of these houses was received very positively on various medium of communication at both national and international levels and therefore, it would not be out of place to expedite the process of such acquisition followed by their restoration," it said.
The Awami National Party government had tried to acquire Dilip Kumar's ancestral house for preservation. However, the price dispute hampered the bid. It led to litigation during the last Pervez Khattak-led government.
In Oct 2015, the provincial government had informed the Peshawar High Court that it had dropped the plan of acquiring the house but declared it a protected antiquity stopping the owner from renovating it or making changes to it.
In 2016, Raj Kapoor's ancestral home was badly damaged by its current owner during demolition, which came to a halt after the intervention of the archaeology directorate. However, the exercise destroyed the upper portion of the house and badly damaged rest of it.
Following reports of the government's decision to acquire both properties, a statement was posted to Dilip Kumar's Twitter account wherein the thespian rekindled his faded memories of the Qissa Khwani Bazaar.
"I am at once full of fond remembrances of my parents, grandparents and numerous uncles, aunts and cousins who filled the house with the sounds of their chatter and hearty laughter.
"My mother who was frail and delicate was always in the spacious kitchen of the house and as a little boy I would wait for her to finish her chores so that I could just sit by her side and gaze at her beautiful face," he said.
The Bollywood legend also said he had memories of the sitting room, where his family gathered for tea in evenings, the large room, where women prayed, and the terrace, bedrooms and all other things.
"I can vividly recall the piggy rides on my grandfather's back and the scary stories my grandmother cooked up to forbid me from wandering out of the house alone. I have lovely memories of Qissa Khwani Bazaar, where I received my first lessons in storytelling, which later provided the impetus to choose meaty stories and scripts for my work," he said in the post.
https://www.dawn.com/news/1599399/rs24m-okayed-for-buying-raj-kapoor-dilip-kumars-ancestral-homes
-----------
Polygamy Syndicate Allegations To Be Probed Immediately, Says Malaysian Islamic Affairs Minister
BY JERRY CHOONG
03 Jan 2021
KUALA LUMPUR, Jan 3 — The government will immediately launch an investigation into the supposed existence of a polygamy syndicate, said Minister in the Prime Minister's Department (Islamic Affairs) Datuk Seri Zulkifli Mohamad Al-Bakri.
Sinar Ahad reported him as saying that if any report is made of the syndicate, believed to be headed by someone in the Shariah court system, and if Shariah lawyers or court officials are involved, then stern action will be taken.
"The Malaysia Shariah Judiciary Department (JKSM) and various state Shariah courts will not compromise whatsoever with such unscrupulous activities involving its personnel," Zulkifli said in a statement yesterday.
The Islamic affairs minister added that JKSM as an agency under his purview will cooperate with the state Shariah courts, the state Islamic Enforcement Departments, the police and the Malaysian Anti-Corruption Commission (MACC) to curb such deceit.
Zulkifli's deputy Ahmad Marzuk Shaary said this matter should not have arisen, seeing as how the procedure for polygamous marriage in the country has already been optimally simplified.
"The issue also involves the courts' standard operating procedures (SOP) which ought to have been adhered to," he said after officiating a circumcision event at Pengkalan Chepa in Kelantan yesterday.
Ahmad added that couples who choose to get married polygamously in this manner without following the SOPs are not motivated by the difficulties of getting married but instead driven by the intention to do so in a wrongful manner.
"Those who get married via this syndicate will not be spared from action by the court. Indeed, the marriage may not be in accordance with the law and as such can be considered illegitimate," he said.
Sinar Harian ran an exposé yesterday on a syndicate that allegedly provides a shortcut for men who wish to marry one or more wives without the knowledge of their first spouse, by deceiving the Shariah courts with false information.
https://www.malaymail.com/news/malaysia/2021/01/03/polygamy-syndicate-allegations-to-be-probed-immediately-says-islamic-affair/1936826
-------------
Uttar Pradesh: 'Love jihad' case against 3 Muslim men dropped within 24 hours after 'charges turn out to be false'
BAREILLY: In a major twist to a 'love jihad' case in Uttar Pradesh, a day after three Muslim men - all relatives and in their mid-20s - were booked under the new anti-conversion law for "stalking and sexually harassing a 22-year-old married woman and forcing her to convert and marry one of them", police in Bareilly have expunged the FIR after finding the complaint "fake" and the suspects being "incorrectly framed".
Police said the woman complainant had made the serious allegations against the three men referring to a particular incident on December 1. However, the police found her charges to be false as the three men were not present in Bareilly at the time.
It is evident after investigation that all the three accused were incorrectly framed and the case has been expunged, Bareilly SSP Rohit Singh Sajwan said on Saturday.
Now, a report under IPC section 182 (false information with intent to cause a public servant to use his lawful power to the injury of another person) will be submitted against the complainant, the SSP added.
The woman, who is a nursing college student in Bareilly, was in a relationship with one of the men for over a year and had eloped with him last September, according to police. Her uncle had registered a missing complaint. She was reportedly traced and recovered after nine days and married off to another man from her community last month.
Her "friend", who works as a driver and belongs to the same neighbourhood, has been released along with the other two on Saturday after brief questioning. In her complaint, which has now turned out to be "false", the woman had said that she was stalked by the main suspect even after her marriage.
On December 1, her "friend" allegedly stopped her at gunpoint in Bareilly, and asked her to convert and re-marry him. Thereafter, his two cousins threatened to kill members of her family. She further claimed that she may kill herself.
On Friday night, an FIR was registered at Faridpur police station under sections 354 (attempt to outrage the modesty of a woman) and 506 (criminal intimidation) of IPC along with sections 3/5 of the UP Prohibition of Unlawful Conversion of Religion Ordinance, 2020, on her complaint. The FIR was, however, expunged on Saturday, police said.
"After checking the mobile surveillance report, it was evident that the men were not in the village on the day of the incident mentioned in the FIR. We have not found any evidence against them," Faridpur SHO Surinder Singh Pachauri told TOI.
"On the other hand, the facts mentioned in the woman's statement were found incorrect and she even said that she doesn't use a mobile phone. We are now trying to find out if she had registered the complaint under someone's direction," the SHO added.
It was a huge relief for the suspects' family. "Our children were being framed in this case. We request police to ensure an impartial probe," one of the members said.
https://timesofindia.indiatimes.com/city/bareilly/love-jihad-case-against-3-muslim-men-dropped-within-24-hours-after-charges-turn-out-to-be-false/articleshowprint/80075992.cms
----------
Republicans in US Senate Overrides Trump Veto for The First Time
By Mohammad Haroon Alim
02 Jan 2021
The American Congress on Friday, humiliated Trump on his final days after the Senate overwhelmingly voted to override his veto of a defense spending bill.
American Senate on Friday secured, two –thirds majority needed to override trump's veto of a bill on defense spending, for the first time the senate took such a decision in four years of the president in office.
Reuters reported, that the Majority of republicans in the senate followed by the Democratic-controlled house of representatives on Monday, passed the measure with a vote of 81-13.
"The Senate voted 81-13 to override Trump's veto two days before a new U.S. Congress is sworn into office on Sunday. Trump, who leaves office on Jan. 20, has had eight previous vetoes upheld" Reuters reported.
Senate voted during a rare New year's Day session against trump, who has 20 days left before leaving the offices.
According to US LAW, a presidential veto can be overridden, if the bill is supported by two-thirds of the majority in both chambers of congress.
Reuters reported, that since trump lost the re-election and most of the Republican lawmakers failed to back his unsubstantiated claims of voting fraud, did not support his call for COVID-19 relief payments, Trump has been at odds with his fellow republicans.
https://www.khaama.com/republicans-in-us-senate-overrides-trump-veto-for-the-first-time-45463342/
-------------
Africa
Suspected Islamists Attacked Two Villages In Niger, Killing Around 79 People
Al-Maliki
2021-01-03
Shafaq News/ Suspected "Islamist militants" have attacked two villages in Niger, killing around 79 people, according to Reuters news agency.
Around 49 were killed and 17 injured in the village of Tchombangou, while another 30 died in Zaroumdareye - both near Niger's western border with Mali.
There have been several recent violent incidents in Africa's Sahel region, carried out by militant groups.
France said on Saturday that two of its soldiers were killed in Mali.
Hours earlier, a group with links to al-Qaeda said it was behind the killing of three French troops in a separate attack in Mali on Monday.
France has been leading a coalition of West African and European allies against the so-called "Islamist militants" in the West African region.
But countries like Niger and Mali continue to be affected by ethnic violence, human and drug trafficking, and banditry.
News of the latest attacks on two villages in Niger was confirmed by the government to the French RFI news outlet.
Interior Minister Alkache Alhada said soldiers had been sent to protect the area, but he say how many casualties there had been.
The country's Tillaberi region, where the villages are situated, has been under a state of emergency since 2017, and attacks by jihadist groups are common throughout Niger.
Last month, Nigerian jihadist group Boko Haram killed at least 27 people in Diffa region in the south-east.
The latest attacks also come amid national elections in Niger, as President Mahamadou Issoufou steps down after two five-year terms.
https://shafaq.com/en/World/Suspected-Islamists-kill-around-79-people-in-Niger-attacks
-------------
Bandits Kill Kaduna Imam, community leader for condemning kidnapping, rustling
By Abdulganiyu Alabi
03 January 2021
Armed bandits have killed an Imam and a community leader in Igabi and Jema'a Local Councils of Kaduna State for speaking against kidnapping and cattle rustling.
In a statement, Commmissioner for Internal Security and Home Affairs, Mr. Samuel Aruwan said bandits invaded Kawaran Rafi Village and killed Danleeman Isah, the village's Chief Imam.
He explained that the bandits moved straight to Isah's residence, and in what appears to be a pre-meditated murder, shot him dead and left the location without taking any item or hostage.
Aruwan also informed about the shooting of Ardo Ahmadu Suleiman by bandits at Kasuwan Magani, Kajuru Local Council, leaving him with bullet wounds.
In another development, Aruwan said security agencies reported Sarkin Yaki of Godogodo, Mr. Yohanna Abu's murder, by a gang of kidnappers.
He said: "A report that gunmen attacked Nisama Village, Jema'a Local Council was received late Friday night, in which Mr. Abu and another resident, Mr. Charles Audu were abducted.
"A struggle ensued between the duo and the kidnappers. While Mr. Audu was able to escape, the kidnappers shot Mr. Abu dead.
"Five persons have been arrested in connection with the killing, as security agencies continue to investigate the incident.
"Governor Nasir El-Rufai expressed sadness at both reports, praying for the repose of the souls of the slain cleric and community leader, as he conveyed his heartfelt condolences to their families."
https://guardian.ng/news/bandits-kill-kaduna-imam-community-leader-for-condemning-kidnapping-rustling/
-----------
FG has failed to address Muslims grievances, says MURIC
By Adelowo Adebumiti
03 January 2021
The Muslim Rights Concern (MURIC) has asked the Federal Government to address the grievances of Nigerian Muslims. The Islamic human rights group linked such grievances with deradicalisation and traced religious violence to the denial of Islamic fundamental human rights. The group also reiterated the six reliefs being sought by Nigerian Muslims.
In MURIC's New Year message by the group's director, Professor Ishaq Akintola, yesterday, said: "Nigerians celebrated the first day of the Gregorian calendar yesterday, 1st January, 2021. Thus, we heralded the new year and bid farewell to year 2020, which many people around the world would wish had never come. It was a year of trauma, particularly with the advent of COVID-19 pandemic, the attendant prolonged lockdown and #EndSARS commotion.
"It was equally a year of tumult for Nigeria, as insecurity reigned supreme with Boko Haram, bandits and kidnappers striking at will.
Above all, Nigerians from all walks of life experienced disruption of socio-economic life, which compelled them to raise both old and fresh grievances with the Federal Government (FG).
"Nigerian Muslims also articulated six grievances, which they called on FG to address during 2020, but FG has not attended to any of our requests. This is not good enough. It is our belief that the war against Boko Haram is prolonged because FG is not adopting the carrot and stick technique. Government must not rely on the use of force alone.
"As Nigerian soldiers fight Boko Haram on the battle field, it must engage in genuine dialogue with Muslim leaders and groups in the country. Deradicalisation will remain a farce, until all Allah-given fundamental human rights are willingly rendered to Nigerian Muslims."
It maintained that FG must muster enough political will to address the lopsidedness in the socio-economic landscape, particularly those that have religious colouring, stating that Nigeria as at today is a Christianised colony, where Muslims are held in agonising bondage.
https://guardian.ng/news/fg-has-failed-to-address-muslims-grievances-says-muric/
-----------
Bandits Kill Chief Imam, Two Others In Fresh Kaduna Attacks
BY SAHARAREPORTERS
JAN 02, 2021
Armed bandits have killed Sheikh Danleeman Isah, Chief Imam of Kawaran Rafi village in the Igabi Local Government Area of Kaduna State.
The Kaduna State Commissioner for Internal Security and Home Affairs, Samuel Aruwan, disclosed this in a statement on Saturday.
Aruwan said the bandits invaded the village and moved straight to the Chief Imam's residence, and in what appears to be a premeditated attack, shot him dead and left the location without taking any item or hostage.
He said the murder of the cleric has been linked to his vocal stance against the killing and kidnapping of people by bandits.
In a similar development, bandits also killed the Ardo Musa Layi of Kajuru Local Government Area, who was kidnapped by armed men in October 2020, reportedly for his stance against killing, kidnapping and cattle rustling.
In another development, security agencies have reported the murder of the Sarkin Yaki of Godogodo, Yohanna Abu, by a gang of kidnappers.
According to the report, the gunmen attacked Nisama village in the Jema'a Local Government Area of the state late on Friday night and abducted Mr Abu along with another resident, Mr Charles Audu.
A struggle ensued between the duo and the kidnappers, and while Mr Audu was able to escape, the kidnappers shot Mr Abu dead.
The commissioner disclosed that five persons have been arrested in connection with the killing, as security agencies continue to investigate the incident.
http://saharareporters.com/2021/01/02/bandits-kill-chief-imam-two-others-fresh-kaduna-attacks
-----------
Congo army says its forces recapture eastern village from Islamist group
By REUTERS
JANUARY 2, 2021
Congo said on Saturday that 14 suspected Islamist militants and two soldiers were killed in fighting on New Year's Day as the Congolese army backed by UN peacekeepers regained control of Loselose village in the east of the country.
The Allied Democratic Forces (ADF), a Ugandan Islamist group that has emerged as the most lethal of the militias in Democratic Republic of Congo's eastern borderlands, has carried out several attacks in recent weeks."Yesterday Jan. 1, an army regiment overpowered the terrorists of the ADF in the village Loselose and dislodged them from the area located in the chiefdom of Ruwenzori," army spokesman Antony Mualushayi said.
A local official said on Friday that the ADF was responsible for the killing of 17 people who were found hacked to death in Beni Territory in North Kivu.
More than 1,000 civilians have been killed in attacks attributed to the ADF in 2019 and 2020, according to UN figures.
Mualushayi said seven soldiers were wounded during the fighting in Loselose, also in Beni Territory. The United Nations mission in Congo said its troops helped Congo's army regained control Loselose.
https://www.jpost.com/breaking-news/congo-army-says-its-forces-recapture-eastern-village-from-islamist-group-654040
-------------
Military airstrikes destroy new Boko Haram settlement, kill scores in Borno
ByAgency Report
January 2, 2021
Air Task Force of Operation Lafiya Dole has destroyed a new Boko Haram settlement at Mana Waji in Borno, killing scores of the terrorists in massive air interdiction missions on Friday.
The Coordinator, Defence Media Operations, John Enenche, in a statement on Saturday, said the air interdiction missions were conducted after a series of surveillance revealed the settlement.
He said that the series of aerial surveillance missions revealed that the new settlement was being used to store their weapons and logistics items, as well as plan and stage attacks.
Mr Enenche said the air strikes were executed employing a force package of Nigerian Air Force (NAF) fighter jets and helicopter gunships.
According to him, on sighting the NAF aircraft, the insurgents were seen fleeing the location.
"Consequently, in a preemptive move, the NAF attack aircraft engaged the new location in successive passes, leading to the destruction of some of the structures and logistics stores.
"Several insurgents were also neutralised in the process," he said.
https://www.premiumtimesng.com/regional/nnorth-east/434549-military-airstrikes-destroy-new-boko-haram-settlement-kill-scores-in-borno.html
------------
Mideast
Israel bans thousands of Palestinians from praying at Al-Aqsa Mosque
January 2, 2021
Mostafa Alkharouf
Israeli occupation police on Friday barred thousands of Palestinians from performing Friday prayer at Al-Aqsa Mosque, under the pretext of fighting COVID-19, Anadolu Agency reported.
Witnesses said that the Israeli police erected checkpoints at the entries of Jerusalem's Old City and prevented Palestinians from entering Al-Aqsa Mosque.
Preacher of Al-Aqsa Mosque Sheikh Ekrema Sabri condemned the Israeli measures, noting that the Palestinians are being prevented under the pretext of the coronavirus. In contrast, daily tours of Jewish Israeli settlers are being organised and are protected by the Israeli occupation police.
"As long as the Palestinians wear their masks, bring their praying mats and maintain social distances, there is no justification to prevent them from entering into the mosque," Sheikh Sabri expressed, adding:
We call on all Muslims to travel and pray at Al-Aqsa Mosque. We mainly call on the residents of the Old City to keep praying inside the mosque in order to undermine Israeli Judaisation of the occupied West Bank.
On Sunday, Israel started its third COVID-19 lockdown in an attempt to curb the outbreak of the virus. The lockdown could be renewed if required.
The most recent official statistics conveyed that Israel has recorded 428,510 COVID-19 cases, in addition to 3,356 deaths.
https://www.middleeastmonitor.com/20210102-israel-bans-thousands-of-palestinians-from-praying-at-al-aqsa-mosque/
-----------
Assyrians' MP: Martyr Soleimani Defended Muslims, Non-Muslims Equally against ISIL
FARS NEWS AGENCY
2021-January-2
"In the battle against ISIL and defending nations against the terrorist group [ISIL], Martyr Qassem Soleimani didn't distinguish between Muslims and non-Muslims," Tekyeh told FNA on Saturday, adding that General Soleimani manifested the justice of Imam Ali (PBUH) and real human rights.
He went on to say that the US is the obvious symbol of state terrorism which does not come short of any inhumane act to advance its objectives.
The parliamentarian stressed that the Assyrians and Chaldeans defend Iran's national dignity and territorial integrity beside their Muslims compatriots.
In relevant remarks on Friday, Iranian Parliament Speaker's Special Aide for International Affairs Hossein Amir-Abdollahian said.Iran and the whole region are owing their security to Lieutenant General Soleimani and his fellow-combatants in Quds Force of the Islamic Revolution Guards Corps.
"Outstanding achievements of the Quds Force of the Islamic Revolution Guards Corps and its former commander Lieutenant General Qassem Soleimani brought security to Iran and the region," Amir-Abdollahian said on Friday, adding that the Zionist regime will have no place in the future of the region.
The airstrike also martyred Abu Mahdi al-Muhandis. The two were martyred in an American airstrike that targeted their vehicle on the road to the airport.
Five Iranian and five Iraqi military men were martyred by the missiles fired by the US drone at Baghdad International Airport.
On January 8 and after the funeral ceremony of General Soleimani, the IRGC Aerospace Force started heavy ballistic missile attacks on US Ein Al-Assad airbase in Southwestern Iraq near the border with Syria and a US operated airbase in Erbil in retaliation for the US assassination of General Soleimani.
Ein Al-Assad is an airbase with a 4km runway at 188m altitude from sea levels, which is the main and the largest US airbase in Iraq. Early reports said the radar systems and missile defense shields in Ein Al-Assad failed to operate and intercept the Iranian missiles. Unofficial reports said the US army's central radar systems at Ein Al-Assad had been jammed by electronic warfare.
The second IRGC reprisal attack targeted a US military base near Erbil airport in Iraqi Kurdistan Region in the second leg of "Martyr Soleimani" reprisal operation.
Iraq said the attacks had not taken any toll from its army men stationed at these two bases. The US army had blocked entrance into Ein Al-Assad to everyone, including the Iraqi army.
Meantime, Iran announced in late June that it had issued arrest warrants for 36 officials of the US and other countries who have been involved in the assassination of the martyred General Soleimani.
"36 individuals who have been involved or ordered the assassination of Hajj Qassem, including the political and military officials of the US and other governments, have been identified and arrest warrants have been issued for them by the judiciary officials and red alerts have also been issued for them via the Interpol," Alqasi Mehr said at the time.
He said that the prosecuted individuals are accused of murder and terrorist action, adding that US President Donald Trump stands at the top of the list and will be prosecuted as soon as he stands down presidency after his term ends.
farsnews.ir/en/news/13991013000776/Assyrians'-MP-Maryr-Sleimani-Defended-Mslims-Nn-Mslims-Eally-agains
-----------
Yemeni Media Official: Martyr Soleimani's Blood Awakens Millions of People in Islamic World
FARS NEWS AGENCY
2021-January-2
"The blood of General Qassem Soleimani, the former commander of the IRGC Quds Force, awakened millions of people in Iran, Iraq, Yemen, Syria, Iraq, etc., and blew new life to the determination to confront the tyrants on Earth, the US and Israel," Ummah al-Malak al-Khashib told FNA on Saturday.
He added that after martyrdom of General Soleimani, thousands and thousands of people in the Muslim world will continue his path more seriously.
Al-Khashib described General Soleimani as a lion of God's lions and a brave figure, saying that the enemy feared him during his life and this fear has even increased after his martyrdom due to the revenge by General Soleimani's friends, which is impending with an unspecified time and place.
In relevant remarks on Friday, Commander of the Islamic Revolution Guards Corps Major General Hossein Salami said Iran is fully ready to take revenge from the assassins General Soleimani, stressing that the very thought of revenge has caused a constant nightmare for the Americans.
"We are ready to confront any US move against Iran in the region." Salami said on the sidelines of the 1st anniversary of the martyrdom of former IRGC Quds Force Commander Lieutenant General Qassem Soleimani in Tehran, adding, "We are prepared to avenge the blood of the martyrs and liberate Muslims forever from the political, economic and cultural hegemony of the US."
"We assure our people that we will take revenge from the perpetrators of the terror attack on Martyr Lieutenant General Soleimani and his companions very harshly," he went on to say.
"The path of harsh revenge is the path of collapse of the Zionist regime and the United States in the region and also expulsion of US terrorist forces from the region," the IRGC commander noted.
The airstrike also martyred Abu Mahdi al-Muhandis, the deputy commander of Iraq's Popular Mobilization Forces. The two were martyred in an American airstrike that targeted their vehicle on the road to the airport.
On January 8 and after the funeral ceremony of General Soleimani, the IRGC Aerospace Force started heavy ballistic missile attacks on US Ein Al-Assad airbase in Southwestern Iraq near the border with Syria and a US operated airbase in Erbil in retaliation for the US assassination of General Soleimani.
Ein Al-Assad is an airbase with a 4km runway at 188m altitude from sea levels, which is the main and the largest US airbase in Iraq. Early reports said the radar systems and missile defense shields in Ein Al-Assad failed to operate and intercept the Iranian missiles. Unofficial reports said the US army's central radar systems at Ein Al-Assad had been jammed by electronic warfare.
The second IRGC reprisal attack targeted a US military base near Erbil airport in Iraqi Kurdistan Region in the second leg of "Martyr Soleimani" reprisal operation.
Iraq said the attacks had not taken any toll from its army men stationed at these two bases. The US army had blocked entrance into Ein Al-Assad to everyone, including the Iraqi army.
Meantime, Iran announced in late June that it had issued arrest warrants for 36 officials of the US and other countries who have been involved in the assassination of the martyred General Soleimani.
"36 individuals who have been involved or ordered the assassination of Hajj Qassem, including the political and military officials of the US and other governments, have been identified and arrest warrants have been issued for them by the judiciary officials and red alerts have also been issued for them via the Interpol," Prosecutor-General of Tehran Ali Alqasi Mehr said at the time.
He said that the prosecuted individuals are accused of murder and terrorist action, adding that US President Donald Trump stands at the top of the list and will be prosecuted as soon as he stands down presidency after his term ends.
https://www.farsnews.ir/en/news/13991013000404/Yemeni-Media-Official-Maryr-Sleimani%E2%80%99s-Bld-Awakens-Millins-f-Peple-in
------------
Sunni Clerics: Martyr Soleimani Thorn in Enemies' Side, Exterminator of ISIL
FARS NEWS AGENCY
2021-January-2
Iran's Sunni clergymen and Friday prayer leaders lauded Martyr Soleimani's role in hindering the enemies' plots, and stressed that he was the commander who fought ISIL terrorists and destroyed them in the region.
The Friday prayer leaders of the cities of Sanandaj, Dehgolan, Qorveh, Bijar, Divandareh and Marivan glorified Martyr Soleimani's unique role in bringing the hearts of Sunnis and Shiites closer together, noting that he is the factor contributing to Iran's current might in the world.
They underlined that fact that Lieutenant General Qassem Soleimani thwarted all the plots of the avowed enemies of the Islamic Ummah and unmasked the real face of the US, Israel and their regional partners-in-crime among Arab regimes of the region.
The Sunni clerics also said that the school of Martyr Soleimani is the school of dignity, self-sacrifice and struggle against enemies.
In relevant remarks on Saturday, Representative of the Assyrian and Chaldean Christians at the Iranian Parliament Sharli Anuyeh Tekyeh praised Lieutenant General Qassem Soleimani for his role in fighting terrorism, stressing that Muslims and non-Muslims were equal to his rescue efforts in the war on ISIL.
"In the battle against ISIL and defending nations against the terrorist group [ISIL], Martyr Qassem Soleimani didn't distinguish between Muslims and non-Muslims," Tekyeh told FNA on Saturday, adding that General Soleimani manifested the justice of Imam Ali (PBUH) and real human rights.
He went on to say that the US is the obvious symbol of state terrorism which does not come short of any inhumane act to advance its objectives.
The parliamentarian stressed that the Assyrians and Chaldeans defend Iran's national dignity and territorial integrity beside their Muslims compatriots.
The airstrike also martyred Abu Mahdi al-Muhandis. The two were martyred in an American airstrike that targeted their vehicle on the road to the airport.
On January 8 and after the funeral ceremony of General Soleimani, the IRGC Aerospace Force started heavy ballistic missile attacks on US Ein Al-Assad airbase in Southwestern Iraq near the border with Syria and a US operated airbase in Erbil in retaliation for the US assassination of General Soleimani.
Ein Al-Assad is an airbase with a 4km runway at 188m altitude from sea levels, which is the main and the largest US airbase in Iraq. Early reports said the radar systems and missile defense shields in Ein Al-Assad failed to operate and intercept the Iranian missiles. Unofficial reports said the US army's central radar systems at Ein Al-Assad had been jammed by electronic warfare.
The second IRGC reprisal attack targeted a US military base near Erbil airport in Iraqi Kurdistan Region in the second leg of "Martyr Soleimani" reprisal operation.
Iraq said the attacks had not taken any toll from its army men stationed at these two bases. The US army had blocked entrance into Ein Al-Assad to everyone, including the Iraqi army.
Meantime, Iran announced in late June that it had issued arrest warrants for 36 officials of the US and other countries who have been involved in the assassination of the martyred General Soleimani.
"36 individuals who have been involved or ordered the assassination of Hajj Qassem, including the political and military officials of the US and other governments, have been identified and arrest warrants have been issued for them by the judiciary officials and red alerts have also been issued for them via the Interpol," Alqasi Mehr said at the time.
He said that the prosecuted individuals are accused of murder and terrorist action, adding that US President Donald Trump stands at the top of the list and will be prosecuted as soon as he stands down presidency after his term ends.
https://www.farsnews.ir/en/news/13991013000877/Snni-Clerics-Maryr-Sleimani-Thrn-in-Enemies%E2%80%99-Side-Exerminar-f-ISIL
-----------
Arab world
Registration Opens For Filmmaker Program In Kingdom Of Saudi Arabia Via The British Film Industry
SPA
January 02, 2021
RIYADH: The Saudi Film Commission started receiving applications for the Digital Filmmaker Program via the British Film Industry (BFI), at the link: https://engage.moc.gov.sa./film_talents.
The program, which will be conducted virtually by the BFI, will provide production training to professionals and amateurs.
The program offers the "professional and amateur" tracks focusing on specialization in filmmaking and will be launched online this year.
Through the program, which is supported by the Ministry of Culture under the Quality of Life Program, the commission aims to give local film talent new knowledge in all areas of film production — from marketing down to the concept stage — to contribute to the Saudi film industry and upgrade it to higher professional levels.
Along with the BFI, the commission is also working with the School of Cinema-Television at the University of Southern California and the Creative Media Skills Institute at Pinewood in the UK to deliver the program.
https://www.arabnews.com/node/1786366/saudi-arabia
------------
Flights to Saudi Arabia resume as kingdom ends temporary travel ban
ARAB NEWS
January 03, 2021
RIYADH: Saudi Arabia has lifted the temporary travel ban imposed last December as a precautionary measure following the detection of a mutated type of Covid-19 in a number of countries, the Ministry of Interior said early Sunday.
Entry into the Kingdom by air, land and sea will resume at 11 a.m. Sunday, the ministry said in a statement carried by the Saudi Press Agency (SPA).
Some restrictions including asking non-Saudis coming from the UK, South Africa, and other countries where the Covid-19 variant had been detected, to stay at least 14 days out of these countries before entering the Kingdom.
Saudi citizens who are allowed to enter for humanitarian and essential cases, coming from countries where the new Covid-19 variant spread, are required to remain in their homes for 14 days for observation.
Cases of the new variant, which was first detected in the UK, have been reported in European countries including France, Sweden and Spain. It has also been detected in South Africa, Jordan, Canada and Japan.
On Saturday, the Ministry of Health recorded only 101 new cases, the lowest number in nine months, with two regions reporting zero cases.
A total of 362,488 people have contracted the disease in the Kingdom since Covid-19 was first detected in Wuhan, China, in December 2019.
Of the total number of cases, 2,772 remain active and 401 in critical condition.
https://www.arabnews.com/node/1786461/saudi-arabia
-----------
Relief work helps displaced Yemenis with education
SPA
January 02, 2021
RIYADH: Work to help displaced Yemeni children continue their education and return to school is continuing through the joint efforts of the King Salman Humanitarian Aid and Relief Center (KSrelief) and the International Organization for Migration (IOM).
The support has helped 8,500 students to return to class, in addition to 750 teaching and administrative staff, in various provinces.
KSrelief and the IOM have signed a joint agreement to provide shelter, essential items, camp management and education support to vulnerable communities in the governorates of Marib, Aden, Lahj and Hadramout. These efforts benefit 224,918 people as part of the $15 million Humanitarian Response Plan for Yemen 2020.
It is part of the organizations' response to crises in conflict zones and within their support framework for Arab states to meet their needs in times of crisis. It is also part of the work being carried out by KSrelief in partnership with the IOM in several countries including Yemen.
https://www.arabnews.com/node/1786401/saudi-arabia
-------------
Saudi Arabia records lowest COVID-19 cases in nine months
RAWAN RADWAN
January 02, 2021
JEDDAH: Saudi Arabia recorded 101 cases of COVID-19 on Saturday, the lowest number in nine months, with two of its regions reporting zero cases.
The last time the country saw such a low number was on March 29, in the first month of the pandemic, when the daily confirmed case count was 99.
Saturday's cases increase the total number of confirmed infections to 362,979.
Three regions posted double-digit cases: Riyadh had 43, Makkah had 24 and the Eastern Province had 14 cases. Eight regions reported single-digit cases.
There are currently 2,477 active cases, 354 of which are in critical care. The Ministry of Health reported 182 new recoveries, raising the total number to 354,263. The recovery rate is 97.59 percent.
There were a further nine deaths due to complications from COVID-19, raising the death toll to 6,239.
Saudi Arabia continues to monitor and report cases of COVID-19 using polymerase chain reaction (PCR) tests. There were 27,169 PCR tests carried out in the past 24 hours, raising the total number conducted so far to more than 11 million.
Authorities remain vigilant despite the decline in confirmed case numbers, with the Ministry of Interior reminding people about the importance of following social distancing measures, wearing face masks at all times especially in public places, and for food and beverages to be consumed at designated locations while in public.
https://www.arabnews.com/node/1786211/saudi-arabia
------------
Europe
'Global Britain' is willing to trade away everything. Including scruples
Simon Tisdall
Sun 3 Jan 2021
The UK's new trade agreement with Turkey, signed last week, ignores the Turkish government's continuing human rights abuses, boosts its dangerous president, and undermines ministerial pledges that "global Britain" will uphold international laws and values. The deal took effect on 1 January without even rudimentary parliamentary scrutiny. Here, stripped of lies and bombast, is the dawning reality of Boris Johnson's scruple-free post-Brexit world.
Recep Tayyip Erdoğan, Turkey's "strongman" leader, is pleased as punch. He's the new, biggest fan of Britain's international trade secretary, Liz Truss, whose shabby work this is. Erdoğan hailed the deal as the start of a "new era" and a landmark for Turkey. After years of disastrous economic mismanagement and fierce rows with the US and EU over Turkish policy towards Russia, Syria, Libya, Greece and Cyprus, Erdoğan badly needed a win. Hapless Truss delivered.
The fact that Johnson used the spectre of Turkish migrants to frighten Leave voters in 2016 appears forgotten now. His government has created a favourable bilateral trade framework, and promised bespoke "upgrades", to a leader who frequently mocks the EU and faces possible European trade sanctions. How does that square with Johnson's vow to be "the best friend and ally the EU could have"? The level playing field is already tipping.
This rushed deal rides roughshod over widely shared human rights concerns. It may be naive to think that the agreement, which replicates existing EU-Turkey arrangements, would allow matters of principle to imperil £18.6bn in two-way trade. Yet Britain is Turkey's second-largest export market. Ankara was desperate to maintain tariff-free access. This gave Johnson and Truss leverage. It was a sovereign moment. But they failed to demand that Erdoğan change his ways.
Britain is now unquestioningly tucked up in bed with a government that routinely persecutes its critics, manipulates elections, and suborns judges. Independent lawyers, human rights defenders and journalists are jailed or exiled in their hundreds. Selahattin Demirtaş, former leader of the pro-Kurdish Peoples' Democratic party, languishes in jail despite an order to free him – from the European court of human rights.
Alive to these and similar problems relating to other post-Brexit trade partners, the House of Lords amended the government's Trade Bill last month to require human rights risk assessments when making agreements – to ensure compliance with the UK's international treaties and obligations. But the government is expected to scrap the amendment when the bill returns to the Commons. The Turkey deal contains no such safeguards.
In its scramble to replace lapsed EU arrangements, Johnson's government has so far "rolled over" about 30 existing trade deals. Like the Turkey deal, they have not faced thorough parliamentary scrutiny. The list includes other countries or entities with contentious human rights records, such as Egypt, Tunisia, Israel and the Palestinian Authority. Bilateral deals with notorious rights abusers such as China and Saudi Arabia have not been attempted – yet.
A blanket halt to trade with Turkey or any other country over human rights concerns is not generally a course of action that appeals to British governments. An exception was the former foreign secretary Robin Cook, who championed an "ethical foreign policy". But trading ties can be used to advance wider objectives, such as respect for democracy and individual freedoms. This element is wholly absent from Johnson's cash-and-carry approach.
For example, a large chunk of Turkey-UK trade in previous years has comprised military sales to Ankara. According to Campaign Against the Arms Trade, Britain has exported £1.3bn worth of arms to Turkey since the 2013 Gezi Park popular uprising. In the period following a failed coup in 2016, when Erdoğan began a series of brutal crackdowns, arms export licences worth £806m were granted. New licences were halted in 2019 but existing ones remained valid.
This lucrative business, or the prospect of losing it, may help explain the haste in finalising the Turkey deal. Yet the fact that Erdoğan stands accused of using British-made equipment and technology to repress domestic opponents, attack Syria's Kurds, intervene in Libya's civil war, and stoke the Azerbaijan-Armenia conflict should have given serious pause. These actions run contrary to British interests, as does Erdoğan's trouble-making in the eastern Mediterranean. Yet Johnson's government, ever mindful of its Brexit needs, has kept its head down.
Full and timely parliamentary scrutiny of post-Brexit trade deals would help bring such omissions and contradictions to light – but is sadly lacking, as Emily Thornberry, Labour's shadow trade secretary, said in November. She accused the government of "sheer bumbling incompetence" after Greg Hands, the trade minister, admitted there was not enough time for MPs to scrutinise trade deals before the 31 December deadline. So much for a sovereign parliament "taking back control" of Britain's destiny and laws.
The Turkey deal illustrates a bigger, fundamental hypocrisy. Extolling a future "global Britain" in 2019, foreign secretary Dominic Raab promised that "once we've left the EU … human rights abusers anywhere in the world will face consequences for their actions". In January 2020, Raab assured the Commons that "a truly global Britain is about more than just international trade and investment … Global Britain is also about continuing to uphold our values of liberal democracy and our heartfelt commitment to the international rule of law."
Raab seems to mean well, but ne'er-do-wells such as Erdoğan are laughing fit to burst. Raab's recent imposition of sanctions on individual rights abusers in Russia, Saudi Arabia and elsewhere does not affect the bigger picture. It is of a British government hellbent on cutting hasty, ill-considered deals with all manner of undesirable customers around the world, without proper regard for the political, legal, strategic and human consequences. And to think Tory aristocrats used to look down on trade.
https://www.theguardian.com/commentisfree/2021/jan/03/global-britain-is-willing-to-trade-away-everything-including-scruples
-------------
Austria calls for European register of Muslim imams
Davis VanOpdorp
02.01.2021
Since the start of 2021, Austria has required the registration of all imams in the country.
The mandate was one of several new measures Chancellor Sebastian Kurz's government adopted after a November 2 terror attack in Vienna. Four civilians were killed and 23 injured after a 20-year-old gunman opened fire in the center of the Austrian capital.
Now Austria is calling for the European Union to adopt the registration of imams, the worship leaders of Mosques in Muslim communities.
In an interview with the German newspaper Die Welt published Saturday, Austria's Minister for European Affairs Karoline Edtstadler said Imam registration was key for "the fight against political Islam."
"Most imams move through many EU countries, so the security authorities need to know who is preaching what in which mosque at any given time," Edtstadler, a member of Kurz's conservative Austrian People's Party, told the newspaper.
She also believes EU funds should be "so strictly controlled in the future that they do not go to organizations and associations that advocate Islamist and anti-Semitic positions." A ban on foreign financing for mosques, which is already in place in Austria, is also conceivable, she said.
To fight terrorism, Edstadler would like to see "further improvements in cooperation and data exchange between the judicial and security authorities of the [EU] member states."
EU interior ministers have declared a new "war on terrorism" after the Vienna attack and similar atrocities in Paris and Nice in France.
The registration of Imams, which the Islamic Religious Community in Austria (IGGÖ) has been tasked with maintaining, is one of a host of measures Austria has adopted in the wake of the Vienna attack.
The government has expanded a ban on symbols associated with extremist organizations to include the far-right nationalist Austrian Identitarian Movement as well as Islamist groups.
Criminal law has been changed to include a "religiously motivated extremist association" offense. This includes anyone who threatens "democratic constitutional order ... with a social and state order based exclusively on religion in an unlawful manner."
Release conferences have been created to be held before the conditional release of imprisoned terrorism offenders. The sessions are intended to provide courts with the necessary information so they can impose appropriate conditions on released offenders.
A registry of terrorism offenders has been established. The list is designed to impose a lifelong ban on weapons purchases and prevent previous offenders from being employed in security-critical areas.
The Austrian government did stop short of an explicit ban on "political Islam," or religiously motivated political extremism.
Kurz's administration also wants to revoke the Austrian passports of convicted terrorists if they possess other citizenships, but a draft law to that end is not expected until later this year.
https://www.dw.com/en/austria-calls-for-european-register-of-muslim-imams/a-56114597
-----------
Russian, Syrian, Iranian scholars laud Gen. Soleimani
Source : IRNA
January 2, 2021
Scholars from Russia, Syria and Iran taking part in an international webinar highlighted the role of General Qassem Soleimani in fighting US-backed terrorism.
On the occasion of the first anniversary of the martyrdom of Lieutenant General Qassem Soleimani, the commander of the Quds Force of the Islamic Revolutionary Guards Corps (IRGC), a number of political, cultural and religious thinkers from Russia, Syria and Iran participated in the webinar on his role in combating international terrorism, praising the martyr's resolute combat against terrorism.
Leonid Slutsky, a member of the State Duma of Russia, said that General Soleimani sacrificed his whole life for the ideals of the Islamic revolution.
Russia has condemned the coward assassination of General Soleimani because the Russian officials believe that he was the most important figure in combating terrorism both in the region and the world, Slutsky noted.
Aleksandr Dugin, the Russian political analyst, said that General Soleimani fought for present, future and eternity in order to revive Syria and Iraq as well as liberate Palestine from occupation.
Sergey Baburin, a prominent Russian politician and a candidate for 2018 presidential elections in Russia, called for the designation of the martyrdom anniversary of General Soleimani (January 3) as the day of the international fight against terrorism.
Such a designation would help commemorate General Soleimani forever, he said, expressing hope that Russia and Iran would put forward such a move and other countries would support it.
Baburin further stipulated that the assassination of General Soleimani was not only a murder, but it was an international act of terrorism, and that the murderer is the United States.
Kazem Jalali, Iran's envoy to Moscow, pointed to the special character of martyr Soleimani and his efforts in fighting terrorism throughout the region, adding that General Soleimani is not only a national champion but also an icon who belongs to all nations in the globe.
Amir-Hossein Ghazizadeh Hashemi, the Iranian legislator, stressed that General Soleimani tried to defend the oppressed people throughout the world because he felt a responsibility to do this without considering other factors such as nationality, gender, religion and ethnicity.
Ali Shirazi, Supreme Leader's representative in IRGC's Quds Force, underlined that General Soleimani loved God, people, country and family, and he sacrificed his life for the almighty God.
Riad Haddad, Syrian Ambassador to Moscow, said that the martyr confronted the most dangerous threat, which was caused by Takfiri terrorists and their regional supporters, adding that those, who assassinated Soleimani, were the same elements, who supported terrorist groups in Iraq, Syria and the whole region.
Ghahreman Soleimani, Cultural Attaché of the Islamic Republic of Iran to Russia, said that General Soleimani turned into the myth of martyrdom and bravery.
https://en.abna24.com/news//russian-syrian-iranian-scholars-laud-gen-soleimani_1102045.html
-----------
Pope calls for ending war on Yemen
Source : YPA
January 2, 2021
Pope 'Francis' has denounced the events taking place in Yemen, calling for finding quick solutions in order to establish peace.
In his speech on the 54th International Day of Peace, he renewed his call to "find quick solutions to promote peace in Yemen."
"Everyone thinks about the children of Yemen who cannot obtain food, and we pray together for them," he said.
He added that the faces of the children of Syria, Iraq and Yemen who are paying the heavy price of the war should "shake the consciences."
Pope Francis said, in a traditional sermon in Saint Peter's Square in the Vatican, prior to his visit to the UAE to participate in the work of the World Conference "Human Fraternity:" The long war has brought the Yemeni people to a stage of extreme suffering."
"The cry of these children and their parents rises to the Lord," he added, calling on all believers to pray for the Yemeni brothers.
The Pope urged the parties to the Yemeni crisis and the international community to ensure the implementation of the agreements previously reached and the distribution of food among the population of Yemen quickly.
https://en.abna24.com/news//pope-calls-for-ending-war-on-yemen_1102070.html
------------
Pakistan
Qari remanded in FIA custody in child pornography case in Karachi
Staff Reporter
03 Jan 2021
KARACHI: A local court on Saturday remanded a seminary teacher in the custody of the Federal Investigation Agency in a case pertaining to child pornography.
The FIA on Friday claimed to have arrested a religious tutor over allegations of child pornography and harassing a teenage girl.
On Saturday, the investigating officer produced the suspect before the judicial magistrate concerned to seek his physical remand in police custody for interrogation and investigation.
The IO mentioned that the FIA's Cyber Crime Circle had arrested the suspect in Gulshan-i-Iqbal on a complaint lodged by a woman.
According to the complainant, she had hired a qari (religious teacher) for home tuition to teach her children.
Later, her 13-year-old daughter complained that she had been physically abused by the qari, said the IO, adding that the teenage girl also complained that the accused also allegedly took her obscene pictures and on their basis, he was trying to harass and blackmail her, demanding money.
The IO informed that a mobile phone was recovered from the custody of the suspect and had been sent to a laboratory for forensic analyses and obscene images of the victim/minor girl were found in the device.
He requested for 14-day physical remand of the suspect in custody of the FIA for interrogation and completion of investigation.
However, the judge remanded the suspect in FIA custody for three days with direction to the IO to produce him on the next date along with an investigation report.
A case has been registered under Sections 22 (spamming) and 24 (legal recognition of offences committed in relation to information system) of the Prevention of Electronic Crimes Act, 2016 and Section 109 (abetment) of the Pakistan Penal Code.
https://www.dawn.com/news/1599296/qari-remanded-in-fia-custody-in-child-pornography-case-in-karachi
------------
PM's aide reluctant to give date of vaccine's arrival
Aamir Yasin
03 Jan 2021
ISLAMABAD: While Sindh Health Minister Dr Azra Fazal Pechuho had stated that the federal government would supply 250,000 Covid-19 vaccine doses to the province by mid-January, Special Assistant to the Prime Minister on Health Dr Faisal Sultan seems to be reluctant to confirm the date.
"We are trying to get 1.1 million doses of the vaccine at the earliest but I cannot commit when the vaccine will be received. If I give a date of Jan 16, I might prove myself wrong on Jan 17. I have not heard Dr Pechuho's statement therefore it would not be appropriate to comment on it. However, time to time we contact each other and I can surely say that she is a very competent and responsible woman," Dr Sultan said while talking to Dawn.
It is worth mentioning that on Jan 1, Provincial Vaccine Administration Coordination Cell (PVACC) was notified by the Sindh government.
Later, while presiding over a meeting, Dr Pechuho reportedly stated that the National Command and Operation Centre (NCOC) and the National Vaccine Task Force had committed to supply the province with 250,000 doses by mid-January.
She had said that in the first phase healthcare providers performing duties in Covid-19 wards and other frontline workers engaged in handling patients would be administered the vaccine. She also instructed the staff to prepare data of those working in public and private healthcare system to include them in the first phase of vaccine administration.
"As two doses will be given to each person, the vaccine will be administered to 500,000 frontline workers. There is also a 10 per cent margin of the vaccine getting spoiled, therefore, overall 1.1 million doses have been booked," he said.
When asked about the provincial health minister's statement, Dr Sultan said 250,000 was the overall share of the vaccine which would be given to 125,000 frontline workers in the province.
"I assume that she wanted to share the number of overall vaccines allocated for the province. I cannot give any date for the arrival of the vaccine, however, we have been trying to get it at the earliest," the special assistant said.
An official of the Ministry of National Health Services, requesting not to be named, said he was astonished to hear the provincial minister giving a clear date about when the vaccine would be acquired.
"Though we have been trying to get the first consignment of vaccine by the mid of January, we cannot give a date. Even if we receive the first consignment of the vaccine - which can be a few hundred thousand, by Jan 15 - it does not mean that Sindh will get its entire share at once. The consignment will be divided among provinces as per their population," he added.
"Provinces have been asked by the NCOC to start making preparations for the expected arrival of the vaccine around mid January. The intention is to conduct a dry run of the system before hand and initiate vaccination drive around the end of January or early February," he said.
As many as 301 ventilators out of the total allocated for Covid-19 patients were in use in Pakistan. In Islamabad, 42 per cent vents were occupied, 41pc were in use in Multan, Peshawar, 35pc and Lahore, 32pc. However, no patient in Azad Kashmir, Gilgit-Baltistan and Balochistan required a ventilator.
Data of oxygenated beds showed that in Peshawar, 59pc were in use, Multan, 36pc; Islamabad, 33pc and Karachi, 32pc beds were occupied.
A total of 35,130 active cases were recorded in the country while the number of deaths had reached 10,258. As many as 2,264 Covid-19 patients were in critical condition on Saturday.
According to the NCOC, the national positivity ratio stood at 5.81pc with the highest seen in Karachi at 15.77pc, followed by Peshawar, 15.54pc and Mirpur, 9.26pc.
The positivity rate in other federating units was Azad Kashmir, 8.52pc; Sindh, 8.1pc; Khyber Pakhtunkhwa, 5.38pc; Punjab 4.7pc; Balochistan, 3.82pc; Islamabad, 3.39pc and Gilgit-Baltistan, 1.41pc.
The national mortality ratio was recorded at 2.12pc compared to 2.18pc globally. In Pakistan, 69pc patients were male, 77.5pc were over the age of 50, 73pc had chronic comorbidities and 91pc of the deceased had remained hospitalised.
Jamila Khatoon, 87, a resident of Dhoke Farman Ali, breathed her last at Rawalpindi Institute of Urology (RIU) where she was admitted on Dec 29.
Arif Qureshi, 66, a resident of Park Valley Bahria Town, also died at RIU on Saturday where he had been under treatment since Dec 14.
The district has 893 active patients at present out of whom 359 were being treated at hospitals and 534 had been isolated at home. As many as 419 suspected patients are waiting for their results.
The number of Covid-19 patients has been decreasing during the last one week in the district but there has been no let-up in casualties as three or more patients are dying on a daily basis.
Commissioner retired Capt Mohammad Mehmood told Dawn that the number of patients had fallen but there was still a need to adopt safety measures, adding the district administrations were working on creating awareness among people to follow health guidelines.
He said the number of patients had, however, increased slightly in Jhelum and Chakwal compared to Rawalpindi and Attock as 16 people tested positive in Rawalpindi and two in Attock whereas 21 got infected in Jhelum and 18 in Chakwal.
Mr Mehmood said the death rate was still high in Rawalpindi district, adding there was still a need to observe precautions in bazaars and public places.
https://www.dawn.com/news/1599373/pms-aide-reluctant-to-give-date-of-vaccines-arrival
-----
Mansehra police raid house of JUI-F leader over treason case
A Correspondent
03 Jan 2021
MANSEHRA: The police raided the house of Jamiat Ulema-i-Islam-Fazl leader Mufti Kifayatullah in Tarangri Sabir Shah area here early on Saturday for his arrest over the recent diatribe against the Pakistan Army.
However, the JUI-F leader wasn't there.
The police took his four family members, including two sons, away and detained them in the Baffa police station before booking them for harbouring a wanted man.
They included Mr Kifayatullah's elder brother, Qazi Habibur Rehman, sons Shabbir Kifayat and Hassan Kifayat, and brother-in-law Qari Abdul Manan.
Sources said the police had booked the JUI-F leader under Article 6 of the Constitution, which dealt with matters of high treason, after receiving written orders from the home department.
Mr Qazi Habib told reporters at the police station that he and his relatives were kept in illegal confinement and the police didn't inform them about their crime.
Meanwhile, a group of JUI-F leaders and workers gathered outside the Baffa police station to protest the raid on Mr Kifayatullah's house and arrest of his family members.
They met deputy superintendent of police Raja Tahir and demanded the immediate release of the detainees.
Also, the JUI-F said in a news release that the police should book the prime minister for maligning the Pakistan Army in the past.
MAN KILLED: A gunman killed his brother over a minor dispute in Chamna area of Oghi tehsil on Saturday.
Sher Alam opened fire on Momin Khan after they had heated exchanges over their children's fight.
The firing critically injured Momin Khan, who died on the way to the civil hospital.
The doctors handed over the body to the family after meeting medicolegal formalities.
The police registered an FIR and began raids to arrest the gunman, who fled after the murder.
Meanwhile, two people suffered injuries after two taxis collided head-on in Khatain Da Galla area here. The residents shifted the injured to the King Abdullah Teaching Hospital.
https://www.dawn.com/news/1599395/mansehra-police-raid-house-of-jui-f-leader-over-treason-case
----------
LHC stays Ravi project till EIA report approval
Wajih Ahmad Sheikh
03 Jan 2021
LAHORE: The Lahore High Court (LHC) has stay­ed work on the Ravi Riv­­erfront Urban Develop­ment Project till the app­roval of its Environ­mental Impact Assessment (EIA) report, besides asking the government to file compliance report with regard to meeting environmental sta­n­dards in the Naya Pakistan Housing Project (NPHP).
Justice Shahid Karim in a verdict released on Satur­day about the Dec 31 hearing of multiple petitions involving different environmental issues said since the process for the grant of EIA of the urban development project was under way, it was directed that no work should be commenced at the site by [Ravi Urban Deve­lop­ment Authority (Ruda)] until the approvals were granted by the Environ­mental Protection Depart­ment (EPD).
Additional Advocate Gen­eral Anis Hashmi on Thurs­day submitted some record related to the EIA report on the riverfront project and also placed on record a letter written by the Ruda chairman to the EPD director general on Dec 30 seeking information about legal requirements for submission of the EIA report.
Previously, the judge had sought reports from the federal and provincial governments about the compliance with environmental regulations in the project.
Besides the riverfront project, Justice Karim directed an assistant attorney general to apprise the court of the measures being taken to comply with environmental standards regar­ding the Naya Pakis­tan Housing Project being built by an authority set up by the federal government. The court sought its compliance report to meet environmental standards.
About the steps being taken to control smog, a judicial water and environmental commission meanwhile filed a report stating that 38.72 per cent of the brick kilns operating in Punjab had already adopted zigzag technology.
Besides, it said, a number of industrial units had been sealed and their owners booked for violation of the provincial disaster management authority's directions regarding smoke emission.
The report further said a large number of vehicles had been impounded and fines imposed worth Rs69 million for not conforming to the standards of the Environmental Protection Agency.
The judge directed the Lahore Development Authority to launch a campaign against encroachments and illegal parking of cars in Samanabad, Gulshan-i-Ravi, Bund Road and Allama Iqbal Town (Moon Market) as pointed out by the commission.
The public interest petitions were represented by advocates Abuzar Salman Niazi, Azhar Siddique, Sheraz Zaka and Ahmad Rafay Alam. The next hearing would be fixed later by the registrar office.
https://www.dawn.com/news/1599343/lhc-stays-ravi-project-till-eia-report-approval
-----------
Southeast Asia
Indonesia Potentially Set To Take On China And Claim Leadership Of 'Moderate' Islam – Analysis
By James M. Dorsey
January 2, 2021
President Joko Widodo's recent cabinet reshuffle suggests that Indonesia may adopt a more critical attitude towards China and reinforce government support for efforts by Nahdlatul Ulama (NU), the world's largest Muslim movement, to reform Islam and position the Southeast Asian state as a key player in a battle with Middle Eastern rivals for the soul of Islam.
Mr. Widodo signaled his potential policy moves with the appointment of ambassador to the United States Muhammad Lutfi as trade minister and prominent Nahdlatul Ulama official Yaqut Cholil Qoumas as minister of religious affairs.
Mr. Lutfi's appointment came two months after a visit by Mike Pompeo to Jakarta in October at the invitation of Nahdlatul Ulama during which the Secretary of State extended Indonesia's access to a preferential tariff arrangement and opened the door to a free trade agreement with the United States.
Mr. Pompeo emphasized in talks with Mr. Widodo and in an address to a Nahdlatul Ulama conference the need to challenge China's territorial claims in the South China Sea as well as its brutal crackdown on Turkic Muslims in the People's Republic's north-western province of Xinjiang.
Indonesia, the world's largest Muslim-majority democracy, extradited to China three Uighurs, the dominant Turkic ethnic group in Xinjiang, just days before Mr. Pompeo's arrival.
Mr. Qoumas' appointment is significant not only because of his prominent Nahdlatul Ulama background but also given the fact that he is one of the leaders of the movement's most influential wing that has adopted a tough position on China's repression of the Uighurs.
Indonesia has to date sought to walk a fine line in escalating tensions between the United States and China, including its refusal to speak out on the plight of the Uighurs. Indonesia has further sought to balance rejection of Chinese maritime claims in Indonesian waters with a desire to attract Chinese investment.
An Islamic scholar and leader of Nahdlatul Ulama's GP Ansor Youth Movement, Mr. Qoumas, alongside his brother, Yahya Cholil Staquf, NU's secretary general, has been a driving force in the promotion of the movement's concept of Humanitarian Islam, based on principles of tolerance, pluralism and the embrace of the Universal Declaration of Human Rights.
Nahdlatul Ulama's government-backed promotion of the concept has put it in direct competition with major efforts by Saudi Arabia, the United Arab Emirates, Turkey, and Iran to garner religious soft power by propagating a statist interpretation of the faith.
It is an interpretation that in the case of the kingdom and the UAE professes adherence to tolerance and inter-faith dialogue but demands absolute obedience to the ruler. Turkey and Iran push interpretations of the faith that embrace elements of political Islam as well as authoritarian governance.
In one of his early statements as minister, Mr. Qoumas appeared to be challenging more traditional wings of Nahdlatul Ulama by declaring in remarks during a visit to a Protestant church that he would protect the rights of Shiites and Ahmadis, two minorities that have been on the defensive amid concerns of mounting intolerance in Indonesia.
Senior figures within Nahdlatul Ulama continue to view Shi'ites, who constitute a mere 1.2 per cent of the Indonesian population, as one of the foremost domestic threats to Indonesian national security and an Iranian fifth wheel. Similarly, many in Nahdlatul Ulama reject Ahmadis identifying themselves as Muslims because the sect refuses to acknowledge the finality of the Prophet Mohammed.
"I don't want members of Shia and Ahmadiyya displaced from their homes because of their beliefs. They are citizens (whose rights) must be protected. The Religious Ministry will facilitate a more intensive dialogue to bridge differences," Mr. Qoumas said, referring to attacks on minorities.
Mr. Qoumas' Nahdlatul Ulama youth wing, together with its five-million strong militia, has played a key role in confronting militant Islamic groups, like Hizb ut-Tahrir and the Islamic Defenders Front (FDI).
GP Ansor officials take pride in have engineered situations that in 2017 led to the banning of Hizb ut-Tahrir, a controversial global movement that calls for the restoration of the Caliphate.
The government last month banned FDI, established as a vigilante group that was a major organizer of mass protests in 2016 that led to the defeat of Basuki Tjahaja Purnama, a Christian of Chinese descent better known as Ahok, in mayoral elections in Jakarta and his subsequent sentencing on blasphemy charges.
The ban came weeks after the return to Indonesia from self-exile in Saudi Arabia of FDI leader Rizieq Shahib. Mr. Shahib was arrested for allegedly violating coronavirus restrictions.
The outlawing of Hizb ut-Tahrir and FDI on the basis of a presidential decree that enables the government to bypass legal procedures and fast-track the banning of groups it considers security threats prompted human rights groups to warn that Indonesia was undermining rights of freedom of association and expression.
Deputy justice minister, Edward Omar Sharif Hiariej, told reporters that FPI was outlawed because some 30 members of the group had been convicted on terrorism charges and because the group defied Indonesia's state ideology, Pancasila, which stresses unity and diversity.
The banning of FDI followed the election in November of Miftachul Akhyar, a Nahdlatul Ulama cleric, as head of the influential Indonesian Ulama Council (MUI) to replace Ma'ruf Amin, Mr. Widodo's vice-president who in the past took a hardline against minorities and advocated Orthodox Sunni Muslim positions. Mr. Akhyar is Nahdlatul Ulama's spiritual guide.
The election further removed from the council's leadership several clerics who had backed the anti-Ahok demonstrations. They were replaced by at least one supporter of Humanitarian Islam, Masdar Masudi, as well as scholars from Muhamadiyya, Indonesia's second largest Muslim movement, viewed as progressives.
Nonetheless, some analysts suggest that the council, in apparent contradiction to Mr. Qoumas, will not break its discriminatory attitude towards minorities.
Said Alexander R Arifianto, an Indonesia scholar at Singapore's S. Rajaratnam School of International Studies: "When it comes to marginalized minorities, we can expect the new MUI leadership to retain their conservative standing. Mainstream Islamic clerics — including those within MUI — tend to share a conservative orthodoxy in their religious interpretation toward these groups."
https://www.eurasiareview.com/02012021-indonesia-potentially-set-to-take-on-china-and-claim-leadership-of-moderate-islam-analysis/
-------------
Dr Mahathir: Time to end abuse of the law
BY ASHMAN ADAM
02 Jan 2021
KUALA LUMPUR, Jan 2 — Former prime minister Tun Dr Mahathir Mohamad has today called for abuse of the law by the authorities to stop and come to an end, extolling instead a return for rule of law.
In his first posting of 2021 on his blog he wrote that no one should act above the law, no matter how exalted the person's position is, and that the law is there to protect Malaysians, not used against them.
In his blog post, Dr Mahathir also shared stories or rumours of people being detained for no reason, after comparing Malaysia with issues other countries faced.
"In America a black man was throttled to death by a policeman kneeling with his knee on the neck of the unfortunate man. In France a black man was dragged and beaten by the police.
"But not here in Malaysia. We don't see these kind of incidents. But there are rumours of people being detained for no reason," he said.
He cited the case of former Sabah chief minister Datuk Seri Shafie Apdal and several of his friends who were arrested, detained for eight days and yet, no charges have been filed against them.
He also cited several other rumours of persons being detained for no actual reason, saying that powerful people have been pulling strings and seem to be above the law.
"This is Malaysia where we believe in the rule of law. These rumours seem to be contrary to the rule of law if they are true. These are frightening stories. I hope they are not true. I have no evidence to prove they are true. But the rumours keep circulating.
"They tell me not to say anything. It can hurt me. But this is not America. This is Malaysia. The Government must not allow these things to happen," he said.
It is unsure what prompted today's blog post. Dr Mahathir's short-lived Pakatan Harapan government had emphasised the rule of law as one of its focus, but has now been replaced by Perikatan Nasional.
https://www.malaymail.com/news/malaysia/2021/01/02/dr-mahathir-time-to-end-abuse-of-the-law/1936735
-------------
Malaysians ring in first day of 2021 with record high in MCO violations
02 Jan 2021
KUALA LUMPUR, Jan 2 — The first day of 2021 yesterday saw 1,388 individuals detained for violating the Movement Control Order (MCO), the highest number of violations in a day thus far, said Senior Minister (Security Cluster) Datuk Seri Ismail Sabri Yaakob.
"The offences include entertainment outlet activities (623), failure to maintain physical distancing (424), not wearing face masks (137), failing to prepare equipment to record customers' details (118) and other offences (86)," he said in a statement on the development of Recovery Movement Control Order (RMCO) today.
He added that a task force led by the Royal Malaysia Police conducted 48,316 checks to monitor and enforce the MCO standard operating procedures (SOPs) throughout the country yesterday.
Meanwhile, as of yesterday, 93,312 individuals returned home through international border entry points, with 7,547 individuals undergoing the mandatory quarantine process while 540 individuals were sent to hospitals for treatment.
Touching on details regarding daily necessities, Ismail Sabri said Domestic Trade and Consumer Affairs Ministry enforcement personnel conducted 604 checks on 11 types of items at retailers (445), wholesalers (128) and manufacturers (31) yesterday.
He, however, advised manufacturers and the public to practise self-discipline, including maintaining physical distancing and personal hygiene especially when buying necessities.
https://www.malaymail.com/news/malaysia/2021/01/02/malaysians-ring-in-first-day-of-2021-with-record-high-in-mco-violations/1936755
-------------
India
AIMIM chief Asaduddin Owaisi meets Bengal's young Muslim leader Pirzada Abbas Siddiqui
SNS Web
January 3, 2021
AIMIM chief Asaduddin Owaisi met West Bengal's young Muslim leader Abbas Siddiqui on Sunday to throw up speculations of a new front ahead of the much-talked-about 2021 State Assembly election.
Owaisi, who had confirmed that he would field candidates in Bengal after his party's success in Bihar elections last year, is on a two-day tour of the poll-bound state.
Siddiqui, a Pirzada (religious leader) from Futura Sharif, who was once a vocal supporter of Mamata Banerjee-led TMC, has been speaking out against the state government over a host of issues of late.
A rumour that he is planning to float his own minority outfit has been grabbing attention in sections Bengal politics in recent time.
However, a report by Bengali daily Sangbad Pratidin on Sunday stated that Siddiqui might contest the Bengal election from an AIMIM ticket.
"Owaisi wanted to keep the meeting a secret as we were apprehensive that the state government might have stopped him from exiting the airport. From Kolkata airport, he went straight to Hooghly to meet Abbas Siddiqui. He will leave for Hyderabad this afternoon," AIMIM state secretary Zameerul Hassan told reporters.
The Hyderabad-headquartered party had declared that it would filed candidates mainly in two Dinajpur districts, Maldah, Murshidabad and the two 24 Parganas districts due to the inflated Muslim populations there.
Ever since the results had come out in Bihar AIMIM was victim of a ferocious attack, mostly by Congress leaders, who called it BJP's "B-Team". It was circulated that they cut away Mahagathbandhan's vote share which indirectly helped the NDA.
Meanwhile, AIMIM had been able to strengthen it's organisation at the ground level to an impressive extent since the 2019 Lok Sabha polls. The party workers wer further bolstered by the Bihar success.
But large-scale defections to TMC in the last one month or so has hit the party's organisation strength at its core. Several senior leaders from AIMIM's Bengal brigade changed loyalty and took refuge under the shadow of Mamata Banerjee.
https://www.thestatesman.com/bengal/aimim-chief-asaduddin-owaisi-meets-bengals-young-muslim-leader-pirzada-abbas-siddiqui-1502944286.html
----------
'Love jihad': Police file chargesheet against 22-year-old under anti-conversion law in Uttar Pradesh
Scroll Staff
03-01-2021
The police in Uttar Pradesh's Bijnor district have filed a chargesheet under the state's anti-conversion law against a 22-year-old carpenter for allegedly kidnapping a Dalit woman in December, The Indian Express reported on Saturday.
Investigating Officer Kuldeep Kumar Gupta told the newspaper that the accused, identified as Afzal, was charged under provisions of the Uttar Pradesh Prohibition of Unlawful Conversion of Religion Ordinance, 2020. Besides this, the police have invoked rape charge against him based on the woman's statement to the district magistrate.
"The woman also stated that the accused tried to convert her religion," Gupta said. "Besides rape and Uttar Pradesh Prohibition of Unlawful Conversion of Religion Ordinance, 2020, we have filed the chargesheet under Indian Penal Code Section 366 (kidnapping, abducting or inducing woman to compel her marriage, etc) and SC/ST [Scheduled Castes and Scheduled Tribes] Act."
The chargesheet is believed to be the first under the new stringent ordinance, according to some reports. But Bijnor Superintendent of Police Dharamvir Singh said: "We cannot claim it to be the first chargesheet filed under the new law." He added that the chargesheet was forwarded to a court on December 19, according to PTI.
The police said that the woman had come to Bijnor from Chandigarh last month to attend a relative's wedding. However, on December 6, she went missing and a case was filed by her father on December 9.
In her statement to the magistrate, the woman claimed that the man hid his real name and introduced himself as Sonu to befriend her. "The victim claimed the accused sexually assaulted her and she came to know about his real identity when she went with him," the investigating officer added. "He told her his real name and said would marry her after conversion."
She also alleged that Afzal put pressure on her to convert her religion for marriage, the police said. The accused was arrested on December 10 and a local court sent him to judicial custody.
According to The Indian Express, 14 cases have been filed under the anti-conversion law since it was introduced in the state.
The ordinance against unlawful conversions was promulgated by Uttar Pradesh Governor Anandiben Patel on November 28, days after it was passed by the Adityanath-led state Cabinet. The law is intended to target "love jihad" – a pejorative term coined by the right-wing groups to push the conspiracy theory that Muslim men charm Hindu women into marrying them with the sole purpose of converting their brides to Islam. Ever since the law came into force, the Adityanath government has launched a crackdown on interfaith marriages in the state, arresting a spate of Muslim men.
The Madhya Pradesh government on December 29 approved a bill aimed to prevent forceful religious conversions for inter-faith marriages, as an ordinance.
Bharatiya Janata Party governments in some other states have also decided to introduce laws aimed at preventing inter-faith marriage. The Haryana government has formed a three-member drafting committee to frame a law on the matter. Karnataka and Assam governments have made similar announcements. These actions are despite the fact that in February, the Centre told the Lok Sabha that no "case of 'love jihad' has been reported by any of the central agencies".
https://scroll.in/latest/982982/love-jihad-police-file-chargesheet-against-22-year-old-under-anti-conversion-law-in-uttar-pradesh
----------
North America
More Republican lawmakers enlist in Donald Trump's effort to undo Joe Biden's election win
ASSOCIATED PRESS
03-01-2020
Sen. Ted Cruz of Texas today announced a coalition of 11 senators and senators-elect who have been enlisted for Trump's effort to subvert the will of American voters.
This follows the declaration from Sen. Josh Hawley of Missouri, who was the first to buck Senate leadership by saying he would join with House Republicans in objecting to the state tallies during Thursday's joint session of Congress.
Trump's refusal to accept his defeat is tearing the party apart as Republicans are forced to make consequential choices that will set the contours of the post-Trump era. Hawley and Cruz are both among potential 2024 presidential contenders.
Senate Majority Leader Mitch McConnell had urged his party not to try to overturn what nonpartisan election officials have concluded was a free and fair vote.
The 11 senators largely acknowledged today they will not succeed in preventing Biden from being inaugurated on Jan. 20 after he won the Electoral College 306-232.
But their challenges, and those from House Republicans, represent the most sweeping effort to undo a presidential election outcome since the Civil War.
They vowed to vote against certain state electors on Thursday unless Congress appoints an electoral commission to immediately conduct an audit of the election results.
The group, which presented no new evidence of election problems, includes Sens. Ron Johnson of Wisconsin, James Lankford of Oklahoma, Steve Daines of Montana, John Kennedy of Louisiana, Marsha Blackburn of Tennessee and Mike Braun of Indiana, and Sens.-elect Cynthia Lummis of Wyoming, Roger Marshall of Kansas, Bill Hagerty of Tennessee and Tommy Tuberville of Alabama.
Biden's transition spokesman, Mike Gwin, dismissed the effort as a "stunt" that won't change the fact that Biden will be sworn in Jan. 20.
Trump, the first president to lose a reelection bid in almost 30 years, has attributed his defeat to widespread voter fraud, despite the consensus of nonpartisan election officials and even Trump's attorney general that there was none.
Of the roughly 50 lawsuits the president and his allies have filed challenging election results, nearly all have been dismissed or dropped. He's also lost twice at the US Supreme Court.
Sen. Amy Klobuchar of Minnesota, the top Democrat on the panel overseeing the Electoral College count. said the Republican effort to create a federal commission "to supersede state certifications" is wrong.
"It is undemocratic. It is un-American. And fortunately it will be unsuccessful. In the end, democracy will prevail," she said in a statement.
The convening of the joint session to count the Electoral College votes is usually routine. While objections have surfaced before — in 2017, several House Democrats challenged Trump's win — few have approached this level of intensity.
Sen. Lisa Murkowski of Alaska said in a statement that she will vote to affirm the election and urged colleagues in both parties to join her in "maintaining confidence" in elections "so that we ensure we have the continued trust of the American people."
Sen. Pat Toomey of Pennsylvania said a "fundamental, defining feature of a democratic republic is the right of the people to elect their own leaders." He said the effort by Hawley, Cruz and others "to overturn the results of the 2020 presidential election in swing states like Pennsylvania directly undermines this right."
Sen. Mitt Romney of Utah called the Cruz-led effort an "ill-conceived endeavor" and said Trump's call for supporters to converge on the Capitol had "the predictable potential to lead to disruption, and worse." He added: "I could never have imagined seeing these things in the greatest democracy in the world. Has ambition so eclipsed principle?"
Earlier this week, Sen. Ben Sasse of Nebraska, another possible 2024 contender, urged his colleagues to "reject this dangerous ploy," which he said threatens the nation's civic norms.
Caught in the middle is Vice President Mike Pence, who faces growing pressure from Trump's allies over his ceremonial role in presiding over the session Wednesday. His chief of staff, Marc Short, said in a statement today that Pence "welcomes the efforts of members of the House and Senate to use the authority they have under the law to raise objections."
Several Republicans have indicated they are under pressure from constituents back home to show they are fighting for Trump in his baseless campaign to stay in office.
Sen. John Thune, the second-ranking Republican, told reporters at the Capitol that leadership was allowing senators to "vote their conscience."
Thune's remarks as the GOP whip in charge of rounding up votes show that Republican leadership is not putting its muscle behind Trump's demands, but allowing senators to choose their course. He noted the gravity of questioning the election outcome.
"This is an issue that's incredibly consequential, incredibly rare historically and very precedent-setting," he said. "This is a big vote."
Pence will be carefully watched as he presides over what is typically a routine vote count in Congress but is now heading toward a prolonged showdown that could extend into Wednesday night, depending on how many challenges are mounted.
The latest failed effort to upend the election came from Rep. Louie Gohmert, R-Texas, and a group of Arizona electors, who filed suit to try to force Pence to step outside mere ceremony and shape the outcome of the vote.
US District Judge Jeremy Kernodle, a Trump appointee, dismissed their suit yesterday. In another blow, Gohmert's appeal to the 5th US Circuit Court of Appeals was rejected today, the panel of judges agreeing with Kernodle's ruling that the plaintiffs had no standing to bring the suit.
To ward off a dramatic unraveling, McConnell convened a conference call with Republican senators on Friday specifically to address the coming joint session and logistics of tallying the vote, according to several Republicans granted anonymity to discuss the private call.
The Republican leader pointedly called on Hawley to answer questions about his challenge to Biden's victory, according to two of the Republicans.
Hawley's office said he sent an email afterward to his colleagues explaining his views. In the email, Hawley said constituents back home are "angry and disillusioned" with the outcome of the election.
McConnell had previously warned GOP senators not to participate in raising objections, saying it would be a terrible vote for colleagues. In essence, lawmakers would be forced to choose between the will of the outgoing president and that of the voters.
https://www.tvnz.co.nz/one-news/world/more-republican-lawmakers-enlist-in-donald-trumps-effort-undo-joe-bidens-election-win
-------------
Trump may launch 'reckless' attack on Iran, experts fear
By Al Jazeera Staff
2 Jan 2021
US President Donald Trump could take "reckless" military action against Iran in his final days in office, experts have warned, as tensions between Tehran and Washington mount on the eve of the first anniversary of top Iranian general Qassem Soleimani's assassination.
The US flew B-52 bombers over the Gulf three times in the past month, most recently on Wednesday, in what the Trump administration called a deterrence measure to keep Iran from retaliating on January 3, the anniversary of Soleimani's killing in a US drone strike.
But with less than a month left in the White House, Trump is under pressure from key allies in the Middle East – namely Israel and Saudi Arabia – to take action on Iran, said Danny Postel, assistant director of the Center for International and Area Studies at Northwestern University.
"Trump is a very wounded and very cornered animal in an end-game scenario. He's got a few weeks left, and we know that he is capable of extremely erratic behaviour," Postel, an expert on Iran and US foreign policy, told Al Jazeera in an interview.
On Saturday, Iranian Foreign Minister Mohammad Javad Zarif said, "New intelligence from Iraq indicate[s] that Israeli agent-provocateurs are plotting attacks against Americans – putting an outgoing Trump in a bind with a fake casus belli."
Without providing evidence to back up his claims, Zarif warned Trump to "be careful of a trap". "Any fireworks will backfire badly, particularly against your same BFFs [best friends forever]," he tweeted.
Earlier this week, Iran warned the US not to escalate the situation in the run-up to the Soleimani assassination anniversary, with Zarif saying on Thursday that "intelligence from Iraq indicate [sic] plot to FABRICATE pretext for war".
"Iran doesn't seek war but will OPENLY & DIRECTLY defend its people, security & vital interests," the foreign minister tweeted. That same day, Iran condemned Washington's "military adventurism" in a letter to the UN Security Council.
However, experts are unconvinced that Tehran would give the Trump administration a pretext to launch a military confrontation right now as US President-elect Joe Biden, who intends to restart diplomatic engagement with Tehran, is set to assume office on January 20.
Biden has said he plans to rejoin the Iran nuclear deal, the Joint Comprehensive Plan of Action (JCPOA), a landmark accord signed during President Barack Obama's administration that saw Iran limit its nuclear enrichment in exchange for a lifting of international sanctions.
But supporters of diplomatic engagement say it is the only way to ensure Iran abides by international regulations, while Iranian President Hassan Rouhani has said his country will return to the accord if the other signatories do the same.
Last week, a group of 150 Democratic Party congressmen in the US House of Representatives urged Biden to go back to the nuclear deal.
"We are united in our support for swiftly taking the necessary diplomatic steps to restore constraints on Iran's nuclear program and return both Iran and the United States to compliance with the [JCPOA] as a starting point for further negotiations," they wrote in a December 24 letter (PDF).
The Pentagon announced on Thursday that the USS Nimitz aircraft carrier, which was off the coast of Somalia, was being pulled back to its homeport. Some US officials said the move could be a signal of an effort to de-escalate regional tensions.
But concerns persist that Trump – who still refuses to acknowledge Biden's victory in the US elections – could take action to further intensify the situation with Iran. The president in November asked for military options to hit Iran's nuclear facilities but declined to act, US media reported.
Experts also said in November that the assassination of a top Iranian nuclear scientist – an act that many observers blamed on Israel, but for which no claim of responsibility has been made – aimed to complicate Biden's plan to restart diplomacy with Iran.
Trita Parsi, executive vice president of the Quincy Institute for Responsible Statecraft, a think-tank in Washington, DC, said key Trump backers – Evangelicals and supporters of Israel, in particular – could be pushing for a confrontation.
"Such a conflict would be a horrible climax to the failed US policy of 'maximum pressure'", Slavin wrote, "that saw the US withdraw unilaterally from the JCPOA in 2018 while Iran was in full compliance."
She added that there is a window for diplomacy ahead of Iran's presidential elections in June – and that engagement is the only way forward.
"The United States – and Israel – can't kill their way to Iranian non-proliferation or accomplish that goal through cyber attacks. Only diplomacy has proven effective in constraining Iran's nuclear activities. It is the only sensible way forward," Slavin said.
Meanwhile, Postel drew a comparison between the final days of the Trump administration and those of former President George W. Bush in 2008 before Obama's inauguration.
At that time, Israel and Saudi Arabia were similarly angling for military action against Iran, Postel said, and "there was a very similar intensification – at the very least – of sabre-rattling and aggressive rhetoric coming from the Bush administration".
Postel said who is in power in the US and Iran has a critical impact on the prospects of diplomacy. For example, the Iran nuclear deal was reached when Obama and Rouhani – both of whom favoured international engagement – were in office.
He added that Iranian hardliners may be poised to defeat Rouhani in the country's next elections later this year, making the current moment – with Biden set to take office – all the more important.
"I think this is a very critical moment in US-Iran relations where there might be a chance to remove war from the equation and find a diplomatic solution to at least this core issue of Iran's nuclear programme," he said.
https://www.aljazeera.com/news/2021/1/2/trump-may-launch-reckless-attack-iran-experts-fear
----------
US judge rejects lawsuit against Pence over electoral count
2 Jan 2021
NEWS AGENCIES
A federal judge has rejected a lawsuit from a Republican congressman that sought to allow Vice President Mike Pence to reject Electoral College votes for Joe Biden when Congress meets on January 6 to certify his victory over President Donald Trump.
The latest long-shot attempt by Trump's Republican allies to overturn the November 3 election result was dismissed on Friday by one of Trump's own appointees to the federal bench, Jeremy Kernodle.
He ruled that US Representative Louie Gohmert of Texas and a slate of Republican electors from Arizona could not show they suffered any personal harm "fairly traceable" to Pence's allegedly unlawful conduct and, therefore, lacked legal standing to bring the case.
The standing requirement "helps enforce the limited role of federal courts in our constitutional system. The problem for plaintiffs here is that they lack standing", Kernodle wrote.
A spokesman for Trump referred questions to Pence's office. A spokesman for Pence declined to comment, while a spokeswoman for Gohmert did not immediately comment.
Trump has refused to concede defeat to Democrat Biden and has repeatedly falsely claimed the election was tainted by widespread fraud.
Under the Electoral College system, "electoral votes" are allotted to states and the District of Columbia based on their congressional representation.
They also asked the judge to bar Pence from following the Electoral Count Act of 1887, which lays out how objections to votes are handled by Congress.
Reuters news agency reported this week the effort could trigger a lengthy debate in the Senate but has virtually no chance of overturning the results.
A Justice Department lawyer representing Pence on Thursday urged Kernodle to dismiss the lawsuit saying they had sued the wrong person as they raised "a host of weighty legal issues about the manner in which the electoral votes for president are to be counted".
"The Senate and the House, not the Vice President, have legal interests that are sufficiently adverse to plaintiffs to ground a case or controversy," Pence's filing said.
https://www.aljazeera.com/news/2021/1/2/us-judge-dismisses-lawmaker-case-against-pence-over-vote-count
------------
South Asia
Afghanistan Presidential Palace: Constitution Allows the President to 'Dismiss High-Rank Officials'
By Mohammad Haroon Alim
02 Jan 2021
Presidential Palace said in a statement, that according to Article 64, Item 11 of the Constitution, it is the President's prerogative to appoint and dismiss senior government officials.
A statement from the Presidential Palace said, that the former Minister of Public Health, Jawad Osmani who was sacked by the President of the Islamic Republic of Afghanistan on December 31st in accordance with Decree 13969, does not further require to be discussed or reviewed.
According to the statement, the president has the power to appoint and dismiss senior government officials in accordance with Article 64, Article 11 of the Constitution.
"I have not resigned," he said. "But today a letter has been sent from the esteemed administration office [of the president] stating as if the resignation of the minister of public health is accepted."
This comes as four officials in the Ministry of Public health were arrested for soliciting bribes, Afghanistan's Attorney General Office said on Tuesday.
Jamshed Rasooli, a spokesman to AGO said that all four suspects were taken into custody and investigations are ongoing in regards to the corrupted officials.
Reports indicate Minister of Public Health, Jawad Osmani's brother and cousin were involved in the corruption case.
https://www.khaama.com/presidential-palace-constitution-allows-the-president-to-dismiss-high-rank-officials/
------------
AAF Air Raid Targets Taliban Shadow Governor in Helmand
By Mohammad Haroon Alim
03 Jan 2021
In a statement, the Ministry of Defense claimed, the Taliban Shadow Governor for the Sangin district of Helmand province has been killed in Afghan Airforce raids.
A statement issued on Sunday by the MoD stated that Mullah Shafiullah, also known as Mawlavi Nazim, was killed in government military air raids.
According to the statement, three militants were also wounded in the operation.
Taliban have not yet commented over the AAF air raids.
Earlier Wakil Ahmad known as Mullah Nazem, a Taliban shadow governor assigned for Faryab province was killed in an Explosion on Friday night, local police said.
According to police six Taliban-affiliated members including Nazem were killed, when their own explosive device detonated in Dawlat Abad district of Faryab province.
https://www.khaama.com/aaf-air-raid-targets-taliban-shadow-governor-in-helmand-443355/
------------
US Secretary of State Backs Troops Withdrawal, Hails Peace Negotiations
By Mohammad Haroon Alim
03 Jan 2021
US Secretary of State Mike Pompeo said Saturday no American soldiers have been killed in almost a year in Afghanistan, following the US-Taliban Doha deal in which the Taliban pledged to avoid attacks against US forces in the country.
US Secretary of State Mike Pompeo said on Saturday tweeted, that No American soldiers have been in Afghanistan in Almost a year, after U-S Taliban, Doha deal.
He tweeted, that "no U.S. servicemen have been killed in Afghanistan in almost a year, and Afghans are finally discussing peace and reconciliation among themselves. Such incredible progress".
Pompeo also backed US troops withdrawal from Afghanistan saying, "Don't need 10s of 1,000s of U.S. troops on the ground to do that. We have partners: brave Afghans, the NATO forces. We also have the ability to project power from afar," Pompeo added.
"Logged a lot of air miles to Qatar and Afghanistan and back for talks. Thanks to Mohammed bin Abdulrahman bin Jassim Al Thani, Deputy Prime Minister of Qatar, Abdullah Abdullah, Chairman of the High Council for National Reconciliation and President Ashraf Ghani," he said.
"No New Wars. And we brought thousands of our men and women home to their families. America is still safe and our military is ready to strike if duty calls," he emphasized.
Pompeo also tweeted an earlier footage of Barack Obama demanding troops withdrawal.
https://www.khaama.com/us-secretary-of-state-backs-troops-withdrawal-hails-peace-negotiations-55553344/
-----------
MoIC Calls for Protection of Afghan Journalists
By Mohammad Haroon Alim
02 Jan 2021
Acting minister of information and culture, Tahir Zahir, said on Saturday that the ministry will soon send a letter to the international community for ensuring a safer environment for the Afghan reporter, and media workers.
He added, that the letter of appeal to the UN mission and EU could put pressure on the other sides and the terrorist groups behind Targeted killings of journalists to stop atrocities against freedom of speech and reporters.
The acting minister also called on the government to protect media workers and journalists.
"Ensuring the security of all citizens, especially securing journalists is the responsibility of Ministery of Interior" and that "It is expected from them to secure the public space," Zahir said.
Zahir called on peace negotiators from the republic side to inform the opposite side to stop killing journalists.
This comes as Abdul Hafiz Mansoor, a member of the government's peace negotiations said in a roundtable discussion organized by Afghan Institute for Strategic Studies, that "There is no doubt that the Taliban are involved in the recent killing and assassination of journalists," Mansoor added.
He said, Taliban's "power-hungry and narrow-minded spirit has not changed" adding that "the mentality of the Taliban has not changed at all, the Taliban still has a militaristic sense and thinks they can achieve power through war."
The Taliban are not ready for religious debate, because their movement is not religious he said.
He raised the flag of differences in opinions between the government and the High Council for National Reconciliation and that these differences should be addressed soon.
He indicated that preserving achievements and values of 20 years during the negotiations is important.
https://www.khaama.com/moic-calls-for-protection-of-afghan-journalists-44553322/
-------------
Rape Case Investigation: Delays put justice at risk
Shariful Islam
January 03, 2021
Two schoolgirls lost their way back home in the capital's Badda from an outing on the night of February 8 last year. Wandering on the road for a few hours, they came across one Emon Hossain.
Emon, 30, sacked organising secretary of Badda Thana Krishak League, promised the girls, both aged around 13, to take them to his home nearby, saying they were like his daughter who is of their age and can stay the night safely with her.
Convinced, the girls agreed to go without knowing the danger lurking for them.
Emon instead took them to a warehouse at a secluded place in Badda where he along with his accomplices Abdur Rob, 32, and Md Kabir, 30, raped them, according to the mother of one of the schoolgirls. She filed a rape case against the three with Badda Police Station on February 10.
Yet, it took nine months to submit the charge sheet although the Women and Children Repression (prevention) Act stipulates 60 working days for police to complete a rape case probe -- which a court may extend for another 30 days.
A top official at Dhaka Metropolitan Police headquarters said in the first of week of November that they could not submit charge sheets in at least 10 gang rape cases, even in eight to 12 months.
The officer said the accused in most of the 10 cases were arrested, and in five cases the accused confessed to their crimes before the court. Yet police could not press charges within the stipulated time because of the delay in receiving medical reports or DNA test results.
Badda police said they received DNA reports of two cases -- including that for the rape of the two schoolgirls and another filed on April 21 following the gang-rape of a 20-year-old girl -- from the DNA Profiling Lab at Dhaka Medical College Hospital (DMCH) in November.
"The charge sheet of another gang rape case filed with our police station around a year ago is still pending as we are yet to receive the reports," said an officer of the police station in mid-December.
The officer added that the court concerned sometimes summons investigation officers (IOs) to explain the reason behind the delay in charge sheet submission. Sometimes, the accused is granted bail if the charge sheet is not submitted within six months and he then goes into hiding.
Sharif Aktaruzzaman, chief of the National Forensic DNA Profiling Laboratory (NFDPL) of Dhaka Medical College, said last month that if the collection of all necessary samples remains pending, they cannot prepare the reports in time.
"For example, sometimes we get the victim's samples but not that of all the accused. If police delay sending samples, the preparation of the report also gets delayed," he explained.
The lab was closed for a month due to the pandemic, which hampered some work, yet no DNA test results are pending, he added.
Replying to another query, he said, depending on the number, type and quality of samples, it takes a month to a month and a half to complete a DNA report.
For the Badda rape case of two girls, an official said police had appealed to a Dhaka court for collection of DNA samples of the three accused a few days after their arrest in February last year. They got the order in July as the court was closed due to the pandemic.
On July 17, they sent samples of the accused to the DNA lab and received the results in November. "The lab did not complete the test until we provided them the medical report of the victims, which we received on October 16," he told The Daily Star.
Dr Bilkis Begum, coordinator of the One Stop Crisis Centre at DMCH, admitted that medical reports of many of the rape cases were delayed.
"Many radiology staff of DMCH were on Covid duty and they did not give us time. They are also hesitant to touch victims in fear of infection."
Apart from the lab at Dhaka Medical College, the Criminal Investigation Department (CID) also runs a lab from where police can get this profiling done.
Additional DIG Md Shahadat Hossain, head of the Forensic Department of CID, said they never delay completing DNA tests in important cases.
"It is actually an excuse of the IOs that delay in receiving DNA reports is resulting in delayed submission of charge sheets," he told The Daily Star yesterday.
Md Walid Hossain, deputy commissioner (media and public relations) division of DMP said, "Cases related to women repression are our high priority and high-ranking officials supervise these.
"Time limit for completing investigation in the cases filed under the Women and Children Repression (prevention) Act is stipulated, but the probe cannot be concluded unless medical reports and in some cases DNA reports are not received."
Last year, the act was amended introducing death penalty as the highest punishment for rape following a number of heinous incidents that sparked huge protests countrywide.
The complainant of the case over the rape of two school girls told The Daily Star on December 11 that Emon's family members called her several times and pressurised her to withdraw the case.
"They boasted that nothing would happen to Emon and he would obtain bail which will require a big amount," she said. "They asked me to withdraw the case taking the amount that they would have required to obtain Emon's bail."
Expressing frustration with the delay in completing the investigation, she said, "Now I do not even look for the updates of the case. I am poor and do not have enough money to continue the legal battle."
"I am worried about my daughter who stopped going to school and is passing days in a nightmare," she said with dismay.
Roki Shikder, president of Badda Thana Krishak League, a front organisation of ruling Awami League, claimed that Emon was sacked from the organisation seven to eight months before the alleged rape for his involvement in an illegal act.
There were instances where political pressures delayed and disturbed rape investigations, especially if the accused were from influential families or the ruling party, according to police officials.
Salma Ali, president of Bangladesh National Women Lawyers' Association, said everyone involved in medico-legal activities, including DNA tests, and trial procedures have specific responsibilities.
But due to lack of strong monitoring, accountability, transparency, coordination and expertise, the medico-legal activities and investigations are not done in time.
She further said due to the delays, investigation officers are transferred while the probe is incomplete and many important pieces of evidence get damaged, hampering the cases.
"The more investigation is delayed, more the cases go in favour of the accused," Salam said. "Besides, these delays often led to out-of-court settlements as the victims lose interest and energy in legal battles."
Referring to the recent amendment that makes a DNA test of every rape incident mandatory, Salma Ali said it will not be good idea as in the case of minor girls, DNA samples of the offender is not often found.
She suggested fixing a specific timeframe for completing medico-legal jobs like that in police investigations.
https://www.thedailystar.net/frontpage/news/rape-case-investigation-delays-put-justice-risk-2021277
-----------
New Zealand
Families of mosque attack victims meet cricket stars
Tina Law
Jan 03 2021
Families of Christchurch mosque attack victims got to meet their cricketing heroes this weekend.
The Pakistan cricket team, which is playing a test match against New Zealand at Hagley Oval this week, took time out from training on Saturday to meet 20 family members of four Pakistani people who were killed in the March 15, 2019, attack.
Pakistan cricket team manager Mansoor Rana said team members had gone through the pain of terrorism, and wanted to console the Christchurch families and show solidarity.
Family members were invited to a training session, but bad weather forced them inside at the Oval, where team members acknowledged New Zealand's response to the massacre.
Players gave the children cricket balls and each family received signed test cap. Management also gave the families tickets to watch all five days of the test.
Abdullah Naeem, who lost his father Naeem Shaheed in the mosque attacks, said it was "quite nice" to meet the cricketers and hear them talk.
He said it felt like the team had their backs and were still thinking about the families, despite the attacks having happened almost two years ago.
Team members also met with the Pakistani community on Friday during an event organised by the University of Canterbury Pakistani Students' Association and the United XI cricket team, attended by about 100 people.
Association project director Usma Azhar said the event was very worthwhile because it was the first time most in the community had such close contact with their cricketing heroes.
https://www.stuff.co.nz/the-press/news/123861582/families-of-mosque-attack-victims-meet-cricket-stars
-------------
URL: https://www.newageislam.com/islamic-world-news/to-end-religious-violence-muslim/d/123961
New Age Islam, Islam Online, Islamic Website, African Muslim News, Arab World News, South Asia News, Indian Muslim News, World Muslim News, Women in Islam, Islamic Feminism, Arab Women, Women In Arab, Islamophobia in America, Muslim Women in West, Islam Women and Feminism