New Age Islam News Bureau
21 July 2022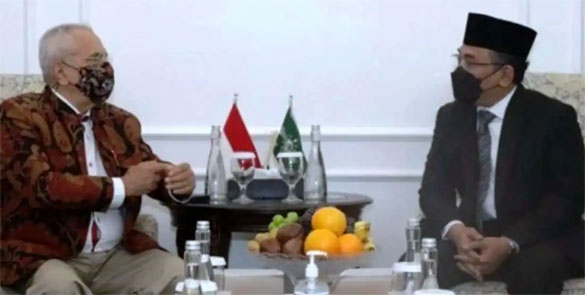 Timor Leste President Jose Ramos Horta (left) meeting Nahdlatul Ulama chairman Yahya Cholil Staquf in Jakarta on July 20. (Photo courtesy Nahdlatul Ulama)
-----
• Online Backlash for Israeli Journalist, Gil Tamary, Who Sneaked Into Mecca
• 700 Civilians Killed and Over 1400 Wounded Since Taliban Takeover: UN
• Karnataka: Thirteen Muslim Educational Institutions to Establish Colleges Allowing Hijab
• Facebook Bans Taliban-controlled Media Pages, Bakhtar News Agency & Afghanistan National Television
Southeast Asia
• Muhammad Rizieq Shihab, Paroled Hardline Indonesian Cleric Promises To Fight On, 'Forbid Evil'
• Perak state assembly makes history as private member's motion passed
• Don't let Tommy Thomas leave Malaysia until Sulu claim resolved, says Najib
• Tajuddin hits back after being called out for sexist remarks
--------
Arab World
• UK's Queen Elizabeth Bestows 'Rare and Exceptional Honour' On Kuwait Ambassador
• Turkey says attack on Iraq's Dohuk was carried out by 'terrorists'
• Iraq's Kadhimi condemns Turkey for 'violation' after deadly Kurdistan strike
• Lebanon Archbishop's court summons sparks anger among Christian leaders
• Saudi foreign minister meets S. Korea's assembly speaker, global security on agenda
• 4 policemen killed in Daesh/ISIS attack in Iraq
-------
North America
• President Biden expects to speak with China's Xi within next 10 days
• US warns Iran it risks dependency on an isolated Russia
• Biden's Mideast tour makes road to revival of Iran's nuclear deal bumpier
--------
India
• Pasmanda Muslims Want 'Sammaan', Not 'Sneh', Says Former MP Ali Anwar Ansari in Open Letter to PM
• Highly-Radicalised Man Involved In Propagating 'Jihad' Against India Arrested From Bihar: NIA
• India's Top Court Grants Bail to Muslim Journalist, Mohammed Zubair, Accused Of Insulting Hindus
• Kerala Govt Drops Public Services Commission Recruitment to Waqf Board, Puts Muslim
• Gyanvapi Dispute: Allahabad HC Junks PIL for Panel to Determine Nature of Structure Found In Mosque
--------
South Asia
• 'Tweet apology or go to jail': Foreign journo says she was threatened by Taliban
• Despair, poverty fuel massive addiction scourge in Taliban-ruled Afghanistan
--------
Pakistan
• Pakistan Neither Afford Religious Disharmony, Nor Political Instability: PM's Special Representative for Interfaith Harmony
• An 'Out of Pakistan' Solution For Population Control—Produce Kids In Non-Muslim Nations: Minister
• Pakistani passport remains fourth-worst in the world
• Pakistan faces foreign policy challenge amid political slugfest between PTI, Sharif govt
• Miftah sees economy stabilising with inflows 'on cards'
• Five killed in operation belonged to terrorist group: Langove
• Pakistan, Turkiye enjoy exemplary fraternal relations based on common values: Kh Asif
--------
Europe
• French President Calls for Direct Political Dialogue Between Israel, Palestine
• Supporters of YPG/PKK terror group hold demonstration in Finland
• Talks with Ukraine, Russia, UN on grain corridor going well, says Turkey
• Iran recalls Sweden ambassador in protest at Noury sentence
• France's Macron meets Palestinian leader Mahmoud Abbas in Paris
• Turkey says it will meet Finland, Sweden in August to evaluate terror-related pledges
--------
Mideast
• Iran Clarifies Nuclear Policy Unchanged After 'Bomb' Remark
• Iran: Ball in Court of US Policy-Makers to End Nuclear Negotiations
• Iran: Holding All-Inclusive Referendum Sole Solution to Palestinian Issue
• EU 'deeply regrets' Iran-backed Houthi's rejection of UN proposal to reopen Taiz road
• Yemen's information minister says Houthis unjustly sieged Khubzah village, indiscriminately bombing
• US forces in Syria, region a 'destabilizing factor': Iranian president
--------
Africa
• Muslim-Muslim Ticket: Bishops Who Attended Shettima's Unveiling Fake – Catholic Church
• Death Toll from Sudan Ethnic Clashes Climbs to 105: Official
• Libya's NOC says production resumed at several oilfields
• Envoy reaffirms Türkiye's support for Burkina Faso
Compiled by New Age Islam News Bureau
URL:
https://newageislam.com/islamic-world-news/timor-indonesia-nahdlatul-muhammadiyah-nobel/d/127534
--------
Timor-Leste President Backs Indonesia's Nahdlatul Ulama and Muhammadiyah, Moderate Muslim Outfits, For Nobel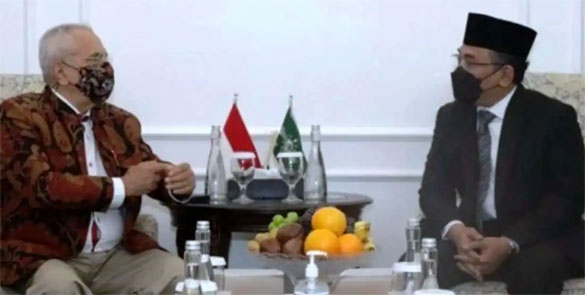 Timor Leste President Jose Ramos Horta (left) meeting Nahdlatul Ulama chairman Yahya Cholil Staquf in Jakarta on July 20. (Photo courtesy Nahdlatul Ulama)
-----
July 20, 2022
Timor-Leste President Jose Ramos-Horta has said he will be nominating two moderate Indonesian Muslim organizations for the Nobel Peace Prize.
Ramos-Horta, himself a Nobel peace laureate, said two Muslim groups in Indonesia--Nahdlatul Ulama and Muhammadiyah--deserve international recognition for their contribution to promoting tolerance in the world's most populous Muslim-majority country.
The Timor-Leste president made the remarks while visiting the Nahdlatul Ulama headquarters in Jakarta on July 20, as part of a week-long visit to Indonesia.
"I will also propose these two organizations for another very prestigious award, namely the Zayed Award for Human Fraternity," he added.
The international award was established to mark the historic meeting of Pope Francis and the grand imam of Al-Azhar, Ahmad At-Tayyeb, in February 2019 in Abu Dhabi.
Ramos-Horta is a member of the judging committee for this year's Zayed Award. Thanking him, Nahdlatul Ulama Chairman Yahya Cholil Staquf said: "This is an honor for all of us."
Jesuit Father Franz Magnis-Suseno, professor emeritus at the Driyarkara School of Philosophy in Jakarta, told UCA News that he fully supports Ramos-Horta's initiative.
The priest, who promotes interfaith dialogue, said he had written to the Nobel Peace Committee in 2019 proposing the names of both organizations.
"I think these two organizations are very important in showing how Indonesia as a Muslim-majority country in the world can be a tolerant country and maintain Pancasila [the state philosophy]," he said, alluding to the secular ideology of the Indonesian state.
Father Magnis-Suseno said maintaining a consistent policy of tolerance while overcoming various challenges in Indonesia's history, including efforts by extremist groups to disrupt peace, deserves international recognition.
"It is hard to imagine that Indonesia can survive with its Pancasila, without the existence of these two organizations," the German-born priest said.
Established in 1926, Nahdlatul Ulama is widely known for its appreciation of pluralism and the banning of the term "infidel" to describe non-Muslims. The group has maintained good relations with minority groups, including Catholics.
Its current chairman, Staquf, who assumed charge last year, met Pope Francis in the Vatican in 2020.
On June 9, the organization signed a pact with the Community of Sant'Egidio, an Italian Catholic lay group, to promote interfaith peace and humanitarian work.
Muhammadiyah, founded in 1912 by Ahmad Dahlan, a Muslim cleric, is Indonesia's oldest Islamic organization devoted to education, health, and social activities.
It runs more than 5,000 primary and secondary schools, as well as over 175 universities in Indonesia. The organization stresses the need to return to the Quran and the exemplary conduct of the Prophet Muhammad.
In October last year, its general secretary Abdul Mu'ti was a speaker at a meeting on religions and education at the Vatican, which was also attended by the pope.
Source: UCA News
Please click the following URL to read the text of the original story:
https://www.ucanews.com/news/timor-leste-president-backs-indonesias-moderate-muslim-outfits-for-nobel/98100
--------
Online Backlash for Israeli Journalist, Gil Tamary, Who Sneaked Into Mecca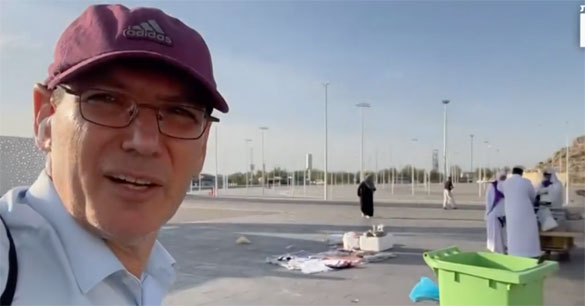 Israel's Channel 13 shows reporter Gil Tamary as he travelled to Mecca in Saudi Arabia [Screengrab Channel 13]
----
21 Jul 2022
RIYADH, July 21 — An Israeli journalist has sparked controversy after publishing a video of himself sneaking into the Saudi city of Mecca, the holiest city of Islam, flouting a ban on non-Muslims.
The video by Gil Tamary, who works for Israel's Channel 13, continued to draw hostile reactions on Saudi social media Wednesday, two days after Tamary posted it on Twitter and one day after he followed up with an apology for any offence he might have caused.
Saudi Arabia does not recognise Israel and did not join the 2020 US-brokered Abraham Accords that saw the Jewish state establish ties with two of the kingdom's neighbours, the United Arab Emirates and Bahrain.
Several Israeli journalists who hold foreign passports were nonetheless able to visit Saudi Arabia both before and during US President Joe Biden's tour of the Middle East last week.
In his roughly 10-minute clip, Tamary visits Mount Arafat, where robed Muslims pilgrims gather to pray during the climax of the hajj pilgrimage each year.
He makes clear he knows what he's doing is outlawed, referring to the site as "a place forbidden to non-Muslims" and declaring, "I am the first Israeli journalist on the spot to broadcast these images and in Hebrew."
Responding to the outcry on Tuesday, Tamary said he wanted merely to "showcase the importance of Mecca" and the beauty of Islam, while claiming the video "allowed many people to see, for the first time, a place that is so important to our Muslim brothers and sisters".
Yet a host of international and Saudi media outlets published extensive coverage from Mecca during the hajj pilgrimage less than two weeks ago.
Tamary's justification of the video did little to quiet angry social media responses.
A hashtag which translates as "A Jew at the holy mosque" has been trending on Twitter, where one user on Wednesday urged Saudi authorities not to "injure the Islamic nation... by allowing Jews to desecrate the city of the Messenger of God".
Saudi authorities have not responded to AFP's requests for comment about the incident.
'Shame for journalism'
Even Twitter accounts that have promoted diplomatic normalisation between Israel and Saudi Arabia decried Tamary's report as a "shame", as did some of his fellow Israeli journalists.
"There are things that must be said: What Gil Tamary did is a shame for journalism," Yoav Limor, another Israeli journalist who recently visited the kingdom, said on Twitter.
The dust-up comes amid speculation about future bilateral ties, which US officials stoked ahead of Biden's visit.
The Saudi civil aviation authority announced Friday it was lifting overflight restrictions on "all carriers", paving the way for Israeli planes to use Saudi airspace.
But the Saudi foreign minister later said the move had "nothing to do" with Israel and was "not in any way a precursor to any further steps" towards normalisation.
Riyadh has repeatedly said it would stick to the decades-old Arab League position of not establishing official ties with Israel until the conflict with the Palestinians is resolved. — AFP
Source: Malay Mail
Please click the following URL to read the text of the original story:
https://www.malaymail.com/news/world/2022/07/21/online-backlash-for-israeli-journalist-who-sneaked-into-mecca/18568
--------
700 Civilians Killed and Over 1400 Wounded Since Taliban Takeover: UN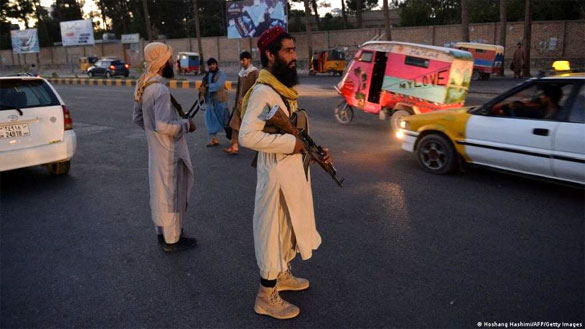 Photo: The Khaama Press
-----
By Saqalain Eqbal
20 Jul 2022
In a report detailing serious human rights violations conducted by Taliban forces since their takeover, the United Nations Assistance Mission in Afghanistan (UNAMA) found that more than 700 civilians had been killed and more than 1400 injured.
A recent UNAMA report confirms many of the concerns Afghan human rights activists have voiced since the Taliban seized power in Afghanistan last August.
Summary killings and forced disappearances of former Afghan National Security Forces personnel are just two serious human rights violations Taliban forces have committed. These violations persisted for months after the Taliban took control of the country, according to the report.
According to this report, the Taliban were responsible for 178 arbitrary arrests and 160 extrajudicial (desert) executions between August 15, 2021, and June 15, 2022.
In the last 10 months, the Taliban allegedly perpetrated 23 acts of unlawful, arbitrary arrests of former soldiers and 56 cases of torture, maltreatment, and threats.
More than 100 ISIS members were allegedly unlawfully killed in Nangarhar, in eastern Afghanistan, by the Taliban.
The Taliban, on the other hand, denies the report by UNAMA calling it "unfounded" and "propaganda".
Zabihullah Mujahid, in reaction to UNAMA's report on Taliban repression and abuse in Afghanistan, stated that "The UNAMA report on human rights in Afghanistan is not true."
He declared that anyone who engages in extrajudicial executions or arbitrary arrest will be prosecuted as a criminal and subject to Sharia law.
Source: Khaama Press
Please click the following URL to read the text of the original story:
https://www.khaama.com/700-civilians-killed-and-over-1400-wounded-since-taliban-takeover-un-474873/
--------
Karnataka: Thirteen Muslim Educational Institutions to Establish Colleges Allowing Hijab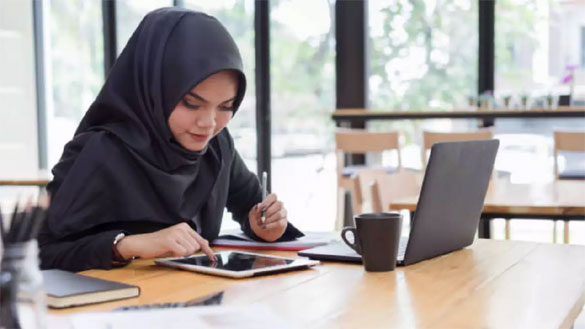 Photo: Times Now
----
20th July 2022
Bengaluru: As many as 13 Muslim educational institutions have sought Karnataka government's permission to set up Pre-University Colleges in Dakshina Kannada which would enable Muslim girl students to wear hijab inside classrooms.
According to sources in the Education Department, all the applications have sought consent to open PU colleges (first and second PUC) in the coastal district of Dakshina Kannada from where the agitation for hijab began in Karnataka.
Though a majority of Muslim girl students are adhering to the High Court's verdict that no attire representing religious symbol is allowed and attending classes without hijab, a section of girl students are insisting on wearing of hijab.
They have discontinued their studies as education institutions are not allowing them with hijab into classrooms.
The government order empowers the College Development Committees to frame rules in this regard. As many as 14 applications have been submitted to open PU Colleges in Dakshina Kannada district among which 13 are submitted by Muslim academic institutions.
So far, the permission has been granted for only 1 Muslim institute to start PU College, sources confirmed. There was demand from the Muslim community to open separate classes for their girl students enabling them to wear hijab.
Hundreds of girls took out a procession last week in Mangaluru city demanding their right to wear hijab under the banner of the Campus Front of India (CFI). The matter is pending before the Supreme Court.
Hijab crisis which started by six students of Udupi Pre-University Girl's College turned into a state-wide crisis and made international headlines. The crisis resulted in social unrest and threatened the law and order situation in the state.
The Karnataka High Court formed a Special Bench of three judges, which dismissed the petitions by Muslim girl students seeking permission to wear hijab. The ruling BJP in Karnataka is strictly implementing rules on hijab in academic institutions and not allowing students to wear hijab in classrooms.
Source: Siasat Daily
Please click the following URL to read the text of the original story:
https://www.siasat.com/karnataka-muslim-educational-institutions-to-establish-colleges-allowing-hijab-2373449/
--------
Facebook Bans Taliban-controlled Media Pages, Bakhtar News Agency & Afghanistan National Television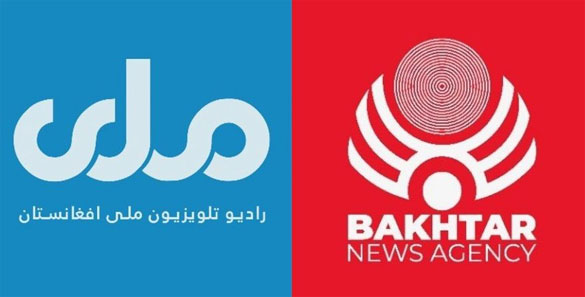 Photo: Khaama Press
----
By Saqalain Eqbal
20 Jul 2022
Facebook has suspended the pages of the Taliban-controlled Afghanistan National Television and Bakhtar news agency. The said pages are no longer accessible.
Facebook had suspended the Pashto and Dari pages of this media organization, according to Ahmadullah Wasiq, head of Afghanistan National Television.
When the Taliban took Kabul on August 15, 2021, they seized control of Afghanistan National Television's media center. As a result, they conducted extensive media activities. However, the pages of this media center and Bakhtar News Agency are currently inaccessible.
The pages of Taliban-controlled government agencies in Afghanistan on the Facebook social networking site were previously closed, by Facebook.
Facebook, one of the most widely used social networks worldwide, was the first to name the Taliban as a terrorist organization following their takeover in mid-August, 2021, merely two days after the Taliban seized control of Afghanistan.
Facebook perceives the Taliban to be a "terrorist organization" and has banned the publication of any materials created by or supporting this organization on its social media platform.
According to a Facebook spokesperson, this social media platform enforces its anti-Taliban policy on all of its platforms, including Facebook itself, Instagram, and WhatsApp.
While the Taliban has long used Facebook as a social media platform for information and advertising, Taliban officials and spokespersons are more active on Twitter.
Source: Khaama Press
Please click the following URL to read the text of the original story:
https://www.khaama.com/facebook-bans-taliban-controlled-media-pages-bakhtar-news-agency-amp-afghanistan-national-television-47382/
--------
Southeast Asia
Muhammad Rizieq Shihab, Paroled Hardline Indonesian Cleric Promises To Fight On, 'Forbid Evil'
2022.07.20
A hardline Indonesian Muslim cleric vowed to fight on as he walked free on parole Wednesday after serving about 18 months of his four-year prison sentence for lying about his COVID-19 test result.
Muhammad Rizieq Shihab, founder of the banned but influential anti-vice group Islamic Defenders' Front (FPI), pledged to continue to "enjoin the good and forbid the evil, no matter the risks," in his first public statement after being set free from a prison in Jakarta.
"I'm telling you my friends and fellow scholars, we are united in the struggle and I will not abandon the people, I will not betray the people," Rizieq said in a speech livestreamed online.
"I will try my best to protect the people and will continue to fight for the rights of the people, because we are the people, and the people are us," he said.
Rizieq also said he was forbidden from travelling outside the capital without written permission from parole officers. According to a spokesperson for the Ministry of Law and Human Rights, Rizieq was allowed to go free because he had met minimum requirements for parole, but he will have to report regularly to the Bapas correctional institution in Jakarta for at least a year.
Azis Yanuar, Rizieq's attorney, said his client would spend his time preaching what he called a "moral revolution" but in a way that avoids breaching his parole terms.
"He will go about it without violating the law and in a softer manner," Azis told BenarNews.
'Won't risk criminal offenses'
Rizieq would likely avoid mobilizing followers for political rallies ahead of national elections scheduled for 2024, said analyst Rakyan Adibrata.
"During the period of parole, I believe that he will not risk criminal offenses. In other words, he will play it safe," Rakyan, Indonesia director of the International Association for Counterterrorism and Security Professionals, told BenarNews.
However, Rakyan said, conservative Muslim politicians might try to court Rizieq as he remains influential politically.
"I believe soon there will be meetings between politicians and Habib Rizieq that will be covered widely by the media as identity politics heats up," said the analyst, using the Arabic honorific for the cleric.
A Jakarta court in June 2021 sentenced Rizieq to four years in prison for saying he was not infected with COVID-19 after testing positive and refusing to give the government access to his test results.
The previous month, Rizieq and five of his associates were sentenced to eight months in prison for violating coronavirus restrictions by organizing events in late 2020 that drew thousands of people. These included a gathering to celebrate the birthday of Prophet Muhammad and a wedding for Rizieq's daughter.
Rizieq, a vocal critic of the government, held the gatherings upon his return home from Saudi Arabia on Nov. 10, 2020.
Since founding the anti-vice group FPI in 1998, the cleric and the group's members have had several brushes with the law.
In the early 2000s, FPI was notorious for raiding bars and night clubs, which, the group said, harbored drug dealers and prostitutes.
In 2003, Rizieq was sentenced to seven months in prison for these raids.
In 2008, he was jailed for 18 months after being found guilty of inciting FPI members to assault protesters from the National Alliance for Freedom of Religion and Beliefs.
In Dec. 2020, police shot and killed, allegedly in self-defense, six of Rizieq's supporters who were traveling in a convoy with him.
A month later, the National Commission on Human Rights said its investigation found police had acted unlawfully in the killings of at least four of those followers.
FPI, for its part, claimed the six were victims of extrajudicial killings.
The Indonesian government officially banned FPI in December 2020 after it accused the group of violating the law and disrupting peace and security. In addition, 35 members and former members had been convicted on terrorism charges, officials said.
Source: Benar News
Please click the following URL to read the full text of the original story:
https://www.benarnews.org/english/news/indonesian/paroled-hardline-indonesian-muslim-cleric-vows-to-fight-on-07202022150808.html
--------
Perak state assembly makes history as private member's motion passed
20 Jul 2022
IPOH, July 20 — The Perak State Assembly made history today when it approved a private member's motion to study the existing enactments with regard to wills, to preserve the welfare of Muslim orphans in the state.
The motion was tabled by Aminuddin Zulkipli (Amanah-Behrang) and debated by several assemblymen on the last day of the state assembly sitting.
"The goal is to provide a mechanism to take care of the welfare of orphans. It could become legislation for other departments to manage orphans in Perak," said Aminuddin when winding up the motion after the debate session.
Perak Menteri Besar Datuk Seri Saarani Mohamad in a press conference later said the approved motion would enable the assembly to set up a select committee to study state enactments to create special enactments related to wills.
"It is history for the Perak assembly because it is the first time a private motion was brought in and debated and then approved," he said.
Source: Malay Mail
Please click the following URL to read the full text of the original story:
https://www.malaymail.com/news/malaysia/2022/07/20/perak-state-assembly-makes-history-as-private-members-motion-passed/18483
--------
Don't let Tommy Thomas leave Malaysia until Sulu claim resolved, says Najib
July 20, 2022
PETALING JAYA: Former prime minister Najib Razak says former attorney-general (AG) Tommy Thomas should be prevented from leaving the country pending the resolution of the Sulu sultanate's heirs' claims against the government.
Najib said the letter Thomas sent to the lawyers representing the Sulu sultan's heirs in 2019 had put Malaysia's assets at risk of seizure.
He was referring to the letter in which Thomas expressed regret that Malaysia had not paid the claimants since 2013 after the Lahad Datu intrusion. According to the letter, Thomas offered to settle the multi-billion dollar claim with an RM48,000 compensation payment.
"As the Pakatan Harapan (PH)-era Cabinet members have kept mum on the Sulu sultan's heirs' claims and Thomas' letter, it's only fair for the government to take precautionary measures to stop Thomas from leaving the country until the truth can be uncovered," he said on Facebook.
He added that he would not object if the government also decided to prevent former ministers from the PH administration from leaving the country.
Najib was commenting on the press conference held by Sepanggar MP Azis Jamman and Kota Belud MP Isnaraissah Munirah in Parliament on Monday.
The Warisan duo claimed they never knew about the existence of Thomas' letter and whether it was approved by the government.
Recently, bailiffs seized Petronas' two Luxembourg-registered subsidiaries, on behalf of the Sulu sultan's heirs.
Source: Free Malaysia Today
Please click the following URL to read the full text of the original story:
https://www.freemalaysiatoday.com/category/nation/2022/07/20/dont-let-tommy-thomas-leave-malaysia-until-sulu-claim-resolved-says-najib/
--------
Tajuddin hits back after being called out for sexist remarks
Danial Azhar and Dineskumar Ragu
July 20, 2022
KUALA LUMPUR: Tajuddin Abdul Rahman (BN-Pasir Salak) has hit back at opposition MPs in the Dewan Rakyat after being called out for making sexist remarks.
He cited comments by Teo Nie Ching (PH-Kulai), who accused him, Bung Moktar Radin (BN-Kinabatangan) and Abdul Azeez Abdul Rahim (BN-Baling) yesterday of frequently making sexist remarks in the lower house.
Tajuddin claimed the DAP MP was trying to tarnish his image.
RSN Rayer (PH-Jelutong) interjected, saying Tajuddin was going off on a tangent from the ongoing debate on the sexual harassment bill.
In response, the Umno man told Rayer to "shut up", sparking a commotion in the Dewan Rakyat.
Tajuddin angered opposition MPs when he said DAP women MPs were "biadap" (rude) and "tidak senonoh" (indecent).
He continued: "(They) tarnished the name of the three wakil rakyat (elected representatives). They (opposition MPs) don't know about us, and how we take care of women's rights and their dignity."
Rayer then called on the Umno man to retract his remarks.
Steven Sim (PH-Bukit Mertajam) chimed in, saying it was pointless to debate the sexual harassment bill if Deputy Speaker Rashid Hasnon did not act on Tajuddin's remarks.
"The Parliament Hansard will take note that an MP has made insensitive remarks," he said.
Rayer interjected and said: "Are you (Rashid) not brave enough to call him out for saying that DAP women are indecent? We are pleading to you, please take action (against Tajuddin)."
He was joined by Cha Kee Chin (PH-Rasah) and Kasthuri Patto (PH-Batu Kawan), who asked Tajuddin to retract his remarks and apologise.
Improper remarks
The PH MPs then urged Rashid to eject Tajuddin.
As the ruckus continued, Kasthuri claimed that Tajuddin made a lewd remark after turning off his microphone.
"He just cursed while turning off the microphone under your (Rashid) watch. Yet, you let Pasir Salak get away after making such remarks.
"You have the responsibility. If one of us (opposition MPs) made such a statement, you would have asked us to leave," she lamented.
Kasthuri said: "Parliamentary Standing Order 36(4) states that an MP must not use improper remarks.
"You (deputy speaker) gave him a warning, and yet he did not heed it. You did not act on it. There is no point in having Standing Order 36(4) if it is not going to be used.
"This is not about (parliamentary) immunity, this is about decorum and language."
Hannah Yeoh (PH-Segambut) echoed both Sim and Kasthuri's arguments, saying it was pointless to debate the bill if the Deputy Speaker refused to reprimand Tajuddin.
Source: Free Malaysia Today
Please click the following URL to read the full text of the original story:
https://www.freemalaysiatoday.com/category/nation/2022/07/20/tajuddin-hits-back-after-being-called-out-for-sexist-remarks/
--------
Arab World
UK's Queen Elizabeth Bestows 'Rare and Exceptional Honour' On Kuwait Ambassador
21 July ,2022
Britain's Queen Elizabeth II has bestowed a 'rare and exceptional honor' on Kuwait's ambassador Khaled al-Duwaisan following three decades of service, Kuwait news agency Kuna reported.
The Kuwaiti ambassador was appointed to the Order of St Michael and St George, a title awarded to those in high office, or who render extraordinary or important non-military service in a foreign country.
Marshal of the Diplomatic Corps Alistair Harrison said the order is a rare and exceptional honor, presented by the queen to an outgoing foreign ambassador.
It comes in appreciation of his efforts in boosting ties between the two countries in his 30 years of service.
Harrison praised al-Duwaisan's three decades as ambassador to the United Kingdom.
Source: Al Arabiya
Please click the following URL to read the full text of the original story:
https://english.alarabiya.net/News/gulf/2022/07/21/UK-s-Queen-Elizabeth-bestows-rare-and-exceptional-honor-on-Kuwait-ambassador-
--------
Turkey says attack on Iraq's Dohuk was carried out by 'terrorists'
21 July ,2022
Turkey's Foreign Minister Mevlut Cavusoglu said on Thursday that artillery strikes which killed at least eight tourists in Iraq's Dohuk were carried out by "terrorists," adding that Iraqi authorities must not fall for this "trap."
Speaking to state broadcaster TRT Haber, Cavusoglu said that Turkish military operations in Iraq have always been against the outlawed Kurdistan Workers Party (PKK).
He added that reports blaming Turkey for the attack were attempts by the PKK to hinder Ankara's counter-terrorism efforts.
Source: Al Arabiya
Please click the following URL to read the full text of the original story:
https://english.alarabiya.net/News/middle-east/2022/07/21/Turkey-says-attack-on-Iraq-s-Dohuk-believed-to-be-by-terrorists-
--------
Iraq's Kadhimi condemns Turkey for 'violation' after deadly Kurdistan strike
20 July ,2022
Iraq's Prime Minister Mustafa al-Kadhimi condemned artillery strikes blamed on Turkey that authorities said killed nine civilians Wednesday in the country's autonomous Kurdistan region as a "flagrant violation" of sovereignty.
"Turkish forces have perpetrated once more a flagrant violation of Iraqi sovereignty," he said on Twitter, condemning the harm caused to "the life and security of Iraqi citizens" and reserving Iraq's right to retaliate.
Source: Al Arabiya
Please click the following URL to read the full text of the original story:
https://english.alarabiya.net/News/middle-east/2022/07/20/Iraq-s-Kadhimi-condemns-Turkey-for-violation-after-deadly-Kurdistan-strike
--------
Lebanon Archbishop's court summons sparks anger among Christian leaders
20 July ,2022
A senior Lebanese Maronite cleric's detention and military court summons after a trip to his parish in Israel drew indignant reactions from Christian leaders on Wednesday.
As the Patriarch of the Diocese of Haifa and the Maronite Holy Land, Mussa al-Hajj is, along with other Christian religious figures, allowed to cross Lebanon's southern border and enter Israel, unlike regular Lebanese citizens.
While Lebanon and Israel remain technically at war, Hajj visited Israel because he heads a community of Lebanese Christian Maronites living there, many of whom are refugees who collaborated with Israel during Lebanon's 1975-1990 civil war.
But he was questioned for eight hours earlier this week upon his return from Israel, local media said, before a military court summoned him for further questioning Wednesday.
Hajj on Wednesday ignored the military court summons, issued for violating boycott laws imposed on Israel and for involvement in money laundering, an official close to the case said, asking for anonymity because he was not authorized to speak to the press.
Maronite Patriarch Bechara Al-Rai was due to discuss the case with his advisory board Wednesday and Samir Geagea, who heads the biggest Christian parliamentary bloc, condemned the priest's arrest in a statement.
Geagea said that Lebanon's general security agency had carried out the arrest and initial questioning of Hajj, and described the move as "not at all understandable."
Archbishop Mussa was bringing aid from Lebanese nationals in Israel to relatives back home who have been hit by Lebanon's crisis, the anonymous official added.
Many Lebanese rely on remittances from family abroad to weather a crushing economic crisis that began in 2019, but transporting products or money from Israel to Lebanon is illegal.
Security forces seized "large quantities of medicines, foodstuffs and canned goods, enough to fill a car, in addition to $460,000" when he re-entered Lebanon, the anonymous official said.
Archbishop Mussa handed Lebanese authorities a six-page list containing hundreds of beneficiaries' names, with each person or family expecting between $100 and $500 from relatives in Israel, the official added.
Nadim Gemayel, a lawmaker from the Christian Kataeb party, dubbed the arrest "an attack on the Maronite Church."
Source: Al Arabiya
Please click the following URL to read the full text of the original story:
https://english.alarabiya.net/News/middle-east/2022/07/20/Lebanon-Archbishop-s-court-summons-sparks-anger-among-Christian-leaders
--------
Saudi foreign minister meets S. Korea's assembly speaker, global security on agenda
20 July ,2022
Saudi Arabia's Foreign Minister Prince Faisal bin Farhan discussed bilateral ties and global issues in a meeting with South Korea's Speaker of the National Assembly Kim Jin-pyo on Wednesday.
The meeting took place at the Korean National Assembly Proceeding Hall and also explored areas of joint cooperation, according to a ministry statement.
The two sides also addressed the efforts of "the two friendly countries in laying the foundations for security and stability in the region and the world," the foreign ministry statement said.
Both countries share strong diplomatic ties since establishing them in 1962.
The meeting was also attended by Saudi Arabia's Ambassador to South Korea, Sami al-Sadhan and the Director-General of the Minister of Foreign Affairs office Abdulrahman al-Daoud.
In January, Saudi Arabia's Crown Prince Mohammed bin Salman met South Korean President Moon Jae-in in Riyadh.
Coinciding with Moon's visit, it was reported by local Saudi television that South Korean electronics giant LG would be setting up its regional headquarters in Riyadh.
Source: Al Arabiya
Please click the following URL to read the full text of the original story:
https://english.alarabiya.net/News/gulf/2022/07/20/Saudi-foreign-minister-meets-S-Korea-s-assembly-speaker-global-security-on-agenda
--------
4 policemen killed in Daesh/ISIS attack in Iraq
Yakut Dandashi
20.07.2022
BAGHDAD
Four policemen were killed in clashes with Daesh/ISIS terrorists in northern Iraq on Wednesday, according to local media.
The terrorists attacked federal police positions in the town of Al-Malha in the northern Salahuddin province, the news portal Baghdad Today reported.
Four policemen were also injured in subsequent clashes with attackers, it added.
Iraqi security forces have launched a manhunt for the attackers.
In 2017, Iraq declared victory over Daesh/ISIS by reclaiming all of its territories – about a third of the country's area – invaded by the terror group in 2014.
Source: Anadolu Agency
Please click the following URL to read the full text of the original story:
https://www.aa.com.tr/en/middle-east/4-policemen-killed-in-daesh-isis-attack-in-iraq/2641418
--------
North America
President Biden expects to speak with China's Xi within next 10 days
21 July ,2022
President Joe Biden says he expects to speak to Chinese leader Xi Jinping "within the next 10 days," as the US considers whether lifting some tariffs on Chinese imports would help stem rampant inflation.
Already-tense relations between the two largest economies have deteriorated over China's refusal to condemn Russia's invasion of Ukraine.
"I think I'll be talking to President Xi within the next 10 days," Biden said on Wednesday, speaking to reporters after a trip to Massachusetts to discuss his climate agenda.
An administration official downplayed the role tariffs will play in the discussion, which the official described as a potential call. The conversation would be about a range of bilateral, regional, and global issues and not connected to the tariff process, the official said.
The official asked not to be identified because the call hasn't been scheduled.
Biden demurred when asked what he'd say to Xi about the duties. "I'll tell him to have a good day," he said.
The talks come amid a range of disputes between the countries, including tariffs, Taiwan, as well as China's trading and military relationship with Russia. The two presidents last spoke in March.
There's no call to announce or confirm right now, a spokesperson for the White House National Security Council said after Biden's remarks.
Chinese Foreign Ministry spokesman Wang Wenbin said on Thursday at a regular press briefing in Beijing that he had no information to offer on any call between the two leaders.
The president was also asked about the reported possibility of a trip by House Speaker Nancy Pelosi, a top figure in his party, to Taiwan. "The military thinks it's not a good idea right now but I don't know what the status of it is," Biden replied.
Biden has been expected to announce shortly his decision on whether to scrap some of former President Donald Trump's tariffs.
In meetings with his economic team over the last several months, officials have debated whether the removal of the duties would help fight record inflation in the US or would leave Biden vulnerable to attacks from Republicans as well as organized labor.
The administration is concerned that broad-based tariff reductions would not lead to savings being passed on to consumers, one official familiar with the deliberations said.
Trump imposed tariffs on more than $300 billion in Chinese imports. But Biden's administration is trying desperately to curb fast-rising US prices ahead of November's midterm elections.
Trump used section 301 of the Trade Act of 1974 to hit China with the duties starting in July 2018 after an investigation concluded China stole intellectual property from American companies and forced them to transfer technology.
The tariffs covered goods including industrial inputs such as microchips and chemicals, and consumer merchandise such as apparel and furniture. While there's been no direct indication of which duties may be removed, senior administration officials have said reducing tariffs on household items could help ease consumer inflation, which accelerated at the fastest pace since 1981 in June from a year earlier.
Source: Al Arabiya
Please click the following URL to read the full text of the original story:
https://english.alarabiya.net/News/world/2022/07/21/President-Bidens-says-expects-to-speak-with-China-s-Xi-within-next-10-days
--------
US warns Iran it risks dependency on an isolated Russia
21 July ,2022
The United States on Wednesday warned Iran that it risked dependency on an isolated Russia after it welcomed President Vladimir Putin, although the CIA chief acknowledged the two nations have uneasy ties.
Putin on Tuesday visited Tehran for a three-way summit with his counterparts from Iran and Turkey that was nominally about conflict-ridden Syria.
On the sidelines of the summit, Iran's Supreme Leader Ali Khamenei called for "long-term cooperation" with Russia, even though Tehran earlier tried to show its neutrality by abstaining from a key UN vote on condemning Moscow's invasion of Ukraine.
"Iran has now cast its lot with a small number of countries who wore that veil of neutrality only to end up supporting President Putin in his war against Ukraine and the Ukrainian people," State Department spokesman Ned Price told reporters.
The United States recently released intelligence purporting to show Russian delegations visiting Iran to assess combat drones as it looks to bolster its arsenal against Western arms in Ukraine.
But Price signaled that Iran's return to compliance with the 2015 nuclear deal -- backed by President Joe Biden after his predecessor Donald Trump trashed it -- would start a new "economic relationship with other countries around the world."
Negotiations have been deadlocked in part over Iranian demands that Biden lift Trump's designation of the powerful Revolutionary Guards as a terrorist group.
Despite the US criticism of Iran's summit, CIA chief Bill Burns -- who as a diplomat helped broker the Iran deal and served as ambassador to Moscow -- said Iran and Russia were reaching out to each other primarily because they are both "looking to break out of political isolation" and are under sanctions.
"But if they need each other, they don't really trust each other in the sense that they are energy rivals and historical competitors," Burns said at the Aspen Security Forum.
Source: Al Arabiya
Please click the following URL to read the full text of the original story:
https://english.alarabiya.net/News/world/2022/07/21/US-warns-Iran-it-risks-dependency-on-an-isolated-Russia-
--------
Biden's Mideast tour makes road to revival of Iran's nuclear deal bumpier
Syed Zafar Mehdi
21.07.2022
US President Joe Biden said last week in Jerusalem on the first leg of his Middle East tour that Washington is "not going to wait forever" for Iran to revive a 2015 agreement on its nuclear program, hours after warning of using force against Tehran "as a last resort."
During the four-day trip, which also took him to Saudi Arabia's port city of Jeddah for bilateral talks and a regional summit, Biden made it clear that the US will be acting tough against Iran despite ongoing negotiations in Doha to revive the nuclear accord, officially known as the Joint Comprehensive Plan of Action (JCPOA).
"The only thing worse than the Iran that exists now is an Iran with nuclear weapons," he said in an interview with Israel's Channel 12, sparking angry reactions from Tehran.
The first round of European Union-mediated Iran-US talks last month, as a follow-up to the Vienna talks, failed to produce the result "the EU team as coordinator had hoped for," the EU's envoy, Enrique Mora, admitted on Twitter.
The next round, said many US and European officials, would be held after Biden's long-delayed trip and consultations with regional allies, most prominently Israel.
With the US president back from the regional trip, the question everyone seems to be asking is when will the Doha talks resume and whether there is a likelihood of two arch foes burying the hatchet and restoring the landmark deal that was effectively put on the backburner after the US withdrawal in 2018.
"The deal is hanging by a thread, especially after President Biden's Israel visit and the declaration issued jointly by Biden and the Israeli premier, which raised eyebrows in Tehran," Mohsen Salehi, a Tehran-based Middle East affairs analyst, told Anadolu Agency.
Mohsen believes the road to peace and rapprochement between Iran and the US, who have had no diplomatic relations since the 1979 Iranian revolution, has become "bumpier" after Biden's Middle East trip, especially his statements against Tehran.
- Iran-US talks in Doha
On July 14, Biden and Israeli Prime Minister Yair Lapid unveiled a joint declaration in Jerusalem boosting military cooperation between the two all-weather allies and reiterating calls to take military action against Iran's nuclear program.
The statement, officially known as the Jerusalem US-Israel Strategic Partnership Joint Declaration, asserted that the US will "never allow Iran to acquire a nuclear weapon" while adding that it is "prepared to use all elements of its national power to ensure that outcome."
It further said that the US reaffirms its commitment to "work together with other partners to confront Iran's aggression and destabilizing activities" in the region.
Hours later, Iran's President Ebrahim Raisi vowed a "harsh and regrettable response" to any "mistake" from the US or its allies.
A day later, on the second leg of his regional tour in Jeddah, Biden and Saudi Crown Prince Mohammed bin Salman addressed a regional summit, which was followed by a communique that again aimed at Iran's nuclear program and regional activities.
The statement "underscored the need to further deter Iran's interference in the internal affairs of other countries, its support for terrorism through its armed proxies, and its efforts to destabilize the security and stability of the region."
Already miffed by the Jerusalem Declaration, Iran's Foreign Ministry took strong exception to the Jeddah communique, accusing the US of fueling "tension and crisis" in the region by resorting to "Iranophobia."
Vahid Moradian, a senior journalist and political observer, said Biden's "overt anti-Iran posturing" during his Middle East visit and the "strong reactions" from Iranian officials don't augur well for the nuclear deal.
"From what we noticed in Doha last month, and in Vienna before that, there is a massive trust deficit between the two sides that is preventing an agreement," he told Anadolu Agency, adding Biden's visit to the Middle East has "only made it worse."
Moradian, however, said the attempts to build a "regional front" against Iran during Biden's visit "didn't work out," as was evident from statements by both Saudi and Iranian officials after the Jeddah summit.
"The Saudi foreign minister again extended an olive branch to Iran, while the Iranian Supreme Leader's adviser welcomed it," he noted, adding the tension-easing talks between the two estranged neighbors in Baghdad are "unlikely to be affected" by Biden's trip.
- Saudi-Iran talks in Baghdad
The marathon talks between Saudi Arabia and Iran, brokered by the Iraqi government, have been underway since April last year, without any breakthrough so far.
Saudi Foreign Minister Prince Faisal bin Farhan Al Saud, speaking to reporters after the Jeddah summit, said talks with Tehran have been "positive," adding Riyadh is "keen on finding a path" to normalizing ties with Iran.
"The issue of forming a regional coalition consisting of Israel and Arab countries was in Biden's plan, but he failed to achieve that goal as countries in the region do not want to lead the region to tension and war," Seyyed Ali Nejat, a foreign policy analyst and writer, told Anadolu Agency.
He said a "soft position" was adopted against Iran at the Jeddah summit, but "it will not have a significant impact" on negotiations.
The two countries severed their diplomatic relations in 2016 following the execution of Saudi Shia cleric Sheikh Nimr al-Nimr, which saw unruly protesters storming Saudi diplomatic missions in Tehran and Mashhad.
At the weekly press briefing Wednesday, Iran's Foreign Ministry spokesman Nasser Kanaani said the talks are "moving forward," lauding the role played by Baghdad in bringing the two neighbors closer.
"What's clear is that the Iran-Saudi talks are most likely to move to the level of foreign ministers in the near future and even the opening of embassies, which can partly be attributed to strains in US-Saudi ties," said Salehi.
Source: Anadolu Agency
Please click the following URL to read the full text of the original story:
https://www.aa.com.tr/en/americas/bidens-mideast-tour-makes-road-to-revival-of-iran-s-nuclear-deal-bumpier/2642151
--------
India
Pasmanda Muslims want 'sammaan', not 'sneh', says former MP Ali Anwar Ansari in open letter to PM
by Santosh Singh
July 21, 2022
Former Rajya Sabha MP and head of All India Pasmanda Muslim Mahaz (AIPMM), an apolitical body, Ali Anwar Ansari on Thursday wrote an open letter to Prime Minister Narendra Modi thanking him for using the word 'Pasmanda (those left behind)' during the BJP's national executive in Hyderabad earlier this month. Anwar also questioned why backward Muslims had not been part of discussions earlier and why BJP thought of organising a 'sneh yatra' now.
"It was a pleasant surprise to hear you talk about Pasmanda, but the Pasmanda Muslims want 'sammaan' (equality and dignity), not 'sneh' (affection). The term 'sneh' has a specific connotation: That the Pasmanda Muslims need 'sneh' denotes that they are an inferior lot requiring patronage from the ones who are superior," Ansari wrote.
At the same time, Ansari questioned if "the sudden move" to take out a 'sneh yatra' for Pasmanda society had "something to do with vote-bank politics". "Isn't it aimed at pitting Muslims against one another? Pasmanda Muslims do not support any party blindly. No party should take them for granted," he said.
Stressing that AIPMM's fight has been within the constitutional framework, Ansari wrote: "It's not that we, as Pasmanda Muslims, are asking for something special separately; rather we, as Muslims, are demanding that the discrimination against us by the government be stopped forthwith. The same demand is also for our Christian Dalits. They are also being punished for being Christians. We have been of the firm belief since the very beginning that the Pasmanda Muslims alone cannot win this battle. We can succeed only with the help of Pasmanda Dalits of all religions and other progressive and justice-loving people."
Anwar, who formed AIPMM in 1998, may not have been the first person to use the term 'pasmanda' but he is credited for widely using it. "There is no caste or religion by the name of Pasmanda. All the communities – Hindu, Muslim, Christian, Sikh, Buddhist and others – have people from Pasmanda, Dalit and Adivasi sections. Not only do we have a relationship of pain with these sections, but our DNA is also same. We have put the word 'Pasmanda' before the word 'Muslim' in our organisation's nomenclature. For, historically we are Pasmanda first, Muslims later. We have converted to Islam for 'masawat' (equality). We, Pasmanda Muslims, are the original inhabitants of our country, India. Hardly one or two per cent of Muslims have come to India from Arabia, Iran and Iraq. We are not the people of 'Aqliyat' (minority); we are 'Aksariyat' (bahujans). 'Pasmanda' is an Urdu-Persian word which means people left behind or oppressed. We don't want to continue as 'Pasmanda'; we aspire to become 'Peshmanda' (the one who leads from the front)," Ansari wrote.
"You have asked your partymen to take out 'sneh yatra' for the Pasmanda Muslims. This will prove effective only when communal harmony is maintained in the society. What is the point in taking out a 'sneh yatra' if hate statements and bulldozers also go on? Pasmanda Muslims have been the worst hit of all the campaigns of mob lynching in the name of cow protection, ghar-wapsi, love jihad, Tablighi jihad in the time of Corona pandemic or any temple-mosque conflict that have been going on since 2014. Those killed, burnt, maimed, framed in police cases and jailed due to such incidents were mostly Pasmanda Muslims," Ansari wrote to the PM.
Ansari also referred to some harsh comments made by senior BJP leaders against Muslims in the past and questioned the PM's silence. "When Muslims did not come under provocation, aren't their prayers now being disrupted, aren't their mosques being attacked and isn't blasphemy against their Prophet being committed? Even as our country's image continued to be tarnished all over the world because of this, you have not spoken a single word against it till date. On the contrary, the Muslims, intellectuals, journalists and civil society activists, who raise their voice against it, are being put behind bars," the letter read.
Ansari wrote that AIPMM had always been "raising voice against communalism". He added that "…even if the BJP is extending a friendly hand towards Pasmandas for their votes, could you at least take these few steps immediately: There are about a dozen castes within the Pasmanda Muslims such as Halalkhor (scavenger, Bhangi), Muslim washerman, Muslim cobbler, Bhatiyara, Gadhedi etc for whom the Sachar Committee and the Ranganath Mishra Commission have recommended Scheduled Caste status. Has your government, in response to a query of the Supreme Court last year, replied that it will not accept this recommendation? Will you end this religion-based discrimination by increasing the quota of Scheduled Caste? Will the nomadic tribes like Mewati, Van Gujjar, Sapera, Madari etc, who were called criminal tribes during the British period, be included in the 'Scheduled Tribe'? If not, then nothing fruitful is going to come out of the drum-beating by some greedy".
Source: Indian Express
Please click the following URL to read the full text of the original story:
https://indianexpress.com/article/political-pulse/pasmanda-muslims-mp-ali-anwar-ansari-open-letter-modi-8042760/
--------
Highly-Radicalised Man Involved In Propagating 'Jihad' Against India Arrested From Bihar: NIA
JULY 21, 2022
Ali Asgar alias Abdullah Bihari arrested in Jamaat-ul-Mujahideen Bangladesh activities case
A "highly-radicalised" individual involved in propagating "jihad" against India has been arrested by the National Investigation Agency (NIA) from Bihar, according to an official.
Ali Asgar alias Abdullah Bihari, a resident of Siswaniya village, was the seventh accused arrested in connection with a probe into the activities of the banned Jamaat-ul-Mujahideen Bangladesh (JMB) outfit, the official said on Wednesday.
Asgar was arrested during searches conducted in Bihar's east Champaran area on Tuesday, an NIA spokesperson said.
The spokesperson said the case is related to the arrest of six active JMB members, including three illegal immigrants from Bangladesh, from Aishbagh, Bhopal in Madhya Pradesh, who were found involved in propagating the JMB's plans or ideology and motivating youngsters to carry out "jihad" against India.
The case was initially registered at a Bhopal police station on March 14 and re-registered by the NIA on April 5, the anti-terror probe agency said.
"Asgar is a highly-radicalised individual involved in propagating jihad by posting hate and incriminating materials online in various groups on social media platforms.
Source: The Hindu
Please click the following URL to read the full text of the original story:
https://www.thehindu.com/news/national/highly-radicalised-man-involved-in-propagating-jihad-against-india-arrested-from-bihar-nia/article65665119.ece
--------
India's Top Court Grants Bail To Muslim Journalist, Mohammed Zubair, Accused Of Insulting Hindus
July 20, 2022
New Delhi
CNN
—
Muslim journalist Mohammed Zubair has been freed from jail on the order of India's Supreme Court after he was detained last month for allegedly insulting religious beliefs on social media.
Zubair – co-founder of fact-checking website Alt News, which debunks misinformation in the Indian media – was arrested by Delhi police on June 27 after a Twitter user accused him of insulting Hindus in a 2018 post about the renaming of a hotel after a Hindu god.
Zubair had already been granted bail for the case in Delhi but had remained in custody after several police complaints were filed against him in the northern state of Uttar Pradesh in June and July over separate social media posts.
On Wednesday, the Supreme Court said all of the outstanding cases would be combined and investigated by a special unit of the Delhi police, and ordered his release by 6 p.m. local time.
Zubair often tweets criticism of Indian Prime Minister Narendra Modi and his Bharatiya Janata Party (BJP) for what he and other critics claim is a crackdown on the rights of the country's roughly 200 million Muslims.
Among his recent social media posts are videos he claims show Hindu extremists giving hate speeches against Islam, a minority religion in India where nearly 80% of people are Hindu.
Zubair's arrest came amid repeated accusations by critics that the BJP is using colonial-era laws to quash any form of criticism and encourage self-censorship, and was condemned by free speech advocates.
In early June, Zubair had highlighted derogatory comments made by a BJP spokesperson about Islam's Prophet Mohammed that sparked a diplomatic row with several Gulf states.
The spokesperson, Nurpur Sharma, was suspended by the BJP after at least 15 Muslim-majority nations condemned her remarks, several of them summoning India's ambassadors.
In a statement after Zubair's arrest in June, the Editors Guild of India said it was "apparent that Alt News' alert vigilance was resented by those who use disinformation as a tool to polarise society and rake nationalist sentiments."
Early Thursday, Pratik Sinha, Alt News' co-founder, posted a photo of him with Zubair on Twitter, thanking their supporters.
Source: US CNN
Please click the following URL to read the full text of the original story:
https://us.cnn.com/2022/07/20/media/indian-muslim-journalist-bail-intl-hnk/index.html
--------
Kerala Govt Drops Public Services Commission Recruitment to Waqf Board, Puts Muslim
21st July 2022
KOZHIKODE: In a canny political move that left the IUML in a quandary, the state government has dropped its decision to entrust the recruitment to the Waqf Board with the Public Services Commission (PSC).Chief Minister Pinarayi Vijayan announced in the assembly on Wednesday that necessary amendments will be made to the controversial Kerala PSC (Additional Functions As Respects the Services Under the Waqf Board) Act, 2021. Replying to a submission by IUML leader P K Kunhalikutty, Pinarayi said the government had convened a meeting of the representatives of Muslim organisations to discuss the recruitment issue.
"The government in-principle agrees to the unanimous opinion at the meeting," he said. The amendment will put in place a system to recruit qualified persons to the Waqf Board, he said.The Act was passed last November drawing deep resentment from the Muslim community. But the IUML and Samastha Kerala Jam-Iyyathul Ulema were moving in different directions on the issue. In December 2021, the Muslim Coordination Committee led by IUML called for raising the issue in mosques during Friday prayers, but Samastha president Syed Muhammad Jiffiri Muthukoya Thangal objected to the move, saying it was unnecessary.
Samastha's decision had poured cold water on the agitation though the IUML went ahead with the protests against the government. On his part, Jiffiri Thangal asked the government to convene a meeting of Muslim organisations to discuss the issue. At the meeting on April 4, 2022, the government assured that the sentiments of the community will be considered before taking a final decision.
Waqf: Samastha elated over CM's announcement
The IUML refused to take the assurance for granted while Samastha said it was satisfied with the promise. Waqf Board issue remained a major bone of contention between the two organisations.The Samastha camp is elated over the Chief Minister's announcement and upholds it as a victory of their leader Jiffiri Thangal. Reacting to the news, Thangal told reporters that Pinarayi had personally given him an assurance that no steps would be taken that will adversely affect the Muslim community.
Asked about the IUML agitations, Thangal said being in the opposition, the party is entitled to hold political agitations. Pinarayi, by holding direct talks with Muslim organisations, eliminated the IUML from the scene, which was till then acting as a mediator on the issue. And he came closer to the Samastha, the main vote bank of the IUML.
Meanwhile, IUML state president Panakkad Syed Sadiq Ali Shihab Thangal said government's withdrawal is the collective victory of the Muslim community and his party had a role in the agitations. "Our stand was that since the decision to leave the appointments was introduced in the assembly, the amendment also should be announced there," Thangal said.
Source: New Indian Express
Please click the following URL to read the full text of the original story:
https://www.newindianexpress.com/states/kerala/2022/jul/21/govt-drops-psc-recruitment-to-waqf-board-puts-muslim-league-in-fix-2478834.html
--------
Gyanvapi dispute: Allahabad HC junks PIL for panel to determine nature of structure found in mosque
JULY 21, 2022
High Court says it appears that the plea was filed with the intention to gain publicity
The Allahabad High Court has now dismissed a Public Interest Litigation (PIL) seeking the formation of a committee to determine the nature of the structure allegedly found during the video survey of the Gyanvapi mosque, saying it appeared that the plea was filed with the intention to gain publicity.
A Lucknow Bench of the High Court (Justices Rajesh Singh Chauhan and Subhash Vidyarthi) held that several suits pertaining to this issue are already pending in civil courts in Varanasi and that the Supreme Court is also seized of this matter with a Special Leave Petition pending before it. Considering these facts, the high court said it was not proper on the part of the petitioners to invoke its jurisdiction in this matter.
The court was hearing a PIL filed by seven persons claiming to be followers of Sanatan Dharma, seeking that a committee be formed by the State government to determine the nature of the structure found in the survey of the mosque.
Earlier this year, a civil court had ordered a survey of the mosque while hearing a suit in the ongoing Gyanvapi mosque-Kashi Vishwanath temple dispute. The Anjuman Intezamia Committee had challenged the order directing this survey in the Supreme Court, which had transferred all related suits to the district court in Varanasi.
Meanwhile, the survey was conducted in Varanasi and the report of the survey was leaked in public domain multiple times in violation of court orders. This prompted the Hindu plaintiffs to claim the discovery of a "Shivling" inside the mosque with the Masjid panel disputing this and insisting that the structure in question was part of the mosque's wuzu khana (ablution pond).
In the PIL before the Allahabad High Court, the petitioners had sought permission for Hindu devotees to pray at the structure if it did turn out to be a Shivling as claimed by the plaintiffs to the suit.
However, the Allahabad High Court noted in its July 19 order that the district court is currently hearing this aspect pertaining to the suit. The district court has already called for objections to the survey report and proceedings are underway in the matter there, it said.
Source: The Hindu
Please click the following URL to read the full text of the original story:
https://www.thehindu.com/news/cities/Delhi/gyanvapi-dispute-allahabad-hc-junks-pil-for-panel-to-determine-nature-of-structure-found-in-mosque/article65662327.ece
--------
South Asia
'Tweet apology or go to jail': Foreign journo says she was threatened by Taliban
July 20, 2022
Foreign journalist Lynne O'Donnell said the Taliban in Afghanistan asked her to tweet an apology or go to jail for articles on forced marriages by Taliban commanders.
Taking to Twitter, the Australian journalist said, "Tweet an apology or go to jail, said Taliban intelligence. Whatever it takes: They dictated. I tweeted. They didn't like it. Deleted, edited, re-tweeted."
O'Donnell added that the Taliban made a video of her saying she wasn't coerced to delete her tweet. Made video of me saying I wasn't coerced. Re-did that too, she said.
Lynne O'Donnell has written extensively about the Taliban commanders who forcefully marry teenage girls and use them as sex slaves.
"This was a premeditated attempt at character assassination and an affront to Afghan culture. These stories were written without any solid proof or basis, and without any effort to verify instances through on-site investigation or face-to-face meetings with alleged victims," she had said while apologising for the article she wrote.
Now, she has claimed that she was forced to pen an apology on Twitter and was threatened by Taliban officials.
Source: India Today
Please click the following URL to read the full text of the original story:
https://www.indiatoday.in/world/story/foreign-journalist-lynne-donnell-article-apology-taliban-afghanistan-tweet-1977948-2022-07-20
--------
Despair, poverty fuel massive addiction scourge in Taliban-ruled Afghanistan
20 July ,2022
Hundreds of men, strung out on heroin, opium, and meth, were strewn over the hillside overlooking Kabul, some in tents, some lying in the dirt. Dogs skulked around because they sometimes give them drugs, and there were bodies of overdosed dogs amid the garbage. Men here as well slip, quiet and alone, across the line from oblivion and despair to death.
"There's a dead man next to you," someone told me as I picked my way among them, taking pictures. "We buried someone over there earlier," another said further down.
For the latest headlines, follow our Google News channel online or via the app.
One man lay face down in the mud, unmoving. I shook him by the shoulder and asked if he was alive. He turned his head a bit, just half out of the mud, and whispered that he was.
"You're dying," I told him. "Try to survive."
"It's fine," he said, his voice exhausted. "It's okay to die."
He lifted his body a little. I gave him some water, and someone gave him a glass pipe of heroin. Smoking it gave him some energy. He said his name was Dawood. He had lost a leg to a mine about a decade ago during the war; after that he couldn't work, and his life fell apart. He had turned to drugs to escape.
Drug addiction has long been a problem in Afghanistan, the world's biggest producer of opium and heroin and now a major source of meth. The ranks of the addicted have been fueled by persistent poverty and by decades of war that left few families unscarred.
It appears to only be getting worse since the country's economy collapsed after the seizure of power by the Taliban in August last year and the subsequent halt of international financing. Families that were once able to get by found their livelihoods cut off, leaving many barely able to afford food. Millions have joined the ranks of the impoverished.
The growing numbers of addicts are found around Kabul, living in parks and sewage drains, under bridges, on open hillsides.
A 2015 survey by the UN estimated that up to 2.3 million people had used drugs that year, which would have amounted to around 5 percent of the population at the time. Now, seven years later, the number is not known, but it's believed to have only increased, said the head of the Drug Demand Reduction Department, Dr. Zalmel, who like many Afghans uses only one name.
The Taliban, who seized power nearly a year ago, have launched an aggressive campaign to eradicate poppy cultivation. At the same time, they inherited the ousted, internationally backed government's policy of rounding up addicts and forcing them into camps.
On two nights earlier in the summer, Taliban fighters stormed two areas where addicts gather — the one on the hillside and another under a bridge. In total, they collected some 1,500 people, according to officials in charge of registering them. They were herded into trucks and cars and taken to the Avicenna Medical Hospital for Drug Treatment, a former US military base that in 2016 was converted into a drug treatment center.
It's the biggest of a number of addict treatment camps around Kabul. There, the addicts were shaved and kept in barracks for 45 days. They receive no treatment or medication as they go through withdrawal. Since the Taliban seizure of power, the international funding on which the Afghan government relied has been cut off, so the camp barely has enough funding to feed its inmate-patients.
But the camps do little to break addiction.
A week after the raids, I went back to both locations, and both were once again full of hundreds of people.
On the hillside, I saw a man who was clearly not an addict. In the darkness, he wandered among the men, shining a feeble flashlight on each. He was searching for his brother, who became addicted years ago and left home. He goes from site to site, through Kabul's netherworld. "I hope one day I can find him," he said.
At the site under the bridge, the stench of sewage and garbage was overwhelming. One man, Nazer, in his 30s, seemed to be respected among his fellow addicts; he broke up fights among them and negotiated disputes.
He told me he spends most of his days here under the bridge but goes to his house every once in a while. Addiction has spread throughout his family, he said.
Source: Al Arabiya
Please click the following URL to read the full text of the original story:
https://english.alarabiya.net/features/2022/07/20/Despair-poverty-fuel-massive-addiction-scourge-in-Taliban-ruled-Afghanistan
--------
Pakistan
Pakistan Neither Afford Religious Disharmony, Nor Political Instability: PM's Special Representative for Interfaith Harmony
Fahad Shabbir
July 20, 2022
ISLAMABAD, (UrduPoint / Pakistan Point News - 20th Jul, 2022): Prime Minister's Special Representative for Interfaith Harmony and Middle East Hafiz Tahir Mehmood Ashrafi on Wednesday said Pakistan neither could afford religious disharmony, nor political instability.
Addressing a press conference, he said Pakistan was passing through a critical phase and it was in dire need of love, peace and unity.
Ashrafi, who is also the chairman of Pakistan Ulema Council (PUC), urged the religious and political leaderships to avoid extremist attitudes and adopt moderate approaches in order to bring the country out of prevailing crisis.
"We should move ahead with unity as it is in the favor of Pakistan's economic and political conditions," he added.
He said undue criticism on national institutions including judiciary, security agencies and foreign affairs ministry make them controversial and damage their credibility globally.
Ashrafi categorically stated that Pakistan Army had no role in country's politics and by-election results in Punjab were its evidence.
On the issue of cipher, Ashrafi said it should be the end of blame game as how one could hide such an important document from the chief executive of the country while the then Foreign Affairs Minister Shah Mehmood Qureshi had already admitted that they themselves distributed the cipher to various state institutions.
He said that the Ministry of Foreign Affairs was the face of the country which had to portray its soft image in the comity of nations. He proposed to put aside our personal grudges which were tarnishing the integrity of the country world over.
Keeping in view the present circumstances, there was a dire need of political stability and dialogue, he said and added that the political instability was one of its main factors causing crisis in the country.
PM representative said the PUC had issued code of conduct to keep law and order in Muharram-ul-Haram after a thorough consultation with the leadership of various schools of thought.
The PUC was establishing contact centers in Lahore and Islamabad and nobody would be given permission to degrade anyone's sacred personalities, he said. If someone found involved in sectarian activities particularly in the holy month of Muharram, the law would take its course, he maintained.
He urged the religious leaders to ensure implementation on the Paigham-e-Pakistan protocols to avert any untoward situation.
Source: Urdu Point
Please click the following URL to read the full text of the original story:
https://www.urdupoint.com/en/pakistan/pakistan-neither-afford-religious-disharmony-1538935.html
--------
An 'Out of Pakistan' Solution For Population Control—Produce Kids In Non-Muslim Nations: Minister
Akansha Sengupta
20 July, 2022
New Delhi: Minister of Health and PPP member Abdul Qadir Patel Monday offered an 'out of Pakistan' solution to the population problem—couples wanting more kids should leave the country and add to the Muslim population in nations where they are in minority.
At a seminar in Islamabad, the minister said that by 2030 the population of Pakistan is expected to cross 285 million. "We do not want to decrease the Muslim population. We want Muslims to be better, more educated and provide them with better health care facilities," he said.
Pakistani media outlets such as Geo News termed the health minister's suggestion 'out of the box'.
Population is a big reason for Pakistan's troubles, especially when it remains fragile and debt-ridden. According to a UN projection, Pakistan is set to see a 56 per cent population increase by 2050, which amounts to over 366 million people.
A recent Dawn editorial titled The population bomb highlighted the seriousness of the issue: "We are fighting a losing battle, slipping inexorably towards a dystopian future where want and deprivation will be our lot. The reason? There are simply too many of us: the pace at which Pakistan's population is growing is fast outstripping our ability to provide for the millions that call this country home. Unbelievably, there still appears to be no well-thought-out and cohesive population control programme in the offing."
Patel stressed the importance of family planning and awareness while saying that citizens need to stop believing the misinformation that is spread about state's family planning measures and vaccinations, be it polio or Covid-19. He called this as "very dangerous behavior" on part of the Pakistanis. The United Nations report titled World Population Prospects 2022 lists Pakistan as a leading contributor to population growth. "We are a lot in numbers, masa'Allah," the minister remarked at the seminar.
While some Pakistanis assume that the minister's remarks came in jest, others didn't let his very "childish" statement slide. "What do you expect when Qadir Patel is the Director and Producer of such Comedy," a user wrote.
Many others wrote Patel off as rather foolish and incompetent and lamented his appointment as the health minister, going as far as to call him a downgrade from ministers like Dr. Faisal Sultan and Dr. Yasmin Rashid.
Some said the minister lacked common sense and brought up his past scandals and controversies — calling him Professor holding a post-doctoral degree in money laundering and gang war crimes.
Controversy not a first for Patel
Abdul Qadir Patel was on trial for alleged links with the Pakistani mafia and evidence had surfaced regarding his role in getting said gangsters' treatment in a local hospital. The case was registered on the complaint of the Rangers, a federal law enforcement organisation, which alleged Patel's links with local gangsters and al Qaeda terrorists.
Source: The Print
Please click the following URL to read the full text of the original story:
https://theprint.in/go-to-pakistan/an-out-of-pakistan-solution-for-population-control-produce-kids-in-non-muslim-nations/1047190/
--------
Pakistani passport remains fourth-worst in the world
Jul 20, 2022
ISLAMABAD: The Pakistani passport continues to be the fourth-worst in the world, not changing its position from a year ago and providing access to only 32 destinations, according to the Henley Passport Index for 2022, local media reported.
The Henley Passport Index is a ranking of all the world's 199 passports according to the number of destinations their holders can access without a prior visa, Dawn reported.
The ranking is based on data from the International Air Transport Association, which maintains the world's largest database of travel information, and it is enhanced by extensive, ongoing research by the Henley & Partners Research Department.
In the newly-unveiled ranking, Pakistan is ranked only higher than conflict-ravaged Syria, Iraq and Afghanistan, which occupies the bottom spot, Dawn reported.
The top spot has been taken by Japan, with the country's passport providing its holders access to 193 destinations. Next in line are Singapore and South Korea, whose passports provide access to 192 countries, followed by Germany and Spain, with their passports having a visa-free score of 190.
Among other top-ranked countries are mostly European nations, the US and the United Kingdom.
In contrast, Afghan passport holders can access just 27 destinations, the passport having the lowest visa-free score. Among other bottom-tier countries, the holders of Iraqi passports are able to gain entry to a mere 29 countries and those of Syrian passports to 30.
Among other countries from Asia, India, along with Mauritius and Tajikistan, has been ranked 87th, with its passport providing access to 67 countries.
China ties with Bolivia for the 69th spot, with each of their passports allowing access to 80 destinations.
Source: Times Of India
Please click the following URL to read the full text of the original story:
https://timesofindia.indiatimes.com/world/pakistan/pakistani-passport-remains-fourth-worst-in-the-world/articleshow/93001349.cms
--------
Pakistan faces foreign policy challenge amid political slugfest between PTI, Sharif govt
20 July, 2022
Islamabad [Pakistan], July 20 (ANI): In the wake of the ongoing political slugfest between Pakistan Tehreek-e-Insaf and the Shehbaz Sharif-led PML-N government, Pakistan has been facing an unprecedented foreign policy challenge due to consistent 'anti-US' rhetoric by ex-Premier Imran Khan and his party members which continues to create political instability in Pakistan.
Pakistan is facing an unprecedented foreign policy challenge amid growing tensions between the two political camps in the country due to the Shehbaz Sharif-led coalition government standing on a 'weak' electoral majority and facing a historic economic crisis amid strong political opposition from Imran Khan's PTI while Imran Khan's blame game against the US for allegedly ousting him from power also continues.
There are emerging cases of growing sentiments against Washington in Pakistan even three months after the incident, for its "alleged role" in dethroning Khan from power, and Khan has intensified his support for the betterment of Pakistan-Russia relations and has refused to condemn Russia's military aggression against Ukraine, Islam Khabar reported.
Several reasons have played a role in creating serious roadblocks in resetting Pak-US ties, a few being Khan's denial to attend Biden's Summit for Democracy event in December last year and Biden not paying heed to call Imran Khan while he was Prime Minister. All these reasons had hit Pak-US ties significantly under Imran Khan's almost four-year-long rule.
Moreover, the army establishment is facing serious credibility issues and a rare spurt of public anger against it for remaining silent/neutral during the ousting of Imran Khan's government. The whole issue has aggravated the civil-military imbalance in Pakistan and put the military establishment on the defensive mode.
Pakistan's Chief of Army Staff General Qamar Javed Bajwa had even spoken publicly about improving relations with the US and openly criticised Russia's "invasion" of Ukraine to prove the military establishment's neutrality on the issue, reported Islam Khabar citing sources.
Pakistan's 'brotherly' relations with China and Imran Khan's severe pressure on the Sharif-led government to import oil, gas, and wheat from Russia amid the growing food and energy crisis in the country are also becoming a roadblock for the country's foreign policy.
As per the reports by Islam Khabar, the PDM coalition in Islamabad is facing serious difficulties in choosing to either reset ties with the US or face public resentment and likely electoral defeat in the 2023 general elections in Pakistan and the Sharif-led government has taken the political risk to put its weight behind the 'West' to seek the immediate resumption of the stalled International Monetary Fund bailout programme and a desperate exit from the Financial Action Task Force's "Grey List".
Imran Khan has relied on "anti-American" rhetoric both in his rise to power as well as in his recent fall. Given that his relationship with the Biden administration was "non-existent", Khan's ties with Russian President Vladimir Putin — who called him three times since August 2021 — and Chinese President Xi Jinping was a major foreign policy shift for Pakistan, much to Washington's chagrin.
Source: The Print
Please click the following URL to read the full text of the original story:
https://theprint.in/world/pakistan-faces-foreign-policy-challenge-amid-political-slugfest-between-pti-sharif-govt/1048081/
--------
Miftah sees economy stabilising with inflows 'on cards'
Khaleeq Kiani | Syed Irfan Raza
July 21, 2022
ISLAMABAD: Blaming political factors for the latest downturn in currency and share markets, Pakis­tan's economic managers tried on Wednesday to reassure that macroeconomic fundamentals were stabilising and $8.5-10 billion inflows have been lined up from friendly countries against a financing gap of $4bn estimated by the International Monetary Fund (IMF).
Simultaneously, econo­mic managers of both incu­mbent and former PTI governments appeared to hint at the continuation of a staff-level agreement with the IMF under an interim set-up.
While Finance Minister Miftah Ismail and senior State Bank of Pakistan (SBP) officials said the IMF had no problem working with an interim set-up, former finance minister Shau­kat Tarin also offered cooperating with a "credible int­erim government" on the continuation of the IMF programme.
Mr Ismail announced at a news conference that economic fundamentals on the trade front had been corrected to an "ideal situation", in which exports and remittances were now financing imports, as evident from the latest numbers for the first 18 days of the current month.
He said the country had a trade deficit of $48bn and a current account deficit of $17bn last fiscal year ending June 30, but the measures taken by the current government had started showing results as imports flattened to $2.6bn in the first 18 days of July against $7.2bn in June. This means the government would be able to have about $2bn in import savings this month.
The minister said the staff-level agreement had been achieved on the IMF programme and there was no disruption to it and no chance of derailment as the government was committed to the implementation of all agreed prior actions and measures in letter and spirit before the Fund's executive board's approval.
With this, the inflows from the World Bank, Asian Development Bank (ADB) and Asian Infrastructure and Investment Bank (AIIB) have been revived.
He said the IMF estimated that despite the World Bank, ADB and AIIB support, there would be a financing gap of $4bn during the current fiscal year for which an agreement would be reached in a day or two with a friendly nation for about $1.2bn worth of oil supplies at the rate of $100 million per month.
Another friendly country would be investing $1-2bn in the stock market under a government-to-government (G2G) mechanism that had been approved by the cabinet and sent to its committee on disposal of legislative cases for vetting.
Moreover, another friendly country was expected to provide $2.4bn worth of natural gas on deferred payment and another country had promised a $2bn bank deposit.
All these supports in the form of oil, gas and deposits put together worked out at $6.6bn and would materialise in a few days and maybe some of them be announced in a couple of days during the foreign visits of Prime Minister Shehbaz Sharif.
A fourth country had offered 2bn in special drawing rights (SDR) deposits (around $2.63bn), Mr Ismail said, adding that this country had already talked to the IMF, which was currently examining the proposal for which past precedents were available in the IMF history.
The government was also considering privatising two LNG power plants at Balloki and Haveli Bahadur Shah in Punjab at about $2bn on a G2G basis, but that might take some time to materialise, he said. "So, our funding requirements are comfortably complete."
Rupee's slide
He said the local currency's depreciation this week "originated from the political situation and had nothing to do with the economic situation".
The rupee fell 2pc on Monday and 3pc on Tuesday despite last week's staff-level agreement with the IMF. On Wednesday, the rupee further slid 1.3pc to 224.92 per dollar, having ended Tuesday at 221.99.
Mr Ismail said all currencies had depreciated against the greenback because of a "once-in-a-generation strengthening of dollar owing to US Fed's monetary tightening".
While the minister claimed that the political situation would stabilise over the next couple of days, he parried repeated questions over the basis of his optimism.
'Economic shock worse than Covid'
Separately, a senior SBP official told journalists the current economic shock was worse than the Covid-19 as many things were happening simultaneously and US central bank's monetary tightening was always painful for emerging economies and resultantly even large economies were struggling.
The SBP official said Pakistan's trust pattern had turned very low after the Feb 28 policy reversals after international commitments and the international community was not ready this time to bail out the country before it showed results on grounds.
He dispelled the impression that the central bank was a silent spectator to the rupee's depreciation, saying it was intervening in disorderly movement and was working with banks and taking other steps as well. "The country needs a bridge between now and until we start receiving funds" from abroad, he said.
He said a better indicator of the rupee's strength was the real effective exchange rate — which takes into account the currencies in which Pakistan trades in inflation-adjusted terms — according to which the Pakistani currency had depreciated only 3pc since December.
PM briefed on economy
Meanwhile, the country's economic team briefed Prime Minister Sharif as the dollar's sharp rise had become a source of deep concern for the government.
The premier called an emergency meeting on the economic situation of the country, Prime Minister Office said Wednesday.
The meeting — held in Islamabad and attended by the economic team and top officials related to the economy — evaluated the factors for the recent hike in the dollar's value and the measures to address it. Mr Sharif, presently in Lahore, chaired the meeting via a video link.
A source privy to the meeting told Dawn the prime minister said the country's uncertain political situation was the main reason behind the dollar's flight.
The meeting discussed ways and means how to stabilise the rupee and expressed concern that the local currency continued sliding against the dollar despite a ban on the import of hundreds of items.
Cabinet meeting today
Mr Sharif has also called a meeting of the federal cabinet on Thursday (today) to discuss the economic and political situation. He will chair the meeting from Lahore via a video link.
According to the agenda, the meeting will discuss the multimodal air-road corridor for Afghan Transit Trade and will also make a decision on the "trade in goods" agreement with Turkiye.
Source: Dawn
Please click the following URL to read the full text of the original story:
https://www.dawn.com/news/1700792/miftah-sees-economy-stabilising-with-inflows-on-cards
--------
Five killed in operation belonged to terrorist group: Langove
Saleem Shahid
July 21, 2022
QUETTA: Adviser to Balochistan Chief Minister on Home and Provincial Disaster Management Authority Mir Ziaullah Langove claimed on Wednesday that five of the nine killed in a recent operation conducted by security forces in Ziarat belonged to a terrorist organisation. However, he said, their names were included in the missing persons' list prepared by the Voice of Baloch Missing Persons organisation.
The operation was carried out near Ziarat last week against the killers of Lt Col Laiq Baig Mirza and his cousin.
Mr Langove's remarks come against the backdrop of a claim by the BNP-Mengal, National Party and some Baloch nationalist groups that five 'militants' killed in the operation were actually missing persons and that they had gone missing after having been picked up allegedly by security forces. Expressing concern, these parties called for an investigation into the killings.
Speaking at a press conference here, Mr Langove said that on July 12, Lt Col Laiq and his cousin Umar Javed had been kidnapped and later martyred by the banned BLA militants in Ziarat. The adviser descri­bed the act as against Balo­­ch and Islamic traditions.
He said members of Levies Force and police officers were being targeted by the banned organisation and their poor families were severely affected by such incidents.
The adviser said a major operation had been conducted in Ziarat area by security forces after Col Laiq's murder.
During the operation, he said, an officer of an intelligence agency had been martyred. He said that of the nine terrorists, five had been identified because their names was included in the missing persons' list.
Source: Dawn
Please click the following URL to read the full text of the original story:
https://www.dawn.com/news/1700800/five-killed-in-operation-belonged-to-terrorist-group-langove
--------
Pakistan, Turkiye enjoy exemplary fraternal relations based on common values: Kh Asif
July 20, 2022
ISLAMABAD: Federal Minister for Defence Khawaja Asif on Wednesday said Pakistan and Turkiye enjoy exemplary fraternal relations based on common faith, culture, values, civilization and historical linkages, mutual trust and support.
The Minister paid his regards during a call on paid by Ambassador of the Republic of Turkiye Mehmet Pacaci, a news release said.
While speaking to Ambassador of Turkiye, Mehmet Pacaci, Minister for Defence Khawaja Asif expressed satisfaction over common understanding on regional and global emerging situation.
Minister stressed that Kashmir dispute coupled with water crises had central role in India-Pakistan relations and a just solution was necessary for lasting peace in the region under UN Resolutions.
He reiterated Pakistan's concern on Indian Army cruelties on innocent people of Jammu and Kashmir especially after revocation of Articles-370 and 35-A of Indian Constitution in August 2019.
Moreover, he also emphasized that Pakistan-Turkiye bilateral relations had been institutionalized under the forum of High Level Strategic Cooperation Council (HLSCC) under Minister of Foreign Affairs and Defence Relations under High Level Military Dialogue Meetings.
Minister for Defence also appreciated the fact that defence engagement between Pakistan and Turkiye focused on building Pakistan's capabilities through defence industrial collaboration and regular exchange of trainings, delegations, courses and joint exercises.
Source: Pakistan Today
Please click the following URL to read the full text of the original story:
https://www.pakistantoday.com.pk/2022/07/20/pakistan-turkiye-enjoy-exemplary-fraternal-relations-based-on-common-values-kh-asif/
--------
Europe
French president calls for direct political dialogue between Israel, Palestine
Busra Nur Cakmak, Mahmoud Barakat
20.07.2022
The French president on Wednesday called for a direct dialogue between Israel and Palestine.
"In the short term, we know, this first requires the end of unilateral measures on the ground," Emmanuel Macron said in a joint news conference with Palestinian President Mahmoud Abbas at Elysee Palace in Paris.
"I am thinking in particular of the evictions of Palestinian families, the demolitions, and the settlement policy contrary to international law, which remove the possibility of establishing a Palestinian state living in peace alongside Israel," Macron added.
He said that this peace also requires "the resumption of a direct political dialogue between the Israelis and the Palestinians."
Abbas, for his part, said that the option of a two-state solution is "eroding" due to Israeli measures and practices and Palestinians "have been waiting for 74 years to get rid of the occupation."
He went on to say: "There is no people in the world living under foreign occupation, except us."
Abbas called on European countries that have not recognized the state of Palestine to recognize it with the aim of "preserving the two-state solution before it is too late."
Source: Anadolu Agency
Please click the following URL to read the full text of the original story:
https://www.aa.com.tr/en/europe/french-president-calls-for-direct-political-dialogue-between-israel-palestine/2641634
--------
Supporters of YPG/PKK terror group hold demonstration in Finland
Emre Karaca
20.07.2022
Sympathizers of the YPG/PKK terrorist organization held demonstrations Wednesday in Finland's capital to protest an agreement it signed last month with Türkiye to secure NATO membership.
Gathering outside the Finnish parliament in Helsinki, the demonstrators unfurled banners symbolizing the terrorist group. They also chanted slogans against the policies of President Sauli Niinisto and Foreign Minister Pekka Haavisto, saying, "Finland for sale, no to NATO."
Finland and Sweden formally applied to join NATO in June, a decision spurred by Russia's war on Ukraine. But Türkiye, a member of the alliance for 70 years, voiced objections, criticizing both countries for tolerating and even supporting terror groups.
The trilateral agreement signed between the countries in June stipulates that Finland and Sweden will not provide support to the terrorist YPG/PKK or the Fetullah Terrorist Organization (FETO), the group behind the 2016 defeated coup in Türkiye, and said Ankara extends full support to Finland and Sweden against threats to their national security.
All 30 NATO member states need to approve the admission of any new countries.
The PKK is listed as a terrorist organization by Türkiye, the European Union, and the US, and is responsible for the deaths of 40,000 people, including women, children, and infants. The YPG is the terrorist PKK's Syrian branch.
Source: Anadolu Agency
Please click the following URL to read the full text of the original story:
https://www.aa.com.tr/en/europe/supporters-of-ypg-pkk-terror-group-hold-demonstration-in-finland/2641340
--------
Talks with Ukraine, Russia, UN on grain corridor going well, says Turkey
21 July ,2022
Talks between Turkey, Russia, Ukraine and the United Nations on resuming Ukrainian grain exports through the Black Sea are going well so far, Turkish Foreign Minister Mevlut Cavusoglu said on Thursday, adding he was hopeful about reaching a deal.
Turkey hosted officials from Russia, Ukraine and the UN to discuss details of the UN-led plan last week.
Ankara has since said a general agreement was reached, and that it wants to put this into writing this week.
Source: Al Arabiya
Please click the following URL to read the full text of the original story:
https://english.alarabiya.net/News/middle-east/2022/07/21/Talks-with-Ukraine-Russia-UN-on-grain-corridor-going-well-says-Turkey
--------
Iran recalls Sweden ambassador in protest at Noury sentence
20 July ,2022
Tehran on Wednesday recalled its ambassador to Sweden "for consultation" in protest against a sentence handed down to former Iranian prison official Hamid Noury.
"The Islamic Republic of Iran, in protest at the statement and the illegal sentence issued in Sweden against Mr. Hamid Noury... has decided to recall its ambassador to Sweden for consultations," foreign ministry spokesman Nasser Kanani said in a statement.
The verdict "is based on baseless, distorted and fabricated accusations," he added.
On July 14, Noury received a life sentence from a Swedish court on charges of committing crimes during a 1988 purge of dissidents in Iran.
Noury, 61, was convicted of a "serious crime against international law" and "murder", the Stockholm district court said in a statement.
The proceedings, which have been running since August 2021, have strained relations between Sweden and Iran, with Tehran dismissing the verdict as "political".
According to the court, Noury was an assistant prosecutor in a prison near Tehran at the time of the events.
The case related to the killing of at least 5,000 prisoners across Iran that was allegedly ordered to avenge attacks carried out by exiled opposition group the People's Mujahedin of Iran (MEK) at the end of the Iran-Iraq war of 1980-88.
Noury was sentenced both for his role in the killings targeting the MEK and for participating in a second wave directed at "left-wing sympathizers who were deemed to have renounced their Islamic faith", the court said.
Throughout the trial, Noury argued that he was on leave during the period in question, and said he worked in another prison, denouncing the accusations as a plot by the MEK to discredit Iran.
Noury was arrested at a Stockholm airport in November 2019 after Iranian dissidents in Sweden filed police complaints against him.
Tehran has repeatedly called on the Swedish government to release Noury.
Source: Al Arabiya
Please click the following URL to read the full text of the original story:
https://english.alarabiya.net/News/middle-east/2022/07/20/Iran-recalls-Sweden-ambassador-in-protest-at-Noury-sentence-
--------
France's Macron meets Palestinian leader Mahmoud Abbas in Paris
20 July ,2022
French President Emmanuel Macron called for a relaunch in political dialogue to achieve peace in the region surrounding Israel and the Palestinian territories on Wednesday (July 20), as he welcomed the leader of the Palestinian Authority in Paris.
Macron and Palestinian leader Mahmoud Abbas held hands as they entered a conference room in the Elysee presidential palace, where they were slated to have a one-on-one meeting to discuss security in the Middle East, where violence and tensions have flared up again recently.
"We both know - we all know - that a new deadly spiral could start at any moment," Macron said, speaking alongside Abbas.
"We have to seize every moment to be able to re-ignite this fire (for political dialogue), this capacity to move forward," Macron added.
Macron also said France remains ready to aid Palestinians to prevent food insecurity brought about by the conflict in Ukraine.
Abbas' Paris visit comes after a trip made last week by United States President Joe Biden in the West Bank, during which he pledged not to give up efforts to end the decades-long Israeli-Palestinian conflict, though he offered no new proposals to restart the stalled political dialogue between the two sides.
Abbas said he counted on Macron to push for efforts to restore peace and find a just solution to the stalemate.
Source: Al Arabiya
Please click the following URL to read the full text of the original story:
https://english.alarabiya.net/News/middle-east/2022/07/20/France-s-Macron-meets-Palestinian-leader-Mahmoud-Abbas-in-Paris-
--------
Turkey says it will meet Finland, Sweden in August to evaluate terror-related pledges
21 July ,2022
Officials from Turkey, Finland, and Sweden will meet in August to evaluate the progress made in fulfilling Ankara's counter-terrorism demands from the Nordic countries to lift its veto on their NATO membership bid, Foreign Minister Mevlut Cavusoglu said on Thursday.
Finland and Sweden have applied for NATO membership in response to Russia's invasion of Ukraine, but were faced with opposition from Turkey, which accused them of supporting groups it deems terrorists.
The three countries signed an accord last month to lift Ankara's veto in exchange for promises on counter-terrorism and arms exports.
Source: Al Arabiya
Please click the following URL to read the full text of the original story:
https://english.alarabiya.net/News/world/2022/07/21/Turkey-says-it-will-meet-Finland-Sweden-in-August-to-evaluate-terror-related-pledges
--------
Mideast
Iran clarifies nuclear policy unchanged after 'bomb' remark
July 21, 2022
TEHRAN: Tehran gave assurances on Wednesday that its nuclear policy was unchanged and that it still adhered to a fatwa banning weapons of mass destruction, after an Iranian official said the country was able to make atomic bombs.
It is the second time in the past 18 months that Iran has reiterated its opposition to nuclear weapons following comments by an official.
"In regard to the topic of weapons of mass destruction, we have the fatwa", or religious edict, by Iran's supreme leader that prohibits the manufacture of such weapons, said foreign ministry spokesman Nasser Kanani.
The fatwa declares the use of atomic bombs and other weapons of mass destruction to be "haram", or forbidden by Islam, and it is often cited by Iranian authorities as a guarantee of Tehran's good intentions.
"It seems that there has been no change in the view and position of the Islamic Republic of Iran" regarding the nuclear policy, Kanani told a news conference.
His comments came in response to a question about remarks made by Kamal Kharazi, head of Iran's strategic council of foreign relations to Al Jazeera on Sunday about Iran's capability to manufacture nuclear weapons.
"It is no secret to anyone that we have the technical capability to make atomic bombs, but we have not made a decision in this regard," Kharazi said, before reiterating Iran's position that it does not want to make a nuclear bomb.
Speaking to the media on Wednesday, Kanani said: "Iran's nuclear capacities are great, but, as it has mentioned many times, Iran's nuclear technology is completely peaceful and under continued monitoring of the (UN's) International Atomic Energy Agency." The remarks came amid heightened tensions between Iran and Western powers as talks in Vienna to revive a 2015 nuclear deal have been stalled since March.
Vienna talks
Qatar hosted indirect talks last month between the United States and Iran in a bid to get the process back on track, but those discussions broke up after two days without any breakthrough.
The Vienna talks, which began in April last year, aim to return the US to the nuclear deal, including through the lifting of sanctions on Iran, and to return Tehran to full compliance with its commitments.
The 2015 agreement gave Iran sanctions relief in exchange for curbs on its atomic programme to guarantee that Tehran could not develop a nuclear weapon — something it has always denied wanting to do.
But the US unilateral withdrawal from the accord in 2018 under then-president Donald Trump and the reimpositon of biting economic sanctions prompted Iran to begin rolling back on its own commitments.
On Tuesday, State Department spokesman Ned Price said US President Joe Biden "has made a commitment that Iran will not acquire a nuclear weapon".
"We continue to believe that diplomacy is the most effective, durable, and sustainable means by which to achieve that," he added.
In February 2021, Iran reiterated its opposition to nuclear weapons after then intelligence minister, Mahmoud Alavi, said it would not be the Islamic republic's fault if it was ever "pushed" towards developing a nuclear bomb.
Iran had claimed the existence of the fatwa for years before making the text public for the first time in 2010, at a time of crisis over its nuclear programme.
Source: Dawn
Please click the following URL to read the full text of the original story:
https://www.dawn.com/news/1700780/iran-clarifies-nuclear-policy-unchanged-after-bomb-remark
--------
Iran: Ball in Court of US Policy-Makers to End Nuclear Negotiations
2022-July-20
"The way is paved for reaching the agreement, but the major issue is about the US which should make an independent, firm and unbiased dicision," Iran's Foreign Ministry Spokesman Nasser Kana'ani said at weekly press conference in Tehran.
He stated that a deal would be conceivable in the short term "if America looked at the matter through the prism of America's national interests, not the Zionist regime's".
"Iran views the US government and its internal institutions as an integrated group, and every action taken by Washington will have an impact on the process of nuclear negotiations. So, Tehran will react on this basis," Kana'ani stressed.
The Iranian official pointed to the latest trend of negotiations for the removal of anti-Tehran sanctions, and stated that "the fact is that, unlike the claim of the American side regarding the fruitless of Doha talks, the negotiations were constructive", so suitable ways have been paved for the continuation of talks in a way that the country is seriously pursuing resumption of talks.
"The Islamic Republic of Iran needs a serious, clear guarantee and verification to secure its economic interests resulting from the nuclear agreement," the spokesman added.
Iranian officials say the ball is in the US' court, and the administration of President Joe Biden should assure Tehran that it will not repeat Donald Trump's past mistakes.
The Spokesman said Iranian Foreign Minister Hossein Amir Abdollahian had held a phone conversation with European Union (EU) Foreign Policy Chief Josep Borrell to facilitate new talks.
Kana'ani added negotiations with the United States were being carried out via the EU.
Iran: US Should Set Aside Excessive Demands, Doubts in Nuclear Talkshttps://t.co/bIOkE0vwN5 pic.twitter.com/eikn7ESav6
— Fars News Agency (@EnglishFars) July 19, 2022
Iran and the five remaining parties to the nuclear deal, officially known as the Joint Comprehensive Plan of Action (JCPOA), have held several rounds of negotiations in the Austrian capital of Vienna since April last year to restore the agreement, which was unilaterally abandoned by Trump in May 2018.
In quitting the agreement, Trump restored sanctions on Iran as part of what he called the "maximum pressure" campaign against the country. Those sanctions are being enforced to this day by the Biden administration, even though it has repeatedly acknowledged that the policy has been a mistake and a failure.
EU Deputy Foreign Policy Chief Enrique Mora coordinated indirect negotiations between Iran and the US in Qatar's Doha in late June aimed at resolving the differences hindering the revival of the 2015 agreement.
Iran: Biden Continues Trump's Failed Policyhttps://t.co/L8ifOoV5D5 pic.twitter.com/xwZ5ldoakI
— Fars News Agency (@EnglishFars) July 12, 2022
Iran has blasted the US for insisting on previous positions during the Doha talks, stressing that the path of diplomacy is still open.
In a joint press conference with Qatari Foreign Minister Mohammad bin Abdul Rahman Al Thani in Tehran in early July, Iranian Foreign Minister Hossein Amir Abdollahian blamed Washington for failure in arriving at a deal in Doha talks, and refuted the US claim that Iran's negotiators have raised demand irrelevant to the nuclear deal in the negotiations.
Source: Fars News Agency
Please click the following URL to read the full text of the original story:
https://www.farsnews.ir/en/news/14010429000418/Iran-Ball-in-Cr-f-US-Plicy-Makers-End-Nclear-Negiains
--------
Iran: Holding All-Inclusive Referendum Sole Solution to Palestinian Issue
2022-July-20
Amir Abdollahian made the remarks at the first Regional Islamic Unity Conference in the western Iranian city of Sanandaj on Wednesday.
He announced that the Islamic Republic had presented an initiative to the United Nations to solve the Palestinian issue diplomatically.
"This initiative has been registered at the United Nations. The plan is based on holding a referendum with the participation of the original inhabitants of Palestine, including Muslims, Jews, and Christians," he said.
The top Iranian diplomat went on to say that the first step of the plan was to launch a fund with the help of the UN and volunteer countries to cover the expenses of the referendum.
The second step was to conduct a population census of all the original inhabitants of Palestine, including those living in the besieged Gaza Strip, the Israeli-occupied territories, and all over the world, he said, adding that a referendum could be held under the supervision of the UN afterwards.
Amir Abdollahian further stressed that the elected representatives would later decide about the fate and future of their country.
In a relevant development in mid-July, Iranian Parliament Speaker Mohammad Baqer Qalibaf called on regional countries to be watchful of the US-Israeli plots in the Middle East, cautioning that the impending visit by US President Joe Biden to the region will be a move at the service of Tel Aviv's plots against regional security.
US President Joe Biden had a four-day tour of the Middle East with stops in the Israeli-occupied territories and Saudi Arabia.
Qalibaf said at the opening session of the Iranian Parliament on Tuesday Washington is the executor of the Tel Aviv regime's plans in the Middle East, calling it "a historical and strategic mistake" by the White House.
"All the evidence shows that this trip was arranged by the Zionists and that the American president is implementing the programs and projects that the Zionist regime, as the main enemy of the nations of the region, has designed," Qalibaf stated.
Source: Fars News Agency
Please click the following URL to read the full text of the original story:
https://www.farsnews.ir/en/news/14010429000606/Iran-Hlding-All-Inclsive-Referendm-Sle-Slin-Palesinian-Isse
--------
EU 'deeply regrets' Iran-backed Houthi's rejection of UN proposal to reopen Taiz road
20 July ,2022
The EU slammed the Iran-backed Houthis rejection of a UN-backed proposal to reopen the road around the Yemeni city of Taiz, the EU delegation to Yemen said in a statement on Tuesday.
"The EU deeply regrets a rejection by the Houthis of the latest proposal by UN Special Envoy (UNSE) on road reopening notably around Taiz," it said, further calling it a "crucial humanitarian element" of the ongoing truce agreement.
The EU urged the Houthis to reconsider and accept the UNSE's proposal.
The Taiz blockade continues to be of concern since it impedes the flow of essential goods and aid delivery inside Yemen's third largest city that has been under siege since 2015.
A provision in the truce agreement for the militants to ease their siege of Yemen's third-biggest city Taiz has yet to be implemented, and the government has demanded roads to the city be opened.
"The truce has broken the diplomatic stalemate and brought unprecedented tangible benefits to Yemenis, and this momentum should not be lost," the EU statement said.
The United Nations, meanwhile, is pushing Yemen's warring parties to agree to a six-month truce extension, two sources familiar with the talks told Reuters, which would be the longest in the seven-year-old conflict as international pressure grows on both sides to end the war.
Peace efforts gained a boost after US President Joe Biden visited Saudi Arabia last week, where he announced agreement with the Saudi leadership to "deepen and extend" the ceasefire expiring on August 2.
In a joint statement released following his visit, the US President Biden expressed his appreciation for the role King Salman bin Abdulaziz and Crown Prince Mohammed bin Salman played in achieving the truce.
Source: Al Arabiya
Please click the following URL to read the full text of the original story:
https://english.alarabiya.net/News/gulf/2022/07/20/EU-deeply-regrets-Iran-backed-Houthi-s-rejection-of-UN-proposal-to-reopen-Taiz-road
--------
Yemen's information minister says Houthis unjustly sieged Khubzah village, indiscriminately bombing
July 20, 2022
LONDON: The Iran-backed Houthi militia in Yemen have unjustly sieged Khubzah village in Al-Bayda province, south of Sanaa, and are indiscriminately bombing citizens with tanks and artillery, the country's information minister said on Wednesday.
Moammer Al-Eryani described their actions as "a fully-fledged war crime" and that they were injuring women and children in those areas and destroying several houses.
"Houthi's heinous crime under UN-sponsored truce, confirms its indifference to deescalation calls and efforts to alleviate Yemenis suffering, and taking advantage of the truce to subjugate tribes that oppose them, and to subjugate them to their priestly project," he said in a series of tweets.
He urged the international community, and the UN and US envoys, to condemn their brutal attack, pressure the Houthi militia to end atrocities, prosecute perpetrators in international courts, lift their siege on Khubzah immediately, open safe corridors for citizens, and allow the injured to receive treatment.
Source: Arab News
Please click the following URL to read the full text of the original story:
https://www.arabnews.com/node/2126301/middle-east
--------
US forces in Syria, region a 'destabilizing factor': Iranian president
Syed Zafar Mehdi
20.07.2022
TEHRAN, Iran
Iran, Türkiye and Russia reiterated their commitment to work toward a political and diplomatic solution to the Syrian crisis at the seventh summit of the guarantor states of the Astana Process on Syria in Tehran on Tuesday.
In his remarks at the trilateral meeting and at the joint presser, Iran's President Ebrahim Raisi said the only solution to the Syrian crisis is "a political solution without foreign interference."
He hailed the Astana Process as a "successful framework for the peaceful settlement of the Syrian crisis" which he affirmed has made "good achievements."
He went on to emphasize the "need to maintain territorial integrity and cohesion (and) respect for the national sovereignty and independence of Syria, determining the fate of the country through Syrian-Syrian dialogues and without foreign interference."
Raisi said 11 years have gone by since the war in Syria started, adding that his country still believes that the only solution is "political" and "not military."
The guarantor states of the Astana Process, he noted, have always backed the "political solution" to the crisis within the framework of the agreements reached, including holding the Syrian constitutional negotiations, while reaffirming their commitment to fighting terrorism in the entire region, including Syria.
Raisi called for "ending the presence of terrorist groups" in Syria while condemning Israeli attacks in the war-ravaged country, especially on civilian infrastructure like airports and ports.
He said US sanctions have put "additional pressure" on the Syrian people, "depriving them of avenues to lead a normal life" while calling for an end to "foreign interference" in the country.
A united, independent Syria without a foreign presence will restore peace to Syria and contribute to the stability and security of its neighbors, Raisi stressed, while terming the presence of US forces in Syria and the region "a destabilizing factor."
The Iranian president went on to reaffirm Tehran's support to the "people and the government of Syria with full force."
The issue of Syrian refugees and domestically displaced people is an "important issue," he asserted, urging regional countries and the international community to "help the refugees return to their homes."
Iran is one of the strongest allies of the Bashar al-Assad regime in Damascus and has backed it fully during the years of war.
The host of Tuesday's meeting described Syria's territorial integrity and sovereignty as a "red line," attributing instability in the country to the American presence.
Raisi accused the US of "looting (Syria's) natural resources," including the country's oil.
He said the international community bears responsibility for solving Syria's refugee crisis and expressed Iran's readiness in supporting any such initiatives.
In their joint statement, the three leaders said they discussed the current situation in Syria, reviewed its developments following the July 1 summit, and reiterated their determination to enhance the trilateral coordination in light of their agreements as well as the conclusions of foreign ministers' and representatives' meetings.
The statement added that they also examined the latest international and regional developments and emphasized the key role of the Astana Process in the peaceful and sustainable settlement of the Syrian crisis.
It further said that they emphasized their unwavering commitment to the sovereignty, independence, unity, and territorial integrity of Syria, expressed their determination to continue working together to fight terrorism, discussed the situation in northern Syria, reviewed the situation in the Idlib de-escalation area, expressed concern over the humanitarian situation in Syria and sanctions, expressed opposition to a military solution to the conflict, reaffirmed their determination to continue operations on the mutual release of detainees, and condemned Israeli military attacks in Syria.
The Astana Process was launched in 2017 in a bid to restore peace and stability in the Arab country, which has been ravaged by war since 2011, when the Assad regime cracked down on pro-democracy protesters.
Last month, the representatives of the three countries stressed that Syria's national sovereignty and territorial integrity should be respected.
Notably, it is Turkish President Recep Tayyip Erdogan's first visit to Tehran since the formation of the new government in Tehran last year. Russian President Vladimir Putin is also on his first international trip beyond the borders of the former Soviet Union since the start of the Ukraine war.
Following the talks Tuesday, Nour News, affiliated with Iran's top security body, said the meeting is centered on the "adoption of practical solutions to reduce tensions (and) relying on the principle of dialogue and interaction to resolve misunderstandings and reduce conflicts together with security concerns."
Source: Anadolu Agency
Please click the following URL to read the full text of the original story:
https://www.aa.com.tr/en/middle-east/us-forces-in-syria-region-a-destabilizing-factor-iranian-president/2641032
--------
Africa
Muslim-Muslim ticket: Bishops who attended Shettima's unveiling fake – Catholic Church
July 20, 2022
By Seun Opejobi
The Catholic Church has described the bishops who attended the unveiling of Kashim Shettima as the All Progressives Congress, APC, presidential candidate, Bola Tinubu's running mate as fake.
Rev. Fr. Patrick Alumuku, spokesman for the Catholic Church Headquarters in Abuja, said those bishops were not their representatives.
Alumuku stressed that Tinubu's campaign team hired the fake bishops to attend the event.
"We have seen the photos circulating online, they are not Catholic bishops. The Catholic Church did not send any representation to the event held today by Bola Tinubu and his running mate Kashim Shettima.
"If you look at the manner the imposters dressed and conducted themselves, you will see they are not Catholic Church officials" he told newsmen.
Source: Daily Post Nigeria
Please click the following URL to read the full text of the original story:
https://dailypost.ng/2022/07/20/muslim-muslim-ticket-bishops-who-attended-shettimas-unveiling-fake-catholic-church/
--------
Death toll from Sudan ethnic clashes climbs to 105: Official
20 July ,2022
Ethnic clashes in Sudan's Blue Nile state in a deadly land dispute killed 105 people and wounded 291, the state's health minister said, providing a new toll Wednesday.
Fighting broke out in the southern state on the borders with Ethiopia and South Sudan on July 11 between members of the Berti and Hausa ethnic groups.
"The situation is now calm," state health minister Jamal Nasser told AFP by telephone from the state capital al-Damazin, some 460 kilometers (285 miles) south of Khartoum.
The deployment of the army had eased the fighting since Saturday, he said.
"The challenge now is in sheltering the displaced," Nasser said.
The United Nations said Tuesday that more than 17,000 people have fled their homes from the fighting, with 14,000 "sheltering in three schools in al-Damazin."
Between January and March this year, the UN said aid was provided to 563,000 people in Blue Nile.
Sudan, one of the world's poorest countries and mired in an economic crisis that has deepened since an October coup led by army chief Abdel Fattah al-Burhan, has seen only rare interludes of civilian rule since independence.
In Sudan, deadly clashes regularly erupt over land, livestock and access to water and grazing, especially in areas still awash with weapons left over from decades of civil war.
Fighting in Blue Nile reportedly broke out after Bertis rejected a Hausa request to create a "civil authority to supervise access to land," a prominent Hausa member said.
But a senior Berti leader said the group was responding to a "violation" of their land by the Hausas.
While fighting is reported to have stopped and relative calm returned to Blue Nile, tensions have escalated in other states, where the Hausa people have taken to the streets demanding "justice for the martyrs."
Source: Al Arabiya
Please click the following URL to read the full text of the original story:
https://english.alarabiya.net/News/middle-east/2022/07/20/Death-toll-from-Sudan-ethnic-clashes-climbs-to-105-Official-
--------
Libya's NOC says production resumed at several oilfields
21 July ,2022
Libya's National Oil Corp (NOC) said on Wednesday crude production had resumed at several oilfields, after lifting force majeure on oil exports last week.
Production has restarted at fields belonging to Waha Oil Company at a rate of 70,000 barrels per day (bpd) and will be gradually increased until normal rates are achieved, the state-owned NOC said in a statement.
Production has also resumed from the Nafoura, Tibesti, al-Ghani and al-Bayda oilfields belonging to Harouge Oil Operations and Arabian Gulf Oil Company (AGOCO).
"Production at the two companies will be increased gradually after restarting the other fields," NOC said.
A tanker entered Ras Lanuf port to ship 600,000 barrels of crude, it said, while another has arrived at the Zueitina oil terminal and will be loaded with one million barrels on Thursday.
Source: Al Arabiya
Please click the following URL to read the full text of the original story:
https://english.alarabiya.net/business/energy/2022/07/21/Libya-s-NOC-says-production-resumed-at-several-oilfields
--------
Envoy reaffirms Türkiye's support for Burkina Faso
James Tasamba
20.07.2022
Türkiye's envoy to Burkina Faso reaffirmed her country's support for the West African country on Tuesday in the face of growing security and food insecurity challenges.
Ambassador Nilgün Erdem Ari announced this after a meeting with Burkina Faso's Prime Minister Albert Ouédraogo in the capital Ouagadougou, according to a statement by the prime minister's office.
They discussed various areas of cooperation between the two countries.
"Türkiye is ready to support Burkina Faso, which is facing a difficult security, humanitarian and food insecurity situation," said Erdem Ari.
She noted that Türkiye maintains excellent and historic diplomatic relations with Burkina Faso.
"There is a strong will between the two countries to enhance cooperation in the fields of economy, trade, culture, and especially education," she added.
In education, Türkiye awards scholarships to Burkinabe citizens, while the two countries also maintain military cooperation in the area of training.
Source: Anadolu Agency
Please click the following URL to read the full text of the original story:
https://www.aa.com.tr/en/africa/envoy-reaffirms-turkiye-s-support-for-burkina-faso/2641035
--------


URL: https://newageislam.com/islamic-world-news/timor-indonesia-nahdlatul-muhammadiyah-nobel/d/127534
New Age Islam Islam Online, Islamic Website, African Muslim News, Arab World News, South Asia News, Indian Muslim News, World Muslim News, Women in Islam, Islamic Feminism, Arab Women, Women In Arab, Islamophobia in America, Muslim Women in West, Islam Women and Feminism