New Age Islam News Bureau
22 Jul 2013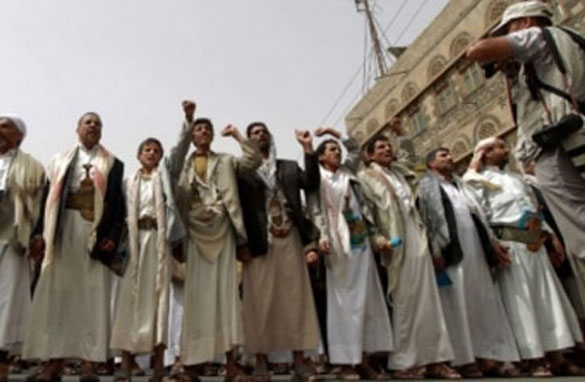 Shia Zaidi rebels in Yemen are waging a battle for the control of mosques. PHOTO: AFP
----------
India
• This Ramzan, Zakat Backs Secular Education and Meeting the Medical Needs of Poor Muslims
• India Islamic cultural centre invites Dr. Zakir Naik
• Bangalore Central Jail inmates break religious barrier to fast together
Arab World
• 75 Syria rebels over 24 hours die in Damascus battles: activists
• Suicide attack kills 25 in northern Iraq
• West Using Sunni–Shiite Split to Keep Syrian Conflict Fresh Forever
• Syria army guns down 13 of a family including six children: NGO
• Six killed in militant attacks in Egypt's Sinai
• Fierce assault on Iraq jails kills at least 12: officials
• Army shelling destroys historic Syrian shrine: NGO
• Al-Qaeda linked leader released by Kurds
• Muslim Brotherhood Spokesman Confirms Democracy and Group's Ideology Don't Mix
• Islamic extremists reportedly attacking Egypt's Christian community over Morsi ouster
• Hezbollah releases new video on 2006 abduction of Israeli soldiers
• 3,500 Saudi imams sacked over a decade
• Sunni politicians search for ways to force Qabbani out
• Egypt's Morsi 'abducted by army', Family accuses
• Young Saudi converts date palm trees waste into coal, firewood
• Mataf Bridge ready to ease Umrah for disabled, elderly
Africa
• Tunisian jihadist calls for clerics, youth to fight in Syria
• Qaeda officials killed in Algeria ambush
• In war-torn Somalia, a fragile corner of peace
• Tunisia to Host Forum on Quds and Global Zionism
Pakistan
• Countrywide protest against attack on Bibi Zainab (SA) shrine
• Kasuri on Afghan scenario: Major ethnic groups must be on board
• Blast near ANP office in Karachi kills two, injures six
• Alleged members of LeJ killed due to manhandling of explosives
• UK should stop its citizens from inciting violence, says Imran
• PM asked to drop plans to seek US drone tech
• Relaxed approach not to work for Karachi law and order, says Nisar
• Pakistan says willing to help Afghan peace talks
• Govt to reveal names of secret detainees
• Criminals seek extortions under cover of terror outfit
Mideast
• Yemenis battle for mosques in Sunni-Shia divide
• Wave of disputes arise in Yemen's NDC over Sharia Law
• Iran mobile company indicted for ''insulting Sunnis''
• Islamist, leftist factions rally against negotiations
• Iranian diplomat kidnapped by gunmen in Yemen
• Path to Mideast talks still blocked: Abbas aide
• Palestinian stance gets Arab League backing
Europe
• Norway honours victims of July 22 terror attacks
• EU foreign ministers ready to blacklist Hezbollah
• Russian region says militants flocking to Syria
• France stands by veil ban after riots
• Enforced disappearances: UN wants Pakistan to take action
• Mosque blast terror suspect released
South Asia
• Muslim Task Force Calls for Dialogue on Rohingya and Peace
• Amendment to the International Crimes (Tribunals) Act, 1973 applicable to Mollah's case
• Bangladesh to seek extradition of 1971 war crimes accused
• Dhaka wants Rohingyas living in KSA to forego Bangla passports
• President Waheed files candidacy forms with Elections Commission
• Hong Kong amends law for Islamic bonds
• Afghan parliament sacks interior minister
• Karzai sets conditions for Pakistan visit
North America
• US Muslims Challenged to Steer Youth Away From Violence
• 71 Guantanamo prisoners will get parole-style hearings, Pentagon says
• Support for Muslim converts during Ramadan
• CAIR wants to share Ramadan with all faiths
• US drone surveillance expanding to hot spots beyond declared combat zones
Southeast Asia
• Indonesia to Pay $1.87m to Save Maid from Death Row in Saudi Arabia
• Densus 88 Kill Two in East Java Terrorism Raid
• Umno lawyer Shafee is tainted, has cast aspersions against me, says Anwar
Compiled by New Age Islam News Bureau
URL: https://www.newageislam.com/islamic-world-news/new-age-islam-news-bureau/this-ramzan,-zakat-backs-secular-education-and-meeting-the-medical-needs-of-poor-muslims/d/12701
-----------
India
This Ramzan, Zakat backs secular education and meeting the medical needs of poor Muslims
J. S. IFTHEKHAR
July 22, 2013
As opposed to the usual practice of funding madrasa education, the idea of supporting secular education and meeting the medical needs of poor Muslims is gaining ground
More than the objects around us, it is people who need to be restored and redeemed. And what better way to reclaim them than to meet their immediate needs. Many Muslim organisations – social and philanthropic – are staking a claim on Zakat, the poor's due, given by the community mostly during Ramzan.
Zakat for education and medicine is now the catchword.
Traditionally, Muslims have been offering their annual Zakat to madrasas to fund the education of children studying there. A part of the charity also goes to the lesser privileged in the family, the needy, orphans and the wayfarers. Now the idea of supporting secular education and meeting the medical needs of poor Muslims is gaining ground.
NGOS PITCH IN
Well-known builder Ghiasuddin Babukhan has pioneered funding the secular education of deserving boys and girls through his Hyderabad Zakat and Charitable Trust. Now, several Muslim organisations have realised the importance of using the huge zakat amount generated every year to do the same. A symbol of Islamic social justice, zakat is considered the community's best bet to lift itself up.
Appeals for Zakat and Sadqah are pouring in from different institutions this Ramzan. The Helping Hand Foundation (HHF), a Hyderabad-based NGO, has come up with a list of programmes which Muslims can support through their Zakat.
The case of Mubina Begum, 30, a widow with three children, is pathetic. The condition of this graduate was highlighted by The Hindu when she was living on a footpath. Later, the HHF came to her rescue. There are 84 such deserving widows and orphan children who desperately need support.
EXPENSIVE TREATMENT
The story of Noor Kamal, a B.Com student from Burma, is also pitiable. He lost both his upper limbs in the violence that erupted in Myanmar's Rakhine last year. He needs prosthesis that costs Rs. 3 lakh.
The HHF has identified 114 such cases of breadwinners affected by trauma, accidents, cancer, kidney failure, paralysis, TB and HIV. There are also 30 spastic and disabled children and 50 mother and child nutrition cases requiring support. "We need the community support to help such deserving persons round the year," says Mujtaba Hasan Askari of the HHF. The HHF can be reached on 040-23302004.
Another voluntary organisation, Help Hyderabad, is also seeking Zakat donation to carry out programmes such as assisting the poor with rations, medicines, scholarships and livelihood skills. One can contact the organisation on 9246339507.
The Safa Baitul Maal has come up with a novel programme of distributing Ramzan ration among the poor. One can meet the cost of food packets through the Zakat amount.
The ration packet costing Rs. 1,500 contains rice, dal, oil, dates, garlic and ginger paste.
If you want to touch the future, touch a life. Act as if what you do makes a difference. It does.
http://www.thehindu.com/news/cities/Hyderabad/this-ramzan-zakat-backs-secular-education/article4938332.ece
-----------
India Islamic cultural centre invites Dr. Zakir Naik
July 22, 2013
Riyadh: 'Read message of Allah with complete understanding and implement them in your lives,' was one the important advices from world renowned Islamic Scholar Dr. Zakir Naik to the audience, when he was addressing a group of expatriates during an Iftar Party organized by Riyadh Chapter of India Islamic Cultural Centre (IICC) on the occasion of the blessed month of Ramadan.
Naik advised the attendees to read Quran with its meaning in the languages whatever are best known and understood to them. He elaborated quoting prophet Muhammad (pbuh) that 'Understanding of one verse of Quran is better than just reciting 700 verses'. He said that this shall be our routine and everyday Quran shall be read with complete understanding, especially during the Holy month of Ramadan to get benefitted for this world and hereafter.
Dr. Zakir Naik also highlighted the importance of education and advised to keep a striking balance between formal education and Islamic education with the ultimate purpose of education making the human being closer to its creator the Allah almighty.
The Convener of IICC Overseas Chapter Murshid Kamal welcomed Dr. Zakir Naik and thanked him for attending the event. A set of books by famous author Rashid Shaz were also presented to Dr. Zakir by Murshid Kamal, as he is an avid reader and loves to read during his leisure time. Murshid Kamal also conveyed IICC President Sirajuddin Qureshi's good wishes to Dr. Naik and on his behalf and invited him to visit India Islamic Cultural Centre in New Delhi.
Kaunain Shahidi, IICC working committee member conducted the whole program in his dynamic style and thanked the audience to make the event successful. 'It was a great moment for us to spend some quality time with Dr. Zakir and get his views and guidance for the betterment of our lives', added Shahidi.
Another highlight of the event was the short documentary about IICC, indicating its purpose of spreading message of Islam and contribution to the society in general by promoting mutual understanding and other services to the society.
A number of prominent Indian expatriates contributed to make the event possible. All the aspects of the event were well planned and executed and timely managed by the IICC working committee members with the help and cooperation of many other community members.
Life Members of IICC, Tarique Masood, Dr. Misbahul Arfeen Mohammed Zaigham Khan, Chairman of Hira International, Salim Zubeidi, President of AMOUBA, Dr. Ahmed Badsha, Acting President of JMIAA Aftab Nizami, Ex Vice President of Jamia Alumni Association, Laique Azmee, Riyadh Chief of Bihar Anjuman, Syed Muneer also attended the event.
Other among present were, Syed Ziauddin, Jabed Hussain, Asif Iqbal, Zafar Bari, Aftab Nizami, Shaheen, Hilal, Najam and many more well-wishers of Dr Zakir Naik. Naushad Alam presented a vote of thanks to the guests and audience and invited them for the Dinner.
http://twocircles.net/2013jul21/india_islamic_cultural_centre_invites_dr_zakir_naik.html
-----------
Bangalore Central Jail inmates break religious barrier to fast together
Jul 22, 2013
20 Hindus join 160 Muslims in observing fast
The spirit of Ramzan has touched not only Muslims in the Parappana Agrahara jail, but also some of the Hindu inmates who have decided to join them in fasting.
Around 160 Muslim inmates of the central prison, along with 20 of their Hindu counterparts, are observing fast during the month of Ramzan. "To our surprise, we received around 20 applications from Hindus who volunteered to fast with Muslim inmates," Chief Superintendent of the Bangalore Central Jail Krishna Kumar said. There are about 800 Muslims in the prison.
Scrutiny
He said that they scrutinised the applications before granting permission. The department had made special provisions to house 180 people in single barracks. The department has also made provisions to prepare the morning and evening meals for those who fast.
"We have received requisitions from inmates of 'sensitive' category to allow them to observe fast with the others. However, we have allowed them to observe Ramzan within their cell because of security reasons," he said.
The prison, which has a mosque, conducts special prayers every Friday, when the Imam comes to deliver special prayers. A Maulvi from Bangalore, jailed for a criminal case a few years ago, is conducting the prayers. "We are also planning to have Iftar parties to share the mood of Ramzan among the inmates," a senior official said.
http://www.thehindu.com/news/cities/bangalore/jail-inmates-break-religious-barrier-to-fast-together/article4940356.ece
-----------
Arab World
75 Syria rebels over 24 hours die in Damascus battles: activists
Jul 22, 2013
Syrian activists say government troops have killed at least 75 rebels over 24 hours in battles for control of the capital, Damascus.
The death toll reported by the Britain-based Syrian Observatory for Human Rights on Monday included 49 rebels killed in an ambush in Damascus' northeastern suburb of Adra early on Sunday. The group says an elite unit loyal to President Bashar Assad ambushed the rebels as they were trying to push into the city.
Syrian state news agency SANA reported the ambush on Sunday, without giving a casualty figure.
The Observatory reported that another 17 rebels died in fighting on Sunday in central Damascus, while another nine were killed in its suburbs.
It was one of the deadliest days for the opposition in the 2-year-old conflict, which has killed 93,000 people.
http://www.thehindu.com/news/international/world/75-syria-rebels-die-in-damascus-battles-activists/article4940868.ece
--------
Suicide attack kills 25 in northern Iraq
Reuters | Jul 22, 2013
MOSUL, Iraq: A suicide bomber attacked an Iraqi army convoy in the northern city of Mosul early on Monday, killing at least 22 soldiers and three passers-by, police said.
The bomber drove a vehicle packed with explosives up to a military convoy in the eastern Kokchali district of Mosul, 390 km (240 miles) north of Baghdad, before blowing himself and his car up.
"A suicide bomber was following the convoy and when it stopped in the middle of road, he detonated his vehicle right behind it," said a policeman at the scene who declined to be identified because he was not authorized to speak to the media.
Full report at:
http://timesofindia.indiatimes.com/world/middle-east/Suicide-attack-kills-25-in-northern-Iraq/articleshow/21239914.cms
-----------
West Using Sunni–Shiite Split to Keep Syrian Conflict Fresh Forever
July 22, 2013
TEHRAN (FNA)- American columnist and environmental activist Dean Henderson believes that the Western powers are using the religious and ethnic diversity in Syria to create a deep and long-life sectarian conflict in the Muslim country.
"The Sunni/Shiite split is being used to divide Syrians so that old imperial forces can retake the country. The real issue is that Assad leans left and this is a threat to the monopoly capitalist system which employs these intelligence operatives," Dean Henderson said in an exclusive interview with Fars News Agency.
Dean Henderson was born in South Dakota and earned an M.Sc. in environmental studies from the University of Montana in 1991. He founded the political newsletter "Missoula Paper" in 1990. Henderson has traveled to some 50 countries and has written articles for the Global Research, In These Times, Paranoia, Veterans Today, Rense.com and Press TV. Dean co-founded the U. of Montana Green Party and Ozark Heritage Region Peace & Justice Network. He was Vice-President of the Central Ozarks Farmer's Union and former President of the Howell County Democrats. In 2004 he won the Democratic nomination for Congress in Missouri's 8th District. He has authored four books.
Full report at:
http://english.farsnews.com/newstext.aspx?nn=13920428000734
-----------
Syria army guns down 13 of a family including six children: NGO
July 21, 2013
The Syrian army shot dead 13 members of the same family, including six children, in the Mediterranean coastal village of Bayda, a watchdog charged on Sunday.
"The number of people from one family, who were killed by regime forces in the village of Bayda, has risen to 13,"
said the Syrian Observatory for Human Rights.
http://www.hindustantimes.com/world-news/restofasia/Syria-army-guns-down-13-family-members-NGO/Article1-1096047.aspx
-----------
Six killed in militant attacks in Egypt's Sinai
Reuters | Jul 22, 2013
CAIRO: Six Egyptians were killed and 11 others wounded in several attacks by militants in the Sinai peninsula near Egypt's borders with Israel and the Palestinian Gaza strip, medical sources said on Monday.
Two civilians, two army officers and two policemen were killed in at least 10 attacks in the province's main northern cities of Rafah and El-Arish overnight against police stations and security and army checkpoints, according to the sources.
Full report at:
http://timesofindia.indiatimes.com/world/middle-east/Six-killed-in-militant-attacks-in-Egypts-Sinai/articleshow/21232907.cms
-----------
Fierce assault on Iraq jails kills at least 12: officials
Jul 22 2013
Baghdad: Gunmen attacked two Iraqi jails in a bid to free prisoners, killing at least 12 security force members in fierce clashes that raged all night, officials said today. The coordinated attacks on the prisons of Taji, north of Baghdad, and Abu Ghraib, west of the Iraqi capital, were launched yesterday night and lasted for around 10 hours, they said. A police colonel said seven inmates escaped from Abu Ghraib during the clashes, although Islamists claimed on the Internet that thousands of prisoners were freed.
Officials said at least five members of the security forces were killed at Taji prison, and seven others at Abu Ghraib, notorious for abuses committed by US forces against Iraqi detainees in 2004. Around another 40 security force members were wounded. It was not immediately known how many of the assailants were killed, wounded or captured. The attacks were launched at around 9:30 pm (1830 GMT) yesterday when the gunmen fired mortar shells at the prisons.
Full report at:
http://www.indianexpress.com/news/fierce-assault-on-iraq-jails-kills-at-least-12-officials/1145030/
--------
Army shelling destroys historic Syrian shrine: NGO
July 22, 2013
BEIRUT: Syrian army shelling destroyed the centuries-old mausoleum of a companion of the Prophet Mohammed in the central city of Homs on Monday, a monitoring group and activists said.
Reports of the destruction of the Sunni pilgrimage site emerged as an intense army campaign to reclaim rebel-held areas of Homs, a strategic junction city, entered its fourth week.
"Activists from the Khaldiyeh neighbourhood in the city of Homs have reported the destruction by army shelling of the mausoleum of the prophet's companion Khaled bin Walid," said the Syrian Observatory for Human Rights.
Full report at:
http://tribune.com.pk/story/580314/army-shelling-destroys-historic-syrian-shrine-ngo/
-----------
Al-Qaeda linked leader released by Kurds
July 22, 2013
A leader linked to Al-Qaeda has been released by Kurdish forces in the northern Syrian border region, Reuters reported activists as saying.
A ceasefire between the Islamic State of Iraq and Shama (ISIS), also known as Abu Musaab, and Syrian Kurds has equally resulted in hundreds of kidnapped Kurds being released.
Tensions between the groups have mounted as Islamists try to gain control of rebel zones in the north, whereas Syrian Kurds wish to establish their sovereignty.
http://www.albawaba.com/news/al-qaeda-linked-leader-released-kurds-508354
-----------
Muslim Brotherhood Spokesman Confirms Democracy and Group's Ideology Don't Mix
By Paul Bonicelli
July 22nd, 2013
Very soon after Hosni Mubarak fell from power, the Obama administration's Egypt policy began to fail. Critics, like many of those here at Foreign Policy's Shadow Government blog, noted that any hope for the future depended on Egypt truly transforming itself into a pluralist state. No more military-backed dictatorship and no contemplation of an Islamist dictatorship. The revolution that resulted in Mubarak's downfall (plus the years of opposition political activity and dissent before that) clearly revealed that Egypt contains large groups of people who want representation in their government. The body politic is composed of Muslims, Christians, and liberals/secularists. The test of any new government -- including the putting together of one -- would be whether it would respect the rights of all nonviolent actors to participate in a representative government. This was especially crucial to understand and respect given that we had just witnessed millions of Egyptians from these various camps mobilized with considerable bravery and determination to liberate themselves.
Full report at:
http://shadow.foreignpolicy.com/posts/2013/07/19/muslim_brotherhood_spokesman_confirms_democracy_and_groups_ideology_dont_mix
-----------
Islamic extremists reportedly attacking Egypt's Christian community over Morsi ouster
By Perry Chiaramonte
July 22nd, 2013
The Muslim Brotherhood reportedly is attempting to blame Egypt's Coptic Christian community for the recent ousting of President Mohammed Morsi and even resorting to violent tactics in an effort to gain back power.
Reports have surfaced out of Egypt that sectarian attacks against Copts by Islamic extremists are on the rise since Morsi was ousted July 3. Copts, who make up about 9% of Egypt's population, have said they consistently have been targeted by Islamic radicals for campaigning against the Muslim Brotherhood-backed president.
Full report at:
http://www.foxnews.com/world/2013/07/20/last-ditch-effort-islamic-extremists-attacking-egypt-christian-community-over/?intcmp=trending#ixzz2ZnkjRlU1
-----------
Hezbollah releases new video on 2006 abduction of Israeli soldiers
By DAVID BARNETT
July 21, 2013
Hezbollah's Al Manar TV station today released a new video related to the July 2006 abduction of Israeli soldiers Ehud Goldwasser and Eldad Regev, which had led to the start of the 2006 war between Hezbollah and Israel.
The new video details how Hezbollah operatives trained around the area where the abduction took place. The video includes a digital simulation showing how Hezbollah planned the operation.
Khalid Bazzi, also known as Hajj Qasim, who led the operation, is shown in the video speaking to Hezbollah operatives. Bazzi died during the 2006 war in an airstrike by the Israeli Air Force. Imad Mughniyah, a former senior Hezbollah commander who is believed to have masterminded the abduction, is also mentioned in the video. Mughniyah was killed in Damascus in February 2008.
Full report at:
http://www.longwarjournal.org/threat-matrix/archives/2013/07/hezbollah_releases_new_video_o.php#ixzz2ZncdhtNA
-----------
3,500 Saudi imams sacked over a decade
22 July 2013
JEDDAH: ARAB NEWS
A report by US State Department revealed that the Ministry of Islamic Affairs, Endowments, Call and Guidance sacked 3,500 imams from 2003 through 2011 after a central committee of the ministry failed to persuade them to change their extremist views, a local newspaper quoted a report by the US State Department as saying.
The report said that the ministry did not dismiss in 2012 any imam who has been following such extremist ideologies, but monitored websites and forums of extremists and posted evidences to rebut the cases shown online. The ministry nonetheless continues to monitor the studying materials taught in religious summer camps to prevent the education of such extreme subjects for underage students.
Full report at:
http://www.arabnews.com/news/458779
-----------
Sunni politicians search for ways to force Qabbani out
July 22, 2013
By Antoine Amrieh, Wassim Mroueh
TRIPOLI, Lebanon: Senior Sunni politicians are still debating how to force out Grand Mufti Sheikh Mohammad Rashid Qabbani, despite an unequivocal statement Wednesday from the Higher Islamic Council insisting he would stay in his post until elections next year. However, there were different versions of the Saturday meeting between caretaker Prime Minister Najib Mikati, Prime Minister-designate Tammam Salam, former Prime Minister Fouad Siniora and former Prime Minister Omar Karami at an iftar banquet hosted by the latter at his Tripoli residence.
Full report at:
http://www.dailystar.com.lb/News/Local-News/2013/Jul-22/224545-sunni-politicians-search-for-ways-to-force-qabbani-out.ashx#ixzz2ZnqXNwic
-----------
Egypt's Morsi 'abducted by army', Family accuses
22 July 2013
The family of the ousted Egyptian President Mohammed Morsi has accused the army of abducting him.
His daughter Shaimaa told a news conference in Cairo that the family was taking legal measures against the army.
Mr Morsi has been held at an undisclosed location, without charge, since being ousted from power on 3 July.
Full report at:
http://www.bbc.co.uk/news/world-middle-east-23406337
---------
Young Saudi converts date palm trees waste into coal, firewood
22 July 2013
A young Saudi has successfully implemented a plan to convert remnants of date palm trees into firewood and coal, optimizing the use of the fruit through an environmentally friendly initiative.
Muqbil Al-Khalaf, CEO and founder of the project, was recently awarded the prize for the Industrial Innovation Award, receiving SR500,000 from Tawfiq Al-Rabia, minister of commerce and industry, for his innovative project.
The project was sponsored and funded by the Badir Program for technology incubators at the King Abdulaziz City for Science and Technology (KACST).
Full report at:
http://arabnews.com/news/458781
---------
Mataf bridge ready to ease Umrah for disabled, elderly
22 July 2013
The new mataf bridge around the Holy Kaaba opens for pilgrims this week. Only disabled and elderly pilgrims will be allowed to use the circular bridge that can hold 7,000 wheelchair-borne pilgrims per hour.
"Since the bridge would be set apart for weak, infirm and disabled pilgrims, the movement of able-bodied pilgrims below on the ground floor will become easier as that area will be free from wheelchairs that used to clutter in an already crowded area," said the Haj Ministry's spokesman Hatim Qadi.
Authorities have stepped up preparations to receive millions of pilgrims in the second half of Ramadan as they come from across the world to perform Umrah and attend special prayers at the Grand Mosque in Makkah.
Full report at:
http://arabnews.com/news/458795
---------
Africa
Tunisian jihadist calls for clerics, youth to fight in Syria
By BILL ROGGIO
July 22, 2013
In a newly released jihadist video, a Tunisian fighter from the Muhajireen Army, a terrorist group composed primarily of foreign fighters and Syrians who are closely tied to al Qaeda's affiliate in Syria, urged clerics and Muslim men to travel to the country to wage jihad against the government of President Bashir al Assad. The video highlights the close relationship between the Muhajireen Army and the Islamic State of Iraq and the Levant, an al Qaeda affiliate.
The video, which was released on July 18 on Twitter and Facebook accounts run by the Muhajireen Army, was obtained and translated by the SITE Intelligence Group.
"The video's title gives the name of the al Qaeda-affiliated Islamic State in Iraq and the Levant (ISIL), suggesting a relationship between the groups," SITE noted in a statement accompanying the translation of the video.
Full report at:
http://www.longwarjournal.org/archives/2013/07/tunisian_jihadist_ca.php#ixzz2ZncPZJW1
-----------
Qaeda officials killed in Algeria ambush
July 22, 2013
ALGIERS : At least two of four Islamists killed by security forces in a raid southeast of Algeria's capital were members of Al-Qaeda in the Islamic Maghreb (AQIM), press reports said Sunday.
The four were aboard a vehicle ambushed in the town of Sour El-Ghozlane some 100 kilometres (60 miles) southeast of Algiers, reported Le Soir d'Algerie, citing reliable security sources. The ambush took place overnight Friday-Saturday.
Two senior AQIM members were among the dead, Bourihane Rabah, alias Ayad Abou Abderrahmane, and Lafi Lakhdar, alias Aboulwahid Touhami, the paper and Liberte both reported.
Full report at:
http://www.nation.com.pk/pakistan-news-newspaper-daily-english-online/international/22-Jul-2013/qaeda-officials-killed-in-algeria-ambush
-----------
In war-torn Somalia, a fragile corner of peace
AMAN SETHI
Jul 22, 2013
Somaliland is fascinating experiment in minimalist state building
Down the street the porter walked, wheelbarrow piled high with thick wads of Somaliland shillings held together with elastic bands. Along the pavements, tea-sipping money traders sat behind similar stacks of wealth, trading shillings for dollars, pounds, euros and even slivers of gold.
The shilling is the official currency of the self-proclaimed sovereign Republic of Somaliland; but the currency, much like the republic, is yet to be recognized by any country in the world. The 3.5 million residents of this breakaway territory along the Gulf of Aden carry a veritable currency basket in their pockets – personal savings are in dollars, but shopping is in shillings.
The money traded on the streets, residents say, is a testament to the safety and security of their town.
Full report at:
http://www.thehindu.com/news/international/world/in-wartorn-somalia-a-fragile-corner-of-peace/article4938191.ece
-----------
Tunisia to Host Forum on Quds and Global Zionism
July 22nd, 2013
(Ahlul Bayt News Agency) - According to the General Office of Public Relations and Information of the Islamic Culture and Relations Organization (ICRO), Sadeq Ramezani Golafzani, Iranian cultural attaché in Tunisia said that the program will be held on August 2.
He said that the forum will be organized by the Iranian Cultural Center in Tunisia in cooperation with the Center for Dialogue among Religions and Civilizations affiliated to Susa University in Tunisia and Ibn Roshd Cultural Association.
Full report at:
http://abna.ir/data.asp?lang=3&Id=443343
----------
Pakistan
Countrywide protest against attack on Bibi Zainab (SA) shrine
Jul 22, 2013
LAHORE: A large number of females belong to Majlis Wahdatul Muslameen (MWM) held a protest rally and staged sit-in against a terror attack on the shrine of Hazrat Bibi Zainab (RA) located in Syrian capital Damascus on Sunday. Females also brought their children in the protest.
The Sunni community representative and leader of the Ahle-Sunnat Wal Jamaat Mohammad Ali Naqshbandi as well as member parliament on reserved seats for women Asma Mamdoot and MPA Samina Khawar Hayyat also participated in it.
Mohammad Ali Naqshbandi and Asma Mamdoot also addressed the protesters. The rally started from the Mall Road in front of Al-Hamra Art Council and culminated at Lahore Press Club led by MWM's female wing leader Khanum Sakina where Majlis' Deputy Secretary General Allama Hasan Zafar Naqvi, Allama Abuzar and others also addressed the protesters. MWM protesters were carrying placards, banners and protesting flag of coloured black and were also chanting slogans against the elements involved in attack on the holy places of Shias across the world.
Full report at:
http://www.dailytimes.com.pk/default.asp?page=2013\07\22\story_22-7-2013_pg1_5
-----------
Kasuri on Afghan scenario: Major ethnic groups must be on board
2013-07-21
SAHIWAL, July 20: Senior Pakistan Tehreek-i-Insaf leader Khurshid Mahmood Kasuri has said Pakistan must facilitate the process of involving all major ethnic groups in Afghan political settlement before the departure of the US-led NATO forces.
"A civil war will break out in case all major ethnic political groups like Hazaras, Uzbeks, Tajiks and Pashtoons are kept out of the power-sharing formula," he said at a meeting with a group of journalists on Saturday.
The former foreign minister said no single ethnic group could rule Afghanistan. He said Pakistan after the invasion of the USSR in 1979 had always played a significant role in Afghanistan. But many realities had changed during the last 34 years, he said.
Full report at:
http://dawn.com/news/1030767/kasuri-on-afghan-scenario-major-ethnic-groups-must-be-on-board
-----------
Blast near ANP office in Karachi kills two, injures six
July 21, 2013
KARACHI: At least two people, including an Awami National Party's (ANP) ward president, and an activist were killed, and six others were injured in a coordinated attack on their office in Gulshan-e-Buner area of Landhi late on Sunday, Express News reported.
"The explosion was caused by a cracker and was preceded by heavy firing," reported Express Tribune correspondent Faraz Khan.
The deceased were identified as ANP Ward president Afroze Khan and activist Bakht Hamil Khan.
The rescue teams shifted the dead bodies and the injured to Jinnah hospital.
Of the six people injured, two are being described to be in a serious condition, reported Express News.
Full report at:
http://tribune.com.pk/story/580136/blast-in-karachi-leaves-two-dead-several-injured/
-----------
Alleged members of LeJ killed due to manhandling of explosives
July 21, 2013
KARACHI: The terrorists killed in the blast inside a house in Patel Para on Saturday evening were experts in bomb making and were affiliated with the outlawed Lashkar-e-Jhangvi (LeJ), The Express Tribune learnt on Sunday.
Three suspected terrorists, identified as Matinullah, his relative Subhan and a companion Akbar Aka Bukhari, were killed while another, Imran, was wounded when a powerful explosion took place inside a rented house in the narrow streets of Patel Para shortly after Iftar.
Full report at:
http://tribune.com.pk/story/580042/premature-detonations-alleged-members-of-lej-killed-due-to-manhandling-of-explosives/
-----------
UK should stop its citizens from inciting violence, says Imran
July 22, 2013
LONDON: Referring to the murder of Zahra Shahid Hussain, Pakistan Tehreek-e-Insaf chairman Imran Khan said the British government should stop its citizens from inciting violence.
He was speaking during an Iftar in London.
Known as the mother of PTI, Hussain was shot dead outside her house on May 18. Imran held rival Muttahida Qaumi Movement (MQM) chief responsible for the incident and said "Altaf Hussain had openly threatened PTI workers and leaders through public broadcasts."
Full report at:
http://tribune.com.pk/story/580263/zahra-hussains-murder-uk-should-stop-its-citizens-from-inciting-violence-says-imran/
-----------
PM asked to drop plans to seek US drone tech
July 22, 2013
ISLAMABAD: As the government looks for alternatives to convince the US to call off its drone campaign in the tribal areas, the foreign ministry has asked Prime Minister Nawaz Sharif to drop his plan to ask Washington for the transfer of drone technology from his list of options citing 'legal implications'.
The government was planning to formally request the US for drone technology during the upcoming visit of US Secretary of State John Kerry as part of efforts to end the impasse over the controversial programme.
However, senior foreign ministry officials recently briefed the government on the likely implications of such a policy.
"We have to take a principled stand against drone use. Seeking drone technology shows a contradiction in our policy," argued a foreign ministry official, speaking on condition of anonymity due to the sensitivity of the issue.
Full report at:
http://tribune.com.pk/story/580200/ending-the-unmanned-war-pm-asked-to-drop-plans-to-seek-us-drone-tech/
-----------
Relaxed approach not to work for Karachi law and order, says Nisar
Jul 22, 2013
KARACHI: During his first visit to the provincial capital of Sindh after taking oath as Interior Minister at the centre, Chaudhry Nisar Ali Khan on Monday said Karachi's law and order situation could not be handled in a relaxed manner.
Speaking to media representatives upon his arrival at the Jinnah International Airport, the interior minister strongly emphasised on the need to assess the law and order situation in Sindh, particularly in its capital, adding that he had undertaken the trip to enhance his understanding of the security situation in Karachi.
Full report at:
http://dawn.com/news/1031068/relaxed-approach-not-to-work-for-karachi-law-and-order-says-nisar
-----------
Pakistan says willing to help Afghan peace talks
Jul 22, 2013
KABUL: Pakistan is willing to help jumpstart long-stalled peace talks between the Afghan government and the Taliban to try to end the more than 12-year war in Afghanistan if the parties request Islamabad's help, a senior Pakistani official said Sunday.
Sartaj Aziz, a special adviser on national security and foreign affairs, spoke during a one-day visit to Afghanistan aimed at mending relations between the two neighbors.
Ties have been strained over Kabul's perception that Pakistan has been supporting the Taliban as well as trying to obstruct peace talks.
The US has been trying to enlist Pakistan's support to help coax the Taliban into peace negotiations with Afghanistan. Washington views Pakistan as a key player in the negotiations because of its longstanding relationship with the militant movement.
Full report at:
http://dawn.com/news/1030864/pakistan-says-willing-to-help-afghan-peace-talks
---------
Govt to reveal names of secret detainees
July 22, 2013
ISLAMABAD: The authorities have agreed to reveal the names of all detainees in internment centres run by the country's intelligence agencies, reliable sources told the Daily Express on Sunday.
At the same time, a mechanism has been devised allowing the relatives of 'missing persons' to meet their loved-ones in these detention centres. A mechanism has also been worked out for the recovery of missing persons, sources said.
The mechanism was agreed upon at a high-level meeting at the Attorney General of Pakistan (AGP)'s office in Islamabad last Thursday. Representatives from the four provinces and other senior officials were in attendance.
Full report at:
http://tribune.com.pk/story/580198/mechanism-devised-govt-to-reveal-names-of-secret-detainees/
-----------
Criminals seek extortions under cover of terror outfit
MUNAWER AZEEM
2013-07-22
ISLAMABAD: Though extortions were unheard of in Islamabad till recently, a series of complaints by traders and businessmen against armed groups threatening them for payment of money in millions has put the capital police in a bind.
Most of these groups terrorised their targets through phone calls and letters written on the letterheads of the proscribed Tehrik-i-Taliban Pakistan (PTI) warning them of dire consequences if they failed to pay the amount within a specific deadline.
The latest case was reported to the police on July 9 by 12 vendors from the Sabzi Mandi. They complained that a group of people armed with sophisticated weapons was threatening them to pay them extortion.
Full report at:
http://dawn.com/news/1030971/criminals-seek-extortions-under-cover-of-terror-outfit
-----------
Mideast
Yemenis battle for mosques in Sunni-Shia divide
July 22, 2013
DUBAI: Sunni and Shia Zaidi rebels in Yemen are waging a battle for the control of mosques, in a spillover of the sectarian face-off rattling the Middle East.
The showdown was previously confined to the northern province of Saada, stronghold of Zaidi Ansarullah rebels who have since last year frequently clashed with supporters of the Sunni party al Islah.
Sanaa accuses Ansarullah of being backed by Shia-majority Iran.
With the start of Ramazan on July 10, frictions between the two sides have sharpened in the capital.
Salafists have been trying to seize control of a mosque led by a Zaidi imam in Sanaa, in response to a similar move by Ansarullah supporters against another mosque led by a Sunni cleric in the capital.
This has sparked clashes in which knives were used and also a bomb attack that wounded five people last week, according to witnesses and police.
Full report at:
http://tribune.com.pk/story/580268/yemenis-battle-for-mosques-in-sunni-shia-divide/
-----------
Wave of disputes arise in Yemen's NDC over Sharia Law
July 22nd, 2013
An urgent press conference was held at the National Dialogue Conference to address the latest disorder, which has aroused among members of the body, regarding the role of Islamic Sharia in the new Yemeni constitution.
The problem started within the "State-Building team" after the majority of the group members voted in support of making Islamic Sharia one of the sources of legislation, in opposition to making it the Main and only source of legislation in the new Yemeni law book. The voting results sparked a backlash from other members of the dialogue conference, who feel that Islamic Sharia should be the main and only source of legislation.
Full report at:
http://www.presstv.ir/detail/2013/07/22/314955/wave-of-disputes-arise-in-yemens-ndc-over-sharia-law/
-----------
Iran mobile company indicted for ''insulting Sunnis''
22 July 2013
Authorities in Iran have indicted the main mobile network operator, Irancell, on charges of insulting Sunni Muslims in an SMS competition.
Irancell was strongly criticised by Iran's Sunni community over the contest, which allegedly insulted the Sunni's revered Calipha, Omar.
The indictment was made by the Prosecutor General of the predominantly Sunni Province of Sistan-Baluchestan.
Iranian Sunnis have long accused the government of discrimination.
Irancell has blamed the company which provided it with questions for the competition.
The company, a religious cultural organisation, has since apologised for the ''unintentional" mistake.
Full report at:
http://www.bbc.co.uk/news/world-middle-east-23403654
--------
Islamist, leftist factions rally against negotiations
July 22nd, 2013
GAZA CITY (Ma'an) -- Palestinian Islamist and leftist factions on Sunday said returning to negotiations with Israel was a mistake.
The Islamic Jihad movement said returning to talks is like "cloning the failure" of previous negotiations, which proved to be mistake, a statement said.
Jihad spokesman Shihab Dawod told Ma'an that the Palestinian Authority has made mistakes in the past that the Palestinian people are still suffering from today.
"There is national Palestinian consensus to refuse negotiations, but the PA responds to American pressures and blackmail," he added.
"Returning back to negotiations under these circumstances is like political suicide because the international and the regional situation does not provide any true support to the Palestinian people or to the Palestinian cause. The Arab countries are busy with internal issues."
Full report at:
http://gazasolidarity.blogspot.in/2013/07/islamist-leftist-factions-rally-against.html
-----------
Iranian diplomat kidnapped by gunmen in Yemen
July 22, 2013
An Iranian diplomat has been kidnapped by unidentified militants in the Yemeni capital Sana'a, an Iranian embassy official said.
"Ahmed Nour Ahmed, the cultural counsellor at the Iranian embassy was snatched early on Sunday by gunmen from Hadda area in downtown Sana'a," the
official told Xinhua.
He said the diplomat was taken to an unknown destination, and there was no contact with him.
Full report at:
http://www.hindustantimes.com/world-news/restofasia/Iranian-diplomat-kidnapped-by-gunmen-in-Yemen/Article1-1096322.aspx
-----------
Path to Mideast talks still blocked: Abbas aide
AP | Jul 22, 2013
JERUSALEM: A senior Palestinian official says the path to formal negotiations with Israel is still blocked, despite a US suggestion that the sides are close to returning to the table.
Nabil Abu Rdeneh said in a statement late Sunday that Palestinian President Mahmoud Abbas agreed to send a delegate to Washington to continue lower-level preliminary talks with an Israeli counterpart about the terms for negotiations.
Full report at:
http://timesofindia.indiatimes.com/world/middle-east/Path-to-Mideast-talks-still-blocked-Abbas-aide/articleshow/21237128.cms
-----------
Palestinian stance gets Arab League backing
22 July 2013
The Arab League said on Sunday it supported the Palestinian stance on the announcement of resumed talks with Israel, but that it was skeptical of Israeli intentions.
The League "is forming a political support network for the Palestinian side in case it accepts to go to the negotiations with the Israeli side," Mohammed Sabih, deputy secretary-general for Palestinian affairs and occupied Arab territories, told reporters.
Sabih added that the Arab League was monitoring Israel's stance so the talks were not simply "negotiations for the sake of negotiations, going round in a vicious circle."
"This could be the last chance to revive the stalled peace process," he noted.
http://arabnews.com/news/458789
---------
Europe
Norway honours victims of July 22 terror attacks
AP | Jul 22, 2013
OSLO, Norway: Norwegian Prime Minister Jens Stoltenberg marked the second anniversary of the terror acts that killed 77 people by calling for a continued fight against all forms of extremism.
In a wreath-laying ceremony at the government headquarters on Monday, Stoltenberg said society has to stand up against "populist right-wing parties" that are on the rise in Europe, and extremist Islamists who continue to send out threats.
Far-right fanatic Anders Behring Breivik has confessed to the July 22, 2011, attacks in which he killed eight people in a bombing attack against the government headquarters and 69 others in a shooting spree at the left-wing Labor Party's youth camp on Utoya island. A ceremony will be held at Utoya later Monday.
http://timesofindia.indiatimes.com/world/europe/Norway-honours-victims-of-July-22-terror-attacks/articleshow/21242193.cms
-----------
EU foreign ministers ready to blacklist Hezbollah
AFP | Jul 22, 2013
BRUSSELS: EU foreign ministers will decide on Monday whether to blacklist the military wing of Lebanon's Hezbollah group, with an eye also on the conflict in Syria and the possible resumption of stalled Israel-Palestinian talks.
Hezbollah, which is close to Iran, is Israel's sworn enemy, and its recent intervention in Syria has dismayed Western powers who back rebels battling to oust president Bashar al-Assad.
A decision to place the militia on the European Union list of terrorist groups requires approval by all 28 national ministers and it will take time, if agreed, to proceed to actual sanctions.
The EU seeks to play a leading role in the Middle East peace process and on Friday foreign affairs chief Catherine Ashton warmly welcomed news that US Secretary of State John Kerry had got Israel and the Palestinians to resume peace talks.
Full report at:
http://timesofindia.indiatimes.com/world/europe/EU-foreign-ministers-ready-to-blacklist-Hezbollah/articleshow/21237076.cms
-----------
Russian region says militants flocking to Syria
July 21, 2013
Associated Press
MAKHACHKALA, Russia: The leader of a restive province in Russia's Caucasus Mountains Said Sunday local Islamic militants were fighting alongside rebels in Syria and could further destabilize their home region when they return.
Ramazan Abdulatipov, the acting president of the province of Dagestan, said in remarks posted on his website Sunday that the "export of extremists" should be prevented by making it hard for militants to leave Russia.
"These people go there and they will come back tomorrow with the backing of international extremist and terrorist organizations," Abdulatipov said during a meeting with local officials Friday.
Full report at:
http://www.dailystar.com.lb/News/Middle-East/2013/Jul-21/224471-russian-region-says-militants-flocking-to-syria.ashx#ixzz2ZnqQRulA
-----------
France stands by veil ban after riots
Jul 22, 2013
PARIS: Interior Minister Manuel Valls defended on Monday France's ban on wearing full-face veils in public places after a police check on a veiled Muslim woman sparked riots in a Paris suburb at the weekend.
The 2010 law was brought in by conservative former president Nicolas Sarkozy and targets burqa and niqab garments that conceal the face rather than the headscarf that is more common among French Muslim women.
A police check on a couple in the southwest suburb of Trappes sparked an angry confrontation that led overnight on Friday to a police station being surrounded by several hundred people, some hurling rocks. Another building was torched in several hours of street violence that led to six arrests.
Full report at:
http://dawn.com/news/1031088/france-stands-by-veil-ban-after-riots
-----------
Enforced disappearances : UN wants Pakistan to take action
By Haider Rizvi
Jul 22, 2013
UNITED NATIONS: Pakistan and several other countries are facing international scrutiny for failing to stop the growing incidents of enforced or involuntary disappearances.
"It is not a crime of the past; on the contrary it is a phenomenon which affects all regions of the world, with the false and pernicious belief that it is a useful tool to preserve national security and combat terrorism or organised crime," say UN experts on international human rights law. The rights experts who are member of the world body's Working Group on Enforced or Involuntary Disappearances are calling for governments concerned to fight this crime and take effective measures against impunity.
Full report at:
http://www.dailytimes.com.pk/default.asp?page=2013\07\22\story_22-7-2013_pg7_14
----------
Mosque blast terror suspect released
22 July 2013
One of two Ukrainian men held over bomb attacks near three mosques has been released without charge.
The 22-year-old was arrested by detectives investigating explosions near mosques in Walsall, Wolverhampton and Tipton between 22 June and 12 July.
Another man, aged 25, is still being questioned about the explosions and the murder of 82-year-old Mohammed Saleem.
He was arrested under Terrorism Act and on Saturday police were given an extra seven days to question him.
Full report at:
http://www.bbc.co.uk/news/uk-england-birmingham-23405238
--------
South Asia
Muslim Task Force Calls for Dialogue on Rohingya and Peace
July 22nd, 2013
Burma Task Force USA, in a statement on 8 July, expressed that it is "deeply troubled" to learn of the recent bombings at the Mahabodhi Temple in Bodh Gaya, India.
"It would be tragic if this event were to further worsen the cycle of violence," stated Dr Malik Mujahid, Chairperson of Burma Task Force USA. "To prevent this escalation let us all join together in the spirit of respect and to build trust among our communities. At this time of stress and anxiety, we invite Buddhists to respond and open dialogue with our diverse Muslim community."
The statement said that the Burma Task Force sent this message in the spirit of the Holy Month of Ramadhan, a month of mercy and forgiveness. According to tradition, Muslims are taught to revere knowledge and to seek it even if we must travel "as far as China." Therefore in keeping with this teaching, Muslims should "respect the philosophy and practice of our Buddhist brothers and sisters and value the spiritual knowledge that they share with the world".
Full report at:
http://www.radianceweekly.com/368/10962/bodh-gaya-blasts-terrorist-violence-and-political-agenda/2013-07-21/cover-story/story-detail/muslim-task-force-calls-for-dialogue-on-rohingya-and-peace.html
-----------
Amendment to the International Crimes (Tribunals) Act, 1973 applicable to Mollah's case
Jul 22, 2013
Eminent lawyer Rokanuddin Mahmud yesterday told the Supreme Court that the amendment to the International Crimes (Tribunals) Act, 1973, clearing the way for challenging inadequate sentences of convicts, is applicable to the case of Abdul Quader Mollah.
However, another senior counsel, TH Khan, said it was not applicable since the amendment was brought after the International Crimes Tribunal (ICT)-2 had delivered a verdict against Mollah.
Then again, if there is any contradiction between the act and customary international laws, the former would get priority while trying those who committed crimes against humanity during the 1971 Liberation War, he added.
Full report at:
http://www.thedailystar.net/beta2/news/its-applicaple-to-mollahs-case/
-----------
Bangladesh to seek extradition of 1971 war crimes accused
PTI | Jul 21, 2013
DHAKA: Bangladesh on Sunday said it would launch legal and diplomatic efforts to repatriate an alleged 1971 war crimes accused from the UK, who is now one of Britain's most prominent Muslim leaders.
The reaction came a day after Choudhury Muenuddin in an interview with the Al Jazeera declined to appear before the Bangladeshi war crimes tribunal saying "the tribunal in Bangladesh is a joke, its a sham trial."
"Choudhury Mueenuddin himself is an accused who is wanted particularly for the systematic killings of top intellectuals just ahead of the December 16, 1971 victory against Pakistan. Don't you think it is natural on his part to make such claims about the trial," attorney general Mahbubey Alam told PTI.
Full report at:
http://timesofindia.indiatimes.com/world/south-asia/Bangladesh-to-seek-extradition-of-1971-war-crimes-accused/articleshow/21217230.cms
--------
Dhaka wants Rohingyas living in KSA to forego Bangla passports
21 July 2013
Hundreds of thousands of the Rohingya Muslims from Myanmar living in the Kingdom, who had received Bangladeshi passports in 1978-79 to flee Buddhist persecution in the Burmese state of Arkan, have been urged by Dhaka to forgo Bangladeshi passports.
Bangladeshi Expatriates' Welfare Minister Mosharraf Hossain recently said around 500,000 Rohingyas are living in Saudi Arabia with Bangladeshi passports.
Dhaka and Islamabad had come forward to rescue the persecuted Rohingyas.
"Pakistan gave them passports with a BM (Burmese Muslims) code without having recognized them as Pakistani nationals.
Full report at:
http://arabnews.com/news/458697
---------
President Waheed files candidacy forms with Elections Commission
By Neil Merrett | July 21st, 2013
President Dr Mohamed Waheed has officially filed his candidacy with the Maldives Election Commission (EC) to stand in the upcoming presidential election.
President Waheed was joined by his running mate, Dhivehi Rayithunge Party (DRP) MP Ahmed Thasmeen Ali, as he submitted his candidacy forms to EC President Fuad Thaufeeq ahead of voting scheduled for September 7, his campaign team confirmed.
EC Vice President Ahmed Fayaz confirmed to Minivan News that the commission was now verifying the 2,000 signatures submitted by President Waheed backing his candidacy, before making a final decision on any approval.
Full report at:
http://minivannews.com/politics/president-waheed-files-candidacy-forms-with-elections-commission-61353
-----------
Hong Kong amends law for Islamic bonds
Muhammad Waqas / July 21, 2013
Signaling its interest to develop the Islamic finance market, Hong Kong has amended a local law to give Shariah-compliant debt equal tax treatment.
Islamic bonds in Hong Kong.
The amendment is expected to play a key role in encouraging sukuk issuance in the city, as sellers of "common types of Islamic bonds" will be exempted from paying tax on the transfer of underlying assets. Henceforth, Islamic securities will be given equal treatment with other non-Shariah-compliant instruments. The move is expected to attract attention from issuers and investors from China and the Middle East as they seek new market avenues.
Full report at:
http://arabiangazette.com/hong-kong-amends-law-islamic-bonds-20130721/
-----------
Afghan parliament sacks interior minister
Jul 22, 2013
KABUL: Afghanistan's parliament on Monday sacked Interior Minister Mujtaba Patang, one of the country's most powerful security chiefs, less than a year after he took office.
Patang lost a vote of confidence by 136 to 60 in the lower house of parliament over accusations of corruption and incompetence in the battle against Taliban insurgents.
"He's lost the vote of confidence and I on behalf of the Wolesi Jirga (parliament's lower house) request the President of the Islamic Republic of Afghanistan to introduce another individual to the parliament for a vote of confidence," said speaker Abdul Rauf Ibrahimi.
Full report at:
http://dawn.com/news/1031085/afghan-parliament-sacks-interior-minister
-----------
Karzai sets conditions for Pakistan visit
Jul 22, 2013
KABUL: Afghan President Hamid Karzai on Monday gave a lukewarm response to Pakistan's invitation to visit Islamabad, setting conditions for any high-level talks designed to mend increasingly frosty relations.
Pakistan on Sunday sent its top diplomat to offer further assistance to Afghanistan's efforts to reach a deal with Taliban insurgents to end 12 years of war.
Foreign affairs adviser Sartaj Aziz held talks with Afghan Foreign Minister Zalmai Rassoul and met Karzai to deliver in person the invitation from new Pakistani Prime Minister Nawaz Sharif — already extended twice by telephone.
Full report at:
http://dawn.com/news/1031074/karzai-sets-conditions-for-pakistan-visit
-----------
North America
US Muslims Challenged to Steer Youth Away From Violence
Kokab Farshori
July 22, 2013
A Pew Research survey released in August of 2011 showed 59 percent of adult Muslims in the United States are between the ages of 18 and 39, compared to 40 percent of adults in the general public. This large number of young adults means more opportunities for American Muslims.
The involvement of two young Muslim men in the Boston Marathon bombing was a stark reminder to American Muslims that young kids in their community could be used to spread terror and violence. Many analysts believe community leaders need to play a role in keeping kids off the violent path. Imam Johari of Dar Al-Hijrah Islamic Center in suburban Washington said he and leaders like him are spreading the message of non-violence.
Full report at:
http://www.voanews.com/content/us-muslims-challenged-to-steer-youth-away-from-violence/1705754.html
-----------
71 Guantanamo prisoners will get parole-style hearings, Pentagon says
By Carol Rosenberg
July 22, 2013
MIAMI — Seventy-one detainees at the U.S. prison at Guantanamo Bay will get parole-board-style hearings at the Navy base in Cuba, the Pentagon said Sunday, though it did not say when the panels will meet, whether the media can watch and which of the long-held inmates will go first.
The disclosure followed a flurry of e-mails after 10 p.m. Friday from Pentagon bureaucrats notifying attorneys for some of the 71 inmates that the government was preparing to hold the hearings, which were ordered by President Obama two years ago.
Retired Rear Adm. Norton C. Joerg, a senior Navy lawyer during the George W. Bush administration, told the lawyers that the new six-member "periodic review boards" will not decide whether the Pentagon is lawfully imprisoning their clients.
Full report at:
http://www.washingtonpost.com/world/national-security/71-guantanamo-prisoners-will-get-parole-style-hearings-pentagon-says/2013/07/21/2ed31a6c-f241-11e2-ae43-b31dc363c3bf_story.html
----------
Support for Muslim converts during Ramadan
By Lisa Wangsness
July 22nd, 2013
Brian Buzby had a splitting headache the first day of Ramadan from caffeine withdrawal and mild dehydration. He loved the late night Taraweeh prayers at the mosque, when a portion of the Koran is recited each night, and stayed long afterward talking with friends. Then he returned home to his apartment in South Boston and opened the refrigerator again.
"I don't even go to sleep before suhoor," the 30-year-old student told a small group of fellow converts gathered at the Islamic Society of Boston Cultural Center last week, referring to the 3 a.m. predawn meal. "I go home and I keep eating."
A burst of laughter; their teacher, Hossam AlJabri, smiled.
"We're still in the beginning," he said. "But Ramadan will just keep throwing beautiful things at you."
Ramadan — which occupies the ninth month of the Islamic calendar, when Muslims believe the Koran was revealed to the Prophet Mohammed — is the holiest time of the year in Islam, a time for fasting, self-improvement, family celebration, and intensive prayer.
Full report at:
http://www.bostonglobe.com/metro/2013/07/19/muslim-converts-get-support-during-ramadan-and-its-ritual-fasting/So8zeeAOSuca3m0JgLOjeO/story.html
-----------
CAIR wants to share Ramadan with all faiths
Chanel Hill Friday
July 22nd, 2013
The Philadelphia chapter of the Council on American-Islamic Relations (CAIR) will host "Sharing Ramadan" events that offer opportunities for people of all faiths to experience the Muslim month of fasting.
CAIR is a non-profit grassroots civil rights and advocacy group. Since its inception in 1994, CAIR is among America's largest Islamic civil liberties group, with regional offices nationwide. CAIR's mission is to enhance understanding of Islam, encourage dialogue, protect civil liberties, empower American Muslims and build coalitions that promote justice and mutual understanding.
Full report at:
http://www.phillytrib.com/religionarticles/item/10019-cair-wants-to-share-ramadan-with-all-faiths.html
-----------
US drone surveillance expanding to hot spots beyond declared combat zones
Jul 22, 2013
LAHORE: The steel-gray US Air Force Predator drone plunged from the sky, shattering on mountainous terrain near the Iraq-Turkey border. For Kurdish guerrillas hiding nearby, it was an unexpected gift from the propaganda gods.
Fighters from the Kurdistan Workers' Party, or PKK, filmed the charred wreckage on September 18 and posted a video on YouTube. A narrator bragged unconvincingly that the group had shot down the drone. But for anyone who might doubt that the flying robot was really American, the video zoomed in on mangled parts stamped in English and bearing the label of the manufacturer, San Diego-based General Atomics.
Full report at:
http://www.dailytimes.com.pk/default.asp?page=2013\07\22\story_22-7-2013_pg7_3
-----------
Southeast Asia
Indonesia to Pay $1.87m to Save Maid From Death Row in Saudi Arabia
JULY 22, 2013
An Indonesian maid sentenced to death for killing her employer may be spared the executioner's sword in Saudi Arabia after the central government pays the deceased's family some $1.87 million in blood money, a migrant protection agency official said on Monday.
"Our lawyer and the victim's family have been discussing the 'diyat' [monetary compensation] and the decision will come out in August," said Jumhur Hidayat, chief of the Migrant Worker Placement and Protection Agency (BNP2TKI).
Maid Satinah Binti Jumadi Ahmad, of Ungaran, Central Java, is facing the death penalty for murdering her employer Nura al-Garib and fleeing with $10,000 of the victim's cash in 2007.
Satinah has admitted to killing al-Garib, but said it was an accident. The maid claimed that al-Garib was trying to hit her head against a wall when she struck the victim in the neck with a rollingpin. Satinah claimed the blow was in self-defense, citing months of physical and verbal abuse.
Full report at:
http://www.thejakartaglobe.com/news/indonesia-to-pay-1-87m-to-save-maid-from-death-row-in-saudi-arabia-bnp2tki/
--------
Densus 88 Kill Two in East Java Terrorism Raid
JULY 22, 2013
Indonesia's anti-terrorism squad Densus 88 fatally shot two suspected militants during a firefight in Tulungagung, East Java on Monday morning.
Two others were arrested in the raid, East Java Police chief, Isnp. Gen. Unggung Cahyono said.
A source in Densus 88 told the Jakarta Globe the four suspects were allegedly involved in the suicide bombing of a police station in Poso, Central Sulawesi, and a string of terrorist attacks in Medan. All were reportedly members of fugitive terrorist leader Santoso's organization.
Full report at:
http://www.thejakartaglobe.com/news/densus-88-kill-two-in-east-java-terrorism-raid/
--------
Umno lawyer Shafee is tainted, has cast aspersions against me, says Anwar
BY V. ANBALAGAN
JULY 22, 2013
Datuk Seri Anwar Ibrahim said the appointment of Umno lawyer Datuk Seri Muhammad Shafee Abdullah (pic) to appear for the public prosecutor in the sodomy case appeal was clear prejudice by a person who has cast aspersions against him previously.
"His conduct has been unprofessional since 1998," Anwar said in reference to Shafee's role in the first sodomy case where Anwar was acquitted by the Federal Court in 2004.
Anwar said he was given to understand that the Attorney-General's Chambers lacked resourceful personnel to lead the prosecution but that was not an excuse to appoint Shafee.
"He is someone heavily tainted and has a lot to answer. He has been known to cast aspersions against me, within and outside, for whatever dubious reasons," the Opposition Leader told reporters outside court today.
Full report at:
http://www.themalaysianinsider.com/malaysia/article/umno-lawyer-shafee-is-tainted-has-cast-aspersions-against-me-says-anwar
--------
URL: https://www.newageislam.com/islamic-world-news/new-age-islam-news-bureau/this-ramzan,-zakat-backs-secular-education-and-meeting-the-medical-needs-of-poor-muslims/d/12701