New Age Islam News Bureau
29 Apr 2019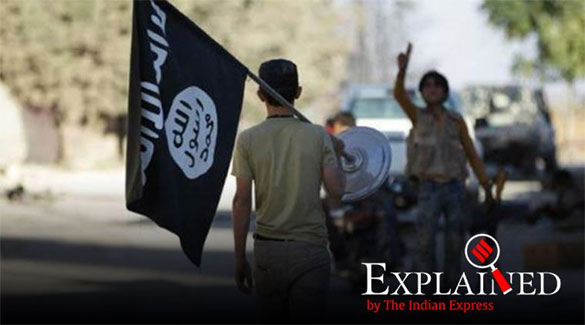 Islamic State came on the radar of Indian intelligence agencies way back in 2013 when reports from Syria suggested that some Indians were fighting alongside the IS there.
-----------
• The Threads of the Sri Lanka Attack Are Closely Connected to India
• Sri Lankan Muslims Visit Church and Temples To Show Solidarity
• Disciple of Zakir Naik Nabbed For Insulting Hinduism
• Bangladeshi Sacked Military Officer Paying Monthly Allowance to ISIS Brides
• Yazidis to Accept IS Rape Survivors, Not Their Children
• 'Islam Has A Better Notion Of Financial Regulation'
• Sudan's Military and Opposition Agree in Principle on Joint Council
• OIC Peace Award An Acknowledgement Of Struggle By Ulema, Mashaikh
• Macron Vows to Tackle 'Political Islam' in 'Act II' of Presidency
India
• The Threads of the Sri Lank Attack Are Closely Connected to India
• NIA Raids 3 Kerala Houses, Looks for Links With Lanka Bombers
• 500-Yr-Old Well Discovered Near Gurdwara on Kartarpur Corridor
• Raids in Kerala Over ISIS Links, Three Suspects Questioned
• Three JeM Terrorists Arrested For Attack on Police Post in Srinagar
--------
Southeast Asia
• Sri Lankan Muslims Visit Church and Temples To Show Solidarity
• Disciple Of Zakir Naik Nabbed For Insulting Hinduism
• Sabah Muslim lawyers join stand against proposed extension of Legal Profession Act
• Why contest 'non-Muslim' PD seat? Hadi asks Anwar
--------
South Asia
• Bangladeshi Sacked Military Officer Paying Monthly Allowance To ISIS Brides
• Sri Lanka Attacks: Hometown of Accused Mastermind Was Fertile Ground for Extremism
• 5 Taliban explosives facilitators killed in Parwan
• 8 militants killed, 6 others wounded in Ghor operations: Zafar Corps
• Sri Lanka Catholic cardinal fears attacks probe may 'flop'
• Father, two brothers of Sri Lanka suicide bombings mastermind killed
--------
Arab World
• Yazidis to Accept IS Rape Survivors, Not Their Children
• Hundreds of Ankara-Backed Terrorists Join ISIL in Northern Syria
• US-Backed SDF Swaps Syria's Oil with US-Israeli Arms
• Libyan Gov't: S. Arabia, UAE's Military Assistance to Haftar Could Stop Crude Exports
• Syrian Army Fends Off Terrorists' Attacks in Aleppo, Repels Attacks in Hama, Idlib
• Kuwait sentences blogger to jail for insulting Saudi Arabia
--------
Mideast
• 'Islam Has A Better Notion Of Financial Regulation'
• Saudis Destabilizing Middle East, Paying For US-Israeli Crimes: Hezbollah Official
• Iran warns could shut Strait of Hormuz if tensions grow
• Israel frees two Syrian prisoners after return of soldier's remains
• Israel frees 2 Syrian prisoners after return of soldier's remains
--------
Africa
• Sudan's Military and Opposition Agree in Principle on Joint Council
• Sudan's Military Rulers Condemn Attack on Islamist Party
• Pope appeals for evacuation of refugees in Libya camps
• Airstrikes by forces of renegade Libyan general kill 4 in Tripoli
--------
Pakistan
• OIC Peace Award An Acknowledgement Of Struggle By Ulema, Mashaikh
• Chinese President Xi meets Imran Khan, calls for improvement of India-Pak relations
• • Fazl asks Imran to step down to avoid 'people's wrath'
Pakistan, China enter second stage of free trade
• Imran asks Chinese entrepreneurs to shift industries to CPEC special zones
--------
Europe
• Macron Vows to Tackle 'Political Islam' in 'Act II' of Presidency
• UK, European holidaymakers warned against Turkey travel as government blames Kurdish militia for unrest
--------
North America
• Muslim Cabbies' Ingenuity Build Airport Parking Lot Mosque
• No peace if Taliban do not adapt: US envoy
• Trump keeping Saudi Arabia close to serve Big Oil interests: Analyst
• 'It took me one call': Trump brags how he made King Salman pay more for US military support
Compiled by New Age Islam News Bureau
URL: https://www.newageislam.com/islamic-world-news/the-threads-sri-lanka-attack/d/118457
--------
The Threads of the Sri Lanka Attack Are Closely Connected to India
April 29, 2019
Islamic State has claimed responsibility for the attacks in Sri Lanka that claimed 250 lives last Sunday. A coordinated attack of this scale so close to India's shores has agencies worried. Given that the threads of the attack are closely connected to India with one of the Lanka suicide bombers having stayed in India for a considerable time before the attack, agencies are conducting searches in South India for suspected IS recruits.
What is the IS influence in India?
Islamic State came on the radar of Indian intelligence agencies way back in 2013 when reports from Syria suggested that some Indians were fighting alongside the IS there. It was still considered a problem of the Middle East by the agencies until in 2014, IS kidnapped 39 Indians in Iraq and executed them. A closer look at the outfits plans revealed that they have had India in their crosshairs since the beginning. An IS map of the Khorasan Caliphate showed some of India's states as its part.
Since then multiple Indians have travelled to Iraq and Syria to fight alongside IS and as many as 100 have been arrested by the agencies either on return from Syria or while preparing to join them. Many have also been arrested for preparing to carry out an attack in India after being inspired by the IS.
What has been India's response?
The Indian security establishment has approached the issue of IS influence with caution. Scores of IS recruits, who have been detected while surfing IS's online material or apprehended while trying to migrate to Syria have been counselled, made to go through a deradicalisation programme and let off with a warning.
The approach is informed by the fact that despite a very large Muslim population, India has sent very few recruits to the IS. The Indian security establishment believes that some of the youth eager to join IS are merely swayed by the IS online propaganda which has attracted a restive youth with video-game-like macabre videos. That they may not be fully radicalised given their unblemished background has led agencies to take the counselling approach.
Only such people have been arrested who agencies believed were in the process of carrying out an attack or had made multiple attempts to go to Syria despite counselling. This included Hyderabad youth Abdullah Basith who made three attempts to go to Syria and was apprehended each time. He was finally put under arrest under charges of terrorism. on his third attempt.
What is the IS influence in South India?
Even though it is North India which regularly sees communal clashes, it is southern states which have sent maximum recruits to IS. According to agencies, almost 90% of all recruits who have gone to Syria are from the southern States. A majority of those arrested by agencies while preparing to launch an attack are also from States such as Tamil Nadu, Kerala, Telangana, Karnataka and Maharashtra.
In fact the first recruit from India to join Islamic State in 2013 was Cuddalore (Tamil Nadu) -born Haja Fakhruddin. He joined the IS and migrated to Syria while working in Singapore.
Most recruits from Kerala who joined the Islamic State were either working in the Gulf or had come back from there with an already developed liking for IS's extreme ideology.
States such as Jammu and Kashmir, MP and UP in North India have also seen some IS influence on the youth.
What kind of organisational support has IS provided to its recruits in India?
None in fact, IS has largely focused on inspiring the youth to either migrate to Syria and Iraq or carry out attacks in India with their own resources. Most of the recruiters, such as former Indian Mujahideen operative Shafi Armar, too have been Indians.
Many Indians haven't even had a handler and they have merely come together on their own to allegedly carry out attacks in the name of IS. They have formed various groups such as Ummat E Mohammadiya, Harkat ul Harb-e-Islam, Ansar ul Tawheed fi Bilad Al Hind and Junud Al Khilafa e Hind. None, however, have had any influence beyond their close-knit group.
Most of these groups were made to arrange for explosives and arms on their own with members contributing from their pockets. Locally available explosives such as potassium chlorate scraped out of matchsticks and ammonium nitrate have been found on them. They learn bomb-making through online tutorials.
https://indianexpress.com/article/explained/sri-lanka-blasts-islamic-state-isis-nia-explained-5699515/
--------
Sri Lankan Muslims Visit Church And Temples To Show Solidarity
29 Apr 2019
PETALING JAYA: In the true spirit of solidarity, a Muslim group visited a church, a Hindu temple and a Buddhist temple.
The Global Unity Network NGO wanted to prove a point following the Easter Sunday suicide bombings in churches and hotels in Sri Lanka, which killed about 250 people and wounded scores more.
Its president Shah Kirit Kakulal Govindji said a team of 22 members visited the Sri Maha Kaliamman Temple in Kg Kasipillay and then went to St Joseph's Church in Sentul before wrapping up at the Sri Jayanti Buddhist Temple there.
"In Christchurch, when Muslims were killed, non-Muslims showed their solidarity with us.
"Even if only one non-Muslim is killed, we must show concern. We must be fair to everyone," Shah Kirit said.
At St Joseph's Church, the team held a dialogue session with parish priest Rev George Packiasamy.
"We have a very good relationship with the church," Shah Kirit said, adding that this was his fourth visit to the church.
He said the team, which comprised students and professionals, were served a halal breakfast at the church and lunch at the Buddhist temple.
He added that the NGO had been involved in interfaith work for close to 20 years as a way to expose Muslims to other religions.
"Malaysia is a multi-racial and multi-religious country, so it is very important that we understand one another well," he said.
Shah Kirit said many problems in the world today stemmed from prejudice, presumptions and misconceptions about other religions and races.
"The best way to remove all these is to learn from one another.
"That is why we train Muslims to learn about other religions," he added.
https://www.thestar.com.my/news/nation/2019/04/29/muslims-visit-church-and-temples-to-show-solidarity/
--------
Disciple of Zakir Naik nabbed for insulting Hinduism
28 APR 2019
KUALA LUMPUR: A disciple of controversial Indian Islamic preacher Zakir Naik has been arrested for allegedly mocking and belittling Hinduism during a religious sermon in Kelantan.
Muslim convert Zamri Vinoth (pix), 35, was picked up by a task force from the Perlis Criminal Investigations Department at 2am early this mornning and taken to the Kangar police headquarters.
Perlis police chief SAC Datuk Noor Mushar Mohamad said the suspect would be handed over to the federal police in Bukit Aman today for further investigations.
He said that a video of the suspect delivering a religious talk at the As Siddiqin mosque in Kampung Panchor, Kelantan on Dec 30 last year showed that he had made two comments considered to be insulting towards Hinduism.
The preacher was being investigated for allegedly causing disunity and disharmony among the various races and religions under Section 298A of the Penal Code.
Noor Mushar said the suspect was also being investigated for misusing the Internet under Section 233 of the Communications and Multimedia Act 1998.
A video of the police arresting him also made the rounds on social media.
The suspect, who renounced Hinduism to embrace Islam, was said to have provoked anger among Hindus after the video of his sermon went viral on social media over the past few days.
Police have received 82 reports lodged by individuals and groups across the nation who want action taken against him.
One of the reports was lodged by a Commercial Crimes Investigations Department personnel last Friday after she spotted the video clip on YouTube.
Several people, including Muslims, have also recorded videos condemning the suspect's actions and some even issued death threats against him.
Police records show that he has been arrested on several occasions since 2010 for alleged offences, including rape, assault and criminal breach of trust.
There are more than two dozen videos of the suspect preaching, giving interviews and making comments about Islam on YouTube.
In a video posted last year the suspect, flanked by two burly men, demanded to meet Minister of National Unity and Social Wellbeing P. Waythamoorthy for a debate over matters related to Islam and Hinduism.
The man is closely associated with 54-year-old fugitive Zakir Naik who is being sought by the Indian government.
Zakir has been residing in Malaysia under permanent residency status and appears to be rubbing shoulders with Malaysian officials, including current and former ministers and deputy ministers.
Malaysians incensed by the controversial preacher's sermons have called for his deportation to India but it has fallen on deaf ears.
An online petition initiated last year calling for his deportation has garnered 7,755 signatures to date.
Meanwhile, in a statement issued by Bukit Aman tonight, Deputy Inspector-General of Police Datuk Seri Abdul Hamid Bador said the preacher has been remanded for four days to assist in investigations.
He said police are also tracking down the Youtube.com account holder of Info Sunnah Kelantan to assist in the probe.
Abdul Hamid said the account holder had uploaded the video of the preacher's sermon in its channel on the video-sharing website.
He also advised the public to refrain from abusing the social media and other communication channels by posting or sharing provocative content that may cause racial tension among the multi-religious and multi-race masses in the country.
Abdul Hamid also said that police nationwide have received 790 police reports on the case.
https://www.thesundaily.my/local/disciple-of-zakir-naik-nabbed-for-insulting-hinduism-updated-BA828245
--------
Bangladeshi sacked military officer paying monthly allowance to ISIS brides
April 29, 2019
Damsana Ranadhiran
While majority of Britons as well as peace-loving people around the world are against granting permission to Islamic Stats (ISIS) brides like Shamima Begum in returning to their home countries, sitting in London, an ISIS funder and a sacked military officer from Bangladesh, who along with the members of his family are facing numerous charges of terror funding and money laundering, has been regularly providing monthly allowance to those ISIS brides as well as trying to provide legal support. While it is well known to all of us that the United Kingdom has always been at the forefront of fighting terrorism and radical Islamic jihad, most definitely the British policymakers and Britons now need to answer the question as to why they have been allowing the British soil to some individuals in continuing jihadist activities.
In Britain, until 2008, there had been at least 200 indigenous active terrorist cells being monitored by the Security Service MI5 and MI6 with 4,000 British Muslims considered as a threat to national security. But the bone-chilling information had appeared in the Daily Mail in March this year. The newspaper said, a secret government report has warned that more than 3,000 British children are being taken to Pakistan each year and enrolled in extremist summer schools. The Home Office study says courses at Koranic madrassas teach a 'glorified version of jihad'. Officials fear some youngsters will be radicalized and return to the United Kingdom with a warped ideology and pose a terrorism risk.
According to information, ninety-eight percent of the Muslims living in United Kingdom do send their children to local madrassas, which are mostly run by the community councils and mosques. A survey showed, over fifty percent of the males and females of Bangladesh origin, who either live in Britain or had migrated from some of the European nations have already been radicalized. These Muslims though are using Britain as a great place of better earning, they consider non-Muslim Britons, particularly Jews and Christians as their enemies. Some of the Muslim men and women are even engaged into 'love jihad', who actually trap the other sex through romantic pretention with the goal of getting them converted into Islam.
Md. Shahid Uddin Khan (Army No: BA002428, Course: 8-BMA, Commission Date: 10-06-1983), who along with his wife Farjana Anjum and daughters had smuggled out millions of dollars from Bangladesh and invested in various business ventures in United Arab Emirates and United Kingdom.
In 2009, he invested two million pounds in the United Kingdom in exchange of obtaining immigrant status under Visa Tier 1, vide VAF No. 511702. Later the family had laundered an unknown amount of money and brought that into the United Kingdom.
Counter Terrorism and Transnational Crime (CTTC) unit of Bangladesh Police, based on secret information, raided House No. 184, Road No. 2, Baridhara DOHS in Dhaka, Bangladesh on January 17, 2019. This house is owned by Md. Shahid Uddin Khan and was allegedly used as a warehouse for arms, explosives and propaganda materials of Islamic State (ISIS). During the raid, large volume of weapons, detonator, counterfeit Bangladesh currency notes and jihadist materials of ISIS were recovered by the CTTC unit.
Following this recovery, three separate cases against ISIS-funder Md. Shahid Uddin Khan, his wife Farjana Anjum, daughters and other accomplices were lodged. The cases are: Cantonment PS, Case no 10, Section-6(2)/7/11/12 of Anti Terrorism Act 2009 (amendment 2013); Cantonment PS, Case no 11, Section-25-A, Special Power Act 1974; and Cantonment PS, Case no 12, Section-19-A of Arms Act 1878.
The man who funded Sri Lanka attacks:
Before four months, large sum of money went to Sri Lanka from United Arab Emirates. It was sent by Bangladeshi-born ISIS funder Md. Shahid Uddin Khan, who has been living in the United Kingdom for last few years along with his family. Sitting in Britain, Khans are continuing various forms of jihadist activities. Recently he has established an organization named 'Astha' which aims at unseating democratically elected governments in the world and replace those with Caliphate. By now, Md. Shahid Uddin Khan already has expanded his activities in Sweden and the United States through two of his recruits.
According to documents available with various intelligence agencies in Bangladesh, Md. Shahid Uddin Khan hails from a radical Muslim family while his wife Farjana Anjum too hails from a similar family background. This couple's daughters though are living and being educated in Britain is notoriously radicalized and is working as lone wolves. They have been targeting various individuals and trying to convert them into Islam.
In January this year, Md. Shahid Uddin Khan used illegal channel in transferring an amount equivalent to ninety-two thousand dollars. This amount went from Dubai to Colombo. It may be mentioned here that, last year this newspaper published several reports exposing a secret conspiracy by a conglomerate of several jihadist outfits of staging terrorist attacks in a number of South Asian nations.
According to media reports, Islamic State (ISIS) funder Shahid Uddin Khan, his wife Farjana Anjum and daughters are already under the radar of international media for their direct involvement into jihadist activities.
Khan's sympathy towards ISIS brides:
According to credible sources, Md. Shahid Uddin Khan and his family are sending thousands of dollars each month as "stipends' to some of the ISIS brides including Shamima Begum. They also are providing financial assistance to these notorious women in bearing their legal expenses.
Md. Shahid Uddin Khan and his family reportedly have told those ISIS brides of granting 'special asylum' in Bangladesh once his organization Astha (faith) established Caliphate in Bangladesh.
Shouldn't this family be deported?
United Kingdom should immediately deport Md. Shahid Uddin Khan and his family and confiscate their fortune worth millions of British pounds. Earlier it was reported in the media that Khan was coordinating with various jihadist groups with the nefarious agenda of launching series of jihadist attacks in Bangladesh.
https://www.weeklyblitz.net/news/bangladeshi-sacked-military-officer-paying-monthly-allowance-to-isis-brides/
--------
Yazidis to accept IS rape survivors, not their children
April 29, 2019
BAGHDAD: Children born to Yazidi women as a result of rape by the militant Islamic State group fighters will not be permitted to join the community in northern Iraq, the faith's Supreme Spiritual Council said.
The Yazidi community once numbered around 500,000 members in the mountainous Sinjar region of northwest Iraq, but it was ravaged by IS's 2014 sweep into the area.
Jihadists killed Yazidi men, forced boys to join their ranks as fighters and abducted and imprisoned thousands of Yazidi women as sex slaves.
The children born of those rapes have been the subject of fierce debate in the insular community, which only recognises children as Yazidis if both their parents hail from the sect.
Last week, the head of the Supreme Spiritual Council Hazem Tahsin Said issued what appeared to be a landmark shift, publishing an order "accepting all survivors (of IS crimes) and considering what they went through to have been against their will".
The decision was hailed as "historic" by Yazidi activists, who understood it to mean that children born of rape would now be allowed to live among their Yazidi relatives.
But late Saturday, the Council published a clarification that the decision "does not include children born of rape, but refers to children born of two Yazidi parents".
The Yazidi community had long considered any women marrying outside the sect to no longer be Yazidi, initially including those assaulted by IS in 2014.
But Yazidi spiritual leader Baba Sheikh issued a decision the following year welcoming those women back home, without resolving the fate of their children.
Many Yazidi women who were kidnapped by IS have escaped in recent years, and dozens more fled to safety in the last few months as IS's "caliphate" crumbled in Syria.
Those who had children with IS fighters faced a difficult choice: either remain ex-communicated from their Yazidi relatives, or leave the children behind.
Dozens who returned to the Yazidi heartland of Sinjar in northwest Iraq in recent months chose the latter.
In Iraq, children inherit the religious sect and nationality of their father, so those born to Sunni Muslim men would have the same religion.
Those born to suspected IS fighters who are either missing or dead are at risk of remaining stateless because of lack of proof of their father's identity.
Earlier this month, Iraqi President Barham Saleh proposed a bill to parliament that would provide reparations for Yazidi female survivors of IS crimes and establish a court to clarify "civil status" issues.
https://www.dawn.com/news/1479053/yazidis-to-accept-is-rape-survivors-not-their-children
--------
'Islam has a better notion of financial regulation'
Riyaz ul Khaliq
28.04.2019
Historical figures, like Ibn Khaldun, can be used for two different purposes, said an academic on the sidelines of 5th International Ibn Khaldun Symposium in Istanbul.
"First, to cement power of authority and second, to use historical thinkers to really find some different ways to evaluate the present," said Prasenjit Puara, who is a Professor at Duke University, U.S.
Istanbul-based Ibn Haldun University is hosting a two-day international conference on 14th century Arab scholar Ibn Khaldun's view on power, economics and morality which kicked off on Saturday.
The academic of Indian decent Puara said that someone like Ibn Khaldun "is very important to understand the ways in which he understood society are actually related to our ways but he had a different understanding of the society".
Speakers from around the globe are attending the conference to discuss ideas of Ibn Khaldun on the accumulation of wealth and conspicuous consumption in corrupting the foundations of authority.
Ibn Khaldun is widely known for his scholarship on modern disciplines of historiography, sociology, economics, and demography. His most famous work is Prolegomena (Muqaddimah) which records the early view of universal history.
"So, it is very important to recover those understandings," Puara added.
He said that people "without fully understanding Ibn Khaldun's background and knowledge and his goals have tended to isolate certain things that fit with contemporary social sciences without understanding the cosmology and cosmological ideas that are necessary to it".
"There are some very important repetitive cultural tendencies to bring up resistance and it is often based on transcendental idea which may not be the idea of God…," he said.
Islamic regulation of economy
The Duke University professor confided that the Islamic society has a "better notion of financial regulation and of recognition that there has to be stops upon pure economics, to consume".
"The idea of [Islamic] regulation [of economy] that there are social forces is an important lesson for the modern capitalist world to absorb into its executive and other areas," he asserted.
Explaining the relevance of Ibn Khaldun in current times, Bruce Lawrence, who is a professor at Ibn Haldun University, said that there is a need to understand relation "between Deen [religion] and Duniya [world]".
"It is not that they are opposites but they are both necessary because we are in this world because we want Duniya. And Deen gives us meaning. Religion is also orientation," Lawrence said.
He said that Ibn Khaldun's perspective to solve contemporary economic challenges would be "if you do not learn poverty, you do not learn the term".
Learn poverty
"One has to learn poverty because the problem is rich do not have any sense of time. They think time is money but in fact time is really for benefit of your own development," he said.
The professor said that values have to be "centre [of the society] not the periphery". "Then [comes] politics, [followed by] economics. Of course, economics is important but it is end in itself, economics is always instrumental."
Mohamad Hammour, who teaches economics at the host university, said that the specific propositions put forward by Ibn Khaldun, "conceptual and civilizational understanding that he brought to the question of social science including politics and economics which has lot to do with third element that is morality".
"Ibn Khaldun would potentially bring a perspective that is coming from pre-modern history in his case of Islamic world and this comparative perspective is very important," Hammour said.
"Because without comparison, we take a lot of things as given," he added.
He said that there was a need of comparison of "our modern world with other worlds, including Ibn Khaldun's world and his analysis of the social issues allow us to understand our world today".
"The more interesting thing if want to understand ourselves is to ask the question 'why don't we have what Ibn Khaldun was talking at his time'. His notion about governance, criteria for the merchant," Hammour added.
https://www.aa.com.tr/en/turkey/-islam-has-a-better-notion-of-financial-regulation-/1464390
--------
Sudan's military and opposition agree in principle on joint council
28 April 2019
Sudan's military rulers and an opposition coalition have agreed in principle on the formation of a joint transitional council, but not on the share of seats, two sources said on Saturday.
The two sides were holding their first formal discussions as opposition groups and protesters push for a rapid handover to civilian rule following the ouster of former President Omar al-Bashir earlier this month.
Earlier, the joint committee representing Sudan's military leadership and the Alliance for Freedom and Change, which brings together grassroots organizers with opposition and rebel groups, held its first meeting to discuss their demand for civilian rule.
The protesters have kept up the pressure on the military, continuing their round-the-clock sit-in outside army headquarters and mobilizing tens of thousands last Thursday for a "million-strong" march for civilian rule.
https://english.alarabiya.net/en/News/middle-east/2019/04/28/Sudan-s-military-and-opposition-agree-in-principle-on-joint-council.html
--------
OIC Peace Award An Acknowledgement Of Struggle By Ulema, Mashaikh
APRIL 29, 2019
Ulemas and Mashaykh at a Press Conference here in Lahore said OIC Peace Award for Hafiz Muhammad Tahir Mehmood Ashrafi is acknowledgment of struggle on part of Ulemas and Mashaykh of Pakistan for eradication of terrorism, extremism and sectarian violence from Pakistan and Muslim world.
Organization of Islamic Cooperation (OIC) should play an effective role to resolve confronting challenges of Muslim Ummah by seeking an end to foreign interference responsible for rising sectarian disputes within Muslim countries. Addressing a Press Conference and reception for Hafiz Muhammad Tahir Mehmood Ashrafi, Chairman Pakistan Ulema Council, Ulemas from different religious schools of thought including Maulana Zialul Haq Naqshbandi, Prof. Zakirur Rehman, Maulana Muhammad Khan Ludhyanvi, Maulana Zubair Ahmed Zaheer, Maulana Aseedur Rehman, Qari Shamsul Haq, Maulana Mubashar Raheemi, Allama Sajjad Naqvi, Allama Tahirul Hassan and Maulana Tahir Aqeel Awan stated that an ideological alliance is being form to contain the menace of terrorism, extremism and sectarian violence on ideological grounds.
The conference also urged on leading Ulemas, Mashaykh and religious scholars of Muslim world to come forward to contain the rising propaganda of terrorists and extremists organizations. The Ulemas also pointed out campaigns being launched in western world on account of 'Islamphobia' to defame Islam and Muslims. Islam is a religion of Peace and harmony and Islam and Islamic teachings has nothing to do with propaganda of extremists and terrorists organizations. The Ulemas and clerics speaking at the Press Conference also hinted out that Pakistan Ulema Council since its inception has been carrying out effective struggle at every forum to highlight moderate message of Islam and condemning the menace of terrorism, extremism and sectarian violence.
Pakistan Ulema council will reinforce its coordination with OIC to spread the moderate message of Islam in Muslim world. The Ulemas addressing the conference also demanded of leadership of Muslim world to streamline legislation in their respective Muslim countries for issuance of religious decrees in accordance of the teachings of Quran-o-Sunnah. Pakistan Ulema Council taking lead in Muslim world has established "Dar-ul-Afta" in Lahore for issuance of religious decree in accordance of Quran-o-Sunnah for public guidance and to keep check on issuance of decrees contrary to Islamic Jurisprudence.
Ulemas also pointed out that prevailing series of terrorists attacks in New Zealand, Saudi Arabia, Pakistan and Sri Lanka left peace loving forces of the world with no other option to get united against evil forces. The Ulemas also added that UNO and other western forces has no right to make interference in affairs of Muslim countries on account of sectarianism. Saudi Arabia is center of Muslim's unity and stability and any bid to make instability in Harmain Al-Sharifain on any pretext will not be tolerated.
The conference also condemned killings of Hazara community and other innocent in Balochistan stating that every bid of extremists and terrorists will be foiled to make instability and anarchy in Pakistan.
Leadership of Pakistan Ulema Council also announced on this occasion that special congregations will be held during the month of Ramadhan to promote moderate message of Islam and "Ashra-e-Harmain Al-Sharifain, Al-Aqsa" will also be held in last 10 days of Ramadhan, in which special conferences and conferences will be held to public message of peace, stability and harmony of Harmain Al-Sharifain, Al-Aqsa.
https://dailytimes.com.pk/384568/oic-peace-award-an-acknowledgement-of-struggle-by-ulemas-mashaykh/
--------
Macron Vows to Tackle 'Political Islam' in 'Act II' of Presidency
27 Apr 2019
French President Emmanuel Macron has declared his intention to tackle "political Islam" in what he is labelling "Act II" of his term as French leader.
President Macron said that the first "Act" of his presidency, which began in May 2017, was over and that he would be looking to focus on different issues between 2019 and 2021 when he is set to try for re-election. Among the topics will be the fight against a political Islam Macron described as forming parallel societies and attempting to "secede" from French society, Le Point reports.
"We are above all the children of the Enlightenment," Macron said and added that he wanted to see France rediscover "the art of being French" in a country that has become increasingly divided in recent years.
One of the main pillars of Macron's vision for France is the French brand of secularism, known in French as 'Laïcité,' with the French president saying, "Secularism is the possibility of believing in God or not believing in Him… of never imposing on society a religion or detracting from rules of the Republic to do this."
"When we talk about secularism, we do not really speak of secularism, we talk about the communitarianism that has settled in some quarters, of a political Islam that wants to secede from our Republic," he added.
Macron singled out foreign religious funding, especially from Turkey, saying that it also contributed towards the problems with political Islam in France and vowed tighter controls on foreign funds coming into the country.
Last year, the French president had made overtures at reforming Islam in France that would see an increased French influence on the training of imams as well as an overhaul of the organisation structure of Muslim groups.
A study that was conducted as a part of a project advising Macron discovered that the radical form of Islam known as Salafism had an almost monopoly on the intellectual currents of Islam across the country.
French-Tunisian Islam expert Hakim el Karoui of the Montaigne Institute, who authored the report, recommended tackling foreign funding of imams to counter the phenomenon.
https://www.breitbart.com/europe/2019/04/27/macron-vows-tackle-political-islam-act-ii-presidency/
--------
India
NIA raids 3 Kerala houses, looks for links with Lanka bombers
Apr 29, 2019
NEW DELHI/KOZHIKODE: In developments that come in the wake of the Sri Lanka bombings, the National Investigation Agency (NIA) on Sunday carried out searches at the houses of three suspects linked to an Islamic State-inspired module comprising over a dozen people from Kasargod in Kerala who had left India in 2016 to join IS in Nangarhar, Afghanistan.
According to sources, the NIA team conducted raids at the houses of Ahamed Arafat and Aboobacker Siddique under the Vidyanagar police station limits in Kasargod. The house of a third person in Kollankode in Palakkad district was also searched.
The NIA is questioning the suspects not only because they were in touch with Abdul Rashid Abdulla, the absconding leader of the IS Kasargod module, and other accused, but also to establish any possible link between the module and the bombers behind Easter Day attacks in Sri Lanka. The cross-straits connections of the National Thowheed Jamaat, which has been named in the Sri Lanka bombings, are being probed.
Indian agencies have been tracking IS-motivated individuals and groups and the Wahhabi links of some Tamil Nadu-based organisations and the NTJ has been a matter of discussion in security circles. The IS claimed authorship of the Easter attacks carried out through local recruits who swore allegiance to IS leader Abu Bakr Al Baghdadi.
Late last year, the NIA, while carrying out searches at the premises of six accused in the IS Coimbatore module case allegedly involving a plot to target Hindu leaders in south India, seized computer devices with jihadi videos of NTJ leader Zahran Hashim.
The NIA alerted Indian intelligence agencies which developed information on terror attacks being plotted in Sri Lanka. The intelligence was shared with Sri Lankan authorities on three different occasions, including hours before the bombings.
During searches at the residence of the three suspects on Sunday, mobile phones, SIM cards, memory cards, pen drives, diaries with handwritten notes in Arabic and Malayalam, DVDs of Salafi preacher Zakir Naik besides untitled DVDs, CDs with religious speeches, books of Zakir Naik and Syed Kutheb were seized. Digital devices will be forensically examined and analysed, the NIA said. Naik has surfaced as a motivator for terror cells and IS modules in the past few years. He remains abroad.
As per NIA's chargesheet in the IS Kasargod module case, Abdulla and his wife Ayisha had travelled to Sri Lanka in February 2016 to attend classes in Islamic studies at Al-Quma Arabic College in Colombo. In fact, two other couples from India, Bestin Vincent and his wife Mariyam and Ashfaq Majeed and Shamsiya, were also there with Abdulla attending the same course.
However, when the teacher found out that Abdulla, Bestin and Ashfaq were propagating IS ideology and views of jihad among other students, they were expelled from the college and returned to India on April 14, 2016.
It was after Abdulla returned from Sri Lanka that he began arranging resources for travel of 15 of his radicalised followers. All of them, except Yasmeen Zahid from Patna, managed to exit the country between May 31 and July 5, 2016, and are believed to have reached Nangarhar via Oman and Iran. Yasmeen, who was intercepted at New Delhi's Indira Gandhi International Airport while trying to leave India in July 2016, now stands convicted in the case.
"We are questioning the three suspects, whom we had been tracking for some time as they were in touch with Abdulla and other members of the Kasargod module based in Afghanistan. We want to know if similar videos of Hashim were shared with them and if there is any direct link between IS modules from India and the Sri Lanka bombers," an NIA officer said.
Hashim's speeches in Tamil were popular with extreme Salafi groups in Kerala. He had been exhorting Muslims to shun ideas such as nationalism, democracy and pluralism as they had no place in Islam.
Hashim wanted Muslims to keep a distance from "non-believers" and not have any emotional bonding with them.
He had elucidated the concept of Al Wala Wal Bara (bonding and exclusion) in his speeches that was the favourite theme of extreme Salafis in Kerala. Police had registered a case against a Salafi preacher in Kerala for speaking on Al Wala Wal Bara after it was alleged that such hate speeches had contributed to the growth of the IS in Kerala.
https://timesofindia.indiatimes.com/india/nia-raids-3-kerala-houses-looks-for-links-with-lanka-bombers/articleshow/69088039.cms
--------
500-yr-old well discovered near gurdwara on Kartarpur corridor
Apr 29, 2019
A 500-year-old well, believed to have been built during the lifetime of the first Sikh master Guru Nanak, has been discovered near a gurdwara on the Kartarpur corridor which will facilitate easy passage of Sikh pilgrims to the historic Gurdwara Darbar Sahib in Pakistan.
The well was discovered while digging the enclosure of Gurdwara Dera Sahib, Kartarpur, some 125 kilometres from Lahore, said the shrine's caretaker Sardar Gobind Singh.
The 20-ft well, made of small red bricks and believed to have been built during the lifetime of Guru Nanak, will be opened to the visitors after restoration, he said.
"The well (Khu sahib) is a boon for the Sikh pilgrims who would flock to the place on Baisakhi and other occasions and take away its sweet water. The water of the well had healing quality," Singh said.
"It will also be a great attraction for the Indian Sikhs due here on the 550th birth anniversary of Baba Guru Nanak," he said.
Last November, both India and Pakistan agreed to set up the Kartarpur corridor to link the historic Gurdwara Darbar Sahib - the final resting place of Guru Nanak - in Pakistani town of Kartarpur with Dera Baba Nanak in Punjab's Gurdaspur district.
Kartarpur Sahib is located in Pakistan's Narowal district across the river Ravi, about four km from the Dera Baba Nanak shrine.
Pakistan has committed to open the corridor in November this year on the occasion of the 550th birth anniversary of Guru Nanak.
Full report at:
https://www.hindustantimes.com/india-news/500-yr-old-well-discovered-near-gurdwara-on-kartarpur-corridor/story-ERXPZnvBT3CgsEMxEBPIhP.html
--------
Raids in Kerala over ISIS links, three suspects questioned
Apr 28, 2019
The National Investigation Agency (NIA) conducted raids at three places in Kerala on Sunday in connection with its probe on an Islamic State module.
The searches were conducted at the houses of three suspects—two in Kasargod and one in Palakkad. The three suspects are being questioned by the probe agency.
"These persons are suspected to have links with some of the accused in the ISIS Kasaragod module who had exited India to join ISIS," an NIA statement said.
Mobile phones, SIM cards, pen drives, DVDs and CDs with religious speeches were recovered during the raids. "Handwritten notes in Arabic and Malayalam, DVDs of Zakir Naik and Syed Kutheb have been seized. The digital devices will be forensically examined and analysed," the statement added.
The NIA is probing cases of disappearance of at least 21 people who had left Kerala under mysterious circumstances over a period of time and are suspected to have joined ISIS.
Full report at:
https://www.hindustantimes.com/india-news/nia-raids-three-places-in-kerala-in-over-isis-links-three-suspects-being-questioned/story-02wTyw9kNVj7yws7wR8PtK.html
--------
Three JeM terrorists arrested for attack on police post in Srinagar
April 29, 2019
TWO Jaish-e-Mohammed (JeM) militants and an over-ground worker of the militant outfit have been arrested by the Jammu and Kashmir police in connection with Friday's attack on a police post in Srinagar's Chanapora area.
Addressing a press conference on Sunday, SSP, Srinagar, Haseeb Mughal said that the three men were identified as Mushtaq Ahmad Rather, Junaid Ahmad Dar and Lateef Ahmed. A policeman was grievously injured in the attack carried out by them on Friday.
A J&K police spokesperson said in a statement that militants Mushtaq and Junaid were residents of Wathoora area of Chadoora in Budgam district.
"Another man, identified as Lateef Ahmed of Wathoora, assisted the terrorists by transporting them on his motorbike for executing the terror attack," read the statement.
The police said that a commander of JeM, Sameer Ahmed of Pulwama district, is also a "part of this conspiracy and on his directions the terror attack has been executed."
Providing details on how the attack was carried out, the SSP said: "Three people came on a motorcycle. Junaid went inside the police post with an excuse to know the passport verification status. He came outside and told the others that the sentry has no backup and can be targeted."
"Then Mushtaq went inside wearing a pheran and a helmet. When he was asked to remove the pheran for frisking, he fired at the sentry. The sentry pushed him… since the policeman's gun was attached to a belt and tied with a chain, the militants couldn't take it and fled from the area," the SSP said.
According to the police, Mushtaq is a post graduate from Kashmir university, Junaid was involved in a number of stone pelting cases and Lateef is an over-ground worker of the militants.
On how many militants were active in Srinagar, the SSP said that 8-10 militants were believed to be present in Srinagar and after Friday's attack the police have been extra vigilant.
Full report at:
https://indianexpress.com/article/india/three-jem-terrorists-arrested-for-attack-on-police-post-in-srinagar-5699699/
--------
Southeast Asia
Sabah Muslim lawyers join stand against proposed extension of Legal Profession Act
28 Apr 2019
KOTA KINABALU: The Association of Muslim Lawyers Sabah (Amal) opposes the proposed extension of the Legal Profession Act 2019 (LPA 2019) to Sabah and Sarawak, supporting the stand taken by the Sabah Law Society (SLS) and Advocates Association of Sarawak (AAS).
Amal president Ansari Abdullah added that they opposed the proposal to repeal the Sabah Advocates Ordinance 1953 as well.
"The drafters of the proposed LPA Bill are clearly ignorant of the arrangements agreed upon under the Inter-Governmental Committee Report 1962 (IGC62) and the Malaysia Agreement 1963 (MA63), which were crystallised into Article 161B of the Federal Constitution.
"Our association will oppose any erosion of the special rights and privileges accorded to Sabah under the IGC62 and MA63," he said in a statement on Sunday (April 27).
In a recent joint statement, SLS president Brenndon Keith Soh and AAS president Ranbir Singh Sangha said SLS and AAS are not in favour of the LPA Act being extended to either Sabah or Sarawak.
"While we recognise that the existing LPA Act 1976 contains identical extension and repeal provisions, such should not be included in this current LPA Bill or any future or similar legislation," they said.
"The SLS and AAS were not consulted on the LPA Bill and our position is to collectively and unreservedly oppose the extension and repeal provisions and to demand that they be deleted from the bill," they added.
According to them, law practitioners in Sabah and Sarawak are capable of handling legal matters in their own states without interference from "outsiders".
In a separate matter, Ansari appealed to the Sabah Immigration director to check and ensure that lawyers from outside Sabah who appear in the state's Syariah Courts are in possession of valid work permits.
"We have received complaints that some of them may be appearing in our Syariah Courts while on social visit passes," he said.
https://www.thestar.com.my/news/nation/2019/04/28/sabah-muslim-lawyers-join-stand-against-proposed-extension-of-legal-profession-act/
--------
Why contest 'non-Muslim' PD seat? Hadi asks Anwar
28 April 2019
By Syed Jaymal Zahiid
KUALA LUMPUR, April 28 — PAS questioned Datuk Seri Anwar Ibrahim today on why the PKR leader decided to contest in a predominantly non-Muslim constituency like Port Dickson.
Party president Datuk Seri Abdul Hadi Awang in a statement posted on his Facebook page argued that the Port Dickson parliament seat — whose electorate comprises Malays at 43 per cent, Chinese (33 per cent), Indian (22 per cent), and other races (2 per cent) — does not reflect the country's racial composition, therefore Anwar's win was no real measure of his popularity among ethnic Malays.
"We saw that he picked the Port Dickson seat, a constituency dominated heavily by non-Muslims," Hadi said.
"Why didn't he pick a Muslim-majority seat? This (Port Dickson seat) is not balanced and does not reflect the country's demographic which is Muslim-majority."
Hadi added that only by contesting in a Muslim-dominated seat can Anwar measure his popularity.
"You should contest in a Muslim constituency to put yourself to the test," the PAS president wrote.
PAS had previously hinted that Anwar was behind an alleged coup to topple Prime Minister Tun Dr Mahathir Mohamad.
Hadi, also MP for Marang, suggested today that Anwar cannot take over the post because he does not enjoy popular support. PAS leaders had said this was among the reasons why the PKR chief had supposedly wanted to unseat Dr Mahathir.
"We can see that in the last general election Pakatan Harapan won because they made Tun M the leader, who won even when his new party received the least number of seats," Hadi said.
"This is something we cannot take lightly because they (PH) have tried to promote (Datuk Seri) Azmin Ali before but were unsuccessful. The same with Anwar Ibrahim but he failed too."
Anwar led the Pakatan Rakyat (PR) when the coalition lost to Barisan Nasional in the 13th general election. PR, the political opposition bloc that predated PH, comprised PKR, PAS and the DAP.
After he was jailed for a second sodomy charge shortly after the elections, PAS quit the coalition. PR, effectively disbanded by then, struggled to find Anwar's replacement and looked to Azmin as the primary candidate, but observers said the move failed to convince voters.
It was only after Dr Mahathir left Umno, formed Bersatu and joined PH that the bloc began to enjoy popular support. Even then, it received less than 20 per cent of the Malay votes when it won the 14th general election.
PAS had recently declared its support for Dr Mahathir's prime ministership, saying it backed the Bersatu chief to helm the government for the entire term, a move meant to show its disapproval of the transition plan to put Anwar into office.
Hadi reiterated the party's stance today.
"In our opinion, a prime minister must be picked by the people, not by certain individuals," the PAS chief wrote, referring to Dr Mahathir as the rightful prime minister because he led PH to victory.
Full report at:
https://www.malaymail.com/news/malaysia/2019/04/28/why-contest-non-muslim-pd-seat-hadi-asks-anwar/1747794
--------
South Asia
Sri Lanka Attacks: Hometown of Accused Mastermind Was Fertile Ground for Extremism
By Hannah Beech
April 28, 2019
KATTANKUDY, Sri Lanka — When the Wahhabis came, with their austere ideology and abundant coffers, the town of Kattankudy yielded fertile ground.
In this part of Sri Lanka, faith was often the sole sustaining force during the civil war that raged for nearly three decades. Wahhabism — a hard-line strain of Islam blamed for breeding militancy — proposed a direct path to God, albeit one that aimed to return the religion to the time of the Prophet Muhammad.
It was here in Kattankudy's warren of homes decorated with delicate swirls of Arabic calligraphy that Zaharan Hashim, the man accused of masterminding the Easter Sunday attacks in Sri Lanka, grew up. And it was here that he preached his ideology, calling for the killing of nonbelievers in Islam and even other Muslims.
"To be taken over by radicalism, this is not what we want for Kattankudy," said Mohamed Ibraheem Mohamed Jaseem, the vice chairman of the town's urban council. "We are living in Sri Lanka, not a caliphate."
An intersection in Kattankudy, where delicate swirls of Arabic calligraphy are commonplace.
The Sri Lankan police say that at least two of the suicide bombers involved in the attacks, which killed at least 250 people, were from Kattankudy. The Islamic State claimed responsibility.
Beginning on Friday evening, just down the coast from the town, a raid on a house linked to the Easter bombings turned violent, leaving 15 dead and wounding the wife and child of Mr. Zaharan. Some of the dead, thought to include Mr. Zaharan's brother and other immediate family, blew themselves up as security forces closed in. The Islamic State also claimed a connection to this shootout.
It was in the 1980s that Kattankudy, one of the few almost exclusively Muslim towns in Buddhist-majority Sri Lanka, began blossoming into a center of Islamic life. The town was enriched by Saudi money for mosques and madrasas, work-abroad contracts and university scholarships.
But the advent of Wahhabism, with its isolating dogma, has also shaken this multifaith island where minority Muslims have traditionally practiced a more inclusive faith. Birthed in Saudi Arabia, Wahhabism's stern intolerance denigrates not only those who don't believe in Islam but other Muslim sects as well.
While Saudi Arabia insists the faith does not call for violence, critics have long blamed the kingdom's mass export of its austere creed for fueling extremism and terrorism abroad. Al Qaeda's leader, Osama bin Laden, and most of the hijackers in the Sept. 11, 2001, attacks were from Saudi Arabia, and the Islamic State used Saudi religious textbooks inside its self-styled caliphate in Syria and Iraq.
There are more than 60 mosques in Kattankudy for a population of 45,000.
Today in Kattankudy, stately date palms line the main street, as if this lagoon-filled landscape were a desert oasis. Cafes offer tiny cups of syrupy Middle Eastern coffee along with Sri Lanka's famous tea.
There are more than 60 mosques in Kattankudy for a population of 45,000, and most now subscribe to conservative strains of Islam, including Wahhabism. At the New Kattankudy Grand Jumma Mosque, designed as a replica of Al Aqsa Mosque in Jerusalem, one of Islam's holiest sites, construction workers are laying intricate blue mosaics as part of the town's mosque-building boom.
"After the age of 7, everyone must pray five times a day, so we always need more mosques," said M.I.M. Irfan, the mosque's secretary.
In an appeal to the Muslim community that supported his government, Mahinda Rajapaksa, Sri Lanka's former president and an unabashed Buddhist nationalist, came to lay the cornerstone of the Kattankudy Grand Jumma Mosque. Saudi diplomats visited, too.
The Saudis and others from the gulf also supported a plan by M.L.A.M. Hizbullah, a Kattankudy native who is now governor of Eastern Province, to open an Islamic-inspired university campus in his hometown. But a dearth of land in its densely populated neighborhoods meant that the university, a vast edifice of domes and mosaics that is one of the biggest buildings in the province, is being built farther north.
Mr. Hizbullah is against reversing regulations that allow Sri Lankan Muslim men to marry children and have multiple wives. Last week, the authorities brought him in for questioning in connection with a radical group founded by Mr. Zaharan.
That group, National Thowheeth Jama'ath, said it severed ties with Mr. Zaharan two years ago.
The group's prayer space in Kattankudy is modern and under renovation, a glass-sheathed building with expensive speakers waiting to be installed. Less than a block away stands a disused bus from Yeshua Ministries, an evangelical Christian organization.
Faith mingles in Sri Lanka but it also can combust.
Beginning in 2004, Wahhabi-influenced youth from Kattankudy began attacking Sufis, who practice a mystical form of Islam. Grenades were thrown and swords thrust. Hundreds of Sufis were forced from their homes.
Mr. Zaharan charged with the anti-Sufi brigade.
Although Kattankudy's Islamic organizations are horrified by Mr. Zaharan's militancy and have eschewed violence, most have campaigned for years against Sufis.
"Those people, it is not Islam," said M.L.M. Nassar, a member of the Federation of Kattankudy Mosques and Muslim Institutions. "It's a deviation."
Kattankudy is one of the few almost exclusively Muslim towns in Buddhist-majority Sri Lanka.
During Sri Lanka's long civil war, which pitted minority Tamils against the Sinhalese majority, Muslims were sometimes caught in the middle. (Accounting for about 10 percent of the population, Muslims are considered a distinct ethnic group in Sri Lanka.)
Some Tamils, who are mostly Hindus or Christians, considered Muslims to be government collaborators. Some Sinhalese, who tend to be Buddhist, distrusted the fact that Muslims in Sri Lanka speak Tamil and populate some areas where Tamils are clustered.
A Buddhist chauvinism popularized by powerful politicians has poisoned relations further.
In 1990, at the height of the terror between insurgents from the Liberation Tigers of Tamil Eelam and a Sri Lankan military accused of slaughtering civilians, worshipers gathered in the evening for prayer at the Meera Grand Jumma Mosque in Kattankudy.
It was dark, just another poor town on Sri Lanka's Tamil and Muslim-dominated east coast bereft of electricity.
Suddenly, gunmen emerged from among the faithful, lobbing grenades and spraying bullets in the sacred space. That night, more than 100 people, many of them children, were killed in attacks on two Kattankudy mosques. The perpetrators were believed to have been Tamil Tigers.
The courtyard of a Sufi mosque in Kattankudy. Beginning in 2004, Wahhabi-influenced youth began attacking Sufis, who practice a mystical form of Islam.
Today, the walls of the Meera Grand Jumma Mosque are still pockmarked with bullet scars, a memory of hatred preserved for each generation to ponder.
M.L.M. Shamsudeen's 13-year-old son was killed in the attack, along with 16 other relatives. He is now a security guard at the mosque where his family was massacred, keeping vigil amid fears after the Easter killings that mosques might be targeted in retribution.
Sitting on the mosque's veranda, his eyes filled with tears for his son. He welled up again when he thought of what a hometown boy, Mr. Zaharan, appears to have unleashed at one church in the nearby city of Batticaloa and at two others in or near the capital, Colombo.
The talk of jihad emanating from some of Kattankudy's hard-line clerics appalled him, he said. Peace finally came to Sri Lanka in 2009. Like so many in the country, Mr. Shamsudeen is done with war.
"We had no weapons to fight back then," he said of the attack that killed his son and other family members. "But even if we did, is revenge the best way?"
Mr. Shamsudeen did not answer his own question. He shook his head. Just outside the mosque with its bullet-blemished walls, a soldier paced, his rifle alert, a finger poised on the trigger.
https://www.nytimes.com/2019/04/28/world/asia/sri-lanka-bombing-easter-mastermind.html
--------
5 Taliban explosives facilitators killed in Parwan
28 Apr 2019
Five Taliban Improvised Explosive Device planners were killed during an Afghan Security Forces (ASSF) raid in Bagram district, Parwan province, April 26, 2019.
Informed military sources said Sunday that "The nefarious coordinators, who went by the name Luftullah, Baran, Awal Gul, Farid, and Sayed Lala were directly responsible for planning and assisting militants in carrying out high-profile attacks against Afghan National Defense Security Forces and Afghan civilians in the region."
The sources further added that these coordinators specialized in Vehicle Improvised Explosive Device creation.
Full report at:
https://www.khaama.com/5-taliban-explosives-facilitators-killed-in-parwan-03826/
--------
8 militants killed, 6 others wounded in Ghor operations: Zafar Corps
28 Apr 2019
At least eight militants were killed and six others were wounded in joint air and ground operations which were conducted in North-western Ghor province.
The 207th Zafar Corps in a statement said the Afghan National Defense and Security Forces conducted operations with the close air support of coalition forces in Dolaina district of Ghor province.
The statement further added that eight militants were killed and six others were wounded during the operations and a vehicle and together with six motorcycles were destroyed.
The anti-government armed militants including Taliban have not commented regarding the operations so far.
Full report at:
https://www.khaama.com/8-militants-killed-6-others-wounded-in-ghor-operations-zafar-corps-03822/
--------
Sri Lanka Catholic cardinal fears attacks probe may 'flop'
28 April 2019
The head of Sri Lanka's Roman Catholics Sunday expressed fears that an official investigation into Easter bombings that killed 253 people will end up a "flop", casting doubt on the government's ability to bring the attackers to justice.
Speaking to reporters at his first public appearance since last week's attacks on churches and hotels, Cardinal Malcolm Ranjith slammed what he described as Sri Lanka's culture of impunity, saying many high-profile assassinations over the past 30 years had remained largely unsolved.
"There is a certain amount of suspicion among our people that there will be no more follow up, only words.... If they (the authorities) are sincere, they must have a thorough investigation," he said.
The cardinal said he had heard that President Maithripala Sirisena had appointed a commission of inquiry into the massacre.
"But we never heard if that commission had any sittings. Nothing at all, we were never consulted. We are afraid that this commission might just end up being a flop," he said at a candlelight vigil organized by a state-owned newspaper company.
Police say they have arrested more than 150 people suspected to be involved with the coordinated suicide bombings that devastated three luxury hotels and three churches, two of which are Roman Catholic.
The cardinal has repeatedly assailed the authorities for failing to share intelligence reports that had warned of an impending jihadist attack against Christians, saying he felt "betrayed" by the government.
Full report at:
https://english.alarabiya.net/en/News/world/2019/04/28/Sri-Lanka-Catholic-cardinal-fears-attacks-probe-may-flop-.html
--------
Father, two brothers of Sri Lanka suicide bombings mastermind killed
28 April 2019
The father and two brothers of the suspected mastermind of Sri Lanka's Easter Sunday bombings were killed when security forces stormed their safe house two days ago, police sources and a relative of the suicide bombers told Reuters on Sunday.
Zainee Hashim, Rilwan Hashim and their father Mohamed Hashim, who were seen in a video circulating on social media calling for all-out war against non-believers, were among 15 killed in a fierce gun battle with the military on the east coast on Friday, four police sources said.
Niyaz Sharif, the brother-in-law of Zahran Hashim, the suspected ringleader of the wave of Easter Sunday bombings that killed over 250 people in churches and hotels across the island nation, told Reuters the video showed Zahran Hashim's two brothers and father.
Three of the 15 people killed were the same people who were seen in the undated video on social media, in which they discuss martyrdom and urge their followers to kill all non-believers, police sources said.
Full report at:
https://english.alarabiya.net/en/News/world/2019/04/28/Father-two-brothers-of-Sri-Lanka-suicide-bombings-mastermind-killed-.html
--------
Arab World
Hundreds of Ankara-Backed Terrorists Join ISIL in Northern Syria
Apr 28, 2019
The so-called 'Saraya Khalid bin al-Walid' terrorist group that operates in Idlib province in a statement on Saturday stated allegiance to ISIL ringleader Abu Bakr al-Baghdadi and merged into the terrorist group.
Meantime, the Kurdish-language Hawar news quoted an informed source in Idlib province as saying that Saraya Khalid bin al-Walid terrorist group is supported by Turkey and it consists of nearly 800 militants in different parts of Northern Aleppo and Idlib, specially al-Nayrib, Jabal al-Zawiyeh, Saraqib, Ariha and Mosayebin regions.
The statement came as Russian media reports claimed on Saturday that al-Baghdadi was in Syria's Badiyeh (desert) region, attempting to cross the border into Iraq.
The Arabic-language service of RT news channel quoted an Iraqi intelligence source as saying that al-Baghdadi was hiding in Abu Rajmin mountain near Syria's Palmyra region in Homs province.
He added that the ISIL leader wants to cross the border into Iraq in the next few weeks, noting that he had already made several unsuccessful attempts due to the tight security measures at the border.
The report said captured ISIL terrorists had leaked during interrogations that al-Baghdadi had been left with a small number of Saudi, Tunisian and Iraqi militants who were still loyal to him.
Security experts said al-Baghdadi was likely trying to join the ISIL terrorists who had been transferred by the US from Syria to Iraq.
Iraq's security experts have accused the US army of training hundreds of ISIL terrorists in al-Anbar province after relocating them from Syria to Iraq to prepare them for a new round of insecurity in the country.
http://en.farsnews.com/newstext.aspx?nn=13980208000997
--------
US-Backed SDF Swaps Syria's Oil with US-Israeli Arms
Apr 28, 2019
The Syrian Observatory for Human Rights (SOHR) reported that a military convoy comprising 70 trucks carrying military and logistic equipment (made in the US and Israel) has been dispatched by the US-led coalition from Iraq to Syria.
Meantime, the Arabic-language Rai al-Youm quoted local sources in Eastern Syria as saying that the SDF has swapped Syria's oil and gas with US and Israeli weapons.
The sources told the Kuwaiti paper that the SDF is currently engaged in implementing the US occupation plots after the US declared the end of the ISIL in Eastern Syria. The US-backed Kurdish fighters have adopted hostile policies against people in the region.
Meantime, people in the towns of al-Sovar, Moileh, al-Shahil and al-Hasan in Eastern and Southeastern Deir Ezzur continued protests against the SDF and their measures such as stealing oil in cooperation with some foreign energy firms, and blocked Deir Ezzur-Haska Road to keep SDF militias outside their town.
In a relevant development on Saturday, the US-backed Kurdish militants received state-of-the-art weapons and military equipment, including Israeli arms in Eastern Euphrates, the Arabic-language media reports said.
The pro-militant Arabic-language Al-Khabor news agency quoted informed sources as saying that the US-led coalition has delivered new military and logistical supports through Simalka crossing to its allied Kurdish fighters in Eastern Syria.
It noted that the said military shipment included advanced missiles, US air defense systems, Israeli anti-Tank Spike missiles, shoulder-mounted surface-to-air Stinger missiles and drones.
The advanced weapons delivered to the Kurdish fighters were transferred to a clandestine depot near Ramilan Airbase in Hasaka province which is guarded by the US marine forces and Kurdish fighters.
In a relevant development last week, the media reports said that the US dispatched a large number of trucks packed with new military aids to the SDF in Eastern and Northeastern Syria.
A US military convoy comprising 30 trucks loaded with weapons, military and logistic equipment has arrived in Ain al-Arab Airport in Northeastern Aleppo, pro-militant al-Khabor news website reported.
Al-Khabor, meantime, said that the SDF has discharged four weapons depots in Tal Bidar, Ramilan, al-Shadadi and al-Malekieh in Hasaka province and sent their weapons to arms depots in Ra'as al-Ain in Northern Hasaka, Tal Abyaz in Northern Raqqa and Ain al-Arab in Aleppo as well as al-Amar energy zone in Eastern Deir Ezzur.
It noted that the Kurdish forces' move comes as part of their plan to confront an imminent military offensive by the Turkish Army and its allied militants in Eastern Euphrates.
The Turkish-language Anatoly news agency also reported that hundreds of trucks carrying US-made military equipment have been sent for the SDF-controlled areas in Deir Ezzur.
It also noted that a large number of weapons and military equipment have been sent to the US-controlled al-Omar oil zone which is now under the US control, adding that a large number of vehicles and drilling machinery have also been sent to SDF-controlled towns.
Full report at:
http://en.farsnews.com/newstext.aspx?nn=13980208000646
--------
Libyan Gov't: S. Arabia, UAE's Military Assistance to Haftar Could Stop Crude Exports
Apr 28, 2019
"The UAE, with the help of Saudi Arabia, has equipped Haftar forces with 195 combat vehicles and Belarus-made helicopters," Mishri was quoted by the Arabic-language al-Sharq newspaper as saying on Sunday.
He referred to the deployment of UAE fighter jets and military men in Kharoubah base in Eastern Libya, and said, "Saudi Arabia has told the committee of sanctions that it has transferred weapons from the UAE to Haftar forces on a Saudi ship."
Al-Mishri also warned that continued war against Tripoli could stop exports of oil from the country.
His remarks came as troops loyal to Libya's internationally-recognized government are preparing to launch a counteroffensive on Haftar's Eastern-based forces currently struggling to maintain their positions along the capital's Southern outskirts, the Government of National Accord's interior minister announced.
"We are in preparation and within three days or so, there will be a full-scale attack and we will switch from a defensive to attacking position," Interior Minister Fathi Bashagha.
"Haftar's forces will be repelled from the entire Western region … There are other surprises in other areas where Haftar's forces are based," he added.
The announcement came as the United Nations expressed concern over reports of indiscriminate shelling in populated areas.
Citing figures by the International Organization for Migration, UN Spokesperson Stephane Dujarric said 39,000 people were displaced by fighting along the capital's southern districts.
Haftar's Libyan National Army (LNA), which is allied to a rival government in Eastern Libya, launched an offensive to seize the capital on April 4, but has so far failed the breach the city's defenses.
"We assure you that this aggression on Tripoli has increased our strength and battle readiness. The security situation has improved, thanks to the efforts of security and police personnel," Bashagha stated.
Separately, Economy Minister Ali Abdulaziz Issawi told Reuters News Agency that the GNA was budgeting up to $1.43bln to cover the cost of the war, which has entered its fourth week now.
Issawi said the government of Prime Minister Fayez al-Sarraj would spend the money on medical treatment of the wounded, aid for displaced people and other "emergency" war costs, insisting the amount would not be used to fund the war efforts.
Tripoli derives revenue largely from oil and natural gas production, interest-free loans from local banks to the central bank, and a 183-percent surcharge on foreign exchange transactions conducted at official rates.
But with centralized tax collection greatly diminished, public debt has piled up to 68 billion dinars ($48bn) in the West, including unpaid state obligations, such as social insurance.
Some analysts say Sarraj's government will be forced to raise a new debt if the war for the control of Tripoli drags on.
With much of Libya dominated by armed factions that also act as security forces, the public wage bill for both the Western and Eastern administrations has soared as fighters have been made public employees in efforts to buy their loyalty.
The east sold bonds worth 35 billion dinars ($25bn) outside the official financial system as the Tripoli central bank does not fund the parallel government apart from some wages.
Despite its limited reach, the Tripoli government still runs an annual budget of around 46.8 billion dinars ($34bln), mainly for public salaries and fuel subsidies.
"This year, we cannot finance via debt ... We will not borrow [by agreement with the central bank]," Issawi added.
According to IMF data, Libya's central government's debt-to-GDP ratio is 143 percent, making it one of the most indebted countries in the world.
Issawi declined to say what part of the budget would be trimmed to support the extra outlay for war costs.
However, with some 70 percent of the budget allocated to public wages, fuel subsidies and other welfare benefits, a portion devoted to infrastructure is most likely to be axed.
Full report at:
http://en.farsnews.com/newstext.aspx?nn=13980208000785
--------
Syrian Army Fends Off Terrorists' Attacks in Aleppo, Repels Attacks in Hama, Idlib
Apr 28, 2019
The terrorists, stationed in al-Ais town near Ankara-controlled observation post in Southwestern Aleppo, fired rockets and mortar rounds at al-Hazer town in Southwestern Aleppo, killing and wounding several civilians, the Arabic-language al-Watan newspaper reported.
It noted in the meantime that the Syrian Army units also foiled heavy attacks by the terrorists over the last month in Khalseh, al-Hawiz and Khan Touman at military positions in al-Harisheh and Mohit al-Thanieh in Southwestern Aleppo, inflicting heavy losses on them.
Meantime, the Syrian Army's artillery units backed by the Russian and Syrian air forces pounded the terrorists' military positions and movements in Kafar Zita, Horas Abedin, al-Latamaneh, Lahaya, Hasraya, al-Mostariheh, al-Karkat in Jabal Shahshabou, Kharbeh al-Naqous in North and Northwestern Hama, destroying several positions, hideouts and military vehicles as well as killing and injuring a number of them.
In Southern Idlib, the Syrian Army's artillery units hit the military positions and movements of the terrorists in the surrounding areas of Abedin town, destroying a number of military vehicles of the terrorists.
In a relevant development on Saturday, the Syrian army warded off heavy attacks by terrorists from the demilitarized zone on military-controlled areas in Southern Aleppo, Northern Hama and Southern Idlib.
The Arabic-language service of Sputnik reported that the Syrian army units engaged in fierce clashes with Tahrir al-Sham al-Hay'at (the Levant Liberation Board or the Al-Nusra Front) and Horras al-Din terrorists who intended to infiltrate into the military areas in Khan Touman in Southern Aleppo.
It added that the army's artillery units also launched repeated attacks on terrorists and their supply routes in Tal Mamo, Zamar, Khaseh, al-Muhandesin and Awaram al-Kobra in Southern and Western Aleppo, repelling their offensive.
Meantime, the Syrian army troops launched heavy artillery and missile attacks on Tahrir al-Sham and Turkistani terrorists' positions and moves in the towns of Shahrnaz, Sahab, al-Ankawi, al-Hawiz, al-Shariat, Qal'at al-Maziq, al-Hawijeh and Tal Hawash in Northern and Northwestern Hama towards the Syrian army positions, inflicting heavy losses on militants and destroying a number of their strongholds and vehicles.
The army troops in Southern Idlib targeted the movements and hideouts of Jeish al-Izza terrorists near the towns of al-Latamineh and Kafr Zita with artillery and missile fire, smashing their gathering centers and positions used to attack the Syrian army.
In a relevant development on Friday, the Syrian army launched massive attacks on military convoys of Tahrir al-Sham in Southern Idlib in response to the militants' continued attacks from the demilitarized zone in Northern Syria.
The Syrian Army units pounded Tahrir al-Sham terrorists' movements from several directions in al-Tamaeneh, Um Jalal, Um al-Khalakhil, Jorjnaz, Khan Sheikhoun, Tahtayeh and Abu Hobeh in Southern and Southeastern Idlib towards the government forces' military points.
Meantime, a military source said that the terrorists sustained heavy casualties and losses as their military convoys were destroyed.
Full report at:
http://en.farsnews.com/newstext.aspx?nn=13980208000627
--------
Kuwait sentences blogger to jail for insulting Saudi Arabia
Apr 28, 2019
Kuwait officials have sentenced a blogger to five years in prison for insulting Saudi Arabia on social media network.
The criminal court in the oil-rich Persian Gulf kingdom handed down the sentence to Abdullah al-Saleh on Sunday, after the defendant was found guilty of "spreading false news," the pro-government and Arabic-language al-Watan daily newspaper reported.
Last October, the Kuwaiti Ministry of Interior announced that it had referred a group of people to the Public Prosecution for insulting Saudi Arabia on social media networks, particularly Twitter.
The posts were described as "offensive" after they were published during Saudi Crown Prince Mohammed Bin Salman's visit to Kuwait on September 30 last year.
On March 18, 2015, Kuwait arrested an opposition activist on suspicion of insulting Saudi Arabia on his Twitter account.
Social media activists, requesting not to be named, said Tariq al-Mutairi, head of the liberal Civil Democratic Movement (CDM), was detained on his way home by men in plain clothes, believed to be from the state security service.
The state news agency KUNA, citing an interior ministry statement, said Mutairi was arrested for "publishing a number of tweets insulting the sister Kingdom of Saudi Arabia."
Full report at:
https://www.presstv.com/Detail/2019/04/28/594601/Kuwait-blogger-jail-Saudi-Arabia
--------
Mideast
Saudis destabilizing Middle East, paying for US-Israeli crimes: Hezbollah official
Apr 28, 2019
The deputy secretary general of Lebanon's Hezbollah resistance movement has described Saudi Arabia as the root cause of instability in the Middle East, stating that the incumbent regime in Riyadh is sponsoring fiendish US and Israeli crimes in the region. "Saudi officials are paying for American-Zionist crimes from the pockets of poor and impoverished people among other walks of society in the kingdom. Saudi rulers have turned the country into the kingdom of evil. Saudi money rests behind all crises and problems in the region, besides the agents that are on the American-Israeli side," Arabic-language al-Ahed news website quoted Sheikh Naim Qassim as saying at a ceremony in the southern Lebanese town of Kfar Fila on Sunday evening.
Qassim added that the ruling Saudi family is a sheer example of an oppressive and dictatorial regime, which practices all kinds of pressure and injustice under American orders to legitimize Arabs' normalization of diplomatic relations with the Israeli regime, the so-called deal of the century that deprives Palestinians of their motherland and their future, in addition to aggression and occupation.
"Saudi Arabia committed a massacre by executing a number of its citizens without a fair trial and through false confessions. The individuals were charged only because of expressing their views and speaking truth. This is only part of the crimes the Al Saud regime, which has also killed (Shia cleric) Sheikh Nimr Baqir al-Nimr and (renowned journalist) Jamal Khashoggi, and destroyed life in Yemen for more than four years without being penalized," the senior Hezbollah official pointed out.
"The Al Saud is the one who destroyed Syria, introduced (the radical ideology of) Wahhabism, dispatched al-Qaeda, Nusra and their terrorist allies to Iraq, Syria, Lebanon and elsewhere in the Middle East region, and provoked sectarian strife. They are the ones who are sabotaging Libya, Sudan and Algeria. This regime is preventing stability in the region," Qassim commented.
He highlighted that Riyadh has the least respect for the standards of human rights and grossly distorts Islamic teachings.
https://www.presstv.com/Detail/2019/04/28/594614/Saudi-Middle-East-plots-Hezbollah
--------
Iran warns could shut Strait of Hormuz if tensions grow
28 April 2019
Iran's top general warned on Sunday that Tehran could close the strategic Strait of Hormuz shipping route if it faces more "hostility," news agency ISNA said, as the US tightens up sanctions.
"We are not after closing the Strait of Hormuz but if the hostility of enemies increase, we will be able to do so," armed forces chief of staff Mohammad Hossein Bagheri told semi-official ISNA.
"Also if our oil does not go through the strait, other countries' oil will certainly not cross the strait, too," he added.
The statement came after Washington said on Monday it would start imposing sanctions on countries such as India, China and Turkey that buy Iranian oil.
Eight countries were initially given six-month reprieves after the United States re-imposed sanctions on Iran in November, following President Donald Trump's decision to withdraw from a 2015 nuclear accord.
Iranian officials have repeatedly warned that the Islamic republic could shut down the strait, a vital shipping lane for international oil supplies, should it find its national interests or security threatened.
"We believe Iran will continue to sell its oil ... (and) use the Strait of Hormuz. But if the United States takes the crazy measure of trying to prevent us from doing that, then it should be prepared for the consequences," foreign minister Mohammad Javad Zarif said on Wednesday.
Full report at:
https://english.alarabiya.net/en/News/middle-east/2019/04/28/Iran-warns-could-shut-Strait-of-Hormuz-if-tensions-grow.html
--------
Israel frees two Syrian prisoners after return of soldier's remains
28 April 2019
Israel has released two Syrian prisoners in what it says is a "goodwill gesture" following the repatriation of the remains of an Israeli soldier who went missing over 35 years ago.
Israel insists Sunday's release was not a quid pro quo for the return of Zachary Baumel's remains earlier this month.
Syrian state TV says the two prisoners, Zeidan Tawil and Khamis al-Ahmad, arrived on the Syrian side of the Quneitra crossing after being released.
Baumel went missing during the Sultan Yacoub battle between the Israeli army and Syrian forces during Israel's 1982 invasion of Lebanon.
Russian mediators facilitated the return of his remains shortly before this month's Israeli election.
Full report at:
https://english.alarabiya.net/en/News/middle-east/2019/04/28/Israel-frees-2-Syrians-after-return-of-soldier-s-remains.html
--------
Israel frees 2 Syrian prisoners after return of soldier's remains
Apr 28, 2019
Israel has released two Syrian prisoners following the repatriation of the remains of an Israeli soldier who had gone missing over three and a half decades ago.
The two prisoners, Zeidan Tawil and Khamis al-Ahmad, arrived on the Syrian side of the Quneitra crossing in the Israeli-occupied Golan Heights after being released on Sunday, the official Syrian Arab News Agency (SANA) reported.
SANA also published a photograph of the two men, one of them flashing a victory sign from inside a vehicle. It also posted a brief video of the men shortly after they were handed over to Syrian authorities.
The Israeli regime claimed that Khamis had been jailed in 2005 after trying to infiltrate an Israeli army base, and Taweel in 2008 for drug smuggling.
Israel agreed to release the prisoners after Russian mediators reportedly facilitated the return of the remains of soldier Zachary Baumel earlier this month.
Baumel had gone missing during a battle between the Israeli army and Syrian forces during Israel's 1982 invasion of Lebanon. Syrian soldiers fought against Israel in a battle on June 10-11 of that year in the Lebanese village of Sultan Yacoub, near the Syrian border. Some 20 Israeli troops were killed. Baumel and two other soldiers had since been listed as missing and presumed killed.
The Israeli regime has waged three wars on Lebanon — in 1982, 2000, and 2006. It has also carried out assassinations on Lebanese territory.
Israel seized the Golan Heights from Syria in the closing stages of its 1967 Six-Day War with Arab countries, which also saw the regime occupy the Palestinian territories of the West Bank, East Jerusalem al-Quds, and the Gaza Strip.
Full report at:
https://www.presstv.com/Detail/2019/04/28/594608/Israel-Syria-prisoners-release-Israeli-soldier-remains
--------
Africa
Sudan's military rulers condemn attack on Islamist party
28 April 2019
Sudanese protest leaders held talks with the ruling military council on Sunday after the military condemned an attack on an Islamist party close to former president Omar al-Bashir, who was removed from power and jailed earlier this month.
Dozens of protesters gathered Saturday outside a building where the Popular Congress Party was holding a meeting, chanting: "No place for Islamists."
The state-run SUNA news agency quoted party leader Idriss Suliman as saying that at least 64 party members were wounded in clashes with the protesters.
The party was established in the late 1990s by Hassan al-Turabi, the Sudanese Islamist who played a key role in the 1989 coup that brought al-Bashir to power.
The military removed al-Bashir from office April 11 amid four months of mass protests. A military council has said it will rule the country for up to two years until elections can be organized.
The Forces for the Declaration of Freedom and Change, a coalition of opposition groups led by the Sudanese Professionals Association, is pushing for a quicker transition. They have called for a transitional council that would include limited army representation. The protesters fear that the military will cling to power or cut a deal with other parties to leave much of al-Bashir's regime intact.
The military has said it is open to "proportional" civilian representation in its council and the granting of executive powers to civilians. It has said it is consulting with all political factions except for al-Bashir's National Congress Party on the way forward.
The protesters suspended talks with the military a week ago but resumed the negotiations on Wednesday as three officials seen as too close to al-Bashir resigned from the military council.
https://english.alarabiya.net/en/News/middle-east/2019/04/28/Sudan-s-military-rulers-condemn-attack-on-Islamist-party.html
--------
Pope appeals for evacuation of refugees in Libya camps
28 April 2019
Pope Francis called on Sunday for the evacuation of refugees held in detention camps in Libya, particularly women and children, as fighting there escalates.
"I make an appeal that especially the women, children and sick can be evacuated as soon as possible through humanitarian corridors," Francis said at the Sunday prayer at the Vatican.
Their situation "which is already very serious, has become even more dangerous due to the ongoing conflict," he said.
A group of around 140 refugees is expected to arrive in Rome from Libya on Monday.
Humanitarian groups and international organizations are alarmed at the situation of thousands of migrants trapped in detention centers in Libya, as fighting rages between forces loyal to the Tripoli-based government of national unity and those loyal to commander Khalifa Haftar.
Libya, long a major transit route for migrants desperate to reach Europe, is home to around 6,000 migrants who are held in official detention centers, according to the International Organization for Migration.
Hundreds more are held by armed groups elsewhere in the war-hit country.
The UN and international aid groups have warned that thousands of migrants and refugees who fled violence at home and are now trapped in Libyan detention centers are facing enormous dangers and must be evacuated.
Full report at:
https://english.alarabiya.net/en/News/north-africa/2019/04/28/Pope-appeals-for-evacuation-of-refugees-in-Libya-camps-.html
--------
Airstrikes by forces of renegade Libyan general kill 4 in Tripoli
Apr 28, 2019
A series of aerial raids by renegade Libyan general Khalifa Haftar's so-called Libyan National Army (LNA) has killed at least four people and wounded 20 others in Libya's capital, Tripoli.
The internationally-recognized Government of National Accord (GNA), which is seated in Tripoli, said on Sunday that the casualties had been caused by airstrikes that targeted residential neighborhoods in Tripoli the night before.
Tripoli residents said they heard the roar of airplanes and heavy explosions between 11:00 p.m. and midnight local time.
Amin al-Hachemi, a spokesman for the GNA's Healthy Ministry, warned that the death toll could increase "in the coming hours."
A pro-GNA military source told AFP the victims were civilians. "Most of the strikes hit areas in the [residential] district of Abou Slim... None hit military targets," the source said.
Mohanad Younes, a GNA spokesman, accused Haftar of using foreign planes to carry out the airstrikes. "This criminal conceals his failures and those of his soldiers at the gates of Tripoli by resorting to foreign aviation to hit unarmed civilians in the city," Younes wrote on a Facebook page.
The GNA, while internationally recognized, has been unable to exercise state powers over the entire Libyan territory, where militia groups have been active since an uprising against the then-dictator Muammar Gaddafi in 2011. Another major power faction that lays a claim to power is based in the city of Tobruk, in Libya's east. It has its own quasi-army, led by the self-styled Haftar.
The general is supported by Saudi Arabia, the United Arab Emirates, and Egypt. He launched a deadly campaign to invade and conquer Tripoli on April 4, in what seems to be an attempt to unseat the GNA. Fierce fighting has been ongoing on the southern edges of the capital since then, as armed forces and militia loyal to the GNA have been fighting back.
The International Committee of the Red Cross (ICRC) has recently said that intensified fighting for control of Tripoli was turning the densely-populated residential areas of Tripoli into "battlefields."
Full report at:
https://www.presstv.com/Detail/2019/04/28/594588/Libya-Tripoli-airstrikes-Haftar
--------
Pakistan
Chinese President Xi meets Imran Khan, calls for improvement of India-Pak relations
Apr 28, 2019
BEIJING: Chinese President Xi Jinping met Pakistan Prime Minister Imran Khan on Sunday and expressed hope that Pakistan and India can meet each other halfway to improve their strained relations following the Pulwama terror attack by a JeM suicide bomber.
Both leaders also exchanged views on the situations in South Asia, an official Chinese statement here said about the meeting between Xi and Khan.
The India-Pakistan relations reportedly figured prominently in the meeting.
Xi expressed hope that Pakistan and India can meet each other halfway and promote the stabilisation and improvement of India-Pakistan relations, it said.
Khan arrived in China on April 25 and attended China's 2nd Belt and Road Forum (BRF) held on April 26-27.
The BRF meeting was held to highlight the achievement of the trillion-dollar Belt and Road Initiative (BRI) started by Xi in 2013 in which $60 billion China-Pakistan Economic Corridor (CPEC) is an important component.
India skipped the meeting for the second time, protesting over the CPEC which is being laid through Pakistan-occupied Kashmir (PoK).
The Sunday's meeting between Xi and Khan was regarded significant as it was held in the backdrop of heightened tensions between India and Pakistan following the February 14 Pulwama terror attack carried out by Pakistan-based terror group Jaish-eMuhammad (JeM) which killed 40 Indian CRPF soldiers.
China had sent its vice foreign minister Kong Xuanyou to visit Pakistan in March as part of its efforts to ease the tensions.
Khan's meeting with Xi took place when China is under pressure at the United Nations over its repeated attempts to block efforts to declare Pakistan-based JeM leader Masood Azhar as a global terrorist.
Last month, China put a technical hold on a resolution put forth by the US, the UK and France at the UN's 1267 counter terrorism committee to declare Azhar as a global terrorist.
The US later took the issue to the UN Security Council (UNSC) in a bid to pressure China to take a public stance on Azhar's issue instead of just putting up blocks at the 1267 committee.
China had expressed its firm opposition to the issue being taken to the UNSC, saying that the matter headed for settlement and blamed the US for scuttling it.
While there is no word here whether the Azhar issue figured in Xi's talks with Khan, officials say there is a sense of wariness on the part of Beijing to block India, the US and other countries' efforts to blacklist him at the UN on behalf of Pakistan.
Officials hoped that the issue could be resolved in the coming weeks following Khan's visit to China.
Prior to his meeting with Xi, Khan called on Chinese Premier Li Keqiang during which the two countries signed a number of agreements. Earlier, he met Chinese Vice President Wang Qishan.
During Sunday's meeting, Xi expressed China's firm support to Pakistan to further the bilateral ties between the all-weather allies.
"Pakistan is China's all-weather strategic cooperative partner. China and Pakistan are 'iron friends' and have always firmly supported each other on issues concerning each other's core interests." Xi said.
China takes Pakistan as a priority in its diplomacy, he said.
"No matter how international and regional situations change, China firmly supports Pakistan in safeguarding its sovereignty and national dignity, choosing its own development path suited to its national conditions, combating terrorist and extremist forces, striving for a sound external security environment, and playing a constructive role in international and regional affairs," Xi said.
He said major progress had been made in bilateral cooperation in the construction of the CPEC, especially in areas such as finance, trade and other aspects, the statement said.
"In the next stage, China and Pakistan should make more efforts to advance the all-weather strategic cooperation," Xi said.
He called on both sides to deepen high-level contacts and mutual support, strengthen strategic communication and promote high-quality cooperation in production capacity, infrastructure construction, people's livelihood and trade within the framework
of the BRI.
Khan said the CPEC had played an important role in Pakistan's economic development and the improvement of people's lives.
He said he believed more and more countries will support and participate in the cooperation under the BRI.
Pakistan is willing to consolidate its traditional friendship with China, deepen pragmatic cooperation and enhance communication and coordination with China in multilateral affairs, Khan was quoted as saying in the statement.
During his meeting, Khan spoke a few times about India-Pakistan relations and the prospects of peace between the two countries.
Addressing Pakistan and China Investment Forum in Beijing on Sunday, he expressed hope that the relations between the two neighbours will improve after the Indian general elections.
"We want to build a civilized relationship with our Eastern neighbour and there is a possibility that if we can resolve the Kashmir issue through dialogue, things can improve," he was quoted by state-run Radio Pakistan as saying,
https://timesofindia.indiatimes.com/world/pakistan/chinese-president-xi-meets-imran-khan-calls-for-improvement-of-india-pak-relations/articleshow/69082669.cms
--------
Fazl asks Imran to step down to avoid 'people's wrath'
Nisar Ahmad Khan
April 29, 2019
MANSEHRA: Chief of his own faction of the Jamiat Ulema-i-Islam Maulana Fazlur Rehman has asked Prime Minister Imran Khan to step down before the JUI-F brings the ­federal capital to a standstill.
"We will launch the second phase of our agitation after Ramazan and will go to Islamabad in the first week of September, but I ask the 'incapable prime minister' to step down to avoid people's wrath," said the JUI-I chief while speaking at a 'million march' organised by his party on Chinar Road here on Sunday.
Maulana Fazl, who also denounced the Pakistan Peoples Party and Pakistan Muslim League-Nawaz for giving more time to the Pakistan Tehreek-i-Insaf government, asked the establishment to stop backing the 'fake prime minister'.
"Media says the opposition is not united to oust Prime Minister Imran Khan and to some extent it is true, but I want to make it clear that I am uniting people against the government," he said.
The JUI-F chief announced the second phase of his agitation to oust the prime minister from his office amid loud cheers from the crowd.
"We will hold a series of 'million marches' after Eidul Fitr and such 'referendum of Mansehra' against the government would be held in Quetta on July 15, in Peshawar on July 21 and dates for staging 'million marches' in Punjab will be announced later," said Maulana Fazl.
He said that none of the governments since the inception of Pakistan was serious to decide who would rule the country.
"Neither the institutions nor industrialists, landlords and bureaucracy are sincere to decide who would rule the country for the past seven decades which caused an irreparable loss to the nation," said Maulana Fazl.
He said Prime Minister Imran Khan was electioneering for Narendra Modi.
"Our prime minister says if Narendra Modi's party wins the elections in India the latter will address the Kashmir issue, just to please Zionists," said Maulana Fazl.
He warned the federal government that the JUI-F would never allow anybody to recognise Israel, which he said would be betrayal with the Palestinians.
"Prime minister should plead the case of Kashmiris at international forums, instead of recognising Israel and we will never allow him to use our soil for this dirty act," the Maulana said.
He said there was huge corruption in the billion-tree tsunami project of the Khyber Pakhtunkhwa government and the prime minister was the biggest 'liar and corrupt' who had been deceiving the nation in the name of a crackdown on his political rivals.
"The country has been facing worst-ever inflation in its history and that is why people expect us to lock down the federal capital to get rid of such a ­fascist ­government," he said.
Full report at:
https://www.dawn.com/news/1479036/fazl-asks-imran-to-step-down-to-avoid-peoples-wrath
--------
Pakistan, China enter second stage of free trade
Baqir Sajjad Syed
April 29, 2019
ISLAMABAD: Pakistan and China on Sunday embarked on the new phase of the China-Pakistan Economic Corridor by signing memoranda of understanding (MoUs) on the first Special Economic Zone (SEZ) and socio-economic development and a new agreement on free trade.
The MoUs and the second stage Free Trade Agreement (FTA) were signed towards the conclusion of Prime Minister Imran Khan's second trip to China in six months.
The prime minister's latest visit to Beijing was for attending the second Belt and Road Forum and talks with the Chinese leadership on the expanded CPEC. The earlier visit was more about the future course of the CPEC after the change of government in Pakistan and soliciting Beijing's help for dealing with the balance of payments crisis.
PM Khan in his meeting with Chinese President Xi Jinping assured him of Pakistan's "unflinching commitment" to the CPEC and hailed its next phase, which includes newer areas like agriculture, industrial development and socio-economic uplift with livelihood projects.
The contours of the second phase of the CPEC have been finalised in view of priorities of the Pakistan Tehreek-i-Insaf government related to socio-economic projects, greater involvement of the private sector and jobs creation.
President Xi appreciated Pakistan government's agenda for socio-economic development and people-centred progress, the PM Office said.
The new phase of the CPEC would be characterised by industrialisation. The first Special Economic Zone comprising 20 factories is being set up in Rashakai, Khyber-Pakhtunkhwa. The Rashakai SEZ Joint Venture and Licence Agreement was signed between the KP Economic Zones Development and Management Company and the China Road and Bridge Corporation.
Further progress on SEZs would depend on how the Rashakai project progresses. In the next stage, Chinese are planning to cooperate with Pakistan for setting up of a heavy industry SEZ in Dhabeji (Sindh) and a hi-tech SEZ in Islamabad. Chinese investors are, meanwhile, also signing up joint ventures in a local SEZ in Faisalabad.
In his meeting with Chinese Prime Minister Li Keqiang, Imran Khan hoped that Chinese investment in the SEZs would expand Pakistan's industrial base and diversify its export basket.
The second most important MoU, signed by the two sides, was between the China International Development Cooperation Agency and Pakistan's Ministry of Planning, Development and Reforms for implementation of the projects under Joint Working Group of the CPEC on socio-economic development. The projects in education, health, human resource development, poverty alleviation, agriculture, and water and irrigation sectors are being sponsored by the Chinese government for which Beijing would spend $1 billion. Twenty seven projects have been identified by the two governments. The PTI government had placed a special emphasis on this element of cooperation.
In view of trade being an important element of the CPEC, the two sides concluded the second stage the Free Trade Agreement. The new FTA, which was signed after negotiations spanning over seven years, is aimed at strengthening trade ties. Under the new FTA, China would open up 90 per cent of its market for Pakistani goods whereas Pakistan would share 65pc of its market with Chinese exports. This would also help in redressing, to a certain extent, the yawning trade imbalance between the two countries, which stood at $9.7 billion last year.
Premier Li hoped that the conclusion of the second phase of China-Pakistan FTA would give further boost to trade and economic relations between the two countries.
The two sides also signed an agreement on a technical package for upgradation of Pakistan's main railway line ML-1.
On completion of ML-1, the Pakistan Railways will benefit in terms of increase in speed from 65km per hour to105km per hour to 120km/h to 160 km/h, increase in line capacity from 34 to 171 trains each way per day, increase in freight volumes from six to 35 million tons per year by 2025, increase in passenger trains from 20 to 40 each way per day and increase in railway share of freight transport volume from the current less than 4pc to 20pc.
Under the next phase of the agreement, the ministry of railways and the National Railway Administration of China will jointly start the construction work on the project. Prior to start of work, the final cost of the project would be worked out and agreement of financing would be finalised after considering the available options for financing, a spokesperson of the ministry of railways explained.
The signing of the 'Declaration for Preliminary Design' for completion of the first phase of Pakistan Railways' existing mainline (ML-1) has laid the foundation of cooperation between Pakistan and China in the railways sector.
Other agreements signed during PM Khan's visit were on setting up of a dry port at Havelian, economic and technical cooperation and cooperation in the field of marine sciences.
Geo-politics
President Xi, during his meeting with Mr Khan, reiterated China's unwavering support to Pakistan's sovereignty and territorial integrity.
He expressed China's appreciation for Pakistan's sustained and successful efforts in the fight against terrorism and creating a peaceful neighbourhood.
"Both sides expressed satisfaction over the close cooperation between the two countries at multilateral fora and resolved to further deepen communication and coordination at all levels," the PMO said.
Full report at:
https://www.dawn.com/news/1479031/pakistan-china-enter-second-stage-of-free-trade
--------
Imran asks Chinese entrepreneurs to shift industries to CPEC special zones
April 29, 2019
BEIJING: Prime Minister Imran Khan on Sunday invited Chinese entrepreneurs to take benefits of investment-friendly policies of his government and relocate their industries to the special economic zones being built under the China-Pakistan Economic Corridor (CPEC).
The Pakistan government wanted Chinese entrepreneurs to relocate their industries to special economic zones being constructed in the country just like they repositioned their industries in Vietnam and other countries, he said while addressing participants of the Pakistan-China Trade and Investment Forum organised by the Ministry of Commerce here.
More than 370 Chinese companies and businessmen and 70 entrepreneurs from Pakistan participated in the forum.
The prime minister also expressed his government's resolve to remove impediments in the way of investment and make doing business easy for the Chinese business in Pakistan.
He said the government had offered incentives and concessions in tax and asked them to use Pakistan as the base for exporting their products to other countries.
On the CPEC, he said, it was started with building infrastructure and couple of roads, but it had now blossomed to different areas of cooperation and gone into cooperation in agriculture which is the lifeline of Pakistan.
He expressed the confidence the economic growth would improve after an increase in agriculture production with the cooperation of China.
Highlighting the security situation in the country, he said it had been greatly improved with sacrifices rendered by Pakistan's armed forces and other security organisations. They have overcome a difficult security situation.
About relations with neighbouring countries, he said, Pakistan is helping a peace process in Afghanistan and added, for the first time, there were prospects of peace and a political settlement of Afghan issue.
Regarding relations with India, he said that elections were being held in India and hoped that Pakistan and India would resume dialogue once the new government took charge after the elections.
He remarked that the Kashmir was a core issue between the two countries which should be resolved through negotiations.
The prime minister said that Pakistan's strategic location was important as it had China, world biggest market on one side, India, the second biggest market on the other side while it had countries full of energy resources on the western side.
Pakistan sought support from China to set up a university of science and technology for education in different fields, particularly artificial intelligence, information technology and other related subjects for the young population, he added.
He expressed the confidence that more countries would join the Belt and Road Initiative as it was meant for the connectivity and shared prosperity.
Adviser to the PM on Commerce and Textile Abdul Razzaq Dawood said after the signing of the second phase of Free Trade Agreement (FTA) between Pakistan and China the bilateral trade and wide-ranging mutual business cooperation would increase between the two all-weather friends.
Pakistan, he said, would have greater market access to the Chinese market, and begin the export of wide-ranging goods to China and enhance cooperation in agriculture and livelihood areas.
He said the Chinese agro firms were also very keen to enter into the Pakistani market and collaborate with Pakistani counterparts due to the rapidly increasing demand of the import of food products from Pakistan.
Pakistan Business Council vice chairman Saqib Shirazi spoke on business opportunities between China and Pakistan and pointed out that the present government had offered a number of incentives to attract foreign investment in the country.
Full report at:
https://www.dawn.com/news/1479032/imran-asks-chinese-entrepreneurs-to-shift-industries-to-cpec-special-zones
--------
Europe
UK, European holidaymakers warned against Turkey travel as government blames Kurdish militia for unrest
April 28, 2019
LONDON: British tourists are being told to be vigilant if traveling to Turkey after security officials warned of "terror nests" in bordering countries posing a significant threat to holidaymakers, Anadolu News Agency reported on Sunday,
The Anadolu statement said that cells in Afrin "pose a threat to Turkey."
The warning comes as more Europeans — especially tourists from the UK — travel to Turkey for their summer holidays. UK nationals made up 2.3 million of annual visits to the country in 2018.
Despite Daesh militants attacking foreigners and Turkish citizens in recent years, the Turkish government has said Kurdish militia are to blame for the unrest.
Anadolu tweeted: "There are currently 8,000-10,000 terrorists in the Afrin region near Aleppo, near the Turkish-Syrian border, which has been besieged by the PYD/PKK.
"Terrorists are now hiding in shelters and pits in residential areas in Afrin after Turkey pointed out the region was a nest for terrorists
"No US soldiers are currently in Afrin while around 100 Russian military police are located in Tel Rifat, Tel Acar and Kefer Cenne areas."
86 people were killed in a bomb blast in the capital Ankara in 2015, while a further 45 were killed during an attack on Ataturk Airport a year later. Meanwhile, in 2017, 39 revellers were killed in Istanbul as they welcomed the new year.
The UK's Foreign and Commonwealth Office, as of April 28, is telling British citizens to avoid all travel within 10 kilometers of the Syrian border, with a warning that states: "Terrorists are very likely to try to carry out attacks in Turkey. Terrorist groups, including Kurdish groups, Daesh (formerly referred to as ISIL) and far left organizations, continue to plan and carry out attacks."
Speaking to the UK's Daily Star last year, Michael McCabe, CEO of risk awareness experts Intelligence Fusion, said the country faces a number of new crises, which could put holidaymakers at risk.
"President Erdogan's government faces a range of diverse internal and external threats," he said.
"The conflicts in Iraq and Syria on its border, separatist Kurdish groups, and significant opposition to the government."
http://www.arabnews.com/node/1489401/middle-east
--------
North America
Muslim Cabbies' Ingenuity Build Airport Parking Lot Mosque
April 28, 2019
PHILADELPHIA (AP) — The words of the adhan, the Islamic call to prayer, are identical wherever it is sung, in every country where Muslims worship.
"Hayya 'alas salah" is sung around the globe five times a day, including outside a construction trailer parked in a remote lot at Philadelphia International Airport by a city taxi driver, Sylla Salif. "Hayya 'alas salah."
"Come to prayer. Come to prayer."
As Salif sang last week, men washed their hands in streams of water from spigots, as is the Muslim custom to prepare for prayer. Some wore kufis on their heads, and a few dressed in long robes, either brightly colored or white. They climbed a few steps onto a wooden deck and put their shoes on shelves just outside the doors. Then about 30 filed in and knelt.
Salif, an immigrant from Ivory Coast in West Africa, said he holds no particular position of religious authority.
"Any Muslim would know how to call for prayer," he said.
The mosque on Island Avenue is a humble monument to the efforts of cab drivers, the vast majority of them men, who sought to create a place of spiritual refuge amid the most prosaic of surroundings, a crumbling slab of asphalt where they park while waiting for fares from arriving flights.
The mosque had been threatened by the airport's plans to displace taxis from that parking lot, one of two reserved for them, on May 1. The airport planned to use the lot for its own vehicles. About 300 of the city's cab drivers rely on the airport almost exclusively for work, and losing those parking spots would have made it harder to be on the scene when potential fares arrive.
The drivers voted Tuesday to authorize a strike. Airport management relented the next day. A spokesperson said the airport wouldn't move the cabs next month and would seek to accommodate the mosque in whatever parking arrangements eventually are made.
While the airport's management was aware of the existence of the trailer used as a mosque, it did not grant official permission for it to be there, or for drivers to route water there from a nearby hydrant, a spokeswoman siaid.
Islam does not require that daily prayers be conducted in a group, but there is spiritual value in gathering, drivers said.
"If you pray with the group, you get more rewards than if you pray by yourself," said Amadou Diallo, 52, who came to the United States almost 20 years ago from Guinea, also in West Africa. "When you get together, you're going to love each other. If somebody needed help, you're going to help each other."
About half of Philadelphia's 1,500 cab drivers practice Islam, said Ron Blount, a leader of a taxi labor group in the city. For most of the 20 years taxis have been parking on the Island Avenue lot, there has been some form of organized worship there. Initially, drivers knelt together on the ground. Then they brought in a tent, but in winter, weather and wind inevitably damaged it. It took three years of collecting donations from drivers to raise the $10,000 to buy the used trailer found in Allentown. The drivers carpeted it and have been using it for about two years.
Denomination isn't important there, drivers said. Sunni and Shi'a alike are welcome. Uber and Lyft drivers who practice Islam are welcome. There is no imam. Drivers take turns leading the daily prayers.
"Asia, Africa, American, European," said Alseny Diallo, an Uber driver who emigrated from Liberia. "There's no country I don't see here. Everybody is here."
Philadelphia's cab drivers had very different lives in the countries they came from. Among their number are doctors and engineers, Amadou Diallo said. They focused their talents on building a welcoming place. One driver with a knack for carpentry volunteered his time to build the wooden deck alongside the trailer.
The running water is another innovation by drivers. A garden hose linked to a fire hydrant brings water into storage tanks, and a pump in a barrel channels the water to the washing spigots. A small blue box inside the mosque holds donations. It costs $1,000 to $2,000 a year to maintain and clean the space.
The sense of pride in the structure, and the community it helps create, is evident when drivers discuss the work that went into it. A complaint among drivers of every denomination is that the lot's portable toilets don't include plumbing. The Muslim drivers see their place of worship as a gift to every cabbie who relies on the airport for income.
Taxi driver Kazi S. Ullah performs wudu, the ritual washing for purification before prayer, as the dhuhr (midday) prayer time begins at the makeshift mosque in the waiting lot for airport taxi drivers on Island Avenue in Philadelphia. Drivers paid for and built the washing station themselves.
"The water is available for everybody, not just Muslims," Amadou Diallo said. "This we did from our hearts to help our fellow drivers."
A number of drivers were understanding about the threat of losing the mosque, saying the land is the airport's and the it has the right to ask that it be removed. Knowing it can stay, though, is a relief.
"It's wonderful to have that," said Amadou Balde, also from Guinea. "It's good to have a place to worship because we are commanded to do this, no matter how."
https://www.usnews.com/news/best-states/pennsylvania/articles/2019-04-28/muslim-cabbies-ingenuity-build-airport-parking-lot-mosque
--------
No peace if Taliban do not adapt: US envoy
28 April 2019
There will be no enduring peace in Afghanistan unless the Taliban adapt to the changes that have swept the country since they were ousted in 2001, a US diplomat said on Sunday.
Special envoy Zalmay Khalilzad, who is leading US efforts to forge a peace deal with the Taliban, made the comments in a visit to Kabul as he continues a months-long push for a settlement.
Speaking to Tolo News, Khalilzad said the Taliban recognise their government "made a lot mistakes" when it was in power from 1996-2001, and "they have learned a lot".
"If the Taliban insist on going back to the system they used to have, in my personal opinion it means the continuation of war not peace," said Afghan-born Khalilzad, speaking in Dari.
Khalilzad has signaled progress in talks, which center on the Taliban guaranteeing Afghanistan can never again be used as a springboard for foreign terror attacks, in return for an eventual withdrawal of foreign forces.
When the hard-line Islamists were in power, they barred girls from school, executed women on flimsy allegations of adultery and banned a free press, music and many other basic freedoms.
Khalilzad is expected to meet with the Taliban in Doha in the coming days, but critics have lashed peace talks for so far failing to include members of the Afghan government, which the Taliban view as a puppet regime.
The special envoy said it was vital all parties communicate in an "intra-Afghan dialogue". Such a meeting was supposed to take place in Doha this month but it collapsed amid squabbling about the size of the guest list.
"We have started discussion for the withdrawal of the (US) forces, but for the past few weeks my struggles were focused on providing a ground for intra-Afghan talks," Khalilzad said.
"That is the first step for further discussion, but there has been no proper progress yet."
He added that Washington is "a bit impatient" to end the war, given its $45 billion annual cost to the US taxpayer and the continued toll it takes on US forces.
Full report at:
https://english.alarabiya.net/en/News/world/2019/04/28/No-peace-if-Taliban-do-not-adapt-US-envoy-.html
--------
Trump keeping Saudi Arabia close to serve Big Oil interests: Analyst
Apr 28, 2019
US President Donald Trump's close ties with Saudi Arabia are aimed at serving Big Oil by keeping the global petroleum market stable.
Speaking to Press TV on Sunday, Keith Preston, the Virginia-based director of Attackthesystem.com, said Trump's recent remarks that he made Saudi King Salman pay more for Washington's military services was just him being "candid."
Addressing a large "Make America Great Again" (MAGA) rally in Green Bay, Wisconsin, Trump said on Saturday that he would like to keep Saudi Arabia as a close partner because of the Riyadh regime's extravagant purchases from American companies.
Trump boasted to his supporters about a bizarre phone call with King Salman, where he made the monarch pay more money in exchange for the military support that the kingdom receives from Washington.
"For about 70 years, the United States along with a number of other Western countries has propped up the House of Saud as the ruling family of Saudi Arabia and the purpose for that is simply so that the Western petroleum firms are able to engage in the development of Saudi oil," Preston said.
By controlling Saudi Arabia's oil exports Washington is in fact trying to stabilize the oil market while keeping America firms' profit high, he added.
"This relationship is very important to the petroleum industry in the United States which is a very very important sector of the American ruling class," Preston added, noting that the "big oil" has infiltrated both the Republican and Democratic parties.
The top example for this was Rex Tillerson, Trump's first secretary of state who first served as the CEO of the American energy giant ExxonMobil, the analyst said.
"So Trump is simply talking about the relationship that exists between the American state and the petroleum industry Saudi Arabia," he said.
Preston argued that Trump's extensive arms deals with Riyadh were no surprise either as the gun lobby in the US were among Trump's main sponsors and one of the Republican's party's main constituencies.
The influence was so strong that, according to Preston, the US was passing off the weapons deals as aid to Saudi Arabia so it was the American taxpayers who paid the price for the deals.
"Trump is unusually candid for an American president," Preston noted. "There are timesthat he goes off-script and doesn't really try to camouflage what's going on as much as a lot of American politicians do."
Full report at:
https://www.presstv.com/Detail/2019/04/28/594616/US-Saudi-Arabia-Trumo-Big-Oil-Preston
--------
'It took me one call': Trump brags how he made King Salman pay more for US military support
Apr 28, 2019
US President Donald Trump has boasted to his supporters about a bizarre phone call with Saudi Arabia's King Salman, where he made the monarch pay more money in exchange for the military support that the kingdom receives from Washington.
Addressing a large "Make America Great Again" (MAGA) rally in Green Bay, Wisconsin, Trump said on Saturday that he would like to keep Saudi Arabia as a close partner because of the Riyadh regime's extravagant purchases from American companies.
"They [Saudis] have nothing but cash, right?" he told the exuberant crowd. "They buy a lot from us, $450 billion they bought."
"You had people wanting to cut off Saudi Arabia... I don't want to lose them," he said, referring to bipartisan demands in Washington to punish Riyadh for the murder of dissident journalist Jamal Khashoggi last October.
It's unclear where Trump drew the $450 billion figure, a reference that he had repeated before.
Asked to explain his decision to ignore Saudi's conduct in Khashoggi's murder, Trump said in October that he didn't want to lose "a million jobs" as well as a mega deal that was "really $450 billion if you include other than military."
The phone call
The American head of state then described a recent phone conversation he had with King Salman, in which he basically forced Saudi king to reach deeper in his pockets in order to pay for military protection from the US.
"We lose $4.5 billion on a country to defend them, and they're rich," Trump said.
"So I called them. I said: listen, no good. They were in a state of shock because they've never got a call like this in 25 years, right," he told a cheering audience.
"I said we're losing $4.5 billion every year, we can't do this anymore. This is crazy. He [Salman] got very upset, angry, said this is not fair. I said, of course, this is fair. He said we'll give you $500 million more ... I said I want more. We argued. So they paid us more than $500 million for one phone call, it took me one call."
Shocked by the conversation, Salman asked Trump why he called him because "nobody had made such a call," Trump further bragged.
"That's because they were stupid!" the American head of state said of his predecessors.
'Milk cow'
Before his presidency, Trump described Saudi Arabia as "a milk cow" which would be slaughtered when its milk runs out.
Last September, Trump said he had told King Salman that Riyadh has "trillions of dollars" and could pay its military bills.
"I love Saudi Arabia. They are great, King Salman, I spoke with him this morning. I said, king, you have got trillions of dollars. Without us, who knows what's going to happen. .... With us they are totally safe. But we don't get what we should be getting," he said.
Trump further threatened to end what he claimed to be subsidies for the Saudi military.
"We are subsidizing their military. I said let me ask you a question. Why are we subsidizing the military — it's one thing if a country is in deep trouble and in danger," he noted. "I said 'Saudi Arabia, you are rich, you have got to pay for your military. You have got to pay for your military, sorry'."
The President continued his berating remarks in October 2018, told a cheering crowd of supporters at a rally in Southaven, Mississippi, that Saudi King Salman would not last in power unless the US provided military support for the Arab kingdom.
"We protect Saudi Arabia. Would you say they're rich? And I love the King, King Salman. But I said 'King — we're protecting you — you might not be there for two weeks without us — you have to pay for your military,'" Trump said.
In an attempt to save face, Saudi Crown Prince Mohammed bin Salman said back then that Riyadh "will pay nothing" to the United States for the kingdom's "security."
Full report at:
https://www.presstv.com/Detail/2019/04/28/594600/US-Trump-Saudi-king-salman-phone-call
--------
URL: https://www.newageislam.com/islamic-world-news/the-threads-sri-lanka-attack/d/118457
New Age Islam, Islam Online, Islamic Website, African Muslim News, Arab World News, South Asia News, Indian Muslim News, World Muslim News, Women in Islam, Islamic Feminism, Arab Women, Women In Arab, Islamophobia in America, Muslim Women in West, Islam Women and Feminism