New Age Islam News Bureau
23 Nov 2018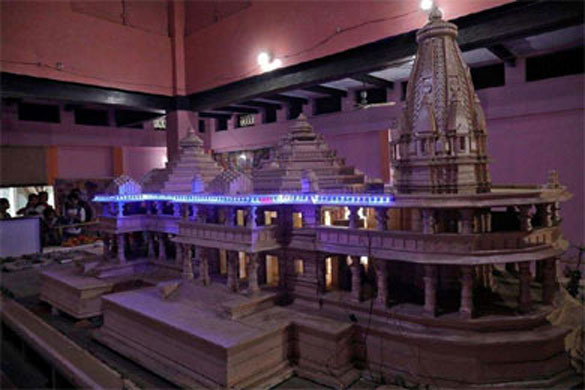 The AIMPLB has maintained a studied silence so far as the chorus to bring an ordinance for the construction of Ram temple in Ayodhya has gained momentum within the ruling BJP and right-wing Hindu outfits(HT File Photo)
------
• The Peace Treaty Signed By the Prophet of Islam Is A Shining Example on How to Avoid Conflict and Clash, Mosques Have Been Relocated and Shifted In the Past Says Nadwa Cleric
• 'Reconstruction of Religious Thoughts in Islam' A Monumental Achievement of Iqbal
• French Experts Equip Tahrir Al-Sham Missiles in Idlib with Chemical Warheads
• Using Religion and Culture to Fight Terrorism – Lessons from the Philippine Military
• No Excuse for Myanmar's Treatment of the Rohingya
India
• The Peace Treaty Signed By the Prophet of Islam Is A Shining Example on How to Avoid Conflict and Clash, Mosques Have Been Relocated and Shifted In the Past Says Nadwa Cleric
• 'The Time for Jihad Has Come': What 26/11 Attacker Ajmal Kasab Said In His Testimony
• Drop Word 'Muslim' From AMU to End Controversies, Says Olympian Zafar Iqbal
• J&K: 6 Terrorists Killed in Encounter between Militants and Security Forces in Anantnag
• Cabinet clears corridor for Kartarpur up to Pakistan border
• JK Governor justifies dissolving Assembly, says MLAs were getting terror threats
--------
Pakistan
• 'Reconstruction of Religious Thoughts in Islam' A Monumental Achievement of Iqbal
• Bajwa Asks India to Resume Dialogue for Peace
• Pakistan informs UN about initiative against defamation of religions
• Three killed as bomb hits hideout of Haqqani militants in Pakistan
• Blast leaves two dead, 12 injured in S Waziristan
• Two killed as gunmen attack Chinese consulate in Pakistan's Karachi, says police
• Indian officials barred from entering Gurdwaras in Pakistan
• Pakistan rejects India's allegation of its involvement in Amritsar blast
• PM confident Malaysia trip will strengthen bilateral ties
• 'Victory of peace' as India agrees to open Kartarpur crossing
--------
Arab World
• French Experts Equip Tahrir Al-Sham Missiles in Idlib with Chemical Warheads
• Saudi Crown Prince Gets Warm Welcome in UAE amid Pressure over Khashoggi Murder
• Syrian Army Intensifies Efforts to Cleanse ISIL from Badiyeh of Deir Ezzur
• Iraqi Hezbollah: US Attempting to Push ISIL from Syria to Iraq
• Egypt says police killed 12 extremist militants in Sinai raid
• Iraq removes blast walls around 'Green Zone' for partial reopening
• Four schoolchildren killed in bomb blast near Iraq's Mosul
--------
Southeast Asia
• Using Religion and Culture to Fight Terrorism – Lessons from the Philippine Military
• Anwar: I Want Justice for All, but I Love My Race and Religion
• Batam radio co-founder denied entry to Singapore for alleged Salafi links
• Why does it matter to Indonesia if Australia moves its embassy to Jerusalem?
• Conduct town hall meetings before ratifying ICERD, says activist
• Religious freedom at risk in one of five countries: Report
--------
South Asia
• No Excuse for Myanmar's Treatment of the Rohingya
• 45 Taliban Militants Join Peace Process in Nangarhar Province
• Humvee APC destroyed, 9 militants killed in AAF airstrike in Farah province
• Taliban not serious about peace: Afghan chief executive
--------
North America
• Canada: Muslim Groups Call For National Day of Action against Hate
• CIA Has Recording of MBS Phone Call to Silence Khashoggi: Report
• Trump not trustworthy for talks, Iran won't renege on nuclear agreement: Zarif
• Trump supports Saudi Arabia, most regressive regime in the world: Analyst
• Iran: US must lift sanctions on food, medicine as per ICJ ruling
--------
Mideast
• Iran Says US Bases and Aircraft Carriers within Missile Range
• Israeli-American Sentenced To 10 Years for Anti-Semitic Bomb Threats
• Yemeni army soldiers, allies intercept, shoot down Saudi-led combat drone in Hudaydah
• Hamas releases photos of Israel forces involved in botched Gaza raid
• Israeli military vehicle runs over Palestinian man in occupied West Bank
• Turkey's Erdogan will not meet with bin Salman at G20 summit: Report
--------
Africa
• New Details Emerge On US Ambassador's Assassination in Benghazi
• 'Daesh suspected of killing around 100 Nigerian soldiers'
• Jordanian king honours Saudi chief of staff
• Latest US airstrikes in Somalia kill six extremists
• Eight killed as gunmen attack French drilling camp in Niger
• Boko Haram kidnaps 50 loggers in Nigeria
--------
Europe
• France Imposes Travel Ban on 18 Saudis Suspected In Khashoggi Murder
• Iranian, Italian diplomats discuss European payment mechanism in Rome
• Denmark halts weapons exports to Saudi Arabia over Khashoggi, Yemen bombing
• Britain's security service 'missed opportunities' to prevent Manchester bombing
Compiled by New Age Islam News Bureau
URL: https://www.newageislam.com/islamic-world-news/the-peace-treaty-signed-prophet/d/116963
--------
The Peace Treaty Signed By the Prophet of Islam Is A Shining Example on How to Avoid Conflict and Clash, Mosques Have Been Relocated and Shifted In the Past Says Nadwa Cleric
Nov 23, 2018
Prominent Muslims, who had earlier held radical positions on the Ram temple issue, are now showing signs of taking a softer line. From Nadwa cleric Maulana Salman Husaini Nadwi to Azam Khan, the Muslim face of the Samajwadi Party, are now seeking an early resolution of the issue.
Nadwi, while once again raising the demand for resolving of the Ayodhya dispute through mutual negotiations, has slammed the All India Muslim Personal Law Board (AIMPLB) for derailing his past efforts to broker a truce on the issue.
"The only way of resolving the problem was to shift the 'masjid' (mosque) from the disputed site with an assurance and undertaking for the protection of all mosques in the country. The peace treaty signed by the Prophet of Islam (known as Hudaibiya Pact) is a shining example on how to avoid conflict and clash. Mosques have been relocated and shifted in the past. We tried to reach for an amicable settlement to the dispute through mediation with the help of Sri Sri Ravi Shankar (founder of Art of Living NGO). It was a positive and historical move, but some members of the Muslim Personal Law Board intervened and ruined the efforts," said the cleric, who was shown the door by AIMPLB in February this year for his unilateral initiative.
Maulana Salman is the grandson of renowned Islamic scholar and former president of AIMPLB and rector of Darul Uloom Nadwatul Ulema late Maulana Abul Hasan Ali Nadwi aka Ali Mian.
(Darul Uloom Nadwatul Ulema is a prominent Islamic seminary in Lucknow).
Salman said the Board's strategy was successful neither on the issue of instant triple talaq (divorce), which was struck down by the Supreme Court, nor the way it is handling the Ayodhya issue.
The cleric, who has formed a Humanity Welfare Board to take forward his initiative on the Ayodhya issue, has urged people to write and extend their support to him for finding an amicable settlement of the dispute.
Meanwhile, one of the Muslim petitioners in the Ram Janmabhoomi-Babri Masjid case, Haji Mehboob a resident of Ayodhya, has also come out in support of an out-of-court settlement and welcomed the efforts to amicably resolve the matter.
"It will be in the interest of the nation and good for everyone, if there is a mutual agreement relating to the settlement of the case," he said, adding that people of Ayodhya, especially Muslims, were living in constant fear because of the dispute.
The AIMPLB has maintained a studied silence so far as the chorus to bring an ordinance for the construction of Ram temple in Ayodhya has gained momentum within the ruling BJP and right-wing Hindu outfits.
While the main Babri litigant, Iqbal Ansari, has gone on record saying he has "no problem" if the central government brings such a law, former UP minister Mohd Azam Khan, known for his vitriolic outbursts, too seems to be making conciliatory noises. "I don't have any issue with the construction of a Ram temple provided it is not built over Muslims' blood. We will abide by the law and accept whatever verdict the Supreme Court delivers," the Rampur MLA told News 18.
https://www.hindustantimes.com/lucknow/prominent-muslims-showing-signs-of-softening-stance-on-ayodhya-dispute/story-zJE24shQLRZP6dswXJnXTI.html
--------
'Reconstruction of Religious Thoughts in Islam' A Monumental Achievement of Iqbal
November 23, 2018
LAHORE: Speakers at a seminar at the GC University Lahore have said that "Reconstruction of Religious Thoughts in Islam" was a monumental achievement of Allama Muhammad Iqbal.
Poet of the East presented those courageous and audacious views at a time when such topics were a taboo in a highly conservative and orthodox India. Allama Iqbal tried to reconcile then scientific views with Islam and construe a new theology, said eminent philosopher, thinker and academician Prof Dr Abdul Khaliq while addressing the seminar held in connection with 150 years celebrations of the university's Department of Philosophy. GCU Vice-Chancellor Prof Dr Hassan Amir Shah chaired the seminar.
Prof Abdul Khaliq stressed the need of taking the ideas of Iqbal forward in the light of modern day knowledge. He emphasised that Islam was facing new challenges in this age which are in the dire need to be addressed at the philosophical level so as to reduce ideological controversies and differences in the Muslim Ummah.
"Only understanding of the Holy Quran in the face of existing challenges may bring us out of the quagmire of extremism and bloodshed. Iqbal's thoughts may be quite helpful in any such endeavour," he added.
Prof Abdul Khaliq highlighted that Iqbal's thoughts still had unexplored avenues which may be, rather, must be elucidated by young scholars and researchers. Speaking on the occasion, Philosophy Department Chairperson Dr Sobia Tahir presented the concise history of the department from 1868 to 2018. GCU Vice-Chancellor Prof Dr Hassan Amir Shah also expressed his views regarding the importance of philosophy. He expressed with pride that GCU had the oldest department of philosophy in the entire sub-continent.
The seminar was attended by large number of students and faculty members besides Dean, Faculty of Arts and Social Sciences Prof Dr Tahir Kamran, distinguished Professor Mirza Athar Baig, Dr Kaiser Mahmood, Prof Jalil-ur-Rahman, Prof Shahid Gul, Dr A Hassan Farooqi and Dr Javaid Iqbal Nadeem.
elected: Prof Dr Hassan Amir Shah, the Vice-Chancellor of Government College University Lahore, has been elected as the Fellow of Pakistan Academy of Sciences. The Fellowships of the Pakistan Academy of Sciences are tightly restricted to the scientists and only scientists of the highest merit, who have made outstanding contributions to the advancement of scientific knowledge, are elected as the Fellows of the Academy.
https://www.thenews.com.pk/print/397037-iqbal-s-thought-still-unexplored
--------
French Experts Equip Tahrir Al-Sham Missiles in Idlib with Chemical Warheads
Nov 22, 2018
The Arabic-language website of Sputnik news agency quoted informed sources close to the terrorist commanders in Idlib province saying that the White Helmets transferred a consignment of toxic chemicals from one of Tahrir al-Sham warehouses in the town of Kafr Nobl in the Western parts of the town of Ma'arat al-No'eman in Southern Idlib to an underground storage in Idlib city which has recently been built near the Central Prison.
The sources noted that the black French experts have arrived in the underground storage recently, adding that the chemical cargos have been delivered to them to arms the missile warheads.
According to the report, a number of missiles along with missile-launchers have been transferred to the region through borders.
Tahrir al-Sham and the White Helmets have transferred several cargos of chlorine and sarin gas to different fronts in demilitarized zone in North and Northwestern Hama, Northeastern Idlib and Northeastern Lattakia since the Sochi agreement was signed between Turkey and Russia to set up a weapons-free zone.
Sputnik had also on Tuesday reported that Tahrir al-Sham Hay'at had transferred a new consignment of chemical materials to an unspecified location in Idlib province amid attempts to stage a false-flag attack in the demilitarized zone, a Russian outlet reported on Tuesday.
The Arabic-language website of Sputnik quoted well-informed sources as disclosing that Tahrir al-Sham has transferred a new consignment of poisonous materials from the town of al-Dana in Northern Idlib to an unknown destination in the province.
It further said that Tahrir al-Sham terrorists took the consignment, including 5 chlorine gas cylinders, out from a warehouse near al-Dana under severe security measure, adding that no Syrian militant has been involved in the operation.
The news agency went on to say that Tahrir al-Sham, with the cooperation of the pro-militant White Helmet Organization, has distributed a large volume of chemical materials across the demilitarized zone in Northern and Northwestern Syria to use them in a false-flag chemical attack and later raise allegation against the Damascus army and pave the ground for Western powers to attack the Syrian Army across the war-hit country.
Sputnik quoted unnamed sources as disclosing earlier this month that Tahrir al-Sham and Jeish al-Izzah terrorists arrested 29 of their own members and also 5 members of the White Helmets, accusing them of involvement in disclosing information about chemical weapons and poisonous gases, including their storage locations and transfer of them to new locations.
Tahrir al-Sham and Jeish al-Izzah set up a joint committee 3 days ago to investigate and find those behind the leak of chemical information.
Sputnik quoted another source as disclosing that Tahrir al-Sham and Jeish al-Izzah terrorists launched vast investigations to fine sources behind leaking information about the transfer of the chemical material cargos to different regions in Idlib province.
It further said that Tahrir al-Sham's move came after terrorist groups held a meeting in Khan Sheikhoun in Southwestern Idlib to set up an investigation committee.
The Arabic Sputnik went on to say that the committee is responsible for questioning the terrorists and members of the pro-militant White Helmets Organization over the leaked information.
Different Arab media outlets have released reports about chemical activities of the terrorist groups in Idlib in recent months.
In the meantime, informed sources reported in late October that Jeish al-Izzah transferred 2 cylinders of Sarin and Chlorine gases from al-Latamina to Qala Maziq in Northwestern Hama to hand over them to allied militants of Ansar al-Tohid.
http://en.farsnews.com/newstext.aspx?nn=13970901000195
--------
Using Religion and Culture to Fight Terrorism – Lessons From the Philippine Military
Nov 23, 2018
The Philippine government is recruiting Muslims into the military in an attempt to counter terrorism through a mixture of religious and security approaches.
The Philippines faces increasing security pressure since the rise of the Maute, a terrorist group affiliated with IS (Islamic State), in Marawi city. The group in May last year laid siege to Marawi, the capital of the Muslim majority Lanao del Sur province on Mindanao Island in the southern Philippines. A five-month armed conflict ensued, displacing thousands. More than 520 members of the terrorist group and 122 Philippine soldiers were killed.
The Philippine government has declared that the Maute leadership has disintegrated. But it is still possible that their dormant cells will rally together.
I study terrorism in Southeast Asia and have been looking into Philippine government policy in countering terrorism. Recruitment of Muslims into the military might be the strategy most likely to make Muslim communities accept a military presence where most of the population sympathises with the militants.
The Threat of IS in the Philippines and Southeast Asia
Aside from the threat of IS-affiliated terrorist groups, the Philippines is also still dealing with the local pirate group Abu Sayyaf. The group hijacks and abducts the crews of foreign ships for exorbitant ransoms, which could be used to fund their other terrorist activities.
So far, the Catholic majority government has used a security approach, deploying the Philippine military to fight the terrorist groups. But the military ranks poorly compared to its ASEAN counterparts, according to data provided by the website Global Firepower, which assesses military power. Even when compared with 133 other countries, the Philippines still ranks at 52.
Religion and Culture as Tools to Resist
The effort to eradicate terrorism is a global agenda. Governments generally use a military approach. In reality, this is not enough. Governments must employ alternative approaches, such as using religion and culture, to confront violent extremism
Indonesia has implemented deradicalisation programs to tame terrorists. This method involves the communities and families of former terrorist convicts who have been reformed.
To reach out to millennials, the Indonesian government has also recruited young internet users with huge social media followings to spread the message of peace.
The Philippines, meanwhile, aims to form a special Muslim unit within the military to be deployed to Muslim majority areas.
Is it Effective?
Starting last year, the Philippine military has adopted a maximum 5% quota for Muslim recruits. The military recruitment system is open to all citizens. However, Muslims have been less interested in joining the military, thinking that they have less chance to enter the force.
By setting a quota, the military hopes to ensure more Muslims are recruited. The military also set a 10% quota for female soldiers, and another 5% for indigenous people.
Establishing a special Muslim unit could have two positive impacts.
First, it could create more room for dialogue when compared with conventional military manoeuvres. With Muslim members, this special unit can be more sensitive to religious and cultural needs.
Second, it could garner support from local communities. Having a Muslim unit operate in a Muslim majority area will hopefully reduce suspicion in local communities towards the Philippines' military deployments.
At the same time, this can be a counter-narrative to the local view that military deployment by the government is a form of invasion.
On the other hand, the formation of a special Muslim unit within the Philippine military could also have negative consequences.
First, it could create factions or disparities within the military between the Muslim unit and other units.
There have been plenty of cases in various countries such as Turkey and Myanmar that show how the military can be fragmented when different factions are hostile to each other.
If a spirit of nationalism isn't properly planted, the special Muslim unit could actually pose a new problem for the Philippines. Instead of making the process for peace easier, it could actually act as new fuel for a conflict that has long been there.
Second, such an approach might actually create a stigma that Muslim terrorists must be fought against by equally hardline Muslims soldiers.
These days, Islam is often regarded as a religion or faith that is steeped in a violence. If this newly established special Muslim unit is not managed properly, the stigma could actually worsen.
What Indonesia can Learn
Aside from the existing debate, a Philippine government strategy based on religion and culture to counter extremists by forming a special Muslim military unit must be appreciated. With limited military strength, the government is able to devise an alternative strategy to ruin the foundation of extremism. At the same time, the government is reducing the potential conflict with local communities and building the Philippines' military image within Southeast Asia.
The threat of extremism in the Philippines to other Southeast Asian countries makes the problem a regional issue.
Every country in the region has different strategic interests. For example, Indonesia's north directly shares a border with the Philippines.
Indonesia can learn plenty of lessons from how the Philippines combats extremism, from operational strategies and fieldwork technicalities, to how to comprehensively handle perpetrators and the psychological impact of terrorism on society. These lessons are especially relevant since it was recorded that quite a few Indonesian citizens have obtained terrorist training in militant organisations from the Philippines.
Despite pros and cons, we still hope that this can contribute to a solution to the issues of extremism, radicalism and terrorism that have haunted not just the lives of Philippine society but also of the larger Southeast Asian community.The Conversation
https://thewire.in/world/using-religion-and-culture-to-fight-terrorism-lessons-from-the-philippine-military
--------
No Excuse for Myanmar's Treatment of the Rohingya
Nov. 22, 2018
Under international law — and the precepts of basic human decency — the nearly one million Rohingya people driven out of their homeland in Myanmar and crammed into refugee camps in Bangladesh ought to be able to return home. But simply pushing them back across the border, as Bangladesh and Myanmar tried to start doing last week under pressure from China, was wisely suspended.
The United Nations and dozens of rights groups dealing with the long-suffering Rohingya objected to the plan because it lacked any assurances that the returnees, members of a Muslim minority in Myanmar who had been the targets of a murderous campaign of ethnic cleansing, would be treated any better than before they fled. The United Nations high commissioner for human rights, Michelle Bachelet, said that sending the refugees to Myanmar at this point "effectively means throwing them back into the cycle of human rights violations that this community has been suffering for decades."
Nobody asked the Rohingya about the repatriation plan, and they understandably panicked when Bangladesh troops entered their camp and told the first group of 2,200 to get ready to move. With one voice, young and old alike shouted, "We won't go!" Mercifully, Bangladesh — which has been lauded for providing refuge to the Rohingya — relented.
Over 15 months, more than 700,000 Rohingya fled a systematic campaign of killings, rapes and torched villages that the United Nations said "undoubtedly amount to the gravest crimes under international law." Crowding into refugee camps in Bangladesh, they joined more than 200,000 Rohingya who had fled earlier waves of violence.
The hurried repatriation was agreed to by Bangladesh and Myanmar under pressure from China, which has economic ties to both and ambitious plans for the region. But according to Human Rights Watch, the military-dominated government of Myanmar, which has denied the ethnic cleansing all along, has done nothing "to create conditions for safe and dignified returns, or to address the root causes of the crisis."
The organization said refugees feared that if they returned without any assurances, they would be put in detention camps like those to which 124,000 other Rohingya have been confined in Myanmar since they were displaced by violence in 2012. The "reception centers" and "transit camps" Myanmar has set up, some on the site of razed Rohingya villages, are surrounded by barbed wire and security outposts.
The plight of the Rohingya ranks among the worst injustices in the world today. The Myanmar government, including the once-respected Daw Aung San Suu Kyi, has denied any culpability, invoking ancient grievances and skewed history to justify treating the Rohingya as Muslim interlopers in a predominantly Buddhist land.
When Vice President Mike Pence told Ms. Aung San Suu Kyi on Nov. 14 at a regional meeting in Singapore that the persecution of the Rohingya was "without excuse," she replied, "We understand our country better than any other country does," and so are "in a better position to explain to you what is happening."
No, Ms. Aung San Suu Kyi, the world does not need your "explanations," nor repatriation schemes that fail to address the mistreatment of the Rohingya and give them assurances that they can rebuild their burned-out homes and live in security and dignity. The imprisonment in September of two Reuters reporters who were reporting on a massacre of Rohingya is further evidence that the rulers of Myanmar have no interest in anything but justifying and covering up their brutality.
It's long been clear that the only way to get proper action from Myanmar's generals and their civilian enablers is to compel it, through prosecutions of the offenders by the International Criminal Court, through sanctions, travel bans or a freeze on assets. China can play a more helpful role than it has to date by exerting its influence on Myanmar and Bangladesh to come up with something more than a superficial fix.
https://www.nytimes.com/2018/11/22/opinion/rohingya-myanmar-bangladesh-repatriation.html
--------
India
'The time for jihad has come': What 26/11 attacker Ajmal Kasab said in his testimony
Nov 23, 2018
"I studied up to fourth standard at a Government Primary School. After leaving school in 2000, I went to Lahore and stayed with my brother Afzal. I did menial jobs at different places till 2005. During that period, I used to visit my native place. In 2005, I had a quarrel with my father and left home.
I went to a home in Lahore where run-away boys like me are housed. From there, the boys are sent to different places for employment. One day, a person named Shafiq came there and took me with him. He was in the catering business and I started working with him for ₹120 per day. While I was working with Shafiq, I came in contact with Muzaffar Lal Khan. We decided to carry out dacoities to earn more money and so moved to Rawalpindi.
My journey into jihad started soon after.
While we were in search of firearms, we saw some Lashkar-e-Taiba (LeT) stalls at Rawalpindi's Raja Bazaar on Eid al-Adha. We thought, why not join them and learn how to operate guns.
We soon made our way to the Lashkar headquarters in Muridke, where it has its training camp.
I first met the Lashkar's Amir, Hafiz Saeed, at Muridke while I was undergoing the 21-day Daura-e-Sufa (preliminary training) between December 2007 and January 2008. A batch of 30 recruits was explained the meaning of jihad. The batch was introduced to Hafiz Saeed and the operation commander, Zakiur Rahman Lakhvi. Saeed addressed the batch, saying, "You mujahedeen have to fight to liberate Kashmir,'' and Lakhvi said, "Ab jihad ka waqt aa gaya hai (the time for jihad has come). We now have to wage a war to get Kashmir. Are all of you ready for this battle? We are planning to target big cities to weaken India."
The batch was then inducted for the Daura-e-Khas (advanced training) at a fortified Lashkar camp in Muzaffarabad, where we were trained to use Kalashnikovs, rocket launchers, pistols and grenades. We were also familiarised with the use of GPS navigation devices and map-reading and were given survival training – how to cope with hunger and how to climb mountains while carrying heavy backpacks. During the course of this training, an unknown man was also present. At that time, Hafiz Saeed and Lakhvi came there and met and hugged the unknown man, who was referred to from then on as 'Major General'. The Major General supervised the eight-week long training that made us into 'pucca jihadis'.
Hafiz Saeed chose the final 10 who were sent via sea to Mumbai. He also gave us new names. I was named Abu Mujahid. We then came back to Muridke for Daura-e-Ribat (intelligence training) in August 2008. The Major General visited the group again to motivate us and asked me if I knew how to swim.
In September 2008, we were taken to Karachi by train and kept at a house in Ajizabad locality. After two days, we were taken out to sea in two boats and then transferred onto a motorboat for three days during which we were trained to use GPS devices. On our return, we were taken to the Beit-ul-Mujahideen camp where Saeed and Lakhvi personally questioned us about our sea training. Lakhvi said that Mumbai would be the target and that we would be going to Mumbai via sea. The Major General came to this camp and after hugging Saeed and Lakhvi, took them aside for a private chat. When the trio returned, Lakhvi said that the Major General wanted to test our preparedness. The Major General told Hafiz Saeed, "Saeed saab, aap target lagao." Saeed told Kafa (the course commander) to place 10 targets and said, "When I say fire, all of you should fire single shots and when I say fire twice, open rapid fire." As per cue, all 10 fired and hit the target.
The group was then introduced to Zarar Shah, the computer and media expert. Soon after, Saeed broke the group of 10 up into five pairs and said, "We now have to hijack an Indian boat to go from Karachi to Mumbai. A lot of foreign tourists come there and they have to be targeted and killed to embarrass Hindustan."
Saeed, Lakhvi and Zarar Shah then took the group to a big hall which Shah called 'the media room'. Here, we were shown CDs of CST train station and Malabar Hill. The CDs also contained detailed information of which roads and routes to take to CST from Badhwar Park.
Finally, we were asked to shave our beards. Mobile phones with Indian SIM cards and watches set to Indian time were given to us and we were also asked to tie a red thread around our wrists, so as to pass off as Hindus. The group was ready to set sail for Mumbai.
https://www.hindustantimes.com/india-news/the-time-for-jihad-has-come-what-26-11-attacker-ajmal-kasab-said-in-his-testimony/story-s7ODHsqQM2rnYXPrtv79nN.html
--------
Drop word 'Muslim' from AMU to end controversies, says Olympian Zafar Iqbal
Nov 22, 2018
AGRA: Former Indian Hockey Captain and Olympian, Zafar Iqbal, who is an alumni of Aligarh Muslim University (AMU) has said that all the political controversies shrouding the varsity will seize if the work "Muslim" is removed from its name.
Iqbal, who will be the guest of honour at the closing ceremony of the ongoing North Zone Inter-Varsity Hockey (men) Tournament 2018-19 in Aligarh on Friday, was reacting to the statements of certain BJP leaders who have dubbed AMU as a seminary of terrorists. Talking to TOI, Iqbal said its "absolutely" incorrect for political leaders to make such comments as this university had not only given some of the brightest minds of the country but has also produced a dozen Olympians in the field of hockey.
"Players like Masood Minhaj (Los Angeles Olympics 1932), Ahsan Mohammad Khan (Berlin Olympics 1936), Lt. A Shakoor (London Olympics 1948), Madan Lal (London Olympics 1948), Lateef-ur Rehman (Olympian, London 1948), Jogendra Singh (Olympian Rome 1960, Asian Games 1962, Tokyo 1964 Gold Medalist), SM Ali Sayeed (Olympian Tokyo (Japan) 1964 Gold Medalist), Inamur Rehman (Olympian Mexico 1968), B P Govinda (Olympian Munich 1972), Aslam Sher Khan (Olympian Munich 1972), and Akhtar Husain Hayat (Olympian London 1948 Gold Medalist), are all products of this veryvarsity, said Iqbal, who won the Gold medal in Moscow Olympics in 1980.
The legendary Iqbal said, "The country can only progress in a peaceful atmosphere, but there is a lack of calmness and this is a reason of rift". He said the word Muslim in the University's name has become a bone of contention so it will be for the better if the work is dropped.
Regretting that politics had creeped into almost all spheres of life, Iqbal said sports in the only field that remains unaffected by this virus so far. "Without unity, teams cannot win," said Iqbal, adding that everywhere people are being isolated, but players still never think of their religion or caste but of the country.
Recalling his college days, when he was a civil engineering student in the 70s, Iqbal said, "Riyaz Miya used to cook food for the players and everyone was just eating instead of thinking that who cooked it". He said that nothing has still changed in the field of sport and that is the reason why we continue to win.
"Our thinking is completely different from the common man and that is the reason, majority of my friends are Brahmin and we have never thought of anything except friendship," he said adding that the country was still suffering from British legacy of divide and rule.
"People have forgotten the very popular song- 'Na Hindu banega, na musalman banega… Insan ki aulad hai Insan banega", he said adding that politicians are only hiding their own failures by highlighting baseless issues and raking controversies. He said instead of changing names of cities, the politicians should concentrate on development and making hospitals, schools and roads.
He said it's unfortunate that despite the fact that AMU has produced renowned personalities in every field, including arts, acting, writing, sports and science, but the general impression is still there that "here we still study on wooden and stone slates".
Full report at:
https://timesofindia.indiatimes.com/city/agra/drop-word-muslim-from-amu-to-end-controversies-says-olympian-zafar-iqbal/articleshow/66754120.cms
--------
J&K: 6 Terrorists Killed in Encounter Between Militants And Security Forces in Anantnag
November 23, 2018
Srinagar: Six terrorists were on Thursday killed in an encounter which broke out between security forces and terrorists in Sekipora area of Bijbehara in Anantnag district, news agency ANI reported. Further, arms and ammunition have been recovered from the custody of terrorists.
Meanwhile, the operation is underway. More details are awaited.
In an earlier incident, an exchange of fire broke out between security forces and terrorists in Kulgam' s Khudwani area in Jammu and Kashmir, news agency ANI reported. One civilian was killed. Further, all those injured were admitted to a hospital. Meanwhile, security forces had to cordon the area to undertake search operation.
In another incident on November 18, two terrorists were killed in an encounter which broke out between terrorists and security forces at Rebban area of Zainapora village in Shopian district of Jammu and Kashmir. The encounter come a day after the militants abducted and killed a 19-year-old teenager. (ALSO READ: Terrorists Abduct, Kill 19-year-old in Shopian Day After Executing School Boy)
Full report at:
https://www.india.com/news/india/jammu-and-kashmir-encounter-underway-between-militants-and-security-forces-in-anantnag-district-three-terrorists-trapped-3442873/
--------
Cabinet clears corridor for Kartarpur up to Pakistan border
Nov 23, 2018
NEW DELHI: Two months after a bid by the new government in Pakistan to restart talks with India failed, the two countries seem on the verge of a breakthrough by agreeing on a Kartarpur corridor after the Modi government on Thursday approved a road on its side of the border.
With the Cabinet approving the development of a corridor to enable smooth passage of pilgrims seeking to visit Guru Nanak's final resting place at Kartarpur across the border, India "approached and urged" Islamabad to develop the passage on its side too so as to facilitate unrestricted flow of devotees.
The corridor on the Indian side will begin from Dera Baba Nanak in Gurdaspur to the international border with Pakistan. The Gurdwara Darbar Sahib Kartarpur is located across the border on the banks of the Ravi. Pakistan foreign minister Shah Mahmood Qureshi responded to India's announcement by tweeting that Islamabad has already conveyed to India its decision to open the corridor for Guru Nanak's 550th birth anniversary in 2019 and that PM Imran Khan would do the groundbreaking for facilities at Kartarpur on November 28.
India's decision to build the corridor, announced by finance minister Arun Jaitley, came on the eve of Gurpurab, or Guru Nanak Jayanti. It came a day after Pakistan media reported that Pakistan was going to build a 2.5-km corridor leading to Kartarpur Sahib in its territory and that Khan himself would lay the foundation stone next week.
Indian government sources said the Cabinet passed the resolution after many weeks of consultations. The move to build a corridor will also serve to test the commitment of the Pakistani side, which, despite suggestions that a corridor was in the works, had not moved on the project.
'Kartarpur plan not a response to Pakistan proposal'
The Kartarpur corridor project, cleared by the Centre on Thursday, has political hues too, with Punjab minister Navjot Singh Sidhu announcing that the corridor is being constructed after he visited Pakistan for the swearing in of Imran Khan as PM. He had explained his hug of Pakistan army chief Qamar Bajwa saying he was assured help for the corridor. The Centre's announcement was immediately hailed by all parties in Punjab, including Akali Dal, BJP, Congress and AAP.
Officials explained the timing of the announcement, saying: "The Cabinet usually meets on Wednesday but due to Milad-un Nabi holiday it met Thursday and approved the resolution. The resolution is a comprehensive document that contains detailed information on plans for the celebration of the 550th birth anniversary of Guru Nanak Dev, not just on the corridor."
Indian officials said any suggestion that the corridor was planned as a response to a Pakistani proposal was not only preposterous but also hurtful to the sentiments of the Sikh community.
Apart from Qureshi, another senior Pakistan minister, Fawad Chaudhry, described the Indian Cabinet's decision as a victory for the "peace lobby" in both countries. Islamabad had earlier this week approved visas for 3,800 Sikh pilgrims who wanted to visit religious shrines in Pakistan on the occasion of Guru Nanak's birthday.
The proposal to open the corridor has been a long standing demand for India for more than 20 years, sources here said as they blamed Pakistan for not acknowledging the request. Chaudhry had announced soon after the Khan government took over that Pakistan would consider opening the corridor.
Officials here said that India's intention was that the corridor must be a "full-fledged one that allows for maximum movement". It should be open not just on special occasions but throughout the year.
Full report at:
https://timesofindia.indiatimes.com/india/cabinet-clears-corridor-for-kartarpur-up-to-pakistan-border/articleshow/66757948.cms
--------
JK Governor justifies dissolving Assembly, says MLAs were getting terror threats
November 23, 2018
A day after dissolving the J&K Legislative Assembly, Governor Satya Pal Malik Thursday justified his decision by claiming that MLAs were receiving "terrorist threats" and that money was being "offered on a large scale" in efforts to form a government.
Describing the PDP-National Conference (NC) efforts to stitch an alliance for government formation as "unholy", Malik said "this was a power hungry alliance for self-preservation to avoid a split in their respective parties". "There has been a lot of dissatisfaction among both the parties," he said.
"I had been receiving reports from various quarters, including intelligence agencies, for the last one week or ten days that in efforts to form a government, the atmosphere has been made vicious. Money was being offered on a large scale. People are being threatened, some have received terrorist threats… How could I have allowed this?" he asked. Malik was responding to allegations raised by PDP and NC that his decision Wednesday to dissolve the Legislative Assembly was a "murder of democracy".
Malik's decision came shortly after PDP leader Mehbooba Mufti staked claim to form a government with the support of the NC and Congress, citing a collective strength of 56 MLAs in the 87-member House. A separate claim to form a government was made by Sajad Gani Lone of the two-member People's Conference who claimed support of the BJP and 18 MLAs from other parties. The Assembly was kept in suspended animation since June when Governor's Rule was imposed after the BJP ended its alliance with the PDP to bring down the ruling coalition.
On Thursday, Malik pointed out that he had made clear after taking charge in August that he would not allow any party to form the government through underhand means, defections or threats. Asked whether fresh elections would be held along with Lok Sabha polls, he said that a decision will be taken by the Election Commission. For the last couple of days, he said, reports of horse-trading were pouring in. "Even Mehbooba Mufti herself rang me up a week ago, complaining that her MLAs were being coerced under the threat of NIA (National Investigation Agency),'' he said. "Under the given situation, had I given a chance to any side, there would have been horse-trading on a large scale during the period given to prove a majority. This would have destroyed the political value system, which I could not have afforded,'' he said.
Referring to the peaceful conduct of the urban local body polls recently and the ongoing panchayat elections, Malik said his administration was carrying democracy to the grassroot level, with people participating in large numbers. "At this juncture, this attempt at government formation was made by those who did not want elections and who had been boycotting the electoral process. It was possible that they may have cancelled these elections, or not allowed them," he said.
Referring to the coordination between police and security forces, the Governor said they have created a situation in which "hardly one or two new persons" had joined the militancy during the last 50 days in the Valley. "Stone pelting has almost come to an end and nearly 60 terrorists have been gunned down during the period," he said. "This situation would have altered in the event of formation of an unstable government. What would have come out of it would have been an opportunist government. There would have been differences between them… spoiling many things. Whatsoever I did, I acted in the interest of the state and not mine," Malik said.
About the charge levelled by PDP and NC that the Governor House did not receive Mehbooba Mufti's fax on Wednesday staking claim for government formation, he said his office was closed on Eid. "There was no one in my office even to serve me food," he said, adding that they could have sent it to him a day earlier.
Full report at:
https://indianexpress.com/article/india/jk-governor-justifies-dissolving-assembly-says-mlas-getting-terror-threats-5458719/
--------
Pakistan
Bajwa asks India to resume dialogue for peace
Tariq Naqash
November 23, 2018
MUZAFFARABAD: Chief of the Army Staff Gen Qamar Javed Bajwa has asked India to adopt the course of dialogue for peace and progress in the region instead of resorting to provocative statements and ceasefire violations.
According to the Inter-Services Public Relations (ISPR), Gen Bajwa made the suggestion to India's civilian and military leadership during a visit to the restive Line of Control (LoC) in Azad Jammu and Kashmir (AJK) on Wednesday.
Gen Bajwa pointed out that lately there had been a surge in ceasefire violations by India and rhetoric of provocative statements by its military leadership.
"We are a professional and combat hardened army ready to defend our motherland … It would be better if they [India] realise this and place their stock in peace and progress through dialogue," he said.
Earlier, the general officer commanding of the area updated the army chief on the situation prevailing along the Line of Control, including ceasefire violations by Indian troops and Pakistan Army's response to it.
Gen Bajwa also interacted with the troops on the occasion and appreciated their state of readiness and morale.
He praised the resilience of the civilian Kashmiri population being deliberately targeted by the Indian forces on both sides of the LoC.
It was Gen Bajwa's second visit to the heavily militarised dividing line in AJK's southernmost Bhimber district in less than a month, amid unrelenting ceasefire violations by the Indian army in a serious breach of November 2003 truce between the two countries.
The ceasefire violations have been frequently causing civilian casualties.
On Tuesday, two girls were injured in Haveli district in unprovoked firing by the Indian army, raising the number of injured persons to 153 and those of the dead to 27 in Azad Jammu and Kashmir in the ongoing year alone.
In his last visit to Bhimber district on Oct 25, Gen Bajwa had made it clear that Pakistan Army's belief in peace and stability should not be misconstrued, as troops were fully prepared and determined to defend the country.
Apart from that, he has also been giving an unequivocal message to India that Kashmir was the core issue and would have to be resolved between India and Pakistan in accordance with the United Nation resolutions and the aspirations of the Kashmiri people for a lasting peace in the region.
https://www.dawn.com/news/1447135/bajwa-asks-india-to-resume-dialogue-for-peace
--------
Pakistan informs UN about initiative against defamation of religions
Nov 23, 2018
UNITED NATIONS: Pakistan has highlighted at the United Nations Prime Minister Imran Khan's initiative for an international campaign against defamation of religions, aimed at developing, through dialogue, respect for each other's religious beliefs, symbols and personalities.
"Pakistan has always actively engaged in efforts to promote civilised dialogue in order to build a more peaceful world," Pakistan Ambassador to the UN Dr Maleeha Lodhi told the Global Forum of the UN Alliance of Civilisations (UNAOC), a body mandated to promote harmony among nations.
More than 1,000 scholars took part in the Global Forum to share knowledge and explore innovative ways of promoting inclusive approaches to conflict prevention as a pathway for sustaining peace.
Ambassador Lodhi said that the Pakistani leader had outlined at a recent conference in Islamabad his initiative for a campaign against defamation of religions to counter incitement to hatred being witnessed in some parts of the world.
"Hate narratives are spreading in several parts of the world; Islamophobia is on the rise and diversity is being seen not as a source of enrichment but as a threat, and politics of fear seem to be replacing politics of hope," she said.
In the face of such troubling trends, the Pakistani envoy said the role of bridge builders and peacemakers becomes even more pivotal.
She also stressed the importance of countering violence and hatred that is being witnessed in some parts of the western world by the negative depiction of Muslims.
"We believe that all cultures and civilizations contribute to the common heritage of mankind, and sincere and open dialogue helps to promote international cooperation and with that, global peace and security."
Noting that the collective commitment to the ideals of peaceful coexistence was under stress, Ambassador Lodhi said that the task of peace-building and sustaining peace could only be accomplished by collectively building a common vision of a peaceful world, and adopting an inclusive approach to promote better understanding.
"Universal values of peace, tolerance, egalitarianism and respect for our common humanity, are shared by all religions and cultures," the Pakistani envoy said.
"Our common heritage and values should enable us to draw strength from our diversity rather than allow it to be used as justification to accentuate differences.
"For this, it is necessary to stress genuine and constructive dialogue across cultures and religions."
Ambassador Lodhi said that the Alliance of Civilisations has great potential to engage faith leaders to join our collective endeavour to promote tolerance and understanding.
As part of its commitment to promoting religious harmony, Ambassador Lodhi cited the resolution that it sponsors with the Philippines in the UN General Assembly each year that calls for interreligious and intercultural dialogue as well as cooperation in the world.
"Pakistan, for its part, will continue to support initiatives that promote and strengthen inter-religious and inter-cultural understanding so that we can build a more peaceful and just world," she added.
In his opening speech, UN Secretary-General Antonio Guterres underscored the role of UNAOC in building "more peaceful, just and resilient societies," a key objective of the 2030 UN Development Agenda.
He recalled last month's horrendous attack against Jewish worshippers in Pittsburgh, a city in the US state of Pennsylvania, who were gunned down while praying, stating: "It was an unspeakable act – yet I was struck by the voices that emerged. The local Muslim community, for example, raised tens of thousands of dollars to help the victims."
For her part, General Assembly President Maria Fernanda Espinosa flagged that the world is facing a complex global juncture marked by multiple crises, including poverty, inequality, climate change, forced migration, conflicts, terrorism and intolerance, and called for a strong collective action and global agreements.
"To build those agreements, the dialogue is the most powerful means," she maintained on migration, reminding the Forum that in December, the Global Compact for Safe, Orderly and Regular Migration, which is the first international cooperation framework encompassing a comprehensive and balanced vision, will be adopted.
The Alliance's High Representative, Nassir Abdulaziz Al-Nasser also spoke at the opening ceremony of the two-day event, along with Alliance co-sponsors Deputy Prime Minister of Spain Carmen Calvo and Foreign Minister of Turkey Mevlut Cavusoglu.
Full report at:
https://www.pakistantoday.com.pk/2018/11/22/pakistan-informs-un-about-pm-imrans-initiative-against-defamation-of-religions/
--------
Three killed as bomb hits hideout of Haqqani militants in Pakistan
Nov 22, 2018
At least three people have been killed after a bomb struck Haqqani network militants in their hideout in Pakistan's tribal areas bordering Afghanistan, local officials and militant sources say.
A Pakistani security official in the region said on Thursday that nearly a dozen people were also wounded in the attack in Pakistan's South Waziristan region.
A Haqqani source confirmed that casualties were caused after the bomb exploded at a meeting place for militants operating across the region. One of those wounded was regional commander Jamshed Khan.
No individual or group has claimed responsibility for the blast.
The Haqqani network operates on both the Pakistani and Afghan side of the border. It has been behind some deadly attacks against civilians, security forces and NATO forces in the Afghan capital over the past decade.
The militants were blamed for a devastating truck bomb in the heart of Kabul in May 2017 that killed around 150 people, though the Haqqani network later denied any involvement.
The network was formed 30 years ago to fend off the Soviet invasion of Afghanistan, and still boasts a strong presence in eastern Afghanistan and in the tribal districts of North Waziristan in Pakistan's restive northwest along the Afghan border.
The US and Afghanistan frequently accuse Pakistan of providing a safe haven to senior Haqqani commanders and allowing the group to operate freely on Pakistan's side of the porous frontier.
Washington also accuses Islamabad of ignoring or even collaborating with groups which attack Afghanistan from safe havens along the border between the two countries, but Pakistan denies it.
Successive US governments have criticized Pakistan for links with the Taliban and for harboring former al-Qaeda leader Osama bin Laden.
US President Donald Trump, during a Fox News TV interview aired on Sunday, defended canceling assistance worth hundreds of millions of dollars to Pakistan earlier this year because "they don't do anything for us, they don't do a damn thing for us."
Trump also suggested that Pakistani authorities knew bin Laden's location prior to his killing allegedly in a raid inside Pakistan in 2011.
Afghanistan has been gripped by insecurity since the US and its allies invaded the country as part of Washington's so-called war on terror in 2001. Many parts of the country remain plagued by militancy despite the presence of foreign troops.
US forces have been bogged down there through the presidencies of George W. Bush, Barack Obama and now Trump. Militants are now launching attacks on both Pakistani and Afghan soil.
Pakistan, which joined the US so-called war on terror in 2001, says it has paid the price for the alliance.
Full report at:
https://www.presstv.com/Detail/2018/11/22/580802/Pakistan-Afghanistan-Trump-Haqqani-North-Waziristan-alQaeda
--------
Blast leaves two dead, 12 injured in S Waziristan
NOVEMBER 23, 2018
Two people were killed and 12 others wounded on Thursday in a bomb blast in Angoor Adda Bazaar of South Waziristan district, bordering Afghanistan.
According to locals, the explosion took place near a shop in Angoor Adda Bazaar.
The wounded were instantly rushed to Wana, the headquarters of South Waziristan tribal district, for medical attention.
Nature of the blast couldn't be determined but locals said the blast took place because of a planted bomb. Five days ago, miscreants opened fire on security forces patrolling in Wana area, leaving one security man martyred and two others critically wounded. The deceased was identified as Bakhtiar and those wounded included Haidar Zaman and Akmal Khan. Similarly, two security personnel and two others suffered multiple injuries when militants opened fire on them in Gurbaz area of Shawalregion in the adjacent North Waziristan tribal region. Those died in the incident included Saeed Ahmad and Sarbulandand those suffered injuries were identified as Hamza and Anwar Masood.
https://dailytimes.com.pk/325048/blast-leaves-two-dead-12-injured-in-s-waziristan/
--------
Two killed as gunmen attack Chinese consulate in Pakistan's Karachi, says police
23 November 2018
At least two policemen were killed when unidentified gunmen stormed the Chinese consulate in the Pakistani port city of Karachi on Friday, officials said.
Up to four gunmen tried to enter the consulate but were intercepted by security guards at a checkpoint, senior local police official Javaid Alam Odho told AFP.
An exchange of fire resulted "killing two of our constables and critically wounding another", he said.
He added that the attackers "ran away" but did not confirm if the attack was over, saying the area had been cordoned off and security forces were conducting a clearing operation.
"Police and Rangers have reached the site," added senior police official Pir Muhammad Shah.
Pictures posted to social media purportedly of the attack showed smoke rising from the area.
Karachi, Pakistan's largest city and a financial hub, was for years rife with political, sectarian and ethnic militancy.
A crackdown in the city by security forces in recent years has brought a lull in violence, but scattered attacks still take place.
Full report at:
https://english.alarabiya.net/en/News/world/2018/11/23/Two-killed-as-gunmen-attack-Chinese-consulate-in-Pakistan-s-Karachi-says-police.html
--------
Indian officials barred from entering gurdwaras in Pakistan
Nov 22, 2018
LAHORE: Two officials of the Indian High Commission in Pakistan were stopped from entering two gurdwaras by their administration, which was upset over the screening of a film in India that they claim has hurt sentiments of the Sikh community.
The officials -- Aranjeet Singh and Sunil Kumar -- were barred from entering the Gurdwara Nankana Sahib on Wednesday night and Gurdwara Sachcha Sauda on Thursday. Both the gurdwaras are in Punjab province of Pakistan.
They were stopped from entering the gurdwaras by their administration, which said that the Indian government has hurt the sentiments of Sikhs by allowing the screening of the film 'Nanak Shah Fakir'.
The Evacuee Trust Property Board (ETPB) said that the Pakistan Gurdwara Pharbhndik Committee (PGPC) officials have stopped the Indian officials. The visiting officials were heard saying in a video that "No Sikh was stopped from entering the house of the Guru. We are wondering as why you are stopping us."
The PGPC officials however kept saying that they should better leave the premises.
"We had written to the Indian High Commission asking it not to send its officials to any of the gurdwara since the release of the film," ETPB Secretary Tariq Wazir told PTI.
He said the Indian officials ignored their advice.
The officials reported to have visited the Sachcha Sauda gurdwara to exchange greetings with the visiting Indian Sikhs, who are here to take part in festivities related to the birth anniversary of Guru Nanak.
"We request the officials of the Indian High Commission not to visit any gurdwara without permission of the board as we have to security measures for them," Wazir said.
Full report at:
https://timesofindia.indiatimes.com/world/pakistan/indian-officials-barred-from-entering-gurdwaras-in-pakistan/articleshow/66755256.cms
--------
Pakistan rejects India's allegation of its involvement in Amritsar blast
Nov 22, 2018
ISLAMABAD: Pakistan on Thursday rejected allegations of its involvement in the Amritsar terror attack in which three people were killed amidst Punjab chief minister Amarinder Singh's accusation that the grenade used was similar to the ones being manufactured by the Pakistan army.
Singh said that the grenade attack, in which three people were killed and over 20 injured, seemed to carry Pakistan's signature.
Initial investigations indicated that the "grenade used was similar to the ones being manufactured by the Pakistani Army Ordinance factory," he said.
Pakistan's foreign office spokesman Mohammad Faisal rejected Singh's allegations in his weekly press briefing.
"Pakistan categorically rejects these allegations. India is a serial alleger and it has become its second nature to blame Pakistan for any negative development without blinking an eye," Faisal said.
The purpose of "such severe and unfounded allegations" by the Indian authorities was to cover up their won failures and drag Pakistan in India's domestic political affairs during election season, he claimed.
Faisal said that India should hold talks with Pakistan if it was serious in solving different issues including Kashmir.
"We have said time and again that our restraint should not be mistaken for weakness," Faisal added.
Three persons including a preacher were killed and over 20 injured when two-bike borne men threw grenade on a religious congregation in Amritsar on Sunday.
Full report at:
https://timesofindia.indiatimes.com/world/pakistan/pakistan-rejects-indias-allegation-of-its-involvement-in-amritsar-blast/articleshow/66751962.cms
--------
PM confident Malaysia trip will strengthen bilateral ties
Nov 23, 2018
ISLAMABAD: Prime Minister Imran Khan on Thursday thanked his Malaysian counterpart, Mahathir Mohamad, for his warm hospitality during his recent visit to Malaysia and said that the trip would strengthen ties between the two countries.
In a tweet, he said, "I want to express my heartfelt thanks to Prime Minister Mahathir Mohamad for his warm hospitality and I want to thank his ministers and the Malaysian business community for welcoming us in the spirit of friendship. This trip will strengthen ties between our two countries."
He also thanked the Malaysian first lady for the "wonderful lunch she arranged for us".
On Wednesday, while addressing a joint press conference with his Malaysian counterpart in Kuala Lumpur, PM Khan said that Pakistan wants to replicate the Malaysian model of good governance.
Both leaders stressed the importance of exchanges of visits at all levels, with a view to further expand the depth of bilateral ties for commerce and business in both countries, particularly in palm oil, agro products, food retail, halal products, automotive parts, energy, science and technology, and telecommunication.
PM Khan said that Pakistan had huge untapped tourism resources, which it wanted to develop on the pattern of Malaysia.
"Malaysia progressed greatly under Mahathir Mohammad's leadership, who transformed the country and raised the per capita income and Gross Development Product (GDP). Both of us received votes because we stood against corruption," he said.
"We will follow Malaysia's model to bolster tourism and other sectors in Pakistan," he added.
PM Khan also invited his Malaysian counterpart to visit Pakistan to attend the March 23 ceremony as the guest of honour. His invitation was accepted by the Malaysian premier who said that he would visit Pakistan in March.
Malaysian PM Mahathir said, "Pakistan and Malaysia face the same challenges. Imran Khan is the first foreign leader whom I have welcomed."
He emphasised the need to continue mutual cooperation to benefit from the experiences of one another. He said that it was decided to have a dialogue partnership at the ASEAN group, besides enhancing mutual cooperation in the defence sector. Malaysia further invited Pakistani companies to invest in the country in both the manufacturing and services sectors where the companies are able to leverage Malaysia's strategic location in expanding their investments into ASEAN and the Asia Pacific regions.
Pakistan invited potential Malaysian companies to explore the possibility of investing in Special Economic Zones (SEZs) to take advantage of Pakistan's strategic location at the crossroads of Central, South and West Asia.
In a joint statement issued later, the two leaders welcomed the establishment of bilateral consultation between the senior officials of both foreign ministries as a mechanism to intensify engagements between both sides. In this regard, Malaysia and Pakistan will convene the first bilateral consultation in Islamabad next year.
The two leaders also agreed on the need to enhance educational ties between Malaysia and Pakistan and agreed that close cooperation on education and training are critical elements of the next phase of the relationship.
Full report at:
https://www.pakistantoday.com.pk/2018/11/22/pm-confident-malaysia-trip-will-strengthen-bilateral-ties/
--------
'Victory of peace' as India agrees to open Kartarpur crossing
Nov 23, 2018
ISLAMABAD: Pakistan on Thursday welcomed the Indian government's decision to develop the Kartarpur corridor that will enable Sikh pilgrims to visit the Gurdwara Darbar Sahib, located in Kartarpur, Narowal district without a visa.
Indian Home Minister Rajnath Singh said his country will build and develop a corridor from Dera Baba Nanak in Punjab's Gurdaspur district to the International Border to facilitate Sikh pilgrims visiting Gurdwara Darbar Sahib Kartarpur on the banks of the Ravi River in Pakistan.
The decision was lauded by Pakistan's information minister and foreign minister.
In a statement shared on Twitter, Information Minister Fawad Chaudhry endorsed the decision, calling it a "victory of peace lobby in both countries".
"It is a step towards right direction and we hope such steps will encourage voice of reasons and tranquility on both sides of the border," he said.
Pakistan has conveyed to India its decision to open the Kartarpur corridor, the ground-breaking of which will be performed by Prime Minister Imran Khan on Nov 28, Foreign Minister Shah Mehmood Qureshi said.
"Pakistan has already conveyed to India its decision to open Kartarparpur Corridor for Baba Guru Nanak's 550th birth anniversary," Qureshi said in his tweet. The FM said Pakistan welcomed the Sikh community for this auspicious occasion.
Bilawal hails decision:
Chairman Pakistan People's Party Bilawal Bhutto Zardari appreciated the decision to open Kartarpur border corridor by Pakistani and Indian governments for Sikh pilgrims, and welcomed the Sikh pilgrims who had travelled to Pakistan to visit the Gurdwara Darbar Sahib.
Recognising the decision as the fulfillment of the dream of former Prime Minister Shaheed Mohtarma Benazir Bhutto after a quarter century, he recalled that Prime Minister Shaheed Mohtarma Benazir Bhutto had first proposed to grant a visa-less free corridor to Kartarpur shrine from the Indian border. Since then Sikh devotees had been impressing upon the Government of India to accept Pakistan's proposal and facilitate Sikh pilgrims visiting their holy shrine.
Bilawal said that PPP always stood for people to people contact between the two neighbouring countries and every government led by PPP had taken significant steps to facilitate the Sikh, Hindu and Buddhist pilgrims from India and the world over, to visit their sacred places.
He pledged that PPP would continue to initiate and support more facilities for non-Muslim pilgrims to visit their holy places in Pakistan.
Earlier, Foreign Office Spokesman Muhammad Faisal told reporters at a weekly press conference that the bid for opening of Kartarpura border-corridor between Pakistan and India had made swift progress and good news in this regard was in the offing.
"The Kartarpura Corridor will soon see the light of day which will greatly facilitate Sikh pilgrims, crossing two countries," he said.
The Kartarpura Corridor, on completion, will connect the Sikh holy shrines of Dera Baba Nanak Sahib and Kartarpura Sahib shrine situated at the two Punjabs of India and Pakistan respectively.
The opening of the corridor was first conveyed by Army chief General Qamar Javed Bajwa to the visiting former Indian cricketer Navjaot Singh Sidhu at the swearing-in ceremony of Prime Minister Imran Khan in August.
Full report at:
https://www.pakistantoday.com.pk/2018/11/22/pakistan-welcomes-indias-decision-to-open-kartarpur-crossing/
--------
Arab World
Saudi crown prince gets warm welcome in UAE amid pressure over Khashoggi murder
22 November 2018
Mohammed bin Salman has landed in the United Arab Emirates as part of his first trip abroad since the murder of journalist Jamal Khashoggi.
The powerful Saudi crown prince left the Gulf kingdom on Thursday to start "a tour of a number of brotherly Arab countries", the state-run Saudi Press Agency said.
Bin Salman, also known as MBS, was welcomed in the United Arab Emirates by his close ally, the crown prince of Abu Dhabi, Mohammed bin Zayed.
"We're proud of our deep-rooted ties. Close cooperation and a fruitful partnership lies in store for our countries. The UAE will always be a loving and supportive home for our brothers in Saudi Arabia," bin Zayed said on Twitter Thursday.
The two leaders discussed "regional and international" developments and the "challenges and threats facing the Middle East region", AFP reported, citing the UAE's state-run news outlet, WAM.
MBS is also expected to visit Egypt and Bahrain on his tour abroad, a German news agency reported earlier this week, while AFP said he will be in the Tunisian capital, Tunis, on Tuesday.
The Saudi crown prince will then participate in a G20 meeting in Buenos Aires at the end of the month that will be attended by leaders from the United States, Turkey and European countries, AFP reported.
MBS-Erdogan meeting at G20 possible
The crown prince's foreign tour comes amid ongoing pressure over the killing of Khashoggi, a Saudi government critic who was murdered inside the country's Istanbul consulate on 2 October.
Saudi officials maintain that the crown prince had no knowledge of Khashoggi's murder or its subsequent cover up. However, the CIA said last Friday that it believes bin Salman ordered the journalist's killing.
MBS could have his first face-to-face meeting with Turkey's Recep Tayyip Erdogan on the sidelines of the G20 summit, the Turkish president's spokesman said on Thursday.
Pressure has been growing between Riyadh and Ankara over Khashoggi's murder, as Turkish officials have gradually leaked information in relation to the case.
"There could be" a meeting, Turkish presidential spokesman Ibrahim Kalin said. "We're looking at the programme," Kalin said, according to state news agency Anadolu.
Earlier this week, Karen Attiah, Khashoggi's editor at the Washington Post, said MBS should not be welcomed at the G20 summit, however.
"World leaders should not be gripping and grinning with tyrants who order the dismemberment of writers and the torture of women's rights campaigners," she tweeted, referring to a recent Amnesty International report on the alleged torture of several Saudi human rights activists inside a Jeddah prison.
Attiah also described reports that Donald Trump intends to meet with MBS during the summit as "disgraceful".
Donald Trump pledges support for MBS
Indeed, the US president has sought to cast doubt on the US intelligence agency's conclusion that MBS was responsible for Khashoggi's murder and recently pledged to maintain Washington's close ties to Riyadh.
In a long-winded and widely criticised written statement released by the White House on Tuesday, Trump said both MBS and his father, Saudi King Salman, "deny any knowledge of the planning or execution of the murder" of Khashoggi.
"Our intelligence agencies continue to assess all information, but it could very well be that the crown prince had knowledge of this tragic event – maybe he did and maybe he didn't!" he said.
"That being said, we may never know all of the facts surrounding the murder of Mr Jamal Khashoggi. In any case, our relationship is with the Kingdom of Saudi Arabia."
However, that hasn't stopped other world leaders from continuing to demand answers over Khashoggi's murder.
On Thursday, the Qatari foreign minister, Mohammed bin Abdulrahman Al-Thani, said "whoever is responsible for Khashoggi's death needs to be held accountable".
The European Union's foreign affairs chief, Federica Mogherini, said on Thursday that a transparent and credible investigation into Khashoggi's killing has not yet been completed.
Saudi officials have arrested 21 people they say were involved in the murder and recently said they would seek the death penalty for five suspects in the case.
Speaking at a joint news conference with EU Commissioner Johannes Hahn and Turkish Foreign Minister Mevlut Cavusoglu in Ankara, Mogherini said she was against the use of the death penalty, AFP reported.
Earlier this week, Cavusoglu also said whoever ordered Khashoggi's murder should be held accountable and be brought to justice.
On Wednesday, however, Saudi Foreign Minister Adel al-Jubeir said the kingdom would not tolerate any disparaging remarks against MBS, saying criticism of the crown prince constitutes "a red line".
https://www.middleeasteye.net/news/saudi-crown-prince-tour-abroad-amid-pressure-khashoggi-murder-516088378
--------
Syrian Army Intensifies Efforts to Cleanse ISIL from Badiyeh of Deir Ezzur
Nov 22, 2018
Field sources in Eastern Syria reported on Thursday that the Syrian army has sent fresh forces and equipment to its positions near Albu Kamal in Eastern Deir Ezzur and at the border with Iraq.
They added that the Syrian army's convoys have been sent from different parts of the country, including Homs and Hama, to Eastern Deir Ezzur in the past 2 weeks, saying that the army is preparing for extensive military operations to cleanse the ISIL terrorists from Badiyeh of Albu Kamal amid the latter's increased offensives on army positions.
Meantime, the Syrian air force launched airstrikes on ISIL positions and moves near Awiraz dam, areas near the T3 station and the administrative borders of Deir Ezzur with the Eastern Badiyeh of Homs, killing and wounding several terrorists and destroying their military equipment.
The Syrian army had also last Sunday forwarded more troops and military hardware to the Eastern province of Deir Ezzur to reinvigorate its forces' combat and defense capabilities.
The army sent a convoy, including several vehicles, a large volume of military hardware and tens of fresh forces to the small towns of Ma'adan Northwest of Deir Ezzur city.
In the meantime, the army forwarded its forces and military equipment from Hama and Palmyra in Homs to Eastern Deir Ezzur.
The army has dispatched more troops to al-Salehiyah region in Albu Kamal desert in Southeastern Deir Ezzur in recent days.
Full report at:
http://en.farsnews.com/newstext.aspx?nn=13970901000623
--------
Iraqi Hezbollah: US Attempting to Push ISIL from Syria to Iraq
Nov 22, 2018
Al-Hosseini made the remarks in an interview with the Arabic-language website of RT on Thursday.
He also referred to ISIL's recent moves at the borders with Iraq, saying that they are aimed at keeping the fire of war in the region alive.
Al-Hosseini underlined deployment of Hezbollah Battalions at the borders with Syria along with the Iraqi army forces, and said, "We condemn any control of foreign forces over the Iraqi territories and consider presence of the US forces in Iraq as occupation."
The US has for years been accused by popular forces of the regional nations of supporting the terrorist groups, specially the ISIL, in the region.
Earlier this month, the Iraqi military forces discovered several food and arms consignments, dropped by the US military helicopters for the ISIL terrorists, at border with Syria.
The consignments included a large volume of weapons, military equipment, canned food and bottles of water and were dropped for the ISIL at Iraq-Syria border region almost a week ago.
Full report at:
http://en.farsnews.com/newstext.aspx?nn=13970901000531
--------
Egypt says police killed 12 extremist militants in Sinai raid
22 November 2018
Egyptian authorities say police killed 12 extremist militants when security forces stormed three deserted buildings used as militant hideouts in the northern part of the Sinai Peninsula.
An Interior Ministry statement on Thursday said that the militants were the first to open fire on the policemen as they surrounded the buildings in the Mediterranean coastal city of el-Arish.
The statement said there were no casualties among the police.
Egypt has for years battled extremist militants in Sinai.
Full report at:
https://english.alarabiya.net/en/News/middle-east/2018/11/22/Egypt-says-police-killed-12-Islamic-militants-in-Sinai-raid.html
--------
Iraq removes blast walls around 'Green Zone' for partial reopening
22 November 2018
Iraqi authorities began removing cement walls surrounding Baghdad's Green Zone on Thursday in preparation for a partial reopening of the high-security enclave, an Iraqi official and AFP correspondents said.
The Green Zone became home to Iraq's parliament and other government offices, United Nations agencies and western embassies after the US-led invasion of 2003.
The area on the west bank of the Tigris River is ringed by blast walls topped with barbed wire and guarded by Iraqi security forces, but inaccessible for most Iraqi citizens.
On Thursday, AFP reporters saw some walls had been removed.
"Work is ongoing to lift the cement blocks, and a main road will be opened provisionally on Saturday and officially on Sunday," an Iraqi official told AFP.
The official said three entrances into the 10-square km (3.8-square mile) zone would be opened to allow access to a key thoroughfare and therefore relieve traffic clogging other parts of Baghdad.
"The reopening of the road that cuts through the center of the Green Zone came after directions from the prime minister," the official added.
When Adel Abdel Mahdi was appointed premier last month, he called on parliament to open up the area to all as a way to break down barriers between Iraq's citizens.
Abdel Mahdi also moved his government's headquarters outside the Green Zone, in a first since 2003.
Previous prime minister Haidar al-Abadi had also ordered the zone reopened during his reign, but it was sealed off again after only a few days.
Full report at:
https://english.alarabiya.net/en/News/middle-east/2018/11/22/Iraq-removes-blast-walls-around-Green-Zone-for-partial-reopening.html
--------
Four schoolchildren killed in bomb blast near Iraq's Mosul
Nov 22, 2018
At least four schoolchildren have lost their lives and six others sustained injuries when a bomb explosion ripped through their vehicle in Iraq's northern province of Nineveh.
Police Lieutenant Thiab al-Jabouri said the incident took place in the town of al-Shura, located roughly 45 kilometers south of provincial capital city of Mosul, on Thursday afternoon when a roadside bomb went off near a bus.
No group has claimed responsibility for the attack yet, but it bears the hallmark of attacks carried out by members of the Daesh Takfiri terror group.
According to the UN Assistance Mission for Iraq (UNAMI), a total of 69 Iraqi civilians lost their lives last month, and 105 others were injured as a result of acts of terrorism and violence across the country.
The numbers were the lowest monthly casualty figures since UNAMI began publishing them in November 2012.
A large number of the fatalities were recorded in Nineveh, where 29 civilians were killed and 36 others wounded.
The capital province of Baghdad saw 29 people killed and another 35 injured. Five people were also killed and 19 others injured in the western province of Anbar.
Iraqi security forces uncover another Izadi mass grave
Separately, Iraqi security officials have found a mass grave in Nineveh, which contained the bodies of more than a dozen members of the Izadi minority, who are believed to have been executed by Daesh terrorists when they were in control of the terrain.
A security source, requesting anonymity, told the Arabic-language al-Ghad Press news agency that the mass grave contained the bodies of 17 people.
He added that Iraqi forces made the latest discovery in the village of Kasar Mehrab.
A recent report has disclosed that foreign militants, including many of European origins, were responsible for atrocities and acts of brutality carried out by Daesh against members of the Izadi minority.
The Paris-based International Federation for Human Rights said in a report on October 25 that the extremist group's actions amounted to genocide and crimes against humanity.
Nadia Murad, an Iraqi Izadi human rights activist and one of the 2018 Nobel Peace Prize laureates, confirmed the findings of the report.
Murad was kidnapped from her hometown of Kojo in Nineveh in 2014, and held by Daesh terrorists for three months.
Back in August, an official at the Endowments and Religious Affairs Ministry of the semi-autonomous Kurdistan Regional Government said more than 3,000 members of the Izadi minority remained unaccounted for ever since Daesh militants overran their hometowns in northern Iraq in 2014.
"The fate of 3,102 Izadis remain unknown since Daesh terrorists attacked our towns and cities in mid-2014," Khairi Bozarni said at a conference devoted to the "Izadi Genocide" in the Kurdish capital city of Erbil on August 15.
Full report at:
https://www.presstv.com/Detail/2018/11/22/580804/Four-schoolchildren-killed-in-bomb-blast-near-Iraqs-Mosul
--------
Southeast Asia
Anwar: I want justice for all, but I love my race and religion
23 NOVEMBER, 2018
KUALA LUMPUR — The "New Malaysia" under the Pakatan Harapan (PH) government will not abandon Malays and Islam, Parti Keadilan Rakyat (PKR) president Anwar Ibrahim said on Friday (Nov 23).
He said liberals have accused him of being "Malay and Islam" underneath his veneer, which he did not deny.
"I love this country. I want justice for all people in this country. But this cannot diminish my love for my race and culture and my confidence in the principles of Islam," Mr Anwar said in a lecture at Universiti Malaya that was broadcast on Facebook.
"I believe that this foundation is not rejected by the current government."
The Prime Minister designate also said the previous Barisan Nasional (BN) administration was the one who first raised the issue of ratifying the International Convention on the Elimination of All Forms of Racial Discrimination (Icerd) in 2010.
Icerd signatories commit to ending all forms of racial discrimination in their countries, but some Muslim hardliners including opposition Parti Islam Se-Malaysia (PAS) and United Malays National Organisation (Umno) take to mean a dismantling of pro-Bumiputera affirmative action and privileges in Malaysia.
Malaysia's Federal Constitution contains provisions that expressly touch on Bumiputera privileges, fuelling debate on whether or not these must be amended upon the ratification of Icerd.
However, Anwar said that currently, Malaysia could not start by immediately rejecting international treaties like Icerd, saying it would be discussed first.
"Firstly, we are anti-discrimination," he said. "In our country, citizens have the same rights. So we oppose racial and religious oppression. We must be clear."
Still, he expressed uncertainty if the ratification of Icerd would affect constitutional provisions on Malay rights, the royalty, the national language, and Islam as the religion of the federation.
"Some believe they are not affected. I myself am unsure because legal interpretations in Malaysia may not necessarily be the same as those overseas. Therefore, our suggestion is to postpone it and allow for public discussions," he said.
Mr Anwar stressed that he was against discrimination and racial ideologies.
"I want all Malaysians — Malays, Chinese, Indians, Sabahans and Sarawakians — to feel that they have the right to develop our country together. But I also stress that Islam must be appreciated as the religion of the federation." MALAY MAIL
https://www.todayonline.com/world/anwar-i-want-justice-all-i-love-my-race-and-religion
--------
Batam radio co-founder denied entry to Singapore for alleged Salafi links
November 22, 2018
A co-founder of Batam-based radio station Hang FM, Zein Alatas, has been denied entry to Singapore because of his alleged affiliations with the Salafi group, an ultra-conservative movement within Sunni Islam.
Zein had to undergo questioning for six hours at the Immigration Checkpoint Authority (ICA) at HarbourFront Port, Singapore on Tuesday before immigration officers denied him entry and deported him back to Batam. His wife and six radio staff members who had joined him for the trip left the country voluntarily.
He told The Jakarta Post on Tuesday that he went to Singapore to attend the wedding of his best friend. He arrived at HarbourFront at 10 a.m. local time.
"My wife and my colleagues were able to pass the immigration check. However, when my turn came, the officer asked me to enter the interrogation room and interrogated me for six hours before denying my entry and sending me back to Batam," he said.
According to Zein, the immigration officers questioned him about his radio station, such as its activities and its affiliation with Radio Rodja, Indonesia's leading Salafi station.
"I was really disappointed by this kind of treatment. Why do they conduct the interrogation in the interrogation room? And the officers did not even ask me about the purpose of my trip to Singapore. This is very disappointing," Zein said.
Previously, in 2017, the station was scrutinized by Singaporean authorities after two of its listeners, Rosli Hamzah and Mohamed Omar Mahadi, were detained under the Internal Security Act for planning to travel to the Middle East and fight for the Islamic State (IS) movement in Iraq and Syria.
Rosli and Hamzah, both residents of Singapore, were avid listeners of Radio Hang FM. Singaporean authorities deemed the station to be a religious station that preaches extreme views. However, an investigation conducted by the Indonesian Broadcasting Commission (KPI) concluded that the station no longer promotes radical teachings in its broadcasts.
Full report at:
http://www.thejakartapost.com/news/2018/11/22/batam-radio-co-founder-denied-entry-to-singapore-for-alleged-salafi-links.html
--------
Why does it matter to Indonesia if Australia moves its embassy to Jerusalem?
23 Nov 2018
Evan Laksmana
Indonesia and Australia were supposed to sign their long-awaited bilateral free-trade agreement last week at the East Asia Summit in Singapore. But the deal has apparently been put on hold.
Trade Minister Simon Birmingham said translation issues were partly to blame for the delay. But it's hard to deny that Australia's plan to relocate its embassy to Jerusalem loomed large.
Some Australian officials and politicians believe the embassy proposal is foolhardy, while others say that Indonesia shouldn't 'dictate' Australian foreign policy. The issue, of course, isn't about who dictates what. It's simply that, as Newton's third law says, 'For every action, there's an equal and opposite reaction'—even in foreign policy.
Will Jakarta unravel a trade deal that has taken years of painstaking negotiation over what some might argue is a 'symbolic', if not 'emotional', issue?
The Israeli–Palestinian conflict may not be Jakarta's bread-and-butter national interest. But it touches on one of the key foundations of Indonesia's foreign policy: the promise of independence and freedom from the debt of decolonisation.
Indonesian President Joko 'Jokowi' Widodo said that Indonesia's support for Palestine stems from President Sukarno's pledge in 1962: as long as Palestine is not independent, Indonesia will always stand opposed to Israel. That promise can be traced back to before Indonesia's independence in 1945. Palestinian nationalists then supported Jakarta's quest and even helped persuade Egypt to recognise Indonesia.
For better or worse, Palestine was part of the formative period of Indonesia's 'independent and active' foreign policy. But the support for Palestine doesn't mean that Indonesia's foreign policy is strongly 'Islamic'.
As the current Indonesian ambassador to the UK, Rizal Sukma, has written, Islam has never been the defining framework for Indonesia's foreign policy. When the 'Islamic factor' comes into play, it is always driven by domestic political considerations.
This brings us to the second reason for Indonesia's opposition to the embassy proposal: in an election year, a weak stance in the Israeli–Palestinian conflict could become a rallying cry to upset Jokowi's re-election chances.
Ever since Jokowi named Ma'ruf Amin as his running mate, the opposing Prabowo Subianto/Sandiaga Uno camp has found it difficult to exploit religious sentiments as they did when they brought down Jakarta governor Basuki Tjahja Purmana last year.
The opposition has tried to scrape any potentially damaging issue, like the burning of Hizbut Tahrir's flag by members of the Nahdlatul Ulama, Indonesia's largest Muslim organisation and a critical Jokowi supporter. So far, we have yet to see any serious snowball effect that might ruin Jokowi's re-election chances. But if Australia relocates its embassy, the opposition might finally have something.
The opposition has often painted Jokowi as a 'neo-liberal' who is 'selling out the country', as evident in Prabowo's campaign speeches. The embassy move could inflame those attacks by adding a religious component.
An official with the National Mandate Party (PAN), a member of Prabowo's coalition, noted that the proposal could affect Indonesians 'at grassroots' level and 'some of them might be the radicals'. Civil society groups have also warned that if Australia follows through on the proposal, moderate and radical groups will see it as a 'green light' to 'punish Australia'.
While the economic benefits of a free-trade deal are significant, it is politically risky to be liberalising trade in an election year—or 'opening up the country to foreigners', as the opposition might say—especially with a country that might be seen as hurting the Palestinian cause.
A combination of religious identity politics and anti-liberalisation rhetoric might be enough to give the Prabowo camp some momentum heading into the election.
Finally, the embassy move reignites a dormant but significant perception in Jakarta: that Australia always follows America's lead, even it upsets its neighbours. Nadjib Riphat Kesoema, who served as ambassador to Australia from 2012 to 2017, even suggested that the Australian government should 'distance yourselves a bit' from the United States.
This highlights a more structural challenge in Indonesia–Australia relations: Jakarta's perception that Australia is never fully part of the region because it can't say no to Washington.
But that didn't stop Jakarta and Canberra from signing a comprehensive strategic partnership in August—which elevated Australia's position in Indonesia's foreign policy calculus to the same level as America's and China's. And the Australia–US alliance also hasn't prevented Canberra from boosting its Indo-Pacific credentials or supporting ASEAN's centrality in regional architecture.
Full report at:
https://www.aspistrategist.org.au/why-does-it-matter-to-indonesia-if-australia-moves-its-embassy-to-jerusalem/
--------
Conduct town hall meetings before ratifying ICERD, says activist
23 November 2018
KUALA LUMPUR, Nov 23 — The government should discuss with more stakeholders before ratifying the International Convention on the Elimination of All Forms of Racial Discrimination (ICERD) before making any decision on the matter, activist Hishamuddin Rais said.
He said the Pakatan Harapan (PH) administration should not decide the ratification of the United Nations treaty without engaging the public sufficiently, amid protests by Malay-Muslim groups.
"They should first conduct town hall meetings and engage with the public before implementing or trying to implement any policies.
"You must discuss it first before you implement it. Such is the process of democracy,'' he said at the "Apakah perlunya ICERD untuk Malaysia?" forum hosted by Forum Telawi at the International Islamic University Malaysia yesterday.
The government's plan to ratify ICERD has received massive pushback from many groups, including Umno and PAS who claim that the ratification of the international convention goes against Article 153 of the Federal Constitution which safeguards Malays' special position.
Hishamuddin said concerns from the Malay community on ICERD could stem from the manifestation of the "unresolved national question", referring to the social contract of the nation.
He further stated that he was not confident the Malays have fully accepted other races as their countrymen.
Liga Pemuda secretary general Amir Abd Hadi said the government's failure to properly explain ICERD to the masses have allowed the conversation to turn "chaotic and scary.''
"The government has failed to explain what ICERD is and engage with those who have a vested interest in the conversation such as the Malay Rulers.
"Their failure to do so has opened the way for those who survive on racial and religious lines to remain relevant in the political landscape of the country,'' he said.
Another panellist, Muhammad Faiz Fadzil, said he agreed with the ratification of ICERD, but urged the government to ensure that the convention must not be in conflict with the Federal Constitution.
Faiz, who is the Amanah assemblyman for Permatang Pasir, said there was no need for the majority Malay-Muslim community to be afraid of the ratification of ICERD.
"Why is there a need to fear ICERD, as it is only a political ploy by certain parties which preys on racial and religious lines?
"The status of Islam and Malay has been enshrined in the Constitution, so there is no need to be afraid of ICERD,'' he said.
Full report at:
https://www.malaymail.com/s/1696261/conduct-town-hall-meetings-before-ratifying-icerd-says-activist
--------
Religious freedom at risk in one of five countries: Report
November 23, 2018
Religious freedom is under threat in one of every five nations around the globe, in part because of an increase in "aggressive ultranationalism", a Catholic NGO said in a report Thursday.
Aid to the Church in Need found incidents of religious persecution in 21 countries in the two years to June 2018, including Niger, Myanmar, India and China.
Acts of discrimination were reported in 17 other countries such as Algeria, Turkey and Russia, it said.
It was the 14th edition of the aid group's report covering all religions in 196 countries, carried out every two years with the assistance of independent journalists.
"We've observed a trivialisation of attacks on religious freedom," said Marc Fromager, head of the NGO's French chapter, at a press conference in Paris.
Of the 38 countries where freedom is threatened, he said the situation has worsened in 18 of them, "in particular in two of the most populous countries in the world, China and India."
"This hostility toward minorities has worsened to the point that we can qualify this as aggressive ultranationalism," he said.
In China, for example, Fromager said churches have been destroyed and Uighur Muslims have been forbidden from observing the holy month of Ramadan, while Tibetan Buddhists continue to face persecution.
The report noted an easing of tensions in Syria and Iraq following the weakening of the Islamic State group, which has allowed some Christians to return to their homes.
And while persecution was not seen as a problem in Europe, Fromager noted "a worrying increase in extremist attacks motivated in particular by religious hatred."
The French government announced earlier this month that anti-Semitic acts surged by 69 percent to 385 in the first nine months of 2018.
Full report at:
http://www.thejakartapost.com/news/2018/11/23/religious-freedom-at-risk-in-one-of-five-countries-report.html
--------
South Asia
45 Taliban militants join peace process in Nangarhar province
Nov 22 2018
At least 45 Taliban militants including four of their commanders renounced violence and joined peace process, the local officials said Thursday.
Provincial governor's spokesman Ataullah Khogyani said the militants joined peace process after they were persuaded the provincial intelligence, National Directorate of Security, to renounce violence.
Khogyani further added that the militants were conducting insurgency in Momandara, Khogyani, Sherzad, Ghani Khel, Achin, and Nazian districts.
He said the militants renounced violence after reaching to a conclusion regarding the situation of the country as well as losing fighting the capabilities.
According to Khogyani, the militants also handed over five heavy weapons and 45 light weapons to the National Directorate of Security.
Speaking on behalf of the reconciled militants, Nabiullah and Islam said they have conducted insurgency and destructive activities for the past six years on instructions of the neighboring intelligence circles.
They also added that they were encouraged to join peace process after hearing to the Fatwas of the Ulemas as well as losing fighting capabilities.
The provincial government media office in a statement said nearly 300 militants have joined peace process due to the efforts of the National Directorate of Security during the recent months.
https://www.khaama.com/45-taliban-militants-join-peace-process-in-nangarhar-province-02790/
--------
Humvee APC destroyed, 9 militants killed in AAF airstrike in Farah province
Nov 23 2018
A Humvee Armored Personnel Carrier was destroyed and at least nine militants were killed in airstrike of the Afghan Air Force in western Farah province of Afghanistan.
The 207th Zafar Corps of the Afghan Military in the West said the Afghan Air Force A-29s carried out airstrike in Posht Rod district, destroying a Humvee APC and leaving nine militants dead.
According to a statement released by 207th Corps, the Humvee APC was captured by militants a while ago.
The statement further added that nine weapons, two communication radio sets, and five motorcycles were also destroyed during the same airstrike.
Farah was among the relatively calm provinces in West of Afghanistan but the security situation of the province has deteriorated during the recent years.
Full report at:
https://www.khaama.com/humvee-apc-destroyed-9-militants-killed-in-aaf-airstrike-in-farah-province-02793/
--------
Taliban not serious about peace: Afghan chief executive
Nov 22, 2018
Afghanistan's Chief Executive Abdullah Abdullah says the Taliban militant group is not serious in peace talks aimed at ending hostilities in the war-inflicted country.
Abdullah on Wednesday questioned the militant group's sincerity and said the Taliban had so far shown no intention to seriously engage in the negotiations despite US efforts to push a fresh peace process.
"Recently there are renewed efforts in terms of the international community and especially the US," Abdullah said in an interview with AFP in Paris. "We are not judging it too prematurely, but I would say that our experience as of now has been that they (the Taliban) have not shown any intention to get seriously engaged in the peace negotiations."
This is while Afghan President Ashraf Ghani had said earlier this month that it was "not a question of if, but when" an agreement would be reached with the militant group.
The US's special envoy for Afghanistan, Zalmay Khalilzad, also raised the possibility of a breakthrough before April 20, 2019, the date set for presidential elections in Afghanistan.
But Taliban leaders said on Monday that they had failed to reach any agreement with the US after three days of talks at their political headquarters in Qatar, citing dissatisfaction with a deadline set by Washington's Afghanistan envoy to end the war.
The group's five-year rule over at least three quarters of Afghanistan came to an end following the 2001 US-led invasion of the country; but 17 years on, Washington — having failed to end Taliban's militancy — is now seeking a truce.
The Taliban have generally insisted on negotiating only with the US, and not the Afghan government.
The militants have overtaken several districts in a spate of brazen attacks in recent months, including Ghazni, which was briefly overtaken by the militants last month, jolting the government in Kabul because the central city is close to the capital.
The Takfiri terrorist group of Daesh has also established a foothold in the country. The group has reportedly managed to recruit some of Taliban's members.
Full report at:
https://www.presstv.com/Detail/2018/11/22/580776/Afghanistan-Taliban-not-serious-Abdullah-Abdullah-Taliban-peace-talks-Zalmay-Khalilzad
--------
North America
Canada: Muslim groups call for national day of action against hate
23 November 2018
More than 100 community groups across Canada have called on Justin Trudeau's government to designate January 29 a National Day of Action against Hate and Intolerance, in memory of the victims of a deadly attack on a Canadian mosque on that date last year. The National Council of Canadian Muslims (NCCM), which spearheaded an open letter sent to the Canadian government on Thursday, said the move would allow all Canadians "to join together in the fight against Islamophobia and hate of all kinds".
Six Muslim men were shot and killed after a gunman opened fire at the Islamic Cultural Centre in Quebec City on 29 January 2017.
"As we approach the second anniversary of the attack, we pause to recognise that the racism and hatred that underpinned this attack do not exist in isolation," reads the open letter.
Addressed to Canada's minister of Canadian heritage and multiculturalism, it was signed by dozens of Muslim, interfaith and other community groups across the country.
"Recent attacks against religious, racial and other minorities in Canada have demonstrated beyond any doubt that no one community can combat this hate alone. Rather, as Canadians, we must come together and unite, not only against Islamophobia but against all forms of hate."
The gunman, Alexandre Bissonnette, pleaded guilty earlier this year to six counts of murder and six counts of attempted murder in the attack. He has yet to be sentenced, but faces life in prison.
The NCCM previously asked the Canadian government to designate 29 January a National Day of Remembrance and Action on Islamophobia.
That demand was met with opposition from some political parties in Quebec, while the federal government in Ottawa was non-committal, saying only that it had received the proposal.
The mosque attack was "the most horrific large-scale expression of the kind of Islamophobia that too many Canadian Muslims face daily", Thursday's letter reads.
https://www.middleeasteye.net/news/canada-muslim-groups-national-day-commemorate-quebec-mosque-attack-242756261
--------
CIA has recording of MBS phone call to silence Khashoggi: Report
Nov 23, 2018
The US Central Intelligence Agency (CIA) is in possession of a tape that proves Saudi Arabia's Crown Prince Mohammed bin Salman gave instructions to "silence" dissident journalist Jamal Khashoggi, a new report has revealed.
Turkish newspaper Hurriyet reported Thursday that CIA Director Gina Haspel had signaled the existence of the recording to Turkish officials last month.
MBS is under growing pressure to come clean about Khashoggi's murder inside the Saudi consulate in the Turkish city of Istanbul about six weeks ago.
While Riyadh has repeatedly denied the young prince's involvement, there have been reports of several audio recordings that confirm bin Salman ordered a hit job on longtime friend Khashoggi, after he turned on him and started to criticize his policies.
"There is talk of another recording," Hurriyet columnist Abdulkadir Selvi wrote, claiming that the alleged call took place between MBS and his brother Khaled, Saudi Arabia's ambassador to the US.
"It is being said the crown prince gave orders to 'silence Jamal Khashoggi as soon as possible'," in a call which was monitored by the CIA, he claimed.
Turkish President Recep Tayyip Erdogan has said that Khashoggi's murder was ordered by the highest level of Saudi leadership.
Saudis first claimed that the ill-fated journalist had left the consulate on October 2, the same day he entered the building for some paperwork.
After offering numerous contradictory explanations, Riyadh finally admitted last week that Khashoggi was killed when he refused to return to Saudi Arabia.
Trump refers questions to CIA, defends MBS
US President Donald Trump refused to say whether the tape was real and referred reporters to the CIA for answers.
"I don't want to talk about it. You'll have to ask them," he said during a teleconference with military members from his Mar-a-Lago residence in Florida.
Asked about bin Salman's possible involvement he said the Saudi prince "regretted the death more than I do."
"Whether he did or whether he didn't, he denies it vehemently. His father denies, the king, vehemently. The CIA doesn't say they did it. They do point out certain things, and in pointing out those things, you can conclude that maybe he did or maybe he didn't," Trump added.
The American president said he would stand by Saudi Arabia's leadership on the issue because he needed Riyadh's help to drive down oil prices.
"We want low oil prices and Saudi Arabia has really done a good job in that respect," Trump said.
"I hate the crime. I hate what's done. I hate the cover up. And I tell you what: the crown print hates it more than I do," Trump said, without providing further detail.
Trump's hypocrisy
When Khashoggi, a US green card holder, first went missing, Trump's argument to not give Riyadh a hard time was because "it's in Turkey, and it's not a citizen."
However, as he was saying that and kept siding with MBS, an American citizen was left behind bars in the bowels of the Saudi prison system.
Walid Fitaihi, a Harvard-trained doctor, hospital owner, television host and motivational speaker, has been detained without trial for more than a year now, according to The New York Times.
A dual citizen, Fitaihi is one of many businessmen, princes, clerics, scholars and activists that Saudi security forces have arrested as part of Crown Prince Mohammed bin Salman's push to consolidate his power.
Full report at:
https://www.presstv.com/Detail/2018/11/23/580837/US-Trump-Khashoggi-CIA-turkey-bin-Salman-recording
--------
Trump not trustworthy for talks, Iran won't renege on nuclear agreement: Zarif
Nov 22, 2018
Iranian Foreign Minister Javad Zarif says negotiations with the US to save the 2015 nuclear deal are pointless because US President Donald Trump is not trustworthy.
Speaking at the 4th edition of Mediterranean Dialogues (MED 2018) forum in the Italian capital of Rome, the Iranian top diplomat said Thursday that Tehran would not renege on any deal made.
Trump pulled out of the Joint Comprehensive Plan of Action (JCPOA) in May, branding the landmark agreement between Iran and the P5+1 group of countries – the US, the UK, France, China, Russia and Germany – a "disaster."
The American head of state pledged back then that he would bring back sanctions that were removed under the deal and impose tougher ones until the Islamic Republic agrees to renegotiate a deal that would further limit its nuclear program, ban developing certain ballistic missiles and roll back Tehran's influence in the region.
Iran has made it clear that it continues to stick to the current terms of the deal and work with the European signatories to overcome the sanctions.
Zarif stressed that the US could not be trusted for any further talks without the required guarantees, something he said was too much to expect from the Trump administration.
"If we are to make an agreement with the United States, what is the guarantee that the agreement will last after the flight? You remember Canada?" he said, taking a jab at Trump for his last minute refusal to sign a G7 summit closing statement in June, after his plane left host Canada.
"How are we to be confident that the signature stays on the paper?" Zarif added.
The deal's future became even more unclear earlier this month, after sweeping new American sanctions targeting Iran's oil exports came into effect.
Despite granting waivers to Iran's main oil buyers for the time being, Washington has warned that it would punish European companies that engage in business deals with Iran.
Iran has threatened to pull out of the JCPOA if it no longer received the economic benefits of it.
Zarif said while he was certain that Europe would be able to guarantee the deal's future, Iran was not going to wait long.
"As I said we rely on our people and that is where the red line is," he said. "If our people believe that the deal is not conducive to their economic interests then we will have to respond to the will of our people."
The agreement, reached after extensive talks in the Austrian capital of Vienna, envisaged the removal of all nuclear-related sanctions on Iran in exchange for limits on certain parts of the country's nuclear energy program.
"We spent two-and-a-half years, this is not a two-page document, this is not a picture opportunity. This is a 150-page document," Zarif said of the JCPOA, suggesting that Trump's objection to deal was mainly because of his "hatred" for the things his predecessor, Barack Obama, had accomplished.
"Why should we resume another talk just because somebody doesn't like it, just because somebody hates his predecessor? That's not the reason you engage in diplomacy, diplomacy is a serious game and we are ready for a serious game," the FM said.
Zarif pointed out that the deal was not between Iran and the Obama administration because it also involved the P5+1 and the European Union (EU) while also being enshrined in UN Security Council Resolution 2231.
The remaining five signatories to the JCPOA have planned to support an EU push to establish a special payment system – called the Special Purpose Vehicle (SPV) – to continue trade and business ties with Iran.
Full report at:
https://www.presstv.com/Detail/2018/11/22/580833/Iran-Zarif-US-Trump-nuclear-talksJCPOA-MED2018
--------
Trump supports Saudi Arabia, most regressive regime in the world: Analyst
Nov 22, 2018
Saudi Arabia's government is one of the greatest enemies of democracy and most violent regimes in the world but the administration of US President Donald Trump continues to support Riyadh, a US writer and academic says.
"The Saudis are one the most reactionary governments, most bellicose governments, most supporters of terrorism and the most regressive [regime]," said James Petras, a retired professor who has published on political issues with particular focus on Latin America, the Middle East and imperialism.
"Everyone realizes; in Europe, Asia, Latin America, Africa, and North America that Saudis are an enemy of Democratic people and is an enemy of anyone that believes in free speech and free discussion," Petras told Press TV on Wednesday.
"Very few people, including Trump's own party, endorse his actions and have great respect for the Saudis," he added.
Trump praised Saudi Arabia on Tuesday for keeping oil prices low -- one strand of his argument against punishing Riyadh even though the CIA reportedly found strong evidence that Saudi Crown Prince Mohammed bin Salman, the de facto Saudi leader, was involved in the grisly killing of journalist Jamal Khashoggi.
Khashoggi, a US resident who wrote for The Washington Post and had been critical of Prince Mohammed, was lured to the Saudi consulate in Istanbul on October 2, killed and reportedly dismembered.
After lengthy denials, Saudi authorities admitted responsibility and said 21 people had been taken into custody. However, a CIA analysis leaked to the US media went further, reportedly pointing the finger at the crown prince.
But Trump, on holiday at his Florida Mar-a-Lago Club on Wednesday, doubled down on a statement from Tuesday that he was essentially ignoring the killing of Khashoggi because of what he said were more important US strategic and commercial interests.
Full report at:
https://www.presstv.com/Detail/2018/11/22/580830/US-Saudi-Arabia-Trump-Jamal-Khashoggi-James-Petras
--------
Iran: US must lift sanctions on food, medicine as per ICJ ruling
Nov 22, 2018
Iran says the US must lift its cruel sanctions on exports of humanitarian goods, including food and medicine, to Iran based on an October ruling by the International Court of Justice (ICJ).
The ruling requires Washington to allow supply of medicine and medical devices, food and agricultural goods and airplane parts, which directly deal with human lives, Foreign Ministry spokesman, Bahram Qassemi, said Thursday.
"With the bullying policies it pursues across the world, the US wants to ignore all international bodies, and does not pay any heed to them," Qassemi told state broadcaster IRIB.
The Hague-based court, which is the principal judicial organ of the United Nations, ordered the US on October 3 to halt its unilateral sanctions on "humanitarian" supplies to Iran.
Iran's lawsuit, lodged in July, argued that the sanctions violate the terms of the 1955 Treaty of Amity between Iran and the US.
ICJ rulings are legally binding and cannot be appealed, but the US ignored the court's verdict about Iran and imposed even harsher sanctions on the country in early November.
Qassemi praised the ICJ, saying the Islamic Republic must take advantage of the tribunal's capacity to offset the negative impact of US sanctions.
The court "may not be able to provide the means for exerting maximum pressure on the US in the short-term, but it … can buy some time for medicine, food, and plane parts manufacturing companies to have more cooperation with Iran," he said.
The US claims it has formally exempted humanitarian supplies, but banks and financial institutions refuse to process Iran-related transactions for fear of provoking US sanctions.
IMO sides with Iran on US bans
In another victory for Iran, the Council of the International Maritime Organization (IMO) on Thursday asked the US to refrain from taking any measure that might endanger Iran's maritime security and freedom of navigation.
Iran had filed a lawsuit against the US on Nov. 8, which the IMO took up at its 121st meeting in London, state news agency IRNA reported.
In its complaint, Tehran argued that US sanctions on its shipping sector violated the Convention on the International Maritime Organization, which urges member states to avoid discriminatory measures against shipping activities of other countries.
Iran had asked the IMO to order its members not to behave in a way that would deprive one member state of its legal rights, Mohammad Rastad, the head of the Ports and Maritime Organization of Iran, told reporters on Thursday following the IMO meeting.
Fortunately, Iran's complaint was legally and logically convincing and was supported by influential member states, he said, adding that IMO members finally sided with Iran on the case and urged the organization to recognize the Islamic Republic's right in this regard.
The IMO "strongly urged the US and other member states to refrain from taking any measure that might endanger international maritime safety and security and the freedom of navigation," Iranian Ambassador to London Hamid Baeidinejad tweeted.
As a specialized agency of the United Nations, the IMO which has 174 member states is tasked with regulating international shipping.
The organization works to promote "safe, secure, environmentally sound, efficient and sustainable shipping through cooperation," as its mission statement reads.
Full report at:
https://www.presstv.com/Detail/2018/11/22/580814/Iran-US-sanctions-qassemi-medicine-food-ICJ-IMO-navigation
--------
Mideast
Iran says US bases and aircraft carriers within missile range
22 November 2018
An Iranian Revolutionary Guards commander said on Wednesday that US bases in Afghanistan, the UAE and Qatar, and US aircraft carriers in the Gulf were within range of Iranian missiles, as tensions rise between Tehran and Washington.
"They are within our reach and we can hit them if they (Americans) make a move," Amirali Hajizadeh, head of the Revolutionary Guards' airspace division, was quoted as saying by Tasnim news agency.
Hajizadeh said the Guards had improved the precision of their missiles, and specifically said they could hit the Al Udeid Air Base in Qatar, Al Dhafra base in the United Arab Emirates and Kandahar base in Afghanistan that host US forces.
US President Donald Trump pulled out of an international agreement on Iran's nuclear programme in May and re-imposed sanctions on Tehran. He said the deal was flawed because it did not include curbs on Iran's development of ballistic missiles or its support for proxies in Syria, Yemen, Lebanon and Iraq.
The Islamic Republic's government has ruled out negotiations with Washington over its military capabilities, particularly its missile program run by the Guards.
Iran, which says its missile program is purely defensive, has threatened to disrupt oil shipments through the Strait of Hormuz in the Gulf if the United States tries to strangle Iranian oil exports.
In October, the Revolutionary Guards fired missiles at ISIS militants in Syria after the extremist group took responsibility for an attack at a military parade in Iran that killed 25 people, nearly half of them members of the Guards.
https://english.alarabiya.net/en/News/middle-east/2018/11/22/Iran-says-US-bases-and-aircraft-carriers-within-missile-range.html
--------
Israeli-American sentenced to 10 years for anti-semitic bomb threats
22 November 2018
An Israeli-American Jewish Michael Kadar convicted for making more than 2,000 of anti-Semitic threats against US Jewish institutions, airlines, police stations and even a professional basketball team's plane, was sentenced to 10 years in prison Thursday by an Israeli court.
The 20-year-old's bomb threats against Jewish institutions in the United States sparked fears of a rise in anti-Semitism in the country.
Some of the offences were committed when he was a minor, the ruling said.
Kadar was arrested when he was a minor.
https://english.alarabiya.net/en/News/middle-east/2018/11/22/Israeli-American-sentenced-to-10-years-for-anti-semitic-bomb-threats.html
--------
Yemeni army soldiers, allies intercept, shoot down Saudi-led combat drone in Hudaydah
Nov 22, 2018
Yemeni army forces, supported by allied fighters from Popular Committees, have intercepted and targeted an unmanned aerial vehicle belonging to the Saudi-led military coalition, as it was flying in the skies over a mountainous region in the country's western coastal province of Hudaydah.
An unnamed Yemeni military source told Arabic-language al-Masirah television network that Yemeni air defense forces and their allies shot down the combat drone as it was on a mission over the mountainous Jabaliya area on Thursday evening.
Later in the day, Yemeni soldiers and fighters from Popular Committees targeted and destroyed a Saudi-led reconnaissance drone as it was flying in the skies west of al-Majazah area in Saudi Arabia's southern border region of Asir.
UN envoy, Ansarullah chief hold talks ahead of peace talks
Meanwhile, the leader of the Houthi Ansarullah movement and United Nations Envoy to Yemen Martin Griffiths met in the Yemeni capital Sana'a, and discussed logistics ahead of peace talks in Sweden next month.
Abdul-Malik al-Houthi stressed the importance of credibility and the will of the Saudi-led military alliance to push for a political solution to the Yemeni conflict away from fallacies that it employed during the previous round of negotiations.
He added that people from all strata of the Yemeni society were suffering from the Saudi-led military aggression alongside the sea, land and air blockade on the Arab country.
The Ansarullah leader also praised positive initiatives and practical steps, which seek to ensure a political solution to the Yemeni conflict.
Houthi then demanded an immediate end to the Saudi-led aggression, the removal of economic sanctions, which have forced the Yemeni riyal to plunge drastically against foreign currencies, and the ease of humanitarian aid deliveries.
Earlier this week, the administration of Saudi-backed former Yemeni president Abd Rabbuh Mansur announced that it would take part in the proposed peace talks in Sweden next month, hours after the chairman of the Supreme Revolutionary Committee of Yemen, Mohammed Ali al-Houthi, said Ansarullah fighters were halting their retaliatory attacks as a goodwill measure to speed up "peace" process.
Griffiths says that he has received "firm assurances" that the warring Yemeni parties would attend talks in the Swedish city of Stockholm.
Britain has presented a draft UN Security Council resolution on Yemen, and called on parties involved in Yemen's crisis to restart peace negotiations.
"The conflict in Yemen can only be resolved though an inclusive political process," the draft resolution said.
The draft sets a two-week deadline for warring Yemeni parties to remove all barriers to humanitarian aid, to halt attacks on civilian areas and allow unhindered access to the strategic port city of Hudaydah.
Saudi Arabia and a number of its regional allies launched a devastating military campaign against Yemen in March 2015, with the aim of bringing the government of Hadi back to power and crushing the country's Houthi Ansarullah movement.
According to a new report by the Armed Conflict Location and Event Data Project (ACLED), a nonprofit conflict-research organization, the Saudi-led war has so far claimed the lives of around 56,000 Yemenis.
The Saudi-led war has also taken a heavy toll on the country's infrastructure, destroying hospitals, schools, and factories. The UN has already said that a record 22.2 million Yemenis are in dire need of food, including 8.4 million threatened by severe hunger. According to the world body, Yemen is suffering from the most severe famine in more than 100 years.
Full report at:
https://www.presstv.com/Detail/2018/11/22/580821/Yemeni-army-soldiers-allies-intercept-shoot-down-Saudiled-combat-drone-in-Hudaydah
--------
Hamas releases photos of Israel forces involved in botched Gaza raid
Nov 22, 2018
The Palestinian Hamas resistance movement has released photos of what it says are the Israeli special forces involved in last week's botched commando raid against Gaza, apparently promoting fears in the regime's military, which asked people and media not to share them.
Hamas -- which governs Israeli-blockaded Gaza -- shared the eight photos on Thursday along with an email address and two phone numbers belonging to its military wing, Ezzedine al-Qassam Brigades, in order to allow public to share information about the Israeli combat soldiers.
Pictures of the two cars used by the Israeli commandos were also published.
The commando raid that took place on November 11 saw members of Israel's special forces infiltrate into the Gaza city of Khan Younis in civilian cars for an undercover operation.
Reports say the forces were with the elite Maglan unit known for slipping behind enemy lines to gather intelligence or hit targets.
They were, however, found out soon afterwards at a Palestinian security post, with the raid spiraling into a severe exchange of gunfire between the Israelis and the security forces in Gaza. Seven Palestinians lost their lives in the shootout.
The intruders were forced to retreat under the cover of the Israeli military's air raids. They were evacuated back into the occupied territories by helicopter.
An Israeli lieutenant colonel was killed in Hamas' counter-raid -- which the Qassam Brigades has dubbed "Operation Edge of the Sword."
In its Thursday statement, the Qassam Brigades said they have been working to decode the details of the abortive Israeli ground incursion, and that it is currently "in the advanced phases of efforts to discover clues about the special and dangerous operation staged by the Zionist enemy."
It also assured the Palestinian nation that it will manage to find the lost pieces of the puzzle, urging people to provide Hamas with any information they may possess on those in the photographs.
The Israeli military did not comment on the authenticity of the photos, but its censor branch scrambled to issue what was described by Israeli media as "a highly irregular statement," appealing to people and media not to re-share the pictures.
"Hamas is working now to interpret and understand the event that occurred within Gaza on November 11, and every piece of information, even if it is considered by the publisher as harmless, is liable to endanger human lives and damage" the security of Israel, the censor said.
Israeli media only published a blurred version of the images released by Hamas.
The botched Israeli mission triggered the worst flare-up of violence since the regime's 2014 war on the blockaded coastal sliver.
The raid was followed by a wave of deadly Israeli airstrikes throughout the Gaza Strip, but the acts of aggression were met with a firm response from Hamas and other Gaza-based Palestinian resistance factions.
Over 400 rockets were fired from Gaza into the southern parts of the Israeli-occupied territories, causing fatalities in the city of Ashkelon.
During the confrontations, the resistance fighters also showed off their precision strike skills when they hit and destroyed an Israeli military bus.
Just as the two sides were on the verge of another war, Israeli Prime Minister Benjamin Netanyahu accepted an Egypt-brokered truce with resistance fighters in Gaza, setting off a political crisis that almost led to the collapse of his coalition administration.
Netanyahu's minister for military affairs, Avigdor Lieberman, who was opposed to the truce, stepped down from his post in a show of protest, leaving the prime minister with a single-seat majority in the parliament and giving rise to calls for early elections in Israel.
Netanyahu also rejected Education Minister Naftali Bennett's bid to replace Lieberman, and took over as the minister for military affairs himself. Bennett had earlier threatened that he would also resign from the cabinet if his bid was rejected, but he later backed down and saved the embattled prime minister for now.
Both the stinging blows dealt to Israel by Palestinian resistance fighters as well as the chaos in Netanyahu's cabinet prompted celebrations among people in Gaza.
Full report at:
https://www.presstv.com/Detail/2018/11/22/580817/Israel-Hamas-Gaza-raid
--------
Israeli military vehicle runs over Palestinian man in occupied West Bank
Nov 22, 2018
An Israeli army vehicle has run over a young Palestinian man in the occupied West Bank, inflicting injuries on him, a report says.
According to the Palestinian Ma'an News Agency, the incident occurred in the southern district of al-Khalil (Hebron) on Thursday, when the 21-year-old Palestinian, identified as Rashed Abu Aram by the Palestinian Red Crescent Society (PRCS), was attempting to cross a road.
The PRCS said the young man had been transferred to a nearby hospital to receive due medical treatment, confirming that he sustained moderate injuries.
Earlier in the day, Israeli forces, along with military vehicles, stormed al-Khalil and roamed through the streets.
Additionally on Thursday, Israeli forces detained at least 23 Palestinians, including a minor, across the occupied West Bank, including Bethlehem, Jerusalem al-Quds, Jenin and Tulkarm.
According to the Palestinian prisoners' rights group Addameer, there are 5,580 Palestinian prisoners behind bars in Israeli prisons, of whom 285 are minors.
Palestinians across the West Bank often stage demonstrations against Israel's decades-long occupation that frequently lead to clashes with Israeli troops.
Since 2015, the occupied territories have been the scene of heightened tensions due to Israeli measures viewed by the Palestinians as a bid to change the status of the al-Aqsa Mosque compound in Jerusalem al-Quds.
Nearly 240 Palestinians have been killed by Israeli forces ever since anti-occupation protest rallies began in the Gaza Strip on March 30. Over 22,000 Palestinians have also sustained injuries.
Full report at:
https://www.presstv.com/Detail/2018/11/22/580820/Palestine-West-Bank-Israel-vehicle-alKhalil-Hebron
--------
Turkey's Erdogan will not meet with bin Salman at G20 summit: Report
Nov 22, 2018
Turkish President Recep Tayyip Erdogan says he will not meet with Saudi Crown Prince Mohammed bin Salman during an upcoming summit of the G20 in Argentina, a Turkish media report says, nearly two months after dissident Saudi journalist Jamal Khashoggi was killed in the Arab kingdom's consulate in Istanbul.
According to a report by A Haber, a nationwide television channel in Turkey, on Thursday, the Turkish leader does not intend to meet with the Saudi crown prince and the kingdom's de facto ruler during the 13th meeting of Group of Twenty, which is to be held in Buenos Aires from November 30 to December 1.
The report came a few hours after the state-owned Anadolu news agency quoted Erdogan's spokesman Ibrahim Kalin as saying that the meeting between the two "could happen."
Khashoggi, 59, a one-time royal insider who had been critical of the crown prince recently, was killed after entering the Saudi consulate in Istanbul on October 2.
Following weeks of denial of any involvement in Khashoggi's disappearance, the Saudi regime eventually acknowledged the "premeditated" murder, but has sought to distance the heir to the Saudi throne from the assassination.
A Saudi prosecutor later said Khashoggi's body had been dismembered, removed from the diplomatic mission and handed to an unidentified "local cooperator."
Furthermore, a recent report by the US Central Intelligence Agency (CIA) said that the spy agency had concluded that bin Salman had been behind the gruesome crime.
However, in a lengthy statement issued on Tuesday, US President Donald Trump, who had not endorsed the CIA assessment, expressed his support for Saudi Arabia amid international condemnations of the murder, which Ankara says has been ordered by the highest ranks of authorities in the kingdom.
Trump claimed there was "nothing definitive" linking the crown prince to the murder despite the CIA assessment.
Turkish paper: CIA's Khashoggi recording incriminates bin Salman
Meanwhile, Turkey's English-language Hurriyet Daily News newspaper quoted CIA Director Gina Haspel that the agency had a recording of a phone call, in which the crown prince gave instructions to his brother Khaled bin Salman to "silence Jamal Khashoggi as soon as possible."
The brothers are reportedly heard talking about the "discomfort" caused by the Washington Post columnist's criticism of the kingdom's administration.
Additionally on Thursday, the European Union's top diplomat Federica Mogherini said during a joint press conference with Turkish Foreign Minister Mevlut Cavusoglu in Ankara that all those "really responsible" for the "terrible" murder of ill-fated Khashoggi had to be held accountable, calling for a "completely transparent and credible investigation."
France slaps sanctions on 18 Saudis over Khashoggi case
In a relevant development, the French Foreign Ministry released a statement, saying that Paris would impose sanctions against 18 Saudi citizens over the killing of Khashoggi.
Full report at:
https://www.presstv.com/Detail/2018/11/22/580806/Turkey-Erdogan-Saudi-Mohammed-bin-Salman-Khashoggi-G20-EU-CIA
--------
Africa
New details emerge on US ambassador's assassination in Benghazi
23 November 2018
The military prosecution in eastern Libya revealed new details about the killing of US Ambassador Chris Stevens as well as three American diplomats in the eastern city of Benghazi in 2012, but also disclosed the names of those involved in his assassination.
This came as part of a press conference held on Wednesday evening by the Chief of the Military Prosecution in Benghazi, Colonel Ali Madi, in which he confirmed that "the terrorist leader imprisoned in the United States Ahmed Abukhattala, senior official in the Al-Qaeda organization Mukhtar Belmokhtar, and the leader of Ansar al-Sharia Muhammad al-Zahawi are the masterminds behind the attack on the US Consulate in September 2012 in Benghazi ".
He declared that: "Ahmed Abukhattala, commander of the Abu Ubaida Brigade, is also behind the assassination of the American teacher Ronnie Smith in Benghazi in December 2013."
Concerning the details of the attack on the US consulate in Benghazi, Madi stated that "a meeting was held in one of the terrorists' houses in the al-Sabri region with Abukhtala, and Sufyan Ben Qamu, senior leader of the al-Qaeda branch in Derna, being among the attendees".
He affirmed that "The meeting discussed the necessity to carry out an operation against US interests, and the US diplomatic representatives in Benghazi were chosen as the attack's targets in conjunction with the events of September 11", and exposed the investigations to have proven that "the goal was originally to kidnap Ambassador "Chris Stevens" and not kill him for the purpose of exchange him with the terrorist Khaled Ben Shiba who is currently in Guantánamo."
Madi further asserted that this terrorist group "exploited the crisis of the cartoons mocking the Prophet and mobilized a number of protesters in order to demonstrate in front of the embassy, and then moved from different angles with 4 armed groups, the first group was composed by Ansar al-Sharia led by Muhammad al-Zahawi, the second was under the command of Abu Ubaida brigade's leader Ahmed Abukhattala, and the third group was headed by Mukhtar Belmokhtar.
The Chief of the Military Prosecution added that "During the protests in front of the embassy, the terrorist groups clashed with the Embassy's security forces and when they withdrew, the embassy was stormed and bombarded with" RPG" grenades. Once Stevens's assassination was discovered, orders were given to withdraw following the failure of the Ambassador's abduction plan ".
Based on these new facts, the military prosecutor in Benghazi asked the US authorities "to communicate with them in order to cooperate in arresting fugitive terrorists behind assassination."
On September 11, 2012, an armed group led an attack on the US consulate in Benghazi and the Libyan security forces charged with the protection the building failed to repel the assault. Fire broke out on its grounds killing the US Ambassador Chris Stevens, who was asphyxiated along three other consular officials.
The United States blamed the attack on Ahmed Abukhattala, who was arrested during a raid by US Special Forces in Libya in June 2014 and brought to America to face 22 years in prison. The Special Forces also succeeded to capture during a secret operation in Misrata, the senior leader in the Shura Council of Derna, Mustafa al-Imam, for his alleged role in the attack on the American consulate in Benghazi.
https://english.alarabiya.net/en/News/north-africa/2018/11/23/New-details-emerge-on-US-ambassador-s-assassination-in-Benghazi.html
--------
'Daesh suspected of killing around 100 Nigerian soldiers'
Nov 22, 2018
Attacks blamed on Daesh have killed around 100 soldiers in northeast Nigeria since Sunday, five security sources said on Thursday, speaking on condition of anonymity.
Extremist militants had already killed hundreds of soldiers in the region in recent months, forcing a turnaround in the course of a war which President Muhammadu Buhari's administration has frequently claimed to have won.
Buhari will seek a second term in February 2019.
Earlier on Thursday, the Nigerian senate suspended its session in honor of what it said were 44 dead soldiers after an attack in Metele in the northeastern state of Borno on Sunday.
A presidency spokesman said the military would issue a statement. Military spokesmen did not respond to repeated attempts to reach them for comment.
Full report at:
https://www.presstv.com/Detail/2018/11/22/580812/Nigeria-Soldiers-Daesh
--------
Jordanian king honours Saudi chief of staff
November 22, 2018
JEDDAH: King Abdullah II of Jordan awarded the military chief of staff of Saudi Arabia, Maj. Gen. Fayyad bin Hamed Al-Ruwaili, Jordan's Order of Military Merit, First Class in Amman on Thursday, in recognition of Al-Ruwaili's efforts to strengthen military cooperation between the two countries.
The ceremony was attended by the chairman of the Joint Chiefs of Staff of Jordan, Lt. Gen. Mahmoud Abdul Halim Freihat.
Al-Ruwaili thanked the king, saying that strong military ties between Saudi Arabia and Jordan are vital for regional security.
Full report at:
http://www.arabnews.com/node/1409521/saudi-arabia
--------
Latest US airstrikes in Somalia kill six extremists
November 22, 2018
NAIROBI: The US military on Thursday announced the latest of several deadly airstrikes this week against Al-Shabab extremists in Somalia as it targets a region well north of where the Al-Qaeda-linked terrorists control large parts of the country.
The US Africa Command statement said two new strikes killed six fighters and destroyed a weapons cache on Wednesday near Harardere. That Al-Shabab-controlled community last month was targeted by the deadliest US airstrike in almost a year, with dozens of extremists killed.
The US has now carried out 35 airstrikes this year against Al-Shabab, Africa's deadliest extremist group, which continues to stage deadly attacks in the capital, Mogadishu, and other cities.
Somali intelligence officials said the latest airstrikes targeted locations in the rural villages of Jimo-Luqunyar and Adaley, 75 km northeast of Harardere.
They said at least four missiles hit a base for over 30 extremists assigned to collect livestock taxes from nomadic communities in the area. The officials requested anonymity because they were not authorized to speak to the media.
Two US airstrikes on Monday killed 37 extremists and one on Tuesday killed seven.
This week's airstrikes have been carried out in Mudug region, well north of Mogadishu and the south and central areas.
Al-Shabab recently relocated to Harardere as a key training and planning base after the US and allies increased pressure and surveillance further south. Somali intelligence officials last month told The Associated Press that last month's US airstrike near Harardere largely destroyed a training camp where recruits were preparing to graduate. The officials said more than 75 people were killed, while the US said about 60 extremists were killed.
The Mudug region, however, is a more difficult hideout for Al-Shabab as its fighters prefer the shrubbier ground further south.
Full report at:
http://www.arabnews.com/node/1409456/world
--------
Eight killed as gunmen attack French drilling camp in Niger
November 22, 2018
PARIS: Seven employees of a French mineral and water drilling firm and a local official were killed early Thursday when gunmen attacked their site in southeastern Niger, the company said.
"A group of terrorists attacked the building where a team of Foraco drillers and technicians were resting in the village of Toumour, in southeastern Niger," the company said in a statement.
"The assailants opened fire on the sleeping personnel and killed eight people," it said, adding that five others were wounded, two seriously.
The victims, all Nigerien, were drilling two water wells to supply a camp for displaced people at Toumour, near the borders with Chad and Nigeria.
Foraco, based near the southern French city of Marseille, said the site had been chosen in conjunction with the Niger armed forces escort protecting the workers.
The company did not identify the attackers, but Toumour was the site of a fierce firefight in September 2016 between the military and Boko Haram militants which left 38 of the insurgents dead.
"We know that Boko Haram is active in the region but for now we've had no claim of responsibility, neither official or unofficial," Thierry Merle, Foraco's vice president in charge of Europe and the Middle East, told AFP.
"We've been operating in Niger for 20 years, and at this site since a month ago," Merle said.
"We hadn't received any threat in particular," he added, and the company had not previously suffered similar attacks.
Full report at:
http://www.arabnews.com/node/1409361/world
--------
Boko Haram kidnaps 50 loggers in Nigeria
23 Nov 2018
KANO, Nigeria: Boko Haram militants abducted around 50 loggers in northeastern Nigerian close to the border with Cameroon, civilian militia and residents told AFP on Thursday (Nov 22).
The hostages who were mostly from a camp for people displaced by militant violence were on Saturday rounded up by fighters loyal to factional leader Abubakar Shekau while collecting wood
"The men were rounded up and taken away by Boko Haram insurgents and nothing has been heard from them," militia leader Umar Kachalla said.
"Two of the loggers escaped and returned home and broke the news.
"We don't have a precise number of those taken but usually the loggers move in a group of more than 50 men," Kachalla said.
The abduction took place at Bulakesa village, 25 kilometres from the town of Gamboru in Borno state.
The Boko Haram Islamist uprising in the region has claimed thousands of lives and displaced more than two million since 2009 in Nigeria alone.
In 2014, in a case that shocked the world, Boko Haram gunmen seized 276 girls aged 12 to 17 from a secondary school in the remote town of Chibok, also in Borno state.
The loggers taken in the latest incident had been encouraged to venture deep into the bush to collect firewood by a recent military operation that pushed the militants out of the area, another militia Shehu Mada said.
REPEATED ATTACKS
Last month troops dislodged the militants from the nearby town of Wulgo and surrounding areas following repeated attacks on loggers.
"The general assumption was that the insurgents had left the area only to suddenly appear and encircle the loggers," Mada said.
"We believe the number of the those abducted exceeds 50," said Gamboru resident Babagana Musa.
The story was slow to emerge due to limited communications with Gamboru residents.
The area has for several years been without telecom facilities following the destruction of telecom masts in Boko Haram attacks, forcing residents to rely on Cameroon mobile phone networks.
Gamboru loggers have suffered repeated Boko Haram attacks and abductions especially around Wulgo forest which was a known Boko Haram hideout.
In April Boko Haram militants gunned down 18 loggers on the edge of the forest, close to Gamboru.
Boko Haram has increasingly targeted loggers and farmers, accusing them of spying and passing information to the military and the local militia fighting them.
On Monday, the militants killed nine farmers and abducted 12 others when they opened fire as they worked on their fields outside Mammanti village, near the regional capital Maiduguri.
In August 2014 the group seized Gamboru, a trading hub, along with the neighbouring town of Ngala.
TROOPS AMBUSHED
Nigerian troops retook both towns in September 2015 with the help of Chadian forces following offensives lasting months.
Despite the recapture of the area which saw residents moving back, Boko Haram fighters continue to launch sporadic attacks, ambushing troops and vehicles, as well as attacking and abducting farmers.
News of the latest attack near Gamboru came few days after a Boko Haram splinter group killed at least 44 soldiers in attacks on three military bases in Metele, a remote village near the border with Niger.
On Thursday, seven employees of a French mineral and water drilling firm and a local official were also killed when gunmen attacked their site in southeastern Niger.
The Nigerian Senate said on Thursday it would visit government troops fighting the insurgents in the volatile region.
Full report at:
https://www.channelnewsasia.com/news/world/boko-haram-kidnaps-50-loggers-in-nigeria-10960410
--------
Europe
France imposes travel ban on 18 Saudis suspected in Khashoggi murder
22 November 2018
France announced on Thursday it had imposed sanctions, including travel bans, on 18 Saudi citizens linked to the murder of journalist Jamal Khashoggi and warned that more could follow depending on results of the current investigation.
"The murder of Mr Khashoggi is a crime of extreme gravity, which moreover goes against freedom of the press and the most fundamental rights," the French foreign ministry said in a statement.
"France asks that all light be shed on the manner in which such an act may have been committed. It expects from the Saudi authorities a transparent, detailed and exhaustive response."
Khashoggi was a prominent Saudi insider-turned-critic, who had been living in exile for a year when he was killed at the Saudi consulate in Istanbul on 2 October, in an operation that Turkish authorities and the CIA have said was ordered by the highest level of Saudi leadership, likely Crown Prince Mohammed bin Salman.
Saudi Arabia has maintained that its crown prince had no prior knowledge of Khashoggi's killing or its botched cover-up.
However, Turkish media reported on Thursday that the CIA had a recording of MBS - as the crown prince is often called - giving orders to "silence Jamal Khashoggi as soon as possible".
After offering numerous contradictory explanations, Riyadh said last week Khashoggi had been killed and his body dismembered when negotiations to persuade him to return to Saudi Arabia failed - a new narrative that has failed to convince many abroad.
The Saudi public prosecution has charged 11 out of 18 citizens detained in relation to Khashoggi's murder, recommending the death penalty for five of them - a practice that France reiterated its opposition to "in all circumstances".
Continuing the trend
The French decision comes days after fellow European Union state Germany similarly announced it was imposing a travel ban on the 18 Saudis.
The United States also sanctioned 17 Saudis last week, including suspected members of the alleged hit squad thought to have carried out the assassination and senior advisers to Mohammed bin Salman, including confidante Saoud al-Qahtani.
Nonetheless, US President Donald Trump has maintained his support for Saudi Arabia, arguing that its economic ties with the Gulf kingdom superseded the Khashoggi case.
Despite mounting pressure against Saudi authorities, France has yet to decide whether to halt its sales of weapons to the country.
"If decisions are to be taken in the future, they will be taken but based on facts that have been clarified and responsibilities that have been clearly established," a source in President Emmanuel Macron's Elysee office said in October. "We won't take any hasty decision on the future of our strategic relationship."
Saudi Arabia was the second-largest purchaser of French arms between 2008 and 2017, with deals totalling more than $12.5bn.
Earlier on Thursday, Denmark announced that it had suspended future approvals of weapons and military equipment exports to Saudi Arabia in response to Khashoggi's killing and the kingdom's role in the Yemeni conflict.
https://www.middleeasteye.net/news/france-imposes-travel-ban-18-saudis-suspected-khashoggi-murder-777056053
--------
Iranian, Italian diplomats discuss European payment mechanism in Rome
Nov 22, 2018
Iran and Italy have discussed the Special Vehicle Purpose (SPV), a payment mechanism being devised by Europe to facilitate trade with Iran in the face of US sanctions.
Foreign Minister Mohammad Javad Zarif met his Italian counterpart Moavero Milanesi in Rome Thursday to review measures taken by the Europeans to protect the 2015 nuclear deal after the US withdrawal.
"The US has violated not only the JCPOA, but also the UN Security Council Resolution 2231 and now it is urging others to do the same and threatens to punish the countries that respect it," Zarif said, referring to the nuclear deal and the UN resolution which endorsed it.
Zarif is in the Italian capital on an official visit to attend the Mediterranean Dialogues Conference (MED).
The Italian foreign minister said the JCPOA helps promote international peace and security, stressing that Rome will make all-out efforts to help protect it along with other EU countries.
Talks between Iran and the European side come a week after the US special envoy for Iran threatened European banks and firms with fresh sanctions if they apply the SPV.
The SPV is an alternative payment mechanism that can help companies trade with Iran without facing US penalties.
Despite Washington's withdrawal from the Joint Comprehensive Plan of Action (JCPOA) in May and re-imposition of sanctions on Tehran in November, the Europeans have reaffirmed their commitment to the JCPOA, as have Russia and China.
Iran has not left the landmark nuclear deal yet, but stressed that the remaining signatories to the agreement have to work to offset the negative impacts of the US pullout for Iran if they want Tehran to remain in it.
In their Thursday meeting, Zarif and Milanesi also pointed to historic, broad and growing ties between the two countries, highlighting their political will to develop and deepen ties in various political, economic, cultural and international fields.
The two sides also discussed efforts to promote economic and cultural cooperation, particularly in the fields of tourism and science, among others.
Regional issues, particularly the latest developments in Syria, the disastrous situation of Yemen, and Libya developments were among other topics discussed in the meeting.
Later in the day, Zarif attended a meeting with dozens of Iranian expatriates living in Rome.
Addressing the gathering, Zarif said the development of Iran is not possible without having interaction with the world, but "we shouldn't be dependent on others."
Full report at:
https://www.presstv.com/Detail/2018/11/22/580798/Iran-Italy-Europe-payment-mechanism-rome-SPV
--------
Denmark halts weapons exports to Saudi Arabia over Khashoggi, Yemen bombing
Nov 22, 2018
Denmark has stopped selling weapons to Riyadh in response to the assassination of prominent Saudi dissident journalist Jamal Khashoggi and the regime's bombing campaign in Yemen.
"With the continued deterioration of the already terrible situation in Yemen and the killing of Saudi journalist Jamal Khashoggi, we are now in a new situation," Denmark's Foreign Minister Anders Samuelsen said in a statement on Thursday.
Samuelsen said the decision was taken following a series of meetings with EU counterparts earlier this week.
"Denmark already has a very restrictive policy in this area, but I hope that the Danish decision will generate further momentum and induce more EU member states to support a tougher sets of EU rules on this," said Samuelsen.
The suspension also includes some dual-use technologies, a reference to materials that might have military applications.
The European Parliament (EP) said last week that the European Union's arms exports to Saudi Arabia are stoking the deadly war on Yemen, calling for sanctions on the countries that refuse to respect the EU's rules on weapons sales.
Calls for a suspension of arms sales to Riyadh and its allies have increased, especially after the killing of Khashoggi in Turkey last month, which is blamed on the highest levels of the kingdom.
Since Khashoggi's murder, the EU parliament has passed two resolutions urging limits on arms sales and strengthening checks. The calls are non-binding.
According to the EU's annual report on weapons exports, the bloc is the second largest arms supplier in the world after the United States, exporting over a quarter of all global arm.
According to figures compiled by leading online news outlet Middle East Eye, European countries have approved arms sales to Saudi Arabia and the UAE worth more than $86.7 billion since 2015.
Many governments have promised to stop arms exports to Saudi Arabia, but only Germany has suspended its sales until clear explanations are made about the murder. The UK, France and Spain have all signaled that they will continue business as usual.
Many governments have promised to stop arms exports to Saudi Arabia, but only Germany has suspended its sales until clear explanations are made about the murder. The UK, France and Spain have all signaled that they will continue business as usual.
French Foreign Minister Jean-Yves Le Drian said Monday that Paris would decide very soon to impose sanctions on individuals linked to the murder of Khashoggi at the Saudi consulate in Istanbul last month.
Saudi Arabia launched a devastating military campaign against Yemen in March 2015, with the aim of bringing the government of former president Abd Rabbuh Mansur Hadi back to power.
The aggression initially consisted of a bombing campaign, but was later coupled with a naval blockade and the deployment of ground forces to Yemen.
According to a new report by the Armed Conflict Location and Event Data Project (ACLED), a nonprofit conflict-research organization, the Saudi war has claimed the lives of around 56,000 Yemenis so far.
The Saudi-led war has also taken a heavy toll on the country's infrastructure, destroying hospitals, schools, and factories.
More than three and a half years into that war, Saudi Arabia has achieved neither of its objectives. This is while it had declared at the start of the invasion that the war would take no more than a couple of weeks.
Full report at:
https://www.presstv.com/Detail/2018/11/22/580773/Denmark-arms-Saudi-Arabia-Yemen-Khashoggi
--------
Britain's security service 'missed opportunities' to prevent Manchester bombing
November 22, 2018
Not only had the Manchester bomber, who killed 22 concertgoers in May 2017, previously travelled to his father's homeland to fight with Islamist factions but it has now been revealed that the authorities failed to pick up that Salman Abedi went through a rigorous application process to visit a known extremist in a British prison.
The cocktail of ingredients for a "wannabe" terror attacker was in place, a British security official conceded in a parliamentary report published on Thursday when questioned over the visit to a prisoner, named in media reports, as Abdal Raouf Andallah, who was jailed for recruiting fighters to travel to Syria.
"It is reasonable to suppose… that the nature of the visit was a sort of junior want-to-be extremist in the shape of [Abedi], visiting someone to whom he looped up," an MI5 officer said.
The prisoner was was only identified in the Intelligence and Security Committee (ISC) as Category A inmate but that means, it said, that Abedi would have been subject to a degree of securityscrunity before being permitted to make such a visit. Despite this and his travel record, Abedi was never recommended for the country counter-extremism programme, Prevent, much less subjected to surveillance as a potential security threat.
The ISC called for answers on why, despite visiting the prisoner on more than one occasion and thereby alerting himself to security services, "no follow-up action" was taken by either MI5 or police to investigate Abedi's intentions.
The damning report published by the parliamentary committee investigated the five terror attacks last year in Britain said MI5 had missed opportunities to prevent the attack on an Ariana Grande concert at the Manchester Arena venue killing 22 from an audience predominantly made-up of young girls and parents.
Abedi was a 22-year-old Briton, who was born to Libyan parents, had been known to MI5 since 2014 and was briefly investigated by the agency.
However, no travel monitoring or restrictions were placed upon Abedi meaning he could return undetected to Britain from Libya days before the bombing. It was in Libya that he was believed to have been taught how to make a bomb.
"There were a number of failures in the handling of Salman Abedi's case and while it is impossible to say whether these would have prevented the devastating attack, we have concluded that, as a result of the failings, potential opportunities to prevent it were missed," said Dominic Grieve, ISC chair.
He added: "The lessons from last year's tragic events must now result in real action."
MI5 failed to "join the dots" about the danger posed by Westminster attacker Khalid Masood, despite evidence that he had been in contact with known extremists on numerous occasions.
The report found that police had arrested the London Bridge Khuram Butt ringleader eight months before the attack took place, despite finding terror material which could have seen him prosecuted.
The ISC committee also criticised the handling by British authorities of a teenager who left a bomb on the London Underground in September 2017. The bomb, which only partially detonated at Parsons Green, did not cause any fatalities.
The Home Office failed to cooperate with an investigation into how Ahmed Hassan, the Parsons Green bomber, went undetected, the report said.
Iraqi refugee Hassan, who received a life sentence for the crime in March this year, arrived in Britain illegally in 2015.
Home Secretary Sajid Javid said his department would review and formally respond to the report in due course.
"Following the attacks, the government, police and MI5 undertook a series of rigorous reviews to ensure we are all doing everything we can to tackle the evolving threat of terrorism," Mr Javid said.
Britain's head of Counter Terrorism Policing said they would be looking "in detail" at the full report.
"There will be further scrutiny and examination into the circumstances of these attacks, including coronial inquests and other potential criminal proceedings, which may preclude us for the time being from commenting publicly to some specific points raised," said Assistant Commissioner Neil Basu.
Full report at:
https://www.thenational.ae/world/europe/britain-s-security-service-missed-opportunities-to-prevent-manchester-bombing-1.794646
--------
URL: https://www.newageislam.com/islamic-world-news/the-peace-treaty-signed-prophet/d/116963
New Age Islam, Islam Online, Islamic Website, African Muslim News, Arab World News, South Asia News, Indian Muslim News, World Muslim News, Women in Islam, Islamic Feminism, Arab Women, Women In Arab, Islamophobia in America, Muslim Women in West, Islam Women and Feminism