New Age Islam News Bureau
24 Aug 2017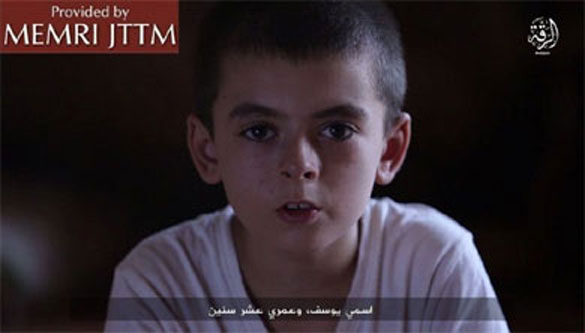 "Yusuf" is shown in the Islamic State video. The video was obtained by the Middle East Media Research Institute (MEMRI), which monitors jihadis. MEMRI could not confirm the boy's identify.
----
• The New Face of Islamic State Terror Is a 10-Year-Old American Boy
• France's Charlie Hebdo Publishes Provocative Islam Cartoon
• Jamiat Ulama-i- Hind Defiant: Triple Talaq Is Still Valid, Punish If You Wish To
• Pakistan Rejects Role of 'Scapegoat for U.S. Failures' in Afghanistan
North America
• The New Face of Islamic State Terror Is a 10-Year-Old American Boy
• Trump's Afghan Approach Favors Russia, Analysts Claim
• Survey: U.S. Muslims uneasy under Trump, feel targeted
• Toronto Islamic high school shuts down, sending more than 100 students scrambling
--------
Europe
• France's Charlie Hebdo Publishes Provocative Islam Cartoon
• Libertarian and Muslim Activist Planning Mosque in Keene
• Dutch probe Spanish van found with gas canisters after terror tip
• Spaniards rally to protest anti-Muslim hate crimes after terror attacks
--------
India
• Jamiat Ulama-i- Hind Defiant: Triple Talaq Is Still Valid, Punish If You Wish To
• Lucknow: Clerics Hail Order, Warn Against Interference In Islamic Law
• Hindu Man Embraces Islam with Family after 28 Years of His Inter-Religious Marriage In Madhya Pradesh
• IS supporter reveals 17 other Keralites still in Syria and Iraq
• Instant Talaq Verdict Illegal, Says West Bengal Minister a JUH President
• Mixed reaction from Muslim body over SC verdict
• Saudi job scheme favouring locals to hit Indians hard
• At flag meeting, Pakistan army told to stop cross-border terror, infiltration
--------
Pakistan
• Pakistan Rejects Role of 'Scapegoat for U.S. Failures' in Afghanistan
• Pakistan Has Given Maximum Sacrifices in War against Terrorism: Punjab CM
• SC asked to disallow use of Islamic terms to describe politicians
• Army won't act against Haqqani network, says Samiul Haq
• Respect Pakistan's sovereignty and legitimate security concerns, China tells US
• Two men tried to break into Altaf's house: MQM-London
• Saudi crown prince hails Pakistan's role in fight against terror
• PTI blasts govt's 'muted' reaction to Trump speech
--------
South Asia
• Jamaat-Shibir Men Join Awami League Seeking a Change in Fortunes
• Taliban Claims Responsibility of Helmand Attack Killing 5 Afghan Soldiers
• Thousands of Rohingya flee Myanmar for Bangladesh
• Southeast Asia's Newest Rebel Group Calls Bangladesh 'Great Neighbor'
• Pakistani army chief reacts at new US strategy for Afghanistan, South Asia
• Ghani signs decree for the implementation of compact regarding Afghan-US cooperation
• Ex-Afghan intelligence chief welcomes new US strategy and approach towards Pakistan
--------
Mideast
• Air Raids on Outskirts of Yemen Capital Kill 'At Least 30'
• Houthi Militias Accuse Yemen's Ousted President Saleh of Treason
• Coalition forces thwart infiltration attempt by Houthis along the Jazan borders
• Iranian opposition leaders will 'regret' trial, says Iran's court chief
• US demands inspection of Iran's nuclear sites
• Iran condemns Saudi attack on Yemen residential areas, calls for UN probe
--------
Southeast Asia
• Counter-Terrorism Chief Warns Of New IS Video From Marawi
• Largest Muslim rebel group in Philippines sounds alarm on IS
• Indonesia needs to realize its sharia economy potential
• Habib Rizieq's Lawyer Asks Police to Halt Probe Into Porn Scandal
--------
Arab World
• PM: Syria Sees Allies as Main Partners for Post-War Reconstruction
• Saudi Charge d'Affaires Reiterates Support for Rebuilding Iraq
• Iraqi government forces, allies liberate two districts in Tal Afar
• Bahrain forces attack mourning Shia inmates in Jaw prison
• US killing of Raqqah civilians' flagrant violation of international law: Syria
• Iraqi forces advance towards heart of IS-held bastion
• Egypt criticises US decision to cut aid as Kushner visits
• ISIL's Command Center Destroyed in Popular Uprising in Eastern Syria
• Syrian army, Hezbollah advance against Daesh in western Qalamoun
--------
Africa
• 14 Troops Killed In ISIL Attack in Southern Libya
• Britain Announces £9 Million Anti-Terror Aid for Libya
• 11 beheaded in Libya checkpoint attack
• Bomb attack kills 4 in northern Cameroon
• Suicide bombers kill two, injure 11 in northeast Nigeria
• Russian ambassador to Sudan found dead, no foul play suspected
Compiled by New Age Islam News Bureau
URL: https://www.newageislam.com/islamic-world-news/the-new-face-islamic-state/d/112318
--------
The New Face of Islamic State Terror Is a 10-Year-Old American Boy
By Rowan Scarborough
August 23, 2017
A new face of the Islamic State is a 10-year-old American boy the terror army claims came to Syria two years ago with his mother from the United States.
In a new ISIL propaganda video, the boy is identified as an American citizen named "Yusuf" and says he is the son of a U.S. service member who deployed to Iraq.
"This battle is not going to end in Raqqa or Mosul. It's going to end in your lands," the boy says.
He looks straight at the camera lens to deliver an anti-Donald Trump diatribe, speaking in what sounds like Americanized English. He is shown living among the residences and destruction of Raqqa, the central Syrian city that ISIL claimed as the capital of its Muslim caliphate.
Scenes depict him with a male friend, Abdallah, 7, horsing around at home, walking among the rubble and learning how to fire a sniper rifle.
The video was obtained by the Middle East Media Research Institute (MEMRI), which monitors jihadis. MEMRI could not confirm the boy's identify.
The U.S.-led coalition is bombing his adopted home, he says "because the Muslims living in it have learned the meaning of jihad and have established the rule of Allah…"
"We are not scared of their planes, because we know they don't fly except by the rule of Allah."
"My message to Trump, the puppet of the Jews, Allah has promised us victory and promised you defeat. This battle is not going to end in Raqqa or Mosul, it's going to end in your lands. By the will of Allah, we will have victory, so get ready for the fighting has just begun."
The government estimates that about 250 U.S. residences have traveled to Syria to join ISIL, an act that constitutes a terrorism crime. Others have been arrested as they planned to leave America.
The ongoing battle for Raqqa––led by Syrian Arabs and Kurds on the ground who are guided by American special forces and aided by airstrikes–––has seen the coalition conquer about 40 percent of the city.
http://www.washingtontimes.com/news/2017/aug/23/isis-new-face-propaganda-10-year-old-american-boy/
--------
France's Charlie Hebdo Publishes Provocative Islam Cartoon
August 23, 2017
The latest edition of the magazine, which was targeted by Islamist gunmen in 2015, shows two people lying in a pool of blood having been run over by a van next to the words 'Islam, eternal religion of peace'
French satirical magazine Charlie Hebdo published Wednesday a provocative front-page cartoon about Islam and the recent terror attacks in Spain, leading to criticism that it risked fanning Islamophobia.
The latest edition of the magazine, which was targeted by Islamist gunmen in 2015, shows two people lying in a pool of blood having been run over by a van next to the words "Islam, eternal religion of peace."
A dozen extremists of Moroccan origin are believed to have plotted last week's attacks in Barcelona and Cambrils, where 15 people were killed and over 100 injured after a van and car were driven into crowds.
The attackers are thought by investigators to have been radicalised by an extremist Islamic preacher who died in a house where the group was trying to produce explosives.
Critics of Charlie Hebdo saw its front-page as tarring an entire religion, practised by around 1.5 billion people worldwide, by implying it was inherently violent.
As the cartoon became one of the top trending topics on Twitter in France, prominent Socialist MP and former minister Stephane Le Foll called it "extremely dangerous".
"When you're a journalist you need to exercise restraint because making these associations can be used by other people," he said.
Charlie Hebdo editor Laurent "Riss" Sourisseau explained the choice in an editorial, saying that experts and policy-makers were avoiding hard questions out of concern for moderate law-abiding Muslims.
"The debates and questions about the role of religion, and in particular the role of Islam, in these attacks have completely disappeared," he wrote.
Charlie Hebdo lampoons all religions and religious figures, but its depictions of the Prophet Mohammed (Pbuh), an act considered sinful under Islam, led to outrage, death threats and ultimately violence.
Two gunmen who claimed allegiance to al-Qaeda killed 12 people in an attack on its offices in January 2015 which left many of its star cartoonists dead.
Hundreds of thousands of people marched through the streets of France afterwards, rallying behind the slogan "Je Suis Charlie" ("I am Charlie") in defence of the right to free speech.
Riss said in the wake of the violence that the magazine would stop depicting the prophet, leading one top journalist to quit and accuse its new management of going soft on Islamist extremism.
http://www.dhakatribune.com/world/europe/2017/08/23/charlie-hebdo-publishes-provocative-islam-cartoon/
--------
Jamiat Ulama-i- Hind Defiant: Triple Talaq Is Still Valid, Punish If You Wish To
by Abantika Ghosh
August 24, 2017
Striking a defiant note a day after the Supreme Court set aside the practice of instant triple talaq or talaq-e-biddat, Jamiat Ulama-i Hind general secretary Maulana Mahmood Madani Wednesday said that regardless of the court ruling, the practice of talaq, including instant triple talaq, will continue in the country and will be considered valid. "If you want to punish the person for it, you can do so but the divorce will be recognised," Madani told reporters. The Jamiat Ulama-i Hind was the respondent in a petition called the Muslim Women's Quest for Equality which the court took suo motu cognizance of.
The Jamiat Ulama-i Hind made no bones of the fact that it viewed the court order as an interference in the fundamental right of practising one's religion. "We are viewing this very seriously. Not only do we not agree with the judgment, we think this is a direct assault on the fundamental right to practice religion. The repeated reference to nikaah, halala, polygamy etc have raised apprehensions that there may be more such interference on the anvil," Madani said.
"I want to state in unequivocal terms that talaq will continue to happen even though it is the worst sin in Islam, even instantaneous talaq will happen. If you want to punish the person, you can but the divorce will be deemed to have happened," Madani said. He cited the example of owning a revolver licence. "Delhi Police has given it to me for self-defence, not to kill somebody," he said, trying to explain why Islam incorporated the provision of talaq while deeming it halal.
He said the Jamiat had not yet decided on the next course of action. In a statement, the Jamiat said: "JuH appeals to all Muslims that they do not give triple talaq without any unavoidable circumstances because talaq is not the desirable thing in the eyes of the Shariat. Especially Muslims must avoid the practice of instant triple talaq so that others cannot find ways to interfere in our religious matters."
"In view of the apprehensions arising… Jamiat Ulama-i Hind seeks to make it clear that we will never compromise on religious rights guaranteed in the Constitution as fundamental ones. Any attempt to trample upon that should not be condoned. We will continue to fight against such an attempt at every level," it said.
http://indianexpress.com/article/india/jamiat-defiant-triple-talaq-still-valid-punish-if-you-wish-to-4810666/
--------
Pakistan Rejects Role of 'Scapegoat for U.S. Failures' in Afghanistan
Aug. 23, 2017
KARACHI, Pakistan (Reuters) - Pakistan has rejected U.S. criticism of its efforts to fight terrorism, saying it should not be made a scapegoat for the failure of the U.S. military to win the war in Afghanistan.
U.S. President Donald Trump unveiled his policy for Afghanistan on Monday, stepping up the military campaign against Taliban insurgents and singling out Pakistan for harboring them.
U.S. officials later warned that aid to Pakistan might be cut and Washington might downgrade nuclear-armed Pakistan's status as a major non-NATO ally, in order to pressure it to do more to help bring about an end to America's longest-running war.
Pakistan's powerful military chief, General Qamar Javed Bajwa, met U.S. Ambassador David Hale on Wednesday and told him Pakistan was actively working for peace in Afghanistan.
"We have done a lot ... and shall keep on doing our best, not to appease anyone but in line with our national interest and national policy," Bajwa was quoted in an army press statement as telling Hale.
Pakistani Foreign Minister Khawaja Asif added his voice to a chorus of indignation over the U.S. criticism, reiterating Pakistan's denial that it harbors militants.
"They should not make Pakistan a scapegoat for their failures in Afghanistan," Asif said in an interview with Geo TV late on Tuesday.
"AMERICA IS THE ENEMY"
A group of influential Pakistani clerics including Sami-ul Haq, who runs a Islamic seminary where many senior Afghan Taliban studied, angrily condemned the United States.
"America is the enemy of the Muslim ummah (community)," Haq told a press briefing along with other clerics who preach a jihadist doctrine.
"The government of Pakistan should quit the alliance for war against so-called terrorism," Haq added. "The heavens will not fall if America gets angry with us."
Pakistan has for years been battling homegrown Islamist militants who are seeking to overthrow the state with bomb attacks and assassinations.
But critics say the Pakistani military nurtures other Islamist factions, including the Afghan Taliban, which are seen as useful to Pakistan's core confrontation with old rival India.
Asif said Pakistan had suffered great losses from Islamist militancy - the government estimates there have been 70,000 casualties in militant attacks, including 17,000 Pakistanis killed - since Pakistan joined the U.S. "war on terrorism" after the Sept. 11, 2001, attacks on the United States.
The relationship between the two countries has endured periods of extreme strain during the past decade, especially after al Qaeda leader Osama bin Laden was found and killed by U.S. special forces in Pakistan in a 2011 raid.
Last year, a U.S. drone strike killed then-Afghan Taliban leader Mullah Akhtar Mansour in southwestern Pakistan, an attack Islamabad protested as a violation of its sovereignty. Pakistan has denied knowledge that either bin Laden or Mansour were in the country.
https://www.usnews.com/news/top-news/articles/2017-08-23/pakistan-says-us-must-not-make-it-a-scapegoat-for-afghan-failures
--------
North America
Trump's Afghan approach favors Russia, analysts claim
23 August 2017
Russian analysts have said that U.S. President Donald Trump's new strategy on Afghanistan favors Moscow.
Trump announced on Monday the U.S. would not commit to any timetable to end its military presence in Afghanistan where it has been bogged down for the better part of two decades.
The U.S. has about 8,400 troops in the country, and Trump's comments made it clear there would be no indications about future modifications to the American forces.
Alexander Khramchikhin, director of the Moscow-based Institute for Political and Military Analysis, told Anadolu Agency this week that the longer the U.S. remains in Afghanistan, the better it is for Russia.
"Because if they pull out, the group they retain will become more intense. I mean al-Qaeda, ISIS [Daesh], Taliban and we, Russia, will have to deal with them. Now, the U.S. exempts us from this duty," Khramchikhin said.
Yury Barmin, a MENA expert at the Russian International Affairs Council, said the U.S. would contribute to the stability of Afghanistan, where Moscow does not have a military presence.
"The U.S. army distracts the militants, who are especially trying to leak into Central Asia. That is why relative stability in the region favors Russia," Barmin said.
However, Barmin added if the U.S. remained in the area in the long-term, then there would be the risk of new clashes.
"For Russia, the Taliban is not the biggest threat in Afghanistan. The progression of Daesh in the region is the biggest problem for Moscow and it is not clear yet whether the U.S. will prevent this problem," he said.
Sharbatullo Sodikov, a researcher at the Moscow State Institute of International Relations, said: "I understand why Trump has made this decision. From Afghanistan, the United States can control a very extensive territory."
Sodikov said Washington did not want to lose such a "convenient jumping-off place" like Afghanistan.
"Well, if you remember, the U.S. was involved in the creation of some groups that have now been declared as terrorist," he added.
The U.S. invaded Afghanistan in the aftermath of the Sept. 11, 2001 terror attacks, ousting the Taliban after it gave sanctuary to now deceased al-Qaeda founder Osama bin Laden.
However, recent years have seen the Taliban and other armed groups grow in strength as the U.S.-backed central government in Kabul struggles to assert its authority across the country it nominally controls.
Trump said the U.S. would continue its cooperation with Kabul "as long as we see determination and progress", but warned American support "is not a blank check".
http://www.worldbulletin.net/america-canada/193265/us-officials-reject-feto-linked-schools-in-tennessee
--------
Survey: U.S. Muslims uneasy under Trump, feel targeted
Aug. 23, 2017
After more than a decade of work assisting impoverished women and children, a local humanitarian organization recently was targeted with hate mail.
The letter was sent to executives of Zaman International and filled with anti-Muslim rhetoric, even though the organization is not Islamic, said Najah Bazzy, founder/CEO of the Inkster-based organization.
It was not the first local incident of discrimination since President Donald Trump has been in office, added Bazzy, who is also an activist in Metro Detroit's Muslim community, one of the largest in the nation.
She has spoken with many individuals who have reported vandalism to Muslim-owned businesses, road-rage incidents and harassment of schoolchildren, including young boys who have been called terrorists and young girls whose hijabs were pulled off their heads.
"I am saddened but also a little scared," Bazzy said. "The climate of the country has unleashed some very deep-rooted racism."
Trump's tenure has been an apprehensive time for Muslim Americans, with many feeling targeted and dissatisfied with the direction of the country, according to key findings of a recent survey by the Pew Research Center, a nonpartisan think tank based in Washington, D.C.
Seventy-five percent said there is a lot of discrimination against Muslims, 62 percent said Americans do not see Islam as part of mainstream society and 68 percent indicated Trump worries them.
Among the other findings: At least half say it is getting harder to be a Muslim in America, that media coverage is unfair, and most are very concerned about extremism in the name of Islam.
"At the same time, however, Muslim Americans express a persistent streak of optimism and positive feelings," according to the report. "Overwhelmingly, they say they are proud to be Americans, believe that hard work generally brings success in this country and are satisfied with the way things are going in their own lives – even if they are not satisfied with the direction of the country as a whole."
Nasser Beydoun, chairman of the Arab American Civil Rights League in Dearborn, said the survey paints an accurate picture of Muslim in America today: the concerns they have and the discrimination they face as the division among Americans appears to be widening.
"As long as Trump is in office," Beydoun said, "Muslims and all other ethnic minorities are going to face discrimination because he is actively supporting racism and white privilege. It takes us back to the Jim Crow days; he is pushing us to a bygone era we have been working 40 years to overcome. We were on the path to addressing these issues in a way where we were becoming less racist, and more accepting. He has turned the clock back."
The report is the Pew Research Center's third comprehensive survey of U.S. Muslims. It included 1,001 Muslim adults.
It comes after one of Trump's first policy decisions as president was to enact a controversial travel ban that includes six Muslim-majority countries.
Full report at:
http://www.detroitnews.com/story/news/local/michigan/2017/08/23/american-muslims-trump/104875296/
--------
Toronto Islamic high school shuts down, sending more than 100 students scrambling
Aug 23, 2017
Nearly 150 students and their parents are scrambling after a beloved Toronto Islamic school suddenly shuttered its Grade 9 to 12 offerings — only weeks before the start of the school year.
On Monday, the Islamic Foundation School (IFS) announced it was closing down its high school, saying it was no longer able to keep it operating due to low enrolment as well as administrative and financial issues.
"We hope and pray that you will be able to find a good school for your children to attend," reads a statement tweeted by the school Monday.
But while the partial closure was officially announced this week, the union representing the school's teachers alleges the move is in fact a reprisal for its teachers unionizing. It claims the school began contacting parents on Saturday telling them of the imminent closure, saying it was the result of teachers joining a union.
'Disturbing action,' union claims
In May 2017, the school's 35 teachers voted to join the United Food and Commercial Workers (UFCW) Union, which also represents teachers at two other Islamic schools in Ontario.
The teachers' demands, according to the union, include better wages, improved benefits, job security, better health and safety, and respect at work.
"The employer took this disturbing action with no notice to the Union and only two weeks' notice to parents," the UFCW said in a statement Tuesday. Shutting down the high school means approximately 10 teachers who would have been getting set to head back to the classroom will now find themselves without jobs, the union said.
School management says it simply isn't feasible for it to meet the union's demands, adding that doing so will mean having to hike tuition fees. And with enrolment in the high school classes already lower than normal this year, higher tuition will mean the school will be left having to pay teachers teaching classes that are largely empty.
The Islamic Foundation will lose roughly $135,000 revenue per year because of a lack of students in grade nine, explained Mohammed Anwar, the foundation's president.
"With the loss of revenue, the expenses remains the same," he said.
Anwar also said allegations of the high school being closed due to union negotiations are "not true," saying negotiations are continuing — with the next date scheduled for Sept. 8.
Parents left mulling options
Shahzad Mustafa sent three of his daughters to IFS for elementary school.
"Teachers are often working for a Muslim school out of a sense of wanting to contribute back to their community," Mustafa told CBC Toronto. "So they're often very dedicated and loyal, so they'll often take a very significant pay cut compared to what they get in the public system, for the sake of really working for the community."
Mustafa says he chose the school largely because of its strong social justice stance, saying that it not only provided his children with strong academic grounding within a spiritual environment, but that they also had frequent opportunities to get involved in local or global charity projects through IFS.
Sami Furmli has three children who have graduated from the school and a fourth who was about to enter Grade 12.
He says he's now hoping to figure out an alternative, but that with September around the corner, he may have to turn to a public school.
"It's very unfortunate. It shouldn't be. The commmunity should get together to find a solution for this problem because it is very important for our children to learn their values."
News of the possible closure also saw panicked parents take to social media to voice their concerns over the weekend.
"My eldest daughter, Sahar, attended the elementary school and was set to start high school in September. Two of my nieces are also students. They are all devastated," one parent wrote on Facebook. "Shutting down the high school two weeks before classes is irresponsible and unjust to the teachers, students and parents."
Need for change in leadership, say some
CBC Toronto also spoke with a former teacher at the school who says trying to communicate with the board, who she likened to an old boys' club, was a constant challenge.
"This is Canada, this is not like back home," she said. "Whatever they think they want to do, they do ... They're just running away from their responsibility."
Closing the school, she says, is unfair to both teachers and students. "They shouldn't suffer. Not like this."
The union says it will be pursuing "every legal action possible to prevent the closure of the school" and that teachers remain ready to meet the employer at the bargaining table to negotiate a fair collective agreement.
"To date, the employer has stated it is too busy to bargain, restricted its availability and cancelled future bargaining dates," the union said. School management claims it has met with the union three times in the last month.
For Mustafa, the issue comes down to the need for leadership within Muslim institutions to better reflect the growing community.
"This is something that I'm not shy about saying… Our institutions are often being governed by the pioneers of our community, the elders, basically those that are the first-generation Canadians who really came to this country without any infrastructure."
But while he credits those forerunners for having created institutions like the Islamic Foundation from the ground up, he worries the next generation isn't being represented by the so-called old guard.
"There has been very little in my opinion in terms of passing on some of the powers and leadership to the newer generation, to women, and to be able to get more diversity," he said.
Full report at:
http://www.cbc.ca/news/canada/toronto/islamic-school-closes-1.4258334
--------
Europe
Libertarian and Muslim Activist Planning Mosque in Keene
By BRITTA GREENE
August 24, 2017
Plans are in the works for a new mosque in Keene. It's a project of William Coley, a Muslim activist and former Libertarian vice-presidential candidate. He's currently based in Tennessee, but plans to move to Keene and open the mosque this fall.
He says the idea came out of conversations he's had with Ian Freeman, a fellow libertarian and a Keene resident. Freeman founded an organization called the Shire Free Church, which is donating the property for the mosque.
Coley says it will be a space not only for Muslims, but also for those of other faiths that need a place to worship. "There's more than one small religious group here in town – they just don't have the funding to have their own building," he said. "So we want to give back by allowing those groups to come and use our worship space."
http://nhpr.org/post/libertarian-and-muslim-activist-planning-mosque-keene#stream/0
--------
Dutch probe Spanish van found with gas canisters after terror tip
August 24, 2017
Dutch police are investigating possible terror links after arresting a Spaniard driving a van containing gas canisters close to a rock concert which was abruptly cancelled over fears of an attack.
The man "was arrested and taken to the police station," Rotterdam police said in a Tweet, following a tip-off from Spanish authorities.
The arrest came little under a week after twin car-bomb attacks in Spain killed 15 people, in attacks claimed by the Islamic State group.
Dutch bomb squad officials "were investigating the van" which was found just two streets away from the Maassilo concert hall where an American rock band was due to play, they added.
Earlier in the evening Dutch authorities decided to cancel the concert by Californian group Allah-Las in Europe's largest port city after a tip-off from Spanish police around 5:30pm (1530 GMT) about a possible terror attack.
"In the early evening I was warned by telephone that we had received a threat which had implications for an American concert at the Maassilo in Rotterdam," the city's mayor, Ahmed Aboutaleb, told a hastily-called press conference.
"This signal came from the Spanish police to the Dutch police," he added.
But Aboutaleb, the country's first Muslim and immigrant-born mayor who has spoken out against Islamic terror groups, added an investigation was under way and "we cannot say now if the van with the canisters was linked to the threat".
The four-piece band, from Los Angeles, had been escorted from the concert hall by police wearing bullet-proof vests.
In a statement sent to AFP, they said they were "unharmed and are very grateful to the Rotterdam police and other responsible agencies for detecting the potential threat before anyone was hurt."
Rotterdam police said that afterwards an officer "stationed close to the venue decided to stop a van that he saw driving at around 21:30 hrs".
Full report at:
http://www.thejakartapost.com/news/2017/08/24/dutch-probe-spanish-van-found-with-gas-canisters-after-terror-tip.html
--------
Spaniards rally to protest anti-Muslim hate crimes after terror attacks
Aug 24, 2017
Two hundred Muslims in Spain have held a protest rally against a rise in anti-Muslim hate crimes in the wake of a pair of recent terrorist attacks that killed 14 people in the country.
The demonstration was staged in the city of Granada, in southern Spain, on Wednesday.
Members of the far-right group Hogar Social had purportedly attacked the city's main mosque with flares and smoke bombs on Saturday. Vandals have defaced mosques with racist and anti-Islamic graffiti in some other cities in Spain, including Seville.
The attack on the mosque came after 14 people lost their lives and some 120 others sustained injuries in vehicular terrorist attacks in Barcelona and the seaside resort of Cambrils on August 17 and 18, respectively. It was later revealed that one of the terrorists had also stabbed to death the driver of the car he had stolen to carry out his deadly mission.
Both terror attacks, considered the deadliest in Spain in more than a decade, were later claimed by the Takfiri Daesh terrorist group.
The Muslims who marched on Wednesday denounced the acts of terror in Barcelona and Cambrils. They carried banners with slogans such as "I am Muslim and I want to live in peace" and "We also are victims" as they convened outside Granada city hall.
"It is very important for us to affirm our values as Muslims, which are the same as those of all other human beings on this planet," said Nizar Liemlahi, the director the Dar Loughat Muslim cultural association, one of the co-organizers of the Wednesday rally.
Some 1,000 people from Barcelona's Muslim community had earlier denounced the terrorist attacks in a rally in the city on Monday.
Terror alert in the Netherlands
Meanwhile, authorities in the Netherlands are on high alert for potential terrorism and have canceled an American rock band due to security concerns in the city of Rotterdam.
A Dutch judicial source, speaking on the condition of anonymity, said Spanish police had tipped the authorities in the Netherlands of potential danger in the area where the concert was due to be held, saying, however, that the cancellation had no direct relation to the pair of terror attacks in Spain.
Full report at:
http://www.presstv.ir/Detail/2017/08/24/532740/Spain-Granada-Muslim-rally-hate-crimes-terrorist-attacks
--------
India
Lucknow: Clerics hail order, warn against interference in Islamic law
Aug 23, 2017
Members of Shia and Sunni sects of the Muslim community joined hands on Tuesday to celebrate the Supreme Court verdict on instant riple talaq.
The clerics also hailed the judgment but added that any more interference by the government in Islamic law (Shariah) would not be tolerated.
"It is a good move but it seems to be the beginning of interference in Shariah. No political interference in Islamic law will be tolerated," said Sunni cleric and member of the All-India Muslim Personal Law Board (AIMPLB) Maulana Khalid Rasheed Farangi Mahali.
"What would happen if one gives talaq in six months' time? What would be the quantum of punishment for those who give talaq in this vacuum period?" he asked.
Shia cleric and secretary of the All-India Shia Sunni Ulama Front Maulana Habib Haider said AIMPLB should have banned the triple talaq earlier to save many families.
"Triple talaq is nowhere mentioned in the holy book. I am happy with Supreme Court judgment," he said.
http://www.hindustantimes.com/lucknow/lucknow-clerics-hail-order-warn-against-interference-in-islamic-law/story-fK6nvwTnQtNLHRWMK1yDjO.html
--------
Hindu Man Embraces Islam with Family after 28 Years of His Inter-Religious Marriage In Madhya Pradesh
August 24, 2017
TWENTY-EIGHT years after his inter-religious marriage, a Hindu man in Chhatarpur district of Madhya Pradesh has embraced Islam with his wife and three children, alleging that his immediate family and other relatives never accepted them and subjected them to insults and neglect. Vinod Khare, a chaat vendor in Rajnagar town, had married Shah Bano according to Hindu rituals. His wife took the name Bina and the couple had three children. The couple and their eldest child, Ekta, told local reporters that they could not bear the insults and decided to embrace Islam.
In an affidavit made a few days ago, Vinod changed his name to Ghulam Mohammed Khan; Bina adopted her old name Shah Bano while Ekta, Aman and Suraj respectively took the names Fatima, Aman Mohammed and Mohammed Aftab.
Full report at:
http://indianexpress.com/article/india/hindu-man-embraces-islam-with-family-in-madhya-pradesh-4810807/
--------
IS supporter reveals 17 other Keralites still in Syria and Iraq
Aug 24, 2017
NEW DELHI: Shajahan VK, an Islamic State (IS) sympathiser from Kerala who was deported from Turkey in July after a failed attempt to enter Syria, has revealed that 17 fellow Keralites have joined the terror group in Syria/Iraq since January 2016.
Shajahan and his friends Midlaj, Rashid and Abdul Razzak, however, had to return after Turkish authorities intercepted them at the Syrian border. Arrested by Delhi police upon deportation, Shajahan is now in judicial custody.
The large number of Keralites living in Iraq/Syria, combined with the 21 Malayalis who had migrated to IS territory in Afghanistan last year and other IS sympathisers from the state deported from the Gulf since 2016, hint at the strong influence IS wields over sections of Kerala's youth. In fact, fresh estimates by the agencies say 70-80 Indian IS recruits may be in Iraq/Syria/Afghanistan, with the majority from Kerala.
The government maintains IS has influenced very few youth in India. It had informed the Lok Sabha on August 2 that NIA and various state police had booked 54 persons till date for links with IS.
According to the interrogation details of Shajahan accessed by TOI, the Kannur-born Shajahan was an active member of Kerala's hardline Islamic outfits — Popular Front of India, NDF and SDPI. He came in contact with Safvan, arrested by NIA last year, during 2007-08. He also became friends with Manaf, Sameer and Shajil while working with PFI, and was directed by Sameer, who reached Syria with his family in January 2016, to go on hijra (religious journey) to IS territory along with Shajil and Manaf.
Shajahan went to Malaysia in 2016 to enquire about getting an Iranian or Turkish visa for onward journey to Syria. However, he returned to Chennai and was asked by Manaf, who also reached Syria later via Dubai, to go to Malaysia again. Shajahan and Shajil took two other Keralites, Rashid and Midlaj, along. They went to Turkey via Iran. Shajil and Shajahan stayed in a flat in Istanbul, but Rashid and Midlaj were apprehended in a police raid at a separate flat and deported.
Though Shajil and Shajahan later reached the Syrian border with fake Syrian refugee IDs, Shajahan and his family did not clear the border check as an Indian passport of his wife was found. Shajil, however, entered Syria.
Back in Chennai, Shajahan got a fake passport and travelled to Thailand, en route to Syria, on March 31, 2017. He was joined by two other Keralites, Abdul Khayum and Abdul Razak.
Later in Turkey, Shajahan, Khayum, Razak and others were taken to Antakya on the Syrian border but returned due to tight security. On the way back, some robbers fired at them and Shajahan and Razak hid in a place. Khayum managed to reach Syria.
Full report at:
http://timesofindia.indiatimes.com/india/is-supporter-reveals-17-other-keralites-still-in-syria-and-iraq/articleshow/60200456.cms
--------
Instant Talaq Verdict Illegal, Says West Bengal Minister a JUH President
August 24, 2017
WEST BENGAL minister Siddiqullah Chowdhury, who is also Jamiat Ulema-i-Hind president, on Wednesday called the Supreme Court verdict on instant triple talaq "unconstitutional" and said the apex court and the Central government have "no right to interfere in "Muslim personal law".
"The Supreme Court verdict is unconstitutional and we will not abide by it. Our central committee will meet in Delhi today to decide our future course of action on this," Chowdhury told the media in Kolkata a day after the court struck down the practice of instant triple talaq.
While Chief Minister and Trinamool Congress chief Mamata Banerjee has not commented on the issue yet, Chowdhury, Minister of State for Mass Education Extension and Library Services (Independent Charge) and Parliamentary Affairs in the Banerjee Cabinet, alleged that Supreme Court judges passed the order without knowledge of Islam and its traditions and practices.
"The judges said that there is no mention of talaq in Quran. This is not true. We find mention of talaq in one Surah of the Holy Quran. The judges should have consulted expert members of our community before passing the judgment," he said.
Triple talaq, Chowdhury said, is "mentioned in Quran, and we will abide by it".
But, he added, "We will educate members of our community not to misuse the law," he said. If needed, the TMC leader added, his organisation will hold meetings and rallies in Kolkata to create mass awareness on the issue.
Chowdhury also criticised members of the Muslim community who spoke in favour of the court verdict: "People like (Bangladeshi writer) Taslima Nasreen and others have gave their views on this and spoken in favour of the verdict. Those are their personal opinion (but) they are not well educated about Islam and its rituals. A political party was also seen celebrating the verdict as if they have won something. This is not right."
The state BJP, meanwhile, demanded immediate removal of Chowdhury from his post for terming the Supreme Court verdict as unconstitutional.
Full report at:
http://indianexpress.com/article/india/west-benagl-instant-talaq-verdict-illegal-says-minister-4810986/
--------
Mixed reaction from Muslim body over SC verdict
Aug 24, 2017
Ranchi: The Edara-e-Sharia, one of the highest socio-religious bodies of the Muslim community in Jharkhand and Bihar, on Wednesday appealed to community members to exercise restraint in using the word talaq and directed men to not use the word thrice in one go. The body also appealed to the Supreme Court to reconsider its verdict in the light of the sharia law and prevalence of personal laws in the country.
Maulana Kutubuddin Rizwi, state convenor of Edara-e-Sharia and joint secretary of International Ulema council of India, said article 25 of the Constitution gave an individual the right to freedom of religion and it is under the same right that the Muslims are entitled to follow their sharia law. "There are three types of talaq. The third type deals with triple talaq and is permissible under the sharia law. However, it is considered bad in the eyes of Allah and should be abstained," Rizwi said, adding that such use of triple talaq is dealt at the societal level and the culprits are punished as well.
The meeting was attended by religious leaders belonging to the community and included women as well. While the state body has decided to come up with a proper response on September 30 after consulting legal experts over the 395-page court order and subsequently filing a detailed report, it appealed to its community members to refrain from using the word thrice. "Men should take care that they don't do or say anything to spoil the environment at home. Women should ensure that they do not take any step against the set social norms to avoid any case of talaq," Rizwi said.
Full report at:
http://timesofindia.indiatimes.com/city/ranchi/mixed-reaction-from-muslim-body-over-sc-verdict/articleshow/60198427.cms
--------
Saudi job scheme favouring locals to hit Indians hard
Aug 24, 2017
MUMBAI: Saudi Arabia's revised Nitaqat (or Saudisation) scheme does not bode well for Indian migrants. From September 2017, only a handful of organisations with high grades — based on number of Saudi nationals employed by them and other criteria — will be able to apply for new block visas for migrant employees.
In 2016, there were nearly 25 lakh Indians working in Saudi Arabia, according to a reply in Lok Sabha. However, migration numbers are declining.
There were only 1.65 lakh emigration clearances for Saudi Arabia in 2016, a decline by 46% from 2015. Top origin states in 2016 were Uttar Pradesh, West Bengal and Bihar with Kerala being a distant fourth. The revised Nitaqat scheme, aimed at increasing employment opportunities for Saudi nationals, will cover private companies with six or more employees (as opposed to current criteria of 10 or more).
Only organisations in the 'Platinum' and 'High Green' categories will be eligible for new block visas.
Construction and hospitality, sectors which have a predominantly blue collar Indian workforce, are unlikely to gain from such rules. "Others can obtain visas for expat employees only through a transfer of sponsorship. In other words, these organisations will be limited to hiring expat workers who are already in Saudi Arabia and have a work visa with another employer," said an immigration alert from EY, a global professional services entity. "A majority of Indian workers are blue collar workers," said an immigration expert.
"Organisations employing them — such as construction contractors or restaurants — are unlikely to fall in platinum and high green category.
The added complexity is that workers already employed in companies falling in low categories cannot be transferred from one employer to another. It's currently unclear how employment needs of these sectors will be met in the future."
To determine an organisation's Nitaqat category, parameters used include: size and business activity; percentage of Saudi employees and average salary of such employees; retention rate of Saudi employees and percentage of Saudi national employees with high salaries. Highest weightage in computation is given to number of Saudis (ie: locals) employed by an organisation.
Saudi Gazette, an English newspaper, citing the Saudi labour force survey results, wrote the number of non-Saudi employed persons for the first quarter of 2017 reached 108.5 lakh, nearly 78% of the total employed, which is 139 lakh. This report added that majority of foreign workforce comprised of Indians (30 lakh), Pakistanis (25 lakh) and Egyptians (22 lakh).
Full report at:
http://timesofindia.indiatimes.com/india/saudi-job-scheme-favouring-locals-to-hit-indians-hard/articleshow/60200274.cms
--------
At flag meeting, Pakistan army told to stop cross-border terror, infiltration
Rajat Pandit
Aug 23, 2017
NEW DELHI: The Indian Army on Wednesday once again told the Pakistan Army to desist from actively abetting cross-border terrorism and infiltration, even as the two sides agreed to exercise restraint along the 778-km Line of Control and keep channels of communication open between local commanders.
This came at a battalion commander-level flag meeting at Chakan-Da-Bagh in the Poonch Sector at about 11 am on Wednesday in the backdrop of numerous ceasefire violations and civilian casualties on both sides over the last several months.
"In the 50-minute meeting held in a cordial atmosphere, the Indian delegation highlighted the Pak Army's abetment and support to cross-border terrorism, sniping actions on the LoC and deliberate targeting of civilian population during cease fire violations," said an officer.
"Both sides agreed on the importance of exercising restraint as well as on the necessity to institute mechanisms to ensure durable peace and tranquility along the LoC. The resumption of trade and transit through Chakan-Da-Bagh was also discussed during the flag meeting," he added.
The flag meeting comes after the Indian DGMO last month conveyed the stern message to his Pakistani counterpart that his forces would continue with retaliatory punitive fire assaults against all Pak Army's misadventures to either target Indian troops or provide covering fire to infiltrating terrorists.
"While we are keen on maintaining peace along the LoC, the Pak Army has to show reciprocity. The Indian Army reserves the right to appropriately hit back at all ceasefire violations," said a senior officer.
Full report at:
http://timesofindia.indiatimes.com/india/at-flag-meeting-pakistan-army-told-to-stop-cross-border-terror-infiltration/articleshow/60194376.cms
--------
Pakistan
Pakistan Has Given Maximum Sacrifices in War against Terrorism: Punjab CM
August 24, 2017
Lahore
Ambassador of France to Pakistan Mrs. Martine Dorance held a farewell meeting with Punjab Chief Minister Muhammad Shehbaz Sharif. During the meeting, different matters of mutual interest came under discussion including promotion of bilateral relations and enhancement of cooperation in different sectors. The Chief Minister paid tributes to the French Ambassador for rendering invaluable services for the promotion of mutual cooperation between Pakistan and France and said that her services for the enhancement of Pak-France relations are praiseworthy. You have worked really hard for enhancing bilateral economic cooperation and my good wishes will be with you in future as well, he added.
He said that Pakistan and France enjoy cordial relations; however, there is a need to further promote these relations in economic, trade and other sectors on permanent basis. He said that Punjab has every conducive atmosphere for investment and French investors can tremendously benefit from the marvelous opportunities of investment available in the Punjab. The Punjab government shall provide every facility to the investors, he added. He said that the government of Pakistan Muslim League-N has set a new example of saving billions of rupees by ensuring transparency in development projects. It has written new chapters of transparency, high quality and speed in development schemes; due to it, the world is openly recognizing transparency in Pakistan today.
Chief Minister said that Pakistan is fast reaching towards its destination and due to the consensus decisions of civil and military leadership; Pakistan has achieved tremendous successes in war against terrorism. He made it clear that there is no room for any terrorism or fanaticism in Pakistan and added that terrorists are an open enemy of humanity. Meanwhile, terrorism has become an international issue. He said that Pakistani nation is fully committed to completely eradicate terrorism from its soil and pointed out that Pakistan has given maximum sacrifices in war against terrorism.
Pakistan has sacrificed thousands of its brave men in war against terrorism including officers and jawans of armed forces and police, ordinary citizens and people from different walks of life. He said that Pakistan has written a new history of bravery and valor through her immortal sacrifices for the elimination of the menace of terrorism. The unprecedented successes in war against terrorism have been made possible due to these sacrifices and Pakistan is more peaceful and secure than before.
The French Ambassador congratulated Chief Minister Shehbaz Sharif over completion of energy projects in record period of time and said that the speed with which energy projects are being completed in Pakistan is an example of its own. She also appreciated the efforts made by the incumbent government to overcome the energy crisis. She appreciated the wonderful steps made by Chief Minister Shehbaz Sharif for selfless service of the people and said that due to the far-reaching reforms made in infrastructure, education, health and other social sectors, the quality of life of the people has been improved. Meanwhile, development projects are being completed speedily in Punjab. Under the leadership of Chief Minister Muhammad Shehbaz Sharif, the Punjab government has made unprecedented development to achieve the targets of economic development.
http://pakobserver.net/pakistan-given-maximum-sacrifices-war-terrorism-shahbaz/
--------
SC asked to disallow use of Islamic terms to describe politicians
August 24, 2017
ISLAMABAD: After sadiq and ameen became buzzwords in the political discourse of the country following the disqualification of former prime minister Nawaz Sharif under Article 62(1)(f) of the Constitution, a lawyer requested the Supreme Court on Wednesday not to employ these virtues as a benchmark for electoral and judicial purposes.
Moved by Shahid Orakzai, a local advocate, the petition asks the apex court to order that no word or title used in the Holy Quran for the Holy Prophet (peace be upon him) be used for any living person.
The petitioner has requested the court to note that the word sadiq, meaning honest, was a unique title reserved for the Holy Prophet (peace be upon him) and asked whether a Muslim could ever compare himself to God's Messenger merely by filling out a nomination form during elections.
"Can the title of the Holy Prophet (peace be upon him) be used as a label by the Election Commission of Pakistan (ECP)?" the petition asked, adding that no individual could be declared sadiq simply by correctly declaring his material assets in the nomination papers.
Such a title could not certify or disqualify a candidate or any member of the National Assembly, the petitioner argued, adding that the recent judgement disqualifying the former prime minister for not being sadiq and ameen had been widely misinterpreted.
The petitioner said the judgement in the Panama Papers case did not consider the oath of the prime minister, wherein it was required that he would not allow his personal interest to influence his official conduct or decisions.
This meant that the Constitution made the prime minister admit that he did have personal interest before making a commitment about his official conduct or official decisions. That was where the prime minister's honesty really counted, requiring him to protect the national interest, which should have been considered in the judgement, the petition said.
Honesty might be "the best policy" in English language, but it just could not match, or even equal the implications of the word sadiq, which meant a lot more than "truthful".
According to the Holy Quran, a person may claim to be ameen, but no person can proclaim himself to be sadiq, the petition stated, adding that the two words depicted two different character traits.
Likewise, the petition said, the word "honest", used in Article 62(1)(f) of the Constitution, could not be exclusively applied for electoral purposes and its later insertion in the document in 1985 could not be confined to the Representation of the People's Act (RoPA) 1976.
Full report at:
https://www.dawn.com/news/1353571/sc-asked-to-disallow-use-of-islamic-terms-to-describe-politicians
--------
Army won't act against Haqqani network, says Samiul Haq
Kalbe Ali
August 24, 2017
ISLAMABAD: Defence of Pakistan Council (DPC) chief Maulana Samiul Haq said on Wednesday that the Pakistan Army would not take any action against the Haqqani network.
Addressing a press conference at the National Press Club, where he lambasted US President Donald Trump's recent remarks about Pakistan, he said that those he was affiliated with "were still fighting the Americans in Afghanistan".
In the most dire warning ever issued by a US president to Pakistan, Mr Trump accused Pakistan of "shelter[ing] the same organisations that try every single day to kill our people", despite being paid billions and billions of dollars.
Maulana Samiul Haq, who is the chief of his own faction of the Jamiat Ulema Islam (JUI-S), also issued a call for 'jihad' to every section of society.
When asked about terrorist attacks being carried out in Pakistan by local actors affiliated with religious groups, the Maulana claimed that no Pakistani was involved in killing innocent people.
"We should hang Kulbushan [Jadhav] and other spies at once," he said, adding: "The West has been defaming jihad, [equating it] with terrorism, but we need to raise a call to jihad and ask each prayer leader in every mosque to preach the importance of jihad, so that our youth is prepared all the time."
He said: "We are fighting the Americans in Afghanistan and those who cannot fight are waging jihad with their words and pens; the whole nation needs to rise up to defeat the West."
At his press conference, the DPC leader took aim at the recent US policy statement on Afghanistan, Pakistan and India.
He alleged that the US was defaming Pakistan for the ills of the Afghan government which, he said, had connived with the CIA and Indian intelligence, killing civilians and security personnel in Pakistan.
He praised China for its prompt reaction to the US president's speech and said that the leaders of Pakistan should learn how to stand against US designs from North Korea and Iran.
However, he and other speakers also blamed the government of Pakistan for pursuing a "failed foreign policy'" and demanded that parliament register their protest on the matter.
Flanked by the leaders of other DPC component parties, including Jamaatud Dawa, veteran jihadi leader Fazalur Rehman Khalil and PML-Zia MNA Ijazul Haq, the Maulana said he did not agree with the recent briefing by the ISPR.
"It is not possible that Pakistan will conduct any operation against the Haqqanis," he declared, blaming the US for destroying peace in the region and denouncing Gen Musharraf for siding with the US "for money".
"That dictator was a weak man who sided with the US for money and left the whole nation to face terrorism and chaos," he said.
"We do not want any American money; it is not even justified as they have brought unimaginable woes to the Muslims in Afghanistan and Pakistan," he added.
The JUI-S chief also lauded Gen Ziaul Haq, describing him as a principled man who introduced legal changes as per Islamic principles, which eventually brought peace and tranquillity to the country.
Full report at:
https://www.dawn.com/news/1353613/army-wont-act-against-haqqani-network-says-samiul-haq
--------
Respect Pakistan's sovereignty and legitimate security concerns, China tells US
August 24, 2017
China's top diplomat has defended Pakistan's "important role" in Afghanistan in a phone call with United States Secretary of State Rex Tillerson, after US President Trump accused Islamabad of harbouring militants.
Trump, in unveiling his Afghanistan strategy this week, alleged that Pakistan was playing a double game by accepting American aid while giving safe haven to militants who kill Afghan and Nato troops. Islamabad strongly denied the allegations.
China State Councillor Yang Jiechi told Tillerson on Wednesday that "we should attach importance to the important role that Pakistan plays in the Afghanistan issue, respect (Pakistan's) sovereignty and legitimate security concerns," according to a foreign ministry statement.
It is the second time Beijing has defended its neighbour this week, with foreign ministry spokeswoman Hua Chunying praising Pakistan on Tuesday for making "great sacrifices and contributions to fighting terrorism".
Yang said Beijing was committed to "advancing the peace and reconciliation process in Afghanistan" and that political dialogue was "the only way to solve the Afghanistan problem".
He added that "China would like to continue to maintain communication and coordination on the Afghanistan problem with the US side".
The call between the US and Chinese diplomats came after new tensions arose between the two powers on Wednesday as Washington slapped sanctions on Chinese companies accused of links with North Korea, angering Beijing.
China has also warned Washington against triggering any "trade war" after Trump ordered an investigation into Beijing's intellectual property practices. But the ministry statement issued late Wednesday did not say whether Tillerson and Yang discussed the trade issue, the sanctions or the North Korean nuclear crisis.
Yang said Washington and Beijing communicate and cooperate on a "wide range of areas" and the two diplomats discussed Trump's planned visit to China later this year. He also voiced hope that the two sides maintain "mutual respect" and "handle disputes properly and jointly to uphold the good momentum of development of Sino-US relations."
Full report at:
https://www.dawn.com/news/1353636/respect-pakistans-sovereignty-and-legitimate-security-concerns-china-tells-us
--------
Two men tried to break into Altaf's house: MQM-London
August 24, 2017
LONDON: The Muttahida Qaumi Movement (MQM) in London has said that there has been an unsuccessful attempt to break into the north London house of party leader Altaf Hussain.
The party said that two individuals, one thought to be Asian in appearance and the other African, tried to break into the MQM leader's house in middle of the night of Aug 22-23. Spotted by neighbours and guards, the suspects escaped in a white car.
In a statement, the MQM-London said that the incident could not only have been a botched break-in but also an attempt to murder or inflict physical damage on Mr Hussain. The party said that the break-in involved the two men climbing over a neighbour's wall at 2am in the morning.
Mr Hussain's neighbours woke up and his personal guards, deployed to protect the residence, also became aware of what was happening. Once they had been discovered, the two men managed to flee.
The party said it reported what happened to the Metropolitan Police which is now investigating the case. Police sources confirmed they received a call from Abbey View in the early hours of the morning.
The MQM has appealed to the British Prime Minister Theresa May to take stern notice of the incident and to take immediate steps both to bring the culprits to justice and to provide foolproof security for Mr Hussain.
Altaf Hussain's house in Abbey View has been subject of police activity before. As part of its investigations into the 2010 murder of senior MQM party official, Imran Farooq, the UK police raided the party's offices in north London and Altaf Hussain's home. Police officers found significant amounts of cash and other documents. Those finds led to a long-running money laundering investigation that was eventually dropped in 2016.
Full report at:
https://www.dawn.com/news/1353576/two-men-tried-to-break-into-altafs-house-mqm-london
--------
Saudi crown prince hails Pakistan's role in fight against terror
August 24, 2017
ISLAMABAD: Prime Minister Shahid Khaqan Abbasi on Wednesday evening met Saudi Crown Prince Muhammad bin Salman Al Saud in Jeddah.
An official statement issued after the meeting said the PM told the Saudi leader that Pakistan had rendered unparalleled sacrifices for elimination of terrorism and peace in the region.
He reaffirmed Pakistan's continued and steadfast support for the kingdom and its leadership.
He lauded the astute leadership of the crown prince, appreciated his Vision 2030 plan — an ambitious project to diversify and modernise the Saudi economy.
The PM assured him of continued cooperation and collaboration to the benefit of both countries.
He also expressed solidarity with Saudi Arabia and reaffirmed Pakistan's pledge to support Saudi Arabia's sovereignty.
The crown prince acknowledged Pakistan's efforts and sacrifices in its resolute fight against terrorism.
He hoped that fraternal ties between the two countries would further prosper in future and underscored the importance Saudi Arabia attached to a strong and stable Pakistan.
He also hoped that Pakistan would overcome all challenges and continue its journey towards progress and prosperity.
The two leaders also exchanged views on regional and global issues of mutual concern and the issues faced by Ummah.
They agreed to continue dialogue and cooperation towards their shared goal of peace, security and development in the region and beyond.
During the visit, the PM was also briefed about the arrangements for Pakistani pilgrims for this year's Haj.
The prime minister during his daylong official visit to Saudi Arabia was accompanied by Finance Minister Ishaq Dar and Foreign Minister Khawaja Muhammad Asif.
Earlier, the Foreign Office said in a statement that this was the prime minister's first foreign visit after his election on August 1.
King Salman bin Abdul Aziz Al Saud is out of the kingdom on a private visit.
Full report at:
https://www.dawn.com/news/1353564/saudi-crown-prince-hails-pakistans-role-in-fight-against-terror
--------
PTI blasts govt's 'muted' reaction to Trump speech
24-Aug-17
ISLAMABAD: Pakistan Tehreek-e-Insaf (PTI) Chairman Imran Khan Wednesday strongly criticised the federal government's 'muted' response to ill-advised statement of US President Donald Trump regarding Pakistan's role in war against terrorism.
Addressing media here, Imran said that Trump's desire to give India an active role in Afghanistan severely lacks logic and seems a blatant attempt to undermine Pakistan's incredible human and economic sacrifices rendered for the elimination of terrorism through US-led war on terror. He said that the federal government should convene a joint sitting of parliament to devise future course of action and should convey a clear message to the US administration that it cannot pin the blame of its failed policies on Pakistan. The PTI chairman lashed out at government stating that neither prime minister nor foreign minister issued a statement in response to Trump's speech, even though China came to our defence. "Country's political leadership is scared, which is why the army chief had to respond to Trump's statement. They have their looted billions of dollars abroad and that is why they are afraid of responding." "A unanimous message should be conveyed to the US that civilian and military leadership in the country are on the same page," he said. The PTI chief condemned the statement of the US president stating that Pakistan had been facing negative impacts of an unstable Afghanistan for decades. "The allegations signals that Trump has no understanding of the South Asian region or the dynamics of war on terror," he added. Imran Khan recalled that he had opposed Pakistan's decision to join US war after the 9/11 attacks. "Pakistan had no reason to take part in that war. We have done a lot and sacrificed more than 7,000 lives while our economy suffered billions in losses in a war that was not even ours," he said.
http://dailytimes.com.pk/pakistan/24-Aug-17/pti-blasts-govts-muted-reaction-to-trump-speech
--------
South Asia
Jamaat-Shibir men join Awami League seeking a change in fortunes
August 24, 2017
On May 24, around 500 leaders and activists of Jamaat in Noakhali joined Awami League
Over the last decade, pressured by limited political space, many leaders of Jamaat-e-Islami and its student front Chhatra Shibir have been joining the Awami League and its front organisations.
Leaders and members of this Islamist party are now pledging themselves to the ruling party's liberal secular ideals, but Awami League veterans say their motives are nothing more than self-advancement and self-preservation.
Awami League high command has on many occasions warned against infiltrations and sabotage by Jamaat and Shibir activists. Awami League General Secretary Obaidul Quader has said numerous times that Jamaat-BNP intruders in Awami League were creating chaos in the party.
But when Rizia Nadvi, daughter of Jamaat central leader Muminul Haque Chowdhury, got a post in Mahila Awami League's central committee, Obaidul himself defended the decision.
Muminul has contested several parliamentary elections for Jamaat from Chittagong's Banshkhali. Nadvi was also allegedly involved with Islami Chhatri Sangstha, the female wing of Shibir, when she was a student of Chittagong College.
With the 11th parliamentary election on the horizon, many Awami League leaders fear that Jamaat-Shibir activists who have already infiltrated the party may join subversive activities.
On December 30, 2013, Jamaat leader Nousher Ali of Kushtia joined Awami League.
Rajshahi 5 constituency lawmaker Abdul Wadud brought Mokhlesur Rahman Raju, the grandson of Abdul Mazid, a man accused of many war crimes during the Liberation War. The MP also appointed three Jamaat leaders as union level leaders of Bangladesh Krishak League.
Most shocking of all, he brought in Mollah M Altaf Hossain, a former Shibir president of Baghmara upazila in Rajshahi, who was a known associate of the terrorist Bangla Bhai.
Altaf was later appointed personal secretary of Wadud and the education secretary of Baghmara Awami League.
Former Baghmara Jamaat general secretary Nurul Islam also joined Awami League there.
On May 12, 2015, Jamaat leader and Ward 9 Councillor of Chapainawabganj Municipality Ismail Hossain joined the local Awami League. A few days after his joining, hundreds of Jamaat and Shibir activists joined the ruling party. Ismail was wanted in 12 cases.
On May 24, around 500 leaders and activists of Jamaat in Noakhali joined Awami League.
On July 2, Jamaat leader Humayun, accused in several cases for his involvement in subversive activities during the January 5 election, joined Awami League.
Joypurhat Jamaat leader and Majlis-e-Shura member Abdus Salam joined Awami League with hundreds of Jamaat and Shibir activists.
Gopalganj district Jamaat Secretary General Md Ismail Hossain joined Awami League on April 19, 2015.
A leader of Awami League Central Working Committee seeking anonymity told the Dhaka Tribune that Awami League has become a safe haven for Jamaat leaders and activists.
"Several controversial leaders and lawmakers have introduced Jamaat leaders into Awami League," he said, although he declined to give the names of such leaders.
"Jamaat men are choosing to join Awami League to save themselves from cases filed against them for subversive activities or to keep their business and financial interests safe during Awami League period. They will back in their party when they grab the power," he said.
Golam Mowla Nakshabandi, advisor of Awami League Central Working Committee, told the Dhaka Tribune: "Inclusion of Jamaat and Shibir leaders and activists in Awami League is the worst decision. Awami League leaders have to pay for their mistake.
"Even these intruders may try to kill the party president, if they get the chance. All Awami League leaders should avoid Jamaat and Shibir activists," he said.
Lawmaker Md Abdur Razzak and presidium member of Awami League said that a few Jamaat men may have joined the party and Awami League should be careful about them.
This reporter tried several times to reach Rajshahi 5 constituency lawmaker Abdul Wadud but he did not receive phone calls.
http://www.dhakatribune.com/bangladesh/politics/2017/08/24/jamaat-shibir-men-join-awami-league-seeking-change-fortunes/
--------
Taliban claims responsibility of Helmand attack killing 5 Afghan soldiers
August 24, 2017
At least five people were killed and 42 wounded when a suicide attacker detonated a car bomb near a police headquarters in Afghanistan's Helmand province on Wednesday, officials said.
The explosion struck a crowd of policemen and soldiers who had gathered to collect their pay in Helmand's capital city, Lashkar Gah, provincial police chief Abdul Ghafar Safai said.
Two local women, two soldiers, and a child died in the blast and their bodies were taken to the hospital, along with more than 40 wounded, a doctor at the hospital told Reuters. He said the toll could rise.
The Taliban claimed responsibility for the attack in a Twitter posting according to Tolo News.
Militants had previously attacked security forces gathered to collect their pay at a bank in Lashkar Gah in June.
Full report at:
http://nation.com.pk/international/23-Aug-2017/taliban-claims-responsibility-of-helmand-attack-killing-5-afghan-soldiers
--------
Thousands of Rohingya flee Myanmar for Bangladesh
August 24, 2017
Thousands of Rohingya Muslims have crossed into Bangladesh since Myanmar announced a military buildup in violence-hit Rakhine state earlier this month, according to community leaders.
Rohingya leaders in Bangladesh told AFP news agency on Wednesday that at least 3,500 had arrived in recent weeks, piling pressure onto already overcrowded refugee camps in the Cox's Bazaar area near the Naf river that divides the two countries.
That is despite stepped-up patrols by Bangladeshi border and coast guards, who said this week they had pushed back a boat carrying 31 Rohingya, including children.
"In the Balukhali camp alone, some 3,000 Rohingya arrived from their villages in Rakhine," said Abdul Khaleq, referring to the camp nearest the river, where most of the migrants stay when they first arrive.
Kamal Hossain, a Rohingya elder in another, camp, said nearly 700 families had arrived in Bangladesh in the past 11 days.
Many were sleeping in the open because there was no more space in the camps, he said.
On August 12, authorities in Myanmar sent hundreds of troops into Rakhine in to boost security, drawing criticism from UN special rapporteur Yanghee Lee, who warned the deployment was "cause for major concern".
Rakhine, in northern Myanmar, has been gripped by violence since October, when armed men attacked police posts.
Following the incident, Myanmar authorities have reportedly cracked down on the Rohingya community, which the United Nations believes may amount to ethnic cleansing of the Muslim minority group.
Deen Mohammad, another Rohingya man who entered Bangladesh on August 13, said Muslim villagers in Rakhine were not allowed to visit neighbours without prior permission from the army.
The 45-year-old farmer said he left home with his family after the army killed his 23-year-old son for travelling to a nearby village.
Report of atrocities
Details of other alleged abuse last year have been recorded by the UN, which has documented mass gang rape, killings, including of babies and children, brutal beatings and disappearances. Rohingya representatives have said approximately 400 people were slain during the security forces' operation in October.
Myanmar launched its own probe into possible crimes in Rakhine and appointed former UN chief Kofi Annan to head a commission tasked with long-simmering divisions between Buddhists and Muslims.
On Wednesday, Annan presented his report to President Htin Kyaw in the Myanmar capital of Naypyidaw. The report is expected to be made publicly available on Thursday.
Azeem Ibrahim, a senior fellow with the Center for Global Policy, told Al Jazeera that while the likely recommendations of Annan's report won't be controversial, the restrictions placed on the former UN chief during his investigation have been criticised by many.
"[Annan] was not permitted to look at any of the human rights violations, which would argue are the basis for the conflict and the tensions in the Rakhine district," Ibrahim said.
He added that those who have been sceptical of the advisory commission itself argue that it is just a way for Aung Sun Suu Kyi to "pacify the global public opinion and try to demonstrate to the international community that she is doing what she can to resolve this issue, and it was just a mechanism to get sanctions [on Myanmar] lifted".
'Deeply concerned'
Buddhist-majority Myanmar has long faced criticism for its treatment of the more than one million Rohingya who live in Rakhine, who are seen as interlopers from Bangladesh and are denied citizenship and access to basic rights.
Bangladesh estimates that nearly 400,000 Rohingya refugees are living in squalid refugee camps and makeshift settlements in Cox's Bazar.
They include more than 70,000 who arrived in the months that followed the crisis in October, many bringing stories of systematic rape, murder and arson at the hands of Myanmar soldiers.
But Rohingya are also increasingly unwelcome in Muslim-majority Bangladesh, where police often blame them for crimes such as drug trafficking.
Dhaka has floated the idea of relocating tens of thousands of Rohingya refugees to a remote, flood-prone island off its coast, despite opposition from rights groups.
On Wednesday, the UN refugee agency said it was "deeply concerned" by the reports of a boat carrying Rohingya being turned back.
Full report at:
http://www.aljazeera.com/news/2017/08/thousands-rohingya-flee-myanmar-bangladesh-170823193439077.html
--------
Southeast Asia's Newest Rebel Group Calls Bangladesh 'Great Neighbor'
2017-08-23
The leader of Southeast Asia's newest Muslim insurgent group struck a diplomatic tone as he expressed gratitude to Bangladesh for hosting Rohingya refugees and pledged not to harm the country's honor and interest.
But Ata Ullah (also known as Abu Ammar Jununi), chief of the Arakan Rohingya Salvation Army (ARSA), hammered Myanmar for allowing government forces to seal off villages and launch a crackdown against suspected militants in the Rakhine State.
More than 75,000 Rohingya Muslims have fled from Myanmar to Bangladesh since October 2016 as a result of a military crackdown in Rakhine. As security officials ordered a lockdown and soldiers hunted for militants through torched villages, according to a United Nations report, terror-stricken refugees fled on foot, witnessing mass gang-rapes of women and killings of children.
Ata Ullah, in a 19-minute video posted on YouTube on Aug. 16, vowed that his group would take "extreme care and caution" not to harm Bangladesh, describing it as a "great neighbor."
"The government of Bangladesh leads all the host countries who did not think twice in extending their helping hands to our destitute people in this very needy time," said Ata Ullah, who emphasized ARSA was not affiliated with any foreign terror network.
In the video, he spoke while seated amid a lush forest backdrop while guarded by four masked men clutching assault rifles.
"Our primary objective under ARSA is to liberate our people from dehumanized oppression perpetrated by all successive Burmese regimes," he said.
Ata Ullah and ARSA, which formerly called itself Harakah al-Yaqin (Arabic for "Faith Movement"), captured worldwide media exposure in December 2016 when the Brussels-based think tank International Crisis Group (ICG) issued a lengthy report about the new armed challenge faced by Myanmar.
Ata Ullah, according to the ICG report, was born in Karachi, Pakistan, to a migrant father who fled religious persecution in his native Rakhine State. His family moved to Mecca, Saudi Arabia, where he was enrolled in an Islamic religious school.
The report said Ata Ullah claimed to have left Saudi Arabia in 2012 shortly after serious ethnic clashes between Rohingya and ethnic Rakhine Buddhists erupted, killing more than 100 people.
"Though not confirmed, there are indications he went to Pakistan, and possibly elsewhere, and that he received practical training in modern guerrilla warfare," ICG said.
Security analysts have not determined the exact number of ARSA's forces and Burma has not officially acknowledged its existence. But sources within the refugee camps confirm their existence to BenarNews, an RFA-affiliated online news service.
"There are more than 150 members of Myanmar's separatist Rohingya groups in Ukhia-Teknaf areas, who go back and forth across the borders," said a high-ranking source at a refugee camp who requested anonymity.
More than 1 million Rohingya live in northwestern Rakhine, where they are despised by the Buddhist majority, according to U.N. officials. Human rights activists said the Rohingya – who have been dubbed as "the most oppressed people in the world" – are denied citizenship, freedom of movement and access to basic services and healthcare."
A community leader at the Kutupalong refugee camp recently spoke to BenarNews and confirmed reports that ARSA supporters have been seen at camp for a few days. The source declined to say if they were armed.
"But they do not do anything that might harm Bangladesh's image," the source said, referring to the insurgents.
Kutupalong is one of the two government-run refugee camps in Cox's Bazar. Its combined Rohingya population with the Nayapara Refugee Camp is about 30,000, officials said.
Myanmar, a secluded country of almost 60 million people, sits in the corner of Southeast Asia between India and China.
Myanmar receives Rakhine report
RFA has been trying to get in touch with officials in the Myanmar government to respond to Ata Ullah's video post, but to no avail.
Min Aung, a spokesperson from the Rakhine state government, said on Wednesday that the central government is the appropriate authority to respond.
Meanwhile, thousands of Rohingya have crossed into Bangladesh since Myanmar announced a military build-up in Rakhine state earlier this month, Rohingya community leaders in Bangladesh were quoted saying by AFP Wednesday.
In Myanmar's capital Naypyidaw Wednesday, a government-appointed Advisory Commission on Rakhine State, led by former UN Secretary-General Kofi Annan submitted its final report to President Htin Kyaw.
The commission had been tasked with proposing concrete measures for improving the welfare of all people in Rakhine state, with uncovering lasting solutions for conflict-torn Rakhine and addressing deep wounds felt by Buddhist and Muslim communities in the region, according to the commission.The body will hold a news conference in the commercial capital Yangon on Thursday.
Bangladesh security officials expressed doubts on the presence of insurgents in the area, telling BenarNews security forces on high alert would have blocked free movement.
"In this side, there is no activity of any Myanmar-based revolutionary group," said Lt. Col. Ariful Islam, a border battalion official. "Stronger monitoring in the Rohingya camps is already in place."
Policy of no interference
State Minister for Foreign Affairs Md. Shahriar Alam said he was not aware of Ata Ullah's video and Bangladesh has no ties with insurgent groups.
"As per our foreign policy, we never interfere in Myanmar's internal affairs," he said. "The policy of the current government is that the land of Bangladesh is not for any militant group."
Security analysts said ARSA is active in the jungles of the northern Rakhine State, where their presence could stoke religious tensions. They said ARSA's emergence as an armed group signals a dangerous phase that could attract the attention of extremists in Pakistan and the Middle East.
On Oct. 9, 2016, ARSA militants, who were then known as Harakah al-Yaqin, launched coordinated attacks on police posts and killed nine officers. They posted videos on YouTube claiming responsibility for the attacks.
Myanmar responded by launching military operations that led to allegations of gang rapes and mass killings.
On Aug. 14, Myanmar government ministers met 11 Buddhist monk leaders from the administrative capital Sittwe and discussed security issues in Rakhine, border affairs minister Lt. Gen. Ye Aung said.
The meeting came four days after the Myanmar government dispatched hundreds of soldiers from an army battalion to Rakhine to increase security in the region.
Full report at:
http://www.rfa.org/english/news/myanmar/rohingya-bangladesh-08232017154833.html
--------
Pakistani army chief reacts at new US strategy for Afghanistan, South Asia
Aug 24 2017
The Pakistani army chief of staff General Qamar Javed Bajwa at reacted at the new US strategy for South Asia as President Donald Trump harshly criticized Pakistan's role in the fight against terrorism and presence of terror safe havens in the country.
The military wing of the Pakistani military, Inter Services Public Relations, in a statement said "Mr David Hale, US Ambassador to Pakistan called on Chief of Army Staff (COAS) General Qamar Javed Bajwa at GHQ today. The Ambassador briefed COAS about new US Policy."
The statement further added "The Ambassador said that US values Pakistan's role in the war against terror and is seeking cooperation from Pakistan to resolve the Afghan issue."
"COAS said that peace in Afghanistan is as important for Pakistan as for any other country. We have done a lot towards that end and shall keep on doing our best, not to appease anyone but in line with our national interest and national policy," the statement said, adding that "COAS said that we are not looking for any material or financial assistance from USA but trust, understanding and acknowledgement of our contributions. Collaboration and synergy of effort between all stakeholders is the key to success to bring this long drawn war in Afghanistan to its logical conclusion, COAS concluded."
The US President Donald Trump on Tuesday unveiled the new US strategy outlining the approaches for Afghanistan and South Asia as he harshly criticized Pakistan for harboring the terrorist groups besides he vowed continued support to Afghanistan and war against terrorism.
President Trump said "For its part, Pakistan often gives safe haven to agents of chaos, violence, and terror. The threat is worse because Pakistan and India are two nuclear-armed states whose tense relations threaten to spiral into conflict. And that could happen."
Full report at:
http://www.khaama.com/pakistani-army-chief-reacts-at-new-us-strategy-for-afghanistan-south-asia-03387
--------
Ghani signs decree for the implementation of compact regarding Afghan-US cooperation
Aug 24 2017
President Mohammad Ashraf Ghani on Wednesday signed the decree for the implementation of the compact regarding the bilateral cooperation between Afghanistan and the United States.
The Office of the President, ARG Palace, said the decree was signed in the presence of high level officials from the two countries, including the US Embassy Charge d'Affaires and commander of the US forces for Afghanistan.
"The Compact is an Afghan-led initiative to demonstrate the government's commitment to creating a peaceful, stable, and prosperous society and is an important factor upon which the United States relied when developing key components of the U.S. South Asia Policy, launched by President Trump on August 21," ARG Palace said in a statement.
The statement further added that "Today, President Ghani convened the Afghan – U.S. Bilateral Compact Executive Committee to receive updates from the Compact's four working groups. The Executive Committee was chaired by President Ghani in which Chief Executive Abdullah and relevant Ministers participated. The U.S. side was led by Special Chargé d'Affaires Ambassador Hugo Llorens, and Resolute Support and U.S. Forces Afghanistan Commander General Nicholson."
According to ARG Palace, in the session, Afghan and U.S. working group leads highlighted the completion of the Compact's four matrices focusing on Governance, Economics, Peace and Reconciliation, and Security, noting that a total of more than 200 benchmarks have been established by the Government of Afghanistan, building on Afghanistan's obligations under the 2012 U.S.-Afghanistan Strategic Partnership Agreement.
Full report at:
http://www.khaama.com/ghani-signs-decree-for-the-implementation-of-compact-regarding-afghan-us-cooperation-03386
--------
Ex-Afghan intelligence chief welcomes new US strategy and approach towards Pakistan
Aug 24 2017
The former chief of the Afghan intelligence, national directorate of security, Rahmatullah Nabil welcomed the new strategy and approach by the United States towards Pakistan as part of its strategy for South Asia.
"We support the new US strategy that committs to support the AFG people, continue to support ANDSF and speaking loud and clear about Pakistan'ss deceiving strategy supporting terrorist groups and offering them safe heavens. We will wait for implementation," he said in a Twitter post.
Nabil has long been criticizing the Pakistani military, specifically the Inter Services Intelligence for supporting the Afghan militant groups, including the notorious Haqqani terrorist network.
In one stance last year, Nabil also disclosed and published various classified documents of ISI regarding the role of the organization in supporting the Taliban and Haqqani network and plotting deadly attacks in Afghanistan.
The US President Donald Trump on Tuesday unveiled the new US strategy outlining the approaches for Afghanistan and South Asia as he harshly criticized Pakistan for harboring the terrorist groups besides he vowed continued support to Afghanistan and war against terrorism.
President Trump said "For its part, Pakistan often gives safe haven to agents of chaos, violence, and terror. The threat is worse because Pakistan and India are two nuclear-armed states whose tense relations threaten to spiral into conflict. And that could happen."
Full report at:
http://www.khaama.com/ex-afghan-intelligence-chief-welcomes-new-us-strategy-and-approach-towards-pakistan-03385
--------
Mideast
Air raids on outskirts of Yemen capital kill 'at least 30'
24-Aug-17
SANAA: More than 30 people, including civilians, were reported killed Wednesday in air raids on the outskirts of Yemen's capital, where a Saudi-led coalition has been bombing Iran-backed Huthi rebels.
The Huthis, who control Sanaa along with forces loyal to former president Ali Abdullah Saleh, blamed the pro-government Arab military alliance for the attack on the capital's northern outskirts. The rebels used their Al-Massira television channel to release a statement blaming the Saudi-led coalition for the raids. A spokesperson for the coalition could not be reached for comment.
Human rights groups have repeatedly criticised the coalition over the civilian death toll from the bombing campaign it launched in support of Yemen's internationally recognised government in March 2015.
Since then, thousands of people have been killed in the conflict, most of them civilians.
Amnesty International and Human Rights Watch have called on the United States, Britain and France to stop their deliveries of bombs and other weapons to Saudi Arabia because of concerns over civilian casualties.
Wednesday's strikes on the Arhab district killed at least 35 people and rescue workers were still pulling bodies from the rubble, said Hussein al-Tawil, head of the Sanaa branch of Yemen's Red Crescent. An official with an international aid organisation told AFP that at least 30 people had been killed in a series of strikes on the capital.
At least one strike targeted a hotel where workers from a nearby qat farm had been staying, according to witnesses and the hotel manager, Taher al-Ahdal.
Residents said Huthi members had also been staying in the area. The United Nations' refugee agency, UNHCR, said it was trying to verify details on the raids.
"We are extremely concerned about the civilian deaths reported in the north of Sanaa," spokesperson Shabia Mantoo said.
"The conflict in Yemen has been intensified in 2017... it's exacting a brutal toll on civilians."
No one has yet claimed responsibility for the strike, which Tawil said had also wounded at least 13 people, who were taken to hospitals.
The Huthis seized the capital in September 2014, backed by pro-Saleh forces, and have controlled it ever since.
But the unlikely alliance, forged in defiance of a common enemy, has begun to unravel, threatening to further splinter a country already ravaged by war. Tension between Saleh and the Huthis has escalated over the past week, with the two sides exchanging accusations of treason.
The Saudi-led military coalition intervened in 2015 to back up Yemen's President Abedrabbo Mansour Hadi, and it now controls the country's airspace. The United States also regularly conducts drone strikes on Yemen which Washington says target Al-Qaeda.
http://dailytimes.com.pk/world/24-Aug-17/air-raids-on-outskirts-of-yemen-capital-kill-at-least-30
--------
Houthi militias accuse Yemen's ousted president Saleh of treason
23 August 2017
Houthi militias have accused ousted Yemeni president Ali Abdullah Saleh, their original ally in the coup against legitimacy in Yemen, of treason.
A statement by the Houthis said that Saleh has to bear the consequences after he referred them in a speech as "militias."
Fears over an outbreak of violence in Sanaa are increasing as Saleh supporters announced plans to demonstrate on Thursday to mark the 35-year anniversary of the founding of his party, the General People's Congress.
Crossing the line
A statement from the Houthis on Wednesday described Saleh's remarks as "crossing the line … and he [Saleh] must therefore bear the consequences of what he said, for he's the one who initiated hostility."
Tensions have been lingering in the air in the Yemeni capital which is under Houthi control.
Full report at:
https://english.alarabiya.net/en/News/gulf/2017/08/23/Houthis-accuse-Saleh-of-treason.html
--------
Coalition forces thwart infiltration attempt by Houthis along the Jazan borders
23 August 2017
The Arab coalition forces foiled an infiltration attempt by the Houthi militia and ousted-Saleh loyalists in one of the border areas between the Yemeni province of Saada and the Saudi Arabian region of Jazan.
Yemeni military sources said that Apache helicopters belonging to the Arab coalition in support of the legitimacy in Yemen bombed groups of militias who tried to infiltrate into Saudi territory off the village of Huraira in Jazan, resulting in dozens of dead and wounded in the ranks of the militias.
Meanwhile, coalition fighters targeted militia positions and reinforcements with five raids in the Haradh and Medi districts of Hajjah province in northwestern Yemen.
Full report at:
https://english.alarabiya.net/en/News/gulf/2017/08/23/Coalition-forces-thwart-infiltration-attempt-by-Houthis-along-the-Jazan-borders.html
--------
Iranian opposition leaders will 'regret' trial, says Iran's court chief
August 24, 2017
Iranian opposition leaders have been "protected" under house arrest for six years and would regret facing trial, a court chief said on Wednesday, amid calls for them to be allowed to face justice.
"A trial will bring regret for these people... because the court and the system do not joke around with anyone and do their legal duty with determination, power and precision," said Mousa Ghazanfarabadi, the head of Tehran's Revolutionary Court.
Quoted by the Dana news website, he was responding to renewed demands that former presidential candidates Mir Hossein Mousavi and Mehdi Karroubi finally face trial for their part in the Green Movement protests of 2009.
The protests, known as "the sedition" by hardliners, followed allegations of rigging in that year's election, which they lost to hardliner Mahmoud Ahmadinejad.
They were put under house arrest in early 2011 but have never been charged with a crime.
"Under house arrest, the heads of the sedition are protected and cared for," said Ghazanfarabadi.
He suggested that if Mousavi and Karroubi were set free, they may be harmed by someone trying to delegitimise the regime.
The demands of reformists to put them on trial "are not the words of sympathisers of the revolution," he added. "Those saying it may not be aware, but these are the words of foreigners."
Karroubi went on a brief hunger strike this month to demand a trial and the removal of intelligence agents recently posted inside his home.
Although his family said there had been assurances the intelligence officers would be removed, this was later denied by the conservative-dominated judiciary.
Full report at:
http://nation.com.pk/international/23-Aug-2017/iranian-opposition-leaders-will-regret-trial-says-iran-s-court-chief
--------
US demands inspection of Iran's nuclear sites
23 August 2017
The head of the UN's atomic watchdog met US President Donald Trump's UN envoy Nikki Haley on Wednesday to brief her on the 2015 Iran nuclear deal, as concerns grow about the accord's future.
Reports by the Vienna-based International Atomic Energy Agency (IAEA) have shown Iran to be in compliance with its landmark agreement with six major powers.
The deal saw Iran shrink its atomic activities and submit to closer IAEA inspections in order to make any dash to make a nuclear bomb extremely difficult.
Most UN and Western sanctions on Iran were lifted in return, but others related to non-nuclear issues have remained in place or been ratcheted up.
With Trump slamming the "terrible" 2015 deal, tensions have risen between the two long-time foes, with both accusing each other of not adhering to the "spirit" of the accord.
President Hassan Rouhani said last week that Iran could walk away within hours, accusing Washington of "constant and repetitive breaking of its promises" under the deal.
Haley responded that the new sanctions are related to Iran's support for "worldwide terrorism" and other behavior, and that Iran cannot "use the nuclear deal to hold the world hostage".
Trump is due in October to certify to Congress whether Iran is sticking to the deal.
In July he told the Wall Street Journal he "would be surprised if they were in compliance".
Haley made no comment to reporters on Wednesday as she arrived for her talks with IAEA chief Yukiya Amano.
The Washington Post on Tuesday quoted her as saying her talks were to answer US questions about the watchdog's inspections and monitoring.
"We have no decision made" about whether to scrap the deal, Haley was quoted as saying.
"What we are doing is trying to find out as much information as we can."
"The Trump administration needs a wake-up call on the costs of sabotaging the nuclear deal with Iran," Arms Control Association analyst Kelsey Davenport told AFP.
Full report at:
https://english.alarabiya.net/en/News/middle-east/2017/08/23/US-demands-inspection-of-Iran-s-nuclear-sites.html
--------
Iran condemns Saudi attack on Yemen residential areas, calls for UN probe
Aug 23, 2017
The Iranian Foreign Ministry has strongly condemned a Saudi airstrike against residential areas in the Yemeni province of Sana'a, calling on the UN to step up efforts to put an end to Saudi aerial raids on its impoverished neighbor.
On Wednesday, an airstrike by the Saudi-led coalition pounding Yemen struck a two-story hotel near the capital Sana'a, killing 46 people, according to the latest tally by Lebanese al-Mayadeen television channel.
The fighter jets targeted a hotel in the town of Arhab, about 35 kilometers north of Sana'a, officials said.
Iranian Foreign Ministry Bahram Qassemi called on the UN and other international bodies to investigate the killing of civilians in the attack.
"The escalation of attacks on residential buildings and civilian targets and preventing relevant international bodies and organizations from delivering aid amount to the violation of humanitarian principles and standards," Qassemi said.
He called on the UN and the influential countries in the Yemeni conflict to double their efforts to put an immediate halt to the attacks and guarantee the safety and security of civilians, especially children and women.
Meanwhile, the spokesman for Yemen's Ansarullah movement said the attack showed the enemy was worried about the mass presence of Yemeni forces in the battlefront against the aggressors and that's why they continue to target their gathering.
The movement called on big powers to condemn the attack and urged the international community to put the spotlight on the enemy's acts of aggression against Yemenis.
It also stressed that such attacks would reinforce the movement's commitment to their values.
Saudi Arabia has been unleashing brutal military attacks against Yemen for more than two years to undermine the Houthi Ansarullah movement and reinstall the former president, Abd Rabbuh Mansur Hadi, a close ally of Riyadh.
Full report at:
http://www.presstv.ir/Detail/2017/08/23/532705/Iran-condemn-Yemen-Saudi-Arabia-Sanaa-Houthi
--------
Southeast Asia
Counter-terrorism chief warns of new IS video from Marawi
August 24, 2017
PETALING JAYA: Malaysia's head of counter-terrorism activities says the threat alert from Islamic State (IS) in the region has been heightened following the release of a new video calling for Muslims in Southeast Asia to wage holy war, Channel NewsAsia (CNA) reported.
Bukit Aman's Counter-Terrorism Division head, deputy commissioner Ayob Khan Mydin Pitchay said the video is both "powerful" and "dangerous",
"This video is powerful and moving. It will inflame passions and inspire IS followers in Malaysia, Indonesia – all of Southeast Asia – to go to southern Philippines to wage jihad," Ayob Khan was quoted as saying.
The timing of the video's release is also significant as it comes as the fighting between Philippine military and the IS-linked militants in Marawi is now into its fourth month as of yesterday.
In the video, young Muslim men are seen setting fire to a Catholic church and destroying a large crucifix and several statues of Mother Mary, evoking scenes of destruction of thousand-year old artefacts in Iraq's Mosul Museum when IS took over the city in 2015. They are also seen ripping up photos of the head of the Catholic Church, Pope Francis.
"For a Muslim fanatic, the sight of a crucifix being destroyed will excite and stir their passion to fight," Ayob was quoted as saying.
He added that the fact that the fighting in Marawi has lasted three months is also a psychological and propaganda victory for IS militants.
According to Singapore-based regional news broadcaster, the video also features a fighter identified as Abul-Yaman from Marawi, urging fellow Muslims in Indonesia, Malaysia, Brunei, Thailand and Singapore to migrate to Marawi,"to perform jihad".
Islamic centre of the Philippines
Marawi, the provincial capital of Lanao del Sur on Mindanao island, has a large Muslim population and is known as the Islamic centre of the Philippines, which is a Catholic-majority country.
"Since the Marawi siege started, we have seen increased activities from IS cells in Malaysia trying to enter into the southern Philippines. Their preferred route is Sandakan, Tawau and Lahad Datu in Sabah," Ayob told CNA.
It has been previously reported that several suspected fighters have been caught in Sabah but Ayob did not provide any figures as to the real number of those detained.
Mindanao was placed under martial law by Philippine President Rodrigo Duterte after a surprise attack on Marawi on May 23 by IS militants.
Almost 200,000 residents of Marawi have been evacuated but more than 500 civilians are said to be still trapped there or held hostage.
It has also been reported that close to 700 people, including 528 militants, 122 soldiers and 45 civilians have been killed in the conflict as government forces try to dislodge the terrorists.
The seizure of Marawi by fighters allied to IS has raised alarm bells in neighbouring countries, including Malaysia, with the authorities on the alert for spillover effects that may arise from the fighting.
Malaysia has so far sent humanitarian aid, including food and medical supplies to the Philippine army, and has announced plans to send besides clean water, a Malaysian Armed Forces medical team and an Armed Forces Religious Corp team.
http://www.freemalaysiatoday.com/category/nation/2017/08/24/counter-terrorism-chief-warns-of-new-is-video-from-marawi/
--------
Largest Muslim rebel group in Philippines sounds alarm on IS
Aug 23, 2017
The Philippines' largest Muslim rebel group said on Wednesday it had lost 10 fighters in battles to stop a "growing force" of radical militants who support the Islamic State group.
The Moro Islamic Liberation Front is seeking to prevent the militants from gaining a foothold in an area of Mindanao island that the group calls its own, senior rebel leader Mohagher Iqbal told AFP.
Iqbal said 50 or so militants had pledged allegiance to IS and had ties to gunmen waging a deadly three-month-old battle with government forces in the southern city of Marawi.
"The radical elements are growing as a force," Iqbal told AFP by telephone.
An AFP video journalist who joined the Moro Islamic Liberation Front soldiers on Tuesday said the fighting was centred on vast marshy forests and farmlands near the town of Datu Salibo.
Moro Islamic Liberation Front men were filmed firing automatic weapons from a house, crossing streams and marshes with their machine guns, automatic rifles and rations raised above their heads, and inspecting the ruins of burnt houses.
Datu Salibo is about 100 km south of Marawi and about 800 km south of Manila.
Iqbal put the Moro Islamic Liberation Front death toll from the fighting, which began early this month, at 10. He said the militants had also sustained fatalities, although he could not give confirmed numbers.
The 10,000-strong Moro Islamic Liberation Front has been leading a decades-long rebellion to establish an independent or autonomous homeland in Mindanao for the mainly Catholic Philippines' Muslim minority.
The conflict has claimed more than 100,000 lives.
The Moro Islamic Liberation Front signed a peace agreement with the previous administration in 2014 that envisages an autonomous Muslim homeland in Mindanao, and is hoping President Rodrigo Duterte can shepherd a final deal through a reluctant Congress.
However a range of more hardline militants, including former Moro Islamic Liberation Front members, oppose any form of peace with the government and some have in recent years pledged allegiance to IS.
The Moro Islamic Liberation Front has repeatedly warned that, if the peace process collapses, it will lose many of its younger members to IS-aligned groups.
Hundreds of IS-supporters occupied parts of Marawi in late May. Government forces have been unable to dislodge the militants in Marawi despite a massive, US-backed military campaign.
The conflict has claimed more than 700 lives.
Iqbal said the Moro Islamic Liberation Front's current battles against another group near Datu Salibo showed IS was becoming a threat in other parts of the south.
Full report at:
http://www.hindustantimes.com/world-news/largest-muslim-rebel-group-in-philippines-sounds-alarm-on-is/story-qjQ3TS40At7MhXJsh0HRlI.html
--------
Indonesia needs to realize its sharia economy potential
August 23, 2017
Finance Minister Sri Mulyani Indrawati has said that Indonesia needs to spread knowledge about the sharia economy to the public so the country with the world's largest Muslim population could unearth the great potential of its Islamic economy.
The great potential of zakat mal (Islamic wealth and income taxes), for example, had not be collected optimally because the conventional understanding of wealth among Muslims was that it referred only to gold and silver, agriculture, livestock and mining resources, she added
"Such an understanding is not entirely wrong because most wealth was in those forms [during Prophet Muhammad's era], but currently wealth can be in the form of stocks, bonds and wages or salary," Sri Mulyani said at the annual Islamic Finance Conference in Yogyakarta on Wednesday.
"If those kinds of wealth also become the target of zakat, the funds collected from zakat will increase," she said, adding that most of Indonesian Muslims only paid zakat fitrah (alm paid in the end of Ramadhan), but did not pay zakat mal.
According to the National Zakat Agency (Baznas), the potential of zakat in Indonesia reaches around Rp 217 trillion (US$16.25 billion).
Sri Mulyani said the figure was equal to 10 percent of the state budget. "Unfortunately only less than 2 percent of that potential has been collected and Baznas only receives around half of the collected fund," She said.
Full report at:
http://www.thejakartapost.com/news/2017/08/23/indonesia-needs-to-realize-its-sharia-economy-potential.html
--------
Habib Rizieq's Lawyer Asks Police to Halt Probe Into Porn Scandal
August 24, 2017
Jakarta. A lawyer for firebrand Islamist cleric Rizieq Shihab said on Wednesday (23/08) that he has filed a request with the police to terminate what he called a flawed investigation into a pornography scandal allegedly involving his client.
The police have been pressing ahead with their investigation into the case, which surfaced when screenshots of WhatsApp chats allegedly between Rizieq, the leader of the hardline Islamic Defenders Front (FPI), and a female follower called Firza Husein, containing pornographic pictures and videos were leaked to the public.
Rizieq has been avoiding the police since he was declared a suspect in the case in May. He is currently believed to be on the run in Saudi Arabia after having left Indonesia for umrah, or a minor pilgrimage.
His lawyers have since been demanding that the police drop the case against their client.
One of his lawyers, Sugito Atmo Pawiro, eventually filed a request to drop the case with the Jakarta Police's special crimes unit on Tuesday.
"There is not enough evidence to name our client as a suspect," Sugito told the Jakarta Globe, countering police claims. "The Jakarta Police said they will examine the request."
Jakarta Police spokesman Chief Comr. Argo Yuwono told reporters on Wednesday that his office had already received the request.
"It is now up to the investigators," Argo said, declining to elaborate.
Police previously said they have enough evidence against Rizieq, who could face at least five years in prison under Indonesia's strict antipornography law if found guilty.
But police said they have not been able to find the source of the leaked WhatsApp chats, despite having promised to do so for months, drawing criticism from Rizieq's lawyers.
"They should charge the people who leaked the pornographic content to the public," Sugito said. "They're targeting the wrong person."
Rizieq's lawyers have said that he would not return to Indonesia anytime soon.
However, police are seeking ways to return Rizieq to Indonesia for questioning and said last Friday that they had sent a team of investigators to Saudi Arabia to find and interrogate him.
Full report at:
http://jakartaglobe.id/news/habib-rizieqs-lawyer-asks-police-to-halt-probe-into-porn-scandal/
--------
Arab World
PM: Syria Sees Allies as Main Partners for Post-War Reconstruction
Aug 23, 2017
"Syria will complete its victory against terrorism, and Damascus, Aleppo and Lattakia will be (even) more secure than the neighboring countries," Khamis said in an interview with al-Mayadeen news channel on Wednesday.
"The Syrian army doesn't allow even one square meter of its land to remain under the control of the armed (terrorist) groups. We rest assured since day one of the crisis that Syria and our army will win," he added.
Noting that in President Bashar al-Assad's view, the main reason behind Syria's success is the partnership of its allies, Khamis said, "Those states that have stood beside the Syrian people are our top priority for the establishment of relations, partnership in reconstruction and trade exchanges."
In relevant remarks last Sunday, Syrian Industry Minister Ahmad al-Hamou underlined that the enemies who have supported the terrorist groups in the Arab country will play no role in reconstruction efforts in Syria, welcoming friendly states' partnership in this regard.
"We don't allow the enemies and the countries which have hatched plots (against the country) to participate in Syria's reconstruction and they will play no role," al-Hamou said after visiting the Iranian companies' booths in the 59th International Fair of Damascus.
He, meantime, underscored that "the friendly states and allies will accompany Syria in reconstruction stage as they helped Syria to attain victory against terrorism".
"The friendly states will be prioritized in cooperation during the reconstruction time and all necessary possibilities will be provided to them," al-Hamou said.
http://en.farsnews.com/newstext.aspx?nn=13960601000143
--------
Saudi Charge d'Affaires reiterates support for rebuilding Iraq
24 August 2017
Saudi Arabia's Charge d'Affaires in Baghdad, Abdulaziz al-Shammari, has reiterated his country's support for rebuilding Iraq.
Shammari said that the Saudi-Iraqi Coordination Council has looked into possible government investments between both the countries. He also said that they have also looked into the possibility of having the Saudi government establish an investment fund in Iraq.
https://english.alarabiya.net/en/News/gulf/2017/08/24/Saudi-Charge-d-Affaires-in-Baghdad-reiterates-support-for-rebuilding-Baghdad.html
--------
Iraqi government forces, allies liberate two districts in Tal Afar
Aug 23, 2017
Iraqi army soldiers, backed by allied fighters from the Popular Mobilization Units, have regained complete control over two more neighborhoods in Tal Afar as they are pushing to drive Daesh Takfiri terrorists out of the northern city in a multi-pronged operation.
The commander of the Tal Afar liberation operation, Lieutenant General Abdul Amir Yarallah, announced in a statement that federal police forces and fighters from the Popular Mobilization Units, commonly known by the Arabic name Hashd al-Shaabi, have retaken Northern al-Kifah and Southern al-Kifah neighborhoods in the city, located 63 kilometers west of Mosul, inflicting heavy losses on Daesh militants and their military equipment.
Government forces and their allies raised the Iraqi national flag over several buildings in the liberated areas after the operations.
Meanwhile, the Iraqi Joint Operations Command stated that members of the Counter-Terrorism Service had established full control over Mulla Jassim and Wairan villages on the outskirts of Tal Afar.
Separately, soldiers from the 9th Armored Division of the Army and 2nd, 11th and 26th brigades of Hashd al-Shaabi have seized back al-Tanak district east of Tel Afar from Daesh extremists.
A security source, requesting anonymity, also told Arabic-language al-Sumaria television network that Daesh had ordered its elements in Tal Afar to burn all fortifications of the terror group there, and move to other places.
There are also reports that Iraqi army soldiers and Hashd al-Shaabi fighters have liberated 75 percent of land in al-Jazeera district southeast of Tal Afar.
The International Organization for Migration said in a statement on Tuesday that nearly 3,200 individuals had fled Tal Afar to two refugee camps south of Mosul over the past four days.
"These internally displaced persons carried a minimal amount of clothes; some only had what they wore, some were partially clothed," the statement said, adding that thousands more are expected to flee in the coming days.
The Office of the United Nations High Commissioner for Refugees says it has received around 1,500 families, or some 9,000 people, from Tel Afar at the Hamman al-Alil displacement camp in the past week.
Full report at:
http://www.presstv.ir/Detail/2017/08/23/532669/Iraqi-forces-retake-neighborhoods-Tal-Afar-Daesh-Takfiri-militants
--------
Bahrain forces attack mourning Shia inmates in Jaw prison
Aug 23, 2017
Bahraini regime forces have reportedly attacked dozens of Shia inmates at Jaw prison as the ruling Al Khalifah regime presses ahead with its heavy-handed crackdown against prominent figures and followers of the majority religious community in the tiny Persian Gulf kingdom.
The prisoners were marking the anniversary of the martyrdom of Imam Muhammad al-Jawad (PBUH) -- the ninth Shia Imam, who died on the 29th day of the lunar calendar month of Dhul Qa'dah more than 12 centuries ago -- on Tuesday evening, when prison guards stormed into Building 14 of the detention facility and started beating the mourners, Arabic-language Lualua television network reported.
The regime forces then placed them in solitary confinement.
Hundreds of inmates are kept in the notorious Jaw prison, Bahrain's central detention facility, for their participation in peaceful pro-democracy rallies.
Thousands of anti-regime protesters have held demonstrations in Bahrain on an almost daily basis ever since a popular uprising began in the country in mid-February 2011.
They are demanding that the Al Khalifah dynasty relinquish power and allow a just system representing all Bahrainis to be established.
Manama has gone to great lengths to clamp down on any sign of dissent. On March 14, 2011, troops from Saudi Arabia and the United Arab Emirates were deployed to assist Bahrain in its crackdown.
Scores of people have lost their lives and hundreds of others sustained injuries or got arrested as a result of the Al Khalifah regime's crackdown.
On March 5, Bahrain's parliament approved the trial of civilians at military tribunals in a measure blasted by human rights campaigners as being tantamount to imposition of an undeclared martial law countrywide.
Full report at:
http://www.presstv.ir/Detail/2017/08/23/532702/Bahrain-regime-forces-attack-Shia-inmates-Jaw-Prison
--------
US killing of Raqqah civilians' flagrant violation of international law: Syria
Aug 24, 2017
Syrian has called on the United Nations to halt the US-led coalition's continued targeting of civilians during their operations in Raqqah.
On Wednesday, the Syrian Foreign Ministry sent two letters to UN Secretary General Antonio Guterres and the chairman of the UN Security Council condemning the US-led coalition for committing war crimes its operations in Syria.
"The warplanes of the US-led coalition added a new crime to their criminal record by targeting civilians and infrastructure in Syria on Tuesday the 22nd of August through shelling the residential neighborhoods in Raqqah, claiming the lives of 78 civilians, injuring tens of others, most of them women and children, and causing huge damage to the local and private properties," read the letters.
The letters were written a day after the so-called Syrian Observatory for Human Rights reported that since the beginning of the week, over 170 civilians, mainly women and children, had been killed in US-airstrikes in Raqqah, and that the toll was the highest since operations to liberate Raqqah began.
"The government of the Syrian Arab Republic calls on the Security Council to implement its resolutions on the fight against terrorism, especially Resolution 2253, and to immediately stop the crimes by the coalition against innocent civilians in Syria," added the letters.
US-coalition killing civilians in Raqqah
Meanwhile, Amnesty International released a report confirming that the US operations in Raqqah were greatly endangering civilians.
"As the battle to wrest Raqqah from Daesh intensifies, thousands of civilians are trapped in a deadly labyrinth where they are under fire from all sides. Knowing that Daesh uses civilians as human shields, the Syrian Democratic Forces (SDF) and US forces must redouble efforts to protect civilians, notably by avoiding disproportionate or indiscriminate strikes and creating safe exit routes," said Amnesty International's Senior Crisis Response Adviser Donatella Rovera on Wednesday.
"Things will only get more dangerous as the battle reaches its final stages in the city center. More can and must be done to preserve the lives of civilians trapped in the conflict and to facilitate their safe passage away from the battleground," she added.
On June 6, the US-backed SDF militiamen said they had launched an operation aimed at pushing Daesh out of Raqqah.
The US-led coalition has been conducting airstrikes against what are said to be Daesh targets inside Syria since September 2014 without any authorization from the Damascus government or a UN mandate.
Full report at:
http://www.presstv.ir/Detail/2017/08/24/532726/syria-raqqah-us-un-letters-amnesty
--------
Iraqi forces advance towards heart of IS-held bastion
August 24, 2017
TAL AFAR, Iraq - Iraqi forces advanced Wednesday towards central Tal Afar, one of the Islamic State group's last strongholds in the country, as aid workers braced for an exodus of civilians fleeing the fighting.
Armoured personnel carriers full of soldiers and fighters of the Hashed al-Shaabi paramilitary coalition moved into Al-Nur district early in the morning as warplanes flew overhead, said an AFP photographer on the ground.
They encountered trucks parked across roads with earthen embankments aimed at stopping them, as well as sniper fire and mortar shelling.
Six weeks after routing the militants from Iraq's second city Mosul, the Iraqi forces launched an assault Sunday on Tal Afar, where an estimated 1,000 militants are holed up.
They retook three first districts of the city on Tuesday, but as with the gruelling nine-month campaign to recapture Mosul, their convoys face an onslaught of suicide and car bomb attacks.
On Wednesday they "entered the neighbourhood of Al-Kifah North... and headed towards the centre of the city," said Ahmed al-Assadi, spokesman for the Hashed al-Shaabi paramilitary coalition fighting IS alongside the army and police.
"All the lines of IS defence outside the city have been broken and the troops are advancing from all directions towards the inner quarters of the city," he added.
As they advanced, troops said they discovered a network of underground tunnels used by the militants to launch attacks behind lines of already conquered territory, or to escape.
In a bid to counter these surprise attacks, the Iraqis dropped leaflets overnight calling on civilians to help by marking houses where the militants are located.
The International Organization for Migration said "thousands of civilians" had fled Tal Afar since the offensive began. But around 30,000 civilians are trapped in the fighting, according to the United Nations.
Caught between the two sides, those still inside the city have been pounded by Iraqi and US-led coalition aircraft for weeks, as well as intense artillery fire since Sunday.
The UN refugee agency (UNHCR) fears they could be "used as human shields" and that "attempts to flee could result in executions and shootings," said the spokesman for UN Secretary General Antonio Guterres.
The United Nations and aid agencies are working to establish shelters for the displaced.
Those who flee through desert areas face temperatures of up to 43 degrees Celsius (109 Fahrenheit), sometimes for periods of more than 10 hours, putting them at risk of dehydration, said Viren Falcao of the Danish Refugee Council.
Tal Afar was once a key supply hub for IS between Mosul - which lies around 70 kilometres (45 miles) to the east - and the Syrian border.
The Iraqi forces massed around Tal Afar on Tuesday before the militants responded with artillery fire.
Army, police and of the Hashed al-Shaabi paramilitary coalition later took "full control" of the Al-Kifah, Al-Nur and Al-Askari districts, the Hashed said
The Iraqi forces had encircled the city despite what Hashed spokesman Assadi called "intense" fighting. He said the battle for the city would probably last weeks, in contrast to the months-long battle for Mosul.
After meeting Iraqi Prime Minister Haider al-Abadi in Baghdad on Tuesday, US Defence Secretary Jim Mattis said the militants were "on the run".
"Cities have been liberated, people freed from ISIS, from Daesh," Mattis said, using alternative names for IS.
The militants had not been able "to stand up to our team in combat, and they have not retaken one inch of ground that they lost," he said.
Mattis declined to make any predictions about the battle.
"ISIS's days are certainly numbered, but it's not over yet and it's not going to be over anytime soon," he said.
Full report at:
http://nation.com.pk/international/24-Aug-2017/iraqi-forces-advance-towards-heart-of-is-held-bastion
--------
Egypt criticises US decision to cut aid as Kushner visits
August 24, 2017
CAIRO - Egypt on Wednesday protested a US decision to withhold some military aid as a US delegation including presidential adviser Jared Kushner visited Cairo for meetings on the Middle East peace process.
The decision to withhold some financial and military aid came as a surprise after President Donald Trump pledged strong tries with the key US ally after they had deteriorated under his predecessor Barack Obama.
The US delegation met Egyptian Foreign Minister Sameh Shoukry on Wednesday, his spokesman said, after the meeting had been dropped with no explanation from the minister's schedule sent to reporters. The delegation also met President Abdel Fattah al-Sisi, his spokesman Alaa Youssef told AFP.
In a statement, the foreign ministry said it "regrets the decision" to reduce some funds allocated under a US assistance programme and withhold the disbursement of other military aid.
It provided no details of the cuts, but US media reports said Washington on Tuesday denied Egypt $96 million in aid and delayed $195 million in military funding because of concerns over its human rights record. "Egypt considers this step as a misjudgement of the nature of the strategic relations that binds the two countries over decades," the foreign ministry said.
The move "may have negative repercussions", it added.
The New York Times quoted the State Department as saying the move followed a lack of progress on human rights and the passing of a new law restricting the activities of non-governmental organisations.
Trump's arrival in office earlier this year saw an improvement in relations with Egypt after Obama's cold shoulder to Sisi over rights issues.
Obama temporarily suspended military aid to Egypt after the July 2013 overthrow of Islamist president Mohamed Morsi and the subsequent bloody crackdown on Morsi's supporters.
Sisi in May ratified the NGO law, which critics say will severely restrict the work of civil society, including by banning studies without prior permission from the state, with large fines for violations.
Trump set aside criticism of Sisi's rights record while pledging to maintain support for the key US ally, which receives an annual $1.3 billion in military aid.
Egyptian authorities have been fighting an insurgency in the north of the Sinai Peninsula, where an Islamic State group affiliate has killed hundreds of soldiers and policemen.
Full report at:
http://nation.com.pk/international/24-Aug-2017/egypt-criticises-us-decision-to-cut-aid-as-kushner-visits
--------
ISIL's Command Center Destroyed in Popular Uprising in Eastern Syria
Aug 23, 2017
The sources said that civilians in the town of Hajeen in Eastern Deir Ezzur stormed one of the command centers of ISIL's Islamic police and set it on fire, killing the entire terrorists inside.
The sources further added that a number of residents in the town of Qaranij in Eastern Deir Ezzur attacked an ISIL hideout and freed nearly 50 captives.
Also, residents of the village of Buqrus set fire at an oil tanker of ISIL, the sources said.
They went on to say that Abu Ma'az Ordoni, one of the security members of the ISIL in the regional governor's office, was killed by unknown attackers, adding that Ma'az's body was found near al-Qatar housings North of Deir Ezzur city.
Also, ISIL executed Ali al-Razi, one of its media staff, on charges of fleeing the region after a large number of ISIL commanders and fighters fled the region.
Relevant reports said on Friday that the Syrian fighter jets bombed ISIL's positions in the neighborhoods of al-Roshdiyeh and al-Huweiqa near Regiment 137 base, al-Mawared region, in al-Tayem region, Panorama base and the village of al-Masrab, killing a large number of terrorists, including a notorious commander nom de guerre Abu al-Abbas.
The sources further said that a group of villagers in the village of al-Hara near the town of Albu Kamal in Southeastern Deir Ezzur stormed a meeting of ISIL's commanders along the road connecting Albu Kamal to the border town of Qa'em in Iraq, killing Abu Omar al-Mesri and Abu Tariq al-Mesri and wounding several more.
Full report at:
http://en.farsnews.com/newstext.aspx?nn=13960601000165
--------
Syrian army, Hezbollah advance against Daesh in western Qalamoun
Aug 23, 2017
Syrian army soldiers and fighters from the Lebanese Hezbollah resistance movement have retaken several areas from Daesh Takfiri militants in the strategic and mountainous region of Qalamoun close to the border with Lebanon.
Hezbollah's media bureau said in a statement on Wednesday that Syrian troopers and their allies had taken control over Shaaba al-Bahsa Heights on the outskirts of al-Jarajir village in Syria's southwestern province of Rif Dimashq.
The statement added that the forces had also recaptured Qaba Ismail and Shaaba Harfoush hilltops near Bureij village in central Syria.
On August 19, Hezbollah and the Syrian army launched an operation to purge Daesh from Qalamoun, located about 330 kilometers (205 miles) north of the Syrian capital Damascus.
Hezbollah launched a major push on July 21 to clear both sides of Lebanon's border with Syria of "armed terrorists."
In August 2014, the Jabhat Fateh al-Sham and Daesh terrorist groups overran Arsal, killing a number of Lebanese forces. They took 30 soldiers hostage, most of whom have been released.
Since then, Hezbollah and the Lebanese military have been defending Lebanon on the country's northeastern frontier against foreign-backed terrorist groups from neighboring Syria.
Hezbollah fighters have fended off several Daesh attacks inside Lebanon. They have also been providing assistance to Syrian army forces to counter the ongoing foreign-sponsored militancy.
The movement has accused Israel of supporting Takfiri terrorists operating in the Middle East.
Full report at:
http://www.presstv.ir/Detail/2017/08/23/532686/Syrian-army-Hezbollah-new-gains-Qalamoun-Daesh-terrorists
--------
Africa
14 troops killed in ISIL attack in southern Libya
23 August 2017
At least 14 forces loyal to East Libya-based military commander Khalifa Haftar were killed in a ISIL attack in southern Libya on Wednesday, according to a Libyan military source.
Without elaborating, the source said ISIL militants attacked the gate of Fuqaha town, 200 kilometers north of Sabha city. The source spoke on condition of anonymity because he was unauthorized to speak to media.
No group has yet claimed responsibility for the attack.
Libya has been wracked by turmoil since 2011, when a bloody popular uprising ended with the ouster and death of longtime leader Muammar Gaddafi.
In the aftermath of Gaddafi's departure, the oil-rich country's long-simmering social and political divisions have yielded three rival seats of government and a host of competing militia groups.
http://www.worldbulletin.net/africa/193280/s-africas-first-online-rhino-horn-auction-opens
--------
Britain announces £9 million anti-terror aid for Libya
24 August 2017
British Foreign secretary Boris Johnson has announced plans to send financial aid worth of £9 million to Libya to fight terrorism and immigrant crisis, The Guardian reported on Wednesday.
Johnson said that the aid aims to reduce the number of migrants risking their lives attempting to cross the Mediterranean to flee the country's critical situation. The announcement was made after the foreign secretary's second visit to Tripoli, Libya in the last four months.
During his visit, Johnson referred to Libya as "the front line for many challenges which, left unchecked, can pose problems for us in the UK – particularly illegal migration and the threat from terrorism".
The British newspaper also quoted Johnson saying that it's vital for the UK to help the Libyan government to bring stability to the North African country. He also said that this would prevent the growth of terrorists, gun runners and human traffickers in close proximity to the European continent.
Full report at:
https://english.alarabiya.net/en/News/world/2017/08/24/Britain-announces-GBP-9-million-anti-terror-aid-for-Libya-.html
--------
11 beheaded in Libya checkpoint attack
Aug 23, 2017
At least 11 people were beheaded Wednesday after an attack on a checkpoint controlled by Libyan military strongman Khalifa Haftar south of Tripoli, a spokesman for his forces said.
"At least nine soldiers were beheaded... in addition to two civilians" at the checkpoint about 500 kilometers (300 miles) south of Tripoli, Colonel Ahmad al-Mesmari said, blaming the Daesh terrorist group for the gruesome attack.
No group has yet claimed the attack at dawn on a checkpoint run by Haftar's forces in the Al-Jufra region.
Haftar's self-proclaimed Libyan National Army seized the area, including a key military air base, in June from the Benghazi Defense Brigades coalition which includes extremists driven out of Libya's second city by the field marshal's forces.
Analysts and military sources say Daesh remains active in Libya, particularly the south, despite losing its stronghold of Sirte in December 2016.
Libya has been rocked by chaos since the 2011 fall and killing of longtime dictator Moamer Qaddafi in a NATO-backed revolution.
Full report at:
http://www.presstv.ir/Detail/2017/08/23/532682/Libya-Khalifa-Haftar-Daesh
--------
Bomb attack kills 4 in northern Cameroon
Aug 23, 2017
A child bomber killed four members of a local self-defense group late Tuesday in northern Cameroon, an area often targeted by Boko Haram extremists in their long-running insurgency.
The attack in the village of Amchide, near the Nigerian border, was confirmed on Wednesday by a member of the self-defense force who requested anonymity, as well as by a security source in the capital, Yaounde.
"I was in my sector when I heard a large explosion in another part of the town," the self-defense source said.
"We saw that a boy had blown himself up in the middle of a group from the security committee," he said.
Two people were killed immediately, while two others died from their wounds later, he added.
Attacks attributed to Boko Haram terrorists have flared in northern Cameroon in recent weeks after months of relative calm, often targeting self-defense groups set up to respond to the extremist threat.
Boko Haram's bloody eight-year armed insurgency, initially focused on northeast Nigeria, has killed at least 20,000 people and displaced more than 2.6 million.
Full report at:
http://www.presstv.ir/Detail/2017/08/23/532675/Cameroon-Boko-Haram-Bombing
--------
Suicide bombers kill two, injure 11 in northeast Nigeria
August 24, 2017
Two people, including a policeman, were killed in a suicide bombing in the northeast Nigerian city of Maiduguri, the epicentre of Boko Haram's insurgency, police and witnesses said.
Eleven others were injured in the attack at Muna Garage on the outskirts of the city, which has been repeatedly targeted by the Islamists, police said in a statement.
A male suicide bomber detonated explosives "strapped to his body" near a police armoured vehicle on patrol in the area at around 1:45 pm (local time), the police said. A civilian was killed while seven others and four SARS (special anti-robbery squad) personnel were injured.
Witnesses and a rescue worker said a policeman was also killed in the blast that badly damaged the armoured vehicle. "The driver of the police vehicle was killed along with a civilian," said witness Idrissa Suleiman. His account was supported by a rescue worker involved in the evacuation of the victims, who said the policeman's body and that of the two bombers had been removed.
Suleiman said a suspect among the crowd that gathered at the scene then attempted to snatch a policeman's weapon but was gunned down. However police then "went wild" and fired into the air to scare away potential attackers, with stray bullets hitting three people, one of whom died from head injuries.
Full report at:
http://indianexpress.com/article/world/suicide-bombers-kill-two-injure-11-in-northeast-nigeria-4810888/
--------
Russian ambassador to Sudan found dead, no foul play suspected
24 August 2017
Russia's ambassador to Sudan, Mirgayas Shirinsky, was found dead at his Khartoum residence on Wednesday, the Sudanese foreign ministry said.
"The Russian ambassador died this evening at his Khartoum residence," the ministry said, without giving a cause of death.
An initial investigation had ruled out "foul play" as the cause of the ambassador's death, which was confirmed by Moscow, AFP reported.
The ambassador, who was born in 1954, "died while he was swimming in his pool at his house", the officer said.
A diplomatic source also confimed that the Russian envoy in his 60s was found dead in the swimming pool of his residence in north Khartoum.
"We grieve to announce that on August 23 in Khartoum the Russian ambassador to Sudan, M. Shirinsky, died," Russia's RIA Novosti state news agency reported, citing the foreign ministry in Moscow.
"As soon as we receive detailed information from the Russian embassy staff in Khartoum, we will give information on the circumstances of the death of our colleague," it said.
The Sudanese Ministry of Foreign Affairs said in their statement that Mr Shirinsky has "taken true steps to better the relationship between Khartoum and Moscow".
Police spokesman Omar al-Mokhtar said Sudanese officials had now taken Shirinsky's body to a morgue in the capital. "We are now waiting for instructions from the Russian foreign ministry."
A fluent Arabic and English speaker, Shirinsky had been a diplomat since 1977, the embassy said on its website.
He studied at Moscow Institute of International Relations and had been appointed as ambassador to Khartoum in 2013, having previously served as ambassador to Rwanda.
Shirinsky's long diplomatic career also included postings in Egypt, Saudi Arabia and Yemen.
This is the ninth death of a Russian diplomat within a year.
In July Denis Voronenkov, 45, was gunned down outside a hotel in Kiev. Voronenkov and his wife both spoke out against Putin after they left Russia for Ukraine in October.
Russian Ambassador to the UN, Vitaly Ivanovich Churkin, at the United Nations September 25, 2016 in New York.
Alexander Kadakin, 67, the Russian ambassador to India, died after a short illness on January 26.
Andrey Malanin, a senior diplomat at the Russian embassy in Greece, was found dead in early January.
A Former intelligence official, Oleg Erovinkin, was found dead sitting in his car on December 26 in Moscow.
In the highest profile killing, Russian ambassador to Turkey, Andrey Karlov, 62, was assassinated in Ankara on December 20. He was shot at point-blank range by a gunman while speaking at an art exhibition.
On the same day as Karlov's killing, Petr Polshikov, 56, a senior Russian diplomat, was shot to death in his Moscow home, according to Moscow newspaper Moskovskij Komsomolets.
Full report at:
https://english.alarabiya.net/en/News/middle-east/2017/08/24/BREAKING-Russian-ambassador-to-Sudan-found-dead.html
--------
URL: https://www.newageislam.com/islamic-world-news/the-new-face-islamic-state/d/112318
New Age Islam, Islam Online, Islamic Website, African Muslim News, Arab World News, South Asia News, Indian Muslim News, World Muslim News, Women in Islam, Islamic Feminism, Arab Women, Women In Arab, Islamophobia in America, Muslim Women in West, Islam Women and Feminism