New Age Islam News Bureau
14 Jan 2019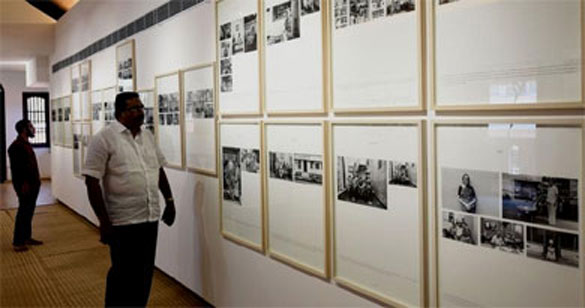 The mosque has a board welcoming all, irrespective of faith and gender, and celebrates the diversity of religion with citations from revered spiritual texts
------
• The Mosque, Masjid-ul Islam, in Kerala Also Houses a Modern Art Gallery
• Pak Varsity to Observe Sisters' Day on Valentine's Day to Promote 'Islamic Traditions'
• Aceh Council Postpones Quran Reading Test for Presidential Candidates
• Muslims, Jews Come Together In Europe against Halal and Kosher Ban
• Pay SR250 for A Permit, and Legally Fly Your Drone In Saudi Arabia
• Nigeria: Residents Support Mosque and Church Built Side-By-Side
India
• The Mosque, Masjid-ul Islam in Kerala Also Houses a Modern Art Gallery
• Al-Badr commander Zeenat-ul-Islam killed in encounter in Kulgam
• Hizbul militant, his minor accomplice held in Jammu and Kashmir's Shopian
• Don't Deny Students, Candidates Right to Wear Hijab, Carry Kirpan: Delhi Minorities Body to Govt Depts
• Three Muslim Delhi Youths Offer Free Coaching On YouTube
• NIA Gets 6-Day Custody of ISIS Module Member Absar
• Rising Intolerance Severely Affected Religious Minorities: Farooq Abdullah
• Protesters, cops clash at militant's funeral in Jammu and Kashmir's Shopian
--------
Pakistan
• Pak Varsity to Observe Sisters' Day on Valentine's Day to Promote 'Islamic Traditions'
• Scholar for State-Controlled Preaching, Mosques
• Number of Pakistan chairs in foreign universities reduced
• Pakistan protests HC official's arrest in India
• SC disposes of Army Public School carnage case
• Opposition set to give tough time to ruling coalition in NA
--------
Southeast Asia
• Aceh Council Postpones Quran Reading Test for Presidential Candidates
• 'No Place for Israeli Athletes in Malaysia' Says Malaysian PM
• Thai junta seeks talks with Muslim insurgents
• IGP: Still no leads on whereabouts of Indira Gandhi's daughter
--------
Europe
• Muslims, Jews Come Together In Europe against Halal and Kosher Ban
• Orban: Islam and Open Borders Will Divide EU into 'Two Civilisations'
--------
Arab World
• Pay SR250 for A Permit, and Legally Fly Your Drone In Saudi Arabia
• In rare visit, Israeli minister in Cairo amid Egyptians' opposition
• Syria says not intimidated by new Israeli airstrike
• Mass Grave Discovered in Iraq's Nineveh Province
• Syrian Army Pounds Tahrir Al-Sham's Military Convoys in Northern Hama, Southern Idlib
• French, Jordanian FMs discuss Syria in Amman
• Several Saudi troops killed in Yemeni forces' retaliatory attack on Jizan
• Saudi king receives grand mufti, other key officials
--------
Africa
• Nigeria: Residents Support Mosque and Church Built Side-By-Side
• Sudan protesters urge Darfur demos as new rallies planned
• Sudan police fire tear gas at protesters in Khartoum
• Foreign Jihadists among 85 Al Shabaab killed by US troops in Somalia
• Boko Haram: Buratai honours FOI request, provides army's expenditure
--------
South Asia
• 28 Taliban Militants Killed In Afghan, Coalition Forces Operations
• Taliban shadow district chief killed with his 11 fighters in Balkh province
• Afghan NSA Hamdullah Mohib to meet Saudi officials regarding peace talks
• Afghan Air Force bomb Taliban gathering in Faryab province
--------
Mideast
• Houthi battalion leader among 20 killed, injured in al-Dhalea province
• Yemen's Houthis boycott meeting with UN-led truce monitors
• Hamas to 'intensify confrontation' if Israeli military attacks besieged Gaza Strip
• Palestinian wounded by Israeli fire dies
• Iran's Zarif holds talk with his Iraqi counterpart in Baghdad
• Funding shortage leads to World Food Program cuts for Palestinians
• Netanyahu confirms weekend strike by Israel on Iran target in Syria
• Turkey vows to continue fight against Kurdish militia after Trump threat
--------
North America
• Fight against ISIS Continues, Says US-Led Coaltion
• Trump To 'Devastate Turkey Economically If They Hit Kurds' In Syria
• White House asked for options to strike Iran, reports WSJ
Compiled by New Age Islam News Bureau
URL: https://www.newageislam.com/islamic-world-news/the-mosque-masjid-ul-islam/d/117454
--------
The Mosque, Masjid-ul Islam, in Kerala Also Houses a Modern Art Gallery
Jan 14, 2019
KOCHI: For the past 10 months, the faithful offering Jum'ah (Friday afternoon prayer) at Masjid-ul Islam in a lane opposite the RDO office in Fort Kochi have been doing so in a hybrid space — for, inside the mosque is a modern art gallery which was opened in April last year.
On Fridays, when it is prayer time, white curtains are hung from discreet hooks covering the art works; currently on show is a photo documentation of 42 communities found in the 5.5 sq km area of Mattancherry and Fort Kochi. "The only reason why we are covering them during prayers is to ensure that people are not distracted," says K A Mohammed Ashraf, chairman of the mosque committee, a businessman who set up the place of worship with his own funds four years ago.
Kerala mosque welcomes all, irrespective of faith & gender
The mosque has a board welcoming all, irrespective of faith and gender, and celebrates the diversity of religion with citations from revered spiritual texts. "We want to be inclusive. We don't have restrictions on the type of dress one should wear," Ashraf says, adding that the gallery, close to biennale venue, is visited by lot of foreigners.
As one climbs the marble-paved, narrow flight of stairs to the Islamic Heritage Centre (IHC) art gallery on the second floor of the building, two quotes welcome you: a sukta from the Rigveda on the right and a verse from the Quran on the left, epitomising the shared destinies of both religions. The balcony space has several other quotes that build on the syncretic tradition.
On one side of the art gallery, neatly-labelled wooden shelves showcase books ranging from religious texts to even novels and poetry. "This is not much but we are trying to source some rare books. A large reference library is also on the anvil," says Ashraf, who also runs Masjidul Islam charitable trust.
The IHC and the gallery is a joint initiative of the trust and Forum for Faith and Fraternity (3F) who are fascinated by the golden age of Islam between AD 8 and AD 14, when mosques were centres of learning and art and science flourished. "We want people to understand the principles of pluralism, cultural diversity and the importance of upholding these traits in the contemporary world," says Ashraf who feels this is the only mosque in India which houses an art gallery.
C H Abdul Rahim, chairman, 3F, describes their organisation as a small group of professionals working silently to promote cultural diversity through study of different religions. "It is a myth that Islam is antithetical to art. It has always promoted art and music and historically mosques were seats of learning," said Rahim, former executive director of KIMS and a chartered accountant.
The show Transcendence by Biju Ibrahim is emblematic of this vision of plurality. From Lohanas, who are followers of Jhulelal, to Dhakni Muslims and 24 Telugu Manai Chettiars, Biju's photographs capture vibrant communities in all their diversity. "I don't think there is any place in the world that houses so much diversity within such a small geographic space," says Biju, who began working on the project in 2017 as a resident of Uru Art Harbour. Most of these community members have strived to preserve their language and culture within their home but share a common identity when they step out of the four walls. "The show began in April but once the biennale kicked off I added five more panels to the exhibition," he says. His show will be on till end of March. https://timesofindia.indiatimes.com/city/kochi/this-mosque-in-kerala-also-houses-a-modern-art-gallery/articleshow/67519356.cms
--------
Pak varsity to observe Sisters' Day on Valentine's Day to promote 'Islamic traditions'
Jan 13, 2019
LAHORE: A Pakistani university will celebrate Sisters' Day on February 14 to promote "Islamic traditions", according to the vice chancellor.
Female students can be gifted scarves and Abayahs (clothes) as decided by Vice Chancellor Zafar Iqbal Randhawa of the University of Agriculture in Faisalabad and other decision makers, Dawn news reported.
The vice chancellor believes it was "compatible with Pakistan's culture and Islam", the report said.
February 14 is celebrated as Valentine's Day across the world. On the day, people express their love and affection with greetings and gifts.
The university announced that it will celebrate Sisters' Day on February 14 to "promote Islamic traditions", Randhawa said.
While speaking to DawnNewsTV, he said that he was not sure if his suggestion to celebrate Sisters' Day "would click or not".
He said that although some Muslims have turned Valentine's Day into a threat, "My thinking is that if there is a threat, convert it into an opportunity".
The report quoted Randhawa as saying that women face certain conditions related to their attire which dictate that their body should not be revealed.
"Women are at a very high rank for us. Today the era of gender empowerment is here, Western thinking is being promoted. But the best gender empowerment and division of work is in our religion and culture," the vice chancellor said.
He claimed that celebrating Sisters' Day would allow "a soft image to develop", and that people will realise that this is how much sisters are loved in Pakistan.
"Is there a love greater than that between brother and sister?" On Sisters' Day, it is greater than the love between husband and wife," Randhawa said.
Valentine's Day has been a controversial subject in Muslim-majority Pakistan for years, with some celebrating and others protesting against it.
The Islamabad High Court in 2017 and 2018 "banned" all Valentine's Day celebrations, and print and electronic media were warned to "stop all Valentine's Day promotions immediately".
In 2016, then president Mamnoon Hussain urged Pakistanis to forego celebrating Valentine's Day, saying it was not a part of Muslim tradition, but a Western innovation.
https://timesofindia.indiatimes.com/world/pakistan/pak-varsity-to-observe-sisters-day-on-valentines-day-to-promote-islamic-traditions/articleshow/67513662.cms
--------
Aceh council postpones Quran reading test for presidential candidates
January 14, 2019
The Aceh Clerics Council, which groups Muslim clerics in Aceh, said that it has postponed indefinitely the Quran reading test it proposed for presidential candidates Joko "Jokowi" Widodo and Prabowo Subianto, due to scheduling conflicts.
"There will be no [test] on Jan. 15. We are waiting for the latest schedule [of the two candidates]," Aceh Clerics Council chairman Marsyuddin Ishaq said on Sunday, as quoted by kompas.com. "Tomorrow [Monday], we will meet with both campaign teams to discuss the matter," he added.
The council had challenged the two presidential candidates to undergo a Quran reading test to determine the best leader for the country, which has a majority Muslim population. The test was initially scheduled to be held on Jan. 15 at the Baiturrahman Grand Mosque in Banda Aceh.
The Jokowi-Ma'ruf Amin campaign team said earlier that the incumbent was willing to take the test if the public demanded it. On the other hand, the campaign team for the Prabowo-Sandiaga Uno pair, which is backed by Islamic-leaning parties the Prosperous Justice Party (PKS) and the National Mandate Party (PAN), said that such a test was unnecessary, or that if it did take place, the test's organizers should prove that they were experts in reading the Quran.
Marsyuddin also said on Monday that the council planned to coordinate with the Aceh Independent Election Commissions (KIP Aceh) on the test format that would be acceptable to both candidates. (kuk/ipa)
https://www.thejakartapost.com/news/2019/01/14/aceh-council-postpones-quran-reading-test-for-presidential-candidates.html
--------
Muslims, Jews come together in Europe against halal and kosher ban
Jan 13, 2019
Belgium: Showing concerns about animal welfare, reportedly Belgium has banned halal and kosher animal slaughtering practices. Minister of Animal Welfare Ben Weyts proposed the ban, which came into effect on January 1.
However, Muslims and Jews have protested the ban saying the move violates freedom of religion for the Muslim and Jewish population in Belgium. Muslims and Jews are 500,000 and 30,000 respectively, out of a population of 11 million. Muslim halal and Jewish kosher laws maintain that animals cannot be stunned before killing them by cutting the throat and leaving the blood to drain from their bodies. This method they claim is more humane since the animals die faster resulting in less suffering.
In Europe before killing them, animals are made insensible to pain before being killed. While the larger animals are subject to a captive bolt device, whereby a metal rod is fired into the brain, chickens and other birds are often electrically shocked. Some animals are made unconscious with gas as well.
https://www.siasat.com/news/muslims-jews-come-together-europe-against-halal-and-kosher-ban-1455864/
--------
Pay SR250 for a permit, and legally fly your drone in Saudi Arabia
January 14, 2019
RIYADH: Saudi drone enthusiasts were celebrating on Sunday after aviation chiefs moved to end confusion over the devices' legality.
A recreational drone permit will cost SR250, just under $70, the General Authority for Civil Aviation (GACA) said. Applicants require only a national identity card or iqama, and the make and serial number of the drone.
Commercial drone permits will cost SR500, although applicants must complete a GACA training course.
One permit is required for each drone, but there is no need to apply for further permission to fly it.
Anyone wishing to import a drone must register the serial number on the GACA website to obtain customs clearance. "If the drone is registered, Saudi Customs will allow it into the country, no problem," GACA said.
The decision has delighted hobbyists, enthusiasts and commercial drone operators who faced investigation and detention if caught. Several people trying to smuggle drones into the country have had them confiscated by Customs, and foreign journalists and filmmakers were also banned from bringing them into the Kingdom without permission from the Media Ministry.
"There was always a great deal of confusion regarding drone permits," said Seif, a Saudi filmmaker. "Where you were referred to depended on who you asked and you ended up not flying or flying illegally."
The permit system will also end the black market in drones, with heavily marked-up prices.
The machines are expected to appear soon in stores around the country, at market price.
http://www.arabnews.com/node/1435026/saudi-arabia
--------
Nigeria: Residents support mosque and church built side-by-side
December 21, 2018
By Mohammed Ibrahim
What would happen if you built a Muslim mosque right next door to a Christian church, in a country plagued by religious violence?
In Kaduna State in Nigeria, where religious violence has intensified in the last year, building two places of worship so close seemed like an impossibility. Residents In the suburb of Kudanden were nervous when construction began next to a Living Faith church, with the new mosque even sharing a fence-line with the church. But despite clashes between the two religious groups in other parts of the country, worshipers here, are determined to work together.
"The issue of peaceful co-existence, or better still, refer to it as religious co-existence, cannot be over-emphasized," said Christian resident Isiah Benjamin.
"So if the mosque is going to be used to worship and serve god, and the church is going to be used to worship and serve god, there's no big deal about it, it's a good one, and it therefore shows that we, as human beings, must learn to live as one."
The harmony in the community was aided by a memorandum of understanding that was established by leaders in the region. The chief of Kudanden, Gabriel Galadima, said leaders from both parties were brought together to recognize a mutual, peaceful, understanding.
"What I want to call on the youth of this community, not only this community but the state at large, that wish not to live in peace with one another—that yes relations will come and go, but we will still be together."
"I want to praise the people of our Kaduna community, other areas in Kaduna, other communities should also emulate that," said Muslim resident Tajudeen Ajibade.
"So that we can go back to what Kaduna used to be: My name John, my name Mohammed, my name Taju—it does not make a difference—what makes a difference to us is how we are going to move this state forward."
"This happened because we want to be together, we should be our brother's keeper, we should live together," said resident Samuel David Galadima.
"We want other people to emulate the habit of people from Kudanden, to learn from them. To live in peace with one another."
https://www.peacenews.com/single-post/2018/12/21/Nigeria-Residents-support-Mosque-and-Church-built-side-by-side?fbclid=IwAR14zig1l3knqHNZV0emEOL_1G0sq6u9mEKRTfLdS4QFgz9j9kxqIE8aVQQ
--------
India
Al-Badr commander Zeenat-ul-Islam killed in encounter in Kulgam
Rouf A Roshangar
Srinagar
January 13, 2019
Two terrorists including top Al-Badr commander Zeenat-ul-Islam have been killed in an encounter with security forces in Kulgam district of Jammu and Kashmir, police said Sunday.
Six civilians are also reported to have been injured.
"The two militants killed in the Katpora encounter have been identified as Zeenat-ul-Islam and Shakeel Dar. Both were involved in several terror crimes," a police official said.
Islam, a category A++ militant, had switched over to the Al-Badr from the Hizbul Mujahideen in November last year following an agreement between the two outfits to strengthen the Al-Badr.
Islam was active since 2015, the police official said.
He said security forces launched a cordon and search operation in Katpora area of Yaripora in south Kashmir's Kulgam district Saturday evening after receiving specific information about the presence of militants there.
As the forces were conducting the searches, the militants fired on them, he said.
As per policy, the militants were given an opportunity to surrender, but they continued to fire, the official said.
The forces retaliated, leading to an encounter in which the two militants were killed, he said.
Arms and ammunition were recovered from the encounter site, the official said, adding, no collateral damage has been reported during the encounter.
In the aftermath, internet services in the Shopian and Kulgam districts have been snapped. The train service between Srinagar and Banihal has also been suspended.
Almost all top militants hunted
With the elimination of top Al-Badr rebel commander, security forces have succeeded in hunting down almost all most wanted militants in Kashmir valley, categorized in A+ and A++ grade.
On the condition of anonymity, a senior officer from J&K Police said, "These militants were involved in a series of attacks on security forces, civilian killings, abduction of civilian and killings of SPOs, particularly in south Kashmir. Though the number of active millitans is around 250, however, the number does not matter, what matters to us is the capability of millitants. The slain militant commanders were instrumental in recruiting new militants and planners to plot attacks on security forces, IED experts."
According to official reports, at least 230 militants were killed in 2018 alone which was the highest number in a decade.
On January 3, 2019, security forces gunned down three militants in Tral town of Pulwama district and on January 12, two militants were killed in a gunfight in the Yaripora area of Kulgam district.
According to police officials, at least nine top ranking, most wanted militant commanders have been neutralised in the past few months, including Ahmad Dar alias Altaf Kachroo (A++), Umar Majid Ganai (A++), Zeenat-ul-Islam (A++), Manan Wani (A) and, Dawood Sofi (A+).
https://www.indiatoday.in/india/story/al-badr-commander-zeenat-ul-islam-killed-in-encounter-in-kulgam-1429854-2019-01-13
--------
Hizbul militant, his minor accomplice held in Jammu and Kashmir's Shopian
Jan 13, 2019
A joint team of Delhi and Jammu and Kashmir police have arrested an alleged Hizbul Mujahideen militant and apprehended a juvenile in Jammu and Kashmir's Shopian district.
Police said the two militants were in touch with Naveed Babu, a policeman-turned-militant who heads the outfit as its "area commander".
The duo was allegedly trying to establish a contact in Delhi NCR for a regular supply of weapons here, police said.
Kifayatullah Bukhari, 22, a resident of Shopian and his accomplice were picked up from near Narwaw village, said deputy commissioner of police (special cell) Pramod Kushwah.
"A pistol and 14 cartridges were seized from them," Kushwah said.
Full report at:
https://www.hindustantimes.com/india-news/hizbul-militant-his-minor-accomplice-held-in-jammu-and-kashmir-s-shopian/story-OZgtNU7TaF4pFyjTBHiaGO.html
--------
Don't Deny Students, Candidates Right to Wear Hijab, Carry Kirpan: Delhi Minorities Body to Govt Depts
January 13, 2019
The Delhi Minorities Commission has asked city government departments to allow minorities to wear dresses and carry articles as per their religious beliefs when appearing in recruitment and academic tests.
Acting on the commission's order, the General Administration Department (GAD) issued a circular to all principal secretaries and heads of department asking for "appropriate action" on the dress code for minority students and candidates appearing in examinations.
Minority commission chairman Zafarul Islam Khan said the order was issued in view of complaints from members of minority communities that they faced difficulties when appearing in such examinations and were forced to take off their articles of faith.
In its order, the Commission said, "Muslim women cannot be denied their religious right to wear Hijab (headscarf). They must also he allowed to wear full-sleeve shirts. The Sikhs are allowed to carry Kirpan (dagger) of reasonable length as per Indian Constitution's Article 25."
The order noted that while the security precautions are very much required during examinations, it should not harm the interests of the minorities students and candidates.
"Where certain security arrangements and frisking are required, candidates must be clearly informed in advance that they have to present themselves at the frisking point, say half an hour.
"The frisking staff is fully within its rights to check Hijab of Muslim women and allow them in after making sure security requirements have been met," said the order.
The Commission has directed all the government departments and educational institutions to "meticulously observe" its dress code order, saying failure to do so will invite legal action.
Pursuant to the order, the Directorate of Training and Technical Education has in its letter to principals of institutions under it has asked for necessary action.
Khan said that compliance reports on the order have been received by the Commission from various departments including the Services under Delhi government.
Full report at:
https://www.indiatoday.in/india/story/don-t-deny-students-candidates-right-to-wear-hijab-carry-kirpan-delhi-minorities-body-to-govt-depts-1429937-2019-01-13
--------
Three Muslim Delhi youths offer free coaching on YouTube
Jan 13, 2019
New Delhi: In the present day context, YouTube has become a platform through which anyone can get any information easily. In the present day, people are earning money by uploading various videos on YouTube but there are some youths who have thought of providing free education to their countrymen.
Three friends hailing from Jafarabad area of New Delhi took up the challenge of eradicating educational backwardness. They started their own YouTube Channel under the name 'Dear Sir'.
The founder of this channel, Mr. Waqas Malik told that many students are being benefited through this channel. So far, 20 lakh people have subscribed to this channel.
Correspondent of Inquilab talked to the founder of this channel, Mr. Waqas Malik who said that after completing graduation, he wanted to do business. At the same time, he was also teaching some friends. One day, his friend came to his shop and told that they should do something new. His friends Adil Khan and Mohammed Khashif had similar ideas. They started YouTube Channel.
Full report at:
https://www.siasat.com/news/three-muslim-delhi-youths-offer-free-coaching-youtube-1455971/
--------
NIA gets 6-day custody of ISIS module member Absar
by Sameer
Jan 13, 2019
New Delhi: The National Investigation Agency (NIA) on Saturday got six-day custody of Muhammad Absar, 24-year old teacher and an alleged member of ISIS-inspired Harkut-ul-Harb-e-Islam module, from the Patiala House Court here.
The special NIA Court, however, sent Suhail and Saqib, also alleged members of Harkut-ul-Harb-e-Islam module and arrested on December 26 last year, to judicial custody till February 6.
Suhail and Saqib were arrested along with eight others, all currently in judicial custody, from different locations in Uttar Pradesh and Delhi, during searches on December 26 last year by the NIA sleuths for allegedly hatching a terror conspiracy.
NIA arrested the 24-year-old teacher Absar on Friday night from Ghaziabad in Uttar Pradesh. Absar is a resident of Jasora, Meerut, in Uttar Pradesh.
Seeking the custody of Absar, the NIA argued that he was needed to be taken to places and confronted with the evidence. The next date of hearing in the case is January 18. According to NIA, Absar was teaching at Jamia Husania Abul Hassan, Piplera, Hapur, UP.
According to NIA, Absar visited three places in J&K in May and August 2018 along with another accused Iftekhar Sakib in connection with hatching a terror conspiracy. After the arrest of Absar, the NIA team also carried out searches at three locations including Meerut and Hapur.
Full report at:
https://www.siasat.com/news/nia-gets-6-day-custody-isis-module-member-absar-1455976/
--------
Rising intolerance severely affected religious minorities: Farooq Abdullah
Jan 13, 2019
SRINAGAR: National Conference president Farooq Abdullah Sunday said the "rising intolerance" in the country has "severely affected" religious minorities, especially Muslims.
Attacking the BJP-led government at the Centre, Abdullah said the current dispensation in Delhi was "hell-bent on destroying the secular and liberal visage of India".
In an official statement, the lawmaker from Srinagar was quoted as saying that the people of the country showed the BJP its "right place" by voting their governments out in the recently concluded assembly elections.
He said, "Rising intolerance in the country has severely affected religious minorities, especially Muslims."
He urged Muslims to forge unity and give a befitting response to "forces contriving to divide the community".
Addressing gatherings at Syed Hamid Pura Nawabazar and Boulevard, Abdullah said Islam is all about love, peace, and compassion.
"The name of Islam is enough to impress upon us the importance of peace as the word denotes same," he said, according to the statement.
The NC president said it was high time for Muslims to imbue the teachings of Islam in their daily lives.
"It is high time that Muslims across the world realise that getting swayed by sectarian strife will only ruin them," he said.
Recounting the achievements of Islamic civilisation and culture, he said the Islamic achievements in medieval medicine were groundbreaking and the advent of Islam gave impetus to many discoveries in many fields ranging from architecture to geography.
Full report at:
https://timesofindia.indiatimes.com/india/rising-intolerance-severely-affected-religious-minorities-farooq-abdullah/articleshow/67515998.cms
--------
Protesters, cops clash at militant's funeral in Jammu and Kashmir's Shopian
Jan 14, 2019
Ashiq Hussain
A day after two militants were killed in Kulgam, protesters clashed with security forces Sunday during the funeral of one of the militants in Jammu and Kashmir's Shopian district.
Former chief minister Mehbooba Mufti and separatist leader Mirwaiz Umer condemned the clash in which seven civilians were injured.
Stone-pelting youngsters clashed with the security forces in Sugan village, from which hailed al-Badr commander Zeenat-ul-Islam who was killed in a gunfight with the security forces along with his accomplice Shakeel Ahmad Dar. The security forces on Sunday fired in the air to disperse the protesters who resorted to violence while marching to attend the funeral of the militant commander, a police officer said. Police said the injured protesters, including one who suffered a bullet wound, is critical in a hospital.
Mehbooba said in a statement: "Reports of aerial firing ... are very unfortunate and disturbing. Such interference in the religious affairs is undesirable and may backfire, leading to further anger and alienation." "Use of brutal force on the martyr's funeral is not only un-Islamic and undemocratic but contrary to human values," tweeted Umer.
Full report at:
https://www.hindustantimes.com/india-news/protesters-cops-clash-at-militant-s-funeral-in-jammu-and-kashmir-s-shopian/story-Qqi2Ty95J6JMX2cNfFgvkM.html
--------
Pakistan
Scholar for state-controlled preaching, mosques
Asim Hussain
January 14, 2019
LAHORE: Noted scholar Dr Khalid Zaheer has suggested that state of Pakistan should take control of what should be preached from the mosque pulpits and who should do it to check the growing extremism.
The scholar cited examples of Muslim countries like Malaysia and Saudi Arabia where the states were in charge of mosque pulpits and managed to control the content and mannerism of the sermons delivered by clerics which eliminated the emergence of opposing interpretations of Islam. He was replying to the participants during the question answer segment at the end of the session titled 'Jihad and Dawah' on the second day of ThinkFest, the Academic Literary festival here Sunday. The guests at the session were Dr Samina Yasmeen, from UWA, Australia, eminent jurist Salman Akram Raja, and Islamic scholar Dr Khalid Zaheer.
Journalist Ejaz Haider was the moderator. The title of the session 'Jihad and Dawah' was basically drawn from the book penned by Dr Samina Yasmeen which is a research primarily focusing on the activities of Pakistan's famous religio-jihadi group Jamaat-ud-Dawah (JuD) and its once-patronised Kashmiri freedom group, Lashkar-e-Taiba (leT). Dr Khalid Zaheer said the Muslim state should ensure what content and interpretation is preached from the mosques and podiums, and held that no interpretation of Quran and Hadith could be called hundred per cent accurate. He said preachers have large number of followers ready to lay down their lives on their commands. Dr Samina delved on her research in the book which showed that JuD and LeT were launched in the wake of Soviet invasion in Afghanistan and drew popular public support by carrying the slogans of Jihad and Dawah. She said people rallied around them after listening to the interpretation of Surah Al-Tauba from the Holy Quran which calls for believers to wage jihad against the infidels who were belligerent. Citing her research, Dr Samina said first phase of JuD and LeT was that of Dawah and Jihad which began during Soviet invasion underlining that Islam was in danger and Jihad was imminent.
There was a major shift during the second phase that came after 9-11 during which main focus was on Dawah but jihad was to be waged simultaneously. She said after Mumbai attacks in 2008, JuD came under immense world pressure and changed its stance by referring to "Sabr-e-Jameel' which called for believers to calm down with patience and wait for the time when you regain power. During this phase, JuD involve women and children as political activists and its Dawah carriers. Salman Akram Raja Advocate differed from the two panelists on the notion that extremism and sectarianism emerged from illiteracy and poverty, saying that preachers generating such ideas were educated and the society in general and their audience in particular had an understanding of the ideas and notions. He said simply increasing literacy and reducing poverty was no solution to the problem. He said interpretation of Surah Al-Tauba of Holy Quran forms the basis of the entire movement against the belligerent infidels since it calls for jihad against them, adding that Dr Khalid Zaheer and Dr Javed Ghamidi have quite different interpretation of this Surah.
https://www.thenews.com.pk/print/418643-scholar-for-state-controlled-preaching-mosques
--------
Number of Pakistan chairs in foreign universities reduced
January 14, 2019
ISLAMABAD: The Ministry of Education has decided to fill only six of the 14 vacant Pakistan chairs in foreign universities.
The ministry recently stopped the process of sending shortlisted candidates to represent Pakistan in 14 foreign universities. The candidates were finalised by a committee headed by Senator Syed Muzafar Hussain Shah last year.
The education ministry now has decided to advertise the entire process afresh.
"We are going to re-advertise these positions within two weeks and in the first phase we will make appointments on four to six chairs instead of 14," said the ministry's Joint Education Adviser Rafiq Tahir.
He said in the first phase appointments would be made in important countries.
Sources said because of budgetary constraints the ministry had decided to reduce the foreign chairs. Last year when the selection was finalised, there was a budget of around Rs50 million which was recently reduced by the federal government to Rs15 million.
The process to select candidates for the positions faced delay for the last around a decade. Pakistan has chairs in 14 foreign universities, including Germany, Turkey and China, which have been vacant for six to 10 years.
The chairs were set up on reciprocal basis and their holders used to deliver lectures aimed at promoting Urdu and the culture and history of Pakistan.
Earlier, the Cabinet Division used to deal with the issue but last year the function was given to the ministry of education.
A senior faculty member of Quaid-i-Azam University said chairs at international universities were a tool to build the country's image.
"These chairs play an important role in promoting Pakistan's culture and image. The appointees are academic ambassadors but unfortunately our bureaucrats are not taking this important issue seriously."
He said India had almost 300 chairs in world's top university where its scholars were playing an important role to promote their country's interest.
A Pakistani scholar, who was shortlisted by the committee last year, said after a number of meetings he was selected but so far the education ministry has failed to complete the process.
"Now, we are being told that the process is going to be re-advertised which is unfortunate and a joke with scholars," he said.
Full report at:
https://www.dawn.com/news/1457323/number-of-pakistan-chairs-in-foreign-universities-reduced
--------
Pakistan protests HC official's arrest in India
January 14, 2019
ISLAMABAD: An official of the Pakistan High Commission was arrested by the Indian authorities on Sunday and was released after the matter was raised by Pakistan, said sources in Foreign Office.
The sources said that the High Commission's official was arrested by the Indian authorities and was released a few hours later. They said the official was forced to sign a note before being released when the matter was immediately taken up with the Indian side.
"Pakistan strongly protested this violation of the Vienna convention on diplomatic relations and reserves the right to respond," said an FO official who requested not to be named.
The sources in foreign office did not disclose the place where the incident took place. However, the Indian media claimed that the official had got involved in an altercation with an Indian woman in a market in New Delhi. Following the reported quarrel, the woman lodged a complaint against him at a local police station where he was subsequently shifted.
Full report at:
https://www.dawn.com/news/1457453/pakistan-protests-hc-officials-arrest-in-india
--------
SC disposes of Army Public School carnage case
Haseeb Bhatti
January 14, 2019
The Supreme Court on Monday disposed of the 2014 Army Public School (APS) carnage case after being briefed on the progress made by a judicial commission probing the matter.
In the deadliest terror attack in the country's history, 131 schoolchildren and 10 other people were killed when heavily armed militants stormed the APS on Dec 16, 2014.
Chief Justice Mian Saqib Nisar had taken a suo motu notice of the APS case in April when parents of some martyred students, including mothers, approached him while he was hearing other cases in Peshawar.
The parents had complained that a few weeks before the attack, the authorities had been alerted by the National Counter Terrorism Authority to the possibility of an attack on an army-run institution, but no measures had been taken to prevent the attack.
The parents pointed out that they had been demanding justice for the last three years and had been calling for the appointment of a judicial commission to look into the incident, but to no avail.
"We cannot bring back the near and dear ones who lost their lives but at least we can lessen the agony and grief of the victim families to some extent," Chief Justice Nisar had remarked during a hearing in October, ordering the formation of a commission with instructions to file a report after a thorough inquiry lasting six weeks.
At the outset of the hearing today, the chief justice recalled that the court had formed a commission, and enquired if it has submitted its report.
Advocate general Khyber Pakhtunkhwa told Justice Nisar that 147 testimonies have been recorded but another 109 are still pending.
"Until these testimonies are not complete, we cannot furnish the report," said the provincial advocate general.
Full report at:
https://www.dawn.com/news/1457472/sc-disposes-of-army-public-school-carnage-case
--------
Opposition set to give tough time to ruling coalition in NA
Amir Wasim
January 14, 2019
ISLAMABAD: The National Assembly is set to go into its seventh session on Monday (today) with Speaker Asad Qaiser still struggling with the formation of the house committees as the opposition parties flexing its muscles to give a tough time to the ruling coalition on a number of issues, including the ongoing energy crisis, alleged one-sided accountability process, the government's move to present another mini-budget and the recent increase in the prices of medicines.
The main opposition Pakistan Muslim League-Nawaz (PML-N) is also planning a strong protest on the floor of the assembly, if the speaker does not issue the production order for former railways minister Khwaja Saad Rafique, who has been in the custody of the National Accountability Bureau (NAB) along with his brother Salman Rafique in connection with an inquiry into a housing society scam.
Sources in the National Assembly Secretariat told Dawn that the speaker had already issued the production order for Leader of the Opposition Shahbaz Sharif while the process of the issuance of the production order for Mr Rafique was under way.
Mr Sharif has been attending the NA sessions and meetings of the Public Accounts Committee (PAC) on the speaker's production orders since his arrest by NAB on Oct 6 last year in the Ashiyana housing scam.
Mr Rafique had been arrested by NAB on Dec 11 last year at a time when the assembly was already in session. The opposition parties had lodged a strong protest and even boycotted most of the sittings before the speaker issued production order only a day before prorogation of the house on Dec 21.
The speaker has already summoned a meeting of the House Business Advisory Committee comprising representatives of all the parties present in the assembly before start of the session in which he is expected to take up the issue of the formation of the committees, besides discussing the agenda for the upcoming session which is expected to continue for more than two weeks as the government intends to present a mini-budget on Jan 23.
Finance Minister Asad Umar, while speaking to the members of the business community during his visit to the Karachi Chamber of Commerce and Industry and the Federation of Pakistan Chambers of Commerce and Industry on Saturday, had announced that the government would present a mini-budget on Jan 23 and dispelled the impression that it would be loaded with new taxes.
Mr Umar had admitted that last year had been difficult not only for the government but also for the business community as during the five months (July-November) of the current financial year, only $818 million came under Foreign Direct Investment against $1.35 billion in the same period last financial year.
The Pakistan Peoples Party (PPP) and the PML-N are questioning the government's move to present second mini-budget in less than six months.
Strongly opposing the plan, PPP's vice president Senator Sherry Rehman had asked if the government, which was determined to bring about a revolution, would introduce mini-budgets every four months. She alleged that the mini-budget was being unveiled to meet the conditions set by the International Monetary Fund.
She regretted that just a day after an increase in the prices of drugs, the government announced its plans about unveiling a mini-budget.
Similarly, the PML-N leaders, including former prime minister Shahid Khaqan Abbasi, had also questioned the government's move to present another mini-budget. Speaking at a news conference on Saturday, the PML-N leaders had lashed out at the Pakistan Tehreek-i-Insaf (PTI) government for its "directionless and failed" economic policies, which had drastically brought down the country's growth rate in just five months.
House committees
Despite succeeding in breaking the deadlock between the government and the opposition over the issue of the PAC chairmanship last month, Speaker Asad Qaiser is still struggling to complete the process of the formation of house committees.
The delay in the formation of over three dozen committees has badly affected the legislative work of parliament, and the National Assembly which came into existence in August after the general elections held in July is functioning with only two committees, including the PAC.
Sources said that an understanding between the government and the opposition had already been reached on the distribution of the chairmanship of 38 standing committees. Under the agreed formula, the chairmanship of 18 committees would go to the opposition while the remaining 20 committees would be headed by the PTI and its allies.
However, they said, the two sides were yet to discuss the committees to be distributed among the treasury and the opposition members. The opposition parties, the sources said, wanted to head the important committees like interior, foreign affairs, power and finance.
The speaker had met Minister of State for Parliamentary Affairs Ali Mohammad Khan and the opposition leaders in the last two days and after his meeting with the government and the opposition representatives, he expressed the hope that he would constitute the committees during the session.
Full report at:
https://www.dawn.com/news/1457465/opposition-set-to-give-tough-time-to-ruling-coalition-in-na
--------
Southeast Asia
'No place for Israeli athletes in Malaysia' says Malaysian PM
Jan 14, 2019
Malaysian Prime Minister Mahatir Mohamad has said that there is "no place for Israeli athletes in Malaysia" and has refused to issue entry visas to Israeli athletes.
Speaking at a press conference in China on Thursday, Mohamad said that his government would not allow the Israeli swimming team to enter Malaysia and participate in the 2019 World Paralympic Swimming Championship in the summer.
Mohamad also said the if the organisers of the Paralympic event wanted to cancel the championship "they can do so"
Sim Hee Kyung, the deputy sports minister stated:
"The government will maintain its steadfast position regarding this issue as a means to protest against the continuous Israeli oppression of the Palestinian people."
Kyung also said that the refusal to allow entry to the Israeli athletes was part of Malaysia's policy in dealing with Israel.
The Israeli Olympic committee has pressured the Malaysian government to issue visas to their swimming team but the government has remained to its policy and refused the repeated requests.
The committee has also tried to pressure the organisers of the event to cancel the championships from taking place in the south-east Asian nation but has also failed.
Hamas, the Islamic Resistance Movement and governing body of the occupied Gaza Strip, praised the Malaysian government for refusing the Israeli athletes and has called on all Arab and Muslim nations to follow Malaysia's position
Malaysia has categorically rejected Israel's attempts at normalising diplomatic ties due to its support for the Palestinian people and its struggle against the illegal occupation.
https://www.islam21c.com/news-views/no-place-for-israeli-athletes-in-malaysia-says-malaysian-pm/
--------
Thai junta seeks talks with Muslim insurgents
January 14, 2019
Thailand's military government has launched a high-profile effort to pacify the Buddhist nation's three restive Muslim-majority provinces through what it calls "peaceful dialogue."
The junta, which seized power in a coup against the country's last elected government in 2014, has set up a Peace Dialogue Panel with several prominent army generals on it, including junta leader and Gen. Prayut Chan-o-cha, the prime minister.
The panel's aim, the generals say, is to try and bring southern insurgents to the negotiating table to "de-escalate the situation."
Since 2004 groups of Muslim separatists in the three southernmost provinces bordering Malaysia have been waging a bloody insurgency against rule from Bangkok.
Over the past 15 years, thousands of people, including hundreds of security personnel, have died in roadside bombings and guerrilla-style hit-and-run attacks by members of the Barisan Revolusi Nasional (National Revolutionary Front), or BRN, and other Islamist militant groups.
Estimates of the casualty toll in the troubled region remain contested. Senior Thai officials say some 5,000 people have been killed, but the actual death toll could be considerably higher.
Thailand's junta says it is ready to engage in talks with separatists unconditionally.
"We don't have any preconditions [ahead of talks]," Gen. Udomchai Thamasarorat, the head of the Peace Dialogue Panel, told foreign journalists at a press event in Bangkok on Jan. 11. "We don't impose, we don't force. But we should seek to resolve these issues urgently."
A former head of the Royal Thai Army's 4th Army in Pattani province in southern Thailand, Gen. Udomchai, 65, said armed groups would not be expected to renounce violence before they agreed to engage in back-channel talks with Thai officials.
"We want to hear directly from them. If they want to remain anonymous, we are fine with that," he said.
"We want to talk to each and every separatist group because they may have different views and agendas. We will talk to all groups — whether they agree or disagree [with us], whether they use violence or don't use violence."
The Thai army has repeatedly been criticized over its handling of the Islamic insurgency in the south. Local units' tactics and policies, observers have said, could well have worsened the situation by fueling Muslims' anger at Buddhist rule.
Lives at stake
The generals on the Peace Dialogue Panel appeared to tacitly acknowledge that the army might have to soften its stance.
"We have sensitized the heads of local units to the importance of dialogue," said Maj. Gen. Krengkri Srirak, commander of the 4th Army's Support Command. "State officials must make sure that they don't violate human rights and human dignity."
Gen. Udomchai concurred. "Our task is to transform the conflict. It's important to build confidence in a peace process. If they [insurgents and separatists] are ready, they should come and talk to us. But time is of the essence because lives are at stake."
The generals also stressed, however, that the three Muslim-majority provinces of Yala, Pattani and Narathiwat would not be allowed to secede and must remain part of Thailand.
"We have reached out to Malaysia [to help] resolve the conflict," Gen. Udomchai said. "But in the end it has to be an internal dialogue because it is an internal issue."
In the three southernmost provinces, local Muslims speak a Malay dialect and have far more in common culturally with Malaysian Muslims than Thai Buddhists. The area once belonged to the sultanate of Pattani, which paid tribute to Siamese kings, before Bangkok set out in the early 20th century to assimilate locals culturally.
In the 1930s Field Marshal Plaek Phibunsongkhram, an army general who sought to replicate Italian-style fascist rule in Thailand, stepped up Thaification efforts among various ethnic groups around Thailand, including the southernmost region which had been annexed by the Kingdom of Siam.
Many local Muslims have been chafing at rule from Bangkok ever since. Simmering discontent has led to a succession of separatist movements. Over the past decade and a half, Islamist militants have routinely targeted Buddhist civilians, especially civil servants and teachers, in an effort to try and drive non-Muslims away from the three restive provinces.
Muslims seen as accommodating towards Thai Buddhists have also been targeted by home-grown Islamists with extremist views.
Just as the Royal Thai Army was launching its peace initiative, on Jan. 10 suspected insurgents on motorbikes shot dead four Muslim security guards at a primary school in Pattani where they had been guarding students.
A day earlier, a 12-year-old girl was injured when a bomb exploded near another school in the same district. That same day a teacher in adjacent Songkhla province was shot dead by suspected insurgents. His truck was then rigged with a bomb that injured six police officers.
"It's almost as if they [Muslim separatists] want to send a message that they don't want to have anything to do with the government's latest peace initiative," a Bangkok-based United Nations official who is familiar with the situation and requested anonymity told ucanews.com.
"They might assume that [violent] actions speak louder than words when they want to make their point."
In early January, Abdul Karim Khalib, a spokesman for the BRN, released a video calling on Muslims to continue resisting Thai rule.
Full report at:
https://www.ucanews.com/news/thai-junta-seeks-talks-with-muslim-insurgents/84275
--------
IGP: Still no leads on whereabouts of Indira Gandhi's daughter
14 January 2019
PUTRAJAYA, Jan 14— Inspector-General of Police Tan Sri Mohamad Fuzi Harun today said the police are still unable to trace Hindu mother M. Indira Gandhi's missing daughter Prasana Diksa and her fugitive ex-husband, Muhammad Riduan Abdullah.
However, Mohamad Fuzi told reporters after attending a Home Ministry's event here that that they were doing their best to locate them.
"In fact on several occasions, my director of CID has been giving press conferences, appealing to the public with any information on the whereabouts of Indira Gandhi's ex-husband and her child, but until now nobody has come forward," he said, referring to the Criminal Investigation Department.
"This is an ongoing thing because this is a court order given to us," Mohamad Fuzi said.
In November last year, Indira wrote an open letter to Mohamad Fuzi, asking for the whereabouts of Prasana, the youngest of her three children.
The kindergarten teacher from Ipoh, Perak, who challenged the unilateral conversion to Islam of her three children by their converted father all the way to the Federal Court in Putrajaya and won, was frustrated by the apathy displayed by the authorities in bringing back her youngest child as ordered nearly 10 years ago.
Indira's former husband who now goes by the name Muhammad Riduan converted all three of their children on April 2, 2009 without her consent, and applied to the Shariah Court for their custody.
He ran away with Prasana when she was only 11 months old, after the High Court granted Indira full custody of all three children nine years ago.
Full report at:
https://www.malaymail.com/s/1712338/igp-still-no-leads-on-whereabouts-of-indira-gandhis-daughter
--------
Europe
Orban: Islam and Open Borders Will Divide EU into 'Two Civilisations'
12 Jan 2019
Hungary's Prime Minister Viktor Orbán has said that the policies of "liberal" forces in the European Union will divide the bloc into an increasingly Islamic west and a traditional European-Christian east.
Making his first address to the media of 2019 in Budapest on Thursday, Prime Minister Orbán said his country's objective is to ensure anti-mass migration forces become "a majority in every EU constitutional system" in May's European Parliament elections, to combat the "progressive" open-borders policies driving the bloc's current direction.
"Liberal thinking in Europe is the main enemy of freedom. Liberals today are the enemies of freedom in Europe," Mr Orbán explained.
"Instead of one unified civilisation, there will be two civilisations in Europe. There will be a mixed civilisation, which builds its future on a mixed Islamic and Christian co-existence.
"But we in Central Europe still say Europe is a Christian civilisation, and say Europe should belong to Europeans."
"In the next 15-20 years, as well, migration will be the most important question of fate on the continent and, within that, Hungary," he added.
The Hungarian leader, who won his third consecutive term in office with a parliamentary super-majority in April 2018 after running on a campaign of securing borders and supporting families, made the comments as the bloc prepares for the European Parliament elections, whose composition could influence the European Commission and other institutions.
The conservative hopes that a coalition of right-wing and populist parties will win major gains in the May elections and turn the direction of the globalist European Project away from open borders and so-called progressivism.
Prime Minister Orbán also welcomed the co-operation between right-populist Italian deputy prime minister Matteo Salvini and Poland's conservative Law and Justice (PiS) party government, saying on Thursday: "the Warsaw-Rome axis is a great development, great hopes are tied to it."
On Wednesday, the Italian and Polish leaders met to discuss a "new European Spring" to combat the "French-German axis."
Orbán had already met with Matteo Salvini to discuss their own collaboration in the summer, agreeing to form a populist front to challenge German Chancellor Angela Merkel and French President Emmanuel Macron and their vision of a United States of Europe.
Merkel and Macron agreed on Wednesday that later this month they would sign a historic treaty to, in effect, merge aspects of the two countries by creating "Eurodistricts" in border towns, share defence, and foreign and economic policy, in a prototype of a "sovereign Europe".
https://www.breitbart.com/europe/2019/01/12/orban-open-borders-divide-eu-islamic-christian-west-christian-east/
--------
Arab World
In rare visit, Israeli minister in Cairo amid Egyptians' opposition
Jan 14, 2019
The Israeli regime's Energy Minister Yuval Steinitz arrived in Cairo on Sunday to attend a natural gas conference in a rare visit to Egypt by an Israeli official, airport sources said.
The visit has been widely opposed by Egyptians who, like most Arabs, are largely opposed to the normalization of ties with Israel given the regime's atrocities against the Palestinian nation.
Steinitz's visit came at the invitation of the Egyptian government, Israel's energy ministry said.
Jordan and Egypt are the only two Arab states to have full diplomatic ties with Israel, but the relations remain limited and taboo among the general populations.
The last time an Israeli minister visited Egypt was in November 2017 when Social Equality Minister Gila Gamliel took part in a conference on the promotion of gender equality in Mediterranean states.
Relations between the Israeli regime and some Arab countries have warmed in recent months, with Israeli ministers last year visiting the United Arab Emirates and Oman.
A November report by the UK-based Arabic newspaper Al-Araby Al-Jadeed said Saudi Arabia's Crown Prince Mohammed bin Salman and Egyptian President Abdel Fattah el-Sisi have been working together to persuade other Arab leaders to establish close trade ties with Israel while working to resolve political differences with the Tel Aviv regime as well.
The push came as part of US President Donald Trump's so-called peace plan for the Middle East region.
MbS and Sisi have explored possible ways to end the Israeli-Palestinian conflict in a way that would prompt as many Arab countries as possible to give relations with Israel another chance.
The Egyptian proposal to hold a summit with Saudi Arabia, Jordan, and the Palestinian Authority is one of the possible solutions that the two close allies might have in store to further their agenda, the report said.
Last week, the Egyptian president acknowledged that his administration has maintained very deep relations with the Tel Aviv regime and is engaged in military cooperation with Israel in the restive Sinai Peninsula.
Sisi made the rare acknowledgment during an interview with US television network CBS's "60 Minutes," which was aired last Sunday.
This comes as Egypt, under Sis's rule, has quietly cooperated with Israel on security in the desert peninsula.
Asked whether the cooperation was the closest and deepest that he has had with Israel, Sisi responded, "That is correct. The Air Force sometimes needs to cross to the Israeli side. And that's why we have a wide range of coordination with the Israelis."
https://www.presstv.com/Detail/2019/01/14/585719/Egypt-Israel-visit-Cairo-Palestine
--------
Syria says not intimidated by new Israeli airstrike
Jan 13, 2019
Syria has complained to the UN about Israel's new air raids, stressing that the "cowardly" attacks will fail to hamper its resolve to defend the country and confront its enemies.
In separate letters to the UN chief and the Security Council chairman, the Syrian Foreign Ministry denounced missiles fired by Israeli warplanes on a number of sites near Damascus on Friday.
The ministry said the fresh attack was in flagrant violation of UN Security Council Resolution 350, which enshrines a ceasefire between Tel Aviv and Damascus, first put in place in 1974.
A Syrian military source told the official SANA news agency that the Syrian air defenses had "intercepted hostile missiles and downed most of them."
According to the report, the Israeli aggression caused material damage to one of the warehouses at Damascus International Airport.
Israeli warplanes, apparently deterred by buoyed Syrian air defense systems, sneak into the Lebanese airspace and fire missiles at their targets inside Syria.
The ministry said the Israeli actions in Syria were no different from those of Takfiri terrorist groups marauding across parts of the country.
"The deliberate repeat of these grave provocations and cowardly aggression is a clear proof of the fact that what Israel is doing is no different from what Daesh and Jabhat al-Nusra organizations are doing in terms of terrorist methods and threatening international peace and security," it said.
The ministry also condemned the US support for Israel and the Security Council's silence in the face of the Israel crimes.
"Syria stresses that the continuation of Israel in its serious aggressive approach would not have been possible without the political, military and media cover provided by the US administration in the context of a state of immunity from any accountability provided by well-known states in the Security Council, which could enable Israel to continue to practice state terrorism," the letters read.
Israel frequently attacks military targets inside Syria in what is considered as an attempt to prop up Takfiri terrorist groups that have been suffering heavy defeats at the hands of Syrian government forces.
In an interview with the New York Times earlier this week, Lieutenant General Gadi Eisenkot, the Israeli army's outgoing chief of staff, said that Israel had carried out "thousands" of airstrikes in Syria in recent years.
Israel claims the attacks target Iranian military advisers and Hezbollah fighters, but an Israeli intelligence website recently put the kibosh on the claim, saying the raids in fact hit Syrian army positions.
The Tel Aviv regime has occupied and annexed Syria's Golan Heights, a move never recognized by the international community.
In its letters, the Syrian Foreign Ministry emphasized that the Israeli provocations would not "dissuade Syria from confronting whoever tries to attack the Syrian people and sovereignty or affects its determination to restore the occupied Syrian Golan."
It further called on the UN Security Council to shoulder its responsibility in maintaining international peace and take a prompt action to prevent further recurrence of the Israeli aggression.
Full report at:
https://www.presstv.com/Detail/2019/01/13/585662/Syria-Israel-strikes-UN
--------
Mass Grave Discovered in Iraq's Nineveh Province
Jan 13, 2019
"The Iraqi security forces found a mass grave in the village of Qabr al-Abad, South of Mosul in Nineveh province," the Arabic-language Baghdad Post quoted a senior security official, Major Mohammad Jassem, as saying on Sunday.
He noted that the mass grave contained 28 dead bodies of Iraqi military forces, including 18 senior officials of the 2nd Division of Iraqi Army.
Major Jassem said that some victims have been identified through their ID cards, adding that the slain officers had been stationed in the area before ISIL's occupation of the region.
In a relevant development in late December, authorities in Northern Iraq announced the discovery of a mass grave containing the bodies of civilians believed to have been killed by the ISIL.
Police said residents found the bodies in a sparsely populated region near the town of Huweija in Kirkuk province after heavy rain in the area exposed the corpses, al Jazeera reported.
"As you can see, the location allowed them to hide and kill innocent civilians from the district and outside the district," said Security Chief Dawoud Salman al-Shameri.
It was not immediately clear how many bodies laid further underground.
People living in the area said they had witnessed ISIL, an armed group that held large swaths of territory across Northern Iraq and Syria from mid-2014 until late 2017, execute victims in broad daylight.
"On our way, we saw they were killing them. The victims were dressed in red suits. We could see them it was clear," said Adday Hamid Abd, who lives in the nearby village of Al Daghila.
In a relevant development in November, a report by the UN Human Rights Office and the UN Assistance Mission for Iraq documented the existence of 202 such mass grave sites in the Iraqi provinces of Nineveh, Salahuddin and Anbar.
A year earlier, in November 2017, graves containing the remains of some 400 bodies were found at an airbase on the outskirts of Kirkuk.
Full report at:
http://en.farsnews.com/newstext.aspx?nn=13971023000627
--------
Syrian Army Pounds Tahrir Al-Sham's Military Convoys in Northern Hama, Southern Idlib
Jan 13, 2019
In Southeastern Idlib, the Syrian Army fended off an attack by terrorists on its positions from the village of al-Zarzour, inflicting heavy losses on the terrorists.
"The Syrian army's artillery and missile units targeted and pounded the military convoy of Tahrir al-Sham al-Hay'at in the towns of Jorjnaz and al-Ghadaqeh in Southeastern Idlib, destroying several military vehicles as well as killing and wounding a number of militants.
The Syrian Army's artillery units also pounded the terrorists' movements towards the government forces' positions in al-Latamanieh town and its surrounding areas in Southern Idlib, inflicting heavy losses on them.
In Northern Hama, the Syrian Army units also targeted and pounded the terrorists' movements in Kafar Zita, the outskirts of the town of al-Latamanieh in Northern Hama and Tal Sakhar village in Northwestern Hama, inflicting heavy losses on the militants.
In a relevant development on Saturday, the Syrian Army dispatched new military convoys from Deir Ezzur province in Eastern Syria to Hama in the Northern parts of the country to prepare for military operations there.
"Massive military convoys of the Syrian Army comprising hundreds of soldiers from different divisions, including 5th Division, along with military equipment and hardware have been sent to the Northern fronts of Hama province from the cities of al-Mayadeen and al-Bu Kamal in Eastern Deir Ezzur," battlefield sources in Northern Syria said.
The sources noted that the military convoys had been sent to Deir Ezzur from Northern Hama and Eastern Idlib after the Sochi Agreement.
They reiterated that the Syrian Army has reinforced its positions and forces in all villages and towns of Hayalin, Talmalh, al-Jabin, Sheikh Hadid, al-Moghir, Bridij garrison and al-Jurnia in Western Hama over the past two days, and said that there is a strong likelihood that the Syrian Army will launch massive operation in Idlib province soon.
Meantime, military convoys of the Turkish Army comprising tanks, military vehicles and commando units, have arrived at Turkey's border with Syria across Idlib province.
In a relevant development on Tuesday, the Syrian Army foiled further attacks from the demilitarized zone by Tahrir al-Sham al-Hay'at and their allied terrorist groups in Northern Hama and Southern Idlib.
The Syrian Army's artillery units prevented members of a terrorist group who were trying to penetrate into the army positions in Northern Hama from the surrounding areas of Ma'arkabeh town, killing and injuring several terrorists and forcing many others to flee the scene.
Meantime, the Syrian Army's artillery units pounded the terrorists' movements in the outskirts of Wadi al-Dorat and Al-Zuka in Northern Hama.
Other Syrian troops also targeted Jeish al-Izzah terrorists' movements from al-Latamanieh town towards military points in Northern Hama, inflicting major losses on them.
Full report at:
http://en.farsnews.com/newstext.aspx?nn=13971023000421
--------
French, Jordanian FMs discuss Syria in Amman
13 January 2019
French Foreign Minister Jean-Yves Le Drian said on Sunday, that the eradication of ISIS extremist group remains a priority and a political solution is the only viable way to resolve the crisis in Syria.
Le Drian spoke at a joint news conference alongside Jordanian Foreign Minister Ayman al-Safadi after a meeting with his counterpart during a visit to Jordan's capital, Amman.
Le Drian said that the Syrian people must be given the chance to decide their future "in the framework of a peaceful process and electoral process".
Full report at:
https://english.alarabiya.net/en/News/middle-east/2019/01/14/French-Jordanian-FMs-discuss-Syria-in-Amman.html
--------
Several Saudi troops killed in Yemeni forces' retaliatory attack on Jizan
Jan 13, 2019
Yemeni forces have carried out a retaliatory drone attack against Saudi forces, killing a number of them in the Kingdom's Jizan region.
According to Yemeni media, the drone attack was conducted by the Yemeni army and popular forces, and targeted a gathering of Saudi soldiers in Jizan region.
The attack reportedly left a number of soldiers killed and injured.
Yemen's Houghi Ansarullah movement had previously threatened to carry out more retaliatory attacks against the Saudi-backed forces.
Earlier on Thursday, a Houthi drone attack on Yemen's largest air base held by Saudi mercenaries in Lahij province killed at least seven ranking officials including top Saudi intelligence official Brigadier General Saleh Tamah, and left 11 other senior members of the Saudi-led operations center injured.
Among those injured were deputy chief of staff Saleh al-Zandani, senior commander Fadel Hasan, and Lahij provincial governor Ahmad Abdullah al-Turki, with AFP saying the latter two had been transferred to Saudi Arabia for treatment.
The Ansarullah movement said that Thursday's drone attack came in response to the continued aggression and blockade by the Saudi-backed forces, and repeated Saudi airstrikes which have put a UN-brokered peace agreement in the strategic port city of Hudaydah in jeopardy.
In December, the Ansarullah movement and Yemen's former Saudi-backed government signed an agreement for a ceasefire in Hudaydah during UN-brokered peace talks held in the Swedish capital of Stockholm. However, the Saudi coalition has repeatedly violated the truce deal.
According to the agreement, the Houthi fighters, who are in control of Hudaydah, and Yemen's former president Abd Rabbuh Mansur Hadi's armed militia together with Saudi-led forces — who have placed the city under a tight siege since June — must withdraw from the port and hand it over to UN observers.
Meanwhile, the Ansarullah movement's chief negotiator Mohammed Abdulsalam announced on Sunday the Houthis have boycotted the ceasefire monitoring team in Hudaydah, accusing the head of the team of pursuing "other agendas."
The Yemeni official said retired Dutch Major General Patrick Cammaert, who was to chair the meeting, had "exited from the course of the agreement by implementing other agendas."
Saudi Arabia invaded Yemen in 2015 with the aim of reinstating former president Hadi who resigned amid a political deadlock in January 2015 and then fled to Riyadh.
The invasion has fallen short of its purpose, but has reportedly killed over 56,000 people and put the country in the throes of an acute famine.
Full report at:
https://www.presstv.com/Detail/2019/01/13/585716/Yemen-retaliatory-attack-Saudi-Jizan
--------
Saudi king receives grand mufti, other key officials
January 13, 2019
JEDDAH: Saudi Arabia's Grand Mufti Sheikh Abdul Aziz Al-Asheikh, Speaker of Shoura Council Dr. Abdullah bin Mohammed Al-Asheikh, several senior ministers, members of the Saudi Shoura Council, scholars and citizens on Sunday called on the king at his palace in Riyadh to greet him.
The reception began with the recitation of verses from the Holy Qur'an.
Full report at:
http://www.arabnews.com/node/1434981/saudi-arabia
--------
Africa
Sudan protesters urge Darfur demos as new rallies planned
13 January 2019
A group organizing anti-government protests across Sudan vowed to stage new demonstrations on Sunday, including for the first time in the war-torn region of Darfur.
Protests that erupted in the provinces on December 19 after the government tripled the price of bread have escalated into nationwide anti-government rallies, with demonstrators calling for President Omar al-Bashir to resign.
Authorities say at least 24 people have died in the protests, while rights group Human Rights Watch has put the death toll at 40, including children and medical staff.
On Sunday, protest organizers called for demonstrations in the capital Khartoum and other towns including Madani, Kosti and Dongola as part of what they have called a "Week of Uprising".
They also urged protests in Niyala and El-Fasher in Darfur, the first such rallies to be called in the region.
"The people of Niyala and El-Fasher, we call on you to gather in downtown like other towns and villages who are calling on President Bashir to step down," the Sudanese Professionals' Association said in a joint statement with an alliance of opposition groups.
Darfur, a region the size of France, has been torn by violence since 2003 when ethnic minority rebels took up arms against Khartoum, accusing it of economic and political marginalization.
Darfur has remained largely calm since last year, with no anti-government demonstration held so far even as protesters staged hundreds of rallies in other cities that have been swiftly broken up by riot police.
Anti-government demonstrations first erupted in towns and villages before spreading to Khartoum last month.
Although the trigger was the rise in the price of bread, Sudan has faced a mounting economic crisis over the past year, led by an acute shortage of foreign currency.
Repeated shortages of food and fuel have been reported in several cities, including Khartoum, while the cost of food and medicine has more than doubled.
https://english.alarabiya.net/en/News/middle-east/2019/01/13/Sudan-protesters-urge-Darfur-demos-as-new-rallies-planned-.html
--------
Sudan police fire tear gas at protesters in Khartoum
13 January 2019
Sudanese police fired tear gas Sunday at crowds of anti-government protesters in Khartoum after organizers called for nationwide rallies against President Omar al-Bashir.
Protesters chanting "peace, peace" and "revolution is the people's choice" took to the streets in the capital's district of Bahari, but were quickly confronted by riot police, witnesses told AFP.
Protests that first erupted in the provinces on December 19 over a government decision to triple the price of bread have swiftly escalated into nationwide rallies widely seen as the biggest threat to Bashir's three-decade rule.
Authorities say the protests have left 24 people dead, while Human Rights Watch has put the death toll at 40, including children and medical staff.
On Sunday, protesters in Khartoum were seen carrying the Sudanese flag as others held banners bearing the words "peace, justice, freedom", which has become a key slogan in the rallies.
Protest organisers have called for near daily demonstrations across the country against Bashir this week, calling it a "Week of Uprising".
Protests also broke out Sunday in the western war-torn region of Darfur, after calls for rallies there by the Sudanese Professionals' Association, which has spearheaded the demonstrations.
Full report at:
https://english.alarabiya.net/en/News/gulf/2019/01/13/Sudan-police-fire-tear-gas-at-protesters-in-Khartoum.html
--------
Foreign Jihadists among 85 Al Shabaab killed by US troops in Somalia
13th January 2019
MOGADISHU, Somalia – Somali Especial Forces backed by US troops carried out joint military offensive against Al Shabaab, killing dozens of militants during the operation.
The especial forces raided on Al Shabaab targets in Baladul Amin and Hanti Wadaag neighborhoods near Janalle town, some 91km away from Somali capital Mogadishu.
The coalition forces reportedly killed at least 85 Al Shabaab fighters during a night operation, according to Kulmiye, a local radio based in Mogadishu.
Kulmiye aired that 5 foreign Jihadists from Egypt, Tanzania and Mauritania, Yemen and Syria fighting alongside Al Shabaab were among those who were killed in the operation.
Here are the names of foreigners killed in Somalia
Abu Hamsa Bin Sham from Egypt
Aweys Abu Hamza from Tanzania
Abuu Bilal Zubeyr from Mauritania
Aden Xash Abuu Musiyan from Syria
Feysal Bin Hayan from Yemen
Somali military officials were unavailable to reach on phone for comments on the latest operation against al Qaeda linked Al Shabaab.
There was no immediate comment from Al Shabaab over the claims.
The al Qaeda inspired group has lost major towns in south and central Somalia to African Union troops and Somali army forces following joint military operations.
The US sent about 50 of its especial troops to Somalia to assist country's army forces in fighting against Al Shabaab.
The US has carried out six drone strikes against al Qaeda linked Al Shabaab in Somalia this year.
The air raids killed 65 militants, according separate statements by US Africom command.
Full report at:
https://mareeg.com/foreign-jihadists-among-85-al-shabaab-killed-by-us-troops-in-somalia/
--------
Boko Haram: Buratai honours FOI request, provides army's expenditure
January 13, 2019
The Chief of Army Staff of Nigeria, Tukur Buratai, has responded to the joint Freedom of Information request by Socio-Economic Rights and Accountability Project (SERAP), Enough is Enough (EiE), and BudgIT requesting him to use his "good offices and leadership position to provide information on spending on military operations across the country, particularly in the Northeast."
This development was disclosed on Sunday in a statement on behalf of the civil society groups by SERAP's senior legal adviser, Bamisope Adeyanju.
According to her, "the bulky photographic and textual documentation with a cover letter dated 24 December 2018 was delivered to SERAP's office last Friday by a military officer at around 11:40am."
The letter with reference number AHQDCMA/G4/100/4 and signed on Mr Buratai's behalf by Brigadier-General S.B. Kumapayi read in part: "The Nigerian Army (NA) has in recent time come under unrelenting public scrutiny by both private individuals and Non-governmental organisations over issues of appropriation of funds. The most recent being a call from your organisation for the Nigerian Army to explain how funds appropriated for the NA under the administration of the Chief of Army Staff were utilised."
"In view of the above, I am directed to forward the above-mentioned document to your office for your perusal and retention. Please accept the esteemed regards and assurance of the Chief of Army Staff."
Bamisope Adeyanju, on behalf of the civil society groups, said: "This is a joint FOI request involving EiE and BudgIT and not just SERAP. Therefore, our groups will carefully study the letter and documentation by Mr Buratai to see if details of the information provided meet the requirements of our request and then promptly respond to him, as appropriate."
"While we ascertain the level of compliance of the information provided, we welcome Mr Buratai's demonstrated commitment to the Freedom of Information Act by responding to our request, especially at a time when high-ranking government officials including the Minister of Agriculture and Rural Development, Mr. Audu Ogbeh and Minister of Power, Works and Housing Babatunde Fashola continue to exhibit blatant disregard for FOI requests by refusing to even acknowledge several of such requests."
"The National Assembly, Nigerian National Petroleum Corporation (NNPC), ministries, agencies and departments should also learn from the good example shown by Mr Buratai by at least honouring and responding to FOI requests from Nigerians, NGOs and others if they are ever to contribute to the efforts to achieve greater level of transparency and accountability in Nigeria."
According to SERAP, "a quick look at the documentation shows a list of several projects reportedly implemented by the Nigerian Army. Among those listed and displayed, which appeared to show certain projects the Nigerian Army said it carried out with budgeted funds, include: places where operations were carried out; renovation of barracks and military hospitals, spending to honour late soldiers; trainings and workshops; repairs of some old military equipment; and completion of offices and housing projects. Others are feeding of soldiers; building of new barracks and schools; acquisition of arms and ammunition and vehicles for military operations; as well as provision of welfare for soldiers."
It would be recalled that SERAP, EiE and BudgIT had in a joint FOI request asked Mr Buratai to use his good offices and leadership position to "urgently provide information on the 2015, 2016 and 2017 budget implementation reports of the Nigerian Army, including the amounts released (financial implications) and expended in fiscal years 2015, 2016 and 2017 for the various operations the Army carried out."
The groups also urged Mr Buratai to furnish them with "the amounts released (financial implications) and expended in fiscal years 2015, 2016 and 2017 for: Operation Lafiya Dole, Operation Safe Haven, Operation Python Dance, Operation Ruwan Wuta, Operation Delta Safe, Operation Mesa, Operation Harbin Kunama, Operation Awatse, Operation Tsera Teku and Operation Crocodile Smile."
The FOI request sent December 2018 and signed by Bamisope Adeyanju of SERAP, Seun Akinyemi of EiE and Atiku Samuel of BudgIT, read in part: "Transparency of the budget process and its implementation is an essential condition to achieve good governance. The reports, if providedand published, will shed light on military spending and put to rest once and for all the perceived lack of transparency and accountability in the spending of military budgets, which has been a subject of intense public debate and concern."
"If the requested information is not provided within 14 days of the receipt and/or publication of this letter, our organizations shall take all appropriate legal action under the Freedom of Information Act to compel you to comply with our request."
"Several billions of naira allocated to the military to defend the country and protect its people have neither contributed to improving the ability of Nigerian soldiers to fight Boko Haram and other armed groups nor provided the much-needed security especially for Nigerians in the North-east of the country."
"The information being requested does not come within the purview of the types of information exempted from disclosure by the provisions of the FOI Act. The information requested for, apart from not being exempted from disclosure under the FOI Act, would serve the national interest, public welfare, public interest and peace, human rights, good governance, transparency and accountability."
"By virtue of Section 1(1) of the Freedom of Information Act, 2011, we are entitled as of right to request for or gain access to information, including information on 2015, 2016 and 2017 budget implementation reports of the Nigerian Army, and the amounts released (financial implications) and expended in fiscal years 2015, 2016 and 2017 for the various operations listed,which have yielded no tangible result."
Full report at:
https://www.premiumtimesng.com/news/top-news/305446-boko-haram-buratai-honours-foi-request-provides-armys-expenditure.html
--------
South Asia
28 Taliban militants killed in Afghan, Coalition Forces operations
13 Jan 2019
At least 28 Taliban militants have been killed in various provinces of Afghanistan amid surge in Afghan and coalition forces operations and airstrikes against the anti-government armed elements.
According to the informed sources, a coalition air strike in Tarin Kot district of Uruzgan province killed 2 Taliban fighters while Afghan Special Operations Forces conducted a raid in Orgun district, killing 4 Taliban fighters.
The sources further added that a coalition air strike in Chimtal district killed 9 Taliban fighters. F
The coalition forces also carried out two air strikes in Faryab district killing 13 Taliban fighters in Khwajah Sabz Posh district.
The strikes were conducted in self defense in support of Afghan security forces, the sources said, adding that the Afghan Special Operations Forces also conducted a raid and seized a large weapons cache containing 45 AK47s, 42 pistols, a Russian grenade launcher, 120 tactical vests and several thousand rounds of ammunition.
https://www.khaama.com/28-taliban-militants-killed-in-afghan-coalition-forces-operations-03106/
--------
Taliban shadow district chief killed with his 11 fighters in Balkh province
13 Jan 2019
The shadow district chief of Taliban for Zari district of nothern Balkh province has been killed along with his 11 fighters.
The 209th Shaheen Corps of the Afghan Military said Sunday that the shadow district chief of Taliban Qari Qudratullah was killed in a coalition airstrike which was carried out at 4pm local time in Kandali Village on Saturday.
According to a statement released by 209th Shaheen Corps, a convoy of the militants was targeted in the airstrike as Qari Qudratullah was on his way from Sholgara district.
This comes as the security situation in certain remote districts of northern Balkh province has deteriorated during the recent months.
Full report at:
https://www.khaama.com/taliban-shadow-district-chief-killed-with-his-11-fighters-in-balkh-province-03106/
--------
Afghan NSA Hamdullah Mohib to meet Saudi officials regarding peace talks
14 Jan 2019
The National Security Adviser of Afghanistan Hamdullah Mohib has travelled to Saudi Arabia to discuss Afghan peace talks and bilateral cooperation between Kabul and Riyadh.
The Office of the National Security Council (ONSC) in a statement said National Security Adviser Dr. Hamdullah Mohib has travelled to Saudi Arabia after concluding an official visit to China.
The statement further added that Dr. Mohib also met with the U.S. Special Represenative for Afghanistan Reconciliation Dr. Zalmay Khalilzad in Dubai and his UAE counterpart in Abu Dhabi before departing for Saudi Arabia.
The meeting with UAE's National Security Adviser focused on Afghan-led and Afghan-owned peace process and joint fight against terrorism, the Office of the National Security Council said.
Full report at:
https://www.khaama.com/afghan-nsa-hamdullah-mohib-to-meet-saudi-officials-regarding-peace-talks-03108/
--------
Afghan Air Force bomb Taliban gathering in Faryab province
14 Jan 2019
The Afghan Air Force bombed a gathering of Taliban militants in northern Faryab province of Afghanistan leaving at least 11 militants dead.
The 209th Shaheen Corps of the Afghan Military in a statement said the airstrike was carried out at around 4:40pm local time in Badghesi Village of Khawajah Sabz Posh district.
The statement further added that the airstrike on Taliban gathering followed a day after a senior Taliban commander Qari Tajuddin was killed with his 20 fighters in the same district.
According to 209th Shaheen Corps, at least 14 militants had also sustained injuries and 12 others were arrested during the operation on Saturday.
The anti-government armed militants including Taliban have not commented regarding the killing of the militants in Badghesi Village so far.
Full report at:
https://www.khaama.com/afghan-air-force-bomb-taliban-gathering-in-faryab-province-03107/
--------
Mideast
Houthi battalion leader among 20 killed, injured in al-Dhalea province
14 January 2019
Yemeni military sources in the southwestern province of al-Dhalea said more than 20 Houthi gunmen were killed or wounded in heavy fighting over the weekend.
Among those killed was a Houthi battalion leader who went by the name "Abu al-Karar," the sources said.
During the gunfight, Yemen's internationally-recognized armed forces thwarted two violent attacks against the Houthi militia in several villages across the province.
Eyewitnesses described the battles on Sunday as the worst seen since the arrival of armed forces on the outskirts of the city earlier this month.
https://english.alarabiya.net/en/News/gulf/2019/01/14/Houthi-battalion-leader-among-20-killed-injured-in-al-Dhalea-province.html
--------
Yemen's Houthis boycott meeting with UN-led truce monitors
13 January 2019
Yemeni Houthi militias on Sunday boycotted a meeting chaired by the head of a UN-led ceasefire monitoring team in the flashpoint city of Hodeidah, accusing him of pursuing "other agendas".
Retired Dutch general Patrick Cammaert is leading a joint committee, which includes both government and militia representatives, tasked with overseeing a truce in the Red Sea port city and the withdrawal of both parties.
Houthi militia negotiator Mohammed Abdelsalam said Cammaert "steered from the course of the agreement by implementing other agendas".
"If (UN envoy to Yemen Martin) Griffiths does not address the issue, it is going to be difficult to discuss any other matter," he said on Twitter without elaborating.
An AFP photographer said that the Houthi representatives did not take part in the committee meeting in Hodeidah on Sunday.
The UN declined to comment.
Last month the warring parties agreed a ceasefire for Hodeidah during UN-sponsored talks in Sweden.
Despite the peace efforts, the truce was shortly impeded after a Houthi drone targeted senior officers and journalists at Yemen's al-Anad Military base in Lahj last week.
Full report at:
https://english.alarabiya.net/en/News/gulf/2019/01/13/Yemen-s-Houthis-boycott-meeting-with-UN-led-truce-monitors-.html
--------
Hamas to 'intensify confrontation' if Israeli military attacks besieged Gaza Strip
Jan 13, 2019
The Palestinian resistance movement Hamas has held the Tel Aviv regime responsible for the ongoing escalation in the blockaded Gaza Strip, warning that the movement "will intensify the confrontation with Israel" in the coastal sliver if the Israeli military launches new attacks against the enclave.
"The Israeli occupation [regime] bears the consequences of continuing to commit its follies against peaceful protesters and deliberately killing them in cold blood as well as bombing sites of resistance," Hamas spokesman Fawzi Barhoum said in a statement on Sunday
He further noted that the escalation of situation in Gaza and "playing with fire" will never led to security for Israel and its people.
The statement came after Israeli military aircraft carried out several airstrikes against multiple locations across the besieged Gaza Strip late on Saturday.
Palestinian Ma'an news agency reported that Israeli warplanes fired at least one missile towards a military site belonging to Hamas east of Gaza City.
Two other sites were targeted, one in the town of Beit Lahiya in the northern Gaza Strip, and another in the city of Khan Yunis south of the enclave.
The Israeli airstrikes caused fires to erupt in several targeted sites; however there were no reports of human casualties.
The Israeli military frequently bombs the Gaza Strip, with civilians being the main target of such attacks.
Israel has also launched several wars on the Palestinian coastal sliver, the last of which began in early July 2014. The military aggression, which ended on August 26, 2014, killed nearly 2,200 Palestinians. Over 11,100 others were also wounded in the war.
The Gaza Strip has been under an Israeli siege since June 2007. The blockade has caused a decline in the standards of living as well as unprecedented levels of unemployment and unrelenting poverty.
Full report at:
https://www.presstv.com/Detail/2019/01/13/585678/Hamas-to-escalate-confrontation-if-Israeli-military-attacks-besieged-Gaza-Strip
--------
Palestinian wounded by Israeli fire dies
13 January 2019
A Palestinian wounded by Israeli fire during Gaza border protests and clashes three weeks ago has died from his wounds, the health ministry in the Hamas-run enclave said on Sunday.
Anwar Quday, 33, was wounded in the neck east of Khan Yunis in the southern Gaza Strip, said ministry spokesman Ashraf al-Qudra.
At least 242 Palestinians have been killed since protests and clashes with Israeli forces erupted along the Gaza border on March 30.
Two Israeli soldiers have been killed over the same period, one by a Palestinian sniper and another during a botched special forces operation inside Gaza.
Protests and clashes have calmed in recent months amid an informal truce between Israel and Hamas.
Full report at:
https://english.alarabiya.net/en/News/middle-east/2019/01/13/Palestinian-wounded-by-Israeli-fire-dies.html
--------
Iran's Zarif holds talk with his Iraqi counterpart in Baghdad
13 January 2019
Iranian Foreign Minister Mohammad Javad Zarif met with his Iraqi counterpart in Baghdad on Sunday for wide-ranging talks, including on US sanctions against Tehran.
The visit came just days after US Secretary of State Mike Pompeo made a surprise stop on his regional tour to urge Iraq to stop relying on Iran for gas and electricity imports.
Washington has granted Baghdad a waiver until late March to keep buying Iranian gas and power, despite re-imposing tough sanctions on Tehran in November.
After a two-hour meeting on Sunday, Iraq's top diplomat Mohammed Ali al-Hakim said he had talked through the restrictions with his counterpart.
"We discussed the unilateral economic measures taken by the US and are working with our neighbor (Iran) on them," Hakim said.
He said the two talked through various political and economic issues, including Syria and Yemen, in a "long and interesting meeting".
Hakim said Iraq was in favor of the Arab League reinstating Syria's membership, eight years after suspending it as the conflict there unfolded.
Zarif is expected to attend several economic forums in various Iraqi cities, including Sulaymaniyah in the Kurdish north.
Iran is the second-largest source of imported goods in Iraq.
Besides canned food and cars, Baghdad also buys 1,300 megawatts of electricity and 28 million cubic meters of natural gas daily from Iran to feed power plants.
That dependence is uncomfortable for Washington, which sees Tehran as its top regional foe and expects Iraq to wean itself off Iranian energy resources.
Full report at:
https://english.alarabiya.net/en/News/middle-east/2019/01/13/Iran-s-Zarif-holds-talk-with-his-Iraqi-counterpart-in-Baghdad.html
--------
Funding shortage leads to World Food Program cuts for Palestinians
13 January 2019
The World Food Program has suspended or reduced aid for some of its Palestinian beneficiaries in the occupied West Bank and Gaza Strip due to funding shortages, an official with the organization said on Sunday.
Some 27,000 Palestinians are no longer receiving aid through the United Nations program since January 1 in the West Bank, said Stephen Kearney, the organization's director for the Palestinian territories.
Another 165,000, including 110,000 in Gaza, are receiving 80 percent of the usual amount, he said.
The cuts were decided upon after a gradual reduction in donations over the past nearly four years, with US cuts having the biggest effect.
In 2018, the WFP assisted 250,000 people in Gaza and 110,000 in the West Bank.
In the village of Yatta near Hebron in the southern West Bank, Maha Al-Nawajah said she is buying fewer necessities.
"In December, they did not renew my card," said the 52-year-old mother, referring to the WFP card that allowed her to buy groceries for 12 members of her extended family.
She said family members were unemployed.
"My sons do not have permission to enter into Israel and my husband receives it occasionally" and can earn some cash during those times, she said.
The West Bank has an unemployment rate of 18 percent and some Palestinians seek to work in Israel with the hope of earning a higher salary.
But permits are needed to do so and Israel is selective in who is given one.
The WFP launched a funding appeal on December 19 and received additional contributions from the European Union and Switzerland, but the amount remains short, Kearney said.
It said at the time that it was in need of $57 million. It will now seek contributions from new donors in an effort to fill the gap, he said.
Kearney said there were also concerns that the cuts would affect the local economy since residents used the cards to buy goods in local stores.
In the Gaza Strip, around 80 percent of the two million residents rely on international aid.
The strip has been under an Israeli blockade for more than a decade. Israel and Gaza's rulers Hamas have fought three wars since 2008.
Full report at:
https://english.alarabiya.net/en/News/middle-east/2019/01/13/Funding-shortage-leads-to-World-Food-Program-cuts-for-Palestinians.html
--------
Netanyahu confirms weekend strike by Israel on Iran target in Syria
13 January 2019
Prime Minister Benjamin Netanyahu said Sunday that Israel had at the weekend carried out an air strike on Iranian weapons in Syria, a rare public confirmation of such attacks.
"Just in the last 36 hours the air force attacked Iranian warehouses containing Iranian weapons in the Damascus international airport," Netanyahu said at the start of a cabinet meeting, according to his office.
"The accumulation of recent attacks shows that we're more determined than ever to act against Iran in Syria, just as we promised."
https://english.alarabiya.net/en/News/middle-east/2019/01/13/Netanyahu-confirms-weekend-strike-by-Israel-on-Iran-target-in-Syria-.html
--------
Turkey vows to continue fight against Kurdish militia after Trump threat
January 14, 2019
ISTANBUL/WASHINGTON: Turkey on Monday vowed to continue fighting a US-backed Kurdish militia which it views as a terrorist group after Donald Trump warned of economic devastation if Turkey attacks Kurdish forces as American troops withdraw.
Turkish President Recep Tayyip Erdogan's spokesman Ibrahim Kalin said on Twitter that there was "no difference" between the Daesh group and the Kurdish People's Protection Units (YPG) militia. "We will continue to fight against them all."
"Mr @realDonaldTrump It is a fatal mistake to equate Syrian Kurds with the PKK, which is on the US terrorists list, and its Syria branch PYD/YPG," Kalin also wrote on Twitter in response to Trump's tweet.
Trump's decision to pull American troops out of Syria has left the United States' Kurdish allies vulnerable to an attack from Turkey. Ankara views the Kurdish forces as terrorists aligned with insurgents inside Turkey.
In a tweet, Trump also warned the Kurdish forces not to "provoke Turkey."
The US withdrawal has begun with shipments of military equipment, US defense officials said. But in coming weeks, the contingent of about 2,000 troops is expected to depart even as the White House says it will keep pressure on the IS network.
Once the troops are gone, the US will have ended three years of organizing, arming, advising and providing air cover for Syrian, Kurdish and Arab fighters in an open-ended campaign devised by the Obama administration to deal the militants, also known as Daesh, a lasting defeat.
"Starting the long overdue pullout from Syria while hitting the little remaining Daesh territorial caliphate hard, and from many directions," Trump tweeted. "Will attack again from existing nearby base if it reforms. Will devastate Turkey economically if they hit Kurds."
Full report at:
http://www.arabnews.com/node/1435111/middle-east
--------
North America
Fight against ISIS continues, says US-led coaltion
January 14, 2019
ISIS militants are "living their final moments" in the last enclave they hold near the Iraqi border, where US-backed Syrian Democratic Forces (SDF) are attacking them, an SDF official said on Sunday.
A defeat of the militants in the enclave would wipe out ISIS's territorial foothold on the eastern bank of the Euphrates River.
A spokesman for the US-led coalition said the SDF were making "great progress ... but the fight continues".
The SDF, a coalition of militias led by the Kurdish YPG, have driven ISIS from a swathe of northern and eastern Syria with the help of the US-led coalition over the last four years.
Mustafa Bali, head of the SDF media office, said its fighters had stepped up attacks in the last two days and taken control of the area between the ISIS enclave and the Iraqi border, cutting an escape route.
"They are living their final moments and realise that this battle is the battle to eliminate them," he said.
US President Donald Trump last month announced he would withdraw US forces from Syria, declaring they had succeeded in their mission to defeat ISIS and were no longer needed.
Since then, US officials have given mixed messages. On Friday, the US-led coalition said it had started the pullout, but officials later said it involved only equipment, not troops.
Colonel Sean Ryan, the coalition spokesman, said: "The SDF is making great progress and continues to liberate more territory once held by ISIS, but the fight continues.
"The lasting defeat of ISIS is still the mission and they still present a very real threat to the long-term stability in this region, so it is not over yet."
The US decision has injected new uncertainty into the eight-year-old Syrian war and spurred a flurry of contacts over how the security vacuum will be filled in the swathe of northern and eastern Syria where the US forces are now stationed.
While Turkey aims to pursue the Kurdish forces allied with the United States, the Russia- and Iran-backed Syrian government sees a chance to recover extensive territory.
On Sunday, Mr Trump said Turkey would suffer economically if it attacked the Kurds, but did not say how. He also said he did not want the Kurds to provoke Ankara.
"Starting the long overdue pullout from Syria while hitting the little remaining ISIS territorial caliphate hard, and from many directions. Will attack again from existing nearby base if it reforms," Trump said on Twitter. "Will devastate Turkey economically if they hit Kurds. Create 20 mile safe zone ... Likewise, do not want the Kurds to provoke Turkey."
Russia, Iran and Syria had been the biggest beneficiaries of the long term U.S. policy of destroying Islamic State in Syria, Mr Trump said.
"We also benefit but it is now time to bring our troops back home. Stop the ENDLESS WARS!" he tweeted. It was not immediately clear what he meant by a 20-mile safe zone.
US national security adviser John Bolton suggested last week that protection for Washington's Kurdish allies would be a precondition of the US withdrawal. Turkish President Recep Tayyip Erdogan called those comments "a serious mistake".
ISIS still holds territory on the western bank of the Euphrates, between areas controlled by the Syrian government and its Russian and Iranian-backed allies.
https://www.thenational.ae/world/mena/fight-against-isis-continues-says-us-led-coaltion-1.812918
--------
Trump to 'devastate Turkey economically if they hit Kurds' in Syria
Jan 14, 2019
US President Donald Trump has threatened to "devastate Turkey economically" if it attacks US backed Kurdish militants in Syria after US withdrawal.
"Starting the long overdue pullout from Syria while hitting the little remaining ISIS territorial caliphate hard, and from many directions. Will attack again from existing nearby base if it reforms," the president said on Twitter Sunday.
He further warned that he "will devastate Turkey economically if they hit Kurds," adding in a second tweet, "Likewise, do not want the Kurds to provoke Turkey."
The US president also overstated the Washington's alleged role in fighting the ISIL Takfiri terrorists in Syria.
"Russia, Iran and Syria have been the biggest beneficiaries of the long term U.S. policy of destroying ISIS in Syria - natural enemies. We also benefit but it is now time to bring our troops back home. Stop the ENDLESS WARS!" Trump said.
Turkish President Recep Tayyip Erdoğan publicly lashed out at US national security adviser John Bolton last week.
US presence in Syria has had no approval from the Syrian government or a mandate from the United Nations.
Trump announced via Twitter on December 19 that all American troops in Syria would be withdrawn from the Arab country.
He initially indicated that the withdrawal would be quick but has since stated that it would be "slow and coordinated" with allies.
Full report at:
https://www.presstv.com/Detail/2019/01/14/585720/kTrump-to-devastate-Turkey-economically-if-they-hit-Kurds-in-Syria
--------
White House asked for options to strike Iran, reports WSJ
13 January 2019
The White House's national security team last fall asked the Pentagon to provide it with options for striking Iran after a group of militants aligned with Tehran fired mortars into an area in Baghdad that is home to the US Embassy, the Wall Street Journal reported Sunday.
The request by the National Security Council, which is led by John Bolton, sparked deep concern among Pentagon and State Department officials, the newspaper reported, citing current and former US officials.
The Pentagon complied with the request, but it is not known whether the options for an Iran strike were also provided to the White House or if President Donald Trump knew about it.
The decision to seek options striking Iran was prompted by an incident in September in which three mortars were fired into a diplomatic quarter in Baghdad, the newspaper said. The shells landed in an open lot and no one was hurt.
State Department Secretary Mike Pompeo did not comment on the story when asked about it by reporters and a State Department spokeswoman declined to comment.
A Pentagon spokesman did not have any immediate comment on the story and the White House and National Security Council could not be immediately reached.
Full report at:
https://english.alarabiya.net/en/News/middle-east/2019/01/13/White-House-asked-for-options-to-strike-Iran-reports-WSJ.html
--------
URL: https://www.newageislam.com/islamic-world-news/the-mosque-masjid-ul-islam/d/117454
New Age Islam, Islam Online, Islamic Website, African Muslim News, Arab World News, South Asia News, Indian Muslim News, World Muslim News, Women in Islam, Islamic Feminism, Arab Women, Women In Arab, Islamophobia in America, Muslim Women in West, Islam Women and Feminism