New Age Islam News Bureau
17 May 2019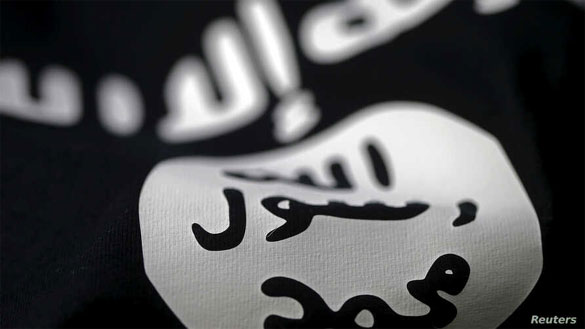 FILE- An Islamic State Flge is seen in this Photo illustration.
---------
• The Islamic State Group Says It Has Established a 'Province' In Pakistan, Days After the Terrorist Organization Used the Name 'Hind Province'
• Pakistan Arrests Hafiz Saeed's Brother-In-Law Abdur Rehman Makki
• Ramadan 2019: Hindus, Muslims Unite At Gujarat Dargah for Iftar, Say 'It Is For All'
• In True Ramadan Spirit, Muslims and Christians Break Fast Together In Malaysia
• Hardliners Target Iran's President As U.S. Pressure Grows
• Saudi Arabia, Bahrain, Egypt Urge Qatar to Stop Funding Terror Groups
• US Congress to Get Classified Iran Briefings Next Week, Say Sources
• Vatican Message for Ramadan Urges Universal Fraternity
Pakistan
• The Islamic State Group Says It Has Established a 'Province' In Pakistan, Days After the Terrorist Organization Used the Name 'Hind Province'
• Pakistan Arrests Hafiz Saeed's Brother-In-Law Abdur Rehman Makki
• 9 suspected militants killed in security forces' operation in Balochistan's Mastung
• APG raises questions over efforts against terror financing
• IMF deal has nothing to do with NFC award: Hafeez
• Chinese embassy branch to be opened in Lahore
--------
India
• Ramadan 2019: Hindus, Muslims Unite At Gujarat Dargah for Iftar, Say 'It Is For All'
• Giving Wings to a Dream: Muslim IAS Aspirants Are Being Coached For Free At Mumbai Haj House
• Ramzan's True Essence Shared with Secular Fare in Delhi
• Top Jaish commander among 5 terrorists killed in Kashmir
• Former IRF trustee deposes in IS case, identifies Arshi Qureshi
--------
Southeast Asia
• In True Ramadan Spirit, Muslims and Christians Break Fast Together In Malaysia
• Buddhists in Malang Hand Out Iftar Meals to Local Muslims
• Malaysia arrests suspected militants 'planning' to attack non-Muslim places of worship
• Indonesia's Transgender Muslims Find Safe Haven for Prayer during Ramadan
• I want to be known as a leader who defends Islam, says Anwar
• Muslim, Christian leaders break barriers along with Ramadan fast
• Johor DAP rep raps FB page for calling Labis MP a 'dog' over mosque appearance
• We were threatened, says Sunni head of group accused of spreading Shia Islam
• Indonesia Says It Foiled Plot to Detonate Bombs via Wi-Fi
--------
Mideast
• Hardliners Target Iran's President As U.S. Pressure Grows
• In Yemen, Fighting Resumes between Houthi Rebels and Government Forces
• Turkish Embassy In US Calls On Muslim Community To Unite Against Anti-Muslim Hatred
• Rocket strike on Palestinian refugee camp in Syria kills 10 civilians, says UN
• Israel reduces Gaza fishing zone, attacks Palestinian fishermen
• 6 civilians killed in Saudi strikes on Yemen's capital
--------
Arab World
• Saudi Arabia, Bahrain, Egypt Urge Qatar to Stop Funding Terror Groups
• Egypt blacklists 600 persons for funding Muslim Brotherhood: sources
• In Saudi Partnership, UNDP Builds Hundreds of New Homes In Gaza
• Egyptian Forces Kill 47 Militants, Lose Five Soldiers
• RAMADAN: Communal Iftar, An Expression Of Social Solidarity And Compassion
• Iraqi security kill 9 Islamic State fighters in Anbar
• Arab Coalition: Raids on military targets loyal to Houthi militia have begun
• Syrian refugees struggle to make ends meet during Ramadan
--------
North America
• US Congress to Get Classified Iran Briefings Next Week, Say Sources
• Trump Says He Hopes US Not Going To War with Iran
• Trump meets with Swiss president whose country represents US interests in Iran
• Hezbollah terrorist convicted in US for planning attacks
• Pentagon asks US Congress to help fund Taliban members seeking ceasefire
• The battle to save New York's 'Little Syria' from being forgotten
--------
Europe
• Vatican Message for Ramadan Urges Universal Fraternity
• UK Parliament Holds Debate On Islamophobia
• Bulk Of Austrian Far-Right Extremist's Funding Comes From Germany: Report
• 7 kids of Nordic IS couple killed in Syria return to Sweden
• Row erupts in UK over definition of Islamophobia
• Britain says shares same assessment of Iran as the United States
• 'Christchurch call' prompts commitments from tech firms and countries on online extremism
--------
South Asia
• Lankan Muslim Leaders Appeal for Calm, Say Attacks Against Community Helping Extremism
• Officials: Airstrike kills 17 policemen in south Afghanistan
• Pakistani ISIS militants and their family members surrender to Afghan armed forces
• Taliban Overrun District Center in South Afghanistan
• Pentagon asked for funds to reimburse Taliban expenses: report
• 5 security forces, 40 militants killed in Afghanistan within day
• Free speech concerns in Bangladesh as writers, activist arrested
• Turkish charity opens Rohingya refugee village in Bangladesh
--------
Africa
• Al-Shabab Demands Sh150m Ransom for Kidnapped Cubans
• Nigeria: 54 Hostages Rescued From the Boko Haram
• Niger ambush: Militants kill 28 soldiers near Mali
• Four killed in ambush on Catholic parade in Burkina Faso
• Sudan opposition regrets military council's suspension of talks
• After clashes, cautious calm prevails in Libyan capital
Compiled by New Age Islam News Bureau
URL: https://www.newageislam.com/islamic-world-news/the-islamic-state-group-says/d/118629
--------
The Islamic State Group Says It Has Established a 'Province' In Pakistan, Days After The Terrorist Organization Used The Name 'Hind Province'
May 15, 2019
ISLAMABAD —
The Islamic State group says it has established a "province" in Pakistan, days after the terrorist organization used the name "Hind Province" for an attack it claimed in the India-ruled portion of the disputed Kashmir region.
Both of the divisions formerly fell under the "Khorasan Province" or ISKP — the name the Middle East-based terrorist group uses for its regional operations launched in early 2015 from bases in the border region of Afghanistan — according to the SITE Intelligence Group, which monitors jihadist threats.
The "Islamic State Pakistan Province," in communiques issued via its global propaganda mouthpiece Amaq News Agency, took credit for killing a Pakistani police officer this week in Mastung, and it reported shooting at a gathering of militants linked to the outlawed Pakistani Taliban militant group in Quetta.
Both the districts are located in violence-hit Baluchistan province, which borders Afghanistan and Iran. Several separatist Baluch groups and sectarian organizations also are active in the province.
There was no immediate reaction available from the Pakistani government.
Islamabad maintains there is no "organized" presence of IS in the country. Pakistani military officials say an ongoing nationwide military-led "intelligence-based operation" is primarily aimed at denying space in Pakistan to extremists linked to any terrorist groups.
The group released no details about the boundaries of the territory it is now claiming. In previous Islamic State propaganda, all of Afghanistan and most of Pakistan, parts of modern Iran and Central Asia make up the so-called Khorasan Province. IS also has spoken about creating its own chapter for the Indian subcontinent.
Marketplace expolsion
IS also took responsibility for last month's suicide blast in a marketplace in Quetta city that killed 20 people and left nearly 50 injured. The targets of the attack were members of the ethnic Hazara Shiite Muslim community.
On Friday, IS declared in a statement via Amaq the creation of "Hind Province," while taking responsibility for clashes with Indian forces in Amshipora in the Shopian district of Kashmir.
IS has increased attacks lately in the region, including taking credit for the group's Easter Sunday first-ever bombings in Sri Lanka that killed more than 250 people.
Observers say altering its provincial structure and fragmenting the "Khorasan Province" by IS could be aimed at bolstering its credentials after losing its "caliphate" in Syria and Iran, where the terrorists at one point used to control thousands of miles of territory.
"As ISIS [one of several acronyms used for IS] seeks to build and restructure foundations of insurgencies across the globe after its losses in Iraq and Syria, it is attempting to recruit also from Pakistan, a country with an existing jihadi militant population," tweeted Rita Katz, the director of the SITE Intelligence Group.
The suspected rebranding of ISKP comes as the United Nations earlier this week designated the "Khorasan Province" as a global terrorist, noting the group was formed in January 2015 by former members of the Tehrik-e-Taliban Pakistan (TTP) who pledged allegiance to Abu Baker al-Baghdadi, leader of the ISIS/ISIL.
The United States has already blacklisted ISKP as a foreign terrorist organization, and American troops are conducting regular airstrikes against the group's bases in Afghanistan with the help of local forces, killing thousands of militants.
Analysts say American counterterrorism airstrikes and clashes with the Afghan Taliban have prevented ISKP from expanding its regional influence and the rebranding strategy could have stemmed from those challenges.
"Khorasan chapter has been struggling to establish a footprint in Afghanistan and the region in general, and they may be following al-Qaida's strategy to create regional affiliates," says Muhammad Amir Rana, who heads Islamabad-based Pakistan Institute for Peace and Studies (PIPS).
https://www.voanews.com/a/islamic-state-announces-pakistan-province/4918903.html
--------
Pakistan arrests Hafiz Saeed's brother-in-law Abdur Rehman Makki
May 15, 2019
ISLAMABAD: Pakistan confirmed on Wednesday the arrest of Abdur Rehman Makki, the brother-in-law of Hafiz Saeed, the chief of the outlawed Jamaat-ud-Dawa (JuD) and the mastermind of the 2008 Mumbai attacks.
Makki, according to the interior (home) ministry, was arrested from Gujranwala, in central Punjab, and shifted to prison in the adjacent city of Lahore.
The interior ministry said Makki was arrested during an ongoing crackdown against proscribed organisations. He was taken into custody for his hate speeches against the crackdown on banned organisations and raising funds for Falah-i-Insaniat Foundation (FIF), the charity wing of JuD. In his recent speeches, Makki was also criticising the steps being taken by the Financial Action Task Force (FATF), a Parisbased international body mandated to combat money laundering and terror financing. His arrest, the interior ministry said, was made under the Maintenance of Public Order Act, a public safety law.
Makki, 71, belongs to a Gujjar family; he was the JuD second-in-command, in charge of FIF, and also headed JuD's political and international affairs wing. The US treasury department, at the behest of India, had designated him a specially designated national and had announced a reward of $2 million through its "Rewards for Justice Programme" for information leading to him.
In February this year, Pakistan had launched a crackdown on outlawed organisations under the National Action Plan (NAP), a policy formulated in January 2015 to eradicate terrorism and extremism from the country.
Since the designation of JuD and FIF as proscribed groups, the government had frozen all its accounts and sealed its seminaries besides taking administrative control of its pharmacies, health units, schools, ambulances and steamer boats across Pakistan. Under the NAP, more than 500 properties owned by JuD and FIF have been confiscated in 36 district of only Punjab, Pakistan's most populated province. The management and operational control of these properties have been taken over by the district administration.
The JuD and FIF were placed on the watch list by the UN in January 2017. They were declared proscribed by the UN in March 2019 and subsequently by the interior ministry under the Anti-Terrorism Act. Since the organisations and its splinter groups have been notified as proscribed, giving them aid or financial assistance has become illegal and anyone supporting them in any manner can be punished with up to 10 years' imprisonment and a heavy fine.
https://timesofindia.indiatimes.com/world/pakistan/pakistan-arrests-hafiz-saeeds-brother-in-law-abdur-rehman-makki/articleshow/69348609.cms
--------
Ramadan 2019: Hindus, Muslims Unite At Gujarat Dargah for Iftar, Say 'It Is For All'
May 10, 2019
SURAT: At Dargah Hazrat Khwaja Dana in Gujarat's Surat, people across religions gathered on Thursday for Iftar, a post-fast meal during the holy month of Ramadan. For them, this sends a strong message on communal harmony in the community.
"I have been coming to this dargah for over five years. Many Hindus come to this dargah. It is a great symbol of religious harmony," K Gheewala, a frequent visitor to the dargah told news agency ANI.
Another worshipper said, "I have been coming here for the last 38 years. The number of people coming here has always increased with time. Also, I see people belonging from different religions coming here and praying. Iftar is not just for Muslims, it is for all."
Echoing similar sentiments, a worker at the dargah said year after year, people have been gathering at the dargah cutting across all religious barriers to sit and pray together.
"If one wants to see an example of religious harmony, then one should definitely visit this dargah," he added.
During Ramadan, the devout observe rigorous fasting for about 30 days and do not consume food or water from dawn to dusk. They eat sehri (a pre-dawn meal) and break their day-long fast with Iftar in the evening. This year Ramadan in India began on May 7 and be completed by June 5 or June 6. Ramadan is practised by all Muslims irrespective of where they live.
Eid ul-Fitr marks the end of the fasting month of Ramzan. The festival is celebrated on the first day of Shawwal, the 10th month of the Islamic lunar calendar.
https://www.ndtv.com/india-news/ramadan-2019-hindus-muslims-unite-at-gujarat-dargah-for-iftar-say-it-is-for-all-2035802?amp=1&akamai-rum=off&fbclid=IwAR1ruelMIc_xnLovIeUn4JJrEOuFeZoT6tXXRuwEkZua64pDunUM9JUJMVg
--------
In True Ramadan Spirit, Muslims and Christians Break Fast Together In Malaysia
16 May 2019
BY DANIAL DZULKIFLY
PETALING JAYA, May 16 — Leaders and representatives from the Muslim and Christian communities came together today to break fast.
The iftar (breaking fast) dinner was hosted by the Global Unity Network (Unity) along with Christians for Peace and Harmony in Malaysia (CPHM), with the theme of "Common terms between us and you".
The event is aimed at aims to bolstering a better understanding and deeper ties between Muslims and Christians.
"In Malaysia, we have been blessed for having peace harmony and unity but we have to exert effort to keep the harmony, peace and unity and this is one of the small steps we are doing and we hope we can do more for others," said Unity President Shah Kirit Kakulal Govindji in a speech to a crowd of some 100 people who attended the Iftar event at the Royal Chulan Mutiara Damansara Hotel here today.
Shah Kirit also said that various religions share many similarities which each other, namely Islam and Christianity where both members of the faith observe fasting and among other practices.
"The other common thing that we have, Islam and Christianity, is that we want people to come back to God," he said, stating further that society today has put too much emphasis into material possession.
"There is so much to say on the matter, but let us speak less and do more," he added.
Unity has held the annual Iftar dinner for the past five years along with CPHM who also, in turn, have held their annual Christmas dinner hosting various religious groups in promoting closer ties together.
Speaking at the event, CPHM Chairman Lee Min Choon said unity among men is among the greatest "beauty" that should be preserved.
"The one beautiful thing that God sees in man is when there is unity among brothers and when God looks at Malaysia and see brothers and sisters in Malaysia living in unity surely it is a beautiful thing in the eyes of God. You can fail in many things but we must not fail in unity.
"So it is the aspirations of us now not just to live in unity but to promote, to encourage and to find ways in which we can bring about unity in our society.
"Unity is a beautiful thing in the sight of God and will bless all efforts to promote unity," he said.
Before breaking of the fast, a minute of silence was also observed in remembering the victims of the terror attacks several churches and hotels in Sri Lanka last month and the Christchurch mosque shooting that occurred in March.
Also in attendance at the Iftar dinner event was members from the Department of Islamic Development Malaysia, The Federal Territory Islamic Religious Department and the Selangor state Islamic Religious Department among others.
https://www.malaymail.com/news/malaysia/2019/05/16/in-true-ramadan-spirit-muslims-and-christians-break-fast-together/1753669
--------
Hardliners Target Iran's President As U.S. Pressure Grows
MAY 16, 2019
GENEVA - Growing US pressure on Iran has weakened pragmatic President Hassan Rouhani and made his hardline rivals more assertive at home and abroad, recent developments show.
When he succeeded firebrand leader Mahmoud Ahmadinejad in 2013, Rouhani was seen as an establishment figure who would do little to end Iran's long standoff with the West. Two years later, his administration signed the nuclear deal with six world powers that spurred hopes for wider political change.
Rouhani's authority is now waning: his brother, a key adviser on the 2015 deal, has been sentenced to jail on unspecified corruption charges, a hardline rival heads the judiciary and his government is under fire for responding too softly to US President Donald Trump's sanctions squeeze.
Trump has said lifting sanctions in return for curbs on Iran's nuclear program did not stop Tehran meddling in neighboring states or developing ballistic missile capabilities and Rouhani's outreach to the West was a fig leaf.
Yet the US pullout from the nuclear deal a year ago and subsequent attempts to end Iran's oil exports have led to a sharp increase in regional tension: the US military said on Tuesday it was braced for "possibly imminent threats to US forces" from Iran-backed forces in neighboring Iraq.
Rouhani has urged opposing factions to work together and noted limits on his power in a country where an elected government operates under clerical rule and alongside powerful security forces and an influential judiciary.
"How much authority the government has in the areas that are being questioned must be examined," the presidency's website quoted Rouhani as saying on Saturday, an apparent attempt to fend off public anger at plummeting living standards.
Ebrahim Raisi, who became head of the judiciary in March and is a contender to succeed Supreme Leader Ayatollah Ali Khamenei, retorted that all branches of government had sufficient authority to carry out their duties.
Local media interpreted the statement as a direct rebuke from Raisi, who ran against Rouhani in the 2017 presidential election.
On May 4, Rouhani's brother Hossein Fereydoun was sentenced to prison. The judiciary has not given details of the charges against him and attempts by Reuters to seek comment were unsuccessful. The judiciary has said it has no political motivation for the cases it tries.
"OFFENSIVENESS AND ARROGANCE"
Rouhani has two years until his term ends, but if he is seen by Iranians as responsible for their problems, his successor is more likely to take a hard line with the West, some analysts say.
" couldn't ask for a better ally than the Trump administration," said Ali Vaez, director of the Iran project at the Crisis Group.
When Rouhani announced last week that Iran would roll back some of its commitments under the international nuclear deal a year after Trump withdrew, the hardline daily Kayhan newspaper called the move "late and minimal."
"If Mr. Rouhani's government had reacted reciprocally from the beginning to the broken promises of America and Europe, they (the Americans and Europeans) would not have reached this level of offensiveness and arrogance," an article in the newspaper said on Thursday.
Restrictions on social media, championed by hardline officials and clerics, are putting further political pressure on Rouhani, who promised in his 2017 and 2013 election campaigns to lift such curbs.
Telegram, a messaging app popular in Iran, was banned last year. Twitter is also banned and hardliners have set their sights on Instagram, used by some 24 million Iranians.
In his comments on Saturday, Rouhani said the government does not have full authority over the cyberspace, underlining the limits to his powers.
He and other officials, including Supreme Leader Ayatollah Ali Khamenei, have active Twitter accounts despite the ban.
Last month, Instagram shut down several accounts under the names of Iran's elite Revolutionary Guards, the country's most powerful military and economic force, after Washington declared the Guards a foreign terrorist organization.
Some lawmakers are now seeking a complete ban on Instagram, one of the few social media platforms yet to be blocked.
Javad Javidnia, the deputy in charge of cyberspace affairs at the prosecutor general's office in Tehran, said last month Instagram would be blocked unless the government found an effective way to monitor its content, Fars news agency said.
Telecoms Minister Mohammad Javad Azari-Jahromi told Reuters in an interview last month that he used social media actively, including Twitter, and wanted fewer restrictions. But he said filtering usually takes place with a judicial decree.
"Ayatollah Raisi has recently started his work in this area and we will have to see what his view will be," he said.
"FILL THE EMPTY SPOT"
The Guards have used authorities response to heavy flooding in March to criticize the government and promote their effectiveness.
A video of the head of the Guards' ground forces lambasting the government after visiting a flood-stricken area in western Iran in early April was widely circulated on social media.
"There are a lot of problems. There is no management. No government official has the courage to go there," Brigadier General Mohammad Pakpour said in the video. "It's horrible."
Hardline news sites posted pictures of members of the Guards helping remote villages, with their uniforms covered in mud.
Iran's Oil Minister Bijan Zanganeh, a Rouhani ally who has tried to attract investment, has been accused by hardline politicians of giving away the nation's wealth and criticized for not doing more to bypass sanctions.
The Guards have developed expertise in bypassing sanctions through years of experience and are now eyeing opportunities arising from the new US economic restrictions.
Khatam al Anbia, the Guards' huge engineering and construction arm controls over 800 affiliated companies worth billions of dollars. Its head, Saeed Mohammad, said at an oil and gas exhibition in Tehran on May 2 that the firm has the ability to develop a phase of South Pars, the world's largest gas field, according to the Iranian Students' News Agency.
"Our goal is to fill the empty spot left by foreign companies," he said.
https://www.jpost.com/Middle-East/Iran-exercising-restraint-despite-unacceptable-escalation-of-US-sanctions-589856
--------
Saudi Arabia, Bahrain, Egypt Urge Qatar to Stop Funding Terror Groups
15 May, 2019
Saudi Arabia, Bahrain and Egypt called on Qatar Wednesday to stop funding terrorist groups and respect the rights of migrant workers.
The three countries made the demand before the UN Human Rights Council's Review on Qatar.
In its speech to the Council, Saudi Arabia called on Qatar to take the necessary measures to stop its financing of the terrorist groups and to take the necessary measures not to give terrorist groups media platforms to spread fanatical ideas of terrorism. The Kingdom also urged the removal of obstacles that hinder Qatari citizens and expatriates working in Qatar from performing the Hajj pilgrimage and Umrah.
Saudi Arabia expressed deep concern over the tragic humanitarian situation of hundreds of Qatari families of Al-Ghufran clan as the Qatari government withdrew citizenship from members of Al-Ghufran clan, confiscated their money and property and discriminated against them with forced displacement in addition to robbing them of their rights to return home.
For its part, Bahrain demanded that Qatar to take the necessary and immediate measures to remove barriers hindering access to justice for migrant workers, to apply the necessary standards to ensure their protection from abuse and exploitation, to punish offenders and to ensure that they receive their wages in a timely manner.
Manama appealed to Doha to implement reforms to develop the contractual system to improve labor recruitment procedures and to intensify efforts to prevent forced labor.
It also called on the Qatari authorities to fully implement the National Plan of Action against Trafficking in Human Beings and to ensure that victims reach justice.
Egypt urged Qatar to take steps and steps to sever all forms of communication with individuals, organizations and terrorist or extremist entities, and stop providing financial, financial or moral support to them.
It also called on Doha to stop providing various forms of support to media platforms that disseminate hate speech and justify violence or incitement to it, whether in Qatar or abroad.
It urged the Qatari authorities to end all arbitrary detentions and enforced disappearances against a number of Qatari nationals, including members of the ruling family.
Egypt demanded that Qatar to commit to the International Convention on the Protection of the Rights of All Migrant Workers and Members of Their Families and to adopt legislation to combat violence against women, including protection of migrant women, and to take immediate measures to end the arbitrary deprivation of citizenship of some Qatari citizens and to restore nationality to those arbitrarily deprived.
https://aawsat.com/english/home/article/1724001/saudi-arabia-bahrain-egypt-urge-qatar-stop-funding-terror-groups
--------
US Congress to get classified Iran briefings next week, say sources
17 May 2019
Officials from US President Donald Trump's administration will conduct classified briefings on the situation with Iran next week, congressional sources said on Thursday, after both Democratic and Republican lawmakers asked for more information.
Congressional aides said that Secretary of State Mike Pompeo, Joint Chiefs of Staff Chairman General Joseph Dunford and Acting Secretary of Defense Patrick Shanahan would hold a session on Tuesday afternoon for all members of the Senate.
Trump's fellow Republicans control a majority of seats in the Senate.
Aides in the House of Representatives, controlled by Democrats, said they also expected a briefing next week with Pompeo, but other details had not yet been made final.
Members of the US Congress have complained for weeks that Trump's administration has not shared enough information with them as tensions flared with Iran, with even some Republicans saying they have been left in the dark.
Relations between Washington and Tehran have become more fraught following Trump's decision this month to try to cut Iran's oil exports to zero and beef up the US military presence in the Gulf in response to what he said were Iranian threats.
Earlier this week, Washington pulled some diplomatic staff from its embassy in Baghdad following weekend attacks on four oil tankers in the Gulf.
Trump said on Thursday he hoped the United States was not heading toward war with Iran.
https://english.alarabiya.net/en/News/world/2019/05/17/US-Congress-to-get-classified-Iran-briefings-next-week-say-sources.html
--------
Vatican message for Ramadan urges universal fraternity
May 14, 2019
Vatican City, May 14, 2019: In a message dedicated for Islam's Holy Month of Ramadan and Eid al-Fitr, the Vatican's Pontifical Council for Interreligious Dialogue, PCID, has urged Christians and Muslims worldwide to build bridges of brotherhood and promote the culture of dialogue.
"The Vatican is calling on Christians and Muslims worldwide to promote human fraternity and harmonious existence by building bridges of friendship and promoting a culture of dialogue where violence is rejected, and the human person is respected," reported Vatican News, the Holy See media communications website.
The PCID message, issued by its Secretary, Bishop Miguel Ángel Ayuso Guixot, wished Muslims worldwide a peaceful and fruitful celebration of Ramadan and Eid al-Fitr.
"The month of Ramadan with its dedication to fasting, prayer and almsgiving, is also a month for strengthening the spiritual bonds we share in Muslim-Christian friendship," it added.
The message, entitled 'Christians and Muslims: Promoting Universal Fraternity', went on to quote the Human Fraternity Document signed in the UAE capital by Pope Francis and Sheikh Ahmed el-Tayyeb on 4th February, inviting Christians and Muslims to "remain rooted in the values of peace; to defend the values of mutual understanding, human fraternity and harmonious coexistence; to re­establish wisdom, justice and love."
Bishop Guixot's message reminds Muslims and Christians that by opening themselves to others, knowing and recognising them as brothers and sisters, they can "tear down walls raised out of fear and ignorance and seek together to build bridges of friendship that are fundamental for the good of all humanity." This way, they can cultivate a new way of life in their political, civil and religious institutions where violence is rejected, and the human person is respected, it added.
The PCID Secretary encouraged followers of both communities to continue to promote the "culture of dialogue as a means of cooperation and as a method of growing in the knowledge of one another."
Bishop Guixot cited "three fundamental guidelines" that Pope Francis proposes for the promotion of dialogue and knowledge among people of different religions, namely, "the duty of identity, the courage of otherness and the sincerity of intentions".
"Respect for diversity calls for a dialogue that seeks to promote the right to life of every person, to physical integrity, and fundamental freedoms, such as freedom of conscience, of thought, expression and religion," he added. "This includes the freedom to live according to one's beliefs in both the private and public spheres. In this way, Christians and Muslims – as brothers and sisters – can work together for the common good."
Bishop Ayuso concluded by wishing that the followers of both faiths put into practice not merely an attitude of tolerance but true and peaceful living together.
http://mattersindia.com/2019/05/vatican-message-for-ramadan-urges-universal-fraternity/
--------
Pakistan
9 suspected militants killed in security forces' operation in Balochistan's Mastung
Syed Ali Shah
May 16, 2019
Security forces claimed to have killed nine suspected militants during a raid in Balochistan's Mastung district on Thursday.
Sources in the Counter-terrorism Department (CTD) said that personnel of CTD and other law enforcement agencies conducted a joint operation against suspected militants in Qabo Mehran area of Mastung.
During the ensuing exchange of fire with the militants, four security personnel also sustained injuries, the sources added. The injured security men were rushed to a hospital for treatment.
Security forces also recovered a huge quantity of arms and ammunition from the possession of the suspected militants.
A senior security officer who declined to be named told DawnNewsTV that the slain militants were affiliated with an outlawed organisation. Their bodies were transported to Quetta for postmortem examination.
Mastung is considered to be one of the sensitive areas of Balochistan. Security forces have conducted operations there against the militants in the past as well.
The operation comes just over two days after a police vehicle in Quetta was targeted through an improvised explosive device in the Satellite Town area. Four policemen were martyred in the attack — which was claimed by the banned Tehreek-i-Taliban Pakistan — and a fifth who was seriously injured succumbed to his injuries on Wednesday.
Security in the provincial capital and other parts of Balochistan was beefed up in the aftermath of a recent wave of terrorist incidents in the province.
https://www.dawn.com/news/1482672/9-suspected-militants-killed-in-security-forces-operation-in-balochistans-mastung
--------
APG raises questions over efforts against terror financing
Khaleeq Kiani
May 17, 2019
ISLAMABAD: Pakistan faced harsh questioning on effectiveness of its efforts against money laundering and terror financing at the "face-to-face meeting" of the Asia-Pacific Group (APG) on money laundering, a regional affiliate of the Financial Action Task Force (FATF).
A 10-member delegation led by Finance Secretary Mohammad Younas Dagha represented Pakistan at the two-day APG meeting in Guangzhou, China. It briefed the group about the country's updated actions against currency smuggling, proscribed organisations and tightening of financial and corporate sector systems and operational effectiveness.
Information coming from China suggests that some participants of the meeting, particularly those from India, raised very tough questions about Pakistan's seriousness to act against proscribed organisations and effectiveness of internal controls.
The Pakistani side reported arrests of key operatives of some proscribed organisations, putting more such organisations and their affiliates at the list of banned outfits, blocking their accounts and financial flows and taking control of their assets. The delegation reported that Pakistan had either complied with or was very close to accomplishing the milestones under the FATF action plan well before the September deadline.
The APG will submit to the FATF its analysis of the compliance report submitted by Pakistan on the basis of its deliberations and cross-questioning at the Guangzhou meeting and the progress made since the group's on-site inspection in Islamabad and Karachi in March. The APG report will become the basis for the FATF to exclude Pakistan from its grey list or otherwise. At those on-site inspections, the APG had flashed contradictory situations and poor coordination among stakeholders, including law enforcement agencies, in fighting money laundering and terror financing.
Since then, Pakistan has taken a series of measures with commitment from top civilian and military leadership to address all weaknesses pointed out by the international watchdog and its affiliates in the long- term interest of the state.
The APG meeting was told that Pakistan had put all proscribed organisations at high risk category by freezing their assets and accounts. The delegation explained Pakistan's actions against proscribed outfits and strengthening of systems to block illegal flow of funds that could be used against any state or considered a threat to global financial systems.
It was explained that the government had recently revised its national risk assessment of the corporate sector, strengthened customs procedures on borders and inland movement of funds and assets and put nine more entities at the list of proscribed organisations. In this regard, internal control of the banking and non-banking financial institutions, insurance companies and stock exchanges has been strengthened to curb the possibility of money laundering and terror financing. The account opening is now subject to additional checks and scrutiny.
The delegation also reported the creation of a specialised directorate of Cross-Border Currency Movement (CBCM) in Islamabad to maintain a database of currency seizures. All model customs formations are required to report on a prescribed format each currency seizure on fortnightly basis. These reports are then shared with the Financial Monitoring Unit (FMU) and the Federal Board of Revenue on monthly basis or when called for. The CBCM directorate also has to maintain and update database of suspicious transaction reports (STRs) and ensure information sharing with law enforcement agencies, the FMU and the FBR on real time basis.
Besides, the Data and Risk Analysis Cell has been created to conduct regular analysis of data pertaining to currency seizures, currency declarations, banking transactions, benami accounts, transaction, etc, and continuously update measures to combat money laundering. According to the Pakistani delegation, investigating officers have been designated to institute money laundering cases emanating from the STRs or currency seizures or from other sources and complaints filed in courts. It has been decided that investigation and prosecution of such cases will be conducted under the Anti-Money Laundering Act 2010, Customs Act of 1969 and Criminal Procedure Code 1898.
Last week, the government placed nine more entities on the list of proscribed organisations, taking the tally to 71. In March, law enforcement agencies had launched a major crackdown on Jaish-e-Mohammad, Jamat-ud-Dawa, Falah-i-Insaniyat Foundation and other banned outfits and taken over control of their assets throughout the country under the international pressure increased through the Paris-based FATF.
Read: Govt bans 10 more organisations for alleged affiliation with proscribed outfits
The investigating officers have been directed to focus on the individuals' personal and family association with any religious, political, social organisations or groups, travel history, past record and professional history while investigating money laundering cases in general and currency seizure cases in particular.
The investigation officers are also required to study motives and currency smuggling and its linkages with any of the associated offences such as trade-based money laundering, capital flight, hundi/hawala and examine if there is any linkage of terror financing related to transnational terrorist networks or United Nations-designated entities and individuals.
The possibilities of involvement of any foreign networks other than transnational terrorist networks have also been given top priority for investigation and to see if cash smuggling is used by the proscribed entities. The data from advance currency declarations from airports, airlines, ports and borders are also being gathered.
Full report at:
https://www.dawn.com/news/1482823/apg-raises-questions-over-efforts-against-terror-financing
--------
IMF deal has nothing to do with NFC award: Hafeez
May 17, 2019
KARACHI: Adviser to the Prime Minister on Finance, Revenue and Economic Affairs Dr Abdul Hafeez Shaikh asserted on Thursday that the agreed upon deal between the government and the International Monetary Fund (IMF) had nothing to do with the already settled National Finance Commission award. He said the lending body had not asked for any reforms for the constitutionally established programme for distribution of revenues between the federal and provincial governments.
While talking to reporters at Governor House after meeting members of the business community, Dr Shaikh referred to serious questions raised by Pakistan Peoples Party (PPP) Senator Raza Rabbani who sought explanation from the government regarding an IMF statement about the NFC award.
"The IMF deal has nothing do with the NFC Award," he replied to a questioner and took a jibe at different statements from political quarters. "There is freedom of expression in the country so we can't stop anyone from issuing statements. But the matter of the fact is that the IMF deal has nothing to do with our NFC Award, neither have they (IMF) asked us to do anything on these lines."
Addressing a press conference at the Karachi Press Club earlier in the day, Senator Rabbani said that the government's agreement with the IMF was a violation of the sanctity of Pakistan's constitution. He urged the government to clarify its position with regard to the IMF statement about the NFC Award and explain to the people of Pakistan if it would slash the NFC award in violation of the constitution.
"The IMF in its press release has said that the government has promised to review the NFC Award," Rabbani said. "The government has promised the lender it will amend the relevant constitutional clause. The new NFC Award could not be kept below the level set by the previous award. The IMF statement has said that they will review the NFC Award as per the agreement with the government."
Meanwhile, while addressing the business community at the Governor House, Dr Shaikh said that the country's economy would be improved after implementation of the IMF programme.
Federal Board of Revenue chairman Syed Shabbar Zaidi and Sindh Governor Imran Ismail were also present on the occasion.
Full report at:
https://www.dawn.com/news/1482813/imf-deal-has-nothing-to-do-with-nfc-award-hafeez
--------
Chinese embassy branch to be opened in Lahore
May 17, 2019
LAHORE: Chinese Ambassador to Pakistan Yao Jing on Thursday announced opening an embassy branch in Lahore for the issuance of Chinese visa from next month.
The Chinese ambassador called on Punjab Governor Chaudhry Sarwar and Chief Minister Usman Buzdar in meetings at their respective offices and discussed promotion of Pak-China relations, CPEC-related projects and expansion of bilateral cooperation in different sectors.
At the meeting at Governors House, the governor said Pakistan would take all possible steps to get advantage of the Chinese economic model that had made unprecedented progress by lifting more than 700 million people out of the poverty in the past three decades.
"Those who conspire against the friendship of Pakistan and China are our enemies," he said.
The governor said Pakistan was striving for boosting confidence of the Chinese investors so that they could invest here. Apart from that, Pakistan was also willing to enhance prospects of CPEC to alleviate poverty, educate the masses and increase energy production. He said investors were coming from around the world to invest in different sectors, which shows Pakistan has attained political stability.
"We are also striving for ending corruption and bring about transparency in the system as the Chinese have done successfully," he added.
The Chinese ambassador said there existed a well-structured harmony between the relations of Pakistan and China. In the days to come, he said, China would be interested in more investments acknowledging that Pakistan was taking all possible steps to attract Chinese investment.
At the CM-ambassador meeting at the Chief Minister Secretariat, Usman Buzdar said China is a trustworthy friend of Pakistan and its cooperation is appreciable for making "Naya Pakistan". He said the bilateral economic relations were touching new heights. He said the CPEC-related projects were very important in the journey of durable development in the country.
Mr Buzdar said the Punjab government was setting up new economic zones where Chinese investors would be given facilities and incentives. He said the durable development of the social sector was a priority of the government.
He said the Punjab government was interested in utilising the latest Chinese technology in agriculture, tourism and technical and vocational training sectors.
The chief minister said the Punjab government was establishing technical universities in D.G. Khan and Mandi Bahauddin. He said an industrial park was being set up in southern Punjab for the promotion of agro-based industries. The Chinese investors should take benefit of investment opportunities in special economic zones.
Full report at:
https://www.dawn.com/news/1482796/chinese-embassy-branch-to-be-opened-in-lahore
--------
India
Giving Wings to a Dream: Muslim IAS Aspirants Are Being Coached For Free At Mumbai Haj House
May 16, 2019
Ashrin Shaikh became the first female engineer in her community, thanks to her parents' support in the face of fierce disapproval by their Bagbaan (Mali) community in Khopoli.
For Byculla's Kainaat Qureshi, every step of the way – from entering college to completing her graduation to warding off marriage – has been a battle against her family, in which she often contemplated suicide.
Both girls today are immersed in preparing for the IAS in the secure environs of the Haj House.
It was after the 2006 Sachar Committee Report revealed the abysmal proportion of Muslims in the civil services that Mohammed Owais, then head of the Haj Committee of India, decided to use the ample space available at Haj House to start a free residential coaching centre for Muslim graduates. Fifty-odd applicants are selected through an all-India entrance exam followed by an interview. Last year, 7,000 graduates applied. Last month, the centre struck gold as three of its alumni got all-India ranks of 3, 225 and 613.
Most of the current aspirants, who hail from Bihar to Bhiwandi, have studied in mixed schools, and would not find it difficult to adjust to a career in the services, where they will have to interact with all communities. Humaira Mir's case, however, is different. Belonging to a Srinagar-based business family, she wondered how this city would look at a Kashmiri Muslim woman.
To her surprise, she found that nobody in busy Mumbai bothered about her obviously Kashmiri identity, not even the non-Muslim staff at Haj House.
Hindus as a whole were not anti-Muslim, she discovered; nor was everything the government's fault. "We always felt government schemes were just propaganda; now I find some good schemes do work," she says.
Living independently and preparing for the IAS have changed these young women and men irrevocably. The awareness that they are equal citizens, which comes from their grounding in the Constitution, is evident in their confident replies to questions about being potential administrators in a saffronised "New India".
Most of these women cover their heads; some wear a burqa. Some of the men have beards. Won't they have to give these up? There's no such rule, they point out. It's only as IPS officers that they must wear a uniform, say the women, and they'd have no problem following that rule. "Our personal and professional lives are separate," they say.
What if they had to serve under an openly communal CM? After initial laughter, comes the unanimous reply: "Why should it be any different for us? We will work with the same will." Juwairiya Sayyed, who studied in a Marathi medium school in Pune, spells out the rationale: "I'm a Muslim and also an Indian. As a Muslim, the Quran is my guide; as an Indian, it's the Constitution. My conscience will help me uphold both."
Their syllabus forces them to read newspapers every day. Doesn't the news of lynching of Muslims affect their preparations?
Prompt comes the reply by Barira Fareed from Hyderabad: "Why only Muslims? The lynching of any Indian affects us."
"In the early stages," says Sajid Ali, an engineering graduate from Mumbai, "such news would disturb us. But gradually we began to realise that one or two incidents cannot define our entire nation."
Where does this exceptional maturity come from?
"Our focus is on preparing these aspirants to be law-abiding citizens and officers of a secular, democratic India," says MA Khan, CEO, Haj Committee, "creating in them an administrative ability." What this means is explained by Saddam Hussein from Dholpur, Rajasthan. "We are being trained to understand the reasons for every problem and work out solutions. Once we enter the system, we can change things."
"Being able to change things" is the main reason propelling these youngsters. Says Farheen Shaikh, the first graduate in her family, "I've seen dreams shattered because of lack of opportunities; maybe I can try to prevent that." However, for the men, the glamour of the services plays a part. Mudassir Ahmed still remembers the day the DM stopped by in Chhapra, with one person holding his umbrella and two policemen waiting on him. That's when the Std VIII student decided what he wanted to be.
What do they think of Mohammed Mohsin, the IAS officer on election duty who dared to check the PM's helicopter, and was suspended and sent back to his state? "He's become the talk of the town," points out Raees Shaikh from Thane who wants to join the IPS. "He's being compared to Kiran Bedi."
"Have you heard of Tukaram Mundhe?" asks Ashraf Turki from Nashik. "He's been transferred 12 times in 13 years, and people have come out on the streets in his favour." As Saeed Muzammil from a Marathi medium school in Latur puts it, "We are going to be seen as role models by our community."
These aspirants have managed to overcome the two main hurdles that keep Muslim numbers low in the civil services. The first is the belief, especially among elders, that prejudice will prevent Muslims from being selected. Experiences of those who've qualified have proved this false.
The second is family pressure. "Muslims marry early, start earning early, and settle into family life early. Waiting, taking risks is still not part of their tradition," says CEO Khan.
Dealing with strange men, being posted in far-off places – these fears don't trouble the women. Their biggest worry is to fight off the pressure to marry.
The six attempts allowed to a general category IAS aspirant are a luxury their families won't allow. Two years is what they've been given. That means they have to try that much harder than men. "That only motivates us more," says Aqsha Taskeen from Bengaluru. They have a role model among them: a newly married aspirant who's been "allowed" by her husband and in-laws to stay here and pursue her dream.
For men, the pressure is to support their families. But they hope that with the solid foundation provided by their centre, they can continue to study even while working.
Last year, Zaib Shaikh of Ahmednagar, a Haj House alumnus, defied his parents to attempt the exam for the fourth time. He came 225th, qualifying for the IPS. He now plans to give it one more shot to make it to the IAS. This time, he says, smiling broadly, his parents won't stop him.
https://mumbaimirror.indiatimes.com/mumbai/other/giving-wings-to-a-dream/articleshow/69350505.cms
--------
Ramzan's True Essence Shared with Secular Fare in Delhi
May 16, 2019
NEW DELHI: Sartaj Khan, his wife and child waited near the parking lot of GB Pant Hospital in central Delhi, waiting for sunset so they could break their Ramzan fast. The family had travelled to Delhi from Rampur in UP on Wednesday for Khan's treatment at the hospital. But before Khan could leave the hospital complex to get some food, he ran into a group of individuals wearing Gandhi caps that had 'Iftar for All' written on them.
Very soon, Khan and his wife were in a queue receiving their Iftar meal for free.
Anas Tanwir Siddiqi, a young Supreme Court lawyer and co-founder of the group, started the initiative last year to "celebrate Ramzan in its true essence". His intention is to reach out to people and inform them about the meaning of the Muslim month of fasting. The idea, he said, was to "spread the message of Ramzan" by providing people with the Iftar meal.
The group distributes food to patients, their family members and everyone else at GB Pant and LNJP hospitals, irrespective of their faith. "We want to show the charitable aspect of Islam and so change the narrative about the community," Siddiqi said.
Author Rana Safvi, member of the group, explained the historical significance of serving food to others in the holy month. "The Sufi saints had a 24-hour langar where they served food to people of all faiths," she said. "In fact, the gurdwaras have only emulated the idea of Sufi saint Baba Farid's langar." She added that Islam encourages giving, so being a part of this initiative is her way of serving mankind in the name of God.
When Iftar approached, several queues had formed to accept the food, which included fruit and pakodas, both regular fare for breaking the fast. Padma Kain, a resident of a Minto Road slum cluster, was at LNJP Hospital to collect medicines and the free food was a welcome distraction for her.
Qasim, a Moradabad resident who had come to get his father treated at GB Pant, was knowledgeable about the gesture and said the food was for all "because during Ramzan people who are in need are fed".
There were, however, some who were circumspect and asked if the food was 'Hindu' or vegetarian. Clarifying on the "secular credentials" of the initiative, Siddiqi said that the food was prepared under the guidance of Old Delhi resident Ashok Mathur.
A consultant at an NGO, Mathur said, "I took on the task but suggested that we serve the food only to Muslims. But the other members said that the food should be for everyone who is needy because Iftar means satiating the hunger of all."
Supreme Court lawyer Sanjay Hedge, who also participated in the programme, said, "Pain, misery and suffering are common to all humanity. If you try to reduce it to some extent, then that is better than doing nothing at all. The idea behind our action is also to unite the different communities."
Full report at:
https://timesofindia.indiatimes.com/city/delhi/ramzans-true-essence-shared-with-secular-fare/articleshow/69349614.cms
--------
Top Jaish commander among 5 terrorists killed in Kashmir
May 16, 2019
SRINAGAR: A top Pakistani Jaish-e-Muhammed commander was among the five terrorists killed on Thursday in two different encounters — in Kashmir's Pulwama and Shopian districts — which also claimed the lives of two civilians and two soldiers.
The top JeM commander, Khalid Bhai, who a police spokesperson said had masterminded the 2017 fidayeen attack on a CRPF camp in Lethpora that had left five CRPF men dead, and two other JeM terrorists — Naseer Pandith of Karmibad Pulwama and Umar Mir of Shopian — were slain by security forces in an encounter at Dalipora village, in south Kashmir's Pulwama district, in the early hours of Thursday. A soldier and a civilian were also killed while three people, including two Armymen, were injured during the gunfight in Dalipora.
A police officer said that in the initial phase of the encounter, three soldiers and two civilians, brothers Younis Dar and Rayees Ahmad Dar, were injured. While Rayees died at the encounter site, his brother Younis was immediately taken to a nearby hospital from where he was referred to a Srinagar hospital for specialised treatment, the officer said. The injured soldiers were airlifted to the Army's 92 Base hospital at Badami Bagh, Srinagar, where one of them, Sandeep Kumar, died. The other two soldiers, who were injured, are Sepoy Arunesh GSW and Sepoy Ravindar GSW.
All three terrorists were killed in the Dalipora encounter and their bodies, along with arms and ammunition, were recovered from the site, the police officer said.
In another encounter, two terrorists, one civilian and one Armyman were killed in Handew area of south Kashmir's Shopian district on Thursday. The encounter occurred when the Army's 44 RR, SOG and CRPF launched cordon-and-search operations at Handew village on Thursday afternoon.
A police officer confirmed that two militants were killed and their bodies recovered. The slain civilian was Ishtaq Ahmad Bhat and the soldier who succumbed to injuries sustained in action was Rohit Yadav.
The officer said the Pakistani terrorist Khalid, killed in Dalipora, had been active for the last eight years in Kashmir and that his killing was a major success. According to police records, Naseer Pandith had a long history of crime before joining the JeM and several cases were registered against him for planning and executing attacks in the area after joining the proscribed JeM. He was also involved in the 2018 killing of a policeman, Mohammad Yaqoob Shah, of Pulwama, on the eve of Eid, and in some weapon-snatching incidents in the area. "He also had several criminal cases registered against him, including case FIR No 30/15 & 277/14 under the NDPS Act and case FIR No 25/16 pertaining to forgery," a police spokesman said. The third terrorist slain in Dalipora, Umar Mir, also was involved in several terror attacks and had been part of groups responsible for attacks on security forces, the police spokesman said.
The officer said Wednesday's early morning encounter erupted when the three terrorists fired upon a joint team of police and Army personnel conducting a cordon-and-search operation in Dalipora village following credible inputs about the presence of the militants.
Soon after the encounter ended, the villagers clashed with security forces at various places in Pulwama district. The authorities then imposed curfew in Pulwama town as well and Internet services were suspended in the southern Kashmir district.
Meanwhile, another encounter broke out between terrorists and security forces, in Kandi forest in north Kashmir's Kupwara district, on Thursday morning. Reports said a joint team of the Army's 47 RR, 28 RR and the police's SOG launched a cordonand-search operation at Portel Nad and Razdan Nad — the upper reaches of Kandi which connect to the Lolab forest.
An Army officer said the operation was launched following intelligence inputs about the movement of suspected terrorists in the woods. He said contact was established soon after the forces challenged the movement of the group of terrorists in the forests.
Full report at:
https://timesofindia.indiatimes.com/india/top-pak-jem-commander-4-other-terrorists-2-soldiers-and-2-civilians-killed-in-kashmir-encounters/articleshow/69363953.cms
--------
Former IRF trustee deposes in IS case, identifies Arshi Qureshi
by Sadaf Modak
May 17, 2019
WHILE DEPOSING before a special NIA court earlier this week, a former trustee of the Islamic Research Foundation (IRF) identified accused Arshi Qureshi as the guest relations manager at the Dr Zakir Naik-led group.
In a statement in 2016, which is a part of the NIA chargesheet, the witness had claimed that Ashfaq — the youth Qureshi is alleged to have influenced to join Islamic State of Iraq and Syria (ISIS) — had told him that he often went to the IRF office and met Qureshi. However, the witness made no mention of this in his deposition on Monday.
Qureshi was arrested in 2016 on the complaint of Ashfaq's father, Abdul Majid, who claimed that his son, along with his wife and one-year-old daughter, had left the country and joined ISIS. The National Investigation Agency (NIA) began probing the case and arrested Qureshi, Kerala-based preacher Maulana Mohammed Haneef and Rizwan Khan, a volunteer with a group called Al-Birr foundation.
Qureshi is undergoing trial under sections 13 (punishment for unlawful activities) and 39 (support to a terrorist organisation) of the Unlawful Activities (Prevention) Act.
In February 2017, the NIA had said that it did not have enough evidence to file a chargesheet againt Haneef and Khan, while claiming that Qureshi had used his official position in the IRF to influence youngsters, including Ashfaq and others, who subsequently joined ISIS.
The witness told the court that his younger son studied at the Islamic International School run by the IRF Educational Trust. He added that he was also a temporary trustee of the trust, along with three permanent trustees, including Naik. He further told the court that Qureshi's job was to clear misconceptions of those who visited the office about Islam.
Through one of his wife's relatives, he had met Ashfaq, he claimed.
When asked what had happened in 2016, the witness said that International Dawa Training Programme was held at Mahalaxmi studio in Mumbai. "The programme was organised by IRF and attendees had come from Saudi Arabia, Malaysia and UAE. Dr Naik was there among the trustees… he was a trainer and had organised the programme," the witness added.
Full report at:
https://indianexpress.com/article/india/former-irf-trustee-deposes-in-is-case-identifies-arshi-qureshi-5731938/
--------
Southeast Asia
Buddhists in Malang hand out iftar meals to local Muslims
May 11, 2019
The Paguyuban Metta Buddhists community of the Sanggar Suci temple in Malang, East Java, was handing out nasi soto (aromatic soup with rice), es campur (ice dessert), warm tea and snacks at a yard near Jl. Dr. Wahidin on Monday afternoon.
Since 4:30 p.m., the locals as well as travelers who happened to be in the area, flocked the place for some free food.
"The distribution of iftar meals for the 30 days of Ramadan has become a tradition since it began in 1998," said the community's counselor, 72-year-old Winantea Listiahadi, in Malang on Tuesday. "Fifteen years ago, the activity was held in the yard of the vihara [Buddhist temple], but because of the large crowd, it has since been moved to an empty space near the vihara."
Winantea added that the free dishes for breaking the fast were initially provided in 1998 to help locals experiencing financial hardship following the country's economy crisis.
"We have maintained that tradition until now. Initially, about 60-80 people would come every day during Ramadan, but the figure later increased to 100 a day," he said, adding that the Buddhist community came up with the money for the meals as they aimed to express their love for their Muslim neighbors.
"We make sure all the food and cooking equipment is halal by involving our Muslim neighbors when preparing the meals or ordering them from a third party. On the last day of Ramadan, we usually provide nasi kuning [yellow rice] and congratulate the Muslims who celebrate Idul Fitri."
"I happened to pass by from Malang to Pasuruan and saw the locals lining up. I then stopped to break the fast with the food provided," said 34-year-old Yuniarti, who lives in Purwodadi.
Meanwhile 37-year-old Suprayitno said he usually visited the place after work for iftar. "For me, such an activity is very helpful; I usually ask the committee members to pack the food for me to bring home." (dpk/kes)
https://www.thejakartapost.com/life/2019/05/11/buddhists-in-malang-hand-out-iftar-meals-to-local-muslims.html?utm_term=Autofeed&utm_medium=Social&utm_source=Facebook&fbclid=IwAR3IUhlFwGGa35lNWpLqvfSWwQDPlU-k4OfCoki33tC7ukpV8-FyOxpa0lY#Echobox=1557572683
--------
Malaysia arrests suspected militants 'planning' to attack non-Muslim places of worship
16th May 2019
KUALA LUMPUR: Three militants inspired by the Islamic State group have been arrested in Malaysia, accused of planning attacks on non-Muslim places of worship in the country and neighbouring Indonesia, police said Thursday.
The suspects are thought to have links to a wider IS-inspired cell, some of whose members were detained last week in Malaysia.
Malaysia and Indonesia, both Muslim-majority countries, are on high alert amid fears that followers of the jihadists are plotting attacks after the group's defeat in the Middle East.
An Indonesian, Nuruddin Alele, was detained Tuesday outside Kuala Lumpur following a tip-off, Malaysian national police chief Abdul Hamid Bador said.
The 34-year-old man had been exposed to IS idealogy while serving a five-year jail term in Indonesia.
He was involved in a plot to kill high-profile individuals and attack Christian, Hindu and Buddhist places of worship and entertainment outlets around Kuala Lumpur, the police chief added.
Authorities announced Monday they had foiled that plot after making the first series of arrests, and seizing explosives.
They have not identified the high-profile individuals targeted. The planned attacks were aimed at avenging the death of a Muslim firefighter in riots at an Indian temple last year.
The two other suspects -- Muhammad Syazani Mahzan and Muhamad Nuurul Amin Azizan from Malaysia -- were arrested Tuesday in the northern Malaysian state of Kedah, police said.
"These two suspects had undergone bomb-making training in (the Indonesian city of) Yogyakarta in 2018 which was conducted by the terror group Jemaah Ansharut Daulah," said the police chief.
"The two suspects had been seen surveying several churches in Yogyakarta to launch attacks." Jemaah Anshurat Daulah (JAD) is an Indonesian extremist group that has pledged allegiance to IS and was blamed for suicide bombings at churches last year in the city of Surabaya that killed a dozen people.
Muhammad Syazani is also suspected of planning attacks on religious minorities' places of worship in Malaysia.
Sixty per cent of Malaysia's population is Muslim but the country is also home to substantial religious and ethnic minorities.
Indonesia has seen a surge of IS-inspired plots and assaults in recent years, although Malaysia has not had any notable terror attacks.
Full report at:
http://www.newindianexpress.com/world/2019/may/16/malaysia-arrests-suspected-militants-planning-to-attack-non-muslim-places-of-worship-1977816.html
--------
Indonesia's transgender Muslims find safe haven for prayer during Ramadan
May 16, 2019
KUALA LUMPUR: A small Islamic school in Indonesia is providing a safe haven for the marginalized transgender community to pray during the holy month of Ramadan, its founder said on Thursday, calling for wider acceptance of LGBT+ people.
Muslims around the world are observing the month-long Ramadan – which began in early May – with fasting from dawn to dusk and extra prayers at mosques until the Eid al-Fitr celebrations in early June.
Transgender people are often stigmatized when they pray in mosques, where women and men are segregated, said Shinta Ratri, who runs the Pesantren Waria al-Fatah school in the central Java city of Yogyakarta.
'We want to provide a safe space for the 'waria' because praying in mosques can feel very uneasy sometimes,' said Ratri, using the Indonesian term which refers to transgender people.
'We can express ourselves freely here. We can observe Ramadan and pray together, it is important for us Muslims in the holy month,' the 57-year-old transgender woman told the Thomson Reuters Foundation by phone.
Billed as the world's only Islamic boarding school for transgender people, the institution founded in 2008 is a testament to the tolerant brand of Islam long practiced in the world's most populous Muslim country.
But a surge in anti-LGBT+ sentiments in recent years forced the school to temporarily shut in 2016 after it was mobbed by a group of Islamic hardliners.
It currently has 42 students, all transgender women who are mostly street performers or sex workers, who attend weekly prayers and classes about Islam taught by six Muslim preachers.
The students can choose to dress as man or woman during prayers, Ratri said.
For Ramadan, the school has added extra Koran study sessions and special prayers at night, while it also holds fast-breaking meals at sunset for the students and local community.
'What we want to show is that we have the right to worship and we are accepted in Islam. We are transgender people but we do not forget our obligations as Muslims,' said Ratri.
Human rights activists say religious conservatism is threatening to erode the Indonesia's long-standing reputation for tolerance of minorities like for the transgender people.
Homosexuality is not regulated by law in Indonesia, except in the ultra-conservative province of Aceh where same-sex acts are banned, but the country has a growing number of bylaws targeting LGBT+ people.
An Indonesian filmmaker received death threats after his latest movie, about a male dancer exploring his gender identity, was released domestically last month and sparked an online backlash that led to bans in some cities.
For Ratri, her Ramadan prayer has been the same every year for many decades.
Full report at:
https://www.freemalaysiatoday.com/category/world/2019/05/16/indonesias-transgender-muslims-find-safe-haven-for-prayer-during-ramadan/
--------
I want to be known as a leader who defends Islam, says Anwar
Soo Wern Jun
May 16, 2019
BANGI: Anwar Ibrahim has expressed his desire to be known as a leader who strongly supports Islam when he takes office as the eighth prime minister.
The PKR president said he also wanted to be known as a leader who is concerned and cares for non-Muslims.
"I want to be known as a very caring and compassionate friend to non-Muslims, like the Christians and Hindus.
"This is because they are our loyal citizens," he said during his speech at a breaking-of-fast event with several Muslim NGOs tonight.
Anwar also raised concern over the habit of current leaders exhibiting excessive wealth and luxury.
He claimed this was becoming increasingly visible among Pakatan Harapan leaders holding positions.
"Before this 'illness' becomes more serious and widespread, it is the responsibility of civil society and all parties to remind these leaders against such display of their wealth.
Anwar regretted that such overt display of wealth, seen previously among Barisan Nasional leaders, was now being seen among Pakatan Harapan leaders, especially those recently given positions.
Full report at:
https://www.freemalaysiatoday.com/category/nation/2019/05/16/i-want-to-be-known-as-a-leader-who-defends-islam-says-anwar/
--------
Muslim, Christian leaders break barriers along with Ramadan fast
Robin Augustin and Faiz Zainudin
May 17, 2019
PETALING JAYA: Muslims, Christians and other religious leaders came together for a breaking of fast event last night, with organisers hoping it will encourage people of different faiths to build a better understanding among them.
The "buka puasa" event at a hotel here was organised by a group called the Global Unity Network (Unity) headed by popular Muslim preacher Shah Kirit Kakulal Govindji.
The event was supported by Christians for Peace and Harmony in Malaysia (CPHM), which also invited several pastors to join Muslims as they waited for the azan signalling the end of the day's fast.
It was the fifth "interfaith buka puasa" organised by Unity.
CPHM in turn has organised Christmas gatherings with Muslim community leaders as well as those from other faiths.
"This is how we work together. We get the religious leaders to sit down together and make friends rather than holding a talk and everyone going their separate ways after," CPHM chairman Lee Min Choon told FMT.
He said it was unfortunate that the country had seen polarisation in recent times, and warned that it would get "harder to make things better".
"We religious leaders are part of the grassroots level, so we try to get grassroots leaders to get involved," he said.
He said religious leaders should not see their counterparts from other faiths as rivals, but as friends, as their objectives are similar.
"Those who lead mosques, churches or temples, they are all trying to make their followers better human beings, better citizens, so there are many similar values."
Meanwhile, Shah Kirit said his group has organised courses and meetings between religious leaders.
"Conflicts happen because there is dissatisfaction which stems from misconceptions."
He said while some Muslims felt the position of Islam was being challenged, some non-Muslims felt they were denied religious freedom.
He said bringing together leaders of different faiths does not undermine Islam's status as the religion of the federation.
"We are not saying all religions are the same. To us, it is about respecting one another."
Shah Kirit said there have been critics of his efforts including the interfaith buka puasa, adding that it was unfortunate that extreme voices on both sides are seen as representing Muslims and non-Muslims.
Full report at:
https://www.freemalaysiatoday.com/category/nation/2019/05/17/muslim-christian-leaders-break-barriers-along-with-ramadan-fast/
--------
Johor DAP rep raps FB page for calling Labis MP a 'dog' over mosque appearance
16 May 2019
BY BEN TAN
JOHOR BARU, May 16 — A DAP Muslim state assemblyman today has condemned a Facebook page that had insulted non-Muslims who entered mosques.
This comes after an issue involving Labis MP Pang Hok Liong, who was accused of making a political speech in a mosques last week.
Johor DAP publicity secretary Sheikh Umar Bagharib Ali criticised the owners of the Facebook page "Ops Johor" for calling Pang a dog.
"We should not label non-Muslims visitors who enter mosques as dogs.
"And the issue of calling or labelling someone as a dog or animal should be avoided," said Sheikh Umar when met by Malay Mail here after breaking fast today.
The Paloh assemblyman was commenting on a Facebook post by an anti-Pakatan Harapan (PH) page Ops Johor that insulted Pang by labelling him as a dog for visiting a mosque on May 10.
Sheikh Umar, who is a graduate in Islamic studies, majoring in Usuluddin, and also Islamic Propagation Foundation of Malaysia's (Yadim) board member, said he believed that other religions do not permit degrading others as animals.
He added that in Islam, the approach of "fatabayyanu" as verifying facts is important as not to cause undue problems.
"To me, the Ops Johor Facebook page approach can cause confusion.
"At the same time, it also paints a negative picture of Islam," said Sheikh Umar.
Earlier, Pang told Malay Mail that he denied giving a political speech at a mosque in his constituency that had earned him a royal rebuke from Johor ruler Sultan Ibrahim Sultan Iskandar today.
Sultan Ibrahim had earlier in a statement said he had received complaints from the community there who were uneasy that Pang had reportedly given a speech in the mosque.
Full report at:
https://www.malaymail.com/news/malaysia/2019/05/16/johor-dap-rep-raps-fb-page-for-calling-labis-mp-a-dog-over-mosque-appearanc/1753678
--------
We were threatened, says Sunni head of group accused of spreading Shia Islam
Sean Augustin
May 16, 2019
PETALING JAYA: Members of a group which distributed leaflets on the grandson of the Prophet in Kuala Lumpur have denied accusations that they were out to spread Shia Islam, a day after police warned them of action.
The "Who Is Husain?" group also told FMT that they had received death threats.
Hussain refers to the grandson of Prophet Muhammad, who is also a central figure in Shia Islam, which authorities in Malaysia label as deviant.
But the group's head who only wanted to be known as Natasha said it was not a religious organisation.
"Our organisation is a charity organisation which wants to bring about positive change. We have nothing to do with religion. Our focus is on the environment, poverty, homelessness, sanitation and water," she told FMT.
She said group members had distributed Ramadan goodies to members of the public, including dates, drinks, rosary beads and a flyer on the organisation.
Natasha, who said she is a Sunni Muslim, said a Facebook group had later accused them of spreading Shia Islam.
"There are people who are misinformed and who are deliberately trying to manipulate the situation," she said.
Yesterday, top cop Abdul Hamid Bador said police would work with religious authorities to stop the group.
"This is irresponsible and goes against Sunni Islam," Hamid told reporters.
Natasha said the group should be treated fairly, adding that those who threatened them should also be investigated.
Full report at:
https://www.freemalaysiatoday.com/category/nation/2019/05/16/we-were-threatened-says-sunni-head-of-group-accused-of-spreading-shia-islam/
--------
Indonesia Says It Foiled Plot to Detonate Bombs via Wi-Fi
By Hannah Beech and Muktita Suhartono
May 17, 2019
LOMBOK, Indonesia — The Indonesian police say they have foiled a suspected terrorist cell with the ability to use Wi-Fi to detonate explosive devices, highlighting advances in bomb-making in a country with a history of militant activity tied to the Islamic State.
Several of the suspects, who were arrested in raids last week on the densely populated island of Java, are members of Jamaah Ansharut Daulah, or J.A.D., a local militant group that has pledged allegiance to the Islamic State, the police said.
During the raids, counterterrorism agents found bomb-making equipment and traces of triacetone triperoxide, or TATP, a highly unstable homemade explosive that is sometimes used by the Islamic State outside the Middle East. TATP was used in Islamic State bombings in Paris and Brussels, as well as last month in Sri Lanka, where more than 250 people were killed by suicide attacks at churches and luxury hotels.
One of the suspects in the Indonesia plot, a skilled bomb-maker who was arrested on May 8, was perfecting the process of detonating a bomb through Wi-Fi networks, Dedi Prasetyo, the national police spokesman, said on Thursday. Mr. Dedi said that militants were planning to launch attacks on Wednesday, when the official results of Indonesia's national elections are expected to be tallied.
Because Indonesia has been the site of repeated attacks by radical Muslim militants, the authorities sometimes use phone-signal jammers during mass gatherings to prevent bombers from remotely activating explosive devices .
But Mr. Dedi said that jamming a Wi-Fi signal is harder to do. By using a router to strengthen a Wi-Fi signal, a bomber could theoretically extend the signal range from 200 meters to 500 meters, he said. With an amplifier, that range could extend as far as a kilometer, or about two-thirds of a mile.
"One guy with electronics skills, that's all you need," said Sidney Jones, the director of the Institute for Policy Analysis of Conflict in Jakarta and an expert on Southeast Asian militant groups.
On Tuesday, counterterrorism officers on Java arrested nine people suspected of militant activity, seven of whom had returned from Syria, where the Islamic State had constructed a caliphate before its territory was overrun earlier this year. One of those arrested who had spent years in Syria held a prominent position with the Islamic State, the police said.
"We are still questioning them since they were just arrested two days ago," Mr. Dedi said. "The network, the structure of the organization, the plans."
Hundreds of Indonesians went to fight with the Islamic State, but critics of the government's counterterrorism strategy say the fighters have avoided the radar of local law enforcement upon returning home from the battlefields of the Middle East.
"Local authorities have limitations in executing monitoring because of budget constraints," said Alto Labetubun, an Indonesian terrorism analyst who has worked in Afghanistan and the Middle East. "They do register returnees — but imagine the manpower needed if you want to do surveillance on them after they return to their hometowns."
Even though the Islamic State, also known as ISIS, lost its territory in Iraq and Syria, the terrorist organization has been able to metastasize far from its former self-proclaimed caliphate, spreading its tentacles throughout Southeast Asia and elsewhere. In January, a group that had sworn loyalty to the Islamic State bombed a cathedral in the southern Philippines. And the attacks in Sri Lanka depended on local radicals who claimed links to ISIS.
"Local groups have not been discouraged by ISIS defeats in the Middle East but rather emboldened by them to wage war at home, in accordance with ISIS central directives," said a report last month by the Institute for Policy Analysis of Conflict on Jamaah Ansharut Daulah and other Indonesian terrorist cells affiliated with the Islamic State.
"The danger has always been that someone with technical expertise and combat experience would return from Syria to turn a handful of ISIS supporters into a more serious threat," the report added.
Mr. Dedi said that bombs have never been detonated through Wi-Fi networks in Southeast Asia. But such technology has been used in the Middle East, he said.
More than 200 suspected members of Jamaah Ansharut Daulah have been arrested over the last year, along with others from splinter groups and separate cells. The group was formed with the ideological support of Aman Abdurrahman, a radical cleric who pledged allegiance to the Islamic State. A former university lecturer, Mr. Aman is on death row in Indonesia after having been convicted of orchestrating multiple fatal terrorist strikes.
The most populous Muslim-majority nation in the world, Indonesia is a vibrant democracy in which the vast majority of people follow a moderate form of the faith. But Muslim extremists have carried out attacks and called for the nation's political system, with its guarantee of freedom of religion, to be replaced by a Southeast Asian caliphate that extends across Indonesia, Malaysia and the southern Philippines.
Targets of militant attacks have included hotels and hot spots frequented by foreigners, as well as symbols of the Indonesian state, such as police stations.
The first case of the Islamic State claiming an assault in Southeast Asia occurred in January 2016 when Jamaah Ansharut Daulah militants carried out a bombing and shooting attack in Jakarta's central business district.
In March, the wife of a suspected Jamaah Ansharut Daulah militant detonated a suicide device during a standoff with the police at her home on the island of Sumatra, killing her child as well. More than 660 pounds of explosives were found at the family's house, the police said.
Last year, in a chilling heightening of militancy in Indonesia, parents and their children blew themselves up in coordinated attacks on churches and a police station in Surabaya, the second largest city in Indonesia. Those suicide attacks, in which a child as young as 8 was outfitted with explosives, used TATP. The Islamic State claimed responsibility for the attacks.
The deadliest attack in Indonesia's recent history occurred in 2002 when a local terrorist group linked to Al Qaeda bombed a nightclub on the holiday island of Bali, killing 202 people.
Full report at:
https://www.nytimes.com/2019/05/17/world/asia/indonesia-bomb-plot-wifi.html
--------
Mideast
In Yemen, Fighting Resumes Between Houthi Rebels and Government Forces
May 15, 2019
ADEN, Yemen — Houthi fighters and Saudi-backed pro-government forces renewed fighting in Yemen's port city of Hodeidah on Wednesday.
The fighting breached a cease-fire and is likely to complicate a troop withdrawal agreement intended to pave the way for wider peace talks aimed at ending the four-year war, which is seen as part of a wider regional conflict between Saudi Arabia and the Iran-backed Houthi.
Tens of thousands of people have been killed, many of them civilians, and aid agencies say the humanitarian crisis is the worst in the world.
As the main entry point for food imports and aid, Hodeidah, which has been under Houthi control, is a lifeline for millions of Yemenis threatened by starvation because of the war.
The Houthi began withdrawing from Hodeidah and two other Red Sea ports on Saturday, in the most significant advance yet of efforts to end the war.
But both sides reported renewed clashes on Wednesday, a day after the Houthi claimed responsibility for a drone attack that Saudi Arabia said had hit two of its oil pumping stations.
Houthi-run media said government forces hit various parts of Hodeidah, including the airport, with heavy and medium weapons. It did not say if they were Yemeni troops or members of the Sunni Muslim coalition, which backs President Abd Rabbu Mansour Hadi's Aden-based government.
Coalition-backed forces said in a report on Wednesday that they had foiled an attempt by Houthi fighters to infiltrate Hodeidah and the al-Duraihmi area to its south.
The coalition, which receives weapons and other support from the West, intervened in Yemen in March 2015 after the Houthi movement ousted Mr. Hadi from the capital, Sanaa.
Although the Saudi-led military coalition will "retaliate hard" for any Houthi attacks on coalition targets, it remains committed to the Hodeidah peace deal, reached during talks in Stockholm in December, said Anwar Gargash, a senior official from the United Arab Emirates, which is part of the coalition.
"Despite the Houthi action we are there to support the process, we are there to make sure that the Houthi pullout of Hodeidah is real and that the U.N. can monitor it," Mr. Gargash, the U.A.E. foreign affairs minister, told reporters in Dubai. "This is our best opportunity."
Martin Griffiths, the United Nations envoy to Yemen, called on the Security Council on Wednesday to urge the warring parties to quickly put in place the remaining actions agreed to during the Stockholm talks.
Mr. Griffiths told the Council he was still seeking a deal between the parties to have local forces assume responsibility for security in the area.
Jonathan Cohen, the acting United States ambassador to the United Nations, said the Council should consider how to hold parties responsible if they did not implement the Stockholm agreement.
"Obstruction of the U.N. process cannot be tolerated," Mr. Cohen said. "For months apparent breakthroughs have happened just in time for Security Council briefings, then progress stalls."
https://www.nytimes.com/2019/05/15/world/middleeast/yemen-government-houthi-fighting.html
--------
Turkish Embassy in US calls on Muslim community to unite against anti-Muslim hatred
17.05.2019
The Turkish Embassy in Washington, D.C., on Wednesday, underlined the importance of uniting against anti-Muslim sentiments, amid escalating terrorist attacks against Muslims all around the world.
The embassy hosted American Muslim opinion leaders and some diplomatic representatives in Washington for an iftar dinner organized in the Diyanet Center of America (DCA).
"Terrorism has no color, race or religion. All kinds of terrorism are obvious crimes and we all must be against them," stated Serdar Kılıç, the Turkish ambassador in the U.S. He added that it is pleasing to see all Muslims living in the U.S. act together against the hateful discourse targeting Muslims. Mentioning the terror attack that targeted Muslims in two mosques and killed at least 50 civilians in New Zealand, Kılıç underlined the damage of anti-Muslim attacks have caused across the world.
Kılıç also expressed his sorrow over the arson attack targeting the Diyanet Mosque in New Haven and said such attacks should have no place in the U.S.
The Diyanet Mosque in New Haven was targeted in an arson attack Sunday, becoming the latest example of growing numbers of anti-Muslim attacks in the Western countries.
In a statement, the Religious Services Attache of the Turkish Consulate General in New York said an investigation was underway into the fire at Diyanet Mosque in the city of New Haven and efforts are continuing to catch the perpetrators.
It was also reported that a donation campaign was launched for the Diyanet Mosque.
As the Diyanet Center of America (DCA) announced on its website, a charity campaign for the restoration of the attacked mosque has been launched under the title, "Support the New Haven Mosque."
Full report at:
https://www.dailysabah.com/diplomacy/2019/05/17/turkish-embassy-in-us-calls-on-muslim-community-to-unite-against-anti-muslim-hatred
--------
Rocket strike on Palestinian refugee camp in Syria kills 10 civilians, says UN
16 May 2019
At least 10 civilians were killed and 30 wounded in Syria by a rocket strike on the Neirab camp for Palestinian refugees close to the city of Aleppo on Tuesday night, the United Nations said in a statement on Thursday.
"As families gathered to break their fasts for the Ramadan Iftar meal, several rockets hit the densely populated Neirab camp for Palestine refugees in Aleppo," the statement from the UN humanitarian aid agency UNRWA said.
"Among those killed were four children, the youngest just six years old. A number of the injured remain in critical condition."
https://english.alarabiya.net/en/News/middle-east/2019/05/16/Rocket-strike-on-Syria-refugee-camp-kills-10-civilians-says-UN.html
--------
Israel reduces Gaza fishing zone, attacks Palestinian fishermen
May 16, 2019
Israeli authorities have reduced the permitted fishing zone off the coast of the besieged Gaza Strip "until further notice," less than a week after lifting a ban on Palestinian fishing boats operating off the coastal enclave.
The head of the Fishermen Committees in the Union of Agricultural Work Committees, Zakaria Bakr, told Palestinian Ma'an news agency on Thursday that the fishing zone had been reduced from 12 nautical miles to only five nautical miles.
Bakr added that Israeli naval forces prevented Palestinian fishermen from retrieving their fishing nets, which they had cast seven nautical miles off Gaza's coast.
The Palestinian official noted that Israeli forces opened heavy fire at the fishermen who sought to cross the five nautical miles, forcing them to sail back to the shore for fear of their lives.
The development came less than a week after Israeli officials lifted a ban on Palestinian fishing boats operating off the Gaza Strip, ending a measure imposed during a deadly flare-up of violence earlier this month.
The fishing union in the Gaza Strip confirmed the lifting of the ban, saying Palestinians were allowed fishing up to 12 nautical miles in the southern half of Gaza, while the fishing zone was six nautical miles in the north.
Four Israelis and 27 Palestinians, including two pregnant women and three children, were killed after three days of deadly Israeli airstrikes and retaliatory Palestinian rocket attacks earlier this month. The two sides reached a ceasefire agreement on May 6 with the help of Egyptian and Qatari mediators.
Under the Oslo Accords signed in 1993, Israel is obligated to permit fishing up to 20 nautical miles off the coast of the Gaza Strip, but this has never been implemented. The Oslo Accords were signed between the Israeli regime and the Palestine Liberation Organization (PLO) during the early-mid 1990s to resolve the Israeli-Palestinian conflict.
Israel maintains a heavy naval presence off the coast of the impoverished Palestinian enclave, severely affecting the livelihoods of some 4,000 fishermen and at least 1,500 more people involved in the fishing industry.
Over the past few years, Israeli forces have carried out more than a hundred attacks on Palestinian boats, arresting dozens of fishermen and confiscating several boats.
Full report at:
https://www.presstv.com/Detail/2019/05/16/596093/Israel-reduces-Gaza-fishing-zone-by-nearly-threefold-attacks-Palestinian-fishermen
--------
6 civilians killed in Saudi strikes on Yemen's capital
May 16, 2019
At least six civilians, including children, have been killed and dozens of others wounded in multiple airstrikes by a Saudi Arabian-led coalition on various neighborhoods of Yemen's capital, Sana'a.
According to Yemen's Arabic-language al-Masirah television network, Saudi-led fighter jets pounded various parts of the capital on Thursday, killing at least six civilians, four of whom were children from one family, and wounding dozens more.
Medical officials said the death toll could rise due to the intensity of the strikes and the number of those who have been seriously injured. They added that there could be other civilians, dead or wounded, under the rubble.
Most of the strikes targeted residential areas in Sana'a, the officials said.
Warplanes also struck a building of Yemen's Ministry of Information, al-Masirah added. There were no immediate reports about possible casualties or the extent of the damage caused.
Saudi Arabia and a number of its regional allies launched a devastating campaign against Yemen in March 2015, with the goal of bringing the government of ex-president Abd Rabbuh Mansur Hadi back to power.
According to a December 2018 report by the Armed Conflict Location and Event Data Project (ACLED), a nonprofit conflict-research organization, the Saudi-led war has claimed the lives of over 60,000 Yemenis since January 2016.
Full report at:
https://www.presstv.com/Detail/2019/05/16/596077/Yemen-Saudi-Arabia-airstrikes-Sanaa-civilians
--------
Arab World
Egypt blacklists 600 persons for funding Muslim Brotherhood: sources
May. 15, 2019
CAIRO - 14 May 2019: The Egyptian state committee tasked with confiscating and managing the funds and assets of terrorist groups blacklisted 600 persons, including Muslim Brotherhood figures and sons, high-level sources revealed.
Egypt designated the Muslim Brotherhood group as a terrorist organization inDecember 2013.
The committee received information proving the involvement of the recently blacklisted persons in funding terrorist attacks against army and police personnel and civilians, the sources explained.
The sons of the imprisoned Muslim Brotherhood figures cooperated with fugitives of the group who fled to other countries to provide logistic support and financial assistance on monthly basis required to fund the group's terrorist attacks, according to the sources.
According to law, the committee has to submit an official request to Cairo Court of Urgent Matters before the former can seize and manage the assets of the blacklisted persons and transfer the ownership of these assets to the state's public treasury.
The committee then would inform the state's concerned parties including the Central Bank of Egypt and the Real Estate Registration Office.
http://www.egypttoday.com/Article/1/70433/Egypt-blacklists-600-persons-for-funding-Muslim-Brotherhood-sources
--------
In Saudi partnership, UNDP builds hundreds of new homes in Gaza
16 May 2019
The United Nations Development Program (UNDP) on Wednesday tweeted a photo showing new buildings among the hundreds built in Gaza by the world body in partnership with Saudi Arabia.
This is one of many initiatives taken by Saudi Arabia in support of the Palestinian people. On February 13 this year, the UNDP announced that it signed agreements with 120 of the 275 people whose homes were to be renovated.
"As part of their continuous efforts to support the Palestinian people, and with the $10 million additional contribution from the Saudi Fund for Development (SFD), the UNDP signed today new agreements with 120 people, out of the 275, who will be benefiting from the repair and reconstruction of their homes that have been damaged following the Gaza 2014 hostilities," the UNDP statement said. "This brings the total SFD contribution to $71.5 million, benefiting approximately 13,195 families from the Gaza Strip."
In January, the UNDP announced that 26 families would be the owners of new homes at al-Ameer Nayef bin Abdelaziz Saudi neighborhood in Beit Lahia, owing to funding from Saudi Arabia. The funding was part of a project to reconstruct 100 housing units for Palestinian families.
Earlier, in April 2018, the United Nations Relief and Works Agency for Palestine Refugees in the Near East (UNRWA) and the UNDP signed an agreement with the SFD for $10 million to cover house reconstruction and rehabilitation works in the Gaza Strip.
According to the UNDP, this new contribution was to cover more than 200 totally damaged houses for Palestinian non-refugees.
Full report at:
https://english.alarabiya.net/en/News/middle-east/2019/05/16/In-Saudi-partnership-UNDP-builds-hundreds-of-new-homes-in-Gaza.html
--------
Egyptian forces kill 47 militants, lose five soldiers
16 May 2019
Egyptian security forces have killed 47 extremist militants in operations in the Sinai peninsula recently, the military said on Thursday.
Five military personnel were also killed, the armed forces said, without specifying where those deaths took place.
The figures covered the "last period," the military said in a video, without specifying dates or locations of operations.
It did not give the identity of the militants or their affiliation.
The military said it had found 385 explosive devices and had carried out controlled explosions, but did not specify the locations.
Full report at:
https://english.alarabiya.net/en/News/middle-east/2019/05/16/Egyptian-forces-kill-47-militants-lose-five-soldiers.html
--------
RAMADAN: Communal iftar, an expression of social solidarity and compassion
May 15, 2019
SAKAKA: Community iftar in the holy month of Ramadan is one of the most rewarding deeds. The Prophet said: "Whoever gives iftar to a fasting person will have a reward like his, without that detracting from the reward of the person in the slightest," and in this holy month, communal iftars are abundant in a number of mosques in Al-Jouf cities and some external roadways.
Good and affluent people, along with charities and advocacy offices, compete to organize communal iftars where residents of different nationalities come together in a spiritual, brotherly and friendly ambiance even though most of them had never met each other except in communal iftars, and the big mosques are these charitable events' venues.
Communal iftar organizers prepare the venues properly and decently to receive fasting people; they set up air-conditioning and appropriate furniture and make sure the place is clean to receive the biggest number possible. They also prepare a variety of food and drinks at the dining table, such as dates, juices and drinking water, dairy products, pastries, sweets, fruits and soup, in addition to rice, chicken, meat, coffee, tea and other items.
Organizers set the venue to receive fasting people and arrange the quality and variety of food served and many iftars have adopted "meat and rice" as the main course.
Mohammed Al-Ali who volunteers in organizing communal iftars, said that his role, along with his fellows, is to prepare the place and dining tables, receive fasting people, organize their seats without crowding each other, remove the remaining food and distribute it.
"The most notable challenges are the organization of the big number of people who come daily, which may result in a shortage of meals when the turnout is more than expected. The opposite happens sometimes, and there is a surplus of meals, however, the former happens more than the latter," he said.
Resident Abdul Samad expressed his happiness about the organizers' hospitality and fairness in treating Arabs and non-Arabs alike. He commended the good organization and quality of meals served.
Mohammed Mahmoud said that communal iftars found in most mosques exemplify the citizens' hospitality and their kindness. He described the communal iftars as the perfect location to catch up with friends in the holy month of Ramadan.
Full report at:
http://www.arabnews.com/node/1497626/saudi-arabia
--------
Iraqi security kill 9 Islamic State fighters in Anbar
by Mohammed Ebraheem
May 15, 2019
Anbar (IraqiNews.com) – Iraqi security forces killed on Wednesday nine members of the Islamic State militant group during a preemptive operation in Anbar province, a security source was quoted as saying.
Speaking to Almaalomah news website, the source said that counter-terrorism forces in Anbar killed nine Islamic State terrorists, who were planning to launch attacks against security forces deployed in Ar-Rutbah district in western Anbar.
The troops, according to the source, also destroyed several Islamic State tunnels and seized a large cache of the group's ammunition.
Iraq declared the collapse of Islamic State's territorial influence in November 2017 with the recapture of Rawa, a city on Anbar's western borders with Syria, which was the group's last bastion in Iraq.
Full report at:
https://www.iraqinews.com/features/iraqi-security-kill-9-islamic-state-fighters-in-anbar/
--------
Arab Coalition: Raids on military targets loyal to Houthi militia have begun
May 16, 2019
DUBAI: The Arab Coalition has begun an operation against military targets loyal to the Houthi militia in Yemen's capital Sanaa.
"Coalition efforts in Yemen continue against terrorist organizations to maintain regional and international security," a coalition spokesman said, adding that the raids were consistent with international law.
The coalition also confirmed it had taken all measures to ensure civilian safety, and that the mission was to neutralize the militia's capabilities to carry out hostile attacks.
"The Houthi attack on Saudi Aramco oil pipes prove their loyalty to Iran," Khalid bin Salman, Saudi Arabia's deputy defense minister, said. "Houthis are a tool to advance Iranian agenda in the region."
Khalid bin Salman خالد بن سلمان
✔
@kbsalsaud
The attack by the Iranian-backed Houthi militias against the two Aramco pumping stations proves that these militias are merely a tool that Iran's regime uses to implement its expansionist agenda in the region, and not to protect the people of Yemen as the Houthis falsely claim.
1,698
2:31 PM - May 16, 2019
Twitter Ads info and privacy
2,046 people are talking about this
Saudi Arabia said Tuesday that armed drones hit two oil pumping stations in the Kingdom but did not disrupt output or exports. The Houthis said they were responsible.
Minister of State of Foreign Affairs Adel Al-Jubeir said the attack on Saudi oil pipelines was ordered by Iran and the militants are an inseparable part of the Iranian Revolutionary Guard Corps.
Adel Aljubeir عادل الجبير
✔
@AdelAljubeir
Replying to @AdelAljubeir
2- The Houthis are an indivisible part of #Iran's Revolutionary Guard Corps (#IRGC) and subject to the IRGC's orders. This is confirmed by the #Houthis targeting facilities in the Kingdom
1,059
2:42 PM - May 16, 2019
Twitter Ads info and privacy
1,446 people are talking about this
Read the full coalition statement here:
"The Coalition Forces to Support Legitimacy in Yemen carried out on Thursday an air operation on legitimate military targets that contain military bases and installations, weapon and ammunition warehouses for Iran-backed Houthi militia as per military information and intelligence.
The raids hit their targets with accuracy.
The coalition forces also ascertained that the Iranian-backed Houthi militia's attacks on the vital facilities in the Kingdom, are considered serious violations of the international human law and customary rules and amount to war crimes.
Coalition forces will keep chasing and target terrorists all over Yemen and reach all the locations from which the attacks are launched.
Full report at:
http://www.arabnews.com/node/1497701/middle-east
--------
Syrian refugees struggle to make ends meet during Ramadan
May 16, 2019
AMMAN: For Um Nabil, a 46-year-old Syrian refugee living in Irbid in Jordan, preparing the iftar dinner on the first day of Ramadan was a challenge. With three children to raise alone and with little money left, she had to borrow the funds to buy half a chicken to cook for the meal.
Um Nabil's husband left for Syria to collect his mother after his father died but has not returned for three years. Not only did her husband leave her with her three children, she also has to deal with his second wife and their child.
Despite her difficult life, Um Nabil told Arab News that her situation is much better than some. She looks out of the kitchen window and points to her three Syrian neighbors. "They live in even smaller apartments and God knows how bad their situation is."
A few vegetables can be seen outside the kitchen window. Um Nabil has learned how to grow vegetables without soil and has been able to produce enough for her family as well as sell anything extra. She regularly plants lettuce, tomatoes and beans.
Last year Um Nabil volunteered with a local agency which gave her 13 Jordanian dinars ($18) a day in return for her help.
This year with her husband gone, she has to figure out ways to pay the steep cost of the rent at 140 Jordanian dinars per month. She depends on the monthly food stipend from the World Food Program for the amount of 60 Jordanian dinars, less than half the cost of rent alone.
As the time for breaking the fast approaches, Um Nabil's children gather in what they call the sitting room, a room with old furniture that is in need of repair. Wafa, the oldest daughter at 17, said that Ramadan was much better in Syria: "All that is left of Ramadan is sitting together and eating rice and other things."
Um Nabil recalls the dinners she used to prepare with many dishes and fresh juices. "We used to get what we wanted without thinking of money."
Asked why she does not return, Um Nabil said that although her house was not badly destroyed in Dera'a, her friends advised her not to go back. "We communicate a lot and they tell me don't come back. Life is not easy in Syria."
The UN High Commissioner for Refugees (UNHCR) says that 137,539 registered Syrian refugees live in Irbid while Jordanian government sources say that the number is closer to 250,000.
Since the opening of the Jaber crossing point, 16,700 of the 671,000 registered Syrian refugees living in Jordan have returned. Jordan says that the actual number of refugees (both registered and unregistered) is more than 1 million.
Jordan's promise to provide work permits for Syrians has failed to address the economic problems facing them with only 40,000 documented permits issued, according to official sources.
International agencies say that the average annual income of Syrian refugees in Amman, Irbid and Zarqa is about 3,000 Jordanian dinars while in Mafraq and some of the refugee camps the average income is 1,000 Jordanian dinars.
Nearly 98 percent of the income of Syrian families goes to pay rent, which ranges from 120 to 140 Jordanian dinars a month, according to a study prepared by the Norwegian Agency Fafo.
UN High Commissioner for Refugees Filippo Grandi has issued an international appeal for donor help to support Syrian families in countries such as Jordan during Ramadan. "Ramadan is a month of compassion, renewal and service. The resilience of refugees inspires us and reminds us that all actions that we take, big or small, can have an impact."
The family of Um Nabil has no money and so pays little attention to the many Ramadan deserts available locally.
While some Jordanians continue to suffer economically, overall there is a wide gap between Syrian refugees and most Jordanians.
Full report at:
http://www.arabnews.com/node/1498076/middle-east
--------
North America
Trump says he hopes US not going to war with Iran
16 May 2019
US President Donald Trump said on Thursday he hoped the United States was not heading to war with Iran as he met with Switzerland President Ueli Maurer, whose nation has served as a diplomatic conduit between the two countries.
Asked by reporters if Washington was going to war with Tehran, Trump responded, "Hope not" as he greeted Maurer at the White House.
Tensions have escalated in recent days with increasing concerns about a potential U.S.-Iran conflict. Earlier this week the United States pulled some diplomatic staff from its embassy in Baghdad following weekend attacks on four oil tankers in the Gulf.
Switzerland, a neutral country, has historically been a liaison between the United States and Iran, which have no diplomatic relations.
A White House statement said the two leaders discussed "a range of international issues, including the crises in the Middle East and in Venezuela."
"President Trump expressed his gratitude for Switzerland's role in facilitating international mediation and diplomatic relations on behalf of the United States," the statement said.
The Washington Post, citing unnamed US officials, reported late Wednesday that Trump preferred a diplomatic route with Iran and direct talks with its leaders but worried that some of his advisers were pushing war.
White House spokeswoman Sarah Sanders told Fox News Channel's "Fox & Friends" that there is no friction between Trump and his advisers and he welcomes different viewpoints.
"He's the one the American people elected. He's going to take in the information and the guidance from all of his national security team and he then will make a decision on what he thinks is the best and safest thing for the American people," she said.
US House Speaker Nancy Pelosi on Thursday welcomed what she called Trump's lack of "appetite" for military conflict with Tehran.
Earlier on Thursday, Iran's foreign minister Mohammad Javad Zarif who is in Japan on an official visit said there is "no possibility" of negotiations with the United States to reduce spiraling tensions.
On Wednesday, Trump predicted that Iran will "soon" want to negotiate and denied any discord in the White House over moves that critics say could lead to war in the Middle East.
"Different opinions are expressed and I make a decisive and final decision - it is a very simple process," Trump tweeted. "I'm sure that Iran will want to talk soon."
https://english.alarabiya.net/en/News/world/2019/05/16/Trump-says-he-hopes-US-not-going-to-war-with-Iran.html
--------
Trump meets with Swiss president whose country represents US interests in Iran
16 May 2019
US President Donald Trump met with Switzerland President Ueli Maurer, whose nation has served as a diplomatic conduit between the two countries.
Switzerland, a neutral country, has historically been a liaison between the United States and Iran, which have no diplomatic relations.
As Trump greeted Maurer at the White House, he responded to reporters who asked if Washington was going to war with Tehran: "Hope not."
Later, a White House statement said the two leaders discussed "a range of international issues, including the crises in the Middle East and in Venezuela."
"President Trump expressed his gratitude for Switzerland's role in facilitating international mediation and diplomatic relations on behalf of the United States," the statement said.
Maurer, who is also the Swiss finance minister, was in Washington upon an invitation from Trump, the Swiss government said.
According to local media reports, it is the first time a Swiss president has been received by a US president in the White House.
Switzerland agreed last month to represent Washington's interests in Venezuela. The South American country has not yet responded to the US request.
Full report at:
https://english.alarabiya.net/en/News/world/2019/05/16/Trump-to-receive-Swiss-president-whose-country-represents-US-interests-in-Iran.html
--------
Hezbollah terrorist convicted in US for planning attacks
May 17, 2019
NEW YORK: A US federal court in New York on Thursday convicted a man of charges that he bought weapons and plotted attacks on behalf of the Lebanese Shiite group Hezbollah.
Ali Kourani, a 34-year-old American of Lebanese descent, was convicted of eight allegations including conspiracy to use weapons in a violent crime, which is punishable by life in prison.
"Kourani's chilling mission was to help procure weapons and gather intelligence about potential targets in the US for future Hizballah terrorist attacks," US attorney Geoffrey Berman said in a statement, using an alternate spelling for the group.
The targets Kourani surveyed include the JFK International Airport and a federal building in Manhattan.
"Today, Kourani has fittingly been convicted for his crimes in a courthouse that stands in the shadow of one of his potential targets," Berman said.
Born in Lebanon but naturalized by the US in 2009, Kourani attended several Hezbollah training camps in his country of birth and took orders from agents of the Iran-backed organization after his 2003 arrival in the US.
He is now set to be sentenced on September 27.
Another man who was taken into custody in Michigan on the same day Kourani was arrested in 2017, Samer El Debek, is still awaiting trial. He is also accused of belonging to Hezbollah.
Washington considers Hezbollah, which was created by Iran in the early 1980s, a terrorist organization.
Full report at:
http://www.arabnews.com/node/1498176/world
--------
Pentagon asks US Congress to help fund Taliban members seeking ceasefire
May 17, 2019
The Pentagon said on Thursday that it had asked Congress for the authority to help fund lodging and transportation for Taliban members who were interested in negotiating local ceasefires with the Afghan government, as the Washington seeks an end to the more than 17-year-old war.
Last year, the Taliban observed an Afghan government ceasefire over the three-day Eid al-Fitr festival, leading to unprecedented scenes of government soldiers and militants embracing on front lines, and raising hopes for talks.
Since then however, fighting between the Taliban and US-backed Afghan government has intensified, even as talks between Washington and the militant group have continued.
"In cases where lodging and transportation would be required to facilitate the participation of all required parties to negotiate a local peace deal, the funds could be used for the purpose," Pentagon spokeswoman Commander Rebecca Rebarich said.
She said the Pentagon was seeking "to lay the groundwork in anticipation of opportunities to facilitate talks with the Afghan government to find a way to end the war." She said until now no funds had been used and the Pentagon did not provide further details of possible funding.
A bill passed this week by the House of Representatives Appropriations Subcommittee on Defense barred the US government from using money to pay for the expenses of Taliban members taking part in the peace talks with the United States, unless the talks included members of the Afghan government or did not restrict the participation of women.
The bill has still not passed the full House Appropriations Committee and it is unclear whether lawmaker's would approve the Pentagon's request.
So far, Afghan government officials have been sidelined from talks between Washington and the Taliban.
Rebarich said that the Defense Department was not reimbursing local insurgent groups taking part in the talks.
"The United States also supports local peace initiatives between the Afghan government and insurgent groups looking to cease hostilities against the Afghan Government and coalition forces," she said.
Rebarich added that the request for this authority was made by the commander of U.S. forces in Afghanistan following the June 2018 ceasefire.
U.S. and Taliban negotiators wrapped up their sixth round of peace talks on Thursday with "some progress" made on a draft agreement for when foreign troops might withdraw from Afghanistan.
The Afghan government has expressed frustration about not being included in talks with the Taliban and the limited information Kabul is being provided by Washington.
"The government does not feel that they have been briefed enough," Roya Rahmani, Afghanistan's ambassador to the United States, told reporters in Washington this week.
Full report at:
https://www.thenational.ae/world/the-americas/pentagon-asks-us-congress-to-help-fund-taliban-members-seeking-ceasefire-1.862546
--------
The battle to save New York's 'Little Syria' from being forgotten
May 16, 2019
It was once a thriving souq, the place where New Yorkers first gained a taste of the Middle East. From the 1880s until the 1920s, Washington Street, in the city's financial district, was filled with Arab artisans weaving designs from imported silk and lace for the wealthy Americans who could afford them. Surrounding shops sold rugs and objets d'art. And food vendors offered produce ranging from pistachios to spices in between dozens of Arab coffee stands where wholesale merchants did larger deals and exchanged gossip.
But today in the shadow of the former World Trade Centre site, only three low-profile buildings of the once thriving area of Manhattan known as Little Syria remain. A new phalanx of skyscrapers, mostly offices, apartments and hotels dominate.
With a large vacant commercial plot up for sale next to old Washington Street, its past could soon be a memory.
Also commonly referred to as New York's Arab Quarter, the area was where thousands of immigrants from Greater Syria – today's Syria, Lebanon, Jordan, Israel and the Palestinian territories – made their home, renting rooms just yards from where they had stepped off ships on Ellis Island.
Part of the cause of its vanishing past is that the September 11 attacks caused devastation beyond the Twin Towers, requiring demolitions that lessened the number of old buildings and changed the character of the area.
"It is maddening," said Todd Fine, president of the Washington Street Advocacy Group, who is campaigning to ensure the area's Middle Eastern roots are preserved.
"Before reconstruction began there were public consultations called listening sessions, where everyone agreed that the historical character of this part of New York had to be recognised. Instead, there has been lots of attention given to some of the most expensive skyscrapers in the world, but little else."
Mr Fine, a Harvard graduate and historian, has recently rallied to raise interest in preserving the site by conducting guided walking tours of the area at weekends.
But he has also compiled an updated study of an official 2003 report into buildings identified in the area as valuable landmarks to city authorities. It shows that more than a quarter of them have since been demolished.
Those who frequented Little Syria included Kahlil Gibran, the Lebanese poet who had emigrated with his parents while still a child, writing his best-known work, The Prophet, published in 1923 by Albert A Knopf, in New York. One of the benches at a nearby plaza and rest area bears a plaque in his name and quotes him: "Those are the sons of my homeland, who are born in cottages and die in palaces."
The aftermath of the Second World War heralded a lot of redevelopment and land reclamation at what was then a waterfront, leading much of the Arab community to move to other areas of New York and the US.
The one ancient building that does have landmark status and which cannot be pulled down is the St George Chapel, where the mostly Roman Catholic Syrian and Lebanese immigrants worshipped.
The facade still stands but inside is a Chinese restaurant, owned by the adjoining Holiday Inn, whose recent construction includes plastic silver outer cladding that adds nothing of architectural interest.
"It's a shame," said Mr Fine. "Downtown tourism and a lot of residential and office space is what the area has turned into. Historic preservation does not seem to be part of the plan."
The two other remaining buildings on Washington Street dating from its Arab era – a community house where new arrivals gathered, and a tenement building – should not be altered, he says. They were deemed to not be of enough architectural interest to be landmarked in a past bid for such status.
But Matthew Stiffler, research manager at the Arab American Museum in Dearborn and a lecturer at the University of Michigan, said the settlement had significant historical importance.
"For the Arab-American community, Europe was not the only place they moved to, New York was the hub. From there the wholesalers would supply their goods across the country," he told The National.
Of Little Syria not being landmarked, he said: "What is dangerous about that is that if it is not marked in some way it can lead subsequent generations to mistakenly think Arab immigration, be they Christians, Muslims or Jews, is a recent thing. Such immigration has been happening since the 1880s."
Mr Fine said his next move was to ask the new head of the city's Landmarks Preservation Commission to evaluate his study and tour the area with him to see what was at stake.
A spokeswoman for the LPC said it received many requests for landmark status and that all bids were considered on merit of architectural, cultural or historical importance, pointing out that St George's Chapel gained recognition in 2009.
Full report at:
https://www.thenational.ae/world/the-americas/the-battle-to-save-new-york-s-little-syria-from-being-forgotten-1.862512
--------
Europe
UK parliament holds debate on Islamophobia
Ahmet Gürhan Kartal
16.05.2019
LONDON
The House of Commons held a debate on Thursday on Islamophobia, one of the rising dangers of British society, which affects the lives of more than 3 million Muslims living in the U.K.
The co-chairman of the All-Party Parliamentary Group on British Muslims (APPG) and the Labour MP Wes Streeting opened the debate on the definition of Islamophobia, which was drawn by the group last year.
Streeting gave examples of Islamophobic attacks and disturbances across the U.K., inviting all parties to accept the definition, which describes it as "a type of racism".
He underlined that 51 Muslim worshippers were slaughtered in March in a mosque in Christchurch, New Zealand for no other reason but their faith.
He said: "Hatred against Muslims does not start with the sound of a gun fire… [but] it begins with simple prejudice that can go unchecked and unchallenged in our schools, our workplaces and our communities.
"It is amplified on the pages of national newspapers. It is legitimized by political leaders who use Muslims as punch lines and bigotry as a vote winner."
"Islamophobia is rooted in racism and is a type of racism that targets expressions of Muslimness or perceived Muslimness," he read out the definition, calling all parties to adopt the definition.
Last year, APPG on British Muslims alongside the Muslim Council of Britain (MCB) devised a working definition on Islamophobia with the aim to tackle anti-Muslim prejudice and hate crime. The definition was also drawn up in part to tackle supposed police prejudice against Muslims.
Fight against terrorism
British police, however, has warned that efforts to come up with a working definition of the phenomenon could undermine free speech and the fight against terrorism.
Muslim groups and MPs have contested this claim, arguing that the proposed new definition was consulted extensively with parliamentarians and police officers.
The National Police Chiefs Council (NPCC), the policing body that represents law enforcement in England and Wales, issued a statement earlier this week, voicing their concerns regarding the cross-party working definition, arguing that it could cause confusion for officers.
"We are concerned that the definition is too broad as currently drafted, could cause confusion for officers enforcing it and could be used to challenge legitimate free speech on the historical or theological actions of Islamic states" said Martin Hewitt, the NPCC's chairman, adding that "there is also a risk it could also undermine counter-terrorism powers, which seek to tackle extremism or prevent terrorism."
"The inability of senior police officers to understand how Islamophobia -- the plethora of everyday microaggressions impacting British Muslims is NOT THE SAME as hate crime shows a worrying lack of understanding of the communities they seek to police," said Sayeeda Warsi, a senior member of the House of Lords, in a statement.
Conservative MP Dominic Grieve said in today's debate that the challenge in fight against terrorism by the definition of Islamophobia is "beyond his comprehension".
Conservative Party
Labour MP Naz Shah invited all parties to adopt the working definition of Islamophobia. She said the Conservative Party is "willing to orchestrate" to reject the definition of Islamophobia and it fails even to "acknowledge" it.
"Which Muslim life will be lost next? Mine?" she questioned.
The Labour and Liberal Democrats parties have adopted the working definition and the Conservative party is facing growing calls to adopt it as well after failing to tackle rising Islamophobia within its ranks.
The Conservative Party has been under fire for inaction against openly Islamophobic members. The MCB wrote two letters to Prime Minister Theresa May to launch an inquiry on Islamophobia within the party.
Muslims on target
The APPG said in its report that British Muslims face higher levels of hate crime.
Official figures from the report found that the risk of being a victim of race hate crime was highest for Muslim adults at 1.7% compared to non-Muslim adults at 0.2%.
Islamophobia in the UK has spiked following the 2017 terror attacks in London and Manchester, according to Tell MAMA, a group recording anti-Muslim hate crime.
https://www.aa.com.tr/en/europe/uk-parliament-holds-debate-on-islamophobia-/1480018
--------
Bulk of Austrian far-right extremist's funding comes from Germany: report
2019-05-16
BERLIN, May 15 (Xinhua) -- The majority of the 20,000 euros (22,440 U.S. dollars) in funding received by the Austrian right-wing extremist Martin Sellner came from bank accounts in Germany, according to bank statements seen by German (Sueddeutscher Zeitung, NDR, WDR) and Austrian (Wiener Standard) publications on Wednesday.
Sellner is a leading figure of the Identitarian Movement of Austria (IBOe, also known as Generation Identity), a right-wing nationalist and new right organization, which is part of a broader Europe-wide network.
According to German media reports, Sellner received funding from around 250 people in Europe in the first three months of last year.
The majority of donors were in Germany and made donations of between 10 and 500 euros. Only three of the donors transferred amounts in excess of 1,000 euros, according to German media.
Donors reportedly included German artists, filmmakers, corporate executives and university professors. Some were even low-level functionaries of the German right-wing populist party Alternative for Germany (AfD).
The notes attached to the donations showed the extent of support for Sellner's ideology and struggle against the alleged demise of Christianity in Europe.
The Austrian right-wing extremist had also received a donation of 1,500 euros from the Christchurch mosque shooter in New Zealand and even had been in email contact with the terrorist, according to German newspapers.
Last year, the public prosecutor's office in the Austrian city of Graz initiated investigations against Sellner on suspicion of establishing a criminal organization and asked for information about his accounts in Germany.
The criminal proceedings ended with an acquittal. However, investigations are currently underway based on the suspicion that the IBOe had evaded far more than 100,000 euros in taxes, German media reports said.
Full report at:
http://www.xinhuanet.com/english/2019-05/16/c_138061359.htm
--------
7 kids of Nordic IS couple killed in Syria return to Sweden
May 15, 2019
The grandfather of seven children of a Swedish-Norwegian couple that had joined the Islamic State group and were killed in Syria says they have returned to Sweden.
The grandfather, Patricio Galvez, says the children, aged between 1 and 8, will be taken care of by social services and now needed "peace and quiet."
Galvez spoke to Swedish broadcaster SVT upon arriving on Wednesday in Goteborg, Sweden's second largest city on the west coast.
Last month, Galvez was allowed to travel to Iraq to pick up the children of his daughter Amanda Gonzales, a Swede, and her Norwegian husband Michael Skramo. The two were reported killed earlier this year.
The children were living at a refugee camp in northern Syria before being transferred to the city of Irbil in Iraq.
https://abcnews.go.com/International/wireStory/kids-nordic-couple-killed-syria-return-sweden-63046972
--------
Row erupts in UK over definition of Islamophobia
May 15, 2019
LONDON: Police chiefs and Muslim groups in the UK have clashed over a proposed official definition of Islamophobia as part of efforts to tackle antiMuslim crimes in Britain.
The definition, proposed by the All Party Parliamentary Group (APPG) on British Muslims based on wide consultation over the issue, reads: "Islamophobia is rooted in racism and is a type of racism that targets expressions of Muslimness or perceived Muslimness."
But the UK's National Police Chiefs Council (NPCC) warned in a statement on Wednesday that the definition may be too broad and cause confusion.
"We take all reports of hate crime very seriously and will investigate them thoroughly. However, we have some concerns about the proposed definition of Islamophobia made by the All Party Parliamentary Group on British Muslims," said NPCC Chair Martin Hewitt.
"We are concerned that the definition is too broad as currently drafted, could cause confusion for officers enforcing it and could be used to challenge legitimate free speech on the historical or theological actions of Islamic states. There is also a risk it could also undermine counter-terrorism powers, which seek to tackle extremism or prevent terrorism," he said, calling for wider consultation on any definition of anti-Muslim hostility.
The Muslim Council of Britain (MCB), which had made a "resounding call" for political leaders to adopt the definition when it was released as part of the APPG on British Muslims report at the end of last year, attacked the NPCC stand.
MCB general secretary Harun Khan said: "Our understanding is that the police and security forces will rightly fight terrorism based on intelligence and a scrutiny of the evidence.
"Anti-terrorist operations can only be 'hampered' if counter-terror officers have been targeting Muslims because of their identity (or Muslimness as the definition states), categorising them as security concerns. If this is the case, it confirms long-voiced concerns about the disproportionate focus and impact of counter-terror operations on Muslim communities."
The row comes ahead of a UK Parliament debate on whether to formally adopt a definition of Islamophobia. The debate, initiated by MPs from the APPG on British Muslims in the House of Commons on Thursday, is expected to mount pressure on the Theresa May led government to accept the formal definition.
The definition, which has been accepted by Opposition parties such as Labour and the Liberal Democrats as well as the London Mayor's Office, followed concerns of a rising number of Islamophobic attacks in the UK.
Home office data notes that 52 per cent of religious hate crimes recorded by the police was against Muslims. The APPG's report concluded that the lack of an official definition was hampering efforts to counter Islamophobia, harming Muslims and wider British society.
It said: "The aim of establishing a working definition of Islamophobia has neither been motivated by, nor is intended to curtail, free speech or criticism of Islam as a religion.
"No open society can place religion above criticism and we do not subscribe to the view that a working definition of Islamophobia can or should be formulated with the purpose of protecting Islam from free and fair criticism or debate."
Baroness Sayeeda Warsi, a former Conservative Party chair who has called for an inquiry into Islamophobia within the Tory party in the past, also countered the view that a formal definition would interfere with police work.
"The report makes clear that the definition does not seek to protect or stop criticism of Islam - to suggest it would, is disingenuous and divisive," she said.
"The inability of senior police officers to understand how Islamophobia - the plethora of everyday microaggressions impacting British Muslims is not the same as hate crime shows a worrying lack of understanding of the communities they seek to police," she said.
A minister is set to present the UK government stand on the definition of Islamophobia at the end of the Commons debate this week, but it looks unlikely that it would be formally adopted.
Full report at:
https://timesofindia.indiatimes.com/world/uk/row-erupts-in-uk-over-definition-of-islamophobia/articleshow/69345437.cms
--------
Britain says shares same assessment of Iran as the United States
16 May 2019
Britain agrees with the United States that Iran poses a heightened threat and will work closely with its ally, Foreign Secretary Jeremy Hunt said on Thursday.
Hunt said he had discussed Iran with US Secretary of State Mike Pompeo last week in London, and again in Brussels on Monday.
"We share the same assessment of the heightened threat posed by Iran," Hunt said on Twitter.
He added: "As always we work closely with the USA."
Jeremy Hunt
✔
@Jeremy_Hunt
.@SecPompeo and I discussed #Iran last week in London and again in Brussels on Monday. We share the same assessment of the heightened threat posed by Iran. As always we work closely with the US 🇬🇧 🇺🇸
1,534
7:50 PM - May 16, 2019
Twitter Ads info and privacy
1,102 people are talking about this
Earlier this week, Britain's defense ministry backed a British general who appeared to question the Trump administration's claims that an imminent threat had emerged from Iran.
The US military has sent forces, including an aircraft carrier and B-52 bombers, to the Middle East in a move that US officials said was made to counter "clear indications" of threats from Iran to American forces in the region.
However, Chris Ghika, the deputy commander of the US-led coalition fighting ISIS extremist group in Syria and Iraq, said that there had been no increased threat from Iranian-backed forces.
His remarks contradicted the US claims and prompted a rare public rebuttal from the Pentagon.
Full report at:
https://english.alarabiya.net/en/News/world/2019/05/16/Britain-says-shares-same-assessment-of-Iran-as-the-United-States.html
--------
'Christchurch call' prompts commitments from tech firms and countries on online extremism
May 15, 2019
New Zealand Prime Minister Jacinda Ardern and French President Emmanuel Macron have launched an initiative to tackle the spread of violence and extremism online.
Seventeen countries and some of the world's biggest tech companies have signed up to the Christchurch Call, a three-page document containing a series of voluntary pledges to prevent uploads of hateful and violent content, and quickly remove any that gets through their defences.
Eight nations who did not attend Wednesday's talks, including Germany, Australia and India have signed the pledge.
"Cooperative measures to achieve these outcomes may include technology development, the expansion and use of shared databases... and effective notice and takedown procedures," the declaration read.
In particular they promised "immediate, effective measures to mitigate the specific risk that terrorist and violent extremist contest is disseminated through livestreaming."
The US State Department confirmed it will not sign up, but said it was in broad agreement with the goals of the call.
The move to secure pledges from firms and world leaders comes just months after a white supremacist gunman used Facebook Live to stream his rampage at two mosques in the New Zealand city of Christchurch, killing 51 people.
The live stream was broadcast live by the gunman on Facebook for 17 minutes and remained online for a further 12 minutes before Facebook was alerted by a user and took it down, but millions of uploads and shares of the video continued in the following days.
Ms Ardern asked for international assistance to solve the issue. "It's a global problem that requires a global response," she said.
Before the conference kicked off in earnest, Facebook had already pledged to ban Facebook Live users who shared extremist content and work to reinforce its own internal controls to stop the spread of offensive videos.
"Following the horrific recent terrorist attacks in New Zealand, we've been reviewing what more we can do to limit our services from being used to cause harm or spread hate," Facebook vice-president of integrity Guy Rosen said in a statement.
"There is a lot more work to do, but I am pleased Facebook has taken additional steps today," Ms Ardern said in a statement.
Ms Ardern also asked world leaders in attendance, including the UK's Theresa May, King Abdullah of Jordan and Canada's Justin Trudeau, to act responsibly when finding a balance between regulation and their citizens' freedoms.
"Online, we as governments may choose regulation as a tool to address this issue. But we need to recognise that regulation alone will not solve the problem. We need to work collectively with tech companies, with civil society, to make meaningful change," she said.
"Where we regulate, these regulations must not become a barrier to a free, open and inter-operable internet. We must maintain and support an internet that acts for good."
Full report at:
https://www.thenational.ae/world/europe/christchurch-call-prompts-commitments-from-tech-firms-and-countries-on-online-extremism-1.861976
--------
South Asia
Lankan Muslim leaders appeal for calm, say attacks against community helping extremism
May 16, 2019
COLOMBO: Attacks against minority Muslims only fulfils the agenda of extremist militants among the community who want to divide people, Muslim political leaders said here Thursday as they appealed to the radical elements to shun violence, amid widespread communal riots following the Easter blasts.
Anti-Muslim riots have killed one person and caused extensive damage to homes, businesses and mosques in Sri Lanka this week.
The communal violence is a fresh backlash from the Easter Sunday attacks where nine suicide bombers, including a woman, carried out a series of devastating blasts that tore through three churches and three luxury hotels, killing 258 people and injuring over 500 others.
"Those who attack Muslims only fulfil the agenda of extremist militants. Terrorist want other communities to target Muslims.
They wanted to divide us," Imtiaz Bakeer Markar, a senior Muslim politician told reporters.
"We are not with them and a majority of Muslims do not approve it (the Easter Sunday attacks)," Ferial Ashraff, a former minister said.
She said the Muslim community had volunteered to give information to security forces in their operations to nab the extremists.
"Please do not push them towards divisive groups by attacking them," Ashraff said.
Responding to criticism that Muslims have become religiously more aggressive living among the majority Buddhist community, Kabir Hashim, a minister said, "We are not ashamed to do soul searching, we may have made mistakes in the past, but we are ready to correct them. We are ready to move forward as one nation".
Earlier, a group of opposition legislators moved a motion in Parliament for a vote of no trust against Industry and Trade Minister Rishath Bathiyutheen who leads a small Muslim party, a coalition partner in the government, for alleged complicity with the jihadists.
The motion accuses Bathiyutheen of applying pressure to release the supporters of the jihadi group, supplying empty ammunition to a copper factory owned by one of the suicide bombers and being friends with the rich father of the two suicide bombers, a Muslim preacher who is under arrest.
Sri Lanka has faced condemnation for the recent anti-Muslimn violence.
"The United Nations welcomes the unequivocal condemnation expressed on many occasions by political, religious and other community leaders towards the hate-mongering and violence carried out by a few," the UN statement in a said.
"As a country, Sri Lanka remains at a critical juncture where a unified rejection of hate is of paramount importance for sustaining peace," it said.
The Organization of Islamic Cooperation (OIC) said it was closely monitoring the anti-Muslim attacks that have taken place at various locations.
"The OIC calls on the authorities in Sri Lanka to ensure the safety and security of the Muslim community in the country and combat the rising tide of violence, extremism and hate speech, which is spreading fear and mistrust among the communities," it said.
The European Union while welcoming the arrests stressed the need to ensure the rule of law.
The Sri Lankan police said over 70 people have been arrested for attacking the Muslims.
The attacks are a fallout of the April 21 attack.
The Islamic State claimed responsibility for the attack, but the government has blamed local Islamist extremist group, the National Thawheed Jamaath (NTJ), for the bombings.
https://timesofindia.indiatimes.com/world/south-asia/lankan-muslim-leaders-appeal-for-calm-say-attacks-against-community-helping-extremism/articleshow/69357725.cms
--------
Officials: Airstrike kills 17 policemen in south Afghanistan
May 17, 2019
KABUL, Afghanistan: Afghan officials say an airstrike killed 17 policemen by mistake during a battle with the Taliban just outside the provincial capital of Lashkar Gah in the country's southern Helmand province.
Attaullah Afghan, head of the provincial council, says the airstrike took place on Thursday as Afghan police were fighting the Taliban near the city. He also says 14 policemen were wounded in the strike.
It wasn't immediately clear who carried out the airstrike, Afghan or US forces. There was no immediate response to a query to the US military in Kabul. American forces regularly back Afghan troops when asked to.
Full report at:
http://www.arabnews.com/node/1498221/world
--------
Pakistani ISIS militants and their family members surrender to Afghan armed forces
16 May 2019
Two members of the Islamic State of Iraq and Syria (ISIS) terrorist group surrendered to Afghan forces in eastern Nangarhar province of Afghanistan.
Provincial governor Shah Mahmood Miakhel told reporters that the two ISIS members are originally hailing from Punjab province of Pakistan.
Miakhel further added that the two ISIS members surrendered to Afghan forces together with their family members which include three women and nine children.
He also added that the two ISIS members surrendered to the Afghan forces one and half years after joining ISIS ranks and conducting terrorist related activities in Achin district.
This comes as numerous reports have emerged recently regarding the growing activities of Pakistani militants in Afghanistan.
At least 33 Pakistani nationals who were fighting in the ranks of Taliban were killed in South-eastern Ghazni province earlier this week.
The provincial government and police headquarters issued separate statements on Tuesday confirming that 42 militants including 33 Pakistanis were killed in latest operations which were conducted in Andar district.
Full report at:
https://www.khaama.com/pakistani-isis-members-and-their-family-members-surrender-to-afghan-armed-forces-03992/
--------
Taliban Overrun District Center in South Afghanistan
May 15, 2019
Ayaz Gul
ISLAMABAD —
The Taliban captured a district center Wednesday in southern Afghanistan, killing at least 13 government soldiers. The fighting comes as Russia asserted the Taliban is getting stronger and called for increased efforts to reach a negotiated settlement to the 17-year-old war.
Local officials and insurgent sources reported Taliban fighters assaulted Shamulzayi in Zabul province before dawn, forcing Afghan security forces out of the district center and also overrunning the regional office of the government intelligence agency, NDS.
A provincial security official requesting anonymity confirmed to VOA the fighting killed at least 13 personnel of the Afghan National Army.
The Defense Ministry announced a counteroffensive was underway in to retake the lost ground, claiming the insurgents suffered heavy casualties in the process. "Afghan air forces are in the area. Taliban [fighters] are on run from district," the ministry said in a statement.
Taliban spokesman Qari Yousaf Ahmadi acknowledged fighting was raging in the area "because some enemy [government] posts" were still offering resistance. He rejected official claims of retaking the district center from the Taliban.
The Zabul council chief, Atta Jan Haqbayan, confirmed to VOA the fall of Shamulzayi district headquarters to the Taliban, saying government forces had retreated to a nearby major army base.
Russia: Taliban 'getting stronger'
Washington has engaged the Taliban in direct peace negotiations in a bid to persuade insurgents to participate in an intra-Afghan dialogue process to end years of hostilities in the country. The dialogue has not achieved any significant breakthrough, however, nearly a year after it started, nor has the Taliban responded positively to cease-fire appeals by Afghan and international stakeholders.
The latest insurgent battlefield advances come a day after Russian President Vladimir Putin said the Taliban were gaining strength, although he acknowledged finding a negotiated settlement to the Afghan was "rather a complicated issue" and a difficult task.
"At the same time, the positions of the Taliban are getting stronger. So we need to step up cooperation and try to achieve the balance of power in this country," Putin said in a meeting with visiting U.S. Secretary of State Mike Pompeo, according to the Russian media.
Moscow maintains overt contacts with the Taliban and says it supports the U.S. peace initiative.
In its bid to push peace and reconciliation efforts in the war ravaged country, Russia arranged a first-ever informal intra-Afghan meeting in February where Taliban representatives and Afghan opposition politicians, civil society groups, as well as tribal elders, exchanged views on how to end the war.
Full report at:
https://www.voanews.com/a/taliban-overrun-district-center-in-south-afghanistan-/4918305.html
--------
Pentagon asked for funds to reimburse Taliban expenses: report
BY RACHEL FRAZIN
05/15/19
Earlier this year, the Pentagon reportedly asked Congress for funding to reimburse the Taliban for transportation and other expenses the group incurs by attending peace negotiations.
"The Defense Department requested fiscal 2020 funding to support certain reconciliation activities, including logistic support for members of the Taliban and, in March 2019, they sent a notification letter to the Committee on using fiscal year 2019 funds for similar activities," a spokesman for House Appropriations subcommittee on Defense Chairman Peter J. Visclosky (D-Ind.) told Roll Call.
The money would pay for the terrorist organization's transportation, lodging, food and supplies, the spokesman said. He also said the Defense Department's request "would implicate provisions of law concerning material support to terrorists, the Taliban's ongoing offensive operations against U.S. service members, and their continuing lack of acknowledgement of the government of Afghanistan or the rights of women in Afghan society."
The funding request is like "life imitating The Onion," Steve Ellis, executive vice president of Taxpayers for Common Sense, told Roll Call.
"Even if you leave aside that they are still conducting operations against our interests and allies, having to pay for someone to be at the table undercuts our bargaining position and demonstrates their lack of enthusiasm for a deal," Ellis said. "I'm sure the Taliban would like whatever cash we're willing to give them, but it's not like they aren't able to continue funding their fighting. How about using some of that cash instead of American taxpayer dollars."
The subcommittee on Wednesday approved a spending bill for fiscal year 2020 that prohibits reimbursing Taliban expenses.
"None of the funds made available by this Act may be used to pay the expenses of any member of the Taliban to participate in any meeting that does not include the participation of members of the Government of Afghanistan or that restricts the participation of women," the legislation said.
Roll Call noted that the Taliban are well-funded, making most of their money trafficking drugs. The group reportedly makes at least $800 million a year from activities related to opium sales.
The Hill has reached out to the Pentagon for comment.
Full report at:
https://thehill.com/policy/defense/443944-pentagon-asked-for-funds-to-reimburse-taliban-expenses
--------
5 security forces, 40 militants killed in Afghanistan within day
2019-05-15
KABUL, May 15 (Xinhua) -- At least five security forces and nearly 40 Taliban militants have been killed in clashes in Afghanistan within the past 24 hours, authorities said Wednesday.
Three Afghan army soldiers, two police officers and four militants were killed after Afghan security forces repelled an attack by Taliban on remote Shamulzay district in southern province of Zabul Tuesday night, Afghan Ministry of Defense said confirmed.
The ministry added that heavy clashes with the security forces foiled the enemy's plan to capture the remote district, in southeast of provincial capital Qalat city.
At least 17 militants were also wounded in the fighting in the district, bordering Pakistan.
Zabiullah Mujahid, a purported Taliban spokesman, claimed that the insurgents overran the government offices in the district.
In a separate incident, four Taliban militants were killed after Afghan Air Force targeted a running vehicle in Naw Bahar district of Zabul on Tuesday.
In another incident, four Taliban militants were killed and eight others wounded after Afghan army commandoes launched an operation in Khelahzai village, on outskirts of Pul-e-Khumri, capital of northern Baghlan province Tuesday night, army Corps 217 Pamir said in a statement.
The security force also destroyed two Taliban control and command posts and four defensive positions in the area which threaten Pul-e-Khumri city, according to the statement.
In addition, a Taliban divisional commander named Abubakar was killed after an improvised explosive device that he was making detonated accidently in Khelahzai on Tuesday, provincial police spokesman Jawid Basharat told Xinhua.
In eastern Ghazni province, 20 militants were killed following a string of airstrikes and army shelling attack against Taliban positions in Arizo and Shahleez localities on outskirts of provincial capital, Ghazni city, provincial government spokesman Harif Noori told Xinhua.
Three motorcycles, a heavy gun and a heavy machinegun were also destroyed after the raids, he said.
In neighboring Nangarhar province, five Taliban militants were killed and four militants were arrested after Afghan Special Forces launched a night raid operation in Khogyani district, provincial official Attaullah Khogyani told Xinhua.
Two Taliban's hideouts and two defensive positions were destroyed after the raid, he added.
The Taliban-led insurgency has been rampant since early April when the militant group launched its annual rebel offensive in different places of the country, which had claimed hundreds of lives including militants, security personnel and civilians.
The Taliban has urged civilians to stay away from official gatherings, military convoys and centers regarded as the targets by militants besides warning people not to support the government.
Full report at:
http://www.xinhuanet.com/english/2019-05/15/c_138060921.htm
--------
Free speech concerns in Bangladesh as writers, activist arrested
by Faisal Mahmud
May 17, 2019
Police in Bangladesh arrested three people, two writers and an activist, in the past week under the country's controversial Digital Security Act (DSA) and the Information and Communication Technology Act (ICTA).
The arrests have once again raised fears of a crackdown on freedom of expression in the South Asian country and have drawn criticism from activists and international rights groups. Both the laws seek to curb free speech, mainly in the press, and carry a maximum punishment of 14 years each.
Henry Sawpon, 48, a prominent poet living in the southern district of Barisal, was arrested under the DSA on Tuesday for allegedly hurting the religious sentiments of Bangladesh's minority Christian community. He was released on bail on Thursday morning.
Writer Imtiaz Mahmud, 61, was arrested under the ICTA in the capital Dhaka on Wednesday over a Facebook post in which he wrote about the rights of minorities in the Chittagong Hill Tracts (CHT) region.
CHT, a semi-autonomous region within Muslim-majority Bangladesh, shares borders with India and Myanmar. The region has for decades been the site of low-intensity conflict between its 13 ethnic minorities and the country's armed forces.
The third arrest involved Abdul Kaium, a rights activist charged under the DSA on May 11 following a complaint by the principal of an Islamic school, who accused Abdul Kaium of "sharing improper content online".
Three arrests in a week
Barisal Metropolitan Police Commissioner Shahabuddin Khan told Al Jazeera that Sawpon, a Christian himself, has been charged with posting "slanderous" remarks against the Catholic Church of Barisal, a district with a large Christian population.
The police report mentioned a post in which Sawpon allegedly criticised the Barisal diocese for holding a cultural event on Easter Sunday last month when more than 250 people were killed in serial bombings in churches and hotels in Sri Lanka.
"When Rome was burning, Emperor Nero was playing with his flute," he allegedly posted on April 23, two days after the Sri Lanka attack.
Sawpon's friend, poet Altaf Shahnewaz, told Al Jazeera that the Facebook post was an excuse and he was being framed. "He was vocal about misdeeds and embezzlement in Barisal churches. That's why he was framed," he said.
In Mahmud's case, police picked him up from his Banani home in Dhaka on Wednesday, his brother Parvez Mahmud told Al Jazeera.
"I came to know later that police were complying with a warrant issued by a Khagrachhari [a CHT district) court on January 21 this year," said Parvez.
In July 2017, a case under the stringent ICTA was filed against Mahmud with the Khagrachhari police for inciting communal violence in the CHT region through his Facebook posts.
On Abdul Kaium's arrest, Mymensingh police official Faruq Ahmed told Al Jazeera that he was accused of "sharing improper content online".
"He was denied bail and was sent to jail by a court on Monday," Ahmed said.
Activists protest arrests
Mahmud, also a lawyer at the country's Supreme Court, is known for his writings and activism, especially on the CHT issue.
Sawpon, whose poems are published regularly in leading Bangladeshi newspapers and magazines, was granted bail on Thursday morning by a Barisal court. The bail will be effective till June 30, the date of the case's next hearing.
Protesting the arrests on Wednesday in Dhaka, a group of writers, artists and journalists formed a human chain and demanded the release of the three within 24 hours.
Writer and activist Robin Ahsan said the Bangladesh government is "walking in a backward direction" and Sawpon's arrest was "a glaring example".
"Henry stayed back in Barisal since he loved his birthplace, while we all came to Dhaka for a better life. He has always written against communalism. But the administration of Barisal is ignorant," he said.
The protesters threatened to go on an indefinite strike beginning Friday and called for the abolition of the DSA and ICT, calling the two laws "inhuman".
Full report at:
https://www.aljazeera.com/news/2019/05/free-speech-concerns-bangladesh-writers-activist-arrested-190516103206378.html
--------
Turkish charity opens Rohingya refugee village in Bangladesh
16.05.2019
A Turkish aid agency has built a village for Rohingya refugees in Bangladesh's Cox Bazaar region.
Named as "Emir Sultan," the village consists of 414 bamboo houses, two water wells, two mosques, a community space and a garbage plant.
"Thanks to these houses, our Muslim brothers and sisters got electricity in their houses for the first time. We have put solar panels on every house," said Halil Asa, a representative of the Humanitarian Relief Foundation (IHH), a leading Turkish aid group.
"The Rohingya see Turkey a source of optimism. They see a hope when they know you are from Turkey and carry a Turkish flag on your clothes," the IHH official said.
Rohingya, described by the U.N. as the world's most persecuted people, have faced heightened fears of attacks since dozens were killed in communal violence in 2012.
According to Amnesty International, more than 750,000 Rohingya refugees, mostly women, and children, have fled Myanmar and crossed into Bangladesh after Myanmar forces launched a crackdown on the minority Muslim community in August 2017.
Since Aug. 25, 2017, nearly 24,000 Rohingya Muslims have been killed by Myanmar's state forces, according to a report by the Ontario International Development Agency (OIDA).
Full report at:
https://www.dailysabah.com/turkey/2019/05/16/turkish-charity-opens-rohingya-refugee-village-in-bangladesh
--------
Africa
Al-Shabab demands Sh150m ransom for kidnapped Cubans
16th May 2019
Suspected Al-Shabaab militants who are holding two Cuban doctors after their abduction in Mandera are now demanding Sh150 million in ransom.
The ransom demand was communicated through community elders who went to a remote area between the towns of Buale and El-Ade in Jubaland region of Somalia.
This is where general practitioner Herera Corea and surgeon Landy Rodriguez are said to have been seen alive by the elders who were sent to negotiate their release.
After days of negotiations, community elders from Mandera and Bulahawo in Somalia who travelled to the area confirmed that the two are alive and offering treatment to the community in a restricted environment.
"They seem to be under the care and offering medical care services to the locals," said a security official who cited the elders' message.
But officials in Mandera dismissed the claims as premature and farfetched saying this was not official for now.
The doctors were abducted on their way to work from home in Mandera County on April 12, 2018.
Officials say authorities in Kenya have sent back the elders seeking to further negotiate the ransom.
Other reports say the two were abducted by bandits who handed them over to suspected the Al-Shabaab militants who subsequently sought the ransom from the group of elders allegedly through proxies.
The bandits were used by over business rivalry in Mandera after it emerged the doctors had sharply led to the drop of cost of medical services in the area.
A team of security officials from Cuba had come to Kenya and visited Mandera as part of the efforts to trace the whereabouts of the two abductees.
The abducted doctors are among 100 Cuban specialists who arrived in the country in June 2018.
Following the abduction, Cuban doctors posted in Wajir, Garissa and Tana River were recalled and reassigned other counties.
An Administration Police officer who was among two escorting the doctors was killed during the incident that has raised fresh security concerns in the volatile region.
The driver who was taking the doctors from their residential area to work has since been arrested and was being interrogated.
In Cuba, a health ministry statement read on television said: "Channels of communication have been established immediately with the Kenyan authorities to address this situation while keeping the collaborators' family members here in Cuba informed. Likewise, a government working group has been set up to follow up on this sensitive issue."
Last November, an armed gang seized Silvia Romano, 23, an Italian charity worker, in the southeastern town of Chakama. Her whereabouts are unknown.
https://www.standardmedia.co.ke/article/2001325741/cuban-doctors-abductors-demand-sh150m-ransom
--------
Nigeria: 54 Hostages Rescued From the Boko Haram
15 MAY 2019
By Ahmed Obafemi
Maiduguri — NIGERIAN troops have rescued more than 50 hostages from Boko Haram terrorists northeast of the country.
Some 29 adults and 25 children were freed during operations in a number of villages in the Borno State.
They have been rescued under the military's Operation Lafiya Dole (Peace by Force) to eliminate the Islamic militants.
"No encounter was made with the Boko Haram terrorists as they ran away before troops' arrival leaving behind 54 suspected kidnapped victims," said Colonel Sagir Musa, Acting spokesman of the Nigerian Army.
Troops recently destroyed makeshift accommodation for suspected terrorists also in Borno state.
Musa restated the Nigerian Army's resolution to ending terrorism and other forms of insecurities across the West African country.
"We appeal to the public to continue to provide useful information about suspicious movement of terrorists and criminals wherever they are seen hibernating in Nigeria," he said.
The Boko Haram is involved in a decade-long campaign to topple the Nigerian government and establish an Islamic state.
Full report at:
https://allafrica.com/stories/201905150422.html
--------
Niger ambush: Militants kill 28 soldiers near Mali
16 May 2019
The bodies of 11 Nigerien soldiers missing since Tuesday's ambush have been discovered, bringing the death toll to 28.
Militants killed four US soldiers at the same place in 2017.
Niger and other countries in the Sahel have been facing a growing militant threat from several Islamist groups.
The Islamic State group has said it was behind the ambush but there has been no confirmation of this claim by the authorities.
Militants belonging to affiliates of al-Qaeda are also active in the region.
They are most active in neighbouring Mali, where French troops intervened in 2013 to prevent them from advancing on the capital, but they often stage cross-border raids.
How did the attack happen?
The soldiers were in pursuit of militants who attacked a high security prison 50km (30 miles) on Tuesday outside the capital, Niamey, a government spokesman told the BBC.
"One of the soldiers' vehicles drove into a landmine and then the assailants started firing at our soldiers," Mr Zakariyyah told the BBC's Focus on Africa programme on Tuesday.
It was initially reported that 17 soldiers had been killed in the ambush.
Without providing any evidence, the Islamic State group has claimed responsibility for the attack via its news agency Amaq. According to the statement, 40 were killed and injured, although for now the government has said that the death toll was 28.
Mr Zakariyyah did not identify the perpetrators of the attack but said it happened near where US troops and five Niger soldiers were killed two years ago.
A search operation, aided by French and American troops, who have a base in Niger, continues.
Niger is part of a five nation anti-insurgency force operating in the Sahel. It includes Burkina Faso, Chad, Mali and Mauritania.
The G5 Sahel, as it is called, is backed by a 3,000-strong French force.
Call to attack French allies
By Louise Dewast, BBC West Africa correspondent
This was the deadliest attack recorded in western Niger, where government troops and their international allies are fighting affiliates of al-Qaeda and the Islamic State group.
Authorities say it was a complex attack in which the militants planted improvised explosive devices. Despite years of heavy deployments of French, US and UN forces, the region - including Niger - remains a tinderbox.
The group called the Islamic State in the Greater Sahara (ISGS), which has claimed responsibility for the attack, has recently been subject to counter-militancy operations, mainly led by the French, making large-scale attacks against government troops difficult.
For one expert on the region, Héni Nsaibia, a researcher at The Armed Conflict Location and Event Data group, this attack could be the result of French forces shifting its focus to central Mali, and to the recent hostage-release operation in Burkina Faso which required attention and assets.
He adds it could also be that militants are heeding the call of Islamic State group leader Abu Bakr al-Baghdadi, who in a recent audiovisual speech explicitly called on them to intensify attacks against France and its allies in the Sahel region.
Full report at:
https://www.bbc.com/news/world-africa-48286975
--------
Four killed in ambush on Catholic parade in Burkina Faso
May 15, 2019
Four people were killed and a statue of the Virgin Mary was destroyed in an attack on parishioners during a religious procession in Burkina Faso, church officials told CNN on Wednesday.
Unidentified armed men, who on Monday stopped a group of worshipers during a Catholic parade in the remote village of Zimtenga, in the Kongoussi area of the country's northwest, set children free but killed four adults.
They then burned a statue of the Virgin Mary, Paul Ouédraogo, president of the Episcopal Conference of Burkina Faso and Niger told CNN.
Monday's attack came a day after six people, including a priest, were killed by gunmen who opened fire on worshipers in a Catholic church in Dablo in the central part of the country.
"We will not be bogged down by the religious attacks," said Cardinal Philippe Ouédraogo at an ongoing conference of Catholic bishops in the capital, Ouagadougou, on Tuesday.
Christians have recently come under attack across the northwest African country, which is facing a growing terrorist threat. In April, five churchgoers, including a pastor, were killed in a deadly attack by armed men in Silgadji town.
Escalating attacks by armed Islamist groups have forced tens of thousands to flee their villages this year, Human Rights Watch said in a recent report.
French forces last week freed four hostages, including an American and South Korean, in a rescue operation in Burkina Faso that saw two soldiers killed.
The US in February said it might send additional military advisers as well as intelligence and surveillance assets such as drones to Burkina Faso to help fight the uptick in terrorism attacks in the country.
Full report at:
https://edition.cnn.com/2019/05/15/africa/burkina-faso-catholic-parade-attack-intl/index.html
--------
Sudan opposition regrets military council's suspension of talks
16 May 2019
Sudan's opposition alliance on Thursday said the ruling military council's suspension of talks with protesters for 72 hours was a "regrettable decision".
The opposition alliance, known as the Declaration of Freedom and Change Forces (DFCF), also vowed to continue sit-ins outside the defense ministry and across the country.
Earlier in the day, the Transitional Military Council (TMC) suspended the talks after protesters broke a deal on de-escalation, the council head said in a televised statement.
https://english.alarabiya.net/en/News/middle-east/2019/05/16/Sudan-opposition-regrets-military-council-s-suspension-of-talks.html
--------
After clashes, cautious calm prevails in Libyan capital
Walid Abdullah
16.05.2019
TRIPOLI
For the past three days, cautious calm has prevailed on Tripoli's southern outskirts following earlier clashes between Libya's rival political camps.
Limited clashes, however, continue to break out sporadically, especially in and around Tripoli's international airport, which remains held by forces loyal to renegade military commander Khalifa Haftar.
On Wednesday, aircraft affiliated with Haftar's forces reportedly carried out airstrikes in the city of Gharyan (some 100 kilometers south of the capital) without causing casualties.
Early last month, Haftar, who commands forces loyal to a government based in the country's east, launched a major campaign to capture Tripoli, where Libya's UN-recognized Government of National Accord (GNA) is headquartered.
After more than a month of fighting on Tripoli's outskirts, however, Haftar's campaign has failed to achieve its primary objective.
Nevertheless, Haftar's forces remain deployed in several areas around the capital.
Libya has remained beset by turmoil since 2011, when long-time leader Muammar Gaddafi was ousted and killed in a bloody NATO-backed uprising after four decades in power.
Full report at:
https://www.aa.com.tr/en/africa/after-clashes-cautious-calm-prevails-in-libyan-capital/1480014
--------
URL: https://www.newageislam.com/islamic-world-news/the-islamic-state-group-says/d/118629
New Age Islam, Islam Online, Islamic Website, African Muslim News, Arab World News, South Asia News, Indian Muslim News, World Muslim News, Women in Islam, Islamic Feminism, Arab Women, Women In Arab, Islamophobia in America, Muslim Women in West, Islam Women and Feminism