Age Islam News Bureau
21 March 2019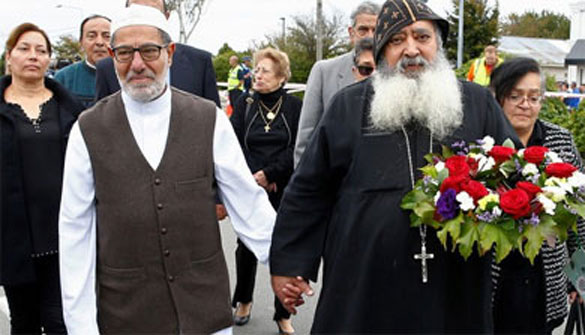 FILE PHOTO: Imam Ibrahim Abdelhalim of the Linwood Mosque holds hands with Father Felimoun El-Baramoussy from the Dunedin Coptic Church, as they walk at the site of Friday's shooting outside the Mosque in Christchurch, New Zealand March 18, 2019. REUTERS/Edgar Su/File Photo
------
• The Evolution of ISIS: From A Rogue State to A Tiny Sliver
• Qatar Asks IAEA to Intervene Over 'Threat' Posed By UAE Nuclear Plant
• US Asks Pakistan to Act against Terrorists, Says another Attack on India Will Be 'Extremely Problematic'
• Trump Says Relations 'Very Good' With Pakistan
• Shattered Sanctuary: In Christchurch, an Imam Seeks To Rebuild
• UK: Labour Adopts Full Definition of Islamophobia to Fight the Rise of Far-Right Extremism
• Bahawalpur Student Stabs Professor to Death over 'Anti-Islam' Remarks
• Christchurch Shooting, 'Atmosphere Of Insecurity' Sparks Bangladeshi Safety Warning
• Muslim Countries Urged To Press China End Crackdown of Uighurs
Arab World
• The Evolution of ISIS: From A Rogue State to A Tiny Sliver
• Qatar Asks IAEA to Intervene Over 'Threat' Posed By UAE Nuclear Plant
• US-Backed Forces Preparing to Declare End of ISIL in Eastern Euphrates
• Kuwaiti FM: We trust US role in putting together Middle East peace plan
--------
North America
• US Asks Pakistan to Act against Terrorists, Says another Attack on India Will Be 'Extremely Problematic'
• Trump Says Relations 'Very Good' With Pakistan
• Disappointed Over Veto On Masood Azhar, US Says China Has A Responsibility
• Trump: ISIS will be gone 'by tonight'
• In Israel, Pompeo Resorts to Iranophobia to Boost Netanyahu's Re-Election Bid
• Pompeo thanks Saudi Crown Prince for supporting UN Envoy to Yemen's efforts
• 16 years into US invasion, Iraq carries war traces
• US lawmakers slam government on anniversary of Iraq war
• Trump confirms 400 US troops will remain in Syria
--------
Europe
• Shattered Sanctuary: In Christchurch, an Imam Seeks To Rebuild
• UK: Labour Adopts Full Definition of Islamophobia to Fight the Rise of Far-Right Extremism
• Vandals attack four UK mosques with a sledgehammer
• 'Updating Customs Union would benefit both EU, Turkey'
• France orders dissolution of four Hizbollah aligned organisations
--------
Pakistan
• Bahawalpur Student Stabs Professor to Death over 'Anti-Islam' Remarks
• KP Assembly Slams 'Shameless, Un-Islamic' Slogans at Aurat March
• Pakistan among top 20 gainers on World Happiness index
• PM Khan felicitates communities celebrating Nauroz
• Pain becomes bond among victims of terrorist attacks
• SC larger bench to ascertain what constitutes as terrorism
• Six levies personnel killed in Ziarat terror attack
• Pakistan rescues four Iranian soldiers from militant group
--------
South Asia
• Christchurch Shooting, 'Atmosphere Of Insecurity' Sparks Bangladeshi Safety Warning
• 3 explosions target Shia shrine in Kabul, says Afghan official
• Resolve Post-Pulwama Differences Bilaterally, China-Led SCO Tells India, Pakistan
• Australian ambassador for counter-terrorism explores 'effective ways' in Bangladesh
• Afghan border forces seize 40 rockets in Nangarhar province
• Khalilzad to host Russian, Chinese, and EU envoys for talks on Afghanistan
• Afghan forces repel impending Taliban attack in Nangarhar province
• Blasts in Afghan capital kill 6 during New Year festival
--------
Southeast Asia
• Muslim Countries Urged To Press China End Crackdown of Uighurs
• DPM: Malaysia willing to assist CFCM for benefit of French Muslims
• Malanjum tight-lipped on next CJ, says it's the King's prerogative
--------
India
• Samjhauta Express Case Verdict: NIA Should Be Held Accountable, Says Former Probe Officer
• Pakistan Not To Build Structures Near Kartarpur Gurdwara, On A Request From Navjot Singh Sidhu
• Soldier killed in ceasefire violation by Pakistan in Jammu and Kashmir's Rajouri
• IAF strike on Pakistan hurt some in India, says PM Modi
• Government's star envoys for Urdu need rapidex course in the language
• Samjhauta Express blast case: Court acquits four accused
--------
Mideast
• Netanyahu's Main Election Rival Sidesteps Palestinian Statehood
• Pompeo heads for Lebanon to step up pressure on Iran, Hezbollah
• Israeli gunfire kills Palestinian in West Bank
• US envoy blames stalled Yemen peace deal on Houthi 'delays'
• Palestinian killed in West Bank by Israeli gunfire
--------
Africa
• Tunisian President Wants to Amend Constitution To Dilute PM's Power
• UN to hold conference in Libya in April to discuss conflict solution
• Amnesty says US strikes in Somalia kill large numbers of civilians
• Nigerians hold rally to express support for Ibrahim Zakzaky
• Amnesty: US behavior in Somalia can amount to war crimes
Compiled by New Age Islam News Bureau
URL: https://www.newageislam.com/islamic-world-news/the-evolution-isis-rogue-state/d/118085
--------
The Evolution of ISIS: From A Rogue State to A Tiny Sliver
March 21, 2019
Now, that territory has been reduced to a sliver of land along the Euphrates River in southeastern Syria. Thousands of fighters remain in the region, but they have gone underground, carrying out quick strikes in the region and continuing to promote their ideology worldwide.
Here are some of the major moments in the group's evolution:
Syrian Kurdish fighters released footage of hundreds of men, women and children being evacuated on Monday night from the last stronghold of the Islamic State group in Syria.
The Islamic State traces its roots to al-Qaida in Iraq, an offshoot of the terrorist group that attacked the United States on Sept. 11, 2001. The Iraqi affiliate started an insurgency that pushed Iraq to the brink of civil war in 2006 and 2007, before it suffered defeat at the hands of U.S. troops and local militias.
By 2013, remnants of the Qaida affiliate had rebranded themselves the Islamic State of Iraq and Syria, or ISIS, and had identified opportunities in Syria, which was in the third year of its civil war. The Islamic State leader, Abu Bakr al-Baghdadi, an Iraqi, was the architect of the group's push to seize territory and declare its own state.
In Syria, the group exploited the power vacuum created when rebels wrested large parts of the country's north and east from the government of President Bashar Assad. The Islamic State pushed out moderate rebels, easily seizing strategic territory.
The group pushed into the northeastern Syrian city of Raqqa that year and consolidated control by January 2014, making the city its capital.
In the spring and summer of 2014, the Islamic State rampaged across eastern Syria and northwestern Iraq, seizing city after city, including Mosul, Iraq's second largest. The Islamic State officially declared its "caliphate" in June of that year and urged foreign fighters to come to the region to take up arms.
Days later, al-Baghdadi, who had not been seen in public for years, delivered remarks in the Great Mosque of Mosul, reaffirming himself as the leader, or caliph, of the self-declared state.
As the Islamic State grew, it lured recruits to the region for its jihad and attracted supporters who carried out attacks worldwide. At the height of its power, the Islamic State had an estimated 40,000 recruits from 100 countries.
The group's propaganda reach grew with its territorial ambitions. In 2014, it began publishing a slick online magazine, Dabiq, to bolster support for its ideology and activities.
The world watched in horror as the Islamic State released a stream of videos showing the killings of international journalists and aid workers seized in Syria. It began in August 2014 with footage of the beheading of James Foley, an American journalist who had been held by the group for two years. The clips appeared to be a response to the start of U.S. airstrikes against the group.
https://indianexpress.com/article/world/the-evolution-of-isis-from-a-rogue-state-to-a-tiny-sliver-5637007/
--------
Qatar asks IAEA to intervene over 'threat' posed by UAE nuclear plant
March 21, 2019
Qatar has called on the International Atomic Energy Agency (IAEA) to intervene in a dispute over a $24 billion nuclear power plant which the United Arab Emirates (UAE) is building.
Relations between Qatar and its neighbour are already strained after the UAE, Saudi Arabia, Egypt and Bahrain severed diplomatic, trade and transport ties with Doha in June 2017 over allegations that it supports terrorism, a charge Qatar denies.
In a letter to the IAEA, which was seen by Reuters, Qatar says the Barakah plant poses a serious threat to regional stability and the environment and calls for a framework to ensure the safe operation of nuclear energy in the Gulf.
Qatar said that a radioactive plume from an accidental discharge could reach its capital Doha in five to 13 hours and a radiation leak would have a devastating effect on the region's water supply because of its reliance on desalination plants.
"Qatar believes that the lack of any international co-operation with neighbouring states regarding disaster planning, health and safety and the protection of the environment pose a serious treat to the stability of the region and its environment," the letter from Qatar's Foreign Affairs ministry to IAEA Director General Yukiya Amano said.
Qatar also said that the technology is relatively untested as there is only one other commercial reactor of this type in operation in South Korea The UAE said on Wednesday that its nuclear energy programme conforms to IAEA standards and international best practices.
"The United Arab Emirates ... adheres to its commitment to the highest standards of nuclear safety, security and non-proliferation," Hamad Al Kaabi, UAE Permanent Representative to the IAEA, said in a statement to Reuters.
He added that Barakah, the Arab world's first nuclear plant which was originally set to come online in 2017, was now expected to begin operation by 2020.
The IAEA, a Vienna-based organisation which is the world's top nuclear safety authority, declined to comment on exchanges with its member states.
Qatar said regional concerns about nuclear safety will be amplified when the Saudi Arabian civil nuclear programme comes on stream. The Kingdom has invited bids from the world's top nuclear firms to build reactors.
Further delay
The UAE's Nawah Energy Company said in May 2018 that Barakah, the world's largest nuclear plant under construction, should start operations between end 2019 and early 2020.
Barakah is being built by Korea Electric Power Corporation (KEPCO), but problems with training enough local staff have delayed the startup of its first reactor several times and in November Nawah signed a deal with French utility EDF to operate the plant. Since the 1986 Chernobyl accident, when a Russian-design reactor in Ukraine spread radiation over large parts of Europe, the potential cross-border impact of nuclear accidents has led to several disputes between neighbours.
Earlier this month, the Barakah plant's owner Emirates Nuclear Energy Corporation (ENEC) said voids had been discovered in the concrete of reactors 2 and 3, although it said these posed no safety risk and would not delay the start-up.
The repair works on the third reactor were due to be completed by the end of last year, while the UAE's FANR regulator reviews plans to repair smaller voids in unit 2.
https://www.dawn.com/news/1470999/qatar-asks-iaea-to-intervene-over-threat-posed-by-uae-nuclear-plant
--------
US asks Pakistan to act against terrorists, says another attack on India will be 'extremely problematic'
March 21, 2019
The United States has asked Pakistan to take sustained, verifiable and irreversible action against the perpetrators of terrorism, while warning the country that another terror attack on India will prove to be "extremely problematic".
"We need to see Pakistan taking concrete and sustained action to reign in the terrorist groups, mainly the Jaish-e-Mohammed and the Lashkar-e-Taiba in order to ensure that we don't have re-escalation (of tension) in the region," a senior administration official told reporters at the White House on Wednesday.
"And, if there's any additional terrorist attack without Pakistan having made a sustained, sincere effort against these groups, it would be extremely problematic for Pakistan and it would cause re-escalation of tensions, which is dangerous for both countries," the official said on the condition of anonymity.
Asked about the steps being taken by Pakistan in the aftermath of the Balakot air strike by Indian fighter jets, the official said the US and the international community needed to see "irreversible and sustained" action against the terror groups.
In the recent days, the official said Pakistan has taken some "initial" actions. They have frozen the assets of some terrorist groups and made some arrests. They have taken administrative control of some of the JeM facilities, the official added.
"But we clearly need to see more. We need to see irreversible action because in the past, what we've seen is they made some arrests and then a few months later, they released these individuals. The terrorist leaders are sometimes still allowed to travel around the country, hold rallies," the official said.
Reiterating that the United States is looking for "irreversible action", the official said America is working with its international partners to increase pressure on Pakistan. "Because it has been too long that these groups have been able to operate."
Observing that Pakistan has economic concerns as well, the official said the Financial Action Tasks Force (FATF) is one area which demonstrates the need for them to take these actions against terror groups. "Otherwise, they're at risk within the system and the FATF to be grey-listed," the official said.
Pakistan needs to decide if it wants to be viewed as a responsible international player and have access to all the financial mechanisms that are available or is it going to continue to fail to take the steps necessary against these terrorist groups and see itself further isolated. "The choice is Pakistan's," the senior administration official asserted.
While the situation between the two South Asian neighbours have de-escalated, the two armies are still on high alert and that concerns the US, the official said.
"So, we realize that if there, God forbid, would be another terrorist attack that you could quickly see the escalation in the situation once again. So that's why, we're making clear that any additional military action by either side runs an unacceptably high risk, for both countries and for the region," the official said.
The Trump Administration, the official said, has taken sort of a "zero tolerance policy" on the issue of safe havens to terrorists.
"The terror terrorist attack on February 14th on India was a demonstration that Pakistan's continuing provision of sanctuary for any terrorist group is not acceptable," the official said.
During the height of the crisis — February 26-28 — the United States was in continuous contact with Indian and Pakistani officials, both on the ground in New Delhi and Islamabad.
"They were working the phones continuously and were deeply engaged in seeking to deescalate what was a very dangerous moment in India-Pakistan relations," the official said.
The United States has also reached out to influential countries to have them help deescalate the situation, the senior administration official said.
Some of these countries are China, Saudi Arabia, the UAE, Qatar, the United Kingdom, the European Union, Japan and Australia.
https://indianexpress.com/article/world/us-asks-pakistan-to-act-against-terrorists-says-another-terror-attack-on-india-will-be-extremely-problematic-5636912/
--------
Trump says relations 'very good' with Pakistan
Michael Hernandez
20.03.2019
WASHINGTON
Relations between the United States and Pakistan are "very good," President Donald Trump said Wednesday.
The brief remarks came as Trump prepared to depart the White House for Ohio, where he is set to visit a tank factory and meet with supporters.
Trump said his administration will soon be meeting with Pakistani officials.
U.S.-Pakistani relations had taken a turn for the worse in recent years, with the U.S. announcing a $300 million cut in military aid to Pakistan in 2018.
Trump attacked Pakistan on Twitter in November, saying it was not doing enough to stop terrorism.
"We no longer pay Pakistan the $Billions because they would take our money and do nothing for us, Bin Laden being a prime example, Afghanistan being another. They were just one of many countries that take from the United States without giving anything in return. That's ENDING!" Trump fumed.
Trump was referring to the 2011 U.S. raid on Osama bin Laden's compound in Abbottabad, Pakistan that resulted in the death of the al-Qaeda leader. The site where bin Laden was holed up was just miles away from Pakistan's premier military academy.
The main sticking point between Washington and Islamabad has been the issue of the Taliban's presence in Afghanistan. The U.S. has been engaged in a more than 17-year war against the group and is currently engaged in talks with it to hammer out a prospective peace deal to end the conflict.
Officials of the two countries have met numerous times over the past two months. In September, Secretary of State Mike Pompeo visited Pakistan and met with Pakistani Foreign Minister Shah Mehmood Qureshi and then-newly elected Prime Minister Imran Khan.
https://www.aa.com.tr/en/americas/trump-says-relations-very-good-with-pakistan/1424095
--------
Shattered sanctuary: In Christchurch, an imam seeks to rebuild
March 21, 2019
CHRISTCHURCH: Ibrahim Abdelhalim was at his mosque last week in the Linwood neighbourhood of Christchurch, New Zealand, delivering a prayer as he usually does on Friday afternoons.
The 67-year-old grandfather had already spoken about "tasting the sweetness of faith" as a Muslim obedient to God and willing to serve humanity.
He heard a pop-pop-pop in the distance.
The sounds got louder. Abdelhalim realised they were gunshots, but he continued. Abruptly ending the holy words mid-sentence would show a lack of respect in the face of God, he thought.
Abdelhalim immigrated from Egypt to Christchurch in 1995. The small city in a far-away island nation, some 16,000km from the poverty and corruption of Cairo, gave his family a better life.
It sits in a tableau of pristine mountains and rolling fields, a place where he often forgot to lock his front door at night. Whatever was happening outside would probably be okay.
Still, there were more than 80 people in the room in front of him and so, he said, "I tried to finish the prayer quickly."
Then the bullets came crashing through the window of the mosque. They sprayed into bodies. People screamed, diving atop each other in jumbled piles.
Abdelhalim saw his son but could not make it to where he lay. Further back, at the partition for women, Abdelhalim's wife was also pinned down by gunfire, shot in the arm.
Bullets thudded into a friend next to her, killing the woman. In the land that had become his sanctuary, Abdelhalim suddenly feared he was about to watch his family be slaughtered.
Police later named Brenton Tarrant, a 28-year-old Australian, as the alleged shooter in the massacre last Friday, which claimed 50 lives and left as many wounded.
Tarrant posted online a screed espousing white supremacist ideology and hatred of immigrants, authorities say.
So far charged with one murder, Tarrant was remanded to custody without a plea Saturday, and is due back in court next month, when police say he is likely to face more charges.
The country's prime minister, Jacinda Ardern, described a very different New Zealand in an address after the carnage. "We represent diversity, kindness, compassion," she said, her voice at times cracking with emotion. "A home for those who share our values. Refuge for those who need it."
Many victims in Christchurch had sought just that – leaving Somalia, Pakistan, Syria or Afghanistan for a better life, often with little in their pockets. Abdelhalim spoke of the city as a dream made real.
In Cairo, Abdelhalim said, he'd worked as a judge specialising in inheritance and tenancy cases.
He lived in a well-heeled suburb, his parents a teacher and a government employee, his brother an officer in the Egyptian military. But he did not see the future he wanted for his three children in Egypt.
Cairo had witnessed a president being assassinated by Islamic militants in 1981, and a string of bombs exploding in and around the city in 1993.
So the family moved to Christchurch, and Abdelhalim took the only job he could find, as a clerk at Work and Income, the government agency for employment services and financial assistance. "I tried to study law, but found it was very hard to begin again," he said.
Nevertheless, his children were going to good schools and his family moved into a small brick home, where he still lives, with roses in the well-trimmed yard.
A neighbour invited him over for tea, he said, "nearly every day." The family got to know the woman at the post office, a local shopkeeper and just about everyone else.
Far from the chaos of Cairo, Christchurch is a place where men in straw hats and vests take tourists down the placid waters of the Avon River. It is a city of parks with birds chirping and a streetcar clanking past Cathedral Square.
Abdelhalim's life grew along with the city. He opened a restaurant, named for his old home, Cairo. He became active in the Muslim community, working as the imam at a mosque called Al Noor.
When terrorists flew planes into the World Trade Centre in New York in Sept 2001, Abdelhalim was the head of a local Islamic association.
At the time, he said, there was a flare up of young people yelling at Muslims and trying to grab women's headscarves. Abdelhalim responded by organising community events at the mosque.
In 2017, he took part in opening a multi-faith prayer space at the airport. "My only weapon," he said, "is my tongue."
He also helped start and agreed to be the imam, the religious leader, of the Linwood mosque as its doors opened early last year, though it was across the city from his house.
The building, a former community centre, sits amid signs for the Salvation Army, a pawnshop, the Super Liquor and the Value Mart. Its presence was a marker of growth in the city's still-small Muslim community.
It was at another mosque, al-Noor, that the gunman first began shooting. He shot at men, women and children as he emptied one clip of ammunition and then the next, circling back to shoot once more just to be sure he'd killed as many Muslims as possible.
He took more than 40 lives there. The gunman then got into his car and drove to Linwood, where Abdelhalim, a man with a carefully cut white beard, was beginning to pray.
In the back of the mosque, a 27-year-old man from Afghanistan named Ahmed Khan peeked out a window. The plump-faced Khan and his family had arrived in Christchurch 12 years earlier, leaving behind a nation torn by war.
"Someone called 'help!' and when I looked out the window, somebody was laying down, bleeding," he said. Khan's eyes flitted across the driveway and spotted a strange figure – a man wearing a helmet, standing in broad daylight with a rifle in his hands.
The man squeezed the trigger, Khan said, and a bullet flew through the window. Khan recalls calling out, "There's someone with a gun!"
In the prayer area, where Abdelhalim had stood reciting holy words just moments before, people flung themselves on the ground in panic. Khan recalls cradling a man in his arms one moment and then, the next, the gunman "shot him when I was holding him, in the head. And he was dead."
There was another Afghan in the room who rushed toward the door. In the gunfire that followed, seven people were killed. Khan said the toll almost certainly would have been higher if this second Afghan – Abdul Aziz, a short, muscular man who runs a furniture shop – hadn't confronted the shooter.
Aziz grabbed a credit card machine and hurled it at the gunman, dodging bullets. He later chased the gunman with an unloaded shotgun that the shooter dropped as he went back for another weapon, then hurled it like a spear through his car window.
With four of his children in the mosque, Aziz later said, he acted to protect his own piece of adopted homeland. "I didn't know where my own kids were – if they are alive, if they are dead," he said.
They'd survived, with one of his sons laid over a younger brother, protecting the smaller boy's body with his own. Abdelhalim's wife and son also made it out alive.
Now, in the aftermath of 50 dead in his city, Abdelhalim is trying to keep his family and his people together. They are left to navigate an issue that has confronted communities around the world after mass shootings: How, in the midst of suffering and rage, does normalcy and the peace they once knew return, if at all?
On Saturday afternoon, about 24 hours after the massacre, Abdelhalim walked out of a crisis response centre in Christchurch. On the wall, there was a Wi-Fi login and password written on a piece of white paper: youarewelcome.
A group of motorcycle club members had parked their bikes on the grass in a show of support. Burly men in black leather jackets milled about. A young man with the club's name tattooed across the side of his face – "Tribesmen" – chatted with reporters. Police stood by with assault rifles.
Abdelhalim made his way carefully through the crowd in a dark suit with light pinstripes. Everyone was asking, he said, "can the peace of Christchurch come back?"
The gunman's manifesto, released shortly before the attacks, said he was motivated to fight back against the "invasion" of immigration by non-whites. The actual number of Muslims in New Zealand is small – about one percent of the populace.
At the 2013 census, the most recent figures available, the government reported a 28 percent rise in Muslims since 2006, along with jumps in Hindu and Sikh numbers.
On Sunday morning, Abdelhalim opened his front door at 9, wearing board shorts, flip-flops and a worn collared shirt, instead of the suits he favors in public. He was exhausted.
City authorities released a list of the dead past midnight at the Christchurch Hospital. Abdelhalim was there to speak with the bereaved. He'd gotten home from the hospital at some time after 2 a.m. and had barely slept.
The next day, standing on the other side of police tape from the mosque in Linwood, Abdelhalim was asked by a reporter for details of the shooting. Abdelhalim said he'd rather not say.
"I don't need to repeat the story of what happened," he said. "Because it breaks my heart."
https://www.freemalaysiatoday.com/category/world/2019/03/21/shattered-sanctuary-in-christchurch-an-imam-seeks-to-rebuild/
--------
UK: Labour Adopts Full Definition of Islamophobia to Fight the Rise of Far-Right Extremism
Muhammad Mussa
20.03.2019
LONDON
Britain's Labour party has formally adopted the full working definition of Islamophobia, arguing it is a vital step in fighting the rise of far-right extremism in the U.K.
The national executive committee adopted the working definition Wednesday as produced by the all-party parliamentary group on British Muslims last year in a move "to help tackle Islamophobia, build a common understanding of its causes and consequences, and express solidarity with Muslim communities."
The move by the U.K.'s main opposition party to adopt the definition follows the publication of a public letter signed by more than a hundred Islamic institutions, Muslim public figures, and MPs calling on all political parties to adopt the definition.
"This could not be more urgent, while Islamophobia has been rising in our society and across the world, and support for the far right and their extremist white supremacist views is growing," said Naz Shah, Labour MP and signatory to the letter.
"Instead of challenging and campaigning against this hate-filled prejudice, many politicians have actively fuelled it, from the Conservatives' overtly Islamophobic campaign against Sadiq Khan becoming mayor in 2016 to [former Foreign Secretary] Boris Johnson's vile comments about Muslim women," she added.
Last year Johnson compared women who wear Islamic garb to "bank robbers and letter boxes." His comments received a national outcry but after an internal party investigation, he was found to have done no wrongdoing.
The Liberal Democrat party has also adopted the working definition. However, the ruling Conservative party has refrained from adopting the definition, even after being embroiled in a scandal that has seen many of its members and MPs openly make Islamophobic statements.
The Muslim Council of Britain, the U.K.'s largest Muslim body, has written many times to the Conservative party urging the leadership to tackle the issue of Islamophobia within the party and conduct investigations into those Tories accused of Islamophobia.
Tory party members and councillors have been found to have made Islamophobic comments online, with some calling for the bombing of mosques and others making racist comments about London Mayor Khan and Tory Home Secretary Sajid Javid.
The last three years have seen a sharp rise in Islamophobia and anti-Muslim hate crime in the UK, with a record number of attacks on Muslims 2017. In 2018 there were over 1,200 reports of Islamophobic attacks, a 26 percent surge from the previous year.
Islamophobic incidents have risen significantly due to a number of factors such as Brexit and the proliferation of far-right groups manipulating peoples' misconceptions on immigration and faith.
https://www.aa.com.tr/en/europe/uk-labour-adopts-full-definition-of-islamophobia-/1424030
--------
Bahawalpur student stabs professor to death over 'anti-Islam' remarks
Mohammad Imran
March 20, 2019
A third-year student at Bahawalpur's Government Sadiq Egerton College on Wednesday allegedly stabbed a professor to death over what he vaguely described as the academic's "anti-Islam" remarks, police sources and persons familiar with the incident said.
Associate professor Khalid Hameed, the head of the English department, was seated inside his office at the college when he was allegedly accosted and attacked with a knife by the student.
According to initial information noted by police at the scene of the crime, Khateeb Hussain, a 5th-semester BS student enrolled in the English department, had exchanged hot words with Prof Hameed at around 8:40am over the arranging of a 'welcome party' at the college.
The event, which Hameed was overseeing, was to be held on March 21 to welcome new students to the college, police said.
Police sources told DawnNewsTV that Hussain was averse to the event being organised because he viewed the mingling of male and female pupils at the function as "un-Islamic".
Following an argument, Hussain stabbed the professor in the abdomen and head, police said. Hameed was taken to the Bahawalpur Victoria Hospital, where he succumbed to his injuries.
Police have arrested the suspect along with the murder weapon and registered an FIR under Section 302 (intentional murder) of the Pakistan Penal Code and Section 7 of the Anti-Terrorism Act on a complaint of the deceased teacher's son.
'Promoting obscenity'
In the application submitted to police for the registration of a First Information Report (FIR), Prof Hameed's son stated that the incident took place when he had gone to drop his father off at the college along with two others. He said his father proceeded to enter his office while he (the son) was still in the parking; he said he saw the attacker hiding behind a pillar and then suddenly charging at the teacher.
"As my father was about to step into his office, the guy attacked him with a knife, hitting him on his head and stomach," he told AFP.
"My father then fell down and I rushed to him; the student held his knife and started shouting 'I have killed him, I had told him that a gender mix reception is against Islam'," he said.
According to the deceased's son, the attacker also said he had killed Prof Hameed because he supported the scheduled function in which "obscenity is promoted".
"We took him to hospital but he had already died," he said.
He said the student dropped his knife and the guards arrested him.
No remorse
A video confession of the suspect, aged around 20, was obtained by DawnNewsTV.
In the video, seen by Dawn.com, the suspect identifies himself as Khateeb Hussain and says that he attacked the English professor because he allegedly "spoke against Islam".
In response to a question, he says he assaulted the teacher with a knife in the office where he was sitting. Both of the suspect's hands are bandaged, indicating he received knife injuries during the scuffle.
When informed that the professor had died at the hospital, the suspect expresses satisfaction with his actions.
He is then questioned on why he did not use a lawful way of voicing his complaints against the academic, to which he responds that the country's laws are "freeing the blasphemers (gustaakhon) ".
When asked if he regrets his actions, he expresses no remorse.
'How many more lives?'
Speaking to reporters in the evening at his residence, Hameed's son said his father's murder was a result of "brainwashing". He said the function was a matter of the college administration and his father was not directly involved in it.
He said the incident had put question marks on the government's efforts to curb extremism in society.
"He was [an] employee of the Government of Pakistan, the event happened in the premises of [a] government college ... but there has been no word from the government on this regarding protection and implementation," the son said.
He said the PTI government kept raising the issue of a South Punjab province, "but this incident took place in south Punjab as well [and] the entire city is sitting in fear".
"I want to ask you this; this has happened before and continues to happen but until when? How many more lives?"
He questioned whether the government will act on the National Action Plan "only when there is pressure from India or the United States" and whether there was "no value" of the lives of Pakistani residents.
The Government of Punjab had tweeted in the afternoon that Chief Minister Usman Buzdar sought a report from police and ordered an investigation of the incident.
He asked authorities to "ensure in every condition the provision of justice to the heirs of the deceased professor".
'Moment of reflection'
In a press release, the Punjab Professors and Lecturers Association strongly condemned Hameed's murder.
It demanded that the district administration bring the perpetrators of the crime to book under anti-terrorism laws within 10 days. It also asked the district and college administrations to take steps to ensure the safety of the teachers.
The professor's murder sparked an outrage on social media, with people condemning the act and calling for action.
Former chief minister Shahbaz Sharif tweeted that the teacher's murder at the hands of a student because of a difference in opinion was "a moment of reflection for the entire nation".
"Unbelievably tragic how we've created hordes of young people who believe having a mild amount of fun is reason enough to murder someone," wrote Ammar Rashid.
https://www.dawn.com/news/1470814/bahawalpur-student-stabs-professor-to-death-over-anti-islam-remarks
--------
Christchurch shooting, 'atmosphere of insecurity' sparks Bangladeshi safety warning
By Nibir Khan
Mar 21, 2019
Some Australian politicians have allowed an atmosphere of vilification of Muslims and immigrants to prevail, the Bangladeshi High Commission says.
Bangladesh has issued safety warnings to its citizens in New Zealand and Australia following the Christchurch shooting that left at least 50 worshippers dead.
The Bangladeshi Foreign Ministry said those living in Australia and those travelling "are advised to be vigilant at all times, particularly in public places".
But the High Commission in Canberra went further, saying: "It is a fact that in Australia, there have been some manifestations of Islamophobia and anti-migrant sentiments."
Five Bangladeshis were among the 50 killed, with a further three injured in the two mosques attacked in Christchurch on Friday.
Members of the Bangladeshi cricket team were also forced to flee the scene of the shooting on foot, after they arrived for Friday prayers.
In the wake of the attack, Queensland senator Fraser Anning called for a ban on Muslim immigration.
The Bangladeshi High Commission said those sorts of statements provoked "extreme views" and said "unchecked and unrestrained expression of hatred can lead to any unfortunate situation, as has been exemplified in Christchurch".
"Recently, a statement by a senator in Australia precipitated fears and … created an atmosphere of insecurity among the immigrants, despite assurances by the mainstream political leaders."
The statement also suggested that such comments from politicians could enable dangerous situations such as Friday's attack to take place.
Travel advisory result of 'public pressure'
The Bangladeshi High Commission in Canberra also justified the travel warnings issued by Bangladesh, citing the Christchurch attack.
"Generally, Bangladesh does not issue travel advisories for its nationals going abroad, unless there are imperatives to do so," it said.
"This extraordinary development has compelled Bangladesh to issue travel advisory for Australia and New Zealand."
Former high commissioner to Canberra Humayun Kabir believes the travel advisory was a result of pressure on the Bangladeshi Government from the public regarding the five Bangladeshi deaths and the danger the cricket team was exposed to.
"In light of that, the Government felt the public pressure, as a result of that they have now given an advisory," he said.
He said Australia was not unsafe at all and the advisory and response from the High Commission should be regarded as a precaution, since it is not a reflection on Australia or New Zealand.
President of the Bangladesh Society Gold Coast (BGSC) Mohammad Hossain echoed those feelings of safety.
"We feel that Australia is very safe and a good country and we're living here," he said.
However, he said he felt Bangladeshis needed to be cautious despite feeling safe, considering the recent attack.
"But at the same time, we need to look after ourselves. We should be cautious," he said.
Mr Hossain said New Zealand was a safe place and if events such as the attack could occur there, it could happen anywhere.
Mr Hossain said the travel advisory issued against Australia by Bangladesh was well warranted.
"I think the Bangladesh travel advisory is not bad, because we are safe, but we should be careful about any terrorist activity against Islam or ourselves," he said.
https://www.abc.net.au/news/2019-03-21/christchurch-shooting-sparks-bangladeshi-safety-warning/10922508
--------
Muslim countries urged to press China end crackdown of Uighurs
by Ali Younes
Mar 21, 2019
Doha, Qatar - A group of visiting Uighur Muslim scholars originally from China's Xinjiang province has urged Muslim-majority countries to press China to end its "cultural war" against their ethnic compatriots.
According to a United Nations panel, more than one million Uighurs and other Muslims are held in what rights groups and activists call mass detention centres in the remote western region - a charge denied by Beijing.
During a visit to Qatar's capital, Doha, leaders from the Turkey-based Society of the Muslim Scholars of East Turkistan (SMSET) accused Beijing of engaging in systematic human rights violations of Uighurs in a bid to erase their cultural and religious heritage.
"The Chinese government is waging a cultural war against our people by trying to force us to abandon our Muslim faith and our heritage to become atheists and communists like the majority Chinese society," the SMSET's Abdel Khaleq Uighur said on Tuesday.
In January, China passed a new law that sought to "Sinicise" Islam within the next five years, the latest move by Beijing to rewrite how the religion is practised. Sinification is a process of melting non-Chinese communities into the majority Han Chinese culture.
No major Muslim country has publicly condemned China for the alleged mass incarceration of Uighurs and other ethnic Muslim minorities except Turkey, which has called on China to shut the camps. Beijing calls the camps "reeducation centres".
Ancient Silk Road
The Uighurs, whose homeland is in the heart of the ancient Silk Road, say Beijing sees their presence as an obstacle to its economic development and westward expansion through its flagship Belt and Road Initiative (BRI).
Launched in 2013, the massive investment drive aims to finance and build infrastructure in some 80 countries around the world, including in the Middle East and parts of Eurasia.
"With high-speed rail and other upgraded land transport developments, China strives to promote land and maritime trade simultaneously between China and the Middle East," Wang Jian, a professor of history and international political economy at Shanghai Academy of Social Sciences, said in a paper published in 2017.
Mohamad Mahmoud, of the SMET, argued that China's promises of vast wealth and economic development from its BRI projects have prevented Muslim-majority countries from addressing the crackdown on Uighurs.
"I hope that Muslim countries can overcome their fears of China and address its gross human rights abuses against our community," he said.
Uighurs speak a Turkic language distinct from the country's overwhelming Han majority.
According to a 2018 Amnesty report, open or even private displays of religious and cultural affiliation, including growing a beard, wearing a veil or headscarf, regular prayer, fasting or avoidance of alcohol, or possessing books or articles about Islam or Uighur culture can be considered "extremist" under the regulation.
Last week, the Chinese government published a lengthy policy paper outlining and defending its policy against the Uighurs as "deradicalisation" measures. The paper admitted the arrest of 13,000 Muslim Uighurs since 2014.
Responding to government claims of "terrorism and radicalism" in the region, Mahmoud said the Chinese government claims are not true.
"Our people are not seeking separation and there is no terrorism or armed insurgency in East Turkistan," he said.
"The only terrorism in the region comes from the Chinese government itself," added Mahmoud.
https://www.aljazeera.com/news/2019/03/scholars-urge-muslim-countries-press-china-uighur-crackdown-190320102839967.html
--------
Arab World
US-Backed Forces Preparing to Declare End of ISIL in Eastern Euphrates
Mar 20, 2019
The Arabic-language Al-Watan news agency pointed to the exit of the ISIL terrorists and their families under an agreement with the Syrian Democratic Forces (SDF), and said that the US-led coalition and the SDF plan to repeat the scenario that they staged in Raqqa and claim victory over the ISIL in Eastern Euphrates, "while in reality they have not defeated the terrorist group and have only relocated them to western Iraq.
The SDF has, meantime, claimed that it has taken control of several positions in Baghouz Farms in Eastern Deir Ezzur in the battle with the terrorists.
The Kurdish forces said that they have held as captive 157 terrorists and seized their military equipment in the region.
The London-based Syrian Observatory for Human Rights (SOHR), meantime, reported that 61,760 people, including 6,870 ISIL terrorists, have left the last areas remaining under ISIL's control in Baghouz in Eastern Euphrates.
In a relevant development on Friday, the US-led coalition forces and their allied militant groups helped over 2,000 ISIL terrorists and their families to get out of Eastern Deir Ezzur as Washington and the SDF are preparing to declare the end of the ISIL in Eastern Euphrates.
The SDF announced that over 1,300 ISIL terrorists and their families left the town of Baqouz in Southeastern Deir Ezzur.
The SOHR, meantime, announced that about 2,200 ISIL terrorists from different nationalities have exited the last regions under their control in Baqouz town in Eastern Deir Ezzur over the past 24 hours.
The SOHR noted that a sum of 61,300 ISIL terrorists and their families have left Eastern Euphrates since the early December 2018.
In a relevant development last week, the US Army and its allied militants helped a large number of the ISIL terrorists to get out of Deir Ezzur province.
"Over 60,000 ISIL terrorists and their families have been helped out of Baghouz region in Eastern Deir Ezzur by the US and the US-backed militants since the beginning of last December," the Kurdish-language Bas news website quoted an informed SDF source as saying.
He noted that over half of the terrorists leaving Eastern Euphrates are Iraqi nationals, and the rest come from a variety of nations.
This comes as the US-led coalition and their allied militants are eyeing an agreement with terrorists to exit the areas under their control in Eastern Euphrates in a bid to declare the end of the ISIL in the region.
In a relevant development in late February, the Syrian sources said that the US Army transferred senior ISIL commanders to safe places in lieu of receiving over 50 tons of gold treasure from the terrorists.
According to the initial information obtained in Deir Ezzur, the US Army troops stationed in Al-Jazeera region of Eastern Euphrates agreed with the ISIL commanders to relocate them to safe places after receiving tens of tons of gold ingot that the terrorists had stolen from different parts of Syria and Iraq, the state-run SANA news agency reported.
The local sources, meantime, reported that the US Army took control of ISIL's 50 tons of gold treasure in Baqouz region in Southeastern Deir Ezzur after it had reached an agreement with the terrorists.
They pointed to the recent intensified movements by the US choppers concurrent with flights over several ISIL-controlled regions in Eastern Euphrates, and said that the US has conducted important heliborne operations in key areas where the ISIL commanders' hideouts are located and where the gold treasure was hidden.
In a relevant development earlier last month, a source close to Kurdish forces said that the US Army was taking ISIL's gold treasure that is estimated to weigh around 50 tons from Eastern Syria to America.
Bas News quoted a Kurdish source as saying that the Americans have transferred tens of tons of the gold ingots they have seized from the ISIL terrorists in Baqouz region in Southeastern Deir Ezzur to their own country and only kept a small portion of the treasure to be given to the Kurdish fighters.
The source who spoke on the condition of anonymity reiterated that about 50 tons of ISIL's gold has been sent to the US from the US military base in Kobani in Northeastern Aleppo.
The report comes as the US has been using the airport in Southern Kobani for transferring consignments and military equipment in recent years.
In a relevant development earlier last month, the US Army troops took out a sum of 40 tons of gold ingots belonging to the ISIL in heliborne operations after agreeing with the terrorist group and while Washington is preparing to announce the end of ISIL in Eastern Euphrates.
"The US troops in concordance with the ISIL terrorist group relocated big boxes packed with ISIL's gold treasure on several helicopters from al-Dashisheh region in Southern Hasaka," the SANA news agency quoted local sources in Eastern Deir Ezzur as saying.
The sources pointed to boxes containing 40 tons of gold ingots that the ISIL had hidden in the Eastern part of al-Shadadi city, and said that the ISIL had stolen the treasure of gold from the Iraqi city of Mosul and different parts of Syria.
The US troops reportedly took out a group of ISIL terrorist commanders from Eastern Syria in two heliborne operations in Hajin region of Eastern Deir Ezzur and al-Dashisheh in Southern Hasaka and they were directed to the place where the gold treasure was hidden.
http://en.farsnews.com/newstext.aspx?nn=13971228000482
--------
Kuwaiti FM: We trust US role in putting together Middle East peace plan
20 March 2019
Kuwait trusts the US's role in putting together a Middle East peace plan, and finding a peaceful solution to the Yemeni war, said Kuwait's Foreign Minister Sheikh Sabah Al Khalid Al Sabah during a press conference with US Secretary of State Mike Pompeo on Wednesday.
"We hope the plan will take into account the situation in the region and all the relevant parties," Sheikh Al Sabah said.
Pompeo had arrived in Kuwait late Monday as part of a tour that is set to include visits to Lebanon and Israel to reinforce "the value of our partnerships, as well as the importance of security and economic cooperation in achieving regional stability and countering the Iranian regime's malign activities," a State Department statement read.
Al Sabah commended the US's "tough stance in defending the security of the Gulf," adding that Kuwait is in agreement with Washington about the importance of solving the Yemeni crisis peacefully.
"Kuwait is a longtime friend and vital partner that helps advance key US interests in the region, including defense and counter-terrorism," Pompeo had said prior to his arrival to the country.
Pompeo participated in a series of bilateral meetings with high-level officials, including the Emir of Kuwait Sheikh Sabah Al-Ahmad Al-Jaber Al-Sabah, and attended the third US-Kuwait Strategic Dialogue. In the past, the two countries signed cooperation agreements and MoUs over security, counter-terrorism, economy, trade, education, oil, custom and consular affairs.
At the press conference, Pompeo said that they discussed the issues of defense, counter-terrorism and trade.
Full report at:
https://english.alarabiya.net/en/News/gulf/2019/03/20/Kuwaiti-FM-We-trust-US-role-in-putting-together-Middle-East-peace-plan.html
--------
North America
Disappointed over veto on Masood Azhar, US says China has a responsibility
Mar 21, 2019
China has a responsibility not to shield Pakistan, a senior Trump administration official has said, expressing deep disappointment over Beijing's decision to block a bid in the UN to designate Jaish-e-Mohammed chief Masood Azhar as a "global terrorist".
Pakistan-based terror group Jaish-e-Mohammed (JeM) led by Azhar claimed responsibility for the February 14 terrorist attack in Kashmir's Pulwama district which killed 40 Indian security personnel.
"We think China has a responsibility to also not shield Pakistan and join the international community in calling on Pakistan to take action against terrorists operating on its soil," the senior Trump administration official said on Wednesday.
After the Pulwama attack, the US, France and Britain moved a resolution in the UN Sanctions Committee of the Security Council to designate Azhar as a "global terrorist".
The move suffered a setback as China put a "technical hold" on the proposal for the forth time, a move India termed as disappointing.
"We believe that China and the US share a mutual interest in achieving regional stability and peace. And that any failure on the Security Council as part to designate Masood Azhar as a terrorist would run counter to this mutual goal that China and the United States have," the official said.
"We don't really understand this. China should not be shielding Pakistan's support for known terrorist organisations. So, we're hoping that we can work together on a mutual goal in terms of countering terrorism and upholding our security council responsibility," the official said.
The Trump administration's view on China's decision on Azhar came as Germany initiated a move at the European Union to list the JeM leader as a global terrorist.
Noting that it was not the first time the JeM attacked India, the official said this was the reason the Trump administration thinks now is the time for Pakistan to crackdown on the terror group.
This has been made very clear to the leadership of Pakistan, said the official who spoke on condition of anonymity.
This same group was responsible for other attacks in India like the 2001 Parliament attack, which resulted in a six-month India-Pakistan mobilisation, the official said.
The US is also working at the United Nations, urging Pakistan to uphold its responsibilities pursuant to its UN Security Council commitments to deny safe haven and support to terrorists and to freeze the funds and financial assets of entities on the UN Security Council 1267 sanctions list.
(This story has been published from a wire agency feed without modifications to the text. Only the headline has been changed.)
https://www.hindustantimes.com/india-news/disappointed-over-veto-on-masood-azhar-us-says-china-has-a-responsibility/story-twlr13x3fTY6WeIJgzXFBN.html
--------
Trump: ISIS will be gone 'by tonight'
20 March 2019
US President Donald Trump said on Wednesday that ISIS will be "gone by tonight," in an announcement he made on the White House South Lawn ahead of a visit to Ohio.
Trump held up two maps showing the difference between lands that belonged to ISIS in 2016's election night versus the lands of the so-called "caliphate" today.
The maps had areas that fell under the control of ISIS colored in red, on which Trump commented saying: "When I took it over, it was a mess. Now there is no red. In fact, there's actually a tiny spot which will be gone by tonight."
He added that Washington will keep around 400 troops in the north east of Syria.
https://english.alarabiya.net/en/News/world/2019/03/20/Trump-ISIS-will-be-gone-by-tonight-.html
--------
In Israel, Pompeo Resorts to Iranophobia to Boost Netanyahu's Re-Election Bid
Mar 21, 2019
On a trip to the occupied Palestinian territories ahead of Israeli general elections, US Secretary of State Mike Pompeo has vowed to step up pressure against Iran in an apparent bid to help Prime Minister Benjamin Netanyahu retain his position.
Pompeo and Netanyahu said during a joint press conference on Wednesday that they were going to use all in their power to counter what they referred to as the Iranian "aggression."
"With such threats a daily reality of Israeli life, we maintain our unparalleled commitment to Israel's security and firmly support your right to defend yourself," said the top US diplomat.
Pompeo claimed that the US-led anti-Iran conference in the Polish capital of Warsaw last month, which was attended by Israel and some Arab nations, was focused mainly on exploring possible options "to stop Iran's regional rampage."
The meeting turned into an embarrassing failure for Washington as many countries either refused to attend or decided to send low-level officials to show their discontent with Trump's Iran policy.
Israel and the US have been desperately looking for ways to end Iran's influence in the Middle East region, where it has helped the Iraqi and Syrian governments purge foreign-backed terrorists from most of their territories.
While US President Donald Trump has chosen to drop out of the 2015 Iran nuclear deal and impose more economic sanctions on the Islamic Republic to force Tehran to leave Syria and Iraq, Tel Aviv has chosen a more direct path by mounting numerous attacks against Syrian government positions that it claims are being used by Iranian military advisers.
Flanking Pompeo, Netanyahu reiterated his pledge to prevent Iranian advisers' presence in Syria and thanked the Trump administration for its support.
"There is no limitation to our freedom of action, and we appreciate very much the fact that the United States backs up our actions as we do them," Netanyahu said.
Pompeo's regional tour is focused largely on Iran, but his meeting with Netanyahu has been viewed as a move to help Netanyahu with his re-election fight, especially since he has turned down requests to meet with the Israeli premier's political opponents.
Facing a stiff competition from a centrist alliance in April 9 polls while under threat of indictment for corruption, Netanyahu is slated to arrive in Washington next week, where he will meet Trump twice.
Pompeo said before touching down in Tel Aviv that his trip to Israel was not related to politics, arguing that the "relationship matters, no matter who the leaders are."
'Arab NATO' alliance against Iran
Pompeo, who planned to travel to Lebanon next, began his regional tour in Kuwait where he met Emir Sheikh Sabah al-Ahmad Al-Sabah to discuss the Middle East Strategic Alliance (MESA), a NATO-style bloc aimed at uniting Washington's Arab allies against Tehran.
Pompeo in Mideast to corner Iran but Tehran not cowed
He has called on Qatar and Saudi Arabia, both members of MESA, to end their ongoing political dispute, where Riyadh and some of its regional allies – including Bahrain and the United Arab Emirates (UAE)—have boycotted Doha since 2017 for funding terrorism and maintaining close ties to Iran.
Qatar denies the allegations and says the rival states aim to incite regime change in Doha.
Israeli-Palestinian conflict
The Israeli parliamentary elections also start the countdown to the presentation of an Israeli-Palestinian agreement that Trump has long been referring to as the "deal of the century."
The product of a Whit House team led by Trump's son-in-law, Jared Kushner, the deal is said to be strongly pro-Israeli.
Pompeo had announced ahead of the trip that he will not meet with representatives of the Palestinian Authority to discuss peace talks.
The PA has cut all ties with Washington in the wake of several hostile moves by the Trump administration, including cutting most of the US aid to the UN agency for Palestinian refugees and the American president's decision in December 2017 to recognize Jerusalem al-Quds as the capital of Israel.
The decision caused uproar among Palestinians, who say the eastern part of the city will be the capital of a future Palestinian state.
Pompeo would also make a stop at the new US embassy in al-Quds during the two-day visit.
Syria's Golan Heights
The trip is also overshadowed by a controversial decision by the White House to change the wording it uses to refer to Golan Heights, Syrian territories that have fallen under Israeli control in 1967.
While the UN refuses to recognize the area as Israeli territory, Washington has announced that it will refer to the Golan Heights as "Israeli-occupied" and calls the territory seized from Syria "controlled" by Israel.
The move has been viewed by observers as a prelude to full recognition of the strategic plateau as Israeli land.
Full report at:
https://www.presstv.com/Detail/2019/03/21/591596/US-Pompeo-Israel-Netanyahu-Iran
--------
Pompeo thanks Saudi Crown Prince for supporting UN Envoy to Yemen's efforts
20 March 2019
US Secretary of State Mike Pompeo thanked Saudi Crown Prince Mohammed bin Salman, over a phone call, for supporting UN Special Envoy Martin Griffiths' efforts to advance the peace process in Yemen.
The two established that it is important for Yemen's warring parties to abide by the Stockholm Agreement and also discussed human rights issues and broader developments in the region, according to the US State Department.
The Stockholm Agreement between Yemen's Houthi militia and the Yemeni government in Sweden last December was a move to reach a political solution in the war-torn country. One of its key elements included the demilitarization of the Hodeidah port to guarantee access of humanitarian aid to civilians.
Despite the three-month-old truce, recent statements by Houthi Chairman Mohamed Ali al-Houthi has been viewed by the Yemeni government as a declaration of war, and an abandonment of the Stockholm Agreement.
"The withdrawal which includes redeployment in Hodeidah based on the mechanisms offered in Stockholm is what we agree to. However, withdrawing based on what has been highlighted by our enemies, this is impossible," said the Houthi chairman.
Saudi Arabia and the UAE have previously announced the launching of a $500 million initiative to address the humanitarian situation in Yemen.
Full report at:
https://english.alarabiya.net/en/News/gulf/2019/03/20/Pompeo-thanks-Saudi-Crown-Prince-for-supporting-UN-envoy-to-Yemen.html
--------
16 years into US invasion, Iraq carries war traces
21.03.2019
Although 16 years have passed since a coalition led by the U.S. and the U.K. invaded Iraq on the pretext Saddam Hussein's had biological weapons, the traces of war are still fresh in the war-ravished country.
The Iraqi people, who were fed up with 13- year-long sanctions prior to the invasion, were promised "democracy" and "stability", hence the operation was titled "Operation Iraqi Freedom".
However, sectarian conflicts and acts of terrorism that emerged after the invasion led to the death of tens of thousands of civilians, and the spending of billions of dollars. It also triggered an environment in which the terror group Daesh emerged.
With a view to getting the support of other countries to invade Iraq, Washington and London claimed Saddam developed nuclear weapons that could be used as weapons of mass destruction.
"There can be no doubt that Saddam Hussein has biological weapons and the capability to rapidly produce more, many more," former U.S. State Secretary Colin Powell said Feb. 5, 2003, at the UN Security Council (UNSC).
U.S. President George W. Bush, between 2001-2003, sought to justify the invasion by preparing reports regarding Baghdad's possession of weapons of mass destructions.
Contrary to the allegations, UN investigators in Iraq did not find any traces of biological weapons. Then, the U.K and the U.S. invaded without the approval of the UNSC, violating the international laws.
On March 17, 2003, Bush gave 48 hours to Saddam and his family to leave Iraq and said he would take military action if they did not exit the county. On March 19, coalition forces announced the commencement of the operation.
Military forces in Iraq gained control Baghdad on April 9 and toppled the statue of Saddam located in Firdos Square. Meanwhile, Saddam had reportedly escaped Baghdad. On May 1, Bush stated the majority of the warfare in Iraq was finished.
While the operations were ongoing, the UNSC adopted a resolution recognizing the invasion right of the U.S and the U.K on May 22. Hussein was captured Dec. 13, 2003, while hiding underground in Tikrit, northwest of Baghdad. Meanwhile, many of Hussein's family and high-profile members of the Baath regime fled to Jordan.
On April 2004, prisoners tortured by the U.S. forces in Abu Ghraib prison in Baghdad were covered by the global media, unveiling the truth about the damage and chaos Iraqis suffered.
On Jun. 28, 2004, the U.S. abolished the temporary administration and Paul Bremer, who led the Coalition Provisional Authority (CPA), left Iraq.
The first general elections were held Jan. 30, 2005, which was boycotted by the Sunni Arabs of Iraq. Shia Arabs in the country captured the government and Jalal Talabani became the first Kurdish president of Iraq.
In 2005, the federal structure was adopted in Iraq and Kurds were given "Iraqi Kurdish Regional Government" (KRG).
Sectarianism, which was triggered following the invasion, soon transformed into a civil war. The turning point of the sectarian civil war began Jan. 22, 2006, when the Al-Askari Shrine in Samarra -- one of the holiest sites for Shia sect -- was bombed.
Afterward, Nouri al-Maliki, who is known for his sectarian policies, announced he formed the government May 20, 2006.
After being tried for some three years, Hussein was executed Dec. 30, 2006.
On Jan 10, 2007, Washington announced it would send an additional 20,000 troops to Iraq where the violence continued with momentum. On Feb. 27, 2009, President Barrack Obama said U.S. troops would withdraw from Iraq by late 2011.
British troops left Iraq May 22, 2011 and U.S. troops left Dec. 18 same year.
During Maliki's eight-year term, the country turned into a bloodbath with terror attacks and sectarian conflicts. Therefore, war-weary Iraqis fled to other countries.
According to "Iraqcountybody", an independent organization studying Iraqi Health Ministry's data, more than 100,000 civilians were killed between 2003-2011 due to conflict-related reasons. The same organization said the civilian death toll reached 200,000 in 2018.
Weary Iraqis
Taxi driver Abdulwahed Ebrahim, 67, who was living in Baghdad when the sectarian tension peaked, said: "Sectarianism and sectarian war occurred with the arrival of the U.S. Haifa street [in Baghdad] was called 'death street' back then. I lost my son Omar to the sectarian war."
He said Iraqis could only enjoy relief after the U.S. troops left the country. But he added, "there is no stability in the country."
Dilemma of "invasion" and "liberation"
Mostafa Mohammed Hashem, an Iraqi living in Baghdad, said: "March 20 is equal to the date of destruction and invasion. I lost many people I knew to the sectarian war. Our social and economic life was disrupted," he said. "The invasion brought nothing but war, sectarianism and damage."
"False democracy"
Iraqi political analysist Ali Suhayl said the U.S. claimed it would bring democracy and freedom to Iraq following the toppling of Saddam Hussein regime.
"Nevertheless, that never happened. There is no such thing as freedom in Iraq now. The U.S. brought a false democracy. Dominant parties of Iraq [referring to Shia] can easily manipulate the election," he stated.
"Plundering and collapsed system"
Murad Zeya, 40, an interpreter living in Turkey, said: "I was in Iraq on April 14, 2003, a short while after the fall of Baghdad. There was literally no system in the country, it was total chaos with no policemen or any state officials around to provide security."
"On 15th, when I entered Kirkuk, there was this nice April rain and lovely trees around. But I could see some buildings burning as a result of plundering around in the city."
Suheyr Zeya, 36, Murad's wife, said the instability in the country peaked following the U.S. invasion. "Men would wait on the streets and women would protect their houses against any possible plundering, which was the result of the fall of central administration."
Daesh terror and 5 million internally displaced Iraqis
In May 2014, the second Shia administration assumed power. Haider al-Abadi, known for his moderate views compared to Maliki, was elected prime minister.
"Daesh occupation" and "financial crisis" were among the most challenging troubles the fresh premier faced.
Terror groups in Iraq thrived due to the chaos, corruption and sectarian policies in the country. Daesh terror group quickly spread in the regions where Sunni Muslims were the majority. Daesh seized Mosul, Iraq's second largest province, without encountering any resistance Jun. 10, 2014.
Daesh gained dominance in one-third of Iraq, having a superior presence in Mosul, Anbar, Saladin and some parts of Diyala and Kirkuk.
Backed by the U.S.-led coalition, Iraqi forces recaptured Tikrit. In 2016, Iraqi forces gained control in Anbar's Fallujah.
The battle in Mosul was more challenging, it took nine months for the Iraqi authorities to take it back from Daesh terrorists. However, Mosul turned into a "ghost city" following intense clashes.
On Dec. 18, 2017, Abadi announced Daesh presence in Iraq was eradicated. Some five million Iraqis became internally displaced people. The cost of destruction in Mosul, Anbar and Saladin amounted to some $80 billion. Furthermore, tens of thousands of civilians lost their lives due to Daesh atrocities.
Iraq on the verge of division
While Iraq was ravaged by terrorism, Masoud Barzani, the former president of Kurdish Regional Government, sought to draw apart from the central administration via "independence referendum" held Sept. 25, 2017.
Iraqi government shifted military forces to Kirkuk and controversial territories, then the peshmerga presence in Kirkuk ceased to exist after 14 years.
Isolated following the political developments, Barzani announced he was stepping down from the presidency of KRG on Oct. 29.
5,200 US troops in Iraq
Despite Obama's withdrawal decision in late 2011, the U.S. army returned to Iraq in 2014 as Iraqi forces and peshmerga struggled to fight Daesh.
Full report at:
https://www.aa.com.tr/en/americas/16-years-into-us-invasion-iraq-carries-war-traces/1424289
--------
US lawmakers slam government on anniversary of Iraq war
Umar Farooq
20.03.2019
WASHINGTON
U.S. lawmakers criticized the government Wednesday for its decision to invade Iraq 16 years ago, questioning the conflict's legitimacy.
Politicians called the invasion disastrous, saying it led to the country's destruction and affected America's global standing.
"Sixteen years ago, the U.S. illegally invaded Iraq, leaving a trail of destruction and lives lost," Congresswoman Ilhan Omar said on Twitter.
Omar outlined the consequences of the invasion, saying 4,500 U.S. troops lost their lives, more than 100,000 Iraqi civilians were killed and the decision had done "incalculable damage" to America's reputation in the world.
Senator Bernie Sanders also slammed the invasion, saying he had opposed it when the idea was proposed in Congress.
"Sixteen years ago, the United States invaded Iraq. I opposed it at the time, warning of unintended consequences. We are still dealing with those disastrous consequences today and will be for many years. We need a foreign policy that focuses on diplomacy, not war," Sanders tweeted.
In March 2003, the U.S. invaded Iraq. Then-President George W. Bush said the country's goals were to destroy the country's weapons of mass destruction (WMDs) and depose the country's leader, Saddam Hussein.
A year later, after U.S. forces defeated the Iraqi army and captured Hussein, the U.S. administration acknowledged that its argument of Iraq having WMDs was mistaken, with David Kay, a former U.S. weapons inspector, saying "we were almost all wrong".
"We must hold accountable those who repeatedly lied in the run-up to war," Omar said, arguing that both Bush and his vice president, Dick Cheney, had lied about WMDs in order to justify the invasion.
The aftermath of the war scarred the image of the United States with the over 100,000-civilian death toll, and in April 2004, evidence of prisoner abuse inside the U.S.-run Abu Ghraib prison became public, showing photographic evidence of American soldiers torturing inmates. Eleven soldiers were convicted by U.S. courts of crimes related to the prison abuse scandal.
Earlier this month, a coalition of Democratic lawmakers backed a veteran organization's pledge to end the "forever wars" in Iraq and Afghanistan.
Full report at:
https://www.aa.com.tr/en/americas/us-lawmakers-slam-government-on-anniversary-of-iraq-war/1424032
--------
Trump confirms 400 US troops will remain in Syria
Joyce Karam
March 20, 2019
Three months after announcing his plans for full military withdrawal from Syria, US President Donald Trump changed tack and confirmed on Wednesday that he would be leaving a residual force of 400 US troops out of 2000 currently in Syrian territory.
"We are going to leave 200 people there and 200 people in another place in Syria ̶ closer to Israel ̶ for a period of time," Mr Trump told reporters at the White House on Wednesday. "Closer to Israel" implies the Tanf area in Syria where the US maintains a base, and it's considered a critical border location to geographically interject Iranian access to Syria.
Ali Rogin
@AliRogin
There have been reports of varying residual troop #'s in Syria but Trump just said it's going to be 400: "We're going to leave 200 people there and 200 people in another place in Syria closer to Israel, for a period of time." (presumably he means NE near Turkey and SE in al-Tanf)
5
10:20 PM - Mar 20, 2019
Twitter Ads info and privacy
See Ali Rogin's other Tweets
During King Abdullah of Jordan's visit to Washington two weeks ago, US officials discussed the residual force and Jordanian help in securing such presence in Tanf near Jordan's border.
Today, Mr Tump also told reporters that ISIS will be defeated this evening. Displaying a map of the areas left for ISIS, the president pointed to a "tiny spot which will be gone by tonight."
Syrian Democratic Forces are fighting the last territorial battle against ISIS in the village of Baghouz. US military commanders have warned, however, that ISIS territorial defeat is not equivalent to the group's demise, and that the fight "is far from over." The Wall Street Journal reported on Sunday that the US would leave up to 1000 troops in Syria, but US military commanders denied the report.
Charles Lister, a senior fellow with the Middle East Institute told The National that by agreeing to leave 400 troops in Syria, "the US President bowed to pressure from those around him, but more importantly, he's now backing a policy that's wholly unsustainable."
Mr Lister, who specialises in Syrian conflict and extremism, said that "the idea that keeping 200 troops spread throughout 33% of Syria on a 'hold' and 'support' mission is a joke".
"Until now, Trump acceded to the 400 number on the condition that US allies - principally the UK and France …There is no appetite in Paris, London or elsewhere to fulfil that demand."
The French minister of defence Florence Parly held talks in Washington this week, but no agreement was reached on the troop levels in Syria.
Full report at:
https://www.thenational.ae/world/the-americas/trump-confirms-400-us-troops-will-remain-in-syria-1.839578
--------
Europe
Vandals attack four UK mosques with a sledgehammer
Shafi Musaddique
March 21, 2019
British counterterrorism police are investigating the breaking of windows at four mosques in the city of Birmingham.
A sledgehammer is believed to have been used to break all four mosques. The first incident at a mosque on Birchfield Road reportedly took place in the early hours of Thursday morning local time, before police appeared and were alerted to another attack nearby.
"Since the tragic events in Christchurch, New Zealand, officers and staff from West Midlands Police have been working closely with our faith partners across the region to offer reassurance and support at mosques, churches and places of prayer," said West Midlands Police Chief Constable Dave Thompson.
"At the moment we don't know the motive for last night's attacks".
Security has been stepped up across Birmingham, the UK's 'second city' with around 21 per cent of the city's population identifying as Muslim.
Meanwhile, British Home Secretary Sajid Javid has doubled funding for security in places of worship to £1.6 million for next year following the Christchurch terror attacks.
Muslim leaders have backed calls for more security at UK mosques amid fears the New Zealand shooting could spark copycat terror attacks in the UK.
In 2013, 82-year-old Mohammed Saleem was stabbed to death near his home after attending prayers at Green Lane Mosque in Birmingham. White supremacist terrorist Pavlo Lapshyn was jailed in what was described by prosecutors as a racially motivated attack.
The attack comes a day before the Muslim holy day of Friday, when congregational prayers take place and follows almost a week after a massacre at two mosques in Christchurch, New Zealand, where 50 people were killed.
New Zealand Prime Minister Jacinda Ardern pledged to ban semi-automatic weapons 24 hours after the attack.
Australian Brenton Tarrant, 28, a self-described white supremacist, has been charged with murder.
https://www.thenational.ae/world/europe/vandals-attack-four-uk-mosques-with-a-sledgehammer-1.839773
--------
'Updating Customs Union would benefit both EU, Turkey'
Andac Hongur
20.03.2019
Research shows that updating the Customs Union between Turkey and EU would benefit both two sides, the head of the EU Delegation to Turkey said on Wednesday.
The trade volume between Turkey and the EU recently reached €150 billion ($170 billion), Christian Berger told a seminar in Istanbul on the customs union.
He underlined that Turkish companies should comply with standards under the framework of possible full EU membership and the Customs Union.
Political issues have hampered progress between the EU and Turkey, he stressed, saying: "The EU and Turkey agree on many, many issues, we are in the same boat when it comes to globalization, we are in the same boat when it comes to upholding the principles of multilateralism."
"Not only political issues but also on trade issues, upholding principles of the World Trade Organization," Turkey and the EU stand together, he added.
Touching on global trade conflicts, Berger said Turkey and EU also face a similar situation.
Sekib Avdagic, head of the Istanbul Commerce of Commerce, said the EU should give Turkey the right to participate in the Customs Union's decision mechanism and complete Turkey's visa liberalization process to remove obstacles to trade.
Under a 2016 deal, Turkey took steps to stem a tide of refugees, and the EU had pledged to take steps on visa liberalization and updating the Customs Union. Turkey has complained the EU failed to meet its end of the deal.
Full report at:
https://www.aa.com.tr/en/economy/updating-customs-union-would-benefit-both-eu-turkey/1423970
--------
France orders dissolution of four Hizbollah aligned organisations
March 21, 2019
In a meeting with President Emmanuel Macron, Interior Minister Christophe Castaner proposed a clampdown on Zahra Centre France, Anti-Zionist Party, Shia Federation of France and France Marianne TV.
A statement by the Interior Ministry said the groups sympathise with Hamas "via the internet" and "the armed wing of Hezbollah, all listed on the list of terrorist organizations of European Union".
French police seized weapons and detained 11 people in a raid on Zahra Centre France, one of the largest Shia centres in Europe based near the northern town of Dunkirk, last year.
Anti-Zionist Party, Shia Federation of France and France Marianne TV had bases in the same office as the Zahra Centre France, according to French media.
According to French media, the French government froze the assets of the Shia group in a co-ordinated response.
Assets of Iran's Ministry of Security and Intelligence, as well as of two Iranian men thought to be members of the country's intelligence service, were also frozen as part of an anti-terror raid last year.
The Zahra Centre France website claims that the association provides "scientific, educational, religious and gnostic" knowledge, as well as making films "to the general public" exploring "social, family and religious structure".
Zahra Centre France was founded in 2009 by Yahia Gouasmi, and appears to have two other leaders, Tahiri Jamel and Khalid Adelkri, as its leaders according to its website.
French media report that Mr Gouasmi supports Lebanese Islamist group Hezbollah and the Iranian Supreme Leader Ayatollah Ali Khamenei. He is also the founder of the Anti-Zionist Party.
The raids were carried out according to the provisions of the tough anti-terror law passed by the French parliament in October 2017.
An official statement accused the centre's leaders of "its leaders' pronounced support for several terrorist organisations and in favour of movements advocating ideas contrary to the values of the republic".
France isn't the only country to crackdown on extreme groups.
Britain has made it a criminal offence for anyone in the UK to support Hezbollah after the group was added to the "terrorist" organisations list in February.
Full report at:
https://www.thenational.ae/world/europe/france-orders-dissolution-of-four-hizbollah-aligned-organisations-1.839733
--------
Pakistan
KP Assembly slams 'shameless, un-Islamic' slogans at Aurat March
Mar 21, 2019
The Khyber Pakhtunkhwa Assembly on Wednesday unanimously passed a resolution against what they termed were "shameless and un-Islamic" slogans and placards raised at Women's Day march in major cities of the country.
The resolution, jointly tabled by members of both the government and opposition members of the assembly, also called for unearthing "the hidden elements involved in a conspiracy to damage of our family system and societal traditions".
The resolution was presented by Rehana Ismail from the Muttahida Majlis e Amal, and carried the signatures of Pakistan People's Party's Nighat Orakzai, Awami National Party's Samar Bilour and Shahida, Ayesha Bano and Ayesha Naeem of the Pakistan Tehreek-e-Insaf.
PTI lawmaker Ayesha Bano said that she condemns the 'wrong aspects' of the march, and will stand against the un-Islamic points if raised by the people affiliated with the NGOs.
MPA Akram Durrani condemned the march saying that such issues are being highlighted which have no links with our traditions or religion.
"Women affiliated with NGOs are now planning cycle race in Peshawar. I suspect we won't be living with honour even at our residence," he said. "In an Islamic republic, my body my rules are being discussed."
Pakistan Muslim League-Nawaz lawmaker Sardar Yousuf said that the campaign being run in the name of human rights is intolerable.
"We all can have freedom under the ambit of religion. We don't want such change."
https://www.pakistantoday.com.pk/2019/03/20/kp-assembly-slams-shameless-un-islamic-slogans-at-aurat-march/
--------
Pakistan among top 20 gainers on World Happiness index
March 21, 2019
Pakistan is among the top 20 gainers on the World Happiness index this year, ranked at 67th place, a jump of eight spots from last year's ranking at 75.
The United Nations Sustainable Development Solutions Network's annual World Happiness Report ranked 156 countries based on six indicators: income per capita, life expectancy, social support, freedom, generosity and corruption.
Finland was once again ranked as the happiest country in the world. Denmark, Norway and Iceland clinched the second, third and fourth positions, respectively. South Sudan took the last spot in the ranking.
Pakistan ranks highest among all of its neighbours again this year. India ranks at 140 — seven spots lower than last year, while China is at 93, Iran at 117, Iraq at 126 and Afghanistan at 154 — just two spots above the last place. Bangladesh is ranked 125.
Pakistan is among the top 20 gainers on the index, joined by the Philippines, and countries from Europe, Africa and Latin America. Among the 20 largest losers are countries from the Middle East, Africa, Western Europe, India, Malaysia, Venezuela and Ukraine.
The report also highlights the percentage of respondents in different countries that report donating to charity or doing volunteer work over the past month. In Pakistan, around 32.8 per cent of respondents reported donating to a charity, while 14.2pc reported volunteering within the 30-day period.
Focus on happiness and community
The seventh World Happiness Report report focuses on happiness and community. The central questions being asked in this year's report revolve around how happiness has been changing over the past decade, and how information technology, governance and social norms have influenced communities.
Full report at:
https://www.dawn.com/news/1470995/pakistan-among-top-20-gainers-on-world-happiness-index
--------
PM Khan felicitates communities celebrating Nauroz
March 21, 2019
Prime Minister Imran Khan on Thursday felicitated the communities that are observing the Nauroz festival.
"A Happy Nauroze to all those celebrating it," he said on Twitter.
The spring festival of Nauroz marks the first day of the Persian year and is celebrated by the Parsi, Ismaili and Shia communities. It is observed in Iran, Afghanistan, Central Asian states and parts of Pakistan, according to Radio Pakistan.
In Gilgit-Baltistan, the government announced a two-day official holiday on Wednesday and the traditional Tukhmrezi festival kicked off in Yasin valley in Ghizer district.
https://www.dawn.com/news/1470996/pm-khan-felicitates-communities-celebrating-nauroz
--------
Pain becomes bond among victims of terrorist attacks
Sadia Qasim Shah
March 21, 2019
PESHAWAR: Special prayers were offered and a vigil was held at All Saints' Church in Kohati here for the victims of the attack on two mosques in Christchurch, New Zealand last Friday.
"Christian worshippers of All Saints' Church in Kohati, Peshawar City and families of the victims of two mosques of Christchurch have something in common -- the pain and loss of their loved ones in a terrorist attack at a place of worship and peace," the religious leader leading the prayers said.
They said that they felt and understood their pain and loss. "We have also been through it. We are one in pain. Our religions are different but our pain and loss are the same because we are human beings," said Reverend Shahazad Murad, who led the special prayers for the victims of the attack in Christchurch.
A vigil was also held at All Saints' Church on Wednesday evening for the victims of the attack in New Zealand that claimed 50 lives. Many worshippers present at the vigil recalled their own loss of the loved ones when All Saints' Church was attacked on September 22, 2013 and some 98 worshippers busy in Sunday services were killed and around 150 injured.
"We pray for justice for those innocents, who were killed in such attacks," said reverend Murad, hoping the vigil would send out a message to the families of the victims of the Christchurch that they were not alone in that hard time.
Dilawar Samar, a teacher, who lost his six-year-old daughter Maira, was there to pray for the victims of the mosque attack in Christchurch.
"When I heard about the attack, I was reminded of how we picked up our loved ones, who got killed and injured in the All Saints' Church. I was teary-eyed and I am sad to see such attacks," he said.
Full report at:
https://www.dawn.com/news/1470924/pain-becomes-bond-among-victims-of-terrorist-attacks
--------
SC larger bench to ascertain what constitutes as terrorism
Mar 21, 2019
ISLAMABAD: Chief Justice of Pakistan (CJP) Asif Saeed Khosa on Wednesday formed a seven-member larger bench to ascertain the definition of "terrorism".
The larger bench, to be headed by the chief justice himself, will ascertain what constitutes an act of terrorism and what does not.
"Since 1997 it has not been established which cases fall under the terrorism," Justice Khosa remarked before constituting the bench.
The definition of terrorism came under discussion while the court was hearing reviews petitions in "Sibtain versus the State" and "Fazal Bashir versus the State" cases. The accused in the both the cases were charged under Section 7 of the Anti-Terrorism Act (ATA), which deals with punishment for acts of terrorism.
Full report at:
https://www.pakistantoday.com.pk/2019/03/20/sc-larger-bench-to-ascertain-what-constitutes-as-terrorism/
--------
Six levies personnel killed in Ziarat terror attack
Mar 21, 2019
ZIARAT: At least six levies personnel were killed in a terrorist attack on a checkpost in Ziarat on Wednesday.
According to Ziarat Deputy Commissioner Qadir Bux Parkani, unidentified terrorists attacked the checkpost situated in Sanjawi town's area of Lal Katai. As a result, six levies personnel were martyred.
He said that the terrorists fled the scene after the attack. The security forces cordon off the area and started further investigation.
The bodies were shifted to a nearby hospital for medico-legal formalities.
Despite statistics showing a considerable drop in overall terrorism in Pakistan in the recent past, Balochistan has continued to experience violence, with considerable target attacks on police and law enforcement agencies.
Full report at:
https://www.pakistantoday.com.pk/2019/03/20/six-levies-personnel-killed-in-ziarat-terror-attack/
--------
Pakistan rescues four Iranian soldiers from militant group
21 March 2019
Pakistan has rescued four Iranian soldiers being held captive by a militant group in the country's restive southwest, the military said in a statement Thursday.
The rescue took place in Chaghi district of Balochistan province, near the Afghan border, the statement said.
"Terrorists of a proscribed organisation were reported to have entered Pakistan from Afghanistan side along with abducted Iranian soldiers," it said.
"After exchange of fire, four Iranian soldiers (were) recovered," it continued.
The statement said the soldiers were being handed over to Iranian authorities, though it did not say when. It also did not say what date the rescue took place, or name the group holding the soldiers.
The incident comes months after the extremist group Jaish al-Adl abducted 12 Iranian security personnel in October last year near the border.
Five of them were later released and handed back to Iran by Islamabad.
Relations between Pakistan and Iran recently suffered another blow after Tehran said a Pakistani suicide bomber was behind a February 13 attack that killed 27 Revolutionary Guards in its volatile southeastern province of Sistan-Baluchistan.
Full report at:
https://english.alarabiya.net/en/News/world/2019/03/21/Indian-soldier-kills-three-comrades-in-Kashmir.html
--------
South Asia
3 explosions target Shia shrine in Kabul, says Afghan official
March 21, 2019
Three explosions have struck near a Shia shrine and cemetery in western Kabul as people gathered there to mark the holiday of Nauroz, the Persian New Year, an Afghan official said on Thursday.
There were no immediate reports of casualties.
Interior Ministry spokesman Nasrat Rahimi said Shia worshippers had come to the Karti Sakhi shrine in the Afghan capital when the blasts took place on Thursday morning in the Shia neighbourhood. The tradition at the shrine is to hoist green flags and honour the dead at the cemetery by placing food at the gravesides.
It's unclear what caused the explosions and no group immediately claimed responsibility for the attack.
The militant Islamic State group's affiliate in Afghanistan has in the past targeted the country's Shia population. The Sunni militant group considers Shia Muslims heretics.
https://www.dawn.com/news/1470994/3-explosions-target-shia-shrine-in-kabul-says-afghan-official
--------
Resolve post-Pulwama differences bilaterally, China-led SCO tells India, Pakistan
Mar 21, 2019
The China-led regional security bloc, Shanghai Cooperation Organisation (SCO) has said India and Pakistan should resolve their differences in the aftermath of the Pulwama terror attack bilaterally, cautioning them against any spillover of the animosity in the group.
India and Pakistan also have to remain committed to fighting terrorism, the newly appointed SCO secretary-general, Vladimir Norov said.
"Otherwise, it would be impossible for the two States to participate in the SCO," he added.
Norov said the SCO members were "sincerely glad" that the "calls for restraint and a political and diplomatic solution to bilateral conflicts from all SCO member states were heard by the parties".
"The whole world has heard clear signals from the parties not to escalate relations and their readiness to fully understand and follow the principles established within the organisation," he said.
Norov, however, didn't comment on the wide differences between India and Pakistan – and also China – on terrorism and specific terror suspects.
India and Pakistan were admitted to the six-member group in 2017 after several years of negotiations.
Their history of hostility and more recently the military engagement following the Pulwama terror attack have put question marks on whether New Delhi and Islamabad will be able to set aside their differences when sitting at the same SCO table.
Pakistan-based Jaish-e-Mohammed (JeM) claimed responsibility for the Pulwama attack, in which 40 CRPF soldiers were killed. But its leader Azhar Masood was saved from being listed as a global terrorist at the United Nations – for the fourth time – by Islamabad's snug ally, China.
India said it was disappointed by China's decision to block Masood's listing.
In a written question, HT had asked how and whether SCO will be able to iron out these differences on a crucial issue like terrorism among India, China, and Pakistan.
Norov didn't answer the question directly but said India and Pakistan will have to work together in the SCO.
He was addressing his first press conference held at the SCO headquarters in Beijing on Wednesday; the other SCO members are Russia, Uzbekistan, Tajikistan, Kazakhstan and Kyrgyzstan.
"As you know, before joining the SCO as full members, India and Pakistan committed themselves to strictly implement all the provisions of the legal framework that has been developed by the member states of the organisation," Norov added.
"One of such fundamental obligations is not to bring bilateral contradictions and disagreements to the SCO family, as the SCO is not engaged in the settlement of disputable bilateral issues, whether border, water or other topics in relations between individual member states," he said.
"In addition, the most important condition for participation in multi-disciplinary cooperation within the SCO is the commitment to the unconditional and consistent struggle against terrorism, separatism, and extremism," he said.
The SCO acquired a trans-regional character with the joining of India and Pakistan.
"I can say that with the accession of India and Pakistan, the SCO has acquired a trans-regional character, and in terms of its aggregate potential - the total population, territory, reserves of natural resources, GDP - it has become the largest organisation not only in the region but also in the world. Based on this, many experts note that the SCO should be among the main "supporting structures" of the future world order," Norov said.
Norov said counter-terrorism and cooperation in the field of security were very important issues for SCO members.
The SCO Charter defines joint counteraction to terrorism, separatism, and extremism in all their manifestations as one of the important tasks.
He said that for almost two decades, the organisation has made a significant contribution to security and development in a vast region is an indisputable fact.
Full report at:
https://www.hindustantimes.com/india-news/resolve-post-pulwama-differences-bilaterally-china-led-sco-tells-india-pakistan/story-t89ekQxcr4h9hVDZJdRD9N.html
--------
Australian ambassador for counter-terrorism explores 'effective ways' in Bangladesh
21 Mar 2019
Australia's Ambassador for Counter-Terrorism Paul Foley is visiting Bangladesh to explore "effective ways" of preventing and countering violent extremism, regardless of its origins.
The Australian High Commission said the visit from Mar 19 to Mar 21 "underlines the importance Australia places on its security engagement with Bangladesh, including to tackle, together, the global scourge of terrorism and violent extremism".
High Commissioner Julia Niblett has welcomed the visit.
The visit follows the terrorist attack on two mosques in New Zealand in which five Bangladeshis have been killed.
Bangladesh issued a travel advice cautioning citizens on both New Zealand and Australia.
An Australian identified as Brenton Tarrant has been charged for killing total 50 people and injuring 48 others in the gun attack on worshippers in the mosques in Christchurch on Mar 15. The Australian man charged over the twin mosque attacks identified himself as a 'white supremacist'.
Before perpetrating the attacks on worshippers, he declared himself a "racist" in his 73-page manifesto containing slogans, poems and diatribes against immigrants and Muslims.
Hours after the mosque attacks, Australian Senator Fraser Anning issued a statement blaming mosque massacre on Muslims and expressed growing fears within the Australian community of the increasing Muslim presence in Australia and New Zealand.
Such an extremist stand from an Australian lawmaker triggers fears of hatred and racism in Australia, the Bangladesh foreign ministry had said when they issues travel advice against Australia.
The Australian high commission said Ambassador Foley's visit is a "timely opportunity to explore with senior Bangladesh government law enforcement and public security officials effective ways of preventing and countering violent extremism, regardless of its origins."
Foley extended his heartfelt condolences to the Bangladeshi victims of the shocking terrorist attack in Christchurch, and their families.
He highlighted the statements of the Australian Prime Minister Scott Morrison condemning this atrocity in the strongest possible terms.
"As the Prime Minister said, Australia shares the grief of Muslim communities the world over, and will not tolerate the rightwing extremist ideology that fuelled this terrorist attack."
During his visit, Foley emphasised that terrorism and violent extremism are challenges shared by all countries, the High Commission said in a statement.
"As a longstanding development and security partner, Australia will continue to support Bangladesh and its people to address these threats."
Foley will accompany the High Commissioner, the Executive Director of the Global Community Engagement and Resilience Fund (GCERF) Khalid Koser, and the Chair of the GCERF Governing Board Carol Bellamy to visit GCERF-supported activities and engage with participants, including women and youth.
Full report at:
https://bdnews24.com/bangladesh/2019/03/21/australian-ambassador-for-counter-terrorism-explores-effective-ways-in-bangladesh
--------
Afghan border forces seize 40 rockets in Nangarhar province
20 Mar 2019
The Afghan border forces have seized 40 rockets which were imported to eastern Nangarhar province with an aim to use them in terrorist attacks, the military officials said Wednesday.
The Commander of the 1st Brigade of Border Forces in the East Gen. Mohammad Ayoub Hussain Khel said the rockets were discovered from a pickup type vehicle in Momandara district.
Gen. Hussain Khel further added that the anti-government armed elements had recently imported the rockets from the other side of Durand Line in a bid to use them in terrorist attacks.
He also added that three people have been arrested in connection to transportation of rockets and are in custody of border forces.
The anti-government armed militants including Taliban have not commented regarding the report so far.
Full report at:
https://www.khaama.com/afghan-border-forces-seize-40-rockets-in-nangarhar-province-03535/
--------
Khalilzad to host Russian, Chinese, and EU envoys for talks on Afghanistan
21 Mar 2019
The U.S. Special Representative for Afghanistan Reconciliation Ambassador Zalmay Khalilzad will host Russian, Chinese, and European Union envoys for talks on Afghanistan.
"Special Representative for Afghanistan Reconciliation Ambassador Zalmay Khalilzad will host his counterparts Presidential Special Representative Ambassador Zamir Kabulov of Russia, Special Envoy Ambassador Deng Xijun of China, and Special Envoy Ambassador Roland Kobia of the European Union at the Department of State for talks on March 21 and 22," the Department of State said in a statement.
The statement further added that "Discussion topics include: international support for the Afghan peace process, the role each party can play in bringing an end to the war, and progress to date in peace talks."
Full report at:
https://www.khaama.com/khalilzad-to-host-russian-chinese-and-eu-envoys-for-talks-on-afghanistan-03536/
--------
Afghan forces repel impending Taliban attack in Nangarhar province
21 Mar 2019
The Afghan National Defense and Security Forces have repelled an impending Taliban attack in eastern Nangarhar province of Afghanistan, the military sources said Thursday.
"Afghan security forces repelled an impending Taliban attack against their checkpoint in Nangarhar province killing 1 Taliban fighter," the sources said.
In the meantime, the Afghan Special Forces conducted a raid in La'lpur district of Nangarhar province killing 2 Taliban fighters and destroying 80 pounds of opium.
The sources also added that the Afghan Special Forces conducted a raid in Omnah district of Paktiak province killing 9 Taliban fighters.
Full report at:
https://www.khaama.com/afghan-forces-repel-impending-taliban-attack-in-nangarhar-province-03538/
--------
Blasts in Afghan capital kill 6 during New Year festival
Mar 21, 2019
At least six people have been killed and 23 others wounded in multiple explosions in Afghanistan's capital of Kabul during celebrations to mark Nowruz, the start of the Persian New Year.
The blasts reportedly occurred near Kabul University and the Kart-e Sakhi shrine on Thursday.
Afghan Health Ministry spokesman Wahidullah Mayar announced the casualty figures, which were confirmed by the Afghan Interior Ministry as well.
The official accounts of what caused the explosions, however, were conflicting.
Police in Kabul said the blasts were caused by a total of three remote-controlled explosive devices. Police spokesman Basir Mujahid said a fourth device was defused near the university, and searches were underway for any other potential bombs. A spokesman for the Interior Ministry said mortar shells had been fired. And the Defense Ministry said on Twitter that three rockets had been fired.
Afghan President Ashraf Ghani called the perpetrators the "coward enemy," without specifying who they were.
Ashraf Ghani
✔
@ashrafghani
• 3h
Today I have come to this beautiful city of #Mazar to wish everyone a happy #Nawruz. When we come together in unison we proclaim to be a nation united under one flag, free of differences, we embrace our strength in national unity, solidarity and peace.
Ashraf Ghani
✔
@ashrafghani
As we celebrate this auspicious day to bind us together our fellow citizens witnessed another devastating day in #Kabul. We lost peaceful citizens to a coward enemy that knows no bounds. I send my heartfelt condolences to the bereaving families & wish the wounded quick recovery.
402
12:48 PM - Mar 21, 2019
Twitter Ads info and privacy
77 people are talking about this
The Afghan Defense Ministry also said police had arrested one suspect and secured the area.
While there was no immediate claim of responsibility for the attacks, AFP said the Taliban militant group had denied responsibly in a message to the news agency.
Last year on Nowruz, a bomb attack carried out by Daesh terrorists killed 33 people celebrating near the shrine.
Full report at:
https://www.presstv.com/Detail/2019/03/21/591601/Afghanistan-Kabul-blasts-Nowruz-Persian-New-Year
--------
Southeast Asia
DPM: Malaysia willing to assist CFCM for benefit of French Muslims
March 21, 2019
PARIS: Malaysia is prepared to assist the French Council of the Muslim Faith (CFCM) in several matters for the benefit of Muslims in France, including the imams and other Muslim elders, said Deputy Prime Minister Datuk Seri Dr Wan Azizah Wan Ismail.
She gave the commitment in response to her meeting with CFCM vice-president Anouar Kbibech on Wednesday, who had also requested Malaysia's assistance to boost France's halal-tourism industry, which is handled by the French Muslim community.
"Various matters were discussed (at the meeting with Anouar Kbibech) for our mutual benefits, including how Malaysia can help the Muslims in France through CFCM, where one of them is for Malaysia to assist in introducing procedures and provide training for imams and other Muslim elders in France.
"I was informed that there are about 2,500 mosques in France and CFCM has expressed its willingness to send imams and other Muslim elders to Malaysia for the training," she told Bernama and RTM here today.
CFCM is the official intermediary body of the French Muslim community with the French government in the regulation of Muslim religious activities in the country.
Dr Wan Azizah said CFCM also requested Malaysia's assistance to resolve the issue on halal certification which the council had been working on since the past few years.
"I have invited CFCM representatives to visit Malaysia to discuss with the Malaysian Islamic Development Department (Jakim) on the procedures for the halal certification," she added.
Dr Wan Azizah said she also gave Anouar the assurance that Malaysian Ambassador to France Datuk Dr Afzar Mohamad Mustafar would handle the requests by CFCM with the relevant bodies in Malaysia.
During the meeting, Dr Wan Azizah said she also suggested to Anouar on the setting up of an entity similar to that of Tabung Haji in Malaysia to plan and handle haj pilgrimage for Muslims in France.
"We suggested the idea to CFCM and the council may probably think how to implement it because in France, there is no entity to manage haj pilgrimage for Muslims in the country," she added.
Meanwhile, the deputy prime minister said she also invited Anouar and CFCM leaders to the 2019 International Halal Conference to be held in Kuala Lumpur next month.
Dr Wan Azizah ended her four-day working visit to France today where the main agenda for the visit was to chair the Unesco Management of Social Transformation (MOST) meeting and the 14th Session of the Intergovernmental Council (IGC) for MOST.
MOST is a science programme involving 35 Unesco members on social transformation to encourage social science research to be used by policy makers at the global level. — BERNAMA
https://www.nst.com.my/news/nation/2019/03/471506/dpm-malaysia-willing-assist-cfcm-benefit-french-muslims
--------
Malanjum tight-lipped on next CJ, says it's the King's prerogative
20 March 2019
By Ida Lim
KUALA LUMPUR, March 20 — Chief Justice Tan Sri Richard Malanjum today declined to comment on either his impending retirement or his replacement, pointing out that this was the Yang di-Pertuan Agong's prerogative.
Asked if the government is under pressure to appoint a Malay-Muslim as the next chief justice given the current political climate, Malanjum said such judicial appointments are by the country's ruler.
"That is the prerogative of Tuanku, the King. Appointment of judges by the King... So I don't think I have the liberty to say anything," he told reporters when met at Universiti Malaya.
He declined to comment when asked if his tenure would be extended or if a successor has been identified.
Malanjum turned 66 years of age last October 13, and is currently serving a six-month extension allowed under the Federal Constitution until early next month.
When asked if the upcoming retirement of the top four judges would affect the judiciary, Malanjum said there are currently "more than enough" judges in the superior courts and that new judges are being appointed.
As of March 1, the Judicial Appointments Commission's website states that there are 121 judges (inclusive of judicial commissioners) at the High Court, Court of Appeal and Federal Court, with 32 vacancies for judges.
Malanjum was at UM for the launch of the university's emeritus professor Datuk Shad Saleem Faruqi's latest book on the Federal Constitution named, Our Constitution.
At the same event, Malanjum said he hoped that judges will keep the Federal Constitution alive.
"The biggest challenge for us judges is to keep in mind all the time that the basic foundation of the Constitution is the rule of law, not rule by law," he said.
"I think that's very important for us to remember, and that's how we keep democracy alive in this country."
Malanjum also spoke of a "courtroom-to-classroom" initiative that the judiciary will embark on soon, where students in primary schools and secondary schools will learn about the country's legal and justice system.
"Otherwise, our students may grow up not knowing the basic rights they have under the law," he said.
Earlier when speaking about the book, Shad Saleem said he hoped that it would help to improve constitutional literacy in the country.
"It is with sadness that we note that 61 years into independence, our Constitution has not yet become the chart and compass, the sail and anchor of our nation's endeavour," he said.
He said there are other ongoing efforts to improve knowledge about the Federal Constitution including regular public lectures, regular radio programmes and a newspaper column.
Constitutional awareness efforts will also be expanded to the National Institute of Public Administration (Intan) where civil servants are trained and to the Foreign Ministry, with a module on constitutional law also expected to be introduced in secondary schools, he said.
Shad Saleem's book covers issues such as the Federal Constitution's main characteristics, citizenship, the electoral process, the judiciary, pre-Merdeka ethnic compromises and the future of the Constitution.
He said the country's forefathers had crafted a remarkable Constitution that is a "masterpiece of accommodation, moderation, compassion and compromise" despite all its flaws.
"Even its ethnic provisions, there was a great deal of moderation and compromise. The ethnic provisions were carefully crafted to avoid the kind of ideological zeal and extremism that had left a heritage of bitterness in many divided societies," he said, lauding the country's founding leaders as having created conditions for peace.
"Our Constitution has in many respects seemingly reconciled the irreconcilable conflict of interest between ethnic and religious groups in a way that has few parallels in Asia and Africa," he said.
In describing the book, Shad Saleem said that the book is actually a "simple, sympathetic and admiring introduction to the Federal Constitution for students, civil servants and members of the public".
Full report at:
https://www.malaymail.com/news/malaysia/2019/03/20/malanjum-tight-lipped-on-next-cj-says-its-the-kings-prerogative/1734734
--------
India
Samjhauta Express case verdict: NIA should be held accountable, says former probe officer
Written by Rahul Tripathi
March 21, 2019
On the day a special court in Panchkula acquitted all four accused in the 2007 Samjhauta Express blasts, former IPS officer Vikash Narain Rai, who had cracked the case, on Wednesday questioned the NIA's "complicity" and said the prosecuting agency should be "held accountable on how these acquittals took place".
Rai, a 1977-batch IPS whose team traced the bag used in the blasts to a market in Indore, said the acquittals were "bound to happen, as the entire prosecution was trying to bury the case".
Speaking to The Indian Express over the phone, the former director-general of law and order, Haryana Police, questioned NIA's handling of probe into similar cases such as the 2007 Ajmer shrine, Mecca Masjid, and Malegaon blasts. "All these cases are interlinked, done by the same group of people," he maintained.
Rai said a public prosecutor in Malegaon case has given a statement, saying she was being pressured by the NIA to go soft in these cases. He was referring to senior public prosecutor Rohini Salian's interview to The Indian Express in 2015, in which she said she was asked to "go soft" in the Malegaon case. Salian was later dropped as prosecutor from the case. The NIA subsequently filed what was seen as a watered-down chargesheet against the suspects and dropped charges under MCOCA.
While maintaining that he has not gone through the Samjhauta case order, Rai said, "The agency (NIA) should be held accountable as how these acquittals (in Mecca Masjid, Ajmer and Samjhauta) happened. Whatever evidence they (NIA) collected and witnesses' statements against the accused, clearly the evidence and witnesses did not stand up in court and support their (NIA's) story." He also said, "If you (NIA) had any different set of evidence at your disposal, you should have brought it to the court's notice. I don't think that has been done. It all shows the agency's (NIA's) complicity. They have clearly botched up their investigations. If you are not going for appeal (against acquittals), it means you are not sure about your own case. And if you are not sure about your own case, then why are you (NIA) not filing a supplementary chargesheet?"
He said, "It is the agency (NIA) which is responsible for prosecution. The case has gone for years. There has been no change in the stand of the investigating agency. They (NIA) still maintain that those (arrested and charged) are accused and the NIA has not changed their line of investigations even after the government changed and (the agency's) director-general changed.
https://indianexpress.com/article/india/samjhauta-express-blast-case-nia-should-be-held-accountable-says-former-probe-officer-5636677/
--------
Pakistan Not To Build Structures Near Kartarpur Gurdwara, On A Request From Navjot Singh Sidhu
Mar 21, 2019
Acting on a request from Indian politician Navjot Singh Sidhu, the Pakistan government has decided not to construct any structures on land near Gurdwara Darbar Sahib at Kartarpur that was used by Guru Nanak for farming.
Pakistan information minister Fawad Chaudhry said this decision was taken at a meeting chaired on Tuesday by Prime Minister Imran Khan to review progress in work on the Kartarpur Corridor, which will be opened to Indian pilgrims in November.
The development came amid differences between the two countries on several issues, including a cap proposed by Islamabad on the number of pilgrims to be allowed through the corridor and a paid permit system. The Pakistan government has decided not to construct any building on 30 acres used by Guru Nanak for farming. This was done out of respect for Sikhism's founder, Chaudhry said.
https://www.hindustantimes.com/india-news/pakistan-not-to-build-structures-near-kartarpur-gurdwara/story-fdn9s1vTnphIFnDMsDmhsM.html
--------
Soldier killed in ceasefire violation by Pakistan in Jammu and Kashmir's Rajouri
Mar 21, 2019
An Army jawan was killed on Thursday in ceasefire violation by Pakistani troops along the Line of Control in Jammu and Kashmir's Rajouri district.
The soldier has been identified as 24-year-old rifleman Yash Paul. He was from Udhampur in Jammu.
Pakistan violated ceasefire by heavily shelling forward areas and posts with mortar bombs along the Line of Control in Jammu and Kashmir's Rajouri district Thursday, PTI reported.
Pakistani troops have violated the ceasefire over 110 times along the LoC since January.On Monday night, Pakistan army initiated unprovoked ceasefire violation by resorting to shelling with mortar bombs and firing of small arms along the LoC in Akhnoor and Sunderbani sectors, a defence spokesman had said.
An Army soldier was killed and four others were injured Monday when Pakistan Army violated the ceasefire by resorting to heavy mortar shelling and firing along the LoC in Rajouri district.
The border skirmishes witnessed a spurt after India's air strike on a Jaish-e-Mohammed terror camp in Balakot, Pakistan, on February 26 in response to the February 14 Pulwama attack that killed 40 CRPF personnel.
Full report at:
https://www.hindustantimes.com/india-news/soldier-killed-in-ceasefire-violation-by-pakistan-along-loc-in-j-k-s-rajouri/story-twofhE5c5H254eVpwuSdmM.html
--------
IAF strike on Pakistan hurt some in India, says PM Modi
Mar 21, 2019
Hitting out at his political opponents over the Pulwama terror attack, Prime Minister Narendra Modi questioned why Opposition leaders are "pained" even as the valiant Indian armed forces have hit Pakistan badly.
Interacting with chowkidars (watchmen) and security guards across India over phone, Modi lashed out at Opposition leaders who, he said, criticised India's response to Pakistan after the Pulwama terror strike that killed 40 troopers. The BJP said he reached out to 2.5 million people.
"We should be proud of our security forces who are always ready to risk their lives for acts of valour. On the other hand, our Opposition parties are raising questions after the Pulwama attack. Everyone is wondering why these leaders can't digest the achievements of our forces and the way they went and bombed in the heart of Pakistan. Pakistan has been bombed, it has been hurt but these leaders in India are in pain and crying foul," Modi said, replying to a question posed by Santosh Kumar, a chowkidar from Odisha.
"Vaar Pakistan pe ho aur bimaar Hindustan mein ho, this can't be tolerated (it can't be that the attack is in Pakistan and the reaction, in India," Modi said.
Many Opposition leaders criticized the government's inability to prevent the attack in Pulwama and accused the government of trying to reap political gains out of the air strikes in Pakistan's Balakot. According to the government, the air strikes demolished terror camps and infrastructure and killed an unaccounted number of terrorists.
The BJP's counter offensive on the chowkidar front came months after Congress president Rahul Gandhi coined the phrase "chowkidar chor hai" to hit out at Prime Minister Narendra Modi over allegations of wrongdoing in the Rafale deal.
Modi, during his election rallies in 2014, told people to see him as a chowkidar who would ensure no corruption happened on his watch, and not a Prime Minister.
"You must have seen that everywhere people are talking about you. Many countries have now understood the meaning of chowkidar," Modi told the listeners and asked them to continue to be chowkidars against terror, corruption and filth.
"I am seeking your forgiveness. Our Opposition leaders have raised questions about every chowkidar. If they had abused me, you would have been spared. I understand the use of such language is disturbing you. But they will not stop because impatience is in their habit. Even if a kaamdaar becomes a PM, they will still continue to abuse him," Modi said, reiterating one of his oft-repeated statements about being a kaamdar (worker) and not a naamdar (dynast). He asked chowkidars to continue their work and said they must aspire to make their children future engineers, doctors and "even Prime Minister of this country."
Full report at:
https://www.hindustantimes.com/india-news/iaf-strike-on-pakistan-hurt-some-in-india-says-pm-modi/story-Dh2evnVQA5GOHhrktfAhfO.html
--------
Government's star envoys for Urdu need rapidex course in the language
Mar 20, 2019
Urdu aficionados are aghast for two reasons. One, the government plans to enlist Bollywood stars to promote the language they cannot read or write. Two, those being considered are all Muslims.
The National Council for Promotion of Urdu Language (NCPUL) is an autonomous body under the ministry of human resource development (HRD). The artistes it has reportedly shortlisted to carry the banner of Urdu are: Shahrukh Khan, Salman Khan and Katrina Kaif.
"Their lack of familiarity with the language is well known in film circles," an Urdu scholar told this writer. Unwilling to go on record for "personal" reasons, he regretted that the NCPUL considered Urdu the language of a religion. If star value, and not the felicity of language, is the guiding impulse, then why Katrina, why not Deepika Padukone?
"Languages are of regions, not religions," argued a popular UP-based poet. Proof of that were circumstances that led to the creation of Bangladesh, where Muslims considered Bengali their language, not Urdu that was sought to be imposed on them by the political elite of West Pakistan. The Bengali cultural nationalism the language controversy stoked had its genesis in Mohammed Ali Jinnah's March 1948 speech at Dhaka University, in which he declared Urdu as the official language of Pakistan.
In this backdrop, to associate Urdu with any religion or faith amounts to forgetting history apart from ignoring the language's syncretic origin: Persian script, but the grammar of North India's Khadi Boli dialect.
Moreover, in our subcontinent, Urdu has been the chosen language of progressive thinkers, the legion of its ambassadors including such famous names as Faiz Ahmed Faiz, Ismat Chugtai, Kaifi Azmi, Kunwar Mohinder Singh Bedi, Sahir Ludhianvi, Jagannath Azad, Sardar Jafri, Jan Nisar Akhtar, Krishan Chander and Raghupati Sahay Firaq--- better known as Firaq Gorakhpuri.
In fact, the "Fasana-e-Azad" by Ratan Nath Dhar Sarshar (1846-1903) is hailed as a novel written in "most perfect" Urdu of the Lucknow school. Inspired by Dickens's Pickwick Papers and Cervantes's Don Quixote, it was translated into Hindi by Munshi Premchand.
Practitioners and connoisseurs of Urdu, the language of poets, do not come from any one community. That the language's eclectic following has sustained generational shifts is evident from the oeuvre of Javed Aktar—and that of Gulzar. The list won't be complete without a mention of the scholarly Gopichand Narang "who brought the beauty of Urdu to India."
There's no dearth of non-Muslims even among the upcoming Urdu writers: Vikas Sharma RAAZ, Jayant Parmar, Swapnil Tiwari, Bakul Dev, Abhinandan Pandey and Ranjeet Chauhan to name a few. Many among them have been heard and appreciated on platforms afforded by Rekhta Foundation, a non-profit body devoted to the preservation and promotion of Urdu language and literature.
Full report at:
https://www.hindustantimes.com/india-news/lok-sabha-elections-2019-government-s-star-envoys-for-urdu-need-rapidex-course-in-the-language/story-rXLC2EWy3jkGCinCnlXW2L.html
--------
Samjhauta Express blast case: Court acquits four accused
Mar 21, 2019
A special court in India has acquitted four men accused of bombing a train linking India and Pakistan 12 years ago, in an attack that killed 68 people.
The victims in the February 2007 blast at the Samjhauta Express train included 43 Pakistani citizens and 10 Indians. The identities of the remaining 15 could not be established.
The ruling on Wednesday cited the lack of evidence for the acquittal of Swami Aseemanand, Kamal Chauhan, Rajinder Chaudhary and Lokesh Sharma who were charged by the NIA.
"Prosecution has failed to prove the case so the court acquitted all of them," defence lawyer Mukesh Garg told reporters outside the court in the northern state of Haryana on Wednesday.
According to India's National Investigation Agency (NIA), which probed the case, the attack was carried out by a Hindu far-right group to avenge similar attacks allegedly carried out by Muslim groups with the aim of threatening the "unity and integrity" of India.
Swami Aseemanand, alias Naba Kumar Das, a former member of the Hindu nationalist group Rashtriya Swayamsevak Sangh (RSS), had been described as the alleged mastermind in the conspiracy.
The NIA's chargesheet said that the men met at different locations across India to plot bombings targetting Muslims.
This is the second major setback for the NIA in a "terror" case allegedly involving Hindu groups. In April last year, the NIA court had acquitted all the 11 men charged by the investigating agency in the Mecca Masjid blast case where six people were killed in the southern city of Hyderabad.
'Travesty of justice'
Pakistan summoned India's ambassador to protest against the acquittal.
In a statement, Pakistan called it a "travesty of justice" that reflected an "Indian state policy of promoting and protecting Hindu terrorists".
The Samjhauta express, also called the Friendship Express, was started in 1994 as a goodwill measure to help families separated by the 1947 India-Pakistan partition.
Many of the 299 witnesses listed by the NIA in the case turned hostile during the course of the protracted trial, which was presided over by eight judges. Thirteen witnesses were Pakistani citizens who never responded to a summons to appear before the trial court, citing security concerns.
The Samjhauta Express bombing was part of a string of similar attacks in 2006 and 2007 where the targets were ostensibly Muslims and investigations by the NIA pointed to the role of Hindu groups.
The first was in September 2006 when a string of explosions was set off at a Muslim cemetery in Malegaon, a town in Maharashtra state, which killed at least 40 people.
In May 2007, a blast in the 400-year-old Mecca Masjid in Hyderabad city killed six people and five more died when the police opened fire on people who launched a spontaneous agitation at the site.
At least two people were killed when a bomb went off at the Ajmer Dargah in the northern state of Rajasthan in 2007.
Full report at:
https://www.aljazeera.com/news/2019/03/samjhauta-express-blast-case-court-acquits-accused-190311080935731.html
--------
Mideast
Netanyahu's main election rival sidesteps Palestinian statehood
20 March 2019
Israeli Prime Minister Benjamin Netanyahu's strongest election rival, former army general Benny Gantz, said on Tuesday he would seek peace with the Palestinians but stopped short of endorsing their goal for statehood.
Gantz, a centrist candidate, said in an interview with Hadashot TV news that Israel has a moral obligation to "strive for peace." "I will talk to anyone I can in order to advance a diplomatic solution," Gantz said.
When asked whether the ultimate goal would be that of a Palestinian state, Gantz did not give a definitive answer although he did suggest that eventually Israel should separate from the Palestinians.
"At the end of the road there is a Jewish, democratic, safe and strong state with a solid Jewish majority and what happens on the other side would be an outcome of what happens at negotiations."
The United States is widely expected to unveil a new peace proposal after the April 9 Israeli election. The Trump administration has wavered over whether it would endorse a Palestinian state, saying the outcome will be up to the sides to determine, but both sides will have to compromise.
The Palestinians have boycotted the Trump administration since it announced it recognized Jerusalem as Israel's capital and opened a new US embassy there last year. Washington has also cut hundreds of millions of dollars of aid to the Palestinians.
Gantz's Blue and White party has slipped in opinion polls recently, although it still has a slight lead over Netanyahu's Likud in most surveys. However, Netanyahu still appears likely to win the most support from allied parties, allowing him to form a coalition of right-wing and religious factions similar to one he now heads.
After the attorney-general announced on Feb. 28 he plans to indict Netanyahu in three corruption cases Gantz ruled out joining a Netanyahu government. But in leaked recordings aired on Israeli Reshet News on Monday, Gantz said that things could change if Trump's peace plan is put forward.
In Tuesday's interview, he said he would not join a Netanyahu government if charges are indeed filed against the prime minister. Netanyahu, who denies any wrongdoing, will have the chance to persuade the attorney-general to scrap the charges at a hearing expected after the election.
https://english.alarabiya.net/en/News/middle-east/2019/03/20/Netanyahu-s-main-election-rival-sidesteps-Palestinian-statehood.html
--------
Pompeo heads for Lebanon to step up pressure on Iran, Hezbollah
21 March 2019
US Secretary of State Mike Pompeo hopes to use his first visit to Lebanon this week to step up pressure on Iran and its local ally, Hezbollah.
Pompeo will meet Friday with President Michel Aoun and will also hold talks with Lebanon's parliament speaker and foreign minister - all three of whom are close Hezbollah allies.
He will also meet with Prime Minister Saad Hariri, a close Western ally who has been reluctant to confront Hezbollah.
"We'll spend a lot of time talking with the Lebanese government about how we can help them disconnect from the threat that Iran and Hezbollah present to them," Pompeo told reporters earlier this week.
The Iran-backed group has an arsenal of tens of thousands of rockets and missiles. Its battle-hardened cadres fought Israel to a stalemate in 2006, and have fought alongside President Bashar Assad's army since the early days of the Syrian civil war.
Hezbollah and its allies today control a majority of seats in parliament and the Cabinet, after it managed in 2016 to help Aoun, an allied Christian leader, be elected president.
The group has three Cabinet seats, the largest number it has ever taken, including the Health Ministry, which has one of the largest budgets.
That has angered Washington, where US officials have called on Hariri's national unity government to ensure Hezbollah does not tap into public resources.
Lebanon has long been a political battleground in the region-wide struggle between Washington and Tehran. But tensions have risen since President Donald Trump withdrew from Iran's nuclear deal with world powers and re-imposed sanctions on Tehran.
The United States backs a coalition of groups opposed to Hezbollah led by Hariri's Sunni-led Future Movement and the right-wing Christian Lebanese Forces, but Washington's local allies are proceeding with caution. Memories are fresh of the clashes that erupted in May 2008, when the Shiite Hezbollah rapidly defeated a group of Sunni opponents on the streets of Beirut.
"Washington should be careful not to push Lebanon to the brink, as Hezbollah would retaliate if its survival is at stake," said Joe Macaron, a resident fellow at the Arab Center in Washington. "In the current status quo, the most effective way to restrain Hezbollah remains within the intricate parameters of the Lebanese political system," he said.
The United States is a strong supporter of Lebanon's national army, supplying it with arms and more than $1.5 billion in aid over the past decade.
During his visit to Lebanon, Pompeo is expected to reiterate Washington's support to the Lebanese army. In return, he is expected to demand that Lebanon's Central Bank act to prevent Iran from using the country's banking sector to evade sanctions.
Aoun is scheduled to visit Russia later this month for talks with President Vladimir Putin. The two are expected to discuss a number of topics, including the return of Syrian refugees and oil and gas exploration in the Mediterranean, which has been a source of tension between Lebanon and Israel.
Full report at:
https://english.alarabiya.net/en/News/middle-east/2019/03/21/Pompeo-heads-to-Lebanon-to-step-up-pressure-on-Iran-Hezbollah.html
--------
Israeli gunfire kills Palestinian in West Bank
21 March 2019
A Palestinian was killed by Israeli gunfire in the occupied West Bank, Palestinian medics said, and the military announced on Thursday that a soldier had discharged his weapon and it was reviewing the incident.
The Palestinian Red Crescent said one of its crews treated a man with two bullet wounds at an Israeli military roadblock near the city of Bethlehem on Wednesday and that Israeli forces had shot him.
It gave no details about the circumstances of the night-time shooting. The Palestinian Health Ministry identified the man as a 26-year-old from Bethlehem and said another Palestinian had also been shot and critically wounded. Hours later, the Israeli military issued a statement saying that a soldier stationed at a post near Bethlehem had "identified rocks being thrown at Israeli vehicles (and) in response, he fired his weapon."
The statement did not identify the soldier's intended target and some Israeli media reports said warning shots were fired in the air, suggesting the two Palestinians may have been hit unintentionally. "A report was received regarding injured Palestinians, details regarding the incident are being reviewed and the incident will be examined," the military said.
Tensions have been high in the West Bank since a Palestinian killed an Israeli soldier and a rabbi in a stabbing and shooting attack in the territory on Sunday.
Full report at:
https://english.alarabiya.net/en/News/middle-east/2019/03/21/Israeli-forces-kill-Palestinian-in-West-Bank-say-Palestinian-medics.html
--------
US envoy blames stalled Yemen peace deal on Houthi 'delays'
21 March 2019
The US ambassador to Yemen blamed the Iran-aligned Houthi movement on Thursday for the stalling of a UN-led peace deal in the main port of Hodeidah and said the group's weapons pose a threat to other countries in the region.
The Yemeni government and the Houthis reached a ceasefire and troop withdrawal deal for Hodeidah, which is under Houthi control, at talks in Sweden in December. The agreement was the first major breakthrough in efforts to end more than four years of war.
While the truce has largely held, the troop withdrawal has yet to materialize with both parties blaming each other for lack of progress in implementing the pact.
"We are greatly frustrated by what we see as delays and stalling on the part of the Houthis in implementing what they agreed to in Sweden, but I have great confidence in the UN envoy and what he is doing," ambassador Matthew Tueller told a televised news conference in the southern port of Aden, where the internationally recognized government is based.
Full report at:
https://english.alarabiya.net/en/News/gulf/2019/03/21/US-envoy-blames-stalled-Yemen-peace-deal-on-Houthi-delays-.html
--------
Palestinian killed in West Bank by Israeli gunfire
Mar 20, 2019
Israeli soldiers have attacked a civilian vehicle near the West Bank city of Bethlehem, killing a Palestinian man.
The Palestinian health ministry said Ahmed Manasara, 26, was shot dead on Wednesday near a checkpoint close to Bethlehem, without providing further details.
The Israeli military claimed that a soldier had "opened fire after identifying rocks being thrown at Israeli vehicles."
"The incident will be examined," the army said in a statement early Thursday.
Official Palestinian news agency Wafa said Manasara was in the car when he was shot dead, with another Palestinian in the car seriously wounded.
Tensions are high in the West Bank over ongoing Israeli aggression at the al-Aqsa Mosque compound in the Old City of Jerusalem al-Quds.
On Sunday, the Jerusalem al-Quds Magistrate's Court announced that it had accepted a request by Israeli officials to temporarily close Bab al-Rahma (Gate of Mercy) prayer area at the al-Aqsa Mosque compound.
The prayer area of the al-Rahma Gate was closed on February 25 upon an order by Israeli Prime Minister Benjamin Netanyahu, and reopened the following day.
Israel had closed the gate that leads to the prayer space in al-Aqsa Mosque since 2003 in the face of the Second Intifada (uprising) against the regime's occupation.
On February 22, however, the Waqf Council, which oversees the holy sites at the al-Aqsa Mosque compound, decided to re-open the prayer space at the Bab al-Rahma Gate in defiance of Israel's 16-year-old ban. Hundreds of worshipers, led by the Grand Mufti of Jerusalem al-Quds, Sheikh Muhammad Hussein, entered the area for the first time since 2003 for Friday prayers.
Angered by the move, the Tel Aviv regime launched an arrest campaign against Palestinians. The arrests drew criticisms from Palestinians and Jordan. The Islamic Waqf organization and Palestinian institutions have insisted on keeping the Bab al-Rahma prayer area open for Muslim worship.
Full report at:
https://www.presstv.com/Detail/2019/03/20/591577/Palestine-West-Bank-Israel-Ahmed-Manasara
--------
Africa
Tunisian president wants to amend constitution to dilute PM's power
20 March 2019
Tunisia's president called on Wednesday for changes to the new constitution to give the presidency more power, in the latest escalation of a dispute between the two highest offices in the country.
The constitution, adopted in 2014 after the uprising of 2011 that ousted autocrat Zine El Abidine Ben Ali, significantly erodes the previously extensive power of the presidency and gives the prime minister and parliament a much bigger role.
But President Beji Caid Essebsi and Prime Minister Youssef Chahed have been at loggerheads since last year, culminating in the president's son being suspended from the ruling party in September.
Essebsi has called on Chahed to resign but he defied him and formed a new governing coalition last November with the moderate Islamist Ennahda party.
Now, with a parliamentary election due in October and a presidential vote starting in November, Essebsi is calling for an overhaul of the nation's ruling charter.
The parliamentary race is expected to be fought closely by Ennahda, the more secular Tahya Tounes party of Chahed, and the Nidaa Tounes party now led by Hafedh Caid Essebsi, the president's son. No one has yet declared their candidacy for the presidency.
"The president has no major functions and the executive power is in the hands of the prime minister," Essessbi said in a speech broadcast on state television at the Palace of Carthage to mark Independence Day.
"It would be better to think about amending some chapters of the constitution," he said. The president controls defense and foreign policy - both in reality relatively minor policy areas.
The political wrangling over the past months has alarmed donors who have kept the country afloat with loans granted in exchange for a promise of reforms such as cutting a bloated public service.
The president's son has accused Chahed of failing to tackle high inflation, unemployment and other problems.
Annual inflation hit a record high of 7.5 percent in 2018 as the dinar currency tanked, making food imports more expensive.
https://english.alarabiya.net/en/News/north-africa/2019/03/20/Tunisian-president-wants-to-amend-constitution-to-dilute-PM-s-power.html
--------
UN to hold conference in Libya in April to discuss conflict solution
20 March 2019
The United Nations will hold a conference in the Libyan town of Ghadames between April 14 and 16 to discuss solutions to the country's conflict, the United Nations' Libya envoy said on Wednesday.
"We hope it will be a new opening for the country for stability," Ghassan Salame told reporters.
https://english.alarabiya.net/en/News/north-africa/2019/03/20/UN-to-hold-conference-in-Libya-in-April-to-discuss-conflict-solution.html
--------
Amnesty says US strikes in Somalia kill large numbers of civilians
20 March 2019
The US military may be guilty of war crimes for killing large numbers of civilians in a sharply stepped-up campaign of airstrikes in Somalia over the past two years, Amnesty International said.
The rights group said it had been able to document 14 civilians killed in investigations of just five air strikes, a tiny fraction of at least 110 strikes as such that the US military says it has launched since June 2017.
The US military rejected Amnesty's report, saying it has killed 800 militants in air strikes in Somalia over that period but has not wounded or killed a single civilian.
"We currently assess no civilian casualties have occurred as a result of any US Africa Command air strikes," the US military's Africa command AFRICOM said in an emailed response to Reuters.
Brian Castner, Amnesty International's Senior Crisis Advisor on Arms and Military Operations, said the civilian death toll in the small number of air strikes the rights group was able to investigate suggested that the "shroud of secrecy surrounding the US role in Somalia's war is actually a smokescreen for impunity".
"Members of the US government forces who planned and carried out the air strikes may have committed violations of international humanitarian law, including unlawful killings, which could amount to war crimes," Amnesty's report said.
Somalia, one of the poorest countries in the world, has been in a state of civil war and profound insecurity since 1991. In recent years, the US military has been supporting a UN-backed government in Mogadishu fighting against an insurgency by the al-Shabaab militant group.
In March 2017, President Donald Trump gave the military greater authority to carry out strikes and raids in Somalia, including without waiting for militants to attack US allies.
In a statement, AFRICOM, said: "We have processes in place to ensure the safety and protection of the local population remains a top priority. These procedures, combined with precision strike capabilities, safeguard civilians and infrastructure."
A US air strike this week killed four people – an employee of mobile phone company Hormuud Telecoms and three unidentified passengers – a relative of one of the victims told Reuters on Tuesday.
AFRICOM said it had killed three militants in an air strike on Monday, adding it was aware of reports alleging civilian casualties and would review the information about the incident.
Amnesty's report investigated five air strikes in Lower Shabelle region. It concluded that 14 civilians had died and eight were injured.
Al-Shabaab was pushed out of the capital Mogadishu in 2011 but retains a strong presence in parts of southern and central Somalia. The militants said US attacks inflict damage on local residents and encourage relatives of victims to join them.
Full report at:
https://english.alarabiya.net/en/News/world/2019/03/20/Amnesty-says-US-strikes-in-Somalia-kill-large-numbers-of-civilians.html
--------
Nigerians hold rally to express support for Ibrahim Zakzaky
Mar 21, 2019
Dozens of Nigerians held a rally in the capital Abuja on Wednesday to express support for prominent Shia cleric Shiekh Ibrahim Zakzaky.
The slogan-chanting protesters called on authorities to immediately release Sheikh Zakzaky and his wife.
Zakzaky, the leader of the Islamic Movement in Nigeria, has been held in detention since December 2015 and was charged just in April 2018 with murder, culpable homicide, unlawful assembly, disruption of public peace and other accusations. He has pleaded not guilty.
In 2016, Nigeria's federal high court ordered his unconditional release from jail following a trial, but the government has so far refused to set him free.
The top cleric, who is in his mid-sixties, lost his left eyesight in a raid which was carried out by the Nigerian army on his residence in the northern town of Zaria in December 2015.
Full report at:
https://www.presstv.com/Detail/2019/03/21/591579/Nigeria-rallies-Sheikh-Ibrahim-Zakzaky
--------
Amnesty: US behavior in Somalia can amount to war crimes
Mar 20, 2019
"The Hidden US War in Somalia." That is what Amnesty International names its recent report on the United States' military involvement in Somalia that has witnessed a substantial rise in US airstrikes and "unlawful killings," which could well amount to "war crimes."
Since April 2017, the US "has dramatically increased the number of airstrikes - from manned aircraft and unmanned drones - it has launched in Somalia, tripling the annual rate of attacks," according to the report published on Wednesday.
The London-based rights group documented 14 civilians killed in just five airstrikes, in Lower Shabelle region, which its researchers investigated in detail.
The Pentagon has stepped up airstrikes against alleged positions of al-Shabab militants in the country in the wake of President Donald Trump's approval in 2017 of expanded military operations there.
Al-Shabab, which has long sought to topple Somalia's Western-backed government, was forced out of Mogadishu with the help of African Union forces in 2011. Despite being ousted from large parts of the south and central Somalia, the al-Qaeda-linked militant outfit, continues deadly attacks across the country, which has been ravaged by decades of war and poverty.
"Members of the US government forces who planned and carried out the airstrikes may have committed violations of international humanitarian law, including unlawful killings, which could amount to war crimes," Amnesty said.
In reaction, the US Africa Command (AFRICOM) has rejected Amnesty's report. It claims al-Shabab terrorists make up all the casualties.
"Since June 2017, AFRICOM conducted 110 airstrikes in Somalia, eliminating more than 800 terrorists," AFRICOM said in a statement, adding that "our assessments found that no AFRICOM airstrike resulted in any civilian casualty or injury."
Amnesty's military expert Brian Castner said "the civilian death toll we've uncovered in just a handful of strikes suggests the shroud of secrecy surrounding the US role in Somalia's war is actually a smokescreen for impunity."
"Our findings directly contradict the US military's mantra of zero civilian casualties in Somalia," Castner added.
On Monday, the US conducted an airstrike claiming the lives of an employee of mobile phone company Hormuud Telecoms and three unidentified passengers, a relative of one of the victims told Reuters on Tuesday.
Full report at:
https://www.presstv.com/Detail/2019/03/20/591556/US-war-crimes-Somalia
--------
URL: https://www.newageislam.com/islamic-world-news/the-evolution-isis-rogue-state/d/118085
New Age Islam, Islam Online, Islamic Website, African Muslim News, Arab World News, South Asia News, Indian Muslim News, World Muslim News, Women in Islam, Islamic Feminism, Arab Women, Women In Arab, Islamophobia in America, Muslim Women in West, Islam Women and Feminism