New Age Islam News Bureau
7 Nov 2014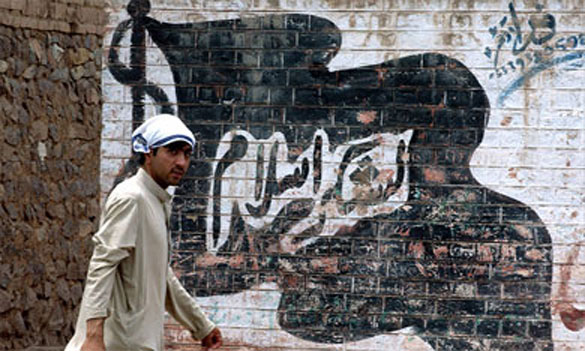 This picture shows a man walking past a wall painted with the flag of the outlawed insurgent group Lashkar-i-Islam. — AFP/File
-----------
Arab World
• Terrorist Attempt to 'Destabilize, Divide' the Saudi Kingdom Denounced
• Clashes in Southern Syria Kill 40: Monitor
• Barrel Bombs Kill 20 in Syria
• Syria Muslim Brotherhood appoints new leader
• Egypt train bomb kills 4
• Iraq air force hits ISIL positions in Anbar, Salahuddin provinces
• Egypt army continues home demolitions near Gaza border
• All Haj pilgrims must leave by Nov. 8
• Terror attack in Al-Ahsa and Al-Shaqra shocks Saudi Kingdom
------------
Europe
• Radical UK Cleric, Anjem Choudary, Ready to Give up Citizenship, Join ISIS
-----------
South Asia
• Ansarullah Bangla Team Runs 117 Web Pages for Jihad
• Govt urged to take over Jamaat-controlled firms
• Bangladesh's besieged Jamaat-e-Islami party fights for its life
• Pak Offer to train Afghan troops renewed
• Top Bangladesh JI leader 'may hang next week'
• Pakistan wants Afghan refugees to return to homeland
• Saudi relief aid for Afghanistan arrives in Kabul
• 14,000 Muslims forced to leave Myanmar: Rights groups
------------
Pakistan
• TTP Joins Hands with Lashkar-i-Islam in Khyber
• Five Killed, 10 Injured As Forces Target Militant Hideouts in Khyber
• Uniform relief package for displaced people being considered
• HRCP sees changing trend in torture cases in Pakistan
• PTI will accept rigging probe under apex court: Imran
• Offer to train Afghan troops renewed
• CM assures Christian family of justice
• Qatar important for Pakistan: President
-----------
Africa
• 21 die as Boko Haram attacks city in Nigeria
• Chaos in Libya deepens as court nullifies parliament
• Boko Haram renames captured Nigerian towns
• Burkina talks agree 1-year transition, polls in Nov '15
-----------
India
• OIC Reaffirms Its Support for Kashmiris' Aspirations
• 26/11 call record case: Mumbai police gets govt nod to move HC
------------
Mideast
• Israel reassures Jordan amid al-Aqsa tension
• Turkey-bound ships take militants to Iraq, Syria: Interpol
• Ansarullah fighters drive al-Qaeda out of Yemen town
• Turkey treads thin line with Kurds over Kobane
• Iran policy unchanged, says White House
• Palestinian who ran over soldiers turns himself in
• Explosions hit Fatah officials in Gaza Strip
• Syrian army retakes strategic gas field in Homs Province
------------
Southeast Asia
• Politicians Reject Govt's Idea to Leave Religion Column Blank
• 3 Malaysian Muslims win court bid to cross-dress
• Jokowi told to re-open Talangsari case
---------
North America
• US Commission Urges Obama to Meet Persecuted Rohingya in Myanmar
• Stop Israeli acts at Muslim sites, Palestinians urge UN
• Veteran US diplomat and Pakistan expert under investigation
• Reports: Obama sent letter to Iran's Khamenei
Compiled by New Age Islam News Bureau
URL: https://www.newageislam.com/islamic-world-news/new-age-islam-news-bureau/terrorist-attempt-to-'destabilize,-divide'-the-saudi-kingdom-denounced/d/99910
-----------
Arab World
Terrorist Attempt to 'Destabilize, Divide' the Saudi Kingdom Denounced
6 November 2014
Saudi Grand Mufti Sheikh Abdul Aziz Al-Asheikh has slammed the terrorists who gunned down seven people this week, for trying to destabilize and divide the country.
"What happened in Al-Ahsa is an example of brutal aggression and a great injustice. This is carried out by sick minds seeking to incite Fitna between people, God forbid," he said.
He said these acts were being carried out by those who want "to open the door to sectarian conflict so that we kill and destroy each other," he warned in a televised speech on Tuesday.
"We live in one state, secure and stable under a single government that brings us together," the grand mufti said. He called on the government to punish those responsible in the harshest possible manner.
GCC Secretary-General Dr. Abdullatif bin Rashid Al-Zayani said: "The attack violates the basic principles of Islam. It was aimed at causing division and sedition. However, the terrorists will not succeed in achieving their nefarious objectives."
Police found the body of one of the attackers in Buraidah on Wednesday. It was not clear who killed him. This means that three terrorists have lost their lives. The other two were killed in a shootout in Shaqra on Tuesday.
Meanwhile, thousands of people attended the funeral prayers Wednesday of two security officers killed in the shootout with the terrorists.
Prayers for Capt. Muhammad Al-Enezi and Cpl. Turki Al-Rasheed were held in Hail and in Buraidah. They were slain during a raid on a terrorist hideout in Mahlmin district in north Hail on Tuesday.
The two officers were members of the Qassim Emergency Force that conducted the raid in connection with Monday's shootout in Al-Ahsa, which saw masked gunmen kill seven people.
Interior Minister Prince Mohammed bin Naïf called on the family of Al-Rasheed in Hail and conveyed the condolences of Custodian of the Two Holy Mosques King Abdullah and Crown Prince Salman. He later visited Buraidah and offered condolences to the family of Al-Enezi.
Hail Gov. Prince Saud bin Abdul Muhsin joined the funeral prayers for Al-Rasheed on Wednesday afternoon. Prince Saud offered his condolences to the bereaved family and said that citizens should be proud of their loyal service to their country. Undersecretary at the prince's office, Saad Al-Bogami, also attended the prayers.
Meanwhile, security sources said that investigators had arrested 20 people in connection with the Al-Ahsa attacks. One person was freed after being arrested on 12 counts of terror-related charges.
According to the sources, members of the public had helped the security agencies arrest the suspects. Some have been released on bail.
Eyewitnesses said police conducted a raid in the Rawabi district in Riyadh, in connection with the Al-Ahsa attack. After police cordoned off and secured roads in the district, they heard gunshots. It was not clear whether it was warning shots or an exchange of fire.
A high-level security source, quoted by Asharq Al-Awsat, a sister publication of Arab News, on condition of anonymity because he was not authorized to brief the media, said that some members of this "terrorist cell" had previously been arrested or convicted on terror-related charges.
http://www.arabnews.com/featured/news/655811
-----------
Clashes in southern Syria kill 40: monitor
By AFP | Beirut
Friday, 7 November 2014: At least 40 people have been killed in clashes between Syrian regime forces and opposition fighters including Al-Qaeda's local affiliate in the south of the country, a monitor said Friday.
The forces were killed Thursday, during fighting in Beit Tima, a majority-Druze region in southeastern Damascus province, the Syrian Observatory for Human Rights said.
There has been fighting between regime and rebel forces in the region for more than a year, but Thursday's toll is the highest in a single day since violence began there.
"At least 26 members of the (pro-regime) National Defence Forces and 14 fighters from (Al-Qaeda affiliate) Al-Nusra Front and Islamist rebel groups were killed," according to the Observatory, which relies on a network of sources on the ground.
Syria's Druze, a heterodox Muslim community, have largely stayed on the sidelines of the country's bloody conflict and Beit Tima remains under regime control.
A Lebanese security source meanwhile told AFP that 11 rebel fighters injured in the clashes had been prevented by Lebanese soldiers from crossing the mountainous border area to seek medical treatment.
The source said it was the first time that Lebanese troops had prevented injured Syrians from entering the country in that part of the border area.
Syrian refugees and both civilians and rebels wounded in fighting have regularly slipped across the porous border between the two countries.
In recent months, Lebanon has all but closed the border officially to incoming Syrian refugees however, with exceptions only for humanitarian reasons.
More than 1.1 million Syrian refugees are living in Lebanon, straining the country's limited resources and infrastructure.
Lebanon's army has also bolstered border security after bloody clashes between troops and jihadists coming from Syria in the border region earlier this year.
http://english.alarabiya.net/en/News/middle-east/2014/11/07/Clashes-in-southern-Syria-kill-40-monitor-.html
------
Barrel Bombs Kill 20 in Syria
07 Nov 2014
At least 20 civilians, including women and children, have been killed after Syrian government helicopters dropped explosive-packed barrel bombs on a district in Aleppo city, a monitoring group has said.
The Syrian Observatory for Human Rights said on Thursday that the attack hit the Muwasalat district of Shaar neighbourhood in the rebel-held city.
The Britain-based group had initially put the toll at 12.
A video of the aftermath of the strikes, posted online by the Observatory, showed ambulances arriving and emergency workers carrying stretchers rushing into a street shrouded in thick white smoke.
Women could be heard screaming hysterically at the scene of the attack.
Syria's military has increasingly resorted to using so-called barrel bombs, which rights groups have condemned as a particularly indiscriminate weapon that often kills civilians.
Barrel bombs are typically constructed from large oil drums, gas cylinders or water tanks filled with high explosives and scrap metal.
According to the Observatory and Syrian activists, the regime has stepped up its use of the crude weapons in recent weeks, as international attention focuses on the fight against the Islamic State of Iraq and the Levant group (ISIL).
'French bombmaker killed'
Meanwhile, overnight US air raids in Syria targeted and likely killed a French bombmaker who was a leader of an al-Qaeda offshoot accused of plotting attacks on the West, a US defence official has said.
David Drugeon, 24, was suspected of working with al-Qaeda veterans in what Washington calls the Khorasan group.
AFP news agency quoted an anonymous senior US defence official as saying " he was among the targets ... we think we got him".
The official added that it would take time to confirm the bombmaker's death with absolute certainly, as there were no US troops deployed on Syrian soil.
http://www.aljazeera.com/news/middleeast/2014/11/report-barrel-bombs-kill-20-syria-2014116233034442995.html
-----------
Syria Muslim Brotherhood appoints new leader
By AFP | Beirut
Friday, 7 November 2014 Syria's Muslim Brotherhood, one of President Bashar al-Assad's political adversaries in exile, has appointed a 70-year-old British-educated ophthalmologist as its new leader.
The Brotherhood's council elected Mohammad Hekmat Walid for a four-year term in a vote Thursday in Istanbul, where the Syrian opposition in exile is based, a statement said.
Walid, who hails from the regime stronghold of Latakia, is the 12th leader of the Syrian Brotherhood, which was formed at the start of the 1940s but banned in the 1980s after an uprising against Assad's father.
Membership of the Brotherhood is punishable by death in Syria.
Walid has taught at a number of medical schools overseas, including in Ireland and Saudi Arabia.
Considered the best organised political opposition group, the Muslim Brotherhood, which receives financial support from Qatar, has often been accused critics of seeking to dominate the opposition at the expense of other groups.
The Brotherhood, which is also backed by Turkey, supports Islamist rebel groups in Syria who have lost influence over the past year because of the rise of the Islamic State and other jihadist groups.
The Muslim Brotherhood was founded in Egypt in 1928 by Hassan al-Banna with the goal of an Islamic renaissance and a struggle against the West, a doctrine that then spread to other countries.
In Syria, the movement led an armed uprising against then-president Hafez al-Assad that was brutally crushed in 1982 with at least 10,000 deaths.
Hafez al-Assad was succeeded by his son in 2000.
http://english.alarabiya.net/en/News/middle-east/2014/11/07/Syria-Muslim-Brotherhood-appoints-new-leader-.html
------
Egypt train bomb kills 4
7 November 2014
CAIRO: A bomb on a train in Egypt killed four people including two policemen, officials said Thursday, while blasts in the Cairo metro and near a presidential palace wounded several others.
The makeshift bomb exploded in a carriage late on Wednesday as policemen inspected it after the train stopped at a station in the province of Menufiya north of the capital. The train was not heading for Cairo.
The two policemen were killed on the spot while two passengers later succumbed to their wounds, a medical official said in an updated toll. A bomb later went off in a Cairo metro station, wounding three people.
Full report at:
http://www.arabnews.com/middle-east/news/656211
-----------
Iraq air force hits ISIL positions in Anbar, Salahuddin provinces
Nov 7, 2014
Iraq says its air force has hit a number of ISIL positions in Salahuddin and Anbar provinces north of the capital, Baghdad.
The Ministry of Defense said in a statement on Thursday that Iraqi air force carried out "effective strikes" in the oil-rich town of Baiji in Salahuddin Province.
"Our brave air force carried out effective air strikes on Watban building in Baiji city within Salahuddin Operation Command, killing 18 terrorists of ISIL and wounding many others," the statement said.
It added that the air strikes hit ISIL targets in Balad and Dhilo'iya districts of the province, inflicting heavy losses on Takfiri terrorists.
The announcement came after military forces took control of the Maleha village in Salahuddin after heavy clashes with the Takfiri ISIL militants there.
Iraqi forces are trying to retake control of the town of Baiji, adjacent to the country's largest refinery, which remains in the hands of the government despite a siege by ISIL militants. The liberation of the town can choke off the militants' supply lines.
Full report at:
http://www.presstv.ir/detail/2014/11/07/385088/iraq-hits-isil-targets-north-of-capital/
-----------
Egypt army continues home demolitions near Gaza border
Nov 7, 2014
Egypt's army continues to raze hundreds of homes in Sinai Peninsula in an effort to evacuate its residents from the areas along the border with the besieged Gaza Strip.
Egyptian troops have cut off electricity and water, firing warning shots in the air to force thousands of residents to leave their homes in the Sinai Peninsula.
Cairo announced the demolition plan following an attack by unknown gunmen on a checkpoint in the volatile region that killed dozens of soldiers on October 24.
Egypt says it plans to destroy 800 homes to set up a buffer zone near the border with Gaza.
The government had ordered the area's 10,000 residents to pack up and leave before they would destroy their homes.
The forced evacuations have angered residents of the border areas.
"We have no options but silence and lining up behind the military. This is not the time to clash with the state because any clash with the state will be perceived as a betrayal to Egypt," said Said Aitaq.
Full report at:
http://www.presstv.ir/detail/2014/11/07/385104/egypt-razing-homes-near-gaza-border/
------------
All Haj pilgrims must leave by Nov. 8
7 November 2014
The Ministry of Haj has warned that foreign pilgrims face stiff fines, deportation at their own expense, and a year ban from the Kingdom if they fail to leave Saudi Arabia by Nov. 8.
Hatem Qadi, spokesman of the ministry, said recently that there would also be heavy penalties for those who harbor overstayers. He said there are currently 40,000 Indian and Malaysian Hajis still in Makkah and Madinah, while 1.3 million have left.
He said that Haj and Umrah operators must ensure that their pilgrims leave the country on their scheduled flights. They are required to work with the General Authority for Civil Aviation, and Haj and Interior Ministries to see that this happens.
Ahmed Luhaidan, spokesman of the Passport Department, said overstayers would be fined SR15,000 and have to pay for their deportation. The Ministry of Foreign Affairs would be informed so that offenders are banned from getting Umrah visas for one year in their home countries.
Full report at:
http://www.arabnews.com/saudi-arabia/news/656261
-----------
Terror attack in Al-Ahsa and Al-Shaqra shocks Saudi Kingdom
6 November 2014
A cross-section of people including Shoura members, human rights activists and diplomats expressed their profound shock and dismay on Wednesday at the terror attack in Al-Ahsa and Al-Shaqra resulting in the death of citizens and security officials. Hoda Abdulrahman Al-Helaissi, a member of the Shoura Council, condemned, in the strongest terms possible, the cowardly terrorist attacks.
She offered her heartfelt condolences to the bereaved families, while wishing speedy recovery to those wounded in the attacks. She called for "continued and coordinated efforts to prevent and combat the scourge of terrorism." "These kinds of incidents are alien to the Saudi society, which has been exceptionally peaceful," she added.
The attack happened late Monday evening in the village of Al-Dalwah, which is located in the country's eastern Al-Ahsa region, and is a major oil-producing area that is also one of the main centers of the Shiite community. The attackers shot the victims with pistols and machine guns, according to officials. Authorities blamed the deadly attack on Al-Qaeda.
Hours after the attack, two Saudi policemen and two suspects linked to the incident died in a shootout in the Qassim region. Saudi officers have rounded up up to 20 suspects across several cities after the initial shooting in the Eastern Province. "They are followers of the deviant ideology," Interior Ministry spokesman Maj. Gen. Mansour Al-Turki said.
Referring to the cowardly act of terrorism, Ibrahim Al-Qayid, a member of the National Society for Human Rights (NSHR), said that "such a tragic incident had never been seen before in Saudi society, which is known for its tolerance, coexistence and peace that bring together different groups of people."
"I appreciate the condemnation and call made by the grand mufti to the government and to the people to act against the menace of terrorism and to show solidarity."
Former Shoura member and prominent businessman Saleh M. Alshuaibi said that "such a despicable act is alien to all human values and is in contradiction with all Islamic laws, which call for the protection of human lives."
Full report at:
http://www.arabnews.com/saudi-arabia/news/655801
-----------
Europe
Radical UK cleric, Anjem Choudary, ready to give up citizenship, join ISIS
Staff writer, Al Arabiya News
Friday, 7 November 2014
A radical British cleric said that he was ready to give up his British citizenship and live under the rule of the Islamic State of Iraq and Syria (ISIS) - if guaranteed safe passage by the UK government, UK-newspaper The Times reported Friday.
Anjem Choudary, who denied being in touch with any ISIS militant and said he would consider renouncing his British nationality only "as a last resort."
"I want to know from the Home Office and the crown prosecution service if it is illegal for me to travel to live in the Islamic State if I have no intention of carrying out acts of terrorism," the London-born cleric said.
"I believe the world belongs to God and that one day, hopefully, the UK will be part of an Islamic State. Why shouldn't I be free to travel to the khilafah [caliphate] and see what life is like under the Shariah [Islamic law]?" he added.
Full report at:
http://english.alarabiya.net/en/News/world/2014/11/07/Radical-UK-cleric-announces-wish-to-join-ISIS-.html
------
South Asia
Ansarullah Bangla Team Runs 117 Web Pages for Jihad
November 7th, 2014
As internet has been one of the main tools of communication, Islamist outfit Ansarullah Bangla Team (ABT) is spreading the doctrine of jihad through 117 web pages including on Facebook, Twitter, and blogs, detectives said yesterday, after arrest of the pages' administrator.
The group is disseminating not only militant ideology by uploading provocative contents but also running anti-state and anti-government propaganda on the platforms, they said.
The Detective Branch of Dhaka Metropolitan Police arrested the pages' administrator, Mohammad Morshed Alam alias Masum alias Tractor, at his house in the capital's Kallyanpur Wednesday night.
"In addition to its own activities, ABT has been circulating statements and activities of global Islamist networks like al-Qaeda through the web pages," said Joint Commissioner of DMP Monir ul Islam, briefing journalists at DMP's media centre.
ABT was the first to translate into Bangla and upload to its website the Bangladesh-related part of al-Qaeda key man Ayman al Zawahri's statement announcing formation of a branch of his militant group in the subcontinent, he added.
Detectives said many operatives skilled in information technology were managing fake Facebook pages and using accounts to hunt down "atheists" so that its militant wing could attack them.
Full report at:
http://www.thedailystar.net/city/ansarullah-team-runs-117-web-pages-for-jihad-49141
-----------
Govt urged to take over Jamaat-controlled firms
November 7th, 2014
In order to root out militancy in the country, the government must take over the businesses controlled by Jamaat-e-Islami, speakers said at a human chain yesterday.
They also called upon the government to continue the operation of the International Crimes Tribunal till the last of the war criminals is punished.
Addressing the programme before the capital's National Museum, Pankaj Bhattacharya, president of National Awami Party, said there were 125 businesses, which had strengthened the economic base of Jamaat, and facilitated the party to "spread militancy". The human chain was jointly organised by the Platform Against Communalism and Militancy, and Sammilita Samajik Andolon, demanding fast execution of all war crimes verdicts, prevention of militancy, and banning of religion-based politics.
Full report at:
http://www.thedailystar.net/city/govt-urged-to-take-over-jamaat-controlled-firms-49145
------------
Bangladesh's besieged Jamaat-e-Islami party fights for its life
AFP
07 Nov. 2014
DHAKA: Bangladesh's largest religious party faces an existential crisis after a series of body blows, including the sentencing to death of its leaders and abandonment by its main secular ally, say analysts.
While support for Islamists has surged in many Muslim majority countries of late, Jamaat-e-Islami has bucked the trend after failing to banish the taint of siding with Pakistan in Bangladesh's 1971 independence war. With its spiritual leader having recently died in prison, top officials languishing on death row and a muted response to protest calls, observers say the party itself could be on its last legs.
"Jamaat has no future unless it transforms itself into a new party and finds a new leadership that can effectively mobilise people and shake off its war-time legacy," Dhaka-based analyst Ata-ur-Rahman told AFP.
"The sooner it comes to realise this, the better for the party," added Rahman, a former professor at the State University of New York.
Although Prime Minister Sheikh Hasina's Awami League and the main opposition Bangladesh Nationalist Party (BNP) have dominated politics since independence, Jamaat has been a kingmaker and served as a junior coalition partner as recently as 2006. However, its growing marginalisation was sealed last year when it was banned from a general election after judges ruled its charter conflicted with the country's secular constitution.
That ruling further inflamed supporters already fuming over the trials of around a dozen leaders accused of war crimes in the 1971 conflict.
Around 500 people were killed in political violence last year, both in the aftermath of war crimes verdicts and the build-up to January's election which the BNP boycotted. Although Jamaat's mobilisations last year were a show of strength, the subsequent violence alienated the public.
The first verdicts last year saw hundreds of thousands take to the streets. But there was a tepid response to calls for protests and a strike issued last week after Jamaat's assistant secretary general Mohammad Kamar-uz-Zaman's appeal against his death sentence was rejected.
Full report at:
http://www.dawn.com/news/1142917/bangladeshs-besieged-jamaat-e-islami-party-fights-for-its-life
--------
Pak Offer to train Afghan troops renewed
Baqir Sajjad Syed
November 7th, 2014
ISLAMABAD: Army Chief Gen Raheel Sharif renewed on Thursday Pakistan's offer to train Afghan security forces and promised weapons for an infantry brigade.
The offer was made during Gen Sharif's day-long visit to Kabul for meetings with new Afghan civil leadership and military commanders.
The Army chief met President Ashraf Ghani, CEO Abdullah Abdullah, NSA Hanif Atmar, Defence Minister Gen Bismillah Muhammadi, and Afghan Chief of General Staff, Gen Sher Muhammad Karimi.
Know more: Pak-Afghan ties: the road ahead
This was Gen Sharif's first visit to Kabul since the formation of the new government.
The visit precedes his visit to the United States from Nov 16 and Afghan President Ghani's upcoming visit to Pakistan later this month.
General Sharif meets civilian, military leaders in Kabul
"General Raheel Sharif offered full range of training courses and facilities in Pakistan's training institutions to Afghan security forces," ISPR said in a statement issued from Rawalpindi.
Pakistan first offered training to Afghan security forces in 2010 at a North Atlantic Treaty Organisation conference in Brussels. The proposal was aimed at bridging trust deficit bet­ween the two countries. Three years later an Afghan defence delegation led by defence minister Bismillah Muhammadi visited Pakistan in 2013 for inspecting Pakistani training facilities. The Afghan delegation's visit was then seen as a paradigm shift in Afghanistan's perceptions about Pakistan.
Afghanistan was reluctant to accept the Pakistani offer because of allegations of Pakistan's backing for Taliban insurgency.
Army Spokesman Gen Asim Bajwa said the Afghan side this time looked interested in accepting Pakistan's offer.
But, this is not the first time either that Pakistani generals noted such interest among their Afghan interlocutors. They saw same desire after Gen Muhammadi's 2013 visit, but nothing happened afterwards.
Full report at:
http://www.dawn.com/news/1142808/offer-to-train-afghan-troops-renewed
-----------
Top Bangladesh JI leader 'may hang next week'
November 07, 2014
DHAKA - Bangladesh may hang a senior leader as early as next week after the Supreme Court upheld his death sentence for war crimes, the law minister said Thursday. Mohammad Kamaruzzaman of the Jamaat-e-Islami party would be the second senior leader to hang for crimes committed during the 1971 war.
Law minister Anisul Huq told AFP he could be hanged as early as next week unless he sought a presidential pardon.
The 62-year-old assistant secretary general of Jamaat - Bangladesh's largest Islamic party - has seven days to petition the president for clemency, Huq said.
"On the expiry of seven days, if he does not apply for clemency... the sentence passed by the highest court of the country can be executed," he said.
Full report at:
http://nation.com.pk/international/07-Nov-2014/top-bangladesh-ji-leader-may-hang-next-week
-----------
Pakistan wants Afghan refugees to return to homeland
November 07, 2014
UNITED NATIONS - Pakistan told the United Nations on Wednesday that it wants
millions of Afghan refugees to return to their homeland "with honour and dignity," and sought international help for repatriating them.
"Pakistan is now witnessing the birth of the third generation of Afghan refugees," Ambassador Masood Khan said in a speech to the General Assembly's Third Committee, while pointing out that after more than three decades Pakistan is still caring for over three million refugees.
The committee deals with Social, Humanitarian and Cultural questions.
"We would very much want these refugees to return peacefully to Afghanistan with the support of the international community," the Pakistani envoy said while commenting on the annual report of the United Nations High Commissioner for Refugees (UNHCR).
Regrettably, he pointed out that although the international support to these refugees has been dwindling, Pakistan has continued to provide the necessary services.
"Our resources have been stretched by massive relief efforts following recent floods and temporary relocation of the hundreds of thousands of people because of the ongoing anti-terrorist operation - Zarb-i-Azb," the Pakistani envoy said, as he underlined the continuing relevance and important role of UNHCR.
Full report at:
http://nation.com.pk/international/07-Nov-2014/pakistan-wants-afghan-refugees-to-return-to-homeland
-----------
Saudi relief aid for Afghanistan arrives in Kabul
6 November 2014
A Saudi cargo plane carrying food and relief aid provided by Custodian of the Two Holy Mosques King Abdullah to Afghanistan arrived at Kabul airport on Monday evening.
According to the Saudi Press Agency, the plane was received upon arrival by Saudi Ambassador to Kabul M'sefer Al-Ghasib, representatives of the Ministry of Finance and the Saudi Red Crescent, as well as the representative of the Afghan government Dr. Abdul Samad Hami, the head of religious affairs at the Afghan Republican Palace Noman Shinwari, the director of the anti-natural disaster department Dr. Mohamed Daaem Dkar and the director of the media department at the Afghan Presidential Palace Safatall Safi.
Full report at:
http://www.arabnews.com/saudi-arabia/news/655751
-----------
14,000 Muslims forced to leave Myanmar: Rights groups
Nov 7, 2014
Rights groups say thousands of Rohingya Muslims have been forced to leave Myanmar in the last three weeks due to a new controversial government plan.
According to the Rakhine Action Plan passed by the government recently, over one million Rohingya Muslims will face expulsion unless they can prove their family has lived in the Asian country for more than 60 years.
"In the last three weeks alone, 14,500 Rohingyas have sailed from the beaches of Rakhine State to Thailand, with the ultimate goal of reaching Malaysia," said the Arakan Project, a group that monitors Rohingya refugees.
However, those who can prove their residence qualify only for naturalized citizenship, which carries fewer rights than full citizenship and can be revoked.
Rohingyas could also face indefinite detention under the plan that requires them to either accept ethnic reclassification and register as Bengalis or be detained.
Human Rights Watch has urged the international community to press the Myanmar government to rescind the decree.
The rights group called the plan as "nothing less than a blueprint for permanent segregation and statelessness."
Full report at:
http://www.presstv.ir/detail/2014/11/07/385087/14000-muslims-forced-to-leave-myanmar/
-----------
Pakistan
TTP joins hands with Lashkar-i-Islam in Khyber
Zahir Shah Sherazi
November 7th, 2014
PESHAWAR: The outlawed Tehreek-i-Taliban Pakistan (TTP) on Friday stated that it was joining hands with Lashkar-i-Islam, the banned militant group operating in the Khyber tribal region.
The group also stated that it had appointed a new spokesman, Mohammad Khurrasani, weeks after sacking its former spokesman Shahidullah Shahid who had announced his allegiance with the Islamic State (IS).
TTP further said that its fighters under Mullah Fazlullah would support the LI and added that a proper fight would be initiated against the security forces and government. The militant outfit also announced that it would send men to fight along with LI militants in Khyber.
The statement comes as the army is engaged in a military operation — Khyber I — in the restive tribal region. Khyber I came months after the military launched an offensive in North Waziristan to target local and foreign militants.
Full report at:
http://www.dawn.com/news/1142908/ttp-joins-hands-with-lashkar-i-islam-in-khyber
-----------
Five killed, 10 injured as forces target militant hideouts in Khyber
Zahir Shah Sherazi
November 7th, 2014
PESHAWAR: At least five suspected militants were killed and over 10 others were injured on Friday as militant hideouts were targeted in the Akakhel and Sipah areas of Khyber Agency's Bara tehsil.
Official sources said that artillery and mortars were fired in the areas of Sipah and Akakhel.
Sipah is a known stronghold of Lashkar-i-Islam while Akakhel too has a sizeable presence of militant elements.
Khyber is one of Pakistan's seven semi-autonomous regions governed by tribal laws and lies near the Afghan border. The Taliban and other Al Qaeda-linked groups who stage attacks in both Pakistan and Afghanistan are also known to have strongholds in the zone.
Pakistan's military launched the operation 'Khyber-1' last month with air strikes against LI hideouts in areas under the Mangal Bagh-led group's control in Tirah and Bara.
Full report at:
http://www.dawn.com/news/1142904/five-killed-10-injured-as-forces-target-militant-hideouts-in-khyber
-----------
Uniform relief package for displaced people being considered
Zulfiqar Ali
November 7th, 2014
PESHAWAR: Despite years of displacement of civilians from different parts of the Federally Administered Tribal Areas (Fata), the authorities are mulling a uniform relief package for the internally displaced persons (IDPs) instead of repatriating them to their hometowns.
The Fata Disaster Management Authority (FDMA) recently asked the federal government to make the relief package to IDPs of other tribal agencies consistent with what was paid to those from North Waziristan Agency.
However, a parliamentarian from Fata said that the government instead of spending billions of rupees on relief operation should send IDPs back to their homes and divert the money to rehabilitation activities in tribal area.
"The government should allow dislocated people to go back to their areas as soon as possible to rebuild their homes," said Senator Saleh Shah, who represents South Waziristan Agency in the Upper House.
Senator says the govt should spend money on rehabilitation activities in Fata
Official sources said that additional chief secretary, Fata, Mohammad Azam Khan had suggested to the federal ministry of states and frontier regions (Safron) to sanction cash assistance of Rs12,000 each for IDPs of other tribal agencies verified by the National Database Registration Authority (Nadra) in addition to the North Waziristan Agency.
Nadra has verified total 160,805 dislocated families from Kurram, South Waziristan, Khyber and Orakzai agencies and Frontier Region, Tank, who have been residing in and off camps in Khyber Pakhtunkhwa and Fata. Nadra's verified number of dislocated families from North Waziristan Agency is 69,021 families.
"The monthly financial implication of 160,805 families will come to Rs1.92 billion," said an official letter addressed to the Safron ministry. Monthly bill of IDPs will cross Rs2 billion figure if the federal government entertains the FDMA request.
Area-wise breakup of IDPs is 68,746 families from Khyber, 29,051 Orakzai, 25,865 Kurram, 36,767 South Waziristan, 69,021 North Waziristan and 376 Frontier Region Tank.
FDMA had registered total 102,047 dislocated families from North Waziristan Agency after launch of operation Zarb-e-Azb in June this year. After scrutiny process Nadra verified 69,021 families who have been declared eligible for receiving relief assistance.
The federal government is paying cash assistance per month to all verified IDPs (Rs 12,000 each household) of North Waziristan. Besides the monthly cash assistance the government had paid one-time cash assistance of Rs5,000 for non food items and one-time Ramazan package of Rs20,000.
Full report at:
http://www.dawn.com/news/1142886/uniform-relief-package-for-displaced-people-being-considered
-----------
HRCP sees changing trend in torture cases in Pakistan
Saher Baloch
November 7th, 2014
KARACHI: Over time the nature of torture has changed, with the release of severely injured but alive victims being replaced with the dumping of bodies one after another, said provincial assistant coordinator of the Human Rights Commission of Pakistan Abdul Hayee at a round-table conference on Thursday.
Earlier, he said, there was a chance of receiving a severely injured yet alive person. "Now we are receiving body after body, be it of a political or a social activist, which in itself is a warning by the perpetrators, for people like us, to mend our ways".
Mr Hayee and many other prolific representatives of rights organisations and media presented their views at the conference on the 'Convention against torture in Pakistan: towards implementation and accountability'.
The event was jointly held by the HRCP and Geneva-based World Organisation Against Torture (OMCT).
About the ongoing operation by the law enforcement agencies in Karachi, he said: "The way they are picking up suspect after suspect is questionable, as no one knows for sure what happens to the suspects afterwards."
About the HRCP role, he said: "Irrespective of the general perception that we have taken a back seat, I'd like to say that we are very much active and take action where necessary. Yes, over time our activists have been tortured and killed in the line of duty, as happened in the case of Advocate Rashid Rehman, but we will continue to fight as we don't have the luxury to be lax."
The speakers observed that Pakistan had signed and later ratified UN Convention Against Torture (CAT), but so far violence seemed to have got out of hand with no signs of containing it under the law.
There was a dichotomy in what the state committed internationally and what it implemented, said Waqar Mustafa, project coordinator with the HRCP and OMCT. "For instance," he said, "even after signing and later ratifying the UN's CAT, an ordinance like the Pakistan Protection Ordinance gets easily passed in the assembly, without getting criticism from various quarters."
In the same vein, Nicole Burli, legal expert at OMCT, said this dilemma was not specific to Pakistan, "an implementation gap can be seen globally though it differs from region to region. A report is usually expected from a state after the ratification of a convention, detailing their findings and how they have controlled various kinds of torture. But a lot of states are not forthcoming." The state, she added, could only be motivated to do so by pressure from civil society. There were many instances, she said, where those being abused did not know their own rights which could be highlighted by the media.
During a session titled, 'Media: expectations, interest and responsibility', two journalists spoke about the role of the media in reporting torture and what it takes to do such stories.
About the right to exercise their freedom, journalist Shahzada Zulfiqar from Quetta said that 150 dailies were published from Balochistan but they did not have the kind of freedom they would like to enjoy. Considered eyes and ears of the state, the media itself was in need of much-awaited help, he added. "To begin with, there are set rules regarding what a journalist in Balochistan can report on. These rules are not relayed by the editors, rather by law enforcers or militants. Not obliging any of the state or non-state organisations, which simply means if you do your job right, can mean being bumped off by any one of them," he added.
Speaking about the media in general, he said, "Most news organisations, especially TV channels, are run by businessmen who have corporatised the profession. This means they're divided in groups, they have their allegiances, and so the news would only make it to the channel if it serves the interest of the owner. It is shameful but gradually becoming a norm."
As an example, he cited the recent incident in Kasur where a Christian couple was torched by an angry mob after they were accused of blasphemy. He said: "This form of severe torture was not considered 'news-worthy' enough to be shown on a news channel. The only news channel that did end up speaking to some rights activists, were thanked profusely by them in return."Chairman of the Jeay Sindh Mahaz Abdul Khalique Junejo said: "So far, Pakistan has not seen any radical change. If anything, it has become radicalised, for which the state is responsible."
Full report at:
http://www.dawn.com/news/1142750/hrcp-sees-changing-trend-in-torture-cases
-----------
PTI will accept rigging probe under apex court: Imran
Irfan Haider
November 7th, 2014
ISLAMABAD: Pakistan Tehreek-i-Insaf (PTI) Chairman Imran Khan has demanded that the Supreme Court begin investigations into allegations of rigging in the 2013 elections and complete them within one month, under the supervision of retired Supreme Court judge, Justice Nasir Aslam Zahid.
Addressing the participants of the sit-in at D-Chowk on Thursday, he said, "We are not ready to accept investigations supervised by Prime Minister Nawaz Sharif, but will accept them if they are headed by the Supreme Court."
The PTI chief said the government should nominate individuals equally acceptable to the PTI and the government to investigate the rigging allegations. "We will call off the sit-in if the allegations are not proven. But if they are, we will not leave without the resignation of the prime minister," he said.
Mr Khan said the government should set up a judicial commission through the Supreme Court under the supervision of people such as Justice Nasir Aslam Zahid, whose reputation was impeccable.
Praises Narendra Modi for being 'faithful' to Indian people
The PTI will continue the sit-in during the month while investigations are carried out, he added.
Earlier, Imran Khan said new provinces were not the solution to the problems plaguing Pakistan. "Everyone is calling for a separate province but more provinces won't change anything."
Full report at:
http://www.dawn.com/news/1142847/pti-will-accept-rigging-probe-under-apex-court-imran
-----------
Offer to train Afghan troops renewed
Baqir Sajjad Syed
November 7th, 2014
ISLAMABAD: Army Chief Gen Raheel Sharif renewed on Thursday Pakistan's offer to train Afghan security forces and promised weapons for an infantry brigade.
The offer was made during Gen Sharif's day-long visit to Kabul for meetings with new Afghan civil leadership and military commanders.
The Army chief met President Ashraf Ghani, CEO Abdullah Abdullah, NSA Hanif Atmar, Defence Minister Gen Bismillah Muhammadi, and Afghan Chief of General Staff, Gen Sher Muhammad Karimi.
Know more: Pak-Afghan ties: the road ahead
This was Gen Sharif's first visit to Kabul since the formation of the new government.
The visit precedes his visit to the United States from Nov 16 and Afghan President Ghani's upcoming visit to Pakistan later this month.
General Sharif meets civilian, military leaders in Kabul
"General Raheel Sharif offered full range of training courses and facilities in Pakistan's training institutions to Afghan security forces," ISPR said in a statement issued from Rawalpindi.
Pakistan first offered training to Afghan security forces in 2010 at a North Atlantic Treaty Organisation conference in Brussels. The proposal was aimed at bridging trust deficit bet­ween the two countries. Three years later an Afghan defence delegation led by defence minister Bismillah Muhammadi visited Pakistan in 2013 for inspecting Pakistani training facilities. The Afghan delegation's visit was then seen as a paradigm shift in Afghanistan's perceptions about Pakistan.
Afghanistan was reluctant to accept the Pakistani offer because of allegations of Pakistan's backing for Taliban insurgency.
Army Spokesman Gen Asim Bajwa said the Afghan side this time looked interested in accepting Pakistan's offer.
Full report at:
http://www.dawn.com/news/1142808/offer-to-train-afghan-troops-renewed
-----------
CM assures Christian family of justice
November 07, 2014
LAHORE - Punjab Chief Minister Shahbaz Sharif has vowed to provide justice to the Christian family whose couple was burnt alive on Tuesday.
The chief minister Thursday went to the home of the victim Christian couple in a village near Kot Radha Kishan, Kasur and expressed deep sense of sorrow and grief over the heartrending incident with the aggrieved family.
The chief minister assured the aggrieved family of justice. He said that the accused would not escape deterrent punishment. Consoling the aggrieved family, Shahbaz Sharif said that this incident of barbarism was highly condemnable. He announced financial assistance of Rs 5 million and 10 acre land for three children of the couple. He said that the Punjab government would bear the living expenses of three children and provide them educational and health facilities free of cost.
Shahbaz Sharif assured that he would not rest content till the provision of justice to the aggrieved family. He said that cruelty has been committed with the aggrieved family and perpetrators will have to give account of it. He said that the case against the accused will be sent to anti-terrorist court and justice will be ensured to the aggrieved family at every cost.
The chief minister said that Islam does not allow burning of human beings alive. He said that the Holy Prophet (PBUH) has given the lesson of tolerance, patience and peace to Ummah and the entire life of Holy Prophet is a beacon of light for us.
The chief minister said that protection of every citizen of the province is the responsibility of the government and it will discharge it efficiently and complete protection will also be provided to the aggrieved family.
Full report at:
http://nation.com.pk/lahore/07-Nov-2014/cm-assures-christian-family-of-justice
------------
Qatar important for Pakistan: President
November 07, 2014
Islamabad - President Mamnoon Hussain has commended the ambassadorial services of Sayar Abdul Rahman J. Al-Mawdah, Ambassador of Qatar in Pakistan, for providing further impetus to Pakistan-Qatar bilateral ties during his four and a half years stay in Pakistan, after the outgoing ambassador paid a farewell call on him at Aiwan-e-Sadr on Thursday.
Discussing Pakistan-Qatar bilateral relations, the president said that Pakistan attached great importance to its close and cordial relations with Qatar and wished to further strengthen cooperation in all fields of mutual interests including trade and defence. The president expressed hope that Qatari Investment Authority (QIA) would invest in different sectors of Pakistani economy by taking advantage of its lucrative business and investor friendly policies.
The president emphasised that both brotherly countries should continue to explore mutual avenues for future cooperation for further enhancing the existing volume of bilateral trade. The president appreciated the support and lobbying of Qatar with other Gulf Cooperation Council (GCC) countries for early conclusion of Pakistan-GCC Free Trade Agreement.
The president stated that Pakistan was looking forward to co-financing of Neelum-Jhelum Hydropower Project by Qatar to the tune of $200 million. "This will additionally contribute to the efforts of Government of Pakistan to address energy situation in the country," he added. The president stated that Pakistan was keen to import LNG from Qatar and expressed confidence that Sale-Purchase Agreement between the two countries would be finalized soon. The president also invited Qatari petroleum and gas companies to invest in Pakistan's oil and gas exploration and production sectors and tap its potential.
Full report at:
http://nation.com.pk/islamabad/07-Nov-2014/qatar-important-for-pakistan-mamnoon
-----------
Africa
21 die as Boko Haram attacks city in Nigeria
Nov 7, 2014
A Nigerian lawmaker says at least 21 civilians have lost their lives following an attack by Takfiri Boko Haram militants on a city in the flashpoint northeastern part of Nigeria.
Maina Maaji Lawan said on Thursday that the clashes broke out at about 5:00 p.m. local time (1600 GMT) on Wednesday in the city of Malam Fatori, situated in the restive northeastern state of Borno and near the border with Niger.
"Boko Haram tried to attack Malam Fatori... but they met stiff resistance from the Multi-National Joint Task Force, who initially repelled the attack after prolonged fighting," Lawan said.
"They pushed back the militants and people in the town and the soldiers thought it was over but the militants mobilized more men and weapons including an APC (armored personnel carrier) and launched a renewed attack," he said.
"They overpowered the soldiers who were forced to flee. The militants went into the town shooting indiscriminately. They killed 21 people," Lawan said.
Full report at:
http://www.presstv.ir/detail/2014/11/07/385064/boko-haram-raids-nigeria-city-kills-21/
-----------
Chaos in Libya deepens as court nullifies parliament
November 7th, 2014
TRIPOLI: Libya's supreme court on Thursday invalidated the internationally recognised parliament, setting the stage for deepening political chaos in the violence-wracked North African nation.
The ruling, which cannot be appealed, prompted celebratory gunfire in the capital Tripoli where Islamist-led militias have been in control since August, a correspondent reported.
The Tripoli court also nullified a constitutional amendment that led to elections on June 25, thereby invalidating the polls and all decisions that resulted from them.
The internationally recognised parliament has been sheltering in the remote eastern town of Tobruk along with the government of Prime Minister Abdullah al-Thani for security reasons.
Islamist-led militias control most of the country, including Libya's second city Benghazi in the east which has been rocked by near-daily violence.
The legislature's legal committee held an emergency meeting to review the court ruling.
"Lawmakers will not recognise a verdict decided under the gun," Tobruk-based parliamentarian Issam al-Jehani wrote on Facebook.
Libyan authorities have struggled to assert control across a country awash with weapons and powerful militias that ousted long-time autocratic leader Muammar Qadhafi in a 2011 revolt.
The supreme court had been asked by an Islamist lawmaker to rule on the constitutionality of the legislature that approved Mr Thani's government, one of two rival administrations in the oil-rich country.
Full report at:
http://www.dawn.com/news/1142819/chaos-in-libya-deepens-as-court-nullifies-parliament
-----------
Boko Haram renames captured Nigerian towns
November 7th, 2014
KANO: Boko Haram has renamed two towns it captured in northeast Nigeria as part of campaign to establish a caliphate in the region, residents who have fled in recent days said on Thursday.
The Islamists seized the town of Mubi in Adamawa state last week and now insist it be called Madinatul Islam, or "City of Islam" in Arabic.
Gwoza in neighbouring Borno state which was captured in July is now being called Darul Hikma or "House of Wisdom", multiple residents said.
Boko Haram's leader, Abubakar Shekau, in a video released in August declared that he had made Gwoza part of a caliphate — an announcement that recalled a similar move by the Islamic State militant group which has taken over parts of Iraq and Syria.
The extremists are believed to control more than two dozen towns and villages in Nigeria's far northeast and there are signs that they are trying to advance south towards Adamawa's capital Yola.
Full report at:
http://www.dawn.com/news/1142806/boko-haram-renames-captured-nigerian-towns
-----------
Burkina talks agree 1-year transition, polls in Nov '15
November 07, 2014
OUAGADOUGOU - Burkina Faso's army, politicians and civil society leaders agreed to a one-year political transition with elections in November 2015 following highly charged crisis talks on Wednesday.
The talks, mediated by three west African presidents and also attended by religious and tribal chiefs, failed to name a new leader to head the transitional government.
But a statement after the meeting said all parties had agreed that an "eminent civilian personality" should take the job.
Ghana's President John Dramani Mahama, who mediated alongside his Nigerian counterpart Goodluck Jonathan and Senegal's President Macky Sall, said he was not concerned about the failure to agree on a unity leader at this stage.
"I believe that... in days rather than weeks, we'll be able to achieve an agreement and install a transitional government," he said.
"Our intention was not to take names back to the ECOWAS summit," he added, referring to an emergency meeting of African leaders due to be held in Accra on Thursday.
"It's a decision for the people of Burkina Faso. They must be the ones to decide. Pain is still fresh in people's mind."
The trio of presidents had travelled to Ouagadougou to press for the swift return of civilian rule after the military appointed one of its own, Lieutenant-Colonel Isaac Zida, to run the country following last week's ouster of president Blaise Compaore.
In scenes compared to the Arab Spring, Compaore was forced to flee the country after tens of thousands took to the streets and set parliament ablaze in violent protests against efforts to extend his 27-year rule.
The talks did not start well on Wednesday, with opposition leaders storming out in protest over the possible involvement of Compaore loyalists in any provisional government.
"We haven't even buried our dead yet and they are putting arrogant people back in office who held the people in contempt," said Luc Marius Ibriga, spokesman for the civil society groups, as their representatives left the room.
Security guards had to intervene as emotions ran high.
"We do not want to talk with the old governing party. They represent Blaise Compaore," said Rose-Marie Compaore, parliamentary leader of the main opposition group, the Union for Progress and Change.
Both groups were persuaded to return to the negotiations, only for members of the ruling party to then refuse to sit with them.
Full report at:
http://nation.com.pk/international/07-Nov-2014/burkina-talks-agree-1-year-transition-polls-in-nov-15
-----------
India
OIC reaffirms its support for Kashmiris' aspirations
7 November 2014
The Secretary General of the Organization of Islamic Cooperation (OIC), Iyad Madani, reaffirmed the organization's full support and solidarity with the people of Jammu and Kashmir and said OIC will use all available means to promote the cause of the Kashmiri people.
"I hope that through the help of the OIC members' states and institutions we will be able to enhance assistance to the Kashmiri people," he said on the occasion of inauguration of the photo exhibition highlighting the human rights violations in Jammu and Kashmir at the OIC premises in Jeddah on Thursday.
Madani, while talking to the representatives of different OIC member countries said that this photo exhibition is a platform for the OIC to express its full and unwavering solidarity.
"The OIC has consistently shown its firm support to the Kashmiris in their legitimate struggle for their fundamental human rights, including their inalienable right to self-determination. The present occasion also seeks to keep alive the memory and efforts of those Kashmiris who sacrificed their lives for the sake of their homeland," he said.
He said the issue of Jammu and Kashmir is one of the longest unresolved international issues. The continuation of this conflict is not in the interest of India or Pakistan or the people of Kashmir, "It has so far claimed so many precious lives of innocent people and has posed real threats to peace and security for the region and beyond," he said.
He also said that OIC has always called for a peaceful resolution of this conflict through a negotiated process and in a sincere manner between Pakistan and India.
"The OIC encourages both sides to engage in substantial bilateral talks to find a just and durable solution in accordance with the aspirations of the Kashmiri people. I think recent incidents along the Line of Control further prove the necessity to work hard to reach a solid basis for peace and security in the region, and the OIC will pay closer attention to the plight of Kashmiris because this is indeed a humanitarian issue," he added.
Ambassador Abdullah Abdurahman Alim, the special envoy to Kashmir from the OIC, who recently visited Pakistan, said that the OIC supports direct and frank negotiations between Pakistan and India. Encouraging the two sides in the conflict to leverage all means available to them, including objective bilateral talks and working hard to find a peaceful and lasting solution that takes into account the aspirations of the Kashmiri people.
Full report at:
http://www.arabnews.com/saudi-arabia/news/656236
-----------
26/11 call record case: Mumbai police gets govt nod to move HC
November 6, 2014
In a relief to Mumbai Police Commissioner Rakesh Maria, the Maharashtra government has allowed city police to move the Bombay High Court to challenge an order passed by the State Chief Information Commissioner, who initiated a judicial inquiry against him in connection with the alleged discrepancies in the 26/11 call records.
"The government has given permission to go and appeal in the Bombay High Court (against the order of the CIC)," Maria told PTI.
An affidavit in this regard would be filed soon after consulting the lawyers concerned, the top cop said.
The city police had approached the State Home Department seeking permission to challenge Chief Information Commissioner Ratnakar Gaikwad's July order in court.
The transparency watchdog had asked the state government to institute an inquiry headed by a sitting or retired judge under Commission of Inquiry Act to go into why "misleading" information was provided to Vinita Kamte, wife of slain IPS officer Ashok Kamte, by Maria.
"Considering the information available, it looks like in this matter misleading information was provided, deliberately no information was shared or information was destroyed, delays were caused in providing information etc. And the commission agrees with the doubts raised by the complainant (Vinita Kamte)," Gaikwad had said in a scathing three-page order passed on July 9.
"Hence, I order the state government through the Chief Secretary to initiate an inquiry under the Commission of Enquiry Act 1952 headed by a sitting or retired judge," the order of the CIC had said.
Full report at:
http://indianexpress.com/article/india/india-others/2611-call-record-case-mumbai-police-gets-govt-nod-to-move-hc/
-----------
Mideast
Israel reassures Jordan amid al-Aqsa tension
07 Nov 2014
Israel's prime minister has assured Jordan's king over the phone that he would not yield to increasing demands by Jewish hardliners to allow Jews to pray at a Muslim-run holy site in Jerusalem.
The phone call between Prime Minister Benjamin Netanyahu and King Abdullah II on Thursday came a day after Jewish settlers, protected by more than 300 Israeli security forces, stormed the al-Aqsa Mosque, triggering clashes between Israeli riot police and Palestinians worshippers.
The escalation prompted Jordan, which is the custodian of the compound housing the mosque, to recall its ambassador to Israel in protest against what it called "unacceptable" Israeli police assault on the sacred site.
"I explained to him that we're keeping the status quo on the Temple Mount and that this includes Jordan's traditional role there," Netanyahu said, using Israel's name for the compound.
Near-daily clashes between the stone-throwing Palestinians and Israeli riot police in the occupied East Jerusalem. Some of the attacks have turned deadly in recent weeks.
The unrest was triggered by Muslim fears of Jewish encroachment at the sacred site, a hilltop plateau known to Muslims as Haram as-Sharif, or Noble Sanctuary, and to Jews as the Temple Mount.
Since Israel captured east Jerusalem in 1967, Jewish worshippers have been allowed to visit - but not pray - at the site.
Abdullah, the head of one of only two Arab countries at peace with Israel, stressed Jordan's rejection of "any measures harming the al-Aqsa Mosque and its sanctity", according to a statement issued by the palace in Amman.
Despite the diplomatic rapprochement, Al Jazeera's correspondent said the situation on the ground did not calm down.
"There is still a lot of tension and a huge police presence here," Al Jazeera's Imtiaz Tyab, reporting from Jerusalem, said on Thursday.
As Netanyahu spoke, around 150 Jewish hardliners gathered near the Old City for a march to the gates of what they called Temple Mount.
"We are proudly marching with high heads to the direction of the Temple Mount. God willing, we'll get there," organiser Ariel Groner told the AFP news agency at the site where a Palestinian recently tried to assassinate Yehuda Glick, a far-right campaigner for Jewish prayer rights at the compound.
Azzam Khabib, director of the Waqf, the Muslim religious authority in charge of al-Aqsa site, said he and other Muslim figures had uged Israel not to allow non-Muslims into the site to avoid confrontations.
Full report at:
http://www.aljazeera.com/news/middleeast/2014/11/jordan-gets-netanyahu-assurance-jerusalem-2014116171428236335.html
-----------
Turkey-bound ships take militants to Iraq, Syria: Interpol
Nov 7, 2014
Foreign terrorists are increasingly going to Turkey through booking tickets on cruise ships to join Takfiri groups in neighboring Syria and Iraq, Interpol has warned.
"Because they know the airports are monitored more closely now, there's a use of cruise ships to travel to those areas," Pierre St. Hilaire, the director of counterterrorism at Interpol, said on Thursday.
He added that the international police body has evidence that "the individuals, especially in Europe, are traveling mostly to [the Turkish coastal town of] Izmit and other places to engage in this type of activity."
Turkey has come under international criticism for allowing thousands of foreign terrorists to join Takfiri groups such as ISIL, which has captured large areas across Iraq and Syria.
"It's a global threat -- 15,000 fighters or more from 81 countries traveling to one specific conflict zone," St. Hilaire said.
He noted that some 300 militants from China have joined terrorist groups fighting in Syria and Iraq.
Full report at:
http://www.presstv.ir/detail/2014/11/07/385091/turkeybound-ships-take-militants-to-iraq/
-----------
Ansarullah fighters drive al-Qaeda out of Yemen town
Nov 7, 2014
Fighters from the Shia Houthi Ansarullah movement in Yemen have flushed out al-Qaeda-linked militants from a town in the Arab country's strategic western province of al-Hudaydah.
On Thursday, the Houthi fighters established control and security over the entire al-Khokha, a strategic town because of its direct access to the Red Sea and proximity to Bab-el-Mandeb Strait, while the Yemeni government troops surrendered some military bases to the Ansarullah forces.
The development came a day after Ansarullah fighters swept the town of Adeen, situated about 200 kilometers (125 miles) south of the capital, Sana'a, in their battle against al-Qaeda-affiliated terrorists.
Ansarullah fighters have already flushed al-Qaeda-linked militants out of Rada' and Sa'ada, two key towns in central and northern Yemen.
On October 29, Ansarullah members took control of the strategic town of Radmaa in Yemen's central province of Ibb following clashes with al-Qaeda-linked militants.
Full report at:
http://www.presstv.ir/detail/2014/11/07/385074/houthis-drive-alqaeda-from-yemen-town/
-----------
Turkey treads thin line with Kurds over Kobane
Stuart Williams
November 7th, 2014
ISTANBUL: Turkey is pursuing a delicate but potentially dangerous strategy over the besieged Syrian town of Kobane, working to thwart Kurdish domination of northern Syria but also running the risk of a breakdown of its peace process with the Kurds.
While the United States and the West see the Islamic State jihadists battling Kurds for Kobane as enemy number one, Turkey is equally worried about the risks to its security from separatist Kurdish groups.
President Recep Tayyip Erdogan has insisted that the fighters of the Democratic Union Party (PYD) leading the battle against IS for Kobane are part of a "terror group" allied to the Kurdistan Workers Party (PKK) who have fought Turkish security forces in a three-decade insurgency for Kurdish self-rule.
He castigated the United States for dropping weapons to the People's Protection Units (YPG) — the armed branch of the PYD — bitterly accusing President Barack Obama of acting behind his back.
Analysts say Turkey's worst nightmare is the realisation of de-facto independence for Rojava — Kurdish-populated Syrian territory — controlled by a powerful Kurdish militia that straddles the Turkey-Syria border.
"The Turkish government keeps treating the PKK/PYD as its worst enemy — worse than IS it seems," said David Romano, Associate Professor at Missouri State University and author of several works on the Kurdish movement.
"The predictable result is that Turkey's own Kurdish citizens feel increasingly alienated and angry at their government, and the peace process and domestic stability are indeed at risk," he said.
'Peshmerga good, PKK bad'
Prime Minister Ahmet Davutoglu made clear in an interview with the BBC broadcast last week that Ankara sees three "terror" groups at work in Syria — IS, the PKK, and the regime of President Bashar al-Assad.
Erdogan inflamed sentiment among Kurds on Oct 7 when he baldly stated that Kobane was falling, seemingly accepting the capture of the town as a fait accompli.
Under huge Western pressure to distance himself from the jihadists, Erdogan last week allowed a modest sized contingent of 150 Iraqi Kurdish Peshmerga fighters to cross its territory to join the battle for Kobane.
Full report at:
http://www.dawn.com/news/1142753/turkey-treads-thin-line-with-kurds-over-kobane
-----------
Iran policy unchanged, says White House
November 7th, 2014
WASHINGTON: The US policy toward Iran has not changed, White House spokesman Josh Earnest said in response to a report that US President Barack Obama had written a letter to Iran's Supreme Leader Ayatollah Ali Khamenei about the campaign against Islamic State insurgents.
Earnest said he could not comment on private correspondence between Obama and a world leader.
Full report at:
http://www.dawn.com/news/1142816/iran-policy-unchanged-says-white-house
-----------
Palestinian who ran over soldiers turns himself in
7 November 2014
JERUSALEM: A Palestinian who ran over three Israeli soldiers in the southern West Bank turned himself in to the security forces on Thursday, the army said.
The incident took place near the Gush Etzion settlement bloc late on Wednesday, several hours after a Palestinian deliberately ran down two groups of pedestrians in Jerusalem, killing a border policeman.
Police described the Jerusalem violence as a "hit and run terror attack" with the West Bank incident widely believed to be a copycat attack.
"The Palestinian suspected of running over the three soldiers last night turned himself in to the security forces and has been taken for investigation," an army statement said.
The vehicle, which had Palestinian plates, ran over three soldiers, one of whom was critically injured, police said.
The driver fled the scene, prompting a huge manhunt to locate him.
Palestinian witnesses in Al-Arub refugee camp between Bethlehem and Hebron said soldiers had found the vehicle abandoned and traced the owner to Beit Awwa village, southwest of Hebron.
Full report at:
http://www.arabnews.com/middle-east/news/656201
-----------
Explosions hit Fatah officials in Gaza Strip
07 Nov 2014
A series of co-ordinated explosions have targeted the homes of several leaders of President Mahmoud Abbas' Fatah Party in the Gaza Strip, a party official has said.
There was no immediate claim of responsibility, but the explosions early on Friday occurred at a time of rising tensions with the rival Hamas movement.
Fayez Abu Eitta, a Fatah leader in Gaza's Jebaliya refugee camp, said no one was hurt in the near-simultaneous attacks. He said his car was destroyed and the homes and cars of two other Fatah officials in Gaza City were also damaged.
Hamas gained control of Gaza from Fatah after winning the 2007 elections. The rival parties have recently pledged to reconcile, but there are still deep differences.
Fatah officials in Gaza are planning on commemorating the death of party founder Yasser Arafat on November 11 for the first time since 2007.
Full report at:
http://www.aljazeera.com/news/middleeast/2014/11/explosions-hit-fatah-officials-gaza-strip-201411724146181350.html
-----------
Syrian army retakes strategic gas field in Homs Province
Nov 6, 2014
Syrian army troops backed by pro-government fighters have recaptured a strategic gas field in the central militancy-stricken province of Homs.
Syrian state television, citing an unnamed military source, reported that Syrian forces retook control of Shaer gas field and its surrounding area on Thursday.
Shaer gas field had fallen into the hands of Takfiri ISIL terrorists on October 30, when the terrorists launched an attack that killed dozens of pro-government forces and security guards.
Earlier on Wednesday, the Syrian army regained control of the Jhar and Mahr gas fields, as well as the Hayyan gas company in the east of Homs Province.
On Thursday, Syrian government forces carried out an operation near the northeastern city of al-Hasakah, located approximately 650 kilometers (400 miles) northeast of the capital, Damascus, killing scores of ISIL members.
Full report at:
http://www.presstv.ir/detail/2014/11/06/385049/syria-army-retakes-gas-field-in-homs/
------------
Southeast Asia
Politicians reject govt's idea to leave religion column blank
November 07 2014
Politicians from Islamic-based political parties have opposed the government's decision to grant the wish of people to have the religion column on their ID cards left blank.
They said on Friday that the decision was contrary to the country's founding philosophy of Pancasila especially the first of its five principles, namely "Belief in one supreme God".
United Development Party (PPP) politician Arwani Thomafi told reporters that "religion is the visible manifestation of the first principle of Pancasila," as quoted by tribunnews.com.
In line with Arwani, Prosperous Justice Party (PKS) politician Aboebakar Al Habsy emphasized that the state's foundation was Pancasila.
"If we believe that Pancasila is our state ideology and our national identity, then why we should we be ashamed of including our religion on our KTP [national identity card]?" he asked.
Arwani added that the inclusion of religious identity was for the benefit of citizens.
"[Otherwise] problems will arise in matters of marriage, child custody and many things," he said.
Full report at:
http://www.thejakartapost.com/news/2014/11/07/politicians-reject-govt-s-idea-leave-religion-column-blank.html
-----------
3 Malaysian Muslims win court bid to cross-dress
November 7, 2014
Three Malaysian Muslim transgenders on Friday won a landmark court ruling against a religious law banning them from cross-dressing in what activists called a victory for human rights in a conservative Southeast Asian nation.
A three-judge panel of the Court of Appeals unanimously ruled that the Shariah law in Negeri Sembilan state was discriminatory as it failed to recognise men diagnosed with gender identity issues. It said the law deprived transgenders of "the right to live with dignity".
"This is degrading, oppressive and inhumane," said Judge Mohamad Hishammuddin Mohamad Yunus.
A lower court dismissed the case in 2012, saying the three transgenders must adhere to Islamic law because they were Muslim and born male. The three, who have been certified by doctors to have gender identity issues, appealed the decision.
The state's Islamic Religious Department could still appeal the ruling at the top Federal Court, although it wasn't immediately clear if it plans to do so. Aston Paiva, a lawyer for the three people, said the ruling will have wide Implications for Muslim transgenders in the country. It sets a precedent for high courts, which must follow the ruling if other Muslim transgenders challenge similar Islamic law in other states, he said, calling the case "historic".
"We are thankful and overjoyed. It is a victory for human rights," said transgender rights activist Nisha Ayub, who was in court when the verdict was read. She said it left her and her colleagues speechless.
Ms. Ayub, who heads the Justice for Sisters group, said the "landmark ruling" had been conveyed to the three transgenders, who were not present in court. They are makeup artists who had undergone hormone treatment and faced constant harassment from Islamic authorities, she said. Since the 1980s, every state has passed Shariah criminal enactments that institutionalize discrimination against transgender people, according to the New York-based watchdog.
Full report at:
http://www.thehindu.com/news/international/world/3-malaysian-muslims-win-court-bid-to-crossdress/article6574691.ece?homepage=true
-----------
Jokowi told to re-open Talangsari case
November 06 2014
Victims of the bloody 1989 Talangsari incident in Central Lampung have demanded that President Joko "Jokowi" Widodo instruct one of his advisors, Gen. (ret.) Hendropriyono, to reveal the truth of what happened in Talangsari.
Azwar Khaili, 76, one of the victims, claimed that he had not been a member of the hard-line Warsidi group, which was accused of attempting to establish an Islamic state, and yet his house and store had been burned down by the Army.
Furthermore, his son, Warsito, who was only 11 years old at the time, lost his life in the incident.
Azwar said he had been informed by a resident that Warsito, who had been climbing a tree, had been shot by soldiers, who then dragged him into a house and set it on fire.
"Our legal status has been unclear for years. We are still considered rebels and our sons and daughters face difficulty whenever they apply for jobs," he said on Thursday.
He said the Yudhoyono administration had been a big disappointment because it had not delivered justice to the victims during its 10 years in power.
Azwari, 63, another victim, said the current administration gave him hope. He also said that victims must be compensated.
"Hundreds of victims were brutally murdered in the incident. Others were tortured and detained without due process. I lose my civil servant status because of the incident," he said.
The victims' demand was made in response to a recent statement by Hendropriyono, who claimed that the Talangsari incident was a suicide pact by Warsidi members. He also denied that soldiers had burned down houses.
Full report at:
http://www.thejakartapost.com/news/2014/11/06/jokowi-told-re-open-talangsari-case.html
-----------
North America
US Commission Urges Obama to Meet Persecuted Rohingya in Myanmar
By David Brunnstrom
Nov 07, 2014
A US government agency called on President Barack Obama on Thursday to meet with Rohingya Muslims and other minorities when he visits Myanmar this month and to press the government to act to prevent "serious and alarming violence" against them.
The US Commission on International Religious Freedom also said the United States should continue to use sanctions against officials and individuals in Myanmar responsible for religious persecution and consider a binding agreement with the government linking the lifting of sanctions to rights reform.
"The political reform process in Burma is at great risk of deteriorating if religious freedom and the right to equal treatment under the law are not honored and protected," the commission said in a report after its first visit to predominately Buddhist Myanmar, also known as Burma.
"USCIRF is concerned that recent openings have coincided with serious and alarming violence against religious and ethnic minorities."
The report from the commission, an independent, bipartisan agency funded by the US government, said attacks against Muslims, particularly stateless Rohingya Muslims, as well as Christians, had continued with impunity and the government appeared "unable or unwilling to address the abuses."
The commission called the situation faced by Rohingya Muslims in Rakhine state "appalling" and said its four-member team was "struck by the bigotry and chauvinism exhibited by important religious figures within the Buddhist community."
The report highlighted proposed legislation to restrict religious conversions and marriages between people of different faiths and said this had "no place in the 21st century."
It urged Obama to meet Rohingya and other Muslims, Christians and activists when he visits Myanmar next week to attend regional summits.
The US government, it said, should show solidarity by using the term "Rohingya," despite objections by government officials, and said US Secretary of State John Kerry had disappointed Rohingyas by failing to do so on a visit in August.
"The United States and the international community need to ensure that religious freedom and related human rights remain a high priority in their engagement with the Burmese government while also assisting those in Burma subject to religious-based abuses," the report said.
Full report at:
http://thejakartaglobe.beritasatu.com/international/us-commission-urges-obama-meet-persecuted-rohingya-myanmar/
-----------
Stop Israeli acts at Muslim sites, Palestinians urge UN
November 06, 2014
The Palestinians and Jordanians have urged the United Nations Security Council to demand that Israel immediately stop provocations and incitement against Muslim holy sites in Jerusalem, warning that further escalation could lead to another crisis threatening peace in the Middle East.
The warning followed what the Palestinians described as the illegal storming of the Al-Aqsa Mosque on Wednesday by Israeli extremists protected by more than 300 Israeli security forces, which led to a confrontation with Palestinian worshippers. A Palestinian youth reportedly angered by the confrontation later drove a minivan into a crowd waiting for a train, killing one person and wounding 13. Hours later, a Palestinian motorist drove into a group of soldiers in the West Bank, injuring three.
Israel's Ambassador Ron Prosor sent what the Israeli Mission called a "sarcastic letter" to the Security Council. Prosor's letter noted the council's failure to "utter a word" about "this blatantly dangerous provocation."
The compound is revered by both Jews and Muslims. Jews call it the Temple Mount because of the Jewish temples that once stood there. Muslims refer to it as the Haram al-Sharif, or Noble Sanctuary, marking the place where Prophet Muhammad ascended to heaven.
Israeli Prime Minister Benjamin Netanyahu has said he won't allow changes to a long-standing ban on Jewish worship at the Muslim-run site, despite demands from ultranationalists in his coalition government. But Palestinian UN Ambassador Riyad Mansour said that "actions blatantly intended to assert Israeli control over the compound continue unabated."
Mansour said in a letter to the Security Council that stun grenades and rubber-coated bullets were fired at Palestinian worshippers in the al-Aqsa Mosque, seriously injuring at least 30 people.
He said the extremists desecrated holy sites, including by entering one mosque in the compound and climbing on the altar wearing shoes in "a shameful sign of disrespect" for Muslims, who leave their shoes outside as a sign of respect.
Jordan's Ambassador Dina Kawar said in a separate letter to the council that Israeli special forces and police prohibited Muslim worshippers from entering and allowed religious and political extremists inside the compound.
Full report at:
http://www.todayszaman.com/world_stop-israeli-acts-at-muslim-sites-palestinians-urge-un_363706.html
-----------
Veteran US diplomat and Pakistan expert under investigation
Anwar Iqbal
November 7th, 2014
WASHINGTON: Federal law enforcement agencies are investigating a veteran US diplomat and a long-time Pakistan expert, Robin L. Raphel, on undisclosed allegations, the US State Department said on Friday.
The Washington Post reported earlier that Raphel is under investigation on counter-intelligence allegations, which typically involves spying for foreign governments. She has been placed on administration leave.
Her contract with the State Department also expired this week. But she has not been charged yet.
The FBI searched Raphel's Washington home last month, and her State Department office was also examined and sealed, officials told the Post.
The US administration has also withdrawn her security clearances.
"We are aware of this law enforcement matter," State Department spokeswoman Jen Psaki told reporters after the Post released a short version of its story on Thursday evening.
"The State Department has been cooperating with our law enforcement colleagues," Psaki said.
Robin Lynn Raphel, 67, was serving as coordinator for non-military assistance to Pakistan before the FBI raid.
The investigation began late last month when she was also placed on administrative leave.
Two US officials told the Post the investigation was "a counterintelligence matter, involves allegations of spying on behalf of foreign governments".
The exact nature of the investigation was not disclosed.
In 1993, President Bill Clinton appointed Raphel the first US Assistant Secretary of State for South and Central Asian Affairs, a position created to assist the US government in managing the region, which had two nuclear-weapon states.
Full report at:
http://www.dawn.com/news/1142873/veteran-us-diplomat-and-pakistan-expert-under-investigation
-----------
Reports: Obama sent letter to Iran's Khamenei
07 Nov 2014
US President Barack Obama has secretly written a letter to Iran's Supreme Leader Ayatollah Ali Khamenei urging progress on nuclear talks and stressing common interest in fighting the Islamic State of Iraq and the Levant (ISIL), the Wall Street Journal says.
Obama sent the letter to Khamenei in mid-October, according to the report published on Thursday citing unnamed White House officials.
"Mr Obama stressed to Mr Khamenei that any cooperation on [ISIL] was largely contingent on Iran reaching a comprehensive agreement with global powers on the future of Tehran's nuclear programme by a November 24 diplomatic deadline," the report said.
It also noted that it was at least the fourth time Obama had written to Khamenei since taking office in 2009.
Carol Lee, one of the journalists behind the report, told Al Jazeera the letter shows just how much officials in the White House believe Khamenei is key to achieving a deal.
"They can talk to [Mohammad Javad] Zarif, the Iranian foreign minister, and others within the government but its really the Supreme Leader who holds the keys to whether or not they get this done," Lee said.
Obama said on Wednesday that his administration has put forward a "framework" plan for a nuclear agreement with Iran. But he warned it was unclear if a deal would be struck by the November 24 deadline.
"We presented to them a framework that would allow them to meet their peaceful energy needs," Obama said.
It was the first time the US has alluded to a completed framework being on the table, and came just days before John Kerry, US secretary of state, holds fresh negotiations with his Iranian counterpart.
'Verifiable deal'
If Iran is sincere in not seeking a nuclear weapon, "if that's in fact true, they have an avenue here to provide that assurance to the world community", Obama said.
It would be "a progressive step-by-step verifiable way" which would "allow them to get out from under sanctions so they can re-enter as full-fledged members of the international community".
Full report at:
http://www.aljazeera.com/news/americas/2014/11/reports-obama-sent-letter-iran-khamenei-20141161801316254.html
-----------
URL: https://www.newageislam.com/islamic-world-news/new-age-islam-news-bureau/terrorist-attempt-to-'destabilize,-divide'-the-saudi-kingdom-denounced/d/99910