New Age Islam News Bureau
9 Jun 2019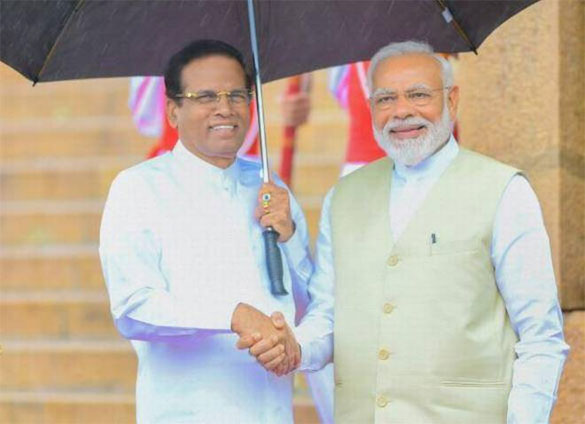 Prime Minister Narendra Modi with Sri Lankan President Maithripala Sirisena during a meeting in Colombo on June 9, 2019. Twitter/@MaithripalaS
-------
•
India Asks Pakistan To Exempt Narendra Modi's Fligh
Israel Has 'Right' To Annex West Bank Land, Says US Ambassador
• Saudi Islamic Affairs Minister Hails Success Of Imamate Program
• Sri Lanka Mps Clash With President Over Easter Attacks Probe
Compiled By New Age Islam News Bureau
For Details And More News From All Regions, Please Click, 'Read More'
And More News From All Regions, Please Click, 'Read More'
------------
India
• Terrorism Is A Joint Threat: Narendra Modi
• India Asks Pakistan To Exempt Narendra Modi's Flight
• Two lakh Indians to perform Haj
-----
North America
• Israel has 'right' to annex West Bank land, says US ambassador
• US Jewish community looks to defend itself as attacks rise
----
Arab Word
• Saudi Islamic affairs minister hails success of imamate program
• Region must be part of Iran nuclear deal: UAE
• Syrian rebel town buries goalkeeper who became 'singer of the revolution'
----
South Asia
• Sri Lanka MPs clash with president over Easter attacks probe
• Taliban presses US to set withdrawal date
• National Directorate of Security Special Forces bust a network of ISIS terrorists in Kabul city
• Afghan Special Forces destroy Taliban headquarters in Kunduz
• Taliban's Kangaroo Court Chief arrested in Faryab province
• 11 Taliban militants killed, wounded in a clash with the security forces in Farah
-----
Mideast
• Iran urges Europe to normalise economic ties with it or face consequences
----
Pakistan
• Supreme Court judge Eisa to appear before panel, ex-PM Sharif and Zardari to learn fate
----
Africa
• Civil disobedience campaign empties streets of Sudan's capital
• Pope appeals for peace, dialogue in Sudan
Compiled by New Age Islam News Bureau
URL: https://www.newageislam.com/islamic-world-news/terrorism-joint-threat-narendra-modi/d/118831
-------
Terrorism Is A Joint Threat: Narendra Modi
Meera Srinivasan COLOMBO
JUNE 09, 2019
In a visit spanning barely five hours, Prime Minister Narendra Modi held discussions with Sri Lanka's top leadership – both in government and Opposition in a string of short meetings in Colombo on Sunday. The focus in most of the interactions, sources said, was cooperation in economic initiatives, in countering terrorism.
Even as he wound up his 'solidarity visit', Mr. Modi tweeted that he had a "short but immensely fruitful" visit to the island.
Mr. Modi, who was here on President Maithripala Sirisena's invitation, is the first foreign head of state to visit the island, after the ghastly Easter terror attacks that killed over 250 people.
The Indian Prime Minister visited St. Anthony's church in Colombo and paid respects to those who died in the April 21 bombings.
"Since both Sri Lanka and India have been victims of terrorism, both the leaders condemned terrorism in all its forms and manifestations and decided to step up cooperation in this critical area," a statement from President Sirisena's media division said.
On his meeting with President Sirisena, Mr. Modi said it was their second meeting in 10 days. "President Sirisena and I agreed that terrorism is a joint threat that needs collective and focussed action. Reiterated India's commitment to partner with Sri Lanka for a shared, secure and prosperous future," he said in a tweet.
After Prime Minister Ranil Wickremesinghe received his Indian counterpart at the Bandaranaike International Airport — President Sirisena accorded him a ceremonial welcome, with a guard of honour and a 19-gun salute. President Sirisena escorted Mr. Modi in, holding an umbrella for him as sudden showers struck Colombo. He threw a special banquet for his guest and presented him with a replica of the 'Samadhi Buddha Statue', hand-carved in white teak.
"Thank you @narendramodi, for your brief, but highly productive visit to our country today, thus proving you are a true friend of ours. I highly appreciate and value your kind gesture, support and cooperation extended to Sri Lanka," the President tweeted.
Mr. Wickremesinghe, tweeting on Mr.Modi's visit, said he looked forward to holding discussions including on increasing multi-lateral investment projects and collaboration in counter-terror actions.
This is PM Modi's third visit to Sri Lanka, after earlier trips in March 2015 and May 2017. Foreign Secretary Vijay Gokhale and National Security Advisor Ajit Doval were part of Mr. Modi's delegation to Sri Lanka on Sunday, as they returned from the Maldives.
Former President and Leader of Opposition Mahinda Rajapaksa called on Mr. Modi at India House, the official resident of the Indian envoy in Colombo. "It was a warm and cordial meeting," said Namal Rajapaksa, a legislator and son of Mr. Rajapaksa, who was also present at the meeting. "My father congratulated Mr. Modi on his election win and emphasised that stability at the Centre in India was good not just for India, but for the entire region." Further, Mr. Rajapaksa told Mr. Modi that India should lead the region not just in socio-economic growth, but also in counter-terrorism, according the young Hambantota MP.
Mr. Modi met a delegation of the Tamil National Alliance (TNA), led by senior politician R. Sampanthan, representing the war-affected Tamil minority from the island's north and east. According to sources, the Tamil leadership emphasised that India urge the Sri Lankan government to frame a new Constitution, as had been promised by Mr. Sirisena and PM Wickremesinghe, when their coalition came to power in 2015.
India has historically been one of the arbiters for a political solution to Sri Lanka's Tamil question. Till date the Indo-Lanka Accord of 1987 remains a key document that speaks of substantive power devolution to the provinces.
According to TNA spokesman M.A. Sumanthiran who attended the meeting, Mr. Modi assured the Tamil leaders that "India was conscious" of their demand. Further, he told them that he looked forward to meeting them soon in New Delhi, for a discussion on India's possible role in nudging the Sri Lankan leadership to frame a new Constitution.
Indian community
Later, shifting gears from diplomacy to domestic politics, Mr. Modi addressed Colombo-based Indian community and thanked the people of India for a big mandate. "We achieved a lot in last five years…much more has to be done in the coming years," he said to thundering applause, and urged Sri Lanka-based Indians to help strengthen bilateral ties.
https://www.thehindu.com/news/national/narendra-modi-meets-top-sri-lankan-leadership-describes-terrorism-as-a-joint-threat/article27703645.ece?homepage=true
-----
India asks Pakistan to exempt Narendra Modi's flight
SPECIAL CORRESPONDENT NEW DELHI, JUNE 09, 2019
India has requested Pakistan that Prime Minister Narendra Modi be allowed to fly through its airspace to attend the Shanghai Cooperation Organisation (SCO) meeting in Kyrgyzstan's capital, Bishkek, on June 13 and 14 despite the restrictions it had imposed on flights from and through the country, according to government sources.
The two countries had made an exemption for each other's Foreign Ministers last month.
After imposing a ban on all flights following India's air strikes in Balakot deep inside its territory, Pakistan has lifted restrictions on the use of its airspace for most carriers and opened only two out of 11 routes through its southern parts for flights to and from India.
Flying time
As a result, airlines still need to take a long detour to fly to countries to the north of Pakistan. A flight to Bishkek through Pakistan is likely to take nearly four hours, but a detour will result in an eight-hour flight.
Early May, India allowed Pakistan's Foreign Minister Shah Mehmood Qureshi to fly through its airspace for a visit to the Maldives and Sri Lanka.
This was followed by Pakistan permitting then External Affairs Minister Sushma Swaraj to fly directly through its airspace for the SCO meeting in Bishkek on May 22 and 23.
Mr. Qureshi though had to cancel his trip following the serial bomb blasts that took place on Easter day in Sri Lanka.
Curbs continue
Airspace restrictions by Pakistan have been in place since February 27 and were recently extended until June 15 for flights entering the country through its eastern border after flying through Indian skies.
These have resulted in steep airfares for passengers, including a large number of Indian students in different Central Asian countries planning a trip home for their summer break.
https://www.thehindu.com/news/national/india-asks-pakistan-to-exempt-narendra-modis-flight/article27700555.ece?homepage=true
------
Israel has 'right' to annex West Bank land, says US ambassador
AFP
June 09, 2019
JERUSALEM: The US ambassador has said Israel has the right to annex at least "some" of the occupied West Bank, in comments likely to deepen Palestinian opposition to a long-awaited US peace plan.
The Palestinians have rejected the plan before it has even been unveiled, citing a string of moves by US President Donald Trump that they say show his administration is irredeemably biased.
They are likely to see the latest comments by US Ambassador to Israel David Friedman as new nail in the coffin of a peace process that is already on life support.
In the interview published by the New York Times on Saturday, Friedman said that some degree of annexation of the West Bank would be legitimate. "Under certain circumstances, I think Israel has the right to retain some, but unlikely all, of the West Bank," he said.
Senior Palestinian official Saeb Erekat has said any such policy would be tantamount to "US complicity with Israeli colonial plans."
The establishment of a Palestinian state in territories, including the West Bank, that Israel occupied in the Six-Day War of 1967, has been the focus of all past Middle East peace plans.
No firm date has yet been set for the unveiling of the Trump administration's plan although a conference is to be held in Bahrain later this month on its economic aspects.
The public comments made by administation officials so far suggest the plan will lean heavily on substantial financial support for the Palestinian economy, much of it funded by the Gulf Arab states, in return for concessions on territory and statehood. "The absolute last thing the world needs is a failed Palestinian state between Israel and Jordan," Friedman said in the Times interview.
"We're relying upon the fact that the right plan, for the right time, will get the right reaction over time."
Friedman, a staunch supporter of the Israeli settlements, told the Times that the Trump plan was aimed at improving the quality of life for Palestinians but would fall well short of a "permanent resolution to the conflict."
He said he did not believe the plan would trigger Palestinian violence.
But he said the United States would coordinate closely with Arab ally Jordan, which could face unrest among its large Palestinian population over a plan perceived as overly favorable to Israel.
Publication of the plan looks set to be further delayed after the Israeli paraliament called a snap general election for September, the second this year.
The plan is regarded as too sensitive to release during the campaign.
During campaigning for the first general election in April, Prime Minister Benjamin Netanyahu pledged to annex West Bank Jewish settlements, a move long supported by nearly all lawmakers in his alliance of right-wing and religious parties.
Earlier, in February, Netanyahu told lawmakers he had been discussing with Washington a plan that would effectively annex settlements.
In a rare public show of disunity between the close allies, the White House then flatly denied any such discussion.
Following persistent expansion of the settlements by successive Netanyahu governments, more than 600,000 Jewish settlers now live in the West Bank, including annexed east Jerusalem, among some three million Palestinians.
The international community regards the settlements as illegal and the biggest obstacle to peace.
http://www.arabnews.com/node/1508166/middle-east
-----
Saudi Islamic affairs minister hails success of imamate program
June 09, 2019
RIYADH: The Saudi minister of Islamic affairs, dawah and guidance, Sheikh Abdullatif Al-Asheikh, has hailed the success of a global imamate program run by the Kingdom.
The international project was carried out by his Saudi ministry in 35 countries around the world during Ramadan with the participation of 70 imams.
Aimed at promoting Islam's values of moderation and tolerance, Al-Asheikh attributed the success of the initiative to Allah, and the attention and care provided by King Salman and the crown prince.
The program was part of the royals' support for all ministry activities, especially schemes dedicated to Muslims in countries throughout the world.
Al-Asheikh praised the efforts of the imams in conveying the Kingdom's message of moderation and helping to enlighten worshippers about Islam.
He also thanked the organizers of the program, and an illuminated panel highlighted key verses from the Qur'an recited during speeches and lectures.
As part of the project, the 70 imams performed Taraweeh prayers during the holy month of Ramadan, and the program also included scientific activities, preaching, advocacy, awareness lectures, Friday prayer sermons, training sessions, and Eid prayer.
This year, the Saudi government also organized King Salman's iftar program in 24 countries in Africa, Asia and Eastern Europe, at a total cost of SR3.75 million ($1 million), which benefited more than 1 million Muslims.
http://www.arabnews.com/node/1508146/saudi-arabia
------
Sri Lanka MPs clash with president over Easter attacks probe
AFP
June 09, 2019
COLOMBO: Sri Lanka's parliament warned President Maithripala Sirisena not to scuttle a controversial investigation into security lapses before the Easter suicide bombings, the Speaker's office said Sunday.
The warning came after Sirisena said he would not cooperate with the parliamentary probe and would not allow defense or police officials to testify before the select committee (PSC).
The president called an emergency cabinet meeting on Friday night to oppose the legislature's investigation into the April 21 attacks that killed 258 people, including 45 foreigners, and wounded nearly 500.
"Any public servant summoned by the PSC is obliged to give evidence," Speaker Karu Jayasuriya said in a hard-hitting two-page response to Sirisena.
"Officials are fully aware of the serious consequences if they fail to respond."
Officials at the Speaker's office said Jayasuriya made it clear to Sirisena that he will not call off the PSC and it will continue its public hearings.
Evidence before the parliamentary select committee, which began its publicly televised sittings since late last month, has placed the president in a poor light, suggesting that he failed to act on advance warning of the attacks.
On Saturday, Sirisena's office said he sacked his national intelligence chief El-Sisira Mendis who testified that the devastating attacks against three churches and three luxury hotels could have been avoided.
Mendis also said the president had failed to hold regular security meetings to assess the threat from radicals who carried out the bombings.
Sirisena's office did not give a reason for abruptly sacking Mendis. Halfway through his testimony, the live telecast of the proceedings was stopped on the president's orders, official sources said.
Sirisena told his police top brass on Friday that he would not allow any police, military or intelligence personnel to testify.
However, a senior defense ministry sources said that in view of the Speaker's latest warning, they will have to cooperate with the committee.
Sirisena's defense secretary and police chief have suggested that the president, who is also defense minister, did not follow proper protocols in dealing with a specific warning from an Indian intelligence agency.
New Delhi had shared detailed information about the targets and the method of attack as early as April 4, two and a half weeks before the bombings, following information from a jihadist in Indian custody.
A local miitant organization and the Daesh group claimed responsibility for the deadly attacks. The country has been under a state of emergency since the bombings.
Sirisena said last week that he met with the national police chief and his top brass 13 days before the attacks but no officer raised warnings passed on by India. His own officials have denied it.
The latest crisis erupted ahead of a visit to Sri Lanka by Indian Prime Minister Narendra Modi on Sunday.
Modi arrived in Colombo for a brief stopover on his return from an official visit to the Maldives on Saturday.
Sirisena suspended police chief Pujith Jayasundara and dismissed his top defense official Hemasiri Fernando after the bombings.
http://www.newageislam.com/islamic-world-news/will-attend-iftar-100-times--mamata-over-muslim-appeasement-allegations/d/118708
------
India
Two lakh Indians to perform Haj
Shammi Mondal MUMBAI, JUNE 09, 2019
Union Minister of Minority Affairs Mukhtar Abbas Naqvi on Sunday claimed that the quota for Indians to perform Haj has increased from 1,32,000 pilgrims to two lakh pilgrims in the last five years, the highest number since Independence.
Mr. Naqvi was addressing a press conference at the Haj House where he launched an online portal and a mobile App (HPFS) for the better organisation and experience of all Indian pilgrims.
The Union Minister credited the increase in Haj pilgrims over the last five years to Prime Minster Narendra Modi and said this could be brought about by communicating with the Crown Prince of Saudi Arabia. "The number of Indian Haj Pilgrims is more than that of Pakistan and the quota is most likely to increase," he said.
Flights for Haj will begin from July 4 and from various places across the country. There will be more than 500 flights catering the pilgrims. Medical facilities at the pilgrimage centre have also been taken care of. For this, a total of 14 health care centres and 620 co-ordinators will be catering to the Indian pilgrims.
"The removal of Haj subsidy have not caused much of a problem to the Indian pilgrims," Mr. Naqvi said.
The minister said that the feedback mechanism in the online portal and the mobile app are extremely new and essential. "This mechanism gives immense power to the pilgrims and makes the process more transparent and progressive," he claimed.
https://www.thehindu.com/news/national/two-lakh-indians-to-perform-haj/article27705994.ece
-----
North America
US Jewish community looks to defend itself as attacks rise
AFP
June 09, 2019
LOS ANGELES: Armed guards, safety assessments and now even a "Tactical Rabbi" to train volunteers on the use of weapons — such is the reality today at synagogues in the United States facing mounting anti-Semitic attacks.
It is at a shooting range in the hills overlooking Los Angeles that a team of AFP reporters met recently with Raziel Cohen, dubbed the "Tactical Rabbi," who was sporting a 9mm pistol on his hip and carrying a semi-automatic rifle over his shoulder.
Cohen was trying to determine how well books can stop bullets. The idea is to transform a library at a synagogue or Jewish school into a shelter in the event of an active shooter situation.
"We're trying to bridge the gap between the time that the shooting begins and law enforcement arrives," he told AFP.
"The expression that goes on is that we carry guns because we can't carry police officers, which is not just a joke," added Cohen. "The reality is that there can't be police everywhere all the time."
Cohen, who has been passionate about guns since his youth, is a security expert and certified shooting instructor who has taken part in counter-terrorism courses given by retired and elite active-duty military personnel.
Born into a religious family, Cohen is also a rabbi for the Chabad-Lubavitch community in Los Angeles. Chabad is a sect of Hasidic Judaism, and Los Angeles is second only to Brooklyn, New York in its number of Chabad congregations.
Cohen said his expertise in security took on more meaning after the April 27 shooting at the Chabad Poway Synagogue near San Diego that left one dead and three wounded.
It came six months after a shooting at a Pittsburgh synagogue left 11 people dead — the worst attack against Jewish people in the modern history of the United States.
"One of the Ten Commandments that's taught very incorrectly is 'Thou shall not kill'," Cohen said. "It's
not 'Thou shall not kill,' it's 'Thou shall not murder.'
"In fact, in the Bible it says that you have the obligation to protect yourself."
Anti-Semitic incidents in the United States remained at near-record high levels in 2018, according to the Anti-Defamation League, which recorded 1,879 incidents, the third-highest level since the 1970s.
2017 had marked an unprecedented rise in such incidents, with 1,986 cases of harassment, vandalism or anti-Semitic attacks recorded, the organization said.
Cohen said given the uptick, it was the duty of the Jewish community to learn to fend for itself.
But not everyone agrees with Cohen's reasoning.
Ivan Wolkind, chief operating officer of the Jewish Federation of Greater Los Angeles and founder of the federation's security program, said some 500 groups have joined the program, exchanging information and security tips with police or the FBI.
Wolkind, a reserve officer with the Los Angeles Police Department, said while he wholeheartedly believes in prevention, he is not convinced that arming worshippers is the answer.
"I can't make a judgment as to whether or not people should have weapons in their place of worship
but what I can say is to have people carrying weapons without a huge amount of training... is potentially very very dangerous," he told AFP.
He said his program focuses on prevention rather than encouraging worshippers to arm themselves.
"So we put 98 percent of our energy into what we call left of bang," he said. "So if you think of a timeline where there is pre-incident — everything that happens before an incident — and then the bang is what happens and then there's everything to the right.
"We put 98 percent of our energy into left of bang — recognizing, preventing and mitigating the effects of an attack."
Wolkind said he fears that people who undergo weapons training may feel overconfident and ignore warning signs leading up to a shooting.
"They may stop looking for some of the pre-incident indicators that I feel are so important," he said.
He said his security program has been so successful that churches, mosques and even the Church of Scientology have reached out for advice.
"We've got a lot of experience," he said. "And we are absolutely open to sharing that with anyone and everyone as other people try to do the same thing in their communities."
http://www.arabnews.com/node/1508256/world
------
Arab Word
Region must be part of Iran nuclear deal: UAE
June 09, 2019 20:33
Samir Salama, Associate Editor
Abu Dhabi: As tensions soar in the region already shaken by a standoff between the US and Iran over the nuclear deal, the UAE and Germany on Sunday called for defusing the situation to prevent further escalation and enter into negotiations.
"We believe the region – hard-hit by tensions, conflicts and wars – should get a big chance for diplomacy, dialogue and hope for a better future," Shaikh Abdullah Bin Zayed Al Nahyan, Minister of Foreign Affairs and International Cooperation, said at a joint press conference with his German counterpart, Heiko Mass.
Shaikh Abdullah urged friends and allies — Germany and the five permanent members of the UN Security Council — to assume greater role in making these efforts successful and spreading peace and prosperityin the region.
The German Minister said that Europe has a united stance to keep the nuclear deal with Iran alive. Shaikh Abdullah said countries of the region must be part of the nuclear deal with Iran.
Broader issues
"Broader issues must also be included in the deal, such as the Iranian ballistic missiles, supporting terrorism and meddling in the internal affairs of other countries," Shaikh Abdullah said.
Shaikh Abdullah was speaking after the UAE told UN members that a state was likely to be behind "sophisticated and coordinated" attacks on four tankers off its coast last month.
The May 12 attacks targeted two Saudi tankers, a UAE vessel and a Norwegian tanker, causing no casualties but fuelling tensions in the region.
Limpet mines
The attacks required expert navigation of fast boats and trained divers who likely placed limpet mines on the vessels under the waterline to incapacitate but not sink them, according to the preliminary findings of a joint investigation by the UAE, Norway and Saudi Arabia.
In a briefing document given to UN security council members, the three countries did not say who they believed was behind the attacks. Iran has been accused by the US of being responsible.
Shaikh Abdullah said the attacks not only targeted four vessels, but also undermined the international maritime safety.
"When the attacks occurred, there were more than 184 vessels off the Fujairah port, docked for fuelling before sailing through the Strait of Hormuz.
"We in the UAE welcome any role assumed by Germany and others to defuse tension. Meanwhile, the UAE, Saudi Arabia and Norway along with other partners will continue to provide the Security Council with the results of the investigation into the attacks," Shaikh Abdullah said.
Haas said he did not want any misunderstanding to lead to a military confrontation.
Working to defuse tension
"We all work for defusing tension and prevent military escalation in the region and this issue will be
taken up during my visit to Iran."
Although Shaikh Abdullah did not blame Iran directly for the attacks on four vessels off the coast of Fujairah, and despite Iranian denials, intelligence from Washington suggested that Tehran was perhaps behind it.
"While investigations are still ongoing, these facts are strong indications that the four attacks were part of a sophisticated and coordinated operation carried out by an actor with significant operational capacity, most likely a state actor," a document submitted to the Security Council said.
The countries believe the attacks were the work of several teams of operatives who coordinated the timed detonation of all four explosive charges within an hour.
https://gulfnews.com/world/mena/region-must-be-part-of-iran-nuclear-deal-uae-1.64495367
----
Syrian rebel town buries goalkeeper who became 'singer of the revolution'
(AFP)
REUTERS
June 09, 2019
AL-DANA, Syria: Thousands of people flocked to the funeral on Sunday of a Syrian soccer star turned fighter who became an icon of the revolt against President Bashar Assad.
Abdelbasset Al-Sarout, 27, died on Saturday from wounds he sustained in northwest Syria, where an army offensive has pounded the last major rebel bastion for weeks.
Once a well-known goalkeeper from the city of Homs, Sarout gained a new kind of fame when the popular uprising against Assad's rule erupted in 2011. He was dubbed the "singer of the revolution" for chanting ballads at rallies that eulogized slain activists and vilified the president.
After Assad's iron-fisted crackdown on the protests, Sarout took up arms and became a wanted man.
His path mirrored the uprising's spiral into an armed fight to the death between Damascus and the myriad militias and guerrilla bands that the conflict spawned.
Sarout was moved from a hospital in Turkey, which backs the opposition, across the border on Sunday,
with a convoy of cars and motorcycles following the coffin into Syria.
People chanted, honked and waved rebel flags on the way to the funeral in the border town of Al-Dana, where one of Sarout's brothers is buried.
Four of Sarout's brothers and his father had already died fighting pro-government forces.
Crowds stood on the roofs to watch Sarout's body, wrapped in white, being carried through the town.
Rebels from his faction, Jaish Al-Izza, fired into the air.
In the mosque, men including fighters in combat uniform kneeled in front of his body to pray, some of them weeping.
"We all know Sarout's songs and golden vocals. Today is a big loss, a sad day for the Syrian revolution.
We lost one of its icons," said Ali Al-Zajel, an activist at the funeral.
With Russian and Iranian help, Assad's military has reclaimed much of Syria by crushing opposition enclaves in recent years.
Sarout was among hundreds of thousands of civilians and insurgents shuttled to the northwest under
surrender deals as the army reconquered their hometowns.
Sarout, who fought government forces in his home city, left under such a deal in 2014 after a bitter two-year siege.
As rebel factions struggled with infighting and the growing influence of Muslim jihadists, Sarout was
accused of switching his allegiance to Islamic State, which he denied in a video in 2015.
Source: http://www.arabnews.com/node/1508346/middle-east
------
South Asia
Taliban presses US to set withdrawal date
TAHIR KHAN
June 09, 2019
ISLAMABAD: The US must announce a time frame for the complete withdrawal of troops from Afghanistan in order to find a political solution to the conflict, the Afghan Taliban said on Saturday.
Taliban spokesman Suhail Shaheen told Arab News that the two sides had made progress during the sixth round of talks in May, but failed to strike a deal because the US did not set a date for a withdrawal.
Ahead of a new round of talks in Qatar, the date for which has yet to be announced, the US special representative for Afghanistan reconciliation, Zalmay Khalilzad, will travel to Doha as "part of an overall effort to facilitate a peace process that ends the conflict in Afghanistan," the State Department said in a statement.
"In Doha, he will continue talks with the Taliban to move the peace process forward," it added.
Shaheen said he is hopeful that "more progress" will be made during the next round of talks, "but the ball is in the US court, as they are to decide a time frame for withdrawal of foreign troops … This will solve the foreign aspect of the problem."
The date for a complete "withdrawal of foreign troops from Afghanistan will be top of the agenda," he added. "When the US announces a timeline, we'll give them a commitment that Afghan soil won't be used against any country."
Khalilzad has been urging the Taliban to agree to a cease-fire and start direct talks with the Afghan government, a suggestion rejected by the insurgents.
Shaheen said such talks will be held sometime after the next meeting with US representatives.
The Taliban says it will discuss only two issues with Khalilzad: Withdrawing foreign troops from Afghanistan, and preventing the country from being used against others.
http://www.arabnews.com/node/1508131/world
------
National Directorate of Security Special Forces bust a network of ISIS terrorists in Kabul city
By Khaama Press /
09 Jun 2019
The National Directorate of Security in a statement said the NDS Special Forces arrested six ISIS terrorists during the operation.
The statement further added that the detained terrorists were conducting destructive activities including assassinations, kidnappings, arms and explosives smuggling and transportation of ISIS fighters and their families to Nangarhar.
The National Directorate of Security also added that the NDS Special Forces confiscated some weapons during the operation.
The detained individuals have been identified as Subhan Ahmad son of Khan Jan, Hamdullah son of Ghulam Haidar, Mohammad Younus son of Mohammad Gul, Mohammad Younus son of Haji Babark and Abdul Rashid son of Abdul Aziz.
They were operating under the command of Din Mohammad alias Nawid who is one of the commanders of ISIS terror group operating in urban areas, NDS added.
https://www.khaama.com/nds-special-forces-bust-a-network-of-isis-terrorists-in-kabul-city-03572/
-----
Afghan Special Forces destroy Taliban headquarters in Kunduz
By Khaama Press
09 Jun 2019
The Afghan Special Forces conducted an operation in northern Kunduz province and destroyed a headquarters of Taliban.
The military officials said Sunday that the Special Forces also destroyed explosives and military equipment during the same operation.
The Special Forces also conducted a similar operation in Faryab province and killed 2 Taliban fighters.
According to military officials, the operation was conducted in Pashtun Kot district of the province.
The anti-government armed militants including Taliban have not commented regarding the operations so far.
This comes as the Afghan armed forces have stepped up counter-terrorism operations against anti-government armed elements in restive areas of the country.
The security situation in some districts of Kunduz province has deteriorated during the recent years.
Taliban militants are active in some areas of the province and often conduct terrorist related activities.
In the meantime, the Afghan forces are busy conducting counter-terrorism operations against the anti-government armed groups in this province.
Similarly, the U.S. forces also conduct regular airstrikes in restive parts of the country to suppress Taliban and other anti-government militants.
https://www.khaama.com/afghan-special-forces-destroy-taliban-headquarters-in-kunduz-03570/
------
Taliban's Kangaroo Court Chief arrested in Faryab province
By Khaama Press
09 Jun 2019
The Afghan security forces have arrested a notorious Taliban leader Mufti in Faryab province.
The Ministry of Interior (MoI) said Sunday that the security forces arrested Mufti Nasir late on Saturday night.
According to a statement released by MoI, the security forces arrested Mufti Nasir while he was travelling to Jawzjan city for medical care.
The statement further added that the police forces also Mawlavi Hafizullah, one of the accomplices of Mufti Nasir.
The Ministry of Interior also added that Mufti Nasir is a notorious Taliban leader who was in charge of Kangaroo Court of Taliban in Pashtun Kot.
He was also torturing the local residents besides trying people in Kangaroo Courts, MoI said.
The anti-government armed militants including Taliban have not commented regarding the arrest of Mufti Nasir so far.
https://www.khaama.com/talibans-kangaroo-court-chief-arrested-in-faryab-province-03569/
------
11 Taliban militants killed, wounded in a clash with the security forces in Farah
By Khaama Press
09 Jun 2019
A clash broke out between Afghan security forces and Taliban militants in western Farah province of Afghanistan late on Saturdya night.
The 207th Zafar Corps said Sunday that the clash took place in Ziarat-e-Aab Garam Village in Anar Dara
district.
The security forces killed 6 Taliban militants and wounded 5 others during the clash, the 207th Zafar Corps added.
The anti-government armed militants including Taliban have not commented regarding the clash so far.
This comes as the security situation in some districts of Farah province has deteriorated during the recent months.
Taliban militants are active in some restive areas of the province and often conduct terrorist related activities.
In the meantime, the Afghan forces are busy conducting counter-terrorism operations against the anti-government armed groups in this province.
The U.S. forces also conduct regular airstrikes in restive parts of the country to suppress Taliban and other anti-government militants.
https://www.khaama.com/11-taliban-militants-killed-wounded-in-a-clash-with-the-security-forces-in-farah-03568/
-----
Mideast
Iran urges Europe to normalise economic ties with it or face consequences
ReutersJune 09, 2019
Iran said on Sunday that Europe was not in a position to criticise Tehran for its military capabilities, and called on European leaders to normalise economic ties with the Islamic Republic despite US sanctions or face consequences.
President Donald Trump last year withdrew the United States from a nuclear deal with Iran and reimposed sanctions. Trump has condemned a 2015 nuclear deal with world powers, signed by his predecessor Barack Obama, as flawed for not being permanent and for not covering Irans ballistic missile programme or its role in conflicts around the Middle East.
The European signatories to the deal — France, Britain and Germany — share the same concerns as the United States over Irans ballistic missile programme and regional activities.
However, they have defended the nuclear accord saying that at least it puts curbs on Iran's nuclear programme and can be the basis for future talks.
"Europeans are not in a position to criticise Iran for issues outside the JCPOA," Zarif was quoted as saying by the state broadcaster, using the acronym for the nuclear deal.
"The Europeans and other signatories of the JCPOA should normalise economic ties with Iran ... We will halt our commitments or will take action in accordance to their measures."
Iran last month stopped some commitments under the nuclear deal and warned that in 60 days it would scale back more commitments if Europeans fail to shield it against the US sanctions.
German Foreign Minister Heiko Maas will visit Iran this week, during which he will explore options for preserving the fraying nuclear non-proliferation pact.
Iranian parliament speaker Ali Larijani on Sunday also criticised French President Emmanuel Macron for saying last week in a meeting with Trump that they shared the same objectives on Iran.
Macron said France wanted to make sure Tehran will not get nuclear weapons: "We had an accord until 2025 and we want to go further and have full certainty in the long run ... (Then) reduce ballistic activity and contain Iran regionally."
"The recent remarks by the French president in a meeting with Trump were shameful and inept," Larijani was quoted as saying by Fars news agency.
"Macron's comments did not match what he has been telling our president, Mr (Hassan) Rouhani, in their meetings and on the phone."
Iran insists its nuclear activities are entirely peaceful, and has repeatedly refused to discuss its missile programme.
https://www.dawn.com/news/1487089/iran-urges-europe-to-normalise-economic-ties-with-it-or-face-consequences
----
Pakistan
Supreme Court judge Eisa to appear before panel, ex-PM Sharif and Zardari to learn fate
Published: June 09, 2019 18:06
Zubair Qureshi, Correspondent
Islamabad: All eyes will be on Pakistan's Supreme Judicial Council (SJC) next week, as one of the country's most senior judges appears before the panel in an unexplained wealth case.
Supreme Court Justice Qazi Faez Eisa is accused of illicitly acquiring three properties in London, which are registered in the names of his wife and children.
The SJC has fixed June 14 as the date for hearing of the case.
Besides, Justice Faez Eisa's reference, decisions on bail pleas filed by former President Asif Zardari and former Prime Minister Nawaz Sharif are also expected during the week.
On the same day, lawyers from the country's different bar councils and lawyers' associations have called protests outside the Supreme Court building, in support of the senior judge.
They have called for Pakistan's law minister and attorney-general to step down.
Meanwhile, the Islamabad High Court (IHC) is expected to decide the fate of Zardari, his sister Faryal Talpur and former PM Sharif as they have sought bail from the court in different cases.
The hearing for Zardari and Talpur was fixed for Monday as both have sought judicial relief from a possible arrest by the National Accountability Bureau, which has issued their arrest warrants in a matter pertaining to laundering of billions of rupees through fake accounts.
On the last date of hearing, May 30, the court had extended interim pre-arrest bail to the former president and his sister until June 10.
A division bench of the IHC comprising Justice Aamer Farooq and Justice Mohsin Akhtar Kayani conducted the hearing of the petitions moved by the leaders of Pakistan Peoples Party (PPP) andextended their bails after the NAB furnished the record of the case against them.
The same Islamabad bench is also taking up former PM Sharif's post-arrest bail application in the Al Azizia reference, which he filed on medical grounds.
Sharif's case is scheduled to be heard by the court on June 11, Tuesday.
In his bail petition former Sharif cited a medical report, which suggested "the multifarious diseases/ailments of the petitioner [Nawaz Sharif] are not only life-threatening, the threat to the petitioner's life on account of these co-morbidities is bound to aggravate in case the petitioner is exposed to any physical or psychological stress".
https://gulfnews.com/world/asia/pakistan/pakistan-awaits-decisions-in-3-high-profile-cases-
1.64493123
----
Africa
Civil disobedience campaign empties streets of Sudan's capital
By Reuters |
Khartoum |
Updated: June 9, 2019
A campaign of civil disobedience to demand civilian rule left the streets of Sudan's capital Khartoum largely deserted as the working week began on Sunday, while police fired tear gas to disperse protesters in Khartoum North, witnesses said.
Opposition and protest groups had called for workers to stay at home after security forces stormed a protest camp on Monday, killing dozens and dealing a blow to hopes of a peaceful transition after ex-President Omar al-Bashir's removal in April.
The raid came after weeks of wrangling between the military council that took over from Bashir and the Declaration of Freedom and Change Forces (DFCF), an opposition alliance, over who should steer a transition leading to elections.
On Sunday morning few pedestrians or vehicles could be seen in the capital's streets. Public transport was barely functioning and most commercial banks, private companies and markets were shut.
Some state banks and public utility offices were working normally.
"We will not go back to work until the (Sudanese Professionals) Association announces the end of the strike," said Ahmad al-Noor, a 46-year-old employee at a private foodstuffs company. The SPA, which spearheaded the anti-Bashir protests, is part of the DFCF.
"Sudan must be governed by a civilian government," Noor said.
At Khartoum airport, where very few flights were operating, travellers crowded the departure hall. Most travel agencies were closed because of an internet outage, and ticket prices soared.
State news agency SUNA said Khartoum airport was "operating normally" and reported "complete attendance of employees in different airport units".
In Khartoum North, across the Blue Nile from the centre of the capital, police fired tear gas to scatter protesters. There were no reports of casualties.
Demonstrators have been trying to barricade roads in the capital over recent days as a way of sustaining the protest movement.
Also on Sunday, a well-known Sudanese banking expert rejected his appointment by the TMC as deputy governor of the central bank, he said.
Mohamed Ahmed Bushra turned down the job "because the current conditions the country is going through and the failure to form a transitional civilian government make it difficult for the central bank to arrange policies to address the economic crisis," he told Reuters.
Sudanese state TV meanwhile reported that a senior commander of the Rapid Support Forces (RSF), Mohamed Abdallah, had been replaced.
Witnesses said the RSF, whose leader General Mohamed Hamdan Dagalo is deputy head of the Transitional Military Council, led last Monday's raid.
Opposition medics said that 20-year-old Ayman Osama died on Sunday after he was shot in the chest at a road barricade in Omdurman, across the Nile from central Khartoum.
https://indianexpress.com/article/world/civil-disobedience-campaign-empties-streets-of-sudans-capital-5772290/
-----
Pope appeals for peace, dialogue in Sudan
By PTI |
Vatican City |
Published: June 9, 2019
Pope Francis on Sunday appealed for peace in Sudan following a bloody crackdown by security forces on pro-democracy protesters in Khartoum last week.
"The news coming from Sudan is giving rise to pain and concern. We pray for these people so that the violence ceases and the common good is sought in the dialogue," the pope said in his weekly address to crowds in St Peter's Square.
Opposition medics say 113 people were killed in this week's violence in the Sudanese capital, while the government has put the death toll at 61, including three members of the security services.
Sudan's main alliance of opposition groups and protesters have urged workers and employees to stay home on Sunday, launching what it called a campaign of civil disobedience to force military rulers to hand over power to civilians.
https://indianexpress.com/article/world/pope-appeals-for-peace-dialogue-in-sudan-5772151/
-----
URL: https://www.newageislam.com/islamic-world-news/terrorism-joint-threat-narendra-modi/d/118831
New Age Islam, Islam Online, Islamic Website, African Muslim News, Arab World News, South Asia News, Indian Muslim News, World Muslim News, Women in Islam, Islamic Feminism, Arab Women, Women In Arab, Islamophobia in America, Muslim Women in West, Islam Women and Feminism