New Age Islam News Bureau
16 Feb 2017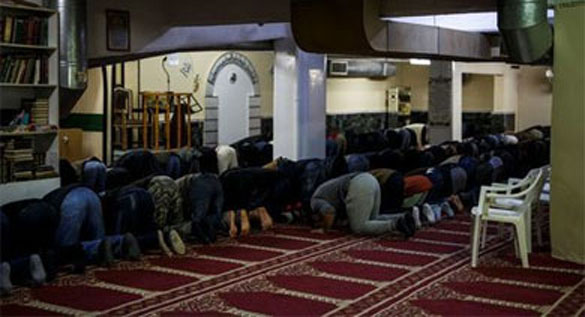 Muslims living in Greece attend Friday prayers at the Masjid Al-Salam makeshift mosque in Athens, Greece, February 3, 2017. REUTERS/Alkis Konstantinidis
----
• 'Terrorism Increasing Because Children Are Not Taught Arabic': PML-N MNA
• Jund Al-Aqsa Executes Over 100 Rival Terrorists in Syria's Idlib
• Trump Promises Israel Iran Will Never Get Bomb
• Trump Drops US Commitment to 'Two-State' Mideast Deal
Pakistan
• 'Terrorism Increasing Because Children Are Not Taught Arabic': PML-N MNA
• New Wave of Terrorist Attacks Casts Doubt on Pakistan's Security Forces
• Jumaat-ul-Ahrar orchestrates terror attacks from Afghanistan: FO
• Fazl agrees to restoring army courts, mainstreaming Fata
• Suicide bomber targets Peshawar judges' vehicle; driver killed
• Six terrorists killed in Khanewal
• Mainstreaming Fata will help curb terrorism, says Imran
--------
Arab World
• Jund Al-Aqsa Executes Over 100 Rival Terrorists in Syria's Idlib
• Over 70 Terrorists Killed, Wounded in Syrian Army Attacks in Dara'a
• Suicide Truck Bomber Kills 15 near Baghdad
• HRW report on Syria chemical weapons based on terrorists' data: Damascus
• Pentagon may recommend US deploy troops in Syria
• HNC says seeks direct talks with Damascus in Geneva
• Syrian Army Retakes Control of 2 New Towns near Kuweires Airbase
• Dara'a: Senior FSA Astana Delegation Official Killed in Terror Attack
• Homs: Al-Nusra Suffers Heavy Casualties in Failed Attack on Syrian Army Positions
--------
Mideast
• Trump Promises Israel Iran Will Never Get Bomb
• Turkish Foreign Minister Defends Idea Of 'Safe Zones' In Syria
• Iran dismisses Erdogan's allegations of Tehran's interference in Iraq, Syria
• Yemeni forces fire ballistic missile at Saudi Arabia's Abha airport
• Houthi militias kidnap 300 civilians in Yemen, demand ransom
• This is where Iranian Revolutionary Guards train militias
--------
North America
• Trump Drops US Commitment to 'Two-State' Mideast Deal
• Survey: American Attitudes toward Muslims Have Improved
• Anti-Muslim Hate Groups Have Tripled With the Rise of Trump
• Singling out Muslims as main terrorist threat in US is unfair
--------
India
• Those Who Display ISIS, Pak Flags Will Be Treated As Anti-Nationals: Army Chief
• NIA Arrests Kerala Youth In Connection With Probe Into Islamic State Module
• Foreign Secretary S Jaishankar may visit China to seek action against Masood Azhar
• J&K stone-pelters will be treated as jihadis' aides: Army chief
• External Affairs Minister, US Secretary Of State Resolves To Work Together Against Global Terrorism
--------
South Asia
• Six-Nation Talks in Moscow Ponder Afghan Crisis
• UAE envoy to Kabul dies of bomb wounds
• Ex-army officer ordered Myanmar lawyer's murder
• Burma Says Security Operation in Troubled Arakan Has Ended
• Senior ISIS leader arrested in Jalalabad city
• Terrorism is a common enemy of both states, Nawaz tells President Ghani
--------
Southeast Asia
• Don't Fall Victim to 'Prayer Valet' Services, Muslims Told
• Sarawak Party Says No To Islamic Teachers at Christian-Majority Schools
• Moldova claims to break up extremist Islamic group
• Religious tensions, fake news test Indonesia's regional elections, all eyes on Jakarta
• Indonesia's ethnic and religious strife reflected in gubernatorial election
--------
Europe
• A Century in the Making, Athens Set for First Mosque since Ottoman Times
• Germany Raids Apartments of 4 Turkish Imams
• Eiffel Tower to be surrounded by $20M bulletproof glass wall by year's end
• Jewish man, Muslim woman get married in Canada
--------
Africa
• Kenya: How the Courts Schooled Donald Trump and Kenya on Refugee Rights
• Egypt Brokers Libya Peace Roadmap, But Key Figures Fail To Meet
• Somalia 'Plans to File Legal Complaint against UAE' Over Somaliland Base
• South African cleric recounts ordeal in Egyptian jail
Compiled by New Age Islam News Bureau
URL: https://www.newageislam.com/islamic-world-news/new-age-islam-news-bureau/'terrorism-increasing-because-children-are-not-taught-arabic'--pml-n-mna/d/110100
--------
'Terrorism Increasing Because Children Are Not Taught Arabic': PML-N MNA
IKRAM JUNAIDI
Feb 16, 2017
ISLAMABAD: Members of the National Assembly Standing Committee on Cabinet Secretariat, while debating the Compulsory Education of Arabic Bill 2015, discussed whether the lack of Arabic as a subject in the curriculum was the cause of terrorism in Pakistan. The bill was moved by MNA Naeema Kishwar Khan, and debate on it began even though the mover of the bill was not in attendance.
PML-N MNA Parveen Masood Bhatti expressed support for the bill, saying terrorism was increasing because students were not studying Arabic.
"We have started focusing on the English language, and parents put their children in English-medium schools and do not bother teaching their children the Arabic language. It is because of this attitude that terrorism is increasing," she claimed.
Muttahida Qaumi Movement (MQM) MNA Syed Ali Raza Abidi, however, argued that even people who speak Arabic can be terrorists and spread terrorism.
Committee member Nafeesa Khattak from the Pakistan Tehreek-i-Insaf (PTI) supported the bill, saying introducing Arabic as a compulsory language from "the start of education" would allow children to learn and understand the Quran and help a large number of people get jobs.
Committee chairman Rana Mohammad Hayat Khan responded that the inclusion of Arabic would not increase job opportunities, and paraphrased Allama Iqbal, saying those who study Arabic would only get jobs selling oil.
"Students who are serious about studying the Quran, they go to mosques early in the morning and after that they go to school," he added.
However, PTI's Asad Umer argued that the language of the Quran and its translation should be taught to students, claiming that "85pc of mosques in the federal capital are run by those who do not preach what is mentioned in the Quran".
The Ministry of Capital Administration and Development Division (CADD) has decided to oppose the bill, Secretary Nargis Ghalo said, because there are not enough teachers to teach Arabic as a compulsory subject.
"In provinces such as Sindh, where local languages are also taught, the inclusion of Arabic as a compulsory subject will put an extra burden on the children," she added. "Arabic is introduced from the sixth standard as an elective subject, but it is observed that the majority of students do not opt [for it]."
Mr Abidi also suggested the opinion of the Wafaqul Madaris be sought, but Mr Hayat Khan directed the CADD ministry to bring concrete suggestions for the bill, or it would be finalised according to the committee members' opinions.
Polyclinic Hospital extension discussed
While discussing the extension of the Polyclinic Hospital, Mr Umer said he has been hearing that the project will be completed soon for years.
"Although I disagree with the location of the project, as it is being constructed on park land, the government should expedite the project and complete it at the earliest. I suggest that Prime Minister Nawaz Sharif inaugurate the project immediately, just like he is inaugurating other incomplete projects," he said.
CADD Minister Dr Tariq Fazal Chaudhry, who arrived at the meeting late, said the project will be awarded on a turnkey basis.
It was decided in 2008 that the extension, in the form of an additional building, was to be built on one third of Argentina Park. The project became controversial when the health ministry realised the Argentine embassy needed to give permission to construct the hospital. After the embassy allowed for the hospital to be built, the Capital Development Authority refused to allow construction of a hospital on park land and said only the prime minister could allow for a relaxation in the rules. Although the prime minister has approved the construction of the hospital, work has not yet begun.
The hospital is the second largest in Islamabad and its outpatient department facilitates over 8,000 patients a day. It has a capacity of 550 beds, which does not meet the city's requirements.
http://www.dawn.com/news/1314975/terrorism-increasing-because-children-are-not-taught-arabic?preview
--------
Jund Al-Aqsa Executes Over 100 Rival Terrorists in Syria's Idlib
Feb 15, 2017
The activists affiliated to the terrorist groups said that Jund al-Aqsa arrested a large number of militants of Jeish al-Nasr and al-Ferqat al-Wosta affiliated to the FSA in Northern Hama several days ago and killed over 100 of them in al-Khazanat checkpoint near the town of Khan Sheikhoun in Southern Idlib.
Jeish al-Nasr's Chief of Staff Talib Abu Hassan accused Jund al-Aqsa in his tweeter page of executing 160 militants affiliated to FSA.
In relevant developments on Tuesday, the newly-formed Tahrir al-Sham Hay'at (the Levant Liberation Board) engaged in heavy clashes with Jund al-Aqsa rival terrorist group and managed to win control over a town in Southern Idlib, websites affiliated to the terrorist groups reported, saying that the two sides sustained over 70 casualties in the battle.
The reports said that Tahrir al-Sham drove Liwa al-Aqsa (a branch of Jund al-Aqsa terrorist group) out of the town of al-Tamanna, killing a number of rival militants and capturing 40 others.
Other reports said that over 70 militants including several commanders were killed in clashes between Tahrir al-Sham and Jund al-Aqsa and its allied groups in Idlib and Hama on Monday and Tuesday.
Tahrir al-Sham Hay'at has pushed Jund al-Aqsa (an ally of Ahrar al-Sham) back from the towns of Kafr Zita, al-Rakaba, Tal Aas, Kafr Sajneh and Marzita.
Late in January, Al-Nusra Front (recently renamed to Fatah al-Sham Front) and several militant groups declared forming a new coalition under the name of Tahrir Al-Sham Hay'at to narrow down widening rifts amongst their commanders and members.
The Al-Nusra Front, Nouralddeen al-Zinki Movement, Jeish al-Sonah, Jabhat Ansaraldeen and Liwa al-Haq announced that they would act under a united coalition named the Tahrir al-Sham Hay'at.
The five merged terrorist groups act under the command of Abu Jaber Hashem al-Sheikh, who was one of the commanders of Ahrar al-Sham. The new coalition led by al-Sheikh is now fighting against Ahrar al-Sham, a rival terrorist group operating mainly in Northwestern Syria.
Al-Sheikh resigned from his post in Ahrar al-Sham after he was appointed as the commander of Tahrir al-Sham Hay'at.
A number of Ahrar al-Sham's commanders, including the groups' spokesman Abu Yusuf al-Mohajer, Hesam Salameh and Abu al-Fatah al-Farqali Mesri also joined the new coalition.
Terrorist groups' websites claimed that Al-Nusra Commander Abu Mohammad al-Joulani will be the top commander of Tahrir al-Sham Hay'at.
Ahrar al-Sham rejected its affiliation to the new coalition, but websites close to the terrorist groups have disclosed that Ahrar al-Sham, Faylaq al-Sham, Jeish al-Izzah, Turkistani party and Liwa al-Tamkin will soon start a new front called Tahrir al-Syria Front.
Nusra terrorists have been attacking positions of other terrorist rivals across Northwestern Syria.
http://en.farsnews.com/newstext.aspx?nn=13951127000634
--------
Trump promises Israel Iran will never get bomb
Feb 16, 2017
WASHINGTON: President Donald Trump hailed the United States' "unbreakable" bond with Israel on Wednesday and promised Prime Minister Benjamin Netanyahu that Iran would never be permitted to build a nuclear weapon.
Trump's vow was designed to address Israeli concerns over the nuclear deal between Iran and six world powers, which Netanyahu has warned expires too soon to permanently remove the threat.
"With this visit the United States, again, reaffirms our unbreakable bond with our cherished ally, Israel," Trump said.
"The security challenges faced by Israel are enormous, including the threat of Iran's nuclear ambitions, which I've talked a lot about," he said.
"One of the worst deals I've ever seen is the Iran deal. My administration has already imposed new sanctions on Iran, and I will do more to prevent Iran from ever developing -- I mean ever -- a nuclear weapon."
The Iran nuclear deal was reached in July, 2015 and went into effect the next year. Under its terms Iran agreed to dismantle part of its nuclear program, surrender enriched fuel and submit to international inspection.
But critics of the agreement, including Netanyahu, have argued then when some of the terms of the deal expire in 10 and 15 years it will leave Tehran on the threshold of building a bomb.
http://nation.com.pk/international/15-Feb-2017/trump-promises-israel-iran-will-never-get-bomb
--------
Trump drops US commitment to 'two-state' Mideast deal
Feb 16, 2017
WASHINGTON - US President Donald Trump halted Washington's quest for a two-state solution to the Israeli-Palestinian conflict Wednesday, saying he would back a single state if it led to peace.
The new president warmly welcomed Israel's Prime Minister Benjamin Netanyahu to the White House and hailed the "unbreakable" bond between their countries. And - while he urged Netanyahu to "hold back" from building Jewish settlements for a "little bit" - Trump broke with the international consensus insisting on two states.
"So I'm looking at two state and one state, and I like the one that both parties like. I'm very happy with the one that both parties like. I can live with either one," he said. "I thought for a while the two-state looked like it may be the easier of the two but, honestly, if Israel and the Palestinians are happy, I'm happy with the one they like the best."
If this change in the US stance was calculated to please Netanyahu and his right-wing coalition, Trump's views on the shortcomings of the Palestinian position will delight them. "I think the Palestinians have to get rid of some of that hate that they're taught from a very young age," he said, echoing Netanyahu's argument that Palestinians are not ready for peace. "They're taught tremendous hate. I have seen what they're taught... it starts in the school room, and they have to acknowledge Israel."
Netanyahu had warm words for the US alliance, and hammered home his own prerequisites for peace. "First, the Palestinians must recognize the Jewish state. They have to stop calling for Israel's destruction," he said.
"Second, in any peace agreement, Israel must retain the overriding security control over the entire area west of the Jordan River," he added.
This area contains the entire West Bank area that would represent the heart of any Palestinian state as conceived in all previous international agreements.
The change in the US stance, which was trailed overnight by a US official, triggered Palestinian despair and consternation in international capitals.
The second ranking official in the Palestine Liberation Organization, Saeb Erekat, denounced it as an attempt to "bury the two state solution and eliminate the state of Palestine." And he warned that any single state that emerged would lose Israel's Jewish character.
"There's only one alternative," he told a news conference. "A single democratic state that guarantees the rights of all: Jews, Muslims and Christians."
The new US message deliberately echoed the long-standing Israeli position: No peace deal can be imposed from outside and the agenda for talks must reflect the reality on the ground.
Naftali Bennett, the right-wing leader of the hardline Jewish Home party and an opponent of any Palestinian state cried victory. "A new era. New ideas. No need for third Palestinian state beyond Jordan and Gaza. Big day for Israelis and reasonable Arabs. Congrats," he tweeted. But Trump's decision flew in the face of an international consensus that any final status agreement must be based on a return to Israel's 1967 border - albeit with land swaps.
Speaking in Cairo after talks with Egypt's President Abdel Fattah al-Sisi, UN chief Antonio Guterres warned that "everything must be done" to preserve the two-state solution.
France, which organized the January peace conference, was also unimpressed. Its ambassador to the UN, Francois Delattre told reporters "our commitment to the two-state solution is stronger than ever."
Trump has tapped son-in-law Jared Kushner and lawyer Jason Greenblatt to lead peace efforts.
Kushner had dinner with Netanyahu - a long time family friend - and US Secretary of State Rex Tillerson on Tuesday night.
Another major question that remains is whether Netanyahu can build closer security ties with his Arab neighbors despite regional anger over the stalled peace process.
Netanyahu came to Washington to seek help in this outreach, while gauging Trump's appetite for better relations with Russia.
Trump has signaled willingness to work with Russia to defeat the Islamic State group in Syria but that could de facto mean furthering the goals of Russian allies Bashar al-Assad and Iran.
Israel sees Iran and its Lebanese ally the Hezbollah militia as the greatest threats in an unruly region, a view shared by the leaders of the main Sunni Arab states of the region.
So on Wednesday, Netanyahu held out the prospect of a broader realignment, with the US and Israel partnering with Sunni Arab states in an anti-Iranian alliance.
"I think that if we work together... on the great magnitude and danger of the Iranian threat, then I think we can roll back Iran's aggression and danger," Netanyahu said.
"That's something that is important for Israel, the Arab states, but I think it's vitally important for America."
http://nation.com.pk/international/16-Feb-2017/trump-drops-us-commitment-to-two-state-mideast-deal
--------
Pakistan
New Wave of Terrorist Attacks Casts Doubt on Pakistan's Security Forces
By Daud Khattak
February 15, 2017
Pakistan is experiencing a fresh spell of violence with shadowy characters once again re-surfacing and re-invigorating old alliances.
The February 13 blast in Lahore is the latest in the series of terrorist attacks carried out mostly in Pakistan's restive north and southeast during the past three weeks.
Jamat-ul-Ahrar (JuA), a faction of the banned Tehrik-e-Taliban Pakistan (TTP), claimed responsibility for the February 13 attack. The same group had targeted Christians, mostly women and children, in the city's Gulshan-e-Iqbal Park in March last year.
Enjoying this article? Click here to subscribe for full access. Just $5 a month.
Also on February 13, two more bomb attacks were carried out in the city of Quetta and the South Waziristan tribal district, killing two policemen and three personnel of the paramilitary Frontier Corps (FC) respectively. The former attack was claimed by the sectarian Lashka-e-Jhangvi al-Alami, and the latter by the TTP.
On January 21, a bomb blast in Parachinar, headquarters of the strategic Kurram tribal district, killed 24 civilians, most of whom belonged to the Shia sect of Islam. Days later, pamphlets were distributed in the same area, promising a fresh wave of attacks against the Shiites.
In yet another development, a breakaway faction of the once dreaded TTP re-emerged to declare allegiance to the group's chief Mullah Fazlullah. Commander Khalid Sajna, who parted ways with the TTP after differences over the question of leadership in 2013, recently regrouped to declare jihad against the Pakistani government and the state.
In the past two weeks, small scale Taliban attacks have also been registered in the city of Dera Ismail Khan, and the tribal districts of Bajaur and Mohmand bordering Afghanistan.
Even while I was writing this piece, two more attacks occurred. One blast took place in Peshawar, killing two people and injuring eight, while another in Mohmand tribal district Wednesday morning killed five people. TTP's Jamat-ul-Ahrar faction claimed responsibility for both, saying more attacks would follow.
Strangely enough, the fresh surge in violence follows the taking over of a new administration in the United States.
Although it is not clear how the sudden increase in terrorist attacks in parts of Pakistan, where the military proudly declared victory against the Taliban last year, will be construed in Western capitals, the fresh wave of violence, if continued, is going to shake the painstakingly-restored confidence of common Pakistanis in the country's security forces and authority of the state.
Since 2001, Pakistan has conducted numerous military operations against the Taliban in Swat, Bajuar, Mohmand, Khyber, Orakzai, Kurram, and Waziristan with the aim of clearing these so-called sanctuaries of the Taliban. Each operation resulted in displacement of thousands of people, damages to public and private infrastructure, and loss of human life.
However, with a few exceptions, the majority of these operations had mixed results. For example, multiple operations against Lashkar-e-Islam (LeI) under the bus conductor-turned-militant commander Mangal Bagh in Bara area of Khyber tribal district failed to dislodge him from the area. Each operation from 2006 till 2009 resulted in more damages to the civilian population than to the militants.
Similarly, numerous operations in South Waziristan failed to show any positive results until TTP chief Baitullah Mehsud and later on his successor Hakimullah Mehsud were killed in separate strikes from unmanned aerial vehicles (UAVs), locally known as drones.
In Swat, it was the Operation Rah-e-Rast (the Just Path) launched in May 2009 that finally dislodged the Taliban after the failure of two stages of Rah-e-Haq (the Path of Truth). However, Mullah Fazlullah, head of the Swat Taliban, who is now leading the TTP, miraculously survived and escaped from the area.
The failure of several anti-Taliban operations not only shook people's trust in the security agencies, but also bitterly affected Pakistan's image abroad, where perception about the country's "dual approach" toward different Taliban groups had taken strong roots.
It was not too long ago that the then U.S. Central Command chief, Admiral Mike Mullen, termed the Haqqani Network a "veritable arm" of Pakistan's Inter-Services Intelligence (ISI).
The top U.S. commander in Afghanistan, General John Nicholson, has also questioned Pakistan's support for the Taliban. He told the Senate Armed Services Committee earlier this month that the United States' "complex relationship with Pakistan is best assessed through a holistic review."
Back in 2011, then-Secretary of State Hillary Clinton, in a reference to the so-called "good Taliban," warned Pakistan about keeping "snakes in its backyard."
That perception, however, slightly changed, at least inside Pakistan, following the launch of Operation Zarb-e-Azb in North Waziristan in June 2014. During that military operation, the TTP, now believed to be turning into an existential threat for Pakistan, was routed along with fighters from the Islamic Movement of Uzbekistan (IMU) and the Eastern Turkestan Islamic Movement (ETIM).
The military and civilian authorities marked their success against militants by holding sports festivals in several tribal areas to encourage locals, displaced during the days of lawlessness, return to their native towns and villages.
However, the fresh wave of terrorist attacks is seen both with doubts and concerns. The key concern is the return of Taliban violence, while the doubts point toward Pakistan's sincerity in fighting the militants.
Some local accounts also suggest that the Pakistani Taliban, who had once crossed into Afghanistan to join the Islamic State, are now returning back into the TTP fold mainly because of their disenchantment with the prospects they once thought awaited them under the black flag.
The timing of the freshly-developing security situation is critical. The European countries are gradually limiting their engagement in Afghanistan, while the new U.S. administration has yet to come out with a clear policy line about the region. Russia and Iran, on the other hand, are coming forward in an effort to militate against the U.S. gains.
The Pakistani leadership needs to focus inward and take the militant threat, mostly home grown, head on. There is little chance of assistance from the world in the way Pakistan saw during the past 15 years' engagement in Afghanistan.
Daud Khattak is Senior Editor for Radio Free Europe Radio Liberty's Pashto language Mashaal Radio. Before joining RFE/RL, Khattak worked for The News International and London's Sunday Times in Peshawar, Pakistan. He has also worked for Pajhwok Afghan News in Kabul. The views expressed here are the author's own and do not represent those of RFE/RL.
http://thediplomat.com/2017/02/new-wave-of-terrorist-attacks-casts-doubt-on-pakistans-security-forces/
--------
Jumaat-ul-Ahrar orchestrates terror attacks from Afghanistan: FO
February 15, 2017
ISLAMABAD: Afghan Deputy Head of Mission (DHM), Syed Abdul Nasir Yousafi Wednesday was called-in to the Foreign Office by Additional Secretary (UN&EC) for registering concern over terrorist attacks in Pakistan by Jumaat-ul-Ahrar from Afghanistan, Foreign Office said in a statement.
The Afghan DHM was conveyed the grave concern of Pakistan about the continuing terrorist attacks on its soil by the terrorist outfit, Jumaat-ul-Ahrar's (JuA) sanctuaries inside Afghanistan.
Attention of the DHM was also drawn to the earlier actionable intelligence shared by Pakistan's authorities with the Afghan side.
Full report at:
http://nation.com.pk/national/15-Feb-2017/jumaat-ul-ahrar-orchestrates-terror-attacks-from-afghanistan-fo
--------
Fazl agrees to restoring army courts, mainstreaming Fata
ZULFIQAR ALI
Feb 16, 2017
PESHAWAR: The Jamiat Ulema-i-Islam-Fazl has reached an understanding with the federal government on the extension in the term of military courts and mainstreaming of Fata, said party chief Maulana Fazlur Rehman here on Wednesday.
"The (federal) government has accepted our conditions and we will support extension to the military courts," he told reporters at the party's provincial secretariat here.
Mr. Fazl said the government had agreed to the condition that the role of military courts would not be confined to the holding of trial of the people involved in religious and sectarian terrorism.
He said the government hadn't ensured security of civil judges during the last two years to end dependence on military courts.
"The words religious and sectarian terrorism will not be included in the draft amendment to the law for the extension of (the term of) military courts," he said.
Insists neither any change to tribal region's current judicial system nor its merger with KP in five years
The JUI-F chief said modalities regarding the extension of military courts were settled during a meeting in Islamabad on Tuesday.
He said the role of military courts was restricted to religious and sectarian terrorism in the 21 Constitutional Amendment.
Mr. Fazl said he was in principle opposed to the establishment of military courts but the prevailing situation forced his party to support 'such harsh move'.
"If words 'religious and sectarian terrorism' are not removed from the proposed amendment to the law, then the JUI-F will withdraw its support," he said.
The term of the military courts, which were established under in light of the National Action Plan, expired on Jan 7.
The government has been making efforts to take political forces having representation in parliament on board to grant extension to military courts.
Mr. Fazl, whose party is part of the Pakistan Muslim League-Nawaz-led ruling coalition in the centre, recently opposed the grant of extension to the military courts in its term, saying any such move would be tantamount to the failure of the NAP.
About reforms in Fata, he said the federal government had agreed to his proposal to specify five years term for the reconstruction and rehabilitation work in tribal areas and that after that, aspirations of tribal people about mainstreaming of their region would be sought.
"The (federal) government has agreed to our suggestion in principle. It will carry out extensive reconstruction and rehabilitation activities, build educational institutions and hospitals, and develop basic infrastructure to bring tribal areas on a par with the settled areas of the country," he replied when asked to elaborate on the Fata mainstreaming plan he proposed to the government.
The JUI-F chief said after five years, tribal people would be able to decide whether they wanted separate province, merger with Khyber Pakhtunkhwa or Fata Council for themselves.
"The existing judicial system, including Frontier Crimes Regulation, will remain as such and there will be no merger with the province during five years time," he said.
Earlier, addressing ulema and teachers of seminaries affiliated with the JUI-F, Mr. Fazl came down heavily on security establishment over the arrest of the students and teachers of religious institutions.
"Security establishment is still patronising militant wings in the country, while students and teachers of madessrahs are terrorised and arrested," he alleged.
Mr. Fazl accused intelligence agencies of introducing missile and gun culture in society and said ironically, religious parties were held responsible for extremism and terrorism.
Without naming names, he said the 'ultra-constitutional' institutions were imposing decisions on the people and that they considered themselves above the Constitution and law.
Full report at:
http://www.dawn.com/news/1314992/fazl-agrees-to-restoring-army-courts-mainstreaming-fata
--------
Suicide bomber targets Peshawar judges' vehicle; driver killed
ALI AKBAR
Feb 16, 2017
One person was killed in a suicide blast in Peshawar's Hayatabad area when the bomber targeted a vehicle carrying civil judges on Wednesday.
Civil Judge Asif Jadoon and three female judges of the lower judiciary were travelling in an official car in Hayatabad's Phase 5 area when an attacker on a motorcycle struck the front of the vehicle and exploded, killing the driver and injuring the four judges.
The Tehreek-i-Taliban Pakistan claimed responsibility for the attack.
A total of six persons were injured in the explosion and subsequently moved to the Hayatabad Medical Complex. An emergency was imposed at the hospital.
"About 15 kg of explosive was used in the suicide bomb blast targeting a van carrying Civil Judge Asif Jadoon and other judicial staff in Hayatabat Township," said Peshawar police chief Tahir Khan.
The blast occurred as officials from the provincial government were expected to inaugurate the Out Patient Department (OPD) at the Hayatabad Medical Complex. Pakistan Tehrik-i-Insaf (PTI) Chairman Imran Khan and other senior party leaders were expected to attend the ceremony.
Full report at:
http://www.dawn.com/news/1314950/suicide-bomber-targets-peshawar-judges-vehicle-driver-killed
--------
Six terrorists killed in Khanewal
February 16, 2017
Lahore - Six terrorists were killed in an encounter with Counter-Terrorism Department (CTD) officials near village Chak 98, a suburban area of Khanewal late Thursday night, reported a private TV channel.
According to CTD spokes-man, the CTD personnel, working on a tip-off, conducted a raid in Chak 98 and eliminated six militants belonging to Jamaatul Ahrar, while four others managed to flee.
Full report at:
http://nation.com.pk/national/16-Feb-2017/six-terrorists-killed-in-khanewal
--------
Mainstreaming Fata will help curb terrorism, says Imran
February 15, 2017
Pakistan Tehreek-e-Insaf Chairman Imran Khan on Wednesday said he met Khyber Pakhtunkhwa Chief Minister Pervez Khattak to expedite the Federally Administered Tribal Areas (Fata) merger process.
"By merging Fata with KP we can reap the benefits from Operation Zarb-e-Azb and National Action Plan," Imran told reporters following a series of terrorist attacks in Mohmand Agency.
He added that the merger will put an end to the growing menace of terrorism. "Fata is massively underdeveloped and needs to be brought into the mainstream."
Earlier Wednesday two suicide bombers launched an attack on a government compound in Mohamand tribal area, killing five people and wounding seven others.
"One attacker came by foot and started firing at forces while the other was on a motorbike and rammed into the main gate of the complex," Hamidullah Khattak, an administration official in Mohmand tribal district, told AFP.
The one on foot was shot dead while the second blew himself up, he said, but not before they managed to kill three tribal police and two civilians. The military confirmed the toll.
Later, police said, another suicide bomber blew himself up when security forces surrounded him during a search operation in the area.
Wednesday's attacks came two days after a deadly suicide bombing rocked the Punjab provincial capital Lahore, killing at least 13 people and wounding dozens more.
The Taliban faction Jamaat-ul-Ahrar has claimed the attacks in Lahore and Mohmand. Last week the group vowed a fresh wave of assaults on government installations, and a spokesman told AFP Wednesday the attacks would continue.
Full report at:
http://nation.com.pk/national/15-Feb-2017/mainstreaming-fata-will-help-curb-terrorism-says-imran
--------
Arab World
Over 70 Terrorists Killed, Wounded in Syrian Army Attacks in Dara'a
Feb 15, 2017
The army men targeted Al-Nusra Front's concentration centers in the neighborhood al-Nazeheen, a number of towns near Dara'a city, and village of Koum al-Raman, South of al-Qariyeh al-Qarbi, Southwest of al-Yadoudeh and the Shahab Hill, leaving over 24 terrorists dead and 50 others wounded.
The army attacks also destroyed six main centers and five machinegun-equipped vehicles of the terrorists.
Websites affiliated to the terrorist groups confirmed that Ahrar al-Sham's Commander Abu al-Abbas Kuya has been amongst the terrorists killed in al-Manshiyeh neighborhood in Dara'a city.
Other sources said that the terrorist front is on the verge of collapse after the heavy defeats and casualties they suffered in battle with the Syrian Army, adding that the terrorist groups' field hospitals are full of injured militants and cannot have any more admission.
Reports said earlier today that the Al-Nusra Front failed to prevail over the Syrian Army troops' positions in the Western districts of Dara'a city after sustaining a number of casualties, adding that the terrorist group has transferred its wounded members to Israeli hospitals for treatment.
Syrian Army troops fended off the Al-Nusra attack on their positions in al-Manshiyeh neighborhood, killing and wounding a number of terrorists.
The army men further targeted Al-Nusra Front's positions in the oil customs region, al-Sweidan street and near Balal Habashi grand mosque and Yarmouk school, destroying terrorists' bases and military vehicles.
Army reports said the Al-Nusra suffered heavy casualties in the second round of attacks.
Local sources disclosed that the al-Nusra has transferred a number of its injured members to Israeli hospitals to be treated there.
A military source rejected reports released by website affiliated to the terrorist groups about the Al-Nura's advances in al-Manshiyeh and underlined that the army could take back the entire lost lands Southeast of al-Manshiyeh after arrival of fresh soldiers and military equipment in Dara'a.
In the meantime, Syrian and Russian fighter jets targeted badly the terrorists' positions and communication lines in the battlefield.
http://en.farsnews.com/newstext.aspx?nn=13951127001380
--------
Suicide truck bomber kills 15 near Baghdad
Feb 16, 2017
BAGHDAD - A suicide bomber detonated a pick-up truck on Wednesday in Sadr City, a heavily populated poor Shia suburb of Baghdad, killing at least 15 and wounding 50, security sources said.
The explosion, the deadliest in Baghdad so far this year, targeted a crowded street full of garages and used car dealers. Islamic has stepped up bombings in Iraq last year, in retaliation to a U.S.-backed campaign that dislodged the hardline group from most Iraqi cities it took over in 2014. The militants also control parts of neighbouring Syria.
Meanwhile, living conditions in west Mosul, where jihadists are hunkering down among 750,000 Iraqi civilians, are deteriorating fast and a source of great concern, the UN's top aid official said Wednesday.
"We are extremely concerned about the rapid deterioration of the conditions in west Mosul," United Nations humanitarian coordinator in Iraq Lise Grande told reporters.
"Families are in big trouble, half of the shops have been closed," she said while visiting Hasansham, a displacement camp between Mosul and Arbil, the nearby capital of Iraq's autonomous Kurdish region.
Iraqi federal forces have almost completely encircled Mosul, whose east side they retook from the Islamic State group last month.
Four months into a huge offensive to reconquer the jihadists' last major stronghold in Iraq, they are now poised to launch an assault on the city's west bank.
Slightly smaller than the east side but densely populated, the west bank is thought to shelter around three quarters of a million people who have been living in siege-like conditions for weeks.
Full report at:
http://nation.com.pk/international/16-Feb-2017/suicide-truck-bomber-kills-15-near-baghdad
--------
HRW report on Syria chemical weapons based on terrorists' data: Damascus
Feb 15, 2017
Syria has categorically rejected as "non-credible" a recent report by Human Rights Watch (HRW), which alleged that Syrian forces had used chemical weapons during the Aleppo liberation operation.
"The fact that Human Rights Watch relied on the terrorists' media sources and on absolutely non-credible false witness accounts proves the lack of credibility of the report," said an official source at Syria's Foreign Ministry in a statement released on Wednesday.
The statement came two days after the HRW report accused Syrian government helicopters of having dropped chlorine bombs on Aleppo residential areas on at least eight occasions between November 17 and December 13 last year.
The attacks killed at least nine civilians, including four children, and injured some 200 people, the report further claimed.
However, the Syrian Foreign Ministry official described the HRW report as "misleading," "unprofessional" and "non-scientific," stressing that it was based on distorted facts.
"This report comes to justify the terrorists' defeat and the victories of the Syrian Arab Army and its allies," the official added.
He also emphasized that Syria had honored all its obligations as a signatory to the Chemical Weapons Convention (CWC), and reiterated the government's condemnation of the use of chemical weapons.
The HRW report came as part of Western plots at a critical time ahead of peace talks in Astana and Geneva and other future meetings aimed at resolving the conflict in Syria, the Syrian official stated.
Full report at:
http://presstv.ir/Detail/2017/02/15/510721/Syria-HRW-Aleppo
--------
Pentagon may recommend US deploy troops in Syria
16 February 2017
The US Defense Department may recommend that the United States deploy regular combat troops to Syria for the first time to fight ISIS militants, CNN reported on Wednesday.
The idea is one of several ideas the Pentagon is considering after President Donald Trump gave defense officials until the end of the month to come up with proposals to speed up the war against ISIS.
A small number of US special forces operate in the war-torn country but the previous Obama administration had rejected putting combat troops into the middle of Syria's civil war.
Full report at:
https://english.alarabiya.net/en/News/middle-east/2017/02/16/Pentagon-may-recommend-US-deploy-troops-in-Syria.html
--------
HNC says seeks direct talks with Damascus in Geneva
Feb 15, 2017
Syria's main foreign-backed opposition group says it seeks face-to-face negotiations with Damascus in the upcoming round of peace talks due to be held in Geneva on February 23.
On Wednesday, Salim al-Muslit, the spokesman for the so-called High Negotiations Committee (HNC) that includes militant groups and opponents of President Bashar al-Assad, said he supported direct talks between the HNC and the Syrian government.
"We want direct talks, I mean direct negotiations, just to save time and save lives because every day is costly for Syrians," the Syrian opposition figure said.
Muslit, however, said the opposition had yet to receive an agenda for the upcoming negotiations.
Elsewhere in his remarks, Muslit said the HNC sought to start the negotiations by discussing a governing body to oversee what he said was a transition of power.
United Nations' Special Envoy for Syria Staffan de Mistura has already made clear that the agenda of the peace talks in Geneva will not be changed.
De Mistura says the talks will be in line with UN Security Council Resolution 2254 aimed at ending the conflict in the Arab country.
The resolution, which was unanimously adopted in December 2015, aims to establish governance and come up with a new constitution.
"That is the agenda and we will not change it, otherwise we open up a Pandora's box," said de Mistura.
United Nations' Special Envoy for Syria Staffan de Mistura (C) walks to attend the announcement of a final statement following peace talks on Syria in Astana, Kazakhstan, January 24, 2017. (Photo by AFP)
This is going to be the first time delegations of the Syrian government and opposition will return to Geneva since the talks were suspended in 2016.
For nearly six years, Syria has been fighting foreign-sponsored militancy. United Nations Special Envoy for Syria Staffan de Mistura estimated in August last year that more than 400,000 people had been killed in the crisis until then. The UN stopped its official casualty count in the war-torn country, citing its inability to verify the figures it received from various sources.
Full report at:
http://presstv.ir/Detail/2017/02/15/510704/Syria-n-opposition-seeks-direct-talks-in-Geneva
--------
Syrian Army Retakes Control of 2 New Towns Near Kuweires Airbase
Feb 15, 2017
The Syrian army units continued operations in Eastern Aleppo and attacked the ISIL gathering centers from al-Mushrefiyeh, Tal Bayjan and Bayjan towns.
Following heavy clashes with the ISIL militants and killing tens of them, the army and its allies could regain control of Rasm al-Kabir and Rasm al-Kama towns.
Meantime, field sources in Eastern Aleppo said that the army's logistics units are establishing their positions in the region as government troops are preparing to purge terrorists from al-Mazboura, Tabara Mazi and Rasm al-Harmal towns.
Also, a military source said that army troops have now deployed in areas only 7km away from the strategic town of Deir Hafer after liberating the two towns.
He added that the terrorists' supply route from Rasm al-Harmal to Showailakh town was cut off after the army's highly important advance in Rasm al-Kabir.
In a relevant development on Tuesday, Syrian army troops continued their anti-ISIL operation in Eastern Aleppo and seized control over more villages and heights Northeast of Kuweires airbase.
Full report at:
http://en.farsnews.com/newstext.aspx?nn=13951127001563
--------
Dara'a: Senior FSA Astana Delegation Official Killed in Terror Attack
Feb 15, 2017
Tallal al-Khalaf, the Vice-Chairman of the tribal delegation and military representative of Jeish al-Ahrar Tribes - a branch of the Free Syrian Army (FSA) - to the Astana talks on Syria, has been killed in a booby-trap explosion as he was driving his car from Jadal to al-Shayah in al-Lejah region.
Three of al-Khalaf's aides were also killed in the terror attack.
Al-Khalaf was the commander of the Tribes branch and deputy commander of Jeish al-Ahrar terrorist group that operates under the FSA.
No one has thus far claimed responsibility for the attack.
Earlier today, a Syrian military source warned that Saudi Arabia and its allies have provoked their affiliated militants in Syria to launch new attacks in Dara'a and Idlib to prevent improvement of Amman's relations with Damascus.
"After reports appeared about the resumption of relations between Syria and Jordan over fighting the terrorist groups, some regional and international sides intend to prevent this closeness by provoking terrorists to conduct military attacks," the source told FNA on Wednesday.
"The Saudi-backed terrorists in Dara'a and Idlib are attempting to intensify attacks to stop the peace negotiations in Astana and Geneva and prevent convergence between Jordan and Syria," he added.
Also, another source was quoted as saying by Lebanon's Hadath News on Tuesday that the recent attacks by militants against al-Manshiyeh neighborhood in Dara'a was ordered by the Persian Gulf Arab countries in reaction to the recent convergence between Damascus and Amman.
Full report at:
http://en.farsnews.com/newstext.aspx?nn=13951127001338
--------
Homs: Al-Nusra Suffers Heavy Casualties in Failed Attack on Syrian Army Positions
Feb 15, 2017
Al-Nusra and its allied terrorist groups stormed the positions of the government forces from the towns of Ein al-Hossein Janboul and al-Amiriyeh in Central Homs to capture the town of Ein al-Dananir and reach the key village of al-Moshrefeh, but the army soldiers repelled their offensive, killing over 15 militants.
The army men targeted terrorists' missile launchers near the town of Ein al-Dananir, destroying all of them. The army reports said its units have killed or wounded some 50 militants during the artillery attack on terrorists' missile launchers.
Reports said earlier today that Syrian Army troops continued to advance against ISIL and managed to take control of another strategic position West of the newly-liberated Hayan oilfield.
Full report at:
http://en.farsnews.com/newstext.aspx?nn=13951127001226
--------
Mideast
Turkish foreign minister defends idea of 'safe zones' in Syria
16 February 2017
Turkey's foreign minister, on a visit to Qatar on Wednesday, defended the idea of "safe zones" in war-ravaged Syria and pressed the need for them to be properly funded.
Mevlut Cavusoglu said that only through making the zones habitable would tens of thousands of Syrians be encouraged to return home. "Firstly, we need to defend this idea," said Cavusoglu.
"Secondly, when it becomes a safe zone, we need to build houses, schools and facilities, therefore we need to raise funds together to develop the safe zone area so the people can live in a proper conditions."
Cavusoglu was speaking at the inauguration of a Turkish hospital which has been built in Doha. He added: "When we have the safe zone with the infrastructure... I am sure many refugees will prefer to go back."
Also read: Syria safe zones: Why, where and at what cost?
The minister was part of a high-level Turkish delegation, including President Recep Tayyip Erdogan, visiting Qatar as part of a Gulf tour also taking in Saudi Arabia and Bahrain.
Cavusoglu's comments follow a call by Erdogan earlier this month for a safe zone in northern Syria, "free of terrorism". Turkey believes such a zone could help to alleviate the burden of accommodating Syrian refugees.
Although the idea of "safe zones" has not always had the support of some in the West, it was reported by US media last month that the Pentagon would be given 90 days to draw up a plan to set up such areas. Erdogan was due to leave Doha on Wednesday evening. During his visit he met Qatar's emir, Sheikh Tamim bin Hamad Al-Thani.
Turkey and Qatar are particularly close allies and last year the first call Erdogan received from a foreign leader during the July 15 coup was from the Qatari emir. Qatar also hosts a Turkish military base. Both states are united in their backing for rebels fighting Assad's regime.
https://english.alarabiya.net/en/News/middle-east/2017/02/16/Turkish-minister-defends-Syria-safe-zones-idea-.html
--------
Iran dismisses Erdogan's allegations of Tehran's interference in Iraq, Syria
Feb 15, 2017
Iranian Foreign Ministry Spokesman Bahram Qassemi has dismissed recent anti-Tehran remarks by the Turkish president, stressing that promoting security in the region has been among the Islamic Republic's main foreign policies.
"Iran's top priority in the region is [to help] stability and security," Qassemi said on Wednesday, adding that calm would not be restored in the region unless positive players were distinguished from those who seek chaos and support terrorists.
In a recent visit to Bahrain, Turkish President Recep Tayyip Erdogan reportedly accused Iran of seeking to destabilize Iraq and Syria.
It seems that the remarks made by President Erdogan were made out of emotion, Qassemi said, adding that the Turkish president "is well aware of the Islamic Republic of Iran's constructive and stabilizing role in the region, especially in Iraq."
This photo taken and released by Turkey's Presidential Press Office on February 12, 2017 shows Bahrain's King Hamad bin Isa Al Khalifah (R) welcoming Turkish President Recep Tayyip Erdogan in Manama. (Via AFP)
The Iranian official said that Tehran had been assisting Baghdad in its fight against Takfiri terrorist groups at the official request of the Iraqi government.
"Supporting terrorist groups..., using them as a tool, and failing to respect the national sovereignty and territorial integrity of neighboring countries have caused concern and prolonged instability in the region," he noted.
Full report at:
http://presstv.ir/Detail/2017/02/15/510706/Iran-Qassemi-Turkey-Erdogan-Bahrain-Daesh
--------
Yemeni forces fire ballistic missile at Saudi Arabia's Abha airport
Feb 16, 2017
Yemeni army forces and allied fighters have fired a ballistic missile at an airport inside Saudi Arabia in retaliation for the kingdom's bombing of a funeral which killed at least nine civilians.
A Yemeni military source told Arabic-language al-Masirah television network that the medium-range projectile was fired at the Abha airport in the kingdom's southwestern region of Asir on Wednesday evening.
The source said the missile struck its designated target precisely but there were no immediate reports on the extent of damage or possible casualties.
The attack came only hours after Saudi warplanes attacked a funeral in the Arhab district of the western province of Sana'a, leaving at least eight women and a child dead. Ten other women were critically wounded.
A medic said the death toll was likely to increase as some of the injured victims were in a critical condition.
This photo provided by the media bureau of the operations command in Yemen shows the aftermath of a Saudi airstrike on a funeral in the Arhab district of Yemen late on February 15, 2017.
The house where the funeral was being held was completely destroyed and scores of homes nearby were damaged.
Earlier this month, Yemeni soldiers and Popular Committees fighters hit a military base in western Riyadh with a missile for the first time but the kingdom chose to keep silent about the attack.
This photo provided by the media bureau of the operations command in Yemen shows a Borkan-1 (Volcano-1) missile.
Full report at:
http://presstv.ir/Detail/2017/02/16/510757/Yemen-army-Popular-Committees-missile-attack-Abha-airport-Asir-airstrike-Arhab
--------
Houthi militias kidnap 300 civilians in Yemen, demand ransom
15 February 2017
Local sources in Ibb governorate have revealed that the Houthi militias kidnapped 300 civilians, mostly elderly and children, in the town of al-Adeen.
Sources said that the kidnapped people were all civilians from the villages of Dbayeh and al-Meydan in Ramid District.
The kidnappings are said to be in revenge for the killing of Houthis commander Abu Abdulrahman Al-Alwi in the district last Friday, which reportedly happened during clashes with unidentified people. Sources said that the militants blew up a number of houses in the same area.
Militias raided the houses and drove out families by force before kidnapping civilians and taking them to an unknown destination. Sources also confirmed that residents of these villages are not armed and do not know the killer of the Houthi leader.
According to local sources, the militias looted a group of houses and continue to surround the village blocking its entrance and exit points. They noted that the rebels asked some mothers to give them gold in exchange for the release of their children. According to them, one woman gave up all her gold to ensure that her toddler son is released.
Recent human rights reports have documented the arrest of about 10,000 people by the Houthi militias sine they entered Sanaa on September 21, 2014.
Full report at:
https://english.alarabiya.net/en/News/middle-east/2017/02/15/Houthi-militias-kidnap-300-civilians-in-Yemen-demand-ransom.html
--------
This is where Iranian Revolutionary Guards train militias
15 February 2017
The National Council of Resistance of Iran (NCRI) has revealed the locations of 14 Iranian Revolutionary Guard Corps' Quds Force training camps, spread in various regions in Iran.
According to NCRI, These IRGC training camps are designed to train members of sectarian militia members from Syria, Yemen, Lebanon, Iraq and Afghanistan.
In a press conference in Washington on Tuesday, the deputy director of the US Representative Office of the NCRI, Reza Jafarzadeh, said the "Iranian extremist regime is sponsoring all extremism in the region."
Jafarzadeh said that the People's Mojahedin Organization of Iran (PMOI) was able to unveil details about several training camps across Iran, the most important of which is the training directorate of the Quds Force extended over 100 thousand square meters. This directorate includes several IRGC garrisons and is headquartered at the Imam Ali garrison.
The commander of this directorate is General Rahimi, IRGC veteran close to Qassem Soleimani. Rahimi followed the Top Advisor to IRGC's commander, Brigadier General Khosro Orouj who participated in the 33-days war in Lebanon with Hezbollah.
The training is divided into two stages, the first of which is for 45 days where Malali regime agents from Syria are trained to be sent on military missions. As for those who are permanently recruited in the Quds Force, they will be trained for a period varying between 9 to 12 months in undisclosed and isolated units. During the past few years, the Quds Force has been secretly enrolling a number of mercenaries from Latin America (Venezuela, Uruguay, Paraguay and Bolivia) at the Imam Ali Garrison.
The training camps that fall under the Quds Force are the Imam Ali Garrison, Mustaha Khomeini Garrison, Baadindeh Center in Varamin, Amel Center at the Malek Ashtar Camp, Semnan Center, Mashhad Center, Pazouki Garrison, Lowshan Garrison, Chamran Garison, the Telecabin Axis, Abadan and Ahvaz cities as well as the Shahrayar Garrison.
Full report at:
https://english.alarabiya.net/en/News/middle-east/2017/02/15/This-is-where-Iranian-Revolutionary-Guards-train-militias-.html
--------
North America
Survey: American attitudes toward Muslims have improved
Feb 15, 2017
Americans have warmed toward almost all major religious groups, including Muslims and atheists, over the past few years.
That was the conclusion of a new report by the Pew Research Center, which gauged Americans' attitudes toward religious groups by asking nearly 4,000 US adults to rate different groups through a "feeling" thermometer. Pew did a similar survey in 2014, but this time it found much higher ratings for different religious groups almost across the board.
A chart of American feelings toward different religious groups.
For example: In June 2014, Americans on average gave Muslims 40 degrees — a very chilly rating. But in January 2017, that jumped up to 48 degrees. That's still far from welcoming — and atheists and Mormons don't fare much better — but it's a notable increase in just a few years.
Personal proximity to a religion seemed to play a big role in the findings. People who identified as the religion they were rating were, not surprisingly, more likely to rate it higher. And people who knew someone who practiced the religion they were rating were — also not surprisingly, given a lot of sociological research — also more likely to rate it higher.
The latter could explain why Americans rated Muslims more highly this time around. According to Pew, "Fewer than half of Americans say they personally know a Mormon (43%) or a Muslim (45%), though more Americans say they know a Muslim today than said this in June of 2014 (38%)."
Another factor seemed to be partisanship. While Pew found that both Republicans and Democrats reported warmer feelings toward various religious groups, Democrats were much more likely to demonstrate big increases compared to 2014. So while Republicans saw a 6-degree bump in feelings toward Muslims, Democrats saw a bigger 10-degree jump.
A chart shows feelings toward different religious groups among Democrats and Republicans.
The only group to not see any sort of increase, including among both Democrats and Republicans, was evangelical Christians.
Again, feelings toward some groups, particularly Muslims and atheists, remain fairly chilly. And it remains to be seen whether the increases will have any effect on views toward specific policies, such as President Donald Trump's executive order to restrict immigration from seven Muslim-majority countries.
But Pew's survey shows a notable improvement, indicating that America is slowly but surely moving in a more inclusive direction.
http://www.vox.com/identities/2017/2/15/14625018/pew-survey-muslims-atheists-religion
--------
Anti-Muslim Hate Groups Have Tripled With the Rise of Trump
FEB. 15, 2017
The number of anti-Muslim hate groups in America tripled last year, according to a report released Wednesday by the Southern Poverty Law Center, a watchdog organization that tracks political extremists. Between the beginning and end of 2016, the number of anti-Muslim groups increased from 34 to 101—by far the largest spike since SPLC began tracking the category in 2010.
The surge coincides with a 67 percent increase in anti-Muslim hate crimes last year, a level of violence not seen since the aftermath of the 9/11 attacks. Documenting hate crimes is challenging (both in terms of legal definition and incidents that may go unreported), and most hate groups don't release membership statistics—two reasons why SPLC views the number of anti-Muslim groups as an important metric.
Notably, the steady rise in these hate groups began around the launch in mid 2015 of Donald Trump's presidential campaign. Though the Syrian refugee crisis and terrorist attacks from Paris to Orlando may have fueled some increase in Islamphobia, Trump's repeated invocation of the threat of "radical Islamic terrorism" and move as president to ban immigrants from predominantly Muslim countries has clearly fanned the flames.
"The rise in anti-Muslim groups in the last year I think demonstrates just how much the presidential campaign influenced the radical right in the US," says Ryan Lenz, a senior writer for the SPLC's Intelligence Project. "We have not seen this level of anti-Muslim rhetoric in quite some time, and Trump has done the lion's share of infusing the anti-Muslim movement in the US with energy, which had been waning for years."
Breitbart News, the far-right publication formerly led by Trump senior strategist Stephen Bannon, has written dozens of stories about Muslim "rape gangs," the supposed threat of Sharia law in the United States, and alleged conspiracies by the Council on Islamic Relations, a moderate civil rights organization that Breitbart characterizes as a "front group" for terrorists.
Full report at:
http://www.motherjones.com/politics/2017/02/anti-muslim-groups-america-tripled-alongside-trump
--------
Singling out Muslims as main terrorist threat in US is unfair
15 February, 2017
In her letter ("Trump trying to protect US citizens", February 7), Timmy Chan wrote about President Donald Trump's executive order banning people from seven Islamic-majority countries.
She said she did not see the order as "being anti-Islamic. However, it was a recognition of the fact that most terrorist attacks have been carried out by people originally from Muslim-majority countries, and some refugees and failed asylum seekers from those countries."
This is oft-repeated misinformation about a voiceless group of asylum seekers, refugees and immigrants who are repeatedly belittled. Even The New York Times reported in 2015 that, since 9/11, almost twice as many people have died at the hands of white supremacists than those of radical Muslims.
Also, 96 per cent of domestic terrorism in the US is committed by white men. The exact figure is disputed, but all statistics have it at more than 90 per cent. This reveals a vast difference between public perception and the number of actual cases in which Muslim extremists have claimed lives in the West.
Over the years, white Christians have walked into schools and churches, and slaughtered children and religious study groups.
Christian activists have bombed gay bars, shot or killed abortion staff and bombed their clinics. However, Baptists, Catholics, Lutherans, Presbyterians, atheists or whatever background the terrorist happened to identify himself with, will not be collectively quizzed to see whether they condemn terrorism.
Full report at:
http://www.scmp.com/comment/letters/article/2071103/singling-out-muslims-main-terrorist-threat-us-unfair
--------
India
Those Who Display ISIS, Pak Flags Will Be Treated As Anti-Nationals: Army Chief
Feb 15, 2017
NEW DELHI: Army Chief Bipin Rawat on Wednesday issued a strong warning to those who back terrorists during counter-insurgency operations.
"Those who obstruct our operations during encounters and aren't supportive will be treated as overground workers of terrorists," the Army chief said while paying tributes+ to the martyred soldiers in Delhi.
General Rawat said security forces in J&K are facing higher casualties due to manner in which the local population is preventing them in conducting the operations and "at times even supporting the terrorists to escape".
"We would now request the local population that people who have picked up arms, and they are the local boys, if they want to continue with the acts of terrorism displaying flags of ISIS and Pakistan, then we will treat them as anti-national elements and go helter-skelter for them.
"They may survive today but we will get them tomorrow. Our relentless operations will continue," said the Army Chief.
General Rawat said those supporting terror activities are being given an opportunity but if they continue with their acts then security forces will come down hard on them.
"We are giving them an opportunity, should they want to continue to then, we will continue with relentless operations may be with harsher measures and that is the way to continue," he told reporters after laying wreath to the martyrs of Handwara and Bandipora operations.
This comes in wake of the growing trend of locals disrupting counter-insurgency operations and providing cover to terrorists during encounters in the Kashmir valley.
On Tuesday, a Pakistani terrorist of Lashkar-e-Taiba managed to escape in a similar circumstance even though another one was killed during a gunfight at Hajjin area of Bandipora district in north Kashmir causing heavy causalities to the army.
Also, four soldiers including Major Satish Dahiya were martyred in two gunfights in north Kashmir.
http://timesofindia.indiatimes.com/india/those-who-display-isis-pak-flags-will-be-treated-as-anti-nationals-army-chief-bipin-rawat/articleshow/57168531.cms
--------
NIA arrests Kerala youth in connection with probe into Islamic State module
Feb 15, 2017
The National Investigation Agency on Wednesday arrested Mouinudheen Parakadavath, a Kerala resident, in connection with its probe regarding an alleged Islamic State module.
Mouinudheen, wanted by the NIA, arrived at the IGI Airport in Delhi on February 14 from Abu Dhabi, the agency said in a statement.
The 25-year-old, a resident of Kasaragod, was summoned for questioning at the agency's headquarters on Tuesday, the NIA said.
"During his examination, he admitted to his involvement in the conspiracy and therefore, he has been arrested at NIA headquarters," it said
The NIA said the case relates to a terror module in which a group of youngsters from Kerala including some members based in the Middle-East hatched a conspiracy under the instructions from their online ISIS handlers.
It said on October 2, 2016, based on the intelligence inputs, five accused associated with this terror module, were arrested from Kanakmala Hill in Kannur district, Kerala and another associate was arrested from Calicut the same day.
Full report at:
http://www.hindustantimes.com/india-news/nia-arrests-kerala-youth-in-connection-with-probe-into-islamic-state-module/story-CEgOXCThZruh9nwZfBxS4J.html
--------
Foreign Secretary S Jaishankar may visit China to seek action against Masood Azhar
Dipanjan Roy Chaudhury
Feb 16, 2017
NEW DELHI: Indian Foreign Secretary S Jaishankar is likely to visit China as part of a three-nation trip soon to impress upon Beijing to act against Jaish-e-Mohammed chief Maulana Masood Azhar in the backdrop of US, UK and France moving a fresh initiative in the UN Security Council for against the designated terrorist under 1267 Sanctions Committee.
Jaishankar is expected to discuss key irritant in ties – Beijing's intransigence on Azhar -- with his Chinese interlocutors, officials familiar the developments told ET. Beijing's reluctance to endorse India's proposed membership tof the Nuclear Suppliers Group might also figure during the trip. India and China last year upgraded one of the senior official level dialogues to the level of foreign secretaries.
Sino-Indian relations have also been overshadowed by China-Pakistan-Economic-Corridor (CPEC) passing through Pak occupied Kashmir. Beijing has brushed aside India's strong opposition to the CPEC. It is no secret that China's ambitions in the South China Sea and Indian Ocean regions have also contributed to India's discomfort.
Yet Jaishankar's trip to Beijing is also aimed at a review of bilateral ties amid possibility of fluidity in global politics and possible strain in Sino-US ties. The foreign secretary himself has espoused India's emphasis on multi-polarity amid flux in geo-politics. The PM will visit China later this year for the BRICS Summit and ahead of that Modi may have meetings with President Xi Jinping on the sidelines of SCO and G-20 Summits in June and July respectively.
Besides China, Jaishankar will visit Bangladesh and Sri Lanka. The visit to Colombo is aimed at giving a push to Indo-Lankan ties amid China's reentry into the critical projects in the island nation.
The Sirisena government, which had earlier opposed the Chinese investments procured by its pro-China predecessor, recently faced public protests over handing over of 15,000 acres of land for a Chinese industrial park in Hambantota as well as the port. Ironically, Mahinda Rajapaksa, who procured about $7 billion for Hambantota and other projects, opposed the handing over of the port and land to the Chinese investors.
Full report at:
http://timesofindia.indiatimes.com/india/foreign-secretary-s-jaishankar-may-visit-china-to-seek-action-against-masood-azhar/articleshow/57178892.cms
--------
J&K stone-pelters will be treated as jihadis' aides: Army chief
Feb 16, 2017
NEW DELHI: Army chief General Bipin Rawat on Wednesday warned stone-pelters+ who try to disrupt anti-terror operations in J&K that they will be treated as "overground workers of terrorists" and can be fired on.
The tough talk came even as PM Narendra Modi unexpectedly joined Gen Rawat to pay homage to three personnel+ , including Major Satish Dahiya, who laid down their lives in two operations in J&K on Tuesday.
Modi had just landed at Palam airport when he learnt the mortal remains of Major Dahiya and soldiers Dharmendra Kumar and Ashutosh Kumar had been brought there. He also laid wreaths. After the solemn ceremony, General Rawat briefed the PM about the encounters at Bandipora and Handwara.
He then said, "Those who obstruct our operations during encounters and aren't supportive will be treated as over-ground workers of terrorists."
He went on to state that people waving IS and Pakistan flags will be treated as anti-nationals. The Army chief also said that soldiers would not hesitate to fire on stone-pelting youths if they tried to thwart anti-terror operations.
There has been an increasing trend of flash mobs trying to prevent security forces from cornering terrorists during counterinsurgency operations in J&K over the last couple of years.
Full report at:
http://timesofindia.indiatimes.com/india/jk-stone-pelters-will-be-treated-as-jihadis-aides-army-chief/articleshow/57175782.cms
--------
External Affairs Minister, US Secretary Of State Resolves To Work Together Against Global Terrorism
Feb 15, 2017
NEW DELHI: External Affairs Minister Sushma Swaraj on Wednesday called US Secretary of State Rex Tillerson and resolved to work together closely against the "global terrorism" and to deepen the strategic ties between the two countries.
"Both the leaders agreed to follow-up the resolution expressed by Prime Minister Narendra Modi and US President Trump to fight global terrorism together," a statement from Ministry of External Affairs said.
During a telephonic conversation, Swaraj and Tillerson stressed that a close and strong strategic-relationship between India and the US were not only in mutual interest but also had regional and global significance.
"They also agreed to intensify cooperation in various sectors, including defence and security, energy, and economy," the release said.
Full report at:
http://timesofindia.indiatimes.com/india/sushma-us-secretary-of-state-resolve-to-work-together-against-global-terrorism/articleshow/57173107.cms
--------
South Asia
Six-nation talks in Moscow ponder Afghan crisis
February 16, 2017
Moscow: Russia hosted representatives from six countries on Wednesday for discussions aimed at encouraging the Taliban to negotiate with the Afghan government, TASS news agency reported.
Officials from Afghanistan, Pakistan, Russia, China, Iran and India took part in the gathering, which came less than two months after a similar meeting between Russia, China and Pakistan. In hosting the gathering, Moscow is demonstrating its increasing interest in Afghanistan.
The United States, for the second time in a row, was not invited. For Pakistan, attending meetings on Afghanistan that the United States is not a party to is key. Such gatherings allow Islamabad to show Washington that it has other countries to rely on for support in Afghanistan.
According to Afghan Tolo news agency, Russia's foreign ministry spokeswoman Maria Zakharova said high-level delegations from Afghanistan, Pakistan, Russia, Iran and India are currently holding discussions in Moscow and details of the diplomacy will be soon shared.
"Moscow is currently hosting consultations on Afghanistan involving senior officials of Afghanistan, Pakistan, Russia, Iran and India and we will be brief you on the outcome of this meeting," said Zakharova.–Monitoring Desk
http://nation.com.pk/national/16-Feb-2017/six-nation-talks-in-moscow-ponder-afghan-crisis
--------
UAE envoy to Kabul dies of bomb wounds
February 16, 2017
BU DHABI - The United Arab Emirates' ambassador to Afghanistan has died of wounds sustained in a January 10 bombing in Kandahar that also killed five other UAE officials, state media said Thursday.
Ambassador Juma Mohammed Abdullah Al Kaabi had been leading a UAE delegation to the provincial governor's office in Kandahar when the bomber struck, killing 12 people instantly. Both he and governor Humayun Azizi suffered serious burns.
The UAE's official WAM news agency described the ambassador as a "martyr".
The attack was one of a spate of bombings that hit three Afghan cities on January 10, killing 57 people.
The Taliban claimed responsibility for twin bombs that hit a parliamentary annexe in Kabul and a suicide bombing in Lashkar Gah, capital of restive Helmand province. But it did not claim the Kandahar attack.
GUNMEN KIDNAP 52 FARMERS
Gunmen in Afghanistan kidnapped 52 farmers on Wednesday, most of them members of the minority Uzbek community in the remote northern province of Jowzjan, regional officials said, but the motive for the abductions was not immediately clear.
Afghanistan's once-stable north has become a hotbed of kidnappings and shootings in recent years, as the militant Taliban gains ground, along with small groups loyal to Islamic State, mostly defectors from the Afghan and Pakistani Taliban.
The men seized in Wednesday's incident were kidnapped from three villages in the district of Darz Ab in Jowzjan, while they were at work on their land.
Provincial police blamed Taliban fighters that control most of the district.
"The Taliban is responsible for this act, as they are leading those areas," said Mohammad Riza Ghori, a spokesman for the police chief of Jowzjan.
"A number of elders from Darz Ab, including the police chief, are trying to talk to the Taliban to release these people, and if this does not work, we will launch an operation."
He did not give further details of plans for such a rescue operation, however.
A Taliban spokesman, Zabihullah Mujahid, said he was aware of the report, but could not confirm it as he was gathering information.
Full report at:
http://nation.com.pk/national/16-Feb-2017/uae-envoy-to-kabul-dies-of-bomb-wounds
--------
Ex-army officer ordered Myanmar lawyer's murder
Feb 16, 2017
YANGON - A former military officer ordered the murder of a prominent Myanmar lawyer and adviser to de facto leader Aung San Suu Kyi, the president's office said on Wednesday.
Ko Ni was shot in the head in broad daylight outside Yangon's airport late last month while waiting for a taxi, in a crime that rocked the political establishment.
Suu Kyi's ruling National League for Democracy party branded the killing a political assassination and "terrorist act" against their policies.
Ko Ni was a vocal critic of the army's lingering grip on power under Myanmar's new elected government and an important advocate for the country's embattled Muslims.
He had reportedly been pushing for changes to the constitution that currently guarantees the military a quarter of parliamentary seats and bars Suu Kyi from the presidency.
The gunman, named as Kyi Lin, was arrested at the airport after also fatally shooting a taxi driver who tried to stop him escaping.
After a series of leaks and conflicting comments from police, state media confirmed days later they had also arrested "alleged conspirator" Aung Win Zaw in the southern state of Karen.
Myanmar's presidency said police and military intelligence are now hunting his brother, former Lieutenant Colonel Aung Win Khaing, who originally ordered the killing.
"According to interrogations of culprit Aung Win Zaw... his younger brother Aung Win Khaing asked him to assassinate U (honorific) Ko Ni in July 2016," the office said in a statement.
Full report at:
http://nation.com.pk/international/16-Feb-2017/ex-army-officer-ordered-myanmar-lawyer-s-murder
--------
Burma Says Security Operation in Troubled Arakan Has Ended
16 February 2017
RANGOON — The Burma Army has ceased conducting a clearance operation in northern Arakan State, the new National Security Advisor U Thaung Tun said.
The security operation had been underway since nine policemen were killed in attacks on security posts near the Bangladesh border on Oct. 9.
Almost 69,000 Muslim Rohingyas have since fled from Burma to Bangladesh amid a crackdown that sparked widespread accusations of grave human rights abuses by security forces.
"The situation in northern Arakan has now stabilized. The clearance operations undertaken by the military have ceased, the curfew has been eased and there remains only a police presence to maintain the peace," newly-appointed national security advisor U Thaung Tun was quoted as saying in a statement released by State Counselor's Office late on Wednesday.
"There can be no excuse for excessive force, for abuses of fundamental human rights and basic criminality. We have shown that we are ready to act where there is clear evidence of abuses," he told a group of diplomats and UN representatives in a meeting, according to the statement.
Two senior officials from Burma's President Office and the Ministry of Information confirmed that the security operation in northern Arakan had ended but said that a security presence remained in the region to maintain "peace and security."
The Burma Army did not immediately respond to requests for comments.
The military and police have separately set up teams to investigate alleged crimes after Daw Aung San Suu Kyi promised to probe UN allegations of atrocities against the Muslim minority.
Full report at:
https://www.irrawaddy.com/news/burma/burma-says-security-operation-troubled-arakan-ended.html
--------
Senior ISIS leader arrested in Jalalabad city
Feb 16 2017
A senior leader of the loyalists of Islamic State of Iraq and Syria (ISIS) terrorist group was arrested in Jalalabad city, the provincial capital of eastern Nangarhar province.
The provincial police commandment in a statement said the senior ISIS leader was among at least 12 militants arrested by the special forces of the Afghan National Defense and Security Forces (ANDSF).
The statement further added that the ISIS leader was actively involved in recruitment of militants for the terror group and was arrested along with seven others from the vicinity of the 1st police district of Jalalabad city.
The Afghan forces also arrested two others from the vicinity of 3rd police district of Jalalabad city for having links with the ISIS loyalists.
The police commandment said a senior Taliban leader was also arrested from Mawlavi Khas Family area of the city.
Full report at:
http://www.khaama.com/senior-isis-leader-arrested-in-jalalabad-city-02895
--------
Terrorism is a common enemy of both states, Nawaz tells President Ghani
Feb 15 2017
The Pakistani Prime Minister Nawaz Sharif has said terrorism is a common enemy of both Afghanistan and Pakistan.
Nawaz made the remarks during a telephone conversation with President Mohammad Ashraf Ghani.
According to a statement by Prime Minister House of Pakistan "Afghan President Ashraf Ghani telephoned Prime Minister Muhammad Nawaz Sharif and expressed condolences over loss of life in yesterday's Lahore terrorist attack."
"PM stated that terrorism is a common enemy of both States and such cowardly acts cannot deter our resolve," the statement added.
At least 13 people were killed and over 80 others were wounded in an explosion in Lahore city of Pakistan on Monday evening.
Full report at:
http://www.khaama.com/terrorism-is-a-common-enemy-of-both-states-nawaz-tells-president-ghani-02893
--------
Southeast Asia
Don't fall victim to 'prayer valet' services, Muslims told
15 February 2017
PUTRAJAYA: Muslims have been reminded not to fall prey to offers of valet doa (prayer valet) services, which are spreading on social media.
Malaysia Islamic Development Department (Jakim) director-general Tan Sri Othman Mustapha said these services were clearly using religion for business purposes, which is prohibited in Islam.
"It is unreasonable to offer prayers as a product or a commercial service because people are taking advantage of religion to gain profits and it will tarnish the sanctity of Islam.
"Only God will answer prayers, not human," he said in a statement here Wednesday.
The prayer valet services among others offered prayer packages in the Holy Land at a price of up to RM2,500.
Othman said Islam encouraged its followers to pray anywhere, but it must meet certain conditions and manners so that it can be answered – as stated by Muslim scholars.
He said it was unreasonable for individuals to claim that the prayers were guaranteed to be granted by God.
He also urged Muslims to contact Jakim or any state Islamic Religious Departments should there be any doubts or concerns on such issue. – Bernama
http://www.thestar.com.my/news/nation/2017/02/15/dont-fall-victim-to-prayer-valet-services-muslims-told/
--------
Sarawak party says no to Islamic teachers at Christian-majority schools
BY SULOK TAWIE
February 15, 2017
KUCHING, Feb 15 — Parti Bansa Dayak Sarawak (PBDS Baru) will submit a memorandum urging the Education Ministry not to post religious teachers from Peninsular Malaysia and Sabah to rural schools where all the students are Christian Dayaks.
PBDS Baru president Cobbold John Lusoi said the memorandum will be submitted to the ministry after the Tanjong Datu by-election on February 18.
"We will oppose any plan by the ministry to post outside religious teachers to rural schools of Sarawak where all the students are Christian Dayaks," he said, when responding to Education Minister Datuk Seri Mahdzir Khalid's statement yesterday that the ministry will bring in religious teachers to teach Islamic Studies in Sarawak.
Lusoi expressed fears that the religious teachers would use their position to influence Christian students to become Muslims.
"We have seen in the past where religious teachers and non-governmental organisations from Peninsular Malaysia were attempting to influence Dayak students to convert to Islam," he said, referring to a case in SMK Balai Ringgin in 2014 where attempts were made to convert Dayak students from the school to Islam through an "Anak Angkat" programme.
Full report at:
http://www.themalaymailonline.com/malaysia/article/sarawak-party-says-no-to-islamic-teachers-at-christian-majority-schools
--------
Moldova claims to break up extremist Islamic group
Feb 15, 2017
Moldova's intelligence agency says it has broken up a suspected extremist Islamic group that was spreading propaganda online and whose members had illegal weapons.
The Intelligence and Security Service said Wednesday that agents had searched the homes of a number of Moldovan citizens in the northeastern town of Soroca, and found pistols, semi-automatic rifles and other weapons.
It says members are accused of "propagating radical Islamic ideology," on social media and elsewhere and illegally possessing firearms.
Full report at:
http://abcnews.go.com/International/wireStory/moldova-claims-break-extremist-islamic-group-45509778
--------
Religious tensions, fake news test Indonesia's regional elections, all eyes on Jakarta
February 15, 2017
Millions expected to cast their ballot for the capital's governor following campaigning marred by religious disputes
Millions of Indonesians are heading to the polls to elect the capital's next governor following an election campaign marred by religious intolerance and racial bigotry. More than 13,000 polling stations opened across Jakarta on Wednesday to accommodate the 7.1 million people eligible to vote, one of dozens of elections taking place across the Muslim-majority country.
The Jakarta election pits incumbent governor Basuki "Ahok" Tjahaja Purnama against Anies Baswedan, a former education minister, and Agus Yudhoyono, the son of former President Susilo Bambang Yudhoyono.
Ahok, an ethnic Chinese Christian, has been dogged by a blasphemy case triggered by comments he made about the Quran that were deemed insulting to Islam and Muslims. In September, he told a crowd of his supporters that if they were afraid of going to hell if they elected a non-Muslim as their leader, they need not worry as they had been lied to "using Surah Al-Maidah verse 51."
Some Muslims interpret the Quranic verse in question as prohibiting them from electing non-Muslims as their leaders. Ahok has denied that he intended to insult the Quran, saying he was referring to those who misused religion for political purposes.
After two massive protests by conservative Muslims, he was charged and is now on trial for blasphemy, though he remains free to contest the poll. The 50-year-old led opinion polls in the run-up to the election, but according to analysts is not expected to win more than 50% of the votes, making a run-off unavoidable.
'Fake news'
The campaign period was also marked by rising anti-Chinese sentiment sparked by false news spreading online, including rumours that millions of Chinese were coming to Indonesia illegally.
Ahok has won praise from many Jakartans for cleaning up rivers clogged with rubbish, as part of his flood prevention programme, and building more parks. But critics say his moves to evict squatters and slum dwellers to make way for development have increased poverty and caused dispossession. Ahok's closest rival, Baswedan, has courted the votes of conservative Muslims despite his past reputation as a liberal Muslim reformer.
Support from conservatives rose after he visited the headquarters of the Islamic Defenders Front, whose leader, Muhammad Rizieq Shihab, was a key member of the anti-Ahok protests. Official results will not be announced until the end of this month, but pollsters were expected to reveal so-called "quick counts" later on Wednesday.
Jakarta situation
The Jakarta vote is being widely seen as a proxy battle for the next presidential election, due in 2019.
Full report at:
http://www.dhakatribune.com/world/asia/2017/02/15/religious-tensions-fake-news-test-indonesias-regional-elections-eyes-jakarta/
--------
Indonesia's ethnic and religious strife reflected in gubernatorial election
2017/2/15
On Wednesday, Indonesia held its second simultaneous election since it gained independence in 1945. The election of Jakarta governor was a contest among three candidates - Agus Harimurti Yudhoyono, incumbent Governor Basuki Tjahaja Purnama, who is also known by his Chinese nickname Ahok, and Anies Baswedan.
Ahok, a Christian from the country's ethnic Chinese minority, was put under the spotlight in recent political controversy in Indonesia where majority of the population is Muslim. He became the governor of Jakarta in 2014 after his predecessor Joko Widodo was elected Indonesian president. Ever since then, Ahok has worked to cut red tape and mitigate floods, which earned him widespread support from the public. But his heritage as a member of an ethnic minority aroused discontent from radical Islamists and he was embroiled in a blasphemy scandal in September.
But whether or not Ahok insulted Islam is still debatable, as moderate Nahdlatul Ulama(NU), the largest Islamic organization in Indonesia, didn't consider it as blasphemous. Ahok's case is more like a political struggle, especially in the gubernatorial election.
The three candidates are backed by the three largest parties in Indonesia. Agus, son of former president Susilo Bambang Yudhoyono, and former education minister Anies implied during the campaign that Jakarta voters should pick a Muslim as their governor, trying to win the election by appealing to people's religion.
The election of Jakarta's governor is not just a local election, but reflects the political ecology in Indonesia. Widodo's success created a precedent that being Jakarta's governor is a shortcut to win the presidential election, or at least it gives you access to the most political resource in Indonesia.
From an ideological perspective, Widodo and Ahok are supported by the country's largest political party, Indonesian Democratic Party of Struggle (PDI-P), which is led by Megawati Sukarnoputri, daughter of Indonesia's first president Sukarno and an advocate of secularism and diversity in Indonesia. The PDI-P is backed by a majority of Chinese Indonesians who identify with Sukarno's policy on the Chinese ethnic group in the country. The other two candidates are backed by parties founded by retired generals who took key positions in the administration of Suharto and may use radical Islamic groups for their political ends. The ideological differences between Sukarno and Suharto were shown in this election.
As for policies toward China, Megawati has always maintained an intimate personal relationship with Chinese leaders in line with her father's stance. Widodo has been active in cooperating with China after taking office, and shocked Japan by inviting China to take part in the Jakarta-Bandung high-speed railway construction. By contrast, there had been no practical improvement in Indonesia-China strategic partnership during the presidency of Susilo, who criticized Widodo's policy toward China. The attitude of Prabowo Subianto, who backs Anies, is unclear so far. But according to rumors, Ahok is someone that serves China's interests. Jakarta's election for governor has in fact become a race between two groups that are defined by their attitude towards China.
Full report at:
http://www.globaltimes.cn/content/1033152.shtml
--------
Europe
A century in the making, Athens set for first mosque since Ottoman times
Feb 16, 2017
ATHENS - Athens's half a million Muslims are set to get their first official mosque in more than a century.
The city has not had a formal mosque since it drove out occupying Ottomans in 1833, and Deputy Foreign Minister Ioannis Amanantidis told parliament last year that it was the only European capital "to be deprived of such a religious space".
For years Muslims have resorted to praying in hundreds of makeshift sites, in crowded basements or dark warehouses targeted by racist attackers.
In May, Prime Minister Alexis Tsipras declared building a mosque long overdue. The government, he said, would push ahead "out of respect for the Muslim residents in our capital, but also because we are obliged to actively defend our values."
The new mosque - a 1,000 square meter building without a minaret, split over two levels - is expected to be ready in April in an old naval base in an industrial, rundown part of Athens.
"We need the mosque for our new generation, for our youth ... to feel equal in law, equal in society," said Greece's Muslim Association spokeswoman Anna Stamou, a Greek who converted to Islam.
Friday prayers in the underground garage where she and her family went were recited in Arabic and Greek. Men knelt down to pray on its humid crimson carpet, ventilation pipes barely above their heads.
Plans to build a mosque began in 1890 with an act of parliament, but all fell through, including one timed for the 2004 Olympics. The latest effort split the ruling coalition and Tsipras's right-wing partners voted against a bill to speed up construction. Critics say Athens, kept afloat by international funds since 2010, cannot spare the 800,000 euros to build it.
Golden Dawn, the ultranationalist party third in popularity in polls, says migrants are burdening state resources at a time of crisis. Others still associate mosques with Turkey, its Muslim neighbor and longstanding rival.
For months last year a dozen Greek nationalists occupied the mosque site and set up a homeless center, calling it "a hot spot for Greeks" drawing a contrast with centers on Greek islands for mainly Muslim refugees and migrants arriving from Turkey.
http://nation.com.pk/international/15-Feb-2017/a-century-in-the-making-athens-set-for-first-mosque-since-ottoman-times
--------
Germany raids apartments of 4 Turkish imams
Feb 16, 2017
BERLIN - German police on Wednesday raided the apartments of four imams suspected of conducting espionage on behalf of the Turkish government against followers of US-based cleric Fetullah Gulen, accused by Ankara of organising a failed coup last July.
The raids, in the states of North Rhine-Westphalia and Rhineland-Palatinate, could further strain relations between the two NATO allies, which need each other to tackle issues ranging from militant Islamist attacks to Europe's migrant crisis.
The Federal Public Prosecutor's Office (GBA) said in a statement that the imams had acted on an order issued on Sept. 20 last year by the Turkey-based Diyanet religious authority which said the Gulen movement was behind the putsch attempt.
German Justice Minister Heiko Maas said the four imams were members of Ditib, Germany's largest association of mosques which brings imams from Turkey to serve the community of some three million people with a Turkish background who live here.
"It is very clear that the influence of the Turkish state on Ditib is big. The association must plausibly disengage itself from Ankara," Maas said in a statement.
Last month the GBA launched an investigation into Turkish intelligence operations on German soil after a lawmaker filed a criminal complaint. Austria is also investigating whether Turkey has been operating an informer network targeting Gulen followers on its soil, via its embassy in Vienna.
Turkey has accused Germany of harbouring militants from the Kurdistan Workers Party (PKK) and far-leftists of the DHKP-C, which has carried out attacks in Turkey. German officials reject the accusation.
The GBA said Wednesday's searches were aimed at finding more evidence to link the suspects to espionage activities.
Full report at:
http://nation.com.pk/international/16-Feb-2017/germany-raids-apartments-of-4-turkish-imams
--------
Eiffel Tower to be surrounded by $20M bulletproof glass wall by year's end
Feb. 15, 2017
PARIS — Donald Trump isn't the only leader building a wall, and this one is just as controversial.
The French government is constructing an 8.2-foot-high, bulletproof glass enclosure around the base of the Eiffel Tower to protect the iconic structure from a terrorist attack. But many French are offended by what they describe as a tasteless design that will be an eyesore.
"It's pure madness!" said Bernard Thiebaut, a retired electrical engineer who lives in Paris. "It's not just a physical barrier, it's also a philosophical and a psychological barrier."
After a public uproar over the $20 million project approved last month by the Paris City Council, Deputy Mayor Jean-Francois Martins defended the plan.
"The terror threat remains high in Paris and the most vulnerable sites, led by the Eiffel Tower, must be the object of special security measures," Martins said. He added that the glass wall would allow full view of the tower while preventing individuals or vehicles from storming the attraction that draws 6 million visitors a year.
Critics said the wall, slated to go up in the fall, could undermine the French capital's tourism industry that is already in a slump after a series of terrorist attacks that killed more than 200 people since 2015.
Despite enhanced security in France, terrorists remain a threat.
Last week, police arrested a 16-year-old French girl and her boyfriend on charges of preparing explosives in her apartment in Montpellier in southern France to blow up tourists at the Eiffel Tower. The teen, identified only as Sarah Z., allegedly had converted to Islam and pledged loyalty to the Islamic State.
Two weeks ago, French soldiers opened fire on a man wielding machetes and shouting "Allahu akbar" as he attacked them near the Louvre Museum.
Alison Bell, 50, waiting at the security check to get into the Eiffel Tower, said, "We're very aware that it's a potential target for terrorists here because it's such an iconic place, so you feel a little bit nervous."
The mood in the city is tense, added the teacher from Bristol, England. "There is a distinct police presence here in Paris generally. We've seen a lot of people with guns and men in uniforms," Bell said.
Vanita Minhas, a Canadian tourist who recently visited the Eiffel Tower, said the City of Light landmark might end up resembling a fortress.
"I don't think it would look that nice," said Minhas, 25, a dental hygienist. "It won't make the Eiffel Tower seem as special or as unique if they are trying to keep everybody out."
Currently the base of the Eiffel Tower is surrounded by metal grids set up in June for the Euro 2016 soccer championships. The barriers were to be a temporary security measure but have remained in place with terrorism fears still widespread.
Martins said replacing the unsightly metal enclosure with a transparent wall would allow Parisians and visitors a more pleasant view of the monument.
Full report at:
http://www.usatoday.com/story/news/world/2017/02/15/paris-protective-glass-walls-eiffel-tower-terrorism/97952678/
--------
Jewish man, Muslim woman get married in Canada
February 15, 2017
A Muslim woman and Jewish man in Canada, by marrying each other, have proved that love can conquer social boundaries, including religion.
Shaaz and Jarred Jusko Friedman from Calagry city claim their interfaith marriage works for them.
Shaaz, who is an Indian Muslim, met her husband at their workplace. They were going out for lunch one day and Jarred forgot his wallet. Shazz paid for his lunch, and he promised to buy her lunch the next day.
He was a city planner, and she worked in the same department as she waited for accreditation for working as a pharmacist.
A few months after they met, Jarred visited his family in Toronto where her mother wanted him to meet other women of his faith, so that they could marry.
He says it was at this time he realised that Shaaz was more than just a friend for him.
At the same time, Shaaz shares, her mother was trying to fix her up with some Muslim men.
When Jarred asked her out, the two had to deal with some tough questions; were they open to marrying someone outside their faith? Growing up in India, Shazz had never encountered a Jewish person before.
As their relationship got serious, they broke the news to their family. The result: Shazz's mother did not talk to her for months.
Full report at:
https://www.geo.tv/latest/131195-Jewish-man-Muslim-woman-get-married-in-Canada
--------
Africa
Kenya: How the Courts Schooled Donald Trump and Kenya On Refugee Rights
14 FEBRUARY 2017
ANALYSIS
By Bill Frelick
The High Court of Kenya ruled on February 9 that the Kenyan government acted unconstitutionally when it issued a directive to close the Dadaab refugee camp, home to about 260,000 mostly Somali refugees, some of whom arrived in the early 1990s to escape ongoing violence in their country.
The court found the intention behind the directive to be the forcible return of Somali refugees, and ruled it null and void, saying that it violated the principle of non-refoulement--no forced return of refugees to places where their lives or freedom would be threatened--and discriminated against Somalis.
The Kenyan court both affirmed the rights and dignity of refugees and the critical role of the judiciary "to hold those who exercise public power accountable... [and] to uphold the fundamental and enduring values that constitute the rule of law."
The political backdrop to this was the Kenyan government's contention that its actions were prompted by national security, citing "overcrowding in the camps, terrorist attacks, huge economic costs, human trafficking, proliferation of arms, strained government resources and insecurity."
But the court said: "No single arrest or conviction has been cited, nor has it been established why a blanket condemnation should be applied to all refugees."
In pledging to appeal the court ruling, the government reiterated that its order was all about countering the terrorist threat, in a press statement, "For us, as the government, Kenya will always come first."
While Kenya presents a very different context, it is hard not to see the parallels with what is now happening in the United States.
On February 9, the Ninth Circuit Court of Appeals allowed to stand a temporary restraining order on President Donald Trump's executive order to suspend all refugee admissions for 120 days, bar Syrian refugees indefinitely, and prohibit nationals of seven predominantly Muslim countries, including Somalia, from entry to the United States for 90 days. The appeals court is suspending the enforcement of that order while the judicial branch deliberates on the constitutional questions it raises, particularly whether an executive order purportedly for "protecting the nation from terrorist attacks by foreign nationals" was intended to discriminate on the basis of religion.
The Trump administration contended that the courts are not allowed to review the President's immigration decisions if they involve national security. But the Ninth Circuit said: "There is no precedent to support this claimed unreviewability, which runs contrary to the fundamental structure of our constitutional democracy."
Instead of showing the courts the respect and deference he owes them, President Trump blasted the "so-called judge" who first issued the restraining order and criticized the appellate judges in the midst of their deliberations, claiming that even "a bad high school student" would understand that his position was correct.
As Kenya and the United States grapple with complex questions of national security and refugee rights, it is heartening to see courts in both countries act with real independence and resolve. Let us hope that however these questions are answered, whether in Kenya, the United States, or anywhere else, judges will be able to make judgments about the rights of refugees, foreigners and other marginalized groups free of interference and intimidation.
http://allafrica.com/stories/201702150284.html
--------
Egypt brokers Libya peace roadmap, but key figures fail to meet
16 February 2017
Libyan factions have tentatively agreed on an Egyptian-brokered roadmap to heal divisions, Egypt said, though the failure to engineer a meeting between two key figures has cast a shadow on the diplomatic push.
The deal comes after months of diplomatic efforts by Egypt, culminating this week with visits by Prime Minister Fayez Seraj of the UN-backed government in Tripoli, and Khalifa Haftar, a military commander supported by eastern factions.
After meeting separately with senior Egyptian military officials the two men had been set to sit together in a session late on Tuesday, then failed to meet due to last-minute differences.
Also read: US travel ban divides different factions in Libya
Three Egyptian sources involved in the talks told Reuters that Seraj and Haftar had agreed to honor a plan to create a joint committee to negotiate reconciliation and elections by February 2018, despite lingering tensions.
"The two sides have agreed. I have doubts about the implementation as the atmosphere between them is ... tense but we hope the opposite happens," said one of the sources. Seraj said in a statement late on Wednesday that he had been informed of Haftar's refusal to meet "without the provision of any justifications."
"We hoped that it would be an entry point to a solution to end the state of division and lift suffering of the nation and the people," he said. Despite this, he said, "we affirm that we are moving forward in our efforts for reconciliation and to end the crisis."
Also read: Former Palestinian PM to be new UN envoy to Libya
Concerned about the spread of chaos from its western neighbor, Egypt has made stabilizing Libya a priority and has hosted a flurry of meetings in recent months bringing together Libyan politicians from east and west.
Full report at:
https://english.alarabiya.net/en/News/north-africa/2017/02/16/Egypt-brokers-Libya-peace-roadmap-but-key-figures-fail-to-meet.html
--------
Somalia 'plans to file legal complaint against UAE' over Somaliland base
Feb 15, 2017
Somalia's internationally-backed government is reportedly planning to file a legal case against the rulers of the United Arab Emirates (UAE) for setting up a military base in the unrecognized breakaway republic of Somaliland.
The Somali government's Auditor General Nur Jimale Farah announced Mogadishu's plans to file the complaint against the UAE on charges of violating international law for entering a deal with the Somaliland government to establish the military installation in the port of Berbera.
Farah said Emirati officials had bribed officials in Somaliland to get the deal through. He accused senior officials in Somaliland and the government of Somalia's former President Hassan Sheikh Mohamud of approving the deal for the sake of "illegitimate private gains."
He further challenged the right of the internationally unrecognized Somaliland — which considers itself independent from Somalia — to enter an official agreement with the UAE.
"The deal has none of the legal provisions needed and did not go through Somalia's legitimate public procurement, financial institutions, and the parliament. Therefore, it is corrupted and illegal," Farah said.
A file photo of former president of the Federal Republic of Somalia Hassan Sheikh Mohamud (by AFP)
He also blasted the UAE for violating Somalia's national and territorial integrity, demanding that the Persian Gulf state withdraw from the deal.
"UAE has already violated our national sovereignty and airspace because of its plans to come to Somaliland without paying air space tax and without the permission of Somalia's legitimate government," Farah said. "We ask UAE to respect the international code of conduct."
Full report at:
http://presstv.ir/Detail/2017/02/15/510655/Somalia-UAE-military-base-Somaliland-Nur-Jimale-Farah-Berbera-Yemeni-conflict
--------
South African cleric recounts ordeal in Egyptian jail
15.02.2017
By Hassan Isilow and Omer Kilic
JOHANNESBURG
A leading Muslim scholar who spent months in an Egyptian prison over his alleged ties to the Muslim Brotherhood has described his ordeal.
Abdul Salaam Bassiouni, who holds dual South African and Egyptian citizenship, was arrested in December 2014 as he arrived in Cairo to attend his daughter's wedding.
He was accused of being a member of the Muslim Brotherhood -- which Egypt listed as a terrorist organization after the overthrow of President Mohamed Morsi in July 2013 -- before being released under house arrest last April. He was allowed to return to South Africa on Sunday.
"I felt very bad about my arrest," Bassiouni told Anadolu Agency. "My heart was very sore. I was surprised and shocked."
The 65-year-old, who founded a series of schools across South Africa, said his claim that he was uninvolved in politics went unheeded by his captors. "I told them I'm a religious man. I'm not a politics man."
The former University of Johannesburg lecturer said he met several high profile people accused of supporting the Muslim Brotherhood in jail.
Speaking to Anadolu Agency at his home in Lenasia, a southwestern suburb of Johannesburg, late Tuesday, Bassiouni said he left Egypt 30 years ago to teach Arabic and preach Islam in Sierra Leone and South Africa.
Full report at:
http://aa.com.tr/en/africa/south-african-cleric-recounts-ordeal-in-egyptian-jail/751329
--------
URL: https://www.newageislam.com/islamic-world-news/new-age-islam-news-bureau/'terrorism-increasing-because-children-are-not-taught-arabic'--pml-n-mna/d/110100
New Age Islam, Islam Online, Islamic Website, African Muslim News, Arab World News, South Asia News, Indian Muslim News, World Muslim News, Womens in Islam, Islamic Feminism, Arab Women, Womens In Arab, Islamphobia in America, Muslim Women in West, Islam Women and Feminism, Moderate Islam, Moderate Muslims, Progressive Islam, Progressive Muslims, Liberal Islam