New Age Islam News Bureau
24 Sept 2013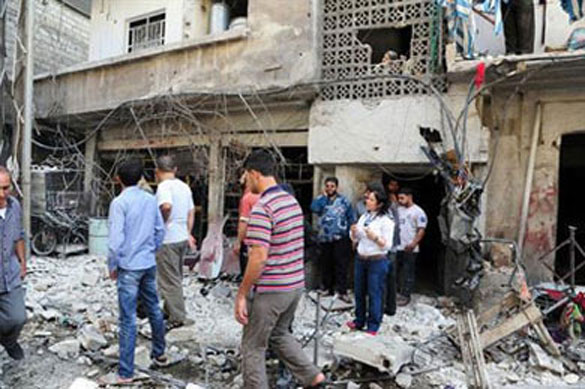 A handout picture released by the official Syrian Arab News Agency (SANA) on September 24, 2013 AFP PHOTO/RAHAF AL JALLAD/SANA
---------
North America
• Terror Strikes in Kenya, Pakistan Suggest New Al Qaeda Strategy: American Expert
• U S faces tough challenges to deliver aid in Syria
• Would invite my attackers to Gurdwara: Sikh professor
• 3 charged in New York City with fighting for al-Shabaab
• White House 'concerned' by al-Shabaab recruitment in US
• Guantanamo hunger strike is largely over, U.S. says
Arab World
• Iraq clashes, attacks kill 25
• Blast hits south Damascus, killing and wounding scores: state TV
• Muslim Brotherhood figure says group will appeal dissolution verdict
• Implications of Brotherhood ban verdict uncertain
• Jordan Islamists slam Egypt's Brotherhood ban
• Hezbollah leader denies receiving chemical weapons from Syria
• Iraq Kurds Dream of Independence but Differ on Details
• Saudi religious police warn against singing, dancing on National Day
• Bahraini Al Khalifa Regime Orders Attack against Al-Wefaq HQ
• Syrian Army Kills Tens of Terrorists in Northern Syria
• Saudi Officials learning Urdu to serve pilgrims better
Europe
• Mali: Serious Misconduct, Sexual Abuse Alleged Against UN Peacekeepers
• Two killed in suicide attack in Russia's Caucasus
• Russia says talks with US on Syria rocky, fears use of force
• UN holds first high-level meeting for the disabled
• Noting Syria's humanitarian crisis, UN aid worker demands access
• French secularism charter attacks Muslims, democratic rights
Africa
• Al-Shabab Islamists in cross-border vengeful jihad want Sharia law in Somalia
• Somali jihadists recruit in U.S., Canada, and Europe
• Americans, Briton among Kenya mall attackers: minister
• More than 10 arrests over Kenya mall attack: police
• Tunisia's Islamists reject proposal to step down
• Somalia militant group says hostages in Kenya mall alive
• In Kenya mall, Jihadis using hostages as human shields
India
• SC restores PIL challenging Shariat courts
• 40 Indians may have been killed in Nairobi Mall Attack: Survivor
• Pakistan judicial panel begins work in 26/11 case today
• Pak panel to inspect mobile, Dingy used by 26/11 terrorists
• Alert: Indian Mujahedeen plans to kidnap Jews
• At PM's NIC meet on communal violence, states showcase their Muslim sops
• Pak Army magazine accuses India of violating Indus Water Treaty Agreement
South Asia
• Taliban kill 11 border police guards in Afghanistan
• Maldives SC delays presidential run-off, Mohammed Nasheed cries foul
• No confusion about Hefazat's unity, Bangladesh Head
• Immigration clearance for Maldives blocked
Pakistan
• Attacks on minorities un-Islamic, say Pakistan scholars
• DNA test can't be primary evidence in rape cases: Council of Islamic Ideology
• Peshawar bombing threaten to stall Pak, Taliban peace talks
• Islam teaches respect for all religions: Jamaat e Islami
• Rubbing salt into wounds: Protesting Christians beaten up, pastor, youth go missing
• 'Peace Convention': Take on Taliban by force, demands Sunni Ittehad
• Church bombings: PPP, MQM, PML-F united against talks with Taliban
• Imran: talks only with those who renounce violence
• Lal Masjid cleric acquitted in all cases
Southeast Asia
• 16 arrested for spreading Shia teachings, says minister
• Indonesian Muslim parties reject coalition proposal, but leave door open
Mideast
• Israel bleak about US-Iran rapprochement at UN summit
• Settlers confiscate Palestinian land in WB
• US, Iran and 5 other nations to hold new nuclear talks Thursday
• Israel sends experts to advise on Kenya stand-off
Compiled by New Age Islam News Bureau
URL: https://newageislam.com/islamic-world-news/terror-strikes-kenya,-pakistan-suggest/d/13666
------------
North America
Terror Strikes in Kenya, Pakistan Suggest New Al Qaeda Strategy: American Expert
September 24 2013
Washington: An American expert on South Asian affairs has suggested that the timing of the weekend terror strikes in Pakistan and Kenya represent a new phase of al Qaeda strategy.
According to Lisa Curtis, Senior Research Fellow for South Asia in the Asian Studies Center at The Heritage Foundation, the aim is to inspire and direct attacks in different parts of the world as part of a global Islamist insurgency.
In an article, Curtis claims that in both cases, the attacks appear aimed at showing the weakness of the state by provoking a sense of chaos as well as indirectly influencing US policy.
In the terror strike in Kenyan capital Nairobi, the Al-Shabaab-an al-Qaeda-linked group based in Somalia has claimed responsibility.
In Pakistan, a faction of the al Qaeda backed Tehrik-e-Taliban Pakistan claimed responsibility for the suicide bombings at the All Saints Church in Peshawar.
It also vowed to continue attacking against non-Muslims in Pakistan until the U.S. ends its drone campaign in the tribal areas bordering Afghanistan.
To substantiate her view of a new al Qaeda strategy in the works, Curtis, in her article, recalls an audio message issued by al-Qaeda leader Ayamn al-Zawahiri on the occasion of the 12th anniversary of the 9/11 attacks,in which he calls for more small-scale terrorist attacks from "safe bases," where Islamist terrorist groups have a foothold, as part of the organization's global strategy.
According to her, Zawahiri is keen on draining military and security expenditures to keep America in a state of tension and anticipation.
http://zeenews.india.com/news/world/terror-strikes-in-kenya-pakistan-suggest-new-al-qaeda-strategy-expert_878865.html
--------
US faces tough challenges to deliver aid in Syria
September 24 2013
WASHINGTON — As the Syrian crisis rages and debate heats up over Syria's chemical weapons, US officials are fighting a quieter battle: The delivery of nearly $1.3 billion in assistance in a war zone so chaotic that ambulances are used for target practice and aid is halted by armed men at random checkpoints.
The humanitarian needs in Syria are staggering. An estimated 6.8 million Syrians require assistance. Of that number, about 2 million have fled to neighboring countries. Even more — somewhere between 4 and 5 million — are displaced from their homes inside Syria.
The U.N. says more than 100,000 people have died in the two years that opposition forces have fought to topple President Bashar Al-Assad, who is accused of launching a chemical weapons attack last month that killed more than 1,400 people. While Assad has denied orchestrating the attack, he has agreed to a US-Russia plan to give up his chemical arms.
That plan will dominate talk about Syria at this week's UN General Assembly, where there also will be renewed pleas to deliver more international aid — a job as daunting as the overwhelming need.
Shipments are being stolen or diverted by armed groups filling the power vacuum in areas no longer controlled by the Assad regime. Border crossings are open, then closed. In rebel-controlled regions, the conflict has been complicated by an influx of Islamic extremists who have mixed in with the US-backed opposition forces trying to oust Assad.
"People ask me all the time 'Why aren't we doing more humanitarian assistance?'" said 57-year-old Mark Ward, the State Department's point man on the nearly $1.3 billion in US aid flowing into the country.
"I can't really comment on the regime-controlled parts of the country — whether they are getting enough. But in the liberated areas, it's not a question of money. It's a question of access. If we had access, we could find money," Ward said in a telephone interview Saturday from the region.
"But you're not going to give a non-governmental agency more money than they can usefully spend. The last thing you want to do in a very dangerous environment is pre-position a bunch of stuff in a warehouse and have the warehouse stuff go missing. ... You have to do less pre-positioning and more regular deliveries, which is more dangerous."
Many opposition-held territories have largely descended into chaos as a multitude of rebel brigades and factions compete over resources and aid and its distribution. Some rebel groups use aid they get through unofficial channels and charities as leverage to win support from the local population. Residents accuse some Free Syrian Army brigades of being corrupt, spending the money they get on luxuries instead of channeling it to the people.
The security situation has deteriorated sharply in recent months, with an uptick in robberies, killings and kidnapping for ransom, making it all the more challenging to get aid to the right people.
"We haven't had any of our deliveries hijacked yet," said Ward, who leads a two-dozen member team that works from sites — he won't name them for security reasons — near the Syrian border in Turkey, Lebanon and Jordan.
"So we have done well so far, but honestly, I think it's a question of time."
The US assistance to the crisis flows from three spigots.
The first $1 billion goes for humanitarian needs. Half is for Syrians now crowded in camps or communities in neighboring Jordan, Lebanon, Turkey, Egypt or Iraq. The other half is for Syrians who are displaced from their homes, but still live inside Syria.
The UN can work in regime-controlled areas, but not in ones held by the opposition unless the government approves. So far Assad has said no. The opposition areas, therefore, rely on the work of NGOs — many supported by US tax dollars.
The second spigot of money — $26 million so far — is non-lethal assistance the US is providing to the Free Syrian Army. That has paid for more than 350,000 meals given to opposition fighters as a test to see if they ended up in the wrong hands. They didn't and now the US is sending the army bigger items like trucks, large radios and medical equipment.
http://www.saudigazette.com.sa/index.cfm?method=home.regcon&contentid=20130924181446
------------
Would invite my attackers to gurdwara: Sikh professor
PTI | Sep 24, 2013
NEW YORK: A Sikh professor, who was brutally attacked and injured by a mob of up to 30 people who called him "Osama" and "terrorist" here, has said he would invite the attackers to visit the gurdwara and interact with members of the community to better understand his faith.
Prabhjot Singh, assistant professor at Columbia's School of International and Public Affairs, said it is "absolutely critical" to work with students and community organisations to spread awareness about other faiths and religions.
"If I could speak to my attackers, I would ask them if they had any questions, if they knew what they were doing. May be invite them to the gurdwara where we worship, get to know who we are... Make sure they have an opportunity to move past this as well," a sombre looking Singh, wearing a blue turban, said in a press conference here yesterday.
Singh was brutally attacked by about 20-30 young men who repeatedly punched him and "pulled his beard" as he was walking in the city's Harlem neighbourhood on Saturday night. He was rushed to a local hospital, where he also works as a physician, and admitted with severe bruising, swelling, small puncture in his elbow and fracture in his lower jaw.
The New York Police Department has released a surveillance video of the suspects believed to be involved in the attack. The grainy clip shows a group of young 15-20 suspects riding their bikes shortly before they encountered Singh as he walking with a friend.
Two days after the attack, Singh, who has lived in the city for 10 years, said he will not be deterred from his goal of engaging with communities to educate and uplift people to make them become better human beings.
There is need to understand "who gave these kids the green light to hate."
"These sort of things are not who we are. This is not an America that I recognise," he added. He said the attack will not change "how I move around the neighbourhood."
He would continue going to all parts of the city, "will still go there and still be received with the degree of welcome that I have received.
"It is clear that the associations between beards and turbans and terrorism are devastating for an entire community, so I want to continue working to show that core American values are core Sikh values as well," said Singh.
Most importantly, I want it so that my 1-year-old has nothing to fear in this neighborhood. "It makes me even more committed to our community and redoubling our efforts," he said.
"I want to live in a community where somebody feels comfortable asking me what is on your head, why do you have that beard, what are you doing here, are you American. We should be able to ask those questions.
"I want to live in a community where young men instead of having to scream out and act out, can engage and learn about it some other way," Singh said as he lisped a little due to the injury to his mouth.
Recalling the attack, Singh said as he passed the group of men, he heard one of the men shout "get him Osama" and "terrorist".
"There is a sensational aspect to this and there is painful aspect to this. I was called 'Get him Osama', I heard terrorist, my beard was pulled. It certainly felt that it was motivated by my appearance."
Singh is working with the New York police department's hate crime unit, which is trying to solve the case on a "priority" basis.
Last year, Singh had written an op-ed in the New York Times days after six Sikh persons were killed in a tragic shooting at a Wisconsin gurdwara in August.
"The legacy of anti-Sikh violence and its contemporary prevalence make it painfully obvious that anti-Sikh violence is often purposeful and targeted. The government must begin tracking and counting anti-Sikh hate crimes, just as it must continue to vigorously combat bias and discrimination against all Americans, including Muslims.
"We must do away with a flawed and incomplete assumption of 'mistaken identity' regarding Sikhs; until we do, we will all be the ones who are mistaken," he had written in the op-ed titled 'How Hate Gets Counted.'
Singh said Sikhs across the world are known for their helpful nature and decorated service in the military.
"You see a (Sikh) face and look for help, that is what we are here to do," he said.
Rights group the Sikh Coalition said the attack on Singh is a "tremendous blow" not just to Sikh Americans but to the ideals of all New Yorkers.
"What happened did not happen in a vacuum. Here in New York City we regularly receive reports that Sikh school children are called 'Bin Laden' or 'terrorist' by classmates and sometimes endure physical violence," programme director of the Sikh Coalition Amardeep Singh said.
The incident comes less than two weeks after the first- ever nationwide public perception assessment of Sikh Americans, titled "Turban Myths," showed 70 per cent of Americans misidentify turban-wearers in the US as Muslim, Hindu or Buddhists.
The study, conducted by Stanford University researchers and sponsored by Sikh American Legal Defence and Education Fund, also showed that nearly half of Americans believe "Sikh" is a sect of Islam, and more associate the turban with Osama bin Laden than with named Muslim and Sikh alternatives.
"Unfortunately our research confirms that Prabhjot's experience is not the result of isolated misperception and intolerance," said Jasjit Singh, SALDEF's executive director.
"Here you have a practicing doctor, a teacher and a community servant falling victim to hate in the largest and proudest melting pot in America. This violence is an affront to all Americans' core values."
http://timesofindia.indiatimes.com/world/us/Would-invite-my-attackers-to-gurdwara-Sikh-professor/articleshow/22983714.cms
--------
3 charged in New York City with fighting for al-Shabaab
AP | Sep 23, 2013
NEW YORK: Two men facing charges they fought for the same terror group behind the deadly shopping mall attack in Kenya are due in court in New York City.
The men have an appearance scheduled Monday afternoon in federal court in Brooklyn.
The pair and another defendant pleaded not guilty last year to charges they provided material support to al-Shabab. That group has taken responsibility for the weekend attack in a crowded mall in Nairobi.
US prosecutors allege the men are dangerous and influential members of an "elite" al-Shabaab suicide bomber unit. They were captured in Africa last year while traveling to Yemen to team up with the al-Qaida offshoot there.
http://timesofindia.indiatimes.com/world/us/3-charged-in-New-York-City-with-fighting-for-al-Shabaab/articleshow/22951253.cms
--------
White House 'concerned' by al-Shabaab recruitment in US
Reuters | Sep 23, 2013
WASHINGTON: US officials are closely watching efforts by Somalia's al-Shabaab group to recruit in the United States, but have no direct information that Americans were involved in the attack on a Nairobi shopping mall, a US officials said on Monday.
"All we've seen are the same reports coming out of al-Shabaab ... but we have to run those to ground," White House deputy national security advisor Ben Rhodes told reporters, when asked whether any Americans took part in the assault.
Full report at:
http://timesofindia.indiatimes.com/world/us/White-House-concerned-by-al-Shabaab-recruitment-in-US/articleshow/22950041.cms
--------
Guantanamo hunger strike is largely over, U.S. says
24 September 2013
A mass hunger strike at Guantanamo Bay is now considered to be largely over, authorities at the U.S. prison said on Monday.
A spokesman has said that authorities would no longer issue daily hunger strike updates on detainees, adding that, as of Monday, only 19 of the U.S. military jail's 164 inmates remained on hunger strike.
On July 10, at the height of the more than six-month protest, 106 prisoners were on hunger strike, with 46 being fed by tube and a handful landing in the hospital, according to figures from authorities.
Full report at:
http://english.alarabiya.net/en/News/world/2013/09/24/Guantanamo-authorities-consider-hunger-strike-wave-over.html
------------
Arab World
Iraq clashes, attacks kill 25
September 24, 201
BAGHDAD: Fighting between security forces and militants killed 25 people in Iraq on Tuesday, as the UN warned that sectarian attacks threaten to force more Iraqis from their homes.
Violence in Iraq has reached a level this year not seen since 2008, when the country was emerging from a brutal sectarian conflict.
Militants attacked two police stations and a local official's house in the towns of Rawa and Aana near the highway to Syria in Anbar province, killing seven police and the official's brother, officers and doctors said.
Deputy Interior Minister Adnan al-Assadi told journalists a large group of militants had attacked Aana, seeking to take control of security positions.
Security forces killed six of the militants, Assadi said, adding that SWAT units were deployed to the area.
Full report at:
http://www.dailystar.com.lb/News/Middle-East/2013/Sep-24/232388-iraq-attacks-on-police-kill-eight-officials.ashx#ixzz2fp2Odx8M
--------
Blast hits south Damascus, killing and wounding scores: state TV
September 24, 201
DAMASCUS: A deadly blast rocked south Damascus on Tuesday, state television reported, with a monitoring group putting the death toll from what it said was a car bombing at seven.
State television said in a breaking news alert that there had been dead and wounded in the "terrorist explosion" in the Tadamun neighbourhood, without immediately giving any further details.
Full report at:
http://www.dailystar.com.lb/News/Middle-East/2013/Sep-24/232403-blast-hits-south-damascus-killing-and-wounding-scores-state-tv.ashx#ixzz2fp1vZ5UA
--------
Muslim Brotherhood figure says group will appeal dissolution verdict
September 24, 201
Leading Muslim Brotherhood figure Mohamed Ali Bishr criticised Monday's court ruling that banned all activities of the Islamist group.
The verdict, which was issued by the Cairo court for urgent matters, also ordered the interim government to seize the group's funds and establish a panel to administer its frozen assets until any future appeal has been heard.
The ruling on Monday applies to the group, its NGO and "any organisation derived from it," judges said.
Full report at:
http://english.ahram.org.eg/NewsContent/1/64/82316/Egypt/Politics-/Muslim-Brotherhood-figure-says-group-will-appeal-d.aspx
--------
Implications of Brotherhood ban verdict uncertain
September 24, 201
A Monday court verdict banning "all activities" by the Muslim Brotherhood will be cancelled on appeal, Brotherhood figure Mohamed Tosson stated on Monday evening.
The verdict was not released by a court with the jurisdiction to make such a judgement, Tosson, who is secretary-general of the lawyers' syndicate, told Al-Ahram Arabic news website.
The court that made the verdict is the court of urgent matters. Tosson said that in order for the verdict to be enforceable, it must be announced by the administrative court.
Full report at:
http://english.ahram.org.eg/NewsContentP/1/82344/Egypt/Implications-of-Brotherhood-ban-verdict-uncertain.aspx
--------
Jordan Islamists slam Egypt's Brotherhood ban
September 24, 201
Jordan's opposition Islamists on Tuesday denounced an Egyptian court's decision to ban all Muslim Brotherhood activities, saying the ruling sought to "reestablish oppression and tyranny."
"Egypt's military coupists took this decision against people's will after they failed to win their confidence," Zaki Bani Rsheid, deputy leader of Jordan's Brotherhood, said on Facebook.
"The coupists are trying to reestablish oppression and tyranny as well as absolute military rule. They want to silence opposition and turn everyone into followers."
The Egyptian court on Monday also ordered the Brotherhood's assets seized, in the latest blow to the decades-old Islamist movement of deposed president Mohamed Morsi.
Full report at:
http://english.ahram.org.eg/NewsContent/2/8/82377/World/Region/Jordan-Islamists-slam-Egypts-Brotherhood-ban.aspx
--------
Hezbollah leader denies receiving chemical weapons from Syria
September 24 2013
Hezbollah leader Sayyed Hassan Nasrallah denied on Monday that the Lebanese group received chemical weapons from Syria.
"This accusation is truly laughable," he said in a televised speech, referring to charges that Syria's government had transferred chemical weapons to the group,according to Reuters news Agency.
The charges had "dangerous consequences for Lebanon," he said.
"We decisively and conclusively deny these accusations which have absolutely no basis in truth," he was quoted as saying by Reuters.
Full report at:
http://english.alarabiya.net/en/News/middle-east/2013/09/23/Hezbollah-leader-denies-group-received-chemical-weapons-from-Syria.html
------------
Iraq Kurds Dream of Independence but Differ on Details
September 24 2013
Voters in Iraq's Kurdish region may have had differing views at the ballot box during weekend polls, but there is one dream which unites virtually all of them: an independent state.
Behind that dream, however, Iraqi Kurds and their leaders differ on key issues related to statehood, their future within a unified Iraq, and ties with Kurdish populations in neighboring countries, all of which are likely to confront the regional parliament as it embarks on a new term.
Full report at:
http://www.thejakartaglobe.com/international/iraq-kurds-dream-of-independence-but-differ-on-details/
---------
Saudi religious police warn against singing, dancing on National Day
September 24 2013
The Saudi religious police warned against singing and dancing in public places on Monday as the kingdom marks its 83rd National Day, according to DPA.
Turki al-Shalil, a spokesman for the Committee for the Promotion of Virtue and the Prevention of Vice religious police, said in a press statement on Monday that violators will face "disciplinary actions."
Full report at:
http://english.alarabiya.net/en/News/middle-east/2013/09/23/Saudi-religious-police-warn-against-singing-dancing-on-National-Day.html
------------
Bahraini Al Khalifa Regime Orders Attack against Al-Wefaq HQ
September 24 2013
TEHRAN (FNA)- Al-Wefaq National Islamic Society's Headquarter (HQ) in Bilad Qadeem was attacked by Bahrain's military troops.
The attack which was carried out in early hours of Sunday, left burn effects and minor damages in the building. Also, provocative pro-regime slogans were, written on the walls.
The terror attack comes just days after the building's walls were sprayed with provocative slogans. It also comes in conjunction with the systematic hatred campaign carried out by official and semi-official media including blatant threats, incitement of hatred and terrorism. The campaign is full of sectarianism and threats against al-Wefaq and its leading members, the Islam Times reported.
Full report at:
http://english.farsnews.com/newstext.aspx?nn=13920701001298
------------
Syrian Army Kills Tens of Terrorists in Northern Syria
September 24 2013
TEHRAN (FNA)- The Syrian army targeted and destroyed the armed rebels' positions in Northern Syria, and killed 30 terrorists in heavy clashes.
The army attacked the bases of the armed rebels in Reef (countryside of) Idlib in Northern Syria, killing more than 30 terrorists.
Government troops targeted and destroyed the concentration centers of terrorists in Sarjeh, Kafromeh and Tal Salmu in Reef Idlib.
Full report at:
http://english.farsnews.com/newstext.aspx?nn=13920701000980
------------
Saudi Officials learning Urdu to serve pilgrims better
24 September 2013
Saudi authorities providing Haj services are learning foreign languages, and Urdu in particular to better serve foreign pilgrims.
Urdu is the most-used language in Haj operations, as a large number of pilgrims come from South Asian countries.
Taibah University in Medina is conducting regular language courses for officials involved in Haj operations for the sixth consecutive year. Urdu is a priority language even though English, French, Persian and Turkish are also being taught to bridge the gap between ethnic groups and Saudi officials.
Full report at:
http://www.arabnews.com/news/465661
------------
Europe
Mali: Serious Misconduct, Sexual Abuse Alleged Against UN Peacekeepers
September 24 2013
The United Nations mission in Mali has received allegations of serious misconduct by its peacekeeping troops last week, including an alleged incident of sexual abuse.
"The Secretary-General is treating this matter with the utmost seriousness and, in line with established procedure, is in the process of notifying the troop contributing countries," Secretary-General Ban Ki-moon's spokesman, Martin Nesirky, told a news briefing in New York today.
"The troop contributing country has primary responsibility for investigating the matter and ensuring that appropriate disciplinary and judicial measures are taken should the allegations be well founded."
Full report at:
http://allafrica.com/stories/201309240687.html?aa_source=mf-hdlns
------------
Two killed in suicide attack in Russia's Caucasus
September 24 2013
MOSCOW: Two officials were killed and six more people were wounded when a suicide bomber detonated a car bomb on Monday in the volatile Russian Caucasus region of Dagestan, police said.
A car was driven near a police station in the Dagestani village of Khuchni before dawn on Monday morning and was detonated as it came to a sudden halt, regional police said in a statement.
Full report at:
http://dawn.com/news/1044860/two-killed-in-suicide-attack-in-russias-caucasus/print
------------
Russia says talks with US on Syria rocky, fears use of force
Reuters | Sep 24, 2013
MOSCOW: Talks between Russia and the United States on the conflict in Syria are not going very smoothly and Moscow is concerned a chemical weapons deal may have only delayed US military action, a senior Russian diplomat said on Tuesday.
"Unfortunately it's necessary to note that in contacts with the Americans, things are not going so smoothly...they are not quite going in the direction they should," Deputy foreign minister Sergei Ryabkov said in Parliament.
Full report at:
http://timesofindia.indiatimes.com/world/middle-east/Russia-says-talks-with-US-on-Syria-rocky-fears-use-of-force/articleshow/22990877.cms
-----------
UN holds first high-level meeting for the disabled
September 24 2013
UNITED NATIONS: World leaders are holding their first-ever UN meeting Monday to explore how the more than 1 billion disabled people in countries rich and poor can contribute to the global economy instead of being a drain on society.
The World Health Organization says a huge increase in hearing aids, glasses and wheelchairs could improve the lives of hundreds of millions of people — and help them participate in the development of their countries. But the disabled have other hurdles to overcome, including discrimination and stigmas.
Full report at:
http://www.arabnews.com/news/465635
------------
Noting Syria's humanitarian crisis, UN aid worker demands access
Sep 24 2013
United Nations : UN's World Food Programme head demanded aid workers be given access to parts of Syria which have come under a cease-fire to allow chemical weapons experts to try to bring the country's stockpile under international control, the head of the UN's World Food Program said.
An agreement under discussion now envisions a cessation of hostilities so chemical experts can travel across the country, including to many conflict areas where WFP and other humanitarian workers have been unable to bring in desperately needed aid, Ertharin Cousin told Associated Press in an interview on Tuesday.
Full report at:
http://www.indianexpress.com/news/noting-syria-s-humanitarian-crisis-un-aid-worker-demands-access/1173526/
-----------
French secularism charter attacks Muslims, democratic rights
24 September 2013
World Socialist Web Site
On September 9,Vincent Peillon, the Minister of Education in France's Socialist Party (PS) government, introduced a fifteen-point charter for secularism to be posted in all state schools from the nursery to high school and strictly adhered to by teachers and pupils. Peillon explained that "schools must teach Republican values."
An explanation "kit" will be provided to each teacher to help enforce the charter, which states: "No one can invoke his religious affiliation to refuse to comply with the rules of the Republic's schools". The bureaucratic and repressive charter further seeks to stifle any questioning by students of the school curriculum: "No pupil can invoke a religious or political conviction to contest a teacher's right to deal with an issue in the curriculum".
Full report at:
http://www.wsws.org/en/articles/2013/09/24/laic-s24.html
------------
Africa
Al-Shabab Islamists in cross-border vengeful jihad want Sharia law in Somalia
September 24 2013
The name al-Shabab signifies youth. They are the most hardline offshoot of the union of Islamic tribunals active in Somalia in 2006. Their goal was to impose a state run entirely according to Sharia law. Many countries officially categorised them as a terrorist organisation. Since 2008, they have controlled large parts of Somalia.
They were pushed back in 2011 by government troops with African Union help. Kenya pushed back also. Its forces crossed the border several times. The Islamists today say they have got their revenge.
Full report at:
http://www.euronews.com/2013/09/23/al-shabab-islamists-in-cross-border-vengeful-jihad-want-sharia-law-in-somalia/
------------
Somali jihadists recruit in U.S., Canada, Europe
By Matt Smith, CNN
September 23, 2013
(CNN) -- The weekend massacre at an upscale shopping center in Kenya is shining a new light on an old concern for Western counterterrorism officials: the recruitment of jihadist fighters from Somali communities in the United States, Canada, and Europe.
It's a concern all too familiar for many Somali-American families in Minneapolis, Minnesota, where young men have been slipping away to join the al Qaeda-affiliated guerrilla group Al-Shabaab for the past few years, sometimes in groups. Several have died, their relatives learning of their deaths in cryptic phone calls or in messages posted online.
Full report at:
http://edition.cnn.com/2013/09/22/us/kenya-attack-somalis/index.html?iid=article_sidebar
------------
Americans, Briton among Kenya mall attackers: minister
AFP
New York, September 24, 2013
Two or three young American men and a British woman were among the group of attackers who stormed a Nairobi mall killing more than 60 people, Kenya's top diplomat said Monday. Kenyan foreign minister Amina Mohamed, interviewed by US public broadcaster PBS, was asked about reports
Americans and Britons were among those to blame for the carnage.
"Yes," Mohamed said. "From the information that we have, two or three Americans, and I think so far I have heard of one Brit."
Full report at:
http://www.hindustantimes.com/world-news/northamerica/Americans-Briton-among-Kenya-mall-attackers-minister/Article1-1126343.aspx
------------
More than 10 arrests over Kenya mall attack: police
September 23, 2013
Kenyan police on Monday said they had arrested more than 10 suspects for questioning over an ongoing attack on a Nairobi shopping mall where more than 60 people were massacred. "We've arrested more than 10 individuals for questioning in relation to the Westgate attack," police said in a message on their Twitter account.
Kenyan security forces remained locked in a fierce battle with Somali Islamist gunmen inside the upmarket mall on Monday, where thick black smoke billowed out following huge explosions.
Full report at:
http://www.hindustantimes.com/world-news/africa/More-than-10-arrests-over-Kenya-mall-attack-police/Article1-1126197.aspx
------------
Tunisia's Islamists reject proposal to step down
23 September 2013
Tunisia's ruling Islamists resisted on Monday proposal by which they would resign pending elections, in a reaction that will likely worsen tensions with the country's secular opponents demanding them to step down immediately.
The north African country has been in turmoil since an opposition leader was assassinated in July, which threatened the country's transition to democracy.
The country's powerful UGTT union had been pushing both sides to accept a plan for the Islamist-led government to resign after several weeks of talks aimed to plan an election date and for a new transitional administration to be formed.
Full report at:
http://english.alarabiya.net/en/News/middle-east/2013/09/23/Tunisia-s-Islamists-reject-proposal-to-step-down.html
------------
Somalia militant group says hostages in Kenya mall alive
AP | Sep 24, 2013
NAIROBI, Kenya: Islamic militants who staged a deadly attack on a Kenya mall said on Tuesday hostages are still alive and fighters are "still holding their ground," as Nairobi's city morgue braced for the arrival of a large number of bodies of people killed, an official said.
The Kenyan Red Cross has confirmed at least 62 people have been killed, but spokesman Abbas Gullet said it was still not known how many more may be dead inside the building.
"It is certainly known that there are more casualties," he said.
Full report at:
http://timesofindia.indiatimes.com/world/rest-of-world/Somalia-militant-group-says-hostages-in-Kenya-mall-alive/articleshow/22990341.cms
---------
In Kenya mall, jihadis using hostages as human shields
Agencies | Sep 24, 2013
Although President Uhuru Kenyatta insisted that the rescue effort remained a domestic operation, Kenyan security sources said Israelis were rescuing hostages and the injured.
Israeli officials declined to comment on reports that their commandos were participating in the siege. Several Israeli entrepreneurs own businesses at the Westgate mall, which is popular among expatriates and wealthy Kenyans.
An al-Shabaab spokesman warned that the hostages would "bear the brunt of any force directed against the mujahideen" —signalling that hostages were being used as human shields.
"Israeli and Kenyan forces have tried to enter Westgate by force but they could not," he said in an audio statement posted online. "The mujahideen will kill the hostages if the enemies use force."
Full report at:
http://timesofindia.indiatimes.com/world/rest-of-world/In-Kenya-mall-jihadis-using-hostages-as-human-shields/articleshow/22963523.cms
---------
India
SC restores PIL challenging Shariat courts
TNN | Sep 24, 2013
NEW DELHI: More than four months after a bench headed by then CJI Altamas Kabir had dismissed a PIL challenging the Fatwas issued by Shariat courts running a parallel judicial system in the country; the Supreme Court on Monday restored it for hearing.
A bench headed by Justice C K Prasad restored the PIL filed by advocate Vishwa Lochan Madan for hearing on November 11 despite objections from the Centre, a decision that would force the government to articulate its position on Shariat courts and the fatwas issued by them.
Full report at:
http://timesofindia.indiatimes.com/india/SC-restores-PIL-challenging-Shariat-courts/articleshow/22959132.cms
------------
40 Indians may have been killed in Nairobi Mall Attack: Survivor
Bharat Yagnik, TNN | Sep 24, 2013
AHMEDABAD: The number of Indians, mainly Gujaratis, killed in Nairobi may be higher than reported.
"The toll has been put at 70 so far. At least 100 bodies are lying inside the mall, which have not yet been accounted for. Many of these are Indians,'' said Gujarati real estate developer Ravi Vekhariya, who has been inside the mall twice as part of a rescue team. "We estimate 30 to 40 may have been killed.''
Seven Gujaratis, including four women, have been so far been confirmed to have been killed in the strike.
Full report at:
http://timesofindia.indiatimes.com/india/40-Indians-may-have-been-killed-Survivor/articleshow/22957011.cms
------------
Pakistan judicial panel begins work in 26/11 case today
Sep 24, 2013
MUMBAI: Four witnesses in the 26/11 terrorist attack case will be cross-examined from Tuesday by lawyers who are part of an eight-member judicial commission from Pakistan.
The commission made up of four defence counsels, two officers of the anti-terror court in Rawalpindi, where the trial is on, and two public prosecutors arrived in the city on Sunday.
Additional chief metropolitan magistrate P Y Ladekar will record the evidence in the Esplanade court, on behalf of the Rawalpindi court.
Full report at:
http://timesofindia.indiatimes.com/india/Pakistan-judicial-panel-begins-work-in-26/11-case-today/articleshow/22954862.cms
------------
Pak panel to inspect mobile, Dingy used by 26/11 terrorists
September 24, 2013
An eight-member Judicial Commission from Pakistan, on a visit in Mumbai to examine four Indian witnesses in the 26/11 terror attack trial going on it that country, on Tuesday urged a Mumbai Court to allow inspection of the dinghy and other articles used by the perpetrators.
Additional Chief Metropolitan Magistrate P.Y. Ladekar, who presided over the proceedings, asked Special Public Prosecutor Ujjwal Nikam, representing the Centre, to produce the dinghy, its Yamaha engine, cell phones and Global Positioning System (GPS) before the panel on Wednesday.
When the court asked the prosecutor whether the government had any objection to producing these articles, Mr. Nikam replied in the negative and said those were lying at the Arthur Road Central prison and would be produced on Wednesday.
At one stage, the court expressed its annoyance at why the Commission had not informed in advance about its plans to examine the articles used by the 10 LeT terrorists.
On their way to Mumbai, the terrorists had hijacked an Indian fishing boat 'Kuber', which they abandoned on reaching near the city shores and used the dinghy to arrive at the coast on November 26, 2008, before unleashing violence that left 166 people dead.
Two doctors -- Shailesh Mohite and Ganesh Nithurkar -- who had conducted autopsies of nine terrorists, gave a brief account of the post-mortems performed by them.
"Mohite had informed the court that he had conducted post mortem on terrorist Abu Ismail, a companion of Mohammed Ajmal Kasab, on November 26, 2008," Mr. Nikam said.
The Pakistani Commission, the purpose of whose visit is to cross-examine the witnesses, chose not to do so.
Asked why they did not cross-examine the witnesses, who deposed before the panel on Tuesday, Mr. Nikam said, "perhaps they did not wish to dispute the injuries caused to terrorists and also did not want to disagree about the number of casualties."
Two remaining witnesses -- Magistrate R.V. Sawant-Waghule, who had recorded the confession of Kasab, and the Investigating Officer Ramesh Mahale would depose on Wednesday.
http://www.thehindu.com/news/national/pak-panel-to-inspect-mobile-dingy-used-by-2611-terrorists/article5164252.ece
------
Alert: Indian Mujahideen plans to kidnap Jews
September 24, 2013
Security around Jewish sites and places frequented by Israelis across India has been tightened to pre-empt a possible Indian Mujahideen (IM) strike. Arrested IM leader Yasin Bhatkal, has told his NIA interrogators that his team had been working on a plot to take "foreign Jews" hostage when he had been caught.
This indicates IM is shifting from being a self-proclaimed avenger of attacks on Indian Muslims to a more international, pan-Islamic agenda, say Indian and Israeli sources.
An alert following this threat has been issued nation-wide, confirmed top police officials in Goa. Mumbai in Maharashtra and Goa have been especially sensitised and security has been increased around Chabad houses--- a Chabad house is a home for religious Jews set up by the Chabad movement and India has 20 such centres---and other Jewish sites. The alert was issued around Jewish New Year on September 3-4, 2013.
Full report at:
http://www.hindustantimes.com/India-news/NewDelhi/Alert-Indian-Mujahideen-plans-to-kidnap-Jews/Article1-1126149.aspx
------------
At PM's NIC meet on communal violence, states showcase their Muslim sops
Sep 24 2013
New Delhi : With elections around the corner, the National Integration Council (NIC) meeting Monday became the platform for regional 'secular' parties in power in several states to tom tom their bouquet of sops for Muslims.
Mamata Banerjee won the contest, including in her presentation a full list of the benefits the Trinamool Congress government has granted Muslims, who make up around 30 per cent of West Bengal's voters. Her government is opening English medium madrasas and giving bicycles to Muslim girls of Classes IX to XII. It is erecting boundary walls at over 575 Muslim graveyards, and will open a "Minority Bhawan" in each district. This is in addition to declaring 49 Muslim communities as "more backward", giving them more jobs and other benefits.
Full report at:
http://www.indianexpress.com/news/states-showcase-their-muslims-sops/1173286/
---------
Pak Army magazine accuses India of violating Indus Water Treaty Agreement
PTI | Sep 24, 2013
ISLAMABAD: Pakistan military's official monthly magazine has accused India of indulging in water offensive by violating Indus Water Treaty Agreement.
Even as it emphasized on peaceful relations, the editor's note in the magazine 'Hilal' said the situation has the potential to ignite tensions.
"The natural flow of water is essential for Pakistan's agricultural economy. Any willful obstruction of water thereof has the potential to ignite tensions between the two states.
"Pakistan had always looked for peaceful relations with India and it is keen to resolve all outstanding issues. It is now up to India to come forward and take concrete steps to maintain peace in South Asia," the note said.
Full report at:
http://timesofindia.indiatimes.com/india/Pakistan-accuses-India-of-violating-Indus-Water-Treaty-Agreement/articleshow/22986975.cms
--------
South Asia
Taliban kill 11 border police guards in Afghanistan
September 24 2013
An Afghan security official said the Taliban attacked a border police checkpoint in the country's south near the border with Pakistan, killing 11 policemen.
Gen. Tafser Khan of the southern border police said on Monday that the attack took place late on Sunday night in Shorabak district of Kandahar province, near the Afghanistan-Pakistan border.
Full report at:
http://www.thehindu.com/news/international/world/taliban-kill-11-border-police-guards-in-afghanistan/article5160672.ece
------------
Maldives SC delays presidential run-off, Mohammed Nasheed cries foul
Sep 24 2013
Male : A day after the Maldivian Supreme Court indefinitely postponed the second round of presidential elections scheduled for September 28, former President Mohammed Nasheed-led Maldivian Democratic Party on Tuesday slammed the decision as "unconstitutional".
The Supreme Court deferred the second round indefinitely on Monday on the plea of Jumhooree Party (JP) which stood third and missed the chance of a run-off with Nasheed in the second round by a whisker.
The orders came within hours of Majlis, Maldives' Parliament, passing a resolution in which it called upon all the state institutions to ensure that the second round takes place, as scheduled, on September 28.
Full report at:
http://www.indianexpress.com/news/maldives-sc-delays-presidential-runoff-mohammed-nasheed-cries-foul/1173566/
----------
No confusion about Hefazat's unity, Bangladesh Head
September 24 2013
Hefazat-e-Islam Bangladesh's head Shah Ahmad Shafi has cleared any confusion that arose after recent news reports questioned the organisation's unity.
In a statement issued on Monday Shafi said: "We have neither dropped any leader from the committee, nor was anyone expelled from the organisation at the conference held at Babunagar madrasa at Fatikchharhi two days back."
The central committee is functional said the statement adding that: "We have just formed a central Shura committee and a sub-committee at the conference to mobilise organisational activities."
Full report at:
http://www.dhakatribune.com/politics/2013/sep/24/no-confusion-about-hefazat%E2%80%99s-unity-says-shafi
------------
Immigration clearance for Maldives blocked
September 24 2013
The government has halted issuance of immigration clearance to Bangladeshis who aspire to go to Maldives for doing jobs, said officials of Bureau of Manpower, Employment and Training (BMET).
"We have taken the decision as our workers do not get jobs after going there," BMET director general Begum Shamsun Nahar told the Dhaka Tribune over phone on Monday. She also said the number of Bangladeshi nationals have reached to the maximum limit in Maldives which is a small country.
Full report at:
http://www.dhakatribune.com/bangladesh/2013/sep/23/immigration-clearance-maldives-blocked
------------
Pakistan
Attacks on minorities un-Islamic, say Pakistan scholars
September 24 2013
Islamabad: Religious scholars in Pakistan have declared that attacks on minorities were un-Islamic, and said Islam does not permit senseless attacks on places of worship of non-Muslims.
The declaration was issued just two days after a twin suicide bombing in Peshawar killed over 80 people and injured nearly 130 others in a packed church during Sunday service, Xinhua reported.
Islamic parties and religious scholars slammed the terrorists for targeting innocent and peaceful Christians and said these brutal attacks have posed serious threat to possible peace talks with the armed Taliban.
"All religious scholars in Pakistan view these attacks are un-Islamic as Islam does not allow anyone to use religion for attacking minorities," Allama Tahir Ashrafi, chairman of Pakistan's clerics council, said Tuesday.
Full report at:
http://zeenews.india.com/news/south-asia/attacks-on-minorities-un-islamic-say-pakistan-scholars_878825.html
------------
DNA test can't be primary evidence in rape cases: Council of Islamic Ideology
September 24, 2013
September 24 2013
ISLAMABAD - Council of Islamic Ideology on Monday decreed DNA test was not acceptable as primary evidence in rape cases, but it could be considered as supporting evidence.
Council chief Maulana Muhammad Khan Sherani, while addressing a news conference, said although DNA testing was a useful and modern technique for supporting evidence, it could not be used as primary evidence alone.
The court of law could take decision in light of DNA test when it was used with other evidences as supporting material, he added.
Full report at:
http://www.nation.com.pk/pakistan-news-newspaper-daily-english-online/national/24-Sep-2013/dna-test-can-t-be-primary-evidence-in-rape-cases-cii
------------
Peshawar bombing threaten to stall Pak, Taliban peace talks
Imtiaz Ahmad , Hindustan Times
September 23, 2013
Peace talks between the Pakistan government and the Tehreek-e-Taliban Pakistan seem to have broken down even before they started. Prime Minister Nawaz Sharif, enroute to the United Nations were he was supposed to speak against US drone attacks, on Sunday said his government could no
longer move ahead with the talks following the bombing on a church in Peshawar.
Sharif told reporters that such incidents did not auger well for negotiations. Nearly 80 people died in the twin bombing which is being described as the worst ever attack on the Christian community in Pakistan. This was not an isolated incident.
Full report at:
http://www.hindustantimes.com/world-news/pakistan/Peshawar-bombing-threaten-to-stall-Pak-Taliban-peace-talks/Article1-1126264.aspx
------------
Islam teaches respect for all religions: Jamaat e Islami
September 24, 2013
LAHORE - Jamaat e Islami Chief Syed Munawar Hasan has called for improving the security at the minorities worship places in the wake of the on going wave of terrorism.
Addressing the party workers at Mansoora on Monday, he said that Islam teaches respect for all religions and did not allow the desecration of churches, temples or any other place of worship.
He said on one hand, the Peshawar church bombing reflected the poor security situation all over the country, while on the other hand, it was an attempt to sabotage the Pakistan- Taliban talks once again. The terrorists behind the attack aimed at the bloodshed of the Christians and the destruction of the church as also to sabotage the APC decisions and the dialogue, he added.
Full report at:
http://www.nation.com.pk/pakistan-news-newspaper-daily-english-online/lahore/24-Sep-2013/islam-teaches-respect-for-all-religions-ji
------------
Rubbing salt into wounds: Protesting Christians beaten up, pastor, youth go missing
September 24, 2013
ISLAMABAD: Christian residents of Iqbal Town were allegedly beaten up by unidentified men on Monday evening for participating in protests against Sunday's carnage in a Peshawar church.
An Iqbal Town resident, who requested anonymity, said he was an eyewitness to the episode. The resident, said several men thrashed seven or eight Christian youths with batons outside the Unitarian Church in the neighbourhood. The men had their faces covered, the resident said. Some of the victims, including Pastor Safir, were missing, the resident claimed.
Full report at:
http://tribune.com.pk/story/608273/rubbing-salt-into-wounds-protesting-christians-beaten-up-pastor-youth-go-missing/
------------
'Peace Convention': Take on Taliban by force, demands Sunni Ittehad
September 24, 2013
LAHORE: The Sunni Ittehad Council has rejected the idea of holding peace talks with the Tehreek-i-Taliban Pakistan, saying that the offer of dialogue exposes the government's weakness.
The Taliban should be dealt with by force, stated a resolution adopted by the SIC at its National Peace Convention at Aiwan-i-Iqbal on Sunday night. The SIC resolution said that while the government was making peace overtures, the Taliban continued their "terrorist activities", most recently with the bombing of a Peshawar church.
Full report at:
http://tribune.com.pk/story/608289/peace-convention-take-on-taliban-by-force-demands-sunni-ittehad/
------------
Church bombings: PPP, MQM, PML-F united against talks with Taliban
September 24, 2013
KARACHI: In a Sindh Assembly session on Monday, majority of the members of the provincial assembly (MPAs) demanded the federal government should revisit its policy of dialogue with the Taliban and start action against extremist elements without any delay.
This decision came in the aftermath of the Sunday's barbaric suicide attacks on a church in Peshawar's Kohati gate area. The assembly also adopted a resolution unanimously condemning the attack and demanding the perpetrators be dealt with an iron hand and given exemplary punishment.
Full report at:
http://tribune.com.pk/story/608241/peshawar-church-bombings-ppp-mqm-pml-f-united-against-talks-with-taliban/
------------
Imran: talks only with those who renounce violence
KHAWAR GHUMMAN
2013-09-24
ISLAMABAD: Pakistan Tehreek-i-Insaf Chairman Imran Khan appears to have adopted a less conciliatory attitude towards armed militants, although he does not single out any militant organisation currently attacking government forces in tribal areas.
Whether it is because of the killing of over 80 people in Sunday's suicide blasts at the Peshawar church or of two senior military officers last week, Mr Khan is now somewhat toughening his stance against militancy.
Full report at:
http://dawn.com/news/1045014/imran-talks-only-with-those-who-renounce-violence
------------
Lal Masjid cleric acquitted in all cases
MALIK ASAD
2013-09-24
ISLAMABAD, Sept 23: Maulana Abdul Aziz, the chief cleric of Lal Masjid, was acquitted from his last case on Monday by a judicial magistrate of Islamabad, Mohammad Naveed Khan.
Since 2001, 27 different cases had been registered against Maulana Aziz, and the last one was registered on April 1, 2007 by the Kohsar police.
The first of the 27 cases against Maulana Abdul Aziz and his associates was registered on September 28, 2001, for delivering fiery speeches.
Between 2001 and 2005, the police registered 10 cases of which five were registered under different sections of the Anti Terrorism Act 1997.
Full report at:
http://dawn.com/news/1045051/lal-masjid-cleric-acquitted-in-all-cases
------------
Southeast Asia
16 arrested for spreading Shia teachings, says minister
September 24 2013
Enforcement authorities have detained 16 people and carried out 120 inspections in connection with those identified as linked to the dissemination of Shia teachings in the country.
Minister in the Prime Minister's Department Datuk Seri Jamil Khir Baharom said based on reports from state religious departments (Jain), 139 more cases were being monitored.
He said the government acted professionally when taking action against those spreading the teaching and would only act against and charge them in court after gathering ample evidence.
Full report at:
http://www.themalaysianinsider.com/malaysia/article/16-shiites-arrested-130-monitored-by-cops-says-minister
------------
Indonesian Muslim parties reject coalition proposal, but leave door open
September 24 2013
Islam-based parties have balked at a proposal from a veteran politician urging them to form a coalition modeled after the so-called "central axis", which successfully defeated a major nationalist political coalition in 1999.
Amien Rais, a senior member of the National Mandate Party (PAN), had earlier said that smaller Islam-based political parties could unite to form a coalition and nominate a presidential candidate to contend with the Democratic Party, the Indonesian Democratic Party of Struggle (PDI-P), the Golkar Party and other major players.
Full report at:
http://www.thejakartapost.com/news/2013/09/24/muslim-parties-reject-coalition-proposal-leave-door-open.html
------------
Mideast
Israel bleak about US-Iran rapprochement at UN summit
September 24 2013
Israel voiced concern today over a potential meeting of the U.S. and Iranian presidents, saying Tehran sought reconciliation with world powers as a ruse to press on with its nuclear programme.
Iran's new government has taken its charm offensive to the annual U.N. General Assembly, agreeing to international nuclear negotiations that would include its foreign minister seeing U.S. Secretary of State John Kerry.
U.S. officials also said a meeting was possible this week between President Barack Obama and Iranian counterpart Hassan Rouhani - a landmark after more than three decades of hostility.
Israel sees a mortal menace in an Iranian bomb it says could be months away from production and says may now be expedited should world powers back off sanctions and readiness for a war of last-resort against Tehran.
Full report at:
http://www.hurriyetdailynews.com/israel-bleak-about-us-iran-rapprochement-at-un-summit.aspx?pageID=238&nID=55029&NewsCatID=359
------------
Settlers confiscate Palestinian land in WB
September 24 2013
RAMALLAH – Jewish settlers on Monday seized control over Palestinian lands near the West Bank city of Nablus, a Palestinian official said.
Ghassan Daghlas, the Palestinian Authority official monitoring settler activity in the northern West Bank, said that settlers seized control over dozens of dunams owned by Palestinian farmers from Aqraba, to the southeast of Nablus.
Daghlas added that the settlers installed barbed wires around the confiscated lands and started bulldozing them.
He added "the leveling of the lands is a move that aims at expropriating them for the expansion of the nearby Itamar settlement."
Full report at:
http://www.saudigazette.com.sa/index.cfm?method=home.regcon&contentid=20130924181444
------------
US, Iran and 5 other nations to hold new nuclear talks Thursday
AP
United Nations, September 24, 2013
Iran's new foreign minister will join nuclear talks with his US counterpart and five other world powers later this week, the latest sign that long-standing tensions with the West might be easing.
The talks will be the highest level contacts between the US and Iran in six years.
European Union foreign policy chief Catherine Ashton told reporters of the new round of talks after she met Iranian foreign minister Mohammad Javad Zarif at the United Nations on Monday, a day before the opening of the UN General Assembly. She said the nuclear talks would resume Thursday on the sidelines of the General Assembly and US officials said Secretary of State John Kerry would participate.
Full report at:
http://www.hindustantimes.com/world-news/northamerica/US-Iran-and-5-other-nations-to-hold-new-nuclear-talks-Thursday/Article1-1126364.aspx
------------
Israel sends experts to advise on Kenya stand-off
AP | Sep 24, 2013,
JERUSALEM: Scarred by memories of a pair of attacks on Israeli targets in Africa a decade ago, Israel has dispatched a team of experts to its close ally Kenya to advise authorities on the bloody stand-off at a Nairobi shopping mall.
While officials refuse to discuss the precise nature of the assistance, Israeli leaders have made it clear they believe the defeat of the al-Qaida militants behind the mall attack will have great meaning around the world.
Full report at:
http://timesofindia.indiatimes.com/world/rest-of-world/Israel-sends-experts-to-advise-on-Kenya-stand-off/articleshow/22953449.cms
---------
URL: https://newageislam.com/islamic-world-news/terror-strikes-kenya,-pakistan-suggest/d/13666