New Age Islam News Bureau
27 May 2014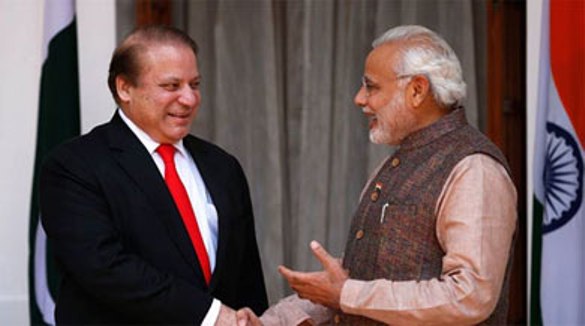 PM Narendra Modi and PM Nawaz Sharif
--------
India
• Terror Dominates Narendra Modi-Nawaz Sharif Talks in Delhi
• PM Modi: Edits in Pakistan media reflect hope, scepticism and humour
• Modi holds talks with Afghan President Karzai
• Terming Nazrul Islam minority icon appalling: West Bengal CM
• India: Resolving the Bangladesh Immigration Issue
• Govt open to debate on Article 370 in Jammu & Kashmir: PMO
South Asia
• 44 Taliban militants killed, 23 injured in Afghan operations
• Hizb-ut Tahrir now incorporating Rohingyas
• China police seize 1.8 tonnes of bomb material in Xinjiang: Govt
• 23 terror, extremist groups busted in May: China
• Myanmar mulls religious conversion curbs: Report
• Lashkar-i-Taiba rejects it attacked Indian consulate in Herat province
• Ex-Afghan intelligence chief formally endorses Abdullah in election runoff
• PM Sheikh Hasina: New generation to create safe, secure world
• Karzai blames LeT for Indian consulate attack in Herat
Arab World
• Suicide Bomber Kills 19 in Baghdad Shi'ite Mosque
• Syrian Soldiers Kill Scores of Militants in Daraa Countryside
• Sun Alignment with Kaaba on Wednesday Noon
• 'Peace Be Upon the Prophet' Project Set For Launch in Makkah
• Saudis and Expatriates Putting Up Joint Front against Deviant Ideology
• Successful Military Operations Diminish Militant Groups in Syria
• Al Qaeda's Arab suspects refute charges, cry 'exploitation'
• Al Nusrah Front, Suqour al Sham launch joint suicide assault in Syria
• Saudi hands Shia protester death sentence
• Albania waives entry visa for Saudis
Pakistan
• Pak ready to discuss all issues with India: Sharif
• Fazl wants establishment's consent for successful talks with Taliban
• Pakistan's ISI wins apology over claim it shot Hamid Mir
• Mamnoon urges OIC to safeguard interests of Muslims
• NA committee flays continued human rights violations
• NWA militant rival groups' clash leaves 4 dead
• Poverty, unemployment, price-hike due to capitalism: MQM Chief
• No future without free, fair elections: Imran
• Levies men killing: Case registered against tribal leader Shafiq Mengal
Africa
• Nigeria army 'knows' where girls are, rules out force
• Tunisia dissolves pro-Islamist group
• Gunmen fires grenades at new Libyan PM's home, one assailant killed
• Eastern Libya oil rebel says does not recognize new government
North America
• Muslim Organization Sues Canada's Prime Minister for Libel
• Top CIA officer in Afghanistan mistakenly named by White House
• U.S. Training Elite Anti terror Troops in Four African Nations
• US awards scholarships to Pak 102 students
• 12,500 Saudis graduate in United States
Mideast
• Cold War principles should not be applied to Ukraine - Turkey's FM
• Iran court summons Facebook founder Mark Zuckerberg
• Israeli, Saudi Ex-Intel Heads in Rare Face-to-Face on Nukes
• Spokeswoman Emphasizes Unity among Islamic Media
• With mouths sewn shut, Afghan refugees keep protesting Ankara, UNHCR
Southeast Asia
• Shariah law increases oppression of Brunei's Christians
• Thailand Instability Could Bring Islamic Insurgency
• Zahid using 'Hitler logic' in Chinese ungrateful remark, says DAP
Europe
• Prince Charles calls for Muslim tolerance for Middle East Christians
• Iraq using barrel bombs, hitting Fallujah hospital: HRW
• London brothers plead guilty to Syria terror training plan
• Norway arrests three for aiding al Qaeda offshoot in Syria, joining as fighters
• Putin to communicate with Israeli PM via encrypted phone line – decree
• Russia-Turkey ties on most foreign political trends fruitful - FM Lavrov
• Scotland Yard believes Dr Farooq's killers are in Pakistan
• Russia delivers three Mi-17B-5 helicopters to Afghanistan
Compiled by New Age Islam News Bureau
URL: https://newageislam.com/islamic-world-news/terror-dominates-narendra-modi-nawaz/d/87221
-----------
India
Terror Dominates Narendra Modi-Nawaz Sharif Talks in Delhi
PTI | May 27, 2014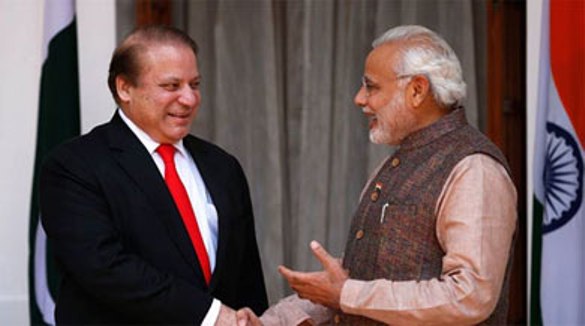 PM Narendra Modi and PM Nawaz Sharif
--------
NEW DELHI: Prime Minister Narendra Modi raised issues of terror and the trial in Mumbai attack case in his first bilateral meeting with Pakistani counterpart Nawaz Sharif here on Tuesday.
According to sources, Modi raised the issue of slow pace of trial in 26/11 terror case which was being held in Pakistan and as also India's core concern of terror with the visiting Pakistani leader.
The two leaders also talked about ways to enhance cooperation in the field of trade during the meeting which was attended by external affairs minister Sushma Swaraj, foreign secretary Sujatha Singh among others, they said.
The two leaders had a firm handshake and posed for photographers before heading towards the meeting room for talks at the ceremonial Hyderabad House.
Ahead of his meeting, Sharif had on Monday said he was carrying a message of peace and intends to pick up the threads with India's new leader Narendra Modi from where he and then Prime Minister Atal Bihari Vajpayee left off in 1999.
Both governments have a strong mandate and this could help in "turning a new page in our relations", the Pakistan Prime Minister had said.
Sharif's visit is seen as significant by political observers here given that hard-line elements in Pakistan have expressed their unhappiness over his responding to the invitation positively.
Sharif will leave for Pakistan later in the day.
http://timesofindia.indiatimes.com/india/Terror-dominates-Narendra-Modi-Nawaz-Sharif-talks-in-Delhi/articleshow/35630307.cms
-----------
PM Modi: Edits in Pakistan media reflect hope, scepticism and humour
The Pakistan media is largely approaching Narendra Modi's appointment as India's Prime Minister with cautious optimism. But there are some sections who are critical of this development, terming it as the "resurgence of ultraconservatives in India". Here is a wrap of the best from the newspapers across the border.
Dawn's 'With hope and fear from Kashmir' opined: "As Kashmiris, we look up to every small opportunity and try catching every single straw. Narendra Modi's invitation to Nawaz Sharif is definitely a big moment for diplomacy and politics." The opinion piece also drew a distinction between Modi's 'belligerent' pre-poll campaigning and that 'Modi has also shown some positive signs and appears to be a different man'.
'Modi, Muslims and Kashmir' in the Friday Times labels Modi as the 'biggest polariser' in the elections, while it said Amit Shah tried a new method of counter-polarisation to make the Muslim vote useless'. "With this huge but one-sided mandate and his previous record in Gujarat for which he refused to apologise, the concern among the biggest minority of India is genuine," the piece said. But they were quick to point out positive parallels between Atal Bihari Vajpayee's Pakistan diplomacy and Modi's approach. "In spite of Kargil and the Parliament Attack of 2001, Vajpayee visited Pakistan twice in his six-year tenure as prime minister, but Manmohan Singh did not take up even a single visit to Pakistan. Since Modi has an overwhelming mandate and is apparently strong in his decisions, it is expected that he may take some concrete steps in case he is enamored by Vajpayee's positive approach. Nothing can be achieved in Kashmir unless the distance between New Delhi and Islamabad is narrowed down."
'Right Turn', another edit in The Friday Times said: "The Indian electorate has overwhelmingly chosen BJP to rule the country, there is no reason to despair. Most politicians when in power behave much more responsibly than their pre-election rhetoric would suggest. Importantly, India has a long history of religious tolerance, pluralism and syncretism. It also has an independent judiciary, fiercely free press, and a well-established segment of the population dedicated to the preservation of secular, liberal values and protection of human rights."
'Engaging Modi' in Dawn said: "Modi's invitation is an astute diplomatic move and a mixed blessing for the Pakistan prime minister. Its rejection could have been construed as an unfriendly gesture and justification for future Indian belligerence. However, its acceptance, despite past and recent insults hurled at Pakistan, could cast this country in the role of an Indian satrap, more so if other South Asian leaders attend. The occasion could be utilised by Modi to set the bilateral and regional agenda. In any case, peace is not about to break out between Pakistan and India."
'Pakistan loves Modi', a satirical piece in the The Nation quipped that 'religious parties in Pakistan are especially ecstatic'.
http://indianexpress.com/article/india/politics/pm-modi-edits-in-pakistan-media-reflect-hope-scepticism-and-humour/
-----------
Modi holds talks with Afghan President Karzai
May 27, 2014
In his first bilateral meeting with international leaders after assuming charge, Prime Minister Narendra Modi on Tuesday held talks with Afghanistan President Hamid Karzai.
The meeting with Mr. Karzai followed Mr. Modi's talks with Maldivian President Abdulla Yameen Abdul Gayoom at the ceremonial Hyderabad House in New Delhi.
In their more than half an hour meeting, Mr. Modi and Mr. Karzai discussed ways to enhance cooperation in the wake of NATO combat troops withdrawal from the war-torn country.
Mr. Modi was assisted in the talks by External Affairs Minister Sushma Swaraj and Foreign Secretary Sujatha Singh among others.
Both Mr. Karzai and Mr. Gayoom arrived on Tuesday along with other SAARC heads of government and states to attend Mr. Modi's swearing-in ceremony at Rashtrapati Bhavan.
These two meetings will be followed by other bilateral including talks with Pakistan Prime Minister Nawaz Sharif and Sri Lankan President Mahinda Rajapaksa.
http://www.thehindu.com/news/national/modi-holds-talks-with-afghan-president-karzai/article6052526.ece
-----------
Terming Nazrul Islam minority icon appalling: West Bengal CM
May 27, 2014
West Bengal Chief Minister Mamata Banerjee Monday said it was "appalling" that Bengali revolutionary poet Kazi Nazrul Islam was being dubbed a "minority icon". Inaugurating the Nazrul Tirtha, a cultural and educational centre dedicated to the poet, in the satellite township of New Town, Banerjee asserted that greats like Islam and Nobel laureate poet Rabindranath Tagore were beyond any minority or majority labels. "Some people have started a whisper campaign saying Nazrul is a minority icon. This is appalling," she said at the inaugural on the 115th birth anniversary of Islam. "Icons like Kazi Nazrul or Rabindranath cannot be labelled as minority or majority icons. They are icons of all Bengalis," she said. He was nicknamed "Bidrohi Kabi" or the rebel poet because of the rebellious tenor of his works espousing political and social justice during the colonial rule. The polymath was born in Bengal's Churulia in 1899 and died in 1976 in Dhaka, Bangladesh. He is regarded the national poet of Bangladesh. This story has not been edited by Firstpost staff and is generated by auto-feed.
http://www.firstpost.com/fwire/terming-nazrul-islam-minority-icon-appalling-mamata-1543663.html?utm_source=ref_article
-----------
India: Resolving the Bangladesh Immigration Issue
By Joyeeta Bhattacharjee
May 27, 2014
During campaigning in India's recent elections, Bharatiya Janata Party's (BJP) prime minister-designate Narendra Modi said that illegal immigrants from Bangladesh would have to leave the country if his party is voted into power. Since the BJP did in fact win the election, and with a record majority, how will Modi actually address the issue of illegal immigration? Many previous governments, including those of the BJP, have tried to deal with the issue, with very little success.
Amongst the initiatives adopted by the Indian government for recognizing illegal immigrants from Bangladesh, the most publicized is the Illegal Migrant Determination Tribunal (IMDT), which was established by Parliament in 1983. It was designed especially for Assam State, where the issue of illegal immigration has long been a cause of social and ethnic tension. Unfortunately, the IMDT did not perform as expected. From its inception in 1983 through to the 2000s, the tribunal identified a mere 10,000 illegal immigrants, and deported only 1,400. Considering its poor performance, the Supreme Court of India struck down the law in 2005 and required that the Foreigners Act of 1946 be enforced throughout India to deport illegal immigrants from Bangladesh.
Yet deportation under the Foreigners Act is also problematic. In 2003, the then Home Minister L. K. Advani ordered all states to deport illegal immigrants. A few weeks later 265 people were sent to the border, but authorities in Bangladesh declined to accept them. In fact India's Border Security Forces (BSF), and its counterpart the Bangladesh Border Guards (then called the Bangladesh Rifles), came to the point of violence over the issue.
Commonality of language, culture and religion between the two countries emerged as a major challenge in identifying immigrants, making deportation extremely difficult. The immigrants speak the same language as many Indians, and often have familial connections that make it easy to assimilate with the local population. Bangladesh's consistent denial that its citizens are illegally crossing the border also complicates matters. Even when Indian authorities have identified illegal immigrants, deporting them becomes almost impossible given the reluctance of Bangladeshi authorities to cooperate.
Still, the issue needs to be resolved, given pressure from local populations in the states that border Bangladesh. Locals in states like Assam fear they will soon become a minority in their own land. Sentiment runs so strong that political parties often exploit the issue to gain popular support. Blood has been spilled at times – illegal immigration was a key factor in the ethnic violence in Assam in the 1980s.
A viable solution requires a holistic view. The first step would be to ascertain the number of immigrants living in India. The government in New Delhi does not have accurate data on the numbers of illegal immigrants. Some figures in the 1990s put the number from Bangladesh at 20 to 30 million, but a new count is needed, and that will not be easy.
It is also important to realize that immigration from Bangladesh to India is not a phenomenon that only began after the independence of Bangladesh in 1971 or even after the partition of India in 1947. Of course, partition triggered a large exodus of people from East Pakistan (as Bangladesh was then known), but most of the immigrants were Hindus. Decades prior to partition, there was a flow of Muslims from East Bengal to states like Assam, where they came in search of a better livelihood. This population must be considered Indian and their rights must be protected. Yet this section of the Indian population often faces harassment over the illegal immigrant issue.
Next, there is a need to understand what drives immigration from Bangladesh. The major causes are socio-political strife, natural calamities, communal riots, and poor economic prospects. Amongst these the economic issue has been the most dominant factor. In spite of deportation, arresting the flow of immigrants from Bangladesh will be very difficult, since economic conditions and opportunities for employment back home are bleak. The porous border also makes it easy for deportees to return. Despite the economic progress Bangladesh has made since independence, the country still remains one of the poorest in the world, with more than 40 million people living in abject poverty.
A lasting solution will require dialogue. To bring Bangladesh on board, India needs to be innovative. Starting with deportation will not be effective and will only worsen relations. Although Dhaka did not officially comment on Modi's call to deport illegals, media reports suggested Bangladeshi Prime Minister Sheikh Hasina was not happy.
The carrot, not the stick, will be needed to convince Bangladesh to talk. It needs to realize that its reluctance in addressing the problem has harmed its own interests. For instance, some estimates suggest that the Bangladesh government loses billions of dollars annually, as most of the money these migrants send home is sent through illegal channels. There has been talk in India of issuing short-term work visas to illegal workers, who often take on unpleasant or hazardous work. This documentation could help both countries, but it will need to be discussed.
Rather than rushing to deport people, the new Modi government needs to carefully weigh a solution that will benefit all stakeholders. Friendly relations with its neighbors is in India's interests, after all. For its part, Bangladesh should be open to dialogue with India, allowing for consideration of new options to this very persistent problem.
Joyeeta Bhattacharjee is an Associate Fellow at the Observer Research Foundation, New Delhi. The views expressed here are the author's own.
http://thediplomat.com/2014/05/india-resolving-the-bangladesh-immigration-issue/
-----------
Govt open to debate on Article 370 in Jammu & Kashmir: PMO
PTI | May 27, 2014
NEW DELHI: The Narendra Modi government is open to debate on Article 370 in Jammu & Kashmir, minister of state in Prime Minister's Office Jitendra Singh said on Tuesday while making it clear that efforts would be made through this exercise to "convince" the "unconvinced".
Repeating the stand of Modi during his rally in December last year, Singh, a first time Parliament member and a surprise choice as minister of state in the PMO, said, "his (Modi's) intention and that of the government is that we have a debate so that we can convince the unconvinced about the disadvantages of Article 370.
"If we do not have debate and discussion how would you be able to tell those who have been unable to understand what they have been deprived of on account of Article 370," he said after taking over as minister of state in-charge of department of personnel and training, which has administrative control over the CBI.
Full report at:
http://timesofindia.indiatimes.com/india/Govt-open-to-debate-on-Article-370-in-Jammu-Kashmir-PMO/articleshow/35632597.cms
-----------
South Asia
44 Taliban militants killed, 23 injured in Afghan operations
May 27 2014
At least 44 Taliban militants were killed following counter-terrorism operations during the past 24 hours.
The operations were conducted by Afghan national police in cooperation with the Afghan national army and Afghan intelligence – National Directorate of Security (NDS) operatives.
Interior ministry following a statement said the operations were conducted in Nangarhar, Sar-e-Pul, Kandahar, Uruzgan, Maidan Wardak, Logar, Herat and Helmand provinces.
The statement further added that 44 Taliban militants were killed, 23 militants were injured and 5 others were detained during the operations.
Afghan security forces also confiscated various types of heavy and light weapons along with ammunition and explosives during the operations.
Interior ministry said Afghan national police forces also discovered and seized 9 improvised explosive devices (IEDs) during operations in Nangarhar, Takhar, Kunduz, Maidan Wardak, Logar and Paktika provinces.
The statement by interior ministry did not disclose information regarding the casualties of Afghan security forces during the operations.
http://www.khaama.com/44-taliban-militants-killed-23-injured-in-afghan-operations-8155
-----------
Hizb-ut Tahrir now incorporating Rohingyas
May 27, 2014
Banned in 2009 for its controversial activities, Islamist outfit Hizb-ut Tahrir has now been integrating Myanmar's Rohingya refugees, staying in the coastal district, under its umbrella to strengthen the group and keep its key players off the law enforcers' radar.
Police have found that members of the banned organisation, divided in several groups, are contacting the Muslim refugees, who enter the country illegally on a regular basis, and engaging them in its activities by providing them with housing, job and educational assistance.
Latest, Kotwali police detained seven activists of the group from Andorkilla Shahi Jame Mosjid area on Friday when they attempted to bring out a procession. One of them was Mobarak Hossain, 24, who stays at the Letha Refugee Camp in Teknaf of Cox's Bazar.
Police say apart from Mobarak, many other Rohingyas are being trapped by Hizb-ut Tahrir these days.
Full report at:
http://www.dhakatribune.com/politics/2014/may/27/hizb-ut-tahrir-now-incorporating-rohingyas#sthash.pxqXhgbR.dpuf
-----------
China police seize 1.8 tonnes of bomb material in Xinjiang: Govt
May 27, 2014
BEIJING: Police in China's restive Xinjiang seized 1.8 tonnes of bombmaking material and detained five people, authorities said Tuesday, following a string of deadly attacks blamed on militants from the Muslim Uighur homeland.
China vowed a year-long crackdown on terrorism over the weekend with violence blamed on separatists from Xinjiang increasingly targeting civilians and spreading far outside the western region in recent months.
Last week five suspects killed 39 people and wounded more than 90 in a car and bomb assault on a market in the regional capital Urumqi, in an attack condemned as terrorism by both Beijing and Washington.
Full report at:
http://tribune.com.pk/story/713773/china-police-seize-1-8-tonnes-of-bomb-material-in-xinjiang-govt/
-----------
23 terror, extremist groups busted in May: China
May 27, 2014
BEIJING — So far this month, police in China's restive western region of Xinjiang have broken up 23 terror and religious extremism groups and caught over 200 suspects, state media reported on Monday.
It was the first announcement of a large number of arrests since an attack last week in the region's capital killed at least 34 that police have blamed on a "terrorist gang." Authorities subsequently launched a high-profile one-year security crackdown targeting terrorists and extremists, although the figures for the latest detentions are for the whole month of May.
The official Xinhua News Agency cited the regional security bureau in providing the information. The Tianshan news portal, which is run by the regional branch of the Communist Party, also reported the detentions and raids, which took place in the cities of Hotan, Kashgar and Aksu. The publicity office of the Ministry of Public Security did not immediately respond to a faxed request for comment.
Full report at:
http://www.saudigazette.com.sa/index.cfm?method=home.regcon&contentid=20140527206507
-----------
Myanmar mulls religious conversion curbs: Report
AFP | May 27, 2014
YANGON: Myanmar is considering restrictions on religious conversion, according to a draft bill released in state media on Tuesday, the first of several controversial proposals stemming from a rising tide of Buddhist nationalism.
The proposed legislation, put forward by the ministry of religion and yet to be debated in parliament, would require people who want to change their faith to get approval from a specially-created local authority.
"No one shall apply to convert religion with the intention to insult, defame, destroy or misuse any religion," said the report in the Burmese newspaper Mirror.
It added that under the proposed law any violation could attract a two-year prison sentence.
Religion has become a deeply sensitive issue in Buddhist-majority Myanmar, where several outbreaks of anti-Muslim violence in the last two years have left around 250 people dead.
The proposals on religious conversion are part of a wider series of draft bills being considered by government ministries and suggested by President Thein Sein after a campaign by extremist monks.
Full report at:
http://timesofindia.indiatimes.com/world/south-asia/Myanmar-mulls-religious-conversion-curbs-Report/articleshow/35633679.cms
------------
Ex-Afghan intelligence chief formally endorses Abdullah in election runoff
May 27 2014
The former Afghan intelligence – National Directorate of Security (NDS) Chief Amrulah Saleh formally endorsed Abdullah Abdullah in the second round of election.
Amrullah Saleh in an online statement said last week that the decision to support Abdullah in election runoff was taken after consulting with members of Afghanistan Green Trend.
While announcing his support to Abdullah in election runoff on Monday, Saleh called Abdullah and his team the savior of Afghanistan.
Full report at:
http://www.khaama.com/ex-afghan-intelligence-chief-formally-endorses-abdullah-in-election-runoff-8157
-----------
PM Sheikh Hasina: New generation to create safe, secure world
May 27, 2014
The educated new generation would be able to create a safe and secure world for future generations, Prime Minister Sheikh Hasina has said.
The PM came up with the hope while delivering a speech on "Education and Empowerment of the Youth" at the renowned Waseda University in Japan on Tuesday, reports BSS.
The educated generation will ensure peace and development instead of war and destruction, she has also expressed hope.
In this regard, she has urged the young generation to work closely together as one family.
The PM said the day is not too far when they would sweep away all challenges and barriers caused by climate change and natural disasters.
Hasina put emphasis on empowerment of the young generation through education.
She said: "It is the duty and responsibility of our generation to ensure empowerment of the young students to face and overcome those challenges."
Full report at:
http://www.dhakatribune.com/bangladesh/2014/may/27/pm-new-generation-create-safe-secure-world#sthash.Nb9nEGF0.dpuf
-----------
Karzai blames LeT for Indian consulate attack in Herat
May 27, 2014
Afghan President Hamid Karzai on Monday accused Lashkar-i-Taiba (LeT) – a Kashmiri rebel group – of being behind last week's attack by gunmen on an Indian diplomatic mission in the west of his war-torn country.
On the eve of talks between India's new Prime Minister Narendra Modi and his Pakistani counterpart Nawaz Sharif, Karzai blamed the LeT for Friday's attack on the consulate in Herat, the latest in a string of assaults on Indian targets in Afghanistan.
"According to the information that we have available to us – one given to us by a Western intelligence agency – the perpetrators were of Lashkar-i-Taiba," Karzai told India's Headlines Today television channel.
Full report at:
http://www.pakistantoday.com.pk/2014/05/27/foreign/karzai-blames-let-for-indian-consulate-attack-in-herat/
----------
Arab World
Suicide Bomber Kills 19 in Baghdad Shi'ite Mosque
May 27, 2014
(Reuters) - A suicide bomber blew himself up inside a Shi'ite mosque in central Baghdad on Tuesday, killing at least 19 people, security and medical sources said.
A Reuters photographer at the site of the blast in the busy district of Shorja said the mosque's walls were blackened with smoke, blood streaked the ceiling, and prayer mats were strewn around.
Most of the victims were merchants and shopkeepers from the area who had gone to pray. Policeman Abbas Inad told Reuters: "The bomb was so big and stuffed with tiny metal balls to kill as many people as possible."
It was not immediately clear who was behind the bombing, but Sunni Islamist insurgents have been regaining momentum in Iraq and have previously claimed responsibility for attacking Shi'ite places of worship.
Security and medical sources earlier said the bomb had exploded at an open-air bus station within range of the mosque.
The injured were rushed to nearby hospitals but the rescue effort was hampered by blast walls surrounding the market designed to limit the damage of an explosion.
Hospital sources said the death toll was likely to rise due to the severity of the injuries.
http://in.reuters.com/article/2014/05/27/uk-iraq-blast-idINKBN0E71NV20140527
-----------
Syrian Soldiers Kill Scores of Militants in Daraa Countryside
May 27, 2014
Syrian army troops killed several militants in Daraa al-Balad and countryside.
A military source said that the army units destroyed a tunnel used by militant groups in al-Manshieh neighborhood in Daraa al-Balad and killed militants who were inside the tunnel.
The source added that an army unit targeted a militants' concentration camp in Atman town in Daraa countryside and killed scores of militants and destroyed a vehicle.
In the meantime, a military source said that soldiers killed members of an armed group that tried to infiltrate into a military point in Daraa countryside.
http://english.farsnews.com/newstext.aspx?nn=13930305001115
-----------
Sun Alignment with Kaaba on Wednesday Noon
May 27, 2014
Astronomers say that the sun will align with the Kaaba at the Grand Mosque in Makkah on Wednesday, May 28, at noon.
The disc of the sun will be positioned immediately over the Sacred House, said the Jeddah Astronomical Society on Sunday in statement. On Wednesday, the sun will rise at 5:38 a.m. from the northeast horizon and continues moving until it comes directly overhead on the Kaaba at 12:18 p.m. The Kaaba will lose its shadow for a brief time.
Astronomers said the celestial phenomenon called "zero shadow" occurs twice every year in the Grand Mosque because of its location between the Equator and the Tropic of Cancer.
Aside from May 28, the event also happens every July 16th of each year.
Due to the tilt of the Earth's axis, the sun travels at 23.5 degrees north and south of the celestial equator. The sun falls directly overhead on places lying over the equator during equinox and moves northwards towards the tropic of cancer and then again progresses southward.
The society has advised the public to avoid looking directly at the sun with the bare eye even for a very brief period of time.
http://www.arabnews.com/news/577106
-----------
'Peace Be Upon the Prophet' Project Set For Launch in Makkah
May 27, 2014
MAKKAH — Makkah governorate and the municipality have designated a one million square meter area for a project that will defend Prophet Muhammad (peace be upon him) and explain the true nature of the Prophet's teachings, Makkah daily reported.
Called "Peace be upon the Prophet," the project is described as a city designed to combat the malicious campaign launched against the Prophet of Islam in several countries. The project will be located outside the Haram boundaries on the Al-Harmain Expressway and will give non-Muslims a firsthand view of the teachings of the Prophet (pbuh) and Islam.
The city will include the project's main headquarters, an exhibition, university, electronic gate centre, library, printing press, translation centre, hotels and other facilities. The project will also oversee the printing of an encyclopaedia on the Prophet (pbuh) his companions and Islam.
Full report at:
http://www.saudigazette.com.sa/index.cfm?method=home.regcon&contentid=20140527206479
-----------
Saudis and Expatriates Putting Up Joint Front against Deviant Ideology
May 27, 2014
Recently, law-enforcers uncovered a cell of the so-called Islamic State of Iraq and the Levant (ISIL) in the Kingdom.
Due to the seriousness of the issue, Saudis and expatriates should remain ready to deal with the situation. When we talk about an organization that has an emir, this means that we are facing a real war.
The first line of defence that guarantees our safety is national unity. We should realize that the terrorists have declared a war and are well organized.
We mustn't deceive ourselves. We must believe that they are not stupid nor naïve and that they have some masterminds who plan for them and provide them with financial support. I am not panicky, but I am afraid. To be cautious and prepared is very important and necessary. It is also not enough to leave this responsibility only on our security forces and authorities because this is not only the sole responsibility of the Ministry of Interior. We all should shoulder this responsibility and contribute to the efforts in fighting the deviant ideology.
Full report at:
http://www.arabnews.com/news/576881
-----------
Successful Military Operations Diminish Militant Groups in Syria
May 27, 2014
The Syrian Army is making major advances in its operations against the Takfiri terrorists in several areas around the country, reports said.
Army destroyed vehicles with all militants inside to the West of Hreitan, to the South of Daret Ezza, Kafar Dael, Tal Refaat, al-Kastello and Handarat in Aleppo countryside, a military source said.
Units of the Syrian Army continued operations on Monday against militants' concentration camps and hideouts in a number of Aleppo neighborhoods and villages in Aleppo province.
The army killed scores of militants and destroyed their weapons, vehicles and ammunition in the industrial city, al-Maslamieh, Mare', Hanano, al-Halk, Anadan, al-Atareb, Dwari Badin, al-Jandol, al-Mansoura, al-Lairamon and Dahret Abd-Rabbo areas.
SANA reporter added that the army units killed scores of militants in Bani Zaid, al-Sukari, Bustan al-Qaser, Salah Eddin and the old city of Aleppo.
http://english.farsnews.com/newstext.aspx?nn=13930305001117
----------
Al Qaeda's Arab suspects refute charges, cry 'exploitation'
Mustafa Al Zarooni / 27 May 2014
Prosecution says 'incriminating' documents found; trial postponed
The Federal Supreme Court on Monday adjourned the case of nine Arabs on trial for forming a cell of the terror organisation Al Qaeda to June 2. The suspects denied the charges.
The presiding judge of the court, Judge Falah Al Hajiri, read out the arraignment sheet, which accuses the suspects of joining Al Nusra Front, an organisation accused of fighting the Syrian government. They are also accused of forming a cell of the organisation inside the UAE to promote its purposes and goals, and to recruit new members. The suspects allegedly participated in activities linked to Al Qaeda and collected funds to support its activities. They also allegedly supervised and ran the website of Sinam al-Islam forum, which is said to publish information about Al Qaeda with the intent of promoting its ideas, recruiting new members and sending them to carry out terrorist activities outside the UAE.
Full report at:
http://www.khaleejtimes.com/kt-article-display-1.asp?xfile=data/courtroundup/2014/May/courtroundup_May68.xml&section=courtroundup
-----------
Al Nusrah Front, Suqour al Sham launch joint suicide assault in Syria
May 27, 2014
A "correspondent" for the Al Nusrah Front for the People of the Levant, al Qaeda's official branch in Syria, said that three foreign fighters and a Syrian national conducted a complex suicide assault in conjunction with Suqour al Sham in Idlib. Suqour al Sham is a member of the so-called moderate Syrian opposition to President Bashir al Assad.
The "Idlib Correspondent" for the Al Nusrah Front posted on Twitter on May 25 that three foreign fighters and a Syrian carried out a joint suicide attack using vehicles in the province of Idlib, according to the SITE Intelligence Group, which obtained and translated the tweets and photographs of the suicide bombers. The exact date, the location of the attack, and the identities of the suicide bombers were disclosed, SITE noted.
It is unclear how many of the suicide bombers were members of the Al Nusrah Front and which belonged to Suqour al Sham.
Full report at:
http://www.longwarjournal.org/archives/2014/05/american_reportedly.php##ixzz32uMLLxsP
-----------
Saudi hands Shia protester death sentence
May 27, 2014
A Saudi court sentenced to death a Shia protester convicted of opening fire on a police patrol during unrest in the kingdom's east, local media reported on Tuesday.
The sentence is the heaviest handed to a protester in the trial of scores detained over their involvement in anti-regime protests in the oil-rich Eastern Province since February 2011.
The court, which specialises in terrorism cases, convicted the Saudi man of "disobedience... undermining security and causing sedition" by opening fire on a police patrol in the Shia-populated Qatif district with the help of two accomplices, according to local media.
The defendant was also accused of "covering up for a group of rioters."
It was unclear when the attack took place or whether it had caused any police casualties.
Activists identified the convict as Rida Rabih, son of Shia cleric Jaafar Rabih, who became known for his efforts to ease tensions that were brewing in Qatif's flashpoint village of Awamiya.
Full report at:
http://english.ahram.org.eg/NewsContent/2/8/102324/World/Region/Saudi-hands-Shia-protester-death-sentence.aspx
-----------
Albania waives entry visa for Saudis
May 27, 2014
Saudi nationals no longer need a visa to enter Albania this summer as the southeastern European country with a predominantly Muslim population has abolished entry visas for Saudis for the period starting from May 25 to Sept. 25 in order to boost tourism in their country.
"The government of the Republic of Albania took a decision to abolish the entry visa for Saudi citizens for the summer period starting from May 25 until Sept. 25, 2014," Saimir Bala, charge d'affairs at the embassy of Albania here, said on Monday.
"We hope to facilitate the Saudi citizens to visit the Republic of Albania and to enjoy the natural beauties of the Albanian landscape," he added.
He expressed the hope that this visa waiver program strongly backed by the Albanian government will boost business and tourism between Saudi Arabia and Albania.
Full report at:
http://www.arabnews.com/news/577371
-----------
Pakistan
Pak ready to discuss all issues with India: Sharif
May 27, 2014
"My Government stands ready to discuss with India all issues in a spirit of cooperation, "Pakistan Prime Minister Nawaz Sharif said in New Delhi on Tuesday.
"I urge that we should change from confrontation to cooperation and not engage in accusations and counter—accusations, he said after a meeting with new Prime Minister Narendra Modi.
"For peace and security, we should bring stability instead of insecurity," he added.
The visiting Prime Minister said the Foreign Secretaries of India and Pakistan would meet soon to finalise the bilateral agenda in the spirit of Tuesday's meeting.
http://www.thehindu.com/news/national/pak-ready-to-discuss-all-issues-with-india-sharif/article6053530.ece?homepage=true
-----------
Fazl wants establishment's consent for successful talks with Taliban
May 27, 2014
LAHORE – Jamiat Ulema-e-Islam-F leader Fazlur Rehman has said that peace talks with Taliban cannot be successful until the establishment approves it.
Speaking to journalists after meeting Pir Ejaz Hashmi who heads Jamiat Ulema-e-Pakistan-Noorani, he said that local population was being destroyed and children were dying due to the military operations in the tribal areas. "The peace talks cannot succeed without the establishment's consent," he added.
Commenting on agenda of Pakistan Tehreek-e-Insaf (PTI) Chairman Imran Khan and Pakistan Awami Tehreek (PAT) Chairman Dr Tahir-ul-Qadri, he said that an extra constitution would not be accepted. On the meeting of Prime Minister Nawaz Sharif and Indian Prime Minister Narendra Modi, the JUI-F leader said that it was a good thing that the Indian leader accepted the ground realities that the Kashmir issue can only be resolved via dialogue.
Full report at:
http://www.dailytimes.com.pk/national/27-May-2014/fazl-wants-establishment-s-consent-for-successful-talks-with-taliban
-----------
Pakistan's ISI wins apology over claim it shot Hamid Mir
May 27, 2014
Pakistan's Jang media group has apologised to the country's feared ISI intelligence agency for its coverage of the shooting of journalist Hamid Mir.
The group's newspapers carried front page adverts calling its coverage "excessive, distressful and emotional".
Geo TV, which is owned by Jang, aired accusations by Mr Mir and his family that the ISI was behind the attack.
Observers say the apology is part of efforts to placate the military which is pressing for Geo to be banned.
The adverts were carried in Jang and The News, two of Pakistan's leading newspapers.
"The Jang group wants to categorically state that it has the greatest regard and respect for the armed forces of Pakistan and its leadership. It was never our intention to malign or offend any institution or person," the apology said.
Full report at:
http://www.bbc.com/news/world-asia-27579356
------------
Mamnoon urges OIC to safeguard interests of Muslims
May 27, 2014
ISLAMABAD: President Mamnoon Hussain has called upon the Organisation of Islamic Cooperation (OIC) to make concerted efforts for the promotion of shared values, safeguarding the interests of Muslim community worldwide and promoting solidarity among its member states.
He assured that Pakistan would continue to play a constructive and dynamic role in re-invigorating the OIC on all contemporary challenges faced by the Muslim community.
The president said this during his interaction with ambassadors and high commissioners of OIC countries at Aiwan-e-Sadr on Monday. Welcoming the OIC envoys, the president said that Pakistan, with its legacy rooted in the Islamic faith and its consistent support for the Muslim causes, was a founding member of the OIC. Pakistan had always worked to promote and support legitimate causes of the Muslim community, such as the Palestinian conflict, Jammu and Kashmir dispute, Cyprus and the rights of Muslim minorities in non-OIC countries, he added. The president reiterated that Pakistan supported all efforts aimed at strengthening unity among the Islamic countries, which he said, would enable the OIC to achieve its full potential as the united voice of the Muslim community.
Full report at:
http://www.dailytimes.com.pk/national/27-May-2014/mamnoon-urges-oic-to-safeguard-interests-of-muslims
-----------
NA committee flays continued human rights violations
May 27, 2014
ISLAMABAD: A parliamentary body on Monday expressed displeasure over the continuing human rights violations in the country, like abductions, killings, women's harassment.
The National Assembly Standing Committee on Law, Justice and Human Rights said the financial resources and the human capital both are inefficient to deal with the issue. The committee was of the view that ensuring human rights is not the duty of the HR Wing alone, rather it is the duty of every parliamentarian, civil society, bureaucrats, who should take appropriate measures to stop rights violations. The committee, which met on Monday at the Parliament House under the chairmanship of Mahmood Bashir Virk, said the HR Wing in the ministry has budget only to meet its staff's salary, and it is unable to finance any victim.
Full report at:
http://www.dailytimes.com.pk/national/27-May-2014/na-committee-flays-continued-human-rights-violations
-----------
NWA militant rival groups' clash leaves 4 dead
May 27, 2014
MIRANSHAH: At least four persons were killed and three sustained injuries in a fierce clash between militant groups in Tehsil Shawal of North Waziristan Agency (NWA), Geo News reported Tuesday morning.
Official sources said that two groups of militants clashed late last night at Taunda Darra in Tehsil Shawal of NWA, leaving four killed and three sustained injuries.
Following the incident, the militants fled away towards nearby mountains.
http://www.thenews.com.pk/article-148967-NWA-militant-rival-groups-clash-leaves-4-dead
-----------
Poverty, unemployment, price-hike due to capitalism: MQM Chief
May 27, 2014
LONDON: Muttahida Qaumi Movement (MQM) Quaid Altaf Hussain Tuesday said that the nation is struck by poverty, unemployment and inflation due to the capitalistic system in vogue in the country and added that Pakistan needed a courageous, brave and sincere leadership, Geo News reported.
Addressing a joint meeting of the members of Rabita Committee in Pakistan and London, Altaf Hussain said that the end of iniquitous system would prove to be a milestone in the building of a stable, strong and developed Pakistan.
Full report at:
http://www.thenews.com.pk/article-148994-Poverty,-unemployment,-price-hike-due-to-capitalism:-Altaf
-----------
No future without free, fair elections: Imran
May 27, 2014
PINDI BHATIAN - Pakistan Tehreek-e-Insaf (PTI) chief Imran Khan said that Pakistan had no future without free and fair elections.
Addressing a public meeting at Pindi Bhatian, Khan said that PML-N carried out massive rigging to secure votes in the last year's general elections. "What had PML-N done barring a jangla (metro) bus to get more than 10 million votes," he asked.
"Our future cannot be changed without introducing electoral reforms," he said, adding that time has come to lay the foundation of real democracy with transparent elections.
"Millions of people attend PTIs' rally from Peshawar to Karachi and Quetta, but votes are cast to PML-N," he noted.
Full report at:
http://www.nation.com.pk/national/27-May-2014/no-future-without-free-fair-elections-imran
-----------
Levies men killing: Case registered against tribal leader Shafiq Mengal
May 27, 2014
QUETTA: The Balochistan government on Tuesday registered a case against tribal leader Mir Shafiq Mengal in connection with the murder of eight Levies personnel in Balochistan's Khuzdar district last week, an official said.
An officer from the Balochistan government's Home and Tribal Affairs department who requested anonymity told Dawn that the FIR was lodged against Mengal in relation to the murder of the eight personnel.
"Another 100 armed men — some of them identified and others unidentified — were also booked for attacking the Levies checkpost," he said.
Full report at:
http://www.dawn.com/news/1108891/levies-men-killing-case-registered-against-tribal-leader-shafiq-mengal
-----------
Africa
Nigeria army 'knows' where girls are, rules out force
27 May 2014
Nigeria's military knows where the more than 200 girls abducted by Boko Haram are but has ruled out using force to rescue them, the state news agency quoted Chief of Defence Staff Air Marshal Alex Badeh as saying on Monday.
Seven weeks since Boko Haram militants abducted more than 200 girls taking exams in a secondary school in the remote northeastern village of Chibok and little is known of there whereabouts or what exactly the military is doing to get them out.
"The good news for the parents of the girls is that we know where they are, but we cannot tell you," Badeh was quoted as saying. "But where they are held, can we go there with force? We can't kill our girls in the name of trying to get them back."
Most officials think any raid to rescue them would be fraught with danger and probably not worth the risk that the girls would be killed by their captors - an Islamist group that has shown a degree of ruthlessness in killing civilians.
Full report at:
http://english.alarabiya.net/en/News/africa/2014/05/27/Nigeria-military-says-knows-where-girls-are-rules-out-force.html
-----------
Tunisia dissolves pro-Islamist group
May 27, 2014
A court decided Monday to dissolve a pro-Islamist group accused of inciting violence, as sought by Tunisia's powerful UGTT workers union.
The court ruled that the League for the Protection of the Revolution (LPR) "was contravening laws on the organisation and creation of associations, and decided to dissolve it and all its branches," court spokesman Soufiene Sliti told AFP.
He also said the court decided to ban all activities organised by the group, which was founded in May 2012.
LPR leader Mounir Aroudji lashed out at what he called a purely "political" ruling by the judiciary.
"We hope that the 10 to 25 percent of clean judges will make the right decision on appeal," he told private radio station Shems FM.
LPR founder Mohamed Maalej has said its aims are to "preserve the gains of the revolution" that toppled dictator Zine El Abidine Ben Ali in 2011 and reinforce Tunisia's Arab and Muslim identity.
Full report at:
http://english.ahram.org.eg/NewsContent/2/8/102259/World/Region/Tunisia-dissolves-proIslamist-group.aspx
-------------
Gunmen fires grenades at new Libyan PM's home, one assailant killed
Reuters | Tripoli | May 27, 2014
Unknown gunmen fired grenades at new Libyan Prime Minister Ahmed Maiteeq's home in Tripoli on Tuesday, and one person was killed in clashes with his guards, sources from his press office said.
Maiteeq was not hurt in the early morning attack, but one assailant was killed and another injured and arrested, one of the sources said. An interior ministry official could not immediately confirm details of the incident.
http://indianexpress.com/article/world/middle-east-africa/gunmen-fires-grenades-at-new-libyan-pms-home-one-assailant-killed/
-----------
Eastern Libya oil rebel says does not recognize new government
27 May 2014
The leader of protesters occupying Libyan oil ports said on Monday he did not recognize the new government of Prime Minister Ahmed Maiteeq and suggested a deal to end the blockade, reached with the previous administration, could be jeopardized.
Ibrahim Jathran, who wants more federalist power for his eastern region, had agreed with Maiteeq's predecessor to steadily open up ports that have been under control of his men since last summer, and help restart Libya's oil exports.
He made no direct reference to the oil deal, but in a statement on a television channel operated by his federalist movement, he said that with Maiteeq in office his group may be forced to change its position.
Full report at:
http://english.alarabiya.net/en/News/africa/2014/05/27/Eastern-Libya-oil-rebel-says-does-not-recognize-new-government.html
-----------
North America
Muslim Organization Sues Canada's Prime Minister for Libel
May 27, 2014
A Muslim organization sued Canadian Prime Minister Stephen Harper and his spokesman for libel for linking the group to Hamas, which is banned as a terrorist organization in Canada, AFP reported.
The National Council of Canadian Muslims (NCCM), which filed the claim in Ontario Superior Court, had asked the prime minister's office in January to bar a rabbi accused of links to an American anti-Muslim "hate group" from Harper's first official trip to Israel.
Harper spokesman Jason MacDonald responded by saying, "We will not take seriously criticism from an organization with documented ties to a terrorist organization such as Hamas."
The comment was made to a Canadian media outlet, according to AFP.
NCCM asked for a retraction and an apology, but none were forthcoming, prompting Monday's lawsuit.
Full report at:
http://www.israelnationalnews.com/News/News.aspx/181086#.U4Q-XHJdU4U
-----------
Top CIA officer in Afghanistan mistakenly named by White House
May 27, 2014
WASHINGTON — The White House inadvertently included the name of the top CIA official in Afghanistan on a list of participants in a military briefing with President Barack Obama that was distributed to reporters on Sunday, the Washington Post reported.
The newspaper said the official, identified as "Chief of Station" in Kabul, was named as being among those at a briefing with Obama during the president's trip to Bagram Air Base near the Afghan capital.
The list of names was sent by email to reporters traveling with Obama on his surprise Afghanistan visit and included in a "pool report" shared with correspondents and others not on the trip.
Full report at:
http://www.saudigazette.com.sa/index.cfm?method=home.regcon&contentid=20140527206526
-----------
U.S. Training Elite Antiterror Troops in Four African Nations
May 27, 2014
WASHINGTON — United States Special Operations troops are forming elite counterterrorism units in four countries in North and West Africa that American officials say are pivotal in the widening war against Al Qaeda's affiliates and associates on the continent, even as they acknowledge the difficulties of working with weak allies.
The secretive program, financed in part with millions of dollars in classified Pentagon spending and carried out by trainers, including members of the Army's Green Berets and Delta Force, was begun last year to instruct and equip hundreds of handpicked commandos in Libya, Niger, Mauritania and Mali.
Full report at:
http://www.nytimes.com/2014/05/27/world/africa/us-trains-african-commandos-to-fight-terrorism.html?_r=0
-----------
US awards scholarships to Pak 102 students
May 27, 2014
KARACHI - The US Agency for International Development (USAID) on Monday awarded scholarships to 102 students enrolled in ADE and BEd (Hons) programs in Sindh as part of the $165 million Pakistan Reading Project.
The ceremony was held at Marriott in Karachi and USAID provincial Director for Sindh and Balochistan Leon S Waskin who is also acting US Consul General for Sindh attended with Sindh Secretary of Education Dr Fazlullah Pechuho.
The scholarships will pay for tuition and supplies as well as provide a stipend to recipients. The US government will provide more than 4,500 scholarships to aspiring teachers. During the ceremony, 11 future teachers who recently completed a US-funded ADE program were awarded graduation certificates.
Full report at:
http://www.nation.com.pk/karachi/27-May-2014/us-awards-scholarships-to-102-students
-----------
12,500 Saudis graduate in United States
May 27, 2014
A total of 12,500 Saudi students who graduated from American universities this year were honored during a special convocation ceremony organized by the Saudi cultural attaché in Washington on Sunday. The graduates included 5,669 women and 124 medical fellowship holders.
Higher Education Minister Khaled Al-Anqari, who attended the ceremony, said the King Abdullah Foreign Education Scholarship Program was a big success in enabling Saudis to gain higher education at reputable international universities in the US and other countries.
"We are now reaping the fruit of this program," the minister said while praising Custodian of the Two Holy Mosques King Abdullah's long-term vision.
During the past nine years, the number of scholarship students grew from 5,000 to 151,228, with their dependents reaching 81,617 persons.
Saudi women accounted for 27.94 percent of the total scholarship students in foreign countries, Al-Anqari said. "This program will bring about an educational and cultural renaissance in the Kingdom," he added.
Full report at:
http://www.arabnews.com/news/577441
-----------
Mideast
Cold War principles should not be applied to Ukraine - Turkey's FM
May 27, 2014
Application of Cold War patterns may lead to further tensions in Ukraine and bring to naught all reconciliation efforts, the Turkish foreign minister said.
"We are telling all of our partners that they should not be guided by the Cold War principles, or else confrontation will escalate in the region and all our reconciliation efforts will be brought to naught," Ahmet Davutoglu said at a joint press conference with Russian Foreign Minister Sergei Lavrov in Moscow on Tuesday.
He said Turkey is Russia's and Ukraine's neighbor and is maintaining intensive relations with both countries in the Black Sea region. Following the presidential elections in Ukraine, "we see a new situation emerging," he said.
Full report at:
http://voiceofrussia.com/news/2014_05_27/Cold-War-principles-should-not-be-applied-to-Ukraine-Turkeys-FM-5118/
-----------
Iran court summons Facebook founder Mark Zuckerberg
May 27, 2014
A judge in southern Iran has ordered Facebook founder and CEO Mark Zuckerberg to appear court to answer complaints by individuals who say Facebook-owned applications Instagram and Whatsapp violate their privacy, semiofficial news agency ISNA reported Tuesday.
It quoted Ruhollah Momen Nasab, an official with the paramilitary Basij force, as saying that the judge also ordered the two apps blocked.
Another Iranian court last week had ordered Instagram blocked over privacy concerns. However, users in the capital, Tehran, still could access both applications around noon Tuesday. In Iran, websites and Internet applications have sometimes been reported blocked but remained operational.
Facebook is already banned in the country, along with other social websites like Twitter and YouTube. However some senior leaders like Foreign Minister Mohammad Javad Zarif are active on Twitter.
Full report at:
http://www.pakistantoday.com.pk/2014/05/27/foreign/iran-court-summons-fbs-founder-mark-zuckerberg/
-----------
Israeli, Saudi Ex-Intel Heads in Rare Face-to-Face on Nukes
May 27, 2014
The former head of Military Intelligence, Major General (res.) Amos Yadlin, and Turki bin Faisal Al Saud, director of the General Intelligence of Saudi Arabia from 1979 to 2001, took part Monday in a rare one-on-one panel in an international conference hosted by the German Marshall Fund, and discussed the Iranian nuclear program, the Israeli/Palestinian-Arab conflict and other burning regional issues.
The very holding of the one-on-one panel, hosted by the Washington Post's David Ignatius, can be seen as a sign that the Iranian crisis and the perceived American abandonment of the interests of its allies in the region is indeed – as some analysts say – pushing Israel and Saudi Arabia much closer together than anyone could have dreamed just a few years ago.
Al Saud, the youngest son of the late King Faisal, urged that Israel sign on to the Saudi initiative, also known as the Arab Peace Initiative, and join the nuclear Non-Proliferation Treaty (NPT) in order to turn the Middle East into a nuclear-free zone.
Full report at:
http://www.israelnationalnews.com/News/News.aspx/181089#.U4Q_I3JdU4U
-----------
Spokeswoman Emphasizes Unity among Islamic Media
May 27, 2014
Iranian foreign ministry spokeswoman underlined the need for maintaining a spirit of unity among the Islamic media outlets in a bid to extend their influence on the world's public opinion.
"Given the importance of media in the contemporary world, the Islamic media should also increase their influence on the public opinion, and this would happen through unity," Marziyeh Afkham told reporters on Monday, speaking on the sidelines of the 7th General Assembly of Islamic Radios and Televisions Union, held in Tehran.
She also warned the Islamic media of "divisive moves" that would undermine unity among Muslims, arguing that "commonalities of the Islamic communities" should be regarded as the criterion for joint efforts.
Full report at:
http://www.tasnimnews.com/English/Home/Single/382731
-----------
With mouths sewn shut, Afghan refugees keep protesting Ankara, UNHCR
May 27, 2014
Afghan refugees in Turkey have entered their seventh week of protests, demanding equal and fair treatment in their application procedure, as they struggle to make their voices heard amid indifference and growing pressure from authorities.
Some 100 Afghans – half of them women and children – are camping day and night in front of the headquarters of the U.N.'s refugee agency (UNHCR) in Ankara, braving threats from the police, including six refugees who have been engaged in a hunger strike for one week, sewing their mouths and refusing water, as well as food.
One of the Afghan protesters, Farzad Shafahi, said U.N. officials have suspended all their asylum applications on the grounds that third-countries did not want to accept refugees from Afghanistan.
Full report at:
http://www.hurriyetdailynews.com/with-mouths-sewn-shut-afghan-refugees-keep-protesting-ankara-unhcr-.aspx?pageID=238&nID=67005&NewsCatID=339
----------
Southeast Asia
Shariah law increases oppression of Brunei's Christians
By JULIA A. SEYMOUR
May 26, 2014
The tiny Muslim monarchy of Brunei oppressed and restricted Christians and non-Muslims even before the ruler announced the implementation of a Shariah-based penal code this month.
The country, which borders Malaysia, already prohibited evangelism and tightly controlled churches through surveillance and forbidding the formation of new churches, according to International Christian Concern (ICC).
But the situation will worsen now that Islamic criminal laws will apply to everyone in the country of roughly 420,000 people. Brunei already has Islamic civil laws. About 40,000 Christians live in the majority Muslim state, along with a Buddhist minority, according to ICC.
ICC's Sooyoung Kim said Brunei currently lacks the judges to enforce the new laws, but its leadership is putting a lot of money into implementation. Criminal Shariah law will increase pressure against Christians and instill more fear among them, according to a report in World Watch Monitor (WWM).
Full report at:
http://www.worldmag.com/2014/05/shariah_law_increases_oppression_of_brunei_s_christians
-----------
Thailand Instability Could Bring Islamic Insurgency
May 27, 2014
Thailand military general Prayuth Chan-ocha has seized power of the government and declared martial law. The general justified his actions as necessary to abate violence from escalating as citizens converged on the nation's capital, Bangkok. Earlier this month the Constitutional Court dismissed Yingluck, sister to former Prime Minister Thanksin Shinawatra, now in exile in Dubai. Thanksin Shinawatra was deposed in 2006, in a bloodless coup d'etat. However, these events create a heavy perception on instability in Thailand, and could bring an Islamic insurgency from the south.
The "deep south" of Thailand has seen radical Islamism claim more than two thousand lives since 2004 in the provinces of Patani. Decades ago a strong Islamic resurgence was not only a political factor, but brought Islamic ideas. Islam was largely viewed as a challenge to authority as the government attempted to impose Thai language in schools.
Full report at:
http://guardianlv.com/2014/05/thailand-instability-could-bring-islamic-insurgency/
-----------
Zahid using 'Hitler logic' in Chinese ungrateful remark, says DAP
May 27, 2014
DAP has accused Home Minister Datuk Seri Ahmad Zahid Hamidi of using "Hitler logic" to justify his description of Chinese as ungrateful for supporting the Chinese majority opposition party.
In describing such a statement as "overtly racist" and "blatantly bullying" the Chinese, DAP secretary-general Lim Guan Eng (pic) said Zahid's inflammatory remarks were intended to create both racial hatred and fear among the community in Teluk Intan to force them into voting for Barisan Nasional (BN).
"How can the Chinese be abandoning the Malays and the Indians by voting for the DAP? I do not know what logic Zahid is applying except to say that this is the same logic used by Hitler to justify his programmes against the Jews by describing them as ungrateful.
"In a democracy every citizen has a right to freely choose without fear or favour, without being subjected to threats or tempted by money and gifts," he said in a statement today.
In Teluk Intan yesterday, Zahid said only the Chinese would be happy if BN lost in the by-election, as they are already wealthy and ungrateful for it.
Full report at:
http://www.themalaysianinsider.com/malaysia/article/zahid-using-hitler-logic-in-chinese-ungrateful-remark-says-dap
----------
Europe
Prince Charles calls for Muslim tolerance for Middle East Christians
Western Daily Press
May 27, 2014
The Prince of Wales has spoken out against the persecution of Christians living in the Middle East and North Africa, and called on Muslim leaders there to rekindle the tradition of tolerance.
Writing in the pan-Arabic newspaper Asharq Alawsat today, the Prince said the task of building 'bridges between Islam and Christianity' is something 'that must concern every responsible person'.
The Prince's article comes as the Pope made a surprise invitation to Palestinian and Israeli leaders to come to the Vatican to pray with him for peace, during a visit to the West Bank.
The Prince spoke out against 'militant fundamentalists' who have a 'vested interest' in destroying the peace between Christian communities in the Middle East and with Muslims.
"I have for some time felt great concern about those of all faith communities in the Middle East who are suffering so grievously at the present time," he said. "The rights of all people of faith in the Middle East should be respected.
Full report at:
http://www.westerndailypress.co.uk/Prince-Charles-calls-Muslim-tolerance-Middle-East/story-21143238-detail/story.html#ixzz32tn5rHbG
-----------
Iraq using barrel bombs, hitting Fallujah hospital: HRW
May 27, 2014
Iraq's government is dropping barrel bombs and may also be targeting a hospital in its battle with militants in the conflict-hit city of Fallujah, Human Rights Watch alleged Tuesday.
The Iraqi authorities denied the claims, which come with Baghdad locked in a months-long standoff with anti-government fighters in Fallujah amid a protracted surge in nationwide bloodshed, all of which is fuelling fears the country is slipping back into the all-out conflict of 2006 and 2007.
The New York-based rights watchdog also said abuses committed by the powerful Islamic State of Iraq and the Levant jihadist group -- among the main militant organisations in Fallujah -- likely amounted to crimes against humanity.
Full report at:
http://english.ahram.org.eg/NewsContent/2/8/102301/World/Region/Iraq-using-barrel-bombs,-hitting-Fallujah-hospital.aspx
-----------
London brothers plead guilty to Syria terror training plan
May 27, 2014
Two brothers have admitted at the Old Bailey to conspiring to travel to a terrorist training camp in Syria.
Hamza Nawaz, 23, and Mohommod Nawaz, 30, from Dirleton Road, Stratford, east London, are to be sentenced on 9 June.
Mohommod Nawaz also pleaded guilty to having rifle ammunition without a firearms certificate.
Last week, a man from Portsmouth became the first person in the UK to be convicted of terrorist offences in connection with the conflict in Syria.
Father-of-two Mashudur Choudhury, 31, was convicted of engaging in conduct in preparation of terrorist acts.
A court heard he had travelled to Syria to attend a terrorist training camp. He was arrested at Gatwick Airport on his return to the UK. He is due to be sentenced on 13 June and has been warned he faces a substantial sentence.
Full report at:
http://www.bbc.com/news/uk-27589376
------------
Norway arrests three for aiding al Qaeda offshoot in Syria, joining as fighters
May 27, 2014
(Reuters) - Norway has arrested three people suspected of aiding an al Qaeda offshoot fighting in Syria, at least two of which are accused of having joined the militant group as foreign fighters, Norwegian police said on Tuesday.
The men, two of whom were born in the former Yugoslavia and another in Somalia, pose a threat to Norway and its allies, police said in a statement.
"There are reasonable grounds to suspect two of the persons charged of having participated as foreign fighters for The Islamic State in Iraq and the Levant (ISIL) in Syria," the Police Security Service said.
Full report at:
http://uk.reuters.com/article/2014/05/27/uk-norway-syria-idUKKBN0E70SR20140527
------------
Putin to communicate with Israeli PM via encrypted phone line – decree
May 27, 2014
Russian government plans to sign a memorandum with Israel on organizing a system of direct ciphered communication line between President of Russia Vladimir Putin and Prime Minister of Israel Benjamin Netanyahu. The corresponding document has been published on the official site of legal information on Tuesday.
According to the Russian law, there are special purpose communication lines in the country, which are intended for public administration, defense, security and law enforcement agencies. Work with special communication bodies of other states is based on intergovernmental agreements.
Full report at:
http://voiceofrussia.com/news/2014_05_27/Putin-to-communicate-with-Israeli-PM-via-encrypted-phone-line-decree-7647/
-----------
Russia delivers three Mi-17B-5 helicopters to Afghanistan
May 27 2014
Russia has delivered three more Mi-17B-5 helicopters to the air force of Afghanistan.
According to the Russian officials, the number of helicopters delivered to Afghan air force has reached to 15 choppers which were delivered under a contract between Russia and the US governments.
Russian officials earlier this month said 12 choppers had already been delivered under the agreement and the remaining choppers will be delivered before October 31, 2014.
Director of the Federal Service for Military-Technical Cooperation Alexander Fomin said the helicopter gunships Mi-17B-5 will be delivered under a contract with the United States.
Fomin further added that 12 choppers had already been delivered under the agreement and the remaining choppers will be delivered before October 31, 2014.
Full report at:
http://www.khaama.com/russia-delivers-three-mi-17b-5-helicopters-to-afghanistan-8156
-----------
Scotland Yard believes Dr Farooq's killers are in Pakistan
May 27, 2014
LONDON – For the first time detectives at the Scotland Yard investigating the murder of Dr Imran Farooq confirmed that they were looking for two men named as Mohsin Ali Syed and Muhammad Kashif Kamran from Pakistan in relation to the assassination of former Muttahida Qaumi Movement (MQM) leader Dr Imran Farooq.
According to a private TV channel, Scotland Yard detectives released details of the two men in a bid to get the help of the public to resolve Dr Imran Farooq's killing here on Green Lane, Edgware, on September 16, 2010. "The two men wanted in connection with the murder are: Moshin Ali Syed, 29 (15/05/85) who was in the UK between February 2010 and September 16, 2010 and Kashif Kamran, 34 (6/7/79), who was in the UK between early September 2010 and September 16, 2010."
Full report at:
http://www.dailytimes.com.pk/national/27-May-2014/scotland-yard-believes-dr-farooq-s-killers-are-in-pakistan
-----------
Russia-Turkey ties on most foreign political trends fruitful - FM Lavrov
May 27, 2014
Russian Foreign Minister Sergei Lavrov and visiting Turkish counterpart Ahmet Davutoglu will discuss issues of Ukraine and Syria and preparation to a meeting of the bilateral top-level co-operation council at a meeting of the joint strategic planning group. Lavrov said this on Tuesday opening the meeting in the Russian capital.
"Along with the intergovernmental commission for trade and economic co-operation and a civil forum our task is to prepare in detail a meeting of a top-level co-operation council which will be held in the second half of this year," he said.
"We assume that according to our agreements at this meeting we will consider the situation in bilateral issues, drafting of intergovernmental and interdepartmental documents and will debate topical issues on international agenda," Lavrov noted, adding that "Our foreign political agenda is traditionally intensive and our co-operation brings a positive result on most trends and permits to move forward."
Full report at:
http://voiceofrussia.com/news/2014_05_27/Russia-Turkey-ties-on-most-foreign-political-trends-fruitful-FM-Lavrov-3493/
-----------
URL: https://newageislam.com/islamic-world-news/terror-dominates-narendra-modi-nawaz/d/87221