New Age Islam News Bureau
25 Apr 2019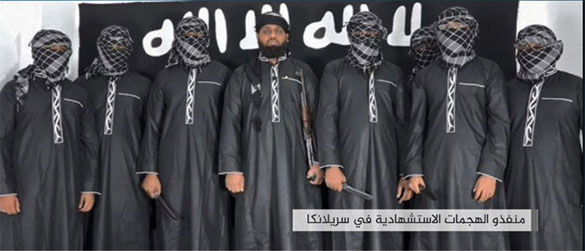 An image grab taken from a press release issued on April 23, 2019 by the Daesh propaganda agency Amaq claims to show eight men it said carried out a string of deadly suicide bomb blasts on Easter Sunday in Sri Lanka, lined up at an undisclosed location. (AFP)
----------
• Terror Attacks In Lanka Show ISIS May Be Down, But Not Out
• Daesh Link To Sri Lanka Attacks Raises Fears Of South Asia Terror 'Recruits'
• No One Ready to Lead Jaish-e-Mohammad in Valley: Army
• 'Witch-Hunt': Fugitive Muslim Cleric Zakir Naik Slams India after Interpol Considers Issuing Red Corner Notice
• Netizens Back Claims Malaysia A Secular State, Not An Islamic State
• Cyberspace New Battle Ground against ISIS, Says Mohamad Sabu
• Sudan Military Chiefs Resign as Deal Struck With Protestors
• US Backs Haftar Offensive on Libya's Tripoli: Officials
• Role of 'Covert Imams' In FETO's Failed Coup in Turkey
South Asia
• Terror Attacks In Lanka Show IS May Be Down, But Not Out
• Daesh Link To Sri Lanka Attacks Raises Fears Of South Asia Terror 'Recruits'
• Blood brothers: The wealthy family behind Sri Lanka's suicide attacks
• Anger boils over as religious harmony comes under strain
• Bangladesh newspaper accurately anticipated Sri Lanka jihadist attacks
• Afghan forces arrest shadow district chief of Taliban for Faizabad district of Jawzjan
• 49 militants killed, wounded in various operations of Afghan, coalition forces in Ghazni
• ISIS militants kill 5 Taliban fighters; arrest 4 others in Nangarhar province
• Heavy fighting flares up between Taliban, Daesh for Afghan territory
--------
India
• No One Ready to Lead Jaish-e-Mohammad in Valley: Army
• 'Witch-Hunt': Fugitive Muslim Cleric Zakir Naik Slams India after Interpol Considers Issuing Red Corner Notice
• No Justification for Islamophobia: Islamic Scholars Maulana Azad National Urdu University Seminar
• Leaders Caution against Bid to Link Islamic Outfits in Tamil Nadu with SL Blasts
• Pak Terrorist Belonging to LeT Arrested In Baramulla, Paraded Before Media
• DMC Holds Colloquium On Muslim-Christian Relations
• Morocco shared key intelligence with Sri Lanka, India on bombings
• 2 militants killed in encounter with security forces Kashmir's Anantnag
• 41 terrorists eliminated post-Pulwama terror attack: Indian Army
• Lashkar terrorist who came from Pakistan 2 years ago arrested: J-K Police
• Alerts sent to Sri Lanka after probe in Coimbatore ISIS case was completed by NIA
• 10 J&K terrorists based in Pak involved in LoC trade: Officials
• Delhi court sends Yasin Malik to judicial custody till May 24 in terror funding case
--------
Southeast Asia
• Netizens Back Claims Malaysia A Secular State, Not An Islamic State
• Cyberspace New Battle Ground against ISIS, Says Mohamad Sabu
• An Open Letter to Dr M and Maszlee on Extremism in Schools
• Business Community Can Build a Bridge over Political Divide
--------
Africa
• Sudan Military Chiefs Resign as Deal Struck With Protestors
• US Backs Haftar Offensive On Libya's Tripoli: Officials
• Sudan military rulers urge talks ahead of 'million-man' march
• UN: Libya fighting reaches facility holding migrants
• UNHCR evacuates 325 refugees from Libyan capital
• UN-recognized Libya govt seeks body to probe crimes
• Boko Haram threatens civilians' lives in Niger
• Boko Haram: Troops kill 3 terrorists in Borno
--------
North America
• Role of 'Covert Imams' In FETO's Failed Coup in Turkey
• Civil Rights Advocates Drop Lawsuit against Oklahoma's 'Muslim-Free' Gun Range
• 'Trump Administration Complicit In Saudi Crimes'
• U S ends sanctions waivers for Iran oil imports
• No plan for confederation of Jordan, Israel and Palestine says US official
--------
Europe
• Austria's Ban on Muslim Brotherhood Symbols Has Further Aims
• Change UK Candidate In Islamophobia Row After Muslim Terrorist And Tommy Robinson Comments Emerge
• New Zealand and France to call for an end to online terror
• Belgium, Turkey have over $11 billion trade volume
• Germany vows to stand by Iran nuclear deal
--------
Mideast
• Israeli Spies May Infiltrate Into Lebanon under Tourism Guise, Intel Agency Warns
• Iran denounces US talks with Taliban
• DM: Iran to Use Defensive Tools against US Economic Terrorism
• Iran's Khamenei says US oil sanctions won't go 'without response'
• Confrontation between Erdogan and ex-PM Davutoglu out in the open
• Israel destroys home of Palestinian accused of killing two Israelis
--------
Arab World
• Military Expert: Syria to Start Idlib Operations after Astana Meeting
• Egypt Confirms Death Penalty For Monks Over Bishop Killing
• Tens of Terrorists Killed in Massive Explosion in Tahrir al-Sham Headquarters in Idlib
• US Using Political Pressures, ISIL to Force Iraqi Popular Forces Retreat from West Mosul
• At least 17 killed in blast in Syria's rebel-held Jisr al Shughour
• Blast in Syria's militant-held Jisr al-Shughour leaves 17 dead
• KSRelief signs agreements for relief to Lebanese, Syrians and Palestinians
• 'No peace without justice' for victims of Syrian war, says Saudi envoy
--------
Pakistan
• Govt Has Sealed New Site For Jamia Hafsa Seminary, SC Told
• Pakistan offers help to Sri Lanka in counter terrorism
• China asks world to view Pakistan's counter-terrorism efforts 'objectively'
• Opposition leaders slam Imran Khan for his 'shameful' remarks against Bilawal Bhutto
• Foreign-Funded Elements behind Fata Unrest: Imran
• Islamabad ready to fight its case before FATF, NA body told
• Police To Allow Transgender Recruits In Sindh
• Governor says debate on presidential system won't harm democracy
• Delay in release of Pakistanis from Saudi jails concerns opposition
Compiled by New Age Islam News Bureau
URL: https://www.newageislam.com/islamic-world-news/terror-attacks-lanka-show-isis/d/118426
--------
Terror Attacks In Lanka Show ISIS May Be Down, But Not Out
Apr 25, 2019
PARIS: The devastating bomb attacks in Sri Lanka, claimed by Islamic State jihadists, show that the influence of the group's extremist ideology remains dangerously intact even after the collapse of its so-called caliphate in Iraq and Syria, experts say.
Over 320 people were killed in a string of deadly suicide bomb blasts on Easter Sunday in Sri Lanka targeting churches and luxury hotels.
Colombo said it believes that the little-known Islamic extremist group National Thowheeth Jama'ath (NTJ) was behind the attacks.
But it has also suggested that a bigger international group helped plan the carnage as "retaliation" for shootings at two mosques in New Zealand last month that killed 50 people.
On Tuesday, a statement released by the Islamist State (IS) propaganda agency Amaq said the attackers were "fighters" from the terror network.
Zachary Abuza, professor at the National War College in Washington, said the Sri Lanka attacks were a warning of a new jihadist strategy following their military defeat in Iraq and Syria.
"I would say that what we saw in Sri Lanka is a new front being opened in the global jihadi insurgency," he told AFP.
He said IS was still able to inspire attacks and give militants anywhere in the world a sense of "urgency".
"Anyone can act in the Islamic State's name, and they will take credit for it," Abuza said.
Rohan Gunaratna, a security expert with the S. Rajaratnam School of International Studies in Singapore, told AFP he believed NTJ was indeed now linked to IS.
"IS has created support groups around the world," he said, adding that some NTJ members were radicalised by the local group then joined IS.
At the peak of its military success, IS claimed a string of attacks around the world, from the November 2015 coordinated attacks in Paris to the deadly rampage of a gunman at an Istanbul nightclub minutes into 2017.
In late March, Kurdish-dominated and US-backed forces flushed out IS fighters from their last bastion in Syria in what was hailed as a final military defeat for the group after it list its strongholds one-by-one in Syria and Iraq.
But governments and analysts have always warned that the risk of attacks anywhere in the world remains just as high, be it from extremists who fought for IS in Syria and Iraq or those simply inspired by them.
After the Sri Lanka bombings, US Secretary of State Mike Pompeo warned that "radical Islamic terror remains a threat", saying the United States needs to stay "active and vigilant".
According to the SITE Intelligence Group, a known supporter of IS published on a social media channel pictures of three purported "commandos" involved in the Sri Lanka attacks standing with raised fingers against an IS flag.
Jean-Pierre Filiu, professor at Sciences Po-Paris, said IS is now adopting what he dubbed a "glocal" strategy by staging local attacks anywhere in a bid to make a global impact.
The jihadist group is "trying to compensate symbolically and in the media for the loss of its strongholds in Syria and Iraq and instead relaunch a terrorist campaign on a planetary scale".
Bruce Hoffmann, senior fellow for counterterrorism and homeland security at the Council on Foreign Relations, said such attacks require considerable expertise and logistical support at every stage -- from recruitment to transport to the target sites.
"A half-dozen simultaneous attacks is a serious proposition. It would be very unusual for a group that basically had no track record," he said.
Little is known about the NTJ, which previously has only been linked to vandalising Buddhist statues.
Ethnic and religious violence has plagued Sri Lanka for decades, with a 37-year conflict with Tamil rebels followed by an upswing in recent years in clashes between the Buddhist majority and Muslims.
But it had not been seen by analysts as a potential crucible for Islamist extremist terror. Yet IS has made inroads in Asia, notably in Afghanistan, the Philippines and Indonesia.
https://timesofindia.indiatimes.com/world/south-asia/terror-attacks-in-lanka-show-is-may-be-down-but-not-out/articleshow/69033968.cms
--------
Daesh link to Sri Lanka attacks raises fears of South Asia terror 'recruits'
April 24, 2019
ISLAMABAD: A video that emerged following the Easter Sunday attacks in Sri Lanka showed seven black-clad, masked figures led by an eighth man, his face visible, pledging allegiance to Daesh.
That man is thought to be Mohammed Zahran Hashim, a little-known radical preacher from Sri Lanka believed by investigators and experts to have masterminded the terror attacks that have left 359 dead and more than 500 wounded.
On Tuesday, the Daesh terror group claimed responsibility for the bombings, and issued threats of future attacks in both Arabic and Tamil. It also released a video of eight bombers allegedly involved in the strikes.
However, even with Daesh claiming responsibility for the attacks, many questions remain, including whether the bombers were core fighters from the extremist group or members of local outfits who have pledged allegiance to the organization.
The Sri Lankan government has previously said the attacks were the work of a local Islamist group, the National Thowheed Jamath (NTJ), along with another group, Jammiyathul Millathu Ibrahim.
Now investigators are scrambling to determine if Daesh merely encouraged these groups to carry out the bombings or if the attackers included core extremists from the terrorist organization. Whatever the links, the Daesh claim suggests that the terror group remains a threat despite the recapture of its territory in Syria and Iraq. It has also heightened concerns about the organization's growing influence in South Asia, reflected in the FBI, Interpol and other foreign intelligence services joining the investigation.
"Clearly a group as powerful as Daesh won't go away quickly, and its role in this attack would suggest that it remains perfectly prepared to stage, or help stage, the deadliest attacks imaginable," Michael Kugelman, a senior associate for South Asia at the Wilson Center in Washington, told Arab News.
Daesh has built networks in a number of Asian countries such as Afghanistan, Pakistan, the Maldives, the Philippines and Indonesia. In Sri Lanka, too, Daesh has been recruiting for years, according to Rohan Gunaratna, a Singapore-based expert on militancy in the region.
"Sri Lanka is the only country in Asia where Daesh has not carried out an attack despite having a network for a considerable amount of time," he said. Gunaratna said that Daesh had received considerable help from the radical preacher Zahran Hashim, a former member of the NTJ who broke away and created the Al-Ghuraba group. "That is the Daesh branch in Sri Lanka," he said.
The 'main player'
With no history of Islamist extremism in Sri Lanka, NTJ was the main contender for involvement with Daesh.
A government official who declined to be named said that the NTJ had split into three groups in 2016 since many of its followers disapproved of Hashim's "extremist ideology."
Hashim's increasingly militant views came from his growing "international connections and links with Islamic groups in southern India," the official said.
The preacher is believed to have received his early schooling in Kattankudy, his hometown in eastern Sri Lanka. Unconfirmed media reports say he traveled to India to study Islamic theology, but abandoned his studies. Since then, he has reportedly traveled between India and Sri Lanka.
Last year, Hashim came on the radar of intelligence officials after three Buddhist statues were defaced in central Sri Lanka. Interrogation of the young men responsible revealed they were students of Hashim. That investigation also led officers to a large weapons cache, including 100 kg of explosives and detonators, on Sri Lanka's northwest coast.
Hilmy Ahmed, vice president of the Muslim Council of Sri Lanka, said Hashim had been turned away by the people and moderate clerics of his native Kattankudy because of his hard-line views. It was then that he turned to YouTube. In the past two years, he gained thousands of followers with impassioned sermons against non-Muslims on YouTube and a Sri Lankan Facebook account, which he called Al-Ghuraba media.
According to Robert Postings, a researcher, Hashim had been a supporter of the group at least since 2017 when he began posting pro-Daesh propaganda on Facebook. In many of Hashim's videos, the backdrop shows images of the Twin Towers burning after the Sept. 11, 2001 attacks.
Experts with knowledge of the investigations said that Hashim's faction of the NTJ was almost certainly the "main player" in the Easter attacks.
Given the unprecedented scale, sophistication and coordination of the bombings, and the fact that foreigners were targeted, it was likely that he had worked with support from international "players," they said.
"It's hard to imagine that the attacks were purely domestic in nature," said Taylor Dibbert, a Sri Lanka expert and fellow at the Pacific Forum. "Most Sri Lankans had not heard about National Thowheed Jamath before," Jehan Perera, executive director of the National Peace Council of Sri Lanka, said.
The group lacked the power to coordinate the attacks, he said. "There is someone behind them, a handler."
Specter of violence
Sri Lanka endured several suicide bombings targeting government officials and installations during the decades-long conflict with ethnic Tamil separatists that ended in 2009. Since then, the country has enjoyed relative calm. After a lull in violence for 10 years, the trauma and anger over Sunday's suicide bombings have been heightened with revelations that top officials failed to order tighter security arrangements despite the threat of violence. "Sri Lanka was an easy target," Perera said.
Most importantly, those behind the attack were aware of the deep dysfunction within the Sri Lankan government and exploited it, experts said.
According to an April 11 intelligence report seen by Arab News, police had received a tip-off of a possible attack on churches by the NTJ this month. Reuters also reported that Indian intelligence officers contacted their Sri Lankan counterparts two hours before the first attack to warn of a specific threat on churches.
A minister said Prime Minister Ranil Wickremesinghe had not been told about the warnings and had been shut out of top security meetings because of a feud with President Maithripala Sirisena.
Sirisena fired Wickremesinghe last year but was forced to reinstate him under pressure from the Supreme Court. Their relationship is said to be fraught. "The threat of an attack was known well in advance of Sunday, yet didn't lead to any efforts to preempt it. That suggests you don't have people communicating with each other at a high level," said Kugelman.
"This government dysfunction, driven by tensions between the president and prime minister, could be something that the militants sought to exploit. In effect, they knew they would have a greater chance to pull off this horrific act because a hamstrung government wouldn't be in a position to prevent it."
The next few weeks will be critical for Sri Lanka as experts fear that festering tensions between Buddhists and Muslims could explode, raising the specter of the country descending into violence.
Isolated attacks on Muslim-owned property have already been reported in the past three days.
"The government will need to step up and try to bring together a grieving nation that risks becoming more divided," Kugelman said. "That won't be an easy task for an administration that is itself deeply divided."
Dibbert added: "The government needs to conduct a thorough, transparent investigation in order to fully understand what transpired on Easter. A heavy-handed response targeting ethnic or religious minorities would exacerbate tensions and further destabilize the situation."
http://www.arabnews.com/node/1487606/world
--------
No one ready to lead Jaish-e-Mohammad in Valley: Army
Apr 24, 2019
Ashiq Hussain
Lieutenant General Kanwal Jeet Singh Dhillon, Corps Commander of Srinagar-based Chinar Corps, on Wednesday claimed that no one was coming forward to take over the leadership of Jaish-e-Mohammad in Kashmir Valley following the offensive launched against the outfit to avenge the February 14 Pulwama terror attack.
"And I want to assure you that the operations against the terrorists in the hinterland and on the LoC [Line of Control] will continue with full vigour and we will not let the terrorism rise up to the levels which they were earlier enjoying," Dhillon said at a press conference. Jammu and Kashmir police chief Dilbag Singh and inspector general (operations) of Central Reserve Police Force (CRPF) Zulfiqar Hassan were also present.
Singh said that 41 militants were killed after the Pulwama attack.
"This year 69 terrorists have been killed so far and 12 were apprehended. Post Pulwama 41 terrorists have been killed out of them 25 belonged to JeM," he said.
Security forces have particularly targeted the JeM after a 22-year-old local member of the outfit, Adil Ahmad Dar, rammed his explosive-laden car into a CRPF convoy on February 14, killing 40 troopers.
"Basically we have targeted the JeM leadership. The situation now is that no one is coming forward to take over the leadership of JeM in the Valley. And in-spite of Pakistan's best effort we will continue to stress JeM especially after Pulwama," he said.
Dhillon also claimed that the recruitment of local youth has come down to "exceptionally good" level. "And I would once again request all local youth to surrender. In last few months, few people have approached us for surrender and some surrender have also happened. We assure the people surrendering of complete security and their safety," he said.
https://www.hindustantimes.com/india-news/no-one-ready-to-lead-jaish-e-mohammad-in-valley-army/story-uQKqV2CquC9dKbbLkJs96J.html
--------
'Witch-hunt': Fugitive Muslim cleric Zakir Naik slams India after Interpol considers issuing Red Corner Notice
Apr 25, 2019
Kuala Lumpur: Absconding cleric Zakir Naik has alleged "witch-hunt" and accused India of pressurising Interpol to issue a red corner notice against him, after the international law enforcement organisation last week took up New Delhi's request for the same.
54-year-old Naik is wanted by the Indian agencies on charges of delivering hate speeches and money laundering. He is also facing charges of promoting enmity and hatred between different religious communities in India.
In a statement, Naik said, "I'm aware of the pressure the Indian government has been applying on the Interpol to issue a red corner notice against me. It's part of an elaborate witch-hunt. But having verified with a few member countries, I can confirm that there is no red corner notice against me as of date. One of the Indian newspapers seems to have jumped the gun and reported internal deliberations of the Indian government, which as a matter of fact, has been going on for over two years now."
The cleric expressed confidence that he would not face an Interpol red corner notice.
"The Interpol had already cancelled a red corner notice against me once. And it's been one-and-a-half years since the government submitted a charge sheet and started applying pressure on the Interpol. But as things stand, I have no reason to believe that Interpol will succumb to any kind of undue pressure," he added.
Interpol issues red corner notices to its 194 member states in order to seek their cooperation in locating and provisionally arresting fugitives.
In July 2016, terrorists had carried out an attack at a café in Bangladesh's capital and killed 22 people. The perpetrators had said that they were Zakir Naik's admirers. Post that, the Muslim cleric known for his hate sermons had fled India.
The National Investigation Agency (NIA) has been working with the Interpol to get Naik declared as an international fugitive.
Naik is currently living in Malaysia after being granted permanent residency. Malaysia has been sitting on an Indian request for Naik's extradition since January 2018. In fact, its PM Mahathir Mohamad has refused to extradite the cleric till the time he becomes a problem for n Malaysia.
https://www.timesnownews.com/india/article/witch-hunt-fugitive-muslim-cleric-zakir-naik-slams-india-after-interpol-considers-issuing-red-corner-notice/406619
--------
Netizens back claims Malaysia a secular state, not an Islamic state
By Kazi Mahmood
April 25, 2019
In a Twitter post of April 21, a Malaysian asked whether Malaysia is a secular or an Islamic state. Of the 194 retweets and 306 comments, the response is overwhelmingly in favour of Malaysia remaining a secular state with a knack of sarcasm about the tweet.
One ISMA Hulu Langat going by the handle @ismadhl on Twitter asks: "As a Muslim, do we agree that Malaysia is a secular state? Secular from ideology, which separates religion from the affairs of life. Or we love Malaysia to go forward as an Islamic state. Allahuakbar!"
The salvo of replies saying Malaysia is a secular state, with some going a step further in clearly stating that it should not become an Islamic state, is contrary to recent trends in the country.
Recent electoral victories by the Umno-PAS-BN alliance following the nationalist party Umno's alliance with the Islamist PAS sent fears of a heightening of already tense racial ties in the country.
Some responses were laconic, with a simple "Secular" punctuated with "sayang", "my darling" or "secular period".
A few pointed out that Malaysia is a secular state and Islam is the official religion of the country and that it should remain unchanged.
Others urged @ismadhl to go back to the constitution that guarantees the right of all Malaysians.
Prominent opposition lawyer Latheefa Koya @LatheefaKoya says: "Astaghfirullah! why @Ismadhl ISMA Hulu Langat does not read the federal constitution in the beginning. Looks like you're forced to move to Saudi Arabia. Anta (You) are not aware this is a secular state!! Ask other Isma-Isma to prepare to move to Saudi Arabia! MasyaAllah!'
Historic quotes from Tunku Abdul Rahman, the first Prime Minister of Malaysia, are given as an example why Malaysia should remain secular.
One such quote, roughly translated from Malay to English, reads: "I would like to state clearly that this country is not an Islamic state as it is commonly understood; the fact is that Islam is only the official religion of the nation."
The Tunku's quote is in Malay in the picture above.
@Ismadhl's tweet posted the question with a series of pictures showing an Indian Malaysian woman saying Malaysia is a secular state, not an Islamic state.
http://theindependent.sg/netizens-back-claims-malaysia-a-secular-state-not-an-islamic-state/
--------
Cyberspace new battle ground against ISIS, says Mohamad Sabu
24 April 2019
By Raynore Mering
KUALA LUMPUR, April 24 — Defence Minister Mohamad Sabu has called for greater vigilance against the threat of ISIS in cyberspace, warning that it "keeps the virtual form of caliphate alive through the diabolical language of hatred."
Condemning the recent terror attacks in Sri Lanka and New Zealand, he said at the Eighth Moscow Conference on International Security today that the defeat of ISIS in Syria and Iraq was not the end of its terror threat and cyberspace was now a new battle ground.
"Cyber-attacks can be very complicated to deal with and requires totally new doctrine for us to counter it effectively. Cyber defence is not about physical strength, but wit and sharpness. We need new types of soldiers, one with sound knowledge in information technology.
Considering the complexity of cyberspace, Mohamad said each government needs to enhance its cyber defence capabilities and work together with other countries to form a network for cyber defence.
He pointed out that Malaysia has initiated the Counter Messaging Centre (CMC) under the Royal Malaysia Police which monitors the use of internet and social media by terror groups to disseminate their radical ideology as well as to counter their narratives and rhetoric.
At the same time, he said his ministry has established the Cyber Defence Operation Centre (CDOC) to address this increasing non-traditional security threats.
In addition to enhanced cyber defence, Mohamad said countries should also promote a better understanding of various religions, as well as tighter firearms control.
"With deeper understanding about religions, we can eliminate misjudgment and avoid resentment and hostility. Virtual caliphate and cyber-attacks require us to have a better control over the cyberspace," said Mohamad
"Threats posed by Daesh are now greater due to the advancement of technology. Combating terrorism requires better cooperative security strategies in various forms, be it hard or soft approaches.
"There is no 'one size fits all' in terms of violent extremist or terrorist profile, set of motivations, level of radicalisation and extremism, and their trajectories. Similarly, counter terrorism responses and solutions. It is fundamental that we be united to fight against terrorism effectively."
Mohamad also said that the South-east Asia region with a Muslim population of 65 per cent was seen to be a suitable location for Daesh to continue and pursue their misguided ambitions, but he stressed that Islam is a religion of peace.
"Islam teaches us about patience, kindness and forgiveness. Islam reminds us to be fair, truthful and not to harm others. Killing and causing destruction totally diverts from the true teaching of Islam.
"An act of terrorism in Islam is a heresy brought forward by people who pursue their own selfish interests," he said.
https://www.malaymail.com/news/malaysia/2019/04/24/cyberspace-new-battle-ground-against-isis-says-mohamad-sabu/1746610
--------
Sudan military chiefs resign as deal struck with protestors
25 April 2019
Three members of Sudan's ruling military council resigned on Wednesday after it said it reached "agreement on most demands" with protest leaders who have called for a million-strong march to demand a civilian government.
The 10-member military council had invited the protest leaders for a meeting after the leaders suspended talks with the army rulers on Sunday.
"We have an agreement on most demands presented in the document of the Alliance for Freedom and Change," Lieutenant General Shamseddine Kabbashi, spokesman of the ruling military council, told reporters after the meeting between the council and leaders of the umbrella group leading the protest movement.
He did not elaborate on the key demand of handing power to a civilian government, but said there "were no big disputes".
One of the protest leaders who attended the meeting, Ahmed al-Rabia, said the two sides had also agreed to form a joint committee, but did not elaborate for what.
Minutes later in a separate statement the military council announced that three members of the ruling body had resigned.
They were Lieutenant General Omar Zain al-Abdin, Lieutenant General Jalaluddin Al-Sheikh and Lieutenant General Al-Tayieb Babikir.
"Million-strong march"
Wednesday's late night developments came as Siddiq Farouk, one of the leaders of the protests, told reporters that the demonstrators were "preparing for a general strike" if the ruling military council refuses to hand power to a civilian administration.
He also said that a "million-strong march" is planned, confirming a call for the mammoth protest on Thursday by the Sudanese Professionals Association (SPA), the group that initially launched protests against longtime leader Omar al-Bashir in December.
For the first time, Sudanese judges said they would join an ongoing sit-in outside army headquarters "to support change and for an independent judiciary".
Demonstrations
The demonstrations initially began in the central town of Atbara on December 19 against a decision by Bashir's government to triple bread prices.
They swiftly turned into nationwide rallies against his rule and that of the military council that took his place.
The council, led by General Abdel Fattah al-Burhan since his predecessor quit after barely 24 hours in the post, says it has assumed power for a two-year transitional period.
Hundreds of protesters came from the central town of Madani to join the sit-in on Wednesday, the second major batch of new arrivals from outside the capital in as many days.
A train laden with demonstrators had rolled in from Atbara -- the crucible of the protests -- on Tuesday.
"Revolutionaries from Madani want civilian rule," the latest arrivals chanted, according to witnesses.
The protesters suspended earlier talks with the council on Sunday over its refusal to transfer power immediately.
But the military council invited the protesters to fresh talks Wednesday, acknowledging their role in "initiating the revolution and leading the movement in a peaceful way until the toppling of the regime" of Bashir.
'Ready to talk'
Earlier in a press conference, senior opposition figure Omar el-Digeir said protest leaders were prepared to meet directly with Burhan.
"We are ready to talk with the chief of the military council and I think the issue can be solved through dialogue," he told reporters.
Thousands have camped outside the military headquarters in central Khartoum since before Bashir was deposed, and have vowed not to leave the area until their demands have been met.
Late Wednesday, crowds of protesters carrying Sudanese flags marched through the protest site outside the army headquarters, an AFP correspondent reported.
"Fall or not, we are staying," the protesters chanted.
Protester Ayman Ali Mohamed said he was planning to join Thursday's march.
"We fear that the military council might steal our revolution, so we have to participate until the transfer to civilian rule is accomplished," he said.
"We are standing our ground no matter what."
The protesters have found support in Washington, which has backed their call for civilian rule.
"We support the legitimate demand of the people of Sudan for a civilian-led government, and we are here to urge and to encourage parties to work together to advance that agenda as soon as possible," State Department official Makila James told AFP on Tuesday.
On Tuesday several African leaders, who had gathered in Cairo at the behest of Egyptian President Abdel Fattah al-Sisi, insisted on "the need for more time" for a transition, according to Sisi's office.
The leaders urged the African Union to extend by three months an end-of-April deadline for the council to hand power to a civilian body.
https://english.alarabiya.net/en/News/middle-east/2019/04/25/Sudan-military-chiefs-resign-as-deal-struck-with-protestors.html
--------
US backs Haftar offensive on Libya's Tripoli: officials
25 April 2019
The United States has given its backing to Libyan commander Khalifa Haftar and his offensive on Tripoli to oust the UN-recognized government in the capital, according to Bloomberg citing three US officials.
Last Friday, the White House revealed that Trump spoke by phone with Haftar as his The Libyan National Army (LNA) forces continued to push toward Tripoli with heavy shelling in the southern parts of the Libyan capital.
The White House statement said that Trump "recognized Field Marshal Haftar's significant role in fighting terrorism and securing Libya's oil resources, and the two discussed a shared vision for Libya's transition to a stable, democratic political system." A White House spokesman who declined to be identified, described the characterization of the phone calls between Haftar and Trump as inaccurate without further elaborating, according to Bloomberg.
That came a day after Russia and the United States opposed a British bid at the UN Security Council, backed by France and Germany, to demand a ceasefire in Libya.
https://english.alarabiya.net/en/News/north-africa/2019/04/25/US-backs-Haftar-offensive-on-Libya-s-Tripoli-officials.html
--------
Role of 'covert imams' in FETO's failed coup in Turkey
24.04.2019
Covert imams of the Fetullah Terrorist Organization (FETO) who played an instrumental role in the preparation phase of the military coup in Turkey in July 2016, were caught red-handed at a military airbase in the capital Ankara which the putschists used as their command center.
FETO and its U.S.-based leader Fetullah Gulen orchestrated the defeated coup of July 15, 2016, which left 251 people martyred and nearly 2,200 injured.
Ankara accuses FETO of being behind a long-running campaign to overthrow the state through the infiltration of Turkish institutions, particularly the military, police, and judiciary.
According to the information gathered from the indictment, opinion and reasoned decisions about the coup attempt compiled by Anadolu Agency correspondents, FETO's covert imams Adil Oksuz, Kemal Batmaz, Nurettin Oruc, Hakan Cicek and Harun Binis who operated within the civilian wing of the terror group, started coup preparations after a green light from the U.S.-based FETO leader Fetullah Gulen.
Frequent international travels
The trips covert imams have made while preparing for the coup took place first in December 2015.
They traveled to the U.S. several times in just 7 months for consultation meetings with FETO leader Gulen who lives in a compound in Saylorsbourg, Pennsylvania.
Hakan Cicek went to the U.S. on Dec. 28, and Adil Oksuz, Kemal Batmaz, and Nurettin Oruc went to the U.K. from Istanbul Ataturk Airport on Dec. 31, 2015.
Oksuz returned to Turkey on Jan. 4, Oruc and Batmaz on Jan. 5 and Cicek on Jan. 6, 2016.
Later, Cicek flew to the U.S. from Istanbul on Feb. 8, Batmaz on March 12 and Oksuz on March 17, 2016.
They flew back to Turkey a week later, Oksuz on 21st, Oruc on 22nd, Batmaz 23rd and Cicek on 24th.
On April 21, Hakan Cicek left for the U.S. again to return to Turkey on May 7, 16 days later.
Batmaz traveled to the U.S. on May 30 and Cicek on June 19.
Oksuz and Oruc also traveled to the U.S. on June 20.
While Oruc and Batmaz returned on June 24, Oksuz and Cicek got back to Turkey on June 25.
The last trip to the U.S. before the coup was by Batmaz and Oksuz from Istanbul Ataturk Airport on the same flight on July 11, 2016.
After Gulen approved the final stage of the preparations, Oksuz and Batmaz returned to Turkey on July 13, again aboard the same plane.
On 19 March 2016, Oksuz, Batmaz, Oruc, and Cicek were busy organizing the coup in the U.S. with Gulen who addressed his loyalists within the Turkish Armed Forces in a video on the same day.
Upon FETO leader's call on the members of the organization, soldiers and secretive cells across Turkey held numerous meetings to execute the coup as flawless as possible.
From July 6 to 9, Oksuz headed the meetings in Ankara where various high-level military personnel affiliated with FETO and the other covert imams gathered to discuss the distribution of the roles.
However, when the treacherous coup attempt eventually failed, all of the coup planners were caught red-handed at the Akinci military airbase.
Once they got arrested, Oksuz, Binis, and Batmaz ridiculously claimed that the reason they were at the Akinci Base in the middle of the night was looking for a piece of land for sale in the area.
Oruc also mocked the intelligence of the Turkish nation and said he was filming a documentary.
The civilian wing of the organization already knew about the coup
By using the media outlets the terror group owns, the civilian wing of the organization tried to create a perceptual ground in the public in order to manufacture consent for the upcoming coup.
For instance, FETO's main media outlet "Zaman" published a corporate advertisement of itself on October 15, 2015, where a baby, symbolizing Gulen, starts laughing at the end of a long and alarming siren one hears only at times of extraordinary emergency.
"Gulen" literally means "laughing, smiling" in the Turkish language.
In the same ad, the curfew on the empty streets was signaling the martial law that usually comes after successful military takeovers.
Exactly after 9 months and ten days from the ad, FETO launched the coup attack on July 15, 2016.
Months before the coup, FETO 'journalists' and 'academicians' were beating the drums for war
Only a month before July 15, speaking to "Can Erzincan TV", one of the FETO outlets, Osman Ozsoy's words shed light to the plans of FETO.
"Look, it is very easy to finish all of this. This process will end very soon with the permission of God. God will bring light to this country. Ankara thinks that nothing will happen to Turkey any longer. This is the view of Ankara. Well, I wish I were a colonel instead of a professor. I would have contributed more to this process now. Look, it is not an exaggeration. This process is over and we will take care of what happens after. Let's run a subtitle on TV saying that there is a curfew tomorrow and look if anyone dares to step outside. All coups happen on Fridays. The homes of imams [mosque personnel] are in the mosque courtyard and they are even afraid of going to the mosque for prayer on Fridays. Turkish people do not have any sensitivity to take to the streets for democracy. Pretty nice days are coming. Busy days are awaiting our friends in the Hizmet movement."
'Our people do not know how to take cover'
Abdulkerim Balci, a FETO columnist who used the alias "Kerim Balci" while writing to "zamanamerika.com", openly expressed his knowledge of the coup in his July 14 2016 article -- "Erdogan on exile and preparations for the post-Erdogan era".
In the initial hours of the coup, when Turkish President Recep Tayyip Erdogan called on the people to take to the streets in defense of democracy, Balci said: "The president acts irresponsibly," on a FETO YouTube channel, STV Media, which was offering a live broadcast that night called "Time for Independence: July 15, 2016".
"Asking unarmed civilians to take a stance against armed soldiers, as it was done in Syria and Egypt, is a grave mistake. Our people do not even know how to lie on the ground, let alone taking cover. Most of our people haven't done military service, they paid instead. The nation cannot be asked to challenge the army."
His words showed how much the FETO loathes and disrespects the Turkish nation's will for freedom.
Bulent Kenes who used to be an editor of FETO's English-language mouthpiece "Today's Zaman", was also aware of the coup long in advance.
Kenes shared his opinions via his social media account on July 6-7 by saying:
"There is no longer a good exit! Bad, worse and the worst exit remains. Let's call coup the bad one, imagine the others."
He went on to intimidate the people by the following words:
"Either something will happen and it will not go on like this, or we will become a country like Syria or Iraq. The choice is yours."
Only a day before the coup, Tuncay Opcin -- a senior member of FETO's media wing -- tweeted "they will bust [them] in their beds and will hang [them] by dawn".
The tweet referred to coup plotters' aspiration of completing their operation against the government and Erdogan.
'Buy me a ticket from DC to Istanbul'
Another fugitive FETO member Emrullah (Emre) Uslu said on Twitter: "Please buy me a ticket from DC to Istanbul between July 22 to August 12," hinting that a coup is in the making by FETO.
Emre Uslu continues his FETO propaganda and smear campaigns against the elected government and the president of Turkey from the U.S.
Murat Aksoy, a "journalist" who was tried for being a member of FETO and sentenced to 25 months in prison, was another foreteller of the coup.
In Sept. 2015, appearing on a TV program called "The Spirit of the Time", Aksoy said: "The state tradition is looking for a way out and the state has a plan B. It is really not something we want but nowadays, the coup option is on the table in Ankara".
His words demonstrated the level of the disillusion among FETO members in their way of viewing FETO as the real state.
https://www.aa.com.tr/en/americas/role-of-covert-imams-in-fetos-failed-coup-in-turkey/1461450
--------
South Asia
Blood brothers: The wealthy family behind Sri Lanka's suicide attacks
Apr 25, 2019
COLOMBO: Sri Lankan housewife Fathima Fazla thought of her neighbours in the grand three-storey home across the street as the wealthy celebrities of her humble Colombo suburb. She had no idea how infamous they would become.
Two brothers who lived at the white house on Mahawela Gardens have emerged as key players in suicide attacks on Easter Sunday that killed more than 350 people and stunned an island state that had enjoyed a decade of relative peace.
The Islamic State terror group claimed responsibility for the coordinated attacks on three churches and four hotels.
Inshaf Ibrahim, a 33-year-old copper factory owner, detonated his explosive device at the busy breakfast buffet of the luxury Shangri-La hotel, a source close to the family said.
When police went later that day to raid the family home, his younger brother Ilham Ibrahim detonated a bomb that killed him, his wife and the couple's three children, the source told Reuters, requesting anonymity for fear of reprisals.
"They seemed like good people," Fazla told Reuters from her rundown home opposite the Ibrahim family residence, now cordoned off with crime-scene tape and marshalled by police.
The brothers' names were also reported in local media. Sri Lankan authorities have not released the identities of any of the bombers, and police did not respond to request for comment.
The brother's father, Mohamed Ibrahim, was arrested as police investigate those behind the attacks, police said. Ibrahim, a wealthy spice trader and pillar of the business community, had six sons and three daughters. He was admired by many who knew him.
"He was famous in the area for helping the poor with food and money. It's unthinkable his children could have done that," Fazla said, glancing affectionately at her two young daughters. "Because of what they have done, all Muslims are treated as suspects."
Ilham Ibrahim, 31, openly expressed extremist ideologies and had been involved in meetings of National Thowheed Jamath, a local Islamist group suspected of involvement in planning the attacks, according to the source close to the family.
His entrepreneur brother, Inshaf, was outwardly more moderate in his views, and was known to be generous with donations to his staff and struggling local households, the source said. Inshaf was married to a daughter of a wealthy jewellery manufacturer and he faced no problems with money.
"I was shocked. We never thought they were these kind of people," said Sanjeewa Jayasinghe, a 38-year-old network cabling engineer who works next door to the Ibrahim family home.
The early Sunday bombings shattered the relative calm that has existed in Buddhist-majority Sri Lanka since a civil war against mostly Hindu, ethnic Tamil separatists ended 10 years ago, and raised fears of a return to sectarian violence.
Though the Ibrahim brothers will be reviled across much of the country for plunging Sri Lanka into disarray, they will be missed by some in the community who relied on them.
"He was kind, unlike like many bosses. I was happy working for him," said Sarowar, a Bangladeshi worker at Inshaf's abandoned copper factory on the outskirts of Colombo. "He is gone. What do I do now?"
https://timesofindia.indiatimes.com/world/south-asia/blood-brothers-the-wealthy-family-behind-sri-lankas-suicide-attacks/articleshow/69034719.cms
--------
Anger boils over as religious harmony comes under strain
Apr 25, 2019
COLOMBO: Mohammed Rasool, 52, dolefully watched the bomb-scarred St Antony's Church in Kochchikade, silhouetted against the darkening evening sky. The yellow neo-classical-style structure, close to two centuries old, stands forlorn as groups of residents poured out on to the streets, an evening ritual since the bombing.
Four days after a series of explosions shook the capital, Sri Lankan army soldiers continue to hold vigil around the shrine. The bell tower clock needle is static at 8.45am, a poignant reminder of the hour when the explosion went off on Sunday morning.
"If they help God (by restoring the church soon), then God will help us," says Rasool, who has visited the shrine several times in the past. Five members of a neo-convert family — Rasool's Christian relatives — were killed instantly when a suicide bomber blew himself up inside the Catholic church. G Benton, 32, was inside for the Easter Mass, along with wife Chandrika and three children. While 11-month-old Avon's body was recovered along with that of his parents, Bewon, 9, and Clevon, 6, are 'missing'.
Opposite the shrine, narrow dingy alleyways branch off the main Jampettah Street with its row of petty shops. "We haven't worked for four days," says Jalabidin Impas Deen, 38. He runs a small Chinese eatery on the beach front, four km away.
Jalabidin cannot rid the images of people running out with blood pouring out of their ears and nose. "I helped at least 15 people into buses and three-wheelers headed to the government hospital," he says.
While the church stands tall, there's a Buddhist temple close by on Jampettah Street, a mosque, just a stone's throw away in Newham Square and a Shiva temple on Ramanathan Street to the right of the shrine. "We have co-existed peacefully," says Desmon, 19.
With the Sirisena government having declared emergency on Monday, by sundown, shops downed shutters and traffic quietly eased off the roads in Colombo. Security men line the arterial Galle Main Road, Colombo's commercial spine, where the three luxury hotels that were wracked by explosions are located. There's simmering anger against the government for not acting on intelligence alerts of possible terror attack. "Look at the seafront (referring to the China's international financial city project). It will soon be China-Lanka, not Sri Lanka. This government is ineffective," says Tuk Tuk driver Don Christie Kodisinghe.
Full report at:
https://timesofindia.indiatimes.com/world/south-asia/anger-boils-over-as-religious-harmony-comes-under-strain/articleshow/69033962.cms
--------
Bangladesh newspaper accurately anticipated Sri Lanka jihadist attacks
April 25, 2019
Anita Mathur
Since January 2019, Blitz, being the only anti-jihadist newspaper in the world has been repeatedly anticipating jihadist attacks in South Asia. The counter-militancy experts in this newspaper, particularly its editor Salah Uddin Shoaib Choudhury, who is an internationally acclaimed multi-award winning anti-militancy journalist had put emphasis in warning the authorities in the South Asian nations about the potential threats posed by notorious jihadist outfits such as Islamic State (ISIS). On January 27, 2019, eminent scholar and counter-militancy expert Shwe Kalaung's article titled 'Islamic State training camp busted in Sri Lanka' had also been published in Blitz.
In the recent years, jihadist outfits like ISIS are gaining strength in a number of South Asian nations mostly through narco-trade. Later such money is being spent towards terrorism. Bangladesh too is facing threats posed by the rise of jihadist activities from various jihadist factions inside the country. Although another jihadist attack in Sri Lanka was foiled by country's law enforcing and security agencies in January 2019, we knew, it could not crash the network of the radical Islamic militancy groups and individuals. Rather, those monsters would return with a much dangerous plot. And, this time, they were successful in hitting a number of churches and high-end hotels in Sri Lanka killing hundreds of innocent people.
Commenting on the latest jihadist attack in Sri Lanka, Salah Uddin Shoaib Choudhury said, the first reason behind rise of jihadism in Sri Lanka is due to growing conflict between the Muslim and the Sinhalese community. Similar to the large-scale attack in Myanmar, the Islamic State training camp in Sri Lanka has been connected directly to narcoterrorism from Islamic gangs in Bangladesh, supported by jihadists in the Gulf Operation Council. These terror networks are using the money generated from Islamic gangs for purchasing sophisticated weapons, explosives, properties, training and even bribes.
In Rakhine State, Myanmar, the funds for Arakan Rohingya Salvation Army (ARSA) have been coming from the production of Yaba pills, methamphetamines, manufactured there and sold to Islamic gangs inside Bangladesh.
On the other hand, heroin is the main drug in Sri Lanka, exported from the Taliban narcostate in Afghanistan by Islamic gangs in Pakistan linked to the notorious narcoterrorist Dawood Ibrahim, a known resident of Karachi, whose D-Company syndicate also has deep ties throughout India. Bangladeshi nationals have been caught trafficking in Sri Lanka, with the historic heroin seizure in early 2019, where the main suspect was discovered to be operating inside Bangladesh, frequently travelling back and forth between the two countries. In effect, Bangladesh is a key country through which the international distribution of drugs is organized by Islamic gangs to fund terror activities for the Golden Horseshoe Caliphate, further corroborating the theory that Bangladesh will be the political, religious and geographic epicenter of this emerging Caliphate on the Western front, while jihadists in Malaysia and Indonesia are exerting more influence in southern Myanmar, Thailand and countries east of the Malay Peninsula.
Mr. Choudhury added saying, for the past couple of years, Islamic State activities in Bangladesh has already gone under the direct control of a sacked military officer named Md. Sahid Uddin Khan and his wife and daughters, who currently are continuing activities sitting in United Kingdom. On January 17, 2019, Dhaka residence of Md. Shahid Uddin Khan was raided by the members of the Counter Terrorism and Transnational Crime (CTTC) unit of Bangladesh Police.
CTTC, based on secret information, raided House No. 184, Road No. 2, Baridhara DOHS in Dhaka, Bangladesh on January 17, 2019. This house is owned by Md. Shahid Uddin Khan and was allegedly used as a warehouse for arms, explosives and propaganda materials of Islamic State (ISIS). During the raid, large volume of weapons, detonator, counterfeit Bangladesh currency notes and jihadist materials of ISIS were recovered by the CTTC unit.
Following this recovery, three separate cases against ISIS-funder Md. Shahid Uddin Khan, his wife Farjana Anjum, daughters and other accomplices were lodged. The cases are: Cantonment PS, Case no 10, Section-6(2)/7/11/12 of Anti Terrorism Act 2009 (amendment 2013); Cantonment PS, Case no 11, Section-25-A, Special Power Act 1974; and Cantonment PS, Case no 12, Section-19-A of Arms Act 1878.
Md. Shahid Uddin Khan (Army No: BA002428, Course: 8-BMA, Commission Date: 10-06-1983), who along with his wife Farjana Anjum and daughters had smuggled out millions of dollars from Bangladesh and invested in various business ventures in United Arab Emirates and United Kingdom.
In 2009, he invested two million pounds in the United Kingdom in exchange of obtaining immigrant status under Visa Tier 1, vide VAF No. 511702. Later the family had laundered an unknown amount of money and brought that into the United Kingdom.
According to media reports, Md. Shahid Uddin Khan has been coordinating ISIS activities in a number of South Asian nations including Bangladesh. It was also reported in the media that weeks before the Sri Lanka attacks, Shahid Uddin Khan sent few thousand dollars from Dubai to his jihadist contact in Colombo. While Sri Lankan authorities are investigating the recent jihadist attacks, is there are initiatives in investigating the activities of this sacked military officer?
What did Shwe Kalaung write?
Authorities in Sri Lanka have confirmed that the massive explosives seizure at a remote compound in Wanathawilluwa was actually a training camp for the Islamic State (IS) that attempted to detonate multiple high explosive bombs targeting historic Buddhist monuments in the ancient city of Anuradhapura. This is the first actual terror threat from the Islamic State in Sri Lanka, as the Criminal Investigation Department (CID) hunts for over fifty more named suspects across the island connected to this IS chapter. Already an imam, or mawlawi, from the remote IS training camp has been arrested; he has confessed in an interrogation that the weapons and high explosives belong to an Islamic State chapter in Sri Lanka.
By 2017, scores of known Sri Lankan ISIS fighters had returned from Syria, and there was a subsequent spike in jihadist activity throughout Sri Lanka. A Sri Lankan ISIS fighter was reported killed during airstrikes in Syria; he was eulogized as a holy martyr of Islam on social media by Sri Lankan Muslims across the country who have sympathies with ISIS, including a bizarre online article in OnLanka on July 19, 2015, that alluded to more Sri Lankan ISIS fighters. Also, an affluent postgraduate student from Sri Lanka named Mohamed Nizamdeen, who was living in Australia, was charged with ISIS-affiliated terror-related offences while plotting to assassinate Australian politicians. This case was widely publicized because Nizamdeen is the nephew of MP Faiszer Musthapha, a cabinet minister in the Sri Lankan government and the grandson of the late former Chairman of the Bank of Ceylon. His terror-related charges were later dropped, in a surprising move by the Australian authorities. More evidence for the Islamic State activities in Sri Lanka comes from a propaganda video that was discovered online, which showed an unknown doctor from India discussing ISIS medical facilities and further claiming that Sri Lankan doctors are working for ISIS in Raqqa, Syria.
As a side note, the doctors of the Islamic State are not the friendly family medical practitioners of ISIS propaganda. Rather, these ISIS doctors can be seen as performing horrific unethical medical procedures, including forced abortions and euthanasia, and testing new procedures and organ harvesting on Yazidis, Christians and other ISIS captives in makeshift facilities or dungeons, with no regard to the sanctity of human life of non-Muslims. They were akin to evil doctors in Nazi Germany. Further, in all likelihood, these monstrous ISIS doctors could have been helping to fund Islamic State operations through illegal organ trafficking in the Middle East, as Sri Lanka was once a global center for organ transplants. No medical doctor with any professional or personal ethics would travel abroad with the sole intention of joining an evil terror organization, let alone having the perverse ambitions of providing medical assistance to merciless Islamic State fighters and their regime of pure evil.
The foiled IS plot to simultaneously obliterate a multitude of sacred Buddhist monuments in the ancient city of Anuradhapura with C4 high explosives has confirmed fears that Sri Lanka is now a target of the Golden Horseshoe Caliphate of South and Southeast Asia. The Golden Horseshoe Caliphate spans from the western side of Indonesia to include Singapore, Malaysia, Thailand, Myanmar, Bangladesh, India and Sri Lanka, all connected by land and water through the Andaman Sea, Bay of Bengal and Indian Ocean. Additional countries on the eastern side, including Cambodia, Laos and Vietnam, have not yet been infiltrated by Islamic jihadis at the same levels. The vast majority of Muslims in the Golden Horseshoe Caliphate are Sunnis, having learned about and accepted Islam through trade and conquest, while the other predominant religions are Hinduism and Theravada Buddhism, both of which are the more widespread ancient religions of the region, and whose core teachings reflect peace and tolerance by any interpretation. There are much smaller populations of Christians and localized ethnic religions in the region, too.
Recent attacks against Buddhists, such as the killing of two monks at a temple in Thailand, or the smashing of statues from a Hindu temple in India, show a heightened level of daily regional jihadist activity. In Rakhine State, Myanmar, Islamic terror led to a complete insurgency in late August 2017 from the ISIS-linked terror organization Arakan Rohingya Salvation Army (ARSA) that was formed in 2012. This insurgency was masterminded by a prominent Saudi imam, Ata Ullah. So the war on terror in Asia has literally become like an all-out war in the countries of the Golden Horseshoe Caliphate. Even the government of Bangladesh is faced with a rise of jihad activity from powerful jihadist factions inside the country.
The wider scope of the recently thwarted terror attack in Sri Lanka by IS was to cause greater conflict between the Muslim and Sinhalese community and to provoke a public backlash, in the same tactical manner as the failed 2017 insurgency in Myanmar. Similar to the large-scale attack in Myanmar, the IS training camp in Sri Lanka has been connected directly to narcoterrorism from Islamic gangs in Bangladesh, supported by jihadists in the GCC (Gulf Cooperation Council). These terror networks are using the money generated from Islamic gangs for purchasing expensive weapons, properties, training and even bribes.
In Rakhine State, Myanmar, the funds for ARSA have come from the production of yaba pills, methamphetamines, manufactured there and sold to Islamic gangs inside Bangladesh. ARSA has also received support from Saudi Arabia. However, in the case of ARSA, the training camps are located inside Bangladesh close to the border of Rakhine State, Myanmar. But heroin is the main drug in Sri Lanka, exported from the Taliban narcostate in Afghanistan by Islamic gangs in Pakistan linked to the notorious narcoterrorist Dawood Ibrahim, a known resident of Karachi, whose D-Company syndicate also has deep ties throughout India. Bangladeshi nationals have been caught trafficking in Sri Lanka, with the recent historic heroin seizure in early 2019, where the main suspect was discovered to be operating inside Bangladesh, frequently travelling back and forth between the two countries. In effect, Bangladesh is a key country through which the international distribution of drugs is organized by Islamic gangs to fund terror activities for the Golden Horseshoe Caliphate, further corroborating the theory that Bangladesh will be the political, religious and geographic epicenter of this emerging Caliphate on the Western front, while jihadists in Malaysia and Indonesia are exerting more influence in southern Myanmar, Thailand and countries east of the Malay Peninsula.
Another chilling aspect of the Golden Horseshoe Caliphate is the 786 movement, which is a doomsday prophecy, signaling the complete global Islamic takeover in simple calculation: 7+8+6=21. The endgame here is total Islamic conquest of the world by the end of the 21st century, hence the sum of 21. This sounds like something from a conspiracy junkie, but many people from these areas will recognize 786 as a sign of the end of times, or Armageddon, with the rise of the global caliphate. Indeed, reports emerge of 786 in Sri Lanka from around the mid-1980s and in Myanmar from the 1990s; the number was commonly displayed in shop windows and on Muslim food items, including products imported from the Middle East and other parts of Asia, as a symbol for supporting the jihadist cause. The 786 movement has gone underground in Myanmar after a great public backlash, namely the 969 counter-movement: citizens started to become upset at the blatant jihadist signs threatening their impending enslavement, similar to watching the moving hands on the Doomsday Clock. Evidence of the 786 movement can still be found in graffiti on walls in Yangon and Rakhine State, and in subliminal messages from ARSA jihadist recruitment videos. The intent of the sinister 786 movement is very clear and it is very real.
The latest developments in Sri Lanka have implicated the drug kingpin Makandure Madush, an international drug and weapons trafficker, to the funding of this Islamic State training camp, with the expensive C4 high explosives & weapons seizure. He is the godfather of organized crime in Sri Lanka, controlling the illegal drug trade inside the country. Many members of his network are experienced ex-LTTE soldiers, showing that he is utilizing an existing framework in the underworld with a well-trained criminal army. This raises the possibility that the LTTE armed conflict was backed by ruthless Islamic gangs, or even the Taliban, through drug trafficking. Islamic gangs brutally kill all rivals until a kingpin emerges as the undisputed leader; the kingpin generally has some high-level connection to the Taliban in Afghanistan for the heroin trade, almost like joining the Taliban family of warlords; one can only speculate on the initiation rites.
In Sri Lanka, gang-related feuds over the last few years have shown Makandure Madush as the underworld leader of organized crime. He even went so far as to launch a major deadly attack on a prison bus that was transporting them to court in February 2017, killing a rival gang leader, known as Samayan, and five associates. Madush is thought to have fled Sri Lanka after this prison bus shooting. The feud between Ranale Samayan's gang and Madush goes back to 2016, when Madush's brother was murdered by Samayan. As the bloody gang wars continued in Sri Lanka, it was reported that there were eight killings in the first few months of 2018, with Madush at the center of these murders.
On June 22, 2018, during a jewel heist in the southern city of Matara, gang members murdered a first respondent to the situation with a high-tech mini-Uzi manufactured exclusively in Israel, while two other policemen and a civilian were injured. Security camera footage from the heist can be found online. Sadly, the police officer died from his deadly injuries sustained by the rapid spray of munitions, being unprepared to face such powerful weapons in the line of duty. More arrests related to the heist followed after a tense police chase, and a key accomplice of the gang was killed by police.
The police investigation traced the jewel heist back to Makandure Madush through examination of the weapons used and interrogations. He was known to have been living in Dubai after escaping arrest in the country for the deadly prison bus attack sometime around the early part of 2017. During the investigation of this jewel heist, information was discovered about the conspiracy to assassinate President Sirisena with other key political figures, orchestrated by Madush from Dubai, like the jewel heist and gang feuds.
According to Digatha News on March 26, 2018, just before the jewel heist in June and the subsequent police crackdown:
Sri Lanka's intelligence units have confirmed that persons wanted for serious crimes such as former diplomat Udayanga Weeratunga and underworld leader Madush, who have been issued Interpol red notices and wanted by police for years in connection to serious crimes, are freely living in Dubai.
And,
The information received by the intelligence units have revealed that most of them have fled to India, Singapore and Malaysia first and later reached Dubai. It is reported that they are already involved in various crimes including drug trafficking, mafia gangs, international espionage and arms sales and operating from the Emirati capital. According to the information received, the absconding criminals earn millions from their illegal activities and deposit the money in Dubai banks.
So it is well known that Madush still actively masterminds the illegal drug trade, arms deals and extortion rackets in Sri Lanka from Dubai. Even this earlier intelligence source shows Madush as the likely candidate for supplying the new Islamic State chapter in Sri Lanka with high explosives and high-tech weapons. Also, narcoterrorist Dawood Ibrahim was known to have lived and conducted business from Dubai before moving to Karachi, Pakistan, making Dubai one of the networking hotspots for international Islamic crime syndicates.
An important part of Madush's network was taken down in a raid shortly after the jewel heist, on June 25, 2018, when a high level accomplice, known as Thilak, was killed by police in a shootout. A Chinese T-56 assault rifle, similar to the Russian AK-47, was recovered from the scene. Another raid in early July 2018 saw four more henchmen arrested, including a leader working for Madush, known as Josa. More weapons and some heroin were seized. Grenades are another item routinely seized from Madush's gang members. Madush is wanted by Interpol for controlling the drug trade in Sri Lanka, and for murders and extortion as well, but the Sri Lankan government seems powerless to demand extradition from the United Arab Emirates, despite their new strategies in 2018. Madush and his underworld army are implicated in involvement with this new Islamic State chapter in Sri Lanka through the proceeds of drug trafficking, the powerful high-tech weapons, and high explosives. Additional information about these networks and their connections will become more apparent as the investigation continues to make progress, with more arrests, confessions and confiscated digital equipment.
As these elaborate international crime syndicates are exposed, a detailed understanding of the networks begins to emerge, which can be traced back to the same places, such as the GCC countries of Saudi Arabia and the UAE, who are masterminding terror in the region of the Golden Horseshoe Caliphate, funded by the drug trade with powerful Islamic gangs linked to Taliban warlords. Since the overall short-term political objective is to create conflict and instability in these regions, as in Myanmar and Sri Lanka, the possibility exists of a deeper political objective that the terror activities are meant to disrupt China's String of Pearls strategy for regional expansion and development. For instance, both Rakhine State in Myanmar and Sri Lanka are involved with this project, so the geopolitical significance cannot be ignored, as they overlap with the competing Chinese intentions here.
For Buddhists and Hindus living in Sri Lanka, India, Myanmar, Thailand, Indonesia, Bangladesh, Malaysia and Singapore; they believe that they have been the victim of Islamic jihad for a long time. The hard evidence here cannot be disputed, considering landmark events such as the 1971 genocide against Hindus in Bangladesh, the historical genocides against non-Muslims in Rakhine State, or the constant attacks against Buddhists, Hindus and non-Muslims everywhere in the region. The Buddhists and Hindus living in Rakhine, Bangladesh, Malaysia, and Indonesia are continually subjected to some of the worst human rights violations from jihadists and radical Islamic governments, with no support from the UN, which is dominated by the GCC countries in the OIC, who consider religious minorities to be second class citizens. There can be no doubt of the rise of Islamic jihad activiy in the Golden Horseshoe Caliphate, as evidenced by the constant barrage of terror-related attacks and human rights abuses in these countries against Buddhists and Hindus.
Whatever shadowy entities in the GCC countries, particularly Saudi Arabia and the UAE, who are facilitating jihad in the Golden Horseshoe Caliphate need to be held accountable by their governments, unless the government inaction of GCC countries is a deliberate complicity to the agenda of the Islamic State and their affiliated crime syndicates. So the conflict is expected to worsen in the affected areas of Asia until these matters are properly addressed on the international stage, especially the war on drugs and the increasing presence of the Islamic State. A good strategy would be to evaluate the foreign aid given to Pakistan, Afghanistan, Bangladesh, Malaysia and Indonesia to help stop the growing problems of human trafficking, Islamic gangs, jihad terror, and human rights abuses, until these countries take full responsibility for their part in international terrorism. Perhaps even Western trade penalties on places such as the UAE would help, until the long list of criminals and terrorists living there have been brought to justice, which gives more emphasis on the need for ethical oil supplies to leverage such trade restrictions with oil rich countries.
Full report at:
https://www.weeklyblitz.net/news/bangladesh-newspaper-accurately-anticipated-sri-lanka-jihadist-attacks/
--------
Afghan forces arrest shadow district chief of Taliban for Faizabad district of Jawzjan
25 Apr 2019
The Afghan security forces have arrested the shadow district chief of Taliban for Faizabad district of northern Jawzjan province.
According to local officials, the shadow district chief of Taliban for Faizabad Mawlavi Obaidullah was arrested during an operation of the Afghan intelligence operatives.
The officials further added that Mawlavi Obaidullah was involved in various attacks on security outposts besides assassinating Afghan Local Police commanders.
The anti-government armed militants including Taliban have not commented regarding the arrest of Mawlavi Obaidullah so far.
Full report at:
https://www.khaama.com/afghan-forces-arrest-shadow-district-chief-of-taliban-for-faizabad-district-of-jawzjan-03798/
--------
49 militants killed, wounded in various operations of Afghan, coalition forces in Ghazni
25 Apr 2019
At least 49 militants were killed or wounded in various operations of the Afghan and coalition forces in south-eastern Ghazni province of Afghanistan.
The Special Operations Corps of the Afghan Military said Wednesday that 6 militants were killed and 7 others were wounded during an operation of the Afghan Special Forces in Kamal Khan area of Andar district.
According to a statement released by Special Operations Corps, at least 7 militants were killed and 5 more wounded in a separate clearance operation conducted in Jamjan Mank area of Moqor district.
The statement further added that the coalition forces also carried out airstrikes in Andar district and Kalach and Zewach areas located in the outskirts of Ghazni city, leaving at least 16 militants dead and 8 others wounded.
Full report at:
https://www.khaama.com/49-militants-killed-wounded-in-various-operations-of-afghan-coalition-forces-in-ghazni-03797/
--------
ISIS militants kill 5 Taliban fighters, arrest 4 others in Nangarhar province
24 Apr 2019
Militants affiliated with the Islamic State of Iraq and Syria (ISIS) terrorist group have killed five Taliban fighters and have arrested four others in Nangarhar province.
The 201st Silab Corps of the Afghan Military in a statement said an infighting erupted among Taliban and ISIS militants in Dotesar and Zawa areas of Khogyani district on Tuesday.
The statement further added that five Taliban militants were killed during the clash and while ISIS militants arrested four other Taliban militants during the clash.
The anti-government armed militants including Taliban and ISIS loyalists have not commented regarding the clash so far.
Nangarhar has been among the relatively provinces in East of Afghanistan but the security situation in some of its remote districts has started to deteriorated during the recent years.
Full report at:
https://www.khaama.com/isis-militants-kill-5-taliban-fighters-arrest-4-others-in-nangarhar-province-03796/
--------
Heavy fighting flares up between Taliban, Daesh for Afghan territory
April 24, 2019
KABUL: Afghan Taliban insurgents are battling fighters loyal to Daesh over control of territory in eastern Afghanistan in some of the heaviest clashes over the past year between the rival militants, officials said on Wednesday.
The fighting erupted on Monday in two districts of the eastern Afghan border province of Nangarhar, when Daesh fighters attacked villages under Taliban control.
"Islamic State fighters have captured six villages in Khogyani and Shirzad districts but the fighting has not stopped," said Sohrab Qaderi, a member Nangarhar's the provincial council.
About 500 families had fled from the fighting, he said.
Casualty figures were not available.
A spokesman for the Taliban, who control more territory than at any point since they were ousted from power nearly 18 years ago, was not available for comment.
Daesh fighters first appeared in eastern Afghanistan in around 2014 and have battled the Taliban as well as government and foreign forces.
The Afghan affiliate of Daesh, sometimes known as Islamic State Khorasan (Islamic State-K), after an old name for the region that includes Afghanistan, has made some inroads into other areas, in the north in particular.
It has also established a reputation for unusual cruelty, even by the standards of the Afghan conflict, and has been behind some of the deadliest attacks in urban centers.
While Nangarhar, on the border with Pakistan, has been a Daesh stronghold, some villages in Khogyani and Shirzad districts have been controlled by the Taliban.
Fleeing villagers said they had to run for their lives.
"I could only rescue my family. We had to leave everything," said Shawkat, 36, a resident of Markikhel village in Shirzad district who sought safety in a neighboring village.
Attaullah Khogyani, a spokesman for the provincial governor said, authorities would help the displaced villagers with food and medicine.
In August, more than 150 Daesh fighters surrendered to the Afghan security forces after they were defeated by the Taliban in the northwestern province of Jawzjan.
The US military estimates there are about 2,000 Daesh fighters in Afghanistan.
Full report at:
http://www.arabnews.com/node/1487506/world
--------
India
No Justification For Islamophobia: Islamic Scholars Maulana Azad National Urdu University Seminar
Apr 25, 2019
Charminar: Paying homage to the victims of Sri Lanka bomb blasts, two minutes silence was observed on Wednesday by the delegates at Maulana Azad National Urdu University (Manuu). They were participating in the inaugural session of two-day national seminar on the topic of 'Islamic studies concept present scenario and future'. The seminar is organised by the Department of Islamic Studies, Manuu, in collaboration with Henry Martin Institute (HMI). The participating scholars and professors pointed out that there is no justification for Islamophobia.
Addressing the seminar, Prof. Abdul Ali, former head of department of Islamic studies at Aligarh Muslim University, said that Islamic studies would play a key role in eliminating the misunderstanding about Islam and Muslims. "There is no justification for so-called Islamophobia based on a deliberate mischievous misrepresentation of contemporary Islam and Muslims. Islamic studies, as a branch of social sciences, can play a vital role in removing the misconceptions and misunderstanding about Islam and Muslims," said Abdul Ali.
De Mohammed Aslam Parvaz, Mannu vice chancellor asked the scholars to revise the syllabi of Islamic studies and make provision for interface study with other branches of social and natural sciences.
Rev. Dr Packiam T Samuel, HMI director, threw light on the history of the evolution of the institute and its approach towards Islamic studies. "The institute has shifted its focus on interfaith dialogue and peace-building," he said.
Besides, wall magazine prepared by the students of department of Islamic Studies, Manuu, and three books — two written by Dr Packiam Samuel and one by Mujtaba Farooq, a research scholar — were released on the occasion.
https://timesofindia.indiatimes.com/city/hyderabad/no-justification-for-islamophobia-islamic-scholars/articleshow/69032589.cms
--------
Leaders Caution Against Bid To Link Islamic Outfits In Tamil Nadu With SL Blasts
Udhav Naig
APRIL 25, 2019
IUML slams misguided interpretation of Islam
Following the suicide bomb attacks in Sri Lanka by suspected IS operatives, attempts have been made to link Islamic outfits in Tamil Nadu with the terror strike. However, political parties, particularly those representing the interests of Muslims, have cautioned against such a tendency.
At the same time, Indian Union Muslim League president Kader Mohideen said the attack had flagged the need to be vigilant of youth falling prey to "misguided" interpretations of Islam.
Stating that these attacks had reiterated the importance of promoting inter-faith dialogue, Mr. Mohideen said, "We need to revive the good old days where there was communal amity and harmony among various religious communities. We used to organise inter-faith religious events where people of all faiths would get together on the same stage for peace and unity. We used to have a Moulvi, a Hindu religious leader and a priest on the same stage. We need to restart such activities on the ground."
The IUML leader added: "I have been telling people in the Jamat to be vigilant of those who promote a misguided interpretation of Islam and oppose certain Islamic traditions followed by Muslim communities. Such people should be sent away. We must first consider ourselves human beings. That's what all the scriptures also say. People who commit such terror are committing a crime against humanity," he said.
In a statement, Viduthalai Chiruthaigal Katchi founder Thol. Thirumavalavan on Wednesday said the after-effects of the terror attack could be felt in Tamil Nadu just as the State felt the effects of Sri Lankan civil war.
'Don't demonise'
Mr. Thirumavalavan said the democratic forces in the State should uproot fundamentalist forces without any compromise and defeat the plan to demonise the Muslim community as terrorists. "Not just the Sri Lankan government and society, but it is important that the Indian government and Tamil society should learn important lessons," he said.
Prof M.H. Jawahirullah, president, Manithaneya Makkal Katchi, rejected concerns that attacks in Sri Lanka would have a major spill-over effect in Tamil Nadu – within and against the Muslim community.
"No Muslim has or will recognise such an act. In Tamil Nadu, the democratic forces are strong and any such adverse effects will be prevented. Tamil Nadu Thowheed Jamat and other organisations have condemned the act of terror. Terrorism has no religion," he said.
Full report at:
https://www.thehindu.com/news/national/tamil-nadu/leaders-caution-against-bid-to-link-islamic-outfits-with-sl-blasts/article26937375.ece
--------
Pak terrorist belonging to LeT arrested in Baramulla, paraded before media
Apr 24, 2019
SRINAGAR: A Pakistani terrorist belonging to Lashkar-e-Taiba (LeT) outfit who was tasked with reviving terrorism in certain areas of the Kashmir valley was arrested from Baramulla district of Jammu and Kashmir, police said on Wednesday.
Mohammad Waqar Awan, a resident of Mohalla Miana in Mianwali area of Punjab in Pakistan, was arrested earlier this week and paraded before the media on Wednesday at the Police Control Room.
Awan, known by alias of 'Chota Dujana, told reporters that before he joined terrorist forces, he was told that atrocities were being inflicted on the people of Kashmir by security forces but he saw no such thing in the Valley.
"I received training for four months at a camp in Muzaffarabad. I was told that atrocities are committed on children and women.
Prayers are not allowed in mosques and houses of Muslims are destroyed," he told reporters, adding he found that the conditions were different in Kashmir.
Police officials said Awan's arrest and "confession" is an evidence for Pakistan as to how youths are manipulated on its soil, prepared for terrorism and then sent here to join Jaish-e-Mohammad or Lashkar-e-Taiba.
Asked if he was involved in any attacks in the valley, Awan said, "I was not involved in any attack."
The Senior Superintendent of Police (SSP) of Baramulla, Abdul Qayoom, said Awan had infiltrated in the valley in July 2017.
He was active in Handwara (area of north Kashmir's Kupwara district). For the last about two years, he was active in different places of Srinagar. When he was returning to Baramulla, he was intercepted at a naka (check post). However, the driver of his vehicle rammed it into police vehicle and sped away.
The police chased them and about 1.5 km away from the naka, they left their vehicle on the road and tried to flee, but were apprehended. The driver, a conduit, is a Kashmiri. We will share further details when we have them,the SSP said at the press conference.
Qayoom said Awan's primary task was to revive terrorism in those areas which had been declared militancy-free.
We had this input that since Baramulla was declared free of militancy, they (leadership) were under pressure to revive the terrorism there and that is why these two were going to Baramulla, he said.
He said a pistol and some other things were recovered from the Pakistani terrorist when he was arrested.
Asked about Awan's activities in Srinagar, the SSP said he mostly visited areas around Srinagar-Baramulla highway and few areas in downtown, the interior areas of the city here.
"We are identifying and pinpointing more people involved with him, Qayoom said.
Director General of Jammu and Kashmir Police Dilbagh Singh, who also briefed the media, said Awan's "confession" is evidence of how Pakistan is sending youths here for militancy.
'Pakistan always wants some live evidence. Police will share that evidence. A Pakistani terrorist is here since the last two years and an active member of LeT and involved in many activities.
Full report at:
https://timesofindia.indiatimes.com/india/pak-terrorist-belonging-to-let-arrested-in-baramulla-paraded-before-media/articleshow/69028227.cms
--------
DMC holds colloquium on Muslim-Christian relations
Mar 31, 2019
The seminar started with a one-minute silence in prayer and remembrance of the martyrs of the terrorist attack on two mosques in Christchurch, New Zealand.
Inaugurating the seminar, DMC Chairman Dr. Zafarul-Islam Khan said that the Holy Quran holds Jesus Christ and his mother Mary in highest esteem and describes Jesus as the "Word of God". He said Muslim-Christian relations were excellent during the first few centuries after the advent of Islam. In fact, the first two migrations of Mecca's persecuted Muslims were to Abyssinia ruled by a Christian king. And this is the reason why even in their heyday Muslims never attempted to conquer Abyssinia. Dr. Khan said Crusades and the colonial onslaught caused huge damage to Muslim societies but still Christians remained safe and protected in Muslim lands so much so that an ordinary Christian in Muslim societies is more well-placed than an ordinary Muslim. He said it is a testimony of Muslim tolerance that seats of four churches are based in the Muslim world, viz.,Coptic Orthodox Church of Alexandria & All Africa, seated in Cairo; Syriac Orthodox Church, seated in Damascus; Ecumenical Patriarchate of Constantinople, seated in Istanbul and the Syriac Maronite Church of Antioch based in Bkerké, Lebanon.
Dr. Khan said the immediate reason for holding this seminar is the joint document on "Human fraternity for world peace and living together" signed last February in Dubai by the leader of the Catholic Church Pope Francis and the Grand Sheikh of Al-Azhar Dr. Ahmad Al-Tayeb, who is the highest authority in Sunni Islam. He said although this document is about establishing good Muslim-Christian relations but, in fact, it can become a good basis of friendly relations between all religions.
Moderating the seminar, Laxmi Menon, India director of Unity Earth, shed light on Muslim-Christian relations in recent times and how they have vacillated between good and bad. She mentioned in particular how St. Francis of Assisi crossed the Crusaders' lines to meet the Egyptina Sultan, Malik al-Kamil, in 1219 AD which paved a new beginning of good Muslim-Christian relations despite the bitterness of the Crusades.
Prof. Poulose Mangai of Vidya Jyoti College shed light on past Muslim-Christian dialogues. He said the Catholic Church was not interested in developing relationships with other religions but this changed in 1962 when the Vatican established a department to imoprove relations and understanding with other faiths. Dialogues started as a result. This policy has received impetus since Pope Francis took over the reins of the Catholic Church in 2013. Pope Francis believes that religion is a strong force to change the world. He is the first Catholic head to visit the Arabian peninsula. It was during this visit last February that the Pope signed a joint document alongwith Al-Azhar's Grand Sheikh to work for better relations between Muslims and Christians. Prof. Mangai said we honour God only when we honour His children. Pope Francis says the real education is that you should know your brothers and sisters. He says the real demilitarization will take place when hearts are demilitarized because God is with those who seek peace.
Prof. Shareena Bano of Jamia Millia Islamia said that the Al-Azhar-Vatican document should be used to educate the masses. She said, we think separately and still believe that unity will be achieved. If we want unity, we must think together. Textbooks of schools should be prepared on this basis. Prof. Bano advocated that we must benefit from the educational experiment of Finland.
Thinker Basit Jamal, who popularises Islamic ideals through telling stories in schools, said that if there are people who want amity in society, there are others who do not want friendship to flourish in society. He refuted the idea that Muslims do not want good relations with others and referred to Sura Al-Mumtahina (60:9) of the Quran where Allah exhorts Muslims to hold good relations with those non-Muslims who do not fight and persecute Muslims. He mentioned the document preserved in Sinai's St. Catherine Church in which Prophet Muhammad has ordered Muslims to treat Christians well.
Prof. Akhtarul Wasey, Vice Chancellor of Maulana Azad University of Jodhpur, said the joint statement of the Vatican and Al-Azhar is an important landmark for better Muslim-Christian relations which nobody can disagree with. He said, other religions should also be joined in this endeavor, especially in India where many religious traditions live together, so much so that Jewish, Syrian Orthodox and Islamic traditions arrived here very early and became a part of the Indian fabric. Prof. Akhtarul Wasey said Allah has ordained religions plurality for us, otherwise He could have made us all follow one single faith. Why we should bother for something which Allah did not do? He said, Allah did not send His Prophet to convert people by force but only to convey His message. Allah has decided for all time to come that there will be no coercion in matters of religion, when he said, "For you, your religion; for me, mine" (Quran, 109:6). He said, differences are found not only between religions but there are differences even within every religion, therefore there should be inner democracy within each religion. He said, we should organize a front against all philosophies which are inimical to religion, whether they are based on hate, ignorance or terrorism. He said, in the coming years the Indian model will guide the world because here we have been living together amicably since thousands of years. We should enlarge our circle. Here, there is no minority or majority. Everyone is free to worship as he or she wishes but there is no freedom to hate others.
Prof. Khurshid Alam of Delhi University said the Al-Azhar-Vatican document is complete in every sense and it covers all religions. The contents of the document have come out of heart. It considers all equal; none is minority or majority. Prof. Alam demanded a new Platonic doctrine which would say that God exists everywhere and all humans should cooperate with each other. She said the venom found in the minds of professors does not exist among the masses.
Dr. Syed Jamaluddin of the Institute of Objective Studies and a former professor of Jamia Millia Islamia, said that the decline of tasawwuf (mysticism) resulted in the decline of human values. We should live as a spiritual family and for this, purification of the soul is necessary.
Iqbal Mulla, a leader of Jamaate Islami Hind, said the Al-Azhar-Vatican document is based an humanity which is very much required in the current circumstances of our country and the world. These ideas should percolate to the masses and to the youth in particular. There should be a loose federation of people sharing these ideas because some people in positions of power have different thoughts. He said, an atmosphere has been created by claiming that all evils emanate from religion while the reality is that evils are a result of the misuse of religion. He narrated an incident from the life of the great Islamic scholar, late Maulana Ashraf Ali Thanvi, who was once told that even bearded people have started stealing; he said: no, say that even theives have grown beards.
Secretary of the Islamic Fiqh Academy, Amin Usmani, said that the Al-Azhar-Vatican document is a comprehensive statement prepared by the leaders of two great religions. Muslim organization should support it. He mentioned that Dr. Ahmad Al-Raisouni, President of the World Association of Islamic Scholars, has already supported this document.
Full report at:
http://www.milligazette.com/news/16627-dmc-holds-colloquium-on-muslim-christian-relations
--------
Morocco shared key intelligence with Sri Lanka, India on bombings
April 24, 2019
Morocco shared sensitive intelligence with Sri Lanka that helped Colombo identify the nine bombers and their handlers in the Islamic State, informed sources have indicated. The information was also shared with India as New Delhi and Morocco have a strong counter-terror cooperation.
This was done within 48 hours of the Easter Sunday attacks that killed nearly 360 people in the island nation.
The Islamic State on Tuesday claimed responsibility for the horrific bombings, which also killed 10 Indians, with Prime Minister Ranil Wickremesinghe warning that the Indian Embassy was also a "possible target".
Sri Lankan authorities have talked about "foreign links" of the perpetrators and have said that "foreign agencies" have shared useful information with them.
Morocco, a North African country that follows a moderate strand of Islam, has one of the successful records of counter-terrorism and de-radicalization in the Islamic world.
In an interview in October, Abdelhak Khiame, Head of Morocco's Central Bureau of Legal Investigation (BCIJ), said Moroccan security services dismantled "183 terrorist cells" in the country that were in the various stages of planning "361 devastating terrorist projects" in the kingdom.
More than 3,000 people, including 292 individuals with previous criminal record, have been arrested by Moroccan authorities over the past decade.
India and Morocco have a strong and multi-dimensional agreement on counter-terrorism cooperation.
During a visit to New Delhi last year. Moroccan Justice Minister Mohamed Auajjar had said in an interview to the Economic Times that "Morocco has a well-established school of counter-terrorism, which is globally recognised. We have counter-terror cooperation including bilateral legal arrangements with major countries to fight terror. Given the expansion in ties with India and mutual interest, we decided to sign these treaties with Delhi, taking our counter-terror partnership to the next level".
The Minister further said, echoing the views of King Mohammed VI. that Islam was against terrorism and "a wrong interpretation of jihad that is being propagated, instead of a jihad against poverty".
The Minister said "Morocco's de-radicalization initiatives have been lauded by the international community. We pursue a multi-dimensional counter-terror strategy that has three distinct stands: intelligence gathering, socio-economic reforms, and reform of religious schools".
Full report at:
https://www.business-standard.com/article/news-ians/morocco-shared-key-intelligence-with-sri-lanka-india-on-bombings-ians-exclusive-119042400494_1.html
--------
2 militants killed in encounter with security forces Kashmir's Anantnag
Apr 25, 2019
Two militants were killed in Bijbehara in south Kashmir's Anantnag district after a gun battle with security forces on Thursday morning, officials said.
Police and security forces launched a cordon and search operation at Bagender Mohalla in Bijbehara area on a credible input. The team was fired upon by the militants during the searches.
The fire was retaliated by the security forces leading to an encounter. The bodies of the two militants have been retrieved from the site of encounter. Incriminating material, including arms and ammunition, was recovered from the site of encounter.
Full report at:
https://www.hindustantimes.com/india-news/2-militants-killed-in-encounter-with-security-forces-kashmir-s-anantnag/story-s6EjqoWPBABBSpBbcghvcI.html
--------
41 terrorists eliminated post-Pulwama terror attack: Indian Army
Apr 24, 2019
The Indian Army has eliminated 41 terrorists after the February 14 Pulwama attack, General Officer Commanding (GOC) of 15 Corps, Lt. Gen KJS Dhillon, said on Wednesday.
"This year, a total of 69 terrorists have been killed and 12 apprehended. Post Pulwama, 41 terrorists have been killed out of which 25 were from Jaish-E-Mohammad. Out of those 25, 13 were Pakistanis and 13 were A+ category militants," Dhillon said, addressing a press conference along with Jammu and Kashmir Director General of Police (DGP) Dilbagh Singh.
Noting that the security forces have targeted the Jaish leadership, the corps commander said, "The situation now is that no one is coming forward to take over the leadership of JeM in the Valley. Even after Pakistan's best efforts, we will continue to suppress JeM, especially after Pulwama."
Referring to the incident where militants killed a 13-year old boy in Hajin, Dhillon urged the Kashmiri people to question militants if what they did is "jihad" or "jihalat".
The GOC, 15 Corps also said that the operations against the militants will continue with full vigour.
"I want to assure that the operations along the LoC, in the hinterland, will continue with full vigour and we will not let terrorism rise up to a level which earlier they have enjoyed," Dhillon said, asking the local militants to surrender.
On the number of foreign and local militants active in the Valley, he said, "Whosoever picks up a gun will be eliminated."
During the press conference, DGP Dilbagh Singh said, "Several youths who joined the militant ranks were brought back into the mainstream. A total of 46 Jaish and Lashkar commanders were eliminated last year and this year. 27 of these were from Jaish and 19 were from Lashkar-e-Toiba."
"2018 has been a very successful year so far as the handling of law and order situation is concerned, so far as the handling of militancy is concerned," he said.
He also said that recruitment level from locals among the terrorist rank and files is going down.
Full report at:
https://www.hindustantimes.com/india-news/41-terrorists-eliminated-post-pulwama-terror-attack-indian-army/story-oRyLkmltxhUNFXGgysAlVK.html
--------
Lashkar terrorist who came from Pakistan 2 years ago arrested: J-K Police
Apr 24, 2019
Security forces on Wednesday presented a Pakistani Lashkar-e-Taiba (LeT) terrorist before the media, saying he had been operating in Srinagar city for two years and was now trying to resurrect militancy in Jammu and Kashmir's Baramulla district.
The joint press conference by the Army and the police was addressed by Lt Gen K.J.S. Dhillon, Corps Commander of the Army's Srinagar-headquartered 15 Corps, and Dilbag Singh, the Director General of Police (DGP).
A Pakistani national, Waqar Ahmed of Pakistani Punjab was arrested in Pattan area of Baramulla district a few days back.
Baramulla's Senior Superintendent of Police Abdul Qayoom said the terrorist was trained in Muzaffarabad in Pakistan-controlled Kashmir for four months before he infiltrated into Jammu and Kashmir in July 2017.
He said Waqar was operating in Srinagar city for two years and was now trying to resurrect militancy in Baramulla district.
"He was also trained for one month at the house of Zaki-ur-Rehman Lakhvi (of LeT) in Rawalpindi and he met Lakhvi twice during that period," the officer said.
The terrorist told the media that their handlers at the training centre in Muzaffarabad told them that Indian security forces were raping women in Kashmir and disallowing Islamic worship.
All this proved to be wrong when he saw the ground situation in the Kashmir Valley, he said.
Lt Gen Dhillon said his arrest was yet another proof that Pakistan was training terrorists and aiding terrorism in Jammu and Kashmir.
Dilbag Singh said 272 terrorists were killed by the security forces in the state last year.
The Corps Commander added: "In 2019, the security forces have killed 69 terrorists so far.
"After the Pulwama terror strike, we have killed 41 terrorists out of whom 25 belonged to the Jaish-e-Muhammad (JeM) outfit.
"The entire leadership of the JeM has been decimated. Nobody is now ready to head the outfit in the Valley."
The police officer said there was a marked fall in the numbers of local youths joining the militant ranks.
"There was a marked decrease in stone pelting incidents during 2018 as compared to the previous years."
Full report at:
https://www.hindustantimes.com/india-news/lashkar-terrorist-who-came-from-pakistan-2-years-ago-arrested-j-k-police/story-KY7cBkIpfWGDCeZ9qcSQeK.html
--------
Alerts sent to Sri Lanka after probe in Coimbatore ISIS case was completed by NIA
Apr 24, 2019
NEW DELHI: Intelligence inputs regarding a possible terror attack in Sri Lanka were shared by Indian agencies with their Sri Lankan counterparts earlier this month after the National Investigation Agency completed its probe into an ISIS-inspired module planning to kill prominent leaders in South India, officials said here.
The input was sent through diplomatic channels to the island nation after a through investigation pertaining to the ISIS case in Coimbatore was carried out by the NIA, which has filed a charge sheet against seven people.
During investigation, the probe team had stumbled upon videos of National Thowheed Jamaat (NTJ) leader Zahran Hashim, which was indicative of a terror attack on the Indian High Commission in Colombo.
After further investigation which included cyber trailing of some of the accounts associated with the ISIS, the central security agencies shared an input with their Lankan counterparts about the churches being the likely target of the ISIS module, they said.
Over 350 people were killed in Sunday's serial blasts at churches and hotels.
The videos, seized from the accused in the Coimbatore case, showed Hashim asking youths from Sri Lanka, Tamil Nadu and Kerala to establish an Islamic rule in the region.
The arrested accused, who have been chargesheeted since then, include Mohamed Ashiq A, Ismail S, Samsudeen, Mohammed Salauddin S, Jafar Shadik Ali and Shahul Hameed.
The case was originally registered at B3 Variety Hall Police Station, Coimbatore City on September 1 last year and pertained to the criminal conspiracy hatched by the accused with the intention of furthering the objectives of the proscribed terrorist organisation ISIS by targeting Hindu leaders and activists, who are critical of religious terrorism.
The NIA investigation showed that the arrested persons had got radicalized on the violent extremist ideology of the ISIS and they had been propagating the same ideology over the social media.
With the intention of furthering the objectives of the terrorist organisation ISIS in India, the accused had organized themselves into a terrorist gang in June, 2018 and conspired to further the activities of the group by carrying out terrorist attacks targeting persons critical of the proscribed terrorist organisation and its violent extremism ideology.
The accused in Coimbatore case were in touch with Hashim for being enrolled in the ISIS terror group.
Full report at:
https://timesofindia.indiatimes.com/india/alerts-sent-to-sri-lanka-after-probe-in-coimbatore-isis-case-was-completed-by-nia/articleshow/69026334.cms
--------
10 J&K terrorists based in Pak involved in LoC trade: Officials
Apr 24, 2019
NEW DELHI: At least 10 terrorists, who had crossed over to Pakistan, set up businesses across the border with the active aid of ISI and were involved in the recently suspended cross LoC trade to provide funds to terrorists and separatists in Jammu and Kashmir, officials said.
These Jammu and Kashmir natives are either based in Islamabad and Rawalpindi in Pakistan or Muzaffarabad in Pakistan occupied Kashmir (PoK) and operate businesses ranging from almonds, dry dates, dry fruits to mangoes as part of the modus operandi to send money to fuel unrest in Jammu and Kashmir on behalf of the Pakistani intelligence agency ISI, they said.
"These 10 terrorists were using the the cross LoC trade between Jammu and Kashmir and PoK to fund terrorists and separatists in Jammu and Kashmir," a senior security official said.
India last week indefinitely suspended cross-LoC trade at two points along the Line of Control in Jammu and Kashmir following reports that it was being "misused" by elements from across the border to smuggle weapons, narcotics and fake currency.
The LoC trade across Chakan-Da-Bagh and Salamabad was intended as a confidence building measure for the population living in Jammu and Kashmir and across the Line of Control (LoC) in PoK.
Security officials also gave details of the 10 militants and their businesses which were involved in the cross LoC trade.
Mehrajuddin Bhat, a resident of Tral, had gone to Pakistan to join militancy about a decade ago.
Presently staying in Rawalpindi, Bhat set up 'Mehrajuddin Traders' to get involved in the cross LoC trade.
Mehrajuddin's brother is also a registered LoC trader on the Indian side at the Trade Facilitation Centre (TFC) at Uri.
Nazir Ahmed Bhat, a resident of Pampore, had crossed over to Pakistan and joined militancy.
Presently staying in Islamabad, he runs business through his firms the 'New Kashmir Traders' and 'New Kashmir Firm'.
Basharat Ahmed Bhat, a resident of Budgam, had crossed over to Pakistan years ago and had joined militancy. Presently staying in Rawalpindi, Bhat runs his business through the 'Al Nasir Trading Company'.
Showkat Ahmed Bhat, a resident of Budgam, had crossed over to Pakistan and joined militancy. Presently staying in Rawalpindi, Showkat's trading firm was 'Taha Enterprises'.
Noor Mohammad, who hails from Budgam, had crossed over to Pakistan more than a decade ago and joined militancy.Presently staying in Rawalpindi, Noor runs business through his company 'Al Noor'.
Khursheed, a resident of Srinagar, had crossed over to Pakistan and joined militancy about eight years ago. Now living in Islamabad, he operates business through M/s Khursheed and Sons.
Imtiyaz Ahmed, who was originally from Budgam, had crossed over to Pakistan about seven years ago. Now staying in Muzaffarabad and was involved in the cross LoC trade through 'MIK Traders' and 'M/s Imtiyaz Traders'.
Amir, a resident of Pattan in Baramulla, had crossed over to Pakistan and joined the militancy. Presently living in Rawalpindi, Amir was an active LoC trader.
Azaz Rehmani, who hails from Baramulla, had crossed over to Pakistan and joined militancy. Presently staying in Muzaffarabad, Azaz has set up business entities in Muzaffarabad and Islamabad.
Shabbir Illahi, who was originally from Sopore, has been an active member of Hizbul Mujahideen. He was involved in the cross LoC trade through his firm 'MN Trading Company'.
"The direct involvement of militants in the cross LoC trade and their contribution to fund terrorism in Jammu and Kashmir was one of the reasons to suspend cross LoC trade," another official said.
The government will revisit the issue of resuming the LoC trade after stricter measures and systems are put in place to address these issues.
Full report at:
https://timesofindia.indiatimes.com/india/10-jk-terrorists-based-in-pak-involved-in-loc-trade-officials/articleshow/69023548.cms
--------
Delhi court sends Yasin Malik to judicial custody till May 24 in terror funding case
Apr 24, 2019
NEW DELHI: A Delhi court Wednesday sent JKLF chief Yasin Malik, arrested in a case related to funding of separatists and terror groups in Jammu and Kashmir, to judicial custody till May 24.
Additional Sessions Judge Rakesh Syal also sought reply from the defence counsel on a plea of Tihar jail authorities seeking to produce Malik through video conference due to security concerns.
The court had sent Malik to NIA custody. He was brought to the national capital after a court in Kashmir granted his transit remand to the National Investigation Agency.
The Jammu and Kashmir High Court has reserved its judgment on a CBI plea for reopening three-decade-old cases in which Malik was an accused.
Full report at:
https://timesofindia.indiatimes.com/india/delhi-court-sends-yasin-malik-to-judicial-custody-till-may-24-in-terror-funding-case/articleshow/69022893.cms
--------
Southeast Asia
An open letter to Dr M and Maszlee on extremism in schools
Abdul Rahman
April 25, 2019
Recently, my son who is in secondary school told me that he had a disagreement with his teacher during his Islamic Studies class.
The ustazah insisted that it is God's words that an adulterer should be stoned to death. My son, a teenager, said that could not be. God could not be so cruel.
The teacher then scolded him in front of the class and said he must believe this to be true if he were to call himself a Muslim, or else he would be a murtad (apostate).
When my son asked for evidence that it was God's words, the ustazah admonished him and told him to read the Quran.
This situation pitted the entire class against my son and caused some discord with his fellow classmates.
As a parent, I am deeply concerned about this. What kind of national school system tells students that it is God's words to stone someone to death for adultery, and that if you do not believe it, you are an apostate?
The ustazah, as the religious teacher, holds a position of authority in a national school. What she is doing is preaching an extremist view to young impressionable minds, i.e. that stoning to death is a religious obligation that cannot be questioned.
What kind of citizens are we producing with this kind of teaching that leaves no room for debate or discussion? Peace-loving, or violent and judgmental citizens?
I have read the Quran, and there is nothing that says an adulterer or anyone should be stoned to death. And the Quran is believed by Muslims to be the word of God.
It is irresponsible to use God's name to justify contentious viewpoints, especially when the subject matter is something still being debated even among Muslim scholars.
Many Muslims in Malaysia nowadays don't read. They simply believe what the religious teachers tell them is the word of God.
It is worrying that contentious views are tossed around like they are God's words that cannot be questioned. It creates an oppressive and closed society where only the powerful with religious titles can speak, and anyone who disagrees, like my son, is punished and silenced.
This is not an isolated case. It reflects the larger change in our society, where the interpretation of Islam has become more harsh and singular, with those questioning the mainstream interpretation labelled as either liberal or kafir.
They are the target of violent comments on social media, because apparently it is halal to spill the blood of those who do not follow God's law!
Time and again, I have come across violent and threatening comments on social media against those labelled as "liberal Muslims", whatever that means.
Dear sirs,
What is a responsible government of a multi-religious and multiethnic society doing about this trend?
It pains me as a Muslim and a citizen of this country that Islam is seen as a violent religion. Views such as the one the ustazah holds are not isolated cases.
Islam is a religion of peace. Do Muslims parrot the phrase "Bismillahi Rahmanir Rahim" (In the name of the Most Compassionate and Merciful) without understanding it?
Why has faith become so narrow and oppressive that you can be vilified or even investigated simply for having a viewpoint that is different from that of the majority?
Where is the gentle and loving religion that holds that everyone is equal before God?
I hope the prime minister and the education minister do something to stop this unhealthy and dangerous trend. It must start at the education system before it is too late.
https://www.freemalaysiatoday.com/category/opinion/2019/04/25/an-open-letter-to-dr-m-and-maszlee-on-extremism-in-schools/
--------
Business Community Can Build a Bridge Over Political Divide
APRIL 24, 2019
Jakarta. The Indonesian Chamber of Commerce and Industry, or Kadin, has called on its members to help calm tension following closely fought presidential and legislative elections last week.
Since then, presidential candidate Prabowo Subianto has declared victory four times despite quick counts showing an easy win for his rival, incumbent president Joko "Jokowi" Widodo.
Prabowo and his supporters have threatened to launch "people power" to overturn official election results if they do not favor him.
Kadin chairman Rosan Perkasa Roeslani said businesses should wait for the General Elections Commission (KPU) to complete their official vote count and respect whatever the results might be.
"The situation is still tense now, but I am sure it will improve after the KPU announces the official election results on May 22," Rosan said in an event in Jakarta on Tuesday night (23/04).
According to Rosan, businessmen and entrepreneurs are rational figures who should realize that unity and togetherness would better serve their country, and their businesses, than chaos.
The presidential election has divided Kadin members into two camps: those who support Jokowi and his running mate Ma'ruf Amin, a conservative Muslim cleric, and supporters of Prabowo and his running mate, billionaire businessman Sandiaga Uno who was a Kadin deputy chairman until he ran for the Jakarta deputy governorship in 2016.
The Kadin event on Tuesday was also attended by Erick Thohir, a media magnate and chairman of Jokowi's campaign team, and Erwin Aksa, a member of Prabowo's campaign team.
Kadin members who attended the event included former chairman Aburizal Bakrie and James T. Riady, Kadin's deputy chairman for education, healthcare and employment affairs.
Rosan said businesses should stay away from spreading hoaxes and fake news on social media. Instead, Kadin members should actively try to create peace.
Both Jokowi and Prabowo, according to Rosan, are supporters of democracy. He said he was more than confident that the two leaders will reconcile after the official election results are announced.
Full report at:
https://jakartaglobe.id/context/business-community-can-build-a-bridge-over-political-divide
--------
Africa
Sudan military rulers urge talks ahead of 'million-man' march
Apr 24, 2019
There is expected to be a million-man march in Sudan on Thursday, according to protest leaders who demand a peaceful transition to civilian rule; and at the same time the military council has called for talks with the Alliance for Freedom and Change.
"We are calling for a million (people to) march on Thursday," said Ahmed al-Rabia, a senior leader of the Sudanese Professionals Association (SPA), which led the protests against deposed President Omar al-Bashir.
The SPA said in a separate statement that the march calls for "civilian rule" in the country.
Sudan has been the scene of demonstrations since December 19, when the government decided to triple the price of bread. The public display of anger escalated into calls for Bashir to step down. He was toppled by the military on April 11.
Protesters, however, have continued to stage a sit-in, demanding the Transitional Military Council (TMC) hand over power to civilians.
The council has said it would rule Sudan for a two-year transition period.
The very military authority, however, invited the protest leaders for talks later on Wednesday.
"The military council invites the leaders of the Alliance for Freedom and Change to a meeting at the presidential palace this evening," the TMC said a statement.
Similar talks were suspended on Sunday over the military rulers' refusal to immediately cede power.
The protest leaders on Wednesday also threatened to stage a "general strike" unless their demand is met.
Answering a journalist's question on what steps would be taken if the TMC fails to transfer power, protest leader Siddiq Farouk threatened "escalatory measures."
"We will launch a million-strong march, and we are preparing for a general strike."
On April 15, the African Union threatened to suspend Sudan's membership unless the council carried out the transition within 15 days.
https://www.presstv.com/Detail/2019/04/24/594247/Sudan-million-man-march-
--------
UN: Libya fighting reaches facility holding migrants
April 24, 2019
BENGHAZI: The UN says the fighting in Libya's capital has reached a detention center holding hundreds of detained migrants and refugees.
Stephane Dujarric, a spokesman for the UN secretary-general, said Tuesday that the UN aid agency has received reports that the Qasr Ben Ghashir detention center, holding some 890 refugees and migrants, was "breached by armed actors." The facility is 20 kilometers south of central Tripoli.
The UN says some 3,600 refugees and migrants are held in facilities near the front lines of fighting between the self-styled Libyan National Army and other heavily-armed militias.
Full report at:
http://www.arabnews.com/node/1487451/middle-east
--------
UNHCR evacuates 325 refugees from Libyan capital
Beyza Binnur Dönmez
25.04.2019
The UN Refugee Agency (UNHCR) evacuated 325 refugees from the Qasr bin Ghashir detention center on the southern outskirts of Libya's capital Wednesday amid deteriorating security and escalating violence.
The relocation was carried out following reports Tuesday of armed violence against the detainees, who were protesting conditions at the center, the UNHCR said in a statement.
"The dangers for refugees and migrants in Tripoli have never been greater than they are at present," said Matthew Brook, UNHCR Deputy Chief of Mission in Libya.
"It is vital that refugees in danger can be released and evacuated to safety," he added.
The refugees have been transferred to another detention facility in Azzawya, northwestern Libya, where they are at reduced risk of being caught up in the hostilities and were provided with key aid items and medical care, according to the statement.
More than 825 refugees have been evacuated in the past two weeks from different detention centers near the conflict zones.
The UN has also expressed concern for some 3,000 refugees and migrants who remain in detention centers in Tripoli.
In early April, Khalifa Haftar, commander of forces loyal to Libya's eastern government, launched a campaign to capture Tripoli, where the rival UN-recognized Government of National Accord (GNA) is headquartered.
Intermittent fighting near Tripoli has left scores of people dead.
The UN has expressed fear that this new conflict will create another migration crisis.
Libya has remained beset by turmoil since long-serving leader Muammar Gaddafi was ousted and killed in a bloody NATO-backed uprising in 2011.
Full report at:
https://www.aa.com.tr/en/africa/unhcr-evacuates-325-refugees-from-libyan-capital/1462086
--------
UN-recognized Libya govt seeks body to probe crimes
Ali Semerci
24.04.2019
TRIPOLİ, Libya
The UN-recognized Libyan Government of National Accord (GNA) on Wednesday asked the UN Security Council to send an international commission to investigate Khalifa Haftar's crimes.
The commission would not establish a dialog or negotiate before defeating Haftar's forces, GNA spokesman Muhenned Yunus said in a statement.
"Fayez al-Sarraj, -- chairman of the Presidential Council and prime minister of the UN-recognized Government of National Accord -- asked UN Security Council to send Libya a commission to investigate and prove crimes against civilians from military forces led-by Khalifa Haftar," he said. "Sarraj has not asked any international observer from the UN."
Haftar launched a campaign to capture Tripoli last month, where the GNA is headquartered.
At least 254 people have been killed and hundreds injured in recent clashes on the outskirts of Tripoli, the World Health Organization (WHO) said Saturday.
Libya has remained beset by turmoil since long-serving leader Muammar Gaddafi was ousted and killed in a bloody NATO-backed uprising in 2011.
Full report at:
https://www.aa.com.tr/en/africa/un-recognized-libya-govt-seeks-body-to-probe-crimes/1462033
--------
Boko Haram threatens civilians' lives in Niger
Apr 25, 2019
The armed group Boko Haram appears to be using new tactics against civilians in the Lake Chad region.
The United Nations has documented increasingly violent and frequent attacks against villages in Diffa, in southeastern Niger.
A record 88 civilians were killed there in March and more than 18,000 others displaced.
https://www.aljazeera.com/news/2019/04/boko-haram-threatens-civilians-lives-niger-190424171005040.html
--------
Boko Haram: Troops kill 3 terrorists in Borno
April 24, 2019
By Maina Maina
In continuation of the on going Operation YANCIN TAFKI, troops of the Multinational Joint Task Force, MNJTF, operating in close collaboration with troops of the Nigerian Army have continued to put pressure on Boko Haram Terrorists resulting in more human and equipment casualties for the terrorist group.
A statement from Colonel Timothy Antigha, Chief of Military Public Information MNJTF N'Djamena – Chad said, on Monday's night, at about 01:20 am, terrorists attacked troops position at Cross Kauwa, about 40 kilometers from Monguno.
"However, the terrorists paid dearly for it as 3 were killed, while others escaped with gun shot wounds.
Full report at:
https://dailypost.ng/2019/04/24/boko-haram-troops-kill-3-terrorists-borno-2/
--------
North America
Civil rights advocates drop lawsuit against Oklahoma's 'Muslim-free' gun range
April 24, 2019
Aysha Khan
(RNS) — Civil rights organizations have dropped a federal lawsuit against the owners of an Oklahoma gun range after it removed a sign declaring the business a "Muslim-free establishment."
The owners of the Save Yourself Survival and Tactical Gun Range in Oktaha, Okla., removed the sign in December, nearly three years after the American Civil Liberties Union, the ACLU of Oklahoma and the Council on American-Islamic Relations' Oklahoma branch filed a lawsuit alleging violation of federal public accommodations law.
The civil rights advocates filed to dismiss the lawsuit Tuesday (April 23), saying that the gun range owners have affirmed that they will not exclude Muslim customers and that they do not intend to repost the sign.
"We are pleased that the defendants in this case decided to take down their anti-Muslim sign, and that they affirmed their commitment to complying with the law," said Heather Weaver, senior staff attorney for the Project on Freedom of Religion and Belief at the ACLU, in a statement. "No customer should be excluded from a business based solely on their faith."
Instead, after last month's New Zealand mosque massacre, the owners have put up a sign saying the gun range is a "terrorist-free" zone. The new sign includes a long list of groups it says will be excluded, including members of CAIR and the Islamic Society of North America.
The gun range's lawyers are claiming the case's dismissal as a win as well.
Robert Muise, an attorney with the American Freedom Law Center, which defended the gun range, said the dismissal of the "fabricated nonsense case" was a "big victory" for the gun range's management.
"This is a dangerous lawsuit set up to send an armed individual into a gun range and create a controversy over the sign," Muise said.
He told Religion News Service that the gun range's policy – which he said was always against "terrorists" and never against any religion – had not changed since the lawsuit was filed and that the owners had not taken the sign down because of the lawsuit.
After the gun range made headlines for its original sign, CAIR-Oklahoma board member and plaintiff Raja'ee Fatihah, a Muslim U.S. Army reservist, visited the range and sued the owners after they allegedly turned him away from their business when he told them he was Muslim.
Muise said the gun range does not discriminate solely on the basis of religion. Fatihah was turned away, Muise claimed this week, because he was belligerent and walked in "armed to the teeth with a military rifle slung over his shoulder and a recording device in his pocket."
But Muise then seemed to contradict himself, saying, "When they found out he has ties to CAIR, an organization that has ties to terrorism, they said you're not allowed to shoot at the range."
(Several independent fact-checking groups have noted over the years that the U.S. government does not consider CAIR a terrorist group, and counterterrorism experts have dismissed long-standing allegations against the group.)
Fatihah's account tells a different story.
"I wasn't looking for any trouble," he wrote in a blog for HuffPost in 2016. " … as soon as I identified myself as Muslim, things took a frightening turn. The owners of the range grabbed their handguns and demanded to know whether I was there to 'commit an act of violence' or as part of a 'jihad.'"
Ultimately, Fatihah wrote, the owners "forced" him to leave.
Gun range owner Nicole Neal and manager Chad Neal claim the original sign did not represent their business policy but was a form of political protest after a 2015 shooting at the military recruiting station in Chattanooga, Tenn. The shooter, a Muslim who told investigators he had frequented a local gun range, killed four Marines in the attack.
"The law does not require a gun shop or gun range owner — owners of an inherently dangerous business — to equip or train the next jihadist," American Freedom Law Center senior counsel David Yerushalmi said in a statement after the lawsuit was filed. "Not only do our clients have a right to refuse to serve someone they believe to be a public safety risk, they have an obligation to their other customers, employees, and the community to do so."
From the beginning, Muise said, the gun range has had a policy of refusing to serve anyone who is "either directly or indirectly associated" with terrorism or an organization linked to terrorism.
The Council on American-Islamic Relations is included among a wide-ranging list of so-called terrorists – along with the Islamic Society of North America, Muslim Brotherhood, the Ku Klux Klan, neo-Nazis, white supremacists, Antifa, al-Qaida, Hamas, ISIS and other movements – that the gun range has posted at its entrance.
Neither Fatihah nor anybody associated with CAIR is "ever going to step foot at the gun range," Muise said. "And if they do, (the owners) are going to call the sheriffs."
Adam Soltani, executive director of CAIR-Oklahoma, said the dropped lawsuit was a "victory" against "policies of segregation," regardless of the gun range's policies against CAIR.
"CAIR is not on trial here, and we don't want to make this about who we are and what we do as a civil rights organization," Soltani said. "Their lawyer may say that they didn't change their policy, but they removed the sign that excluded Muslims and which we had an issue with. So it wasn't necessary for us to continue the lawsuit once that sign came down."
The gun range's original policy was laid out in a Religion News Service interview with the owners before the lawsuit was filed.
"I didn't want any terrorists, or Muslims, cult, whatever you want to call them, training on my gun range," manager Chad Neal told RNS in 2015. "There is a military recruiting station in the mall in Muskogee, and I thought this was one thing I could do to help protect our local soldiers.
"I know (what) the Quran says about lying to infidels and killing infidels," he said in the same interview. "I don't want them practicing those religious beliefs on my range."
That was the kind of language that drew Muslim and civil rights activists' attention in the first place.
"Muslims are an integral part of communities across Oklahoma," said Veronica Laizure, civil rights director of CAIR Oklahoma, in a statement. "Discriminating against them is not only unlawful, it's un-American and runs counter to the religious freedom principles on which our country was founded."
https://religionnews.com/2019/04/24/civil-rights-advocates-drop-lawsuit-against-oklahomas-muslim-free-gun-range/
--------
'Trump administration complicit in Saudi crimes'
Umar Farooq
25.04.2019
WASHINGTON
U.S. President Donald Trump's administration is complicit in the ongoing bombing campaign in Yemen led by Saudi Arabia, The Washington Post said Wednesday.
Trump recently vetoed a resolution aiming to end U.S. support for the Saudi-led war, claiming it would weaken his status as commander-in-chief and that Washington's support for Saudi Arabia "does not amount to engaging in hostilities".
"In reality, the Saudi bombing campaign would be unsustainable without that U.S. support, or the continuing sale of bombs and other material," the Post's editorial board said in an opinion piece.
"That makes the Trump administration complicit in the continuing atrocities, such as the latest school and hospital bombings," it said.
Since March 26, the Saudi-led coalition has bombed a hospital in the district of Kitaf and a school in the country's capital, Sanaa, according to the newspaper.
The strikes left at least 21 civilians dead, at least 12 of them children.
Saudi Arabia has been leading a coalition against Yemen's Houthi rebels since 2015, when Riyadh and its Sunni-Arab allies launched a massive air campaign aimed at rolling back Houthi gains that began in 2014.
The campaign has devastated Yemen's infrastructure, including its health and sanitation systems, prompting the UN to describe it as one of the worst humanitarian disasters of modern times.
Last year, a UN investigation found that these attacks could possibly amount to war crimes.
The Post's editorial board noted that Congress needs to look for other ways to force a change in U.S. policy toward the government led by Crown Prince Mohammed bin Salman, "whose record of extraordinary recklessness in foreign policy has been matched by unprecedented domestic repression".
It said the ideal approach would be to address both issues, which are intertwined, and this is the strategy of a bipartisan Senate bill. In addition to suspending arms transfers to the kingdom until it ends its campaign in Yemen, the bill seeks to force accountability for the killing of Jamal Khashoggi, a Saudi journalist.
Khashoggi was murdered last October after entering the Saudi consulate in Istanbul.
Saudi Arabia initially denied any knowledge of his whereabouts. But following a rising number of contradictions in its narrative, it sought to blame the journalist's death on a botched rendition operation being carried out by rogue agents.
"Handing a free pass to the crown prince after U.S. intelligence agencies have concluded he was responsible for the Khashoggi murder would be an invitation to further atrocities," it said.
Full report at:
https://www.aa.com.tr/en/americas/trump-administration-complicit-in-saudi-crimes-/1462090
--------
U S ends sanctions waivers for Iran oil imports
Apr 24, 2019
US President Donald Trump has decided not to renew waivers that allow eight countries to buy Iranian oil without facing Washington's sanctions, the White House says.
The White House said in a statement issued on Monday that the US president would not reissue Significant Reduction Exceptions (SREs) when they expire in early May, a move aimed at bringing Iran's oil exports to zero.
https://www.presstv.com/Detail/2019/04/24/594261/US-ends-sanctions-waivers-for-Iran-oil-imports
--------
No plan for confederation of Jordan, Israel and Palestine says US official
April 24, 2019
The long-awaited United States Middle East peace plan will not see Jordan and Israel join Palestine in a confederation, US representative for international negotiations Jason Greenblatt said on Wednesday.
There have been reports that the plan would see Jordan, Israel and Palestine become a confederation state or that Amman would become the destination for Palestinians relocated from their homes.
However, Mr Greenblatt dismissed the claims, saying, "please don't spread rumours," in a tweet on Wednesday.
"Rumours that our peace vision includes a confederation between Jordan, Israel & the PA, or that the vision contemplates making Jordan the homeland for Palestinians, are incorrect," he said. "King Abdullah & Jordan are strong US allies."
Jason D. Greenblatt
✔
@jdgreenblatt45
.@KingAbdullahII & #Jordan are strong US allies. Rumors that our peace vision includes a confederation between Jordan, Israel & the PA, or that the vision contemplates making Jordan the homeland for Palestinians, are incorrect. Please don't spread rumors. 155
6:28 PM - Apr 24, 2019
Twitter Ads info and privacy
168 people are talking about this
This is not the first time US officials have dismissed the reports since Palestinian Authority President Mahmoud Abbas said last year that the ideas had been floated.
US President Donald Trump has tipped that his son-in-law Jared Kushner, a senior advisor to the president, is drafting a peace plan but there remains no date for its publication.
Full report at:
https://www.thenational.ae/world/mena/no-plan-for-confederation-of-jordan-israel-and-palestine-says-us-official-1.853331
--------
Europe
Austria's ban on Muslim Brotherhood symbols has further aims
Dr. Farid Hafez
24.04.2019
SALZBURG
On March 1, 2019 something unprecedented took place in a Western country and it has gone nearly unnoticed. The logo of the Muslim Brotherhood, along with logos of other non-terrorist and terrorist organizations, was added to the list of symbols banned in Austria. In many countries, right-wing groups and lobbies have long been trying to have the Muslim Brotherhood banned. Many observers argue, however, that the real goal of these efforts is not to threaten the Muslims Brotherhood, which is already weak and politically defeated in many Arab countries, but actually to threaten civil society activists and politicians with a Muslim background in the West.
People who make a difference, such as the newly elected U.S. Congress women Rashida Tlaib and Ilhan Omar, as well as political activists such as Linda Sarsour, have been repeatedly targeted by the far-right, which speaks of these figures as belonging to the Muslim Brotherhood. In the U.S., there have been three legislative attempts to implement a bill to declare the Muslim Brotherhood a terrorist organization. As rightly criticized by civil society, this would in fact not primarily hit the Muslim Brotherhood itself, but rather American Muslim associations that do social justice work and are an important voice of nonviolent political opposition to injustice and racism.
As the Network Against Islamophobia (NAI), a project of the Jewish Voice for Peace, argued, the Trump administration could easily "use this legislation and an executive order to target national and local Muslim civil liberties and other organizations that work on behalf of Muslim communities." In the U.S., the so called "Muslim Brotherhood Terrorist Designation Act of 2017" was not enacted due to foreign policy considerations. But similar attempts can be seen in other places. In April 2014, the British prime minister of the time commissioned an internal review of the Muslim Brotherhood to determine whether or not it was possible to associate the organization in the UK and abroad with extremism and terrorism. The report led neither to a ban of the Muslim Brotherhood, nor to its designation as a terrorist organization.
Austria has thus been the first country to designate the Brotherhood as an extremist organization. This could only happen at the backdrop of a legislation prepared long beforehand. After World War II, Austria outlawed symbols of National Socialism by issuing the Prohibition Act of 1947. Decades afterwards, following the rise of Daesh, a coalition government formed by the conservative ÖVP and the Social Democrats outlawed the use of symbols associated with Al-Qaeda and Daesh in 2014. The Symbol Act of 2019 was enacted this year in March by a right-wing government composed of the right-wing extremist Freedom Party and the restructured People's Party headed by Sebastian Kurz. It extended the ban to the PKK, Hamas, the military wing of Hezbollah, the Muslim Brotherhood, the Turkish nationalist "Grey Wolves", the Croatian fascist Ustashe, and organizations designated as terrorist by EU legal acts. The government claims that "the symbols and gestures of the organizations mentioned in the amended law are against the constitution and contradict our basic democratic values."
While terrorist and non-terrorist organizations are included in this new list, white extremist organizations with many links to the governing FPÖ, such as the Identitarian Movement, are not mentioned in this act at all. But most importantly, the legislation allows the minister of interior to expand this list to include other groups with a decree at any time. This enables the minister to potentially crack down on any "foreign" civil society organization that protests the government and is considered a threat to the government. With this warrant, the minister of interior (currently from the FPÖ) can potentially go after every oppositional Muslim organization.
The official interpretation of the law by the lawmakers has already revealed in the case of the banning of Muslim Brotherhood symbols that it is not targeting the Muslim Brotherhood itself, but rather those Muslim civil society organizations that criticize the government for its anti-Muslim policies. The interpretation widely drew on a report written by a central figure in the anti-Muslim think tank world, Lorenzo Vidino, whose fellows at the European Foundation for Democracy systematically target the most vocal Muslim civil society organizations across Europe with the aim of criminalizing and subsequently excluding them from the public sphere. In the "The Muslim Brotherhood in Austria" report, which was drafted for the Ministry of Interior, a link was made between numerous Muslim people active in civil society, who are well-known in the Austrian society.
The government has already declared that it will implement a new legislation in an attempt to crack down on what it calls "political Islam" in summer 2019. At the backdrop of an attempt to minimize the role of civil society organizations in Austrian political life, Austrian Muslim organizations seem to function as a playground for implementing more authoritarian policies.
More importantly, this legislation will not remain limited to Austria. As a long-time member of the European Union (EU) with a stable economy and a still well-working social system, its anti-Muslim legislations have become models for other right-wing parties to imitate. German politicians from the center-right as well as politicians from the eastern part of the EU often draw on the Austrian experience in implementing anti-Muslim legislation, from the Face Veil Ban Act of 2017 to the Islam Act of 2015. The Symbol Act could be yet another example for "transatlantic learning".
- Farid Hafez is a senior research scholar at the Bridge Initiative at Georgetown University and a senior researcher at Salzburg University.
https://www.aa.com.tr/en/analysis/austria-s-ban-on-muslim-brotherhood-symbols-has-further-aims-/1461284
--------
Change UK candidate in Islamophobia row after Muslim terrorist and Tommy Robinson comments emerge
Apr 25, 2019
Change UK has been dragged into yet another racism row after one of its candidates was accused of peddling "anti-Muslim tropes" and "legitimising the far right".
Nora Mulready, who is standing for the party in the coming European parliament elections, had conflated Islam with terrorism, suggesting it was a "fallacy that Islamism is nothing to do with Islam" and that radical Islamism could be "Koranically justified".
In separate comments she also said the concerns of far-right leader Tommy Robinson should be addressed because he had "hit [a] societal nerve and that needs to be acknowledged".
The Muslim Council of Britain condemned the candidate, and was joined by anti-racism reporting service Tell Mama, which questioned why she was selected and said it was "a joke" for someone with her views to be put up as an MEP.
A spokesperson for the Muslim Council of Britain said Ms Mulready had failed to meet the anti-racist standards the party claimed to hold itself to and was "all too ready in othering people, in this case, conflating Islam with terrorism".
On another occasion in 2018 Ms Mulready drew links between religious unrest in Pakistan and immigration to Britain, warning that riots in favour of blasphemy laws in the country showed that some "immigration brings with it some very regressive cultural values".
In the aftermath of the London Bridge terror attack in June 2017 she urged politicians to point the finger at Islam, tweeting: "Will Cobra meeting [in response to the attack] have integrity to call threat by its name? We cannot deal with it if we can't even name it. Islamism, a strand of Islam."
The latest race row is the fourth to hit the party in its short life. Earlier on Wednesday Change UK's lead candidate in Scotland, Joseph Russo, was forced to resign after historic comments emerged in which he had said: "Black women scare me. I put this down to be chased through Amsterdam by a crazy black wh***".
That came after events on Tuesday, just hours after the party unveiled its slate of candidates, when another prospective Change UK MEP, former Tory Ali Sadjady, had to resign over offensive comments about EU citizens. Mr Sadjady had said: "When I hear that 70% of pick pockets caught on the London Underground are Romanian it kind makes me want Brexit."
The new centrist party's original launch as the Independent Group earlier this year was also dogged by a race row after one of its MPs, Angela Smith, used the phrase "funny tinge" to refer to Bame people in a televised discussion about racism. She did not resign, but later apologised for having "misspoke".
One person who unsuccessfully applied to be a candidate for Change UK told The Independent that they had had to submit all their social media profiles for examination by the party during the process – raising questions about its vetting procedure in light of the resignations.
Responding to the criticism of her social media posts, Ms Mulready said: "I have never – not once – expressed anti-Muslim hatred or bigotry.
"I have always been clear that I am talking about Islamism, and conservative Islamic cultures or beliefs, never Muslims. I am horrified, appalled and deeply upset to have been targeted by what appears to now be an active campaign of smears and lies from hard-left activists and the hard-line Muslim Council of Britain."
When confronted with her comments about Islam and Islamism on social media in January 2018, Ms Mulready, a former Labour activist in Haringey, said at that time: "So, is this an attempt to whip up hate against me? Or is it now Corbyn Labour policy that you are not permitted to criticise Islam?"
In May 2018 she said: "Half a million people signed 'free #TommyRobinson' petition in 48 hrs. He's hit societal nerve and that needs to be acknowledged if we want his movement to stop growing. I think not calling liberals, Muslims and exMuslims who raise concerns about conservative Islam 'racists' may help."
Iman Atta OBE, director of Tell Mama, told The Independent: "For a candidate in the MEP elections to cite Tommy Robinson as a benchmark for concern around radical Islamism is a joke.
"We in Tell Mama are concerned about extremism in all of its forms including that coming from al-Qaeda, Daesh etc since they kill our citizens in this country and there is a corresponding backlash against innocent, law-abiding Muslims.
"So it is essential we challenge all forms of extremist narrative, but citing Robinson as an example is short sighted and not appropriate when he has done much to divide communities, and doorstep and intimidate people.
"There is also a clear difference between Islamism and Islam. If the Change candidate cannot see that and infer that Muslims are somehow faulty because they follow Islam, then one has to question who selected her?"
A Muslim Council of Britain spokesperson said: "Nora Mulready falls foul of the standard rightly set at Change UK's European election launch.
"There, Chuka Umunna rightly declared at the party's European election launch that, 'We won't change our country by othering people of different nationalities and races and dividing our UK into them and us'.
"Ms Mulready, it seems, is all too ready in othering people, in this case, conflating Islam with terrorism."
Naz Shah, Labour's shadow women and equalities minister, who was herself suspended from her party in 2016 for comments about Jews and Israel she later admitted were "ignorant", told The Independent: "It's shocking that this Change UK candidate Nora Mulready tried to legitimise the far right. This kind of language serves to silence British Muslims from speaking out against the Islamophobia they face.
"Does she need reminding that Tommy Robinson was the leader of the English Defence League that targeted the Muslim community?
Full report at:
https://www.independent.co.uk/news/uk/politics/change-uk-launch-nora-mulready-islam-muslims-tommy-robinson-a8883946.html
--------
New Zealand and France to call for an end to online terror
24 April 2019
New Zealand's Prime Minister Jacinda Ardern said on Wednesday that she and French President Emmanuel Macron will host a meeting in Paris next month seeking to eliminate acts of violent extremism and terrorism from being shown online.
Ardern said she and Macron will ask world leaders and chief executives of technology companies to agree to a pledge called the "Christchurch Call," named after the New Zealand city where an attack took place last month.
Ardern didn't release any details of the pledge, saying they were still being developed.
She said she'd been talking with representatives from companies including Facebook, Twitter, Microsoft and Google along with world leaders and felt they could reach consensus by keeping the pledge tightly focused.
"This isn't about freedom of speech," Ardern said. "It's specifically focused on eradicating those extreme acts of terrorism online."
The man accused of murdering 50 people in two Christchurch mosques on March 15 livestreamed the attack on Facebook after mounting a camera on his helmet. The chilling 17-minute video was copied and viewed widely on the internet even as tech companies scrambled to remove it.
Ardern said the shooter had used social media in an unprecedented way to promote an act of terrorism and hate. She said nobody would argue that a terrorist had the right to livestream the murder of 50 people.
"No tech company, just like no government, wishes to see violent extremism and terrorism online," Ardern said. "And so we have a starting point that is one of unity."
In an opinion piece in the Washington Post last month, Facebook founder and chief executive Mark Zuckerberg called for governments and regulators to play a more active role from in policing the internet.
"As part of this, we have a responsibility to keep people safe on our services," Zuckerberg wrote. "That means deciding what counts as terrorist propaganda, hate speech and more. We continually review our policies with experts, but at our scale we'll always make mistakes and decisions that people disagree with."
In his op-ed, Zuckerberg didn't directly address problems with livestreaming, although he did say it was impossible to remove all harmful content from the internet.
Full report at:
https://english.alarabiya.net/en/News/world/2019/04/24/New-Zealand-and-France-to-call-for-an-end-to-online-terror.html
--------
Belgium, Turkey have over $11 billion trade volume
Ata Ufuk Seke
25.04.2019
BRUSSELS
Belgium's trade volume with Turkey totals nearly 10 billion euros ($11.156 billion), its foreign minister said Wednesday.
Speaking at a conference in Brussels, Didier Reynders said the two countries should work together, especially in the areas of the economy, a customs union and investment.
Reynders also said he expects a meeting between Turkey and Belgium under the Joint Economic and Trade Committee (JETCO), which has not occurred since 2013, will take place in Ankara later this year.
He stressed that Turkey's presence in the European Council is "very important".
Full report at:
https://www.aa.com.tr/en/europe/belgium-turkey-have-over-11-billion-trade-volume/1462078
--------
Germany vows to stand by Iran nuclear deal
Ayhan Şimşek
24.04.2019
BERLIN
Germany on Wednesday reaffirmed its commitment to a nuclear deal with Iran despite the recent U.S. move to impose sanctions on countries that buy Iranian oil.
Ulrike Demmer, the government's deputy spokeswoman, told a news conference in Berlin that they had taken note of the recent decision of the Trump administration, and will coordinate with other EU members to jointly assess its implications.
"As you know, the German federal government and the European Union remain committed to the nuclear agreement with Iran," she said, adding that this agreement would facilitate legitimate trade with Iran, in accordance with international and European Union law.
"We continue to believe that this agreement is a very important instrument to prevent Iran from becoming armed with nuclear weapons," she said.
U.S. President Donald Trump last year pulled out of a landmark 2015 nuclear deal with Iran, and further intensified pressure on Tehran by re-imposing sanctions on Iranian oil exports.
On Monday, Trump administration announced that it would no longer renew Iran sanctions' waivers on eight countries -- Turkey, China, Greece, India, Italy, Japan, South Korea and Taiwan -- upon their expiration on May 2.
In 2015, world powers agreed to lift economic sanctions imposed on Iran in return for Tehran agreeing to limit its nuclear activity to peaceful and civilian purposes.
The agreement, also known as Joint Comprehensive Plan of Action (JCPOA), was signed between Iran and major powers Russia, China, France, the U.K., and U.S., plus Germany.
Full report at:
https://www.aa.com.tr/en/europe/germany-vows-to-stand-by-iran-nuclear-deal-/1461689
--------
Mideast
Israeli spies may infiltrate into Lebanon under tourism guise, intel agency warns
Apr 24, 2019
The Lebanese intelligence agency has warned that people affiliated to Israel's Mossad spy agency and in close collaboration with the Tel Aviv regime's authorities could infiltrate into the Arab country arranging tourism trips.
"The Israeli enemy is trying to enter Lebanon by recruiting its agents in delegations under the cover of "tourist trips", in order to use them for security purposes inside Lebanon," the General Security Directorate announced in a statement released on Wednesday.
"The Directorate urges citizens, travel and tourism offices not to fall victim to individuals or companies claiming to organize various tourist trips to Lebanon, or promote them by email or through social networking sites, unless they have official representatives," it added.
On March 19, Lebanese intelligence forces arrested a Lebanese-Canadian man on charges of spying for Mossad through gathering intelligence about the Hezbollah resistance movement and missing Israeli pilot Ron Arad.
The suspect, identified only by his initials as F.G., admitted during interrogation that he was recruited by fugitive Lebanese spy N.G. in 2013. N.G. currently chairs a division in the 504 Unit of the Israeli intelligence service.
F.G. also confessed that he had been assigned to recruit Lebanese people to infiltrate Hezbollah's support zone and collect security information for Israel, including hints about the missing pilot.
The 41-year-old suspect was referred to related judiciary officials, and efforts are underway to arrest those who worked with him.
The Lebanese Army's intelligence branch stated on November 12 last year that it had arrested a man suspected of spying for Mossad as he was attempting to cross the southern border into occupied Palestinian territories.
The army said the man, identified as Mohammad Hussein Fakih, was captured in the village of Meiss Ej Jabal, situated some 78 kilometers (49 miles) south of the capital Beirut.
https://www.presstv.com/Detail/2019/04/24/594253/Israeli-spies-may-infiltrate-into-Lebanon-under-tourism-guise-security-agency-warns
--------
Iran denounces US talks with Taliban
April 25, 2019
NEW YORK: Iran on Wednesday criticized US talks with the Taliban on ending the Afghanistan war, saying Washington was elevating the role of the militants.
Foreign Minister Mohammad Javad Zarif acknowledged that Iran had also opened dialogue with the Taliban but said that the US push for a deal with the extremists was "seriously wrong."
"An attempt to exclude everybody and just talk to the Taliban has alienated the government, has alienated the region, has alienated everybody else and it achieved nothing, as you've seen from the statement that came from the Taliban," Zarif said, apparently referring to the militants' announcement of a new spring offensive.
"I was the first to say that in any peace in Afghanistan, the Taliban cannot be set aside or isolated," Zarif said at the Asia Society in New York, which he was visiting to take part in a UN session.
"But you cannot negotiate the future of Afghanistan with the Taliban. The Taliban only represent a segment of Afghan society, not all of it," he said.
President Donald Trump has voiced impatience at ending the longest-ever US war, launched after the September 11, 2001 attacks on the United States.
US envoy Zalmay Khalilzad is set shortly to hold a fresh round of talks in Qatar with the Taliban, with early indications saying Washington will agree to pull troops and that the militants will promise not to allow foreign extremists on their soil.
But the Taliban have refused to negotiate with President Ashraf Ghani's internationally recognized government, with a would-be breakthrough meeting recently collapsing in a dispute over the delegation list.
Despite its tense relations with the United States, Iran had quietly backed the initial US invasion that ousted the Taliban, Sunni Muslims who imposed an austere interpretation of Islam over Afghanistan from 1996 to 2001.
Iran, led by Shiite clerics, nearly went to war with the Taliban in 1998 after an attack on its consulate in the Afghan city of Mazar-i-Sharif killed nine Iranian diplomats and a journalist.
Full report at:
https://www.nst.com.my/world/2019/04/482752/iran-denounces-us-talks-taliban
--------
DM: Iran to Use Defensive Tools against US Economic Terrorism
Apr 24, 2019
"Welfare of (the Iranian) nation is a part of our vital interests and I consider myself allowed to use all legitimate tools, including defensive instruments, to meet these interests and confront the US economic terrorism," General Hatami said, addressing the Moscow Security Conference on Wednesday.
He underlined continued efforts to strengthen the country's defense power within the framework of active deterrence doctrine, and said he believes that the US claims about zeroing down Iran's oil exports are impractical.
General Hatami warned of the dire consequences of the West's silence on the United States' bold decisions against other countries, noting that a new form of Nazism has emerged in disguise of Trumpism.
"If this approach continues, the world might be pushed into ill-fate clashes and therefore, it is time to prevent the rise of another Hitler on the global scene," he said, adding that the West's silence on Washington's behaviors and moves would entail grave repercussions for the world similar to the World War II.
The White House said on Monday waivers for China, India, Japan, South Korea and Turkey would expire in May, after which they could face US sanctions themselves.
This decision is intended to bring Iran's oil exports to zero. Iran insisted the sanctions were illegal and that it had attached "no value or credibility" to the waivers.
The full text of Gen. Hatami's address follows:
Excellencies, Ladies and Gentlemen;
At the outset, I would like to express my gratitude toward General Sergey Shoygu, the distinguished defense minister of the Russian Federation and appreciate his efforts in holding this conference.
This conference, having an effective perception of the international sensitive situation, focuses on the most important security challenge of the region. Therefore the expectation is to bring about fruitful results concerning international security.
Honorable chairman,
Distinguished participants;
In my speech at the 7th Moscow Conference, while referring to the change in the global power structures based on trends, I put an emphasis on the issue of transfer of global power from the Western Hemisphere to the Eastern Hemisphere.
These changes and transfer of power, is facing resistance on the part of traditional powers and specifically the Western powers, and they are incapable to change their perceptions, including the security perception.
If the perception of actors on the issue of security is not a correct one driven by realistic perspective and perception of the reality, hoping peace and security in the world would be in vain. The "security of arrogance", "egotistic security", "profit-driven security", and the "security imposed on nations" are from among characteristics of the security perception, that have gradually been tried to be imposed on the world order after the Second World War.
Sanctions and threatening, imposing the will, blackmailing and occupying, cruelty and injustice are products of such a perception of security, the consequences of which are racism, tyranny, ethnic and religious extremism as well as terrorism.
Taking into account some of the global changes, I believe that the history is being repeated. The west has once encountered the fatal repercussions of condescension towards racism, egocentrism and falling victim of millions of the European citizens in the Second World War, and today another format of Nazism or National Socialism is manifested in Trumpism. Accompanying such a trend, keeping silent, and getting into "No-Action" condition and "lack of decision-making", hoping issues to get resolved through time is naive and misplaced optimism. This manner of conduct not only is not an appropriate option in such circumstances, but it also encourages egocentrism and impudence of the White House officials. The continuum of this approach could lead the world towards an unfortunate clash. It is time now to prevent the emergence of another Hitler in the international arena.
Excellencies, Ladies and Gentlemen;
The ISIS is a product of profit-driven perception and commercializing security. Through mobilization of the armed forces of the governments and nations of Syria and Iraq and due to their sacrifices, as well as the unsparing and full-scale support of Iran and Russia, the ISIS lost its territories and the efforts paid by the U.S to manage this field and to keep them in the battlefields for 2 or 3 decades for which they had planned, led nowhere, and they had no other way but to announce the fall of ISIS, but the injustice, arrogance, despotism and occupation is not yet over; and these are the factors that have promoted emergence of schools of thought for extremism and terrorism.
In my speech at the 7th Moscow Conference, while pinpointing some instances of the roots of insecurity in the region, I mentioned that we are still far away from destruction of this mindset. Many of the factors that have been influential in development of insecurity and instability are now posing obstacle against the process of providing security and reconstruction.
I hereby denounce the Sri Lanka bombings and killing of innocent people like the massacre of innocent people carried out recently in New Zealand's mosques, and I regard the extremists pretending and claiming to be Muslims and the extremist racists responsible for such attacks as two sides of the same coin.
Ladies and Gentlemen;
I would like to draw your attention to the impacts of the serious changes in the West Asian region, beginning from 1979- that is to say from collapse of the dependent and dictator regime in Iran and installation of a religious democratic system instead:
- Halting the expansionistic trend of the Zionist racist occupiers;
- Raising awareness of people of the region of their basic rights;
- Starting the trend of independence seeking;
- Getting back to religion and belief of nations that they have the right and ability to determine their own destination.
Acceleration in withdrawal of colonialists from the region is from among the effects of these changes which are related to the idea of transfer of power that I referred to at the begging of my speech. All these herald a bright and promising future for the region, but the obstacles are still noteworthy: cruelty and injustice in the international system and dominance of some of the tyrannies supported by Western powers especially the U.S still exists in the region. Although awareness of nations have been raised and the deception mask of the dictator regime of the U.S has been torn off, and this has boosted hopes for termination of the injustice, nevertheless the conservative manner of most governments towards unilateral and cruel measures taken by Trump and even partnership of some of these countries with him depicts the fact that there still exists a long way for establishment of a desirable system. The occupation of Palestine and oppression of its people by Zionist regime is still continuing; the Takfiri so-called Silent Cores in Iraq are still considered a threat against the security of this country. In Syria, the interventionist players such as the U.S, the Zionist regime and some European countries are an obstacle for realization of peace and complete security in this country, and while these two countries demand reconstruction, the massacre of oppressed and innocent people of Yemen is still continued by the occupying forces. Afghanistan is still dealing with unrest and leading the ISIS to this country has complicated the security condition of this country more. The self-interestedness of some Western countries, has turned the region of the Persian Gulf and specifically its southern region into an arsenal.
Subsequent to termination of presence of the ISIS in Iraq and their elimination in most part of Syria, reconstruction of these countries has been launched and the nation and government of the Islamic republic of Iran will stand by them in this phase, as well.
The Islamic Republic of Iran believes that the issues and problems of the region could be resolved via dialogue and Iran emphasizes improving relationship with all neighboring countries based on principles of interactive security and its foreign policy.
Although the cruel sanctions by the U.S and its terrorist measures against our country's economy has inflicted great harms to the normal lives of the Iranian nation, which they will never forget, nonetheless not only this condition has caused no damage to their determination in pursuing their holy aspirations, but it has also strengthened the internal solidarity and integration with the removal of the deception mask off the face of the U.S regime, especially in the crisis of recent devastating floods in our country.
As the minister of defense of the Islamic Republic of Iran I announce that we will not give up on providing security for the Iranian nation and protecting independence and national sovereignty, despite the prattle uttered by the U.S regime and some European governments, that won't stand gaining the defense power by Iran, and we will follow up with our procedure to strengthen our defense power in the framework of the active deterrence doctrine.
We believe that the non-humanitarian dreams of the U.S regime to harm the interests and welfare of the Iranian nation, claiming to cut the oil export of Iran to zero is impractical in the present global condition, but I hereby emphasize that the welfare of our nation is part and parcel of our critical interests and I regard it our right to utilize all our legal instruments, including the defense instrument to support these interests and confront the U.S economic terrorism.
Exellencies;
I deem it necessary to express my sorrow for the silence and accompaniment of some of the governments and international assemblies towards norms violation and measures taken by the irresponsible regime of the U.S in their contradiction with internationally approved law and principles some of which I already counted. I warn that this silence and their accompany will not just entangle West Asian people, but it could lead the world facing severe repercussions such as the ones experienced in the Second World War, and remorse serves no good afterwards. Making an arbitrary list of the countries and their legal organizations as well as the groups standing against the arrogance of American policy and designating them as sponsors of terrorists or terrorists by the U.S, among which freedom-seeking countries and fighter groups exist, is a shameless and racist measure. It is simple for the awakened humanitarian conscience to understand this reality that the Islamic Revolutionary Guard Corps (IRGC) is the most pioneering organization in fight against terrorism in the West Asian region, and the Islamic Republic of Iran, as victim of terrorism will never let its iron will of preserving independence and aiding freedom-seeking nations weaken, and the opposition of the U.S as the largest leading state sponsor of terrorism with these groups is comprehensible. The U.S regime should know that the IRGC is strong and the time has come for the United States Central Command (CENTCOM) terrorist group which has a lot of blood of thousands of innocents in the region on their hands to leave the region, and if they take any reckless action, they will face an extremely strong reaction.
Due to the fact that the birthplace and origin of terrorism's school of thought in our region is rooted in Saudi Arabia, I recommend them not to let their name get recorded in history beside the name of their American supporters by their supporting terrorism and sending terrorists all over the world, as well as killing the innocent and oppressed people in Yemen. I recommend the Saudi Arabians to review and revise their policies and return back in the embrace of the world of Islam.
Full report at:
http://en.farsnews.com/newstext.aspx?nn=13980204000950
--------
Iran's Khamenei says US oil sanctions won't go 'without response'
24 April 2019
Iran's supreme leader Ayatollah Ali Khamenei on Wednesday called the end of oil sanction waivers by the United States a "hostile measure" that "won't be left without a response."
"US efforts to boycott the sale of Iran's oil won't get them anywhere. We will export our oil as much as we need and we intend," his official English-language Twitter account said, quoting from a speech he delivered to workers in Tehran.
Khamenei.ir
@khamenei_ir
U.S.'s efforts to boycott the sale of Iran's oil won't get them anywhere. We will export our oil as much as we need and we intend. They should know that their hostile measure won't be left without a response. Iranian nation does not sit idle in the face of animosities. pic.twitter.com/9MrphK4nwL
797
1:46 PM - Apr 24, 2019
Twitter Ads info and privacy
240 people are talking about this
The United States announced on Monday it would halt the practice of exempting countries including India, China, and Turkey from sanctions on purchases of Iranian oil.
In May last year, US President Donald Trump withdrew Washington from the 2015 Iran nuclear deal with world powers, which had given the Islamic republic sanctions relief in exchange for curbs on its nuclear program.
Washington reimposed oil sanctions on Iran in November, but initially gave eight countries, including several US allies, six-month reprieves.
Five of the countries, Greece, Italy, Japan, South Korea, and Taiwan, have already heavily reduced their purchases from Iran. Iran has said the sanctions are "illegal."
"They (the US) wishfully think they have blocked Iran oil sales, but our vigorous nation and vigilant officials, if they work hard, will open many blockades," Khamenei said in the speech, partially aired on state TV.
"Enemies have repeatedly, in vain, taken action against our great nation (and our) revolution... but they must know Iranians won't give in," he added.
Khamenei, speaking in Tehran, also repeated his stance that Iran should move towards the sale of oil derivatives such as refined oil and petrochemical products instead of crude.
"I appreciate any decrease of dependency on this type of oil sales," he said.
Iran's foreign ministry said Monday that Iran "did not and does not attach any value or credibility to the waivers given to the sanctions."
Iranian Foreign Minister Mohammad Javad Zarif vowed on Tuesday that Iranians would not listen to Trump.
"Escalating #EconomicTERRORISM against Iranians exposes panic & desperation of US regime," he tweeted.
Full report at:
https://english.alarabiya.net/en/News/middle-east/2019/04/24/Iran-s-Khamenei-says-us-oil-sanctions-won-t-go-without-response-.html
--------
Confrontation between Erdogan and ex-PM Davutoglu out in the open
24 April 2019
Former Turkish Prime Minister Ahmet Davutoglu recently criticized President Tayyip Erdogan and the ruling Justice and Development Party (AKP), blaming both for being behind Turkey's woes.
A former ally of Erdogan, Davutoglu co-founded the AKP party, previously served as its leader, and remains a high-profile member.
In a Facebook post, he complained that a security-based approach had replaced the party's reformist spirit.
"Expanding the scope of freedom as soon as possible is a prerequisite," he wrote. "Journalists, academics, leaders of opinion, politicians, and anyone who expresses their ideas should not be threatened with dismissal or defamation, or become a victim of social media."
"Stamping different intellectual views as terrorism and considering political differences as treason is primarily detrimental to our national unity," he added.
"It is unacceptable that security concerns turn into a situation in which, after the recent local elections, constitutional rights – like voting and running for office – can be taken away from those who have been dismissed from their public functions just after the state of emergency without a court decision," Davutoglu went on. "I do not even want to think about what such long-term mood swings can produce, like administrative decisions and wrong practices. The constitution is a basic text for all, which cannot be interpreted within a mood."
Alliance politics
He attributed the AKP's poor performance in Turkey's March 31 local elections to policy changes and its alliance with nationalists.
The elections saw the AKP lose control of Ankara and Istanbul, both of which the party and its Islamist predecessors had governed for 25 years.
"The country and our party, which was established with our people's tears, efforts, ideas, and emotions, cannot be sacrificed for the sake of … personal ambitions," Davutoglu wrote.
He blamed "the presidency of the republic for taking a side in the election," adding that participating in political polemics "disengages the office from at least half the country."
He added that "the politics of alliance placed our party within a narrow political identity and language and harmed our special position, which is based on embracing all of our country's areas and communities."
The AKP formed an alliance with the Nationalist Movement Party (MHP) ahead of presidential and parliamentary elections in June last year, in which support for Erdogan's party fell in spite of his victory.
The former PM said that his party's members must come to terms with "the decline in the popular support and evaluate it wisely, especially with regard to the results of the municipalities elections of Ankara and Istanbul, which are important symbols of our movement and have been under the management of our cadres for a quarter of a century."
He warned his party that political action is based on an essentially ethical system, but the latter "was damaged because of the discourse that was based on slogans, of preaching what was not practiced, which made citizens lose confidence in our rhetoric." Addressing opposition
Davutoglu also wrote that describing opponents as enemies in speeches, a practice that "exceeds the extent of political competition," contributed to the recent assault on Republican People's Party (CHP) leader Kemal Kilicdaroglu in Ankara.
Kilicdaroglu, head of Turkey's main opposition party, was attacked by a crowd during the funeral of a soldier who was killed in fighting against Kurdish militants.
"It's as a result of all this that we saw the hideous attack in Ankara during the funeral of a martyr which was supposed to unite all of us," Davutoglu wrote.
The former PM also criticized the indiscriminate arrests of individuals with suspected ties to the Fethullah Gulen organization. "In this regard, it's a must to protect the principle of individualization of punishment since it's the law's major principle," he said.
Nepotism in government
He warned against nepotism in public administration. "Family members of politicians and government officials should not have a special advantage to benefit from state facilities."
Instead, recruitment should be transparent and based on competence and qualifications, not on personal connections. "Some have forgotten that political action and leadership of the country is vested in the person who leads without the intervention of his family or his surrounding circle in decision-making. The use of social media, the recruitment of those who promote slander, distort any competition on the scene … is a betrayal."
Davutoglu also stressed that Turkey needs a civil, democratic, and comprehensive constitution "more than ever."
"I have conveyed my concerns and suggestions to our president via written and verbal requests. However, what we witnessed in the past phase justified my fears. Unfortunately, the model of the new presidential system does not meet the aspirations of our nation in terms of hierarchy or execution," he said.
Economic crisis
Davutoglu's statement did not seem to affect the lira. The currency had weakened in early trade and stood at 5.8350 against the dollar, from a close of 5.8170 this week, according to Reuters.
The Turkish economy underwent a recession in the last quarter of 2018 following a currency crisis, which reduced the value of the lira by 35 percent since the start of the year.
"The main reason for the economic crisis is an administration crisis. Trust in the administration vanishes if economic policy decisions are far from reality," Davutoglu said.
Confronting corruption
"Most dangerous is the emergence of a class that sees itself superior to our party committees, trying to run the party like a parallel entity, and excluding elected officials and committees in the party," Davutoglu wrote.
He highlighted the urgency of addressing reports of government corruption, "such as public sector tenders without any notification, the appearance of exceptions in tenders that eclipse the entire law, and the implementation of certain projects by the state budget by the same people every time."
"The economy cannot be re-established without re-establishing confidence. If a person lacks experience and information and is driven by personal nepotism and exaggerated self-confidence, the perception will remain forever unrealistic," he added.
Reports of a new party
Ahmet Davutoglu held the post of prime minister between 2014 and 2016 until a feud with Erdogan compelled him to resign.
Opinions differ over the reason for the resignation, with analysts citing Davutoglu's opposition to the constitutional amendments Erdogan wanted in order to shift to a fully presidential system rather than the parliamentarian one.
Later, the amendments were passed with an approval rate of 51.41 percent of the total vote.
Media outlets have repeatedly speculated over the past few years that prominent politicians, along with Davutoglu, have split from the AKP to form a new political party led by former Turkish President Abdullah Gul. The reports were confirmed by Davutoglu's former adviser Atilgan Bayar, according to an article in Turkish newspaper Yenicag.
However, Davutoglu himself did not mention any such development in his Facebook post.
Full report at:
https://english.alarabiya.net/en/features/2019/04/24/Confrontation-between-Erdogan-and-ex-PM-Davutoglu-out-in-the-open.html
--------
Israel destroys home of Palestinian accused of killing two Israelis
April 24, 2019
NABLUS: Israel's military on Wednesday destroyed the West Bank home of a Palestinian accused of having killed two Israelis in March, the army said.
Soldiers surrounded the home late Tuesday in Az-Zawiya in the Salfit region of the occupied West Bank before carrying out the demolition using explosives and heavy machinery.
Omar Amin Abu Laila was accused of fatally stabbing soldier Gal Keidan, 19, and stealing his weapon on March 17, the army said at the time.
He then fired at Israeli motorists, hitting 47-year-old rabbi Ahiad Ettinger, a resident of the Eli settlement, who later died of his wounds, according to the army.
Abu Laila, 19, was shot dead two days later during an arrest raid by Israeli forces in the West Bank village of Abwein, north of Ramallah.
Israeli authorities accused Abu Laila of opening fire at forces, who killed him.
Israel routinely demolishes the homes of Palestinians accused of attacks as part of a policy it says discourages future violence.
Full report at:
http://www.arabnews.com/node/1487386/middle-east
--------
Arab World
Military Expert: Syria to Start Idlib Operations after Astana Meeting
Apr 24, 2019
"I think that the Syrian Armed Forces, specially the Ground Force, will be prepared for these operations in coordination and support of the Russian Air Force after Astana meeting," Heitham Hassoun told the Arabic-language Sputnik radio on Wednesday.
He underlined that military operations to free Idlib will start soon, adding that it will end Turkey's occupation of the region.
Hassoun also warned of terrorists' attempts in collaboration with the western experts to stage false-flag chemical attacks in Northern Syria to put the blame on the Syrian government.
The next round of Astana talks is due to be held in Kazakhstan on April 25-26.
The Astana process was launched by Russia, Turkey and Iran in January 2017 to bring all warring parties in Syria to the negotiating table to complement the UN-sponsored peace talks in Geneva.
Cooperation between the guarantors of peace in Syria has also been able to preserve the territorial integrity and national sovereignty and independence of Syria.
The previous round of the Astana talks was held in Kazakhstan in February with the attendance of representatives from Syria, Iran, Russia and Turkey.
http://en.farsnews.com/newstext.aspx?nn=13980204000869
--------
Egypt confirms death penalty for monks over bishop killing
24 April 2019
An Egyptian court on Wednesday confirmed death sentences for two monks over the 2018 murder of a bishop, after the country's Mufti issued an opinion approving the punishment, a court official said.
In a case that shocked the Middle East's largest Christian community, Coptic Bishop Epiphanius was found dead with a head wound in July at the Saint Macarius monastery in the plains of Wadi al-Natrun, northwest of Cairo.
Prosecutors said one of the monks, Isaiah, confessed to striking the cleric with a metal bar as the second monk, Philotheos, kept watch.
The authorities blamed the killing on unspecified "differences" between the bishop and the two monks, one of whom was later defrocked.
The sentence passed down in February, was referred to Egypt's Grand Mufti.
The country's top theological authority is required by law to give his legally non-binding opinion in cases of capital punishment.
The defendants can still appeal.
In its ruling, the court said that the defendants had carried out "one of the greatest crimes," according to a court official.
"(Their) status as monks did not stop them from carrying out this crime, the place of the crime did not deter them, and they did not care about the advanced age of the victim or his religious status," it said.
In the wake of the bishop's killing, Egypt's Coptic Church placed a one-year moratorium on accepting new monks.
It also banned monks from social media, tightened financial controls and refocused attention on spiritual life.
Full report at:
https://english.alarabiya.net/en/News/middle-east/2019/04/24/Egypt-confirms-death-penalty-for-monks-over-bishop-killing.html
--------
Tens of Terrorists Killed in Massive Explosion in Tahrir al-Sham Headquarters in Idlib
Apr 24, 2019
A bomb-laden vehicle was exploded in the city of Jisr al-Shoghour in Western Idlib, killing and injuring at least 40 terrorists, pro-militant sources said.
The sources said that at least 15 militants were killed and 27 others wounded, including a number of terrorists.
Meantime, the Arabic-language al-Mayadeen TV network reported that the blast took place in at Tahrir al-Sham's regional headquarters.
In a relevant development on Saturday, the Syrian Army heavily pounded the military positions and movements of Tahrir al-Sham al-Hay'at terrorists in Southern Idlib, destroying their concentration centers there.
The Syrian Army's missile and artillery units heavily pounded the positions and movements of Tahrir al-Sham terrorists in Jorjnaz, Talmanes, Tahtayeh and Um Jalal towns in Southeastern Idlib.
The Syrian Army attacks came in response to the terrorists' continued attack on safe zones and military points from the demilitarized zone.
Full report at:
http://en.farsnews.com/newstext.aspx?nn=13980204000707
--------
US Using Political Pressures, ISIL to Force Iraqi Popular Forces Retreat from West Mosul
Apr 24, 2019
The Arabic-language al-Ma'aloumeh news website quoted an Iraqi security source as saying that the ISIL terrorists attacked the village of al-Madfa near al-Ba'aj city in Western Mosul.
The report said the ISIL attack came after US made helpless attempts to pressure the popular forces out of western Mosul.
Meantime, Iraqi parliamentarian from the Al-Fath Coalition Party Mohammad Karim told al-Ma'aloumeh that the US political pressures on Iraqi popular mobilization forces (Hashd al-Sha'abi) to retreat from Western Mosul have resulted in intensifying insecurity in the region.
Karim warned that the Western regions of Mosul are facing serious threats because the ISIL terrorists have penetrated into Iraq from Syria.
In a relevant development on Sunday, a senior commander of the Iraqi Popular Mobilization Forces warned against Washington's plot to establish its control over a key border crossing with Iraq in a bid to relocate the terrorists from Syria to that country. According to the security and intelligence reports, 18 US armored military vehicles have been stationed along Iraq-Syria border, the Arabic-language al-Alam News Website quoted Hashd al-Sha'abi Commander Hashem al-Mousavi as saying.
Al-Mousavi pointed to the US Army troops' plan to provoke Hashd al-Sha'abi forces deployed along the Iraq-Syria borders into clashes, and said that the Americans intend to take control of Bukamal border crossing along Iraq-Syrian borders to pave the way for ISIL terrorists to cross into Iraq.
Al-Mousavi also pointed to the US efforts to disturb security in Iraq to continue its military presence in that country, and reiterated that Hashd al-Sha'abi forces are fully prepared to confront the US troops in case they open the borders to the ISIL.
In a relevant development on Friday, the US has increased reconnaissance operations in Western Iraq, a security expert said, warning that the American forces are attempting to transfer the ISIL and other terrorists from Eastern Deir Ezzur and Idlib to safe regions in Iraq.
The Arabic-language al-Ma'aloumeh news website quoted Kazzem al-Haj as saying that the US forces have recently conducted extensive reconnaissance operations in Western Iraq and regions near the borders with Syria.
He added that the Americans want to boost the number of terrorists in Iraq, saying that the reconnaissance operations were carried out to find a proper place to shelter the terrorists from the Iraqi and Syrian security forces' fire.
Al-Haj underscored that Washington intends to transfer the ISIL terrorists in Deir Ezzur as well as other militants in Idlib province to a safe area in Iraq, to be controlled by them from air and ground, as the Syrian army and its allies are preparing for possible operations against the terrorists.
In relevant remarks earlier this month, an Iraqi security expert warned that the US plotted to help several thousands more ISIL terrorists move from Syria to Iraq.
"Washington plans to help 5,000 more ISIL terrorists get out of Syria and reach Iraq," Sabah al-Akili told al-Ma'aloumeh.
The Iraqi security expert described the US move as an attempt to create insecurity inside Iraq as the Iraqi parliament is determined to expel ISIL terrorists from Iraq.
Full report at:
http://en.farsnews.com/newstext.aspx?nn=13980204000596
--------
At least 17 killed in blast in Syria's rebel-held Jisr al Shughour
24 April 2019
At least 17 people were killed on Wednesday in an explosion in the centre of Jisr al Shughour, a rebel-held city in northwestern Syria, a day after heavy Russian air strikes in the vicinity, rescue workers and residents said.
Several residential buildings collapsed as a result of the blast in Idlib province, near a road between the coastal city of Latakia and city of Aleppo.
"The casualties are expected to rise. The cause is not known," said Ahmad Yaziji, head of civil defense in the city, adding at least 27 people, mostly civilians, were injured.
Bodies were still being pulled out of the rubble, another rescuer said.
The province and areas around it in northern Syria, the last remaining rebel bastion, have seen an escalation in attacks by Russian warplanes and the Syrian army even though they are protected by a "de-escalation zone" agreement brokered last year between Russia, Iran and Turkey.
The bombardment has sent people fleeing from opposition-held towns in the buffer zone that straddles parts of Idlib to northern Hama and parts of Latakia province.
Turkey, which has supported the rebels and has troops to monitor the truce, has been negotiating with Moscow to halt the Russian strikes with little success.
Russian jets hovered in the sky with missile strikes reported in several villages around Jisr al Shughour, residents said.
Overnight, Russian jets struck western parts of Idlib city and residents said long-range missiles hit several villages surrounding Jisr al Shugour from army positions in Latakia
province.
Jisr al Shughour has been a target of heavy bombardment by the Russian air force and the Syrian army in recent weeks. Most of its inhabitants have fled to the safety of areas close to the Turkish border, residents and local officials say.
The Idlib region is under administrative control of Hayat Tahrir al-Sham, Syria's former Al-Qaeda affiliate.
But the Turkestan Islamic Party, a group of foreign extremists from the ethnic Uighur Muslim minority, also has a large presence in Jisr al-Shughur.
The ISIS extremist group has sleeper cells in the wider Idlib region.
Idlib has since September been protected from a massive regime offensive by a fragile ceasefire deal signed by Damascus ally Russia and rebel backer Turkey.
But the region of some three million people has come under increasing bombardment since HTS took full control of it in January.
On Tuesday, regime shelling killed seven civilians, including four children, in the town of Khan Sheikhun.
Increased regime shelling on Khan Sheikhun has sparked one of the largest waves of displacement since the September deal.
Full report at:
https://english.alarabiya.net/en/News/middle-east/2019/04/24/12-killed-in-blast-in-northwest-Syria-says-monitor-.html
--------
Blast in Syria's militant-held Jisr al-Shughour leaves 17 dead
Apr 24, 2019
More than a dozen people have lost their lives and dozens of others sustained injuries when a powerful explosion ripped through the center of a city controlled by foreign-sponsored Takfiri militants in Syria's northwestern city of Idlib.
The so-called White Helmets civil defense group and residents said the blast took place in Jisr al-Shughour, located about 330 kilometers (200 miles) north of the capital, Damascus, on Wednesday as several residential buildings collapsed as a result of the act of terror.
Ahmad Yaziji, a member of Western-backed White Helmets, who have been accused of cooperating with Takfiri militants and staging false flag gas attacks, said at least 17 people were killed and at least 27 people, mostly civilians, were injured. He noted that the number of casualties is expected to rise as some of the injured are in a critical condition, and rescue workers are recovering bodies from under the rubble.
The so-called Syrian Observatory for Human Rights said the cause of the blast in Jisr al-Shughour was not immediately clear.
"It is not known until now whether it was a car bomb, or the explosion of a car carrying explosives," head of the Britain-based monitor group Rami Abdel Rahman noted.
Under a deal reached following a meeting between Turkish President Recep Tayyip Erdogan and his Russian counterpart Vladimir Putin in the Black Sea resort city of Sochi on September 17, 2018, all militants in a demilitarized zone, which surrounds Idlib and also parts of the adjacent provinces of Aleppo and Hama, were supposed to pull out heavy arms by October 17 that year, and Takfiri groups had to withdraw by October 15.
The National Front for the Liberation of Syria is the main Turkish-backed militant alliance in the Idlib region, but the Takfiri Hayat Tahrir al-Sham (HTS) terrorist group, which is a coalition of different factions of terror outfits, largely composed of the Jabhat Fateh al-Sham Takfiri terrorist group, holds a large part of the province and the zone.
The HTS, which is said to be in control of some 60 percent of Idlib province, has yet to announce its stance on the buffer zone deal.
It is estimated that between 10,000 and 15,000 members of different factions of armed groups, which Syria, Russia and Turkey consider terrorists, are active in the volatile province, which is home to around three million inhabitants.
Russia believes that a buffer zone would help stop attacks from Idlib-based militants on Syrian army positions and Russia's military bases in the flashpoint region.
Car bomb hits Syria capital, killing civilian
Separately, one civilian was killed and five others were injured as a car rigged with explosives blew up in the Syrian capital.
"One civilian was killed and five others injured in an explosion in the area of Nahr Aisha in Damascus," Syria's official news agency SANA said.
"Investigations showed that terrorists planted an explosive device inside a Peugeot car, killing the driver," it added.
Five people in the vicinity were wounded and taken to Damascus Hospital to receive medical treatment, it said.
Full report at:
https://www.presstv.com/Detail/2019/04/24/594246/Blast-in-Syrias-militantheld-Jisr-alShughour-leaves-17-dead
--------
KSRelief signs agreements for relief to Lebanese, Syrians and Palestinians
April 25, 2019
BEIRUT: The general supervisor of the King Salman Humanitarian Aid and Relief Center (KSRelief), Dr. Abdullah Al-Rabeeah, signed on Wednesday seven agreements with Beirut and international and civil organizations operating in Lebanon to implement relief projects targeting Syrian and Palestinian refugees as well as the most affected host communities in Lebanon.
Lebanese Prime Minister Saad Hariri, who participated in the symposium at the Four Seasons Hotel Beirut to sign the agreements, praised the strong Saudi-Lebanese relations, which have existed for decades, and stressed Lebanon's keenness to ensure their permanence and development.
He said: "The meetings Al-Rabeeah has held with different Lebanese political and religious authorities over the past two days during his visit to Lebanon, under the guidance of King Salman, indicate the Saudi leadership's true desire to deepen the fraternal ties with the Lebanese, support Lebanon's unity, independence, sovereignty and coexistence formula, and protect its existence from the repercussions of all the fires, crises and interventions that plague many countries."
During the symposium, which was attended by a large group of political, religious and social figures, Al-Rabeeah called on the international donor community to shoulder more responsibility.
Addressing the implementing bodies, he said: "It is time to reconsider your working mechanisms in order to develop them and improve procedures to avoid negative impacts."
"What I mean by reconsidering working processes is that there is a need to work professionally and skillfully because there are not many resources, and we must eliminate bureaucracy and speedily make the most of resources," Al-Rabeeah told Arab News.
He stressed the importance of developing a close partnership between the donor and the implementer of projects, highlighting that KSRelief's work is subject to international and regional oversight mechanisms as well as its own internal control mechanisms. "We have two strategic partners, and when agreements are signed with the recipients of assistance, this means accepting oversight terms," he said.
Al-Rabeeah said: "Saudi Arabia supports the safe return of Syrian refugees to their country, and so is the case for Yemen."
"Saudi Arabia has supported peaceful dialogues, which restore security and stability," he said. "In order for this to happen in Syria, we support the efforts of the United Nations and implement (as KSRelief) relief programs inside Syria. We also have major programs and we count on the UN to ensure a safe return for Syrian refugees."
On the Syrian regions in which KSRelief is implementing its programs and the difficulties faced, Al-Rabeeah told Arab News: "We have nothing to do with military or religious matters, and wherever there is security, we work. We also work through the UN and the international organizations inside Syria, and we do not have any hidden agenda in this field."
He stressed that "participating in rebuilding Syria requires security and stability, and the Saudi leadership hopes for a peaceful solution as soon as possible. Until this is achieved, the relief work will continue and won't cease."
Al-Rabeeah announced that KSRelief is implementing a quality program to rehabilitate recruited children in Yemen alongside its education, protection, health and environment projects.
"There are those who recruit children to fight in Yemen, violating all humanitarian laws. Our center rehabilitates them so that they are not used as terrorist tools in the future," he said.
Al-Rabeeah emphasized that Crown Prince Mohammed bin Salman's Vision 2030 has given relief work its share, especially in terms of volunteering programs. "We have great examples involved in the field," he said.
Among the signed agreements was one with the Lebanese High Relief Commission (HRC) to carry out a project to cover the food needs of Lebanese families.
Chairman of Lebanon's High Relief Commission Maj. Gen. Mohammed Khair told Arab News that the agreement targets distributing 10,000 food rations to orphans, widows and destitute families in the poorest and most disadvantaged areas in Lebanon. "This project is encouraging and gives hope to people," he said.
Khair said that there are 100,000 people in need in Bab Al-Tabbaneh district alone, pledging to commit to transparency during the implementation of the project. "It is not a question of sectarian balance; we are focused on those who are most in need," he said.
The signed agreements include one for repairing, equipping, and operating the Prince Nayef bin Abdul Aziz Center for Dialysis at the Makassed General Hospital, an agreement with the UNHCR worth $5 million to implement a project for assisting the most affected Syrian families for six months, an agreement to support Souboul Assalam Association in Akkar (northern Lebanon), an agreement with the International Organization for Migration (IOM) to implement a project worth $3.8 million to cover the needs of Syrian families that are below the poverty line for a year, and an agreement with UNRWA to cover the medical needs and treatment of cancer and multiple sclerosis in Palestinian refugee camps in Lebanon.
UNRWA Commissioner-General Pierre Krahenbuhl said: "The challenge facing UNRWA after the reduction of its budget is maintaining the operation of its 715 schools in the Middle East."
Full report at:
http://www.arabnews.com/node/1487791
--------
'No peace without justice' for victims of Syrian war, says Saudi envoy
April 24, 2019
NEW YORK: A top Saudi representative to the UN warned on Tuesday that there would be "no peace without justice" in the long-running Syrian conflict.
Dr. Khaled Manzlawiy, deputy permanent representative of the permanent mission of Saudi Arabia to the UN in New York, took part in talks on ways to protect the human rights of Syrian victims of the country's war.
He was part of a permanent delegation to the UN representing the Kingdom at a meeting of the organization's General Assembly on the International, Impartial and Independent Mechanism (IIIM) in Syria, held at UN headquarters in New York.
The IIIM aims to assist in the investigation and prosecution of those responsible for the most serious crimes under international law committed in Syria since March 2011.
Manzlawiy said the meeting's discussions aimed to establish justice for the oppressed and he praised the role of IIIM head, former French judge Catherine Marchi-Uhel, in collecting information and evidence about human rights violations by the Syrian authorities.
"The road to reconciliation is not easy, but there is no peace without justice and no sustainable peace in Syria without accountability," Manzlawiy said.
The Saudi official noted that the IIIM had been set up as a result of the UN Security Council's inability to lay the foundations for international peace and justice, and the failure of previous decisions on human rights in Syria regarding the protection of displaced people and the preservation of life.
However, Manzlawiy stressed that Saudi Arabia believed in the ability of the international community and its institutions to protect and guarantee human rights in all parts of the world where they were threatened by terrorism, intolerance, or political arrogance.
Full report at:
http://www.arabnews.com/node/1487636/saudi-arabia
--------
Pakistan
Govt has sealed new site for Jamia Hafsa seminary, SC told
Apr 25, 2019
ISLAMABAD: The government informed the Supreme Court (SC) on Wednesday that it had sealed the site for the construction of Jamia Hafsa seminary in the federal capital.
The disclosure came in a report submitted by the office of the Islamabad Capital Territory chief commissioner on the directives of a three-member bench led by Justice Gulzar Ahmed hearing a suo motu case pertaining to the Lal Masjid case. The bench had sought a detailed dossier on the disputed 20 kanal land allotted to the madrassa.
The report said that the mosque is being regulated by the government while the H-11 site, allocated for Jamia Hafa, has been sealed. A khateeb (prayer leader) appointed by the Auqaf department is conducting prayers at the Lal Masjid. "No unauthorised person is allowed to conduct prayers within the premises of the mosque."
"The site allocated for Jamia Hafsa in Sector H-11 has been sealed because the construction was raised without prior approval of the competent authority and without seeking non-objection certificate (NOC) from the Directorate of Building Control."
According to the report, around 50 to 60 female students from the Jamia Hafsa's temporary base at G-7 in Islamabad continue to visit the Lal Masjid. "The district administration and police are handling the situation with restraint since female students are involved," added the document. "Strict vigilance is being maintained and police deployment has been made around the mosque as well as alternate site in Sector H-11."
The report further revealed that Maulana Abdul Aziz along with supporters and some 100 female students attempted to enter the mosque on the night between March 19 and 20. Their attempt to restart construction was thwarted by the administration and police. However, Aziz was evicted peacefully from the Lal Masjid. "Thereafter the prayers are being conducted by khateeb appointed by the Auqaf department under the apex court's suo motu case number 9 of 2007."
In February 2002, Aziz was charge-sheeted by the then chief commissioner of ICT. He was removed from services in August 2004 in response to a show cause notice wherein he admitted to issuing a fatwa against army operation in Wana, South Waziristan.
Despite removal, however, Aziz continued leading prayers and delivering Friday sermons.
The violation and practical standoff between the management of Lal Masjid and the law enforcement agencies (LEAs) led to a 10-day long armed operation in January 2007.
In October 2007, the top court ordered temporary appointment of Maulana Abdul Ghaffar as Imam and Maulana Amir Siddiqui as naib Imam.
https://www.pakistantoday.com.pk/2019/04/24/govt-has-sealed-new-site-for-jamia-hafsa-seminary-sc-told/
--------
Pakistan offers help to Sri Lanka in counter terrorism
APRIL 25, 2019
Prime Minister Imran Khan on Wednesday telephoned his Sri Lankan counterpart Ranil Wickremesinghe and reiterated Pakistan's offer of assistance to Sri Lanka in its efforts to counter terrorism.
While strongly condemning the terrorist attacks that took place on Easter Sunday, the prime minister conveyed his heartfelt condolences to the bereaved families and profound prayers for the speedy recovery of the wounded. He said the people of Pakistan are deeply grieved over the loss of precious lives and stand with their Sri Lankan brethren at this hour of grief. "Being the worst sufferers of terrorism, we can feel the pain of our Sri Lankan brethren," he added.
The prime minister said that terrorism knows no boundaries, no religion as its threatens the peace of entire region and the world. He said Pakistan condemns terrorism in all its forms and manifestations and will continue to provide every possible support for elimination of the menace.
President Dr Arif Alvi also telephoned his Sri Lankan counterpart Maithripala Sirisena and condemned the terrorist attacks in Sri Lanka that took place on the occasion of Easter and conveyed heartfelt condolences to the bereaved families. He offered prayers for the speedy recovery of the wounded.
The president affirmed that the people and government of Pakistan stand in complete solidarity with their Sri Lankan brethren. He said Pakistan condemns terrorism in all its forms and manifestations. Reaffirming unwavering support to Sri Lanka, the president reiterated Pakistan's offer of all possible assistance in its counter-terrorism measures.
Meanwhile, Foreign Office Spokesperson Dr Faisal Wednesday completely rejected the irresponsible attempts by a section of Indian media to link detention of some Pakistanis in Sri Lanka with the recent incidents in Colombo.
The spokesman, in a statement, said according to the information shared by Sri Lankan officials, seven Pakistanis were recently detained by the law enforcement authorities on account of overstay on their visas. "This is a purely consular matter and projecting it in any other manner is patently mischievous," the spokesman said.
He said such attempts by elements in the Indian media are reflective of a particular, though familiar mindset bent on twisting facts to malign Pakistan on any pretext. He drew attention to the call of the Sri Lankan leadership to avoid propagating unverified reports and speculation.
A series of eight devastating bomb blasts had ripped through high-end hotels and churches holding Easter services in Sri Lanka, killing hundreds of people, including dozens of foreigners.
Prime Minister Ranil Wickremesinghe had condemned the attacks – the worst act of violence since the end of Sri Lanka's civil war a decade ago – as 'cowardly'.
Full report at:
https://dailytimes.com.pk/382028/pakistan-offers-help-to-sri-lanka-in-counter-terrorism/
--------
China asks world to view Pakistan's counter-terrorism efforts 'objectively'
APRIL 25, 2019
China on Wednesday called on the international community to view Pakistan's counter-terrorism efforts and contributions in an objective and fair manner, and strengthen dialogue and cooperation with the country.
Foreign Minister Shah Mahmood Qureshi and Chinese State Councilor and Foreign Minister Wang Yi held a meeting where both the leaders stressed that developing China-Pakistan relations are a diplomatic priority, and reiterated commitment to strengthen all-weather strategic cooperative partnership between the two countries and build a closer China-Pakistan community of shared future in the new era, according to a statement issued by the foreign ministry.
The Chinese side reiterated its steadfast support for Pakistan in safeguarding its sovereignty, territorial integrity, independence and national dignity, choosing its development path according to its national conditions, and establishing a better security environment. The Chinese side also appreciated Pakistan's constructive role on international and regional issues.
Both the leaders agreed to further strengthen their coordination and cooperation on international and regional matters. They resolved to continue closer communication and collaboration in multilateral forums, including the UN, multilateral financial institutions, the SCO and SAARC. Both sides believed that a peaceful, stable, cooperative and prosperous South Asia is in the common interest of all the parties, and emphasised the importance of dialogue in resolving all disputes and issues in this region on the basis of mutual respect and equality.
Full report at:
https://dailytimes.com.pk/382029/china-asks-world-to-view-pakistans-counter-terrorism-efforts-objectively/
--------
Opposition leaders slam Imran Khan for his 'shameful' remarks against Bilawal Bhutto
Apr 24, 2019
LAHORE: Pakistan's opposition leaders on Wednesday criticised Primem Minister Imran Khan for his "shameful" remarks targeting PPP Chairman Bilawal Bhutto Zardari during a rally in South Waziristan, terming it as "absolutely disgusting" for a premier.
Khan's remarks came a day after he made controversial statements during his visit to Iran where he said "Pakistan's soil was used for attacks in Iran."
On Wednesday, Khan told a gathering in South Waziristan that he came to power through struggle and hard work unlike Bilawal "Sahiba" who using the will of her mother (slain prime minister Benazir Bhutto) became the head of political party".
Reacting strongly, Opposition leader in National Assembly and PML-N president said, "This is beyond words. It's Shameful.
Unbecoming. Reprehensible. The selected PM is clearly unfit for the job. Sad day for Pakistan."
Former prime minister Nawaz Sharif's daughter Maryam Nawaz said: "Absolutely disgusting. Odious."
Bilawal tweeted: "What was that about small men in big offices#PMSelect."
"What a lewd & misogynist thing to say. How shameful that our PM trots around like a high school bully amid cheering fans not realising that calling BBZ a woman exposes his character as opposed to demeaning the other. Can he stoop any lower while shaping #Naya Pakistan," lawyer and activist Babar Sattar tweeted.
Former information minister and PML-N spokesperson Marriyum Auranzeb said Imran Khan has exposed his "shallowmindedness" and petty personality everytime he opens his mouth.
Full report at:
https://timesofindia.indiatimes.com/world/pakistan/opposition-leaders-slam-imran-khan-for-his-shameful-remarks-against-bilawal-bhutto/articleshow/69031178.cms
--------
Foreign-funded elements behind Fata unrest: Imran
Khan Wazir
April 25, 2019
WANA: Prime Minister Imran Khan has said some elements operating in the region have been receiving money from abroad to push the youth of the tribal districts towards unrest.
Such elements had been trying to cash in on the problems being faced by locals, said Mr Khan apparently in a veiled reference to the Pakhtun Tahafuz Movement.
"These people are receiving finances from abroad. And leaders involved in corruption are also providing them support to escape cases," said the prime minister while addressing a public meeting at Wana Sports Complex on Wednesday.
Mr Khan had recently endorsed the PTM's narrative but condemned the way their leaders were presenting their case. The movement is popular among the youth of Waziristan, the birthplace of the proscribed Tehreek-i-Taliban Pakistan, where the former had organised a public meeting over a week ago.
On Wednesday, the venue was decorated with flags of the ruling Pakistan Tehreek-i-Insaf. A large number of PTI supporters attended the rally. Khyber Pakhtunkhwa Chief Minister Mahmood Khan and Defence Minister Pervez Khattak were also present on the occasion.
PM Khan assured Waziristan residents that the government was serious about resolving their issues but it would take time. He explained that the local government system was being introduced in the merged tribal districts so that people could elect their representatives at the village level.
About speedy justice, the prime minister said that local disputes would be resolved on the spot as jirga system was being introduced at the police station level to facilitate the process.
Criticising the leadership of major opposition parties, particularly the Pakistan Muslim League-Nawaz and Pakistan Peoples Party, Mr Khan alleged that the Sharif family, Asif Ali Zardari, Bilawal Bhutto-Zardari and other corrupt people had a common agenda to pressurise the government to forgive their corruption. He reiterated that corrupt people would not get any relief. He added that the PPP and the PML-N had borrowed Rs24 trillion loans during the past 10 years.
While lashing out at the PPP chairman, PM Khan called Mr Bhutto-Zardari as 'Sahiba'. He said: "Unlike Bilawal Sahiba, I didn't come into politics through a chit like the last will of his mother [slain PPP chairperson Benazir Bhutto] that gave him the political party in inheritance. I founded my own party. My aim is to defeat corrupt people. There will be no leniency for those who had plundered national wealth."
The prime minister alleged that the chief of Jamiat Ulema-i-Islam Maulana Fazlur Rehman would have easily joined his coalition government if he had been offered chairmanship of the Kashmir committee as well as diesel permits.
Mr Khan said he had opposed the military government's decision to deploy troops in Waziristan and other parts of the former Federally Administered Tribal Areas (Fata) after 9/11. However, he added, the then government was under pressure to deploy army in tribal area.
On the occasion, he declared that every family in Waziristan would be given Sehat Insaf Card to help them receive medical treatment free of charge.
The PM also announced construction of separate degree colleges for boys and girls, sports grounds, 100-kilometre road network and upgrade of local grid station.
Mr Khan later visited Spinkai Raghzai and addressed a jirga of the Mehsud tribe. Mr Khan said the Mehsuds had rendered unprecedented sacrifices for the country's integrity which had been recognised by everyone.
Full report at:
https://www.dawn.com/news/1478226
--------
Islamabad ready to fight its case before FATF, NA body told
April 25, 2019
Khaleeq Kiani
ISLAMABAD: Pakistan will fight its case before the Financial Action Task Force (FATF) on May 15 in Colombo, Sri Lanka, besides undertaking diplomatic efforts for performance-based review of its "robust" compliance with global standards against money laundering and terror financing.
This was the crux of an in-camera briefing to the Standing Committee of the National Assembly on Finance and Revenue. Finance Secretary Muhammad Younus Dagha, the Federal Board of Revenue (FBR) chairman, executive officers of the State Bank of Pakistan, Commissioner of the Securities and Exchange Commission of Pakistan (SECP) and representatives of foreign affairs and National Counter Terrorism Authority (Nacta) updated the committee on FATF compliance.
Pakistan has so far complied with 19 out of 28-29 FATF indicators and made progress on five indicators relating to legislative and administrative actions, the committee was told, according to informed sources. The sources also said the government was hoping to comply with remaining actions by June this year, some of them through the finance bill 2019-20.
Pakistan has complied with 19 out of 28-29 indicators
The committee was also told that the ministry of foreign affairs would engage with influential countries on the FATF including the US as well as the European Union for "performance-based review" rather than being assessed from a geopolitical prism, for which they already had taken the position with FATF President Marshall Billingslea.
Mr Billingslea serves as the Assistant Secretary at the US Treasury Department also, heading the Office of Terrorist Financing and Financial Crimes. In this capacity, he is responsible for policy development and international engagement pertaining to anti-money laundering and countering financing of terrorism (AML/CFT). He is reported to have assured Pakistan that its review would be based on performance and risk assessment without any political consideration.
Chairman of the NA standing committee Faizullah told journalists after the meeting they were satisfied with the government's briefing on the FATF. He said the government was swiftly moving ahead with FATF conditions and hopefully matters would soon be settled. He said administrative and legislative steps were also being taken.
The committee said that nobody should be harassed or seen to be harassed as part of implementation of FATF conditions, Mr Faizullah said.
He said the government assured the committee that any official found harassing or misusing FATF conditions for ulterior motives would be dealt with strictly.
He said the standing committee would soon start discussions on proposed anti-money laundering bill.
Earlier, Mr Dagha told reporters that a government delegation would visit Sri Lanka on May 15 to present its case to the FATF.
Responding to a question, the finance secretary said the IMF staff mission was expected to visit Pakistan between April 27 and 29 for discussions on its bailout package.
He declined to comment on the budget deficit target for next year saying the ministry was currently in the process of budget making and had not yet firmed up fiscal deficit numbers.
Responding to another question, he said the finance ministry was planning to present the federal budget in the last week of May but May 24 was not the target date as was being speculated.
While discussing the work plan assigned by the Special Committee on Agricultural Products for uplifting agriculture, the committee was briefed by the chairman of the Pakistan Agriculture Research Council (PARC).
He said that PARC has already proposed three research and development projects in the budget of the next financial year, 2019-20, with a total cost of Rs2bn.
The additional secretary, ministry of national food security and research apprised the special committee that Asian Development Bank (ADB) had conducted a knowledge creation exercise for the purpose of report publication in 2018 for "Punjab basmati rice value chain analysis" and currently, the ADB was working on "Punjab sustained agriculture growth through enhanced agriculture management" by means of a technical assistance, to ensure a $100 million loan soon.
The committee recommended to the food security ministry and the PARC preparation of a comprehensive presentation along with their recommendations for improvement in research and development in the agriculture sector.
Full report at:
https://www.dawn.com/news/1478222/islamabad-ready-to-fight-its-case-before-fatf-na-body-told
--------
Police to allow transgender recruits in Sindh
April 25, 2019
KARACHI: Transgender people in Sindh will be able to serve as regular duty police officers, the police chief said, adding that it was time to offer more opportunities to a group relegated to menial jobs in government.
After years of sometimes brutal persecution, transgender people in Pakistan gained recognition in 2009 when the Supreme Court granted them special status with rights equal to other citizens.
While discrimination still persists, the move to allow transgender police recruits would be a significant step for the community, activists say.
"We will make them part of Sindh police," Syed Kaleem Imam, Inspector General of the Sindh, police told Reuters in Karachi.
"They are good God-gifted people. Citizens like us. We should stand by them," said Mr Imam, who as a junior officer became aware of the discrimination against the community.
As in India and Bangladesh, transgender people in the country have faced widespread discrimination for decades. Many live in secluded communities, earning a living as dancers or forced into sex work or begging.
A 2017 census counted 10,418 transgender people in the country of 207 million, but rights group Charity Trans Action Pakistan estimates there are at least 500,000.
'Trans-friendly'
In a major step forward in 2009, the Supreme Court ruled that transgender people could receive national identity cards as a "third sex" and in 2017, the government issued its first passport with a transgender category.
While some transgender people have achieved celebrity as news anchors or fashion models, entry into the police force would be a major development for the community.
"Police behaviour and their complaint mechanism is not trans-friendly. I will try to make police trans-friendly and educate colleagues when I join the police," said Shahzadi Rai, a 29-year-old transgender activist who hopes to join the force.
"When we go to lodge any report at the police station, their behaviour and questions hurt us. They don't ask questions about the case, but about our gender," Rai said.
Zehrish Khan, a programme manager at Gender Interactive Alliance, a transgender rights group, said the community had always sought inclusion and was now seeing the fruits of the 2009 Supreme Court ruling.
"If we are inducted into the police, we'll show we can work harder compared to men and women," Khan told Reuters.
It could be months before the first transgender police officers are hired, Mr Imam said, but they will have the same opportunities as other recruits and perform regular duties in the field.
Full report at:
https://www.dawn.com/news/1478186/police-to-allow-transgender-recruits-in-sindh
--------
Governor says debate on presidential system won't harm democracy
Qurban Ali Khushik
April 25, 2019
SEHWAN: Sindh Governor Imran Ismail has said that ongoing debate on presidential system will cause no harm to democracy as it is just another form of governance which is working efficiently in many countries.
If people wanted the presidential system it could be discussed on the condition that democracy continued to function whether the system was parliamentary or presidential, he said while speaking to journalists after inaugurating the 767th annual urs celebrations of Hazrat Lal Shahbaz Qalandar here on Wednesday.
He rejected the impression that the Centre was not releasing funds to Sindh government and said the federal government had released complete share of funds under NFC award to the Sindh government. Still, if the provincial government had a financial issue, he was ready to approach Prime Minister Imran Khan in this regard.
He said that Prime Minister Imran Khan was a strong premier. He was working in such a manner that no prime minister had ever worked before for Pakistan. The country was facing economic crisis because of past governments' actions and the prime minister was just trying to pay back the loans they had used up, he said.
About changes in federal cabinet, he said the prime minister had powers to have cabinet of his choice; if he noticed someone was not performing properly he was well within his authority to change him. It was the responsibility of the prime minister to look into all issues and seek their solutions, he said.
He said in answer to a question that the National Accountability Bureau was free to carry out its activities across the country and the government had not put any pressure on it to get something done. NAB had power to raid any place if it had proofs.
The governor termed the prime minister's visit to Iran successful and said that Imran Khan wanted good relations with all neighbouring countries, particularly Iran.
He said that he was fortunate that he had inaugurated the annual urs celebrations. Because of saints like Qalandar, Sindh remained peaceful and prosperous, he said, adding that he got late reaching Sehwan as he had no helicopter. Around 2.5 to three million devotees were expected to visit Sehwan this year, he said.
Full report at:
https://www.dawn.com/news/1478176/governor-says-debate-on-presidential-system-wont-harm-democracy
--------
Delay in release of Pakistanis from Saudi jails concerns opposition
Jamal Shahid
April 25, 2019
ISLAMABAD: The opposition on Wednesday expressed concern over delays in the release of Pakistani prisoners after Saudi Crown Prince Mohammad bin Salman promised to let them go.
During the National Assembly session, PML-N MNA Mian Riaz Hussain Pirzada said he could give examples of Pakistanis in Saudi prisons who have completed their terms but remain behind bars.
Last week, Pakistan's ambassador to Saudi Arabia Raja Ali Ejaz said the process of releasing Pakistani prisoners in Saudi jails was underway and the nation may receive "good news" in Ramazan, which starts in the first week of May.
The Saudi crown prince had ordered the immediate release of 2,107 Pakistani prisoners a day after Prime Minister Imran Khan welcomed him to the Prime Minister's House and made a "special request" for him to look into the hardships of Pakistani labourers working in the Kingdom, and to "look upon them as your own people".
In response to the question, Parliamentary Secretary for Overseas Pakistanis and Human Resource Development Javaria Zafar Aheer told the house that her office and the Ministry of Foreign Affairs are working together and the release of Pakistani prisoners is underway.
When opposition members asked for the number of Pakistanis released after the crown prince's statement, Ms Aheer said information was coming in bits and pieces, and the number of released prisoners would be known soon.
She said 3,400 Pakistanis are imprisoned in jails in Saudi Arabia.
To a question from MNA Syed Agha Rafiullah about the number of Pakistanis imprisoned in India and the steps the government is taking for their release, the foreign affairs minister said in a written reply that there are 585 prisoners – 375 civilians and 210 fishermen – currently detained in jails in India.
Full report at:
https://www.dawn.com/news/1478213/delay-in-release-of-pakistanis-from-saudi-jails-concerns-opposition
--------
URL: https://www.newageislam.com/islamic-world-news/terror-attacks-lanka-show-isis/d/118426
New Age Islam, Islam Online, Islamic Website, African Muslim News, Arab World News, South Asia News, Indian Muslim News, World Muslim News, Women in Islam, Islamic Feminism, Arab Women, Women In Arab, Islamophobia in America, Muslim Women in West, Islam Women and Feminism