New Age Islam News Bureau
14 October 2020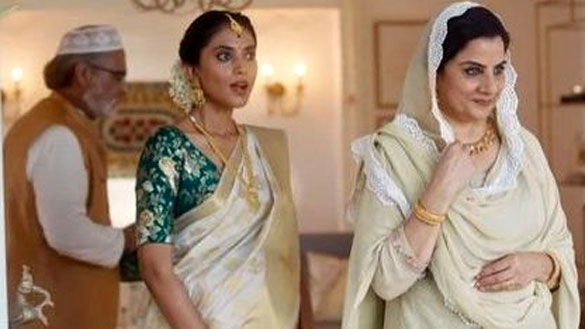 A still of the characters from Tanishq's new jewellery ad that was pulled down due to a social media backlash. (Photo | Twitter)
-----
• 'Out-Vote the Hate': Congresswomen Rashida Tlaib and Ilhan Omar Call For Large Muslim Turnout
• Election 2020: Al Noor Imam Gamal Fouda Abused While Walking With Jacinda Ardern
• Pakistan Govt to Establish Interfaith Harmony Councils: Chairman of the Pakistan Ulema Council
• Iran Militias Replace Ancient Syria Street Names with Shia Figures
• Al Sunni: Numerous Discussions Are Far Better Than Multiple Battlefronts
• Azerbaijan, Turkey Attempting To Create "Islamic State-2" – Historian
• Ethiopian Migrants Are Stuck In Hell between Saudi Arabia And Yemen
India
• Tata Group's Indian Jewellery Brand, Tanishq, Removes Ad on Hindu-Muslim Unity after Public Backlash
• Top Court to Hear Plea of 5 Malaysians Who Attended Islamic Sect Event
• Trip To Mecca, Madina: 62-Yr-Old Man Duped Of Rs 12.26 L By Travel Agent In Mumbai
---------
North America
• 'Out-Vote the Hate': Congresswomen Rashida Tlaib and Ilhan Omar Call For Large Muslim Turnout
• CAIR Decries 'Slap on Wrist' for New Mexico Officer's Racist Video, Welcomes New Virginia
• In San Diego, Black Muslims are working to expand voting access in jails
• Toronto Police Stepping up Patrols at Toronto's Mosques, in Response to Warnings of a Potential Murderous Attack
• School Calendar Including Jewish, Hindu and Muslim Holidays
---------
New Zealand and Australia
• Election 2020: Al Noor Imam Gamal Fouda Abused While Walking With Jacinda Ardern
• Religious group withdraws recent application to build mosque in Perth
---------
Pakistan
• Pakistan Govt to Establish Interfaith Harmony Councils: Chairman of the Pakistan Ulema Council
• Shia Groups to Stage 'Kafan Posh' Rally for Registering 'Baseless Cases Against Mourners'
• MoU Signed To Promote Women Well Being In Muslim Countries
• Law being amended to protect land ownership in AJK
---------
Mideast
• Iran Militias Replace Ancient Syria Street Names with Shia Figures
• Iran to receive Iraqi medicine, staples for gas and power in bid to avoid sanctions
• Iran in shock after 11-year-old boy commits suicide over poverty
• How a Maritime Deal With Israel Could Ease Lebanon's Woes
---------
South Asia
• Al Sunni: Numerous Discussions Are Far Better Than Multiple Battlefronts
• Posts On Govt, Military And Police: Bangladesh Govt Slaps Gag On Social Media
• Deep Disputes within Taliban team; Power Struggle between Stanekzai and Mullah Baradar
• What are China's new laws for Muslims visiting Haj
• Unknown Gunmen Assassinate Islamic Scholar in Nangarhar
• Herat Police: Shroff Rescued From Clutches Of Kidnappers
• Helmand Battle Dislocates 35,000 Civilians: UNAMA
• Afghan Airforce Helicopters Collide Midair In Helmand Province
---------
Europe
• Azerbaijan, Turkey Attempting To Create "Islamic State-2" – Historian
• Armenian side restores the mosque, Azerbaijan shells the church in Shushi – President • Sarkissian tells foreign journalists
• London knife crime: Man smiles after admitting to stabbing prayer leader in Regent's Park mosque
---------
Africa
• Ethiopian Migrants Are Stuck In Hell between Saudi Arabia And Yemen
• Bandits Kill Imam, 12 Others in Katsina, Niger Communities
• Boko Haram kills 14 farmers in Nigeria
• How Somali Islamist insurgents are moving millions through legitimate businesses
--------
Southeast Asia
• Parliament: 35% of Madrasa Students Pursue Tertiary Islamic-Related Education
• Ismail Sabri: Non-contact sports like cycling, jogging, athletics training permitted under CMCO
---------
Arab world
• Saudis Blow Hot and Cold Over Flu Vaccine As Winter Approaches
• G20 Interfaith Forum Values Kingdom's Role In Int'l Dialogue, Minister Of Islamic Affairs Says
• Mawhiba megaproject to support gifted youth in Saudi Arabia
Compiled by New Age Islam News Bureau
URL: https://www.newageislam.com/islamic-world-news/tata-groups-indian-jewellery-brand/d/123139
---------
Tata Group's Indian Jewellery Brand, Tanishq, Removes Ad on Hindu-Muslim Unity after Public Backlash
Ankita Mukhopadhyay
14.10.2020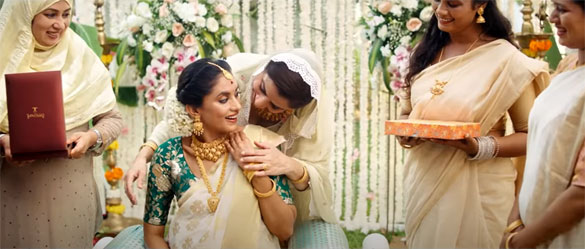 A still of the characters from Tanishq's new jewellery ad that was pulled down due to a social media backlash. (Photo | Twitter)
-----
On Tuesday, Tanishq, one of India's top jewelry brands, removed a short advertisement film which was released as part of its "Ekatvam" (Oneness) campaign, after a public backlash.
The ad showed a Muslim family organizing a baby shower ceremony for their pregnant Hindu daughter-in-law.
In a statement, the brand, which is owned by the Tata Group, one of India's largest conglomerates, said that it withdrew the ad "keeping in mind the hurt sentiments and well being of our employees, partners and store staff."
Tanishq didn't reveal whether its employees had received threats following the release of the ad.
Tanishq was trolled on social media after the ad's release and accused of "promoting" inter-faith marriages.
Several users trended the hashtag #BoycottTanishq on Twitter and accused the brand of promoting "love jihad", a campaign that accuses Muslim men of luring Hindu women into marriage and converting them to Islam.
Some users went on to accuse Tanishq of promoting only "Muslim jewelry." Khemchand Sharma, a member of India's ruling Bharatiya Janata Party (BJP), said that the ad glorified the marriage of a Hindu woman into a Muslim family.
"Why don't you show a Muslim daughter-in-law in your ads with a Hindu family? Looks like you are promoting #LoveJihad and favouring a particular faith only," he tweeted.
The stock of Titan Company Ltd., the holding company of the Tanishq brand, was down by 2.5% on India's national stock exchange at the end of the trading day on Tuesday.
Tanishq cited the "divergent and severe reactions" and "inadvertent stirring of emotions" for their decision to withdraw the ad.
However, several leaders of the Congress, India's main opposition party, said that the brand had buckled to bigotry and called on Ratan Tata, the former chairman of the Tata Group, to take a stand on the matter.
The Tata Group's brands have previously released films on several social issues like LGBTQ rights and widow remarriage. Those films also received significant backlash, but were not withdrawn.
The removal of the ad comes at a time when India is in the spotlight for its treatment of religious minorities and human rights abuses.
At the beginning of the coronavirus pandemic in March, Muslims were labelled "super spreaders" of the virus after some members of the Tablighi Jamaat congregation tested positive for the coronavirus.
Last month, human rights watchdog Amnesty International announced that it was halting operations in India, citing a "continuing crackdown" and "harassment" by the government of Prime Minister Narendra Modi.
https://www.dw.com/en/indian-jewelry-brand-removes-ad-on-hindu-muslim-unity-after-public-backlash/a-55269273
--------
'Out-Vote the Hate': Congresswomen Rashida Tlaib and Ilhan Omar Call For Large Muslim Turnout
By Ali Harb
14 October 2020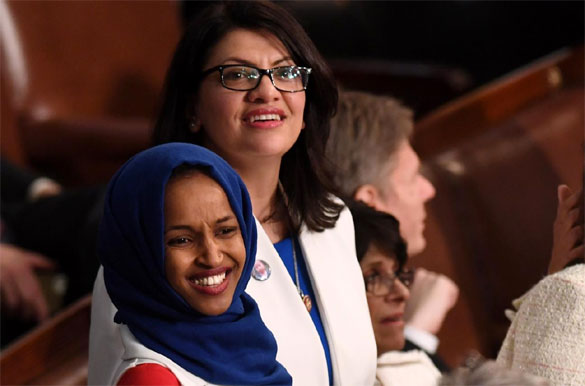 'Go out there and make sure this election is too big to rig,' Rashida Tlaib says (AFP/File photo)
----
Congresswomen Rashida Tlaib and Ilhan Omar along with other prominent Muslim Americans called for high voter turnout from their community to push back against bigotry and defeat President Donald Trump in next month's election.
Speaking at a virtual town hall meeting with Muslim officials and advocates hosted by Senator Bernie Sanders late on Tuesday, Tlaib said US Muslims will "out-work" Trump's "hate", recalling how protesters flooded airports across the country after the president announced his ban on several Muslim-majority countries in 2017.
"Not only did we go in masses to the airport, we're going to go in masses to the voting booth. And I'm calling on our Muslims across the country to know that we have to take up the man who birthed the Muslim ban," Tlaib said. "We have to make sure we out-vote the hate."
Omar, who has been a frequent target of racist attacks by Trump at campaign rallies, said civic engagement and community-building are an "antidote" to hate.
"No matter what happens, we are not giving up engagement and participation in our society," Omar said. "We are not going to recoil or retreat into spaces of comfort, because that will eventually create discomfort for ourselves... That is truly what it means to be an American; it's that you stay resilient, strong and you work through everything."
Both Omar and Tlaib had originally endorsed Sanders during the Democratic primaries before pledging their support for the eventual Democratic nominee Joe Biden and vowing to mobilise the Muslim community to defeat Trump.
While Muslims represent a small minority of voters across the United States, their communities are concentrated in key swing states, where their votes can affect the outcome of the race.
"No excuses, you cannot sit this one out," Sanders said. "You've got to not only vote yourselves, you've got to get your friends, your family, your co-workers... We have got to have the largest voter turnout in history. We've got to defeat Trump, and we have got to defeat him badly."
Minnesota Attorney General Keith Ellison, who became the first Muslim to be elected to Congress in 2006, said bigotry is being used to perpetuate broader inequality by creating a "boogeyman" to distract people from establishing human solidarity and demanding their rights.
"If you want to have an unequal society for everyone, you'll need racism; you've got to have bigotry because if you don't have it, how are you going to distract the majority that is on the bottom to the point where they will voluntarily give up their rights," he said.
Asked about voter suppression, Tlaib denounced Republican-led measures to make voting more difficult and lauded the efforts of attorneys general like Ellison to make it more accessible.
"You all have to help us and be our partners and go out there and make sure this election is too big to rig," the congresswoman said.
Omar also urged Muslim Americans to be "assertive" about their right to vote. "If our vote wasn't as important as it is, they wouldn't fight so hard to limit our ability to vote," she said.
"They don't want you to vote, and if they don't want you to vote, you better catch on that your vote is enormously important," Sanders said. "They know it; now it's your turn to know it."
Abdul El-Sayed, a public health advocate and former gubernatorial candidate in Michigan, echoed that message.
"Talk to your ammos [uncles], to your khaltos [aunties] and your aunties and your uncles and their kids and their parents and all your cousins," El-Sayed said.
"You need to make sure that they understand exactly where and how to vote, make sure that they're registered; walk them through the process, ask them for their plan, and then hold them accountable to their plan."
https://www.middleeasteye.net/news/out-vote-hate-tlaib-and-omar-call-large-muslim-turnout
--------
Election 2020: Al Noor Imam Gamal Fouda abused while walking with Jacinda Ardern
Thomas Coughlan
Oct 14, 2020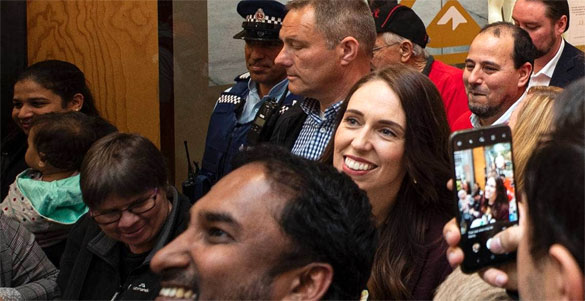 Jacinda Ardern and Gamal Fouda at Westfield Riccarton mall
-----
The Imam of the Al Noor mosque was among a group of people who suffered racist abuse whilst at a campaign stop with Labour leader Jacinda Ardern.
Ardern spent Wednesday in Christchurch, and visited the Westfield Riccarton mall shortly after lunch. The mall is about ten minutes' drive from Al Noor mosque.
Imam Gamal Fouda and other members of Christchurch's Muslim community had shown up to see Ardern, who was visiting the mall with Labour's Christchurch Central candidates. During a walk through the mall, a heckler directed a racist diatribe at Fouda and other members of the community.
Police spoke to the woman, who then left the crowd. Ardern, meanwhile made some space for Fouda to walk beside her through the mall.
The altercation was brief and didn't stop the walk. Ardern continued to take selfies for the large crowd. Fouda appeared to brush off the incident although he had stern words for the woman.
"This is racism," he said. "I'm a New Zealander, I have a New Zealand passport, and I've lived here for half of my life now – I've got my children here, and this is my home".
He said that no-one should have to listen to racism in New Zealand.
"This shouldn't be said to anybody else in this country," he said.
Fouda said the incident showed the need to call out racism wherever it was spotted.
"There's lots of ignorance out there, we need to learn and to educate people as well – we need to start very seriously teaching our children and our friends.
Cheers, Aotearoa. Thank you to our readers who have already supported Stuff's reporting. Contribute today to help our journalists bring you independent New Zealand news you can trust.
I hear anything I have to stop it and say this is not correct – this is wrong – people need to stand for freedom of speech and that's what we're talking about," he said.
Fouda has been a Labour member since 2014 and is currently on the local board.
The incident occurred on Ardern's last stop in Christchurch that day. Tomorrow, she heads to Auckland for two final days of whistle-stop campaigning before the final day of polling on Saturday.
https://www.stuff.co.nz/national/politics/300132578/election-2020-al-noor-imam-gamal-fouda-abused-while-walking-with-jacinda-ardern
----------
Pakistan Govt to Establish Interfaith Harmony Councils: Chairman of the Pakistan Ulema Council
Staff Reporter
14 Oct 2020
ISLAMABAD: Chairman of the Pakistan Ulema Council (PUC) and Special Assistant to the Prime Minister on Religious Harmony Hafiz Tahir Ashrafi has said that the government will establish 'interfaith harmony councils' across the country and there are plans to include the subject of religious tolerance in the curriculum.
Talking to a delegation of ulema belonging to different schools of thought here on Tuesday, he said that on the instructions of Prime Minister Imran Khan 'interfaith harmony councils' would be established all over the country at union and tehsil levels to promote religious tolerance.
Hafiz Ashrafi said that the 'interfaith harmony councils' would include representatives of all religions, sects of Islam and denominations of other religions, to promote intra-faith dialogue also.
He said the establishment of these councils would help eliminate the registration of false blasphemy cases and stop people from taking the law into their own hands after instigation by an unauthorised person.
The PUC chairman said that blasphemy cases had witnessed a decline over the past two years due to effective coordination between clerics and religious scholars.
He said the new councils would prove to be a positive initiative as they are expected to keep a check on misuse of blasphemy laws. "Joint sittings of representatives of different religions and schools of thought should be held regularly across the country," he added.
The PM's special assistant said that most of the false allegations about blasphemy had been levelled by certain miscreants for personal benefits.
He said the Constitution had categorically defined the rights of minorities and any organisation or individual could not be allowed to take away the rights of others.
"Ending extremism, terrorism and sectarian violence requires dialogue between people of different groups and to achieve this goal the government will hold training sessions for imams, preachers, teachers as per modern requirements and standards of society," he added.
Hafiz Ashrafi said that interfaith dialogue was the need of the hour as it was an essential requirement to eradicate the menace of sectarian violence, extremism and terrorism.
He said that in order to promote religious harmony topics on religious leniency and tolerance would be made part of curriculums at schools and colleges.
The PUC chairman said training workshops for ulema, mashaikh and even the non-teaching staff in religious seminaries would be conducted.
"The enemies of the nation are taking advantage of religious intolerance in our society and killers of Maulana Dr Adil Khan should be exposed and taken to task. Pakistan has evidence to prove that Indian elements are involved in fomenting sectarian violence here," Hafiz Ashrafi said.
In reply to a question, he said the government was working to resolve the challenges of expatriate Pakistanis imprisoned abroad or facing other issues in the wake of Covid-19.
https://www.dawn.com/news/1584950/govt-to-establish-interfaith-harmony-councils-ashrafi
-----------
Iran militias replace ancient Syria street names with Shia figures
October 13, 2020
Memo news Paper
Iranian militias in Syria have been changing the names of ancient streets within the country with names of Iranian Shia leaders, according to the UK-based Syrian Observatory of Human Rights (SOHR).
Citing sources from the city of Al-Mayadeen in Syria's eastern province of Deir Ez-Zor, SOHR reported that the Iranian militias present in the country have been replacing the old names of streets with new names in both Arabic and Persian.
Some examples of the name changes include 'Anas Bin Malik' Street being turned into 'Imam Al-Khamini' Street, and 'Al-Jaish' Street becoming 'Imam Al-Abbas' Street, referring to the 'Al-Abbas Brigade' militia operating in the city.
Other examples include 'Abu Grub' Street becoming 'Marty Qassem Soleimani' Street after the assassinated Iranian commander, and 'Al-Sakiat al-Rai' Street becoming 'Fatimiyoun' Street.
The revelation of the Iranian militias' changes of ancient Syrian street names also comes amid reports of clashes between the Syrian regime and some Iranian militias, as regime forces attacked some of their positions in Deir Ez-Zor province and captured an oil field from one of the militias.
Such clashes come as a surprise to many, as the Iranian militias were a core part of the Syrian regime's fight against the Syrian opposition throughout the ongoing nine-year-long conflict, and potentially signals the breakdown in relations between the Assad regime and the Iran-backed forces.
https://www.middleeastmonitor.com/20201013-iran-militias-replace-ancient-syria-street-names-with-shia-figures/
---------
Al Sunni: Numerous discussions are far better than multiple battlefronts
by: RabiaGolden
October 13, 2020
The Permanent Representative of Libya to the United Nations (UN), Taher Al-Sunni, stated that the abundance of national dialogue without force is far better than the existence of various fighting front lines and axes in the country.
In a tweet, Al-Sunni expressed his sincere hope that the ongoing dialogue would be not only national but uniform and non-destructive at best, without dictations.
The UN said that Libyan inclusive discussions will resume in Tunisia early next month, following weeks of previous intensive discussions between the main Libyan and international stakeholders.
https://www.libyaobserver.ly/inbrief/al-sunni-numerous-discussions-are-far-better-multiple-battlefronts
---------
Azerbaijan, Turkey Attempting To Create "Islamic State-2" – Historian
13 October 2020
by Tigran Sirekanyan
YEREVAN, OCTOBER 13, ARMENPRESS. The goal of Azerbaijan and Turkey is to create an "Islamic State-2" in the north of Iran, historian Aram Ananyan told ARMENPRESS.
''Judging from the information on the internet about the locations of the jihadist-terrorists, Azerbaijan is sparing no efforts to have large groups of jihadist-terrorists on the border with Iran. This cannot leave the regional countries unconcerned, because in the near future a very complicated problem can emerge in terms of turning those territories into another terroristic quasi state'', Ananyan said.
According to him, the terroristic threat in the region becomes more and more obvious day by day. According to Ananyan, these developments are in the interests of not only of Azerbaijan, but also for Turkey, because a possible trouble spot is being created in a very sensitive region.
Aram Ananyan also referred to the call of the U.S. Department of State, urging Turkey to stop provocations in the eastern part of the Mediterranean Sea. Ananyan emphasizes that Turkish expansionist aspirations is not limited in the eastern direction, but includes the Aegean basin and is directed against the legitimate rights of friendly Greece.
''The position of the U.S. Department of State adequately describes the situation'', he said.
Aram Ananyan emphasized the step of the EU member state Greece, which recalled its Ambassador from Azerbaijan.
According to Ananyan, Greece carried out a demarche and showed that Turkey is standing behind the military aggression of Azerbaijan against Artsakh.
''Greece is the 1st EU member state that, putting aside economic interests and other circumstances, demonstrates political courage to show value criterion in big politics'', Ananyan said, hoping that other EU Member States will also take some measures, since a united foreign policy is a necessity. ''The present behavior of Turkey threatens at least two EU member states – Greece and Cyprus'', Ananayan added.
According to the expert, this step of Greece was not addressed only to Armenia, Azerbaijan and Turkey, but was also an alarm for the European family that there are great chances that those developments in this region can pass to Europe like a spreading fire.
https://armenpress.am/eng/news/1031494.html
---------
Ethiopian migrants are stuck in hell between Saudi Arabia and Yemen
MURAT SOFUOGLU
14-10-2020
Both Yemen's Houthis and Riyadh have committed horrible atrocities against Ethiopian migrants, rights groups say.
The terrible dilemma of Ethiopian migrants across Saudi Arabia and Yemen has shown once again how the fight for political power is creating insurmountable tragedies across the world.
Tens of thousands of Ethiopian migrants, who are merely seeking job opportunities across the Arab peninsula, have literally been caught in the crossfire between Saudi Arabia and its Yemeni enemies, the Houthis, who have been fighting with a Riyadh-led Gulf coalition since 2014.
First, they were expelled from northern Yemen to the Saudi border by the Houthis, who attacked them with rockets, and then, the migrants were shot at by the kingdom's border guards ending with them languishing in detention centres in very poor conditions.
"What these people have gone through is unimaginable. Aside from conditions they are in now, they were shot out by rockets [launched by the Houthis] that pushed from where they were living in northern Yemen," says Nadia Hardman, a leading Human Rights Watch (HRW) researcher, who has conducted in-depth interviews with the Ethiopian migrants in Saudi Arabia, Yemen and Ethiopia.
"[They were] shot at again [by Saudi border guards], so their friends and families were killed at the border and then taken to these detention facilities. So the psychological impact is going to be enormous," Hardman tells TRT World.
"These people are caught between two combatants neither of which gives a damn about people's lives in my assessment," says Abdi Samatar, professor of geography at the University of Minnesota and a research fellow at the University of Pretoria. Samatar is originally from Somalia.
On both sides of the border, Saudi security forces and Houthis have been attacking unarmed African migrants, primarily Ethiopians. While she could not confirm it, aside from Ethiopians, there might be other nationals like Somalis and Bangladeshis in Saudi detention centres.
"SaudiArabia is arbitrarily detaining 100s if not 1000s of Ethiopia migrants in appalling, overcrowded conditions with limited access to food and water," according to the HRW's Nadia Hardman. (Credit: Nadia Hardman / Human Rights Watch)
"The Houthis were pushing us from behind. We tried to run in front of them but in front of us there was a mountain. There were people shooting from the top of the mountain, from the Saudi base and they were firing on us from there and they were firing behind, from the Houthi side, so we stayed in between the mountains. They were firing bullets behind us and then from the Saudi base they were firing too and so a lot of people were injured and killed," said one of the migrants, Gabi, a pseudonym used to protect them from any attacks.
The Houthis deny any shooting of Ethiopian migrants while they claim they have wanted the migrants out of Yemen because they were "coronavirus carriers".
"The Houthis were shooting at us. The Houthis came with military cars, like pickups – they were using weapons. There were very many soldiers, but I don't know how many. Everyone ran for their lives," said another migrant, Juhur, to the HRW.
Everyone, who has been regarded as an obstacle to the very survival of the Houthis, would be expelled from Yemen under the territories controlled by the group, says Samatar.
"The Saudis were firing a rocket launcher at us. I saw people shot and killed and they rolled over on the ground," Juhur says.
"The tragedy is that the Saudi regime and its operations in the south have been totally ruthless rather than providing some sanctuary for people, who were expelled and had nowhere to go, until they expatriate to their home countries," Samatar tells TRT World.
But even after tens of thousands of Ethiopians were able to enter Saudi Arabia, their tragedy has continued as they are being held in inhumane conditions.
"I mean it's horrifying," says Hardman, indicating that the HRW has, for a number of years, been documenting the treatment of migrants in Saudi detention centres..
"All the detention centres they use are pretty uniform with overcrowded conditions, limited to or no access to toilet facilities. Overflowing toilets or toilets don't work. Inadequate food. People are given a piece of bread three times a day," the researcher recounts her observations.
"[People are] forced to use the piping in the toilets as a water source to drink from. People describing having to sleep, eat, and go to the toilet in the same place," Hardman says.
"People complain that they were beaten invariably. Women, pregnant women and children are in the same facilities," she explains. In one of the detention centres, there was no roof, allowing rainwater to flood over the facility, she says.
Many migrants have not been able to change their clothes in six months because Saudi authorities confiscated their belongings at the border, the researcher says.
"They are desperate. The story is so moving and compelling, but desperation that people feel is difficult to translate into words because they see no hope. Nothing has changed," she says.
Despite the Saudi promise of an inquiry over the mistreatment of the migrants across the kingdom, where 16,000 Ethiopians have been held in just one of the facilities, according to the Ethiopian consulate in Jeddah, Hardman has seen no evidence of any investigation at all.
She also assesses there has been no real change in the conditions with which the migrants currently live. "I understand from detainees that the situation remains the same," she says.
Despite the coronavirus pandemic, she thinks the Saudis have resources to address the problems associated with their treatment of migrants across their detention centres.
Last week, the EU Parliament passed a non-binding resolution, condemning Saudi mistreatment of Ethiopian migrants across the kingdom. Politically, it means very little.
https://www.trtworld.com/magazine/ethiopian-migrants-are-stuck-in-hell-between-saudi-arabia-and-yemen-40541
---------
India
Top Court To Hear Plea Of 5 Malaysians Who Attended Islamic Sect Event
Press Trust of India
October 13, 202
New Delhi: The Supreme Court Tuesday agreed to hear the plea of five Malaysians who attended Tablighi Jammat congregation earlier this year at Nizamuddin in Delhi, seeking withdrawal of cases lodged against them by Bihar government for alleged violation of Foreigners Act.
A bench of Justices AM Khanwilkar, BR Gavai and Krishna Murari asked the petitioners to serve the advance copy of the petition.
"Liberty is granted to the counsel for the petitioner to serve advance copy of the petition on the standing counsel for the State of Bihar through on-line/e-mail in the course of the day. Mr. Sahil Raveen, learned counsel, agrees to accept notice for the State of Bihar. List this matter on October 15, 2020 along with Writ Petition... and connected cases," the bench said.
The plea filed through advocate Fauzia Shakil said that the petitioners are resident of Malaysia and are seeking for a declaration that the actions of the Centre and Bihar were in violation of the Fundamental Rights guaranteed to the foreign nationals under the Constitution of India.
They sought directions to the Bihar government to withdraw prosecution which was mechanically instituted on the basis of notification dated April 2, 2020 issued by the Union of India in violation of the procedure established by law.
They also sought appropriate directions to the Ministry of Home Affairs for removing them from blacklist and reinstating their visa for exit, and ensuring their safe passage to their country.
The plea sought directions to the MHA to follow its own circular of March 28, 2020 according to which the foreigners found to be free of COVID-19 were to be immediately deported to their home country after the quarantine period.
It further added that the detention of the petitioners in India amounts to illegal persecution as held by the Bombay High Court, and so after declaring their detention illegal they may be suitably compensated.
It also sought court's directions to the MHA and the Ministry of External Affairs to hand over the petitioners to the care of the Malaysian High Commission in New Delhi till they are repatriated.
The MHA issued an Office Memorandum on April 2, 2020 stating that it has decided to cancel visas of 960 foreign nationals for their alleged involvement in "Tablighi Jamaat" activities and also blacklist them under category "A" as per the blacklisting guidelines, it said.
The Malaysian nationals further said that pursuant to the office memorandum they were blacklisted and their visas were also revoked.
"Immediately, on the same day on April 2, 2020, another memorandum was issued by the MHA directing DGPs of all concerned States/UTs and the Commissioner of Police, Delhi Police to take necessary legal action against such violators, on a blanket presumption without any substantiation that they had violated the conditions of their validly granted visas, under relevant sections of the Foreigners Act, 1946 and Disaster Management Act, 2005," it said.
The foreigners further stated that they had entered India on a valid tourist visa on March 6-7, 2020 and subsequently after attending the "Tablighi" congregation at Nizamuddin here on March 10-13, they had proceeded to Kishanganj and Araria districts of Bihar.
The plea said that on April 12 and 14, they were charged for violations of provisions of foreigners Act and thereafter arrested by the Bihar police in Kishanganj and Araria districts.
"The clarification issued by the Ministry of Home Affairs, GOI on November 20, 1996 categorically states that attending "Tablighi Jamat ijtemah" (congregations) does not amount to "Tablighi" work", it said, adding that the Petitioners had to stay back in India out of compulsion as the entire country was under lockdown from March 24 onwards.
It said that the direction issued by the Centre to the States and UTs by its Office Memorandum of April 2, 2020, to take legal action was "illegal and violative of the principles of federal structure".
"That the act of Union of India is unjust, unreasonable and manifestly arbitrary as it based wholly on conjectures and surmises as no enquiry was conducted to showcase that the Petitioners indulged in Tablighi activities," the plea said.
https://www.ndtv.com/india-news/supreme-court-to-hear-plea-of-5-malaysians-who-attended-tablighi-jammat-event-2309621
---------
Trip to Mecca, Madina: 62-yr-old man duped of Rs 12.26 L by travel agent in Mumbai
by Sagar Rajput
October 14, 2020
A 62-year-old man was duped of Rs 12.26 lakh by a travel agent, who took the money to facilitate his and his family members' trip to Mecca and Madina and perform Hajj, the police said.
The man, a retired Central Railway employee, has lodged a complaint with Nagpada police. The police said the accused was a friend of the complainant and had also promised to arrange his daughter's wedding at a mosque in Saudi Arabia. The FIR was registered last week.
"The travel agent is a close friend of mine. We had gone to Mecca in 2017 with our families," said Firoz Alam Naziruddin Khan, the complainant who lived in Jijamata Nagar, Worli, before shifting to Ghazipur in Uttar Pradesh.
After returning from Mecca, the accused told him he could arrange another trip for the family for Rs 28,000 per person to perform Hajj. "The trip was scheduled for December 2018 and as I was planning to get my daughter married, he said he knew people who would help arrange my daughter's wedding there," Khan said.
Accordingly, Khan made paid Rs 4.76 lakh in advance. "I made bookings for 17 people, which included my family and my son-in-law's family," he told the police.
The travel agent then made another offer of a trip to Mecca and Madina at Rs 25000 per person in December 2019. "For 30 family members, I paid him another Rs 7.5 lakh," said Khan.
In March 2018, Khan shifted to Ghazipur but later in October when he contacted the accused for their trip, he asked for more money. "He said I will have to pay more, so I asked him to return my advance following which he promised to arrange the trip in February 2019," Khan said.
The police said the accused kept postponing the trip and later cancelled it. The accused is yet to return the money to the complainant. "I am now settled in UP, so I contact him on phone and since February he has been promising to return the money," Khan said. Last week, Khan came to Mumbai and lodged a complaint with Nagpada police.
https://indianexpress.com/article/cities/mumbai/trip-to-mecca-madina-62-yr-old-man-duped-of-rs-12-26-l-by-travel-agent-in-mumbai-6724133/
--------
North America
CAIR Decries 'Slap on Wrist' for New Mexico Officer's Racist Video, Welcomes New Virginia
Ibrahim Hooper
October 13, 2020
(WASHINGTON, D.C., 10/13/2020) — The Council on American-Islamic Relations (CAIR), the nation's largest Muslim civil rights and advocacy organization, today decried lack of appropriate disciplinary action for a New Mexico officer's racist video on Tik Tok and welcomed proposed school calendar in Prince William County, Va., that includes days off for Jewish, Hindu and Muslim holidays.
In Albuquerque, N.M., a police officer at the University of New Mexico in was placed on paid administrative leave for two weeks while an internal investigation was conducted. Eric Peer allegedly posted a TikTok video featuring a South Park voiceover that said, "scanning for Mexicans." Peer reportedly received a written warning for a violation separate from the video.
In Prince William County, Va., school officials have included Jewish, Hindu and Muslim holidays to the 2021-22 school calendar and asking for parent input. The proposed version of the school calendar would add the Jewish New Year Rosh Hashanah, the Jewish holy day Yom Kippur, the Hindu Festival of Lights— Diwali, and the Muslim holiday Eid al-Fitr.
"All Americans must rise to challenge racism and applaud inclusion for people of all backgrounds if we are to heal and grow as a just nation," said CAIR National Communications Director Ibrahim Hooper.
CAIR recently expressed support for a proposed amendment on the November ballot to remove racist language from the Alabama constitution.
The American Muslim community and CAIR are standing in solidarity with all those challenging anti-Black racism, xenophobia, Islamophobia, anti-Semitism, and white supremacy.
CAIR is America's largest Muslim civil liberties and advocacy organization. Its mission is to enhance understanding of Islam, protect civil rights, promote justice, and empower American Muslims.
La misión de CAIR es proteger las libertades civiles, mejorar la comprensión del Islam, promover la justicia, y empoderar a los musulmanes en los Estados Unidos.
https://www.cair.com/press_releases/cair-decries-slap-on-wrist-for-new-mexico-officers-racist-video-welcomes-new-virginia-school-calendar-including-jewish-hindu-and-muslim-holidays/
--------
In San Diego, Black Muslims are working to expand voting access in jails
October 13, 2020
By Aysha Khan
(RNS) — Most inmates in California jails are eligible to vote. But former inmate Christopher Jackson says few of them actually know that. Fewer still have any idea how to cast their ballots from behind bars.
During the months Jackson spent in custody at San Diego Central Jail and George Bailey Detention Facility, he registered about 200 of his fellow inmates to vote ahead of the 2018 municipal elections.
Nearly all, he said, were surprised to learn that Californians in pretrial incarceration can legally vote, or that their votes for city council members or judges could affect their own futures.
"We're all here in this situation, in custody, but that doesn't mean that we don't have a say in this district," said Jackson, who has since been released. "There are a lot of people who may not be found guilty, and even those that have to take some time for what they did, their vote should still count."
Jackson's work as an inside voting organizer was funded by Pillars of the Community, a faith-based criminal justice advocacy group led by Black Muslims in southeast San Diego. Leaders of the group say they want to see an America without prisons.
The first step to accomplishing that goal, Pillars of the Community's founder Khalid Alexander said, is protecting currently and formerly incarcerated individuals' access to the ballot.
That's why, during every election cycle for the past five years, the group has hired and trained a team of pretrial inmates to register eligible voters from behind bars.
"All of these laws and judges don't just come out of nowhere, like the tablets that came down to Moses," said Alexander, a San Diego native and community college professor. "These are all man-made. When our communities aren't aware of what's on the ballot and aren't fighting so that everybody can be engaged in the political process, we're the ones who end up suffering."
Alexander founded Pillars over a decade ago with the aim of helping formerly incarcerated Muslims in southeastern San Diego find employment and reintegrate into society. But without addressing broader issues in the criminal justice system, he found, his work was like "filling a bucket with water that has holes at the bottom."
He began shifting Pillars toward advocacy work targeting the criminal justice system, including voting rights for the disenfranchised. Since then, his organization has registered hundreds of new voters every year.
California is among the more progressive states when it comes to felony convictions. Voting rights are automatically restored to individuals after release from prison and discharge from parole. Those on probation and in pretrial detention may also vote.
That means most of the tens of thousands of inmates in California's jails have the legal right to vote. But many still face de-facto disenfranchisement, according to the ACLU of Northern California, which has touted Pillars of the Community's inside organizer work as a model for other activist groups around the state.
From delayed mail-in ballot delivery to restrictions on access to pens, pretrial detainees in county jails are routinely prevented from exercising their legal right to vote, said Laila Aziz, director of operations at Pillars of the Community.
That's where Pillars' inside organizers, like Jackson and other short-term hires who work from behind bars in county jails, come in.
Laila Aziz, operations manager at the nonprofit Pillars of the Community in San Diego, is shown on June 24, 2020. Photo by Zoë Meyers/inewsource
"When you don't give me access, I'll just hire somebody in that location, in that pop, in that jail, and have them register people involved," said Aziz, who has been coordinating voter inreach programs twice a year since joining Pillars in 2017.
Every election cycle, the group hires pretrial inmates and pays them $17 an hour to register other eligible detainees to vote and conduct civic engagement education while in custody. Pillars trained its inside organizers during public visits and sets up phone accounts to remain in regular contact.
These inside organizers are able to alert Pillars' team to obstacles eligible voters are facing, such as ballots frequently arriving days after the election had passed.
"We were all in close proximity together, so I was able to translate better for my peers all this information I was getting from the outside," said Jackson. "I was speaking from a place where I'm just like them."
Combined with door-knocking and other voter education programs, such as registering locals who have completed their parole or are on probation but were unaware that they can vote, Aziz said Pillars has connected with tens of thousands of eligible voters.
Ahead of the November elections, Pillars has focused on educating pretrial detainees about ballot initiatives, including Proposition 17, an amendment to open up voting rights to the estimated 40,000 Californians on parole for felony convictions, as well as Proposition 25, a referendum on a state law that banished money bail.
In the past, Pillars has also partnered with the League of Women Voters to send its own volunteers into detention facilities for voter registration drives. This year, that's not happening due to the coronavirus.
So Aziz's team hired additional inside organizers to educate and register their fellow pretrial detainees — hiring five instead of the three employed in past years.
The nonprofit also ramped up its email outreach program. Organizers filed California Public Records Act requests for the names of all people currently in local jails. Dozens of volunteers then emailed each of the names on the lists, informed them of their voting rights and gave instructions on how to request voter registration and how to vote while in jail.
Like many Muslims around the country working on protecting voter access for their community, Aziz and Alexander say their work is driven by the justice-oriented nature of their faith.
In San Diego and throughout California, Muslim organizers are also working on a series of initiatives to mobilize their community's voters, registering Muslims by the dozens and educating them on their voting rights.
Ismahan Abdullahi of San Diego's Muslim American Society spearheads local voter engagement initiatives targeting refugees. The Council on American-Islamic Relations' chapters up and down the state; the Los Angeles-based Muslim Public Affairs Council; Muslim Students Association West; and mosques including Upland's Middle Ground Muslim Center have also been holding voter registration events.
"As Muslims, it's really an obligation to resist oppression, which is one of the worst sins a person can commit in our religion," said Malcolme Morgan, who was hired as Pillars' Muslim organizer in 2018.
An artist, rapper and children's book author who grew up in southeast San Diego, Morgan describes his work with Pillars as "liberation of the captives" — a striking image, considering that up to 30% of enslaved Africans brought to America were Muslim.
At 19 years of age, Morgan was sentenced to 13 years in prison. He has since been released to a halfway house, where he continues serving his sentence. Though neither on parole nor probation, Morgan said he is not legally able to vote.
"I'm only three-fifths of a man," Morgan said. "I don't have the right to vote, I don't have the right to purchase firearms, I don't have the rights to go and travel wherever. So, in essence, because I don't have the right status as a full citizen, I'm not free."
Mass incarceration and felony disenfranchisement disproportionately affect Muslims — especially Black Muslims. Many Black and incarcerated people have been drawn to the faith, particularly through learning about Malcolm X, due to Islam's emphasis on racial equality and social justice.
"Islam is the fastest-growing religion in the United States penitentiary," noted Aziz. Many of the group's members are themselves formerly incarcerated Muslims.
While Muslims make up just 1% of the U.S. population, about 12% of federal prisoners self-identify as Muslim, per Bureau of Prisons data, and Muslims comprise about 9% of state prisoners, the civil rights group Muslim Advocates found last year. An estimated 90% of all incarcerated Muslims in the U.S. converted to Islam while behind bars.
Muslims have always held a special concern for civil rights within the carceral system since Islam began taking hold among African Americans in the 1920s. The Nation of Islam in particular was targeted for surveillance, infiltration, harassment and religious and racial profiling by law enforcement. Black Muslims responded by taking a leading role in the civil rights struggle and successfully championing prisoners' rights through civil disobedience and the first organized prison litigation movement, according to University of Mississippi history professor Garrett Felber.
A 1964 Supreme Court ruling in a case initiated by Muslim prisoner Thomas X Cooper recognized U.S. prisoners' constitutional rights; until the Cooper v. Pate decision, incarcerated people were seen as "slave(s) of the State."
Islah LA, a Muslim-run inner-city community center in South Los Angeles, hires formerly incarcerated Muslims to staff its Islamic school and affordable housing initiatives. In New York, a former prison chaplain runs the Muslim Prisoner Project, which holds book drives for detainees. Southern California's Tayba Foundation offers Islamic education programs for incarcerated Muslims, including Morgan.
At San Antonio's Masjid Bilal Ibn Rabah, mosque leaders held a pandemic-friendly drive-thru voter registration event to educate locals, including former felons, on their voting rights.
Believers Bail Out, launched two years ago in Chicago, bails out Muslims in pretrial incarceration by collecting zakat, the annual tax Muslims pay on their wealth. The funds are designated for the welfare of the poor, needy and debt-ridden, as well as for other aims specified in the Quran such as the freeing of slaves and captives.
"There's millions of people in America just like me, that are not free," Morgan said. "That's not only people that are stuck behind barbed wire fences, they're also people out here, riding or driving on the freeways and going to work every day. The work that we're doing is to liberate those chains of bondage."
Before being incarcerated, Morgan had no interest in being involved with the political system. He felt voting was a pointless exercise, even a hoax. Once he was imprisoned, he realized that the current system of mass incarceration was shaped by legislation and ballot initiatives.
According to the Sentencing Project, about 30% of California's felony disenfranchised population is Black. Because of the "lopsided" rates of felony convictions among minorities, saying felons and parolees should not have the right to vote is effectively saying that many Black and brown people don't have the right to vote, Morgan argued.
"All these like voter disenfranchisement laws, mass incarceration, these modern-day Jim Crow laws — they're ways of keeping the status quo as it has always been in this country," he said.
Pillars has taken direct action to help people regain their rights, organizing expungement clinics and job fairs for formerly incarcerated Californians and sitting people with criminal records down with San Diego's public defender's office to restore their voting rights.
Pillars also advocates for reforming criminal justice legislation, such as removing gang enhancements, which can add time to a convicted person's sentence. Pillars joined the statewide Time Done campaign, which argues that individuals who have completed their sentences should not be restricted from participating in the democratic process.
"Voter disenfranchisement for prisoners and for people who are on parole is basically an arm from the same beast that is meant to suppress Black votes, is meant to suppress the votes of people who are supposed to be outcasts and the other," Alexander said. The best way to overturn the system of inequality his community faces is ensuring disenfranchised communities have access to voting, he argues.
Pillars' founder was also once a skeptic about the power of voting. But in 2014, he learned about California's Proposition 47, which aimed to recategorize certain nonviolent offenses as misdemeanors instead of felonies.
Not long after, he met a man who told him he had been incarcerated when the proposition passed. Overnight, he told Alexander, his jail went from being so crowded that inmates were forced to sleep on the floor — to nearly empty.
That's when Pillars dove headfirst into its voter in-reach program. Whether minorities approve of the system or not, Alexander said, they cannot afford not to know what ballot measures and what candidates are on the table.
"We're not telling you to play the game," Alexander said. "We're telling you not to get played. If you're in a fight and one of your hands is tied behind your back, or if you refuse to hit them because you don't believe in the power of the hand — well, you're still going to get hit."
https://religionnews.com/2020/10/13/in-san-diego-black-muslims-are-working-to-expand-voting-access-in-jails/
----------
Toronto Police Stepping up Patrols at Toronto's Mosques, in Response to Warnings of a Potential Murderous Attack
Joe Warmington
Oct 14, 2020
Toronto Police have "enhanced" patrols of Toronto's mosques in response to warnings of a potential murderous attack.
"The National Council of Canadian Muslims (NCCM) have made us aware of threats made towards their community members," said Toronto Police spokesperson Const. Alex Li. "Our investigators are actively investigating this incident and appeal to members of the public to remain vigilant in their neighbourhoods and communities and report any suspicious and/or threatening behaviour to police immediately."
The threats shook the city to the core and brought condemnation from top political leaders.
"Enough is enough," said Mustafa Farooq of the National Council of Canadian Muslims (NCCM). "We are dealing with threats to murder members of the Toronto Muslim community en masse. What more needs to happen before action is taken?"
"We will reassure members of the public that we have deployed available resources in those areas affected to ensure the safety of our communities," said Li.
That this happened at all has upset everybody from Prime Minister Justin Trudeau to Premier Doug Ford to Mayor John Tory.
"These threats to a Toronto mosque and the Muslim community are unacceptable and disgusting," said Ford. "There is no place for hate and Islamophobia in Ontario. I stand with the Muslim community and ask anyone with any information, please notify TPS."
After a mosque in Rexdale saw a volunteer slain, the rules of not thinking the worst changed. The worst thing possible happened at the International Muslim Organization to 58-year-old Mohamed-Aslim Zafis, who had his throat slit.
Toronto Police charged Guilherme "William" Von Neutegem, 34, with first-degree murder. While considered innocent until proven guilty, searches of his social-media accounts discovered white supremacy links.
https://torontosun.com/news/local-news/warmington-toronto-police-stepping-up-patrols-at-mosques
---------
School Calendar Including Jewish, Hindu and Muslim Holidays
Oct 12, 2020
Prince William County school officials have tentatively added Jewish, Hindu and Muslim holidays to the 2021-22 school calendar, and they're asking for parent input.
School staff has developed two calendar options. One follows the calendar originally approved for 2020-21, and the other incorporates additional holidays that reflect the diversity of the community, school officials said in a news release.
The school calendar traditionally includes a winter break over Christmas and New Year's Day and a spring break near Easter. Other holidays off on the calendar include Labor Day, Veterans Day, Election Day, Thanksgiving break, Martin Luther King Jr. Day, Inauguration Day, Washington's Birthday/President's Day and Memorial Day.
The newly-developed calendar would add the Jewish New Year Rosh Hashanah; the Jewish holy day Yom Kippur; Diwali, the Hindu Festival of Lights, and the Muslim holiday Eid al-Fitr.
The state requires 180 school days per school year and adding the new holidays means instructional time must be made up somewhere else in the calendar. To account for those days, school officials propose removing days from winter break, as well as the Monday after spring break. Under both calendars, the school year would begin Aug. 16 and end June 10.
The school board will discuss and approve a 2021-22 calendar this month, and results of a parent poll will be provided to board members.
https://www.insidenova.com/headlines/proposed-prince-william-school-calendar-includes-jewish-hindu-muslim-holidays/article_88708f7e-0ce6-11eb-a8d9-0f6d5ff0f593.html
----------
New Zealand and Australia
Religious group withdraws recent application to build mosque in Perth
ByPaul Cargill
13 OCT 2020
A religious group has withdrawn a recent application to build a mosque in Perth.
Perth Islamic Society applied for permission to construct the mosque on Jeanfield Road back in June.
The application drew six objections from residents worried about possible traffic problems.
It has now emerged a society trustee wrote to council officials on Thursday last week asking them to cancel the application.
Consultants acting for Perth Islamic Society previously told PKC a proposed on-site car park plus existing spaces at a local supermarket as well as Perth Leisure Pool would provide "adequate parking capacity ... for attendees".
Create Consulting Engineers said in their transport statement: "The results of [a] transport survey demonstrate[d] that ... the prospect of some on‐street parking associated with the proposed development can never be entirely removed. However, [the] survey demonstrate[d] that attendees are committed to using the available off-street alternative parking locations [which] offer sufficient parking spaces to be able to comfortably accommodate the anticipated number of attendees."
It is unclear whether PKC's transport planners had fully assessed the proposed development's likely impact on local roads before Perth Islamic Society withdrew their application.
https://www.dailyrecord.co.uk/news/local-news/religious-group-withdraws-recent-application-22838684
---------
Pakistan
Shia Groups to Stage 'Kafan Posh' Rally for Registering 'Baseless Cases Against Mourners'
Our Correspondent
October 14, 2020
Various Shia groups have announced they will stage demonstrations across Sindh on Friday and organise a 'Kafan Posh' rally towards the Chief Minister House on Sunday to protest against the provincial government for registering what they called "baseless cases against mourners" of the Chehlum procession.
In a joint meeting held at the Sindh office of the Shia Ulema Council on Monday, leaders of Shia groups devised their future plan of action after the end of the ultimatum of 48 hours they had set for the government to withdraw the cases lodged against more than 100 mourners, including scholars, across the province.
Allama Baqir Zaidi, Allama Nazir Naqvi, Allama Shabbir Mesami, Allama Kamran Abidi, Moulana Aqil Musa and other prominent leaders attended the meeting.
They showed their concerns over the recent wave of arrests and raids for the arrest of members of the Shia community and termed such actions as a "biased and discriminatory" crackdown of the provincial government.
Announcing their future plan, they agreed that all Shia groups would jointly organise protests across the province, including Karachi, on Friday, while on Sunday, they would stage a "Kafan posh" march towards the CM House to register their protest.
https://www.thenews.com.pk/print/729085-shia-groups-to-stage-kafan-posh-rally-on-sunday
---------
MoU signed to promote women well being in Muslim countries
October 14, 2020
APP
ISLAMABAD - COMSTECH and Pink Pakistan Trust have joined hands to work towards the achievement of shared objectives of good health and well being of women in Organization of Islamic Countries (OIC) region. In this regard, a Memorandum of Understanding (MoU) was signed between the two organisations in a ceremony held at COMSTECH on Tuesday.The MoU was signed by Coordinator General, COMSTECH, Prof. Dr. M. Iqbal Choudhary and the President Pink Trust Pakistan, Dr. Zubaida Qazi. According to the MoU, COMSTECH and Pink Pakistan Trust will work together for spreading awareness to reduce the mortality rate of breast cancer and promote women well being and empowerment. Both the parties will jointly organise awareness sessions, seminars, conferences, workshops and training research and counselling support for eradicating breast cancer to the women of the marginalised communities of the OIC member countries.
COMSTECH through its various Inter-Islamic Networks and programmes shall partner with the Pink Pakistan Trust towards spreading awareness regarding breast cancer and early detection of breast cancer purely on voluntary basis for the welfare and well being of marginalised communities to work for the noble cause.
https://nation.com.pk/14-Oct-2020/mou-signed-to-promote-women-well-being-in-muslim-countries
--------
Law being amended to protect land ownership in AJK
Tariq Naqash
14 Oct 2020
MUZAFFARABAD: The Azad Jammu and Kashmir (AJK) cabinet on Tuesday accorded approval to amendments in a law to give protection to the lawful ownership of land.
Under the Criminal Law (Amendment) Act 2020, harsh punishment was proposed for the offence of illegal occupation of private or crown land and a mechanism was fixed for early disposal of such cases.
According to a handout, those guilty of unlawful occupation of immovable private or public property would be awarded punishment, including 10 years imprisonment and payment of fine [to the state] and special compensation [to the aggrieved person].
The aggrieved person would file a petition in the sessions court which would have to pass a decision on it within 60 days. Only one appeal could be filed against the session court's decision which would have tobe disposed of within 30 days.
After eviction of the illegal occupants, the land would be returned to the original owner, whether a government department or private individual.
Action might also be taken against the head of the government department who would fail to take stock of illegal occupation of department's property by initiating legal proceedings against the occupants.
The amended law also made the tenants bound to vacate the property for the owner at the expiry of the tenancy agreement or else action would be taken against the tenant.
The cabinet resolved to take effective steps to reorganize the development authorities and increase their capacity and income to make them self-sustained.
It decided to release funds for salary arrears of the employees of development authorities but made it clear that the state would not bear this burden on a permanent basis.
https://www.dawn.com/news/1584870/law-being-amended-to-protect-land-ownership-in-ajk
----------
Mideast
Iran to receive Iraqi medicine, staples for gas and power in bid to avoid sanctions
Herman Wang
13 Oct 2020
Tehran — Iran and Iraq have agreed to settle Iraq's energy debt to Iran through a barter deal, under which Baghdad would supply Tehran with needed medicine and staples, Iranian state news agency IRNA reported Oct. 13.
Register Now Iraqi payments for Iranian gas and electricity is paid into Iranian accounts in Iraqi banks. However, due to the sanctions, those funds are frozen and Iran is unable to access them.
The settlement sidesteps US sanctions against financial payments to Iran for its gas and electricity, said Abdolnaser Hemmati, central bank governor, as quoted by IRNA.
Iran has "considerable financial resources" in Iraq's banks, said Hemmati, who held discussions with Iraqi officials on Oct. 12 during his second visit to Iraq over the past four months. Iran would also withdraw money from these banks based on its needs, using it for such sectors as industry, mines, agriculture and healthcare.
"Since these goods are among the country's essential requirements, they will be exempted from the unfair and unilateral sanctions," Hemmati said.
Iran's gas and electricity exports to Iraq are estimated at $4 billion annually, out of total exports of $12 billion. Early this year, Iranian oil minister Bijan Zanganeh said Iraq's debt to Iran amounted to $2 billion.
Iraq reportedly buys 1,200 MWh/d of electricity from Iran, with local media previously reporting that $400 million was due Iran for its power exports to Iraq. In May, meanwhile, an Iranian official told IRNA that gas exports to Iraq has peaked to 32 million cu m/d.
Iran's national currency, the rial, has been taking a steady dive over the last few months, losing value against the dollar. In the face of the US' zero oil sales campaign, Iran's oil trade has slumped drastically and its oil income has likewise shrunk. The central bank has been trying to slow the fall by injecting dollars in the market.
https://www.spglobal.com/platts/en/market-insights/videos/market-movers-americas/101220-power-oil-hurricane-delta
----------
Iran in shock after 11-year-old boy commits suicide over poverty
Al-Monitor Staff
Oct 13, 2020
An 11-year-old Iranian schoolboy, Mohammad Mousavizadeh, has committed suicide by hanging from the kitchen of his family's rented, humble house in the southern city of Dayyer, Bushehr province, leaving the Iranian society in yet another state of disbelief.
The horrifying details were released by Mohammad's mother, Fatemeh, who earns a living for her three other kids — one of them disabled — and her ailing husband, through cleaning houses as well as small donations from relatives.
"He insisted to sleep in my arms the night before his death," the mother told Rokna News Agency, which closely monitors developments regarding Iran's social maladies. "I had no idea what he was up to the day after," which is when she "found him lying on the kitchen floor with his black and blue face" after he had hung himself. According to the mother, Mohammad was pushed to the edge of suicide after his dream about having a smartphone that he needed to join his online classes never came true.
As the Middle East's biggest coronavirus victim, Iran has transformed much of its regular curriculum into virtual courses, for which students need a reliable internet connection and such devices as tablets or smartphones.
"The principal had promised several times to provide him and two other kids with smartphones, but he never did," Mohammad's mother recounted. Officials at Mohammad's school, on the contrary, said they had already given him the device for free, declaring that they possessed evidence showing the kid had joined the online courses. Yet, the mother accused the school managers of "lying," saying Mohammad only had a broken phone, not a smart one. A note in grief written by Mohammad's teacher says the boy had repeatedly sent her messages indicating that his "broken phone" was incapable of sending or receiving images he needed for his homework.
"The school principal's denial would not change anything because there are numerous families who cannot afford a tablet or a smartphone for their children," wrote Reformist paper Aftab-e-Yazd. The shocking case also revealed how the Iranian government's ambitious plans for online learning contrasted with its poor infrastructure and its failure to cover all students nationwide with the basics during the pandemic. According to the spokesman for the Iranian parliament's Commission for Public Education, online classes remain inaccessible to as many as 3 million out of 14 million Iranian schoolchildren.
Mohammad's suicide even prompted the ultraconservative daily Javan to describe him as a "victim of educational discrimination." The case, the paper wrote, served as yet another indication of "the deep-rooted poverty" in the Iranian society, where the gap between the wealthy and the needy has been fast widening in recent years, due to a multitude of causes, most notably prevalent corruption.
The poverty-driven suicide by Mohammad was not an entire novelty. Last week, two other cases of suicides by hanging in impoverished areas were reported by local activists. In April, Zeinab, an 11-year-old girl from a village in underdeveloped Ilam province, similarly took her life as she was reportedly ashamed of her worn-out clothing, which her needy family could not afford to replace on the eve of the new Iranian year. She was even deprived from a proper grave in the public cemetery, according to the lawmaker representing her constituency in the Iranian parliament, and was laid to rest outside her home.
Nearly a month later and only 60 miles to the north, 12-year-old Armin, a garbage scavenger in the city of Kermanshah, ended his life, reportedly with a handful of pills. The incident occurred a few weeks after Armin's mother succumbed to cancer in a local hospital, where managers kept her body for several days as the family could not pay the bill.
"There was no food in their home, not even a plate or a spoon," said the manager of a local private charity whose effort to provide for some of Armin's bare essentials came to naught.
https://www.al-monitor.com/pulse/originals/2020/10/iran-shock-kid-suicide-poverty.html
---------
How a Maritime Deal With Israel Could Ease Lebanon's Woes
BY JOSHUA MITNICK
OCTOBER 13, 2020
TEL AVIV, Israel—Lebanon will become the third Arab country in recent months to inaugurate public talks with Israel when representatives of the two sides meet this week to negotiate an agreement on a maritime border dispute.
The U.S.-mediated talks, to begin Wednesday in Lebanon's border town of Naqoura, will focus on a 330-square-mile patch of the Mediterranean Sea where natural gas reserves are abundant and where each side has territorial claims. A resolution to the dispute could have a meaningful impact on the two neighbors, as well as the wider region.
Most critically, a deal would be a long-term boon for Lebanon's battered economy. It would also strengthen a U.S.-backed Eastern Mediterranean energy alliance, of which Israel, which has already tapped gas fields in its own offshore waters, is a leading participant.
The talks are not expected to blossom into a normalization deal—the kind Israel reached with the United Arab Emirates and Bahrain last month. But they do represent another achievement for the Trump administration in its endeavor to improve Israel's position in the region—at the expense of the Palestinians.
"This isn't a negotiation for peace and normalization," said Israeli Energy Minister Yuval Steinitz, in an interview with Israeli public television. The talks are strictly focused on demarcating each country's exclusive economic zone "to allow for the exploitation of natural resources in the sea for the benefit of both peoples."
A senior official in Israel's Energy Ministry suggested that Lebanon could extract natural gas worth $6 billion annually from the disputed area, a thin, pizza slice-shaped tract of sea with its point at the Israel-Lebanon border. Without a deal, the disputed waters remain a point of angry rhetoric between the two sides and off-limits for commercial developers.
The United States had tried for years to bring the two countries to the bargaining table. The turning point appears to have been the August explosion of a depot that wrecked Beirut's port, escalating Lebanon's economic crisis and putting Hezbollah, a local power broker representing many of the country's Shiite Muslims, on the defensive. Many in Lebanon have accused Hezbollah, which fought a war with Israel in 2006, of storing dangerous materials in the port.
The sense of despair deepened last month, after an initiative sponsored by France to form a new government failed to bear fruit. At the same time, U.S. sanctions recently went into effect targeting members of Amal, a Shiite Lebanese parliamentary party led by parliament speaker Nabih Berri that is politically allied with Hezbollah, increasing pressure on the Iran-backed organization. It was Berri who announced the agreement to hold the talks.
"Hezbollah is being cornered, even by its own allies," said Nadim Koteich, a Lebanese political columnist and Sky News Arabic show host. "This is prompting Hezbollah to think out of the box and to say, 'I still have cards to play, and one of them is having this border demarcation.' … Hezbollah is trying to tell the Lebanese, 'No, I'm not responsible for this economic meltdown.'"
When Israel withdrew its military from southern Lebanon in 2000, some 18 years after invading its northern neighbor to kick out the PLO, the United Nations traced out a land border.
One section on the eastern side of the border, a mountainous region known as Shebaa Farms, remains contested and an occasional flash point for Israel and Hezbollah. Since the two sides fought a monthlong war in 2006, Hezbollah has amassed an arsenal that includes tens of thousands of rockets. Israel has threatened to lay waste to Lebanon in case of a new outbreak of violence.
https://foreignpolicy.com/2020/10/13/lebanon-israel-natural-gas-talks-maritime-deal/
--------
South Asia
Posts On Govt, Military And Police: Bangladesh Govt Slaps Gag On Social Media
October 14, 2020
Staff Correspondent
The home ministry yesterday issued a statement forbidding people both at home and abroad from spreading "false, fabricated, confusing, and inciting statements" on social media about government, military, police officials and members of different other law enforcement agencies.
"They are presenting false and baseless news about the security forces, which is threatening to ruin the peace in the country, and spreading fear, concern and confusion among the general public," said the statement, signed by Sharif Mahmud Apu, senior information officer at the ministry.
"The government has observed the activities of such people with patience, and has come to the conclusion that it is necessary to take legal action against such people to maintain the stability, domestic security and public well-being," added the statement.
The statement is the latest among a series of similar statements obstructing freedom of speech, issued by different government agencies since the pandemic struck the country.
On April 16, as the media reported the lack of preparation of the health sector in dealing with the coronavirus-driven crisis, all nurses were banned from speaking to the press. The order came from the Department of Nursing and Midwifery.
The next day, the public administration ministry asked all secretaries to give necessary instructions to their subordinates so that no public servant talks to or writes in the media without approval from the authorities concerned.
In a letter, the ministry said some public servants, violating Section 22 of Government Servant (Conduct) Rules, are taking part in talk shows, discussions and news on different media outlets, including Bangladesh Betar, Bangladesh Television, private TV channels, and giving comments or opinions and writing articles or letters in newspapers and online portals without taking approval from their department chiefs or going beyond his or her jurisdiction.
On October 7, the Department of Secondary and Higher Education issued a circular forbidding students and teachers from writing, sharing, "liking", or posting anything that "ruins the image of the government or the state", or "disrespects any important person, institution or profession" on social media.
They were also told not to post any writing, audio or video clips that could create "dissatisfaction among the general public". The heads of institutions were asked to take action against any who did that.
After nurses, health officials, public officials, students and teachers, it is now the turn of the general public to receive a gag order.
Talking on the issue, eminent human rights lawyer Jyotirmoy Barua said, "They do not have the option of dictating what the general public will write on their social media accounts.
"We get to criticise them because it is our right. There is no law against criticising. This circular can be called illegal."
https://www.thedailystar.net/frontpage/news/posts-govt-military-police-govt-slaps-gag-social-media-1977489
----------
Deep Disputes within Taliban team; Power Struggle between Stanekzai and Mullah Baradar
October 14, 2020
By Zaher Shokoohmand
Translator: Sayed Taher Mojab
The dispute between members of the Taliban's political bureau in Qatar escalated when Mullah Baradar, the co-founder of the Taliban, left Pakistan for Doha. However, according to documents seen by DID Press Agency, the differences among senior members of the Taliban group in Qatar are far deeper than what one thought.
Based on the classified documents, which was written by the Institute for Security Studies on 13 October 2020, the members of the Taliban negotiating team are divided into three groups: Mullah Baradar, Mullah Abbas Stanekzai, and another group that has been dismissed but does not leave Doha.
The document suggests that Mullah Baradar is pushing to get rid of Mullah Abbas and Mullah Hakim to get along with the westerns himself. It indicates that Mullah Khairullah Khairkha and Mullah Fazel Mazloom are on Mullah Baradar's side while Mullah Mannan Omari, Mullah Omar's brother, Mullah Abdul Hakim, the new chairman of the Taliban delegation, and some others are supporting Mullah Abbas Stanekzai.
Some Taliban members, however, do not want Mullah Stanekzai and demand his removal. The Taliban do not even consider him as a Taleb, but the document says that Stanekzai is trying to sabotage the talks and move the Doha talks to another Arabic country, possibly the United Arab Emirates.
The document states that Mullah Hakim is a highly respected person among the Taliban, but Mullah Baradar considers him an obstacle to negotiations and calls him "Mullah koknar (opium poppy)" whenever the opportunity arises. "Mullah koknar" is already a popular title in Doha.
In contrast, Abbas Stanekzai's team accuses Mullah Baradar and his supporters of extorting money from Americans. The classified document says that Mullah Baradar is receiving money from the Americans and sending it to his nephew in Quetta, Pakistan. In this document, however, the name of Mullah Baradar's nephew and the amount of money are not mentioned.
Taliban's weakness in negotiations:
In another part of the document, it is mentioned that the government's negotiating team has so far acted strongly during the talks and the Taliban have entered the dialogue from a position of weakness, anger, and irrationality. The classified document indicates that the government's team has challenged the Taliban by putting forward the Quran and Sunnah as the basis of the intra-Afghan talks while the Taliban suggest the US-Taliban deal as the basis of the talks. The Taliban do not want their rank-and-file to be informed of this issue because in that case, the least legitimacy of the Taliban's Qatar office would be harmed seriously.
Separate meetings:
The document states that the government team has begun separate meetings with the members of the Taliban in Qatar. According to the document, the government team does not talk much and hears more from the Taliban. The classified document concludes that this has allowed the government team to know and analyze the Taliban's plans before starting official direct talks.
It is believed that the disputes within the Taliban team are increasing day by day. The group's fighters may have become aware that their representatives did not accept the Qur'an and Sunnah as the basis of negotiations, making the talks more difficult for them. I think we will see a lot of change in Doha in the coming weeks and it is possible that the Taliban team will be completely replaced. However, the continuing violent attacks by the Taliban in different parts of the country show that the group's agreement with the United States was not valuable to the group's war machine, and this suggests the fragmentation of the Taliban.
https://www.didpress.com/en/2020/10/14/deep-disputes-within-taliban-team-power-struggle-between-stanekzai-and-mullah-baradar/
--------
What are China's new laws for Muslims visiting Haj
By Vikash Aiyappa
October 14, 2020
Beijing, Oct 14: China has released new regulations for Muslims visiting Saudi Arabia for annual Haj stipulating that the pilgrimage should be organised only by the country's Islamic Association and pilgrims should follow Chinese laws and oppose religious extremism.
There are 20 million Muslims in China, mostly Uyghurs - an ethnic group of Turkic origin - and Hui Muslims, who are of Chinese ethnic origin. Both Uyghurs and Hui Muslims have a population of about 10 million each, according to an official white paper.
About 10,000 Chinese Muslims perform Haj every year.
The new regulation issued for Haj pilgrimage has a total of 42 articles, including one that stipulates that Chinese Muslims' pilgrimage should be organised in accordance with laws, and the Chinese Islamic Association is the only organisation that is authorised to arrange for Chinese Muslims to go to Mecca in Saudi Arabia to perform Haj.
No other organisation or individual should organise the trips, and Chinese citizens should meet basic requirements when applying for the Haj, the regulation, which would be implemented from December 1, stipulates, state-run Global Times reported.
People who go overseas to perform Haj should abide by China's and the destination country's laws and regulations, and oppose religious extremism, according to the regulations.
The related government departments are requested to fulfil their responsibilities and ban illegal Haj activities, the report said.
The Haj is one of the five pillars of Islam which every Muslim is required to complete at least once in their lifetime if they are healthy enough and have the means to do so.
China since last year faced severe international criticism, including from the UN and western countries, over allegations that it is holding over a million people, mostly ethnic Uyghurs, in internment camps in Muslim-majority Xinjiang province in a bid to wean them away from religious extremism.
https://www.oneindia.com/international/what-are-china-s-new-laws-for-muslims-visiting-haj-3163147.html
--------
Unknown Gunmen Assassinate Islamic Scholar in Nangarhar
by Manager
October 13, 2020
Tuesday, October 13, 2020
Jalalabad (BNA) An Islamic scholar from Nangarhar was martyred in a terrorist attack.
Mawlavi Gol Nawaz was targeted last night when he was moving toward his home.
A security official in Nangarhar told BNA that security forces are trying to arrest the perpetrators of the assassination.
On the other hand, Zia-ul-Haq Amarkhail, the governor of Nangarhar, condemned the assassination of this Islamic scholar and ordered the security forces to identify and arrest the perpetrators.
So far, no individual or group has claimed responsibility for the assassination of this Islamic scholar.
http://www.bakhtarnews.com.af/eng/security/item/44344-unknown-gunmen-assassinate-islamic-scholar-in-nangarhar.html
---------
Herat Police: Shroff Rescued From Clutches Of Kidnappers
By Mohammad Haroon Alim
14 Oct 2020
According to security sources in Herat, police in the province last night freed a money changer named Ismail Mohammadi from the clutches of kidnappers.
Herat police spokesman Abdul-Ahad Walizada told media, that the kidnappers had abducted the money changer from Herat city two nights ago.
He said eight people had been arrested in connection with the incident.
Earlier, The Ministry of Interior (MoI) has announced that Abdul Qayyum, the head of the currency exchange union in Balkh province, has been released from his abductors.
https://www.khaama.com/herat-police-shroff-rescued-from-the-clutches-of-kidnappers-8765454/
--------
Helmand Battle Dislocates 35,000 Civilians: UNAMA
By Mohammad Haroon Alim
14 Oct 2020
The United Nations Assistance Mission in Afghanistan (UNAMA) says the ongoing fighting in Helmand province over the past four days has left 35,000 people homeless.
According to UNAMA thousands of people have been displaced in Helmand over the past four days due to ongoing fighting between Afghan security forces and the Taliban, which could lead to a major crisis.
UNAMA Tweeted Tuesday, calling on Afghan forces and the Taliban to take practical steps to protect civilians.
https://www.khaama.com/helmand-battle-dislocates-35000-civilians-unama-7675646/
---------
Afghan Airforce Helicopters Collide Midair In Helmand Province
By Mohammad Haroon Alim
14 Oct 2020
Two ANA helicopters have collided in the Nawa district of southern Helmand province last night.
Reports indicated; the copters have crashed after the Afghan commandos were dropped to conduct a mission, one of the choppers was reportedly transporting the wounded soldiers.
Security sources in Helmand province say that between 8 to 15 security personnel have been killed in the collision incident.
According to the source, 8 to 15 ANA personnel, including the pilots have died in the helicopters.
Omar Zwak, A spokesperson to the Helmand governor told Khaama Press, that the incident has occurred, and the choppers had to push for an emergency landing.
He did not further provide any details, according to him casualties are not yet confirmed.
This comes as, in the past few days, fierce fighting has taken place between government forces and Taliban-affiliated fighters in Lashkargah, the capital of Helmand province, and in some districts of the province.
https://www.khaama.com/afghan-airforce-helicopters-collide-midair-in-helmand-province-877665/
--------
Europe
Armenian side restores the mosque, Azerbaijan shells the church in Shushi – President Sarkissian tells foreign journalists
Siranush Ghazanchyan
October 13, 2020
Today, President Armen Sarkissian met with a group of European journalists who have been in Artsakh in recent days. The President answered their questions about the military aggression unleashed by Azerbaijan against Artsakh and the subsequent situation.
In response to the question how he feels seeing all this as the country's President, Armen Sarkissian noted that the pain is terrible. "It's double, triple painful because we are losing young, bright, patriotic young people who are fighting for the homeland, who are sacrificing their lives for the homeland."
"There are no words to express the pain you feel. This war is also inhumane, because from the very first day Azerbaijan started firing rockets at the civilian population and settlements," the President said.
The President told reporters in detail what the war means to each side. If Azerbaijan declares the liberation of the territories, the territories where Armenians have lived for millennia, which are their historical homeland, as the goal of the war, then, according to the President, there is another international wording to describe it – ethnic cleansing.
According to the President, Turkey's goal is to show Azerbaijan that they are ethnic brothers, that they have similar brothers in many other countries, but the main goal is to have a more dominant position in the Caucasus. Furthermore, he said, Turkey, most likely, intends to stay in Azerbaijan, to manage the international pipelines.
"What are the people of Artsakh fighting for? They are fighting for their lives, their honor, their heritage, their faith, their families, their history, their home. At the same time, the small people of Nagorno Karabakh are fighting for the security of the region, and also for the security of Europe, I mean, for example, energy security. They are fighting for the security of the Middle East. Let us note that Turkey is involved in the conflicts in Syria, Libya and Iraq without thinking about the territorial integrity of those countries," the President stated.
President Sarkissian once again stressed that the only way to return to the negotiation process and establish peace is for Turkey to withdraw from this conflict, otherwise the situation will pose a great danger to the whole region.
Answering the question on the possible recognition of Artsakh by Armenia, the President spoke about several differences between the approaches of the Armenian and Azerbaijani sides.
"Over the years, Armenia has not recognized the independence of Artsakh for the simple reason that it would allow the status of Nagorno Karabakh to be resolved through negotiations. We wanted the independence of Nagorno Karabakh to be recognized as a result of the negotiations. At the same time, if this war continues, there will be no opportunity to return to negotiations, of course, Armenia, in all probability, will have no choice but to recognize it. However, at the moment there is hope for a ceasefire and a return to negotiations. That is why Armenia does not do that even today," the President said
"Our approach is that there is no military solution to this problem. Have you been to Shushi, have you seen the church, have you seen the mosque? The mosque was restored with the help and efforts of the Armenian side. The church was restored. And what happened these days? Azerbaijan fired a rocket at the church. This clearly shows the difference in our approaches," he added.
The other difference is the deployment of military units. They are not in settlements in Artsakh. Here they try to keep the military presence and operations as far away from the civilian population as possible. "On the contrary, in Azerbaijan, military facilities are located in settlements, making the population a target."
In response to a question about France's efforts, President Sarkissian praised the activity and efforts of French President Emanuel Macron's government. "France represents Europe in the OSCE Minsk Group co-chairmanship format, but we hear the voice of France more than the voice of Europe. The voice of NATO is not heard, the voice of the European Union is not heard enough. We also appreciate Russia's efforts and mediation capabilities. "
The President also thanked Russian President Vladimir Putin and Foreign Minister Lavrov, expressing hope that greater efforts will be made to achieve and maintain the ceasefire.
Thanking the journalists for their courage and professional work, President Sarkissian stressed the need for media representatives to visit the region, to be in Artsakh and to present the situation objectively.
https://en.armradio.am/2020/10/13/armenian-side-restores-the-mosque-azerbaijan-shells-the-church-in-shushi-president-sarkissian-tells-foreign-journalists/
---------
London knife crime: Man smiles after admitting to stabbing prayer leader in Regent's Park mosque
By Ellie McKinnell
13 OCT 2020
A man has admitted to stabbing a prayer leader in the neck during an unprovoked attack in a Central London mosque, smiling as he did so.
Daniel Horton pleaded guilty to grievous bodily harm with intent and possession of a bladed article in a public place at Southwark Crown Court on Monday, October 12, and will be sentenced in November.
The stabbing took place on Thursday, February 20 at around 3pm, during afternoon prayers at London Central Mosque on Park Road.
For more news and features about London directly to your inbox sign up to our newsletter here .
Find out the latest statistics on the crimes which have been reported near where you live by entering your postcode into our handy crime widget below:
The victim, in his 70s, was acting as a muezzin, whose responsibility it is to call all members of the mosque to prayer in the main prayer hall.
The victim had noticed Horton in the main prayer hall, and recognised his face as someone who often attends the mosque to pray.
When the second prayer was ending, the victim - who had been attending the mosque for about 25 years - felt a sharp smack to the right side of the neck, but wasn't aware at this stage that he had been stabbed.
He then saw blood on the floor so he stood-up, held his neck and made his way out of the main prayer hall. Many members of the mosque also realised this and rushed over to help him.
Other worshippers who were close by witnessed Horton raise his arm and stab the victim in the neck. These witnesses bravely detained the 30-year-old and called the police.
The victim was treated at the scene before being taken to hospital, where his condition was assessed as non life-threatening.
Police arrested Horton at the scene on suspicion of attempted murder, and he told officers: "This is not a religious attack and is not a racist attack".
He later said to the custody sergeant: "I had no intention of killing him. By the way I was standing I could easily have killed him, but I had no intention of that. This was to send a message to him and the others associated with him."
During his police interview when asked about the above statement, Horton simply smiled and nodded but gave no reply. He then gave no comment to all the questions put to him.
Detective Constable Daniel Jones, the investigating officer, said: "This was a shocking and brutal unprovoked attack in a place of worship where the victim should've been safe.
"Horton had the audacity to smile when he was shown images of his victim's injuries, not showing any remorse for his heinous actions. I'm therefore pleased that Horton has pleaded guilty and finally taken responsibility for his wicked actions.
We've set up a Facebook group for London residents to share information and advice which benefits the community and helps keep people safe.
Whether you spot anything suspicious or want to warn others about crime going on in any area of London - whether it's North, South, East, West or Central - you can join this group to both share and find out information.
"I'd like to thank the worshippers who heroically detained Horton on that day, which possibly prevented him from causing further harm. I'd also like to thank the victim for his courage and cooperation throughout the investigation.
"We may never know why Horton chose to viciously attack his victim, but there is never an acceptable excuse or reason for the use of violence. The Met will continue to crack down on violence in London as well as on those people who think it is acceptable to carry an offensive weapon."
https://www.mylondon.news/news/zone-1-news/london-knife-crime-man-smiles-19093627
-----------
Africa
Bandits Kill Imam, 12 Others in Katsina, Niger Communities
October 13, 2020
Francis Sardauna in Katsina and Laleye Dipo in Minna
No fewer than 13 persons, including children, have been massacred by bandits in fresh onslaughts on Shau and Ruwangodiya villages of Faskari Local Government Area of Katsina State, as well as Tasan -Kere and Tungan-Makeri communities in Rafi Local Government Area of Niger State.
The separate attacks on the two villages in Katsina State, according to residents, were perpetrated on Sunday about 6 p.m. when most of the victims were returning from their farms.
One of the residents, Mr. Aminu Hamisu, who confirmed the incident to THISDAY yesterday, said the bandits killed the Imam of Shau village and his assistant.
He said the bandits in a commando-style operation arrived the villages and started shooting sporadically, killing people at sight and razed property and rustled unspecified number of cows belonging to residents.
Hamisu explained that several villagers sustained varying degree of injuries from gunshots with scores of them, mostly women and children, still unaccounted for in the affected communities.
He said: "The bandits arrived at Shau village on no fewer than 60 motorcycles with each carrying three armed men about 6 p.m on Sunday and started shooting indiscriminately.
"After their successful operation in Shau village, they mobilised and moved to Ruwangodiya village where they killed two people there."
He lamented that they reported the arrival of the hoodlums to security agencies but that they did not come to their aid till after the bandits killed their people.
The state Police Public Relations Officer, Mr. Gambo Isah, who confirmed the incident said the bandits killed eight persons in Shau village and razed several houses and vehicle of the village head during the attack.
Isah, a superintendent of police, said combined security operatives were drafted to the area but the hoodlums escaped to the nearby forest due to the cumbersome nature of the place.
He said: "The bandits attacked Shau village and killed eight people and destroyed many houses, including the vehicle of the village head. Efforts are ongoing to ensure that the perpetrators are brought to book."
Meanwhile, three people have been confirmed killed with several others injured in attacks on two communities in the Rafi LGA of Niger State.
It was learnt that when the cows were being rustled the local vigilante mobilised to recover the cows from the bandits leading to the bandits abandoning the cows and taking to their heels.
THISDAY gathered that angered by their inability to escape with the cows, the same set of bandits reportedly mobilised and launched a ferocious attack on neighbouring Tungan- Makeri community on Sunday night during which two villagers were killed and several others injured.
It was alleged that while the attack was ongoing, the village head of Tungan-Makeri alerted the security operatives but they (security) claimed they did not have fuel in their vehicles.
THISDAY was told that the angry villagers, yesterday morning deposited the corpses of the slain villagers in front of the office of one of the security agencies in the town.
When contacted, the Police Public Relations Officer for Niger State Police Command, ASP Wasiu Abiodun, told THISDAY: "I am in a meeting, I will get back to you."
https://www.thisdaylive.com/index.php/2020/10/13/bandits-kill-imam-12-others-in-katsina-niger-communities/
----------
Boko Haram kills 14 farmers in Nigeria
Adam Abu-bashal
14.10.2020
Members of the Boko Haram terrorist group killed 14 farmers in an attack in northeastern Nigeria, local media reported Tuesday.
The terrorists seized 15 famers working in their fields in Ngwom village, located 14 kilometers (nine miles) north of the region's main city Maiduguri, and cut their throats, according to local media. One of the farmers survived with a deep slash.
Around 3 million people have been displaced in more than a decade of terrorist activities by Boko Haram. Scores of civilians are still trapped in remote communities and are unable to flee due to a lack of security on roads.
The violence, which has killed more than 30,000 people, has spread to neighboring Niger, Chad and Cameroon, prompting a military response.
https://www.aa.com.tr/en/africa/boko-haram-kills-14-farmers-in-nigeria/2005471
---------
How Somali Islamist insurgents are moving millions through legitimate businesses
By Michelle Nichols
Nairobi - Somalia's Islamist insurgents are moving millions of dollars through the formal bank system and appear to be investing in businesses and real estate, according to a United Nations report offering a rare glimpse into their finances.
Al Shabaab has for years been battling Somalia's internationally-backed government to impose strict Islamic law in the anarchic Horn of Africa nation.
"Al Shabaab remains in a strong financial position and is generating a significant budgetary surplus, some of which is invested in property purchases and businesses in Mogadishu," said the report by the UN sanctions panel on Somalia.
The al Qaeda-linked Somali militants carry out frequent bombings and attacks at home and have also killed hundreds of civilians in Kenya and Uganda. Earlier this year, al Shabaab killed three Americans at a U.S. military base in Kenya.
The UN report included details on two bank accounts held at Salaam Somali Bank, founded in 2009 as part of the Hormuud group of companies, raising questions about Somalia's capacity to enforce a 2016 law aimed at curbing terrorist financing.
Somalia's Financial Reporting Center, which oversees compliance laws against money laundering and terror financing, said it is investigating the allegations against Salaam.
Nearly $1.7 million moved through one of the accounts during a 10-week period until mid-July this year, the report said, noting the account appeared set up to receive Islamic tax called zakat.
With around 5,000 fighters, al Shabaab controls towns and countryside in southern Somalia, but its spies and assassins operate nationwide. Its estimated expenditure last year was around $21 million, with about a quarter of that going to the Amniyat intelligence arm.
Al Shabaab also runs its own courts. One businessman told investigators that the courts had summoned him this year and ordered him to pay more than $100,000 in zakat based on a review of his business, which they had assessed before he arrived.
The businessman, who was not named, provided a banking deposit slip and a receipt from al Shabaab to investigators as proof of payment. "Al Shabaab maintains a registry of citizens, which includes financial assessments on individuals and businesses," the report said.
Another account, which appeared to handle fees levied on businessmen using Mogadishu port, had $1.1 million moved through it from mid-Febuary until the end of June this year, the report said. It included a cash deposit of $25,000 by someone calling himself "A B C" on documentation.
In total, the two accounts made more than 128 transactions exceeding the $10 000 threshold that should trigger automatic reporting to the Financial Reporting Centre.
When asked if the accounts had been shut down, Amina Ali, head of the centre, told Reuters: "All the necessary steps have been taken."
The report also examined a single al Shabaab road checkpoint - one of dozens - that former al Shabaab tax officials told investigators made between $1.8 million-$2.4 million per year.
In the government-controlled southern port of Kismayo, businesses are forced to pay the insurgency between $300-$600 monthly depending on their size, which could earn them nearly $6 million a year from Kismayo alone, the report said.
Businessmen are afraid to refuse al Shabaab for fear of being killed, said Hussein Sheikh Ali, a former Somali national security advisor and founder of the Mogadishu-based Hiraal Institute thinktank. Their own report on al Shabaab finances is due out this month.
https://www.iol.co.za/news/africa/how-somali-islamist-insurgents-are-moving-millions-through-legitimate-businesses-ada73369-40f4-55a2-8a95-cad288f4328e
---------
Southeast Asia
Parliament: 35% of Madrasa students pursue tertiary Islamic-related education
Hariz Baharudin
14-10-2020
SINGAPORE - In the past three years, more than a third of each cohort of Islamic religious school students went on to pursue pre-university Madrasa education.
"They form the steady pipeline of religious leaders for the community," said Minister-in-Charge of Muslim Affairs Masagos Zulkifli on Wednesday (Oct 14).
Of the 35 per cent in each cohort who further their education, most do so in Islamic science-related areas such as Islamic jurisprudence and Islamic theology to better equip themselves to be religious leaders, he added.
He was responding to questions from Dr Wan Rizal Wan Zakariah (Jalan Besar GRC), who had asked questions about the career trajectories of local Madrasa graduates.
After completing their higher education, these students return and contribute to the religious sector as scholars, educators or mosque religious officers, said Mr Masagos, who is also Minister for Social and Family Development.
Some of them may also choose to use their training to pursue jobs in sectors that complement the religious sector, which he said include social services, business and research.
A Madrasa education also allows students to pursue non-religious career paths, said Mr Masagos, noting that some move on to post-secondary education at junior colleges, polytechnics and the Institute of Technical Education.
"For this group, their career path may depend on the field of study that they opt for at these institutes of higher learning," he added.
For instance, some have ventured into industries such as media, finance and the creative industries.
Mr Masagos said the Islamic Religious Council of Singapore (Muis), which oversees Madrasas here, will work closely with the schools to ensure their curriculum prepares students well for future careers in the religious sector.
Responding to Dr Wan Rizal on support measures in place for Madrasa students who drop out of their studies, Mr Masagos said Muis' focus has to be on producing the best religious teachers for the community.
"Otherwise we will be importing them from all over the world, and we have seen what result that has produced in many parts of the world," said Mr Masagos.
"And therefore, for now, we are quite satisfied with the number of students that are retained at the university level that will move on to acquire professional recognised degrees in religious studies that will help to guide our community."
https://www.straitstimes.com/singapore/politics/parliament-35-of-Madrasa-students-pursue-tertiary-islamic-related-education
---------
Ismail Sabri: Non-contact sports like cycling, jogging, athletics training permitted under CMCO
13 Oct 2020
Bernama
KUALA LUMPUR, Oct 13 — Non-contact sports and centralised training programmes for athletes are still allowed in Selangor, Kuala Lumpur and Putrajaya which will be under the conditional movement control order (CMCO) starting after midnight tonight (at 12.01am).
Senior Minister (Security Cluster) Datuk Seri Ismail Sabri Yaakob said individual sport activities, e-sports, non-contact sports and outdoor sports not exceeding 10 people were allowed.
The centralised training programme for athletes which was being implemented by the National Sports Council (NSC) and State Sports Councils could be continued in a closed and controlled manner (Quarantine Based Approach) as implemented at the MSN Complex, Bukit Jalil and Keramat; Malaysian Badminton Academy (ABM), Bukit Kiara and the Paralympics Sports Excellence Centre, Kampung Pandan.
However, Ismail Sabri stressed that all swimming pool activities, physical contact, combat sports and the organisations of sports or championships were not allowed during the CMCO to curb the spread of the Covid-19 pandemic.
Sport events and competitions with spectators present and sport events and competitions involving participants from abroad are not allowed. All leisure, recreational and cultural activities are not allowed.
"Entertainment activities including night clubs or pubs, recreational centres, theme parks, indoor playgrounds and cinemas are also not allowed," he told a virtual press conference through the Facebook of the Ministry of Defence today.
Meanwhile, the Youth and Sports Ministry, via a statement, said that activities such as walking, jogging, cycling, self-aerobics and others performed in open areas were among those allowed in the CMCO areas in Sabah, Selangor, Kuala Lumpur and Putrajaya.
"Sport and recreational activities including owners and operators of facilities such as football fields, sports complexes, badminton halls, gymnasiums, swimming pools, recreational centres and others in the CMCO states and areas must comply with the directives stipulated by the National Security Council to postpone and reschedule all their respective sport and recreational activities.
"The operations of the sports and recreational facilities must be closed temporarily during the CMCO.
"In other states or districts, sports and recreational programmes can be continued by complying with the SOP currently in force. This is in order for us to together help sever the pandemic infection chain," he said in a statement.
https://www.malaymail.com/news/malaysia/2020/10/13/ismail-sabri-non-contact-sports-like-cycling-jogging-athletics-training-per/1912369
----------
Arab world
Saudis blow hot and cold over flu vaccine as winter approaches
HALA TASHKANDI
October 14, 2020
RIYADH: As October marches on and the weather continues to cool across the Kingdom, many Saudis are concerned about coping with the flu season on top of the coronavirus pandemic.
For those with the sniffles who are starting to fret, Arab News asked health care professionals to weigh in on when it was the time to worry and what everyone needed to know about the flu vaccine.
Unlike a few other vaccinations, flu shots are not mandatory in Saudi Arabia. But guidelines from the Scientific Committee for Influenza and Pneumococcal Vaccination recommend that the public and health care professionals receive the vaccine every year, especially during flu season as the composition of the vaccine is modified annually.
The Ministry of Health also recommends the vaccine for the public and health care professionals.
At a recent press conference, the assistant minister of health and spokesman, Mohammed Al-Abd Al-Aly, said that flu vaccines were recommended despite having no protective effects against COVID-19.
"Protecting oneself from influenza infections will improve a body's overall health and protect it from many health issues resulting from acquiring an infection, including coronavirus," he said.
However, the similar symptoms of the flu and COVID-19 have made people wonder how they can tell if they have one or the other if or when symptoms appear.
Dr. Abdulmalik Ismail, an ENT doctor and head and neck surgery resident who was at the forefront of the early fight against COVID-19, said that while there was no way to tell for sure if symptoms were COVID-19 or the flu, there were certain "hints" that indicated whether or not someone should get tested.
Although life-threatening allergic reactions to the flu vaccine are rare, the shot can cause side effects such as headaches, fever, nausea, and muscle pains. (Shutterstock)
"The common cold usually presents with a sore throat, cough, runny nose, sneezing and fatigue," he told Arab News. "The flu can present similarly and can be mild, but may also cause more severe symptoms that include fever, headache, body aches and chest discomfort and can sometimes cause a lung infection otherwise known as pneumonia in certain people, such as the elderly or those with reduced immune systems."
As for COVID-19, Ismail said that certain flu-like symptoms could be much worse than those of a typical flu, which could be used as a benchmark of sorts.
"COVID-19 symptoms can vary from mild to severe symptoms that can mimic the flu. It can also cause a loss of taste and smell much more profound than that of the common cold or the flu. Another hint is that children are commonly affected by the common cold and the flu. However, they are less likely to be affected by COVID-19."
He said that anyone experiencing symptoms they were unsure about, especially if they were respiratory in nature, should begin self-isolation and monitor themselves carefully for worsening health.
"Anyone that develops respiratory symptoms should isolate themselves from other people and adhere to public health measures. Alarming symptoms that warrant seeking medical care include severe, persistent symptoms, chest pain, shortness of breath or difficulty breathing."
One of the most jarring points of concern for many is that it is possible to have the flu and COVID-19 at the same time. This scenario has led people to start asking whether or not they should consider getting vaccinated this year, even if they are not usually in the habit of doing so.
Ismail said that people could protect themselves from the flu by getting vaccinated, even if they could not yet be vaccinated against COVID-19. But since the vaccine is not mandatory, and some find the side effects unbearable, many are wondering if the vaccine is their best option for self-protection.
• Unlike a few other vaccinations, flu shots are not mandatory in Saudi Arabia. But guidelines recommend that the public and health care professionals receive the vaccine every year, especially during flu season.
• The Ministry of Health also recommends the vaccine for the public and health care professionals.
• Protecting oneself from influenza will also help in protecting the body from many health issues, including coronavirus, says health official.
Dr. Haya Zedan, a public health specialist, urged people to educate themselves thoroughly about the flu vaccine and its effects, given this year's unprecedented circumstances.
"As a public health academic and researcher, it's important to note that now more than ever we all have a responsibility to make informed choices that are in the best interests of our health and the health of our families," she told Arab News. "People should make the effort to learn more about vaccines, such as the flu vaccine, and their benefits from verified scientific sources."
Although life-threatening allergic reactions to the flu vaccine are rare, the shot can cause side effects such as headaches, fever, nausea, muscle pains, and soreness or redness in the area of the arm that was injected.
Rania Najran, a public health specialist and a mother of two, is debating whether or not getting a flu shot is right for her and her family as she and her children have suffered from uncomfortable side effects in the past.
"There's so many factors to consider," she told Arab News. "The negative side effects are just part of it. I know the vaccine won't necessarily protect me 100 percent from getting the flu, it will just minimize the symptoms for the most part. I would rather not subject my body to the side effects. I prefer to boost my immunity the natural way, with vitamin-rich meals, staying active, social distancing, everything that we would do during any other flu season."
For others, such as pediatrician Dr. Hind Assiri, getting a flu shot is a priority given the current situation.
"Any protection we can give ourselves and our children this flu season we should strive for," she told Arab News. "I myself have four children, and all of us have gotten the flu vaccine. Thankfully, our side effects have been manageable and I can sleep better knowing that they have some degree of protection in such an unsafe time.
https://www.arabnews.com/node/1748551/saudi-arabia
----------
G20 Interfaith Forum values Kingdom's role in int'l dialogue, Minister of Islamic Affairs says
2020/10/13
SPA
Riyadh, Oct 13, 2020, SPA -- Sheikh Dr. Abdullatif bin Abdulaziz Al Al-Sheikh, Minister of Islamic Affairs, Call and Guidance, confirmed the humanitarian role and international status the Kingdom of Saudi Arabia is enjoying worldwide crowned by its presidency of the G20 and hosting the G20 Interfaith Forum which discusses the international efforts to fight coronavirus COVID-19 and other important issues facing the humanitarian societies, highly valuing the Kingdom's prudent leadership's decisions to face the pandemic according to the principles of Islam.
In a speech to the opening session of the forum, Al Al-Shiekh conveyed the greetings of the Custodian of the Two Holy Mosques King Salman bin Abdulaziz Al Saud and his Crown Prince to the participants in the event, held under the sponsorship of King Abdullah bin Abdulaziz International Center for Dialogue among followers of religions and cultures and the alliance of international partners which was kicked off here today.
He highlighted the measures taken by the Kingdom to combat the coronavirus, making it among the best, citing the cooperation of religious authorities in carrying out the government-led measures.
https://www.spa.gov.sa/viewfullstory.php?lang=en&newsid=2144346
----------
Mawhiba megaproject to support gifted youth in Saudi Arabia
HALA TASHKANDI
October 14, 2020
RIYADH: The biggest ever campaign to discover talented and gifted students in Saudi Arabia was launched on Tuesday through the National Program for Gifted Students Identification.
Led by the King Abdul Aziz and His Companions Foundation for Giftedness and Creativity (Mawhiba), in partnership with the Ministry of Education and the National Center for Assessment (Qiyas), the program has seen the nomination of more than 594,000 students over the last 10 years, of whom more than 406,000 students have been tested, and more than 133,000 have qualified.
This year, for the first time, the program will be available to students remotely. The program involves taking the Mawhiba Multiple Cognitive Aptitude Test, conducted annually in English and in Arabic for students in grades three, four, six, and nine, in more than 100 centers across the Kingdom. The inauguration ceremony for the program's 11th year was sponsored by Minister of Education Hamad bin Mohammed Al-Sheikh and launched at Mawhiba's headquarters in Riyadh, in the presence of the organization's secretary-general, Dr. Saud Al-Mathami, and the education vice minister, Dr. Abdul Rahman Al-Assemi. Al-Mathami expressed his pride in the program and its achievements over the past decade, thanking the program's partners for their efforts.
"It's an example of the integrative work between the government establishments, through the strategic partnership between Mawhiba, the Ministry of Education and Qiyas, in the field of discovering and sponsoring talented students in the Kingdom," he said.
He added that, as a result of the high demand for the program under the exceptional circumstances of the pandemic, it would be available to students remotely for the first time.
"The program will also be available at the headquarters of the National Center for Assessment for the first time, in a new experience to implement the program in a manner that meets the requirements of the times." Al-Assemi told students that they were "the hope of the nation and its bright future."
"One of the most important conditions of excellence and creativity is not only the possession of talent, but also hard work to achieve the highest degrees of success," he said.
Mawhiba was established in 1999 as a nonprofit foundation to support the Kingdoms' long-term vision for developing giftedness and creativity.
Selected students, from the fourth to 12th grade, are invited to join Mawhiba classes. These offer a high-quality educational environment for gifted students to help them reach their full potential by providing additional curricula.
Mawhiba supports the selected schools by providing continuous professional development, regular assessments, annual tests, as well as conducting parent orientation workshops, in addition to afterschool STEM programs targeting children in grades four to nine.
Students are also invited to join Mawhiba Enrichment Summer Programs as informal education, including residential and commuting summer programs that are either local or international at leading universities.
https://www.arabnews.com/node/1748556/saudi-arabia
---------
URL: https://www.newageislam.com/islamic-world-news/tata-groups-indian-jewellery-brand/d/123139
New Age Islam, Islam Online, Islamic Website, African Muslim News, Arab World News, South Asia News, Indian Muslim News, World Muslim News, Women in Islam, Islamic Feminism, Arab Women, Women In Arab, Islamophobia in America, Muslim Women in West, Islam Women and Feminism