New Age Islam News Bureau
9 Feb 2014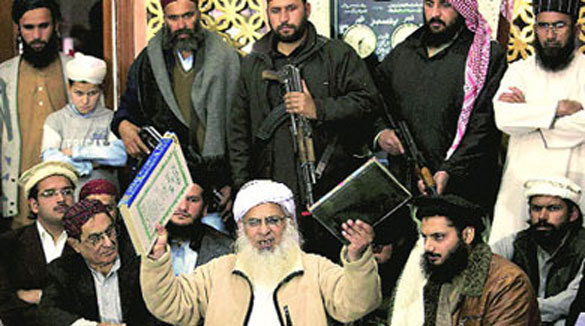 Lal Masjid cleric Maulana Abdul Aziz, a member of the Taliban team, at a news conference in Islamabad Friday. (AP)
-------
Pakistan
• Talks Being Held To Impose Sharia Law in Pak: Taliban
• Demand for Sharia Should Worry No One, the Quran and Sunnah Already a Part of Constitution: Jamaat-e-Islami
• US Drones Hover over Waziristan As Committee Meets Taliban Shura
• Nation to get good news from Waziristan tonight: Ashrafi
• 9 killed in exchange of fire with Baloch Republican Army in Balochistan
• Donor claims PTI has been hijacked
• Nawaz warns against using national issues for political mileage
• Govt's committee waiting for Taliban's response
• Centre ignores Afghans' voluntary return plan
• Extremist threats hamper Shahbaz Bhatti's murder trial
Arab World
• Syria's Information Minister: Terrorists from 83 Nationalities in Syria
• Muslim Brotherhood formed 'military wing': Egypt
• Iraq Terrorists Brutally Kill Nine in New Sectarian Attacks
• ISIL, FSA Engage in Fierce Clashes in Hama Countryside
• Nusra Front Kills ISIL Mastermind in Syria's Deir al-Zour
• Hezbollah Disbands ISIL Terrorist Cell in Dahiyeh
• Ban late night weddings, Jeddah citizens demand
Southeast Asia
• Apostasy because of weaknesses in Islamic agencies, says PAS's Ulema wing Ustaz
Europe
• Nine killed in massacre in northern Guatemala
• Turkey is our primary partner: Russia's Putin
• UN: More children dying in Afghan violence
• German foreign minister makes surprise visit to Afghanistan
Africa
• Clashes between Christian vigilantes and Muslims in Bangui leave at least 10 dead
• Police kill militant in Tunis gun battle, capture suspect
• Abducted S. African will not be executed: Al-Qaeda
• Tunisia arrests Islamist suspect over killing of Mohamed Brahmi
India
• Muslims Played a Key Role in Getting Power for Congress
• NRIs in Saudi Arabia explore Indian realty projects
• Pakistani journalist Mehr Tarar apologises for tweet on the Kashmir issue
• Indian diplomat met prisoners in Pakistani jail
• Guidelines to protect Waqf properties issued
South Asia
• Hasina calls for unity against 'evil forces'
• Explosion kills 7 Afghan army soldiers in Farah
• Terrorists among 22 criminal suspects arrested in capital Kabul
• Afghan presidential candidate accuse reporters of invading his privacy
• Hold dialogue for political stability, say Bangladesh politicians at BBC discussion
Mideast
• Top Iranian official: Israel a 'cancer' in the Middle East
• Netanyahu: Those who strike Israel will be hit in return
• Tehran sending 'message' as warships approach US
• IAF strikes suspected Palestinian terrorist in central Gaza Strip
North America
• Pentagon to explore Pakistan drone options in Afghanistan
• US unveils package of aid initiatives for Afghanistan worth $300m
• Vandalized California Mosque to Hold Community Open House
Compiled by New Age Islam News Bureau
URL: https://www.newageislam.com/islamic-world-news/new-age-islam-news-bureau/talks-being-held-to-impose-sharia-law-in-pak--taliban/d/35657
------------
Pakistan
Talks being held to impose Sharia law in Pak: Taliban
Press Trust of India | Islamabad | February 9, 2014
The Taliban has said it is fighting for implementing the Islamic sharia law in Pakistan and that was the purpose behind talks with the government.
Tehrik-e-Taliban Pakistan (TTP) spokesperson Shahidullah Shahid said Taliban would not be waging a war against the government if there was 'sharia' in the country.
"The war we are fighting is for enforcement of sharia… and talks with the government we will be holding will be for the same objective," Shahid was quoted as saying by BBC Urdu. Talking about the conditions put forward by government negotiators, he said those were being consulted upon.
He made it clear that any decision in this regard would be made after his meeting with TTP negotiators. The first round of talks between a four-member government team and a three-member Taliban committee started on Thursday amid deep scepticism over whether the dialogue can yield a lasting peace deal.
It ended with both sides charting a roadmap for future negotiations with the government team proposing that peace talks be pursued within the framework of the constitution of Pakistan. However, Taliban negotiator and Lal Masjid cleric Maulana Abdul Aziz said Friday that the talks would have to be held under Islamic law.
Asked if enforcement of Islamic Sharia was possible with an already imposed Constitution in the country, TTP spokesperson said, "This is simple because the other party we are holding peace talks with claim that they are Muslim… and Pakistan was created in Islam's name…so this task shouldn't be difficult for any Muslim."
"If we demand Americans to enforce Sharia in their country then it would be understandably difficult for them to do so but not for people who call themselves Muslims," Shahid said. He said the TTP will hold a meeting with Taliban negotiators in the next four to five days in which further course of action would be directed to them.
http://indianexpress.com/article/world/asia/talks-being-held-to-impose-sharia-law-in-pak-taliban/
----------
Demand for Sharia Should Worry No One, the Quran and Sunnah Already a Part of Constitution: J I Chief
2014-02-09
LAHORE: Jamaat-i-Islami chief Syed Munawar Hasan has said that nobody should be worried about the demand for enforcement of Sharia in the country because the 1973 Constitution already declares the holy Quran and the Sunnah as the supreme law of the land.
The issue of Sharia will form the core part of the ongoing talks between the government and the Tehreek- i-Taliban Pakistan (TTP), according to Mr Hasan.
"Look, there was no formal announcement by the Taliban about not accepting the Constitution or about the enforcement of Sharia in the country.
"An issue is being created on the basis of assumptions by those who don't want to see the ongoing negotiations succeed. The media should play the role of a responsible segment of society and avoid giving space (and time) to those creating an issue on the basis of some assumptions," he told Dawn on Saturday.
Earlier, while addressing a conference at Mansoora, his party's headquarters, Mr Hasan said it had already been laid down in the Constitution that no law repugnant to the Quran and the Sunnah should be enforced in the country.
He said that Sharia was not something to be afraid of. The demands for its enforcement were neither new nor unconstitutional. "Sharia is simply the divine law for the guidance and betterment of humanity," he remarked.
The Jamaat chief said those who got irritated each time Sharia was mentioned were in fact rejecting the Constitution. And those who were talking against 'Mullahism' and 'Talibanisation' were simply giving vent to their anger against Islam.
Had the rulers enforced the 1973 Constitution in letter and spirit, the country would have overcome its crises by now and realised its objectives, Mr Hasan said.
He was of the opinion that those who were accusing the TTP of violating the Constitution had themselves been violating it for the last 66 years in one form or the other.
"Those crying hoarse for democracy neither allowed democracy to flourish nor allowed the democratic institutions to be strengthened. The military dictators ridiculed both the Constitution and the judiciary," he remarked.
http://www.dawn.com/news/1085868/demand-for-sharia-should-worry-no-one-ji-chief
------------
US drones hover over Waziristan as committee meets Taliban Shura
February 9, 2014
ISLAMABAD: Taliban commanders and the members of their committee formed to holds talks with the government kept changing the venue of their meeting amid continued flights of unmanned US drones in the tribal area, well informed sources told Geo News on Sunday.
The committee members had reached North Waziristan in a military helicopter to apprise the Taliban's political Shura of the demands put forth by the committee representing the government.
The sources, however, said that the Shura and committee members had to change the venue many a time due to the drone flights.
http://www.thenews.com.pk/article-137219-US-drones-hover-over-Waziristan-as-committee-meets-Taliban-Shura
----------
Nation to get good news from Waziristan tonight: Ashrafi
February 9, 2014
ISLAMABAD: Chairman Pakistan Ulema Council (PUC) Hafiz Tahir Mehmood Ashrafi Sunday said the nation would get good news from North Waziristan tonight, Geo News reported.
Maulana Ashrafi said the country's constitution is subordinate to Quran and Sunnah.
He said they had been struggling for enforcement of Shariah and would continue to do so in the future.
http://www.thenews.com.pk/article-137208-Nation-to-get-good-news-from-Waziristan-tonight:-Ashrafi
----------
9 killed in exchange of fire with Baloch Republican Army in Balochistan
February 9, 2014
QUETTA: Nine people were killed in an exchange of fire between two groups on the border of Sindh and Balochistan, Express News reported on Sunday.
Balochistan Interior Minister Sarfaraz Bugti told the Express News that the dead include a peace force officer, two suspects and six civilians.
He added that banned outfit Baloch Republican Army (BRA) had attacked a house in Dera Bugti last night killing three women, two children and two men.
On Sunday (today) morning, tribesmen chased the BRA suspects to Jaffarabad where a firing incident between the two parties resulted in the death of one tribesman and two suspects, Bugti further told the Express News.
He stated that firing has stopped, and police and Levies Force have been mobilised.
http://tribune.com.pk/story/669472/tribal-clash-9-killed-in-exchange-of-fire-in-balochistan/
------------
Donor claims PTI has been hijacked
February 9, 2014
Pakistani-American donor Mehboob Aslam claimed on Saturday that Pakistan Tehreek-e-Insaf cannot ensure provision of justice to the common people when it cannot provide justice to its own worker.
Addressing a press conference at the residence of a PTI's founder member Akbar Babar, Aslam said Imran Khan was surrounded by opportunists and land grabbers, who were being consulted to run the party affairs while ideological workers had been sidelined.
He said he had worked for the party in the US and had raised funds worth $3 million for the 2008 general elections.
"However, when I visited Pakistan, reviewed the causes of the party's defeat in the polls and talked with ideological workers, I found that the party had been hijacked by corrupt and bankrupt people, who had been assigned important responsibilities in the party," he claimed.
He said the money he sent had been used in the intra party elections, while the party tickets were even sold.
He said Imran mistreated him when he went to him to complain against the alleged misappropriation and his minions kicked him out.
The PTI spokesperson rejected the allegations. "The PTI chief met with Aslam Mehboob and his six-member-delegation in spite of the fact that he had been dismissed from the party," he said. "The party accounts have even undergone a forensic audit but no irregularity was found."
http://tribune.com.pk/story/669423/donor-claims-pti-has-been-hijacked/
------------
Nawaz warns against using national issues for political mileage
2014-02-08
LAHORE: Prime Minister Nawaz Sharif on Saturday stressed that Pakistan's grave issues of terrorism, law and order and economy must not be used for political mileage.
He was addressing the 37th FPCCI (Federation of Pakistan Chambers of Commerce and Industry) Export Awards distribution ceremony at a local hotel here.
Balochistan Governor Muhammad Khan Achakzai, Gilgit-Baltistan Chief Minister Syed Mehdi Shah, Federal Commerce Minister Engineer Khurram Dastagir Khan, FPCCI President Zubair Ahmed Malik, SAARC Chamber of Commerce and Industry Vice President Iftikhar Ali Malik, FPCCI President-Elect Zakria Usman and others were also present.
Full report at:
http://www.dawn.com/news/1085705/nawaz-warns-against-using-national-issues-for-political-mileage
------------
Govt's committee waiting for Taliban's response
2014-02-09
ISLAMABAD: The government negotiators holding talks with the Taliban are anxiously waiting for a reply from the leadership of the banned Tehreek-i-Taliban Pakistan to the conditions set by them.
"We have put two conditions — talks will be held within the parameters of the Constitution and their scope will be limited to insurgency-affected areas of the tribal belt," a member of the government's committee told Dawn.
He said now the ball is in the Taliban's court and the future of peace negotiations, which began on Thursday, would be determined by their response.
"For us the thing of foremost importance is to uphold the sanctity of the Constitution during the talks."
He said if the militants refused to accept the Constitution, as explained by Maulana Abdul Aziz at a press conference on Friday, the situation would put the government in a tight spot.
Lal Masjid cleric Maulana Abdul Aziz, one of the three members of the TTP negotiating team, had told the media that the Taliban would hold talks only if the government agreed to enforce Sharia.
Full report at:
http://www.dawn.com/news/1085867/govts-committee-waiting-for-talibans-response
------------
Centre ignores Afghans' voluntary return plan
February 9, 2014
PESHAWAR: The federal government has failed to evolve a mechanism for the implementation of the multi-year Solution Strategy for Afghan Refugees (SSAR), which was approved in 2012 to ensure 'voluntary and dignified' repatriation of refugees from Pakistan.
In background interviews, officials told Dawn that despite reservations of the Khyber Pakhtunkhwa government, the federal government had given two years extension to the stay of the registered refugees in the country but ignored the strategy.
"Components related to the extension of the refugees' stay and renewal of proof of registration cards have been addressed, while modalities about repatriation highlighted in the strategy have been ignored," said an official, adding no follow-up meeting had been held at federal or provincial level.
Full report at:
http://www.dawn.com/news/1085906/centre-ignores-afghans-voluntary-return-plan
------------
Extremist threats hamper Shahbaz Bhatti's murder trial
2014-02-08
ISLAMABAD: Extremist threats have hampered the murder trial of Pakistan's former minority affairs minister Shahbaz Bhatti, who was gunned down in Islamabad in March 2011, the All Pakistan Minorities Alliance (APMA) said Saturday.
Shahbaz Bhatti, a Catholic, had been a vocal opponent of Pakistan's controversial blasphemy law.
Blasphemy is an extremely sensitive issue in a country where 97 per cent of the population is Muslim and can carry the death penalty.
"Threatening pamphlets claiming to be from the Punjabi Taliban were found in the office of our key witness, whose name cannot be disclosed for security," Shamoon Gill, spokesman of APMA, told AFP.
He said the pamphlets had warned the witness to "stay away from the case or get ready to be eliminated along with his family." "He is terrified, he continues changing his place and faces serious life threats," Gill said.
Full report at:
http://www.dawn.com/news/1085703/extremist-threats-hamper-shahbaz-bhattis-murder-trial
------------
Arab World
Syria's Information Minister: Terrorists from 83 Nationalities in Syria
February 9, 2014
Syria's Information Minister Omran Ahed al-Zoubi announced the existence of foreign terrorists of 83 different nationalities in his country, dismissing the Saudi claims of prosecuting those citizens that fight abroad as unrealistic.
He further emphasized that the announced Saudi decision does not mean that it has given up its support of terrorist groups in Syria, Al-Alam reported on Saturday.
"The Saudi decision is not real and its implementation is impossible," Al-Zoubi added, explaining that Saudi terrorist infiltrate into Syria through Jordan, Lebanon and Turkey and their entry into the country cannot be registered.
He then asked, "Thus how can Saudi authorities tell if these individuals are coming back from Syria to detain and punish them?"
Insisting that Saudi Arabia is supporting the multinational terrorists in Syria with funds and weaponry, the Syrian official added that the recent Saudi decision does not mention anything about halting Saudi support of foreign insurgents in the form of funds, armaments and military training.
Full report at:
http://english.farsnews.com/newstext.aspx?nn=13921120000393
------------
Muslim Brotherhood formed 'military wing': Egypt
AP | Feb 9, 2014,
CAIRO: Egypt's interior ministry has accused the ousted president's Muslim Brotherhood group of forming a military wing to stage attacks on the security forces.
In a televised statement, the ministry spokesman Hani Abdel-Latif named 12 people he said belonged to the alleged military wing. He said five were arrested and aired what he said was one of their confessions.
He said the group, headed by the Brotherhood province's leader, killed five policemen in a drive-by shooting last month in the southern province of Beni Suef.
The Muslim Brotherhood group has been branded as a "terrorist" organization after a series of bombings that rocked the country since the ouster of Mohammed Morsi in a military coup in July. An al-Qaida-inspired group claimed responsibility for most of the attacks.
http://timesofindia.indiatimes.com/world/middle-east/Muslim-Brotherhood-formed-military-wing-Egypt/articleshow/30114214.cms
------------
Iraq Terrorists Brutally Kill Nine in New Sectarian Attacks
February 9, 2014
Terrorist militants in Iraq brutally killed nine people for sectarian reasons in two separate attacks.
The first incident took place when militants forced Shiite policemen to pray before killing them, while the second was discovered when decapitated heads were left in a market.
The two incidents both took place in Salaheddin province, North of Baghdad, leaving nine dead in all, Agence France Presse (AFP) quoted security and medical officials as saying.
In Tuz Khurmatu, militants surrounded a police encampment protecting a stadium construction site and gathered the six policemen as a group and shot them all dead, two security officials and a doctor at the local hospital said.
One of the six, however, only died at hospital, and according to a local Tuz official, said that the insurgents had attempted to find out if the policemen were Sunni or Shiite before killing them.
Full report at:
http://english.farsnews.com/newstext.aspx?nn=13921120001171
------------
ISIL, FSA Engage in Fierce Clashes in Hama Countryside
February 9, 2014
The Islamic State of Iraq and the Levant (ISIL) and the Free Syrian Army (FSA) engaged in heavy clashes in areas in Hama in the Western parts of Syria.
The violent and bloody clashes erupted in Badiyeh Shaer area in Eastern Hama.
More than 40 militants from both sides have been killed and dozens more injured in the heavy clashes. Commander of Jebel Al-Zawiya terrorist group, Mohammad Fasih Hendavi, was also killed in the fight.
After more than two years of fighting side-by-side and leading one of the bloodiest conflicts in the recent history of the Middle-East, al-Qaeda affiliated groups have been making increasing moves against each other in the last few months.
Full report at:
http://english.farsnews.com/newstext.aspx?nn=13921120000570
------------
Nusra Front Kills ISIL Mastermind in Syria's Deir al-Zour
February 9, 2014
A commander and military mastermind for the terrorist group of the Islamic State of Iraq and the Levant (ISIL) has been killed after clashes with the Al-Qaeda affiliated al-Nusra Front in the Eastern province of Deir Uzzour, reports said.
The Libyan commander known as Abu Dajana, ISIL's chief in Deir al-Zour, was killed on Saturday, Al-Alam reported.
Abu Dajana's killing comes after al-Nusra Front and militant brigades, including the Ahrar al-Sham, launched a new offensive against their former ally ISIL in the Eastern province.
Al-Nusra Front and other extremist allies have reclaimed control of factories and grain mills in Deir al-Zour, some reports said.
Full report at:
http://english.farsnews.com/newstext.aspx?nn=13921120001007
------------
Hezbollah Disbands ISIL Terrorist Cell in Dahiyeh
February 9, 2014
The Lebanese Hezbollah movement disbanded a terrorist cell affiliated to the Islamic State of Iraq and the Levant (ISIL, also known as ISIS) in the Southern suburbs of Beirut.
Hezbollah identified and disbanded the ISIL terrorist cell which ran its operations in Dahiyeh under the cover of trade activities.
The members of the terrorist group worked in a confectionary store and had relations with the Saudi intelligence agency.
Full report at:
http://english.farsnews.com/newstext.aspx?nn=13921120000698
------------
Ban late night weddings, Jeddah citizens demand
February 9, 2014
JEDDAH — Many citizens are calling for the strict enforcement of regulations that ban late night wedding parties.
Wedding parties in Saudi Arabia usually last until the early morning hours, which has many negative social and security concerns. Citizens said banquet halls, like shopping malls, should close at a certain hour.
Naser Saeed said he once dropped his wife at a wedding and asked her to phone him when the function was over. He went back home and fell into a deep sleep. When the wedding was over, his wife called him but he did not answer the phone. She had to walk home alone.
Saeed said a number of youngsters harassed his wife on the way and she could have been attacked or kidnapped had it not been for a passing patrol car.
Full report at:
http://www.saudigazette.com.sa/index.cfm?method=home.regcon&contentid=20140209195151
------------
Southeast Asia
Apostasy because of weaknesses in Islamic agencies, says PAS's Ulema wing Ustaz
Feb 09 2014
A former committee member of Selangor PAS's Ulema wing, who is making a name for himself among moderate Malays, has blamed the weaknesses in state religious departments for cases of apostasy among Muslims and not proselytising by Christians.
Wan Ji Wan Husin, an Ustaz or religious teacher, said it was wrong for the religious authorities to blame apostasy on use of the word "Allah" by Christians.
"To say that Christians are using the word to convert Muslims or to confuse them is wrong and untrue.
"This has never happened. The word 'Allah' has been used by Christians even before the time of the Prophet but never once has the Prophet said they were using it to confuse Muslims," he told The Malaysian Insider.
The PAS member instead said Muslims have turned away from the religion because of the weaknesses of the religious bodies.
"There are also the weaknesses of Zakat, which is supposed to help those in need.
"There have been so many cases of poor Muslims not getting the help they need from mosques. It is the churches that reach out to them with food and shelter," he added.
Full report at:
http://www.themalaysianinsider.com/malaysia/article/apostasy-because-of-weaknesses-in-islamic-agencies-says-pas-ustaz
------------
Europe
Nine killed in massacre in northern Guatemala
AP | Feb 9, 2014
GUATEMALA CITY: A military spokesman said that nine members of a family, including a baby and a young girl, were shot to death in a remote part of northern Guatemala.
Army spokesman Ismael Cifuentes said that a military helicopter and at least 90 soldiers were heading to the jungle region, which is difficult to reach.
According to Cifuentes, neighbours said the killings took place when two SUVs carrying armed men arrived at the family's house. The gunmen opened fire on the family.
He said that eight people died at the site and a ninth succumbed after being taken to a hospital. Among the dead were a five-year-old girl and a three-month-old.
Authorities did not provide a motive, but Guatemalan government maps show Mexico's Zetas drug cartel operating in the region.
http://timesofindia.indiatimes.com/world/rest-of-world/Nine-killed-in-massacre-in-northern-Guatemala/articleshow/30093555.cms
-----------
Turkey is our primary partner: Russia's Putin
February 9, 2014
Turkey is the primary partner of Russia, President Vladimir Putin said Feb. 7 after talks with Prime Minister Recep Tayyip Erdoğan in Sochi, putting an emphasis on energy trade between two countries.
Erdoğan was in the Black Sea resort to attend the opening ceremony of the long-awaited Sochi Winter Games. Foreign Minister Ahmet Davutoğlu, Energy Minister Taner Yıldız and Sports Minister Akif Çağatay Kılıç accompanied the prime minister during his visit.
Erdoğan praised the sport complexes built for the event and expressed hopes that the games would serve as a symbol of peace and freedom. "Here I saw the successful works done by Turkish construction companies," Erdoğan said, adding that Turkish companies could play a similar role for the FIFA 2018 World Cup, which will also be held in Russia.
Full report at:
http://www.hurriyetdailynews.com/turkey-is-our-primary-partner-russias-putin.aspx?pageID=238&nID=62196&NewsCatID=359
------------
UN: More children dying in Afghan violence
February 9, 2014
KABUL — The number of children killed and wounded in Afghanistan's war jumped by 34 percent last year as the Taliban stepped up attacks across the country and continued to lay thousands of roadside bombs, the United Nations said Saturday.
Overall civilian casualties were up by 14 percent, reversing 2012's downward trend and making 2013 one of the deadliest years of the 12-year war for civilians.
The rising civilian toll underscores mounting levels of violence in Afghanistan. Taliban insurgents have ramped up attacks to try to gain ground and shake the Afghan government's confidence as international combat troops prepare to complete their withdrawal at the end of the year.
Full report at:
http://www.saudigazette.com.sa/index.cfm?method=home.regcon&contentid=20140209195172
-----------
German foreign minister makes surprise visit to Afghanistan
Feb 09 2014
Germany's foreign minister Frank-Walter Steinmeier arrived in Afghanistan following an unannounced visit to meet with the Afghan government officials.
Steinmeier first arrived in capital Kabul after visiting Mazar-e-Sharif, the capital city of northern Balkh province of Afghanistan.
He vowed Germany's continued support to Afghanistan, however he said that the year 2014 was not only a key year for Afghanistan, but also a turning point for the German commitment.
He is also scheduled to hold talks with president Hamid Karzai during his visit capital Kabul, and is expected to hold talks on Germany's commitment to Afghanistan and the upcoming presidential elections.
Full report at:
http://www.khaama.com/german-foreign-minister-makes-surprise-visit-to-afghanistan-3413
------------
Africa
Clashes between Christian vigilantes and Muslims in Bangui leave at least 10 dead
February 9, 2014
A weekend of violence and looting in Bangui has left at least 10 people dead, witnesses and a humanitarian official told AFP on Sunday, including two more gruesome lynchings of minority Muslims.
Fighting broke out Saturday evening between Christian vigilantes and Muslims in the west of the Central African capital where many buildings were torched, they said.
A resident told AFP that the Muslim killer of a Christian woman was lynched and killed before his body was burned and deposited in front of the local town hall, where it could be seen early Sunday.
Suspected Christian militiamen killed another Muslim civilian, and one of the assailants was shot dead by an African peacekeeper, the witnesses told AFP. Five other people were killed in unclear circumstances, they said.
Full report at:
http://english.ahram.org.eg/NewsContent/2/9/93806/World/International/Clashes-in-Bangui-leave-at-least--dead-Witnesses.aspx
------------
Police kill militant in Tunis gunbattle, capture suspect
February 9, 2014
Tunisian police killed an Islamist militant in a gunbattle in Tunis and captured three people, including one suspected of involvement in the assassination of an opposition leader last year, authorities said.
Hmed Malki, captured late on Saturday, is a main suspect in the killing of Mohamed Brahmi, whose death helped tip Tunisia into a political crisis, an Interior Ministry spokesman said.
It was the second major operation in Tunisia in a week after seven militants armed with suicide bomb vests and explosives were killed in a raid on a house north of the capital last week. A police officer was also killed.
Full report at:
http://english.ahram.org.eg/NewsContent/2/8/93795/World/Region/Police-kill-militant-in-Tunis-gunbattle,-capture-s.aspx
------------
Abducted S. African will not be executed: Al-Qaeda
February 9, 2014
SANAA: Al-Qaeda militants who kidnapped a South African teacher in Yemen last year will not execute him despite their deadline for receiving $3 million in ransom expiring Saturday, a mediator said.
Pierre Korkie, 56, was abducted along with his wife in Yemen's second city Taiz in May by members of Al-Qaeda in the Arabian Peninsula (AQAP).
Korkie's wife Yolande was freed last month with the help of the mediator from one of Yemen's powerful tribes and returned home.
Korkie, who is in poor health, "is still alive and the prospect of his being executed is excluded," the mediator told AFP, adding that he was in contact with the kidnappers.
He said the situation remained very delicate, adding: "They cannot free the hostage without the ransom."
Full report at:
http://www.arabnews.com/news/523006
------------
Tunisia arrests Islamist suspect over killing of Mohamed Brahmi
February 9, 2014
Security forces in Tunisia have arrested an Islamist suspect in the assassination last year of a prominent opposition politician, Mohamed Brahmi.
The suspect Hmed el-Melki - alias "Somali" - was captured outside Tunis, said an interior ministry spokesman.
It followed a fierce gunfight at a house in which "a terrorist group had holed up", said Mohamed Ali Aroui.
The killing of Mr Brahmi and another opposition leader, Chokri Belaid, plunged Tunisia into political crisis.
Full report at:
http://www.bbc.co.uk/news/world-africa-26106457
---------
India
Muslims played a key role in getting power for Congress
9 February 2014
It is a fact that the Muslims played a key role in bringing back Congress to power in 2004 elections. Again in 2009 it was the Muslim vote which enhanced the number of seats in state Assembly but during the second phase of UPA rule, Congress indulged in many scandals. Due to price rise, the common man is angry with Congress. These thoughts were expressed by Nawab Kazim Ali Khan, President of Ambedkar National Congress in a press statement issued yesterday.
Mr. Khan said that a Muslim organization is arranging a large scale meeting inviting Mr. Rehman Khan to highlight the favours done to the Muslims by the Congress Govt. It should be applauded. Mr. Khan also said that the organizers of the conference have forgotten the deeds of Ms. Indira Gandhi and Mr. Rajiv Gandhi. In the banners of the conference the photographs of these two great leaders are not found. These leaders are responsible for initiating Prime Minister's 15 point program for Minorities and for resolving Shah Banu's case. The Minorities leaders of Congress cannot forget these two personalities.
http://www.siasat.com/english/news/muslims-played-key-role-getting-power-congress
----------
NRIs in Saudi Arabia explore Indian realty projects
Feb 9, 2014
A large number of real estate developers from India are taking part in a property exhibition in Riyadh.
Owais Ahmed, president of the India Business Forum (IBF), inaugurated "India Homes 2014".
The exhibition, to move to Jeddah on Monday and to be staged in the Eastern Province on Friday, will bring together Indian expatriates to explore investment opportunities in different parts of India.
Abraham Valiyakala, managing director of Eastern Channel Company Ltd, who is the brain behind the show, said: "The aim behind the exhibition is to create an effective platform of understanding, interaction and collaboration for potential purchasers or investors in Saudi Arabia and the realty developers of India."
Full report at:
http://www.arabnews.com/news/522856
----------
Pakistani journalist Mehr Tarar apologises for tweet on the Kashmir issue
February 9, 2014
The Pakistani scribe, who was recently in the limelight because of the nasty row with Shashi Tharoor's late wife Sunanda Pushkar on Twitter, has once again raised a storm on the micro-blogging website on a comment she made on the Kashmir issue
Barely out of her first controversy on Twitter, Pakistani writer Mehr Tarar has once again plunged herself into another verbal mishap that has earned the ire of many on the Twitterverse. In a tweet, put out on late Wednesday evening, Feburary 5, she commented on the state of affairs in her home country Pakistan.
Full report at:
http://www.dnaindia.com/world/report-pakistani-journalist-mehr-tarar-apologises-for-tweet-on-the-kashmir-issue-1960000
---------
Indian diplomat met prisoners in Pakistani jail
PTI | Feb 9, 2014
KARACHI: Close on the heels of the mysterious death of an Indian fisherman, an Indian diplomat has visited prisoners, most of them fishermen, held in a jail in this Pakistani port city to gain first-hand knowledge about their condition, sources said.
Though what the prisoners told the diplomat was not immediately known, sources said the recent death of the Indian fisherman figured in the interactions.
The prisoners at Landhi jail were given a box of sweets and basic amenities like soap, detergent and toothpaste, they said.
Fishermen Kishore Bhagwan died at Landhi jail on February 4 reportedly of an illness but the report of his autopsy has not yet been made available to Indian authorities.
On December 19, another Indian fisherman Bhikha Laka Shiyal, 35, died in a jail in Karachi and the cause of his death too is yet to be established.
Full report at:
http://timesofindia.indiatimes.com/india/Indian-diplomat-met-prisoners-in-Pakistani-jail/articleshow/30114898.cms
------------
Guidelines to protect Waqf properties issued
February 9, 2014
In an attempt to prevent clashes over encroachments on Waqf properties, the newly elected Bharatiya Janata Party government in Rajasthan has decided to revoke their registration in the name of individuals and restore their original status.
This will be accompanied by steps to protect the Waqf properties and the reassessment of their value in order to get appropriate rent. The construction works for the conservation of Waqf properties will be launched with public participation.
Additional Chief Secretary (Minorities' Affairs) G.S. Sandhu has issued detailed guidelines in this regard. Mr. Sandhu said the State government was serious about protecting the Waqf properties and serving the purpose for which the religious endowments were made.
Full report at:
http://www.thehindu.com/news/national/other-states/guidelines-to-protect-waqf-properties-issued/article5668568.ece
------------
South Asia
Hasina calls for unity against 'evil forces'
Feb 09 2014
Prime Minister Sheikh Hasina yesterday urged the countrymen to forge unity against the evil forces that are involved in the incidents of killing, arson and bombing.
"The BNP and its ally Jamaat-e-Islami are counting dead bodies to show their success in movement, which reflects their perverted mentality. It is misfortune for the nation that the BNP, one of the country's main political parties, is indulging in terrorism in the name of movement," said Hasina, according to state news agency BSS.
The premier said this while delivering her speech at the Sardah Police Academy in Rajshahi after taking salute at a training-completion parade of the trainee assistant superintendents of police of the 31st BCS.
Hasina also distributed cheques from the Prime Minister's Fund for the rehabilitation and treatment of families of 98 people who were subjected to "atrocities" committed by the Jamaat-Shibir over the last year in different parts of Rajshahi.
Full report at:
http://www.dhakatribune.com/politics/2014/feb/09/hasina-calls-unity-against-evil-forces#sthash.TcSuKarp.dpuf
------------
Explosion kill 7 Afghan army soldiers in Farah
Feb 09 2014
At least seven Afghan national army soldiers were killed following an explosion in western Afghanistan on Sunday, defense officials said.
Gen. Zahir Azimi, spokesman for the defense ministry of Afghanistan, said the incident took place in Farah province following an improvised explosive device (IED) explosion.
Gen. Azimi confirmed that 7 Afghan national soldiers were martyred following the explosion in Delaram area.
No group has so far claimed responsibility behind the incident.
Farah is among the relatively volatile province in western Afghanistan, where Taliban militants are openly operating in its various districts.
Full report at:
http://www.khaama.com/explosion-kill-7-afghan-army-soldiers-in-farah-3417
----------
Terrorists among 22 criminal suspects arrested in capital Kabul
Feb 09 2014
At least 22 people were arrested in connection to various criminal activities and plotting terrorist attacks in capital Kabul, security officials said Sunday.
Kabul security chief, Gen. Zahir, told reporters that the suspects were arrested by Afghan police forces during the past two weeks.
Gen. Zahir further added that a group of terrorists were also among those detained by Afghan security forces from Dehsabz area of Kabul city.
He said Afghan security forces discovered and seized various weapons, explosives and ammunition from the detained militants, who were plotting an attack in capital Kabul.
In the meantime, Gen. Zahir said that the criminal activities have considerably reduced in capital Kabul as compared to last year.
Full report at:
http://www.khaama.com/terrorists-among-22-criminal-suspects-arrested-in-capital-kabul-3415
------------
Afghan presidential candidate accuse reporters of invading his privacy
Feb 09 2014
A new video has surfaced in the Facebook social media website an Afghan presidential candidate Mohammad Daud Sultanzoy verbally clashing with a number of the TV reporters.
Mohammad Daud Sultanzoy, who is expected to run in the upcoming presidential elections, claims that the reporters invaded their privacy during an interview.
The video which was widely shared in Facebook social media website appears to feature Sultanzoy asking the reporters to hand over the recorded video tape.
Sultanzoy accuse the TV reporters for invading his privacy by asking personal questions and threatens to break their camera if they did not hand over the video tape.
Full report at:
http://www.khaama.com/afghan-presidential-candidate-accuse-reporters-for-invading-his-privacy-3412
------------
Hold dialogue for political stability, say Bangladesh politicians at BBC discussion
Feb 09 2014
Participants at the BBC Bangladesh Sanglap yesterday stressed on the need for holding dialogue between the ruling Awami League and one of the major political parties BNP for the sake of political stability in the country.
BBC Bangladesh Sanglap is a weekly debate programme held by BBC Bangladesh, encouraging dialogue between people, politicians and policymakers.
The panelists termed Bangladesh Chhatra League (BCL), student wing of the ruling AL, as a burden on the party for its unruly activities in recent times.
BNP Vice-Chairman Abdullah Al Noman said if the government did not initiate the dialogue with BNP immediately, political situation might deteriorate.
"The ruling AL formed the government with support of only 5% voters. Most of the people had not been supporting the present government," he said.
A participant asked if BNP would sit for dialogue by giving recognition to the present government which they had been terming as "illegal," to which the BNP leader replied that dialogue had many forms and there were examples of dialogues being held between two sides even during wars.
Full report at:
http://www.dhakatribune.com/politics/2014/feb/09/hold-dialogue-political-stability-say-politicians-bbc-discussion#sthash.jXVpp2Zu.dpuf
------------
Mideast
Top Iranian official: Israel a 'cancer' in the Middle East
February 9, 2014
TUNIS - Iran's parliamentary speaker Ali Larijani referred to Israel as a "cancer" in the region on Friday and accused it and the United States of trying to "sterilize" the Arab Spring revolutions.
"Even after the revolutions that happened in the region, the US and Israel tried to divert and devastate some of the revolutions so that Israel can benefit," Iran's official Press TV news quoted Larijani as saying at a ceremony in Tunisia celebrating the country's new constitution.
In light of the Iranian official's address, a US delegation walked out in protest from the assembly in Tunis.
The ceremony, which included French President Francois Hollande and other foreign dignitaries, was meant to mark Tunisia's newly adopted constitution, widely praised as a model for the region.
Full report at:
http://www.jpost.com/Middle-East/Top-Iranian-official-Israel-a-cancer-in-the-Middle-East-340756
------------
Netanyahu: Those who strike Israel will be hit in return
February 9, 2014
Prime Minister Binyamin Netanyahu related to the IAF strike Sunday on an alleged terrorist in the Gaza Strip, saying at the start of Sunday's cabinet meeting that Israel's policy was clear and simple: those who strike Israel, or intend to do so, will be hit hard in return.
Netanyahu also related to reports that Iran ordered a number of warships to approach US maritime borders, saying that the sanctions relief granted Iran did not moderate its aggressive policies, but rather led to the "exact opposite."
"This is what is happening," Netanyahu said. "The international community is reducing the sanctions, and Iran is increasing its aggression.""
"The Iranian foreign minister recently met with the head of Islamic Jihad, Iran continues to provide lethal weapons to terrorist organizations, continues butchering in Syria, and now has added the following: the blatant and sharp attack by the Iranian ruler on the US, along with sending warships to the Atlantic Ocean."
Full report at:
http://www.jpost.com/Defense/Netanyahu-Those-who-strike-Israel-will-be-hit-in-return-340822
-----------
Tehran sending 'message' as warships approach US
February 9, 2014
Iranian naval fleets were on their way across the Atlantic Ocean and headed toward the US, the Fars news agency reported on Saturday.
"Iran's military fleet is approaching the United States' maritime borders, and this move has a message," Adm. Afshin Rezayee Haddad of Iran's Northern Navy Fleet was quoted as saying.
According to Fars, Iran had first warned the US of its plans to deploy its naval forces along US marine borders "in the next few years" in September 2012.
Then, Iran's Navy Commander R.-Adm. Habibollah Sayyari said the move would counter US presence in its waters in the Persian Gulf.
Fars first reported on an Iranian Navy fleet of warships making its way across the Atlantic Ocean in January 2014. At the time, they reported that the ships would sail for at least three months.
Full report at:
http://www.jpost.com/Iranian-Threat/News/Khamenei-US-has-controlling-meddlesome-attitude-toward-Iran-340770
------------
IAF strikes suspected Palestinian terrorist in central Gaza Strip
February 9, 2014
A Palestinian thought by Israel to be heavily involved in the launching of rockets onto Israeli townships in the western Negev was critically injured early Sunday as a result of an IAF targeted attack in the central Gaza Strip, the army confirmed.
Israeli military sources said Abdallah Kharti, a member of the Popular Resistance Committees, took an active role in the planning and execution of rocket attacks.
"The IDF acted to remove an immediate threat on the citizens of the State of Israel," the army said in a statement."
Full report at:
http://www.jpost.com/Defense/IAF-strikes-suspected-Palestinian-terrorist-in-central-Gaza-Strip-340810
------------
North America
Pentagon to explore Pakistan drone options in Afghanistan
February 9, 2014
Pentagon is thinking over different ways of prolonging the US troops presence in Afghanistan. Afghan president is unlikely to let US troops stay in his country. American presence in other countries of the region may increase tensions.
Pentagon's heads don't know exactly, whether they will keep the presence of their troops in Afghanistan. Without them, the US would close its bases there.
During Pentagon press conference, journalists asked whether Pentagon would consider stationing drones in India as a variant. Chuck Hagel, Defense Secretary, said that the military would consider all variants.
Full report at:
http://voiceofrussia.com/2014_02_09/Pentagon-to-explore-Pakistan-drone-options-in-Afghanistan-1888/
------------
US unveils package of aid initiatives for Afghanistan worth $300m
Feb 09 2014
The Obama administration is expected to unveil a new package of aid initiatives for Afghanistan on Monday, which will include development initiatives worth $300 million.
The new initiative by Obama administration is aimed to help Afghanistan shield itself from the departure of the coalition forces and an expected drop in international aid.
The announcement is expected to be made by United States Agency for International Development (USAID) on Monday, which will include three new development projects.
Larry Sampler, USAID's chief official for Afghanistan and Pakistan, told Reuters, The question is, what can we do now to make sure Afghanistan is as healthy, sustainable and feasible as possible going forward."
This comes as the US lawmakers halved the civilian development aid to Afghanistan last month, however, US officials have said that the recent budget cut would not affect the new initiatives.
Full report at:
http://www.khaama.com/us-unveils-package-of-aid-initiatives-for-afghanistan-worth-300m-3414
------------
Vandalized California Mosque to Hold Community Open House
February 9, 2014
On Sunday, February 9, the Islamic Center of Manteca in Manteca, Calif., will hold a community open house to thank all those who supported the mosque following a recent act of vandalism that is being investigated as a possible hate crime.
"We're very proud of the support we have received from the Manteca community, and hosting an open house is a way to thank our friends and neighbors for their support," said Masood Cajee, a member of the mosque's congregation.
Open house attendees will be able to tour the new facility, which opened in June 2013, and will be able to have their names written in Arabic by a calligrapher. Refreshments will be served.
Full report at:
http://boston-massachusetts.us/vandalized-california-mosque-to-hold-community-open-house/
------------
URL: https://www.newageislam.com/islamic-world-news/new-age-islam-news-bureau/talks-being-held-to-impose-sharia-law-in-pakistan--taliban/d/35657