New Age Islam News Bureau
23 December 2021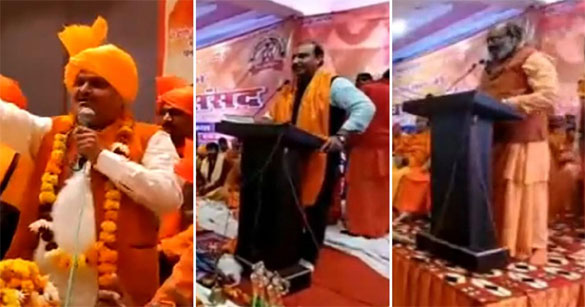 Yogi Narsighanand organises 3-day hate speech conference against Muslims in Haridwar (image Screenshot Twitter/The Hindustan Gazette
----
• Saudi Arabia's Top Religious Body Declares Homosexuality 'One of the Most Heinous Crimes' and Gay People 'A Disgrace in This World and the Next'
• Jamiat Ulema-I-Islam-Fazl to Support Taliban Government in Afghanistan
• IS-K Is Based In Afghanistan, Targets both Pakistanis and Afghans, Says US Report
• Exhibition on "Art of Abrahamic Religions" Launched In Moscow
India
• RSS Begins Massive Outreach To Muslim Women Ahead Of UP Polls
• Hindus follow path of truth, Hindutva loots under guise of religion: Rahul Gandhi
• Terrorists kill Srinagar man, Anantnag cop
• Lakshadweep: Move to change weekly holiday from Friday to Sunday triggers row
• Mehbooba likens government to Zia's rule, says Pakistan still regretting regime
--------
Arab World
• UNGA Resolution On 'Sexual Orientation' Contravenes Arab, Islamic Identity, Asserts Saudi Arabia's Grand Mufti
• Qatar seizes rainbow-coloured toys it deems 'un-Islamic'
• UN peacekeepers attacked in south Lebanon, UNIFIL calls on govt to investigate
• War in Syria killed 3,700 in 2021, lowest annual toll in decade: Monitor
• Arab Coalition slams Iran's 'defamatory' claim over Irlu's evacuation from Yemen
--------
Pakistan
• Ashrafi, Jamil meet Sri Lankan high commissioner, apologise for Sialkot tragedy
• Pakistan looks to lift flights ban imposed by European Union
• Freight train linking Pakistan, Iran and Turkey begins operations after 10-year hiatus
• Pakistani Court Orders Return Of Converted Teenage Christian Child Bride To Her Family
• FM Qureshi reaffirms Pakistan's commitment to host SAARC summit
• US lauds Pakistan's role in hosting OIC Summit on Afghanistan
--------
North America
• Hate Crimes against Muslims and Jews in New York City Double Since Last Year
• US authorizes certain transactions with Taliban, Haqqani network in Afghanistan
• UN confirms it asked Taliban to provide security in Afghanistan
• US: Second 'spy' confessed to working with anti-Muslim group, rights group says
• US police accused of mishandling Islamophobic attack on Muslim student
• US sanctions alleged network of al-Qaeda in Brazil
• US disappointed over expected delay of Libya elections
--------
Europe
• Hungary's PM denounced in Bosnia for anti-Muslim rhetoric
• EU making efforts to amend Bosnian genocide denial law implemented by Austrian diplomat
• Russia hopeful Iran nuclear deal will be restored: Foreign minister
• Jewish leaders slam comments made by JNF chief over Muslim immigration
• Bosnian President condemns Viktor Orban's '2 million Muslims' remarks
--------
South Asia
• Afghan Taliban Stop Pakistan Army from Fencing International Border
• UNSC passes resolution over easing financial restrictions on Afghanistan
• Sanctions on Afghanistan only affect common people: Suhail Shaheen
• Taliban, Turkey, Qatar to discuss airports management today
• Canada announces $56 million in humanitarian aid to Afghanistan
• Over Half of Afghan Journalists Lost Jobs With Taliban Takeover
--------
Africa
• It's Time To Seek Divine Help From God – 19th Emir Of Zazzau Urges Pastors, Imams
• Sheikh Zakzaky: We are 'Islamic Movement' not 'IMN'
• Libya Calls Off Long-Awaited Presidential Election
• Ethiopia claims capture of Tigrayan city from rebels
• Rival militias mobilize in Libya's capital amid tensions over delayed election
--------
Southeast Asia
• Sabah Gives Nod For House Visits During Christmas, New Year Celebrations
• Muhyiddin: Osman Sapian's death a loss for Johor and Bersatu
• Zakir Naik Says He Was Never Barred From Giving Public Talks
• World Bank says Malaysia 'has plenty of scope' to tax capital gains or inheritance, even as politicians say the contrary
--------
Mideast
• Turkey 'Neutralizes' 10 YPG/PKK Terrorists In Northern Syria
• Perpetrators of Gen. Soleimani assassination must be tried in int'l courts: Algerian Scholar
• Iran's Precision-Striking Drones Hit Standing, Mobile Targets in Massive Drills
• Iran announces anti-missile system for its tanks
• US, Israel commit to ensuring Iran never gets nuclear weapon
• Israel can strike Iran 'tomorrow', Hezbollah might hit back: New Air Force chief
• Palestinian shot, killed by Israeli forces in West Bank
• Palestinian president receives US national security adviser
• 13 Palestinian print shops attacked by Israel in 2021: NGO
Compiled by New Age Islam News Bureau
URL: https://www.newageislam.com/islamic-world-news/uttarakhand-dharam-meet-war-muslims-manmohan/d/126018
--------
Talk Of 'War' Against Muslims, 'Killing' Manmohan At Uttarakhand Dharam Meet; Police Say Probing, Let A Complaint Come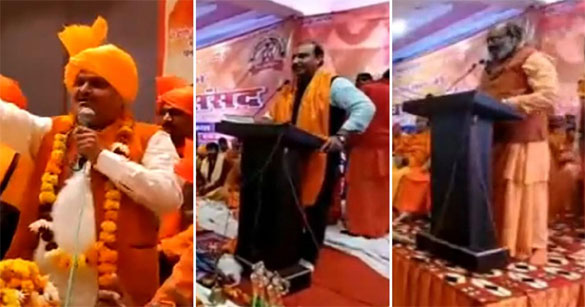 Yogi Narsighanand organises 3-day hate speech conference against Muslims in Haridwar (image Screenshot Twitter/The Hindustan Gazette
----
By Avaneesh Mishra | Dehradun |
December 23, 2021
A three-day 'Dharam Sansad' held in Haridwar by controversial religious leader Yati Narsinghanand called for a "war against Muslims" and urged "Hindus to take up weapons" to ensure a Muslim "didn't become the Prime Minister in 2029", with one of the speakers warning he would have "emptied all six bullets" in a revolver into ex-PM Manmohan Singh. Former Delhi BJP spokesperson Ashwini Upadhyay was among those present at the meeting, held from December 17 to 19, and presented Narsinghanand a copy of the Constitution.
The office of Uttarakhand DGP Ashok Kumar said he had directed Haridwar DIG/SSP Yogendra Singh Rawat to take cognisance of the videos regarding the event and take action "in case a complaint is filed".
The speeches became public Wednesday after videos of the closed-door event leaked.
Asked about his presence at the meeting, Upadhyay told The Indian Express: "It was a three-day event and I was there for one day, during which I was on the stage for around 30 minutes and talked about the Constitution. What others said before and after me, I am not responsible for it." He said he gave Narsinghanand a copy of the Constitution as it is difficult to procure one in Hindi. "I took the one I had and gave it to those present there."
Known for his controversial remarks targeting Muslims and accused of inciting communal tension, Narsinghanand, the head priest of a temple in Ghaziabad, is facing several FIRs in UP. He had also been charged with making objectionable comments regarding BJP women leaders.
At the meeting, Narsinghanand said: "The only subject of this Dharam Sansad is that in 2029 the PM of India will be a Muslim. This is not a baseless thought… The way the Muslim population is increasing and our population decreasing, in seven-eight years, only Muslims will be seen on the roads."
He added that should a Muslim become PM, "given the history of Islam, in the next 20 years, 50% of the Hindus will convert, 40% of the Hindus will be killed. Only 10% will remain, who will stay in America, Canada, London and Europe, or in UN refugee camps in India. There will be no mutts, no temples and all our mothers and sisters will be raped and sold in the market."
Narsinghanand said that once it had captured India, "Islamic jihad will be the most powerful" and "reach persons of every belief".
He also called upon Hindus to take action besides economic boycott. "Forget swords… battle will be won by those with better weapons," he said, raising slogans of "Shashtramev jayate (let weapons win)".
Former Uttarakhand CM and Congress poll campaign head Harish Rawat said what was said at the meeting as "unconstitutional". "Saying things like they want to empty a revolver into Manmohan Singh is very sad. This is an example of the kind of society we are building… It is against the basic structure of Hinduism, Ganga and Haridwar," Rawat said, adding that sadhus should instead be spreading the message of love, tolerance, spirituality and harmony. He also accused the BJP of encouraging such "elements".
State BJP leaders refused to comment on the meeting.
DIG (Garhwal Range) Karan Singh Nagnyal told The Indian Express that they would take action only after getting a written complaint. "If someone comes to police, we will get an FIR registered and take action. How can we do something without a complaint," he said, adding that he has not seen the videos so far.
On Thursday evening, AIMIM president Asaduddin Owaisi tweeted that he had asked the party state unit to file a police complaint. "It's a clear case of incitement to genocide. Our team attempted to file it (the complaint) today but officers in Roorkee were unavailable due to other engagements," he posted.
At the meeting, Sagar Sindhuraj Maharaj from Roorkee said that people should make do with a mobile phone that doesn't cost more than Rs 5,000, but buy weapons worth at least Rs 1 lakh. "If you leave the house with your weapon, there should be something in the house so that if someone comes, he cannot leave alive."
Anand Swaroop Maharaj of Sambhavi Dhaam hinted at attacks if people and hotels in Haridwar celebrate Christmas and Eid, saying this was "unconstitutional" in a place of religious significance for Hindus. "The hotel owners who celebrate Christmas and Eid should protect their windows, their properties."
Swaroop Maharaj described the message from the meeting as a "dharmadesh (religious directive)", and said everyone should heed it, including the democratic governments in Delhi, Uttarakhand, Uttar Pradesh and other places. "If they do not listen to our demands, we will wage a war far scarier than the 1857 revolt," he said.
Dharamdas Maharaj from Patna said India was "turning Islamic" even with Hindus being 80% of the population. Criticising Manmohan Singh's speech in Parliament that minorities had the first right over resources, Dharamdas added: "When I read that in newspapers, I wished I was an MP, had a revolver in hand, and had turned into Nathuram. I would have emptied all six bullets into Manmohan Singh."
Juna Akhara Mahamandleshwar Swami Prabodhanand Giri asked people to get ready to kill or get killed. "That is why police, politicians, Army and every Hindu have to take up weapons to participate in this 'cleaning campaign', just like in Myanmar."
Annapurna Maa, the Mahamandleshwar of Niranjani Akhada, said if anyone was a threat to Sanatan Dharma and Hindutva, she would not think twice before taking up weapons even if, she said, she was "defamed like (Nathuram) Godse". "If I can wield a knife, I will take up a knife. If I can use a sword, then a sword… If nothing, I will use my claws like a lioness… I want you to promise that there will not be a Muslim PM in 2029. If we have to finish their population, we are ready to kill and go to jail," Annapurna Maa said.
Those present at the event also took a pledge to protect Sanatan Dharma and "kill" anyone thinking of harming it or their families. "We will live for our dharma, we will die for our dharma and, if need be, we will kill for it," the audience repeated, as Narsinghanand read out the pledge.
Defending the speeches, Narsinghanand told The Indian Express that every time Hindus spoke or demanded their rights, a controversy was raised. "The speakers have their own thoughts… How much I agree or disagree is not important. Freedom of speech is for everyone, not only anti-Hindus," he said, adding the topic of the sansad was "Islamic Jihad and our responsibilities". Around 150 people, including 50 mahamandleshwars, attended, he said.
Source: The Indian Express
Please click the following URL to read the text of the original story:
https://indianexpress.com/article/india/haridwar-meet-seeks-weapons-for-hindus-war-on-muslims-ex-bjp-spokesperson-among-speakers-7686714/
-----
Saudi Arabia's Top Religious Body Declares Homosexuality 'One of The Most Heinous Crimes' And Gay People 'A Disgrace In This World And The Next'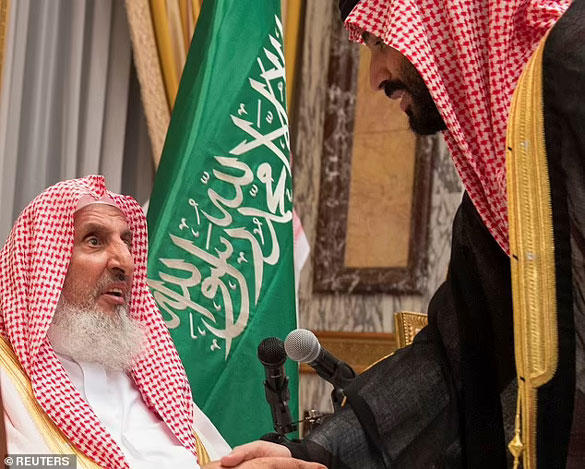 Saudi Arabia's Crown Prince Mohammed bin Salman (right) shakes hands with Saudi Arabia's Grand Mufti Sheikh Abdulaziz Al al-Sheikh
-----
22 December 2021
Saudi Arabia's top religious body has declared homosexuality 'one of the most heinous crimes' and gay people 'a disgrace in this world and the next'.
In a statement released today, Grand Mufti Abdulaziz al-Sheikh said the kingdom, which hosts Islam's two holiest sites, categorically rejects homosexuality, even as Riyadh seeks to transform its Ultraconservative image amid a modernisation drive.
His comments came after Saudi Arabia's UN Ambassador Abdallah al-Mouallimi expressed reservations over a UN General Assembly draft on democracy that included the terms 'sexual orientation and gender identity'.
Saudi Arabia is widely regarded as having one of the worst LGBT+ rights records in the world, frequently punishing people for homosexuality.
The mufti said 'homosexuality is one of the most heinous crimes', according to a statement carried by the official Saudi Press Agency.
He said homosexuals were a 'disgrace and shameful in this world and the hereafter', adding: 'Human rights... are first and foremost within God's law and not in the perverted desires that sow corruption on Earth.'
Local reports on Friday cited Mouallimi as saying such terminology goes against Arab-Islamic identity and the laws of many member states.
The grand mufti's comments come as Saudi Arabia's de facto ruler, Crown Prince Mohammed bin Salman, has sought to project a moderate, business-friendly image of his austere kingdom as he seeks to boost investment to diversify the economy away from oil.
A shift in the conservative Gulf state has included the lifting of a ban on women driving, allowing mixed-gender concerts and other events, and clipping the power of the once much feared religious police.
Saudi has also invested heavily in recent years in the tourism, entertainment and sports sectors, even as a strict crackdown on dissent remains.
But despite the country's attempts to present a reformist image, many things - including homosexuality and atheism - are illegal in Saudi Arabia.
While punishments for same-sex relationships are not outlined under the law in Saudi Arabia, they are strictly prohibited under Sharia law, from which the country draws its legal framework.
LGBTQ+ rights in Saudi Arabia were thrust into the spotlight in October when English Premier League football team Newcastle United was bought by a Saudi-backed consortium.
Many spoke out against the purchase, citing Saudi Arabia's human rights record - such as the killing of journalist Jamal Khashoggi inside the country's Istanbul embassy and the rights of LGBTQ+ people - as a reason to block the deal.
Source: Daily Mail UK
Please click the following URL to read the text of the original story:
https://www.dailymail.co.uk/news/article-10336535/Saudi-Arabias-religious-body-declares-homosexuality-one-heinous-crimes.html
---------
Jamiat Ulema-I-Islam-Fazl To Support Taliban Government in Afghanistan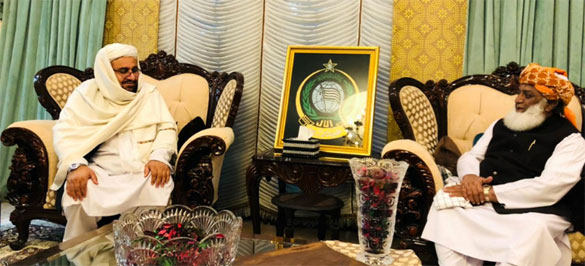 Afghan Education Minister Mullah Abdul Baqi Haqqani meets Jamiat Ulema-i-Islam-Fazl (JUI-F) chief Maulana Fazlur Rehman on Wednesday. — Photo via JUI-F Twitter
-----
Kalbe Ali
December 23, 2021
ISLAMABAD: Jamiat Ulema-i-Islam-Fazl (JUI-F) chief Maulana Fazlur Rehman on Wednesday said he would extend political support to the Taliban government in Afghanistan.
He said this during a meeting with Afghan Education Minister Mullah Abdul Baqi Haqqani who called on him at his residence to discuss regional politics.
"The consistency and struggle based on principles has led to success of the Islamic Emirate," Mr Rehman told the Afghan minister, adding that the world should accept the government of the Islamic Emirate Afghanistan and help them in every possible way.
Meanwhile, sources in the party said Mr Haqqani is among those Taliban leaders who have received education in seminaries affiliated with the JUI-F. It was disclosed that the Afghan minister wanted the JUI-F chief to use his office to extend humanitarian support including food and warm clothing to Afghan people. Mr Rehman assured the Afghan minister of his support.
The meeting was also attended by JUI-F Secretary General Maulana Abdul Ghafoor Haideri, Parliamentary Leader Maulana Asad Mahmood, MPA Asghar Tareen, Mufti Abrar Ahmed and Maulana Abdul Majeed Hazaravi.
Later, Mr Rehman addressed an annual function in a seminary in the federal capital and said the clergy were broadminded, fair and straightforward.
He said his party members were democrats and their politics was based on principles.
"We are talking about peaceful politics, rule of the Constitution and a stable Pakistan. But those responsible for the stability of the country have destabilised Pakistan by election rigging," the JUI-F chief said, adding that "Muslim rulers have a responsibility to protect Islamic education, but instead of protecting the values of Quran and hadith, the rulers of this country want to make them ineffective".
"The fact is that we are not out of the national mainstream, you are out of it. We are ready to come into the national mainstream, the need of time is that you bring yourself into the Islamic mainstream," the Maulana said, adding that "therefore, I kindly ask you to stop these conspiracies".
"You saw the result of the Khyber Pakhtunkhwa local government polls," he said, adding that similar results would appear across the country.
"Pakistan needs peace and a strong economy and Islam is the way to achieve that as it is a religion that protects life, property and honour," he said.
Source: Dawn
Please click the following URL to read the text of the original story:
https://www.dawn.com/news/1665313/jui-f-to-support-talibans-govt-in-afghanistan-fazlur-rehman
--------
IS-K Is Based In Afghanistan, Targets both Pakistanis and Afghans, Says US Report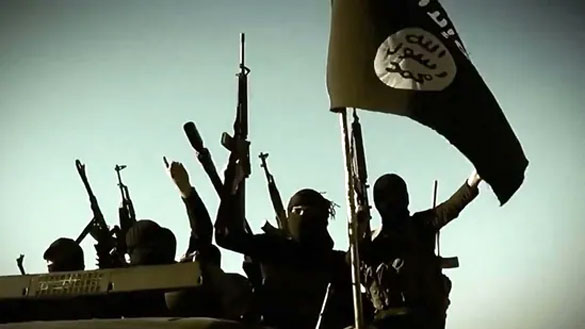 ISIS-K said that it has the ability to wreak havoc on the state of Afghanistan despite being outnumbered by the Taliban. (Representational Image / AFP)
----
Anwar Iqbal
December 23, 2021
WASHINGTON: The group known as Islamic State-Khorasan, or IS-K, "is based in Afghanistan, conducts operations in Afghanistan and Pakistan, and is composed primarily of former members of Tehrik-i-Taliban Pakistan, the Afghan Taliban, and the Islamic Movement of Uzbekistan", according to the latest US report on terrorism released this week.
The US State Department's annual report estimates that IS-K still has about 1,000 fighters who operate from Afghanistan. The report describes the group's areas of operation as Afghanistan, Pakistan, and Central Asia.
Prime Minister Imran Khan said in his address at the OIC meeting in Islamabad on Sunday that IS-K was using its Afghan cell for launching attacks into Pakistan.
Former Afghan president Hamid Karzai, however, countered his argument by alleging that the group was using Pakistani soil for launching attacks into Afghanistan.
The US report, however, upheld Pakistan's position, clearly stating that IS-K "is based in Afghanistan", although it recruits militants from Pakistan's tribal areas. According to the State Department's report, IS-K receives some funding from its parent organisation, the militant Islamic State group (IS). Additional funds come from "illicit criminal commerce, taxes and extortion", the report added.
The IS-K's leadership pledged allegiance to the deceased IS leader Abu Bakr al Baghdadi. This was accepted in 2015.
The US report pointed out that the group had carried out suicide bombings, small arms attacks, and kidnappings in Afghanistan against civilians and Afghan forces. The group has also claimed responsibility for attacks on civilians and government officials in Pakistan.
No differentiation*
Details of IS-K's activities in the US report show that the group does not differentiate between Pakistan and Afghanistan while launching terrorist attacks.
It regularly targeted civilians, armed forces personnel and even schools and places of worship in both countries.
In 2016, IS-K attacked a Pakistani consulate in Afghanistan, killing seven Afghan security personnel; bombed a peaceful protest in Kabul, killing an estimated 80 people; claimed a shooting and suicide bombing at a hospital in Quetta, killing 94; and bombed a shrine in Balochistan, killing over 50 people.
In 2017, the militant outfit attacked the Iraqi embassy in Kabul, killing two people; bombed a mosque in western Afghanistan, killing 29 people; claimed responsibility for a double suicide bombing at a Shia neighborhood in Kabul, leaving more than 20 dead; attacked a Sufi shrine in Sindh, killing 88 people; and attacked an election rally in Balochistan that killed 149 people.
In 2019, IS-K claimed responsibility for an attack at the ministry of communications in Kabul, killing seven people. The group also claimed responsibility for a suicide bombing at a wedding hall in Kabul that year, killing 80 people.
Later that year, IS-K bombed a mosque in Nangarhar and killed 70 people.
In 2019, the IS faction suffered a series of major defeats and lost much of its territory in Nangarhar in the face of attacks by both the Defeat-IS Coalition and Taliban forces.
Source: Dawn
Please click the following URL to read the text of the original story:
https://www.dawn.com/news/1665276/is-k-is-based-in-afghanistan-targets-both-pakistanis-and-afghans-says-us-report
--------
Exhibition on "art of Abrahamic religions" launched in Moscow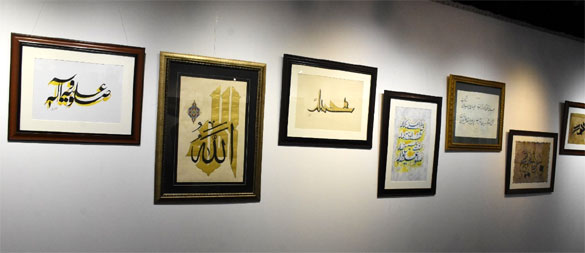 Art of Abrahamic religions
----
December 23, 2021
An exhibition was recently held in the Russian capital of Moscow to showcase artworks related to Abrahamic religions.
"Art of Abrahamic Religions" was organized by the Institute of Philosophy of the Russian Academy of Sciences and Ibn Sina Islamic Culture Research Foundation to commemorate professor Mais Nazarli.
The event aimed to promote art as a means to strengthen unity among Abrahamic religions and also to support artists, researchers, and masters active in the field of Islamic art.
A host of artworks related to Prophet Muhammad (pbuh), Mecca, Hazrat Zahra (SA), mosques' architecture, Hazrat Musa (pbuh), and Hazrat Isa (pbuh) were put on display.
Acting director of RAS Institute of Philosophy Professor Smirnov appreciated the efforts for staging such an event, noting that these sorts of exhibitions can lead to a better understanding of Abrahamic religions' teachings.
Hamid Saravi, head of the Ibn Sina Islamic Culture Research Foundation, also said that the language of art is one of the approaches to unity among religions.
A number of other scholars also addressed the event and then watched Emir Valinejad's documentary "Tochka" (The Dot) which is about the art of Islamic calligraphy.
Source: ABNA24
Please click the following URL to read the text of the original story:
https://en.abna24.com/news//exhibition-on-%e2%80%9cart-of-abrahamic-religions%e2%80%9d-launched-in-moscow_1211409.html
--------
India
RSS begins massive outreach to Muslim women ahead of UP polls
December 22, 2021
The Rashtriya Swayamsevak Sangh has launched a massive outreach programme to Muslim women in the poll-bound Uttar Pradesh.
As part of the move, senior RSS leader Indresh Kumar on Wednesday presided over a day-long meeting of the women wing of the RSS-affiliated Muslim Rashtriya Manch (MRM) in the national capital.
The meeting, which deliberated on various issues pertaining to empowerment and welfare of Muslim women, saw unveiling of a book, titled Dastan-e-Yogi, a biography of Uttar Pradesh Chief Minister Yogi Adityanath.
The book, unveiled by Kumar, is an Urdu translation of 'The Monk Who Became Chief Minister', authoured by Shantanu Gupta and released originally in 2017.
During the meeting, Muslim women thanked the MRM, court and the Modi government for giving them "freedom from the pain of instant triple talaq", RSS leader told reporters.
"The meeting concluded with the participants (Muslim women) raising a significant question that what have they got from the parties that they loved and voted for in past 60 years, other than backwardness, poverty, hunger, insult, unemployment, pain of instant triple talaq and hatred against the Hindus," he said.
"They thanked Muslim Manch, court and the government for freeing them from the pain of instant triple talaq and asked the other parties (in Opposition) whether they would re-enforce the instant triple talaq (if they are voted to power) or would let the practice remain scrapped," he added.
Later while speaking to PTI, Kumar, who is the RSS national executive member and founder of the MRM, said Muslim women will take the message from the meeting to the community through social media and various meetings in an effort show people "a correct picture" of the RSS and the BJP.
He claimed that Muslim women, who were "hurt" by the views of certain politicians on scraping and crminalisation of triple talaq two years ago, are once again hurt by their "immoral comments" on the Union government's move to increase the minimum age for marriage for women from 18 to 21.
Source: The Week
Please click the following URL to read the full text of the original story:
https://www.theweek.in/news/india/2021/12/22/rss-begins-massive-outreach-to-muslim-women-ahead-of-up-polls.html
--------
Hindus follow path of truth, Hindutva loots under guise of religion: Rahul Gandhi
Dec 23, 2021
NEW DELHI: Refering to a news report claiming a rush to buy land around Ram Janmbhoomi Temple in Ayodhya, Congress leader Rahul Gandhi on Wednesday drew a comparison between Hinduism and Hindutva saying Hindus follow the path of truth whereas Hindutva loots under the guise of religion.
Taking to Twitter, Rahul Gandhi said, "Hindus follow the path of truth. Hindutva loots under the guise of religion."
The Congress leader also shared the news report that claimed many BJP leaders and some officials of the Uttar Pradesh government have bought land around the under-construction Ram Janmbhoomi Temple in Ayodhya at throwaway prices.
Source: Times of India
Please click the following URL to read the full text of the original story:
https://timesofindia.indiatimes.com/india/hindus-follow-path-of-truth-hindutva-loots-under-guise-of-religion-rahul-gandhi/articleshow/88444648.cms
--------
Terrorists kill Srinagar man, Anantnag cop
M Saleem Pandit
Dec 23, 2021
JAMMU: Terrorists shot dead a man at Eidgah in the old quarters of Srinagar and an assistant sub-inspector of police near the district hospital at Bijbehara in southern Kashmir's Anantnag district within 30 minutes of each other on Wednesday evening.
A police officer said Rouf Ahmad Khan, 45, was seriously wounded in the shooting at Eidgah. He died in hospital. Minutes after the Srinagar attack, terrorists shot ASI Muhammad Ashraf from Awantipora at Bijbehara. He took four bullets in his neck and chest, and was declared dead on arrival at the hospital.
The fatal attacks followed Tuesday evening's shooting by terrorists from a car, targeting security forces guarding a check-post at Soura, Srinagar. They escaped, but one of them was wounded in counter-fire.
Source: Times of India
Please click the following URL to read the full text of the original story:
https://timesofindia.indiatimes.com/india/terrorists-kill-srinagar-man-anantnag-cop/articleshow/88440687.cms
--------
Lakshadweep: Move to change weekly holiday from Friday to Sunday triggers row
Dec 22, 2021
The move to change the weekly holiday for schools from Friday to Sunday has triggered a fresh backlash against the administration in Muslim-majority Lakshadweep months after protests over alleged attempts to change its unique culture and traditions rocked the archipelago.
The administration issued a circular on December 17 modifying school timings, saying changes were in tune with national norms and to ensure maximum utilisation of resources. Around 96% of the archipelago's 66,000 residents are Muslims. Schools remained closed on Fridays in Lakshadweep to facilitate the all-important afternoon congregational prayers.
The Save Lakshadweep Forum, a body of political and religious bodies, said this is the latest move to "destroy the region's cultural identity" and that it would oppose the move fiercely. "This is another move to spoil the identity of the island. Administrator Praful Khoda Patel is unnecessarily provoking poor residents. We will not allow this to happen," said the forum in a statement.
A draft Lakshadweep Development Authority Regulation to develop the islands as a major tourist destination triggered protests in the region earlier this year. Residents alleged the regulation will destroy the islands' character and identity since 97% of the islands are covered by pristine forests and 95% of its Muslim population belongs to the Scheduled Tribe category. Many parliamentarians, former bureaucrats, and artists described the regulation as arbitrary and aimed against the community of the islands.
The Kerala assembly passed a unanimous resolution seeking the recall of Patel over it. As many as 93 retired bureaucrats sent a letter to Prime Minister Narendra Modi criticising Patel's "partisan attitude". They urged him to protect the region's unique culture and tradition.
Lakshadweep collector Asgar Ali said the change in the holiday was in line with a long-pending demand of teachers and a section of parents. "It is nothing to do with the religion. We are providing a one-hour break to students to offer Friday prayers. The administration is following the national system where Sunday is designated as a holiday. This will help streamline things."
B Hassan, the local district panchayat president, said the administration never consulted anyone before announcing a sweeping change like this. "The majority community should have been consulted before taking such a decision. You cannot take decisions like this which will antagonise the majority of the people," he said. He said there will be a practical difficulty for students in completing prayers and lunch during the one-hour break.
The region's residents have also opposed a move to ban cattle slaughter, implementation of a two-child norm for local body members, issuance of liquor licenses, and other new rules.
Source: Hindustan Times
Please click the following URL to read the full text of the original story:
https://www.hindustantimes.com/india-news/lakshadweep-move-to-change-weekly-holiday-from-friday-to-sunday-triggers-row-101640158844646.html
--------
Mehbooba likens government to Zia's rule, says Pakistan still regretting regime
by Arun Sharma
December 23, 2021
Targeting the BJP-led government, PDP chief Mehbooba Mufti on Wednesday likened it to the one led by Gen Muhammad Zia-ul-Haq in Pakistan, and said the neighbouring country is still paying for the seeds of hatred sown by the military dictator.
"A general who ruled our neighbouring country told the people that there that he will bring real Islam. Teaching the people about religion, he created so much of hatred that instead of books children found guns in their hands. You can see result of that today," she told a party rally at Bhatindi in Jammu. "Today, Pakistan is neck deep in debts. The people there are regretting that they supported the general…"
"Now see, what is happening on our side today. Our democracy is finished, our Constitution is gone and Jammu and Kashmir has been made a laboratory. Things are first tested here and then used elsewhere the country,'' she said, referring the UT administration calling Army after power employees went on indefinite strike in protest against privatisation of assets.
Instead of talking with the agitating employees, the administration called the Army, she said. If they want to train their guns from the Army's shoulders for everything, the PDP leader said, "then what is the difference between them and that general in Pakistan''.
Source: Indian Express
Please click the following URL to read the full text of the original story:
https://indianexpress.com/article/cities/jammu/mehbooba-likens-govt-to-zia-rule-pak-7686216/
--------
Arab World
UNGA Resolution On 'Sexual Orientation' Contravenes Arab, Islamic Identity, Asserts Saudi Arabia's Grand Mufti
December 23, 2021
RIYADH – Saudi Arabia's Grand Mufti and Chairman of the Council of Senior Scholars Sheikh Abdul Aziz Al-Sheikh reaffirmed the firm position of Saudi Arabia against the terms 'sexual orientation' and 'gender identity' contained in the UN General Assembly (UNGA) resolution.
"The terms in the resolution are not agreed upon (by Saudi Arabia) as they contravene the historical Arab and Islamic identity," he said while noting that the Kingdom expressed its reservation over the unacceptable terms contained in the resolution.
Al-Sheikh said that the crime of homosexuality is one of the most heinous and ugliest crimes in the sight of God Almighty. "The perpetrators of these crimes are abhorrent to God, and they are disgraced and despicable in this world and the Hereafter," he said.
The Grand Mufti emphasized that Saudi Arabia, under the leadership of Custodian of the Two Holy Mosques King Salman and Crown Prince Muhammad Bin Salman, firmly affirms its position towards these false claims and disgraceful slogans.
"The human rights in general and the noble qualities of virtue, mercy, justice and righteousness in particular find first and foremost position in God's law.
Source: Saudi Gazette
Please click the following URL to read the full text of the original story:
https://saudigazette.com.sa/article/615062/SAUDI-ARABIA/UN-resolution-on-sexual-orientation-contravenes-nbspArab-Islamic-identity-asserts-Grand-Mufti
--------
Qatar seizes rainbow-coloured toys it deems 'un-Islamic'
December 21, 2021
DOHA: Authorities in Qatar, host of next year's football World Cup, have confiscated a line of children's toys from stores deeming their rainbow colours "contrary to Islamic values".
The emirate's commerce and industry ministry did not spell out its objection to the rainbow colours, but some of the toys bore a colour scheme very similar to the LGBTQ flag.
Despite repeated assertions by authorities that anyone will be welcome to visit for next year's World Cup, homosexuality remains illegal in the conservative Muslim emirate.
The ministry of commerce and industry "carried out inspection campaigns on several retail outlets in different regions across Qatar", it said on Twitter.
"The campaigns resulted in the seizure and release of several violations, including the confiscation of children's toys bearing slogans that go against Islamic values."
The tweet was accompanied by a pictures of rubber stress balls and other toys in rainbow colours.
"The ministry urges all citizens and residents to report any product bearing logos or designs contrary to our traditions," it said in a separate statement on the official QNA news agency.
There was no immediate response from Qatari authorities to AFP requests to elaborate on the reasons for the seizures.
Source: Free Malaysia Today
Please click the following URL to read the full text of the original story:
https://www.freemalaysiatoday.com/category/world/2021/12/21/qatar-seizes-rainbow-coloured-toys-it-deems-un-islamic/?__cf_chl_jschl_tk__=Um8_ZAsO8jw0FebF4lkT9XGyZsGYA_2TTEwfOfQnd6M-1640244194-0-gaNycGzNDH0
--------
UN peacekeepers attacked in south Lebanon, UNIFIL calls on govt to investigate
22 December ,2021
The UN peacekeeping force in Lebanon (UNIFIL) denounced an attack on its troops Wednesday after videos surfaced of local residents in southern Lebanon stomping on a UN vehicle and pelting it with stones.
Lebanese media reported that residents grew angry with the peacekeepers after claiming the troops were taking pictures in certain areas.
But UNIFIL criticized the denial of freedom of movement.
Videos showed residents hurling cinder blocks at a UNIFIL vehicle with others standing on top of it as it was boxed in between scores of people.
"The denial of UNIFIL's freedom of movement and any aggression against those serving the cause of peace is unacceptable and violates the Status of Forces Agreement signed by Lebanon," a statement from the peacekeeping force said.
Wednesday's violence came less than 24 hours after UN Secretary-General Antonio Guterres visited UNIFIL in the country's south.
"As the UN Secretary-General noted yesterday, UNIFIL must have full and unimpeded access throughout its area of operations, as agreed with the Lebanese Government and required under Security Council Resolution 1701," UNIFIL said.
It called on the Lebanese government to investigate the violence on Wednesday and "bring the perpetrators to justice."
UNIFIL has been present in the area since the late 70s as per a Security Council resolution to confirm the withdrawal of Israeli forces, restore international peace and security and assist the Lebanese government in ensuring the return of its authority in its lands.
But Iran-backed Hezbollah and supporters of its ally, Amal Movement, have repeatedly attacked UNIFIL troops on multiple occasions.
Source: Al Arabiya
Please click the following URL to read the full text of the original story:
https://english.alarabiya.net/News/middle-east/2021/12/22/UN-peacekeepers-attacked-in-south-Lebanon-UNIFIL-calls-for-immediate-investigation
--------
War in Syria killed 3,700 in 2021, lowest annual toll in decade: Monitor
22 December ,2021
The conflict in Syria killed 3,746 people in 2021, a monitor said on Wednesday, significantly fewer than in 2020, which had already seen the decade-old war's lowest death toll.
According to figures compiled by the Syrian Observatory for Human Rights, 1,505 of them were civilians and among those 360 were children.
For the latest headlines, follow our Google News channel online or via the app.
The figure is by far the lowest tally since the start of the war in Syria and confirms a downward trend that saw 6,800 people killed last year and just over 10,000 in 2019.
The Observatory, an NGO based in the UK but with a network of sources in all regions of Syria, said 297 people were killed in 2021 by landmines and various explosive remnants.
The Landmine Monitor said in November that Syria had overtaken Afghanistan as the country with the highest number of recorded casualties from landmines and explosive remnants of war.
The fighting, which erupted in 2011 after the brutal repression of anti-government protests, has abated over the past two years.
Russian-backed government forces still sporadically strike targets in the northwestern rebel enclave of Idlib but a ceasefire deal has largely held.
Source: Al Arabiya
Please click the following URL to read the full text of the original story:
https://english.alarabiya.net/News/middle-east/2021/12/22/War-in-Syria-killed-3-700-in-2021-lowest-annual-toll-in-decade-Monitor-
--------
Arab Coalition slams Iran's 'defamatory' claim over Irlu's evacuation from Yemen
22 December ,2021
Arab Coalition spokesman Brig. Gen. Turki al-Maliki has slammed the "defamatory" claims made by Iran's foreign minister that the coalition delayed air travel for Iran's ambassador to Yemen's Houthis when he needed urgent medical treatment after contracting COVID-19.
Foreign Minister Hossein Amirabdollahian told Iranian state television on Tuesday that Iran's efforts to secure a flight to Tehran for Hassan Irlu, Iran's ambassador in the Houthi-controlled capital Sanaa, were delayed by Saudi officials and "decision-makers."
Irlu died in Tehran earlier Tuesday morning after being eventually flown out, the semi-official Mehr news reported, adding that his condition became "unfavorable" because of "the late cooperation of some countries."
Brig. Gen. al-Maliki said in a statement published by state press agency SPA that: "The Joint Forces Command of the Coalition has followed the defamatory statements of Hossein Amirabdollahian, Iran's Foreign Minister, which were circulated by some media outlets on the coalition's humanitarian stance in regards to evacuating Hassan Irlu, one of the IRGC officers, from Yemen."
"The Joint Forces Command of the Coalition, under the directives of the leadership in the Kingdom of Saudi Arabia, had commenced the facilitation of evacuating the aforementioned person for humanitarian considerations, and in recognition of the diplomatic mediation by the brotherly Sultanate of Oman and the Republic of Iraq in less than 48 hours of reporting his health condition."
"These defamatory statements against the Kingdom contradict humanitarian values and principles, and do not value the coalition's noble and humane stance in evacuating the aforementioned person from (Sanaa) to (Basrah)."
The spokesman also insisted the statements made by the Iranian officials "are hardly surprising," adding that they fall in line with the conduct of Iranian diplomacy that smuggled [Irlu] into Yemen, who then began supporting chaos and fighting in Yemen."
Brig. Gen. al-Maliki said the Joint Forces Command of the coalition has facilitated and provided all necessary transit permits, as well as logistical support to the Iraqi Air Force (C-130) medevac aircraft.
He pointed out this is the second instance of evacuating an Iranian national who was associated with combat operations, following a similar arrangement for an Iranian military vessel (Saviz) crewmember in the Red Sea by the Royal Saudi Air Force, who was transported to receive medical attention for an extensive period of time at a Saudi hospital due to his deteriorating health condition.
Source: Al Arabiya
Please click the following URL to read the full text of the original story:
https://english.alarabiya.net/News/gulf/2021/12/22/Arab-Coalition-slams-Iran-s-defamatory-claim-over-Irlu-s-evacuation-from-Yemen
--------
Pakistan
Ashrafi, Jamil meet Sri Lankan high commissioner, apologise for Sialkot tragedy
December 22, 2021
Special Representative to the Prime Minister on Religious Harmony and Middle East Hafiz Muhammad Tahir Mehmood Ashrafi and renowned religious scholar Maulana Tariq Jamil on Wednesday met Sri Lankan High Commissioner Mohan Wijewickrama at the Sri Lankan Embassy in Islamabad and expressed grief at the lynching of Sri Lankan national Priyantha Kumara by a charged mob in Sialkot earlier this month.
Kumara, a senior manager at a factory in Sialkot, was tortured to death on December 3 by hundreds of protesters, including the factory employees, and his body was later burnt.
Talking to the media after the meeting, Ashrafi, while condemning the Sialkot incident, said that the factory's management has decided to bear all the expenses of the two children of Kumara, besides giving the position of senior manager to a Sri Lankan citizen in the factory.
Maulana Tariq Jamil apologised for the incident and said that Islam does not allow such barbarity. The religion does not allow oppression at all.
Jamil said that Islam's literal meaning refers to submission, surrender and peaceful reconciliation, especially compliance with divine directives.
The whole Pakistani nation is ashamed for that barbarity. No one has the right to burn anyone, he added.
Speaking on the occasion the Sri Lankan high commissioner thanked both dignitaries for visiting the embassy and said that the Sri Lankan government is fully satisfied with the steps taken by the Pakistani government.
Source: Pakistan Today
Please click the following URL to read the full text of the original story:
https://www.pakistantoday.com.pk/2021/12/22/ashrafi-jameel-meet-sri-lankan-high-commissioner-apologise-for-sialkot-tragedy/
--------
Pakistan looks to lift flights ban imposed by European Union
Dec 23, 2021
RAWALPINDI: The ban imposed by the European Union on Pakistan International Airlines (PIA) flight operations is expected to be lifted soon, local media reported quoting the country's Civil Aviation Authority official.
"Yes, the ICAO has informed the Pakistan Civil Aviation Authority (CAA) that the safety audit conducted by its team recently was presented before its validation committee, which cleared it after which the SSC will be removed and the European Union Aviation Safety Agency will lift the ban," CAA Director General Khaqan Murtaza said at a meeting of the Senate Sub-Committee on Aviation on Wednesday, Dawn newspaper reported.
He further said that until the CAA received the approval, the PIA would not be able to resume flight operations to the EU.
An ICAO audit team that had visited Pakistan to undertake a safety audit of the aviation authority completed the process on December 10; however, its final report will be released in a few weeks and shared publicly, the newspaper said.
Source: Times of India
Please click the following URL to read the full text of the original story:
https://timesofindia.indiatimes.com/world/pakistan/pakistan-looks-to-lift-flights-ban-imposed-by-european-union/articleshow/88444629.cms
--------
Freight train linking Pakistan, Iran and Turkey begins operations after 10-year hiatus
Dec 22, 2021
ISLAMABAD: A freight train service linking Pakistan, Iran and Turkey, which was suspended for more than 10 years, has been re-launched to improve regional connectivity and unlock trade potential between the three countries, media reports said on Wednesday.
The three countries also plan to launch a passenger train service on the same route in the future.
Minister for Railways Azam Khan Swati, along with Foreign Minister Shah Mahmood Qureshi and Adviser to the Prime Minister on Commerce Abdul Razak Dawood, inaugurated the Islamabad-Tehran-Istanbul (ITI) freight train at Margalla railway station here on Tuesday.
Ambassadors of Turkey, Iran, Kazakhstan and Uzbekistan were also present on the occasion.
The ITI freight train, which will operate every Tuesday, began its journey from Margalla railway station in Islamabad towards its first destination in Zahedan, Iran, from where it will proceed towards Istanbul, a senior railway official said.
The first train from Islamabad to Istanbul was inaugurated on August 14, 2009.
Correspondingly, the first consignment from Istanbul reached Islamabad on August 13, 2010, according to Pakistan Railways.
So far, eight trains were sent from Pakistan to Turkey, with the last leaving Lahore on November 5, 2011.
Since the launch of this service in 2009, Turkey has sent six trains to Pakistan, the last of which was unloaded here on December 9, 2011.
The freight train, with the capacity to carry upto 80,000 tonnes of goods, has departed to Europe's largest city with a dozen containers, and will complete the journey in about two weeks, making it a faster and more economically viable option than a sea route, the Express Tribune report said. It will cover 1,990 kilometres in Pakistan, before crossing through the Taftan border for a 2,603-kilometre-stretch in Iran.
The train will then traverse around 1,850 kilometres through Turkey, before reaching its final stop in Istanbul, the report said.
The service will play a vital role in improving the economies and lives of citizens of ECO member states by maximising economic efficiency and reducing the cost of doing business, The Dawn newspaper said.
At Tuesday's ceremony in Islamabad, Qureshi hailed the "historic" development as a step that would open new avenues for trade and business in the region and beyond.
The Railways Minister echoed Qureshi's sentiments, before adding: "The passenger train service will also start soon. We have opened our trade routes and it is a great opportunity for importers and exporters."
Source: Times of India
Please click the following URL to read the full text of the original story:
https://timesofindia.indiatimes.com/world/pakistan/freight-train-linking-pakistan-iran-and-turkey-begins-operations-after-10-year-hiatus/articleshow/88430383.cms
--------
Pakistani Court Orders Return Of Converted Teenage Christian Child Bride To Her Family
Kamran Chaudhry
December 23, 2021
A Pakistani court has ordered the release of a teenage Christian girl who was abducted, forcibly converted to Islam, married to her 44-year-old Muslim neighbour and later moved to a government-run shelter home.
Sindh High Court in Karachi on Dec. 22 also allowed Arzoo Raja to rejoin her family. However, the 13-year-old girl is now Arzoo Fatima.
"When we asked the petitioner whether she had converted to Islam of her own free will, she replied in the affirmative," stated the order.
"The parents of Arzoo Fatima undertook that they will not pressure her to change her religion from Islam and would allow her to practice her religion freely and adopt her own life choices in this respect They have undertaken that they would not cause any harm (either physical or mental) to their daughter for converting to Islam."
The court ordered her parents to produce her before police every three months until she turns 18 to certify if she is being treated well. It prohibited Fatima from meeting her alleged husband, Ali Azhar, who is facing trial under the Sindh Child Marriage Restraint Act and for the offence of zina (adultery).
The age requirement for marriage is currently 16 in all Pakistan's provinces except the southern province of Sindh, where it is 18.
Arzoo was abducted, converted to Islam and married off to Azhar in Karachi last year. Her parents launched a complex legal battle seeking her custody and annulment of what they believe was a forced child marriage and religious conversion.
According to the Lahore-based Center for Social Justice, at least 38 cases of forced conversions involved underage non-Muslim girls this year.
Social media users shared varying opinions on the latest court verdict. "Celebrating reunion of the family. Arzoo is happily received by the family," stated pastor and rights activist Ghazala Shafique in a Facebook post sharing photos with her.
However, Ijaz Ghauri, central president of the Pakistan Minority Rights Commission in Islamabad, was skeptical. "We don't know whether to cry or express joy after seeing these photos. Remember Arzoo Raja is now a Muslim," he stated in a Facebook post.
Church of Pakistan Bishop Azad Marshall, president of the National Council of Churches, concurred.
Source: UCA News
Please click the following URL to read the full text of the original story:
https://www.ucanews.com/news/pakistani-court-orders-return-of-converted-child-bride/95493
--------
FM Qureshi reaffirms Pakistan's commitment to host SAARC summit
December 22, 2021
Foreign Minister Shah Mehmood Qureshi on Wednesday reaffirmed Pakistan's commitment to host the SAARC leaders during the meeting with the group's secretary general Esala Ruwan Weerakoon, who is currently on a visit to Islamabad.
He revealed that Pakistan was ready to host the long-delayed summit of the South Asian Association for Regional Cooperation (SAARC) when what it said "artificial obstacles" in its way were removed.
It is pertinent to note that Pakistan was supposed to host the summit in 2016 but India boycotted the gathering of SAARC leaders and also persuaded some other member states to do the same. Under the SAARC charter, the summit cannot take place if any of the member countries stays out. Since then India consistently has been staying away from the summit thus delaying the gathering of leaders of eight nations of South Asia.
In fact in recent year because of differences and tensions between India and Pakistan, the SAARC was virtually dead until Covid-19 pandemic hit the world when the member states used the association's platform for collaboration.
However, it is unlikely the organisation will realise its full potential in the foreseeable future given the deep divisions between Pakistan and India and also new alignments in the region.
Nevertheless, the FM told the SAARC secretary general that Pakistan was committed to the principles and objectives of the SAARC Charter for the welfare of the people of the region, economic integration and regional prosperity.
"Pakistan believed SAARC could provide a conducive and congenial atmosphere to build economic synergies and transform the quality of life of the people of South Asia," Qureshi said as per the foreign office statement issued today.
FM Qureshi recalled the important and constructive role played by Pakistan in realising the true potential of SAARC and making it a useful organisation for regional cooperation and mutual benefit based on the principle of sovereign equality.
He reassured the secretary general of Pakistan's strong support for regional cooperation and urged him to accelerate the pace of the SAARC process.
FM Qureshi reiterated Pakistan's commitment for hosting the SAARC Summit when the artificial obstacles created in its way would be removed.
Source: Pakistan Today
Please click the following URL to read the full text of the original story:
https://www.pakistantoday.com.pk/2021/12/22/fm-qureshi-reaffirms-pakistans-commitment-to-host-saarc-summit/
--------
US lauds Pakistan's role in hosting OIC Summit on Afghanistan
December 22, 2021
The United States on Wednesday expressed gratitude to Pakistan for hosting an Organisation of Islamic Cooperation (OIC) summit on Afghanistan as the war-torn country faces a severe financial crunch due to sanctions.
"The OIC Extraordinary Session on Afghanistan is a prime example of our collective determination and action to help those most in need," US Secretary of State Antony Blinken said in a tweet.
"We thank Pakistan for hosting this vital meeting and inviting the global community to continue cooperating to support the Afghan people," Blinken added.
Pakistan hosted the 17th extraordinary session of the Council of Foreign Ministers (CFM) of the OIC last Sunday, where Muslim nations resolved to work with the United Nations to try to unlock hundreds of millions of dollars in frozen Afghan assets in a bid to tackle a growing humanitarian crisis.
At the special meeting in the capital, the delegates said they would work "to unlock the financial and banking channels to resume liquidity and flow of financial and humanitarian assistance".
Source: Pakistan Today
Please click the following URL to read the full text of the original story:
https://www.pakistantoday.com.pk/2021/12/22/us-lauds-pakistans-role-in-hosting-oic-summit-on-afghanistan/
--------
North America
Hate crimes against Muslims and Jews in New York City double since last year
22 December 2021
Hate crimes against Jews and Muslims in New York City increased this year, with anti-Muslim crimes more than tripling compared to 2020, new data from the New York Police Department (NYPD) showed.
The total number of hate crimes in NYC doubled since last year. As of 5 December, there were 503 reported hate crimes in NYC that were investigated by the NYPD. In 2020, there were 252.
According to the police department, the driving force for these numbers was anti-Asian hate crimes, which went from 28 incidents in 2020 to 129 this year. Antisemitic crimes went from 121 to 183, and anti-Muslim crimes increased from four last year to 14 this year, tripling in size.
"On the flip side of that... our arrests are up 106 percent. So on the 503 incidents, we've made 249 arrests," NYPD chief of detectives James Essig said in a press conference.
The increase in Islamophobic-based crimes comes as no surprise. In July, a man named Naved Durrni was charged with multiple hate crimes, as well as aggravated harassment and criminal possession of a weapon in the physical and verbal attacks on Muslims in Queens, New York.
The alleged hate crimes took place in a span of five weeks. In one incident, he allegedly pulled on a woman's hijab, told her to take it off, and then punched her in the arm when she refused. In another incident, Durrni allegedly told a woman: "Mohammad was a liar." He then allegedly proceeded to punch her in the face and head, the district attorney's office said in a statement.
"This year, we have seen a rise in Islamophobic hate crimes, especially toward mosques. In the past year alone, attacks on mosques have risen 500 percent, including New York City," Raja Abdulhaq, the executive director at Majlis Ash-Shura: Islamic Leadership Council of New York, told Middle East Eye.
"We cannot exclude the role of Islamophobic rhetoric stemming from elected officials and mainstream media in this observed rise. Society must do better in fighting the normalization of Islamophobia and dehumanization of Muslims."
Antisemitic crimes
Last year, it was found that there were 7,314 hate crime incidents reported in 2019, a 2.7 percent increase from the 7,120 incidents reported in 2018 nationally. Hate crimes committed on the basis of religion accounted for 20 percent of all incidents. Though this year's national hate crime numbers have not yet been released by the Federal Bureau of Investigation (FBI), they are expected to rise as well.
Just last month, a group of five people approached a Jewish man in NYC, allegedly made antisemitic remarks and punched him in the head, news media reported. That same week, three women allegedly slapped two Jewish children wearing religious attire in their faces and one child was thrown to the ground.
Source: Middle East Eye
Please click the following URL to read the full text of the original story:
https://www.middleeasteye.net/news/muslim-jewish-americans-hate-crimes-new-york-double
--------
US authorizes certain transactions with Taliban, Haqqani network in Afghanistan
22 December ,2021
The United States on Wednesday formally exempted US and UN officials doing official business with the Taliban from US sanctions, clearing the way for proposed UN payments next year of some $6 million to the Islamists for security.
The US Treasury Department made the announcement a day after Reuters exclusively reported a UN plan to subsidize the monthly wages of Taliban-run Interior Ministry personnel who guard UN facilities and to pay them monthly food allowances.
For the latest headlines, follow our Google News channel online or via the app.
Some experts said the proposal raised questions about whether such payments would violate UN and US sanctions on the Taliban and on many of their leaders, including Sirajuddin Haqqani, the Interior Ministry chief and head of the Haqqani network.
Having designated the Taliban as a terrorist group for years, Washington has ordered its US assets frozen and barred Americans from dealing with them, including with funds, goods or services.
The Treasury on Wednesday issued three general licenses aimed at easing the flow of aid to Afghanistan as the country sinks deeper into a humanitarian crisis.
Two of the licenses allow US officials and those of certain international organizations, such as the United Nations, to engage in transactions involving the Taliban or Haqqani network as long as they are official business.
A third general license gives nongovernmental organizations (NGOs) protection from US sanctions on the Taliban and the Haqqani network for work on certain kinds of projects, including humanitarian programs for "basic human needs," rule of law and education.
A senior US administration official said that despite the new licenses, the Taliban would have to make decisions about how they operate the government to prevent a complete economic collapse.
"What we can attempt to do, what we're going to work to do, is to mitigate the humanitarian crisis by getting resources to the Afghan people, and these general licenses will allow us to allow organizations that are doing this work to do exactly that," the official told reporters.
The Treasury warned the new licenses do not allow financial transfers to the Taliban or the Haqqani network "other than for the purpose of effecting the payment of taxes, fees, or import duties, or the purchase or receipt of permits, licenses, or public utility services."
Afghanistan's economic crisis accelerated after the Taliban seized power in August, as the former Western-backed government collapsed and the last US troops withdrew.
The United States and other donors cut financial assistance, and more than $9 billion in Afghanistan's hard currency assets were frozen.
The United Nations is warning that nearly 23 million people – about 55% of the population – are facing extreme levels of hunger, with nearly 9 million at risk of famine as winter takes hold.
While the US Treasury has provided "comfort letters" assuring banks that they can process humanitarian transactions, concern about US sanctions continues to prevent passage of even basic supplies, including food and medicine.
Source: Al Arabiya
Please click the following URL to read the full text of the original story:
https://english.alarabiya.net/News/world/2021/12/22/US-authorizes-certain-transactions-with-Taliban-Haqqani-network-in-Afghanistan
--------
UN confirms it asked Taliban to provide security in Afghanistan
Betul Yuruk
22.12.2021
NEW YORK
The UN confirmed it demanded security for staff and offices in Afghanistan in return for money.
When asked by Anadolu Agency at a news conference whether the UN pitched to the Taliban $6 million for security, Farhan Haq, a spokesman for Secretary General Antonio Guterres, said the budget proposal the UN initially made for 2022 was prepared before the Afghanistan government fell in August.
"And some of that language in our budget submission is no longer current. So, that budget is currently under review," he said.
Haq also said since the second half of August, the UN has requested various security assurances and assistance from de facto authorities in Afghanistan.
"The system is providing allowances to personnel who perform supplementary security services, which are critical for the safety of our personnel and our compounds, as well as operations and movements in the country.
"But any such allowances, any such supplementary security services money, is provided to the concerned persons directly. And, again, like I said before, it's not through the de facto authorities," he added.
Source: Anadolu Agency
Please click the following URL to read the full text of the original story:
https://www.aa.com.tr/en/americas/un-confirms-it-asked-taliban-to-provide-security-in-afghanistan/2455086
--------
US: Second 'spy' confessed to working with anti-Muslim group, rights group says
22 December 2021
A second individual has confessed to spying in the US on behalf of an anti-Muslim group, whose alleged goal was to "protect the Israeli government" by undermining Muslim activists, according to the Council on American-Islamic Relations (Cair).
The person, whose identity has yet to be revealed, has created further links demonstrating a pro-Israel campaign to spy on Muslim communities and organisations throughout the United States, Cair said on Tuesday.
The advocacy and civil rights group said the founder of the Investigative Project on Terrorism (IPT), Steven Emerson, paid the "spy" $3,000 a month, a total of more than $100,000 over more than four years, in order to spy on a mosque in the US and "record prominent Muslim leaders".
"One of Emerson's goals, we were told, was protecting the Israeli government by undermining Muslims engaged in political and human rights activism," Cair said.
During a news conference last week, the Muslim civil rights group revealed a series of emails between Israeli officials and the IPT. In one, an official asked the IPT whether it had information related to Students for Justice in Palestine, a student advocacy group with chapters in universities across the country.
The Israeli embassy in Washington did not respond to Middle East Eye's request for comment.
The rights group said that the individual came forward, confessed to his actions, and agreed to cooperate with mosque leaders. Cair added that it will provide further information, and publicly identify the person after it obtains further information.
The IPT did not respond to MEE's request for comment, but has said previously that it "has never and will never monitor the wider American Muslim community". However, it added that it will not hesitate to report on groups it claims are conducting "radical Islamist activity".
'We've identified three moles'
The news comes after last week's revelation by Cair that the executive director of one of its state chapters in Ohio, Romin Iqbal, had been for years secretly working with the IPT to provide intelligence, including audio recordings, and leak confidential information to the group.
The announcement came out of a third-party investigation conducted by a forensic expert retained by Cair-National.
While Muslims have witnessed the numerous ways in which their communities have been targeted and surveilled by the US government over the past two decades, the news still came as a shock for many Muslim communities throughout the country.
Edward Ahmed Mitchell, deputy director of Cair-National, told reporters last week that based on the investigation, at least a dozen organisations have been targeted by this espionage campaign.
"We can't know everything that IPT was doing, but based on the evidence that we have, I would say that easily over a dozen Muslim organisations or mosques were targeted," Mitchell said.
Source: Middle East Eye
Please click the following URL to read the full text of the original story:
https://www.middleeasteye.net/news/us-spy-for-anti-muslim-group-confessed
--------
US police accused of mishandling Islamophobic attack on Muslim student
December 21, 2021
ATLANTA: Members of the Muslim-American community in the US state of Virginia criticized the Fairfax City Police Department for mishandling an attack on a 16-year-old female Muslim high school student and refusing to characterize the case as a hate crime.
The student was reportedly subjected to Islamophobic and racist slurs before she was physically assaulted and had her hijab pulled off by a fellow student at Fairfax High School in Fairfax City, a suburb of Washington, D.C.
According to local news reports, the police said their investigation has determined that there were no racist or Islamophobic slurs made against the victim and that her hijab was not forcibly removed by the male student during the attack.
But according to numerous witnesses and the victim's legal representative, she was subjected to Islamophobic slurs and was attacked by another student.
Several members of the Muslim-American community in the area who were familiar with the case told Arab News that they fear the police were engaged in a cover up because they mischaracterized the victim's words in a way to make it appear as a fight between two students. They also said the police did not interview any witnesses before making their determination.
The largest Arab-American civil rights organization, the Arab-American Anti-Discrimination Committee, which has taken on the case to represent the victim, has rejected the police findings and insisted that the incident constitutes a "hate crime" against the Muslim student.
The legal and policy director of ADC Abed Ayoub told Arab News that he strongly disagrees with the police department's decision on the incident.
He said he had several phone calls with police officials and met with the family of the victim as part of legal assistance that the ADC is providing for her and her family.
Ayoub said from a legal perspective, the targeting of the victim because of her hijab is enough to be considered a hate crime, and comments are not needed to elevate this incident to the level of a hate crime.
The victim told local news outlets that she was physically assaulted, pushed to the ground, and had her hijab forcibly pulled off of her by a male student at the school.
She said two of her classmates were making Islamophobic and racist comments against her when one of them grabbed her hijab and continued to beat her up despite her efforts to defend herself.
She added that one of the students pushed and shoved her on desks and chairs, causing injuries to her chest and shoulder and trouble breathing. She was later taken to a hospital for examination.
The student said the school was trying to cover up the incident by characterizing it as a fight and by describing her chest pain as "a panic attack."
She added that the school even punished her by forcing her to stay in the same room as her attacker.
Abrar Omeish, a Muslim-American member of the Fairfax County School Board, told Arab News that the incident is "unfortunately far too common and widespread in our schools."
She said: "I'm eager to see how this painful moment turns into system-wide action that moves forward."
Ayoub said: "Many witnesses have attested that the victim's hijab was forcibly removed during the altercation. Witnesses also corroborated the victim's statement that students in the classroom engaged in racist and Islamophobic drawings, and that the perpetrator made racist comments prior to the attack. This was shared multiple times with the law enforcement agencies."
Arab News called the school, and the person who answered the phone confirmed that the incident took place but declined to comment further.
The Muslim Student Association issued a statement denouncing the attack on the Muslim student, saying the police have "mischaracterized" the victim's statement by spreading a "false narrative."
The MSA has demanded that mandatory training be provided to teachers and administrators on supporting Muslim students, "dispelling underlying Islamophobic tropes."
The incident prompted hundreds of students from the school to walk out in protest in support of the Muslim student, chanting "justice now" and "end the hate."
The next day, hundreds of students from five other high schools in the area also walked out of their schools in solidarity with the victim.
Source: Arab News
Please click the following URL to read the full text of the original story:
https://www.arabnews.com/node/1990606/world
--------
US sanctions alleged network of al-Qaeda in Brazil
Servet Gunerigok
22.12.2021
WASHINGTON
The US sanctioned members of an alleged network of al-Qaeda in Brazil on Wednesday.
Three individuals, including Haytham Ahmad Shukri Ahmad Al-Maghrabi, an al-Qaeda operative, and two entities have been designated by the Treasury Department's Office of Foreign Assets Control (OFAC).
Al-Maghrabi arrived in Brazil in 2015 and is known as one of the initial members of an al-Qaeda network. He is accused of having contact and business dealings with another al-Qaeda-linked individual, according to the OFAC.
Secretary of State Antony Blinken said the group and its regional affiliates continue to pose a threat to countries around the world.
"The United States is taking action today to stem the funding of this terrorist group by designating members of a Brazil-based network of al-Qa'ida-affiliated individuals and their companies as Specially Designated Global Terrorists," said Blinken.
Source: Anadolu Agency
Please click the following URL to read the full text of the original story:
https://www.aa.com.tr/en/americas/us-sanctions-alleged-network-of-al-qaeda-in-brazil/2455036
--------
US disappointed over expected delay of Libya elections
Muhammad Artimah
22.12.2021
TRIPOLI, Libya
The United States on Wednesday expressed its disappointment over the expected delay of Libya's presidential elections.
"The United States shares the concern and disappointment of the vast majority of Libyans who expect to have the opportunity to vote for their country's future," US Special Envoy and Ambassador to Libya Richard Norland said in a statement.
The envoy called on the Libyan leaders to "expeditiously address all legal and political obstacles to hold elections, including finalizing the list of presidential candidates."
Earlier on Wednesday, Libya's High National Elections Commission proposed postponing the Dec. 24 presidential elections for one month, pushing the vote date to Jan. 24, 2022.
The commission cited obstacles hindering holding the polls on time and called on the House of Representatives (parliament) to work to remove the current obstacles facing the ballot.
Norland warned all Libyan sides against "unilateral actions or armed deployments that risk escalation and unintended consequences detrimental to the security and safety of Libyans."
On Tuesday, the areas of Ain Zara, Al-Sidra, and Al-Shok Road in the capital, Tripoli, witnessed a mobilization of militias and the erection of barriers by security and military authorities affiliated with the Libyan government, according to eyewitnesses and social media posts.
Source: Anadolu Agency
Please click the following URL to read the full text of the original story:
https://www.aa.com.tr/en/americas/us-disappointed-over-expected-delay-of-libya-elections/2454799
--------
Europe
Hungary's PM denounced in Bosnia for anti-Muslim rhetoric
Dec 23, 2021
SARAJEVO, Bosnia-Herzegovina: Bosnian officials and religious leaders on Wednesday denounced suggestions voiced by Hungarian Prime Minister Viktor Orban and his spokesman that the integration of Bosnia into the European Union will be challenging because of its large Muslim population.
Orban's spokesman Zoltan Kovacs has tweeted that ``the challenge with Bosnia is how to integrate a country with 2 million Muslims.''
During his long speech on Tuesday in Budapest, right-wing populist Orban said Hungary supports Bosnia's EU bid, adding that as an EU member, Hungary had to mobilize a lot of energy to overcome ``the enlargement fatigue that has taken hold of the European Union.''
``I am doing my best to convince Europe's great leaders that the Balkans may be further away from them than from Hungary, but how we manage the security of a state in which 2 million Muslims live is a key issue for their security too.''
Reaction in Bosnia was sharp, with some Bosniak parties asking for a ban on Orban's planned official visit to Sarajevo and the head of the Islamic community, Grand Mufti Husein Kavazovic, calling his statement ``xenophobic and racist.''
``If such ideologies become the basis on which the policies of a united Europe are based, then it takes us back to the times when the European unity was to be build on similar fascist, Nazi, violent and genocidal ideologies that led to the Holocaust and other horrific crimes,'' he said in a statement.
The Bosniak member of the country's tripartite presidency, Sefik Dzaferovic, called Orban's statement ``shameful and rude.''
``It is not a challenge for the EU to integrate 2 million (Bosnian) Muslims, because we are an indigenous European people who have always lived here and we are Europeans,'' he said.
Bosnia, which is made up of Bosniaks, Serbs and Croats, is going through its gravest political crisis since the end of the civil war in the 1990s. With tacit support from Russia and Serbia, Bosnian Serbs are threatening to form their own army, judiciary and tax authority, reviving fears of another bloody breakup of the Balkan country.
During his speech on Tuesday, Orban also said Hungary wouldn't support EU sanctions against Bosnian Serb leader Milorad Dodik as threatened by Germany and some other member states because of his separatist stands.
``Sarajevo has lost its nerve, it is attacking everyone -- Serbia, Croatia, Slovenia, now Hungary. Not to mention Russia,'' Dodik said Wednesday, referring to support he has allegedly received from those countries.
Source: Times of India
Please click the following URL to read the full text of the original story:
https://timesofindia.indiatimes.com/world/europe/hungarys-pm-denounced-in-bosnia-for-anti-muslim-rhetoric/articleshow/88444376.cms
--------
EU making efforts to amend Bosnian genocide denial law implemented by Austrian diplomat
December 22, 2021
LONDON: Senior EU officials are working behind the scenes to "correct" a recently introduced law in Bosnia-Herzegovina that criminalizes denial of the 1995 massacre of more than 8,000 Muslims in Srebrenica.
An official from the EU privately conceded that the row over the law risks igniting a fresh conflict in the region.
The country, which was formerly part of Yugoslavia, is embroiled in one of its worst diplomatic crises in decades. Serbian politicians, including their leader Milorad Dodik, have in recent months been accused of attempting to break up the country by withdrawing Serbian involvement from state-level institutions, including the army.
The row centers around a decision in July by Austrian diplomat Valentin Inzko, at the time the high representative for Bosnia and Herzegovina, to outlaw genocide denial. The high representative oversees the agreement that brought peace to the country after the Bosnian War.
Dodik argues that there is an imbalance of power in the three-member presidency that serves as the country's head of state, and that Inzko's actions are part of the problem and were undemocratic.
While Dodik's moves to shift power into Serbian hands and away from multiethnic institutions have been condemned by the international community, leaked documents reveal that a senior EU official concluded that Inzko's genocide denial law had contributed to the crisis.
Just before leaving office, Inzko made genocide denial an offense punishable by up to five years in prison. He cited the refusal by the Bosnian Serb assembly to withdraw honors awarded to three convicted war criminals as part of his reasoning.
Oliver Varhelyi, the European commissioner for neighborhood enlargement, gave a "frank assessment" that Inzko "was to blame for the current political crisis" in the country and the "delegitimization" of the Office of the High Representative. One of Varhelyi's responsibilities is strengthening the EU's relationship with aspiring member Bosnia and Herzegovina.
He said on Nov. 25: "While the Inzko amendments could not be disputed from the point of view of the law's substance, the fact that it was imposed on the last day of (high representative) Inzko's mandate had been problematic.
"Especially because it was an important decision, it should have been based on thorough debate having everyone on board. The question was now how to correct this."
The Srebrenica massacre of more than 8,000 Bosnian Muslims during the Bosnian War in 1995 is considered the most recent genocide on European soil. But while the word genocide is widely used internationally to describe the events, it remains a contentious issue within the state.
The complicated peacemaking process that followed the war resulted in a significant amount of power being vested in the Office of the High Representative in charge of implementing the peace deal — including the right to impose laws and dismiss officials if they threaten to undermine the postwar ethnic balance and reconciliation efforts.
Source: Arab News
Please click the following URL to read the full text of the original story:
https://www.arabnews.com/node/1991461/world
--------
Russia hopeful Iran nuclear deal will be restored: Foreign minister
Elena Teslova
22.12.2021
MOSCOW
Russia hopes talks to revive the Iran nuclear deal will be successful and all parties resume full compliance, Russia's foreign minister said on Wednesday.
In an interview with Russia's RT news channel, Sergey Lavrov said the West is trying to distort facts by accusing Iran of delaying the process, pointing out that Tehran waited for more than a year for the US to return to the deal and did not violate its commitments.
Iran only limited or stopped fulfilling its obligations after it was completely sure that Washington would not go back on its decision, but still made clear that it was ready to revive the pact if the US reconsidered its position, according to the top Russian diplomat.
He said American and Iranian officials did not sit at the same table during the six rounds of consultations in Vienna from April to June this year, instead communicating through coordinators.
The process still led to "a package of understandings" that has lifted hopes that the nuclear deal will be restored, Lavrov added.
"The current Iranian team is new, but they very quickly, and I would say professionally, got used to the material and prepared proposals," he said.
"At first, some Western participants took these with hostility, but they eventually recognized that the proposals have the right to exist and to be studied. And that's exactly how the work is going now," Lavrov said.
According to him, the biggest problem at the moment is not about the content but public image, as the US and Iran wrangle over who will be the first to announce a return to the pact.
"Iran is convinced that the Americans should do it because they were the first to withdraw from the JCPOA [Joint Comprehensive Plan of Action]," he said.
"The Americans believe that Iran had started to violate its obligations and, regardless of the fact that Washington did not fulfill its obligations at all, Iran should take the first step."
Russia and China, "with a certain understanding from the European participants," advocated for synchronizing the move, which is what negotiators in Vienna are doing at the moment, he explained.
Source: Anadolu Agency
Please click the following URL to read the full text of the original story:
https://www.aa.com.tr/en/europe/russia-hopeful-iran-nuclear-deal-will-be-restored-foreign-minister/2455007
--------
Jewish leaders slam comments made by JNF chief over Muslim immigration
December 22, 2021
UK Jewish community leaders expressed outrage after the UK chair of the Jewish National Fund (JNF UK) claimed Muslim immigration would leave 'no future' for British Jews, Jewish News reported.
Samuel Hayek, who is an Israeli citizen living in the UK told Jewish News that he predicted a bleak future for British Jews, and claimed that in ten years time the community would no longer be able to live in the UK.
He said: "The process is that maybe in 10 years, maybe less, who knows, Jews will not be able to live in the UK. I don't think anybody can stop it."
He continued: "The evidence is the number of immigrants to England. The demographic of British society is changing. Historical events sometimes take long to identify. It is clear England is changing."
"If you look at France, with numbers, nobody would have believed 20 years ago the state of the Jewish community as it is today."
When pressed as to whether or not he meant Muslim immigration, Hayek said that the journalist was 'not wrong' in their assumption.
These Islamophobic comments left Jewish community leaders uncomfortable, who were quick to condemn the anti-Muslim rhetoric espoused by Hayek.
Board of Deputies President Marie van der Zyl said: "We condemn adverse remarks about Muslim immigration and Muslim communities."
"This year, thousands of people from our community contributed to collections to help Afghan refugees who had fled to this country. We believe that this is far more indicative of the attitude of British Jews."
Jewish Leadership Council outgoing chair Jonathan Goldstein said the comments made by Hayek were "simplistic and reckless."
Hayek also said that Muslim immigrants "don't speak English, they create their own ghettos, their own education, their own process of thinking", and after being challenged that these were slurs dished out to Jewish immigrants, Hayek claimed that it was different for Jewish people, that it "is not the same when you have immigration that is motivated and guided by the rules of Islam."
Hayek denied he was attempting to frighten British Jews into moving to Israel: "I want to encourage those who want to continue to live in England – why should I want to frighten them to leave?"
This came after he said similar things in an interview with the Jerusalem Post earlier this month, saying that it was time for British Jews to plan to leave the country.
The Jerusalem Post article cited 'shifting demographics', particularly 'Muslim immigrants' who are 'anti-Jewish' and 'anti-Israel', and claimed these communities had influence over the government.
Source: Middle East Monitor
Please click the following URL to read the full text of the original story:
https://www.middleeastmonitor.com/20211222-jewish-leaders-slam-comments-made-by-jnf-chief-over-muslim-immigration/
--------
Bosnian President condemns Viktor Orban's '2 million Muslims' remarks
Dec 23, 2021
Viktor Orban, a leader notorious for racist tirades, described the Muslim presence in the European Union as a problem.
Hungarian Prime Minister Viktor Orban has long been known for his extreme views on vulnerable people from migrants to refugees and minorities.
Yesterday, Orban added Bosniaks, a Muslim Slavic nation native to the Balkans, to his list of targets. Hungarians, a Central Asian-origin nation, migrated to Europe from Asia.
"The challenge with Bosnia is how to integrate a country with 2 million Muslims," responded Orban, when asked about EU enlargement.
Orban appeared to suggest that it's ok to accept countries like Croatia, a Christian-majority state to the EU despite "enlargement fatigue", but it would be difficult to include countries like Bosnia and Herzegovina (BiH) due to its large Muslim population.
"I am doing my best to convince Europe's great leaders that the Balkans may be further away from them than from Hungary, but how we manage the security of a state in which 2 million Muslims live is a key issue for their security too," Orban said.
Orban's treatment of Muslim Bosniaks as a "security" issue for Europe naturally sparked anger in Sarajevo, the Bosnian capital.
"Orban openly and continuously advocates Islamophobic views," said Sefik Dzaferovic, a member of Bosnia and Herzegovina's tripartite presidency and a leading Bosnian politician. "He sees the presence of Muslims in Europe, including Bosniaks, as a problem," Dzaferovic told TRT World.
Earlier today, Dzaferovic also described Orban's statement as "shameful and obscene".
"It is not a challenge for the EU to integrate two million Muslims. Bosniaks in BiH [Bosnia and Herzegovina] are native European people who have always lived here. We are Europeans," he said.
Interestingly, while Orban's statements regarding Bosniak Muslims were first revealed by his press secretary Zoltan Kovacs on Twitter, they were not included in the official statement published later on.
Dzaferovic also drew attention to the fact that even though Bosniaks were under total siege by Serbian leadership in the 1990s during the brutal Bosnian War, they still showed their loyalty to "the universal values of civilisation", not resorting to any criminal conduct as Serbs did at the time.
As a result, the Bosnian leader thinks that not his fellow Muslims but people like Orban might be "the real challenge" for the EU due to their "radical, xenophobic, racist policies." Dzaferovic warned that if the EU tolerates people like Orban, it will put its diverse future based on human rights in danger.
"We also believe in such an EU and we want to go to such an EU, not the EU advocated by Orban and the clique that appeared yesterday with these shameful messages," the Bosnian president added.
In the past, Orban has been criticised for controversial statements like "we do not want our colour... to be mixed in with others," referring to his refusal to accept migrants and refugees. After that statement in 2018, then-UN High Commissioner for Human Rights, Zeid Ra'ad Al Hussein, called him "a racist & xenophobe".
"Orban himself has problems with many other member states of the European Union who believe that his government does not adhere to European democratic standards and the rule of law," Dzaferovic says.
Orban-Dodik alliance?
During his latest tirade against the Bosniaks, Orban also emphasised his close relations with the Bosnian Serb leadership, which openly seeks secession from Bosnia and Herzegovina, putting the fragile Balkan peace in danger.
"The Balkans cannot be stabilized without the Serbs, without Bosnia, and Bosnia cannot be stabilized without the Bosnian Serbs. The key to the Balkans is the Serbian nation," he said.
Orban's Bosnian Serb statement is no coincidence, according to Dzaferovic. "On that Islamophobic agenda, he connects with Milorad Dodik," he says. Dodik, a secessionist, is another member of the Bosnian presidency, being the Bosnian Serb leader.
"I think that, having in mind current political crisis in Bosnia and Herzegovina, he [Orban] felt the need to show solidarity with Dodik and stand up for his protection, because the international consensus is that Dodik is the source of the crisis in BiH," the Bosnian leader argues.
Source: TRT World
Please click the following URL to read the full text of the original story:
https://www.trtworld.com/magazine/bosnian-president-condemns-viktor-orban-s-2-million-muslims-remarks-52901
--------
South Asia
Afghan Taliban stop Pakistan army from fencing international border
DECEMBER 22, 2021
Pakistan has fenced most of the 2,600 km border despite protestations from Kabul
Taliban militants in Afghanistan disrupted the erecting of a security fence by the Pakistani military along the border between the two countries, Afghan officials said on Wednesday.
Pakistan has fenced most of the 2,600 km border despite protestations from Kabul, which has always contested the British-era boundary demarcation that splits families and tribes on either side.
Afghan Defence Ministry spokesman Enayatullah Khwarazmi said Taliban forces stopped the Pakistani military from erecting an "illegal" border fence along the eastern province of Nangarhar on Sunday.
He played down the incident, saying everything was now normal. The Pakistan army did not respond to a request for comment.
A video circulated on social media showed Taliban militants had seized spools of barbed wire and one senior official warning Pakistani soldiers stationed in security posts in the distance not to try to fence the border again.
Reuters could not verify the video independently.
Taliban spokesman Bilal Karimi said they were investigating the incident.
Taliban and Pakistani forces came face-to-face over the border incident, two Taliban officials told Reuters on the condition of anonymity, and the situation was tense.
They added that following the incident there was crossborder mortar fire from Pakistani territory further north along the frontier into Afghanistan's Kunar province on Wednesday.
It was unclear if the incidents are linked. The officials said Afghan military helicopters could be seen patrolling the area.
The fencing was a main reason behind the souring of relations between previous U.S.-backed Afghan governments and Islamabad. The current standoff indicates the issue remains a contentious matter for the Taliban, despite its close ties to Islamabad.
Foreign governments have long alleged that Pakistan supported for the insurgent movement as it fought the U.S.backed government and Western troops - a charge Islamabad denies.
Source: The Hindu
Please click the following URL to read the full text of the original story:
https://www.thehindu.com/news/international/afghan-taliban-stop-pakistan-army-from-fencing-international-border/article38013652.ece
--------
UNSC passes resolution over easing financial restrictions on Afghanistan
23 Dec 2021
United Nations Security Council unanimously passed resolution 2615 proposed by the United States and allowed money to flow to Afghanistan for humanitarian purposes.
The resolution with changes in the draft was proposed by the US after China, Russia, Britain, France, and India opposed the country's first resolution in this regard.
Based on the new resolution, the US will ease financial restrictions on Afghanistan for humanitarian purposes and will allow the Taliban official and their entities that are involved in the process.
US special representative for Afghanistan Thomas West welcomed the move by UNSC and said that they along with the international community are united in support of the Afghan people.
"This morning, the UNSC also unanimously passed resolution 2615, drafted by the US and designed to enable broader support for the basic needs of the Afghan people." Reads a Twitter post by West.
In the meantime, UNAMA has also welcomed the decision and said in a Twitter post that it will facilitate the delivery of urgent humanitarian help to millions of people in Afghanistan.
Source: Khaama Press
Please click the following URL to read the full text of the original story:
https://www.khaama.com/unsc-passes-resolution-over-easing-financial-restrictions-on-afghanistan-4747/
--------
Sanctions on Afghanistan only affect common people: Suhail Shaheen
22 Dec 2021
Taliban's UN-designate Suhail Shaheen in a Twitter post said that continuing sanctions on Afghanistan are only impacting the common people of the country.
Suhail Shaheen said that the sanction on Afghanistan is not the protection of human rights but a punishment to the common people of Afghanistan.
"I draw, to this, attention of all including advocates of human rights." The Twitter post reads.
It comes as 48 congress members have recently asked the US president Joe Biden to lift sanctions on Afghanistan and unfreeze billions of dollars of Afghanistan's central bank.
Afghanistan's foreign ministry has welcomed the recommendation by US congress members and said that it happened following their open letter to US congress.
Source: Khaama Press
Please click the following URL to read the full text of the original story:
https://www.khaama.com/sanctions-on-afghanistan-only-affect-common-people-suhail-shaheen-856756/
--------
Taliban, Turkey, Qatar to discuss airports management today
23 Dec 2021
Ministry of Transportation and Civil Aviation of the Islamic Emirate of Afghanistan said that negotiations over the management of five airports of Afghanistan will begin on Thursday, December 23.
Spokesperson of the ministry Imamudin Ahmadi said that delegations of the two countries are supposed to arrive in Kabul on Thursday and begin talks with officials and technical teams of the ministry.
The spokesman also disclosed the names of the five airports that include Kabul International Airport, Kandahar International Airport, Mazar-e-Sharif International Airport, Khost Airport, and Herat Airport.
It comes two days after the Turkish Foreign Minister had announced that Turkish and Qatari technical will visit Kabul and will meet authorities over the management of the airports.
Mevult Cavusoglu had said that the two countries will jointly take responsibility for the airports if they reach an agreement.
Source: Khaama Press
Please click the following URL to read the full text of the original story:
https://www.khaama.com/taliban-turkey-qatar-to-discuss-airports-management-today-346376/
--------
Canada announces $56 million in humanitarian aid to Afghanistan
22 Dec 2021
Canada's Minister of International Development Harijit Singh Sajjan that his country will provide the people of Afghanistan with $56 million in humanitarian aids in 2022.
Sajjan made the announcement on Tuesday, December 21.
The Canadian Minister said that millions of people are in dire need of humanitarian aid and that he will do his best to do his part for the Afghan people in need.
He said Canada is severely concerned about the ongoing humanitarian situation in Afghanistan.
The announcement by Canada comes as Japan has also pledged to be allocating to Afghanistan a humanitarian package worth one hundred million dollars.
The Japanese government has said that the package will help provide food, water, and health services to the people of Afghanistan through 16 humanitarian organizations among them WFP and UNICEF.
Source: Khaama Press
Please click the following URL to read the full text of the original story:
https://www.khaama.com/canada-announces-56-million-in-humanitarian-aid-to-afghanistan-457457/
--------
Over half of Afghan journalists lost jobs with Taliban takeover
Omer Farooq Khan
Dec 23, 2021
ISLAMABAD: The Taliban takeover of Afghanistan in August this year has deprived more than half of Afghan journalists of their jobs as over 40% of media outlets that were functional in the war-ravaged country had stopped operations.
Reporters Without Borders (RSF) and the Afghan Independent Journalists Association (AIJA), which conducted a survey on the plight of Afghan journalists, said on Wednesday that since August 84% of women journalists and media workers have become unemployed due to restrictions.
"A total of 231 media outlets have been closed and more than 6,400 journalists have lost their jobs since August 15. Women journalists have been hit the hardest, with four out of five no longer working," the survey revealed.
Of the 543 media outlets operating at the start of summer 2021, only 312 were still operating at the end of November. "More than four out of every 10 media outlets have disappeared and 60% of journalists and media employees are no longer able to work. Women have suffered much more than men…," the survey report read.
Before the fall of the US-backed Afghan government there were at least 10 media outlets operating in most provinces of Afghanistan. "There used to be 10 media outlets in the mountainous northern province of Parwan but now just three are functioning. In the western city of Herat (the country's third-largest) and the surrounding province, only 18 of the 51 media outlets are still functional — a 65% fall. Central Kabul region, which had more TV and radio channels than anywhere else, has lost more than one of every two media outlets (51%). Of the 148 tallied prior to August 15, only 72 are still operating," the survey results showed.
RSF and AIJA have said that the new restrictions imposed on media outlets, especially on female reporters, and economic and financial challenges are the two main reasons behind the closing of media outlets and female reporters becoming unemployed.
"The dangerous 'journalism rules' open the way to censorship and persecution, and deprive journalists of their independence, forcing them to tell information and culture ministry officials what they would like to cover, get their permission to go ahead and finally inform them about the results of their reporting in order to be able to publish," the report said.
Source: Times of India
Please click the following URL to read the full text of the original story:
https://timesofindia.indiatimes.com/world/south-asia/over-half-of-afghan-journalists-lost-jobs-with-taliban-takeover/articleshow/88440738.cms
--------
Africa
It's Time To Seek Divine Help From God – 19th Emir Of Zazzau Urges Pastors, Imams
December 22, 2021
By John Gabriel
The 19th Emir of Zazzau, Ambassador Ahmed Nuhu Bamalli, on Wednesday, pleaded with all pastors and imams within the Emirate to begin special prayers for the restoration of peace and stability in the area and nation as a whole.
The Emir's plea came as a result of recent incessant bandit attacks in the state and its envrions.
Malam Abdullahi Aliyu Kwarbai, media and publicity officer of the emirate, said this in a statement on Wednesday.
He urged all Muslims to use the directive in all their five daily prayers while Christians at their regular church services should seek divine intervention.
According to him, it becomes imperative to rise up in prayers in view of the incessant killings, miming and kidnapping of innocent people across the emirate.
The monarch, while consoling families of those that lost their loved ones, also commiserated with those that sustain injuries as a result of bandits' indiscriminate attacks.
According to the statement, the emir has also cut short the number of visits to his palace.
Kaduna State has been facing bandits attacks for a while and the state governor, Nasir El-Rufai, said his administration's intention is to kill all bandits.
He said this on Tuesday after meeting with President Muhammadu Buhari on the recent bandit attack that claimed 40 lives in the state.
Source: Daily Post Nigeria
Please click the following URL to read the full text of the original story:
https://dailypost.ng/2021/12/22/insecurity-its-time-to-seek-divine-help-from-god-zazau-emir-urges-pastors-imams/
--------
Sheikh Zakzaky: We are 'Islamic Movement' not 'IMN'
December 22, 2021
"And another thing which I have to make clear very much is the idea of calling us 'IMN' (an abbreviation for Islamic Movement in or of Nigeria) and calling myself leader of the IMN.
"When they attacked us they call us "Shiites" and they continue to give us different names: in late seventieth (around 1977 to 1979) they were calling us "students" because then we were students (and even in 1980 they were calling us students). And in 1982 they changed our name and started calling us "Shiites" with different spellings and pronunciations, sometimes they use to say "shayiiits" or whatever that is.
"So they continue to call us "Shiites" up to the time they attack us in 2015, now it downs to them that there is a section within Islam called "Shia' and they have made a mistake of attacking a religious group, so they now change name and say we are 'IMN'. So, they coined the name- (a name) we have never called ourselves. They (those in authority) now decided to say we an organization called "IMN" and then they say have banned that IMN. I don't know whether in the constitution of Nigeria courts are supposed to make laws; what I know is court is not 'law making', it rather 'interprets the law'. The three arms of government we have are the legislature (which makes the law), the judiciary (which interprets the law), and the executive (which implements the law).
Source: ABNA24
Please click the following URL to read the full text of the original story:
https://en.abna24.com/news//sheikh-zakzaky-we-are-islamic-movement-not-imn_1211098.html
--------
Libya calls off long-awaited presidential election
22 December 2021
Libya has called off a presidential election after the parliament's election committee ruled out the possibility of holding the vote on Friday.
The parliament announced on Wednesday that the presidential election planned for Friday would not go ahead. It did not set a new date for the election.
The announcement came after a parliamentary committee tasked with overseeing Libya's electoral process said it had become "impossible" to hold the vote in two days as scheduled.
"After consulting the technical, judicial, and security reports, we inform you of the impossibility of holding the elections on the date of December 24, 2021, provided for by the electoral law," the chairman of the committee wrote to the head of parliament on Wednesday.
The decision was made after the head of Libya's High National Electoral Commission ordered the dissolution of the electoral committees nationwide. It said it was the responsibility of the Libyan parliament to make the announcement of a postponement of the vote.
The parliament's statement also said that the government's mandate would expire on Friday.
As some members of the house have called for a new government to be installed, some main factions and political institutions may stick with the government, which is also recognized by the United Nations (UN).
The interim government was formed in February to take the country through to elections, but the election's collapse, which was widely expected, has now left an internationally-backed peace process in chaos and the fate of the interim government in doubt.
Many are now concerned that a looming political vacuum will lead to renewed violence and economic chaos in the North African country.
Source: Press TV
Please click the following URL to read the full text of the original story:
https://www.presstv.ir/Detail/2021/12/22/673174/Libya-calls-off-long-awaited-presidential-election
--------
Ethiopia claims capture of Tigrayan city from rebels
22 December ,2021
Ethiopia's government said on Wednesday its soldiers had recaptured a city in southern Tigray from Tigrayan fighters, marking its first major advance inside the war-torn region in many months and dashing hopes for peace following a rebel retreat.
The Tigray People's Liberation Front rebel group, which announced its withdrawal from the Amhara and Afar regions this week and called for a halt to fighting, did not immediately react to the government's claims.
The government communication service said the "gallant Ethiopian Defense Forces and the Amhara region security forces after sweeping the enemy force... have captured Alamata city", indicating that fighting would continue.
For the latest headlines, follow our Google News channel online or via the app.
Although unconfirmed, the TPLF pullout from Amhara and Afar had raised hopes there would be talks to end a 13-month conflict that has killed thousands and created a humanitarian crisis with parts of the country on the brink of famine.
Both sides have been claiming major territorial gains in recent months, with the rebels at one point claiming to be only 200 kilometers (125 miles) by road from the capital Addis Ababa.
But since Prime Minister Abiy Ahmed -- the 2019 Nobel Peace Prize winner -- headed to the front last month, according to state media, the government has claimed to have retaken a string of key towns.
The government has dismissed Monday's withdrawal announcement by the TPLF as a cover-up for military setbacks.
Communications have been cut in the conflict zone and access for journalists is restricted, making it difficult to verify battlefield claims.
The fighting in Africa's second most populous nation has displaced more than two million people and more than nine million are in need of food aid, according to UN estimates.
There have been reports of massacres, mass rapes and other atrocities by all sides, and the UN Human Rights Council last week ordered a probe into a wide range of alleged abuses, a move condemned by Addis Ababa.
The war broke out in November last year when Abiy sent troops into Tigray to topple the TPLF, the region's ruling party which had dominated national politics for three decades until he took power in 2018.
Source: Al Arabiya
Please click the following URL to read the full text of the original story:
https://english.alarabiya.net/News/world/2021/12/22/Ethiopia-claims-capture-of-Tigrayan-city-from-rebels-
--------
Rival militias mobilize in Libya's capital amid tensions over delayed election
22 December 2021
The postponement of Libya's presidential election has created a new power vacuum, triggering security concerns across the country.
Media reports said on Wednesday that rival armed groups had mobilized in Tripoli over the past few hours, closing roads in the south of the capital, with schools phoning parents to pick up their children.
Images posted online showed a tank and pickup trucks mounted with machine guns in Fornaj district. Schools and the University of Tripoli was also closed as a precaution.
The United Nations' Libya mission UNSMIL voiced concern over the armed deployments, warning such mobilization "creates tensions and increases the risk of clashes that could spiral into conflict." In a statement, it called for the resolution of any disagreements through dialogue, "particularly at this stage when the country is navigating through a difficult and complex electoral process that should usher in a peaceful transition."
The latest string of security incidents comes after the parliament announced earlier in the day that the election, planned for Friday, would not go ahead. It did not set a new date. A parliamentary committee tasked with overseeing Libya's electoral process said it had become "impossible" to hold the vote in two days as scheduled.
Candidates involved in Libya are now discussing the length of a delay, and whether to replace the interim government or form a breakaway administration.
The renegade military commander Khalifa Haftar and the former Interior Minister Fathi Bashagha from Misrata are aligned against the interim prime minister, Abdul Hamid Dbeibah, who is a rival candidate.
Libya is facing return to chaos as very controversial figures such as Saif al-Islam Gaddafi and Haftar seek presidential run. The interim government and the election process were created under a UN-backed roadmap to end the turmoil after a ceasefire between the eastern and western camps last year.
Source: Press TV
Please click the following URL to read the full text of the original story:
https://www.presstv.ir/Detail/2021/12/22/673196/Libya-UNSMIL-election
--------
Southeast Asia
Sabah Gives Nod For House Visits During Christmas, New Year Celebrations
18 Dec 2021
KOTA KINABALU, Dec 18 ― The Sabah state government will allow house-to-house visits in conjunction with Christmas and New Year celebrations in compliance with set standard operating procedures (SOP), on condition that all visitors had completed their Covid-19 vaccinations.
Sabah Local Government and Housing Minister Datuk Masidi Manjun said the duration of each visit should not exceed three hours with 30-minute intervals for sanitisation work before the next visit.
The Sabah Covid-19 spokesman said the house chief needed to ensure visitors signed in using the MySejahtera app or a visitor logbook, in addition to preparing temperature scanners and hand sanitisers.
"House chiefs must ensure visitors conduct self-screenings, wear face masks except while eating and drinking, practise physical distancing of one metre, with 50 per cent capacity of the house, while children under 12 are only allowed to visit with their parents who have completed their vaccinations.
"No religious or physical contact activities are allowed during visits, house chiefs and guests are responsible for their SOP compliance during celebrations," he said in a statement tonight.
Sabah has announced Dec 24 and 25 as public holidays for Christmas celebrations this year.
Masidi said the state government has also set the SOP for Christmas celebrations at non-Muslim houses of worship, including operating periods of 7 am till 11.30 pm, and limiting worshippers to those who have completed their vaccinations.
He said prayers were limited to two hours with 30-minute intervals for sanitisation work before the next session, with attendance limited to 50 per cent capacity and one-metre physical distancing.
"The (houses of worship) management committee members and congregants with chronic illnesses are not permitted to attend, and attendees must bring their own prayer materials. Religious parades and ceremonies, along with physical contact activities are not permitted.
"Management committee members need to ensure visitors sign in with MySejahtera or a visitor's logbook, wear face masks, santise their hands and comply with other SOP," he said.
Source: Malay Mail
Please click the following URL to read the full text of the original story:
https://www.malaymail.com/news/malaysia/2021/12/18/sabah-gives-nod-for-house-visits-during-christmas-new-year-celebrations/2029519
--------
Muhyiddin: Osman Sapian's death a loss for Johor and Bersatu
22 Dec 2021
JOHOR BARU, Dec 22 ― Parti Pribumi Bersatu Malaysia (Bersatu) president Tan Sri Muhyiddin Yassin regarded Datuk Osman Sapian's death as is a loss for Johor and the party.
In expressing his sadness and shock over the news, Muhyiddin, who is Pagoh Member of Parliament, conveyed his condolences to Osman's family and prayed that they would be patient in facing these sad moments.
"Personally, I have known him the late for a long time and he was equally active in politics in Johor, especially during the establishment of Bersatu a few years ago...he was strong, forbearing and a person not easy to admit defeat," he said in a post on Facebook today.
As a friend, Muhyiddin said he also mourned Osman's death.
"Rest in peace there, my friend. Let us all pray for Osman's soul to be showered with blessings and placed among the faithful," said the former prime minister.
Osman, 70, who was a former Johor mentri besar, died at 11.45pm yesterday at his son's home in Damansara, Kuala Lumpur.
He will be buried at the Ar-Raudhah Muslim Cemetery, Taman Mount Austin, here, after the Zohor prayer today.
Source: Malay Mail
Please click the following URL to read the full text of the original story:
https://www.malaymail.com/news/malaysia/2021/12/22/muhyiddin-osman-sapians-death-a-loss-for-johor-and-bersatu/2030275
--------
Zakir Naik says he was never barred from giving public talks
V Anbalagan
December 22, 2021
KUALA LUMPUR: Controversial Islamic preacher Zakir Naik today disputed several media reports by political and civil society leaders critical of him after his alleged inflammatory public speech in Kota Bharu two years ago, the High Court heard today.
Naik also disagreed with a media report that he was barred from delivering public talks in all states in Malaysia after the incident.
Naik, 56, a permanent resident who stays in Putrajaya, took this position when he was cross-examined by Penang deputy chief minister II P Ramasamy's lawyer Ranjit Singh on the third day of the trial in his defamation suit.
The lawyer first referred to a report dated Aug 18, 2019 where the then prime minister Dr Mahathir Mohamad said: "I don't know who gave him his permanent resident status but he should stay out of politics. He can preach, he can spread Islam and we are not going to stop him.
"But he must not talk about politics. Asking the Chinese and Indians to go back is political. Clearly, he is stirring up racial sentiments. Let the police investigate.
"In Malaysia, we have rule of law and we will put that into practice."
Mahathir was reported to have said this after an event at the Kuala Lumpur Convention Centre.
Naik said he disagreed with the report and he had met Mahathir later and he did not mention such things to him.
Ranjit also referred to statements by former minister Rais Yatim on Aug 14 that Naik should be sent back to India.
"Before Zakir Naik lived here, we lived in harmony. Now even the Hindus are being disturbed by his comments that belittle them. Zakir is playing the role of an instigator," Ranjit quoted Rais as saying.
The lawyer also referred to a statement by then youth and sports minister Syed Saddiq Syed Abdul Rahman that Naik be deported while G25 founder Mohd Sheriff Mohd Kassim had said the government should take a firm stand against Naik for manipulating racial issues.
Naik also disagreed with an Aug 20, 2019 Malay Mail report that he was prevented from giving talks in any part of Malaysia.
In the report, police had said this was done in the interest of national security and to preserve racial harmony.
To this, Naik said: "Police did not convey any message that I am banned from such activities. I also checked with the chief secretary to the government then."
Naik said he still gave talks to smaller groups during the height of the Covid-19 pandemic.
At the Kota Bharu talk on Aug 8, Zakir allegedly asked the Malaysian Chinese to "go back" first, as they were the "old guests" of the country.
He also compared the Hindus in Malaysia to the Muslims in India, saying that the Hindus enjoyed more than 100% rights in Malaysia compared with Muslims in India.
In October and December 2019, Naik filed two separate suits alleging that Ramasamy had issued five defamatory statements against him.
Source: Free Malaysia Today
Please click the following URL to read the full text of the original story:
https://www.freemalaysiatoday.com/category/nation/2021/12/22/zakir-naik-says-he-was-never-barred-from-giving-public-talks/?__cf_chl_jschl_tk__=8cK.QCd636g.aI_bNAqmjE3BkNxLWD4Vn2hUEYu5j6g-1640244699-0-gaNycGzND30
--------
World Bank says Malaysia 'has plenty of scope' to tax capital gains or inheritance, even as politicians say the contrary
23 Dec 2021
BY SYED JAYMAL ZAHIID
KUALA LUMPUR, Dec 23 — Malaysia is prime to join the growing number of countries that have had success taxing stock gains or inheritance wealth as both a revenue source and an effective redistributive mechanism, the World Bank said in its December's Economic Monitor, contrasting views held by both government and Opposition politicians that the levy would spook the rich and trigger capital flight.
The bank said "a comprehensive CGT" or an inheritance tax could "significantly" broaden the government's revenue base, made more crucial at a time when public finances are under severe pressure from the Covid-19 crisis as the government sought to save livelihood and keep a devastated economy afloat.
"Countries around the world are currently facing the financial consequences of the Covid-19 crisis, and Malaysia is no exception," the report read.
"With public finances coming under severe pressure during the crisis, there will be an ongoing need to support economic recovery and meet spending commitments," the bank added.
"Malaysia has plenty of scope to broaden its tax base by adopting a more comprehensive CGT and/or a tax on wealth, probably in the form of a tax on gifts and inheritance."
To this day, most political leaders have been reluctant to tax share profits or dividends, raising only a small amount of revenue from capital taxes. There was also hesitation by past and current administrations to heed suggestions for wealth transfers or inheritance to be taxed, since its abolition of estate duty in 1991.
Capital gains are also not taxed with the exception of disposals of real property and shares in real property companies, which are subject to the Real Property Gains Tax (RPGT).
The idea of a CGT or inheritance tax has gained increasing public interest since the coronavirus crisis hit the country, much of it stemming from criticism that the conservative ruling coalition had not responded to the pandemic adequately, even as it boasted about having spent over RM80 billion in cash and other forms of direct aid.
World Bank senior economist Ririn Salwa Purnamasari, at the launch of its December economic monitor report, said the government's social assistance to date had been insufficient to deal with the magnitude of the crisis.
The bank estimated that as many as a third of households from the lowest income bracket had been excluded from or did not receive any help.
"As our (research findings showed), despite this generous and progressive response programme the government disbursed, two-thirds of households earning RM2,000 and below reported that they were unable, or only partially able to cover their monthly basic needs, even after taking into account all of government assistance," the economist said.
"At the same time, nearly one in three households in this income group reported to have not received any of these assistance since June 2021," she added.
On the ground, criticism about the inadequacy of government support has fueled an already raging debate about wealth inequality, which some political analysts believe bolstered class awareness and tensions, prompting more scrutiny of the rich and calls for them to be taxed.
Some economists argue that the absence of a CGT or inheritance tax enables rich households to accumulate more wealth tax-free, further widening the wealth gap.
The World Bank noted wealthier individuals derive more of their income from capital gains and investments in any case.
"For example, if a worker earns US$20,000 (RM84,170) and their neighbour sells an asset for a gain of US$20,000, both individuals have the same income. It is not obvious why the worker should pay taxes on their income, but the investor should not," it said.
"Wealthier individuals derive more of their income from capital gains and investments in any case. If the tax mix does not include taxes on capital and wealth, the tax burden will fall disproportionately on labor and the less well off."
Elected leaders from the ruling coalition have so far ignored the call.
Source: Malay Mail
Please click the following URL to read the full text of the original story:
https://www.malaymail.com/news/malaysia/2021/12/23/world-bank-says-malaysia-has-plenty-of-scope-to-tax-capital-gains-or-inheri/2030443
--------
Mideast
Turkey 'neutralizes' 10 YPG/PKK terrorists in northern Syria
Merve Berker
22.12.2021
ANKARA
Turkish security forces "neutralized" 10 YPG/PKK terrorists who launched an attack in northern Syria, an area near Turkey's southern border, the Turkish National Defense Ministry said on Wednesday.
The terrorists were "neutralized" as they opened fire and attempted to infiltrate the Operation Peace Spring zone, where Turkey carried out a cross-border anti-terror operation in 2019, said a ministry statement on Twitter.
"We continue to justly punish terrorists whose sole purpose is to bloody the region," added the statement.
Turkish authorities use the term "neutralize" to imply the terrorists in question surrendered or were killed or captured.
Since 2016, Ankara has launched a trio of successful anti-terror operations across its border in northern Syria to prevent the formation of a terror corridor and enable the peaceful settlement of residents: Euphrates Shield (2016), Olive Branch (2018), and Peace Spring (2019).
Source: Anadolu Agency
Please click the following URL to read the full text of the original story:
https://www.aa.com.tr/en/middle-east/turkey-neutralizes-10-ypg-pkk-terrorists-in-northern-syria/2454341
--------
Perpetrators of Gen. Soleimani assassination must be tried in int'l courts: Algerian Scholar
December 23, 2021
An Algerian scholar underlined that those behind the assassination of Lt. General Qassem Soleimani must be brought to justice.
Speaking at a webinar dubbed "Martyr Qassem Soleimani and Islamic Dignity", Yusuf Houri said the supporters of the resistance should follow the case of the senior commander's martyrdom and make sure the perpetrators will be tried in international courts.
The virtual seminar was jointly organized by the Iranian Cultural Center in Algeria and the Imam Sadiq (AS) University, ahead of the anniversary of General Soleimani's assassination.
In his address, Houri, who is a law expert in an Algerian university, appreciated the Islamic Republic of Iran for resistance against the enemies of the Muslim Ummah and supporting Palestine and al-Quds.
He described Martyr Soleimani as one of the major leaders of Islamic resistance in contemporary era and said the US assassination of the senior commander was a crime against humanity.
The scholar said the US must be prosecuted for the crime, calling on Muslim world law experts to file lawsuits against the US government in international courts.
He further said Martyr Soleimani was after creating peace and friendship among all nations and serving people.
Houri went on to say that General Soleimani was a role model for revolutionary nations and one who sacrificed his life for Islam.
At the webinar, Algerian poet Sadiq Salayima read out some of his poems about Martyr Soleimani.
Source: ABNA24
Please click the following URL to read the full text of the original story:
https://en.abna24.com/news//perpetrators-of-gen-soleimani-assassination-must-be-tried-in-int%e2%80%99l-courts-algerian-scholar_1211402.html
--------
Iran's Precision-Striking Drones Hit Standing, Mobile Targets in Massive Drills
2021-December-22
The IRGC Aerospace Forces flew unmanned aerial vehicles (UAVs), and the aircraft struck a series of standing and mobile targets on the ground and in the sea using bombs with pinpoint accuracy in the Great Prophet 17 joint drills.
Additionally, IRGC forces launched volleys of various surface-to-surface, anti-ship missiles, and coast-to-sea ballistic missiles against vessels, facilities, and bases of the hypothetical enemy and destroyed them as planned.
IRGC naval units also utilized domestically-developed offshore and onshore air defense systems against hostile drones.
Attack helicopters provided close air support (CAS) and fired accurately at the designated targets.
Troops practiced coastal defense exercises and anti-heliborne tactics as well.
Moreover, the participating divisions fired advanced anti-ship cruise missiles simultaneously from the coast and Zolfaqar-class fast attack craft and struck the enemy's vessels.
Source: Fars News Agency
Please click the following URL to read the full text of the original story:
https://www.farsnews.ir/en/news/14001001000421/Iran's-Precisin-Sriking-Drnes-Hi-Sanding-Mbile-Targes-in-Massive
--------
Iran announces anti-missile system for its tanks
22 December ,2021
Iran is to mount an anti-missile system on the turrets of T-72M tanks to protect them from attack, the Fars news agency reported on Wednesday.
The report came during Iranian military exercises, and after the United States said it was preparing "alternatives" in case negotiations to revive a deal to curb Iran's nuclear program collapse in Vienna.
"The system has been tested and will be installed on the tank turrets. It will be able to deflect all types of missiles by jamming their systems," Fars said, on the third day of land and sea military maneuvers in three of the Islamic republic's southern provinces.
The agency also reported Iran's Revolutionary Guards land forces chief, General Mohammad Pakpour, as saying the tanks' main gun has a three-kilometer (1.9-mile) range and precision night-time capabilities.
On Tuesday, Iran's military fired several missiles from land and sea as part of the five-day exercise.
Source: Al Arabiya
Please click the following URL to read the full text of the original story:
https://english.alarabiya.net/News/middle-east/2021/12/22/Iran-announces-anti-missile-system-for-its-tanks-
--------
US, Israel commit to ensuring Iran never gets nuclear weapon
22 December ,2021
Top US and Israeli officials reiterated their commitment to ensuring that Iran never gets a nuclear weapon during a meeting on Wednesday.
"The delegations discussed the need to confront all aspects of the threat posed by Iran, including its nuclear program, destabilizing activities in the region, and support for terrorist proxy groups," a statement from the White House.
National Security Advisor Jake Sullivan led the US delegation during a meeting in Israel with his counterpart, Eyal Hulata.
Sullivan is in the region where he will also stop Palestine to boost US-Palestinian ties.
But his meetings in Israel focused on Iran and the "grave threat" it poses to the region.
The White House said that Sullivan updated officials in Israel on the latest developments in Vienna, where US and Iranian officials are engaged in indirect talks over the now-defunct 2015 nuclear deal.
Source: Al Arabiya
Please click the following URL to read the full text of the original story:
https://english.alarabiya.net/News/middle-east/2021/12/22/US-Israel-commit-to-ensuring-Iran-never-gets-nuclear-weapon
--------
Israel can strike Iran 'tomorrow', Hezbollah might hit back: New Air Force chief
22 December ,2021
Israel has the capability to carry out a successful strike on Iran's nuclear sites as early as "tomorrow", the incoming Air Force chief said on Wednesday.
"Israel could successfully strike Iran's nuclear program tomorrow, if necessary," said Major General Tomer Bar, who will command Israel's air force in April, according to the Jerusalem Post.
"I have to assume it will happen in my time, and my shoulders already understand the weight of the responsibility," he added.
He stressed that Israel can successfully destroy Iran's nuclear facilities: "There is no way that we will operate there, one thousand kilometers from here, and I will return home without being able to say 'I completed the mission.'"
For the latest headlines, follow our Google News channel online or via the app.
Currently, tensions are high over whether or not the Vienna talks to revive the abandoned 2015 Iran nuclear deal would succeed.
The US has long been saying that if diplomacy failed with Iran, it was willing to turn to "plan B", without specifying details.
Meanwhile, Washington-ally Israel has grown impatient and has repeatedly announced it is preparing for a military strike on Iranian nuclear targets.
Hezbollah war
Bar believes that should Israel strike Iran, Lebanon's Tehran-backed Shia militia Hezbollah will attack Tel Aviv.
"I have to assume that he [Hezbollah Secretary-General Hassan Nasrallah] will automatically be all in. Thirty years he has waited for this order and there is no way that he will not be there and with the highest intensity," Bar said. "We have to be prepared for this."
Source: Al Arabiya
Please click the following URL to read the full text of the original story:
https://english.alarabiya.net/News/middle-east/2021/12/22/Israel-can-strike-Iran-tomorrow-Hezbollah-might-hit-back-New-Air-Force-chief
--------
Palestinian shot, killed by Israeli forces in West Bank
Qais Abu Samra and Zain Khalil
23.12.2021
JERUSALEM
A young Palestinian was shot and killed by Israeli forces Wednesday evening in the occupied West Bank, according to the Palestinian Health Ministry.
A ministry statement said Mohamed Issa, 26, was shot in the back and succumbed to his injuries at the Medical Complex in Ramallah city.
According to local residents, Israeli forces opened fire on a Palestinian vehicle during a raid in the city of Al-Bireh, injuring its driver.
The raid triggered clashes with Palestinian residents, during which Israeli forces used tear gas canisters, rubber-coated bullets, and live ammunition to disperse them, the residents said.
An Israeli military statement said its forces raided the city after "suspects were seen approaching the Psagot settlement."
The statement said Israeli forces responded to fire from a passing car, which left its driver injured.
Source: Anadolu Agency
Please click the following URL to read the full text of the original story:
https://www.aa.com.tr/en/middle-east/palestinian-shot-killed-by-israeli-forces-in-west-bank/2455251
--------
Palestinian president receives US national security adviser
Qais Omar Darwesh Omar, Ekrem Biçeroğlu
23.12.2021
RAMALLAH, Palestine
Palestinian President Mahmoud Abbas hosted US National Security Adviser Jake Sullivan on Wednesday in Ramallah in the occupied West Bank, where they discussed the latest political developments.
During their meeting, Abbas reiterated that Israel must end its occupation of the Palestinian territories and stop expanding settlements, the Palestinian news agency WAFA reported.
Abbas added that Israel must respect Al-Aqsa Mosque, Islam's third holiest site, and stop the evictions of Palestinians in neighborhoods of East Jerusalem, which he reminded are "against the law."
Israeli policies undermine the two-state solution, Abbas stressed, while also underlining the importance of strengthening US-Palestinian relations.
Sullivan, for his part, reiterated his country's commitment to the two-state solution.
Source: Anadolu Agency
Please click the following URL to read the full text of the original story:
https://www.aa.com.tr/en/middle-east/palestinian-president-receives-us-national-security-adviser/2455174
--------
13 Palestinian print shops attacked by Israel in 2021: NGO
Nour Abu Eisha
22.12.2021
GAZA CITY, Palestine
Israeli forces attacked 13 Palestinian print shops and libraries in the occupied West Bank this year, according to a press committee on Wednesday.
In a statement, the Geneva-based Journalist Support Committee, an NGO, said Israeli forces vandalized a print house in Hebron city on Dec. 13 and confiscated all printing equipment inside.
A group of computers were also seized by Israeli soldiers in August from inside a research center in Ramallah, it added.
The committee also cited an Israeli army raid on another print shop in Jenin on July 12 during which "all equipment were confiscated without a pretext".
Source: Anadolu Agency
Please click the following URL to read the full text of the original story:
https://www.aa.com.tr/en/middle-east/13-palestinian-print-shops-attacked-by-israel-in-2021-ngo/2454751
--------
URL: https://www.newageislam.com/islamic-world-news/uttarakhand-dharam-meet-war-muslims-manmohan/d/126018
New Age Islam, Islam Online, Islamic Website, African Muslim News, Arab World News, South Asia News, Indian Muslim News, World Muslim News, Women in Islam, Islamic Feminism, Arab Women, Women In Arab, Islamophobia in America, Muslim Women in West, Islam Women and Feminism