New Age Islam News Bureau
06 November 2021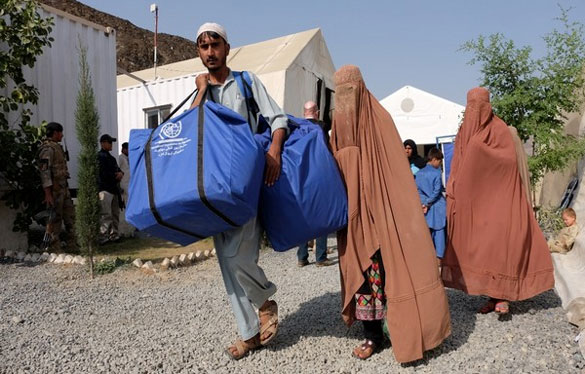 Representative Photo/ ANI
------
• Pakistan Asked Banned Tehreek-e-Taliban Pakistan to Lay Down Arms, Surrender: Say Taliban Sources
• Indonesia, UAE 'Like Brothers,' Can Work Together To Promote Moderate Islam: Joko Widodo
• Right-Wing Hindu Groups Hold Govardhan Puja at Designated Namaz Site, Where Muslims Offer Prayers on Fridays
South Asia
• In Message to Taliban Commanders, Akhundzada Warns Against Infiltrators
• Fear stalks Rohingya refugee camps after murders
• Kabul residents face difficulties withdrawing money from banks, say will no longer use banks
• Utmost financial problems, technician of a state-run TV commits suicide in Kabul
--------
Pakistan
• Pakistan's Punjab Cabinet Approves Recommendations to Lift Ban On TLP
• Shariah law is widely supported in Pakistan: Dr. Hafiz Ikram-ul-Haq
• TLP keeps its marchers engaged in Wazirabad with proper arrangements
--------
Southeast Asia
• PAS sec-gen: Don't question party leaders, even an underdog football team can succeed by following manager's tactics
--------
India
• Pak Denies Visas to Hindus Wishing To Travel with Sikh Jathas, Claim Sikh Groups
• India confirms Afghanistan conference, slams Pakistan for 'pernicious' role
• Terrorists flee after brief firefight with forces at Jhelum valley medical college hospital in Srinagar: Police
• Friday Namaz takes place at fewer sites amid fear in Gurgaon
• Plain hatred towards Muslims, says AIMIM chief Asaduddin Owaisi on protests against Namaz in Gurugram
• Muslim Unity Conference Held in Kashmir, India
------
Arab World
• Clashes in Baghdad Hurt 30 as Iran-Aligned Parties Dispute Iraq Vote Results
• Iraqi security forces clash with pro-Iran protestors in Baghdad
• Kuwait nominates former governor Haitham al-Ghais as new OPEC chief: Sources
--------
Mideast
• Israeli Troops Raid Al-Aqsa's Dome of Rock After Razing Mosque
• Turkish Man Fined For Calling Erdoğan 'A Jew Pretending To Be A Muslim'
• AEOI Spokesman: Iran's 20 Percent Enriched Uranium Stockpile Surpasses 210 Kilogram
• Finnish charity cuts ties with Palestinian NGO accused by Israel of aiding militants
• Palestinian teen killed by Israeli troops in West Bank clash: Health ministry
• Palestinian prisoner released after 19 years in Israeli jails
--------
Europe
• Algerian President Rules Out Normalizing Relations With France
• Coup puts into question Sudan's debt cancellation: France
• UN Security Council calls for ceasefire in Ethiopia
• UN rights chief urges restored civilian rule after Sudan military takeover
--------
Africa
• UN Security Council Voices 'Deep Concern' Over Ethiopia Escalation; Calls For Ceasefire
• Sudan FM calls for trial of coup leaders by International Criminal Court
• UN rights chief calls on Sudan's military leaders to 'step back'
• African Union condemns deadly terror attack in Niger
--------
North America
• American Civil Liberties Union Of Mississippi Hopes To Resolve Muslim Mosque Issue In Horn Lake Out Of Court
• US forms task force to help diplomats, citizens evacuate Ethiopia after warning
• US senator moves against Turkish defence exports, Azerbaijan
Compiled by New Age Islam News Bureau
URL: https://www.newageislam.com/islamic-world-news/taliban-militias-hazara-human-rights-watch/d/125722
--------
Taliban Militias Forcibly Evict Hundreds of Hazara Families from Helmand and Balkh Province: Human Rights Watch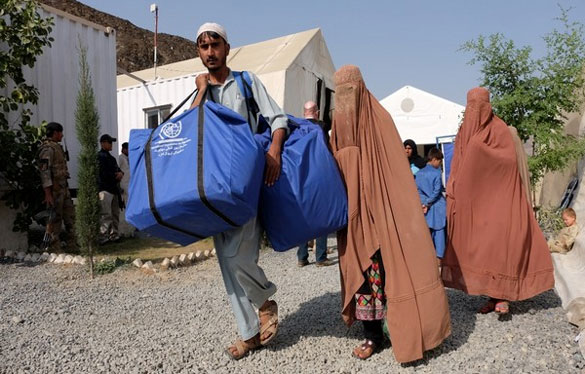 Representative Photo/ ANI
------
November 6, 2021
Taliban officials in several provinces across Afghanistan have forcibly displaced residents partly to distribute land to their own supporters, Human Rights Watch reported. Many of these evictions have targeted Hazara Shia communities, as well as people associated with the former government, as a form of collective punishment.
In early October 2021, the Taliban and associated militias forcibly evicted hundreds of Hazara families from the southern Helmand province and the northern Balkh province. These followed earlier evictions from Daikundi, Uruzgan, and Kandahar provinces. Since the Taliban came to power in August, the Taliban have told many Hazaras and other residents in these five provinces to leave their homes and farms, in many cases with only a few days' notice and without any opportunity to present their legal claims to the land. A former United Nations political analyst said that he saw eviction notices telling residents that if they did not comply, they "had no right to complain about the consequences."
"The Taliban are forcibly evicting Hazaras and others on the basis of ethnicity or political opinion to reward Taliban supporters," said Patricia Gossman, associate Asia director at Human Rights Watch. "These evictions, carried out with threats of force and without any legal process, are serious abuses that amount to collective punishment."
The media have reported that Hazara residents of Mazar-e Sharif's Qubat al-Islam district in Balkh province said that armed men from the local Kushani community were working with local Taliban security forces to force families to leave, and had given them only three days to do so. Taliban officials claimed the evictions were based on a court order, but evicted residents assert that they have owned the land since the 1970s. Disputes over conflicting claims arose out of power struggles in the 1990s.
Residents of Naw Mish district in Helmand province told Human Rights Watch that the Taliban issued a letter to at least 400 families in late September ordering them to leave. Given little time, the families were unable to take their belongings or complete harvesting their crops. One resident said the Taliban detained six men who tried to challenge the order; four remain in custody.
Another resident said that in the early 1990s, local officials distributed large tracts of land among their relatives and supporters, exacerbating tensions between ethnic and tribal communities. Securing a claim to land depended on who was in power, and those who lost out in earlier decisions have now petitioned the Taliban to support their claims. An activist from Helmand said that the property is being redistributed to Taliban members holding official positions. They "are cannibalizing land and other public goods" and redistributing it to their own forces, he said.
The largest displacements have taken place in 15 villages in Daikundi and Uruzgan provinces, where the Taliban evicted at least 2,800 Hazara residents in September. The families relocated to other districts, leaving their belongings and crops behind. One former resident said that "after the Taliban takeover, we received a letter from the Taliban informing us that we should leave our houses because the lands are in dispute. A few representatives went to the district officials to ask for an investigation but around five of them have been arrested." Human Rights Watch was unable to determine if they have been released.
The former resident added that the Taliban had established checkpoints on the roads out of the villages and "did not let anyone take even their crops with them." Following media coverage of the evictions, Taliban officials in Kabul retracted eviction orders for some Daikundi villages, but as of October 20, no residents had returned.
In Kandahar province in mid-September, the Taliban gave residents of a government-owned residential complex three days to leave. The property had been distributed by the previous government to civil servants.
International law prohibits forced evictions, defined as the permanent or temporary removal of individuals, families, or communities against their will from their homes or land, without access to appropriate forms of legal or other protection.
The Hazaras are a predominantly Shia Muslim ethnic group that was the target of mass killings and other serious human rights violations by Taliban forces in the 1990s. They have faced discrimination and abuse by successive Afghan governments going back over 100 years.
The forced evictions in Afghanistan are taking place at a time of record internal displacement driven by drought, economic hardship, and conflict, with 665,000 people newly displaced in 2021, even before the Taliban takeover. About four million people are displaced in the country overall.
"It's particularly cruel to displace families during harvest and just before winter sets in," Gossman said. "The Taliban should cease forcible evicting Hazaras and others and adjudicate land disputes according to the law and a fair process."
Source: ABNA24
Please click the following URL to read the text of the original story:
https://en.abna24.com/news//human-rights-watch-taliban-forcibly-evict-minority-shia-muslims-in-afghanistan_1195869.html
--------
Pakistan Asked Banned Tehreek-e-Taliban Pakistan To Lay Down Arms, Surrender: Say Taliban Sources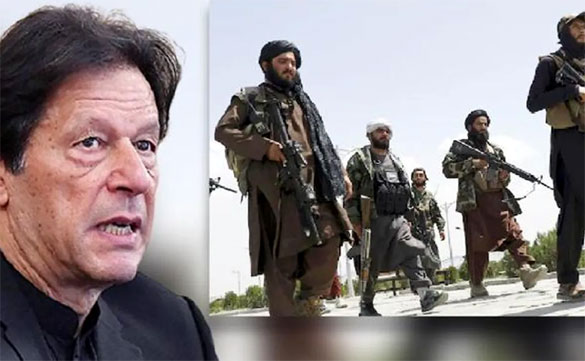 Image: AP
-----
November 5, 2021
PESHAWAR: The PTI-led government has asked the banned Tehreek-e-Taliban Pakistan (TTP) to lay down their arms and surrender, sources within the Afghan Taliban informed media on Friday.
According to the sources, Afghan Taliban commander Sirajuddin Haqqani is playing a key role in ceasefire talks and is working to make negotiations between the PTI-led government and the banned outfit a success.
Per the sources, chief of the banned TTP Mufti Noor Wali is leading the talks from the group's side.
The banned outfit has maintained that it would be "too early to" lay down arms and has demanded the government release their members from prison.
The government has not reacted to the demands of the banned outfit yet, the Afghan Taliban sources said, adding that negotiations could be successful if strong guarantors are provided and the outfit's conditions are accepted.
They added that while some factions of the banned TTP are in favour of holding talks with the Pakistani government, others are still taking a hardline approach.
Pakistan in talks with TTP factions for disarmament: PM Imran Khan
It should be recalled that last month, Prime Minister Imran Khan had admitted that his government was in disarmament talks with some factions of the banned TTP as Pakistan sought stability in the country in the backdrop of a fast-evolving situation in Afghanistan.
PM Imran Khan, speaking to TRT World's Ali Mustafa in Islamabad, said: "I think some of the Pakistani Taliban groups actually want to talk to our government. You know, for some peace, for some reconciliation."
When asked to confirm whether Pakistan is actually in talks with the TTP, the premier had clarified to say that talks are ongoing "with some of them".
He had said that the Afghan Taliban are "helping", in the sense that the talks are taking place in Afghanistan.
The premier had said that these talks, for disarmament, if successful, will lead to the government "forgiving" them, "and then they [will] become normal citizens".
Stressing that he does expect some sort of deal to emerge with the TTP, he said: "I do not believe in military solutions. I am anti-military solutions. So, I always believe that you know, as a politician, political dialogue is the way forward, which I always believed was the case in Afghanistan with the US."
The premier had noted he always believed that a non-military solution was the only way forward for Afghanistan — and he has reiterated it time and again on national, international forums.
The premier's announcement was met with stiff resistance and outrage by the Opposition.
TTP announce suspension of hostilities in South Waziristan
Early last month, a cessation in hostilities between the TTP, Pakistan fighters in South Waziristan, and the army was announced by the outlawed group in a statement.
Our leaders have asked all fighters to observe a ceasefire from today to October 20, the TTP statement said.
The TTP said that their leaders are engaged in some "secret talks", without elaborating any further.
Source: Pakistan Today
Please click the following URL to read the text of the original story:
https://www.pakistantoday.com.pk/2021/11/05/govt-has-asked-banned-ttp-to-lay-down-arms-surrender-say-taliban-sources/
--------
Indonesia, UAE 'like brothers,' can work together to promote moderate Islam: Joko Widodo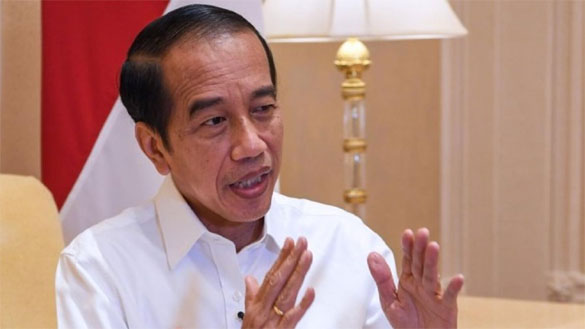 Indonesian president Joko Widodo
-------
5 Nov 2021
Indonesia, the most populous Muslim country in the world, and the UAE, share common values of moderate Islam and can work together to promote tolerance and act against religious extremism, Indonesia's President told WAM.
"I think this is a great potential. I see that religious moderation and diversity in the UAE are widely respected. And that is the area of cooperation we would like to explore more because we both share the closeness in the vision and characters of moderate Islam that propagates tolerance," Joko Widodo said in an exclusive interview in Abu Dhabi.
"In religious life, I see that the UAE has been able to develop these moderate values that complement the country's pursuit for peace and development."
Widodo, who was on a three-day official visit to the UAE, said the cooperation between the two countries in this regard is moving in the right direction.
"We exchange our views and experiences on this, and we have sent many imams [those who lead prayers at mosques] to the UAE. We hope that both countries can promote the concept of religious moderation and tolerance, and enhance the awareness among people on the dangers of extremism and radicalism," he said.
"Our relationship with the UAE is not just like friends; we are like brothers. Sheikh Mohamed bin Zayed Al Nahyan, Crown Prince of Abu Dhabi and Deputy Supreme Commander of the UAE Armed Forces, is a man of vision and a man of action; I feel comfortable cooperating with him and that is reflected in the close relationship between our countries."
CEPA to triple trade volumes
Talking about the bilateral economic relations, he said the economic and investment ties with the UAE are one of the priorities of the Indonesian Government.
Indonesia is among the ten countries that the UAE wants to increase its annual exports to by 10 percent, as announced in the country's 'Projects of the 50' initiative. The two countries have started negotiations in September on a Comprehensive Economic Partnership Agreement (CEPA).
"I hope if we are able to conclude the CEPA, then the trade volumes will further be increased two to three times," the President said, revealing that the bilateral trade witnessed 27.78 percent upsurge to reach $215 million during the first seven months of 2021, from $168 million during the same period in 2020.
"The bilateral economic and investment relations have huge potential; both countries have the same vision to move forward. The affinity between two peoples is good and we have the same characteristics. We are open and diverse, and that is the importance of the relationship between the two countries," he explained.
UAE as hub between ASEAN, Middle East
Indonesia considers the UAE as a hub in the Middle East for its trade with the region, Widodo said.
"The cooperation between Indonesia and UAE could also help improve the relations between ASEAN (association of 10 Southeast Asian nations) and the Middle East. We are also exploring the cooperation in such sectors as healthcare, technology and renewable energy. I think these sectors are important for the future," the President affirmed.
Widodo believes that the Indonesia Pavilion at Expo 2020 Dubai will help exchange knowledge, expertise and investment opportunities in those three areas with the UAE and the rest of the world.
Expo 2020: Dubai can work miracles, says Indonesian envoy
"We want to showcase Indonesia's potential in all areas, especially in trade and tourism. We hope Expo would help attract more tourists to Indonesia and increase our trade and investment relations with the UAE and other parts of the world."
UAE's $10 billion investments in Indonesia
The UAE had announced in March 2021 that it will invest $10 billion in Indonesia's sovereign wealth fund, Indonesia Investment Authority (IIA).
"We are delighted about the UAE's announcement on the $10 billion investment. I believe this is an initial investment, because there is a bigger potential [for investments] in the future. We have plenty of opportunities in the renewable energy development, as well as the construction of the new Indonesian capital city," he said.
Indonesian President in UAE: Deals worth $28 billion to be inked
Indonesia's progress will be focused on development of infrastructure and human capital, the President stressed, saying this has been his focus during the first and second terms of his presidency. Widodo first became the President in 2014 and won a second term in 2019.
Talking about his priorities, he said, "I'm an ordinary person, born in an ordinary family. Hence, it is very normal for me to deal with common people. I would like to focus on work and achieve my goals."
Cooperation in climate change, global arena
"I respect the UAE's commitment to tackle climate change and the steps taken in that direction. And I support your offer to host the COP 28 (the 28th session of the Conference of the Parties to the United Nations Framework Convention on Climate Change (UNFCCC) in Abu Dhabi in 2023), the President said.
Dubai: Sheikh Mohammed meets Indonesian President, discusses bilateral relations
"And I also appreciate and welcome 'the UAE Net Zero by 2050 Strategic Initiative, a national drive to achieve net-zero emissions by 2050," he said referring to the UAE's announcement on October 7, making the Emirates the first country in the Middle East and North Africa to make such a commitment.
Indonesia will also take concrete actions to achieve net zero emission by 2060 or earlier, Widodo revealed.
"We would like to concentrate in the rehabilitation of mangrove forests. We also want to reduce forest fire incidents in Indonesia."
Indonesia is committed to international cooperation on global issues such as climate change, especially with the UAE.
"We will continue to be an active player in the international arena."
Source: Khaleej Times
Please click the following URL to read the text of the original story:
https://www.khaleejtimes.com/government/indonesia-uae-like-brothers-can-work-together-to-promote-moderate-islam-joko-widodo
--------
Right-Wing Hindu Groups Hold Govardhan Puja at Designated Namaz Site, Where Muslims Offer Prayers on Fridays
BJP Leader Kapil Mishra Attend Goverdhan Puja at the site of Namaz at Gurugram (Photo: Pragativadi)
------
Nov 06, 2021
By Leena Dhankhar
Members of right-wing Hindu groups on Friday organised Govardhan Puja at a designated namaz site in Sector 12, where Muslims offer prayers on Fridays. Members of the ruling Bharatiya Janata Party (BJP) also attended the rituals, which were organised by the Sanyukt Hindu Sangharsh Samiti.
While members of Hindu groups said that the action was to mark their protest against namaz being offered in open spaces, members of Muslim communities said that they decided not to offer prayers at the site in Sector 12 due to objections raised by residents as well as protests by Hindu groups over the past few weeks.
Namaz was majorly held at Leisure Valley Ground in Sector 29 besides other designated locations, while Govardhan Puja was offered at designated namaz sites in Sector 47 and DLF Phase-3, on a small scale, besides Sector 12.
Heavy police deployment was witnessed at all sites and the prayers by both communities went off peacefully.
KK Rao, the commissioner of police, said, "No report of disruption was received from any area and majority of Muslims offered prayers at Leisure Valley Ground in Sector 29, and they did not visit the Sector 12 area on Friday as they knew Govardhan puja was organised."
Addressing the gathering of hundreds at Sector 12, BJP leader Kapil Mishra said that roads are not for religious activities. "Blocking roads is not part of any religion. People have first right to the roads," said Mishra.
Surendra Kumar Jain, the international joint general secretary of Vishva Hindu Parishad, alleged that namaz was being offered in open spaces to establish control over public land.
Altaf Ahmad, a representative of the Muslim community in the city, said, "...we voluntarily stepped back as the same was advised by police... We have asked our Muslim community to show restraint and walk away in case troublemakers try to provoke or disrupt namaz."
Over the past two weeks, right-wing outfits had tried to disrupt namaz at the open site in Sector 12 and on October 29, 35 protesters were detained for attempting to disrupt Friday prayers. Representatives of the Muslim community had agreed to relocate from the site, calling for an alternative space and clearing encroachments from Waqf Board properties.
Mahavir Bharadwaj, a member of the Sanyukt Hindu Sangarsh Samiti, claimed that the administration had to "bow down to their demands". "The Muslim community has a month to make arrangements... to ensure they don't offer namaz in open, " he said.
However, officials of the district administration said permissions were withdrawn only for eight sites, and a decision on other sites will be taken later.
Yash Garg, the deputy commissioner of Gurugram, said that a committee, comprising a subdivisional magistrate, an assistant commissioner of police and members of religious organisations and civil society groups will discuss the issue. "The committee will also take consent from locals at the time of designating a spot for offering prayers but no concrete decision has been taken yet," he said.
Source: Hindustan Times
Please click the following URL to read the text of the original story:
https://www.hindustantimes.com/cities/delhi-news/hindu-groups-hold-puja-at-designated-namaz-site-101636149974061.html
--------
South Asia
In message to Taliban commanders, Akhundzada warns against infiltrators
Nov 06, 2021
Taliban supreme leader Haibatullah Akhundzada has warned against infiltrators, saying they could be working against the Afghanistan government. Akhundzada has been the spiritual chief of the Islamist movement since 2016 but has remained a reclusive figure, even after his group seized power in Afghanistan in August.
In a rare written public statement, Akhundzada has urged Taliban commanders to purge their ranks.
"All those elders of their groups must look inside their ranks and see if there is any unknown entity working against the will of the government, which must be eradicated as soon as possible," Akhundzada said in the statement tweeted out by multiple Taliban accounts.
"Whatever wrong happens, the elder will be responsible for the consequences of the actions in this world and in the afterlife," he further warned in the statement.
The Taliban seized power in Afghanistan in August (completed their military campaign by capturing the presidential tower in Kabul on August 15) just days before American troops left the country as agreed in a peace deal.
Since taking over, the Taliban have issued multiple diktats reminding of their old rule when the group ruled with iron fist and suppressed any voice of resistance.
As the Taliban government formed, the group was forced to recruit former foes, allied Islamist militants and young madrassa students.
Now that it is the government, the movement faces attacks in its turn from hardline factions like the Islamic State-Khorasan (IS-K).
Source: Hindustan Times
Please click the following URL to read the full text of the original story:
https://www.hindustantimes.com/world-news/in-message-to-taliban-commanders-akhundzada-warns-against-infiltrators-101636167078501.html
--------
Fear stalks Rohingya refugee camps after murders
Nov 6, 2021
KUTUPALONG: Bloodstains still mark the spot where assassins gunned down Mohib Ullah, an activist who was a leading voice for the 850,000 Rohingya living in fear in Bangladeshi refugee camps.
In the weeks since the murder, a senior member of the now-shell-shocked volunteer group that Ullah headed has received phone calls telling him he'll be next. And he's not alone.
"They can hunt you down the way they have brazenly shot dead our leader and so many people," Noor, too frightened to give his real name or be filmed, told AFP.
"They", he believes, are members of the Arakan Rohingya Salvation Army (ARSA), an insurgent group fighting the Myanmar military but also thought to be behind a wave of killings and criminal activity in the camps.
ARSA has denied it killed Ullah.
Most of the Rohingya have been in the camps since 2017 when they fled a brutal military offensive in Buddhist-majority Myanmar, where the predominantly Muslim minority are reviled and seen as illegal immigrants.
Refusing to go back until they are assured of security and equal rights, the refugees remain stuck in bamboo-and-tarp shacks with no work, poor sanitation and little education for their children.
Overflowing latrines fill narrow mud lanes with excrement in monsoon season, and fires can rip through the flimsy homes in minutes during the hot summers.
By day the Bangladesh authorities provide some security. But at night the camps become the domain of gangs -- allegedly linked to ARSA -- that traffic millions of dollars worth of methamphetamine from Myanmar.
"The scenario is different as soon as the sun sets," Israfil, a Rohingya refugee who goes by one name, told AFP.
"The dark time is the long hours when they do whatever they want to do," he added.
Working among the chaos and unease in the camps, Ullah and his colleagues quietly documented the crimes that his people suffered at the hands of the Myanmar military, while pressing for better conditions.
The former schoolteacher shot to prominence in 2019 when he organised a protest of around 100,000 people in the camps to mark two years since their exodus.
That year he met US President Donald Trump in the White House and addressed a UN meeting in Geneva.
But his fame appears to have gone down badly with ARSA.
They saw Ullah as threatening their place as the sole voice representing the Rohingya -- one who was opposed to their violence, his colleagues and rights activists say.
"He became a thorn in ARSA's side," said Nur Khan Liton, a top rights activist in Bangladesh.
"ARSA was also frightened by his enormous popularity."
Three weeks after Ullah's murder in late September, gunmen and machete-wielding attackers slaughtered seven people in an Islamic seminary that had allegedly refused to pay protection money to ARSA.
"The brutal carnage bore all the marks of ARSA. The group previously slaughtered at least two top Islamic clerics because they didn't back ARSA's violent struggle," said a top expatriate Rohingya activist.
"ARSA has carried out the murders to establish its full control in the camps. After the latest carnage, everyone seems to be silenced," he added, asking to remain anonymous.
After the attack on the seminary, the UN refugee agency urged the Bangladesh authorities "to take immediate measures to improve the security in the refugee camps".
A series of turf war killings in 2019 prompted the Bangladesh army to erect barbed-wire fences around the camps. The elite Armed Police Battalion was tasked with patrolling the area.
Police have also carried out a series of security operations that have killed dozens of alleged Rohingya drug traffickers.
But although they have arrested dozens of people over Ullah's killing, they are in denial about ARSA's activity, blaming instead "rivalries" in the camps.
"ARSA has no presence in the camps," Naimul Haque, the commanding officer of the Kutupalong camp, insisted to AFP.
Members of Ullah's group are far from reassured, saying that their security concerns fall on deaf ears.
Some even mutter that ARSA and the Bangladesh security forces are in cahoots -- something Dhaka vehemently denies.
Kyaw Min, a top Rohingya leader, said police assist ARSA to "reign" at night by "conveniently" not being around when they operate.
Source: Times of India
Please click the following URL to read the full text of the original story:
https://timesofindia.indiatimes.com/world/south-asia/fear-stalks-rohingya-refugee-camps-after-murders/articleshow/87547974.cms
--------
Kabul residents face difficulties withdrawing money from banks, say will no longer use banks
Nov 5, 2021
KABUL: A number of Kabul residents on Thursday said that they no longer want to keep their money in the country's banks as they are facing difficulties in withdrawing their money, local media reported.
Since the fall of the former government, Afghans have faced challenges in withdrawing their money from the banks and said they no longer want to deposit funds, adding that they will take out all of their previously deposited funds, Tolo News reported.
"We used to save our money in the banks, but currently they are not paying us on time. The banks have lost trust among the people, we no longer want to save our money in the banks," said Noorullah, a resident of Kabul.
Meanwhile, a number of economists said that if the banking system continues at this rate, the banks will not be able to provide services, and this will have a negative impact on the country's economy, Tolo News reported.
Source: Times of India
Please click the following URL to read the full text of the original story:
https://timesofindia.indiatimes.com/world/south-asia/kabul-residents-face-difficulties-withdrawing-money-from-banks-say-will-no-longer-use-banks/articleshow/87537522.cms
--------
Utmost financial problems, technician of a state-run TV commits suicide in Kabul
04 Nov 2021
Muhammad Haroon Niromand who was working as a technician in a state-run TV channel- Wolisi Jirga TV- committed suicide in Kabul on Thursday, November 4 due to critical financial problems.
Obiadullah Ikhlas, a close relative of the slain Niromand has confirmed his death and added that he was recently suffering from serious financial and mental difficulties.
Ikhlas said that Niromand worked at the TV channel for three years and was laid off liked tens of others after the TV channel closed following the Taliban takeover on August 15.
Journalists are among those who have been impacted the most after the recent political changes in Afghanistan.
Based on the statistics of the national union of journalists in Afghanistan, 70% of media have stopped operation and 67% of Afghan journalists left jobless after the Taliban takeover.
Source: Khaama Press
Please click the following URL to read the full text of the original story:
https://www.khaama.com/utmost-financial-problems-technician-of-state-run-tv-commits-suicide-in-kabul-765745/
--------
Pakistan
Pakistan's Punjab cabinet approves recommendations to lift ban on TLP
Nov 6, 2021
ISLAMABAD: Pakistan's Punjab cabinet has approved the recommendations for lifting the ban on Tehreek-e-Labbaik Pakistan (TLP), local media reported on Friday.
"Punjab cabinet has approved the summary to lift the ban on Tehreek-e-Labbaik Pakistan (TLP) after the home department forwarded the recommendations," ARY News reported.
Moreover, a summary was sent to the Punjab Chief Minister Usman Buzdar to request the federal interior ministry. Following the CM's permission, the home department will write a letter to the interior ministry for lifting the ban, said the Pakistani media.
Earlier on Thursday, while making progress on an agreement between the government committee and the banned outfit, the Punjab home department had recommended the chief minister to lift the ban on TLP.
The Punjab home department commenced the process to lift the ban on TLP, ARY News reported citing sources. It added that the department forwarded a summary to Punjab Chief Minister.
Source: Times of India
Please click the following URL to read the full text of the original story:
https://timesofindia.indiatimes.com/world/pakistan/pakistans-punjab-cabinet-approves-recommendations-to-lift-ban-on-tlp/articleshow/87551088.cms
--------
Shariah law is widely supported in Pakistan: Dr. Hafiz Ikram-ul-Haq
BY ARSHAD YOUSAFZAI
NOVEMBER 5, 2021
The Ziauddin University's Faculty of Law organized the enriching conversation with Dr. Hafiz Ikram-ul-Haq, the federal secretary of the Council of Islamic Ideology to get an opinion and analysis of the expert about the Islamic principles in the constitution of Pakistan.
The session was moderated by Syed Muaz Shah, director of the ZU Law Faculty Centre for Human Rights. On the occasion, Dr. Hafiz Ikram-ul-Haq said the Council of Islamic Ideology is a permanent constitution body of Pakistan under 1973, which is composed by 'ulema' and legal experts to advise the President and the Parliament on laws that are consistent with Quran and Sunnah, he said shariah law is widely supported in Pakistan.
Secretary of council of Islamic ideology explained the students of Allama Iqbal's 6th lecture about the principle of movements in the structure of Islam that how to take Islam and modern world together in which he said that "the decision of making Islamic ideology constitution in the parliament was mandatory. By clearing the concept of fraternity in the constitution, I agree that it's sadden to know that there is still no further effect of law on the final report after 1996".
"Before Pakistan when Quaid-e-Azam supported the idea of Allama Iqbal during the season of Round Table Conferences he wants Muslims to also have rights in the framework of the constitution which was in making for the future but he got failed, Allama iqbal also attended one of its session but return then he gave lecture on presidential address in Lahore All India Muslim Conference in which he asked for the permission to get the separate assembly for the Muslims in which only Muslim rulers and ullema's make discussions and laws", he carried out.
"In 1940 when Pakistan resolution got pass after that they made a committee which was finance by Nawab Saeed Ahmed Chataari who was prime minister of Hyderabad Deccan Islamic state and also the minister of united state at that time put some famous great scholars to make the Muslim laws.
During the Q&A session he answered some question asked by the students of law and other general students who attended the seminar of Islamic ideology, by clearing the confusions "I understand that there is gender imbalance in our country but our constitution allows one or more than one woman in the council as there were several women who participated in the council before and has full right to put her involvement in making the laws".
"There is an example of the articles 227-231 of the constitution of Pakistan enlighten the Holy Quran and Sunnah that the way we take care of the Muslims rights same goes for the non-Muslim nothing is going to affect their personal laws they can live freely in the state", Dr Haq further stated.
Source: Academia
Please click the following URL to read the full text of the original story:
https://academiamag.com/shariah-law-is-widely-supported-in-pakistan-dr-hafiz-ikram-ul-haq/
--------
TLP keeps its marchers engaged in Wazirabad with proper arrangements
Waseem Ashraf Butt
November 6, 2021
GUJRAT: Participants in Tehreek Labbaik Pakistan (TLP) long march have established 250 camps to stay in a park and nearby spaces in Wazirabad town of Gujranwala district.
On way to Islamabad, the TLP workers had reached Wazirabad on Oct 29. Initially they kept the GT Road blocked for three days before shifting to an adjacent park after the TLP struck a deal with the government.
The camps have mainly been set up along the railway line, green belt and adjoining Hamid Nasir Chatha park in Allahabad, also known as Nizamabad.
The organisers have established a separate camp for medical treatment with two doctors and ample medicines available round the clock.
Leader says they will resume journey if Saad is not freed by Monday
Moreover, three trucks loaded with daily-use items like food, regular meals, dry fruit, bottles of mineral water and medicines etc whereas two trucks are loaded with blankets to keep the participants warm under the cold weather conditions in an open area.
Zainul Abideen, who introduced himself as TLP's Attock district emir and also in charge of a zone of camps, told Dawn the Tehreek had planned a different strategy to handle the government pressure as a large number of party workers had already reached near Rawalpindi and Islamabad and warned if the government did not release TLP chief Saad Rizvi by Monday (Nov 8) the participants of Wazirabad sit-in would resume their journey towards Islamabad.
The sit-in leaders would daily organise a gathering within the camps between 7 to 10pm at night where participants would recite Quran and Naat. Some would deliver speeches to keep the participants charged for their cause.
Abideen said 150 large and some 110 small camps had been set up for the participants in and around the park.
The internet services in Wazirabad city and its adjoining rural areas have been suspended for the last 10 days, causing a great deal of inconvenience to the locals.
Source: Dawn
Please click the following URL to read the full text of the original story:
https://www.dawn.com/news/1656279/tlp-keeps-its-marchers-engaged-in-wazirabad-with-proper-arrangements
--------
Southeast Asia
PAS sec-gen: Don't question party leaders, even an underdog football team can succeed by following manager's tactics
06 Nov 2021
BY RADZI RAZAK
KUALA LUMPUR, Nov 6 ― PAS secretary-general Datuk Seri Takiyuddin Hassan has today told PAS members at its 67th muktamar or annual congress to trust, adhere and follow instructions from top leadership without question.
Using the analogy of football, he compared party president Datuk Seri Abdul Hadi Awang and other leaders as managers and coaches of a team while he is the "kit manager" who oversees the jerseys and boots for the team.
"You, the ladies and gentlemen perform roles in their respective positions whether as defenders, midfielders or strikers.
"In the history of football, many teams lose when players act like coaches.
"However there are many underdog teams, no star player succeeds when players are disciplined according to the coach's instructions," he told delegates in Kuala Terengganu.
The event is also live-streamed.
Previously there were murmurs of discontent from the PAS members who voiced their discontent with the party's decision since the leadership decided they would not contest in the Sabah state election last year.
Source: Malay Mail
Please click the following URL to read the full text of the original story:
https://www.malaymail.com/news/malaysia/2021/11/06/pas-sec-gen-dont-question-party-leaders-even-an-underdog-football-team-can/2018825
--------
India
Pak denies visas to Hindus wishing to travel with Sikh jathas, claim Sikh groups
Yudhvir Rana
Nov 6, 2021
AMRITSAR: Various Sikh societies in India have alleged that Pakistan High Commission in Delhi often rejects visas of Hindus who apply for pilgrimage to Pakistan along with Sikh jathas, which is unfortunate.
While talking to TOI on Friday, Harpal Singh Bhullar, president of Bhai Mardana Yadgari Kirtan Darbar Society, said a large number of Hindu followers apply for visas to Pakistan for paying obeisance at various Sikh shrines in the neighboring country but are disappointed after being denied the documents.
"This time also I have applied for visas for 16 Hindus who aspire to travel along with a Sikh jatha to Pakistan to celebrate the birth anniversary of Guru Nanak Dev but I am not sure that they will be given the visas," said Bhullar.
The leader of another Sikh group who also takes jathas to Pakistan told TOI on condition of anonymity that when they took up the issue with the officials of the Pak High Commission in Delhi, they threatened they "will deny visas to two Sikh applicants for every Hindu applicant".
Sources said that a total of 3,250 people have applied for visas to Pakistan for the upcoming Guru Nanak jayanti celebrations, however, as per the protocol agreement, a total of 2,500 visas would be issued.
Sources added that Pakistan had always been making attempts to create a wedge between Hindus and Sikhs since "it has lent support to Khalistan movement, which is spearheaded by a handful of Sikh militants". "Denying visas to Hindus who wish to travel along with Sikh jathas is part of Pak ISI's anti-India plan and they have been successfully executing the same," said a source.
"We have decided to take up the issue with Pakistan Sikh Gurdwara Parbandhak Committee president Aamir Singh to press the Pakistani government for issuing liberal visas to Hindu followers for pilgrimage along with Sikh jathas," the source said.
Besides Shiromani Gurdwara Parbandhak Committee (SGPC) and Delhi Sikh Gurdwara Parbandhak Committee, small Sikh groups from Amritsar, Chabhal, Dabwali, Jammu, Bathinda etc. also send jathas to Pakistan every year on different religious occasions.
Chief secretary of SGPC Harcharan Singh Dhami said that the Pakistan High Commission "had their own criteria for issuing visas, which are not known to us".
He added that the pilgrims had to get themselves both doses of Covid-19 vaccination, besides they should be carrying negative Covid test report, issued not more than 72 hours before crossing the border.
Source: Times of India
Please click the following URL to read the full text of the original story:
https://timesofindia.indiatimes.com/india/pak-denies-visas-to-hindus-wishing-to-travel-with-sikh-jathas-claim-sikh-groups/articleshow/87548238.cms
--------
India confirms Afghanistan conference, slams Pakistan for 'pernicious' role
Sachin Parashar
Nov 6, 2021
NEW DELHI: India will host a NSA-level conference, Delhi Regional Security Dialogue, on Afghanistan on November 10, the government confirmed Friday. While a formal response to India's invite is still awaited from China and Pakistan, official sources said there had been an "overwhelming response" to India's initiative with Russia, Iran and for the first time all central Asian countries, including the ones which don't share a boundary with Afghanistan, confirming participation.
Official sources also slammed Pakistan for indicating it won't attend the in-person conference that will be chaired by NSA Ajit Doval and said the recent remarks by Islamabad, including the one by Pakistan NSA Moeed Yusuf in which he described India as a spoiler, were an unsuccessful attempt to deflect attention from its pernicious role in Afghanistan.
"Pakistan has indicated through the media that it will not attend. Pakistan's decision is unfortunate, but not surprising. It reflects its mindset of viewing Afghanistan as its protectorate," said a government source on Islamabad's refusal to participate, adding Pakistan had not attended the previous meetings of the format.
Russian NSA Nikolay Patrushev's participation is of particular significance for India because of Moscow's leading role in formulating an international response to the situation in Afghanistan. The government sees the "enthusiastic" high-level participation in the conference, which was first reported by TOI on October 16, as a manifestation of the importance attached to India's role in regional efforts to promote peace and security in Afghanistan.
China though has been quiet on the issue it seems unlikely at this stage that it will even join the conference virtually. Pakistan's reluctance to participate in the conference also doesn't bode well for India's proposal to deliver 50,000 MT wheat to Afghanistan through the land route via the Wagah-Attari border. Islamabad is yet to accede to the proposal.
Source: Times of India
Please click the following URL to read the full text of the original story:
https://timesofindia.indiatimes.com/india/indias-nsa-level-afghanistan-meet-on-nov-10-pak-stance-slammed/articleshow/87546133.cms
--------
Terrorists flee after brief firefight with forces at Jhelum valley medical college hospital in Srinagar: Police
M Saleem Pandit
Nov 6, 2021
SRINAGAR: In a significant development, terrorists managed to escape from Jhelum valley medical college hospital at Bemina on Friday afternoon when security forces surrounded to apprehend the terrorists
However, the terrorists, who according to sources, had come for medical treatment to the hospital escaped after exchanging fire briefly with the security forces, police said here.
Srinagar police in a Tweet said that there was a brief exchange of fire between militants and security forces at SKIMS (JVC) hospital at Bemina in Srinagar.
Police also said that the terrorists managed to escape, taking advantage of the civilian presence in the hospital.
"There was a brief firefight between terrorists and security forces at SKIMS Hospital, Bemina. Terrorists managed to escape taking advantage of civilian presence," Srinagar police Tweeted.
However, one civilian identified as 19 year Masood Ahmad(19) resident of Doda, received bullet injuries in the right arm and leg and is currently being treated at JVC hospital.
This second time that the terrorists escaped from the hospital. A Pakistani terrorist namely Naveed Jhatt on February 6. 2018 escaped from police custody from SMHS hospital where he was got by the jail authorities for treatment. The Pakistani terrorists were helped by local Lashkar-e-Taiba terrorists in the mission to escape from the police custody.
Jatta, a top Lashkar terrorist killed two cops of J&K police namely constable Mushtaq Ahmad and constable Babar Ahmad. However, Jatt was also killed in an encounter along with his accomplice later in November 2018
Source: Times of India
Please click the following URL to read the full text of the original story:
https://timesofindia.indiatimes.com/india/terrorists-flee-after-brief-firefight-with-forces-at-jhelum-valley-medical-college-hospital-in-srinagar-police/articleshow/87547577.cms
--------
Friday namaz takes place at fewer sites amid fear in Gurgaon
Pheroze L. Vincent
06.11.21
Friday namaz took place at fewer locations in Gurgaon with worshippers avoiding spots where pujas were held, at a time Hindutva and residents' groups have opposed Friday prayers in open spaces.
After a tripartite meeting between deputy commissioner Yash Garg with Muslim and Hindu representatives earlier this week, the administration had withdrawn consent to eight of the 37 sites where Friday prayers were offered in places where mosques are not available.
The 37 sites, which include three Muslim institutions, had been earmarked by the administration in 2018 after protests by Hindutva groups. Prior to this, Friday and Id prayers were offered at 106 open spaces in Gurgaon in addition to mosques, almost all of which are in the city's older parts.
On Friday, Hindutva groups organised Govardhan Puja at three grounds where Jumma namaz takes place. Muslims withdrew from there.
At the largest such puja in Sector 12A, Vishwa Hindu Parishad joint general secretary Surendra Jain said: "The administration has asked us for a few weeks and said that it (namaz in open spaces) would be gradually decreased. But we don't believe the assurance. If they do so, then it is good or we will take to the streets."
Haryana, where Gurgaon is located, is ruled by the BJP. Union home minister Amit Shah launched his party's Assembly poll campaign in Uttarakhand last week by attacking the Congress for allegedly allowing Friday prayers on a highway.
Gurgaon police have been providing protection to open-air Jumma namaz following disruptions by Hindutva groups and residents' welfare associations since September 17. These groups had used loudspeakers and played Hindu devotional songs while the namaz took place.
A leader of the protests, Dinesh Bharti, was taken into preventive detention. However, the administration this week asked Muslim representatives at the meeting to keep off eight sites.
One Muslim representative, Altaf Ahmad, told The Telegraph on Friday: "There are three sites where Jumma namaz did not happen, Sector 12, Sector 47 and Sector 18. Rest, namaz happened peacefully although there was a lot of fear. Caution was exercised by the Muslims to not have any sort of confrontation with the vigilante groups."
"At the three sites, Govardhan Puja was happening; hence we voluntarily stepped back, as advised by the police on the ground," he added.
Source: Telegraph India
Please click the following URL to read the full text of the original story:
https://www.telegraphindia.com/india/friday-namaz-takes-place-at-fewer-sites-amid-fear-in-gurgaon/cid/1837469
--------
Plain hatred towards Muslims, says AIMIM chief Asaduddin Owaisi on protests against namaz in Gurugram
Himanshu Mishra
November 5, 2021
Reacting to the protests against namaz being offered in the open in Haryana's Gurugram, Asaduddin Owaisi took to Twitter on Friday and stated that it was a case of "plain hatred towards Muslims".
All India Majlis-e-Ittehad-ul-Muslimeen president Asaduddin Owaisi said that the protests were a perfect example of "how radicalised these 'protesters' have become". He asked, "How's practising my faith or offering jumah namaz once a week for 15-20 minutes hurting anyone?"
For a few months now, various Hindu outfits and some locals have been protesting against the offering of namaz in open spaces in Gurugram. On many occasions, there have been attempts to disrupt the Friday prayers, leading to protesters being detained.
In 2018, the district administration had designated 37 sites in the city for Muslims to offer Friday namaz after consultation with the Hindu and Muslim communities.However, the protesters have been objecting to this.
On Friday, the Gurugram administration withdrew permission for namaz at eight of the 37 designated sites in the city. The administration cited "objection from local residents and resident welfare associations" as the reason for revoking permission.
In his tweet, Asaduddin Owaisi attached the link to an Al Jazeera report about the administration having revoked the permission that was granted in 2018.
After the permission was revoked at eight sites, Hindu group Sanyukt Hindu Sangarsh Samiti conducted Govardhan Puja and Annkoot Puja on what used to be a designated namaz site in Sector 12 of Gurugram on Friday. BJP leader Kapil Mishra attended the puja.
Source: India Today
Please click the following URL to read the full text of the original story:
https://www.indiatoday.in/india/story/plain-hatred-towards-muslims-aimim-asaduddin-owaisi-protests-namaz-gurugram-1873536-2021-11-05
--------
Muslim Unity Conference Held in Kashmir, India
November 6, 2021
A large number of Shia and Sunni scholars of the region took part in the gathering, held in the city's Shalimar District.
"Unity of the Ummah and Holy Prophet's (PBUH) Heritage" was the title of the conference.
It concluded with prayer for unity in the Muslim world.
Islam is the major religion which is practiced in Kashmir, with 97 percent of the region's population identifying as Muslims.
Source: ABNA24
Please click the following URL to read the full text of the original story:
https://en.abna24.com/news//muslim-unity-conference-held-in-kashmir-india_1195877.html
--------
Arab World
Clashes in Baghdad hurt 30 as Iran-aligned parties dispute Iraq vote results
05 November ,2021
Clashes in Baghdad between Iraqi security forces and supporters of parties that are disputing the results of an October general election injured more than two dozen people on Friday, police sources and health workers said.
It was the first significant violent clash between government forces and supporters of the political parties, most of which have armed wings and are aligned with Iran, since those groups lost dozens of parliament seats after the Oct. 10 vote.
For the latest headlines, follow our Google News channel online or via the app.
Police fired tear gas and live ammunition into the air as scores of the protesters threw stones and tried to advance towards Baghdad's fortified Green Zone, which houses government buildings and foreign embassies, the security sources said.
More than 21 protesters were hurt mostly from smoke inhalation and another nine policeman injured from being pelted by stones, the hospital sources said.
The parties that made the biggest gains in Iraq's October election include that of populist Shia Muslim cleric Moqtada al-Sadr, who publicly opposes Iranian interference in Iraqi politics and has called for all remaining Western troops to withdraw from the country.
The Iran-backed groups disputing the election result are also Shia but follow an Iranian model of theocratic governance which the nationalist Sadr and many ordinary Iraqi Shia reject.
Source: Al Arabiya
Please click the following URL to read the full text of the original story:
https://english.alarabiya.net/News/middle-east/2021/11/05/Clashes-in-Baghdad-hurt-30-as-Iran-aligned-parties-dispute-Iraq-vote-results
--------
Iraqi security forces clash with pro-Iran protestors in Baghdad
05 November ,2021
Hundreds of supporters of pro-Iran groups clashed with security forces in Iraq's capital Friday, expressing their fury over last month's election result, AFP journalists and a security source said.
Demonstrators from groups loyal to the Hashed al-Shaabi, the Iranian-backed Popular Mobilization Units (PMU) militias, threw projectiles and "blocked... access to the (high-security) Green Zone" on three sides, before they were pushed back by police who fired in the air, a security source said, requesting anonymity.
Source: Al Arabiya
Please click the following URL to read the full text of the original story:
https://english.alarabiya.net/News/middle-east/2021/11/05/Iraqi-security-forces-clash-with-pro-Iran-protestors-in-Baghdad
--------
Kuwait nominates former governor Haitham al-Ghais as new OPEC chief: Sources
05 November ,2021
Kuwait has nominated its former governor to the Organization of the Petroleum Exporting Countries (OPEC), Haitham al-Ghais, to lead the oil producer group after Mohammad Barkindo's term as secretary general, two sources close to the matter said.
Nigerian Barkindo, whose is due to step down at the end of July next year, took OPEC's top job in mid-2016 and was granted a second three-year term in 2019.
Al-Ghais is the only candidate to be nominated so far, the sources said.
Al-Ghais stepped down as Kuwait's OPEC governor in June this year and was appointed deputy managing director of international marketing at state-owned Kuwait Petroleum Corporation (KPC).
Source: Al Arabiya
Please click the following URL to read the full text of the original story:
https://english.alarabiya.net/business/energy/2021/11/05/Kuwait-nominates-former-governor-Haitham-al-Ghais-as-new-OPEC-chief-Sources
--------
Mideast
Israeli troops raid al-Aqsa's Dome of Rock after razing mosque
05 November 2021
The Palestinian Ministry of Endowment and Religious Affairs has condemned the Israeli regime over demolition of a mosque in the northern part of the occupied West Bank, describing the move a "clear attack on the holy sites and religious places for Muslims."
Husam Abu al-Rub, undersecretary of the ministry, slammed the demolition, saying it "violates international and humanitarian norms."
"This act is a clear challenge to the feelings of Muslims, and it requires us to take a serious stand to prevent its recurrence and the expansion of this occupation that spares no opportunity to push the entire region into a religious war, in its continuous encroachment on our Islamic sanctities," he said in a statement.
Abu al-Rub called on the international community and religious institutions to prevent further "violations of our sanctities and places of worship."
According to Ghassan Daghlas, a Palestinian official who monitors Israeli settlement activities and settler aggression in the West Bank, Israeli forces on Thursday morning escorted a bulldozer into the town of Douma and razed the mosque to the ground.
Daghlas added that the mosque was built two years ago on a Palestinian-owned piece of land.
He noted that Israeli forces also destroyed farm roads in the southern part of the town.
Suleiman Dawabsheh, head of the local council in Douma, said the demolished mosque spread over 60 square meters, and residents of the town frequently visited the mosque for prayers.
The official said the Israeli army razed the mosque on the grounds that it was built on an area classified as Area C without a permit.
Area C of the West Bank constitutes about 61 percent of the territory. Under the 1995 Oslo Accords between Israel and the Palestinian Authority (PA), control of the area was supposed to be gradually handed over to the PA. Instead, Israel retains total control until today.
Area C is currently home to 300,000 Palestinians, the vast majority of whom are Bedouins and herding communities who predominantly live in tents and caravans and caves.
According to the United Nations Office for the Coordination of Humanitarian Affairs (OCHA), Israeli forces demolished at least 698 Palestinian-owned structures and displaced 949 Palestinians in Area C of the West Bank and East al-Quds since the beginning of this year.
Israeli forces storm Dome of the Rock at al-Aqsa Mosque
Separately, Israeli forces stormed the Dome of the Rock at the al-Aqsa Mosque compound on Thursday in order to prevent maintenance work.
The Palestinian Information Center, citing local sources, reported that Israeli police officers tried to prevent electrical maintenance work by the Reconstruction Committee.
The report added that altercations took place between the director of the Reconstruction Committee, Bassam al-Hallaq, and Israeli police, who threatened to take him to a detention center in al-Quds.
At least 126 extremist Jewish Israeli settlers stormed al-Aqsa Mosque on Thursday morning and carried out tours in its courtyards.
They performed Talmudic rituals at the site, which is venerated by Jews, Christians and Muslims.
Hardline Israeli legislators and settlers regularly storm the al-Aqsa Mosque compound in the occupied city, a provocative move that infuriates Palestinians. Such mass settler break-ins almost always take place at the behest of Tel Aviv-backed temple groups and under the auspices of the Israeli police in al-Quds.
The al-Aqsa Mosque compound, which sits just above the Western Wall plaza, houses both the Dome of the Rock and the al-Aqsa Mosque.
The Jewish visitation of al-Aqsa is permitted, but according to an agreement signed between Israel and the Jordanian government in the wake of Israel's occupation of East Jerusalem al-Quds in 1967, non-Muslim worship at the compound is prohibited.
Back in May, frequent acts of violence against Palestinian worshipers at the al-Aqsa Mosque led to an 11-day war between Palestinian resistance groups in the besieged Gaza Strip and the Israeli regime, during which the regime killed at least 260 Palestinians, including 66 children.
Palestinians want the occupied West Bank as part of their future independent state and view al-Quds' eastern sector as the capital of their future sovereign state.
ICC: Israel systematically targets Palestinian journalists
Additionally, a group of lawyers said in a complaint filed with the International Criminal Court on Wednesday that Israel is systematically targeting journalists to prevent their coverage of human rights violations in the occupied territories.
The lawyers are working on behalf of four Palestinian journalists, identified as Ahmed Abu Hussein, Yaser Murtaja, Muath Armaneh and Nedal Eshtayeh, who were either killed or maimed by Israeli snipers while reporting Great March of Return demonstrations in the Gaza Strip.
Source: Press TV
Please click the following URL to read the full text of the original story:
https://www.presstv.ir/Detail/2021/11/05/669972/Palestine-slams-Israel%E2%80%99s-mosque-demolition-as-clear-attack-on-holy-sites-for-Muslims
--------
Turkish man fined for calling Erdoğan 'a Jew pretending to be a Muslim'
By MICHAEL DAVENTRY
November 5, 2021
A Turkish man has been convicted of insulting the country's president Recep Tayyip Erdoğan after calling him a "Jew pretending to be a Muslim" on Facebook.
Yüksel Üstün was initially jailed after being convicted on Thursday of breaking a law that makes it a criminal offence to insult the president's "honour, pride and respectability".
Lawyers for Erdoğan, a pious Muslim, had argued it was "belittling" to describe him as a Jew.
The conviction came despite Üstün's lawyer Baran Güneş arguing the remark could not possibly be an insult.
"Jews are honoured citizens of this country. It is not a crime to call someone a gypsy or a Jew," he told the court, according to Deutsche Welle.
But judges initially handed Üstün a 10-month prison term, before reducing the sentence to a 7,000 Turkish lira (£535) fine.
Insulting the president is a longstanding criminal offence in Turkey but Erdoğan, who was first elected to the position in 2014, has a reputation for being exceptionally litigious.
A study commissioned by the opposition Republican People's Party (CHP) in August found he had launched 38,581 cases for defamation in the courts in his first six years in office.
Just 1,138 cases had been filed in the previous decade, the study found.
It is unclear if Erdoğan was aware of the specific case involving Yüksel Üstün.
Source: Jewish News
Please click the following URL to read the full text of the original story:
https://jewishnews.timesofisrael.com/turkish-man-fined-for-calling-erdogan-a-jew-pretending-to-be-a-muslim/
--------
AEOI Spokesman: Iran's 20 Percent Enriched Uranium Stockpile Surpasses 210 Kilogram
2021-November-5
According to the Parliament's 'Strategic Action Plan to Counter Sanctions and Protect Rights of the People' law, we were tasked with producing 120 kg of 20-percent enriched uranium, while now we have exceeded 210 kilogram," Kamalvandi said.
He also added that the AEOI has already produced 25kg of 60-percent enriched uranium.
Source: Fars News Agency
Please click the following URL to read the full text of the original story:
https://www.farsnews.ir/en/news/14000814000344/AEOI-Spkesman-Iran's-20-Percen-Enriched-Uranim-Sckpile-Srpasses-20
--------
Finnish charity cuts ties with Palestinian NGO accused by Israel of aiding militants
05 November ,2021
A Finnish Christian missionary group has cut ties with a Palestinian children's rights NGO which Israel labelled a terrorist organization, the charity's executive director said, citing concerns about possible banking sanctions.
Defense for Children International-Palestine (DCIP) is one of six Palestinian groups Israel accused of funneling donor aid to militants. It rejects the charge and says it has asked the missionary society Felm to reconsider cutting funds.
Israel says the six accused groups have close ties to the Popular Front for the Liberation of Palestine (PFLP), which has carried out deadly attacks on Israelis and is on US and EU terrorism blacklists.
Felm executive director Rolf Steffansson said his organization had seen no evidence its funding had been misused.
"We have actively monitored the use of the money and it has been used for work advancing children's rights," Steffansson, whose organization provided DCIP with 30,000 euros annually from 2015 to 2021, told Reuters.
But the Israeli designation had made it impossible to maintain ties with the group, Steffansson added.
"It could have impacted the work we do in 30 countries through banking services for example," he said.
DCIP, which relies on European aid to fund its advocacy and rights monitoring work in the Israeli-occupied West Bank and Gaza, told Reuters no other donors had moved to cut off funding since the Israeli designation.
"We have been subject to escalating delegitimization and disinformation campaigns advanced by an international network of extremist groups with the support of Israeli government ministries," DCIP Director General Khaled Quzmar said via a lawyer.
Felm operates under the Evangelical Lutheran Church of Finland and receives part of its funding from the Finnish foreign ministry. None of that money has been channeled to DCIP, Steffansson and Finnish Foreign Minister Pekka Haavisto told Reuters.
Source: Al Arabiya
Please click the following URL to read the full text of the original story:
https://english.alarabiya.net/News/middle-east/2021/11/05/Finnish-charity-cuts-ties-with-Palestinian-NGO-accused-by-Israel-of-aiding-militants
--------
Palestinian teen killed by Israeli troops in West Bank clash: Health ministry
05 November ,2021
Israeli troops shot and killed a 13-year-old Palestinian boy during clashes in the occupied West Bank on Friday, the Palestinian health ministry said.
There was no immediate comment from the Israeli military on the incident, which occurred east of the city of Nablus in the central West Bank.
The boy was shot in the abdomen and died soon after being rushed to hospital, the health ministry and medics said.
Six other Palestinians were treated at the scene of the clashes in the village of Beit Dajan after inhaling tear gas launched by Israeli troops, the Palestine Red Crescent ambulance service said.
Source: Al Arabiya
Please click the following URL to read the full text of the original story:
https://english.alarabiya.net/News/middle-east/2021/11/05/Palestinian-teen-killed-by-Israeli-troops-in-West-Bank-clash-Health-ministry
--------
Palestinian prisoner released after 19 years in Israeli jails
05 November 2021
A Palestinian prisoner has finally been released from captivity after spending 19 years in the Israeli regime's jails.
Israeli authorities released Majdi Hussein al-Qubaisi on Thursday. He was arrested in November 2002 when his family's house was stormed by Israeli forces in the village of Abwein, located north of the city of Ramallah in the occupied West Bank.
The occupying regime accused Qubaisi at the time of belonging to the Ezzedine al-Qassam brigade, the armed wing of the Palestinian resistance movement Hamas, and participating in attacks on Israeli settlers' cars near Ramallah.
The prisoner was subjected to harsh interrogations for more than two months, during which he faced the most severe forms of torture and abuse.
Before his arrest, Qubaisi was studying computer engineering at Birzeit University but the Israeli authorities prevented him from completing his education and denied his family visits for years.
The unjust sentence and the violations against Qubaisi did not affect his resolve as he embarked on studying and writing in prison, and decided to memorize the entire Holy Qur'an within nine months in 2008.
More than 7,000 Palestinians are reportedly held in Israeli jails. Hundreds have been incarcerated under the practice of administrative detention.
Some Palestinian prisoners have even been held in administrative detention for up to eleven years.
Last month, hundreds of Palestinians held in Israeli prisons went on a hunger strike in protest against an intensified Israeli crackdown on Palestinian detainees that took place following the escape of six inmates from a maximum-security Israeli jail on September 6.
The hunger strike, which began on October 13, was suspended nine days later after the Palestinian Islamic Jihad resistance movement declared "victory" over the Israel Prison Service.
Source: Press TV
Please click the following URL to read the full text of the original story:
https://www.presstv.ir/Detail/2021/11/05/669999/Palestinian-prisoner-Majdi-Hussein-al-Qubaisi-Israeli-regime-jails-Ramallah-West-Bank
--------
Europe
Algerian president rules out normalizing relations with France
Abbas Mimouni
06.11.2021
Algerian President Abdelmadjid Tebboune has ruled out resuming normal relations with France due to what he described as "very dangerous" statements by President Emmanuel Macron.
Tebboune's remarks came during an interview with the German newspaper Der Spiegel at the presidential palace in Algiers published on Friday.
"No Algerian would accept that I resumed contacts with those who hurled such insults," the Algerian president responded when asked whether relations between Algiers and Paris will return to normal soon.
Since late September, tensions have escalated between Algeria and France over remarks made by Macron that the Algerian nation did not exist before the French colonial rule and that another colonization preceded that by his own country, sparking a storm of condemnations in Algeria.
In a bid to palliate its atrocious colonial past, Macron claimed that "there was a colonization before the French colonial rule" in Algeria, alluding to the Ottoman presence in the country between 1514 and 1830.
Algeria responded by recalling its ambassador in Paris and banning French military aircraft from using Algerian airspace on Oct. 3.
Source: Anadolu Agency
Please click the following URL to read the full text of the original story:
https://www.aa.com.tr/en/africa/algerian-president-rules-out-normalizing-relations-with-france/2413568
--------
Coup puts into question Sudan's debt cancellation: France
05 November ,2021
The coup in Sudan puts into doubt the process that would have seen France cancel some $5 billion debt it was owed by the African country, France's foreign ministry said on Friday, the latest power to pressure military leaders who seized power.
France, Sudan's second-largest creditor, has been a main actor in backing the interim authorities after former President Omar al-Bashir was ousted in 2019, but the civilian transition was derailed in October when the military took control.
Speaking to reporters in a daily briefing on Friday, Foreign ministry spokeswoman Anne-Claire Legendre said Paris had been an "unwavering" partner for Sudan and that the general debt cancellation program as part of the Heavily Indebted Poor Countries (HIPC) initiative was agreed at a conference in Paris in May.
"A Paris Club agreement was reached on July 15, each creditor now having to sign a bilateral agreement with Sudan," Legendre told reporters, responding to a question on whether Paris was reviewing its debt cancellation promise.
"It is clear that the military coup of October 25 calls into question this process."
Source: Al Arabiya
Please click the following URL to read the full text of the original story:
https://english.alarabiya.net/News/middle-east/2021/11/05/Coup-puts-into-question-Sudan-s-debt-cancellation-France
--------
UN Security Council calls for ceasefire in Ethiopia
06 November ,2021
The UN Security Council called on Friday for a ceasefire in Ethiopia, expressing "deep concern" as Tigrayan fighters threatened to advance an assault on the capital Addis Ababa.
"The members of the Security Council expressed deep concern about the expansion and intensification of military clashes in northern Ethiopia," the UNSC said in a statement.
"They further call to put an end to hostilities and to negotiate a lasting ceasefire."
The Tigray People's Liberation Front (TPLF) formed an alliance with eight other anti-government factions to oust Prime Minister Abiy Ahmed's government, the latest development in a year-long war that has claimed the lives of thousands and displaced more than two million people.
Tigrayan and allied forces have threatened to march on Addis Ababa.
The Ethiopian army is preparing for a confrontation and has asked retired military personnel to rejoin the army to fight the Tigrayan forces.
The international community has renewed calls for a ceasefire. US Secretary of State Antony Blinken said on Thursday: "We call on the Government of Ethiopia to halt its military campaign, including air strikes in population centers in Tigray and mobilization of ethnic militias."
Source: Al Arabiya
Please click the following URL to read the full text of the original story:
https://english.alarabiya.net/News/world/2021/11/06/UN-Security-Council-calls-for-ceasefire-in-Ethiopia
--------
UN rights chief urges restored civilian rule after Sudan military takeover
Peter Kenny
05.11.2021
GENEVA
The military takeover in Sudan is "deeply disturbing" and that the civilian rule should urgently be restored, the UN human rights chief said Friday.
Michelle Bachelet was speaking at a special session of the UN Human Rights Council on the implications of the ongoing situation in Sudan following the Oct. 25 coup in the northeastern African country.
This, she said, "recalled a somber page in the country's history when freedom of expression was stifled, and human rights were comprehensively repressed."
"It betrays the courageous and inspiring revolution of 2019, and contravenes both international human rights law, as well as the country's own constitutional document and other foundational documents of the transition," Bachelet said in Geneva.
The special request for the session was made by the UK, US, Norway and Germany, and supported by more than 45 nations which noted the decision of the African Union Peace and Security Council to suspend Sudan from participation in all AU activities following the military takeover.
They are calling on the Sudanese military to engage in dialogue with civilian leaders to enable the immediate re-establishment of the transitional government of Sudan.
Nations such as China, Russia and Venezuela opposed the holding of the session, saying it infringed on Sudan's sovereignty.
"Numerous people – including government ministers, members of political parties, lawyers, civil society activists, journalists, human rights defenders, and protest leaders – have been arrested and detained," said Bachelet.
She recalled that the UN Security Council called last week for the immediate release of all those arrested and detained since the military takeover, saying this is essential for starting urgently needed dialogue and a swift return to civilian rule.
"Massive street protests since Oct. 25 have in several instances met with excessive use of force, including use of live ammunition," said Bachelet.
Source: Anadolu Agency
Please click the following URL to read the full text of the original story:
https://www.aa.com.tr/en/europe/un-rights-chief-urges-restored-civilian-rule-after-sudan-military-takeover/2413251
--------
Africa
UN Security Council voices 'deep concern' over Ethiopia escalation; calls for ceasefire
06 November 2021
The United Nations Security Council has expressed "deep concern" over the escalation of fighting in Ethiopia, calling for a ceasefire and the initiation of peace talks in the restive northern region of Tigray.
"The members of the Security Council expressed deep concern about the expansion and intensification of military clashes in northern Ethiopia," the 15-member body said in a joint statement on Friday.
"They further called to put an end to hostilities and to negotiate a lasting ceasefire and for the creation of conditions for the start of an inclusive Ethiopian national dialogue to resolve the crisis."
The council also expressed concern over the humanitarian situation and national stability, and "reaffirmed their strong commitment to the sovereignty, political independence, territorial integrity and unity of Ethiopia."
A public meeting of the United Nations Security Council on the Ethiopia issue is set to be held on Monday.
The UNSC issued the statement as members of the rebel Tigray People's Liberation Front (TPLF) have threatened to march on the capital Addis Ababa, a year into the fighting, prompting Ethiopia to declare a six-month state of emergency.
Tigray has been the scene of conflict since November 2020, when Prime Minister Abiy Ahmed sent troops there to topple the TPLF in response to attacks on army camps.
Three weeks later, the government declared victory when it gained control of the regional capital, Mekelle. However, the TPLF forces resumed fighting later and retook Mekelle and most of Tigray at the end of June after the government withdrew its soldiers and declared a ceasefire.
The fighting has continued since then.
The conflict between Ethiopian troops and TPLF has raised fears of a more devastating humanitarian crisis in a region the United Nations says is already in the grip of famine following a yearlong conflict.
Tigray is under a de facto blockade that is preventing most aid from getting in, according to the UN. Ethiopian authorities and the TPLF have blamed each other for obstructing deliveries. Ethiopian officials also accuse the international community of ignoring alleged abuses by the TPLF.
The conflict in Tigray has killed thousands of people and pushed 400,000 people to the brink of famine, according to analyses by UN agencies and aid groups. Ethiopia's government, however, has disputed those claims.
Abiy's government has faced criticism over the conflict, notably from the US, a longtime ally, with President Joe Biden signing an executive order allowing for sanctions against the warring parties if they fail to commit to a negotiated settlement.
Source: Press TV
Please click the following URL to read the full text of the original story:
https://www.presstv.ir/Detail/2021/11/06/670024/United-Nations-Security-Council-deep-concern-Ethiopia-ceasefire-Tigray
--------
Sudan FM calls for trial of coup leaders by International Criminal Court
06 November 2021
Sudan's ousted foreign minister Mariam al-Sadiq al-Mahdi has demanded the military leaders of the October military coup to be brought to justice in the International Criminal Court (ICC).
Al-Mahdi, in a statement addressed to the UN Human Rights Council on Friday, said, "Coups are crimes that fall under the jurisdiction of the International Criminal Court."
In the statement published on Sudan's information ministry Facebook page, she referred to Article 8 of the ICC's Rome Statute in making her argument for the criminalization of the coup as a "war crime".
Al-Mahdi, one of the few members of the government not to have been arrested by the military, has been a vocal critic of the coup.
Her comments came as the UN Human Rights Council convened a special session in Geneva on Friday to discuss a draft resolution condemning the military takeover in Sudan presented by Britain, Germany, Norway and the United States.
The resolution calls for "the immediate restoration" of the civilian-led government and "and the release of all those detained arbitrarily, since the takeover began."
The council did not release her statement that was only posted online by Sudan's ministry of information, which is still loyal to Hamdok's government.
On October 25, a military coup was staged and Sudan's top general, Abdel Fattah al-Burhan, dissolved the cabinet and the ruling military-civilian sovereign council. He also declared a state of emergency and put Prime Minister Abdalla Hamdok under an effective house arrest, while detaining other leading members of his government.
Before the military coup, the African country was ruled by a transitional government that was installed in the aftermath of the ouster of president al-Bashir in a palace coup two years ago. The military shared power with civilians in a transitional authority since the removal of al-Bashir in 2019 in a popular uprising after three decades in power.
In the recent weeks, the military has been mounting a harsh crackdown on protesters, who have been taking to the streets after Sudan's main opposition coalition called for civil disobedience and protests across the country hours after the apparent military coup.
Source: Press TV
Please click the following URL to read the full text of the original story:
https://www.presstv.ir/Detail/2021/11/06/670021/Sudan-FM-call-coup-justice
--------
UN rights chief calls on Sudan's military leaders to 'step back'
05 November 2021
United Nations High Commissioner for Human Rights Michelle Bachelet has described the recent military coup in Sudan as "deeply disturbing," calling on the country's military leaders to "step back," amid a deepening political crisis in the African country.
Bachelet made the remarks at an emergency session of the Human Rights Council in Geneva on Friday, following a request from Britain, Germany, Norway, and the United States to discuss a draft resolution condemning the military takeover in Sudan.
"I urge Sudan's military leaders, and their backers, to step back in order to allow the country to return to the path of progress towards institutional and legal reforms," she said, stressing that it was "urgent to restore civilian rule."
The UN rights chief further denounced the arrest of politicians, journalists and protesters, who she said were mostly being held "incommunicado, with no access to lawyers or their relatives."
Bachelet said, "All those arbitrarily detained should be released," emphasizing that their release was "essential for an inclusive dialog and a swift return to civilian rule."
She also called for an immediate end to the "disproportionate and deadly use of force" by the Sudanese armed forces as well as military police and intelligence elements, and condemned an internet shutdown and a communications blackout in Sudan.
On October 25, Sudan's top general, Abdel Fattah al-Burhan, dissolved the cabinet and the ruling military-civilian sovereign council. He also declared a state of emergency and put Prime Minister Abdalla Hamdok under an effective house arrest, while detaining other leading members of his government.
Since then, the military has been mounting a harsh crackdown on protesters, who have been taking to the streets after Sudan's main opposition coalition called for civil disobedience and protests across the country hours after the apparent military coup.
According to Bachelet, at least 13 people have been killed and more than 300 others have been injured since the army's power grab.
Meanwhile, the 47-member UN council will decide on the draft resolution presented by Britain, Germany, Norway, and the United States later in the day. The resolution calls for the appointment of a rights expert to monitor the situation in Sudan following the coup and prepare a written report in early 2022.
Bachelet called on diplomats in Geneva to "take appropriate action" to ensure "focused and expert monitoring."
Katharina Stasch, Germany's ambassador to the UN in Geneva, also called the resolution "an important step to ensure accountability for human rights violations committed."
Please click the following URL to read the full text of the original story:
https://www.presstv.ir/Detail/2021/11/05/669996/UN-rights-chief-calls-on-Sudan-military-leaders-to-step-back
--------
African Union condemns deadly terror attack in Niger
Addis Getachew Tadesse
05.11.2021
The African Union has condemned Tuesday's terrorist attack in Niger's southwestern region of Tillabery that killed 69 and injured several others.
"The Chairperson of the African Union Commission Moussa Faki Mahamat condemns in the strongest terms the terrorist attack," it said in a statement on Friday.
"The Chairperson reaffirms that this shocking new attack against civilians is a stark reminder of the urgent need for renewed regional and international support and solidarity with the governments and people of the Sahel Region in their fight against terrorism."
Source: Anadolu Agency
Please click the following URL to read the full text of the original story:
https://www.aa.com.tr/en/africa/african-union-condemns-deadly-terror-attack-in-niger/2412801
--------
North America
American Civil Liberties Union of Mississippi hopes to resolve Muslim mosque issue in Horn Lake out of court
November 6, 2021
According to the complaint filed by the American Civil Liberties Union of Mississippi, there are no Muslim mosques in DeSoto County leaving worshippers to drive to Memphis. Legal Director Attorney Joshua Tom says the two plaintiffs seeking to build one in Horn Lake, were denied a permit despite meeting and exceeding the the site plan requirements. He says the proposed mosque, the Abraham House of God, would be on a street already zoned for houses of worship.
"There's quite a few churches on Church Road that runs in Southaven and Horn Lake, so it's pretty interesting to drive down that road and see all the churches and you know ironic, they're not going to allow a similar house of worship on the same street," Tom said.
At an April 2021 meeting posted on Facebook, aldermen voted to support the planning commission's decision to deny the permit. Former Alderman John Jones expressed concerns about the mosque leading to more traffic and violating noise ordinances. He also had this to say.
"And if you let them build it they will come so I think we need to stop it before it gets here," Jones said.
Attorney Joshua Tom contends Jones remarks were based on anti-Muslim sentiment. He adds similar comments were made by community members at other city meetings.
Source: ABNA24
Please click the following URL to read the full text of the original story:
https://en.abna24.com/news//american-civil-liberties-union-of-mississippi-hopes-to-resolve-muslim-mosque-issue-in-horn-lake-out-of-court_1195880.html
--------
US forms task force to help diplomats, citizens evacuate Ethiopia after warning
06 November ,2021
The US has formed a task force to help organize and ensure the safe evacuation of American diplomats and citizens from Ethiopia as the situation quickly deteriorates, a State Department official said Friday.
Washington authorized what is known as voluntary departure for Embassy staff and their families from Addis Ababa earlier in the week, according to US officials.
"The Department has established an Ethiopia Conflict Task Force to oversee the Department's planning, management, and logistics related to events in Ethiopia," a State Department spokesperson told Al Arabiya English late Friday.
"The safety of US government personnel, their dependents, US citizens, and the security of our facilities remains among our highest priorities," the official added.
On Friday, the US Embassy posted a statement on its website urging all US citizens to leave the country as soon as possible.
But the official said the State Department does not provide numbers of American citizens living in or traveling to a particular country. "We do not want to provide figures that cannot be considered authoritative," the official said.
US-based Foreign Policy was first to report on the formation of the new task force.
Meanwhile, US Special Envoy for the Horn of Africa Jeffrey Feltman was in the country continuing his efforts to de-escalate tensions between government forces and Tigray People's Liberation Front (TPLF).
Source: Al Arabiya
Please click the following URL to read the full text of the original story:
https://english.alarabiya.net/News/world/2021/11/06/US-forms-task-force-to-help-diplomats-citizens-evacuate-Ethiopia-after-warning
--------
US senator moves against Turkish defence exports, Azerbaijan
Kasım İleri
05.11.2021
WASHINGTON
A senior US senator has proposed measures targeting Turkey's defense sector exports as well as aid to Azerbaijan.
New Jersey Senator Bob Menendez, chairman of the Senate Foreign Relations Committee, also known for this ties to the US' Greek and Armenian lobbies, on Thursday introduced measures to put Turkey's drone program under harsh scrutiny and deny any further aid to Azerbaijan.
Menendez' proposed changes to the National Defense Authorization Act (NDAA) seek to tighten US government tracking and reporting on the national security implications of Turkey's UAV (drone) exports and prevent further exceptions to bypass a 1992 law banning US military assistance to of Azerbaijan.
The senator has claimed that Turkey's drone sales are "dangerous, destabilizing and a threat to peace and human rights."
Mentioning how Turkish drones played a critical role in Azerbaijan's fall 2020 liberation of Nagorno-Karabakh from nearly 30 years of Armenian occupation, Menendez pointed out how Poland, a NATO member, Morocco and Ukraine, both allies of the West, also purchased Turkish drones.
Several other countries have expressed interest in purchasing Turkish drones, he said, including Angola, Niger, Nigeria, and Rwanda.
Menendez' proposed changes would require the US state and defense departments to probe whether Turkish drones contain US-made parts or technology. They would also require the State Department to determine whether Turkey's exports are a violation of the Arms Export Control Act or any other US law or sanctions.
On Azerbaijan, Menendez is pushing to stop any more exceptions to a 1992 law banning US military assistance to of Azerbaijan. The 1992 law in question bans most assistance to Azerbaijan "until it takes demonstrable steps to cease all blockades and other offensive uses of force against Armenia and Nagorno-Karabakh."
Liberation of Karabakh
Relations between the former Soviet republics of Armenia and Azerbaijan have been tense since 1991, when the Armenian military occupied Nagorno-Karabakh, also known as Upper Karabakh, a territory internationally recognized as part of Azerbaijan, and seven adjacent regions.
Source: Anadolu Agency
Please click the following URL to read the full text of the original story:
https://www.aa.com.tr/en/americas/us-senator-moves-against-turkish-defense-exports-azerbaijan/2412797
--------
URL: https://www.newageislam.com/islamic-world-news/taliban-militias-hazara-human-rights-watch/d/125722
New Age Islam, Islam Online, Islamic Website, African Muslim News, Arab World News, South Asia News, Indian Muslim News, World Muslim News, Women in Islam, Islamic Feminism, Arab Women, Women In Arab, Islamophobia in America, Muslim Women in West, Islam Women and Feminism