New Age Islam News Bureau
2 Oct 2015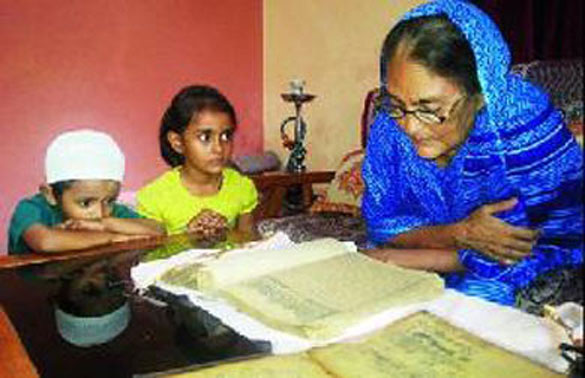 Shahin Akhtar and her family members with the copy of the Urdu Mahabharata in Lucknow
--------
South Asia
• Taliban Militants Committed Gang Rapes and Mass Murders in Kunduz
• Taliban Claim Shooting down Four-Engine US Aircraft in Afghanistan's Nangarhar Province
• 11 Killed In US C-130 Plane Crash in Afghanistan
• Taliban militants have reportedly captured Wardoj district of Badakhshan
• President Ghani wants proof for government's 5th pillar
• Taliban says shot down crashed US C-130 plane in Afghanistan
• Rising Rakhine Party Looming Threat to Myanmar's Muslim Minority
-------
Arab World
• Official: 250 Kurdish Militants within ISIL Ranks Killed
• 70 Wanted Militants Surrender in Syria
• Takfiris' Positions Targeted in Quneitra Countryside
• Iraq's Abadi Calls for End to Support for ISIL
• Riyadh raps Russian strikes
• Bahrain recalls envoy from Iran
-------
India
• Intelligence Alert of Possible Terror Strike in Congested Areas in Kolkata
• 300-yr-old Urdu Mahabharat in Lucknow home
• 3 Muslim parties enter Bihar, 3 others vow to thwart them
-------
Pakistan
• Pakistan Cancels First Comstech Summit over 'Security Concerns'
• 25 Terrorists Killed In Aerial Strikes in NWA
• Want Good Relations with India but Can't Compromise On Honour: COAS
• Three 'militant commanders' arrested from Peshawar's Badaber
• Pakistan asks India to pullout its troops from Kashmir
• Amnesty slams Taliban 'reign of terror' in Afghanistan's Kunduz
• Dossiers of Indian hand in terrorism handed over to UN chief: Aziz
-------
Mideast
• Curfew Declared In South-Eastern District of Silvan
• 44 People Including HDP Officials, Journalist Detained In Anti-Terrorism Raids
• Turkey, Coalition Partners, Call On Russia to Cease Syria Air Strikes
• Journalist Ahmet Hakan, hate target of President Erdogan's henchman, brutally attacked
• Palestinians shoot dead 2 Israelis in West Bank: Israel security
• Spokeswoman: Iran Supports Russia's Anti-Terrorism Operations in Syria
• Leader Asks Iranian Generals to Reinvigorate Forces as Deterrence to Enemy Aggression
• Tehran: Mina crush was 'beyond human control'
-------
North America
• US DoJ Sues City Council Over Anti-Muslim Bias
• US Urges Russians To Focus Airstrikes On Islamic State
• A surprising number of Americans wouldn't vote for a Muslim to be president
• Gunman opens fire at community college in Oregon, at least 10 killed
-------
Europe
• Commission: Most Muslims Not A Threat To Europe
• Muslim Scholars Warn That Russia Is Paving the Way for Military Intervention In Iraq
• At 110, 'oldest' refugee reaches Germany from Afghanistan
--------
Southeast Asia
• Malaysia to Accept 3,000 Syrian Refugees: PM Najib
• Idaho City of Immigrants Debates Taking In Middle Eastern Refugees
Compiled by New Age Islam News Bureau
URL: https://www.newageislam.com/islamic-world-news/new-age-islam-news-bureau/taliban-militants-committed-gang-rapes-and-mass-murders-in-kunduz/d/104781
--------
South Asia
Taliban Militants Committed Gang Rapes and Mass Murders in Kunduz
By KHAAMA PRESS - Thu Oct 01 2015
The Amnesty International said Thursday that the Taliban militants have committed gang rapes and mass murders in northern Kunduz province of Afghanistan.
Citing testimonies by the local residents and women rights activists, Amnesty International's Afghanistan Researcher Horia Mosadiq said "The harrowing accounts we've received paint a picture of a reign of terror during the Taliban's brutal capture of Kunduz this week. The multiple credible reports of killings, rapes and other horrors meted out against the city's residents must prompt the Afghan authorities to do more now to protect civilians, in particular in areas where more fighting appears imminent."
Mosadiq further added "Heavy fighting continues as Afghan forces try to regain full control and restore law and order in Kunduz. Protecting civilians from further onslaught and serious abuses at the hands of the Taliban is of the utmost importance."
"Many humanitarian agencies have bravely continued their work in and around Kunduz over the past days. They must be granted access to carry out their life-saving work. With thousands forced from their homes, it is also crucial that all parties agree to a humanitarian corridor that allows civilians to leave the city safely," she said.
According to the rights organization, the Taliban group had also prepared a 'hit list' with one woman who was providing assistance to victims of domestic violence in Kunduz and escaped to safety in a nearby province told Amnesty International that Taliban fighters were using a "hit list" to track down their targets.
It allegedly includes the names and photos of activists, journalists and civil servants based in Kunduz.
The woman said the Taliban's roadblocks on exit routes from the city forced her and numerous other women and men to flee on foot. They trekked for more than seven hours over rough terrain, leaving them exhausted and with bloodied feet.
When the Taliban took control of the National Directorate of Security (NDS) and other government and NGO offices in Kunduz on Monday, they gained access to reams of information about NGO staff, government employees and members of the security forces – including addresses, phone numbers and photos.
Since then, Taliban fighters have allegedly been using young boys to help them to conduct house-to-house searches to locate and abduct their targets, including women.
Another woman human rights defender had her home and office burned and looted by Taliban on Tuesday night. Taliban fighters kept calling her to ask about the whereabouts of the women whom she had been helping.
She and several other women managed to receive assistance for themselves and their children to flee to safety. But she told Amnesty International she and her family escaped with nothing more than the clothes on their backs and were left terrified by the ordeal.
Quoting other local activists, the rights organization reported that Taliban fighters also raped female relatives and killed family members, including children, of police commanders and soldiers, especially those working for Afghan Local Police (ALP). The Taliban also burnt down the families' houses and looted their belongings.
The relative of a woman who worked as a midwife in Kunduz maternity hospital told Amnesty International how Taliban fighters gang-raped and then killed her and another midwife because they accused them of providing reproductive health services to women in the city.
The Taliban released all the male prisoners held in Kunduz and gave them arms to fight against government forces. Female prisoners were raped and beaten, then the Taliban abducted some and released others.
An eyewitness told Amnesty International that a civilian woman in his neighbourhood had been shot amid fighting between Taliban and the Afghan security forces. Taliban fighters responded to her screams of pain by entering her house and shooting her point blank in the head, forcing her husband to watch her die.
"When the Taliban asserted their control over Kunduz, they claimed to be bringing law and order and Shari'a to the city. But everything they've done has violated both. I don't know who can rescue us from this situation," a female human rights defender from Kunduz told Amnesty International.
As Afghan government forces regain control of Kunduz, Amnesty International calls on them not to retaliate against any captured or injured members of the Taliban. Any Taliban fighters suspected of serious violations of human rights or international humanitarian law must be investigated and prosecuted in fair trials without recourse to the death penalty.
"Breaking the cycle of violence and returning to the rule of law means ensuring that Afghan troops and authorities do not mete out revenge on any prisoners, which would amount to a war crime," said Horia Mosadiq.
http://www.khaama.com/taliban-militants-committed-gang-rapes-and-mass-murders-in-kunduz-1592
------------
Taliban claim shooting down four-engine US aircraft in Afghanistan's Nangarhar province
Fri Oct 02 2015
Part-HKG-Hkg10214002-1-1-0Taliban claim bringing down a US four-engine aircraft in eastern Nangarhar province of Afghanistan.
Mujahid, the group's spokesman wrote in a twitter post this morning that the four-engine aircraft was shot down by 'Mujahideen' last night.
"Based on credible information 15 invading forces and several puppet troops were killed." another tweet from Mujahid stated.
US officials previously said that a C-130 crashed in Jalalabad shortly after midnight on Friday morning killing 11 people on board.
Earlier reports suggested that 12 people were killed.
The victims reportedly included five contracted civilians as well as the U.S. service members.
No specific cause for the crash has immediately come up but Col. Brian Tribus a US military spokesman said that there was no hostile activity in the area by the time the incident happened.
The C-130 Hercules, a four-engine turboprop plane, has been a workhorse of US's operations in Afghanistan, carrying passengers or cargo.
http://www.khaama.com/taliban-claim-shooting-down-four-engine-us-aircraft-in-afghanistans-nangarhar-province-3971
-----------
11 killed in US C-130 plane crash in Afghanistan
Oct 2, 2015
WASHINGTON: An American C-130J military transport plane crashed at the Jalalabad airport in Afghanistan early today, killing all on board, including six US service members and five civilian passengers, the Pentagon said.
An Air Force C-130J assigned to the 774th Expeditionary Airlift Squadron, part of the 455th Air Expeditionary Wing, crashed at approximately 12:19 am at Jalalabad Airfield, a Pentagon statement said.
The crew of six US service members and five civilian passengers died in the crash, it said.
There was no immediate indication why the plane might have crashed. "The cause of the accident is currently under investigation. More information will be released as it is gathered," the Pentagon said.
Jalalabad, in eastern Afghanistan near the border with Pakistan, is home to several military operations. The Jalalabad airfield is adjacent to the civilian airport.
The C-130 Hercules is a cargo plane built by Lockheed Martin. It is powered by four turboprop engines and is used extensively by the military to ship troops and heavy gear.
http://timesofindia.indiatimes.com/world/south-asia/11-killed-in-US-C-130-plane-crash-in-Afghanistan/articleshow/49190639.cms
------------
Taliban militants have reportedly captured Wardoj district of Badakhshan
By KHAAMA PRESS - Fri Oct 02 2015
Taliban capture Badakhshan districtThe Taliban militants have reportedly seized control of Wardoj district in the restive northeastern Badakhshan province of Afghanistan.
The district administrative chief Dawlat Mohammad Khawar confirmed that the Afghan security forces have retreated from Wardoj following hours of gun battle with the Taliban militants.
He did not confirm if the control of the district was fully seized by the militants and did not comment regarding the casualties as a result of the clash.
The security officials confirmed Wednesday that clashes were underway between the Afghan security forces and the Taliban militants in Wardoj district.
Badakhshan is among the relatively volatile provinces in northeastern Afghanistan where the anti-government armed militants are actively operating in its various districts with Wardoj being one of the most restive districts.
The Taliban militants have carried out numerous attacks in Wardoj district during the recent months.
One of the deadliest attacks on Afghan security forces check posts was carried out earlier in April this year where at least 23 Afghan National Army (ANA) soldiers were martyred.
http://www.khaama.com/taliban-militants-have-reportedly-captured-wardoj-district-of-badakhshan-1593
------------
President Ghani wants proof for government's 5th pillar
Fri Oct 02 2015
Mohammad Ashraf Ghani wants proof for the 5th pillar of the government.
Rumors have been spread by some key political figures in Afghanistan that there are certain people on the government side who are actually working for others.
Most of these figures referred the 'insiders' as the 'fifth pillar of the government'. They have been calling on government to remove the fifth pillar.
But President Ghani made it clear during a press conference on Thursday evening that without any proof it would resemble a desert court.
He pointed to those spreading such rumors to present proof. He made a call "do not to lead the country towards desert courts", saying that trust goes away in desert courts.
The issue was even brought up in Parliament and some other major gatherings where concern was raised that the 'fifth pillar' is involved in recent surge of insecurity in the country.
http://www.khaama.com/president-ghani-wants-proof-for-governments-5th-pillar-3970
------------
Taliban says shot down crashed US C-130 plane in Afghanistan
AFP — Oct 2, 2015
JALALABAD: The Afghan Taliban on Friday claimed to have shot down a C-130 military transport plane in eastern Afghanistan, with the North-Atlantic Treaty Organization (Nato) confirming that 11 people including six United States (US) soldiers were killed in the crash.
Nato did not confirm the cause of the crash but it comes as Afghan forces — backed by Nato special forces and US air support — pushed into the centre of the northern city of Kunduz which was captured by the Taliban on Monday.
"Our mujahideen have shot down a four-engine US aircraft in Jalalabad," Taliban spokesman Zabihullah Mujahid said on Twitter.
"Based on credible information 15 invading forces and a number of puppet troops were killed."
The Taliban are known to make exaggerated battlefield claims, and Nato has so far not given details on the cause of the crash.
The C-130 crash, which occurred at about midnight local time on Friday, left six US soldiers and five civilian contractors dead, US Army Colonel Brian Tribus said.
The contractors had been working for "Resolute Support", the Nato-led training mission.
Full article at:
http://www.dawn.com/news/1210431/taliban-says-shot-down-crashed-us-c-130-plane-in-afghanistan
------------
Rising Rakhine party looming threat to Myanmar's Muslim minority
02 Oct 2015
SITTWE, Myanmar: Myanmar's historic elections next month are likely to worsen the plight of the country's oppressed Rohingya Muslim community, with a new, hardline Buddhist party on the brink of becoming a formidable force
The empowerment of ethnic nationalists in Rakhine State at the western edge of the Southeast Asian nation could intensify discrimination of the stateless Rohingya, thousands of whom have fled in recent years to neighbouring countries.
The government has barred most Rohingyas from both voting and registering as candidates, drawing sharp criticism from the United Nations and undermining Myanmar's efforts to portray the Nov. 8 poll as its first free and fair election in 25 years.
The Arakan National Party (ANP), an organisation of ethnic Rakhine Buddhists, was formed last year.
Full article at:
http://www.channelnewsasia.com/news/asiapacific/rising-rakhine-party-loom/2164896.html
-------
Arab World
Official: 250 Kurdish Militants within ISIL Ranks Killed
Friday 2 October 2015
TEHRAN (FNA)- Some 250 Kurdish militants fighting for the ISIL Takfiri terrorist group have been killed while fighting for the outfit, Iraq's Kurdistan Regional Government (KRG) said.
Mariwan Naqshbandi, a spokesman for the KRG's Ministry of Endowment and Religious Affairs, announced the figure in an interview with the al-Sumaria satellite television on Wednesday, press tv reported.
Around 500 Kurds joined ISIL when members of the militant group overran the Northern Iraqi city of Mosul, situated some 400 kilometers (248 miles) North of the capital, Baghdad, back in June 2014, the spokesman added.
Full article at:
http://english.farsnews.com/newstext.aspx?nn=13940709000282
------------
70 Wanted Militants Surrender in Syria
Friday 2 October 2015
TEHRAN (FNA)- Some 70 wanted Takfiri militants surrendered to the Syrian authorities on Thursday to be pardoned as the army continues to advance against the terrorists.
They are from Damascus and its countryside, Homs, Daraa and Idlib.
On Sept 26, 36 wanted militants also surrendered to the competent authorities in Hama.
Hundreds of gunmen have been laying down their weapons and turning themselves in to authorities in areas across the country.
This number seems to be on the rise as the army has been making steady gains in the battlefield against the terrorist groups, recapturing an increasing number of regions, including strategic sites, which helped cut off many of the militants' supply routes and forced them to surrender or run away.
http://english.farsnews.com/newstext.aspx?nn=13940709000659
------------
Takfiris' Positions Targeted in Quneitra Countryside
TEHRAN (FNA), Oct 01, 2015 - The Syrian army backed by the popular defense groups destroyed hideouts and vehicles of al-Nusra Front and other Takfiri terrorist groups in the Northern countryside of Quneitra, reports said Thursday.
The army targeted the Takfiris' positions in military operations on Wednesday night and Thursday, reports said.
Full article at:
http://english.farsnews.com/newstext.aspx?nn=13940709000636
----
Iraq's Abadi Calls for End to Support for ISIL
TEHRAN (FNA), Oct 01, 2015- Iraqi Prime Minister Haidar al-Abadi called for an end to the supply of money and arms to the ISIL terrorists.
"Our problem lies with a terrorist group that crossed the border from a neighboring country. This organization was supported and armed by others, and occupies vast areas of Iraq. It has killed thousands of Iraqis and violated their rights," Abadi said before the 70th Session of the United Nations General Assembly (UNGA) in New York on Wednesday.
"Today, this organization named Daesh (ISIL) recruits thousands of volunteers from various parts of the world, particularly from countries that claim to be standing by Iraq. This terrorist organization receives assistance plus weapons, and continues to fight us. So, our problem is really an external problem," he said.
Full article at:
http://english.farsnews.com/newstext.aspx?nn=13940709000582
--------
Riyadh raps Russian strikes
Friday 2 October 2015
NEW YORK/JEDDAH: Saudi Arabia has expressed deep concern over Russia's airstrikes in Syria, saying there was no evidence of Daesh operating in the areas targeted and that innocent civilians had been killed.
Russia launched several strikes in Hama and Homs on Thursday, the second day of operations, with Kremlin officials saying that they targeted members of Daesh.
Russian warplanes bombed a camp run by CIA-trained rebels, the group's commander said.
Abdullah bin Yahya Al-Moallemi, the Kingdom's permanent representative to the UN, criticized Russia's actions in a speech delivered at the Security Council on Wednesday.
"As for those countries that have claimed recently to join in the fight against Daesh terrorism, they can't do that at the same time as they support the terrorism of the Syrian regime and its terrorist foreign allies like Hezbollah and the Quds Force and other terrorist sectarian groups," he said in comments broadcast by Al-Arabiya television.
Meanwhile, hundreds of Iranian troops have arrived in Syria to join a major ground offensive on behalf of President Bashar Assad's government, Reuters sources said on Thursday, a further sign of the rapid internationalization of a civil war in which every major country in the region has a stake.
Full article at:
http://www.arabnews.com/featured/news/814386
------------
Bahrain recalls envoy from Iran
Friday 2 October 2015
MANAMA: Bahrain has recalled its ambassador to Iran, BNA reported on Thursday, a day after it said security forces had discovered a large bomb-making factory and arrested a number of suspects linked to Iran's Revolutionary Guards.
Bahrain's Ministry of Foreign Affairs has also declared the Iranian charge d'affaires in Bahrain as a persona non grata and given him 72 hours to leave the country.
http://www.arabnews.com/news/814131
------------
India
Intelligence alert of possible terror strike in congested areas in Kolkata
Jayanta Gupta,TNN | Sep 30, 2015
KOLKATA: With central intelligence agencies issuing an alert on possible terror strikes in congested areas during the festive season, the National Security Guard (NSG) has begun preparing itself for all possible contingencies. The Black Cat commandos based at Badu near Madhyamgram have now shifted focus from high rises to random targets where terror strikes could cause severe damage. The NSG will conduct drills at these locations after dark as well.
On Tuesday morning, a NSG detachment from Badu boarded a Mi-17V5 helicopter at the Kolkata airport and headed due north to Sodepur in North 24-Parganas. Their target was the roof of a biscuit factory in a congested area close to the busy BT Road. Locals watched as the helicopter hovered barely 30 metres from the ground as commandos rappelled down to the roof.
Full article at:
http://timesofindia.indiatimes.com/city/kolkata/Intelligence-alert-of-possible-terror-strike-in-congested-areas-in-Kolkata/articleshow/49157571.cms
------------
300-yr-old Urdu Mahabharat in Lucknow home
Shailvee Sharda,TNN | Oct 2, 2015, 01.43 AM IST
LUCKNOW: The Manjuls in Old City's Karbala Colony never thought that their forgotton legacy could be so precious. Sifting through the library started by his great grandfather Hawali Hussain Naseerbadi in his native village in Rae Bareli, Farman came across a Mahabharat written at least 300 years ago.
The surprise element was that the Mahabharat was written in Urdu with each chapter containing an introduction in Arabic and Persian languages. The script is Arabic. His mother Shahin Akhtar revealed that the family had been preserving this book as a lucky icon for the past five generations. "It was probably misplaced after my father's death," says Farman, who is going to get the book restored.
Family friend and a Kari (religious teacher), Waheed Abbas, studied the book in detail. "This is an emblem of our Ganga-Jamuni tradition and must be saved for generations to come," he said, adding that Haji Talib Hussain and his friend Durga Prasad wrote the book for Urdu readers. Abbas also said that the Manjul family, which can trace its roots to a Shia prophet Hazrat Imam Ali Naqi, was also keeping the tradition of communal amity alive by preserving their prized possession.
Full article at:
http://timesofindia.indiatimes.com/city/lucknow/300-yr-old-Urdu-Mahabharat-in-Lucknow-home/articleshow/49189118.cms
------------
3 Muslim parties enter Bihar, 3 others vow to thwart them
Written by Mohd Faisal
Published:Oct 1, 2015,
Three Muslim parties based outside Bihar are contesting on their own in the state, each for the first time and each claiming it will unite the community and defeat "communal forces". The Bareilly-based Ittehad-e-Millat Council, the Hyderabad-based All India Majlis-e-Ittehadul Muslimeen (AIMIM) of Asaduddin Owaisi and the Social Democratic Party of India, the political wing of the Popular Front of India, are looking at expanding beyond their states. Three other Muslim parties are on the ground, having cobbled an alliance aimed at foiling the efforts of the three contesting. The Rashtriya Ulema Council, the Indian National League and the Parcham Party of India plan to hold public meetings in Muslim-concentrated constituencies and question why the AIMIM, the Ittehad-e-Millat Full article at:
http://indianexpress.com/article/india/india-news-india/3-muslim-parties-enter-bihar-3-others-vow-to-thwart-them/#sthash.e7NiMAuy.dpuf
---------
Pakistan
Pakistan cancels first Comstech summit over 'security concerns'
JAMAL SHAHID — Oct 2, 2015
ISLAMABAD: Pakistan has informed the Organisation of Islamic Cooperation (OIC) that it cannot hold the first ever Comstech summit for security reasons.
Pakistan had offered to host the summit in 2013 and the event was to be held next month. Thirty-six member states have already confirmed their participation. The summit was originally to be held in April of this year but was postponed on directions from the Prime Minister's Office after the terrorist attack on the Army Public School in Peshawar.
The latest delay came after the terrorist attack on Badaber Military Complex in Peshawar. The Foreign Office has decided "not to take a risk with the security of the participating dignitaries".
Full article at:
http://www.dawn.com/news/1210406/pakistan-cancels-first-comstech-summit-over-security-concerns
------------
25 terrorists killed in aerial strikes in NWA
October 02, 2015
RAWALPINDI: As many as 25 terrorists were killed on Thursday in precise aerial strikes in area ahead of Datta Khel in North Waziristan.
According to the Inter-Services Public Relations (ISPR), the strikes were carried out in the area close to the Pak-Afghan border.
The government launched a sustained offensive last year against the Taliban in lawless border regions, North Waziristan in particular.
Full article at:
http://www.dailytimes.com.pk/national/02-Oct-2015/25-terrorists-killed-in-aerial-strikes-in-nwa
------------
Want good relations with India but can't compromise on honour: COAS
October 02, 2015
LONDON: Army chief General Raheel Sharif has said Pakistan wants cordial relations with India but without any compromise on its honour and sovereignty. "Pakistan wants better relations with all its neighbours, including Afghanistan and India, but it will not compromise on its honour and sovereignty," the army chief said while addressing a dinner hosted in his honour by the Pakistan High Commissioner to the UK, Ibne Abbas. General Raheel's statement came hours after Prime Minister Nawaz Sharif proposed a new peace initiative with India centred around the demilitarisation of the disputed territory of Kashmir. Speaking at the UN General Assembly on Wednesday, PM Nawaz outlined a four-point initiative to de-escalate tensions between the two nuclear-armed countries. Expressing his hope to uproot the menace of terrorism from the country, the General Raheel vowed to complete the military operation Zarb-e-Azb against terrorists at all costs. "Pakistan Army successfully conducted around 10,000 intelligence-based operations across the country, killing terrorists and their abettors," the army chief said. General Raheel went on to add that operation against criminals in Karachi has restored peace in the city, claiming that the Pakistan Army enjoys support of the whole nation in its war against terror.
http://www.dailytimes.com.pk/national/02-Oct-2015/want-good-relations-with-india-but-can-t-compromise-on-honour-coas
------------
Three 'militant commanders' arrested from Peshawar's Badaber
ALI AKBAR — Oct 2, 2015
PESHAWAR: Khyber Pakhtunkhwa (KP) police on Friday claimed to have arrested three suspected militants belonging to a banned outfit from Peshawar's Badaber area.
Senior Superintendent Police (SSP) Operations Mian Saeed told media representatives that three militant commanders namely Naseer, Hazrat Sher and Zarma Khan were taken into custody from Badaber.
Full article at:
http://www.dawn.com/news/1210432/three-militant-commanders-arrested-from-peshawars-badaber
------------
Pakistan asks India to pullout its troops from Kashmir
October 02, 2015, 12:59 pm
NEW YORK – Pakistan hit back strongly at India on Thursday – after External Affairs Minister Sushma Swaraj called Jammu Kashmir an 'Indian State' and went on to accuse Islamabad of abetting terrorism.
"India's attempts to deny its illegal occupation of Indian-held Jammu Kashmir are a travesty of history," Pakistani delegate Bilal Ahmad told the UN General Assembly, while speaking in right of reply. "To perpetuate its occupation," he said.
"India has deployed over seven hundred thousand security forces in Jammu Kashmir. Only the occupier would oppose the implementation of UN Security Council Resolutions that promised self-determination to the people of the disputed State of Jammu Kashmir," he added.
Full article at:
http://www.dailytimes.com.pk/national/02-Oct-2015/pakistan-asks-india-to-pullout-its-troops-from-kashmir
------------
Amnesty slams Taliban 'reign of terror' in Afghanistan's Kunduz
October 02, 2015, 9:33 am
KABUL – Amnesty International Thursday condemned the Taliban's reign of terror in the embattled Afghan city of Kunduz, citing civilian testimonies of mass murder, gang rapes and house-to-house searches by militant death squads.
The Taliban's stunning capture of the northern city on Monday exposed Afghan civilians to grave risk, with President Ashraf Ghani accusing the insurgents of using them as human shields. In a new statement, Amnesty catalogued a number of other atrocities including rape, abduction and murder of numerous civilians.
The militants have a hit list and use young boys to help conduct house-to-house searches to track down their targets, especially women, the group said citing rights defenders. It accused fighters of raping female relatives and killing family members, including children, of police commanders and soldiers.
Full article at:
http://www.dailytimes.com.pk/foreign/02-Oct-2015/amnesty-slams-taliban-reign-of-terror-in-afghanistan-s-kunduz
------------
Dossiers of Indian hand in terrorism handed over to UN chief: Aziz
IRFAN HAIDER — Oct 2, 2015
NEW YORK: Three dossiers containing proof of Indian involvement in terrorist activities in Pakistan have been handed over to the United Nations, Adviser to the Prime Minister on National Security and Foreign Affairs Sartaj Aziz told media representatives in New York.
Aziz said that Pakistan's permanent representative to UN, Dr Maliha Lodhi had shared three dossiers containing evidences pertaining to Indian interference in Balochistan, Federally Administered Tribal Areas (Fata) and Karachi with UN Secretary General Ban Ki-Mon in a meeting.
Full article at:
http://www.dawn.com/news/1210439/dossiers-of-indian-hand-in-terrorism-handed-over-to-un-chief-aziz
------------
Mideast
Curfew Declared In South-Eastern District Of Silvan
October 02, 2015
A curfew was declared by the district governorate in the Silvan district of Diyarbakir as of 6 a.m. on Friday, and is to be effective until further notice.
Two soldiers were gunned down by Kurdistan Workers' Party (PKK) terrorists as they left for work on Thursday in the district, and the governorate said because the operation launched to find the perpetrators is still ongoing, a curfew had to be imposed.
http://www.todayszaman.com/national_curfew-declared-in-southeastern-district-of-silvan_400403.html
------
44 People Including HDP Officials, Journalist Detained In Anti-Terrorism Raids
October 02, 2015,
REUTERS WITH TODAYSZAMAN.COM / ISTANBUL
Turkish police detained 44 people, including district officials from the pro-Kurdish Peoples' Democratic Party (HDP), and Hicran Urun, an editor from the daily Özgür Gündem (Free Agenda), in Istanbul on Friday, on suspicion of links with the terrorist Kurdistan Workers' Party (PKK), in a continuing crackdown on militants ahead of a snap national election in November, according to local media reports.
Fighting between the Turkish military and the PKK resumed in the country's mainly Kurdish Southeast following the collapse of a cease-fire in July, and has reached an intensity unseen since the 1990s. More than 120 security personnel and hundreds of militants have been killed.
Full article at:
http://www.todayszaman.com/national_44-people-including-hdp-officials-journalist-detained-in-anti-terrorism-raids_400407.html
-----
Turkey, Coalition Partners, Call On Russia to Cease Syria Air Strikes
October 02, 2015,
REUTERS / ISTANBUL
Turkey and its partners in the US-led coalition against Islamic State of Iraq and the Levant (ISIL) called on Russia on Friday to cease its attacks on the Syrian opposition and focus on fighting ISIL militants, expressing "deep concern" over Moscow's air strikes.
In a joint statement with the United States, Britain, France, Germany and Gulf Arab allies, Turkey said Russia's actions constituted a "further escalation" of the conflict and would only fuel more extremism.
Full article at:
http://www.todayszaman.com/latest-news_turkey-coalition-partners-call-on-russia-to-cease-syria-air-strikes_400402.html
-------
Journalist Ahmet Hakan, hate target of President Erdogan's henchman, brutally attacked
October 01, 2015,
TODAY'S ZAMAN WITH WIRES / ISTANBUL
Hürriyet daily columnist Ahmet Hakan, who has long faced politically motivated threats, has been hospitalized after being assaulted outside his home by assailants in the latest sign of deteriorating conditions for the media under President Recep Tayyip Erdogan.
Four men in a black car followed Hakan home in the early hours of Thursday after he finished work on his program "Tarafsiz Bölge" (The Neutral Zone) on private broadcaster CNN Türk, before assaulting him near his residence in Istanbul's Nisantasi neighborhood.
One of the assailants targeted Hakan's bodyguard while the rest attacked Hakan at 12:35 a.m., as he was about to enter his home. Hakan is suffering from multiple fractures to his nose and ribs.
Full article at:
http://www.todayszaman.com/national_journalist-ahmet-hakan-hate-target-of-president-erdogans-henchman-brutally-attacked_400302.html
-----
Palestinians shoot dead 2 Israelis in West Bank: Israel security
October 02, 2015, 9:26 am
JERUSALEM – Palestinians shot dead two Israelis in a vehicle in the north of the occupied West Bank, an Israeli security source said.
The attack took place between the Jewish settlements of Itamar and Eilon Moreh, near the Palestinian city of Nablus. Four children in the vehicle were lightly wounded and taken to hospital, the same source said. The two dead were the children's mother and father.
http://www.dailytimes.com.pk/foreign/02-Oct-2015/palestinians-shoot-dead-2-israelis-in-west-bank-israel-security
------------
Spokeswoman: Iran Supports Russia's Anti-Terrorism Operations in Syria
Friday 2 October 2015
TEHRAN (FNA) - Iranian Foreign Ministry Spokeswoman Marziyeh Afkham emphasized her country's support for Moscow's military operations against the terrorists' positions in Syria.
"It is a must to confront and root out terrorism which is a common threat against the regional and international peace and security," Afkham stressed on Thursday.
"To achieve this goal, we need to have firm determination and make a joint international move based on cooperation with the governments of Iraq and Syria who are shouldering the main burden of the struggle against terrorism," she said.
"Given the official request of the Syrian government from the Russian Federation, Iran acknowledges Russia's military operation against terrorist groups in Syria as a step in line with fighting terrorism and recognizes it as a path towards resolving the ongoing crisis in the region," Afkham said.
Full article at:
http://english.farsnews.com/newstext.aspx?nn=13940709000798
------------
Leader Asks Iranian Generals to Reinvigorate Forces as Deterrence to Enemy Aggression
Friday 2 October 2015
TEHRAN (FNA)- Supreme Leader of the Islamic Revolution Ayatollah Seyed Ali Khamenei called on the Iranian Armed Forces to further strengthen their power and might as a deterrence against enemies.
"The military forces' progress today in different fields is highly valuable but given the (past) backwardness, we should increase the speed of moves and create such a might and power that the enemies even don't dare to think about an aggression against the country's borders," Ayatollah Khamenei said, addressing the high-ranking Army commanders and officials in Tehran on Thursday.
Full article at:
http://english.farsnews.com/newstext.aspx?nn=13940709000856
------------
Tehran: Mina crush was 'beyond human control'
Friday 2 October 2015
JEDDAH: Iran's health minister has praised Saudi Arabia's rescue and medical efforts after the stampede in Mina last week.
Hassan Hashimi, at a meeting with his Saudi counterpart Khalid Al-Falih in Jeddah on Wednesday, said that the Kingdom's ambulance and other teams had done well to transport the injured to hospitals in the region.
Hashimi said the incident was out of human control and that people should surrender to the will of Allah. He praised the Kingdom for the services it provides every year for pilgrims under difficult circumstances.
Full article at:
http://www.arabnews.com/featured/news/814396
------
North America
US DoJ Sues City Council Over Anti-Muslim Bias
Thursday, 01 October 2015 15:24
CAIRO – Defending Muslim rights of freedom to worship, the US Justice Department filed a lawsuit on Wednesday, September 30, against Des Plaines, a northern suburb in Chicago, for refusing to grant a zoning permit to a Muslim group to construct a place of worship.
"The freedom to practice the religion of one's choosing is a precious right in our country," US Attorney Zachary Fardon said in a news release cited by Chicago Tribune.
The problem started when the American Islamic Center, which has about 180 members, most of whom came to the United States in the 1990s as refugees from war-torn Yugoslavia, wanted to construct a place of worship.
In February 2013, AIC entered into a contract to purchase property at 1645 Birchwood Ave. in Des Plaines, the contact which was contingent upon rezoning it to allow its use as an institutional place of worship.
Full article at:
http://www.onislam.net/english/news/americas/494559-us-doj-sues-city-council-over-anti-muslim-bias.html
------------
US urges Russians to focus airstrikes on Islamic State
AP | Oct 2, 2015
WASHINGTON: Pentagon officials urged the Russian military on Thursday to focus its airstrikes in Syria on Islamic State fighters rather than opponents of Syrian President Bashar Assad, US administration officials said.
"What is important is Russia has to not be engaged in any activities against anybody but ISIL," Secretary of State John Kerry said. "That's clear. We have made that very clear."
Tensions between the US and Russia are escalating over Russian airstrikes that apparently are serving to strengthen Assad by targeting rebels - perhaps including some aligned with the US - rather than hitting Islamic State fighters it promised to attack. White House press secretary Josh Earnest described Russia's air operations, which began Monday, as "indiscriminate military operations against the Syrian opposition." Elissa Slotkin, who represented the US side in Thursday's talks, said as much during the hour-long videoconference call, according to Earnest. Slotkin is the acting assistant secretary of defense for international security affairs.
Full article at:
http://timesofindia.indiatimes.com/world/us/US-urges-Russians-to-focus-airstrikes-on-Islamic-State/articleshow/49192405.cms
------------
A surprising number of Americans wouldn't vote for a Muslim to be president
By Susan Page,Paulina Firozi September 30, 2015
Just exactly who can be president?
Republican contender Ben Carson sparked that debate when he said on NBC's Meet the Press that he "absolutely would not agree" with electing a Muslim as president.
On that question, Americans are divided.
In a new USA TODAY/Suffolk University Poll, most of those surveyed don't think it's a realistic possibility, at least at the moment. By 53%-39%, they say a Muslim couldn't be elected.
Full article at:
http://onpolitics.usatoday.com/2015/09/30/a-surprising-number-of-americans-wouldnt-vote-for-a-muslim-to-be-president/
------------
Gunman opens fire at community college in Oregon, at least 10 killed
Reuters | Oct 2, 2015
A gunman opened fire on Thursday at a community college in Oregon, killing 10 people and wounding some 20 others before he was shot to death by police, in the latest mass killing to rock a US school, state and county officials said.
There were conflicting reports on the number of dead and wounded in the shooting rampage at Umpqua Community College, which began shortly after 10:30am local time.
The state's attorney general told the local NBC affiliate that 10 people had been slain, 20 wounded and the shooter was killed. The office of Ellen Rosenblum did not immediately return calls seeking comment.
Governor Kate Brown said the suspect was a 20-year-old man but he was not identified further by authorities. CNN reported that four guns belonging to the shooter were recovered from the scene.
Full article at:
http://timesofindia.indiatimes.com/world/us/Gunman-opens-fire-at-community-college-in-Oregon-at-least-10-killed/articleshow/49189751.cms?
------------
Europe
Commission: Most Muslims not a threat to Europe
By ESZTER ZALAN
October 2nd, 2015
VP Timmermans said Europeans tend to blame others in times of crisis (Photo: European Commission)
He added that it is the responsibility of the politicians is to "put that into perspective," and stop singling out whole communities as a threat.
"The overwhelming majority of Muslim communities in Europe are absolutely not a threat, but render our societies stronger than we were before," he told press before the start of a gathering of religious leaders, civil society and other stakeholders on the issue, called Annual Colloquium on Fundamental Rights.
"We have a responsibility to dismantle that fear, and there is no need to put a whole community in a position of being accused of being a danger to the rest of society," he added.
Full article at:
https://euobserver.com/justice/130518
------
Muslim scholars warn that Russia is paving the way for military intervention in Iraq
Thursday, 01 October 2015
The Association of Muslim Scholars in Iraq (AMSI) has warned that any foreign intervention in the Middle East will harm the interests of its people, dispel future generations and escalate violence in the region.
In a statement issued on Wednesday AMSI criticised the alleged quadripartite agreement between Russia, Iran, Syria and Iraq to forms a joint committee to exchange intelligence aiming to target Daesh and limit its activities.
Full article at:
https://www.middleeastmonitor.com/news/middle-east/21380-muslim-scholars-warn-that-russia-is-paving-the-way-for-military-intervention-in-iraq
------------
At 110, 'oldest' refugee reaches Germany from Afghanistan
Doug Bolton,The Independent | October 2nd, 2015
A man who claims to be 110 years old has applied for asylum in Germany after spending eight months travelling 3,000 miles from Afghanistan. Abdul Qadir Azizi, arrived in Germany with his 60-yearold daughter and eight other family members, who had to carry him for much of the journey.
Aziz's family, when asked by German officials, said he was born on January 1, 1905.He is believed to be the oldest refugee to arrive in Germany.
http://timesofindia.indiatimes.com/world/rest-of-world/At-110-oldest-refugee-reaches-Germany-from-Afghanistan/articleshow/49190330.cms
------------
Southeast Asia
Malaysia to accept 3,000 Syrian refugees: PM Najib
02 Oct 2015
UNITED NATIONS, New York: Malaysia will open its doors to 3,000 Syrian migrants over the next three years to help alleviate the refugee crisis, Prime Minister Najib Razak said on Thursday (Oct 1) at the United Nations General Assembly.
Mr Najib said Muslim countries were partly responsible for ensuring the well-being of the marginalised Syrians fleeing their country in massive numbers, causing social and economic stresses in Europe.
"This is why Malaysia has taken, over the years, many people fleeing war, starvation and persecution," said Mr Najib. "We currently have hundreds of thousands of irregular migrants, and we took in more earlier this year when there was a dire humanitarian situation in the Andaman Sea."
Full article at:
http://www.channelnewsasia.com/news/asiapacific/malaysia-to-accept-3-000/2165028.html
------------
Idaho City of Immigrants Debates Taking In Middle Eastern Refugees
By KIRK JOHNSONOCT. 1, 2015
TWIN FALLS, Idaho — For the last three decades, this small, politically conservative Western city has mostly welcomed refugees from around the world displaced by war, oppression and terror. A nonprofit refugee center, operated by the College of Southern Idaho with federal funds and charitable donations, brought in waves of often desperate and grateful families as trouble spots around the world flared and ebbed.
They came from Southeast Asia after the Vietnam War, Eastern Europe after the Soviet Union's implosion, Bosnia as ethnic cleansing wracked the Balkans, and Africa to escape genocide and civil war.
Indian immigrants in Jersey City celebrating the Ganesh Festival on Sunday. Foreign-born people make up 14 percent of the nation's population, just under the historical peak of 15 percent.Share of Immigrants in U.S. Nears Highs of Early 20th Century, Report Finds SEPT. 28, 2015
http://www.nytimes.com/2015/10/02/us/idaho-city-of-immigrants-debates-taking-in-middle-eastern-refugees.html?_r=0
-------
URL: https://www.newageislam.com/islamic-world-news/new-age-islam-news-bureau/taliban-militants-committed-gang-rapes-and-mass-murders-in-kunduz/d/104781