New Age Islam News Bureau
03 January 2023
Taliban-Pakistan: The Taliban shared a picture of the country's military surrender to Indian forces in 1971.(Twitter)
------
• Malaysia Islamic Body Urges Public to Check before Buying Items Containing Quranic Calligraphy
• Teenage Suspect Of Times Square Machete Attack Reportedly Has Links To Islamic Extremism
• Britain To Proscribe Iran's Revolutionary Guard As Terror Group — Report
• Yemen Decries Saudi Execution Of Two Nationals As 'Absolute Disgrace' To So-Called Rights Advocates
South Asia
• Islamic Emirate of Afghanistan to Prosecute Afghan Media Outlets Operating from Abroad
• No Travel Ban for Islamic Emirate Ministers to Uzbekistan for Humanitarian Purposes: Afghan Minister
• Afghan Americans protest against Taliban ban on women's education
--------
Southeast Asia
• Intensify usage of social media to promote Islam, says Abang Johari
• Qatar requires negative PCR test for travellers from China as COVID-19 cases surge
--------
North America
• Neighbours of accused cop slasher Trevor Bickford stunned by Islamist radical allegations
• Blinken discusses Iran threat during call with Israeli FM
• Suspect in New Year's Eve NYC police attack reportedly linked to terrorism
--------
Europe
• Exiled Iran Opposition Figures In United 'Victory' Message
• Zelesnkyy: Russia planning prolonged attacks with Iran-made drones to exhaust Ukraine
• Turkish drone captures illegal Greek pushback of irregular migrants
• Dutch analyst announces receiving death threats from PKK terror group
--------
Arab World
• Saudi, UN Body Sign Agreement To Combat Human Trafficking
• Egypt recovers 2,700-year-old sarcophagus lid from US
• Four tons of drugs seized by French navy in the Arabian Sea
• Saudi Arabia sees strongest growth in jobs in five years amid business boom
• Retailers, Hotels Slash Prices After Dubai Removes 30 Pct Tax On Alcohol Sales
• Riyadh Season attracts 10m regional, international visitors
• Saudi project clears 969 Houthi mines in Yemen
--------
Mideast
• Iran's Judiciary Confirms Death Sentence For Protester
• Israel to question preacher of Jerusalem's Al-Aqsa Mosque
• Iran Smashes MKO's Major Financing Network, Albania-Backed Ringleader Captured
• Judiciary Chief: 3,000 Inmates Freed, 16 Death Penalty Cases Commuted
• Iran Reminds Israel of Fragile State of Netanyahu's Gov't
• Israel's extreme-right minister Ben-Gvir visits al-Aqsa mosque compound
• Turkey's AK Party mulls bringing elections 'slightly' forward
• Israeli foreign minister sees Abraham Accords summit in Morocco in March
• Israel's defence ministry seeks $2.85B budget increase to confront Iran
• Yemeni forces launch final push to drive Al-Qaeda from Abyan
• Foreign Ministry: Israel's killing of young Palestinians 'organized state terrorism'
--------
India
• BJP Karnataka State President Tells Cadre To Discuss 'Love Jihad', Not Road Work
• Sheezan Khan's Kin Hit Back: Never Forced Tunisha Sharma To Embrace Islam
• Three Pakistani Flags Found In Uttarakhand Forest, Cause A Flutter Spawning Multiple Theories
• Kerala Nadva tul Mujahideen Stays Away From Muslim Coordination Committee Meeting
• 2 kids killed in IED blast in Rajouri village, day after New Year's Day massacre
• Shahi Eidgah mosque panel files plea against survey order
• Cleric backtracks on statement made on un-Islamic nature of prayer meet for PM's mother
• Man lynched over son's friendships
--------
Pakistan
• Former Army Chief Qamar Javed Bajwa Hired Ex-Envoy Hussain Haqqani To Lobby Against Me: Imran Khan
• Taliban Urge Dialogue After Interior Minister Hints At Cross-Border Action Against Tehreek-i-Taliban Pakistan
• PIA Eyes Umrah Flights For Muslims In China, To Improve Its Revenues
• SC allows ECP to continue contempt proceedings against Imran, other PTI leaders
• Hussain Haqqani mulls options to sue Imran for defamation
• Army urged to work solely within 'constitutional domain'
• The curious case of JUI-F's sudden rise in Balochistan
• Civil, military leaders resolve to observe 'zero tolerance' for terrorism
• Govt imparts skilled training to empower women, provide overseas employment opportunities: Minister
• Pakistan discovers Chinese new variant of COVID-19 in its sample
--------
Africa
• Nigerian Muslim scholars condole with Christians over death of Pope Emeritus Benedict XVI
• Muslims Task Central Govt On Teaching Of Islam In Schools
• At least 20 killed, 30 hurt as Somaliland forces clash with protesters
• Libya's High State Council to resume dialogue with parliament
• Jordan welcomes water deal amid fears on refugee, climate crises
Compiled by New Age Islam News Bureau
URL: https://newageislam.com/islamic-world-news/taliban-pakistan-1971-war-surrender/d/128787
--------
Taliban Leader Mocks Pakistan, Shares Pic Of Surrender To India In 1971 War Saying Islamabad Would Face The Same "Shameful" Fate If Launched Military Attack On Them
Taliban-Pakistan: The Taliban shared a picture of the country's military surrender to Indian forces in 1971.(Twitter)
------
Subodh Kumar
Jan 2, 2023
The Taliban on Monday mocked Pakistan by sharing a picture of the country's military surrender to Indian forces in 1971, saying that Islamabad would face the same "shameful" fate if it launched a military attack on them.
In a Twitter post, Taliban leader Ahmad Yasir asked Islamabad to avoid "disgrace" after Pakistan's interior minister Rana Sanaullah recently hinted at a possible military operation against the Tehreek-e-Taliban Pakistan (TTP) hideouts in Afghanistan.
"Interior Minister of Pakistan! Excellent Sir! Afghanistan, Syria and Pakistan are not Turkey to target the Kurds in Syria. This is Afghanistan, the graveyard of proud empires. Do not think of a military attack on us, otherwise, there will be a shameful repetition of the military agreement with India," Ahmad Yasir said in his Twitter post.
Along with the post, Ahmad Yasir also shared the picture of December 16, 1971, where Pakistan Army's Lieutenant General Amir Abdullah Khan Niazi, the Chief Martial Law Administrator of East Pakistan (now Bangladesh), can be seen signing the 'Instrument of Surrender' in Dhaka. The day is celebrated as Vijay Diwas, the day India helped in the liberation of Bangladesh.
Days ago, Pakistan's Interior Minister Rana Sanaullah said that Islamabad has the legal authority to act against "insurgents' hideouts" in Afghanistan if its nation is threatened by such groups.
Pakistani officials said Islamabad may attack the Tehreek-e-Taliban Pakistan (TTP) hideouts in Afghanistan if Kabul does not take action to dismantle them.
"When these problems arise, we first ask Afghanistan, our Islamic brother nation, to eliminate these hideouts and handover these individuals to us, but if that doesn't happen, what you mentioned is possible," Rana Sanaullah had said.
In response to these provocations, the Taliban on Sunday said that they would not allow anyone to attack Afghanistan. Taliban's spokesperson Zabiullah Mujahid stated that Afghanistan wants to have good relations with Pakistan and that its officials should use caution when speaking.
"No country has the right to attack another nation's territory. There is no legislation in the world that permits such a transgression. If anyone has any worries, they should share them with the Islamic Emirate since it has the sufficient forces and can take action," Mujahid said in a statement.
Source: India Today
Please click the following URL to read the text of the original story:
https://www.indiatoday.in/world/story/afghanistan-taliban-mocks-pakistan-shares-pic-surrender-india-1971-war-2316504-2023-01-02
--------
Malaysia Islamic Body Urges Public to Check before Buying Items Containing Quranic Calligraphy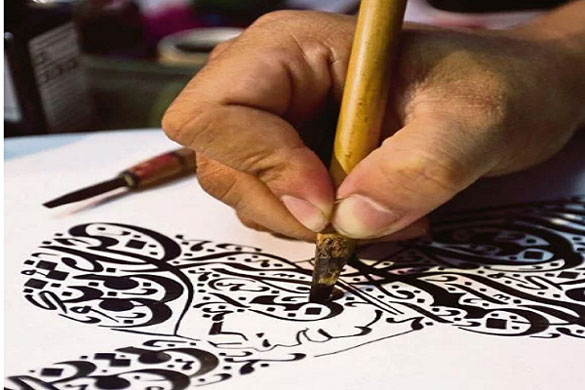 Photo: International Quran News Agency
-----
January 02, 2023
Its Enforcement Division Operations Unit chief, Ahmad Zaki Hamzah, said several premises in Nilai near Seremban were selling data-x-items with imperfect verses, which raised concerns among the Muslim community.
"It is easy to place the responsibility on enforcement agencies, but the community is responsible for choosing any decorative data-x-items containing the Quranic verses that are true and accurate.
"This is because a small mistake in a verse of the Quran carries a different meaning, that's why there can't be even the slightest mistake, there has to be zero defect in the verse. This matter is very sensitive, the public may also be confused and misled if it is used incorrectly," he told Bernama.
He said traders should not selling defective data-x-items or check with the authorities if they were unsure.
Zaki said trader who did not abide by the rules would be subject to action, while the data-x-items would be confiscated.
He said the owners of three premises where checks were conducted on Dec 31 gave the excuse that they did not know there was a mistake in the verse.
"They (traders) take this matter for granted even though the verses of the Quran are very sensitive for Muslims, that's why there have been cases of disposing of various decorative data-x-items containing the holy verses of the Quran before. It involves the faith and belief of Muslims, so anything related to it must be correct," he said.
The department previously found a pile of decorative data-x-items containing verses from the Quran on the side of the road in the Arab-Malaysian Industrial Park in Nilai, believed to have been disposed of by furniture dealers from the Nilai 3 Industrial Area.
Zaki said his department and other enforcement agencies such as the local authorities and the Seremban City Council continuously monitor business premises in the state and raise awareness among traders and consumers.
"There are many shops here selling such items, therefore we urge consumers to help out each other. If we don't buy it, then the matter will not get out of hand. As for traders, do not think that you have been overlooked because we are always monitoring," he said.
Source: IQNA
Please click the following URL to read the text of the original story:
https://iqna.ir/en/news/3481908/malaysia-islamic-body-urges-public-to-check-before-buying-items-containing-quranic-calligraphy
--------
Teenage Suspect Of Times Square Machete Attack Reportedly Has Links To Islamic Extremism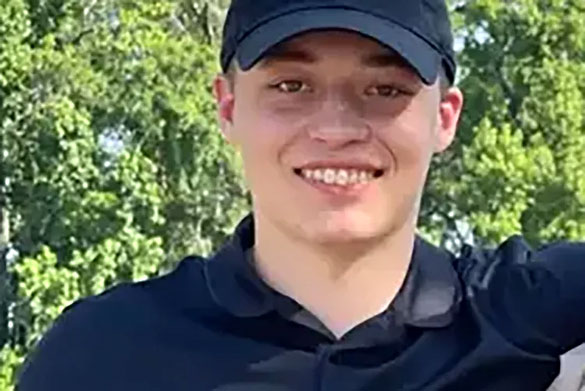 Suspect Trevor Bickford, 19
-----
Jan 02, 2023
A teenager accused of attacking three policemen with a machete on New Year's Eve near Times Square was charged with attempted murder and attempted assault, New York police said on Monday, in an incident the New York Times said was linked to Islamic extremism.
The New York City Police Department identified the suspect as Trevor Bickford, 19, of Wells, Maine, and said in an email on Monday that he had been charged with two counts of attempted murder and two counts of attempted assault.
Further details on future proceedings were not immediately shared by the police.
Authorities did not comment on the motivation for the attack, but the Times reported that the suspect was driven by Islamic extremism. The newspaper quoted an unnamed senior law enforcement official, who said that Bickford may later face extremism charges.
The Times said Bickford had converted to Islam sometime in the last year and a half.
Bickford had traveled to New York from his Maine home on Saturday, police said.
New York rang in the new year in typical style on Saturday evening as thousands of people corralled themselves into pens under pouring rain in Times Square, waiting to see a glittering ball glide down a pole mounted atop a tall building in the year's final seconds.
The attack, which officials say was unprovoked, took place late in the evening outside a secure area set up for New Year's Eve celebrations, Police Commissioner Keechant Sewell told reporters immediately after the incident.
One of the three policemen who were attacked and who had recently graduated from the Police Academy, suffered a fractured skull, officials said. All three officers were taken to a hospital but had been released by Monday.
One of the officers shot the suspect, hitting him in the shoulder. The suspect was then taken into custody, police said.
Bickford was taken to Bellevue Hospital for treatment, where he remained on Monday.
Before the attack, Bickford wrote a farewell letter to his family in a diary, the Times reported.
In the diary, he wrote to his mother, "I fear greatly you will not repent to Allah and therefore I hold hope in my heart that a piece of you believes so that you may be taken out of the hellfire," according to the newspaper.
Bickford also referred in his diary to his brother, who is in the U.S. military, as having assumed the uniform of the enemy, the newspaper said, citing the unnamed law enforcement official. (Reporting by Kanishka Singh in Washingtond; editing by Jonathan Oatis)
Source: Ottawa Citizen
Please click the following URL to read the text of the original story:
https://ottawacitizen.com/news/world/suspect-in-new-years-eve-nyc-police-attack-reportedly-linked-to-islamic-extremism/wcm/c9424c4c-2336-4506-b8da-b9c4cb5f9dba
--------
Britain To Proscribe Iran's Revolutionary Guard As Terror Group — Report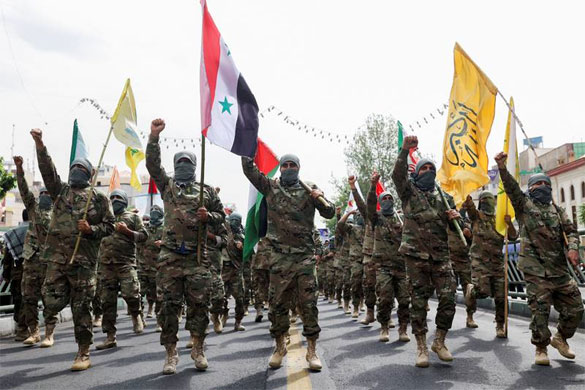 IRGC troops attend a rally for Quds Day on the last Friday of Ramadan, in Tehran in 2022. Wana / Reuters
-----
January 02, 2023
Britain will officially declare Iran's Revolutionary Guard, which has arrested seven people with links to the United Kingdom over anti-government protests, as a terrorist group, the Telegraph reported on Monday, citing sources.
The move, which will be announced within weeks, is supported by Britain's security minister, Tom Tugendhat, and Home Secretary Suella Braverman, the report said.
Proscribing Iran's Revolutionary Guard as a terrorist group would mean that it would become a criminal offense to belong to the group, attend its meetings, and carry its logo in public.
The UK Home Office did not immediately respond to a request for comment on the Telegraph report.
Iran's Revolutionary Guards last week arrested seven people with links to Britain over anti-government protests that have rocked the country following the death of Mahsa Amini, a 22-year-old Kurdish Iranian who was arrested for wearing "inappropriate attire" under Iran's strict Islamic dress code for women.
Britain's Prime Minister Rishi Sunak on Wednesday urged Iran to stop detaining dual nationals, saying the practice should not be used to obtain "diplomatic leverage."
Source: Arab News
Please click the following URL to read the text of the original story:
https://www.arabnews.com/node/2225901/middle-east
--------
Yemen Decries Saudi Execution Of Two Nationals As 'Absolute Disgrace' To So-Called Rights Advocates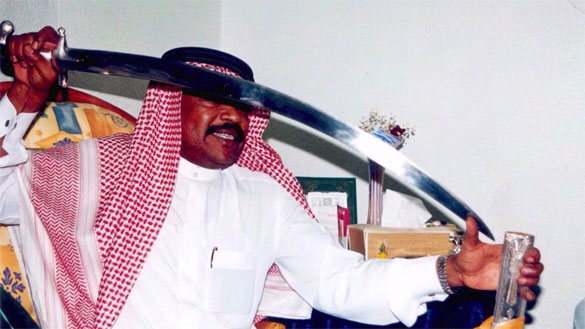 In this file picture, a Saudi Arabian executioner shows off his sword. (Photo via Twitter)
----
02 January 2023
The Yemeni Ministry of Human Rights has condemned in the strongest terms the recent execution of two nationals in Saudi Arabia, calling on international human rights organizations to take a firm stance against the appalling atrocity as the kingdom executed twice as many people last year as it did in 2021.
The ministry announced in a statement that the 27-year-old Yemeni citizen Mohammad Muqbil al-Wasel, who hailed from the southwestern province of Dhamar, and Shajaa Salah Mahdi Jamil, 29, were put to death by Saudi authorities following unfair and summary trials, and the victims were deprived of the right to have a lawyer assist in their defense.
The statement went on to note that Saudi officials have not provided any information about the circumstances of the executions to the relatives of the two young Yemeni men, stating that the move constitutes a torture, ill-treatment and criminal act under international human rights conventions.
The Ministry highlighted that the latest executions add to the House of Saud's abysmal records and long lists of collective crimes committed against the Yemeni nation, as several Yemeni expatriates have been killed under similar circumstances in Saudi Arabia in the past.
The statement deplored the crime as an absolute disgrace to the so-called advocates of democracy as well as freedom of opinion and expression, especially the United Nations and the United States.
The Yemeni Ministry of Human Rights also called on all human rights organizations, the international community and freedom-loving people around the world to adopt a firm stance in the face of the Saudi regime's crimes, and urged the United Nations Security Council and the UN Human Rights Council to take proper measures to stop the practice.
Last November, Yemeni national Ali Atef al-Aliei, who originally came from the western province of Mahwit, was arrested by Saudi regime forces near his workplace, taken away to an unknown location, severally beaten up and suffocated to death.
The Yemeni human rights group Insan Rights and Freedoms Organization said in a statement at the time that the victim had told his family in Yemen that he was receiving death threats, before they lost communication with him since September 9. His body was recovered at last from al-Manar police station in the Saudi capital of Riyadh.
The human rights group noted that Aliei was subjected to heinous and horrific forms of torture, which showed the savagery and brutality of Saudi authorities against migrants and constituted a flagrant violation of all international principles.
Back in April last year, the Arabic-language New al-Khalij news website reported that Saudi authorities had deported hundreds of Ethiopian migrant workers after keeping them for months in detention centers across the oil-rich kingdom under degrading conditions.
"We returned to our blessed country after six months in prison... but many of our brothers are still suffering, especially in men's prisons," a 28-year-old woman said at the time.
"We cried every day. They gave us bread and a pot of cooked rice for 300 people. Sometimes they put up to 400 people in the same room and we couldn't see the sunlight," Jamila Shafi told AFP upon her arrival in Ethiopia.
Source: Press TV
Please click the following URL to read the text of the original story:
https://www.presstv.ir/Detail/2023/01/02/695615/Yemen-decries-Saudi-execution-of-two-nationals-as-%E2%80%98absolute-disgrace%E2%80%99-to-so-called-rights-advocates
--------
South Asia
Islamic Emirate of Afghanistan to Prosecute Afghan Media Outlets Operating from Abroad
By Nizamuddin Rezahi
January 3, 2023
The Taliban courts will soon announce its decision regarding the media outlets whose executives have fled the country and run the outlet from outside the country Afghanistan International reports.
Abdu Haq Hemad, director of media assessment at the Islamic Emirate of Afghanistan's ministry of information and culture has accused the media organizations of spreading propaganda against the ruling regime.
"A decision has been made regarding these media outlets. It is expected that the court's decision will be announced in the near future," Hemad said. He further stated that "no law allows the executive of media outlets to operate from outside and promote propaganda against the regime."
This comes as the Taliban regime have already imposed tough restrictions on media organizations and news channels operating in Afghanistan. According to reports, media outlets operating inside the country cannot criticize the ruling regime and publish sensitive materials. Media freedom was restricted within the initial days of the Taliban's return to power, followed by strict rules on female journalists and presenters while appearing live on news channels.
Since the return of the Taliban to power in August 2021, hundreds of media outlets including TV channels, radio stations, and news outlets closed their doors mostly due to conservative restrictions imposed by the current administration, lack of financial support and other economic related issues. As of now, some 165 radio stations and 55 TV channels are operating in Afghanistan.
Source: Khaama Press
Please click the following URL to read the full text of the original story:
https://www.khaama.com/taliban-iea-to-prosecute-afghan-media-outlets-operating-from-abroad/
--------
No Travel Ban for Islamic Emirate Ministers to Uzbekistan for Humanitarian Purposes: Afghan Minister
The acting minister of energy and water, Abdul Latif Mansour, who returned from a trip to Uzbekistan, said on Monday that ministers of the caretaker government are not faced with any restrictions in traveling and they can travel for humanitarian purposes.
"There hasn't been a specific restriction by the world on trips by Islamic Emirate ministers that are conducted for humanitarian purposes," he said. "If there were any restrictions, that would have been implemented on the current trip."
Mansour said he travelled to Uzbekistan to extend the contract of the imported electricity to Afghanistan and address power shortage in Kabul and other provinces.
"Based on the contract, they will provide us 440 megawatts of power," Mansour said.
The country's power distributor, Da Afghanistan Breshna Sherkat (DABS), asked national and foreign investors to invest in the energy sector in Afghanistan.
"The Chamber of Investment of China's representatives arrived a while ago. They expressed interest in investment in coal-fired power," Maiwandi said.
Source: Tolo News
Please click the following URL to read the full text of the original story:
https://tolonews.com/afghanistan-181444
--------
Afghan Americans protest against Taliban ban on women's education
January 3, 2023
Protesting against the recent ban on women's education in Afghanistan, a large number of Afghan Americans have pledged to fight against this atrocious policy of the Taliban government.
"We are here to fight for girls' right to education," Rayan Yasini from California representing the Afghan Cultural Society said in front of the White House on Sunday as she was joined by a large number of Afghan Americans from across the country.
"Ever since the Taliban have taken control of Afghanistan, girls no longer have the right to study. We are here to ensure that it does not stay that way," Yasini said.
Nasir Khan, president of the Afghan Society, urged the Taliban government to withdraw the recent ban on education of girls in the country. Afghan girls need to get their rights, he demanded.
Source: Business Standard
Please click the following URL to read the full text of the original story:
https://www.business-standard.com/article/international/afghan-americans-protest-against-taliban-ban-on-women-s-education-123010300082_1.html
--------
Southeast Asia
Intensify usage of social media to promote Islam, says Abang Johari
03 Jan 2023
KUCHING, Jan 3 — The usage of social media such as Telegram and WhatsApp should be intensified as another platform to preach and share Islamic ideas, especially to the new generation, said Sarawak Premier Tan Sri Abang Johari Openg.
He said with the advancement in communication technology, physical distance was no longer a barrier to instant connection and this should provide ample opportunities to further promote Islamic values.
"It is no longer abnormal that we have to adopt and adapt (new technology). I believe within a few years from now, we will be using hologram, which is a futuristic method of displaying an image using light to form a 3D object, and I had that experience in Korea (during a recent visit)," he said.
When opening the Regional Islamic Da'wah Council of Southeast Asia and the Pacific (RISEAP) 19th General Assembly here today, he said even the recent RISEAP regional exco meeting was conducted online via zoom.
According to him, with the continuity of excellent governance, RISEAP will be able to expand its reach beyond the current 24 member countries and increase its membership in the years to come.
"There are many opportunities for people from different religions to come together and raise mutual understanding. It requires confidence and openness to reach out and take the step that will bring us together by promoting interfaith understanding and working closely with other religious groups," Abang Johari added.
RISEAP was formed on November 11, 1980 with the aim of bringing together Muslim-minority countries in the region.
Source: Malay Mail
Please click the following URL to read the full text of the original story:
https://www.malaymail.com/news/malaysia/2023/01/03/intensify-usage-of-social-media-to-promote-islam-says-abang-johari/48218
--------
Qatar requires negative PCR test for travelers from China as COVID-19 cases surge
02 January ,2023
Qatar will now require travelers flying in from China to present a negative COVID-19 PCR test upon arrival starting from Tuesday, the official Qatar News Agency (QNA) reported.
A test must be taken within 48 hours ahead of departure regardless of a traveler's vaccination status, QNA added.
Qatar has joined 16 other countries who imposed conditions on travelers from China, some of which have banned visitors from the country all together.
Morocco had on Saturday imposed an entry ban on Chinese travelers from January 3, citing concerns about the spread of "a new wave of infections."
The Chinese government on December 7 ended its harsh zero-tolerance approach to containing the coronavirus without prior notice. The restrictions had included snap lockdowns, frequent mass testing, and largely closed borders.
Thousands of new COVID-19 cases are being reported in China every day, with the government's top health authority saying that as many as 248 million people – nearly 18 percent of the total population – are estimated to have been infected in the first 20 days of December.
Source: Al Arabiya
Please click the following URL to read the full text of the original story:
https://english.alarabiya.net/coronavirus/2023/01/02/Qatar-requires-negative-PCR-test-for-travelers-from-China-as-COVID-19-cases-surge
--------
North America
Neighbours of accused cop slasher Trevor Bickford stunned by Islamist radical allegations
By Haley Brown and Jorge Fitz-Gibbon
January 2, 2023
WELLS, Maine — Suspected Islamist radical Trevor Bickford began wearing "religious garb" in the years following his father's death, a neighbor told The Post on Monday — as others in his sleepy New England hometown said they were stunned by allegations that the "quiet" local boy attacked NYPD cops with a machete on New Year's Eve.
"There was no indication here that that sort of thing was going on," next-door neighbor Ken Creed told The Post on Monday.
"Without sounding racist, we don't have a lot of that," Creed said. "And I'm not aware of any influences like that in Wells."
"Weird world," he added.
FBI agents showed up at the quiet, two-story home on Alpine Drive shortly after Bickford, 19, was shot in the shoulder after allegedly slashing three cops with a machete in Times Square on Saturday night.
The teen was already on a federal terror watchlist, sources previously told The Post.
It was a surreal turn of events for the quiet former honor student who was once a member of the Wells High School championship football team and was the recipient of a school art award for his jewelry creations.
Locals said he has worked for Resurrection Golf, a groundskeeping company that works the greens at the nearby Old Marsh Country Club, which is about five minutes from his family's home.
"A typical news day but closer to home," said a local named Rick, who declined to give his last name but said he has lived in Wells for 25 years and knows Bickford's family.
"They've always been really quiet," he said of the family. "We don't really interact with them at all and they've always been very, very quiet."
One local high schooler described Bickford as "normal" and "quiet."
Sources said Bickford "found religion" after his father's overdose death in 2018, and became a radicalized Muslim as recently as a month ago.
"It seemed like his dad died and then he started," said a senior at Wells High School, who declined to give her name — noting that's when she began noticing Bickford wearing "religious garb" in photos on his mother's Facebook page.
She said one of the troubled teen's brothers, Travis, "isn't like that."
A woman who works at the Maine Diner and Gift Shop in Wells, where Bickford and his mom used to work, said they are like "family" in town. Another employee at the diner said the teen and his mom never discussed Bickford's reported conversion to Islam.
But as the teen appeared to become more extreme in his views — including indicating a desire to go fight in Afghanistan alongside Islamic militants — his own mother and aunt tipped off the feds about the increasingly troubled teen, landing him on the FBI's terrorism "Guardian Watchlist," according to the sources.
On Sunday, federal agents arrived in the afternoon to search the Alpine Drive home, but were gone by Monday morning.
"The FBI was conducting authorized activity in connection with an ongoing federal investigation. To protect the integrity of the investigation, we're going to decline further comment," FBI spokeswoman Kristin Setera told The Post.
A woman who appeared to be Bickford's mother was spotted later Monday hammering a "no trespassing" sign into the yard of the home where the alleged terrorist's grandmother lives.
The waterfront resort town of just over 11,000 residents is an unlikely place for FBI scrutiny.
Wells boasts a quaint Main Street with boutiques and restaurants that cater to tourists. The town's attractions include the picturesque Moody Beach as well as a popular conservation center, the Wells Reserve at Laudholm.
At The Mainestock Exchange Emporium on Route 1 a woman who came to the window abruptly shut the blinds and told a reporter to "get off my property" when asked about the family.
Bickford, who grew up in town with his mom, stepdad and two brothers — one of them a US Marine — remained at Bellevue Hospital on Monday, when he was charged by the NYPD with attempted murder and assault over the ambush.
Sources told The Post Sunday that Bickford traveled to New York on an Amtrak train, arriving on Dec. 29, and appeared to have been a lone wolf. He had packed camping gear, a diary and a last will and testament — as well as the weapon, a type of machete known as a Gurkha, according to sources.
He allegedly told the feds after his arrest that he hatched the violent plan as recently as Friday, and made statements that he wanted to attack a uniformed officer or someone armed because they are the "enemy of the state," according to the sources.
Source: New York Post
Please click the following URL to read the full text of the original story:
https://nypost.com/2023/01/02/trevor-bickfords-maine-neighbors-stunned-by-islamist-radical-allegations/
--------
Blinken discusses Iran threat during call with Israeli FM
January 02, 2023
LONDON: US Secretary of State Antony Blinken discussed the threat from Iran during a phone call with Israeli Foreign Minister Eli Cohen on Monday.
Blinken congratulated Cohen, who took office last week as part of Prime Minister Benjamin Netanyahu's new hard-right coalition government, on his appointment during the call.
The secretary of state also underscored the United States' abiding commitment to the US-Israel partnership and to Israel's security.
Blinken discussed continued US efforts to advance mutual interests such as Israel's further regional integration, including through the Negev Forum.
He also discussed addressing shared challenges and promoting common values that have been at the heart of the relationship between the US and Israel.
Source: Arab News
Please click the following URL to read the full text of the original story:
https://www.arabnews.com/node/2225716/middle-east
--------
Suspect in New Year's Eve NYC police attack reportedly linked to terrorism
January 03, 2023
WASHINGTON: A teenager accused of attacking three policemen with a machete on New Year's Eve near Times Square was charged with attempted murder and attempted assault, New York police said on Monday, in an incident the New York Times said was linked to terrorism.
The New York City Police Department identified the suspect as Trevor Bickford, 19, of Wells, Maine, and said in an email on Monday that he had been charged with two counts of attempted murder and two counts of attempted assault.
Further details on future proceedings were not immediately shared by the police.
Authorities did not comment on the motivation for the attack, but the Times reported that the suspect was driven by terrorism. The newspaper quoted an unnamed senior law enforcement official, who said that Bickford may later face extremism charges.
The Times said Bickford had converted to Islam sometime in the last year and a half.
Bickford had traveled to New York from his Maine home on Saturday, police said.
New York rang in the new year in typical style on Saturday evening as thousands of people corralled themselves into pens under pouring rain in Times Square, waiting to see a glittering ball glide down a pole mounted atop a tall building in the year's final seconds.
The attack, which officials say was unprovoked, took place late in the evening outside a secure area set up for New Year's Eve celebrations, Police Commissioner Keechant Sewell told reporters immediately after the incident.
One of the three policemen who were attacked and who had recently graduated from the Police Academy, suffered a fractured skull, officials said. All three officers were taken to a hospital but had been released by Monday.
One of the officers shot the suspect, hitting him in the shoulder. The suspect was then taken into custody, police said.
Bickford was taken to Bellevue Hospital for treatment, where he remained on Monday.
Before the attack, Bickford wrote a farewell letter to his family in a diary, the Times reported.
In the diary, he wrote to his mother, "I fear greatly you will not repent to Allah and therefore I hold hope in my heart that a piece of you believes so that you may be taken out of the hellfire," according to the newspaper.
Source: Arab News
Please click the following URL to read the full text of the original story:
https://www.arabnews.com/node/2225906/world
--------
Europe
Exiled Iran opposition figures in united 'victory' message
January 02, 2023
PARIS: A group of prominent exiled Iranian pro-opposition figures have issued a coordinated message predicting 2023 will be a year of "victory" with the regime shaken by protests.
Those sending the message include leaders from the fields of culture, human rights and sports.
The Iranian diaspora has long been seen as lacking unity, split into different political factions and strategies for dealing with the Islamic republic, that ousted the shah in 1979.
But with protests still continuing in Iran over 100 days after they were sparked by the death of young Iranian Kurdish woman Mahsa Amini, the message appears an attempt to find a long-sought unity.
"The year 2022 was a glorious year of solidarity for Iranians of every belief, language and orientation," it said.
"With organization and solidarity, 2023 will be the year of victory for the Iranian nation. The year of freedom and justice in Iran."
The message was sent simultaneously on social media by a variety of figures, ranging from the influential US-based dissident Masih Alinejad to the son of the ousted shah, Reza Pahlavi, who also lives in the United States.
Prominent actors Golshifteh Farahani and Nazanin Boniadi also tweeted the message, as did Zar Amir Ebrahimi, who won the best actress award at the Cannes Film Festival in France last year.
"We are united to reach freedom," Farahani wrote on her Instagram account. "We will stand together and will not be silent."
Prominent rights activists to post the message included Nobel Peace Prize laureate Shirin Ebadi, and Hamed Esmaeilion, who has led the Canada-based campaign for justice for the victims of the Ukraine Airlines flight shot down by Iran in January 2020.
From the field of sports, they were joined by former Iranian international football star Ali Karimi, who has been a vociferous supporter of the protest movement.
The protest movement sparked by the death of Amini, who had been arrested for allegedly breaching the Islamic republic's strict dress code, is presenting the clerical leadership with its biggest challenge since the 1979 revolution.
The crackdown has seen 476 people killed, according to Norway-based rights group Iran Human Rights.
Two people have already been executed over the protests, while IHR says at least 100 detainees are at risk of execution.
The United Nations says at least 14,000 people have been arrested, with several well known figures such as the actor Taraneh Alidoosti still in detention.
Roham Alvandi, a history professor at the London School of Economics, said the message was a "hopeful sign in dark times."
Source: Arab News
Please click the following URL to read the full text of the original story:
https://www.arabnews.com/node/2225581/world
--------
Zelesnkyy: Russia planning prolonged attacks with Iran-made drones to exhaust Ukraine
03 January ,2023
Russia is planning to launch a long-term campaign of attacks against Ukraine using Iranian-made drones in an effort to demoralize and "exhaust" the war-weary country, Ukrainian President Volodymyr Zelenskyy said, citing intelligence reports.
The Ukrainian president said he received intelligence indicating that the attacks would be carried out using Iranian-made Shahed drones, he said in his nightly address on Monday in Kyiv.
"We must ensure - and we will do everything for this - that this goal of terrorists fails like all the others," the BBC quoted Zelenskyy as saying.
"Now is the time when everyone involved in the protection of the sky should be especially attentive."
He claimed that Russia aims to "exhaust" Ukraine through a sustained wave of drone attacks and called on those responsible for protecting the sky to be vigilant.
This news follows Ukraine's announcement that it had carried out a strike which it claimed killed 400 Russian soldiers in the occupied Donbas region. Russia admitted that the attack killed 63 of its troops, a rare acknowledgement of battlefield losses. However, neither claim has been verified.
Kremlin critics have accused Russian authorities of downplaying losses on the battlefield in Ukraine.
Russian military bloggers said several hundred troops could have died as a result of the strike in Makiivka.
Former Russian separatist leader Igor Strelkov said he received a report about the strike about 1 am on January 1 (2300 GMT on December 31).
He said "hundreds" have been killed and wounded, adding the Ukrainian army struck a facility that housed mobilized troops.
Russia has recently increased its drone strikes on Ukraine, targeting cities and power stations across the country over the past three nights. Zelenskyy reported that Ukrainian air defenses had shot down more than 80 Iranian-made drones in the opening days of 2023.
Source: Al Arabiya
Please click the following URL to read the full text of the original story:
https://english.alarabiya.net/News/world/2023/01/03/Zelesnkyy-Russia-planning-prolonged-attacks-with-Iran-made-drones-to-exhaust-Ukraine
--------
Turkish drone captures illegal Greek pushback of irregular migrants
Seda Sevencan
02.01.2023
A Turkish navy drone recorded footage of Greek forces illegally pushing back a boat carrying irregular migrants to Turkish territorial waters, the National Defense Ministry said on Monday.
The illegal Greek pushback was recorded 3.62 miles (5.82 kilometers) southwest off the coast of Cesme in the Aegean Sea on Dec. 29, the ministry said in a tweet.
The Turkish Coast Guard was immediately alerted and rescued the irregular migrants, it added.
Ankara and international human rights groups have repeatedly condemned Greece's illegal practice of pushing back asylum seekers, saying it violates humanitarian values and international law by endangering the lives of vulnerable people, including women and children.
Türkiye has been a key transit point for irregular migrants who want to cross into Europe to start new lives, especially those fleeing war and persecution in their countries.
Source: Anadolu Agency
Please click the following URL to read the full text of the original story:
https://www.aa.com.tr/en/europe/turkish-drone-captures-illegal-greek-pushback-of-irregular-migrants/2778167
--------
Dutch analyst announces receiving death threats from PKK terror group
Merve Aydogan
02.01.2023
A Dutch researcher has announced receiving death threats from the PKK terror group's social media accounts as well as via emails.
On Twitter, Rena Netjes went public with the incident, saying: "For the past few weeks I have been receiving death threats and other warnings from Rojava Kurdish accounts (incl from Paris).
"Tonight I got emails that they made my profile on lesbian/gay/sex accounts. I pay a price for exposing PYD propaganda," she said on Twitter on Sunday.
In an online report titled "the YPG/PYD During the Syrian Conflict," which was published back in April 2021, Netjes and her fellow researcher Erwin Van Veen concluded that "what emerges from the analysis is an organization that has ruthlessly pursued its objective of establishing and controlling its own autonomous territory and sphere of action."
It added: "The YPG/PYD's record is further muddled by the sway that an organization external to Syria – namely the PKK – holds over it ... As it happens, the PKK pursues a regional agenda that includes conflict with several other entities – such as Turkey and the KDP. The YPG/PYD's link with the PKK makes the support it seeks from external parties such as EU member states neither feasible nor appropriate."
The PKK and its Syrian branch the YPG have used terrorist bases across Türkiye's border in northern Iraq and northern Syria to plot and carry out attacks on Türkiye. The group has worked to create a terrorist corridor along the Syrian border, threatening both Syrian locals and nearby Turkish residents.
In its more than 35-year terror campaign against Türkiye, the PKK – listed as a terrorist organization by Türkiye, the US and EU – has been responsible for the deaths of over 40,000 people, including women, children, and infants.
Source: Anadolu Agency
Please click the following URL to read the full text of the original story:
https://www.aa.com.tr/en/europe/dutch-analyst-announces-receiving-death-threats-from-pkk-terror-group/2777739
--------
Arab World
Saudi, UN body sign agreement to combat human trafficking
January 03, 2023
RIYADH: The Saudi Human Rights Commission and the UN Office on Drugs and Crime on Monday signed the second phase of an agreement to implement activities to strengthen national capabilities in preventing and punishing human trafficking.
The agreement contributes to achieving a sustainable impact by meeting the objectives of the National Action Plan of the Committee for Combating Trafficking in Persons.
HRC President Hala Al-Tuwaijri said that human trafficking is one of the most heinous crimes that violate human rights and deprive individuals of freedom and dignity.
She stressed that the Kingdom, through the regulations and international agreements it has enacted and joined, has worked to build a legal and institutional framework that guarantees the protection of all persons, without discrimination, from these crimes and assists the victims.
Al-Tuwaijri added that the renewal of the agreement comes within the framework of the Kingdom's continued efforts to follow up on projects and initiatives related to combating and preventing these crimes and developing national capabilities to counter them.
Source: Arab News
Please click the following URL to read the full text of the original story:
https://www.arabnews.com/node/2225886/saudi-arabia
--------
Egypt recovers 2,700-year-old sarcophagus lid from US
02 January ,2023
Egypt announced Monday the recovery of a sarcophagus lid dating back nearly 2,700 years that it said had been smuggled out and put on display at a museum in the US.
Egyptian Foreign Minister Sameh Shoukry announced the recovery of the artifact, known as the "Green Sarcophagus", during a televised press conference Monday.
He said it had been surreptitiously removed from the country and its recovery is part of efforts to "protect Egypt's heritage".
The lid, measuring nearly three meters (3.3 yards) in length and 90 centimeters (35.5 inches) in width, was among 17 artifacts recently recovered from the US, Tourism and Antiquities Minister Ahmed Issa said at the news conference.
The sarcophagus lid was looted from the Abusir necropolis south of Cairo then transported to the US in 2008, eventually making its way to the Houston Museum of Natural Science in 2013, according to state media.
Over the past decade, Egypt has recovered about 29,000 antiquities found to have been taken abroad through illegitimate means.
Mostafa Waziri, the secretary-general of Egypt's Supreme Council of Antiquities, said the sarcophagus likely belonged to a nobleman.
He said it dates back to the Late Period of Ancient Egypt, and it was named the Green Sarcophagus because of the color of the face etched on it.
Only the lid had been stolen, he added, as the whole coffin weighs about half a ton, making it one of the largest wooden sarcophagi from Ancient Egypt.
In addition to the latest recovered artifacts, Egypt has unveiled more than 300 sarcophagi and 150 bronze statuettes over the past two years, some of them dating back more than 3,000 years.
Source: Al Arabiya
Please click the following URL to read the full text of the original story:
https://english.alarabiya.net/News/middle-east/2023/01/02/Egypt-recovers-2-700-year-old-sarcophagus-lid-from-US
--------
Four tons of drugs seized by French navy in the Arabian Sea
02 January ,2023
The French navy seized nearly half a ton of heroin and 3.5 tons of cannabis resin when it intercepted an unflagged boat in the Arabian Sea, it said Monday.
It seized the drugs with an estimated value of 50 million euros after its frigate Guepratte spotted the dhow on December 27, the Indian Ocean Maritime Command said in a statement.
Part of the illegal drugs shipment was "probably intended for the European market", said the command based in Abu Dhabi in the United Arab Emirates.
Source: Al Arabiya
Please click the following URL to read the full text of the original story:
https://english.alarabiya.net/News/middle-east/2023/01/02/Four-tons-of-drugs-seized-by-French-navy-in-the-Arabian-Sea
--------
Saudi Arabia sees strongest growth in jobs in five years amid business boom
03 January ,2023
Saudi Arabia saw the strongest increase in employment in almost five years even as business conditions in its non-oil economy improved at a slightly slower pace at the end of last year following a surge.
Companies sought to add to their staffing capacity in response to an increase in sales and higher demand, according to a survey of purchasing managers compiled by S&P Global and published on Tuesday.
The Riyad Bank Saudi PMI stood at 56.9 in December, well above the 50-mark separating growth from contraction. The gauge reached 58.5 in November, the highest reading in more than seven years.
"We see operating conditions remaining favorable in December, characterized by rapid growth in the non-oil activities and a robust labor market by the end of 2022, with both jobs and wages having far more momentum than previously thought," said Naif Al-Ghaith, chief economist at Riyad Bank.
The buoyancy of the non-oil private sector — the engine of job creation for the world's top crude exporter — reflects the strength of the economic momentum after the pandemic that's been largely immune to a sharp uptick in the cost of money at home and the threat of a slowdown globally.
Prices charged by companies increased at the fastest rate in nine months in December, as firms saw a need to pass increased expenses onto clients.
Source: Al Arabiya
Please click the following URL to read the full text of the original story:
https://english.alarabiya.net/News/gulf/2023/01/03/Saudi-Arabia-sees-strongest-growth-in-jobs-in-five-years-amid-business-boom
--------
Retailers, Hotels Slash Prices After Dubai Removes 30 Pct Tax On Alcohol Sales
03 January ,2023
Retailers and hotels have begun slashing prices on licensed beverages after a decision by the Dubai Municipality to remove a 30 percent tax on alcohol for 2023.
Dubai Municipality confirmed on Monday that the decision affects companies selling alcoholic beverages in the emirate and licensed retailers had been informed.
For all the latest headlines follow our Google News channel online or via the app.
In a tweet, it confirmed collection of the tax had been temporarily suspended. The change took immediate effect on January 1.
"Kindly note that Dubai Municipality has temporarily stopped collecting the 30 per cent fee from alcoholic beverage companies for a period of one year from the beginning of 01/01/2023 to the end of 12/31/2023," it said.
"The companies authorized to sell in the emirate of Dubai have been notified of the decision."
Tyrone Reid, CEO of Maritime & Mercantile International (MMI), an off-licence chain, told Al Arabiya English in a statement they welcomed the decision and changes had already been put into force.
"Following the announcement by the Government of Dubai to remove the 30 percent municipality tax on sales of alcoholic beverages, we are pleased to announce that this will be reflected across all alcoholic beverage products in all our 21 MMI stores in Dubai, effective January 1."
Meanwhile, at African & Eastern, another off-licence chain, workers in its Dubai's Motor City branch were busy marking down the sale of licensed beverages across the store on Monday.
"Everything is going down," a worker said. "Everything is so much cheaper now."
Sami Matta, multi-outlet general manager at 25hours Hotel One Central, also welcomed the news.
He told Al Arabiya English: "With the announcement of the tax reduction, it is good news for both the restaurateur and the consumer."
"Not only will it boost tourism to the emirate, where the prices of drinks are among the highest worldwide, it will also allow people to enjoy premium wines and spirits at more reasonable prices."
"As our acquisition cost will reduce by 30 percent, our prices will reflect this as of next week as we support the government regulations made to make Dubai a more attractive and competitive destination for both tourists and residents."
"Although currently set as a one-year trial period, I am confident it will have a big positive impact, which could lead to it being a permanent regulation. Extending this period will also help stakeholders make the necessary adjustments after reviewing and analyzing the results of the changes implemented in the first year."
Hari Kaimal, CEO of Goldmead Hospitality, said the decision would have a positive impact on the emirate's hospitality industry.
"The Dubai government's decision to remove the 30 percent tax on alcoholic beverages is certainly a welcome change in regulation, and will no doubt provide a boost to the hospitality industry."
"The industry's cost of acquisition of alcoholic beverages will now reduce by 30 percent and we expect that the majority of operators will pass on most of the savings, if not all to their customers."
"We certainly plan to do so, and our menus across our different venues will reflect this change shortly. It should be an obvious choice for most operators at least in certain product categories such as draught beer and spirits which are more price elastic here than the rest of the world."
"We strongly believe this will spur a boost in consumption, especially coming off the back of a strong Q4 and major events such as the FIFA World Cup Qatar 2022."
Source: Al Arabiya
Please click the following URL to read the full text of the original story:
https://english.alarabiya.net/News/gulf/2023/01/03/Retailers-begin-slashing-prices-after-Dubai-remove-30-pct-tax-on-alcohol-sales
--------
Riyadh Season attracts 10m regional, international visitors
January 02, 2023
RIYADH: More than 10 million regional and international visitors have attended Riyadh Season events since its launch on Oct. 21.
Staged under the title "Beyond Imagination," the entertainment festival has offered at least 8,500 activity days and experiences in 15 diverse zones.
In a tweet, Turki Al-Sheikh, chairman of the General Entertainment Authority, said: "Imagination has become a reality with Riyadh Season — 10 million visitors so far."
He added that each festival zone had its own special character.
Now in its third season, this year's event has been the biggest and most dynamic to date, including the largest artificial lake in the world, cable car transportation, cloud-embracing lounges, and the international Cirque du Soleil.
It includes 252 restaurants and cafes, 240 stores, eight international shows, more than 150 concerts, 108 interactive experiences, seven global exhibitions, two international football matches, 17 Saudi and Arab plays, and WWE wrestling events.
The range of entertainment options available for visitors has included games, heritage, culture, fashion, perfumes, exhibitions, and music.
It also featured a Riyadh Season Cup, bringing together the Paris Saint-Germain team with stars from Al-Hilal and Al-Nassr football clubs.
As well as Saudi and Arab plays and concerts, organizers have put on local and international anime, perfumes, and games exhibitions along with numerous other events for families, adults, and children.
The zones are Boulevard World, Boulevard Riyadh City, Winter Wonderland, Al-Murabaa, Sky Riyadh, Via Riyadh, Riyadh Zoo, Little Riyadh, The Groves, Imagination Park, Al-Suwaidi Park, Souq Al-Zel, Qariat Zaman, Fan Festival, and Riyadh Front.
Meanwhile, visitors to the season are being offered the chance to use the latest technology to gain entry to entertainment zones.
Non-fungible tokens in the form of an access card will enable holders to take part in activities and events including electronic games, Saudi and Arab festivals and plays, concerts, and local and international exhibitions.
NFTs are unique digital identifiers that cannot be copied, substituted, or subdivided. The first project was launched in 2015 via the Ethereum blockchain platform.
NFTs are used in many sectors, including games, selling songs, digital arts, clothing, cars, and for proving ownership of photos and videos. The technology is also used in medical records and health data, and for event ticketing.
Source: Arab News
Please click the following URL to read the full text of the original story:
https://www.arabnews.com/node/2225771/saudi-arabia
--------
Saudi project clears 969 Houthi mines in Yemen
January 03, 2023
RIYADH: Implemented by the King Salman Humanitarian Aid and Relief Center, the Saudi Project for Landmine Clearance in Yemen dismantled 969 Houthi mines in the fourth week of December.
This figure includes 19 anti-personnel mines, 381 anti-tank mines, 555 unexploded ordinances and 14 other explosive devices.
The project is one of several initiatives undertaken by Saudi Arabia on the orders of King Salman to help ease the suffering of the Yemeni people.
It clears routes for much-needed humanitarian aid aimed at supporting the country's embattled citizens.
The demining took place in Marib, Aden, Jouf, Shabwa, Taiz, Hodeidah, Lahij, Sanaa, Al-Bayda, Al-Dhale and Saada.
A total of 379,605 mines have been cleared since the start of the project.
More than 1.2 million mines have been planted by the Houthis, claiming the lives of hundreds of civilians.
The Saudi project trains local demining engineers and provides them with modern equipment. It also provides support to Yemenis injured by the devices.
Source: Arab News
Please click the following URL to read the full text of the original story:
https://www.arabnews.com/node/2225881/saudi-arabia
--------
Mideast
Iran's judiciary confirms death sentence for protester
Jan 2, 2023
TEHRAN: Iran's judiciary confirmed on Monday the death sentence against a man accused of violence during protests over the death in custody of Mahsa Amini.
"Mohammad Boroghani's death sentence was upheld on December 6 by the Supreme Court," the judiciary's Mizan Online news website said.
The judiciary says it has handed down a total of 11 death sentences in connection with the protests. Two of those have been carried out.
Iran has been gripped by demonstrations since the September 16 death in custoday of Amini, 22, an Iranian Kurd arrested by the country's morality police for allegedly violating the country's strict dress code for women.
Iranian officials call the protests "riots" and say hundreds of people including members of the security forces have been killed.
Thousands of others have been arrested.
Boroghani was charged in October with moharebeh, "enmity against God", an offence punishable by death under Islamic sharia law.
He was accused of "wounding a security personnel with a knife with the intent of killing him and sowing terror among citizens" as well as "setting ablaze the governor's office in Pakdasht", a city 43 kilometres (27 miles) southeast of the capital Tehran.
Source: Times Of India
Please click the following URL to read the full text of the original story:
https://timesofindia.indiatimes.com/world/middle-east/irans-judiciary-confirms-death-sentence-for-protester/articleshow/96691169.cms
--------
Israel to question preacher of Jerusalem's Al-Aqsa Mosque
2/01/2023
The Israeli intelligence service on Monday summoned the preacher of Al-Aqsa Mosque in occupied East Jerusalem, Sheikh Ekrema Sabri, for questioning, according to his family.
A family member, who spoke on condition of anonymity, said Israeli forces raided Sabri's home in al-Suwaneh neighborhood in East Jerusalem.
"He was summoned for questioning without specifying the reasons," he told Anadolu Agency.
There was no comment from the Israeli authorities on the report.
Sabri is a staunch critic of the decades-long Israeli occupation of the Palestinian territories and was arrested several times by Israeli forces.
He previously held the position of the Mufti of Jerusalem and the Palestinian territories in from 1994 until 2006.
For Muslims, Al-Aqsa represents the world's third holiest site. Jews, for their part, refer to the area as the "Temple Mount", claiming it had been the site of two Jewish temples in ancient times.
Source: Yeni Safak
Please click the following URL to read the full text of the original story:
https://www.yenisafak.com/en/world/israel-to-question-preacher-of-jerusalems-al-aqsa-mosque-3658212
--------
Iran Smashes MKO's Major Financing Network, Albania-Backed Ringleader Captured
2023-January-2
The intelligence ministry said in a statement today that six main members of the major network have been captured in simultaneous operations in several provinces of Iran.
"The widespread network was tasked with transferring money from abroad with complicated money-laundering methods and supplying various equipment to the operational and terrorist teams of the MKO in Iran," the statement added.
The ringleader of the network, named Ali Mohammad Dowlati, is an important element of the MKO terrorist group that owns offices and institutions in the United Arab Emirates and the Netherlands, it noted.
Dowlati supported the operational terrorist teams and provided the necessary financial and logistical support for them in cooperation with Albania, the UAE and the Netherlands, the statement read.
The detainee had contacts with several intermediaries affiliated with the MKO inside Iran, oversaw the process of money transaction via multi-layered money-laundering methods, delivered money, weapons, ammunition and technical and communication gear to the terrorist teams, and even recruited thugs for participation in riots in Iran, the ministry said.
One of the elements that has been arrested is the father of an operational member of terrorist teams that had been captured around three years ago, and whose affiliation with a major industrial university of Iran resulted in a massive onslaught by the hostile media against the Iranian security and judicial organizations, it added.
A probe has been conducted into the network and their middlemen, adding that the elements residing abroad will be prosecuted by Interpol on charges of financing terrorism and organized money-laundering, according to the statement.
The intelligence ministry warned the countries hosting the MKO terrorists, including Albania, the Netherlands and the UAE, that the presence of MKO, whose nature is based on crisis and crime, will only aggravate the illegal and terrorist activities in any country.
Iran has in recent months dismantled several terrorist cells working for the MKO terror group. The militants were involved in making explosives and hand-made bombs and linked to foreigners and planned to carry out counter-security acts and set up operational groups to direct the riots in Iran.
After the Islamic Revolution in 1979, the MKO terrorist group began its enmity against Iran by killing thousands of Iranians and terrorist activities. Several members of the terrorist group and its leaders are living in European countries now, freely conducting terrorist activities.
The MKO terrorist group has martyred 17,161 Iranian citizens and officials, including late president Mohammad Ali Rajayee, former Prime Minister Mohammad Javad Bahonar, late Head of Supreme Judicial Council Ayatollah Mohammad Beheshti, late Deputy Chief of the Iranian Armed Forces General Staff Ali Sayyad Shirazi, and 27 legislators, as well as four nuclear scientists, some on itself and some others through collusion with Israeli Mossad and other notorious spy agencies like CIA.
The MKO terrorist group has publicly specified targets as martyred Lieutenant General Qassem Soleimani, who commanded the Quds Force of the Islamic Revolutionary Guard Corps (IRGC), and Iranian President Seyed Ebrahim Rayeesi.
The terrorist organization said it would "welcome" their assassination, adding that it desired for the ranking officials to "join" Asadollah Lajevardi, Tehran's former chief prosecutor, and Ali Sayyad-Shirazi, a former commander of the Iranian Army's Ground Forces during Iraq's 1980-88 war against Iran, who have both been assassinated by the terror outfit.
The MKO is currently based in Albania, where it enjoys freedom of activity after being delisted by the European Union and the United States in 2009 and 2012, respectively.
The terror group regularly hosts big events in which top US and European officials make speeches in support of the group. Pompeo, former National Security Advisor John Bolton, and former Vice President Mike Pence met with the terror group's leader several times, voiced their support for the notorious cult.
In mid-July, Iran slapped sanction on several US individuals and officials for their support for the MKO terrorist group, stating Washington continues assisting the terrorist group which has its hands stained with the blood of thousands of Iranian civilians.
Source: Fars News Agency
Please click the following URL to read the full text of the original story:
https://www.farsnews.ir/en/news/14011012000716/Iran-Smashes-MKO's-Majr-Financing-Newrk-Albania-Backed-Ringleader
--------
Judiciary Chief: 3,000 Inmates Freed, 16 Death Penalty Cases Commuted
2023-January-2
Mohseni Ejei made the announcement on the pardons and reduced sentences as he was attending a commemoration service for General Soleimani in the martyred general's hometown of Kerman in Southeast Iran on Monday.
The decision was adopted to reflect General Soleimani's efforts during his life to help the needy in the country, adding that pardons and reduced sentences would cover individuals who have been behind bars due to unintentional crimes or because of debt.
Source: Fars News Agency
Please click the following URL to read the full text of the original story:
https://www.farsnews.ir/en/news/14011012000603/Jdiciary-Chief-3-000-Inmaes-Freed-6-Deah-Penaly-Cases-Cmmed
--------
Iran Reminds Israel of Fragile State of Netanyahu's Gov't
2023-January-2
On Thursday, Israel's parliament had sworn in Netanyahu as prime minister. He stated an end to the "Arab-Israeli conflict" would be his top priority, as well as stopping Iran's nuclear programme and building up Israel's military capacity.
Referring to the Netanyahu's rhetoric, Kana'ani called on the authorities of the Tel Aviv regime to pay attention to the fragile state of their new government and their unstable economy.
"They know that Tehran will respond to any of their actions and threats, and they think seriously about its consequences. Iran's point of view is quite clear," the diplomat emphasized.
Military officials have warned that any mistake by the US and Israel will be met with Tehran's crushing response. Iranian officials say Washington and Tel Aviv are well aware of Tehran's capabilities and capacities, and caution that Tehran does not compromise or joke with its national security.
Iran says the Israeli regime is just playing mouth as it lacks the power and needed capability to take real action against Tehran, but, meantime warns that it won't be hesitant to devastate Israel in case of the slightest move by Zionist regime.
Source: Fars News Agency
Please click the following URL to read the full text of the original story:
https://www.farsnews.ir/en/news/14011012000558/Iran-Reminds-Israel-f-Fragile-Sae-f-Neanyah's-Gv'
--------
Israel's extreme-right minister Ben-Gvir visits al-Aqsa mosque compound
03 January ,2023
Israel's far-right national security minister Itamar Ben-Gvir visited the compound that houses the al-Aqsa mosque in Jerusalem on Tuesday, a move condemned by Palestinian as provocative and despite warnings it could lead to violence.
The Ynet news website carried pictures of Ben-Gvir touring the site under heavy security. The compound is Islam's third holiest site after Mecca and Medina and Judaism's most sacred, where Jews believe two ancient temples are located.
Israel's opposition leader and former Prime Minister Yair Lapid had warned that such a visit by Ben-Gvir would spark violence.
Only Muslim worship is allowed at the site, and there was no indication that Ben-Gvir had prayed during his visit.
The Palestinian foreign ministry said it "strongly condemns the storming of al-Aqsa mosque by the extremist minister Ben-Gvir and views it as unprecedented provocation and a dangerous escalation of the conflict."
Source: Al Arabiya
Please click the following URL to read the full text of the original story:
https://english.alarabiya.net/News/middle-east/2023/01/03/Israeli-far-right-minister-Ben-Gvir-visits-contested-Jerusalem-holy-site-Media
--------
Turkey's AK Party mulls bringing elections 'slightly' forward
02 January ,2023
Turkish President Recep Tayyip Erdogan's ruling AK Party is considering a "slight change" on the date of elections scheduled for mid-June, a senior party official said on Monday.
"We want elections to be held on June 18," AK Party spokesperson Omer Celik said at a news conference when asked about the possibility of snap elections. "But since this date corresponds with summer holiday season when people are traveling, ware evaluating bringing the date slightly forward."
Turkey's parliamentary and presidential elections are scheduled to be held on June 18, and Erdogan previously said elections would be held in June.
Source: Al Arabiya
Please click the following URL to read the full text of the original story:
https://english.alarabiya.net/News/middle-east/2023/01/02/Turkey-s-AK-Party-mulls-bringing-elections-slightly-forward
--------
Israeli foreign minister sees Abraham Accords summit in Morocco in March
02 January ,2023
Israeli Foreign Minister Eli Cohen said on Monday he planned to attend a summit in March with counterparts from Arab countries that have drawn closer to Israel following a US-sponsored diplomatic drive in 2020.
Cohen, who took office last week as part of Prime Minister Benjamin Netanyahu's new hard-right coalition government, said the summit would be hosted by Morocco, according to a Foreign Ministry statement.
Source: Al Arabiya
Please click the following URL to read the full text of the original story:
https://english.alarabiya.net/News/middle-east/2023/01/02/Israeli-foreign-minister-sees-Abraham-Accords-summit-in-Morocco-in-March
--------
Israel's defence ministry seeks $2.85B budget increase to confront Iran
Ahmed Asmar
02.01.2023
Israel's Ministry of Defense on Monday requested an increase of $2.85 billion in the annual budget to bolster its efforts to confront Iran, according to local media.
Israeli public broadcaster KAN said the new increase aims to boost preparations to confront the Iranian nuclear program.
The ministry's new budget includes a 17% increase from the current defense budget of $17.8 billion.
Israel accuses Iran of seeking to build a nuclear bomb, a claim denied by Tehran, which says its program is designed for peaceful purposes.
Iran has often in recent years accused its arch-foe Israel of carrying out espionage and sabotage acts at key nuclear, military and industrial facilities through local agents.
Source: Anadolu Agency
Please click the following URL to read the full text of the original story:
https://www.aa.com.tr/en/middle-east/israel-s-defense-ministry-seeks-285b-budget-increase-to-confront-iran/2777994
--------
Yemeni forces launch final push to drive Al-Qaeda from Abyan
SAEED AL-BATATI
January 02, 2023
AL-MUKALLA: Yemeni military leaders have launched the final push to expel Al-Qaeda militants from Abyan, deploying hundreds of soldiers and armored personnel carriers as reinforcements.
The APCs, armed vehicles and support trucks were seen traveling from the city to the nearby southern province.
Brig. Mohsen Al-Wali, the general commander of Security Belt forces, said the reinforcements would boost operation "East Arrows" to battle the Al-Qaeda remnants, who are believed to be sheltering in the mountainous Al-Mahfad area.
"Security Belt troops would tighten checkpoints in cities along with the General Security, as Support and Reinforcement (forces) would battle terrorism and pursue terrorist elements in the mountainous regions where they are hiding and attempting to undermine security," Al-Wali told Al-Ghad Al-Mushreq TV.
The Support and Reinforcement and the Security Belt groups are both controlled by the pro-independence Southern Transitional Council.
Al-Wali said that Aden and other southern cities had enjoyed relative peace in recent months due to military operations in Abyan and Shabwa, which forced many Al-Qaeda militants from their long-standing safe havens.
Pro-independence forces moved into the provinces in September in response to a series of deadly Al-Qaeda attacks against military targets and abductions of relief workers.
Al-Qaeda trained militants, planned assaults, and concealed captives in the mountainous highlands of Abyan and Shabwa.
For the first time in years, Yemeni troops were able to advance into mountainous and rough valleys in Abyan, such as the Moujan, Omaran, and Al-Khayla valleys, which have long been considered Al-Qaeda strongholds where militants freely train and recruit fighters and store weapons.
The fleeing militants placed large numbers of landmines and improvised explosive devices in valleys and mountains to prevent troops from advancing into their strongholds.
Dozens of soldiers have been killed or injured by roadside bombs in the Omaran valley.
Source: Arab News
Please click the following URL to read the full text of the original story:
https://www.arabnews.com/node/2225761/middle-east
--------
Foreign Ministry: Israel's killing of young Palestinians 'organized state terrorism'
02 January 2023
The Palestinian Ministry of Foreign Affairs and Expatriates has strongly denounced Israel's recent killing of two young Palestinians during a night raid on a village near the city of Jenin in the occupied West Bank.
In a statement released on Monday, the ministry held the occupying regime fully responsible for the consequences of its actions.
This crime is "organized state terrorism and continuous Israeli attempts to plunge the area into a spiral of escalation and violence with the aim of impeding a political solution to the conflict, evading its obligations, and imposing a military approach in dealing with our people, their cause and their rights," the statement read.
The ministry said the Western double standards encourage Israel to keep up the gradual annexation of the occupied West Bank, including East al-Quds.
The ministry said it was pursuing the crimes of Israel with the competent international courts, including the International Criminal Court (ICC).
Palestinian Prime Minister Mohammad Shtayyeh also held Israel fully responsible for the repercussions that may result from daily killings and incursions.
"This crime reflects the thinking and behavior of the perpetrators, who continue their crimes without fear of being held accountable or punished," the premier said.
He called on the countries that voted in favor of requesting a legal advisory opinion from the International Court of Justice (ICJ) on the right of the Palestinian people to self-determination to take immediate measures to provide protection for the Palestinian people.
Hamas: Blood of martyrs will ignite new Intifada (Uprising)
In response to the killings, Palestine's resistance movement Hamas said every drop of the Palestinian blood will ignite a new Intifada against the regime.
"The Israeli escalation against our people will only intensify their strong determination to confront the new Israeli government's terrorism and fascism," the Gaza-based movement said.
Earlier Monday, Palestinian medical sources said the fatalities were caused as Israeli forces stormed the village of Kafr Dan, west of Jenin.
They identified one victim as Muhammad Samer Hoshieh, 21, from the nearby town of Yamoun, who died after being hit by live bullets in the chest. The second was identified as 17-year-old Fuad Mahmoud Ahmed Abed, from Kafr Dan, who succumbed to injuries in the abdomen and thigh.
Eight more Palestinians were also injured in the attack.
Israeli forces carried out the raid in an effort to demolish the homes of two Palestinian martyrs.
Over the past months, Israeli troops and settlers have considerably intensified attacks on the Palestinians across the occupied territories.
Source: Press TV
Please click the following URL to read the full text of the original story:
https://www.presstv.ir/Detail/2023/01/02/695614/Israel-young-Palestinians-state-terrorism
--------
India
BJP Karnataka State President Tells Cadre To Discuss 'Love Jihad', Not Road Work
03rd January 2023
MANGALURU: BJP state president Nalin Kumar Kateel kicked up a row on Monday by asking his party workers not to engage voters on discussions over roads and drainages (development), but instead tell them that only a BJP government can stop 'love jihad' by bringing a law against it.
Addressing party workers at 'Booth Vijaya Abhiyana', Kateel lashed out at the Congress and called it a "party of terrorists". "If (KPCC president) DK Shivakumar becomes the chief minister, then terrorists will have a field day," he said. Stating that 'love jihad' will flourish and laws against cow slaughter and religious conversion will be withdrawn if the Congress comes to power, he said people now have to choose between 'Nava Karnataka' and 'Land of Terrorism'.
Pointing out that Union Home Minister Amit Shah took a bold decision by banning the Popular Front of India (PFI) and Karnataka Forum for Dignity (KFD) following the murder of BJP worker Praveen Nettaru, Kateel said that if these organisations were not banned then Monappa Bhandary and Harikrishna Bantwal (BJP leaders) would have been dead by now.
He also said that senior Congress leader Siddaramaiah will be in jail over corruption by the next Assembly election. "Why didn't you (Congress) raise the issue of '40 per cent commission' and 'Pay CM' during the just concluded winter session. You didn't raise it because Kempanna is in jail. (D. Kempanna is the president of Karnataka State Contractors' Association who first made the charge of 40% commission against the government). Siddaramaiah shut Lokayuktya whereas we strengthened it. We asked them to lodge complaints with Lokayukya over corruption cases but they didn't. Tell people that Congress is a corrupt party and Siddaramaiah and DK Shivakumar are the most corrupt," he said.
Kateel predicted that the BJP would win 150 seats in the state Assembly elections which are 100 days away. "But our victory should be on the basis of our organisational strength. India should culturally transform and for that we should win in booths," he said.
Source: New Indian Express
Please click the following URL to read the full text of the original story:
https://www.newindianexpress.com/states/karnataka/2023/jan/03/nalin-kumar-kateeltells-bjp-cadre-to-discuss-love-jihad-not-road-work-2534181.html
--------
Sheezan Khan's Kin Hit Back: Never Forced Tunisha Sharma To Embrace Islam
02 JAN 2023
Arrested actor Sheezan Khan's family and his legal team on Monday hit back at the allegations made by the late actress Tunisha's mother Vanita Sharma and said they "never compelled her to embrace Islam", here on Monday.
Khan's sisters - Falaq and Shafaz - and their lawyers rubbished Vanita Sharma's claims made on December 30, that they were forcing her to convert to Islam, and that she had started sporting a 'hijab' against her wishes.
The Khans pointed out that the viral photo of Tunisha sporting a 'hijab' was actually from the shoots of her show, "Ali Baba: Dastaan-E-Kabul, currently being shot in Vasai, where she (Tunisha) was found dead on December 24.
Addressing the media, the Khan family said that on the contrary, Vanita Sharma was forcing Tunisha to work though she was suffering from depression owing to childhood trauma.
"Tunisha was suffering from depression due to a childhood trauma... She was made to sign for two music videos though she was not interested... If her mother had not forced her to work she would have been alive today," said Shafaq Khan.
They further claimed that Tunisha's relations with her mother were purportedly strained and Vanita had allegedly once tried to strangle her daughter.
Source: Outlook India
Please click the following URL to read the full text of the original story:
https://www.outlookindia.com/art-entertainment/sheezan-khan-s-kin-hit-back-never-forced-tunisha-sharma-to-embrace-islam-news-250218
--------
Three Pakistani Flags Found In Uttarakhand Forest, Cause A Flutter Spawning Multiple Theories,
Piyush Srivastava | Lucknow
03.01.23
Three Pakistani flags have been found in a forest bordering an Uttarakhand village, triggering investigations by the Intelligence Bureau and state police and spawning multiple theories, from "the foreign hand" to domestic mischief.
Each flag was found tied to a set of 30-odd hot-air balloons, suggesting they had flown in from somewhere else.
They were discovered on Saturday, lying on the ground a few yards from one another in the forests of Tulyara village in Uttarkashi district.
One of the flags was tied also to a banner that said "Lahore Bar Association", a local administrative officer said. He suggested the balloons had come from Lahore, about 400km west of Uttarkashi, and were intended to "vitiate the communal atmosphere".
He didn't explain how all three sets of flags and balloons had landed at the same place, instead of drifting apart, if they came from 400km away.
A retired army major and local resident, R.S. Jamnal, said: "The balloons are not big and could not have flown such a long distance. It may be a design by some people of the state to disturb the peace."
Jamnal underlined that the China frontier was just about 120km from Tulyara.
Source: Telegraph India
Please click the following URL to read the full text of the original story:
https://www.telegraphindia.com/india/pakistan-flags-found-in-uttarakhand-forest-cause-a-flutter/cid/1907415
--------
Kerala Nadva tul Mujahideen Stays Away From Muslim Coordination Committee Meeting
03rd January 2023
KOZHIKODE: The Kerala Nadvat ul Mujahideen (KNM) has boycotted the meeting of the Muslim Coordination Committee convened by the IUML to discuss the common issues faced by the Muslim community. KNM state secretary A I Abdul Majeed Swalahi said the boycott was in protest against the Samastha Kerala Jam-Iyyathul Ulema, which "threatened the Panakkad family not to participate in the Mujahid conference".
In a Facebook post, Swalahi said: "There is no point in blaming the Panakkad family. The Samastha should rethink of its decision of blocking the members of family by threatening them. They (members of the Panakkad family) were invited because they are in the political field. Had they been the just the qasis of Samastha mahals, they would not have been invited to the programme."
He wanted to know as to how long can Samastha block the members of the Panakkad family, who have shown keenness in attending the Mujahid programmes.
Source: New Indian Express
Please click the following URL to read the full text of the original story:
https://www.newindianexpress.com/states/kerala/2023/jan/03/knm-stays-away-from-muslim-coordination-committee-meeting-2534065.html
--------
2 kids killed in IED blast in Rajouri village, day after New Year's Day massacre
Jan 3, 2023
JAMMU: A four-year-old boy and a teenage girl were killed in an IED explosion Monday in a sinister continuation of the targeted terrorist attack on three Hindu homes in the mountainside village of Upper Dhangri in Jammu's Rajouri district that were sprayed with bullets on New Year's Day, leaving four villagers dead and six gravely wounded.
In all, six died and 15 were wounded in a little over 12 hours, comparable to some of the most gruesome killings recorded in J&K during the peak of separatist insurgency in the 1990s. Lieutenant governor Manoj Sinha and DGP Dilbag Singh promised that the attackers will be "punished soon", but there's no official word on how many terrorists were involved and to which group they belong. No outfit has claimed responsibility yet.
The victims of the IED blast were identified as Vihan Kumar, who perished instantly from shrapnel wounds, and 14-year-old Samiksha, who died later at Government Medical College in Rajouri town, about 8km north of the village.
Nine people were wounded, mostly women and children. "The people under treatment are Sanvi Sharma, 7, Angel Sharma, 8, Kanhaya Sharma, 14, Vansh Bhargav, 15, Sejal Sharma, 18, Sumiksha Sharma, 20, Sharda Devi, 38, Santosh Sharma, 45, and Kamlesh Devi, 48. Their condition is stable," medical superintendent Dr Mehmood Hussain Bajar said.
The J&K administration announced an ex gratia of Rs 10 lakh to each of those killed Sunday— Pritam Sharma, 56, his 33-year-old son Ashish Kumar, Deepak Kumar, 23, a PHE employee, and Sheetal Kumar, 48. A government job will also be given to the next of kin of each of the four victims.
LG Manoj Sinha condemned the "cowardly terror attack" and announced best possible medical treatment as well as Rs 1 lakh to each of the wounded: Pawan Kumar, Saroj Bala, her 17-year-old daughter Arushi Sharma, Sushil Kumar, Rohit Pandit and Shubam Sharma, 20.
Sinha, DGP Dilbag Singh and top officials and politicians visited Dhangri and met the families as well as the sarpanch. The LG said: "We have given full freedom to the security forces and I want to assure the people that the perpetrators of this attack will be punished soon." DGP Singh said the terrorists will be hunted down soon.
The terrorists had planted IEDs after they rode an SUV on Sunday evening into an area where the three houses stand within 50 metres of each other, in a nook cloistered from the main Muslim-majority village of more than 3,000 people.
They barged into each of the three homes, emptied several magazines of semiautomatic weapons in an insanely indiscriminate shooting, and melted into the darkness. They left behind a trail of blood and an unidentified number of deadly IEDs. One of these went off when a group of mourners gathered to comfort the grieving families on Monday morning. Security agencies found another in the vicinity and defused it.
The place is being combed amid fears that there could be more unexploded bombs, which many believe were intended to inflict maximum "collateral damage" by targeting security forces that move into an area in large numbers after a terrorist attack.
J&K police, Army and CRPF personnel reached the area an hour after Sunday's carnage, while an NIA team landed Monday in Upper Dhangri. But officials were tight-lipped on how the IEDs went undetected during the night-long search. One reason could be the dense winter fog and darkness.
The latest carnage sparked public outrage and protests were seen in several places of Jammu, where people were already angry over repeated targeted attacks on Kashmiri Pandit employees and migrant workers in the Valley over the past year.
The protesters shouted anti-Pakistan slogans and blamed the neighbouring country for the Rajouri massacre and terrorism in J&K.
BJP general secretary Tarun Chugh said: "Time has come for the Pakistani agents to understand that the Modi government would not spare any effort to bring a new culture of progress and prosperity to the region."
Source: Times Of India
Please click the following URL to read the full text of the original story:
https://timesofindia.indiatimes.com/india/2-kids-killed-in-ied-blast-in-rajouri-village-day-after-new-years-day-massacre/articleshow/96692018.cms
--------
Shahi Eidgah mosque panel files plea against survey order
Jan 03, 2023
The management committee of the Shahi Eidgah mosque adjoining the Sri Krishna Janmabhoomi temple in Mathura on Monday filed an objection against a court order for a survey of the mosque.
"We moved applications before the additional civil judge in Mathura on Monday," said Tanveer Ahmed, counsel and secretary of the management committee. "These included objections against the order for a survey of the Shahi Eidgah mosque by court ameen. The order passed without hearing us needs to be recalled."
The civil judge on December 8 ordered the survey of the mosque by court ameen, or staff appointed by the court.
There was no hearing on the matter because of a condolence meeting on the death of a lawyer. The case will be taken up on January 20.
"We have filed our objections against the order, apprising the court that it was attained by the petitioner while misleading the court stating incorrect facts," Ahmed said. "We were not even heard on the application moved in the fresh petition, as we had not received the summons of the case."
"The Hindu petitioners have yet not taken steps for seeking ameen's report in compliance of the order and will have to take fresh steps for having the survey of mosque conducted," he said.
Sandeep Sharma, counsel for the Hindu petitioners, said he had no information about any objections filed in the case. "We have neither been informed nor any copies of the objections filed in our case are being provided to us," Sharma said.
The court ordered the ameen to conduct inspection of the site after informing the parties to the suit and submit a report along with a map of the spot.
The petitioners in the case are Vishnu Gupta, the Delhi-based president of Hindu Sena, a right-wing organisation, and Surjit Singh Yadav, vice-president of the outfit and a resident of Gurugram. They filed the case on behalf of Bhagwan Bal Krishna Virajman Thakur Keshav Dev Ji Maharaj, considered the personification of the deity Lord Krishna.
The petitioners sought the shifting of the Shahi Eidgah mosque, claiming that it was built on 13.37 acres of the Sri Krishna Janmabhoomi Trust after the alleged demolition of a temple by Mughal emperor Aurangzeb, the petitioners' counsel Shailesh Dube had said on December 24.
Source: Hindustan Times
Please click the following URL to read the full text of the original story:
https://www.hindustantimes.com/india-news/shahi-eidgah-mosque-panel-files-plea-against-survey-order-101672684509415.html
--------
Cleric backtracks on statement made on un-Islamic nature of prayer meet for PM's mother
By Puja Awasthi
January 02, 2023
The president of the All India Muslim Jamaat has backtracked on a statement he made about the un-Islamic nature of participation by Muslims in a condolence ceremony for non-Muslims. The comment was made in the context of the demise of Prime Minister, Narendra Modi's mother, Heeraben.
Maulana Shahabuddin Razvi had, on Sunday, given a statement saying that the recitation of prayers by a Muslim for a departed soul, was only acceptable when the deceased was a Muslim. "It is essential to be a Muslim for this right. To pray for a non-Muslim deceased is najayaz (unauthorised) and should not be done", he had said.
"Only a Muslim has the right to pray for forgiveness of a Muslim's soul. The condolences offered by Muslims are different from that of others. The rituals of different faiths should not be mixed", said the cleric.
Razvi was responding to a question on the organisation of a condolence meeting by a Muslim, in Bareilly, for Heeraben who passed away on Friday.
The self-declared aims of the slightly over three-month-old organisation are '..to promote Sufism, create awareness about education and maintain brotherhood'. Its president had made news in the recent past for praising the banning of the Popular Front of India (PFI) and for criticising the Samajwadi Party for asking for Muslim votes but not caring for the community.
But on Sunday, the Maulana drew criticism for declaring, "Those who have organised the condolence meeting and participated in it, need to seek forgiveness from Allah". He had termed the act 'haram' (that which is prohibited in the holy Quran and thus a sin for Muslims).
On Monday morning, the Maulana circulated a video clarifying that his statement had been misconstrued to make it appear as though it was said for the PM's deceased mother.
Source: The Week
Please click the following URL to read the full text of the original story:
https://www.theweek.in/news/india/2023/01/02/cleric-backtracks-on-statement-made-on-un-islamic-nature-of-prayer-meet-for-pms-mother.html
--------
Man lynched over son's friendships
Jan 3, 2023
BAREILLY: Mohammed Sartaj, 50, was beaten to death with hockey sticks as he tried to rescue his son from neighbours in Bareilly who attacked them for allegedly "making friends from another community".
The incident took place in Bareilly's Jogi Nawada locality on Sunday night.
Shahrukh Sheikh was attacked and badly beaten up while he was talking to his friends. When Shahrukh's father, Mohd Sartaj, tried to rescue his son, he too was beaten till he fell unconscious and later succumbed to his injuries in hospital. Shahrukh suffered injuries but he was discharged after first aid.
Shahrukh told TOI, "I was having a conversation with two friends outside my house when my neighbour Rashid Khan and three others - Ashu Khan, Fayyam, and Fazil - started hurling abuses at us and thrashed us for no reason. My friends somehow managed to escape. When my father came to rescue me, he too was mercilessly beaten up with hockey sticks."
"My brother works with some people from another community and they often visit our house. My family never raised any objection," said Daud, Shahrukh's elder brother.
Source: Times Of India
Please click the following URL to read the full text of the original story:
https://timesofindia.indiatimes.com/india/man-lynched-over-sons-friendships/articleshow/96694517.cms?from=mdr
--------
Pakistan
Former army chief Qamar Javed Bajwa hired ex-envoy Hussain Haqqani to lobby against me: Imran Khan
Jan 2, 2023
ISLAMABAD: Pakistan Tehreek-e-Insaf (PTI) Chairman Imran Khan on Sunday alleged that ex-envoy Hussain Haqqwas hired by Pakistan's former chief of army General (retd) Qamar Javed Bajwa to lobby against Khan, reported The Express Tribune.
The Express Tribune report said: "Khan claimed that the relations between him and the former army chief soured because Bajwa "did not want accountability in the country".
Khan remembered his last meeting with Bajwa. Bajwa told me that I am a playboy, said Imran. "Yes, I have been a playboy," he said.
Asked about his thoughts on returning to the parliament, Khan said that "there is no benefit" in returning to the National Assembly.
"What will we do by going to the National Assembly, there is no benefit," he said."The ex-PM reiterated that transparent elections will bring stability to the country. "Let there be transparent elections in the country and make a sustainable government," he maintained," reported The Express Tribune.
Khan said that the establishment can play an important role in getting the country out of all crises.
"Talking about the ruling coalition filing a vote of no confidence against Punjab Chief Minister Pervaiz Elahi, Imran claimed that "the establishment had asked our [PTI's] three members of the Punjab Assembly to remain neutral for the vote of confidence"," reported The Express Tribune.
Recently, Khan criticised the Pakistan Democratic Movement-led government for "pushing the nation towards terror incidents." He made the remarks during a consultative meeting attended by the party's senior leadership and Pakistan Muslim League-Quaid's leader Moonis Elahi.
"The imposed, corrupt and incompetent rulers are pushing the nation towards [terror] incidents," The News International quoted Imran Khan as saying.
Imran Khan has often criticized Pakistan People's Party Co-Chairman Asif Ali Zardari and Foreign Minister Bilawal Bhutto Zardari on national security. His statement regarding terrorism comes at a time when Pakistan is witnessing an increase in terror attacks, particularly in Khyber Pakhtunkhwa and Balochistan.
"Leaving national security at the mercy of [Asif] Zardari's politically-immature son is criminal stupidity," The News International quoted Khan as saying.
As per The News International report, Khyber Pakhtunkhwa has been witnessing hostage situations in Bannu's Counter-Terrorism Department (CTD). Furthermore, cross-border attacks and bombings have been seen in Balochistan. Criticizing the incumbent government, Khan told them to stop benefiting from the National Reconciliation Ordinance (NRS) and called for snap elections, according to The News International. He emphasised that only a government with a public mandate can handle Pakistan's economy.
Source: Times Of India
Please click the following URL to read the full text of the original story:
https://timesofindia.indiatimes.com/world/pakistan/former-army-chief-qamar-javed-bajwa-hired-ex-envoy-hussain-haqqani-to-lobby-against-me-imran-khan/articleshow/96689597.cms
--------
Taliban Urge Dialogue After Interior Minister Hints At Cross-Border Action Against Tehreek-i-Taliban Pakistan
January 2, 2023
ISLAMABAD/KABUL: The Taliban government of Afghanistan condemned a "provocative" statement from the minister of interior indicating Islamabad may engage in cross-border action against the Tehreek-i-Taliban Pakistan (TTP) militant group, saying it damaged the good relations between the two neighbouring nations.
"The Ministry of National Defence considers as provocative and baseless recent speeches of the Pakistani Interior Minister about the presence of TTP in Afghanistan and their possible attack inside Afghanistan," Kabul said in a statement.
Tensions have mounted, in particular, due to the growing TTP attacks targeting security forces in the months since the Taliban takeover in 2021. Pakistan's use of cross-border airstrikes is tied to the trajectory of the TTP in Afghanistan and Islamabad's growing frustration with the Taliban's failure to restrain the group.
Since its resurgence a few years ago, the TTP has strengthened its bases in Afghanistan to attack Pakistan — especially in areas where the Taliban's territorial influence as an insurgency was significant. After taking over the country, the Taliban gave the TTP de-facto political asylum.
The TTP has used its improved political status in Afghanistan to step-up cross-border attacks and is now regularly sending fighters into Pakistan.
Last week, in an interview with Express News, Rana Sanaullah Khan said Pakistan may target TTP hideouts in Afghanistan if its Taliban rulers did not take any action against the group.
"Afghanistan is our brotherly country and we will first talk to them to dismantle the TTP hideouts and hand over the group's members to Pakistan," the minister had said.
But Kabul, in its latest statement, claimed it was in possession of "proof" of TTP bases inside Pakistan and such "claims by Pakistani officials harm good relations between two brotherly neighbouring countries".
"Afghanistan calls for resolution of every concern through understanding," the statement added.
It also said that Afghanistan was "ready to defend its territorial integrity and independence" and knew how to defend the country.
Greatly emboldened by the Afghan Taliban's rise to power, TTP has declared the former as their role model and launched an escalating terror campaign inside Pakistan from its bases in Afghanistan.
Source: Pakistan Today
Please click the following URL to read the full text of the original story:
https://www.pakistantoday.com.pk/2023/01/02/taliban-urge-dialogue-after-sana-hints-at-cross-border-action-against-ttp/
--------
PIA Eyes Umrah Flights For Muslims In China, To Improve Its Revenues
As the national flag carrier looks to improve its revenues, it has eyed a potentially untapped stream with potential Umrah passengers in China.
Pakistan International Airlines (PIA) has introduced a special package for Pakistanis and other Muslim passengers living in China. The national flag carrier intends to fly them to Saudi Arabia from China and back.
Pakistani or Muslims of other nationalities will be able to fly from Beijing and Chengdu to Islamabad and take connecting flights to Saudi Arabia.
On the way back, Pakistani passengers will be able to enjoy a week-long layover in their home country to visit loved ones.
An official said that currently, PIA only operates passenger flights to and from Beijing every week. It is a similar story for Chengdu with flights operating on Sundays and Wednesdays.
With the Chinese new year coming up, PIA has already introduced special fares for travelers going to China.
Source: Samaa English
Please click the following URL to read the full text of the original story:
https://www.samaaenglish.tv/news/40024653
--------
SC allows ECP to continue contempt proceedings against Imran, other PTI leaders
Haseeb Bhatti
January 3, 2023
The Supreme Court (SC) on Tuesday allowed the Election Commission of Pakistan (ECP) to continue its proceedings against former premier Imran Khan, and PTI leaders Asad Umar and Fawad Chaudhry, in cases related to the contempt of the electoral body.
The orders were passed by a three-member SC bench, headed by Chief Justice Umar Ata Bandial and comprising Justice Athar Minallah and Justice Ayesha A Malik, on the ECP's petition.
The ECP had during August and September last year issued contempt notices, in exercise of its powers of contempt, against PTI chief Imran Khan and party leaders Asad Umar, Fawad Chaudhry, Mian Shabbir Ismail and Danial Khalid Khokhar for allegedly using "intemperate" language against the chief election commissioner and ECP and asked them to appear in person or through their counsels before the commission to explain their position.
However, instead of appearing before the ECP, the PTI leaders challenged in various high courts the ECP notices and contempt proceedings on the grounds that Section 10 of the Elections Act 2017, which is the statutory provision regarding the commission's power to punish for contempt, was against the Constitution.
According to the Election Act 2017, Section 10 titled "Power to punish for contempt" states that the "election commission may exercise the same power as the high court to punish any person for contempt of court and the Contempt of Court Ordinance, 2003 (V of 2003), or any other law pertaining to contempt of court shall have effect accordingly[…]"
The PTI leaders had also sought from the high courts a declaratory relief from the charges.
Later, a petition was moved through Advocate Sajeel Sheryar Swati on behalf of the ECP with a request to order consolidation of all six petitions before one high court instead of defending the commission's stance over the issuance of contempt notices against PTI leaders in different high courts.
At the previous hearing, the top court had directed the high courts hearing petitions filed by the PTI against the ECP to quickly decide on the matter.
The seven-page document issued today, a copy of which is available with Dawn.com, said that the proceedings initiated by the electoral body under Section 10 of the Election Act, 2017, against the respondents "have been allowed to continue".
"But ECP has been hereby restrained from passing final orders under the said section."
The order highlighted that the high courts had not stopped the commission from proceeding in the matter initiated by it and the respondents had raised objections about the "alleged incompetence" of the officer who had issued the show cause notices.
"As these objections have been raised in the pending proceedings under section 10 before the ECP, the same are required to be considered and decided by it before passing any final order.
"We hold that the petitioner [ECP] may continue its proceedings in accordance with law including, by decisions on the objections raised on behalf of the respondents," it added.
Source: Dawn
Please click the following URL to read the full text of the original story:
https://www.dawn.com/news/1729716/sc-allows-ecp-to-continue-contempt-proceedings-against-imran-other-pti-leaders
--------
Hussain Haqqani mulls options to sue Imran for defamation
Anwar Iqbal
January 3, 2023
WASHINGTON: Pakis­tan's former ambassador to the United States Hussain Haqqani said on Monday that he has asked his lawyers to examine if Imran Khan's conspiracy theories about him fell under defamation laws.
Speaking to journalists in Lahore on Sunday, the former prime minister claimed that the then army chief Qamar Javed Bajwa hired Mr Haqqani in July 2021 for lobbying in Washington, and the ex-envoy launched a "defamation" campaign against him and promoted Mr Bajwa in the US capital.
Mr Khan also claimed that Mr Bajwa's alleged "set-up" was still active in the establishment purportedly to stop the Pakistan Tehreek-i-Insaf (PTI) from coming back to power.
Documents posted online last month showed that a former CIA station manager in Islamabad, Robert Grenier, was hired in July 2021 to lobby for the PTI government in Washington who then engaged Mr Haqqani to do some research work for him.
Later, PTI officials in the US said that both men — Mr Grenier and Mr Haqqani — were working for a senior figure in the Pakistani military establishment, and that instead of working for the party, they tried to bring down its government.
Mr Haqqani immediately rejected these allegations as incorrect and on Monday, he issued another statement in Washington, saying: "I just did some research work for Mr Grenier on Pakistan's politics and economy. That is not lobbying, and the relevant US law is clear that it is not lobbying."
Mr Haqqani said that Mr Khan's claims and the Twitter thread by someone that started this whole thing were "a conspiracy theory, not evidence of me working with either PTI's lobbyist or the Pakistan army".
He said that like all populists, "Khan sahib thrives on conspiracy theories. I wish he understood that I have no interest in either promoting him or dragging him down".
He said he had already written how he believed "Pakistan should be reimagined" and "elite political maneuvers are not part" of his assessment.
"I have asked my lawyers to examine if Mr Khan's conspiracy theories about me fall under defamation laws in the various countries where his statements are published."
Source: Dawn
Please click the following URL to read the full text of the original story:
https://www.dawn.com/news/1729666/hussain-haqqani-mulls-options-to-sue-imran-for-defamation
--------
Army urged to work solely within 'constitutional domain'
Iftikhar A. Khan
January 3, 2023
ISLAMABAD: A leading think-tank has underscored the need for the Pakistan Army and its chief to lead by example and work solely within their constitutional mandate, according to the State of Democracy in Pakistan 2022 report.
It would be the first crucial step towards elected governments and civil bureaucracy to take charge of their mandate and role in providing effective democratic governance to the citizens, the Pakistan Institute of Legislative Develop­ment and Transparency (Pildat) noted in its report.
Describing 2022 as "a depressing year for democracy", it says the fiddling with democracy by the establishment in the past seventy plus years "in partnership with power-greedy politicians, exposed one by one during the year culminating in the confession by the outgoing commander, the farce of democratic dispensation became all the more naked in 2022."
"Pakistan, with the painful state of affairs in 2022, is reaping the bitter fruits of years old policy of establishment interfering in political affairs which nearly paralysed almost all institutions including parliament, political parties, judiciary and bureaucracy.
Pildat report highlights 'paradox' of Imran's ouster, notes 'embarrassing behaviour' in the Punjab Assembly during CM's election
"Serious soul searching and developing zero tolerance for unconstitutional acts must start from the beginning of 2023, if we wish to stem the rot in body politic of the country," it noted.
It said it was too early to form a firm opinion but so far there seems to be no evidence of establishment's involvement in political affairs since the change of guard in the army in November last year.
"This policy of no interference in politics will not yield quick results but if the establishment stands by its commitment to stay aloof from politics, there is hope for long-term improvement in the state of democracy," it noted.
The report said it was paradoxical that Imran Khan's ouster from power both broke the control of unspoken authoritarian power in Pakistan as country witnessed an active assault on free media leading to attacks on journalists, divide-and-conquer tactics on social media forcing self-censorship across society and a political witch-hunt in the name of accountability during Mr Khan's tenure. Yet the ouster negatively affected the continuity of democracy in Pakistan where no prime minister has been able to complete their five-year elected term in office so far.
"However, it is also a reality of the power of military in Pakistan's political process that Mr Khan's government ended just when the support of the army was withdrawn. It is also a reality that the coalition government could not have assumed power without the support of the army," it observed.
Pildat noted that while the National Assembly was the house where the vote of no confidence originated and was passed, there is little that the assembly has seen during the year that has strengthened democracy in Pakistan.
Punjab Assembly witnessed even more embarrassing behaviour during the election of chief minister.
The election of chief minister could only take place as per the orders of the Lahore High Court (LHC) on April 16 and was marred by disorder and violence on the floor of the assembly largely due to negligence by the staff of the assembly secretariat as observed both Pildat and Fafen.
About conduct of the Supreme Court, glimpses of holding up the Constitution was witnessed through the apex court as it set aside the ruling of the deputy speaker on April 7 and also ordered that PM's advice to the president to dissolve the assembly was also contrary to the Constitution and of no legal effect.
But on May 17, while interpreting Article 63-A of the Constitution, the Supreme Court gave a verdict that votes cast by legislators in violation of their party's stance must not be taken into account while determining the outcome of a motion.
The Supreme Court resisted to evolve and agree on a clear appointment and elevation criteria for judges of the Supreme Court of Pakistan under the current Chief Justice of Pakistan (CJP) Justice Umar Ata Bandial. Sitting judge of the Supreme Court, Justice Qazi Faez Isa and other members of the JCP, had to resort to writing public letters to CJP Bandial calling for a transparent, consistent, well-defined appointment criteria for judges and the public, it noted.
Long-awaited assertiveness of independence by the Election Commission of Pakistan (ECP) and standing up to fascist attacks during the year was one ray of hope for democracy but as the year ends, some court decisions, especially the one reversing ECP action against the accused Polling Staff at Daska by-election, have raised serious questions whether ECP will be able to stay the course of independence.
Source: Dawn
Please click the following URL to read the full text of the original story:
https://www.dawn.com/news/1729670/army-urged-to-work-solely-within-constitutional-domain
--------
The curious case of JUI-F's sudden rise in Balochistan
Muhammad Akbar Notezai
January 3, 2023
THE political situation in Balochistan has rarely been dull, and with one crisis following the other, there is rarely any respite from the 'interesting times' of Chinese proverb-fame. That's why even commoners such as rickshaw drivers and members of the working classes, let alone political pundits, have quite a clear idea which party or leader is going to form the government in the province after the next general elections.
Recently, several politicians and electables have joined the Jamiat Ulema-i-Islam (Fazl), and most of them seemed confident that this is the party that would clinch a majority of seats in the upcoming elections.
It is said that electables and senior politicians, who are close to the establishment, do not join a political party until prospects of its victory are assured. Despite having a decade-old presence on Balochistan's political landscape, JUI-F has traditionally found success in the Pashtun belt of the province. However, this time around, Baloch politicians also seem to be migrating towards the JUI-F.
For instance, Nawab Aslam Raisani, the former chief minister and head of the Sarawan tribe, joined the JUI-F in Quetta recently amid fanfare, in the presence of JUI-F chief Maulana Fazlur Rehman.
Before that, Zafar Gichki and former ministers Zafar Zehri, Amanullah Notezai and Dastagir Badini had joined the religio-political party.
Professor Mumtaz Baloch, a seasoned teacher of political science at the University of Balochistan, is not surprised by the sudden rise of JUI-F in the province, where the Baloch nationalists have traditionally dominated the political landscape.
"Since the formation of Balochistan province in 1970s, JUI has had a presence in this region," Prof Baloch says while talking to Dawn.
"Since NAP (National Awami Party) formed its governments in Balochistan and then-NWFP — now Khyber Pakhtunkhwa — in the 1970s with Mufti Mehmood, the father of Maulana Fazl, as part of the ruling coalition, JUI-F has remained part of all governments in Balochistan."
In Balochistan, JUI-F members have enjoyed powerful ministerial portfolios. However, it has always been the JUI-F's desire to grab the slot of chief minister and at the moment it's working day in, day out to turn this desire into a reality in the upcoming general elections. So far, the situation seems to favour the party.
For instance, JUI-F, in the Pashtun belt of Balochistan, has traditionally won majority of seats, and it has given tough time to its Pashtun nationalist rivals, especially those belonging to the PkMAP (Pashtunkhwa Milli Awami Party).
In recent times, the PkMAP has been in throes of infighting, and many of its senior leaders have either been sacked or they themselves have quit after developing differences with party chief Mehmood Khan Achakzai. It is crystal clear that JUI-F will take advantage of this situation for all the good reasons.
'Liberal' party?
"JUI-F is kind of a liberal party, because it has housed many, including the ones who do not have inclination towards the religion," says Jalal Noorzai, a Quetta-based senior analyst and columnist, who writes mostly on Balochistan's political affairs.
"In Balochistan's overall politics, JUI-F does have a significant role. This time, even if it manages to form the government, it won't be surprising at all."
During his recent visit to Quetta, the JUI-F chief showed his interest in making the party's government in Balochistan, so much so that he called for a change in the attitude of the institutions, saying mere announcement of staying neutral was not enough.
Commentators assert that the Maulana has already begun his election campaign, like other political parties, after the Pakistan Democratic Movement (PDM), of which JUI-F is a component, became dysfunctional in the province. One such commentator is Sabookh Syed. He frequently writes about religious affairs and religious parties.
"There were two or three groups within the Maulana's party in Balochistan and KP, and his relatives were on important positions in the government of KP which is why Maulana was under scathing criticism," journalist and commentator Sabookh Syed shares with Dawn from Islamabad.
"Due to these developments, he has been trying to unify his party; at the same time, he got what he wanted from the establishment and under the platform of PDM he has been leading."
Mr Syed adds, "Maulana has had a traditional hold in both the Balochistan and KP provinces. However, due to increasing tilt of people in KP towards PTI (Pakistan Tehreek-i-Insaf), Maulana has focused on Balochistan to clinch more seats, and there is no such rival as PTI in Balochistan. After settling the matters in Balochistan, he can shift his focus to KP."
Before the "experiment" of Balochistan Awami Party (BAP) in 2018, both the JUI-F and Pakistan Peoples Party (PPP) wanted to form their own governments in Balochistan under their own chief ministers.
However, the formation of the "king's party" disappointed them. Once again, the two parties are active in Balochistan, trying to win over the powerful establishment, to make their own governments. "If PPP forms its government at the Centre, it's highly likely the party will also have its government in Balochistan," says Mr Jalal.
Source: Dawn
Please click the following URL to read the full text of the original story:
https://www.dawn.com/news/1729668/the-curious-case-of-jui-fs-sudden-rise-in-balochistan
--------
Civil, military leaders resolve to observe 'zero tolerance' for terrorism
January 2, 2023
ISLAMABAD: The National Security Committee on Monday reiterated its resolve to have zero tolerance for terrorism in Pakistan and reaffirmed its determination to take on any and all entities that resort to violence.
"This will be dealt with full force of the state. Pakistan's security is uncompromisable and the full writ of the state will be maintained on every inch of Pakistan's territory," the Committee resolved.
The 40th meeting of the National Security Committee, chaired by Prime Minister Shehbaz Sharif, was attended by relevant federal cabinet members, Chairman Joint Chiefs of Staff Committee, all services chiefs, and heads of intelligence services.
The forum was apprised of the security situation of the country with a particular focus on recent terrorist incidents in Khyber Pakhtunkhwa and Balochistan, says a handout issued following the meeting.
The prime minister emphasized that the war against terrorism would be led by federal and provincial governments as per National Action Plan in accordance with National Internal Security Policy with people-centric socio-economic development as a priority while the armed forces would provide resolute deterrence and secure conducive and enabling environment.
He said the provincial apex committees were being revived in full earnest and law enforcement agencies especially the counter-terrorism departments would be brought up to the required fighting standards with requisite capabilities.
The forum concluded that no country would be allowed to provide sanctuaries and facilitation to terrorists and Pakistan reserved all rights in that respect to safeguarding its people.
The Committee underscored that comprehensive 'National Security' revolved around economic security and that sovereignty or dignity came under stress without self-sufficiency and economic independence.
The forum undertook a comprehensive view of the ongoing economic situation vis-à-vis challenges being faced by the common people of Pakistan, particularly the lower and middle-income classes.
The finance minister briefed the forum about the economic stability roadmap of the government including the status of discussions with international financial institutions, exploring other financial avenues based on mutual interests as well as relief measures for common people.
In order to strengthen the economy, the Committee agreed on undertaking concrete steps including import rationalization as well as preventing illegal currency outflows and hawala business.
The emphasis will be specially made to improve agricultural output and manufacturing sector to ensure food security, imports substitution and employment.
It was resolved that people-centric economic policies with trickle-down effects on common people would remain a priority. It was also agreed to involve all stakeholders for consensus to realise effective and fast-track economic recovery and road map.
While taking into account the efforts for mitigating the challenges of 33 million flood-affected people, the forum resolved to mobilize all resources for their rehabilitation and reconstruction in coordination with the provincial governments and multilateral financial institutions.
Source: Pakistan Today
Please click the following URL to read the full text of the original story:
https://www.pakistantoday.com.pk/2023/01/02/civil-military-leaders-resolve-to-observe-zero-tolerance-for-terrorism/
--------
Govt imparts skilled training to empower women, provide overseas employment opportunities: Minister
January 2, 2023
PESHAWAR: Federal Minister for Overseas Pakistanis and Manpower Sajid Hussain Turi on Monday said the government was empowering women through imparting skilled and vocational training to provide them better employment opportunities within the country and abroad.
He was addressing a tool kits and certificate awarding ceremony here among female participants of "Programme Migration for Development (PME)", a joint initiative of GIZ-Support for TVET Sector of Pakistan (STVSP) , KP-TEVTA GIZ- global and the Ministry of Overseas Pakistan and Human Resource Development.
The Minister said that in order to enable unemployed people to get better and profitable employment opportunities, it was necessary to make them skilled as per the demand of the local and international markets.
He said that the ministry was introducing various programs to provide maximum opportunities to the people to become skilled, which have yielded encouraging results,
adding that it was part of PPP manifesto and vision of Shaheed Benazir Bhutto to empower women.
He said that PPP co-chairman Asif Ali Zardari and chairman Bilawal Bhutto were also
playing their imperative role in this regard, adding that practical steps are being taken to employ skilled Pakistanis abroad and for the purpose special attention was being paid to skill development of youth and women of tribal districts.
Turi said that tribal districts were far behind in the development process and tribal women have immense potential which needed to be tapped to provide them better employment opportunities to support their families.
Sajid Hussain Turi, thanked the German Government for the support provided and urged the pass-outs for the utmost utilization of the skills for income generating activities and socio-economic development of the region. He further stressed upon the similar demand-oriented skills building interventions for the deprived youth of the province with special focus on women participation.
He said the ministry was finalizing agreements with Saudi Arabia, South Korea, Japan and
many other countries for supply of skilled manpower.
Later the minister awarded certificates to 55 females from district Kurram over completing training in dress making and cooking. The trainees were given vocational training with decent level of working capital, toolkits and entrepreneurial sessions were also organized to motivate them for self-employment.
Source: Pakistan Today
Please click the following URL to read the full text of the original story:
https://www.pakistantoday.com.pk/2023/01/02/govt-imparts-skilled-training-to-empower-women-provide-overseas-employment-opportunities-minister/
--------
Pakistan discovers Chinese new variant of COVID-19 in its sample
By Fidel Rahmati
January 3, 2023
Omicron's subvariant XBB and one of the three dominant COVID-19 strains in China has been confirmed by genome sequencing in Pakistan, the Pakistan National Institute of Health reported.
On the other hand, Aga Khan University researchers verified that they had found and reported the XBB sub-variant of the Omicron as well. But they added that they had not yet seen the other two sub-variants, including BF.7.
Experts say that in addition to the XXB variation, the highly contagious BF.7 is available in the county. The BF.7 is extraordinarily infectious and would present across the country because there is no travel restriction to stop the spread.
Both the new COVID-19 variants are dangerous and claimed that the COVID-19 re-infection evading properties of the BF.7 variant made it so contagious that just one individual with the virus might infect 20 more persons because the virus spreads more easily indoors and in crowded settings.
According to experts, there are only 11 patients in critical condition across the country, and they predict more numbers in the coming days.
Source: Khaama Press
Please click the following URL to read the full text of the original story:
https://www.khaama.com/pakistan-discovers-chinese-new-variant-of-covid-19-in-its-sample/
--------
Africa
Nigerian Muslim scholars condole with Christians over death of Pope Emeritus Benedict XVI
January 2, 2023
A Team of Nigeria Muslim scholars, headed by Gambo Barnawa, has condoled with Christians worldwide over the death of Pope Emeritus Benefict XVI on Dec. 31, 2022 at the age of 95.
The scholars extended their condolences when they paid a New Year visit to Pastor Yohanna Buru, the General Overseer of Christ Angelical and Life intervention Ministry, Sabon Tasha, kaduna.
Mr Barnawa said they visited Buru's house to wish him a Happy New Year, using the opportunity to extend their condolence greetings to Christians all over the world over the demise of Pope Benedict XVI.
He said that the Pope was a noble, gentle, and kind person.
He said Pope was a man of peace, unity and harmony which made him unique.
"He spent his life praying and preaching peace all over the globe while promoting tolerance and forgiveness to all mankind, irrespective of tribe, culture, religion, race and ethnic background.
"The world cannot forget the contributions of Pope Benedict XVI preaching peace, love, tolerance and forgiveness among all mankind."
Mr Barnawa offered his deepest condolences to Catholics and other Christian clergies around the world who were inspired by his life of prayer and tenacious commitment to non-violence and peace.
He further said that Pope Benedict XVI "was a spiritual guide to millions around the world and one of the leading academic theologians of all time that the world cannot forget.
"I saw him in many Arabs and Asian countries with top Islamic scholars, Christians and world leaders preaching peace, harmony and forgiveness.
"The world would never forget him for his marvelous contributions towards promoting peace-building and inter-religious tolerance for world peace.
Similarly, an inter-faith specialist in Nigeria, Ramatu Tijjani, also the President of Foundation for the Protection of Women and Children in Nigeria, joined world leaders to pay tributes to the late Pope.
She said that the world had lost a great leader, who taught many people across the globe the importance of tolerance and forgiveness.
Ms Tijjani applauded the Pope for his massive contributions towards promoting inter-religious and world inter-faith mediation and dialogue as a solution.
She wished Christians all over the world Happy New Year and condoled with them over the death of the Pope.
Source: Daily Nigerian
Please click the following URL to read the full text of the original story:
https://dailynigerian.com/nigerian-muslim-scholars/
--------
Muslims Task Central Govt On Teaching Of Islam In Schools
January 02, 2023
By Milton Bandiho
Muslims in the Greater Bushenyi area have asked the government to emphasise the teaching of Islam as a subject in schools.
According to the Muslims, the teaching of Islam is dying out in most Muslim-founded schools in the area yet it can help in bringing up responsible children.
They made the remarks at Basajjabalaba Main Mosque in Bushenyi-Ishaka Municipality on Saturday during the swearing-in of Muslim leaders for Greater Bushenyi under the Uganda Muslim Supreme Council (UMSC).
The chairperson of Bushenyi Muslim Supreme Council, Mr Hassan Basajjabalaba, said the goal of Islamic teaching is to groom children equipped with skills of self-sustenance.
"Re-introduction of Islamic teaching in schools will help us to have people who will fully understand the Quran and this will further produce good leaders at all levels in the country," he said.
One of the teachers at the Muslim-founded Basajjabalaba Secondary School in Bushenyi-Ishaka Municipality, who requested anonymity in order to speak freely, said Islam as a subject has no teachers, the reason it is slowly dying out.
Mr Basajjabalaba, who is also a renowned businessman, said this year, he will support the building of 15 mosques in Greater Bushenyi Muslim district, which consists of Bushenyi, Rubirizi, Mitooma, and Buhweju.
The commissioner for Ankole and Kigezi electoral regions, Sheikh Kaduyu Mwesigye, said during the elections that were held last month, they experienced a number of challenges, especially from Bushenyi where some mosques were not allowed to participate in the exercise.
He asked leaders to work hard in promoting unity among the Muslims for development.
"It's important that we forget all that happened during the elections because as Muslims, we want each other for sustainable development. Always forgive one another, follow the teachings of Islamic religion and the Quran; these will guide you on how to live with all mankind amidst challenges," he said.
Mr Adam Ssemugabi, a member of UMSC Bushenyi said, there is a group of people who are trying to disorganise the unity of Muslims in the region based on selfish interests.
Source: Monitor
Please click the following URL to read the full text of the original story:
https://www.monitor.co.ug/uganda/news/national/muslims-task-central-govt-on-teaching-of-islam-in-schools--4073144
--------
At least 20 killed, 30 hurt as Somaliland forces clash with protesters
Mohammed Dhaysane
02.01.2023
MOGADISHU, Somalia
At least 20 people, mostly civilians, have been killed and around 30 wounded in clashes between protesters and security forces in Somaliland, according to hospital sources.
The casualties have taken place in Lasanod, the administrative capital of Sool in Somalia's breakaway region, which has been wracked by unrest for over a week.
The town is disputed between Somaliland and the semiautonomous state of Puntland, with the neighbors having fought several times over the territory.
Protesters have been on the streets of Lasanod to demand the expulsion of Somaliland security forces and for the town to be handed over to Puntland authorities.
They also blame Somaliland forces for growing insecurity in the town, which has recently seen a spate of political assassinations.
Hospital workers in Lasanod confirmed the casualty count to Anadolu Agency, requesting anonymity due to fear of reprisals.
Ahmed Hassan, a Lasanod resident who left for Somaliland's capital Hargaisa, said women and students were among those killed in the violence.
"I was there two days ago. It was a peaceful protest but the security forces decided to stop it by force," he told Anadolu Agency.
"They fired live bullets. That has only further angered the protesters, who want Somaliland forces out of Lasanod."
Hassan said more and more people are fleeing the town for safety.
According to Yasmin Omar Mohamoud, chairperson of Human Rights Center Somaliland, internet service has been blocked in Lasanod.
She said the watchdog has also received reports of 53 arrests.
"Somaliland forces should refrain from using deadly weapons against civilians. Armed conflict will not help de-escalate the tension we have witnessed in Lasanod," she told Anadolu Agency.
Somalia's international partners have also voiced concern over the unrest, calling for "calm and restraint."
"Preventing violence and ensuring the protection of civilians is paramount," read a joint statement issued on Sunday.
"Tensions must be resolved through de-escalation and dialogue," it added.
Source: Anadolu Agency
Please click the following URL to read the full text of the original story:
https://www.aa.com.tr/en/africa/at-least-20-killed-30-hurt-as-somaliland-forces-clash-with-protesters/2778085
--------
Libya's High State Council to resume dialogue with parliament
Walid Abdullah
02.01.2023
TRIPOLI, Libya
Libya's Tripoli-based High Council of State (HCS) on Monday voted to resume dialogue with the East Libya-based Libyan parliament after a three-week hiatus.
The HCS, which acts as a senate, suspended dialogue with the East Libya-based parliament on Dec. 7 amid tension over a move by the assembly to pass a law establishing a constitutional court in the eastern city of Benghazi.
"The HCS voted to resume dialogue with the House of Representatives on all sovereign, constitutional and executive tracks," a council member, who spoke on condition of anonymity, told Anadolu Agency.
On Dec. 23, the Libyan parliament retracted the law establishing the constitutional court.
The council member said the HCS also voted to reject an invitation by Parliament Speaker Aguila Saleh to Council Chairman Khaled al-Mishri for a meeting in the city of Ghadames on Jan. 11.
Oil-rich Libya has remained in turmoil since 2011 when longtime ruler Muammar Gaddafi was ousted after four decades in power.
Source: Anadolu Agency
Please click the following URL to read the full text of the original story:
https://www.aa.com.tr/en/middle-east/libya-s-high-state-council-to-resume-dialogue-with-parliament/2778125
--------
Jordan welcomes water deal amid fears on refugee, climate crises
January 02, 2023
AMMAN: Jordan has signed a soft loan agreement with a European lender to help finance a mega $2.5 billion water-carrier project amid persistent shortages made worse by climate breakdown.
The government agreed to the $213 million loan with the European Investment Bank, which will go towards a total $352 million state contribution to the National Water Carrier Project (Aqaba-Amman Water Desalination and Transport Project).
The EIB loan has coincided with reports that Israel was intending to supply desalinated water to the West Bank, Gaza, and Jordan.
An Israeli radio station recently said that the country's water authority and Mekorot company would begin pumping desalinated water from the Mediterranean Sea, alongside groundwater, to Lake Tiberias through a newly established pipeline.
The report quoted an official as saying that "Israel would be able to solve its water issues for the next 30 years, including providing Jordan, the West Bank, and Gaza with this resource."
A Jordanian official said that the kingdom had "received nothing official from Israel on that."
The source, who requested anonymity, said: "Israel usually pumps water into Jordan, under the peace deal, from Lake Tiberias and there is nothing special in that. But it would probably be the first time if Israel sends desalinated water from the Mediterranean."
Described as the "largest infrastructure project" in Jordan's history, the National Water Carrier Project will provide about 300 million cubic meters of desalinated water annually, conveyed from the port city of Aqaba on the Red Sea northward to the densely populated capital Amman and other cities.
Amman is described as one of the fastest growing cities in the world, with a rapidly increasing population due to refugee influx from crisis-hit neighboring countries.
According to official figures, the population of Amman has increased from 200,000 to four million over the past 50 years due to the refugee influx from Palestine, Lebanon, Iraq and Syria between 1948 to 2013.
The UNHCR says Jordan remains the second largest refugee host per capita worldwide with roughly 750,000 refugees of 57 different nationalities.
But official figures said that around 1.3 million Syrian refugees live in the resource-poor Jordan with the majority of them living outside the refugee camps.
The government has said that the "dramatic rise in the population growth rate and the impact of the refugee crisis has worsened Jordan's water woes and placed it below the water poverty line.
According to official estimates, Jordan's annual water resources were about 90 cubic meters per person, well below the international threshold of 500 cubic meters per person.
Jordan said that the National Water Carrier Project would be based on the "build-operate-transfer system, "and would be ready by 2027.
The project, according to the Ministry of Water, will consist of a seawater withdrawal system, desalination plant based on the southern shore of Aqaba, pumping stations and tanks, and a 450km pipeline.
Jordan is classified as the world's second-most water-scarce country. The total population in Jordan was estimated at 11.1 million people in 2021 with a growth rate of 1.23 percent, according to official figures.
In October last year, Jordan announced that it had bought an additional 50 million cubic meters of water from Israel outside the framework of the 1994 peace agreement and what it stipulates in water quantities.
Under the 1994 Wadi Araba Peace Treaty, Israel is committed to providing Jordan with 55 million cubic meters of water a year.
In November last year, Jordan, Israel and the UAE signed a declaration of intent to begin deliberations over the feasibility of an energy-for-water project.
The Jordanian government, which faced criticism at home from the parliament, political parties and other civic forces for signing the deal, said that Jordan is to receive 200 million cubic meters of water annually under the project.
International media have reported that a massive solar-energy farm will be built in the Jordanian desert as part of a project to generate clean energy that would be sold to Israel in return for desalinated water.
Source: Arab News
Please click the following URL to read the full text of the original story:
https://www.arabnews.com/node/2225686/middle-east
--------
URL: https://newageislam.com/islamic-world-news/taliban-pakistan-1971-war-surrender/d/128787
New Age Islam, Islam Online, Islamic Website, African Muslim News, Arab World News, South Asia News, Indian Muslim News, World Muslim News, Women in Islam, Islamic Feminism, Arab Women, Women In Arab, Islamophobia in America, Muslim Women in West, Islam Women and Feminism