New Age Islam News Bureau
9 Jul 2015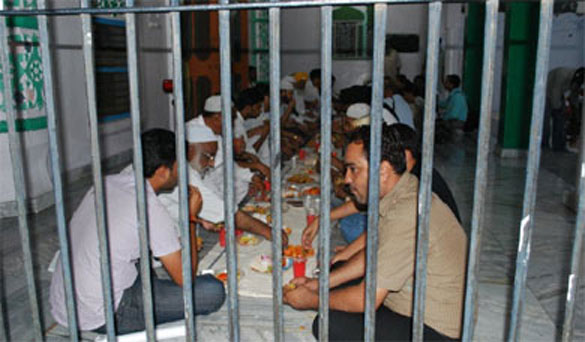 Ludhiana, India, Inmates of all castes and religions joined their Muslim friends during the Ramzan fast to spread the amazing message of communal harmony. Photo: Flickr
------------
South Asia
• Taliban Demand 'United National Government' In Afghanistan
• US Drone Strikes in Afghanistan Kill 43
• Haqqani Network attended Afghan peace talks in Islamabad
• Syed Ashraf: BNP will not exist if they boycott polls again
• Hasina: Khaleda to face trial
• How modern slavers prey on Bangladeshis
• Taliban, Afghan officials end peace talks agreeing to meet again
-----------
Arab World
• At Least 45 ISIS Militants Die In Iftar Poisoning
• Syrian Army Kills 35 ISIL Terrorists near Palmyra
• 11 Civilians Killed In Rockets Attacks by ISIL In Iraq's Fallujah
• Iraqi Hashed Al-Sha'abi Kills 8 ISIL Terrorists In East Of Salahuddin Province
• Mortar round kills five Egyptians in Sinai
• 35 ISIL Terrorists Surrender to Iraqi Forces
• 3 Saudi brothers in the net for Kuwait bombing
• Saudi star of hit TV show poking fun at Islamic State group says this is the real "jihad"
• U.S., allies conduct 31 air strikes against ISIS
• Iraq court sentences 24 to hang over Tikrit massacre
• Turkmen Army, Ankara's New Weapon to Fight against Syrian Kurds
• Syrian Army Advances against Terrorists in Tadmur
• German magazine claims NSA behind Syria security meeting leaks
• Russia to Deliver 400 Hi-Tech Mine Clearing Vehicles to Iraq
• Syrian Forces, Hezbollah Continue Advance into Zabadani
• Syrian Army Advances against Terrorists in Tadmur
-----------
India
• Ludhiana Jail: Where Muslims, Sikhs & Hindus Unite To Fast during Ramzan
• Congress, Muslims Join Chorus against Jaipur Temple Demolitions
• Modi takes up China's block of Lakhvi sanctions in UN, CPEC with President Xi
• Modi Departs From RSS Line to Praise Islamic Influence
----------
Pakistan
• Prayer Leader Booked For Hate Comments on Facebook
• Governor Puts His Weight behind Rangers Operation in Karachi
• Met Police extends bail of Altaf Hussain, senior party leaders: MQM
• Hangings to resume after Eid
• Two Pakistanis named among 'Asia 21 Young Leaders'
• 'Four TTP militants arrested'
-----------
Mideast
• Israel Arming, Providing Recruits For Takfiri Militants in Syria: Report
• Yemen: 30 Pro-Hadi Soldiers Killed In Mutiny
• Iran nuclear talks prompt concern among Iraqi Kurds
• U.S., Turkey discuss stepping up anti-ISIS fight
• Yemen tells U.N. it agrees to conditional truce
• Turkey to build new refugee camps in face of massive influx
• Calls for end to Israeli blockade one year after 50-day Gaza war
-----------
North America
• US, UAE Launch Centre to Counter Islamic State Message
• Pakistan's effort advances peace prospects, says US
-----------
Southeast Asia
• Indonesia Police Confess They Are Scared To Face Muslim Extremists, Islamic Hardliners
• US upgrades Malaysia in annual human trafficking report
• Indonesian Islamic minority protests mosque closure, fears growing intolerance
• New Indonesian military chief sparks concerns
-----------
Africa
• Chief Imam Cancels Special Ramadan Prayer at Abuja Mosque for Security Reasons
• Tunisia in fear of ISIL terror attacks: Prime minister
• Islamic State in West Africa claims Chad suicide attacks
• Chad's Fight against Boko Haram
------------
Europe
• Russia Wants Arms Embargo On Iran Lifted After Deal
• Russia vetoes UN genocide resolution on Srebrenica
• British Muslims invite locals for Ramadan meal
• Magic meat in Sweden, eat Halal, morph into Muslim
• Compiled by New Age Islam News Bureau
URL: https://newageislam.com/islamic-world-news/taliban-demand-'united-national-government'/d/103832
------------
South Asia
Taliban demand "United National Government" in Afghanistan
By KHAAMA PRESS - Thu Jul 09 2015,
The Taliban representatives who met with Afghan delegation in Pakistan have demanded the formation of a "United National Government" in Afghanistan.
Pakistan's The Express Tribune news agency that also has partnership with The International New York Times quotes an official source close to the talks as saying that both the Taliban and Afghan government delegation in their recent face-to-face closed-doors talks exchanged lists of their demands.
The official said that Afghan delegation asked Taliban for an immediate ceasefire stating that negotiations and attacks cannot move together.
"The Afghan side told the Taliban representatives that negotiations and attacks cannot move together," the source is quoted by The Express Tribune as saying.
The source has further said that the Taliban agreed to halt attacks and apply a ceasefire if Pakistan and China would guarantee that a "United National Government" would be formed.
According to the source, both sides will take the exchanged lists of demands to their respective leaderships before scheduling another round of peace talks.
The Express Tribune further states that the Afghan side agreed to include the third-tier leadership of Taliban in the government but Taliban representatives demanded the inclusion of their first-tier leadership.
The talks took place in Murree exurb of Islamabad on Tuesday in which beside Pakistan representatives from the United States and China also took part.
http://www.khaama.com/reports-taliban-demand-united-national-government-in-afghanistan-3621
------------
US drone strikes in Afghanistan kill 43
Jul 8, 2015
At least 43 people have been killed in two separate US drone strikes in the eastern Afghan province of Nanagarhar, Press TV reports.
Nanagarhar provincial police spokesman Hazrat Hussain Mashriqwal said on Wednesday that the deadly aerial raids took place in two districts of the troubled province late on Tuesday.
The senior security official also confirmed that at least 18 people were killed in Achin district while 25 others lost their lives in Haska Mina district.
There were no exact details about the identity of those killed in the drone strikes.
Afghan government sources say the victims were Taliban militants, including some of their commanders. However, local residents and witness say the attacks claimed civilian lives.
The Taliban militant group has not yet made any comments on the incident.
The US has recently stepped up its drone attacks in the troubled region. More than 90 people have been killed in separate airstrikes across Nangahar Province over the past three days.
The US Central Intelligence Agency (CIA) regularly uses drones for airstrikes and spying missions in Afghanistan as well as Pakistan's northwestern tribal region near the Afghan border, among other places.
Senior officials in Washington claim that the targets of the drone attacks are militants, but witnesses maintain that civilians have been the main victims of the strikes over the past few years.
The aerial strikes, initiated by former US President George W. Bush, have been escalated since President Barack Obama took office in 2009.
President Obama has defended the use of the controversial drone attacks as "self-defense". International organizations and human rights groups, however, says the US drone strikes are "targeted killings" that flout international law.
The United Nations has identified the US as the world's number one user of "targeted killings," largely due to its drone attacks in Afghanistan and Pakistan.
In a report in October 2010, Philip Alston, the then UN special rapporteur on extrajudicial killings, said the drone strikes were undermining the rules designed to protect the right of life. Alston also expressed serious concerns that the drone killings by the US forces could develop a "playstation" mentality.
http://www.presstv.in/Detail/2015/07/08/419342/US-afghanistan-drone-Nangarhar
-----------
Haqqani Network attended Afghan peace talks in Islamabad
By MIRWAIS ADEEL - Thu Jul 09 2015
The Haqqani Nework members also attended peace talks with the Afghan officials in Islamabad, the capital city of Pakistan.
Eng. Mohammad asem, a member of the Afghan delegation who returned from Pakistan following the first round of talks, told reporters that the Haqqani Network members were also present during the meeting together with Taliban's Quetta Shura members.
Another delegation member Mohammad Nateqi emphasized on the importance of the meeting, saying that the meeting was attended by senior Taliban and Haqqani network members.
The Haqqani terrorist network is accused of staging numerous cross-border attacks from their base in North Waziristan, including the 19-hour siege at the US Embassy in Kabul in September 2011.
Haqqani network was formed in the late 1970s by Jalaluddin Haqqani. The group is allied with al-Qaida and the Afghan Taliban and cooperates with other terrorist organizations in the region.
The network is considered the most lethal insurgent group targeting the NATO-led coalition security forces and Afghan personnel in Afghanistan.
The US Department of State designated the HQN as a Foreign Terrorist Organization on September 7, 2012.
http://www.khaama.com/haqqani-network-attended-afghan-peace-talks-in-islamabad-9500
------------
Syed Ashraf: BNP will not exist if they boycott polls again
july 9, 2015
The BNP would cease to exist if it chooses to boycott elections in the future, LGRD Minister Syed Ashraful Islam has said, adding that the next national polls would be held under the existing constitution.
Addressing an Awami League programme at the Kishoreganj Circuit House yesterday, he said everyone should be aware about participating in the next elections, which he hoped would be enthusiastically contested by all the political parties.
Speaking as the chief guest, the LGRD minister added that the political parties which would boycott the elections would end up being hurt.
Stressing on the need for long-term plans, Syed Ashraf said it was difficult for a government to achieve development in just one or two terms in power.
Mentioning the example of China, the Awami League general secretary said the Chinese administration was able make great leaps of development by unifying its people under a one-party rule; while the Awami League government was working on sustaining its development activities under a democratic system.
http://www.dhakatribune.com/politics/2015/jul/09/syed-ashraf-bnp-will-not-exist-if-they-boycott-polls-again
------------
Hasina: Khaleda to face trial
Mohammad Al-Masum Molla
July 9, 2015
Prime Minister Sheikh Hasina yesterday said her government was mulling over a plan to constitute tribunals under the section 27 of the Anti-terrorism Act-2009 for speedy trial of those involved in fire-bombing.
She told parliament that trials of Khaleda Zia along with her associates will also be held for aiding and abetting fire-bombers.
Responding to a query of a lawmaker in the parliament the premier said: "The anti-terrorism Act-2009 has the provision of forming special tribunals for trials of cases related to terrorist acts. In future, the government may constitute such tribunals under the section-27."
Hasina also said until the formation of the special tribunals, the sessions judges will be given the power for quick disposal of the cases.
"We have given instructions to all officials concerned for proper investigation into the cases and ensuring quick disposal of those cases," she said.
The premier further said a total of 134 people were burnt to death in petrol bomb attacks while 1,395 transports were put on fire.
Saboteurs launched attacks on the Bangladesh Railway 13 times and on launches six times.
Mentioning her government's assistance to the victims, the prime minister said Tk20.37 crore was distributed among 220 relatives of the deceased and injured persons.
Moreover, a Tk1.36 crore cheque is ready for distribution among relatives of 13 more deceased and injured persons.
About the damaged vehicles Hasina said Tk9.57 crore was distributed among the owners of 860 damaged transports and cheques of Tk7.21 crore are ready to be distributed among 285 more owners of damaged transports.
http://www.dhakatribune.com/politics/2015/jul/09/hasina-khaleda-face-trial
------------
How modern slavers prey on Bangladeshis
Abid Azad
july 9, 2015
In the wake of the Asian boatpeople crisis, the Dhaka Tribune's Abid Azad travels down the migration routes along Bangladesh's jagged coast in search of answers. On the quayside alongside migrant smuggling boats he finds desperation and ambition in equal measure, and finds menacing eddies that portend far more trouble for the migrants than they bargained for. Beyond the horizon, in foreign waters, a vast network of human traffickers lies in wait. For Bangladeshis looking for a back door to a better life, a vast wide of greed and cruelty threatens to sweep away naive hopes and whole communities with it. This is the fifth part of the Dhaka Tribune's multi-part investigative report on human trafficking in Bangladesh
Bangladesh and Myanmar supply the manpower to meet the huge demand for forced labour, prostitution, fishing business, and other dangerous work in both Thailand and Malaysia.
All this became a global talking point when Thailand police in May found secret human trafficking camps on their side of the border and dozens of shallow graves of both Bangladeshi and Rohingya migrant workers.
According to The Guardian, on May 25, Malaysian police uncovered 28 suspected human trafficking camps located about 500 metres from the country's northern border, a day after authorities reported the discovery of multiple mass graves.
"We discovered 139 of what we believe are graves," national police chief Gen Khalid Abu Bakar then told reporters.
A senior Thai army officer has turned himself in over his alleged involvement in human trafficking.
Lt General Manas Kongpaen, a senior adviser to the Royal Thai Army, is facing multiple charges, including human trafficking, unlawful detention, and extortion.
More than 50 people, including several politicians and officials, were arrested after the discovery of dozens of bodies believed to be those of Myanmar's Rohingya migrants at the abandoned trafficking camps
near the Thai-Malaysian border.
However, in Bangladesh the scenario of police arrest is very different from in Thailand.
Though several accused persons have been arrested as of now, despite credible allegations in the media and elsewhere against local representatives and law enforcement, no official or influential person has yet been arrested in Bangladesh.
On the other hand, several accused traffickers have been killed in what the police call "gunfight" with the police soon after the mass graves were found in Thailand.
On May 8, three listed criminals – Dholu Hossain, Jahangir Alam, and Jafar Alam – were killed in a "gunfight" that occurred between the police and the traffickers at midnight in Teknaf area.
Teknaf police station's Officer-in-Charge Ataur Rahman claimed they were listed human traffickers who had several police cases against them.
On June 8, Amanullah Anu was killed. Police claim he was killed during a clash among the trafficking gangs over money distribution.
OC Ataur said that Anu was a member of a transnational human trafficking gang who had six police cases against him.
Human rights activist Khan, however, said: "Such 'gunfight' or 'crossfire' actually hide the real scenario of trafficking in this area. The real bosses are not touched.
"This business could not flourish in this way without the support of corrupt local representatives and law enforcement."
What is happening in Thailand and Malaysia
A June 25 AP report explains how Thailand's $7 billion seafood industry is almost wholly dependent on cheap migrant labour.
Since few Thais are willing to take the dangerous, low-paying jobs that can take them far from home, a sophisticated network of brokers and agents has emerged, regularly recruiting labourers from impoverished neighbouring countries, often through trickery and kidnapping.
Men – and sometimes children as young as 13 – are sold onto boats where they typically work 18-hour days with little food and often only boiled sea water to drink, enduring beatings and sometimes even death at the hands of their captains. Most are paid little or nothing. They can be trapped at sea for months or years at a time; transshipment vessels are routinely used to pick up catches and deliver supplies, the AP report said.
According to the 2014 Global Slavery Index (GSI), prepared by the Australian-based Walk Free Foundation, it was estimated that the number of people in modern slavery in Thailand is almost 500,000 while in Malaysia there are over 100,000 people in modern slavery.
According to the GSI, the $7 billion Thai fishing industry has been under intense scrutiny with credible reports of young men and boys enduring brutal treatment that includes severe and frequent physical abuse and threats, excessive work hours, and long periods at sea.
Victims have reported witnessing captains physically abuse and murder workers or abandon those who fall overboard.
According to the US State Department's Trafficking in Persons (TiP) report 2014, Malaysia has failed to comply with the most basic international requirements to prevent trafficking and protect victims within its borders.
According to a UNHCR report, from June 2013 to June 2014 more than 53,000 people have fled by sea from the Bangladesh-Myanmar border region, an increase of 60% from the previous year.
"More than 20,000 boat people fled in the first six months of this year, headed towards the Malaysia-Thailand border or on to Indonesia and Australia."
An estimated 540 people reportedly died at sea in 2014 from beatings, starvation or dehydration, and their bodies thrown overboard.
Since the Malaysia-bound migrant seekers are struggling with poverty and unemployment opportunities in this country, they fall prey to the multi-million dollar fishing and plantation businesses in Thailand and Malaysia.
Earlier, Myanmar's Rohingya people were the primary victims, but now Bangladeshis are also falling into the trap of forced labour in Thailand and Malaysia.
According to a well-informed source, the Bangladeshi brokers are well down the food chain, enjoying only a small slice of the massive profits that are generated by this modern-day slave trade: "The masterminds actually make fools of our Bangladeshi brokers."
http://www.dhakatribune.com/bangladesh/2015/jul/09/how-modern-slavers-prey-bangladeshis
------------
Taliban, Afghan officials end peace talks agreeing to meet again
July 08, 2015
ISLAMABAD — Afghan and Taliban representatives have agreed to meet again after landmark through-the-night talks aimed at ending the militants' 13-year insurgency, Pakistan said on Wednesday.
A delegation of the Afghan High Peace Council (HPC), the body tasked with opening negotiations, met the Taliban in the town of Murree, a hill station north of Islamabad, the Pakistani foreign ministry said in a statement.
Pakistani Prime Minister Nawaz Sharif hailed the meeting as a breakthrough, though the Taliban show no sign of easing up on their bloody summer offensive, launching two suicide attacks in Kabul on Tuesday as talks were about to get under way.
Few details were released about what was discussed, but a foreign ministry spokesman said the talks lasted through the night, concluding at sehri, the traditional pre-dawn meal Muslims eat during the fasting month of Ramadan.
"The participants exchanged views on ways and means to bring peace and reconciliation in Afghanistan," the statement said, adding that the two sides had agreed to approach the talks with "sincerity and... full commitment."
"The participants agreed to continue talks to create an environment conducive for (the) peace and reconciliation process."
US and Chinese representatives also attended, the ministry said, adding that the next round of talks will be held at a "mutually convenient date" after Ramadan, which is due to end around July 18.
Several informal meetings have been held in recent months between Taliban representatives and Afghan officials and activists.
But the talks in Pakistan, led on the HPC side by deputy foreign minister Hekmat Khalil Karzai, are seen as a significant step.
It is the first time Kabul has publicly acknowledged that someone as senior as a government minister was talking directly to the Taliban — though some earlier meetings were shrouded in secrecy, so it was not entirely clear who took part.
Rahimullah Yousufzai, a Pakistani journalist and Taliban expert, said it was an "important development" but warned the process was still at a very early stage.
"But we need to see two-three elements: what is the peace plan? Have the different Taliban factions agreed to these talks?" he said.
Divisions within the Taliban movement, particularly between young battle commanders in Afghanistan and older leadership figures abroad, have helped to hamper peace efforts over the years.
The Taliban's central command, known as the "Quetta shura" after the southwestern Pakistani city where it is thought to be in hiding, have made no official comment on the latest meeting — nor have they condemned it.
There has been no confirmation that anyone from the Taliban's political office in Qatar, set up in 2013 to try to facilitate talks, attended on Tuesday. Yousufzai said his understanding was that three Pakistan-based Taliban cadres took part.
Other factors may be feeding the militants' caution, including the status of their leader Mullah Omar, about whom rumours of ill-health and even death regularly emerge, and complex relations with Pakistan.
Afghan officials have long accused their eastern neighbor, which supported the Taliban during their 1996-2001 rule, of using the militants to further its own interests in the country — specifically as a hedge against Indian influence.
When the US-led invasion ousted the militants in 2001 many of their leaders took refuge in Pakistan and still live there, closely monitored by intelligence agencies.
Mistrust of the Pakistanis extends to the Taliban as well, with some elements accusing Islamabad of trying to turn the peace process to its own advantage.
One commander said on Wednesday the delegation at the talks was a "Pakistan-made group" who had "no influence in the Taliban leadership."
There have been several informal meetings between the Taliban and Afghan officials at venues outside Afghanistan in recent months, but little in the way of concrete progress.
And even if substantive negotiations get under way, talks alone will not necessarily bring an end to fighting on the ground in Afghanistan.
The Taliban's annual summer offensive is in full swing, with twin suicide attacks in Kabul on Tuesday, one targeting a NATO convoy and one an Afghan intelligence office, highlighting the precarious security situation.
NATO ended its combat mission at the end of December, leaving Afghan forces to battle the resurgent Taliban on their own.
Stretched on multiple fronts and facing record casualties, Afghan forces are struggling to rein in the militants, and there are persistent fears that the Daesh is growing in influence in the country's restive southeast. — AFP
http://www.saudigazette.com.sa/index.cfm?method=home.regcon&contentid=20150709249792
------------
Arab World
At Least 45 ISIS Militants Die In Iftar Poisoning
8 July 2015
At least 45 Islamic State of Iraq and Syria (ISIS) group militants have died after eating a poisoned Iftar meal, British newspaper the Daily Mail reported,
It is thought that a group of 145 ISIS militants had sat together to break their fast, but only 100 survived the meal, the report added.
The poisoning is thought to have happened in Mosul, Iraq, the report added, citing a spokesman for the Kurdish Democratic Party.
It is not clear whether the incident was due to food poisoning or intended - but if this was an attack - it will not have been the first time. According to the newspaper dozens of the Islamic militants have been killed by poisoning in similar attacks.
In the latter case the newspaper cited local press claiming Free Syrian Army rebels. Managed to infiltrate an ISIS camp posing as chefs and poisoned the food served to the militants.
Full report at:
https://english.alarabiya.net/en/News/middle-east/2015/07/08/Dozens-of-ISIS-militants-die-in-iftar-poisoning.html
------------
Syrian army kills 35 ISIL terrorists near Palmyra
Jul 9, 2015
At least 35 Takfiri ISIL terrorists have been killed and 90 others injured in an operation conducted by the Syrian army near the ancient city of Palmyra in the central province of Homs.
On Wednesday, Syria's armed forces pushed the ISIL terrorists out of several areas surrounding Palmyra.
Syrian army units established full control over Nazl Hayyal, al-Qadiri farm and Thaniet al-Rajma.
The Syrian air force also carried out airstrikes against ISIL hideouts at the al-Heer Palace, Palmyra city, and its surroundings, killing a number of terrorists and destroying their arms and ammunition.
ISIL terrorists captured Palmyra on May 21. Palmyra is on the list of UNESCO's World Heritage sites and located about 215 kilometers (133 miles) northeast of the capital, Damascus.
Syria's army also attacked ISIL hideouts in the al-Habra al-Gharbieh village in Homs' eastern countryside, killing a number of terrorists and destroying their armored vehicles.
Full report at:
http://www.presstv.in/Detail/2015/07/09/419437/Syria-Palmyra-Homs-ISIL-Hasakah
------------
11 civilians killed in rockets attacks by ISIL in Iraq's Fallujah
Jul 9, 2015
Medical sources in Iraq say nearly a dozen civilians, among them women and children, have been killed and more than three dozen others injured in rocket attacks by Takfiri ISIL militants against residential neighborhoods in the western city of Fallujah.
The sources, speaking on condition of anonymity, told Arabic-language al-Sumaria satellite television network on Wednesday that 11 people lost their lives as the projectiles hit populated areas across the city, located roughly 69 kilometers (43 miles) west of the capital, Baghdad.
Two women and four children were among the victims. Another 38 civilians, among them 15 women and 11 children, also sustained injuries. Some of them have been reported to be in a critical condition.
Iraqi government forces drive in armored vehicles on the outskirts of Fallujah, west of the capital, Baghdad, as they prepare to attack ISIL positions in the city, July 7, 2015. (© AFP)
Iraqi army forces, backed by fighters from allied Popular Mobilization units, have launched a major operation to take back the strategic western city of Fallujah from Takfiri ISIL militants.
Iraqi officials said the offensive to retake the troubled city began on Monday night.
Fallujah lies between Baghdad and Anbar's provincial capital of Ramadi, which is under ISIL control. The city's liberation will choke off the militants' supply lines.
Meanwhile, Iraqi forces supported by Popular Mobilization units, have killed 73 ISIL extremists and defused 17 vehicles rigged with explosives during operations across the city of Haditha, situated about 240 kilometers (150 miles) northwest of Baghdad.
Full report at:
http://www.presstv.in/Detail/2015/07/09/419430/Iraq-ISIL-rocket-attacks-Fallujah-Anbar
------------
Iraqi Hashed Al-Sha'abi Kills 8 ISIL Terrorists in East of Salahuddin Province
Jul 08, 2015
"Al-Hashed al-Sha'abi forces began a wide-scale operation against the ISIL terrorists' positions in the Western part of Matbija in the Eastern side of Salahuddin, which resulted in the killing of at least 8 militants, including the Afghan Abu Talha,"
The ISIL Takfiri terrorists currently control shrinking swathes of Syria and Iraq. They have threatened all communities, including Shiites, Sunnis, Kurds, Christians, Ezadi Kurds and others, as they continue their atrocities in Iraq.
Full report at:
http://english.farsnews.com/newstext.aspx?nn=13940417000279
------------
Mortar round kills five Egyptians in Sinai
8 July 2015
Five Egyptian civilians were killed on Wednesday when a mortar round hit a house in a North Sinai village where the army is battling jihadist insurgents, security officials said.
It was not immediately clear who fired the projectile, which also wounded four people. Both soldiers and militants use mortars in skirmishes.
The military said on Monday it had killed 241 militants in the Sinai between July 1 and 5, while losing 21 soldiers in jihadist attacks.
The military has poured troops and armour into the peninsula where security forces have been fighting an Islamist insurgency since then-army chief and now President Abdel Fattah al-Sisi ousted president Mohamed Morsi in July 2013.
Full report at:
https://english.alarabiya.net/en/News/middle-east/2015/07/08/Mortar-round-kills-five-Egyptians-in-Sinai.html
------------
35 ISIL Terrorists Surrender to Iraqi Forces
Jul 08, 2015
Commander of the third battalion of the Iraqi popular forces Mahmoud Marzi was quoted as saying by Soumerya news that all the terrorists are from al-Karamah town who joined the ISIL in 2014.
Also, another Iraqi security force reported that 8 ISIL members, among them an Afghan ringleader, were killed in Matibjah region in the Eastern part of Salahuddin province.
In a relevant development on Tuesday, Iraq's Kurdish Pishmarga forces, in a surprise attack on the ISIL positions in the early hours of Tuesday morning, killed tens of Takfiri terrorists in Southern Kirkuk, local sources said.
At least 80 ISIL terrorists were killed and dozens more injured in heavy clashes with Kurdish forces.
Full report at:
http://english.farsnews.com/newstext.aspx?nn=13940417000177
------------
3 Saudi brothers in the net for Kuwait bombing
7 July 2015
JEDDAH/KUWAIT CITY: Three Saudi brothers have been arrested in connection with the suicide bombing of a mosque in Kuwait last month, the Saudi and Kuwaiti authorities said on Tuesday.
Daesh owned up the attack during Friday prayers, which killed 27 people including the bomber.
The three brothers were "parties to the crime of the sinful terrorist bombing that targeted the Imam Al-Sadeq mosque in Kuwait," the SPA cited a spokesman for the Saudi Interior Ministry as saying.
Two of the suspects, Majed and Mohammed Al-Zahrani, drove across the border into Kuwait on Thursday afternoon carrying the explosives for the attack in an ice cooler, Kuwait's Interior Ministry said in a statement.
They left after passing the material to Abdul-Rahman Sabah Aidan, an illegal resident in Kuwait who reportedly drove the bomber to the mosque and is now in custody, the ministry said.
Investigators found the explosives were of the same type used in two bombings on May 22 and May 29 against Shiite mosques in eastern Saudi Arabia.
Full report at:
http://www.arabnews.com/featured/news/772996
------------
Saudi star of hit TV show poking fun at Islamic State group says this is the real "jihad"
July 8, 2015
DUBAI, United Arab Emirates (AP) — A new TV satire program has become a hit in the Arab world by mocking some of the region's most serious issues, from the intractable Sunni-Shiite divide and religious extremism to the brutality of militants like the Islamic State group.
The show, "Selfie," has also brought a backlash. Islamic State group sympathizers have made death threats against its Saudi star and top writer on social media. One mainstream Saudi cleric denounced the show of heresy for mocking the country's ultraconservative religious establishment. That has made it the buzz of the current Muslim holy month of Ramadan, which is the peak television viewing season in the Middle East.
Naser al-Qasabi, the series' star, and its writer Khalaf al-Harbi told The Associated Press in their first interview with foreign media that they expected the backlash, but weren't prepared for the popularity. It's one of the top shows on MBC, the privately owned Saudi network that airs it, and has been the talk of the Gulf press.
Al-Qasabi says the series' dark humor reveals just how tragic the situation across the Middle East has become.
"What's coming is darker," he said. "Maybe I am a bit pessimistic, and I hope that I am wrong, but I don't think I am."
In one of the show's episodes, al-Qasabi plays a would-be "caliph" starting his own Islamic State group-style militia, but he's surrounded by buffoons and hypocrites. His "mufti," or top cleric, never finished school. He struggles to find ways to differentiate his group — his group's flag is the same as IS's notorious banner but with the black and white colors flipped. When one of his cronies boasts of plans for a mass beheading, the "caliph" complains that he wants a new form of execution.
"Behead, behead, behead. That's all you got?" he groans, before suggesting the captives be put in a freezer. It's particularly bitter humor, given the increasingly grisly ways IS has used to kill its captives.
In the show's most popular skit, al-Qasabi plays a Saudi father whose son has run off to join IS. He smuggles himself into Syria, pretends to be a jihadi joining IS and tries to convince his son to return home. It's a more serious episode, showing his horror at IS "perversions" of Islam and at the group's atrocities — and his torment as he tries to avoid committing atrocities himself in his disguise. But it has comic moments as well, as he fumbles his way through militant training and is chased around the bed by a militant bride who is forced on him by the group and who has dedicated her life to pleasing jihadis as a means of going to heaven.
Other, lower-budget Iraqi and Syrian TV shows have mocked IS and other militants. But "Selfie" stands out with its high production values — and the fact that it's a show with Saudi actors on a Saudi network at times mocking attitudes on religion in the kingdom, where there is little tolerance for discussing the many taboos.
In one episode, two Saudi men meet at an airport in Europe and bond over their love of women, alcohol and hard partying. But, though neither is religious, their budding friendship takes a nosedive when they discover that one is Sunni and the other Shiite. They argue until airport security detains them. When police discover they are fighting over a split that happened 1,400 years ago, they send the two a mental hospital.
Another skit lampooned Saudi Arabia's powerful ultraconservative religious establishment and its stance against music. That was the show that prompted cleric Saeed bin Mohammed bin Farwa to accuse al-Qasabi and MBC of heresy.
Columnist Hamad al-Majed also criticized the show in the Asharq al-Awsat newspaper, saying that in its attempt to ridicule extremism the series also disrespected Islamic traditions and made generalizations, especially about Saudi Arabia.
Al-Qasabi told the AP he views his acting career as his own form of "jihad" — which in Islam literally means any struggle in the path to God.
Full report at:
http://www.usnews.com/news/entertainment/articles/2015/07/08/saudi-tv-show-becomes-a-hit-by-mocking-islamic-state-group
-----------
U.S., allies conduct 31 air strikes against ISIS
8 July 2015
The United States and its allies conducted 31 air strikes against Islamic State in Iraq and Syria (ISIS) on Monday, the coalition leading the operations said in a statement released early Wednesday.
In Syria, the strikes were focused near Tal Abyad, where seven bomber, fighter and drone attacks hit tactical units for the militant group and also destroyed vehicles and fighting positions, according to the Combined Joint Task Force statement. Out of the total 15 strikes in the country, there also were four near Al Hasakah and two near Aleppo, as well as strikes near Ar Raqqah and Kobani.
Full report at:
https://english.alarabiya.net/en/News/middle-east/2015/07/08/U-S-allies-conduct-31-air-strikes-against-Islamic-State-U-S-military.html
------------
Iraq court sentences 24 to hang over Tikrit massacre
8 July 2015
An Iraqi court on Wednesday sentenced 24 men to death by hanging over the June 2014 massacre by jihadist and allied militants of hundreds of mostly Shiite recruits in Tikrit.
The central criminal court in Baghdad handed 24 of 28 defendants the maximum sentence over the "Speicher" massacre, named after the base from which the victims were captured before being executed.
"After deliberations, the court finds that the evidence collected is sufficient to convict 24 defendants," said the judge. "The court decided they will be executed by hanging."
All 24 denied any involvement in the massacre, committed during the first days of the Islamic State of Iraq and Syria group's broad offensive in Iraq last year.
Full report at:
https://english.alarabiya.net/en/News/middle-east/2015/07/08/Iraq-court-sentences-24-to-hang-over-Tikrit-massacre.html
------------
Turkmen Army, Ankara's New Weapon to Fight against Syrian Kurds
Jul 08, 2015
Turkey is concerned about the empowerment of Kurdish forces in Northern Syria and plans to recruit the Turkmen forces to form a Turkmen army in the Arab country, Turkey's Anadolu news agency reported.
The Turkish government ordered the two groups of Turkmen Council of Syria and Turkmen Armed Forces to start forming the army under the pretext of protection against the YPG danger.
Tuesday media reports also said that Turkey has redeployed part of its army behind Syria's borders to help the terrorist group take control of Aleppo.
"Threats and military movements by Turkey near the Syrian borders is aimed at rendering help to the al-Nusra Front to conquer Aleppo," the Arabic-language Lebanese newspaper Al-Akhbar reported.
The newspaper wrote that all pro-Turkey terrorist groups, specially the Al-Nusra Front and its allies, are in the same boat with Ankara to attack Aleppo as they supported attacks on Idlib and Jisr al-Shaghour.
On Tuesday, the Syrian army intensified its offensives on the Takfiri terrorist groups in the Western parts of Aleppo.
Full report at:
http://english.farsnews.com/newstext.aspx?nn=13940417000252
------------
Syrian Army Advances against Terrorists in Tadmur
Jul 08, 2015
Al-Mayadeen reported on Wednesday that the Syrian army units have taken an area 11km in depth and 18km in width in Tadmur city in Homs province.
The security forces also regained control of the strategic al-Marmaleh hill near al-Bayarat district.
Also on Tuesday, Syrian Kurdish fighters took more than 10 villages North of Raqqa city from the ISIL terrorists.
At least 78 ISIL terrorists were killed since Sunday night, the so-called Syrian Observatory for Human Rights reported.
But, on Tuesday, the terrorist group was still in control of Ain Issa, the Britain-based Observatory said. The town, 50 km (30 miles) North of Raqqa city, was seized by ISIL terrorists from the Kurdish YPG forces in an attack on Monday.
The Observatory said YPG forces regained control of 11 villages Northeast of Ain Issa.
The YPG has made significant gains against ISIL in Raqqa province in recent weeks, seizing Tel Abyad at the Turkish border on June 15 before advancing South to Ain Issa.
The YPG captured Ain Issa on June 23.
Full report at:
http://english.farsnews.com/newstext.aspx?nn=13940417000412
------------
German magazine claims NSA behind Syria security meeting leaks
8 July 2015
A German magazine has claimed a video of a key high-level security meeting on Syria was recorded and leaked by the U.S. National Security Agency (NSA), according to the Turkey-based Today's Zaman.
According to German magazine The Focus, the video, which was leaked online last year, was exposed by the NSA after it was instructed by unnamed U.S. political leadership to gather information about the "intentions" of the Turkish leadership and monitor Turkeys operations in 18 other key areas.
In the leaked video, Turkey's intelligence chief Hakan Fidan is apparently seen discussing with then-Foreign Minister Ahmet Davutoglu, Deputy Chief of Staff Yasar Guler and other officials a possible operation in Syria to secure the tomb of Suleyman Shah, grandfather of the founder of the Ottoman empire.
Full report at:
https://english.alarabiya.net/en/News/middle-east/2015/07/08/German-magazine-claims-NSA-behind-Syria-security-meeting-leaks.html
------------
Russia to Deliver 400 Hi-Tech Mine Clearing Vehicles to Iraq
Jul 08, 2015
The Iraqi source who called for anonymity told FNA that Prime Minister Haider al-Abadi inked a secret contract with Russia to equip the Iraqi army with the demining vehicles.
"The armored vehicles will be used in military operations against the ISIL Takfiri terrorists in Northern and Western Iraq upon arrival in the country," the source said, adding that the costs for purchasing the vehicles will be paid by the Iraqi government later.
Russian Foreign Minister Sergei Lavrov said in May that Moscow is ready to send more weapons and ammunitions to Bagdad to help the crisis-hit country overcome the Takfiri terrorist groups, specially the ISIL.
Full report at:
http://english.farsnews.com/newstext.aspx?nn=13940417000316
------------
Syrian Forces, Hezbollah Continue Advance into Zabadani
Jul 08, 2015
The army and Hezbollah forces' joint operations continued for the fifth consecutive day in Zabadani in Reef (countryside of) Damascus from several directions and they could free 15 blocks in al-Zohrah district in the Northwestern part of the town.
They also killed tens of terrorists and wounded scores of others during their clashes with the militants.
Hezbollah's al-Manar TV reported Monday that fighters of the group, backed by Syrian troops, are advancing into Central parts of Zabadani to purge the militants from the last positions they held inside the city.
The report said the allied forces seized control of residential areas in the al-Sultani district South of Zabadani while they are progressing to control the Al-Huda Mosque neighborhood.
Lebanese sources said Hezbollah fighters are closing in on militants trapped in Central Zabadani, pouring fire on them from every side.
Militants suffered heavy casualties in clashes that erupted Sunday in various parts of Zabadani. Fighting also raged overnight Monday when Syrian fighter jets pounded the positions of militants in Al-Jamaiyat neighborhood, West of the city.
At least four Hezbollah fighters and several Syrian troops have reportedly been killed in the battle on Zabadani, a strategic border town located 50 kilometers Northwest of the Syrian capital, Damascus.
Full report at:
http://english.farsnews.com/newstext.aspx?nn=13940417000457
------------
Syrian Army Advances against Terrorists in Tadmur
Jul 08, 2015
Al-Mayadeen reported on Wednesday that the Syrian army units have taken an area 11km in depth and 18km in width in Tadmur city in Homs province.
The security forces also regained control of the strategic al-Marmaleh hill near al-Bayarat district.
Also on Tuesday, Syrian Kurdish fighters took more than 10 villages North of Raqqa city from the ISIL terrorists.
At least 78 ISIL terrorists were killed since Sunday night, the so-called Syrian Observatory for Human Rights reported.
But, on Tuesday, the terrorist group was still in control of Ain Issa, the Britain-based Observatory said. The town, 50 km (30 miles) North of Raqqa city, was seized by ISIL terrorists from the Kurdish YPG forces in an attack on Monday.
The Observatory said YPG forces regained control of 11 villages Northeast of Ain Issa.
The YPG has made significant gains against ISIL in Raqqa province in recent weeks, seizing Tel Abyad at the Turkish border on June 15 before advancing South to Ain Issa.
The YPG captured Ain Issa on June 23.
Full report at:
http://english.farsnews.com/newstext.aspx?nn=13940417000412
------------
India
Ludhiana jail: Where Muslims, Sikhs & Hindus unite to fast during Ramzan
Shariq Majeed
Jul 3, 2015
LUDHIANA: Atul Singh had never thought he would one day fast during Ramzan. Belonging to a Punjabi Hindu family, he had very few Muslims friends. But today, as an inmate of the Ludhiana Central Jail, he has shunned food from dawn to dusk, to show solidarity with the Muslim friends he made behind bars.
Atul, who is a resident of Khanna and an undertrial in a theft case, is part of a motley group of five inmates here that is fasting with Muslim inmates. "Since our Muslim friends celebrate Diwali and Gurpurab with us, we reciprocated the gesture by fasting," Atul says. "Fasting also helps cleanse the body."
Non-Muslim inmates, including Hindus and Sikhs, say apart from sending a strong message for communal harmony, fasting has brought them closer to the Muslim prisoners.
"During the day, we chat with each other and have meals together in the evening. Apart for praying for themselves and their families, they also pray for us and our families," adds Karan Singh, a murder convict from Khanna and a Sikh.
Another murder convict Bhim, who is a migrant from Jharkhand recites poet Jigar Muradabadi's verse - "Unka jo kaam hai woh ahl-ey-siyasat jane/mera paigham mohabbat hai jahan tak pahunche (Let politicians of the world do their job/my message is one of love, may it spread far)".
Full report at:
http://timesofindia.indiatimes.com/city/ludhiana/Ludhiana-jail-Where-Muslims-Sikhs-Hindus-unite-to-fast-during-Ramzan/articleshow/47918507.cms
-----------
Congress, Muslims Join Chorus against Jaipur Temple Demolitions
By Mahim Pratap Singh
July 9, 2015
The Rashtriya Swayamsevak Sangh, in a standoff with "its own" BJP government over demolition of temples in the Pink City, found an unlikely ally on Wednesday in the form of Congress party, which, along with several Muslim residents of Walled City, threw its weight behind the protest against temple demolitions.
With the Vasundhara Raje-led government failing to convince the Sangh — which is backing a 'chakka jam' protest by some Hindu groups — to call off the protest, the stage is set for a showdown on Thursday.
Over the past few days, Hindu organisations have been protesting against the removal of several temples in Jaipur—being done by the district authorities in line with the 2013 Supreme Court orders on removal of unauthorised religious structures.
The Mandir Bachao Sangharsh Samiti — comprising members of the RSS, VHP, Bajrang Dal, Bharatiya Mazdoor Sangh and other Hindu organisations besides other local residents — has made arrangements for the strike to be successful.
"We have identified more than 80 points for the 'chakka jam'. Our volunteers will man these points to make the 'chakka jam' successful. No vehicles will be allowed to pass, barring those engaged in providing essential services," said Badri Narayan, convener of the Samiti.
He requested residents not to commute through the city from 9 am to 11 am on Thursday to avoid inconvenience.
Interestingly, the opposition Congress, which had till now been criticising the BJP government for playing with popular sentiments, joined the cause on Wednesday with several party workers and office-bearers of the Rajasthan Pradesh Congress Committee protesting against the demolition of temples.
Full report at:
http://indianexpress.com/article/india/india-others/cong-muslims-join-chorus-against-jaipur-temple-demolitions/
------------
Modi takes up China's block of Lakhvi sanctions in UN, CPEC with President Xi
July 9, 2015
Indian Prime Minister Narendra Modi during a meeting with Chinese President Xi Jinping on Wednesday, took up the issue regarding China's "technical hold" on India's move in the United Nations calling for action against Pakistan over the release of alleged mastermind of the 26/11 Mumbai attacks, Zakiur Rehman Lakhvi.
The two leaders held a 95-minute meeting ahead of the BRICS — Brazil, Russia, India, China and South Africa — and Shanghai Cooperation Organisation (SCO) summit in the Russian city of Ufa, according to a report on The Indian Express news website.
Following Lakhvi's release from a jail in Lahore in April, the UN sanctions committee had met at India's request last month during which a clarification was to be sought from Pakistan over Lakhvi's release, but China blocked the move on grounds that India did not provide adequate information.
Read: Lakhvi release: China blocks India move seeking action against Pakistan
While talking to reporters about Modi's meeting with the Chinese President, Indian Foreign Secretary S Jaishankar said: "The issue of Lakhvi did come up. Our Prime Minister raised our concerns on the issue and it was discussed in some detail…They will be taken up in the course of further discussions between the two countries."
He added that Modi made India's concerns regarding Lakhvi "known very clearly". The foreign secretary further said: "the Chinese side was impressed by the clarity with which he conveyed our concerns on the issue".
"Every country knows Lakhvi's role...We have to see how to take this forward," Jaishankar said.
Full report at:
http://www.dawn.com/news/1193377/modi-takes-up-chinas-block-of-lakhvi-sanctions-in-un-cpec-with-president-xi
------------
Modi Departs From RSS Line to Praise Islamic Influence
Vikas Pathak, Zia Haq
Jul 09, 2015
Prime Minister Narendra Modi's lavish praise of Central Asia's Islamic traditions as a positive influence on India was just the right thing to say during his five-nation tour, analysts say, but the views are contrary to the long-held beliefs of the RSS.
"The confluence of Indian and Islamic civilisations took place in Central Asia. We enriched each other not only in spiritual thought, but also in medicine, science, mathematics and astronomy," Modi said at Kazakhstan's Nazarbayev University on July 7. This is also typically how the Congress and the Left have viewed history.
The RSS's disdain for foreign Muslim influence is well-known. The Hindu right-wing organisation has long held that Hindus were persecuted by Muslim 'invaders' and kings. Mahmud Ghazni, for instance, is despised for his raid on Somnath temple, while Mughal emperor Babar is alleged to have destroyed a Ram temple at Ayodhya.
The Prime Minister eulogised Central Asia's Islamic traditions as being "defined by the highest ideals of Islam … knowledge, piety, compassion and welfare."
In Uzbekistan, Modi presented President Islam Karimov "a specially commissioned reproduction of Khamsa-i-Khusrau by the great 13th century sufi poet Amir Khusrau, who was born in Uttar Pradesh and whose father hailed from Uzbekistan."
Delhi University historian Raziuddin Aquil says although "Somnath happened", India's Sufi traditions of peace and tolerance also evolved because of historical ties with Central Asian Islam.
Full report at:
http://www.hindustantimes.com/india-news/modi-departs-from-rss-line-to-praise-islamic-influence/article1-1367305.aspx
------------
Pakistan
Prayer Leader Booked For Hate Comments On Facebook
July 9, 2015
TOBA TEK SINGH: City police have registered a case under the Anti-Terrorism Act against a local prayer leader for posting hate comments on his Facebook page.
Case against Maulana Hameeduddin Rizvi of Faridia Housing Colony Jamia mosque was registered under Section 9 of ATA on the complaint of Grain Market Jamia mosque prayer leader Maulana Saadullah Ludhianvi.
Published in Dawn, July 9th, 2015
http://www.dawn.com/news/1193285/prayer-leader-booked-for-hate-comments-on-facebook
------------
Governor puts his weight behind Rangers operation in Karachi
July 9, 2015
KARACHI: A day after the issue of Pakistan Rangers stay in Sindh was raised by Chief Minister Syed Qaim Ali Shah and Muttahida Qaumi Movement chief Altaf Hussain, Governor Dr Ishratul Ibad in a meeting with the paramilitary force chief threw his weight behind the Rangers, while the chief minister, too, contradicted the reports of differences between the Centre and Sindh on the issue.
Sindh Governor Dr Ishratul Ibad in a meeting with Rangers director general Major General Bilal Akbar on Wednesday said: "The entire nation is united and stands by the law enforcement agencies for peace".
The statement issued by Governor House did not carry details of the meeting, but it suggested that the two discussed mainly the performance of the paramilitary force in Karachi in particular and across the province in general.
"The Ranger DG informed the governor about the efforts of the Rangers for bringing back a lasting peace and improving law and order in the province," said the Governor House statement. The governor called for "indiscriminate action of Rangers against terrorists and criminals that would help develop the confidence of people in the paramilitary force".
He also called for a coordinated strategy to make actions against criminals and terrorists transparent and address people's complaints while showing confidence that the entire nation was united to back law enforcement agencies for a lasting peace in the province and the country.
Terming the reports of tension and differences between the Sindh government and the federation 'baseless' and 'contrary to the facts', the chief minister said in fact "there is very good working relationship among the Sindh government, federal government, Army and the Rangers."
The chief minister said the services of the Rangers for law and order in Sindh in general and Karachi in particular specifically against terrorism, targeted killing, extortion and kidnapping for ransom could not be forgotten.
Full report at:
http://www.dawn.com/news/1193219/governor-puts-his-weight-behind-rangers-operation-in-karachi
------------
Met Police extends bail of Altaf Hussain, senior party leaders: MQM
July 9, 2015
KARACHI: Metropolitan police has extended Muttahida Qaumi Movement (MQM) chief Altaf Hussain's bail in a money laundering case till October, a party spokesman said Wednesday.
His bail was due to expire on Jul 9, 2015 (tomorrow).
Other senior members whose bail has been extended by the London police include Mohammed Anwar and Tariq Mir, according to the statement.
"We can confirm that the Metropolitan Police has extended the police bail of the Founder and Leader of MQM, Mr Altaf Hussain as well as senior MQM members Mr Tariq Mir and Mr Mohammed Anwar until the 5th, 6th and 7th October respectively."
Altaf Hussain's last bail extension had come on April 14 this year after he was interviewed for more than five hours at a police station in London.
The MQM supremo was first arrested on June 3, 2014 during the course of a money laundering investigation initiated in July 2013 by the London Metropolitan Police, prompting thousands of people in Karachi to stage a sit-in calling for his release.
Read: Altaf Hussain arrested in London for money laundering
He was then shifted to Wellington Hospital over concerns to his health and underwent angiography and other tests. Having been discharged from the hospital, Hussain was taken to the Southwark police station where he was questioned for nine hours.
Full report at:
http://www.dawn.com/news/1193201/met-police-extends-bail-of-altaf-hussain-senior-party-leaders-mqm
------------
Hangings to resume after Eid
INTIKHAB HANIF
July 9, 2015
LAHORE: At least 62 persons convicted in heinous crime are due to be hanged in Punjab after Eidul Fitr.
Their hanging is stopped at present due to the special moratorium on death sentence in Ramazan, official sources told Dawn on Wednesday.
According to them, 120 convicts in heinous crime and 15 terrorists have been hanged till death in Punjab under the National Action Plan (NAP) made early this year in the aftermath of the Peshawar Army Public School attack.
Sources said courts in Punjab had convicted accused in 198 terrorism cases under the NAP. Of them, 48 each were awarded death sentence and life imprisonment.
The legal process of 24 convicted terrorists who were sentenced to death was completed and 15 of them were hanged. The remaining nine filed criminal review miscellaneous petitions in the Supreme Court and a decision was pending. Among them, seven are army personnel tried under the Army Act and they have taken the plea that they were denied the proper right to defence.
Full report at:
http://www.dawn.com/news/1193279/hangings-to-resume-after-eid
------------
Two Pakistanis named among 'Asia 21 Young Leaders'
MASOOD HAIDER
July 9, 2015
NEW YORK: Two Pakistanis are among 32 `young leaders' named on Wednesday as Asia 21 Young Leader Class of 2015 by the Asia Society in New York.
They are Mohsin Mustafa of the Strategy and Programme Development, Aman Foundation, and Muhammad Sabir, community worker and founder of Slumabad.
Explore: Surviving Pakistan's slums: The extraordinary story of Mohammad Sabir
Now in its 10th year, the Asia 21 Young Leaders Initiative has become a robust network of more than 800 young leaders from 30 nations.
They are all in their own ways focused on shaping a brighter future for the Asia-Pacific region, and confronting the most vexing challenges facing the region today.
Asia 21 young leaders are selected through a highly competitive process based on outstanding achievements, commitment to public service and a proven ability to make the world a better place, a press statement issued here said.
The 32 young leaders represent 22 countries and are divided almost evenly between men and women.
Full report at:
http://www.dawn.com/news/1193308/two-pakistanis-named-among-asia-21-young-leaders
------------
'Four TTP militants arrested'
SALEEM SHAHID
July 9, 2015
QUETTA: Security forces arrested four suspected members of the banned Tehreek-i-Taliban Pakistan (TTP) in the Nawan Killi area late on Wednesday night.
Official sources said the arrested militants were wanted in criminal cases, including explosions and target killings. "They belonged to the banned TTP's Sajna group," a spokesman for the Frontier Corps said.
After receiving information about presence of some high-profile militants in the Nawan Killi area, personnel of FC and intelligence agencies conducted a raid and arrested four members of the Sajna group of TTP.
"They were planning to carry out subversive activities in and around Quetta," the FC spokesman said.
Full report at:
http://www.dawn.com/news/1193303/four-ttp-militants-arrested
-----------
Mideast
Israel arming, providing recruits for Takfiri militants in Syria: Report
Jul 9, 2015
A recent report has disclosed that the Israeli regime has been providing recruits as well as military equipment to Takfiri militant groups operating inside Syria in a bid to overthrow the government of President Bashar al-Assad.
Classified documents and files lately obtained by unknown hackers from the computers of Israeli military officials suggest that the Tel Aviv regime hired Syrian and Lebanese nationals to facilitate the transfer of weapons to anti-Damascus terrorists, Lebanon-based and Arabic-language newspaper al-Akhbar reported on Thursday.
The reported said that Israeli agents even notified foreign-sponsored militants of the locations that Western military aircraft were to bombard in Syria as part of the US-led coalition against the ISIL terrorist group long before the aerial assaults were conducted.
It also pointed to the close liaison between Israeli authorities and high-profile ISIL commanders.
Syria's official SANA news agency reported on May 23 that a wounded 27-year-old Takfiri militant had been taken to the Baruch Padeh Medical Center in the northern Israeli settlement of Poriya, located approximately 6 kilometers (3.7 miles) south of the coastal Israeli city of Tiberias, for treatment.
The report added that the Israeli medical center has accepted and treated nearly 175 anti-Syria Takfiris ever since foreign-sponsored militancy broke out in Syria in March 2011.
Israeli Prime Minister Benjamin Netanyahu visits a militant wounded in Syria at a field hospital in northern Israel, February 18, 2014.
According to the documents from Israeli hospitals, until last September, Israel's military had paid USD 10 million from its budget for the treatment of the terrorists injured during clashes with Syrian government forces.
Full report at:
http://www.presstv.in/Detail/2015/07/09/419458/Israel-Syria-militants-Baruch-Padeh
------------
Iran nuclear talks prompt concern among Iraqi Kurds
09 Jul 2015
Erbil, Iraq - A deal over Iran's nuclear programme might further embolden its pursuit of regional hegemony and could have ramifications on its relations with Iraqi Kurds, Kurdish officials said.
"Iran might exploit the new circumstances to further expand its influence politically," said Shakhawan Abdulla, a member of the Kurdistan Democratic Party (KDP), one of the two major parties in the Kurdish region's government. "And it might bring Kurdistan under its control and attempt to undermine the region's security," Abdulla told Al Jazeera.
"Kurds have a place in the region and so the deal will have an impact on us," he added.
Although officially part of Iraq, the autonomous Kurdistan Regional Government (KRG) and its dominant party, KDP, have in recent years pursued policies that largely diverge from the direction taken by the central government in Baghdad, a strong Iran ally. While, the Iraqi government has been suspected of cooperating with Iran to support the regime of Syrian President Bashar al-Assad, the KRG has resisted pressure from Tehran to support Assad's regime, instead it came closer to some of the opposition groups there.
According to analysts, within the context of broader regional rivalries, the KDP, which often directs KRG's policies, has been more aligned with Turkey and Gulf Sunni Arab states.
But when fighters from the Islamic State of Iraq and the Levant (ISIL) group approached the gates of Erbil, the Kurdish capital last summer, Iran was the first foreign nation to help Iraqi Kurds.
Yet the KRG has preferred to work more closely with the US-led international coalition rather than Iran and its circle of Shia paramilitary allies. Kurds have relied heavily on the coalition's air support and military assistance, which is estimated to be worth over $180m.
This stands in contrast to the policy adopted by the government in Baghdad and its Shia paramilitary allies, who have relied deeply on Iran for support in their fight against ISIL.
Iran, suspicious of the KRG for desiring to secede from Iraq, has warned the Kurds not to pursue such a goal.
Whereas some Kurdish officials like Abdulla are concerned that a deal might encourage Iran to further its influence in the region, others downplay the destabilising impact this shift could have on Iraqi Kurds.
Mahmoud Osman, a veteran Kurdish politician, has dealt closely with Iran under the shah and the Islamic republic that came to power after the 1979 revolution.
He believes that, while some Arab countries in the Gulf and broader region may have reason to fear the repercussions of a deal, the concern becomes redundant when it comes to Iraq and the autonomous Kurdish region, since Iran already has remarkable clout in Iraq.
"Even now [without a deal], Iran ... has the upper hand in Iraq and exerts a great deal of influence and enjoys ties with the groups here," Osman told Al Jazeera. "Deal or no deal, Iran's influence and links will continue in Iraq... A deal will calm down the situation in the region and bring down violence, and so Kurds should not be worried."
Internal Kurdish rivalries have paved the way for neighbouring countries to establish spheres of influence in the region.
While the KDP, led by KRG President Massoud Barzani, sidles up to Turkey, its major rival, the Patriotic Union of Kurdistan (PUK), is the party of Iraq's President Fuad Massoum.
The PUK, which has developed strong ties with Iran, dominates the local administrations that control the southern part of the Kurdish region.
Meanwhile, the KDP is in charge of the northern half, where Turkish businesses have established a strong presence in the cities of Erbil and Dohuk. Yet, Iran still gets a larger slice of the business-and-trade pie in the southern part in Sulaymaniyah province.
And as the KDP favours a more independent arrangement with Baghdad, the PUK advocates for better relations with the central government and has even allowed Shia paramilitary groups to set up bases and recruit locals in some of the areas it controls, such as Kirkuk province and northern portions of Diyala and Salahuddin provinces.
Full report at:
http://www.aljazeera.com/news/2015/07/iran-nuclear-talks-prompt-concern-iraqi-kurds-150706080835082.html
------------
Yemen: 30 Pro-Hadi Soldiers Killed in Mutiny
Jul 08, 2015
Saudi-led coalition jets, which have bombed Yemen since March, intervened when "dozens of soldiers defected and announced their support" for Ansarullah revolutionary fighters on Tuesday, prompting clashes with pro-Hadi troops, the military source said, AFP reported.
The incident took place at the 23rd Mechanized Brigade, stationed near the border with Saudi Arabia and left "at least 30 soldiers killed and dozens wounded" on both sides, he told AFP.
"Armored vehicles and troop carriers were destroyed or damaged" in the air raids and clashes between rival groups.
The Yemeni army troops have joined the revolutionary fighters of Ansarullah, who are defending the country against the Saudi invaders.
Late last month, 300 Saudi soldiers and an artillery commander joined the Yemeni forces.
"The latest blow at the Al Saud came as Hashem al-Ahmar, artillery commander of the Saudi army in al-Wadia border crossing and 300 soldiers joined the Yemeni army and the revolutionary forces," the Middle East Panorama website quoted Head of Yemen's Free Army Nasser bin Yahya al-Orujli as saying on June 26.
He noted that the Saudi regime is still in a difficult situation and the Saudi officials know it quite well.
A few days earlier in June, tribal forces and activists in Saudi Arabia's Najran region formed a military and political opposition movement to the Saudi regime, called "Ahrar al-Najran" after the region declared earlier this month that it has separated from Saudi Arabia and joined Yemen in the war on Riyadh.
Full report at:
http://english.farsnews.com/newstext.aspx?nn=13940417000499
------------
U.S., Turkey discuss stepping up anti-ISIS fight
8 July 2015
A high-level U.S. delegation discussed with Turkish officials ways to step up the fight against Islamic State (IS) jihadists in Syria during two days of talks in Ankara, sources said Wednesday.
Retired general John Allen -- a US presidential envoy -- and Under Secretary of Defence for Policy Christine Wormuth met Turkish military officials and foreign ministry undersecretary Feridun Sinirlioglu in the Turkish capital.
"We discussed ways of strengthening the fight against Daesh," a Turkish diplomatic source told AFP, asking not to be named and using an Arabic acronym for IS.
"The parties had an exchange of views on reinforcing cooperation and coordination on this."
A US embassy official said the Washington delegation held two days of "constructive meetings" with Turkish counterparts.
They discussed "our mutual efforts as part of a broad coalition to degrade and destroy ISIL," the official said, using another term for IS.
Turkey -- NATO's only majority Muslim member -- has stayed out of active participation in the US-led coalition assisting Kurdish forces in the fight against IS, causing irritation in Washington.
According to Turkey's Hurriyet daily, the US side at the meetings once again requested Turkey's permission to use the Incirlik base in the south of the country for air strikes against IS in Syria.
Hurriyet said the Turkish government said it wanted to be kept informed of operations by the coalition in real time and that attacks on populated areas be avoided to prevent more refugees fleeing to Turkey.
Analysts say that Ankara is keeping its distance from the US-led campaign against IS as it is wary of aiding Kurdish forces and also fears that jihadists could launch revenge attacks inside Turkey.
Full report at:
https://english.alarabiya.net/en/News/middle-east/2015/07/08/U-S-turkey-discuss-stepping-up-anti-ISIS-fight.html
------------
Yemen tells U.N. it agrees to conditional truce
8 July 2015
Yemen's government told the United Nations on Wednesday that it agreed to a conditional truce to end more than three months of fighting and hopes it can be implemented in the coming days, spokesman Rajeh Badi said.
"The Yemeni authorities have informed the Secretary General of the United Nations Ban Ki-moon of its agreement to implement a truce in the coming days," Badi told Reuters by phone from the government's seat of exile in Saudi Arabia.
Yemen's President Abd-Rabbu Mansour Hadi, the spokesman said, had set "guarantees" for a pause, including the release of prisoners by Yemen's dominant Houthi group and their withdrawal from four provinces where they are fighting local militias.
Saudi Arabia and an Arab coalition have been bombing the Iran-allied Houthi group and their allies in Yemen's army in order to restore Hadi and back armed opponents of the Houthis.
Yemen critically short of food, fuel imports
Meanwhile, ground combat between various Yemeni armed factions and Saudi-led air strikes have deepened the plight of civilians in Yemen, with the United Nations saying more than 80 percent of its 25 million people need some form of emergency aid.
Before Saudi Arabia intervened in March to try to restore Yemen's president to power and roll back the Iranian-allied Houthi militia now controlling large areas of the country, Yemen imported more than 90 percent of its food, mostly by sea.
Full report at:
https://english.alarabiya.net/en/News/middle-east/2015/07/08/Yemen-tells-U-N-it-agrees-to-conditional-truce.html
------------
Turkey to build new refugee camps in face of massive influx
8 July 2015
Turkey's Disaster and Emergency Management Authority (AFAD) is planning to build a new refugee camp in the southern town of Kilis, in order to accommodate for the ongoing influx of Syrian refugees, reports Turkish news site Hürriyet Daily.
"Such a refugee inflow scares us. That would create a huge risk on our side, even though we have existing capabilities," officials told Hürriyet Daily News.
AFAD Chairman Fuat Oktay confirmed the making of the new camp in Kilis, saying "In fact, we are not very keen to announce such new camps because it would be regarded as encouraging Syrians to leave their homes even if there is no need."
Full report at:
https://english.alarabiya.net/en/News/middle-east/2015/07/08/Turkey-to-build-new-refugee-camps-in-face-of-massive-influx.html
------------
Calls for end to Israeli blockade one year after 50-day Gaza war
July 08, 2015
GAZA CITY — Israel and Palestinians marked one year since last summer's war in Gaza on Wednesday, with a UN official calling for an end to the "inexcusable" blockade of the territory that has helped prevent rebuilding.
The ceasefire that ended the 50-day war has largely held, but few of the issues that led to the conflict have been resolved and tens of thousands of Gazans remain homeless in the besieged strip.
While there appears to be little appetite for conflict on either side for now, analysts say failing to address the misery of Gazans who have faced three wars in six years will only sow the seeds for future violence.
"The blockade remains in place and its crippling effect on Gaza is undeniable, inexcusable," Robert Turner, operations director in Gaza for UN relief agency UNRWA, told reporters.
He however referred to a small amount of Gazan goods being allowed through for sale in Israel and the occupied West Bank in recent months as a reason for hope.
"I see a real willingness on the part of Israel to address some of its worst impact," Turner said of the blockade, which Israel says is necessary to prevent the import of arms and material to make weapons.
"It is not yet enough. It is not what is required, which is a full lifting of the blockade."
The war took a heavy toll on Gaza, killing 2,251 Palestinians, including more than 500 children. Seventy-three people were killed on the Israeli side, including 67 soldiers.
A UN report released last month said both sides may have committed war crimes during the conflict in and around the impoverished enclave of 1.8 million people.
Hamas, the Islamist movement that runs the Gaza Strip, planned commemorations for later Wednesday, but details were not yet clear.
Full report at:
http://www.saudigazette.com.sa/index.cfm?method=home.regcon&contentid=20150709249863
------------
North America
US, UAE Launch Center to Counter Islamic State Message
July 09, 2015
The United States and United Arab Emirates launched a new effort Wednesday to counter the Islamic State group using social media to confront the militants' ideology and present "moderate and tolerant voices from across the region."
Named the Sawab Center and based in Abu Dhabi, the project issued messages on Twitter and posted a YouTube video saying the militants were twisting Islam to spread hate, fear and intolerance.
U.S. Under Secretary of State for Public Diplomacy and Public Affairs Richard Stengel told Alhurra that the goal is to both use information to dissuade people from joining the Islamic State and to "take offline" those who are using social media to try to convert new recruits.
"One of the ideas of the Sawab Center and what we do in terms of messaging ourselves from Washington is to try to stem the flow of foreign fighters," Stengel said. "To, if somebody is debating whether to go, tell them that the mythology of what Daesh [Islamic State] is creating is false, you know, the caliphate isn't a paradise -- there's no plumbing, there's no electricity, there's no Internet access."
Stemming the flow of fighters into Iraq and Syria is one of the main goals set out by President Barack Obama to counter the Islamic State. Coalition efforts also include a nearly year-long bombing campaign with more than 5,000 airstrikes, as well as work to cut off funding to the militants.
Full report at:
http://www.voanews.com/content/us-uae-launch-center-to-counter-islamic-state-message/2854620.html
------------
Pakistan's effort advances peace prospects, says US
ANWAR IQBAL
July 9, 2015
WASHINGTON: Pakistan's decision to facilitate direct talks between the Afghan government and Taliban militants advances prospects for a credible peace, says the White House.
"We both (the United States and Afghanistan) acknowledge and appreciate Pakistan's important efforts to host these conversations," White House Press Secretary Josh Earnest told a briefing in Washington. "This is an important step in advancing prospects for a credible peace."
He also expressed similar hopes and praised Kabul for participating in the talks.
Take a look: Afghan govt, Taliban agree to build trust
"The United States commends the government of Afghanistan's prioritisation of peace and reconciliation efforts with the Taliban," he said.
Mr Earnest said that the United States had always encouraged Afghans to participate in an Afghan-led process. He hoped that such a process would bring about a political reconciliation in Afghanistan and a de-escalation, if not an end, to the violence that had wracked that country for more than a decade now.
"That's a process that we're going to continue to be supportive of," said the White House official when asked if the talks had increased Washington's optimism for a breakthrough in the peace process.
Full report at:
http://www.dawn.com/news/1193309/pakistans-effort-advances-peace-prospects-says-us
------------
Southeast Asia
Indonesia Police Confess They Are Scared To Face Muslim Extremists, Islamic Hardliners
Jul 8th, 2015
Like Islamic State, the Muslim hardliners Islamic Defenders Front (FPI) are now creating a major problem for Indonesian police, who are reluctant to crack down on hate speech, because there are no "rewards" for doing so and they fear a backlash, an official has admitted.
The Jakarta Globe reports how Sr. Comr. John Hendri of the National Police's legal division acknowledged during a discussion in Jakarta that there was a widely held public perception that the police were unwilling to take on spewers of hate speech and those groups hostile to minority religious groups.
"The truth is that police officers who see, hear or experience such incidents can file a report [for subsequent investigation], but tend to be scared to because there's no reward or guarantee of safety for themselves," he said.
The term "reward" was never clarified, but the article notes that "…it is almost universally believed that the Indonesian police typically demand money from anyone filing a report before they will proceed with an investigation."
Hendri referenced a pending regulation that would protect officers from threats to their families when taking on cases of hate speech.
Full report at:
http://www.theglobaldispatch.com/indonesia-police-confess-they-are-scared-to-face-muslim-extremists-islamic-hardliners-39641/
------------
US upgrades Malaysia in annual human trafficking report
july 9, 2015
The United States is upgrading Malaysia from the lowest tier on its list of worst human trafficking centers, US sources said on Wednesday, a move that could smooth the way for an ambitious US-led free-trade deal with the Southeast Asian nation and 11 other countries.
The upgrade to so-called "Tier 2 Watch List" status removes a potential barrier to President Barack Obama's signature global trade deal.
A provision in a related trade bill passed by Congress last month barred from fast-tracked trade deals Malaysia and other countries that earn the worst US human trafficking ranking in the eyes of the US State Department.
he upgrade follows international scrutiny and outcry over Malaysian efforts to combat human trafficking after the discovery this year of scores of graves in people-smuggling camps near its northern border with Thailand.
The State Department last year downgraded Malaysia in its annual "Trafficking in Persons" report to Tier 3, alongside North Korea, Syria and Zimbabwe, citing "limited efforts to improve its flawed victim protection regime" and other problems.
But a congressional source with knowledge of the decision told Reuters the administration had approved the upgraded statUS A second source familiar with the matter confirmed the decision.
Some US lawmakers and human-rights advocates had expected Malaysia to remain on Tier 3 this year given its slow pace of convictions in human-trafficking cases and pervasive trafficking in industries such as electronics and palm oil.
This year's full State Department report, including details on each country's efforts to combat human trafficking, is expected to be released next week.
The State Department and the White House both declined comment.
Obama visited Malaysia in April 2014 to cement economic and security ties. Malaysia is the current chair of the 10-nation Association of Southeast Asian Nations. It is seeking to promote unity within the bloc in the face of China's increasingly assertive pursuits of territorial claims in the South China Sea, an object of US criticism.
In May, just as Obama's drive to win "fast-track" trade negotiating authority for his trade deal entered its most sensitive stage in the US Congress, Malaysian police announced the discovery of 139 graves in jungle camps used by suspected smugglers and traffickers of Rohingya Muslims from Myanmar.
Full report at:
http://www.dhakatribune.com/world/2015/jul/09/us-upgrades-malaysia-annual-human-trafficking-report
------------
Indonesian Islamic minority protests mosque closure, fears growing intolerance
Jul. 09, 2015
JAKARTA: Members of an Indonesian minority Islamic sect protested Thursday against the forced closure of one of their mosques amid concerns over rising religious intolerance in a country which is home to world's largest Muslim population.
The closure of the Ahmadiyah mosque is the latest in a series of incidents across the country in which religious minorities have faced harassment from hardline Islamic groups, but a rare event in the capital Jakarta.
"This is a slap in the face of the local government of Jakarta because it's supposed to be a cosmopolitan and pluralistic place," Bonar Naipospos, director of rights NGO Setara Institute, told Reuters.
Ahmadiyah is one of several religious minorities in Indonesia. Hardline Indonesian Muslims accuse Ahmadiyah and other Muslim minorities of apostasy.
Members of a hardline Islamic group last week forced the cancellation of a religious event involving nearly 1,500 Protestants in Central Java, media said. Other groups like the Islamic Defenders Front (FPI) have been known to break up prayer sessions at churches and Ahmadiyah and Shia mosques across Java, calling for them to be closed.
Police said the Ahmadiyah mosque was closed this week because it violated building permits. But members of the Ahmadiyah community said it has stood there for decades and that hardline Islamic groups had pressured authorities to seal it.
"Recently there has been an inclination among the police and the state apparatus to allow things like this to happen because they don't want the situation to escalate," said Yendra, a spokesman for the Indonesia Ahmadiyah Community.
A senior police official this week admitted officers were often too scared for their own safety to take on religious hardliners, media reported.
Full report at:
https://www.dailystar.com.lb/News/World/2015/Jul-09/305866-indonesian-islamic-minority-protests-mosque-closure-fears-growing-intolerance.ashx
------------
New Indonesian military chief sparks concerns
July 08, 2015
JAKARTA — Indonesia's army chief of staff was promoted to head of the military on Wednesday, breaking with a tradition that saw the job rotated between branches of the forces and raising concerns about the army's growing influence.
General Gatot Nurmantyo was sworn in as armed forces chief by President Joko Widodo at a ceremony in the capital Jakarta and replaces Gen. Moeldoko, who had also been a senior figure in the army.
The job was expected to go to the air force chief, and the decision to appoint Nurmantyo has sparked fears about the army's increasing influence almost two decades after it was stripped of much of its power following the downfall of dictator Suharto, himself a general.
"I think following the tradition of rotation is better," said Hendardi, chairman of rights group the Setara Institute who goes by one name, adding that the army was getting "privileged" treatment.
He said that Widodo, known universally as Jokowi, was "playing politics" and seeking to shore up his weakened position by getting closer to the army.
The election last year of Widodo, Indonesia's first leader from outside the political and military elites, fuelled hopes of a new era in the graft-ridden country but his administration has beset by crises and criticized for a series of policy flip-flops. With the end of authoritarian rule in 1998 and the introduction of democracy, serving military members lost the right to take on senior political roles and were limited to defence roles.
Full report at:
http://www.saudigazette.com.sa/index.cfm?method=home.regcon&contentid=20150709249797
-----------
Africa
Chief Imam Cancels Special Ramadan Prayer at Abuja Mosque for Security Reasons
July 8, 2015
The Chief Imam of Apo Legislator's Quarter's Jumat Mosque, Sheikh Muhammad Khalid, has cancelled the special I'tikaaf prayer normally observed by Muslims during the last 10 days of Ramadan in that Mosque.
I'tikaaf is a special prayer offered my Muslims during the last 10 days of Ramadan.
During that period, a Muslim is required to retire to the Mosque and remain in seclusion solely with the intention of offering prayers and supplication to Allah.
Mr. Khalid announced the cancellation of the prayer in an interview with the News Agency of Nigeria, NAN, in Abuja on Wednesday.
He said the move had become necessary following increased insecurity in the country.
He added that, "everyone can testify to the fact that insecurity is becoming higher; bombings have become the order of the day in the North, especially in the North Eastern part of the country.
"We need to join hands with government to do whatever we can possibly do in our capability to tackle it headlong.
"However, it is a very difficult task to tackle because of the faceless nature of the Boko Haram members that have been terrorising Nigeria.''
Khalid urged other Imams not to allow the special prayer in their Mosques so as not to jeopardise the security of potential participants.
He said that allowing people to gather in the Mosque for the special prayer was not safe and called for attitudinal change by Nigerians in order to move the country forward.
He urged the Federal Government to create jobs for the teeming unemployed youths to avoid restiveness, stressing that "providing employment for the youths will take them off the streets.
Full report at:
http://www.premiumtimesng.com/regional/north-central/186352-boko-haram-chief-imam-cancels-special-ramadan-prayer-at-abuja-mosque.html
------------
Tunisia in fear of ISIL terror attacks: Prime minister
Jul 9, 2015
Tunisian Prime Minister Habib Essid has defended the recently imposed state of emergency, saying his country fears more "terrorist attacks" similar to the recent incident that claimed the lives of 38 foreign tourists.
"We are engaged in a ferocious war against terrorism to protect lives and property, defend the republican regime... the civil state and its institutions," said Essid addressing the parliament on Wednesday.
Tunisia declared a 30-day state of emergency shortly after the ISIL Takfiri terrorist group claimed responsibility for the June 26 attack at a tourist resort at Port El Kantaoui, about 10 kilometers north of the city of Sousse, which killed 30 Britons, three Irish nationals, one Belgian, one Portuguese, one Russian, and two German tourists.
"We would not have felt obliged to decree the state of emergency if we were not convinced that our country was facing numerous terrorist plans to destabilize the country," he noted.
Tunisian Prime Minister Habib Essid observes a minute's silence on the beach in the coastal city of Sousse on July 3, 2015, in memory of the victims of the June 26 terrorist attack. (AFP)
The premier also voiced fears that the terrorist group has planned other operations "aimed at killing the maximum number of people, undermining morale, and grinding the national economy to a halt."
Several rights groups have also warned that the state of emergency should not threaten freedoms obtained since the 2011 revolution, which overthrew dictator Zine El Abidine Ben Ali.
"Whatever it takes, we will prevail over terrorism," he said, adding that the nation's rights will "not be touched."
Full report at:
http://www.presstv.in/Detail/2015/07/09/419421/Tunsia-ISIL-attack-takfiri
------------
Islamic State in West Africa claims Chad suicide attacks
BY CALEB WEISS | July 8, 2015
The Islamic State's Wilayat Gharb Ifriqiyah (West Africa Province), formerly known as Boko Haram, has officially claimed last month's suicide attacks in Chad's capital of N'Djamena. The attacks killed at least 23 people and left more than 100 wounded.
"The brother Abu Hamza al Ansari and the brother Abu Saadiq al Ansari set out to implement two suicide operations with suicide vests on the police academy and police center in the Chadian capital, N'Djamena," the Islamic State said in a statement. The claim of responsibility goes on to say that the operation "led to the destruction of dozens of the murtadeen [apostates] and wounded more than 100." In addition to the short statement, the jihadist group also released photos of the suicide bombers taken before carrying out the attacks.
In a separate message, the Islamic State claimed that a suicide bomber, identified as Abu Omar al Ansari, detonated in a safe house for suicide bombers in Chad after security forces raided the building.
In response to the attacks, Chad has launched airstrikes against the Islamic State in West Africa (ISWA) in Chad and has banned face veils worn by Muslim women in the country.
The ISWA has struck in Chad before. Back in February, the jihadist group attacked a village, killing the local police chief and wounding four people. Many residents also reported that the jihadists burned down two-thirds of the village. That attack was seen as a response to Chad's involvement with Nigeria, Cameroon, and Niger in combating the ISWA in northeastern Nigeria. Chadian troops play an integral role in the coalition.
The claim of responsibility for the N'Djamena bombings comes as the jihadist organization continues to launch attacks in Nigeria and other neighboring countries. Just yesterday, 25 people were killed in the central Nigerian city of Zaria after suicide bombers targeted a governmental building. Additionally, a girl thought to be just 12 years old was used as a suicide bomber in Wagir in Yobe state, killing 10 people and wounded dozens more in a city market.
Full report at:
http://www.longwarjournal.org/archives/2015/07/islamic-state-in-west-africa-claims-chad-suicide-attacks.php
------------
Chad's Fight Against Boko Haram
July 9, 2015 |
Boko Haram's terror has spread beyond Nigeria's borders. In mid-June the recently declared Islamic State-affiliate staged two suicide attacks in the Chadian capital N'djamena, killing 23 people. The expanding threat posed by the militant group was answered earlier this year by a regional coalition of forces from Chad, Niger, and Cameroon who agreed to assist Nigeria's own beleaguered army.
Chad's contingent of 5,000 soldiers has advanced the furthest into Nigeria. One of the most experienced fighting forces in the region, Chad says they've killed hundreds of Boko Haram militants while losing few of their own troops.
Meanwhile, thousands of refugees and displaced people have sought shelter in Chad's Lake Region, which houses some of most destitute communities in one of the poorest countries in the world.
https://news.vice.com/video/chads-fight-against-boko-haram
Boko Haram: MURIC blasts Fani-Kayode over "cold-blooded remarks"By Daily Post Staff on July 9, 2015
The Muslim Rights Concern, MURIC has taken on former Aviation Minister and Spokesman to Jonathan's Campaign Organization, Mr. Femi Fani Kayode, over his comment on the renewed Boko Haram attacks across the country.
Femi Fani-Kayode, former Aviation Minister and spokesperson of the campaign organization of former President Goodluck Ebele Jonathan yesterday said that Nigerians asked for the recent upsurge in Boko Haram attacks by rejecting his boss for the second term.
Fani-Kayode said Nigerians failed to heed warnings about the danger ahead if Jonathan lost the election. According to him, the renewed bombings and killings are part of the consequences of rejecting Jonathan.
Reacting however, the Muslim Rights Concern (MURIC) through its Director, Professor Ishaq Akintola, says it's shocked by Fani-Kayode's "cold-blooded remarks, affirming that his words are nothing short of a manifestation of extreme wickedness and infantile vituperations."
The group said that "like a frustrated man who suddenly realized that the castles he had built in the air had totally collapsed, Jonathan's spokesman was now prepared to out-Herod.
It said With Fani-Kayode calling the shots in the public domain in this country, Nigerians do not need a worse advocatus diaboli.
Full report at:
http://dailypost.ng/2015/07/09/boko-haram-muric-blasts-fani-kayode-over-cold-blooded-remarks/
------------
Europe
Russia wants arms embargo on Iran lifted after deal
9 July 2015
Russian Foreign Minister Sergei Lavrov said on Thursday lifting an arms embargo against Iran should be a priority after a permanent deal on Tehran's nuclear program is reached.
"We are calling for lifting the embargo as soon as possible and we will support the choices that Iran's negotiators make," Lavrov said on the sidelines of a BRICS summit in the Russian city of Ufa.
Russia is among the six world powers negotiating with Iran a permanent nuclear deal for Tehran, but talks have been complicated and deadline for the agreement postponed.
"We are close to a comprehensive agreement," Lavrov told Journalists. "It is within reach."
Earlier today, Russia's Deputy Finance Minister Sergei Ryabkov told journalists nuclear talks between Iran and the world's six major powers have entered their most difficult phase.
"These talks are like alpinists claiming a peak: 95 percent of the way has been completed, but there are still several steps, the last few meters (which are) the most difficult," Ryabkov said.
Full report at:
https://english.alarabiya.net/en/News/world/2015/07/09/Russia-says-Iran-talks-at-their-most-difficult-phase.html
------------
Russia vetoes UN genocide resolution on Srebrenica
09 Jul 2015
Russia has vetoed a UN resolution that would have condemned the 1995 massacre at Srebrenica during the Bosnian war as a "crime of genocide".
Russian Ambassador Vitaly Churkin on Wednesday called the UK-drafted text "not constructive, confrontational and politically-motivated," arguing that it unfairly singled out Bosnian Serbs for war crimes.
"The draft that we have in front of us will not help peace in the Balkans but rather doom this region to tension," Churkin told the council meeting that began with a minute of silence to remember the victims.
The Security Council put the resolution to a vote on Wednesday, despite appeals from Russia and China not to because of divisions in the UN's most powerful body.
The vote condemning the mass killing 20 years ago as an act of genocide was 10-1, with four abstentions - Angola, China, Nigeria and Venezuela.
'Legal fact'
The UK had put forward the draft text, hoping the Security Council would formally recognise Europe's worst atrocity since World War II as an act of genocide for the first time, and condemning genocide denial.
British Deputy Ambassador Peter Wilson accused Russia of siding "with those who are unwilling to accept the facts today".
"Genocide occurred at Srebrenica. This is a legal fact, not a political judgment. On this there is no compromise," he said.
Russia, Britain and the US had been locked in intense negotiations over the past 24 hours to try to avoid a veto and agree on a text.
But Moscow refused to drop its insistence that references to the Srebrenica killings as an act of genocide be scrapped, diplomats said.
In Sarajevo, Munira Subasic, the head of the Mothers of Srebrenica, told the AFP news agency that Russia's veto "would make trust and reconciliation impossible".
"We are not surprised by such a decision... Russia is actually supporting criminals, those who killed our children," Subasic said.
Full report at:
http://www.aljazeera.com/news/2015/07/russia-vetoes-genocide-resolution-srebrenica-150708150057291.html
------------
British Muslims invite locals for Ramadan meal
08 July 2015
A breaking of the fast event held by the Muslim community in Newcastle saw an invite extended to the local community of Walbottle, Newcastle.
The Islamic Divercity Centre (IDC) has held an annual Iftar event which took place on Monday night in suburban Walbottle.
The breaking of fast event, called an iftar was held at the end of the Ramadan day, in which Muslims fast between the hours of sunrise and sunset for a month.
The Iftar is the evening community meal when Muslims end their daily Ramadan fast at sunset.
Food and drink were provided free of charge by Ma Ida restaurant in Newcastle.
As reported in the Chronical Live, Newcastle city councillor Dipu Ahad was also one of those who took part in the event.
He said: "We prepared food for the community so they could break fast with us.
"It shows what Islam is about. It's about giving, about being tolerant, about the community and being a good citizen."
Full report at:
http://www.worldbulletin.net/news/161890/british-muslims-invite-locals-for-ramadan-meal
------------
Magic meat in Sweden, eat halal, morph into Muslim
08 July 2015
A Swedish politician has caused outrage and has been mocked online through social media by saying that halal meat has magical powers and can turn you into a Muslim. The nationalist Sweden Democrat, which has around 20% support amongst the population, also is making an effort to ban halal meat in schools.
Michael Ohman, the head of the nationalist party's Heby wing told the Sala Allehanda newspaper that, "You become a Muslim if you eat halal meat," the Local cited him as saying.
A reporter asked him if he meant that halal food had magical powers, "Yes. This is precisely what we have warned of. They sneak halal in everywhere."
Ohman also mentioned he wants to see halal meat banned in local schools because as he thinks it is against the animal welfare laws in Sweden.
Traditional methods of producing halal meat involve slitting an animal's throat to ensure the spinal cord isn't damaged.
Full report at:
http://www.worldbulletin.net/headlines/161909/magic-meat-in-sweden-eat-halal-morph-into-muslim
------------
URL: https://newageislam.com/islamic-world-news/taliban-demand-'united-national-government'/d/103832