New Age Islam News Bureau
12 Jul 2018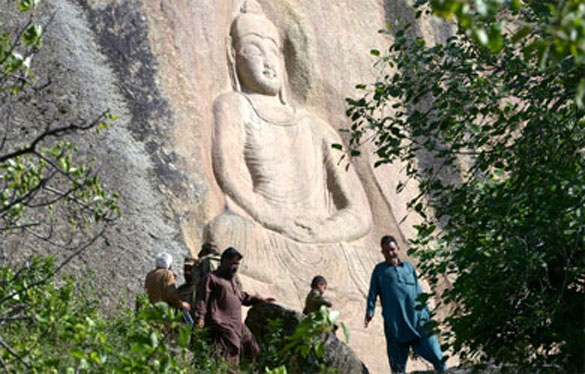 The Buddha of Swat, carved on a cliff in the seventh century, was dynamited by the Pakistani Taliban in 2007. Now it has been restored,
-----
• Taliban Defeated by the Quiet Strength of Pakistan's Buddha
• Saudi Arabia Scholar's Moot Declarers Taliban War in Afghanistan 'Haram'
• Muslim Personal Law Board Member Says Bitcoins Are against Islamic Law
• Sri Lankan Islamic Centre Condemns Ban on Female Circumcision as 'Affront'
• Muslim Group Wants Gov't to Act Against 'Religious Provocations'
• Jerusalem Mufti: Muslim Who Sells Land to Jews 'Traitor to Islam'
Pakistan
• Taliban Defeated by the Quiet Strength of Pakistan's Buddha
• Thousands of Pakistanis Attend Funeral of Anti-Taliban Politician
• Nawaz Says He Will Rid Pakistan of 'State above State'
• Imran Vows To Prevent Forced Marriages of Hindu Girls
• Pakistan against US-Saudi efforts to destabilize Iran: Report
• Heads to roll over Peshawar suicide attack
• Taliban strike as State NAPs
--------
Arab World
• Saudi Arabia Scholar's Moot Declarers Taliban War in Afghanistan 'Haram'
• Saudi Bid to Protect Pre-Islamic Sites Upends Religious Dictates
• Egypt Says Security Forces Kill 11 Militants In Sinai
• South Syria suicide car bomb claimed by ISIS kills 8
• Saudi King praises scholars' efforts in search of Afghan security, stability
• Syria seizes French anti-tank weapons in Dara'a: Report
• Rifts Further Widening among Non-Syrian Terrorists in Idlib Province
• Militants in More Regions End Battle with Syrian Army in Dara'a
• Syrian Army Imposes Control over 80 Percent of Dara'a Province
--------
India
• Muslim Personal Law Board Member Says Bitcoins Are against Islamic Law
• Viral Test Busts Posts about Muslim Board "Demanding" Another Partition
• Never Promoted Terror, Says Zakir Naik, Blames Media for 'Fabrication'
• Reaching Out To Muslims, Rahul Gandhi Asked About His Visits to Temples
• Indian pilgrims undaunted by Kashmiri militants
• Rashtriya Muslim Manch to Organise First Ever Grand Namaz and Quran Recitation in Ayodhya
• Supreme Court Anguish Over Taj Mahal Neglect: Shut It Down, or Demolish It
• Indian Muslims safer than those in Pakistan, Syria: JK BJP
--------
South Asia
• Sri Lankan Islamic Centre Condemns Ban on Female Circumcision as 'Affront'
• Taliban Reacts in Panic As Religious Scholars End 2-Day Conference on Afghanistan
• 11 killed in attack on Afghan education office
• Ghani welcomes the announcement by Saudi Imam for calling the Afghan war 'Fitna'
--------
Southeast Asia
• Muslim Group Wants Gov't to Act Against 'Religious Provocations'
• Indonesia's Atheists Fear Jail and Persecution in an Officially Multi-Religious Nation
• Perlis Mufti: Respect homosexuals even though they are 'sinners'
• Govt cannot wash its hands of child marriage issue, say NGOs
• PAS: Shariah a distant dream as non-Muslims 'take over' judicial posts
--------
Mideast
• Jerusalem Mufti: Muslim Who Sells Land to Jews 'Traitor to Islam'
• Turkish Forces 'Neutralize' 18 PKK Terrorists in Turkey, Hit Their Bases in Iraq
• Hamas rejects so-called Trump's deal of the century
• Rein in Hezbollah, Yemeni foreign minister tells Lebanon
• Turkish police launch raids to detain Islamic figure, followers
• Putin and Netanyahu meet for Syria-focused talks in Moscow
• US softens stance on Iran sanctions amid warnings
--------
Europe
• UK Commission to Probe Output Of 'Intellectual' Extremists
• Bosnian Muslims to Bury 35 Srebrenica Massacre Victims
• Jurors Shown Mosque Arson Suspect's Anti-Muslim Writings
• Bosnian Muslims Mark 23rd Anniversary of Srebrenica Massacre
• Germany arrests Iran 'spy' on bomb plot charges
• UK a 'natural partner' in Saudi reforms, investment forum told
• NATO to 'monitor' ballistic missile threat to Turkey
--------
Africa
• Boko Haram: Court Jails Sect Leaders, 110 Members
• Kenya: Police Pursue Al-Shabaab Militia Who Attacked Police Post
• Boko Haram Continues To Drive Terrorism Threat In Northern Nigeria
• UN Scribe: Nigeria Needs More Funds to Fight Boko Haram
--------
North America
• Congress Weighs Terror Label for Muslim Brotherhood
• Trump elevates Hale to achieve his Afghan goals
• Iran Foreign Ministry dismisses US implicating of Iranian embassies in terror acts
Compiled by New Age Islam News Bureau
URL: https://www.newageislam.com/islamic-world-news/taliban-defeated-quiet-strength-pakistan/d/115811
--------
Taliban Defeated by the Quiet Strength of Pakistan's Buddha
July 12, 2018
Mingora: The Buddha of Swat, carved on a cliff in the seventh century, was dynamited by the Pakistani Taliban in 2007. Now it has been restored, a powerful symbol of tolerance in the traumatised Pakistani valley.
The holy figure, depicted in a lotus position at the base of a granite cliff in northern Pakistan, was severely damaged by Islamist insurgents in an echo of the Afghan Taliban's complete destruction of its more imposing counterparts at Bamiyan in 2001.
For some, it was a wanton act of vandalism that struck at the heart of the area's unique history and identity.
It felt "like they killed my father", says Parvesh Shaheen, a 79-year-old expert on Buddhism in Swat. "They attack... my culture, my history."
The Buddha sits in Jahanabad, the epicentre of Swat's Buddhist heritage, a beautiful valley in the foothills of the Himalayas.
There the Italian government has been helping to preserve hundreds of archaeological sites, working with local authorities who hope to turn it into a place of pilgrimage once more and pull in sorely needed tourist dollars.
A decade ago, the militants climbed the six-metre (20-foot) effigy to lay the explosives, but only part of them were triggered, demolishing the top of the Buddha's face. Another, smaller fresco nearby was torn to pieces.
For Shaheen, the statue is "a symbol of peace, symbol of love, symbol of brotherhood".
"We don't hate anybody, any religion — what is this nonsense to hate somebody?" he says.
But other Swatis, less familiar with the history and in 2007 not yet traumatised by the full brutality of the Taliban, applauded the attack and took up the argument that sculpture was "anti-Islamic".
Like their counterparts in neighbouring Afghanistan, the Pakistani Taliban are extremist insurgents who terrorised the population in the name of a fundamentalist version of Islam, banning all representation in art and for whom the idea of a non-Islamic past is taboo.
The episode became a marker for the beginning of the Taliban's violent occupation of Swat, which would only end in 2009 with heavy intervention by the Pakistan army. By then, several thousand people had been killed and more than 1.5 million displaced.
Land of Buddhism
The population of Swat has not always been as it is today, mostly conservative Muslim, where cultural norms dictate that women wear burqas.
Instead, it was for centuries a pilgrimage site for the Buddhist faithful, especially from the Himalayas. The Vajrayana school even consider it a "holy land", from where their faith originated.
They continued to visit right up until the 20th century, when borders hardened with the creation of Pakistan in 1947.
Now the vast majority of Pakistan's population are Muslim, and its religious minorities — mainly Christians and Hindus — are often subject to discrimination and violence.
Buddhism for its part disappeared from the region around the 10th century AD.
Its golden age in Swat lasted from the second to the fourth centuries, when more than 1,000 monasteries, sanctuaries and stupas spread out in constellations across the valley.
"The landscape was worshipped in itself," says Luca Maria Olivieri, an Italian archaeologist who oversaw the restoration of the Buddha.
"The pilgrims were welcomed by these protective images, sculptures and inscriptions, arranged along the last kilometres (miles) before arriving," Olivieri explains.
Religious tourism
Rehabilitation of the site has not been easy, he says. Carried out in phases, it began in 2012 with the application of a coating to protect the damaged part of the sculpture.
The reconstruction of the face itself was first prepared virtually in the laboratory, in 3D, using laser surveys and old photos.
The last phase, the actual restoration, ended in 2016. Olivieri says the reconstruction is not identical, but that is deliberate, as "the idea of damage should remain visible".
The Italian archaeological mission in Swat, which he directs, has been there since 1955 — though it was briefly forced from the valley during Taliban rule.
It manages other excavation sites and supervised the restoration of the archeological museum in Mingora, the main city of Swat, damaged in an attack in 2008.
The Italian government has invested 2.5 million euros ($2.9 million) in five years for the preservation of Swat's cultural heritage, striving to involve the local population as much as possible.
Now authorities are counting on the Buddha's recovered smile and iconic status to boost religious tourism from places such as China and Thailand.
Years after the Taliban were ousted, the valley is largely rejuvenated, though at times security is still tense, with an attack killing 11 soldiers in February this year.
Some people in Swat also see the Buddha as a tool for promoting religious tolerance.
Fazal Khaliq, a journalist and author living in Mingora, thinks the threat to cultural heritage has been "minimised" through education and the use of social networks to spread a "soft, good" image.
However, "the majority of people who are not young, educated — they still do not understand" its importance, he admits.
Meanwhile, the museum in Mingora now welcomes mullahs "who like Buddhism", says its curator, Faiz-ur-Rehman.
"Before Islam, this was our religion," he says.
https://www.news18.com/news/world/taliban-defeated-by-the-quiet-strength-of-pakistans-buddha-1809013.html
--------
Saudi Arabia Scholar's Moot Declarers Taliban War in Afghanistan 'Haram'
Tahir Khan
JULY 12, 2018
ISLAMABAD: Saudi Arabia scholars, who wrapped up two-day conference in the holy Saudi city of Makkah, on Wednesday declared the Taliban war in Afghanistan "religiously prohibited," urging the Taliban and Afghan government to hold direct talks and find a solution to the longstanding conflict.
The communiqué did not mention the US-NATO invasion and said that suicide attacks, which had result into the killing of innocent people and infighting among Muslims, were not permissible under Islamic injunctions.
Daily Times also received a copy of the Pashto-language communiqué that could be seen a major blow to the Taliban, who had denounced the conference as a ploy of Americans to justify their war. Almost all Pakistani scholars invited to the Saudi-sponsored conference boycotted the event. However, Council of the Islamic Ideology Chairman Qibla Ayaz attended the conference.
"Afghan government is an Islamic government, its people are Muslims and have a thrust for peace and their killing is prohibited in Islam. Killing of Muslims is 'haram' and whatever is going on in Afghanistan is contrary to Islamic principles and fundamentals," the declaration said.
"We call upon countries, organisations and the Muslims to play a positive role for peace in Afghanistan while channelising their resources to achieve the goal."
"We condemn the on-going fighting in Afghanistan and want all sides to stop it in line with the Islamic Sharia," the communiqué said.
The scholars urged the afghan government and the Taliban to declare ceasefire and start direct negotiations as intra-Afghan dialogue was the best way to resolve the conflict between the two sides.
"Afghan problem should be solved through negotiations," the delegates said and declared support to President Ashraf Ghani's unconditional offer to the Taliban that had also declared the Taliban war a political movement.
The conference urged the Taliban to positively respond to the offer and to stop violence, come to the negotiation table and solve political differences through negotiations.
Taliban in their reaction said that no prominent scholar from Islamic countries took part in the conference and most of the delegates were representatives of governments and that was why they did not dare to mention the American invasion, military presence and the US bombing.
"The conference will not harm the Taliban struggle, which has pushed the arrogance American military to defeat and embarrassment." Afghans understand that the Americans military officials, including their commander Nicolson, had floated the idea of holding the conference to mount religious pressure on the Taliban," Taliban spokesman Zabihullah Mujahid said in late Wednesday's statement.
He said Taliban were confident that the Saudi government would play its role to end the invasion and that hosting such meetings would harm its position.
https://dailytimes.com.pk/266349/saudi-moot-declarers-taliban-war-haram/
--------
Muslim Personal Law Board member says bitcoins are against Islamic law
Jul 11, 2018
The All India Muslim Personal Law Board (AIMPLB) has asked for the Muslim community to shun bitcoins as they are un-Islamic.
As per a report by Deccan Chronicle, AIMPLB senior functionary Maulana Wali Rahmani issued a statement on June 29, saying that the financial currencies must have its roots in Islamic finance model, like the paper currency which can be exchanged equally for other products like gold and silver.
He said, "Bitcoin has no set rules, which is considered as a contract annulment in Islam. That is why it is forbidden."
Cryptocurrencies have gained popularity in the past few years and its popularity has invoked governing authorities across the world to question their legitimacy.
The Muslim nations have divided opinions about the digital currency with the UAE permitting its transaction, while Saudi cleric Shaikh Assim Al-Hakeem pronouncing it to be haram (forbidden) money.
In Egypt and Turkey, Muslim scholars have collectively emphasised on bitcoin transaction to be against Islam as its value is "open to speculation" and it could be used in "illegal activities".
RBI has stopped banks to conduct business with firms involved in cryptocurrency businesses.
https://www.moneycontrol.com/news/business/cryptocurrency/muslim-personal-law-board-member-says-bitcoins-are-against-islamic-law-2697051.html
--------
Sri Lankan Islamic centre condemns ban on female circumcision as 'affront'
July 12, 2018
NEW DELHI: Members of Sri Lanka's Muslim communities on Wednesday condemned a government decision to ban female genital cutting as an "affront" that infringed upon their religious rights.
The Centre for Islamic Studies in Sri Lanka criticised the government after the health ministry denounced female genital mutilation (FGM) and prohibited doctors from any involvement in the tradition, known as "khatna".
"The (ban) … not only infringes on our religious rights, but also threatens to drive the procedure underground," Asiff Hussein, a senior official with the Centre for Islamic Studies, said in a statement.
The ban was announced in May. Government officials could not immediately be reached for comment.
Supporters say khatna only involves a harmless nick to the clitoral hood and cannot be compared to other forms of FGM in parts of Africa, which can involve removing external genitalia and sewing up the vagina.
They consider it an important religious duty and say it improves hygiene, but some women say they have suffered irreversible damage.
The World Health Organization (WHO) says FGM includes any procedure that intentionally alters or causes injury to the female genitals for non-medical reasons.
Campaigners against khatna – which is performed on young girls – say it can cause psychological, sexual and physical complications.
"Who are these people making such statements? Predominantly men. How would they know if it is beneficial? Khatna makes it difficult to deliver, makes sex painful. It is utter patriarchy," women's rights activist, Shreen Abdul Saroor, said.
"It is a barbaric practice about degrading women's sexuality," she told the Thomson Reuters Foundation.
But the Centre for Islamic Studies said that associating "the Islamic duty of female circumcision with FGM was an affront to Muslims who regarded it as an obligatory religious duty and threatened to undermine the free practice of religion".
Although khatna is not mentioned in the Koran, it is practised by certain communities in Sri Lanka, including the Dawoodi Bohra and some Moor and Malay Muslims.
Human rights lawyer Ermiza Tegal called the practice "an artefact of its time which has become meshed in certain religious subculture".
"The impact on children is real and must be condemned. The state must hold firm in protecting children from this harmful practice," she said.
"Even if some believe it is a religious requirement it does not entitle them to make an irreversible cut on an innocent child's body when a child cannot give informed consent."
The United Nations, which views all forms of FGM as a violation of women's and girls' rights, estimates at least 200 million have undergone the practice worldwide.
http://www.freemalaysiatoday.com/category/world/2018/07/12/sri-lankan-islamic-centre-condemns-ban-on-female-circumcision-as-affront/
--------
Muslim group wants gov't to act against 'religious provocations'
July 12, 2018
The Malaysian Islamic Consumers Association (PPIM) has expressed concern over the action of certain individuals who have openly stir racial and religious provocations in the country.
Its chief activist Nadzim Johan also wanted the government to take action against such individuals because it could trigger anger and unexpected reaction from the public.
"We worry about those with agenda...we don't want to have this matter get out of control and action needed to be taken regardless of of their religion or race," he said after the launch of the second season's 'Gerakan Kuasa Pengguna' programme to be aired on Bernama News Channel.
Nadzim, among others, referred to the statement issued by former Information Minister Zainuddin Maidin who proposed that tahfiz schools be closed.
Meanwhile Zainuddin on his blog page said the proposal for the tahfiz schools to be closed was because some of their operations was not on par with those of national schools and hoped the government would take action against them.
https://www.malaysiakini.com/news/433799
--------
Jerusalem mufti: Muslim who sells land to Jews 'traitor to Islam'
July 11, 2018
The Muslim religious leader of Jerusalem has issued a decree banning the sale of property to Jews, or "enemies," as he referred to them.
The Palestinian mufti of Jerusalem, Sheikh Muhammad Hussein, on Tuesday issued a fatwa, an Islamic religious decree, banning Muslims from "facilitating the transfer of ownership of any part of Jerusalem or the land of Palestine to the enemies," The Jerusalem Post reported.
The fatwa, according to Palestinian sources quoted in the report, came in response to a proposed Israeli bill that eases the purchase of land by Jews in Area C of Judea and Samaria, which is under full Israeli sovereignty, as stipulated by the Oslo Accords.
The fatwa decreed that the "land of Palestine" was Waqf, an absolute religious endowment in Islamic law, and therefore cannot be sold in any way to non-Muslims.
"Anyone who sells his land to the enemies or accepts compensation for it will commit a sin," said Hussein in his fatwa.
He also warned that anyone who violates the fatwa will be considered an infidel, an apostate and a traitor to God, Islam and his homeland, the report said.
The fatwa additionally demands that Muslims boycott anyone who violates the ruling and should therefore refuse to do business with the transgressors, marry them, attend their funerals or bury them in Muslim cemeteries.
Palestinian law also prohibits Palestinians from selling land to "any man or judicial body corporation of Israeli citizenship, living in Israel or acting on its behalf."
Land sales to Israelis are considered treason by the Palestinians because they supposedly threaten the founding of a future state.
Palestinians who sell land to Israelis can be sentenced to death.
https://worldisraelnews.com/jerusalem-mufti-issues-fatwa-against-selling-land/
--------
Pakistan
Thousands of Pakistanis attend funeral of anti-Taliban politician
Jul 11, 2018
Thousands have flocked to the funeral of a senior Pakistani politician and a group of other activists who were killed during an anti-Taliban event in the country's troubled northwest.
Police estimated that 30,000 people attended the funeral of the local leader of the Awami National Party (ANP), Haroon Bilour, who was among those killed in the attack late Tuesday during an election rally.
Shops and businesses were also closed across the frontier hub near the Afghan border out of respect for those killed in the attack.
Lawyers in the northwestern Pakistani city of Peshawar went on strike on Wednesday to protest and mourn the death of Haroon.
The bomber struck when Bilour was about to address some 200 supporters in the volatile city. The powerful explosion left at least 20 people dead and dozens more injured.
Bilour was one of the ANP's election candidates and belonged to an influential political family in Khyber-Pakhtunkhwa province, of which Peshawar is the capital. His father, Bashir Bilour, one of the ANP's top leaders, was also killed in a bombing in 2012.
The bomb attack on Tuesday came hours after Pakistan's military spokesman said there were security threats ahead of the national election, which is scheduled to be held on July 25.
Bomb disposal chief Shafqat Malik said that the bomber had eight kilograms of explosives and three kilograms of pellets, ball bearings and other shrapnel on his body.
Mohammad Khorasani, spokesman for the Tehreek-e-Taliban Pakistan (TTP) militant group, earlier claimed responsibility for the attack in a statement.
Peshawar is considered a gateway to Pakistan's troubled tribal regions, where many militant groups operated until the government launched operations to oust them.
Militants have targeted politicians, religious gatherings, security forces and even schools over the past few months in Peshawar.
Despite frequent offensives by the Pakistani army, acts of terror by militant outfits continue to target security forces as well as civilians.
Thousands of Pakistanis have lost their lives in bombings and other militant attacks since 2001, when Pakistan entered an alliance with the United States in Washington's so-called war on terror.
https://www.presstv.com/Detail/2018/07/11/567801/Pakistan-funeral-Taliban-Peshawar
--------
Nawaz says he will rid Pakistan of 'state above state'
July 12, 2018
LAHORE: As the Pakis­tan Muslim League-Nawaz (PML-N) prepares to give a rousing welcome to ousted prime minister Nawaz Sharif and his daughter Maryam Nawaz on their arrival in Lahore on Friday, the party supremo has pledged that he will liberate Pakistan from "those who are running a state above the state".
PML-N president Shah­baz Sharif, on Wednesday, spent a busy day meeting workers in various areas of Lahore and mobilising them for the welcome rally planned at the Allama Iqbal International Airport to receive their leader, come what may.
Speaking at a party conference in the ballroom of the Grosvenor House Hotel in central London's Mayfair district, Nawaz Sharif said, "Despite seeing the bars of prison in front of my eyes, I am going to Pakistan." He said he was returning to the country so that he could pay back the Pakistani nation for what they had done for him: making him prime minister three times.
Later while talking to journalists, the former premier said he wished he could address his supporters at the Lahore airport.
"I ask the people, especially women, to come out of their homes like tigers, and cross all barricades to reach the Lahore airport. No one can stop a mass gathering of the people," he said, adding that no one had ever gotten freedom in a platter, because it demands sacrifice.
"Maryam and I are coming back to face prison and even if they send me to the gallows, we know that freedom cannot be won without sacrifice. It is not easy to leave my wife on a ventilator in a hospital but I am returning along with my daughter to play our role to rid of this slavery," he announced.
Nawaz Sharif further said: "We used to hear about 'a state within a state' but now things have gone to the extent that there's 'a state above the state'. We will have to change this. July 25 will be a defining moment in the country's history after August 14, 1947 (Independence Day)," he said, adding that Maryam and he would hear the election results in jail.
"The people's verdict can change the 70-year-old course of the country and ensure their freedoms. The July 25 polls will be a referendum in which every Pakistani will have to decide whether they wanted to become a part of this dangerous game or make Pakistan the country Quaid-i-Azam had hoped it would be," he said.
The former premier said "certain people" did not respect civilian supremacy. "They have been throwing out elected prime ministers for the last 70 years... Going by our history, a premier is sent to the gallows (Z.A. Bhutto), another is shot dead (Benazir Bhutto) and another (Nawaz) is forced into exile. What was their crime? Had they committed treason?" he asked. On the other hand, he said a military dictator (Gen Musharraf) who had abrogated the Constitution and sent judges behind bars was still free. No one had the courage to bring him back and try him for his misdeeds, he said.
The ex-premier said he respected the country's institutions and greatly admired the soldiers who sacrificed their lives for the country's future. "But no one should be allowed to violate their oath," he added.
Alleging that those working behind the scenes wanted to install a 'government of their own choice', he said: "To get the results of their choice in the election, they ('hidden hands') are suppressing the PML-N on all fronts. Today, apparently there is a democracy in Pakistan but it is being strangulated. The media is not free. The entire country has been turned into a big jail. The time has come to turn Pakistan into a civilised country, and for that to happen, the people will have to give a strong mandate to the PML-N in July 25 polls."
The former premier warned that he could no longer hold 'secrets' in his heart. "I have shown great patience but I can no longer remain silent about those conspirators as it will be unfair for the coming generations. Those who were behind conspiracies against me and my government will be exposed," he said. He asked who was behind his expulsion from the Prime Minister House, who had gotten a verdict of their choice against him, who had elected [Sadiq] Sanjrani as Senate chairman and imposed their will on the people of Pakistan in the election. Nawaz Sharif said he regretted the loss of his "close friends".
"Pakistan has been placed on the Financial Action Task Force's grey list (again). When I had talked about (taking certain measures) they termed it news leaks," he said, and added that ever since his expulsion, the country's economy had suffered a lot and Pakistani currency had been devalued.
Maryam said returning to Pakistan was the most difficult decision of their (Nawaz and Maryam) lives. "My mother is on a ventilator and it is not easy to leave her in this serious condition when we know that we are going to jail and may not see her soon," she said. She regretted that in a bid to oust Nawaz, the country's institutions had been weakened.
Full report at:
https://www.dawn.com/news/1419533/nawaz-says-he-will-rid-pakistan-of-state-above-state
--------
Imran vows to prevent forced marriages of Hindu girls
Syed Irfan Raza
July 12, 2018
ISLAMABAD: Pledging to safeguard the rights of minorities if he comes into power, Pakistan Tehreek-i-Insaf (PTI) Chairman Imran Khanon Wednesday announced his government will take effective measures to prevent forced marriages of Hindu girls with Muslims. "I have received complaints from the Hindu community in Sindh that their women are forcefully married to Muslims," Mr Khan said while speaking to representatives of minority groups at a convention.
The PTI chief presented his party agenda for improving the life of minorities in the country by giving them the basic rights ensured in the Constitution.
He said it is the state's responsibility to provide basic rights to the underprivileged segments of society.
"Minorities were given their rights in the welfare state established by Prophet Muhammad (PBUH) in Medina. However, the weak are deprived of their due rights in Pakistan," he said.
Most Hindu families in Pakistan live in Sindh and according to media reports, some 25 forced marriages take place every month in the Umerkot district.
Imran Khan said the development of neglected areas, where most minorities reside, is the only way to rid them of the clutches of powerful and rich people.
He said the laws in Pakistan were different for the week and the powerful.
"An American national, Raymond Davis, was freed and allowed to leave Pakistan after killing two people due to diplomatic norms but if the same incident had taken place in the US, no one would have cared about diplomatic immunity," he said.
The PTI leader said only those societies are considered civilized where everyone's rights are protected by the state.
Imran Khan said the Constitution already safeguards the rights of all communities and their basic needs such as shelter, education and health.
He said he was very sure that the 2018 general elections will bring a significant change in the country under which people of all classes will be given their basic rights.
"It is only two weeks till the polls and I can foresee a revolution in the country," he added. Mr Khan said his party had blocked the way of two mainstream political parties — PPP and PML-N—by exposing the corruption of their leaders.
Full report at:
https://www.dawn.com/news/1419430/imran-vows-to-prevent-forced-marriages-of-hindu-girls
--------
Pakistan against US-Saudi efforts to destabilize Iran: Report
Jul 11, 2018
The Pakistani government has reportedly opposed efforts by the administration of US President Donald Trump and the Saudi regime to destabilize Iran, a media report says.
According to a recent report published by Lebanon's Arabic-language al-Akhbar newspaper, the Trump administration and Saudis would expect Islamabad to back their efforts by setting up a covert operation room, which could support militants that operate across the border in the Iranian province of Sistan and Baluchistan.
The covert operation room could be employed to escalate an all-out US-led Israeli-Saudi proxy war with Iran by backing terrorist groups such as Jaish ul-Adl and fomenting unrest among the Islamic Republic's ethnic minorities, it added.
The US military assistance to the Saudis was also meant to repeat a Syria-like scenario, the report said.
Daesh Takfiri terrorists were reportedly among the militants initially trained by the CIA in Jordan in 2012 to destabilize the Syrian government.
In June, a report by Huffingtonpost said that the Trump administration appeared to take a potential step closer to backing anti-Iran efforts plotted by Saudi Arabia and the United Arab Emirates (UAE).
The appointment of Michael D'Andrea, a hard-charging, chain-smoking operative, alternatively nicknamed Dark Prince Mike, suggested that the CIA was likely to take a more operational approach in confronting Iran in line with President Trump's Saudi and UAE-backed hard line toward the Islamic Republic.
According to the report by Huffingtonpost, political analysts believe that Iran is unlikely to stand by idly if Saudi Arabia and the US were to initiate covert operations against it. "There's just one small problem: Iran is unlikely to back down," said US Naval Postgraduate School Iran expert Afshon Ostovar.
Over the past years, Iranian border guards have repeatedly come under attack by terror groups active on Pakistani soil.
In April, 11 Iranian border guards were killed in an ambush near Mirjaveh, which was claimed by Jaish ul-Adl. The assailants escaped into the Pakistani territory immediately after the attack.
Tehran has repeatedly filed protests with Islamabad over its failure to end terror activities on the Pakistani side of the border.
Full report at:
https://www.presstv.com/Detail/2018/07/11/567819/Iran-US-Saudi-Arabia-Pakistan
--------
Heads to roll over Peshawar suicide attack
Manzoor Ali
July 12, 2018
PESHAWAR: Caretaker Chief Minister of Khyber Pakhtunkhwa retired Justice Dost Mohammad Khan has formally asked the federal government to change the provincial chief secretary and police chief, insisting the two have failed to take necessary measures to stop the Tuesday night suicide attack in the capital city.
The blast had killed ANP provincial leader and election candidate Barrister Haroon Bilour and 19 others and injured scores in a corner meeting.
Immediately after the incident, retired Justice Dost chaired a huddle of top officials at the chief minister, which lasted around three hours.
In the meeting, where security situation of the province was discussed, the chief minister expressed annoyance at the province's top bureaucracy.
The documents available with Dawn showed that the chief minister wanted to repatriate chief secretary Kamran Naveed Balouch, police chief Mohammad Tahir, home secretary Ikramullah Khan, and Peshawar division commissioner Shahab Ali Shah, before filling those positions with his handpicked men.
They showed that the chief minister favoured Ahmad Hanif Orakzai for the chief secretary's post, Dr Mohammad Naeem Khan for IG's, environment secretary Zakir Hussain Afridi for home secretary's, and principal secretary to the chief minister Akbar Khan for the additional charge of Peshawar commissioner.
However, sources claimed that the chief minister's resentment with bureaucracy was more to do with the officers not heeding his wishes in the recent transfers and postings than the security lapse.
They said the chief minister wanted to appoint some of his favourites to key posts but bureaucracy blocked it apparently annoying him.
The sources claimed that the chief minister even 'overruled' the usual protocol, which asked the federal government to share three names with the provincial government for key postings for choice.
They claimed that the move showed the chief minister's tilt towards a political party and that he wanted to oblige it when elections were just two weeks away.
The sources wondered whether the new bureaucratic setup would be made a scapegoat in case of any untoward incident.
A Chief Minister House letter written to the Establishment Division, a copy of which is available with Dawn, said following the blast, Justice Dost tried to contact chief secretary Kamran Naveed Baloch but to no avail.
It added that the chief secretary was told to immediately contact the chief minister in the view of emergency.
The letter said the chief secretary hadn't submitted a 'single day report' to the chief minister in all important matters and tasks assigned to him.
"In view of prior consultation with the prime minister's office and Election Commission of Pakistan, it has been decided to dispense with the chief secretary's services.
He should report to the Establishment Division immediately. The Establishment Division should immediately place the services of Ahmad Hanif Orakzai at the disposal of the province as chief secretary. It should be notified immediately. Any delay of even a single hour in this matter may lead to serious consequences," it said.
Regarding provincial police chief Mohammad Tahir, the letter made similar observations saying he'd failed to take necessary action on terror alerts.
It noted that in view of consultation with the premier's office and ECP, Mr Tahir should be immediately repatriated to the Establishment Division, while Dr Mohammad Naeem Khan should be appointed the IG KP immediately," it said.
Regarding commissioner of Peshawar division Shahab Ali Shah and home secretary Ikramullah Khan, the chief minister declared them 'unwilling workers' and insisted the home secretary had failed to provide coordination among government agencies.
When contacted, caretaker information minister Zafar Iqbal Bangash said nothing of the sort had been on paper so far.
"It may be a fact but it has not yet to be on paper," he said.
Full report at:
https://www.dawn.com/news/1419452/heads-to-roll-over-peshawar-suicide-attack
--------
Taliban strike as State NAPs
July 12, 2018
PESHAWAR/ISLAMABAD: Peshawar remained in mourning on Wednesday over the martyrdom of 20 political activists, including the provincial assembly candidate of the Awami National Party (ANP), Haroon Bilour, as the banned terror outfit Tehreek-e-Taliban Pakistan (TTP) claimed responsible for the deadly suicide bombing that has shocked leaders across the political spectrum at a time when the general elections are just round the corner.
The notorious terror outfit claimed responsibility of the suicide attack on the ANP corner meeting in Yakatoot area of Peshawar late on Tuesday night.
TTP Spokesperson Muhammad Khurasani accused the ANP of being an "anti-Islam" party and held its leadership, especially the late Bashir Bilour, responsible for "arrest, imprisonment and killing of TTP militants". He vowed that the TTP will continue to unleash terror on ANP whenever it gets the opportunity.
The tragedy has also led the Election Commission of Pakistan (ECP) to postpone the election for PK-78—late Bilour's constituency.
LAID TO REST:
Bilour, whose father Bashir Bilour was also killed by Taliban in 2012 during an election meeting, was laid to rest at Wazir Bagh amid tears and fears.
The funeral was attended by the ANP's central leadership, including his uncle Ghulam Ahmed Bilour, ANP chief Asfandyar Wali Khan, former chief minister Ameer Haider Khan Hoti, hundreds of party workers and supporters among others.
Funeral prayers of nine blast victims were offered on Wednesday morning; they were laid to rest at Rehman Baba graveyard.
ANP WON'T BACK DOWN:
"Come what may, the ANP won't be deterred from taking parts in the polls," Asfandyar Wali said as he announced that the party would observe three days of mourning.
Though it will be a peaceful mourning, Wali said, the party might resort to unrest if it was pushed to a corner. "It will not be a good sign for the country if party workers shun the policy of patience," he said.
The ANP is under siege, however, it cannot declare every man with a beard to be a member of the Taliban, the ANP chief bemoaned.
SECURITY BEEFED UP:
The emergence of the terror threat from the TTP has raised concerns over the security of electoral candidates, especially the secular ones.
Following the attack, security has been beefed up in all provinces. Law enforcement agencies also conducted raids across Peshawar to arrest those involved in the suicide attack, however, the police have yet to announce an arrest.
CONDEMNATIONS:
Bilour's martyrdom was condemned by senior military and political leaders.
Chief of the Army Staff (COAS) General Qamar Javed Bajwa expressed grief and condemned the suicide blast.
Inter-Services Public Relations (ISPR) Director General Major General Asif Ghafoor tweeted that COAS Gen Bajwa said that "we are fighting against nexus of inimical forces which aren't willing to absorb a peaceful and stable Pakistan".
Furthermore, Pakistan People's Party (PPP) Chairman Bilawal Bhutto Zardari has decided to halt all electioneering in Khyber Pakhtunkhwa (KP) and Punjab following the attack. It was further reported that the party believes that 'the suicide attack was an attempt to give clear ground to PTI'.
Earlier, the PPP chairman had condemned the attack and had said that "the terror attack on pro-democracy individuals is a conspiracy".
"The nation should be aware of the fact as to what do terrorists wish," the PPP chairman added.
KP APEX COMMITTEE SUMMONED:
The government has summoned the KP's apex committee meeting to review the law and order situation after the attack on Haroon Bilour, said caretaker Minister for Interior Azam Khan while summing up the discussion on attack on Haroon Balour in the Upper House.
Speaking after the meeting, the minister said that, in light of potential threats, NACTA [National Counter Terrorism Authority] had arranged a high level meeting two days ago on the threat alerts but no political party representative attended the meeting. He asked political parties' high ups to tell the administration before holding any corner meeting or gathering. Senate Chairman Sadiq Sanjrani instructed the interior minister to submit the report about the attack on Thursday (today).
Earlier the Upper House unanimously passed a condolence resolution regarding the attack on ANP senior leader Haroon Bilour in Peshawar.
Senate Opposition Leader Sherry Rehman, while talking on the occasion, said, "I condemn the attack on Haroon Bilour, a brave son of brave father Bashir Bilour (late)."
She criticised the government for not providing security to the candidates, saying, "If government gives the security than Bilour's could be saved."
Senator Tanveer Ahmed, on his turn, stated that the terrorists first martyred Bashir Bilour and now his son has also been martyred.
ANP IN THE CROSSHAIRS, AGAIN:
It seemed with the death of its notorious chief Mullah Fazlullah—aka Mullah Radio—and its former spokesperson Ehsanullah Ehsan—notorious for Army Public School (APS) attack— in military's 'custody', the ANP had gotten a respite, but the party has been in the crosshairs of militancy, once again.
The ANP, including the PPP, were forced to shun their election campaigns in the run up to the 2013 polls after Taliban's threats.
Since the operation in 2009 in Swat, the Taliban have been targeting the ANP leadership for its anti-Taliban stance.
In 2012, ANP minister Bashir Bilour—father of Haroon Bilour— was killed when a Taliban bomber attacked his political gathering in Qissa Khawani Bazar in Peshawar.
Full report at:
https://www.pakistantoday.com.pk/2018/07/11/peshawar-blast-death-toll-rises-to-21-as-condolences-pour-in/
--------
Arab World
Saudi bid to protect pre-Islamic sites upends religious dictates
July 10, 2018
RIYADH: Saudi Arabia is preserving pre-Islamic heritage sites, such as a date palm oasis from the Stone Age, in a break with the austere strain of Sunni Islam that has dominated the country for decades, as the reclusive kingdom tries to open up.
Wahhabism, the ultra-conservative branch of Islam that emerged in Saudi Arabia some 250 years ago, regards the veneration of objects, especially those predating the Prophet Muhammad's life in the 7th century, as tantamount to idolatry, and has advocated their neglect or outright destruction.
But under reforms pushed by Crown Prince Mohammed bin Salman, who has vowed to promote a more moderate form of Islam and loosened strict social rules like a ban on women driving, the kingdom has allocated US$1 billion (RM4 billion) to preserve its heritage.
Many of the cultural areas date back thousands of years, and the attention given to them could risk a possible backlash from religious fundamentalists.
"National heritage wasn't an easy trip, to get people to reflect and go back, especially the antiquities. All the discussions that were about antiquity — this is not Islamic, this is Islamic — this is I think behind us now," said Prince Sultan bin Salman, head of the Saudi Commission for Tourism and National Heritage (SCTH).
The 62-year-old royal, a son of the king and an older half-brother of the crown prince, told Reuters in a recent interview about ongoing cooperation with senior Muslim scholars including bimonthly discussions with the Grand Mufti, the kingdom's top religious figure, about the latest "discoveries".
Those include Al-Hasa, one of the world's largest natural agricultural oases, which became the country's fifth UNESCO World Heritage site last month.
In addition to fresh- and hot-water springs and vast tracks of date palms, the 10,000-hectare (25,000 acre) region holds archaeological sites dating to the Neolithic period.
Another UNESCO site, Mada'in Saleh, is a 2,000-year-old city carved into the rocks of the northern desert by the Nabateans, the pre-Islamic Arab civilisation that also built Petra in neighbouring Jordan. It is now the center of a multi-billion dollar tourism project the authorities are developing with French support.
"I believe you cannot understand Islam as a great religion if you are dismissing completely what happened before Islam," Prince Sultan said.
"That's why we focused on hundreds of pre-Islamic sites, pre-history — because this is a story that cannot be understood without being looked at in its own holistic and complete sense."
He said up to 150 important sites had been intentionally destroyed or lost to urban development before the government adopted its new policy of protecting pre-Islamic monuments. SCTH is dispersing soft loans to municipalities to develop heritage locations and preparing another 10 sites for UNESCO recognition.
Saudi Arabia hopes reviving such sites will bolster national identity while attracting tourists, both local and foreign alike, as part of a bid to diversify the economy of the world's top oil exporter away from crude. Reforms aim to lift total tourism spending to US$46.6 billion (RM187.1 billion) in 2020 from US$27.9 billion (RM112 billion) in 2015.
Saudi Arabia is home to more than 10 million foreign workers and family members, and grants more than 6 million special visas a year for foreigners to attend the annual Hajj and other Muslim pilgrimages. But it does not offer regular tourist visas.
Plans to admit tourists have been discussed for years but have not come to fruition due to sluggish bureaucracy and concern over conservative sentiment.
Prince Sultan said last year he hoped the kingdom would start issuing visas in 2018, but told Reuters that they still need approval from "the higher authorities in government", without elaborating or setting a new timeframe.
Asked if the kingdom would relax social restrictions to allow tourists to drink alcohol and wear bikinis, Prince Sultan said: "Ninety-nine percent of the things you say today are allowed in Islam and can be managed as we speak, but there are some things that will not be accepted in Saudi Arabia.
"The Islamic world is all looking at Mecca every day, five times a day, but also thinking about Saudi Arabia," said Prince Sultan. "Some people would accept things in their own countries but would not accept it happening in Saudi Arabia."
http://www.freemalaysiatoday.com/category/world/2018/07/10/saudi-bid-to-protect-pre-islamic-sites-upends-religious-dictates/
--------
Egypt says security forces kill 11 militants in Sinai
11 July 2018
Egypt's official news agency says security forces killed at least 11 suspected militants in a shootout in the northern Sinai Peninsula.
The news agency quoted an unnamed security official Wednesday as saying that the fighting erupted when forces raided a hideout in the city of al-Arish. It says security forces dismantled two explosive devices and seized weapons.
It did not say when the raid took place or whether any security forces were killed or wounded. Egypt heavily restricts media access to the northern Sinai.
Egypt has been battling militants for years, but the Sinai-based insurgency gained strength after the 2013 overthrow of an elected but divisive Islamist president.
In February, Egypt launched a massive operation against militants in Sinai and other parts of the country.
https://english.alarabiya.net/en/News/middle-east/2018/07/11/Egypt-says-security-forces-kill-11-militants-in-Sinai.html
--------
South Syria suicide car bomb claimed by ISIS kills 8
11 July 2018
A suicide car bombing on Tuesday killed eight newly reconciled fighters from pro-government and rebel ranks in an attack on a south Syrian village claimed by ISIS.
The Britain-based Syrian Observatory for Human Rights said the explosion hit Zaizun, a village in the western countryside of Daraa province which rebels agreed in recent days to hand over to regime control.
"Eight regime and opposition fighters who recently reconciled were killed in a suicide car bomb attack targeting a military position in Zaizun," said Observatory head Rami Abdel Rahman.
ISIS claimed responsibility for the attack in a statement posted on the Telegram messaging app, saying the car driven by a suicide bomber had been packed with explosives.
Zaizun lies near a sliver of southern territory controlled by Jaish Khaled bin Walid, a faction that has pledged allegiance to ISIS, which is not bound by the deal between the rebels and the government.
Abdel Rahman said it was likely that this faction was responsible for the attack, adding it was the first suicide bombing targeting regime forces since they launched an offensive on Daraa.
Backed by Russia, Syrian troops began a bombing blitz of Daraa province on June 19 that killed dozens of civilians and displaced more than 320,000 people.
The onslaught came to an end on Friday, when Moscow brokered a deal with rebels for them to surrender their weapons and hand over towns to government troops.
The agreement also provides for safe passage for thousands of opposition fighters and civilians to rebel territory further north, although those transfers have not yet begun.
The regime is now in control of around 80 percent of Daraa province, while rebels hold around 15 percent, according to the Observatory.
Anticipating a regime attack, thousands of people have fled the ISIS-held zone in the past two days heading toward the Israeli-occupied Golan Heights.
Around 200,000 displaced people have already sought refuge along that frontier, which remains sealed, according to the United Nations.
"After finishing off rebel forces in the south, the regime is expected to attack the last pocket held by the ISIS affiliate there," said Abdel Rahman.
Government forces have not yet begun their assault but rebels nearby hit the ISIS-held area with artillery and mortars late Monday.
Full report at:
https://english.alarabiya.net/en/News/middle-east/2018/07/11/South-Syria-suicide-car-bomb-claimed-by-ISIS-kills-8-.html
--------
Saudi King praises scholars' efforts in search of Afghan security, stability
11 July 2018
Saudi Arabia's King Salman bin Abdulaziz has received in Jeddah on Wednesday a delegation of Islamic scholars participating in the International Conference of Muslim Scholars on Peace and Stability in Afghanistan.
The participants in the meetings of the International Conference of Scholars on Peace and Stability in Afghanistan, which concluded on Wednesday, where Afghan scholars discussed ways to find solutions to the current conflict between the warring parties in order to achieve peace and stability and stand with the Afghan government against the parties stirring strife among the Afghan people.
The Saudi monarch welcomed the scholars, commending them and the Organization of Islamic Cooperation (OIC) for holding the conference in Jeddah.
"You are the best who work to serve Islam and Muslims, unify their words and ranks, and eliminate the Islamic world from wars and crises afflicting it as well as the scourges of extremism and terrorism. Almighty Allah honored the Kingdom to serve the two holy mosques and this is what we have always been doing and still doing since the era of our father up today," the Saudi king said..
The King affirmed that Saudi Arabia has experienced with the Afghan people their suffering since the beginning of their crisis and its resulting civil war, whereas Saudi Arabia has provided humanitarian and economic assistance and exerted continuous political efforts to eliminate division and differences among the factions of the Afghan people.
"Today, we are optimistic that your efforts will contribute to closing the page of the past and opening a new page in Afghanistan that would achieve the aspirations of the Afghan people for security and stability, and this requires adopting the approach of dialogue, reconciliation and tolerance as dictated by our Islamic religion," Saudi King Salman said.
The first plenary session entitled "Reconciliation in Islam .. Role of Scholars in Establishing Peace and Stability in Afghanistan" was managed by Advisor at the Royal Court and Imam and preacher of the Grand Holy Mosque Dr. Saleh bin Humaid.
It focused on the events taking place in Afghanistan and the terrorist war targeting the Afghan people and the role of scholars in Afghanistan in ceasing this war.
Full report at:
https://english.alarabiya.net/en/News/gulf/2018/07/11/Saudi-King-hosts-conference-of-scholars-on-peace-stability-for-Afghanistan.html
--------
Syria seizes French anti-tank weapons in Dara'a: Report
Jul 11, 2018
The Syrian army has reportedly seized two sophisticated French-made anti-tank weapon systems in the southern Province of Dara'a, where it is conducting anti-terror operations.
The arms, seized in Jadal village, were referred to as 112-mm APILAS (Armor-Piercing Infantry Light Arm System), online military magazine Defence Blog reported on Tuesday.
"Local media have released imagery showing two captured APILAS anti-tank weapon systems developed in France by GIAT Industries," it said.
Currently known as Nexter Systems, GIAT Industries is a French government-owned arms manufacturer.
France is accused of backing anti-Damascus militancy since 2011.
The use of the APILAS anti-tank weapon system had also been spotted in Syria before, the magazine wrote, saying "as early as 2015, a couple of systems of this type were seized from Free Syrian Army (FSA) militants."
The FSA has been enjoying ample Western support, most notably from the United States. Washington, however, recently told the militants that it would no longer stand behind them in southern Syria right before the government was about to start the counterterrorism push.
So far, over 120,000 of the APILAS launchers have been produced and handed over to such countries in the region as Saudi Arabia and Jordan, said the magazine.
Full report at:
https://www.presstv.com/Detail/2018/07/11/567753/Syria-French-weapons-
--------
Rifts Further Widening among Non-Syrian Terrorists in Idlib Province
Jul 11, 2018
Militant-affiliated websites disclosed that a fresh wave of defections has been reported among the foreign members of Tahrir al-Sham, known as al-Turkistani Party.
The websites further said that Abu Mohammad Mansour, one of the commanders of al-Turkistani, has seized leadership of the terrorist group in a coup against al-Turkistani's former commander Abu Ibrahim.
In the meantime, a large number of terrorists were killed in heavy fighting between ISIL and Horas al-Din along a road to the village of Hafsarja in Northwestern Idlib.
Field sources said that 220 terrorists, including 144 Syrians affiliated to Tahrir al-Sham Hay'at and other groups, have been killed in Idlib province since April 26.
Local sources said on Sunday that tens of Tahrir al-Sham Hay'at terrorists were killed in a fresh round of clashes with rival groups and also in assassination operations in Idlib province.
The sources said that the ISIL attacked one of the positions of Tahrir al-Sham East of the town of Saraqib in Idlib province, killing all the 12 militants in the position, including three Uzbek, Chechen and Turk fighters.
In the meantime, a number of Tahrir terrorists were killed in a roadside bomb blast near the town of al-Dana in Northern Idlib.
Also, a Turkish member of Tahrir was gunned down by unknown attackers in farms West of Idlib city.
Full report at:
http://en.farsnews.com/newstext.aspx?nn=13970420000796
--------
Militants in More Regions End Battle with Syrian Army in Dara'a
Jul 11, 2018
Militant groups in Salmin, Kafr Shams, Kafr Nasej and Aqraba regions eventually endorsed a peace agreement with the army to hand over their positions to the pro-government forces.
Based on the agreement, the militants have to hand over their weapons and apply for government amnesty and those militants who refuse to join the agreement should leave Dara'a.
Affiliation of more militant-held regions to the reconciliation plan came after the army advances in the last two weeks and the government forces' control over eighty percent of land in the Southern province of Dara'a.
In the meantime, local sources said that civilians in the terrorists' stronghold town of Ankhal in Northern Dara'a poured into the streets and called for expulsion of Tahrir al-Sham Hay'at (the Levant Liberation Board or the Al-Nusra Front) from their region.
Other sources, meantime, said that the Free Syrian Army and Tahrir al-Sham Hay'at engaged in a fresh round of infighting that left a number of civilians dead or wounded.
On Tuesday, the army men staged a rapid march on terrorists and freed the entire border region between the Southern province of Dara'a and Jordan after imposing control over Zeizoun region West of Dara'a.
The only area in Dara'a still under terrorists' control was a few-kilometer-long chunk of the border taken by the ISIL.
In the meantime, field sources said that the army arrived at the ISIL-held region in Hawz al-Yarmouk.
Full report at:
http://en.farsnews.com/newstext.aspx?nn=13970420000262
--------
Syrian Army Imposes Control over 80 Percent of Dara'a Province
Jul 11, 2018
The army men drove terrorists out of Wheat Silos, Gas Company Building and Central Prison in Dara'a city outskirts after completing mop-up operation in Qaraz region.
Field sources said that the army has expanded control over eighty percent of Dara'a after its successful operation in Qaraz.
In the meantime, the army's engineering units started cleansing the newly-freed regions and found a large volume of military equipment, weapons and ammunition, including tanks, US-made missiles, mortar shells, RPG rockets, bombs and western communication devices.
On Tuesday, the army men staged a rapid march on terrorists and freed the entire border region between the Southern province of Dara'a and Jordan after imposing control over Zeizoun region West of Dara'a.
The only area in Dara'a still under terrorists' control was a few-kilometer-long chunk of the border taken by the ISIL.
In the meantime, field sources said that the army arrived at the ISIL-held region in Hawz al-Yarmouk.
Full report at:
http://en.farsnews.com/newstext.aspx?nn=13970420000159
--------
India
Viral Test Busts Posts about Muslim Board "Demanding" Another Partition
July 11, 2018
In less than a day an image of three Muslim men, with one of them holding a microphone in his hand had more than 7,000 shares and around 800 comments. This, because it carried a provocative caption that the All India Muslim Personal Law Board has demanded "another partition" of India.
"Hamein sharia adalat nahin diya ja sakta to mussalmano ke liye alag desh diya jaye," read the message in blue below the photo of AIMPLB members identified as Maulana Khalilur Rahman Sajjad Nomani, Maulana Khalid Saifullah Rahmani and Maulana Umrain Mahfooz Rahmani.
But when India Today's Viral Test team investigated the Facebook post, the findings exposed the mischief -- the AIMPLB, which advocates for Islamic laws, had made no such sensationalist demand.
Right-wing Facebook users, the Viral Test discovered lapped up an old photo of the three board members in order to generate a negative narrative around the Muslim community in the wake of the AIMPLB announcing plans to expand Sharia courts across the country.
Remember, board secretary Zafaryab Jilani had told India Today on Sunday that the organisation would meet on July 15 to create more Dar-ul-Qaza, or Sharia courts, in India.
Since 1993, a number of Dar-ul-Qaza have been engaged in resolving martial and religious disputes among Muslims, Jilani explained. They are headed by a qazi, or an Islamic adjudicator. If the issues are not settled amicably at Dar-ul-Qaza, stakeholders can take them to regular courts should they wish, Jilani added.
India Today's Viral Test team reached out to Jilani again, this time to fact check the Facebook posts about partition demands linked to the AIMPLB.
The board secretary refuted the social media reports as fake news.
"Indian Muslims," he said, "have suffered a lot because of the partition (of 1947). We don't want to live anywhere else other than India. We are committed to the Indian constitution."
So that explained the AIMPLB had made no demand for a separate homeland for Muslims. In fact, the shocking call for another partition had come a day before from a mufti in Kashmir and not any mainstream Islamic organisation.
On Monday, Nasir-ul-Islam, the grand deputy mufti and vice-chairman of the J&K sharia court, spoke about dividing the country once again on religious lines "if the BJP or anyone else has problems with religious practices of Muslims."
A malicious case of cut-paste by right-wing propagandists, who attributed the mufti's stunning statement to the AIMPLB for sheer sensationalism, the Viral Test found.
If you want us to fact check a viral message, image or video send it to us at it.viraltest@gmail.com
https://www.indiatoday.in/fact-check/story/viral-test-busts-posts-about-muslim-board-demanding-another-partition-1283249-2018-07-11
--------
Never Promoted Terror, Says Zakir Naik, Blames Media for 'Fabrication'
July 11, 2018
Mumbai: Controversial Islamic preacher Zakir Naik, who is wanted in terror-related cases in India, on Wednesday claimed that he had never promoted terror and his aim had always been to promote communal peace and harmony.
In a statement, Naik, who has taken shelter in Malaysia to evade arrest in India, claimed that the media had "resorted to doctored video clips, out-of-context quotations and a host of dishonest schemes to accuse me of terrorism, hate speech and even money-laundering".
He also lauded Malaysian Prime Minister Mahathir Mohamad for allowing him to stay in that country. Mohamad, whom Naik met recently in Malaysia, has rejected India's request for extradition of the Mumbai-born preacher, arguing that he had caused no harm to the host country.
"I have never promoted terror, in the name of Islam or otherwise," said Naik, who is wanted in cases related to terrorism, hate speech and money laundering in India.
Insisting that "any statement ascribed to me that is against humanity is a fabricated statement," he said, "My aim has always been to foster communal peace and harmony — the exact opposite of the accusations hurled at me."
In the statement issued here through his spokesperson, Naik went on to add that "time and again, I have reiterated that a Muslim cannot be a good Muslim unless he is a good human being".
Naik, who used to preach on a religious TV channel now banned in India, said "not a single lecture out of the thousands that I have delivered, has every received objections from non-Muslims in India until September 2012, when a group of religious fanatics sought to tarnish my image."
He said that while he hoped that "justice and peace (would) return to my homeland, India", he was "indebted to Malaysia".
Naik is facing charges, including for hate speech and money laundering, in India and has been living abroad since 2016 to evade arrest. He is facing a probe by the National Investigation Agency (NIA) after his sermons on his 'Peace TV' were cited as a reason by Bangladesh for an attack in Dhaka in 2016, which left 22 people dead.
The NIA had first registered a case against Naik under anti-terror laws in 2016 for allegedly promoting enmity between different religious groups.
The NIA and Mumbai Police, subsequently, had also carried out searches at 10 places in Mumbai, including residential premises of some of the office bearers of the foundation run by Naik. The foundation was earlier put on restricted list by the home ministry for receiving funds from abroad.
Full report at:
https://www.news18.com/news/india/never-promoted-terror-says-zakir-naik-blames-media-for-fabrication-1808645.html
--------
Reaching Out To Muslims, Rahul Gandhi Asked About His Visits to Temples
July 12, 2018
Congress chief Rahul Gandhi on Wednesday met a group of intellectuals from the Muslim community in a rare informal interaction. He told them that the BJP will not form the next government and that the Congress will work with like-minded regional parties to defeat the ruling party in the next Lok Sabha elections.
Sources said a couple of people asked Rahul about his temple visits during the nearly two-hour-long free-wheeling interaction. The Congress chief is learnt to have told them that he had also visited mosques and churches but his temple trips have caught the attention of the media. He told them that the media has not reported about his visits to mosques and churches.
Rahul's meeting, possibly to counter the BJP's Sampark for Samarthan campaign, is the first in a series of such interactions planned. The Congress chief is planning to reach out to those intellectuals and professionals who can "influence public opinion" ahead of the 2019 Lok Sabha polls.
The idea of the interaction, sources said, was to get a feedback from the intellectuals about the problems being faced by the Muslim community. Among those who attended it were historian Syed Irfan Habib, noted scholar and academic Abusaleh Shariff, writer and activist Farah Naqvi, writer Rakhshanda Jalil, former IAS officer M F Farooqui, the Raja of Mahmoodabad Mohammad Amir Mohammad Khan besides senior Congress leader Salman Khurshid and AICC minority department head Nadeem Javed.
Sources said some of them raised "stereotypical" issues like the stand of the All India Muslim Personal Law Board on various issues, issues related to the Aligarh Muslim University and Urdu language. Rahul wanted to know what issues the Congress should raise when it goes to the people.
At least one member, historian Syed Irfan Habib, is learnt to have told him that the Congress should raise issues which are of concern to all the people of India and not just Muslims. He said the Congress should talk about policies, employment, the atmosphere of fear and insecurity in which the people are living in. He stressed that not only the Muslims, Dalits too are facing similar problems.
Sources said some of them also talked about the "wrongs which Congress has committed over the years" and asked "will the party learn". Rahul is learnt to have told them that the Congress has lost ground in so many ways and the party is aware of what had gone wrong. He told them that the party is taking corrective measures.
Abusaleh Shariff, who was member secretary of the Sachar committee and works with the Washington based US-India Policy Institute, came with data on representation of minorities in jobs. Talking to The Indian Express, Shariff said he had been sharing his articles and research with Rahul and the PMO. "I shared my idea that Muslim citizens are under the risk of losing their citizenship rights because huge number of Muslims are not listed in the electoral roll. I made a plea that his party should initiate enrolment of lot of Muslims," Shariff said.
Full report at:
https://indianexpress.com/article/india/reaching-out-to-muslims-rahul-gandhi-asked-about-his-visits-to-temples-5255764/
--------
Indian pilgrims undaunted by Kashmiri militants
July 12, 2018
Arindham Banergee decided six months ago to undertake an historic Hindu pilgrimage by trekking to the Himalayas in India's only Muslim-majority state, Jammu and Kashmir.
Fearful family members failed to persuade the 42-year-old computer engineer from eastern Kolkata city not to go.
Banerjee will be one of an estimated 150,000 Indian Hindus to this year make the perilous five-day trek, known as the Amarnath Yatra, to pay homage to Lord Shiva.
The two-month 2018 pilgrimage season began on June 28.
The pilgrims go to Amarnath cave, 3,800 meters above sea level, where there is a nine-foot ice sheet considered to symbolize Shiva.
The journey is assisted by the Indian army and the state government because of its precipitous mountain route and Islamic militants fighting Indian rule who target the pilgrims.
On July 10 last year, militants attacked a bus carrying Amarnath pilgrims in southern Kashmir's Anantnag district, killing seven and wounding 19.
This was the largest attack on the pilgrimage since 2000 when 21 people were killed by militants using grenades. So far, 44 pilgrims have died in various attacks.
Banergee said his family and friends continue to worry. "They didn't want me to go," he said. "But I was adamant because I wanted to visit the shrine at least once in my life."
Banerjee said that on arrival in the Kashmir Valley his own fears vanished as he did not encounter hostility. "I will pray for peace in the region," he said.
Ishan Tyiagi, a government employee in northern Uttar Pradesh state, said his family was also unhappy about his decision to participate.
"The place is marred by violence," he said. "In view of the militant attacks, they were concerned. I cannot comment over what militants are doing here but as far as the local people are concerned, they welcome you and are very hospitable — I feel quite safe."
Mohammad Ismail Bhat, a local who guides Hindus to the cave, says the religious trek is an important source of income for him and he awaits it every year.
"No religion teaches hatred and at the end of the day we are all humans with emotions and love," he said.
The pilgrims were respectful, said Bhat, who earns 500 to 1,200 rupees (US$7-15) a day.
Sajad Ahmad Dar, a 32-year-old local, says it is also a festive time for him and others assisting the pilgrims.
"My father has two ponies that are used by the pilgrims to go to the cave," Dar said. "I sell tea and this is the primary source of income for our family."
Dar said militant attacks tarnished the image of Kashmir, a region known worldwide for its hospitality. "Killing innocents is nowhere a justifiable act," he added. "Whatever happened in the past must not happen again."
Islamic militants have stepped up violence since 1989 with the aim of establishing an independent state or joining Muslim-majority Pakistan, India's arch-rival and neighbor.
Rights groups estimate that the conflict has cost 100,000 lives, but Indian officials put the death toll at closer to 47,000. Those killed include civilians, militants and army personnel.
Some groups in Kashmir criticize what they describe as negative environmental impact of the pilgrimage.
A report released last year, 'Amarnath Yatra: a Militarized Pilgrimage,' compiled by non-government organizations Equations and the Jammu and Kashmir Coalition of Civil Society, said Hindu nationalists had manipulated the event to further their goal of Hindu hegemony in India.
The report added that human waste of pilgrims contaminated water supplies and spread disease as well as exacerbating the impacts of flooding.
Not all critics of the pilgrimage are Muslims. Swami Agnivesh, a Hindu religious leader and social activist, links more than 300 deaths in 2014 floods in the area to the environmental impact of the visitors.
The pilgrimage began when a shepherd discovered the peculiar ice formation in the cave in the late 1700s, which a Hindu priest then visited and declared to be the mythical home of Lord Shiva.
Until the Indian state was formed in 1947, pilgrims were only few a thousand, mostly ascetics and Hindus from adjoining areas.
Full report at:
https://www.ucanews.com/news/indian-pilgrims-undaunted-by-kashmiri-militants/82765
--------
Rashtriya Muslim Manch to Organise First Ever Grand Namaz and Quran Recitation in Ayodhya
Qazi Faraz Ahmad
July 11, 2018
Lucknow: For the first time in the history of Ayodhya, a grand namaz along with a Quran recitation session will be organised on the banks of Saryu river.
The event is being organised by the Rashtriya Muslim Manch on July 12. Around 1500 Muslim clerics are expected to take part in the event along with many Hindu devotees. The clerics will also visit around 200 mausoleums of Sufi saints.
Speaking to News18, national media coordinator of Rashtriya Muslim Manch, Raza Rizvi said, "We are organising a grand event in which more than 1500 Islamic scholars and clerics will be participating and performing wazu (ablution) with the running water of Saryu river in Ayodhya, as it is said in Islam that running water is pure, and then they will offer namaz. Post that Quran Khani (recital) will also be organised to give out a message of peace and brotherhood to the world. We believe that these prayers will contribute towards building of Ram Temple soon in Ayodhya amidst peace and brotherhood."
The event seeks to send out a message of peace and brotherhood and is also seen as an attempt by the Rashtriya Muslim Manch the to break its anti-Muslim image. RSS national executive member Indresh Kumar is the patron of the Rashtriya Muslim Manch.
Rashtriya Muslim Manch leader Shabana Azmi said, "It is a misconception that in Ayodhya Muslims are not allowed to practise their religious rights here. The other misconception is that the RSS is against Muslims. The event is an effort to give a message to the world that Ayodhya is a place for both Hindus and Muslims. The RSS is a true friend of the Muslims. Both Hindus and Muslims share the same DNA."
Mahirdhwaj, convenor of Rashtriya Muslim Manch, said, "More than 1500 clerics will pray for the communal harmony and peace among Hindus and Muslims in spite of the ongoing dispute of Ram Janmabhoomi and Babri Masjid."
The event is also being supported by the Yogi Adityanath-led BJP government in Uttar Pradesh.
Full report at:
https://www.news18.com/news/india/rashtriya-muslim-manch-to-organise-first-ever-grand-namaz-and-quran-recitation-in-ayodhya-1807839.html
--------
Supreme Court anguish over Taj Mahal neglect: Shut it down, or demolish it
by Ananthakrishnan G |
July 12, 2018
SLAMMING THE Centre, the UP government and other authorities for the "apathy" and "lethargy" in their efforts to preserve and restore the Taj Mahal, the Supreme Court Wednesday gave vent to its anger and frustration: "You can shut down the Taj. You can demolish it if you like, and you can also do away with it if you have already decided."
Additional Solicitor General A S Nadkarni, who appeared for the Ministry of Environment and Forests (MoEF), was also told by the bench of Justices Madan B Lokur and Deepak Gupta: "Uttar Pradesh (government) is not bothered. No action plan or vision document has come yet. Either you demolish it (Taj) or you restore it."
"We want you to give us an action plan of what you propose to do. We will hear it and finally dispose it. If it has to be shut down, let it be shut," said the bench which is monitoring measures to preserve the Taj.
The bench said it will take up the matter on a day-to-day basis from July 31.
The Supreme Court had earlier ordered a moratorium on expansion of industrial units in the Taj Trapezium Zone (TTZ), an area of nearly 10,400 sq km spread over the districts of Agra, Firozabad, Mathura, Hathras and Etah in Uttar Pradesh and Bharatpur in Rajasthan.
In December 2017, the court asked the Uttar Pradesh government to come up with a "detailed and comprehensive vision document" that would protect the Taj for at least another couple of centuries.
The delay in filing such a document did not go down well with the bench. When one of the lawyers said that the vision document was being prepared, the bench said: "Will the vision document come after the Taj is demolished? Taj Mahal has to be protected or the Government of India has to decide if it has to be demolished."
On the last date of hearing, the court had suggested to the Centre to involve foreign experts, if need be, for the protection of the Taj.
ASG Nadkarni told the court that the Centre had set up a committee subsequent to this direction. "Centre has taken a serious view of the matter. The committee will find out the exact source of pollution in and around Taj. Three to four months are required for the report to be prepared" he said.
The court, however, found this "vague."
Drawing a parallel between the Taj and the Eiffel Tower in Paris, the bench said the former was perhaps more beautiful, but India continued to lose tourists and foreign exchange due to negligence.
"There is the Eiffel Tower in Paris. Perhaps it is nothing compared to Taj Mahal. Eighty million people come there (Paris). This is eight times more than what we have. You can destroy the Taj, we don't want to do it," the court remarked.
In India, the bench said, there were concerns about security, but in other countries, towers like "TV towers" have been made from where tourists can get a view of the entire city.
The bench also observed that the central and state governments had failed to do the needful to reduce the impact of pollution on the Taj's marble despite a parliamentary committee report on this.
The bench also asked the TTZ chairman about allegations that industrial units in the area, which had been shut down many years ago, were being allowed to resume operations. "This permission is granted against the moratorium," the bench said, and asked the chairman to be present in court on July 16.
Full report at:
https://indianexpress.com/article/india/supreme-court-slams-centre-up-restore-taj-mahal-or-demolish-it-5255575/
--------
Indian Muslims safer than those in Pakistan, Syria: JK BJP
July 12, 2018
SRINAGAR: Bhartiya Janata Party (BJP) on Wednesday lashed out at Kashmir's deputy grand Mufti Nasir ul Islam for allegedly demanding a separate country for Muslims of India, saying India is a secular country where people of all religions irrespective of their cast, creed and colour have equal right to freedom and nobody interferes in one another's religious affairs.
Some Delhi-based media recently quoted Mufti as demanding a separate nation for Muslims after the BJP rejected All India Muslim Personal Law Board's (AIMPLB) proposal for opening Shariat courts in all districts of the country.
"Any resistance to this effort by the BJP means it doesn't want Muslims to stay in India. In that case, we urge them to give us a separate nation," Times Now News quoted Mufti Nasirul Islam as having said.
Reacting to Mufti's alleged remarks, BJP J&K spokesperson Altaf Thakur in a statement issued here said, "India is not like Pakistan where Muslims feel insecure and where every day blasts and explosions take place inside the religious places including mosques. India is also not like Syria where massacres of Muslims are taking place and the lives of Muslims have become hell. India is a country where people of all faiths enjoy equal rights, freedom of speech and freedom of religion without any pressure from any quarter."
He said in India, 30 crore Muslims live in a very peaceful atmosphere and in the judiciary, everybody is treated equally.
"The Muslims comprise the important segment of India – a successful secular country – where people of all faiths and religions live in a free atmosphere, without any threat and fear," he said.
"The deputy grand Mufti being a sensible person shouldn't talk in air and things that are aimed at triggering communal frenzy," Thakur said.
Full report at:
https://kashmirreader.com/2018/07/12/indian-muslims-safer-than-those-in-pakistan-syria-jk-bjp/
--------
South Asia
Taliban reacts in panic as religious scholars end 2-day conference on Afghanistan
Jul 12 2018
The Taliban militants group reacted in panic as the religious scholars from various Islamic countries ended their two-day conference on Afghanistan, denouncing the Taliban-led insurgency and suicide attacks.
The group issued a statement claiming that efforts were made during the conference to turn Afghanistan into a second Palestine, hide the atrocities of the occupiers and cuff the hands of the fighters.
However, the group says such moves will not harm the ongoing efforts of the Taliban and warned the Saudi government that such gatherings could harm the status of the Kingdom.
This comes as the religious scholars on Wednesday issued a joint declaration, stating that "Based on the texts of the Quran and the Tradition that Islam is a religion of peace and mercy, that the believers should all be merciful towards one another, and that their blood, property and honour are inalienable and should be protected against aggression."
The declaration further added that "we hereby affirm that the suicide attacks targeting innocent people, and that killings among Muslims are all acts that are prohibited by Allah and His Messenger under texts that are conclusively clear and well-established, whereby Allah says "And whoever kills a believer intentionally, his punishment is hell; he shall abide in it, and Allah will send His wrath on him and curse him and prepare for him a painful chastisement."
The religious scholars insist that a national dialogue is the optimal way to end the conflict between the Afghan Government and the Taliban Movement, and the solution to the cause of the Muslim Afghans must particularly go through mutual understanding and direct peaceful negotiations.
They also added that "We also call on the Taliban Movement to respond to the invitation made by the Government of the Islamic Republic of Afghanistan to eschew violence, end the mutual killings and sit together around the negotiating table."
https://www.khaama.com/taliban-reacts-in-panic-as-religious-scholars-end-2-day-conference-on-afghanistan-05564/
--------
11 killed in attack on Afghan education office
July 11, 2018
JALALABAD: At least 11 people were killed after gunmen stormed an education department compound in eastern Afghanistan Wednesday, officials said, sparking an hours-long battle with security forces in the latest attack in the restive region.
Ten others, mostly employees, were wounded in the second attack in Jalalabad city in as many days, Nangarhar provincial governor spokesman Attaullah Khogyani said in a statement.
Many of the workers were trapped inside the building during the gun battle between security forces and militants, which has ended. Twenty staff members were rescued.
The 11 dead were all employees of the education department branch and included the director, Khogyani said.
At least two attackers were involved in the raid and both were killed.
The sound of gunfire followed by a "big explosion" that shattered windows alerted Qari Samiullah to the fact that an attack was underway near his shop.
"I left my shop and ran when I heard the second explosion," Samiullah told AFP.
"Smoke came out of the building and all the people started to run away.
There was no immediate claim of responsibility for the raid. Local teachers had been delivering exam results from their schools to the office when the gunmen attacked, provincial education department spokesman Asif Shinwari told AFP.
Jalalabad's education department was also attacked by gunmen exactly a month ago, wounding at least 10 people.
Nangarhar's provincial capital has seen an uptick in violence in recent weeks, with the Islamic State group claiming most of the attacks.
On Tuesday, a suicide attack in the city killed at least 12 people and ignited a nearby petrol station, with witnesses describing screaming victims "swallowed" by flames.
The bomber was targeting Afghan security forces when he blew himself up. Ten civilians were among the dead.
IS claimed that attack via its Amaq propaganda agency. The series of high-casualty suicide bomb attacks in the province comes as US and Afghan forces continue offensive operations against the group.
One of the deadliest was on July 1 when a suicide bomber blew himself up among a group of Afghan Sikhs and Hindus in Jalalabad, killing at least 19 people.
While the Taliban is Afghanistan's largest militant group, IS has a relatively small but potent presence, mainly in the north and east of the country.
Wednesday's attack comes a day after President Ashraf Ghani flew to Brussels to attend a NATO summit where he will be hoping to get a greater commitment from members to the nearly 17-year conflict.
Currently, there are about 14,000 US troops in Afghanistan, providing the main component of the NATO mission there to support and train local forces.
British Prime Minister Theresa May is expected to pledge to send 440 extra troops to Afghanistan during the summit.
A recent ceasefire between Afghan security forces and the Taliban during the Islamic holiday Eid had raised hopes that an end to hostilities in the war-weary country was possible.
Full report at:
https://nation.com.pk/11-Jul-2018/11-killed-in-attack-on-afghan-education-office
--------
Ghani welcomes the announcement by Saudi Imam for calling the Afghan war 'Fitna'
Jul 11 2018
President Mohammad Ashraf Ghani has welcomed the announcement by the religious scholars including the Imam of the Grand Mosque in Mecca, during the Ulemas conference in Saudi Arabia, for calling the ongoing war in Afghanistan 'Fitna' or intrigue.
"On behalf of Afghanistan I would like to extend my sincere thanks and gratitude to the Ulema gathered at the OIC Afghan Ulema Conference in Saudi Arabia. I welcome the Ulema's decision that the war in Afghanistan is a "fitna" and has lost its legitimacy," President Ghani said in a statement.
He also added "I also thank the leadership of Saudi Arabia and the rest of the Islamic world to provide unwavering support to bring peace and stability in Afghanistan."
This comes as the Imam of the Grand Mosque in Mecca said Tuesday that the ongoing war in Afghanistan is a 'Fitna' as he called for an immediate end to the ongoing violence.
Insisting the faith and peace are interrelated, the Imam of the Grand Mosque in Mecca said the ongoing situation in Afghanistan is not tolerable anymore.
In the meantime, the Afghan High Peace Council Secretariat Chief, Mohamamd Akram Khpalwak, said the international conference of the religious scholars is a historic achievement.
Khpalwak further added that the high peace council of Afghanistan fully supports the decisions of the conference, hoping that the declarations will help the peace process in Afghanistan.
He also hailed the support to the Afghan peace process by the Saudi Imams, Saudi Kingdom, Organization of the Islamic Cooperation, and the Islamic World.
Khpalwak said he is hopeful that the conference will pave the way for the revival of Afghan-led peace process.
Full report at:
https://www.khaama.com/ghani-welcomes-the-announcement-by-saudi-imam-for-calling-the-afghan-war-fitna-05562/
--------
Southeast Asia
Indonesia's atheists fear jail and persecution in an officially multi-religious nation
2018/7/11
As a university student, Luna Atmowijoyo prayed five times a day, refused to shake hands with men who weren't relatives and was "more fundamentalist" than her pious Muslim parents.
But a decade later, Atmowijoyo has turned her back on Islam and is among a small number of atheists in Indonesia who live in fear of jail or violent reprisals from religious hardliners.
Leading a double life - devout Muslim on the outside, non-believer on the inside - is often the only choice for atheists in the world's biggest Muslim majority country.
Atmowijoyo, who lives with her parents, still wears an Islamic headscarf to escape the wrath of an abusive father who knows nothing of his daughter's change of heart, which started when she was told to avoid friendships with non-Muslims.
"A lot of simple things started to bother me," said the 30-year-old, who asked AFP not to use her real name.
"Like I couldn't say Merry Christmas or Happy Waisak to people of other religions," she added, referring to a Buddhist holiday also known as Vesak or Buddha's Birthday in other parts of Asia.
Treating gay people as abnormal was another problem and it soon became impossible for Atmowijoyo - once a conservative Islamic party member - to square the Koran's teachings with science.
Then the unthinkable crept into her mind: God does not exist.
Blasphemy
The sprawling Southeast Asian archipelago is officially pluralist with six major religions recognized, including Hinduism, Christianity and Buddhism, while freedom of expression is supposed to be guaranteed by law.
But criticizing religion - particularly Islam, which is followed by nearly 90 percent of Indonesia's 260 million citizens - can land you in jail.
This year, a university student was charged for a Facebook post that compared Allah to the Greek gods and said the Koran was no more scientific than the Lord of the Rings. He faces up to five years in prison.
Alexander Aan was jailed for 30 months in 2012 for posting explicit material about the Prophet Mohammed online and declaring himself an atheist.
The prosecutions fit a wider trend of discrimination against the archipelago's sizeable population of minorities, observers said.
Authorities, however, insist atheist beliefs are not illegal - as long as they're not aired in public.
"Once somebody disseminates that idea, or the concept of atheism, that will be problematic," said Abdurrahman Mas'ud, head of the research and development agency at the Ministry of Religion.
'Fear for my life'
Two decades after the fall of dictator Suharto - who kept the country running along secular lines - conservative Islam has exploded into Indonesia's public life in lockstep with the rise of hardliners and religiously motivated violence.
The country has grappled with Islamist militancy for years, including the 2002 Bali bombing that killed more than 200 in Indonesia's worst-ever terror attack.
More attacks followed and this year, 13 people were killed in a wave of suicide bombings claimed by the Islamic State group that targeted Christian congregations.
Buddhist temples have also been attacked, while this year an angry mob rampaged through a small community of the Ahmadiyya Islamic minority on the island of Lombok, destroying homes and forcing dozens of members to flee.
Atheists interviewed by AFP said they worried that hardliners, encouraged by populist politicians, could turn their attention to them next.
"The worst thing that can happen in Indonesia is we can be killed," said one 35-year-old graphic designer who was raised as a Catholic.
"I genuinely fear for my life."
Many apostates - particularly those from conservative Muslim backgrounds - assume two identities, like Atmowijoyo.
"As long as they keep quiet there is not much risk," said Timo Duile, a researcher at the University of Bonn who has studied atheism in Indonesia.
"That is the reason that most atheists I talked to prefer to stay incognito."
'Inclusive Islam'
No one knows how many atheists there are in Indonesia.
While small groups hold regular meetings in large cities, most have sought out like-minded individuals online.
The "You Ask, Atheists Answer" open forum on Facebook has nearly 60,000 members, and there are more like it online.
Karina, based in Singapore, said when she found a private Facebook page for fellow atheists in her native Indonesia she finally felt she was "not alone."
Atheists interviewed by AFP said they worried about doxxing - publishing private information to identify users - by radical Islamist cyber groups, which regularly make death threats.
Indonesia is not the only Muslim-majority nation where non-believers face danger.
Secular and atheist bloggers have been killed in Bangladesh, atheists have been threatened by government officials in Malaysia and jailed in Egypt.
Indonesia, by contrast, is often praised for its moderate, inclusive brand of Islam - but that is something many atheists say is no longer a reality.
Karina said she was concerned about friends back home. "I'm quite worried about them."
And even in Singapore, she felt she needed to watch her back.
Full report at:
http://www.globaltimes.cn/content/1110385.shtml
--------
Perlis Mufti: Respect homosexuals even though they are 'sinners'
12 July 2018
KUALA LUMPUR, July 12 ― Perlis mufti Datuk Mohd Asri Zainul Abidin has called Malaysians to respect the lesbian, gay, bisexual and transgender (LGBT) community, even as he labelled "homosexuals" as sinners who must be guided back to the right path.
In a Facebook post on his official page yesterday, the mufti also likened homosexuality to incest and bestiality, but said that some of those who commit such relations may have been victims of their lust ― who should be helped towards repentance.
"Those who sin, does not mean that they are denied their rights in other matters. Just like illicit sex or homosexuality or drinking alcohol or gambling and so on," he wrote.
"These sins are rejected and renounced, but those who commit a sin are not denied their enshrined rights. What more, in living within a country, each citizen has their specific rights."
Mohd Asri said the LGBT still deserve their rights in education, trading, working, to seek justice, gold properties despite committing a major sin, as long as they do not contravene any laws.
He also said that Islam does not allow its adherents from publicly shaming and accusing others of committing homosexuality, which he said is an act as big a sin as homosexuality itself.
The mufti also urged the public to oppose the "vice" of homosexuality if it is done in public.
"If there is a public campaign for the vice, then the response must also be public. This is because a public act brings the vice out from the personal space of a person with his God, with a public campaign that disturbs others and the surrounding climate," he said.
He also insisted that homsexuality is rejected by Islam since it destroys the nature of God's creation, saying humans were created as males and females.
"Homosexuality destroys a person's spiritual and physical existence. It is like incest, or bestiality. If homosexuality is recognise as human rights, then incest, extramarital sex, bestiality and so on will also be recognised on the same basis.
"Islam as a religion of nature will never recognise all these. Islam rejects them and think of them as despicable," he said.
Full report at:
https://www.malaymail.com/s/1651446/perlis-mufti-respect-homosexuals-even-though-they-are-sinners
--------
Govt cannot wash its hands of child marriage issue, say NGOs
12 Jul 2018
PETALING JAYA: The Pakatan Harapan government cannot ignore the recent child marriage controversy just by citing Islamic laws, according to two civil society groups.
Instead, Sisters in Islam and the Association of Women Lawyers (AWL) said the best interest of all children must be at the forefront of the government's agenda, as Malaysia is signatory to the UN Convention on the Rights of the Child (CRC).
"To compromise the future of even one child means to jeopardise the potential that she has to contribute not only towards the country, but also towards getting her family out of poverty.
"The government cannot simply use the justification of Islamic laws in order to wash its hands of this and ignore the human rights of this child and many others," it said in a joint statement on Wednesday (July 11).
On Tuesday (July 10), Deputy Prime Minister Datuk Seri Dr Wan Azizah Wan Ismail said that the government is powerless to nullify the controversial marriage between an 11-year-old Thai girl and a
41-year-old man, as it is permitted under Kelantan's Syariah law.
Dr Wan Azizah, who is also the Women, Family and Community Development Minister, said the marriage was recognised from the perspective of Islamic laws (hukum), but not from the legal aspect.
The two groups expressed sadness over Dr Wan Azizah's remarks, as they argued that the government elected by Malaysians must make decisions which are in the best interest of a child.
"It is certainly a sad day when our government washes its hands off and rests on the argument that it is 'powerless'.
"No government is powerless unless it chooses to be," it said.
According to the two groups, child marriage is contrary to the Maqasid Syariah and fiqh approaches (human understanding of syariah) of prevention of harm.
They said that child marriage not only deprives children of their childhood, but also perpetuates their cycle of poverty by taking these children out of school and giving them adult responsibilities.
"Often married to older husbands, young girls are unable to assert their wishes, especially when it comes to sexual expectations.
"Alarmingly, child brides also experience a higher degree of domestic violence. As there is a clear presence of harm in the case of child marriage, the wellbeing of a child must be prioritised," it added.
The two groups also said it is perplexing that the government appears to be "dragging its feet" in pursuing criminal charges against the 41-year-old man for alleged child grooming or statutory rape under the Sexual Offences Against Children Act (SOAC) 2017.
It pointed out that the SOAC was enacted specifically to address child sex abuse and sexual grooming.
Full report at:
https://www.thestar.com.my/news/nation/2018/07/12/govt-cannot-washes-its-hands-of-child-marriage-issue-say-ngos/
--------
PAS: Shariah a distant dream as non-Muslims 'take over' judicial posts
July 12, 2018
PETALING JAYA: PAS today claimed its aspirations to strengthen shariah laws in the country had been undermined by the appointments of non-Muslims to several important posts related to the judiciary.
PAS information chief Nasrudin Hassan said Muslims in the country were concerned that their well-being would now be jeopardised, particularly in relation to legal matters.
He added that the appointments showed the Pakatan Harapan (PH) government was ignoring the feelings and views of Muslims in the matter.
Nasrudin was referring to the appointments of Richard Malanjum as chief justice last night, as well as Liew Vui Keong as minister in the Prime Minister's Department for legal affairs and Tommy Thomas as attorney-general.
"The control of the three positions in the legal system and judiciary by these appointees has caused apprehension among the Muslims," he said in a statement today.
He added that the government had made an unprecedented move to appoint the first non-Muslim chief justice since 1963, when the post was known as that of the lord president.
He also claimed Malanjum's judicial record showed that he was not sympathetic to Islam in key cases.
Alleging that Islam was already in a shaky position under the previous Barisan Nasional government, he said the situation had been made worse by the new PH administration.
"What more will Muslims face after this?" he said.
He also hit out at the PH government for apparently acting in haste concerning Malanjum's appointment.
"Why the rush? The resignation of Md Raus Sharif only comes into effect on July 31. Does this mean that Malaysia will have two chief justices until the end of July?"
Full report at:
http://www.freemalaysiatoday.com/category/nation/2018/07/12/pas-shariah-a-distant-dream-as-non-muslims-take-over-judicial-posts/
--------
Mideast
Turkish forces 'neutralize' 18 PKK terrorists in Turkey, hit their bases in Iraq
Jul 11, 2018
Turkish security and gendarmerie forces have "neutralized" more than two dozen members of the Kurdistan Workers' Party (PKK) militant group when they carried out a string of counter-terrorism operations in the country's southeastern provinces of Diyarbakir, Sirnak and Osmaniye.
The Interior Ministry, in a statement released on Wednesday, said 11 PKK terrorists were "neutralized" in Osmaniye, and four others in Sirnak. Three Kurdish militants were also "neutralized" in Diyarbakir.
The statement added that clean-up operations were still ongoing in the mentioned areas.
The Turkish military generally uses the term "neutralize" to signify that the militants were killed, captured or surrendered.
Meanwhile, the Turkish General Staff, in a message published on its official Twitter page, said fighter jets had conducted airstrikes against PKK positions in Iraq's northern semi-autonomous Kurdistan region.
The statement read that Turkish warplanes had targeted Iraq's Qandil, Matina, Zap, Avasin-Basyan, Hakurk and Gara regions, destroying 28 shelters and depots that belonged to the Kurdish militants.
The Turkish Interior Ministry said earlier this week that some 1,985 operations had been conducted between July 2 and 6 in the southeastern part of the country, during which a total of 25 PKK terrorists were killed. Two Kurdish militants were captured alive, while 13 others surrendered as well.
It further noted that several militant hideouts were destroyed in the eastern and southeastern provinces of Tunceli and Hakkari, while 28 heavy- and long-barrel weapons, 23 improvised explosive devices (IEDs) and a considerable amount of munitions were recovered from the terrorists.
Police squads, gendarmerie units, and the Turkish Armed Forces also detained 88 suspected PKK members.
PKK militants regularly clash with Turkish forces in the Kurdish-dominated southeast of Turkey attached to northern Iraq.
Turkey, along with the European Union and the United States, has declared the PKK a terrorist group and banned it. The militant group has been seeking an autonomous Kurdish region since 1984.
A shaky ceasefire between the PKK and the Turkish government collapsed in July 2015. Attacks on Turkish security forces have soared ever since.
Over the past few months, Turkish ground and air forces have been carrying out operations against PKK positions in the country as well as in northern Iraq and neighboring Syria.
More than 40,000 people have been killed during the three-decade conflict between Turkey and the autonomy-seeking militant group.
https://www.presstv.com/Detail/2018/07/11/567791/Turkish-forces-neutralize-18-PKK-terrorists-in-southern-Turkey-hit-militant-bases-in-northern-Iraq
--------
Hamas rejects so-called Trump's deal of the century
Jul 11, 2018
Palestinian Resistance movement Hamas has announced that it will not support Washington's so-called deal of the century and will continue to resist Israel's occupation.
Hamas released a statement on Tuesday in which it said that US President Donald Trump's plan "constitutes a violation of the Palestinian people's legitimate rights."
"All indications show that the deal violates our legitimate rights, mainly the right of return, liberating our land and establishing our independent state with Jerusalem al-Quds as its capital," added the statement.
It also referred to the relocation of the US embassy from Tel Aviv to the al-Quds as a deadly plot, while calling on all Palestinian factions and parties to unite in the face of the Israel-US measures.
"Hamas believes the current circumstance is the best to achieve internal reconciliation and real Palestinian unity," noted the statement.
The so-called deal, a backchannel plan to allegedly reach a peace settlement between Israel and the Palestinians, was proposed by the US administration late last year. Although the plan has not been released, leaks signal it will consist of the same tried and failed ideas.
Palestinians believe that the deal suggests building their own Jerusalem al-Quds from areas surrounding the existing city and forget about the historic place. They also believe that the US-drafted plan calls for keeping borders and security under Israeli control, while it keeps Israeli settlements' final borders to be discussed in later negotiations.
Full report at:
https://www.presstv.com/Detail/2018/07/11/567719/hamas-palestine-deal-of-the-century
--------
Rein in Hezbollah, Yemeni foreign minister tells Lebanon
July 12, 2018
BEIRUT: Yemen's foreign minister has called on Lebanon's caretaker government to "rein in" Hezbollah and its aggressive tactics in support of the Iranian-backed Houthi militia.
"The Republic of Yemen reserves the right to present the matter to the Arab League, the Organization of the Islamic Conference and the Security Council," Khalid Hussein Al-Yamani said in a letter to Lebanese Foreign Minister Gebran Bassil. The contents of the letter were aired by Sky News.
Al-Yamani said that Hezbollah's support for the Houthis was evident in a recent televised address by its Secretary-General Hassan Nasrallah, who called on the Houthis to fight the Yemeni government forces, and expressed "his party's ambition to fight in Yemen against the internationally recognized legitimate authority."
The foreign minister described the address as "blatant interference in the internal affairs of my country, which would seriously damage Yemen's national security and fuel the flames of war."
"The Yemeni government condemns Hezbollah's statements and practices, including participation in training, planning and incitement and supporting the coup movements," he said.
The Arab coalition said on Monday that it had evidence of Hezbollah's involvement in training Houthi militias.
The Lebanese Foreign Ministry did not comment on the Yemeni demand.
However, Mustafa Alloush, of the Future Movement, told Arab News: "The meaning of this message is that Hezbollah's damage to Lebanon continues.
"The Lebanese government will not respond to this message, not because it supports Hezbollah but because it is unable to restrain the party," he said.
The situation in Yemen was the focus of a recent meeting between UAE Ambassador to Lebanon Hamad Said Al-Shamsi and the UN Coordinator in Lebanon, Bernell Dahler Cardel.
Al-Yamani said that talks focused on "the integrated humanitarian plan that is being implemented to ensure easy access and provision of aid, as well as the protection of unarmed civilians through close coordination between the legitimate forces and international humanitarian organizations."
Full report at:
http://www.arabnews.com/node/1337356/middle-east
--------
Turkish police launch raids to detain Islamic figure, followers
July 11, 2018
Turkish police launched an operation on Wednesday to detain 235 people as Turkish police sociated with Muslim author and televangelist Adnan Oktar over accusations including forming a criminal gang, fraud and sexual abuse, Istanbul police headquarters said.
It said in a statement the raids were carried out by its financial crimes section in an operation state-run Anadolu news agency described as having been spread across five provinces and that searches of properties were continuing.
Police launched one raid in the early hours on Oktar's house at Cengelkoy on the Asian side of Istanbul and detained him and his guards, the Sabah newspaper said. In February, Turkey's television watchdog suspended a television programme hosted by Oktar that blended theological discussion and dancing, saying it violated gender equality and women's rights.
Oktar hosts talk show programmes on his television channel, A9, on which he has discussed Islamic values and sometimes danced with young women he calls "kittens" and sang with young men, his "lions".
Full report at:
https://indianexpress.com/article/world/turkish-police-launch-raids-to-detain-islamic-figure-followers-5254916/
--------
Putin and Netanyahu meet for Syria-focused talks in Moscow
12 July 2018
Israeli Prime Minister Benjamin Netanyahu met with Russian President Vladimir Putin in Moscow on Wednesday for talks focusing on Iranian presence in Syria - an issue that is expected to top the agenda of the upcoming US-Russian summit.
While the Russian and Israeli leaders sat down for talks in the Kremlin, a senior Iranian envoy also headed to Moscow amid intensive Syria-focused diplomatic efforts ahead of Putin's summit in Helsinki on Monday with President Donald Trump.
Netanyahu underlined warm ties between Russia and Israel, emphasizing what he described as their key stabilizing role for the Mideast.
"Every visit like this is an opportunity for us to act together and try and stabilize the situation in our region and increase security and increase stability," Netanyahu said. "Obviously, our focus is on Syria and Iran. Our opinion is known that Iran needs to leave Syria - that is not something new for you."
Both the United States and Israel are concerned about Iran's growing military presence in Syria, where it has provided crucial aid to President Bashar Assad's forces.
Israel has repeatedly said it will not allow Iran, or its Shiite proxies, to establish a permanent presence in a postwar Syria.
Russia, another top key ally of Assad, has warned it would be unrealistic to expect Iran to fully withdraw from the country.
However, there have recently been signs of an emerging compromise among key players.
Hope for Iranian withdrawal
Media reports suggested that at Monday's meeting in Helsinki, Putin and Trump could reach a deal that would envisage the deployment of Syrian government forces alongside the frontier with the Israeli-held side of the Golan Heights and the withdrawal of Iranian forces and their proxy Hezbollah militia from the area.
While Russia and Iran have both deployed forces to Syria to help prop up Assad's government, their interests do not always converge. Russia also has maintained warm ties with Israel and demonstrated a readiness to take its security interests into account. "We know about your concerns, let's have a thorough talk about them," Putin told Netanyahu before reporters were asked to leave the room.
Meanwhile, Ali Akbar Velayati, a senior adviser to Iran's Supreme Leader Ayatollah Ali Khamenei, also left for Moscow on Wednesday for a meeting with Putin.
In a reminder of the volatile situation, Netanyahu pointed at an incident earlier Wednesday in which the Israeli military fired a Patriot missile to shoot down a drone that had infiltrated Israeli airspace from Syria.
"We will continue to act decisively against any spillover and any infiltration of Israeli territory or airspace," Netanyahu said.
He added that Israel expects Syria to strictly observe a 1974 deal that set out a demilitarized zone along their frontier and limited the number of forces each side can deploy within 25 kilometers (15 miles) of the zone.
Russian Defense Minister Sergei Shoigu said in an interview with Italian newspaper Il Giornale published Wednesday that Moscow hopes that Israel and Iran will both display caution and avoid a showdown.
Full report at:
https://english.alarabiya.net/en/News/middle-east/2018/07/12/Putin-and-Netanyahu-meet-for-Syria-focused-talks-in-Moscow.html
--------
US softens stance on Iran sanctions amid warnings
Jul 11, 2018
The United States has softened its stance on new Iran sanctions after warnings that a possible face-off between the two countries would push oil prices back into the triple digits.
With the sanctions on Iran's oil exports and its central bank about to take effect on November 4, US Secretary of State Mike Pompeo said on Tuesday that his country may grant oil sanctions waivers to countries seeking relief from the measures.
The remarks were a sharp climbdown from Washington's hardline position, including President Donald Trump's pledge to bring Iran's oil exports down to zero.
"There will be a handful of countries that come to the United States and ask for relief from that. We'll consider it," Pompeo told Sky News Arabia during a visit to Abu Dhabi, according to a State Department transcript released Tuesday.
The announcement by the hawkish US top diplomat stood in sharp contrast with his list of 12 steep demands that he laid out in May, asking Iran to meet them in exchange for the US easing of sanctions.
Full report at:
https://www.presstv.com/Detail/2018/07/11/567775/Iran-oil-exports-sanctions-US-Pompeo-China-India-Turkey
--------
Europe
UK commission to probe output of 'intellectual' extremists
July 11, 2018
A UK government-appointed body is to consider new laws to tackle increasingly professional extremist groups that harness the power of social media to disguise divisive messages as mainstream political campaigns.
Sara Khan, the group's head, cited the work of the international Islamist group Hizb ut-Tahrir and far-right organisations who have rebranded themselves as counter-terrorist campaigns as examples of a new wave of "intellectualised" extremism.
"It's quite clear to me that extremism in 2018 is complex, multifaceted and it's changing," Ms Khan told The National. "The combination of social media, conspiracy theories and living in an era of fake news is a pretty toxic combination. Once these things become normalised it becomes even more difficult to challenge."
Ms Khan was appointed last year to head the Commission for Countering Extremism (CCE) and announced plans on Wednesday for a major research project in the coming months to examine the scale and threat from extremism before making recommendations to ministers.
Announcing the plans, she said that the "old stereotypes for far-right thugs and Islamist hate preachers don't always apply".
She said it was "too early to say" if the group would investigate specific named groups, their funding streams and the figures behind them.
Hizb ut-Tahrir – which has been banned in a number of European and Middle East countries for policies including advocating the return of a caliphate in the Islamic world – remains legal in Britain despite some calls for its proscription.
Former prime minister Tony Blair had promised to ban the organisation in 2005, a month after a series of coordinated terrorist attacks on the London transport network that killed 52 people. He later dropped the plan in the face of opposition from police and the Home Office, according to media reports. The National has sought comment from the group, which states it is a non-violent organisation.
Ms Khan has previously clashed with UK-based Muslim groups who opposed her appointment last year because of her support for key sections of the UK's counter-terrorism programme, known as Prevent, that critics claim unfairly targets Muslim communities.
She has also been criticised by Cage, which works with Muslim communities and campaigns against what it considers draconian counter-terrorism legislation. The group has acted on behalf of Britons detained in Guantanamo Bay.
The government commissioned the CCE after a series of attacks on the UK in 2017 that followed five terrorist attacks that killed 36 people. One of them was carried out by a far-right extremist.
The attacks sparked concerns about an uptick in home-grown extremism fuelled by online recruitment and grooming, with little understanding of how it worked. Ms Khan has previously promised to investigate "hidden threats" from within homes in Muslim communities and has visited ten cities and met more than 300 experts as part of her preparatory work.
Ms Khan has received backing from the new Home Secretary, Sajid Javid, and said the work will not cover counter-terrorism policy, including Prevent. But supporters of the commission's work expressed concerns that any recommendations made by the research project would be taken up by the government.
Ms Khan said the work involved building a grassroots movement – including a network of counter-extremism campaigners across the country – that would make it more difficult for the government to shelve her proposals.
"If it's the case that we need more powers, that's something we may recommend," said Ms Khan. "We need to conduct the study and find where are the gaps of counter-extremism response. Is it capable of meeting the threat that extremism poses?"
Fiyaz Mughal, head of Faith Matters, a group that charts anti-Muslim attacks and an adviser for the commission, said the new "professional" approach by extremist groups was seen through the sophisticated use of websites, and the ability to apologise to "shape shift" and re-invent themselves after being called out as sympathisers for violence.
"The new bit is the change in technology that has allowed them to become even more slippery," he said. "It's about making the public see the wood from the trees. We're trying to say: if it sounds like something is wrong – look at it more."
Ms Khan was chosen for the job based on her work over the last decade as a founder and leader of Inspire, an organisation designed to tackle Islamist extremism and promote women's rights. She has been at the forefront of efforts to deflect girls and women from travelling to Syria to join ISIS and become a face of moderate Islam in Britain.
https://www.thenational.ae/world/europe/uk-commission-to-probe-output-of-intellectual-extremists-1.749379
--------
Bosnian Muslims to bury 35 Srebrenica massacre victims
Jul 11, 2018
SREBRENICA, BOSNIA-HERZEGOVINA: Thousands of Bosnian Muslims gathered in Srebrenica on Wednesday to mark the 23rd anniversary of Europe's worst massacre since World War II and attend the funeral for 35 recently identified victims.
The remains of the men and boys slaughtered at the enclave in July 1995 were laid to rest in the town whose name has become synonymous with the brutality of the 1992-95 Bosnian war. The coffins covered in green cloth were lined up at a memorial center and new burial pits were dug at the massive graveyard that already holds 6,575 victims found previously.
Srebrenica was a UN-protected, Muslim-populated town in eastern Bosnia besieged by Serb forces throughout the war. Serb troops led by General Ratko Mladic overran the enclave, separated men from women and small children and executed about 8,000 men and boys within a few days. Some 30,000 people were violently displaced.
Dutch UN peacekeepers were undermanned and outgunned and failed to intervene.
"Srebrenica has become a global symbol for genocide, a warning that no more genocides should happen anywhere in the world," said Nermin Alivukovic, the president of the commemoration's organizing committee.
Experts are still excavating more victims' bodies from hidden mass graves throughout Bosnia. Many of the remains were torn apart and experts have had to use DNA analysis to put a body together from bones found in locations miles from each other, as the perpetrators tried to hide the war crime.
Although an international court has labeled the Srebrenica killings as genocide, Serbs have never admitted their troops committed the ultimate crime. There were no official delegations of Bosnian Serbs or from Serbia present at Wednesday's event.
"Across the region today there should be commemoration and remembrance of the victims of the Srebrenica genocide.
Unfortunately, this is not the case," said Dunja Mijatovic, the Council of Europe Commissioner for Human Rights, who attended the commemoration.
"As anytime I come here, words do not come out easily," she said. "These steles, those names engraved in the cold marble, this beautiful landscape that so starkly contrasts with the evil that happened here, stand as testimony of the cruelty that human beings are capable of when they are imbued with propaganda and prejudices, fear and hate."
Full report at:
https://timesofindia.indiatimes.com/world/europe/bosnian-muslims-to-bury-35-srebrenica-massacre-victims/articleshow/64948056.cms
--------
Jurors shown mosque arson suspect's anti-Muslim writings
July 11, 2018
VICTORIA, Texas (AP) — Prosecutors say a Texas man accused of torching a mosque made plans to create a "rogue unit" to monitor and possibly confront Muslims at the Islamic center.
Marq Vincent Perez is on trial for federal arson and hate crime charges for the 2017 fire that destroyed a mosque in Victoria, about 120 miles (190 kilometers) southwest of Houston. On Tuesday, jurors saw private messages and Facebook posts that prosecutors say show Perez's dislike and suspicion of Muslims.
They also heard from a federal investigator who said Perez's phone contained four photos of the burning mosque.
Full report at:
https://www.sfgate.com/news/texas/article/Jurors-shown-mosque-arson-suspect-s-anti-Muslim-13065833.php
--------
Bosnian Muslims Mark 23rd Anniversary of Srebrenica Massacre
Jul 11, 2018
Thousands of Bosnian Muslims have gathered in Srebrenica on the 23rd anniversary of Europe's worst massacre since World War II to hold prayers and attend the funeral for 35 recently identified victims.
The remains of men and boys slaughtered at the enclave in July 1995 will be laid to rest Wednesday in the town whose name has become synonymous with the brutality of the 1992-95 Bosnian war. The coffins have been lined up at a memorial center and the burial pits have been dug.
Srebrenica was a UN protected, Muslim-populated town in eastern Bosnia besieged by Serb forces throughout the war. Serb troops overran the enclave and executed 8,000 men and boys within a few days.
Dutch UN peacekeepers were undermanned and outgunned and failed to intervene.
"Srebrenica has become a global symbol for genocide, a warning that no more genocides should happen anywhere in the world," said Nermin Alivukovic, the president of the commemoration's organizing committee.
Experts are still excavating more victims' bodies from hidden mass graves throughout Bosnia. Many of the remains were torn apart and experts have had to use DNA analysis to put a body together from bones found in locations miles from each other, as the perpetrators tried to hide the war crime.
Although an international court has labeled the Srebrenica killings as genocide, Serbs have never admitted their troops committed the ultimate crime. There were no official delegations of Bosnian Serbs or from Serbia present at Wednesday's event.
"Across the region today there should be commemoration and remembrance of the victims of the Srebrenica genocide. Unfortunately, this is not the case," said Dunja Mijatovic, the Council of Europe Commissioner for Human Rights, who attended the commemoration.
"As anytime I come here, words do not come out easily," she said. "These steles, those names engraved in the cold marble, this beautiful landscape that so starkly contrasts with the evil that happened here, stand as testimony of the cruelty that human beings are capable of when they are imbued with propaganda and prejudices, fear and hate."
Full report at:
https://www.haaretz.com/world-news/europe/bosnian-muslims-mark-23rd-anniversary-of-srebrenica-massacre-1.6266700
--------
Germany arrests Iran 'spy' on bomb plot charges
11 July 2018
German prosecutors said Wednesday a court had remanded in custody an alleged Iranian spy accused of plotting to bomb an Iranian opposition rally in Paris on June 30.
The suspect, a Vienna-based accredited Iranian diplomat whom opposition groups have named as Assadollah Assadi, 46, was one of several suspects detained in Germany, Belgium and France.
They had allegedly planned to bomb the rally by an exiled Iranian opposition group in Villepinte near Paris that was attended by several US politicians.
German prosecutors said Wednesday that a court had two days earlier remanded Assadi in custody on charges of foreign intelligence activities and conspiracy to murder. They added that these charges did "not preclude" Assadi's extradition requested by Belgium.
Assadi was believed to be a member of Iran's Ministry of Intelligence and Security, which is tasked with the "observation and fight against opposition groups inside and outside Iran", the prosecutors' statement said.
They said Assadi had in March ordered a married couple living in Antwerp "to carry out an explosives attack" on the annual rally and had handed them the explosives in a June meeting in Luxembourg.
The couple were arrested in Brussels on the day of the rally by Belgian security services who said they found them in possession of 500 grams (about one pound) of the volatile explosive TATP and a detonator.
They were identified only as Amir S., 38, and Nasimeh N., 33, and as being Belgian nationals of Iranian origin. French police arrested another three people but later released two of them, French legal sources said.
Teheran has dismissed the alleged bomb plot as a "sinister false flag ploy" designed to discredit Iran at a time when it faces major diplomatic tensions with the United States.
US President Donald Trump over two months ago abandoned the 2015 nuclear deal in which Iran had pledged to halt most nuclear activities in return for sanctions relief.
Washington considers Iran to be the world's biggest state sponsor of terrorism because of its links with the Hezbollah militia in Lebanon, Hamas in the Palestinian territories and other networks in Iraq and Yemen.
News of the suspected bomb plot broke in the week Iranian President Hassan Rouhani was visiting Switzerland and Austria to rally European support for the endangered nuclear agreement.
Full report at:
https://english.alarabiya.net/en/News/world/2018/07/11/Germany-holds-Iran-spy-on-bomb-plot-charges.html
--------
UK a 'natural partner' in Saudi reforms, investment forum told
July 12, 2018
LONDON: The UK is a "natural partner" as Saudi Arabia pursues its ambitious Vision 2030 reforms, a high-profile forum heard on Wednesday.
Donald Brydon, chairman of the London Stock Exchange Group, said London would provide "a gateway and a bridge" for international capital as Saudi Arabia looks to privatize up to $300 billion worth of state-owned assets.
"The Kingdom's time for privatizations is now, and the UK is the natural partner to ensure the successful delivery of these," Brydon told the annual BMG Economic Forum, held in London in conjunction with Arab News.
The BMG Economic Forum addressed wider investment opportunities in Saudi Arabia and the Kingdom's vision for the future.
"This is a new era for Saudi Arabia. An era of great opportunities coupled with great challenges," said the chairman and CEO of BMG Financial Group, Basil M.K. Al-Ghalayini.
The need for greater transparency and clarity when it comes to the rule of law was a key challenge highlighted during one panel discussion.
Moderator Faisal J. Abbas, Editor in Chief of Arab News, the official media partner of the event, questioned panelists about investors' common misconceptions and stereotypes about the Kingdom.
Dr. Afnan Al-Shuaibi, former secretary general of the Arab-British Chamber of Commerce, said the issue is a combination of many factors.
"The problems with any investor or anyone wishing to do business in Saudi Arabia (is) they don't know where to start. Do they start with the commercial office or the embassy?" she said.
Full report at:
http://www.arabnews.com/node/1337361/business-economy
--------
NATO to 'monitor' ballistic missile threat to Turkey
11 July 2018
NATO will continue to monitor and assess ballistic missile threats to Turkey from Syria, according to a declaration issued Wednesday, after the first day of the NATO summit in Brussels.
"We remain concerned that Turkey has been hit three times in the last four years by missiles launched from Syria. We continue to monitor and assess the ballistic missile threat from Syria," it said.
Pointing to Syria's inventory of short-range ballistic missiles, the declaration said the range of these missiles "covers part of NATO's territory and some of our partners' territories".
It also drew attention to the Syrian regime's use of these missiles extensively against its own population.
"The increasing threat posed by the proliferation of ballistic missiles in the vicinity of the south-east border of the Alliance has been and remains a driver in NATO's development and deployment of a ballistic missile defense system, which is configured to counter threats from outside the Euro-Atlantic area," it added.
The two-day NATO summit opened with the attendance of 29 NATO heads of state and governments who will make important decisions on the future of the alliance.
NATO also vowed to provide Turkey with "tailored assurance measures" aimed at guaranteeing the alliance's security
"Tailored assurance measures for Turkey to respond to the growing security challenges from the south contribute to the security of the Alliance as a whole, and will be fully implemented," the declaration said.
"We have increased the strength of the NATO Response Force, and the Very High Readiness Joint Task Force (VJTF) is ready to deploy on short notice," it added.
Since 2014, NATO has implemented Assurance Measures (AM) which comprise a series of land, sea and air activities in, on and around the eastern part of Alliance territory.
In late 2015, NATO allies agreed on a package of Tailored Assurance Measures for Turkey (TAMT) to respond to the increasing security challenges on Turkey's borders.
These measures include an additional AWACS (Airborne Warning and Control System) surveillance aircraft presence in the region; increased maritime activities in the Eastern Mediterranean; and Intelligence, Surveillance and Reconnaissance activities and information sharing.
North Korea and Iran
The declaration welcomed the recent meetings and declarations between the leaders of the Republic of Korea and the Democratic People's Republic of Korea (DPRK), and between the leaders of the United States and the DPRK as a contribution towards reaching the final fully verified denuclearization of the DPRK in a peaceful manner.
Regarding Iran, the declaration said NATO is concerned by Iran's intensified missile tests.
"We are concerned by Iran's intensified missile tests and the range and precision of its ballistic missiles and by Iran's destabilizing activities in the wider Middle East region," the declaration said.
The declaration condemned all financial support of terrorism, including Iran's support to a variety of armed non-state actors.
Afghanistan and Libya
The declaration also reaffirmed NATO's commitment to ensure long-term security and stability in Afghanistan.
"We will continue our assistance by extending our financial sustainment of the Afghan forces through 2024," it said.
The declaration encouraged Pakistan, Iran and Russia to contribute to regional stability by fully supporting an Afghan-led and Afghan-owned peace process.
On the other hand, the declaration welcomed the commitment made by the Libyan parties to work constructively with the UN to hold inclusive, secure and credible elections, most recently at the May 29, 2018 Paris Conference.
Macedonia and Bosnia
The declaration reaffirmed the commitment of NATO to the alliance's open door policy and said NATO's invitation to the former Yugoslav Republic of Macedonia is a tangible demonstration of this commitment.
"We welcome the historic agreement between Athens and Skopje on the solution of the name issue. In line with our policy, we have decided to invite the government in Skopje to begin accession talks to join our Alliance," the declaration stressed.
It added that full implementation of all prescribed internal procedures with respect to the agreement on the solution of the name issue is a condition for a successful conclusion of the accession process.
The declaration added that NATO fully supports Bosnia and Herzegovina's NATO membership aspiration and it is committed to the territorial integrity and sovereignty of a stable and secure Bosnia and Herzegovina.
It also said that non-EU NATO allies continue to make significant contributions to the EU's efforts to strengthen its capacities to address common security challenges.
"For the strategic partnership between NATO and the EU, non-EU Allies' fullest involvement in these efforts is essential," the declaration said.
Relations with Russia
The declaration highlighted that Russia's recent activities and policies reduced "stability and security, increased unpredictability and changed the security environment" and reaffirmed decisions towards Russia agreed at the Wales and Warsaw summits.
The NATO leaders also condemned a nerve agent attack on Yulia Skripal, who was poisoned alongside her father, ex-Russian spy Sergei Skripal, in Salisbury in the United Kingdom in March.
"The UK assesses that it is highly likely that the Russian Federation was responsible for the attack and that there is no plausible alternative explanation. We stand in solidarity with the UK in its assessment," the declaration added.
NATO leaders also condemned Russia's "illegal and illegitimate annexation of Crimea" and reiterated support for the territorial integrity and sovereignty of Ukraine, Georgia and the Republic of Moldova within their internationally recognized borders.
"The discrimination against the Crimean Tatars and members of other local communities must end. International monitoring structures must be allowed to carry out their essential work in view of the protection of human rights," the declaration added, calling for the full implementation of the Minsk Agreements by all sides and support for the efforts of the Normandy format and the Trilateral Contact Group.
NATO Readiness Initiative
The declaration announced that allies "will offer an additional 30 major naval combatants, 30 heavy or medium manoeuvre battalions, and 30 kinetic air squadrons, with enabling forces, at 30 days' readiness or less".
"The NATO Readiness Initiative will further enhance the Alliance's rapid response capability, either for reinforcement of Allies in support of deterrence or collective defense, including for high-intensity warfighting, or for rapid military crisis intervention, if required."
In the declaration, NATO leaders vowed to strengthen the ability to deploy and sustain forces and their equipment throughout the Alliance and beyond and also to improve military mobility by land, air, or sea as soon as possible, but no later than 2024.
NATO's military backbone
The declaration announced that far-reaching decisions to adapt and strengthen the NATO Command Structure, the military backbone of the Alliance, were taken.
The declaration further announced the establishment a Cyberspace Operations Centre in Belgium "to provide situational awareness and coordination of NATO operational activity within cyberspace".
"A Joint Force Command Norfolk headquarters in the United States" was also decided to be established to focus on protecting the transatlantic lines of communication, including "a Joint Support and Enabling Command in Germany" to ensure freedom of operation and sustainment in the rear area in support of the rapid movement of troops and equipment into, across and from Europe.
Nuclear deterrence
NATO allies decided to take steps to ensure its nuclear deterrent capabilities remain safe, secure and effective following changes in the security environment.
"As long as nuclear weapons exist, NATO will remain a nuclear alliance," the declaration said, adding the fundamental purpose of NATO's nuclear capability is to preserve peace, prevent coercion and deter aggression.
Full report at:
http://www.worldbulletin.net/europe/203928/nato-to-monitor-ballistic-missile-threat-to-turkey
--------
Africa
Boko Haram: Court jails sect leaders, 110 members
July 11, 2018
By Wale Odunsi
The special court designated to trial terrorism related cases sitting at the Wawa Military Cantonment in Kainji, Niger State, has sentenced 113 Boko Haram members to jail over their involvement in act of terrorism.
The defendants, who were sentenced to various jail terms, were arraigned by the Federal government on various charges ranging from membership of the proscribed Boko Haram group, concealing information vital to security agencies, providing support to the sect, participating in acts of terrorism which resulted in the deaths of many persons and murder.
Those sentenced include, one Kabiru Mohammed from Kaban-Magadan, in Funtua, Katsina state. He was accused of receiving training in the use of explosive and other terrorism items.
He was also accused of participating in series of attacks in Bama, Konduga, Baga in Borno State and Damaturu in Yobe state which resulted to lots of deaths in the two states.
According to him, he joined the sect in 2013 and rose to become a leader. He was said to have led others in carrying out attacks as well as instructing them to carry out attack on people and communities.
Mohammed, who disclosed that he voluntarily joined Boko Haram, said, at a time he became tired of the kind of live he was leading and threw away his gun and ran to katsina state, his home town.
Arrested in 2015 at a motor park in Katsina, the convict pleaded guilty to all the 7 count charge and was consequently sentenced to 30yrs imprisonment with hard labour on each of the counts, which are to run concurrently from the day of his arrest.
Similarly, Adamu Mohammed, 22yrs old from Gombe State, who was charged with the murder of six people as well as throwing a bomb at a market place. While he admitted to killing 6 persons through the use of a short gun, he however claimed he threw the bomb in a river and not in a market place.
He was sentenced to 25 full calendar years with hard labour in a maximum prison and without an option of fine.
Banzana Yusuf, from Kano State, on his part bagged 20yrs for his role in the planning and kidnapping of the Chibok School girls in 2014.
So also is 25yrs old Shetima Modu, arraigned on a 4 count charge of engaging in terrorism activities.
He admitted participating in attacks on a church in Mala village as well as another attack in Gonuri village where 7 people were killed.
One Sabo Kyari Mohammed, who was described by the Department of State Service (DSS) as a "strong member of Boko Haram", however bagged a jail term of 5 full calendar years.
Part of his charge include providing surveillance for the group and participating in the attack known as "operation point and kill" in his village, Musau in Borno State.
He was arrested by men of the Nigerian Army in Jos, Plateau State along with his wife and two children.
In handing down the sentence, the trial judge stated that, though the defendant being a 1st time offender, the court ordinarily ought to have showed him mercy in the judgment, but, "due to the carnage and wanton destruction of lives their action caused society, he is to serve a 5 full calendar years imprisonment.
"This is to serve as a deterrent to himself and others like him ", the judge held.
Also sentenced is Zainab Idris, wife of Boko Haram commander, Babawo Idris.
Zainab was arrested in 2014 with her two children, while on her way to join her husband in Sambisa forest.
Her husband, popularly known as Idoko or Nagada was number 156 on the military's wanted list before his arrest last September.
The court sentenced her to 4 years imprisonment for being a member of a proscribed group.
However, the court held that haven been in custody since 2014, it is possible that she has served her jail term and consequently ordered that she be released.
The judge, in addition ordered that she be taking to a rehabilitation center, "for de-radicalization, and monitored under strict surveillance to avoid going back to Boko Haram".
The judge advised her to learn a trade at the center so as to become useful to herself, her children and society in future.
However, the case of a notorious member of the sect, Mohammed Zakariya, also known as "Butcher", could not be taken on the grounds that he was mentally sick.
The court consequently ordered that he be taken to a psychiatric for treatment and adjourned till November 14 for his arraignment.
The special sitting of the court, which held between Monday and Tuesday heard over a hundred cases.
A total of 111 persons were discharged / acquitted or had their cases struck out for lack of evidence to support the charges, while 9 others were adjourned to Abuja.
http://dailypost.ng/2018/07/11/boko-haram-court-jails-sect-leaders-110-members/
--------
Kenya: Police Pursue Al-Shabaab Militia Who Attacked Police Post
11 JULY 2018
By Simon Ndonga
Nairobi — Police are in hot pursuit of suspected Al-Shabaab militants who attacked a police post in Garissa on Tuesday morning injuring at least three officers.
Garissa police boss David Kerina told Capital FM News that "the gang overran the Hamey Police Post and stole a police car, guns and several rounds of ammunition before driving away."
He stated that they also destroyed communication masts in the area leaving locals with no network.
He said that they raided the post from different corners and had a heavy exchange of fire with officers based at the station.
This is the latest such incident in the area and no arrests have been made so far.
Full report at:
https://allafrica.com/stories/201807120049.html
--------
Boko Haram Continues To Drive Terrorism Threat In Northern Nigeria
Jul 11, 2018
By Gillian Parker
Despite all efforts from the Nigerian government, and support by surrounding states, Boko Haram in northern Nigeria is far from defeated. This was proven once more on June 17, when at least 31 people were killed in explosions in the Damboa local government area (LGA) of Borno state.
Sub-Saharan Africa has suffered greatly under the increase of Islamist militant attacks. The number of incidents rose from 317 in 2013 to 1,549 for the period April 2017 to April 2018, according to Control Risks' report Changing patterns in the terrorist threat to business. In West Africa, where 36% of the incidents were reported, Nigeria suffered most (220 incidents), followed by Mali (194) and Cameroon (96). While not all incidents can be attributed to Boko Haram, the continued strengths of the extremists group is now starting to turn the public opinion against President Muhammadu Buhari.
Buhari is likely to announce further efforts to combat Boko Haram in the coming months as he seeks to fulfill his 2015 election pledge to end the insurgency—But success is unlikely. Military efforts to prevent further Boko Haram attacks in the coming months are hugely challenged by the sheer size of the territory in which the group operates and its continued ability to launch attacks.
Ongoing corruption issues will further undermine efforts to defeat the group. Significant resources have been diverted towards military efforts. Nigeria's state governors in December 2017 approved the withdrawal of $1 billion from the excess crude account to combat Boko Haram through the purchase of equipment, training of military personnel and provision of logistical support. However, there have been several cases of officials siphoning off funds and resources meant for the region.
Connections to IS
Full report at:
https://www.forbes.com/sites/riskmap/2018/07/11/boko-haram-continues-to-drive-terrorism-threat-in-northern-nigeria/#1f62109f5d8d
--------
UN Scribe: Nigeria Needs More Funds to Fight Boko Haram
July 12, 2018 5
The United Nations Secretary-General, Mr. António Guterres, wednesday lamented the sudden rise of armed groups and international terrorist organisations across Africa, noting that more funds would be required to fight Boko Haram in Nigeria and other terrorist groups on the continent.
Guterres also lamented an annual loss of $50 billion moved out of Africa through illegal funds, money-laundering and tax evasion, which he said, could hamper Africa's development agenda.
These were contained in a communique issued after the second annual UN-African Union conference held in Addis Ababa, Ethiopia between July 9 and 10 to strengthen the relationship between the UN and AU.
The conference was equally attended by the Chairperson of AU, Mr. Moussa Faki, and the Executive Secretary of the UN Economic Commission for Africa (UNECA), Ms. Vera Songwe.
As contained in the communique, UN chief dissected the "dramatic crises" in Africa, where the UN had deployed peacekeeping missions in four countries: the Central African Republic (CAR), the Democratic Republic of the Congo (DRC), Mali and South Sudan.
He also noted that the rise of armed groups and international terrorist organisations such as Boko Haram "means that these operations are not involved in traditional peacekeeping."
If Africa must win war against terrorism, the UN scribe canvassed the need for more funding, particularly in enforcing peace and countering terrorism, especially in Nigeria and the Sahel.
He said: "We need to understand that when African troops are fighting terrorists in the Sahel, they are not only protecting the citizens of the Sahel. They are protecting the whole world. And the world must be in solidarity with Africa, as African forces are protecting us all."
The UN chief equally called for greater support for the UN Agenda 2030 and African Union's Agenda 2063, both of which address long-term economic development.
However, the UN chief said recent developments in Africa indicated that the continent "is increasingly moving in the direction of peace and enhanced security. But we need to collaborate in such areas as peace and security.
"We feel a wind blowing in the direction of peace," he said, referring to recent developments such as the historic visit by Ethiopia's Prime Minister to rival and neighbour Eritrea, as well as peace talks on South Sudan, where conflict has raged since 2013.
"All this gives us hope that the African continent will be moving more and more in the right direction in peace and security. The UN cannot afford to fail in its dealings with the continent.
On illicit transfers, Guterres lamented an annual loss of $50 billion that oozed out of Africa through illegal funds, money-laundering and tax evasion, which he claimed, was a huge threat to Africa's development agenda if the trend was not checked.
He urged the international community "to take action against the flow of illegal funds, money-laundering and tax evasion, which cost Africa $50 billion every year.
"This is a responsibility for the international community to support Africa to make sure that African resources remain in Africa to support African development."
Also quoted in the communique, Songwe noted that the ECA, through the High Level Panel on Migration in Africa "is already addressing the migration agenda in collaboration with International Organization for Migration (IOM), United Nations Conference on Trade and Development (UNCTAD) and The United Nations Population Fund (UNFPA).
"The Panel is chaired by former President of Liberia, Mrs. Ellen Johnson-Sirleaf. Migration of Africans has dropped between 2000 and 2017 from 3 percent to 2.7 per cent of total world migration. With the Free Movement of Persons Agreement which 26 countries have already signed, Africa is working to design and implement a framework for migration that supports the SDGs," Songwe explained.
At the on-going three-day High-Level Policy Dialogue on Development Planning in Africa, Principal Regional Advisor and Head of Development Planning and Statistics at the ECA, Mr. Sylvain Boko, said it was unacceptable that Africa's development agenda continued to be hampered by such illegal actions.
Boko said: "African countries are committed to mobilising adequate and predictable resources to finance the sustainable development goals agenda but they continue to be impeded by a number of factors, chief among them the loss of more than $50 billion annually through illicit financial flows.
Full report at:
https://www.thisdaylive.com/index.php/2018/07/12/un-scribe-nigeria-needs-more-funds-to-fight-boko-haram/
--------
North America
Congress weighs terror label for Muslim Brotherhood
July 11, 2018
The Muslim Brotherhood still poses a significant global threat and ought to be officially designated a terrorist group by the Trump administration, a trio of experts told Congress on Wednesday.
The Islamist group has long been a polarizing force in the region, with some saying it represented a path to a more moderate Muslim-centered politics while others said it served as a front and smiling public face for more radical, violent movements in the region. Whether the group should be placed on the U.S. terror list "has been a topic of debate here in Congress in recent years, Rep. Ron De Santis, the Florida Republican who chairs the House Oversight national security subcommittee, acknowledged at Wednesday's hearing.
Muslim Brotherhood critics in Congress hoped to use the hearing to kick off a drive to designate the group as a terrorist organization, a move initially blocked by the Obama administration State Department. Several witnesses told the panel there was ample evidence the Brotherhood deserved the terrorist tag.
"The Brotherhood certainly means to be global and it means to be a threat," said Dr. Hillel Fradkin, a senior fellow at the Hudson Institute think tank, testified.
Rep. Jody Hice, Georgia Republican, said that the threat of the Brotherhood cannot be ignored at home and abroad.
"The Muslim Brotherhood is alive and well, and they have had a number of splinter groups that have been birthed out of the main group that are present right here in the United States," Mr. Hice said in an interview.
Daniel Benjamin, former coordinator of counterterrorism for the State Department under Mr. Obama, was the lone dissenter on Wednesday's panel, sparking several sharp exchanges about the danger posed by the Muslim Brotherhood.
"Does the Muslim Brotherhood constitute a global threat? I would answer that it does not," said Mr. Benjamin.
Mr. Benjamin said the Brotherhood movements in various countries are not a monolith, and that many of its affiliates support democracy and reject violence. He also noted that taking a hardline approach against the group could alienate non-extremist Muslims living in the U.S.
But Mr. Fradkin refuted Mr. Benjamin, said there was little evidence the Muslim Brotherhood had genuinely rejected violence as a means to power if electoral efforts fall short.
For Brotherhood leaders, he said, violence was "a tactical question."
"There has been no repudiation of violence, and there is no such statement in the historical record," he added.
Jonathan Schanzer, a senior vice president of the Foundation for Defense of Democracies, told the panel, "There's really nothing in [the Brotherhood's] creed, which is ultimately the dogma that they adhere to at their core, that suggests that they have given up violence as an approach or that they have embraced democracy."
Mr. Benjamin argued the Muslim Brotherhood did not qualify as a terrorist organization based on U.S. law, and that such a classification could be counterproductive to U.S. interests.
"There is no legal basis for designating the Brotherhood based on ideology," he said. "Terrorist designations are done on the basis of violent acts. That's it."
The Muslim Brotherhood has a network of affiliates in over 70 countries, and has been labeled as a terrorist organization by Egypt, Saudi Arabia, and the United Arab Emirates.
The United States has designated multiple Muslim Brotherhood affiliates as terrorist organizations, including the Sunni-fundamentalist group Hamas, but has stopped short of designating the group as a whole. The administration talked of considering the classification shortly after Mr. Trump was elected, but has yet to act, leading to a drive in Congress to make the declaration.
https://www.washingtontimes.com/news/2018/jul/11/congress-weighs-terror-label-for-muslim-brotherhoo/
--------
Trump elevates Hale to achieve his Afghan goals
Anwar Iqbal
July 12, 2018
WASHINGTON: US President Donald Trump, who wants Pakistan to support his Afghan policy, is elevating his Islamabad envoy to a position that will give the diplomat a greater say in implementing his strategy for South Asia.
On Wednesday, Mr Trump nominated US Ambassador to Pakistan David Hale to be the Under Secretary of State for Political Affairs, the White House announced. It's the third ranking position in the Department of State after the Secretary of State and the Deputy Secretary. It is also the highest rank for a member of the foreign service.
Mr Hale, the US ambassador in Pakistan since 2015, is known in Washington's political circles as a diplomat who strongly supports normalisation of relations between India and Pakistan.
Improvement in India-Pakistan ties is also a key component of the Trump administration's South Asia strategy, which was annou­nced in August. The Trump administration wants both India and Pakistan to help create a situation in Afgha­nistan that would allow Washington to withdraw its troops without risking the collapse of the US-backed Afghan government.
Earlier this week, US Secretary of State Michael Pompeo announced in Kabul that the US was "counting on all the actors in the region" to support its efforts to hold fair and free elections in Afghanistan later this year.
"The Pakist­anis, too, need to understand that we need to have a set of elections [in Afghanistan] that do not have violence," he said. "We're counting on all the actors in the region to support this process."
But policy makers in Washington believe that there could be no peace in Afghanistan unless both India and Pakistan support the effort and they cannot be on the same page until relations between South Asia's two nuclear neighbours improve.
Apparently, the Trump administration believes that Mr Hale, who has built a network of support in Islamabad, can be useful in achieving this target.
If confirmed by the United States Senate, Mr Hale would replace Thomas A. Shannon who retired on June 4. He has also served in Tunisia, Bahrain, Saudi Arabia and the United Nations.
In Washington, Mr Hale served as deputy assistant secretary of state for Israel, Egypt and the Levant; director for Israel-Palestinian Affairs and executive assistant to former Secretary of State Madeline Albright.
Full report at:
https://www.dawn.com/news/1419526/trump-elevates-hale-to-achieve-his-afghan-goals
--------
Iran Foreign Ministry dismisses US implicating of Iranian embassies in terror acts
Jul 11, 2018
Iran's Foreign Ministry Spokesman Bahram Qassemi has dismissed as ludicrous a recent US allegation that Iranian embassies are involved in terror attacks in Europe.
Qassemi on Wednesday rejected the allegation by US Secretary of State Mike Pompeo as baseless, preposterous and part of a targeted propaganda campaign and psychological warfare against the activities of the Iranian embassies, which he said were in line with international conventions and aimed at promoting bilateral friendly relations with other countries.
Qassemi said that bringing up such allegations was "another attempt by the United States to destroy our country's foreign relations."
Pompeo on Tuesday accused Iran of using its embassies to plot terrorist attacks in Europe.
"Just this past week there were Iranians arrested in Europe who were preparing to conduct a terror plot in Paris, France. We have seen this malign behavior in Europe," Pompeo said in an interview with Sky News Arabia during a short trip to the United Arab Emirates.
"Pompeo levels such groundless claims against our country while different types of evidence of spying and acts of sabotage by the American embassies with hundreds of military and security personnel [involved]… have been published in various sources, and contemporary history is full of such types of illegitimate activities which are in contravention of international regulations," Qassemi said.
This came after Belgian authorities claimed earlier this month that an Iranian diplomat had been arrested along with a 38-year-old man and a 33-year-old woman, suspected of plotting a bomb attack on a meeting of the notorious anti-Iran terrorist group the Mujahedin-e Khalq Organization (MKO) in the French capital Paris. The meeting was attended by US President Donald Trump's lawyer, Rudy Giuliani, and several former European and Arab ministers.
The authorities added that Belgian police had intercepted the two suspects in Belgium on June 30 with 500 grams of the homemade explosive TATP and a detonation device found in their car.
The diplomat, 46-year-old Assadollah A, was arrested in Germany, suspected of having been in contact with the two arrested in Belgium.
Three other people were also arrested in France in connection with the case, two of whom were released.
Iranian officials have denied any involvement in any plot to blow up the MKO meeting and Foreign Minister Mohammad Javad Zarif has condemned the arrests as a "sinister false flag ploy."
The allegations about the involvement of the Iranian diplomat in the suspected bomb attack on the MKO meeting were designed as Iranian President Hassan Rouhani paid a visit to Switzerland and Vienna and held talks with senior officials of the two European countries.
Full report at:
https://www.presstv.com/Detail/2018/07/11/567804/Iran-US-Pompeo-Iranian-embassies-terror-attacks
--------
URL: https://www.newageislam.com/islamic-world-news/taliban-defeated-quiet-strength-pakistan/d/115811
New Age Islam, Islam Online, Islamic Website, African Muslim News, Arab World News, South Asia News, Indian Muslim News, World Muslim News, Women in Islam, Islamic Feminism, Arab Women, Women In Arab, Islamophobia in America, Muslim Women in West, Islam Women and Feminism