New Age Islam News Bureau
6 Jul 2014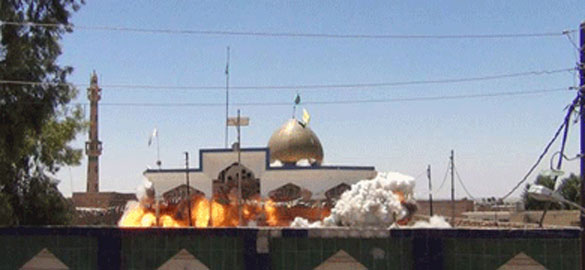 ISIS jihadists demolish mosques, shrines in northern Iraq (Image from justpaste.it)
-----------
Pakistan
• Taliban Cut Hair and Beards to Flee Army Assault
• Scores of Uzbek militants killed in NWA blitz
• Friday sermons to revive human values: Pakistan Ulema Council
• Pak-China friendship is a beneficial partnership: Pak Punjab CM
• PPP pledges to resist moves against democracy
• N Waziristan operation reverses flow of refugees
• Two Ahle Sunnat Wal Jamaat members killed in Karachi
Arab World
• 'Caliph' Sermon at Iraq Mosque Show of Confidence: Experts
• ISIS Jihadists Demolish Mosques, Shrines in Northern Iraq
• 'Did The Caliph Come On A Horse'? Baghdadi Mocked On Twitter
• ISIS Allegedly Issues 'Caliphate' Passport
• Regime Attacks Kill 48 People in Syria
• ISIS chief asks Muslims to obey him
• ISIL militants execute 10 in Iraqi village: activists
• Eight members of a family killed in Syria raid
• Saudi fighter in Syria calls it quits
• Al-Sudais: Sectarianism tearing apart countries
• Iraq says footage purporting to show Islamic State leader is false
• Allawi warns risk of Iraq's dismemberment unless Maliki goes
• 37 Islamists given life sentences, mufti confirms death penalty for 10
Africa
• Clashes between Nigeria army and Islamists rebels kill 59: official
• Ugandan troops kill 41 in battle with 'tribal gunmen': Army spokesman
• Boko Haram Trades Terrorist Tactics with Somalia's Al Shabaab
• Scores die as bomb explodes near Somali Parliament
• Thirteen killed in new attacks in Kenya's Lamu coastal region
• Libya government demands end to Benghazi fighting
Mideast
• 10,000 Israeli soldiers deployed in Arab cities
• Yemen clashes between rebels, tribesmen kill 35
• Story of former militant reveals young Turks attracted by ISIL
• In Turkey, party goes on despite new alcohol curbs
• Israel PM warns cabinet to 'act responsibly' over Gaza
• Israeli aircraft attack 10 targets in Gaza: Military
• Hamas asks Abbas not to be at Israel conference
North America
• Muslim beards trending among Philadelphia non-Muslims
• U.S. overtakes KSA as biggest oil producer
• India to corner Pak on JuD, will seek US help
• U.S. 'profoundly troubled' by American's beating in Israeli custody
India
• Over 150 Hindu inmates keep Roza with 2,300 Muslims at Tihar
• Lashkar-e-Taiba making recruits learn from Ajmal Quasab's mistakes
• India roped in various Sunni groups including Saddam loyalists to rescue nurses
• UAE-based Indian businessman offers jobs to 46 Indian nurses
• 'ISIS men asked us to stay back, said don't worry'
'• No one knows how many Indians trapped in Iraq'
South Asia
• Afghanistan: 8 Taliban Militants Killed in Counter-Terrorism Operations
• Sri Lanka accused of turning blind eye to violence
• Two arrested in Maldives for selling illicit drugs
• Dhaka University turns festive in Ramadan
Europe
• Ukrainian Muslim soldiers request Qurans, Halal food for Ramadan
• Berlin urges Kabul to support Zarb-i-Azb
• Three Europeans 'kidnapped' in Libya's Tripoli
• UK's largest union backs boycott of Israel despite Labour's calls to refrain
• Ramadan welcomed with enthusiasm in the Balkans
Southeast Asia
• 'Allah' struggle not over, moderate Muslims should lend support, says UN official
• Islamic Information Centre for all faiths to learn about Islam — Daud
• Gus Dur's Message of Pluralism Lives On in Annual Fast-Breaking Tradition
Compiled by New Age Islam News Bureau
URL: https://newageislam.com/islamic-world-news/taliban-cut-hair-beards-flee/d/97929
--------------
Pakistan
Taliban Cut Hair and Beards to Flee Army Assault
July 6, 2014
BANNU: Hundreds of Taliban fighters rushed to disguise themselves with new haircuts in the weeks before the launch of the North Waziristan operation, it has emerged, as refugees revealed details of life under the militants - and their taste for imported luxuries.
Azam Khan was one of the top barbers in Miramshah until he, like nearly half a million others, fled the long-awaited offensive unleashed by the military on the tribal area in June.
He told AFP his business boomed in the month leading up to the army assault as the militants sought to shed their distinctive long-haired, bearded look.
"I have trimmed the hair and beards of more than 700 local and Uzbek militants ahead of the security forces' operation," he said while cutting hair in a shop in Bannu, the town where most civilians fled.
For years he cut Taliban commanders' hair to match the flowing locks of former Tehreek-i-Taliban Pakistan (TTP) leader Hakimullah Mehsud, killed by a US drone last November, but in May a change in style was called for.
"The same leaders came asking for trimming their beards and hair very short, saying that they were going to the Gulf and wanted to avoid problems at Pakistani airports," Khan said.
Even Uzbeks and Tajiks with little knowledge of the local language came to him, he said.
"Knowing little Pashto, they used to utter four words: 'mulgari (friend), machine, zero, Islamabad'," said Khan -- asking him to shave their beards to nothing so they could go to Islamabad.
French perfume
The military launched the offensive against militants in North Waziristan tribal area on June 15, vowing to wipe out the strongholds they have used to wreak countless deadly terror attacks across the country.
The rugged, mountainous area on the Afghan border has been a hideout for years for Islamist militants of all stripes - including Al Qaeda and the homegrown TTP as well as foreign fighters including Uzbeks and Uighurs.
For years people from North Waziristan remained tight-lipped about life in a Taliban fiefdom, scared of being kidnapped or even beheaded if they shared information about the militants.
But as the exodus of people has grown, some have found the confidence to tell their stories.
While the militants bombed and maimed thousands in their fight to install an austere sharia regime in Pakistan and publicly professed contempt for the West, in North Waziristan they indulged themselves with fancy imported goods.
Hikmatullah Khan, a shopkeeper in Miramshah, said that at the same time as commanders were insisting he pay 300 rupees a month "tax", their fighters were stocking up on grooming products.
"They were very keen to buy foreign-branded shampoos, soaps and perfumed sprays," Khan told AFP.
"They had a lot of eagerness for French and Turkish perfumes, body sprays and soaps. "Muhammad Zarif, a wholesale merchant in Datta Khel, near Miramshah, said fighters would buy large quantities of British detergent and American cooking oil, much of it smuggled from Dubai.
Militants gone?
Pakistan's allies, particularly the United States, have long called for an operation to flush out groups like the Haqqani network, which use the area to target Nato troops in neighbouring Afghanistan and are thought to have links to Pakistani intelligence services.
The military has said it will target militants "of all hue and colour" but the scant resistance troops have encountered has led many to believe the insurgents fled before the offensive, limiting its effectiveness.
The army says the operation has killed nearly 400 militants and will rid North Waziristan of their bases, denying them the space to plan attacks and allowing investment to come to one of the country's poorest areas.
But it remains to be seen what the long-term impact of the offensive will be. Local intelligence and militant sources told AFP that up to 80 per cent of fighters fled after rumours of an army assault emerged in early May, most over the porous border into Afghanistan.
These sources estimate the present number of militants as around 2,000, down from around 10,000 before the operation. The figures are uncertain and difficult to confirm.
The army has asked Afghanistan to crack down on TTP refuges across the border and this week top brass from both sides met in Islamabad to discuss the issue.
"It is clear that militants were aware that the offensive was coming before it started. Lots of them fled," a Western diplomat told AFP.
"The big question is: after the offensive, will Pakistan allow the Haqqanis and others to come back? "
http://www.dawn.com/news/1117448/taliban-cut-hair-and-beards-to-flee-army-assault
--------------
Scores of Uzbek militants killed in NWA blitz
July 06, 2014
PESHAWAR - Security forces claimed of killing dozens of foreign as well as local militants and destroying several of their hideous in a massive ongoing offensive in North Waziristan Agency (NWA).
Pakistan Air Force jets bombed militant hideouts while ground troops used heavy artillery in Miranshah, the main town of NWA, and Boya village after shots were fired at troops, according to an ISPR statement.
The statement said stiff resistance was expected in some villages in the downtowns of Miranshah area as militants have planted land mines there which claimed life of one soldier on Saturday morning.
"Five terrorist hideouts, caves and huge cache of arms and ammunition were destroyed and scores of terrorists killed in early morning strikes, silencing the firers," it said. "Most of the terrorists killed in strikes were Uzbeks," the statement added without providing casualty figures.
A soldier identified Nike Fayaz Mohammad embraced martyrdom when an improvised explosive device (IED) exploded during search and clearance operation in the morning. His funeral prayers were offered in Bannu after which the body was dispatched to his village in Mansehra where he was laid to rest.
Security forces are busy in clearing streets and roads of the fencing devices, which pose real threat to security forces as well as civilians however the process of clearing the landmines and other such devices is a taxing job. But ISPR said they would soon clear the area in an around Miranshah and declare it cleared.
So far more than 400 suspected militants, mostly foreigners, have been killed during the operation while at least 19 IED making factories have also been unearthed by security forces in parts of Miranshah. Insiders said most of the houses in Miranshah contained IEDs and most of the roads in the area were planted with explosives and landmines. The security forces have declared Mirali clear of militants and their advancement in other areas continues.
A senior officer claimed that foreign fighters of all origins had made the locals hostage in the area. He added that during search operations security forces recovered literature and flags of different international militant organisations, including the Islamic Movement of Uzbekistan (IMU), the East Turkestan Islamic Movement (ETIM), Uighurs etc. Literature in unknown languages was also found during search operations, said the officer.
More than 500,000 people have fled the area with tens of thousands of families leaving for Bannu. Jets and artillery began hitting militant targets on June 15 to try to regain full control of the district after years of pressure from Washington and other powers.
The assault was finally launched after a dramatic attack on Karachi airport which killed dozens of people and marked the end of a faltering peace process with the Pakistani Taliban.
http://www.nation.com.pk/national/06-Jul-2014/scores-of-uzbek-militants-killed-in-nwa-blitz
--------------
Friday sermons to revive human values: Pakistan Ulema Counci
July 6, 2014
Pakistan Ulema Council has appealed to the ulemas of all the major schools of thought in the country to make this Ramazan special by creating awareness among the people in Pakistan on issues related to human lives, dignity and respect. Usually we spend Ramazan trying to create a spiritual bound with Allah, but rarely do we invest time and effort in minimizing gaps between people on issues that could be avoided only if we learn the basic truth that the way to Allah goes through His people. I have appealed to the ulemas to dedicate the four Friday sermons to discuss these important topics: rights of women; importance of dialogue to promote interfaith and intersect harmony; rights of Allah and people; the difference between Jihad and terrorism. These issues are becoming more important since the society is fast moving backward in dispensing human values. It is amazing that instead of progressing in Islam we are moving into backwaters. It is time, we find out the reasons of this decadence, but unless we talk things out, discuss them, debate them, weigh our present situation against the one we have had previously when we were considered enlightened, this knot will remain tangled.
Women in Pakistan are passing through one of their worst times, indeed. Had we ever imagined Pakistanis becoming as ruthless as to kill and burn their daughters alive only because they choose to marry boys of their own liking? If a girl elopes with a boy, the responsibility of it also falls on the parents who make choices so limited for the poor girl that she is left with no other option but to make a way for her own self. Never did we hear a woman killed in a cold blood by her own parents and siblings inside the court. Lately we have had, five years old girl raped; we have seen a girl raped and hanged to death and we have found acid thrown on them. There is a long list of atrocities happening against women in this Islamic Republic of Pakistan, and no one is able to stop them. The least politicians and the law makers do is pass condolences. It is rather a shame that the bill against the domestic violence against women could not be passed because of the interference and negative intervention of the Islamic parties in the National Assembly. One the one hand we profess love for Prophet Muhammad (PBUH), and are ready to kill or be killed on the drop of a hat if anything adversarial is said against him. Does love has only one interpretation i.e. shedding blood. One cannot think Prophet Muhammad (PBUH) feeling happy seeing this state of affairs fallen on Muslims? He spent his life in bringing people together; his warring attitude was reserved for those who would display open hatred against Muslims by conniving conspiracies to decimate Islam. Otherwise Muslims or non-Muslims his blessings and love was for everyone. That the followers of such a benevolent Prophet would kill their own daughters is jarring. If a Muslim misses one command of Prophet Muhammad he is considered committing one sin. And it is the instructions of the Prophet Muhammad to the parents of a daughter to acquire about her likes and dislikes and seek her permission about the boy they plan to marry her with. The idea of seeking permission inherently covers the logic of accepting refusal by the girl and agreeing to marry her off if she has liking for someone else. If Islam had wanted girls to behave like clay, then why had it given her the right to make choices; choices are made by rational beings and rationally means sensibility, calculation, weighing options and above all making decisions.
I request to the ulemas of Pakistan to start reforming the nation anew. We are once again into the dark eras?
Another issue that is of equal importance and from which emanates all our problems is the failure to understand rights of Allah and the rights of human beings. We are keen to oblige Allah with prayers, fasts, hajj and annual zakat. But we are not keen to understand the purpose behind these obligations. These compulsory acts prepare us to become good human beings. And whether one likes it or not, humanity is achieved through the refinement of the soul by making constant, sacrifices, forgiveness and forgetting the follies of others and by adjusting to difficult circumstances. The road to hell could be paved with good intention but to heaven it is strewn with hard choices and difficult decisions. Once we understand what it is to serve people could we become harsh to our women. Impossible. Therefore I insist upon my fellow ulemas to first make our people good human beings. What is the fun of being a Muslim if our acts are worst then of a Kafir (non-believer)? Etymologically Kafir (non-believer) in Arabic means a large mound of mud resistant to light. A Kafir is therefore someone who is in total darkness. Quran emulates Islam with light. So can a Muslim who is walking in light behave like someone surrounded with darkness. That is why Prophet Muhammad has said that Iman (belief) and Kufr (disbelief) cannot live in same heart. Time to ponder.
We have shed enough blood in the name of Islam. Isn't it painful to even utter such a thing: Shedding blood in the name of Islam? The waste that we have made of human lives by indulging into sectarian and religious violence reflects a deeper pathology. Jihad one of the most beautiful concept of Islam has been smeared by aligning it with terrorism. The fact is that we Muslims have done it all either by selling short or by thinking through Islam according to our narrow interpretation of it. We are the culprits for making Islam a religion considered the bottom of all that ails the world today. Unfortunately Pakistan is one of the worst countries in world in granting freedom of religion. Similarly the country is considered the hub of terrorism, a net exporter of it.
Lets us use the opportunity given by Ramzan and start the process of revamping, resurrecting and redefining the meaning of Islam.
If we fail now, we will never recover.
http://www.dailytimes.com.pk/national/06-Jul-2014/friday-sermons-to-revive-human-values
--------------
Pak-China friendship is a beneficial partnership: Pak Punjab CM
July 06, 2014
Lahore- Punjab Chief Minister Punjab Muhammad Shahbaz Sharif has said Pak-China friendship has turned into bilaterally beneficial partnership.
He was talking to the media at the Lahore airport today before leaving for China. The Chief Minister said China is cooperating with Pakistan in the development of infrastructure, power generation, and other sectors. He said his visit will further promote economic ties between the two countries.
Shahbaz Sharif heading a high level delegation will hold meetings with Chinese authorities about projects being implemented with the cooperation of China in Pakistan.
It will also hold discussions about starting work on Pak-China economic corridor, energy projects, Quaid-e-Azam Apparel Park in Lahore and cooperation in textile field.
http://www.nation.com.pk/national/06-Jul-2014/pak-china-friendship-is-a-beneficial-partnership-shahbaz
--------------
PPP pledges to resist moves against democracy
July 6, 2014
KARACHI: Pakistan Peoples Party leaders have reiterated their pledge to uphold the banner of democracy for which their leaders Zulfikar Ali Bhutto and Benazir Bhutto and hundreds of their workers laid down their lives.
They said they would resist every move against the democratic order in the country and stand by the government in such an eventuality despite differences with the ruling Pakistan Muslim League-Nawaz.
Any attempt to impose dictatorship in the garb of national government would be resisted tooth and nail by the PPP, they said.
The pledge was renewed by Senator Raza Rabbani, Senator Saeed Ghani and Sindh Assembly Speaker Agha Siraj Durrani while speaking at an Iftar party organised by media cell of the PPP's Sindh chapter on Saturday.
On the occasion, the PPP leaders also recalled what they termed the events of the "dark day when forces of darkness" overthrew the elected government of Zulfikar Ali Bhutto and sent the PPP founder to the gallows.
Full report at:
http://www.dawn.com/news/1117409/ppp-pledges-to-resist-moves-against-democracy
--------------
N Waziristan operation reverses flow of refugees
July 6, 2014
KHOST: Thousands of refugees fleeing the offensive by the army have poured across the lawless border into ramshackle camps on rugged hills in Afghanistan, stirring unease that Taliban militants may be hiding among them.
The mass departures over the porous border, which many in any case do not recognise, mark a change. For the first time in more than 30 years beleaguered residents are escaping into Afghanistan and not out of it, an irony not lost on local officials or refugee agencies.
Authorities in Khost province are offering a warm welcome and what little they have to shelter the newcomers. But intelligence officers and the army are uneasy — some refugees from North Waziristan province could be militants of the Tehreek-i-Taliban Pakistan (TTP), the target of operation Zarb-iAzb.
Full report at:
http://www.dawn.com/news/1117446/n-waziristan-operation-reverses-flow-of-refugees
--------------
Two Ahle Sunnat Wal Jamaat members killed in Karachi
July 6, 2014
KARACHI: Two office-bearers of Ahle Sunnat Wal Jamaat (ASWJ) were killed on Sunday in a targeted attack near Karachi's old Sabzi Mandi area, DawnNews reported.
Supporters of ASWJ held sit-ins on the road at the site of the incident, with protestants burning tyres and blocked University Road due to which the flow of traffic was suspended.
Following the attack, police conducted a search operation as a probe into the incident went underway.
Karachi East SSP Syed Pir Mohammed Shah suspended SHO of PIB Colony on the target killing of the two ASWJ members.
Full report at:
http://www.dawn.com/news/1117444/two-aswj-members-killed-in-karachi
--------
Arab World
'Caliph' Sermon at Iraq Mosque Show of Confidence: Experts
6 July 2014
The first appearance of self-proclaimed "caliph" Abu Bakr al-Baghdadi in a video shot in an Iraqi mosque illustrates the extent of his jihadist group's control and confidence, experts say.
Baghdadi, whose Islamic State (IS) group holds territory in both Iraq and Syria, called for Muslims to "obey" him during the prayer sermon at the Al-Nur mosque in Mosul on Friday, according to the video distributed online the following day.
The appearance was surprising for a militant who cultivated an image of a reclusive battlefield commander.
It is the latest in a series of moves that have brought IS back to prominence after it had been on the ropes -- culminating in the offensive it led last month that captured chunks of Iraqi territory.
"Put simply, one of the most wanted men on earth was able to travel into central Mosul and give a 30-minute sermon in the most venerated mosque in the largest city under control of the most notorious jihadist group of our time," said Charles Lister, a visiting fellow at the Brookings Doha Centre.
"The fact that Baghdadi has appeared publicly at all in such a central location underlines the extent of confidence felt within his organisation."
The Islamic State spearheaded a Sunni Arab militant offensive that captured Mosul, the second largest city in Iraq, on June 10.
The video posted Saturday showed a portly man clad in a long black robe and turban with a thick greying beard -- purportedly Baghdadi -- addressing worshippers at weekly prayers in central Mosul.
Full report at:
http://www.hurriyetdailynews.com/caliph-sermon-at-iraq-mosque-show-of-confidence-experts.aspx?pageID=238&nID=68728&NewsCatID=352
----------
ISIS Jihadists Demolish Mosques, Shrines in Northern Iraq
July 6, 2014
Islamic militant sect, ISIS, which has been rampaging across the north and west of Iraq since last month, has been demolishing sacred sites such as shrines and mosques around the historic northern city of Mosul in Nineveh province.
Photographs from the area posted online under the banner "Demolishing shrines and idols in the state of Nineveh" depicted mosques being turned into piles of rubble – explosives deployed against Shiite buildings - and bulldozers flattening the shrines.
At least four shrines to Sunni Arab or Sufi figures have been destroyed by the bulldozers, according to AFP. The structures had been built around graves of Muslim saints. Six Shiite mosques have also been destroyed using explosives.
"We feel very sad for the demolition of these shrines, which we inherited from our fathers and grandfathers," 51-year-old Mosul resident Ahmed told AFP.
"They are landmarks in the city," he said.
Local residents verified that buildings had been destroyed and two cathedrals occupied to the agency. Crosses at the front of Mosul's Chaldean cathedral and Syrian Orthodox cathedral were removed and replaced with the black flag of the Islamic State.
Full report at:
http://rt.com/news/170652-jihadists-destroy-mosques-iraq/
--------------
'Did the Caliph come on a horse'? Baghdadi mocked on Twitter
July 6, 2014
'Did the Caliph come on a horse'? was just one of the comments lampooining the self-proclaimed "caliph" Abu Bakr al-Baghdadi after a video of the head of the Islamic State of Iraq and Syria (ISIS) was released showing the man giving a sermon on Friday.
"Why is he using a microphone invented by non-Sunnis! – Isis leader leading prayers at Mosul mosque," tweeted popular Arab affairs commentator Sultan Sooud al-Qassemi.
To shave or not to shave
"Riddle.. Is it permissible to shave the beard and mustache before the caliphate succession and then grow them after?.. The prize.. a state from Mosul to Baghdad," @massaaed tweeted from Saudi Arabia.
Karl Sharro, @KarlreMarks, a blogger and writer on Iraqi politics meanwhile said on Twitter: "The Caliph with one of his fans, hoho," adding a picture of Baghdadi during his sermon, with a fan behind him.
Full report at:
http://www.jpost.com/National-News/Major-development-in-kidnapping-murder-case-of-Arab-teen-in-Jerusalem-361639
--------------
ISIS allegedly issues 'caliphate' passport
July 6, 2014
Militant members and sympathizers of the Islamic State of Iraq and Syria (ISIS) have circulated pictures of what they said was the passport of the so-called "caliphate" declared last week by the militant group.
The "State of the Islamic Caliphate" appears to be inscribed at the top of the purported passport. At the bottom, it says: "The holder of the passport if harmed we will deploy armies for his service."
ISIS reportedly said the new document will be distributed to 11,000 citizens living in cities bordering Iraq and Syria.
The militant group, which operates in both Iraq and Syria, said their caliphate would spread from Aleppo in northern Syria to Diyala in eastern Iraq.
The passport is reportedly being printed in a government facility in Mosul that was built in 2011.
Full report at:
http://english.alarabiya.net/en/News/middle-east/2014/07/05/ISIS-allegedly-issues-caliphate-passport.html
--------------
Regime attacks kill 48 people in Syria
World Bulletin/News Desk
July 6, 2014
At least 48 people, including 11 children and three women, have been killed in air and ground operations carried out by President Bashar al-Assad's forces across Syria, according to opposition activists.
The London-based Syrian Network for Human Rights, which tracks civilian and opposition casualties, said the regime's air and land operations on Saturday killed 13 in Aleppo, 11 in Daraa, 10 each in Hama and Idlib, two in capital Damascus, one each in Homs and Raqqa.
According to the Syrian Local Coordination Committee, (LCC), numerous houses were demolished or damaged as army helicopters dropped barrel bombs on areas under opposition control in the capital's suburb of Darayya.
Full report at:
http://www.worldbulletin.net/todays-news/140143/regime-attacks-kill-48-people-in-syria
-----------
ISIS chief asks Muslims to obey him
July 6, 2014
BAGHDAD: The leader of a brutal militant group addressed worshippers in the militant-held Iraqi city of Mosul, ordering Muslims to "obey" him and calling for global jihad, in a video distributed online on Saturday.
The appearance by the hitherto elusive chief of Islamic State of Iraq and Al Sham (ISIS), Abu Bakr al-Baghdadi, at a mosque in Mosul for Friday prayers marks a significant change for the militant leader whose group has overrun swathes of territory across five provinces north and west of Baghdad.
Full report at:
http://www.dawn.com/news/1117384/isis-chief-asks-muslims-to-obey-him
--------------
ISIL militants execute 10 in Iraqi village: activists
July 6, 2014
Militants from the jihadist Islamic State in Iraq and the Levant (ISIL) executed 10 people in a mainly Kurdish village in Iraq, activists said.
The executions were carried out in the village of Zur Maghar, west of the autonomous region of Kurdistan, following ISIL's capture of three Kurdish villages in the area on Friday, independent Kurdish Bas News agency reported, citing unnamed activists.
The victims - local tribal chiefs and the elderly - were killed by hanging or shooting, according to the report.
Full report at:
http://www.thehindu.com/news/international/isil-militants-execute-10-in-iraqi-village-activists/article6180698.ece
--------------
Eight members of a family killed in Syria raid
July 6, 2014
BEIRUT: Eight members of a family were killed on Saturday when military aircraft dropped explosive-packed barrel bombs on a town in the southern Syrian province of Daraa, a monitor said.
The Syrian Observatory for Human Rights said a man, his wife and their six children were killed in the raid on the town of Dael.
Another man was killed in barrel bomb raids elsewhere in the southern province, the Britain-based group said.
A video from Dael showed men carrying the remains of bodies after the attack.
"This is all that remains of the family," one man says. The Observatory said the children were aged 13, 12, 11, 10, eight and two.
Syrian regime forces control Daraa city, but the province is divided between rebel and government control.
http://www.dawn.com/news/1117436/eight-members-of-a-family-killed-in-syria-raid
--------------
Saudi fighter in Syria calls it quits
July 6, 2014
A Saudi who reportedly went to fight abroad a year-and-a-half ago has surrendered himself to the Saudi Embassy in Amman, said Sami Al-Saleh, Saudi ambassador to Jordan.
Khalaf Al-Enezi from Arar had left his hometown to fight in Syria.
Al-Enezi is expected to reach the Kingdom within a few days following Jordanian-Saudi coordination.
He worked as a preacher at a local mosque in Arar. Al-Enezi's mother was overjoyed to hear the news of his surrender.
"The embassy did not interrogate him about his stay in Syria nor who he was fighting with," said Saleh.
Full report at:
http://www.arabnews.com/news/597416
--------------
Al-Sudais: Sectarianism tearing apart countries
July 6, 2014
Stay away from sectarianism, Sheikh Abdul Rahman Al-Sudais, president of the Two Holy Mosques Affairs, told the more than 1 million worshippers who crowded the Grand Mosque during Friday prayers amid tight security.
Al-Sudais alluded to the sectarian strife and conflicts tearing apart Muslim countries.
"Muslims around the world fast and pray as they witness what is going on in Palestine and Syria," he said. Al-Sudais warned against bloodshed and urged crisis resolution. Worshippers were kept cool by the more than 250 fans distributed around the Grand Mosque. The Prophet's Mosque in Madinah, by contrast, saw around half a million worshippers attend Friday prayers.
http://www.arabnews.com/news/597391
--------------
Iraq says footage purporting to show Islamic State leader is false
July 6, 2014
The Iraqi government said on Saturday that a video posted online purporting to show the reclusive leader of the militant group Islamic State praying in the northern city of Mosul was falsified.
Interior Ministry spokesman Brigadier General Saad Maan told Reuters that the footage posted on the Internet on Saturday allegedly showing Abu Bakr el-Baghdadi at Mosul's grand mosque was "indisputably" not him.
Full report at:
http://english.ahram.org.eg/NewsContent/2/8/105541/World/Region/Iraq-says-footage-purporting-to-show-Islamic-State.aspx
--------------
Allawi warns risk of Iraq's dismemberment unless Maliki goes
July 6, 2014
Former Iraqi prime minister Iyad Allawi called on incumbent Nuri al-Maliki on Saturday to give up his bid for a third term in power or risk the dismemberment of Iraq.
Maliki on Friday rejected a chorus of such calls since militants of a group now calling itself the Islamic State rampaged through swathes of Iraq and declared a mediaeval-style caliphate in land they control in Iraq and neighbouring Syria.
"I think it is time for Mr Maliki to leave the scene," Allawi told Reuters in an interview in Istanbul.
"If he stays on, I think there will be significant problems in the country and a lot of troubles. I believe that Iraq would go the route of dismemberment, ultimately, if this happens.
"Definitely there will be more violence, the security situation will deteriorate," added Allawi, a secular Shi'ite who took 21 seats in April's national election with his secular bloc. During his political career Allawi has drawn support heavily from disaffected Sunnis, who have felt excluded from power during Maliki's rule.
Full report at:
http://english.ahram.org.eg/NewsContent/2/8/105543/World/Region/Allawi-warns-risk-of-Iraqs-dismemberment-unless-Ma.aspx
--------------
37 Islamists given life sentences, mufti confirms death penalty for 10
July 6, 2014
Thirty-seven out of 48 defendants accused of inciting violence and blocking the Qalyoub Highway last year were given life sentences Saturday.
Another 10 defendants, sentenced to death in absentia in June, had their verdicts approved by the country's grand mufti, who according to Egyptian law must review all capital punishment verdicts.
One defendant was given three years in jail.
Among those sentenced to life are Muslim Brotherhood Supreme Guide Mohamed Badie, and leading Brotherhood members Mohamed El-Beltagy and Osama Yassin.
The prosecution also accused the defendants of being members in a terrorist group, vandalising public and private properties, illegal possession of arms, and disrupting the general peace.
Full report at:
http://english.ahram.org.eg/NewsContent/1/64/105494/Egypt/Politics-/-Islamists-given-life-sentences,-mufti-confirms-de.aspx
--------------
Africa
Clashes between Nigeria army and Islamists rebels kill 59: official
PTI | Abuja (nigeria) | July 6, 2014
Clashes between Nigerian armed forces and Islamists after a daring attack on the military in the country's restive northeast left 53 insurgents and six troops dead, a spokesman said.
The rebels attacked barracks and a police station in the town of Damboa, in Borno state, late Friday while most of the troops were out on patrol in surrounding villages, drawing an army response, defence spokesman General Chris Olukolade said in a statement on Saturday.
Five soldiers and a senior officer were killed while repelling the attack. The area was cordoned off and searched, while the bodies of the fallen soldiers were recovered and taken to a military morgue. The wounded were treated at a military medical facility.
"Half of Damboa has been burnt, including the police station. People are just fleeing the town," said a resident reached by telephone who requested anonymity. Others said the military had seized four armoured carriers. "The soldiers gave the Boko Haram fighters a good fight and took over the four APCs they came with," said one. "The soldiers also suffered casualties."
Full report at:
http://indianexpress.com/article/world/middle-east-africa/clashes-between-nigeria-army-and-islamists-rebels-kill-59-official/
--------------
Ugandan troops kill 41 in battle with 'tribal gunmen': Army spokesman
July 6, 2014
Ugandan troops have killed 41 gunmen in a major battle with tribal gunmen in the western district of Bundibuguyo near the border with the Democratic Republic of Congo, Uganda's army spokesman said Sunday.
"There was an attack by tribal gunmen on our barracks in Bundibugyo and we repulsed them, killing so far 41 of the attackers. The operation is ongoing," the army spokesman, Paddy Ankunda, told AFP.
"We lost nine rifles to the attackers," he added, but did not disclose if there were any casualties from the army during the fighting, which took place on Saturday.
According to local media reports, however, a soldier and his three children were among the dead.
Full report at:
http://english.ahram.org.eg/NewsContent/2/9/105549/World/International/Ugandan-troops-kill--in-battle-with-tribal-gunmen-.aspx
--------------
Boko Haram Trades Terrorist Tactics With Somalia's Al Shabaab
July 6, 2014
Boko Haram is trading tips with other terrorist groups as it plows on with a bloody campaign to carve out an Islamic state and deepens a crisis threatening to engulf central Africa in religious violence.
Emboldened by Nigeria's failure to stamp out its al Qaeda-inspired insurgency, the militant group attained global infamy in April with the mass kidnapping of more than 300 schoolgirls. International attention was focused on the hashtag #BringBackOurGirls with Michelle Obama and teenage Taliban shooting victim Malala Yousafzai expressing their support. The U.S. and others stepped in to help track the girls down.
With no sign of the schoolgirls more than two months after their disappearance and new reports weekly of further Boko Haram attacks, experts warn the battle to contain the extremists has hit an impasse and the terror could spread beyond Nigeria's borders.
Full report at:
http://www.nbcnews.com/storyline/missing-nigeria-schoolgirls/boko-haram-trades-terrorist-tactics-somalias-al-shabaab-n140456
-----------
Scores die as bomb explodes near Somali Parliament
July 6, 2014
MOGADISHU — Several people were killed when a powerful suicide car bomb exploded near Somalia's Parliament in the capital Mogadishu on Saturday, police and witnesses said.
Al-Qaeda-linked Al-Shabaab rebels claimed responsibility for the bombing, the latest in a surge of attacks in Mogadishu during Islam's holy month of Ramadan.
"A car loaded with explosives was intercepted near the Parliament and it went off. There are casualties but we don't have details so far," police official Mohamed Idle said. He confirmed a suicide bomber was in the car.
Police and witnesses at the scene said three police officers and the suicide bomber died in the blast.
Full report at:
http://www.saudigazette.com.sa/index.cfm?method=home.regcon&contentid=20140706210608
--------------
Thirteen killed in new attacks in Kenya's Lamu coastal region
July 6, 2014
At least 13 people have been killed in new attacks in Kenya's coastal county of Lamu, the same area where some 60 people were massacred last month, the Kenyan Red Cross said Sunday.
The organisation said nine people had died and one person was missing in the locality of Gamba, while four people had been killed in Hindi, a trading post near Lamu island. The areas were attacked late Saturday, authorities said.
There were no further details from officials on the attacks, with Kenya's National Disaster Operations Centre only saying in a brief statement on Twitter late Saturday that gunfire had broken out.
Full report at:
http://english.ahram.org.eg/NewsContent/2/9/105548/World/International/Thirteen-killed-in-new-attacks-in-Kenyas-Lamu-coas.aspx
--------------
Libya government demands end to Benghazi fighting
World Bulletin/News Desk
July 6, 2014
Libya's caretaker government has called on fighting parties in the eastern city of Benghazi to immediately suspend their animosities and get out of the turbulent city.
In a statement late on Saturday, the government called on what it described as "wise people" to intervene to bring an immediate end to confrontations in Benghazi and stop bloodshed in the city.
It referred to what it called the "tough conditions" of the residents of Benghazi, saying these residents live in ceaseless fear because of the fighting.
Full report at:
http://www.worldbulletin.net/todays-news/140142/libya-government-demands-end-to-benghazi-fighting
--------------
Mideast
10,000 Israeli soldiers deployed in Arab cities
World Bulletin/News Desk
July 6, 2014
Israel's police detained late Sunday 31 Arab residents after clashes that had erupted during protests against last week's kidnapping and killing of a 16-year-old Palestinian by suspected Jewish settlers.
Israel Radio said policemen had detained 22 Arabs, including 12 minors, in the northern Nazareth town on suspicions of being involved in clashes with Israeli policemen.
Israeli authorities also detained nine more Arabs, including a minor, in other Arab towns.
Israel's police on Sunday deployed 10,000 soldiers in different cities against the background of rising tensions in Arab cities and towns in the self-proclaimed Jewish state.
Tel Aviv District Police Commander Aharon Aksol told Israel Radio that the deployment of the 10,000 soldiers was in anticipation of violence.
He said authorities were taking several measures to calm down tempers, either through police operations or dialogue with leaders of the Arab community.
Violent clashes had erupted between residents and Israeli soldiers in different Arab cities and continued into the early hours of Sunday.
Full report at:
http://www.worldbulletin.net/headlines/140145/10000-israeli-soldiers-deployed-in-arab-cities-updated
--------------
Yemen clashes between rebels, tribesmen kill 35
July 6, 2014
A Yemeni security official says clashes between Shiite rebels and government-allied Islamist tribesmen have killed at least 35 people and wounded 40 others.
The official said 15 soldiers and 20 rebels have been killed in the ongoing battles between Hawthi rebels and tribesmen from the Islamist Islah Party in and around the city of Amran, northwest of the capital, Sanaa.
The official says national army units are fighting with the tribesmen and military warplanes targeted the rebels who tried to attack a government compound late Saturday.
The official provided the information on condition of anonymity according to his department's policies.
http://www.thehindu.com/news/international/yemen-clashes-between-rebels-tribesmen-kill-35/article6182703.ece
--------------
Story of former militant reveals young Turks attracted by ISIL
July 6, 2014
There are more than 6,000 Turks in the Islamic State of Iraq and the Levant (ISIL), but not all of them are fighting and most of them returned to Turkey following a two-month-long training session, according to a former ISIL militant from Turkey.
The former militant, who requested to be referred to only by his initials A.C., was a deputy commander of ISIL and was responsible for the organization's Turkish border. ISIL is active in Syria's civil war and controls territory along the Turkish border. The group was disowned by al-Qaeda's central command earlier this year after it fell into territorial and power struggles with the al-Nusra Front, which comprises al-Qaeda's official Syria wing.
Full report at:
http://www.todayszaman.com/news-352193-story-of-former-militant-reveals-young-turks-attracted-by-isil.html
--------------
In Turkey, party goes on despite new alcohol curbs
July 6, 2014
STANBUL. The sun is setting but the party is only just beginning for 29-year-old Merve Kortan, one of the many young Turks who hang out in Istanbul's vibrant Beyoglu district.
New alcohol legislation has made it more expensive and harder to buy or sell alcohol in Turkey, with critics accusing the Islamic-rooted government of imposing a religious agenda in the mainly Muslim but officially secular nation.
But for Kortan, a business consultant sporting a cropped black top, high heels and a few tattoos, the campaign hasn't dampened her party mood.
"The government pokes its nose into everything, but I really don't care.
Why do I have to respect your orders when you don't respect my choices?" she said as she sipped a glass of wine at a rooftop bar overlooking the Bosphorus.
"Leave your orders for the faithful and leave me with my drink. Religion is a personal thing," she said.
Full report at:
http://www.dawn.com/news/1117451/in-turkey-party-goes-on-despite-new-alcohol-curbs
--------------
Israel PM warns cabinet to 'act responsibly' over Gaza
July 6, 2014
Israeli Prime Minister Benjamin Netanyahu urged his cabinet on Sunday to keep a cool head about how to handle growing tensions in and around the Gaza Strip.
"Experience has proved that at moments like this, we have to act responsibly and with a cool head and not with harsh words and impetuousness," he told ministers, who are fiercely divided over how to respond to mounting militant rocket fire on southern Israel.
Tensions with Gaza began in mid June after Israel began a major crackdown on the occupied West Bank to find militants behind the kidnap of three Israeli teenagers, whose bodies were found last week.
But, despite 135 rockets hitting Israel over the past 24 days, and another 21 intercepted by the Iron Dome air defence system, Israel's response has been largely restrained.
There have been almost nightly air strikes but most of the targets have been open fields used for training and only three militants have been killed, prompting calls from cabinet hardliners for a much tougher approach.
Full report at:
http://english.ahram.org.eg/NewsContent/2/8/105564/World/Region/Israel-PM-warns-cabinet-to-act-responsibly-over-Ga.aspx
--------------
Israeli aircraft attack 10 targets in Gaza: Military
July 6, 2014
Israeli aircraft attacked 10 sites used by Palestinian militants in the Gaza Strip on Sunday in response to persistent rocket strikes from the enclave, the Israeli military said.
Rocket launchers and a weapons manufacturing facility were among the targets of the air strikes, which followed the firing of a rocket, intercepted by Israel's Iron Dome system late on Saturday, at the major southern city of Beersheba.
"Following constant rocket fire at Israeli communities in the south, Israeli aircraft targeted 10 terror sites in the central and southern Gaza Strip," the military said in a statement.
There were no immediate reports of casualties from the air strikes.
Israel beefed up ground forces along the Gaza frontier on Thursday, signalling that an invasion was an option if rocket fire did not stop. Egypt, a bordering country, has been trying to mediate a truce.
Full report at:
http://english.ahram.org.eg/NewsContent/2/8/105557/World/Region/Israeli-aircraft-attack--targets-in-Gaza-Military.aspx
--------------
Hamas asks Abbas not to be at Israel conferenceWorld Bulletin/News Desk
July 6, 2014
The resistance movement Hamas on Saturday called on Palestinian President Mahmoud Abbas not to participate in an Israeli conference on peace that will be held in Tel Aviv on Tuesday.
Hamas spokesman Sami Abu Zuhri said Abbas' participation by delivering a speech in the conference would insult the feelings of the Palestinian people.
"We call on the president not to participate in this conference, especially after the killing and burning of Palestinian teen Mohamed Abu Khdeer," Abu Zuhri added in statements to the press.
Abu Khdeer, 16, was kidnapped, killed and burned by suspected Jewish settlers in Jerusalem a few days ago, but his killing has created general uproar both inside the Palestinian territories and outside them.
Full report at:
http://www.worldbulletin.net/todays-news/140127/hamas-asks-abbas-not-to-be-at-israel-conference
----------
North America
Muslim beards trending among Philadelphia non-Muslims
World Bulletin / News Desk
July 6, 2014
In the US state of Philadelphia, Muslim fashion is making a huge impression on men even if they are not Muslim.
The long beard, short trousers and scarves have become a very popular trend. Local men have even named the style of beard a "Philly beard" or a "Sunni" - after the Islamic term Sunnah referring to the tradition of the Prophet Muhammad.
Anthony Henderson, a fashion stylist from the state who also sports the beard, told the Muslim Mirror, "I can go to a corner store in Crenshaw or in Watts and people will say, 'You're from Philly'."
"In college, we would often call it the Freeway beard, the Philly beard or the Muslim beard, also the West Philly beard," said Ben Piven, who created a short YouTube documentary on the topic. Freeway is a local rapper who also leaves the beard.
"There's a specific shaping to it, the way it puffs out around the cheeks and the sideburns and extends below the chin, definitely low in the mustache area in keeping with the Islamic style of facial hair," he added.
Full report at:
http://www.worldbulletin.net/muslim-world/140054/muslim-beards-trending-among-philadelphia-non-muslims
--------------
U.S. overtakes KSA as biggest oil producer
6 July 2014
U.S. has turned the world's biggest oil producer this year as extraction of oil from shale rocks reached a high, a Bank of America report said.
U.S. production of crude oil, along with liquids separated from natural gas, surpassed the production of both Saudi Arabia and Russia this year with daily output exceeding 11 million barrels in the first half of this year. This output is expected to increase to a peak of 13.1 million barrels a day in 2019 and will remain at the same level for at least a decade.
U.S. production of crude oil, along with liquids separated from natural gas, surpassed all other countries this year with daily output exceeding 11 million barrels in the first quarter, the bank said in a report today. The country became the world's largest natural gas producer in 2010. The International Energy Agency said in June that the U.S. was the biggest producer of oil and natural gas liquids.
Full report at:
http://english.alarabiya.net/en/business/energy/2014/07/06/US-overtakes-KSA-as-biggest-oil-producer.html
--------------
India to corner Pak on JuD, will seek US help
July 6, 2014
Days after the US named Pakistan-based Jamaat-ud-Dawa (JuD) a "foreign terrorist organisation", India is expected to raise the economic transactions involving the group at multilateral financial platforms so as to alienate the funding arising from Pakistan for various terrorist activities in India, according to a senior government official.
The JuD is headed by Hafiz Muhammad Saeed, who is wanted by India for his role in the 26/11 Mumbai attacks and is said to be a front organisation for the banned Lashkar-e-Toiba (LeT).
Indian intelligence agencies have identified certain financial routes being used by the JuD to fund terrorist activities in India but were unable to crack down on them due to lack of international support. "Earlier we were not being heard on international platforms regarding the terror activities by the Pakistan-based group. We have been crying hoarse about Hafiz Saeed's involvement to fund terror-related incidents in India, but now after the US also banned the group we expect our request to be taken more seriously," said the official.
Full report at:
http://indianexpress.com/article/india/india-others/india-to-corner-pak-on-jud-will-seek-us-help/
--------------
U.S. 'profoundly troubled' by American's beating in Israeli custody
6 July 2014
The United States said Saturday it was "profoundly concerned" over reports that a U.S. citizen detained in Israel was "severely beaten" while in police custody, amid heightened tensions with Palestinians, Agence France-Presse reported.
State Department spokeswoman Jen Psaki said the United States "strongly condemn(s) any excessive use of force," in the wake of Tariq Khdeir's case.
"We are calling for a speedy, transparent and credible investigation and full accountability for any excessive use of force," she added in a statement.
Tariq Khdeir is cousin of the Palestinian teen Mohammed Abu Khdeir, whose abduction and murder sparked three days of violent protests.
Full report at:
http://english.alarabiya.net/en/News/2014/07/06/U-S-profoundly-troubled-by-American-s-beating-in-Israeli-custody-.html
--------------
India
Over 150 Hindu inmates keep Roza with 2,300 Muslims at Tihar
Press Trust of India | New Delhi | July 6, 2014
Setting an example of rare communal harmony, more than 150 Hindu inmates of Tihar Jail here are keeping roza, the dawn-to-dusk fast during Ramzan, along with over 2,300 Muslim inmates.
The holy month of Ramazan commenced on June 29 this year.
Tihar Jail authorities said the Hindu inmates started keeping Rozas along with the Muslim inmates from the very first day and have said they will continue the month-long fasting to its completion.
"The inmates have symbolised the strong bond of unity among them which is appreciable. Jail authorities have made all the arrangements so that those observing Ramzan do not face any difficulty," Tihar jail PRO Sunil Gupta said.
Special arrangements have been made for the inmates to perform prayers and enjoy their pre-dawn 'sehri' meal and evening meals known as 'iftars'.
"Food items like seasonal fruits, sweets like 'Jalebi', dry fruits, and various other snacks are being made available to them for both 'Sehari' and 'Iftar'," he said.
Full report at:
http://indianexpress.com/article/india/india-others/over-150-hindu-inmates-keep-roza-with-2300-muslims-at-tihar/
--------------
Lashkar-e-Taiba making recruits learn from Ajmal Quasab's mistakes
PTI | Jul 6, 2014
SRINAGAR/NEW DELHI: A special "Quasab class" is part of Pakistan-based terror group Lashkar-e-Taiba (LeT)'s training module for its new recruits during which they are told about the mistakes committed by Ajmal Quasab during the deadly Mumbai terror attack.
This emerged during interrogation of LeT terrorist Mohd Naveed Jutt alias Abu Hanzala, a resident of Multan in Pakistan, who was arrested by police in the third week of last month in South Kashmir, according to official sources.
Giving details of his background, Jutt told interrogators that his father was a retired army driver and he, along with his brothers, was part of madrasas which were owned by Jamaat-ud-Dawa, a front for LeT, the sources said.
Jutt is the first Lashkar terrorist who has said during interrogation that he had met Quasab, the Pakistan terrorist hanged in November last year after being sentenced to death for his role in the 2008 Mumbai carnage.
Full report at:
http://timesofindia.indiatimes.com/india/Lashkar-e-Taiba-making-recruits-learn-from-Ajmal-Quasabs-mistakes/articleshow/37900479.cms
--------------
India roped in various Sunni groups including Saddam loyalists to rescue nurses
TNN | Jul 6, 2014
NEW DELHI: In the rescue efforts mounted in Iraq for the trapped nurses, reports said India had sought the help of different forces which are at play in the region — among them former loyalists of Saddam Hussein's Baa'th Party who have taken up arms against Nouri al Maliki's government as well as other Sunni groups which have joined up with ISIS.
The government is tightlipped about how the rescue was worked out, particularly in the light of the fact that 39 other Indians are still to be rescued from the clutches of ISIS militants and brought back home.
But there are indications Indian negotiators set up quiet talks with many groups including Saddam loyalists.
They are among Sunni groups which have joined the foces against Maliki's Shia-dominated government after his now famous crackdown on Sunnis since 2011. The demand for political rights for Sunnis had gathered pace in the past couple of years, leading to many of those joining forces with ISIS as it mounted its challenge against the Maliki government. These included Sunni groups operating in the Anbar, Ramadi and Fallujah triangles- former Saddam strongholds- many of whom had turned against Al Qaida's brutality under Abu Musab al-Zarqawi before the persecution by Maliki led them to support ISIS's stunning march.
Full report at:
http://timesofindia.indiatimes.com/india/India-roped-in-various-Sunni-groups-including-Saddam-loyalists-to-rescue-nurses/articleshow/37876919.cms
--------------
UAE-based Indian businessman offers jobs to 46 Indian nurses
July 6, 2014
A leading UAE-based Indian businessman has offered jobs to 46 Indian nurses who returned to their homeland after being stranded for about a month in the militants-held region in Iraq.
NMC Healthcare Group CEO Dr. B.R. Shetty has made the offer to nurses, assuring them he would find place for them in the UAE, an NMC official said.
The nurses lost their jobs and livelihood in the violence-hit Iraq.
Mr. Shetty, who owns and runs hospitals in the UAE, Egypt and India, has conveyed his offer to Kerala Chief Minister Oommen Chandy, the official said.
After about a month's long ordeal in the strife-torn Iraq, the nurses returned to their homeland on Saturday with most of them vowing not to go back risking their lives.
Of the 46 nurses, 45 hail from various districts of Kerala and one belongs to Tuticorin in Tamil Nadu.
Full report at:
http://www.thehindu.com/news/national/uaebased-indian-businessman-offers-jobs-to-46-indian-nurses/article6182603.ece
--------------
'ISIS men asked us to stay back, said don't worry'
Written by Shaju Philip | Kochi | July 6, 2014
In the custody of Sunni militants since June 12, when the rebels took over their hospital in Tikrit, the Indian nurses did not dare to keep their hopes too high. Although the militants did not ill-treat them, their last few days in captivity were especially taxing, as they remained uncertain about their fate.
"They behaved cordially and treated us well. There was not even a single incident of indecent behavior… they addressed us as sisters,'' recalled Santy John, one of the 46 nurses who reached India on Saturday. According to Santy, the militants even asked the nurses to continue to work in the hospital. "They wanted new contracts and offered salaries in dinars instead of US dollars. That was not acceptable to us,'' she said.
Santy said the armed men with covered faces always told them "not to worry". On Tuesday, they arranged buses and asked them to move to Mosul. The nurses resisted.
"The next day, they came with the same demand. We pleaded with them. They said if we remained in Tikrit, we would die. They said they were asking us to move out for our safety," she said.
Full report at:
http://indianexpress.com/article/world/middle-east-africa/they-treated-us-well-told-us-not-to-worry/99/
---------
'No one knows how many Indians trapped in Iraq'
Yudhvir Rana,TNN | Jul 6, 2014
AMRITSAR: Adding another dimension to the human tragedy involving Indian workers stuck in strife-torn Iraq, the recruiters' body has thrown a bombshell saying that no one can really say how many are trapped there and the count could be unimaginably higher.
Overseas Manpower Recruiters' Council general secretary Anil Yadav said on Saturday that the government figures, which are based on records of the %protector of emigrants (PoE) do not reflect the true picture as there is no data available on those who entered Iraq via Dubai on visitor visas.
Yadav said, "Uneducated workers and those who have education qualifications less than Class X have to take immigration clearance from the PoE. But this is not a requirement for those who have studied up to Class X or more. So their record is not available with the Union ministry of overseas Indian affairs."
Full report at:
http://timesofindia.indiatimes.com/india/No-one-knows-how-many-Indians-trapped-in-Iraq/articleshow/37891382.cms
--------------
South Asia
Afghanistan: 8 Taliban Militants Killed in Counter-Terrorism Operations
July 6, 2014
At least eight Taliban militants were killed in counter-terrorism operations in the past 24 hours.
The Ministry of Interior (MoI) said in a statement on Sunday that the militants were killed in Kandahar, Logar and Paktia provinces, Khaama Press reported.
The statement further added Afghan national army, Afghan national police and Afghan intelligence – national directorate of security (NDS) operatives jointly conducted the operations.
At least eight Taliban militants were also injured and six others were arrested during the operations, MoI said.
The statement by MoI also added that Afghan security forces confiscated various types of weapons, ammunition and explosives during the operations.
Interior ministry said Afghan police forces also discovered and seized six improvised explosive devices (IEDs) during operations in Takhar, Paktia, and Herat and Helmand provinces.
The Taliban militants group has not commented regarding the report so far.
http://english.farsnews.com/newstext.aspx?nn=13930415000708
--------------
Sri Lanka accused of turning blind eye to violence
July 6, 2014
ALUTHGAMA: The attackers stormed in close to midnight, tearing through town with gasoline bombs and clubs before carting away piles of cash and jewelry they stole from Muslim families in this tiny corner of Sri Lanka.
The onslaught incited by the Bodu Bala Sena, or Buddhist Power Force, a hard-line group that has gained thousands of followers in recent years, killed at least two Muslims and injured dozens more last month in the worst religious violence Sri Lanka has seen in decades.
Now, President Mahinda Rajapaksa's government is under fire, accused of failing to protect Sri Lanka's tiny Muslim minority and allowing radical Buddhists spewing illegal hate speech to operate with impunity for years.
Full report at:
http://www.arabnews.com/news/597306
--------------
Two arrested in Maldives for selling illicit drugs
July 6, 2014
Police have arrested two individuals from the island of Hoarafushi for engaging in the widespread sale of illicit drugs.
According to the police, the two persons arrested on Wednesday night are local men both aged 19.
While the Hoarafushi Magistrate Court has extended their detention by ten days, police have stated that they are unable to provide further details as the investigation is ongoing.
http://minivannews.com/category/news-in-brief
--------------
Dhaka University turns festive in Ramadan
July 6, 2014
A festive mood prevails at Dhaka University in the evenings of Ramadan as numerous students, both present and former, arrange iftar parties on the campus to break the daylong fasting together.
The TSC (Teacher-Student Centre), Arts Faculty, Business Faculty, Madhur Canteen, Hakim Chattar, Curzon Hall, Law Faculty and several other places see large gatherings, with people sitting in circles, every evening since Ramadan began.
Students of other institutions such as Bangladesh University of Engineering and Technology, Dhaka College, Eden College and different private universities also arrange iftar parties on the campus.
Full report at:
http://www.dhakatribune.com/bangladesh/2014/jul/06/dhaka-university-turns-festive-ramadan#sthash.qNp43i5d.dpuf
---------
Europe
Ukrainian Muslim soldiers request Qurans, halal food for Ramadan
World Bulletin / News Desk
July 6, 2014
Ukrainian Muslim soldiers of the National Guard of Ukraine, a reserve component of the Armed Forces of Ukraine, have appealed to the Religious Administration of Muslims of Ukraine to provide them with the Qur'ans and halal food in the holy month of Ramadan.
According to a Facebook post by the Religious Administration of Muslims of Ukraine, there are currently 10 Muslim soldiers who serve in the army near Ukrainian city of Slaviansk, which has been the scene of a pro-Russian retreat after Ukrainian forces regained key positions in the eastern city.
Full report at:
http://www.worldbulletin.net/muslim-world/140111/ukrainian-muslim-soldiers-request-qurans-halal-food-for-ramadan
--------------
Berlin urges Kabul to support Zarb-i-Azb
July 6, 2014
ISLAMABAD: Germany's Special Envoy for Afghanistan and Pakistan Michael Koch has said that Kabul should extend support to Islamabad in its efforts to eliminate terrorism.
Talking to a six-member delegation of the Senate, headed by Chairman of the Senate Standing Committee on Foreign Affairs Haji Mohammad Adeel, in Berlin on Saturday, Mr Koch said his country supported the military operation in North Waziristan.
"Pakistan and Afghanistan are intertwined, and peace in the region hinges on their close cooperation and mutual support rather than distrust in tackling the menace of terrorism. Both countries will be successful if they go together," he said.
According to a message received here, the delegation briefed the envoy about Pakistan's perspective on various national and international issues and updated him about the military operation under way in North Waziristan.
Full report at:
http://www.dawn.com/news/1117412/berlin-urges-kabul-to-support-zarb-i-azb
--------------
Three Europeans 'kidnapped' in Libya's Tripoli
6 July 2014
Three Europeans working for an Italian construction company in Libya have likely been kidnapped, a government official said on Sunday, according to Reuters news agency.
The vehicle of the Italian, Macedonian and Bosnian engineers was found abandoned in the town of Zuwara, west of the capital Tripoli, an official in the local town council told Reuters.
"They are missing, and we suspect they have been kidnapped," the official said.
No further details were immediately available.
Libya has witnessed a rise in kidnappings of foreigners and diplomats since the ouster of Muammar Qaddafi in 2011.
The government and parliament are unable to control militias who are spreading terror in the country.
http://english.alarabiya.net/en/News/middle-east/2014/07/06/Three-Europeans-kidnapped-in-Libya-.html
--------------
UK's largest union backs boycott of Israel despite Labor's calls to refrain
July 6, 2014
LONDON – UNITE, Britain's largest Trades Union – which last week confirmed it will be financially backing Labor Party leader Ed Miliband's bid for the premiership next May – has defied his recent call to not support the Boycott, Sanctions, and Divestment campaign against Israel.
At their annual conference held in the south coast resort of Brighton last week, they voted to support two hostile- to-Israel resolutions, including one that actively supports the BDS policy promoted by the Palestine Solidarity Campaign.
The union, which claims a membership of around 1.3 million, overwhelmingly carried two pro-Palestinian resolutions, while clearly rejecting a pro-Israeli motion. The third motion, from the Bank of England branch, proposed greater co-operation between UNITE and the Histradut by way of constructive dialogue and support for the Israeli union movement.
Full report at:
http://www.jpost.com/International/UKs-largest-union-backs-boycott-of-Israel-despite-Labors-calls-to-refrain-361617
--------------
Ramadan welcomed with enthusiasm in the Balkans
KUZEY NEWS AGENCY
July 6, 2014
Just like the rest of the Muslim world that is welcoming the holy month of Ramadan with joy and excitement, the Balkans is experiencing Ramadan with all of its spirit. In traditional iftars - fast breaking dinners- and tarawihs, a prayer special to the Ramadan, Balkan Muslims are praying for peace and tranquility.
Macedonia, with a 35 per cent Muslim population from different ethnic backgrounds including Albanians, Turks, Bosnians and Romans, is one of the countries that saluted Ramadan last week. One of the most prominent of Ramadan traditions in the country is the traditional fasting tables that are only set in Ramadan, which all the family members must attend.
Many aid organizations lend their helping hand to orphans and poor people especially in Ramadan. And tarawihs - like in the previous years - Mustafa Pasha mosque has become a 'praying center' as wide range of Muslims from varying ages rush to the historical mosque every night. A quick note representing Islam's transnational character is that Muslim have the opportunity to listening preachers in several languages. Government officials congratulate Muslims and convey a message with an emphasis on unity, tolerance and respect.
Full report at:
http://www.worldbulletin.net/muslim-world/140075/ramadan-welcomed-with-enthusiasm-in-the-balkans
---------
Southeast Asia
'Allah' struggle not over, moderate Muslims should lend support, says UN official
July 6, 2014
The struggle for the right of non-Muslims to use the word Allah in Malaysia is not over, a United Nations official said, suggesting that moderate Muslims and intellectuals get on board to lend weight to the church's fight.
UN Special Rapporteur on freedom of religion and belief, Heiner Bielefeldt, said many Muslims believe the court ruling undermines the credibility of Islam.
"A vast majority of Muslims will agree that it undermines Islam by turning Allah into a personal name of the Islamic God," he said in a phone interview from Germany.
Muslim scholars and clerics, both locally and worldwide, have criticised the ban, pointing out that the word predates Islam and it meant "God" in Arabic.
Former Perlis mufti Datuk Dr Mohd Asri Zainul Abidin, known to supporters as the "voice of reason" and to critics as a "promoter of liberalism", was one of those who had criticised the ban.
Full report at:
http://www.themalaysianinsider.com/malaysia/article/allah-struggle-not-over-moderate-muslims-should-lend-support-says-un-offici#sthash.Xx5HKKEp.dpuf
--------------
Islamic Information Centre for all faiths to learn about Islam — Daud
July 6, 2014
KUCHING: The Islamic Information Centre (IIC) is a unique place for non-Muslims to visit and understand about Islam, says Assistant Minister in the Chief Minister's Office (Islamic Affairs) Datuk Daud Abdul Rahman.
He opined that non-Muslim Sarawakians should not worry about being converted against their own will, as it is a unique trait of Sarawak that all people of various races and religions live together in peace and harmony.
"The IIC is established for the purpose of sharing knowledge about Islam. That is why it was built in a predominantly non-Muslim area (Jalan Ong Tiang Swee) instead of in Petra Jaya. Non-Muslims can come and learn more about Islam as they are given the right to understand another religion through the various talks and activities held here.
Full report at:
http://www.theborneopost.com/2014/07/06/islamic-information-centre-for-all-faiths-to-learn-about-islam-daud/#ixzz36gAGh7LK
--------------
Gus Dur's Message of Pluralism Lives On in Annual Fast-Breaking Tradition
July 6, 2014
The call to prayer that also marked the moment for Muslims to break the fast echoed out in the most unlikely of places — the hall of the Virgin Mary the Untainted Heart Catholic Church on Jalan Suryalaya Raya in Bandung.
A crowd of more than a hundred people had gathered for the communal breaking of the fast, comprising not only Muslims but also Catholics, Protestants, Hindus, Buddhists and Confucians.
The event, held on Monday evening, the second day of the Islamic holy month of Ramadan, was an age-old example of Indonesia's increasingly overlooked tradition of religious tolerance; a rare occasion where leaders and worshipers of different faiths could sit at one place and enjoy a wide array of snacks commonly found on offer during Ramadan.
The crowd had gathered hours before the maghrib, or sunset, call to prayer, which signals the end of the day's fast.
Full report at:
http://www.thejakartaglobe.com/news/gus-durs-message-pluralism-lives-annual-fast-breaking-tradition-2/
--------------
URL: https://newageislam.com/islamic-world-news/taliban-cut-hair-beards-flee/d/97929