New Age Islam News Bureau
26 August 2022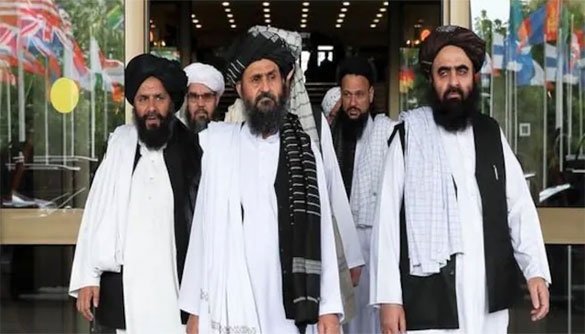 Representative Image
-----
• India against Violence and Extremism; We Condemn This Horrific Attack on Salman Rushdie: External Affairs Spokesperson
• Jamiat Ulema-e-Islam Pakistan Berates Maulana Fazlur Rehman for 'Misusing Religion' For Politics against Imran
• In A First-Of-Its-Kind Event, Indonesia Will Host a Global Summit of Religious Leaders Modelled On the Group of Twenty
• France's Macron Urges Future with Algeria beyond 'Painful' History
South Asia
• Myanmar Rohingya, Five Years On, Want to Leave Bangladesh Camps And Go Home With Justice
• Rohingya Muslim refugees observe 'Genocide Day' in Bangladesh
• Islamic Emirate Spokesman Defies Recent Remark Saying Afghan Soil Not a Threat
• Taliban Conduct Extensive House-to-House Searches in Northern Afghanistan
• Taliban's 'fairer' and more effective tax system helped it retake control of Afghanistan
--------
India
• A Kerala Mosque Committee's Fight against Drug Menace
• Will Offer Friday Prayers at Srinagar's Grand Mosque after 3 Years: Mirwaiz
• Two Hizbul Mujahideen terrorists charge-sheeted
• Those Giving Hollow Slogans like 'Beti Bachao' Are 'Saving Rapists': Rahul Gandhi On Bilkis Bano Case
• Afghan Soil Should Not Be Used to Attack Other Country: Indian Defence Minister at SCO
--------
Pakistan
• Army top brass hints at tougher approach against TTP
• At CTD HQs, IGP orders tightening noose around extremists, facilitators
• Pakistan: Terrorism case registered against Interior Minister Rana Sanaullah in Gujarat
• Saudi Arabia to invest $1 billion in cash-strapped Pakistan
• Pakistan court extends former PM Imran Khan's pre-arrest bail on terrorism charges
• Contempt petition filed against Maryam, Fazl, and Sanaullah
--------
Southeast Asia
• Diplomatic Ties with Israel Unimaginable For Indonesian Muslims
• Existing Legislation Enough To Deal With Insults against Islam, Says Malaysian Religious Affairs Minister
• Naik's speech went against religious tolerance, Ramasamy tells court
• Protest against corruption, not concerts, DAP man tells PAS Youth
• Appellate court upholds acquittal of Mat Sabu's son on drug abuse charge
• Decisions by Malaysia's Chief Justice draw attention in landmark case of ex-PM Najib
--------
Africa
• Fighting flares for second day in northern Ethiopia: Residents
• IPOB warning Igbos to bury their dead in three days is Islamic agenda – Simon Ekpa
--------
Mideast
• Iran Exiles Sue President Raisi in US Ahead Of UN General Assembly Meeting
• Israel indicts Islamic Jihad leader whose arrest triggered Gaza violence
• Terror charges filed against Islamic Jihad leader whose arrest sparked Gaza conflict
• Nuclear Chief: Iran to Turn into Nuclear Power Plant Construction Hub in Coming Years
• Iran-IAEA standoff last major hurdle in reviving nuclear deal
• Yemen's foreign minister, UK ambassador discuss peace efforts, UN truce
--------
North America
• US Hits 'Iran-Backed Group' For Third Straight Day In Syria
• Biden: We targeted Iran-allied militias in Syria to deter attacks on US facilities
• US working to expand visa services in Türkiye amid delays: State Department
• US urges permanent end to conflict in Ethiopia amid renewed violence
--------
Europe
• UK Decision To Intervene In Rohingya Case Before International Court Of Justice Hailed
• Turkish singer Gulsen arrested after religious schools quip: Media
--------
Arab World
• SOC Political Parties Committee Meets Comptroller-General of Syria's Muslim Brotherhood
• UN Special Rapporteur Voices Concern About Deteriorating Health Condition Of Detained Saudi Shia Cleric, Sheikh Mohammed Hassan Al-Habib
• US military kills four Iran-backed militants after attacks in Syria
• Lebanon child poverty: 84 pct of households unable to cover necessities, UNICEF says
• US carries out fresh attacks against Iran-backed fighters in NE Syria
• Turkish forces 'neutralize' 3 YPG/PKK terrorists in northern Syria
• Syrian air defences repel Israeli attack over Tartus, Hama
Compiled by New Age Islam News Bureau
URL: https://newageislam.com/islamic-world-news/taliban-websites-afghanistan-immoral/d/127808
--------
Taliban Blocks 23 Million Websites in Afghanistan over 'Immoral Content'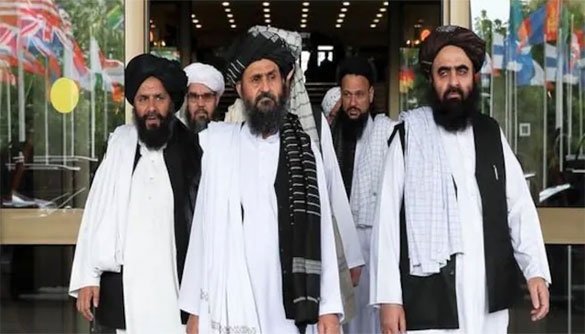 Representative Image
-----
August 26, 2022
The interim government of Afghanistan led by Taliban has blocked more than 23 million websites for displaying what it considers immoral content over the year since the Taliban took power in the country, Najibullah Haqqani, the minister of communications in the Taliban administration, said on Thursday.
"We have blocked 23.4 million websites. They are changing their pages every time. So, when you block one website another one will be active," TOLOnews quoted acting Minister Najibullah Haqqani as saying at a conference.
Speaking at the same conference, the deputy communications minister in the interim government, Ahmad Masoud Latif Rai, also criticized Facebook for its reluctance to cooperate with the Taliban authorities on content moderation.
After the collapse of the US-backed government and the withdrawal of US troops from the country, an interim Afghan government led by the Taliban came to power on August 15 last year.
The Taliban takeover triggered an economic crisis and food shortages that have pushed the country to the brink of a humanitarian crisis. Thousands of Afghans have fled the country fearful of the Taliban, widespread violation of human rights, and the deprivation of women and girls of their freedoms.
Since the Taliban took over Afghanistan in mid-August last year, it rolled back the rights of Afghan media outlets and their functioning.
According to UNAMA, there have been significant changes in the country's media landscape, including the closure of more than half of the free media, a ban on several channels and websites and rising work restrictions, violence, and threats against journalists.
Earlier in May, while reporting a women's demonstration, journalist Roman Karimi and his driver were detained and tortured by the Taliban.
Over 45 per cent of journalists have quit since the Taliban assumed power. The ever-increasing restrictions against media in Afghanistan have also drawn widespread criticism globally with the United Nations (UN) and the Committee to Protect Journalists (CPJ) decrying the arrests, demanding the terror outfit stop harassing local journalists and stifling freedom of speech through continued detentions and threats.
The Taliban had promised women's rights, media freedom, and amnesty for government officials in the group's first news conference after the takeover in August. However, activists, former government employees, and journalists among others continue to face retribution.
Source: Business Standard
Please click the following URL to read the text of the original story:
https://www.business-standard.com/article/international/taliban-blocks-23-mn-websites-in-afghanistan-over-immoral-content-122082600086_1.html
--------
India against Violence and Extremism; We Condemn This Horrific Attack on Salman Rushdie: External Affairs Spokesperson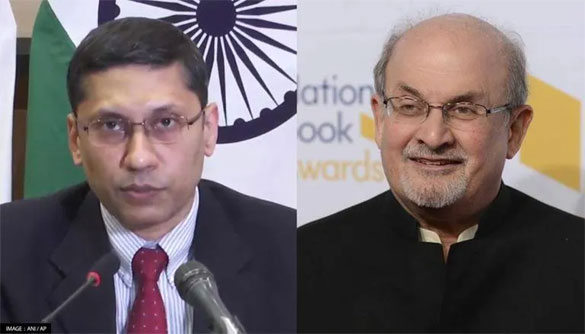 Image: ANI/AP
----
26.08.22
India on Thursday broke its silence on the attack on author Salman Rushdie in New York on August 12, which had drawn responses from several governments.
Asked for a response, considering the novelist was born in India, external affairs ministry spokesperson Arindam Bagchi said: "India has always stood against violence and extremism. We condemn this horrific attack on Salman Rushdie and we wish him a speedy recovery."
Before giving the brief response to the stabbing, Bagchi referred to a remark made by external affairs minister S. Jaishankar in Bangalore a day after the attack.
Asked about the attack at an interactive session, Jaishankar had said: "I have also read about the attack. I was busy in my own programme. I also saw that and I think obviously that is something which the whole world has noted. Any attack like this, obviously, the entire world has reacted.''
India's muted response had not gone unnoticed. The Guardian newspaper wrote on August 13: "India was the first country to impose a ban on The Satanic Verses in 1988. There has been no statement from the Indian government or the main opposition, the Congress party. The Congress party was in power when the book came out and quickly decided to ban it.…''
DYFI protest
But the DYFI, the CPM's youth wing, had taken the lead in protesting the attack, holding an event before the statue of a firebrand journalist in Kerala who had gone to jail during the colonial era for the uncompromising manner in which he wielded the pen.
Later, in a separate initiative, a statement condemning the attack on Rushdie was endorsed by more than 80 writers, filmmakers and artists.
Soon after the stabbing, the DYFI protested in Thiruvananthapuram before the statue of Swadeshabhimani Ramakrishna Pillai, the editor who was exiled for writing against the rule of the British and the erstwhile princely state of Travancore.
"The venue was chosen to make a point," DYFI Thiruvananthapuram district secretary Shijukhan P. told The Telegraph.
Shijukhan said the protest was held to convey strong opposition to all extremist ideologies that try to attack and deny free speech.
Speaking at the protest, Shijukhan said: "If these attackers think they can eliminate with their swords someone who uses a pen, they will have to face thousands of such writers. Let me remind you that neither writers nor writing will ever stop."
He added: "What wrong did Salman Rushdie commit? Do these attackers think they can take on with a sword a writer who uses his pen? The mightiest weapon in the world is the pen."
Shijukhan likened the attack on Rushdie to the murders in India of rationalists and writers who have been critical of the Hindutva ideology and majoritarianism.
"We strongly oppose the attack on free speech and killing of rationalists, writers and journalists such as M.M. Kalburgi, Govind Pansare, Gauri Lankesh and Narendra Dabholkar," he said.
Thiruvananthapuram district DYFI committee member Gayathri Babu read out excerpts from Rushdie's Booker Prize-winning novel Midnight's Children at the event.
The Thrissur-based Chinta Ravindran Foundation also condemned the attack on Rushdie.
"The attack on Salman Rushdie, who is a man of peace, and dealing only in words, is yet another example of the violent intolerance of dissent that is dangerously gaining momentum. We think, it is the need of the hour for writers, artists, art lovers and readers to protest against this dastardly act and its dangerous implications," the statement read.
The signatories to the statement include authors M.T. Vasudevan Nair, Anand, Zacharia, N.S. Madhavan and M. Mukundan, poet K. Satchithanandan, filmmakers Adoor Gopalakrishnan and Shaji N. Karun, veteran journalists T.J.S. George and Shashi Kumar, scholars and commentators M.N. Karasseri and Sunil P. Elayidom and actor Joy Mathew.
Source: Telegraph India
Please click the following URL to read the text of the original story:
https://www.telegraphindia.com/india/at-last-indian-govt-condemns-attack-on-salman-rushdie/cid/1882479
--------
Jamiat Ulema-e-Islam Pakistan Berates Maulana Fazlur Rehman For 'Misusing Religion' For Politics Against Imran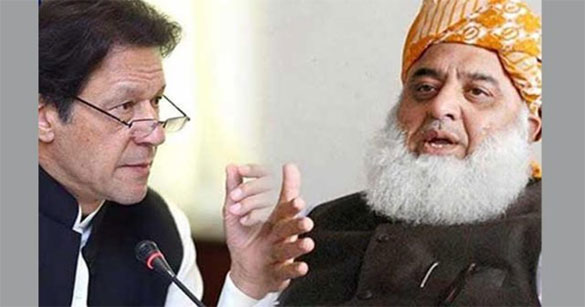 Photo: NewsBox
---
AUGUST 26, 2022
Jamiat Ulema-e-Islam Pakistan (JUI-P) chief Maulana Mohammed Khan Sherani has come down hard upon Maulana Fazlur Rehman's use of a religious decree against former prime minister Imran Khan for political purposes.
Taking to his official Twitter handle, Maulana Sherani stated that when he asked the Jamiat Ulema-e-Islam Fazl (JUI-F) leader to prove his fatwa (edict) that Imran was Jewish and involved in Israeli propaganda, Fazl said his remarks were a "political statement".
The JUI-P leader maintained that an individual who could issue a religious decree against a lover of the Holy Prophet (PBUH) could do "anything". He advised the Pakistani populace to "not trust" Fazl.
Maulana Sherani's condemnation came after Fazl, in a series of tweets, claimed that the Imran Khan regime was supported and funded by Israel and India and the "evidence" was apparent before the nation. He warned "Israel, the United Nations and institutions blackmailing under the guise of human rights" that their scheme would not succeed, and that Imran Khan would be barred from reentering Pakistani politics.
"We want to make it clear to international institutions, Israel and Zionist forces that their tricks will not be allowed to succeed. Every attempt to bring Imran Niazi back to politics will be thwarted," he maintained.
Maulana Fazl asked the UN the basis on which it sympathised with Imran Khan, and alleged that "Israeli channels and the United Nations" were left agitated and protested when the Election Commission of Pakistan (ECP) "clearly revealed Niazi's theft".
The JUI-F chief was referring to the electoral watchdog's investigation of alleged prohibited funding received by the PTI. He further questioned why foreign institutions did not pay heed to the "atrocities" committed by Imran's government.
Citing examples of ignorance against crimes violating human rights in Guantanamo Bay and the prison of Abu Gharib and the case of Aafia Siddiqui, Fazl questioned why the UN and human rights forums sympathised only with Imran Khan.
Source: Daily Times
Please click the following URL to read the text of the original story:
https://dailytimes.com.pk/987500/sherani-berates-fazl-for-misusing-religion-for-politics-against-imran/
--------
In A First-Of-Its-Kind Event, Indonesia Will Host a Global Summit of Religious Leaders Modelled On the Group of Twenty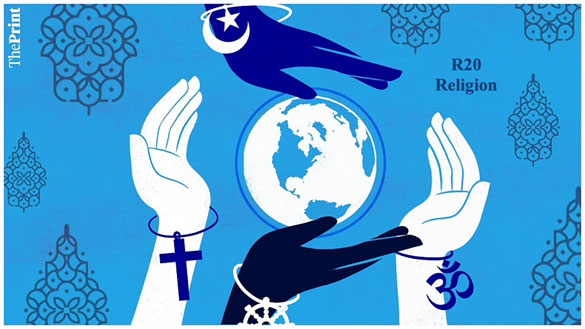 Credit: Prajna Ghosh, ThePrint team
----
Madhuparna Das
26 August, 2022
New Delhi: In a first-of-its-kind event, Indonesia, a Muslim-majority country, will host a global summit of religious leaders modelled on the Group of Twenty (G20) intergovernmental forum.
Called the 'G20 Religion Forum', or R20 for short, it will be a parallel event to the annual G20 summit that Indonesia will host this year, and is being seen by scholars as an attempt to "quell the ideas of radical Islam and extremism and promote moderatism".
Organised and hosted by one of Indonesia's most influential Islamic think tanks, Nahdlatul Ulama (NU), the two-day R20 summit will take place on 2 and 3 November in Bali, around two weeks before the G20 summit is scheduled to be held there on 15 and 16 November.
In an exclusive email interview with ThePrint, Muhammad Najib Azca, vice-secretary general of Nahdlatul Ulama and spokesperson of the R20, said that the religious summit would leverage the G20 "to help ensure that religion in the 21st century functions as a genuine and dynamic source of solutions, rather than problems".
"The R20 will seek to accomplish this by creating a global platform through which religious leaders of every faith and nation may express their concerns and give voice to shared moral and spiritual values," said Azca.
ThePrint has learnt that the Rashtriya Swayamsevak Sangh (RSS) not only supports the idea, but also Ram Madhav, a central committee member of the organisation, is among the event's prime movers from India.
Earlier this year, Madhav had met the office-bearers of NU in Jakarta to firm up the concept of hosting a summit like this, and to make it a permanent global platform for religious and spiritual leadership. He will be one of the main speakers at the event.
Speaking to The Print, Madhav said, "The entire global narrative and agenda is currently controlled by political leadership, big corporations, some economic think tanks or some extremist and terrorist groups. We need to bring a balance."
"The idea of hosting such an event was mooted by Nahdlatul Ulama. We from India join hands with them to address the challenge of radicalism, terrorism, war, and violence. Right now, there is no role of spiritual or civilisational leadership. R20 is aimed at developing a global platform of cultural, religious, and civilisational leadership that can pro-actively help countries in tackling some of the 21st-century challenges," he added.
The event is also being supported by the Indonesian Ministry of Religious Affairs, which has recognised NU as the coordinator of the event in 2022.
"The G20 Religion Forum constitutes a natural outcome of NU's efforts over the past decade to prevent the political weaponisation of identity, curtail the spread of communal hatred, and promote solidarity and respect among the diverse peoples, cultures and nations of the world," said Azca.
The R20 this year will focus on four major topics — historical grievances, truth-telling, reconciliation and forgiveness; identifying and embracing values shared by the world's major religions and civilisations; re-contextualisation of obsolete and problematic teachings of religion; and the values we need to develop to ensure peaceful co-existence.
According to Hadza Min Fadhli R., an Indonesia-based academic and Islamic scholar, Indonesia is trying to "promote the idea of moderate Islam" through the R20. Muslims constitute around 88 per cent of the country's population.
"It is very significant for the global community to watch that a Muslim-majority country is hosting a summit like this to promote moderate Islam. One of the primary agendas is to quell the ideas of radical Islam and extremism. We were told that the Ministry of Religious Affairs is supporting this summit. The broad ideas of the summit include democracy, development and moderatism," said Hadza Min Fadhli R. to ThePrint.
A 'unique' summit
A delegation from India, which will include Hindu monks and spiritual leaders, will join the summit.
"NU is coordinating with both the Government of India and civil society organisations in planning and executing this year's G20 Religion Forum," said Azca.
"We are inviting major figures from India including Ram Madhav Varanasi, Archbishop Felix Machado, Swapan Dasgupta, Sri Sri Ravi Shankar, a prominent representative of the Shankaracharya tradition and leaders from India's Muslim community as well," he added, and said that major religious figures and scholars from all G20 member states and beyond would be invited as well.
According to him, Sheikh Mohammad bin Abdulkarim Al-Issa, secretary general of the Mecca-based Muslim World League, will co-chair the R20 summit with Kyai Haji Yahya Cholil Staquf, chairman of the Nahdlatul Ulama central board; and Pope Francis will be sending Cardinal Miguel Ángel Ayuso Guixot, president of the Pontifical Council for Interreligious Dialogue, as his formal representative.
A high-level source in NU told ThePrint: "Indonesia will host the first R20, and the next one will be hosted by India since it will be the hosting country for the G20 2023 summit too. The third will be organised in Brazil, when it is due to host G20 2024. So, from a Muslim-majority nation to a Hindu-majority country and then to a Catholic nation — this is a unique summit that will integrate all religions."
Joko Widodo, President of Indonesia, will be addressing the "opening plenary" of the R20, said Azca. Several cabinet ministers will also participate in the summit, including Yaqut Cholil Qoumas — Indonesia's minister of religious affairs and a prominent NU leader — and the minister of foreign affairs, Retno Marsudi.
'Outcome of NU's efforts'
The R20 summit, said Azca, is the culmination of NU's many strategic efforts over the years.
In 2016, NU had convened the International Summit of Moderate Islamic Leaders (ISOMIL) in Jakarta, Indonesia, which issued the ISOMIL Nahdlatul Ulama Declaration.
In this declaration, the think tank, among other things, called upon people "of every faith and nation to join in building a global consensus not to politicise Islam, and to marginalise those who would exploit Islam in such a way as to harm others," said Azca.
In 2017, he said, 7 million young adult members of the NU promulgated the 'Gerakan Pemuda Ansor Declaration on Humanitarian Islam', a 21-page document that included a roadmap outlining "the basic elements of a coordinated, long-term effort to address a rapidly metastasising crisis within the Islamic world, as reflected in the violence committed by terrorist groups such as ISIS, al-Qaeda and Lashkar-e-Taiba, and civil wars in Yemen, Libya, Syria and elsewhere."
Such efforts, said Azca, have allowed NU to leverage Indonesia's presidency of the G20 this year.
Source: The Print
Please click the following URL to read the text of the original story:
https://theprint.in/world/you-know-g20-now-theres-r20-a-push-for-moderate-islam-with-links-to-rsss-ram-madhav/1099400/
--------
France's Macron Urges Future with Algeria beyond 'Painful' History
A woman stands near Algerian and French flags ahead of the arrival of French President Emmanuel Macron in Algiers, Algeria August 25, 2022. REUTERS/Ramzi Boudina
-----
25 August, 2022
President Emmanuel Macron indicated France and Algeria should move beyond their "painful" shared history and look to the future on Thursday at the start of a three-day visit to the North African country.
The trauma of French colonial rule in Algeria and the bitter independence war that ended it in 1962 has haunted relations between the two countries for decades and played into a diplomatic dispute that erupted last year.
"We have a complex, painful common past. And it has at times prevented us from looking at the future," Macron said after meeting Algerian counterpart President Abdelmadjid Tebboune.
Standing alongside Macron in front of the intricate North African tilework of the palace where they met, Tebboune said: "We hope the visit will open up new perspectives for partnership and cooperation with France".
Ties with Algeria have become more important for France because the war in Ukraine has increased demand in Europe for North African gas, and because of surging migration across the Mediterranean.
Algeria is meanwhile seeking to capitalize on higher energy prices to lock in European investment.
Macron has long wanted to turn the page with Algeria and in 2017 he described French actions during the 1954-62 war that killed hundreds of thousands of Algerians as a "crime against humanity."
That declaration, politically controversial in France, won him popularity in Algeria when he last visited five years ago and he was celebrated by young Algerians.
Macron will again reach out to Algerian youth on this visit with scheduled stops focused on youth culture including breakdancing and North African "Rai" pop music. France is home to more than four million people of Algerian origin.
However, Macron's hopes of moving beyond the fraught history of the colonial era have proven premature before.
Last year he was quoted as suggesting that Algerian national identity did not exist before French rule, and accusing Algeria's leaders of rewriting the history of the independence struggle based on a hatred of France.
The comments provoked a storm in Algeria, where the ruling elite is still dominated by the generation that fought for independence and where that struggle occupies a central place in national identity.
Algeria withdrew its ambassador for consultations and closed its airspace to French planes - complicating the French military mission in the Sahel.
Before his meeting with Tebboune, Macron visited a monument to Algerians killed in the war, placing a wreath there. He said the two governments would establish a joint committee of historians to study archives of the colonial era.
Source: Al Arabiya
Please click the following URL to read the text of the original story:
https://english.alarabiya.net/News/world/2022/08/26/France-s-Macron-urges-future-with-Algeria-beyond-painful-history
--------
South Asia
Myanmar Rohingya, five years on, want to leave Bangladesh camps and go home with justice
Aug 25, 2022
DHAKA: Myanmar Rohingya Muslims protested across refugee camps in neighbouring Bangladesh on Thursday, the fifth anniversary of clashes between Rohingya insurgents and Myanmar security forces that drove hundreds of thousands of Rohingya from their homes.
More than a million Rohingya now live in the world's largest refugee settlement in southern Bangladesh, with little prospect of returning to Myanmar, where they are mostly denied citizenship and other rights.
Refugees, from children to the elderly, waved placards and chanted slogans across the sprawling camps, many wearing black ribbons to mark what they call "Rohingya Genocide Remembrance".
"No more refugee life", the placards read. "Enough is enough" and "We want citizenship, we want justice. We are Burma Citizens, we are Rohingya."
"Today we are demonstrating as in 2017 the Burmese (Myanmar) army killed our people in a genocide. They killed my husband and others, the military raped us, then they killed our children," said protester Jamalida Begum.
"For the last five years, we have been saying the same thing to the world. But no one listened to us. Today, we are again demonstrating just to let the world know that we want justice."
The United Nations has said the 2017 military crackdown was carried out with genocidal intent and Myanmar is facing charges of genocide at the International Court of Justice in The Hague.
Buddhist-majority Myanmar denies the accusation, saying it was waging a legitimate campaign in 2017 against insurgents who attacked police posts.
Rohingya community leader Mohammad Jobaer said he was keen to return to Myanmar but wanted citizenship rights guaranteed.
"We want to go back to our homeland with all our rights and under the direct supervision of the United Nations. We want security for our life and wealth there," he said.
Densely populated Bangladesh says that the refugees' repatriation to Myanmar is the only solution to the crisis. Local communities have been increasingly hostile towards Rohingya as funds for the refugees have dried up.
UN agencies have appealed for $881 million for this year, of which just under half has been received so far.
Save the Children said on Wednesday the Rohingya "fled mass killings, rape and systematic human rights abuses" in Myanmar.
"Two thirds (66%) of children surveyed and nearly all parents and caregivers (87%) say they do not feel any safer now than when they arrived," it said.
"The findings expose that the international community's efforts, despite being significant, fall short of what is needed to adequately respond to the needs of Rohingya refugees."
Bangladesh Home Minister Asaduzzaman Khan said his government wanted to ensure that the Rohingya can return to Myanmar safely "where they will no longer be persecuted and will finally receive citizenship".
Source: Times Of India
Please click the following URL to read the full text of the original story:
https://timesofindia.indiatimes.com/world/south-asia/myanmar-rohingya-five-years-on-want-to-leave-bangladesh-camps-and-go-home-with-justice/articleshow/93780667.cms
--------
Rohingya Muslim refugees observe 'Genocide Day' in Bangladesh
25 August 2022
Thousands of Rohingya Muslim refugees have observed the "Genocide Day" in Bangladesh camps, marking the fifth anniversary of the start of the mass exodus into the country.
They want their safe return to their homeland of Rakhine in western Myanmar.
On Thursday, the refugees gathered in several parts of the sprawling Kutupalong camp in Cox's Bazar district on the southeast coast of Bangladesh.
"Today is the day thousands of Rohingya were killed," young community leader Maung Sawyedollah said with tears in his eyes. "Only Rohingya can understand the pain of the 25th of August. Five years ago this day nearly one million Rohingya were displaced. On this day in 2017 more than 300 of our villages were burnt down to ashes."
Sayed Ullah, another community leader said, "All we want is a safe and dignified return to our homeland."
"Unfortunately, our cries have fallen on deaf ears. The international community is not doing anything. Here in the camps we are languishing in tarp and bamboo shelters and barely surviving on handouts."
The refugees also demanded the repeal of a 1982 law that stripped them of their citizenship in Myanmar.
In August 2017, about 750,000 of the mostly Muslim minority streamed over the border with mainly Buddhist Myanmar to escape the onslaught, which is now the subject of a landmark genocide case at the UN's top court.
Today there are nearly a million Rohingya, half of them under 18, in rickety huts in camps where the mud lanes regularly become rivers of sewage during monsoon rains.
Several attempts at repatriation have failed, with the Rohingya refusing to return without security and rights guarantees.
War crimes investigators have recently obtained thousands of documents that shed new light on the Myanmar military's planning for the forcible expulsion of the Southeast Asian country's Muslim minority from Rakhine.
The documents show how the military systematically demonized the Muslim minority, created militias that would ultimately take part in operations against the Rohingya, and coordinated their actions with ultranationalist Buddhist monks.
The August 2017 pogrom was carried out with a ferocity that stunned the world. Refugees described massacres, gang rapes and children thrown into raging fires. More than 390 villages were either partly or completely destroyed, largely by fire. This amounted to 40% of all villages in Rakhine.
Doctors Without Borders (MSF) estimated at least 10,000 people died.
Myanmar's civilian leader at the time, Nobel Peace Prize laureate Aung San Suu Kyi, dismissed much of the criticism of the military. But official records from the period ahead of and during the expulsion of the Rohingya paint a different picture.
Early last year, the military toppled the government under Suu Kyi, who has been detained since her overthrow. The coup has altered views in Myanmar and opened an unexpected window on the 2017 atrocities.
Source: Press TV
Please click the following URL to read the full text of the original story:
https://www.presstv.ir/Detail/2022/08/25/688028/Myanmar-Bangladesh-Rakhine
--------
Islamic Emirate Spokesman Defies Recent Remark Saying Afghan Soil Not a Threat
By Arif Ahmadi
26 Aug 2022
KABUL, Afghanistan – Islamic Emirate Spokesman Zabiullah Mujahid in reaction to a remark by the Indian Defence Minister Rajnath Singh said Afghan soil is not a threat to any country, adding current leadership is paving the way for "political opponents" to return.
This came a day after Singh, during a conclave of Shanghai Cooperation Organization (SCO) in Tashkent Wednesday, exclaimed that the member states should encourage Afghanistan's authorities to achieve national reconciliation through dialogue and establish an inclusive political structure.
Afghan territory must not be used to intimidate or attack any country by providing safe havens to terrorists, supporting their activities through financial assistance, he added.
But Mujahid defying the remarks by the Indian Defense Minister said there will be no threat from the Afghan soil to any country, adding such is a national responsibility and they are paying close attention to the matter.
"The Islamic Emirate is obliged to provide security all over Afghanistan, to protect itself and its people, and to prevent Afghanistan from being a place from which any country would feel threatened. This is our national responsibility, and we are paying more attention to this" he said.
Meanwhile, a number of political analyst support the inclusive government in Afghanistan, saying this could build trust among various sect in the country, preventing tensions among Afghans.
"The inclusive government can create trust among Afghanistan's tribes and prevent the tensions which are plaguing the government now and will in the future," said Barna Salehi, a political analyst, as TOLOnews quoted.
"Inclusivity means to appoint experts and people with good backgrounds to the government departments," said Mohammad Matin Mohammad Khail, another political analyst.
Since 2012, Afghanistan has been in the process of gaining membership to the SCO but is yet to be recognized as a permanent member of this organization. After the Islamic Emirate swept into power, however, no representative from Afghanistan has participated in any of the SCO summits.
The Shanghai Cooperation Organization (SCO) is an intergovernmental organization founded in Shanghai on 15 June 2001. The SCO currently comprises eight Member States: China, India, Kazakhstan, Kyrgyzstan, Russia, Pakistan, Tajikistan and Uzbekistan.
Four Observer States, which includes Afghanistan, Belarus, Iran, and Mongolia; and six "Dialogue Partners", including Armenia, Azerbaijan, Cambodia, Nepal, Sri Lanka and Turkey interested in acceding to full membership.
In 2021, the decision was made to start the accession process of Iran to the SCO as a full member, and Egypt, Qatar as well as Saudi Arabia became dialogue partners.
Source: Khaama Press
Please click the following URL to read the full text of the original story:
https://www.khaama.com/spokesman-defies-recent-remark-saying-afghan-soil-not-a-threat/
--------
Taliban Conduct Extensive House-to-House Searches in Northern Afghanistan
By Saqalain Eqbal
25 Aug 2022
House-to-house searches have reportedly been resumed by the Taliban in Mazar-e-Sharif, the provincial capital of Balkh in northern Afghanistan, according to local sources. These searches are being conducted to find suspected criminals, combat ISIS, and collect state and illegal weapons.
According to sources, this round of house-to-house efforts began on Thursday morning, August 25, in Mazar-e-Sharif's police district 3.
The Taliban's 209th Al-Fath Corps and the Intelligence Directorate are working together to conduct house-to-house searches in Mazar-e-Sharif, according to Asif Waziri, the spokesman for the Taliban office of the chief of police in Balkh province.
According to the Taliban official, Asif Waziri, the Taliban forces are conducting door-to-door searches in an effort to combat ISIS, obtain state weapons and collect undocumented guns, as well as track down suspected criminals.
Previously, locals in the Samangan province of northern Afghanistan said that Taliban forces were conducting door-to-door searches in Aybak, the Samangan province's capital, searching homes.
The Taliban forces reportedly conducted extensive searches throughout the province, and as a result, 25 young people were allegedly detained without evident or announced justifications.
Source: Khaama Press
Please click the following URL to read the full text of the original story:
https://www.khaama.com/taliban-conduct-extensive-house-to-house-searches-in-northern-afghanistan-56657/
--------
Taliban's 'fairer' and more effective tax system helped it retake control of Afghanistan
Ashley Jackson
August 26, 2022
When the Taliban dramatically gained control of Afghanistan in August 2021, they used bombs and guns to swiftly overcome state security forces. But they also had another valuable and effective weapon at their disposal: taxes.
Long before the withdrawal of US troops, the Taliban had developed a remarkably state-like system of taxing citizens on everyday goods like cigarettes and perfume. The money raised turned out to be an essential part of the Taliban's military strategy, allowing them to expand territorial control, checkpoint by checkpoint, as an integral step towards victory.
My team's recent investigation in Afghanistan found that the Taliban was arguably more effective than the former government – which had the benefit of international funding and expertise – at collecting taxes.
And while estimates of Taliban revenue are notoriously unreliable, the group is reported to have made in the region of $40 million (£33 million) a year just from taxing opium. Collecting these taxes not only funded the war effort, but also helped to undermine the government they were seeking to overthrow.
Many of the Afghans we spoke to felt that the Taliban's taxes were fairer than those imposed by the government, which often involved bribery and complex bureaucracy. By being relatively less onerous and less corrupt, the Taliban exploited widespread Afghan frustration with government incompetence.
Local commanders determined the most effective way to extract revenue from a community, being careful not to press so hard as to provoke a backlash, while creating relationships and a quasi-social contract. All of this played an important role in the Taliban securing national control.
The Taliban's taxes on the transport of goods are a prime example. In the years leading up to 2021, the Taliban gradually instituted a relatively formal customs tax using a system of checkpoints across major roads.
Taxpayers received formal receipts emblazoned with the Taliban logo. Price lists, on "official" Taliban papers, circulated among truck drivers and business owners. There were even complaints procedures for those who felt they had been overly taxed.
The system appears to have been deliberately designed to be more user friendly than the one imposed by the government. One truck driver told us that unlike with the Taliban, he had "to pay a bribe to pay tax to the Afghan government".
All of this helped the Taliban gain legitimacy with powerful merchants and transport firms, who later played a key role in the eventual takeover.
For when Afghanistan's major border crossings and several provincial capitals fell in July 2021, many wondered why they fell so quickly and with relatively little violence. It quickly emerged that local business owners, seeing which way the war was going, were motivated to encourage a quick and orderly handover.
So as the Taliban took more and more territory, its revenue grew, and could be immediately channelled back into the war effort. The capture of border crossings kept Taliban coffers full as they marched on Kabul.
Death and taxes
A year on though, the Taliban will be realising that taxing as an insurgency is far easier than raising revenue as a government. Before August 2021, some 80% of the Afghan national budget was comprised of international aid. That money has now largely been cut off, and the country's reserves frozen.
Even so, the US Institute of Peace estimates that the Taliban-run government collected some US$400 million in revenue during the last quarter of 2021. While less than half of what the government revenue had been in the same period during previous years, it's nevertheless substantial.
Still, it is unlikely that the Taliban – so long as it remains unrecognised and isolated – will be able to raise enough revenue to avert economic collapse.
Amid a humanitarian crisis which has sparked warnings that 95% of Afghans do not have enough to eat, few have the money to pay tax. Aid agencies fear paying Taliban taxes, lest they be found in violation of counter-terrorism policies and sanctions. The situation is increasingly dire.
But what happened in Afghanistan offers lessons for how wars are understood elsewhere. Insurgent taxation is an overlooked yet critical part of war economies across the world, from the Houthis in Yemen to Al Shabaab in Somalia.
A better understanding of how the Taliban were able to collect so much money and build effective financial systems, could have provided signals about how – and how quickly – territory would change hands. The international community needs to rethink its outdated responses to these kinds of tactics, instead of relying on military strikes and sanctions, which did little to stop the Taliban.
Source: Scroll
Please click the following URL to read the full text of the original story:
https://scroll.in/article/1031188/talibans-fairer-and-more-effective-tax-system-helped-it-retake-control-of-afghanistan
--------
India
A Kerala Mosque Committee's Fight against Drug Menace
26 AUG 2022
In a praiseworthy move, a Mahal (mosque) committee in a village in this northern Kerala district has decided to expel or side-line members of their community who are involved in drug-related activities.
The bold decision by the Padannakkad jamaat committee has been welcomed by the police with a senior officer meeting them to extend support to the model initiative.
A member of the committee told a TV channel that those who are part of their mosque if found to be involved in drug-related activities, would be removed or sidelined from the mahal committee.
They would not be allowed to return till the committee is convinced that they have rectified their mistake, the member said. He also said that they would be initially carrying out an awareness campaign amongst a select number of families which are part of their mosque.
Speaking to PTI, Kanhangad DySP P Balakrishnan Nair said the police was already carrying out various campaigns and measures to curb drug-related activities in the area and this move by the Padannakkad jamaat committee is a step in the right direction.
He said the people who are sidelined would not be able to participate in community activities or get married as the latter requires signatures of the committee. Others would also stop interacting with them, he added.
Source: Outlook India
Please click the following URL to read the full text of the original story:
https://www.outlookindia.com/national/a-kerala-mosque-committee-s-fight-against-drug-menace-news-218947
--------
Will offer Friday prayers at Srinagar's grand mosque after 3 years: Mirwaiz
Aug 25, 2022
Hurriyat Conference chief Mirwaiz Umar Farooq on Thursday said he will offer congregational Friday prayers at Srinagar's grand mosque for the first time since his detention ahead of the revocation of Jammu & Kashmir's semi-autonomous status in August 2019. He is expected is deliver a sermon at the mosque, where he is the chief priest, days after lieutenant governor Manoj Sinha's claimed the Mirwaiz was not under house arrest.
"I am going to offer Friday prayers at Jamia Masjid tomorrow [Friday]...," the Mirwaiz said even as people close to him added that the administration has so far conveyed nothing to him except moving a truck blocking his residence a bit far from its gates. Security personnel remained deployed there.
"...it will be an embarrassment for [Sinha] if the Mirwaiz would not be allowed to move out of his home for the prayers," said a person close to the Mirwaiz.
The Hurriyat Conference last Friday contested Sinha's statement that the Mirwaiz was not under house arrest, saying he was even stopped from going to the mosque on Fridays to deliver religious sermons.
In an interview with BBC Hindi, Sinha said the Mirwaiz was not under detention even in 2019 and that police were deployed at his residence for his safety.
Some journalists tried to visit the Mirwaiz's residence after the interview but were not allowed to meet him.
In a statement, the managing body of the mosque said it is hopeful the Mirwaiz will be allowed to offer Friday prayers and give the sermon. It called Sinha's claim astonishing and said the Mirwaiz has remained detained, causing grief to people.
The body said all preparations have been made for the Mirwaiz's Friday sermon and people were eagerly awaiting for his release and looking forward to seeing and hearing him.
Source: Hindustan Times
Please click the following URL to read the full text of the original story:
https://www.hindustantimes.com/india-news/will-offer-friday-prayers-at-srinagar-s-grand-mosque-after-3-years-mirwaiz-101661414474514.html
--------
Two Hizbul Mujahideen terrorists charge-sheeted
Aug 26, 2022
JAMMU: Twelve years after a Pakistan-trained Hizbul Mujahideen (HM) terrorist was gunned down by security forces in an encounter in Doda, the State Investigation Agency (SIA) of Jammu & Kashmir on Thursday presented a chargesheet against him and another HM terrorist arrested after the encounter.
The chargesheet was presented against Sartaz Ahmed alias Dr. Sohail, who was killed in the encounter, and Abdul Rashid alias Arsalan. During the hearing of the case, police had argued that Abdul Rashid and the other slain terrorist used to extort money from contractors carrying out government developmental work in Doda district.
Source: Times Of India
Please click the following URL to read the full text of the original story:
https://timesofindia.indiatimes.com/india/two-hizbul-mujahideen-terrorists-chargesheeted/articleshow/93785814.cms
--------
Those giving hollow slogans like 'Beti Bachao' are 'saving rapists': Rahul Gandhi on Bilkis Bano case
Aug 25, 2022
NEW DELHI: The Congress on Thursday demanded justice for Gujarat riots survivor Bilkis Bano with former party chief Rahul Gandhi alleging that those giving hollow slogans like 'Beti Bachao' are "saving rapists".
The 11 convicts in the 2002 Bilkis Bano case were released on August 15 under the Gujarat government's remission policy after serving 15 years in jail.
A special CBI court in Mumbai on January 21, 2008, sentenced the 11 to life imprisonment on charges of Bilkis Bano's rape and murder of seven members of her family.
"Those giving hollow slogans like 'Beti Bachao' are saving rapists," Gandhi said in a tweet in Hindi.
"Today, the question is about the respect and rights of the women of the country. Give justice to Bilkis Bano," the former Congress chief said.
Congress leader Priyanka Gandhi Vadra said the government has made clear its stand with its silence on the release of the 11 convicts.
"The government has made clear its stand ('sarkar ne lakeer kheench li hai') by keeping silent on the release of the 11 people convicted of rape, comments expressing welcome-support for them on camera," Vadra said in a tweet in Hindi.
"But the women of the country have hope from the Constitution. The Constitution gives courage even to the woman standing in the last row to fight for justice. Give justice to Bilkis Bano," the Congress general secretary said.
At a press conference at the AICC headquarters here, Congress spokesperson Gourav Vallabh said every person and the Congress have full faith in the judicial system of India and hope the Constitution will give justice to Bilkis Bano.
"The way 11 rape convicts were greeted with garlands, it is a matter of shame for every person in India, for the government of Gujarat and for the government of India," Vallabh said.
He said it was shameful that the convicts were welcomed as if they had won a gold medal.
"The Congress party and I hope that the Supreme Court will give justice to Bilkis Bano and strict action will be taken against those who tried to ridicule this judicial system," he added.
Source: Times Of India
Please click the following URL to read the full text of the original story:
https://timesofindia.indiatimes.com/india/those-giving-hollow-slogans-like-beti-bachao-are-saving-rapists-rahul-gandhi-on-bilkis-bano-case/articleshow/93784209.cms
--------
Afghan Soil Should Not Be Used to Attack Other Country: Indian Defence Minister at SCO
By Saqalain Eqbal
25 Aug 2022
Rajnath Singh, the Defense Minister of India, said in Tashkent on Wednesday at the gathering of Shanghai Cooperation Organization (SCO)'s defense ministers that Afghanistan's territory should not be used to "intimidate or attack" any other country.
In light of the Taliban's takeover of Afghanistan in August of last year, the Indian defense official reiterated India's support for a "peaceful, secure, and stable" Afghanistan in his address to the defense ministers at the 24th SCO summit in the capital of Uzbekistan, Tashkent.
The territory of Afghanistan, according to Singh, must not be used to threaten or attack any country by giving terrorists sanctuary, training, and financial backing for their operations.
According to Defense Minister Rajnath Singh, terrorism in all its forms, including cross-border terrorism, is a crime against humanity that requires a collective response.
Singh added that India supports an Afghanistan that is secure and peaceful, that national reconciliation must be reached by "dialogue and negotiation," and also stated that "a broad-based, inclusive and representative political structure" should be established.
The Indian official also emphasized the need of providing Afghan people with humanitarian aid during his speech at the gathering.
Source: Khaama Press
Please click the following URL to read the full text of the original story:
https://www.khaama.com/afghan-soil-should-not-be-used-to-attack-other-country-indian-defense-minister-at-sco-364789/
--------
Pakistan
Army top brass hints at tougher approach against TTP
Baqir Sajjad Syed
August 26, 2022
ISLAMABAD: The army top brass on Thursday hinted at a tougher app­roach against the outlawed Tehreek-i-Taliban Pakis­tan (TTP) as it emphasised continuat­ion of counter-terrorism operations in Khyber-Pakhtunkhawa and Balochistan.
Speaking at the 250th Corps Comm­anders' Conference, a monthly feature at General Headquarters, Army Chief Gen Qamar Bajwa, according to ISPR, "directed formations to maintain operational readiness and efforts to counter terrorism particularly in KP & Balochistan must continue (sic)".
A review of the security situation and flood relief operations being undertaken by the army topped the agenda of the meeting.
The ISPR press release on the conference did not give any details about the emphasis on counter-terrorism operations.
All general officers of Pakistan Army to donate one-month pay for flood relief operations
Operations against Baloch insurgents (in Balochistan), Gul Bahadur group (in KP) and some of other militant outfits have been continuing.
However, there has been a cessation of hostilities between security forces and TTP since Eidul Fitr – at least an unannounced one as far as Pakistani security forces are concerned.
At present, the two sides are observing a three-month ceasefire as their representatives hold peace talks.
Gen Bajwa's assertion about the continuation of the kinetic operations in KP and Balochistan provinces comes in the backdrop of growing public resentment about the return of TTP fighters.
Many suspect that the TTP fighters were returning as part of the ongoing peace talks.
Earlier this month, the TTP militants were seen in Swat's Matta area and at least one incident of their clash with law-enforcement agencies was reported.
Similarly, their presence has been noted in North and South Waziristan where an uptick in target killings and kidnappings has been witnessed.
This has led to anti-TTP protests in Swat and North Waziristan.
The timing of Gen Bajwa's statement also coincides with stress in peace talks that have been taking place in Afghanistan. There is a growing trust deficit between the two sides, though neither wants to walk out of the talks.
It is widely suspected that the TTP has begun extending active support to Gul Bahadur group in its attacks on security forces. The group, however, does not formally acknowledge its role in these attacks.
The TTP has, meanwhile, blamed security forces for the killing of two of its militants in North Waziristan.
In a statement released earlier this week, the terrorist group had warned that its patience was running thin.
Disquiet among TTP ranks is also visible over the death of the group's spokesman and senior commander Omar Khalid Khorasani in Afghanistan in a bomb blast.
At the same time, Taliban Interior Minister Sirajudddin Haqqani, who had been mediating TTP–Pakistan talks, is under tremendous pressure after the killing of Al Qaeda chief in a US drone attack in Kabul at the end of last month.
The COAS statement was, therefore, seen by security analysts as an attempt to correct perceptions among the people worried at home about the TTP comeback, while at the same time conveying a tough message to the terrorist group.
Flood relief efforts
Gen Bajwa praised the army's flood relief efforts and "directed Army Formations to render all possible support to the flood affectees", the ISPR said, adding that the participants discussed the flood situation and ongoing relief and rescue operations.
"Expressing deep sorrow over loss of precious lives and extensive damage to infrastructure due to unprecedented rains/ floods, forum resolved to spare no efforts for mitigating the sufferings of flood affectees," the ISPR further said.
In a separate statement, the ISPR said: "All General Officers of Pakistan Army have donated one month pay for flood relief operations."
Meanwhile, Twitterati noted the absence of Bahawalpur Corps Commander Gen Faiz Hamid from the meeting. He was not seen in the video clip of the meeting that was publicly shared by the ISPR.
Source: Dawn
Please click the following URL to read the full text of the original story:
https://www.dawn.com/news/1706859/army-top-brass-hints-at-tougher-approach-against-ttp
--------
At CTD HQs, IGP orders tightening noose around extremists, facilitators
August 25, 2022
LAHORE: Punjab Inspector General of Police Faisal Shahkar on Thursday directed to tighten the noose around extremist elements, saying monitoring of banned outfits should be strengthen along with their facilitators and financiers.
"Implementation of laws formulated under National Action Plan should be improved for effective eradication of terrorism and extremism from society."
Punjab Inspector General of Police Faisal Shahkar issued the directives while presiding over an important meeting during a visit to Punjab CTD Headquarters here on Thursday.
The IG Police said that the Counter-Terrorism Department (CTD) had been equipped with modern technology and facilities, adding that it was the integral wing of Punjab Police which had played a very effective role in eradication of terrorism in the province.
The IGP directed that zero tolerance should be adopted for the violation of religious hate speeches and content, adding that anti-social elements involved in sectarianism should be brought to justice and punished.
He declared that the CTD will be provided with more resources to face the ever-changing challenges, adding that staff shortage will be addressed soon besides consideration will be given to fix the tenure for posting of officers in CTD.
The IG Police pointed that elimination of evil-doers, terrorist elements, their facilitators and financiers from the society is one of the primary tasks of the CTD. "The role and sacrifices of CTD in elimination terrorism from the province are commendable."
On the occasion, Addl IG CTD Imran Mehmood briefed the IG Police on actions and activities of the CTD across the province.
The IGP while giving instructions to the officers directed to improve coordination with RPOs, CPOs, DPOs, Special Branch and other institutions concerned. He stressed upon undertaking search, sweep, combing and Intelligence based operations against criminals.
Source: Pakistan Today
Please click the following URL to read the full text of the original story:
https://www.pakistantoday.com.pk/2022/08/25/at-ctd-hqs-igp-orders-tightening-noose-around-extremists-facilitators/
--------
Pakistan: Terrorism case registered against Interior Minister Rana Sanaullah in Gujarat
25 August, 2022
Islamabad [Pakistan], August 25 (ANI): The police on Thursday registered a terrorism case against Interior Minister Rana Sanaullah after he threatened the government officials to kill their children and said that Pakistan's court and its judiciary will not help them.
The case was filed by a citizen in the Industrial Area Police Station of Gujrat. The police registered a case of terrorism and interference in government matters against Sanaullah, reported Geo News.
According to the first information report (FIR), the interior minister threatened the government officials to kill their children and said that Pakistan's court and its judiciary will not help them.
The FIR added that Sanaullah said they [government] will surround those judges who are going to promote PTI's agenda, reported Geo News.
"Rana Sanaullah's statement was to terrorise the judiciary, chief secretary and other government officials and to not let them do their job so that they are unable to fulfil their judicial commitments," stated the report citing an old video of the PML-N leader.
The FIR mentioned that the minister's statement has caused fear and terror among the judiciary, authorities, police, bureaucracy and the nation, reported Geo News.
Soon after the news came out, Pakistan Muslim League Quaid (PML-Q) senior leader Moonis Elahi said that the interior minister will be arrested soon, reported Geo News.
"You make false cases against Imran Khan, now the Pakistani nation has registered a true case against you," he wrote on Twitter.
The PML-Q was referencing the case registered against Pakistan Tehreek-e-Insaf (PTI) Chairman Imran Khan, last week, for threatening an additional sessions judge and senior police officers of the Islamabad Police at a rally in the federal capital's F-9 Park.
Source: The Print
Please click the following URL to read the full text of the original story:
https://theprint.in/world/pakistan-terrorism-case-registered-against-interior-minister-rana-sanaullah-in-gujrat/1100477/
--------
Saudi Arabia to invest $1 billion in cash-strapped Pakistan
Aug 26, 2022
ISLAMABAD: Saudi Arabia has announced a $1 billion investment in cash-strapped Pakistan which is currently in a state of both economic and political upheaval.
This development came during a phone call between Saudi foreign minister Prince Faisal bin Farhan bin Abdullah, and his Pakistani counterpart Bilawal Bhutto Zardari, where he informed him of the Saudi King's directive, in addition to discussing Saudi-Pakistani ties, as well as the regional and international issues.
"The Custodian of the Two Holy Mosques, King Salman bin Abdulaziz Al Saud, issued a directive to invest USD 1 billion in Pakistan, in confirmation of the Kingdom's support of the Pakistani economy and the Pakistani people," Saudi Press Agency (SPA) said on Thursday.
The Pakistan foreign minister welcomed the kingdom's $1 billion investment in Pakistan.
"Pleased to have a conversation with HH FM Faisal bin Farhan. Recalling fraternal bilateral ties, welcomed KSA commitment of USD 1 billion investment. in Pakistan. Briefed my counterpart on damages caused by unprecedented floods, highly value solidarity expressed and KSAs all possible assistance," Bilawal Bhutto said in a tweet.
This announcement regarding the fresh investment comes days after the State Bank of Pakistan informed about $4bn in financing for Pakistan from friendly countries.
"Pakistan will get $2 billion from Qatar, $1 billion from Saudi Arabia under the umbrella of deferred oil facility and $1bn investments from the UAE in various sectors," Dawn quoted State Bank of Pakistan Acting Governor Murtaza Syed as saying.
In the face of gross financing needs of around $30 billion for FY23, Syed said the available financing against this is estimated at $37 billion for FY23. The amount increased after Pakistan secured $4 billion of financing from friendly countries, the report.
As Pakistan's economy is again on the brink of collapse, the new coalition government has again come knocking to the kingdom for help. The $1 billion investment has come following visits made by Pakistan's newly elected prime minister Shehbaz Sharif and the country's chief of army staff Qamar Javed Bajwa.
Writing for the Washington-based think tank Atlantic Council, Uzair Younus said recurring economic crises in Pakistan have made it more embarrassing for its leaders to seek Saudi money as both the Saudis and Pakistanis know that Islamabad's value proposition has been declining.
Source: Times Of India
Please click the following URL to read the full text of the original story:
https://timesofindia.indiatimes.com/world/pakistan/saudi-arabia-to-invest-1-billion-in-cash-strapped-pakistan/articleshow/93790419.cms
--------
Pakistan court extends former PM Imran Khan's pre-arrest bail on terrorism charges
Aug 25, 2022
ISLAMABAD: A Pakistani court on Thursday extended former Prime Minister Imran Khan's pre-arrest bail for one week in a terrorism case over a speech, his lawyer said, shortly after the former premier appeared in court in person amidst tight security.
Khan's lawyer and political aide Babar Awan told Reuters bail had been granted until Sept. 1, after which they will apply for another extension. The former premier maintained after the hearing he had said nothing wrong in the speech last week.
Police filed charges on Saturday against former cricket star Khan over what they said was a threat when he spoke about police torture of an aide who faces sedition charges for inciting mutiny in the military.
Political tensions in Pakistan remain high as Khan rallies support for elections that are not due until October next year. The former premier, who has attracted large crowds in gatherings across the country since being ousted in April, said his opponents were spooked by his popularity.
In his speech last week, Khan said he "would not spare" the Islamabad police chief and a female judge who remanded his aide to custody, adding he would take legal action against them.
Police cited that comment and said Khan's purpose was to spread terror amongst the police and the judiciary and prevent them from doing their duty.
Khan's bail in the matter was to expire on Thursday, but the court granted him one more week after his court appearance.
"We asked for a longer time because Imran Khan is contesting elections on many seats and he needs to go on campaign, but court gave us just a week," Awan told Reuters.
Khan's supporters and former ministers in his government have threatened mass protests if he is arrested. One former minister has said his supporters would "take over" Islamabad.
Speaking after the extension of his bail, Khan - surrounded by his aides and supporters - told reporters outside the court he had said nothing wrong.
Source: Times Of India
Please click the following URL to read the full text of the original story:
https://timesofindia.indiatimes.com/world/pakistan/pakistan-court-extends-former-pm-imran-khans-pre-arrest-bail-on-terrorism-charges/articleshow/93775276.cms
--------
Contempt petition filed against Maryam, Fazl, and Sanaullah
AUGUST 26, 2022
A petition was filed on Thursday against the Pakistan Muslim League-Nawaz (PML-N) Vice President Maryam Nawaz, Jamiat Ulema-e-Islam-Fazl (JUI-F) chief Maulana Fazlur Rehman, Interior Minister Rana Sanaullah and others in the Islamabad High Court (IHC) regarding contempt of court. According to the filed petition, it has been requested to initiate an inquiry over contempt of court against these leaders. Meanwhile, Marriyum Aurangzeb and Atta Tarar from the PML-N have been made parties in the petition filed by Ali Ijaz Buttar. It has been said in the petition that through social media, it was informed that Maryam Nawaz and other leaders have no respect for state institutions and judiciary. "Unfortunately, these people are taking care of governmental affairs," the petition said. The petition also said that the parties had frequently used inappropriate language against the judiciary in an attempt to shake the confidence of the people in the judicial system. Along with the petition, the transcript of Maryam Nawaz's press conference was also presented before the IHC. The court was also requested to order PEMRA chairman to produce transcript of press conferences.
Source: Daily Times Pakistan
Please click the following URL to read the full text of the original story:
https://dailytimes.com.pk/987486/contempt-petition-filed-against-maryam-fazl-sanaullah/
--------
Southeast Asia
Diplomatic ties with Israel unimaginable for Indonesian Muslims
August 26, 2022
JAKARTA – Former vice president Jusuf Kalla has suggested that the government open diplomatic ties with Israel to enable Indonesia to act as a mediator between Israel and Palestine. Kalla's idea is realistic because Indonesia can never play an honest peace brokering role in the Middle East if it does not recognize Israel.
Unfortunately, domestic audiences here will unlikely accept the suggestion for many reasons, even though they know Kalla is an influential Muslim leader.
And even when we finally open diplomatic relations with the Jewish state, albeit only for trade, we cannot facilitate the settlement of this complex issue. We are too naïve to think that Israel will listen to or be ready to compromise with the Palestinians for the sake of good relations with Indonesia. For Indonesian Muslims, both moderate and conservative, as long as Palestinian people are oppressed by the Israelis, they will not support Kalla's idea.
It is not clear why Kalla, a businessman-cum-politician and chairman of the Indonesian Mosque Council (DMI) and the Indonesian Red Cross (PMI), raised the politically sensitive issue at this moment. As far as I remember, this is the first time he has openly proposed diplomatic relations between Indonesia, the world's largest Muslim country, and Israel.
But knowing Kalla's character, I believe his proposal is a well-planned scenario.
Kalla may have government backing, although I am almost sure that President Joko "Jokowi" Widodo will never accept the idea because it would be political suicide to say anything good about Israel. It is almost unimaginable that the current government would consider opening a formal relationship with Israel. So far trade and defense ties between the two countries go through a third party.
Speaking as a keynote speaker during an academic discussion on Palestine, which was organized by the University of Indonesia's School of Strategic and Global Studies (SKSG UI) on Aug. 19, Kalla underlined Indonesia's persistent support for Palestine's independence in a two-state system, meaning Palestine and Israel coexisting as free nations
"It's impossible to broker peace without understanding the two sides well. I did so," he said. Kalla has visited both the occupied Palestinian territories and Israel and confirmed he had met Israeli and Palestinian officials in his private capacity. As vice president, Kalla reportedly met with then Israel's prime minister Benjamin Netanyahu on the sidelines of the United Nations General Assembly in September 2018.
In 1993, then president Soeharto hosted a closed-door meeting with Israeli prime minister Yitzhak Rabin at his private residence on Jalan Cendana, Central Jakarta. But there was no follow-up to the meeting, although it was a public secret that back then the Indonesian military built close cooperation with the Israeli military, including on arms procurement and exchanges of intelligence information.
Indonesia's fourth president, Abdurrahman "Gus Dur" Wahid was the staunchest supporter of diplomatic ties with Israel and never hesitated to demonstrate his stance. He communicated with Israeli leaders, including Simon Peres. Being a former chairman of the country's largest Islamic organization, Nahdlatul Ulama (NU), Gus Dur could spare any backlash from anti-Israel groups, but still he could not realize his idea.
President Jokowi himself has repeatedly expressed support for the establishment of a free Palestinian state. As mandated by the Constitution, Indonesia has consistently fought for Palestine's independence and denounced Israel's brutality against the Palestinians. Many individuals and groups have joined humanitarian action to help the Palestinians, including the establishment of hospitals in the occupied territory.
Kalla, who served as vice president under president Susilo Bambang Yudhoyono from 2004 to 2009, and under President Jokowi from 2014 to 2019, has extensive experience as a peace mediator domestically and internationally. He played a key role in ending the prolonged Aceh war, and the sectarian conflicts in Maluku and Poso in Central Sulawesi.
Kalla also launched shuttle diplomacy to bring warring factions in Afghanistan, including the Taliban, to a negotiating table. Soon after NATO left Afghanistan last year, the Taliban regained power and immediately brought the country back to the Stone Age. But still, Kalla has credentials as a peacemaker there.
There is no hope for decades to come for Israel to let Palestine become an independent country. The loud support for Palestine seems to entertain the domestic audience. Even some Arab countries have shown less interest in supporting Palestine and have restored diplomatic ties with Israel instead.
Then United States president Donald Trump openly told President Jokowi he would provide Indonesia up to US$2 billion in development aid if Jokowi agreed to officially recognize Israel and open diplomatic ties with the Jewish state. Indonesia responded that it would only accept Trump's offer only if he acknowledged Palestine as a free nation.
Kalla has raised a noble idea but realpolitik in Indonesia will make it impossible to materialize.
Knowing his strong influence within Muslim populations from various backgrounds, his no-nonsense approach and vast experience as a peace broker, I guess Kalla has already prepared a grand strategy to achieve his mission in the Middle East. He will continue to push for it because he barely faces political risks.
Source: Asia News
Please click the following URL to read the full text of the original story:
https://asianews.network/diplomatic-ties-with-israel-unimaginable-for-indonesian-muslims/
--------
Existing Legislation Enough To Deal With Insults against Islam, Says Malaysian Religious Affairs Minister
25 Aug 2022
KUALA LUMPUR, Aug 25 — The existing legislation is sufficient to deal with anyone who insults Islam as the Federal Religion, says Minister in the Prime Minister's Department (Religious Affairs) Datuk Idris Ahmad.
Speaking as a guest on Bernama Radio's "Jendela Fikir" programme today, he said this included Section 7 of the Shariah Criminal Offences Act 1997 and Section 211 of the Communications and Multimedia Act 1998.
"The Sedition Act 1948 (Act 15) is also already there, it also imposes punishment on those who insult this religion with imprisonment of not less than three years and not more than seven years," he said.
His comments come following an increasing number of alleged incidents deemed to be insulting Islam in the country of late According to Idris, the legal actions taken were to maintain strong religious harmony in the country.
Meanwhile, in a post on his Facebook page, Idris advised the public not to play around with religious and racial sensitivities.
"Our Muslim community is quite angry and disappointed. Let us not go against religious teachings, Eastern customs and morals. Make sure to always think long and hard before doing anything," he said.
Source: Malay Mail
Please click the following URL to read the full text of the original story:
https://www.malaymail.com/news/malaysia/2022/08/25/existing-legislation-enough-to-deal-with-insults-against-islam-says-religious-affairs-minister/24724
--------
Naik's speech went against religious tolerance, Ramasamy tells court
V Anbalagan
August 25, 2022
KUALA LUMPUR: The importance of tolerance and respect for religious sensitivity in Malaysia seemed to have escaped Muslim preacher Zakir Naik when he gave a speech in Kota Bharu three years ago, the High Court was told today.
Penang deputy chief minister II, P Ramasamy, said Naik was instead insensitive by ridiculing the people of the very country that had given him shelter.
"Naik's Kota Bharu comments drew the ire of many Malaysians as a whole.
"By calling the Malaysian Chinese 'guests' or 'pendatang' and questioning the loyalty of Malaysian Hindus, he not only angered them but also ruffled the feathers of the Malay-Muslim community," he said.
The former academician said this when examined by lawyer Navpreet Singh on his feelings following Naik's speech in the Kelantan capital on Aug 8, 2019.
Ramasamy, 73, said he was a first generation Malaysian and his parents emigrated from India back in 1920.
He said he grew up with many Muslim and Chinese friends and had been invited to their homes during festive seasons.
"As Malaysians, we are not only respectful of one another's race and religion, but we also treat each other as family.
"We live by, and uphold, the principles of the Rukun Negara, which are aimed at achieving and maintaining national harmony and unity," he added.
However, these basic tenets seemed to have escaped Naik, who showed insensitivity to racial and religious tolerance here, Ramasamy said in response to defamation suits filed by Naik, who is now a permanent resident in Malaysia.
Ramasamy said he had no issue with the preaching of Islam in Malaysia. He said he also had no issue with people embracing Islam after listening to Naik's preaching.
"But his version of comparative religion involves making provocative statements about other religions that are hurtful and that have sparked a racial-backlash," he said.
Ramasamy is relying on the defence of justification, fair comment and qualified privilege to defeat Naik's suits.
In October and December 2019, Naik filed two separate suits alleging that Ramasamy had issued five statements against him.
Source: Free Malaysia Today
Please click the following URL to read the full text of the original story:
https://www.freemalaysiatoday.com/category/nation/2022/08/25/naiks-speech-went-against-religious-tolerance-ramasamy-tells-court/
--------
Protest against corruption, not concerts, DAP man tells PAS Youth
August 26, 2022
PETALING JAYA: A DAP MP has called on PAS Youth to organise nationwide protests against corruption instead of concerts featuring international artists.
Klang MP Charles Santiago said PAS Youth chief Ahmad Fadhli Shaari's efforts were better off spent on protesting against corruption, citing the troubled RM9 billion littoral combat ship (LCS) project.
"I call on PAS Youth to hold a nationwide protest against corruption and I assure you that I will join them in that protest," he said on Facebook, adding that he would wait for Fadhli's response.
Yesterday, Fadhli, who is also the Pasir Mas MP, called on the government to cancel scheduled concerts featuring international artists as he said they encourage hedonism and were incompatible with the norms and values of Muslim life in Malaysia.
"We will not hesitate to mobilise resistance throughout the country if (this call) is ignored," he said.
He made a similar call last Friday, when he warned against continuously organising concerts and called on Muslims to oppose such events, which he said would only invite the "wrath of Allah".
His posting on Facebook was made in the wake of a concert held by American singer-songwriter Billie Eilish the night before.
The Islamic party had previously condemned concerts held in the country by various international performers.
Source: Free Malaysia Today
Please click the following URL to read the full text of the original story:
https://www.freemalaysiatoday.com/category/nation/2022/08/26/protest-against-corruption-not-concerts-dap-man-tells-pas-youth/
--------
Appellate court upholds acquittal of Mat Sabu's son on drug abuse charge
26 Aug 2022
PUTRAJAYA, Aug 26 — Ahmad Saiful Islam, the son of former Defence Minister Mohamad Sabu, remains free of the drug abuse charge made against him three years ago.
This followed the decision made by the three-member panel of the Appeals Court led by Justice Datuk Seri Kamaludin Md Said, in rejecting the prosecution's appeal against the High Court's decision to acquit and discharge the 34-year-old man of the charge last year.
"After weighing the submissions from both parties, the court did not agree with the prosecution's argument that the High Court judge had erred factually and legally in allowing Ahmad Saiful Islam's appeal.
"The court is also satisfied that the High Court judge had weighed thoroughly all the statements and this court finds no doubts in the judge's decision to acquit and discharge Ahmad Saiful.
"Therefore, the prosecution's appeal is rejected and the High Court's decision stays," said Justice Kamaludin. The other two judges in the panel were Justice Datuk M. Gunalan and Justice Datuk Hashim Hamzah.
Ahmad Saiful Islam was charged with using a THC-type drug at a hotel in Kuala Lumpur at 2.05 am on Jan 5, 2019.
On Oct 27 last year, the High Court acquitted and discharged him of the drug abuse charge after allowing his appeal to quash the conviction and jail sentence imposed by the Magistrate's Court on June 24, 2020.
Justice Datuk Collin Lawrence Sequerah in his judgment said the taking of only one bottle of urine had left open the possibility of contamination as the same sample was used both by the police for the screening test and the chemist for the confirmatory test.
He said the failure of the police to abide by the guidelines in omitting to take two bottles of urine has rendered the conviction flawed.
Prior to that, Magistrate Mohamad Aizat Abdul Rahim sentenced Ahmad Saiful Islam to eight months' jail after finding that the defence had failed to raise a reasonable doubt in the prosecution's case.
Source: Malay Mail
Please click the following URL to read the full text of the original story:
https://www.malaymail.com/news/malaysia/2022/08/26/appellate-court-upholds-acquittal-of-mat-sabus-son-on-drug-abuse-charge/24890
--------
Decisions by Malaysia's Chief Justice draw attention in landmark case of ex-PM Najib
AUG 23, 2022
PETALING JAYA (THE STAR/ASIA NEWS NETWORK) - Tun Tengku Maimun Tuan Mat, the Chief Justice of Malaysia, has always stayed out of the glare of publicity and stuck to the decorum expected of her high position.
The only time she was in the news was when she made decisions on law.
But now, she has been thrust into the centre of attention as she presided in the last one week over the final appeal of ex-prime minister Najib Razak at Malaysia's apex court, the Federal Court.
She decisively cut through several legal moves by Najib's lawyers in what could be seen as tactics to adjourn the court.
On Tuesday (Aug 23), the five-member bench led by her affirmed Najib's 12-year jail sentence for misappropriating millions of dollars from a company linked to state fund 1Malaysia Development Berhad (1MDB), thus becoming the country's first ex-prime minister to be jailed.
The recent decisions and speeches by Tengku Maimum, 63, have led to many people talking about her and the bench she leads.
Malaysia's 16th top judge has already created history by becoming the first female Chief Justice, and the records show she was appointed for her abilities and qualification.
Amid attacks alleging misappropriations against a High Court judge who had first convicted Najib, Tengku Maimun said in April: "Citizens including politicians are, to a certain extent, free to criticise the judiciary.
"However, that does not mean that it is open to citizens, including politicians, to level unfounded and scurrilous attacks against the judiciary or a particular judge to further their own end."
She received a standing ovation at that ceremony to swear in High Court judges.
Tengku Maimun hails from Kelantan.
She graduated from Universiti Malaya in 1982. She began her career as a legal officer at the Southern Kelantan Development Board, or Kesedar.
She later joined the judicial and legal service where she served in various capacities for over 20 years.
She was appointed as Judicial Commissioner in 2006 and rose through the ranks as a High Court, Court of Appeal and Federal Court judge, from 2007 until 2019.
On May 2, 2019, she reached the pinnacle of her career when she was appointed as the 10th Chief Justice.
She is known for several notable judgments that became landmark decisions in Malaysia's judiciary.
In 2019, Tengku Maimun was the only judge who gave a dissenting judgment, where she upheld and favoured setting aside charges against the late Karpal Singh.
Mr Karpal, a prominent opposition politician and lawyer, had been charged under the Sedition Act over a press statement and was acquitted in 2019.
Tengku Maimun will also be remembered as the Court of Appeal judge who in 2018 reversed a High Court ruling, by allowing a Buddhist father to get sole guardianship of his children who had been unilaterally converted to Islam by their mother.
The High Court had previously allowed the mother to have custody of the two children. The mother had converted to Islam and changed the children's faith without the father's permission.
Another big decision which involved Tengku Maimun was when the Court of Appeal decided that Muslim children, who were deemed born out of wedlock, should be allowed to carry their father's name in their birth certificates.
The court ruled that the National Registration Department was not bound by any fatwa, or religious edicts, when it came to deciding the surname of the child.
The Malaysian Bar has reportedly described her as "a person known for her sound decisions, impeccable judicial temperament and, most of all, her independence".
In a speech which Tengku Maimun made in 2021 at the Australia Indonesia Partnership for Justice webinar, she said the task of a judge was onerous and it was reflected in the oath that judges took, "namely to bear true faith and allegiance to Malaysia and to preserve, protect and defend the Constitution."
She added that the "Malaysian community hoped that I would restore the judiciary to its past glory and that I will put in place righteous judges to adjudicate cases at hand''.
Tengku Maimun also said that "significantly, justice is represented by a lady carrying a sword and scales, nearly always blindfolded to symbolise the fair and equal administration of law, without bias or prejudice, fear, or favour.
Source: Straits Times
Please click the following URL to read the full text of the original story:
https://www.straitstimes.com/asia/se-asia/decisions-by-malaysias-chief-justice-draws-attention-in-landmark-case-of-ex-pm-najib
--------
Africa
Fighting flares for second day in northern Ethiopia: Residents
25 August, 2022
Fighting flared for a second day in northern Ethiopia, residents said on Thursday, an outbreak of violence that has shattered hopes for fledgling peace talks between the government and forces from the Tigray region.
"We are frequently hearing the sound of heavy weapons, more than the previous days," a farmer in Amhara's Kobo area who did not wish to be named told Reuters. "More troops including those from Ethiopian National Defense Force, local militias and Fanos (volunteer militia) are heading to the front."
A second resident confirmed his account.
Leul Mesfin, medical director of Dessie Hospital, the largest medical facility in the vicinity of the fighting, said that as of Thursday the facility had not received any casualties from the fighting, which is in Amhara region just to the south of Tigray.
Reuters was unable to reach the nearest hospital on the Tigrayan side as the region has been cut off from phone communications for more than a year.
It was not clear if the troops moving through Kobo were going to offensive or defensive positions, or who started the fighting.
Both sides blamed each other for breaking the four-month-old ceasefire between Prime Minister Abiy Ahmed's government and the Tigray People's Liberation Front (TPLF), the party that controls Tigray.
Ethiopian government spokesman Legesse Tulu, military spokesman Colonel Getnet Adane, the Amhara regional spokesman Gizachew Muluneh and the prime minister's spokeswoman Billene Seyoum did not respond to requests for comment on the fresh fighting. TPLF spokesman Getachew Reda also did not respond to a request for comment.
The ceasefire had allowed badly needed humanitarian aid to reach Tigray, where more than 90 percent of people need food aid.
On Wednesday, the United Nations said Tigrayan forces had seized 12 fuel tankers from a warehouse in Mekelle. The government has heavily restricted fuel supplies from entering Tigray, and the tankers were supposed to have been used for distributing humanitarian aid.
On Thursday, the TPLF issued a statement saying the fuel had only been lent to the United Nations and they had needed to reclaim it.
The war in Tigray started in November 2020 after Tigrayan forces seized control of military bases in their region, saying they believed an attack by the military was imminent after the region held regional elections in defiance of a government order to delay them because of the COVID-19 pandemic.
The government has denied it was planning to attack Tigray, whose leaders dominated the government until Abiy swept to power in 2018.
Source: Al Arabiya
Please click the following URL to read the full text of the original story:
https://english.alarabiya.net/News/world/2022/08/25/Fighting-flares-for-second-day-in-northern-Ethiopia-Residents
--------
IPOB warning Igbos to bury their dead in three days is Islamic agenda – Simon Ekpa
August 25, 2022
By Seun Opejobi
A self-acclaimed disciple of Nnamdi Kanu, leader of the Indigenous People of Biafra, IPOB, Simon Ekpa, has reacted to warnings by the body asking Southeasterners to bury their dead within three days.
Ekpa said IPOB's charge of burying dead bodies in the Southeast within three days was an Islamic agenda.
Recall that IPOB's spokesman, Emma Powerful, had warned people of the Southeast against keeping their dead in the mortuary.
Powerful said delay in burial rites was responsible for the problems bedevilling the Southeast.
He called on religious leaders in the Southeast to ensure that dead bodies were buried within three days.
The IPOB spokesman warned that IPOB might shut down mortuaries in the Southeast.
Condemning the warning, Ekpa said such does not represent the culture of the Southeast.
In a series of tweets, Ekpa wrote: "Our attention has been drawn to a publication by some expelled criminals in IPOB urging Ndigbo to bury corpses within 3 days.
"Please, disregard such news. It doesn't represent our culture. They are now out with their Islamic beliefs. The reason some of them went to Kuwait.
Source: Daily Post Nigeria
Please click the following URL to read the full text of the original story:
https://dailypost.ng/2022/08/25/ipob-warning-igbos-to-bury-their-dead-in-three-days-is-islamic-agenda-simon-ekpa/
--------
Mideast
Iran exiles sue President Raisi in US ahead of UN General Assembly meeting
25 August, 2022
An exile group announced a New York lawsuit against Iranian President Ebrahim Raisi Thursday, challenging US authorities to take action against him as he is expected to arrive next month for the UN General Assembly.
The National Council of Resistance of Iran said the suit accused Raisi of torture and murder in a 1988 crackdown on Iranian dissidents.
Echoing similar complaints filed in England and Scotland, the civil lawsuit says that in 1988 Raisi was a member of the so-called "death commission," four judges who directly ordered thousands of executions as well as torture of members of the opposition People's Mojahedin Organization of Iran, known as the MEK.
The MEK is the largest partner of the NCRI.
It is "beyond doubt that as deputy state prosecutor for Tehran province, Ebrahim Raisi, was a member of that death commission," Steven Schneebaum, the lead attorney in the lawsuit, said in a Washington press conference organized by the NCRI.
The suit was filed in federal court in New York last week in the names of two people tortured at the time and a third person whose brother was executed.
It cites Amnesty International and US sanctions declarations that accuse Raisi of complicity in the 1988 events.
The suit asks for unspecified damages for torture, extrajudicial killings, genocide and crimes against humanity.
The suit challenges the belief that Raisi, who was elected president last year, enjoys immunity under US law as a head of state and also an official foreign representative attending the United Nations annual general meeting at the UN headquarters in New York.
Schneebaum said that, for one, Raisi is not a diplomat officially accredited to the United Nations.
Secondly, he said, while Raisi is president, the real head of state of Iran is Supreme Leader Ali Khamenei.
"Raisi is not a diplomat... and is not eligible for the privileges extended under the Vienna Convention. Nor is he in fact a head of state," Schneebaum said.
If US authorities accept those arguments, they could serve Raisi with a warrant if he attends the UN meetings beginning September 13.
That would require him to submit a plea withing 21 days, said Schneebaum.
Source: Al Arabiya
Please click the following URL to read the full text of the original story:
https://english.alarabiya.net/News/middle-east/2022/08/25/Iran-exiles-sue-President-Raisi-in-US-ahead-of-UN-General-Assembly-meeting-
--------
Israel indicts Islamic Jihad leader whose arrest triggered Gaza violence
25 August, 2022
Israel on Thursday indicted a senior leader of the Iran-backed Islamic Jihad movement whose arrest led to a brief conflict in Gaza earlier this month and whose detention is likely to fuel tensions.
The charges against Bassam al-Saadi, who was arrested on August 1 during a raid in the occupied West Bank city of Jenin, include serving in an illegal organization and incitement, according to a statement from the Israeli military.
Anticipating retaliation to al-Saadi's arrest, Israel launched what it called pre-emptive strikes against his group in the Gaza Strip, where it is based, leading to three days of Israeli air strikes and Palestinian rockets.
He has been held in an Israeli military prison.
Al-Saadi, according to the military, is an "influential senior official" in Islamic Jihad who it said worked on "core terrorist activities" that include receiving funds from Gaza.
An Islamic Jihad spokesman, Dawood Shehab, said Israel was fabricating charges based on "misleading and unfounded accusations."
Shehab said the group would ask Egypt and the United Nations to intervene, and issued a veiled threat that it could respond with violence if al-Saadi was not released.
"Reaching a dead end would give us the full right to use other tracks and other options," said Shehab.
The Israeli military prosecutor asked to keep al-Saadi in custody for the remainder of the legal process, the army said.
Source: Al Arabiya
Please click the following URL to read the full text of the original story:
https://english.alarabiya.net/News/middle-east/2022/08/25/Israel-indicts-Islamic-Jihad-leader-whose-arrest-triggered-Gaza-violence
--------
Terror charges filed against Islamic Jihad leader whose arrest sparked Gaza conflict
By EMANUEL FABIAN
25 August 2022
Military prosecutors on Thursday filed an indictment against a senior Palestinian Islamic Jihad member whose arrest at the beginning of the month sparked a round of fighting between Israel and the terror group in the Gaza Strip.
Bassem Saadi's indictment included charges of membership in a terror group (the PIJ), conducting operations on behalf of the terror group, incitement to terrorism, assisting others to contact an enemy, and assuming a false identity.
A military court further extended Saadi's remand on Thursday, ordering him held until Sunday, when a hearing will be held to have him remain under arrest until the end of legal proceedings. There was no immediate date scheduled for his trial.
Saadi, the leader of the terror group in the West Bank, was arrested on August 1 by Israeli troops in the Palestinian city of Jenin. His arrest followed intelligence information indicating that Saadi had continued to be active in the PIJ, a military source said.
According to the indictment, Saadi worked to assist two other Palestinians to "advance activities" of the PIJ's student council, which is considered by Israel to be a part of the outlawed group. The pair received $5,000 from a terror operative in the Gaza Strip for the activities, according to the indictment.
The charge of incitement was given over May interview in which Saadi said if Israeli troops enter the Jenin refugee camp "and went door to door, God forbid, then the resistance would rise like 'phoenixes' from the fire or the coals… the Jenin refugee camp is a part of the Palestinian people who remain to fight until they are removed from our land, sea, sky, and holy places."
During his arrest on August 1, Saadi identified himself to troops as his brother Ghassan, and was therefore also charged with assuming a false identity, according to the indictment.
In response to Saadi's arrest, the PIJ announced it was declaring a state of alert. The Israel Defense Forces, saying it had concrete indications of an imminent attack on the Gaza border, put the area on lockdown for four days amid concerns that PIJ would try to fire anti-tank missiles at Israeli targets along the border.
Eventually, the IDF launched a series of airstrikes in Gaza against a senior PIJ commander and several anti-tank guided missile squads in an operation called Breaking Dawn, which prompted rocket fire from the Strip.
After nearly three days of fighting a ceasefire agreement was signed, which reportedly included "Egypt's commitment to work toward the release of" Saadi and another Palestinian detainee, Khalil Awawdeh, a terror group spokesperson said.
Israel has no intention of releasing the prisoners early, officials said after the ceasefire. Awawdeh's administrative detention has been temporarily suspended, but Israel's top court has denied him a full release.
PIJ, meanwhile, has threatened to resume fighting if Israel fails to release Saadi and Awawdeh.
There was no immediate statement from the terror group in response to the indictment.
Saadi, 61, has been jailed and released by Israel seven times over the years, according to the Shin Bet.
The security service said that in recent months Saadi "worked even harder to restore PIJ activities, in which he was behind the creation of a significant military force of the organization in Samaria in general and in Jenin in particular," referring to the northern West Bank.
"His presence was a significant factor in the radicalization of the organization's operatives in the field," the Shin Bet added.
Source: Times Of Israel
Please click the following URL to read the full text of the original story:
https://www.timesofisrael.com/terror-charges-filed-against-islamic-jihad-leader-whose-arrest-sparked-gaza-conflict/
--------
Nuclear Chief: Iran to Turn into Nuclear Power Plant Construction Hub in Coming Years
2022-August-25
Speaking on the sidelines of an event to launch the production line of a domestically designed, portable gamma radiation device to be used in the agriculture sector, Eslami stated that an ongoing global fuel crisis had made the use of nuclear energy more relevant.
"Today, the world is facing a fuel crisis, and almost all countries, European states in particular, have all turned to constructing nuclear plants. We lag behind by several years in that area," the official noted.
He added Iran had a 20-year plan related to the use of nuclear energy to produce electricity.
"What is of very high importance to us is to be able to increase the uses of nuclear technology in the country by the day," the nuclear chief continued.
"With the implementation of that plan, Iran should become a hub for designing and building nuclear plants," Eslami stressed.
"By God's grace, in the first year of the (current) government, planning to develop the use of radiation was put on the agenda. The comprehensive development document was studied and designed at the country level and was placed on the agenda. Based on this document, 12 points were identified in the country that can be used in agriculture," he stressed.
The AEOI head said that there was only one radiation system that was used in a limited part of this area, and added that a truly advanced portable system is now designed.
Back in April, Spokesman of the AEOI Behrouz Kamalvandi said that the country plans to build several other nuclear power plants in different parts of Iran.
He added that the European states have also accepted the fact that building nuclear plants is inevitable.
Kamalvandi underlined the importance of building nuclear power plants, stating it is an essential part of the country's needs.
Source: Fars News Agency
Please click the following URL to read the full text of the original story:
https://www.farsnews.ir/en/news/14010603000622/Nclear-Chief-Iran-Trn-in-Nclear-Pwer-Plan-Cnsrcin-Hb-in-Cming-Years
--------
Iran-IAEA standoff last major hurdle in reviving nuclear deal
Syed Zafar Mehdi
26.08.2022
TEHRAN, Iran
After more than a year of indirect talks marked by frequent interludes, Iran and the US see an agreement aimed at salvaging the 2015 nuclear deal as closer than ever.
On Wednesday, Washington responded to Tehran's comments on a draft proposal by the European Union that was submitted right after the latest round of talks in Austria's capital by top EU diplomat Josep Borrell.
Borrell termed Iran's response "reasonable," and reports suggest that the US' response to Iran's comments, which is currently being reviewed in Tehran, could help in clinching the deal.
While disagreements between Iran and the US appear to be narrowing, including on key sticking points, the standoff between Tehran and the International Atomic Energy Agency (IAEA), the UN's nuclear watchdog, is now emerging as a roadblock.
"Give us the necessary answers, people and places so we can clarify the many things needed for clarification," IAEA Director General Rafael Grossi said Monday.
Grossi – who has made multiple trips to Iran since taking office in December 2019 – said Iran must answer the IAEA over uranium traces found at previously "undeclared sites" as part of the Nuclear Non-Proliferation Treaty (NPT) safeguards agreement.
"Dropping probes is not something the IAEA does or will ever do without a proper process. The key to this lies in a very simple thing: Will Iran cooperate with us?" he told CNN.
A day later, Sayed Mohammad Marandi, an adviser to Iran's nuclear negotiating team, took to Twitter to declare that Iran's nuclear program "will not be dismantled" and the IAEA probe must be dropped.
"No deal will be implemented before the IAEA Board of Directors permanently closes the false accusations file," he wrote, referring to a resolution passed by the watchdog against Iran in June.
On Wednesday, Mohammad Eslami, the head of Iran's Atomic Energy Organization, refuted reports that Iran has dropped its demand to shelve the probe as the parties to the nuclear deal gear up for a major breakthrough.
"We don't expect the director general of the agency (Grossi) to make statements that are exactly what the Zionist regime (Israel) wants," Eslami told local media, echoing a claim made by many Iranian officials that the UN nuclear watchdog works "under the influence" of Israel.
IAEA-Iran standoff
The marathon negotiations between Iran and the P4+1 countries (Russia, China, the UK, France plus Germany) in Vienna since April last year have run parallel to the standoff between Tehran and the IAEA.
But tensions escalated after an anti-Iran resolution at the IAEA Board of Governors meeting in June, which prompted calls in Tehran for reduced cooperation with the UN watchdog.
The resolution, which followed the IAEA's quarterly report which criticized Iran for non-compliance with the NPT safeguards agreement, urged Tehran to fully cooperate with the UN watchdog body and give IAEA inspectors access to three "undeclared sites."
Iran's Foreign Ministry at the time termed it a "miscalculated and ill-advised" move and warned of a "firm and proportionate" response. Eslami said the UN nuclear body was "taken hostage" by Israel.
As the parties to the 2015 accord race to the finish line, the standoff between Iran and the IAEA threatens to play spoilsport, with both sides unwilling to budge from their respective positions.
"Almost 16 months after the talks began, Iran and the US, with the mediation of the European Union, are close to reviving the 2015 nuclear deal, but that doesn't mean all gaps have been plugged," Humayoun Zamaani, a Tehran-based strategic affairs analyst, told Anadolu Agency.
"Besides some issues that still need to be ironed out between Tehran and Washington, which I hope will take place in the coming days as the two sides discuss the EU draft proposal, the standoff between Iran and the UN nuclear agency needs to be resolved without further dilly-dallying," he said.
Deal or no deal?
Iran has significantly ramped up its uranium enrichment activities from 3.67% stipulated under the 2015 nuclear deal to nearly 60% in response to the US withdrawal from the deal in 2018.
This has raised concerns in the West about possible military dimensions (PMD) of Iran's nuclear program, putting Tehran and the UN nuclear agency on a collision course.
Nour News, affiliated with Iran's top security body, on Tuesday criticized Grossi for "not seeing Iran's goodwill" and "acting on the basis of reports" provided by Israel.
"With the continuation of this approach, the IAEA's Rafael Grossi alongside 'the Zionist regime' have turned into main obstacles to finalizing talks," the agency stated, insisting on resolving the PMD case.
On the other hand, Israeli Prime Minister Yair Lapid has expressed concern that the US and other parties are going to offer more concessions to Iran to reach a deal in Vienna.
Abolfazl Amouei, a senior lawmaker and member of the Iranian parliament's foreign policy and national security committee, told Anadolu Agency that Iran is seeking a "beneficial and sustainable agreement" that will be "challenged" if issues between Iran and the IAEA are not resolved.
"Since the (UN nuclear) agency can disrupt the implementation of the agreement and Iran's benefits from it by making unsubstantiated claims, Iran insists that these remaining issues (between the two sides) be resolved before the implementation of the agreement," he asserted.
Source: Anadolu Agency
Please click the following URL to read the full text of the original story:
https://www.aa.com.tr/en/middle-east/iran-iaea-standoff-last-major-hurdle-in-reviving-nuclear-deal/2669796
--------
Yemen's foreign minister, UK ambassador discuss peace efforts, UN truce
August 26, 2022
Yemen's Minister of Foreign and Expatriate Affairs Ahmad Awadh BinMubarak and Ambassador of the United Kingdom Richard Oppenheim discussed peace efforts and the latest developments in the country on Thursday, the Yemen News Agency (SABA) reported.
The foreign minister highlighted the importance of ending the Houthis' siege on Taiz, saying millions of Yemenis had been stripped of their basic human rights as a result, according to SABA.
The militia's refusal to reopen the roads in Taiz would hinder the peace process in Yemen, he added.
The Yemeni government welcomed all efforts to achieve peace in the country and alleviate the suffering of its people, BinMubarak said.
He emphasized that international parties must continue to put pressure on the Houthis to honor their commitments to the truce, SABA reported.
Source: Arab News
Please click the following URL to read the full text of the original story:
https://www.arabnews.com/node/2150676/middle-east
--------
North America
US hits 'Iran-backed group' for third straight day in Syria
August 26, 2022
AMMAN/WASHINGTON: The US military on Thursday hit several targets in the Syrian city of Mayadin in parts of Deir al Zor province under government control, in the third day of skirmishes with Iran-backed groups, local military sources said.
They said at least three members of an Iran-aligned militia were killed when they were targeted by a US helicopter as they were about to prepare a rocket launcher in the town which lies along the western bank of the Euphrates.
Iranian militias have a strong presence in the town and have long targeted the nearby Al Omar oil field on the eastern bank of the Euphrates where the US coalition have their biggest base in Syria.
The base also known as Green Village was last night targeted in a second consecutive day of violence between the US military and Iran-backed militants that injured at least one US service member and killed up to four militants, according to the US military.The latest exchange of fire underscored soaring military tensions even amid diplomatic efforts between Tehran and the West to try to save Iran's 2015 nuclear deal with major powers.
It came a day after President Joe Biden authorised US air strikes in Syria on an ammunition depot and other facilities used by groups affiliated with Iran's elite Revolutionary Guards Corps (IRGC).
The US military said the suspected Iran-backed militants launched two separate attacks starting at approximately 7:20pm local time in Syria.
Several rockets landed inside the perimeter of Mission Support Site Conoco in northeast Syria and were quickly followed by rocket fire near Mission Support Site Green Village, it said in a statement.Central Command said the wounded US service member had been at Mission Support Site Conoco and returned to duty after treatment. Two other servicemembers were under evaluation for minor injuries, it said. Some injuries, including brain trauma, can manifest after an incident.
Source: Dawn
Please click the following URL to read the full text of the original story:
https://www.dawn.com/news/1706845/us-hits-iran-backed-group-for-third-straight-day-in-syria
--------
Biden: We targeted Iran-allied militias in Syria to deter attacks on US facilities
26 August, 2022
The US army conducted strikes against militia groups in Syria affiliated with Iran's Islamic Revolutionary Guard Corps (IRGC) to deter Iran and the militias it backs from attacking American personnel and facilities, President Joe Biden said on Thursday.
US forces conducted on Tuesday precision airstrikes in Syria's Deir al Zor province. The military's Central Command, which oversees American forces in the Middle East, said the strikes targeted infrastructure facilities used by groups affiliated with Iran's IRGC.
Biden said the targeted facility was used by militia groups affiliated with the IRGC that have been involved in a series of unmanned aerial vehicle, rocket, and mortar attacks against US personnel and facilities in Syria.
He cited two attacks on August 15 by Iran-allied militia groups which targeted two US bases in Syria, al-Tanf Garrison and Mission Support Site Green Village.
"These August 15 attacks followed a series of attacks by Iran-backed militia groups on US forces and facilities in Iraq and Syria in the last six months," Biden said in a letter to the Speaker of the House.
He added: "I directed the August 23 strikes in order to protect and defend the safety of our personnel, to degrade and disrupt the ongoing series of attacks against the US and our partners, and to deter Iran and Iran-backed militia groups from conducting or supporting further attacks on US personnel and facilities."
Iran denied on Wednesday having any ties to the targeted sites in Syria, according to the Iranian foreign ministry spokesperson Nasser Kanaani.
Biden's letter coincided with more US strikes in Syria on Thursday. US Central Command said: "Over the past 24 hours, in response to yesterday's rocket attacks on Mission Support Site Conoco and Mission Support Site Green Village in northeast Syria, CENTCOM forces struck at Iran-affiliated militants in the area… resulting in four enemy fighters killed and seven enemy rocket launchers destroyed."
Source: Al Arabiya
Please click the following URL to read the full text of the original story:
https://english.alarabiya.net/News/middle-east/2022/08/26/Biden-We-targeted-Iran-allied-militias-in-Syria-to-deter-attacks-on-US-facilities
--------
US working to expand visa services in Türkiye amid delays: State Department
Michael Hernandez
25.08.2022
WASHINGTON
The US is working to expand visa processing in Türkiye, the State Department said Thursday as Turks face extended wait times of months before they can receive a consular appointment.
Turkish Foreign Minister Mevlut Cavusoglu said Tuesday that the drawn-out process is "planned and deliberate," and vowed to give "necessary warnings" to relevant diplomats.
"If there is no improvement, then we will take countermeasures," Cavusoglu said during an interview with the Haber Global news outlet.
A State Department spokesman told Anadolu Agency that the US has "no desire for this to be an irritant in our bilateral relationship," and that the US is working to alleviate delays in visa processing caused by the worldwide coronavirus pandemic, including in Türkiye.
"Visa wait times are a challenge that we are addressing in Turkey equally as we are around the world, understanding that these COVID restrictions and some of the limitations on our workforce have led to extended wait lines for various visa classes, and it's something we're addressing with urgency," the spokesperson said on condition of anonymity.
"The United States welcomes travelers from Turkey, and we are very happy to see the number of Turkish travelers to the U.S. is increasing every year. We are working hard to meet the increased demand for visas," the spokesperson added.
Part of the efforts to resolve the bottleneck in Türkiye include the opening of a new US Embassy in Ankara and the spokesperson said the new building "will enable us to expand our visa processing capacity."
In addition, the agency has doubled the number of consular staff hired worldwide in the current fiscal year compared to the prior year in a push to ease the bogged-down visa process.
Source: Anadolu Agency
Please click the following URL to read the full text of the original story:
https://www.aa.com.tr/en/americas/us-working-to-expand-visa-services-in-turkiye-amid-delays-state-department/2669525
--------
US urges permanent end to conflict in Ethiopia amid renewed violence
Vakkas Dogantekin
25.08.2022
US Secretary of State Antony Blinken urged the opposing sides involved in the conflict in Ethiopia late Wednesday to work towards a permanent cease-fire amid renewed clashes in the East African country.
"Five months ago, a truce was declared in northern Ethiopia, which reduced violence and saved lives. We are concerned that renewed fighting puts that at risk. We call on the Ethiopian Government and TPLF to redouble efforts for peace to bring a permanent end to the conflict," Blinken said on Twitter, referring to the Tigray People's Liberation Front, the party that controls Ethiopia's northern Tigray region.
Earlier in the day, UN Secretary-General Antonio Guterres said he was "deeply shocked and saddened" over the resumption of hostilities in Ethiopia.
His remarks came hours after both the Ethiopian government and Tigray rebels confirmed that a humanitarian truce had been broken following a military escalation.
The Ethiopian army and the forces of the TPLF traded blame as to which side violated the cease-fire that was reached in March in areas along the administrative border between Amhara and Tigray states.
The government has expressed readiness to engage in talks with the rebels in the past several months without any preconditions as long as they are held under the sole mediation of the African Union.
But the Tigray rebels rejected the African Union as a mediator, recommending that talks be held with Kenya's outgoing President Uhuru Kenyatta in that role.
Thousands of people, most of them civilians, have been killed and millions displaced since the conflict began in November 2020.
The UN has warned that Tigray "stands on the edge of a humanitarian disaster," with more than 40% of the region's estimated 6 million people in need of emergency assistance.
Source: Anadolu Agency
Please click the following URL to read the full text of the original story:
https://www.aa.com.tr/en/americas/us-urges-permanent-end-to-conflict-in-ethiopia-amid-renewed-violence/2668857
--------
Europe
UK decision to intervene in Rohingya case before International Court of Justice hailed
Riyaz ul Khaliq
26.08.2022
Rights groups have hailed the UK government's decision to intervene in the Rohingya case before the International Court of Justice (ICJ).
"The UK government's decision to intervene in the (Rohingya) case sends a strong message of solidarity to the Rohingya people five years since the genocidal attacks in Rakhine state," said Kyaw Win, executive director of the London-based Burma Human Rights Network (BHRN).
"International justice can have a preventative effect and stop future atrocities by the brutal junta in Burma," Win said in a statement.
According to BHRN, 60 countries, including Canada, the Netherlands, UK, and all 57 members of the Organization of Islamic Cooperation (OIC), supported the case.
Amanda Milling, the British minister for Asia, confirmed the UK's intention to intervene in the ICJ case between the Gambia and Myanmar on Thursday.
On July 22, the ICJ rejected Myanmar's preliminary objections to Gambia's case filed in November 2019 under the International Genocide Convention for alleged genocide against ethnic Rohingya in Rakhine State, with a focus on military operations launched in October 2016 and August 2017.
In January 2020, the ICJ unanimously issued provisional measures of protection for the Rohingya people, requiring Myanmar to ensure that the military and other security forces do not commit acts of genocide.
On Thursday, the Rohingya, who the UN calls the world's most persecuted people, and their allies commemorated five years of "Genocide Remembrance Day" and their forcible exodus from the Rakhine state.
According to BHRN data, nearly 600,000 Rohingya people are still trapped in the Rakhine state "under a system of discriminatory laws and policies that amount to crimes against humanity and ongoing genocide."
"Since the attempted military coup on 1 Feb. 2021, the human rights situation of the Rohingya has further deteriorated with Rohingya facing tightened restrictions on their fundamental freedoms and are increasingly at risk of being subjected to further atrocity crimes," the rights group said.
The Burmese military, locally known as Tatmadaw, launched a coup last year overthrowing the government of the National League for Democracy.
Source: Anadolu Agency
Please click the following URL to read the full text of the original story:
https://www.aa.com.tr/en/asia-pacific/uk-decision-to-intervene-in-rohingya-case-before-international-court-of-justice-hailed/2669838
--------
Turkish singer Gulsen arrested after religious schools quip: Media
26 August, 2022
Turkish pop star Gulsen was arrested on Thursday after an Istanbul prosecutor opened an investigation into charges of "inciting people to hatred and hostility" after a remark she made on stage about religious schools, local media reported.
The singer-songwriter, whose full name is Gulsen Colakoglu, said on Twitter she had made a joke with colleagues during an April performance and apologized to anyone offended, adding her words were seized upon by some to polarize society.
Hurriyet newspaper and other media reported the Istanbul chief prosecutor's office launched the probe, and that the education ministry condemned the comments and opened its own legal process.
DHA news agency reported Gulsen gave a statement to Istanbul police, was transferred to a court and later arrested.
The number of Imam Hatip religious schools have risen sharply under President Tayyip Erdogan, whose ruling AK Party is rooted in political Islam and who has overturned decades-old restrictions on religion in the country, irking secularists.
Critics say he has bent the courts to his will to crack down on dissent and free expression, charges the government denies.
Source: Al Arabiya
Please click the following URL to read the full text of the original story:
https://english.alarabiya.net/News/world/2022/08/26/Turkish-singer-Gulsen-arrested-after-religious-schools-quip-Media
--------
Arab World
SOC Political Parties Committee Meets Comptroller-General of Syria's Muslim Brotherhood
August 26th, 2022
The Political Parties and Movements Committee of the Syrian Opposition Coalition (SOC) visited the office of the Muslim Brotherhood in Istanbul to discuss the overall field, humanitarian, social and political situation in Syria, in addition to the political life in the future of Syria.
The meeting brought together Coordinator of the Committee Abdullah Kaddo, Secretary of the SOC's political committee Abdel Majid Barakat, member of the General Assembly Muhammad Yahya Maktabi, Comptroller-General of the Muslim Brotherhood in Syria Muhammad Walid, and the Brotherhood's representatives in the SOC Farouk Tayfour and Ahmed Sayyed Youssef.
The two sides discussed the major political developments in Syria as they stressed the need to strengthen cooperation in order to unify the Syrian national ranks with their various religious, national and cultural backgrounds. They stressed the need to find a national alternative that ends the Assad regime's monopoly of power and consolidates the foundations of a civil state.
Source: Syrian Observer
Please click the following URL to read the full text of the original story:
https://syrianobserver.com/news/78352/soc-political-parties-committee-meets-comptroller-general-of-syrias-muslim-brotherhood.html
--------
UN Special Rapporteur Voices Concern About Deteriorating Health Condition Of Detained Saudi Shia Cleric, Sheikh Mohammed Hassan Al-Habib
25 August 2022
The United Nations special rapporteur on the situation of human rights defenders has expressed concern about the deteriorating health condition of Saudi Shia cleric and human rights activist Sheikh Mohammed Hassan al-Habib, as the Riyadh regime presses ahead with its heavy-handed crackdown on members of the religious community and pro-democracy campaigners.
Mary Lawlor said that she is concerned about the fate of prisoners of conscience at detention centers across Saudi Arabia, some of whom are suffering from serious physical conditions due to deliberate medical negligence.
Lawlor, in a post published on her Twitter page, said she is very worried about the report on the deterioration of the physical condition of the Saudi clergyman, who has been sentenced to 12 years in prison.
Activists say the physical condition of Sheikh Habib, who is being held behind bars in Saudi Arabia's Dammam Central Prison, is very critical due to the lack of healthcare and medical negligence, which Saudi prison officials exercise to torture and gradually kill prisoners.
According to the London-based rights group ALQST, an independent non-governmental organization advocating human rights in Saudi Arabia, the Saudi Shia cleric and human rights activist suffers from sciatica, back pain and headache as a result of systematic torture after his arrest in 2016.
The human rights organization called on Saudi authorities to fulfill their obligations towards Sheikh Habib, and release him immediately.
ALQST also demanded the withdrawal of trumped-up charges leveled against him and all prisoners of conscience in Saudi Arabia.
Sheikh Habib is apparently a close relative of executed dissident Shia cleric Sheikh Nimr Baqir al-Nimr.
In early January 2016, Saudi authorities executed the prominent Shia cleric along with 46 other people, who had vociferously called for democracy in the kingdom and advocated anti-regime protests. Nimr had been arrested in Qatif, Eastern Province, in 2012.
The rights group Prisoners of Conscience, which is an independent non-governmental organization advocating human rights in Saudi Arabia, announced in a post on its official Twitter page on September 12, 2019 that the Specialized Criminal Court in Riyadh had sentenced Sheikh Habib to 12 years in prison and prevented him from traveling abroad for five years.
Ever since Mohammed bin Salman became Saudi Arabia's de facto leader in 2017, the kingdom has arrested hundreds of activists, bloggers, intellectuals and others for their political activism, showing almost zero tolerance for dissent even in the face of international condemnation of the crackdown.
Muslim scholars have been executed and women's rights campaigners have been put behind bars and tortured as freedom of expression, association, and belief continue to be denied by the kingdom's authorities.
Source: Press TV
Please click the following URL to read the full text of the original story:
https://www.presstv.ir/Detail/2022/08/25/688019/UN-special-rapporteur-concerned-about-deteriorating-health-condition-of-detained-Saudi-Shia-cleric
--------
US military kills four Iran-backed militants after attacks in Syria
25 August, 2022
The US military says it killed four "enemy fighters" over the last 24 hours and destroyed rocket launchers used by Iran-backed militants in Syria.
The US targeted the Iranian-backed fighters in response to rocket attacks on US personnel in recent days.
The latest attack was on Wednesday when US troops came under fire in northeast Syria. The US Central Command (CENTCOM) pounded Iran-affiliated militants using AH-64 Apache attack helicopters, AC-130 gunships, and M777 artillery.
CENTCOM said in a statement that four fighters were killed and seven enemy rocket launchers were destroyed.
Source: Al Arabiya
Please click the following URL to read the full text of the original story:
https://english.alarabiya.net/News/middle-east/2022/08/25/US-military-kills-four-Iran-backed-militants-after-attacks-in-Syria
--------
Lebanon child poverty: 84 pct of households unable to cover necessities, UNICEF says
25 August, 2022
Soaring prices and widespread unemployment brought on by the pandemic and the severe economic crisis in Lebanon have plunged thousands of families into "multidimensional poverty," with around 84 percent of households not being able to cover necessities, UNICEF reported on Thursday.
"Children are feeling let down and losing trust in their parents for being unable to meet their basic needs, which in turn increases tensions in the household," UNICEF said in a statement.
"As children are increasingly sent out to work in Lebanon, and adults become unemployed, the traditional parent-child relationship is being destroyed."
UNICEF's study on child poverty and a child-focused rapid assessment (CFRA) found that children were aware of the impact the crisis has had on their lives and on the country, with many no longer dreaming of a better future and believing that emigration is their only hope.
The crisis has also taken a toll on children's mental health, which is particularly concerning as they are also unable to receive the care they need.
"The crisis is affecting every aspect of children's lives. Children are growing up without enough food, without proper access to healthcare, and, in some cases, working to support their families," UNICEF Representative in Lebanon Edouard Beigbeder said in a statement.
"Critical reforms are needed to safeguard children's future. The Government should implement urgent social protection measures, ensure access to quality education for every child and strengthen primary health care and child protection services."
UNICEF found that 38 percent of households reduced spendinf on education (compared to 26 percent in 2021), 60 percent cut spending on health treatments (up from 42 percent in April 2021), 70 percent of households have to borrow money for food or buy food on credit, and 36 percent of caregivers felt less tolerant with their children and treated them more harshly.
Rising tensions, which is further fueled by significant polarization within communities, have led to an increase in violence, including in households and schools, meaning that many streets and neighborhoods and no longer safe. This also further limits children, especially girls who are restricted from leaving their homes for fear of being harassed.
"Multidimensional child poverty requires a multidimensional response grounded in a major strengthening of Lebanon's social protection system that will ensure the fundamental rights of vulnerable children are protected," Beigbeder added.
"This means increasing access to social services, scaling up social assistance and providing social grants for the most vulnerable families."
The UNICEF report comes against a backdrop of increased suicides and murders in the Levant country.
Lebanon has seen an 18 percent increase in murders and almost an 8 percent surge in suicides in 2022 so far, compared to the same period last year, according to new data published by Beirut-based research center Information International.
Dramatic surges in crime and theft were recorded in Lebanon last year, mostly due to the economic crisis.
Information International also reported a 212 percent increase in car thefts, a 266 percent increase in theft crimes overall and a 101 percent increase in murders compared to the first 10 months of 2019, right before the economic crisis took a turn for the worse.
Source: Al Arabiya
Please click the following URL to read the full text of the original story:
https://english.alarabiya.net/News/middle-east/2022/08/25/Lebanon-child-poverty-84-pct-of-households-unable-to-cover-necessities-UNICEF-says
--------
US carries out fresh attacks against Iran-backed fighters in NE Syria
Michael Hernandez
25.08.2022
WASHINGTON
The US carried out more retaliatory strikes against Iran-backed fighters in northeast Syria after American forces stationed in the area came under rocket fire that injured three troops.
US forces struck using AH-64 Apache attack helicopters, AC-130 gunships, and M777 artillery pieces, Central Command said in a statement. Four enemy combatants were killed and seven rocket launchers were destroyed, it added.
"We will respond appropriately and proportionally to attacks on our servicemembers," Central Command Commander Michael Kurilla said in a statement. "No group will strike at our troops with impunity. We will take all necessary measures to defend our people."
The attacks are the latest after US forces stationed at the Conoco outpost and Mission Support Site Green Village came under rocket fire Wednesday. The US launched retaliatory strikes using helicopters in the immediate aftermath, claiming they killed several Iran-backed militants believed to be responsible for the rocket attacks.
Earlier Wednesday, the US launched airstrikes in Syria targeting ammunition depots and logistics supply bunkers used by groups affiliated with Iran's Islamic Revolutionary Guard Corps.
The airstrikes were ordered by President Joe Biden in retaliation for a series of attacks Aug. 15 at US military facilities in Syria.
Source: Anadolu Agency
Please click the following URL to read the full text of the original story:
https://www.aa.com.tr/en/middle-east/us-carries-out-fresh-attacks-against-iran-backed-fighers-in-ne-syria/2669474
--------
Turkish forces 'neutralize' 3 YPG/PKK terrorists in northern Syria
Diyar Guldogan
22.08.2022
Turkish forces "neutralized" three YPG/PKK terrorists in northern Syria, the National Defense Ministry said on Monday.
The terrorists were planning an attack on Türkiye's Operation Peace Spring zone, near the Turkish border, the ministry said in a statement.
Turkish authorities use the term "neutralize" to imply the terrorists in question surrendered or were killed or captured.
Since 2016, Ankara has launched a trio of successful anti-terror operations across its border in northern Syria to prevent the formation of a terror corridor and enable the peaceful settlement of residents: Euphrates Shield (2016), Olive Branch (2018) and Peace Spring (2019).
Source: Anadolu Agency
Please click the following URL to read the full text of the original story:
https://www.aa.com.tr/en/middle-east/turkish-forces-neutralize-3-ypg-pkk-terrorists-in-northern-syria/2666607
--------
Syrian air defences repel Israeli attack over Tartus, Hama
25 August 2022
Syria's air defenses have repelled yet another Israeli act of aggression targeting the Arab country's western areas.
The Israeli aerial assault took place at 19:15 local time (16:15 GMT) against the countryside of the cities of Tartus and Hama on Thursday, the official Syrian Arab News Agency (SANA) reported, adding that two civilians were injured in the attack.
Syria's air defenses brought down most of the incoming missiles, "which [also] caused some material damages and [eruption of] a blaze in some of the targeted areas," the report added.
Syria and the Israeli regime are technically at war due to the latter's 1967-to-present occupation of Syria's Golan Heights.
Israel maintains a significant military presence in the territory, which it uses as one of its launchpads for its attacks against the Syrian soil.
The regime's attacks on Syria started to grow significantly in scale and frequency after 2011, when the country found itself in the grip of rampant foreign-backed militancy and terrorism.
The most recent Israeli attack against the Syrian soil took place over Tartus on August 4, killing three servicemen and wounding three others.
Reporting through a statement at the time, the Syrian military said the Arab country's air defenses had confronted "hostile" Israeli targets in the airspace above the city and the nearby mountain range of Qalamoun.
Source: Press TV
Please click the following URL to read the full text of the original story:
https://www.presstv.ir/Detail/2022/08/25/688042/Israel-attack-Syria-civilians-injured
--------
URL: https://newageislam.com/islamic-world-news/taliban-websites-afghanistan-immoral/d/127808
New Age Islam, Islam Online, Islamic Website, African Muslim News, Arab World News, South Asia News, Indian Muslim News, World Muslim News, Women in Islam, Islamic Feminism, Arab Women, Women In Arab, Islamophobia in America, Muslim Women in West, Islam Women and Feminism