New Age Islam News Bureau
12 Jun 2015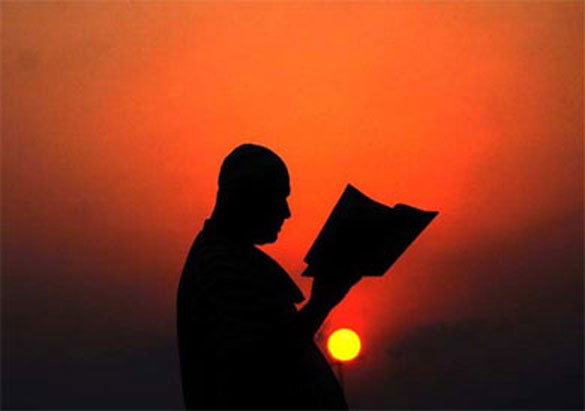 New Ramazan Rules to Help Nordic Muslims in Midnight Sun
------------
Arab World
• Takfiris Vandalize Mosque in Bahrain, Tear Copies of Holy Qura'n
• 'It Sounds Like BBC': ISIS Seeks Legitimacy via 'Caliphate' Radio Service
• Syrian Army Repels Al-Nusra's Heavy Attack on Shiite Region
• Lebanon Valley Mosque welcomes Lebanon School District staff
• IS releases 'anniversary documentary' on Mosul capture
• Operation to liberate Mosul from ISIS begins: military officer
• Syrian army drives rebels from air base in south: Monitor
• Egypt fears for tourism after foiled 'massacre' in Luxor
• Yemen coalition 'not over' until UN resolution in effect: Gulf
South Asia
• 30 Arab Militants Including 32 Killed In Paktika Airstrikes
• We Fought 1971 War on Our Own, Bangladesh Minister Tells Aziz
• Foreigners including six insurgents killed in VBIED explosion in Maidan Wardak
• 34 Jamaat-Shibir men held in Gazipur
• Speakers: Ensure children's rights by ratifying UN protocol
India
• Muslims Can Chant 'Allah' Instead Of 'Om' On Yoga Day: Government
• Muslim Groups Back Yoga Day, Catholics Unhappy
• Why Pak rhetoric now when it kept mum over Osama killing: Sena
• Modi govt calls for restraint to defuse tensions with Pakistan
Africa
• Boko Haram Kills 43, Burnt 3 Villages in Northeast Nigeria Raids: Residents
• Islamic State says it has blown up two warplanes at seized Libyan base
• Nigeria New Satellite Channels Spread Islam
• Kenyan rights groups celebrate lifting of 'terrorist' tag
• Buhari Rejects Proposal for Chad, Niger, Others to Head Central Force against Boko Haram
Pakistan
• 25 Militants Killed In Shawal Valley, Several Others Injured
• Several NGOs in Pakistan backed by US, Israel and India: Chaudhury Nisar
• Allegations of Using Zakat, Sacrificial Hides' Money for Criminal Activities Are Baseless: Altaf
• Nawaz Sharif: Pakistan will protect its interests
• Terrorists adopting 'hit-and-run' tactic, says IGP
Southeast Asia
• Don't Try To Be 'Liberal, Multiracial' Hero, ISMA Tells Najib
• Democracy will split up Islamist parties, claims hard-line Islamist group
• Thai students detained in Pakistan have no IS links: Thai govt
North America
• New Ramazan Rules to Help Nordic Muslims in Midnight Sun
• U.S. Schoolteachers Bow to Allah, Celebrate Islam
• Pentagon: Price tag for war on ISIS is $2.7 billion
• Two Pakistan-origin brothers jailed for NY terrorist plot
• US plans to set up more bases in Iraq, says Pentagon
• Bureaucratic infighting let US hostages down in Pakistan, says army officer
Mideast
• Turkey's Erdogan Says West Backing Kurdish 'Terrorists' In Syria
• Americans Will 'Lose Their Life and Existence' In Fight against Iran, Says Iranian Official
• Iran Asks for UN's Serious Efforts to End War against Yemen
• Ansarullah Fires Artillery Shells at Saudi Bases in Dhahran Al-Janub
• Israel closes probe into killing of 4 boys on Gaza beach
• Abbas says Palestinian Authority must re-examine agreements with Israel
Europe
• Back From Syria and Iraq, Bosnian Fighters Pose Threat At Home
• UNICEF says 80 percent of Yemenis need aid
• Geneva peace talks look to break Yemen deadlock
• Central Asia Has 99 Problems, but Extremism in Tajikistan Isn't the Worst
Australia
• Hackathons Take on Islamic State in Cyberspace Battle
Compiled by New Age Islam News Bureau
URL: https://www.newageislam.com/islamic-world-news/new-age-islam-news-bureau/takfiris-vandalize-mosque-in-bahrain,-tear-copies-of-holy-qura%E2%80%99n/d/103462
------------
Arab World
Takfiris Vandalize Mosque in Bahrain, Tear Copies of Holy Qura'n
Jun 12, 2015
A number of Takfiris attacked the Kheif Mosque in the Bahraini town of Deir, North of Bahraini International Airport on Thursday.
The Takfiris cracked the prostration stones (Turbah) and tore copies of the Holy Qur'an and other religious books found inside the mosque, Al-Manar reported.
The photos showed how the stones are scattered and the religious books are torn.
The Takfiri ideology in Bahrain receives implicit support from the authorities which has a long history of vandalizing and demolishing mosques since the peaceful popular revolution started.
The Bahraini regime has been suppressing peaceful demonstrations by anti-government protesters across Bahrain since mid-February 2011.
Violence against the defenseless people escalated after a Saudi-led conglomerate of police, security and military forces from the Persian Gulf Cooperation Council (PGCC) member states - Saudi Arabia, Kuwait, the United Arab Emirates, Oman and Qatar - were dispatched to the tiny Persian Gulf kingdom on March 2011, to crack down on peaceful protestors for the Manama regime.
So far, hundreds of protesters have been killed, hundreds have gone missing and thousands of others have been injured by the Bahraini and Saudi soldiers. Thousands of people, including opposition party and religious leaders as well as renowned human rights activists, have been arrested while hundreds more have been sent to exile. All international human rights bodies have condemned the Al-Khalifa regime for exercising extreme violence against peaceful protests.
http://english.farsnews.com/newstext.aspx?nn=13940321000560
------------
'It sounds like BBC': ISIS seeks legitimacy via 'caliphate' radio service
12 June 2015
The Islamic State of Iraq and Syria (ISIS) group has reportedly survived close to 4,500 air strikes by the U.S.-led coalition since it proclaimed itself as a "worldwide caliphate" in June last year. But the militant group remains a formidable fighting force and continues to lure foreign fighters through its masterful use of media tools.
Just on Thursday, the group released a 29-minutes propaganda film marking a year since its capture of the Iraqi city of Mosul – what the group considers the founding moment of the "caliphate."
The group overran Mosul – a city of two million – on June 10, 2015, leading to the displacement of hundreds of thousands of Iraqis.
Beyond its well-edited, subtitled, HD-quality films, and its notorious English-language magazine, Dabeq, ISIS has also been using another avenue to up its propaganda game: radio.
"We thank our listeners for tuning in and present the following Islamic State news bulletin." This is how listeners are greeted when they tune into "Al-Bayan" radio network, which kicked off in Mosul on April 7 in the Arabic, Kurdish, English, French and Russian languages.
Delivered by a smooth, American-accented male voice, a typical English-language newscast starts with "a glimpse of the main headlines" and is followed by updates from the various "wilayats" (Arabic for "states") of ISIS and "martyr" operations by the "soldiers of the caliphate" against the "enemy."
The professional tone of the anchor and sound quality of the broadcast prompted news outlets such as The Washington Post to liken it to the National Public Radio (NPR).
"The language is broadcast radio. It sounds like we are listening to the BBC," Jasmine Opperman, a senior analyst for the Terrorism Research & Analysis Consortium (TRAC), told Al Arabiya News.
"They are diversifying their central message of success on the battlefield," said Opperman.
"ISIS would not launch a propaganda campaign like this if it did not have a target audience in mind," said Opperman.
ISIS's use of media is an attempt to "promote its soft power," William Youmans, a professor of media and public affairs at the George Washington University, told Al Arabiya News.
"As ISIS seeks to become an established state, it knows it must seek legitimacy, and that it cannot just rule on violence, even if that is how it gains territory and represses people living under its rule," Opperman said.
"In terms of its efficacy in recruiting foreign fighters, their media production must be somewhat effective as they continue to invest in it and are becoming more sophisticated," he added.
Change in language
ISIS' documentary-style films such as "Inside Halab," which featured British photojournalist John Cantlie, who has been held captive for more than two years by ISIS, often highlight how life under the group's rule is still functioning well with a "thriving economy."
The films often focus on family life, social values and a broad range of topics such as schooling aiming to attract Western audiences.
"One of the common accusations of the west is that under Islamic State education will suffer, religious studies and changes to the curriculum don't quite fit their image of progressive schooling. But here in Halab, these young men here are learning Qur'an recital and languages, and with any luck they will form the mujahideen for the next generation in this region," Cantlie is heard saying in "Inside Halab."
"ISIS has a big incentive to show itself as friendly to families and generous in welfare to undermine the images of its brutality. It would want to widen the tent of people it could attract," explained Youmans.
Al Bayan's newscasts, in contrast, sound a lot more serious and rather focus on updates from the battlefield. Even when announcing the name of a suicide bomber on the program, the news anchor tone remains calm – a departure from the usual "sensationalization" of ISIS "martyr" deaths usually witnessed in videos.
"There is a tension in ISIS media strategy," said Youmans.:
"It wants on one hand to show that it is exciting to join and is winning battles, yet a group grounded in higher values, on the other. It seeks normalization and legitimacy, while also trying to be attractive as a sort of adventure for foreigners."
"It is possible this reflects ISIS's media savvy. The people who work on media likely have a sense of how audience breaks down per each medium, and try to tailor the messages based on who they think they are more likely to get," he added.
However, Opperman argued the newscasts "are nothing new to ISIS' propaganda."
The 24-hour updates on "the successes and gains" are an attempt by ISIS "to explain to the people in the caliphate to rest assured that 'we are in control, we are making gains, we are not being defeated by any opposing force'," said the analyst.
"The language is and has definitely changed but it is not an opposition at all to the existing propaganda campaign," she added.
"It is supplementary to the propaganda campaign."
"ISIS is focused on the perfect caliphate. A caliphate where we have a perfect life with children playing in the parks, we do have schools, we do have women walking with their husbands and the child so happy'," she said.
"But ISIS has never fell back on showing its successes and brutality. Why not? Simply because, we need to keep in mind their ultimate goal, they are fighting a righteous cause," said Opperman, adding that the groups built a logic behind the executions and human rights abuses they are doing.
"'We are doing these things to ensure that the Islamic Caliphate will be achieved and that the values we are putting on the table will be protected from sinners and believers'," she said, explaining the group's ideology.
"There is no contradiction. ISIS never hides behind or try to diminish their role in executions, their role in the punishment of the infidels," she continued.
Although it is difficult to scale the outreach of Al-Bayan's newscasts, since it is mainly circulated via social media sites and jihadi websites but experts agree that ISIS' tech-savvy media productions have been key in its recruitment game.
An estimate of 1,000 foreign fighters are flocking into Syria and Iraq a month, according to a recent Foreign Policy report – to world leaders' worry.
Speaking at a conference in Sydney on countering violent extremism, Australian Prime Minister Tony Abbott called ISIS' propaganda machine "a death cult."
"Daesh is coming, if it can, for every person and for every government with a simple message: 'Submit or die'," Abbott said, using ISIS' Arabic acronym.
"The declaration of a caliphate, preposterous though it seems, is a brazen claim to universal dominion. You can't negotiate with an entity like this; you can only fight it."
https://english.alarabiya.net/en/media/television-and-radio/2015/06/12/-It-sounds-like-BBC-ISIS-seeks-legitimacy-via-caliphate-radio-service-.html
------------
Syrian Army Repels Al-Nusra's Heavy Attack on Shiite Region
Jun 12, 2015
The Syrian army and popular forces pushed back al-Nusra Front terrorists from Shiite-populated areas in the Northern province of Aleppo, inflicting heavy casualties on the terrorist group.
The terrorists intended to infiltrate into Nabal and al-Zahra regions in Aleppo and attack the Shiite population in those areas when they faced a sudden ambush by the Syrian forces.
The popular resistance forces in the two besieged towns of Nabal and al-Zahra also detonated a tunnel dig by the terrorists to infiltrate into the two towns and killed all al-Nusra Front forces inside the tunnels.
They also killed two terrorist snipers in the Northern outskirts of al-Zahra town.
In a relevant development on Wednesday, the Syrian Army alongside the Lebanon's Hezbollah Resistance Movement raided the positions of the al-Nusra terrorists in the surrounding areas of Jreijeer Heights and pushed them back from the battlefront, military sources said on Wednesday.
The sources said that the Syrian army men and Hezbollah fighters, after fierce clashes on Tuesday and Wednesday, gained the upper hand against the rebels in Arsal farm, particularly after their eye-catching advances in the Jreijeer Heights.
The Syrian army and Hezbollah retook control over the Flita Heights in al-Qalamoun last week, and killed tens of insurgents there.
http://english.farsnews.com/newstext.aspx?nn=13940321000747
------------
Lebanon Valley Mosque welcomes Lebanon School District staff
By John Latimer
06/08/2015
With its large Hispanic population, teaching children from different cultures is nothing new for Lebanon School District's teachers.
But with the added dimension of religion, teaching children from Arabic nations whose families practice Islam provides a different sort of challenge.
To bridge that cultural divide, about 50 district staff members attended an in-service workshop on Monday that included a trip to the Lebanon Valley Mosque. While there they learned about the practice of Islam, watched an afternoon Muslim prayer service and where treated to a lunch of Moroccan cuisine.
It was the second year that the workshop was offered to the staff, according to Fred Shattls, director of the district's English as a Second Language department. The workshop was led by Mohamed Omar, a former teacher's aide and Arabic translator for the district who also served a year as president of the mosque.
Omar, who moved from Egypt to the U.S. in 2000, took time off from his new job as a case worker for the Department of Human Services in Philadelphia to share his knowledge of Islam with the staff, which included Superintendent Marianne Bartley and several other administrators.
Providing a course on Arabic culture and Islam is important, Shattls said, because the number of students from Middle Eastern countries in the district is growing and now totals 87. Most of them are from Eygpt and Morocco, two of the 33 countries represented by students in the district.
"We have so many students from different Hispanic countries, but slowly but surely the Arabic population is growing," he said. "With Hispanics you have the language differences and certainly cultural differences, but there are similarities in their religious practices. Of course, the Arab language and the religion are very much different, but we are learning that there are also many similarities."
The workshop began at the high school where Omar spoke about the histories and cultures of several Arab countries and the differences in their educational systems to that in the U.S.
At noon, the teachers took a bus to the mosque, located not far away at 13th and Florence streets. Following Islamic practice, each took off their shoes before entering the prayer room where they took a seat on a maroon-colored carpet with intricate designs.
They were joined by several members of the congregation, including several dressed in the traditional dishadasha, an ankle-length garment with long sleeves.
Omar, dressed in a suit and tie, spent about 20 minutes instructing the teachers on the many facets of Islam, including some nearly identical to Christianity, like the belief that all who are faithful to the religion will one day be called before God who will judge them to determine if they will go to Heaven or Hell.
"We believe we will be judged by God," he said. "The more good deeds we do, God will forgive us in the end. ... You must work. Faith without work will not be accepted."
Omar was asked about the five daily prayer sessions and if that presented a conflict for students who may not be able to break away from their lessons make their devotions.
He explained as long as there is intent to pray and the student does so at the next appropriate time it is acceptable.
"You can pray anywhere," he said. "You don't have to go to the mosque. God is forgiving and he understands intent."
The lesson was followed by the luncheon, which included traditional Morrocan dishes of couscous, lamb and rice, fresh fruit and salad.
During the break Omar explained what he hoped to accomplish with his message.
"The goal of my speech or lecture is to break the ice, to break the barriers between not just teachers but between any American and those with Muslim background," he said.
After sharing the meal, the workshop concluded with Omar and members of the mosque saying their afternoon devotional prayer.
At its conclusion, the mosque's founder, Hamid Housni, expressed his thanks to the teachers and praised the initiative of the district for arranging the workshops this year and last.
"I think this is the first time ever in the United States that a school district goes to a mosque," he said. "Usually a representative of a mosque goes somewhere. We don't have words to explain to you how we appreciate that. This is very, very special."
Lara Book, who for eight years has taught ESL at Lebanon Middle School and French at the high school, also said the workshop was a special day. The experience will help her to communicate with her Arabic and Muslim students and their families, she said.
"It's important that we educate ourselves about cultures that are different from our own and that we try to eliminate some misunderstandings," Book said. "And any way that I can communicate with my students, especially the ESL ones, that makes it more meaningful or easier, it is a vital tool for us.
"Basically, although our cultures are different, the fundamentals of them are similar and we all want the same things: happiness for our families health, and success," Book said. "Although we might go about finding those things in our lives differently, from a cultural standpoint, we all want the same thing."
http://www.ldnews.com/local/ci_28276126/lebanon-valley-mosque-welcomes-lebanon-school-district-staff?source=most_viewed
------------
IS releases 'anniversary documentary' on Mosul capture
Jun 12, 2015
The Islamic State group released a propaganda documentary marking a year since it captured Mosul and recounting its surprise at how easily it took over Iraq's second city.
The film glamorises the founding moment of the "caliphate" IS proclaimed less than three weeks later as an epic conquest but it also further documents the collapse of Iraq's security forces.
The 29 minutes of often previously unreleased footage shows the jihadists being welcomed by Mosul residents, prisoners being freed and soldiers desperately attempting to flee in vehicles.
"It was unthinkable that the advance would be so much greater than was planned," said the narrator of the video, which was published on social media on Thursday.
"The operation began with cutting the supply lines of the members of the Safavid army," after which the attack was announced, the narrator says, using a term meaning that Iraqi soldiers are beholden to Iran.
Full report at:
http://english.ahram.org.eg/NewsContent/2/8/132577/World/Region/IS-releases-anniversary-documentary-on-Mosul-captu.aspx
------------
Operation to liberate Mosul from ISIS begins: military officer
12 June 2015
The operation to liberate Mosul from Islamic State of Iraq and Syria fighters has started with airstrikes targeting the militants, a year after they seized the northern Iraqi city, Al Arabiya News Channel reported a military officer as saying on Friday.
Head of Ninawa Operations Command Gen. Najim al-Jubouri also said on Thursday that military units and been deployed in Baiji, located on the main road to Mosul, to start liberating the northern city from ISIS.
However, Al Arabiya News Channel's correspondent in Erbil said Iraqi Prime Minister Haidar al-Abadi should be the one announcing the start of the operation as he is also the commander-in-chief under the Iraqi constitution.
The Iraqi forces, alongside Shiite volunteers known as Popular Mobilization units, liberated late President Saddam Hussein's hometown, Tikrit.
Abadi's government was dealt a major blow when ISIS captured Ramadi, the capital city of the western province of Anbar, in May.
https://english.alarabiya.net/en/News/middle-east/2015/06/12/Operation-to-liberate-Mosul-from-ISIS-begins-military-officer-.html
------------
Syrian army drives rebels from air base in south: Monitor
Jun 12, 2015
The Syrian army and allied fighters have driven insurgents from parts of an air base they had seized in the southern province of Sweida, a group monitoring the conflict reported on Friday.
The Syrian Observatory for Human Rights, a UK-based group that tracks the war, said the insurgents had evacuated parts of al-Thala air base taken in an advance on Wednesday.
"There is a rebel retreat," said Rami Abdulrahman, who runs the Observatory. Heavy Syrian army air strikes and reinforcements drafted in from nearby Sweida city had helped repel the rebel advance, he said.
http://english.ahram.org.eg/NewsContent/2/8/132585/World/Region/Syrian-army-drives-rebels-from-air-base-in-south-M.aspx
------------
Egypt fears for tourism after foiled 'massacre' in Luxor
Jun 12, 2015
A foiled attack on one of Egypt's most popular ancient attractions was raising fears Thursday for tourism and foreign investment as the country tries to recover from years of political and economic chaos.
Bombings and militant attacks have been common since the army ousted president Mohamed Morsi in 2013, targeting security forces in retaliation for bloody repression of the Islamist's supporters.
But experts believe jihadists have decided to target the Achilles' heel of tourism and investments in order to weaken the government of President Abdel-Fattah El-Sisi, who has pledged to fix the battered economy.
Full report at:
http://english.ahram.org.eg/NewsContent/3/12/132566/Business/Economy/Egypt-fears-for-tourism-after-foiled-massacre-in-L.aspx
------------
Yemen coalition 'not over' until UN resolution in effect: Gulf
Jun 12, 2015
A coalition bombing rebels in Yemen for more than two months will continue until a UN resolution calling for a rebel pullback takes effect, Qatar's foreign minister said on Thursday.
Khalid al-Attiyah spoke after chairing a meeting of his counterparts from the six-nation Gulf Cooperation Council (GCC).
"The coalition will not be over without the application of the related Security Council resolutions and especially the Resolution 2216," Attiyah told reporters.
That resolution, issued in April, calls on the Houthis to relinquish territory they have seized.
It asks all parties, particularly the Houthis, to adhere to measures including the outcome of an earlier "national dialogue" tasked with drawing up a new constitution.
Yemen's warring factions are to meet for UN-sponsored talks in Geneva starting on Sunday.
"Our brothers in Yemen assured us" that talks will take place within the framework of the Security Council resolutions, the national dialogue outcomes and a GCC initiative, Attiyah said.
Full report at:
http://english.ahram.org.eg/NewsContent/2/8/132574/World/Region/Yemen-coalition-not-over-until-UN-resolution-in-ef.aspx
---------
South Asia
30 Arab militants including 32 killed in Paktika airstrikes
Jun 12 2015
30 Arab militants including 32 killed have been killed in two separate airstrikes in Paktika province.
Nabiullah Peerkhil, spokesman for the governor of Paktika province says that the airstrikes were carried out in Yousufkhil and Khushamand District.
He said a group of Arab fighters was targeted in U.S. airstrike in Maroufkhil area of Khushamand District around 08:00 am this morning.
He said 30 Arab militants were killed in the attack and their two vehicles destroyed.
Peerkhil further said that two militants riding on a motorbike were killed in the second airstrike in Jarkani area of Yousufkhil District.
Taliban have not yet commented on the report.
http://www.khaama.com/30-arab-militants-including-32-killed-in-paktika-airstrikes-3480
------------
We fought 1971 war on our own, Bangladesh Minister tells Aziz
Jun 12 2015
Condemning the statement of Pakistan Prime Minister's Adviser on Foreign Affairs Sartaj Aziz, a senior Minister of Bangladesh said his country fought the 1971 Liberation War "on its own" and India stood by it as there was an international consensus.
Mr. Aziz had told Pakistan's Parliament that Islamabad had taken "strong notice" of Prime Minister Narendra Modi's statement in Dhaka "acknowledging" India's "intervention" in the events of 1971, reports said on Wednesday. "Pakistan will take all possible steps to expose India's role in the break-up of East Pakistan in 1971 and its threat to destabilise Pakistan through terrorism," Mr. Aziz had said.
Full report at:
http://www.thehindu.com/news/international/we-fought-1971-war-on-our-own-bangladesh-minister-tells-aziz/article7307115.ece
----------
Foreigners including six insurgents killed in VBIED explosion in Maidan Wardak
Jun 12 2015
Six militants were killed and five others wounded after a vehicle-borne improvised explosive device (VBIED) they planned to target government facilities with exploded in Chak District of Maidan Wardak province, officials said on Thursday.
Qari Mohammad alias Mutaqi was loading explosive materials into a Mazda model vehicle inside his home in Baidari area of Araban valley that exploded leaving six insurgents killed and five others wounded.
Ataullah Khogyani, spokesman for Maidan Wardak province said those killed comprised Mutaqi, three local militants and two foreign insurgents.
Khoyani added that Mullah Qasim, a prominent Taliban commander is among the ones wounded.
Governor's spokesman further said that a woman and five kids from Mutaqi's family also sustained injuries in the explosion.
According to Khogyani militants had planned to carry out a destructive explosion in the provincial capital or elsewhere in the province but their explosives detonated on them late yesterday.
http://www.khaama.com/foreigners-including-six-insurgents-killed-in-vbied-explosion-in-maidan-wardak-3479
------------
34 Jamaat-Shibir men held in Gazipur
Jun 12, 2015
Police have detained 34 leaders and activists of Jamaat-e-Islami and its student wing Islami Chhatra Shibir in a drive at a restaurant at Shibbari in Gazipur.
Police also recovered 20 petrol bombs and leaflets having anti-government slogans from the possession of the detainees.
Joydebpur police OC Rezaul Hasan Reza said: "Acting on a tip-off, police raided a restaurant around 8:30pm and detained 34 Jamaat-Shibir men with petrol bombs and leaflets."
They were taken to the police station for interrogation.
Acting ameer of metropolitan Jamaat SM Sanaullah said some of their leaders and activists were holding a tea party at the restaurant in the evening when police detained them.
He, however, claimed that the Jamaat-Shibir men did not have petrol bombs and leaflets in their possession.
http://www.dhakatribune.com/crime/2015/jun/11/34-jamaat-shibir-men-held-gazipur#sthash.ptZkSszy.dpuf
------------
Speakers: Ensure children's rights by ratifying UN protocol
Jun 12, 2015
Advocates of children's rights in the capital have urged the government to ratify the Optional Protocol 3 of the United Nations Committee on the Rights of the Child (UNCRC) to ensure children's rights in the country.
Speaking at a discussion in the capital yesterday, they said it was time for Bangladesh to come forward and ratify the protocol to protect children's rights.
The event, titled "Child Protection Status in Bangladesh: Importance of Ratification of Optional Protocol 3," took place at the Centre on Integrated Rural Development for Asia and the Pacific (Cirdap) in the capital, organised by Bangladesh Shishu Adhikar Forum (BSAF) along with SOS Children's Villages International and Terre des Hommes Netherlands.
The event was attended by Nasima Begum, secretary at the Ministry of Women and Children Affairs, as chief guest while Ghulam Ahmed Ishaque, national director of SOS Children's Villages International in Bangladesh, and Ehsanul Haque of Terre Des Hommes Netherlands were in attendance as special guests. BSAF Chairperson Emranul Huq Chowdhury chaired the event.
Full report at:
http://www.dhakatribune.com/bangladesh/2015/jun/11/speakers-ensure-childrens-rights-ratifying-un-protocol#sthash.xW4rj4y9.dpuf
---------
India
Muslims Can Chant 'Allah' Instead Of 'Om' On Yoga Day: Government
Jun 12, 2015
NEW DELHI -- With ten days left for International Yoga Day, the Modi government urged Muslims to participate in the celebrations, and suggested that they can take Allah's name instead of chanting 'Om' or reciting shlokas.
Shripad Naik, the minister who is organising the mega yoga event at the Rajpath on June 21, met with Muslim organisations on Thursday, PTI reported.
"Shlokas are not compulsory. Shlokas are merely prayers but it is not compulsory. They can even take the name of Allah instead of chanting shlokas," Naik said. "I request the Muslims to participate and unite the country."
"If people do not want to chant 'Om', they can say 'Allah'," he told IANS.
On Dec. 11, 2014, the United Nations General Assembly passed a resolution declaring June 21 as International Yoga Day, an initiative which was spearheaded by Prime Minister Narendra Modi, who spoke enthusiastically about India's tradition of exercise and meditation when he visited New York in September, last year.
Full report at:
http://www.huffingtonpost.in/2015/06/11/international-yoga-day_n_7562244.html
------------
Muslim groups back Yoga Day, Catholics unhappy
Jun 12, 2015
A delegation representing a few Muslim groups met Union Minister of State for Ayurveda, Yoga and Naturopathy, Unani, Siddha and Homoeopathy Shripad Naik on Thursday to extend support to programmes being undertaken to mark International Yoga Day on June 21.
Even as the government has been asserting that yoga is not religion-specific, some Muslim groups have been opposing yoga demonstrations in schools and other places. These groups have been particularly opposed to Surya Namaskar, a set of aasanas that the government claims has not been included in the common protocol to be followed in missions abroad and in India.
The delegation, comprising representatives of the Majlis Ulema-e-Hind (Uttar Pradesh), Jamat Ulema-e-Hind (Delhi), All India Jamat-e-Salmani B, Jamat Huffaz Ikraam, the Daudi Bohra Community, the Rashtriya Sanskrit Sansthan and so on, told Mr. Naik that a large percentage of the community did not believe in yoga being against their religion and supported the suggestion made by the Minister that Namaz had eight yoga postures.
Full report at:
http://www.thehindu.com/news/national/muslim-groups-back-yoga-day-catholics-unhappy/article7306709.ece
---------
Why Pak rhetoric now when it kept mum over Osama killing: Sena
PTI | Jun 12, 2015
MUMBAI: Taking a dig at Pakistan over its assertions in the wake of India's cross-border surgical strike in Myanmar, Shiv Sena on Friday said the neighbouring country should not make such comments when it had kept silent over the killing of Osama bin Laden by American troops.
An editorial in Sena mouthpiece 'Saamana' on Friday said that Pakistan first needs to tell the world why it did not dare to speak up against the US when its troops entered the country and killed dreaded terrorist Osama bin Laden in 2011.
"Instead of taking lessons from the operation in Myanmar, Pakistan is using a language of warning India. It doesn't suit... Pakistan to make such comments," it said.
"American soldiers had trooped inside your country and killed Osama bin Laden and even took away his corpse with them. You should first tell the world why you did not utter a single word then," it added.
Full report at:
http://timesofindia.indiatimes.com/india/Why-Pak-rhetoric-now-when-it-kept-mum-over-Osama-killing-Sena/articleshow/47641076.cms
------------
Modi govt calls for restraint to defuse tensions with Pakistan
TNN | Jun 12, 2015
NEW DELHI: The Narendra Modi government has decided to ratchet down the rising temperature in India-Pakistan relations due to aggressive rhetoric by both sides in the wake of Indian Army's raid on camps of northeastern militants in Myanmar.
Sources said that Prime Minister Narendra Modi has cautioned his ministerial colleagues against harping on the suggestion that the cross-border raid can be replicated against the terror groups hosted by Pakistan.
According to sources, the ministers are expected to scale down the rhetoric in the coming days.
Full report at:
http://timesofindia.indiatimes.com/india/Modi-govt-calls-for-restraint-to-defuse-tensions-with-Pakistan/articleshow/47636457.cms
------------
Africa
Boko Haram kills 43, burnt 3 villages in northeast Nigeria raids: residents
June 12, 2015
Boko Haram gunmen killed at least 43 people and burnt down three villages in northeast Nigeria, residents said on Friday, the latest in an upsurge of attacks by the Islamist militants.
Dozens of rebels on motorcycles stormed Matangale, Buraltima and Dirmanti in restive Borno state on Tuesday, opening fire on villagers before looting and burning homes, fleeing residents said.
News of the assault was slow to emerge due to poor communication in the region after Boko Haram destroyed telecoms masts in previous attacks.
Full report at:
http://indianexpress.com/article/world/middle-east-africa/boko-haram-kills-43-burnt-3-villages-in-northeast-nigeria-raids-residents/#sthash.YhcglXR3.dpuf
---------
Islamic State says it has blown up two warplanes at seized Libyan base
Jun 12, 2015
The militant group Islamic State said it had blown up two warplanes at an air base that it had seized near the central Libyan city of Sirte.
The group published pictures on social media that it said showed the two destroyed two military aircraft.
The Islamist rebels fighters seized Sirte's military and civilian airport two weeks ago.
http://english.ahram.org.eg/NewsContent/2/8/132541/World/Region/Islamic-State-says-it-has-blown-up-two-warplanes-a.aspx
--------
Nigeria New Satellite Channels Spread Islam
Jun 12, 2015
CAIRO – In a bid to spread true Islamic teachings, new radio and television channels have been launched by a leading Nigerian Islamic group, serving as a lighthouse in West Africa.
"We want to change the entire Muslim Ummah's lives through Manara, in area of preaching to them to do the right thing and always avoid anything capable of breaching the peace," Sheikh Bala Lau, chairman of Jama'atu Izalatul Bidah Wa Iqamatis Sunnah (JIBWIS), was quoted by Leadership newspaper on Thursday, June 11.
Adressing guests at the inauguration in Abuja, Lau said the new channels would be known as Manara Radio and Television stations.
Full report at:
http://www.onislam.net/english/news/3337-Africa/487381-nigeria-new-satellite-channels-spread-islam.html
------------
Kenyan rights groups celebrate lifting of 'terrorist' tag
Jun 12, 2015
Two Kenyan rights groups welcomed a court injunction blocking the government from declaring them as terrorist groups, although their bank accounts remain frozen.
The two key Muslim civil society organisations, HAKI Africa and Muslims for Human Rights (MUHURI), had their activities suspended in April for suspected links to Somalia's Al-Qaeda-linked Shebab, and were placed on a list of 85 individuals and organisations accused of supporting the Islamists.
The list, which also froze key money transfer companies vital for poverty-stricken Somalia, was part of a crackdown on alleged Shebab supporters following the massacre of almost 150 people at Garissa university by the extremists.
Full report at:
http://english.ahram.org.eg/NewsContent/2/9/132536/World/International/Kenyan-rights-groups-celebrate-lifting-of-terroris.aspx
------------
Buhari Rejects Proposal for Chad, Niger, Others to Head Central Force Against Boko Haram
Jun 12, 2015
President Muhammadu Buhari has rejected a proposal for an alternate leadership between Nigeria, Chad, Niger, Cameroun and Benin, of a joint military force against Boko Haram.
At a meeting with leaders of the Lake Chad nations Thursday in Abuja, Mr. Buhari insisted Nigeria must be the sole leader of the joint military operation.
He said a proposal that such leadership alternate amongst the participating nations after every six months, may ultimately undermine the joint operations.
Full report at:
http://allafrica.com/stories/201506120040.html
------------
Pakistan
25 militants killed in Shawal Valley, several others injured
Jun 12, 2015
NORTH WAZIRISTAN: At least 25 suspected militants were reportedly killed while several others were injured in a raid by security forces in North Waziristan's Shawal Valley on Friday, Express News reported.
Along with destroying militant sanctuaries, security forces also claimed to have arrested a commander to the militants during the raid.
Earlier on May 25, Prime Minister Nawaz Sharif gave the go-ahead to extend Operation Zarb-e-Azb into Shawal Valley.
The development to expand the operation into the mountainous north-western region of North Waziristan Agency came during a meeting between the premier and army chief General Raheel Sharif in Islamabad.
Further, at least 10 militants were killed in an operation in North Waziristan's Datta Khel area on Thursday as part of the ongoing Operation Zarb-e-Azb, an Inter-Services Public Relations (ISPR) statement revealed.
During the operation, security forces were also successful in destroying militant hideouts.
http://tribune.com.pk/story/902319/25-militants-killed-in-shawal-valley-while-several-others-injured/
------------
Several NGOs in Pakistan backed by US, Israel and India: Chaudhry Nisar
Jun 12, 2015
ISLAMABAD: Interior Minister Chaudhry Nisar Ali on Friday said some international non-governmental organisations (NGOs) in Pakistan are being backed by the United States, Israel and India.
Addressing reporters in Islamabad, the interior minister's claims come just a day after authorities sealed the Islamabad offices of the international aid group Save the Children and ordered it to leave the country saying the charity was "working against the country".
The government did not make any formal announcement but an official from the interior ministry said that the agency was involved in the "anti-Pakistan activities".
"Their activities were being monitored since a long time. They were doing something which was against Pakistan's interest," said the official without giving his name because he was not authorised to speak to the media.
Full report at:
http://tribune.com.pk/story/902373/several-ngos-in-pakistan-backed-by-us-israel-and-india-chaudhry-nisar/
------------
Allegations of using zakat, sacrificial hides' money for criminal activities are baseless: Altaf
Jun 12, 2015
LONDON: Hours after the Sindh Apex Committee meeting, where DG Sindh Rangers said that forcibly collected charity and sacrificial hides were being used by political parties, religious groups and terror outfits to fund private militias and criminal activity, Muttahida Quami Movement (MQM) chief Altaf Hussain refuted the allegations as baseless.
Addressing the 37th Inception Day of All Pakistan Muttahida Student Organisation (APMSO) celebrations in Karachi via telephone from London, Hussain said that that the army was responsible for protection of territorial boundaries of the country and should not get involved in issues relating to the police and civil administration.
Full report at:
http://tribune.com.pk/story/902250/allegations-of-using-zakat-sacrificial-hides-money-for-criminal-activities-are-baseless-altaf/
---------
Nawaz Sharif: Pakistan will protect its interests
Jun 12, 2015
Pakistan Prime Minister Nawaz Sharif on Thursday attacked the "irresponsible and imprudent" statements emanating from India, following the counter-terror action in Myanmar and vowed to protect his country's "vital interests at all costs."
Addressing a conference of Pakistan's envoys here, he said such statements vitiate the atmosphere and take the two countries away from the goals of regional peace and stability.
"At the same time we will not abandon our moral high ground because of provocations."
He said the issue of Jammu and Kashmir cannot be relegated to the back-burner.
Mr. Sharif pointed out that last Tuesday during his meeting with the U.N. Secretary General in Dushanbe, he urged him to play a proactive role in promoting peace in the region.
He had also reminded him that it was incumbent on the Security Council to ensure early implementation of its resolutions on J&K.
Meanwhile, the Senate in its resolution said Pakistan would never allow its territory to be violated by India under any pretext. It stated that the Pakistan armed forces were fully capable of giving a fitting response to any incursion and the Pakistani people stand shoulder to shoulder with their armed forces, Radio Pakistan reported.
Full report at:
http://www.thehindu.com/news/international/nawaz-sharif-pakistan-will-protect-its-interests/article7306717.ece
-----------
Terrorists adopting 'hit-and-run' tactic, says IGP
Jun 12, 2015
PESHAWAR: Inspector General of Police Nasir Khan Durrani has said that the law and order situation has improved compared to the last five years, but the fight against terrorists would continue till elimination of the last terrorist.
He said that terrorists had been denied shelters inside the city due to which they were adopting 'hit-and-run' tactic.
The police chief said this while talking to media persons after offering funeral prayer for the two police constables, Ibrar from Mardan and Lal Bahader from Swabi, at Malik Saad Shaheed Police Lines, Peshawar, on Thursday. The two constables were killed in a suicide attack on deputy commandant FRP Tariq Malik earlier in the day.
Full report at:
http://www.dawn.com/news/1187675/terrorists-adopting-hit-and-run-tactic-says-igp
------------
Southeast Asia
Don't try to be 'liberal, multiracial' hero, Isma tells Najib
Jun 12, 2015
KUALA LUMPUR, June 12 — A local hardline Muslim group today cautioned Prime Minister Datuk Seri Najib Razak not to sideline Malays and Bumiputera rights in order to champion the "liberal, multiracial" agenda.
In a post at the Ikatan Muslimin Malaysia (Isma) website, its president Abdullah Zaik Abdul Rahman said that Najib should not forget that Muslims and Malay voters helped ensure Umno's victory in the previous general election.
"The prime minister should remember not to ignore the Malays and Bumiputera as the main factor in the country's development," Abdullah said in the website, referring to Najib's previous call to stop using the slur "pendatang".
Full report at:
http://www.themalaymailonline.com/malaysia/article/dont-try-to-be-liberal-multiracial-hero-isma-tells-najib#sthash.qd4MC4hC.dpuf
------------
Democracy will split up Islamist parties, claims hardline Islamist group
12 June, 2015
KUALA LUMPUR, June 12 — An Islamist party that defers to its secular political allies and does not champion Islamic ideals will head towards chaos, ultra conservative Islamic group Hizbut Tahrir Malaysia (HTM) claimed today.
HTM claimed that the main reason Islamist parties have internal conflict is because they fail to prioritise Islam and uphold democracy instead.
"It is no secret that an Islamist party that is involved with democracy faces severe internal conflict as the democratic ideals they practise causes them to fight among each other," HTM wrote on its website.
Full report at:
http://www.themalaymailonline.com/malaysia/article/democracy-will-split-up-islamist-parties-claims-hardline-islamist-group#sthash.mrf0wRGB.dpuf
------------
Thai students detained in Pakistan have no IS links: Thai govt
Jun 12, 2015
BANGKOK: Five Thai students detained in Pakistan for trying to board a plane with a pistol and ammunition have no links to the self-styled Islamic State militant group or any criminal organization, a Thai government spokesman said on Friday.
The men, who had been studying at a religious school in Pakistan, were trying to catch a flight on Monday night when they were intercepted.
"We have no evidence that there are any links at all between the students and any criminal organization, so news that there is a link between IS and the students is not true," Major General Sansern Kaewkamnerd, a deputy government spokesman, told Reuters.
On Friday, Thai newspaper the Bangkok Post reported that two of the five were suspected of having links to Islamic State, which is also known as IS. The report cited intelligence sources.
Officials from Thailand's embassy in Islamabad had visited the students and an investigation by embassy officials was underway, Sansern said.
Full report at:
http://www.dawn.com/news/1187759/thai-students-detained-in-pakistan-have-no-is-links-thai-govt
--------
North America
U.S. Schoolteachers Bow to Allah, Celebrate Islam
CHERYL CHUMLEY
Jun 12, 2015
About 50 teachers and administrators at one Pennsylvania school district attended a recent training session on Islam and Arabic culture, during an all-day in-service workshop that came at taxpayer expense.
The workshop in the town of Lebanon was led by a former district Arabic translator, Mohamed Omar, who "took time off from his new job as a case worker for the Department of Human Services in Philadelphia to share his knowledge of Islam with the staff," the Lebanon Daily News reported.
Among the attendees: Superintendent Marianne Bartley and a handful of other administrators, EAGNews.org reported.
"I think this is the first time ever in the United States that a school district goes to a mosque," mosque founder Hamid Housni told the Daily News. "Usually a representative of a mosque goes somewhere. We don't have words to explain to you how we appreciate that. This is very, very special."
Full report at:
http://www.wnd.com/2015/06/teachers-bow-to-allah-celebrate-islam/#GdTAGUPyAhzTJwYj.99
--------
Pentagon: Price tag for war on ISIS is $2.7 billion
12 June 2015
The U.S. has spent more than $2.7 billion on the war against Islamic State of Iraq and Syria (ISIS) militants in Iraq and Syria since bombings began last August, and the average daily cost is now more than $9 million, the Pentagon said Thursday.
Releasing a detailed breakdown of the costs for the first time, the Defense Department showed that the Air Force has borne two-thirds of the total spending, or more than $1.8 billion. The daily combat, reconnaissance and other flights eat up more than $5 million a day.
The data also provided a rare look into the often secret special operations costs, which totaled more than $200 million since August.
Full report at:
https://english.alarabiya.net/en/News/middle-east/2015/06/12/Pentagon-Price-tag-for-war-on-ISIS-is-2-7-billion.html
------------
Two Pakistan-origin brothers jailed for NY terrorist plot
Jun 12, 2015
MIAMI: A federal judge imposed the maximum possible prison sentences on Thursday on two Pakistan-born brothers who admitted trying to pull off a terrorist bomb attack against New York City landmarks and later assaulted two deputy US marshals while in custody.
District Judge Beth Bloom compared the plot, which never got past the planning stages, to the 2013 Boston Marathon bombings in which the two attackers used commonplace pressure cookers.
In the Florida case, evidence shows the younger brother, 22-year-old Raees Alam Qazi, researched how to make bombs on the Internet using readily available items such as Christmas tree lights and chemicals.
Full report at:
http://www.dawn.com/news/1187660/two-pakistan-origin-brothers-jailed-for-ny-terrorist-plot
------------
US plans to set up more bases in Iraq, says Pentagon
Jun 12, 2015
WASHINGTON: The United States is considering setting up additional bases in Iraq similar to a new hub planned in Anbar province to help Iraqi forces battle the self-styled Islamic State, the Pentagon said on Thursday.
Establishing more bases to get US military advisers closer to the battlefront would likely require yet more American troops to deploy to Iraq beyond the 450 reinforcements announced by the White House on Wednesday.
The Pentagon raised the possibility of more bases a day after President Barack Obama's administration unveiled plans to send dozens of advisers to Anbar to help Iraqi forces eventually recapture Ramadi, which fell to the IS jihadists last month.
The advisers and other US troops headed to Anbar will operate out of Taqaddum Air Base, which is located only 37 kilometres from Ramadi.
Full report at:
http://www.dawn.com/news/1187647/us-plans-to-set-up-more-bases-in-iraq-says-pentagon
------------
Bureaucratic infighting let US hostages down in Pakistan, says army officer
Jun 12, 2015
WASHINGTON: A combat-decorated US military officer told a congressional committee on Thursday that all American hostages in Pakistan could have been rescued, but bureaucratic infighting failed them.
Lt Col Jason Amerine told the Senate's homeland security and governmental affairs committee that he was removed from his job when he tried to expose this dysfunction.
"The cadets I taught at West Point, now officers rising in the ranks, are reaching out to see if I'm okay," he told the committee. "I feared for their safety when they went to war and now they fear for my safety in Washington."
Full report at:
http://www.dawn.com/news/1187624/bureaucratic-infighting-let-us-hostages-down-in-pakistan-says-army-officer
------------
Mideast
Turkey's Erdogan says West backing Kurdish 'terrorists' in Syria
Jun 12, 2015
ANKARA - Turkish President Tayyip Erdogan on Thursday accused the West of bombing Arabs and Turkmens in Syria while supporting Kurdish "terrorist" groups which he said were taking their place.
Moderate Syrian rebels and Kurdish forces have been fighting Islamic State insurgents holding the Syrian border town of Tel Abyad in recent days, sending thousands of people fleeing to Turkey.
Turkey is uncomfortable with gains by Kurdish YPG forces in Syria, saying they have links with the outlawed Kurdistan Workers' Party (PKK), which has fought a decades-long insurgency against the Turkish state.
Full report at:
http://www.jpost.com/Middle-East/Turkeys-Erdogan-says-West-backing-Kurdish-terrorists-in-Syria-405698
--------
Americans will 'lose their life and existence' in fight against Iran, says Iranian official
Jun 12, 2015
Discussing the Iranian navy's daily confrontations with US vessels, a senior Iranian official military boasted that the Americans will "lose their life and existence" in a struggle against Tehran.
According to Iran's semi-official FARS news agency, on Wednesday, during a speech addressing members of the Iranian Revolutionary Guard and Basij security forces, Rear Admiral Ali Fadavi emphasized the power of his country's coast-to-sea missile systems and fleet of high-powered speed boats, whose purpose is to counter American warships in the region, especially in the Persian Gulf.
Full report at:
http://www.jpost.com/Middle-East/Americans-will-lose-their-life-and-existence-in-fight-against-Iran-says-Iranian-official-405690
------------
Iran Asks for UN's Serious Efforts to End War against Yemen
Jun 12, 2015
Iranian Deputy Foreign Minister Hossein Amir Abdollahian in a phone conversation with UN Secretary General's Special Envoy for Yemen Ismail Valad Sheikh Ahmad called on the world body enhance efforts to end the Saudi-led airstrikes against the Yemeni nation.
During the phone conversation on Wednesday, Amir Abdollahian expressed regret that the Saudi attacks still continue even on the threshold of the holy month of Ramadan.
Sheikh Ahmad, for his part, elaborated on the latest developments before the upcoming Yemen national talks in Geneva on June 14, and described the conditions in Yemen as difficult.
Full report at:
http://english.farsnews.com/newstext.aspx?nn=13940321000209
------------
Ansarullah Fires Artillery Shells at Saudi Bases in Dhahran Al-Janub
Jun 12, 2015
Yemen's Ansarullah movement fired artillery shells at Saudi military bases in the province of Dhahran al-Janub (Southern Dhahran).
As many as 27 rockets and several artillery shells were fired at different military sites in the province in the Southwestern region of Asir, al-Masirah TV reported.
There has been no immediate report on the number of casualties or the extent of the damage caused in the attack.
Reports also said that the Ansarullah fighters targeted several Saudi vehicles in the Borj al-Radif military base in the Southwestern city of Jizan. The Saudi soldiers fled the site after the attack.
Full report at:
http://english.farsnews.com/newstext.aspx?nn=13940321000284
------------
Israel closes probe into killing of 4 boys on Gaza beach
Jun 12, 2015
Israel's killing of four Palestinian boys in an air strike on a Gaza beach during the 2014 war was a case of mistaken identity that does not warrant criminal charges, the military says.
Witnessed by several foreign reporters, the July 16 attack fuelled censure abroad of Israel's assault on the Hamas-run enclave. The Israelis have been conducting internal investigations of possible military misconduct while trying to fend off war-crimes allegations by various U.N. bodies.
Lieutenant-Colonel Peter Lerner, an Israeli military spokesman, said the air force fired on the four boys after failing to identify them as children and believing they were gunmen running in an area "utilized exclusively by militants".
Full report at:
http://www.hurriyetdailynews.com/israel-closes-probe-into-killing-of-4-boys-on-gaza-beach.aspx?pageID=238&nID=83864&NewsCatID=352
------------
Abbas says Palestinian Authority must re-examine agreements with Israel
Jun 12, 2015
Palestinian Authority President Mahmoud Abbas on Wednesday called for the re-examination of political, economic and security arrangements with Israel, Palestinians news agency Ma'an reported.
At a press conference with Serbian President Tomislav Nikolicat in Belgrade, the PA chief said Israel must "stop violating our agreements and fully commit to them." He stressed his commitment to peace based on the Arab peace initiative, and "on justice and international legitimacy."
Full report at:
http://www.jpost.com/Arab-Israeli-Conflict/Abbas-says-PA-must-re-examine-agreements-with-Israel-405678
------------
Europe
New Ramazan rules to help Nordic Muslims in midnight sun
Jun 12, 2015
STOCKHOLM: Muslims in the Nordic region can expect new guidelines for coping with a sun that never sets ahead of Ramazan, a Swedish Muslim association said on Thursday.
Ramazan begins on June 18 this year — three days before the longest day of the year — when the sun blazes around the clock above the Arctic Circle and only sets for a few ho­urs further south, presenting a problem for Muslims who are meant to fast until sunset.
"We've got two difficult questions, not just when you can break the fast in the north but also when you sho­uld start fasting," Mohammed Kharraki, a spokesman for Sweden's Islamic Association, said.
"You're supposed to start fasting before the sun rises, at dawn. But there is no real dawn in the summer months in Stockholm."
Full report at:
http://www.dawn.com/news/1187623/new-ramazan-rules-to-help-nordic-muslims-in-midnight-sun
------------
Back from Syria and Iraq, Bosnian fighters pose threat at home
Jun 12, 2015
Bosnian fighters returning from Syria and Iraq are forming regional militant networks that pose a direct threat to security in the Balkans and beyond, a study warned on June 11.
The returnees have formed links extending to Serbia, Montenegro, Macedonia, Albania and Kosovo, said the non-profit Sarajevo-based Atlantic Initiative, and may be radicalising youngsters on the margins of society.
"Once a destination country for foreign fighters in the 1990s, Bosnia is now the country of origin for volunteers in other people's wars," said Vlado Azinovic, a co-author of the report.
Drawing on both intelligence sources and open documents like court records, it said a total of 192 Bosnian adults and 25 children, aged 5 months to 17 years, had travelled to the conflict zones of Syria and Iraq from spring 2012 to the end of 2014.
Full report at:
http://www.hurriyetdailynews.com/back-from-syria-and-iraq-bosnian-fighters-pose-threat-at-home.aspx?pageID=238&nID=83870&NewsCatID=354
-------
UNICEF says 80 percent of Yemenis need aid
12 June 2015
Eighty percent of Yemen's population, or more than 20 million people, need some form of humanitarian assistance as Arab air strikes and civil war ravage the impoverished country, aid agency UNICEF said on Thursday.
The figure is up by almost 5 million people since the organization's latest report last week.
For over 11 weeks, an Arab military coalition has been bombing the Houthi militia, the dominant group in Yemen at the moment, in a bid to restore the country's exiled president to power and support local fighters resisting the Houthi advance in battlefields nationwide.
The alliance's de facto blockade of Yemen's air space and ports has cut off supplies of food and fuel to the parched country, where gas-powered pumps providing water for drinking and sanitation now lie mostly inoperable.
Full report at:
https://english.alarabiya.net/en/News/middle-east/2015/06/12/UNICEF-says-80-of-Yemen-s-population-needs-aid-.html
------------
Geneva peace talks look to break Yemen deadlock
Jun 12, 2015
Yemen's warring factions will meet for UN-sponsored talks in Geneva from June 14 in their first bid to break a deadlock after more than two months of Saudi-led air strikes.
Fourteen Yemeni representatives -- seven from each side of the conflict pitting Iran-backed rebels against the internationally recognised government of President Abedrabbo Mansour Hadi and its allies -- will take part in the talks in the Swiss city, expected to last two to three days.
Despite a fierce campaign of air strikes that has dealt heavy losses to the rebels, the Saudi-led coalition of mainly Arab nations has failed to alter the balance of power in Yemen or meet its goal of restoring the rule of the exiled Hadi.
And while the Shiite Huthi rebels have managed to hold on to territory they had seized, including the capital Sanaa, they have failed to expand their control across the entire country.
Full report at:
http://www.hurriyetdailynews.com/geneva-peace-talks-look-to-break-yemen-deadlock-.aspx?pageID=238&nID=83872&NewsCatID=359
------------
Central Asia Has 99 Problems, but Extremism in Tajikistan Isn't the Worst
12 June 2015
Central Asia doesn't make it into the New York Times very often and rarely for good reasons. Today was no different with the publishing of an op-ed from Ahmed Rashid dramatically titled "Jihad's New Frontier: Tajikistan." Rashid's op-ed was clearly sparked by the defection of Tajikistan's special police commander Gulmurod Halimov to ISIS and falls into a popular trope: hyping the jihadist threat in Central Asia. Not all of what Rashid writes is inaccurate, but the alarmist tone threatens to rob reality of complexity. Such simplification, while convenient, serves no useful purpose.
Some of what Rashid gets wrong in the op-ed are basic facts, downright embarrassing for an author who wrote an entire book on militant Islam in Central Asia to whiff.
"And Tajikistan's eight million people are predominantly Sufis — a moderate branch of Islam.," Rashid writes. While 90 percent of Tajiks are indeed Muslims and Sufism is, in fact, a moderate branch of Islam, it is not what most Tajiks follow. The U.S. State Department, in its 2013 International Religious Freedom report states that the "majority adhere to the Hanafi school of Sunni Islam as traditionally practiced in Central Asia."
Full report at:
http://thediplomat.com/2015/06/central-asia-has-99-problems-but-extremism-in-tajikistan-isnt-the-worst/
---------
Australia
Hackathons Take on Islamic State in Cyberspace Battle
Jun 12, 2015
In a small room close by the Sydney Opera House, 60 people representing a vast range of communities and industries are working feverishly to come up with ways to combat the Islamic State group's online propaganda machine.
The extremists' ideology and use of social media has struck a chord with thousands of youngsters across the world, drawing them to fight in Iraq and Syria or show support from their home countries.
The United States and its allies have struggled to counter the digitally savvy group, but a pair of Silicon Valley entrepreneurs are leading a grassroots-charge to take on IS in cyberspace, travelling around the world to host hackathon challenges.
The latest hackathon competition the fourth in the past five months is being held alongside a two-day countering violent extremism conference in Australia's biggest city, attended by high-level officials and experts and opened by Prime Minister Tony Abbott.
Full report at:
http://gadgets.ndtv.com/internet/news/hackathons-take-on-islamic-state-in-cyberspace-battle-702669
------------
URL: https://www.newageislam.com/islamic-world-news/new-age-islam-news-bureau/takfiris-vandalize-mosque-in-bahrain,-tear-copies-of-holy-qura%E2%80%99n/d/103462