New Age Islam News Bureau
1 Sept 2015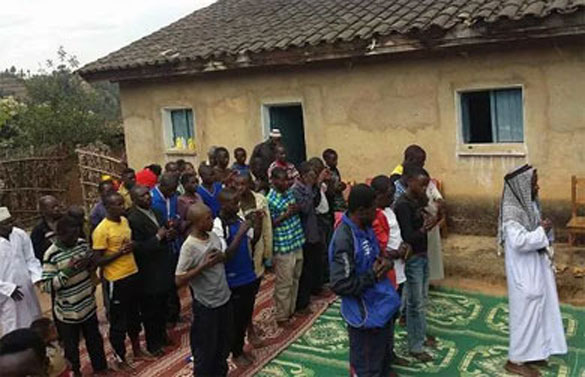 Pastor, Salim Mikdad, converted all 480 members of his congregation
---------
Arab World
• Takfiri Daesh Militant Group Kills 112 of Own Members in Iraq's Mosul
• Over 30 ISIL Militants Killed in Iraqi Army Counter-Attacks in Anbar Province
• Syrian Army, Hezbollah Advance in Zabadani, Kill over 19 Militants
• Daesh Burns 4 Iraqi Shiite Fighters Alive
• Heavy Clashes Erupt among Rival Militant Groups in Syrian Aleppo Province
• Iraqi Official: Army, Popular Forces Getting Ready to Retake Ramadi from ISIL
• Syrian Army Retakes More Lands in Dara'a Province
• ISIS edges towards the 'heart' of Damascus
• 200 residents of Iraqi town held by ISIS
• Hezbollah backs Lebanese dialogue for way out of gridlock
• Syrian Army, Hezbollah Marching on Rebel Positions inside Madaya Town
• Iraq Rejects Presence of US Troops in Anbar Province
• Cabinet is briefed on Yemen talks
• Facebook Muezzin Fired For Altering Adhan
• Egypt starts dig on Gaza border to stop smuggling tunnels
----------
Africa
• Boko Haram Gunmen Massacre 80 in Nigeria
• Ex-UK PM Blair 'Tried To Save Qaddafi:' Report
• Rwandan Pastor, 480-Member Congregation Revert to Islam
• Al-Shabab militants attack African Union base in Somalia
• Nigeria: Sokoto Health Insurance Hangs On Islam's Interpretation
• Muslim students tackle WAEC for disrespecting Islam
• Hunger rises in Somalia as el Nino floods loom: UN
-----------
Pakistan
• Sindh Ready to Geo-tag All Seminaries within Next Two Weeks
• At Least Six Killed, 56 Injured In Khyber Suicide Attack on Pakistan Forces
• Six 'Terrorists' Killed In Shootouts in Karachi
• Haqqani network almost wiped out, Aziz assures German FM
• US wants to see reduced tensions in Indo-Pak relations
• 'India, Pakistan must begin secret backchannel talks': Pakistan's Former FM
• Two killers of journalists arrested in Quetta
• Pakistan hosting 1.6m registered Afghan refugees: UNHCR
• Shujaat meets Khosa in a bid to unite Muslim League factions
• Russia-Pakistan defence ties discomfit India
-----------
Mideast
• 18 Civilians Killed In Saudi Aerial Raids across Yemen
• Ankara Gov't Heading Turkey in Wrong Direction, Most Turks Believe
• Iranian Ground Force Arms Drones with More Weapons
• Tawaf on Segway board: Opinions differ on whether it is Islamic
• Houthis detain dozens in Yemeni capital
• Turkey to offer rewards for 'denouncing terrorists'
• Yemeni Forces Win Back Strategic Region in Ibb Province
• Spokesman: Yemeni Army's Surprise Attacks on Saudi Arabia Coming Soon
----------
North America
• Peace-Loving Muslim Americans Remain Misunderstood
• America's First Islamic University Starts Academic Journey
• N.J. billboard looks to raise awareness about Islam
• UN chief monitoring situation at India-Pakistan border
• Airlines Suspends Muslim over Alcohol Serving
• Philanthropist Frank Islam conferred 'Pride of India' award by Muslim organization in Boston
• West Point law professor who called for attacks on 'Islamic holy sites' resigns
-----------
India
• Islam Tells People to Kill Non-Believers, Gita Calls for Peace: Taslima Nasrin
• Muslim Outfits Oppose Naming Aurangzeb Road in Delhi after APJ Abdul Kalam
• 3 Techies and a Dropout, Lured Together by the Islamists from Kalyan
• Affirmative Action for Muslims Key to Sabka Saath, Sabka Vikas: VP Hamid Ansari
----------
South Asia
• Dostum: Mullah Mansoor Was a Prisoner Of War in 2001, Used To Serve As Spy in Prison
• Deadline Set For Mullah Mansoor to Settle Differences over His Election
• Gen. Dostum Returns to Kabul, Declares Pakistan "Enemy of Afghanistan"
• Baghlan PC: Taliban capture 20 soldiers in Dand-i-Ghori District
• BUET expels student, acts against four others for having 'militant links'
• Myanmar's President Signs 'Anti-Muslim' Law
• Mobile money pilot program bringing safe, transparent pay to Afghan police
• Bangladesh charges five Islamists over blogger murder
• Anti-terrorism body leader shot dead in Lakshmipur
-----------
Europe
• 'Being Bilal:' First British Muslim Unscripted Reality Show Hits TV Screens
• Islamic Society of Central Florida Donates Food to Families in Need
-------------
Southeast Asia
• Anti-Muslim Buddhist Group Moves Toward Myanmar's Mainstream
• 'Najib must surrender leadership'
• Indonesia's battle for a distinct Islamic identity
• Greater Jakarta: City to open food court, souvenir centre at JIC
Compiled by New Age Islam News Bureau
URL: https://www.newageislam.com/islamic-world-news/new-age-islam-news-bureau/takfiri-daesh-militant-group-kills-112-of-own-members-in-iraq's-mosul/d/104444
-------
Arab World
Takfiri Daesh Militant Group Kills 112 of Own Members in Iraq's Mosul
Sep 1, 2015
The Takfiri Daesh militant group has reportedly executed 112 of its own members in Iraq's embattled northern province of Nineveh.
Spokesman for the Kurdistan Democratic Party (KDP) in Mosul, Saeed Mamouzini, told Arabic-language al-Sumaria satellite television network on Monday that Daesh terrorists killed their fellow extremists in the city, located some 400 kilometres (248 miles) north of the capital, Baghdad, on the grounds that they had plans to orchestrate a "coup" against the terror group's leader, Ibrahim al-Samarrai aka Abu Bakr al-Baghdadi.
Mamouzini added that the militants, among them 18 top commanders, were executed by firing squad at a prison in southern Mosul.
The slain terrorists had reportedly planned to kill the self-proclaimed Mosul governor, Abu Abdul Majid Afar, overrun Nineveh Province, break from Daesh and declare war on the terrorists currently positioned in Syria's northern militant-held city of Raqqa.
The development came on the same day that Daesh extremists rounded up scores of Mosul residents and put them under control to make sure that their relatives, who are currently performing Hajj in neighbouring Saudi Arabia, would return to Iraq.
Gruesome violence has plagued the northern and western parts of Iraq ever since ISIL Takfiris launched an offensive in June 2014, and took control of portions of Iraqi territory.
The militants have been committing vicious crimes against all ethnic and religious communities in Iraq, including Shias, Sunnis, Kurds, Christians and others.
Units of army soldiers joined by volunteer fighters are seeking to win back militant-held regions in joint operations.
http://www.presstv.ir/Detail/2015/09/01/427235/Daesh-Mosul-Abu-Bakr-alBaghdadi-Nineveh
----------
Over 30 ISIL Militants Killed in Iraqi Army Counter-Attacks in Anbar Province
Sep 01, 2015
"The Iraqi army troops supported by tribal fighters repelled the ISIL massive attacks from four directions on al-Baghdadi and Haditha using booby-trapped vehicles and various weapons," Commander of the Seventh Division of the Iraqi Army Major General Abdul-Zobaie Nauman said.
"The army soldiers and tribal fighter killed over 32 ISIL militants in the attack and seized two booby-trapped vehicles," the Iraqi commander went on to say.
On Monday, a senior Iraqi military official said that the country's security forces alongside tribal fighters identified an explosive-laden suicide car and targeted it, killing at least the car driver.
"The forces of al-Jazeerah and al-Badiyah Operation alongside Haditha tribal forces foiled a suicide attack by a booby-trapped vehicle that targeted the security forces in the area of al-Amiriyah East of Haditha District (160 km West of Ramadi)," Commander of al-Jazeerah and al-Badiyah Operations Major General Ali Ibrahim Daboun announced.
"The Iraqi force destroyed the vehicle and killed the suicide bomber before reaching his target; without any human casualties in the ranks of the security forces and clan fighters."
http://english.farsnews.com/newstext.aspx?nn=13940610000595
----------
Syrian Army, Hezbollah Advance in Zabadani, Kill over 19 Militants
Sep 01, 2015
The sources said that the Syrian Army's 63rd Brigade of the 4th Mechanized Division and Hezbollah units continue to inch their way to the nearly untouched Mahata Roundabout – an area under the control of Harakat Ahrar Al-Sham and their allies from Al-Nusra Front and the so-called Free Syrian Army's "Liwaa Suqour Zabadani".
The joint forces of the Syrian Amy's 63rd Brigade and Hezbollah attempted to expedite the conclusion of this intense battle for Al-Zabadani by storming the defensive positions of the rebel units of Harakat Ahrar Al-Sham and Al-Nusra Front at the Zabadani Bridge and the Sharif Al-Idrissi School on Al-Ra'eesi Street near the city-center.
Not long after they launched this powerful attack, the Syrian Armed Forces and Lebanese Resistance imposed full-control over the Zabadani Bridge and the Sharif Al-Idrissi School, following a series of intense firefights with Harakat Ahrar Al-Sham and Al-Nusra Front, killing 19 rebels.
In addition to the Syrian Armed Forces and Lebanese Resistance's success at Zabadani, a total of 8 enemy combatants surrendered to the Syrian army before nightfall on Monday; that equates to 16 surrendered fighters in 24 hours.
http://english.farsnews.com/newstext.aspx?nn=13940610000807
----------
Daesh Burns 4 Iraqi Shiite Fighters Alive
1 September 2015
BAGHDAD: Daesh strung up four Iraqi Shiite fighters with chains and burned them alive, according to footage posted online, the latest gruesome execution video from the terrorists.
The victims — identified as fighters in the pro-government Popular Mobilization forces from southern Iraq — were suspended from a swing set by chains attached to their hands and feet, then set on fire.
Daesh said the murders were in revenge for the alleged burning of four men by pro-government forces.
"Now retribution has come, for today, we will attack them as they attacked us, and punish them as they punished us," a masked militant says in the video, which was not dated and did not say where the burnings took place.
The video included a clip said to show a Sunni man suspended over a fire while still alive as pro-government forces look on, and another of famous Shiite fighter Abu Azrael ("Father of the Angel of Death") slicing a piece of flesh off a burned corpse with a sword.
Meanwhile, the mayor of a remote, Daesh-held town in western Iraq said on Monday that some 200 residents have been detained by the group at an unknown location following clashes there.
Trouble in Rutbah, in Anbar province near the Jordanian border, started Saturday when Daesh militants killed a local resident for killing a member of the group as part of a long-running clan blood feud. Hundreds of residents demonstrated later that day to protest the killing and clashes broke out when the militants attempted to disperse the protesters.
A provincial Anbar official said Saturday some 70 residents were detained by the militants and more than 100 more were tied to streetlight poles for about 24 hours as a punishment.
Rutbah's mayor, Imad Al-Rishawy, said that around 200 residents are still held by the group at an unknown location and that the town is gripped by fears that they might be killed.
http://www.arabnews.com/middle-east/news/799771
----------
Heavy Clashes Erupt among Rival Militant Groups in Syrian Aleppo Province
Sep 01, 2015
The sources said that, over the last two months, the ISIL Takfiri terrorist group has rapidly advanced across the Aleppo Governorate's northeastern territories, capturing large swathes territory from the so-called Free Syrian Army (FSA) and the Levantine Front (Jabhat Al-Shamiyah) amid their devastating losses at the Tal Abyad border-crossing into Turkey from the Raqqa Governorate.
Recently, the FSA and the Levantine Front have come under fire at two different cities – Tal Rifa'at and Mar'e – as the ISIL group has launched numerous suicide attacks and mortar shells to weaken the frontline defenses of the other rebel forces, while they attempt to push North towards the Azaz border-crossing and South towards the provincial capital.
Also on Sunday morning, the terrorist group conducted a suicide attack via a vehicle borne improvised explosive device (VBIED) along the Tal Rifa'at-Sheikh Issa direction; however, the suicide attack was unsuccessful, allowing for the rebels to build-up their fortifications before the ISIL militants could strike the outskirts of Tal Rifa'at.
In addition to their assault at the Tal Rifa'at-Sheikh Issa axis, the ISIL attacked the FSA's "Sultan Murad Brigade" at the town of Dalhah in Northern Aleppo; this resulted in a series of fierce clashes between the two groups on Sunday night.
If the ISIL captures the two rebel strongholds of Mar'e and Tal Rifa'at; this will leave the Free Syrian Army, the Levantine Front and their affiliates in a dangerous position near the Afrin Canton, while the predominately Kurdish "People's Protection Units" (YPG) watch from close by.
http://english.farsnews.com/newstext.aspx?nn=13940610000711
----------
Iraqi Official: Army, Popular Forces Getting Ready to Retake Ramadi from ISIL
Sep 01, 2015
"The operation to liberate Ramadi City has witnessed a setback to reduce the losses in lives, equipment and infrastructure," Isawi pointed out.
"The ISIL Takfiri terrorist group is dealing with the center of Ramadi as a scorched land," Isawi said while justifying the Iraqi forces' delay in liberation of the city.
"The security forces are getting ready for the liberation of the city of Ramadi with support from three brigades of Hashed al-Shaabi militia from the residents of the province," he went on to say.
Full report at:
http://english.farsnews.com/newstext.aspx?nn=13940610000758
----------
Syrian Army Retakes More Lands in Dara'a Province
Sep 01, 2015
The sources said that the Syrian Army's 15th Brigade of the Special Forces – in coordination with the Palestine Liberation Army (PLA) and the National Defense Forces (NDF) – launched a powerful assault on the FSA and Jeish Al-Yarmouk's positions inside the Al-Lijat Plateau, where they engaged in a fierce firefight on the border of Dara'a and Al-Sweida.
Following the clashes, the Syrian Armed Forces achieved a break-through inside the village of Tal Wardat, where they recaptured the strategic hilltop that overlooks the remaining territory under the control of the rebel units in the Al-Lijat Plateau.
Full report at:
http://english.farsnews.com/newstext.aspx?nn=13940610000564
----------
ISIS edges towards the 'heart' of Damascus
31 August 2015
Islamic State of Iraq and Syria (ISIS) militants battled Syrian rebel forces in a Damascus neighbourhood on Monday, bringing the jihadists closer than ever to the centre of the capital, a monitoring group said.
ISIS militants fought street battles against Islamist rebels in Asali, part of the capital's southern Qadam district, after seizing two streets there over the weekend, the Syrian Observatory for Human Rights said.
"This is the closest ISIS has ever been to the heart of Damascus," Observatory head Rami Abdel Rahman said.
He said the jihadists had advanced from the adjacent al-Hajar al-Aswad neighbourhood, where they have been based since July 2014.
A Syrian military official confirmed the clashes and said he was "very happy that they are fighting."
"But we are ready to react if they try to advance into government-held territory," the official told AFP.
According to the Observatory, opposition-held Qadam has been relatively quiet since a truce between rebel groups and regime forces there a year ago.
It said fighting in the district on Sunday left 15 fighters dead, but it could not specify how many were from ISIS and how many were Islamist rebels.
Abdel Rahman said the "fierce street battles" had forced civilians to flee the area.
Since its expulsion from the Eastern Ghouta suburb of Damascus last year, ISIS has used Al-Hajar Al-Aswad as a base for attacks on the capital.
Fierce battles
From there, it tried to seize the Yarmuk Palestinian refugee camp in April, but was pushed back.
That same month, ISIS kidnapped two opposition fighters from Qadam and beheaded them in Al-Hajar Al-Aswad.
More than 240,000 people have been killed in Syria's conflict, which began with popular anti-government protests in March 2011 but has evolved into a complex civil war.
The conflict has seen the embattled regime of President Bashar al-Assad lose swathes of territory across the country.
Full report at:
https://english.alarabiya.net/en/News/middle-east/2015/08/31/-Battling-rebels-is-moves-closer-to-central-Damascus-.html
----------
200 residents of Iraqi town held by ISIS
31 August 2015
The mayor of a remote, Islamic State of Iraq and Syria-held town in western Iraq said on Monday that some 200 residents have been detained by the group at an unknown location following clashes there.
Trouble in Rutbah, in Anbar province near the Jordanian border, started Saturday when ISIS militants killed a local resident for killing a member of the group as part of a long-running clan blood feud. Hundreds of residents demonstrated later that day to protest the killing and clashes broke out when the militants attempted to disperse the protesters.
A provincial Anbar official said Saturday some 70 residents were detained by the militants and more than 100 more were tied to streetlight poles for about 24 hours as a punishment.
Rutbah's mayor, Imad al-Rishawy, said that around 200 residents are still held by the ISIS group at an unknown location and that the town is gripped by fears that they might be killed.
Demonstrating against the ISIS group in areas under its control had been rare since the group seized much of northern and western Iraq in the summer of 2014. The group has zero tolerance for noncompliance with its radical interpretation of Islam or cooperation with authorities in Baghdad, routinely handing down severe punishments like beheadings, burning offenders to death or, in less serious cases, flogging or placing offenders in cages placed at public squares.
Full report at:
https://english.alarabiya.net/en/News/middle-east/2015/08/31/200-residents-of-Iraqi-town-held-by-Islamic-State-group.html
----------
Hezbollah backs Lebanese dialogue for way out of gridlock
31 August 2015
Lebanon's Hezbollah says it "fully supports" high-level talks between politicians to try to find a way out of a political gridlock that has sparked the largest anti-government protests in years.
The powerful Shiite Muslim group says in a statement Monday that an initiative by Lebanon's parliament speaker to bring politicians together presents a "serious opportunity" to address Lebanon's problems.
Speaker Nabih Berri on Sunday promised to call for dialogue in early September. The country's other main factions also supported the call.
Full report at:
https://english.alarabiya.net/en/News/middle-east/2015/08/31/Hezbollah-backs-Lebanese-dialogue-for-way-out-of-gridlock.html
----------
Syrian Army, Hezbollah Marching on Rebel Positions inside Madaya Town
Aug 31, 2015
The sources said that two days after liberating operation of Madaya, the Syrian army and Hezbollah fighters started their mop-up operation inside the town.
The sources added that the Syrian army's 63rd Brigade, Hezbollah, the Syrian Social Nationalist Party (SSNP), and the National Defense Forces (NDF) stormed the positions of al-Nusra Front and Ahrar al-Sham in Southwest Madaya, and retook control over vast areas near Al-Kazbari Mosque.
According to a military source in Damascus, the Syrian Armed Forces and Lebanese Resistance retake full control over the Al-Kazbari Mosque's surrounding building blocks, while the Syrian warplanes unleashed a fury of powerful airstrikes inside the rebel-controlled areas of Madaya.
The Syrian army and Hezbollah are advancing in the Northern, Western and Southern directions of Madaya town.
Full report at:
http://english.farsnews.com/newstext.aspx?nn=13940609001085
----------
Iraq Rejects Presence of US Troops in Anbar Province
Aug 31, 2015
"The news reports on the presence of the US troops in the military operations in Anbar province to help Iraq take the province from the ISIL's control are not true," the Arabic-language al-Sumrya news website quoted Commander of Iraqi Counterterrorism Forces Brigadier General Abdol Ghani al-Assadi as saying on Monday.
He reiterated that Iraq does not need any foreign forces to fight the ISIL and it enjoys the needed capability and capacity to defeat the terrorist group.
On Sunday, the Iraqi army started fresh military operations to take control of a strategic region in al-Anbar province, and killed tens of ISIL Takfiri terrorists in fierce clashes.
The army backed by warplanes are advancing in Anbar province towards al-Khalediya region which is currently under the control of the ISIL terrorists.
The Iraqi officials announced that at least 45 Takfiri terrorists have been killed and their strongholds have been destroyed in the Iraqi army raid.
On Wednesday, Iraqi forces and volunteers reportedly retook the key Jubbah region in Iraq's Western Anbar province, driving out the ISIL Takfiri militants which had previously held it.
"Joint forces managed to free the Jubbah Region in the Heet District," an informed source said.
Full report at:
http://english.farsnews.com/newstext.aspx?nn=13940609000911
----------
Cabinet is briefed on Yemen talks
1 September 2015
JEDDAH: At the weekly Cabinet meeting on Tuesday, Vice Custodian of the Two Holy Mosques Prince Mohammed bin Naif briefed the Cabinet on the talks held by Custodian of the Two Holy Mosques King Salman with President Abed Rabbo Mansour Hadi of Yemen, which reaffirmed the Kingdom's support for that country's legitimate government and its people.
Minister of Social Affairs and acting Minister of Culture and Information Majid Al-Qassabi said the Cabinet also appreciated the letter written by Hadi thanking the Kingdom for rectifying the status of about 500,000 Yemenis in the country, and humanitarian aid such as medicines and shelter for those living in Yemen.
Full report at:
http://www.arabnews.com/saudi-arabia/news/799946
----------
Facebook Muezzin Fired For Altering Adhan
31 August 2015
CAIRO – An Egyptian imam in Delta city of Kafr Al Dawar has been fired following complaints that he tampered with the phrasing of the call to Fajr prayer to reprimand Muslim Facebook browsers who does not perform prayers.
"He will be questioned and will receive a deterrent penalty if found guilty," Mohammad Abdul Razeq, from the religious department of the Ministry of Waqfs (religious affairs), which is in charge of mosques in Egypt, told Al Masry Al Youm on Monday, August 31.
"He could be expelled from his job if the accusation against him is proven," the official added.
Identified as Mahmoud Al Mughazi, the imam has allegedly altered the wording of the adhan by saying "praying is better than spending time on Facebook" instead of the traditional "praying is better than sleeping" call.
Full report at:
http://www.onislam.net/english/news/africa/492933-facebook-muezzin-fired-for-altering-adhan.html
----------
Egypt starts dig on Gaza border to stop smuggling tunnels
31 August 2015
Egyptian military bulldozers are digging through the sand along Egypt's border with the Gaza Strip in recent days, pressing ahead with what appears to be a renewed campaign to pressure Gaza's Hamas rulers and stamp out militant activity along the border.
The project, billed as an Egyptian military-operated fish farm, effectively would fill the border area with water and is designed to put an end to the last remaining cross-border underground smuggling tunnels, Egyptian military officials said. Hamas accuses Egypt of further isolating the beleaguered Palestinian territory.
The new excavations seem to be "a tightening of the grip of siege on Gaza," Hamas official Mushir al-Masri said. Egypt "should not slide into this cliff that agrees with the Israeli policies of siege."
Israel and Egypt have maintained a blockade of the territory since the Islamic militant group Hamas seized control of Gaza in 2007. For several years, Egypt tolerated a smuggling industry, allowing hundreds of tunnels to bring in goods like cigarettes and spare motorbike parts, as well as weapons. These tunnels were a lifeline for Hamas, which collected millions of dollars in taxes and revenues from the smuggled goods. They continued to thrive after longtime autocrat Hosni Mubarak was ousted in 2011 and the Islamist Mohammed Morsi won the country's first free presidential election.
But things changed after the Egyptian army ousted Morsi, a key ally of Hamas, in 2013. The military-backed government accused Islamic militants of using smuggling tunnels to move between Gaza and Egypt's Sinai Peninsula. Hamas denies militants move in and out of its territory.
Last November, after militants killed 31 Egyptian troops in an assault on a checkpoint 20 miles (30 kilometers) from Rafah, Egypt demolished hundreds of homes and evicted thousands of residents as it carved out a buffer zone and destroyed more tunnels. Today, Palestinian smugglers operate an estimated 20 tunnels.
But the violence has continued. Last month, Islamic State-linked militants struck Egyptian army outposts in a coordinated wave of suicide bombings and battles. It was some of Sinai's deadliest fighting in decades and underlined the government's failure to stem the insurgency. Last week, three gunmen in a speeding car killed two policemen in an attack claimed by the Islamic State group.
Now Egypt is trying to finish off the tunnels for good.
Egypt's army began digging last week what officials said will be 18 fisheries along the 9-mile (14-kilometer) border with Gaza to grow mullet fish and shrimps, and to make digging underground tunnels impossible. The military officials spoke on condition of anonymity because they were not authorized to talk to the media.
On Sunday, diggers and bulldozers operated in several locations along the border. Pairs of 15-inch black steel pipes were scattered in the construction area. Previous plans to dig a small canal were abandoned after studies showed that the water would eventually flood the border completely, the officials said.
The new construction work has had an immediate effect on Gaza's tunnel smuggling trade. One smuggler, who spoke on condition of anonymity because he did not want trouble with the Egyptians, said he bought a shipment of motorbike parts for $6,000, but paid $10,000 to get it smuggled into Gaza because the operation has become very risky.
Before the excavation began two weeks ago, 10 packs of cigarettes smuggled through the tunnels from Egypt's Sinai Peninsula sold in Gaza for around 110 shekels, or about $28. Now the price has jumped to 125 shekels, or nearly $32.
Full report at:
https://english.alarabiya.net/en/News/middle-east/2015/08/31/Egypt-starts-dig-on-Gaza-border-to-stop-smuggling-tunnels.html
----------
Africa
Boko Haram gunmen massacre 80 in Nigeria
September 1, 2015
KANO: Suspected Boko Haram gunmen on horseback shot dead nearly 80 people in attacks on three villages in Nigeria's restive northeast at the weekend, residents and a vigilante said on Monday.
The attacks were the latest bloodbath in the six-year-old insurgency by the terrorist group aimed at carving out an Islamic state in the volatile region.
Babakura Kolo, a vigilante fighting Boko Haram, said 68 people were killed in the attack on Baanu village in Borno state late on Friday while residents said another 11 people were shot dead in two other villages on Saturday and Sunday.
"Reports reached us of an attack on Baanu village late on Friday where Boko Haram gunmen riding on horses opened fire on the village. Sixty-eight people were killed in the attack," Kolo said.
He said the gunmen stormed Baanu at about 8.30pm, shooting sporadically.
Baanu resident Aisami Ari who fled the attack to the state capital Maiduguri on Saturday, confirmed the attack and the death toll.
"The attackers came on horses around 8.30pm and began shooting sporadically. The whole village was thrown into confusion and everybody fled.
"We returned after they had gone and found out they had killed 68 people in the village," he said.
"Most of us left the village on Saturday for fear of a fresh attack," he added.
A government official, however, put the death toll in Baanu at 56.
Kolo said four people were killed in another attack by the terrorists in Karnuwa village on Saturday. "They shot dead four people in the village, including the chief imam of the village, his son and two neighbours," he said.
Local resident Saleh Musa spoke of a third attack on Hambagda on Sunday where seven villagers were killed and five others injured.
"The attackers arrived on horseback around 2pm while people were praying in the mosque. They went straight to the mosque and opened fire on worshippers," said Musa who later fled to the nearby town of Askira Uba.
"They killed seven people, while five others were injured. I was late for the afternoon prayers and I was at home preparing to go to the mosque and join in the prayers when the attack happened."
Full report at:
http://www.dawn.com/news/1204142/boko-haram-gunmen-massacre-80-in-nigeria
----------
Ex-UK PM Blair 'Tried To Save Qaddafi:' Report
31 August 2015
British former Prime Minister Tony Blair is set to be the subject of a UK parliamentary inquiry after allegations in a new book that he tried to save late Libyan dictator Muammar Qaddafi back in 2011, the Times of London reported on Monday.
According to a new biography of current UK Prime Minister David Cameron, Blair was contacted by "a key individual close to Qaddafi" during the 2011 military campaign to end the dictator's regime.
Upon receiving the information, Blair phoned the prime minister's residence, Number 10 Downing Street, on his behalf. In his call to Downing Street, Blair purportedly said that Qaddafi wanted "a deal with the British."
Blair seen shaking hands with Qaddafi at his desert base outside Sirte south of Tripoli in 2007. (File photo: AP)
However - apparently fearing he would seem too supportive of the Libyan dictator – rejected to intervene.
The chairman of the UK parliament's Foreign Affairs Committee, Crispin Blunt, was quoted by the Times as saying that "the suggestion that he made an intervention during the course of 2011 certainly strengthens the case for having him come and give evidence." The parliament committee is currently examining Britain's role in the campaign five years ago.
New relations
In 2005, while prime minister, Tony Blair decided to seek rapprochement with Qaddafi and his regime, after years of frosty relations between Libya and the UK.
Qaddafi seen with Blair as they meet outside Tripoli in 2004 (File photo: AP)
In a 2004 visit to the Libyan capital Tripoli, Blair said that he had hopes for a "new relationship" with Libya.
The two leaders kept up personal ties even after Blair left his premiership in 2007. Qaddafi sponsored Blair's trips to Tripoli on at least two occasions in 2008 and 2009 on private jets, according to UK media reports.
Full report at:
https://english.alarabiya.net/en/News/middle-east/2015/08/31/Ex-UK-PM-Tony-Blair-tried-to-save-Qaddafi-report.html
----------
Rwandan Pastor, 480-Member Congregation Revert to Islam
01 September 2015
KIGALI – In one of the largest reversion cases of Christians to Islam, a Rwandan pastor and his entire 480-member congregation have reverted to Islam, as the world fastest growing religion expands its presence in the African continent.
According to several media reports, Salim Mikdad, a former pastor, reverted to Islam after being convinced into it by Muslim scholars, Nigeria Watch reported.
Later on, he managed to convince his entire 480-member congregation to take a similar decision last August 25.
After switching their faith, the church was turned into a mosque.
The latest incident comes amid a series of similar conversions in Rwanda.
Being a predominantly Christian country, Rwanda has seen a gradual rise in its Muslim population.
About 56.9% of Rwandans are Roman Catholic, 26% are Protestant, 11.1% are Seventh day Adventist and only 4.6% are Muslim, most of them being Sunni.
The sharp rise in Muslim population followed the country's 1994 genocide when both Catholic and Protestant churches were accused of helping to make the killing of about 800,000 people possible by giving moral sanction to the murders.
Full report at:
http://www.onislam.net/english/news/africa/492983-rwandan-pastor-congregation-revert-to-islam.html
----------
Al-Shabab militants attack African Union base in Somalia
Sep 1, 2015
Somalia's al-Qaeda-linked al-Shabab militants have attacked an African Union (AU) base in Janale district, near Mogadishu.
The militants reportedly rammed an explosive-laden vehicle into the base before storming the compound on Tuesday.
The AU says its forces managed to fend off the attack.
The AU force in Somalia, known as AMISOM, said AU troops were in control of the base in Janale district, about 80 kilometers (50 miles) southwest of the capital in the Lower Shabelle region.
Full report at:
http://www.presstv.ir/Detail/2015/09/01/427265/Somalia-AlShabab-AU
----------
Nigeria: Sokoto Health Insurance Hangs On Islam's Interpretation
31 AUGUST 2015
By Judd-Leonard Okafor
Sokoto state governor Aminu Tambuwal is to consult with intellectual and Islamic leaders about the position of Islam on health insurance before the state becomes a part of devolved health insurance scheme.
It came in the same week Benue state governor Samuel Ortom declared the state's "immediate subscription" to the State Supported Social Health Insurance Programme (SSHIP) after both governors met with National Health Insurance Scheme acting executive secretary Femi Akingbade.
In talks with Akingbade, Tambuwal said people in Sokoto were still hesitant about accepting health insurance because of cultural and religious sensitivities.
He said once consultations with religious and intellectual scholars ended, Sokoto would be willing to run SSHIP.
Akingbade said SSHIP was its attempt to decentralise health insurance by encouraging state governments to assume responsibility for providing health cover for their citizens.
Sokoto, where community-based health insurance is already on, and Benue are the latest states whose governors NHIS has engaged in its drive to spread SSHIP.
"The status of health as an item on the Concurrent Legislative List has continued to be a major hindrance to rapid penetration of health insurance in the country, as states are not bound to legislations and policies on health matters by the federal government," said Akingbade in separate talks with Ortom.
Full report at:
http://allafrica.com/stories/201508312311.html
----------
Muslim students tackle WAEC for disrespecting Islam
31.08.2015
Apex Nigerian Muslim students body, the Muslim Students Society of Nigeria (MSSN), has criticized the West African Examinations Council (WAEC) over the times fixed for some subjects in the 2015 November December General Certificate of Education (GCE) time tables.
Speaking with newsmen in Abeokuta last week, MSSN accused the examination body of fixing examinations at times when most Muslims should be praying.
According to the zonal coordinator of the group in the southern states, Alhaji Mushafau Alaran, the act takes Muslims for granted and disrespects Islam.
"It should be noted that Jumat prayer is an obligation that all Muslims must observe," Alaran said.
Full report at:
http://pulse.ng/student/2015-nov-dec-gce-muslim-students-tackle-waec-for-disrespecting-islam-id4122833.html
-----------
Hunger rises in Somalia as el Nino floods loom: UN
September 01, 2015
NAIROBI : The number of Somalis in hunger has risen in the past six months, the United Nations said on Monday, predicting a further spike as the Horn of Africa nation braces itself for the worst flooding in decades.
Following a poor cereal harvest caused by an early end to the rainy season, there has been a 17 percent increase in the number of Somalis in food crisis, up to 855,000 people, two-thirds of whom are internally displaced.
"The country's humanitarian situation remains alarming," the UN said in a statement.
Somalia experienced a devastating famine in 2011, caused by drought, war and lack of access to humanitarian aid.
Scientists fear Somalia will face severe flooding because of the El Nino phenomenon, a warming of sea-surface temperatures in the Pacific.
This phenomenon is strengthening and is likely to peak in three to seven months' time, the Australian Bureau of Meteorology said.
Sea-surface temperature anomalies in the Pacific Ocean are set to climb to the highest in 19 years.
This El Nino is predicted to be the biggest since the last major event in east Africa in 1997, which caused heavy rains and flash floods.
"This is likely to lead to disease, loss of crops and property, and to deterioration in the food security and nutritional situations," the UN said.
In Somalia, 3.
1 million people - about one third of the population - need emergency aid of some kind.
Some 855,000 people need emergency food aid, and another 2.
3 million are food stressed, the UN said.
Some 215,000 children under five are malnourished, most of them living in settlements for the internally displaced, where global acute malnutrition rates are consistently above the emergency threshold of 15 percent, the UN said.
There are about 1.
Full report at:
http://nation.com.pk/international/01-Sep-2015/hunger-rises-in-somalia-as-el-nino-floods-loom-un
----------
Pakistan
Sindh Ready to Geo-tag All Seminaries within Next Two Weeks
HASAN MANSOOR
September 1, 2015
KARACHI: The Sindh government has informed the National Counter-Terrorism Authority (Nacta) in Islamabad that it will complete geotagging of around 10,000 madressahs in the province within two weeks, it emerged on Monday.
Geotagging is the process of adding an electronic tag (a symbol or set of letters) to a photograph, video or other information on the Internet to identify the place, enabling the authorities to make readily available the required data for any place they desire.
Officials said the authorities continued the survey of madressahs across the province, which, in the first phase, had already documented more than double to what were the previous figures.
However, they said at present more than 9,500 madressahs had been documented in Sindh, yet it was not the final list, as the authorities had not yet surveyed several remote parts.
"The number of madressahs will still be a couple of thousands more than the present number, which we are striving to document," said a senior official in the home ministry.
Nacta had blamed the authorities in Sindh and Gilgit-Baltistan for not completing the geotagging of madressahs. The federal authorities had complained that despite sending several reminders, the Sindh government gave no satisfactory reply.
In a fresh move, officials in the provincial home ministry declared that they had duly replied to the Nacta, seeking two more weeks to do the job.
Officials said the task had been given to the special branch of the police, which, with all equipment available were busy to complete it by the deadline set by Chief Minister Syed Qaim Ali Shah.
Full report at:
http://www.dawn.com/news/1204129/sindh-ready-to-geotag-all-seminaries-within-next-two-weeks
----------
At Least Six Killed, 56 Injured In Khyber Suicide Attack on Pakistan Forces
ALI AKBAR
September 1, 2015
PESHAWAR: At least six people, including a Khasadar Levy man, were killed and 56 others were injured in a suicide attack in Khyber Agency's Jamrud area on Tuesday.
The casualties were shifted to Peshawar's Hayatabad Medical Complex. Security sources say six of those injured were in critical condition.
Political Agent (PA) Shahab Ali Shah told DawnNews that the suicide bomber was aiming to enter his office but the plot was foiled because of the strict security measures in place at the complex. Therefore, the bomber could not enter the premises and blew himself up at the entrance gate, Shah said.
The PA said six people, including a Khasadar Levy man were killed in the blast, while 56 other people were injured. At least 16 Khasadar Levy personnel were among the injured.
Khyber Agency is one of Pakistan's seven semi-autonomous regions governed by tribal laws and lies near the Afghan border. The Taliban and other Al Qaeda-linked groups who stage attacks in both Pakistan and Afghanistan are also known to have strongholds in the zone.
Full report at:
http://www.dawn.com/news/1204217/at-least-six-killed-56-injured-in-khyber-suicide-attack
----------
Six 'Terrorists' Killed In Shootouts In Karachi
September 01, 2015
KARACHI - At least six terrorists were shot dead in separate encounters in different parts of the metropolis here Monday.
According to details, a Counter Terrorism Department (CTD) team on a tip off conducted raid at Northern Bypass area of Mangopir where militants affiliated with Sher Khan Mehsood group of the TTP opened firing the police team.
As a result, an encounter took place and police claimed to have killed two terrorists said to be brothers.
Their bodies were shifted to morgue after autopsy where they were identified as Sajid and Zafar.
The CTD claimed to have recovered explosive and weapons from the terrorists.
The Sindh government had announced Rs1 million and Rs0.
5 million as reward money on Sajid and Zafar respectively.
The CTD officials claimed that the terrorists affiliated with the TTP had been involved in the killing of ten policemen.
On the other side, Rizvia police claimed to have gunned down two alleged terrorist in an encounter at Khajji Ground.
The police said the raid was conducted on a tip off but the terrorists resorted to firing on the personnel.
The police team also retaliated and managed to gun down both terrorists on the spot.
The police claimed to have recovered a Kalashnikov, pistol and hand-grenade from the hideout.
The police said both the terrorists were affiliated with a defunct organisation while their bodies were shifted to morgue after autopsy.
On the other side, anti-car lifting cell singled a suspect motorbike to stop but the armed riders tried to flee and opened firing on the personnel.
The police team chased the bike and during exchange of fire, both the bike riders sustained bullets wounds.
They were shifted to hospital where they succumbed to injuries.
Police also recovered snatched motorbike and weapons from them.
In a separate raid, Rangers officials arrested two accused from Gulshan-e-Iqbal Block 13-
Other 15 accused were nabbed from Zaman town, Gulshan-e-Iqbal Block 13/D and East Zone areas.
Full report at:
http://nation.com.pk/national/01-Sep-2015/six-terrorists-killed-in-shootouts
----------
Haqqani network almost wiped out, Aziz assures German FM
September 1, 2015
Foreign Minister of Germany Dr Frank-Walter Steinmeier was on Monday given assurances by Prime Minister's Adviser on National Security Sartaj Aziz that the ongoing military action in North Waziristan was against all terrorist organisations, including the Haqqani network.
"Haqqani network is no longer present in Pakistan, and they have shifted to Afghanistan after the recent military operations in the area," said Sartaj Aziz during a meeting with Dr Steinmeier.
"The infrastructure supporting Haqqani network in North Waziristan has been dismantled," added Aziz.
The German FM said that "deep issues" like Kashmir should be a part of the talks between India and Pakistan as dialogue is the only way to move forward.
"There are deep issues like Kashmir which cannot be avoided in talks," German Foreign Minister Frank-Walter Steinmeier said during a joint press conference with National Security Adviser Sartaj Aziz.
The German Minister also asked Pakistan to step up campaign against militants and target them without any discrimination.
"Close cooperation between neighbouring countries, namely between Afghanistan and Pakistan is a sine qua non for peace and stability – terrorism does not stop at borders. The fight against terrorism has to be carried on in accordance with the rule of law and human rights," Steinmeier added.
Emphasising on the close ties between Pakistan and Germany, the Minister said that Germany has constantly been active in the energy sector in Pakistan, and its free-of-cost top class universities are increasingly becoming a popular destination for Pakistani students.
Steinmeier also opposed death penalty and urged Pakistan to halt executions which were started in December last year after a moratorium of about six years when Taliban attacked a school and killed 150 people, mostly children.
This is the third time Steinmeier visited Pakistan after two visits in 2007 and 2008 during his first tenure as foreign minister.
Earlier, the German foreign minister reached Islamabad on Monday on a two-day official visit.
Steinmeier is here to discuss matters relating to bilateral and regional interest with particular focus on peace and stability in the region.
Later, a meeting between Dr Steinmeier and Prime Minister Nawaz Sharif was held at the PM House.
The German foreign minister expressed deep respect and gratitude for Pakistan's efforts in the fight against terrorism and encouraged the government to continue the close collaboration with Afghanistan.
"Pakistan and Afghanistan need to work together for peace and prosperity in the region," stated the German envoy.
Full report at:
http://www.pakistantoday.com.pk/2015/09/01/national/haqqani-network-almost-wiped-out-aziz-assures-german-fm/
----------
US wants to see reduced tensions in Indo-Pak relations
September 1, 2015
The US State Department Deputy Spokesman Mark C. Toner said that his country encourages Pakistan and India to hold dialogue to reduce tensions.
"Indo-Pak relation is really a matter between the two countries. But we certainly want to see reduction in tensions between India and Pakistan," State Department Spokesman Mark Toner said during a press briefing in Washington.
He said that US National Security Advisor Susan Rice met with Pakistani leadership last week and shared out assessment of the sources of regional violence and discussed ways to return the region to peace and stability.
Full report at:
http://www.pakistantoday.com.pk/2015/09/01/uncategorized/us-wants-to-see-reduced-tensions-in-indo-pak-relations/
----------
'India, Pakistan must begin secret backchannel talks': Pakistan's Former FM
By Nirupama Subramanian
September 1, 2015
Pakistan's former foreign minister Khurshid Mahmud Kasuri has said the only way for India and Pakistan to end the post-Ufa impasse was to begin secret backchannel talks away from the public gaze, the same way both sides very nearly finalised a formula for resolving the Kashmir issue between 2004 and 2007. Speaking to The Indian Express from Lahore, Kasuri — whose book Neither a Hawk nor a Dove just released in Pakistan — added that the "only workable" resolution on Kashmir was the one that had been almost agreed upon then. Kasuri's book is slated to be released in India in September.
About getting both sides back to negotiating table, Kasuri said: "Without announcing to the public, both PMs should appoint people whom they trust entirely as their backchannel representatives. These representatives should not be answerable to anyone. They should be able to pick up the phone and talk to each other at any time." Asking both sides to embrace the progress that was made less than a decade ago, Kasuri pointed out that the Pakistan Army and the Inter-Services Intelligence (ISI) agency were on board regarding the Kashmir proposal. He added that the "formula" was the only one likely to find acceptance among "70 per cent" of Kashmiris, Pakistanis and Indians, "leaving out all the hardliners on all sides because nothing will ever be acceptable to them". The formula, said Kasuri, "was not done in a jiffy. It was not like going to Agra [in 2001] unprepared. And it was certainly not like going to Ufa". Kasuri, Pakistan's foreign minister during the Musharraf years from 2002 to 2008 said the Full report at:
http://indianexpress.com/article/india/india-others/india-pakistan-must-begin-secret-backchannel-talks-khurshid-mahmud-kasuri/
----------
Two killers of journalists arrested in Quetta
SYED ALI SHAH
September 1, 2015
QUETTA: Security agencies and police have arrested two high-profile 'target killers' involved in the murder of two journalists and an accountant in Quetta along with other terrorist activities.
Security sources say the accused belonged to a banned militant outfit.
Balochistan Home Minister Mir Safaraz Bugti during a press conference at the Home Ministry on Tuesday said security agencies had arrested the murderers of slain journalists Irshad Mastoi and Abdul Rasool, and accountant Muhammad Younas.
Home Secretary Balochistan Akbar Hussain Durrani was also present on the occasion.
Bugti said armed men had stormed inside the office of news agency Online and killed Bureau Chief Irshad Mastoi, reporter Abdul Rasool and part-time worker Muhammad Younas on August 28, 2014.
Also read: Journalists – the forgotten terror victims
He said that the arrested target killers had confessed to the killing of journalists in Quetta. "The target killers are being interrogated," he added.
The Home Minister said the accused arrested by security agencies were also involved in 30 bomb explosions and a series of targeted killings in Quetta and other parts of Balochistan.
The arrested men also confessed to have killed Balochistan National Party (Mengal) Central Secretary General Habib Jalib Baloch.
The Home Minister revealed that the arrested 'target killers' were also planning to target Jamiat Ulema-i-Islam-Fazl (JUI-F) Senator Hafiz Hamdullah and Vice Chairman for Baloch Missing Persons Mama Qadeer.
"A major conspiracy has been foiled," he said, referring to the high profile target killers' arrests.
Full report at:
http://www.dawn.com/news/1204232/two-killers-of-journalists-arrested-in-quetta
----------
Pakistan hosting 1.6m registered Afghan refugees: UNHCR
September 01, 2015
ISLAMABAD - Pakistan is hosting almost 1.
6 million registered Afghan refugees and is still the largest protracted refugee population globally, said an official of the United Nations High Commissioner for Refugees (UNHCR).
Talking to APP, he said since 2002, the UNHCR has facilitated the return of 3.
8 million registered Afghans from Pakistan.
He said that the efforts to address the needs of Afghan refugees and their host communities, and to advance durable solutions, are undertaken within the framework of the regional Solutions Strategy for Afghan Refugees (SSAR), the tripartite agreement on voluntary repatriation, and the Government of Pakistan's national policy on Afghan refugees.
To complement the UNHCR and partners' international support, the government of Pakistan has extended Afghan refugees' Proof of Registration (PoR) cards until the end of 2015, issued birth certificates for 800,000 Afghan refugee children, provided land for several refugee villages, and given refugees access to public schools and health clinics, he said.
12th phase of SWA IDPs'
repatriation begins
The 12th phase of repatriation of South Waziristan Agency's internally displaced persons (IDPs) began here on Monday in Sararogha, Sarwakai and Tiarza Tehsils of South Waziristan Agency.
Around 400, 000 people had left their native areas to take shelter in safe areas including Tank, D I Khan and Bannu after a military operation was initiated against the anti-state elements in the Agency area.
According to correspondent, more than 16700 families have so far repatriated to their native areas.
Full report at:
http://nation.com.pk/national/01-Sep-2015/no-one-can-dictate-us-in-fight-against-terror
----------
Shujaat meets Khosa in a bid to unite Muslim League factions
September 1, 2015
Pakistan Muslim League (PML) President and former prime minister Shujaat Hussain on Monday held a meeting with Sardar Zulfiqar Ali Khosa at the latter's residence and discussed the unification of various factions of Muslim League under the banner of the United Muslim League. Dost Muhammad Khosa, Tariq Bashir Cheema, Sardar Maqsood Laghari and others attended the meeting.
Hussain has been given a task of deliberating with leaders and influential people over establishment of the United Muslim League as a political party.
Further meetings regarding the United Muslim League will be held in the federal capital, Islamabad.
Pakistan Muslim League-Nawaz (PML-N) disgruntled leader Ghous Ali Shah will reach Islamabad for the meetings from Karachi.
Earlier, the PML president had made efforts for the cause in Sindh where he met Pir Pagara and Ghaus Ali Shah.
Full report at:
http://www.pakistantoday.com.pk/2015/08/31/city/lahore/shujaat-meets-khosa-in-a-bid-to-unite-muslim-league-factions/
----------
Russia-Pakistan defence ties discomfit India
September 1, 2015
Despite reservations expressed by India, Russia is looking to broaden its defence partnership with Islamabad by expanding a contract to supply assault helicopters to the country. Russia had earlier agreed to supply four Mi-35 choppers to Pakistan, but it now says it is willing to sell more provided Pakistan can shell out the cost for these.
Equipped with the latest navigation and avionics systems, according to Moscow-based rotorcraft designer and manufacturer Russian Helicopters, the Mi-35 chopper offers round-the-clock combat use of guided and unguided weapons in regular and challenging climate conditions.
According to Russian President Vladimir Putin's special envoy to Afghanistan Zamir Kabulov, Russia will sell four choppers in the first phase, after which the contract could be expanded depending upon Islamabad's purchasing power.
In an interview to news agency Ria Novosti, Kabulov said Pakistan needed the choppers to fight the Taliban. "Probably they would like to continue once they have mastered them. There are no obstructions," he said.
Full report at:
http://www.pakistantoday.com.pk/2015/09/01/national/439141/
----------
Mideast
18 civilians killed in Saudi aerial raids across Yemen
Sep 1, 2015
At least 18 civilians have been killed in Saudi airstrikes against residential areas across Yemen as part of Riyadh's ongoing military campaign against its southern neighbor.
On Tuesday, Saudi military aircraft bombarded Mukayras town in Yemen's central province of al-Bayda, killing eleven people and injuring many more, Lebanon-based Arabic-language al-Mayadeen news network reported.
Moreover, one civilian was killed and nine others sustained injuries when Saudi warplanes struck a number of areas in the southwestern Yemeni province of Ta'izz.
Saudi jets also pounded a popular market in the city of Sirwah, which lies about 120 kilometers (75 miles) east of the capital, Sana'a, leaving four civilians dead and 15 others injured.
Yemenis look at the damage following a Saudi airstrike on the Yemeni capital, Sana'a, August 31, 2015. (Photo by AFP)
Separately, Saudi military aircraft carried out strikes against Majaz district in Yemen's northwestern province of Sa'ada on Tuesday. One civilian was killed and several others were injured in the aerial assault.
Additionally, Saudi warplanes carried out 12 airstrikes against various regions in the northwestern province of Hajjah, though no reports of fatalities were immediately available.
Saudi jets also struck al-Khamsin Street in down town Sana'a, leveling 12 residential buildings to the ground. The strike left one civilian dead and 17 others injured.
A Yemeni man stands next to a charred vehicle following a Saudi airstrike on the Yemeni capital, Sana'a, August 31, 2015. (Photo by AFP)
Full report at:
http://www.presstv.ir/Detail/2015/09/01/427264/Yemen-Saudi-Arabia-airstrikes-Taizz-Hajjah-Ansarullah-
----------
Ankara gov't heading Turkey in wrong direction, most Turks believe
Sep 1, 2015
The majority of Turks believe the government in Ankara is pushing the country in the wrong direction, according to a poll, as snap elections draw closer amid a failure to form a coalition government.
According to a recent poll conducted by MetroPOLL surveying firm, 65 percent of the respondents believed a dark future awaits the country.
Only 23 percent said the country was on the right path, with 10 percent saying the government was neither on the right nor on the wrong path. Two percent said they had no idea on the matter.
MetroPOLL interviewed 2,520 by phone ahead of the upcoming snap elections to form a new government.
Full report at:
http://www.presstv.ir/Detail/2015/09/01/427247/Turkey-wrong-direction-MetroPOLL-
----------
Iranian Ground Force Arms Drones with More Weapons
Aug 31, 2015
"We have done a special task on the drones which has improved the precision striking, range and flight duration of the Ground Force's drones; therefore, our drones are can now conduct the needed missions according to the Ground Force's daily needs," Pourdastan said on Monday.
"With the help of the Ground Force's experts, the necessary ground has been prepared in the drone systems to enable them carry heavier loads of weapons and we aim to use these drones in rapid reaction drills to be staged in the current year," he added.
Pourdastan said that the Ground Force's drones can be remote-controlled, while they are also equipped with auto-pilot systems and can attack hostile ground and air targets at different levels.
In relevant remarks on Tuesday, Iranian Defense Minister Brigadier General Hossein Dehqan announced the country's plans to equip its drones with the home-made powerful and high-precision air-based Nasr cruise missile.
Dehqan made the remarks in Tehran, addressing the inauguration ceremony of Nasr missile production line.
Full report at:
http://english.farsnews.com/newstext.aspx?nn=13940609001083
----------
Tawaf on Segway board: Opinions differ on whether it is Islamic
1 September 2015
JEDDAH: A short video showing a pilgrim, draped in the two pieces of seamless cloth called ihram, circumambulating the Kaaba in Makkah using a Segway board, has gone viral on social media.
The well-built man is seen swooshing past fellow pilgrims on the second level of the mobile platform set up in the Grand Mosque's open mataf section specifically for wheel-chair-bound and elderly pilgrims.
The high-tech device, which is a self-balancing battery-operated machine with no handlebars, also known as the "uberboard," was perhaps used for the first time by a pilgrim in this manner. The video was taken by a visitor to the mosque, with the pilgrim oblivious to the fact that he was being filmed.
The video was first posted on Monday evening by British Haj Travel Limited on their Twitter handle @BHTofficial. From there, the clip went viral. It was on Facebook, Instagram, WhatsApp and every other platform.
The clip elicited thousands of responses with everyone wondering if it was right from an Islamic point of view to circumambulate perched on this innocuous self-propelled machine.
"This is not fair. If you can walk, then you must perform Tawaf by walking; this is disrespectful," tweeted Ahsan via @AsnSaleem. "People in pain walk to get the reward and he is just abusing it," wrote @ibeabdul.
"It is allowed," ruled Riyadh-based Maulana Najeeb Qasmi Sambhali, who has done his postdoctoral thesis in Hadith from a reputable university in India. He is a graduate of the world famous religious seminary Darul Uloom Deoband. "As long as the pilgrim's feet are not covered by the contraption, it is all right. There is no problem with that. It is like doing circumambulation in a wheelchair."
On whether an able-bodied pilgrim should use the device, Maulana Qasmi said: "Different scholars will have different opinions on this particular aspect. As far as possible, where such things can be avoided, they should be avoided."
He said if performing Tawaf on this contraption obstructs fellow pilgrims, then the ruling would be very clear. "It must not be used. If it harms fellow pilgrims, crashes into them, or creates fear, it must not be used at all."
Full report at:
http://www.arabnews.com/saudi-arabia/news/799896
----------
Houthis detain dozens of opponents in Sanaa
1 September 2015
SANAA: Yemeni security officials say Shiite rebels in the capital have raided the homes of political opponents and local NGO workers, claiming they are affiliated with the Daesh group and Al-Qaeda.
The officials, who are neutral in a conflict that has splintered the security forces, said Monday the raids began a day earlier. They spoke on condition of anonymity because they are not authorized to brief journalists.
Meanwhile, the Saudi-led coalition has sent military support to forces loyal to the internationally recognized President Abed Rabbo Mansour Hadi in the eastern province of Marib, according to Al Arabiya Channel.
Full report at:
http://www.arabnews.com/middle-east/news/799766
----------
Turkey to offer rewards for 'denouncing terrorists'
31 August 2015
Turkish authorities will offer up to 4 million lira ($1.37 million) in rewards for those who help a crackdown on "terrorists", according to a new ruling published Monday.
The decision comes after a surge in violence in the southeast between Turkish security forces and Kurdistan Workers' Party (PKK) Kurdish militants which has nullified a 2013 truce.
Under the government's plan, informants' rewards will be based on the "value of the information in preventing terrorism crimes and catching the suspects," said a statement in the official gazette, where all new legislation and government rulings are published.
Those who report the identity or location of a "suspected terrorist" anonymously will be awarded up to 200,000 Turkish lira ($68,000) as long as they as they are not involved in the "terrorism activity" that they report, it added.
But the award will be multiplied by 20 and increased to 4 million lira if the suspect is the leader of a "terrorist organisation" or the crime that is exposed is severe enough to cause "unrest".
The informant does not have to be a Turkish citizen to be eligible for the award, the statement said.
Full report at:
https://english.alarabiya.net/en/News/middle-east/2015/08/31/Turkey-to-offer-rewards-for-denouncing-terrorists-.html
----------
Yemeni Forces Win Back Strategic Region in Ibb Province
Aug 31, 2015
The Yemeni forces took full control over al-Badan mountainous region in Ibb province, the Arab-language Al-Manar Satellite TV reported.
In a relevant development earlier today, the Yemeni troops took over a strategic military base in the Southern parts of Saudi Arabia. They also seized control of Mash'al military base in Jizan province.
Tens of Saudi troops were killed and several of their military vehicles and tanks were also destroyed during the Yemeni forces' raid on the base.
On Sunday, several US military advisors of the Saudi army were killed and wounded in heavy clashes with Yemen's revolutionary forces in Saudi Arabia's Najran region.
"The Yemeni revolutionary committee forces killed three US military advisors and wounded two others in the Southern province of Najran," Abu Hessam, a senior Ansarullah commander, told FNA.
Full report at:
http://english.farsnews.com/newstext.aspx?nn=13940609001353
----------
Spokesman: Yemeni Army's Surprise Attacks on Saudi Arabia Coming Soon
Aug 31, 2015
"We will surprise the enemy with our large-scale fresh attacks," the Arabic-language Al-Alam TV quoted Brigadier General Luqman as saying on Monday.
He noted that the Saudi media have staged a psychological warfare against the Yemeni forces, and said, "We are currently present deep inside Saudi Arabia and they cannot confront us; we hit them with Scud missiles and target their tanks with Cornet defense systems."
Brigadier General Luqman elaborated on the Yemeni army's general strategy against the Saudi army, and said, "Our commanders believe that mere fighting against the Saudi mercenaries is not sufficient; we have occupied vast areas in Southern Saudi Arabia which are in fact our own provinces previously occupied by the Riyadh government."
The Saudi media are running a hype about their country's unreal military gains in Yemen in order to boost the morale of their troops, even showing fake videos of slain Yemeni forces.
The footage of Saudi Arabia's false videos comes just days after the Yemeni army and revolutionary forces uploaded their genuine videos on their victories in Yemen and Southern Saudi Arabia.
One of the videos titled 'Saudi Apache helicopter precisely targeted Al-Houthis in Sa'ada Mountains' is actually a videogame that has even appeared in some pro-Saudi media such as Al-Watan al-Kuwait and al-Manateq al-Wusta.
The fake video comes from a computer game named 'Medal of Honor 2010'. The Arabic subtitle has even been used for the fake video, making the case even more ridiculous.
On Saturday, a senior Yemeni popular commander cautioned that Saudi Arabia is running a media hype about war in Sana'a in a bid to reduce pressure on the Riyadh-led forces in the South.
"The Saudi media hype about Sana'a battle is no more than the enemy's psychological warfare to help the forces loyal to fugitive president Mansour Hadi who are fighting against the Yemeni forces in the South and the Saudi army in Najran and Jizan to feel less pressure and boost their morale," a senior Ansarullah commander told FNA.
The commander said that the Saudi enemy has to pass through Southern provinces before opening its path to Sana'a, while it has failed to do so. "Before Sana'a, they should come in control over Ibb, Taez and Damar, but have failed to stretch their control over these provinces."
Full report at:
http://english.farsnews.com/newstext.aspx?nn=13940609000641
----------
North America
Peace-loving Muslim Americans remain misunderstood
August 31, 2015
We who had led carefree lives centering on our individual routines, blissfully uninformed about international events or the politics of far-flung places, were caught unawares. A stunned nation watched with horror, filled with hurt and anger. Grief engulfed our hearts, questions pricked our minds, and suspicions lurked in our thoughts. That fateful day jolted our collective consciousness, and nothing was the same again.
Indeed, this was true for Americans as a whole — which included the minority of Muslims that call the United States their home. Their angst intensified as fears of backlash turned into reality in the immediate aftermath of 9/11: mosques were vandalized, innocent lives were lost, and individuals were harassed. Even so, there was an outpouring of support among neighbors, colleagues, and peers. Local people of different faiths offered to guard mosques, get groceries for Muslims, and sought to understand the political motivations of the terrorists. In the vastness of the land, however, these were a brave minority, and remain so.
As the anguished nation sought revenge, a clear divide between "them" and "us" began to emerge, splattering our shared psyche with phrases such as "holy war" and "Muslim militancy" on the one hand, and "homeland security" and "war on terror" on the other. In the process, few on either side recognized Islam as one of the victims: its peaceful message ravaged, its teachings grossly misinterpreted, and its virtues vilified.
Today, nearly 15 years later, the perception of Islam in America continues to be overshadowed by the events of 9/11, as apparent in right-wing rhetoric, the anti-Shariah campaign, and the various obstacles different mosques face. On this anniversary of 9/11, we must remember that people of all religions, ethnicities, and races died side-by-side on that tragic day. The perpetrators of this heinous event, though they professed to be Muslim, were driven by their own warped agendas that have nothing to do with the purity of Islam.
As details of the deceased emerged, it became clear that dozens of Muslims also had died in the World Trade Center attacks. These included restaurant employees, executives, managers, traders, technicians, airplane passengers, and first responders. Muslims were victims too! They had suffered alongside their fellow Americans, and some even heroically had given their lives while trying to rescue others.
They included Abdu Malahi, an audio-visual manager at Marriott World Trade Center, who personally guided many guests to safety before dying himself. Several survivor reports praise his selflessness and heroism. Tariq Amanullah went to work at the World Trade Center on Sept. 11 and simply never returned. He often is identified as an assistant vice president of Fiduciary Trust. However, few people know that Amanullah, a Muslim by faith, was also one of the founding members of Why Islam, a Somerset County-headquartered nonprofit of Islamic Circle of North America dedicated to providing accurate information about Islam.
Alas, due to the climate of fear and distrust, some of these victims were suspected to be perpetrators before their names were formally cleared. Rahma Salie was on board American Flight 11, along with her husband, when it crashed into one of the Word Trade Center towers. She was seven months pregnant. Afterward, authorities investigated her as a possible terrorist accomplice and placed members of her family on a no-fly list, which almost prevented them from attending her memorial service.
Full report at:
http://www.mycentraljersey.com/story/life/faith/2015/08/31/peace-loving-muslim-americans-remain-misunderstood/71479628/
----------
America's first Islamic university starts academic journey
September 01, 2015
The first university to be founded by Muslims to teach Islamic studies in the United States has started its new academic year, promising to be a leading institution in educating future scholars, including imams.
The opening ceremony of Respect Graduate School (RGS), which is to offer a graduate program leading to the degree Master of Arts in Islamic Studies (MAIS), was attended by the representatives of different faiths from across the country. The graduate school is located in Bethlehem, Pennsylvania.
The ceremony kicked off with Najeeb Johnson, a student at the university, reciting the first chapter of the Qur'an, the Fatiha. Islamic professor Suat Yıldırım was also among the guests.
Patricia Robinson from the Lutheran Theological Seminary at Philadelphia said at the ceremony that the presence of visionary leaders in these types of projects is important and that they will carry out collaborative efforts to give the hope that the world needs.
Ryan Mackenzie, one of Pennsylvania's legislators, said he was honored to participate in the opening ceremony of an institution that would educate future leaders. Reminding the gathering of the spread of extremist ideology in the world, Mackenzie mentioned a recent op-ed by Turkish Islamic scholar Fethullah Gülen, who urged Muslims around the world to promote education as an antidote to extremism.
Full report at:
http://www.todayszaman.com/anasayfa_americas-first-islamic-university-starts-academic-journey_397962.html
----------
N.J. billboard looks to raise awareness about Islam
AUGUST 31, 2015
Commuters heading toward the George Washington Bridge are being asked to take a closer look at the Islamic faith in a new billboard on I-95.
The billboard, near the Vince Lombardi Service Plaza, bears the message "Muhammad believed in peace, social justice, women's rights" and includes a phone number and website for more information.
It's part of a national campaign by the Islamic Circle of North America, which said Monday that it had added 30 billboards to the 80 it has already posted in cities across the United States. The goal is to raise awareness about the faith and to dispel myths about Muslim Americans, said Naeem Baig, the organization's president.
"People are curious to know about the Prophet Muhammad," Baig said. "They have many questions, and we are experiencing a surge in calls to our hotline and website visits since the billboards went up."
The signs, which first went up in May, are in such cities as Austin, Boston, Denver, Miami, Milwaukee, Phoenix, San Diego, and Seattle. In New York City, billboards are located near Kennedy International Airport and Times Square.
Some billboards feature other messages, like "Muhammad always taught love, not hate; peace, not violence" and "God does not judge by your face and wealth."
The average cost of a billboard is $3,000 per month, Baig said. It is paid for by donations from American Muslims who want to explain their faith to neighbors and colleagues.
That's especially important amid negative rhetoric about Islam and news about terrorism in the name of Islam, he said. The organization has been receiving hundreds of calls each month since the billboards went up and about 70 percent are positive, Baig said.
Full report at:
http://www.northjersey.com/news/n-j-billboard-looks-to-raise-awareness-about-islam-1.1401597
----------
UN chief monitoring situation at India-Pakistan border
MASOOD HAIDER
September 1, 2015
UNITED NATIONS: UN Secretary-General Ban Ki-moon is monitoring the situation at the India-Pakistan border following the recent upsurge in violence along the disputed border and has urged restraint on the part of both governments.
Eleven civilians were reportedly killed (8 Pakistanis and 3 Indians) in the latest cross-border firing.
"We continue to monitor situation about the reports of recent escalation of violence along the Line of Control between India and Pakistan," UN spokesman Stefane Djuarric said on Monday.
Full report at:
http://www.dawn.com/news/1204111/un-chief-monitoring-situation-at-india-pakistan-border
----------
Airlines Suspends Muslim Over Alcohol Serving
01 September 2015
CAIRO – An American Muslim rights group announced plans to file a discrimination complaint with the Equal Employment Opportunity Commission ExpressJet Airlines for the revocation of a reasonable religious accommodation of a Muslim flight attendant.
"We have informed ExpressJet of its obligation under the law to reasonably accommodate [Charee] Stanley's religious accommodation request regarding service of alcohol," Lena Masri, staff attorney at the Michigan chapter of the Council on American-Islamic Relations (CAIR-MI), said in a statement obtained by OnIslam.net.
"Instead, ExpressJet has deliberately chosen to violate Ms. Stanley's constitutional rights."
Hired by ExpressJet airlines, Stanley expressed her religious believes which prohibit her from serving alcohol.
The airlines directed the Muslim flight attendants to work out arrangements with the other flight attendant on duty to accommodate passengers' requests for alcohol.
Working without incident until August 25, the setup was ended when ExpressJet placed Stanley on administrative leave for 12 months, after which her position may be terminated, according to CAIR.
CAIR said it is believed that ExpressJet Airlines revoked Stanley's religious accommodation request based upon a complaint by a fellow employee that referenced the Islamic head scarf Stanley wears.
"There was outreach that was done to the company," said Dawud Walid, executive director of CAIR-Michigan.
"Their response was not positive."
The complaint will be filed on Tuesday, September 1, after which CAIR will held a news conference.
Full report at:
http://www.onislam.net/english/news/americas/492981-airlines-suspends-muslim-over-alcohol-serving.html
----------
Philanthropist Frank Islam conferred 'Pride of India' award by Muslim organization in Boston
August 31, 2015
The American Federation of Muslims of Indian Origin (AFMI) bestowed Indian American entrepreneur and philanthropist, Frank Islam, with the "Pride of India" award, in Boston, on Sunday.Earlier this year Islam and his wife, Debbie Driesman, donated $222,000 to the Aligarh Muslim University in India. The donation to the Aligarh Muslim University (AMU) will be used towards building the Frank and Debbie Islam School of Management, an endowed chair for entrepreneurship, and the construction of a technical college for girls in Azamgarh in memory of his mother Qumran Nisan.The $2 million donation was first announced in January by its founder and prominent Indian American entrepreneur and philanthropist Frank Islam, an alumnus of AMU, during a visit to the university.Islam, 63, was born in Azamgarh in Uttar Pradesh, India. He currently serves as the head of the FI Invest Group — a firm that he established after he sold his information technology firm, called the QSS Group, in 2007.Islam also sits on several boards and advisory councils including the Kennedy Center Board of Trustees, the US.. Institute of Peace, the Woodrow Wilson Center and the Brookings Institution in Washington, D.C., reported the Indo Asian News Network.Following is Islam's acceptance speech at the 25th annual gathering of the American Federation of Muslims of Indian Origin:"Indeed, as I look around this room at those of you who have supported AFMI and its initiatives, I see the richness and fullness of the Pride of India. I see fellow soldiers and comrades in the fight to make India and the world a better place for Muslims. And, I am proud to be a partner with you in this sacred mission.Therefore, it is my distinct honor and pleasure, to accept his award not for myself but on behalf of the community of American Muslims of Indian origin who are embarked on this journey with me.So I guess this is the point where I have to sing for my supper.In all honesty, I can't carry a tune – so you definitely would not want that.Seriously, I would like to share my thoughts with you about an extremely important topic that I know is near and dear to all of us. That is what we can continue to do in order to improve the situation of disadvantaged Muslims in India.As you all know, a silver jubilee is held to recognize staying together and being in existence for twenty-five years…..You all richly deserve that standing ovation. Because no matter whether you've been involved with AFMI since it started or have recently joined the fold, you are now engaged.Getting engaged – that is what I will talk about today. The formal title for my speech is Civic Engagement: The Key to Promoting Educational and Economic Opportunity for Indian Muslims.That's the formal title. It's a mouthful.I don't care if you remember that title. What I do want you to remember is the theme for my speech which is "Do Well Here, To Do Good There."Let me repeat and amplify upon that. We, as Indian American Muslims, should do well here in the United States so that we can do good over there in India.We should do this because the need is great and those of us who have connections to India have a moral obligation to provide a helping hand to empower those Muslims in India through better access to educational and economic opportunities.I will address that need, why we Indian Americans are so qualified to meet it, what I mean by civic engagement, and getting engaged through AFMI in my speech.I must emphasize at the outset that I recognize that in addressing this topic here with those of you in this audience that I am preaching to the choir. Some times though – even the choir and the preacher can benefit by coming together to renew and reaffirm their belief and commitment to a righteous and common cause.…That said, why is extending a helping hand – a hand up – to Muslims in India so critical? Here are some sad facts:The 2001 Census Report showed that the literacy rate of Indian Muslims was 59.1%. The rate for Muslim males in urban areas was much higher than in rural areas. The rate for females was substantially lower in each.A study released by the U.S. India Policy Institute at the end of 2013 states that since 2006, and I quote, "…the literacy level and the quantum of improvements for Muslims were modest compared to other populations."That same study showed that only 11% of Muslims in India pursue higher education compared to a national average of approximately 19% and that participation in the "general category of Muslims in higher education" had actually declined by 1.5% for the period studiedThese are devastating findings that frame the critical nature of the need and present the challenge and opportunity for Indian Americans – and most especially for those of us who are Indian Americans of Muslim origin to participate in solving this problem.Because of what we Indian Americans have accomplished in the United States, I absolutely and firmly believe that we are up to meeting this challenge.…Here are some statistics on Indian Americans:In 2013, there were 3.1 million Indian Americans comprising about 1% of the population of the United States. According to a Pew Research Center study conducted in 2012 and released in 2013, 10% of the respondents reported that they were Muslim.That means the Indian Muslim population in the United States today is only around 300,000. Given this small number, I would say that we Indian Muslims hit way above our weight.So, do all Indian Americans. Listen to this data carefully.The Pew study disclosed that economically and educationally Indian Americans outperformed those in other Asian-American subgroups and the U.S. population in general. The median annual household income for Indian Americans was $88,000 compared to $66,000 for all Asians and $49,800 for the U.S. population.
Full report at:
http://www.americanbazaaronline.com/2015/08/31/philanthropist-frank-islam-conferred-pride-of-india-award-by-muslim-organization-in-new-york/
----------
West Point law professor who called for attacks on 'Islamic holy sites' resigns
31 August 2015
A law professor who published an inflammatory article urging attacks on law professors and "Islamic holy sites" and who has been dogged by accusations of misrepresenting his academic and military credentials has resigned from the US Military Academy at West Point, the Guardian has confirmed.
Although West Point hired William C Bradford on 1 August, a spokesman said the prestigious undergraduate institution where the US army educates its future officers parted ways with the controversial academic on Sunday, the day after the Guardian published an article highlighting Bradford's proposals to treat US scholars as "enemy combatants".
"Dr William Bradford resigned on Sunday," army lieutenant colonel Christopher Kasker, a West Point spokesman, told the Guardian on Monday. Bradford had taught five lessons for cadets in a common-core law course, from 17 to 27 August.
The West Point resignation marks the most recent academic departure for the controversial Bradford, following a decade's worth of apparent exaggeration of his service record and academic career.
It remains unclear how thoroughly West Point vetted Bradford before hiring him.
Bradford recently published an academic article titled, in translation, "The Treason of the Professors". The lengthy paper, which has been repudiated by its journal editor as a "mistake", accused a "clique of about 40" law professors of active collaboration with "Islamist" organizations and recommended targeting them as enemy combatants.
Supplementing military action, Bradford recommended that Congress investigate links between the professors and "Islamism" under "a renewed version of the House Un-American Activities Committee", which was one of the vehicles for the discredited "Red Scare" hunts for Communists in the 1950s.
Advertisement
"Treason prosecutions shore up national unity, deter disloyalty, and reflect the seriousness with which the nation regards betrayal in war," Bradford wrote.
Bradford went on to argue that "total war" against terrorism ought to include military targeting of "Islamic holy sites", in order to restore an American deterrent. He acknowledged "great destruction, innumerable enemy casualties and civilian collateral damage" were entailed in his proposal, and suggested that dissent ought to be curbed.
"[D]oubts and disputes about this war [should] be muted lest around them coalesce a new set of self-imposed restraints that prevent Western forces from waging war with sufficient ferocity and resolve so that either Islamism is discredited and the political will of Islamist peoples to prosecute a jihad collapses, or, if necessary, all who countenance or condone Islamism are dead," Bradford wrote.
On Friday, Kasker, the West Point spokesman, distanced the academy from Bradford's article. Bradford's picture has been removed from the West Point law department website.
Bradford had represented himself in academic papers as an "assistant professor" at the Defense Department-run National Defense University. But he was not a professor there, nor even a staff employee, according to NDU representatives. He is said to have worked for a Waynesboro, Virginia-based translations and business consultant, Translang, which had a contract with the university.
Before referring further comment to an attorney, Beatrice Boutros, Translang's president, told the Guardian Bradford was not an employee of NDU.
Advertisement
Bradford has had a checkered academic career. In 2004, he quit a job teaching at the Indiana University School of Law after allegations emerged that he had exaggerated his military service, portraying himself inaccurately as a Gulf War veteran, an infantryman and a recipient of the prestigious Silver Star, an award for gallantry in action.
Full report at:
http://www.theguardian.com/us-news/2015/aug/31/west-point-law-professor-william-bradford-resigns
-----------
India
Islam Tells People to Kill Non-Believers, Gita Calls for Peace: Taslima Nasrin
01 Sep 2015
New Delhi: Drawing parallels between the cold blooded killings of bloggers in Bangladesh and the murder of M.M. Kalburgi, a writer and rationalist from Karnataka, Bangladeshi writer Taslima Nasrin said the incident showed the growing intolerance of religious fanatics in both India and Bangladesh.
"Is there no freedom of expression in India? It is supposed to be the largest democratic country and a secular one. In that case, why are rationalists being killed," asked Nasrin.
The exiled author said it seems that Indian fanatics are taking a cue from Bangladeshi extremists. "Are Indian extremists learning from Bangladeshi extremists? Bangladeshi extremists kill writers who criticise religion. Indian extremists do the same," Nasrin said.
Expressing hope that the Indian government would rein in Kalburgi killers, Nasrin said that she was concerned about the earlier killings of the Indian rationalists Narendra Dabholkar and Govind Pansare.
"I was disturbed when I read about the killings of rationalists Dabholkar and Pansare, even if I don't know them personally. I live in India and I found it much safer than Bangladesh. I hope the Indian government will take action against the murderers. Let's have free speech in the subcontinent," she said.
The writer was vocal in social media and in her writings about the recent slaying of four secular bloggers. "(Bangladesh Prime Minister) Sheikh Hasina has been silent and she has not taken any action against the killers," said Nasrin.
Bangladesh has witnessed the murder of four bloggers this year. "The secular bloggers Avijit, Ananta, Babu and Neel were killed in Bangladesh because they spoke against religion and they were atheists. The Sheikh Hasina government was silent. In fact, they work hand in hand with the extremists," alleged Nasrin.
Ruing that Bangladesh was soon going to be "another Pakistan", Nasrin said that free thinkers and atheists were already fleeing the country.
"Bangladesh is going to be another Pakistan. There is no democracy and there are many Islamic fundamentalists in the government and in the ruling party," added Nasrin.
Maintaining that Islamic fundamentalism was a bigger threat, Nasrin blamed Islam for the violence.
Full report at:
http://www.indiatvnews.com/news/india/islam-kill-people-bhagwad-gita-calls-for-peace-taslima-nasrin-54160.html
----------
Muslim Outfits Oppose Naming Aurangzeb Road in Delhi after APJ Abdul Kalam
Aug 31, 2015
New Delhi: Muslim outfits on Monday objected New Delhi Municipal Council's (NDMC) decision to rename Aurangzeb Road after late President APJ Abdul Kalam, terming it as a "deliberate" move that is "likely to set the trend of rechristening other cities/streets distorting history".
"It is a deliberate effort, it will not halt here. This is because soon after the road was named after Abdul Kalam ji, Shiv Sena said it will change the name of Maharashtra's Aurangabad district where the Mughal emperor's graveyard is located.
"They have a long list of cities/roads named after some historical figures or Muslim Emperors, which they want to change," Dr SQR Ilyas, President of Welfare Party of India and All India Muslim Personal Law Board member, told PTI.
Ilyas, also general secretary of All India Muslim Majlis-e-Mushawarat (AIMMM) - an apex body of various organisations of the community, said the Emperor was not "anti-Hindu" as is perceived but "a secular" personality.
Referring to former Orissa Governor Bishambhar Nath Pande's collection of Aurangzeb's Farman (orders), Ilyas said the documents - in Persian - show the Emperor had donated lands for building temples.
"Roads were named out of respect for history. It is unfortunate we are trying to distort it now. The road renaming proposal was given by Delhi MP Maheish Girri. He said they (BJP) want to rewrite history to undo ills of it. This shows their mindset and that they won't stop here only," he said.
Full report at:
http://www.firstpost.com/india/muslim-outfits-oppose-naming-aurangzeb-road-in-delhi-after-apj-abdul-kalam-2415332.html
----------
3 Techies and a Dropout, Lured Together by the Islamists from Kalyan
By Gautam S Mengle , Zeeshan Sheikh
September 1, 2015
The 17 — all young men, barring a woman who has returned home — were educated, most hailing from middle-class or affluent families with conventional aspirations. Few had known links to Islamist political groups, and none to terrorism. Centuries ago, Kalyan was a trading post for ships coming in from Syria and Iraq. Now the story of four boys has linked this growing suburb of the extended Mumbai Metropolitan Region, perhaps permanently, to the two countries.
NAME: Areeb Majeed AGE: 24 EDUCATIONAL QUALIFICATION: Diploma in engineering STATUS: In jail since returning from Turkey Areeb Majeed left his house on May 24, 2014, telling his parents he was heading to a friend's home in Panvel to study. Instead he left the city, allegedly on an eight-month circuitous journey to Iraq, Syria and Turkey. So did three other suspected ISIS recruits from Kalyan, a group of friends who often met and chatted at mosques and the crossroads of Doodh Naka, a bustling Muslim-dominated neighbourhood?
Areeb, who returned to India with injuries that November, is now in Arthur Road Jail, facing charges of having joined a terrorist organisation. He had grown up in the family's ancestral home, in the Muslim-dominated Machhli Bazaar area of Kalyan, and was sent to the reputable Old Lourdes High School. His father Ejaz Majeed is a respected doctor of the area. The family stressed education. One of Areeb's sisters is a doctor; another is in college while a younger brother is pursuing engineering. Family friends remember Areeb as very well-behaved. Areeb did a diploma in engineering from Father Agnel's College in Vashi, having scored well enough to qualify for the state government's Maulana Azad Education Loan. When he scored a first-class in the diploma in 2011, family members insisted he opt for a degree course, which meant travelling almost 100 km every day to Anjuman-e-Islam's Kalsekar Technical College in Panvel and back. By the end of 2013, when massive clashes erupted between the Syrian government and rebels, Areeb had changed. He started faltering in his studies, and could only clear two of the three papers he had failed in the fifth semester through reassessment. Before leaving the country, he vividly showcased how the Islamic State was attracting him. A Facebook profile under his alias Abu al-Hindi shows he married a Palestinian, Tahera Bhat, whose Facebook profile, in turn, has a picture of Areeb holding a gun and standing in front of a ISIS flag. They had apparently met online and went on to announce themselves as husband and wife. Tahera is said to have since died in Palestine. Areeb is the only one of the four to have returned. During his six-month stay, he had been shot at and injured. After his return from Turkey, he now faces charges of being part of a terrorist entity and of returning with the objective of creating sleeper cells.
Full report at:
http://indianexpress.com/article/india/india-others/3-techies-and-a-dropout-lured-together-from-kalyan/
----------
Affirmative action for Muslims key to sabka saath, sabka vikas: VP Hamid Ansari
September 1, 2015
Hamid Ansari, Muslims, Indian Muslims, Muslim community, Muslim minority, Vice President Hamid Ansari, Sabka Saath, Sabka Vikas, inclusive development, india news, nation news
Vice President Hamid Ansari with Syed Shahabuddin at the golden jubilee celebration of All India Muslim Majlis-e-Mushawarat in New Delhi on Monday. (Source: PTI photo)
Describing as "commendable" the "official objective of Sabka Saath, Sabka Vikas", the government's policy initiative for inclusive development, Vice President Hamid Ansari underlined Monday that "a pre-requisite for this is affirmative action (where necessary) to ensure a common starting point".
"The default by the State or its agents in terms of deprivation, exclusion and discrimination (including failure to provide security) is to be corrected by the State; this needs to be done at the earliest and appropriate instruments developed for it," Ansari said at the golden jubilee session of the All India Muslim Majlis-e-Mushawarat in New Delhi.
Asking Muslims to also look inward and see what they have done to redress "identified shortcomings", he said "corrective strategies, therefore, have to be sought on category-differentiation admissible in Indian state practice and hitherto denied to Muslims (Scheduled Caste status) or inadequately admitted (segments of OBC status). Available data makes it clear that a high percentage of Muslims falls into these two broad categories." Read – Opinion: Bend it like Bhalla Referring to a "compendium of official reports", he listed "principal problems confronting India's Muslims" as "identity and security; education and empowerment; equitable share in the largesse of the state; and fair share in decision-making". Read – VHP calls Hamid Ansari's affirmative action for Muslims comment 'political' and 'communal' Each of these, he said, is a right of the citizen. "The shortcomings in regard to each have been analysed threadbare. The challenge before us today is to develop strategies and methodologies to address them… Political sagacity, the imperative of social peace, and public opinion play an important role in it. Experience shows that the corrective has to be both at the policy and the implementation levels; the latter, in particular, necessitates mechanisms to ensure active cooperation of the State governments." He said Muslims were "made to carry, unfairly, the burden of political events and compromises that resulted in the Partition. The process of recovery from that trauma has been gradual and uneven, and at times painful. They have hesitatingly sought to tend to their wounds, face the challenges and seek to develop response patterns. Success has been achieved in some measure; much more, however, needs to be done." "Equally relevant is the autonomous effort by the community itself in regard to its identified shortcomings. What has it done to redress the backwardness and poverty arising out of socio-economic and educational under-development? How adequate is the response in relation to the challenge?" "It is evident that significant sections of the community remain trapped in a vicious circle and in a culturally defensive posture that hinders self advancement. Tradition is made sacrosanct but the rationale of tradition is all but forgotten. Jadeediyat or modernity has become a tainted expression. Such a mindset constrains critical thinking necessary both for the affirmation of faith and for the wellbeing of the community." "The instrumentality of adaptation to change — Ijtihad — is frowned upon or glossed over. Forgotten is its purpose, defined by the late Sheikh Abul Hasan Ali Nadwi as 'the ability to cope with the ever-changing pattern of life's requirements'. Equally relevant is Imam Al-Ghazali's delineation of the ambit of Maslaha — protection of religion, life, intellect, lineage and property. Both provide ample theoretical space for focused thinking on social change without impinging on the fundamentals of faith." He said the Mushawarat had a critical role to play. "As a grouping of leading and most respected minds of the community, it should go beyond looking at questions of identity and dignity in a defensive mode and explore how both can be furthered in a changing India and a changing world. It should widen its ambit to hitherto unexplored or inadequately explored requirements of all segments of the community particularly women, youth, and non-elite sections who together constitute the overwhelming majority." "This effort has to be made in the context of Indian conditions and the uniqueness of its three dimensions: plural, secular and democratic… This would necessitate sustained and candid interaction with fellow citizens without a syndrome of superiority or inferiority and can be fruitful only in the actual implementation of the principles of justice, equality and fraternity inscribed in the Preamble of the Constitution and the totality of Fundamental Rights." "The failure to communicate with the wider community in sufficient measure has tended to freeze the boundaries of diversities that characterise Indian society. Efforts may be made to isolate the community; such an approach should be resisted. The Indian experience of a large Muslim minority living in secular polity, however imperfect, could even be a model for others to emulate," he said.
http://indianexpress.com/article/india/india-others/affirmative-action-for-muslims-key-to-sabka-saath-sabka-vikas-vice-president-hamid-ansari/
----------
South Asia
Dostum: Mullah Mansoor was a prisoner of war in 2001, used to serve as spy in prison
Sep 01 2015
The First Vice President Gen. Abdul Rashid Dostum raised questions regarding the appointment of Mullah Akhtar Mansoor as the new chief of the Taliban group following his controversial succession.
Upon his return to capital Kabul after almost a month long operation in northern parts of the country, Gen. Dostum appeared in a press conference late on Monday night.
Gen. Dostum said Mullah Mansoor was detained by him in 2001 and was given the task to report regarding the Taliban group while serving in prison.
He was apparently frustrated with the failed suicide attempts by the group against him while he was accompanying the security forces during the operations in northern Faryab province.
Sets of suicide bombing vests were also displayed by Gen. Dostum during the press conference, accusing the Pakistan's Inter Services Intelligence (ISI) for plotting his assassination with the Taliban group.
"Pakistan sent four suicide bombers to assassinate me," Gen. Dostum said, claiming the vests are made in Pakistan.
The remarks by Dostum comes amid widening rift among the Taliban leadership regarding the way Mullah Mansoor was appointed as the new Taliban group chief.
Mullah has reportedly been given a deadline to settle issues over his election which led to the widening rift among the Taliban leadership.
Full report at:
http://www.khaama.com/dostum-mullah-mansoor-was-a-prisoner-of-war-in-2001-used-to-serve-as-spy-in-prison-9612
----------
Deadline set for Mullah Mansoor to settle differences over his election
By KHAAMA PRESS - Tue Sep 01 2015
The newly-appointed Taliban chief Mullah Akhtar Mansoor has been given a deadline to settle issues over his election which led to the widening rift among the Taliban leadership, it has been reported.
The deadline set for Mullah Mansoor is set to expire on Tuesday and has been set by a council of the religious clerics formed to resolve the rift among the Taliban leaders.
The deadline was reportedly set after Mullah Mansoor refrained from meeting the religious clerics and authorizes them to take a decision regarding the deadlock.
A member of the council said they have taken the decision following continuous delays by Mullah Mansoor and insisted that the council will announce their decision if Mullah Mansoor failed to respond.
The council was expected to announce their decision in this regard on 20th August however it was reported that Mullah Mansoor has gone missing at that time.
The council was formed after the former Taliban supreme leader Mullah Omar's son and brother opposed with the appointment of Mullah Akhtar Mansoor as the new Taliban chief.
There are fears further rift among the Taliban leadership if the council decides to appointment Mullah Omar's son as the new Taliban chief.
Mullah Omar's death was first confirmed by a splinter group of the Taliban – Afghanistan Islamic Movement Fidai Mahaz, which claimed that he was assassinated Mullah Akhtar Muhammad Mansoor and Gull Agha.
The group's spokesman Qari Hamza said last month Mullah Omar was killed two years ago in the same month of July.
Full report at:
http://www.khaama.com/deadline-set-for-mullah-mansoor-to-settle-differences-over-his-election-9610
---
Gen. Dostum returns to Kabul, declares Pakistan "Enemy of Afghanistan"
By KHAAMA PRESS - Mon Aug 31 2015
The First Vice President Gen. Abdul Rashid Dostum returned to Kabul today after participating in a month long military operation in Northern provinces of Afghanistan, specifically in northern Faryab province.
Gen. Dostum appeared in a press conference after his return from the north and accused Pakistan, particularly the country's military and Inter Services Intelligence (ISI) for being involved in the killing of innocent civilians and Afghan leaders.
According to Gen. Dostum, the enemies of Afghanistan are friends of Pakistan and the friends of Afghanistan are the enemies of Pakistan.
Declaring Pakistan as Afghanistan's enemy, the First Vice President called on international community to put pressure on the country.
He said he will discuss Pakistan with President Ghani during the National Security Council and offer his suggestion in this regard.
Displaying the suicide vests captured by the security forces while thwarting an assassination plot against him, Gen. Dostum said "Pakistan sent four suicide bombers to assassinate me," claiming the vests are made in Pakistan.
He also added that ISI is directly involved in the developments in Taliban leadership, gesturing towards the appointment of Mullah Akhtar Mansoor.
In regards to peace efforts aimed at ending the ongoing violence in the country, Gen. Dostum insisted that the country should be ready for combat while moving towards peace negotiations.
Full report at:
http://www.khaama.com/gen-dostum-returns-to-kabul-declares-pakistan-enemy-of-afghanistan-1459
------
Baghlan PC: Taliban capture 20 soldiers in Dand-i-Ghori District
By KHAAMA PRESS - Tue Sep 01 2015
Severe clashes have taken place between security forces and Taliban in parts of Dand-e-Ghor in northern Baghlan province.
Reports suggest that Taliban carried out a coordinated attack on a security post in this district late on Monday.
Bismillah Atash a member of the Provincial Council of Baghlan said that Taliban were able to seize the security post at the end of the attack.
He said 20 soldiers from this post have been taken hostages by Taliban.
Reports from the area suggest that the clashes have been emblazing and Taliban are moving towards the district center.
Full report at:
http://www.khaama.com/baghlan-pc-taliban-capture-20-soldiers-in-dand-i-ghori-district-3854
------
BUET expels student, acts against four others for having 'militant links'
2015-09-01
The Bangladesh University of Engineering and Technology (BUET) has expelled a student on charges of his ties with militants.
Atikur Rahman Riad was one of the nine students who were detained by Bangladesh Chhatra League activists and handed over to the university authorities.
The disciplinary committee at its meeting on Monday afternoon also decided punishments to four others.
"Actions have been taken against five of the detainees. But they have not been handed over to police," Vice-Chancellor Khaleda Ekram told bdnews24.com.
Mechanical engineering student Riad was expelled from his department for one term and permanently expelled from the residential hall he was attached to.
Three of the four others, also from the same department, Iqbal Mahmud, Tarek Reza and Moffakir Islam Rafi, were permanently expelled from their hall.
The authorities only warned the fourth, Lutfor Rahman.
All of them lived at the Nazrul Islam Hall.
Director of BUET's Directorate of Students' Welfare Delwar Hossain told bdnews24.com no actions were taken against four other students caught by Chhatra League as the accusations against them were not proved.
They were – 'Shuvo', 'Fassal', 'Minar' and 'Nadif'.
The nine was released from the authorities' custody after their punishments were decided.
Hossain said, "The five who faced disciplinary action were not turned over to police. But the evidence seized from them have been given to police for investigations."
Chhatra League leaders, after detaining the nine on Sunday night, claimed videos of suicide bombing guidelines were seized from those students along with videos mocking Prime Minister Sheikh Hasina.
They also claimed to have found videos made in support of war criminals and Jamaat-e-Islami leaders Ghulam Azam, who died in October last year, and Delwar Hossain Sayedee.
After catching them, Chhatra League handed them over to the university authorities on Monday noon.
Full report at:
http://bdnews24.com/bangladesh/2015/09/01/buet-expels-student-acts-against-four-others-for-having-militant-links
----------
Myanmar's president signs 'anti-Muslim' law
September 01, 2015
NAYPYIDAW : Myanmar's president on Monday signed into law the last of four controversial bills championed by radical Buddhists but decried by rights groups as aimed at discriminating against the country's Muslim minority.
Myanmar, which will hold its first democratic national poll in more than two decades on Nov.
8, has seen a flowering of anti-Muslim hate speech since the military gave up full power and opened up politics and the economy in 2011.
President Thein Sein signed the Monogamy Bill after it was passed by parliament on August 21, Zaw Htay, a senior official at the president's office, told Reuters.
The law was briefly sent back to parliament for review before being signed.
The bill sets punishments for people who have more than one spouse or live with an unmarried partner other than the spouse.
The government denies it is aimed at Muslims, estimated to make up about 5 percent of the population, and some of whom practice polygamy.
The president also signed two other laws, which restrict religious conversion and interfaith marriage, on August 26, Zaw Htay said.
The measures are part of four "Race and Religion Protection Laws" championed by the Committee for the Protection of Nationality and Religion, or Ma Ba Tha.
The laws were dangerous for Myanmar, said an official of New York-based Human Rights Watch.
Full report at:
http://nation.com.pk/international/01-Sep-2015/myanmar-s-president-signs-anti-muslim-law
----------
Mobile money pilot program bringing safe, transparent pay to Afghan police
Sep 01 2015
Just a few weeks after its rollout, the mobile money pilot program registration in Kapisa for Afghan Local Police is complete; bringing a safer, transparent payment process to the province—and plans to expand throughout Afghanistan.
Mohammad Aqa Kohistani, Director General Treasury, Ministry of Finance, attended the historic program kick-off earlier this month, which jumpstarted the push for 100 percent electronic funds transfer capability within Afghanistan's security institutions, as mandated by President Ashraf Ghani.
"We will introduce mobile banking services, which have been proven to reduce opportunities for leakages," said Ghani, in his essay Realizing Self-Reliance. Mobile banking not only provides a more reliable method to distribute pay, but also ensures only registered employees receive salaries.
The initiative kicked off in Kapisa because the province had been relying 100 percent on trusted agents for payment. Trusted agents are Ministry of Interior appointed personnel that physically deliver salaries in cash to remote areas where banks are currently unavailable; a position that is highly corruptible and dangerous. EFT is a much safer method for payment than the current practice of using trusted agents, which 59 percent of all Afghan Local Police use.
The mobile money pilot program allows policemen and women to receive salaries through their mobile phones and use cash withdrawals without having to step foot in a traditional bank. Instead, registered users will be able to go to an approved shop in their district or even transfer funds electronically to any other user with a text-based software program installed on their phone. Police received their bank and sim cards as part of the registration.
The Ministry of Finance is managing the mobile money program in conjunction with Afghan Wireless Communications Company and New Kabul Bank, with plans to expand to additional telecom and banking institutions. The Essential Function One Directorate within Combined Security Transition Command-Afghanistan, which encompasses planning, programming budgeting and execution, is providing oversight of the program.
Full report at:
http://www.khaama.com/mobile-money-pilot-program-bringing-safe-transparent-pay-to-afghan-police-9611
----------
Bangladesh charges five Islamists over blogger murder
Sep. 01, 2015
DHAKA: Bangladesh police Tuesday charged five suspected Islamist militants with murder over the killing of an atheist blogger, one of four secular writers hacked to death this year for writing against fundamentalists.
Police brought the charges - the first in any of the four murders this year - in a Dhaka magistrates court, which will now decide whether to open a trial or order further investigations.
"We've submitted a charge sheet against five people for the murder of blogger Washiqur Rahman. The five were charged with murder," Dhaka police spokesman Muntashirul Islam told AFP.
"They include an organiser of the Ansarullah Bangla Team (ABT) and four others who are its supporters," he said, referring to a banned local Islamist militant group which police have blamed in all four murders.
Washiqur Rahman, 27, an atheist blogger who wrote under a pen name on Facebook against religious fundamentalism -- especially Islam and Islamist radicals - was killed near his home in Dhaka in March.
Two of the suspects, students of a madrassa, were tackled by local transgenders - known as hijras in the sub-continent -- as they tried to flee the scene. They held them until police made arrests.
Rahman's death came just weeks after a Bangladesh-born American atheist blogger was murdered in the Bangladeshi capital by machete-wielding attackers.
"The organizer of ABT, Hasibur Rahman, also known as Abdullah, recruited the other four and trained them for nearly three months for the specific purpose of murdering Washiqur," said additional deputy police commissioner Saiful Islam.
Full report at:
https://www.dailystar.com.lb/News/World/2015/Sep-01/313552-bangladesh-charges-five-islamists-over-blogger-murder.ashx
----------
Anti-terrorism body leader shot dead in Lakshmipur
september 1, 2015
Some unknown miscreants have gunned down a leader of local anti-terrorism committee in Chandraganj area of Lakshmipur Sadar upazila.
The killing appeared just one day after he was awarded by Additional IGP (Admin) Mukhlesur Rahman and Chittagong range DIG Shafiqul Islam for playing a pivotal role to root out terrorists.
The victim is Omar Faroque, president of Chandraganj police station unit Sontrash Nirmul Committee.
Confirming the murder, Chandraganj police station Officer-in-Charge (OC) Humaiun Kabir said some masked men started shooting at Omar at Latifur village of the area while he was having breakfast around 10am Tuesday and promptly left the scene.
Full report at:
http://www.dhakatribune.com/crime/2015/sep/01/anti-terrorism-body-leader-shot-dead-lakshmipur
----------
Europe
'Being Bilal:' First British Muslim unscripted reality show hits TV screens
1 September 2015
Just over a year into its broadcast, British Muslim TV launches the world's first British Muslim unscripted reality TV show "Being Bilal," featuring the life of British-born doctor-turned-community activist Bilal Hassam.
"Being Bilal" depicts what the award-winning multi-faith team behind it describes as "unapologetic, entertaining and often inspiring reconciliation of British and Muslim identities."
The 28-year-old star of the show Hassam, who hails from Leicester, has spent the past 10 years fitting in a frenetic schedule of faith-based community projects in the UK and around the world, while hanging up his stethoscope and emerging as a community activist.
"Being Bilal" depicts what the award-winning multi-faith team behind it describes as "unapologetic and entertaining". (Courtesy: Being Bilal/Twitter)
It is this energetic lifestyle of casually meeting religious and community leaders while facing life's daily highs and lows that form the basis of the TV format.
Hassam told Al Arabiya News that the idea started when one of his friends, Tariq Chow - who is the series producer of the show - was intrigued by the behind-the-scenes interactions of Hassam's work when filming his events.
Chow "wanted to capture that story convinced it could transform the way both Muslims and non-Muslims understand what it means to be a British Muslim," said Hassam.
"I get to experience a wide diversity of the British Muslim community and meet with senior community figures, scholars, artists and celebrities, as well as hang around with average blokes struggling along like everyone else.
"I also make a conscious effort to engage marginalized groups and movements within the British Muslim community, just as British Muslims experience marginalization vis-a-vis wider society."
"Being Bilal" depicts what the award-winning multi-faith team behind it describes as "unapologetic and entertaining". (Courtesy: Being Bilal/Twitter)
However, Hassam insists he is "a regular guy like anyone else. I'd like people to see that being a British Muslim comes in many different shapes and sizes, and that's a wonderful thing - wonderful for Muslims and wonderful for Britain.
"I hope through seeing a little glimpse of my activist life people can come to appreciate a little of the lived reality of British Muslim life."
Full report at:
http://english.alarabiya.net/en/life-style/art-and-culture/2015/09/01/-Being-Bilal-First-unscripted-British-Muslim-reality-show.html
----------
Islamic Society of Central Florida Donates Food to Families in Need
31 August 2015
Miami – On the morning of August 26, the Islamic Society of Central Florida (ISCF) along with its Muslim Social Services Department held another Food Drop outside of the well-known Masjid Al-Rahman Mosque on Goldenrod Road in Orlando, Florida.
Since the late 1980s, ISCF has been serving the Central Florida community with various programs, both for Muslims and non-Muslims. ISCF looks to "expand the essence of Islam, of peace and compassion".
Second Harvest Food Bank of Central Florida who partners with ISCF showed up around 10:00 am with a full size trailer filled with over 30,000 pounds of all types of food items. Several wood pallets loaded with hundreds of cardboard boxes of vegetables, beverages, snacks, breads, canned goods, cereals, rice, desserts, proteins, etc. were set up on a large parking lot, where volunteers helped distribute their assigned pallets.
Islamic Society of Central Florida Donates Over 30,000 Pounds of Food to Families in NeedPeople were lining up since 9:00 am and in an orderly fashion stopped by all the food stations and picked up the amount of items allowed per family. No one was left without food and residents showed gratitude when receiving their share. Organizers, volunteers, those in need, and guests of ISCF spent a joyous morning where not even Florida's blazing sun posed a problem. The event culminated around 2:00 pm.
Ms. Jennifer Johnson, a Muslim American born in Orlando, FL, Director of Muslim Social Services spoke to Morocco World News and shared more details about ISCF and these community events. Muslim Social Services holds two Food Pantries weekly (soon to inaugurate a 3rd), providing free food to 150-200 families per week, around 1,200 individuals.
Ms. Johnson shares that besides donating food, they also have a Health Clinic, open on Saturdays, where they "provide health services free of charge, no questions asked, based on the honor system. Local doctors and nurses donate their time and examine those without health insurance. On Wednesday, the Health Clinic was providing free flu shots to all.
Interestingly, those who "attend Food Drops and Food Pantries are at least 95% non-Muslims" says Ms. Johnson. ISCF also "receives financial donations that are used to purchase food at Second Harvest Food Bank ($1 for $10 purchasing power) to give away at their Food Pantries, as well as local food donations" when needed.
In order to receive food donations, families are "not asked for identification" or any questions that reveal their personal information or the size of their needs. Everyone is welcome. Muslim Social Services does not apply any pressure to visitors to become part of Islam. Ms. Johnson shares, "We keep religion very separate, we do not hand out any Korans, there is no proselytizing; we don't do that. Hopefully just our actions speak loud enough for all of that".
ISCF, Muslim Social Services and the large Muslim community in Central Florida are changing negative images and feelings of fear against Muslims. Their warmth, compassion and openness to guests, regardless of their culture or religion is evident.
Jennifer also shared about the many nationalities present at the events, including several volunteers from Morocco. "We are the United Nations here, you could see somebody from everywhere and we do. We welcome everyone!"
Full report at:
http://www.moroccoworldnews.com/2015/08/166835/islamic-society-of-central-florida-donates-food-to-families-in-need/
-------------
Southeast Asia
Anti-Muslim Buddhist group moves toward Myanmar's mainstream
September 1, 2015
YANGON: Swathed in crimson robes, 77-year-old Ashin Tilawkar Biwonsa shuffles through a crowded conference room with the help of an aide, his supporters standing in respect as he takes a seat at the head of a table under a portrait of his own image.
It is from here, at an unremarkable roadside monastery just outside the city of Yangon, that the abbot is propelling the radical Buddhist group he co-founded into the mainstream of Myanmar's politics.
Four bills drafted by his Committee for the Protection of Race and Religion, better known as Ma Ba Tha, have been passed by parliament and signed into law. Critics say the new laws effectively legalize discrimination against women and the country's minority Muslims.
Along with political clout, Ma Ba Tha is also ratcheting up its public image ahead of elections in November that will be the first free vote in Myanmar in the last 25 years. The radical Buddhist group has regular programming on one of the country's most popular satellite TV channels and has launched a magazine.
"There should be lawmakers in parliament who are reliable for the country," Ashin Tilawkar Biwonsa said in an interview. "There might be some people, especially Muslims, who are working on weakening Buddhism, so we need strong people for our religion."
Ma Ba Tha has shown no signs of contesting elections itself but says it will "remind" the public of candidates who opposed its four laws. These include Nobel peace laureate Aung San Suu Kyi and her opposition National League for Democracy (NLD), which is going head to head with conservatives and military figures in the polls.
Established two years ago, Ma Ba Tha sprang from the "969" movement, a loose collection of monks linked to a wave of violence against the country's Muslim minority in 2012 and 2013.
Senior Ma Ba Tha officials said the 969 movement had raised awareness about threats to Buddhism from a burgeoning Muslim population, but was disorganized and lacked leadership.
"It was (concerned with) only the symbols of Buddhism," said Ashin Tilawkar Biwonsa.
Now, a growing number of professionals are offering their expertise on everything from media relations to legislation, helping to shape Ma Ba Tha into a slick organization with popular support and real political clout.
One such expert is Aye Paing, who spent two decades toiling as a lawyer in Myanmar's musty courtrooms before finding a dramatic new use for his legal skills.
Aye Paing and a team of Ma Ba Tha-linked lawyers drafted the protection of race and religion bills, the last of which was signed by President Thein Sein on Monday.
Lawyers, economists, IT experts and other professionals had made Ma Ba Tha "very efficient, systematic and legal" said Aye Paing, 52, who wears a black "taik pone", a short collarless jacket worn over a shirt that is common among Myanmar's legal professionals.
"We discuss, give advice and share our visions," he said.
Full report at:
http://www.freemalaysiatoday.com/category/world/2015/09/01/anti-muslim-buddhist-group-moves-toward-myanmars-mainstream/
----------
'Najib must surrender leadership'
September 1, 2015
KUALA LUMPUR: The most important thing for a leader is to leave a legacy for his nation, and the best legacy that Prime Minister Najib Razak can bequeath to Malaysia is to acknowledge his limitations and resign his office, political analyst and blogger Aspan Alias says.
It will be something that the people of Malaysia and its history writers will hold him in high regard for.
Such a move would also set a precedent for future leaders, allowing them to leave office by acknowledging the weaknesses of their own leadership.
Najib has to ask himself whether he can solve the economic woes the country is facing. If the answer is 'No', then he ought to hand in his resignation to someone who can.
In fact, Aspan says, Najib already knows he cannot offer any solution.
The 350,000 people who attended the recently concluded 'Bersih 4' rally ought to be sufficient to convince Najib that the popular sentiment among the rakyat is that they have no confidence in his leadership, Aspan adds.
Consequently, the Prime Minister should leave office.
Full report at:
http://www.freemalaysiatoday.com/category/nation/2015/09/01/najib-must-surrender-leadership/
----------
Indonesia's battle for a distinct Islamic identity
September 1, 2015
With the rise of the Islamic State and the chaos and violence engulfing parts of the Middle East, Indonesia's Islamic leaders have embarked on a process of self-definition and soul searching.
Worried about the possible importation of similar conflicts into the country, the leaders have started to promote more vigorously their own vision of a peaceful and tolerant religion.
This started in early 2014 when it became clear that the Islamic State was actively recruiting in the archipelago. In March 2015, alarm bells went off when a video emerged of what appeared to be South-east Asian Malay-speaking children being trained in an Islamic State military camp.
While authorities have put in place repressive measures against the terrorist organisation, it is becoming evident that the real battleground is ideological, cultural and educational.
This is why the current debate about Indonesian Islam's cultural distinctiveness, known as Islam Nusantara (Nusantara refers to the Indonesian Archipelago), versus a more Middle-Eastern type of Islam has taken centre stage.
While the debates on the so-called "Arabisation" versus "Indigenisation" of Islam in Indonesia are old and recurring ones, the Islamic State threat combined with new political alliances since Mr Joko Widodo came to power have given it new urgency.
THE PRESIDENT AND RELIGION
The election of Mr Widodo to the presidency in 2014 promised a brighter future for religious tolerance and pluralism in Indonesia. After all, he had declared during the campaign that he would defend the country's tradition of moderation and inclusiveness against expanding radical elements.
So far, however, it is unclear if much on the ground has changed. In early July, a group called the "Islamic Jihad Front" broke up a Christian youth camp near Yogyakarta. The local police were present and did not interfere, later stating that the organisers did not have the proper authorisation.
Once again, the main challenge for the central government is in applying its new policy on a local level, where some officials have been tolerating, sometimes even condoning, violations of the rights of religious minorities.
Nor are the targets limited to non-Muslims or, for that matter, Muslim minority groups considered "deviants". This year, after inflammatory messages were reportedly issued by the Evangelical Church of Indonesia, hundreds of native Papuans were said to have attacked non-native Papuans of Muslim faith at the end of Ramadan, and burnt down a mosque in the Tolikara regency in Papua.
Evidently, conservative forces in Parliament will not make it easy for the Widodo administration to push its agenda on pluralism. A point of contention was the recent declarations of Religious Affairs Minister Lukman Hakim Saifuddin, a known progressive figure from the traditionalist Islamic organisation Nahdlatul Ulama (NU). During Ramadan, Mr Saifuddin had called for those who fast to respect those who do not fast — referring to the actions of radical vigilantes such as the FPI (Islamic Defenders Front) who often force food stalls to close during the fasting period.
Another recent event illustrated well the growing tensions between these two opposing poles. On a remembrance day event at the state palace to mark Prophet Muhammad's ascension – attended by Mr Widodo and representatives of Muslim countries - a Quranic passage was for the first time recited in Javanese and not Arabic, a move criticised by hardliners as a "liberalisation" of the religion.
To be sure, a Javanese recitation of the Quran would have been unimaginable under the previous administration, Mr Susilo Bambang Yudhoyono, whose political alliances tied him to more conservative Islamic interests.
Mr Widodo is clearly not in such a position. Since the start of the presidential campaign, he has enjoyed support from the National Awakening Party, which is closely linked to NU. Boasting 40 million members and sympathisers in Indonesia, NU is not only the largest independent Islamic organisation in the world, it is also a proponent of Islam Nusantara and the re-localisation of Indonesian Islam against transnational puritanical movements.
A HOMEGROWN "ISLAM NUSANTARA"
The most notable recent initiative by the NU-Widodo alliance centres around the idea of an Indonesian Islam possessing a distinct identity.
Full report at:
http://www.todayonline.com/world/asia/indonesias-battle-distinct-islamic-identity?singlepage=true
----------
Greater Jakarta: City to open food court, souvenir center at JIC
September 01 2015
The city administration is set to develop another Lenggang Jakarta food court and souvenir center at the Jakarta Islamic Center (JIC) in North Jakarta.
The first Lenggang Jakarta was developed at the National Monument (Monas) park in Central Jakarta as part of the city's attempt to regulate street vendors operating in the park. It houses 339 food and drink, clothing and souvenir vendors.
Cooperatives, Micro, Small and Medium Enterprises and Trade (KUKMP) Agency head Irwandi said that the city was planning to develop a second Lenggang Jakarta in order to manage the large number of street vendors at JIC. The administration, he said, would allocate Rp 10 billion (US$712,164) for the development.
Full report at:
http://www.thejakartapost.com/news/2015/09/01/greater-jakarta-city-open-food-court-souvenir-center-jic.html
-----------
URL: http://www.newageislam.com/islamic-world-news/new-age-islam-news-bureau/takfiri-daesh-militant-group-kills-112-of-own-members-in-iraq's-mosul/d/104444