New Age Islam News Bureau
13 May 2022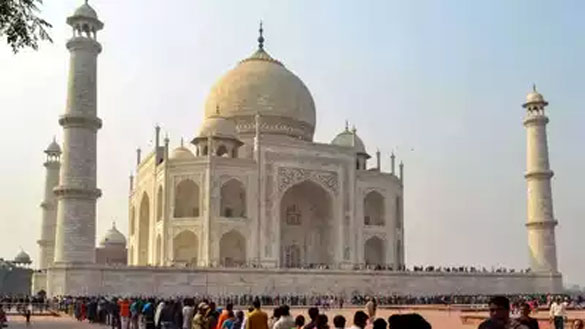 Taj Mahal
----
• Gyanvapi Mosque Case Judge Says, an Atmosphere of Fear Is Being Created and He Is Worried About His Family's Safety
• Leader of the Danish Far-Right Stram Kurs Burns Muslim Holy Book under Police Protection In Sweden
• UN Secretary-General: Terrorism in Afghanistan Is Reviving and Could Become A Global Threat
• Taliban Spokesman Suhail Shaheen Admits His Daughters Go To School despite Ban on Girls' Education in Afghanistan
India
• Gyanvapi video survey: Supreme Court refuses to pass interim status quo order
• Singing National Anthem Now Must In UP Madrassas: Department Of Minority Welfare
• Delhi: At camp nearby, Rohingya refugees feel tremors
• Congress: BJP creating Hindu-Muslim divide to win polls
• Govt swings into action day after Guv Khan's outburst over Muslim girl insulted on stage
• Ram Navami violence: Gujarat Muslims move HC, seek transfer of probe to CID
• J&K Sees Spike in Hit-and-Run Terror Attacks Targeting Non-Muslims, 13 Injured This Year
--------
Europe
• Hungarian composer returns to the Kingdom to perform, mentor Saudi students
• Dutch court rules to bring back 12 Daesh/ISIS women, 29 children from Syria
• EU 'deeply deplores' Israeli decision to expand settlements in occupied West Bank
• Berlin police ban Palestinian 'Nakba Day' demonstrations
--------
North America
• G7 Foreign Ministers Denounce the Taliban Restrictions on Afghan Women
• US lifts sanctions on foreign investments in northern Syria, not Assad regime
• New Jersey Arab mayor urges community to engage Americans first before Middle East
--------
South Asia
• Afghan Evacuees Cutting a Rough Time in US: Report
• Domestic Violence Rises among Afghan Refugees in the United Kingdom
• Gender Segregation Plan of Taliban in Restaurants
--------
Arab World
• Houthis Using Summer Camps to Train Child Soldiers, Parents Warned
• Top UK School Opens in Riyadh with Pledge to 'Motivate, Inspire'
• Saudi FM urges global coalition to continue efforts to eliminate Daesh completely
• US lifts sanctions on YPG-held Syrian territories
• Turkiye neutralizes 21 YPG/PKK terrorists in northern Syria
--------
Africa
• Daesh Murders 20 Nigerian Christians in 'Revenge' For Setbacks in Middle East
• Sudan's Protesters Back in Streets as Moves for Political Deal Falter
• Austin hosts Jordan's King Abdullah at Pentagon for talks
• Tunisia denies report of former PM Jebali's arrest
• Killing of Palestinian journalist widely condemned in Africa
--------
Pakistan
• Islamabad Hands Over Top Pakistani Taliban Commanders to Afghan Mediators
• Pak Prez Asks Chief Justice To Form Judicial Commission To Probe Regime Change Conspiracy To Oust Imran Khan
• Leaders to take Nawaz message to coalition partners
• 1 killed, 13 others injured in Karachi blast
• Turkey, Pakistan need to 'fortify bilateral relations': security dialogue
• Maulana Fazl's presser: Army guardian of state, not any government, says Fazl
• Taking cue from Zardari, Fazl calls for electoral reforms before polls
--------
Southeast Asia
• Ummah Unity More Important Than Political Pacts, Zahid Told
• SOEs provide scholarships to 7,700 Islamic boarding school students
• Act over flight delays, Nanta tells Wee, Mavcom
--------
Mideast
• Israel Levels Palestinian Homes Ahead Of Settlement Approval
• Iranian, Qatari Officials Start High-Profile Trade Talks
• Envoy: Italian Banks Continue Interactions with Iran despite Sanctions
• Stalled Iran nuclear talks have been 'reopened': EU's Borrell
• Turkey's supreme court of appeals upholds jail for opposition figure: Party
Compiled by New Age Islam News Bureau
URL: https://newageislam.com/islamic-world-news/taj-mahal-asi-locked/d/126997
--------
Taj Mahal's "22 Permanently Locked Rooms", Not Always Locked, Have No Idols: ASI Officials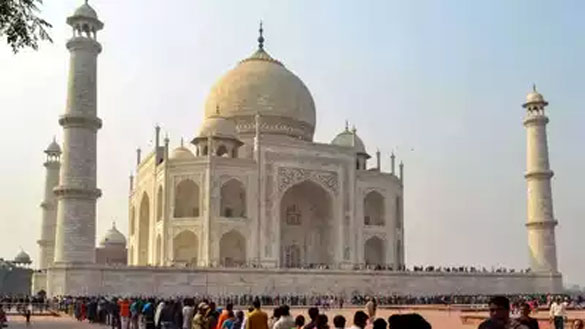 Taj Mahal
----
May 13, 2022
AGRA: Contrary to claims made in a petition to the Lucknow HC seeking unlocking of the Taj Mahal's "22 permanently locked rooms", many in its basement, "as they could be housing Hindu idols from ancient times", top Archaeological Survey of India officials told TOI on Thursday that the contention in the plea is wrong on both counts.
One, these rooms - officially called "cells" - are "not permanently closed" and they were only recently opened for conservation work. And that all records scrutinised so far over the years "have not pointed to the presence of any idols".
A senior official privy to the restoration work done just three months ago said, "Various records and reports that have been reviewed till now haven't shown the existence of any idols". If those with the deepest access to the Taj are to be believed, there are over 100 cells in various parts of the mausoleum complex which have remained closed to the public for reasons of security and safety, and none have thrown up any such findings.
"The petitioner's claim of 22 rooms being permanently locked is factually incorrect as conservation work - including filling of cracks, re-plastering and anti-ageing treatments - are periodically done. In fact, the most recent work cost us Rs 6 lakh," a senior ASI official told TOI.
Another senior ASI official added that 100 cells in the monument's complex that remain locked to the public are located in the basement, the upper storeys of the main mausoleum, the corner 'burjs', the four minarets, inside the baolis (near the mosque) and on the Chameli floor on east, west and north sides. Besides these, several portions of the other world heritage sites in the region - Agra Fort and Fatehpur Sikri - have also remained closed to the public for years due to security reasons.
Controversy over the Taj Mahal was first stirred by historian PN Oak who, in a 1989 book, claimed that the monument was originally 'Tejo Mahal'. He argued that the monument was originally a Hindu temple and a palace built by a Rajput ruler. However, his theory has been repeatedly debunked by several historians. In fact in 2000, the Supreme Court rejected a petition by Oak to declare that the Taj Mahal was built by a Hindu king.
Source: Times Of India
Please click the following URL to read the text of the original story:
https://timesofindia.indiatimes.com/india/taj-cells-not-always-locked-have-no-idols-asi-officials/articleshow/91527051.cms
--------
Gyanvapi Mosque Case Judge Says, an Atmosphere of Fear Is Being Created and He Is Worried About His Family's Safety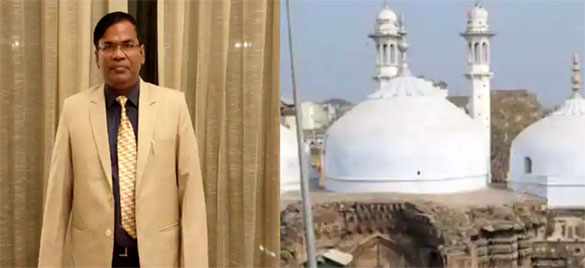 Civil Judge Ravi Kumar Diwakar/ File Photo
----
May 13, 2022
Varanasi: Civil Judge Ravi Kumar Diwakar, who ordered the continuation of the survey of the Gyanvapi mosque premises and rejected the plea to change the court-appointed advocate commissioner for conducting a video survey of the Gyanvapi-Shringar Gauri complex, expressed safety concerns.
In his order, the judge said that an atmosphere of fear is being created and he is worried about his family's safety.
On Thursday, Diwakar said: "An atmosphere of fear was created by making this civil case into an extraordinary case. The fear is so much that my family is always concerned about my safety and I am concerned about their safety. Concerns about safety are repeatedly expressed by my wife when I am out of the house."
Don't Miss: Gyanvapi mosque survey to continue, report by 17 May
"Yesterday, my mother (in Lucknow) during our conversation also expressed concerns about my safety, and from the news received by the media, she came to know that maybe I am also going to the spot as commissioner and my mother asked me that I should not go on commission on the spot, as it may endanger my safety," the judge added.
On Thursday, a Varanasi court while hearing the matter said that the survey inside the Gyanvapi mosque located next to the Kashi Vishwanath temple will continue and the report needs to be submitted by May 17. The court also added two advocates to the survey commission.
Varanasi court refused to remove Court commissioner Ajay Mishra and added that the video inspection of the Gyanvapi mosque will continue and should be completed by Tuesday (17 May).
Must Read: Court allows videography inside Varanasi's Gyanvapi Mosque: A look at the case, the verdict, and past controversies
There has been a protest over the survey of several deities, including Shringar Gauri, located in Varanasi's Kashi Vishwanath temple premises and the Gyanvapi Masjid complex.
Following the court-appointed commissioner's survey in Gyanvapi Masjid in Varanasi, Anjuman Intezamia Masjid Committee on Saturday filed an application seeking the removal of the office due to the alleged biassedness over the matter.
Source: Firstpost
Please click the following URL to read the text of the original story:
https://www.firstpost.com/india/gyanvapi-mosque-case-judge-expresses-concern-about-his-and-familys-safety-10667681.html
--------
Leader of the Danish Far-Right Stram Kurs Burns Muslim Holy Book under Police Protection In Sweden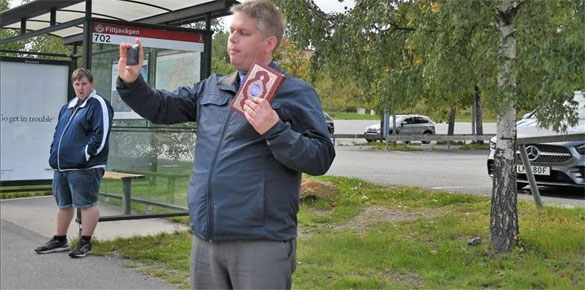 (Atila Altuntas - AA)
----
Atila Altuntaş
13.05.2022
STOCKHOLM, Sweden
The leader of the Danish far-right Stram Kurs (Hard Line) party burned another copy of the Muslim holy book, the Quran, on Thursday under police protection in Sweden.
Rasmus Paludan, who has dual Danish and Swedish nationality, has recently burned copies of the Quran in the Frölunda, Boras and Trollhättan regions of the southwestern province of Västergötland, which are inhabited by Muslims.
Around 100 police officers as well as 10 plainclothes officers from the Swedish intelligence agency SAPO have accompanied Paludan to protect him against counter-demonstrators.
Paludan has burnt the holy book in various cities in Denmark since 2017.
He continued his provocations under police protection during the Muslim holy month of Ramadan this year near Muslim populated neighborhoods and mosques.
Riots broke out in the cities Malmo, Norrkoping and Jonkoping as well as in the capital Stockholm, leaving 125 police vehicles damaged and 34 officers injured, while 13 people were detained.
Source: Anadolu Agency
Please click the following URL to read the text of the original story:
https://www.aa.com.tr/en/europe/danish-far-right-leader-burns-muslim-holy-book-under-police-protection-in-sweden/2586595
--------
UN Secretary-General: Terrorism in Afghanistan Is Reviving and Could Become A Global Threat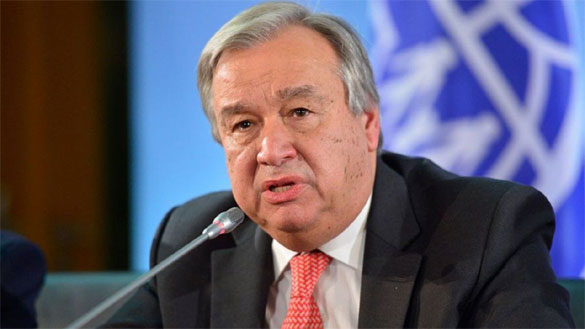 United Nations Secretary-General Antonio Guterres
----
By Saqalain Eqbal
12 May 2022
According to UN Secretary-General Antonio Guterres, terrorism in Afghanistan is reviving and could become a global threat.
To ensure its efficacy, the UN Secretary-General has stated that the response to terrorism must be founded on the rule of law, respect for human rights, and gender equality.
The remarks were made during a meeting of the United Nations Human Rights, Civil Society, and Counter-Terrorism Conference in Spain.
"As a moral duty, a legal obligation, and a strategic imperative – let's put human rights where they belong: front and centre in the fight against terror.," he said at the gathering.
The UN Secretary-General stated that the threat was growing and global, citing the expansion of ISIS and al-Qaeda in Africa and the resurgence of terrorism in Afghanistan.
Governments, organizations, civil society activists, and human rights defenders gathered in Spain for a two-day counter-terrorism meeting.
Source: Khaama Press
Please click the following URL to read the text of the original story:
https://www.khaama.com/guterres-terrorism-is-resurgent-in-afghanistan46931/
--------
Taliban Spokesman Suhail Shaheen Admits His Daughters Go To School Despite Ban On Girls' Education In Afghanistan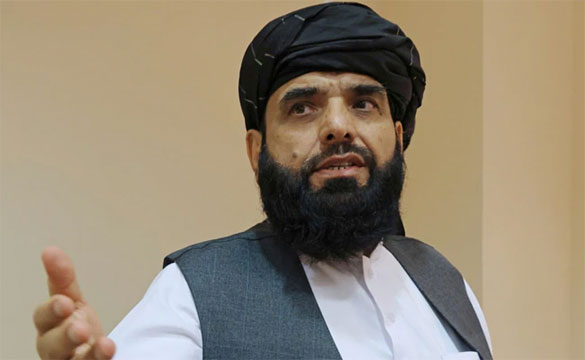 In March, Taliban reversed order on reopening schools for girls in Afghanistan.
-----
May 12, 2022
Taliban spokesman Suhail Shaheen has admitted that his daughters go to school, despite a ban on girls getting an education in Afghanistan. He made the revelation on television presenter Piers Morgan's new show on Talk TV.
Mr Morgan confronted the Taliban spokesman and asked whether his daughters have been allowed to get an education, according to a clip of the show posted on Twitter by Piers Morgan Uncensored.
"Of course, yes. They are observing hijab, and so that means we have not denied for our people," Shaheen said in the tense exchange. Mr Morgan then hit back saying, "So your daughters get an education because they do what you tell them."
Social media users were quick to respond to the clip, calling out Suhail Shaheen for hypocrisy. One Twitter user said, "This man's daughters observe hijab and get an education. This man's one daughter plays on the Qatari football team. This man's one daughter has a Qatari boyfriend. Afghan girls observe the hijab but are deprived of education past the 6th grade and they cannot play sports." Another added, "Hypocrisy! The Taliban allow their children to go to school and ban education for others."
It is to mention that schools in Afghanistan still have not reopened to girls despite previous promises from the Taliban that they would be able to resume their education.
Initially, schools were set to open in March, however, the Taliban announced the day they were supposed to open that they would remain shut down. The group offered no clear explanation for the shift, even as officials held a ceremony in the capital Kabul to mark the start of the academic year, saying it was a matter for the country's leadership.
Taliban had promised a softer version of the harsh Islamist rule that characterised their first stint in power from 1996 to 2001, however, many restrictions have already been imposed. Some Afghan women initially pushed back against the rules, holding small protests where they demanded the right to education and work. But, according to AFP, as the Taliban soon rounded up the ringleaders, they eventually went silent.
Source: ND TV
Please click the following URL to read the text of the original story:
https://www.ndtv.com/world-news/taliban-spokesman-suhail-shaheen-admits-his-daughters-go-to-school-despite-girls-education-ban-2969407
--------
India
Gyanvapi video survey: Supreme Court refuses to pass interim status quo order
May 13, 2022
NEW DELHI: The Supreme Court on Friday refused to pass interim status quo order on the survey of Gyanvapi-Shringar Gauri complex at Varanasi in Uttar Pradesh.
The apex court, however, has agreed to consider listing of a plea by the Muslim against the survey of the Gyanvapi premises.
A bench headed by Chief Justice NV Ramana was told by senior advocate Huzefa Ahmadi, appearing for the Muslim side in the case, that a plea has been filed against the survey being conducted at the site.
The CJI-led bench was yet to decide on the urgent listing of the plea. "I do not know anything. How can I pass such an order? I will read. Let me see," CJI Ramana said.
"We have filed in relation to a survey which has been directed to be conducted in relation to the Varanasi property. This (Gyanvapi) has been a mosque since time immemorial and this is clearly interdicted by the Places of Worship Act," Ahmadi said.
A Varanasi local court had on Thursday rejected a plea to replace the advocate commissioner it had appointed for conducting a video survey of the Gyanvapi-Shringar Gauri complex and set a deadline of May 17 for the same.
Source: Times Of India
Please click the following URL to read the full text of the original story:
https://timesofindia.indiatimes.com/india/gyanvapi-video-survey-supreme-court-refuses-to-pass-interim-status-quo-order/articleshow/91534419.cms
--------
Singing National Anthem Now Must In UP Madrassas: Department Of Minority Welfare
May 13, 2022
LUCKNOW: The department of minority welfare on Thursday issued a written directive to all district minority welfare officers to ensure singing of the national anthem in the morning assembly in all madrassas of UP. Earlier in March, the board had decided to make the singing of the national anthem mandatory at all of the 16,000 madrassas in UP, including 560 government-aided madrassas and all recognised ones. The decision could not be implemented as the madrassas were closed for Ramzan. Academic activities in madrassas resumed on Thursday.
The examinations for 1.62 lakh students of secondary, senior secondary, all three years of 'Kamil' (equivalent to graduation) and two years of 'Fazil' (equivalent to post graduation) will be held from May 14. "Singing of the national anthem was already being followed at a number of madrassas but now this will be a compulsory activity before the classes begin. The step will instill the spirit of patriotism among madrassa students," said chairperson of the Board, Iftikhar Ahmad Javed. "A reminder for the implementation of the decision has been sent to all district minority welfare officers as classes have resumed after the Ramzan and Eid vacation," he added.
Source: Times Of India
Please click the following URL to read the full text of the original story:
https://timesofindia.indiatimes.com/city/lucknow/singing-national-anthem-now-must-in-up-madrassas/articleshow/91527838.cms
--------
Delhi: At camp nearby, Rohingya refugees feel tremors
May 13, 2022
NEW DELHI: About 200 metres away from Kalindi Kunj, where demolitions were being carried out by South Delhi Municipal Corporation on Thursday, the residents of a Rohingya refugee camp were a worried lot. Their anxieties arose from the recent announcements by BJP functionaries that public land in Delhi was illegally occupied by Rohingyas and Bangladeshis.
Maryam, who came to Delhi from Myanmar and now lives in the camp near Madanpur Khadar, was tense. "The place where we had our camp earlier was destroyed in a fire. We were given this space by the municipal corporation officials, but I am seeing a lot of commotion since the morning and some people say they are here to break down our houses," she said. "But all we have are temporary shacks, nothing permanent. I hope they don't come here."
There are around 300 Rohingyas residing in the camp abutting a land parcel belonging to the Uttar Pradesh government's irrigation department. "This is only a temporary arrangement after the allotted camp was destroyed by fire," reiterated Mohammad Salim, who is a domestic worker in an unauthorised colony nearby. "The sub-divisional magistrate gave us permission to stay here, so, why would the JCBs come here? We mean no harm to anyone and we aren't encroaching on anyone's property either."
BJP has been alleging that the ruling Aam Aadmi Party is helping illegal Bangladeshi and Rohingya migrants settle in the city. BJP's Delhi unit chief Adesh Gupta has also asked citizens to report encroachments by Rohingyas so that necessary action can be taken by the municipal corporations. In an open letter to party workers and citizens, Gupta alleged that Delhi government was assisting illegal Bangladeshi migrants and Rohingya refugees acquire identification documents like voter ID, Aadhaar card, ration cards, even old-age pension.
The debate over the Rohingyas, who are now present in many places in India, having crossed the border to escape persecution in Myanmar, is now a BJP-AAP battle. The saffron party has accused AAP MLAs of settling the foreigners on government land and helping Rohingyas and Bangladeshis illegally open scrap shops, meat shops and hawk fruits and vegetables. "They are also using the EWS quota to help the illegal migrants' children get admission in government schools," Gupta alleged.
Source: Times Of India
Please click the following URL to read the full text of the original story:
https://timesofindia.indiatimes.com/city/delhi/at-camp-nearby-rohingya-refugees-feel-tremors/articleshow/91527019.cms
--------
Congress: BJP creating Hindu-Muslim divide to win polls
May 13, 2022
NEW DELHI: Describing polarisation in the hitherto-shunned vivid religious terms, Congress accused the ruling BJP of sowing seeds of divisions between Hindus and Muslims, calling it one of the big challenges facing the country under the Modi government.
Listing the agenda for the Congress's three-day chintan shivir at Udaipur starting Friday, the party said communalism targeting minorities, especially Muslims, alongside economic downturn, inflation, joblessness and threat to sovereignty at the hands of China, are the burning issues, on which Congress will engage in deliberations at the brainstorming session. Congress said while debating and taking a political stance on the said subjects, Congress will use the Udaipur conclave to find ways to strengthen the organisation to ensure that it is in a better shape in future for a political struggle.
"To hide the serious problems facing the country, Modi government is spreading religious fanaticism that targets religious minorities, especially Muslims, Christians and Sikhs. Every day a new Hindu-Muslim dispute is created to distract the country. BJP is searching for electoral victories by sowing the seeds of division between Hindus and Muslims. Elections are no longer fought on the plank of development, civic amenities, health, education, jobs, which have been replaced by bulldozer, loudspeaker, temple vs mosque, renaming of streets, and differences of food and dressing habits," AICC spokesman Randeep Surjewala said.
By naming the religious group instead of the generic "minority/majority", Congress indicated it plans to up the pitch on cornering the BJP over communalism. The idea appears to be to nudge the political allies to shun the prevalent fear that it will benefit the BJP, while also setting the "secular" bar higher for anti-BJP rivals like AAP.
While focus on "governance deficit" under the BJP is bread and butter for Congress, insiders insisted that the articulation at Udaipur will be new that will convey the urgency on 8% joblessness, incessant inflation and fuel prices, and looming economic crisis.
Congress strategists believe that focus on "failures" is the only way for the party to reposition itself with the citizens, even though the bigger challenge is the search for a solution that can make the party winnable again.
One idea appears to be that "economic failures" and measures like "bulldozers" be defined in terms of the miseries heaped on the poor and lower middle classes. Surjewala asked why are BJP's bulldozers set upon the "localities of poor and marginalized castes", and not on the elite neighbourhoods infested with encroachments.
Source: Times Of India
Please click the following URL to read the full text of the original story:
https://timesofindia.indiatimes.com/india/cong-bjp-creating-hindu-muslim-divide-to-win-polls/articleshow/91529933.cms
--------
Govt swings into action day after Guv Khan's outburst over Muslim girl insulted on stage
13th May 2022
THIRUVANANTHAPURAM: Governor Arif Mohammed Khan's tweet on Wednesday, strongly condemning the action of a Muslim cleric who admonished organisers of an event in Malappuram for inviting a girl on stage to receive an award, has spurred the state government into action.
The Kerala State Commission for Protection of Child Rights initiated suo motu proceedings into it, while the Kerala Women's Commission said it would take action against those involved in humiliating the girl if it receives a complaint. Ministers R Bindu and Veena George too condemned the incident.
The child rights panel has sought an explanation from the secretary of the religious body Samastha and asked the Malappuram police and district child protection officer to submit a report.Meanwhile, women's commission chairperson P Sathidevi said. "Either the victim or those close to her can approach us with a complaint."
On Thursday, Khan said he was 'disappointed' and 'saddened' by the silence of the political leadership on the issue. He said "offending the modesty" of a girl in public was a cognisable offence. "I hope the state's institutions take suo motu cognisance of the crime," Khan told reporters at the airport before leaving for Mumbai. "This is a violation of fundamental rights. As ordinary Indians, if we tolerate this, it will not be a good omen for our democracy," the governor cautioned.
Referring to recent protests for the right of Muslim women to wear 'hijab' in educational institutions, Khan asked why such rude behaviour was meted out to a girl who was wearing the religious head-covering. "Your ultimate purpose is not hijab. These are the people responsible for creating Islamophobia all over the world," Khan said.
Condemning the incident, Bindu said a studious girl had wished to get the recognition she deserved for her excellence. "Everyone present there should have welcomed her," she said, while not targeting the Muslim scholar personally. Veena, who handles the Women and Child Development portfolio, said adopting such an attitude towards women and children was "wrong".
Source: New Indian Express
Please click the following URL to read the full text of the original story:
https://www.newindianexpress.com/states/kerala/2022/may/13/govt-swings-into-action-day-after-guv-khans-outburst-over-muslim-girl-insulted-on-stage-2452864.html
--------
Ram Navami violence: Gujarat Muslims move HC, seek transfer of probe to CID
12th May 2022
Victims of the Khambhat violence during the Ram Navami processions in April, on Thursday moved the Gujarat High seeking transfer of probe to the state CID.
The petitioners alleged that the police conducted a biased investigation after two FIRs were filed in the aftermath of anti-Muslim violence in the district. The two FIRs highlight the incidents of looting and burning of Muslim owned businesses during the processions.
It further mentions that religious places were deliberately targeted by the right wing groups during processions, reported Live Law. A total of four cabin shops, one building and a shop were burnt down, whereas a Dargah was dismantled, with an intention to hurt the religious sentiments of Muslims.
The first of the two FIRs was reportedly lodged on April 10. One of the four petitioners in this case has been identified as Vasimbhai Yakubbhai Ghanci Vohra. They claimed that a new arrest was being made on a daily basis, in connection with the first FIR while there was no progress regarding the second.
The first FIR was lodged under, sections 143, 149 (unlawful assembly), 147 (rioting), 337, 338 (hurt and grievous hurt caused due to rash or negligent action), 307 (attempt to murder). Investigating the same, Anad Police made over 30 arrests.
The second FIR was lodged on April 27 under various sections of the Indian Penal Code, including 143, 149 (unlawful assembly), 147 (rioting), 337 (hurt caused by rash or negligent act) and 504 (intentional provocation to break public peace). It is yet to be investigated by the police.
The complainants in their petition said, "All those arrest which are made belongs to one section of society namely the minority. The investigation that has been carried out has been one sided". He further argued that investigation is biased and violates articles 14, 19 and 21.
Source: Siasat Daily
Please click the following URL to read the full text of the original story:
https://www.siasat.com/ram-navami-violence-gujarat-muslims-move-hc-seek-transfer-of-probe-to-cid-2325719/
--------
J&K Sees Spike in Hit-and-Run Terror Attacks Targeting Non-Muslims, 13 Injured This Year
MAY 13, 2022
While terrorists are consistently targeting civilians in Jammu and Kashmir, official data shows a steep rise in the number of civilians injured or killed in terror attacks. Also, there has been a steep rise in the number of non-Muslims injured in terror-related violence.
The data shows that by April 15, 2021, no non-Muslim civilian was injured in terror attacks. However, till April 15 this year, 29 non-Muslim civilians have been injured in various terrorist attacks, most of them in improvised explosive device (IED), stand-offs or hit-and-run attacks.
However, the overall number of Muslim civilians injured or killed in terror attacks this year is more than non-Muslim civilians, data shows.
Sources also claimed terrorists target non-Muslim civilians in hit-and-run attacks. "Data shows that in hit-and-run attacks, non-Muslims have been targeted more in comparison to Muslim civilians," a Central Reserve Police Force (CRPF) official told News18.
14 CIVILIANS KILLED TILL APRIL 15
According to the official data, 13 non-Muslims were injured in stand-off or hit-and-run attacks and 15 in IED attacks. A total of 45 Muslim civilians were injured in terror attacks, of which 40 were injured in grenade attacks.
Till April 15 this year, a total of 14 civilians have been killed, of which three were non-Muslims and 11 were Muslims. Last year, five civilians were killed till April 15 and all were Muslims.
A senior CRPF officer claimed that terror outfits are mostly adopting a strategy to target civilians by recruiting local youths who execute hit-and-run attacks and easily escape.
"Hit-and-run attacks is the easiest strategy for terrorist organisations to target civilians and security forces in Jammu and Kashmir. The organisations, through local, newly recruited terrorists, target civilians and security forces by giving them small weapons. These new recruits easily hide in the crowd after the attack. But forces are ensuring that they are eliminated within a few days of execution of attacks," a senior CRPF official told News18.
Source: News18
Please click the following URL to read the full text of the original story:
https://www.news18.com/news/india/jk-terrorists-target-non-muslims-in-hit-and-run-attacks-13-injured-this-year-5167087.html
--------
Europe
Hungarian composer returns to the Kingdom to perform, mentor Saudi students
LAMA ALHAMAWI
May 12, 2022
RIYADH: Hungarian composer and pianist Gergely Boganyi has returned to Saudi Arabia, where he originally drew his inspiration to compose the 33-minute full orchestra symphony dedicated to AlUla.
"You know, it is easy to say that you like a place, and there are several places in the world that I like very much, but there was only one place that I was inspired by, to write a symphonic poem for a full-size orchestra and that was AlUla," Boganyi said.
The musician and composer has dedicated his career to performing worldwide and passing on his knowledge through mentoring.
Visiting Arab News headquarters in Riyadh, Boganyi discussed his love for performing in the Kingdom, his creative composing process, and his insights into the growing music industry in Saudi Arabia.
Boganyi is also the inventor of the Boganyi piano, the style of which preserves the traditional integrity of the instrument's structure but uses modern materials such as carbon fiber composite in the design.
Boganyi played his creation in the Kingdom during his first visit.
"It was absolutely amazing to come here with our new piano, to present the piano, and to play the first concert in the history of Saudi Arabia back in 2017, both in Riyadh and in Jeddah," he said.
"It felt like I am a part of history … and I tried to be humble and responsible enough to fulfill this mission."
On his first day back in Riyadh, the maestro performed a concert at the German Embassy, followed by a lecture and master class for pianists at the Saudi Music Commission.
"After the concert, I was listening to some of the Saudi students, which was an absolutely unique experience, a great action I would have never expected," Boganyi expressed.
With the cultural and art sector in the Kingdom quickly expanding and empowering young talents, there is so much potential to be discovered.
"Our culture and our life in the world are usually somewhat overcooked sometimes. Therefore, I see a historical chance here where musical education has not been a part of hundreds of years of education," he added.
When mentoring the Saudi students, the composer saw an "honest" and simple methodology to their performances.
"Well, it was a fantastic experience to see the dedication and the honest attitude of the Saudi students. I was really moved by it straight away," Boganyi said.
He highlighted that with such talents and simplicity, there is an opportunity to develop something extraordinary in the Kingdom.
"I have seen great developments already since I have been here the last time (in 2019). There is a historic chance to direct musical and educational life in a really powerful way at this moment," he said.
On his visit to the Kingdom in 2019, Boganyi self-composed a symphony inspired by the beautiful landscapes of AlUla.
"I have visited AlUla, the historical place, city, and surroundings, and I was deeply moved by what I had seen," he said.
Boganyi composed a symphony dedicated to the four elements of AlUla that he drew inspiration from — the land, flavors and smells, night sky and the rising sun.
"The smells, not only of the food and the coffee which I like very much, but the smell of nature as well," he stated. "The night, which is silent in the desert, but still there is a mystical message within the silence because the silence is not a dead silence."
Boganyi also shed light on his creative process.
"Composition is the most complex inspiration, which targets the audience in the first place. So, for example, for the AlUla symphony poem, I was trying to combine the Western musical culture with the Arabic musical flavor and present it in a musically understandable manner," he said.
The composer aimed to create a "romantic movie approach" to the symphony that developed a spiritual connection to each person.
"The essence of the composition is through the soul of a person, so I need to be very open-minded, but also the soul must be open toward the people that are going to listen to it," he explained.
The composer dedicated three months, day and night, to the 33-minute symphony.
"I am moved by the power of the scene, of the space and the sand and the dunes and the rock, and then the sun as well, and when it rises it is such an emotional moment, and the fourth movement is like the victory of the light over the darkness," he said
The composer told Arab News that he was born into a musical family, so he took up the piano and other instruments quickly.
"We are four siblings, and we were all born within five years, so we are very close to each other, and we were all born into the music, so I don't even remember when I started to play the piano," Boganyi stated.
"Right away going to the piano and it had such an attraction that I couldn't resist, and then it was the most natural thing that I became a musician," he highlighted.
On Tuesday evening, he concluded his visit with his second performance in Riyadh, featuring music by some of the greatest composers, such as Chopin and Liszt.
Source: Arab News
Please click the following URL to read the full text of the original story:
https://www.arabnews.com/node/2080981/saudi-arabia
--------
Dutch court rules to bring back 12 Daesh/ISIS women, 29 children from Syria
Abdullah Aşıran
13.05.2022
ROTTERDAM, Netherlands
The Rotterdam Court in the Netherlands ruled Thursday that the government should bring back 12 Daesh/ISIS women and their 29 children from Syria.
The court ruled that the women and children should be brought back to the country within four months if the Dutch Prosecutor's Office does not want to lose the right to prosecute them, according to a report by public broadcaster NOS.
The Netherlands wants to prosecute women who have gone to Syria to join the terrorist group.
The decision, which was leaked to the media, was made in a closed session and later confirmed by the court spokesperson speaking to NOS, according to the report.
It was also reported that the court in previous cases had never decided to bring such a large group of suspected Daesh/ISIS members back to the country in such a period.
In previous cases, a six-month period was given by the court to bring Daesh/ISIS women back to the Netherlands, while a decision on the four-month period was made for the first time.
Earlier this year, it was announced that the Dutch government brought back five women and 11 children who were suspected of being members of the terrorist organization or planning a terrorist attack from a camp in northern Syria.
It was reported that the government, which is not in favor of bringing back Daesh/ISIS women, decided on doing so to avoid losing the investigation right.
Source: Anadolu Agency
Please click the following URL to read the full text of the original story:
https://www.aa.com.tr/en/europe/dutch-court-rules-to-bring-back-12-daesh-isis-women-29-children-from-syria/2586610
--------
EU 'deeply deplores' Israeli decision to expand settlements in occupied West Bank
Agnes Szucs
13.05.2022
BRUSSELS
The European Union on Thursday condemned Israel's recent approval of plans to expand illegal Israeli settlements in the occupied West Bank and urged it to reverse the decision.
"The European Union condemns and deeply deplores today's approval, by Israeli authorities, of plans for advancing over 4,400 housing units, further expanding illegal settlements across the occupied West Bank," EU foreign policy chief Josep Borrell said in a statement.
Borrell also disapproved of the retroactive authorization of three illegal outposts.
"The EU urges Israel to reverse such decisions," he asserted, pointing out that the move is against international law and threatens the two-state solution.
Borrell also stressed that the decision is "completely inconsistent with efforts to lower tensions" and called on both parties to work on resuming negotiations to ensure peace and security in Israel and Palestine as well.
In response to the Israeli Supreme Court's decision in the Masafer Yatta eviction case on Tuesday, the EU also warned Israel against evictions, demolitions and forced population transfers.
The West Bank, including East Jerusalem, is seen as occupied territory under international law, thus making all Jewish settlements there illegal.
Like Turkiye and much of the international community, the EU does not recognize Israel's sovereignty over the territories it has occupied since 1967.
Source: Anadolu Agency
Please click the following URL to read the full text of the original story:
https://www.aa.com.tr/en/europe/eu-deeply-deplores-israeli-decision-to-expand-settlements-in-occupied-west-bank/2586598
--------
Berlin police ban Palestinian 'Nakba Day' demonstrations
Oliver Towfigh Nia
12.05.2022
BERLIN
Berlin police said Thursday that they are banning five Palestine demonstrations that have been registered for the coming days.
Palestinian groups had announced that they would protest against Israel's policies on the day of expulsion, Nakba (catastrophe), especially on Saturday and Sunday.
Berlin authorities allege there is an immediate danger that, among others, there will be inflammatory, anti-Semitic chants, glorification of violence, and acts of violence.
Observed on May 15 annually, the Nakba Day marks the 1948 forced expulsion of nearly 800,000 Palestinians from their homes in historical Palestine.
Last month, a Berlin court upheld a ban on a planned pro-Palestinian demonstration in the German capital as a result of recent anti-Semitic incidents on the sidelines of an anti-Israeli protest.
Palestinian civic leaders in Berlin have repeatedly made clear they do not condone anti-Semitic slurs in their demonstrations, saying their only objective is to highlight the ongoing Israeli repression in the occupied Palestinian territories.
Source: Anadolu Agency
Please click the following URL to read the full text of the original story:
https://www.aa.com.tr/en/europe/berlin-police-ban-palestinian-nakba-day-demonstrations/2586380
--------
North America
G7 Foreign Ministers Denounce the Taliban Restrictions on Afghan Women
By Saqalain Eqbal
13 May 2022
The G7 foreign ministers have spoken out against the Taliban's escalating restrictions on women's and girls' rights and freedoms in Afghanistan.
"We stand with the Afghan people in their demand for equal rights in line with the Taliban's commitments to all Afghans and Afghanistan's obligations under international law," the G7 foreign ministers said in a statement.
Despite the fact that it has been nearly nine months after the Taliban closed the girls' schools, they have also imposed other restrictions on women, triggering widespread national and international outrage.
The Taliban are further alienating themselves from the international community with these actions, according to the statement.
The G7 (Group of Seven) is an association of the world's seven most powerful "advanced" economies, which control worldwide trade and the international financial system. Canada, France, Germany, Italy, Japan, the United Kingdom, and the United States are among them.
The Taliban are ignoring the will of the people, according to EU Special Representative for Afghanistan Tomas Niklasson, and this is a main hindrance in recognizing the Taliban as the new regime's rulers.
Source: Khaama Press
Please click the following URL to read the full text of the original story:
https://www.khaama.com/g7-foreign-ministers-denounce-the-taliban-restrictions-on-afghan-women73912/
--------
US lifts sanctions on foreign investments in northern Syria, not Assad regime
12 May ,2022
The US officially lifted sanctions on foreign investments in northern Syria on Thursday, but American officials said there were no plans to remove sanctions on the Assad regime's government.
The Treasury Department issued an authorization on its website, which now allows "activities" in 12 different economic sectors in parts of northeast and northwest Syria without the fear of US sanctions.
Thursday's announcement came after Under Secretary for Political Affairs Victoria Nuland said that the move was made in an effort to help the economic situation in areas liberated by US-backed forces from ISIS.
Activities will now be permitted in the following fields: agriculture, information and telecommunications, power grid infrastructure, construction, finance, clean energy, transportation and warehousing, water and waste management, health services, education, manufacturing and trade.
But business with the Syrian government will still be illegal and subject to US sanctions, the Treasury Department said. "The importation into the United States of petroleum or petroleum products of Syrian origin" will still be prohibited.
Washington has issued crushing economic sanctions against the Syrian government as a result of its war crimes and mass atrocities carried out against civilians and protesters since the outbreak of the Syrian war in 2011.
Source: Al Arabiya
Please click the following URL to read the full text of the original story:
https://english.alarabiya.net/News/middle-east/2022/05/12/US-lifts-sanctions-on-foreign-investments-in-northern-Syria-not-Assad-regime
--------
New Jersey Arab mayor urges community to engage Americans first before Middle East
RAY HANANIA
May 12, 2022
Mohamed T. Khairullah, the mayor of the borough of Prospect Park in New Jersey, said on Wednesday that Arab and Muslim Americans should prioritize becoming fully engaged and successful in America over focusing on foreign policy.
Khairullah, who was the guest on the Ray Hanania Show on the US Arab Radio Network sponsored by Arab News, said he was not suggesting that what happens in the Middle East wasn't important.
The Syrian American immigrant, who entered politics in April 2001, said that Arabs and Muslims could be more effective in helping people back home if they became successful as leaders in the communities where they lived in America.
"I am very proud of who I am and where I come from. But I think when it comes to politics, we need to vote as Americans. We need to vote based on issues. And unfortunately, communities get played based on ethnicities. It's the divide-and-conquer type of situation and we need to get above that to electing good politicians that will move our local communities and essentially our nations forward," Khairullah said.
"My position as mayor is all about policy. But when you call me and say I want you to speak to Arab Americans, absolutely 100 percent. But when I am at City Hall I don't talk about Arabs or Muslims, I talk about issues and that is what we have to do. But that doesn't take me away from being an Arab or a Muslim, and when I go into the community I want to motivate them. I want to listen to their issues. And I listen to the issues of Latinos, and African Americans and so on and so forth. Part of my success was because I built coalitions so those are extremely important for our community."
Khairullah said that Arab and Muslim Americans must be "fully engaged" at all levels of American life first as a foundation to then make a difference for their people back home overseas.
"We need to be in all aspects of life. We need to be in unions. We need to be teachers. We need to be nurses. We need to be police officers. Everything that is a part of American life. If you are living in the US, you have to be a part of the society. That doesn't mean you have to lose your identity but you do have to be a part of the larger society," Khairullah said.
Khairullah said that his family left Syria in 1980 during the first uprising against Syria's strongman Hafez Assad. He said that his grandfather was a sheikh at a local mosque who was targeted by the Assad regime because of his activism. The family fled first to Saudi Arabia, where they found support, and then later immigrated to the US.
He said that he immediately became active in his new American local community, volunteering in a hospital and later serving as a volunteer firefighter. In April 2001, after becoming a US citizen, Khairullah ran for public office, winning a seat on the Prospect Park Borough council in New Jersey. In 2005, Khairullah was elected mayor of the borough where he continues to serve.
"The fact that I was engaged in my community. The fact that people recognized who I am as Mohamed Khairullah, as a person who is a volunteer, who put his life on the line to save lives and property, I think that is key in our engagement in our local communities," Khairullah said.
"People need to know us for who we are as individuals rather than what the media tells them about us. And that is what elevates us within our local communities."
Khairullah won his election after the Sept. 11, 2001 terrorist attacks on the World Trade Center's Twin Towers, which was very close to New Jersey.
"You have to be a global citizen. One of my mottos is act locally, think globally. What goes on around the world definitely pertains to us. So, when we act like we live in our own tower and what happens is not going to affect us, it definitely does affect us," he said.
"It is definitely important that you do attach to your heritage. But that doesn't make you less patriotic. That doesn't make you less of a person that wants to serve the local community."
Khairullah makes his five children speak Arabic at home and he doesn't allow them to speak English in the home, to strengthen their bond to their Arab heritage, but he said that they needed to engage in American society fully.
"What positive contributions do you add to your local community and to the larger society as a whole? What impressions do you leave in the world after you are gone? Did you raise good children who are going to serve their communities and their humanity?" Khairullah asks.
"When I was first elected 21 years ago, I think you could count the Muslim or Arab officials on one hand. Now New Jersey, one of the smallest states in the country in terms of geography size, has probably the most number of Muslim elected officials pound-per-pound compared to any state. We have over 30 right now at many levels. We just broke the glass ceiling of having Muslim elected officials in the State House."
Khairullah said that he has a simple but important motto by which he conducts his life.
"Politics is the art of who gets what, when, how and why. Your taxes are being collected by the government that is run by people who either represent or don't represent your values," Khairullah said.
"So, if you want people who represent your values, you need to get engaged, you need to vote or you need to run yourself. Otherwise, they are going to make decisions that may not please you and then all that you are going to do is sit down and complain about it, and complaining about it is not going to get us anywhere."
Source: Arab News
Please click the following URL to read the full text of the original story:
https://www.arabnews.com/node/2080696/world
--------
South Asia
Afghan Evacuees Cutting a Rough Time in US: Report
12 May 2022
By Arif Ahmadi
WASHINGTON, United States – In a bid for yet a peaceful life, newly settled Afghans are experiencing hardship in the Unites States, according to a report, as delays in obtaining necessary documents and work permits limit their reach for a fresh start.
Delays in getting work permits and Social Security cards prevent a number of Afghan migrants in the country from starting jobs, while others cut a rough time accessing basic healthcare.
A US government official – who has closely known the matter – acknowledged thousands of resettled Afghans "have experienced some delay or problem in accessing their benefits", assuring concerning bodies and "resettlement agency partners are working hard to address" those challenges.
One Afghan and his family – who were evacuated from Kabul airport amid a chaotic Taliban takeover last August – were resettled in Virginia, according to a report by WSJ. His wife is recovering from open-heart surgery but can't buy critical medication because of a problem with her health insurance.
"I am completely tired of life," he said, as Wall Street Journal (WSJ) quoted. "I don't know how to do it. I have lost my way."
Among the others, problem with their health insurance, denied food stamps, and lost vaccination records for children are some of the common issues hampering access to basic necessities.
Meanwhile, resettlement agencies, working alongside with the US government, say they have successfully scaled up their workforce in recent months to meet surge in demand. But the reviews from Afghan evacuees suggest otherwise, saying case workers are slow to respond.
Afghans are on a tight schedule to become self-sufficient. The government, through the State Department, provides a one-time per capita amount of $1,225 for agencies to use to directly fund critical needs including housing, as WSJ wrote in its report.
To survive in these trying times, some Afghans are seeking financial assistance from family and friends – either Afghan or American – to help them put their lives on track and cover a wide range of expenses in an unfamiliar environment.
While finance is one of the obvious concerns, squeezing evacuees on a daily basis, the newly settled Afghans are also worried about their refugee status, urging for a green card to mark a permeant stay in the US.
The Afghanistan Adjustment Act, which would give the evacuees permanent legal status in the U.S., was discussed in the summer but has yet to pass in Congress, WSJ wrote.
Source: Khaama Press
Please click the following URL to read the full text of the original story:
https://www.khaama.com/afghan-evacuees-cutting-a-rough-time-in-us-report/
--------
Domestic Violence Rises Among Afghan Refugees in the United Kingdom
By Saqalain Eqbal
13 May 2022
Afghan evacuees in the United Kingdom, especially for women, the uncertainty and overcrowding in temporary housing is creating tensions.
Many Afghan evacuees to the UK are still in temporary accommodation, mostly hotel rooms, eight months after emergency evacuations from Afghanistan. Human Rights Watch spoke with five women who have been living in three London temporary housing sites since late August 2021.
In temporary housing filled entirely by Afghan refugees, they described an increased danger of domestic violence, surveillance, and restrictions on their freedom of movement.
Domestic violence has escalated, according to women interviewed by Human Rights Watch, including psychological pressures as a result of limitations on women's freedom of movement.
A woman informed Human Rights Watch that a woman was beaten by her husband in the hotel. She also stated that the woman wanted to report the beating, but that the community residing in the hotel prohibited her from doing so.
Another woman expressed her dissatisfaction with the slow pace of the resettlement process. "The London hotel is brilliant for a short time, not seven months," she stated.
"I have heard a couple arguing next door several times," another woman stated. "The husband screams and walks out, slamming the door behind him, as the wife cries. She's been in a hotel room for seven months and hasn't seen anything beyond the hotel premises."
Source: Khaama Press
Please click the following URL to read the full text of the original story:
https://www.khaama.com/domestic-violence-rise-among-afghan-refugees-in-the-united-kingdom33944/
--------
Gender Segregation Plan of Taliban in Restaurants
12 May 2022
The Taliban, according to sources in Herat province, has implemented a gender segregation plan in the province's restaurants.
Men are not permitted to dine with family members in family restaurants, according to sources.
Owners have been verbally reminded that the rule applies "even if they are husband and wife," according to Riazullah Seerat, a Taliban official at the Ministry for Promotion of Virtue and Prevention of Vice in Herat.
According to a woman who did not wish to be identified, the manager of a Herat restaurant yesterday told her and her husband to sit separately.
Seerat also stated that the ministry has issued a directive requiring Herat's public parks to be gender segregated, with men and women authorized to attend only on separate days.
"We told women to go to parks on Thursday, Friday, and Saturday," he continued. "The other days are set aside for males to visit for leisure and exercise."
Source: Khaama Press
Please click the following URL to read the full text of the original story:
https://www.khaama.com/gender-segregation-plan-of-taliban-in-restaurants67283/
--------


Arab World
Houthis using summer camps to train child soldiers, parents warned
SAEED AL-BATATI
May 12, 2022
AL-MUKALLA: Yemen's government officials, human rights activists, religious figures and journalists have warned families living in Houthi-held areas against sending their children to the militia's summer camps, and have accused the Iran-backed group of wanting to recruit these young people for their army.
This comes in the wake of the movement's leader, Abdul Malik Al-Houthi, ordering his supporters to open these camps in areas under their control, where he pledged to "immunize them" against misconceptions about his organization and Islam.
Houthi officials have reportedly said that 57 camps were launched in Sanaa alone, which are expected to attract hundreds of students during the upcoming summer vacations.
Yemeni officials and activists say that the Houthis are using these gatherings to radicalize and indoctrinate minors, so that they can prepare them to become soldiers.
"Your child that you will send to the Houthi summer and military course is a time bomb that will kill you tomorrow," said Ghamdan Al-Yosifi, a Yemeni journalist, labeling them "factories for manufacturing explosives."
A similar warning to parents had been issued last year when the Houthis launched these centers. The Houthis have claimed that thousands of children graduated with religious education from these camps.
However, critics have said that the children were brainwashed, taken to graveyards and trained to use weapons.
This year's camps are being set up as the Yemeni government and the Houthis have halted hostilities under a truce brokered by the UN.
Abdul Kareem Al-Medi, a Yemeni journalist, said that the recruitment of children threatens the country's fragile peace.
"To our honorable people and to all those who trust us, avoid the evil of the summer terror centers. Let him go with them if you want your son to turn into a mobile death machine," Al-Medi said.
But the Houthis argue that their summer camps are meant to teach the correct recitation of the Qur'an, counter misconceptions about Islam, and prepare the new generation to fight their enemies, including Israelis.
"The summer courses are a step and an initiative that prevents youth from wasting time during the summer holidays, immunizes them from false cultures and enables them to master the Holy Qur'an and to recite it correctly," Jalal Al-Ruwishan, a Houthi military official, was quoted as saying while visiting a summer camp in Sanaa on Wednesday.
However, Yemen's information Minister Muammar Al-Eryani accused the Houthis of trying to turn young people into ideologically driven soldiers, and shared images of dead child soldiers and children inside the group's camps.
"We call on parents, sheikhs and tribesmen in Houthi-controlled areas to boycott child recruitment camps, preserve their children … refrain from sending them to fuel their absurd war and to implement (an) Iranian agenda," he said on Twitter on Thursday.
But given the Houthis' harsh treatment of those who disobey their orders, many Yemenis believe that parents might still allow their children to sign up for these camps.
In January, a report prepared by the UN Panel of Experts found that some women who refused to participate in these Houthi activities were abducted and raped.
"While some adults join these cultural courses because they agree with the ideology, others participate in order not to lose employment benefits or humanitarian assistance, or out of fear of reprisals for non-participation," the experts stated.
They added that almost 2,000 Yemeni children, some as young as 10, recruited by the Houthis, were killed in fighting between early 2020 and May 2021, and children received military training or were taken to military sites during summer courses.
Mohammed Jumeh, Yemen's permanent delegate to UNESCO, said that those children who were killed on the battlefields were initially indoctrinated and recruited inside the Houthi camps, and blamed parents for not heeding warnings.
"Protecting children from extremist ideology and priesthood is the responsibility of parents in the first place," Jumeh said.
Yemeni military analysts argue that the continuing recruitment of children by the Houthis show that they are getting ready for a new round of military operations, despite their announced commitment to the UN-brokered truce.
Source: Arab News
Please click the following URL to read the full text of the original story:
https://www.arabnews.com/node/2080956/middle-east
--------
Top UK school opens in Riyadh with pledge to 'motivate, inspire'
May 12, 2022
RIYADH: Downe House, Riyadh's first British international school for girls, opened on Thursday with a promise to inspire a generation of young Saudi women to take their place on the national and world stage.
The school, one of the most highly regarded for female students in Britain, said that its Riyadh branch will offer a global curriculum utilizing the latest education advances in the developed world.
Downe House UK Principal Emma McKendrick, who attended the school's opening ceremony, said: "This is one of the most exciting opportunities to create a rich school to support the development of young women in Saudi Arabia, who, I hope, will go on to play a significant part in society and global society."
She told Arab News that the school will seek to "foster cognitive and intellectual curiosity, nurture talents and interests outside the classroom, open up to cultures and respect others."
The opening comes as part of a Royal Commission for Riyadh City program to bring international teaching institutions to the capital. A major project led by Crown Prince Mohammed bin Salman is seeking to attract global education organizations to the Kingdom, in partnership with the ministries of education and investment.
Downe House School has over a 100 years of experience, and focuses on the academic excellence and well-being of female students, developing their abilities and self-confidence in order to contribute to the development of their local and global community.
Neil Crompton, British ambassador to Saudi Arabia, said that the opening of a Downe House School branch in the Kingdom is an affirmation of the strong historic relations between the UK and Saudi Arabia, as well as a model for strengthening both countries' links in the education sector.
"I think having the school here is terrific news (and shows) that the relationship is flourishing between the two kingdoms and has a lot of commitment by both governments," Crompton told Arab News.
"Education is very important and, historically, many Saudis come to the UK to study. But I think it's nice to have the opportunity here, as in the past year four British schools were opened in Riyadh. And Downe House is distinguished for its education as it will be the first independent British girls' school to open its doors in Saudi Arabia, and we are proud to support this journey," he said.
Downe House Riyadh offers a modern campus, with facilities including libraries, open halls, technical and scientific laboratories, a music studio, a theater that can accommodate 560 people, a major sports academy, and an indoor swimming pool designed by leading Saudi female architects.
Faisal Al-Muammar, chairman of Downe House Riyadh, expressed his gratitude to the partners in RCRC, the Ministry of Education, the Ministry of Investment, and the Ministry of Human Resources for their support and vision to attract the British school to Saudi Arabia.
Source: Arab News
Please click the following URL to read the full text of the original story:
https://www.arabnews.com/node/2080996/saudi-arabia
--------
Saudi FM urges global coalition to continue efforts to eliminate Daesh completely
May 12, 2022
RIYADH: Saudi Arabia's Foreign Minister Prince Faisal bin Farhan urged members of the Global Coalition Against Daesh to continue efforts to eliminate the terrorist organization completely.
Speaking at a coalition meeting on Wednesday in Morocco, Prince Faisal said: "We must not lose sight of the fact that the threat of this organization still exists."
He continued: "This requires everyone to continue efforts and coordination to eliminate it completely."
He also stressed the Kingdom's appreciation for the significant and tangible role played by the coalition in eliminating Daesh's expansion and spread in Iraq and Syria.
The foreign minister added that the Kingdom continues to maintain its firm stance towards supporting the efforts of the coalition, stressing the Kingdom's keenness on the stability of Iraq and the extension of its influence and sovereignty over its entire territory.
He also praised the efforts made by Iraq and its continuous coordination with the coalition to eliminate the extremist organization.
Prince Faisal highlighted the Kingdom's keenness to support reconstruction projects in Iraq, support efforts to stabilize liberated areas in Syria, and stabilize the security and economic situation in them.He added that the Kingdom had established a number of centers, the most important of which is the Global Center for Combating Extremist Ideology (Etidal), which works at regional and international levels to combat extremist messages.
Source: Arab News
Please click the following URL to read the full text of the original story:
https://www.arabnews.com/node/2080726/saudi-arabia
--------
US lifts sanctions on YPG-held Syrian territories
Michael Gabriel Hernandez
13.05.2022
WASHINGTON
The US on Thursday issued a general license to exempt northern Syrian territories, including those controlled by the PKK's regional branch, from American sanctions.
The Treasury Department's action lifts prohibitions on business activities in 12 different economic sectors in northern Syria, including agriculture, telecommunications, power grid infrastructure, construction, manufacturing, trade, finance and clean energy.
Purchases of Syrian oil from the region are also permitted as long as they do not benefit the regime.
The areas that are covered by the license run from Aleppo governorate in the west to Hasakah governorate in the east. Geographical exemptions to the affected area are included.
Any business with the Syrian regime is unaffected by the announcement and is still prohibited under US law. Importing Syrian oil to the US also remains prohibited, according to the license, which was signed by the Treasury Department's Office of Foreign Assets Control Director, Andrea Gacki.
The US has imposed sweeping sanctions on the regime and its leadership in retaliation for atrocities it has committed during the Syrian conflict, which is now in its 12th year.
The YPG, which is the Syrian branch of the PKK, remains in control of large swathes of northeastern Syria with US backing.
Source: Anadolu Agency
Please click the following URL to read the full text of the original story:
https://www.aa.com.tr/en/middle-east/us-lifts-sanctions-on-ypg-held-syrian-territories/2586573
--------
Turkiye neutralizes 21 YPG/PKK terrorists in northern Syria
Ferdi Turkten and Sarp Ozer
12.05.2022
The Turkish armed forces in a retaliatory fire in self-defense neutralized 21 YPG/PKK terrorists in northern Syria, Turkiye's National Defense Ministry said on Thursday.
After YPG/PKK terrorists' "treacherous attack" on Karkamis district and Koprubati Border Post in Turkiye's southeastern Gaziantep province, at least 21 terrorists were neutralized in retaliatory strikes in "self-defense" on the YPG/PKK terror group's positions in the Ayn al-Arab district of northern Syria, it said in a statement.
The army continues targeting the YPG/PKK terrorist organization, the statement added.
The ministry also said one Turkish soldier was killed in the YPG/PKK terror group's mortar attacks targeting Karkamis and the Koprubati Border Post.
Earlier, the ministry said four Turkish soldiers and one civilian were injured in the terror group's attacks from northern Syria's Ayn al-Arab.
Since 2016, Ankara has launched a trio of successful anti-terror operations across its border in northern Syria to prevent the formation of a terror corridor and enable the peaceful settlement of residents: Euphrates Shield (2016), Olive Branch (2018), and Peace Spring (2019).
Source: Anadolu Agency
Please click the following URL to read the full text of the original story:
https://www.aa.com.tr/en/middle-east/turkiye-neutralizes-21-ypg-pkk-terrorists-in-northern-syria/2586523
--------
Africa
Daesh murders 20 Nigerian Christians in 'revenge' for setbacks in Middle East
May 12, 2022
LONDON: Twenty Christians have been murdered by Daesh militants in Nigeria in revenge for the deaths of several of the group's leaders in the Middle East.
The atrocity took place in Borno state, where seven people were also killed by Islamists in an attack last week. Footage of the killings of the 20 captives, carried out by masked militants wielding knives and guns as they stood behind their kneeling victims, was posted online.
In the video, one of the militants claims in Hausa that the murders were retaliation for the group's losses overseas.
Last week's attack, on the village of Kautukari in the Chibok area of Borno, came as UN Secretary-General Antonio Guterres visited the state capital Maiduguri to meet with survivors of religious violence and de-radicalized former militants.
Hassan Chibok, a local community leader in Kautukari, said the militants "came in large numbers" before the Nigerian military could respond.
The region has been badly affected by Islamist militants over the past decade. In addition to Daesh, known locally as Islamic State West Africa Province, Boko Haram has waged an insurgency against the Nigerian government, carrying out numerous attacks that have left around 35,000 dead and millions displaced in Africa's most populated country.
Last week, Nigerian President Muhammadu Buhari claimed the Islamist insurgency in his country was "approaching its conclusion," and that infighting and battlefield losses were causing thousands of fighters to lay down their arms.
Meanwhile, the international coalition combating Daesh met in the Moroccan city of Marrakesh on Wednesday to discuss the group's escalating violence in West Africa, North Africa and the Middle East, led by US Undersecretary of State for Political Affairs Victoria Nuland.
Source: Arab News
Please click the following URL to read the full text of the original story:
https://www.arabnews.com/node/2080731/world
--------
Sudan's protesters back in streets as moves for political deal falter
12 May ,2022
Security forces fired tear gas and stun grenades at protesters who rallied against Sudan's military rulers on Thursday, as diplomatic moves to broker a political solution to a post-coup crisis showed little sign of progress.
Thousands marched toward the presidential palace in Khartoum amid high temperatures and a heavy security presence, in the first major demonstration since the fasting month of Ramadan and the biggest turnout for several weeks.
For the latest headlines, follow our Google News channel online or via the app.
Crowds in the capital - and others filmed in other cities on social media - could be heard chanting "Kill us, we're not afraid," and "The people's government is civilian."
Sudan has been in political flux since months of mass demonstrations pushed the military into overthrowing former president Omar al-Bashir in April 2019.
After more rallies, the army agreed to share power with civilian groups, but then took over again in a coup in October 2021.
Since then, civilian parties including resistance committees organizing the protests, have rejected negotiation with the military. Military leaders have looked to factions that were close to Bashir to try to build a political base.
Talks organized by the United Nations and the African Union that were expected to launch this week have stumbled, amid heavy criticism from parts of the military and civil society.
Khartoum resistance committees on Wednesday signed a charter setting out their vision for ending military rule, inviting political parties to join.
"After the signing of the charter, we are more optimistic," 38-year-old protester Ahmed Fathalrahman said.
At the start of the protest, a Reuters witness saw heavy deployment of army, police and the Central Reserve Forces - which the United States imposed sanctions against in March - along the protest route and in residential areas.
At least 95 people have been killed in protests since the coup, and thousands injured, according to medics. Lawyers say dozens of political prisoners remain in detention.
Source: Al Arabiya
Please click the following URL to read the full text of the original story:
https://english.alarabiya.net/News/middle-east/2022/05/12/Sudan-s-protesters-back-in-streets-as-moves-for-political-deal-falter
--------
Austin hosts Jordan's King Abdullah at Pentagon for talks
12 May ,2022
US Defense Secretary Lloyd Austin welcomed Jordan's King Abdullah II to the Pentagon for bilateral talks Thursday.
Following an honor cordon outside the Pentagon the two leaders and their delegations met for talks on a range of issues inside.
"Our partnership with Jordan is more important than ever," Austin said.
"And that's because of our long standing friendship, as well as the threats that we face today, including Iran's support for terrorism, the rise of drug smuggling in the Levant, and the continued threat of violent extremist organizations such as ISIS," he said.
Austin also brought up Russia's invasion of Ukraine, and the recent escalation of violence in East Jerusalem as important topics to discuss.
Source: Al Arabiya
Please click the following URL to read the full text of the original story:
https://english.alarabiya.net/News/middle-east/2022/05/12/Austin-hosts-Jordan-s-King-Abdullah-at-Pentagon-for-talks
--------
Tunisia denies report of former PM Jebali's arrest
13 May ,2022
Tunisia's interior ministry on Thursday denied that former prime minister Hamadi Jebali had been arrested, contradicting a report from his old party and a notice on his official Facebook page.
The moderate Islamist Ennahda party said Jebali had been detained, demanded his release and accused the authorities of cracking down on dissent.
The statement on the 73-year-old's Facebook page also said he had been arrested, without saying when or going into further details.
The interior ministry said Jebali had not been arrested. It issued a statement saying prosecutors had launched an investigation into a factory on land owned by Jebali's wife, and that he had insisted on accompanying her to the police station.
Jebali himself did not immediately respond to phone calls seeking comment.
Ennahda was the biggest party in Tunisia's parliament before President Kais Saied dissolved the assembly and seized executive powers last year.
Source: Al Arabiya
Please click the following URL to read the full text of the original story:
https://english.alarabiya.net/News/north-africa/2022/05/13/Tunisia-denies-report-of-former-PM-Jebali-s-arrest
--------
Killing of Palestinian journalist widely condemned in Africa
Hassan Isilow
12.05.2022
JOHANNESBURG
Several African journalist organizations and institutions on Thursday condemned the killing of a veteran Al Jazeera journalist Shireen Abu Akleh, who was shot dead while covering an Israeli military raid in the occupied West Bank.
"The Zimbabwe Union of Journalists (ZUJ) joins the rest of the world in condemning the killing of the Palestinian-American journalist Shireen Abu Akleh," the union said in a statement.
Abu Akleh, 51, was shot in the head while covering an Israeli raid in the city of Jenin on Wednesday. Palestinian authorities and the Doha-based network say she was killed by Israeli forces.
ZUJ said it supports international calls for thorough investigations into the matter so that perpetrators of such atrocious acts are made to account.
The Media Review Network (MRN), a South African lobby group, also condemned the killing.
"(Abu Akleh was) killed in cold blood whilst covering yet another Zionist attack on resistance forces in the Jenin Refugee Camp. This assassination is meant to send a clear intimidatory message to journalists who aim to counter Zionist hasbara," the MRN said in a statement.
Meanwhile, a group of media outlets across the world, including the Pan-African Television in Ghana and New Frame Publication in South Africa, have signed a petition condemning the killing.
"We stand with the people of Palestine who continue to resist the violent Israeli apartheid regime and brave journalists who put their lives on the line to tell their stories," the group said.
South Africa's third-largest party in parliament, the Economic Freedom Fighters (EFF), also condemned the murder, saying the continued occupation of Palestinian territories by Israel has led to untold suffering, torture and war crimes.
The governments of Namibia and South Africa also denounced the killing.
"The targeting of journalists in the occupied territories, and in conflict zones like Ukraine and Afghanistan, appears to be part of a pattern of silencing the free press and is an outright contravention of international law," said Zane Dangor, director-general of South Africa's Department of International Relations and Cooperation (DIRCO).
It called on governments to respect their commitment to press and media freedom by not harming journalists.
Source: Anadolu Agency
Please click the following URL to read the full text of the original story:
https://www.aa.com.tr/en/africa/killing-of-palestinian-journalist-widely-condemned-in-africa/2586162
--------


Pakistan
Islamabad hands over top Pakistani Taliban commanders to Afghan mediators
May 13, 2022
Pakistan has handed over two top commanders of the Tehrik-e Taliban Pakistan (TTP) to the Afghan Taliban, which has been mediating peace talks between the two sides, as part of efforts to revive negotiations with the militant group, RFE/RL reported.
Muslim Khan and Mehmood Khan were recently transferred from a military detention facility to the custody of the Afghan Taliban in Pakistan's northwestern tribal belt, said sources with knowledge of the matter.
The move came as a delegation of senior Pakistani military officials arrived in Kabul on May 9 for talks with the TTP leadership, said sources with knowledge of the negotiations.
As a confidence-building measure, the TTP agreed a temporary cease-fire from May 10 to 15, according to a decree issued by the TTP leadership and seen by RFE/RL. The militant group had announced a unilateral truce from April 29 to May 9 to mark the end of the holy month of Ramadan and the start of the Eid holiday.
The talks between the Pakistani delegation and the TTP are being mediated by the Afghan Taliban, which has close ideological and organizational ties with the TTP. The Afghan militant group is also a longtime ally of Islamabad, its main foreign sponsor.
The negotiations came as the TTP, also known as the Pakistani Taliban, has intensified its attacks in Pakistan since a monthlong cease-fire expired and peace talks collapsed in December, RFE/RL reported.
Since then, Islamabad has sent secret delegations to Afghanistan to hold talks with the TTP on reviving the expired truce and resuming talks over a negotiated end to the TTP's 14-year insurgency in Pakistan, where thousands of people have been killed in militant attacks and clashes between the TTP and the military.
The TTP has demanded the release of 102 commanders and fighters in Pakistani prisons. Pakistan had released most of the TTP prisoners but had been reluctant to free Muslim Khan and Mehmood Khan.
The TTP has also demanded the implementation of Islamic Shar'ia law in Pakistan's tribal belt, a demand that observers said the government would likely reject.
Source: Business Standard
Please click the following URL to read the full text of the original story:
https://www.business-standard.com/article/international/islamabad-hands-over-two-top-commanders-of-ttp-to-afghan-taliban-122051300015_1.html
--------
Pak Prez asks Chief Justice to form judicial commission to probe regime change conspiracy to oust Imran Khan
May 13, 2022
ISLAMABAD: Pakistan's President Arif Alvi has written to Chief Justice Umar Ata Bandial, asking him to form a judicial commission to probe the alleged "regime change conspiracy" to oust former prime minister Imran Khan and to prevent a "political powder keg" from igniting in the country.
Khan, ousted through a no-trust vote on April 10, has accused the US of orchestrating the fall of his government after he decided to follow an independent foreign policy over the issue of Ukraine. The US repeatedly refuted Khan's allegations.
Khan, the 22nd prime minister of Pakistan, became the first chief executive to be removed from office after losing the majority in the National Assembly.
Khan has been pressing the government to investigate the matter through the Supreme Court and about two weeks ago also wrote a letter to Chief Justice Bandial to set up a probe commission.
President Alvi in his letter to the Chief Justice on Thursday urged him to constitute a judicial commission to investigate the "regime change conspiracy", suggesting the commission should preferably be headed by Bandial himself and must conduct open hearings to "thoroughly probe the allegations of regime change conspiracy to avert a political and economic crisis in the country".
Emphasising the importance of the commission, the president warned that a serious political crisis was looming in Pakistan, saying major polarisation was also taking place in politics as well as among the people of Pakistan.
"It is regrettable that random comments are being quoted out of context, misunderstandings are fuelling, opportunities are being lost, confusions not dying down, and with the economy also in crisis, while the situation on the ground is approaching a political powder keg that may ignite at any time," he said in the letter.
Alvi pointed out that the Supreme Court had taken such initiatives in the past to constitute judicial commissions in matters of national security, integrity, sovereignty and public interest.
"A judicial commission, headed by [former] chief justice Nasir ul Mulk and two judges of the top court, inquired into rigging allegations in 2013 elections. Similarly, judicial commissions were also formed to investigate the Memogate matter, and moreover, a judicial commission is also currently functional for missing persons, that is headed by a sitting judge", he observed.
Alvi requested that the proposed judicial commission should conduct an in-depth and thorough investigation into the regime change conspiracy.
He emphasised that it was the collective duty of all institutions to make utmost efforts to avert damaging consequences to the country and prevent further deterioration.
President Alvi said that there seemed to be a political consensus in the country as, according to press reports, the prime minister had also expressed a desire for establishing a commission.
He expressed that the nation held the Supreme Court in high regard and expected it to meet its expectations, adding that the commission should investigate the matter based not on technicalities of law but in the real spirit of justice.
"Undoubtedly, it would be a great service to our country, as the people of Pakistan deserved clarity on such a matter of national importance," he said.
President Alvi went on to add that in world history, there existed myriad examples of regime change operations through conspiracies which were later confirmed by the declassification of top-secret documents.
He lamented that it happened much later after the destinies of these countries had been significantly damaged by these illegal interventions.
"Who knows better than your Honour that to prove, that a 'smoking gun' has been identified in the hand of a conspirator, or to find a possible money trail, or to identify meetings where people have been motivated towards cover action, or where people have been bought and sold, could be a vigorous exercise," he said.
"I am of the strong opinion that even recorded circumstantial evidence can lead the way towards some conclusions, based not on technicalities of law but in the real spirit of 'justice'," the president maintained.
The president regretted that in Pakistani history, people had alleged and strongly believed in many obvious but unfortunately unproven conspiracies such as the murder of the first prime minister of Pakistan Shaheed Liaquat Ali Khan, the Agartala Conspiracy case (a sedition case in Pakistan during the rule of Ayub Khan against Awami League), Zulfiqar Ali Bhutto's public waving of a letter and allegation of a conspiracy against him, President Zia-ul-Haq's plane crash, Abbottabad incident, and many other matters that remained inconclusive.
The conspiracy controversy began to unfold in the wake of the no-confidence motion launched on May 8 against Khan, a cricketer-turned-politician.
Khan for the first time waved a document at a rally on March 27, saying that it was proof of foreign intervention.
Later he said that the US was involved in it as Assistant Secretary of State for South and Central Asia Affairs Donald Lu in a meeting with Pakistan's Ambassador to the US, Asad Majeed threatened to change the government.
Majeed then purportedly sent a cable to inform the foreign office about the conversation with Lu.
Source: Times Of India
Please click the following URL to read the full text of the original story:
https://timesofindia.indiatimes.com/world/pakistan/pak-prez-asks-chief-justice-to-form-judicial-commission-to-probe-regime-change-conspiracy-to-oust-imran-khan/articleshow/91535640.cms
--------
Leaders to take Nawaz message to coalition partners
Atika Rehman
May 13, 2022
LONDON: PML-N leaders remained tight-lipped about the major decisions taken at a high-level meeting with party supremo Nawaz Sharif on Thursday, though Interior Minister Rana Sanaullah later welcomed the military's decision to stay out of politics, a position he said vindicated Mr Sharif's stance.
A source present at the meeting said issues of governance, the financial situation of the country and foreign policy matters were discussed but that nothing can be divulged at this point.
The source said participants took an oath "not just once but twice" to ensure that the issues that came under discussion before Mian Nawaz Sharif would not be revealed outside under any circumstances.
Later, at a press conference outside Hasan Nawaz's office, senior cabinet members Ahsan Iqbal and Rana Sanaullah spoke with reporters and said Nawaz was briefed about the economic crisis in the country, as well as the current polarised political climate and "anarchy" being created by former prime minister Imran Khan.
However, they did not share what policy direction was given by the party's supreme leader during the meeting at Stanhope House in London and stressed that any decision taken would only be announced after consultation with the government's coalition partners.
Though party insiders often share information on condition of anonymity, after this meeting they too insisted that it would not be right to reveal anything before it is jointly announced with coalition parties.
The last time this level of secrecy was maintained was when a PML-N delegation came to visit Nawaz Sharif in London ahead of the National Assembly's vote on Army Chief Qamar Javed Bajwa's extension.
On Dec 8, 2019, participants of the meeting at Avenfield House took an oath on the issue of the Army Act and that the party would support the extension legislation in principle. The party members agreed under oath that nothing discussed at the meeting would be revealed outside — similar to the pledge taken on Thursday at the meeting with Nawaz.
The emphasis on consensus with leaders of the coalition parties comes a day after contradicting statements were made by PML-N and PPP about the timing of elections, after which the former clarified that the parties were on the same page regarding elections.
It may be that any tough decisions that will be taken regarding the economic crisis in the country will be shared after the sign-off of coalition parties, and that cabinet ministers will keep their cards close to their chest till that time. The spiralling economic crisis, recent constitutional crisis and foreign policy challenges were the major issue that came under discussion.
Ahsan Iqbal said that Prime Minister Shehbaz Sharif and a few cabinet members had come to London according to a plan made after the new government was formed but that their visit was delayed due to "the dire situation in the country that the new government inherited from the PTI".
"Nawaz Sharif is the senior-most statesman in the country right now who has more experience than any of us. We came to take his advice and discuss with him how the country can be taken out of these multiple crises as soon as possible."
He added, "This is a coalition government. We want to make decisions with coalition partners and after consensus. Our discussions [with Nawaz Sharif] will be shared with coalition partners as well."
He hit out at Imran Khan for creating polarisation, "especially regarding the judiciary and the army" and also accused him of inciting civil war.
Rana Sanaullah, too, stressed that Nawaz Sharif's policy line that was shared with the senior cabinet members would be made public once discussed with coalition partners.
He, too, lambasted Imran Khan and accused him of creating division and leading the country's youth astray. "Nawaz Sharif educated us and guided us; we will implement the policy after discussion with coalition partners."
He added that there would be zero tolerance for those who "subverted the Constitution", and that the decision of whether to allow Khan to gather in Islamabad with his supporters would be taken by the cabinet.
"If the cabinet decides that he should not be allowed, then forget 20 lakh, even 20 people will not come."
On the subject of elections, Rana Sana said the government would complete its constitutional term but repeated that this is not a decision for the PML-N but the coalition partners.
When asked to comment on the DG ISPR's presser on the army's role in politics, Rana Sana said, "Our position on this is exactly this, that institutions should not be involved in politics or be dragged into politics. It is very inspiring that courts and other institutions have at this moment played a role that is not political."
Source: Dawn
Please click the following URL to read the full text of the original story:
https://www.dawn.com/news/1689423/leaders-to-take-nawaz-message-to-coalition-partners
--------
1 killed, 13 others injured in Karachi blast
May 13, 2022
KARACHI: One person was killed and 13 others were injured after a blast occurred inside a market area in Pakistan's Karachi on late Thursday night, according to local media.
The explosion occurred just two weeks after a suicide attack by a Pakistan separatist group killed four people including three Chinese nationals in the capital city.
Thursday night's blast took place in the commercial locality of Saddar.
Several people among the injured were in critical condition, according to the authorities, and "most of them got wounded after being hit by ball bearings from explosive materials," Shahid Rasool, medical superintendent of Jinnah Postgraduate Medical Center (JPMC) where all the injured were shifted, told the media, as per Xinhua.
Geo tv reported that an emergency has been imposed in all public hospitals of Karachi.
According to Deputy Inspector General (DIG) South Sharjeel Kharal, several cars were also damaged during the blast, while the windows of the nearby buildings were shattered. Kharal mentioned that two government employees were among the injured.
According to the Bomb Disposal Squad (BDS) officials, explosive material was planted in the carrier of the bicycle which was detonated using a time device.
Source: Times Of India
Please click the following URL to read the full text of the original story:
https://timesofindia.indiatimes.com/world/pakistan/1-killed-13-others-injured-in-karachi-blast/articleshow/91530781.cms
--------
Turkey, Pakistan need to 'fortify bilateral relations': security dialogue
May 12, 2022
ISTANBUL:
Turkey and Pakistan need to fortify their bilateral relations while expanding the scope of their engagements to research and exchanges of experiences, from battling terrorism to know-how in defence and high tech, scholars from the two countries agreed on Wednesday.
"Turkey and Pakistan need to build sustained, resilient cooperation mechanisms to face growing international challenges," said Mustafa Caner, addressing the second day of the first Turkey-Pakistan Security Dialogue held in Istanbul.
"Bilateral relations should be fortified and the two countries should engage regional countries including Iran," he said, adding the re-launch of the Istanbul-Tehran-Islamabad train was a move in the right direction.
Caner is a research fellow at Sakarya University's Middle East Institute. He was part of a galaxy of scholars, academicians, former soldiers and practitioners from Turkey and Pakistan who are holding wide-range deliberations on challenges facing the two countries and possible mechanisms to jointly solve them.
Welcoming Pakistani delegates at the office of the Foundation for Political, Economic and Social Research (SETA) in the Turkish metropolis, Professor Muhittin Ataman said a sustainable process of the exchange of views between the two sides should be maintained.
A day earlier, the Pakistani delegates, led by Professor Rabia Akhtar from the Centre for Security, Strategy and Policy Research at the University of Lahore, deliberated on varied aspects of regional security issues at Istanbul Aydin University. The Pakistani delegates are visiting several Turkish universities and think tanks for the joint security dialogue.
'Reconsider norms of international politics'
Professor Murat Yesiltas from Ankara Sosyal Bilimler University said that international politics was undergoing a "period of transition" in the aftermath of the Covid-19 pandemic.
"The UN cannot bring solutions, (nor) does it have any comprehensive framework. It has a framework to bring peace but it does not work," he said, noting that the world was witnessing the return of "great power politics" viz-a-viz US' moves against the rise of China.
Citing the Russian war on Ukraine as a "textbook example of how great power politics is working," the Turkish academic said Turkey and Pakistan will have to consider "different threat metrics, and terrorism is one of the important issues besides militarisation, armament and the emergence of non-state actors."
Arguing that the world is moving towards multi-polarity, Yesiltas said the two countries will have to also "reconsider norms of international politics" amid an "erosion of Western strategic dominance on international politics."
Foreseeing what he called the "rise of the East," Yesiltas said Turkey and Pakistan "are two strategically important states with important roles, which have great opportunities and potential to deliver their objectives."
Academic Ataman discussed how Turkey was left by its allies with no choice but to heavily invest in its own defence industry.
"Our NATO allies dismantled air defence systems from Turkey, transferred them to eastern EU countries, and that is why Turkiye invested in defense for self-help," he said.
He argued that every state "has to depend on its resources."
"And Pakistan enjoyed this to an extent," he said, referring to the only Muslim country being a nuclear power.
However, he insisted that the two countries will have to "take a position which will require a maximation of its national interests."
Ataman said Turkey "cannot remain indifferent to regional tensions around us."
"We began to intervene into these crises because it directly affects our national security," he said, citing Syria as an example of how the PKK's branch in the war-torn country threatened Turkey.
"There is no option but to invest more in hard and conventional military power," he said, adding Ankara was "striving to increase its strategic autonomy, primarily because multilateralism is not delivering."
'Turkey trying to find middle ground in Asia'
Nazmul Islam, who teaches at Ankara Yildirim Beyazit University, said Turkey was trying to find a middle ground in Asia.
"Turkey has provided a credible leadership and has acceptance in the region, where it is trying to make its own middle ground," said Islam.
He said Turkey needs a "a common partner" in the region, suggesting further cooperation in trade and defence between Turkey and Pakistan.
Gloria Shkurti Ozdemir from SETA said defence cooperation "must be used as an anchor of Turkiye-Pakistan relations.
'CPEC means of prosperity'
Khalid Banuri, a former Pakistani Air Force Commodore, said Pakistan's relations with China should be seen through a "geo-economic lens."
Referring to the multi-billion-dollar China-Pakistan Economic Corridor (CPEC), he said it is a "means for prosperity" for Pakistan.
"Geo-economics is a priority of Pakistan and there is space for cooperation amongst like-minded (nations)," he said, adding Pakistan and Turkey "have this potential where more leveraging is needed and how we help each other."
Nazir Hussain, a professor of international relations at Quaid-e-Azam University in Pakistan, said there was a need for "our own discourse on our issues."
"Why only Western discourse?" he said, emphasizing that the academia and think tank communities of Pakistan and Turkey should jointly lead "generating our own discourse."
He claimed that Western democracy had "failed as it did not bring solutions to all problems."
On countering terrorism, Hussain said that while everyone was talking about this menace by non-state actors, "India and Israel engaged in state terrorism in Kashmir and Palestine."
"Terrorism, including state-sponsored terrorism, has no boundaries," he said, adding Turkey and Pakistan have common issues and interests, from Iran to Iraq, and the two countries should "learn from each other's experiences."
Salma Malik, a Pakistani professor in defense and strategic studies, discussed the gender question in conflict profiling, including in Afghanistan and Indian Illegally Occupied Jammu and Kashmir (IIOJK).
Referring to "half widows" in IIOJK, she said Kashmiri women were navigating many pressures to survive.
Source: Tribune Pakistan
Please click the following URL to read the full text of the original story:
https://tribune.com.pk/story/2356285/turkey-pakistan-need-to-fortify-bilateral-relations-security-dialogue
--------
Maulana Fazl's presser: Army guardian of state, not any government, says Fazl
By Zia Ur Rehman
May 13, 2022
KARACHI: Lashing out at the Pakistan Tehreek-e-Insaf-led previous government for its 'incompetence' and 'corruption', Jamiat Ulema Islam-Fazl chief Maulana Fazlur Rehman on Thursday said that the country's 70 years of struggle was shattered in Imran Khan's three-and-a-half year government, whose mess could not be cleaned in three days.
"The army belongs to all of us and we always talk of its neutrality. Today when the army is within the neutral constitutional limits, certain circles call it animal, watchman and Mir Jafar," said Rehman, who is also the head of the Pakistan Democratic Movement, while addressing the Karachi Press Club's 'Meet the Press' event. He said the army was the guardian of the state, not of any government. "The people, the Constitution, and democratic system
are the watchmen of the government."
The JUI-F chief asked all the parties to collaborate to drag Pakistan out of this crisis rather than destabilizing the system. "The common man is burdened with inflation and cannot afford food, medicine, and children's school fees." He also said that the government will have to shuffle the bureaucracy to achieve success and overcome the issues the country had been facing.
Rehman said that today Imran Khan has been marching with a new narrative which he imitated from them but people were now aware of duplicates. "The JUI-F had carried out 14 marches against the PTI government and Azadi March among them was significant," he said. "Institutions also acknowledged that Imran Khan was not able to govern the country."
The JUI-F chief said that the general election will be held at a suitable time but before conducting the polls, election reforms were necessary. "Everyone has the right to hold rallies but they should avoid creating divisions in institutions."
Rehman also alleged that the PTI government's failed foreign policy had alienated the country's key allies, particularly Saudi Arabia and China, and made the country isolated on the diplomatic front. "Today, Pakistan has been facing a serious setback in its international affairs as Pakistan-Saudi Arabia relations have been strained, while China has withdrawn investment because of resentment," he said. He also said that the JUI-F opposed the United States on the basis of a cause but the PTI has been opposing it as a card.
Commenting on the agreement inked between the International Monetary Fund (IMF) and the PTI-led government, Rehman said that the previous government was fake and did not represent the people. "Therefore, the PML-N-led new coalition government is not under the obligation to follow it," he said.
"After the 2018 general polls, the JUI-F had suggested the political parties not to take oath in the assemblies. But we went to the parliament anyway due to the broader consensus of all opposition parties and later on, they accepted that our opinion was correct," he said, adding that the PTI had nothing to show for their three- and-a-half-year government other than the fake letter, which has been rejected by the National Security Committee twice.
Rehman alleged that imposing the PTI first in Khyber Pakhtunkhwa and then on Pakistan was part of a conspiracy to damage the country's culture. "Today, when we stood in the way of a specific foreign agenda, the country's elite class and retired military and civilian officers are in pain," Rehman said.
Source: The News Pakistan
Please click the following URL to read the full text of the original story:
https://www.thenews.com.pk/print/957319-maulana-fazl-s-presser-army-guardian-of-state-not-any-government-says-fazl
--------
Taking cue from Zardari, Fazl calls for electoral reforms before polls
May 13, 2022
KARACHI: The president of the alliance of the ruling parties, Pakistan Democratic Movement (PDM), and chief of his own faction of the Jamiat Ulema-i-Islam, Maulana Fazlur Rehman on Thursday sought consensual decision of the allies parties for the next general elections in the country. But, he put his weight behind the suggestion of former president Asif Ali Zardari, who called for the polls only after electoral reforms and amendments to accountability laws.
After addressing a "Meet the Press" at the Karachi Press Club (KPC), the Maulana was confident while responding to a volley of questions from journalists about the performance of the coalition government that had "failed to bring any economic strategy" despite tall claims before ouster of the Imran Khan's government, saying "things would take time to settle down" and it would be too early to "come up with a verdict against the new government".
Calling them personal views, he also shared a sketchy roadmap of the future governance suggesting new terms of engagement with the International Monetary Fund (IMF), cordial policy with the international community and steps to build the confidence of the developed world in Pakistan which was "ruined" by the Pakistan Tehreek-i-Insaf (PTI) government.
Seeks decision of allies on next general elections
"First thing we should demand before deciding its schedule is that the elections should be held free and fair," he replied to a question about his opinion on the next polls. "That would be the decision of the all parties and every stakeholder should agree on its timeline and schedule. But it's my opinion that the elections should only be held after electoral reforms and then fixing the accountability laws. We all know that NAB [National Accountability Bureau] during last three years was turned into an institution of vendetta. The flaws which led to all such mess should be addressed before next election."
His views came a day after the former president Zardari had categorically ruled out the possibility of early elections, saying it was a joint decision of the coalition government to go for polls only after electoral reforms and amendments to election laws were completed. The views of two key leaders of the ruling coalition emerged a different piece of thought shared by Defence Minister Khawaja Asif, who had hinted at the possibility of holding general elections even before the next army chief is to be appointed in November. However, he had to walk back his comments within hours of his interview to BBC Urdu.
When the Maulana at the KPC was asked about credibility of the criticism of ruling parties against PTI for "abusing the armed forces" when they were questioned for the same tone against the "institutions" when they were in the opposition, he ruled out any such narrative built by his party or those in the PDM and it was only Imran Khan which had defied all political and democratic norms in the politics.
Source: Dawn
Please click the following URL to read the full text of the original story:
https://www.dawn.com/news/1689349/taking-cue-from-zardari-fazl-calls-for-electoral-reforms-before-polls
--------
Southeast Asia
Ummah unity more important than political pacts, Zahid told
May 8, 2022
PETALING JAYA: Uniting the ummah is more important than political alliances or the unification of political parties, said PAS deputy president Tuan Ibrahim Tuan Man in a retort to Umno president Ahmad Zahid Hamidi.
Tuan Ibrahim said PAS and Umno had formed Muafakat Nasional in 2019 as they felt that there was a threat to the future of Malay Muslims, "and we gathered to oppose that".
"It would be good to read what we had agreed on (in the MN charter) again," he said according to Berita Harian.
Yesterday, Zahid had described PAS as "two-faced" and dismissed the possibility of working with the Islamic party again at the next general election as partners in MN.
He said Umno did not want to be friends with parties that did not have a consistent stand in its actions but wanted partners that were loyal in both word and action.
But Tuan Ibrahim said the situation differed according to different areas and states, pointing out that the Umno chapter in Selangor seemed to be going against the party's president.
Last week, Selangor Umno chief Noh Omar said the two parties had decided to cooperate in Selangor through MN, with the Islamic party said to be snubbing Perikatan Nasional (PN) in the state.
Umno and PAS leaders have been at odds for a year over the future of the MN alliance, formed to challenge Pakatan Harapan, which was then in power. Zahid and PAS president Abdul Hadi Awang later disagreed about whether to accept Bersatu into the alliance.
Zahid has often spoken against reviving the alliance, while PAS leaders have tried to keep MN alive. PAS secretary-general Takiyuddin Hassan recently said MN was the best formula to unite the Muslim ummah.
Separately, Umno's veterans' club urged the leadership to officially terminate its pact with PAS, accusing the Islamic party of being "arrogant" and ditching Umno for the Bersatu-led PN.
Source: Free Malaysia Today
Please click the following URL to read the full text of the original story:
https://www.freemalaysiatoday.com/category/nation/2022/05/08/ummah-unity-more-important-than-political-pacts-zahid-told/
--------
SOEs provide scholarships to 7,700 Islamic boarding school students
May 13, 2022
Pandeglang, Banten (ANTARA) - State-owned Enterprises (SOEs) provided scholarships to 7,700 santri (students of Islamic boarding schools) in a bid to develop human resources in several Islamic schools in Indonesia.
"We hope that through these scholarships, the standard of Islamic education or schools can match with private and public schools," Minister of SOEs Erick Thohir stated here on Thursday.
SOEs are focusing on providing scholarship programs for Islamic boarding schools and education in order to build human resources that have good character and uphold moral values.
To this end, currently, the corporate social responsibility activities among SOEs are prioritized for the education sector.
Related news: SOEs help to ensure successful 2022 Eid homecoming: SOEs Minister
"We help pesantren (Islamic boarding schools) and Islamic education by providing scholarships, educational facilities, and equipment," he pointed out.
According to Thohir, SOEs are also cooperating with the National Alms Agency (Baznas) to support students of Islamic boarding schools and Islamic educational units. In fact, the Baznas head promised to provide scholarships for 10 thousand students.
The minister illustrated that if a total of 17,700 students received the scholarship, they would become the strength of Muslims in the country.
Thohir remarked that SOEs also provided internship opportunities for santri to help them gain competencies and hone their skills in various fields. Thousands of santri have joined internships in various SOEs.
The internship program is aimed at creating young leaders with capabilities and able to respond to the progress of the nation, as currently, most members of Indonesia's population are under the age of 40, and in the next 10 years, an increase of 50 million people is estimated.
Hence, Muslim youths are being readied to become a superior and quality generation that upholds moral values.
Source: Antara News
Please click the following URL to read the full text of the original story:
https://en.antaranews.com/news/229069/soes-provide-scholarships-to-7700-islamic-boarding-school-students
--------
Act over flight delays, Nanta tells Wee, Mavcom
May 10, 2022
PETALING JAYA: The domestic trade and consumer affairs ministry has urged transport minister Wee Ka Siong and the Malaysian Aviation Commission (Mavcom) to be more proactive on issues pertaining to AirAsia's flight delays and rescheduling.
Its minister, Alexander Nanta Linggi, said this after the ministry contacted AirAsia's management for an explanation following the receipt of numerous complaints from passengers whose flights had been rescheduled.
"Although matters concerning the aviation industry are under the ministry of transport (MOT), as a (domestic trade and consumer affairs) minister, I will interfere if customers' rights are involved.
"I urge the MOT and Mavcom to be more proactive and step forward to seek the best solution on the (flight delay) issue," he tweeted.
Nanta assured the public that his ministry would not "give empty words, dilly-dally, or perpetually investigate" the issue.
Among the issues he had highlighted to AirAsia were flight reschedules to more than six hours of the original times, and compensation.
"I was informed that AirAsia would give a full explanation on the issue within 24 hours," he said.
Previously, he had noted that the flight delays to various domestic destinations had happened since the end of last month.
On May 8, Tuaran MP Wilfred Madius Tangau also vented his frustration after his flight was rescheduled from 8pm to 12.30am.
Source: Free Malaysia Today
Please click the following URL to read the full text of the original story:
https://www.freemalaysiatoday.com/category/nation/2022/05/10/act-over-flight-delays-nanta-tells-wee-mavcom/
--------
Mideast
Israel levels Palestinian homes ahead of settlement approval
12 May ,2022
Israel's military has demolished at least 18 buildings and structures in the occupied West Bank following a Supreme Court decision that would force around 1,000 Palestinians out of an area Israel had designated a firing zone, a rights group said.
B'Tselem said in a statement that Border Police and soldiers leveled a total of 18 structures, including 12 residential buildings, in villages in the hills south of the West Bank city of Hebron on Wednesday.
The demolitions came a week after Israel's Supreme Court upheld an expulsion order that would force out residents of a cluster of Bedouin communities in Masafer Yatta, where they say they have been living for decades. The military declared the area a firing zone in the early 1980s.
Neither COGAT, the Israeli military body in charge of civilian affairs in the occupied territory, nor the army responded to requests for comment about the demolitions.
An Israeli planning committee was slated to convene Thursday to advance over 4,500 housing units in Israel's West Bank settlements, many of them deep inside the territory, according to Israeli activist group Peace Now.
If approved, it would be the largest batch of new settlement housing construction since President Joe Biden took office. The White House is opposed to settlement expansion and believe it hinders a two-state solution to the decades-long conflict.
Israel captured the West Bank in the 1967 Mideast war and has built more than 130 settlements across the territory that are home to nearly 500,000 settlers. Nearly 3 million Palestinians live in the West Bank under Israeli military rule.
Source: Al Arabiya
Please click the following URL to read the full text of the original story:
https://english.alarabiya.net/News/middle-east/2022/05/12/Israel-levels-Palestinian-homes-ahead-of-settlement-approval
--------
Iranian, Qatari Officials Start High-Profile Trade Talks
2022-May-12
Head of Iran's Trade Promotion Organization Alireza Peymanpak and visiting Director-General of Qatari Commerce and Industry Ministry for International Cooperation Sheikh Ahmed Ahan met on Thursday to discuss expansion of business and industrial ties between Tehran and Doha.
Sheikh Ahan travelled to Tehran today in the company of a high-profile delegation headed by the Qatari Emir.
The two officials discussed the MoUs signed during the Iranian industry minister's visit of Doha and the topics of Iran-Qatar economic commission which is slated to be held in Doha early next month.
They also coordinated a joint business meeting attended by both countries' private sectors to be held on the sidelines of the aforementioned joint commission meeting.
Qatari Emir arrived in Tehran on Thursday in a visit aimed at further broadening the two nations' relations and cooperation in different fields.
Sheikh Tamim was welcomed by Iranian First Vice-President Mohammad Mokhber upon his arrival in Tehran.
Heading a high-ranking political-economic delegation, Sheikh Tamim is scheduled to hold talks with Iranian authorities, including President Seyed Ebrahim Raeyeesi.
The visit follows a trip by President Rayeesi to Doha in February, where he met senior Qatari officials and attended the sixth summit of the Gas Exporting Countries Forum (GECF).
Source: Fars News Agency
Please click the following URL to read the full text of the original story:
https://www.farsnews.ir/en/news/14010222000557/Iranian-Qaari-Officials-Sar-High-Prfile-Trade-Talks
--------
Envoy: Italian Banks Continue Interactions with Iran despite Sanctions
2022-May-12
A number of Italian banks have kept interactions with Iranian banks despite the sanctions, Perrrone said in a meeting with members and head of the chamber of commerce department in Tabriz in Northwestern Iran on Wednesday.
"Italian companies are keen to resume and increase trade with Iran," he added.
Perrone said that prior to sanctions imposed on Iran, Italy ranked the first among European trade partners of the Islamic Republic, but now trade ties between the two countries have been impacted to a great extent because of those sanctions.
He said that his embassy makes efforts to facilitate relations between companies of the two countries.
Perrone also said that his country is well-experienced in manufacturing cars and industrial machinery, adding that Tabriz can have cooperation with Italian firms in this field.
In relevant remarks last May, Iran's Ambassador to Rome Hamid Bayat underlined that the Iranian companies could take advantage of innovative means to expand relations with Italy in a bid to increase the country's export volume in the time of sanctions.
"Despite the US' unilateral and illegal sanctions, as well as reduction in the trade volume, cooperation in various fields is still underway," the Iranian envoy said while addressing a live Instagram discussion which was arranged by Iran-Italy joint chamber of commerce.
Bayat elaborated on the level of the political relations between the two countries, the impact of sanctions and the outbreak of coronavirus on these ties, direct flights situation, the role of joint chambers in reinforcing trade ties and the role of economic relations in boosting political ties between Iran and Italy.
Source: Fars News Agency
Please click the following URL to read the full text of the original story:
https://www.farsnews.ir/en/news/14010222000356/Envy-Ialian-Banks-Cnine-Ineracins-wih-Iran-despie-Sancins
--------
Stalled Iran nuclear talks have been 'reopened': EU's Borrell
13 May ,2022
Stalled negotiations over Iran's nuclear program have been unblocked after fresh talks in Tehran, EU foreign policy chief Josep Borrell said Friday, adding that he believed a final deal was within reach.
Borrell said a mission by EU envoy Enrique Mora this week to help revive the 2015 nuclear pact between Iran and world powers had gone "better than expected."
"The negotiations had stalled and now they have been reopened," Borrell told reporters on the sidelines of a G7 meeting in Germany.
"There is a perspective of reaching a final agreement."
Mora held two days of meetings with Iran's chief negotiator Ali Bagheri in Tehran this week.
The emir of Qatar, Sheikh Tamim bin Hamad al-Thani, meanwhile met Iran's Supreme Leader Ali Khamenei and President Ebrahim Raisi on Thursday to push for progress.
The 2015 deal gave Iran sanctions relief in exchange for curbs on its nuclear program to guarantee that it could not develop a nuclear weapon, something Tehran has always denied wanting to do.
Formally known as the Joint Comprehensive Plan of Action, the agreement was left on life support in 2018 by then-US president Donald Trump's unilateral decision to withdraw and impose punishing sanctions.
This prompted Iran to begin rolling back its own commitments.
The departure of Trump from office has restarted bids to revive the accord, with Mora playing a key role during a year of on-off talks in Vienna.
Among the main sticking points in the negotiations has been Tehran's demand for the US to remove Iran's Islamic Revolutionary Guard Corps (IRGC) from a designated list of terrorist groups.
Borrell said "these disagreements on what to do about the Revolutionary Guards" had hampered progress in the talks for two months.
He said Mora had taken the EU's message to Tehran "that we couldn't continue like this".
"The answer has been positive enough," Borrell said.
"These kind of things cannot be solved overnight. Let's say things were blocked and they have been deblocked."
Borrell declined to comment on Mora's tweet that he had been briefly held at Frankfurt airport by German police, saying only that "the issue is over."
Mora had tweeted earlier on Friday that he had been "retained by the German police" while travelling back to Brussels.
"Not a single explanation. An EU official on an official mission holding a Spanish diplomatic passport," he wrote.
Source: Al Arabiya
Please click the following URL to read the full text of the original story:
https://english.alarabiya.net/News/middle-east/2022/05/13/Stalled-Iran-nuclear-talks-have-been-reopened-EU-s-Borrell
--------
Turkey's supreme court of appeals upholds jail for opposition figure: Party
12 May ,2022
Turkey's supreme court of appeals on Thursday upheld a prison sentence for the head of the Istanbul branch of the country's main opposition party, a party official told AFP.
Canan Kaftancioglu, 50, of the secular Republican People's Party (CHP), faced nearly 10 years in jail on a range of charges including "terrorist propaganda" and insulting President Recep Tayyip Erdogan.
The charges related mostly to tweets Kaftancioglu posted between 2012 and 2017.
The top court on Thursday approved her conviction on three counts with a prison term of four years, 11 months and 20 days.
It was not immediately clear if the ruling means Kaftancioglu will be jailed right away.
CHP leader Kemal Kilicdaroglu called on his lawmakers to head to the party's Istanbul headquarters.
"All lawmakers of our party, immediately set off for our Istanbul provincial headquarters," he tweeted right after the ruling.
Kaftancioglu, a doctor by profession, played a key role in the shock victory of the CHP's Istanbul mayor Ekrem Imamoglu in 2019 – the first time Erdogan's party had lost power in Turkey's biggest city for 25 years.
The latest ruling comes on the heels of a life sentence handed by an Istanbul court to another Erdogan critic and activist Osman Kavala last month.
Source: Al Arabiya
Please click the following URL to read the full text of the original story:
https://english.alarabiya.net/News/middle-east/2022/05/12/Turkey-s-supreme-court-of-appeals-upholds-jail-for-opposition-figure-Party
--------
URL: https://newageislam.com/islamic-world-news/taj-mahal-asi-locked/d/126997
New Age Islam Islam Online, Islamic Website, African Muslim News, Arab World News, South Asia News, Indian Muslim News, World Muslim News, Women in Islam, Islamic Feminism, Arab Women, Women In Arab, Islamophobia in America, Muslim Women in West, Islam Women and Feminism