New Age Islam News Bureau
16 February 2021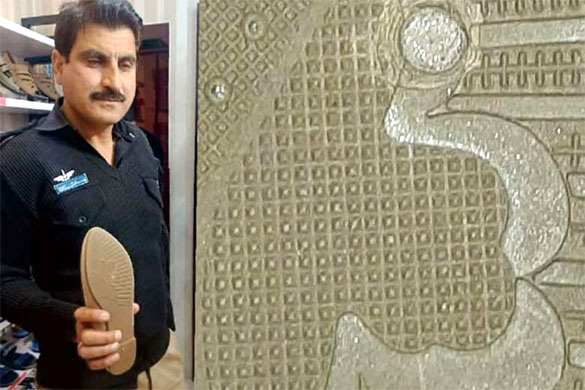 An officer at Mansehra police station holds the controversial shoe. (Photo supplied)
------
• Fatwa Forbids Baseless Blasphemy Allegations in Pakistan - Five Clerics Of Jamiat Ulema-E-Islam Advertised The Fatwa In Local Newspapers
• Nigeria Says 81 Boko Haram Militants Killed In Clearance Operations
• Taliban Must Do More to Meet Its Peace Deal Commitments, Says NATO
• Judiciary Chief: Iran Ready to Open Doors of Jails to Inspectors
• Bahrain Religious Discrimination Violates Numerous International Laws: Analyst
• US-Based Cyber Security Company: Pro-India Malware Spying On Pakistan Military
• Muslim Students Face Anti-Muslim Racism And Islamophobia In Germany
• Malaysia Says No Refugees among 1,200 Myanmar Nationals to Be Deported
India
• Tahaffuz Namoos-e-Risalat Board, a Muslim Group in Mumbai Sets up Legal Cell to Fight Blasphemous Posts Instead Of Adopting a Confrontational Approach
• Honour Killing: Woman Burnt Alive By Family in Uttar Pradesh for Having an Inter-Faith Love Affair
• Indian Muslims Should Face Current Critical Situation in Country with Courage and Wisdom: Maulana Syed Muhammad Rabi Hasni Nadvi
• Pained By Anti-Islam Sentiments, Chennai Muslim Businessman Donates Rs 1 Lakh for Ram Temple, Aimed At Communal Amity
• 400-Year-Old Qutb Shahi Mosque Lies Entwined With Vines and Dried Leaves Jutting Out Of a Cracked Boundary Wall
• Your protest has brought new ray of hope: Maulana Sajjad Nomani to farmers
• Two associates of terror outfits LeT, TuM arrested in Kashmir
• Naqvi offers 'chadar' on behalf of PM Modi at shrine of Sufi saint Chisti in Ajmer
--------
Pakistan
• Fatwa Forbids Baseless Blasphemy Allegations in Pakistan - Five Clerics Of Jamiat Ulema-E-Islam Advertised The Fatwa In Local Newspapers
• Will live in Pakistan, won't go abroad, says Maryam Nawaz
• UK journalist played role in Moussavi-Akbar meeting
• PTI disowns its official's statement in funding case
• COAS witnesses Jidarul Hadeed in Thar desert
--------
Africa
• Nigeria Says 81 Boko Haram Militants Killed In Clearance Operations
• Allows herdsmen do their business – Miyetti Allah tells Nigerians
• Somalia, UN seek over $1B for humanitarian assistance
• Separatists kill 3 soldiers in southwestern Cameroon
--------
South Asia
• Taliban Must Do More to Meet Its Peace Deal Commitments, Says NATO
• The Taliban close in on Afghan cities, pushing the country to the brink
• Bangladesh Court Sentences 5 to Death for Killing US Blogger Avijit Roy
• Christians demand justice after attack on Bangladeshi church
• Afghanistan should never become 'safe-haven' for terrorism again
• Nangarhar 'targeted killings' claim 4, injures 2
• 42 Security members, civilians rescued from Taliban clutches
--------
Mideast
• Judiciary Chief: Iran Ready to Open Doors of Jails to Inspectors
• Israel hints at possibility of not engaging with Biden on Iran nuclear strategy
• Palestinians shoot down another Israeli drone
• Gazans hold a sit-in to support Palestinian prisoners
• Israel forces more Palestinian families to tear down homes
• Turkey arrests 718 suspects nationwide over affiliation to PKK militants after Iraq executions
• Turkish court jails 4 pro-Kurdish newspaper employees over 'terrorism' charges
--------
Arab World
• Bahrain Religious Discrimination Violates Numerous International Laws: Analyst
• Amnesty International urges Saudi officials to free senior Hamas official, his son
• Repeated Israeli acts of aggression on Syria won't help to protect terrorists: Damascus
• Russia's Putin and Saudi crown prince discuss OPEC+ deal: Kremlin
• US 'Outraged' By Attacks on Iraq's Kurdistan Region: Blinken
• Rocket attack on Kurdish northern Iraq kills civilian, injures 6 people: US coalition
• Arab Coalition destroys Houthi drone heading towards Abha Airport
• 10 years since uprising Bahrain in a worse state
• US-led coalition building new base in Syria's Hasakah near Iraq, Turkey borders: Report
--------
North America
• US-Based Cyber Security Company: Pro-India Malware Spying On Pakistan Military
• Iran's February 21 deadline 'wakeup call' for Biden administration
• US, Iran game of nerves revives tensions in region
--------
Europe
• Muslim Students Face Anti-Muslim Racism And Islamophobia In Germany
• UN, UK Condemn Deadly Attack on Iraq's Erbil, Demand Action against Those Responsible
• PKK killing of Turkish citizens 'deeply troubling'
• 'Nothing can justify terror': Germany on PKK massacre
--------
Southeast Asia
• Malaysia Says No Refugees among 1,200 Myanmar Nationals to Be Deported
• Indonesian president follows Pope John Paul II's lead
• Sugarbook's 'immoral activities' leave bitter taste, says PAS
Compiled by New Age Islam News Bureau
URL: https://www.newageislam.com/islamic-world-news/tahaffuz-namoos-e-risalat-board/d/124319
--------
Tahaffuz Namoos-e-Risalat Board, a Muslim Group in Mumbai Sets up Legal Cell to Fight Blasphemous Posts Instead Of Adopting a Confrontational Approach
Feb 16, 2021
Mumbai: A group of Muslims in the city has decided to fight provocative and blasphemous posts, videos and cartoons through the legal route. Instead of hitting the streets and adopting a confrontational approach, they will counsel youths not to get violent and find remedies within the Constitutional framework.
Floating a legal cell under Tahaffuz Namoos-e-Risalat Board (Protection of the Honour of the Prophet Board), the group held its first meeting at Islam Gymkhana on Saturday and decided to counter blasphemous and provocative posts and videos in a peaceful and democratic manner. "It has often been seen that Muslim youths get agitated over blasphemous and provocative posts and hit the streets and clash with the police. This results in arson, rioting and then arrests and harassment. Now we have decided that, whenever such a situation arises, the matter will be handed over to the legal cell to file cases against the individuals or organisations involved in such activities," said senior cleric, peacenik and spiritual leader Maulana Moin Ashraf Quadri (Moin Mian) who is leading the board. He added the events in Bengaluru some months ago only showed the situation could go out of control if the youth are not guided properly on how to respond to provocative posts and photographs. He also said sentiments of no religion should be hurt and even Sharjeel Usmani should not have said what he said about Hindus at the Elgar Parishad meet in Pune last month.
A section of youths gets agitated over allegedly blasphemous and provocative posts on social media and hits the roads and this initiative is aimed at stopping them from taking the law into their own hands while condemning alleged blasphemy.
Advocate Yusuf Abrahni, president of Islam Gymkhana, said the best course for the aggrieved party is to approach the courts. "Confrontation will not lead us anywhere and it will only make matters worse. The legal cell will be strengthened and people will be directed to approach it if any blasphemous or provocative posts or videos and cartoons are noticed on social media," said Abrahni.
Saeed Noorie, general secretary of Raza Academy, said such a board and legal cells were long needed and will work to prevent clashes and maintain peace and harmony.
https://timesofindia.indiatimes.com/city/mumbai/muslim-group-sets-up-legal-cell-to-fight-blasphemous-posts/articleshow/80934372.cms
--------
Fatwa Forbids Baseless Blasphemy Allegations in Pakistan - Five Clerics Of Jamiat Ulema-E-Islam Advertised The Fatwa In Local Newspapers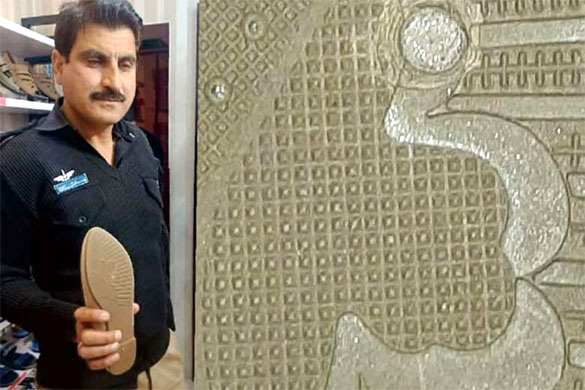 An officer at Mansehra police station holds the controversial shoe. (Photo supplied)
------
Kamran Chaudhry
February 16, 2021
Clerics of a major political party have issued a religious decree urging careful inquiries into blasphemy cases following a police raid on a shoe shop in northwest Pakistan.
The fatwa was issued after police arrested five people on Feb. 11 from Forever Boot, a shop in Mansehra, Khyber Pakhtunkhwa province. Local journalists had earlier filed a blasphemy case against the shop owner for allegedly printing the name "Muhammad" on a shoe sole.
On Feb. 13, clerics of Dar al Fatah seminary in Mansehra declared those arrested as innocent.
"Careful consideration is needed to confirm this crime. Allegations of this crime without a complete inquiry and consultation with scholars can be dangerous and target an innocent. Therefore, it is needed that such matters should be avoided being public. It can cause unrest and riots. Law enforcement agencies should also consult clerics in such matters," the clerics stated.
"The photo was examined carefully but nothing objectionable was found. The criticized design under the shoe is a mere design, flower or a print of a dye. An open-minded person cannot imagine it as the name of Muhammad. A predetermined person can cause presumption. Therefore, it is not right as per Sharia and law to act against the shopkeeper based on this argument."
Five clerics of religious political party Jamiat Ulema-e-Islam (JUI-F) also advertised the fatwa in local newspapers.
It is not right to allege blasphemy based on suspicion or a notion, they stated in the notice.
The alleged blasphemers were released on Feb. 15 but Forever Boot remains closed.
"The name Muhammad carried two Ms [in Urdu]. This isn't the case here. The issue is very sensitive. This major sin could endanger peace in the country. The shoe manufacturing company has been notified. We thank our clerics for their timely intervention," Umar Farooq, the brother of the shop's owner, told UCA News.
Pakistan's controversial blasphemy law carries an automatic death penalty for anyone accused of insulting Prophet Muhammad. Critics have repeatedly said that the laws are misused to settle scores and personal vendettas. Minority Christians have often become the target of accusations of blasphemy.
Bishop Azad Marshall, president of the National Council of Churches in Pakistan, urged the government to take "concrete steps" to stop the misuse of the blasphemy laws.
"We are witnessing a record increase in blasphemy cases against all members of society irrespective of their faiths. This has become a norm here but we are glad that a lot of our Muslim siblings have spoken out against the treatment to our community," he stated in a recent meeting of Church of Pakistan clergy at the head office of Raiwind Diocese.
Last month Pakistan's Ministry of Human Rights launched the country's first human rights information resource portal.
The portal, developed in partnership with the European Union, is envisioned to serve as a "central repository of up-to-date and cutting-edge human rights knowledge" for students, academics, practitioners and citizens at large.
https://www.ucanews.com/news/fatwa-forbids-baseless-blasphemy-allegations-in-pakistan/91430#
--------
Nigeria says 81 Boko Haram militants killed in clearance operations
February 16, 2021
Government troops killed 81 Boko Haram militants in recent clearance operations in northeast Nigeria, the military said on Monday.
The operations covered "many villages" in the vast Sambisa Forest in the northeastern state of Borno, said Farouk Yahaya, theater commander of Operation Lafiya Dole.
He did not say when the operations were conducted or how long they lasted.
"The relentless troops destroyed the terrorists' camps and recovered gun trucks and weapons as the air force aircraft continue to provide close air and interdiction support to the ground forces," Yahaya said.
During the operations, he said, one soldier was killed and four others wounded in an incident involving improvised explosive devices planted by Boko Haram militants.
Boko Haram has been trying to establish an Islamist state in northeastern Nigeria since 2009. The terror group has also extended its attacks to other countries in the Lake Chad Basin.
https://africa.cgtn.com/2021/02/15/nigeria-says-81-boko-haram-militants-killed-in-clearance-operations/
--------
Taliban must do more to meet its peace deal commitments, says NATO
FEB 15, 2021
Taliban militants in Afghanistan must do more to meet the terms of a 2020 peace agreement and allow for any possible foreign troop withdrawal by May, NATO Secretary-General Jens Stoltenberg said on Monday.
"We see that there is still a need for the Taliban to do more when it comes to delivering on their commitments ... to make sure that they break old ties with international terrorists," Stoltenberg told a news conference.
https://www.hindustantimes.com/world-news/taliban-must-do-more-to-meet-its-peace-deal-commitments-says-nato-101613400147798.html
--------
Judiciary Chief: Iran Ready to Open Doors of Jails to Inspectors
2021-February-15
"We are ready to open the doors of our prisons to any country in the world that wants to see inside of them, provided that we will be allowed to visit any prison in any country that we want; if this happens, it will be clarified where human rights are respected and where these rights are being ignored," Rayeesi said on Monday, addressing the Judiciary officials.
"Today, the freedom-seeking people in the world do not believe the westerners' respect for human rights, and they know that the westerners' moves are political, and they have used human rights as a pretext to put pressure on independent and developing countries," he added.
Rayeesi also referred to the large number of Iran's furloughed prisoners to lower the rist of COVID-19 outbreak in jails, and said no country in the world can compete with Iran in this regard.
Iran's Judiciary Spokesman Gholamhossein Esmayeeli announced in August that his country had authorized temporary leaves for more than 100,000 prisoners, to prevent the outbreak of the new coronavirus in jails across the country.
"Over 100,000 inmates have been furloughed in different periods since the outbreak of coronavirus (in Iran) so that they and their family members will not have any concerns," Esmayeeli said.
He added that at present 60,000 prisoners have been furloughed, noting that many of those who have used this possibility have been freed or their prison terms have been commuted after the Supreme Leader's clemency on the occasion of different Islamic Eids.
https://www.farsnews.ir/en/news/13991127000785/Jdiciary-Chief-Iran-Ready-Open-Drs-f-Jails-Inspecrs
--------
Bahrain religious discrimination violates numerous international laws: Analyst
15 February 2021
Bahraini regime's brutal crackdown on dissent and its systematic abuse of the Shia population and discrimination against them violate numerous international laws, an American human rights expert and peace activist says.
Daniel Kovalik, who teaches international human rights at the University of Pittsburgh School of Law in the state of Pennsylvania, made the remarks in an interview with Press TV on Monday.
"Since the 2011 uprising in Bahrain, the government has brutally cracked down on dissent and on the Shia population of the country. Human Rights groups have reported on numerous cases of Shia being subjected to wrongful detention and torture and of being fired from their jobs en masse. This type of religious discrimination violates numerous international law instruments and would not be tolerated by the West in other situations," the academic said.
He added that "because Bahrain is a compliant state of the West" the US and Europe largely turn the other way from these abuses, warning that "US plans to sanction resistance groups — groups which have arisen against this oppression — will only strengthen the hand of the Bahrain government and therefore lead to increasing human rights abuses."
The remarks come as Bahrainis took to the streets across the tiny Persian Gulf kingdom to mark the tenth anniversary of a popular uprising against the ruling monarchy, in spite of the regime's brutal crackdown on dissent.
The rallies took place on Saturday night, on the eve of the 2011 uprising's anniversary, with the participants chanting slogans against the Al Khalifah regime and King Hamad bin Isa Al Khalifah.
The protesters called for an end to human rights violations and the release of political detainees.
They also urged the Al Khalifah regime to relinquish power and allow the establishment of a just system representing all strata of the society.
Elsewhere in his remarks, Kovali described the removal of Yemen's popular Ansarullah movement from the terrorist list as "a move in the right direction," while commenting on a recent decision by the United States to remove the movement from the list of foreign terrorist organizations on February 16.
The decision came days after the administration of US President Joe Biden announced an end to American support for the Saudi war on Yemen, including a freeze on arms sales to the Riyadh regime.
The administration of former US president Donald Trump had branded the Ansarullah movement as a foreign terrorist organization, imposing the specially designated global terrorist (SDGT) and foreign terrorist organization (FTO) designations.
Trump took the action on his last full day in office despite warnings by other governments, aid groups and the United Nations that the US sanctions could push Yemen into a major famine.
The academic further expressed hope that the move would lead to an improvement of the humanitarian situation in Yemen, but said, "It is uncertain whether that change in designation will do much for the people suffering under repressive monarchical rule in Bahrain."
The popular uprising in Bahrain began in mid-February 2011, as recurring demonstrations throughout the years demanded that the ruling Al Khalifah family relinquish power.
Manama has responded to the anti-regime protests with an iron fist. The authorities have detained rights campaigners, broken up major opposition political parties, revoked the nationality of several pro-democracy activists and deported them.
The Bahraini regime has also arrested, injured and killed thousands of people in the Persian Gulf country. Saudi Arabia and the United Arab Emirates have also helped Manama in its ruthless crackdown.
https://www.presstv.com/Detail/2021/02/15/645327/Bahrain-protests-dissidents-crackdown-Shia-population-discrimination-popular-uprising-anniversary
--------
US-Based Cyber Security Company: Pro-India Malware Spying On Pakistan Military
Ovunc Kutlu
15.02.2021
Two malware programs on an Android-based platform that emerged in India have been spying on the Pakistani military, according to a US-based cyber security company.
In a Feb. 10 statement, Lookout said it has discovered the two malware, Hornbill and SunBird, which are used by a cyber group named Confucius that first appeared in 2013 as "a state-sponsored, pro-India actor primarily pursuing Pakistani and other South Asian targets."
"Targets of these tools include personnel linked to Pakistan's military, nuclear authorities, and Indian election officials in Kashmir," the statement said.
"Hornbill and SunBird have sophisticated capabilities to exfiltrate SMS, encrypted messaging app content, and geolocation, among other types of sensitive information," it added.
Confucius had created in the past malware for Windows operating systems, but the group has been known developing mobile malware since 2017 when the spying app ChatSpy was created.
While SunBird has a remote access function that can execute commands on a device by an attacker, Hornbill is a surveillance tool that can extract data from users.
"SunBird has been disguised as applications that include Security services, such as the fictional "Google Security Framework", Apps tied to specific locations ("Kashmir News") or activities ("Falconry Connect" and "Mania Soccer"), Islam-related applications ("Quran Majeed")," the report said.
The majority of applications appear to target Muslim individuals, the report added.
Both malware, which is circulated as fake Android apps, can access users' call logs, contacts, images, browser history, and they take screenshots and photos with the device camera.
Some major targets included an ''individual who applied for a position at the Pakistan Atomic Energy Commission, individuals with numerous contacts in the Pakistan Air Force (PAF), as well as officers responsible for electoral rolls (Booth Level Officers) located in the Pulwama district of Kashmir", the analysis found.
"The data included information on victims in Europe and the United States, some of which appear to be targets of spouse ware or stalkerware. It also included data on Pakistani nationals in Pakistan, India, and the United Arab Emirates that we believe may be targeted by Confucius APT campaigns between 2018 and 2019," the detailed report added.
https://www.aa.com.tr/en/americas/us-pro-india-malware-spying-on-pakistan-military/2145536
--------
Muslim Students Face Anti-Muslim Racism And Islamophobia In Germany
Aizbah Khan
16TH FEB, 2021
Muslim students in Germany say an online campaign has been launched against them after digital meeting with Christian Democrat politician Norbert Rutgen and they are facing anti-Muslim Racism and Islamophobia.
German Chancellor Angela Merkel's party, the Christian Democratic Union, recently held a digital meeting with Norbert Röttgen, a top politician in the party, with some Muslim students studying at German universities on scholarships. Students selected a few topics for this online discussion and prepared to discuss them. Topics chosen by the Muslim students in small groups included environmental policy, the future of the Christian Democratic Union CDU after Merkel's tenure, and arrangements for dealing with the coronavirus crisis.
The Ibn Sina Scholarship Organization is a well-known German institution that provides research facilities to students and researchers from the Muslim world who come to Germany and become affiliated with higher education institutions here.
The Muslim students associated with the scholarship had prepared for a virtual discussion with CDU's Norbert Rutgen, but they did not expect any negative reactions.
The series began when Norbert Rutgen posted a few photos of the meeting on social media platforms. The photos show about 20 young girls with headscarves.
Nada Kanani, a 22-year-old student who hosted the meeting, told Deutsche Welle, a German public state-owned international broadcaster: "More and more comments came, many of them full of hate," she said. "Things like that are shared in far-right groups; they organize concerted action there. It was an inferno."
As another form of expression of Islamophobia, a satire on Muslims continued after this recent online meeting. Nada Kanani says that it seems like a headscarf is enough to excuse for many people to disqualify any Muslim. It doesn't matter how much you spend on your education or career. You are considered a lowly human being as a Muslim woman. You're just a woman with a headscarf.
Prejudices against Islam
Yasemin El-Menouar is the head of the Bertelsmann Foundation's Religious Affairs Monitoring Body, whose job is to monitor religious and social harmony. Speaking to Deutsche Welle, said that Muslims who are known for their attire, such as women wearing headscarves, are particularly vulnerable to this prejudice and hatred.
She said that it doesn't matter who fits into society. Many Muslims in Germany have experienced this prejudice since childhood and many 'religious monitor surveys' have revealed this prejudice against Muslims.
Yasemin El-Menouar added that over the last ten years, suspicions about Islam have gripped half of Germany's population. Such prejudices are no longer recognized as prejudices in society. In such an environment, Islamophobic sentiments are expressed more openly and freely. The internet certainly plays an important role here because the general principles of social communication are not in vogue here.
https://www.bolnews.com/latest/2021/02/muslim-students-face-anti-muslim-racism-and-islamophobia-in-germany/
--------
Malaysia says no refugees among 1,200 Myanmar nationals to be deported
15 Feb 2021
KUALA LUMPUR, Feb 15 — Malaysia said today it will not deport any Rohingya Muslims or migrants registered with the UN refugee agency, after Reuters reported that it was planning to send 1,200 Myanmar nationals back to the country.
Malaysia had agreed to return them after the Myanmar military, which seized power in a Feb. 1 coup, offered to send three navy ships to pick up its citizens held in Malaysian immigration detention centres, officials and sources told Reuters last week.
In response, the United Nations High Commissioner for Refugees (UNHCR) had urged Malaysia not to hand over asylum-seekers, saying it was concerned that a number of those in detention may require international protection, including vulnerable women and children.
Muslim-majority Malaysia is not a signatory to the UN Refugee Convention and treats all arrivals without proper documentation as illegal migrants.
In the past, people from Myanmar held in Malaysian detention centres have included members of the ethnic Chin, Kachin and Rohingya communities fleeing conflict and persecution.
Malaysia's Director-General of Immigration Khairul Dzaimee Daud said today the Myanmar nationals to be deported would not include UNHCR cardholders or Rohingya migrants.
They had been detained for offences such as not having proper identification documents, or overstaying and misusing their travel passes, he said in a statement.
"This is just part of the usual process of deporting foreign citizens held in the Immigration Depots," he said.
It was unclear whether any of the Myanmar nationals to be sent back had sought asylum since being detained.
The UNHCR has not been allowed entry to Malaysia's detention centres since August 2019.
Malaysia is home to more than 154,000 asylum-seekers from Myanmar. Rights groups have expressed concern over the safety of Myanmar refugees after the military coup. — Reuters
https://www.malaymail.com/news/malaysia/2021/02/15/malaysia-says-no-refugees-among-1200-myanmar-nationals-to-be-deported/1949998
--------
India
Honour Killing: Woman Burnt Alive By Family in Uttar Pradesh for Having an Inter-Faith Love Affair
15th February 2021
GORAKHPUR: In a suspected case of honour killing, a woman was burnt alive by her family members over an inter-faith love affair, police said on Monday.
The woman's father, brother, brother-in-law and another person have been arrested in this connection, they said.
According to police, the family had hired a contract killer, Varun Tiwari, and paid him Rs 1.5 lakh to eliminate the woman over her relationship with a Muslim man.
"The victim's father Kailash Yadav, brother Ajit Yadav, brother-in-law Satyaprakash Yadav and one Sitaram Yadav were arrested on Sunday. A petrol container and motorcycle used in the crime have also been recovered by the police. A hunt is on to trace the contract killer," a police official said.
Speaking at a press conference on Sunday, Superintendent of Police of Sant Kabir Nagar, Kaustubh noted, "A half-burnt body of a young woman was found at village Jigina under Dhanghata police station limit on February 4.
With the help of local police, surveillance, CCTV footage, field unit and dog squad, the body was identified as that of Ranjana Yadav of Belghat area in Gorakhpur.
" "The victim's father told the police that his daughter was having an affair with a Muslim man.
He said when she was not ready to leave her lover, he along with his son and son-in-law hired a contract killer from Mahuli to kill her," he said.
According to police, one of the accused took the woman to a deserted place in Jigina village on a motorcycle on February 3.
The other accused joined them and tied the woman's hands and mouth.
The accused then set her afire by pouring petrol on her, and fled the spot, police added.
https://www.newindianexpress.com/nation/2021/feb/15/woman-burnt-alive-by-family-in-uttar-pradesh-for-having-muslim-lover-2264353.html
--------
Indian Muslims should face current critical situation in country with courage and wisdom: Maulana Syed Muhammad Rabi Hasni Nadvi
February 15, 2021
New Delhi: "The situation in the country is critical at the moment, but the history of Muslims shows that they have gone through many more difficult times. With courage and wisdom, we should be concerned about the current situation and take appropriate measures, especially to convey the message of truth to every individual in the country, and live with a benevolent character. This is our religious and faithful duty." This was stated by Maulana Syed Mohammad Rabi Hasni Nadvi, President of All India Muslim Personal Labor Board (AIMPLB).
Maulana Syed Mohammad Rabi Hasni Nadvi inaugurated the 15-day online sermons issued by the Board's social media desk on "Series of Invitation and Action." In his address, he conveyed the message of humanity to all the people of the country. He pointed out that any country develops through humanity and morality. "Our country is the cradle of different religions and different classes. This country can develop only if the followers of all religions consider each other as their own. Treat them well, and live together."
He said that Muslims want the development of the country and they want the welfare of every citizen living in the country and expect good treatment from others.
In a statement, Maulana Muhammad Umreen Mahfooz Rahmani, Secretary, All India Muslim Personal Law Board and Convener of Social Media Desk, said that the thought-provoking speech of the President of All India Muslim Personal Law Board is something that every Muslim should listen to and act upon.
He said that the Law Board has set up a social media desk on All India Muslim to try to make Muslims in India aware of the activities of the board and the Muslim Personal Law Board, protection of Shariah and unity. "The nation is doing a great job of reforming the nation, relaying it to the people living in the country. Through various social accounts, efforts are being made to spread the message of the Muslim Personal Law Board and to point out the social evils prevalent among Muslims. They should be encouraged to stay away from them. Many important series are being successfully run by the social media desk and people are benefiting from them in large numbers," he said.
He said that the desk is launching a new and important series of online sermons called "Series of Invitation and Thought," which was inaugurated last night by Maulana Muhammad Rabi Hasni Nadvi Damat Barakatham.
"It is gratifying to announce that the next sermon Hazrat Maulana Syed Mohammad Wali Sahib Rahmani Damat Barakatham Kahoga, General Secretary Ameer Shariat of Sunal Labor Board on India Muslim will prove to be eye-opening and insightful in the current situation of the country," he said. He urged Indian Muslims to join the India Social Media Desk and be entitled to the reward by participating in the service of conveying the message of the Sun Law Board to all India Muslims far and wide.
http://twocircles.net/2021feb15/441022.html
--------
Pained By Anti-Islam Sentiments, Chennai Muslim Businessman Donates Rs 1 Lakh for Ram Temple, Aimed At Communal Amity
February 16, 2021
In a gesture aimed at communal amity, a Muslim businessman from the city has donated Rs 1 lakh towards the construction of the Ram Temple at Ayodhya, as a voluntary contribution from devotees in Tamil Nadu for the shrine in Uttar Pradesh has been growing.
Daily wage earners like cobblers and small traders are among those making contributions to help raise the proposed magnificent structure.
With the Shri Ram Janmbhoomi Teerth Kshetra (SRJTK), set up by the Centre to construct the temple, coming out with donation coupons of Rs 10, 100 and 1,000, a large number of people came forward to donate, said S V Srinivasan, VHP state organising secretary who is involved in raising funds for the temple.
"All those whom we approached have been generous in donating for the noble cause," he added.
And when the members of the Hindu Munnani, accompanied by the volunteers from the SRJTK approached him, W S Habib gifted a cheque for Rs 1,00,008, taking the fund raisers by surprise.
"I want to foster communal amity between Muslims and Hindus. We are all children of god. I donated the sum with this belief," Habib, a property developer, told PTI.
He said he was pained to see Muslims being painted as anti-Hindus or anti-India by some sections.
Pointing out that there was nothing wrong in donating for a good cause, Habib remarked, "I wouldn't have donated to any other temple but the Ram temple is different as decades-old Ayodhya dispute came to an end."
The Hindu Munnani, which is also involved in the campaign, said road shows are being held in various parts of the state to raise funds.
"All those whom we approached willingly donated. A gentleman who suddenly emerged from the crowd presented a cheque for Rs 50,000. The response from Ram bhakts is overwhelming," A T Elangovan, Hindu Munnani's Chennai president, said.
According to K E Srinivasan, Chennai organiser of Dharma Jagran Manch a wing of RSS not only the affluent in the society but also the poor contributed.
"At Perambur, for instance, cobblers and other sections came forward to donate Rs 10," he said.
At Kodungaiyur when the members solicited funds for the temple construction, shop keepers contributed their mite.
An enthusiastic seller of vermilion (kumkum) near a temple, who happened to be a Muslim, gave Rs 200 for the cause.
The Kanchi Kamakoti Peetam has already appealed to the devotees to donate liberally. Janakalyan, a spiritual and cultural service organisation, is utilising its office with several prominent personalities to contribute towards the initiative, its city secretary V Subramanian said.
The Supreme Court in November 2019 settled the decades-old dispute and paved the way for the construction of a Ram Temple by a Trust at the disputed site at Ayodhya.
It had then directed the Centre to allot an alternative 5-acre plot to the Sunni Waqf Board for building a new mosque at a "prominent" place in the holy town in UP.
Prime Minister Narendra Modi had on August 5, 2020 laid the foundation stone for the construction of a grand temple at Ayodhya.
https://www.indiatoday.in/india/story/chennai-muslim-businessman-donates-rs-1-lakh-for-ram-temple-1769664-2021-02-16
--------
400-Year-Old Qutb Shahi Mosque Lies Entwined With Vines and Dried Leaves Jutting Out Of a Cracked Boundary Wall
16th February 2021
By Aihik Sur
HYDERABAD: The blue rusty-framed signboard of the Archaeology and Museums department in front of a Qutb Shahi mosque in Shaikpet lies entwined with vines and dried leaves jutting out of a cracked boundary wall.
In a way, the signboard is a perfect allegory for the condition of the age old mosque. This approximately 400-year-old mosque that may once have housed hundreds of worshippers, is currently in ruins and has been neglected, despite it being a protected site as per the Andhra Pradesh Ancient and Historical Monuments Act.
Nestled between residential houses, the Qutb Shahi structure characterised by two Charminar-like minarets is now dilapidated, with vegetation pouring out from its various cracks. Entry to the mosque is restricted by a rusty iron gate, the front of which has become a dumping ground.
Although locals in the area could not pinpoint to an exact year when it may have been constructed, many said that its condition worsened due to the heavy rainfall in the city last year. Historians opine that the design of the mosque suggests that it was a precursor to the Toli Mosque in Karwan.
Ironically, the archaeology department signboard reads, "The structure is in a fair state of preservation and deserves more attention." An official said a few years ago a notice was sent to the Waqf Board for its restoration, but no response was received.
Protected site
The mosque that once may have housed hundreds of worshippers is currently in ruins and is neglected, despite it being a protected heritage site
https://www.newindianexpress.com/cities/hyderabad/2021/feb/16/400-year-old-qutb-shahi-mosque-lies-in-ruins-2264503.html
--------
Your protest has brought new ray of hope: Maulana Sajjad Nomani to farmers
Feb 15, 2021
NEW DELHI: The ongoing farmers' protest against the three farm laws has brought a new ray of hope against injustice in the country, Maulana Sajjad Nomani said on Monday.
The spokesperson of All India Muslim Personal Law Board was speaking at the Singhu border, one of the major sites of the farmers' agitation.
"So many organisations have been, for years, trying to create awareness about the injustices in the country, and this movement has brought a new ray of hope from Kashmir to Kanyakumari.
"Thanks to you and your leadership, who realised that 'enough is enough' and decided to raise your voices, we have been reassured that the era of darkness in the country is ending and that justice is not very far away," Nomani said.
Ever since the farmers' agitation started in November last year, the Islamic scholar has regularly been extending his support to the movement through his YouTube channel.
On Monday, he said the Muslims of the country were standing behind the farmers in their fight.
"On behalf of the Muslim society, I assure you that we are all standing behind you and support you, and request you to not lose hope and continue this fight.
"It is because of your strength that God has chosen you to lead this movement," he said.
Criticising the government's decision to introduce the laws during the difficult period of the pandemic, Nomani said the farmers' movement was not just a protest against the three laws, but also a "freedom struggle".
"The three laws ensure that the produce generated out of the blood and sweat of lakhs of Indian farmers gets locked up in the hands of private businessmen.
"The protest is not just a fight against the three laws, but a fight for freedom. The country that became independent after so much struggle, is being made a slave again, but India is not meant to be a slave," he said.
"The government has constantly been saying that the MSP (Minimum Support Price) was, is and will be there, but why isn't it making it a written law?" he added.
Farmers, mostly from Punjab, Haryana and western Uttar Pradesh, have been camping at three Delhi border points -- Singhu, Tikri and Ghazipur -- for nearly 80 days, demanding a repeal of the three agri laws and a legal guarantee on the minimum support price (MSP).
In the absence of the MSP, the farmers fear they will be left at the mercy of private corporations.
Nomani also warned the protesting farmers against attempts to divide their movement.
"There is a conspiracy to divide this movement, but we should all remain united, because India is a country of love and brotherhood," Nomani said.
https://timesofindia.indiatimes.com/india/your-protest-has-brought-new-ray-of-hope-maulana-sajjad-nomani-to-farmers/articleshow/80926660.cms
--------
Two associates of terror outfits LeT, TuM arrested in Kashmir
FEB 15, 2021
Police on Monday said that they arrested two associates of terror outfits during an operation in Budgam.
According to the police, the arrested persons were affiliated with Lashkar-e-Taiba (LeT) and Tehrik-ul-Mujahideen (TuM).
A police spokesman said a police team, along with 53 Rashtriya Rifles, arrested two associates of proscribed terror outfits LeT and TuM.
Also Read | Army conducts career counselling camp in remote village of J-K's Rajouri
"They have been identified as Sameer Ahmed Ittoo and Ubaid Ameen Mallah of Kulgam. Incriminating materials, including flags, banners and letter pads have been recovered from their possession," the spokesman said.
He said that during the preliminary investigation,the police found that these persons were involved in grenade lobbying incidents in Pulwama and Kulgam districts of south Kashmir, and were also making posters, banners and flags of banned terror organisations on the directions of their handlers for distribution at various locations in central and south Kashmir.
"They were also actively involved in recruiting terrorists and overground workers with the aim to carry out terror activities in Budgam. A case under relevant sections has been registered at the Chadoora police station and further investigation has been initiated," the spokesman added.
https://www.hindustantimes.com/india-news
--------
Naqvi offers 'chadar' on behalf of PM Modi at shrine of Sufi saint Chisti in Ajmer
Feb 16, 2021
AJMER: A harmonious co-existence of various religions, sects and beliefs associated with them is a magnificent heritage of our country, Prime Minister Narendra Modi said in a message on Tuesday as a 'chadar' was offered on his behalf at Sufi saint Hazrat Khwaja Moinuddin Chishti's shrine here.
Union minister for minority affairs Mukhtar Abbas Naqvi offered the chadar on the occasion of the 809th Urs and also read out the message of the Prime Minister in which he had conveyed greetings to the followers of Moinuddin Chishti on the occasion of the annual Urs.
The minister said PM Modi is "personally committed to the culture of Sufi saints and devoted to good governance and inclusive development", according to a release from Naqvi's office.
Naqvi said tolerance and harmony is the DNA of India and nobody can defame and demolish the proud legacy of the country.
The Prime Minister, in his message, said, "Khwaja Moinuddin Chishti, who has left an indelible imprint on society with his Sufi thoughts, is the ideal symbol of our great spiritual traditions. Promoting the spirit of love, unity, service and harmony, Gharib Nawaz's values and views will always continue to inspire humanity."
Modi, in his message, said the annual celebration is a beautiful example of social unity and brotherhood.
The Urs festival is an annual festival held at Ajmer which commemorates the death anniversary of the Sufi saint. Thousands of pilgrims visit the shrine from all over India and abroad during the Urs.
On the occasion, Naqvi said the life of Gharib Nawaz gives inspiration to strengthen the commitment to communal and social harmony.
https://timesofindia.indiatimes.com/india/naqvi-offers-chadar-on-behalf-of-pm-modi-at-shrine-of-sufi-saint-chisti-in-ajmer/articleshow/80976057.cms
--------
Pakistan
Will live in Pakistan, won't go abroad, says Maryam Nawaz
Feb 15, 2021
LAHORE: Pakistan's deposed prime minister Nawaz Sharif's daughter Maryam Nawaz said on Monday that she will not leave the country to join her father in London for her treatment despite the Imran Khan government's apparent offer to go abroad.
"Even if someone (from the government) comes to my home and offers me to go abroad, I will decline it straightaway," she said while talking to reporters at her Jati Umra Raiwind residence here.
"I know some ministers are saying that if Maryam is allowed to go abroad the opposition's movement (against the government) will fizzle out. But let me make it clear that I will not leave my country come what may, and will not seek removal of my name from the no-fly list," she said.
The PML-N vice president further said that she had to undergo a 'little surgery' which is not possible in Pakistan. "But despite this I will not leave Pakistan. I will live and die in my country," she asserted.
Pakistan Interior Minister Sheikh Rashid Ahmed has said that the PML-N supremo Nawaz Sharif's passport will be cancelled on February 16.
Sharif has been living in London since November, 2019 after he was allowed to leave the country for medical treatment.
Adviser to the Prime Minister on Accountability and Interior Mirza Shahzad Akbar said that United Kingdom authorities had been asked to deport the convicted former prime minister from their country.
He said Pakistan had written a letter to the UK to cancel the visa of Sharif which was issued for medical treatment after taking an undertaking.
Prime Minister Imran Khan in October said he would contact British Prime Minister Boris Johnson, if needed, to discuss his deportation and his adviser Akbar wrote a letter to British Home Secretary Priti Patel on October 5 urging her to deport the former premier whom he said is responsible for pillaging the state.
Maryam has alleged that the "selectors" (a reference to the army chief Gen Bajwa and others) are being questioned within the institution regarding imposing inept and incompetent Imran Khan on the nation.
"Now voices are being raised within the institution for imposing this incompetent Imran on the nation who made the lives of the people miserable," she said and lamented "inhuman statement" of Sheikh Rashid regarding use of water cannon on protesting government employees.
Rashid had said that the government had tested water cannon on the employees. "Tomorrow, this government will say that it is using atomic bomb on the masses to test it," Maryam said.
https://timesofindia.indiatimes.com/world/pakistan/will-live-in-pakistan-wont-go-abroad-says-maryam-nawaz/articleshow/80927019.cms
--------
UK journalist played role in Moussavi-Akbar meeting
Atika Rehman
February 16, 2021
LONDON: Broadsheet owner Kaveh Moussavi has alleged that British journalist David Rose asked for a commission in exchange for his assistance in recovering the sum of about $29 million from the Pakistan government.
The journalist, who writes for The Mail on Sunday and Mail Online and whose story against Pakistan Muslim League-Nawaz president Shehbaz Sharif is presently at the centre of a defamation suit, has denied asking for any commission.
In October 2019, when Mr Moussavi was desperate to recover the court-mandated award of $29m from the Pakistan government, he approached Mr Rose and asked for his assistance. It has now emerged that Mr Rose set up the first meeting between Mr Moussavi and Special Assistant to the Prime Minister on (SAPM) Accountability Shahzad Akbar at the Royal Garden Hotel in Kensington, and that he was present during the meeting.
In an interview to Geo News, Mr Moussavi said: "David Rose said he knew Shahzad Akbar so we had a chat at my house and he later organised the meeting [with Akbar]. He [Rose] asked what was in it for him, and wanted his mortgage to be settled if Broadsheet entered into a deal with Pakistan.
"We shook hands that I would settle his mortgage of GBP250,000," said Mr Moussavi, indicating that if he had recovered the payment from Pakistan at the time, he would have paid Mr Rose the commission.
David Rose says he introduced Broadsheet owner to SAPM, but denies asking for commission
Mr Rose tweeted on Monday, saying Mr Moussavi asked him to arrange the meeting. "I've known Shahzad for a long time too, so I agreed to do this. So far as I was concerned, I was just doing a favour for a friend, though twice Kaveh said he would pay me a commission if he concluded a settlement," he wrote.
"At first I thought he was joking, but when he repeated the offer by text, I told him (verbally) I couldn't accept this. I never asked for and never received any payment in relation to this meeting."
Broadsheet was engaged by Gen Musharraf some 20 years ago to investigate the offshore property of former prime minister Nawaz Sharif and his family members.
In December 2018, former English court of appeal Judge Sir Anthony Evans QC, as sole arbitrator, issued an order for payment of $22m to Broadsheet by the government of Pakistan. In July 2019, the government appealed the arbitration, but was unsuccessful in its bid. The arbitrator found that Pakistan and the National Accountability Bureau (NAB) had wrongfully repudiated an asset recovery agreement with Broadsheet and ruled that the company is entitled to damages. For the next few months, Broadsheet was in correspondence with members of NAB as well as the AGP for the payment of the funds.
In October 2019, Mr Moussavi met with Mr Akbar to demand the $22m payment as ordered by the court, but Mr Akbar sought a discount to limit the loss to the national exchequer. Mr Moussavi rejected requests for a discount and approached the court to enforce the payment. In December 2019, the company successfully secured a third party debt order which forced the payment of around $29 million to Broadsheet which accumulated into $28.7m due to non-payment of interest, which incurred at a rate of $4,758 per day.
When asked to comment on this development, SAPM Shahzad Akbar told Dawn, "I didn't have any contact with Kaveh prior to October 2019. David made me meet him — it wasn't a secret meeting."
Mr Akbar said he has no knowledge about any request for commission.
Later on Geo anchor Shahzeb Khanzada's show, Mr Akbar said Mr Rose is his friend and has known him for six years.
Mr Moussavi in the past has accused the Sharifs, former president Asif Ali Zardari, Gen Musharraf, an unnamed general and an unidentified individual of bribery, kickbacks and selective accountability. He has also criticised Mr Khan and his cabinet for apathy and an 'insincere' accountability drive. The government has formed a commission to probe the Broadsheet saga.
Mr Rose's publication the Mail on Sunday is currently in the midst of a defamation suit filed by Shehbaz Sharif, who said the journalist has wrongly accused him of corruption.
The paper alleged in a 2019 story that Shehbaz misappropriated UK taxpayers' money, in particular government aid intended for the victims of the 2005 earthquake in Pakistan. Shehbaz denies the charges and has demanded a retraction, an apology and damages.
After the story was published, the PML-N president accused the Pakistan Tehreek-i-Insaf (PTI) government of feeding 'fake news' to the Mail. He named Prime Minister Imran Khan and Special Assistant to the Prime Minister on Accountability Shahzad Akbar as having been behind the report and vowed to take legal action against the paper and the government officials. At the time, the PM's aide had dismissed Mr Sharif's remarks about the 'politically-motivated story', and said he was willing to place evidence of the alleged corruption before London courts.
https://www.dawn.com/news/1607575/uk-journalist-played-role-in-moussavi-akbar-meeting
--------
PTI disowns its official's statement in funding case
Iftikhar A. Khan
February 16, 2021
ISLAMABAD: The ruling Pakistan Tehreek-i-Insaf (PTI) has disowned the statement of its central finance secretary claiming the receipt of donations from the United Arab Emirates (UAE) in the accounts of four of its paid employees.
During the brief proceedings of the ECP's scrutiny committee, the PTI submitted a written response to petitioner Akbar S. Babar's application seeking investigation into 'front accounts of the PTI employees' who had been authorised to collect funds from Pakistan and abroad.
The application demanded that all the personal front accounts of four PTI employees be requisitioned from the State Bank of Pakistan (SBP) to ascertain full scale and scope of the illegal fund raising.
The response was filed by counsel for the ruling party Shah Khawar.
Petitioner claims he has been offered post of Senate chairman, but he declined it in national interest
On Monday, the scrutiny committee met for a short time before the meeting was adjourned for Tuesday (today) as the DG Law chairing the committee had to attend ECP business before the Supreme Court.
The PTI in its response stated the "respondent does not own such statement made by any of the office-bearers of PTI. In the same manner, the referred so called report by Auditors 'Ahsan and Ahsan' has already been declared a non-party by this worthy scrutiny committee."
Interestingly, the PTI disowned its central finance secretary's admission to the front accounts and illegal funding from the UAE, but it did not disown the decision made by the PTI finance board to allow funds collection by PTI employees in a meeting dated July 1, 2011.
The minutes of the meeting are available with this correspondent.
It is important to mention here that Ahsan & Ahsan audit of PTI donations was authorised on the written sanction of the PTI Chairman Imran Khan on March 9, 2013. The audit report certified all the allegations of the petitioner regarding illegal funding of the PTI. In his statement, the central finance secretary had acknowledged the existence of the special audit report including transfer of funds from the UAE to the personal accounts of PTI 'employees'.
The latest turnaround in PTI stance comes in the wake of Prime Minister Imran Khan's statement on January 20 in Wana where he offered to end secrecy of the foreign funding case, which was also disowned by PTI lawyer later.
The petitioner has repeatedly asked the scrutiny committee to investigate the PTI employees' bank accounts which had been illegally used as a front to collect donations. Despite sharing ample evidence till date, the ECP scrutiny committee had made no effort to investigate these accounts under PTI pressure, according to the petitioner.
He said the committee continued to keep PTI records and bank statements secret against ECP orders. According to him, the record includes 23 PTI bank accounts revealed on the SBP instructions and mostly kept secret from the ECP under 'documented' PTI pressure.
The foreign funding case against the ruling PTI has been pending before the ECP since November 2014.
Talking to reporters outside the ECP office, petitioner Babar said it was incumbent on the scrutiny committee to probe the front accounts of PTI employees illegally used to collect donations. He said the committee was a fact-finding body but instead of probing and digging out facts, the committee has chosen to keep evidence secret, which was not only illegal but also raised fundamental questions on the transparency of the whole scrutiny process.
On August 27, last year, Mr Babar said, the ECP rejected the initial scrutiny report filed after a gap of 28 to 29 months. A report prepared in secrecy without even authenticating the evidence or probing leads would remain merely an attempt to cover facts, he alleged. This would not be allowed even if it meant seeking SC intervention. He said the ECP was responsible for the committee's conduct. The commission could not isolate itself from the lack of transparency and blatant violations of due process by the scrutiny committee.
The petitioner said he had faced death threats and fake cases. Lately he was offered any post of choice including the position of Senate chairman that he declined as the foreign funding case was not for his personal but national gains.
https://www.dawn.com/news/1607632/pti-disowns-its-officials-statement-in-funding-case
--------
COAS witnesses Jidarul Hadeed in Thar desert
February 16, 2021
KARACHI: Chief of Army Staff (COAS) General Qamar Javed Bajwa on Monday visited training area in Thar Desert near Chhor where he witnessed the integrated maneuvers of infantry and mechanized forces in a defensive role.
The army chief witnessed the training exercise, Jidarul Hadeed, wherein the operational capability of field formations operating in desert is being tested in near battlefield environment, according to a statement issued by the Inter-Services Public Relations (ISPR).
The troops have been undergoing this exercise under strenuous field conditions for over two weeks. It will culminate on Feb 28.
Gen Bajwa was earlier given a detailed briefing by exercise commander in the field area on the aim and objectives of the ongoing exercise and drills/procedures being practised to ensure complete dominance in the battlefield.
Training exercise to conclude on 28th
While lauding the standard of training of the participating troops, the army chief expressed his complete satisfaction over operational preparedness and combat readiness of the formation.
Vigorous training and highest standard of preparedness in peacetime were the only guarantors of peace, the COAS said.
Earlier, on arrival at the exercise area, the COAS was received by Corps Commander Lt Gen Nadeem Ahmed Anjum.
https://www.dawn.com/news/1607585/coas-witnesses-jidarul-hadeed-in-thar-desert
--------
Africa
Allows herdsmen do their business – Miyetti Allah tells Nigerians
February 16, 2021
By Seun Opejobi
Miyetti Allah Cattle Breeders Association of Nigeria, MACBAN, has appealed to Nigerians to allow herders carry out their businesses peacefully.
MACBAN's Southeast Zonal Chairman, Gidado Siddiki, said herdsmen should be allowed to carry out their businesses until a beneficial alternative is provided.
Speaking in Enugu, Siddiki appealed to Nigerians to seek a common solution amid the insecurity challenges in the country.
Siddiki also cautioned Nigerians against utterances capable of spreading fear among Nigerians.
He said: "The spate of insecurity and outbursts of emotive utterances across the country is further fanning the embers of fears among Nigerians.
"For the ordinary man, the situation is enough to infer that Nigeria might just be on the verge of activating its emergency security mode.
"What we face today is a situation where the misdemeanor of others have rubbed off largely on us but these trials shall come to pass.
"We only ask to be allowed to do our business until such a time when viable and more beneficial options are realised."
This is coming at a time the Bauchi State branch of the group called on the government to allow carrying of arms by herdsmen.
Sadiq Ibrahim Ahmed, Chairman of MACBAN in Bauchi State, said herdsmen and Nigerians should be allowed to carry arms to protect themselves amid the spate of insecurity.
Ahmed had also accused the government of irresponsibility in the area of ensuring the security of lives and property of Nigerians.
https://dailypost.ng/2021/02/16/allows-herdsmen-do-their-business-miyetti-allah-tells-nigerians/
--------
Somalia, UN seek over $1B for humanitarian assistance
Mohammed Dhaysane
15.02.2021
MOGADISHU, Somalia
Mogadishu and the UN on Monday sought $1.09 billion to assist Somalis in need of humanitarian assistance in 2021.
The federal government of Somalia and the UN's Office for Coordination of Humanitarian Affairs launched the 2021 Humanitarian Response Plan.
The plan aims to assist 4 million people out of the 5.9 million in need of assistance including IDPs, host communities, refugees, and returnees, to access life-saving assistance, basic services, and livelihood support.
Adam Abdelmoula, the UN representative in Somalia, said the funding is needed to counter the "triple threat" of climate shocks, locusts, and COVID-19.
https://www.aa.com.tr/en/africa/somalia-un-seek-over-1b-for-humanitarian-assistance/2145914
--------
Separatists kill 3 soldiers in southwestern Cameroon
Rodrigue Forku and Peter Kum
15.02.2021
YAOUNDE, Cameroon
Three members of the Cameroonian Navy have been killed in an ambush attributed to English-speaking separatists, a local official said Monday.
The incident occurred on Sunday in Ekondo-Titi, a coastal town in the country's South West region.
"Four soldiers belonging to the 21st battalion of the Navy were ambushed in the village Bekora Barombi in Ekondo-Titi, not far from their post," Nwafua Laurence, a local official, told Anadolu Agency.
"Three of the sailors were killed while the fourth was seriously injured."
Ekondo-Titi, located near the border with Nigeria, is regularly targeted by English-speaking separatists.
The Central African country has been marred by protests and violence since 2016, with residents in English-speaking regions saying they have been marginalized for decades by the central government and the French-speaking majority.
They are calling for independence or a return to a federal state.
Violence in the Anglophone regions has claimed an estimated 3,000 lives and caused the displacement of over 730,000 civilians, according to the Human Rights Watch.
In 2020, the Norwegian Refugee Council (NRC) said for a second year running that Cameroon topped the list as the most neglected crisis on the planet.
https://www.aa.com.tr/en/africa/separatists-kill-3-soldiers-in-southwestern-cameroon/2145673
--------
South Asia
The Taliban close in on Afghan cities, pushing the country to the brink
February 15, 2021
Written by Thomas Gibbons-Neff and Taimoor Shah
The Taliban have been encroaching on key cities around Afghanistan for months, threatening to drive the country to its breaking point and push the Biden administration into a no-win situation just as the United States' longest war is supposed to be coming to an end.
Around the northern city of Kunduz, despite the winter's fierce cold, the Taliban have taken outposts and military bases, using small armed drones to terrorize Afghan troops. In neighbouring Pul-i-Khumri, they have seized important highways in a stranglehold of the city, threatening main lifelines to Kabul, the country's capital.
And here in the city of Kandahar, a bedrock of historic and political importance and an economic hub for the country's south, Taliban fighters have pummeled the surrounding districts, and moved closer to taking the provincial capital than they have in more than a decade.
The Taliban's brazen offensive has put the Biden administration into a dangerous political bind. Under the deal struck by President Donald Trump with the Taliban last year, all foreign troops — including the remaining 2,500 U.S. service members who support Afghanistan's beleaguered army and security forces — are scheduled to withdraw by May 1, leaving the country in an especially precarious state.
If the Biden administration honors the withdrawal date, officials and analysts fear the Taliban could overwhelm what's left of the Afghan security forces and take control of major cities like Kandahar in a push for a complete military victory or a broad surrender by the Afghan government in the ongoing peace negotiations.
But if the United States delays its withdrawal deadline, as a congressionally appointed panel recommended on Feb. 3, the Taliban would likely consider the 2020 deal with the United States void, likely leading to renewed attacks on U.S. and NATO troops, and potentially drawing the United States deeper into the war to defend Afghan forces, whom the Taliban could still retaliate vigorously against.
"The threat of Taliban military victories, especially in an area as symbolic and strategic as Kandahar, makes it difficult for the Biden administration to swallow the risks of finalizing a troop withdrawal," said Andrew Watkins, a senior analyst on Afghanistan for the International Crisis Group, a Brussels-based conflict resolution organization. "Pulling out might be politically impossible if Kandahar was on the nightly news."
In Panjwai, a district that neighbours Kandahar city, the low thud of artillery punctuated a recent warm winter afternoon, signalling the Taliban's proximity to its populated center.
At the edge of the district, a lone police outpost sandbagged into the rock overlooked what was now Taliban territory. One officer's head was bandaged from a roadside bomb blast, another wore a gauze sling under his uniform, propping up a shoulder wounded from a sniper's bullet.
"They are still working here; we can't replace them, because we don't have enough forces," said Safiullah Khan, the police officer in charge. "Our commanders steal from our fuel, food and our supply."
During an offensive in the fall, the Taliban took swathes of territory and then mostly held their ground despite attempts by the Afghan security forces and U.S. airstrikes to dislodge them.
Taliban commanders told tribal officials in the district that the insurgent group deliberately stopped short of taking Panjwai, said Haji Mahmood Noor, the district's mayor, because they were told to wait and see how the next phase of peace negotiations played out.
"When the trees turn green the situation will get worse," Noor said, referring to the spring, when the Taliban can move more at ease under the cover of blooming foliage.
Panjwai's near collapse and the growing threat to Kandahar city are partially the consequence of the death in 2018 of Gen. Abdul Raziq, who had been the province's police chief since 2011. Known for settling disputes with threats and bloody retribution, and accused of many human-rights abuses, Raziq also used his close relationship with the U.S. military, to keep Kandahar province mostly secure for years.
After Raziq's death at the hands of a Taliban infiltrator, his brother, Gen. Tadeen Khan, was made a general overnight and took over as police chief, but his lack of military experience meant he was largely disconnected and absent from his duties. As his officers taxed and abused their residents with little oversight, the Taliban forged alliances with local tribal leadership and paid low-level police officers to abandon their posts before their fall offensive, local and provincial officials said.
When the Taliban pushed into the districts around Kandahar, the police put up very little fight. Many outposts were already barely staffed, Noor and other local officials said. Some Afghan government officials disputed that accusation, saying they retreated in fear. Others said they didn't know why they retreated at all.
Tadeen rejected any accusations of corruption and abuse and denied that his police forces were withering around Kandahar.
"The Taliban do not have more power," he said, from his well-guarded compound in Kandahar city. "The Afghan forces can defend themselves."
The deteriorating situation in Kandahar is a broader reflection of security around the country. The Taliban have spent the past months capturing military bases and police outposts and installing highway checkpoints near capital cities in provinces such as Helmand and Uruzgan in the south, and Kunduz and Baghlan in the north.
Though Taliban tactics vary from region to region, the outcomes are usually the same: increased taxation on highways, plummeting morale among the Afghan security forces with dwindling U.S. support and growing fear among those living in once-secure areas.
The Taliban's aim is to force the Afghan government into complying with their terms of peace. In Qatar, Taliban leaders have demanded the release of around 7,000 more prisoners and the establishment of an interim government, two requests that Ashraf Ghani, Afghanistan's president, has so far refused.
"The Taliban seem to believe that applying this pressure, staging their fighters to potentially strike Kandahar and other urban centers, will pressure the U.S. to withdraw, or else," Watkins said. "The strategic logic might have the opposite effect."
To prepare for a possible multipronged attack should the United States stay beyond the May 1 deadline, the Pentagon has requested additional military options — including an increase of U.S. troops or a commitment of more air support from U.S. Central Command, which oversees operations in the Middle East and Afghanistan, according to two U.S. officials. Whether these requests will be granted depends on the Biden administration's next move, which it is expected to be announced in coming weeks upon completing a review of the current agreement in place with the Taliban.
The unrest has already delayed the handover of Kandahar Airfield, a sprawling U.S. base east of the capital, to Afghan forces in recent months. For now, a small detachment of U.S. and NATO troops remain to support the struggling Afghan forces, according to a U.S. military official.
With the police force mostly in ruin, the Afghan army and commandos have moved into Kandahar, beginning operations in November to retake territory that was then retaken by the Taliban. Commando officers said their forces had been exhausted by frequent orders to fill in for their police counterparts.
In nearby Arghandab District, the site of the Taliban's northern offensive on Kandahar city, army leaders and police officers say they're severely understaffed and their pleas for support have gone unheeded by officials in Kabul.
One outpost was using two armored vehicles likely left over from the 1980s Soviet invasion to defend against Taliban positions on the river banks below.
In December, nearly 200 checkpoints in Kandahar were abandoned by the Afghan army, according to a U.S. government watchdog report released Feb. 1. The collapse of some military bases in the fall afforded the Taliban troves of military equipment and ammunition, including several pieces of heavy artillery.
Afghan security forces are also contending with portions of a populace that have more faith in the Taliban than in the government. In capturing new territory, the Taliban installed their own administrative services, explained Lal Mohammad, 23, a wheat and grape farmer who now lives behind the Taliban's front line in Panjwai.
Insurgent fighters have smashed smartphones and banned music, imposed a curfew, dug defensive tunnels between people's homes and used empty rooms in them as fighting positions. Roadside bombs are everywhere, he said. But land disputes and petty crime are well managed, compared to the Afghan government's corrupt bureaucracy, said Mohammad said.
"People like it," Mohammad said, adding that he just wants someone to take over Kandahar so people can get back to their lives.
These sentiments are common in more rural areas of Afghanistan. But the Afghan government's incompetence and widespread corruption have brought that attitude to the doorstep of one of the country's most populated cities.
"The government," Mohammad said, "has failed."
https://indianexpress.com/article/world/taliban-afghanistan-us-biden-army-7190032/
--------
Bangladesh Court Sentences 5 To Death For Killing US Blogger Avijit Roy
February 16, 2021
Dhaka: A court in Bangladesh sentenced to death five members of an Islamist militant group on Tuesday for killing a US blogger critical of religious extremism six years ago.
Avijit Roy, a US citizen of Bangladeshi origin, was hacked to death by machete-wielding assailants in February 2015 while returning home with his wife from a Dhaka book fair. His wife and fellow blogger Rafida Ahmed suffered head injuries and lost a finger.
"Charges against them were proved beyond any doubt. The court gave them the highest punishment," public prosecutor Golam Sarwar Khan said after the verdict, amid tight security at the Special Anti-Terrorism Tribunal in the capital, Dhaka.
The court also jailed one man for life in the attack, Khan said.
He said the six men convicted on Tuesday belong to the al Qaeda-inspired domestic militant group Ansar Ullah Bangla Team, which police say was behind the murders of more than a dozen secular activists and bloggers.
Syed Ziaul Haq, a sacked army major believed to be the leader of the group and who masterminded the killing, and one other member of the group were tried in absentia and received death sentences, Khan said.
Nazrul Islam, defence lawyer for the six men, said they would appeal against the sentences in the higher court.
Muslim-majority Bangladesh saw a string of deadly attacks between 2013 and 2016 targeting bloggers, secular activists and religious minorities, claimed by Islamic State or al Qaeda-aligned groups.
The most serious attack came in July 2016, when gunmen stormed a cafe in the diplomatic quarter of Dhaka and killed 22 people, most of them foreigners.
After the cafe siege, more than 100 suspected militants were killed and hundreds more were arrested as the government cracked down on Islamist groups to preserve its image as a moderate Muslim nation.
https://www.ndtv.com/world-news/bangladesh-court-sentences-5-to-death-for-killing-us-blogger-avijit-roy-2371637
--------
Christians demand justice after attack on Bangladeshi church
February 16, 2021
Christian leaders have expressed frustration and demanded justice after a church in northern Bangladesh was allegedly vandalized and looted by Muslims.
On Feb. 10, four Muslims who came by motorbike attacked the Emmanuel Church of Bangladesh at Aditmari in Lalmonirhat district, according to a complaint submitted to the district police chief on Feb. 14.
The attackers destroyed the church signboard, cut down trees, entered the church after breaking the lock and left with 30 chairs and two floor mats worth 14,000 taka (US$167), the letter said.
The plaintiff, Pastor Lovlu S. Levy, said he lodged a complaint with the local police station but the police did not take action to investigate and arrest the culprits. Instead, under the influence of local Muslim leaders, the church has been accused of conversion.
Pastor Levy said the violence was caused by incitement against Christians by a locally organized waz mahfil (Islamic gathering) where hate speeches were delivered.
Stories Transform Lives
He said it was not the first time he and the church had come under attack and threats.
The pastor recalled that in 2015, amid a rise in Islamic militancy, he received death threats from extremists. In 2019, a group of Muslims physically assaulted him on his way to the church.
"I have been in a panic since the attack. Our constitution allows freedom of religion in the country but fundamentalists have put the freedom under threat. The waz mahfil made various provocative statements about minorities and especially Christians, which encouraged the fundamentalists to attack our church," Pastor Levy told UCA News.
He added that the church has 46 members and all are living in fear since the violence.
Police described the incident as a land dispute and denied the presence of any church.
"We came to know the incident was due to a dispute over land. According to the locals, there is no church there. The banner of the church is to focus on land grabbing. In government documents, there is no listing of the church and no prayer takes place in the church here," Saiful Islam, officer in charge of Aditmari police station, told UCA News.
The Bangladesh Christian Association (BCA) dismissed the police refusal to acknowledge the church.
"We know the church and the pastor well. Last year we provided blankets and some money for the church members before Christmas celebrations," BCA president Nirmol Rozario told UCA News.
"The incident is a result of the predominance of Islamic fundamentalists who want to intimidate Christians. The government must take proper action to stop such violence."
Bangladesh has been known as a moderate Muslim-majority country. However, since 2013 it has seen an upsurge in Islamic militancy which has claimed the lives of 50 people including secular bloggers, liberal academics, publishers, gay activists, foreigners and religious minorities including Hindus, Shia and Ahmadi Muslims and Christians.
During this period, four Christian clergy including an Italian Catholic priest were attacked and two Christians were murdered by militants, while dozens received death threats.
https://www.ucanews.com/news/christians-demand-justice-after-attack-on-bangladeshi-church/91418
--------
Afghanistan should never become 'safe-haven' for terrorism again
15 Feb 2021
In a pre-ministerial press conference on Monday, NATO Secretary-General Jens Stoltenberg stressed the presence of international troops in Afghanistan as condition-based, he said that NATO will not leave the country before the time is right.
"Our common goal is clear. Afghanistan should never again serve as a haven for terrorists to attack our homelands. So, our presence is conditions-based," Stoltenberg said. While no ally wants to stay in Afghanistan longer than necessary, we will not leave before the time is right" said Stoltenberg.
"NATO has significantly adjusted our presence as part of the peace process," he said.
Based on the unacceptably high level of violence in Afghanistan Stoltenberg said, "However, peace talks remain fragile and the level of violence remains unacceptably high, including the Taliban attacks on civilians. The Taliban must reduce violence, negotiate in good faith and live up to their commitment to stop cooperating with international terrorist groups," he added, "No ally wants to stay in Afghanistan longer than necessary, but the threat of terrorism must be considered,".
Stoltenberg expressed that NATO strongly is in favor of the peace process in Afghanistan and that it is the best opportunity for "a lasting political solution".
Situational assessment on the ground will continue and developments are closely monitored, Stoltenberg indicated that NATO "will continue to take more measures to ensure the safety of our troops and consider next steps in a deliberate and coordinated way," he said.
Stoltenberg reiterated that NATO's priority is that Afghanistan does not become a safe haven for terrorists once again.
NATO's main and only priority is that Afghanistan should not be transformed into safe haven for terrorism again and to fight terrorists he added, "We also realize that one of the best weapons we have in the fight against terrorism is to train local forces,".
Most of the Afghans are concerned over losing the gains the country achieved in the past two decades, Stoltenberg reaffirmed that "I hear the calls from many Afghans
https://www.khaama.com/nato-afghanistan-should-never-become-safe-haven-for-terrorists-again-334433/
--------
Nangarhar 'targeted killings' claim 4, injures 2
16 Feb 2021
At least four people, including a doctor, were assassinated in two separate attacks by unidentified armed men.
The incident happened in the city of Nangarhar province on Tuesday morning, reports indicate.
The first incident occurred in the early morning in PD3 of Jalalabad, when gunmen opened fire on a police vehicle, one ANP member was killed and two others were wounded.
According to provincial police, gunmen are still at large and have escaped from the area.
The second incident happened after a few minutes in this incident unknown gunmen attacked a vehicle in PD4 of Jalalabad city.
Three people including a doctor was killed in the hail of bullets.
Some media outlets reported that two policemen and a doctor were killed, while others reported a doctor named Dr. Maihan Yousuf and two of his bodyguards were murdered when assassins opened fire on their vehicle.
Dr. Maihan Yousuf was on his way to work when gunmen opened fire at his vehicle, similarly, suspects are at large and fled the area following the shooting.
No group or individual has so far claimed responsibility for the attack, and local officials have also not commented on the attacks.
This comes as six Afghan national police members were killed and two others were injured when the Taliban attacked a security outpost in Qalat, the central part of Zabul province.
The incident happened on Monday and the Taliban have reportedly captured three policemen as prisoners.
Two military vehicles, weapons, and ammunition in the security outpost were also taken by the Taliban.
Both local officials and the Taliban have not commented on the clashes.
https://www.khaama.com/nangarhar-targeted-killings-claim-4-injures-2/
--------
42 Security members, civilians rescued from Taliban clutches
16 Feb 2021
Afghan Army's 217th Pamir Corps said Tuesday, that Afghan commandos in a special operation have rescued and freed 42 security force members and civilian prisoners from clutches of Baghlan province.
According to the statement, 25 Afghan commandos and 17 civilians were released from Taliban prison during the operation.
On Monday night, six ANA soldiers, 19 policemen, and 17 civilians were freed from the Taliban prison in a special operation in the Nawrozak area located in the city of Baghlan province, the statement read.
The prison was completely destroyed by the Afghan special forces unit of commandos, the statement added.
This is the second time Afghan national defense and security forces destroy Taliban prisons in Baghlan and rescue the detained individuals.
Previously, MoD stated that the Afghan special forces have rescued a number of military and civilians held captive by the Taliban in Logar province.
MoD stated Army's SF unit released seven military and 15 civilian prisoners from a Taliban prison in the Charkh district of Logar province.
During the operation, the Commando members discovered and confiscated weapons and heavy rounds of ammunition.
https://www.khaama.com/42-security-members-civilians-rescued-from-taliban-clutches-3334433/
--------
Mideast
Israel hints at possibility of not engaging with Biden on Iran nuclear strategy
16 February ,2021
Israel held out the possibility on Tuesday it would not engage with US President Joe Biden on strategy regarding the Iranian nuclear program if he returns to a 2015 deal with Tehran.
The remarks by Israel's envoy to Washington came at a touchy juncture for Prime Minister Benjamin Netanyahu. Up for re-election next month, he has revived tough rhetoric on Iran while not yet having any direct communication with Biden.
The new administration has said it wants a US return to the 2015 nuclear deal - which former President Donald Trump quit, restoring sanctions on Tehran - if the Iranians recommit to their own obligations. Washington has also said it wants to confer with allies in the Middle East about such moves.
"We will not be able to be part of such a process if the new administration returns to that deal," Ambassador Gilad Erdan told Israel's Army Radio.
Netanyahu aides have privately questioned whether engaging with US counterparts might backfire, for Israel, by falsely signaling its consent for any new deal that it still opposes.
Israel was not a party to the 2015 deal. It has powerful advocates within the US Congress, however, and Netanyahu's threats to take unilateral military action on Iran if he deems diplomacy a dead end also figure into big-power planning.
"We think that if the United States returns to the same accord that it already withdrew from, all its leverage will be lost," Erdan said.
"Essentially, the moment it removes the sanctions the Iranians will have no real incentive to negotiate and reach a deal that is truly capable of ruling out nuclear capabilities."
The Biden administration has said it wants to strengthen and lengthen constraints on Iran, which denies seeking nuclear arms.
https://english.alarabiya.net/News/middle-east/2021/02/16/Nuclear-Israel-hints-at-possibility-of-not-engaging-with-Biden-on-Iran-nuclear-strategy
--------
Palestinians shoot down another Israeli drone
16 February 2021
Palestinian resistance fighters have reportedly shot down an Israeli spy drone in the besieged Gaza Strip.
Palestinian media outlets cited Israeli reports as saying that the Palestinian forces had taken control of the unmanned aerial vehicle (UAV) after it was downed in the northern part of the Gaza Strip on Monday night.
The aircraft brings to four the number of Israeli drones shot down by the Palestinian and Lebanese resistance fighters over the past two weeks.
Israel's English-language Jerusalem Post has lamented that "Israeli military drones are dropping like flies" in the Lebanese and Palestinian territories, as resistance forces gain momentum in their defense against the Israeli regime intrusions.
Palestinian resistance fighters shot down an Israeli quadcopter on January 31 over Beit Hanoun Crossing on Gaza's northern border with the occupied territories. The drone was shot down while taking images of the area, according to the Arabic-language Palestine Today news agency.
On February 1, the Lebanese Hezbollah resistance movement downed an Israeli UAV as it crossed into Lebanon near the border village of Blida. In a statement after the incident, Hezbollah said it was in control of the drone.
On February 2, Palestinian fighters shot down another Israeli drone east of the city of Khan Yunis in the southern Gaza Strip and took control of it.
The Israeli military frequently uses drones over the Gaza Strip either to monitor and photograph Palestinian military units or launch aerial attacks against targets.
The Tel Aviv regime also frequently violates Lebanon's airspace in flagrant violation of United Nations Security Council Resolution 1701 and the country's sovereignty.
Israel blocking COVID-19 vaccines to Gaza
Separately, Palestinian Health Minister Mai al-Kaila said in a statement on Monday that Israel had blocked the transfer of some 2,000 coronavirus vaccine doses destined for health workers into Gaza.
Israel has "full responsibility for this arbitrary move," said al-Kaila, adding that the Health Ministry was coordinating with international organizations to allow the vaccines into the blockaded strip as soon as possible.
The Gaza Strip has been under Israeli land, air, and sea blockade since June 2007, after Hamas, which has vowed to resist Israeli occupation, rose to power in the enclave of two million. The blockade has caused a sharp decline in the standard of living as well as unprecedented levels of unemployment and unrelenting poverty in the strip.
About 115,000 coronavirus cases have been reported in the West Bank, including nearly 1,400 deaths, and almost 53,600 cases have been registered in Gaza, including 537 deaths.
International rights groups and the UN have urged Israel, which began its coronavirus inoculation drive on December 19, to guarantee coronavirus vaccine doses for Palestinians in the occupied West Bank and the besieged Gaza Strip.
Earlier this month, the Palestinian Authority (PA) received 10,000 doses of Russia's Sputnik V vaccine.
The ban on the delivery comes as Israel is mulling linking the transfer of the vaccine doses to Gaza to the release of the remains of two Israeli soldiers who were killed in the 2014 Israeli war on the blockaded enclave and two Israeli captives held in Gaza since then.
The Jerusalem Post reported on Monday that a number of officials told the Knesset foreign affairs and defense committee that "No vaccines have been transferred to Gaza" to date.
According to the report, Col. Eyal Zeevi, who heads the operations department for the Office of the COGAT, an Israeli military unit, said the transfer of 1,000 doses of the Russian Sputnik vaccines, which had been delivered to the PA earlier this month, had been delayed pending Israel's decision on Gaza policy.
FADC chairman MK Tzvi Hauser called for demanding, at the very least, information regarding the fate of the captive Israelis Hisham Al-Sayed and Avera Mengistu.
Maximally, he said, the demand should be both for the release of the two captives, and the return of the remains of the two Israeli soldiers, Hadar Goldin and Oron Shaul.
The Palestinian Hamas resistance movement said the Israeli captives held in Gaza since 2014 will not be released until a "real" agreement is reached on exchanging prisoners.
The debate whether to allow the PA to transfer the doses was, however, decried by the Arab Joint list member of the Knesset, Ofer Cassif as both "criminal and shameful."
Israel's so-called "National Security Council" is expected to state its opinion on Tuesday.
https://www.presstv.com/Detail/2021/02/16/645385/Palestinians-shoot-down-another-Israeli-drone
--------
Gazans hold a sit-in to support Palestinian prisoners
15 February 2021
Ashraf Shannon
Families of Palestinians imprisoned in Israeli jails and human rights activists have held a sit-in inside the office of the International Committee of the Red Cross in the Gaza Strip. They protested Tel-Aviv's inhumane treatment of thousands of Palestinian political prisoners in Israeli detention facilities.
The Palestinian prisoners kept in these facilities are denied basic human rights. Many of them are detained during overnight raids across the occupied territories.
Prisoners' advocacy groups have condemned Israel for the inhuman condition of these detainees, especially those suffering from chronic medical conditions amid the Coronavirus pandemic.
The Israeli regime has also issued more than 50,000 so-called administrative detention orders against Palestinians since 1967. Administrative detainees are denied due process and their detention orders can be renewed for indefinite periods of time.
Palestinian prisoners are also subjected to torture and psychological pressures by the Israeli prison authorities, including daily raids and solitary confinement.
People here are calling on the international community to end its silence and help Palestinian prisoners.
According to prisoners' advocacy groups Israel is currently holding around five thousand Palestinians, including women and children, behind bars.
https://www.presstv.com/Detail/2021/02/15/645356/Gazans-hold-a-sit-in-to-support-Palestinian-prisoners
--------
Israel forces more Palestinian families to tear down homes
15 February 2021
Israeli authorities have forced a number of Palestinian families to tear down their own homes in East Jerusalem al-Quds.
Palestinian media reported on Monday that at least three families had been left with no choice but to demolish their own homes in predominantly Palestinian neighborhoods in and around the occupied holy city.
Jihad Awadallah, one of the victims, said his family razed their 20-year-old two-story building in Shu'afat neighborhood.
Israeli municipal authorities also forced Nimr Nimr to demolish his son's apartment in the village of Sur Baher, southeast of East Jerusalem al-Quds.
In Silwan, south of the al-Aqsa Mosque compound, Israeli troops forced Omar Siyam to raze his cattle sheds.
The municipality's demolition order was issued under the pretext of lacking the necessary construction license – almost impossible to obtain.
Since January 2020, the Israeli regime has forced dozens of Palestinians in the city to raze their homes amid hardships caused by the coronavirus pandemic.
In May 2020, the Israeli rights group B'Tselem reported that the Tel Aviv regime used other strategies to block Palestinian use of land in order to pave the way for new settlements.
All Israeli settlements are illegal under international law.
Palestinians want the West Bank as part of a future independent Palestinian state with East Jerusalem al-Quds as its capital.
https://www.presstv.com/Detail/2021/02/15/645343/Israel-Palestinian-families-homes
--------
Turkey arrests 718 suspects nationwide over affiliation to PKK militants after Iraq executions
15 February 2021
The Turkish Interior Ministry says hundreds of people have been arrested during nationwide counter-terrorism operations against the Kurdistan Workers' Party (PKK) militant group, a day after the militants killed 13 Turkish civilians in Iraq's northern semi-autonomous Kurdistan region.
The ministry announced in a statement on Monday that counter-terrorism units of the Security Directorate and Gendarmerie Command carried out operations in 40 of Turkey's 81 provinces, detaining a total of 718 suspects.
It noted that provincial and district heads of the pro-Kurdish Peoples' Democratic Party (HDP) were among those captured.
The Turkish government has long accused the HDP of having links to the PKK, which is listed as a terrorist group by Turkey, the United States as well as the European Union, and has been calling for an autonomous Kurdish region since 1984.
The HDP, which is Turkey's second-largest opposition party, denies all formal links to the PKK.
Monday's detentions came in the wake of the execution of 13 Turkish citizens by PKK terrorists in a cave in northern Iraq's Gara region.
"In a search of a cave taken under control, the bodies of 13 of our abducted citizens were found. In a first inspection it was determined that 12 of our innocent and unarmed citizens were shot in the head and martyred and one shot in the chest and martyred," Turkish Defense Minister Hulusi Akar said.
"According to initial information given by two terrorists captured alive, our citizens were martyred at the start of the operation by the terrorist responsible for the cave," he noted at the operation's control center near the Iraq border, which he was visiting with military officials.
The PKK said the 13 men had died when Turkish forces bombed the cave, where the captives were being kept.
Speaking at the ruling Justice and Development Party (AK Party) congress in the Black Sea province of Rize on Monday, Turkish President Recep Tayyip Erdogan said that the US has sided with the PKK and its Syrian offshoot, the so-called People's Protection Units (YPG), providing truckloads of ammunition to them.
"The US statement on the PKK's execution of Turkish citizens in northern Iraq is ridiculous. They claim they do not support the PKK, but they certainly do," Erdogan commented.
"If you want to continue our alliance globally and at NATO, then you must stop siding with terrorists," he added.
The Turkish president said that the blood of innocent people killed in northern Iraq is on the hands of all those who defend, support and sympathize with PKK terrorists.
Last week, the Turkish military launched out the Claw-Eagle 2 operation in northern Iraq against PKK terrorists.
The forces carried out launched Operations Claw-Tiger and Claw-Eagle in the area last June.
Back on January 20, Akar said Turkey was prepared to provide assistance to Iraq in clearing PKK militants from the semi-autonomous Kurdistan region.
https://www.presstv.com/Detail/2021/02/15/645344/Turkey-arrests-718-nationwide-over-affiliation-to-Kurdish-PKK-militants
--------
Turkish court jails 4 pro-Kurdish newspaper employees over 'terrorism' charges
15 February 2021
A court in Turkey has handed down jail sentences to four employees of a now-defunct pro-Kurdish newspaper over links with a 'terrorist' organization.
Media outlets, quoting judicial sources, reported on Monday that Eren Keskin, the co-editor-in-chief, along with two other Ozgur Gundem officials, were each sentenced to six years and three months in prison.
Zana Bilir Kaya, the other co-editor-in-chief, received a term of two years and one month for spreading 'terrorism' propaganda.
Ozcan Kilic, a lawyer in the case, said the verdict was politically motivated.
"The court gave a very harsh verdict. We thought it was related to the developments in the operation in northern Iraq. Courts are influenced by conflicts," he said of the ongoing cross-border operation by Turkey's army against Kurdish militants.
The newspaper was among more than 130 media outlets the government closed during a state of emergency it declared following a coup attempt in July 2016.
Back then, two dozen Ozgur Gundem staff were detained as part of an investigation into alleged links to the outlawed Kurdistan Workers' Party (PKK).
The paper had focused coverage on the PKK conflict in Turkey's mainly Kurdish southeast.
Separately on Sunday, Turkish officials said PKK militants had executed over a dozen kidnapped Turks, including military and police personnel, in a cave in northern Iraq.
Turkish police on Monday detained 718 people in 40 cities over alleged links to the Kurdish militants it blames for executing the 13 people.
The Turkish Interior Ministry said heads of the Peoples' Democratic Party (HDP) in cities and districts were among those detained. The HDP is Turkey's second-largest opposition party.
In recent years, Ankara has jailed dozens of mayors and other officials from the HDP.
Rights advocates have criticized Ankara for suing people over expressing opinions, describing it as a means of aggressive muzzling of dissent in Turkey.
https://www.presstv.com/Detail/2021/02/15/645322/Turkish-court-Kurdish-newspaper
--------
Arab World
Amnesty International urges Saudi officials to free senior Hamas official, his son
16 February 2021
Amnesty International has called on Saudi officials to order the release of a high-ranking official of the Palestinian Hamas resistance movement and his son, citing his worsening health condition and lack of access to adequate health care.
The human rights group said on Monday that the health of 83-year-old Dr. Mohammed al-Khudari has been deteriorating as he cannot obtain essential medical service, including care for his bladder catheterization.
Amnesty International went on to say that Dr. Khudari had undergone surgery and was being treated for prostate cancer when Saudi authorities arbitrarily arrested him and his son, Dr. Hani, in early April 2019.
#Saudi authorities have denied an 83-year-old man and cancer patient access to adequate health care while his health has been steadily deteriorating in detention. His life is at risk and must be released immediately and provided with urgent medical care. https://t.co/KfJCYHpeqe pic.twitter.com/4LJ4mM8BcV
— Amnesty Gulf (@amnestygulf) February 15, 2021
The Britain-based organization said the two Palestinians were brought before the Specialized Criminal Court (SCC) in the capital Riyadh one year later in a mass trial marred by serious due process violations.
Amnesty International has already called on Saudi Arabia's King Salman to order the dropping of unfounded charges against Dr. Khudari and his son, and their release.
It also urged the Saudi monarch to order the urgent transfer of the distinguished Palestinian figure to a hospital, where he is able to receive the essential specialized medical care he needs.
Dr. Khudari and his son Hani were arbitrarily arrested on April 4, 2019 and remained in detention without charge until March 8 last year. Both men were forcibly disappeared for one month after their arrest, and held incommunicado and in solitary confinement for the next two months of their detention.
A month into the senior Hamas official's detention, his wife received a phone call from authorities in the maximum-security Dhahban Prison near the Red Sea port city of Jeddah requesting his medical records. Two weeks prior to his arrest, Dr. Khudari had undergone surgery.
Dr. Khudari is currently being held in al-Hai'r Prison in Riyadh, while his son is detained in Dhahban Prison.
Khudari has been living in Saudi Arabia for over 30 years, and represented Hamas between mid-1990s and 2003 in Saudi Arabia.
His son is a university professor and has no political affiliation.
On March 22 last year, Ismail Haniyeh, the head of the Hamas political bureau, in a letter addressed to the Saudi monarch pleaded with him to make a quick decision and order the freedom of Palestinian detainees in Saudi prisons.
"In light of the pandemic of the novel coronavirus that has spread across the globe, due to fears for the lives of our honorable brethren and given all humanitarian and religious considerations … the release of the Palestinians becomes a humanitarian and national necessity. We are all confident that His Majesty will not hesitate to do so," the letter read.
https://www.presstv.com/Detail/2021/02/16/645381/Amnesty-International-urges-Saudi-officials-to-free-senior-Hamas-official-his-son
--------
Repeated Israeli acts of aggression on Syria won't help to protect terrorists: Damascus
16 February 2021
The Syrian Ministry of Foreign Affairs and Expatriates has censured the Israeli regime over its repeated attacks on the Arab country, saying such acts of aggression will not help to protect the terrorist groups, which are wreaking havoc on the nation with the support of Tel Aviv and its allies.
The ministry, in two identical letters addressed to UN Secretary-General Antonio Guterres and rotating President of the Security Council Barbara Woodward, said Israeli forces launched a barrage of missiles at 01:18 local time on Monday from the direction of the occupied side of Syria's Golan Height and al-Khalil (Hebron) in the occupied West Bank on some targets near the Syrian capital, Damascus.
The attacks, the letters added, fall within the framework of the Tel Aviv regime's systematic policy of state terrorism and continuous support for terrorist groups in Syria, and are in flagrant violation of Security Council Resolution 350 (1974) and the 1974 Disengagement of Forces Agreement between Israel and Syria.
The Syrian ministry further highlighted that the Israeli missile attack came at a time when Syrians were marking the 39th anniversary of the national strike of February 14, 1982, to express their rejection of Israel's annexation of the Golan Heights, which the regime has occupied since 1967.
The letters noted that the Golan Heights are incontestably an integral part of Syria, and they will return to the Damascus government's sovereignty sooner or later.
The ministry then warned Israel against the dangerous repercussions of its repeated acts of aggression on Syrian territory under false pretexts, and as part of the regime's support for the terror groups as well as its occupation of Arab lands, including the Syrian Golan Heights.
It called on the Security council to assume its responsibility to condemn flagrant Israeli acts of aggression and hold the regime to account for its crimes, which violate the international law and the UN Security Council resolutions 242 (1967), 338 (1973), 350 (1974) and 497 (1981).
Israel frequently targets military positions inside war-ravaged Syria, especially those of the Hezbollah resistance movement that has helped the Syrian army in its fight against foreign-sponsored Takfiri terrorists.
The Tel Aviv regime mostly keeps quiet about the attacks on Syrian territories, which many view as knee-jerk reaction to Syrian government's increasing success in confronting terrorism in the country.
Israel has been a staunch supporter of the terrorist groups that have violently opposed the government of President Bashar al-Assad since foreign-backed militancy gripped the Arab country back in March 2011.
https://www.presstv.com/Detail/2021/02/16/645373/Repeated-Israeli-aggressions-on-Syria-won%E2%80%99t-manage-to-protect-terrorists-Damascus
--------
Russia's Putin and Saudi crown prince discuss OPEC+ deal: Kremlin
15 February ,2021
Russian President Vladimir Putin and Saudi Crown Prince Mohammed bin Salman discussed the implementation of the OPEC+ oil output deal in a telephone call on Monday, the Kremlin said.
The Kremlin said Putin backed continued close cooperation between Moscow and Riyadh to support the stability of the global energy market.
https://english.alarabiya.net/business/energy/2021/02/15/Russia-s-Putin-and-Saudi-crown-prince-discuss-OPEC-deal-Kremlin
--------
US 'outraged' by attacks on Iraq's Kurdistan region: Blinken
16 February ,2021
Tamara Abueish
The United States is "outraged" by the attacks that left one dead and injured several members of the US Coalition on the Kurdistan region in northern Iraq, Secretary of State Antony Blinken said early on Tuesday.
Multiple rockets hit Erbil and its surroundings at 9:30 p.m. local time, according to Reuters.
A civilian contractor was killed and six others, including a US service member, were injured, the US coalition said.
"We are outraged by today's rocket attack in the Iraqi Kurdistan Region. Initial reports indicate that the attacks killed one civilian contractor and injured several members of the Coalition, including one American service member and several American contractors," Blinken said in a statement.
"We express our condolences to the loved ones of the civilian contractor killed in this attack, and to the innocent Iraqi people and their families who are suffering these ruthless acts of violence. I have reached out to Kurdistan Regional Government Prime Minister Masrour Barzani to discuss the incident and to pledge our support for all efforts to investigate and hold accountable those responsible," he added.
At least three rockets landed near the Erbil International Airport, according to Reuters. Several loud explosions were reportedly heard at the scene and a fire broke out near the airport.
Attacks on Erbil airport are rare, and the rockets were the first to strike the area in five months.
The Saraya Awliya al-Dam claimed responsibility for the attack, which they said was targeted the "American occupation" in Iraq. It provided no evidence for its claim.
US troops occupy a military base adjacent to the civilian airport.
https://english.alarabiya.net/News/middle-east/2021/02/16/Terrorism-US-outraged-by-attacks-on-Iraq-s-Kurdistan-region-Blinken-
--------
Rocket attack on Kurdish northern Iraq kills civilian, injures 6 people: US coalition
Tuqa Khalid
16 February ,2021
A rocket attack at a US-led military base in Kurdish northern Iraq killed a civilian contractor and injured six other people including a US service member, the US coalition in Iraq said on Monday.
"Initial reports that Indirect Fire landed on Coalition Forces in Erbil tonight. There was 1 civilian contractor killed, 5 civilian contractors injured and 1 US service member injured," Spokesman Colonel Wayne Marotto said.
The Kurdish regional government said in a statement multiple rockets hit Erbil and its surroundings at 9:30 p.m. local time on Monday and several people were injured, but provided no further details.
Kurdish security sources told Reuters at least three rockets landed near Erbil International Airport in the autonomous region late at night. Reuters reporters heard several loud explosions and saw a fire break out near the airport.
A group calling itself Saraya Awliya al-Dam claimed responsibility for the attack on the US-led base, saying it targeted the "American occupation" in Iraq. It provided no evidence for its claim.
US troops occupy a military base adjacent to the civilian airport.
It was the most deadly attack to hit US-led forces for almost a year in Iraq, where tensions have escalated between US forces, their Iraqi and Kurdish allies on one side and Iran-aligned militias on the other.
https://english.alarabiya.net/News/middle-east/2021/02/16/Rocket-attack-on-Kurdish-northern-Iraq-kills-civilian-injures-6-people-US-coalition
--------
Arab Coalition destroys Houthi drone heading towards Abha Airport
Tamara Abueish
16 February ,2021
The Arab Coalition announced it had intercepted and destroyed a drone launched by the Iran-backed Houthi militia that was heading towards the Abha International Airport in Saudi Arabia on Tuesday.
Scraps from the drone were scattered around the airport after the coalition intercepted the attack, a spokesperson said. No casualties or injuries were reported.
The Houthis' recent attacks targeting Saudi Arabia and civilians are all planned by Iran's militia in Sana'a in Yemen, the coalition said.
The Houthis have launched several attacks targeting the Kingdom and civilian objects, such as airports, in recent months.
Iran backs the Houthis in Yemen's civil war against the internationally-recognized government. The Islamic Revolutionary Guard Corps (IRGC) supplies the Houthis with missiles, drones, and training, allowing the group to target airports and other critical infrastructure.
Currently, the Houthis have control of the Yemeni capital Sana'a, while the government is based in the city of Aden.
https://english.alarabiya.net/News/gulf/2021/02/16/Terrorism-Arab-Coalition-destroys-Houthi-drone-heading-towards-Abha-Airport-
--------
10 years since uprising Bahrain in a worse state
16 February 2021
Bianca Rahimi
In February 2011, people took to the streets in Bahrain in protest for democracy. The crackdown that followed was brutal. Hospitals overflowed with the dead and injured and the prisons filled up.
On the 10th anniversary of the pro-democracy movement, the European Center for Democracy and Human Rights held a conference. According to the speakers, the situation in Bahrain is worse now, than before 2011, with hundreds of journalists, human rights defenders and opposition figures still behind bars.
The US and the UK have military bases in Bahrain. Human rights organizations say both are complicit in the monarchy's rights abuses, by refusing to exert the influence they obviously have over the monarchy.
Britain's top military brass were in Manama 5 days before the 2011 crackdown, in which 1,000 Saudi troops, trained and equipped by the UK, backed Bahrain's security forces. And since then Britain has given Bahrain 6.5 million pounds worth of technical assistance. Pressure is growing on Westminster to end the collusion, but downing streets damning record proves strategic interests trump human rights concerns every time.
https://www.presstv.com/Detail/2021/02/16/645366/10-years-since-2011-uprising-Bahrain-in-a-worse-state
--------
US-led coalition building new base in Syria's Hasakah near Iraq, Turkey borders: Report
15 February 2021
The so-called US-led military coalition is reportedly building a new base in Syria's northeastern province of Hasakah near the border with Iraq and Turkey.
The Lebanon-based and Arabic-language al-Mayadeen television news network reported on Monday that the military site is being built in the town of Ayn Dewar, which lies just north of the small Syrian city of al-Malikiyah.
Ayn Dewar is located in the most northeastern point of the country, and sits on the border with Iraq and Turkey.
Local sources, speaking on condition of anonymity, said a convoy of about 50 trucks belonging to the US-led alliance and carrying logistics as well as military equipment entered Syrian territories through al-Waleed border crossing on Sunday.
The sources added that the convoy arrived at US-led coalition bases in the Kurdish-populated city of Qamishli and elsewhere in Hasakah.
US military forces have reportedly been redeployed on the outskirts of al-Ya'rubiyah town in al-Malikiyah region after establishing a new military base inside a former agricultural service airport.
US forces have apparently surrounded the site with concrete walls, and built a helipad to provide a safe environment for military helicopters to perform landing and takeoff operations.
This comes as other sources also told SANA that US occupation forces, in a new step to seize the Syrian oil and boost their control over the oil areas, brought in dozens of military vehicles, coming from the Iraqi territories and heading towards al-Malikiyah region in Hasaka northeastern countryside.
This is while Pentagon spokesman John Kirby said on February 8 that US forces in Syria are no longer responsible for protecting oil fields in the country, while admitting that an American firm is looting Syrian crude oil without authorization from Damascus.
Kirby told reporters that since an American firm had signed a deal with Kurdish militants in northern Syria last year to help exploit the country's oil reserves, US troops were not involved.
Damascus has said the agreement — signed between the so-called Syrian Democratic Forces (SDF) militant group and an American oil company named by media sources as Delta Crescent Energy LLC — is null and void, and that the parties involved are plundering Syria's national resources.
Pentagon official added that the US military personnel and contractors "are not authorized to provide assistance to any other private company, including its employees or agents seeking to develop oil resources in northeast Syria."
Kirby said about 900 US service members were deployed to Syria to in a declared claim to fight the remnants of the Daesh terrorist group.
"It's important to remember that our mission there remains to enable the enduring defeat of ISIS," he said, using an alternative acronym for Daesh.
Syria's Ministry of Foreign Affairs and Expatriates, in two identical letters addressed to UN Secretary General Antonio Guterres and former rotating President of the UN Security Council Tarek Ladeb on January 20, strongly condemned the actions of US occupation forces in the country's northeast, saying they amount to a blatant violation of the Syrian sovereignty and territorial integrity, and a flagrant breach of international law.
The ministry also renewed the Damascus government's calls for an immediate and unconditional withdrawal of US forces from the Syria's territory.
It added that US occupation forces continue their regular hostile measures in Jazira region of Hasakah province, including "systematic looting … of the Syrian resources, agricultural crops and oil …, in addition to bringing in huge military reinforcement, logistic equipment, various kinds of weapons, tools and military vehicles from Iraq" to some of the US military bases in the countryside of al-Ya'rubiyah town via the al-Waleed crossing.
https://www.presstv.com/Detail/2021/02/15/645330/US-led-coalition-intends-to-establish-new-base-in-Syria-Hasakah-near-Iraq-Turkey-Report
--------
North America
Iran's February 21 deadline 'wakeup call' for Biden administration
15 February 2021
Iran's decision to end its voluntary implementation of the Additional Protocol to the nuclear Non-Proliferation Treaty (NPT) Safeguards Agreement should the other parties to the 2015 Iran nuclear agreement fail to honor their commitments by the deadline of February 21 is "a wake-up call" for the administration of US President Joe Biden, a political analyst and former US Senate candidate says.
Mark Dankof, who is also a broadcaster in San Antonio, Texas, made the remarks in an interview with Press TV on Monday, after Iran's Foreign Ministry Spokesman Saeed Khatibzadeh said at a weekly press conference on the same day that the implementation of the Additional Protocol will be halted, unless the other parties to the nuclear deal, officially called the Joint Comprehensive Plan of Action (JCPAO), return to fulfilling their abandoned commitments.
"The February 21st deadline is indeed a legitimate wakeup call to the Biden administration in regard to the president's stated intentions in the electoral campaign of 2020 to re-enter [the] JCPOA. This deadline will test whether or not Biden is serious about re-establishing American involvement in what the United States agreed to in this multilateral treaty, or will cave in to Israeli pressure on him," Dankof said.
"Evidence of this pressure came on January 21st, the day after the president's inauguration. A report appeared in the Times of Israel that an unnamed senior Israeli official was threatening to terminate its political and diplomatic relationship with the new administration if the United States re-entered JCPOA," he added.
The analyst further noted that "the United States must demonstrate that it has the political will to rejoin JCPOA and honor its previous commitments."
He also said Washington should indicate that it has the political will to resist Israeli Prime Minister Benjamin Netanyahu and the American Israel Public Affairs Committee (AIPAC) and "do what is in the best interest" of the other signatories of the nuclear deal.
Elsewhere in his remarks, Dankof said the Biden administration should welcome the Russian-Chinese initiative if it has any sincere commitment to the JCPOA and "restore all of the commitments in the original deal, without any changes or modifications."
"Anything less will indicate that Biden and [US Secretary of State Anthony] Blinken are acquiescing to Israel and its domestic lobby in the United States, including AIPAC and the Democratic Majority for Israel," he added.
The remarks came after Russia's Deputy Foreign Minister Sergei Ryabkov said Russia and China have discussed an initiative by Beijing that aims to arrange for a multilateral meeting with the final goal of convincing the US to rejoin the nuclear deal with Iran.
The analyst further stressed that "the basis for honest dialogue is for Biden to state his unequivocal commitment to return the United States to the JCPOA", and to immediately lift all the economic sanctions imposed on Iran by the administration of former US president Donald Trump.
The JCPOA was unilaterally ditched by Trump in May 2018, in pursuit of what he called the "maximum pressure" policy against the Islamic Republic through unilateral sanctions. Iran has denounced the policy as an act of "economic terrorism."
The US withdrawal from the deal was met with worldwide criticism, and was followed, a year later, by Iran's gradual reduction of its nuclear commitments. However, Tehran has repeatedly proclaimed that it will return to its nuclear obligations as soon as its interests under the JCPOA are met.
Iranian lawmakers overwhelmingly voted in favor of the Strategic Action Plan to Counter Sanctions in December, which tasked the Iranian administration with suspending more commitments under the JCPOA.
The law, among other things, tasked the Iranian administration to stop allowing inspections beyond the Safeguards Agreement, including the voluntary implementation of the Additional Protocol, if the other parties to the JCPOA failed to deliver on their commitments, normalize Iran's banking relations and remove obstacles to Iran's oil export.
https://www.presstv.com/Detail/2021/02/15/645351/Iran-JCPOA-nuclear-deal-US-Joe-Biden-NPT-implementation-Additional-Protocol
--------
US, Iran game of nerves revives tensions in region
Syed Zafar Mehdi
15.02.2021
The delay in the new US President Joe Biden's promise to revive the Iran nuclear deal has once again raised tensions in the region with Tehran announcing to disallow International Atomic Energy Agency (IAEA) inspectors to visit the nuclear sites from Feb. 21.
Following recent tensions between the two long-time adversaries, which peaked in the final weeks of Trump's presidency, Iran's parliament adopted legislation that required the country to accelerate nuclear enrichment activities and end its commitments under the Non-Proliferation Treaty (NPT).
Speaking to Anadolu Agency, Abolfazl Amouei, the lawmaker and the spokesperson for Iranian parliament's national security and foreign policy commission, said the law shall take effect if the sanctions are not lifted before the Feb. 21 deadline given by the parliament.
"If within next two weeks, there is no opening of the sale of Iranian oil and improvement in Iran's banking transactions, as per Article 6 of the Strategic Action Law to Lift Sanctions, the voluntary implementation of the additional protocol by Iran will be stopped," he said.
In 2015, the five permanent members of the UN Security Council—China, France, Russia, United Kingdom, United States—and Germany together with the European Union signed an agreement with Iran called the Joint Comprehensive Plan of Action (JCPOA) placing significant restrictions on its nuclear program in exchange for sanctions relief.
But in 2018, the US under President Donald Trump withdrew from the agreement and subsequently reimposed all sanctions on Iran lifted by the accord.
In 2003, Iran had signed an additional protocol under the Non-Proliferation Treaty (NPT), granting access to the UN nuclear agency IAEA inspectors to inspect and verify the country's nuclear program.
The protocol requires signatories to provide an elaborate declaration of their nuclear activities and gives the UN agency access to their nuclear sites, even though the action is voluntary.
Onus on the US
Iran has put the onus on the revival of the deal on the US, maintaining that it was Washington that had abandoned the deal and stopped implementing its commitments.
"Iran is in no hurry to revive JCPOA but will return to its obligations after the effective lifting of sanctions. We have adopted a policy of neutralizing sanctions," said the lawmaker.
While nuclear enrichment has already surged up to 20% in recent weeks, the law mandates the government to disallow inspection of the country's nuclear sites from Feb. 21, if the new US administration does not revive the deal.
Amouei said Iran will still accept inspections under the supervision of the UN nuclear watchdog, based on the safeguard agreement, but will not accept inspections based on the NPT protocol.
"Iran had voluntarily accepted the implementation of the additional protocol within the framework of JCPOA in lieu to lift sanctions. But with sanctions not lifted, rather added, Iran sees no reason to implement the protocol at this time," he said.
He further said the action is in line with paragraphs 26 and 36 of the nuclear accord signed by Iran with world powers in 2015 and if other parties want to "revive" it, they must "first fulfill their obligations".
Iranian lawmaker asked the new US administration to undertake a "fundamental assessment" of the "failure" of the previous administration's maximum pressure policy toward Iran and "reverse that approach".
Iranians say Biden pursuing Trump policy
According to Sayed Mohammad Marandi, who was part of the Iranian team that negotiated the 2015 deal, since the US under Biden continues to pursue Trump's policy of violating the nuclear deal, Iran cannot continue carrying out its commitments.
Iran's Foreign Minister Javad Zarif last week said his country was committed to the Feb. 21 deadline, while stressing that not implementing an additional protocol does not mean shutting the doors to the 2015 accord.
He urged Washington to act promptly to return to the nuclear pact, before the stipulated deadline.
Iran's Supreme Leader Ali Khamenei also declared that the country will return to full compliance with the deal only after the US lifts sanctions in a way that Iran can "verify them".
Last month, a senior lawmaker had warned that Iran will expel the IAEA inspectors if the US sanctions are not lifted by February 21.
"Iran, without a doubt, will stop the voluntary implementation of additional protocol if the sanctions against Iran, especially in finance, banking, and oil sectors are not lifted by the mentioned day. This is a law passed by the Iranian Parliament. The government is committed to implementing this law," said lawmaker Ahmad Amirabadi.
Behrouz Kamalvandi, the spokesman for the Atomic Energy Organization of Iran (AEOI) also said that his agency will abide by the law completely on the issue of nuclear inspections by the UN watchdog. He also announced that 1000 IR2M centrifuges will be installed at Natanz nuclear facility "within three months". The IR2M can enrich two or three times faster than the present equipment being used by Tehran, according to the experts.
https://www.aa.com.tr/en/americas/us-iran-game-of-nerves-revives-tensions-in-region/2144947
--------
Europe
UN, UK condemn deadly attack on Iraq's Erbil, demand action against those responsible
16 February ,2021
Tamara Abueish
The United Nations deplores the deadly rocket attacks on Iraq's northern Kurdistan region that left one person dead and several others injured, UN Special Envoy to Iraq Jeanine Hennis said on Tuesday.
A civilian contractor was killed and six others, including a US service member, were injured on Monday night when multiple rockets hit Erbil and its surrounding area at 9:30 p.m. local time.
"We deplore the deadly rocket attack on Erbil. Such heinous, reckless acts pose grave threats to stability. Iraq must be shielded from (external) rivalries. We call for restraint and for close Baghdad-Erbil collaboration to bring culprits to justice," Hennis wrote on Twitter.
For his part, the British Ambassador to Iraq condemned the attack and called for all those responsible to be help accountable.
At least three rockets landed near the Erbil International Airport, according to Reuters. Several loud explosions were reportedly heard at the scene and a fire broke out near the airport.
Monday's attack was claimed by the Saraya Awliya al-Dam group, who said that they were targeting the "American occupation" in Iraq.
Iraqi officials say the group is linked to Iran. Several groups with ties to the Iranian regime have claimed a series of rocket and roadside bomb attacks against coalition forces, contractors working for the coalition and US installations - including the embassy in Baghdad - in recent months.
https://english.alarabiya.net/News/middle-east/2021/02/16/The-United-Nations-deplores-deadly-attack-on-Iraq-s-Erbil-Envoy-
--------
PKK killing of Turkish citizens 'deeply troubling'
Omer Tugrul Cam
15.02.2021
BRUSSELS
The European Union on Monday expressed condolences over the killing of 13 Turkish citizens by the terror group PKK.
"We have seen deeply troubling reports about the killing of 13 Turkish citizens by the PKK – a designated terrorist organisation – in northern Iraq last week," Peter Stano, EU Commission spokesperson, told Anadolu Agency.
"We would like to offer our condolences to the Turkish people and express our heartfelt sympathies to the families of the victims," he added.
The Turkish nationals, who had been held captive for several years by the PKK, were executed by the group in Gara, northern Iraq over the weekend, during Turkey's anti-terror operation in the region.
Operations Claw-Tiger and Claw-Eagle began last June to ensure the safety of people and Turkey's borders.
In its more than 30-year terror campaign against Turkey, the PKK – listed as a terrorist organization by Turkey, the US, and EU – has been responsible for the deaths of 40,000 people, including women, children, and infants.
https://www.aa.com.tr/en/europe/pkk-killing-of-turkish-citizens-deeply-troubling-/2145926
--------
'Nothing can justify terror': Germany on PKK massacre
Ayhan Simsek
15.02.2021
BERLIN
The German government on Monday expressed condolences over the massacre of 13 Turkish citizens by the terror group PKK in northern Iraq, saying no such action could be justified.
"We would like to extend our most heartfelt condolences to the families of the victims," Foreign Ministry deputy spokeswoman Andrea Sasse told a news conference in Berlin.
"Nothing can justify terror. International humanitarian law must be fully respected in armed conflicts," she added.
The Turkish nationals, who had been held captive for several years by the PKK, were executed by the group in Gara, northern Iraq over the weekend, during Turkey's anti-terror operation in the region.
In its more than 30-year terror campaign against Turkey, the PKK – listed as a terrorist organization by Turkey, the US, and the EU – has been responsible for the deaths of 40,000 people, including women, children, and infants.
https://www.aa.com.tr/en/europe/nothing-can-justify-terror-germany-on-pkk-massacre/2145599
--------
Southeast Asia
Indonesian president follows Pope John Paul II's lead
Justin L. Wejak
February 16, 2021
More than three decades ago, from Oct. 9-14, 1989, Pope John Paul II was in Indonesia for a state and pastoral visit. The cities visited by the pontiff included Jakarta, Yogyakarta, Medan and Maumere.
The choice of cities was not without reason. Jakarta is the national capital, Yogyakarta is widely known as the city of culture and education, Medan has the largest number of Catholics on the island of Sumatra, and Maumere (Flores) is the "Catholic kitchen."
Of course, the pope's visit was a tribute to Indonesia, a country with the largest Muslim population in the world. Nicknamed the pilgrim pope, John Paul II, born Karol Jozef Wojtyla, visited dozens of countries and Indonesia was the 76th country he visited after being elected in 1978 until his death in 2005.
At that time, President Suharto, who was said to be tolerant of minority religions and ethnicities in Indonesia, welcomed the arrival of the head of the Vatican. Security forces were prepared by the state for the protection of the pope. The Indonesian government certainly did not want its name tarnished in the eyes of the world if the pope's security was disturbed due to the actions of certain individuals.
During his visits the pope always echoed the motto totus tuus, which means "to you I devote everything." As the youngest and first pope from outside Italy in papal history, John Paul II offered his entire self as a selfless servant or public servant.
Support Asia's largest network of Catholic journalists and editors.
He did not hesitate to greet and bless anyone he met. He never gave the impression of serving the people half-heartedly. He appeared sincere and wholehearted in his ministry mission, as reflected in his motto.
Unsurprisingly, then, Pope John Paul II is remembered as one of the most influential figures of the faith of the late 20th and early 21st centuries. His achievements in promoting world peace and interfaith dialogue are among the most beautiful legacies to be remembered and celebrated. He was an inclusive and embracing leader; he came to bring light and a message of peace to the world.
In particular, in the eyes of the world's Muslims, Pope John Paul II is remembered as the first pope in history to visit a mosque — the Omayyad mosque in Damascus, Syria, on May 6, 2001, four years before he died. He passed away on April 2, 2005, at the age of 84. The visit to the Omayyad mosque was a historical breakthrough, and the pope's visit to Indonesia was a symbol of his recognition of the importance of establishing Christian-Muslim relations in promoting world peace.
For the people of Flores (and the province of East Nusa Tenggara) in particular, the pope's visit to Maumere, capital of Sikka regency, on Oct. 10-11, 1989, was a sign of the pope's recognition of Flores' important role in the history of spreading and inculcating Christian values in Indonesia. It is undeniable that in the last three decades, East Nusa Tenggara has become the province that sends the most Catholic missionaries throughout the world as well as to other areas in the archipelago.
Moreover, some Indonesian clergy have assumed key roles in the leadership of the universal Church. For example, Paulus Budi Kleden is currently the general superior of the Society of the Divine Word in Rome, while Markus Solo Kewuta was recently an official at the Vatican in matters of interreligious dialogue.
In addition, in the course of Indonesia's history, there have also appeared Christian lay figures (Catholic and Protestant) who have had national influence. Among them are Ignatius Joseph Kasimo, Fransiskus Seda, Harry Tjan Silalahi, Jusuf Wanandi, Johannes Leimena, Benny Moerdani, Cosmas Batubara and Ben Mboy.
In my opinion, the presence of Pope John Paul II in Maumere carried a strong message of solidarity for residents of East Nusa Tenggara province in their struggle to alleviate economic backwardness. The pope was present with the hope that after dark, light must rise. However, this light only emerges if there is a sense of solidarity and cooperation that is consistent in developing the region.
Jokowi's message of solidarity
President Joko Widodo (Jokowi) planned to return to East Nusa Tenggara on Feb. 16. Unfortunately, the plan was postponed a day before his scheduled visit. Two places were on Jokowi's itinerary — Central Sumba regency and Sikka regency. In Sumba, Jokowi wanted to closely monitor the implementation of the National Food Estate Program. Meanwhile, in Sikka, he planned to inaugurate the Napung Gete dam.
Jokowi's planned visit, although delayed, is not the first time he has visited East Nusa Tenggara. Jokowi has several times set foot there and in other provinces in eastern Indonesia. Jokowi's visits have been seen as evidence of his urgent intent to help disadvantaged people to be free from their downturn. Most East Nusa Tenggara residents who live on agricultural products must be helped. Their yields, specifically maize, rice, bananas and yams, need to be multiplied.
For Jokowi, the most appropriate way to help farmers is to prepare dams, agricultural land, seeds and fertilizers, agricultural tools, and open farming and isolation roads. For this, Jokowi ordered governors, mayors and regents to help people achieve welfare targets. The question is: To what extent have the regional heads seriously carried out President Jokowi's orders?
In the context of Lembata, Jokowi's hopes and orders seem underestimated. Rather than helping the poor, the Lembata district government and legislators are busy developing a kind of "justification regulation" to double their monthly allowance for 2021.
The regent of Lembata, for example, stipulates that his allowance is 408 million rupiah (US$29,000) per month, excluding his basic salary and private resort rental for the regent's residence for almost two periods running. The public considered the increase of the allowance as insensitive to the economic conditions of the poor.
That is just a matter of allowances, not to mention projects stalled since Lembata became an autonomous district in October 1999. The state lost billions of rupiah without any tangible results for the people.
Of course the people did not remain silent. Several reports have been submitted to the authorities. Unfortunately, public reports are slow to be followed up, if at all. The most recent example is the floating jetty project in Awololong. In plain view, the project failed to take off, while 85 percent of the total budget has been used up.
Like Pope John Paul II, who cared about the interests of the people, Jokowi's presence in East Nusa Tenggara (also in underdeveloped areas in eastern Indonesia) is proof of his solidarity. Jokowi is always there with the message — solidarity and hope — that people are not alone in their struggles for life. The government continues to strive to achieve social justice for all Indonesian people.
Justin Wejak studied philosophy in Indonesia, theology and anthropology in Australia and currently teaches at the University of Melbourne. The views expressed in this article are those of the author and do not necessarily reflect the official editorial position of UCA News.
https://www.ucanews.com/news/indonesian-president-follows-pope-john-paul-iis-lead/91424
--------
Sugarbook's 'immoral activities' leave bitter taste, says PAS
Teoh Jie Ying
February 15, 2021
GEORGE TOWN: PAS has continued to take aim at Sugarbook, joining forces with the party's non-Muslim wing in lodging a police report urging the government to take action against the dating website's "immoral activities".
The Tanjong and Jelutong PAS branches here urged authorities to end "this moral decadence" before it "infects" the rest of the nation.
The branch chiefs and the PAS non-Muslim supporters congress held an online press conference today after lodging the police report.
"We are doing this in good faith to preserve the reputation of Malaysian graduates who risk being besmirched by these activities.
"We hear that our country is ranked fifth in the region for such immoral activities. All of us here, regardless of race or religion, are very disappointed by this development," PAS Tanjong branch chief Yaacob Omar said.
He added that they did not want to be known as a country where young girls are selling their dignity to make a living.
"This not only goes against Islamic values, but also attacks the roots of the cultural beliefs of all Malaysians."
Yesterday, the womens' wing from PAS, PPBM and Umno in Masjid Tanah also lodged police reports against Sugarbook.
https://www.freemalaysiatoday.com/category/nation/2021/02/15/sugarbooks-immoral-activities-leave-bitter-taste-says-pas/
--------
URL: https://www.newageislam.com/islamic-world-news/tahaffuz-namoos-e-risalat-board/d/124319
New Age Islam, Islam Online, Islamic Website, African Muslim News, Arab World News, South Asia News, Indian Muslim News, World Muslim News, Women in Islam, Islamic Feminism, Arab Women, Women In Arab, Islamophobia in America, Muslim Women in West, Islam Women and Feminism