New Age Islam News Bureau
8 Aug 2020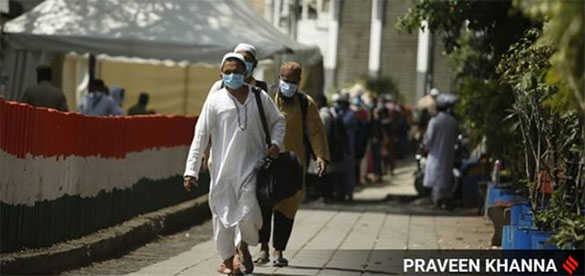 The Tablighi Jamaat congregation held in March, attended by over 8000 members from across the world, was then called a super-spreader event of the novel coronavirus
------
• Not Many Countries Willing to Accept Zakir Naik: Former Malaysia PM
• Islamic State Video Urges New Recruits to Light Bushfires In Australia
• Military speaks on alleged Al-Qaeda, ISIS inroad in Nigeria
• No Colonial Power Can Return to Lebanon, President Aoun Says, Rebuffing Macron
• Cartographer Shows Scale of Beirut Explosion If It Happened in London Or New York
• Bosnia Imam Thanks God for Virus Cancelling Pride March
• Snubbed by OIC on J&K, Pak Threatens to Revolt
India
• Tablighi Jamaat Reports Can't Be Censored, Centre Tells SC
• Follow Rituals Online: Shia Board's Muharram Advisory
• Bengal Muslims Cremate Their Hindu Neighbour
• UP: Two Held Over Photo with Saffron Flag atop Meerut Mosque
• Man killed; 5 civilians injured in Pakistan shelling along LoC
• Pak court constitutes larger three-member bench in Kulbhushan Jadhav's case
• As Lebanon fears food and medicine shortage, India plans to lend a hand
• NGO ties up with Centre, Afghan consulate to bring 400 Sikhs, Hindus back to India
--------
Southeast Asia
• Not Many Countries Willing to Accept Zakir Naik: Former Malaysia PM
• Sabah governor will not abuse position over political crisis, says Hamzah
• Malaysia seeks US help in solving Rohingya refugee issue
--------
Australia
• Islamic State Video Urges New Recruits to Light Bushfires In Australia
--------
Africa
• Military speaks on alleged Al-Qaeda, ISIS inroad in Nigeria
• Boko Haram: Fresh action to end terrorism, banditry revealed
• Suicide car bomb explodes near Somali military base
• More Than 100 Boko Haram, Captives Surrender Along Cameroon-Nigeria Border
--------
Arab world
• No Colonial Power Can Return to Lebanon, President Aoun Says, Rebuffing Macron
• Beirut Explosion: Nearly 60,000 Sign Petition to Place Lebanon Under French Control
• Beirut Blast Is the Most Tragic: 6 Explosions, Fires Around The World Within 72 Hours
• Beirut explosion: Trump to participate in conference call about Lebanon on Sunday
• Beirut explosion: Hezbollah 'categorically denies' storing arms at blast site
• Beirut explosion: US pledges over $17 mln in disaster aid for Lebanon
• Lebanese father and daughter shot dead in Tehran: Iran media
• Infighting erupts among Turkish-backed militants over stolen objects in northern Syria
--------
North America
• Cartographer Shows Scale of Beirut Explosion If It Happened in London Or New York
• FM, Pompeo Discuss Peace Process as Jirga Meets in Kabul
• US, Israel seek to neuter Iran as a regional power to obtain complete hegemony: Scholar
• Bolton: Trump should push to bring down Iran's government
• AG Barr promises to rule out death penalty for ISIS 'Beatles', victims' families say
• Iran Is No. 1 Sponsor of Terrorism, U.S. Says Ahead Of UN Arms-Embargo Talks
--------
Europe
• Bosnia Imam Thanks God for Virus Cancelling Pride March
• Macron's Colonial-Style Lebanon Sojourn Sparks Derision, Outcry
• ISIS terrorist fails in test case to overturn UK's new terror laws
--------
Pakistan
• Snubbed by OIC on J&K, Pak Threatens to Revolt
• Pakistan Parliament approves FATF-related bill
• WB says cannot mediate in Pakistan-India water dispute
• Punjab legislators regret voting for Tahaffuz bill
• Karachi police shoot unarmed civilian to death, hurt another near Techno City
• Name of 'groom' in same sex marriage case put on ECL
• Shehbaz denounces Qureshi's comments on OIC
--------
South Asia
• U.S. Attorney Reacts to MTN Afghanistan's Exit Amid Alleged Links to Iran's IRGC, Al Qaeda
• Anti-Muslim monk wins seat in Sri Lanka's parliament
• Afghan Civilians, Taliban Militants Killed in Attacks Across Afghanistan
• Afghan gathering to decide fate of 400 Taliban prisoners
--------
Mideast
• Supreme Leader: Hiroshima Bombing Unmasks US Nature
• Zarif: US First User of N. Arms, Threatening Region with Israel
• Iran's Top Security Official: Pompeo May Also Be Forced to Leave After Hook
• Turkish lira collapses to new low: 'Soon we will be like Syria or Libya'
• Israel says sirens sounded in false alarm, then claims downing drone
Compiled by New Age Islam News Bureau
URL: https://www.newageislam.com/islamic-world-news/tablighi-jamaat-reports-cant-be/d/122580
--------
Tablighi Jamaat Reports Can't Be Censored, Indian Government Tell supreme Court
August 8, 2020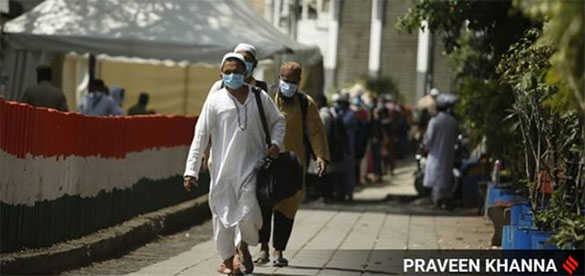 The Tablighi Jamaat congregation held in March, attended by over 8000 members from across the world, was then called a super-spreader event of the novel coronavirus
------
Citing press freedom, the Centre has told the Supreme Court that the spread of Covid-19 among attendees of the Tablighi Jamaat convention in Nizamuddin Markaz, attacks on health workers by some sections, etc, were all matters of fact and that "news reports based on facts… cannot be censored".
"All the aforesaid facts are neither per se false nor per se fake. Though in isolated cases it may be exaggerated… news reports based on facts which are not prima facie not per se false or fake cannot be censored under Article 19(2) of the Constitution of India," the Ministry of Information and Broadcasting said in an affidavit filed in the top court.
The affidavit was filed in response to a plea by the Jamiat-Ulama-I-Hind, which sought directions to prevent what it claimed was the communalisation of the Nizamuddin Markaz issue by certain sections of the print and electronic media.
Taking note, a bench headed by Chef Justice S A Bobde on Friday sought responses from the Press Council of India (PCI) and National Broadcasters Association (NBA).
The PCI counsel told the bench — also comprising Justices A S Bopanna and V Ramasubramanian — that it had taken cognizance of "around 50 cases" and will be passing orders on the quasi-judicial side.
The Centre's affidavit said that the plea raised grievances against "certain section of media" without naming any and "certain news reports" without producing these reports. Instead, it "merely relied upon 'certain fact check news reports' to contend that entire media is perpetrating communal disharmony and hatred towards Muslims, and is therefore required to be censured/gagged", the government said.
Saying that no relief should be granted on the basis of such "general assertions", the ministry said that "attempt to seek a blanket 'gag order' against the entire media in respect of Markaz Nizamuddin will effectively destroy freedom of the citizen to know about the affairs of the respective sections of the society in the nation and the right of the journalist to ensure an informed society".
The government said that it is only per se false and fake news that do not enjoy constitutional protection of free speech and pointed to instances where prosecution has been launched in individual cases of false reporting. The Ministry of Electronics and Information Technology had issued directions to social media platforms to remove/block 739 URLs and four accounts that spread misinformation on the virus that could lead to communal disharmony
https://indianexpress.com/article/india/supreme-court-nizamuddin-markaz-tablighi-jamat-media-coronavirus-6544032/
--------
Not Many Countries Willing To Accept Zakir Naik: Former Malaysia PM
August 7, 2020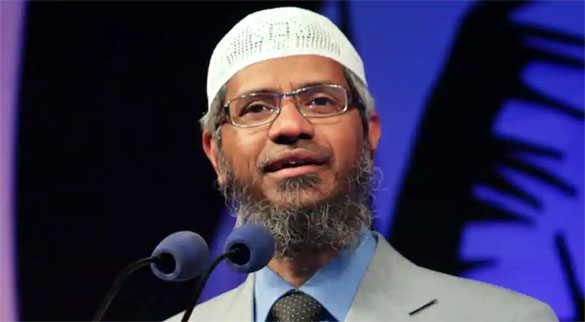 Zakir Naik. Photograph:( DNA )
-----
Malaysia was looking for a country except India to send Zakir Naik, but not many countries are willing to accept the controversial preacher, former prime minister Mahathir Mohamad has said.
Naik, a 54-year-old radical Islamic preacher wanted by the Indian authorities for alleged money laundering and inciting extremism through hate speeches, left India in 2016 and subsequently moved to the largely Muslim Malaysia, where he was granted permanent residency when Mahathir was the prime minister.
Claiming that the fugitive Islamic preacher would not be safe from the Indian public, the 95-year-old politician, who is eyeing a comeback, said he would like to send Naik to some country where we feel he will be safe.
"For the time being he (Naik) can stay here but we would like to send him to some other country where he would be safe. Unfortunately, not many countries are willing to accept him, Mahathir was quoted as saying by the WION news channel.
When asked whether he would extradite Naik if he becomes the Prime Minister of Malaysia again, Mahathir said, Well, we would like to send him to some country where we feel he will be safe.
He once again refused to send Naik to India, saying at this moment we feel that he would not be safe from the Indian public.
Naik has been banned from any public activities in the multi-ethnic country after his controversial remarks against Malaysian Hindus and Chinese last year.
When Mahathir was the prime minister he had said that his Indian counterpart Narendra Modi did not request the extradition of Naik during a bilateral meeting in Russia in September 2019, a claim contested by India which has sought the extradition of the fugitive preacher.
https://www.business-standard.com/article/current-affairs/not-many-countries-willing-to-accept-zakir-naik-former-malaysia-pm-120080701656_1.html
--------
Islamic State Video Urges New Recruits To Light Bushfires In Australia
AUGUST 7, 2020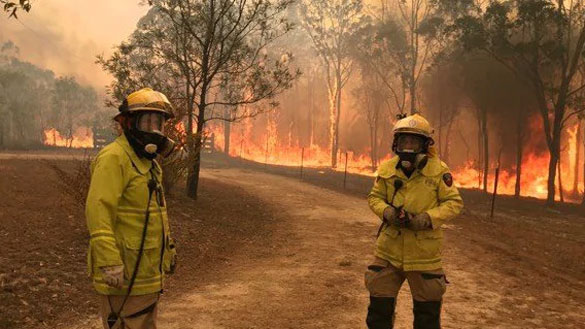 Fire fighters battle a blaze in Central Queensland in December last year.
------
Prime Minister Scott Morrison has confirmed a "sick" video has been released by Islamic State encouraging new recruits to set fire to bushland in Australia.
Today, Mr Morrison said there was a "new recruitment video this morning telling followers to deliberately light bushfires in places like Australia" when asked by 2GB's Ben Fordham.
He said as Australia was gripped by the coronavirus crisis, there were still "plenty of creeps out there who would want to hurt us".
"It's right Ben, it's a reminder that while there is the great threat of the pandemic at the moment, the other threats haven't gone anywhere," Mr Morrison said. "And we need to remain vigilant about that."
Australia's horror black summer saw hundreds of fires across the country, with 11 million hectares of land burned. The land area scorched by the bushfires was larger than Ireland or South Korea. The bushfires destroyed almost 6000 buildings, killed 34 people and wiped out an estimated 1 billion animals.
Mr Morrison didn't directly comment on the nature of the IS video – but said the government remains "very vigilant" against online threats.
"Yesterday with Peter Dutton, we launched the cyber security strategy. That's keeping families safe from the dark web and the paedophiles and other creeps that go around trying to get into our kids' lives through the internet.
"Not just that, but protecting major infrastructure and services and all those things and businesses and the economy and our banking system."
"ISIL continues to spread messages and propaganda online and seeks to influence individuals to act violently," a spokesperson for the Department of Home Affairs told news.com.au.
"It's capacity to radicalise individuals into perpetrators here and abroad remains a very real threat."
"The Australian Government continually works with digital industry, regulatory agencies, and international partners to limit access to, and disrupt, terrorist and violent extremist propaganda online."
Fordham also asked the Prime Minister about the storage of ammonium nitrate close to homes in Newcastle, saying residents were "concerned" after the devastating blast in Beirut this week.
"Firstly, that's a matter for the State Government to regulate, and the regulations here are very strong," Mr Morrison said. "What happened in Beirut is just the most awful of tragedies and a terrible accident.
"But you had the material sitting around the same place … for around six years next to fireworks and a Hezbollah controlled port. These are not the circumstances in Australia.
"There are very strict regulations on how they're used. Those materials in Newcastle in particular, they move through that fairly quickly. So it's not just sitting there dormant."
The Prime Minister said he believed the Premier of NSW could offer more information on the ammonium nitrate in the area.
https://www.theaustralian.com.au/news/latest-news/islamic-state-video-urges-new-recruits-to-light-bushfires-in-australia/news-story/ae27498561b61694eb5f54ed4b6e8478?utm_source=iterable&utm_medium=email&utm_campaign=1421988_
--------
Military speaks on alleged Al-Qaeda, ISIS inroad in Nigeria
August 6, 2020
The Defence Headquarters has allayed fears of Nigerians over alleged plans by Al-Qaeda and ISIS to make an inroad into Southern Nigeria and penetrate the north-western part of the country.
The Coordinator, Defence Media Operations, John Enenche, a major general, while answering questions from journalists at the updates briefing on military operations across the country on Thursday in Abuja, said there was nothing to fear about the claim.
The U.S. had said Al-Qaeda and ISIS were looking to make an inroad into Southern Nigeria and that Al-Qaeda had started penetrating the north-western part of the country.
The Commander of the U.S. special operations command, Africa, Dagvin Anderson, made the claim in a digital briefing on Wednesday.
Mr Enenche, however, said the claim was nothing but just an alarm and that Nigeria security agencies were equal to the task, urging the public not to be afraid of such a claim.
The coordinator, who described the statement as a wakeup call or form of advice, said the security agencies were on top of the situation.
"On the issue that terrorists from other zones are coming to the country, I think it will be good for us to be keeping records as events are unfolding, for me this is not the first time they are raising such an alarm.
"It's as good as may be five or ten years ago, and the armed forces and the country are conscious of it.
"When the conflict in Libya was declared ended and which actually was not, what happened? It was we, our NIA and the SSS that said these people were moving which is true.
"Have we not captured foreigners that have been terrorising us in this country?
"So it is just a piece of advice or call that you still keep doing what you are doing, of which I can assure the general public that the security agencies are on top of that," he said.
Mr Enenche said the military in their recent exploits had captured some foreigners who came from neighbouring countries into Niger State.
"Where are they coming from, why do we have ISWAP here now, or is ISWAP indigenous from Nigeria? No. So it is telling you the obvious and I want to tell you that look, continue to ensure that you have measures in place to continue taming them.
`I read the details of the presentation, it was not accusing, it was not specific, it is like saying you people should put efforts to continue to contain them.
"Because when pressure is on them from other climes, they will still continue to increase their influx," he said.
Dangote adbanner 728x90_2 (1)
Mr Enenche also said the military was winning the battle against terrorism in the country, adding that huge successes had been recorded.
He added that while the people outside there do expectation analysis, the military do operational analysis based on the direction of operation.
He said, "What has flattened it is that you will discover that from March up till now, it is offensive, offensive with sacrifices made on the part of the military.
"Yes, of course, we lost some people but the gains have outweighed what we lost which is what we signed for, so what you have seen is success and it will continue to improve.
"This is because, as it is now, we have been given marching orders again, all we need to do is to go and dig up where we have our contingencies because by our training, we are trained to face challenges," he said.
Mr Enenche explained that the terrorists had been decimated seriously, adding that there was a leadership problem in the enemy camp at present.
He said, "The air and artillery bombardment conducted have decimated them and this is going to dovetail into all the other major aspects of the initial strategies of the northeast which is domination and occupation and we are getting there."
https://www.premiumtimesng.com/news/top-news/407239-military-speaks-on-alleged-al-qaeda-isis-inroad-in-nigeria.html?utm_source=iterable&utm_medium=email&utm_campaign=1421988_
--------
No colonial power can return to Lebanon, President Aoun says, rebuffing Macron
07 August 2020
Lebanese President Michel Aoun says no colonial power can return to Lebanon, following a trip by French President Emmanuel Macron to disaster-stricken Beirut that sparked outrage among the Lebanese.
"Lebanese sovereignty will not be harmed under my watch," Aoun told reporters on Friday, three days after a huge explosion occurred at a port in Beirut, killing 154 people and injuring a whopping 5,000 others.
Macron appeared at the site of the explosion on Thursday, having rolled up the sleeves of his shirt and attempting to take the appearance of a concerned leader by roaming around and talking to people.
During a meeting with Aoun, Macron also called for an international inquiry into the devastating blast and reportedly threatened Lebanese leaders with sanctions if they did not submit to reforms and "political change."
Lebanon gained independence from French colonial rule more than seven decades ago.
Aoun rejected the call for an international investigation in his Friday remarks.
The blast took place in warehouses storing highly explosive material, specifically ammonium nitrate, commonly used in both fertilizer and bombs.
'Foreign sabotage possible'
Aoun said the blast might have been triggered by a foreign attack.
"The cause has not been determined yet. There is a possibility of external interference through a rocket or bomb or other act," he said.
Aoun said he had asked Macron "to secure aerial images to determine what happened and if the French do not have them, we will request them from another source."
He said an investigation would look into the cause of the explosion.
The Lebanese president had previously said that it was "unacceptable" that 2,750 tons of ammonium nitrate had been stored in the warehouse for six years without safety measures.
According to Aoun, 20 port officials have been detained as part of the investigation.
"Corruption is not limited to [officials at] this port, and efforts to fight it must extend to all ports," Aoun said.
The blast came amid public anger over the ruling elite's mismanagement of an economic crisis. The Lebanese pound has continued to plummet against the US dollar, losing more than 60 percent of its value over the last weeks while sources of foreign currency have dried up.
Observers say American sanctions on Lebanon have deteriorated its already struggling economy.
https://www.presstv.com/Detail/2020/08/07/631283/Lebanon-president-no-colonial-power-Macron-Beirut-blast
--------
Cartographer shows scale of Beirut explosion if it happened in London or New York
08 August 2020
The massive blast that shook Beirut on Tuesday, claiming the lives of at least 154 people and injuring more than 5,000, is considered the deadliest peace-time explosion in Lebanon's history.
The blast was so intense it smashed masonry, shattered windows, sucked furniture out of apartments onto the streets and left almost 300,000 people in disaster-stricken Beirut without homes fit to live in, according to Lebanese officials.
For all the latest headlines follow our Google News channel online or via the app.
Lebanese President Michel Aoun said the explosion was due to a stockpile of 2,750 tons of the industrial chemical ammonium nitrate, used in fertilizers and explosives, catching fire after having been stored at the port since 2013 without safety measures.
UK specialists estimated that the Beirut blast had 10 percent of the explosive power of the atomic bomb dropped on the Japanese city of Hiroshima during World War II and said it was "unquestionably one of the biggest non-nuclear explosions in history."
Joanna Merson, a cartographic developer at the University of Oregon in the US created maps to show the scale of the Beirut explosion as if it had happened in London or New York and shared them on Twitter.
Cartography is the study and practice of making maps.
Each of the maps Merson shared contains three red concentric circles around the center point of where the explosion occurred, their radiuses are 1 kilometer, 5 kilometer and 10 kilometers respectively.
Replying to a question about what the levels of red represent, she said that they represent the "distances of damage initially reported after the blast," adding: "They are meant to simply convey the distances so that readers have a reference of what those distances look like in other cities. This can be used when reading other reports as the information comes in."
Here are Merson's maps:
https://english.alarabiya.net/en/News/middle-east/2020/08/08/Cartographer-shows-scale-of-Beirut-explosion-if-it-happened-in-London-or-New-York.html
--------
Bosnia Imam Thanks God For Virus Cancelling Pride March
August 8, 2020
By Nedim Dervisbegovic
Bosnia's official Islamic Community has refused to comment on a homophobic post by a Sarajevo imam who thanked God and the coronovirus outbreak for cancelling this month's Pride march in the Bosnian capital.
Muhamed ef. Velic, imam of the Ottoman-era Ferhadija mosque in the historic centre of Sarajevo, wrote on Facebook on Thursday, after the organisers cancelled Sarajevo's second Pride march, scheduled for August 23, that "in every misfortune and tragedy there is a grain of happiness, goodness and beauty".
"Thanks to Allah for everything. Let dear Allah gift that corona and gay parade never return to our city and the state!" Velic, who is followed by some 73,000 people, wrote in the post, for which he received 36 comments, all but one affirmative.
A spokesman for the Islamic Community of Bosnia and Herzegovina, the IZ BiH, said it was not aware of the post, and added the community does not regulate all the work of its imams.
"We don't have any reaction, you will have to ask for that from his superior," IZ BiH spokesman Muhamed Jusic said, adding that the position of the community was that homosexuality goes against Islamic beliefs and teaching, but that believers should also refrain from any violence against such sinners.
While the faith community declined to get involved in the row, various well-known figures in Bosnia, such as the lawyer and former journalist Senad Pecanin, condemned the post unreservedly. Pecanin wrote on his Twitter account that the imam was "fascist scum".
Velic is known for his controversial posts. Last month, he criticized Turkey's re-conversion of Istanbul's famed former church and museum, the Hagia Sofia, into a mosque, in contrast to Bosniak and Islamic Community leaders, who mostly stayed silent about the latest act by Turkish strongman President Recep Tayyip Erdogan, who positions himself as the best friend of Bosnia and the Bosniaks.
The imam said in January that the coronavirus pandemic was God's punishment to China for its harsh treatment of Muslim Uighurs.
This year's Pride march would have been sponsored by the Sarajevo Canton government and, unlike last year, there had been almost no public condemnation of it by conservative politicians and public figures.
Three protests were organised before and during the march last year, which saw several thousand activists, supporters and allies from Bosnia and the region walk through the centre of Sarajevo under heavy security.
Pride organisers said they would mark this year's march on the same date with other activities. The Sarajevo Film Festival, an important film gathering in Southeast Europe, which was due to open on August 14, will meanwhile be held online, the organisers said on Wednesday, also citing the COVID-19 outbreak as the reason.
Sarajevo has become a regional coronavirus hotspot lately with over almost 2,900 infections and 42 deaths since the beginning of the pandemic, with the majority of them confirmed in the last six weeks
https://www.eurasiareview.com/08082020-bosnia-imam-thanks-god-for-virus-cancelling-pride-march/
--------
Snubbed By OIC On J&K, Pak Threatens To Revolt
Aug 8, 2020
NEW DELHI: With the Organisation of Islamic Cooperation (OIC) not acceding to Pakistan's request for a meeting of foreign ministers on the Kashmir issue, Islamabad has threatened to break ranks with the organisation which calls itself the collective voice of the Muslim world, indicating the lack of traction over the changes in Jammu and Kashmir a year after they were implemented.
While calling for a meeting of the Council of Foreign Ministers in keeping with Pakistan's expectations, foreign minister Shah Mahmood Qureshi said this week that Islamabad could look at seeking a separate meeting with Islamic countries which supported Pakistan on the issue. "If you cannot convene it, then I'll be compelled to ask Prime Minister Imran Khan to call a meeting of Islamic countries that are ready to stand with us on the issue of Kashmir," he said.
While there was limited resonance for Pakistan's arguments even last year, this time the global preoccupation with Covid-19 and the concerns arising from China's aggressive actions in its neighbourhood and its deepening confrontation with the US has meant that there is no mindspace for Islamabad's bid to flog the Kashmir issue and the nullification of Article 370.
Except for Turkey, Pakistan has found little public support even from countries which it claims to have on its side. Turkish President Recep Tayyip Erdogan was the only leader to again express support for Pakistan's position on Kashmir. There has also been scant support for Pakistan elsewhere, with a few routine statements emanating from Europe. Even US congressional committees, while noting the absence of normalcy in J&K, have acknowledged that there are serious security and counter-terrorism challenges.
India has described Turkey's remarks as factually incorrect, biased and unwarranted. "We would urge the government of Turkey to get a proper understanding of the situation on the ground and refrain from interfering in matters internal to India," MEA spokesperson Anurag Srivastava said.
The main reason behind the OIC's inaction is said to be Saudi Arabia's reluctance to accept Pakistan's request for the meeting. Riyadh's support is crucial for any move at the OIC, which is dominated by Saudi and other Arab countries. Another key member, the UAE, has also been cold to Pakistan's pleas.
During a virtual meeting of the OIC contact group on Jammu and Kashmir held "on the request of Pakistan" on June 22, Qureshi had urged the grouping to "step up its efforts" to resolve the Kashmir issue.
https://timesofindia.indiatimes.com/world/pakistan/snubbed-by-oic-on-jk-pak-threatens-to-revolt/articleshow/77425031.cms
--------
India
Follow rituals online: Shia board's Muharram advisory
Aug 8, 2020
LUCKNOW: The All India Shia Personal Law Board (AISPLB) on Friday issued its Muharram advisory, asking people to follow all norms of social distancing, wear masks and wherever possible, take part in Muharram rituals online or via TV channels broadcasting them.
The first month of the Islamic calendar, Muharram is a mourning period in remembrance of Imam Husain—Prophet Muhammad's grandson—his family and companions who were martyred by Yazid in Karbala (Iraq) in 680 AD.
The 14-point advisory issued by board president Maulana Syed Saim Mehdi and general secretary Maulana Yasoob Abbas also said that all mosques and imambaras with carpets and floor covers should ensure disinfecting the space before and after every majlis (sermon).
Clerics said that the advisory was in accordance with the guidelines by ayatullahs from Iraq and Iran including grand Ayatullah Ali Al Sistani. Children, pregnant women and the elderly have been advised to stay at home and use online and other mediums to be part of the sermons.
Water and food distributed among the poor as 'tabarruk', should be packed and sealed, and guidelines issued by administration should be followed.
https://timesofindia.indiatimes.com/city/lucknow/follow-rituals-online-shia-boards-muharram-advisory/articleshow/77423892.cms
--------
Bengal Muslims cremate their Hindu neighbour
08th August 2020
KOLKATA: In an example of communal harmony and humanity, Muslim neighbours of a Hindu man helped perform his last rites in Jhargram district of West Bengal on Thursday. The 62-year-old man died after suffering a cardiac arrest shortly after being refused treatment by a doctor at local health centre as he had not gone through a Covid-19 test. From gathering wood for the funeral to carrying the body to the crematorium, the neighbours helped his family perform all rituals.
Jugal Das was taken to Binpur rural hospital on Thursday morning after complaining of chest pain. "There was a lady doctor at the healthcare centre. We told her that my father had fever five days ago. She refused to examine my father and asked us to conduct Covid-19 test first and come only if he tests negative. We had to return home. In the afternoon, he complained of severe chest pain and died," said Sujit, Jugal's son.
As the news of his death spread, Jugal's neighbours arrived at his house to help the family.
"In our village, there are about 300 Muslims families and 10 Hindu households. I will never forget what they did for us when an educated doctor refused to treat my father," said Sujit. "We always come forward whenever anyone is in distress. When Jugal was admitted to SSKM Hospital in Kolkata in 2009, I spent three nights at the hospital," Sheikh Kader, one of Jugal's neighbours, said. Sheikh Siddiqui said he and others of his community collected wood, bought clothes and other items for Jugal's last rites.
https://www.newindianexpress.com/nation/2020/aug/08/bengal-muslims-cremate-their-hindu-neighbour-2180608.html
--------
UP: Two held over photo with saffron flag atop Meerut mosque
by Amil Bhatnagar
August 8, 2020
Police have arrested two men for allegedly attempting to deface a mosque in Meerut by placing a saffron flag atop the structure. Images of the men, both in their 20s, posing with the saffron flag on a minaret of the structure, known as Kotwali mosque, went viral on social media.
SP (Meerut City) Akhilesh N Singh, however, said the photos are from 2019.
Singh said, "The social media cell of Meerut's Crime Branch received a video of two men, purportedly belonging to a different religion, placing a flag at the place of worship of the minority community. Two people seen in that video have been arrested. Prima facie it appears that the video was shot last year and an inquiry is on." An FIR was registered against the two men under IPC section 153 A (promoting enmity between religions).
The accused were identified as Ankit Tripathi and Arun, and according to a local BJP leader, Gopal Sharma, they are both activists of the Bajrang Dal.
A police officer said, "No law and order disruption happened in the area on Thursday and Friday when the photos surfaced on social media. We are investigating how the photos went viral, which potentially could have created communal tension."
https://indianexpress.com/article/india/up-two-held-over-photo-with-saffron-flag-atop-meerut-mosque-6545254/
--------
Man killed; 5 civilians injured in Pakistan shelling along LoC
Aug 7, 2020
SRINAGAR/JAMMU: A 40-year-old man was killed while five other civilians were injured in Tangdhar sector of north Kashmir's Kupwara district as Pakistan once again violated ceasefire along the Line of Control (LoC) on Friday. Similar breaches also took place in Kupwara's Nowgam sector and Baramulla's Boniyar and Uri sectors; and in Balakote and Krishna Ghati sectors in Poonch district.
Pakistani forces resorted to intense mortar shelling and firing along the LoC targeting forward Indian Army posts and civilian areas in Tangdhar's Karnah area in the afternoon to which the jawans effectively retaliated, Kupwara SSP Shriram Ambarkar said.
In the cross-border exchange of fire, six civilians were injured and rushed to a hospital. Among them, Mohammad Arif (40) from Shamspora succumbed during treatment while another, Hamida Begum (42) from Tangdhar's Rangward was in a critical condition, official sources said. The remaining injured were identified as Mohammad Yaqoob and Syed Rafaqat from Baghballa Kachadiyan, Zakir Khan and Nasser Ahmad Khan from Rangward, defence spokesman Col Rajesh Kalia said.
The cross-border firefight continued intermittently in the three north Kashmir sectors till the time of filing this report. "Damage to residential houses, if any, will be assessed once the situation improves," SSP Ambarkar said.
Pakistan also breached truce twice along the LoC in Poonch district in Jammu region on Friday, barely a week after a jawan lost his life in Rajouri in a similar violation on August 1. "Around 6.30am, Pakistan initiated unprovoked firing of small arms and mortar shelling along the LoC in Balakote sector. The second violation came around 8.45pm in Krishna Ghati sector. The Indian Army effectively retaliated," Jammu-based defence spokesperson Lt Col Devender Anand said. This was the fourth consecutive ceasefire violation since August 4.
There has been a recent spurt in such violations in the twin frontier districts of Rajouri and Poonch, believed to be Pakistan's ploy to push in terrorists into India. Security forces have foiled two infiltration bids and killed three armed intruders since July 1.
Terrorist hideout busted in Poonch ahead of I-Day
A week before Independence Day, a joint team of Army and J&K Police busted a terrorist hideout in J&K's Poonch district and recovered arms and ammunition on Friday, thus thwarting a "possible terror bid" on August 15.
"On specific intelligence inputs, the team launched a search operation in the forested Shashitar area of Poonch's Dingi Cheer in the morning and busted the hideout in a remote spot. The forces recovered two AK-47 rifles and four magazines," Jammu-based defence spokesperson Lt Col Devender Anand said.
In a similar operation on July 26, security forces had busted a terrorist hideout in Doriyaa Dhok of Loran (upper reaches) of Poonch district and recovered two improvised explosive devices — weighing 3kg and 5kg — besides HE-36 Mark grenades.
Three days prior to that, a joint team of Army and J&K Police's SOG had destroyed another such terrorist shelter in Murrah locality of the district's Surankote area and seized a universal machine gun and 222 bullets.
https://timesofindia.indiatimes.com/india/man-killed-5-civilians-injured-in-pakistan-shelling-along-loc/articleshow/77420704.cms
--------
Pak court constitutes larger three-member bench in Kulbhushan Jadhav's case
August 8, 2020
A top Pakistan court on Friday constituted a larger three-member bench to hear the petition filed by the government to appoint a legal representative for death-row prisoner Kulbhushan Jadhav.
The decision was taken by the Islamabad High Court (IHC) after a two-member bench led by Chief Justice Athar Minallah on Monday ordered to set up a larger bench to hear the case.
The court on Monday was hearing the petition filed by the Pakistan government to appoint a lawyer for Jadhav. It also named three senior lawyers as amici curiae in Jadhav's case as it ordered the Pakistan government to give "another chance" to India to appoint a counsel for the death-row prisoner.
The new bench includes Chief Justice Athar Minallah, Justice Amir Farooq and Justice Miangul Hassan Auranzgeb.
Justice Farooq was added to the previous bench which heard the case on August 3.
The next hearing in the case is scheduled for September 3.
Jadhav, the 50-year-old retired Indian Navy officer, was sentenced to death by a Pakistani military court on charges of espionage and terrorism in April 2017.
India approached the International Court of Justice against Pakistan for denial of consular access to Jadhav and challenging the death sentence.
The Hague-based ICJ ruled in July 2019 that Pakistan must undertake an "effective review and reconsideration" of the conviction and sentence of Jadhav and also to grant consular access to India without further delay.
Pakistan on Thursday claimed that it has asked India through diplomatic channels to appoint a counsel for Jadhav, but New Delhi said that Islamabad has not yet communicated to it about the developments relating to the case.
"After the directions of the Islamabad High Court of 3rd August we have contacted the Indian side through diplomatic channels and conveyed the same, Pakistan Foreign Office spokesperson Aisha Farooqui said . We are awaiting Indian response, she added.
However in New Delhi, External Affairs Ministry spokesperson Anurag Srivastava said, "We have not received any communication from Pakistan on the issue.
He was asked whether Pakistan has informed India about Islamabad High Court's order in the case.
On July 16, Pakistan provided consular access to Jadhav, but the Indian government said the access was "neither meaningful nor credible" and he appeared visibly under stress.
Srivastava last month said Pakistan has once again exposed its "farcical" approach by denying available legal remedies to Jadhav against his death sentence which is also in contravention of the ICJ verdict, and asserted that India will explore further options in the case.
He said Pakistan has blocked all the avenues for an effective remedy available to India in the case, while noting that New Delhi has so far requested consular access to Jadhav for 12 times over the past one year.
The MEA spokesperson said Pakistan is not only in violation of the judgment of ICJ, but also of its own ordinance.
https://indianexpress.com/article/india/pak-court-constitutes-larger-three-member-bench-in-kulbhushan-jadhav-case-6545392/
--------
As Lebanon fears food and medicine shortage, India plans to lend a hand
by Shubhajit Roy
August 8, 2020
The unprecedented devastation caused by the catastrophic explosion in Lebanon's capital, Beirut, on Tuesday has led to fears of shortages of food grain and medicines, and New Delhi is planning to send these supplies, The Indian Express has learnt. The controversial storage of about 2,750 tonnes of ammonium nitrate at the Beirut port since September 2013 led to the explosion that left at least 137 dead and 5,000 wounded. So far, according to information available with the Indian Embassy in Beirut, five Indians have been reported to be injured. None of them is critical.
The Indian Ambassador to Lebanon, Suhel Ajaz Khan, and his team of young diplomats have been in touch with authorities and the Indian community to check on their needs, sources said. There are about 4,000 Indians in all of Lebanon, and most of them work in hotels, restaurants and construction projects. The explosion has destroyed major granaries, which were located at the city's port. One grain silo at Ground Zero had a capacity of 120,000 tons and stocks there have either been destroyed or charred. The Beirut port handles 60 per cent of Lebanon's imports—so, supply chains have been severely disrupted. Authorities estimate the damage between $3-5 billion.
While Beirut authorities said Lebanon has enough grain to last around six weeks, sources said India has been sounded out.
Lebanon—a nation of more than 6 million people—imports almost all of its wheat from Ukraine, Russia and other European countries.
Warehouses storing medicines and vaccines in the port of Beirut were also damaged in Tuesday's blast. Basic medicines such as antibiotics, painkillers and blood bags are in short supply. As are medicines for cancer, HIV and respiratory diseases such as asthma.
Three hospitals in central Beirut, including one with 1,100 beds, were damaged in the blast. A dialysis centre, which was the biggest in the country, was destroyed.
In light of such massive devastation, India—which now prides itself as the "pharmacy of the world"—is waiting for Lebanese authorities to indicate their requirement. India had sent medicines to more than 100 countries in the wake of Covid-19 pandemic. An Indian diplomat in Beirut told The Indian Express: "We are ascertaining their need. They are very appreciative of our approach. Let's see what we can do."
https://indianexpress.com/article/india/as-lebanon-fears-food-and-medicine-shortage-india-plans-to-lend-a-hand-6544928/
--------
NGO ties up with Centre, Afghan consulate to bring 400 Sikhs, Hindus back to India
August 7, 2020
AN NGO is joining hands with the Centre and the Afghanistan consulate to evacuate over 400 Afghani Sikhs and Hindus staying in various camps in the war-torn country by chartered flights and rehabilitate them here.
Since March 25, Vikramjit S Sahney, a recipient of the Padma Shri and international president of the World Punjabi Organisation (WPO), has been restless. The deadly terrorist attack on a gurdwara in Kabul, in which 26 people lost their lives, had left him shaken.
Sahney, here in Chandigarh on a personal family visit, shared that he had been in touch with the Afghan community in Kabul, to devise a plan to help all Sikhs and Hindus there who wanted to come back to India. "But there were no flights then and now that the flights are operational, these Sikhs and Hindu families based in Kabul, Jalalabad and Ghazni are so poor that they can't afford the fare to come back to India," said Delhi-based Sahney, adding that there are two Sikh MPs in Afghanistan — Devender Singh Khalsa and Anarkali — and several gurdwaras, but due to the current conditions, all Sikhs and Hindus want to migrate to India.
With the support of WPO, Sahney is all set to organise chartered flights to evacuate over 400 Sikhs and Hindus in the next few days. According to Sahney, all arrangements for chartered flights have been made in coordination with the Ministry of External Affairs and Indian Embassy in Kabul, with long-term visas having been issued by the Indian Embassy, with a permanent residency and Indian citizenship granted to them in due course.
WPO is a non-political international body to bring about 'Punjabi Renaissance' with outreach in over 22 countries, working to foster social, economic and cultural unity through several initiatives.
Sahney says the endeavour to evacuate 400 Afghani Sikhs and Hindus has been a collective effort, as the Delhi Sikh Gurdwara Management Committee will provide temporary accommodation to these migrants in Delhi at three gurdwaras for 2-3 months. "Dalip Singh Sethi and Paramjit Singh Bedi, two prominent Sikhs in the USA, have sponsored the migrant families under the project, 'My Family My Responsibility'. The families will be given homes in West Delhi and their household expenses will be met for one year, as we hope they will find their feet here. I will be happy and satisfied once the families are safe here," says Sahney, who as chairman of the NGO Sun Foundation has empowered thousands of economically weak and disabled youth through free skill development projects and scholarships to needy orphan students.
A special skill development centre set up by his foundation at Jail Road in Delhi, he says, will provide young Afghani Sikhs and Hindu boys and girls free skill training in various fields, which will help them secure jobs and earn a dignified livelihood. "We will feel we have been able to extend a helping hand once they all are rehabilitated and after a year, we will evaluate the progress," he says, now waiting for ministry approval to put the plan into action.
https://indianexpress.com/article/india/ngo-ties-up-with-centre-afghan-consulate-to-bring-400-sikhs-hindus-back-to-india-6543576/
--------
Southeast Asia
Sabah governor will not abuse position over political crisis, says Hamzah
Durie Rainer Fong
August 8, 2020
KOTA KINABALU: Home Minister Hamzah Zainudin says Sabah governor Juhar Mahiruddin will not abuse his position in resolving the political crisis in the state.
Hamzah, who described Juhar as a good friend, said the governor is responsible for his actions, "but what is important is that if it were true we need to face a state election, then we will face it".
"Allah will know who did the right things and who abused their positions," he said here today.
Juhar had consented to the dissolution of the state assembly on July 30, paving the way for an election within 60 days, after meeting with incumbent chief minister Shafie Apdal.
Musa Aman, who claimed he had the support to form a new state government, had said Hamzah and the prime minister's political secretary had paid Juhar a courtesy call a day earlier to notify him that Musa's new alliance was ready to take over the government.
Today, Hamzah said they had discussed matters related to the future of the state.
"Let me be frank with you, Tun Juhar has been a good friend since the 1990s," he said.
"There is nothing wrong for me to visit him and during our meeting, part of the things we discussed was, of course, the future of Sabah.
"But the details are between him and me. I know what we discussed and he knows what I told him.
"I am confident he will not abuse his position and being the head of state, let him be responsible for his actions.
"If the governor had consented to the chief minister to dissolve the assembly, if the decision is genuine, then we will face it (election)."
Musa and the 32 assemblymen said to be aligned to him filed an application for a judicial review of the decision to dissolve the assembly.
Yesterday, the High Court said it wanted to hear further arguments on whether it has the judicial authority to listen and decide over the challenge on the authority of the governor to dissolve the assembly.
On another development, Hamzah said the allowances for Rela members have been increased from RM6 to RM8 an hour, while officers will receive RM9.80 an hour.
"This shows the government is sensitive to their needs so they can better serve the people. At the same time, I want to see them serving with more discipline after these improvements," he said.
He said Sabah has the most number of Rela members in the country, accounting for about 10% or 298,000 of the 3.1 million members nationwide.
https://www.freemalaysiatoday.com/category/nation/2020/08/08/sabah-governor-will-not-abuse-position-over-political-crisis-says-hamzah/
--------
Malaysia seeks US help in solving Rohingya refugee issue
Ainaa Aiman
August 7, 2020
PUTRAJAYA: Foreign Minister Hishammuddin Hussein said he had requested the US to assist Malaysia in discussions with the United Nations High Commissioner for Refugees (UNHCR) over the Rohingya refugee issue.
He added that Malaysia's relationship with UNHCR was important as Malaysia had previously agreed to take in refugees with the condition that they be repatriated to a third country. "But this has not been done."
"It is unfair now that some parties are still asking us to accept more refugees from Rakhine," he said, adding that the numbers were already high.
"UNHCR must also be responsible. If they don't cooperate with us, I hope the US can help us voice our concern to the UNHCR," he said, adding that he had raised the issue with US Secretary of State Mike Pompeo.
On the tensions in the South China Sea, Hishammuddin said Asean countries must engage in discussions with global superpowers in the region – US and China – as a bloc.
"We cannot be divided, our lone voice will not be sufficient in negotiations with these superpowers.
"I indicated this to Secretary Pompeo and China's Foreign Minister Wang Li and they also agree that it is to the benefit of everyone that we see our region stable and safe."
He added that Asean countries involved in the South China Sea claims should avoid getting dragged into the politics between the US and China.
Meanwhile, he said Malaysia would look into providing assistance to Lebanon following an explosion in Beirut two days ago.
https://www.freemalaysiatoday.com/category/nation/2020/08/07/malaysia-seeks-us-help-in-solving-rohingya-refugee-issue/
--------
Africa
Boko Haram: Fresh action to end terrorism, banditry revealed
August 6, 2020
By John Owen Nwachukwu
A group, under the aegis of Initiative for One Nigeria (ION), has vowed to hold massive campaigns against the activities of Boko Haram/ISWAP terrorists in the country.
The group said there is need for active participation by all and sundry in the war against insurgency, stressing that the fight shouldn't be left alone for the Federal Government and military.
According to ION, from its findings, there has been neglect from politicians, community heads as well as relevant stakeholders in charting a solution to the insurgency.
Speaking at a press conference on Thursday in Abuja, Secretary-General, Comrade Ohene Dominic Ejembi, reassured by closing all gaps and working together with the military, the country will experience a rebirth in the coming days.
The Initiative for One Nigeria, an organization dedicated to the peace and progress in Nigeria welcomes you all to this important press conference convoked in the light of the fact that there has been an erroneous mentality that the war against insurgency is the preserve of the Federal Government /Military alone.
While it is understandable that this line of thought has been entrenched in the system for so long, however, it is not too late to change the mentality to that of collective endeavour rather than a job for the Federal Government/Military alone.
It is instructive to state that the Initiative for One Nigeria has carried out extensive research on why the war against insurgency in Nigeria is prolonged and the findings from the various reports indicate that there has been near neglect of charting a Nigeria solution to the insurgency and the critical stakeholders have not availed the much-needed support.
The Initiative for One Nigeria states that there is no better time for all and sundry to come to the table and work with the Federal Government in the fight against insurgency as these insurgents are not spirits but humans that reside in Nigeria.
It is indeed a statement of fact that ending the Boko Haram scourge rest within us as Nigerians because we have the wherewithal and the know-how to end the insurgency, but a situation where the citizens are not cooperative with the Federal Government and the military, there would always be setbacks. This is not restricted to Nigeria alone but in other climes that have experienced insurgencies and successfully overcome it.
We must also realize that the effort to end Insurgency in Nigeria must be a collective one, and the time to act is now. The participation of the citizens of Nigeria is as critical as the efforts of the Nigerian Military in the insurgency crisis in Nigeria.
It is common knowledge that indeed there have been gaps that were created as a result of the nonchalance and the politics of bitterness as displayed by some members of the political authorities in North-Eastern states in the country as well as other parts of the country. This has to end as a matter of urgency.
It must be noted that the role of the community leaders in ending the Boko Haram scourge cannot be overemphasized. And this much they must realize and extend their support to the Nigerian Military because at the end of the day, Nigeria would be the ultimate beneficiary.
The Initiative for One Nigeria is of the firm conviction that Nigeria can defeat the Boko Haram insurgency especially with the level of commitment displayed by the Military since 2016 when it gained ascendency over Boko Haram and the consequent recapturing of all Nigerian territories that were hitherto under the control of the Boko Haram group.
The dislodgement of the Boko Haram group from their operational base in Sambisa forest is another highlight of the efforts of the Nigeria Military in the war against insurgency in Nigeria. It is thus our considered opinion that should the efforts of the Nigerian Military had been complemented with support from other critical stakeholders; the war against insurgency would have long become history in Nigeria.
This also reinforces the position of the Initiative for One Nigeria, as well as other groups of like minds that have been advocating for cooperation from all and sundry in support of the efforts of the Nigerian Military thus far.
We wish to place it on record that this position of ours should not be construed to mean that support from the civil populace has not been availed, but rather not in the right proportion and this is responsible for where we are today in the war against insurgency.
The Initiative for One Nigeria wishes to state that should Nigeria get overwhelmed by the Boko Haram scourge, we would all have our selves to blame because of the opportunities to proffer Nigeria solutions to the Boko Haram Insurgency has been availing itself to us in ways too numerous to mention.
It is a function of two things; its either we take the opportunities and end the insurgency, or we live with the consequences of the insurgency that has already claimed hundreds of thousands of lives and displaced millions of people.
The Initiative for One Nigeria states that the efforts of the Nigerian Military have been brilliant as evident in the various successes recorded so far. These efforts can yield the ultimate result if all and sundry would elect to come together and support the Nigerian Military wholeheartedly.
The Initiative for One Nigeria is holding this press conference as a clarion call to all citizens of our great country in absolute reverence to our National Pledge to Nigeria our country, to be faithful, loyal and honest. To serve Nigeria with all our strength to defend her unity and uphold her honour and glory so help us, God.
The Initiative for One Nigeria is confident that in the coming days and weeks, there would be a rebirth in the country where all Nigerians regardless of their ethnic and religious affiliations would come together and assist the Nigerian Military in the war against insurgency in Nigeria.
It is indeed time to end insecurity by closing all gaps and working together with the Nigerian military as they continue to push for the final decimation of the Boko Haram group.
I thank you all for your patience and time, and we desire that in no distance time, Nigeria shall be indeed free from the threats posed by the Boko Haram group
https://dailypost.ng/2020/08/06/boko-haram-fresh-action-to-end-terrorism-banditry-revealed/?utm_source=iterable&utm_medium=email&utm_campaign=1421988_
--------
Suicide car bomb explodes near Somali military base
08 August 2020
A Somali police officer says a suicide bomber has detonated an explosives-laden vehicle at the gates of a military base in Somalia's capital.
Col. Ahmed Muse says the bomber struck the 12th April Army Brigade base near the newly reopened sports stadium in Warta-Nabadda district.
For all the latest headlines, follow our Google News channel online or via the app.
There is no immediate word on casualties.
Witnesses say ambulance sirens can be heard as police cordon off the scene. Huge clouds of smoke are billowing.
https://english.alarabiya.net/en/News/middle-east/2020/08/08/Suicide-car-bomb-explodes-near-Somali-military-base.html
--------
More Than 100 Boko Haram, Captives Surrender Along Cameroon-Nigeria Border
By Moki Edwin Kindzeka
August 07, 2020
MAROUA, CAMEROON - More than 100 Boko Haram and their captives, almost all Nigerians, have fled the group in the past two weeks, according to the Multinational Joint Task Force fighting the Islamist militants.
Thirty-four-year-old Nigerian Kharim Kalga is among 109 people who have surrendered to the task force since late July.
Kalga said he has not seen his two wives and five children in the two years since he joined the Islamist militant group because they kept him captive.
He said he was living in poverty when Boko Haram fighters promised to give him a motorcycle to earn money for his family, so he joined the group. He said he was forced to steal cattle and millet from villages surrounding the militant group's camp in Nigeria. Kalga said he surrendered to the military because Boko Haram did not fulfill its promise to give him a motorcycle.
The task force is holding the former Boko Haram fighters and captives at their base in Cameroon's northern town of Mora, near the border with Nigeria.
Among them are 45 Nigerian and three Cameroonian former fighters, 45 Nigerian children and 16 women who were being used as sex slaves.
Commander of the Multinational Joint Task Force Major General Ibrahim Manu Yusuf said the Nigerians are all from Borno state, a Boko Haram stronghold.
A campaign calling for Boko Haram members to surrender and be pardoned has helped in the fight, Yusuf said.
"As professional armies, we always open this window for those who wish to come up and surrender," he said. "You know the narrative in the Boko Haram enclave is that if you come out, soldiers will kill you, and based on the way they are being treated, the way they are being managed, they kept calling on their other colleagues to turn over themselves."
The governments of Cameroon and Nigeria will decide whether the former Boko Haram members will remain in Cameroon or go back to Nigeria.
Rehabilitation center
Meanwhile, the former militants were handed over to the Cameroon Center for Disarmament, Demobilization and Reintegration.
The Mora-based center was created in 2019 to rehabilitate 100 ex-militants at a time, but currently hosts more than 250. Center director Oumar Bichair said he needs more resources to rehabilitate the increasing numbers fleeing Boko Haram.
The government of Cameroon should provide more housing and workers, especially psychosocial caregivers, Bichair said, adding that the center also needs more workers who can train ex-fighters with skills such as farming, carpentry, and raising fish and livestock.
The Multinational Joint Task Force fighting the Islamist militants is made up of troops from Benin, Cameroon, Chad, Niger and Nigeria.
The U.N. says the decade-long conflict with Boko Haram has left 30,000 people dead and displaced more than 3 million throughout the region.
https://www.voanews.com/africa/more-100-boko-haram-captives-surrender-along-cameroon-nigeria-border
--------
Arab world
Beirut explosion: Nearly 60,000 sign petition to place Lebanon under French control
07 August 2020
Nearly 60,000 people have signed a petition calling for Lebanon to once again be placed under French mandate following the Beirut port explosion that killed 154 individuals and injured over 5,000 others.
For all the latest headlines follow our Google News channel online or via the app.
"Lebanon's officials have clearly shown a total inability to secure and manage the country," the petition web page read. "We believe Lebanon should go back under the French mandate in order to establish a clean and durable governance."
The petition, addressed to French President Emmanuel Macron, was published on Wednesday, one day before Macron visited Lebanon.
During his visit, Macron made his way through crowded streets in the capital's damaged neighborhoods, listening to pleas from survivors and residents urging him not to provide financial support to the government.
Dozens of people chanted "revolution" while others called the Lebanese President Michel Aoun a "terrorist."
Lebanon was placed under French mandate in 1923, at the end of the first world war.
The country gained its independence in January 1944, when France transferred the power to the Lebanese government.
https://english.alarabiya.net/en/News/middle-east/2020/08/07/Beirut-explosion-Nearly-60-000-sign-petition-to-place-Lebanon-under-French-control.html
--------
Beirut blast is the most tragic: 6 explosions, fires around the world within 72 hours
08 August 2020
The world rallied around Lebanon after the deadly explosion that shook its capital Beirut earlier this week, and the tragic disaster dominated headlines for days and is expected to remain in the international spotlight for the foreseeable future.
However, while the Beirut blast was the most tragic, the world witnessed five other explosions and fires within the span of 72 hours this week.
For all the latest headlines follow our Google News channel online or via the app.
Here is a look at the six incidents in chronological order:
North Korea
A video obtained by the Associated Press showed plumes of black smoke rising from the North Korean city Hyesan near the border with China amid reports that a deadly explosion occurred there on Monday.
There has been no official statement from North Korea or China about what happened in Hyesan, but South Korean Daily NK, which monitors North Korea and other monitoring groups reported that gas explosions in a residential area left dozens of people dead or injured. The AP couldn't independently confirm the reports.
The video acquired by AP shows orange flames and black smoke shooting into the sky from Hyesan as loud explosion-like sounds are heard. A few people can be seen watching the scene from the Chinese side of the border.
The video was provided by Wang Bo, a travel agent who said he shot it from a park in the Chinese border town of Changbai.
"I just saw explosions and there were a lot of onlookers who were looking in that direction. We don't know the reason why there were explosions," Wang said.
The Daily NK cited on Wednesday unidentified sources in North Korea as saying that the explosions left 15 people dead and the death toll could rise. It earlier reported gasoline stored at a house in Hyesan ignited and led to the explosion of a nearby liquid petroleum gas cylinder, and this caused chain explosions of gas cylinders attached to other houses.
China
A flash explosion at a chemical plant in China's Hubei Province on Monday killed six people and injured four others, China's state news agency Xinhua reported.
The explosion was due to improper cleaning procedures in the facility, China Daily reported citing a circular from the Hubei provincial department of emergency management.
"According to the investigation, the direct cause of the accident was that the operator didn't comprehensively recognize the safety risks or strictly obey the parking safety measures while cleaning a layered tower at the chemical plant," China Daily added.
Lebanon
Lebanon, a country already reeling from an unprecedented economic crisis, and a surge in coronavirus infections, was struck by the massive explosion at the Port of Beirut on Tuesday which killed at least 154 people and injured more than 5,000.
The blast was so intense it smashed masonry, shattered windows, sucked furniture out of apartments onto the streets and left almost 300,000 people in disaster-stricken Beirut without homes fit to live in, according to Lebanese officials.
Lebanese President Michel Aoun said the explosion was due to a stockpile of 2,750 tons of the industrial chemical ammonium nitrate, used in fertilizers and explosives, catching fire after having been stored at the port since 2013 without safety measures.
UK specialists estimated that the Beirut blast had 10 percent of the explosive power of the atomic bomb dropped on the Japanese city of Hiroshima during World War II and said it was "unquestionably one of the biggest non-nuclear explosions in history."
US
An under-construction $69 million luxury apartment/hotel building went up in flames on Tuesday in the heart of the Minnesota's capital, Saint Paul, in the United States.
"15 Fire apparatus, 4 Ambulances and 86 Firefighters and Chief Officers responded to control Tuesday morning's fire in downtown Saint Paul. Crews were on scene for over 13 hours. The fire remains under investigation," the city's fire department said.
There were no casualties.
The Bureau of Alcohol, Tobacco and Firearms (ATF) said that its National Response Team arrived in the city to investigate the fire, and an ATF spokeswoman said that arson was one of the possibilities being investigated, according to broadcaster CBS News.
UAE
A massive fire broke out at a market in the UAE's emirate of Ajman on Wednesday, according to the country's civil defense.
The authorities evacuated the nearby buildings and explained that the size of the fire and the thickness of the plumes of smoke was due to the highly combustible nature of the products in the market.
The civil defense successfully brought the fire under control with no injuries or causalities.
Iraq
A fire broke out in a storage facility for foodstuff and electrical products in Najaf on Wednesday, the Iraqi News Agency (INA) reported.
The storage facility the base of operations for selling wholesale products in the Iraqi governorate. The agency did not report any casualties.
https://english.alarabiya.net/en/features/2020/08/08/Beirut-blast-is-the-most-tragic-6-explosions-fires-around-the-world-within-72-hours.html
--------
Beirut explosion: Trump to participate in conference call about Lebanon on Sunday
07 August 2020
US President Donald Trump said Friday that he would participate in the international aid conference organized by France after the deadly Beirut explosions.
"We will have a conference call on Sunday" with French President Emmanuel Macron, Lebanese officials and "many others" who want to help, Trump said.
For all the latest headlines, follow our Google News channel online or via the app.
Speaking at a news conference in New Jersey, Trump said he told his Lebanese counterpart Michel Aoun in a phone call that three aircraft filled with emergency supplies, food and water were on their way.
Trump offered his condolences and said that Washington would stand by Lebanon and the Lebanese people after the "horrible, horrible event."
The US, with authorities on the ground in Lebanon, are working to identify health and human needs and we will provide further assistance in the period to come," Trump said.
Earlier Friday, Trump tweeted that he had a "lengthy" discussion with Macron, "in particular [about] the catastrophic event which took place in Beirut, Lebanon."
First responders, technicians, doctors and nurses are on their way to Lebanon, Trump added. "Everyone wants to help!"
On Thursday, Macron visited the Lebanese capital and walked through the destroyed streets and buildings. He said he would organize an international aid conference to garner immediate assistance for the Lebanese people. Macron promised that aid would not go to "corrupt hands," as hundreds of protesters called for him not to deal with the Lebanese government.
The Lebanese political elite has long been seen as corrupt with the state unable to provide basic services and needs to the Lebanese citizens.
The US Agency for International Development (USAID) on Friday said it would provide more than $15 million in assistance, including food aid for 50,00 people for three months. It said it had also asked the US military to transport enough medical supplies and pharmaceuticals to support up to 60,000 people for three months.
Senior officials from across the Trump administration have been meeting to hammer out additional assistance, a senior administration source said, adding continued concern about the underlying governance issues plaguing Lebanon.
US agencies are considering both the possibility that it was a total accident and the possibility that it was somehow deliberately triggered, intelligence sources said.
Separately, 87 members of Congress sent a letter to Secretary of State Mike Pompeo "urging" him to consider additional support to address the humanitarian disaster in Lebanon.
https://english.alarabiya.net/en/News/middle-east/2020/08/08/Trump-tells-Lebanese-counterpart-that-he-will-attend-Paris-conference-Statement.html
--------
Beirut explosion: Hezbollah 'categorically denies' storing arms at blast site
07 August 2020
Hezbollah leader Hassan Nasrallah strongly denied on Friday claims that his Iran-backed Shia group had stored arms at the Port of Beirut, the site of a deadly explosion which killed at least 154 people.
"I categorically deny" such rumors, Nasrallah said in a televised speech three days after the explosion which ripped through Beirut.
For all the latest headlines follow our Google News channel online or via the app.
"We have nothing in the port: not an arms depot, nor a missile depot nor missiles nor rifles nor bombs nor bullets nor ammonium nitrate," he added.
Lebanese President Michel Aoun had said the explosion was due to a stockpile of 2,750 tons of the industrial chemical ammonium nitrate, used in fertilizers and explosives, catching fire after having been stored at the port since 2013 without safety measures.
Tuesday's blast left more than 5,000 people injured, smashed masonry, shattered windows, sucked furniture out of apartments onto the streets and left up to a quarter of a million people in disaster-stricken Beirut without homes fit to live in, according to Lebanese officials.
https://english.alarabiya.net/en/News/middle-east/2020/08/07/Beirut-explosion-Hezbollah-categorically-denies-storing-arms-at-blast-site.html
--------
Beirut explosion: US pledges over $17 mln in disaster aid for Lebanon
Aug 08, 2020
The United States has pledged over $17 million in initial disaster aid for Lebanon, following Tuesday's Beirut port explosion, the US embassy said on Friday.
For all the latest headlines follow our Google News channel online or via the app.
It said in a statement that the aid included food assistance, medical supplies and financial assistance for the Lebanese Red Cross.
"Announcements of additional aid and assistance are forthcoming," it added.
https://english.alarabiya.net/en/News/middle-east/2020/08/07/Beirut-explosion-US-pledges-over-17-mln-in-disaster-aid-for-Lebanon.html
--------
Lebanese father and daughter shot dead in Tehran: Iran media
08 August 2020
A Lebanese man and his daughter were shot dead in the Iranian capital Tehran Friday evening, the semi-official Fars news agency reported citing locals.
The bodies of the Lebanese nationals were found in a car around 9 p.m. local time, Fars reported citing eyewitnesses.
Iranian authorities are yet to comment on the matter.
For all the latest headlines follow our Google News channel online or via the app.
Earlier, reports emerged on social media that two Lebanese nationals were shot several times while in their vehicle by an unknown gunman on a motorcycle.
Tehran-based journalist Hossein Dalirian, close to Iran's security apparatus, tweeted that the two Lebanese nationals were "assassinated" in Pasdaran avenue, north of the capital Tehran.
Other social media users from Tehran said the home of the family of slain Iraqi militia leader Abu Mahdi al-Mohandes is in the same area.
Al-Mohandes was killed alongside Iranian general Qassem Soleimani in a US airstrike at Baghdad's international airport on January 3.
https://english.alarabiya.net/en/News/middle-east/2020/08/08/Lebanese-father-and-daughter-shot-dead-in-Tehran-Iran-media.html
--------
Infighting erupts among Turkish-backed militants over stolen objects in northern Syria
08 August 2020
Fierce clashes have broken out among Turkish-backed Takfiri militants in Syria's northeastern Hasakah province following dispute over the distribution of stolen objects and occupation of local people's houses.
Syria's official news agency SANA, citing local sources, reported that the infighting erupted between two rival militant groups in Umm Ashba village, which lies north of Abu Rasin town and near the border with Turkey on Friday.
Sources said both sides used various types of weapons during the skirmishes, which badly damaged local houses and properties.
US-backed SDF militants abduct civilians in Dayr al-Zawr
US-sponsored militants affiliated with the so-called Syrian Democratic Forces (SDF) also abducted a number of civilians as people staged a rally in Syria's northeastern province of Dayr al-Zawr to demand the withdrawal of US military forces and their allies from the region.
SANA reported that the Kurdish-led militants raided al-Kassar camp on the outskirts of al-Shuhayl town, rounded up several people and took them away to an unknown location.
Security situation is reportedly deteriorating in areas controlled by the US-backed SDF in Hasakah and Dayr al-Zawr provinces amid ongoing raids and arrests of civilians by the militants.
Locals complain that the SDF's constant raids and arrest campaigns have generated a state of frustration and instability, severely affecting their businesses and livelihoods.
Residents accuse the US-sponsored militants of stealing crude oil and refusing to offer services to local people.
Local councils affiliated with the SDF have also been accused of financial corruption. They are said to be embezzling funds provided by donors, and failing to provide basic public requirements.
New US deployment in Syria's Hasakah
In the northern province of Raqqah, Turkish-backed militants have reportedly stolen power cables transmitting electricity to the villages of al-Wibda and al-Wasta, located north of Ayn Issa town, and fired random shots to terrorize local people.
Informed sources, requesting anonymity, said US military forces have dispatched a new batch of weapons and logistic equipment to their base in al-Shaddadi town in Hasakah province.
The sources added that another shipment was sent to Tal Baydar base close to the town of Tal Tamr.
They noted that SDF militants later received 23 vehicles with four-wheel drive as well as military uniforms equipped with communication devices from the US forces.
Since late October 2019, the United States has been redeploying troops to the oil fields controlled by Kurdish forces in eastern Syria, in a reversal of President Donald Trump's earlier order to withdraw all troops from the Arab country.
The Pentagon claims the move aims to "protect" the fields and facilities from possible attacks by Daesh. That claim came although Trump had earlier suggested that Washington sought economic interests in controlling the oil fields.
The presence of US forces in eastern Syria has particularly irked the civilians, and local residents have on several occasions stopped American military convoys entering the region.
Syria, which has not authorized the presence of the US military in its territory, says Washington is "plundering" the country's oil.
https://www.presstv.com/Detail/2020/08/08/631316/Infighting-erupts-among-Turkish-backed-militants-over-stolen-objects-in-northern-Syria
--------
North America
FM, Pompeo discuss peace process as jirga meets in Kabul
Anwar Iqbal
08 Aug 2020
WASHINGTON: US Sec­re­tary of State Mike Pom­peo discussed Pakistan's role in promoting peace in Afghanistan with Foreign Minister Shah Mehmood Qureshi on Thursday as a Loya Jirga met in Kabul to push forward the Afghan peace process.
"Productive call with Pak­istani Foreign Minister Shah Mahmood Qureshi today about continued cooperation on Afghan peace and the importance of supporting regional stability," Secretary Pompeo said in a tweet released after the call. "I look forward to adv­ancing our shared goals and increasing partnership."
In a separate statement issued in Washington, his office said that the two discussed a range of issues, including "the importance of US-Pakistan cooperation on the Afghan peace process and the importance of efforts to support regional stability".
In another statement, Pompeo urged the attendees of the Loya Jirga to take advantage of this historic opportunity for peace as it would benefit all Afghans and would contribute to regional stability and global security.
The top US diplomat welcomed the move to expeditiously release the remaining Taliban prisoners, which he said was the last obstacle to begin the intra-Afghan negotiations.
The grand assembly of Afghan elders began its proceedings in Kabul earlier Thursday to consider an agenda that includes releasing final 400 Taliban prisoners and opening peace talks between the Afghan government and the Taliban. Afghan President Ashraf Ghani opened the Jirga.
In Washington, Pompeo noted that after 40 years of war, bloodshed and destruction, the parties were ready to embark on a political process to reach a negotiated settlement.
"We acknowledge that the release of these prisoners is unpopular. But this difficult action will lead to an important result long sought by Afghans and Afghanistan's friends," he said. It would lead to "reduction of violence and direct talks resulting in a peace agreement and an end to the war," he added.
Pompeo said that the Trump administration remained committed to a partnership with Afghanistan and would continue
to back a sovereign, unified and democratic Afghanistan that was at peace with itself and its neighbours.
"At the same time, we are committed to reducing the burden on the US taxpayer and the risk to the US troops," he said, adding that even after a military pullout, the US would continue to provide substantial security assistance to Afghanistan. Pompeo said that the US would also support projects that seek to connect Central Asia with South Asia through Afghanistan.
"Promoting joint infrastructure projects is a key element of improved connectivity," he said. "We are prepared to support these projects through such US agencies as the Development Finance Corporation (DFC), which is also considering investment in agriculture and extractive industries, among other sectors."
In Islamabad, the Foreign Office quoted Mr Qureshi as stressing the importance of the Pakistan-US relationship. He said the leadership of both countries was committed to further strengthen it. He said Pakistan would be a partner for peace with the US.
The foreign minister apprised Secretary Pompeo of India's continuing regressive policies in India-held Kashmir manifested with massive violation of basic human rights and fundamental freedoms.
The foreign minister thanked Pompeo for the US participation in the debate in the UN Security Council on Aug 5 on the completion of one year of India's unilateral and illegal actions. He said the UN Security Council's deliberations, once again, reaffirmed the disputed status of Jammu and Kashmir.
https://www.dawn.com/news/1573216/fm-pompeo-discuss-peace-process-as-jirga-meets-in-kabul
--------
US, Israel seek to neuter Iran as a regional power to obtain complete hegemony: Scholar
07 August 2020
The US and Israel are seeking to neuter Iran as a regional power so they can obtain complete regional hegemony, says Dennis Etler, an American political analyst who has a decades-long interest in international affairs.
A former US under secretary of state for political affairs, who was the chief negotiator in the 2015 Iran nuclear deal, has criticized President Donald Trump's "maximum pressure" campaign against Tehran saying it has gotten the United States in a "really bad place" and that Iran is "nowhere close to negotiating with the Trump administration."
Wendy Sherman made the remarks on Wednesday speaking at the virtual Aspen Security Forum where the US Special Representative for Iran Brian Hook also delivered remarks on "Maximum Pressure: America's Strategy to Counter Iran."
Sherman argued that Trump's decision to leave the 2015 nuclear agreement with Iran in May 2018 has gotten the United States "to a really bad place".
"I appreciate that the Trump administration put the maximum pressure campaign and they indeed have, but what it has gotten them, and Brian [Hook] said this himself, is resistance," said Sherman who negotiated the 2015 nuclear agreement.
"Iran is now enriching at higher levels with more centrifuges. They are still supporting proxies in the region," she added, without offering any evidence.
"US Secretary of State Mike Pompeo and Iran envoy Brian Hook advertise this as a campaign of 'maximum pressure,' but their ultimate objective—which they insist is not regime change—remains a mystery," she added.
In an interview with Press TV on Friday, Etler, a former professor of Anthropology at Cabrillo College in Aptos, California, Etler said, "The US, under Trump's misguided leadership, has taken the Zionist policy of 'maximum pressure' directed against Iran to the extreme."
"There is no mystery as to what Washington wants. They want to apply so much economic, diplomatic and military pressure that Tehran 'cries uncle' and submits to the US and Israeli Zionist's demands, total capitulation, the dismantling of its peaceful nuclear facilities, the abandonment of its defense and security forces and withdrawal from the Middle East as an active player, leaving the region open to complete US/Israeli/Saudi hegemony. Whether that amounts to 'regime change' or not is immaterial," he added.
"It would neuter Iran and make it irrelevant as a nation-state with its own core interests. Problem is, the Iranian people did not make a revolution in 1979 to ever allow that to happen again and the Islamic Republic of Iran will continue on its path of anti-imperialist resistance no matter what," he noted.
"The hubris of the current administration in Washington knows no bounds. Rather than seek to build on the solid foundation of the JCPOA, they want to completely scuttle it. They use every means in their arsenal of dirty tricks to cajole other nations to abide by their dictates. In so doing they further isolate themselves and show to the world their vicious nature and intent," he said.
"Now, the degenerate reprobates in Washington are extending their policy of 'maximum pressure' to the People's Republic of China. This is perhaps their greatest folly. The great Chinese nation and people will never kowtow to US imperialism and US pressure is only strengthening their resolve. China which helped to resolve differences between Iran and the West, leading up to the acceptance of the JCPOA, will not abandon the agreement nor its friendly, comradely relations with Iran. US actions have only solidified their ties," he observed.
"As the saying goes, Trump and his minions have only picked up stones to drop on their own feet. Iran will not yield in the face of US intransigence. Sooner than later the US will come to its senses, abandon its failed policies and recommit to the JCPOA," he concluded.
https://www.presstv.com/Detail/2020/08/07/631296/US,-Israel-seek-to-neuter-Iran-as-a-regional-power
--------
Bolton: Trump should push to bring down Iran's government
07 August 2020
War-mongering former US National Security Adviser John Bolton has slammed President Donald Trump for taking "too soft an approach" on Iran, saying that his administration should bring down the Islamic Republic.
In September last year, Trump fired Bolton, saying he has "disagreed strongly with many of his suggestions." Trump was reportedly unhappy with Bolton who had adopted an aggressive approach towards Iran.
Independent observers had accused Bolton of conniving with Israeli Prime Minister Benjamin Netanyahu in order to provoke a military conflict between Iran and the United States.
Bolton had also opposed Trump's peace initiative towards North Korea and urged the president to pursue gunboat diplomacy against the East Asian country.
Bolton disappeared following his disgraceful exit in September but has repapered recently to publicize his book about his time in the administration: "The Room Where it Happened."
Bolton -- a foreign policy hawk who was influential in President George W. Bush's interventionist administration – said in a recent interview that Trump should implement regime change in Tehran.
"I think one of the things that we should look for in Iran is the overthrow of the regime," Bolton said. "I think that one way that happens is if the regular military and the Revolutionary Guard fragments."
"So this could exacerbate the instability that already exists in Iran where I think the regime is very unpopular. And I think it should be US policy to overthrow the Ayatollahs and restore the government to the people of Iran," he continued.
Bolton said he does not think that Trump really wants regime change in Tehran. "I think that's been one of the problems."
The war hawk said that he backed the US assassination of prominent Iranian commander Lieutenant General Qassem Soleimani in January, and Trump's withdrawal from the Iran nuclear agreement, but added this is not enough.
Ever since quitting the nuclear deal in May 2018, Trump has been running what he refers to as a "maximum pressure" campaign, which seeks to pressure Iran into negotiating a new deal that addresses its ballistic missile program and regional influence.
After imposing several rounds of sanctions targeting Iran's oil exports, Washington has also sent warships and bombers to the Persian Gulf to counter what it calls Iran's threat for shipping in the Persian Gulf.
It is currently ramping up efforts to kill the JCPOA completely through pushing the remaining parties to the multilateral agreement to extend a UN arms embargo on Tehran.
Bolton the chickenhawk continues to advocate war with Iran: Myles Hoenig
Commenting on Bolton's remarks, American analyst Myles Hoenig said, "Bolton's book must not be selling well if he feels a need to prop it up a bit by talking about how weak Trump is regarding Iran. Nobody in Washington beats out Bolton for his desire to go to war at the drop of a hat. He is called the hawk's hawk. That's usually the case for chickenhawks, people who avoid military service or combat service yet make their reputation as supporters of war. With a low draft number of 185, he chose to join the Maryland National Guard, which was even an easier way to escape combat in Vietnam than joining the Reserves."
"There hasn't been a war Bolton didn't support or a war he didn't encourage. He had been a strong supporter of the Iraq war, opposed Bush's rapprochement with Libya, supports preemptive strikes against N. Korea and Iran, supported the Iranian terrorist group the People's Mujahadin of Iran, (designated as such by the State Department), and a long supporter of Israeli war crimes, even to go so far as advocate banning judges and prosecutors from the International Criminal Court from entering the US if it charges Israel with crimes under its jurisdiction," added Hoenig, a former Green Party candidate for Congress.
"Preceding Trump's America First policy, he was a strong supporter of unilateralism rather than multilateralism, believing American Exceptional in foreign policy. He has long opposed global cooperation, even as the US ambassador to the UN. Bolton claims he supports people's self-determination, and that Trump is not allowing the people of Iran to rise up against their government by not supporting 'regime change'. Yet his history is one of supporting the American brand of government abroad, regardless of what the people want in those countries," he noted.
"People like Bolton will never go away. He may be known as a hawk's hawk, but they permeate both parties' administrations. Obama had Susan Rice, a staunch advocate for American exceptionalism abroad, again, simply code for supporting wars," he concluded.
https://www.presstv.com/Detail/2020/08/07/631289/Bolton--Trump-should-push-to-bring-down-Iran%E2%80%99s-government
--------
AG Barr promises to rule out death penalty for ISIS 'Beatles', victims' families say
Aug. 7, 2020
Attorney General William Barr has promised to formally rule out the death penalty for two notorious ISIS detainees to ensure that the British government can provide evidence against them, relatives of the victims told NBC News after speaking with Barr by phone Thursday.
Barr's decision breaks an impasse with the British government and appears to clear the way for the two former UK residents — who were part of a group in Syria known as "the Beatles" — to be transferred from U.S. military custody in Iraq to the criminal justice system for trial in the United States.
"We just had a very promising call with the attorney general. He's going to get the death penalty off the table in the coming days," said Diane Foley, whose son, journalist James Foley, was beheaded in 2014 by one Beatles member.
Barr's spokeswoman, Kerri Kupec, said she could not comment.
Foley and the parents of Steven Sotloff, another U.S. journalist beheaded by ISIS in 2014, said Barr told them he intends to notify British Home Secretary Priti Patel in the coming days, having already spoken to her about his intentions.
The attorney general was very gracious and now that the families are unanimous, he's willing to move forward," Foley said. "He's going to make the request for evidence from the UK Home Secretary. He wants to use the evidence as soon as possible."
The families now hope the UK will act in a timely manner, they said.
"The ball will be in the UK's court," said Shirley Sotloff, the mother of Steven. "If we take the death penalty off the table — and we all agree on that — then it's up to the Brits."
Art Sotloff, Steven's father, said Barr appeared eager to prosecute the two former British nationals, Alexanda Kotey and El Shafee Elsheikh.
"I'm excited that he's excited about it," Art Sotloff said, referring to Barr.
"We would like to add how deeply grateful we are for the AG and DOJ," Marsha and Carla Mueller, the parents of another victim, Kayla Mueller, said in a statement. "They have helped us a great deal."
The Washington Post reported July 31 that Barr was "willing to consider" dropping the death penalty in the case.
A UK court ruled in March that the British government must not turn over evidence if capital punishment was a possibility. The death penalty remains a feature of the U.S. justice system, but it has been abolished in Europe.
A spokesperson for the UK Home Office said in a statement:
"A court injunction currently prevents the transfer of evidence from the UK to the U.S. This injunction will remain in place until the final order is received from the Supreme Court, following the 25 March 2020 judgment. As we are still awaiting the final order, it would be inappropriate to comment further at this stage."
The leading Beatle, and the man believed to have wielded the knife in those killings, was Mohammed Emwazi, who was killed by Hellfire missiles fired from a CIA drone in 2015. They were dubbed the Beatles because of their British accents. The fourth Beatle, Aine Lesley Davis, was sentenced to seven and a half years in prison in Turkey in 2017.
In interviews obtained exclusively by NBC News, Kotey and Elsheikh incriminated themselves in the mistreatment of Western hostages in Syria, including Mueller and Foley.
They also for the first time admitted their involvement in the captivity of Mueller, an aid worker who was tortured and sexually abused before her death in 2015.
"She was in a room by herself that no one would go in," Kotey said
Elsheikh got into more detail, saying, "I took an email from her myself," meaning he got an email address the Islamic State militant group could use to demand ransom from the family. "She was in a large room, it was dark, and she was alone, and … she was very scared."
In one email reviewed by NBC News, ISIS demanded the Muellers pay 5 million euros and threatened that if the demands weren't met, they would send the family "a picture of Kayla's dead body."
Captured by Kurdish forces, Kotey and Elsheikh were turned over to U.S. troops and have been in U.S. military custody in Iraq amid questions over how and when they will face justice. U.S. prosecutors in the Eastern District of Virginia have been investigating the case, officials say.
The families of the Americans killed by ISIS have been pushing for the prosecution of two men since they were transferred into U.S. custody last year.
U.S. and British authorities say the Beatles were responsible for 27 killings, including the beheadings of Americans Foley, Sotloff and Peter Kassig, and British aid workers David Haines and Alan Henning.
Kotey and Elsheikh have denied involvement in the killings and torture, describing themselves in interviews as "liaisons" between the hostages and the guards.
https://www.nbcnews.com/news/world/ag-barr-promises-rule-out-death-penalty-isis-beatles-victims-n1236066?utm_source=iterable&utm_medium=email&utm_campaign=1421988_
--------
Iran Is No. 1 Sponsor of Terrorism, U.S. Says Ahead Of UN Arms-Embargo Talks
August 07, 2020
The U.S. ambassador to the United Nations has called Iran "the world's No. 1 sponsor of terrorism," a day after Secretary of State Mike Pompeo said the United States plans to hold a UN Security Council vote next week to extend an arms embargo against Iran.
Ambassador Kelly Craft also warned Russia and China that they will become "co-sponsors of the No. 1 state that sponsors terrorism" if they use their veto to block the resolution to extend the embargo.
The United States hopes Russia and China "will see the importance of peace in the Middle East," Craft said. But she added that the partnership between Russia and China was clear: "They're just going to be promoting chaos, conflict, and mayhem outside their borders, so we have to just corner them."
Craft and Brian Hook, the top U.S. envoy for Iran, briefed a group of reporters following Pompeo's announcement on August 5 that the United States will call for a Security Council vote next week on a U.S.-drafted resolution to extend the arms embargo that is due to expire in October.
Hook announced hours after the briefing that he was stepping down.
The foreign ministers of Russia and China have indicated they intend to veto the resolution if it gets the minimum nine votes in the 15-member council. In letters last month to UN Secretary-General Antonio Guterres and the Security Council the two countries were sharply critical of the U.S. effort.
Pompeo told reporters on August 5 that there were countries "lining up" to sell weapons to Iran and warned that this would further destabilize the Middle East, put Israel and Europe at risk, and endanger U.S. lives.
If the Security Council doesn't prevent Iran from buying and selling weapons when the embargo ends, Washington has said it will trigger a "snapback" of all UN sanctions on Iran. The snapback mechanism was included in the 2015 nuclear agreement in the event Iran was proved to be in violation of the accord, which provided sanctions relief in exchange for curbs on its nuclear program.
Russia and China, as well as European allies that signed the pact, have questioned the U.S. claim it is still a participant able to trigger the snapback mechanism. The United States quit the deal in 2018 and reimposed sanctions on Iran. In response, Iran gradually started breaching its nuclear commitments.
Pompeo and other Iran hard-liners in Washington claim the United States remains a participant in the accord because it was listed as such in the 2015 resolution that enshrined the deal and can therefore bring back sanctions since Iran has not fully complied with its nuclear commitments.
Britain, France, and Germany are concerned about the arms embargo being lifted but have said they are trying to reach a compromise out of concern Iran will completely exit the nuclear deal and act on threats to pull out of a key nonproliferation treaty.
https://www.rferl.org/a/iran-terrorism-u-s-ambassador-to-un-arms-embargo-extension/30770700.html?utm_source=iterable&utm_medium=email&utm_campaign=1421988_
--------
Europe
Macron's Colonial-Style Lebanon Sojourn Sparks Derision, Outcry
Aug 07, 2020
Macron made the visit to Lebanese capital of Beirut on Thursday after a cataclysmic explosion killed Killed tens of people and injured more than 5,000 others, presstv reported.
The deadly incident also left at least 300,000 without habitable homes, hammering a nation already beset by US-instigated economic crises.
During the snap visit, the French president called for an international inquiry into the devastating blast that generated a seismic shock felt across the region.
Lebanon's Arabic-language al-Mayadeen television news network said Macron, in a meeting with President Michel Aoun, threatened Lebanese leaders with sanctions if they do not submit to reforms and a "political change".
Macron also called for a "new political pact" among Lebanese political factions and said he had proposed a roadmap to the Lebanese authorities to unlock billions of dollars in funds from the international community, and that he would return to Lebanon in September to follow up.
"I will be back on September 1, and if they can't do it, I'll take my political responsibility" toward Lebanon, said Macron in remarks more sounding like those about a protectorate.
Macron's remarks sparked a swift backlash, with many Twitter users denouncing what they deemed as interference in the internal affairs of Lebanon, which gained independence from the French colonial rule more than seven decades ago.
Macron's remarks at a time of shock and anger among the traumatized nation also provoked protests in central Beirut, where security forces fired tear gas to disperse dozens of demonstrators.
The protesters marched on the roads leading to the government building and the parliament. They pelted security forces with stones and set tires on fire, shouting against the political elite.
Some in the small protest were wounded, the National News Agency reported.
The powerful explosion on Tuesday took place in port warehouses that stored highly explosive material near central Beirut. Video footage captured a shockwave travelling fast across hundreds of meters, essentially flattening the area.
Dozens of people are still missing, and thousands of people have been displaced as a result of the colossal blast, which leveled the whole port and a large section of central Beirut and turned successive apartment blocks into masses of debris and twisted metal.
A large supply of confiscated explosive material that had been stored in a warehouse at the city's port for the past six years is suspected to have caused the massive explosion, the biggest to ever hit the Middle East, but investigators have only just started to look into what happened.
Lebanon's Prime Minister Hassan Diab has announced three days of national mourning for the victims of the deadly incident and declared a state of emergency across the country for two weeks.
Diab has pledged that those responsible for the massive blast in Beirut would be held to account, calling for international assistance to help the country, which is already staggering from economic meltdown and a surge in coronavirus cases.
https://en.farsnews.ir/newstext.aspx?nn=13990517000469
--------
ISIS terrorist fails in test case to overturn UK's new terror laws
Nicky Harley
August 6, 2020
An ISIS terrorist has lost his test case in which he challenged a new UK terrorism law banning the early release of jailed extremists.
The UK changed its law allowing prisoners to be released halfway through their sentences following two attacks by terrorists soon after their release from jail.
Mohammed Zahir Khan would have been eligible for automatic release in March prior to the law change.
He had been jailed for spreading ISIS propaganda online including a video encouraging a terror attack and had endorsed acts of terrorism, such as murder and martyrdom.
The former shopkeeper pleaded guilty in 2018 to five counts of encouraging terrorism, one count of dissemination of a terrorist publication and two counts of stirring up religious hatred.
He was jailed for four years and six months.
Khan tried to appeal against the UK government's new law on the grounds it was discriminatory and unjust because of the changed nature of the sentence he had been given in court.
But two judges at the High Court in London threw out his claim, saying the government's law change was "logical and rational" given the threat to public safety.
"In our judgment, it is impossible sensibly to regard a terrorist offender as in an analogous position to an ordinary offender," Mr Justice Garnham said.
"The nature of the offending is different, the need for punishment is different, the way the offenders have to be managed in custody is different, the risks they pose on release into the community are different.
"Faced with the real and immediate threats to public safety demonstrated by the attacks of November 2019 and February 2020, altering arrangements for the early release of terrorist prisoners was a logical and rational response.
"The offending in issue was especially grave, involving as it did random knife attacks on innocent bystanders causing fatal injuries.
"Keeping terrorist prisoners in custody for a longer proportion of their sentence, and requiring Parole Board approval before early release, was an entirely legitimate response."
The ruling means about 50 prisoners serving sentences for terrorism will be detained for longer.
Now offenders jailed for more than two years must serve at least two thirds of their sentence in prison before they can be considered for release by the Parole Board, which will then only release them if they are deemed safe.
Northumbria police and crime commissioner Kim McGuinness has praised the decision.
"If someone poses a threat to public safety, we absolutely need to keep them off our streets," she said.
The UK had reviewed with urgency its scheme following a terror attack last November, which saw Usman Khan kill two prisoner-rehabilitation volunteers at an event near London Bridge.
He had been released at the halfway point of his 16-year sentence for plotting to blow up the London Stock Exchange.
During the review of the prisoner release scheme, another ISIS extremist committed a separate attack in February.
Sudesh Amman stabbed people in a South London street only days after his release from jail.
https://www.thenational.ae/world/isis-terrorist-fails-in-test-case-to-overturn-uk-s-new-terror-laws-1.1060117?utm_source=iterable&utm_medium=email&utm_campaign=1421988_
--------
Pakistan
Pakistan Parliament approves FATF-related bill
Aug 7, 2020
ISLAMABAD: Amidst vociferous protests from Pakistan's religious parties, the Parliament has approved a third Bill related to the tough conditions set by the global money laundering and terrorist financing watchdog FATF.
The legislation is part of the efforts by Pakistan to move from the Paris-based Financial Action Task Force (FATF) grey list to the white list.
The FATF put Pakistan on the grey list in June 2018 and asked Islamabad to implement a plan of action by the end of 2019 but the deadline was extended later due to Covid-19 pandemic.
The Mutual Legal Assistance (Criminal Matter) Bill, 2020 -- which calls for exchange of information and criminals with countries -- was passed late Thursday evening in a joint sitting of Parliament after a hectic two-day consultation with the two major Opposition parties -- Pakistan Muslim League-Nawaz (PML-N) and Pakistan Peoples Party (PPP).
The Bill was passed after the government agreed to include over two dozen Opposition-proposed amendments with a majority vote amidst noisy protest by the religious and nationalist parties, the Dawn News reported.
The draft legislation was approved in the presence of Opposition Leader and PML-N president Shahbaz Sharif and PPP chairman Bilawal Bhutto-Zardari.
The talks started on Wednesday evening, continued almost throughout the night and lasted till a delayed start of the joint sitting on Thursday evening.
As soon as Interior Minister retired Brig Ijaz Shah moved the motion to take up the Bill for consideration, members belonging to Muttahida Majlis–e–Amal (MMA), Pakhtunkhwa Milli Awami Party (PkMAP), National Party and independent members from the erstwhile Federally Administered Tribal Areas stood up and started raising slogans against it.
The House witnessed unruly scenes as the government and opposition exchanged barbs soon after the Bill was passed, accusing each other of corruption.
The Senate chairman was forced to abruptly prorogue the session after both the treasury and the opposition members refused to follow his directives to maintain decorum of the House, the Dawn reported.
The draft legislation is the third FATF-related Bill passed by Pakistan Parliament.
The Senate on July 30 unanimously approved the United Nations Security Council (UNSC) Amendment Bill, 2020, and the Anti-Terrorism Act Amendment Bill, 2020.
The Bills include measures of freezing and seizure of assets, travel ban, and arms embargo on the entities and individuals, who are designated on the sanctions list of the United Nations and impose heavy fine and long term jails for those facilitating militancy.
The three Bills passed fulfil various requirements of the FATF, which put Pakistan on its grey list after Islamabad agreed to implement a 27-point plan of action to improve its legal regime to curb money laundering and terror financing.
The UN Security Council Resolution 1373 made it incumbent on the member states to implement counter-terrorism measures, especially countering the financing of terrorism through their domestic laws.
The Pakistan government has prepared eight bills for legislation on anti-money laundering and terror financing with a view to take out the country from the FATF's grey list to the white list.
In its third and final plenary held virtually due to the Covid-19 pandemic in June, the FATF decided to keep Pakistan in the "grey list" as Islamabad failed to check flow of money to terror groups like Lashkar-e-Taiba (LeT) and Jaish-e-Mohammed (JeM). The plenary was held under the Chinese Presidency of Xiangmin Liu.
With Pakistan's continuation in the 'grey list', it will be difficult for the country to get financial aid from the IMF, World Bank, ADB and the European Union, thus further enhancing problems for the nation which is in a precarious financial situation.
If Pakistan fails to comply with the FATF directive by October, there is every possibility that the global body may put the country in the 'Black List' along with North Korea and Iran.
The FATF is an inter-governmental body established in 1989 to combat money laundering, terrorist financing and other related threats to the integrity of the international financial system.
The FATF currently has 39 members including two regional organisations -- the European Commission and Gulf Cooperation Council.
https://timesofindia.indiatimes.com/world/pakistan/pakistan-parliament-approves-fatf-related-bill/articleshow/77410388.cms
--------
Punjab legislators regret voting for Tahaffuz bill
Amjad Mahmood
08 Aug 2020
LAHORE: A bill passed unanimously by Punjab Assembly members just two weeks ago is being opposed by the same lawmakers, both from treasury and opposition benches, admitting they voted for it without reading the document.
Opponents, including some ministers, of the bill stood on their seats when assembly proceedings resumed after a one-day break here on Friday to protest against the Tahaffuz Bunyad-i-Islam (protection of foundation of Islam) Bill passed by the house on July 22.
Treasury members called the piece of legislation a conspiracy against the PTI government.
Ruling PTI legislator Hussain Jehanian Gardezi demanded that the government amend the bill with the approval of the Federal Shariat Court, while Law Minister Muhammad Basharat Raja assured the house that no further progress on the bill would be made until a consensus among the members.
Say they lent support without reading the draft
PML-N's Pir Ashraf Rasool claimed that the bill had been passed on the advice of Shehzad Akbar, special advisor to the prime minister, while PTI MPA Yawar Abbas Bukhari sought forgiveness from the house for supporting the bill.
Taking part in the debate many lawmakers alleged that they were kept into dark about the document when it was put to vote. Arguing that the house couldn't direct any person which sect one should belong to, they asserted that the bill would fan sectarian divides in the province.
They demanded recalling and amending the bill by seeking recommendations from a committee of clerics comprising all schools of thought.
Treasury members said if the bill had been tabled as official business, cabinet's approval for the same should be shown to them and if it was passed as a private member bill, which standing committee vetted the document.
PPP parliamentary leader Syed Hassan Murtaza, who was member of the committee, also disowned the bill admitting that he was part of the panel but had not been informed about its vetting process.
At this the law minister said that objections to the bill had been raised after its approval and that's why it was not sent to the governor for signing it into law.
He said the opinion of the clerics would be elicited for amending the law to remove reservations of all and assured the house that no further progress on the bill would be made until developing a complete consensus among the lawmakers.
The minister also taunted the legislators that it was their duty to thoroughly read each bill before going to vote for or against it.
Later, Raja Basharat also briefed Prime Minister Imran Khan about the controversy on the bill and the steps the government would take to remove reservations about it.
The Punjab Tahaffuz Bunyad-e-Islam Bill 2020 Speaker Chaudhry Parvaiz Elahi claimed credit for, makes publishing of objectionable and/or hate-material punishable.
It also binds all publishers to submit at least five copies of each edition of the book they publish with the Directorate General of Public Relations, which has been empowered to inspect printing presses, book stores and publishing houses, and confiscate before or after printing of books containing such contents.
The DGPR may also investigate, assess or ascertain any act of omission involved in the matter, check record and books of accounts of the publisher on the spot or at any designated office.
https://www.dawn.com/news/1573159/punjab-legislators-regret-voting-for-tahaffuz-bill
--------
Karachi police shoot unarmed civilian to death, hurt another near Techno City
Imtiaz Ali
08 Aug 2020
KARACHI: Police on Friday killed an unarmed citizen and wounded another on I.I Chundrigar Road as they suspected them to be muggers.
The Mithadar police said that policemen of Madadgar-15 fired at two motorcyclists near Techno City killing 48-year-old Mohammad Aslam and wounding Waqar Mohammad, 26.
Noman, a friend of wounded Waqar, later told media that they were riding a motorbike when he received a phone call. He said as soon as he pulled out the mobile phone from his pocket some policemen standing at a parked mobile opened fire at them and the bullet hit his friend.
He said in a state of panic he raised both hands in the air and started crying. But the policemen continued to shoot and the bullet hit another motorcyclist, he added.
"With my hands up, I told the police we are not robbers," said witness Noman.
He said after a while, the policemen abandoned the mobile and ran away.
The wounded citizens were taken to the Dr Ruth Pfau Civil Hospital Karachi where doctors pronounced one of them dead.
Police Surgeon Qarar Ahmed Abbasi said that Aslam suffered a single wound in a hand and the bullet travelled to his chest and proved fatal. He said Waqar also sustained a single bullet in a hand and he was discharged from the hospital after initial medical aid.
Three constables held
DIG-South Javed Akbar Riaz claimed that the police resorted to firing as they considered them to be suspects.
He said that all three constables, identified as Imran Habib, Imran and Sarfaraz, had been taken into custody and were being questioned.
He added that SSP Muqaddas Haider had been assigned to conduct an inquiry into the incident.
While sharing findings of the initial probe, the SSP said that the policemen had "some misunderstanding" that the bike riders were looting another man who was also riding a motorbike.
They disembarked from the mobile and one of the policemen fired a single shot at the bike rider while another policeman also fired a single shot after suspecting that another citizen was pulling out a pistol since his hand was in his pocket.
He said a murder case would be registered against the three held policemen and the heirs of the deceased were asked to lodge an FIR. In addition to it, a departmental inquiry had also been initiated against the arrested policemen, he added.
Meanwhile, Sindh Chief Minister Murad Ali Shah took notice of the killing and sought a detailed report from the inspector general of police. "Such incidents are not acceptable in any situation," he said.
https://www.dawn.com/news/1573153/karachi-police-shoot-unarmed-civilian-to-death-hurt-another-near-techno-city
--------
Name of 'groom' in same sex marriage case put on ECL
08 Aug 2020
ISLAMABAD: The Lahore High Court (LHC) Rawalpindi bench on Friday put the accused in same sex marriage case on exit control list (ECL) and directed the police to arrest and produce her before the court on Aug 17.
LHC Justice Chaudhry Abdul Aziz heard the same sex marriage case. On the direction of the court, the police have already taken the girl into custody.
However, when the judge resumed hearing in this matter, the court was told that the accused could not be traced.
The court has directed SHO Taxila Police Station and SHO Garden Town to arrest the accused and produce her in court on Aug 17. Besides, her name was also put on the ECL.
Nadim Anthony, counsel for the accused told the court that she could not appear due to illness. He further informed the court that the accused had divorced the girl and requested the court to dispose of the matter.
However, the judge remarked that the matter could only be disposed of after the accused appears in person.
Amjad Janjua, counsel for the girl's father told Dawn that the accused, a masters in computer sciences from National University of Sciences and Technology (Nust) had changed her gender in the computerised national identity card and driving licence to marry the girl.
He said the accused was a tenant of the girl's father and worked as a teacher in a nearby girls' school.
According to the counsel, the medical certificate, educational credentials and the employment record prove that the accused is a female.
https://www.dawn.com/news/1573173/name-of-groom-in-same-sex-marriage-case-put-on-ecl
--------
Shehbaz denounces Qureshi's comments on OIC
ISLAMABAD: Leader of the Opposition in the National Assembly (NA) Shehbaz Sharif has denounced the comments of Foreign Minister Shah Mahmood Qureshi over the Saudi-led Organisation of Islamic Cooperation (OIC) and called it "highly unfortunate and irresponsible".
In a tweet on Friday, the opposition leader lambasted the foreign minister's statement, saying that it "flies in the face of history and Pakistan's trusted relationship with the Kingdom."
"The cavalier attitude by this government is undermining Pakistan's core relations with friendly countries," the PML-N stalwart wrote on Twitter.
Criticising the government for isolating Pakistan at the global stage due to its dismal stances on international issues, the PML-N president said that the government has already made similar blunders towards friendly countries in the past.
"Apologise to Saudi Arabia and deal matters wisely and efficiently," he said, reminding the government about the strategic and historic brotherly relations between the two countries and that Riyadh has always backed Islamabad in its time of need.
Earlier on Wednesday, FM Qureshi, in an unusually assertive way, asked OIC to stop dragging its feet on the convening of a meeting of its Council of Foreign Ministers (CFM) over the Kashmir conflict.
https://www.pakistantoday.com.pk/2020/08/07/shehbaz-denounces-qureshis-comments-on-oic/
--------
South Asia
U.S. Attorney reacts to MTN Afghanistan's exit amid alleged links to Iran's IRGC, Al Qaeda
08 Aug 2020
A U.S. Attorney reacted to reports regarding the withdrawal of MTN telecommunications company from Afghanistan and Middle East.
Ryan Sparacino, one of the attorneys who brought the lawsuit against MTN over alleged payments to terrorists in Afghanistan, issued a statement, stating that "As the families allege in their complaint, MTN is effectively a joint venture partner with the IRGC, Iran's leading terrorist organization. Instead of immediately ending its relationship with the IRGC, and its related support for Iran-backed terrorists in Afghanistan, MTN has decided to try to squeeze every last dollar out of its partnership with the Iranians."
Reuters reported on Thursday that MTN Afghanistan, a child company to the Global MTN, the largest telecommunication firm in South-Africa has announced to exit from Afghanistan and the Middle in order to solely focus on its Pan-African strategy.
The group is scheduled to sell its shares in Syria, Yamen and Afghanistan to other telecom providers in order to end its operations in the Middle East and Afghanistan.
According to the report, MTN Afghanistan is accused of bribing the Taliban militants in Afghanistan to 'safeguard' its telecom towers and buying a 15-year old operation license in Iran through the payment of incentives.
However, MTN Afghanistan denied the allegations.
This comes as reports emerged in January 2020 suggesting that the company has paid bribes to both the Taliban and the Al Qaeda terrorist groups in Afghanistan in order to safeguard its telecom towers.
https://www.khaama.com/u-s-attorney-reacts-to-mtn-afghanistans-exit-amid-alleged-links-to-irans-irgc-al-qaeda-09008/
--------
Anti-Muslim monk wins seat in Sri Lanka's parliament
August 7, 2020
COLOMBO: A radical Buddhist monk accused of instigating hate crimes against Muslims has won a seat in Sri Lanka's parliament, results showed Friday.
The Our Power of People party led by Galagodaatte Gnanasara, who has vowed to fight Islamic extremism, won one seat in Wednesday's election which was decided by proportional representation.
The party central committee nominated Gnanasara, who was standing for the first time, to take a seat in the 225-member assembly, a spokesman told AFP.
Gnanasara served nine months of a six-year jail term for intimidating the wife of a missing cartoonist and contempt of court until he was given a presidential pardon in May last year.
Gnanasara has close ties with Wirathu, an extremist monk in Myanmar whose outbursts have stoked religious tensions there.
Wirathu visited Sri Lanka as a guest of Gnanasara shortly after 2014 anti-Muslim riots. The duo vowed to fight what they called the threat from Islamic jihadists but Gnanasara denied any role in the riots that left four dead.
Gnanasara accused the government of ignoring his warnings after Muslim radicals staged suicide bombings on Easter Sunday last year that left 279 people dead
https://www.freemalaysiatoday.com/category/world/2020/08/07/anti-muslim-monk-wins-seat-in-sri-lankas-parliament/
--------
Afghan Civilians, Taliban Militants Killed In Attacks Across Afghanistan
August 06, 2020
Taliban militants and Afghan civilians have been killed in attacks and clashes across Afghanistan amid peace efforts aimed at ending the nearly 19-year war.
Defense Ministry spokesman Fawad Aman said at least 16 Taliban militants were killed in two separate clashes with government forces in the eastern province of Ghazni on August 6
It was the first direct fighting between the Taliban and government security forces since a recent cease-fire was announced.
Aman did not comment on casualties suffered by government forces.
In one attack near the provincial capital, Ghazni city, Afghan forces called in an air strike on Taliban fighters who stormed a military facility where about 300 government troops were based
Aman said Taliban fighters also attacked a military convoy in the Gilan district of Ghazni Province late on August 5.
Officials said seven civilians were killed when their vehicle struck a land mine in the Khash Rod district of the western province of Nimroz late on August 5.
There was no immediate claim of responsibly for the land mine, although similar cases in the past have been blamed on the Taliban.
Meanwhile, officials said clashes erupted between Taliban fighters and government forces along a highway in the northern province of Baghlan, leaving four militants dead.
Officials said the militants torched two oil tankers that were traveling along the highway.
The Taliban and government forces agreed a three-day truce to mark the Muslim festival of Eid al-Adha which started on July 31.
The truce came ahead of proposed peace talks between the Taliban and authorites in Kabul aimed at ending their long-running war.
https://www.rferl.org/a/afghan-civilians-taliban-militants-killed-in-attacks-across-afghanistan/30769780.html?utm_source=iterable&utm_medium=email&utm_campaign=1421988_
--------
Afghan gathering to decide fate of 400 Taliban prisoners
07/08/2020
Thousands of prominent Afghans will gather in Kabul Friday to decide whether to release about 400 Taliban prisoners, including many involved in brutal attacks that killed scores of Afghans and foreigners.
US Secretary of State Mike Pompeo urged attendees to free the detainees, promising help if the war-torn nation moves forward on peace efforts.
"We acknowledge that the release of these prisoners is unpopular," Pompeo said in a statement.
"But this difficult action will lead to an important result long sought by Afghans and Afghanistan's friends: reduction of violence and direct talks resulting in a peace agreement and an end to the war."
The prisoners' fate is a crucial issue in determining when peace talks between the Taliban and the Kabul government might begin, as the two foes had committed to completing a prisoner exchange ahead of talks.
While Kabul has released almost 5,000 Taliban inmates, authorities have balked at freeing a final 400 or so demanded by the Taliban.
According to an official list of the Taliban prisoners seen by AFP, many of the inmates are accused of serious offences, with more than 150 of them on death row.
The list also includes a group of 44 insurgents of particular concern to the United Sates and other countries for their role in "high-profile" attacks.
They include five insurgents linked to the 2018 attack against the Intercontinental Hotel in Kabul that killed 40 people, including 14 foreigners.
And a Taliban militant involved in the massive May 2017 truck bombing near the German embassy in Kabul is on the list, which also includes a former Afghan army officer who killed five French troops and wounded 13 in 2012 in an insider attack.
"There are definitely some prisoners that people don't want released, mostly because they are guilty of having killed coalition troops and nationals," a Western official familiar with the case told AFP on condition of anonymity.
"Among the 400 there are a small number of extremely high-profile convicted individuals who have been found guilty of terrorist acts targeting internationals."
- Loya jirga -
President Ashraf Ghani has deferred the decision on whether to release these inmates to a loya jirga -- a traditional Afghan meeting of tribal elders and other stakeholders that is sometimes held to decide on controversial issues.
About 3,200 dignitaries are due to participate in Friday's assembly, loya jirga spokesman Jahanzaib Sharifi told AFP.
Under the prisoner exchange, Kabul was supposed to free 5,000 Taliban members, while the insurgents committed to releasing 1,000 government captives.
The Taliban, which says it has fulfilled its side of the swap, has insisted it will not begin peace talks until all 5,000 prisoners are freed.
According to the list seen by AFP, the Taliban is demanding the release of an insurgent involved in the 2018 attack against British security firm G4S as well as several militants involved in the killing of US soldiers.
The US embassy in Kabul declined to comment.
Two militants involved in a suicide attack targeting a NATO convoy in Kabul in 2015 that killed 12 people, including three Americans, were also among the 400.
Two militants are also on the list for the 2003 murder of Bettina Goislard, a United Nations refugee worker.
Ahead of the loya jirga, Human Rights Watch cautioned that many of the prisoners had been jailed under "overly broad terrorism laws that provide for indefinite preventive detention".
"Secret trials and torture to coerce confessions may make it impossible to determine which prisoners actually committed serious crimes," it said.
https://www.france24.com/en/20200807-afghan-gathering-to-decide-fate-of-400-taliban-prisoners?utm_source=iterable&utm_medium=email&utm_campaign=1421988_
--------
Mideast
Supreme Leader: Hiroshima Bombing Unmasks US Nature
Aug 07, 2020
In August 1945, the US, in one moment, killed 100,000 people in the city of Hiroshima with an atomic bomb, Ayatollah Khamenei wrote on a Twitter account on the anniversary of the atomic bombing of Hiroshima by the US 75 years ago.
"This is the nature of an arrogant, irreligious, atheistic and immoral army," the Supreme Leader said in a post on his twitter page.
Ayatollah Khamenei stressed that many books should be written, if we want to talk about the crimes of the armies of arrogant powers in the world.
On August 6, 1945, an American B-29 bomber dropped its atomic payload over the Japanese port city of Hiroshima, ultimately killing 140,000 people.
Three days later, a second US nuclear attack on Nagasaki killed another 70,000 people.
https://en.farsnews.ir/newstext.aspx?nn=13990517000260
--------
Zarif: US First User of N. Arms, Threatening Region with Israel
Aug 07, 2020
"75 years ago today, the US gained the infamy of becoming the 1st and ONLY user of nuclear weapons. And against innocents," Zarif wrote on his Twitter account on Thrusday, adding, "Today, US & Israeli nukes threaten our region."
He further censured the US and Israel saying that, it's long overdue to end nuclear nightmare and the mad doctrine of 'Mutually Assured Destruction'.
On August 6, 1945, an American B-29 bomber dropped its atomic payload over the Japanese port city of Hiroshima, ultimately killing 140,000 people.
Three days later, a second US nuclear attack on Nagasaki killed another 70,000 people.
The US left the nuclear agreement with Iran, officially known as the Joint Comprehensive Plan of Action (JCPOA), on May 8, 2018. The deal had been inked between Tehran and six world states, the US, the UK, France, Russia, China, and Germany, in 2015 and was later endorsed by a UN Security Council resolution.
Washington then returned the sanctions that had been lifted by the deal and has been trying to persuade the remaining signatories into leaving the JCPOA in violation of Security Council Resolution 2231.
It has also threatened sanctions against the countries and entities that continue trading with Iran, particularly in energy sector, in defiance of unilateral American bans.
Tehran calls the American bans instruments of "economic terrorism," saying such restrictive measures amount to "crime against humanity."
https://en.farsnews.ir/newstext.aspx?nn=13990517000176
--------
Iran's Top Security Official: Pompeo May Also Be Forced to Leave After Hook
Aug 07, 2020
US Secretary of State Mike Pompeo said on Thursday that Hook is leaving his post, and the US special representative for Venezuela, Elliott Abrams, will add Iran to his role "following a transition period" with Hook.
In a Twitter message on Friday, Shamkhani said Hook is leaving the office without any success in carrying out his mission, just like Donald Trump's former national security advisor John Bolton.
The Trump administration's maximum pressure strategy was initially aimed at bringing about a "regime change" in Iran, but finally turned into "preventing Iran from becoming rich", Shamkhani noted.
"After Hook, Mike Pompeo may also be forced to pack and leave before Donald Trump's departure," he added.
In relevant remarks, Iranian Foreign Ministry Spokesman Seyed Abbas Mousavi tweeted that "no difference between John Bolton, Brian Hook or Elliott Abrams; when it comes to the US #Iran policy, American officials have been bitten off more than they could chew. Same applies to Mike Pompeo, Donald Trump AND their successors".
Alireza Miryousefi, spokesman for Iran's mission to the United Nations in New York, also played down Hook's departure, saying it "does not concern us and is not something we consider as a game-changer".
"The so-called 'maximum pressure' campaign waged by the US government has failed," he added.
Miryousefi reiterated that Iran is not on its knees, and will not do so regardless of who is in charge of implementing this bankrupt policy due to active resistance.
In his Thursday comments, Pompeo did not give a reason for the change, but wrote in a tweet that Hook was moving on to the private sector. He described him as a "trusted adviser and a good friend", claiming he had achieved "historic results" in countering Tehran and securing the release of US prisoners in Iran.
The New York Times debunked the claim, saying Hook "departs with his main goal still elusive".
Hook, 52, was appointed to the top Iran role at the State Department in late 2018 and has been the point man in Washington's so-called "maximum pressure" campaign on Tehran after Trump pulled out of the 2015 nuclear deal between Iran and the world powers.
Hook's surprise departure comes at a time when Washington has been intensely, but in vain, lobbying at the United Nations to extend an arms embargo on Iran, which is to expire in October as per the UN Security Council Resolution 2231.
The Security Council prepares to hold a vote on the US resolution next week.
https://en.farsnews.ir/newstext.aspx?nn=13990517000457
--------
Turkish lira collapses to new low: 'Soon we will be like Syria or Libya'
08 August 2020
The Turkish lira hit new lows on Thursday as Turkey continues to face economic uncertainty with the lira continuing to fall and inflation rising.
With a continued lack of foreign investment and tourism levels down due to the COVID-19 pandemic, Turkish citizens are feeling the pain of the economic turmoil that threatens the country. In just two weeks, the lira went from around 6.80 to $1 at its lowest point to over 7.20 in the first week of August.
Ismail Berker Beysel, an undergraduate student and an IT analyst intern, has noticed the rise in prices lately. While the extent of the increase varies from product to product, he noted that there was a large increase overall.
For all the latest headlines follow our Google News channel online or via the app.
"I had to make some adjustments to my shopping routines," he told Al Arabiya English. "But nothing too major. I canceled some of my online subscriptions because of increasing foreign currencies. Also, I focused on investments and savings to plan ahead."
Despite not having to make massive adjustments to his life, Beysel is looking for potential job opportunities abroad following his graduation in the event that the economic situation continues to worsen.
"I try to follow the news and I can see that the situation is getting worse," he explained. "That's why I focus on planning for the future. I'm searching for [potential] job opportunities in other countries."
Even though he is looking at opportunities abroad, Beysel does not plan on leaving the country unless he absolutely has to. Fatih Pishkin also does not plan on leaving a country that he deeply loves.
Pishkin is a student who will sometimes work at his family's coffee shop at a mall. While working there lately, he has noticed a significant decrease in foot traffic.
"The mall is maybe 10 percent full," Pishkin told Al Arabiya English. "Before it was 80 percent."
While much of this is due to fears surrounding the spread of the coronavirus, Pishkin argues that the economic situation has been a contributing factor as well.
According to economist Mustafa Sonmez, this economic turmoil first began in 2018 where signs of trouble began to show with economic growth being less than what Sonmez believed was within Turkey's potential.
Then the pandemic struck, and tourism – one of the largest contributors to the Turkish economy – dried up.
"They [the government] don't have enough currency in the central bank," Sonmez told Al-Arabiya English, "because Turkey's exports and tourism decreased especially in the pandemic."
According to the economist, the lack of currency in the central bank is a contributing factor that has discouraged investors from coming to Turkey as they may not be able to make their money back much less a profit.
"That's why new foreign currencies are not coming," he said, "Investors are not sure that they can come to Turkey and make investments. That's the problem with a shortage of foreign exchange."
Now, because the prices for foreign exchange are increasing, inflation is increasing with imported products seeing the largest rise in price.
"If the foreign exchange price is up," Sonmez explained, "it causes the prices [to increase] of anything imported or energy, any consumer good that's imported or other imported goods. It causes a high inflation."
In addition to this, the vast majority of people's salaries are below the inflation rate, therefore decreasing their spending power and how much money they are able to put back into the economy.
"The consumer prices are increasing because most of the goods are imported," Sonmez stated. "Both intermediate goods and any others are imported. So, when the Turkish lira decreases in value, it comes to the consumer as inflation."
Sonmez argues that Turkey needs to give "trust to domestic and foreign actors" so that they would invest in the Turkish economy and, therefore, create more foreign exchange, decreasing prices along with inflation. With inflation down, average Turkish citizens would be able to put their money back into the economy.
However, many Turkish citizens are not optimistic about the future. Pishkin said that he is not worried about the situation getting worse, because he is certain that it will continue to deteriorate no matter what happens.
Only getting worse
"I'm not worried," he said. "It will be worse anyways. Turkey's economy was already in shambles. Corona[virus] only sped up the process."
With the situation continuing to worsen, Pishkin is worried that it will devolve to the level of a country in the midst of a civil war.
"Soon we will be like Syria and Libya," he stated. "And we'll just have to do whatever it takes to survive."
Despite this fear, Central Bank Governor Murat Uysal remains confident that despite the shortcomings of the first half of the year, the second one will be significantly better even if there is a second wave of coronavirus in Turkey.
"Even if uncertainties regarding the global economy are taken into account," the governor stated during a presentation on the central bank's third annual inflation report in Ankara, "the second wave will not restrict economic activities as compared with the first."
Despite his optimism, COVID-19 cases continue to rise in Turkey and tourism numbers remain low.
Still, no matter the future, most Turkish citizens plan on remaining in their home country. Beysel is among this group of people unless he is offered an opportunity abroad that he could not pass up.
"I like my country and I'm settled here," he explained, "that's why in my near future plans I don't see myself leaving the country. But if there is a good opportunity, it isn't the end of the world to start living in another country."
https://english.alarabiya.net/en/News/world/2020/08/08/Turkish-lira-collapses-to-new-low-Soon-we-will-be-like-Syria-or-Libya-.html
--------
Israel says sirens sounded in false alarm, then claims downing drone
07 August 2020
The Israeli military has issued contradictory statements about rocket warning sirens which were sounded in northern Israel near the Lebanese border on Friday.
The military initially said the sirens were sounded following what turned out to be a false report that a drone had crossed into Israel.
The alarm was heard in the communities of Avivim, Meron, Dovev, Hurfeish, Sassa, Netua, Fasuta and Peki'in, Tzivon, Tzuriel and Alkush.
The Israeli military later claimed it had shot down a drone overnight Thursday into Friday that came from Lebanon.
Israeli troops, it said, "identified a drone which infiltrated into Israeli airspace in the Mount Hermon area" along the Lebanese border.
According to the military, the troops were conducting searches in the area, but there was no indication they had found any traces of the allegedly downed drone.
The incident seems to be similar to what happened last week, when Israel claimed to have thwarted an infiltration by Hezbollah, which the resistance movement rejected.
Hezbollah said the claims were "all aimed at fabricating spurious and fictitious victories" to uphold the morale of Israeli troops.
Israel has moved specialized military units to the northern border to reinforce their increasingly tense outposts along the Lebanese and Syrian borders.
The deployment came in anticipation of Hezbollah's reprisal after an Israeli airstrike killed the movement's fighter, identified as Ali Kamel Mohsen, on the edge of Damascus on July 20.
Hezbollah has pledged to avenge the killing, but its refusal to say when the strike would be coming has created a mood of heightened apprehension and spurious reaction among Israeli troops.
They shelled the Lebanese village of Habaria last Monday to stop an alleged Hezbollah offensive, but the Lebanese movement said the firing came from only one source, calling it the result of tension and confusion among Israeli forces.
"Hezbollah affirms that there has been no clash or shooting on its part in the events of the day until now. Rather, it was only one party, which was the fearful, anxious and tense enemy," the statement said.
"All the enemy media claims about thwarting an infiltration operation from Lebanese territory into Occupied Palestine ... that took place in the vicinity of the occupied Shebaa Farms is absolutely not true, but rather an attempt to invent false victories," the statement added.
A leading US news website said this week the recent developments have "shed light on Israel's impossible situation" along the Lebanese border.
According to Business Insider, Hezbollah has established a high level of deterrence in southern Lebanon where as many as "150,000 rockets and missiles" are pointed at Israel.
Hezbollah has "laid a very dangerous trap for us in the north and I am not clear on how there can be a military solution to this crisis that would come at an acceptable cost," said a former senior Israeli official who asked not to be named.
The movement can pour dozens if not hundreds of rockets into Israel throughout the northern third of the occupied territories "almost unimpeded", the website said, adding larger, more advanced, systems are capable of hitting the entire territory.
https://www.presstv.com/Detail/2020/08/07/631269/False-rocket-alarm-sounds-in-northern-Israel-along-Lebanon-border
--------
URL: https://www.newageislam.com/islamic-world-news/tablighi-jamaat-reports-cant-be/d/122580
New Age Islam, Islam Online, Islamic Website, African Muslim News, Arab World News, South Asia News, Indian Muslim News, World Muslim News, Women in Islam, Islamic Feminism, Arab Women, Women In Arab, Islamophobia in America, Muslim Women in West, Islam Women and Feminism