New Age Islam News Bureau
22 Apr 2020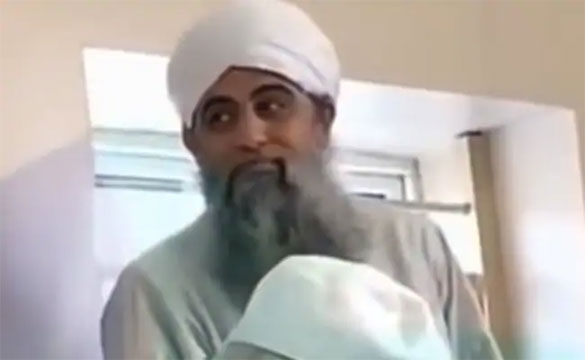 Maulana Saad said most of the members who were quarantined did not have any infection (File)
-----
• Tablighi Jamaat Leader Maulana Saad Kandhalvi Says Members Who Survived COVID-19 Should Give Plasma
• Govt Of India Reaches Out to Muslim Community Ahead of Ramzan
• Ablution Practice Might Have Cut COVID-19 Risk in UK Muslims: Report
• Saudi King Salman Approves Performing Tarawih In the Two Holy Mosques
• COVID-19: Aceh Ulema Council to Allow Congregational Prayers During Ramadan
• Pakistan Strikes Imam of Jihadis, Zaki-Ur-Rehman Lakhvi Off Terror Watch List
• Indian Army to Deploy A Team to Afghanistan To Help with Coronavirus Fight
• Turkey's Introduces New Covid-19 Measures for Ramadan
-------
India
• Tablighi Jamaat Leader Maulana Saad Kandhalvi Says Members Who Survived COVID-19 Should Give Plasma
• Govt Of India Reaches Out to Muslim Community Ahead of Ramzan
• In Karnataka a Muslim Family Performs Online Wedding, As A Gesture of Extending Support and Cooperation to The Lockdown
• 65-Yr-Old Virus Victim from Telangana Buried in Mecca
• "101 Arrests, No Muslim": Maharashtra Minister on Sadhus' Mob Killing
• Rohingya Muslims sinned by attending Tabligh event: Uttarakhand MLA
• India set to export HCQ to Malaysia as two nations look past recent tensions in ties
• Lockdown Effect: No Biryani, Haleem In Hyderabad This Ramadan
-----
Europe
• Ablution Practice Might Have Cut COVID-19 Risk in UK Muslims: Report
• Ramadan in a time of plague: 'The best thing is to stay home, stay quiet'
• Newcastle Muslim community prepares for Ramadan under lockdown
• School told to apologise to Muslim family over letter saying it was worried boys were missing lessons to attend Friday prayers
• London paramedic who told colleagues 'I don't like Muslims' and accused one of 'looking like Bin Laden' is struck off
-----
Arab world
• Saudi King Salman Approves Performing Tarawih In the Two Holy Mosques
• Lebanese Protesters Return to Streets in Car Convoys Amid Virus Outbreak
• Ramadan 2020: Ruler of Ajman pardons 124 prisoners ahead of Ramadan
• UAE to release more than 1,500 prisoners as Ramadan nears
• Iraqi Air Force Kills 14 Daesh Terrorists in North-Central Province
• Ramadan 2020: Sheikh Khalifa pardons 1,511 prisoners for holy month
• COVID-19: This Ramadan we shall be 'all together, at home'
----
Southeast Asia
• COVID-19: Aceh Ulema Council to Allow Congregational Prayers During Ramadan
• Muslims In Egypt Try to Keep Ramadan Spirit Amid Virus Restrictions
• Indonesia Bans Traditional Ramadan Exodus to Rein in Coronavirus
• Observing Ramadan while practicing new normal during MCO
• Jakarta Denies Entry To 239 Foreigners During COVID-19 Pandemic
• Malaysia arrests Rohingya in trafficking crackdown
-----
Pakistan
• Pakistan Strikes Imam of Jihadis, Zaki-Ur-Rehman LakhviOff Terror Watch List
• Mosques to Be Closed If Corona Spreads in Ramazan: PM Imran Khan
-----
South Asia
• Indian Army to Deploy A Team to Afghanistan To Help with Coronavirus Fight
• 11 Security Personnel Lost Their Lives, 19 Wounded InTaliban Attacks In Sar-ePul
• Explosion close to Khost governor's convoy of vehicles leaves 5 wounded
• 51 new positive cases of coronavirus recorded across Afghanistan in past 24 hours
• Key ISIS leader having links with Haqqani Network, Lashkar-e Taiba arrested in Afghanistan
• The Latest: Czech Republic, Bangladesh tally new virus cases
------
Mideast
• Turkey's Introduces New Covid-19 Measures for Ramadan
• Muslims try to keep Ramadan spirit amid virus restriction
• Turkish mosque turned into temporary 'supermarket'
• Iran 'launches military satellite into
• Gazan artists support Palestinian prisoners in Israeli jails amid pandemic
• Palestinians need unified national strategy against Israel: Hamas
• IRGC shoots Iran's first military satellite into orbit
• Iran helping victims amid coronavirus outbreak
-----
North America
• Islamic Centreof Greater Cincinnati Plans for Muslim Holy Month During Pandemic
• More than 350 families helped by Woking mosque volunteers during coronavirus crisis
• Why the US was primed to mistrust China's pandemic response: Lies about mass imprisonments of Muslims
• FBI honors mosque leader
• Spain says one of Europe's most-wanted Islamic State fighters arrested
• US-led coalition strikes Islamic State positions in Syria
-----
Africa
• Sultan Warns Against Congregational Prayers, Mosque Gatherings During Ramadan
• Ramadan in Somalia: fears coronavirus cases will climb as gatherings continue
• Children at an Islamic school in Kogi despite closure of schools
• Uhuru rules out adjustment of curfew hours during Ramadan
Compiled by New Age Islam News Bureau
URL; https://www.newageislam.com/islamic-world-news/tablighi-jamaat-leader-maulana-saad/d/121643
------
Tablighi Jamaat Leader Maulana Saad Kandhalvi Says Members Who Survived COVID-19 Should Give Plasma
April 21, 2020
New Delhi: Tablighi Jamaat leader Maulana Saad Kandhalvi, who has been charged by the Delhi Police for holding a religious congregation during the lockdown, on Tuesday appealed to coronavirus survivors to donate blood plasma for infected people.
"Even from amongst the ones who tested positive for the disease, a majority of them have now undergone treatment and are now cured while I and a few others are still under quarantine."
"It is required that such people who are now cured of this disease should donate blood plasma to others who are still fighting the disease and are under treatment," he said.
While addressing an online briefing on Sunday, Chief Minister Arvind Kejriwal cited the Tablighi Jamaat congregation last month, a major hotspot, and the large inflow of travellers from other countries to Delhi as the reasons for the spread of the virus, and said the city was "fighting a difficult battle".
The Delhi Police crime branch, had on March 31, lodged an FIR against seven people, including the cleric, on a complaint by the Station House Officer of Nizamuddin police station for holding the congregation in alleged violation of the orders against large gatherings to contain the spread of coronavirus.
https://www.ndtv.com/india-news/coronavirus-maulana-saad-says-covid-19-survivors-should-donate-blood-plasma-2215888
-----
Govt Of India Reaches Out to Muslim Community Ahead of Ramzan
22 Apr 2020
NEW DELHI: Ahead of the holy month of Ramzan, which begins on 24 April, the Union government has urged the Muslim community to maintain social distancing and hold prayers at home.
Last week, the Centre had reached out to Waqf Boards and Muslim religious leaders across states in this respect. State governments have been asked to hold similar meetings with community leaders to ensure that people do not step out of their homes, as the nation goes through a strict clampdown to check the spread of the pandemic.
"Two rounds of meetings have been conducted and we have spoken to several religious leaders and Waqf boards. There has been a unanimous decision by these leaders and organizations that social distancing will be maintained and prayers will be organized at homes rather than large gatherings in mosques," said minority affairs minister Mukhtar Abbas Naqvi on Tuesday. Naqvi said this was not the first time when the community had unanimously decided to take precautions because of the coronavirus spread. "The Muslim community has itself taken this decision, just like they took for Shab e-Barat." State governments, too, have reached out to the minority community. In Hyderabad, city authorities usually make preparations to accommodate lakhs of people, but this time, the state government has appealed to people to maintain social distancing and follow lockdown rules.
With a curfew from 7am to 6pm daily till 7 May in Telangana, about two weeks of Ramzan will pass quietly. Baba Fasiuddin, deputy mayor of the Greater Hyderabad Municipal Corp. (GHMC), appealed to the Muslim community on Monday to perform prayers only at home. Fasiuddin, in a press conference with prominent Muftis and Maulanas, further requested Muslims to adhere to lockdown rules and asked them not to gather in large numbers during prayers. "As humans, everyone must look after each other's well-being and it is our responsibility to support the government's efforts in containing the virus," he added.
https://www.livemint.com/news/india/govt-reaches-out-to-muslim-community-ahead-of-ramzan-11587498064156.html
----
Ablution practice might have cut COVID-19 risk in UK Muslims: report
Hamza Azhar Salam
April 22, 2020
LONDON: The Muslim practice of Wudhu (Ablution) five-times-a-day before the compulsory prayers may have played a major role in preventing the spread of the novel coronavirus in British Muslim communities.
According to a recent report by Professor Richard Webber from Newcastle University and former Labour Party politician Trevor Phillips, Muslims in the UK might be at a lower risk of the deadly coronavirus because they clean themselves five times a day.
According to the duo, performing Wudhu five times a day and frequent hand washing might have saved many Muslims from contracting COVID-19. Low employment, especially of Muslim women, also might have contributed to controlling the spread of the virus in areas where there are greater numbers of Muslims. Only 29% of British Muslim women are employed, according to the Young Foundation. A lack of employment implies less use of public transport and travel in hotspots. Philips said that Blackburn, Bradford, Luton, Rochdale and Rotherham are "conspicuous by their absence" on the list of worst-hit places by the coronavirus, being both non-white and poor areas. All these areas have a high concentration of Muslims.
In an opinion article, Phillips wrote: "Were poverty the key determinant, we would expect the virus to be running rampant among Britain's Pakistani and Bangladeshi Muslim communities." He gave the example of Tower Hamlets, in central London, which has more than a third Muslim population and is surrounded by coronavirus hotspots, but appears to be saved from it.
Tower Hamlets has 548 cases of COVID-19, compared to 859 in neighbouring Newham, and 1,075 in Southwark across the river. Surprisingly, both boroughs have high proportions of ethnic minority people, but fewer Muslims than the borough of Tower Hamlets.
While it cannot be ascertained whether cultural practices of some Muslim families have protected them for the virus, the data shows that Muslims have been less affected in many areas of the UK. While official statistics show that BAME communities are at a greater risk of contracting the virus because of a higher representation in the NHS and multiple generations living in the same house.
"Maybe there is a revelation to be had here; if one key to stopping transmission of the virus is hand washing, might a faith community many of whose members ritually wash before five-times-a-day prayers have something to teach the rest of us?" Phillips implied.
"And does an ethnic group where almost 40 percent are economically inactive - and therefore not regularly using public transport, for example - merely underline the protective value of social isolation?" he further said in the report.
https://www.thenews.com.pk/print/647989-ablution-practice-might-have-cut-covid-19-risk-in-uk-muslims-report
-----
Saudi king Salman approves performing Tarawih in the two holy mosques
APRIL 22, 2020
CAIRO (Reuters) - Saudi king Salman approved performing Tarawih in the two holy mosques and reducing them with the continued suspension of entry of pilgrims, the Presidency of the Two Holy Mosques' Affairs said in a statement on Wednesday.
Saudi Arabia plans to ease curfew hours it imposed on several cities during the month of Ramadan to allow people more time to shop for essential needs within the boundaries of their neighborhoods, state news agency (SPA) reported on Tuesday.
https://www.reuters.com/article/us-health-coronavirus-saudi/saudi-king-salman-approves-performing-tarawih-in-the-two-holy-mosques-idUSKCN22408F
-----
COVID-19: Aceh Ulema Council to allow congregational prayers during Ramadan
April 22, 2020
The Aceh Ulema Council (MPU) has announced that it will allow people to perform daily mass prayers and tarawih (Ramadan night prayers) during the upcoming holy month despite the ongoing COVID-19 outbreak.
The announcement contravenes guidelines issued by the Religious Affairs Ministry that advise people to worship from home following President Joko "Joko" Widodo's declaration of the COVID-19 outbreak as a public health emergency.
MPU deputy chairman Faisal Ali explained that the council had only allowed congregational prayers in areas where the spread of COVID-19 was still under control.
"People who live in areas where COVID-19 is under control may perform daily prayers, as well as tarawih and IdulFitri prayers at mosques while still limiting the durations," Faisal said on Tuesday as quoted by tribunnews.com.
"We have asked the administration to set the status for areas [in Aceh] affected by COVID-19 and classify them based on transmission rates," he said.
He also explained that zakat (alms) collection and distribution should be carried out normally to ensure low-income people affected by the outbreak received the help they needed.
According to the official government count, Aceh has recorded seven confirmed COVID-19 cases, with one death as of Tuesday.
https://www.thejakartapost.com/news/2020/04/22/covid-19-aceh-ulema-council-to-allow-congregational-prayers-during-ramadan.html
-----
Pakistan strikes Imam of Jihadis, Zaki-ur-Rehman Lakhvi off terror watch list
By Vicky Nanjappa
April 22, 2020
New Delhi, Apr 22: In an expected move, Pakistan has taken off thousands of terrorists from its watch-list. The name of Zaki-ur-Rehman Lakhvi, a prime accused in the Mumbai 26/11 attack and chief commander of the Lashkar-e-Tayiba has also been struck of the list.
It was revealed the data collected by Castellum.AI, a New York based regulatory technology company that the list had been halved from 7,600 to 3,800. Pakistan says that this had been done owing to various inaccuracies. It further said that the list needed to be updated to fulfil the requirement of the Financial Action Task Force, which had asked for a cleaning up of the data base ahead of its June assessment.
India, meanwhile is keeping a close watch on the developments. An official in the know of the developments told OneIndia that Pakistan may have violated the FATF standards. The officer also said that he was particularly surprised that Lakhvi had been struck of the list.
Lakhvi was one of the chief architects of the 26/11 attack and is also wanted for several other acts of terror on Indian soil.
Lakhvi has had a free run in Pakistan, despite India and the rest of the world providing Pakistan with proof regarding his acts of terror. Experts say that, he is without a doubt the most passionate jihadi in Pakistan. When it comes to a passion to attack there is none more lethal than Lakhvi is what every analyst that we spoke to would say.
Unlike a Hafiz Saeed who can preach sermons against India, Lakhvi is a field man. He is not a great planner, but what he brings to the Lashkar is that element of passion. The manner in which he commands his forces and speaks about his passion to wage war against India has been a major draw for the Lashkar. The cadres love and respect him and they fought the fiercest of battles against India when Lakhvi was in command.
In Pakistan he is known as the imam of Jihadis. He has put his family on the battle field and every person in the Lashkar is in awe of him for this. His two sons, Abu Qasim and Abu Qatal died fighting in Kashmir against the Indian army.
He had also instructed his wife not to lose heart after they lost their sons. In fact he instructed her to run a camp for those widows who had lost their husbands fighting in Kashmir.
These are the factors that have added to his reputation and hence is considered to be the most passionate jihadi of Pakistan. Even the Pakistan establishment realizes this and hence have very reluctantly kept him behind bars.
Some of his statements against India are a clear indicator of why he is loved so much in Paksitan. He had said that his primary agenda was the destruction of India. He also said that the entire network of the Lashkar would be extended into India.
He was the same one who said before the Kargil war that a war against India was on the cards. He said that it was time to prepare for the disintegration of India.
Apart from this he has also threatened a major strike in New Delhi apart from swearing to liberate Kashmir and then Hyderabad.
https://www.oneindia.com/india/pakistan-strikes-imam-of-jihadis-zaki-ur-rehman-lakhvi-off-terror-watch-list-3076033.html
------
Indian Army to deploy a team to Afghanistan to help with coronavirus fight
22 Apr 2020
The Indian Army is readying a team which is expected to be deployed to Afghanistan in a bid to help with the fight against the novel coronavirus (COVID-19) outbreak in the country.
Official sources said Tuesday that similar teams are being prepared for the deployment to Sri Lanka, Baghladesh and Bhuttan.
This comes as the Indian Army sent a tam to Maldives last month to help the island nation set up coronavirus testing laboratories and train local medical professionals to fight the pandemic.
The Indian Army also deployed a 15-member team to Kuwait earlier this month as part of bilateral cooperation the two countries, according to Economic Times.
The sources said the teams for Sri Lanka, Bangladesh, Bhutan and Afghanistan are being readied as part of India's policy of extending helping hand to all friendly countries in the region to fight the pandemic.
This comes as the public health ministry of Afghanistan announced Monday that the officials have recorded more than 1,000 positive cases of coronavirus across the country.
https://www.khaama.com/indian-army-to-deploy-a-team-to-afghanistan-to-help-with-coronavirus-fight-04706/
----
Turkey's introduces new Covid-19 measures for Ramadan
14 MINUTES AGO
Turkey's Interior Ministry on Wednesday announced new Covid-19 measures for the Muslim fasting month of Ramadan.
The ministry said all necessary precautions will be taken when the fast begins in the morning and when the fast ends in the evening to maintain social distancing outdoors.
The municipalities will also coordinate the increase in road trips made three hours before the fast is broken, considering the traffic density.
The selling time of Ramazan pide, a traditional round and flat bread generally consumed during the fasting month, will be terminated two hours before the end of fast in order to prevent crowds from gathering at bakeries.
Production, sales and other preparation processes will continue in bakeries during the night.
Marketplaces will also be controlled to ensure citizens follow social distancing rules and wear face masks.
Social distancing will also be enforced among visitors to cemeteries on the eve of and during Eid al Fitr, the holiday that marks the end of the fasting month, with officials taking temperatures at the entrance.
https://www.trtworld.com/turkey/turkey-s-introduces-new-covid-19-measures-for-ramadan-35641
----
India
In Karnataka a Muslim Family Performs Online Wedding, As A Gesture of Extending Support and Cooperation to The Lockdown
Apr 22, 2020
Hubballi: As a gesture of extending support and cooperation to the lockdown, a Muslim bride and groom in Karnataka have tied the knot through video calling. The online marriage has been welcomed by all section of the society when some people including politicians are performing wedding through gathering hundreds of people despite lockdown is in progress.
The groom Imran Nadaf, a resident of Adarsh Nagar in Dharwad, married his bride TejamaBegam of Koppal town via online platform. Both of them completed marriage rituals and said 'Qubul' to the union while staying at their own respective homes.
The elders of the newly married couple claimed that they had to perform online marriage as it was fixed on an auspicious date, and therefore couldn't be postponed.
Both families had assumed that the lockdown will end by April 14 as per the initial plan announced by the central government. But, the extension of lockdown owing to rising Covid-19 cases had jeopardized their plans. Therefore they opted to go for online marriage on the fixed date.
The groom has been working as a private tourist driver and is planning to bring his wife to home with him once lockdown is lifted after May 3.
"We had printed thousands of wedding cards by fixing the marriage on April 19. We could not postpone the wedding as one of the prominent marriage rituals was already completed. Therefore, marriage had to be performed on the scheduled date as we had also exchanged wedding sarees, clothing and other materials. We will invite each other once both Dharwad and Koppal administrations allow free movement of the people between both districts after Corona cases are abated", said groom's father Mohammed Haneef Nadaf.
Merely 3-4 members of these families were present on both sides along with Jamat leaders while performing the online marriage.
https://www.deccanchronicle.com/nation/in-other-news/220420/social-distancing-hubballis-muslim-family-performs-online-wedding.html
-----
65-Yr-Old Virus Victim from Telangana Buried in Mecca
Apr 22, 2020
Hyderabad: The funeral of a Telangana man Azamatullah Khan, who died of Covid-19 in Saudi Arabia, was conducted in Mecca on Tuesday. The 65-year-old, who hailed from Nizamabad, was not keeping well and got admitted in a hospital with fever. He tested positive for Covid-19 and succumbed on April 16.
Azamatullah's four sons work in different places in Saudi Arabia itself but because of the lockdown it was not possible for them to travel to Mecca. Telangana Jagruthi founding president Kalvakuntla Kavitha, who learnt of the situation, asked Jagruthi members in Mecca to help out the family.
The volunteers got the procedures completed in the hospital and conducted the funeral with the help of government authorities.
Ali Iftekar, who heads Telangana Jagruthi in Saudi Arabia, was helped by local social worker Abdul Mujeeb Kaaruthedath, in coordinating with various government departments and getting clearances for conducting the funeral in Mecca.
https://timesofindia.indiatimes.com/city/hyderabad/65-yr-old-virus-victim-from-state-buried-in-mecca/articleshowprint/75282327.cms
-----
"101 Arrests, No Muslim": Maharashtra Minister On Sadhus' Mob Killing
April 22, 2020
Mumbai: None of the 101 people arrested so far for the mob attack on three men in Maharashtra's Palghar district last week are Muslims, state Home Minister Anil Deshmukh said today. Mr Deshmukh hit out at the BJP-led opposition in the state for adding a communal twist to the horrific incident and confirmed the case had been given to Maharashtra CID (criminal investigation department).
"101 people have been arrested so far and let me tell you not a single one arrested is Muslim. So don't give this incident a communal colour," the minister said, speaking via Facebook to maintain social distancing during the coronavirus outbreak.
"Some people are seeing 'mungerilalkehaseensapne' (a pipedream). This is not the time to play politics but to fight (the) coronavirus (outbreak) collectively," he added.
The brutal assault, which took place only 125 kilometres from Mumbai, was likely the result of mistaken identity, Chief Minister Uddhav Thackeray said on Monday; Mr Thackeray also warned against communalising the incident.
A tweet from the Chief Minister's Office read: "Those trying to inflame passions, must desist from doing so. There is no Hindu-Muslim angle or communalism in this attack. Two policemen were suspended immediately".
Shocking visuals of the attack emerged online last week in which angry residents of Gadchinchale village, armed with sticks and stones, attacked three men, one of whom was 70-years-old.
A police team trying to restore order was also attacked and some were injured. Two of the three killed were sadhus, the third was the driver of the car in which they were travelling.
Other videos showed villagers attacking a police car, shattering its windows and windshield, and pushing it till it rolls over.
Police have said there were rumours of thieves taking advantage of the lockdown to break the chain of transmission of the novel coronavirus. According to District Collector Kailash Shinde, there were also rumours of people abducting children from the neighbourhood.
https://www.ndtv.com/india-news/palghar-mob-killing-101-arrests-no-muslim-maharashtra-minister-on-sadhus-mob-killing-2216042
------
Rohingya Muslims sinned by attending Tabligh event: Uttarakhand MLA
by Lalmani Verma
BJP MLA from Rudrapur Rajkumar Thukral on Tuesday triggered a controversy by alleging that Rohingya Muslims attended the March gathering of Tablighi Jamaat in New Delhi and committed a sin by doing so.
He went on to call for shootout orders against those involved in attacks on medical and police staff deployed in COVID-19 outbreak management.
A video which surfaced on social media on Tuesday purportedly shows the MLA saying to a gathering of people, "50,000 Rohingya Muslims who were deported from Myanmar had been given refuge in our country because of some so-called leaders. Now, those Rohingya Muslims attended Tablighi Jamaat in Nizamuddin, committed a crime and sin that is unforgivable…"
"I have repeatedly demanded from the Indian government to issue shoot out order for those who are habitually hurling abuses at doctors, police, nurses and medical staff, harassing them, pelting stones and want to kill them, they should be booked under the National Security Act."
Speaking to The Indian Express, Thukral hit out further at Rohingya Muslims and called for their expulsion from the country.
The MLA added that the entire Muslim community was not same and went on to say that a few of them were trying to destroy the community.
https://indianexpress.com/article/india/rohingya-muslims-sinned-by-attending-tabligh-event-uttarakhand-mla-6373449/
-----
India set to export HCQ to Malaysia as two nations look past recent tensions in ties
21 April, 2020
NAYANIMA BASU
New Delhi: India is set to start hydroxychloroquine exports to Malaysia, with the Covid-19 pandemic forcing Delhi and Kuala Lumpur to look past recent irritants in the relationship.
Hydroxychloroquine, an anti-malarial drug, has been touted as a promising cure for Covid-19 by the likes of US President Donald Trump despite the absence of any conclusive research to back the claim.
India's decision follows a months-long chill in the relationship over concerns in Malaysia, where Islam is the official religion, about New Delhi's decisions to strip Jammu & Kashmir of its special status by scrapping Article 370 and introduce the controversial Citizenship Amendment Act (CAA) across India.
Under former Prime Minister Mahathir Mohamad, Kuala Lumpur had seen both decisions as inimical to India's Muslim citizens. However, bilateral ties have improved slowly since a change in the government there this February that saw Mahathir Mohamad ousted.
In March, immediately after taking over, new Malaysian Prime Minister Muhyiddin Yassin extended an olive branch to India, which eventually relaxed restrictions over palm oil imports from Kuala Lumpur by not renewing the 5 per cent import duty imposed in September 2019. India is the world's biggest palm buyer and a major market for Malaysia, the commodity's second-largest producer.
Last month, before the world went into lockdown mode over the pandemic, PM Yassin had expressed a "desire to strengthen ties" with India after he received a congratulatory letter from Prime Minister Narendra Modi.
Ties between India and Malaysia had deteriorated rapidly last year when, after the Article 370 move, Mahathir stated at the UN General Assembly that it has "invaded and occupied" Kashmir. He later said people in India were "dying" due to the CAA, which has been controversial for introducing a religious ground for citizenship claims from Afghan, Pakistani and Bangladeshi refugees.
"The relationship with Malaysia took a hit because of PM Mahathir's friendship with Pakistan Prime Minister Imran Khan," veteran diplomat M. Bhadrakumar told ThePrint. "Besides, he was too aggressive in his Islamist agenda. The new dispensation is also Islamist but they are also maintaining neutrality."
As of Tuesday, Malaysia had 5,482 Covid-19 cases, with 92 deaths, according to the Johns Hopkins Coronavirus Resource Centre.
On Sunday, the Ministry of External Affairs had facilitated the repatriation of 92 Malaysians from India by collaborating with its Kuala Lumpur counterpart.
https://theprint.in/diplomacy/india-set-to-export-hcq-to-malaysia-as-two-nations-look-past-recent-tensions-in-ties/406127/
----
Lockdown effect: No Biryani, Haleem in Hyderabad this Ramadan
Ashish Pandey
April 22, 2020
Ramadan in Hyderabad is much about relishing Haleem, a delicacy that is prepared, served and exported from the City of Nizams only during the month of Ramadan. However, things will be different this year. Due to the lockdown, eateries in Hyderabad will not be serving biryani and Haleem during Ramadan.
The Haleem industry makes sales worth hundreds of crores during Ramadan. People associated with the industry in Hyderabad say this time the industry will suffer badly due to the coronavirus pandemic and the resultant lockdown. This is also probably the first time in the past 50 years that eateries in Hyderabad will not be serving Haleem during Ramadan.
The Hyderabad Haleem Makers' Association (HHMA) and the Twin Cities Hotel Owners' Association have decided they won't be preparing the delicacy this year.
The associations say the lockdown has already hit the city's biryani business which has a monthly turnover of around Rs 1,000 crore. They say Haleem sellers alone used to see sales worth roughly Rs 500 crore during Ramadan.
MA Majeed of the famous Pista House, who is also president of HHMA, hopes this tough period will end soon. His Pista House owns a GI tag for Haleem and exports the Hyderabadi delicacy to the US, Europe and West Asia, alongwith distributing in other parts of India.
Haleem is a mutton stew that is mixed with lentils, wheat and spices. It is prepared in ghee and is slowly cooked on low flame for hours that turns it into a thick paste.
It is said that the delicacy was brought to Hyderabad by the Chaush people from the Arab world when the city was ruled by the Nizams. Over the centuries, the dish evolved and incorporated elements of local Indian cuisine.
indiatoday.in/india/story/lockdown-effect-no-Biryani-haleem-in-hyderabad-this-ramadan-1669679-2020-04-22
------
Europe
Ramadan in a time of plague: 'The best thing is to stay home, stay quiet'
22 Apr 2020
Mosques will be deserted, daylong fasts will be broken in isolation and in some places the calls to prayer that rally believers together will end with a different exhortation: worship from where you are.
Ordinarily during Ramadan, the holy month that commences this week, Muslim community life swells with special prayers at mosques and crowded iftar dinners that can stretch into the early hours.
But that kind of socialising now risks spreading coronavirus, and bans on religious and family gatherings will persist across much of the Islamic world even as businesses and government offices start to reopen.
"It's going to be difficult and depressing," said Mohammad Faoury, who works for a refugee organisation in Amman, Jordan. "Since I'm single and live alone, Ramadan is the month when I can finally see my family for extended periods of time. It's a time we strengthen the bond."
The virus has emptied Islam's holiest sites at the most sacred time of year. The Ka'bah, the gold-embroidered shrine in Mecca's Grand Mosque, is closed to worshippers along with the Prophet's Mosque in Medina and Jerusalem's al-Aqsa mosque.
"Our hearts are tortured from pain in the holy month of Ramadan," said Sheikh Omar al-Kiswami, the imam and director of al-Aqsa, where only guards and mosque employees will be permitted to pray. "It is a very sad moment in the history of Islam."
Jamia Masjid, one of the oldest and grandest mosques in the disputed south Asian territory of Kashmir, usually overflows in the evenings with people gathering for prayer and discussing religion, politics and life. This month it will sit silent for the first time in living memory.
"In Ramadan I would pray all five times of the day at Jamia and would also do iftar there, but this time it is a matter of life and death," said Fatima, 74, from Srinagar. "There is danger outside and the best thing is to stay home, stay quiet."
Indonesia has banned mudik, an annual homecoming in which tens of millions of people travel to see their families for Eid-al-Fitr, the festival that marks the end of the fasting month.
Across Israel and Palestine, mosques – as well as churches and synagogues – have been closed. Abdullah Abu Galous, a 38-year-old hardware shop owner from the Palestinian city of Ramallah, said it felt as if Ramadan had been cancelled.
"I would never have thought that a tiny virus could stop us from celebrating the month of Ramadan. It has held more than one billion Muslims throughout the world hostage," he said.
Authorities in Turkey have so far resisted calls for a total lockdown, insisting the wheels of the economy must keep turning. But Ramadan will be marked by a new four-day lockdown starting from Thursday night, during which families will not be able to travel to eat and celebrate together without risking fines or arrest.
The emergency has raised unprecedented issues for many of the religion's 1.8 billion adherents as they prepare to abstain from food and water during sunlight hours.
Several Arab newspapers have carried expert assurances that fasting has not been shown to reduce resistance to the virus. Al-Azhar, Egypt's top Sunni mosque, said last week that coronavirus could not be used as an excuse not to participate unless it was scientifically established that drinking water helps to ward off the disease.
Lockdowns have curtailed the production schedules of some of the soap operas that are a staple of Ramadan evenings in many homes, leaving TV executives scrambling to fill airtime during their most lucrative advertising season.
But the inability to pray and eat together may be most keenly felt. In the UK, the Muslim Council of Britain has encouraged people to hold virtual iftars on social media.
More than 1,400 people have signed up for nightly iftar broadcast of the call to prayer, and guest speakers are being organised over Zoom by the UK-based Ramadan Tent Project, with the option for viewers to split off into smaller group discussions. "Just because you're in quarantine, it doesn't mean you have to spend Ramadan alone," said Rohma Ahmed, a spokeswoman for the project.
Abu Ibrahim, 32, said he was keeping this year's difficulties in perspective. In 2011 he observed Ramadan under airstrikes in Dara'a, southern Syria. The following year he spent the first day of the month dodging Syrian army patrols to escape on foot to Jordan.
"People say, how are we going to get through this Ramadan when we can't see each other, when there's a health risk," he said. "We used to put food on the table and hear the sound of bombing. We were scared of death, of our families dying. Coronavirus doesn't worry me. I'm in my house, with my family, we're safe, we have electricity, phones, food."
Fa'ekThyabat, the imam of Bab Al-Rayan mosque in Amman, said the Qu'ran did not explicitly guide worshippers on how to observe Ramadan during a plague, leaving worshippers to navigate the uncharted territory with reference to the wider tradition.
"There is a hadith [a prophetic saying] that says: 'If you hear of a plague in a land, then do not go into it. If it happens in a land where you are, then do not go out of it,'" Thyabat said.
"Similarly, if we know that Muslims who eat garlic and onion are advised not to go to mosques because the bad breath will hurt mosquegoers, it is easy to conclude that you cannot go to the mosque when there is the risk of spreading contagious disease."
In a faith without formal hierarchies, not all Islamic leaders share Thyabat's interpretation. Hundreds of worshippers continue to turn out for prayers in Herat, Afghanistan, where a hardline preacher, Mujib Rahman Ansari, recently advised his followers that death from coronavirus was a form of martyrdom.
In neighbouring Pakistan, the government has compromised with clerics by lifting a ban on group prayers during Ramadan on condition that no carpet is laid, children and older people stay away and worshippers wear masks and keep six feet apart.
Maulvi Haider Zaman, a prayer leader in Islamabad, said coronavirus was "not an issue" and insisted it was important people still came to offer prayers during Ramadan.
"People are not afraid to perform their prayers," he said. "We will be imposing social distancing in the mosque but I don't think it is needed as coronavirus will not affect people in mosques. It's the home of Allah."
In Jordan, Thyabat said he was instructing worshippers to focus on the upsides. Ramadan in past years had been an occasion for increasingly lavish iftar feasts and shopping bonanzas, he said. "This Ramadan is an opportunity for people to re-adopt the real spirit of fasting, which is about austerity and helping relatives and needy people."
https://www.theguardian.com/world/2020/apr/22/ramadan-in-a-time-of-plague-coronavirus-the-best-thing-is-to-stay-home-stay-quiet
----
Newcastle Muslim community prepares for Ramadan under lockdown
6 hrs ago
With lockdown in place for at least another three weeks and mosques already being closed, Newcastle's Muslim community have put in place initiatives to help people stay at home during the month of fasting, which is set to begin Thursday, April 23.
Newcastle Central Mosque will live stream online sermons and classes, as well as donating emergency care packages and hot meals.
It will also encourage Muslims to take advantage of technology to stay connected with friends and family to avoid Iftar gatherings, as well as paying Zakat and charity online.
Imam Abdul Basith Mohammad of Newcastle Central Mosque said: "Newcastle Central Mosque would like to carry on offering its services to the congregation even in this challenging and unprecedented time.
"Although the building is formally closed, the Mosque has continued to provide online classes to children, lectures to the public, ladies classes, phone consultations and new services in collaboration with charity groups and the council in relation to the Covid-19 lockdown.
"The Mosque aims to continue its amenities in serving the public, during what is usually the busiest month of the Islamic calendar. Most of the spiritual and pastoral services will continue to be provided online."
"However, we urge everyone to stay at home during the Suhoor (morning meal) Iftar (breaking of the fast) and prayer times, especially in the evenings.
Councillor Clare Penny-Evans, cabinet member for climate change and communities, said: "I'd like to thank Newcastle Central Mosque and the Muslim community for their support in these difficult times.
"They have stepped up again with their volunteer efforts by distributing emergency care packages to people who are really struggling and providing hot meals to key workers.
"We know Ramadan is going to be a very different experience this year, the traditions of family get-togethers and breaking fast, praying at the mosque, giving charity will be missed.
"However, it's great to see how digital technology is being used by mosques and families to stay connected, and help people stay at home to save lives.
https://www.thenorthernecho.co.uk/news/18395087.newcastle-muslim-community-prepares-ramadan-lockdown/
----
School told to apologise to Muslim family over letter saying it was worried boys were missing lessons to attend Friday prayers
22 April 2020
An Adelaide school has been ordered to apologise to a Muslim family for expressing concerns that two students were missing lessons by attending Friday prayers.
Mahmoud Amirat took his two sons out of Adelaide Secondary School of English every Friday for 60 to 90 minutes to attend a mosque on Fridays in 2017.
The South Australian Education Department school sent a letter home, written only in English despite the family not being fluent, expressing concerns the children were missing valuable lessons as a result.
The letter also discussed moving the students onto the adult campus as the oldest child had turned 18 - however Mr Amirat read that as thinking his sons were being kicked out of their school.
'The complainant formed the view that his children's enrolment at the school was being terminated due to his family's religious practice of attending the mosque each Friday,' SA ombudsman Wayne Lines said in the findings of an investigation.
Before the letter had been sent the school met with Mr Amirat to discuss their concerns regarding the leaving of school during class time, the school's plans to transition the students onto the adult campus and the eldest son's behaviour.
The ombudsman expressed 'concern that a school whose curriculum is specifically adapted for New Arrivals did not show greater understanding of the cultural significance of engaging in Friday prayer at a mosque'.
The school was also asked to prepare a fact sheet to express the age limits of their campus and properly explaining matters to family members.
Mr Amirat, through a translator, told the ABC: 'I felt alone, and no-one is helping me, and no-one is supporting me.
https://www.dailymail.co.uk/news/article-8243575/School-apologise-Muslim-family-saying-worried-student-missing-class-pray.html
------
London paramedic who told colleagues 'I don't like Muslims' and accused one of 'looking like Bin Laden' is struck off
22 April 2020
A paramedic was struck off after telling colleagues 'I don't like Muslims' and accusing another of 'dressing like a bomber'.
London Ambulance Service medic Deena Best told a colleague his long beard made him look like Osama Bin Laden, a disciplinary hearing was told.
Mrs Best was having a conversation with two colleagues, one of whom was a Muslim paramedic, the Health and Care Professions Tribunal Service (HCPTS) heard.
She was judged to have said: 'I don't differentiate between people, I don't like Muslims' and 'Mosques are bloody popping up everywhere'.
The panel heard that Mrs Best later claimed that she didn't want to talk to her colleague anymore 'as he is a Muslim' and that he 'looks like a bomber because of the way he dresses'.
She told another colleague: 'You should be careful running with your Paramedic bag as you could be mistaken for a bomber', called him 'Osama' and told him to shave his beard.
The HCPTS said in its judgment: 'The nature of each comment was that of an inherent derogatory stereotype based on race and/or religion.
The panel did not consider that the assertion that such comments were "banter" amongst colleagues made them any less discriminatory or inappropriate.
The panel noted that paramedics, in a frontline emergency service, encounter all manner of individuals, and are expected to be professional and considerate to everyone, regardless of race, religion, or any other personal characteristic.'
She had told the hearing in an earlier email: 'If my registration is taken from me I will obviously be devastated as I am always hopeful that one day I can return to do the job I love.
A spokesman for London Ambulance Service said: 'A member of staff attended a discipline board in November 2017 to face allegations of gross misconduct.
We take racially abusive behaviour extremely seriously and there is no place for it in our organisation which prides itself on values of respect, inclusivity and professionalism at all times.'
https://www.dailymail.co.uk/news/article-8243497/London-paramedic-told-colleagues-dont-like-Muslims-struck-off.html
-----
Arab world
Lebanese protesters return to streets in car convoys amid virus outbreak
22 April 2020
Observing social distancing guidelines amid a virus outbreak, dozens of Lebanese people have taken to the streets across Beirut and other cities in their cars to protest rising poverty and economic woes.
In Beirut, cars thronged around the UNESCO Palace, which was chosen by Speaker Nabih Berri to host the parliament's first reconvention since the legislature was shut down for contagion fears.
Cars were seen draped in Lebanese flag, with drivers honking their horns and protesters shouting slogans while leaning out in facemasks.
The lingering protests receded to some extent in January, when the country swore in a new government. They, however, resumed Friday in Tripoli, where locals reportedly showed up in their hundreds.
Lebanon's debt equals 170 percent of its gross domestic product. The country failed to catch up on the arrears for the first time last month.
The Lebanese pound, which is pegged to the dollar, has depreciated by almost half in recent months. The loss in the currency's value has been simultaneous with a severe shortage of the greenback.
The economic situation comes as the United States and its Persian Gulf allies have imposed sanctions on Lebanese economic assets and figures for government cooperation with the country's Hezbollah resistance movement.
The popular movement — which is widely represented in the parliament — became an integral part of Lebanon's defense force after defending the country against wars by Israel, the US's most important regional ally, in the 2000s.
During Tuesday's session, the parliament passed a law to fight corruption in the public sector and set up a national body in charge of stamping out graft. The MPs also discussed lifting immunity for ministers and lawmakers to allow prosecutions for corruption.
Hezbollah has likewise urged an indiscriminate fight against corruption in order to heal the country's economic woes.
https://www.presstv.com/Detail/2020/04/22/623617/Lebanon-Protests-Economy-Beirut-Tripoli-Sidon
-----
Ramadan 2020: Ruler of Ajman pardons 124 prisoners ahead of Ramadan
April 22, 2020
His Highness Sheikh Humaid bin Rashid Al Nuaimi, Supreme Council Member and Ruler of Ajman, has ordered the release of 124 prisoners, who have demonstrated good conduct during their sentences in punitive and corrective institutions in the emirate, on the occasion of Ramadan.
The move comes as part of Sheikh Humaid's keenness to give the pardoned inmates, who are of various nationalities, an opportunity to start a new life and ease the suffering of their families.
https://www.khaleejtimes.com/ramadan-2020/ramadan-2020-ruler-of-ajman-pardons-124-prisoners-ahead-of-ramadan
----
UAE to release more than 1,500 prisoners as Ramadan nears
April 22, 2020
DUBAI: The President of the UAE Khalifa bin Zayed Al-Nahyan has pardoned 1,511 prisoners and settled their financial obligations, state news agency WAM reported.
Meanwhile, Ajman's ruler Humaid bin Rashid Al-Nuaimi pardoned 124 prisoners for good conduct.
And the Ruler of Umm Al-Quwain Saud bin Rashid Al-Muaalla released a similar order.
Last year, the president pardoned 3,005 prisoners ahead of Ramadan and also settled their financial burdens, according to local newspapers.
While Dubai's ruler Mohammed bin Rashid Al-Maktoum released 587 prisoners.
The annual pardoning before Ramadan, aims to give prisoners a chance for a new life and reunite families.
https://www.arabnews.com/node/1663106/middle-east
----
Iraqi air force kills 14 Daesh terrorists in north-central province
21 April 2020
Iraqi fighter jets have pounded the positions of the remnants of the Takfiri Daesh terrorist group in Iraq's north-central province of Salahuddin, killing more than a dozen extremists there.
The media bureau of Iraq's Joint Operations Command, in a statement released on Monday, announced that Iraqi F-16 fighter jets had targeted three militant hideouts on Abdul Aziz Island in the middle of the Tigris River, located in the west of al-Dour district in Salahuddin Province, leaving 14 Daesh terrorists dead.
The statement, cited by Arabic-language al-Forat news agency, added that the hideouts were used by terrorist elements to target security forces and citizens.
In a related development on Tuesday, a security source in Iraq's eastern province of Diyala announced the start of a large-scale military operation in the northeast of the province, saying that Iraqi government forces, backed by the air force, launched the operation 23 kilometers northeast of the provincial capital, Baquba.
The source said the operation was being carried out with the participation of Popular Mobilization Units (PMU), better known by the Arabic word Hashd al-Sha'abi, and on two main axes in the area that included seven villages and surrounding farms.
Sleeper cells of Daesh are active in an area between the Iraqi provinces of Salahuddin and Diyala, launching attacks on government forces and civilians.
Hashd al-Sha'abi forces have played a major role in the liberation of Daesh-held areas to the south, northeast, and north of the Iraqi capital, ever since the terrorists launched an offensive in the country.
In November 2016, the Iraqi parliament voted to integrate Hashd al-Sha'abi, which was formed shortly after the emergence of Daesh in Iraq in 2014, into the military.
Former Iraqi Prime Minister Haider al-Abadi declared the end of military operations against Daesh in the Arab country on December 9, 2017.
https://www.presstv.com/Detail/2020/04/21/623559/Iraq-air-force-Daesh
----
Ramadan 2020: Sheikh Khalifa pardons 1,511 prisoners for holy month
April 21, 2020
The UAE President, Sheikh Khalifa, has ordered the release of 1,511 prisoners for Ramadan on Tuesday.
Sheikh Khalifa, who is also Ruler of Abu Dhabi, also cleared the debts of the inmates, in the spirit of the holy month.
On Wednesday, Sheikh Humaid bin Rashid Al Nuaimi, Ruler of Ajman, ordered the release of 124 prisoners who had demonstrated good conduct during their jail terms.
The Ruler of Umm Al Quwain, Sheikh Saud bin Rashid Al Mualla, also pardoned an undisclosed number of prisoners ahead of Ramadan.
The UAE's moon-sighting committee on Thursday night will begin looking for the crescent moon that indicates the start of Ramadan.
An official told The National that the committee would meet partially by video to see the moon and deliberate on the beginning of the holy month.
The presence of a new moon signals the start of a new month in the Islamic calendar.
https://www.thenational.ae/uae/government/ramadan-2020-sheikh-khalifa-pardons-1-511-prisoners-for-holy-month-1.1009305
----
COVID-19: This Ramadan we shall be 'all together, at home'
April 22, 2020
Fawaz Turki
Ramadan, the holy month when "the angels descend therein by permission of their Lord", and our munificent Creator blesses, forgives and unites in a communal sense of spiritual reference, is upon us. And every Ramadan every year, for the last 14 centuries, has been celebrated by Muslims worldwide as a sacred time whose aesthetics never fail to transform, as by divine fiat, the believers' spiritual mindset.
This year, Ramadan, a month that typically brings out all that is gregarious, festive and convivial in our community, finds us experiencing difficult times suffused with unreason, as we distance ourselves from one another, even in our houses of worship, and sit in solitary confinement in our homes. In short, our world is no longer habitable in quite the same way as it was before. A mastering intrusion, in the form of a homicidal virus, has taken hold of that world, recomposed it and inverted the quotidian affairs of its inhabitants.
A time of unreason, true, but perhaps also a time for meditative prayer, for what more exultant pursuit is there, this Ramadan in particular, than total self-abandonment, through prayer, to the Divine Presence, the immanence of God that permeates even the mundane in our lives?
Thus, I say, performing Taraweeh, whose aim is to instil Godly calm in us, is a route to that pursuit. Taraweeh are of course the additional prayers we say during Ramadan, following the traditional evening prayers, in unison with others in a mosque or alone at home, that require us to read portions of the Quran in between Raka'as, the standing, bowing and prostrating in our prayer rituals.
Tradition demands that we read one-30th of the Holy Book on successive evenings till it had been recited in its entirety by the end of the blessed month (I don't, incidentally, go along with the pedestrian translation of Taraweeh into English — ubiquitous in Arab commentary — as "rest and relaxation, opting instead for "serenity and repose", clearly a term more akin to the spirit of the original.)
And it matters not that Muslims this year are expected to shelter in place, isolated from their fellow-Muslims in a mosque, for we know we will be "all together, at home".
Then, beyond the exhilaration we experience during Taraweeh, there is the rapture of listening to Quranic passages being recited on our recorders, or passages we know by heart that we recite to ourselves. And here I will share this with you: Nothing in my life has ever moved me as much as listening to Quranic recitals, wherein our nostalgia for the absolutes of human nature are arbitrated — in verse and chant.
Look, a mesmerising performance by an actor interpreting Hamlet's angst, a dancer interpreting Balanchine's choreography and a violinist interpreting a Bach partita can, for a moment, move you to tears. But listening to a Quranic recital can induce in us a penetrative grasp of human being, enabling us to become custodians of God's words, executants, as it were, of His felt meaning and intent.
Mortals communicate with one another through common speech, through the accepted constraints of grammar, syntax, idiom, metaphor and other resources of verbalisation. Such communication is, after all, the indispensable motor of social life. But when we communicate with God, we use His words, an act that always generates a shaping reciprocity between that which our heart knows and that which He, the All-Knowing, knows.
At a time like this, alone within four walls in our homes, no spiritually inspiring companion can be as companionable as devotion in solitude. And God, in his omniscience, is with us wherever we happen to be at any moment of immediacy — but no more so than during Ramadan. Instead of toying with the evil that this murderous virus intends to unleash on us, by ignoring the isolationist rules that assure our survival, let us shelter in place and from there ask for His intercession to quash that evil once and for all.
At the end of the day, we are left with one option, which is this: We need to deal, the best way we can, with the curveballs life throws at us in the time of coronavirus, and wait till the curve had flattened and the beast tamed.
Meanwhile, in our prayers for God's mercy in these turbulent times, let us not forget to put in a word for the world's working poor, among them those hundreds of thousands of migrant labourers, hungry, miserable and destitute who are stranded without a way home.
https://gulfnews.com/opinion/op-eds/covid-19-this-ramadan-we-shall-be-all-together-at-home-1.71093122
-----
Southeast Asia
Muslims In Egypt Try to Keep Ramadan Spirit Amid Virus Restrictions
SAMY MAGDY
21 April 202
BAHTIM, Egypt -- Every year during Ramadan, the Light of Muhammad Mosque sets up long tables on the street and dishes up free meals at sunset for the poor to break their daily fast. It's a charity that many rely on in this impoverished district on the edge of the Egyptian capital.
But it's too dangerous in this era of the coronavirus — in Egypt and in many Muslim countries, such "Tables of the Compassionate" have been barred.
So the mosque, which like others in Egypt had to shut its doors as a precaution against the virus, will use the funds that would have gone into the free communal tables to distribute packed meals and cash to those in need.
As Ramadan begins with the new moon later this week, Muslims around the world are trying to maintain the cherished rituals of Islam's holiest month without further spreading the outbreak.
At the heart of Ramadan is the sunrise-to-sunset fast, meant to instill contemplation of God. But alongside the hardship of abstaining from food and drink for hours every day, the month sweeps everyone up into a communal spirit. Families and friends gather for large meals at sunset, known as iftars. In some countries, cafes and cultural events are packed late into the night. Worshippers go to mosques for hours of evening prayers, or "taraweeh." Many devote themselves to charity.
Muslims now find themselves cut off from much of what makes the month special as authorities fight the pandemic. Many countries have closed mosques and banned taraweeh to prevent crowds. Prominent clerics, including in Saudi Arabia, have urged people to pray at home.
Lebanon, Iraq, Syria and Egypt loosened their curfews, moving them back to start anywhere from a half hour to 90 minutes after sunset. That gives time to get to Iftar, but not much: people can't go too far to visit others for the meal unless they're prepared to stay the night.
Other countries have banned long internal travel. Syria gave people a window of two days this week to move between provinces, then restored its ban.
In Malaysia, Mohamad Fadhil said he was resigned to missing out on the surge in business at the Ramadan bazaar, where he and other sellers hawk food and drinks in crowded open-air markets. The bazaars have been shut down.
But he hoped the country's lockdown will be eased so he can bring his 7-year-old daughter home. She was at his parents about an hour away when the lockdown began six weeks ago, trapping her there.
In Indonesia, the world's most populous Muslim nation, the government has banned millions of government employees, soldiers and police from travelling home during the Eid al-Fitr, the holiday marking the end of Ramadan.
"Fear of coronavirus has blocked us from celebrating Eid with my parents," said RachmadMardiansyah, a civil servant in Jakarta.
The loss of communal charity meals will particularly hurt as people lose jobs under coronavirus restrictions. Some are rushing to fill the void.
In Kashmir, the Muslim-majority territory contested by India and Pakistan, volunteers wearing masks and gloves drop off sacks of rice, flour, lentils and other staples for Ramadan at the doorsteps of those in need in the city of Srinagar.
TaïbSocé, a famous Muslim preacher on Rfm, a private radio station in the Senegalese capital, Dakar, said that while the government is taking action, "the rich must also help the poor."
In the Gaza Strip, the group Salam Charitable usually receives donations from Turkey, Malaysia, Jordan and elsewhere for its Ramadan relief projects. Last year, it was able to distribute 11,000 food parcels and clothes for children. Charities are vital in Gaza, which has been under an Israeli-Egyptian blockade for 13 years, leaving more than half the population of 2 million under the poverty line.
"This time last year, we had already three contracts to give food parcels to the poor. This year we don't have any," said Omar Saad, spokesman for the charity. "I think we missed the opportunity because Ramadan is starting soon."
In Pakistan, powerful Muslim clerics forced the government to leave mosques open throughout Ramadan. Mullah Abdul Aziz of the Red Mosque in the capital, Islamabad, ordered adherents to pack communal prayers. Last Friday, worshippers were shoulder-to-shoulder.
"We hear on TV what the big imams say," said Zaheer Abbas, an Islamabad resident who has been praying at home. "Praying is praying. God isn't only in the mosque."
In Somalia, while people lament the loss of community, Mogadishu resident Osman Yusuf tried to find optimism. The new restrictions "keep you closer to your loved ones for comfort," he said.
Not all Ramadan traditions are rooted in religion. Egypt is known for the TV comedies and drama series it churns out for the month, which are broadcast between the iftar and the pre-sunrise meal. A new batch is being produced for this year, despite coronavirus restrictions.
Iraqis have to give up a unique Ramadan tradition: tournaments of a game called "Mheibes." In the game, teams of up to several dozen people each line up and one member hides a ring in his hand. A member of the other team must guess who has the ring, usually by going up and down the line, trying to read facial tics or other "tells." The long tournaments are accompanied by sweets and tea and singing.
Health authorities pleaded with Jassim al-Aswad, the longtimeMheibes champion and tournament organizer, to call it off for the sake of public safety — while praising his "preternatural abilities and unrivaled powers of discernment."
"I feel very sad," he said. "Ramadan will be devoid of these popular rituals this year ... God wreak vengeance on corona, which deprived us of our most beautiful hobby."
https://abcnews.go.com/International/wireStory/muslims-ramadan-spirit-amid-virus-restrictions-70257772
-----
Indonesia Bans Traditional Ramadan Exodus to Rein in Coronavirus
22 April 2020
JAKARTA—Indonesia will ban its traditional annual exodus by people streaming out of cities at the end of the Muslim fasting month of Ramadan, as the Southeast Asian nation looks to curb the spread of coronavirus, President Joko Widodo said on Tuesday.
Indonesia's tally of 616 virus deaths is the highest in East Asia after China, but Widodo had previously resisted a ban, seeking instead to persuade people to stay put.
But health experts had warned that allowing millions in the world's biggest Muslim-majority country to travel to homes in towns and villages over Ramadan, which starts this week, could accelerate the spread of the disease.
"I have taken the decision that we will ban 'mudik,'" Widodo told a cabinet meeting, using the Indonesian term for the journey. "That is why the relevant preparation needs to be done."
He cited an online survey by the Transport Ministry that showed 24 percent of respondents were insistent on joining the exodus.
Last year, about 19.5 million people in the archipelago of more than 260 million people made the journey, the government says, and Widodo added that 7 percent of Indonesians had already set out this year.
The ban takes effect on Friday, with restricted access to Jakarta, the capital, and cities grappling with virus outbreaks, said LuhutPandjaitan, the coordinating minister of maritime and investment affairs.
GanjarPranowo, the governor of Central Java, welcomed the ban, but added that more than 500,000 people had already arrived in his province.
In a study last week, researchers at the University of Indonesia's public health faculty warned that if the exodus home were permitted, it could lead to a million infections by July on the most populous island of Java, home to Jakarta.
However, the ban was not too late, as the outflow was expected during Ramadan, which starts later this week, said Pandu Riono, one of the researchers.
Preventing people's travel would be tough, given their "fatigue from being locked up" by the extensive curbs, said JejeZaenudin, deputy chairman of the mainstream Islamic Union.
The world's fourth-most-populous country has recorded 7,135 virus infections—Southeast Asia's second-highest tally after the neighboring city state of Singapore, though some estimates put the figure far higher
https://www.irrawaddy.com/news/asia/indonesia-bans-traditional-ramadan-exodus-rein-coronavirus.html
-----
Observing Ramadan while practising new normal during MCO
22/04/2020
KUALA LUMPUR, April 22 -- The month of Ramadan is fast approaching and the Muslims in the country is set to welcome the fasting month in a different atmosphere as it will be observed during the third phase of the Movement Control Order (MCO) which is scheduled to end on April 28.
The date for the sighting of the new moon to determine the beginning of fasting for Muslims in the country has been fixed for tomorrow (April 23) which is also 29 Syaaban 1441 Hijrah.
Interestingly, Ramadan this year will be observed while practicing the new normal, including e-bazaar concept replacing the physical Ramadan bazaars to combat the spread of the COVID-19 outbreak, and even if the MCO period is not extended, this year's situation will certainly remain different.
In addition, there will be no congregational Tarawih prayers at the surau or mosques throughout Ramadan as it is one of the precautionary measures to break the chain of the COVID-19 outbreak.
Health director-general Datuk Dr Noor Hisham Abdullah at a press conference yesterday said community compliance with the MCO was crucial in helping the government reduce the COVID-19 infection in the country.
Despite the declining trend of COVID-19 infections in the country, Senior Minister (Security Cluster) Datuk Seri Ismail Sabri Yaakob said it does not mean that the public can stop complying with the MCO.
Yesterday, Ismail Sabri, who is also the Minister of Defence, warned that all directives still stand and it is the responsibility of everyone to remain compliant.
He said this good development should be viewed positively so that we could perservere in complying with the MCO and every other instruction issued by the government,
Our level of compliance with the directives will determine whether there is a need to extend the MCO beyond April 28 and we should take a lesson from Singapore where its has to extend its partial lockdown or circuit breaker measures for another four weeks until June 1.
Therefore, it is important for us to play a role in preventing the spread of the COVID-19 infection and at the same time appreciate the front line personnel who have been working tirelessly and continuously in carrying out their responsibilities.
Yesterday, Prime Minister Tan Sri Muhyiddin Yassin expressed his appreciation to Malaysian front line personnel for their tireless efforts in combating the COVID-19 pandemic and in doing so bringing world recognition.
Surely, for the foreseeable future we will all continue to be tested and must support each other in this fight against COVID-19.
https://www.bernama.com/en/general/news.php?id=1834509
-----
Jakarta Denies Entry To 239 Foreigners During COVID-19 Pandemic
April 21, 2020
The Directorate General of Immigration has released the latest data on the ban on visitors from entering Indonesian territory during the COVID-19 pandemic.
Public Relations and Public Affairs Head Arvin Gumilang revealed that 239 foreigners had been denied entry at Immigration Checkpoints (TPI) at airports, seaports and border crossings from Feb. 6 to April 19.
TPI Soekarno Hatta International Airport in Tangerang, Banten, accounted for the highest number of rejections, namely 128 people, followed by TPI Ngurah Rai International Airport in Denpasar, Bali, with 89 people and TPI Kualanamu International Airport in Medan, North Sumatra, with 11 people.
"Most of the foreigners denied entry were from China with 89 people, [while] 15 were from Malaysia and 12 from Russia," Arvin explained.
Arvin said the reasons for immigration officials denying the foreigner's entry to Indonesia included a travel history in areas affected by COVID-19 in the past 14 days, a body temperature above 38 degrees Celsius, lack of a health certificate and refusal to be examined by airport health authorities.
"Immigration officers are in the second line of screening upon entrance to Indonesian territory, after the Port Health Authorities (KKP). If the results of the health check are not good, the KKP will recommend entry bans," he said.
The government of Indonesia through the Ministry of Law and Human Rights has issued Ministerial Regulation No. 11/2020 concerning a temporarily ban on visitors entering Indonesia in an effort to stem the spread of COVID-19.
In addition, Arvin added, the government had implemented a COVID-19 handling protocol at the checkpoints by administering medical screening of arrivals before visitors undergo immigration checks.
"All passengers, both foreigners and Indonesian citizens, are required to fill in a health alert card and undergo a health inspection by KKP officers. If they pass, they will proceed to immigration checks," he added.
The entry protocol issued by the Presidential Staff Office also states that arriving visitors must wear masks and wash their hands with soap or hand sanitizer upon entering the terminals.
https://www.thejakartapost.com/adv/2020/04/21/ri-denies-entry-to-239-foreigners-during-covid-19-pandemic.html
-----
Malaysia arrests Rohingya in trafficking crackdown
April 22, 2020
Malaysia has arrested two Rohingya for alleged human-trafficking, authorities said Tuesday, as they ramp up efforts to stop members of the Muslim minority coming to the country amid coronavirus fears.
Malaysia is a favored destination for the group from mostly Buddhist Myanmar, who have long complained of persecution, as it is a Muslim-majority country that already has a sizeable Rohingya diaspora.
But authorities have strengthened maritime patrols in an effort to stop the illegal arrival of Rohingya due to fears they could be infected with the virus, and a boat was turned away by the navy last week.
Another boatload of Rohingya did make it to shore on the island of Langkawi in early April, and officials said the pair detained last week was believed to have been involved in that case.
In another incident earlier this month, 60 Rohingya died on a crammed boat stranded in the Bay of Bengal for two months, which survivors said had been turned away from Thailand and Malaysia.
"Authorities seized a notebook detailing information on the money collected from their human-smuggling business related to the April 5 arrival of 202 Rohingya Muslims in Langkawi," said ZulindaRamly, deputy director with the Malaysian Maritime Enforcement Agency.
The coastguard is hunting other syndicate members, Malaysians and foreigners, accused of helping migrants illegally enter the country.
Malaysia's tougher stance in seeking to stop the arrival of boatloads of Rohingya has alarmed rights groups, who fear several other vessels may be at sea between Bangladesh and the Southeast Asian nation.
Rohingya often begin their journeys in Bangladesh, where many of the minority live in overcrowded camps after fleeing a military crackdown in their homeland.
https://www.thejakartapost.com/seasia/2020/04/22/malaysia-arrests-rohingya-in-trafficking-crackdown-.html
-----
Pakistan
Mosques to be closed if corona spreads in Ramazan: PM Imran Khan
Mumtaz Alvi
April 22, 2020
ISLAMABAD: Prime Minister Imran Khan Tuesday advised the nation to pray at home during the Ramazan and warned that if the coronavirus spread in a mosque, then it would be closed.
He was expressing these views while chairing a high level meeting here which discussed the coronavirus situation and the related matters.
Imran said like Pakistan, other Islamic countries had also asked their public to stay and pray at home. He said the lockdown restrictions would further relax gradually. "We are trying our best to ease difficulties being faced by the people during these difficult times," he said.
"In an independent society we cannot stop people from going to mosques," said the premier. The PM said the government has formed a strategy through consultation with Ulema for congregational prayers in Ramazan so that Muslims can say prayers in mosques. "But I will urge people to offer prayers at their homes," he suggested.
"If the virus spreads, we will have no other option but to impose a ban on congregational prayers," he explained. He maintained that 20 points had been agreed upon after a meeting of religious scholars with President Dr.ArifAlvi and the Ulema had agreed to abide by those points during the Ramazan.
"And if the virus spread due to violation of the safety precautions, then the mosques would have to be shut down, which none wanted. Earlier, he launched the Ehsaas Ration Portal to provide food to the families affected by the virus. Data on the deserving families would be collected and the process would be made transparent.
Imran said decisions about opening various sectors were being taken in mutual consultation with the provinces. He said first the cement industry and then the construction sector was opened after handing SOPs over to them to prevent the spread of the virus.
With the passage of time, he said the lockdown would be eased and more facilitation made for people in consultation with the provinces. He contended that questions were being raised by some sections that while the mosques were closed in other Islamic countries, why these had been opened in Pakistan.
"We are a free nation. It sounded bad to me when I saw police beating violators of the lockdown with batons. People have tendency for going to mosques for prayers during Ramazan. Should they be stopped by use of force?" he asked.
The prime minister continued that the police could not be used to bar people from going to mosques and asked if they still insisted togo, should they be put in jails by the police. In a free society, he said, people should decide with a free mind what is good for the country.
He emphasized that the ongoing war against the coronavirus could be won with a collective resolve and action of the nation and with their active participation in the drive.
Imran said the whole world was facing the negative impacts of the virus and several countries were witnessing higher number of mortalities due to the virus, but now they were also debating the economic impact of lockdown.
He said people across the globe now wanted their governments to ease the lockdown so that restart economic activity could restart. Imran said unfortunately 192 persons had lost their lives in Pakistan so far, while in US, 40,000 had died and 20,000 each in Italy and Spain.
"There are countries where 500 to 2,000 people are daily dying. However, their governments are now discussing about easing the lockdown, as it could not remain in force in any country for an indefinite period.
He pointed out again that Pakistan was facing the dual challenge of overcoming the virus pandemic and saving its people from hunger.
"Our government decided to relax the lockdown gradually by opening the cement sector first and then construction industry and the industries that are being opened will have to follow the SOPs given by the government," he said.
"They will disseminate information as well as deliver ration to the people on their doorstep and help the authorities in locating the deserving persons, as the government on its own can't reach out to all," he noted.
He again warned the hoarders and smugglers of a strong action under the related ordinance and called those exploiting people for their undue benefit as the nation's criminals.
Minister Planning and Development Asad Umar said a consensus had been evolved among all the provinces on testing, tracking and isolation, and pilot tests in one or two districts of each province.
He said a smart lockdown would be implemented in high-risk areas and in next few days, it would be put in operation from district to tehsil and union council level.
He explained that the technology-based mechanism would have representation down to the union council level from the federal government and the civil and the military institutions would also be part of it.
He said India peddled a narrative that the virus was spread by pushing people into India through the AJK and then the Indian Muslims were blamed for it and now it was blaming Pakistan.
He made it clear that Pakistan had no interest in such things, as it always wanted an environment of peace and brotherhood. Focal person on Corona Dr. Faisal said Pakistan was relatively in a better position than many developed countries of the world.
However, he insisted, "We need to keep this by following the precautionary measures strictly. We hope that things would be better through the smart lockdown, ensuring protection of people and their livelihood".
Special Assistant to the PM on Poverty Alleviation and Social Protection Dr. Sania Nishtar said more than Rs60 billion had been disbursed among the needy and deserving people under the Ehsaas Emergency Cash programme. She expressed optimism that the programme will be able to reach 120 million families.
She said the prime minister inaugurated the Ehsaas Ration Portal in which charities and philanthropic organizations could register themselves. "This program will help daily wagers, who are not able to work due to the lockdown, to get ration," she said. Minister for Industries Hammad Azhar said a large package will be presented in a meeting of the National Coordination Committee on Wednesday (today).
After its approval by the National Coordination Committee (NCC) and the federal cabinet, it would be advertised in the media. This package aims at helping people who have lost their jobs due to lockdown, he explained.
He said another package was being brought for electricity and it would be launched later this month. He said small and medium businesses with commercial meters will benefit from this package.
The minister said the government was working with the Ministry of Finance and the State Bank of Pakistan to introduce a scheme of loans for people having no collateral to offer.
Special Assistant to the PM on National Security Dr.Moeed Yusuf said Torkham and Chaman crossings had been opened and a specified number of Pakistanis had started returning from Afghanistan. He said the border with India was closed but some Pakistanis had returned while the Foreign Office was on it for the return of the rest.
He said as soon as border with India opened, more Pakistanis will be able to return home. APP adds: Minister for Planning, Development and Special Initiatives Asad Umar Tuesday said the cabinet had formally approved making the power sector inquiry report public with an official ownership.
Addressing a televised media briefing, he said the cabinet meeting chaired by Prime Minister Imran Khan had approved recommendations about the inquiry report presented by the CCOE.
He said the government and prime minister believed in transparency across the board and by embarking on this policy, the prime minister had decided to present all the inquiries and investigations before the nation to root out corruption from the country.
Asad Umar, who is also Chairman of the CCOE, made it clear that the power projects and Independent Power Producers (IPPs) against whom the inquiries were conducted had been initiated in the previous governments.
"No contract on these projects was made by the current government," he said, adding that the government was committed to taking these inquiries to a logical conclusion by bringing all the culprits to justice.
A number of such irregularities had been found in an inquiry where many government departments were also involved, he said, adding that no one would be spared this time whosoever the culprit might be, and the government was strict in its stance to deal with them according to the law.
He assured the nation that unlike the past, this time justice would be done and all those who had looted the precious public money would be brought to justice. He further informed the media that the cabinet had also decided to form a commission of inquiry to propose further recommendations based on the inquiry report.
The terms of reference (ToRs) of the commission are being complied and the person who will lead the commission would be selected by the prime minister and he or she would not be from the government side.
He said the commission would be authorized to do forensic audit and other investigations of the report. He said the government will provide all support to the commission including budget and other facilities.
The commission would submit its recommendations within 90 days, he added. Asad Umar said the committee also recommended some amendments to or reforms in policies and for this another committee under Special Assistant to the Prime Minister on Minerals Shahzad Qasim was already working and the policy recommendations would be prepared by the committee.
Five percent tax was being charged to property dealers, property developers and other services related to the construction industry, which has been abolished, Special Assistant to the Prime Minister on Information and Broadcasting Dr Firdous Ashiq Awan said.
Briefing the media about the decisions taken by the cabinet, Dr Firdous said tax on low cost housing units to be constructed under the Naya Pakistan Housing Project had also been made zero rated.
She said zero tax incentive to the construction industry would help provide employment opportunities to the poor labourers and workers in 40 other industries related to the sector.
Tax exemption would protect rights of daily-wagers, plumbers, carpenters, developers and other stakeholders of the construction industry, she added.
The SAPM said the cabinet had decided to make public the inquiry report regarding the agreements signed by the previous governments with Independent Power Producers (IPPs).
Dr Firdous said Prime Minister Imran Khan told the cabinet that the nation would simultaneously fight the coronavirus and the virus of corruption.
She quoted the prime minister as saying that there was no holy cow in the country and the government would ensure that all those involved in corruption and illegal practices were taken to task.
She said Chunian Power Plant was one of the IPP agreements, which was approved by Shahbaz Sharif as the Punjab chief minister in favour of the company owned by his son Salman Shahbaz.
An independent commission of inquiry would be constituted to probe the issues pertaining to the IPPs, and its report and recommendations would be made public, she added.
The SAPM said the federal cabinet gave approval to the proposal for reforming and restructuring the Competition Commission of Pakistan (CCP).
The objective behind the establishment of CCP, she said, was to discourage cartelization and monopolies, and take action against those indulging in such illegal practices, but unfortunately in the past, the CCP was used by the powerful mafia as a tool to protect their interests at the cost of the rights of poor people. The PM decided to remove its chairperson but she got a stay order from the court.
The CCP would now be restructured with the use of modern technology and digitalization, she added. Dr Firdous said the cabinet was informed that 27 petitions had been filed against the CCP and dues of Rs27 billion were outstanding against the powerful mill owners.
Some cases had been pending for over a decade, and the elements in CCP were facilitating the powerful mafia in prolonging the litigation process, she added. She said the prime minister expressed his strong displeasure at the CCP's state of affairs and reiterated his firm resolve to foil any attempts to damage the interests of the masses.
The cabinet also gave approval for filling the vacant vacancies of the appellate tribunal within a week. It also approved abolition of a law of 1991 under which the government employees, who took retirement on completion of 30-year service, could keep the official accommodation till 60 years of age.
The cabinet approved a proposal for restructuring the National Commission for Minorities with its chairman and majority of members to be nominated from the minority community.
Dr Firdous said the minority community members played an important role in the national development process, and their rights were protected under the Constitution.
She said the prime minister issued directives to Minister for Energy Umar Ayub to present a restructuring and reformation plan of the power sector to prevent line losses and power theft by digitalization of the system.
The cabinet, she said, also decided to offer Iesco and Pesco for privatization. The SAPM said the cabinet gave approval for the export of Chloroquine tablets to Saudi Arabia, Turkey, the United States, Italy, Qatar, Kazakhstan and the United Kingdom.
The heads of many friendly countries had approached Prime Minister Imran Khan personally and sought approval for the export of the medicine, which was considered effective against the coronavirus.
The decision was taken after a thorough consideration of local needs as the cabinet was informed that the surplus stock of medicine was available, which could be exported for the benefit of friendly countries, she added.
The SAPM said the opposition leaders were issuing political statements at the time when the nation was fighting the coronavirus. She said as the National Accountability Bureau summoned PML-N President Shahbaz Sharif, his party leaders came out of self-isolation in a bid to protect him.
She said the PML-N leaders were more worried about the Sharif family than the problems being faced by the poor people due to the coronavirus pandemic and the lockdown. She made it clear that no funds would be issued for Tiger Corona Force, whose volunteers would help the government in providing relief to the vulnerable segments of the society.
https://www.thenews.com.pk/print/647994-mosques-to-be-closed-if-corona-spreads-in-ramazan-pm-imran-khan
----
Mideast
Muslims try to keep Ramadan spirit amid virus restriction
04.21.20
Every year during Ramadan, Cairo's Light of Muhammad Mosque sets up long tables on the street and dishes up free meals at sunset for the poor to break their daily fast. It's a charity that many rely on in this impoverished district on the edge of the Egyptian capital.
But it's too dangerous in this era of the coronavirus - in Egypt and in many Muslim countries, such "Tables of the Compassionate" have been barred.
So the mosque, which like others in Egypt had to shut its doors as a precaution against coronavirus, will use the funds that would have gone into the free communal tables to distribute packed meals and cash to those in need.
As Ramadan begins with the new moon later this week, Muslims around the world are trying to maintain the cherished rituals of Islam's holiest month without further spreading the outbreak.
At the heart of Ramadan is the sunrise-to-sunset fast, meant to instill contemplation of God. But alongside the hardship of abstaining from food and drink for hours every day, the month sweeps everyone up into a communal spirit. Families and friends gather for large meals at sunset, known as iftars. In some countries, cafes and cultural events are packed late into the night. Worshippers go to mosques for hours of evening prayers known as "taraweeh." Many devote themselves to charity.
Muslims now find themselves cut off from much of what makes the month special as authorities fight the pandemic. Many countries have closed mosques and banned the taraweeh there to prevent crowds. Prominent clerics, including in Saudi Arabia, have urged people to pray at home.
Lebanon and Egypt, for example, have loosened their curfew, moving it back to start at 8pm - about an hour or 90 minutes after sunset. That gives some leeway for Iftar gatherings, but not much: people can't go too far to visit others for the meal unless they're prepared to stay the night.
In Malaysia, Mohamad Fadhil said he was resigned to missing out on the surge in business at the Ramadan bazaar, where he and other sellers hawk food and drinks in crowded open-air markets. The bazaars have been shut down.
But he hoped the country's lockdown will be eased so he can bring his 7-year-old daughter home. She was at his parents about an hour away when the lockdown began six weeks ago, trapping her there.
In Indonesia, the world's most populous Muslim nation, the government has banned millions of government employees, soldiers, and police from traveling home during the Eid al-Fitr, the holiday marking the end of Ramadan.
The loss of communal charity meals will particularly hurt as people lose jobs under coronavirus restrictions. Some are rushing to fill the void.
In Kashmir, the Muslim-majority territory contested by India and Pakistan, volunteers wearing masks and gloves drop off sacks of rice, flour, lentils and other staples for Ramadan at the doorsteps of those in need in the city of Srinigar.
A famous Muslim preacher on Rfm, a private radio station in the Senegalese capital, Dakar, said that while the government is taking action, "the rich must also help the poor."
In the Gaza Strip, the group Salam Charitable usually receives donations from Turkey, Malaysia, Jordan and elsewhere for its Ramadan relief projects. Last year, it was able to distribute 11,000 food parcels and clothes for children. Charities are vital in Gaza, which has been under an Israeli-Egyptian blockade for 13 years, leaving more than half the population of 2 million under the poverty line.
"This time last year, we had already three contracts to give food parcels to the poor. This year we don't have any," said Omar Saad, spokesman for the charity. "I think we missed the opportunity because Ramadan is starting soon."
In Pakistan, powerful Muslim clerics forced the government to leave mosques open throughout Ramadan. Mullah Abdul Aziz of the Red Mosque in the capital, Islamabad, ordered adherents to pack communal prayers. Last Friday, worshippers were shoulder-to-shoulder.
"We hear on TV what the big imams say," said Zaheer Abbas, an Islamabad resident who has been praying at home. "Praying is praying. God isn't only in the mosque."
Not all Ramadan traditions are rooted in religion. Egypt is known for the TV comedies and drama series it churns out for the month, which are broadcast between the iftar and the pre-sunrise meal. A new batch is being produced for this year, despite coronavirus restrictions.
Iraqis have to give up a unique Ramadan tradition: tournaments of a game called "Mheibes." In the game, teams of up to several dozen people each line-up and one member hides a ring in his hand. A member of the other team must guess who has the ring, usually by going up and down the line, trying to read facial tics or other "tells." The long tournaments are accompanied by sweets and tea and singing.
Health authorities pleaded with Jassim al-Aswad, the longtimeMheibes champion, and tournament organizer, to call it off for the sake of public safety - while praising his "preternatural abilities and unrivaled powers of discernment."
https://www.ynetnews.com/article/B1jAU42008
----
11 security personnel lost their lives, 19 wounded in Taliban attacks in Sar-e Pul
22 Apr 2020
The Taliban militants launched attacks in two districts of northern Sar-e Pul province which claimed the lives of at least 11 security personnel.
Provincial governor's spokesperson Zabiullah Amani confirmed the incident and said the Taliban militants attacked the security posts in Sancharak and SuzmaQala districts on Tuesday night.
According to Amani, clashes between Taliban militants and security personnel continued until early hours of Wednesday morning during which at least 19 security personnel also sustained injuries.
He also added that the majority of the security personnel killed or wounded during the clashes, were members of the Afghan Local Police (ALP) forces.
Meanwhile, Amani said the Taliban militants also sustained casualties during the clashes but did not elaborate further regarding the exact number.
https://www.khaama.com/11-security-personnel-lost-their-lives-19-wounded-in-taliban-attacks-in-sar-e-pul-04708/
----
Turkish mosque turned into temporary 'supermarket'
BY FULYA OZERKAN
3 HOURS AGO
At the entrance of an Istanbul mosque, the racks usually reserved for the shoes of the faithful are loaded with pasta packages, oil bottles, biscuits -- like a supermarket.
AbdulsametCakir, 33, imam of the Dedeman mosque in the Sariyer district, came up with this idea of reaching out to the poor via the place of worship after Turkey suspended mass prayers in mosques until the risk of outbreak passes.
Turkey's official death toll from the virus now stands at 2,259 after 119 more deaths were reported on Tuesday, and major cities including Istanbul will be under lockdown for four days from Thursday.
"After the suspension of mass prayers, I had an idea to revive our mosque by bringing together well-off people with the people in need," Cakir told AFP inside the mosque, where bags of food and cleaning products were piled up on the floor.
The young imam, who takes the products from the floor and places them on the shelves at the entrance, said he was inspired by a donation culture in the Ottoman period called "charity stone" -- a small pillar stone erected at certain locations of the city to connect rich people with the poor.
In this Ottoman system aimed at giving charity in a dignified manner without offending the needy, people with means would leave whatever amount they wanted in a cavity on the top of the charity stone.
"After the coronavirus pandemic, we have thought about what we can do to help our brothers in need," said Cakir, who would already help the poor in his neighbourhood before the outbreak.
"With the inspiration from our ancestors' 'charity stone' culture, we decided to fill the racks in our mosque with the help from our brothers with means," he added.
The imam later sends the list to local authorities who check whether the names are really in need and his team then sends a message that they can visit the mosque and receive whatever they need: eight items at maximum.
"I am really in dire need. My husband doesn't work. I used to clean houses but since the virus, they no longer call," GuleserOcak, 50, told AFP.
The mosque has been providing services for two weeks and reaches out to 120 people in need per day. And the list includes over 900 people.
A maximum of two people wearing masks and gloves enter the mosque and take what they need, while others wait outside, standing a few paces from each other.
"We spread the services through the day. We call 15 people for each half an hour, so that we respect social distancing and do not cause big queues," the imam said.
"Everyone does whatever they can to help people in need. For example, a brother who lives in France did online shopping and directed the aid to our mosque," he said.
"What the mosque is doing is really, really good for us. Ramadan is coming," said DuyguKesimoglu, 29, referring to the Muslim fasting month beginning this week.
"I am unfortunately jobless, they don't employ us because of the coronavirus. No job, no money. This help is very, very good," she said.
http://www.digitaljournal.com/news/world/turkish-mosque-turned-into-temporary-supermarket/article/570588
-----
Iran 'launches military satellite into
22 APRIL 2020
Iran's paramilitary Revolutionary Guard said on Wednesday it launched a military satellite into orbit amid wider tensions with the US, a successful launch after months of failures.
There was no immediate independent confirmation of the launch of the satellite, which the Guard called "Noor," or light.
The Guard on its official said the satellite successfully reached an orbit of 264 miles above the Earth's surface.
The two-stage satellite launch took off from Iran's Central Desert, the Guard said, without elaborating.
The launch comes amid tensions between Tehran and Washington over its collapsing nuclear deal and after a US drone strike killed Guard Gen. Qassem Soleimani in January.
Iran has suffered several failed satellite launches in recent months.
On Sunday, the Guard acknowledged it had a tense encounter with US warships in the Persian Gulf last week, but alleged without offering evidence that American forces sparked the incident.
https://www.telegraph.co.uk/news/2020/04/22/iran-launches-military-satellite-orbit-amid-tensions-us/
----
Gazan artists support Palestinian prisoners in Israeli jails amid pandemic
21 April 2020
Ashraf Shannon
Press TV, Gaza
Activists in Gaza painted a mural to express solidarity with Palestinian prisoners inside Israeli jails amid the coronavirus pandemic.
A number of Israeli prison guards and interrogators and even Palestinian prisoners have tested positive for the deadly virus.
The Israel Prison Service (IPS) intentionally endangers the lives of thousands of prisoners by denying them coronavirus tests, cleaning products and refusing to disinfect their prison cells.
Currently some 5,000 Palestinian prisoners including women and minors are being held in 24 Israeli prisons and detention facilities.
During a press conference, the Palestinian Ministry of Detainees demanded international protection for prisoners amid the coronavirus pandemic.
Prisoners' advocates accuse the Israeli regime of purposefully seeking to kill Palestinian prisoners by spreading the coronavirus.
Many here believe that the support Israel enjoys from some countries like the United States gives it the green light to act in contradiction with international laws regarding the treatment of prisoners.
https://www.presstv.com/Detail/2020/04/21/623558/Gaza-Artists-Palestine-Prisoners-Israel-jails-Pandemic
-----
Palestinians need unified national strategy against Israel: Hamas
21 April 2020
The Palestinian Hamas resistance movement says Israeli coalitions and alliances should give Palestinians a powerful incentive to speed up efforts to draw up a unified national strategy against the Tel Aviv regime.
In a statement on Tuesday, Fawzi Barhoum, a Hamas spokesman, stressed that such a national strategy must be based on resistance to confront Tel Aviv and its schemes, defend the Palestinians' rights, and safeguard their interests.
His remarks came just a day after Israeli Prime Minister Benjamin Netanyahu and his election rival, opposition leader Benny Gant, reached an agreement to form an "emergency" coalition administration to end months of unprecedented political deadlock within the regime.
"Such Israeli coalitions with extremist agendas, which competed and agreed with each other to obliterate our Palestinian people's rights, annex their lands, and establish a Jewish state, will never frighten us," the Hamas spokesman said.
"This confirms that all the wagering on the so-called peace process with this entity in the region is a losing bet and illusion marketing," Barhoum added.
Israeli PM Netanyahu and opposition leader Gantz have agreed on the formation of an "emergency" administration to end months of political deadlock in Tel Aviv.
Netanyahu, the leader of right-wing Likud party, and Gantz, the leader of centrist Blue and White alliance, issued a joint statement after their agreement, according to which the newly-formed coalition is to serve as an "emergency government" for an initial six months.
The three-year deal would also allow Netanyahu, Israel's longest-serving premier, to remain in office for the duration of his upcoming trial on corruption charges due to begin on May 24.
Netanyahu, who has been consistently in power for the past 11 years, is under criminal indictment in three corruption cases, including bribery, fraud, and breach of trust.
Under the coalition agreement, Netanyahu will be prime minister for 18 months, and Gantz will take over afterwards.
Three previous elections — in April and September 2019 and in March this year — ended inconclusively as no party could secure the necessary 61 seats in the 120-seat Knesset to form a so-called government. Netanyahu's bloc won 59.
https://www.presstv.com/Detail/2020/04/21/623581/Palestine-Hamas-national-strategy-against-Israel
-----
IRGC shoots Iran's first military satellite into orbit
22 April 2020
Iran's Islamic Revolution Guards Corps (IRGC) has successfully launched and placed the country's first military satellite into the orbit.
The elite force fired the satellite — dubbed Nour (Light)-1 — aboard Qased (Carrier) satellite carrier during an operation that was staged in Dasht-e Kavir, Iran's sprawling central desert, on Wednesday, the Corps' Sepah News reported.
The announcement was made on the day when the elite military force is marking the anniversary of its establishment on April 22, 1979 upon an order by the late founder of the Islamic Republic, Imam Khomeini.
Marking the occasion, Leader of the Islamic Revolution Ayatollah Seyyed Ali Khamenei expressed his gratitude towards the IRGC for its performance.
IRGC General Mohammad Shirazi, the head of the Leader's Military Office, relayed the congratulatory message of the commander-in-chief of the Iranian Armed Forces to Major General Hossein Salami, the IRGC's chief commander.
"Convey my regards to the IRGC personnel and their respectable families on the occasion of its founding anniversary," the message noted. "I extend gratitude to them for their good performance and efforts. My prayers are with them."
https://www.presstv.com/Detail/2020/04/22/623613/Iran-IRGC-Military-Satellite
------
Iran helping victims amid coronavirus outbreak
21 April 2020
There is a new project in Iran focused on fund-raising and creating new jobs for those affected by the new coronavirus and their families. The project is initiated by the government and a charity organization, affiliated with the leader of Iran's Islamic revolution.
Officials say targeted assistance to affected people has never been this good. They say such efforts help bring more positive attention to the nationwide project. They say public organizations and armed forces have a huge potential to tap during times of crisis. The head of Setad, officially the Bureau for Execution of Imam Khomeini's Order, says they will try to protect families and businesses during the coronavirus crisis.
Seeking a balance between protecting public health and shielding the economy, the government has refrained from wholesale lockdowns of cities like those imposed in many other countries. The government, however, has extended closures of schools and universities and banned cultural, religious and sports gatherings.
The government has lifted a ban on intercity travel and ended a closure of businesses that pose a medium risk of spreading the virus. They have been allowed to reopen if they comply with declared health protocols.
https://www.presstv.com/Detail/2020/04/21/623539/Iran-Victims-Coronavirus-Outbreak
-----
North America
Islamic Center of Greater Cincinnati plans for Muslim holy month during pandemic
By: Lucy May
Apr 22, 2020
"We all look forward to this month of Ramadan," he said. "It's all about being together, praying together and being socially together."
But because of the COVID-19 crisis, things will be much different this year when Ramadan starts at sundown Thursday. In the same way so many other places of worship have had to change how they celebrated holidays this spring, the Islamic Center has had to make dramatic changes to the way it marks the holiest month of the year for Muslims.
"It's going to be completely different," said Dr. Samina Sohail, who serves as secretary of the Islamic Center's board. "Since I was a child, Ramadan has been filled with memories of going to the mosque every night, whether it was in Florida where I grew up or in the years I have lived here. So not having that is going to be a big void."
The center has been livestreaming daily and Friday prayers since mid-March because of the pandemic. It will continue that approach with the extended nighttime prayers that are such an important part of Ramadan, Izhar said.
"It's starting to sink in that this is going to be a new norm, at least for now, and we're just going to have to be careful and continue to be careful even if it starts to relax," he said. "We need to make sure that we're 110% safe before we start congregating and congregating in a big way."
Those changes have been difficult for people across many faiths. Ramadan is among a number of holidays this month representing six faith traditions: Easter; Passover; Ramadan; Ridvan, a 12-day festival in the Bahá'í Faith; Vaisakh, a new year's celebration in both the Sikh and the Hindu faiths; and MaidyozaremGahambar, the Zoroastrian mid-spring festival.
The local interfaith group EquaSion launched a series of webinars called "Turning to Faith" to help the many Cincinnati faithful who have had to adjust the way they worship.
"The goal is to provide some answers to folks who are seeking guidance on how can I find hope, how can I find courage, how can I find a sense of community when I'm confined in my home," said Chip Harrod, EquaSion's executive director. "It's a time when religious diversity really needs to be celebrated."
The series also offers people of faith another way to uplift themselves and each other spiritually, said Shakila Ahmad, the Islamic Center's emeritus board chair.
"You can be spiritually uplifted by seeing other people in their actions of faith," she said. "I've had people come for a tour of the Islamic Center, observe prayer and say, 'I've never felt closer to God than I did right now.'"
Ahmad said she has always felt that way during Ramadan as part of a congregation listening to the imam's recitation of the Quran. When she was chair of the Islamic Center's board, she said she spent nearly every night of Ramadan at the center, worshipping and then breaking the daily fast with friends and family members.
"It'll be both an opportunity and a challenge to really leverage that energy that we want to expend to do that spiritual uplifting of self, spiritual uplifting of others and service to others in different ways," Ahmad said.
"I think we just have to remind us what any faith and religion teaches us, especially Islam, and practice the best that we can so we can get over this hump, this pandemic, which at this point is still trying to affect humanity," he said. "But we're trying to do the best we can to fight it out."
Sohail said she knows her four children are disappointed that they won't get to celebrate Ramadan with their friends at the Islamic Center like they have in years past.
"I hope they look back at it as a time when they got to spend more time with their parents," she said. "We did the best we could, we ate a lot of good food, we watched a lot of good movies, we took a lot of good walks. At the end of the day, you won't get this time back."
It's one of those silver linings of the pandemic that so many parents across Greater Cincinnati are trying to appreciate.
Harrod said he hopes the pandemic and his organization's "Turning to Faith" series will help people across the Tri-State find more in common with each other.
"I think now folks are more open, frankly, to learning about other people and accepting them," Harrod said. "Because at the end of the day, we're all dealing with this pandemic, regardless of our faith, of our race, of our ethnicity, of our orientation. We're all in this together. So as long as we're all in this boat together we need to find out about one another."
https://www.wcpo.com/news/our-community/islamic-center-of-greater-cincinnati-plans-for-muslim-holy-month-during-pandemic
----
More than 350 families helped by Woking mosque volunteers during coronavirus crisis
22nd April 2020
They have been supporting vulnerable people and low-income families who are self-isolating by handing out essential food and hygiene items, medical aid and talking to those who may be lonely during the lockdown.
"Everybody's come together during a time where the mindset of a lot of people is quite negative given the current scenario.
"But, I think this has brought about hope and everybody's come together regardless of faith and background purely for the sake of serving humanity.
"All you need to do is reach out to us and we will try our best to make you feel comfortable, and to make you feel that you are loved and cared about in society.
https://www.eagleradio.co.uk/news/local-news/3086697/more-than-350-families-helped-by-woking-mosque-volunteers-during-coronavirus-crisis/
------
Why the US was primed to mistrust China's pandemic response: Lies about mass imprisonments of Muslims
April 22, 2020
by Nicholas Rowan
Before the coronavirus even hit the United States, China's high-profile history of religious persecution laid the groundwork for many to distrust its handling of the outbreak.
Since March, a growing number of people have said that they do not believe President Xi Jinping's government's statements about its efforts to contain the virus, which originated in the Chinese city of Wuhan. A survey conducted by the Pew Research Center found that, by the end of the month, about two-thirds of people in the U.S. viewed China unfavorably — and an overwhelming majority saw Chinese power as a threat to America.
Arkansas Sen. Tom Cotton, a longtime critic of China, told the Washington Examiner that these attitudes should come as no surprise. Cotton pointed particularly to the recent and well-publicized expositions of the Chinese government's practice of confining religious minorities, such as Uighur Muslims, to "gulag reeducation camps."
"Governments that treat their own people in such brutal ways would think nothing of lying about a virus death toll to preserve their own power," Cotton said.
China's persecution of religious minorities entered the public consciousness last year when protests in Hong Kong against the Chinese government shut down the island city and ignited a debate over Chinese violations of human rights. The demonstrations called into question the terms of American business relations with China when the communist nation threatened to cut ties with the National Basketball Association because of tweets supporting Hong Kong protesters posted by Houston Rockets general manager Daryl Morey.
The situation also raised outrage about China's lack of transparency regarding its treatment of Uighurs, a Muslim ethnic minority of which more than 1 million have been imprisoned in the Xinjiang province since 2017. The two issues collided in a controversial episode where a man holding a sign supporting the group was ejected from an exhibition match between the Washington Wizards and a Chinese team.
The tense nature of the subject permeated the 2020 presidential race as well. During a December debate, former Vice President Joe Biden, along with other Democratic candidates, criticized China's treatment of Uighurs, saying the U.S. should not tolerate it. When Biden referenced the "million" Uighurs "in concentration camps," Chinese authorities blacked out the debate's feed for those watching the debate in the communist country.
China's opaque coronavirus response is from the same playbook as its response to past controversies, Nebraska Sen. Ben Sasse told the Washington Examiner. The regime is "terrified that free thought might undermine the party's legitimacy," Sasse said, so it attempts to squelch any form of free speech to maintain control.
"It's the same reason they throw religious minorities into torture camps," he said. "It's the same reason they depend on censorship. It's the same reason they tried to crush the Hong Kong protests. This is what communists always do."
A March report from the United States Commission on International Religious Freedom, a federal watchdog agency, found that since the coronavirus outbreak began, Chinese persecution of ethnic minority Muslims has increased. In Wuhan, Uighurs were reportedly forced to continue working in factories during a citywide quarantine, despite the high risk of contracting the disease.
Uighurs who were quarantined have also faced discrimination, with Chinese authorities limiting their access to food and demanding payment for basic necessities, the report found.
Ambassador Sam Brownback, the State Department's point man for international religious freedom, in early April called upon Chinese authorities to acknowledge their mistreatment of "millions" of religious minorities and to release them.
At the same time that China has obscured its treatment of religious prisoners, it has also pursued a general policy of suppressing information about the coronavirus pandemic. After months of denial, the regime admitted last week that the death toll in Wuhan was 50% higher than originally stated.
China's miscount of fatalities, as well as its treatment of religious minorities, prompted many people to speculate that the virus was created in a Wuhan laboratory and that the Chinese government intentionally downplayed its effects once it was released.
During a press conference last week, President Trump addressed the lab theory. Although he refused to discuss any conversations he has had with Xi, Trump said that the U.S. was conducting a "thorough" investigation of the virus's origins. Secretary of State Mike Pompeo added after the conference that China needs to "open up" about where the virus came from, noting the possibility that it may have originated in a lab.
Pompeo asked the Chinese government in November to "cease all harassment" of Uighurs after numerous reports of detention camps were released. The Chinese government denied, and still denies, that any such camps exist.
https://www.washingtonexaminer.com/news/why-the-us-was-primed-to-mistrust-chinas-pandemic-response-lies-about-mass-imprisonments-of-muslims
-----
FBI honors mosque leader
Today at 2:25
Sophia Said, chairwoman of the Madina Institute and Mosque and executive director of the Interfaith Center of Arkansas, received the FBI Director's 2019 Community Leadership Award, according to an FBI Little Rock news release.
The award was founded in 1990 to honor individuals and organizations for fighting crime, terrorism, drugs and violence in the United States, the release said.
Said was recognized for her contributions to fighting religious hate crimes and terrorism with partners in law enforcement, according to the release.
"Ms. Said is an invaluable partner for us," FBI Little Rock Special Agent in Charge Diane Upchurch said. "Her work in bringing together law enforcement agencies, religious congregations and community leaders for FBI-led civil rights and terrorism training has benefited our whole state."
Said said bringing together leaders for development training focused on these types of incidents and preventing them is important work.
"Firstly, I feel it is extremely important to educate people about different faiths, so there is an enhanced awareness and tolerance in our communities," Said said. "And secondly I feel it's also very important to train our faith leaders on how to protect their congregations from these shootings that we see happening in mosques, temples and churches."
"It deeply impacts me," Said said. "I'm a Muslim. I run a mosque. I'm the head of a mosque, and I worry about my congregation's safety every single night when I go to bed, so it's really important for me to make sure our communities are safe."
"I'm happy the FBI acknowledges the importance of this work, and they are a strong partner with us in this work," Said said. "So that acknowledgement and that endorsement it's a warm sign for us that law enforcement also recognizes the importance of protecting faith communities."
https://www.arkansasonline.com/news/2020/apr/22/fbi-honors-mosque-leader-20200422/?news-arkansas
----
Spain says one of Europe's most-wanted Islamic State fighters arrested
APRIL 22, 2020
(Reuters) - Spanish police detained one of Europe's most wanted fugitive Islamic State (IS) fighters in the southern town of Almeria, the government said.
The Egyptian man, who has fought in Syria and Iraq, was hiding in an apartment with two other people who were also arrested and were being identified by police, the interior ministry said in a statement late on Tuesday.
"The detained man spent several years in the Syria-Iraq area and presents peculiar personality features such as an extremely violent criminal profile which caught the attention of police and intelligence services in Europe," the statement added, without disclosing his identity.
The three suspects had come via North Africa and were keeping a low profile during Spain's coronavirus lockdown, exiting the apartment one-by-one and wearing protective masks
Police are eager to intercept many of the dozens of Spanish Muslims who left for Syria and Iraq to fight alongside IS and may now want to perpetrate attacks on home soil such as the killing of 16 people in Barcelona in 2017.
https://www.reuters.com/article/us-spain-security/spain-says-one-of-europes-most-wanted-islamic-state-fighters-arrested-idUSKCN2240VW?rpc=401&
-----
US-led coalition strikes Islamic State positions in Syria
Apr 22, 2020
A combat aircraft of the international coalition led by the United States conducted an airstrike on the city of Al-Hawaij, learned BulgarianMilitary.com citing Politros.
It is also known about another outing of radical Islamists in the control zone of the pro-American "Syrian Democratic Forces." So, it was reported about the destruction of two Kurdish terrorists near the city of Diban.
Information was received about the undermining of a mined car in the area of the Al-Omar oil field, as a result of which two members of the formation received injuries incompatible with life.
As for government forces, the Syrian Arab Army (SAA) and the militia from the National Defense Forces continue to patrol the area along the Iraqi border.
In February, Turkey lost at least 62 troops killed in Syria, nearly 100 soldiers were wounded, dozens of Turkish armored vehicles were destroyed and more than ten drones, including drone, were shot down. Washington has repeatedly accused Moscow of involvement in the deaths of Turkish soldiers, Russia rejects these allegations.
In early March, the presidents of Russia and Turkey, Vladimir Putin and Recep Tayyip Erdogan, concluded an agreement according to which a ceasefire came into force in the Idlib de-escalation zone.
Syrian President Bashar al-Assad later said that if the US and Turkish military did not leave the country, Damascus would be able to use force.
The reason for the Russian-Turkish negotiations was a sharp aggravation of the situation in Idlib, where in January a large-scale offensive by the Syrian army against the positions of the armed opposition and terrorists began.
Government forces recaptured nearly half of the Idlib de-escalation zone and left behind a number of Turkish observation posts. After that, Ankara sharply increased its military contingent in the region and launched the operation "Spring Shield" to push the Syrian troops. Turkey is also supported by militants loyal to it.
https://bulgarianmilitary.com/2020/04/22/us-led-coalition-strikes-islamic-state-positions-in-syria/
-----
Africa
Sultan warns against congregational prayers, mosque gatherings during Ramadan
22 April 2020
The Sultan of Sokoto and President General of the Jama'atuNasril Islam, Alhaji Sa'ad Abubakar III, has urged Muslims in the country to avoid congregational prayers during the coming Ramadan.
The Sultan, who spoke through the Secretary General of JNI, Dr. Khalid Abubakar-Aliyu, in Kaduna on Monday, also advised the Ummah against going for this year's lesser Hajj because of the COVID-19 pandemic.
"It should be made known that all Salawatun-nawafil (optional and non-obligatory prayers), including Taraweeh, are originally preferred to be observed at home, though it is Mustahabb (desirable) to observe it in congregation.
"To sum it up, there will not be the annual Tafsir sessions and no congregational Taraweeh in mosques until when situation permits. We should therefore pray with our families at home and stay safe.
"This is a Ramadan with a difference, as most people will be under lockdown. Hence, they will certainly be in dire need of assistance because of the economic realities and the attendant suffocating inflationary trends." He enjoined Muslims to imbibe the spirit of giving during the holy month.
"Our spirit of generosity should be fully activated in higher proportion to ameliorate the sufferings of the poor in our midst by providing them with food and other necessities.
"Despite the challenges of physical and social distancing, Tafsir and other religious teachings could continue using various information technology platforms, such as Facebook, Skype, YouTube, Zoom, etc., to live-stream preaching sessions. Reliable information and communication technology professionals could be consulted for proper guidance," he added.
The Sultan also called on Muslims to pray for the end of the coronavirus disease (COVID-19) in the world. He called on the Federal Government to be more committed to getting rid of the pandemic in the country and "ignore the intricacies of eye-service heroism, sloganeering and the show of false religiosity."
https://guardian.ng/news/sultan-warns-against-congregational-prayers-mosque-gatherings-during-ramadan/
-----
Ramadan in Somalia: fears coronavirus cases will climb as gatherings continue
22 Apr 2020
Somalia has recorded a rise in coronavirus cases in the past week, with the majority of those affected reportedly young people.
So far there have been 237 confirmed cases and eight deaths in the country. A member of parliament and a state minister are among those who have died.
"The sharp increase is due to the fact that we are testing patients with all symptoms, not necessarily contact tracing," said Dr Mohamed M Ali Fuje, the government's newly appointed chief medical officer.
Ninety per cent of the confirmed cases are in the capital, Mogadishu, and although the government has introduced measures to contain the virus, widespread behavioural change is proving difficult. People continue to congregate in mosques, and gather in groups at teashops and restaurants, increasing the risk of infections.
"Life is normal here," said Khadija Hassan, a resident in Mogadishu. "It is like the global pandemic has not reached us yet. Personally, I won't leave my house for two weeks because I see people in my neighbourhood showing symptoms of the coronavirus. They talk of loss of smell, fever and cough and they say it is just a common cold as they continue to mingle with no isolation or social distancing."
"It is as though the schools were closed for public holiday," Hassan said. "Students and children are freely loitering in the streets, playing football and gathering in crowds in the neighbourhood."
What is more concerning to authorities are the dangerous rumours about coronavirus that have taken hold. These myths include the theory that the virus does not affect Muslims or is a punishment for non-believers for oppressing Muslims. The militant group al-Shabaab, who control large swathes of south and central Somalia, has shared similar messages.
Earlier this month, a controversial cleric claimed he would cure coronavirus patients using the Qu'ran and has called on people to seek his help. "If I fail to cure it, I should be shot in the head," he said in a video posted on Facebook.
In another video, he claimed to have cured a patient from London over the phone, and he has promised to treat the Somali diaspora if they contact him, claiming to have already cured patients with HIV in the past.
Muslim clerics, including one of the most respected Somali clerics, Sheikh MaxamedUmal, have joined the national task force on the crisis, and have been quick to try to debunk the myths, encouraging people to protect themselves and seek medical advice if they feel sick.
But the national task force has yet to announce firm guidelines on how to approach the holy month of Ramadan, which starts on Thursday and involves communal rituals such as breaking fast together and extended night prayers.
"The ministry of religious affairs continues to engage closely with religious leaders, there is a responsibility on all leaders to assist in raising public awareness and community engagement throughout the country with regard to Covid-19. It has not been exhaustive and we should continue to push the envelope," said Fuje.
Somalia's health system has collapsed after 30-years of conflict and authorities are working hard to avoid the devastating impact of the coronavirus.
There are 14 isolation centres serving a population of 15 million people yet a hospital with modern medical equipment, including ventilators, is lying unused in the capital for political reasons, according to Mahad Awad, an MP who criticised the United Arab Emirates government, which built the facility before closing it two years ago over a diplomatic dispute with Somalia.
"We are extremely concerned of this pandemic," Fuje said. "Our testing capacity is limited, we don't have enough facilities or test kits to do mass tests. There are currently only three approved Covid-19 testing facilities countrywide."
https://www.theguardian.com/global-development/2020/apr/22/ramadan-in-somalia-fears-coronavirus-cases-will-climb-as-gatherings-continue
------
Children at an Islamic school in Kogi despite closure of schools
April 22, 2020
Despite the Federal Government's order on closure of tertiary institutions, secondary and primary schools nationwide following the outbreak of Coronavirus in the country and as part of measures to contain the spread, some children were seen at an Islamic school in Kogi state.
https://thenationonlineng.net/photos-children-at-an-islamic-school-in-kogi-despite-closure-of-schools/
-----
Uhuru rules out adjustment of curfew hours during Ramadan
22 April 2020
There will be no curfew extension for Muslims during the month of Ramadan, President Uhuru Kenyatta has said.
The President maintained that just like Christians who were forced to mark Easter celebrations at their homes, Muslims should not expect special treatment during the holy month.
He, however, acknowledged the two events as very important in both Muslims and Christians' calendars but asked for understanding saying the country is currently faced with unprecedented health challenges.
"Same to what we told Christians during Easter, this year is a special year. Everyone to celebrate at home. Muslims should follow suit and know that this is a special year," Uhuru said at State House Wednesday morning.
"Let us agree that this year we will not do things normally. Easter and Ramadan are major events to both Christians and Muslims."
Muslim clerics and a section of leaders from the Coast had appealed to the government to consider extending the curfew period from 7 pm to 9 pm to allow for Iftar celebrations.
President Uhuru ordered the dusk-to-dawn curfew as part of preventive measures aimed at containing the spread of the virus in the country.
Two weeks ago, Christian faithful celebrated a low-key Easter with the majority following broadcasted Easter mass and services from their homes.
https://www.the-star.co.ke/news/2020-04-22-uhuru-rules-out-extension-of-curfew-during-ramadan/
-----
URL: https://www.newageislam.com/islamic-world-news/tablighi-jamaat-leader-maulana-saad/d/121643
New Age Islam, Islam Online, Islamic Website, African Muslim News, Arab World News, South Asia News, Indian Muslim News, World Muslim News, Women in Islam, Islamic Feminism, Arab Women, Women In Arab, Islamophobia in America, Muslim Women in West, Islam Women and Feminism