New Age Islam News Bureau
19 Jun 2015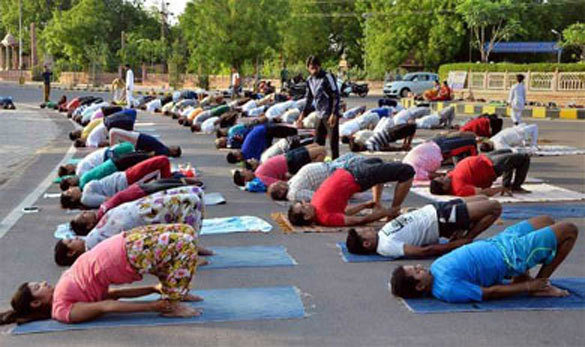 Mizoram minister John Rotluangliana cautioned people saying that the current promotion of Yoga was a subtle RSS plot to wean people into preaching Hinduism
------------
Arab World
• Syria's Raqa: For Islamic State A `Model City`, For Others a Living Hell
• Army's Operations Kill 300 Takfiri Terrorists in Iraq's Diyala
• 200 Nusrah Front Terrorists Killed, Wounded in Quneitra, Dara'a
• Soldiers in War Front Can Terminate Fast: Saudi Grand Mufti
• Analyst: UN Showing Hypocritical Behaviour towards Syria to Israel's Benefit
• Aleppo City Witnessing Bloodiest Clashes between Syrian Forces, Terrorists
• Spokesman: Baghdad Displeased with Int'l Coalition's So-Called War on ISIL
• Reconciliation between Brotherhood and Egyptian state the 'only solution': Nageh Ibrahim
Africa
• Boko Haram Kills At Least 30 in Attacks on Niger Villages: Sources
• Mali Close To Peace Deal after Militia Leaves Key Town
• Chad's Airstrikes Hit Boko Haram Positions in Nigeria
• Qaeda in North Africa denies US strike killed ex-chief
Mideast
• Around 30 Fighters Killed In Central Yemen Clashes: Tribal Sources
• Dozens Dead after Car Bombs Target Yemen's Mosques
• Irbil Church Offers Shelter amid Christian Exodus from Middle East
• We are being forced out of Syria: Turkmen leader
• Netanyahu denounces U.N. chief over Gaza children remarks
Pakistan
• At Least 20 Suspected Terrorists Killed In Khyber Blitz
• 'Zarb-E-Azb Wiped Out Terrorists From North Waziristan'
• Toning down: Zardari, Altaf push for unity in Pakistan
• Law and order: Rangers hailed for peace efforts in Karachi
• A month's lifeline: No prisoners to be sent to the gallows during Ramazan
• Non-bailable arrest warrant issued for Musharraf in cleric murder case
India
• Intellectuals Attack: 'Thoughtless Articulation of Jingoist Sentiments' by BJP, Govt
• Yoga Day a Subtle RSS Plot Of Weaning People to Hinduism, Says Mizoram Minister
• Muslims Gear Up For Yoga Day with Training Camps, Book Titled 'Yoga and Islam'
• 'ISI May Target Separatist Butt & Put Onus on India'
• India to Release 88 Pakistani Fishermen as 'Goodwill' Gesture
• BJP councillor locks out Muslim family in Moradabad
• Indian embassies will organise yoga sessions after Iftar in Muslim nations on International Yoga Day
South Asia
• China Bans Ramadan Fasting In Mainly Muslim Region
• Around 1,500 Terrorists Gather Along Afghanistan-Tajikistan Border
• Farkhunda's Family Lives in Fear, After Her Mob Killing
• After harrowing journeys, Rohingyas hope for peaceful Ramadan in Indonesia
• Bangladesh: 4 held for supplying explosives to militants
• Probe report filed against 12 war crimes suspects
• Supreme Court verdict against HRCM 'an act of reprisal,' says UN experts
Europe
• David Cameron: Some Muslim Communities 'Quietly Condone' Extremist Ideology Instead Of Confronting It
• 60 Million People Fleeing Chaotic Lands, U.N. Says
• U.N. uses food aid to fight against child labour in Egypt
• U.N. needs $1.6 bln for Yemen aid
• France's Fabius heads to Mideast to sell peace initiative
Southeast Asia
• Interfaith Marriages Still Unsanctioned as Indonesian Court Rejects Judicial Review
• PAS Ulema to decide direction of Malaysian politics, says Economist
• Set aside disputes, animosity during Ramadan, says Najib
• Transgender fails court bid to change identity to woman, judge says 'hands tied'
North America
• U.S. Struggling To Train Moderate Syrian Rebels
• Fourth Alleged ISIS Suspect Arrested In New York Area
• New Jersey man charged with conspiracy to provide support to ISIL
• US must reckon with gun violence, race issues: Obama
• Canadian doctors seek to light Gaza hospitals with solar power
• Terrorism or hate crime? Police arrest man who shot 9 people at US African-American church
Australia
• Muslim Groups Call For Direct Engagement with Young People to Prevent Radicalisation
Compiled by New Age Islam News Bureau
URL:https://www.newageislam.com/islamic-world-news/new-age-islam-news-bureau/syrias-raqqa-islamic-state-model-city-others-living-hell/d/103571
--------
Arab World
Syria's Raqqa: For Islamic State A `Model City`, For Others a Living Hell
June 19, 2015
Beirut: It`s called Heaven Square, but after the Islamic State group started using the roundabout in Raqa for gruesome public executions it earned a new name: Hell Square.
In the year since the jihadist group announced its "caliphate" last June, its de facto Syrian capital of Raqa has been transformed into a macabre metropolis.
Human heads are displayed on spikes at the central roundabout and crucified bodies hang for days to terrorise local residents, said Abu Ibrahim Raqqawi, a Raqa resident and anti-IS activist.
"From the first moment of its control over Raqa, IS adopted a policy of horror and terror, resorting to executions, beheadings, cutting off hands and legs, and crucifixion," said Raqqawi, who uses a pseudonym.
He belongs to the "Raqa is Being Slaughtered Silently" underground activist group, which documents IS abuses in the northern Syrian city and surrounding province.
Activists were among IS`s first targets in Raqa, but Raqqawi and the group`s members have continued to work, providing a rare window into life in one of IS`s bastions.
Raqa was the first Syrian provincial capital to fall from regime control when rebels seized it in March 2013.
But IS soon routed those rebels and moved quickly to establish a "model city" under its harsh interpretation of Islamic law, said researcher and writer Hisham al-Hashimi.
IS wants to run Raqa "like a central government, with police, services, justice and education," he said.The group has taken over all levels of civil administration, rewriting school curriculums, establishing Islamic courts and creating police units -- the male "Hesba" force and the female "Khansa Brigades" -- to implement Islamic law.
It has focused heavily on education, closing the city`s schools and universities for a full year while it developed new courses.
Mathematics and English are still on the menu, but little else of the old curriculum remains; courses in jurisprudence, jihad and the Koran have been added.
"What`s the point of physics, chemistry, history or statistics... when we`re learning medicine?" says Abu Abdul Rahman al-Shami, the head of Raqa`s hospital, in an IS-produced video about life in the city.
IS has sought to promote an image of the "good life" in Raqa, with videos showing roads teeming with cars and storefronts full of customers.
It touts the implementation of its version of Islam, with life coming to a halt five times every day for prayers and all residents required to declare their assets and pay "zakat" -- Islamic alms.
It also revels in meting out punishments for crimes ranging from collaboration with Syria`s regime and theft to "witchcraft" and homosexuality.
The group regularly carries out beheadings, but also stones victims to death or throws them from building tops.
Women whose face veils do not cover their eyes are charged a gram of gold, while men who shave their beards pay a fine equivalent to $100.
Raqqawi recounted how a woman in a face veil, walking with her husband, tripped in the street, revealing part of her face as she fell.
IS members swarmed around the couple and threatened to lash her husband if the incident was repeated. The Syrian Observatory for Human Rights monitoring group says IS has executed 2,618 people in Syria between the founding of its caliphate in late June 2014 and late May 2015.
Residents say those who comply with IS`s rules can find a way to live a "normal" life, and even to benefit from the relative stability, lack of crime and municipal services in Raqa.
"If you follow Daesh`s laws and keep your head down, no one will bother you," Raqqawi said, using an Arabic acronym for IS.
And for the thousands of foreign fighters who have flocked to IS-held territory, there are special perks in Raqa, an occasional source of tension with Syrian residents who say they are treated as inferior.
A French IS fighter known as Abu Salman al-Fransi recently extolled the virtues of life in IS territory in a video posted online.
He said he was born to a Christian family but chose to convert to Islam and join IS in Syria along with his wife.
"The Islamic State gave us a house and everything we needed to prepare it, thank God, and our salary every month," he said in French.
In another such video, a clean-shaven blonde Australian doctor calling himself Abu Yusef al-Australi says he left home to live "in the shadow of the caliphate".
Now he works at Raqa hospital, where foreign fighters are treated for free, while locals pay for care.
Dressed in green scrubs and speaking English, he says with a grin: "The situation here has exceeded my expectations."
http://zeenews.india.com/news/world/syrias-raqa-for-islamic-state-a-model-city-for-others-a-living-hell_1616146.html
--------
Army's Operations Kill 300 Takfiri Terrorists in Iraq's Diyala
June 19, 2015
The Iraqi army attacks in the Eastern province of Diyala killed 300 Takfiri terrorists from different nationalities.
Abdol Amir al-Zaidi, the commander of Iraq's Tigris operations, was quoted as saying by Sumeriya News that his forces have killed over 100 foreign non-Arab terrorists and 200 Takfiri terrorists with different Arab nationalities.
He added that the non-Arab terrorists were from the European and Asian countries, most of them ISIL ringleaders.
The Iraqi forces liberated the entire Diyala province from the control of the ISIL terrorists in January.
The Iraqi Badr Organization announced at the time that it has regained control of different regions in Diyala province.
The ISIL Takfiri terrorists currently control a shrinking part of Syria and Iraq. They have threatened all communities, including Shiites, Sunnis, Kurds, Christians, Ezadi Kurds and others, as they continue their atrocities in Iraq.
Senior Iraqi officials have blamed Saudi Arabia, Qatar, and some Persian Gulf Arab states for the growing terrorism in their country.
The ISIL has links with Saudi intelligence and is believed to be indirectly supported by the Israeli regime.
http://english.farsnews.com/newstext.aspx?nn=13940328000563
--------
200 Nusrah Front Terrorists Killed, Wounded in Quneitra, Dara'a
June 19, 2015
he Syrian army pressed ahead with its military campaign against the Al-Nusra Front in al-Quneitra and Dara'a provinces, claiming the lives of hundreds of the terrorists, informed sources said.
An informed Syrian military source said that the army units in Eastern, Southeastern and Northern Reef (countryside) of Dara'a pounded and destroyed al-Nusra Front's military equipment and vehicles armed with heavy machine guns.
The source also said that the Syrian army units repelled the terrorist attacks against the residents of Tal al-Shaar, Tal Bazaq and Kram Jaba regions in the Eastern Reef of Quneitra.
According to the military source, 200 terrorists were killed and wounded during the operations in Quneitra and Dara'a provinces and their weapons and military equipment were destroyed.
Also on Tuesday, the sources said that the Syrian military operations have left tens of Takfiri militants dead and dozens more injured in the Al-Thala airbase region in the past 24 hours.
Over 275 Al-Nusra Front terrorists were killed near Al-Thala airbase in Sweida province on Monday, sources on both sides declared.
"The army units with the help of popular defense forces repelled the attempts by the Al-Nusra terrorists to retake the strategic airbase in Sweida province," a Syrian army source told FNA.
He said in the first phase of the army operation in Al-Thala airbase region over 100 terrorists were killed, and added, "And in the second phase, the army killed 25 terrorists who were trying to penetrate into Um Walad town."
The army artillery units pounded the Al-Nusra Front positions in Western Sweida province, killing another 150 terrorists.
http://english.farsnews.com/newstext.aspx?nn=13940328000267
--------
Soldiers in War Front Can Terminate Fast: Saudi Grand Mufti
June 19, 2015
JEDDAH: Grand Mufti Sheikh Abdul Aziz Al-Asheikh has announced that soldiers fighting on the country's borders can break their fast in the middle if they find fasting too difficult.
"You are fighting for God's sake and in God's name, and we are proud that you are bravely defending your country. If you have the ability to fast, then do so.
"But for those who cannot, there is a legal excuse to end your fast before time. May God grant you a great victory and support you," he said, according to a report in a local publication on Thursday.
Al-Asheikh, who is also president of the Council of Senior Scholars, wished the soldiers well for the holy month.
http://www.arabnews.com/featured/news/764281
--------
Analyst: UN Showing Hypocritical Behaviour towards Syria to Israel's Benefit
June 19, 2015
A prominent Syrian analyst described the UN indifference to the terrorist groups' crimes in Syria and certain western and Arab regimes' support for terrorism as a hypocritical behavior shown by the world body to the benefit of the Israeli regime.
"(UN Secretary-General) Ban Ki-moon works for the US, France and Britain and the reason he doesn't even condemn a terrorist act in Syria is that he isn't authorized unless he receives an order from the big powers," Bassil Nayouf told FNA on Thursday.
Noting that recently, the terrorist groups in Syria fired over 100 missiles on residential areas in Aleppo in which over 36 civilians, including 12 children were killed, he said, "The UNSC has not yet condemned the Aleppo catastrophe which shows its support for the terrorism promoted by the Zionist regime."
"The UNSC members are merely after meeting their own and Israel's interests in the region," Nayouf said.
Full report at:
http://english.farsnews.com/newstext.aspx?nn=13940328000653
--------
Aleppo City Witnessing Bloodiest Clashes between Syrian Forces, Terrorists
June 19, 2015
Sources in the Northern province of Aleppo confirmed that there have been heavy clashes between the Syrian army and the terrorist groups in various neighborhoods of Aleppo, adding that tens of militants have been killed or wounded in street battles.
The terrorists started heavy attacks against the Syrian army positions in Aleppo with the intelligence, logistic and arms supports that could have been provided only by their regional allies, an independent source said.
Full report at:
http://english.farsnews.com/newstext.aspx?nn=13940328000620
--------
Spokesman: Baghdad Displeased with Int'l Coalition's So-Called War on ISIL
June 19, 2015
The Iraqi Prime Minister's Spokesman Saad Hadithi underlined his country's dissatisfaction with the international coalition's weak performance in campaign against the ISIL terrorist group.
"The Iraqi government believes that international efforts to prevent ISIL's penetration into the country are insufficient," Hadithi told FNA on Thursday.
He stressed the necessity for the international community to act upon its undertakings and vows about fighting the ISIL, and said, "The Iraqi government's assessments show that the anti-ISIL coalition efforts have not been enough since the terrorists are still infiltrating Iraq and their number has not reduced."
Full report at:
http://english.farsnews.com/newstext.aspx?nn=13940328000398
--------
Reconciliation between Brotherhood and Egyptian state the 'only solution': Nageh Ibrahim
June 19, 2015
Co-founder and former leading member of ultra-conservative Islamist group Al-Gamaa Al-Islamiya Nageh Ibrahim believes that "reconciliation" is the only solution to the current crisis in Egypt, he has told Ahram Online.
"Polarisation harms the country," said Ibrahim. "It cannot be that one political group lies in prison, while the other, against them, is in power... This cycle has to stop".
Since the July 2013 ouster of Muslim Brotherhood president Mohamed Morsi, the Egyptian authorities have banned the Islamist organisation, detained thousands of its alleged supporters, and sentenced hundreds to death or life in jail. In retaliation, militant attacks against police and army forces have spiked, especially in the North Sinai.
Ibrahim believes in the need for reconciliation between the Brotherhood and the Egyptian authorities based on the "historic experience of Al-Gamaa Al-Islamiya with [deposed President Hosni] Mubarak", he said.
Full report at:
http://english.ahram.org.eg/NewsContent/1/151/133109/Egypt/Features/Reconciliation-between-Brotherhood-and-Egyptian-st.aspx
--------
Africa
Boko Haram kills at least 30 in attacks on Niger villages: Sources
June 19, 2015
Boko Haram militants attacked two villages in southern Niger's Diffa region overnight, killing at least 30 civilians, two security sources said.
It was the second major cross-border attack by the Nigerian Islamist group this week, following twin suicide bombings in Chad's capital on Monday that killed at least 34 people.
The attackers drove into the villages in the Gueskerou area with cars and motorbikes and shot residents before setting fire to the mostly straw thatched houses where others were hiding, the sources said.
"In all, at least 30 were killed. Some of them died when the houses were set alight," said one of the security officials. The source said he expected the death toll to rise because a number of survivors had serious burns.
Gueskerou is along the banks of the Komadugu River separating Niger from Nigeria.
Despite a regional military operation to beat back Boko Haram, southern Niger has been attacked dozens of times this year. Its government has declared a state of emergency for the region and has arrested more than 600 people it accuses of links to the group.
http://english.ahram.org.eg/NewsContent/2/9/133113/World/International/Boko-Haram-kills-at-least--in-attacks-on-Niger-vil.aspx
--------
Mali close to peace deal after militia leaves key town
June 19, 2015
Mali's warring factions on June 18 looked close to signing a landmark peace deal to end years of unrest after pro-government militia leaders agreed to evacuate a flashpoint town and the government dropped arrest warrants for several rebels.
"After talks with mediators and partners, we the GATIA (a pro-government militia) have decided to facilitate the process of pulling out from Menaka," the group's general secretary Haballa Ag Hamza told AFP, adding that the withdrawal will start on June 19.
"We want peace, we're making an important gesture, but it's clear that it is the UN mission which must ensure the safety of Menaka's population, and not another group," he said.
Loyalist militias seized Menaka from the west African country's Tuareg-led rebel alliance in April, in an operation which has sparked several violations of a ceasefire agreement and left many dead on both sides.
Full report at:
http://www.hurriyetdailynews.com/mali-close-to-peace-deal-after-militia-leaves-key-town.aspx?pageID=238&nID=84217&NewsCatID=357
-------
Chad's Airstrikes Hit Boko Haram Positions in Nigeria
June 19, 2015
Chad's military said Thursday it had launched airstrikes against Boko Haram positions in neighboring Nigeria to avenge twin suicide bombings in Chad's capital carried out by the terrorist group.
Citing the "cowardly and barbaric acts perpetrated by Boko Haram terrorists" in N'Djamena on Monday, which killed 33 people, the army announced that the "the armed forces... on Wednesday carried out reprisal airstrikes on the terrorists' positions in Nigerian territory," AFP reported.
Full report at:
http://english.farsnews.com/newstext.aspx?nn=13940328000452
--------
Qaeda in North Africa denies US strike killed ex-chief
June 19, 2015
Al-Qaeda in North Africa has denied reports its former leader Mokhtar Belmokhtar was killed in a US air strike last week in Libya, in a statement posted online overnight.
"The mujahid Khaled Abu al-Abbas is still alive and well," said the statement from Al-Qaeda in the Islamic Maghreb, using the name by which Belmokhtar is widely known in jihadist circles.
"The real target of the air strike was the Libyan lions," the extremist group said, referring to fighters in the strife-torn North African country.
Libya's internationally recognised government said on Sunday that Belmokhtar -- who has been reported dead on several previous occasions -- was killed in a US air strike.
The Pentagon said Belmokhtar had been the target of the strike but was non-committal about whether F-15 Strike Eagle fighter jets armed with 500-pound bombs had succeeded in killing the notorious Algerian jihadist.
Full report at:
http://english.ahram.org.eg/NewsContent/2/8/133148/World/Region/Qaeda-in-North-Africa-denies-US-strike-killed-exch.aspx
--------
Mideast
Around 30 fighters killed in central Yemen clashes: Tribal sources
June 19, 2015
Around 30 fighters were killed in clashes between Houthi militiamen and tribesmen in the central Yemeni province of Mareb on Thursday, tribal sources said.
"The Houthis and (army) forces launched a big attack on the area but the popular committees resisted them and killed 21 of the attackers. Nine of the defenders were killed," one tribesman told Reuters by phone from the area.
http://english.ahram.org.eg/NewsContent/2/8/133102/World/Region/Around--fighters-killed-in-central-Yemen-clashes-T.aspx
--------
Dozens Dead after Car Bombs Target Yemen's Mosques
June 19, 2015
Car bombers targeted three mosques and the headquarters of Yemen's Ansarullah Movement in Sana'a, killing dozens of people.
There were no official reports on casualties from the Sana'a attacks on Wednesday night, as Muslims around the world prepared for the start of the holy month of Ramadan, but a security official said "dozens" had been killed or injured, The Guardian reported.
The official said four car bombs, two driven by suicide bombers, targeted the Houthi political bureau and three mosques in Sana'a.
Delegates attending peace talks in Switzerland reported no progress on the second day of a UN-sponsored push for a Ramadan truce.
http://english.farsnews.com/newstext.aspx?nn=13940328000285
--------
Irbil Church Offers Shelter Amid Christian Exodus From Middle East
June 19, 2015
IRBIL— It is the church where a growing congregation reflects deep problems for the Christian community across the Middle East. Based in the Iraqi-Kurdish capital of Irbil, Saint Ilyas Church is not just a place of worship, but a camp for those fleeing the so-called Islamic State.
In a space once used as gardens, it now hosts 110 largely Christian families displaced by conflict. And with hundreds of thousands of Christians having fled their homes in Iraq and Syria, many are left fearing for the future of a community whose faith was born in the region.
Overnight transformation
The church's transformation into a home for hundreds happened overnight. Last summer, thousands of refugees flooded into Irbil, and wider Iraqi-Kurdistan, with the Islamic State's capture of Mosul and surrounding region.
Full report at:
http://www.voanews.com/content/irbil-church-offers-shelter-amid-christian-exodus-from-middle-east/2828743.html
--------
We are being forced out of Syria: Turkmen leader
June 19, 2015
The Kurdish People's Protection Units (YPG), the armed wing of the Syrian Democratic Union Party (PYD), which is fighting against the Islamic State of Iraq and the Levant (ISIL), is working on a "secret plan" to rid the Syrian-Turkish border of Turkmens, said Ershad Salihi, a leading figure of the Iraqi Turkmen Front (ITF) during an interview with Hürriyet.
"Tel Abyad is a Turkmen region in Syria. First, ISIL was placed here. Turkmens were forced to live under ISIL. Then, using ISIL as a pretext, these places are being handed over to Kurds, with Turkmens being forced out of their homeland," he said. "It is certain that this is part of a project to found a Kurdish state in the region," he added. A similar thing is happening in Iraq's Telafer, the Turkmen leader said, adding that he would not be surprised if Kurdish forces would attack the Iraqi city, which is under ISIL control, and Turkmens there would also be forced to migrate. "We live in concern," he said asking for financial support to show their power to the central government in Baghdad.
Full report at:
http://www.hurriyetdailynews.com/we-are-being-forced-out-of-syria-turkmen-leader.aspx?pageID=238&nID=84210&NewsCatID=352
--------
Netanyahu denounces U.N. chief over Gaza children remarks
19 June 2015
Prime Minister Benjamin Netanyahu on Friday denounced what he called the "hypocrisy" of the United Nations after U.N. chief Ban Ki-moon demanded Israel protect the lives of children in Gaza.
"This is a black day for the U.N.," Netanyahu said. "Instead of pointing out the fact that Hamas made hostages of Gaza children when it fired from kindergartens... the U.N. chooses once again to preach at Israel."
"Evidently there is no limit to hypocrisy," the Israeli leader said in a statement.
Ban on Thursday urged Israel to protect the lives of Palestinian children, who bore the brunt of last year's military operations in the Gaza Strip.
Full report at:
https://english.alarabiya.net/en/News/middle-east/2015/06/19/Netanyahu-denounces-U-N-s-ban-over-Gaza-children-remarks-.html
--------
Pakistan
At least 20 suspected terrorists killed in Khyber blitz
June 19, 2015
RAWALPINDI: At least 20 suspected terrorists were killed during airstrikes in Khyber Agency on Friday, said a statement issued by Inter Service Public Relations (ISPR).
Around 18 suspected terrorists were also wounded in the airstrikes.
The ISPR statement added that key militant commanders were among those killed in the blitz.
The details could not be independently verified since the access of journalists is severely restricted in the region.
The precise aerial strikes come amid the ongoing Khyber-2 operation launched by the army in the tribal region and are part of the military's stepped-up efforts since a militant attack in Dec 2014 killed 150 people, mostly children, at Peshawar's Army Public School.
The Peshawar incident came months after the army launched Zarb-i-Azb, a grand operation in the North Waziristan tribal region, following a Taliban-claimed attack on the Jinnah International Airport in Karachi.
Khyber is one of Pakistan's seven semi-autonomous regions governed by tribal laws and lies near the Afghan border. The region was known to be a stronghold of militants belonging to the proscribed Tehreek-i-Taliban Pakistan (TTP) and an allied group called Lashkar-i-Islam.
http://www.dawn.com/news/1189189/at-least-20-suspected-terrorists-killed-in-khyber-blitz
--------
'Zarb-e-Azb wiped out terrorists from North Waziristan'
June 19, 2015
PESHAWAR: Khyber Pakhtunkhwa Governor Sardar Mehtab Ahmad Khan has said that military operation Zarb-e-Azb continues to yield successes and has completely wiped out terrorists from North Waziristan Agency.
Talking to a grand jirga of North Waziristan Utmanzai tribe at the Governor House, he said that the role of tribal people in restoration of peace and progress in the country was praiseworthy.
"Prime Minister Nawaz Sharif has taken historical steps for the better future of the tribal people. The cadet college Razmak is being moved back from Nowshera to Razmak to equip the people of Waziristan with quality education. Government will provide Rs 10 million for its restoration," the governor said.
Full report at:
http://www.dailytimes.com.pk/national/19-Jun-2015/zarb-e-azb-wiped-out-terrorists-from-north-waziristan
-------
Toning down: Zardari, Altaf push for unity in Pakistan
June 19, 2015
ISLAMABAD / KARACHI: Amid rising tensions between the military and the Pakistan Peoples Party (PPP), the party's co-chairman, Asif Ali Zardari, and Muttahida Qaumi Movement chief Altaf Hussain pushed for unity in Pakistan during a phone conversation on Thursday.
Zardari has been facing widespread criticism after his recent outburst against the security establishment. The PPP leader had accused the establishment of tarnishing his and his party's image, threatening to bring the country to a standstill if the "character assassination" did not stop.
In reaction to the outburst, Prime Minister Nawaz Sharif had cancelled a scheduled meeting with the PPP leadership.
Full report at:
http://tribune.com.pk/story/906178/toning-down-zardari-altaf-push-for-unity-in-pakistan/
--------
Law and order: Rangers hailed for peace efforts in Karachi
June 19, 2015
KARACHI: Karachi's corps commander paid what appeared to be a morale-boosting visit to the Rangers headquarters in the city amid tensions touched off by PPP co-chairman's recent outburst against the military generals and his aides' criticism of the paramilitary force, even as the ruling party of Sindh seemed slipping further into difficulty as an anti-terrorism court heard that 70% of the black money was siphoned off to the Bilawal House.
Karachi Corps Commander Lt-Gen Naveed Mukhtar appreciated the efforts of the Rangers for restoring law and order in Karachi.
During his visit to the Rangers Sindh headquarters in the metropolitan city, Lt-Gen Mukhtar was briefed on the overall law and order situation. Issues related to the ongoing crackdown on criminals among other matters were also discussed.
Full report at:
http://tribune.com.pk/story/906142/law-and-order-rangers-hailed-for-peace-efforts-in-karachi/
--------
A month's lifeline: No prisoners to be sent to the gallows during Ramazan
June 19, 2015
LAHORE: As many as 180 convicts in the country have been executed during the last six months. The Ministry of Interior Affairs has now announced a moratorium on executions till Eidul Fitr out of respect for Ramazan.
In a notification issued on June 13, the ministry imposed the moratorium and requested all provincial governments to comply with the order.
Punjab has been leading in the number of executions carried out so far, 153, followed by Sindh, 15, Khyber Pakhtunkhwa, 5, Balochistan, 5, and Mirpur Central Jail (AJK), 2. Of these, 23 were convicted of terrorism and 25 were tried under the Anti-Terrorism Act for heinous crimes including multiple murders, murder-robbery and gang rape. The remaining 132 convicts were executed on orders passed by additional district and sessions courts for crimes including robbery, kidnap for ransom, rape, and murder to settle personal scores. Tipu Salman Makhdoom, an advocate of the Supreme Court, said Pakistan had alienated itself in the comity of nations by lifting the moratorium on death sentence. He said several international human rights organisations had condemned the policy and Pakistan risked losing the Generalised System of Preferences (GSP) Plus status. "Our criminal justice system is marred by police torture, poor legal representation, and unfair trials…these are some of the reasons behind the barrage of criticism against death penalty." Makhdoom said there were also cases which failed to meet international standards for fair trial – these include cases in which the police adds Section 7 of the ATA to FIRs that have nothing to do with terrorism. Yet the courts do not question this practice, said Makhdoom. "Frequently, confessions are obtained through torture."
Full report at:
http://tribune.com.pk/story/906080/a-months-lifeline-no-prisoners-to-be-sent-to-the-gallows-during-ramazan/
--------
Non-bailable arrest warrant issued for Musharraf in cleric murder case
19 June, 2015
ISLAMABAD: District and Session Judge Kamran Busharat Mufti on Friday issued a non-bailable arrest warrant against former military ruler Gen (retd) Pervez Musharraf in the case pertaining to the murder of former Lal Masjid cleric Ghazi Abdul Rasheed.
The court also rejected a plea requesting complete exemption for Musharraf from appearing in the court.
Police has been ordered to arrest the former president and present him in court for the next hearing of the case which was adjourned until July 24.
The judge also directed Musharraf's guarantors to ensure his presence in court in the next hearing.
Full report at:
http://www.dawn.com/news/1189172/non-bailable-arrest-warrant-issued-for-musharraf-in-cleric-murder-case
--------
India
Intellectuals Attack: 'Thoughtless Articulation of Jingoist Sentiments' by BJP, Govt
June 19, 2015
A group of eminent intellectuals have expressed deep concern over the "thoughtless articulation of jingoist sentiments" by high-level representatives of the government and BJP in the wake of the army operation in Myanmar and urged it to disassociate itself from them.
They also asked the government to take advantage of the first opportunity available for resuming dialogue with Pakistan.
The statement did not refer to any minister but was apparently referring to remarks of Minister of State Rajyavardhan Rathore suggesting that India could carry out surgical strikes across the border in Pakistan after the Myanmar strike against north east insurgents.
"We are profoundly disturbed by the thoughtless articulation of jingoist sentiments by high-level representatives of the government, prominent spokespersons of the ruling party and strategic thinkers and experts associated with the think tanks close to policy makers, following the Indian army's seemingly successful operation against the militants in the north east along the Indo-Myanmar border.
Full report at:
http://www.outlookindia.com/news/article/intellectuals-attack-thoughtless-articulation-of-jingoist-sentiments-by-bjp-govt/902242
--------
Yoga Day a Subtle RSS Plot Of Weaning People To Hinduism, Says Mizoram Minister
June 19, 2015
Mizoram's Tourism and Food Minister John Rotluangliana said on Saturday that even though there was nothing objectionable about practicing yoga as an exercise, it could also be a form of worshiping the Hindu gods when done in a particular manner. He cautioned people for the latter alleging that the current promotion of yoga is a subtle RSS plot to wean people into doing just that.
Rotluangliana's comment comes even as Mizoram's church leaders have asked Mizo Christians to not observe Yoga day because it falls on Sunday, a holy day for Christians. The state government has objected on similar lines to the Centre.
Full report at:
http://indianexpress.com/article/india/india-others/yoga-day-a-subtle-rss-plot-of-weaning-people-to-hindusim-says-mizoram-minister/#sthash.PKlIwg7Y.dpuf
--------
'ISI may target separatist Butt & put onus on India'
TNN | Jun 19, 2015
NEW DELHI: Intelligence agencies have informed the Centre that there are reliable inputs about possible attack by ISI on separatist leader Abdul Ghani Butt in Jammu and Kashmir. The agencies reported that ISI could target the All Parties Hurriyat Conference member through a terror outfit and blame India for it to disturb peace in the Valley, top officials in the home ministry said.
Sources said inputs were also shared with the state government, which may take necessary steps to avoid any attack on the separatist leader.
Sources said ISI is notorious for creating such situations in J&K which lead to public disorder. Earlier, at the behest of ISI, Hurriyat leader Abdul Gani Lone was killed on May 21, 2002 by militants in Eidgah ground of downtown Srinagar.
Full report at:
http://timesofindia.indiatimes.com/india/ISI-may-target-separatist-Butt-put-onus-on-India/articleshow/47727275.cms
--------
India to release 88 Pakistani fishermen as 'goodwill' gesture
June 19, 2015
NEW DELHI: India will release 88 Pakistani fishermen over the weekend as "goodwill" gesture after Prime Minister Narendra Modi conveyed the decision to his Pakistani counterpart Nawaz Sharif earlier this week.
India has already communicated the decision to release the 88 Pakistani fishermen to their high commission here and was now awaiting for the "exit documents" from that mission, official sources said.
Full report at:
http://timesofindia.indiatimes.com/india/India-to-release-88-Pakistani-fishermen-as-goodwill-gesture/articleshow/47722953.cms
--------
BJP councillor locks out Muslim family in Moradabad
MOHAMMAD ALI
June 19, 2015
A Muslim family that had recently bought a house in a Hindu neighbourhood in the Katghar area of Moradabad in Uttar Pradesh, has decided to sell the property after the local BJP councillor locked them out of their own premises on Wednesday night. The councillor also tried to incite a mob against the family.
The incident comes just weeks after two youths in Mumbai were refused a job and a house respectively for being Muslim.
BJP councillor Vidyasharan Sharma, a Hindu hardliner, locked the house of Shahana Parveen with locks of his own and announced that he would not allow any Muslim family to stay in a Brahman neighbourhood of the city.
Full report at:
http://www.thehindu.com/news/national/other-states/bjp-councillor-locks-out-muslim-family-in-moradabad/article7330882.ece
--------
Muslims gear up for yoga day with training camps, book titled 'Yoga and Islam'
Barkha Mathur | Jun 19, 2015
NAGPUR: At Vaishali Nagar garden, members of Muslim Rashtriya Manch gathered on Thursday morning to release a book titled 'Yoga and Islam'. This group has been practising yoga for some time, and they would be observing International Yoga Day too on Sunday.
"We will be part of the event being organized by Shri Janardan Swami Yogabhiyasi Mandal at Yashwant Stadium. Our guruji Subhash Kulkrishna has been training us," says Akil Khan, convener of MRM in the city. "We took up this initiative as there were a lot of misgivings around International Yoga Day. The book written by a few Muslim intellectuals based in New Delhi says that yoga is not of any one religion or community. It is a fitness programme and anybody can do it," says Khan.
Full report at:
http://timesofindia.indiatimes.com/city/nagpur/Muslims-gear-up-for-yoga-day-with-training-camps-book-titled-Yoga-and-Islam/articleshow/47726874.cms
--------
Indian embassies will organise yoga sessions after iftar in Muslim nations on InternationalYoga Day
Dipanjan Roy Chaudhury,ET Bureau | Jun 19, 2015
NEW DELHI: With the month of Ramadan beginning on Thursday across continents, Muslim-majority nations have the flexibility of organising yoga sessions on Internatonal Yoga Day on June 21 after breaking their fast and Iftar.
Several Muslim majority nations across the Gulf, Central Asia, North Africa and Southeast Asia that will witness mega events on the International Yoga Day organised by local Indian embassies have the option to participate after their Iftar (breaking their fast) as the day falls during the Ramadan period, senior government sources told ET.
Ten of the 57 Organisation of Islamic Conference countries did not co-sponsor the UN resolution last year to declare June 21 as the International Yoga Day. The list includes Pakistan and Saudi Arabia.
Full report at:
http://timesofindia.indiatimes.com/india/Indian-embassies-will-organise-yoga-sessions-after-iftar-in-Muslim-nations-on-InternationalYoga-Day/articleshow/47730424.cms
--------
South Asia
China bans Ramadan fasting in mainly Muslim region
June 19, 2015
China has banned civil servants, students and teachers in its mainly Muslim Xinjiang region from fasting during Ramadan and ordered restaurants to stay open.
Most Muslims are required to fast from dawn to dusk during the holy month, which began on Thursday, but China's ruling Communist party is officially atheist and for years has restricted the practice in Xinjiang, home to the mostly Muslim Uighur minority.
"Food service workplaces will operate normal hours during Ramadan," said a notice posted last week on the website of the state Food and Drug Administration in Xinjiang's Jinghe county.
Officials in the region's Bole county were told: "During Ramadan do not engage in fasting, vigils or other religious activities," according to a local government website report of a meeting this week.
Full report at:
http://www.aljazeera.com/news/2015/06/china-bans-ramadan-fasting-muslim-region-150618070016245.html
--------
Around 1,500 terrorists gather along Afghanistan-Tajikistan border
June 19, 2015
Terrorists affiliated with various groups have been noted along the border with Tajikistan and inside the Afghan soil, it has been reported.
The issue was shared by a top-rank security official from Tajikistan during a session of the Council of Commonwealth of Independent States (CIS) Border Forces Commanders, according to Russia's state-owned TASS news agency.
Sherali Khairulloyev, national security aide to Tajikistan's President, said one of the biggest tasks today was to prevent the transformation of Central Asian countries into a center of geopolitical confrontation of the world's largest powers at a time when the threat of international terrorism was getting bigger from one day to another.
Khairulloyev warned that the militants were clearly seeking to create hotbeds of tensions and seize state power in the regional nations through the use of force.
He said this would be happening along Afghanistan's border with CIS member-states, the length of which is 2,340 km.
Full report at:
https://www.khaama.com/around-1500-terrorists-gather-along-afghanistan-tajikistan-border-1220
--------
Farkhunda's Family Lives In Fear, After Her Mob Killing
June 19, 2015
KABUL: The family of an Afghan woman killed by a frenzied mob in an attack that shocked the world with its brutality is living in isolation and fear as they wait for justice they believe will never come.
Since Farkhunda Malikzada was killed on March 19, life has come to a standstill for those she left behind, said her father, 72-year-old Mohammad Nader Malikzada.
"We cannot live a normal life, our children cannot go to school or college, we can't even go shopping. Most of us are mentally ill, we are under such psychological pressure. It is hell in this house," he told The Associated Press.
Full report at:
http://www.dawn.com/news/1189179/afghan-family-lives-in-fear-after-daughters-mob-killing
--------
After harrowing journeys, Rohingyas hope for peaceful Ramadan in Indonesia
June 19, 2015
KUALA CANGKOI: Muhammad Yunus came ashore in Indonesia by accident after a harrowing boat journey — but he and hundreds of other Rohingya migrants are delighted to be spending Islam's holiest month in the world's most populous Muslim-majority country.
The boat people in Aceh province are among thousands of Rohingya and Bangladeshi migrants who arrived in countries across Southeast Asia in May after a Thai crackdown threw the people-smuggling trade into chaos and sparked a regional crisis.
Yunus had hoped to reach relatively affluent Malaysia, like many of the region's migrants, but after a months-long voyage was dumped in shallow waters off Aceh.
Full report at:
http://www.arabnews.com/world/news/764166
--------
Bangladesh: 4 held for supplying explosives to militants
June 19, 2015
Detective Branch (DB) of Police have arrested four people from different areas of the capital for allegedly supplying explosives to a militant group.
Of the arrestees, one has been identified as Gazi Mohammad Babul, lab assistant of Dhaka University's soil science department.
The identity of three chemical traders could not be known immediately.
DB South Additional Deputy Commissioner Sani Sanowar said: "Gazi was arrested from Dhaka University area around 1am Friday while the others were arrested from Wari's Tikatoli area around 3:30am."
He said details regarding the matter will be disclosed in a press briefing later in the day.
http://www.dhakatribune.com/bangladesh/2015/jun/19/4-held-supplying-explosives-militants#sthash.6OYf5HRs.dpuf
--------
Probe report filed against 12 war crimes suspects
June 19, 2015
War crimes investigators yesterday submitted their probe report on 12 alleged war criminals from Jessore, who had been under the radar since November 2013.
Investigation Officer Abdur Razzak Khan submitted the 42-page report, with findings on ex-BNP and Jamaat lawmaker Shakhawat Hossain and 11 others, to the chief prosecutor's office in the morning.
As part of their probe, investigators reportedly found that the accused men were involved in killing two persons, raping one, and torturing two others in Keshabpur of Jessore during the Liberation War in 1971.
Full report at:
http://www.dhakatribune.com/crime/2015/jun/19/probe-report-filed-against-12-war-crimes-suspects#sthash.32QLFEwb.dpuf
--------
Supreme Court verdict against HRCM 'an act of reprisal,' says UN experts
June 19, 2015
The Supreme Court's ruling which imposes several restrictions on the Maldives human rights watchdog "is an act of reprisal" and contravenes both the Maldives' Constitution and its international human rights obligations, two UN rights experts have said.
The Supreme Court on Wednesday ruled a report submitted by the Human Rights Commission of the Maldives (HRCM) to the UN in September last year as unlawful.
Judges set an 11-point guideline barring the commission from communicating with foreign bodies without oversight from "relevant state institutions."
The guideline also orders the HRCM to ensure their activities are conducted with the full cooperation of other state institutions and that they "will not ruin the reputation of the Maldives."
Full report at:
http://minivannews.com/politics/supreme-court-verdict-against-hrcm-an-act-of-reprisal-says-un-experts-99905#sthash.3E8s5fck.dpuf
------
Europe
David Cameron: Some Muslim communities 'quietly condone' extremist ideology instead of confronting it
June 19, 2015
Parts of some Muslim communities have to share the blame for young Britons joining Isis forces because they have "quietly condoned" extremist ideology instead of confronting it, David Cameron will argue.
His provocative intervention follows the death in Iraq of a 17-year-old old suicide bomber from Dewsbury and the disappearance of three sisters from Bradford who are believed to have travelled to Syria.
Its timing, at the beginning of the Muslim holy month of Ramadan, will also be seen as controversial, but Downing Street said he was determined that all sections of society debate the factors which spur young adults to head to Syria or Iraq to become Isis fighters or "Isis brides".
Speaking at a security conference in Slovakia, Mr Cameron will argue that impressionable young people can slide into violence when "Islamist extremist ideology" – such as viewing women as inferior and homosexuality as evil – is not challenged by community leaders.
Full report at:
http://www.independent.co.uk/news/uk/politics/david-cameron-some-muslim-communities-quietly-condone-extremist-ideology-instead-of-confronting-it-10330054.html
---------
60 Million People Fleeing Chaotic Lands, U.N. Says
June 19, 2015
UNITED NATIONS — Nearly 60 million people have been driven from their homes by war and persecution, an unprecedented global exodus that has burdened fragile countries with waves of newcomers and littered deserts and seas with the bodies of those who died trying to reach safety.
The new figures, released Thursday by the United Nations refugee agency, paint a staggering picture of a world where new conflicts are erupting and old ones are refusing to subside, driving up the total number of displaced people to a record 59.5 million by the end of 2014, the most recent year tallied.
Half of the displaced are children.
Nearly 14 million people were newly displaced in 2014, according to the annual report by the Office of the United Nations High Commissioner for Refugees. In other words, tens of thousands of people were forced to leave their homes every day and "seek protection elsewhere" last year, the report found.
Full report at:
http://www.nytimes.com/2015/06/18/world/60-million-people-fleeing-chaotic-lands-un-says.html
--------
U.N. uses food aid to fight against child labour in Egypt
June 19, 2015
Almost 24,000 Egyptian children have received school meals and rations for their families under a scheme to prevent youngsters in the poorest areas from dropping out of school and working, U.N. and EU officials said.
More than a quarter of Egypt's 82 million citizens live below the poverty line, according to the World Bank.
Poverty and other social problems force up to 15 percent of Egypt's children into the workforce, including more than one million involved in seasonal farm labour, according to UNICEF.
The U.N. World Food Programme's (WFP) 60 million euro ($67.5 million) aid programme targets 100,000 children from 651 schools in the most deprived areas of Egypt, including Beni Suef, 150 km south of the capital Cairo.
Full report at:
http://english.ahram.org.eg/NewsContent/1/64/133151/Egypt/Politics-/UN-uses-food-aid-to-fight-against-child-labour-in-.aspx
--------
U.N. needs $1.6 bln for Yemen aid
19 June 2015
The United Nations said on Friday that $1.6 billion was now needed to face a "looming catastrophe" in Yemen.
"Over 21 million people or 80 percent of the population are now estimated to be in need of some form of humanitarian aid and or protection," U.N. spokesman Jens Laerke told a news briefing.
Stephen O'Brien, U.N. Under-Secretary-General for Humanitarian Affairs, launched the revised funding appeal, telling donors that a "looming catastrophe" was in the making across Yemen with families struggling to find food, he said.
Also on Friday, at least 15 Houthi militiamen were killed in a Popular Resistance raid on a police station in the Kriter area in Aden, Al Arabiya News Channel reported on Friday.
Full report at:
https://english.alarabiya.net/en/News/middle-east/2015/06/19/Fifteen-killed-as-clashes-erupt-in-Yemen.html
--------
France's Fabius heads to Mideast to sell peace initiative
19 June 2015
France's foreign minister heads to the Middle East this weekend with an initiative aimed at bringing Israel and the Palestinians back to peace talks under an international framework amid growing regional instability.
U.S.-led efforts to broker peace for a two-state solution, talks collapsed in April 2014 and leaders on both sides have since been weakened politically. But with the region's crises worsening and Washington reassessing its options on U.S.-Israel relations, France sees a narrow window to resume negotiations.
Full report at:
https://english.alarabiya.net/en/News/middle-east/2015/06/19/France-s-Fabius-heads-to-Mideast-to-sell-peace-initiative.html
--------
Southeast Asia
Interfaith Marriages Still Unsanctioned as Indonesian Court Rejects Judicial Review
June 19, 2015
Jakarta. Indonesia's Constitutional Court on Thursday rejected a petition for a judicial review of Indonesia's law on marriages, which, among other things, does not recognize interfaith unions.
Last September, five people submitted a motion for a judicial review of the 1974 Marriage Law, which requires all marriages in Indonesia to be conducted "in accordance with the respective religious beliefs of the bride and groom." The petitioners argued the law violated the Constitution and state ideology of Pancasila.
On Thursday, however, the petition was turned down.
"The court rules that the petitioners' request does not have a legal basis and therefore rejects the appeal for a judicial review," Chief Justice Arief Hidayat said.
Full report at:
http://thejakartaglobe.beritasatu.com/news/interfaith-marriages-still-unsanctioned-court-rejects-judicial-review/
--------
PAS ulama to decide direction of Malaysian politics, says Economist
June 19, 2015
The direction of Malaysian politics hinges on PAS's ulama faction, especially in its response to the disintegration of opposition coalition Pakatan Rakyat, says The Economist.
The weekly newspaper reported that the Islamist party's conservative wing was the decision maker after it trounced its moderate members at the recent muktamar.
"Much hinges on how PAS's dominant conservative wing chooses to proceed. The party's ageing leaders seem to think that time is running out to introduce hudud in Kelantan and look willing to reach some form of accommodation with Umno, despite a history of antagonism, in order to achieve it," it said.
Full report at:
http://www.themalaysianinsider.com/malaysia/article/pas-ulama-to-decide-direction-of-malaysian-politics-says-weekly#sthash.XVDfXSZd.dpbs
--------
Set aside disputes, animosity during Ramadan, says Najib
June 19, 2015
Datuk Seri Najib Razak has urged Muslims to set aside any disputes and animosity in view of the holy month of Ramadan.
In his latest posting in his blog www.najibrazak.com today, the prime minister said any dispute would not be beneficial but would cause a loss of time and energy.
"In this blessed month of Ramadan, let us take the golden opportunity to repair and improve our deeds in carrying out the commands of Allah."
He said fasting was a way Muslims could train themselves to become more firm, disciplined and patient when faced with challenges during Ramadan.
"The Prophet has said that in the month of Ramadan, all the deeds of the sons of Adam will be multiplied.
"Hopefully, our deeds are accepted by Allah."
http://www.themalaysianinsider.com/malaysia/article/set-aside-disputes-animosity-during-ramadan-says-najib#sthash.tb08sijo.dpbs
--------
Transgender fails court bid to change identity to woman, judge says 'hands tied'
June 19, 2015
KUALA LUMPUR, June 19 — The High Court dismissed today a male transgender's application to change his identity card detail to reflect his new gender status as a woman, citing past precedent in its ruling.
In her ruling, High Court judge Datuk Asmabi Mohamad said she has no choice but to dismiss Vasudevan Ramoo's application to be recognised as a female by the National Registration Department (NRD)'s director-general.
She added that her hands were "tied" as she was bound by other UK cases and a 2013 Court of Appeal decision.
"By virtue of case law, the plaintiff has failed to prove to the satisfaction of the court that he is now a female, in order to compel the defendant to change his name to his new name," the judge said.
Full report at:
http://www.themalaymailonline.com/malaysia/article/transgender-fails-court-bid-to-change-identity-to-woman-judge-says-hands-ti#sthash.TGsRplz5.dpuf
--------
North America
U.S. struggling to train moderate Syrian rebels
19 June 2015
The U.S. is struggling to implement its training program for moderate Syrian rebels fighting the Islamic State of Iraq and Syria (ISIS) group, according to figures released Thursday by the Pentagon.
Only "100 to 200" fighters have actively begun training at U.S. sites in Jordan and Turkey, according to Pentagon spokesman Colonel Steve Warren, of the 5,000 forces the military says it wants to train over the year.
The Obama administration embarked on the program earlier this year under strong pressure from Congress, which allocated $500 million to finance it.
"This is a very difficult operation to undertake," Warren said.
Slow-downs have occurred in the vetting of trainees. Some 6,000 Syrians have volunteered for training, and 1,500 passed the first stage of selection.
Full report at:
https://english.alarabiya.net/en/News/middle-east/2015/06/19/U-S-struggling-to-train-moderate-Syrian-rebels.html
--------
Fourth alleged ISIS suspect arrested in New York area
19 June 2015
A fourth U.S. citizen has been arrested in the greater New York area in less than a week on allegations of supporting the Islamic State of Iraq and Syria (ISIS) extremist group, officials said Thursday.
Samuel Rahamin Topaz, 21, from Fort Lee, New Jersey, was charged with conspiracy to provide material support to the ISIS group, which has declared a "caliphate" based in Iraq and Syria.
He faces 15 years in prison if convicted and was remanded without bail after being arrested at home on Wednesday, prosecutors said.
Court papers allege he was in close contact with Munther Omar Saleh, a 20-year-old student from New York who was arrested last Saturday after trying to stab an FBI surveillance officer.
The FBI accused Saleh of trying to recruit Topaz, who was allegedly making plans to travel to join ISIS in the Middle East.
Full report at:
https://english.alarabiya.net/en/News/world/2015/06/19/Fourth-alleged-ISIS-suspect-arrested-in-New-York-area.html
--------
New Jersey man charged with conspiracy to provide support to ISIL
June 19, 2015
US authorities on June 18 charged a New Jersey man with conspiring to support the militant Islamic State of Iraq and the Levant (ISIL), the fourth person arrested in recent days in and around New York City as part of a broader investigation.
Samuel Rahamin Topaz, 21, of Fort Lee, New Jersey, was arrested at his home on June 17, the Justice Department said. A magistrate judge ordered him detained following a court appearance in federal court in Newark.
According to a criminal complaint, he had communicated frequently with Munther Omar Saleh, a college student from Queens who was arrested on Saturday along with an unnamed co-conspirator when they ran at a surveillance vehicle.
Full report at:
http://www.hurriyetdailynews.com/new-jersey-man-charged-with-conspiracy-to-provide-support-to-isil.aspx?pageID=238&nID=84221&NewsCatID=358
--------
US must reckon with gun violence, race issues: Obama
June 19, 2015
As a shocked America mourned the killing of nine people in a historic black church, President Barack Obama said the US must eventually reckon with all too frequent mass shootings and gun violence.
"Now is a time for mourning and healing," said the country's first African-American President in a White House statement shortly after the capture of the white man who attacked the Emanuel African Methodist Episcopal Church in Charleston South Carolina.
"But let's be clear. At some point, we as a country will have to reckon with the fact that this type of mass violence doesn't happen in other advanced countries. It doesn't happen in other places with this kind of frequency," he said.
Full report at:
http://www.thehindu.com/news/international/us-must-reckon-with-gun-violence-race-issues-obama-in-a-whitehouse-statement/article7332699.ece
--------
Canadian doctors seek to light Gaza hospitals with solar power
June 19, 2015
One of the most difficult things about being a doctor in the Gaza Strip is the uncertainty.
With protracted power outages and a crippling blockade cutting off access to medical supplies, even the most basic procedures can become a race against the clock.
"One of the problems that pervades almost every moment is this possibility that . . . while I'm doing a procedure, while we have a knife in a patient, while I'm sewing up little boys and girls, the power will cut," said Dr. Tarek Loubani, an emergency physician based at London Health Sciences Centre in London, Ont., who has worked in Gaza.
Full report at:
http://metronews.ca/news/world/1401116/canadian-doctors-seek-to-light-gaza-hospitals-with-solar-power/
--------
Terrorism or hate crime? Police arrest man who shot 9 people at US African-American church
June 19, 2015
CHARLESTON: US police on Thursday arrested a 21-year-old white gunman suspected of killing nine people at a prayer meeting in one of the nation's oldest black churches in Charleston, an attack being probed as a hate crime.
The shooting at the Emanuel African Methodist Episcopal Church in the southeastern US city was one of the worst attacks on a place of worship in the country in recent years, and comes at a time of lingering racial tensions.
The suspect — identified as Dylann Roof of Columbia, South Carolina — was taken into custody in neighboring North Carolina, about a four-hour drive from the scene of the shooting, Charleston Police Chief Gregory Mullen said.
Full report at:
http://tribune.com.pk/story/905991/terrorism-or-hate-crime-police-arrest-man-who-shot-9-people-at-us-black-church/
--------
Australia
Muslim groups call for direct engagement with young people to prevent radicalisation
June 19, 2015
Muslim and community groups in New South Wales have said the State Government has been "tokenistic" in its strategy to counter radicalisation among young Muslims and have called for more direct engagement.
Silma Ihram from the Australian Muslim Women's Association said there was too much emphasis on policing in NSW and not enough on early intervention to prevent radicalisation.
"The State Government would do better to have closer contact with those at the coalface and to really have a more coordinated approach," Ms Ihram said.
She said more programs were needed on a state level rather than relying on federal funding for initiatives.
"Whether it's through education, through social support, lots of different programs that can run that need the funding to prevent these kind of things happening in the first place, policing whilst important, is only part of the solution," Ms Ihram said.
Full report at:
http://www.abc.net.au/news/2015-06-19/muslim-groups-call-for-changes-to-end-radicalisation/6557448
--------
URL: https://www.newageislam.com/islamic-world-news/new-age-islam-news-bureau/syrias-raqqa-islamic-state-model-city-others-living-hell/d/103571